Mizman loh hitraehnu. For those of us who have longed for a real deal Jewish delicatessen to open in Omaha, I've heard from a little bird in the know, that we are all in for a big treat. No more pining away for a deli visit back East. At long last, we've got our own. Shervin Ansari plans to open Swartz's Delicatessen this fall in Countryside Village. The deli will be located at 8718 Pacific, in the southern half of the old Broadmoor Market. If you haven't been by in a while, the Village is slowly filling back in with some real quality ventures. And I've heard rumor of other incredible things happening there by the end of the year. (Photo above) Rendering of the new Swartz's Delicatessen.
Of course I had to go root around a bit.
Bursting with authentic family recipes he's ready to share, I've heard Ansari intends to bring in some well known, (but hard to find in these parts) staples for a deliciously stocked selection. Personally I am dying to sample his latkes with applesauce and sour cream. (For those who don't already know these are European and Middle Eastern potato pancakes.)
Miss Cassette approves of this nod to the old school-meanwhile contemporary logo.
Sign Mr. Cassette up for heaping mounds of the chopped beef liver and pickled herring. The rubbed and smoked beets, with the Kitchen Sink (one half of a poached chicken, matzoh ball, krepla, noddle's, rice, herbs, vegetables, schmaltz) sounds divine. Lox and bagels and capers and all of the usual suspects. Matzoh ball soup: check. Hearty brisket: he'll have it. Pastrami or corned beef on rye: of course. Sauerkraut: without a doubt. But the thing I cannot wait for is this spinach potato knish number. And drum roll….Swartz' will have their own version of the reuben.
Soon to be entrance to Swartz's Deli.
I want it all but maybe even more than the food, I want to enjoy some lively conversation and community. And of course a bit of eavesdropping over my Matzoh ball soup.  But alas, we will all have to wait a while longer. In the mean time, check on their drool-worthy site. http://swartzsdeli.com/. As I like to remind people, this town is really coming back around. I hope friends will pop in when they're in town and help me welcome Swartz's Delicatessen.
***Addendum as of 9/7/16***News Flash–this just in. Swartz's rumored to open in early October. Be still, our collective heart.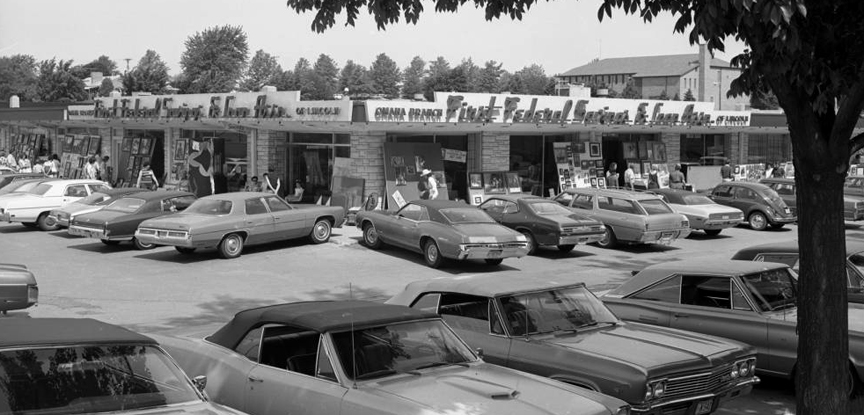 The Countryside Village of my youth. Cars you would never see there now.
© Miss Cassette and myomahaobsession, 2016. Unauthorized use and/or duplication of this material without express and written permission from this site's author and/or owner is strictly prohibited. Excerpts and links may be used, provided that full and clear credit is given to Miss Cassette and myomahaobsession with appropriate and specific direction to the original content.
Thank you for reading my blog. I welcome your feedback and comments on Swartz' Delicatessen and Countryside Village. To enable comments, please click on the header title. If you would like to correspond with me privately, please do so at myomahaobsession@yahoo.com. But I assure you, everyone would love to read what you have to say and it makes the conversation more fun. If you "follow" my blog you will get sent email updates when I have written a new story. Thank you Omaha friends.