"Now that is a moon…." Mr. Cassette sighed, as we were lying under our Larch, staring up at the sky just the other night. This is his new thing, lying on the still warm ground and one that I have fully embraced. For the spring air is heavy with dreaminess and wonder in this last week and it encourages impetuous acts. A fragrant month, don't you think? A few days before I eagerly spied on a Midtown Gal wearing a backpack and a floral dress, floating from plant to plant, happily sniffing the colorful gems on her trail through Dundee. I, too, have found so many new creatures and old favorites peaking from under their hiding places and cloistered, secret gardens. All of this magic is still best viewed from the Omaha sidewalks, in my estimation. How else will you peer through that privet hedge to see tea being served to a garden party of seven? As you by now know, these are the very private treasures and Right Under Our Noses Experiences I like to go in search of. It reminds me of childhood, where a walk around my Benson block with a fellow girl detective could last hours. The numerous Virgin Marys, the enviable tire swing, odd blankets for curtains, raised voices behind privacy fences, the pacing pattern a long ago dog made in his front yard, the mysterious house that was Always For Sale, the older woman up the street with deep red lip stick, a bouffant and a see-through nightgown, who seemed to manicure her lawn with sewing scissors. To this day, I marvel that all of this Free Gold does not seem to arouse the least bit of intrigue in some sleepy people—those who yawn as they slough about, ignoring what is right before their hooded eyes and right under their seemingly unsniffable noses. Pleasure Deniers, I say under my breath.
Today I shall like to take you round town, up close and personal, so you can get the real feel of these hidden and not so hidden treasures. After all, it has been a full year since we visited the Delights of Omaha. I do love to imagine the intention, the communication of the various creators—the architects, the homeowners, the gardener, the mason, the do it yourself-ers. And who they are, I do not know because this is not one of those involved obsessive stories. Just a wee obsessive. This will be a lazy, dawdling pilgrimage. But I do believe these property owners and designers are sharing themselves with us, divvying up little declarations. At times, even the architecture itself is telling us a thing or two. And yes, I make assumptions, as well. A word about this wandering preoccupation: This will be a brief but unpardonable diversion from your favorite scrubbing of baseboards chore, the attendance to your cat's litter box or the work you had planned on next quarter's taxes. Now square your shoulders and seize the excuse to rush out onto the streets of Omaha with me. I've been wanting to show you some longtime favorites.

The Interlude Lounge neon sign. Do we all just love the original Interlude Lounge sign from 1966? The Lude, as it has been affectionately called my whole life, is a true District 66 staple at 7643 Pacific Street. After staring at the best sign around, (a pink bubbling concoction in a martini glass, stately East Coast blue background, perfect font, complete with simple neon, a sturdy pole with almost a Colonial framing) one is impelled to drink a cocktail in this fabulous environ. The whole sense and spirit of the Lude is an invitation to the past, to include those small built-in ashtrays in the women's restroom stalls. I also tip my hat to the cupolas atop this shopping center, although they used to have a more defining character. http://www.interludelounge.com/

Favorite House. Oh the 706 South 52 Street lovely Juniper arbor dream. This gracious home is from the teens. Miss Cassette simply cannot get enough of this home and its surroundings. The Pfitzer Juniper (the best to make play houses under in the 1970s) and leaning friendly pine trees on this property are so inviting. These homeowners Get It–they have maintained the very kind of trees and shrubs from yesterday that meld perfectly with their home. No mulch in site, no silly under-lighting. Why mess with perfection? I would not change a thing about this property. The awnings. The mossy steps. These are surely unmet friends. I thank you.

Mister Sad Lights at 39th and Dodge. 101 South 39 Street. This little building is currently masquerading as a PayDay Advance and was said to have been built in 1966 but these billboards and lamps could be older still. Thankfully this retaining wall has made a long time friend. The shape of those boards, the framing, the fact that those lamps are still attached? This is gold, people. Solid gold. There are other billboards with their old spot lights down on Leavenworth. 101 South 39 Street was a gas station when I was young and I seem to remember them lighting up. Was this a GINN station? Did I dream it? Mister Sad Lights exudes Loneliness. He is waiting for his comeback.

Mrs. Flowering Gate at 8401 Loveland Drive is a truly lovely structure featuring winding, delicate flowers, fleur de lis and a sanctimonious draping of Boston Ivy. This proud but flirty barrier was  built around 2012. According to the Douglas County Assessor this incredible home was erected in 1930. Mrs. Flowering Gate's spirit is at once intentionally aloof and yet there is a sweetness that brushes your cheek. Or was that the iron grille of the closed gate as I craned my neck to get a better peek? No matter, I felt a welcoming quality.

I stole a glimpse at the fantastic gated hedge enshrouded therein. I about fainted with delight, wanting to see that fine arbor for myself, when a neighbor's lawn man approached. The man proceeded to tell me that the Loveland area had once been a dairy farm. You don't say. I feigned shock and confusion in order to hear more of what he knew. What a great guy. Word to the wise: lawn men, gardeners, cleaning ladies and pool crews have the goods. For more on this area, please see Mysteries of Omaha: 8120 Pacific Street

The Red Lion Cocktail Lounge. The old Red Lion jazz club entrance at the Colonial Hotel. After the stories I'd heard about this club at 38th and Farnam Streets, I became entranced. Look at these steps, the forlorn marquee and that fine door. This is a reckless love affair. Staring at it might involve my ruin. Yes, it is worth it.

Sleeping Beauty at 7823 Pierce Street. A true 1941 storybook abode complete with a dappled garden. Dwarf Alberta Spruce are ensconced at the door with a Red Leaf Plum lending a bit of hued shade. I have stared at this Sleeping Beauty storybook home again and again. I have bent down, squinted my eyes and scrutinized it, down to the tiniest of details and I have found no fault. I believe if one fell asleep in this precious front garden, it would surely reverse one's age by twenty years at least.

The Los Angeles Apartments at 810 South 49th Street. I believe these were built in 1959. Is this a small warehouse annex to a dry cleaning business or a motel? The windows! The divine railing details. The obvious garages turned to ground floor apartments. How is this Omaha? I love the teetering, suspension bridge walkway connecting this MCM apartment building to the stucco apartments next door. It looks like an LA apartment complex where a very cool teen might have laid on his bedroom floor and played old punk records. Or the television dream set where Veronica Mars lived with her detective father in Neptune. I will confide that this L shaped building has whispered to me that she would like to have another twin building and together they would encircle a turquoise pool, where plastic flamingos stand guard as older men in straw hats and Hawaiian shirts smoke and discuss the horses. There remained no question in my mind about the daydream Los Angeles Apartments on 49th. I had a shrewd suspicion that this would be the perfect place to be if I ever needed somewhere to hide.

Dewey Drop Mansion. The Mysterious and Lovely 3722 Dewey Avenue gated entry. Almost an Asian feel. Did you know that Dewey Avenue used to be called Half Howard Street? It is oddly true. Mr. Cassette adores the Dewey Drop secret garden. I need to look inside this home to make sure it is as glorious as I imagine. The grille work on the windows are inconceivable. This whole heavenly corner must be reconnoitered at once and then…. sang to by beautiful women in long flowing dresses while harps are sounding. Miss Cassette will be back to do a proper investigation on this splendid property.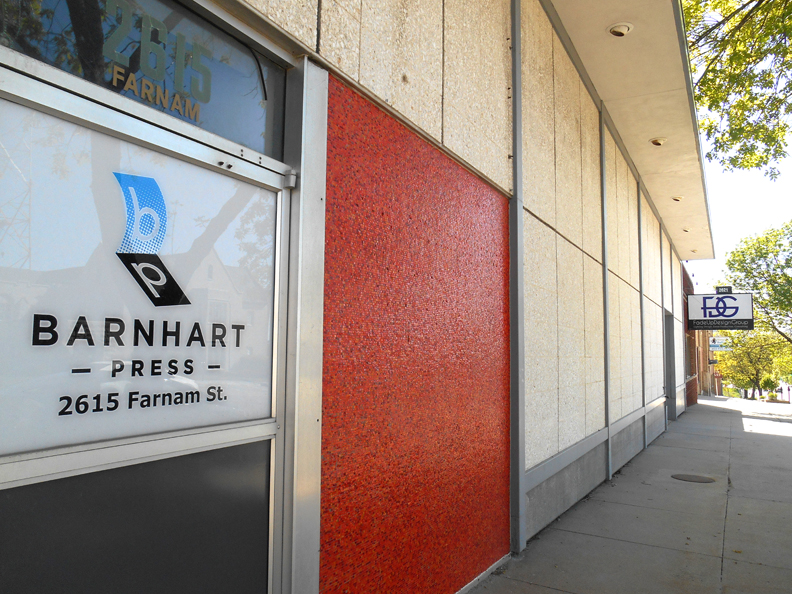 Barnhart Press. I've always loved the Barnhart Press logo and orangey-redcicle teeny tiny, irregular tile wall at 2615 Farnam Street. I have heard that Barnhart has closed up shop, sold their buildings on Farnam Street and are gone, which saddens me greatly. Word on the street is that a developer has bought up these parcels and has big plans. This Scrumptious Tile reminds me of the interior tile walls at Crossroads Shopping Center in the 1970s. This solid building is from 1920 but looks like a fabulous MCM renovation to me, complete with pale stone block tiles, mod squares, a lit overhang, all serving to highlight that fab blast of orange-red. Fantastic! **Addendum of July 1, 2017** Barnhart Press did not go out of business. They moved to 11616 I Street!

Go take your family photo there before this whole area is razed. Every band is doing it.

The Curious One at 123 South 39th Street. This house is apparently from 1890, according to the Douglas County Assessor, sometimes inaccurate. She is crying for an indepth My Omaha Obsession investigation but in the mean time I'm obsessing over this medley of windows and architectural messages. One must savor the full range of complexity here.

There is a strong, storm-tossed energy at 123 and one that I keep coming back to. Is it the unsteadiness to the eye caused by decades of architectural renovation? I must know more. The Curious One is engrossing to me. I can't sleep.

Did I mention that she has these proud antique Pointer dog yard lanterns? I searched and searched online to trace these cunning lamps. Goose eggs.

The Ambassador Apartments back stairwell. 109 South 49th Avenue, properly, but these are the insiders' exit route. I love the way these back steps feel. This is where I used to smoke my cigarettes, complain about the world and pretend I lived a glamorous 1940s life. Truthfully it was more of a 1990s Laverne and Shirley situation with a couple of galpals. Mr. Cassette and I would return to live here almost ten years later. I have told him again and again that I would move back in an instant. He won't let me. If one is very quiet and holds their breath, one can hear these Catalpa trees growing. I know this to be true. Notice the different sized coal and wood chutes…or are those ice chutes? I don't know.  Those lovely little original Ambassador stairwell lanterns. Such a solid and perfect back stoop.

The Iron Gates at about 48th and Howard. 609 South 48th Street is a manufacturing plant, with the original structure being built in 1912. I mistakenly thought it was a part of the Omaha Steel Castings property, north of it, at 4605 Farnam Street.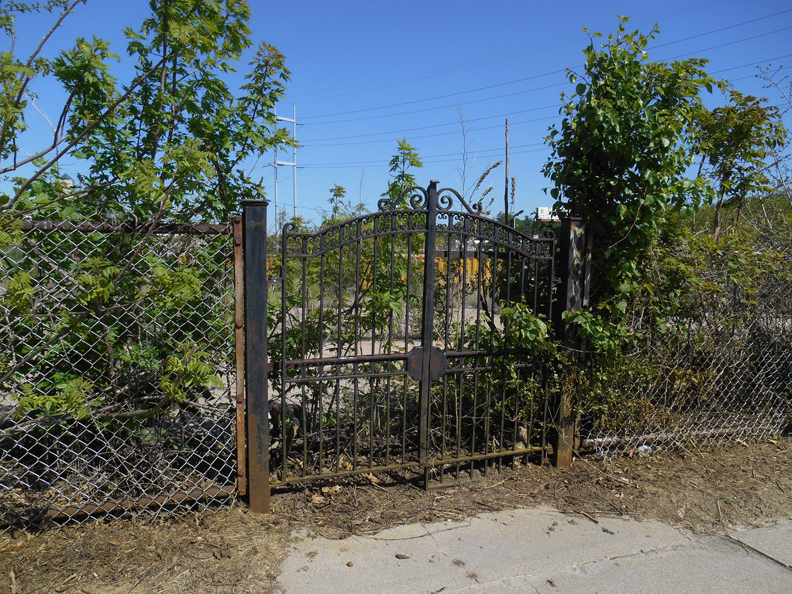 The Omaha Steel Castings parcel was sold to UNMC but this mystery property with the fabulous iron gate remains privately owned. But for how long?

Cousins It and It stand guard with their hairy tendrils of Sweet Autumn Clematis, the Holy Sepulture Cemetery to the west.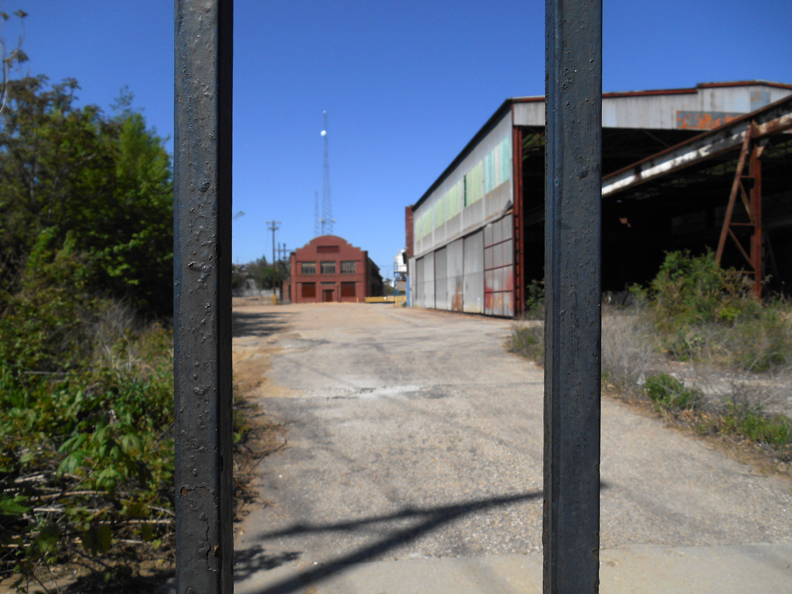 If you stand and take it all in, you can hear the banging and clanging of what this might have been in its day, a mighty plant. And no one will see you looking peculiar. Listen! There are one hundred blustering echoes trapped behind these fences. Caught between UNMC on the hill and Sepulture Cemetery on the west and the true Saddle Creek in between, this slim parcel of land has seen a thing or two. There is also silence in here. And it is good.

The Mullen Mansion at 10604 Frances Street. Are you holding yourself? Would you look at those precious tulips? To me the woods are enchanting. I cannot imagine being able to live within a woodland, surrounded by all this torturous beauty, the excruciating corridors of the trees. I am slowly being tortured since finding this property. It calls to me.

If I were to walk across this heavenly plot I would faint with joy and then wake up and die. My friend, Maura, a fellow Omaha Detective, tipped me off to this gorgeous home in her investigation to find the true Arthur Mullen house from the The Curious Case of the French Fairytale Cottage: Part One. I owe her a debt of gratitude for showing me the way. As for this exalted estate, it unfortunately, has had a profound effect upon Miss Cassette and I simply cannot stop churning over the view of this drive. Investigation forthcoming, fellow gumshoes. Until then I suppose I could just lie down and be consumed by fitful dreams of a breathtaking mansion in the woods, sprinkled with tulip splendor.

I welcome your feedback on our tour of Omaha. To comment, please scroll to the end of this page. If you would like to correspond with me privately, please do so at myomahaobsession@yahoo.com or in the Contact section. But I assure you, everyone would love to read what you have to say and it makes the conversation more fun. You can keep up with my latest investigations by "following" myomahaobsession. You will get sent email updates every time I have written a new article. Also join My Omaha Obsession on Facebook. Thank you Omaha friends.
© Miss Cassette and myomahaobsession, 2017. Unauthorized use and/or duplication of this material without express and written permission from this site's author and/or owner is strictly prohibited. Excerpts and links may be used, provided that full and clear credit is given to Miss Cassette and myomahaobsession with appropriate and specific direction to the original content.