One day last week as I was lying outside, alone, luxuriating in the sun and my daydreams, I had a forecast of a Slim Aarons' style picturesque summer– A la A Place in the Sun. Enveloped in Ethiopian jazz, floating from our sun porch, a summer time favorite, and sipping on a freshly iced Arnold Palmer, I could clearly conceive of the best site for our hard tennis court down the pebbled path. A crisp yellow and white umbrella popped open above my head as a stop sign red lip color was applied with precision to my lips. Just as my feet descended into the cool body of water before me, a pale blue tiled swimming pool, fringed with a row of Arborvitae and a tasteful statue or two, a neighbor's power tool revved up for the day's work at hand. Hurry Back to Reality. This alarm only served to remind one of the only two positive revelations brought on by such a hideous disturbance. 1. We all have differing ideas of leisure activity. 2. One is never really alone in Midtown. It seemed a good moment to remember that I am in Omaha, surrounded by hearty, interesting, working people.
Days later I would receive an email from such a person, a reader named Jane H., alerting me of 3618 Farnam Street.  I instantly knew the large white house, catty corner from the Blackstone Hotel. It had been a frat house for many years and had an odd kind of disproportionate prominence. Jane was wondering if I had looked into researching the large house, as it was to be torn down shortly. Miss Cassette knew nothing about this demolition and shuddered with horror!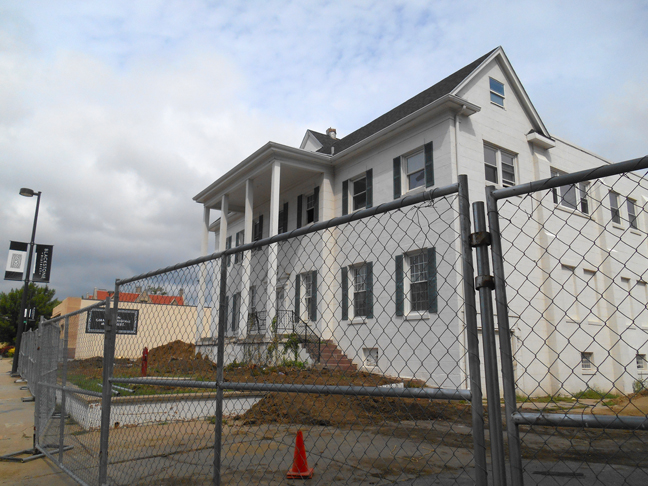 South east view.
I reached out to a Blackstone Neighbor who let me know my informant was correct. Greenslate Development, under the name CDGS 3618 LLC, had purchased the house this spring. They are to tear the building down and have plans to build a six-story apartment complex with commercial at street level. We all know the song and dance by now. The demo began this last week.
So although this will be Very Brief (and the start of a new series, A Passing Glance,) this one's for Jane H. and all other Curious Omaha Types.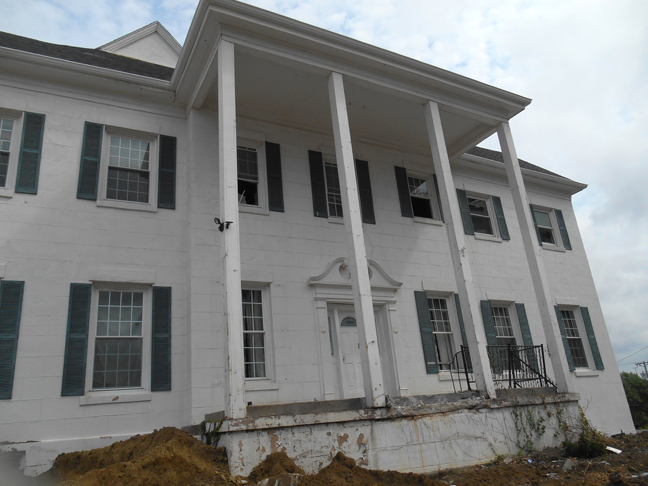 South facing Farnam Street view. I had long assumed this whole front facade, including the odd, too slim Colonial like posts with cement porch were added much later.
3618 Farnam is thought to have been built in 1894, according to the Douglas County Assessor. This was at a time when West Farnam was line with large single-family homes. Some might say, mansions. I am one of those willful, dreamy sorts who like to throw that word around.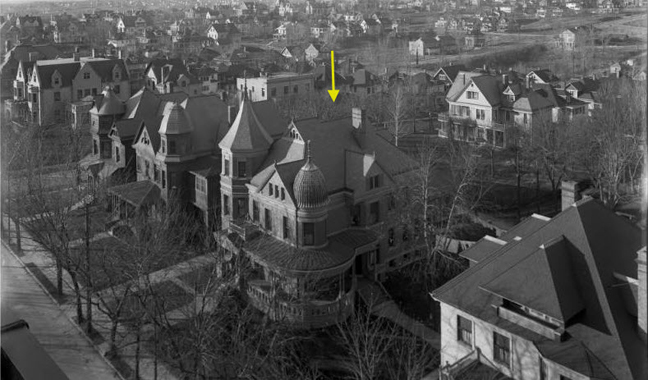 Here is the photo of Farnam that Jane was so nice to send along. The furthest house to the left is the Gottlieb Storz Mansion, located at 3708 Farnam Street, looking much the same as it does today. Jane speculates that the house with the yellow arrow might possibly be our 3618 Farnam, as it was originally known to have a large turret. And the parcel positioning is spot on. Could the original home have been a Queen Anne? Let us continue and I will show you something I found in a bit.
I was able to find that Warren S. Blackwell, a wealthy real estate investor had made 3618 Farnam his home by at least 1900. He might have been the original owner and I will admit I did not dig that deep as this is not one of those exhaustive pieces. (I hope not.) An Omaha resident for thirty plus years, Blackwell evidently made a name for himself selling large farms in Iowa and Nebraska. Blackwell was an active Rotary Club member, involved with AkSarBen and a member of the federal relations committee of the Chamber of Commerce. He surely brushed shoulders with all the Right Omaha People. By 1925 Blackwell and the Mrs. wanted to sell and move across the street into the posh Blackstone Hotel. He ran advertisements selling a full house of antiques and "Oriental rugs." I wondered what furnishings were considered antiques in the mid twenties. I imagined the couple wanting to embrace the Roaring Twenties Modern look for their new digs at the Blackstone.

The small OWH article from February of 1925 states that the couple were to become snowbirds, wintering in the south. The layout of the home is included. It is interesting to note that the porch is not wraparound like the home shown in the photo. Had the porch been altered or was the newspaper blueprint somewhat vague?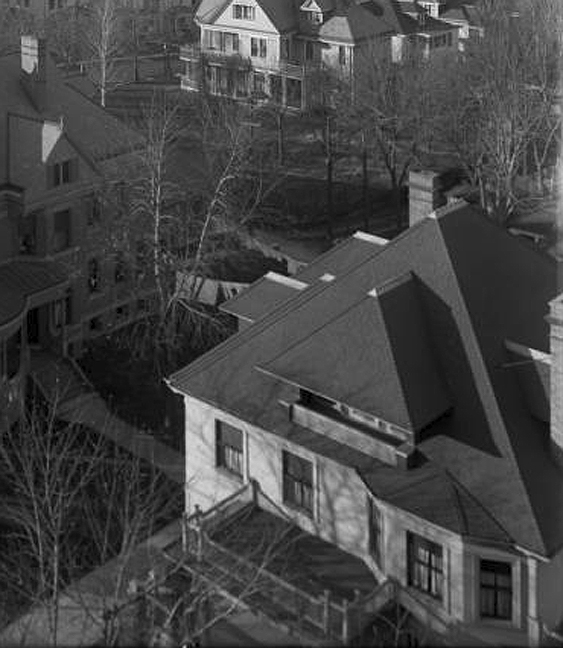 Wasn't it more in fitting with this home, one parcel the east? The porch and roof lines? Or would this home more than likely have been the parking lot to the east of the frat house? (Photo courtesy of the Bostwick-Frohardt/KM3TV Photography Collection at The Durham Museum Photo Archive).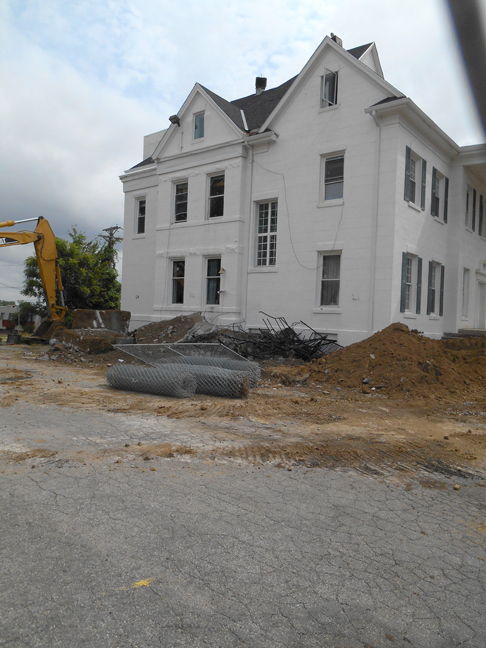 The west side of the building reveals clues to the original home. I believe this whole front side was a later addition. Look at the stone carving on the rear windows. One might never have noticed the west side features of 3618 Farnam if one hadn't yet experienced driving Farnam Street traveling east. It's a thrill I, myself, have yet to experience. After all I don't want Harney Street to feel neglected. Farnam Street is now two-ways through the Blackstone District down to Midtown Crisis area for those of you who now live out of town.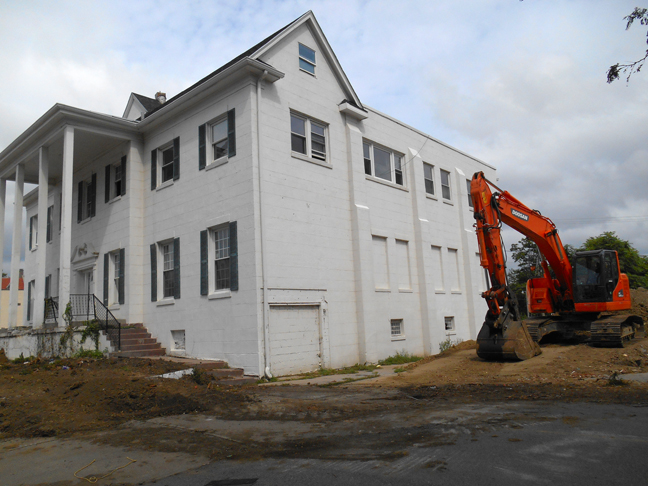 East side, facing 36th and Crescent Moon Ale House at 3578 Farnam Street. Now I suspect this whole wing is an addition or a massive facade, matching the front concept. I would love to see the roof. The soon to be cinder block house had been transformed and contorted so much through the decades, that it was a regrettable eyesore to some and unrecognizable to others.
The Blackwells sold to Mr. and Mrs. John P. Sebree, no doubt the Iowan couple who apparently had no interest in living in the home. The Sebrees made an unforeseen trip to Hot Springs, Arkansas as Mr. Sebree was in poor health. I am not sure that the couple ever saw their plans of 3618 Farnam to fruition as I have reason to believe that Mr. Sebree might have abruptly passed away. In short order, James A. Taggart took over 3618 Farnam. Taggart had operated a well-known funeral home on 22nd and Cuming in the former Loyal Hotel. He was known as a pioneer funeral director in Omaha and planned to refashion the large home into his West Omaha mortuary. 3618 was possibly one of the first of the funeral homes on Farnam Street, a trend leading to the name of Funeral Home Row in the 1940s. After the stock market crash of 1929, as well as shifts in current style, wealthy families were no longer keeping such palatial homes filled with a full staff of servants. A number of the West Farnam mansions would become boarding houses and mortuaries. The funeral business was a good fit for these sprawling homes, as the many formal rooms could be made into receiving, visitation and viewing rooms for a grand mortuary. A family could easily live above their operation. Without doing a thorough search, I believe Taggart's might have been a bellwether to the Farnam Street funeral row in 1926.
In December of 1925, Warren S. Blackwell, age 62, died while in St. Augustine, Florida after having left Omaha just two weeks prior for their first winter escape as snowbirds.
In November of 1926 James A. Taggart, 79, was found dead in his undertaking establishment, the J. A. Taggart and Son Funeral Home. Just six months prior Taggart had moved to 3618 Farnam Street. The family lived and worked in the home. When James did not arrive for breakfast, his son, Arthur, found him in his room in the rear of the funeral home.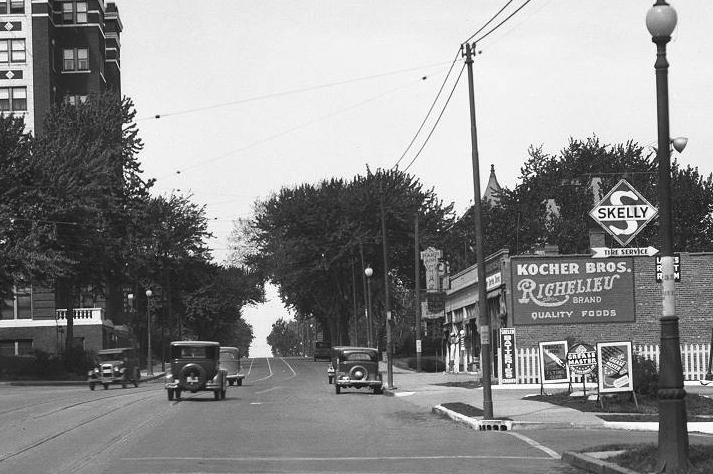 Here we have Farnam Street facing west at about 35th Street. On the left is the incredible Blackstone Hotel. On the right is the building that Crescent Moon and the Frame Shop now occupy. The western most bays used to be a pharmacy and a little diner. It you notice in the distance, in the trees, there is a splendid turret roof where our 3618 Farnam might be hiding. (Photo courtesy of the Bostwick-Frohardt/KM3TV Photography Collection at The Durham Museum Photo Archive).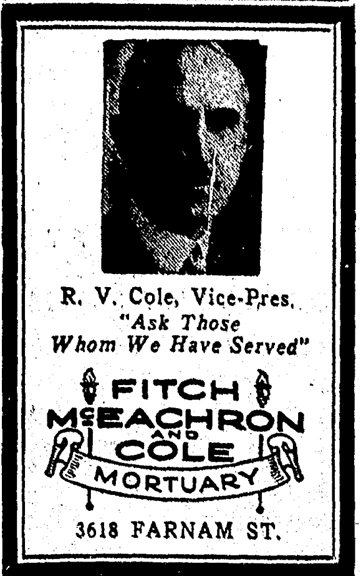 By 1928 Bringe & Nielsen Funeral Home had taken over ownership. I jumped to 1940, revealing Fitch McEachron and Cole had moved their funeral parlor to 3618 Farnam. Later the funeral enterprise would shorten their name to Fitch and Cole Mortuary. In the 1960s they were renting out rooms to "retired single gentlemen in exchange for light evening duties." The mind roams over those imagined details!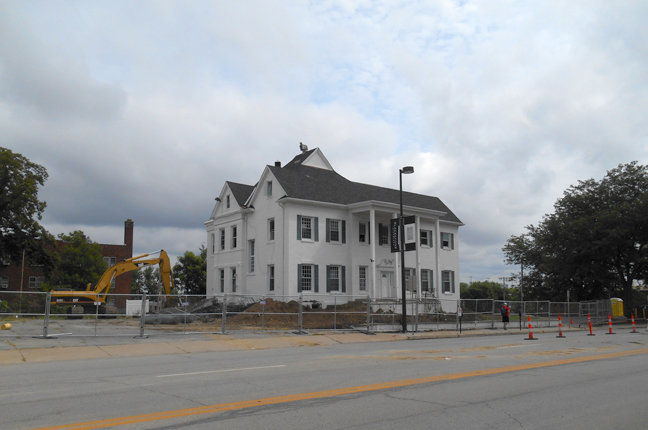 In July of 1987, 3411 Farnam Street, another West Farnam mansion turned mortuary for nearly 70 years, met the wrecking ball. Thomas J. Belford, president of the John A. Gentleman Mortuaries had bought 3411 Farnam in 1957. With his son, Thomas M. Belford, a funeral director at John A. Gentleman, the two sold the 3411 property to Mutual of Omaha, who wanted it for parking. John A. Gentleman in turn bought the Fitch & Cole Mortuary at 3618 Farnam Street, less than two blocks away. As a side note, Belford's son said a curator of the Douglas County Historical Society removed items from the mortuary including woodwork, doors and wallpaper.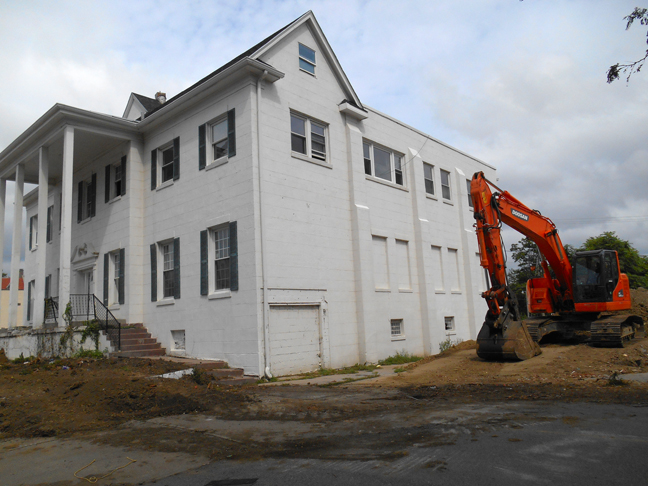 This garage door was thought to be a part of the morgue delivery. File Under Fascinating: Under the Belford-managed John A. Gentleman Mortuary, I read an interview of a night attendant, living in the funeral home, who claimed that the lights of the mortuary would turn on by themselves and that the elevator ran through the night without explanation. Are there any other attendants who would be willing to speak to this or any fraternal brothers, for that matter?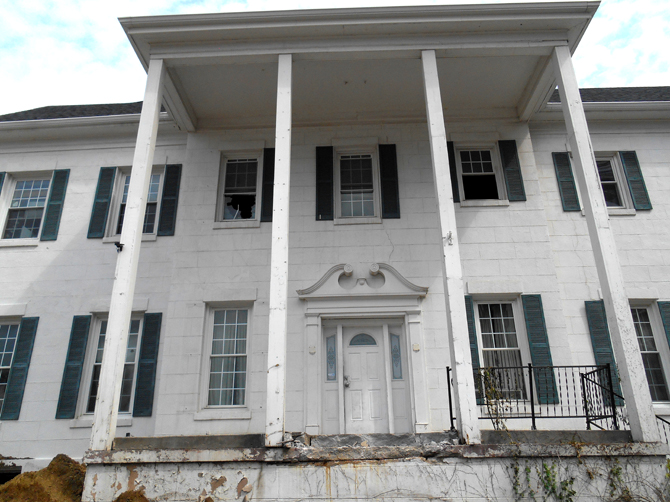 In 1999 Keystone Properties bought the mortuary. I am not sure if they were considering renting out the rooms as apartments or if this was a flip, because by 2000 the Phi Psi fraternity house had taken over. The Phi Psi Fraternity was a Creighton University organization. You might remember their antics from nights spent at the Crescent Moon Ale House or maybe you had seen the occasional flag hung from a window while speeding down Farnam late at night. This might have something to do with the sale: http://www.omaha.com/news/education/creighton-suspends-phi-kappa-psi-until-citing-reports-of-underage/article_330845f6-0dd3-11e7-9ff9-7317d0299435.html.It seemed it had been a frat house for as long as I could remember, the mortuary a very foggy dream from childhood. I do seem to recall it being very well lit up when I was young, particularly the front entrance and I was quite interested to know what happened in that big, mysterious house. For more on the mansions of West Farnam and the row of funeral homes, please see Mysteries of Omaha: 3825 South 25th Street and https://myomahaobsession.com/2016/07/26/brothers-lounge-and-the-case-of-the-vanishing-mom-and-pop/.
This article now has a follow-up. Find it at A Passing Glimpse: 3618 Farnam Street Part Two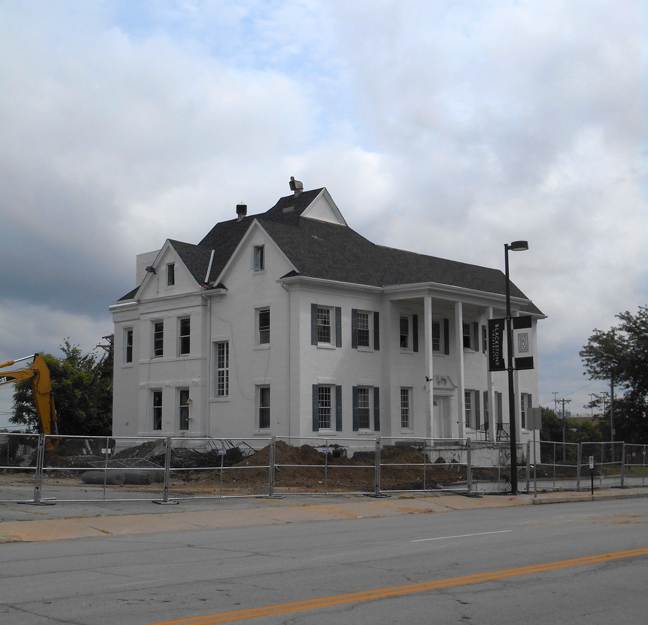 Thank you, thank you, everyone for reading my articles and supporting me. It means so much to share this obsession with houses and their people with all of you. I welcome your feedback and comments on 3618 Farnam Street and the fabulous Gold Coast area. To comment or read others' comments, please scroll to the end of this page. If you would like to correspond with me privately, please do so at myomahaobsession@yahoo.com or in "Contact." But be assured, everyone would love to read what you have to say and it makes the conversation more fun. You can keep up with my latest investigations by going into "Contact" and signing up for the newsletter. In this way you won't miss a single house and will get an email with every new article. Also join My Omaha Obsession on Facebook for different posts and conversations. Thank you Omaha friends.
© Miss Cassette and myomahaobsession, 2017. Unauthorized use and/or duplication of this material without express and written permission from this site's author and/or owner is strictly prohibited. Excerpts and links may be used, provided that full and clear credit is given to Miss Cassette and myomahaobsession with appropriate and specific direction to the original content.