It is with a heavy heart that I tell our out of town Omaha friends Canfield's announced today they will close. I do love that store. The old Canfield's down at 2415 Cuming Street was a fabulous military surplus store and also had a fine selection of camping gear. I had never seen so many tents. I still remember the very first time I rode the city bus from Benson to go inspect their amazing military surplus collection. The store faced north on Cuming, seemed extraordinarily long and had a forever row of windows, (sealed up?) but some with odd display groupings. I think the Canfield's signage or maybe the whole north elevation was a yellowish color, in memory. To this day I have yet to see another store that well stocked with vintage military gear. I was obsessed!
It soon became my teenage oasis, along with most of Downtown Omaha. Canfield's was packed to the gills in a musty 1940s museum fashion, primed for anyone who loved to dig. They had long tables stacked high with every kind of military pants and that is where I fell in love with Vietnam Era Anything. My favorite found treasures were altered and hand stitched with magnificent thread. The handiwork held the clues. There were also boxes and boxes on the floor of berets, canvas belts, gun shell cap belts, Garrison caps, German tank tops, Army tees—all of the best, worn out, most lovely, well made uniforms in the world. Piles of it. Canfield's charged next to nothing for these relics. Nowadays I would surely be accused of stolen valor because my love was deep and I got very creative with my costumes. A gas mask bag made a fetching purse, an Eisenhower jacket looked tres chic covered in vintage rhinestones pins, and Vietnam era Marine fatigues were the perfect soft, summer cut-off shorts or refashioned into a skirt. Their pea coats (the old, real wool ones, with the chin straps!), flight jackets, field jackets and parkas were divine. My grandmother would confess years later that she secretly loved telling her girlfriends that her sixteen year old granddaughter had asked for "real combat boots" for Christmas. And they did look so good with fishnets.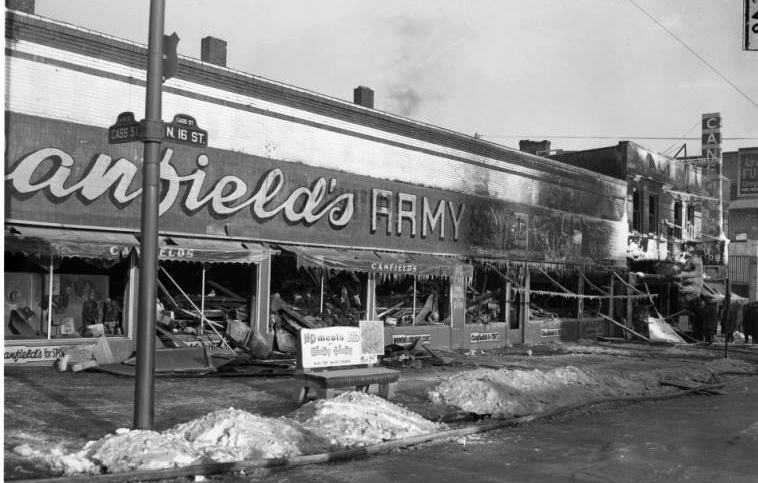 The fire at the Canfield's Army Surplus store on 16th and Cass Street. Store is heavily fire damaged. Creator: Savage, John (1903-1989). Publisher: The Durham Museum. Date: 1962. If you'd like to know more about this area, check out The Strange and Wonderful 611 North 16th Street
I would learn later that the store had been around since the 1940s. They had another location downtown, 512 North 16th Street, before moving to Cuming Street in 1962. There had been a fire and up from the ashes, Canfield's would brush themselves off and reinvent over and over.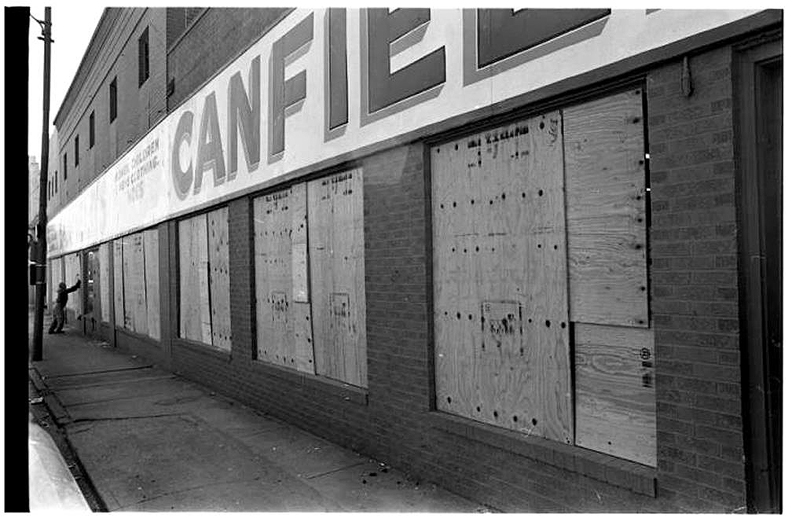 Canfield's boarded up. A man works on the damage of the Canfield's store. Creator: Robert Paskach Collection. Publisher: The Durham Museum. Date: 1968
By the early 90s they had moved out to the 8425 West Center Road location where they are now. It appeared to me that they wanted to expand into sporting goods and get out of the military surplus gig. I will admit, I wasn't their biggest fan when they whittled down their stock and focused more on the sporting crowd…until I met Mr. Cassette. Any person who works outdoors spends a lot of time at Canfield's. That and Haney's in Benson. Dudesville. So there I was, shopping at Canfield's again, multiple times a year, with a new respect for the outdoors crowd. I know that times change and businesses are not meant to last forever but I think their closing is really sad. Canfield's, you will be sorely missed in these parts. Ya done good in my book.
This is only a small part of the story. I welcome your feedback and comments on Canfield's. Please feel free to leave a memory you have in Comments. I welcome you to poke around with your flashlight. Investigate. Hide in the shrubbery. Look under these rocks and down those alleyways. I am more than pleased to have you tiptoe about. By the time you head for home, I hope you have been fully Sherlocked and Satiated. Thank you, detective friends.
You can keep up with my latest investigations by joining my email group. Click on "Contact" then look for "Sign me up for the Newsletter!" Enter your email address. It will then display "Thank you, your sign-up request was successful!" Make sure to check your email address to confirm. You will get sent email updates every time I have written a new article. Also feel free to join My Omaha Obsession on Facebook. Thank you, Omaha friends. Miss Cassette
© Miss Cassette and myomahaobsession, 2017. Unauthorized use and/or duplication of this material without express and written permission from this site's author and/or owner is strictly prohibited. Excerpts and links may be used, provided that full and clear credit is given to Miss Cassette and myomahaobsession with appropriate and specific direction to the original content.