Every now and then I drive along Northwest Radial where it curves into Military Avenue to inspect the Benson of my childhood. Just to make sure everything is still in order, I suppose. I find it is all pleasingly up to snuff, starting many doors south of the classic Jerry's Bar. Compared to numerous thoroughfares in Omaha, I've been amazed that the businesses, church, school, parks and homes found neck and neck on Military Avenue, all the way up to 72nd are almost identical to how they appeared in the 1970s. And if I might add, even tidier.
By the time my family moved to Omaha, Jerry's Bar had already earned its stripes with the natives in one of the many boltholes of Benson. It could be said that Jerry's was/is the epitome of the old school neighborhood tavern–small and beloved within its insular group. In recent years Jerry's has risen to the auspicious title of dive bar, my favorite kind, but as a child there was nothing remotely disparaging or kitschy about the place. The Jerry of Jerry's Bar was our friend's father but to us, he was always Mr. Whalley. Jerry's Bar elevated our pal, Gary Whalley, to a sort of local childhood celebrity status. After all, not everyone's father owned a business with his name on a cool sign in lights. Seemingly this adult nightlife enterprise carried a mysterious air that we kiddies could not fully puzzle out.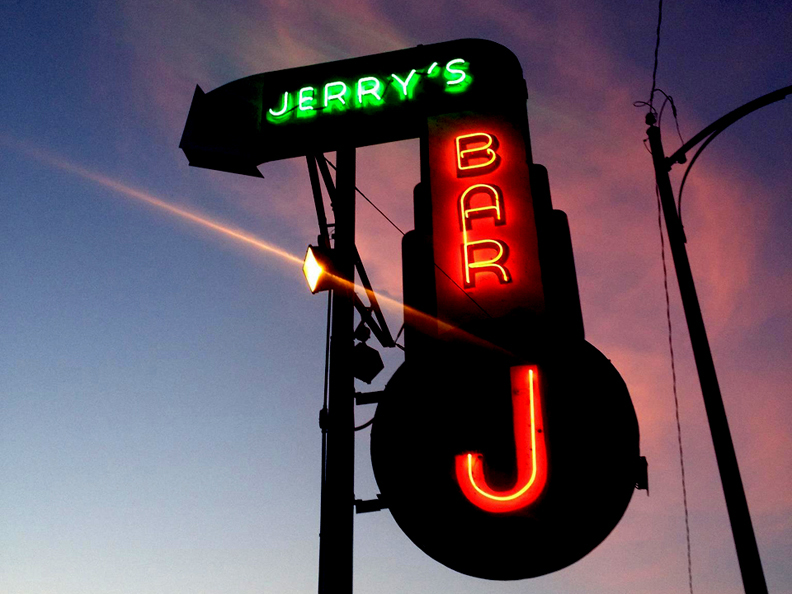 These modest types of mom and pop barrooms never ran print ads for more business. No need. A small, steady, parochial trade was enough in those days, as long as the regulars were regular. A cozy tuckaway established in a well-populated block offered up a community refuge– the welcoming spot between home and work. The interior décor of a barroom, sometimes of no particular beauty to anyone but the locals in that part of town, worked in tandem with the bartender-owner's personality, creating a cultural reflection of time and place. I have always felt passionately about these authentic nooks left to their own devices. It is interesting to think about the venerable corner bar of yesteryear in Everyman Neighborhoods, all over America…pre-internet. In each case the soul of the saloon was shaped and cultivated, whittled by The Regulars' opinions, tastes, changing social standards, life experiences and true spirit of community. Did you happen to wander into a neighborhood bar in an area that you weren't from? I've heard it could be downright uncomfortable. Whereas a welcoming, Just the Right Fit feel could earn a bar one of the greatest honors bestowed by any tippler: "This is My Home Bar." Jerry's Bar had found its denizens early on in the nearby St. Bernard Catholic Church crowd, the neighbors, the nearby service repair workers, the postmen, the shopkeeps and businessmen of Downtown Benson.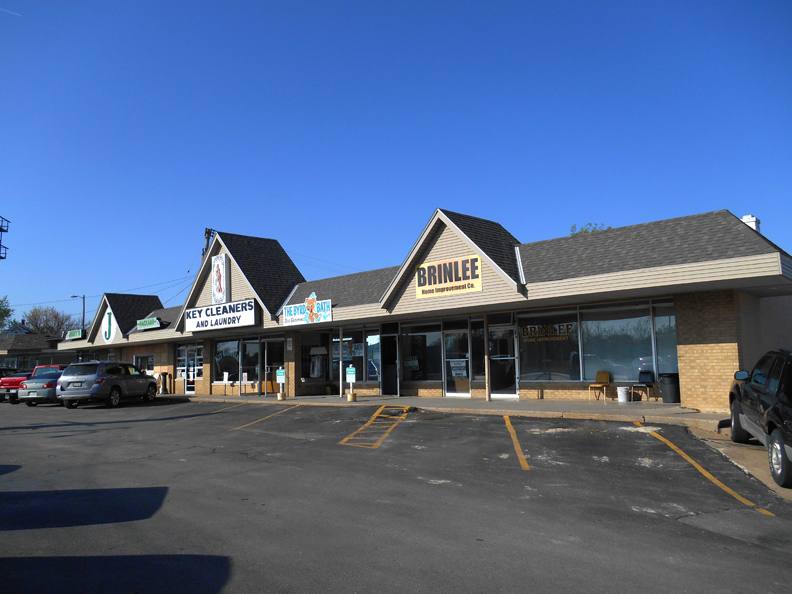 In the light of day Jerry's Bar seemed like an altogether different place–very close to home, stationed between Spencer and Wirt Streets and one that I was relatively comfortable with when it wasn't all lit up. As any child living within a twelve-block radius would acknowledge, Jerry's Bar and the surrounding businesses were our stomping ground. We would cut across the parking lot on our epic adventures through hidey-hole Benson, where on occasion, we might catch a glimpse of Mr. Whalley and wave. Father of Miss Cassette and one of his friends would meet infrequently at Jerry's Bar, as it was stationed in between our family homes. I think a friend's father also took us to Jerry's after one of his ballgames or was that Tiger Tom's Pub up on 72nd? It was Pretty Male in the daytime, mostly Neighborhood Joes, ventilated with the traditional hints of staleness, Old Spice and cigarettes, like bars used to smell when everything was right and good in the world. Unlike my early Louis' Bar chili footlong memories, (which you can find at Louis' Bar Memories) I do not have strong remembrance of hanging out very often with pops in this bar. Maybe once or twice. Perhaps I was slid a bowl of unmemorable popcorn or pretzels, although I've been told Jerry would fire up a very small grill in the back for special occasions only—serving hotdogs or hamburgers.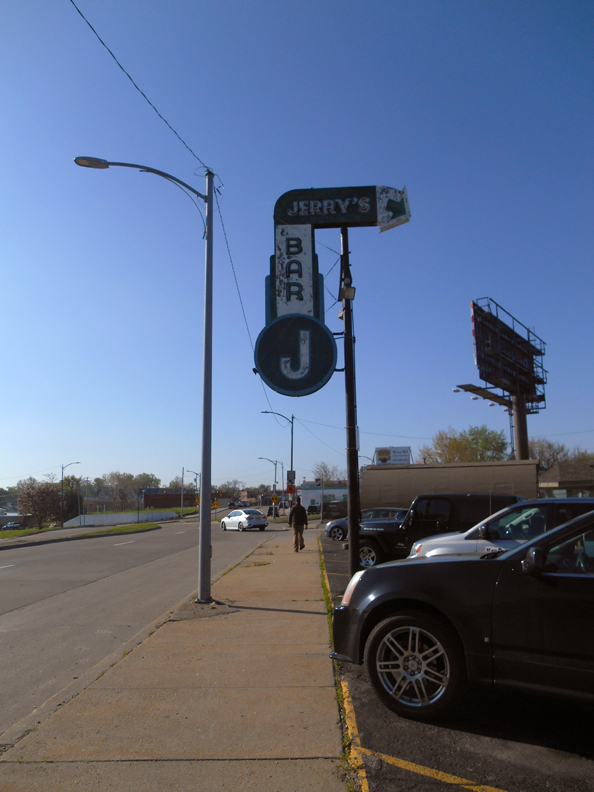 The clear echo I do hold of Jerry's Bar is so strange and funny to me. On one Saturday or Sunday afternoon a trio of us neighborhood girls were sent up to Jerry's Bar to deliver a note from one of the girl's mother to her father, who was presumed to be enjoying some peaceful Away Time. The look on our nervous, awkward faces as we opened the bar door was probably only matched in trepidation by the incredulous look of the girl's father when presented with the domestic ultimatum. No music. No television. Was there a hint of snickering I heard amongst the clinking glasses and suddenly hushed conversation? For all I know the Mrs. was simply requesting that the Mr. pick up a quart of whole milk on the drive home. I have often wondered why she didn't ring up the bar and what exactly was in that note.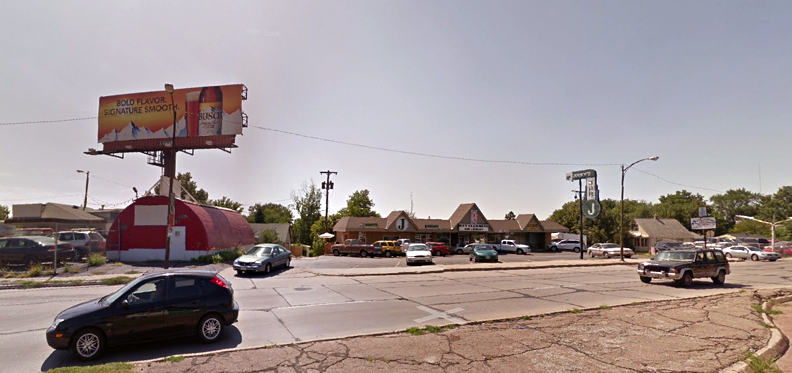 A Mini Tour
Before I was a Downtown Teen-Explorer, I was a Benson Child-Sleuth. The quirky environ offered up was so varied, with so many strange businesses and true characters everywhere we looked. In truth there was always high adventure to be had, no one looking for us and we all wore our house keys around our necks. One of the many great things about growing up in the 70s was that there were still pristine environments everywhere you looked– untouched interiors found in grocery stores, department stores, factories, banks, barbershops, bakeries and libraries from the 1940s, 1950s and 1960s. We knew we were living in the shadows of the once stable Town of Benson and it was divine. The Military Avenue and the Northwest Radial wraparound seemed like The Thoroughfare to the Epicenter of Omaha–the continuity to my Benson childhood. Year after year nothing really seemed to change.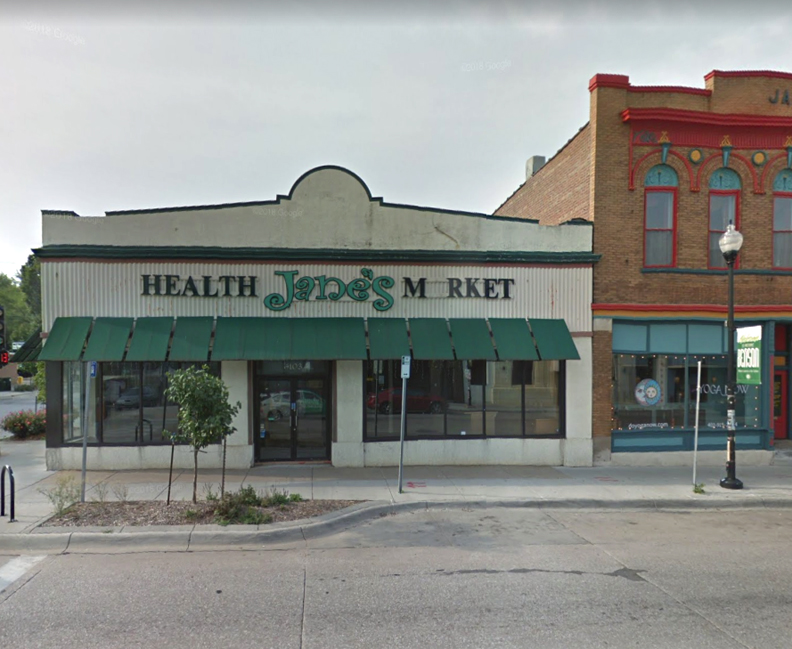 Some of our best adventures were on foot or bicycle gangs headed toward Downtown Benson proper on Maple Street. Sprague Rexall Drug up at 6103 Military (the locals called it Sprague's) was a kids' destination spot for their wide selection of candy. Really the only place to find candy unless we went the opposite direction to the new-fangled Kwik Shop on Ames Avenue. But we liked the feel of the authentic, small town Benson. I believe Sprague's still offered a soda fountain. The drugstore's endcaps and fixtures were securely rooted in the 1940s or early 50s. I thought it was a dream come true and oddly one that often sent me into gales of girlish laughter. I remember looking at makeup for the first time without an adult present and it was so bewitching. The way Sprague's displayed their limited cosmetics was definitely of another time period and to memory, it seemed like all of the customers huddled therein were at least 100 years old. The poor, sweet cosmetic's saleswoman appeared a cohort of her aged customer base and found our giggling ways concerning. I cringe now to think of it because we in fact, loved the place dearly. Sprague's itself, was well over 100 years old by the time my best friend and I started investigating their wares.
Allow me to back up. Our time travel missions to Sprague's involved passing the Grace Young Park, to the north of Jerry's Bar, which we thought of as Scary Park. 6317 Military Avenue. If this was your favorite childhood park, please forgive me. This was before the city parks department displayed the names of public parks everywhere in Omaha. We didn't know it had a name; just a neighborhood park that had very little to offer, almost no tree coverage, full, blinding sun exposure and to memory, it was on an incline. It seems that teens laid claim to this building hangout and somehow, in recollection it seemed threatening. Our little gang was patently committed to Benson Park.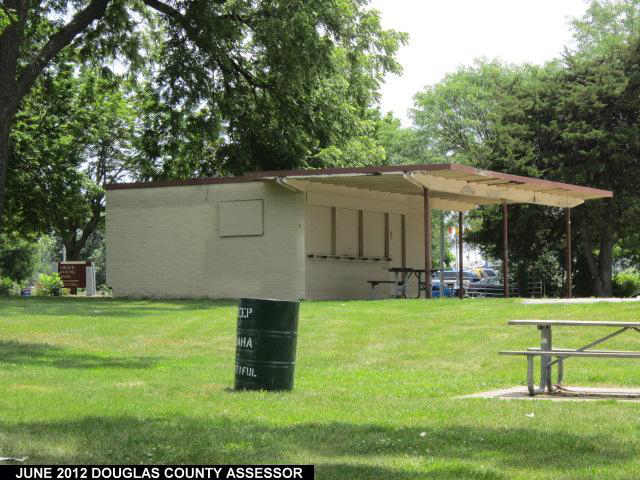 Photograph borrowed from the Douglas County Assessor's site.
Next up was 6311 Military Avenue–always a vague used car lot. Dallas Motors was there throughout the 1970s, maybe others. When we bicycled through, we would try to touch the multi-colored plastic pennants they had laced from pole to pole.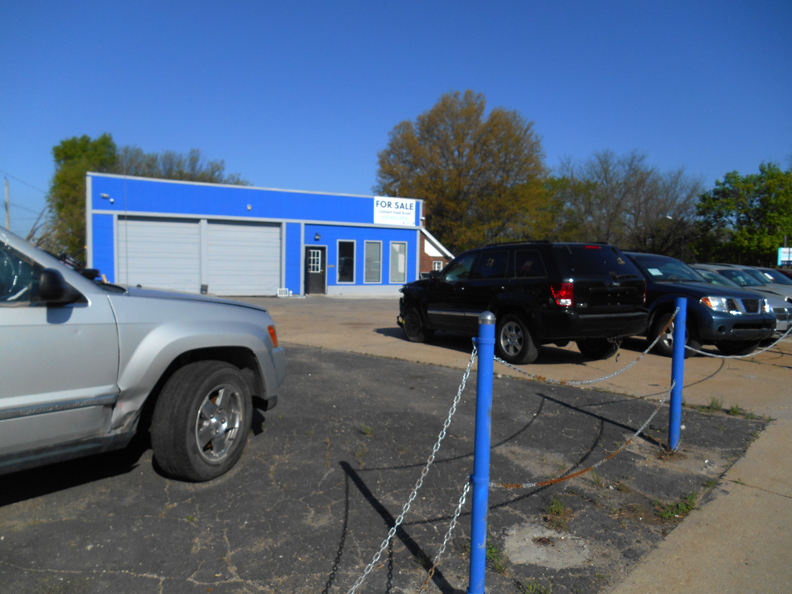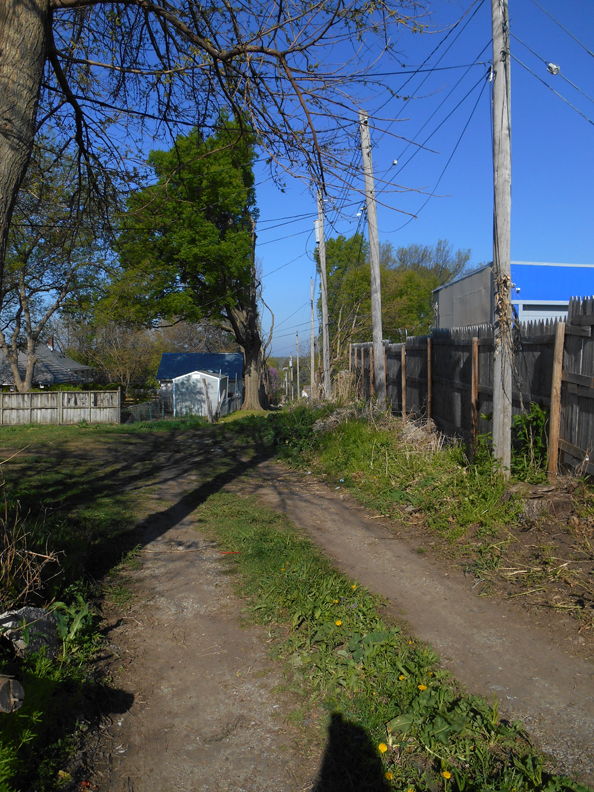 There was a great and winding mystery alley, like so many throughout Benson, that weaved through the businesses but also led to the neighborhood to the west. I remember this being gravel or paved in some manner long ago. Now it looks like no one really uses it any more. I used to love to find secret alleys, especially when they were incorporated into a friend's backyard.
The Star Service and Petroleum built in 1970 was at 6309 Military Avenue. Later named the Sunshine Service Station. My father would stop here for gas throughout my grade school years. I think they offered an attendant who would pump gas and wash windows. I still remember shivering in my father's California Volkswagon at the Star in the dead of winter, watching with big eyes as someone scraped ice and snow from the windshield. It's so funny what we hold on to.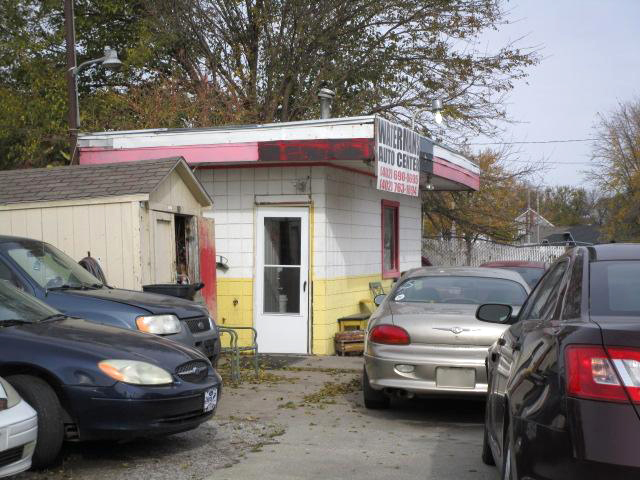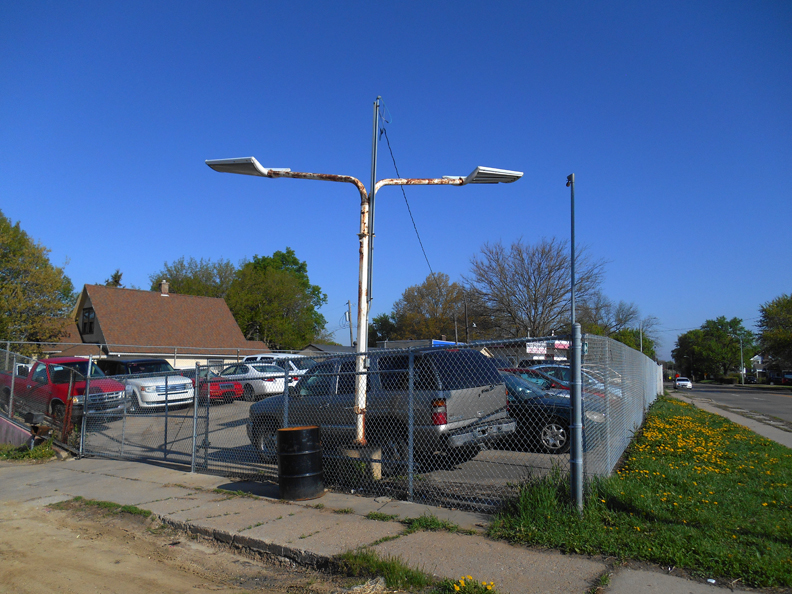 Look at those lights. I believe there were a series of these.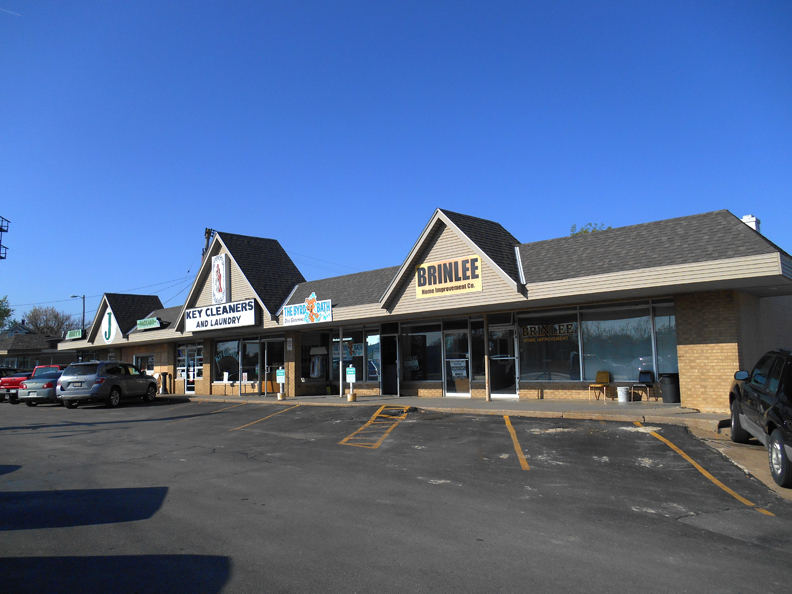 Jerry's Bar at 6301 Military Avenue shared close quarters with Key Cleaners (6305 Military Ave) and Subby's Barbershop (6307 Military Ave). This simple Mid-Century Modern strip mall, I believe, was flat-roofed when I was young. The businesses had their various signs attached to a lip on the roof. I might be wrong about that but I think the faux front-facing gables and laminate were added later, long after I had moved away, in an attempt to dignify and modernize. And maybe you already know what I think about things like that.
**Update:  After a thorough survey of the DOGIS site, it would appear that the new gabled façade was added in the early to mid 1990s. If anyone has a photo of the original building or Jerry's Bar that they would be willing to share in this article, I would be so happy.**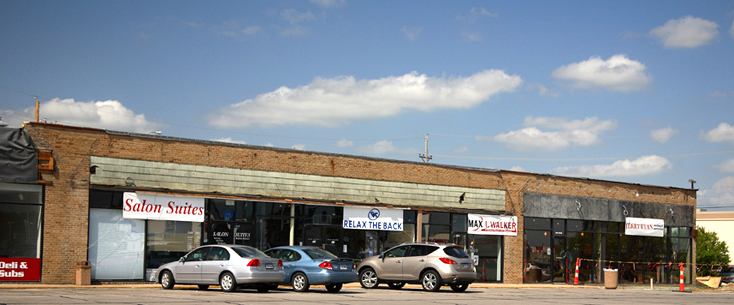 As an example of how I remember the Jerry's Bar building looking, I put forth the Beverly Hills Plaza at 7810 Dodge. This midtown, flat-roofed Mid Century strip mall also fell prey to the pitched shingle roof look for many decades. Then one day they tore it all down and we all got a gander at the perfection once intended. Alas an even worse look in the Contemporary Faux Industrial Bungling Trend was to come. But here it is during renovation time and this, dear friends, is how I remember Jerry's.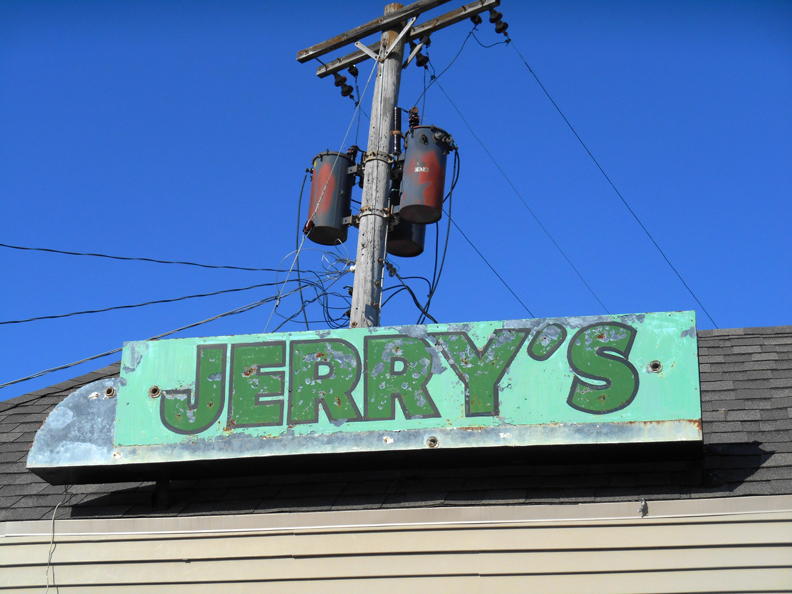 Back in the day, the two signs that read "Jerry's" and "Package" were simply attached to the 1950's roof. They were original to Jerry's, like the iconic front neon sign. Of note these three to four businesses in the early strip mall were positioned at the meeting of 63rd Street, Military Avenue and Northwest Radial Highway, book ended by Spencer and Wirt Streets. It was all sorts of weird and wonderfully Benson city planning.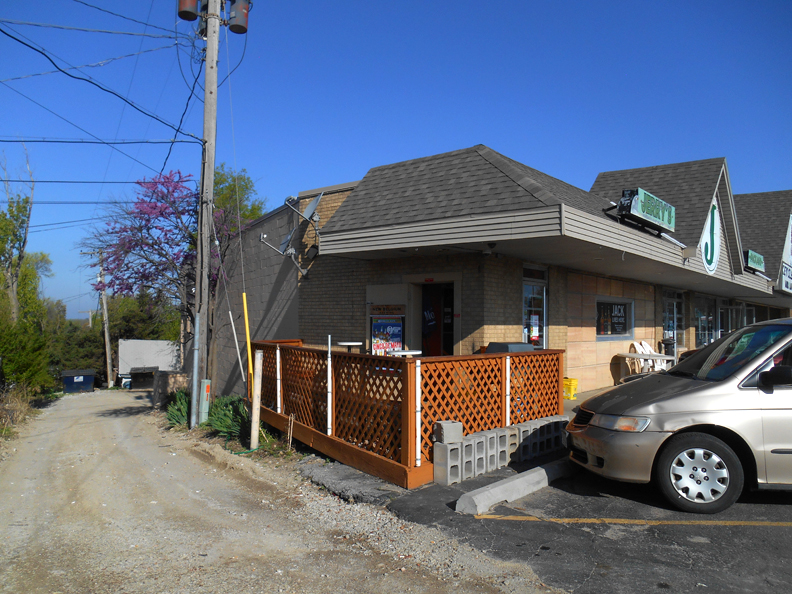 I include this southern elevation of Jerry's Bar to show what I believe is evidence of the original roof peeking out from under. Another great example of a Benson mystery alley. Just gravel and dirt. I adore these simple pleasures.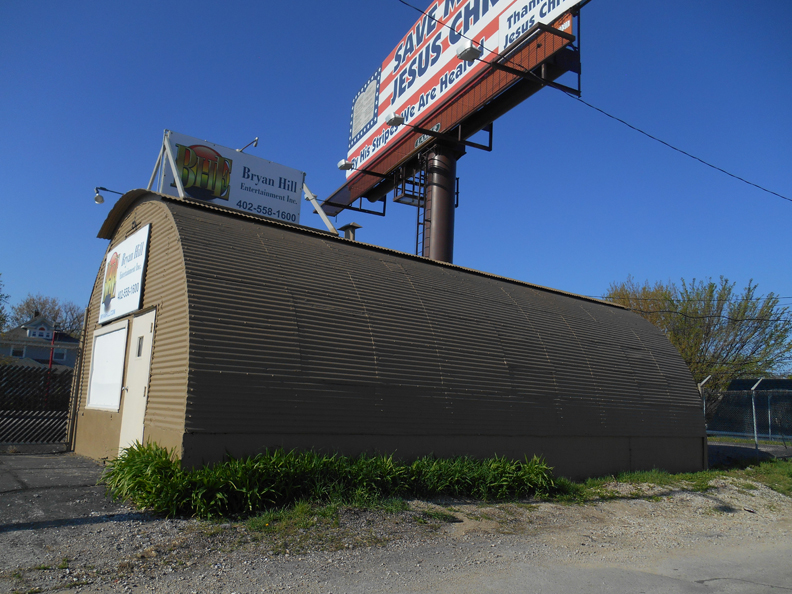 This curious Quonset hut, at 3106 North 63rd Street was placed directly to the south of Jerry's Bar.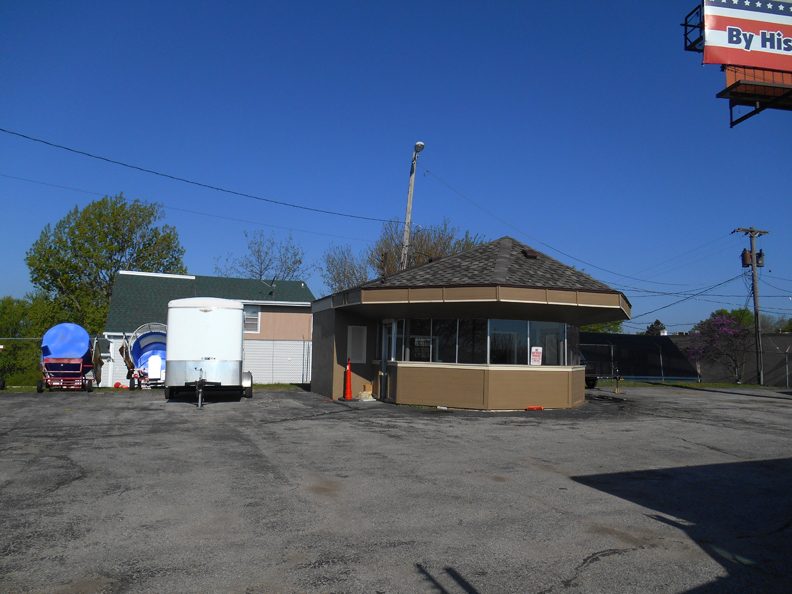 The hut and the smaller building behind served as another used car lot in the recesses of my mind. One of my favorite characteristics of Benson was/is the placement of these random-seeming structures without too much fuss regarding appearances.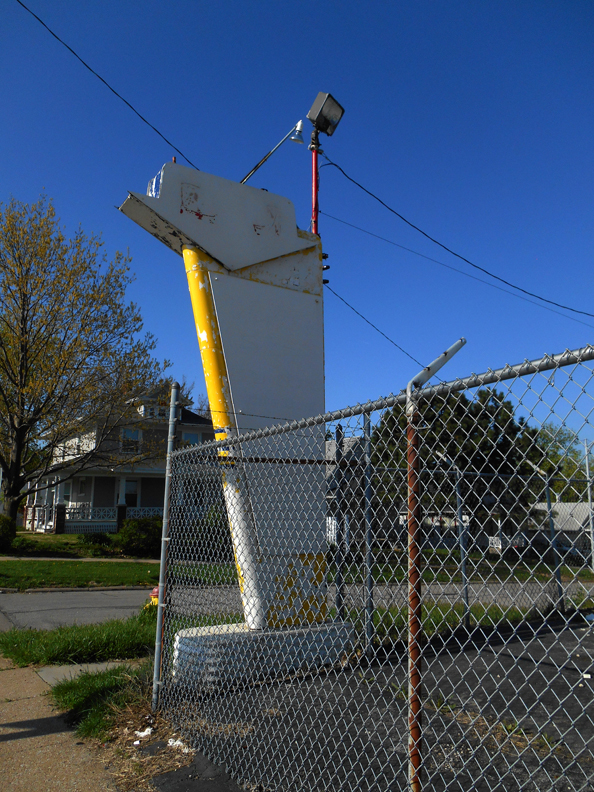 I am also dazzled by this fenced-in arrow sign–also a relic of the once used car lot. Note in the background are some very pretty homes along this path.
**Addendum of May 13, 2019** This just in from Detective Glenn: "The Arrow sign is from John Markle Ford, circa 1963. It was where the truck lot was, my Dads new 1963 Econoline Ford Van came from that very spot." For more Benson details from Glenn, check out his addition to "Comments" below.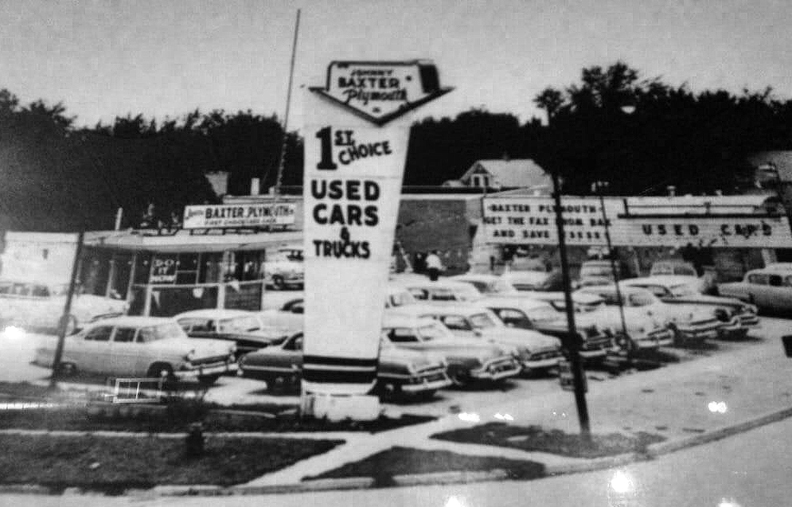 **Addendum of May 13, 2019**Rob Rutar shared this historic Johnny Baxter used car lot photo from 63rd and Wirt/Military. This photo is circa 1955-56—thanks to My Omaha Obsession buddies, Nick Hoesing and Tim Pearson for their estimates on this time period. One can see an earlier view of the arrow sign in this photo, as well as the flat-roofed Jerry's Bar 6301 Military brick building in the background—at that time, home to Liesche's Bar. Also visible is the Baxter office, originally a smaller MCM flat-roofed office including the mysterious Quonset hut. Photo lent from Rob's private collection.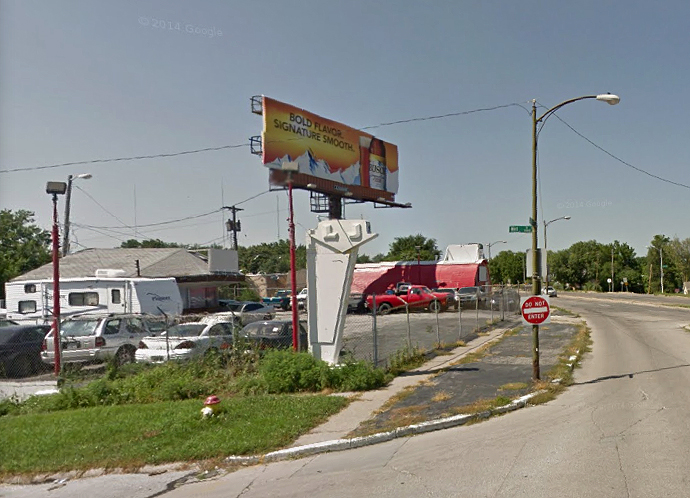 I include a 2014 angle of this same ghost of a used car lot as the previous photo to show the 80s or 90s addition to the Baxter office roof as well. Unfortunately this Mega Billboard really overwhelms the whole area and my arrow sign obsession is reduced to a child's lemon-aid stand sign.
I hadn't realized it when I was younger but this curved swath was a new and used car lot district, as well as a string of auto service stations. The rest of the strip all the way to Maple offered up even more service stations and historic remnants of the auto industry along this corridor. The buildings remain intact to this very day and many uphold their original function, offering fascinating clues to 1910s-1950s Benson. Long Live These Everyman Gems of Benson.
You've allowed me this frolic for far too long. Let's get back to the bar and beloved stools that brought us all here.
A Brief History of the Jerry's Bar Property
In July 1922 The Shapen & Company attained a building permit for a frame dwelling at the site of pre-Jerry's Bar. This $3,750 structure was later described as a large six-room home. George Horn had the idea to build a one-story brick building next door to the house by 1928. By 1929, his George Horn Groceries was selling the "Benson standard," even in my day, classic Gooch Macaroni. The Horn family resided next door in the early 20s frame house. This expansive property at one time included three and half lots, counting the brick store and house. The Tuchman Brothers, of the Tuchman local grocery franchise, would acquire the brick grocery store by the 1930s.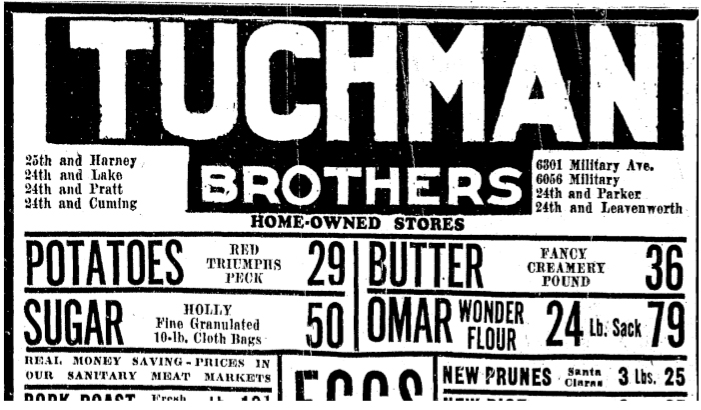 OWH. 1930 Tuchman Brothers owned a little slice of the grocery store market with their eight stores in Omaha. One location was at 6301 Military Avenue.
Subsequently this grocery store would change hands again or perhaps just names, as it was the Military Market for years. Al Liesche had no doubt surveyed the fine three lots, just north of Downtown Benson. He could obviously see that a flat-roofed Mid-Century Modern strip mall right on Military and Northwest Radial Highway at the crest of the slight hill would be in plain view of Everyone. Or was the Northwest Radial even constructed yet? In 1955 he made his application to build a "nonconforming building." An early strip mall, his flat-roofed, pale brick building could easily house four businesses. As one can see by observing all of the surrounding buildings in the area, Liesche's contribution to the Benson business district was very sleek and modern for the times.
Previously I found Al Liesche had applied for liquor licenses for taverns at 7005 Military Avenue and 2733-35 North 62nd Street. He would open Liesche's Bar after his namesake, in the exact spot, on the corner where Jerry's Bar is now located. A aerial survey of the building reveals that Liesche cleverly constructed his brick building at an angle, to give as much front elevation exposure to passersby.

2013 Aerial photo borrowed from the Douglas Omaha GIS page. Camera is facing west. The larger building with the white roof is the site of Jerry's Bar. Note the interesting street plan.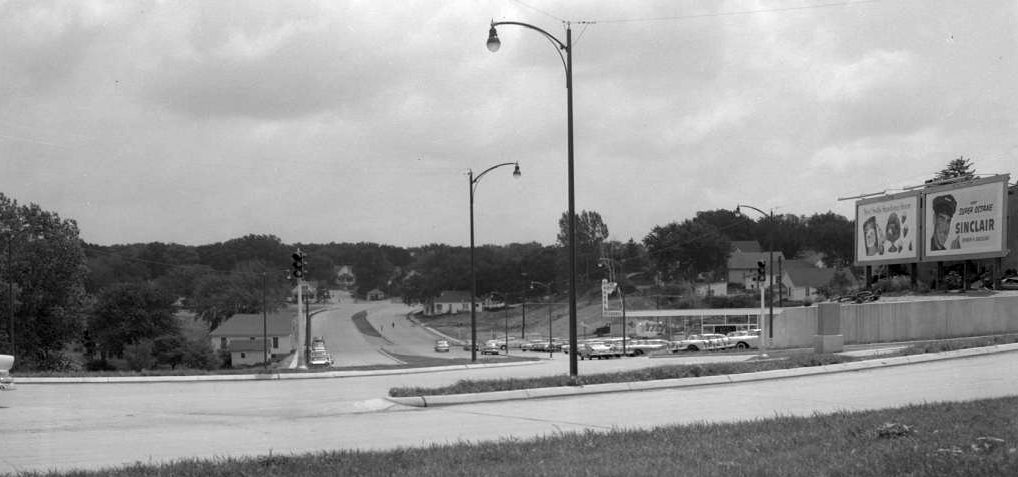 The western end of the "new" Northwest Radial Highway, where the road turns north onto Military Avenue at about 62nd Street. Markel-O'Connell Motors is on the right. Camera is facing east. Creator: Savage, John (1903-1989). Publisher: The Durham Museum. 1957
Not a lot could be unearthed about Liesche's Bar. I've got to assume it was the cozy corner stalwart much as it has always been since. Northwest Radial was soon to be paved and I know from the initiation date of development in my own Benson neighborhood that many of homes clustered around Liesche's Bar were built in the 1950s. A community center was needed and invariably Al Liesche found his neighbors for his neighborhood bar. I couldn't help but wonder what were the idiosyncrasies that made Liesche's Liesche's? Cool barstools? Raving drunks?

Some good times rolled at the Leische's Bar (sic) as evidenced by Robert List's cut left eye and two black eyes when struck by an assailant at 12:05 a. m. on a Tuesday in the winter of 1958. I do love to read those old reports.
Mother of Miss Cassette remembered going on an early date with Father of Miss Cassette to the bar at 6301 Military Avenue. It wasn't yet called Jerry's. She recalled it being pretty popular whatever it was, with a kind of hip name. I found evidence of a Mac's Bar in the location in the mid 1960s. Sometimes called Mac's Tavern. Mrs. Whalley would later tip me off that "Mac" was nicknamed for his last name McGrath. There was a humorous article describing an Omaha parade back in 1967 that is telling of the tired, the poor, and the huddled masses that, perhaps, called Mac's Tavern their "Home Bar." It read, "Committeemen took one look at the 'gentlemen' on the float from Mac's Tavern guzzling a pony of beer and quickly moved them farther away in the line of march from the float bearing 'Frances Willard' and the ladies of the local chapter of the WCTU." Fun to visualize this teetering Mac's group on a moving float!

2006 Aerial photo borrowed from the Douglas Omaha GIS page. Camera is facing west.
In May of 1967 the four businesses of the Liesche strip mall were unfortunately damaged when a fire swept through, originating in the rear of the James Arcebauer's Benson Venetian Blind Company. The fire burned through a double wooden door, headed for Coniglio Dry Cleaners (now the Key Cleaners' location). Damage from smoke and water would carry over to Mac's Bar and Frank's Fruit Market. "Alfred Liesche of 4504 Ames Avenue" still owned the building. Irvin Baumwart was interviewed as manager of the Coniglio Dry Cleaners.
By February of 1968 Mac's Bar, Inc. was letting go of their liquor license at 6301-6303 Military Avenue.
Welcome to Jerry's Bar
Jerry Whalley was a confirmed Benson boy made good. He was raised right down the street from Jerry's Bar on Wirt Street. A graduate of Benson High School, Jerry would serve in the U.S. Army from 1955 to 1957 around the time that Al Liesche was introducing his MCM building to Benson.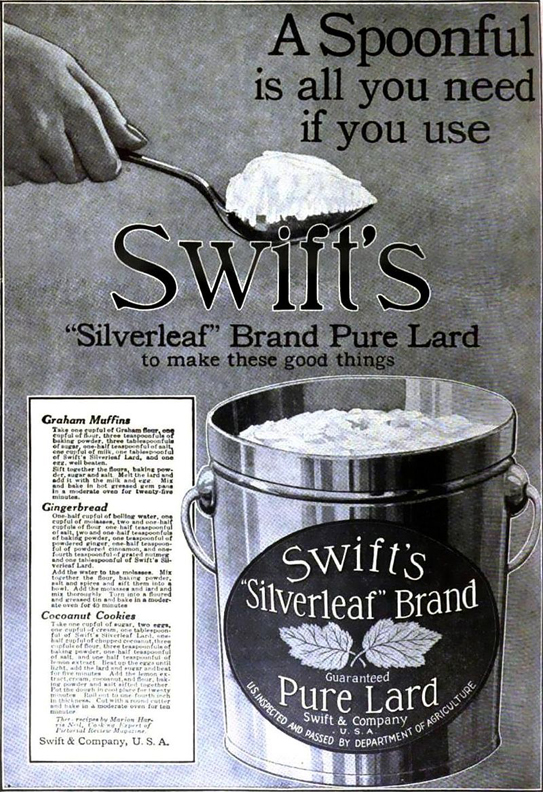 A once well-known American company, Swift and Co. made it big with their lard product in 1916.
After attaining a business degree from UNO, then called Omaha University, Jerry and wife, Joyce, would relocate to California where he worked as a "lamb buyer" for nationally known Swift & Company. But he dreamt of starting a business of his own. As the story goes, the Whalleys were just back in Omaha visiting Jerry's family when he ventured up to Mac's Bar. Now it should be noted that Jerry was not from a bar family nor did he have bartending experience. On a whim he stopped in the classic corner bar and asked if "Mac" McGrath would ever want to sell. Unbeknownst to Jerry, Mac had cancer and would soon be leaving the bar business.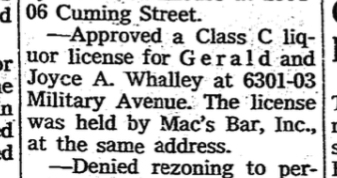 OWH. February of 1968 Joyce and Gerald "Jerry" Whalley applied for a license and the rest is history. The young couple bought the neighborhood watering hole, changing the name to Jerry's Bar.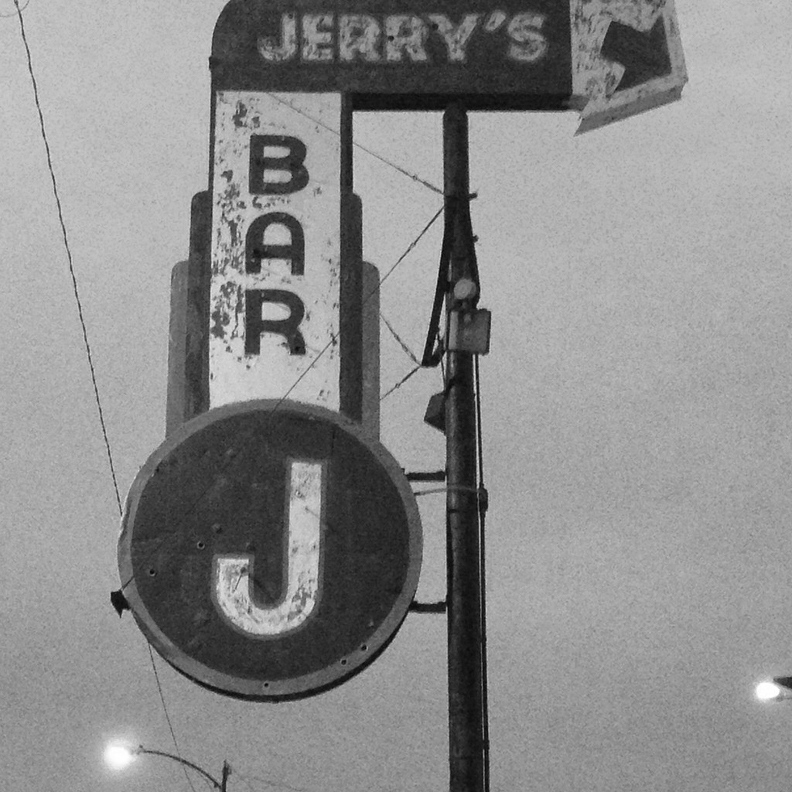 Because I am obsessed with signs, I was most interested to know where and when the Whalleys ordered the classic Jerry's Bar sign. In my interview with Mrs. Whalley, she could not recall who designed and fabricated the Military Avenue favorite. She is also didn't remember if they ordered it right away or at what point. I would guess it was from early on—late 60s or very early 70s at the latest.
The Jerry's Bar Archives
Mrs. Whalley allowed me to share these intimate photos of the early Jerry's Bar crowd. These photos offer a rare glimpse of the early Jerry's interior, perhaps even remnants of the Mac's Tavern days.  Her son, my buddy Gary, was so wonderful to go through the family albums and select these for this article. What follows is from the Jerry's Bar Grand Opening from May of 1968. As you will note, this was months after the couple acquired the bar. Perhaps it was a brutal Omaha winter that pushed the opening back?  This is not surprising to any of us Omahans.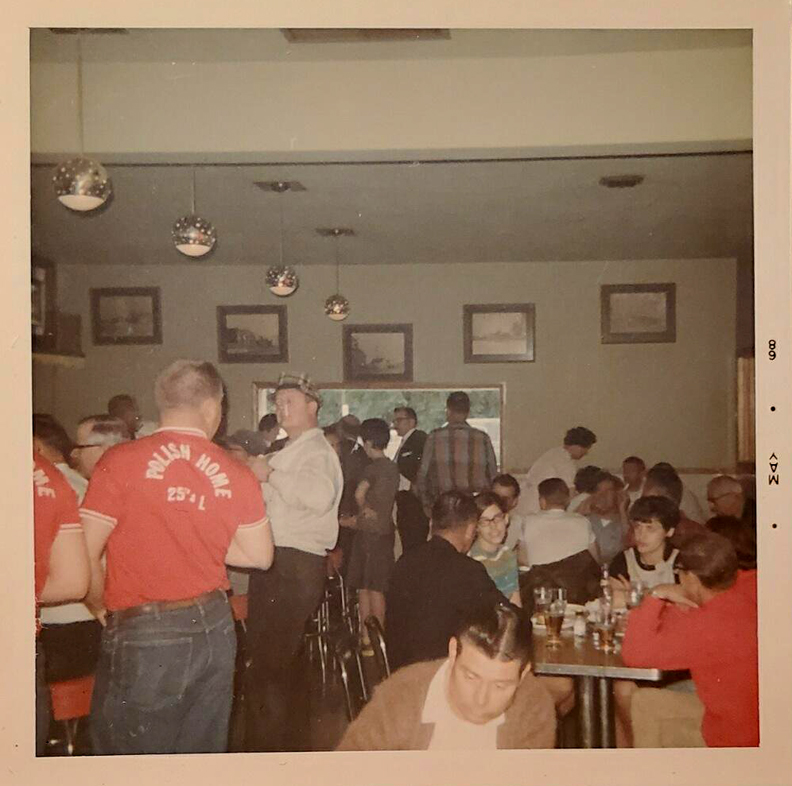 Note the red "Polish Home 25th and L" shirts.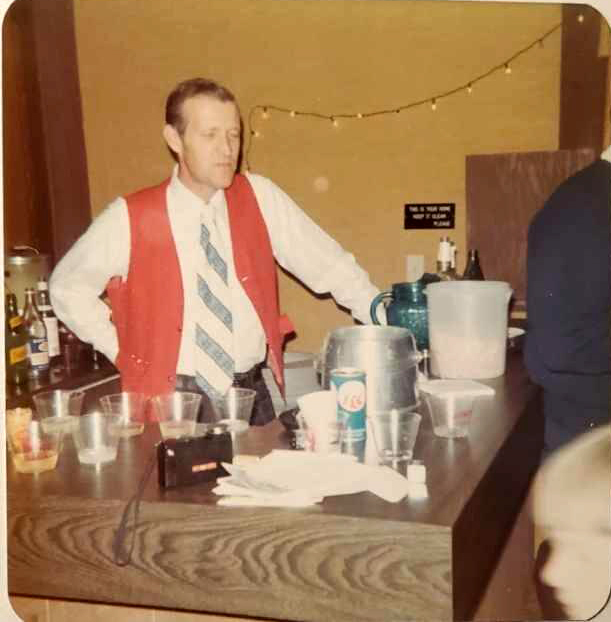 Theeeeeere's Jerry! Or in my case, Mr. Whalley.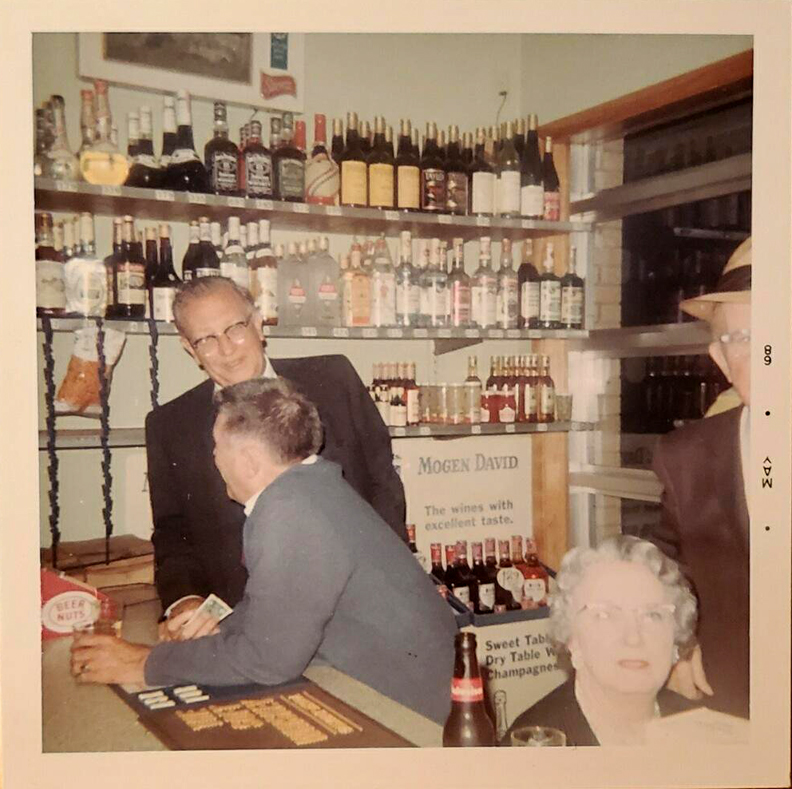 The gentleman standing is Joyce Whalley's father, Arthur "Art" Jensen. A South Omaha at the Stockyard Exchange. The woman in the foreground is Joyce Whalley's grandmother.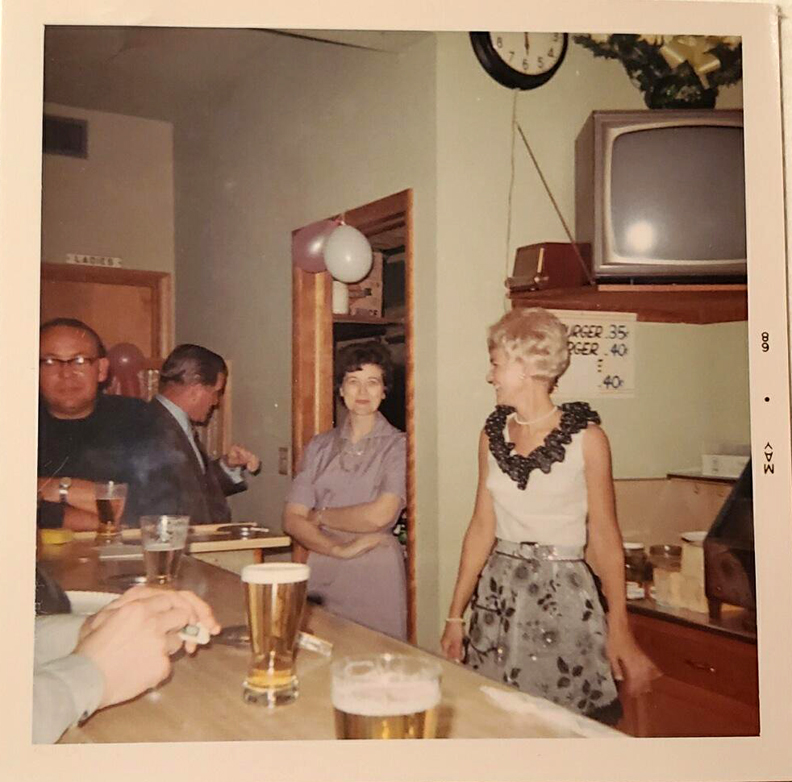 The blonde woman in the great party dress is the ever stylish Mrs. Joyce Whalley. I covet this skirt and frilly neckline. The attractive brunette in the doorway is Jerry's sister, Virginia Abel.
I love the MCM hanging space-age orbs as well as the hat stand-coat racks attached to each black booth. Notice the pale, half-tiled walls in the distance and the red barstools.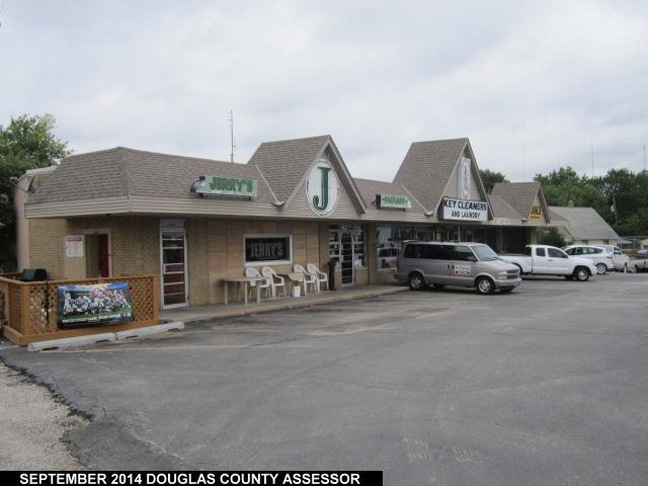 Around the time the Whalleys were moving into their new bar, the Brinlee Home Improvement Company also leased the 6307 1/2 Military Avenue bay on the far right (north) side. This successful business continues at this location to this day. This bay had formerly hosted the Benson Venetian Blind Company. 1964 was the last time I saw mention of Coniglio Dry Cleaning and by the 1970s there were ads for Key Cleaners. Rosemary Baumwart, wife of Rickard Baumwart who owned Key Cleaners, currently owns this whole building. I would track this surname back to the Coniglio Dry Cleaning business, who were operating there in the 1960s.
The 70's File
The photos that follow are from the early 1970s. They are lent from the Whalley family collection. Mrs. Whalley stated that "package" was offered through the right door of the bar. The main entrance was on the left side. She remembers the bar itself was not as long as it is now. The longest, straight portion of the bar was positioned in the same location but she thought a wrap-around had been added to the ends. She remembered that they got new bar stools. "We were always trying new things over the years." When asked about their clientele, Mrs. Whalley reported it was definitely a neighborhood bar with mostly regulars. "The postmen sat by the window. The Johnny Baxter employees (from the lot at 63rd and Military Avenue) had their favorite seats. It was a local neighborhood spot."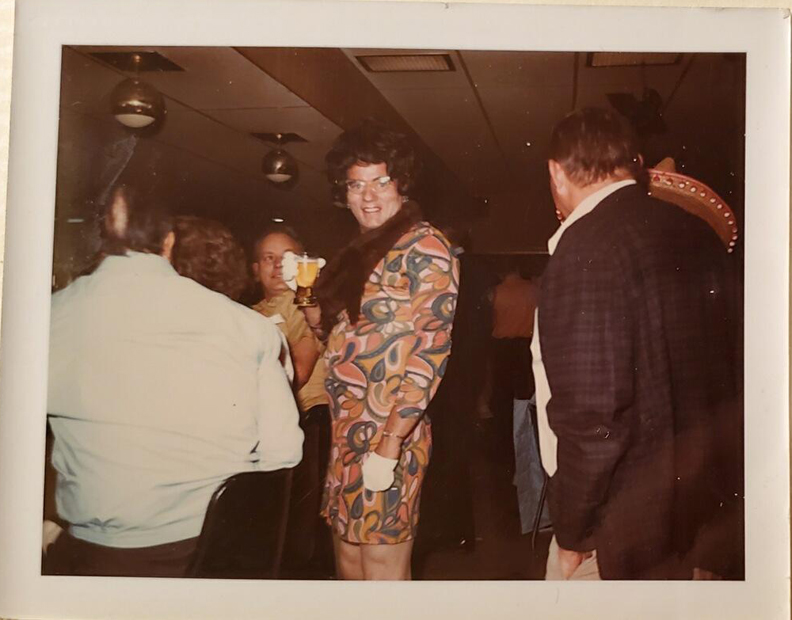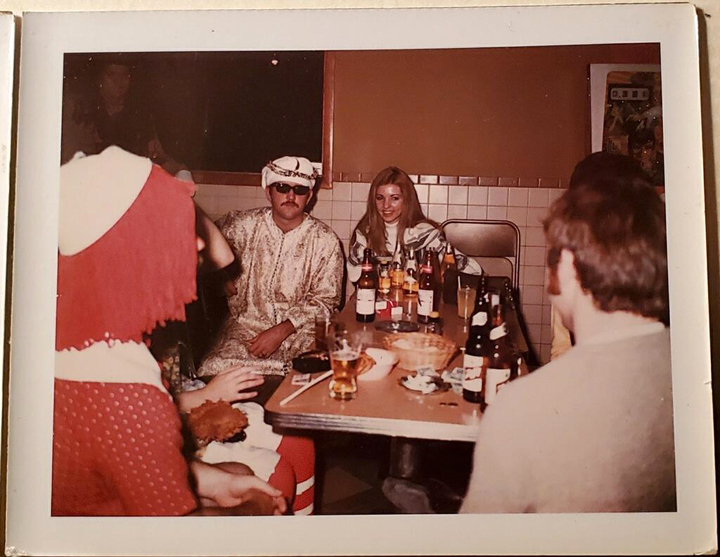 Check out that half-tiled wall again, along with the formica table tops with metal edges.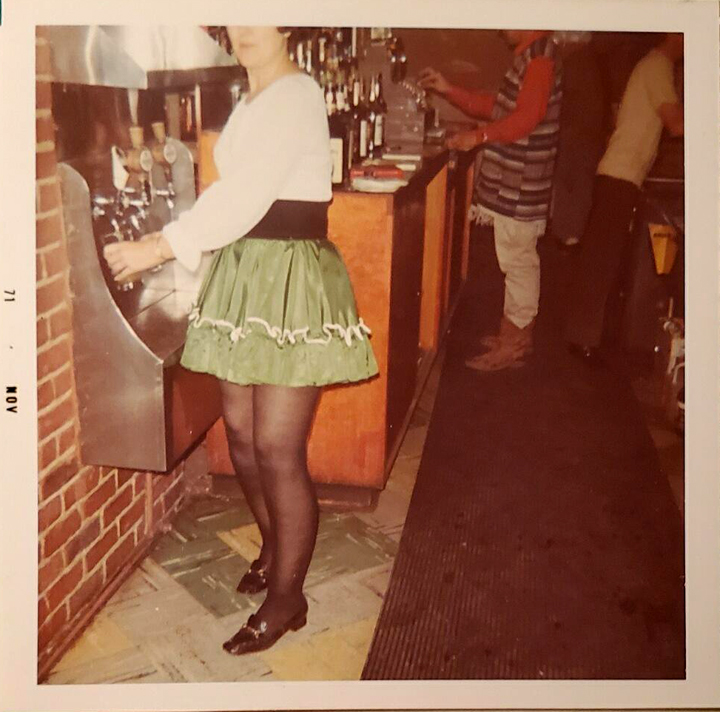 Inspect the behind the bar scene. Detectives, file away this yellow and green linoleum tiled floor. It will come up again.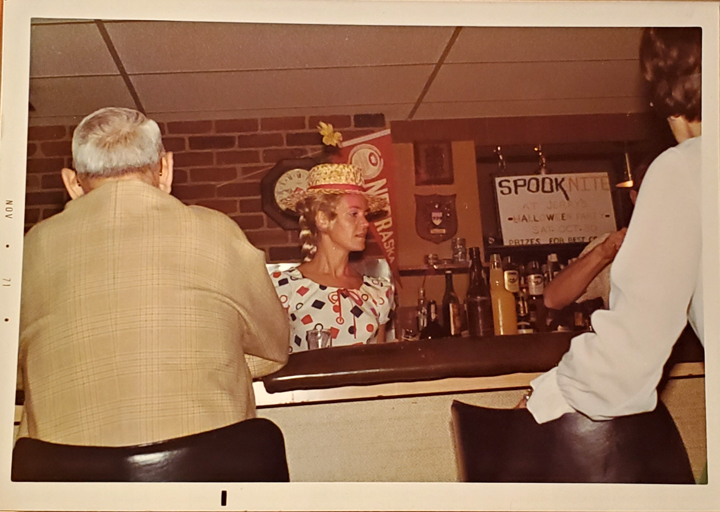 You've gotta love the vinyl padded armrest on those antique bars.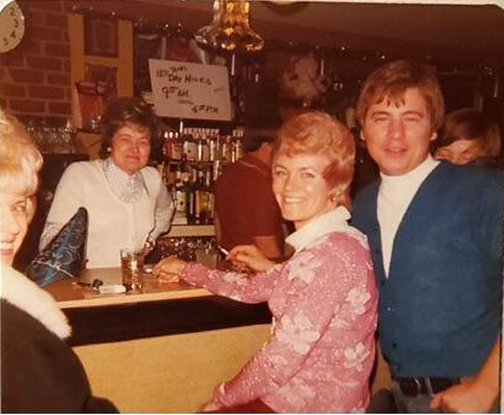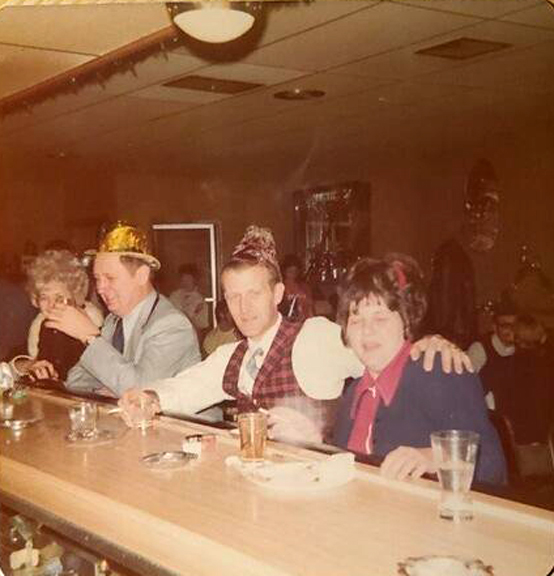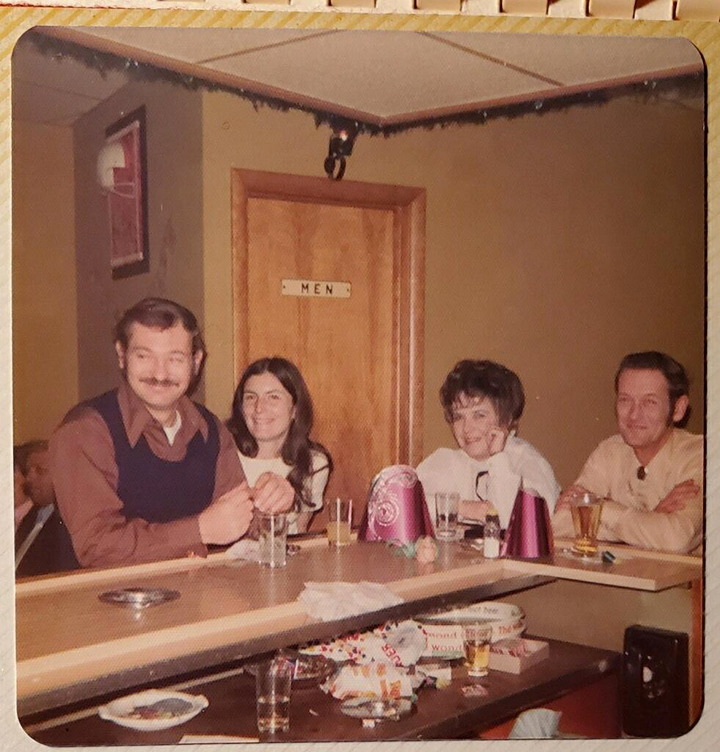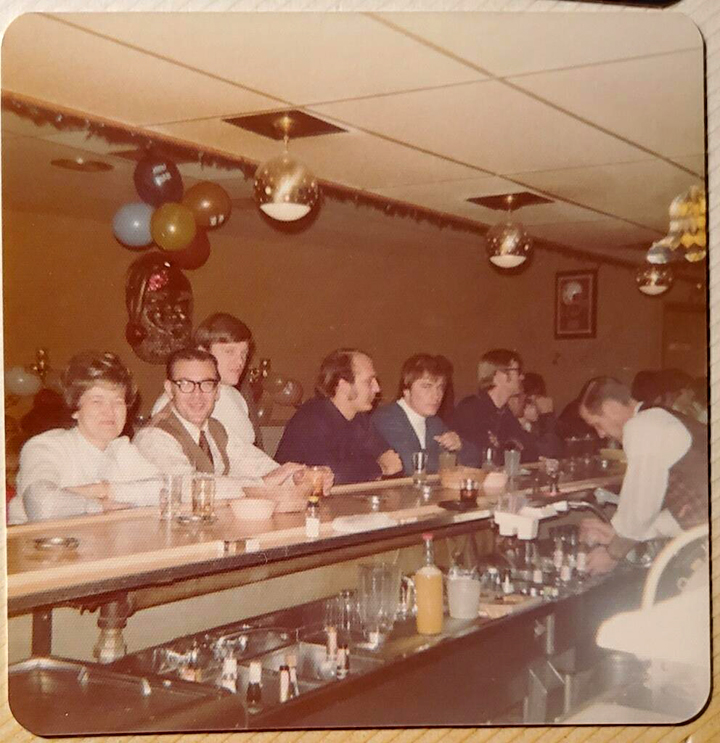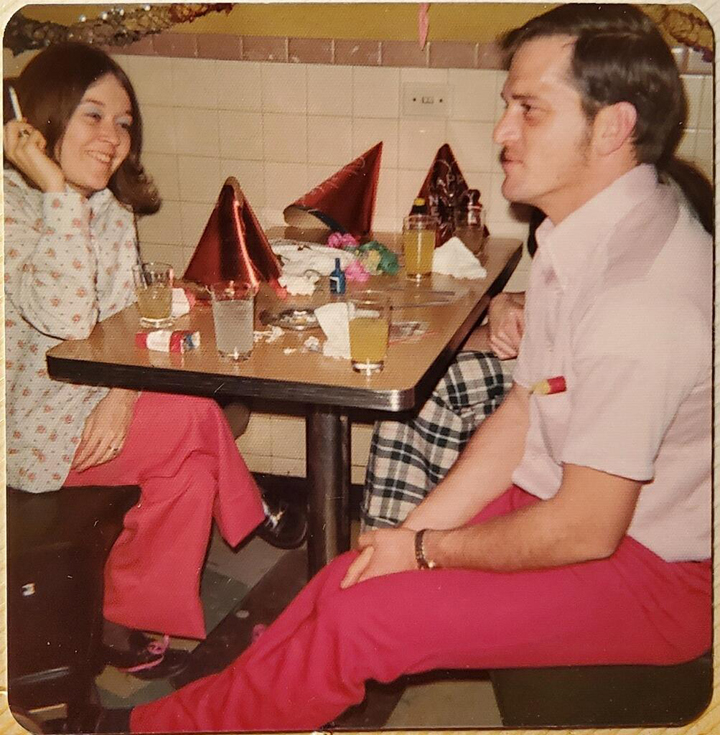 This photo kills me!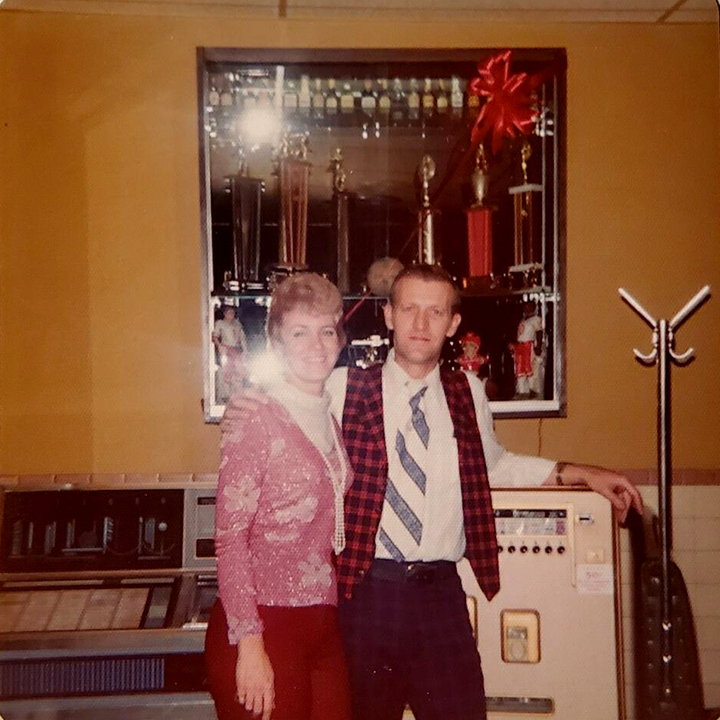 Joyce and Jerry in front a great cigarette machine and Juke box….and a trophy case.
Jerry and Joyce had three children: Dawn, Leslie and Gary. I did not really know Gary's sisters. I cannot imagine the sacrifices made within a family in order to keep a small business running, especially one with late night hours. Certainly the whole Whalley clan gave of themselves in one way or another to make this corner bar the success that it was. Amazingly Whalley operated his Jerry's Bar at 63rd Street and Military Avenue for 33 successful years. In 2000 he would sell his creation. According to Mrs. Whalley he had been diagnosed with cancer a year and half before. Sadly Jerry died in April of 2001 after a battle with lung cancer.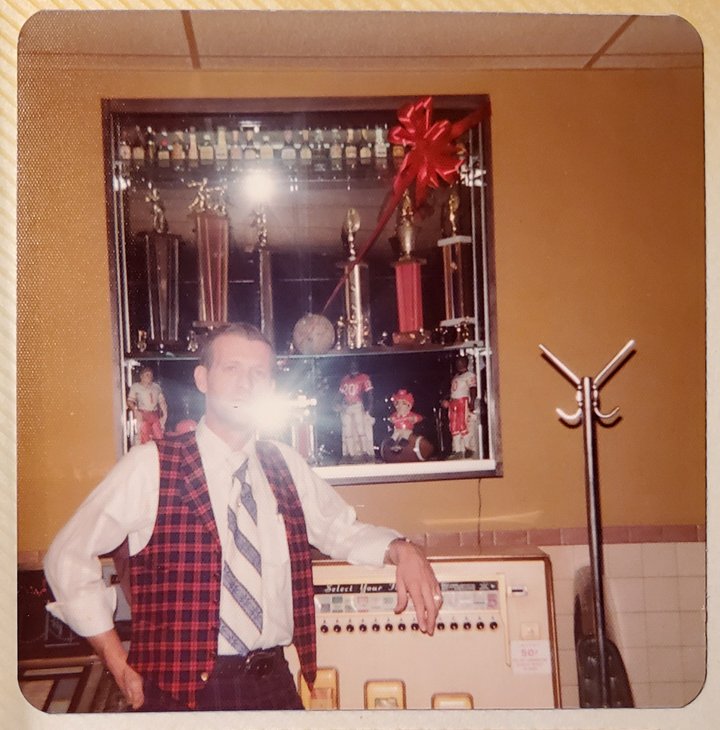 The New Jerry's Bar
Imagine my surprise to hear that a dear old pal, Rob Rutar was buying Jerry's Bar in Benson in 2012. I had known Rob from the Omaha music scene and knew him to be passionate about any project he undertook. But I had never known he was a Benson kid, like myself. It seemed everything was falling into place—just as it had for Jerry Whalley. Rob has since refashioned the bar into a warm, neighborhood tuckaway once again. Dare I say, Jerry's Bar is even cozier and more popular today than I have ever known it to be.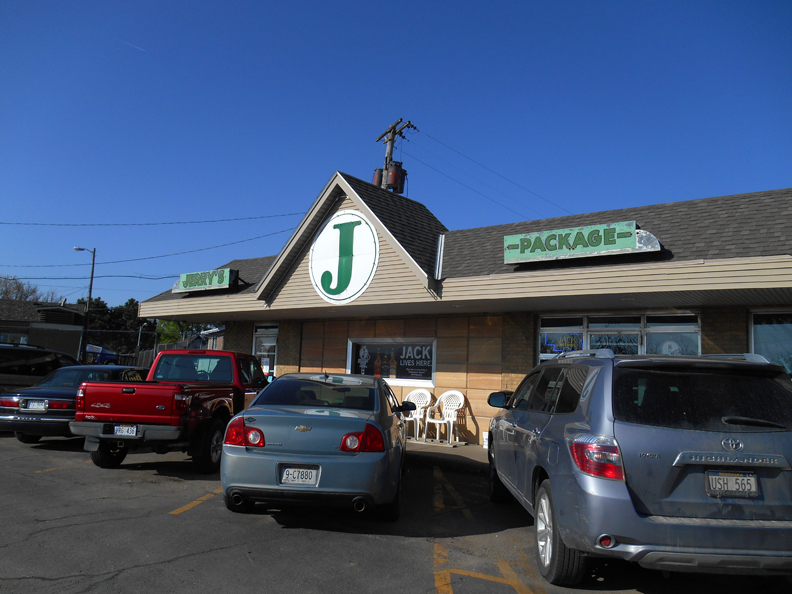 A number of key factors play into this success, as I see it. Rob's selection of beer and liquor is top drawer served up without any kind of hoity attitude. The bartenders are known for the friendly, accommodating personalities.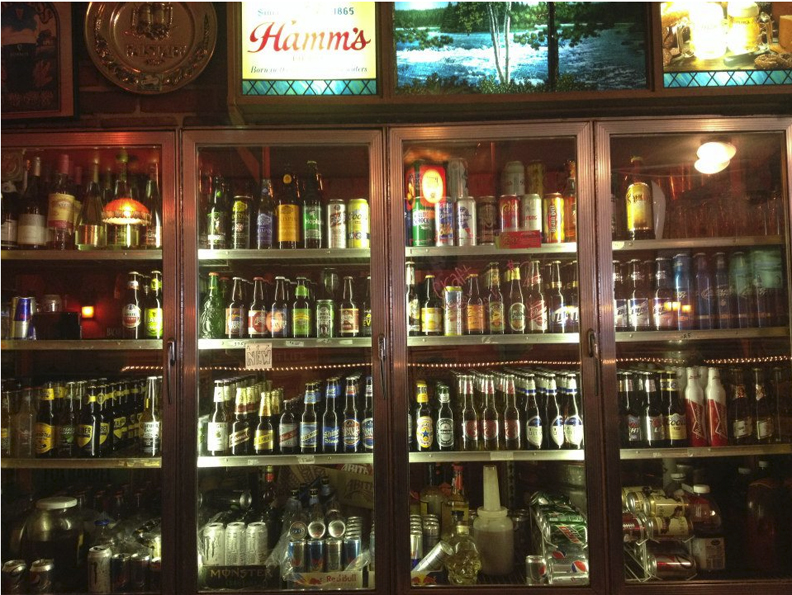 Great photo borrowed from the Jerry's Bar site.
They offer twenty beers on tap, with an antique-looking cooler facing the room, chock-full of sixty plus different bottles. But it really doesn't matter if a bar offers the best selection in town. As we've discussed, the classic corner bar is defined by its community and develops slowly over time. Rob would make some early, important aesthetic decisions but to find regulars, he would have to earn the locals' respect. The fact that many from the older customer base continue to congregate at Jerry's Bar, right alongside the new kids who grew up knowing next to nothing about the old school hideaway is telling.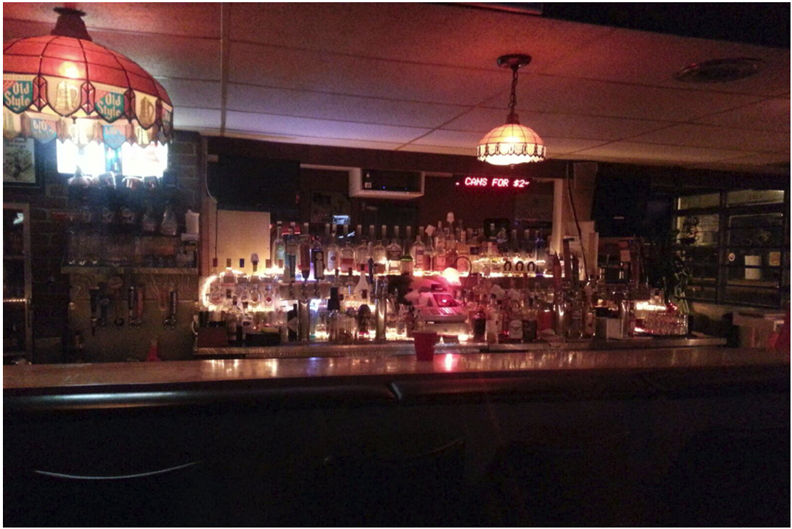 Great photo borrowed from the Jerry's Bar site.
According to Bartender Ashley, Rutar had purchased the original red vinyl bar stools from the Twenties Lounge but they finally gave way and had to be retired. From new booths, to bar stools and a smoking patio off the southern door, the real standout for me is his fine collection of vintage barroom lights, clocks, bar signs and other authentic pieces. It makes you want to nestle in and daydream about another time.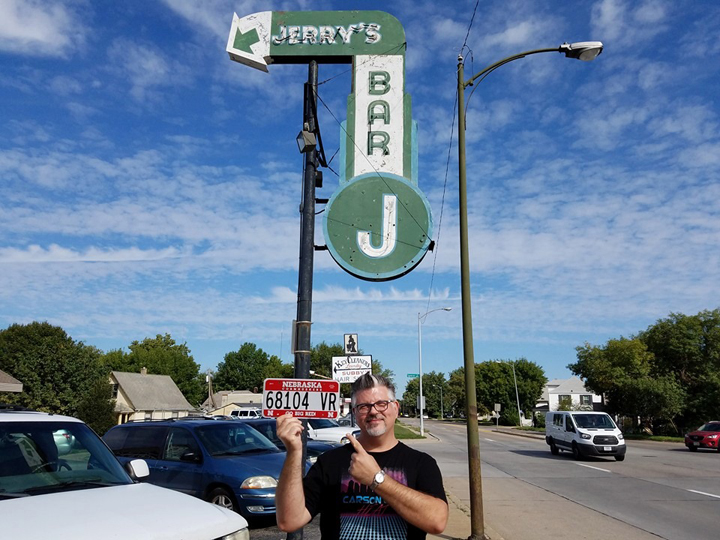 Nice photo of Rob Rutar, pub owner, with the plate of his Jerry's Bar website's namesake. Notice in the background the Subby's sign is still intact. Photo lent from Rob's private collection.
The doors open at 7 AM and I made it through to capture photos a little before 9. There were three older, neighborhood gentlemen already enjoying the corner edge of the bar. Ashley informed me that it's a scheduled Saturday event, like clockwork—calling themselves the Breakfast Club. I didn't ask to take their photos out of respect but what a friendly group of fellas! I could have plopped right down with them.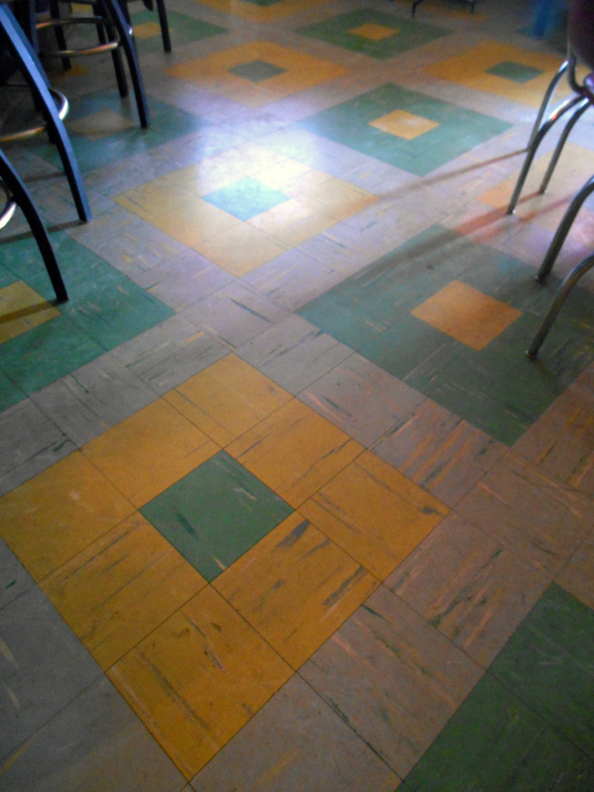 Is there anything better than a freshly mopped linoleum floor? This is the original lino tiling, I observed in the Whalley family photos. It is in remarkable condition. I have always felt most comfortable where it felt authentic. Somehow Rob has made Jerry's feel even more genuine.
**Addendum of May 13, 2019** Regarding the fantastic linoleum flooring—Rob Rutar added, "My father, Bob Rutar, helped put in the original floor that is still in there. He was a 20 yr old apprentice learning his trade and they brought him in because the floor is on a diamond instead of parallel to the walls and he needed to learn the math of flooring. Someone brought it up to him two weeks after I bought Jerry's Bar. He said, 'Yep, I did this floor…' and told me the back-story. I was shocked. I mentioned to him that I could've bought any bar in Omaha, or stayed in California, Nola, Prague, etc. but I came back and bought THAT bar. His response was a very bland. 'I've put a lot of floors in a lot of bars….'"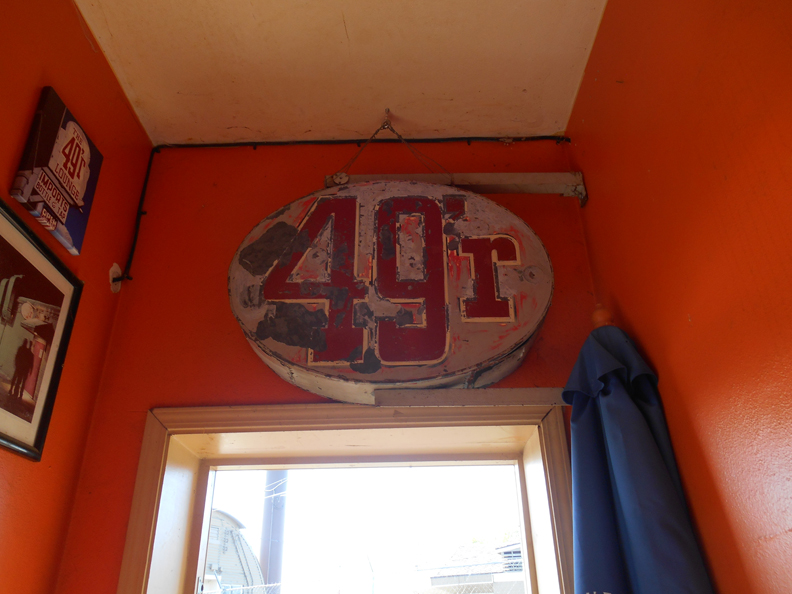 Rob was able to acquire the old 49'r parking lot sign from a local antique store.  So great to see it again in a Good Home Bar, hanging in the alcove above the smoking patio exit.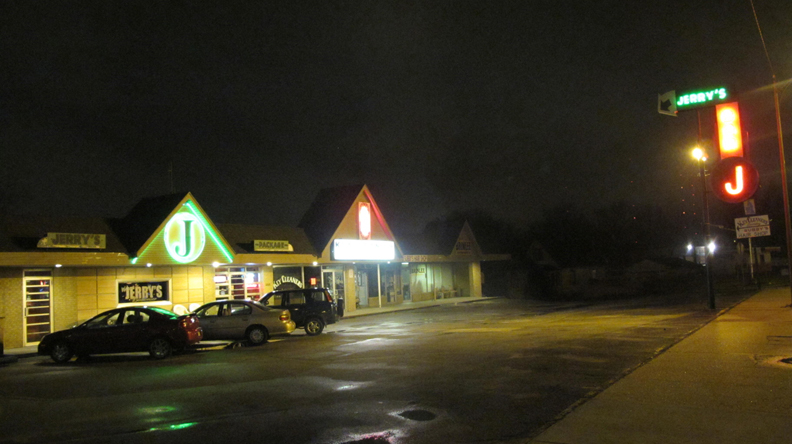 I love that they still have the traditional Jerry's Bar Benson landline prefix. (402) 553-3343. You've gotta adore the 553. For all things Jerry's, check out http://www.68104ever.com/#!/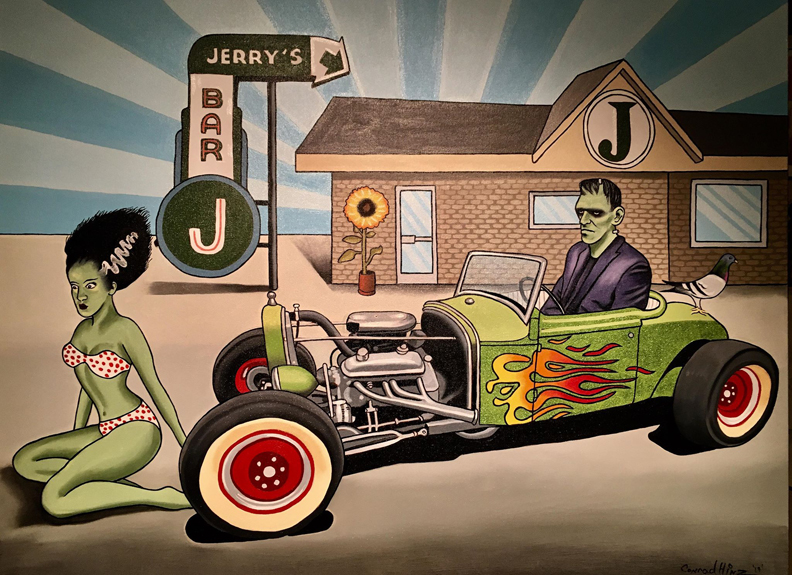 Incredible Jerry's Bar themed painting by our friend, Conrad Hinz.
To Jerry, Joyce and Gary Whalley, Rob Rutar and his staff: Thank you!  A heartfelt cheers to Jerry's Bar and all of the little mom n pop Jerry's Bars across America. May the neighborhood bar continue to shape culture and inspire human connection—something that is all too lacking in this day and age. Keep it going for the community.
This is only a small part of the story. I welcome your feedback and comments on Jerry's Bar and Benson. Please feel free to leave a memory you have in Comments. I welcome you to poke around with your flashlight. Investigate. Hide in the shrubbery. Look under these rocks and down those alleyways. I am more than pleased to have you tiptoe about. By the time you head for home, I hope you have been fully Sherlocked and Satiated. Thank you, detective friends.
If you like what you see, you can keep up with my latest investigations by joining my email group. Click on "Contact" then look for "Sign me up for the Newsletter!" Enter your email address. It will then display "Thank you, your sign-up request was successful!" Make sure to check your email address to confirm. You will get sent email updates every time I have written a new article. Also feel free to join My Omaha Obsession on Facebook. Thank you, Omaha friends. Miss Cassette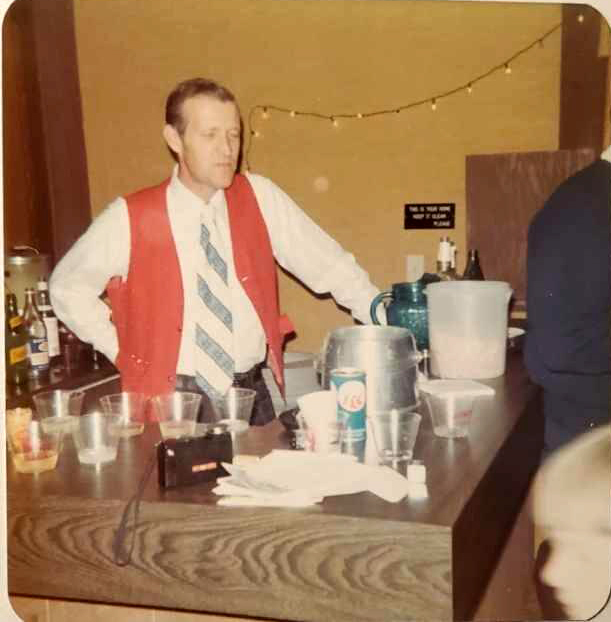 © Miss Cassette and myomahaobsession, 2019. Unauthorized use and/or duplication of this material without express and written permission from this site's author and/or owner is strictly prohibited. Excerpts and links may be used, provided that full and clear credit is given to Miss Cassette and myomahaobsession with appropriate and specific direction to the original content.