Bang on the pots and pans and break out the silly, tin noisemakers. There's cause for celebration on the Streets of Omaha! In February of 2018 Exchange Bank filed a building permit for 8008 West Dodge Road to the tune of $2,414,120. I assumed this family-owned Gibbon, Nebraska bank would soon be moving to Omaha, constructing another sad, neutral, slab-covered, disposable box in a box, plopping it in the middle of our busiest street and calling it good. They very well could have. Instead I've been slowing marveling at a new, quality structure taking shape and it is astoundingly more of a traditional design than I have seen in Omaha for while.
Let's all pinch ourselves and ask if this is really happening? Of course I had to go root around a bit.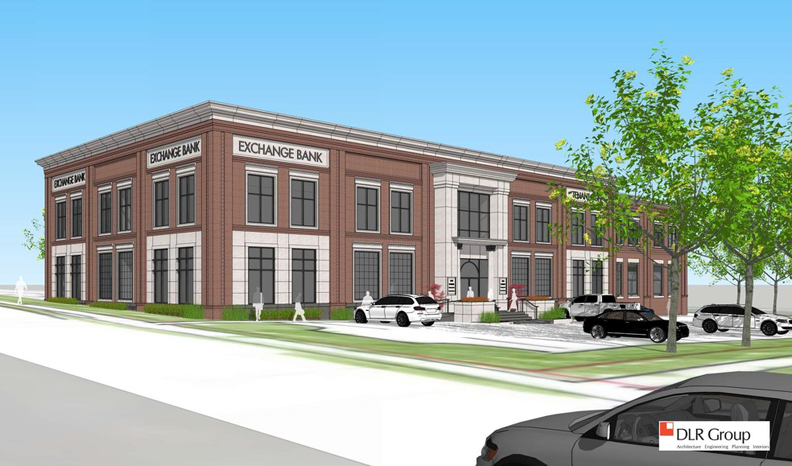 Exchange Bank has firm, small town Nebraska roots dating back to 1885. Was it this proud longstanding history that prompted the DLR Group (https://www.dlrgroup.com/home/) to center toward conventional design rather than novelty? I've got to think it was DLR's plan to reject modernist trends on this project.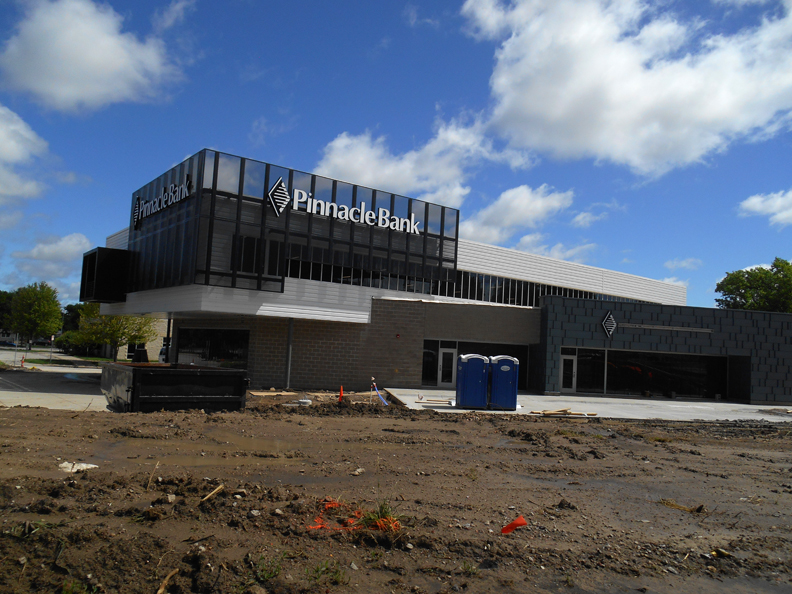 A toodle drive-by of the other new bank going up on at 8040 (oddly at 84th and Dodge), a few doors to the west, will reveal the common modernist direction many architects are promoting right now.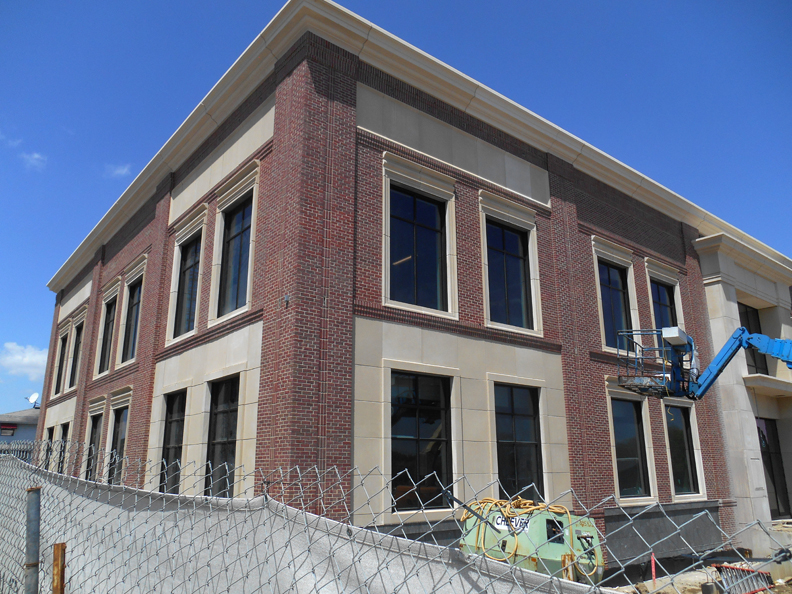 According to Exchange Bank's Lincoln market president, the 8008 West Dodge Road branch will contain 9,000 square-feet. This property will also include a 7,000-square-foot parking garage for bank employees and 14,000 square feet of leasable office space on the second floor. This handsome, brick building features large windows. The details and treatments are proud. This structure is easily differentiated from its neighbors.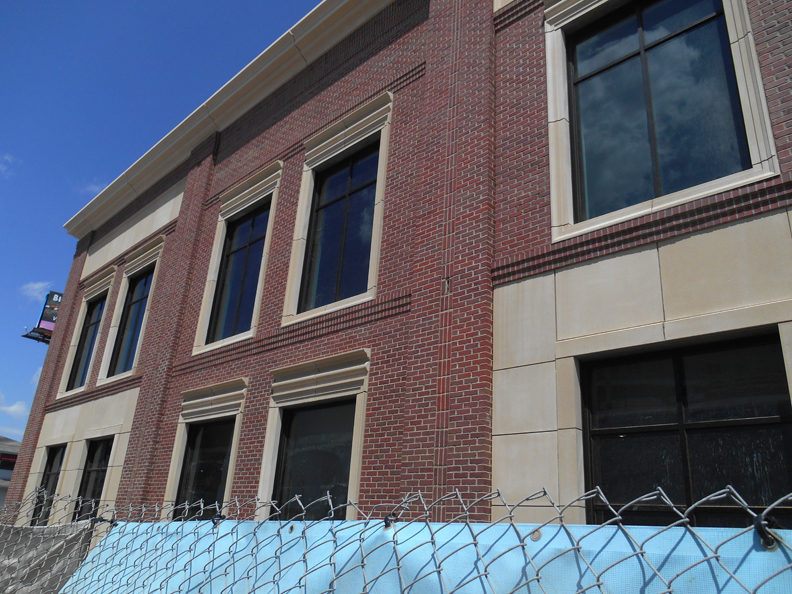 Cast stone, also known as reconstructed stone, is a concrete masonry product simulating natural-cut stone, similar to a limestone or sandstone look. This cast stone, apparently has used the same technique, except for the mix itself, since Roman times, and is known for its beauty and sustaining durability. The contemporary "dry" consistency mix of low water and cement, natural sands or crushed stones, is then put into a mold using an electric tamping device or vibration under pressure—thought to be similar to the formation of natural sedimentary rock. The mold or frame is often of rubber, steel and/or wood. One will sometimes see cast stone in trim or ornamental features of high-end homes or traditional style commercial buildings. It is often white or grey or a natural sand hue. Precast moldings, from what I've found, are available in all dimensions and appear to be made to order. If anyone wants to share more about this cast technique, please enlighten us!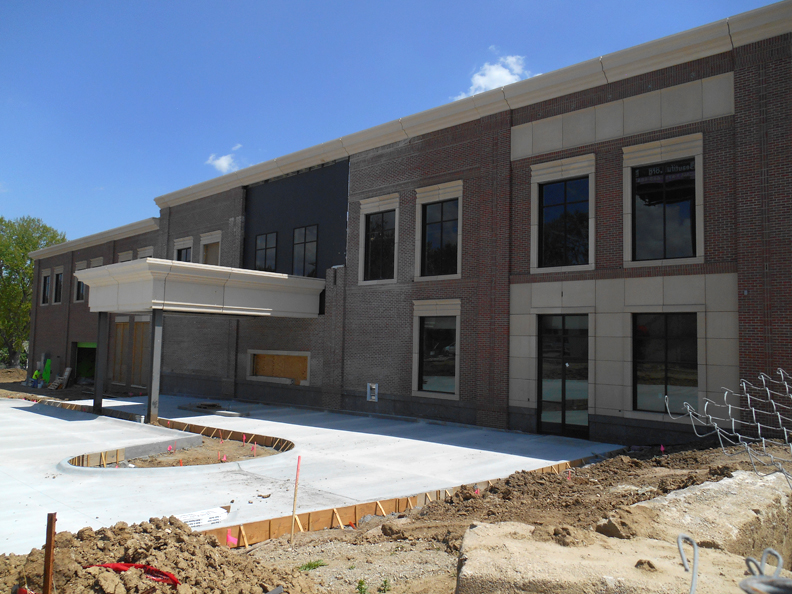 The drive-thru found on the west side is appropriately designed and positioned in harmony with the building. Hopefully those support beams with receive a like-minded,  more substantial treatment to balance that canopy overhang.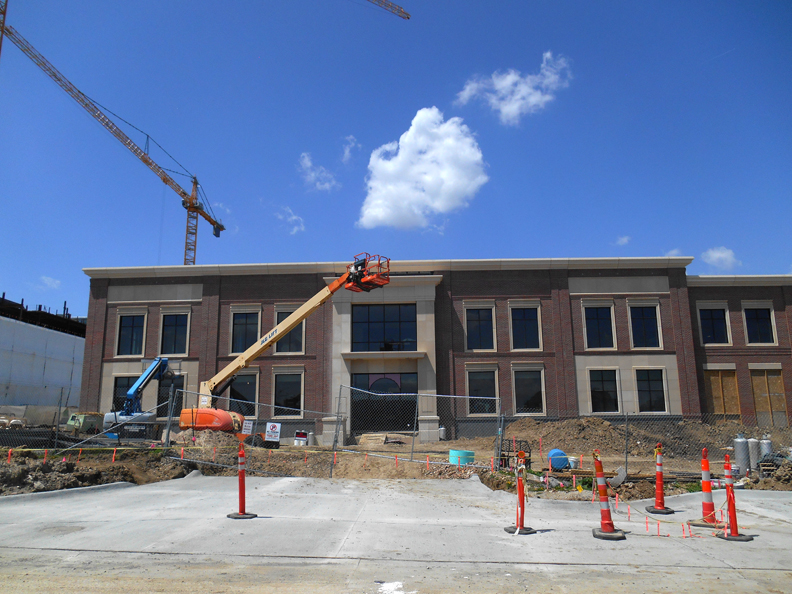 The building's presence is stately and the entrance is obvious. Basic, socially shared design principles were employed. No one is confused that this is a business. Well-conceived style. Observed, seemingly substantial construction. Less hollow than most construction going up these days and yet somehow not as solid as I want it to be. Consideration of overall shape, careful evaluation of proportion to the lot size.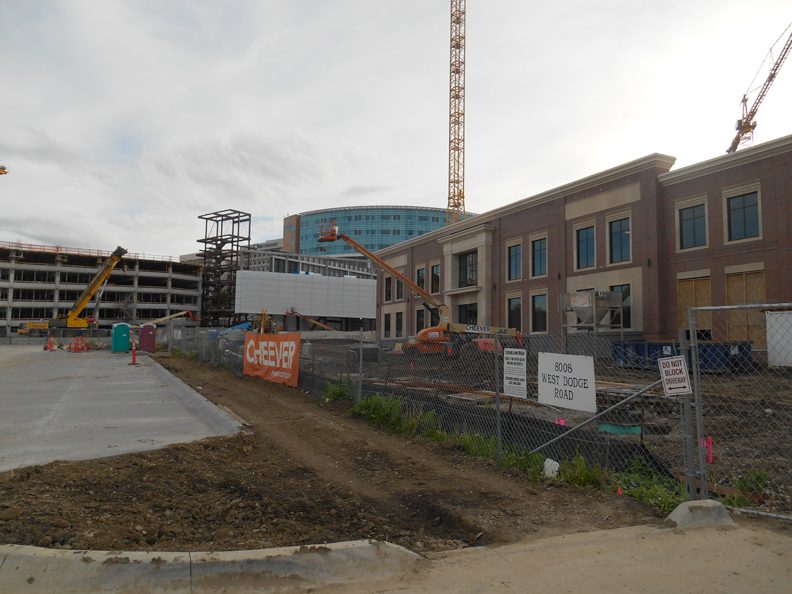 Some of the more suspicious in our ranks are perhaps asking a deeper, darker question. Did the DLR Group-Exchange Bank team adhere to traditional, time-tested building materials or is this just a Surface Gimmick employed to trick Miss Cassette and those desperate for authentic looking aesthetics? Is this building pseudo-historical? Note the precast horizontal molding used to crown the top of the building—the lip where the two portions of the bank meet. The fact that the taller part of the building doesn't extend back, gives it a fake town façade from an amusement park appearance. Are those hanging brick-curtain wall panels? And how are those two skinny support beams holding up that heavy looking canopy of the drive-thru? Can anyone afford the Real McCoy anymore and does anyone care, for that matter?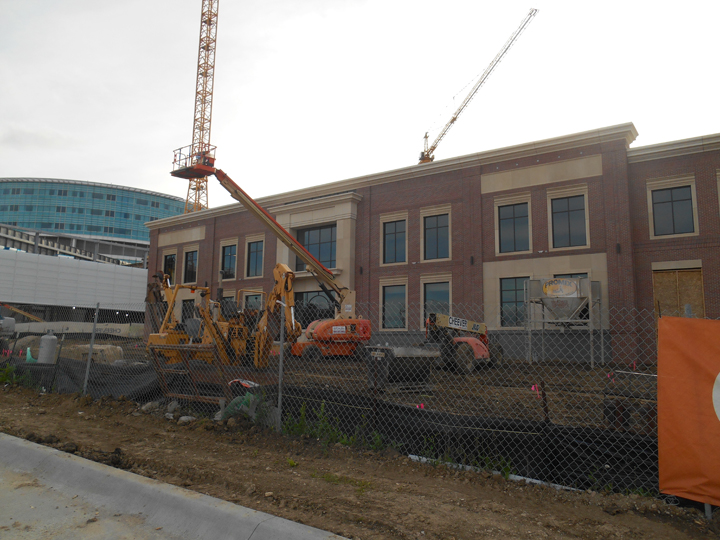 There are so many consistently disagreeable, misshapen new buildings going up in Omaha that many of us might have assumed strong, traditional design elements were a thing of the past. When short-term profits are the sole purpose of most commercial and residential building, it brings an ugly hopelessness to our shared streets—a reflection of a throwaway culture. Chasing clumsy trends, cramming vulgar bulk out to the very edges of a lot and slapping unsophisticated textures on every imaginable surface seems to gratify whole teams of developers. Did it seem like a good idea on the computer screen? I find it oppressive and dishonorable. The only sad consolation is, careless development is happening all over America. The box-in-the-box is not just an Omaha thing. (What is particularly Omaha is the tearing down of older structures to build The Unpleasant. From the city to developers, it appears a worrisome, secret cabal is funneling demolition of our older buildings and foisting swift and cheap production of these box-in-boxes on us.) Still it surprises me to see all of these brand new two and three year old buildings with rust stains, white streaks and bizarre chemical weathering issues swiftly taking hold. Need I point out that our most lasting, simple structures, many built over eighty and ninety years ago, possess a local character inherent to Omaha, not Dubai? And they stand streak free. They were built with strong materials to weather the Omaha climate.
Soap Box
Dodge Street and West Dodge Road deserve great commercial buildings. We should all be concerned that developers and city officials adhere to a basic time-honored understanding of building design. Whether a pedestrian or a driver or a cyclist, our community deserves beautiful, inspiring architecture that will last a life time—not twenty-five years 'til the landfill.
Brief History of 8008 West Dodge Road
Going way back, we already know from our other investigations that West Dodge Road was rural country. Two examples can be found at Mysteries of Omaha: 9301 West Dodge Road and  I Want to Live in the Swanson Towers. This stretch from 80th to 84th was the outdoor Room to Roam environ, attached to an upcoming sleuthing mission (read Obsession) of the mine—the story of 8301 Davenport. Four Mid-century Modern homes would appear on, what is now comprised of the 8008 West Dodge Road parcel, in the early 1950s—three homes lining Davenport Street and one facing North 80th Street. The portion of the lot facing Dodge appeared to be a luxurious, undeveloped field, like much of the whole area. That was soon to change.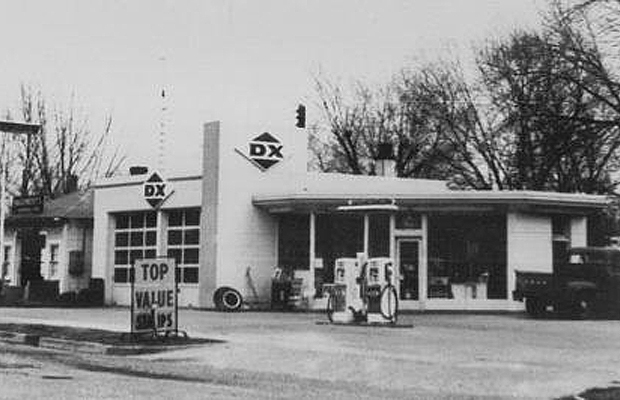 Dick Williamson was operator of the Indian Hills DX Service at 8008 West Dodge Road. Back in April of 1968 he was very concerned about the local gas war. DX was a very popular gasoline brand all around the Midwest.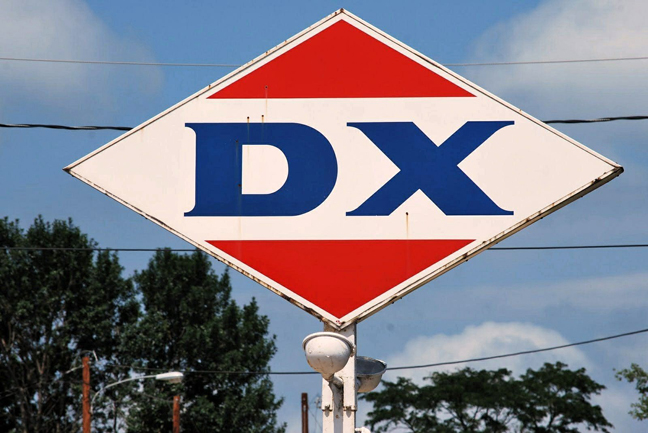 It was common to see their bold DX signs on family vacations and drives through Kansas, Missouri, Illinois, Iowa, and South Dakota. Apparently in the late 1960s, Sunray DX merged with Sun Oil Company (Sunoco). It wasn't until the late 1980s that the DX brand and company was dismantled.

Photographer is facing east at about 84th and Dodge. Businesses along the road include the Red Barn restaurant, Skelly, B.F. Goodrich, Atkins Trailers, McDonalds, Mister Donut and DX. Creator: Paskach, Robert (1927-2001). Publisher: The Durham Museum. Date: 1968-1969. Seen on south side of West Dodge Road where Children's Hospital construction is now located, is Lindenwood Place, Davidsen's, Sinclair and the massive Cargill building.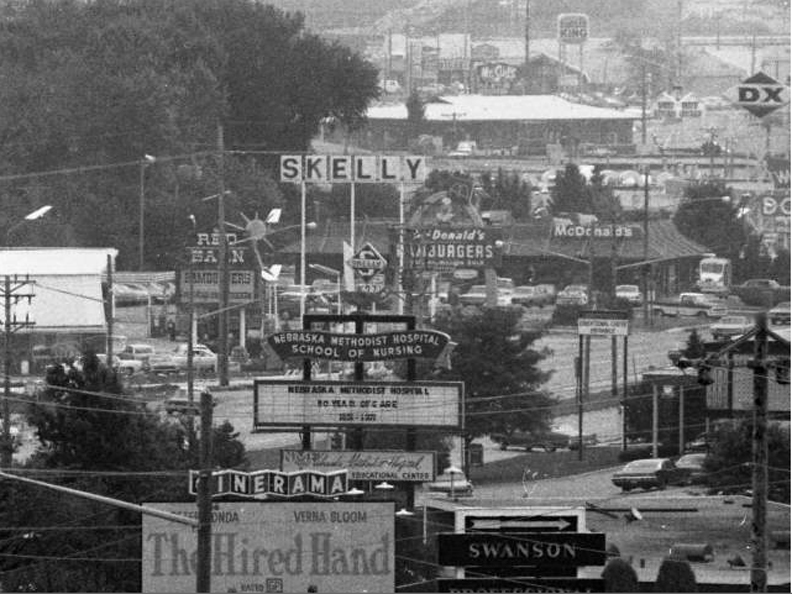 The rest of these are just more of the same for those who love signs and dreaming of old Dodge. West Dodge Street looking east from 88th Street. Signs read "Swanson Professional Center", "Cinerama The Hired Hand", "Nebraska Methodist Hospital School of Nursing", "Red Barn", "Skelly", "McDonald's Hamburgers", "DX", and "Burger King". Creator: Omaha Sun (1951-1983). Publisher: The Durham Museum. Date: 1971.

By 1977 Omaha's DX filling station had transitioned to the ultra modern Speedee Lube—an alternative concept in auto service and repair. Speedee Lube offered a change of oil and filter, greases the car and a number of other services in 10 minutes while the customer sat behind the wheel.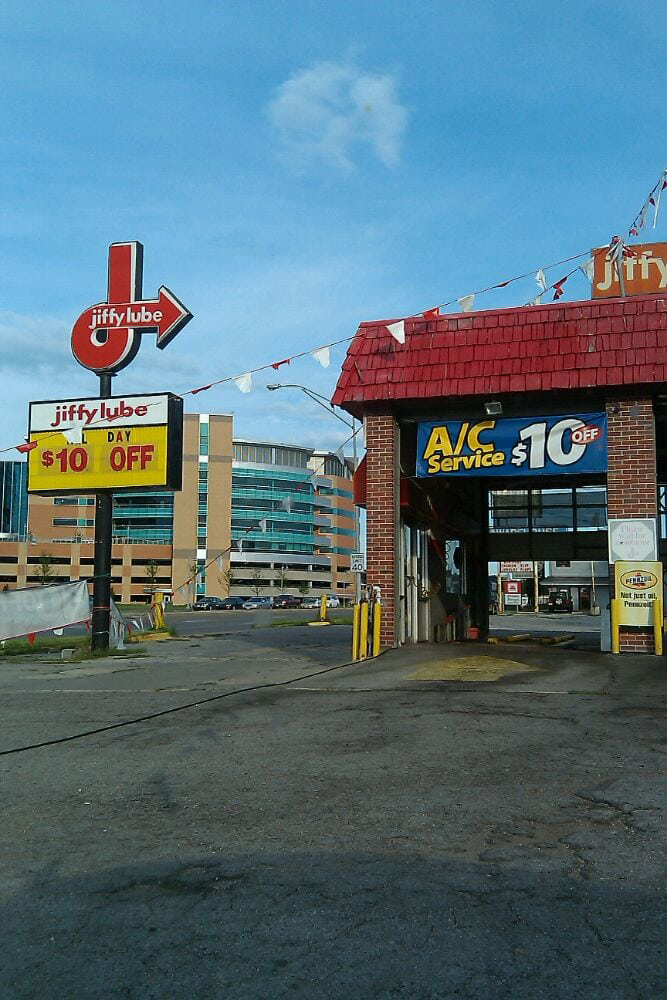 Tomas D.'s photo of Jiffy Lube from 2011. The mammoth Children's Hospital is seen in the background. Was it the "bad oil" recall in 1980, where 4,000 some Omahans had to bring their autos back to the Speedee Lube shop, that drove the company out of town? Or was it just a name change? The Houston-based quick oil change chain, Jiffy Lube Center held the keys to 8008 West Dodge Road by 1982.
As an aside–I just remembered there was a small flat roofed Mid-Century Modern shop (also demolished) at 8010 West Dodge Road, one door to the west of 8008, that later became CD Warehouse in the late 1990s. Positioned at an odd angle, it looked like it had been an old Goodrich Ice Cream Shoppe or something to that tune. (According to the above photos, it could have been a Mister Donut?) I loved Bryan and the weirdo cast of characters that made CD Warehouse tick. This structure was also situated on the property now comprised of the Exchange Bank parcel.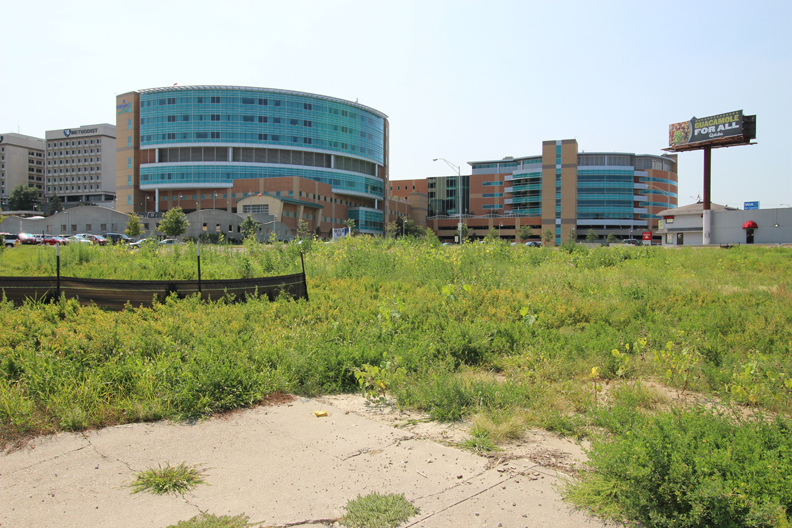 But by 2015 Loopnet had photographed a razed parcel and was advertising "a rare ground redevelopment opportunity in the Crossroads trade area. Unrestricted ingress/egress for both eastbound and westbound traffic on W. Dodge Road. Great visibility to nearly 60,000 vehicles per day on W. Dodge Rd. Unusual combination of high residential density and high daytime employment." The four houses were gone as were the Jiffy Lube and the CD Warehouse building.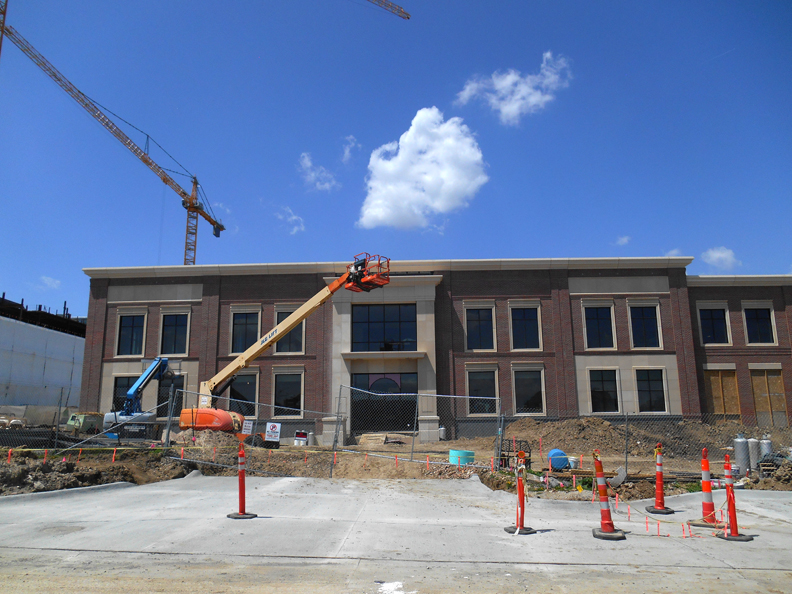 So back to the present. This new structure we are all staring at. While the new Exchange Bank is not necessarily Omaha's Monticello, the overall look of quality adds a nice confidence to Dodge Street. The longer you look, the more it stands out. This is a step in the right direction and should be praised. Hopefully they will get the font and signage right. Thank you and good job! Let's continue to create spaces worth caring about because we care about each other and creating a legacy that lasts.
**Addendum of July 2, 2019** I just received word from a carrier pigeon.
"I just wanted to thank you for your piece on the design and layout of our EXCHANGE BANK Omaha branch. To answer your questions regarding the design – it was done with intention by ownership as a way to communicate who we are and what we are about. To communicate our traditional approach to banking – that relationships matter more so than being trendy and modern. If you take a look at any of our buildings in Nebraska and Kansas, they all have the look and feel of traditional banks. Our newest buildings other than the Omaha branch are designed in a similar way – those are located in Salina, KS and Lincoln."
Ismael Torres
Exchange Bank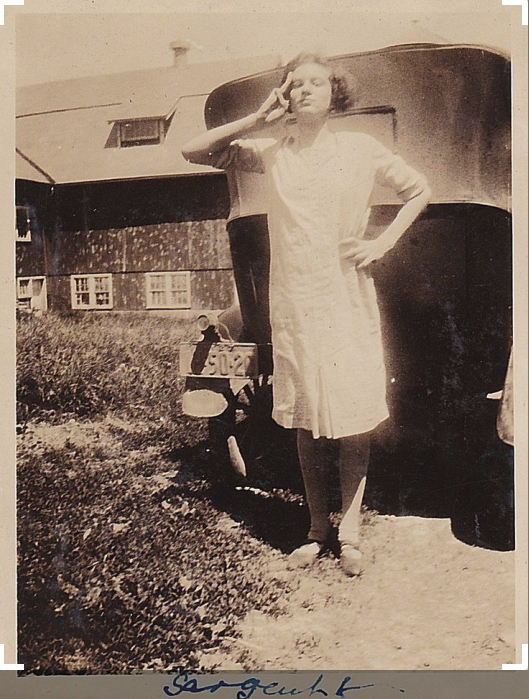 While we are saluting– A special Memorial Day remembrance to those of our community and families who died while serving.
This is only a small part of the story. I welcome your feedback, memories and comments on the Exchange Bank and the West Dodge corridor in Comments. I welcome you to poke around with your flashlight. Investigate. Hide in the shrubbery. Look under these rocks and down those alleyways. I am more than pleased to have you tiptoe about. By the time you head for home, I hope you have been fully Sherlocked and Satiated. Thank you, detective friends.
You can keep up with my latest investigations by joining my email group. Click on "Contact" then look for "Sign me up for the Newsletter!" Enter your email address. It will then display "Thank you, your sign-up request was successful!" Make sure to check your email address to confirm. You will get sent email updates every time I have written a new article. Also feel free to join My Omaha Obsession on Facebook. Thank you, Omaha friends. Miss Cassette
© Miss Cassette and myomahaobsession, 2019. Unauthorized use and/or duplication of this material without express and written permission from this site's author and/or owner is strictly prohibited. Excerpts and links may be used, provided that full and clear credit is given to Miss Cassette and myomahaobsession with appropriate and specific direction to the original content.