Back in October of 2021, I received a note from a young inquirer working his own case. We had a back and forth transmission as I tried to make out what building he was after. What follows are his questions and clues—with minimal fusion from a few of his messages, just for the sake of continuity. Additionally I have edited out personal details for reasons which I will soon lay out.
Hi!
I'm just a 13 year old Omaha history buff just as you are. I have always been wondering about this one building on Dodge near the Children's Hospital and Medical Center. I do not know the address, so I will describe it to you: It is light yellow (bricks I assume), has faded blue metal or something on it, and a 60s looking rock design on the front main part of the building. Above on the second floor of the main part it has a very 60s looking window pattern (the kind that goes in front of the windows). I remember hearing about this office building being a school at one time, and I'm really curious as to what the name of the school was, when it opened, when it closed, and a bit of the history of it. It would really be nice to know about this place!
Here's some pictures of the place from google earth. It's a medical school right now but I don't know if it was once a high school or an elementary school at one point. I'm obsessed with the architecture!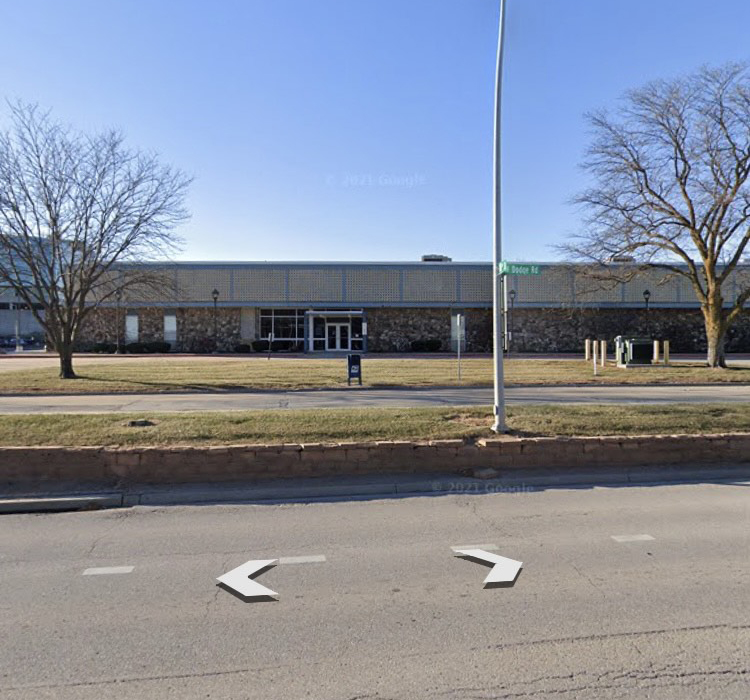 One of his Google photo clues. 8501 West Dodge Road faces north on an access road. West Dodge is seen closest to the camera.
As you sly ones might have guessed, this was just my kind of mystery correspondence and just my variety of abandoned building. I was intrigued by 8501 West Dodge Road. A kid sleuth not fed by commercial gloss? He's got a keen eye, I told myself. By his age many of us were fascinated by the 17-foot-tall bikini lady at Lyle's Discount Tires in Council Bluffs. But this fellow could divine the subtle, historical clues 8501 West Dodge Road had laid out, amidst all of the smart buildings, the architectural lighting design, the many mirrored cubes, fiber cement panels and the march of the metal canopies. I know you've seen the hints too: the Mid-Century Modern cool, low-profile form, the wrought iron grillwork, the space-age under lighting, the stone wall, the light posts, that modernist window wall of concrete screen block, now only worshiped in Palm Springs. I will say, before we get on with it, the young chap who wrote in ghosted me—if he was truly even a young chap. Frankly I never really know who might be playing tricks on Miss Cassette. Taking him at his word, I asked him to secure permission from his parents in order for me to include him in this formal investigation. Poof. Since he disappeared after that request, I decided I would withhold his name and specific details for privacy reasons. Your guesswork is as good as mine.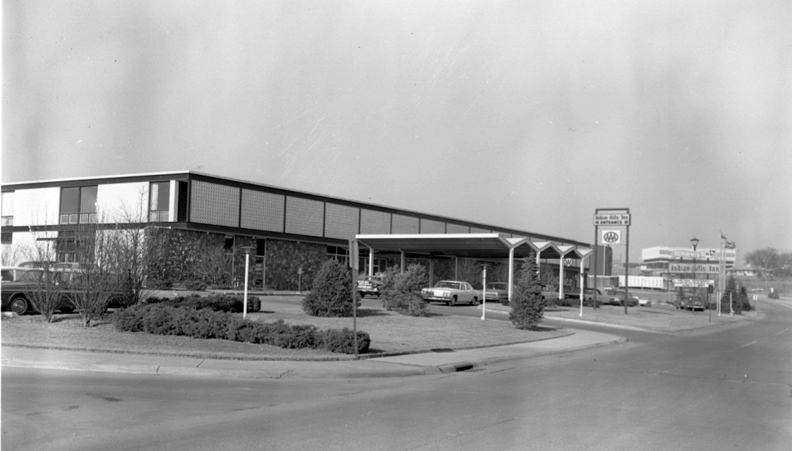 Schimmel's Indian Hills Inn as it once stood at 8501 West Dodge Road. Camera facing southwest. Creator: Savage, John (1903-1989). Publisher: The Durham Museum. Date: March 1966. Oh that porte-cochère…to have passed into the vestibule with my white gloves and Miss Traveler Doll Suitcase.
I never knew of 8501 West Dodge Road's former glory but became acquainted and already touched briefly on this property in my Swanson Towers investigation.  Here is that case right now, if you'd like the whole backstory of the Swanson Family and the countryside before the Swansons' development: I Want To Live In The Swanson Towers  As it turned out the young detective was intrigued by none other than the old Schimmel's Indian Hills Inn, an early Omaha luxury motor hotel. Home of the Viennese Ballroom, the Kavalier Restaurant and the Backstage Lounge. This Time Travel motor inn was once lodging to the Rolling Stones, its guest rooms decorated by local artists and for its brief existence in our town, an Indian Hills Inn poolside suite was considered the lap of leisure to the Omaha elite. That is the short answer.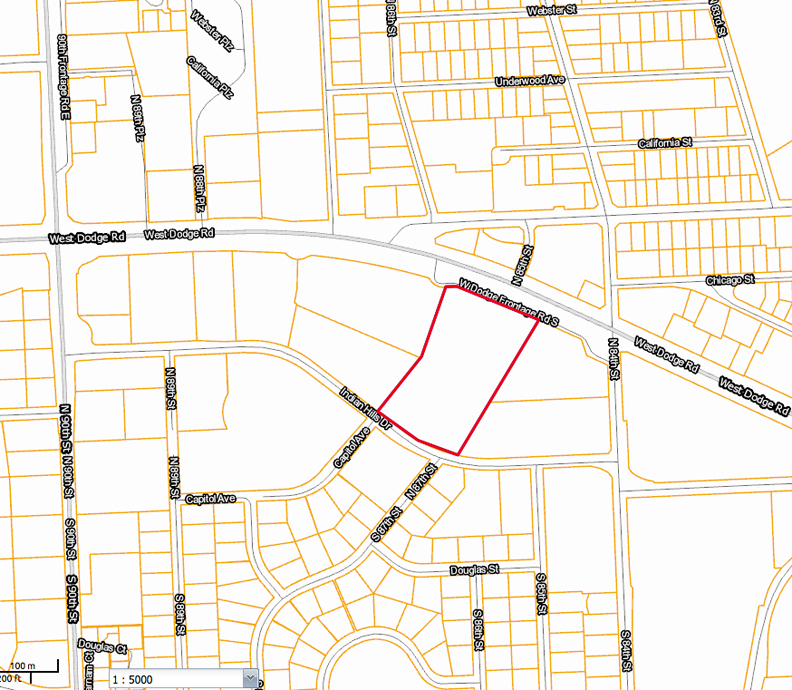 Image borrowed from the Douglas County Assessor site. The large site of the former Schimmel's Indian Hills Inn at 8501 West Dodge Road is framed in red. West Dodge Road meanders from east to west. 84th Street and 90th Street flank the Indian Hills Village development, previously the Indian Hills Golf Course. This Indian Hills Inn parcel of focus and those around it were acquired by Methodist Hospital. More on that later.
Quick Squaring
The essence, for those who demand a centerpiece snapshot, is that this whole area surrounding the mystery building was planned by the Swanson family as the Mid-Century Modern Indian Hills Village in 1958—the same year, it should be noted, that John Houghtaling was putting the finishing touches on his invention, the Magic Fingers vibrating bed, famous in roadside motels. The Indian Hills Golf Course had once stretched out along this border of West Dodge, the namesake of the development. At its commencement in the early 1960s Schimmel's Indian Hills Inn was considered a posh motor hotel, offering modern architectural and interior design, high style service and amenities—in a whole other league than the American mom and pop lay-bys, individual cottages and cabins of the 1920s through the 40s. (Lest you think we turn up our noses, we obsessives live for a good, old, small town motor lay-by, and cry out loud that Magic Fingers, with their curious quarter slots, have all but disappeared from our culture.) The Schimmel family was well established in the hospitality industry and a pretty big deal in Omaha. They owned and operated the Blackstone Hotel in the Blackstone neighborhood in addition to managing other Nebraska and regional hotels. This is to propose that the Schimmel commitment to the curation and management of this new fangled motor hotel signaled this was top drawer lodging, which served to enhance the entire Indian Hills Village plan. The Beloved and ultra-luxe Indian Hills "Cinerama" Theater was right next door to the motel. But it was all short-lived. Just a few years later the motel would mysteriously transition to the dormitory for Methodist Hospital student nurses; they subsequently conducted Nebraska Methodist College from the large building. That is most likely where our young inquisitor got his school clue indicators. Later still it became Methodist's corporate headquarters in the mid-1980s. As of the writing of this investigation, a demolition fence has been placed around the old Schimmel's Indian Hills Inn. Just as the Indian Hills Theater was razed in 2001 by Methodist Hospital, Children's Hospital and Medical Center will soon level the once large, luxury inn.
Now, for those of you who savor a deeper dig into the Schimmel's Indian Hills Inn, let us proceed. You will find what follows to be a Light to Moderate Stalking Day, by our obsessive standards. You see, I am still licking my wounds and sulking over my Facebook and Twitter losses. I am newly returning to writing and research—in point of fact, this Indian Hills Inn research was gathered in the winter. More on my misery here: The My Omaha Obsession Facebook Page Was Hacked.  Better late than never, I suppose. With that backhoe scraping away at the old motel, it will all soon be a kind of Almost Dream Never.
We are going to break with tradition and not work in chronological order today, because that it how my mind is working lately. We're going to wallow in it, celebrate, interrogate it and critique.We will swirl and dip around as whimsy takes us. If you are one of those who demand a story be told in the order of time, skip ahead to the subtitle Green For Go but then you must come back to the Absent Present section to wrap up. Promise me, good people.
Absent Present
The site we will be reviewing, built as Schimmel's Indian Hills Inn, historically carried the postal address of 8501 West Dodge Road but 8501 Dodge, 8519 West Dodge Road and 8511 West Dodge Road have been recorded as well. Back in the early Inn days, their own advertising pinned them to "78th & Dodge." So let us juggle these numbers in our minds with some leniency.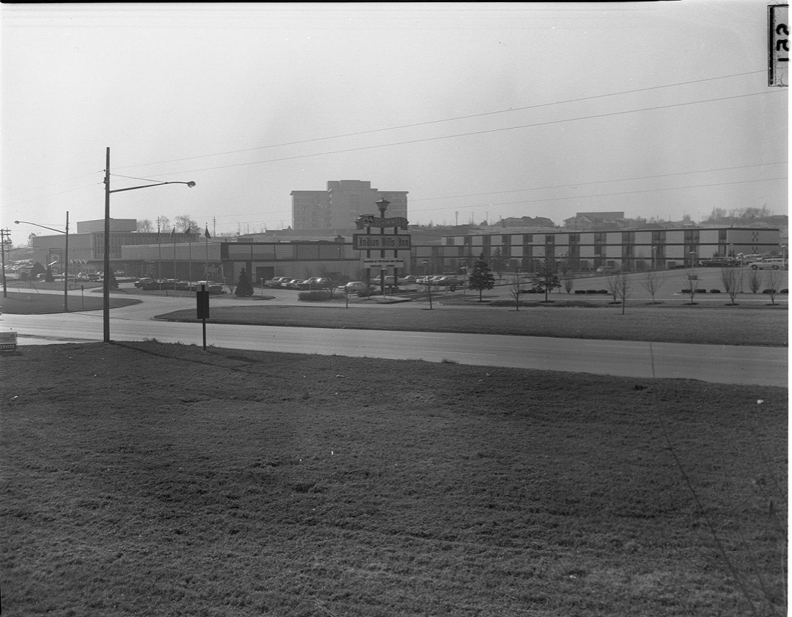 Schimmel's Indian Hills Inn stands on 8501 West Dodge Road. 1960s. Creator: Savage, John (1903-1989). Publisher: The Durham Museum. Camera faces southeast. Swanson Towers seen on the hill behind the motel. The Swanson Building is seen to the east. This image gives a good feel of how far on the outskirts the Inn was.
Methodist Hospital, as it was once simply known, bought out Schimmel's Indian Hills Inn in 1968. We will catch up to their nursing program shortly. Methodist had used the motel as their corporate headquarters, admin and legal offices since the mid-1980s. Another structure to the west, at 8601 West Dodge Road, built in 1964, was purchased by Methodist in 2001 and folded into their headquarters as well. Sensibly Methodist would use one address for the whole complex. Sadly, this 8601 West Dodge Road parcel also included the Indian Hills Theater, which was subsequently razed for Methodist parking after announcing, "Renovating and reopening the theater would be too costly and wouldn't fit the health system's long-range growth plan." The 8601 West Dodge Road structure was a long stretch of a building and always seemed to be medical offices in my childhood. It served as the streamlined backdrop, in my eyes, to the magical, carousal Indian Hills Theater, home to the largest Cinerama screen in the world.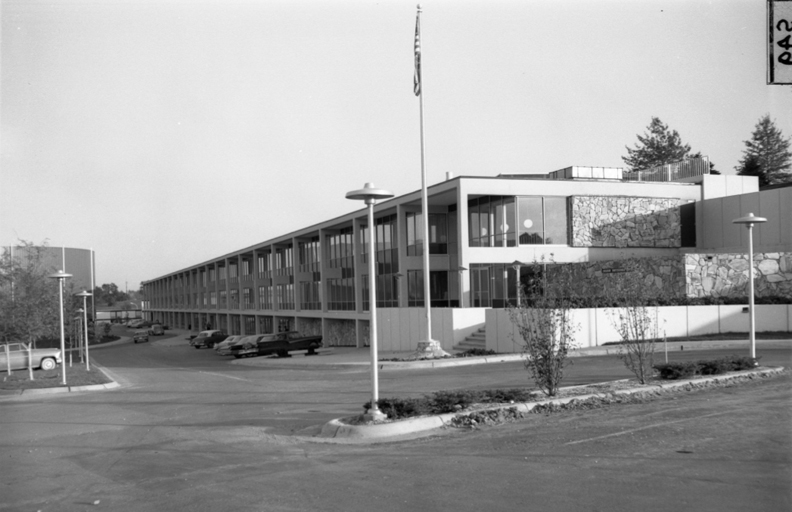 In October of 1963 the World-Herald was singing the praises of the Swanson Professional Center at 8601 West Dodge Road. It was celebrated for its future perfect architectural design and a sugar cake replica of the structure was on display at its open house. Throughout my life, various physicians and dentists' offices were housed there. The Swanson Professional Center. Located at 84th and Dodge. Creator: Savage, John (1903-1989). Publisher: The Durham Museum. Date: October of 1963. Notice the close proximity to the Indian Hills Theater. I didn't remember it being that near! Check out those UFO parking lot lights.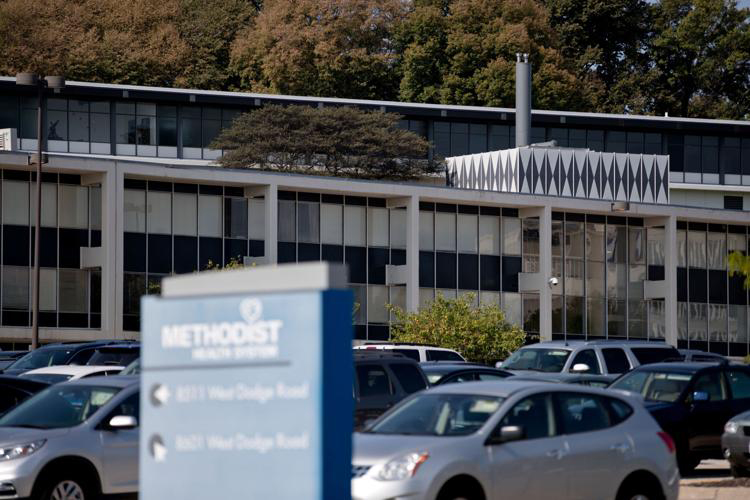 OWH. 8601 West Dodge Road, originally called the Swanson Professional Center, retained its cool Mid-Century Modern characteristics until very recently. Leo A. Daly Headquarters peer from above.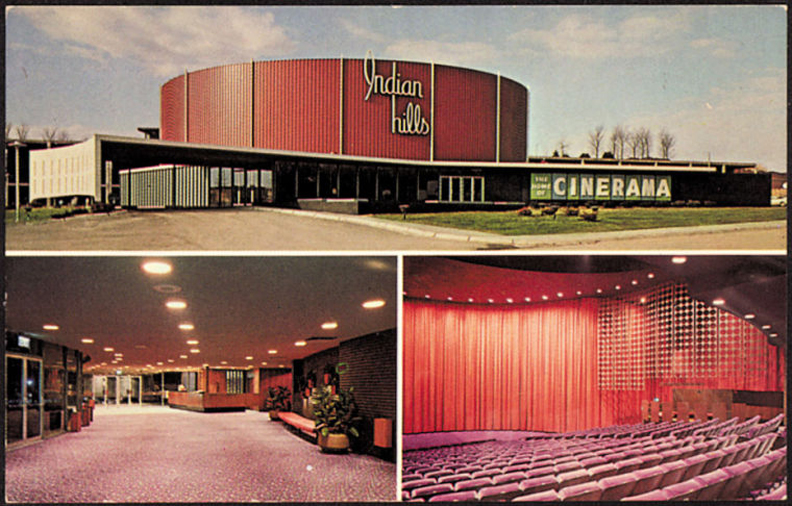 The Indian Hills Theater classic postcard. The Swanson Professional Center extended behind—seen to the left in the top photo. The main screen measured about 38 feet high and 105 feet wide– large enough to show films made in the 1950s and 1960s using the three-projector Cinerama process. "The first Cinerama film shown to the public at Indian Hills Theater was The Wonderful World of the Brothers Grimm. It opened Dec. 22, 1962. (Admission: $1.55 for matinees: $2.20 at night.) Omahans got their last look at Cinerama at Indian Hills on March 25, 1964, with the final showing of How the West Was Won."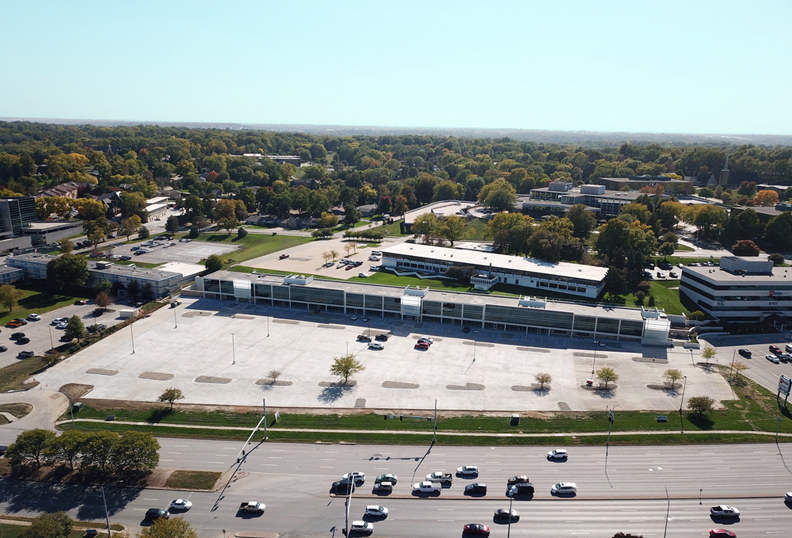 How the 8601 West Dodge Road parcel looks today after remodeling. Camera faces south. Former Schimmel's Indian Hills Inn on far left. N. P. Dodge building in the foreground. Leo A. Daly headquarters are behind on the hill at 8600 Indian Hills Drive. The Indian Hills Theater was positioned in the empty parking lot. Starbucks now in the northwestern corner of the parking lot. Photo borrowed from the N.P. Dodge site.
By 2017 Methodist Health System began construction on their new corporate headquarters out at 168th and Pacific, signally that their admin offices and 800 some employees would relocate from 8501 West Dodge. In 2006 they had transitioned Nebraska Methodist College and dormitories to five acres near 87th and Burt Streets. Investors Realty would list the 12.3-acre property along the busy 84th and West Dodge area for sale including the 104,000 sq ft 8501 (8511) West Dodge Road motel building and a 50,000 sq ft 8601 West Dodge Road building. Julie Anderson, OWH journalist, reported back in 2017, when Children's Hospital and Medical Center signed an agreement to procure the property from Methodist Health.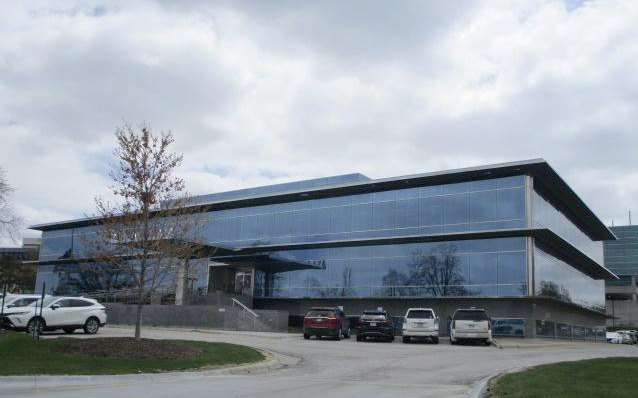 8401 West Dodge Road photo borrowed from the Douglas County Assessor site.
In 2017 Children's Hospital also purchased the property at 8401 West Dodge Rd, one of three big mirrored cubes, west of Children's Hospital. (8404 Indian Hills Drive has two structures on its property.) Children's Hospital officials hinted at that time that this acquisition would secure space for their future needs.
Meanwhile NP Dodge Co purchased the western portion of the parcel to redevelop the building at 8601 West Dodge Road. They have replaced the Swanson Professional Center crisp, modernist feel and remodeled it into a very bland, commercial frosted glass exterior; it was also replatted as Dodge Plaza development. We have since seen a Starbucks appear in the parking lot that was once needed for essential Methodist employees. Does it roil some to see that Starbucks? You bet.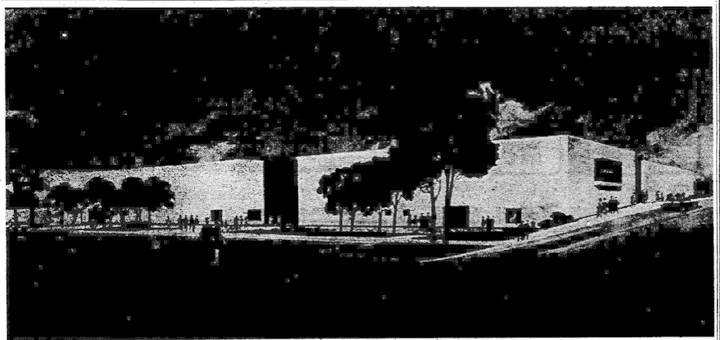 This is the architect's rendition of Indian Hills Plaza. OWH.
Back in 1970 the Indian Hills Plaza Shopping Center on the western end at 8901 West Dodge Road was also interchangeably called Topp's Shopping Plaza. The Topp and Seina families owned Topp's and the Seinas, specifically, developed the Indian Hills Plaza. Many years later I remember shopping with my grandmother at fabulous Topp's, a lovely women's ready-to-wear designer shop, primarily clothing the Ak-Sar-Ben set, and dining with the family at the enchanted Golden Apple restaurant on the lower level. To be seated near that storybook tree was a child's marvel!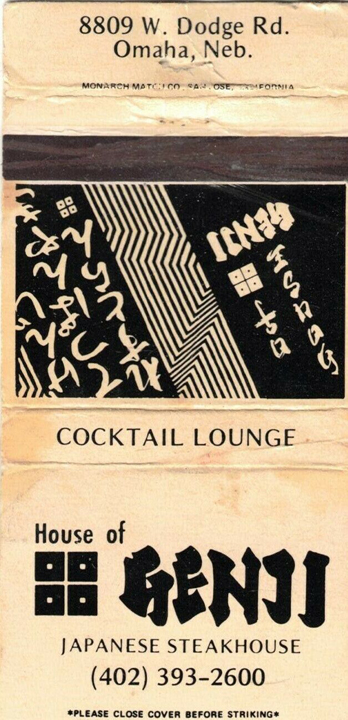 Any child of the mid 1970s will remember the super cool, two-story, dark wood, Japanese country styled home, the House of Genji at 8809 West Dodge Road and the House of Cathay underneath. House of Genji was a Japanese steakhouse, nestled in one door to the east of the swank plaza. Its breathtaking, movie-set building and curious wooden ramp was the creation of Masahiro Murata, brother of the owner, Masaya Murata. Back in 1992 Methodist Hospital (Primary Care Resources Inc., a subsidiary of the hospital, to be exact) struck a deal with the owners of the Indian Hills Plaza Shopping Center at 8901 West Dodge Road and also snapped up the House of Genji steakhouse at 8809 West Dodge Road. In this case, Methodist reported they were approached about buying both. Indian Hills Plaza still stands, now with the Methodist logo emblazoned on it but Murata's House of Genji house was unfortunately leveled.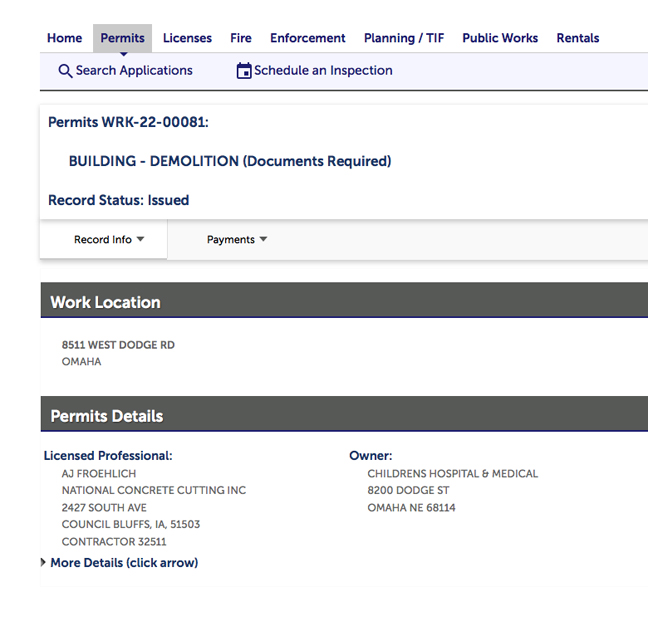 A demolition permit was filed June 28, 2022 for 8511 West Dodge Road. This is the current working address for the Schimmel's Indian Hills Inn, what was historically 8501 West Dodge Road. In addition to this demolition, there are other permits (commercial plumbing, commercial tank removal and commercial electrical) that went through on the 8501 West Dodge Road, oddly in the historic address, in February, May and July of 2022.
Green for Go
In 1957 the formal Indian Hills Village plans were drawn up for the twenty-six acres along Dodge—called "the business campus." There were nine and a half acres of "apartment campus" south of Indian Hills Drive. The rest of the large plat was set aside for 107 residences, a grade school and new Lutheran church.
In November of 1956 a building permit was issued for the $1,600,000 Guarantee Mutual Life Company Headquarters at 8721 Indian Hills Drive. By 1958 Guarantee Mutual became the first building completed in the Indian Hills Village. The Leo A. Daly Building at 8600 Indian Hills Drive (sometimes labeled 8636) was completed in 1959, joining the Swanson Building at 8401 Dodge. Over time this building would be renamed Durham Plaza..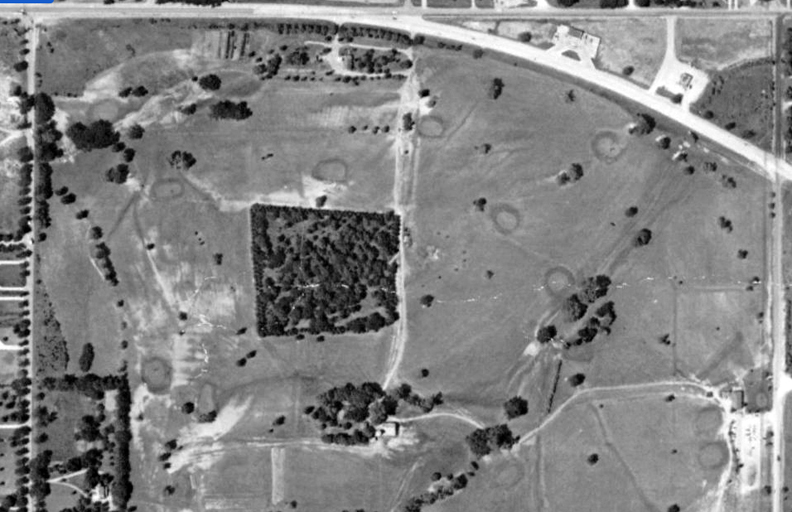 Aerial photograph from 1955. West Dodge Road is at the top of frame, curving as it heads east, although not yet called West Dodge Road—still just Dodge Street. (It gets confusing.) 84th Street runs north and south on the right border of frame. 90th Street, also north and south is on the far left. The Indian Hills Golf Course is in view. Entrance on the 84th Street side. Properties and development seen on the outer boundaries.
Early on, I would visit the Douglas County Deeds office and dig a little deeper. The once Schimmel's Indian Hills Inn property carried a legal description of Indian Hills Village Lot 6, Block 0. Additional baggage: "Lot 2 & 5 & -EX IRREG 42.54 X 16.35 FT TRIA- E 93.99 FT LOT 6 IRREG" but for our purposes today, we will not allow ourselves to get pulled into that mire. Of note, the county had the motel as being built by 1960, something oft repeated in news articles. However this date is incorrect. More on this later. I could see on various deeds in the Indian Hills Village that the Malvern Company moved their parcels into the Gilbert C. Swanson name in early January of 1958.
I would trace the formation of the Malvern Company back to 1946, when the firm quietly began scooping up property around town. By 1957 the Malvern Company preferred not be called "developers"—its only stockholders, brothers Clarke and Gilbert Swanson, helmed the company. The Indian Hills Golf course and land amounting to 135 acres, was "purchased by the Malvern Company for construction of an office building for lease to C. A. Swanson & Sons. When the food processing firm was merged into Campbell Soup Company, the Malvern Company was relieved of the responsibility of providing a site for the building." The Village plan was hatched after that. If you want to know more about the original farmland and initiation of the golf course, please review the Swanson Towers investigation.
Deeper Still
A visit to the downtown W. Dale Clark Library would allow me to peck through the Omaha City Directories. The 1953 book showed: 7425 Dodge Street was the Fruehauf Trailer Company and next door at was the 7500 Dodge was Campbell's Golf Range and Western Aire Pony Rides. The western edge of Omaha in 1953 was apparently at 7600 Dodge—the Wishbone Restaurant. On the "n e corner" was the Tower Motor Court. The "s e corner" was Grabow's Service Station. Way, way, way out at 7801 was the Gordon Trimble Trailers. This 1953 book displayed the Indian Hills Golf Course at "84th and Dodge"in full swing.
It wasn't until the 1961 City Directory that the 8401 Dodge "The Swanson Building" appeared. I took note that it housed the Stanley J. How & Associates in addition to many other companies. There was no Indian Hills Inn—no 8501 West Dodge Road yet. The next addresses after the Swanson Building were the family homes of 9417 Roger Haney, 9503 Cecil Fechner and 9507 Norman Rosen.
Thank goodness the 1963 City Directory exposed that B & G Drive-In had arrived in good time and really, we must all thank God for that. In that year, "Schimmels Indian Hills Inn Restaurant"also joined the ranks. This was clear evidence. It oddly only listed the restaurant but I could figure it had opened by 1962 or 1963. Also Tom's Champlin Service Station at 8510 Dodge was now a neighbor, most likely on the north side of Dodge.
The Listening Eyes
In winter of 1961, the World-Herald presented Omaha with Architect Stanley J. How's drawing of the new Schimmel Indian Hills Inn, to be built on an eight-acre site "immediately west of the Swanson Building." The architect stated the "hotel will be open May 1, 1962." He let on Edward T. Schimmel would be managing director of the hotel. The new inn would offer "a swimming pool, six hundred capacity ballroom, restaurant, several bars and meeting rooms for smaller groups. Other facilities will include a barbershop, beauty shop, gift shop and bottle room." Mr. How explained that this portion of the facility and 205 guest rooms would be built immediately with another two hundred rooms to be added later. I would discover that this additional two hundred rooms affirmed never came to fruition.
Let me again emphasize that Stanley J. How Architects designed the Indian Hills Inn. The modern post and beam is sometimes credited to Leo A. Daly. Even the Society of Architectural Historians has this motor hotel mislabeled under Daly's contributions. Stanley How, ladies and gents.
(I had mentioned it earlier– Architect Stanley How had his office in the Swanson Building. He had designed the Swanson Towers and the Pinkerton Agency building, across Dodge. For more on that, check out The Questions of Lamplighter Lane.)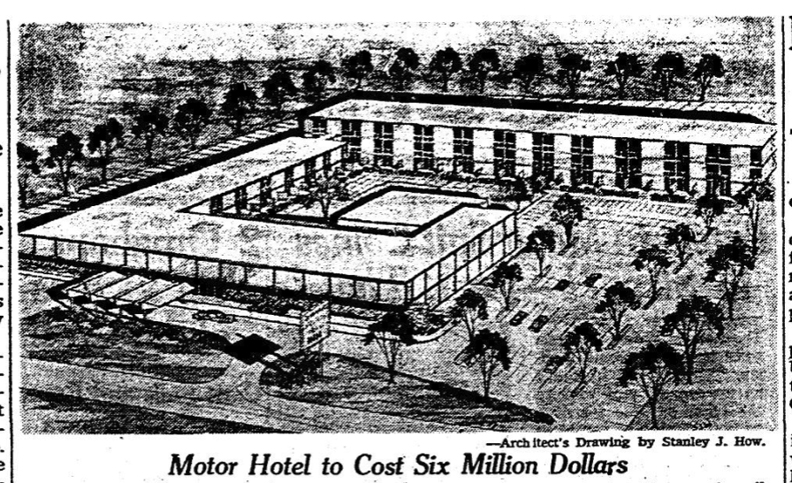 OWH. February 16, 1961: Architect's drawing by Stanley J. How. "The four hundred room motor hotel will cost six million dollars. The hotel to be named the Shimmel Indian Hills Inn, is being built jointly by Barton H. and Michael J. Ford. It will be leased and operated by the Schimmel Hotels. Barton Ford said the general construction contract has been awarded to Peter Kiewit Sons Construction Company.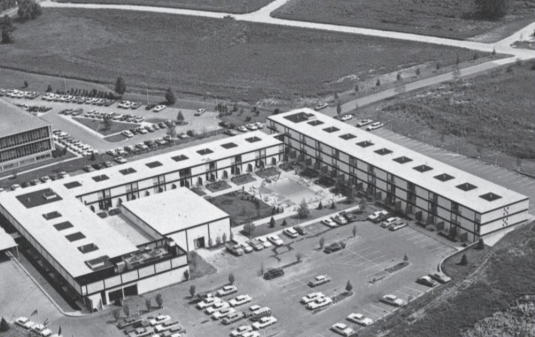 Aerial of the completed Indian Hills Inn, for comparison purposes. How stayed true to his initial rendering. The Inn sported a modern, post and beam U-shaped, flat-roofed building offering 200 rooms.
**Addendum of July 23, 2022**
Thanks to a friendly My Omaha Obsession sleuth, we are able to gain a delicious peek at the Schimmel's Indian Hills Inn through copies of 1/2 size blue line set. He explained that it's a smaller copy of the original blueprint. Outstanding Clues. Stanley How's architectural plans include comprehensive drawings of all aspects of the completed motel project. I was particularly interested in the fireplace in the lobby, which he was able to find us. I just included a few drawings.


Stanley J. How's architectural documents dated January 16, 1961.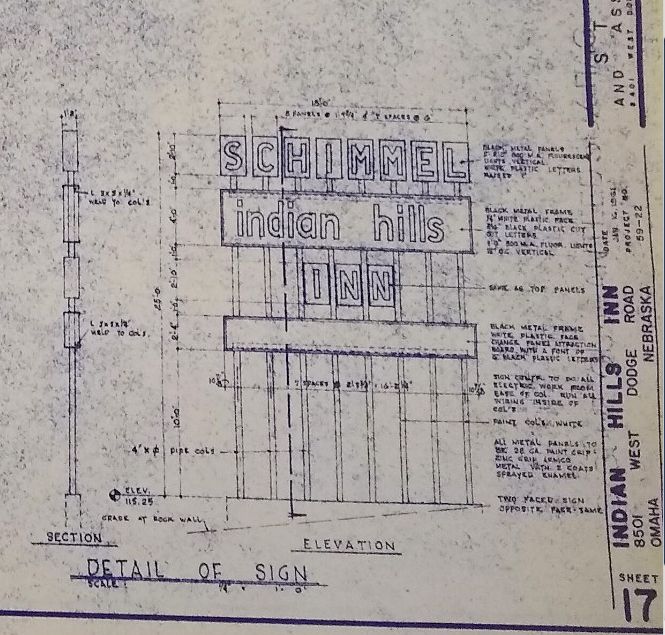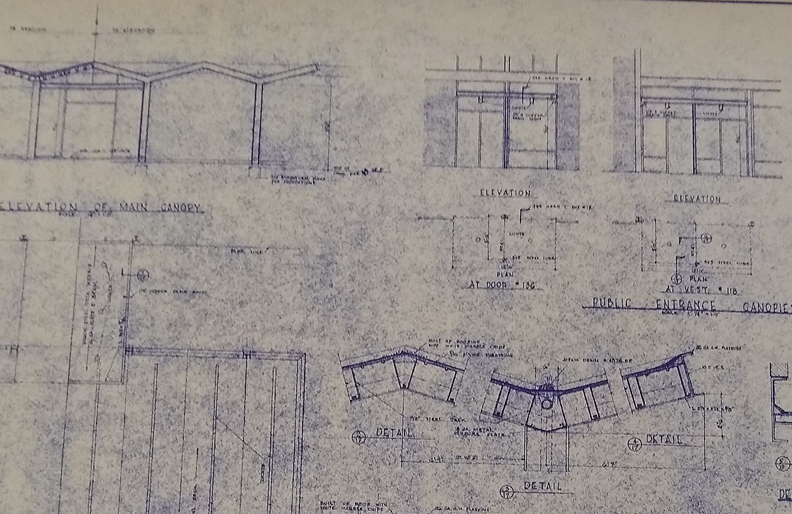 "Canopies and Sign" plan included my zig zag canopy obsession.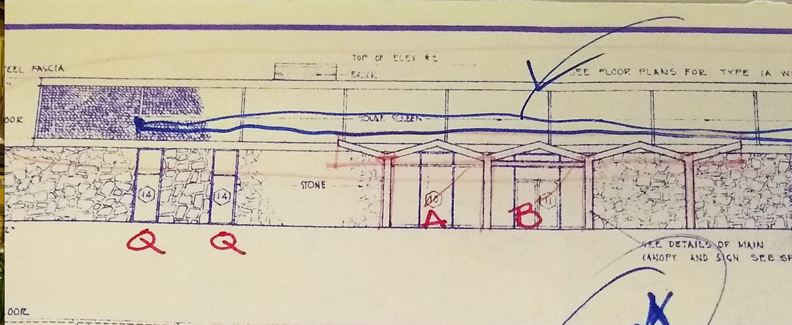 Public Entrance Canopies showed the northern elevation with cement solar screens and extended stone wall.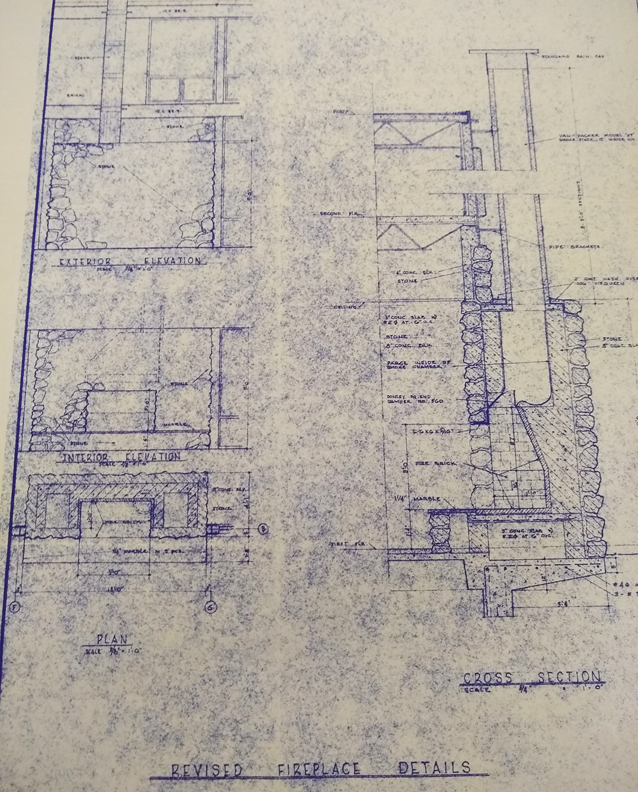 A big thank you, Anonymous Friend. Excellent sleuthing!
Digging was said to begin on or before March 1, 1961. Michael J. and Barton Ford were issued a $1,100,000 building permit for "8519 West Dodge Road" for their "new luxury motor hotel." Ahh don't forget that Barton and Mike Ford actually owned the motel, not the Schimmels. Wait…who were the Fords?
The Fabulous Fords
It turns out, back in 1960, Barton Ford with his son Michael J. "Mike" Ford, the Schimmel Brothers and architect Stanley J. How "conducted a lengthy study of hotels through the country and the needs in Omaha." Barton Ford stated, "Omaha needs four hundred more hotel rooms now. We could have invested our money anywhere and the Schimmels could have operated the hotel anywhere." Their decision to build in Omaha showed a confidence that their hometown was going to continue to grow.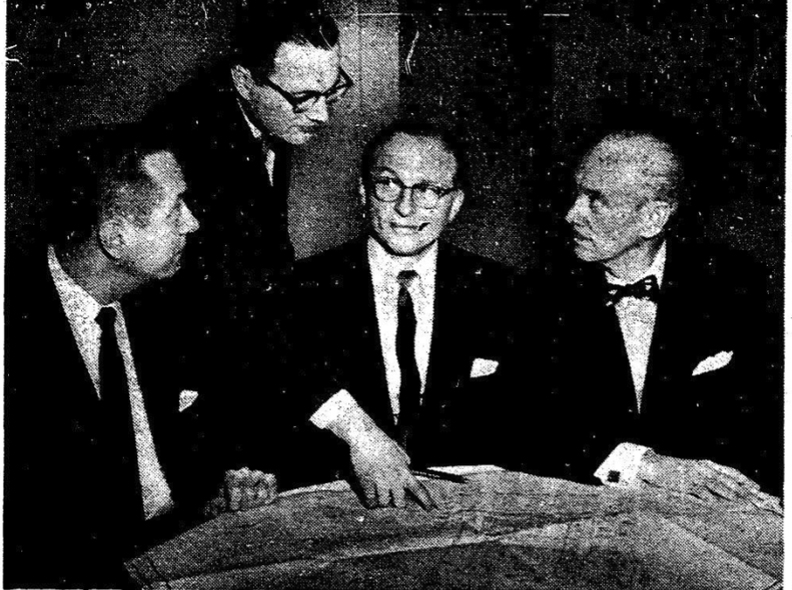 OWH. April 3 1960. Left to right. Michael Ford, Stanley J. How (standing), Edward Schimmel and Barton Ford with plans for their new hotel.
I know it's not nice to talk about how good Midwestern folks made their money but we simply must—because this is pretty cool. The Fords had invented steel-reinforced cardboard liners and inner doors for grain-carrying boxcars, used at that time by all the major railroads in the United States and Canada. Barton Ford would then sell the Ford Grain Door Company to the International-Stanley Corporation. His son, Mike was vice-president and general manager of International-Stanley's Omaha operation.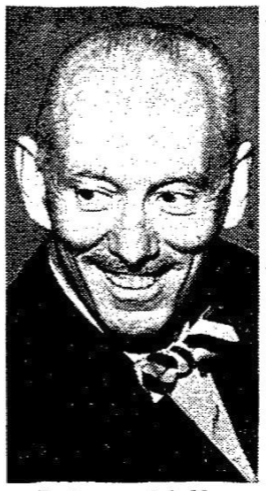 OWH. Barton Ford.
Mr. Barton Ford had attended Central High, Creighton and Omaha Universities (now called UNO). From my research, the elder Ford was most often described as a racehorse owner, thoroughbred horse breeder, industrialist, landowner (i.e. A Lot of property around town) and businessman. He owned the Diplomat Hotel, originally called the Henshaw Hotel at 1511 Farnam. It would transition to low cost housing for the elderly in 1976. This is a property I am obsessed with and have frequently dropped hints that I will be writing about it.
Let me just share this for now: In December of 1959 Barton Ford bought the old Henshaw Hotel from the Redick estate. The hotel was at 1511 Farnam Street with surrounding retail stores including an early Bishop's Cafeteria with plans to remodel it. (I never heard tell of this Bishop's, btw.) In July of 1961 the father-son duo of Barton and Mike proclaimed the Diplomat Hotel would open, to be managed by the Dillon Hotels Company. The Henshaw Hotel rooms were to be updated with air conditioning and hi-fis installed in every room. (Hi-fis!) The front was given a new MCM exterior, the interior gutted to the steelwork. And who was the architect?–Stanley J. How was the architect on that project as well.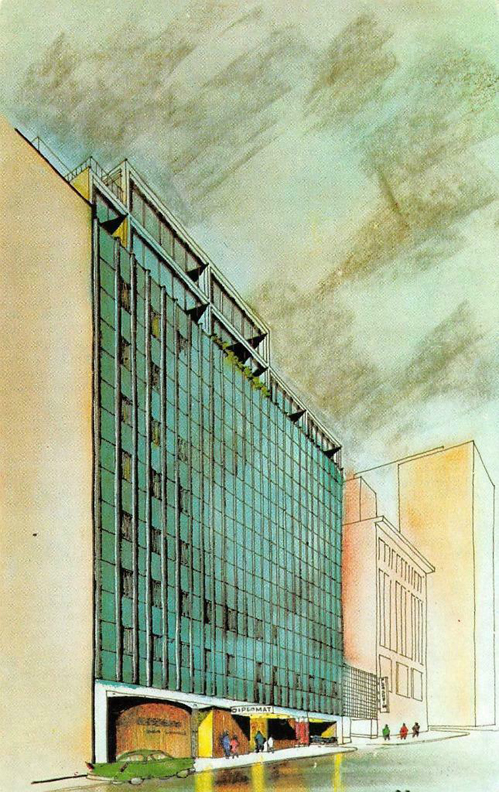 Stanley J. How's architectural illustration of the Diplomat Hotel-Hotel Diplomat at 1511 Farnam. At least this was the early vision. The east portion never came to fruition.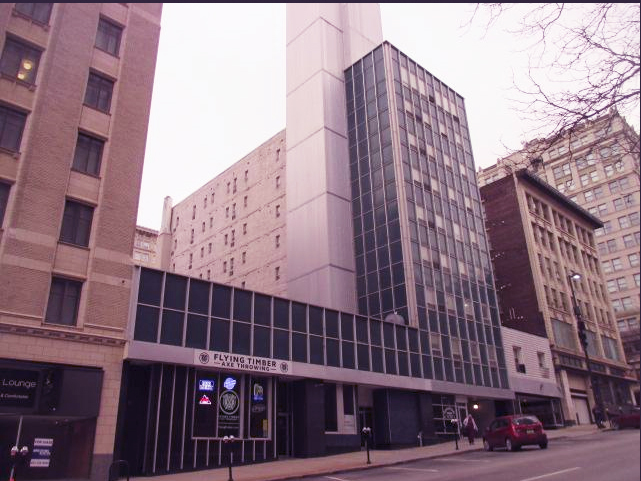 This is actually how 1511 Farnam looks. I have been fascinated with it forever. Those greenish blue panels! It seemed deferred. An odd fit, in the best way. Now we know why. Or was its proximity to Cosmos Wigs that held my fascination?
My Love. Cosmos Wigs was at 1517 Farnam Street. Between you, me and postman, Cosmos was a portal to the beyond! Did Stanley J. How have anything to do with the placement of that fetching concrete block wall? Because I am slowly building a case that Stanley How had a preference for concrete blocks.
Pointers indicate that the Fords saw a need for hotel rooms in Omaha and this opportunity was deemed a worthy investment. The late 1950s were also a time that modern motels were taking shape, as the Interstate Highway System grew. Motels were different than hotels in that they had a lower profile, instead focusing on exterior corridors, individual suites and doors that guests could key into from a central area—often focalized around a courtyard, a swimming pool or the parking lot. The mainstream hotel chains began to buy up the little guys and to quote a 1963 Holiday Inn exec, the "assembly-line lodging" staked their claim. It is significant to our storyline that at the time it was being built, Schimmel's Indian Hills Inn was considered out west, some old timers possibly still remembering it as the Lincoln Highway. According to an early Indian Hills Inn postcard, they were located at Highways 6 and 30A to add to the madness. Another Essential to this particular equation was the inclusion of the Schimmels, as long time authorities in the hospitality industry. Indian Hills Inn was guaranteed a panache and impress upon Omahans a standard synonymous with the Schimmel name.
The Schimmel Legacy
Charles Schimmel immigrated to America from Vienna in 1888. Apparently the first Schimmel hotel in the United States was established by Charles and Mary Schimmel in Galesburg, Illinois. The Schimmel family moved to Omaha in 1920 when father Schimmel purchased the Blackstone Hotel. Charles' sons, who would become Omaha's famous Schimmel Brothers were Edward, "Abe" or "AQ" (Abe Quincy?), Bernard and "Walt." Bernard, for one, attended Central High, would study in Europe from 1927 to 1931 "including the Hotel School at Lausanne, Switzerland." The Schimmel brothers inherited the well-respected hotel chain upon their father's death; they would own and operate as the Schimmel Hotel Corporation, a group of several hotels in the Midwest. Blackstone, the Cornhusker, the Lassen in Wichita, Kansas. There were others hotels in Quincy and Galesburg, Illinois, Kansas City, Kansas. "For 16 years the Orleans Room at the Blackstone under Schimmel's direction was the only restaurant in Nebraska to received Holiday Magazine's 'Award of Excellence.'"
For more on the Schimmel family contributions, check out these stories:
The Reuben Sandwich Probably Wasn't Invented Where You Thought It Was and Crystal and Corned Beef.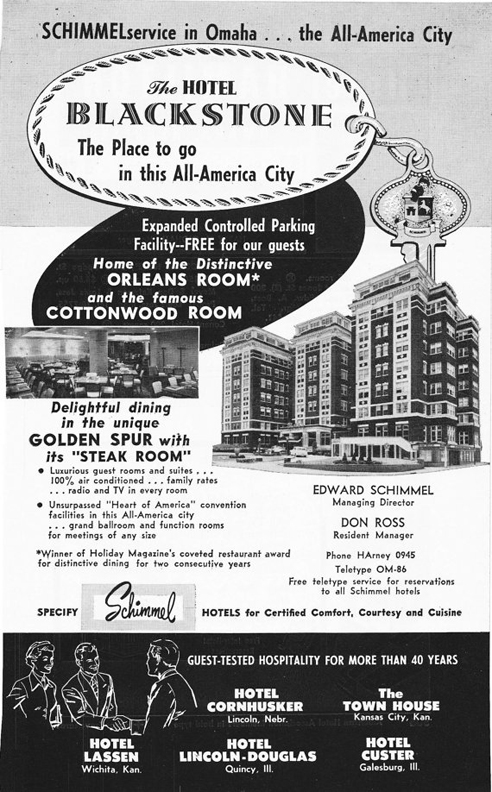 1950s Blackstone Hotel advertisement. Edward is listed as managing director. Note the Schimmel crest on the key. Was it true that the golden Cottonwood Room tree was moved to my favorite Golden Apple in the Indian Hills Plaza? I think I remember my grandmother telling me that about the tree when I was little.
Brother Edward originally was chosen to lead as managing director of Schimmel's Indian Hills Inn. Three of the Schimmel brothers were at first met with a roadblock by the Omaha City Council, in pursuit of their Indian Hills Inn liquor license. I am not sure if the Council thought the Inn would be some kind of gruff, edge of town roadhouse but that was my take away after reading the Schimmels' attorney's response as he worked to explain. "The project would cost several million dollars and actually be a hotel." But those were conservative days in Omaha, with one council member, James Dworak stating he was "against the principle of issuing new licenses." Period. Odd. But the brothers got their liquor license after a time and it would appear by the number of events through the years, that he spirits flowed.
Of note by July of 1961 the Schimmels had sold their Hotel Custer, a Galesburg, Illinois landmark and in an apparent change of plans, Bernard Schimmel was moving to Omaha to head up the new Schimmel's Indian Hills Inn. As of December 1961, Indian Hills Inn was 82 percent complete.
Early American style Schimmels' advertisement found in the Omaha City Directory. The Hotel Cornhusker at 13th and M Streets in Lincoln featuring the Pow Wow Room, the Tee Pee Room and the Landmark. The Hotel Blackstone offered 250 rooms and the Orleans Room, Golden Spur and the Cottonwood Room.
Open Season
The day finally arrived. Bernard Schimmel invited the World-Herald in for a tour of the brand new Schimmel's Indian Hills Inn on March 17, 1962. Days later Randall Davis the Texan president of the American Hotel Association was in the town and along with the Governor Morrison and others, conducted a brief ceremony for the $3,100,000 Indian Hills Inn, which officially opened on Monday March 19, 1962. This is another point on our case map where we will put a little black pin, as this structure has often been incorrectly dated to 1960.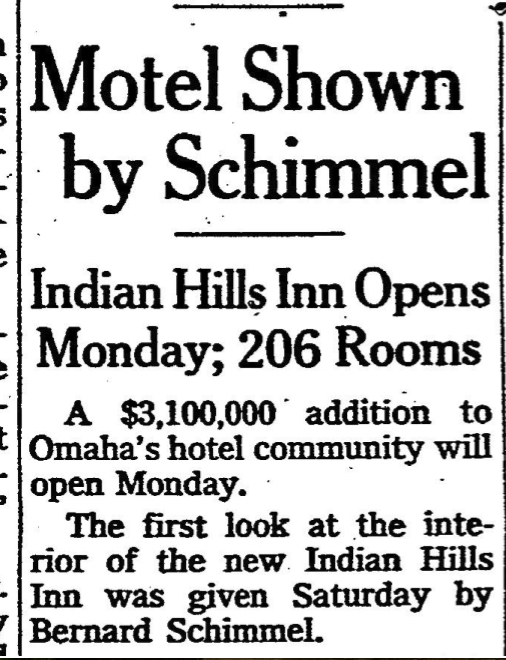 OWH. March 17, 1962: Motel Shown Bernard Schimmel.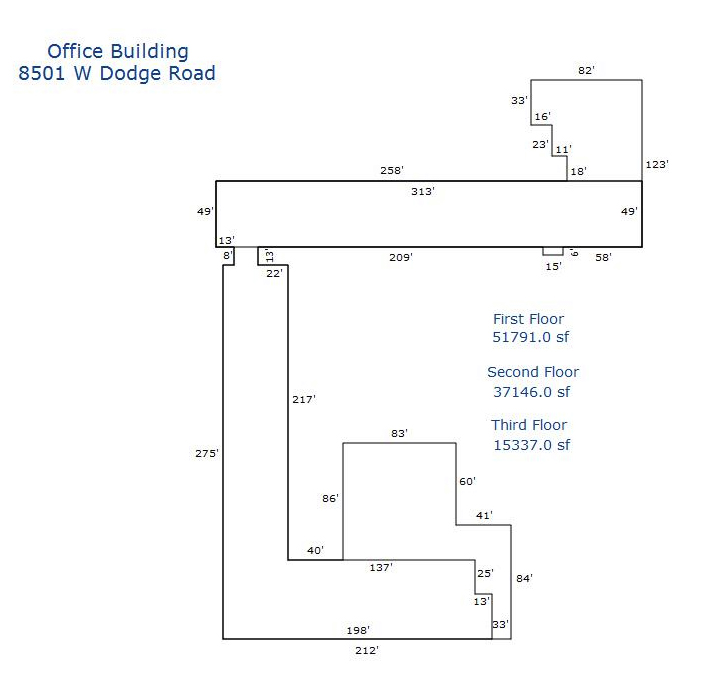 Image of floor plan borrowed from the Douglas County Assessor site.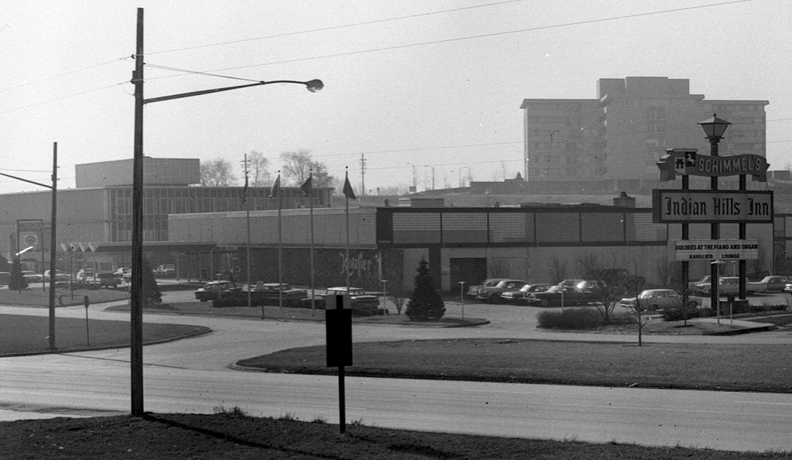 The entrance to the motel faced Dodge. The administrative offices, guest check in, restaurants and bars were in this front, north facing wing. The ballroom's entrance was also off the main lobby but jutted south and looked out over the pool, which was encircled by all wings. What I really want to know is, was the Indian Hills Inn originally baby blue with yellow concrete blocks, as it is today? These historic photos make it look more dramatic than it appears in recent years. 1960s. Creator: Savage, John (1903-1989). Publisher: The Durham Museum. Camera faces southeast. Swanson Towers seen on the hill behind the motel. The Swanson Building is seen to the east.
Situated on the eight-acre site of the former Indian Hills Golf Course, "the building consists of two-and three-story wings arranged on a U-shaped plan with a simple overall geometric form, expressed post-and-beam structural system, and a flat roof." The Kavalier dining room could accommodate 250 and offered a European-styled interior. They also hosted in the wonderful Kavalier Cocktail Lounge. If those walls could talk. The Backstage Lounge was decorated as the backstage area of a theater. (I pray there were velvet curtains and sandbags hanging from ropes.) The Viennese Ballroom, no doubt named for Charles Schimmel's homeland, could accommodate large events, business meetings and weddings and easily be turned into a buffet with overflow seating for special holiday meals. About half the rooms overlooked the landscaped garden terrace, location of the 30 ft by 60 ft swimming pool. I would discover two "Ak-Sar-Ben Rooms," at least in the first year and the upper-ups within the Ak-Sar-Ben hierarchy held formal gatherings at the Inn in the years to follow.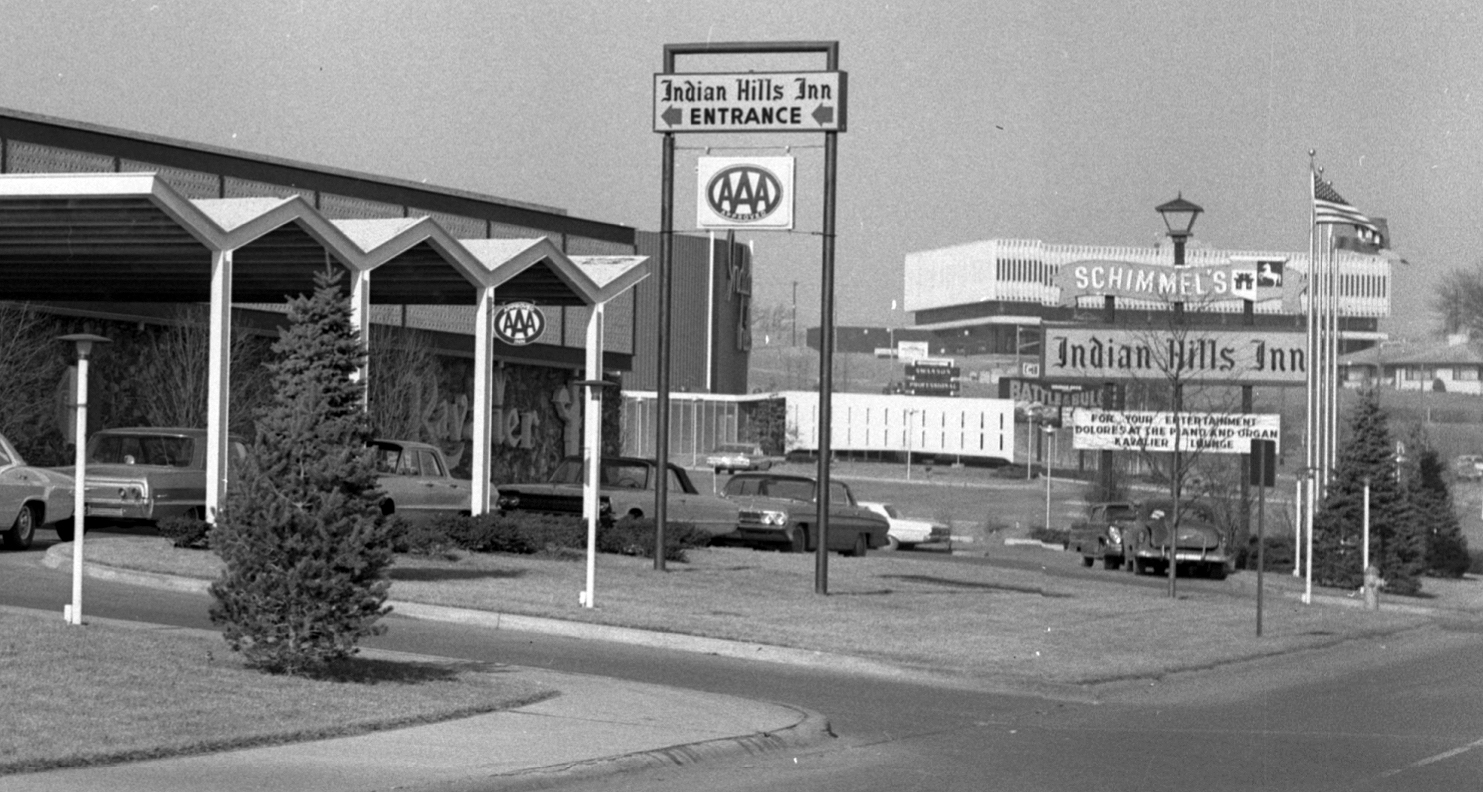 I would love to maneuver my car down the long, circular drive. How's version of the piecrust, zig-zag porte cochere, a signature of mid-century architecture, is a subdued one. Actually I would have liked to see a bit more exaggeration and flamboyance at the front of house overall, but that's just me. Detail of entrance. Camera faces southwest. Savage, John (1903-1989). Publisher: The Durham Museum.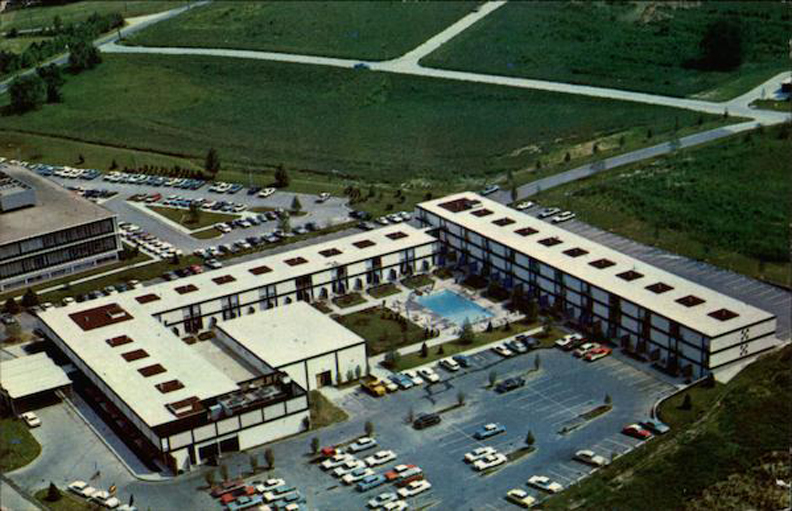 One version of the multitude of Schimmel's Indian Hills Inn postcards. The reason we admire it—minimalism meets moxie. How's concrete brise-soleil, the suggestions of interiors of colorful terrazzo and MCM tilework, the hope of aluminum treatments and a swanky pool deck. Low-profile swank. Generous and relaxed compared to the digital age clutter. Also I simply must point out—the roofline on the front of house seems to have an overhang lip. Where did that go to and also when did the zig-zag canopy disappear?
Early Advertisements
I love these images and they help me conjure a sense of the Indian Hills Inn culture. "Make this a Schimmel summer," stating they didn't really open until April of 1962. Huh? Right away pre-nuptial and rehearsal dinners were being scheduled, the Indian Hills Ballroom was booked for formal parties and architects' conferences, Urban League luncheons, formal dances, Cancer Society banquets and sororities gathered for their soirees. Yes, many mantel clocks and gold wrist watches were presented to many deserving men in this first year.Whether it was live entertainment, which was enjoyed and expected in those days, the introduction of the original staycation or Style Show Friday Luncheons featuring exciting fashions by Zoob's, Schimmel's Indian Hills Inn was curating and tastemaking in Omaha—and not just for overnight guests.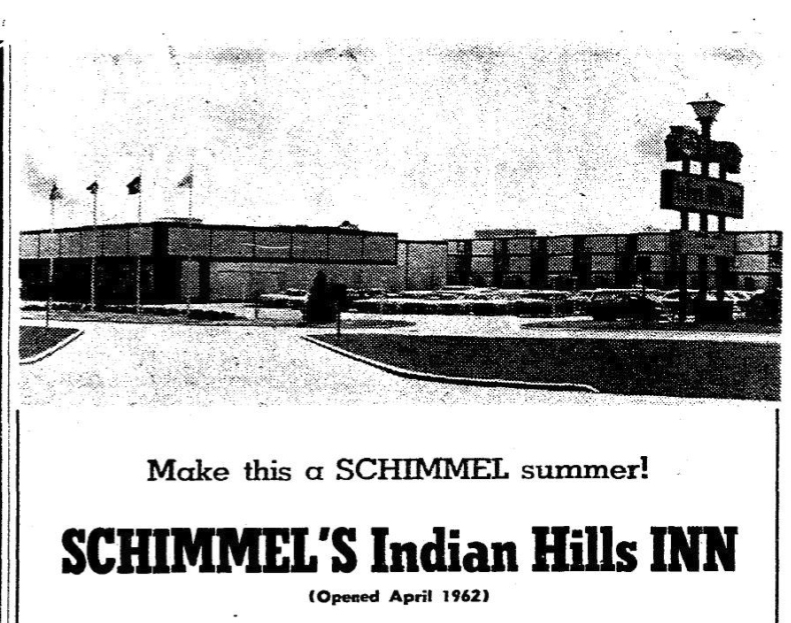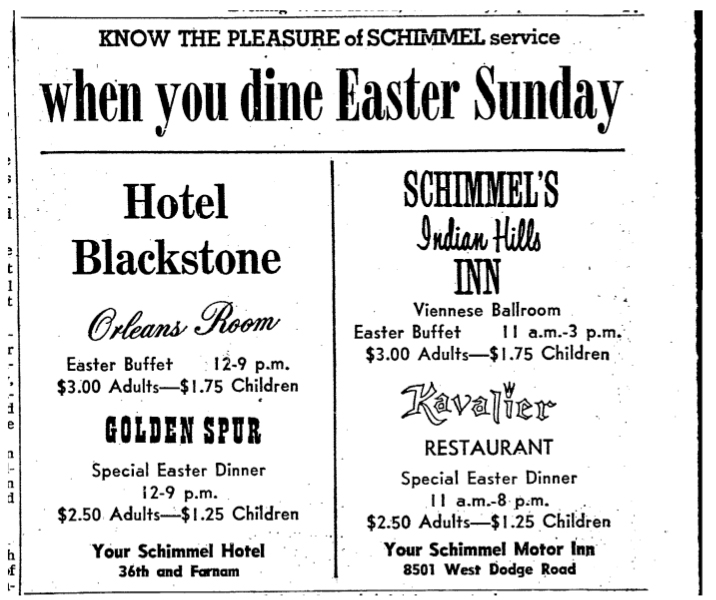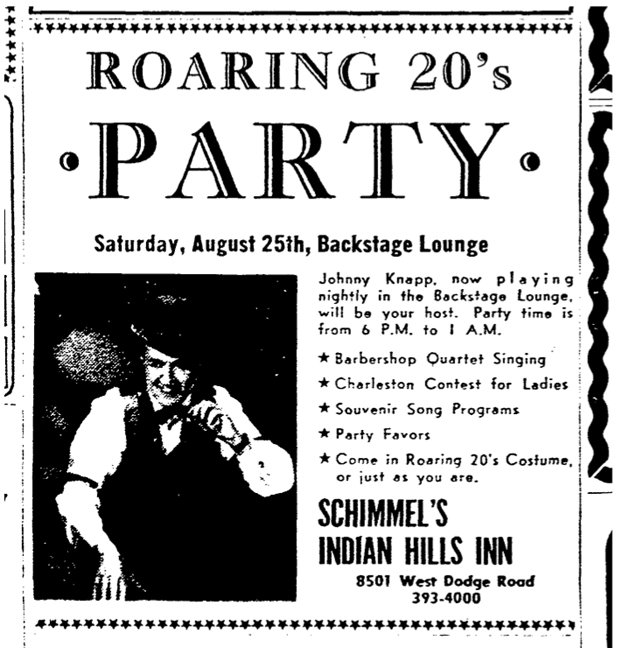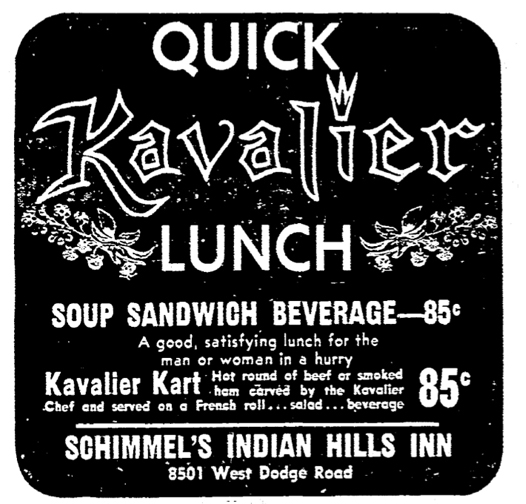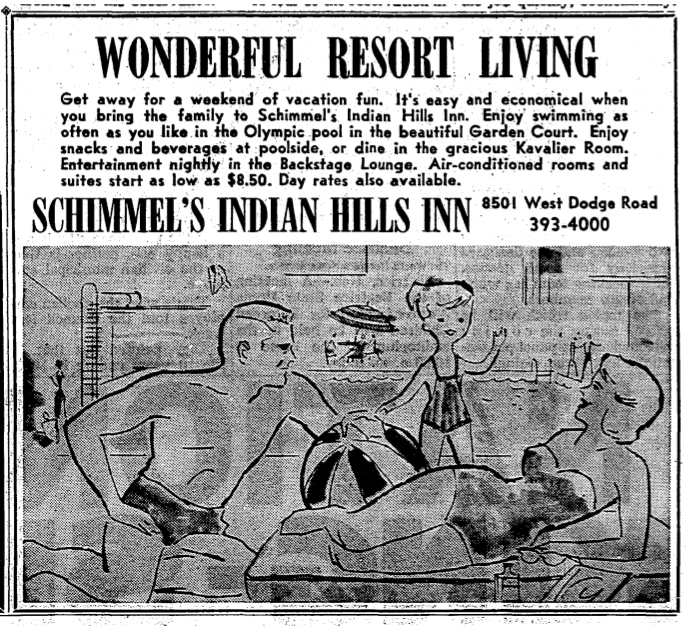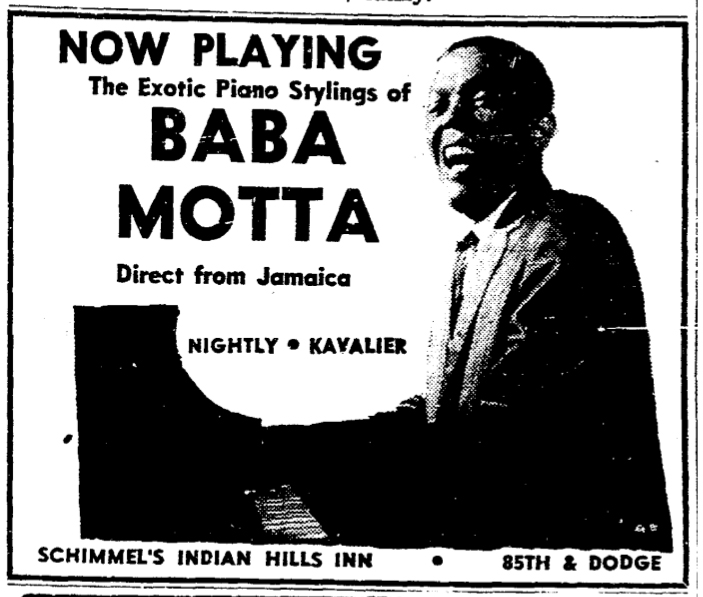 The New Neighbor
It couldn't have been timelier. Not long after the grand opening of Schimmel's Indian Hills Inn, the Swanson family alerted the media that a source of amusement was sprouting up next door. This new building would gain early notoriety for being bright and futuristic. (Well even into my day it was a standout for these same characteristics.) The four-acre site west of the Indian Hills Inn would become the circular-shaped theater, the Indian Hills Cinerama. The nationally known Indian Hills Theater was completed in 1962 as a showplace for wide-screen films. The "Cinerama" screen, one of the three screens within Indian Hills, utilized a process that filmed using three cameras and likewise three projectors to show it.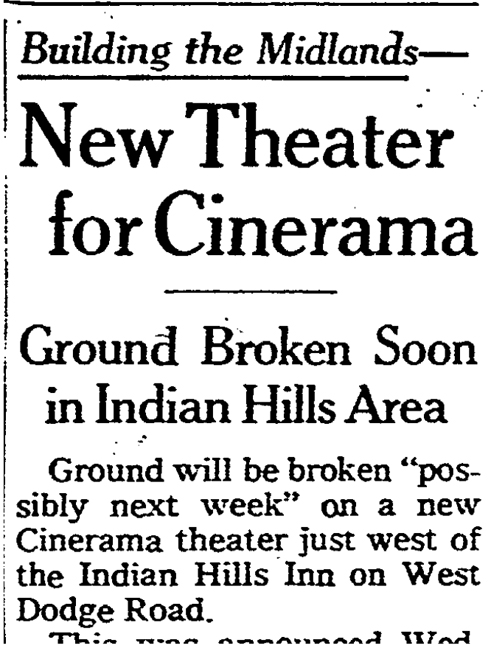 OWH. May of 1962.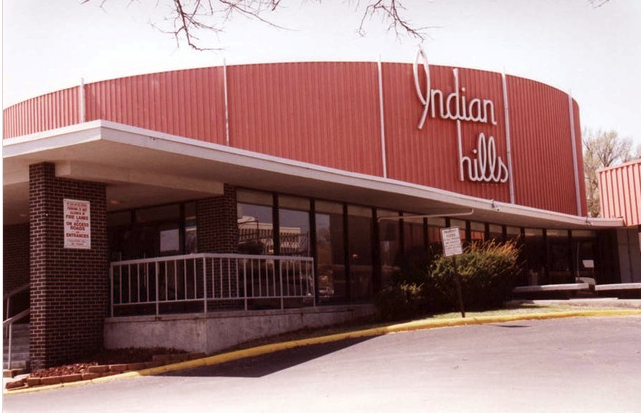 8601 West Dodge Road. Indian Hills Theater.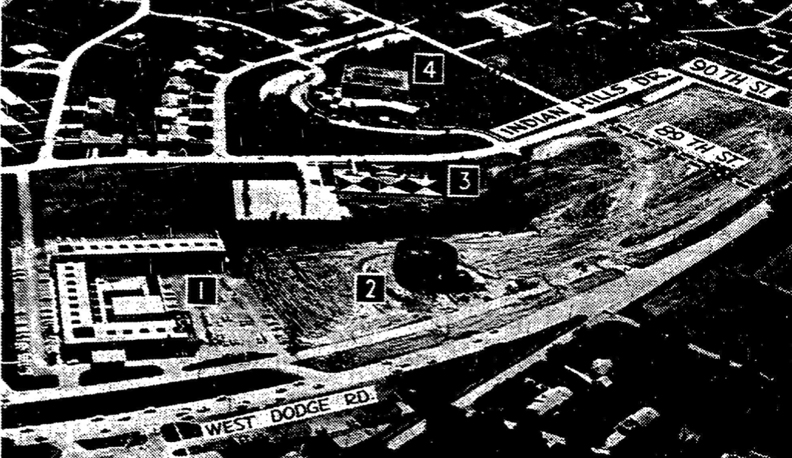 OWH aerial from September of 1962 showed the Swansons' Indian Hills Village business campus was taking shape. "Indian Hills business park includes 1. Indian Hills Inn 2. Cinerama Theater (later to be called Indian Hills) 3. Daly Building 4. Guarantee Mutual…Land bounded by Eighty-ninth and Ninetieth Streets, West Dodge Road and Indian Hills Drive is being considered for rezoning."
Fascinating Historic Clue Number One
I was delighted with this next discovery. Bill J. Hammon approached the Schimmel Brothers with a great idea. Hammon was the artist who created the incredible, colorful, glass sculpture between the escalators on the first floor of Brandeis Department Store at the Crossroads. (For that story follow: For the Love of the Brandeis Sculpture Fountain.)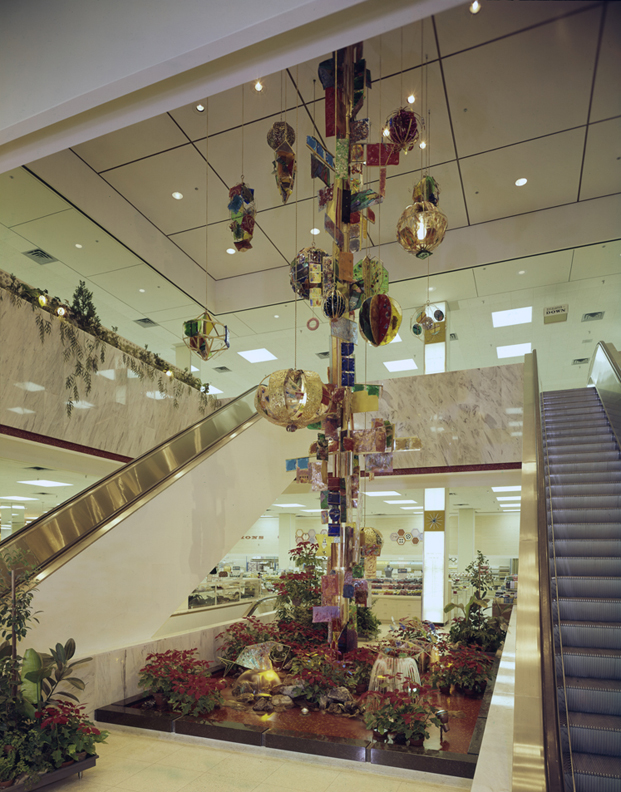 Brandeis Department Store Pre-Grand Opening at Crossroads Shopping Center. 72nd and Dodge Street. October 1960. Photo courtesy of the Bostwick-Frohardt/KM3TV Photography Collection at The Durham Museum Photo Archive.
Hammon suggested that an original piece of art by local artists be featured in each of the more than two hundred rooms of the new Indian Hills Inn. The Schimmel moteliers embraced the home town pride idea and soon after, prints, water colors, etchings, drawings, seragraphs, pastels and oils were included by artists Milt Wolsky, John and Hettie-Marie Andrews, Syd Fossum, Leonard Thiessen, Horace Day, Bill Hammon and others. So along with having a hep Mid-Century décor, there were commutual, original, modern works of art placed throughout Schimmel's Indian Hills Inn. On that note, if anyone has any interior photos of the Indian Hills Inn, please make contact.
What follows is an incredible sampling of the artists included at Indian Hills Inn. I do not know that these pieces were hanging in the motel. If anyone has any information about the Indian Hills Inn collection, I am dying to know more.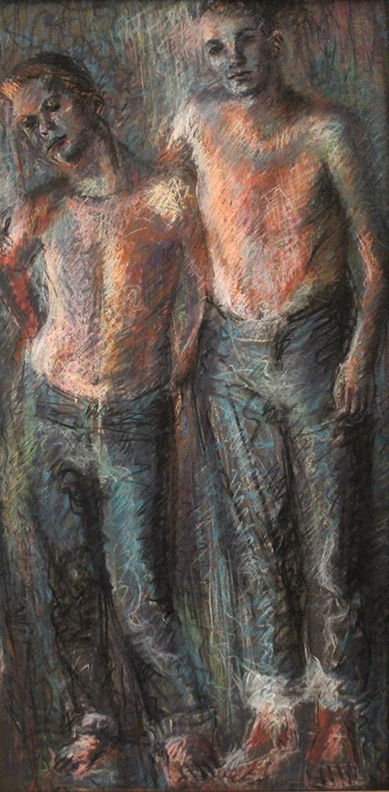 Hettie-Marie Andrews, The Brothers, pastel, c. 1958. Image borrowed from the Museum of Nebraska Art website.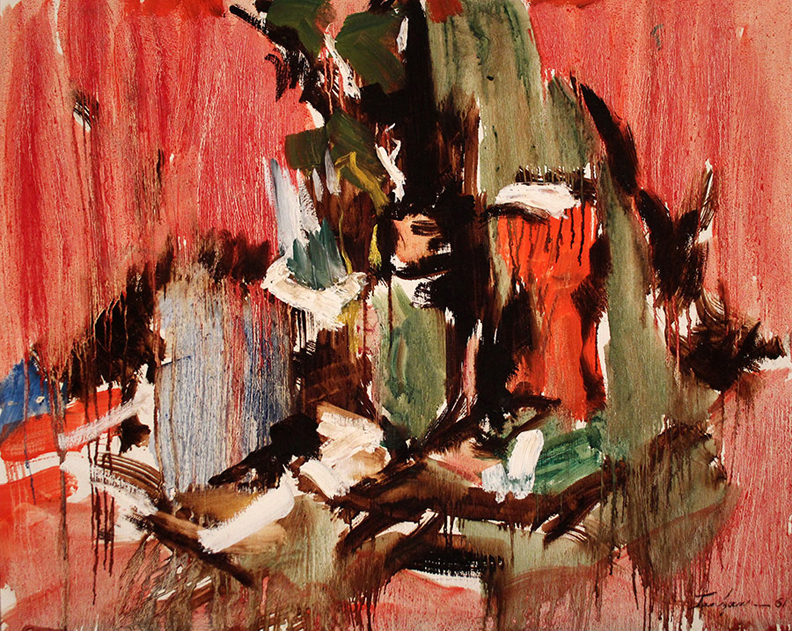 John Janzan, Red Vansk Pitcher, oil, 1961. Image borrowed from the Museum of Nebraska Art website.

Bill J. Hammon, Growth, Aldamar. Image borrowed from the Museum of Nebraska Art website.
Lasting Ephemera
Treasures and yummies found on Ebay and at the History Nebraska Nebraska State Historical Society site. I checked with Amy Mather, librarian at the W. Dale Clark Library, as Omaha Queen of the Menus but alas, she did not have the Kavalier or Backstage menus in her collection. (Matchbook, Schimmel Hotels, Kavalier Room borrowed from the History Nebraska Nebraska State Historical Society. Gift of Walter and Ruby Behlen Estate.)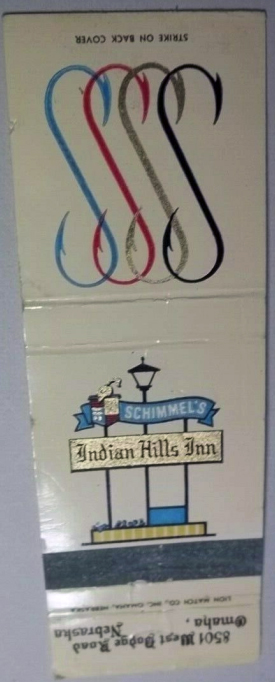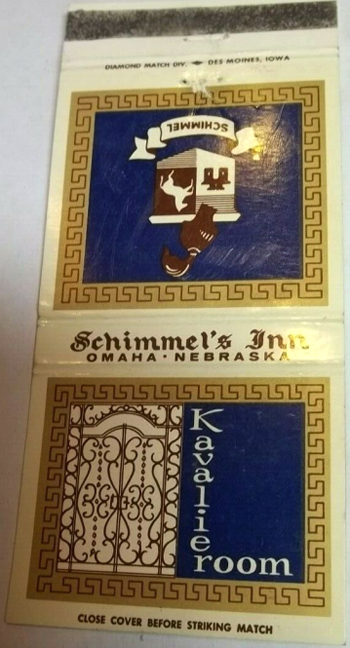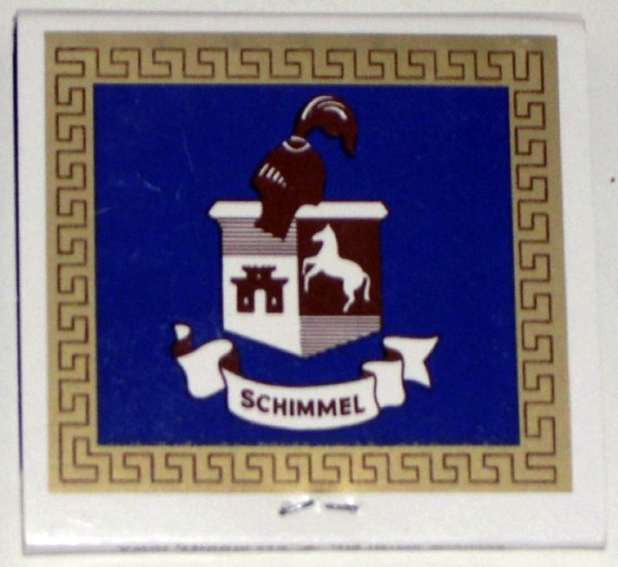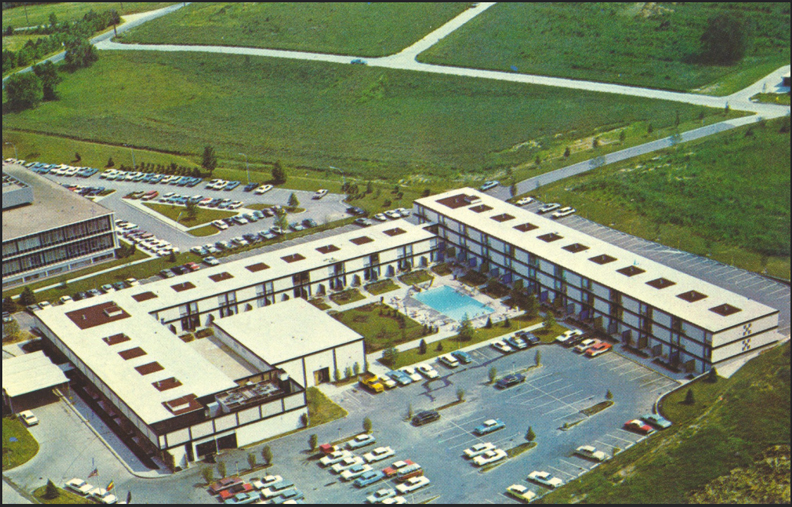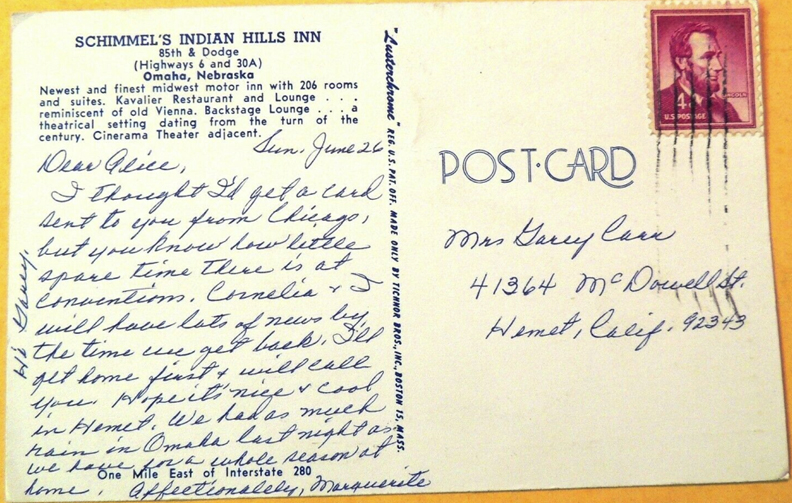 Postcard: "SCHIMMEL'S INDIAN HILLS INN 8501 West Dodge Road (Highways 6 and 30A) Omaha, Nebraska Newest and finest midwest motor inn with 206 rooms and suites. Kavalier Restaurant and Lounge…reminiscent of old Vienna. Backstage Lounge…a theatrical setting dating from the turn of the century. Cinerama Theater adjacent. One Mile East of Interstate 280."
Marguerite and Cornelia wrote to Mrs. Alice Carr and her husband, Garey Carr of Hemet, California "We had as much rain in Omaha last night as we have for a whole season at home." Sounds about right! PS—we must find Mr. and Mrs. Garey and Alice Carr.
Fascinating Historic Clue Number Two
Or second title–Famous Indian Hills Inn Guests: The Rolling Stones.
In June of 1964 Omaha was given word that the newest English band on the scene, the Rolling Stones were in town for a Music Hall concert. And the best rumor of all—the band stayed at Schimmel's Indian Hills Inn. I did some backtracking and according to official Rolling Stones archives, their first American Tour was in 1964 in support of their first U.S. album, The Rolling Stones. Now, I'm just going to say it: The Rolling Stones are the greatest rock and roll band of all time. Thanks to my father, I had the privilege of being raised in the rare Beatles-Rolling Stone household, of which I've heard there is only one other in America, where both bands were held up as gods, played frequently and their fans' competition outside the home were completely ignored. As soon as I could teeter to the turntable and slap on the Beatles or Stones vinyl, in between the Jackson Five and Dr. Dolittle soundtrack of 1967, I most assuredly knew what good music was. And so I reveal that over time, upon 54 years of scrutiny, the Stones became the better band, in my opinion. I have been known to argue about this. But where were we? Ah yes…The best band of all time, in my estimation, only played eleven American shows on that short June tour of 1964, and Omaha was lucky enough to be included as one of their stops. We don't often make the cut these days but I understand Omaha used to get better tours rolling through because of our central location.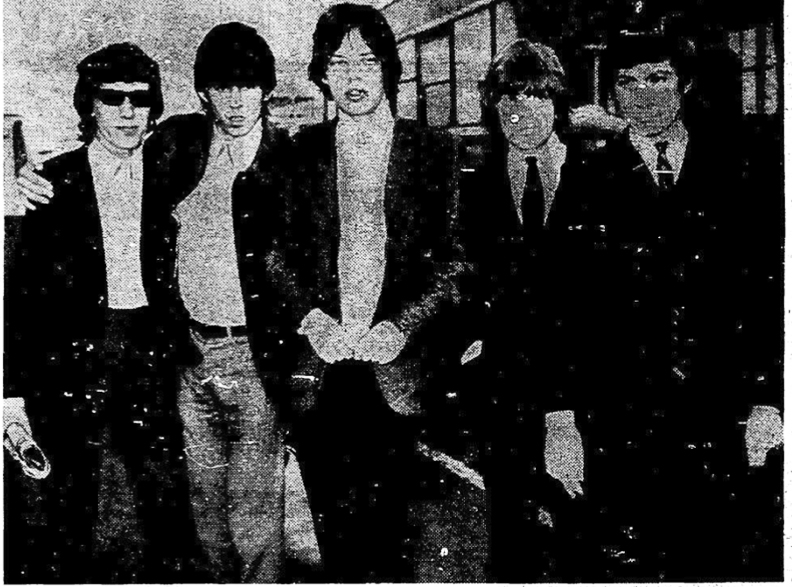 OWH. June 1964 Stones photo. "Nick Jagger" and the boys in a mislabeled photo. Left to right: Bill Wyman, Keith Richards, Mick Jagger, Brian Jones (RIP), and Charlie Watts (RIP). The States were concerned about their dirtiness, their unrulyness but it all seemed like the media trying to make up a story. "In the tracks of the Beatles, a second wave of sheep-dog looking, angry acting, guitar playing Britons is on the way. (…) " "Due in New York Tuesday." I was surprised to find that when the Rolling Stones landed at Eppley, they were met by protest in the form of rabid teenage girl-fans of the Beatles. They were not interested in having the Stones play in their town. The OPD escorted them through the crowd of insulting banners.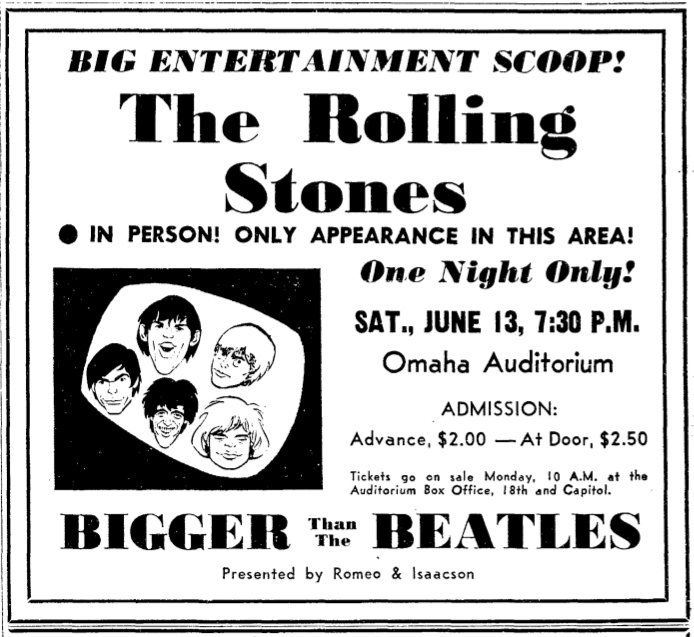 OWH. June 7, 1964 advertisement for the Stones concert.
According to the OWH, Omahan Johnny Ray Gomez, who hosted a Saturday afternoon local TV show called Dancestand, got a phone call from the concert promoter a few days before the Rolling Stones were scheduled to play the Civic. "'Tickets aren't going well,' he told Gomez. 'Can we get them on your show?' Gomez remembered the Stones appeared on his show for about 10 minutes. He did a five-minute interview with band members, asking them where they had played last, if they were excited about their new record, what their concerts were like. The band watched the Omaha girls dancing for the other five minutes.
The night of the concert, there was said to be a "crowd of 651 screaming, mainly teen age girls."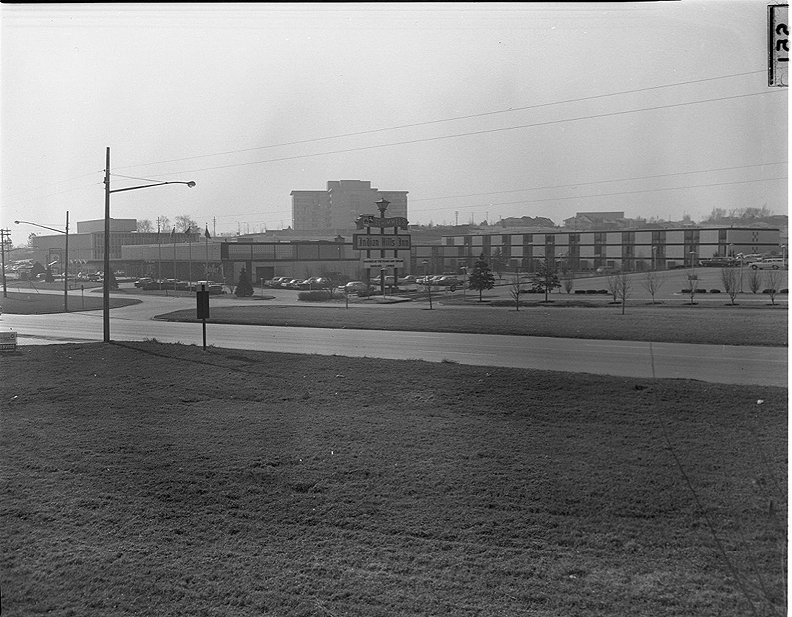 Schimmel's Indian Hills Inn, out in the country. Along with being the most chic, up to the moment motel, the Inn's positioning on the outer fringes of town most likely made it a shoe-in for the "rough around the edges," "angry acting" Rolling Stones. Creator: Savage, John (1903-1989). Publisher: The Durham Museum. The marquee reads "Dolores at the Piano and Organ. Kavalier Lounge."
I would learn that the Rolling Stones stayed at the Indian Hills Inn from Niz Proskocil's OWH article from 2006. It was at this time that some local musicians also got to play host and hang out with the new band—the antics of a lifetime. What follows is from her original piece:
David Trupp was a 21-year-old musician when he met the Rolling Stones in June 1964. A drummer, Trupp and his band the Eccentrics were booked to play the Peppermint Cave, a nightclub in the now closed Hill Hotel in downtown Omaha. (For more on David Trupp, the Eccentrics and the Peppermint Cave, check out my previous investigation: I Wish I Could Have Gone to the Cave Under the Hill.) The owner of the club asked Trupp and his band if they would hang out with an English rock group that was in town, maybe show them around and keep them company before their concert at the Civic. "We said, 'Yeah, we'll spend the day with them,'" Trupp recalled. The Stones didn't get the grand tour. Instead, the two bands hung out in the Stones' hotel room at the old Indian Hills Inn near 84th Street and West Dodge Road. "It rocked," Trupp said. "They were real, real nice. We stayed with them for two or three hours." At one point, said Trupp, now retired and living in Lincoln, Jagger asked if anybody had any diet pills. Apparently, those "mother's little helpers" were all the rage back then with musicians. Sure enough, Trupp had some and gave one to Jagger, who spent the next couple of hours on the phone "talking business" with associates in England. Trupp spent most of the time talking music with then-guitarist, Brian Jones, who died five years later at age 27.
While Trupp was with the rockers during the day, Bellevue dentist Rick Engel, then a college student, hung out with them at night. After the band's concert at the Civic, Engel partied with Stones at the Indian Hills Inn. "One of my fraternity brothers kept making funny remarks about the Rolling Bones. I said, 'Who are they?' He said, 'They're an English rock group. They're staying down the hall.'" Engel looked down the hall and saw about a half-dozen girls clutching autograph books outside the band's door. Engel asked one his frat brothers to invite the band over for a drink. About a half-hour later, at around 11:30 p.m., the Stones showed up at the party. "I guess they had nothing better to do," Engel said. He remembers that Jagger wore a silk shirt, vest, tight pants and ankle boots that zipped up the side. "He wasn't dressed sloppy, no grunge style," Engel said. "He was clean-shaven. His hair was longer than it is now." Jagger brought his own bottle of Johnnie Walker Red, and drank it without water or ice. "I had never seen anyone drink like that," said Engel, who was 20 at the time. Over the next couple of hours, everyone drank, talked and had a great time. "
Closing Up Shop
There had been some line up changes at the Indian Hills Inn and not just the sing-along pianists in the Kavalier Lounge. These transitions most likely did not impact the general public's view, as the Schimmel motel, by all appearances, was a huge success. (However whatever happened to the additional 200 rooms that Stanley How had mentioned in the original motor inn plan? Inquiring minds…) A. Q. Schimmel was president of the Schimmel Hotels Corporation and by 1964, Bernard was named director of sales and special services and would remain treasurer of the corporation. James Rodney, resident manager of the Hotel Cornhusker, would succeed Bernard at the Indian Hills Inn. Just information and I am certainly not suggesting anything by that.
There was one bellwether and one clue in the investigation that I did find intriguing and that could possibly be connected. In April of 1968 Methodist Hospital opened at 84th and Dodge. They had been located in the Bemis Park area at 3612 Cuming Street. The move of this popular hospital to the area was the bellwether and ultimately what continues to change the whole landscape of the Indian Hills Village and surrounding properties to this day.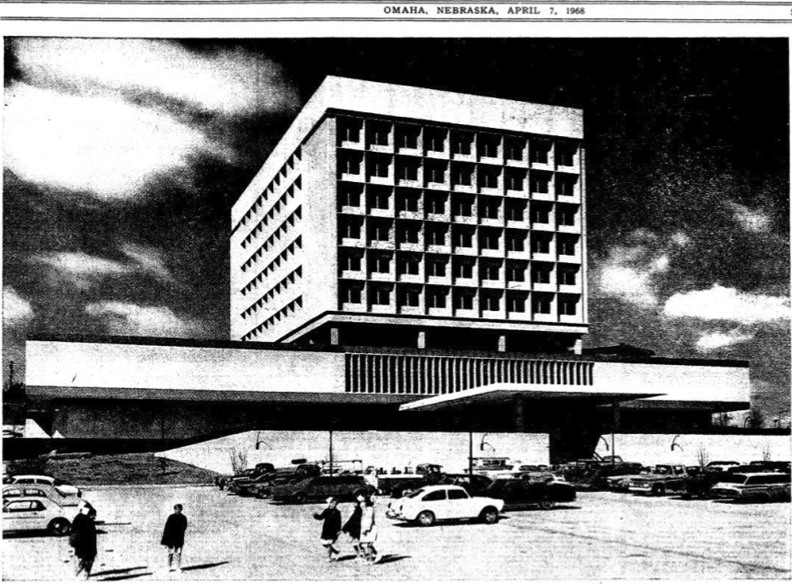 OWH. April 7, 1968. New Methodist Hospital. (I found it telling of the remote, rural nature of the area, that the public was asking for a traffic light at the corner of 84th and Dodge, as the bus stopped at the new hospital.)
A month later Methodist announced that they wanted to purchase Schimmel's Indian Hills Inn. "The motel would be a better building at a lower cost than the hospital could build for a nurses' dormitory," said Edmund McEachen, attorney representing the hospital. The motel could provide space for four hundred students, more than the hospital's dormitory plans and the Indian Hills Inn swimming pool was thought to be a real inducement to young women considering attending a school of nursing. I found out the Nebraska Methodist had operated the oldest nursing school in continuous operation in the state. They opened in 1891. It graduated the first class of six nurses, two years later.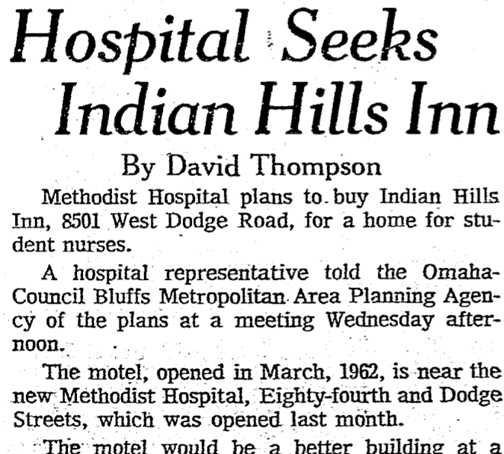 OWH. May 30, 1968 Hospital Seeks Indian Hills Inn.
I could find no in-house arguments between the Fords, the Swansons and the Schimmels. No lack of business. In fact to the contrary, Indian Hills Inn seemed as booming as ever. It would appear that Methodist, in their expansion west, made an offer that couldn't be refused. The Methodist plan must have come together rather quickly, I surmised, because ten days prior to the acquisition announcement, the Schimmels were still accepting resumes and applications for their Indian Hills Inn. Or did they not want to let on to their management and staff that they were closing? Had the plan really been in the works for a year? And now for the clue of note. Perhaps influenced by the Indian Hills Inn sale, in conjunction with or pure coincidence, my excavation would reveal six Schimmel hotels were sold in 1968 to Minneapolis industrialist, Curtis L. Carlson, of the Radisson Management Corporation. The Schimmel hotel chain, which included at that time the Blackstone, Cornhusker (Lincoln) and Lassen (Wichita, KS). Sadly, remodeling at the Blackstone was to occur, along with a new fangled name. It supposedly cost 250 thousand dollars. I understand that the Schimmels didn't own Indian Hills Inn but it is my belief that whatever brought about these changes, this would have been a good time period for hoteliers and moteliers to get out of the business with the big box motels steamrolling in.
Omaha's once prestigious motor inn was shuttering by October of 1968 after just six years of business. Methodist purportedly bought the motel from Barton Ford for $3,300,000. "Two million dollars of the amount is a loan from the Federal Dept of Housing and Urban Development. The rest is hospital funds."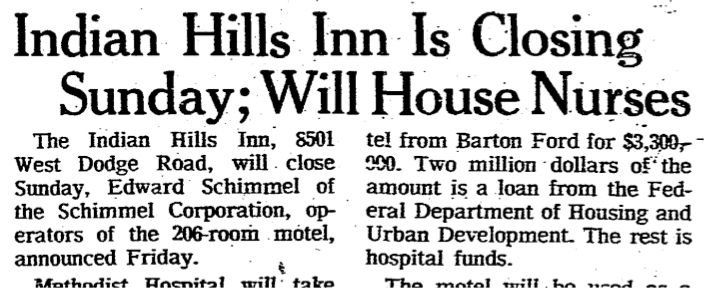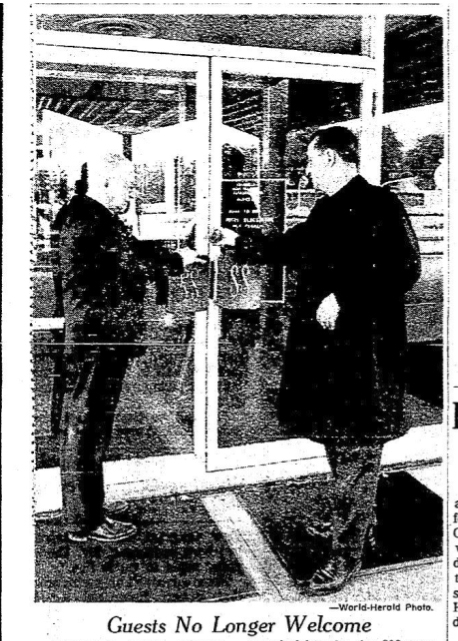 OWH. Oct 28, 1968: "Guests No Longer Welcome. Schimmel hotel officials Drolik and Lorenz lock the door Sunday on the Indian Hills Inn. Methodist Hospital bought the 206 room motel.
Student Housing
The School of Nursing took over the 8501 West Dodge Road building in January of 1969, renaming it Methodist Hospital Indian Hills Educational Center and Methodist School of Nursing interchangeably. It served as a residence for student nurses, medical technologists, residents and interns, as well as an education center. Lucas Hall, at 923 North 38th Street, the previous student nurses' residence at the old Methodist Hospital then transitioned as a home for the elderly. The old Methodist Hospital was been turned into the Eugene C. Eppley Care Center, which served elderly persons requiring extended care and rehabilitation."
I can imagine that the Indian Hills Inn motel rooms easily translated to college dormitories. The swimming pool and ballroom were for social activity. Even into 1989, the Viennese Ballroom was still called the Indian Hills Ballroom.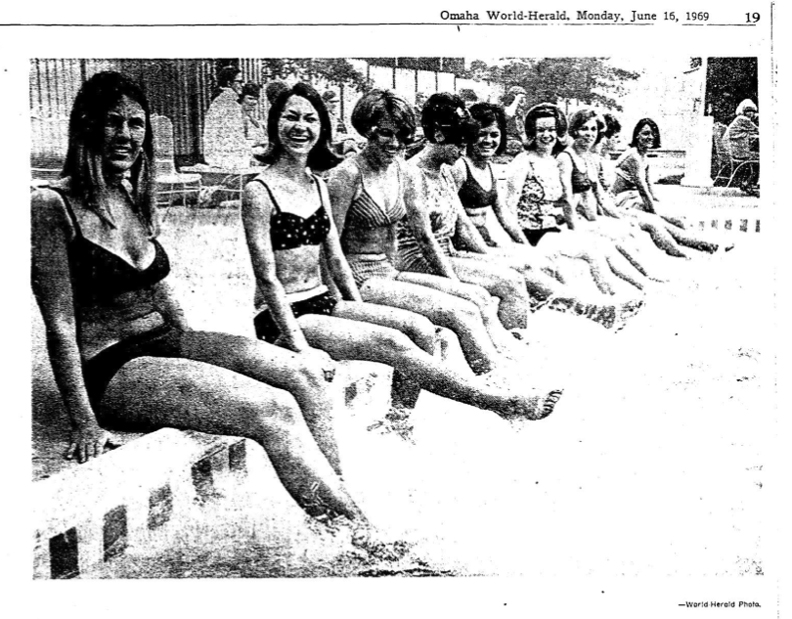 OWH. June 16, 1969: "The swimming pool opened Monday. Leanne Spangler, Lynn Hossie, Mary Haeseker are all nursing students. Their pool is at the hospital's Indian Hills Educational Center, formerly the Indian Hills Inn. "The private pool will be open daily for the 210 female and 10 male nursing students."
The area surrounding the original Indian Hills Village was being filled in with businesses as the countryside and the family homes left Dodge.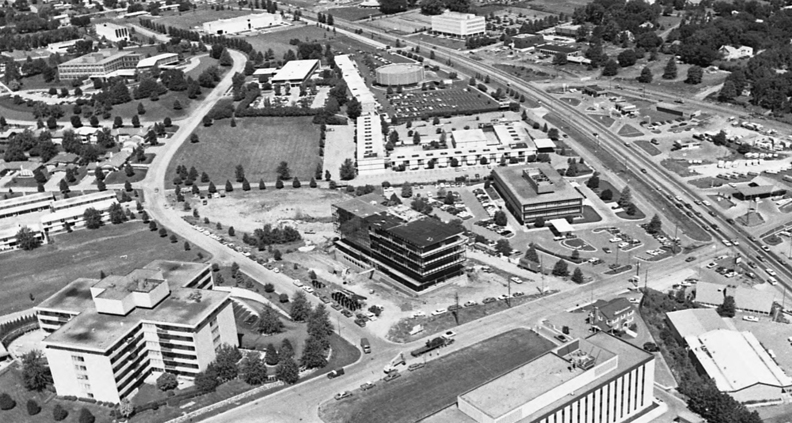 An aerial view of the 84th and Dodge Streets area looking west, including Indian Hills Drive and The Swanson Tower. Creator: Paskach, Robert (1927-2001). Publisher: The Durham Museum. Date: July 1971.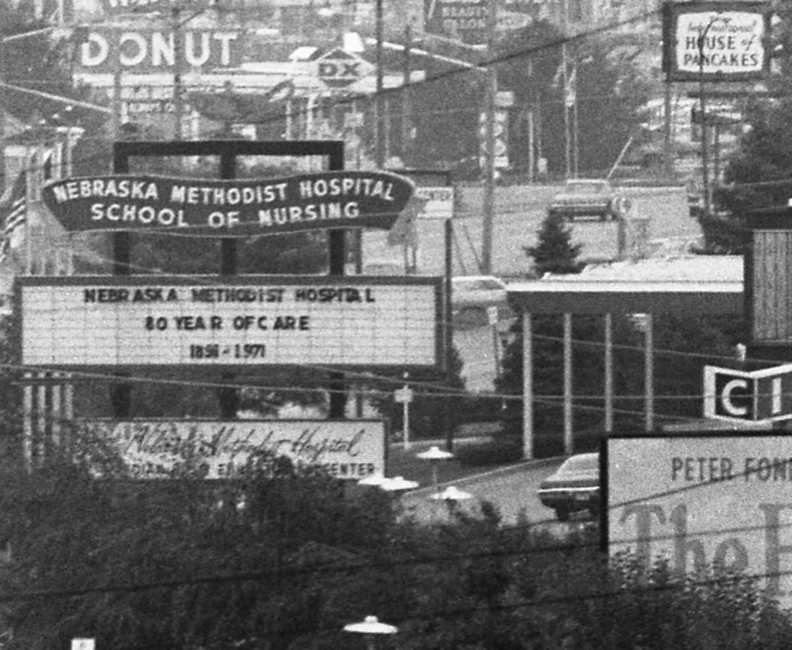 Looking east on West Dodge Road. Nebraska Methodist Hospital School of Nursing lettering has replaced the Schimmel's Indian Hills Inn. They were able to still use the framing for the marquee but removed the Colonial Lantern. Still present—the zig-zag porte cochere. Red Barn, Mister Donut and McDonald's up ahead. The Indian Hills Theater sign visible. 1971. Omaha Sun Newspaper collection.
**Addendum of July 23, 2022**
I received some great photographs from Methodist nursing graduate, Connie Staley McDonough, class of 1981. I particularly treasure the correspondence with those who spent time and lived in our architectural obsessions because they can tell us their impressions and describe things we are Dying to Know. (Connie shared her memories in the "comments" section following this article.) The accompanying photos are from her student yearbook and give a rare glimpse into what life as a young nurse was like at the once motor inn turned dormitory. FUN. I didn't even know there was a fireplace in the Indian Hills Inn until Connie clued me in.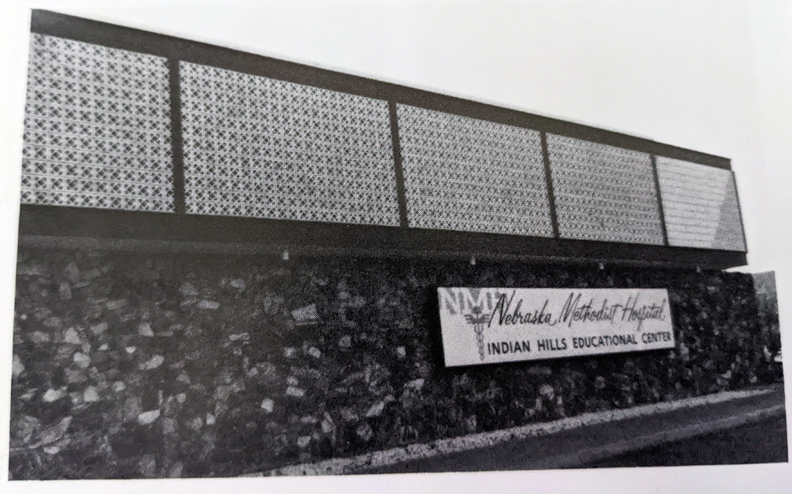 Northern elevation of the building, by the circular drive. Looks like the beams between the solar walls were quite a bit darker back then. It looked good.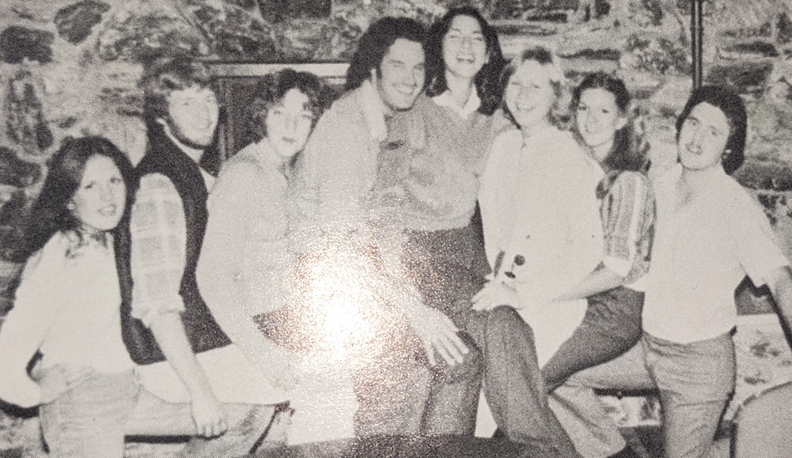 Happy friends gathered by the once Indian Hills Inn fireplace. Connie Staley McDonough is on the far left.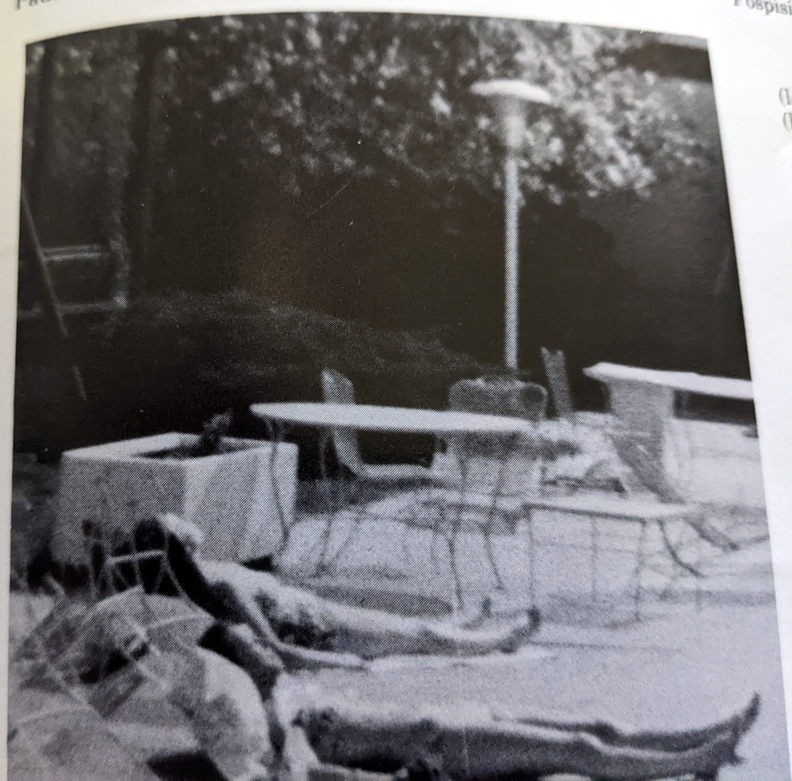 Imagine having access to that pool in between classes? Quite decadent. I love the pool furniture and UFO lighting.
Thank you so much, Connie McDonough, for taking the time to send over these great images.
My visit to the Douglas County Assessor had shown the parcel that held the Indian Hills Inn would remain in the Swanson family name until a part of it was sold to Nebraska Methodist Hospital in October of 1968. Portions of the land would stay in the various Swanson family members' names and slivers sold individually to N. P. Dodge Jr. in 1978.
**Addendum of July 22, 2022** After I posted this article, my good buddy, Jimmy Kaufman said he had a connection to the Schimmel's Indian Hills Inn swimming pool. He was working for Double D Excavating (now defunct) when they were hired to do a job for Methodist. "We tore out the swimming pool. I remember thinking it was the weirdest thing that they had an outdoor pool for a women's nurse dormitory. We had to bring in a concrete saw and cut like five or six feet around the entire outside pool diameter and then brought in a big excavator and dug it all out. They trucked in dirt and filled it all in afterwards."
Jimmy included this aerial photo of the pool area. He noted that although covered in grass, you can still see the outline of the original pool. I thought you all would enjoy this tidbit.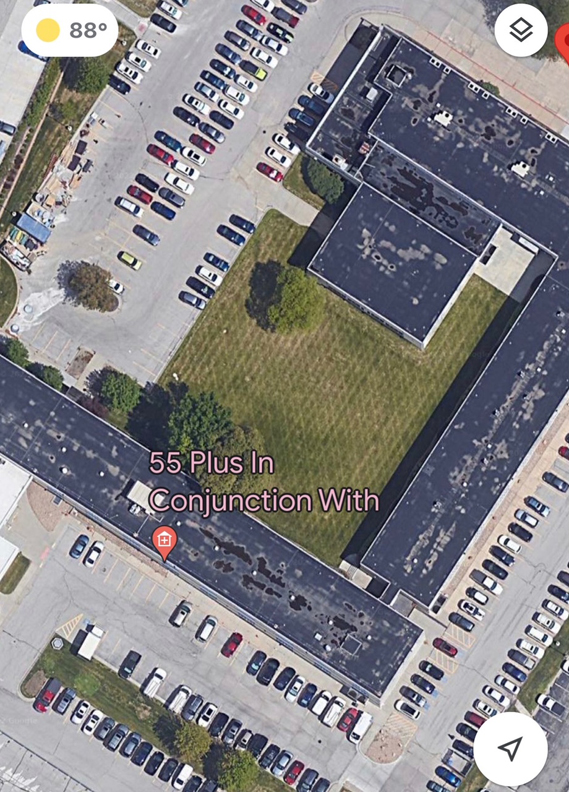 My Sneak About
These were the photos I took back in February of 2022 after I had decided to investigate. I had a lot of fun searching for clues and finding old remnants of the Schimmel days, although it was a ridiculously cold day. As of the writing of this investigation (July 2022), a demolition fence has been placed around the old Schimmel's Indian Hills Inn. The back wings have been stripped and piled up where the luxury pool and terrace once was. Some of the concrete blocks have been knocked out and it looks like it's really just a matter of time. At this juncture, friends, I encourage you to return to Absent Present if you'd like to know the rest of the story.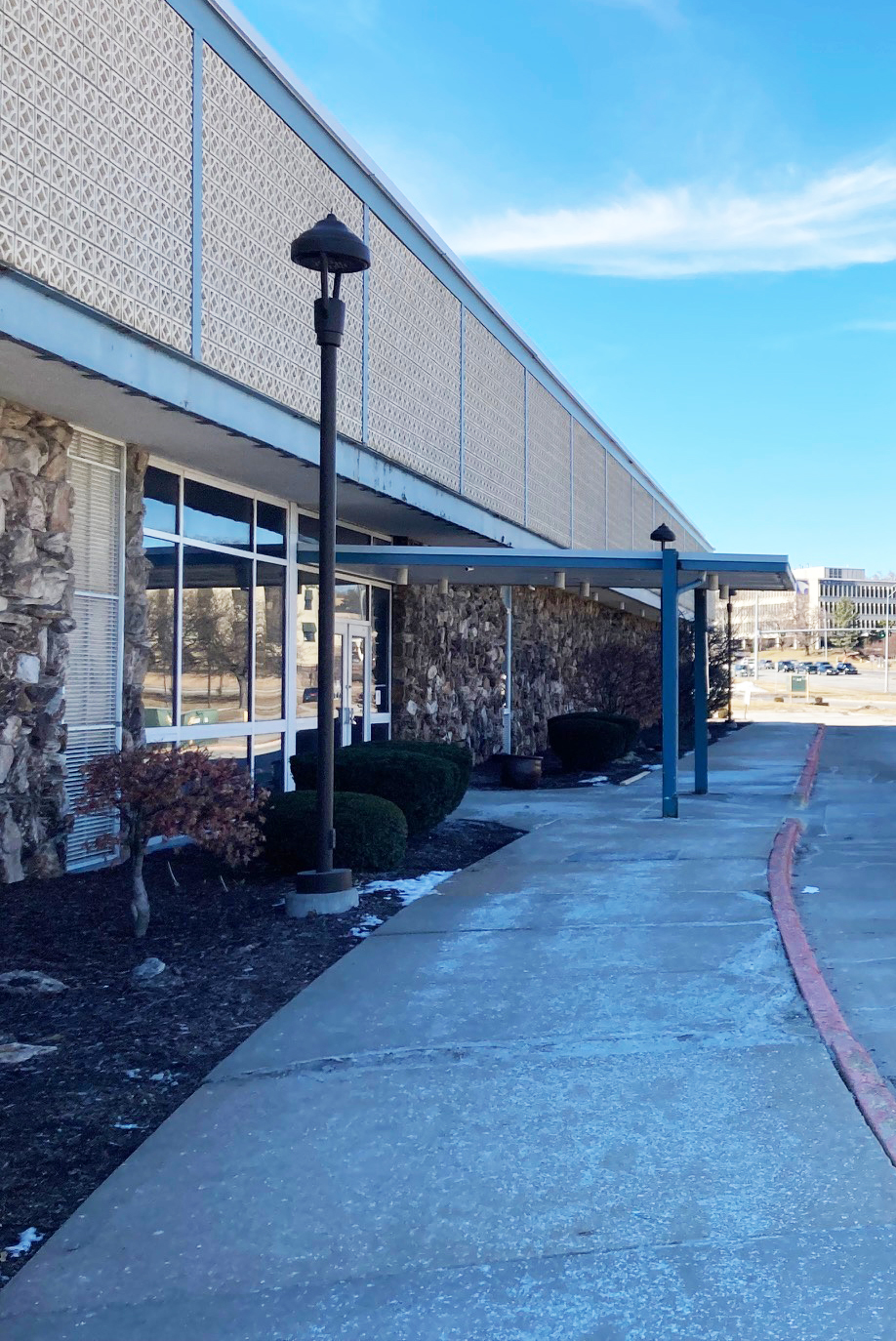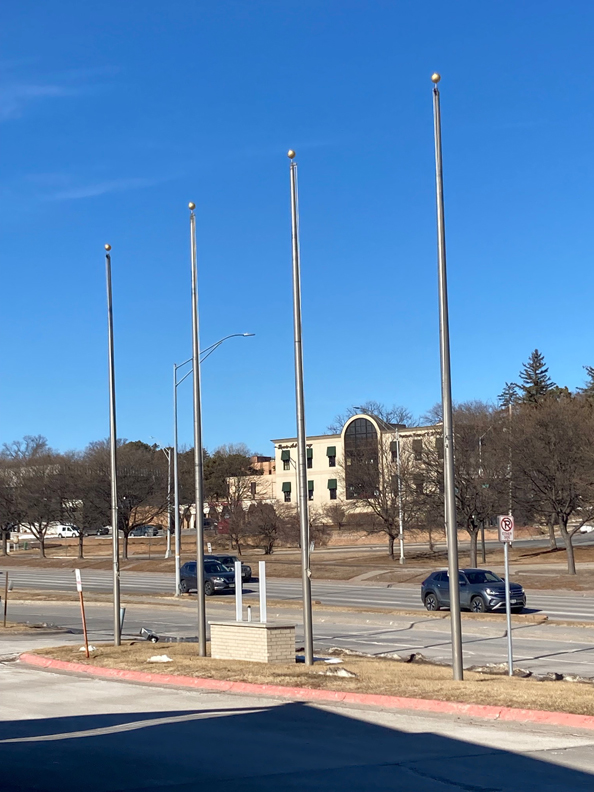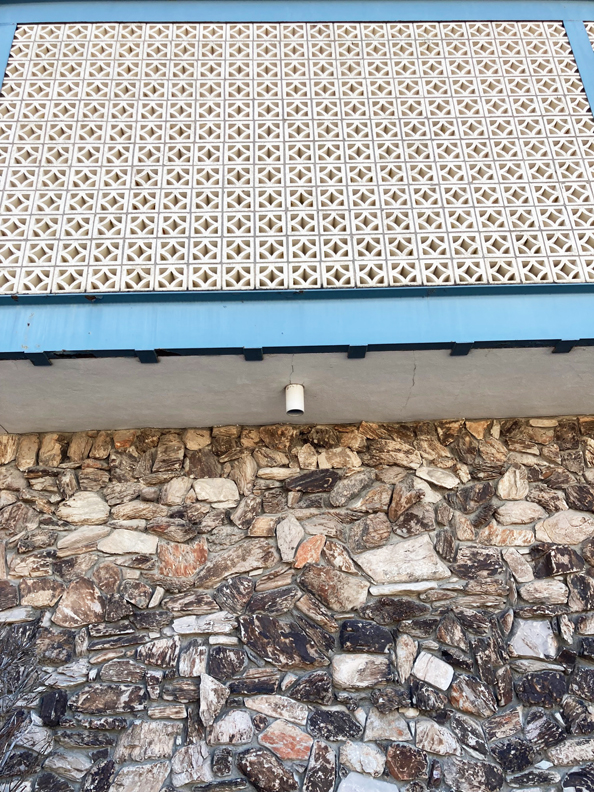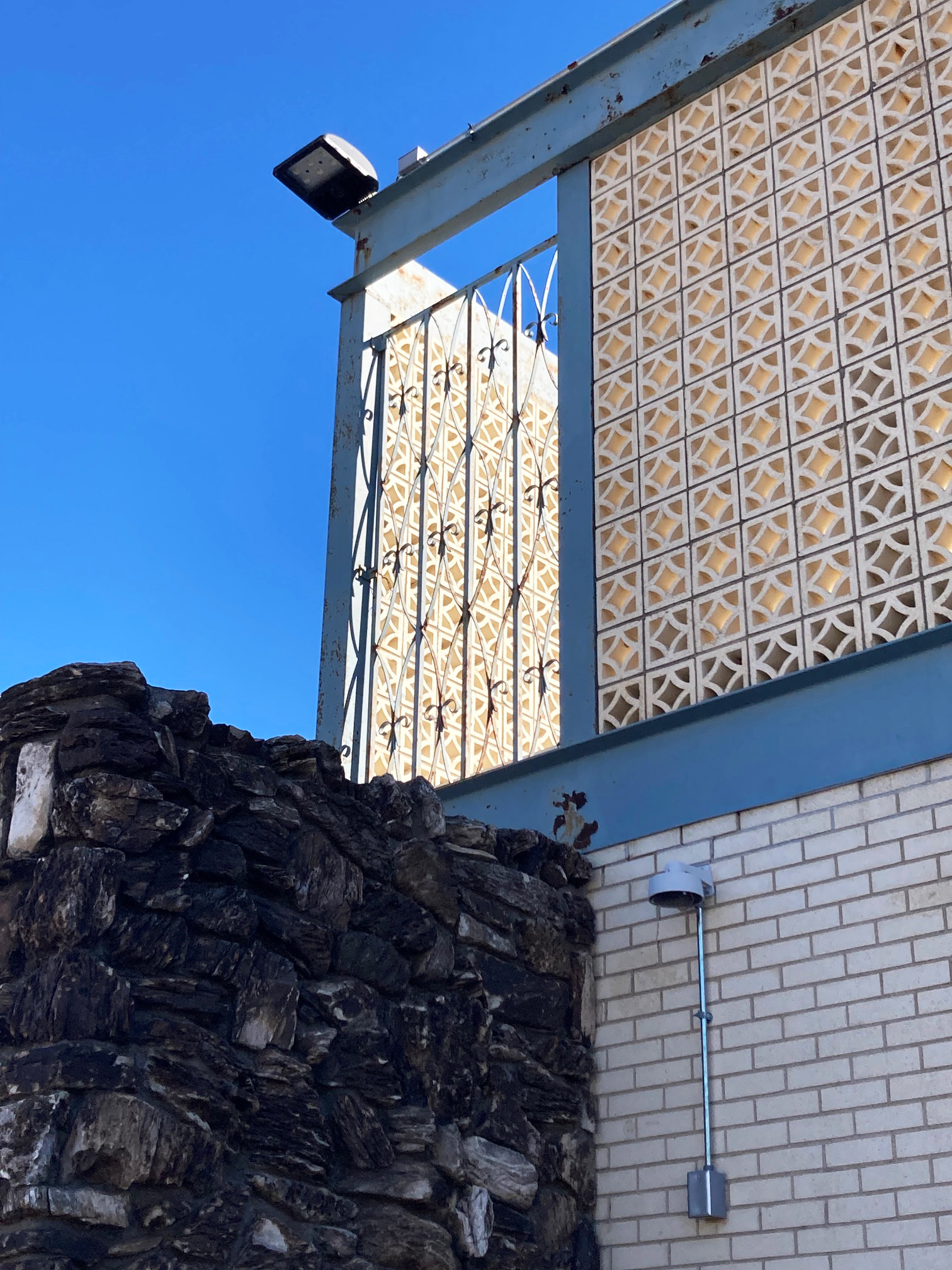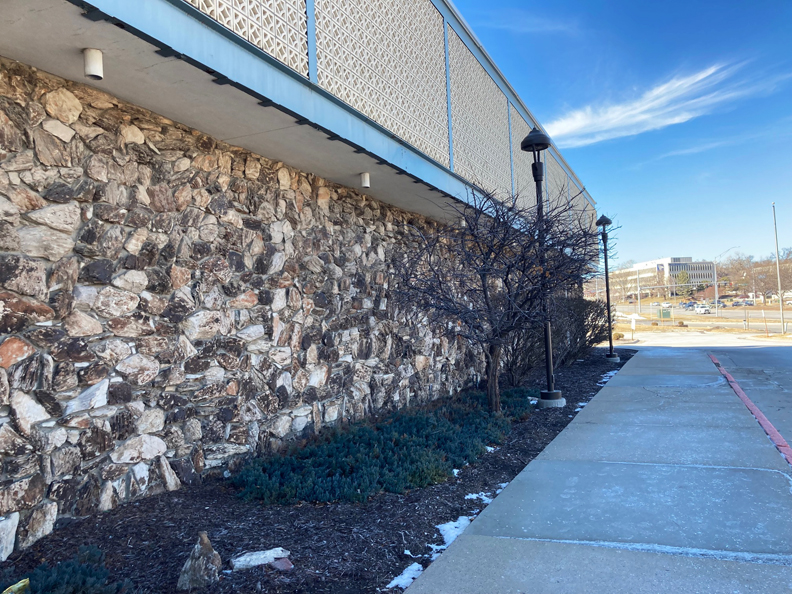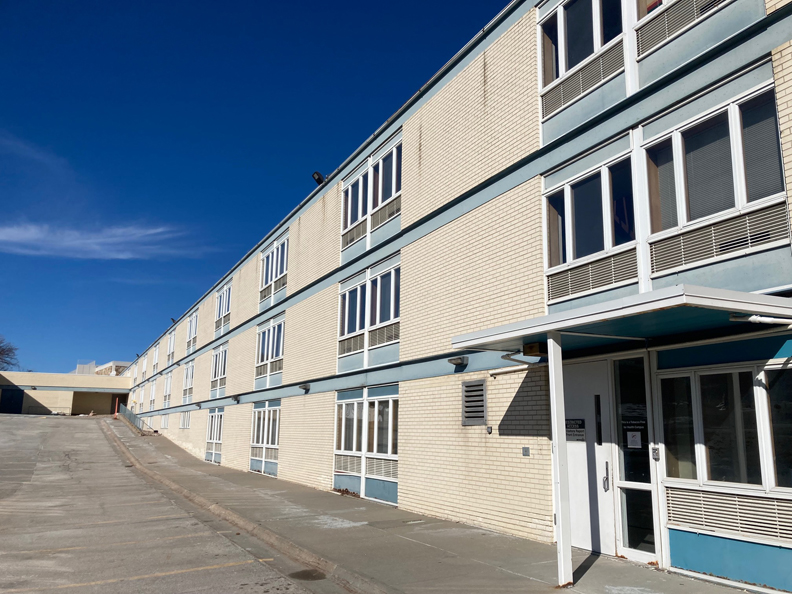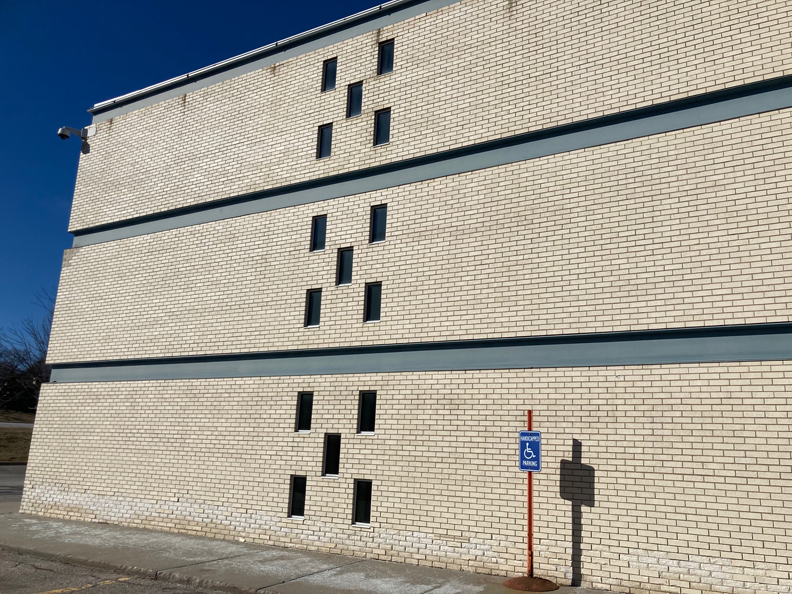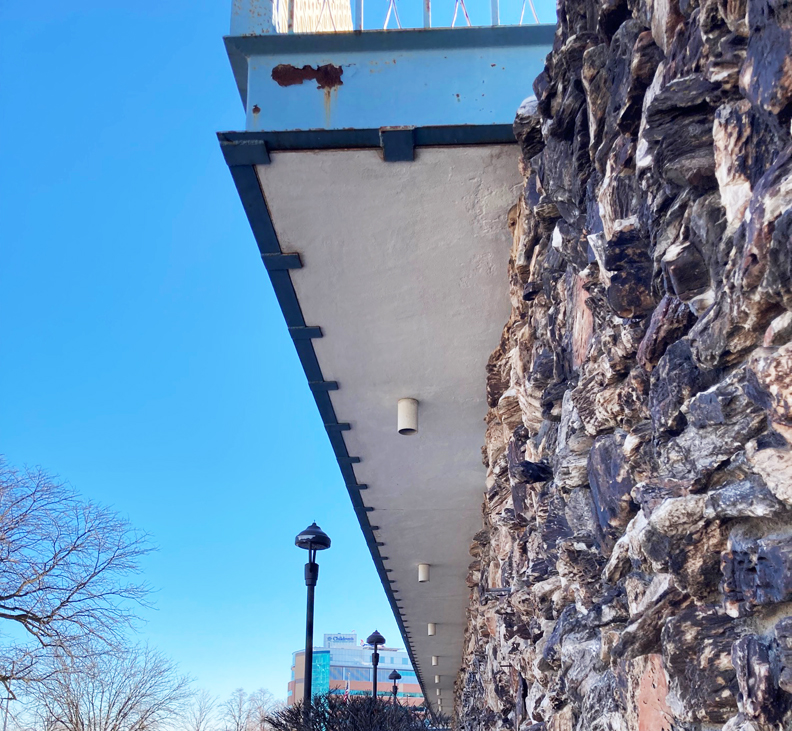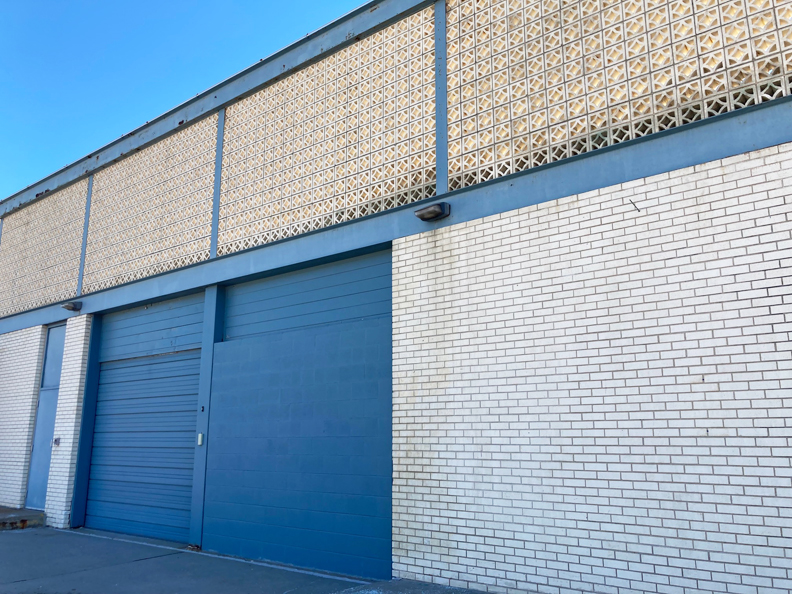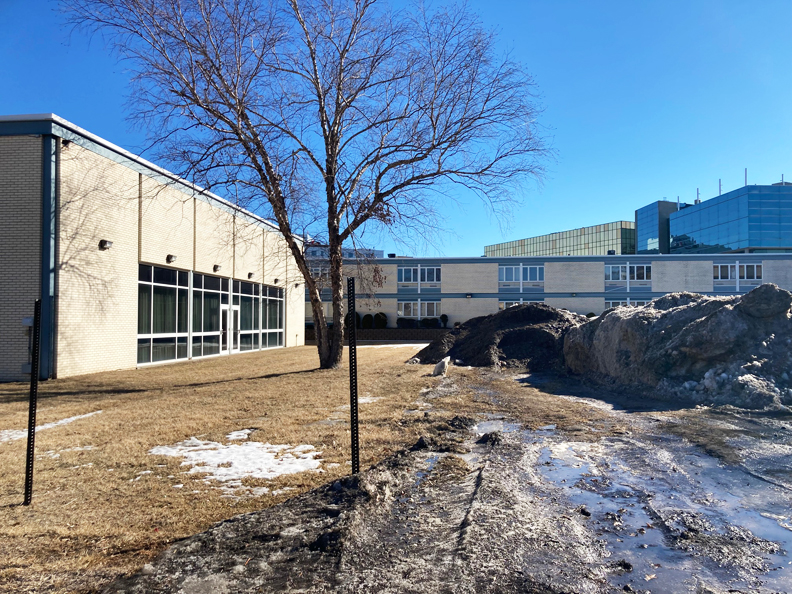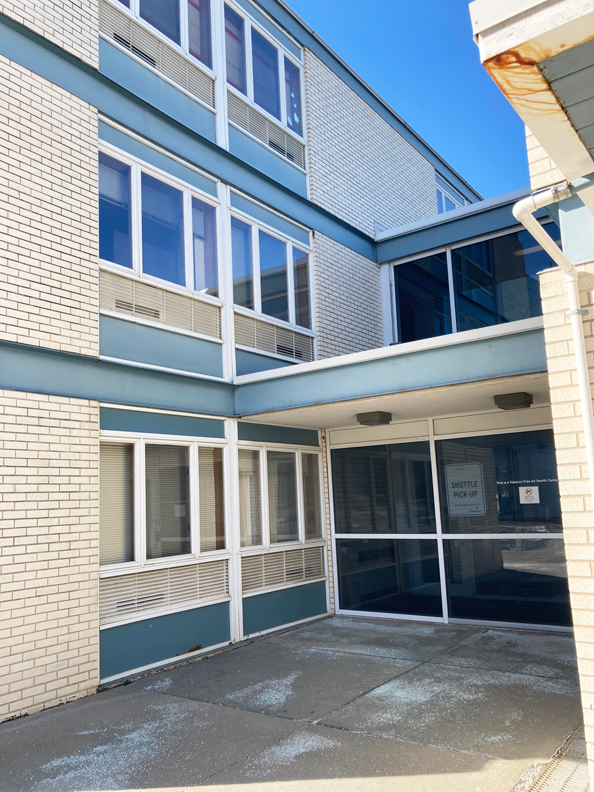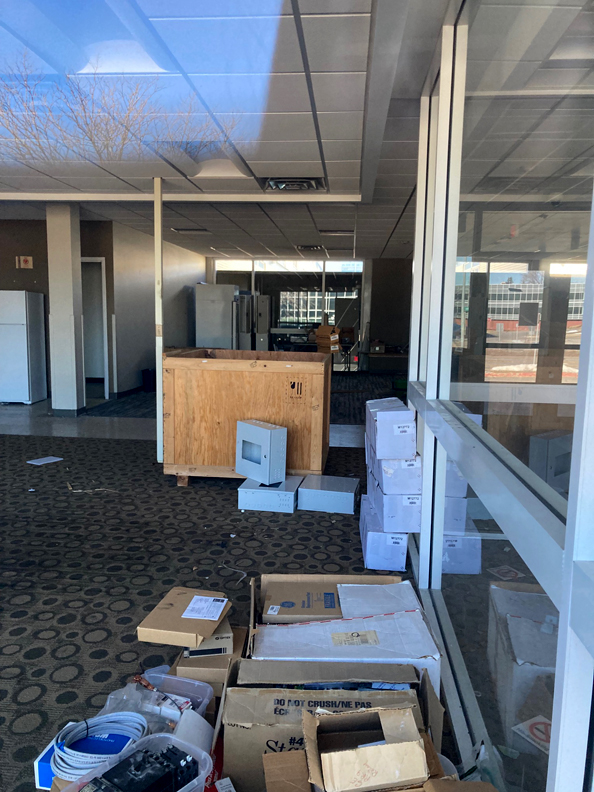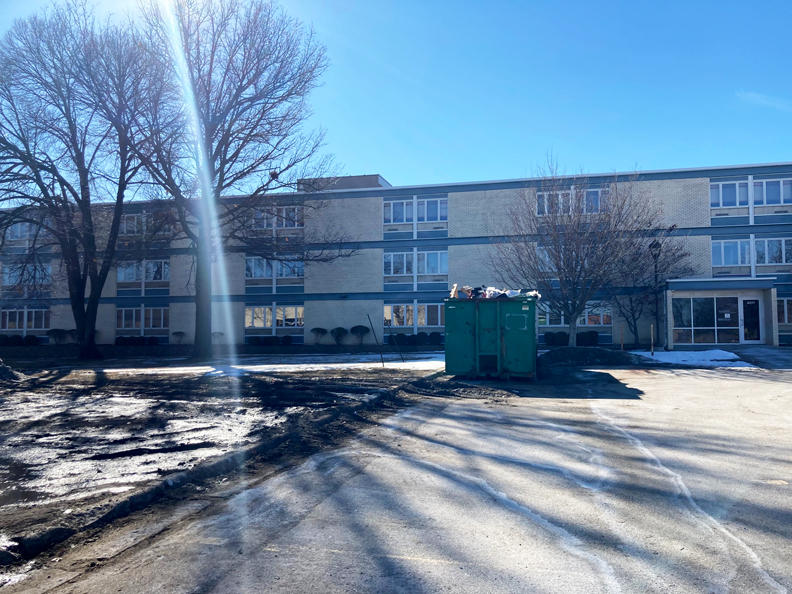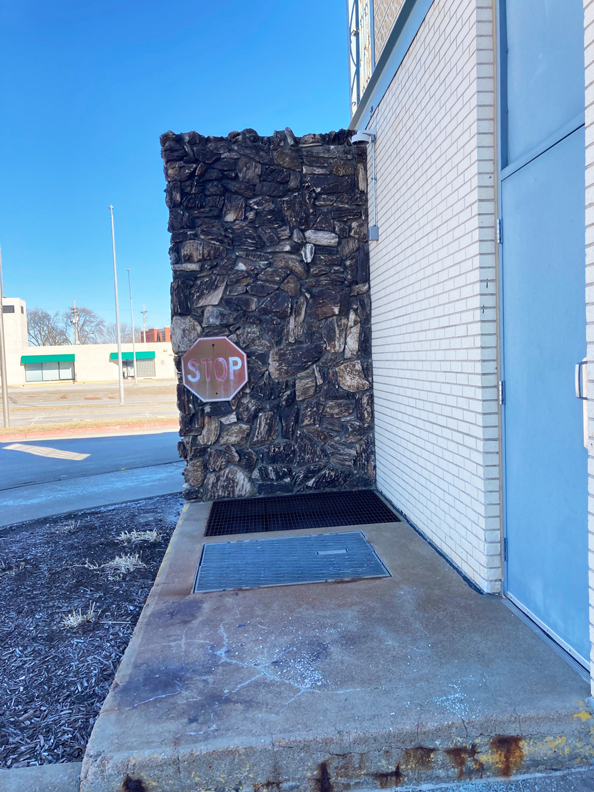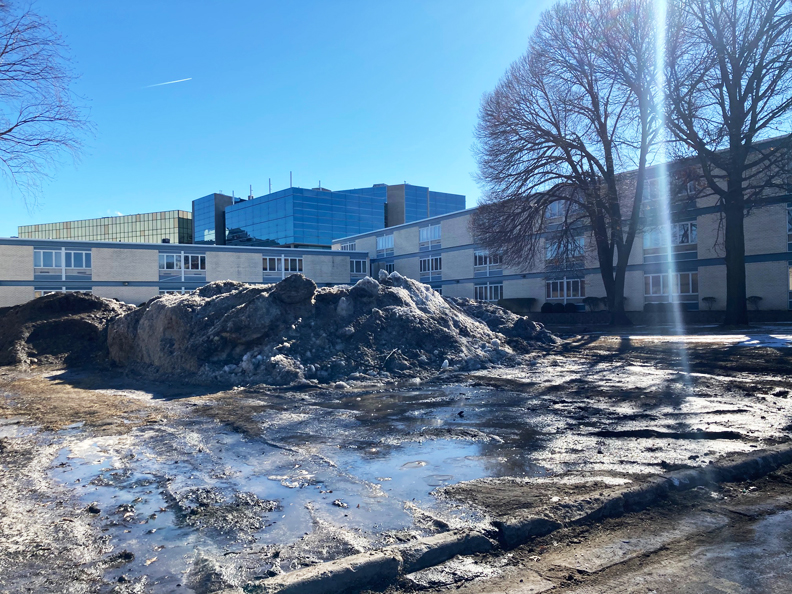 (Press play arrow in the middle of the screen.) Facing east, toward the missing swimming pool site. My June 27, 2022 video of the demo. Oddly the demo permit wasn't filed until a day later. People have asked me what exactly is going on at 8501 West Dodge Road. Is it being torn down? The J. E. Dunn Construction Group, a privately owned construction company, has had a large fence around the property for months. I would guess, because of the large footprint of the Indian Hills Inn, with little height, Children's will tear this down and let it sit. Then they will take down 8401 West Dodge Road after and build a much taller medical building. Stay tuned.
A big thanks to the mystery 13-year- old, for spurring on this investigation.
I welcome your feedback and contributions to this Schimmel's Indian Hills Inn investigation. Feel free to share thoughts and clues in "Comments." Please, please I am asking you to share this article on social media or through email or texts to friends, as I no longer have any social media accounts. I have lost the majority of my readers.
I welcome you to poke around with your flashlight. Investigate. Hide in the shrubbery. Look under these rocks and down those alleyways. I am more than pleased to have you tiptoe about. By the time you head for home, I hope you have been fully Sherlocked and Satiated. Thank you, detective friends.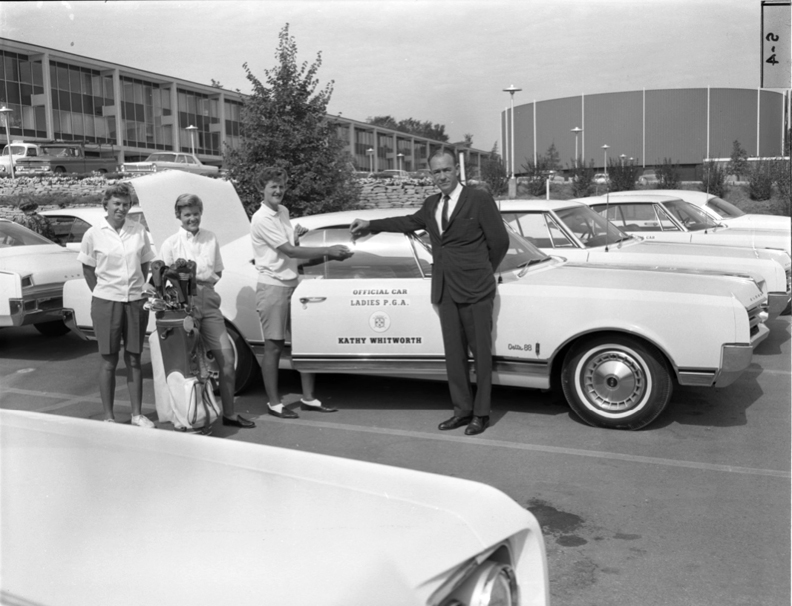 Bonus Visitor Clue: Another famous guest to the Indian Hills Inn was professional golfer, Kathy Whitworth. I am not sure of the event but Whitworth was staying at the Indian Hills Inn when she received a car with "Official Car, Ladies P.G.A.", the L.P.G.A. seal, and "Kathy Whitworth" printed on the door. Whitworth is being handed the keys by a man in a suit. The Indian Hills Theater is visible in the background. Creator: Savage, John (1903-1989). Publisher: The Durham Museum. Date: Summer 1965.
If you like what you see, you can keep up with my latest investigations by joining my email group. Click on "Contact" then look for "Sign me up for the Newsletter!" Enter your email address. It will then display "Thank you, your sign-up request was successful!" Make sure to check your email address to confirm. You will get sent email updates every time I have written a new article.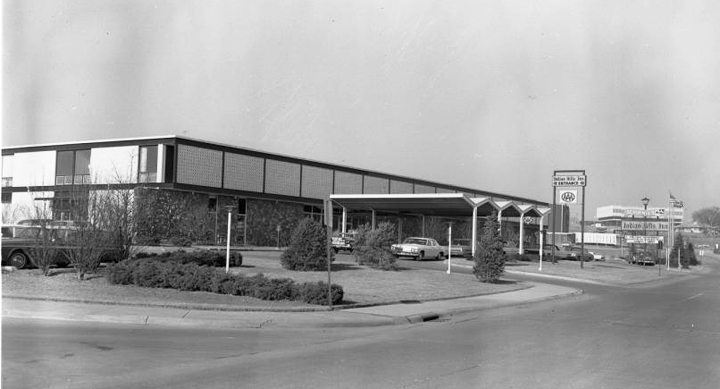 © Miss Cassette and myomahaobsession, 2022. Unauthorized use and/or duplication of this material without express and written permission from this site's author and/or owner is strictly prohibited. Excerpts and links may be used, provided that full and clear credit is given to Miss Cassette and myomahaobsession with appropriate and specific direction to the original content.
If you are looking for more architectural and Omaha history sleuthing fun, ask your local or big box bookseller for my new book: My Omaha Obsession: Searching for the City. You can also order it through this website. Thank you.