I have to admit it; the Mystery of 8120 Pacific was one of the most intoxicating storylines for me to trail. These are the kind of stories that we House Sleuths only dream of. This time, it was all real. Imagine my delight as different, incredible readers reached out to me with ever more details about 8120 Pacific and its inhabitants. I thank you all and I treasure your messages and tips. I truly felt fortunate to hear your tales. In this Part Two I hope to share some of my readers' corrections and offerings of new details. From their breadcrumbs, I was able to gather even more research material clues, leading to a fuller picture of 8120. For those of you just joining us for the first time, please take a moment (or an hour, preferably on desktop computer with a nice big screen) and read Mysteries of Omaha: 8120 Pacific Street. We will understand if you want to take your time and savor the details or if you even want to make a quick drive down Ridgewood Avenue to soak it all in. We'll be here when you get back.
New Homeowner's Clues
One of the first emails I received was from the newest owner of 8120 Pacific. As it turns out, the house was officially sold this spring. I was incorrect—it is no longer on the market, even though the residence continues to be listed everywhere under the last owner's name. Imagine the new owner's surprise when I wrote about her new abode. The new owners are enjoying getting settled, as you can imagine. Miss Cassette was overjoyed to hear that Mrs. Homeowner has loved 8120 Pacific since childhood. She was able to go to the Eaton estate sale years ago and in her words, "thus began my obsession." Mrs. Homeowner bought a number of the Eatons' psychology books at the time of that estate sale. She would keep a watchful eye on 8120 Pacific until it finally came up for sale again this spring. The couple was so happy to buy the home this time around and eagerly moved the Eatons' books "back in and put them on the exact shelf in the library I found them on 4+ years ago." Can you believe that? Miss Cassette loves this kind of life magic. It was from Mrs. Homeowner that I learned there were formal architectural plans, articles and an abstract of 8120 Pacific.
The Eatons' knotty pine library where Mrs. Homeowner found the books originally.
Les Pfeifer Clue
Jim Farber, son of the Harold and Lillian Farber, wrote me almost immediately to correct a serious error. If you will remember from the Omaha World Herald article of 1948, I had learned about a "Les Pfeifer." Les was described as 37 years old who was injured in a car accident. Les had given his address as 8120 Pacific. As an Amateur Detective, I was frustrated with my inability to uncover any details about this elusive character but I guessed he might have been a houseman of some sort. Jim illuminated the Les Pfeifer Mystery by sharing his true name with me, Leo Pfeifer. Thank You. From this newspaper misprint correction, I was off and running. It was not hard to find a bushel of good information about the real Leo Pfeifer.
The Real Leo Pfeifer
As it turns out ol' Leo Pfeifer was quite a well-known personality. A saint, of sorts, really. From the My Omaha Obsession Facebook page and a number of emails from various readers, I soon gathered that Leo had made a warm, lasting impression with many Christ the King members as well as the Loveland neighborhood. In a World Herald article of 2000, Leo was described as "wearing filthy clothes, burrowing through a garbage dumpster when a woman took pity. Probably figuring he was homeless, she offered him a $20 bill." Leo, then age 89, told the woman, "No, I've got plenty of money. Keep it. I'm just doing this for a hobby, for the fun of it." An avid dumpster diver, Leo enjoyed scavenging for aluminum cans, copper and other metals. But before you begin to feel sorry for this fellow, let me tell you that Leo Pfeifer famously contributed $50,000 to a Christ the King parish scholarship. Pfeifer donated $10,000 toward the Holy Family Shrine off Interstate 80 near Gretna. Rumored to be a millionaire, Leo's rule of thumb was Save and Invest. "I keep earning and I don't spend." It was thought that having grown up in the Great Depression shaped Leo's frugality. (If anyone has a photo of him, I would certainly love to include it in this article.)
Leo Pfeifer was a lifelong bachelor who grew up on a Lindsay, Nebraska farm. He attended school to the eighth grade, later coming to Omaha during the Great Depression. He got his start milking cows by hand on local dairies. I couldn't help but wonder if he had worked on the Love or Righter Wood dairy farms? Apparently he joined the Army at age 31 and served stateside during World War II. It would appear from record, Leo became a gardener and handyman for affluent families in the mid to late 1940s. He would work in and around the Loveland neighborhood, at times living in people's homes. From one reader I learned when her husband's family bought a new home in the early 1950s, Leo was explained as coming with the house. Leo became involved with Christ the King church in the 1953 and from that point on was an usher the rest of his life. Two different Christ the King readers referred to him as Saint Leo. In a truly bizarre article from May of 1960, Leo apparently made the news for catching a racoon "which bit a 10 year old girl Friday night." By the  next night Leo had "caught the racoon in his front yard" and turned the animal in. Even this detective cannot make sense of how Omaha knew it was the same racoon as the biting of Miss Vanita Messner was nowhere near Leo's front yard.
At almost 90, Leo was known to work every day as a landscape gardener for many of Omaha's most beautiful District 66 homes. He was known to climb trees with a chain saw in hand, even into his late 80s. From what I could find, later in life, Leo called 345 S. 78th Street home. A ranch style house built in 1955, the property was behind the Nebraska Furniture Mart, along the Little Papillion Creek. Some have said that he lived modestly in the basement and rented out the main floor. He died in January of 2002, at the age of 91, after having suffered a stroke. His ranch home was torn down sometime after Leo's death and was replaced by this apartment building, erected in 2004.
This is the site of Leo Pfeifer's ranch home. 345 S. 78th Street currently is an apartment building.
A Few Words on Dr. Merrill Eaton
I received such a lovely email from a colleague of Dr. Merrill Eaton's. The friend wrote of Dr. Eaton's humor, kindness, and warmth. "His home was beautiful but more important to me as a Psychiatry professional, was his wisdom, authorship, generosity, irreverent humor and devotion and respect for his wife, Louise. He sent cards every year until his death. He took in students from China, was a member of the prestigious Group for the Advancement of Psychiatry, and Chairman of the Department of Psychiatry. A class act. I so miss him!" This email really touched my heart.
Dr. Merrill Eaton
Site Plans, Elevations and Renderings of 8120 Pacific Street
Another reader wrote me an email sharing that Restoration Exchange Omaha, (check them out at http://www.restorationexchange.org/), had digitized the drawing of 8120 Pacific Street. I knew I had to reach out to Kristine Gerber, Executive Director of REO. She really did have the goods! She was so wonderful to share these with me. Prepare yourself for the coolest things you will see all day.
Specifications laid out for the Lake Deuel home.
North Elevation of 8120 Pacific Street
West Elevation
South Elevation
First Floor Plan
Second Floor Plan
Basement Plan
Millwork specs. Library to be knotty pine. For woodwork nerds only.
More millwork. Miss Cassette loves a good clothes chute. Savoring these descriptions.
Site plan of the property. Notice the many garden areas.  I was absolutely dazzled by this drawing of the lagoon, the fountain, the teahouse and the tennis court. Mr. Cassette found that tennis court immediately.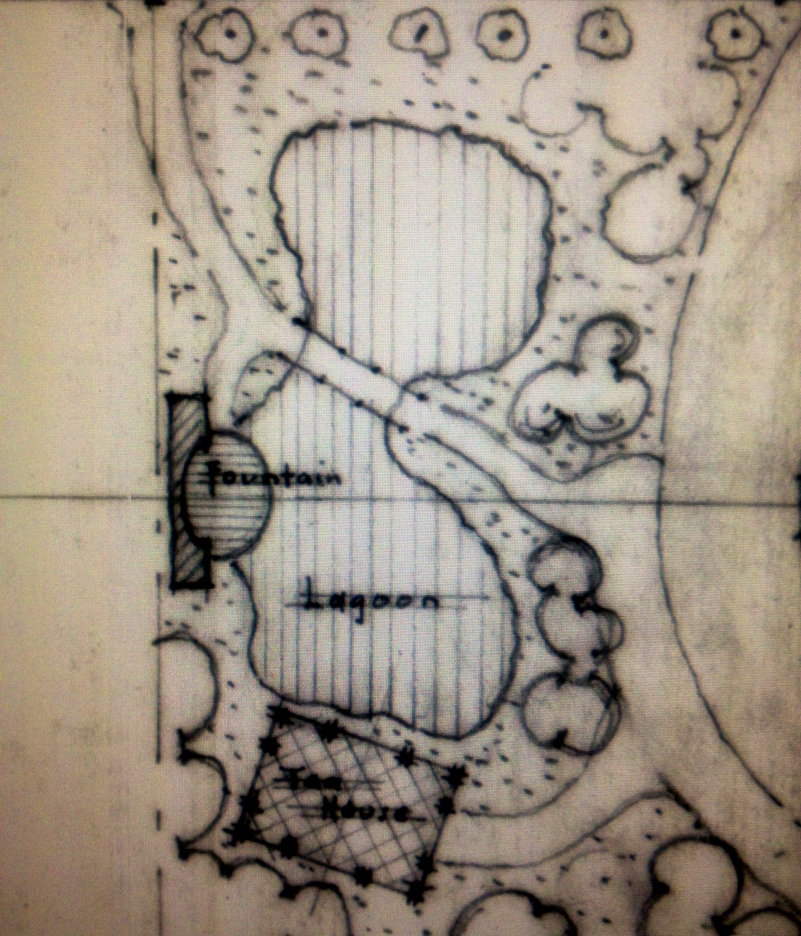 Detail of site design.
Miss Cassette encourages you all to close your eyes here, imagine a morning walk along that path to the tennis court with a girlfriend. After your match, imagine a leisurely walk past the fountain to a lovely rest in the teahouse with a pot of tealeaves. Can you imagine this luxury? No one seems to know for sure if these ambitions were ever executed or if they were just the architect's proposals.
Quite spectacular was the circular drive. If you will notice, dear reader, it leads both around the garage and through the garage, coming back under the porte cochere. Divine. It is viewable from this 2013 aerial of the grounds.
After doing a bit more research, I found that garden teahouses were quite desirable in the late 20s and early 30s. Here is an example of private garden teahouse from 1931, the year the plans were drawn.This 1931 private garden teahouse is not on the Lake Deuel property. I only include it to illustrate a garden teahouse from this time. The concept of the teahouse became very popular in the 1920s. Wealthy women longed to have their own teahouses in their personal gardens after hotels had popularized the teahouse concept.
A visit to Douglas County's GIS mapping site did not provide the definitive information I was after as their historic aerials only go back to 1941. Sadly I was not able to find anything that looked liked a tennis court, lagoon with fountain or teahouse from the 1941 photo. I would question that these things were created and destroyed ten years later– More plausible that they were just ideas on paper. Very Wonderful Ideas, indeed.
I will let you dream on this rendering of the garage cupola.
Detail of the weathervane. Probably my most favorite score in this haul. So whimsical.
And finally, the clue I really, really needed. The architect's name.
The Architect
From the elevations and floor plans, I was able to find the architect's name, N. R. Brigham, previously unbeknownst to me. I was able to uncover quite a bit of information with regard to this well respected designer. Norman Reed Brigham was a graduate of the University of Michigan and the Columbia School of Architecture. Apparently "he moved to Omaha to assist in the design of the Fontenelle Hotel." He quickly established himself in Omaha as both a architectural leader and a community advocate. I found he had been secretary and treasurer of the Columbia University Alumni Association of Nebraska in the mid teens. Norman Reed Brigham would go on to design many homes in the Midtown area as well as Downtown and Midtown businesses.
1954 photo of Norman Reed Brigham
According to the American Architect and Architecture, Vol. 117 from 1920, "N. R. Brigham, architect, has removed his office from the City National Bank Building to the Keeline Building." I have an upcoming story involving the City National Bank Building.
The Keeline Building at 319 South 17th St. Designed by local architect, John Latenser. Completed in 1911. Miss Cassette used to work in this building many, many, many moons ago doing telephone surveys for This Old House. I am not joking.
From 1921, I discovered this striking ad in the newspaper. These were all of the big players on the Omaha architecture scene. I soon learned Norman Brigham was a charter member and three-time president of the Nebraska Chapter of the American Institute of Architects.
In 1925 a seven-member committee of the board of education sponsored a "group architect plan for a two and half million dollar grade school building program." This group of architects was formed to address the needs of the city school board of education and school district of Omaha. This entertaining article describes one school board member throwing a tantrum about the famous local architects, John and Alan McDonald, being members of the group. A "hot secret session of education board" met and voted in private conference with some members, like Max I. Walker, becoming so irate, he went home leaving the meeting high and dry. Our man Brigham, F. A. Henninger, Frederick Stott, and Thomas Kimball among other renowned designers made up this auspicious group.
Norman Brigham made news by designing plans for a solar home. From the World Herald of November 30, 1947, I was able to track this fascinating clue. Plans for a house designed by Norman R. Brigham, Omaha architect, to "take advantage of Nebraska's abundant sunshine" will appear in a book, Your Solar House. He was one of 49 architects from each state commissioned to design a solar home. Brigham's passive solar home was one of the only two-story designs put forth. His plans featured a "dining balcony" in the living room. This balcony was "screened at the sides with iron grill work and back with a large mirror reflecting a garden scene."
And oh yes, there was a Mrs. Brigham. From the 1940 US Census, I found she was Emily Ward Brigham. Emily Brigham was a local musician. A pianist, Mrs. Brigham's recitals were written about in the World Herald. Additionally she was an active supporter of the arts, involved with the Joslyn Women's Art Committee through the 1950s. From what I could find, Norman and Emily Brigham had two children. Eleanor, the eldest, who would go on to become Mrs. Walter Thomas Cotton and their youngest, Dwight, who would later become Dr. Dwight Brigham.
According to this news article of 1966, Mr. and Mrs. Brigham sponsored a UNO student from Turkey. Featured here is Miss Refzan Vargin of Instanbul, Turkey with the Brighams' grandchildren, Tom and Cheri Cotton. These were Eleanor and Walter's children.
The Norman R. Brigham family home was at 5404 Western Avenue. When I did a search of that address, the name Dr. Thomas B. Cotton, MD, internist, came up. Would young Tom go on to become a doctor like his father? But this address no longer exists according to Google Map and the Douglas County Assessor. On a city map, I found the closest address listed at 1208 N. 54th Street. And guess whose name that property is owned by? That's right: Cotton. I am not sure if 5404 Western was razed, next door to another Brigham-Cotton owned home at N. 54th or if the address was changed to 1208 N. 54th. Odder things have transpired in our fine city. At any rate, this lovely Shake Shingle was built in 1919. Could N. R. Brigham have built it also? According to the County Assessor this home was remodeled in 1994.
1208 N. 54th.
I was able to track down Mr. Brigham's obituary from December 26 of 1972. He died at the age of 85 of a heart condition. Emily had passed away previously. After poring over Brigham's many accomplishments for a week, I was quite amazed that I hadn't come across his name to date. At least I didn't think I had seen it before hand. Norman Brigham did so much beautifying of our city by way of architectural design. Of course, I am a Dabbler Detective of sorts and most of this amazes me. I am always grateful for the evidence I can put together, choosing to believe that the clues reveal themselves and that this means something. I am also grateful to all of you and the ways in which you contribute to these architectural puzzles. Let's keep on this trail.
Rendering of the front southern side of 8120 Pacific. One can see from this drawing that there was originally to be a gate entrance on Pacific Street. Notice the "D" for Deuel on the gate. This explains the street address quandary. Just lovely.
I welcome your feedback and comments on this home, its history of incredible owners and the Loveland area. To enable comments, please click on the header title. If you would like to correspond with me privately, please do so at myomahaobsession@yahoo.com. But I assure you, everyone would love to read what you have to say and it makes the conversation more fun. You can keep up with my latest investigations without even leaving your inbox, by "following" myomahaobsession. You will get sent email updates every time I have written a new story. Thank you Omaha friends.
© Miss Cassette and myomahaobsession, 2016. Unauthorized use and/or duplication of this material without express and written permission from this site's author and/or owner is strictly prohibited. Excerpts and links may be used, provided that full and clear credit is given to Miss Cassette and myomahaobsession with appropriate and specific direction to the original content.