If you did not know it or maybe, if you were deep in thought (or woefully of the unobservant type), you might have never seen or even heard tell of the Jones Street footbridge through the foliage of Elmwood Park. It is now formally called the Jones Walk, which I only just stumbled across on a map. I am making excuses here but maybe if you happened to be of the Timid Type or if your mother taught you to not go Nancy Drewing about town, you might keep walking merrily along Happy Hollow Boulevard just north of Leavenworth minding your own thoughts. Perhaps you might be judging yourself a Rude Intruder to dare cross the bridge. Your mind might wander back, though, having regrets about not being more of a snoop and you might imagine that just past the bridge was a private home, inhabited by a distinguished person…a person of great taste. "Aren't you even the least bit curious about all that?" asks your mind. And you might be right to imagine, as distinguished persons of brilliant taste, living in incredible homes are so often the case around these parts.
If you are fortunately acquainted with the Jones Walk Bridge and sensitive to these types of matters, you know that to cross into the park, is to slip through a mythical passageway into quite another region of Elmwood, unknown to most, to one of the strangest, most marvelous, secret streets in all of Omaha. Like a drawbridge across a mote to a castle just out of view but, freely mixing fairy-tale metaphors here, this castle happens to be of equal storybook lore: a Log Cabin in the Woods in the City. Oh how I have been waiting to tell you this curious, rustic tale.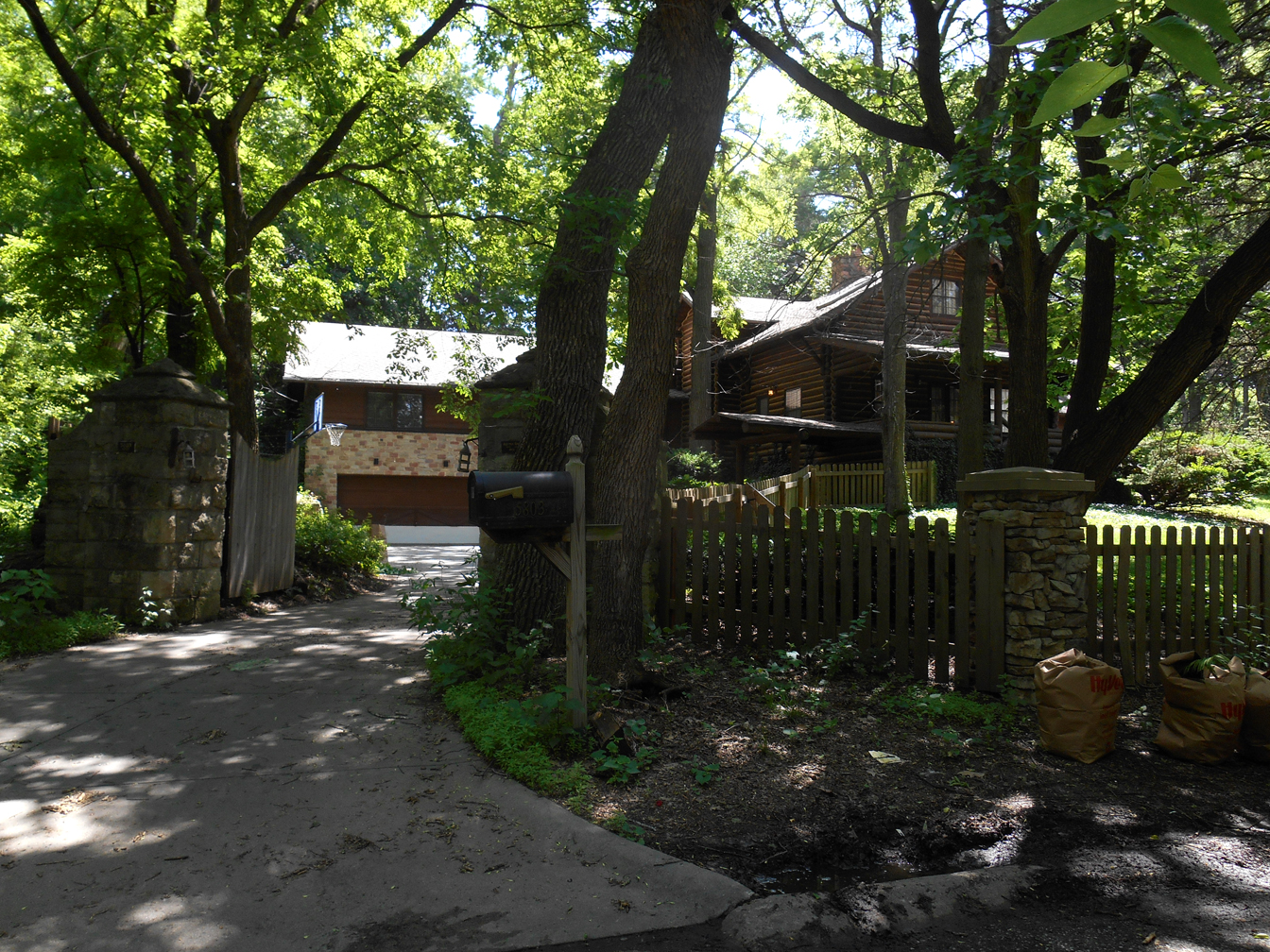 The Beginning of the Obsession
Like any unwitting pedestrian, I am sure, the first time I stumbled across the Log Cabin, I was absolutely entranced. Something about its expression and posture as it snuggled darkly into the corner of the park. Perfectly natural and secure with itself…. like it was birthed from the wooded grounds. As if it belonged. Inevitable. Upon closer inspection, I felt faint as I studied the coarse stone columns of a bygone gate with its coach lights and doorbell. I couldn't breathe.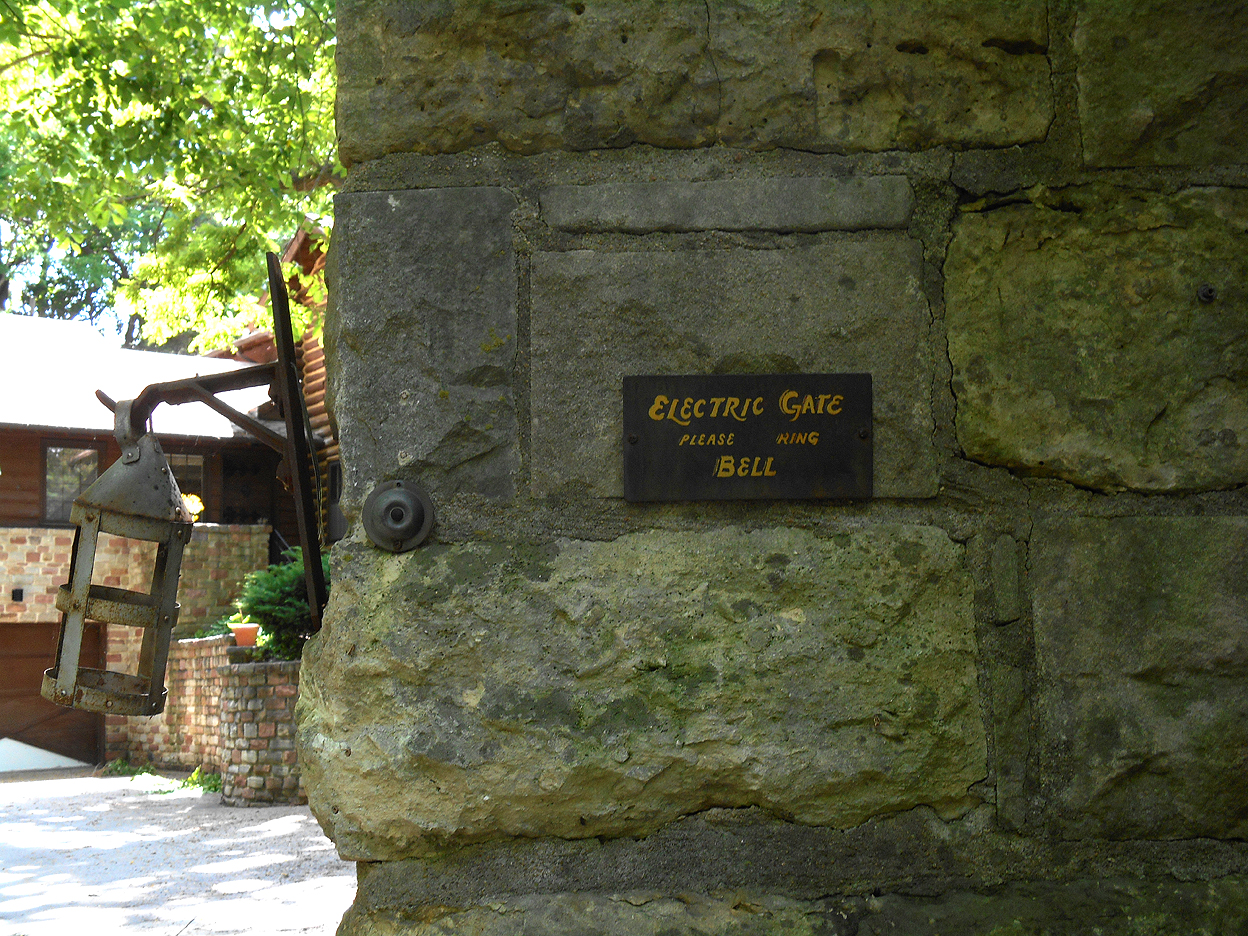 How exactly did a log cabin end up in the middle of Omaha? Did the city spring up around it? How does a Lucky Devil end up with a plot of land within a popular city park? Aside from "leisurely walks" down Jones Street aka Log Cabin Sleuthing Missions for the last ten years, I knew not a thing about the log cabin on the edge of the park. (There was that one time that I actually drove down the No Outlet Jones Street and found it to be such a shamefully awkward turnaround that I vowed to never again drive the private road. Insider Tip: Please take heed.) I will confess to having next to no experience with log cabins whatsoever except for having played with John Lloyd Wright's genius invention, Lincoln Logs, on the deep, shag carpet of my best friend's family room on numerous classified occasions. The peculiar notched miniature logs tend to stay in one's mind especially when we were warned against playing with her brother's toys for Boys Only.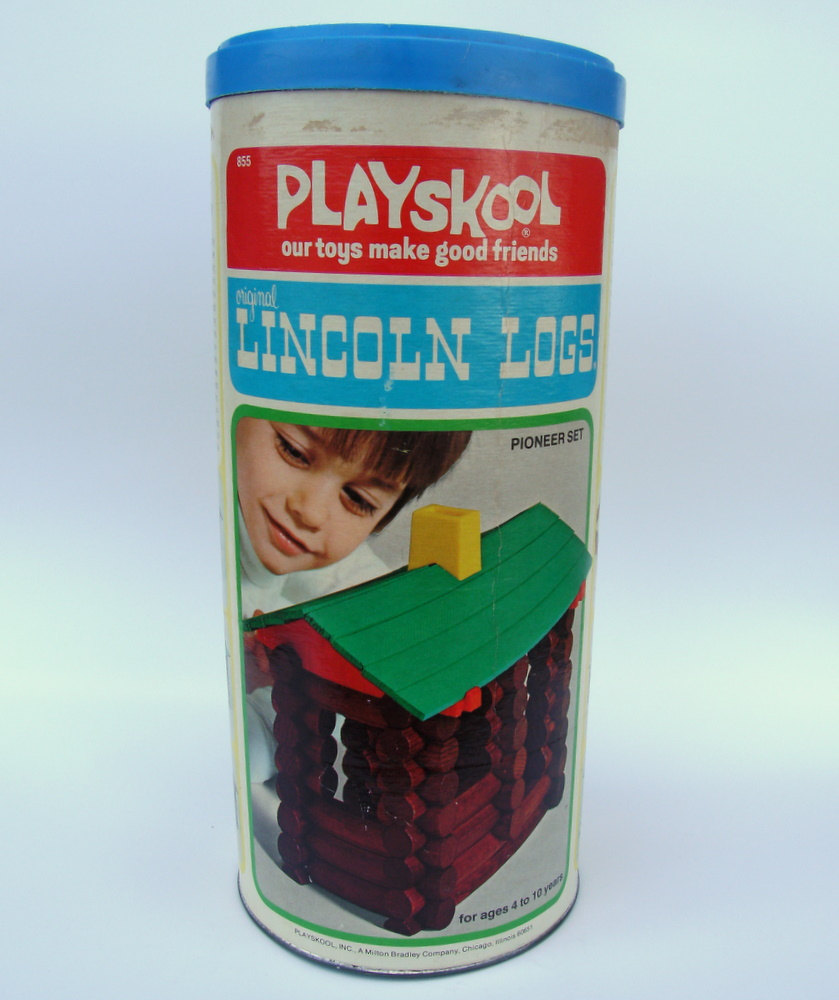 And then there was that momentous Yellowstone National Park vacation that my grandparents swept me away on one 1970's summer. Staring up at the interior of the Old Faithful Inn, particularly that fantastic Crow's Nest view, many stories above, seemed to have carved out a warm, little place in my child memory. How on earth did a whole orchestra of tiny elves scales up into that forbidden hideaway?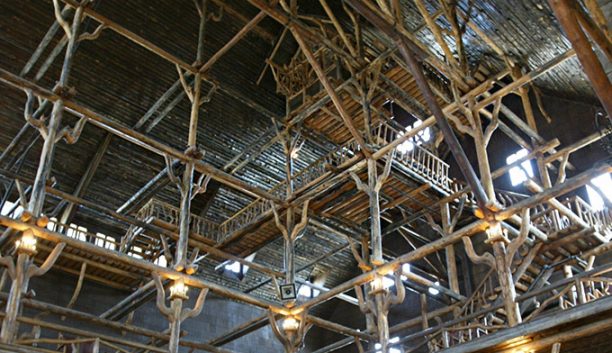 The Crow's Nest in the Old Faithful Inn. Photo from the Yellowstone National Park site.

The Architecture of Happiness by Alain de Botton has a number of delicious phrases and concepts within its pages. Please read it. One idea is that of my kindred belief (although much more beautifully articulated) –the idea of a house having grown into a "knowledgeable witness." Implanted with the observations it has absorbed from its family of inhabitants meanwhile the home environ, in turn, shaping the inhabitants' experience with its structure. Another idea relates the house as a "psychological sanctuary." I only share this with you because it was so profoundly validating to read from a like-minded person like us. It was with this renewed spirit that I picked up my magnifying glass and began to dig into the Log Cabin Mystery of 5803 Jones Street.
The Teasers
Surely by now you know my methods. A detective on stakeout often spends long hours sitting in wait, smoking cigarettes and biting nonexistent hangnails. Habits that no longer serve Miss Cassette. My surveillance began with the Douglas County Assessors site. There I learned 5803 Jones was built in 1923. This would have to be double-checked. Later I found that its current owners thought it was erected in 1917. Technically 5803 Jones was platted Lot 3, Block 0 of the Elmwood Addition. The log cabin would be remodeled 1994. The home itself was quoted at 4,054 square feet to include an indeterminate floor plan. Still, it gives a general idea. The assessor also gave evidence of the 5803 parcel encompassing 1/2 of a vacant alley as well as additional lots 1 and 2.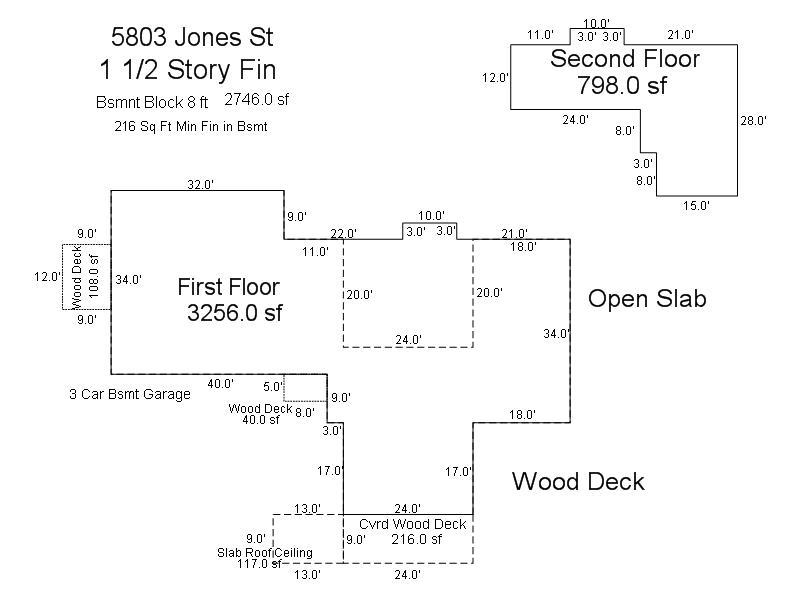 Floor plan from the Douglas County Assessor's site.
Lay of the Land
From the magnificent, exhaustive Streets of Omaha: Their Origins and Changes compiled by H. Ben Brick, I learned of the abstruseness of Jones Street. "There is question whether it was named in honor of A. D. Jones, first Omaha postmaster, or for George W. Jones of Iowa, a railroad builder." Harrumph. From what I could surmise Jones Street starts at about 5th or 6th Street, an off- shoot of what is now called ConAgra Drive (but not for long, I imagine.) Jones Street gets the run-around and experiences a number of cut-offs through most of Downtown Omaha and Midtown, at one point doubling as Jones Plaza through the UNMC area. The short-winded jaunt past the log cabin in Elmwood Park is the last sighting of Jones Street until it picks up again off of 90th Street.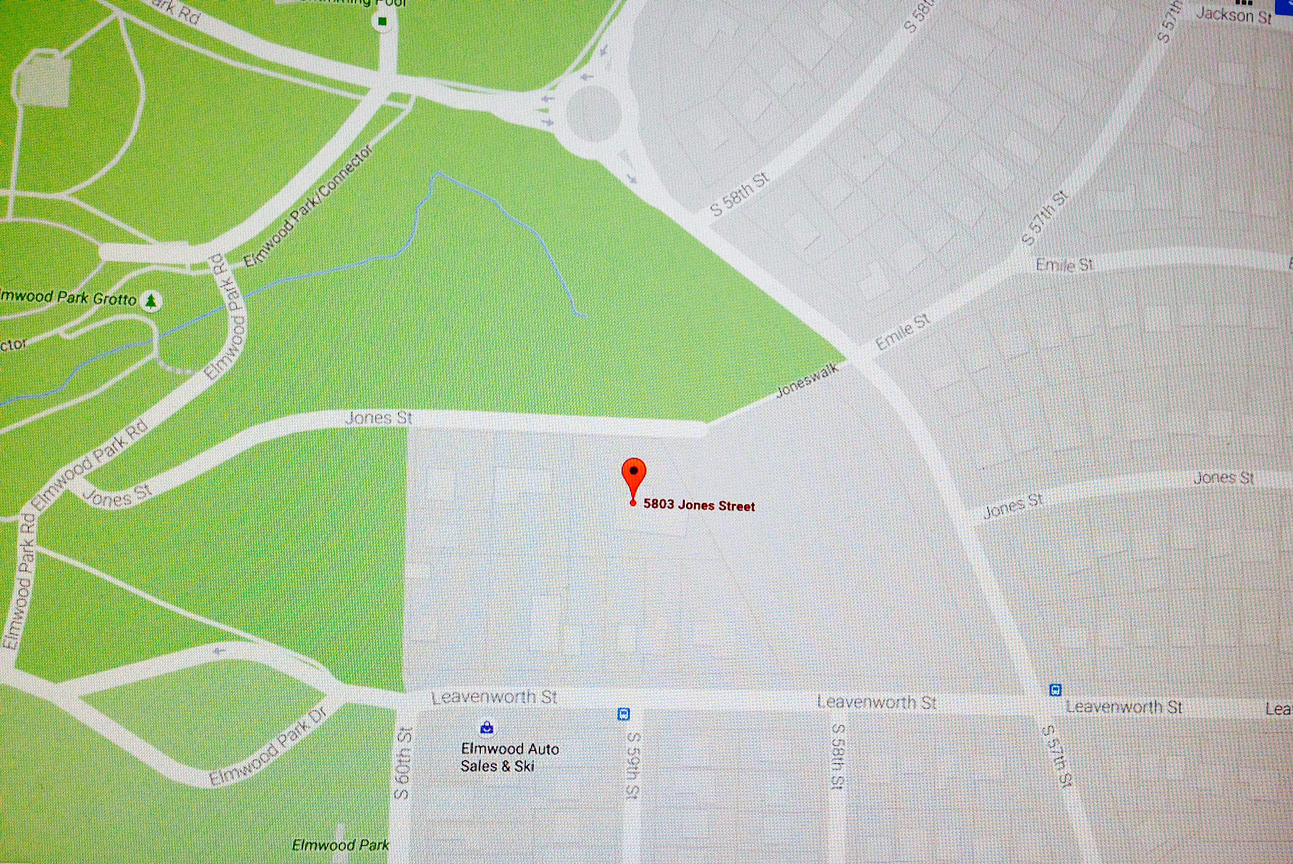 Google Map of the area.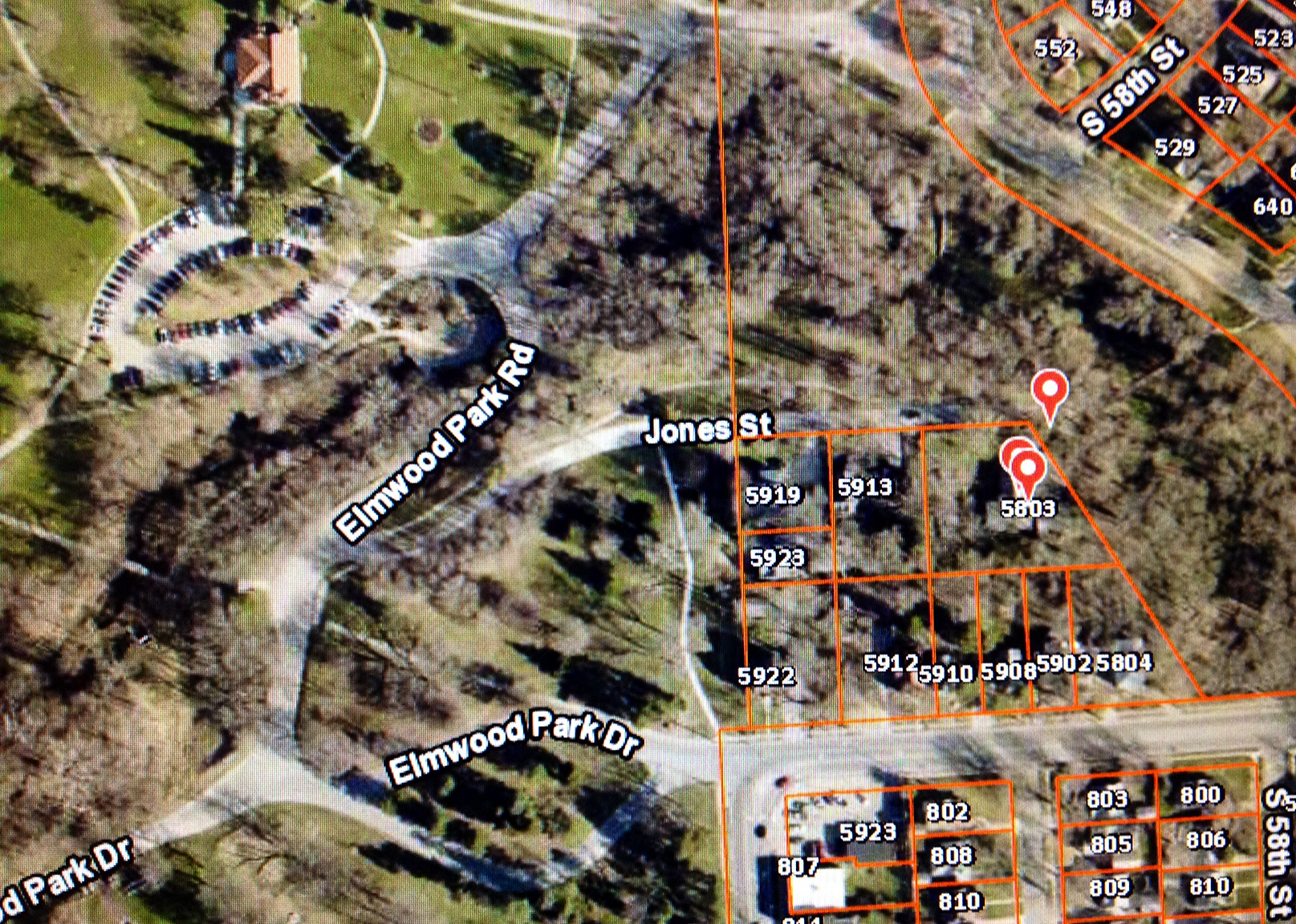 A 2016 aerial view, thanks to the DOGIS site, displayed what I already knew by heart. 5803 Jones is within the Elmwood Park property, sandwiched between the Dundee and Elmwood neighborhoods. The Jones Street mini-run through Elmwood has only four houses on it.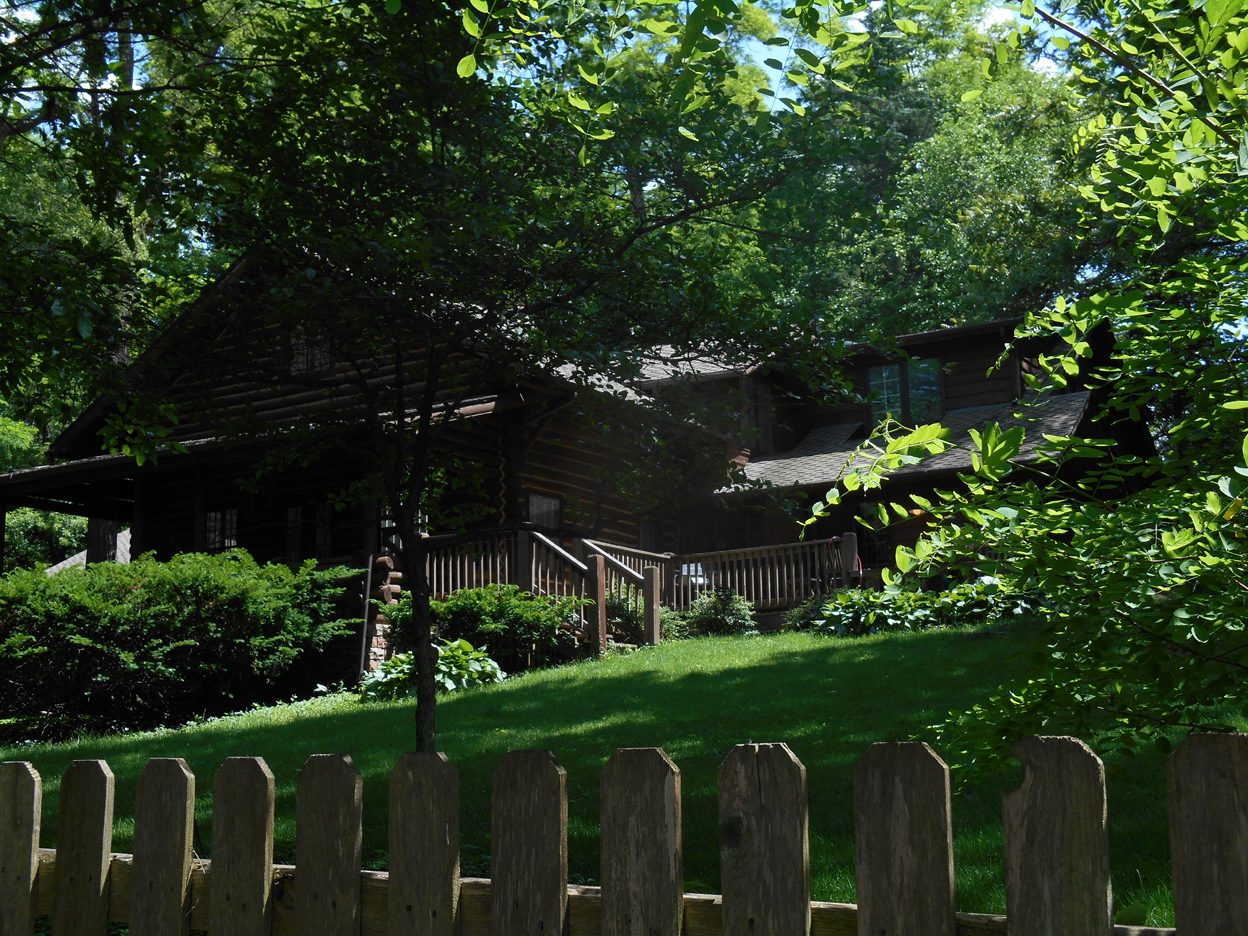 The 5803 Jones Log Cabin has a city park ravine and wooded area directly to its east with Jones Walk Bridge leading up to its drive. I had detected the west most part of the house to be the original log cabin with a large addition to the east, not shown in this photo.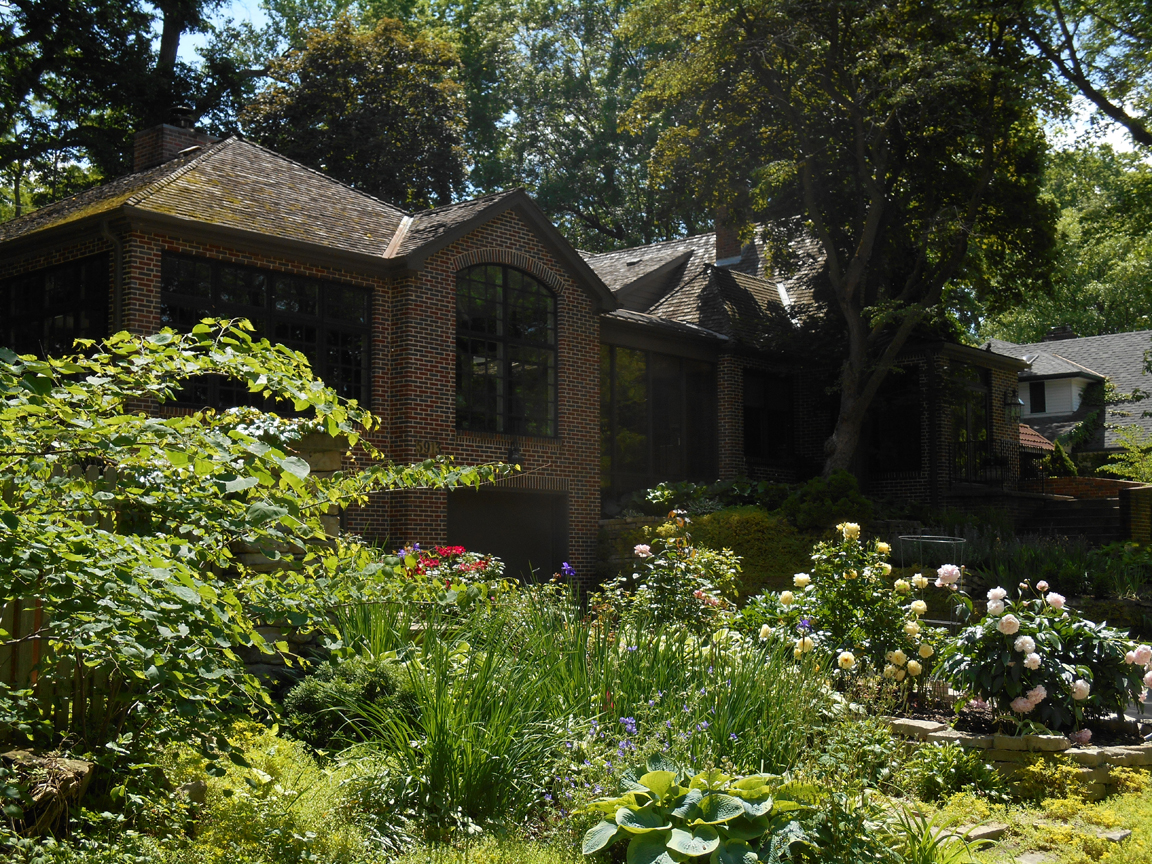 5913 Jones. Mr. Cassette longingly named off the roses, irises, and lovely perennial garden on this daydreamy path between the homes. 5913 is just west of the 5803 log cabin. 5913 is quite a jump in house numbers. This gorgeous home has what looks to be a large addition on the original home as well. I could be wrong. I discovered 5911 Jones was an address listed between 5803 and 5913 until about 1996. An ad from May of 1935 stated, "Elmwood Park $3,500. 6 rooms, garage, unusual location facing the park, beautiful trees. Shingle Home, rustic and appealing. See 5911 Jones today." You know how I love the shingle style! I wish I could have seen it.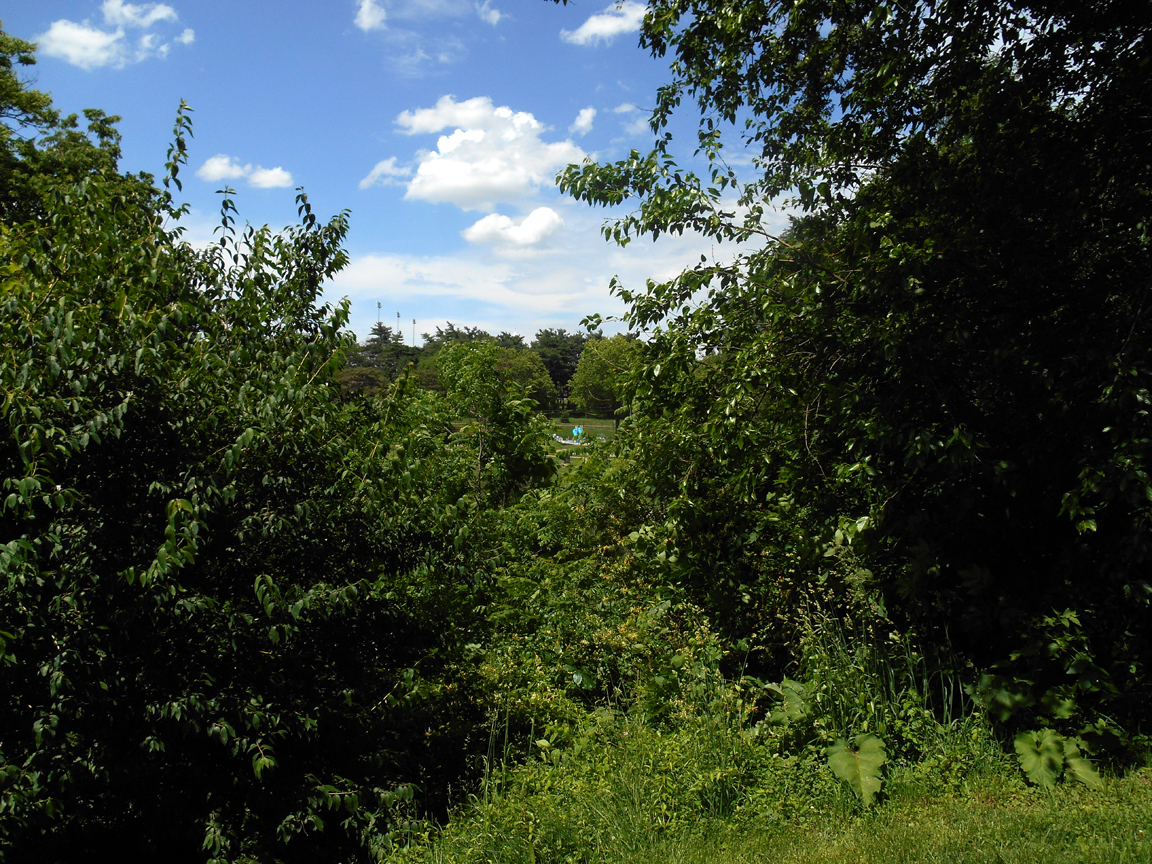 By the way, if you have ever daydreamed about living in Elmwood Park, here is a glimpse into your view, across from the short Jones Street jaunt.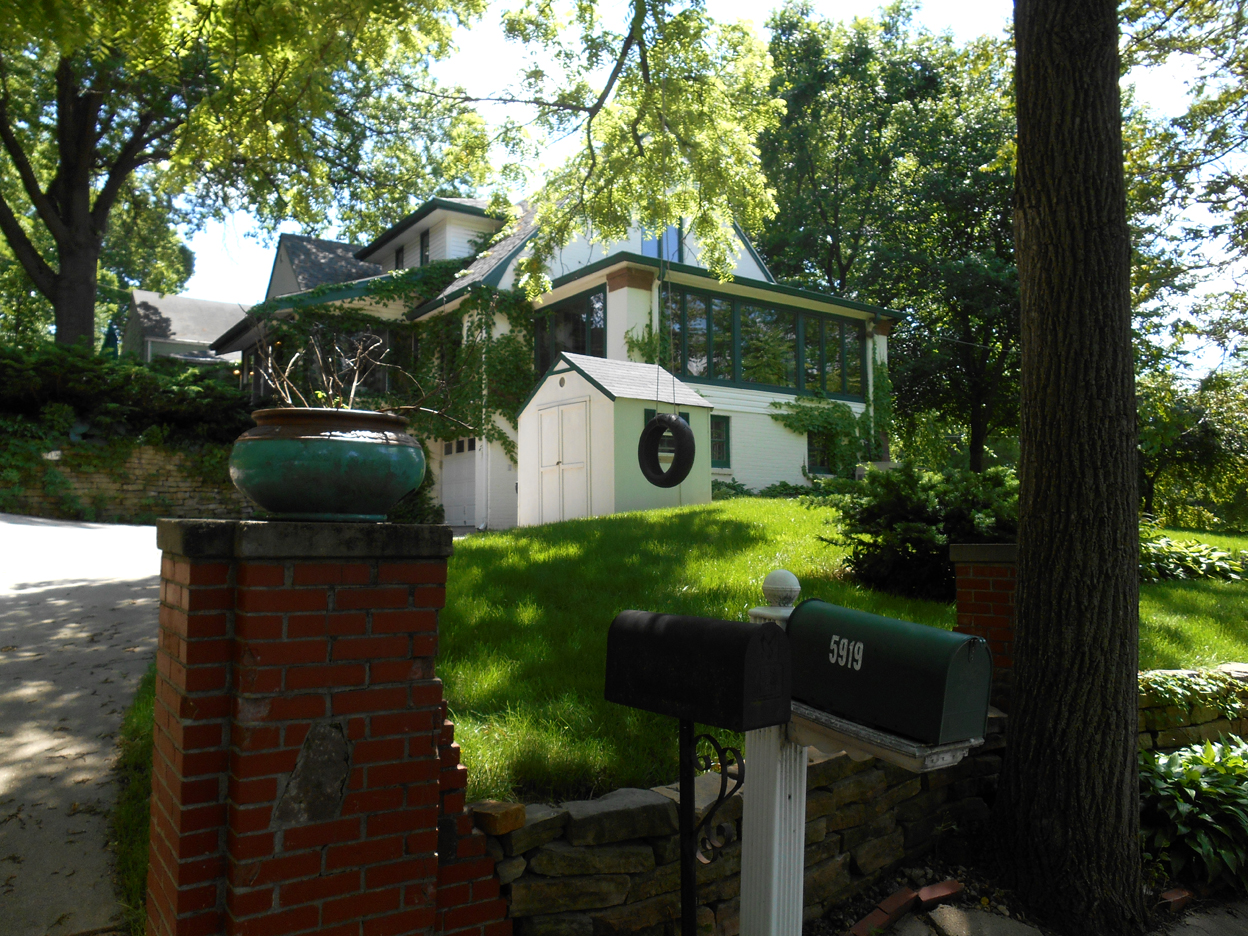 5919 Jones. You must know, I am in love with 5919 Jones. I love the breeziness of this summer feeling home, its outdoor area that could be additional room and yes, I am partial to a good tire swing.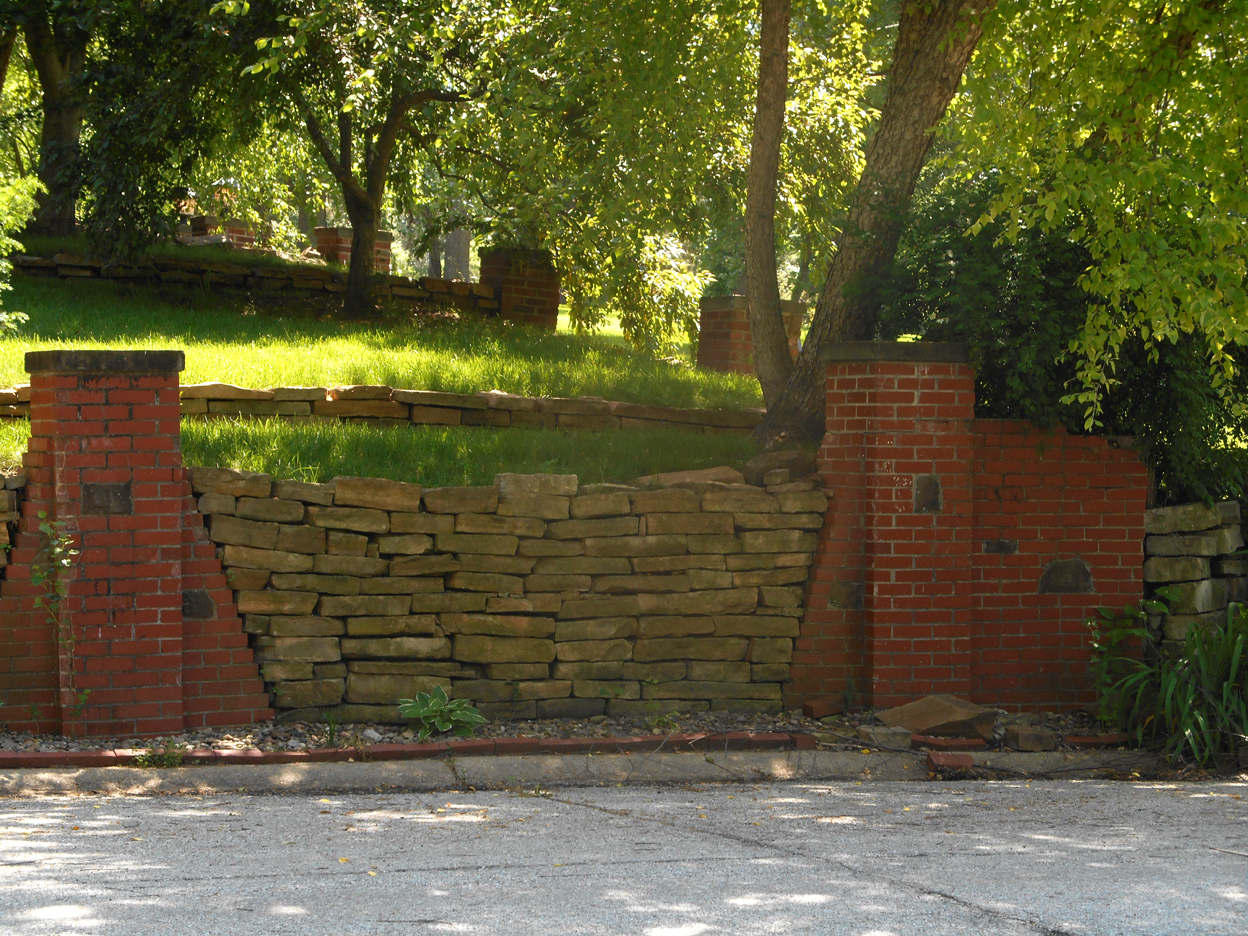 5919 Jones also has one of my favorite mystery retaining wall in all of Omaha. I believe this brick gate is all that is left of the property that once was at this location. The Douglas County Assessor reports this home was built in 1941 but interestingly has what looks to be an old brick fence going around the property. Perhaps their had been wrought iron work between the posts? Ooooh so exciting.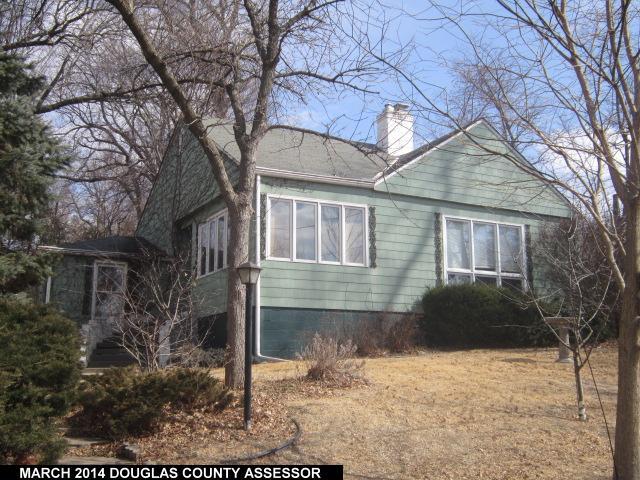 5923 Jones. Curiously behind 5919, just south is 5923 Jones, although not actually on Jones Street. This sweet, little gem faces west into the park. Isn't it all fascinating? Photo taken from the Assessor's site.
Early Evidence
Since I had no real knowledge of American log cabins, I spent some time wading into that realm. According to The Visual Dictionary of American Domestic Architecture by Rachel Carley, "the Swedes were the first settlers to build log structures in America, the major tradition of log building here originated independently in the late 1600s to the early 1700s with German speaking settlers in the mid-Atlantic region." The Scot-Irish and English settlers also employed the technique. The saddle notch was used universally for round logs. These logs were locked into place by their own weight. Joints were typically "chinked" with mud plaster or covered with narrow split boards. Pine and spruce were commonly used.
Miners' cabin from 1889.
The incredible House Book a collection by Phaidon depicted gorgeous log cabin homes from Switzerland to Russia, all with a dark warmth. Whether the primitive cabin of a working family, a Russian "Izba" peasant hut or a holiday lodge, the "dacha" was a true rustic sanctuary, reconnecting the rhythms of nature.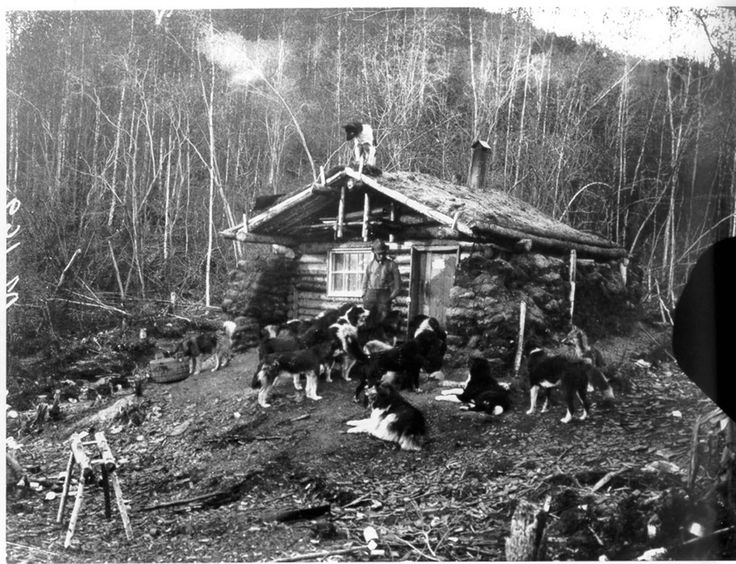 A Sort of Heaven on Earth.
Weeks later I was fully swimming in A Field Guide to American Houses by Virginia Savage McAlester, up to my neck in the history of folk houses vs. styled houses. If 5803 Jones Street log cabin's speculated build date of 1923 was ten years off in either decade, a gable-front folk style log cabin would have been quite unusual for the Dundee-Elmwood neighborhood, let alone Omaha. The question for this detective became was 5803 Jones an authentic vernacular style folk home or a wealthy person's kitschy wink to the moneyed high style of the time period? I couldn't wait to dig further.
 J.T. Maxwell
I could not find 5803 Jones in any city of Omaha neighborhood surveys of Dundee or Elmwood Park. Additionally it was not listed as a historic Omaha home in any of my local books. Familiar with brick walls, I next visited one of my favorite haunts in Omaha: the W. Dale Clark Downtown Library. You better believe I ran to that 1923 Omaha City Directory but was dismayed when I found 5803 Jones Street was not listed. It was also not listed previous to 1923. Furthermore the 1924 City Directory has been missing for years. The 1925 Omaha City Directory listed 5803 Jones Street for the very first time under "J. T. Maxwell." J. T. Maxwell also had an office listed at 503 Omaha Loan & Bldg Association. I was not sure what line of work he was in nor had I heard of that building.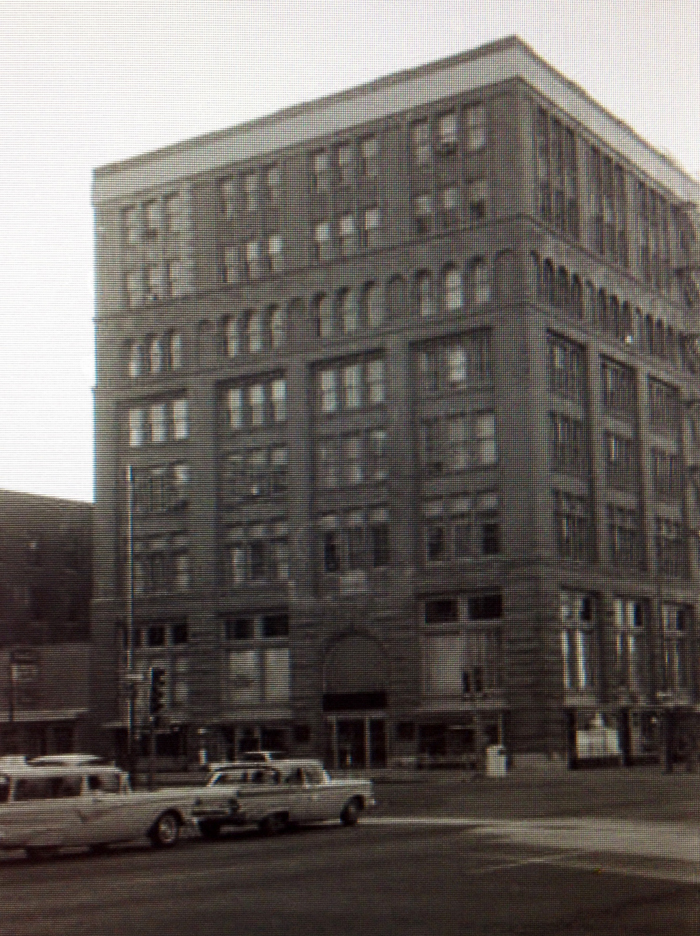 As it turns out, J. T. Maxwell's office was in Downtown Omaha at the Omaha Loan & Building Association building (redundant?) at 1504 Dodge Street. July of 1964. (Photo courtesy of the Martin Weil Photography Collection at The Durham Museum Photo Archive).
Other clues from 1925: On the other side of the Jones Walk bridge, T. J. Prettyman was listed as owning 5714 Jones Street in 1925. It was interesting to me that 5901 Jones Street was listed under "G. M. Maxwell" in the same directory. Was this the original property of the gorgeous brick fence now addressed 5919? Was G. M. Maxwell related to J.T. Maxwell? 5911 Jones was owned by "C. W. Wonch." In my research, I had become accustomed to addresses changing over the years. Why did the 5911-5913 addresses next to the cabin bother me so much? I could tell this wasn't going to be a tidy investigation.
Closer Inspection
After further city directory digging and Various Mystery Omaha World Herald Documents, I knew it was time to visit the Douglas County Register of Deeds office. I was not disappointed. As it turns out William F. Snyder owned the original plot of land that the log cabin was on. Mr. Snyder sold the land to James Taliaferro Maxwell on December 7, 1910. I now had J. T.'s full name. I was able to track the Omaha World Herald Real Estate Transfer dated December 8, 1910 where they listed the sale from Snyder to Maxwell Lot 1, Elmwood Addition for $300.00. From the OWH Real Estate Transfer of Jan 21, 1911: William F. Snyder et al again sold to James Taliaferro Maxwell– this time Lot 2, Elmwood Addition for $300.00. I was dying to know more about this William F. Snyder.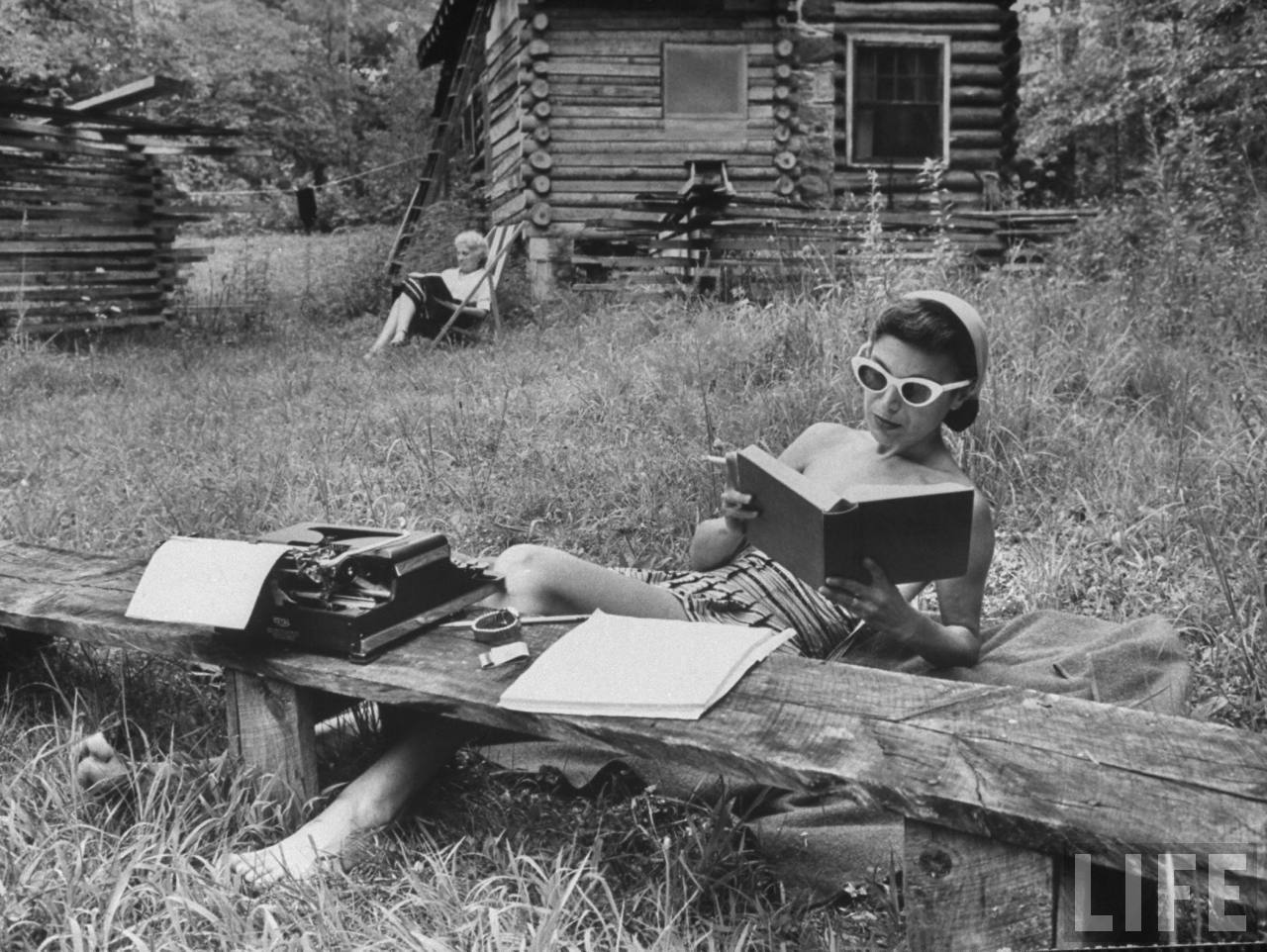 Meanwhile I kept envisioning myself in situations like this. Life Magazine. 1959.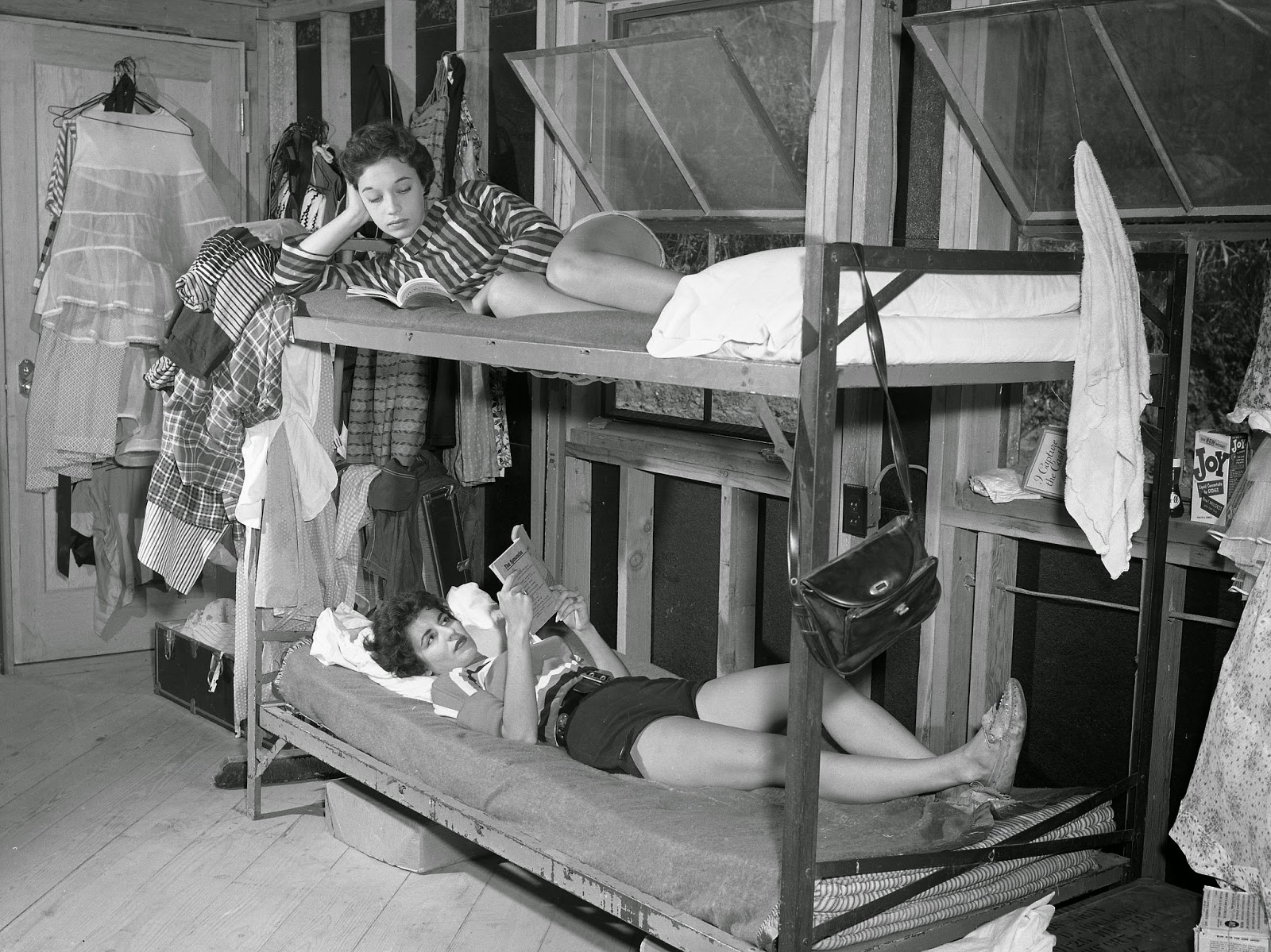 Or like this.
The Jones Street Bridge
It was around this point that I learned the Jones Walk footbridge used to be a wider traverse for vehicles. It was in the same location. Have you noticed that the bridge actually links up directly with Emile Street and not Jones Street? Yes, I have too. I wanted to find that it had originally matched with Jones but alas, it has always been quirky.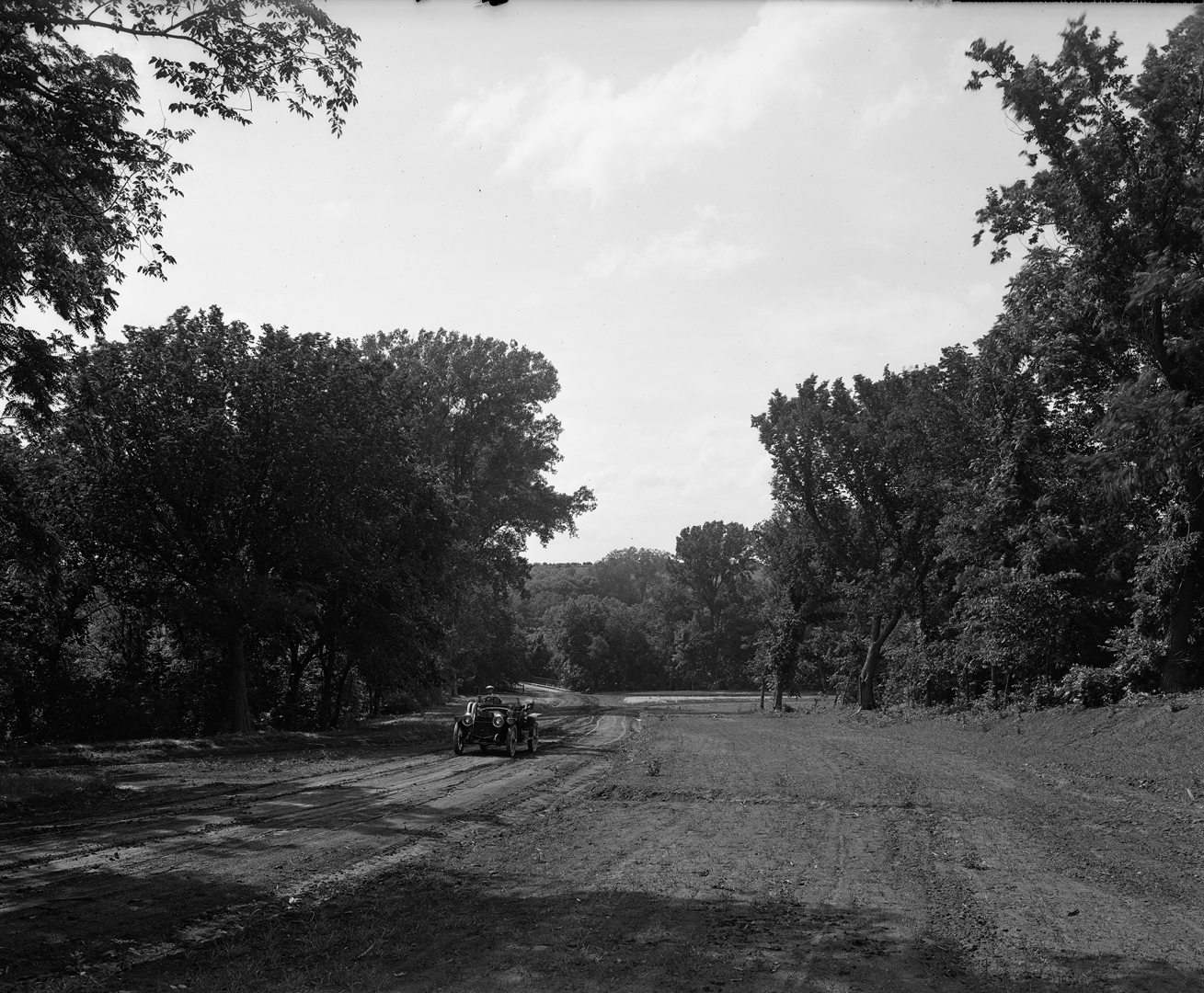 This photo gives a good idea of what Elmwood Park was like in 1913. A man driving an automobile on a dirt road. There are numerous trees on either side of the road. "Elmwood Blvd near Jones Street Bridge." June 25, 1913. (Photo courtesy of the Bostwick-Frohardt/KM3TV Photography Collection at The Durham Museum Photo Archive).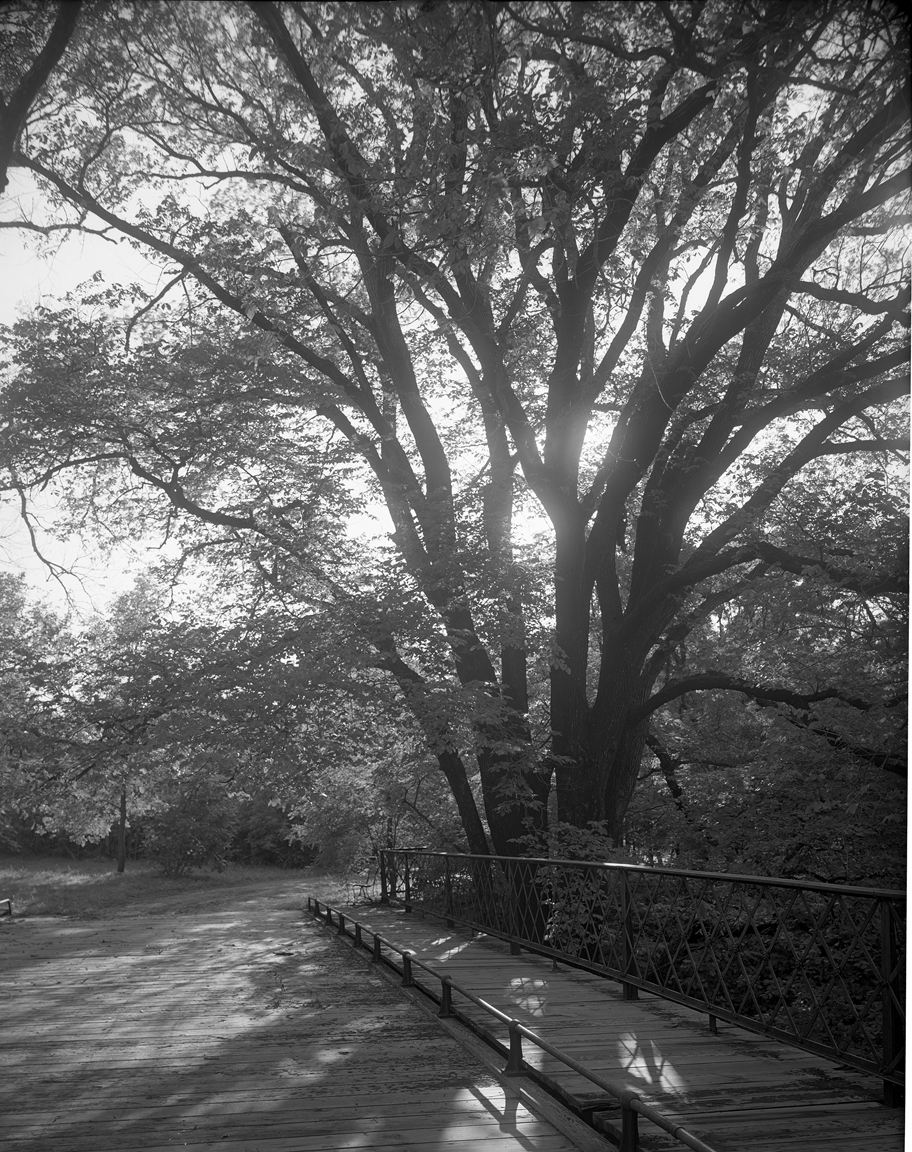 The Jones Street Bridge in Elmwood Park. September 15, 1914. (Photo courtesy of the Bostwick-Frohardt/KM3TV Photography Collection at The Durham Museum Photo Archive).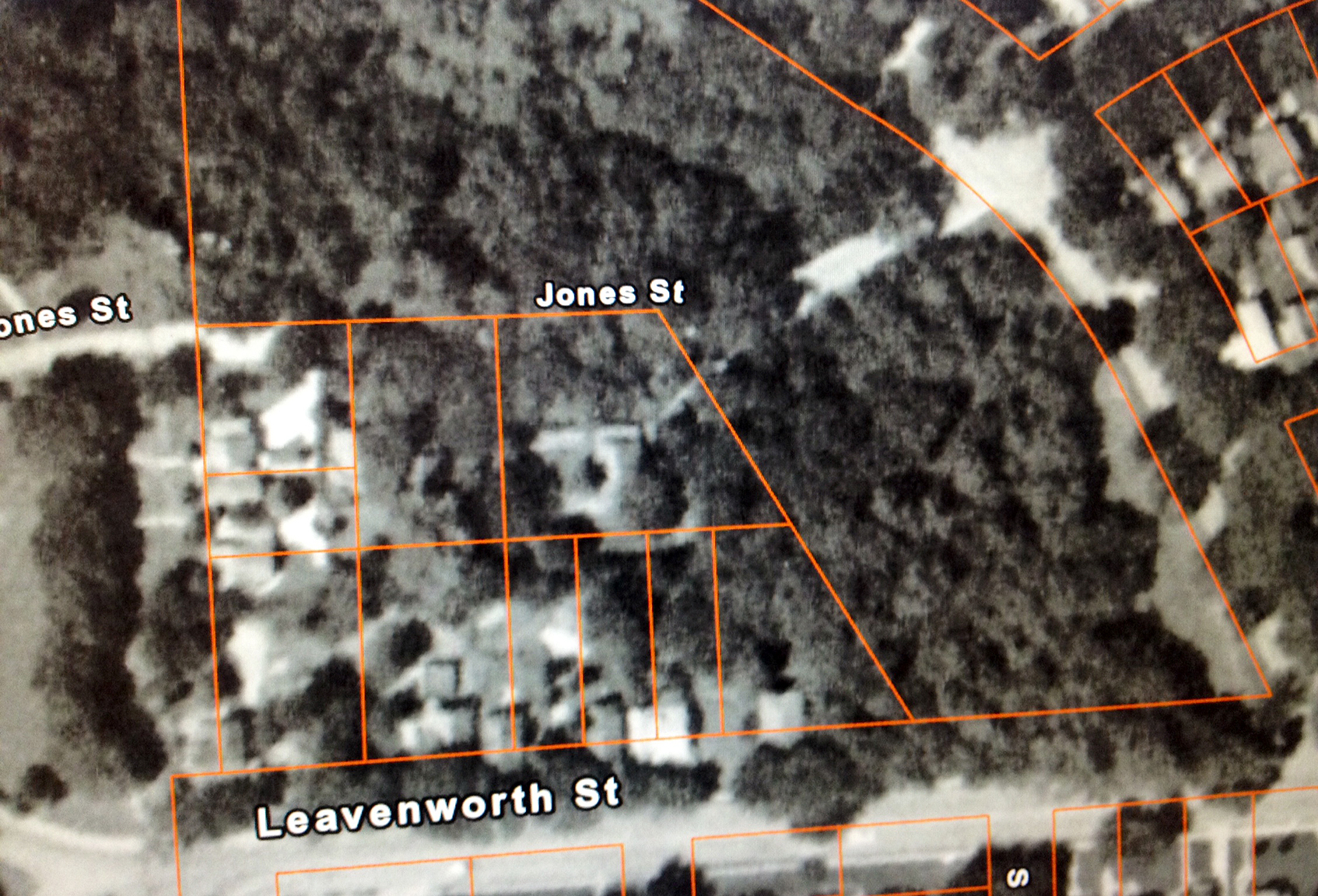 DOGIS map of 1955 showing the wider Jones Street Bridge. If you compare to the previous map of 2016, you can easily see the difference between the bridge and the footbridge. More about the bridge later. I promise.
William F. Snyder and Elmwood Park
As I began to piece together evidence of one William F. Snyder, I was beside myself with the wealth of hints soon revealed. Any Turn Up, Track Down Detector loves to find Whodunit, especially when it was this good. From the World Herald I found an article entitled "A West End Park Assured," dated October 16, 1889. Five rural property owners invited the Omaha park commissioners to inspect their land for a projected park. These gentlemen proposed to donate at least fifty acres to the city. This land would later become Elmwood Park. "William F. Snyder owns sixty acres to the east of the proposed park tract and the other property owners have been trying to persuade Mr. Snyder to donate ten acres of his land." Apparently Snyder was not having it. At some point he agreed to give six acres "only on the condition that the rough ground along the creek should be taken and the city should perpetually furnish to him, without expense to himself, water from a spring on the land to be donated." The park commissioners rejected this idea on the basis that it would put a perpetual lien of an individual on city property. As you might know, this stream of clear, pure water flowed throughout the tract of land, later used as a gathering place in the park. Omahans were known to bring jugs to this area to obtain clean drinking water.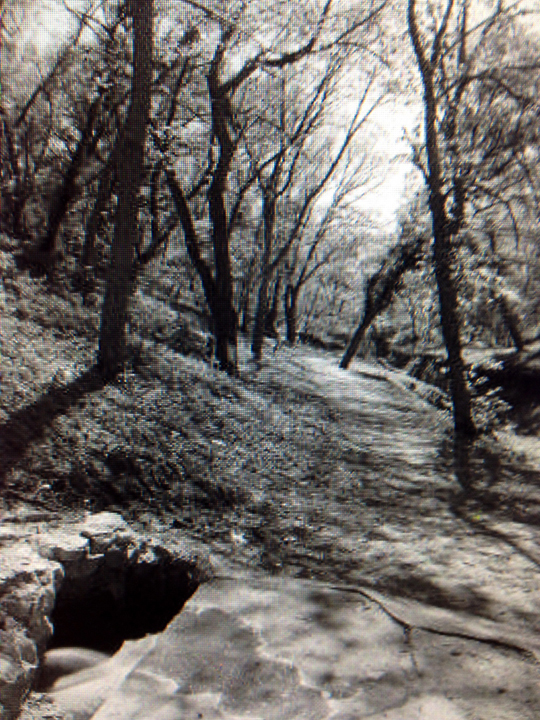 Elmwood Park natural spring next to a path lined with trees. May 8, 1912. (Photo courtesy of the Bostwick-Frohardt/KM3TV Photography Collection at The Durham Museum Photo Archive).
Of the forty-one acres donated to the city, Leopold Doll gave sixteen and three-tenths acres; Lyman Richardson, five acres and John T. Bell, H. M. Huribut and Henry B. Wiley offered twenty acres. The park commissioners were expected to try to strong-arm another 15 acres from owners yet unwilling to sell. "Leavenworth Street runs directly through the land, twenty four acres lying to the north and seventeen acres to the south of the street." It was thought to be one of the prettiest areas in all of Omaha. I simply must write a proper article about Elmwood Park in the future.
Another article dated December 18, 1889, reported William F. Snyder and wife were ready to sell their six acres of land for park and boulevard purposes adjoining the land previously given by Leopold Doll, Lyman Richardson, John T. Bell and others, "the only condition being that a street be opened east sixty feet wide."
The most telling piece of evidence was from May of 1917. William F. Snyder passed away in that year. Apparently his estate had been called Snyder Grove. The remainder of his property, thirty additional acres, was sold to Benson, Carmichael and Barker Co, "who will plat it along landscape architectural lines and put it on the market this fall for choice homes." Snyder Grove was between Sixtieth and Fifty-eighth, Pacific and Leavenworth streets, with Elmwood Park on the west side, in addition to his previous ten acres within the park.
What I deduced from all of this is that William F. Snyder and his wife sold a number of lots to James T. Maxwell in 1910 after the Elmwood Park debacle. These lots are, after all, along this "rough ground along the creek" mentioned in the 1889 article. My question then became who exactly was James Taliaferro Maxwell and why did he want to buy this wild and woolly land next to the ravine?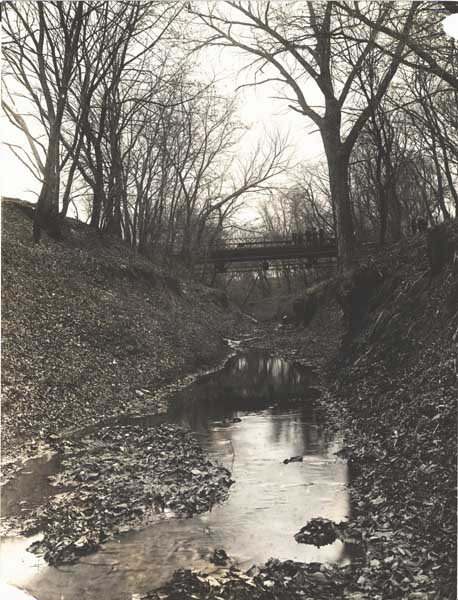 Photo of the Jones Street Bridge from omahapubliclibrary.org "Early Omaha" section.
 The Early Life of James Taliaferro Maxwell
James T. Maxwell was born in either 1882 or 1887. I found differing accounts through genealogy sites and in articles about him. I was perplexed, as this would have made Maxwell very young at the time of his land purchase from Snyder. I later found out that there must have been a Maxwell Sr. in the picture. The senior Maxwell and his wife must have bought the land from Snyder. But for our purposes here, let us focus on the younger Maxwell—it will all make sense soon enough. From what I could unearth in the World Herald and interviews with his friends, the younger James was born a frail child. He referred to himself as a "weakling" and his young body as "substandard. "Apparently he also had a loathing for school and due to this" hatred" and frequent failure, he quit by the age of 15. James weighed only 85 pounds when he went to work at a South Omaha packing plant. I was not able to secure the details of which particular plant.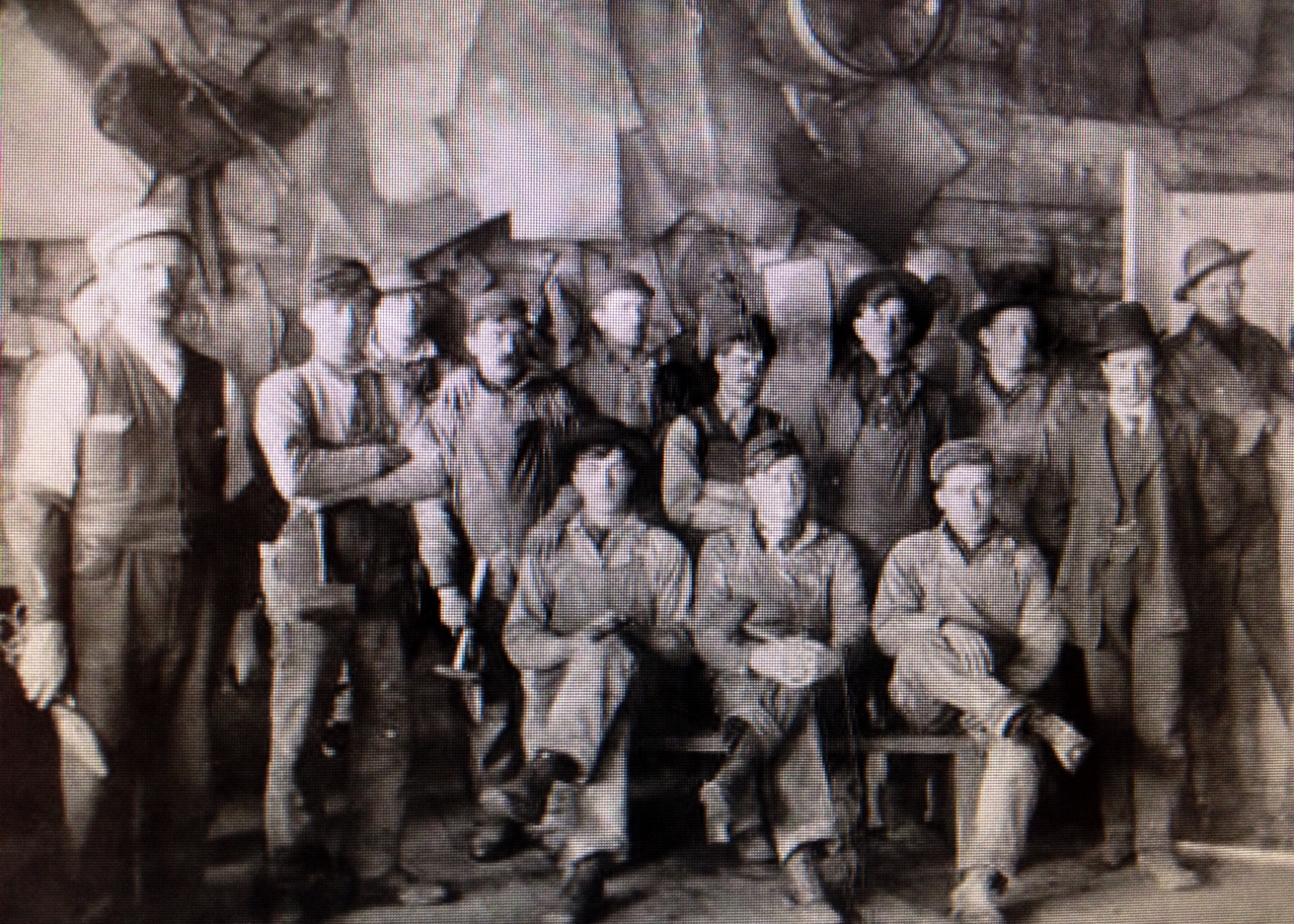 I estimated that Maxwell must have begun working in the packing plant roughly between 1897-1902. This photo from the time gives an idea of the conditions. Workers in the tin shop of the Swift Packing Plant in South Omaha. (Photo courtesy of the Bostwick-Frohardt/KM3TV Photography Collection at The Durham Museum Photo Archive).
During this time James Maxwell began to develop an "intense interest" in physical fitness. He was quoted as saying, "I worked chiefly in boxing and wrestling and before I knew it, I was considered the best amateur boxer in this vicinity." His passion would lead him to run a boxing and wrestling school in South Omaha, in addition to his long hours of packing house duties. Through his hard work and exercise he began changing his mode of thinking.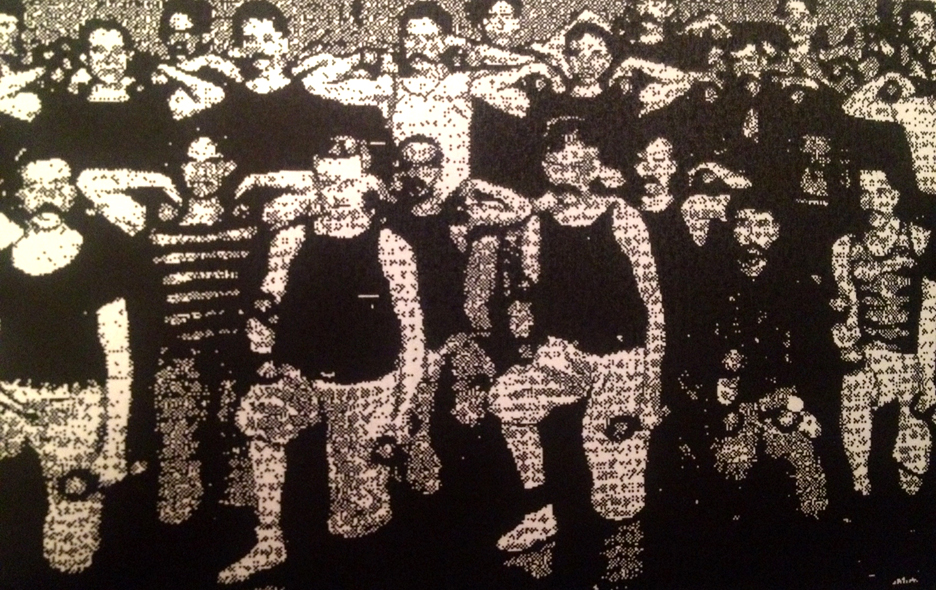 The OWH ran this photo in 1943 of a "Business Men's Gym Class." It is from Maxwell's later life, but illustrates his lifelong passion for physical exercise. And yes, James T. Maxwell is one of these handle-bar mustached, dumb-bell holding men—I just don't know which one. The article stated that James had been a decades-long member of the YMCA and a trainer when they ran this photo.
James T. Maxwell Goes Back to School
At some point, the younger James resumed his schooling, studying nights to obtain his high school diploma. By his 20s he had miraculously entered the University of Nebraska as a medical student. In the 1910 Register and Catalogue for University of Nebraska, Lincoln, I discovered James Taliaferro Maxwell listed as a student from "South Omaha." He was a junior in the "College of Medicine", one of only nine juniors. He continued teaching boxing and wrestling to finance his education. I was able to find the UNL Daily Nebraskan dated, May 28, 1912, announcing "the recommendation of the medical faculty the degree of Doctor of Medicine to James Taliaferro Maxwell." I found J. T. Maxwell living at 2235 Howard Street, some point in the year of his graduation. This would come up later in related story Mysteries of Omaha: 2226 Howard Street.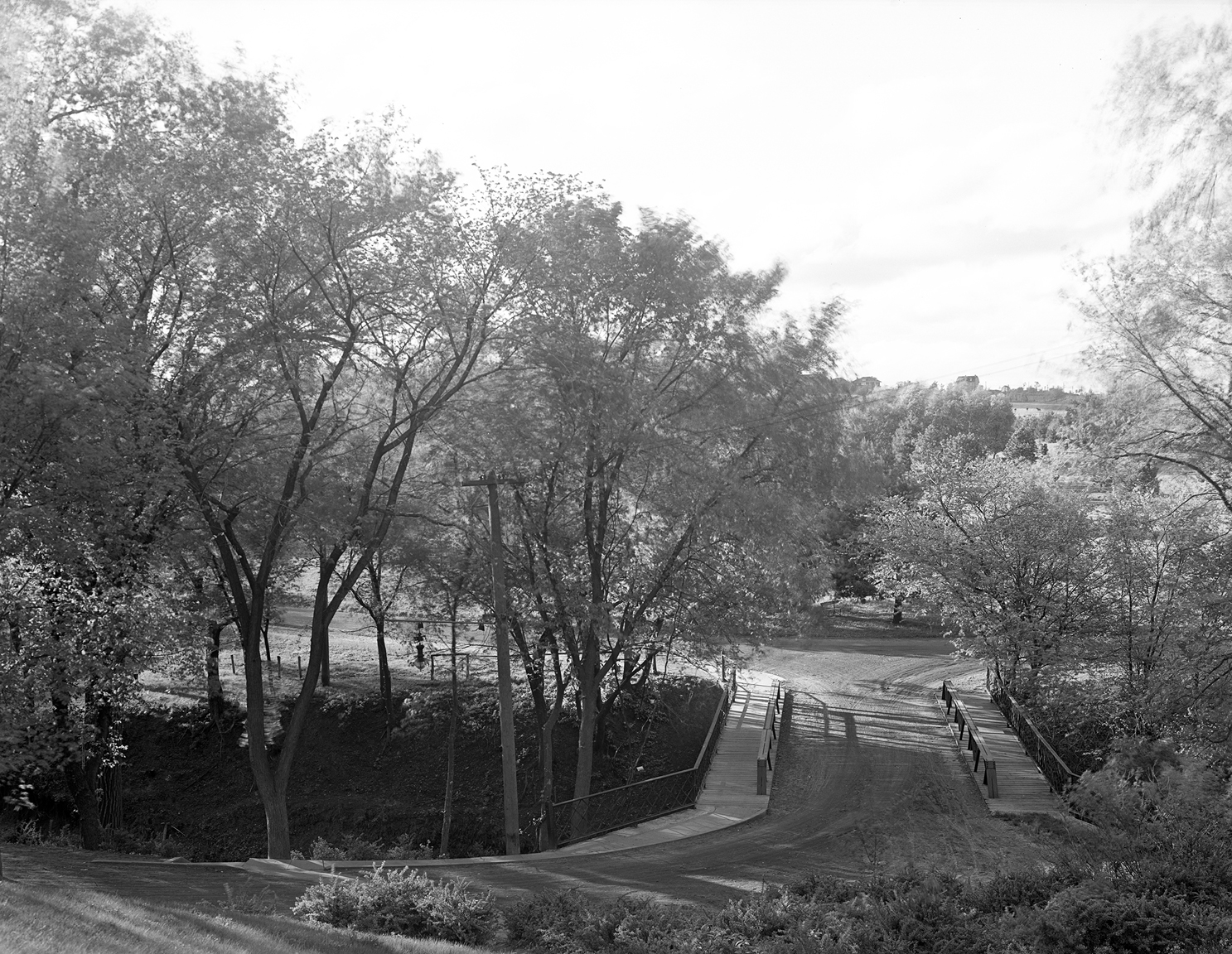 The Jones Street Bridge in Elmwood Park. There is a dirt road crossing the bridge as well as a wooden walkway. On the far side of the bridge, the road splits into two, one going to the right and one to the left. May 3, 1915 (Photo courtesy of the Bostwick-Frohardt/KM3TV Photography Collection at The Durham Museum Photo Archive).
Before starting his medical practice, Dr. James T. Maxwell would travel the globe, racking up forty thousand miles in little over a year. He was quoted as saying by age 10 his ambition had been to see Africa and the world. If this thought hasn't passed through your mind already, Dr. Maxwell was a self-possessed man who went after his goals. This was also my indication that he was a man of high adventure.
The Maxwells and the Lots 1, 2, & 3 Handoff
By March 18, 1921 "James T. Maxwell and Wife" sold the three lots to Gertrude W. Maxwell. At this time there was still no house on the lots, actually no homes on the short strip of Jones Street west of the Jones Street Bridge. One year later "Gertrude W. Maxwell and Husband" sold the plats to Rebecca M. Show on February 15, 1922. I cannot be sure if Gertrude was an aunt or if she was Dr. Maxwell's mother. The original owner James T. Maxwell could have been a grandfather for all I know. A search of Rebecca M. Show only revealed that she had been a wealthy woman. OWH of May 10, 1919 hinted that John H. Show through the Union Stock Yards Company bought $10,000 worth of Victory notes for himself, $10,000 for Virginia Show and $10,000 for Rebecca M. Show. By May 1, 1923 "Rebecca M. Show and Husband" sold the three lots to Elizabeth M. Hiers. That same day the Register of Deeds Office made note that Metropolitan Utility District set up service for Elizabeth M. Hiers.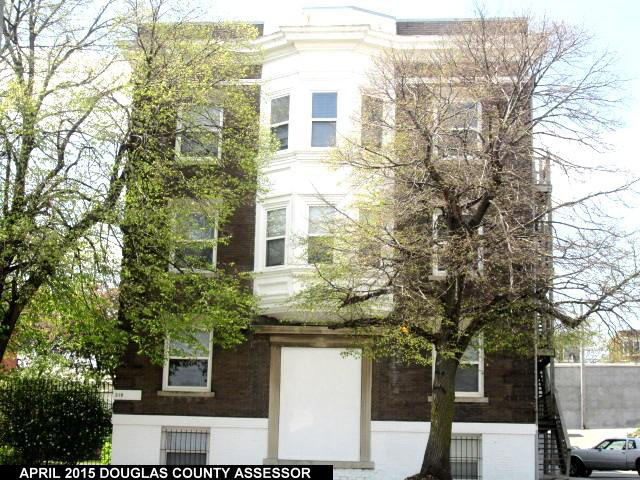 Prior to his move to Jones Street, Dr. Maxwell lived at 210 South 24th Street. This apartment building's history was discussed in my earlier story The Secret of the Muse Theater.
Dr. Maxwell Moves to Jones Street
During the late teens and early 1920s Dr. James Taliaferro Maxwell was establishing his career in Omaha. An eye, ear, nose and throat specialist, Dr. Maxwell could easily be found in the newspapers giving speeches on the senses as well as given attention for important life-impacting eye and nose surgeries. This whole matter of deeds was becoming rather curious to me, as it was generally known amongst Dr. Maxwell's friends that his mother left lots 1, 2 and 3 to him at her death. I had found Mary V. Taliaferro Maxwell listed at the deeds office as having owned lot 4 on this same block of Jones Street. There was a maternal potential for whomever was this Mrs. James T. Maxwell, Gertrude M. Maxwell or Mary V. Taliaferro Maxwell. I honestly did not know who was who but thought it might be Mary since her name was mentioned frequently through the various deeds. **Update**According to my neighbor's family search site, Dr. Maxwell's mother was, indeed, Mary V. Maxwell.
I did have proof of utilities being established in 1923, coinciding with the Douglas County Assessors build date. I found an interesting article from October 25, 1923 cementing Dr. Maxwell's move to Jones Street. "Eye, ear, nose and throat specialist, Dr. J. T. Maxwell was arrested last night and charged with speeding and reckless driving. He was arrested at 16th and Cuming going 40 miles an hour. He said he was on his way to the hospital with a patient. His address listed at 5911 Jones Street." Coincidentally 5911 Jones, now called 5913 since the 1990s, includes lots 4 and 5, which Mary V. Taliaferro Maxwell owned at that time. I believe that James might have lived there while building his log cabin. Meanwhile the 1925 Omaha City Directory further introduced yet another Maxwell: George M. Maxwell. His ad listed as "First Class Dental Work at Moderate Prices." 209 Neville Block at 16th and Harney. Home was listed at 5901 Jones.
The Log Cabin Appears
By November 2, 1925 the Omaha World Herald mentions the 5803 Jones Street Log Cabin for the first time. I was so excited to finally have proof. "Mr. and Mrs. C. C. Haynes entertained twenty-two guests at the Orpheum Theater Friday evening in honor of their twenty-fifth wedding anniversary. The theater party was followed by a surprise Halloween supper at Dr. J. T. Maxwell's log cabin near Elmwood Park. Here the decorations were entirely in the holiday novelties with only Jack O'Lantern lights. The guests were greeted by ghosts."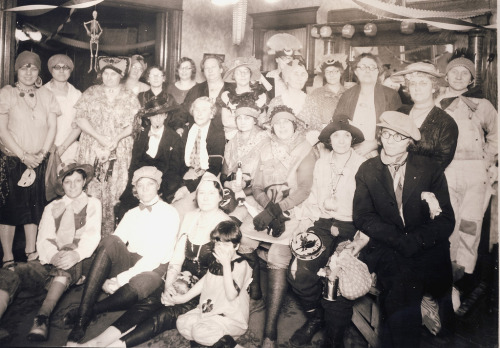 1925 Halloween party. This was not Dr. Maxwell's party– used only to illustrate what a private party might have looked like in those days.
According to the deeds office, Elizabeth M. Hiers was removed from the warranty deed as a "QCD"standing for "quit claim deed." This left the property solely to James T. Maxwell in July of 1927.
Men playing cards outside of a cabin. Not a photo of Maxwell–only intended to illustrate his imagined lifestyle.
The Exploits of Dr. Maxwell
Throughout the 1920s, 30s and 40s I found numerous World Herald articles leading me to surmise our Dr. Maxwell was nothing short of a Real Character. By 1927 Maxwell was making an extensive study of works of magic. He wanted to better understand the magician's claim that the "hand is quicker than the eye." Who knows what he discovered?
The doctor loved to socialize and particularly enjoyed dancing. I found his name in a number of the social pages where he attended private parties, supper-dances and was a member of the Qui Vive Dancing Club. This group enjoyed large dance events at the Blackstone Hotel. He was in the Omaha Movie Club, which met at the Fireside Restaurant and the Joslyn Art Museum. Curiously Dr. J. T. Maxwell was always listed as a single name mixed within his married couple friends. As the decades went by there was never a mention of a love interest or partner. He never married that I could light on. He also never had children. Dr. Maxwell certainly had numerous male and female friends. He was also known for and mentioned yearly in the papers for his New Year's Day open house party.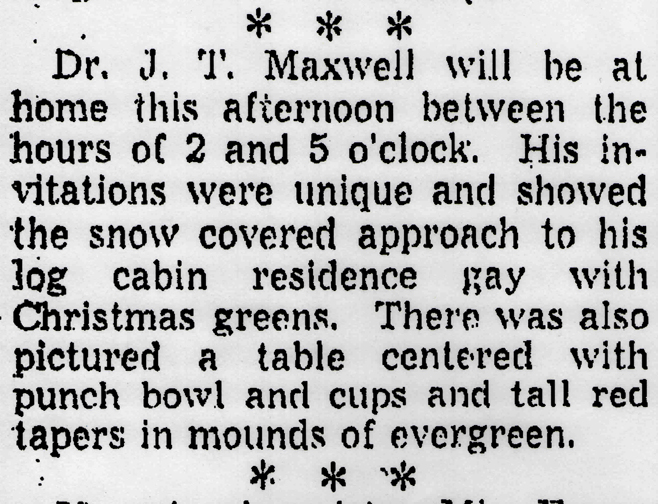 January 1, 1941 New Year's Day party. Can you imagine being invited to his log cabin in the woods for a New Year's Day party? I like to think of riding across the Jones Street Bridge in an open sleigh and walking that drive to his gloriously decorated home!
In one article the doctor was mentioned as the former Physical Director of the YMCA, currently working in the Philippines. I also traced him to India where he worked for almost a year performing as many at 15 cataracts surgeries a morning. A morning? It was not hard to uncover his series of extensive travel all over the globe. It should be noted that Maxwell was of the belief a man should work hard nine months of the year and travel for three. His passion for travel and hunting frequently took this serious marksman on African safari trips where he went after large game.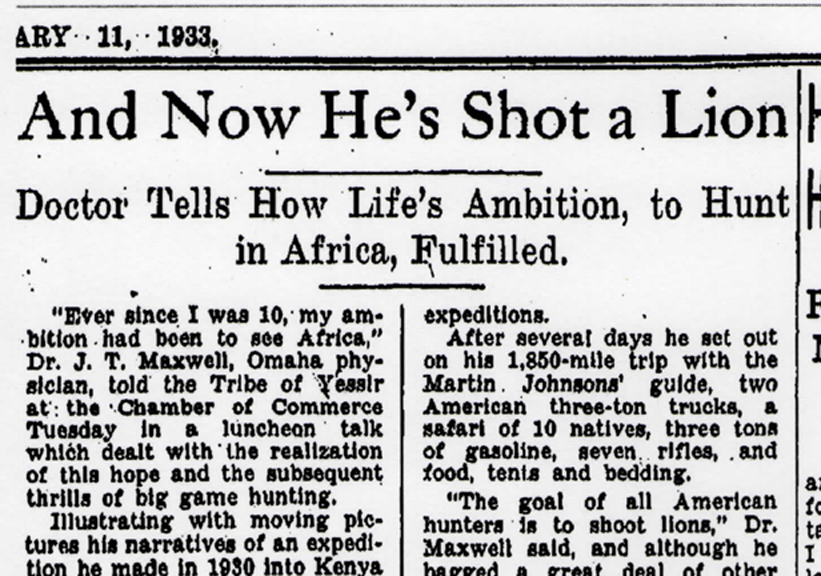 And Now He's Shot a Lion article from the OWH. January 11, 1933. Dr. Maxwell gave a luncheon talk, which dealt with the realization of his quest for Africa and "the subsequent thrills of big game hunting." Maxwell spent "six weeks in isolation from civilization, trailing game of every sort and alone except for a white guide and 10 native safari boys." He also showed numerous films he had made while traveling, a lifelong passion as well.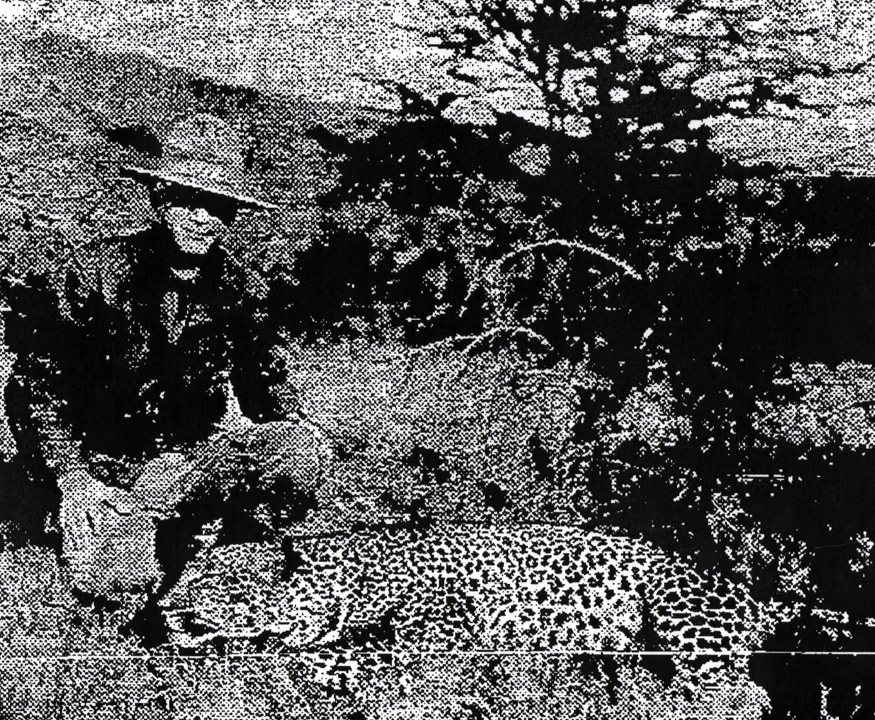 Years later the OWH showed Maxwell with a leopard in the 1950s.
He also traded wrestling holds with good friend, Martin "Farmer" Burns in the ring of his basement at the log cabin. Farmer Burns was an American World Champion wrestler known for his "Catch-As Catch-Can" and "Hangman's Drop" moves. This was not Maxwell's only famous wrestling friend.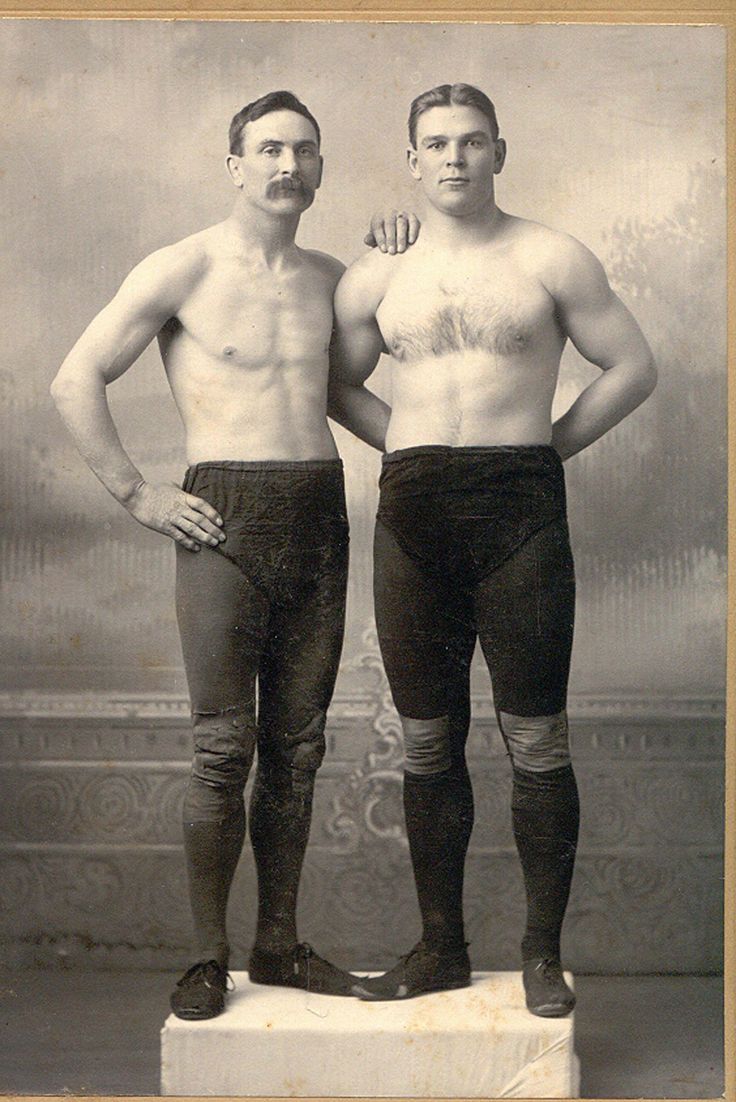 Farmer Burns shown on the left with one of his trainees.
Is this all becoming a bit unbelievable? Do you now think I am pulling your leg? I promise you that I am not making this up. In 1937 I found Dr. Maxwell had written a book on Ocular Refraction, which was published in 1937. Another book authored by Maxwell came out on the same topic in 1946: Outline of Ocular Refraction. At the time it was required reading at Columbia University. After a brief search online, I found that this text is still located at a number of university's medical libraries. The physician also hired an expert at a Georgia eyeglass manufacturing firm to teach him how to grind his own lenses for patients, a local Omaha specialty of Dr. Maxwell's. Again, you can't make this stuff up.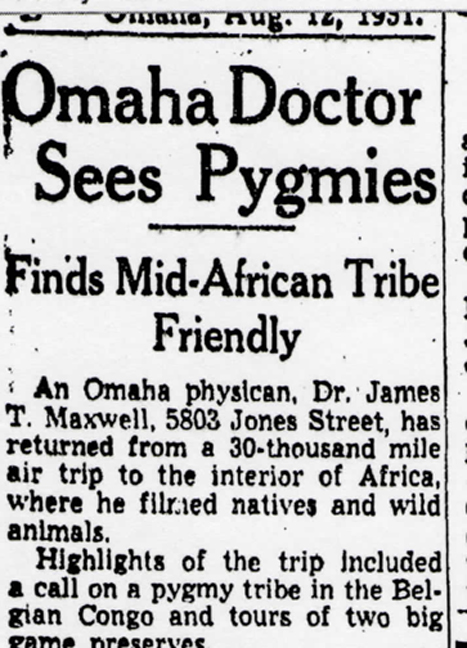 An article from 1951 described one of Dr. Maxwell's many incredible journey to Africa.
More Curious Deeds
According to the records I found at the Register of Deeds office, James T. Maxwell sold to Rebecca M. Show (again?) in August of 1940. I was able to track this sale in the OWH property sales at that time period. Oddly, Maxwell James T to Rebecca M. Show: lot 1, 2,& 3 of Elmwood Addition. The next month Rebecca M. Show sold back to James Taliaferro Maxwell in September of 1940. Perhaps there is a deeds genius among us who can explain such matters. I wondered to myself if he sold his property when he was out of the country for long periods of time, seeing as he was vacationing for three months of the year, in addition to working in other countries.
The Secrets of the Log Cabin
By all accounts Dr. James Maxwell had the cabin built to his specifications and was the original owner. My obsession was apparently built of cypress and stone. Cypress would have been quite expensive to deliver to this area, I believe. Were the dark logs sent by railroad? The log cabin was known for its outdoor charm and masculine décor. Maxwell had a ring built in the basement where he exercised and entertained wrestlers. A set of weight pulleys was mounted on one wall. "Blow guns once used by Belgian Congo pygmies hung above the mantel and an elephant spear stood by the massive front door." Metal stirrups of Arabian horses sat comfortably next to carved Asian tables. Richly furred hides hung on the log walls and animals' heads were seen everywhere one could look.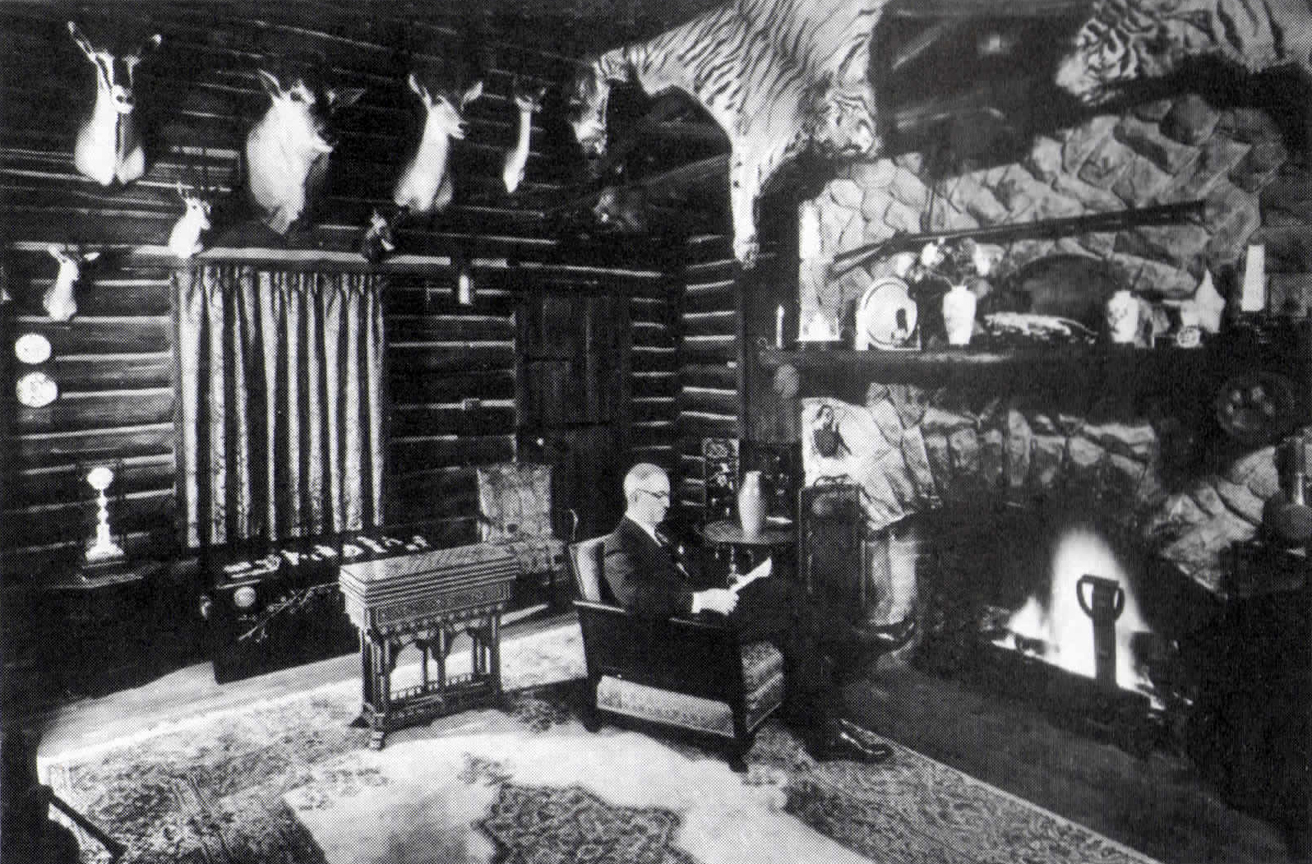 Interior shot of Dr. Maxwell reading in his living room. Originally run in the OWH on June 6 of 1965. His good friend Everette Kemper, a local photographer, took this spectacular image. Note the fine mix of cabin decoration with these two Chinese tables.
Most interesting to me were the descriptions of the outside of the log cabin. Apparently there was originally a chain link fencing topped with barbed wire. Additionally the high, rugged stone gate that I am so taken with, was topped with metal barbs. "Every window but one is bulwarked by bars and the heavy metal-studded doors can be bolted and braced from within." It had a large, secure fort-like front door. The cabin was estimated to be absolutely invulnerable to attack. It made me wonder about the psychological aspect of sanctuary previously mentioned. What can one perceive about a man prepared and expecting an attack? Some might say his fears were warranted. Had Dr. Maxwell been mistreated in life? Did he live with post traumatic stress disorder? Or were these fortifications merely attempts at creating a safari drama in the city? I had come up with other scenarios too, as I often do. It was fascinating to imagine.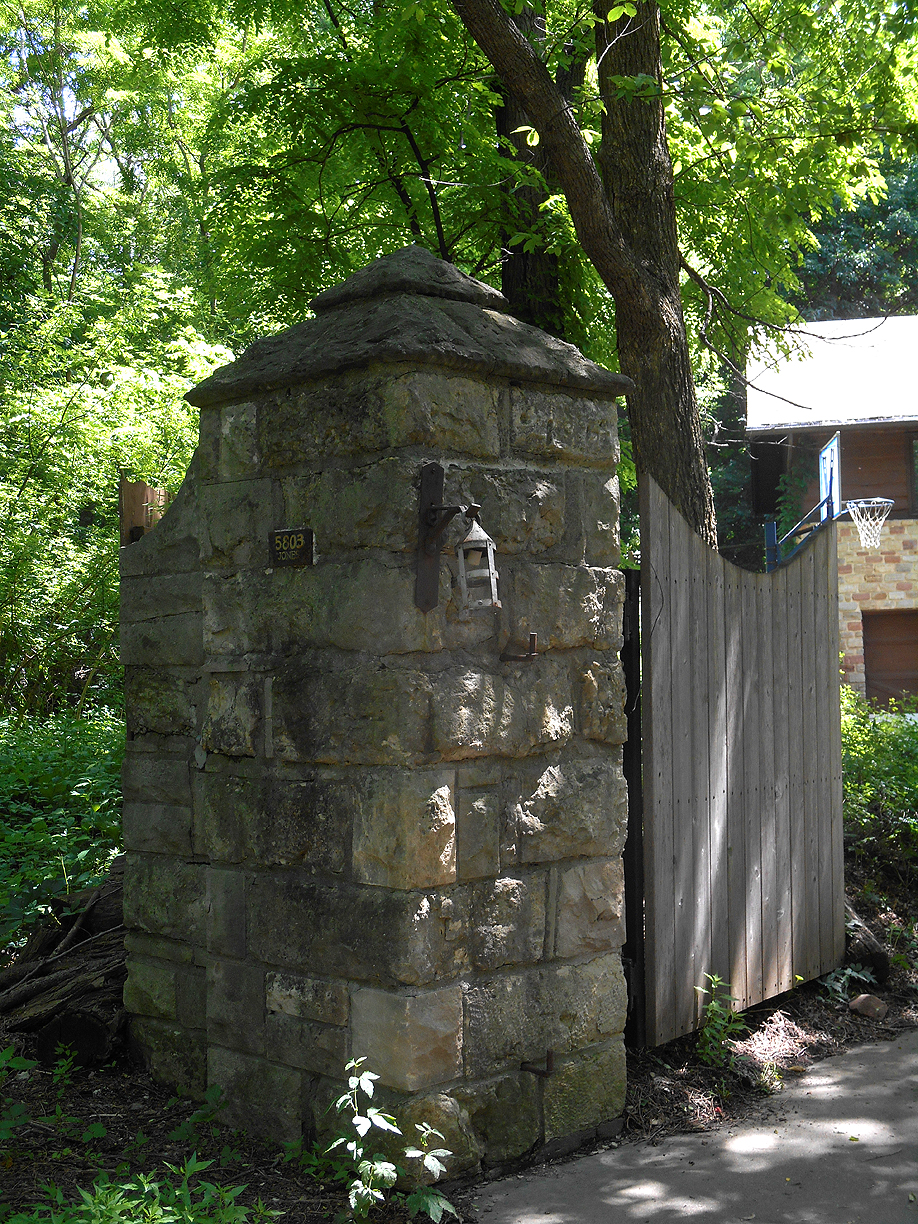 View of the gate as it stands today.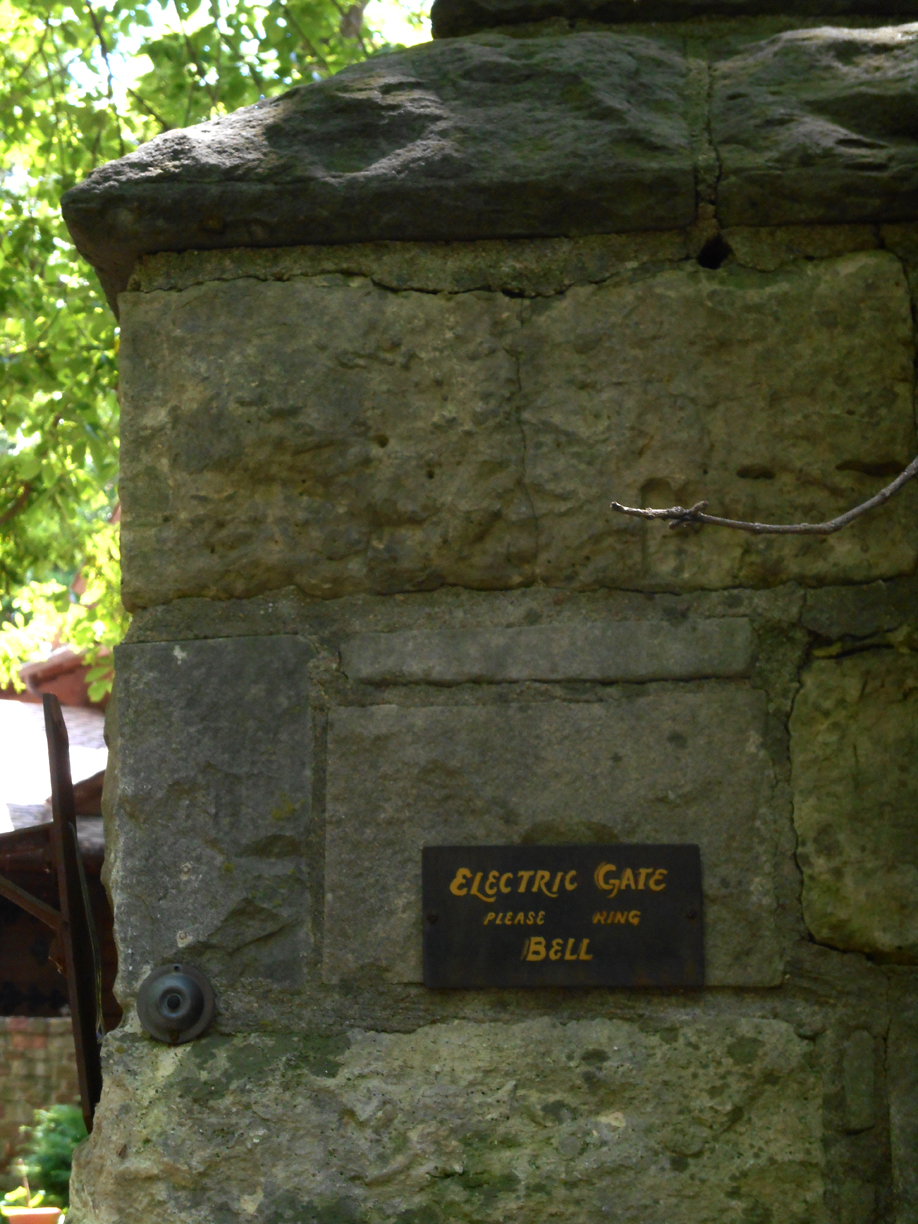 Who hand painted the best sign on this planet? And look at that ringer. Just….too much.
Dr. Maxwell enjoyed a massive stone fireplace, an open staircase made of split logs, which led to a balcony overlooking the fireplace. Apparently there were two bedrooms, dressing room and bath on the second floor. The main floor boasts a living room, a study, kitchen and a glass-enclosed porch "looking out on a carefully terraced back yard, complete with pools (?!!) and ringed by trees and shrubs."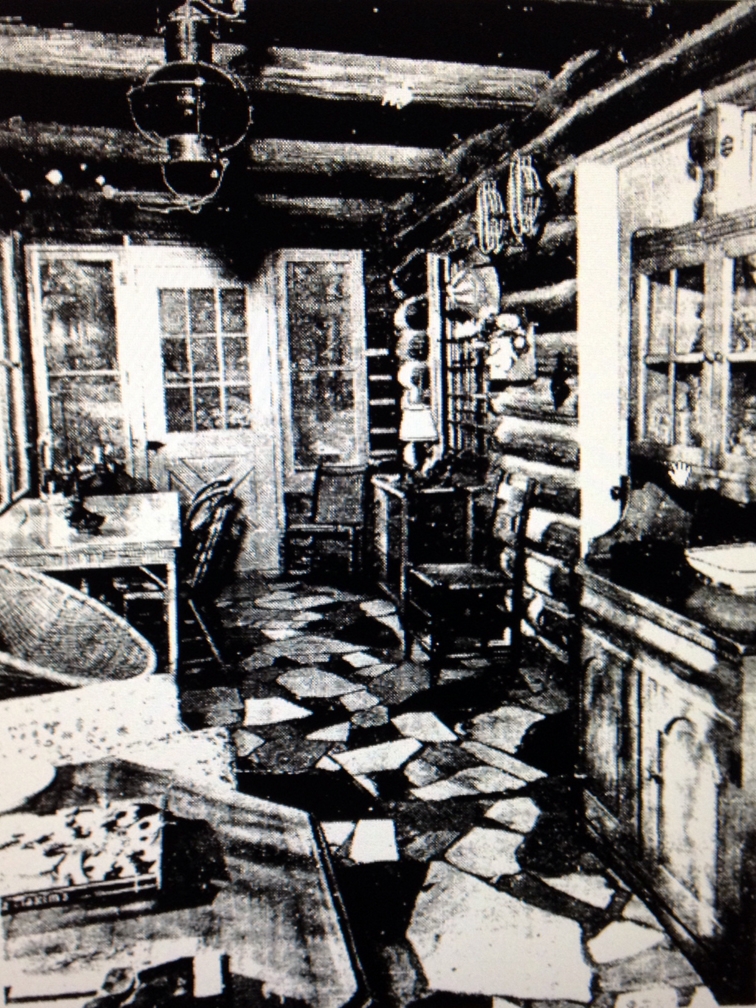 The glass-enclosed side porch room. That magnificent floor. Photo taken by the OWH in 1965.
Log Cabin to Office
Through the years the OWH as well as the Omaha City Directory coined a number of names for the log cabin: "the Log Cabin Lodge," "the Safari Lodge" and the "Cabin Retreat Near Elmwood Park."

1949 Omaha City Directory referring to Maxwell's home as the "Safari Cabin Elmwood Pk."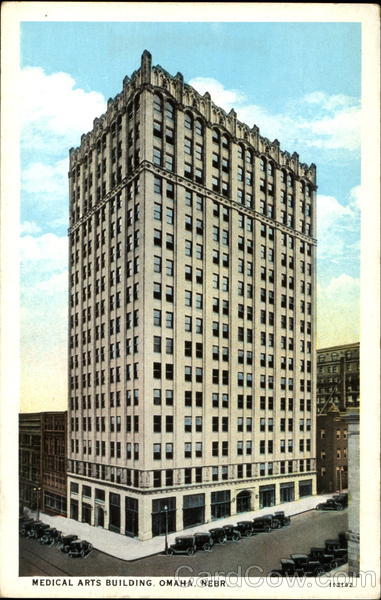 Omaha City Directory of 1949 showed James T. Maxwell with an office at 1140 Medical Arts Building. It is interesting to see that his office had moved to the Medical Arts Building, one of my favorites in all of Omaha. Now razed, the building was at 105 South 17th Street or 16th and Dodge Street.
The Omaha City Directory of 1953 had James T. Maxwell's home and physician's office listed at 5803 Jones for the first time. The doctor would see patients in the basement of the log cabin where they could access a lower door. His office has glorious terrazzo floors and stone walls.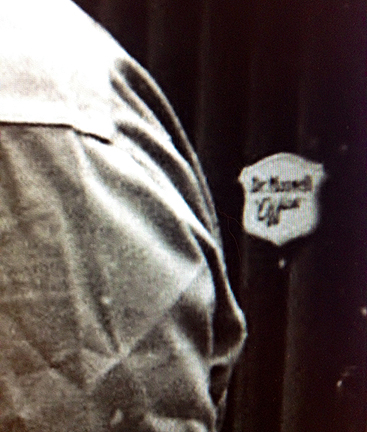 Notice this sweet little sign, a detail found in the background of a photo, welcoming patients to his Dr. Maxwell "Office." If I could own this little sign, I would hang it in my stairwell with my other treasures. Imagine being a small child and going to see your eye doctor in this Log Cabin? Did he have a bear in the waiting room?
By 1950 the Jones Street Bridge had the "most limited vehicular usage in the city," with a "Capacity 8 Tons" sign to boot. Jones Street in front of our hidden log cabin was still a dirt road at that time.
Death of an Adventurer
Dr. James Taliaferro Maxwell was found dead in his home in March of 1964. Just three days earlier Maxwell had been showing a good friend, Everett Kemper, how he could still do chin-ups with one hand from the bar in his dressing room. Omaha's true Renaissance Man was buried at Forest Lawn Cemetery. According to Kemper, Maxwell was 82 years old at the time of his death– making the 1882 birth year correct.Dr. Maxwell left his log cabin to his friend Kemper, a professional cameraman and his wife who got to know the doctor while processing film of the physician's hunting expeditions.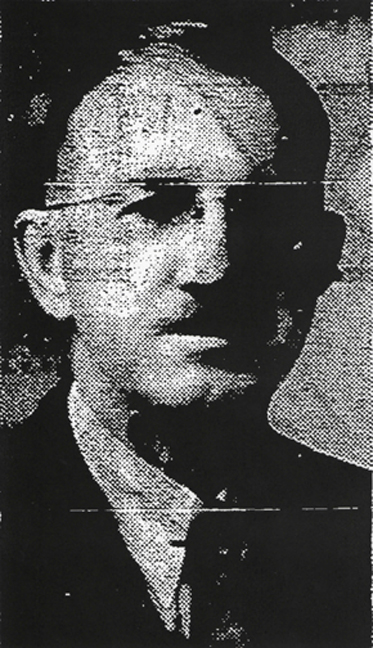 Dr. James Taliaferro Maxwell should have been Don Equis' Original Most Interesting Man in the World. RIP
The Kempers' Retreat
The Omaha City Directory of 1965 listed 5803 Jones under Everett L. Kemper. Further proof that there was an additional home next door:
5911 Jones: Bernard Gregg
5913 Jones: Bertha Coulter
5919 Jones: Harold Grove
5923 Jones: Forest dePlatt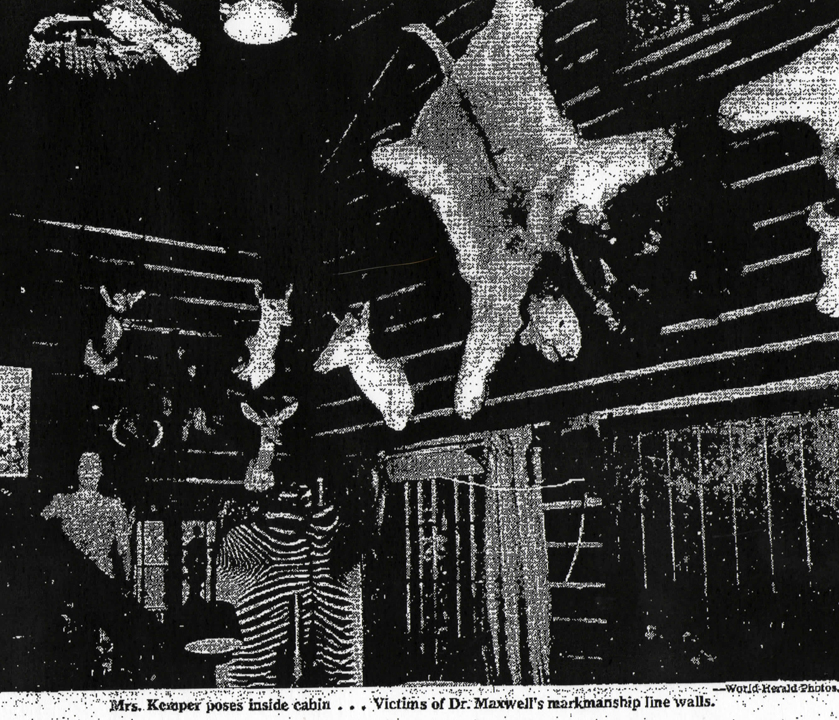 Mrs. Kemper in the log cabin living room. OWH referred to Mrs. Kemper as a business woman employed by Mutual of Omaha. I love her figure here almost floating on the stairs. The couple owned the property for about a year and used it primarily as a weekend retreat. Have you ever? Dying.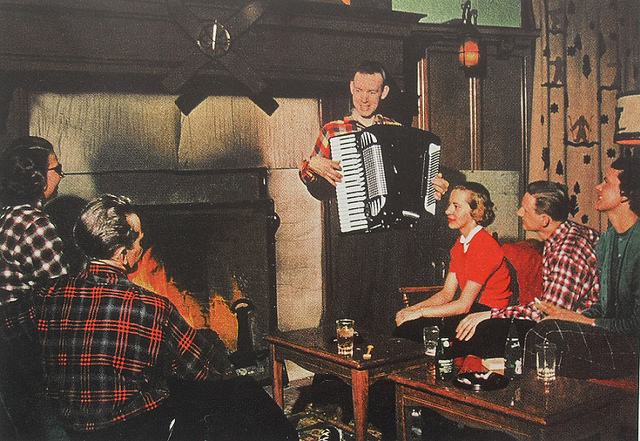 The kind of gatherings I might throw if I had a weekend lodge retreat.
1965
The Kempers decided to sell the estate in the summer of 1965, which opened the once barbed wired, more than secluded log cabin to the peering eyes of the public. Can you imagine every Looky-Loo Gladys Kravitz of 1965 plodding through the cabin at the chance of lifetime? The photos and the articles were a marvel! "From over the door came the horned head of the rhinoceros, whose charged imperiled its killer 35 years ago." Two giant lion skins, leopards, and 27 animal heads were carted out. A stuffed baboon was crouching on the banister. A stuffed eagle flew from the beamed ceiling. His collection of more than 2,000 bird eggs went on display at the University of Nebraska.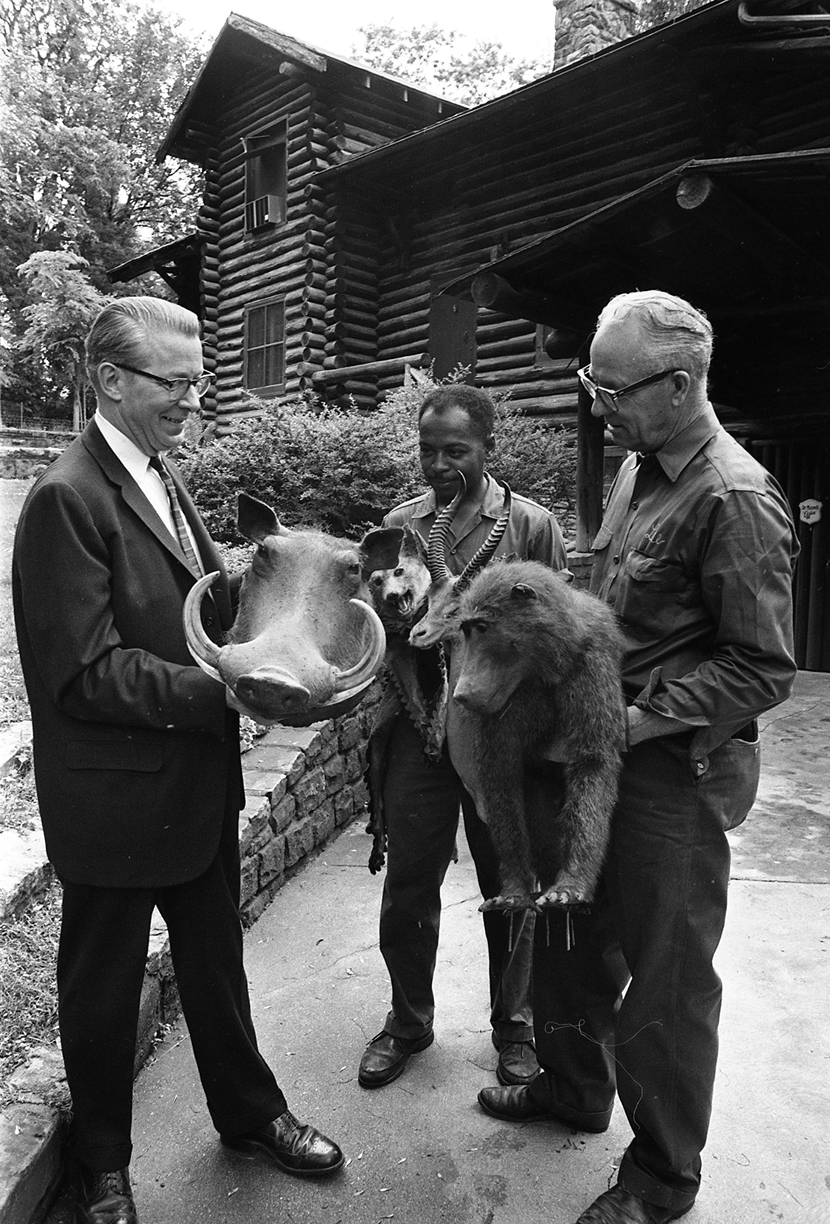 April 6, 1965 "Dr. Maxwell House in Elmwood Park Sold." Mr. Jack Drew, Mr. Leeper and Mr. Leavitt hold Maxwell's animals. (Photo courtesy of the Robert Paskach Photography Collection at The Durham Museum Photo Archive). Look at that gorgeous log cabin.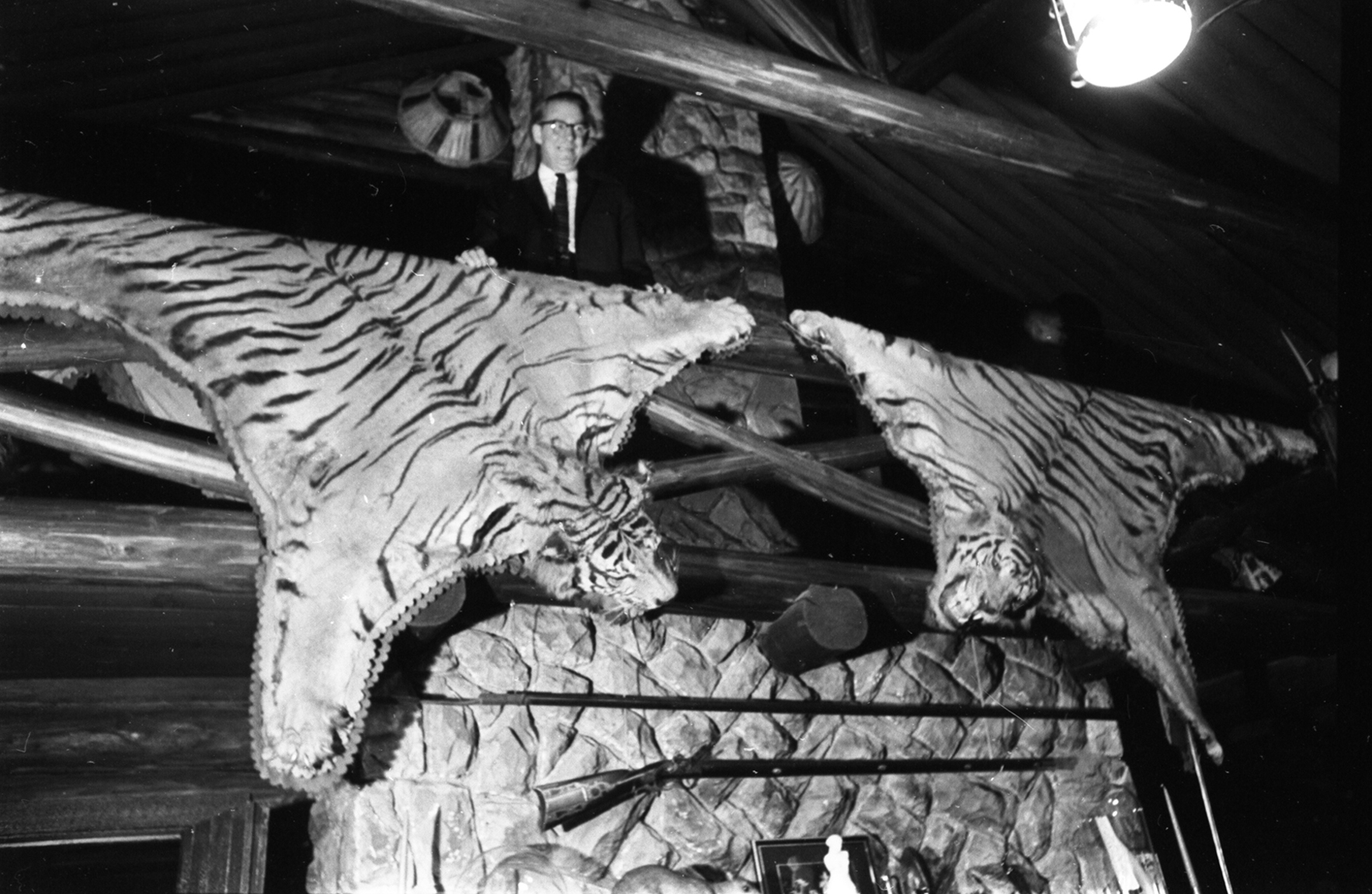 April 6, 1965 Mr. Jack Drew, wearing a suit, stands above a fireplace decorated with tiger skins and antique rifles. (Photo courtesy of the Robert Paskach Photography Collection at The Durham Museum Photo Archive). Just amazing. Look at that loft and those beams.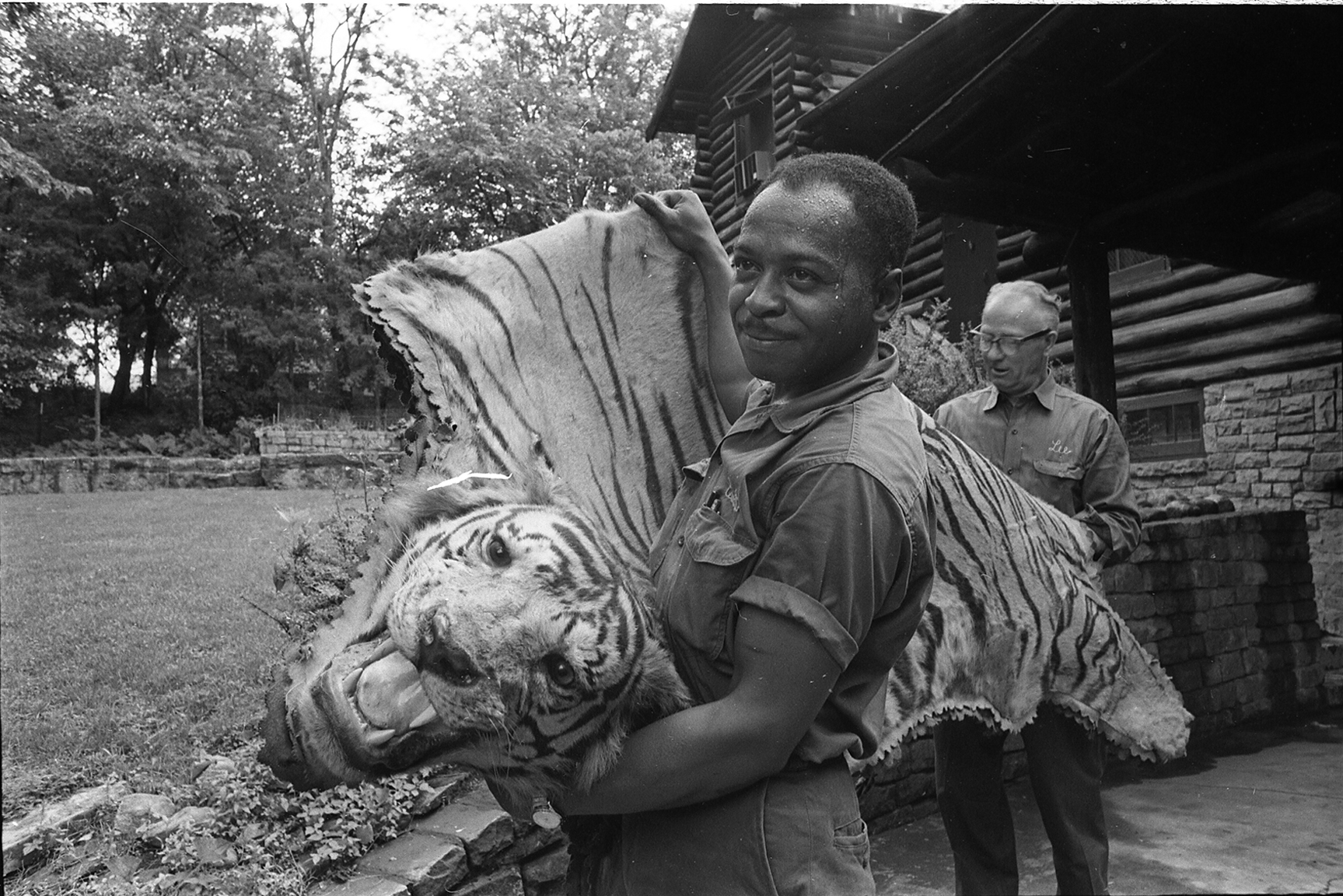 PHOTO: Mr. Leeper carrying out a tiger. (Photo courtesy of the Robert Paskach Photography Collection at The Durham Museum Photo Archive). O M G
 Mr. and Mrs. Robert S. McClung
The Kempers sold the amazing Elmwood Park property to Mr. and Mrs. Robert McClung. The animals needed to move out and were sold to a local antique dealer along with some of the cabin's contents. The couple eagerly moved in because of Mrs. McClung's love of antiques and thought the unusual cabin style would be a good backdrop for her collection. She also bought some of Dr. Maxwell's furnishings. An early article from 1965 found Mrs. McClung lovingly referring to the log cabin as the "craziest house in Omaha." They then took to remodeling the home but "in a carefully planned way to not change the original look."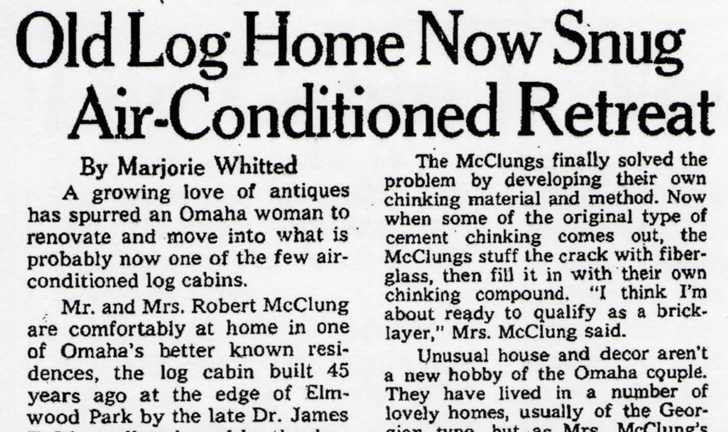 Later 1967 article.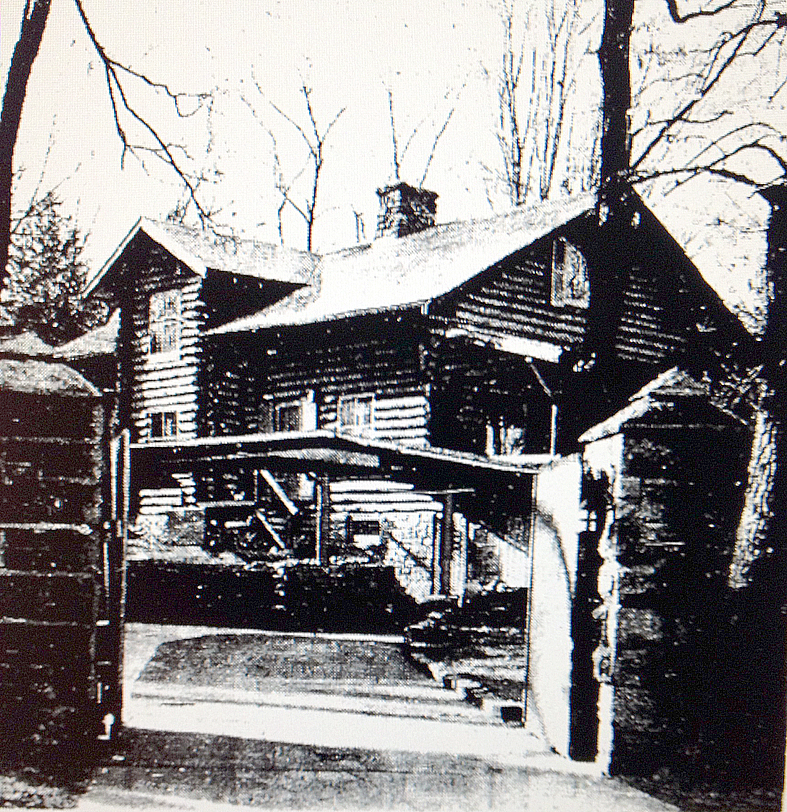 1967 article showed the renovation with more detail. The outside of the log cabin after the work. Photo from the Omaha World Herald.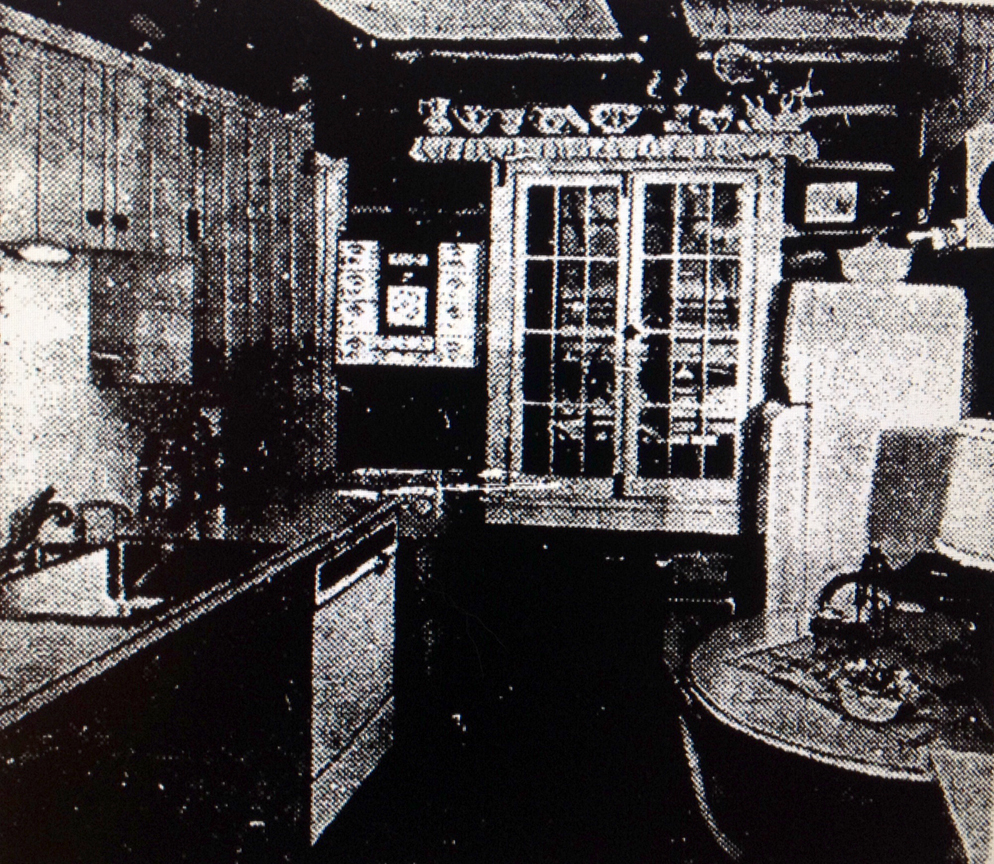 The kitchen brought up to 1967 modern convenience standards. Photo from the OWH.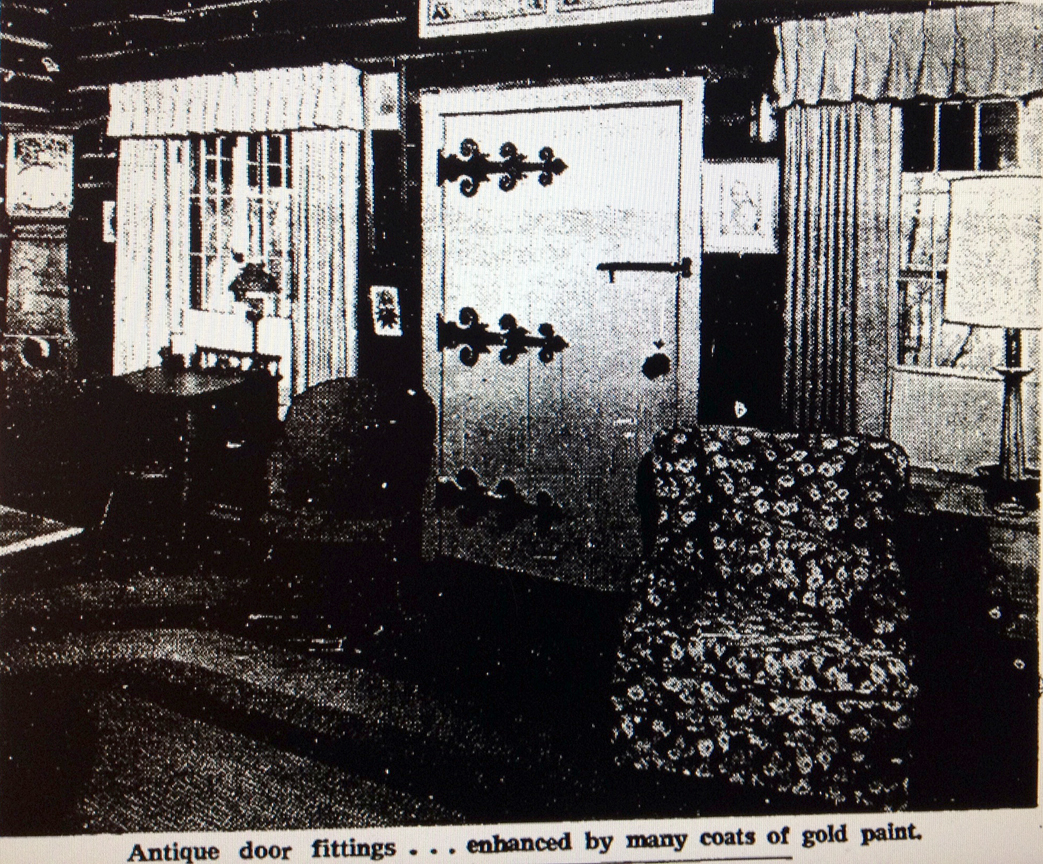 Maxwell's very secure front door, received the gold paint treatment by Mrs. McClung. Photo from the Omaha World Herald, dated 1967.
They removed the former garage and built a new one but in keeping with the cypress log cabin. They next put in modern heating and air conditioning. Mrs. McClung mentioned the original cement type chinking falling out from between the dark cypress logs, which the couple was replacing with fiberglass and "their own chinking compound."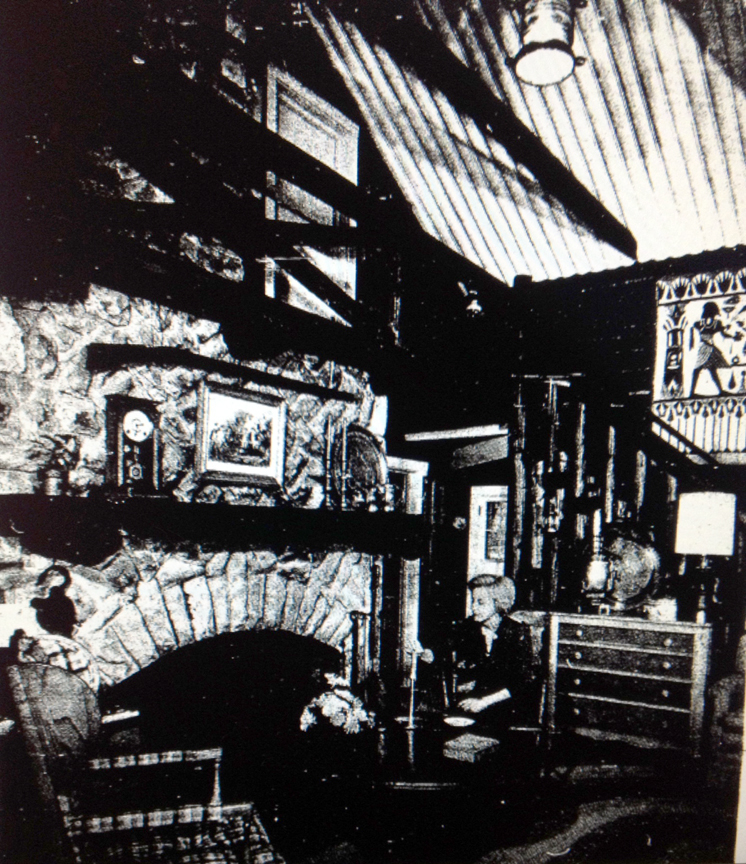 Mrs. McClung said, "Just try to find a chinker in this day and age."Beautiful Mrs. McClung sits in her decorated living room. Notice Dr. Maxwell's rifle still hanging over the mantle.
The New School
I found the log cabin was sold in 1969 to Richard Gregg, former Joslyn Art Museum director. Gregg would then sell to a Thomas L. Davis in 1972. Davis was part of a group with aspirations of starting an alternative elementary school called the New School. Formally called the New School Association, Alvin Ross was president. Ross, a partner in an Omaha insurance firm, had been a frequent critic of the Omaha Public Schools. The New School proposed to be an alternative to OPS. Taking students from kindergarten to sixth grade, the curriculum was based on "open education."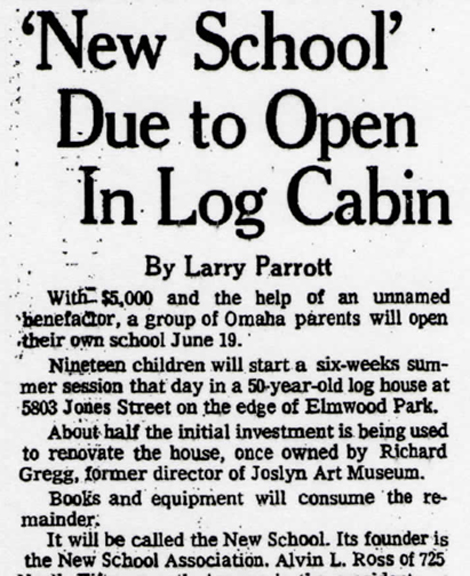 Headline of 1972 article announcing the New School.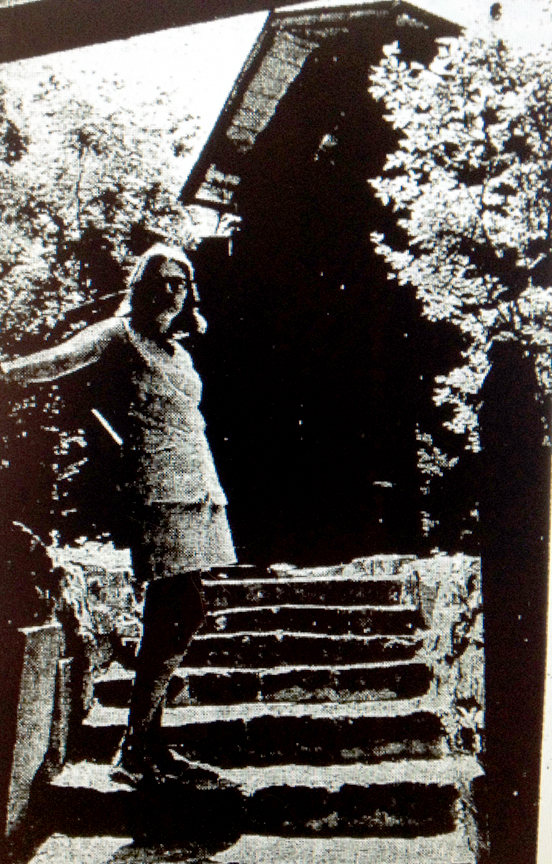 Mrs. Joan Amland, a teacher compared the New School to the individualized method used in some British school, which recognize that all children are not interested in the same thing at the same time. I love this photo. Was featured in the OWH article of 1972. I could only find articles regarding the New School until 1973. I am not sure if it closed then or not.  The OWH reported Thomas L. Davis, "a New School Association member and marketing officer at First National Bank," said the association was getting the use of the house rent-free. I found that Davis moved the deed between his name and his company's name, Davis Land & Cattle Co. in this time period until ultimately selling to another private family in 1976.
***Addendum as of June 23, 2017. I have just received an interesting email from Jim Mall with another interesting piece of the puzzle. The school must have closed around the time that I speculated. He gave me permission to include this bit in our history.
Jim wrote: "While teaching at U.N.O. I rented the house from Tom Davis for about two years, around '73 and '74. My then wife managed his "Gallery at the Market". I have several slides of the interior, but where are they? Not on my iPhone, I'm afraid. Davis had  moved to California by 1980 and we to Chicago."
Jim wrote that he would search for those interior shots and I will include those when he does. Thank you, Jim!***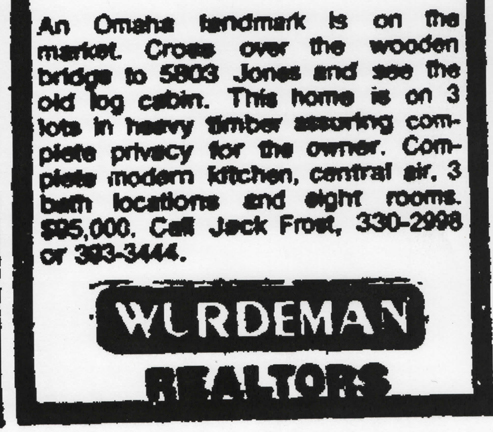 Omaha Landmark for sale. Great little blurb on the log cabin from September 6, 1976. The log cabin has been sold numerous times over the decades since its school days. It had a large addition and some renovation in the 1990s. I am sure its Log Cabin Steward is In Love with the rustic retreat, as the cabin looks so well taken care of and yet completely at ease and natural.
The Jones Street Bridge and Elmwood Park
By 1978 I discovered that the once fabulous Jones Street Bridge had been closed as a vehicle thoroughfare that year. Neighbors were of the belief that the city department let the bridge crumble to disrepair. According to the May 23, 1978 OWH article: "Residents in the Elmwood Park area and throughout the city have united to encourage the preservation and restoration of the park. Representatives of Concerned Citizens for Elmwood Park will meet with city officials Wed to discuss possible solutions to the park's deterioration." Spokesman Charles Bercaw said "this is a citywide issue because Elmwood is not the only park in this condition." He said some of the problems in the park are erosion, crumbling stairways and overgrown paths. "The last straw was the closing of the 58th and Jones Street Bridge. The longer we let the park go, the more expensive it will be to repair," he said. "Parks are too important to the city to ignore." Hear! Hear!
Utility pole, sadly cut off, with old tack and nail holes from old bulletins still evident. So along with an old house obsession, I also feel passionately about old poles. I know. Odd, right?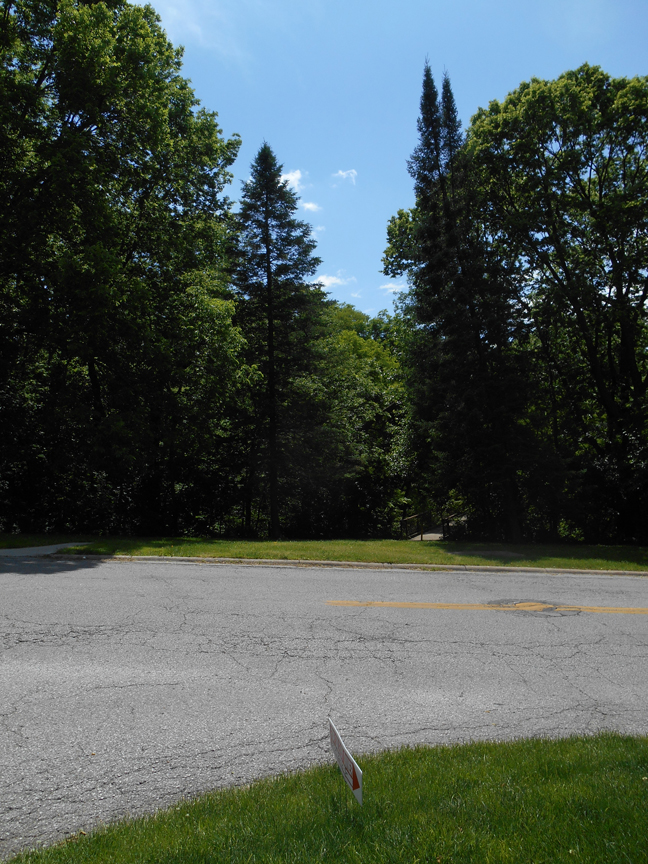 For those who commonly drive this area of town, I'm sure you are familiar with the odd jog of Elmwood Park Drive off of Leavenworth Street, which connects one to Elmwood Park Road.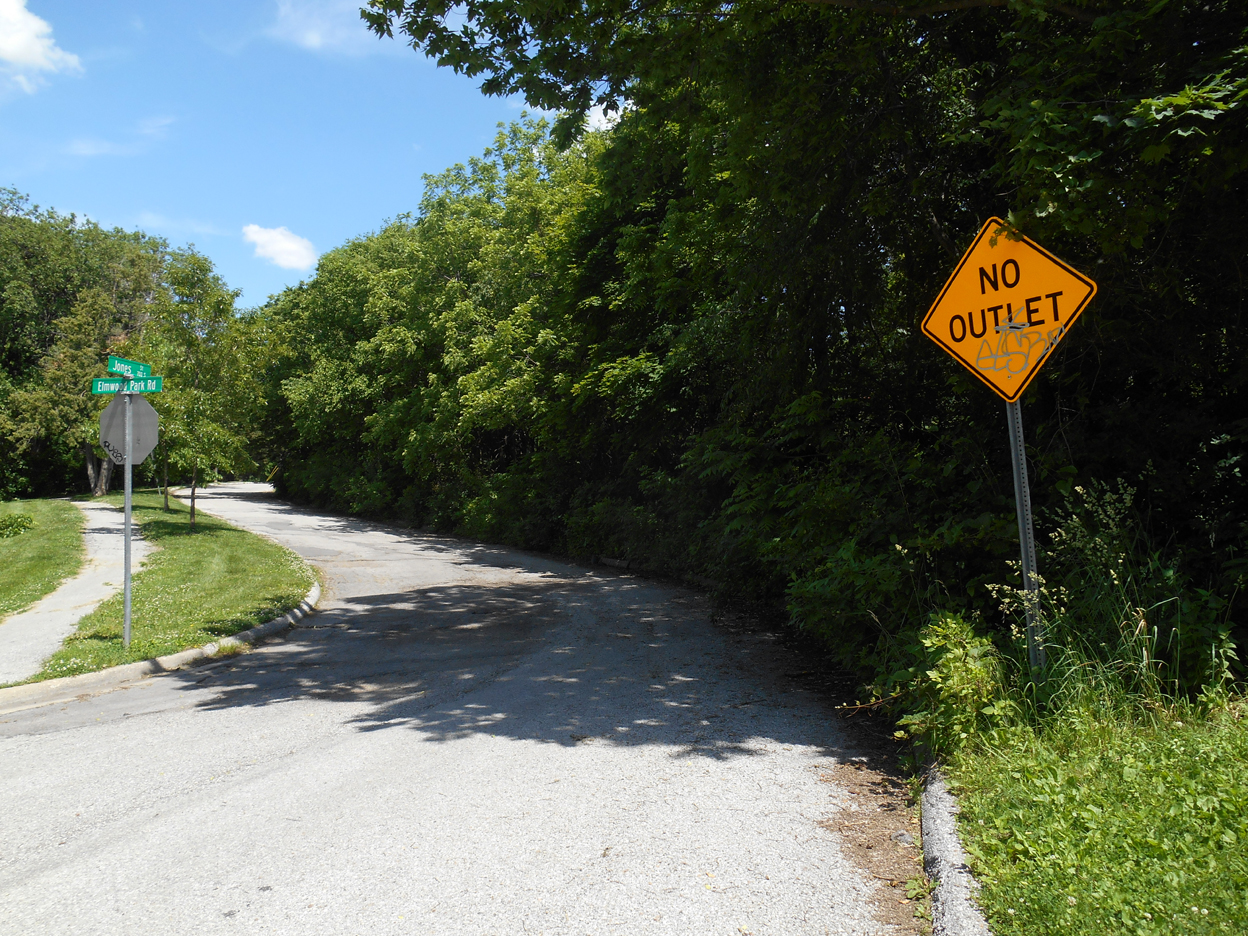 Another odd turn to Jones Street made the connection complete, giving access to our log cabin without routing too many Looky-Loos to the area. But that is exactly what the owners in these homes feared, according to numerous articles I found from 1978.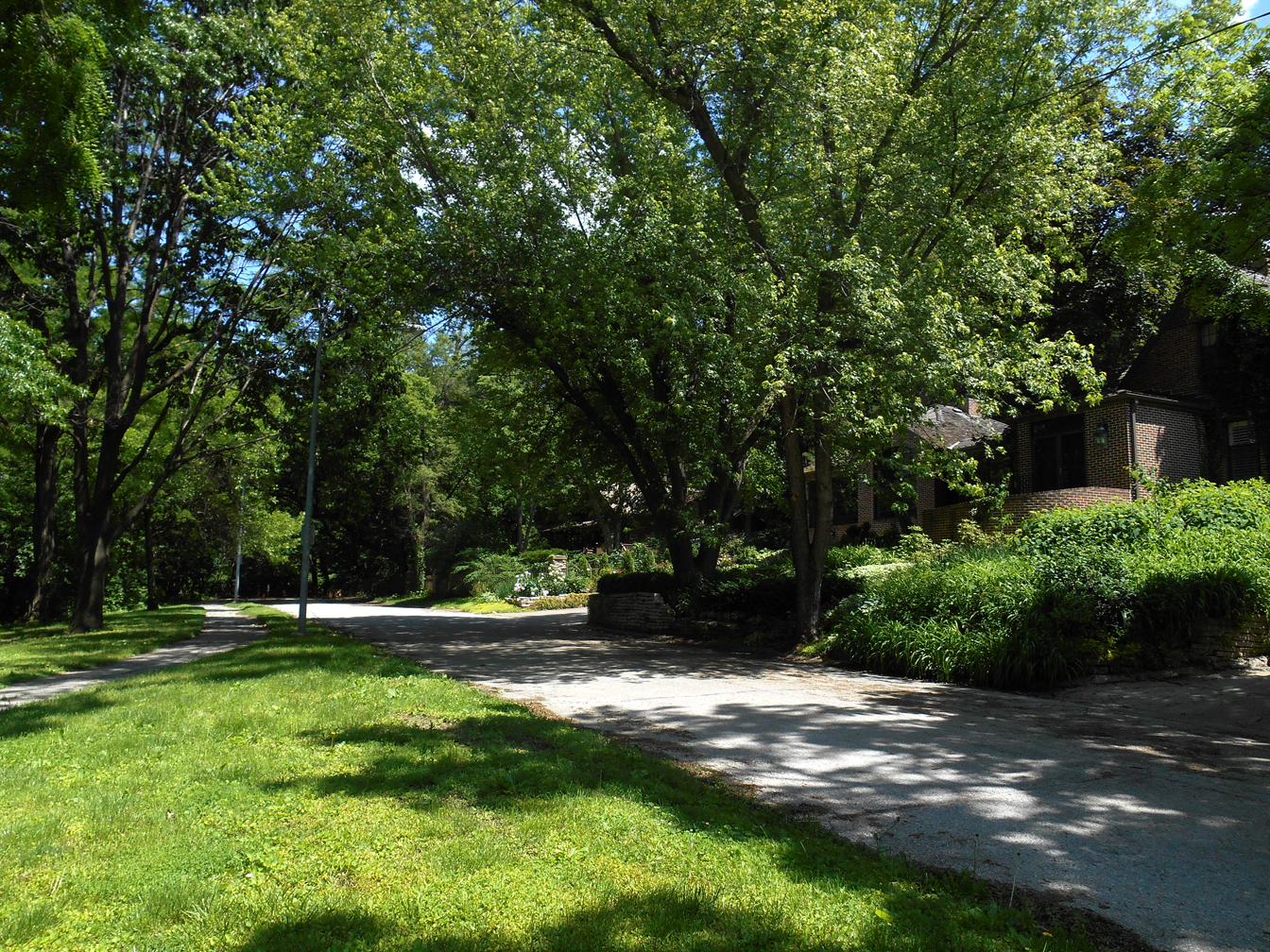 Gorgeous view, looking east down Jones Street. Through the late 70s and early 1980 task forces were formed of Dundee and Fairacres neighbors. In one, the Elmwood Park Task Force "agrees with the city that the Jones St Bridge should be replaced but residents believe if the bridge had been maintained properly it would not have needed replacement."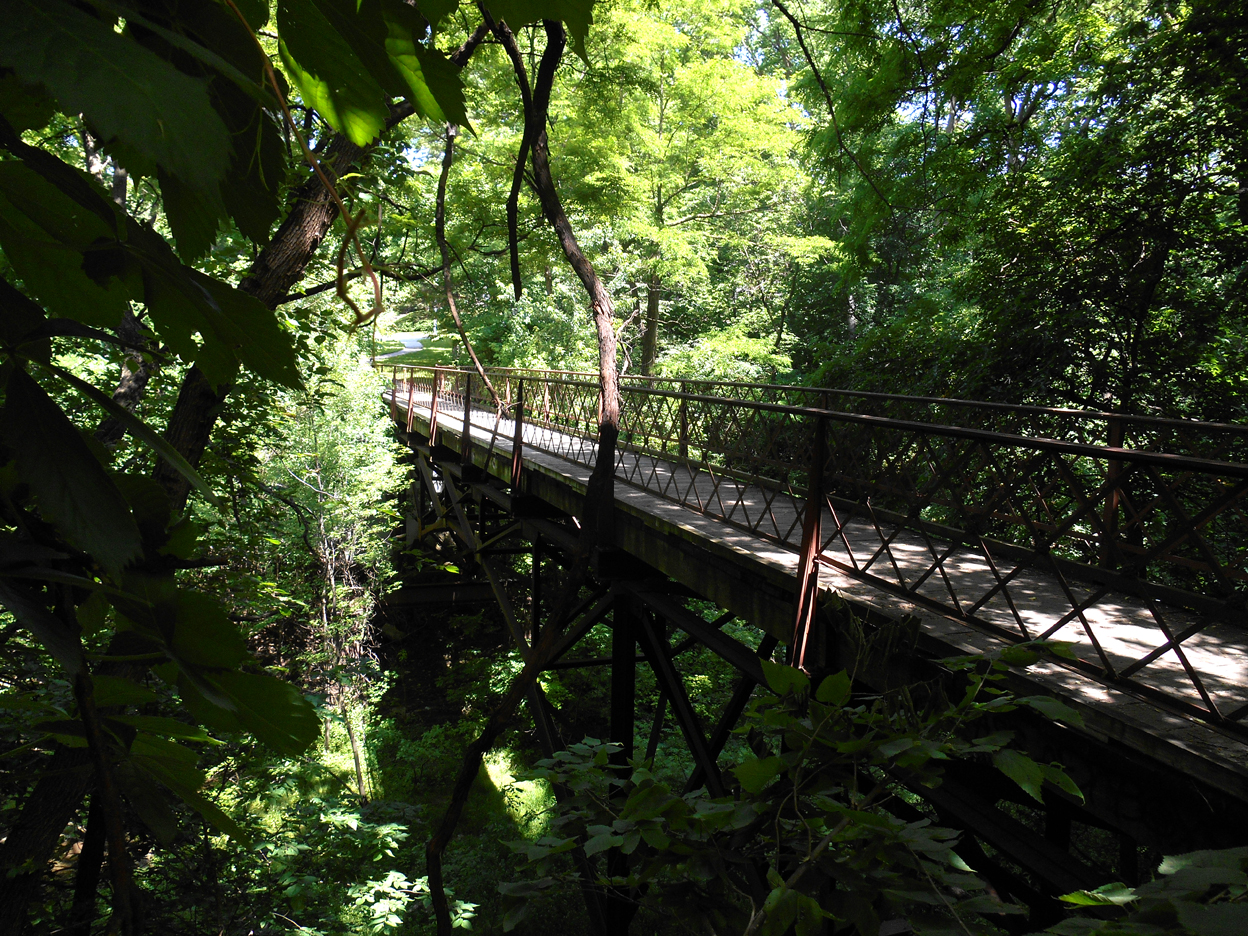 Jones Walk Bridge as it looked June of 2016.
By December of 1980 the Jones Street Bridge was being replaced by a footbridge over the Elmwood Park ravine.
The $73,200 footbridge was built using the "same inverted truss construction as the old, using a type of steel that needs no painting and little maintenance. A separate road into the residential area west of the ravine on Jones Street was built when the old bridge was closed." This was quite a disappoint to the local community.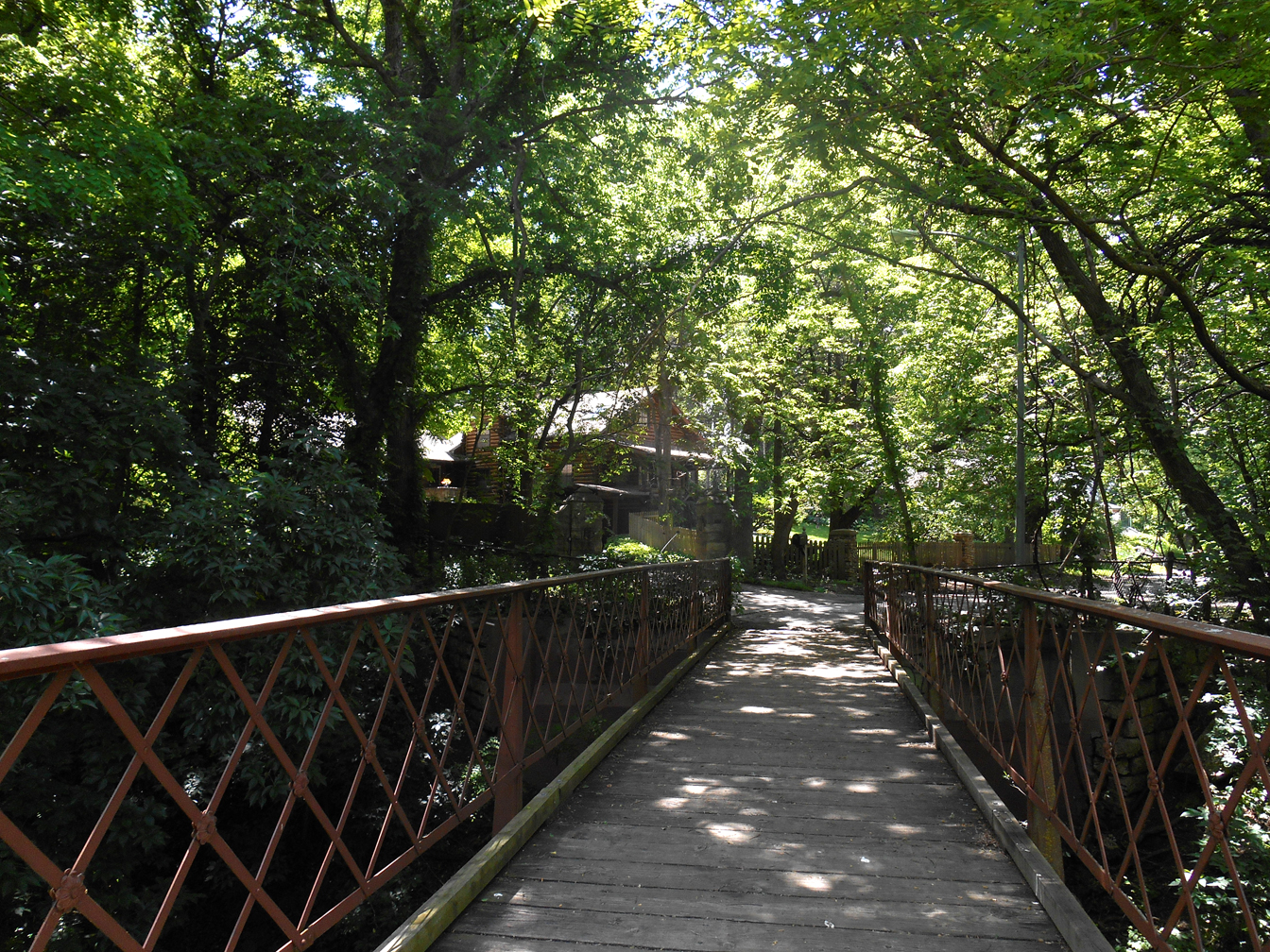 The bridge leading to the log cabin.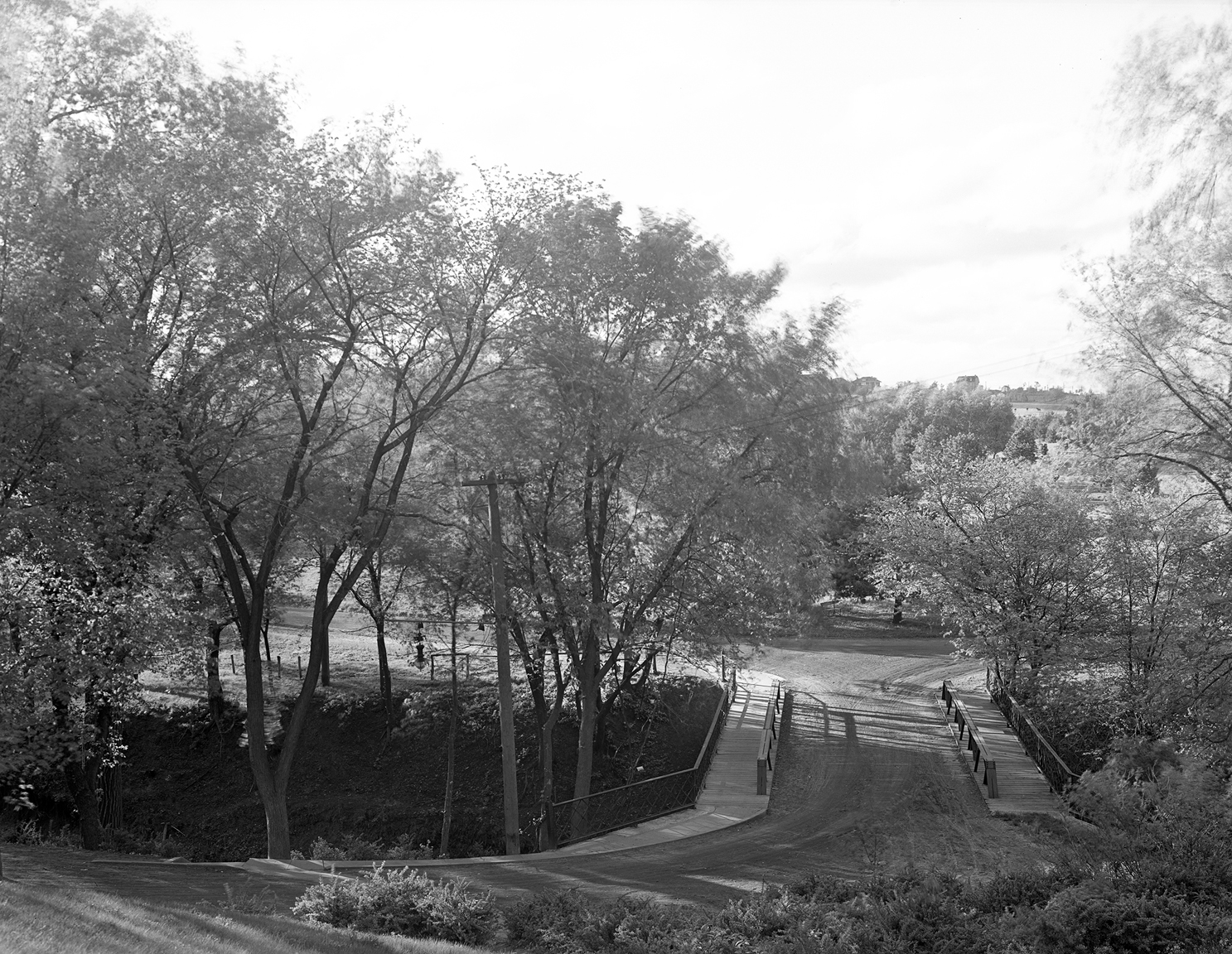 1915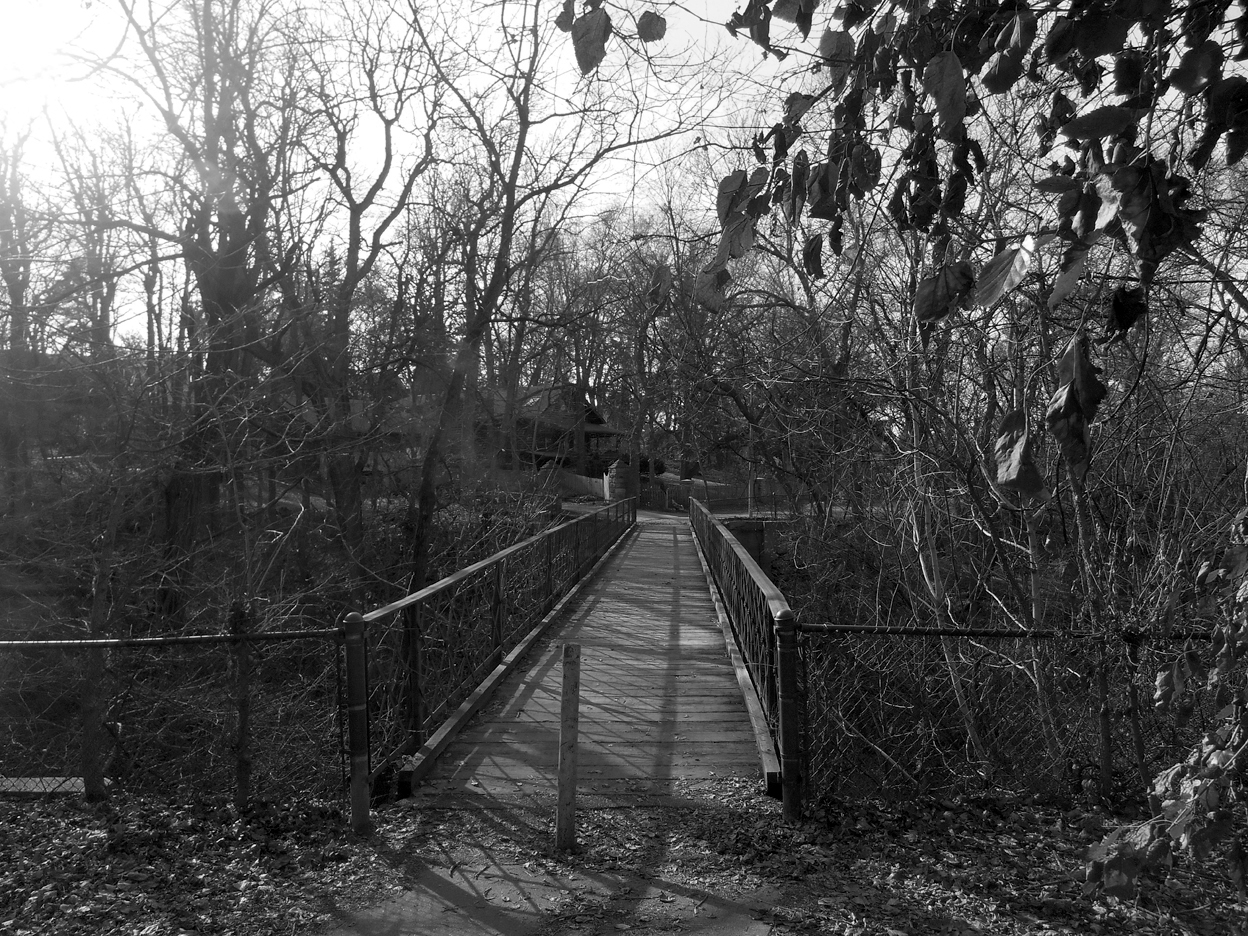 November 2016
My Log Cabin Dreams
Edith Wharton and her interior decorator, Ogden Codman, Jr. wrote wistfully in Decoration of Houses, about years gone by when "the architecture of the room became its decoration." They were not writing about log cabins in the book but on that note, is there no greater natural connection between the outside of a log cabin and its interior? When you've got all these natural, dark, cypress log walls, there is really no need for this shabby chic pastel floral silliness, I say. Some horse paintings, a large basket of pinecones for kindling, your grandfather's andirons and bellows and a teetering tower of great books. Mr. Cassette might want a nice bottle of scotch. One might say all you would really need for this modern rustic life was one of those Piedmont Pedestal Soaking Tubs right in the middle of a great lofted room. Some Hudson Bay blankets thrown over comfy chairs would do nicely or maybe a Hudson Bay toggle coat for me, so I could go out on that porch with some hot cider. Back inside there would be a small gathering of German Shorthaired Pointers….oh and some King Charles Cavalier Spaniels all lying about, breathing heavily. Mr. Cassette has been talking about wanting a bird again.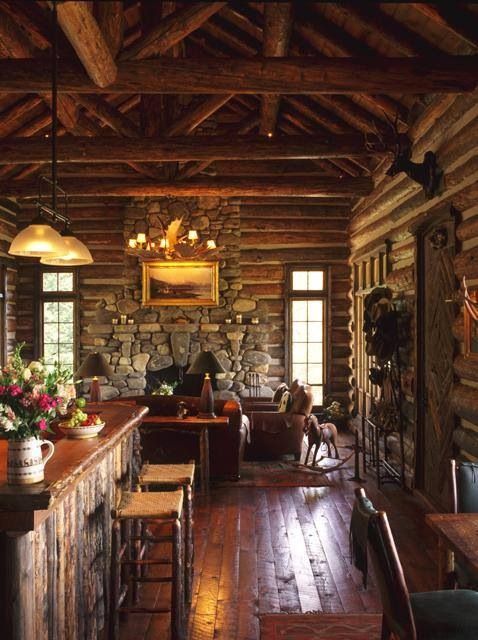 I will confess that I have written (in my mind) to the Log Cabin Owner, introducing myself as a truly obsessed local fan. In other fantasies I gather my courage, practicing, as a walk the divine drive, all the ways that I could best break it to the owners that I grew up in the house. (A lie.) "Would you mind if I just get a quick peek for old times' sake?"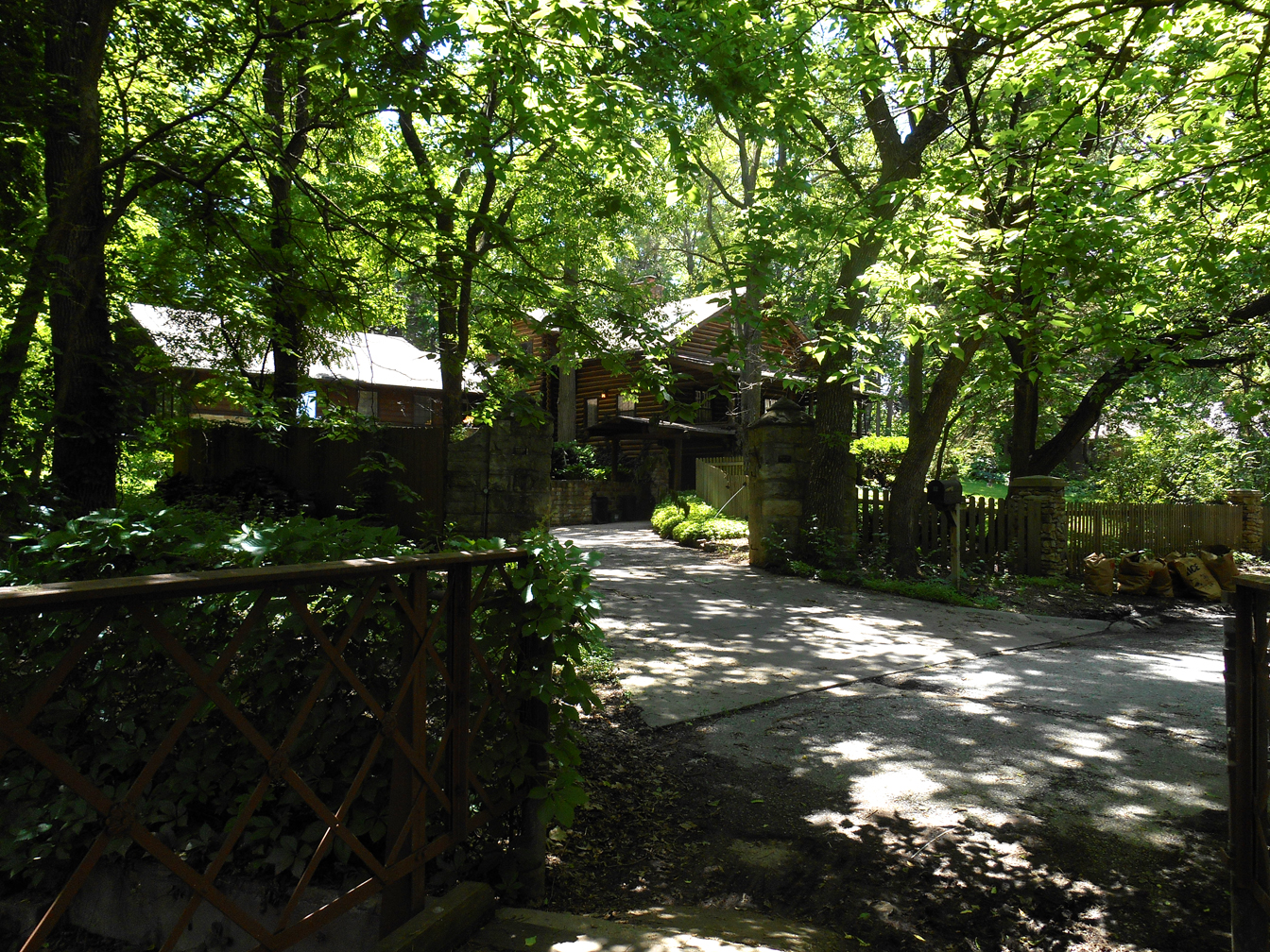 In Alain De Botton's the Architecture of Happiness, he warns, "Not only do beautiful homes falter as guarantors of happiness, they can also be accused of failing to improve the characters of those who live in them." I am here to say I would be willing to risk it all to move into Dr. James Taliaferro's Log Cabin in the Park.
Omaha friends, this case now has a follow-up. Trace the clues at Mysteries of Omaha: The Log Cabin and the Jones Street Bridge Part Two.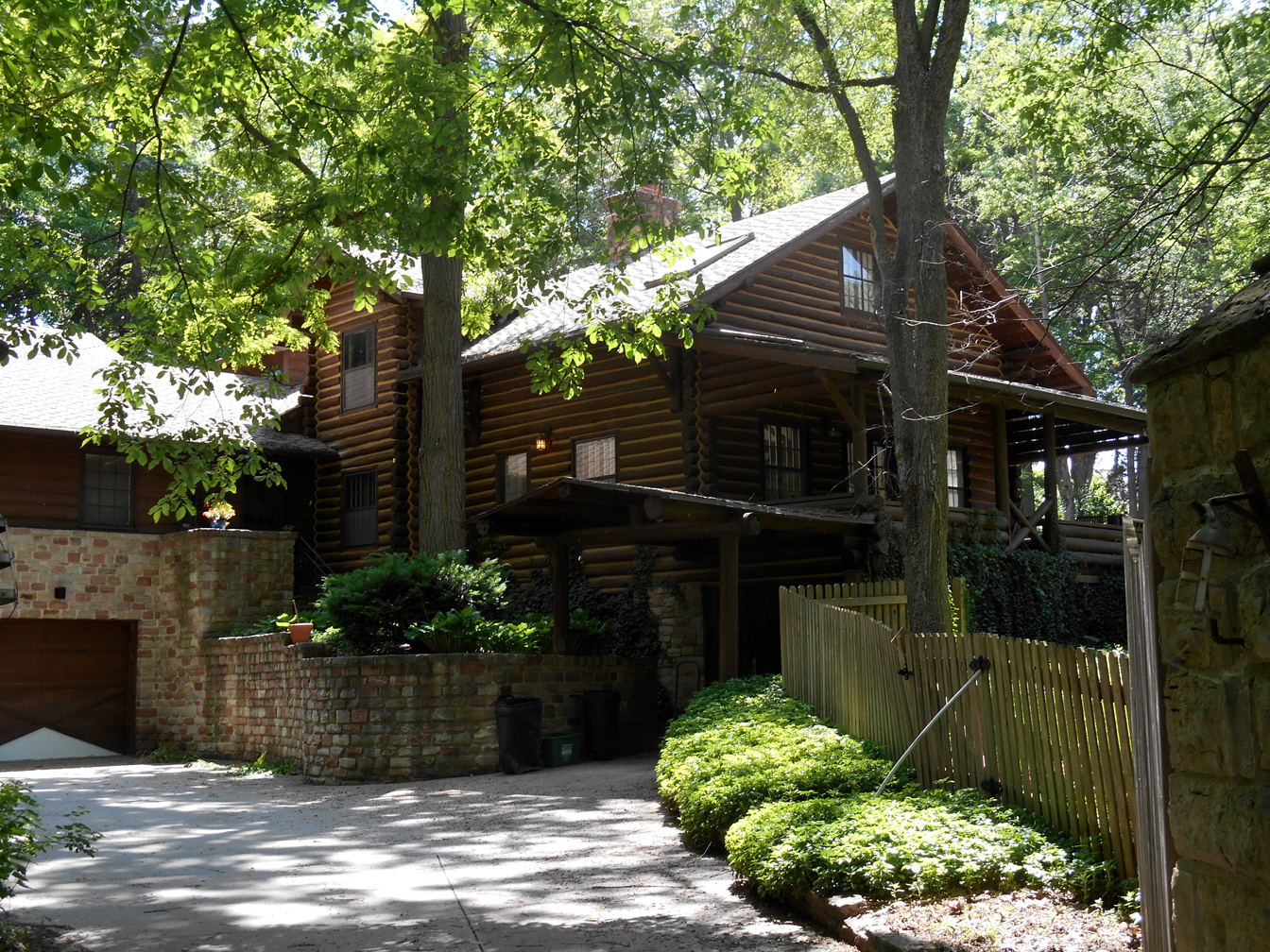 I welcome your feedback and comments on this treasured log cabin home, its story of incredible owners and the Dundee, Elmwood and Elmwood Park areas. To enable comments, please click on the header title. If you would like to correspond with me privately, please do so at myomahaobsession@yahoo.com. But I assure you, everyone would love to read what you have to say and it makes the conversation more fun. You can keep up with my latest investigations without even leaving your inbox, by "following" myomahaobsession. You will get sent email updates every time I have written a new article. Also feel free to join My Omaha Obsession on Facebook. Thank you Omaha friends.
© Miss Cassette and myomahaobsession, 2016. Unauthorized use and/or duplication of this material without express and written permission from this site's author and/or owner is strictly prohibited. Excerpts and links may be used, provided that full and clear credit is given to Miss Cassette and myomahaobsession with appropriate and specific direction to the original content.