Honestly, it is all rather dismal around here with no snow in sight. I do love a good snow. Mr. Cassette has said it will possibly never snow again, which bothers me greatly, and to give up my Snow Pining. He trails off, knowing not to be too harsh, because I am sentimental and I dream of it–especially cocooning away under a warm blanket with the happy knowledge that I am not needed out there in the world. No need to rush for anything, except to while away my hours with my magnifying glass and my books, investigating buildings, architects, the old city streets and their people…. the captivating spirits of Omaha Past. And the Sound of Snow blowing against these old 1940s windows…it's really pretty breathtaking. I did try to avoid it, but here we seem to have drifted into a lengthy discussion about my winter or lack thereof. And I may become a bore on this subject….but really, when does a girl detective have time for amateur sleuthing when there is no snow impeding the wheels of commerce?

I've watched Holiday Inn one too many times this negligent winter. That deceivingly glorious house!
Let us move onto what may, perhaps, be discerned as the Rays of Hope—the reason we have all gathered here: to collectively dream of another time and to uncover clues of great Omaha buildings and their distractingly, charming people. As I remember, we seem to have a bit of unfinished business with our log cabin case. This story received so many delightful emails and anecdotes. This incredible home, short Jones Street block and Jones Street Bridge were true touchstones for many, many people. I can't wait to share these additional clues with you. If you did not follow this mystery with us the first time through, you have a good amount of spellbinding leads to uncover. Please take the time to get caught up now Mysteries of Omaha: The Log Cabin and the Jones Street Bridge and join us later when you can.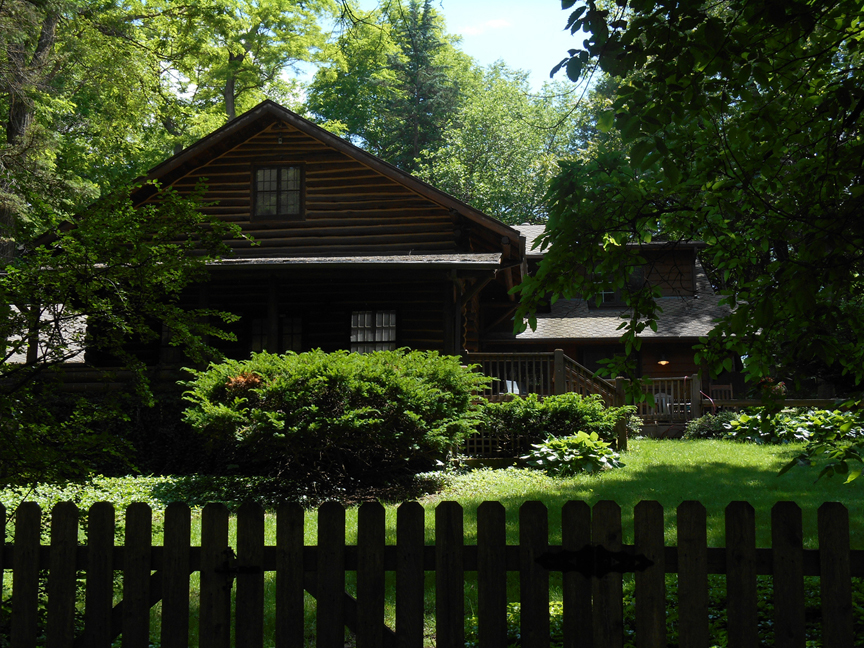 A Little Bit About American Log Cabins
I had received two reader emails voicing concern and question about the history of log cabins in the United States. These were really very interesting conversations. I had originally quoted from The Visual Dictionary of American Domestic Architecture by Rachel Carley, "The Swedes were the first settlers to build log structures in America, the major tradition of log building here originated independently in the late 1600s to the early 1700s with German speaking settlers in the mid-Atlantic region." (Another account said the Swedes introduced the log cabin in 1638, definitively.) Later in my original article, I wrote about the Scot-Irish and English settlers also employing the technique. A Field Guide to American Houses by Virginia Savage McAlester and American Homes: The Landmark Illustrated Encyclopedia of Domestic Architecture by Lester Walker seem to side with this history as well. Of course, all of these sources could be citing incorrect information or one another, for all I know. I am certainly no expert in this field, but it would appear that the Swedes introduced the log cabin to America. According to Walker, "By the Revolution, the log cabin had become the standard frontier dwelling, inhabited by all nationalities, as well as by the American Indians." There is certainly proof in Phaidon's desirous compilation, The House Book, that log cabins sprung up around the globe, wherever there were woods, by many varying cultures, in all times. Check out this very cool article, speculating that one of the oldest standing log cabins in America is thought have Finnish origins. http://www.nj.com/gloucester-county/index.ssf/2014/10/six_things_you_might_not_know_about_the_oldest_log_cabin_in_the_united_states_new_jersey
The business about "chinking" and joints being "chinked" with mud plaster or covered with narrow split boards seems to vary by locale as well as the wooden logs being used. Chinking will come up later in this article when a previous owner shares information about the McClung method.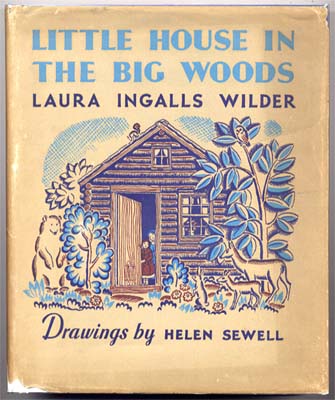 Because I grew up in the 70s, I am obligated to leave this image right here.
More Clues to Dr. James Taliaferro Maxwell
I knew in the original article that James T. Maxwell was born in either 1882 or 1887. I found differing accounts through genealogy sites and in articles about him. I was perplexed, as this would have made Maxwell very young at the time of his land purchase from Snyder. I later assumed that that there must have been a Maxwell Sr. in the picture and that Senior Maxwell and his wife must have bought the land from Snyder.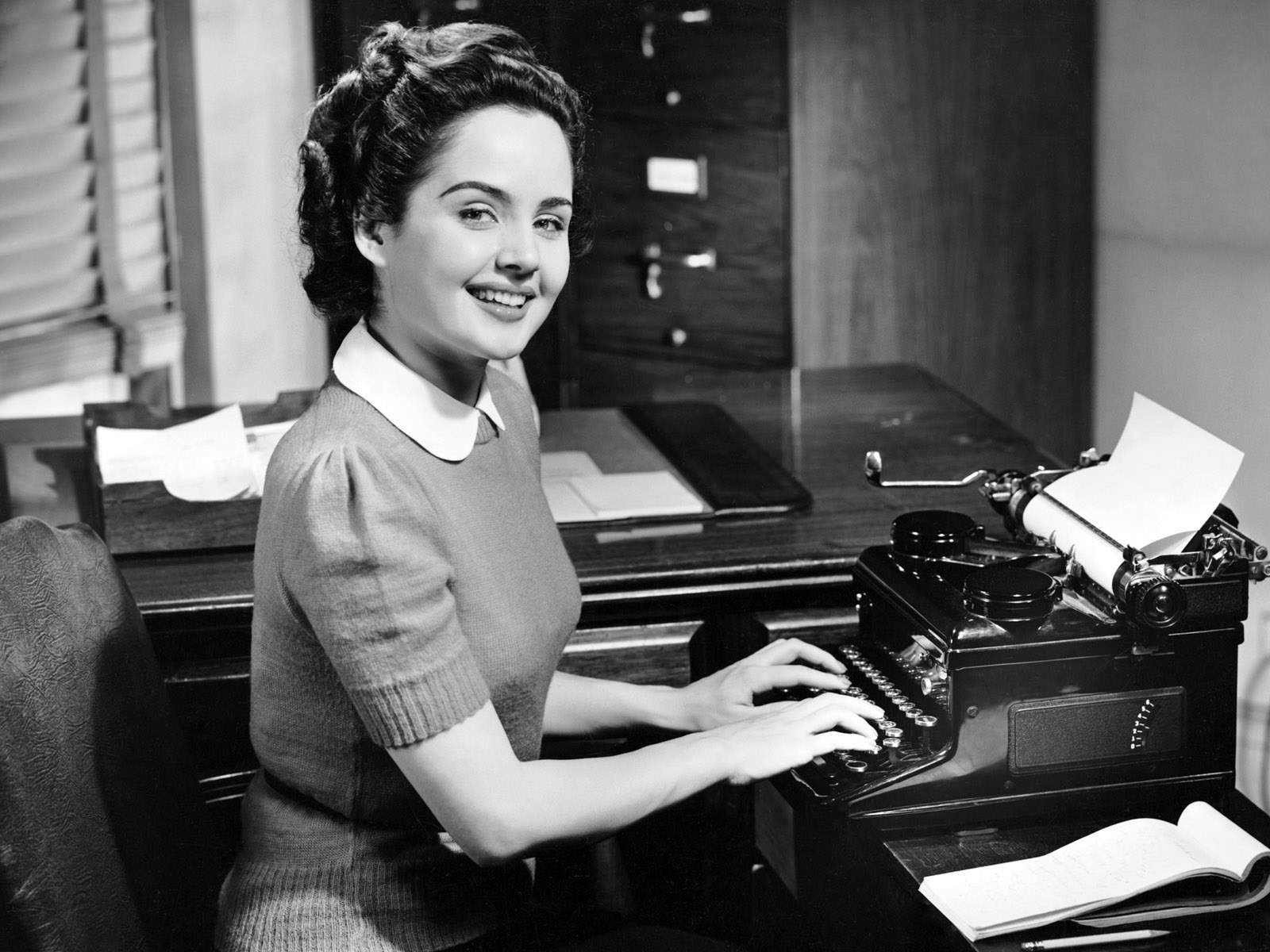 Miss Cassette's chosen architectural sleuthing suit and general attitude when typing about log cabins.
But the more I dug for hints, the more I believed that James Taliaferro Maxwell bought the land from Snyder himself. And There Was No Mrs….ever. If he were truly born in 1887, Maxwell would have been 23 at the time of purchase in 1910. Plausible. However in 1912, J. T. Maxwell was living at 2235 Howard Street, some point in the year of his graduation. His name would come up later in my most recent investigation Mysteries of Omaha: 2226 Howard Street.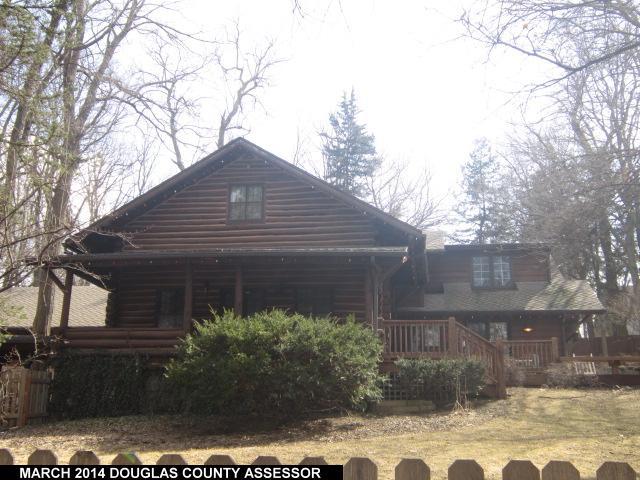 Photo of 5803 Jones Street from the Douglas Country Assessor site.
The U.S. Census of 1930 revealed Dr. Maxwell living at the log cabin, then age 43 (census estimated year of birth at 1887.) He was a "Doctor of Medicine." He was listed at 5803 Jones Street as "head of household" but the census taker also denoted"R" for renter. His monthly rent was "25." Dr. Maxwell was born in Nebraska. His father, Samuel Maxwell, (not James Maxwell, Sr.) was from Pennsylvania. His mother, Mary V. Maxwell, was originally from Virginia. He had a sister, Elizabeth. Dr. Maxwell was single and had no dependents. He lived alone in the log cabin.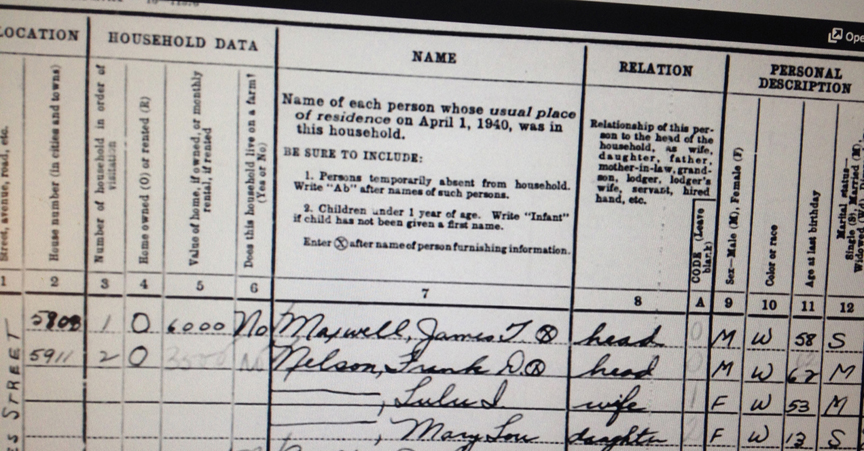 The U. S. Census of 1940 again gave proof of James Taliaferro Maxwell living at 5803 Jones Street. However in that census they recorded him as being born in 1882, then at 58 years of age. He was listed as a physician in private practice, who worked 52 weeks a year. J. T. Maxwell may have fooled the census taker, but we already know, by his own admission, that he did not work the whole year through. He was drawn to High Adventure!
The Kempers
Everett Kemper and his wife were known to be very close friend of Dr. Maxwell's. In fact this couple is really the only reason that Omaha knows of James Taliaferro Maxwell's life. Their engrossing interviews shed light on this Big Personality Meets Deeply Private Person.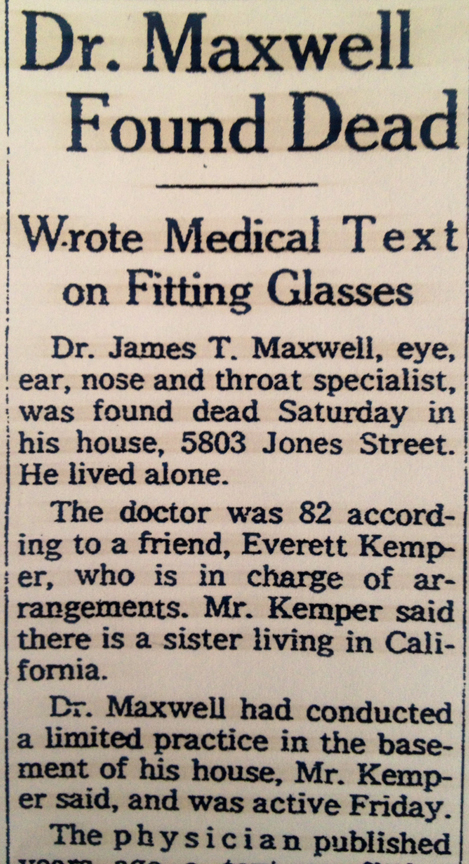 OWH March 22, 1964. We now know from the previous pointer, that his "sister living in California" was Elizabeth Maxwell.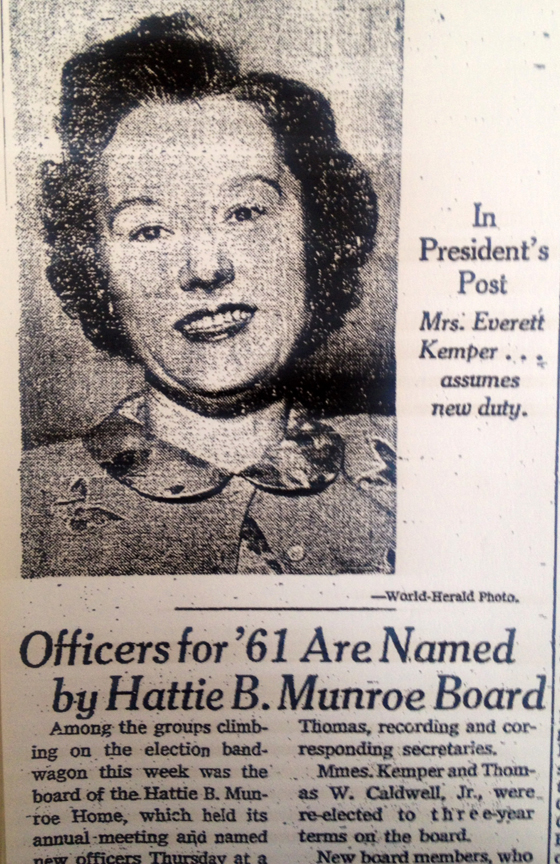 OWH January 13, 1961. I had included in the earlier article a photo of Mrs. Kemper in Dr. Maxwell's front room but this is a nice closeup of her. And I've always admired a woman who can wear butterflies that close to her face. I must point out that Mrs. Kemper was re-elected as three year board member along with Mrs. Thomas W. Caldwell, Jr.—our old friend from The Curious Case of the French Fairytale Cottage: Part One.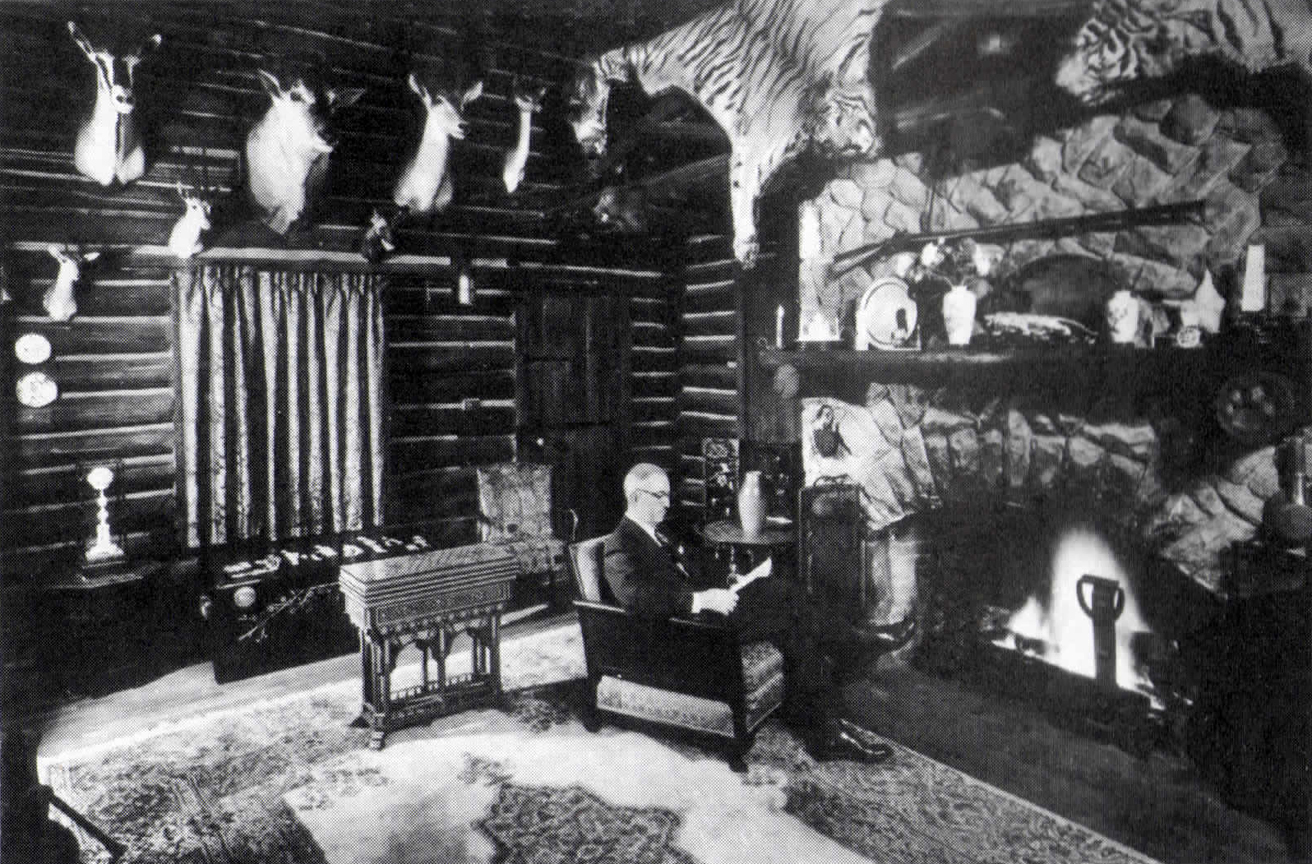 OWH photo of Dr. Maxwell reading in his log cabin. A mix of the divine, the exotic and the rustic. I wonder what it smelled like? Heaven, no doubt. Printed in 1964.
A Past Homeowner's Detailed Memories
One of my favorite comments was from prior log cabin owner, Nancy D. on Facebook. She allowed me to share this information about the cabin with you all. "My husband Marvin and I were married on the front porch. Marv had been running through the park and happened upon the property, which was for sale at the time. When we bought the cabin, the basement walls were painted red, which was scary, so we repainted. A back room in the basement had a dirt floor and stayed cool, which made a great wine storage room. We had some of the cement floor replaced in that area and since it happened to be Valentines Day, I wrote 'Nancy loves Marv' in the wet cement. I'd love to know if that is still there. We moved to Florida in the early 80's and sold the home. We also found old newspapers stuffed between the logs…part of the new chinking I suspect. It was a magical property. When we moved in there was a large red fire alarm mounted on the living room wall, which we removed, from the cabin's school days I'm sure. I was told the living room log walls had been painted bright colors during this time also but someone before us had painted them brown to look more like they had been originally. There was (is?) a rectangular pool in the yard several feet deep that must have been for decoration only. We put in fish and water lilies. And directly across the street from the driveway was a natural pond filled with very large goldfish, all pretty well hidden by heavy brush."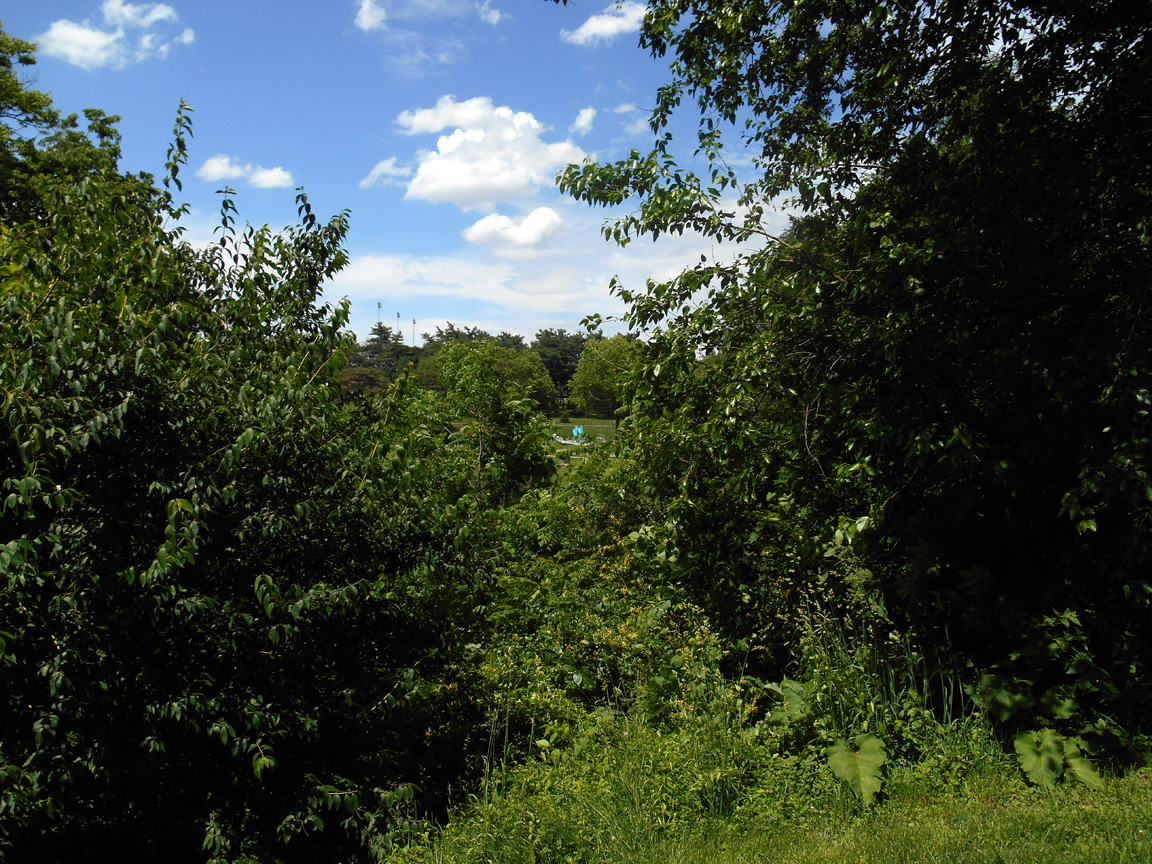 This detective was dying to know if those ponds are still there? I wonder if the newest addition to the log cabin, on the east side, was perhaps built over the pond on the property? Could the formation of a "natural pond" be found if, say, a nosy detective sniffed around the "heavy brush" across Jones, looking for remnants?
The Neighborhood Kids, the Bridge and the Green Lake
Some of the most entertaining emails and comments were from the old neighborhood gang of kids, now adults. The kids unanimously called the water beneath the Jones Street Bridge, Green Lake. Because the water is stagnant and has a good, thick coating of algae growing in it, the water is green to this day. Back in the 50s, 60s and 70s, and probably still, the neighborhood children would play on and around the bridge, creating many games, incorporating this incredibly adaptive environment into their imaginings. Back then, children were free to roam the streets and public parks uninhibited but for the occasional lackadaisical cautionary tale seemingly told with a sort of wink. Remember that?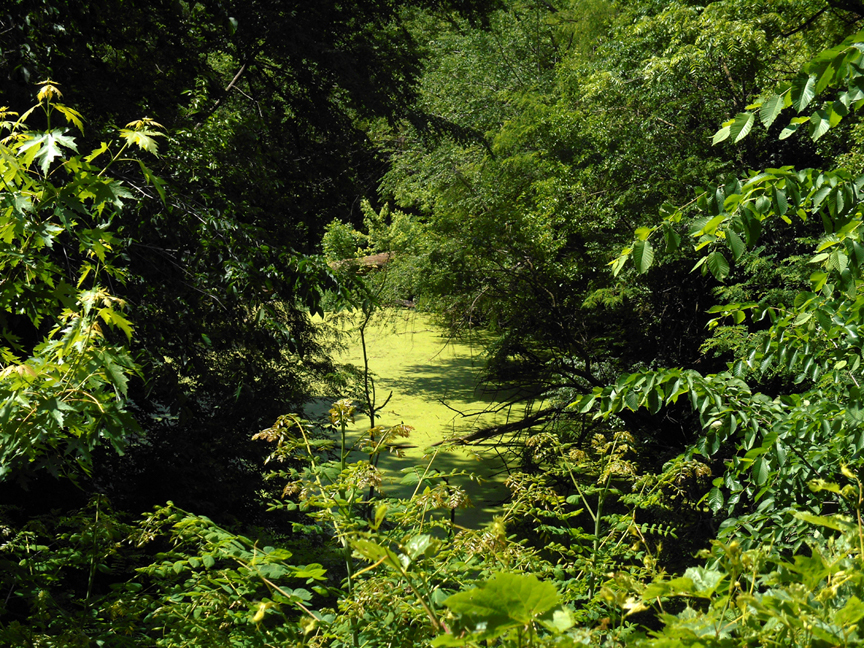 Green Lake just this past summer on a nice hot day.
The ravine or Green Lake area is owned, like all of Elmwood Park, by the City of Omaha. But this small area appeared to have really been governed by the local children who lived in the nearby homes. There were tales of forts and clubs. Some kids used the under trusses as monkey bars and in the winter, children would ice skate on the Green Lake. There might have even been a fire or two for the warming of mittened hands. As kids got older, they'd sneak there to smoke cigarettes or get away from their folks. Who knows how many generations of kids learned to cuss there or do wheelies on their bikes?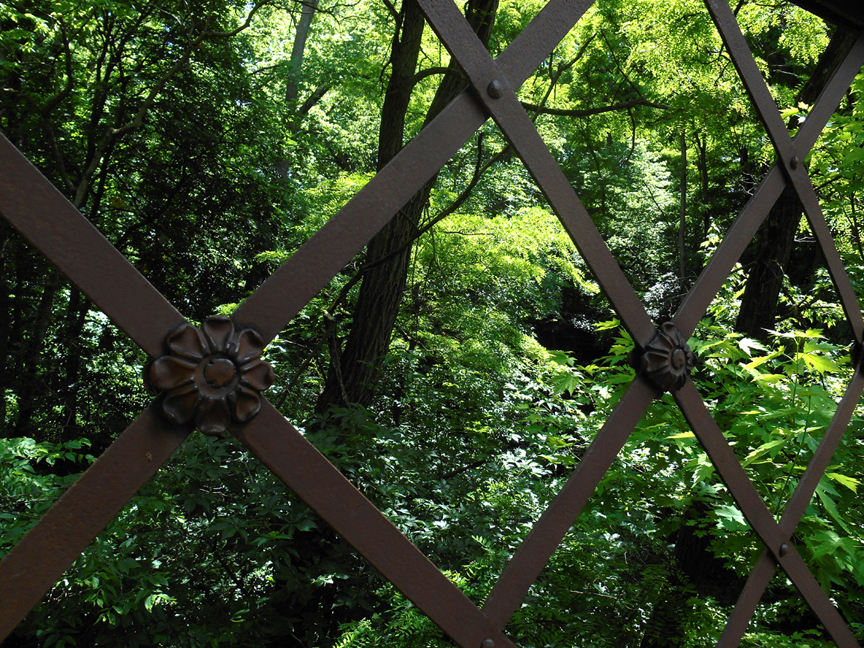 They wrote of graffiti in the 80s and of carving foot paths in the steep soil hills. A reader wrote, "One of my older siblings had a big, clunky bike stolen from our backyard and we discovered it had been tossed over the bridge." Another reader wrote in about the games he and friends came up with, involving throwing rocks and sticks, sometimes sisters' dolls into the Green Lake. I had to laugh when these stories were shared, because when Mr. Cassette and I were at the bridge taking photos last summer, we witnessed a father and his sons launching things over the ravine's edge, into the water. All biodegradable matter, I might ad. But it leads to other questions and a mystery, perhaps, bigger than any of us— what treasures have been amassed at the bottom of Green Lake throughout the decades?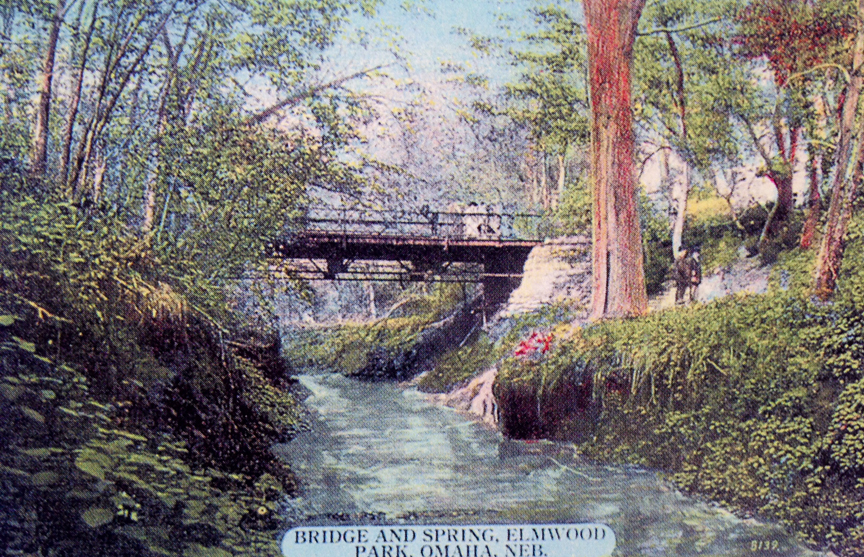 Here is a fantastic post card from the Burnice Fiedler collection that I meant to include in the original story. Elmwood Bridge and Spring in 1910. By the way, Omahan Pat L. wrote in and has a fabulous looking Elmwood Park postcard collection that he is offering to share for my Elmwood Park Mystery series. I look forward to seeing those postcards and doing some serious digging.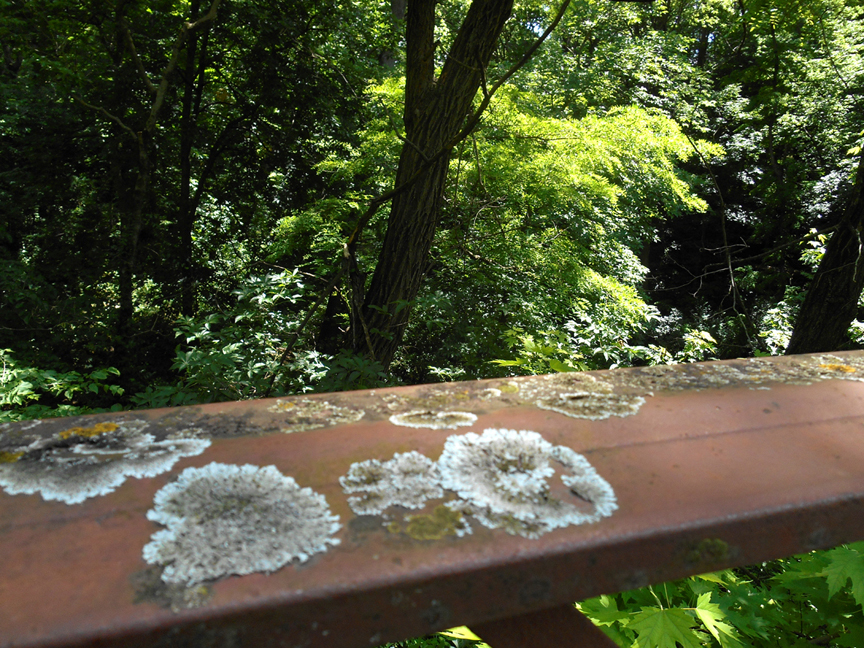 Beautiful lichen growing on the now called Jones Walk.
One reader wrote so beautifully about her personal experience of living by the Jones Street Bridge, when it was still used by automobiles. "A fair number of cars turned off of Happy Hollow and drove across the bridge– Jones Street residents but more likely UNO students, frantically looking for a parking spot. Even before it became a footbridge it still was a wood plank bridge. The boards were screwed or anchored down, I'm sure, but many of them did wobble and give. I can still hear that distinctive loud rumbling sound the bridge made when cars drove over it. I would finally fall asleep (at night), but still hearing that distinctive loud rumble the old bridge (pre-footbridge days) made when cars drove over its old planks."
Just perfect.
The New School
On the original detective's trail, I had tracked a period in the early 1970s when Thomas L. Davis took ownership of the log cabin. Davis was part of a group with aspirations of starting an alternative elementary school called the New School. Formally called the New School Association, Alvin Ross was president. Ross, a partner in an Omaha insurance firm, had been a frequent critic of the Omaha Public Schools. The New School proposed to be an alternative to OPS. Taking students from kindergarten to sixth grade, the curriculum was based on "open education." Mrs. Joan Amland was featured in the OWH article of 1972. As it turns out, a family friend was well acquainted with Ms. Amland and spoke of her over the holidays. So Omaha. These were additional photos from another article in the World Herald in 1973. I couldn't find any more information about the school past 1974. I have friends in town who have said they knew students who attended the New School but I have not been contacted by any of these attendees.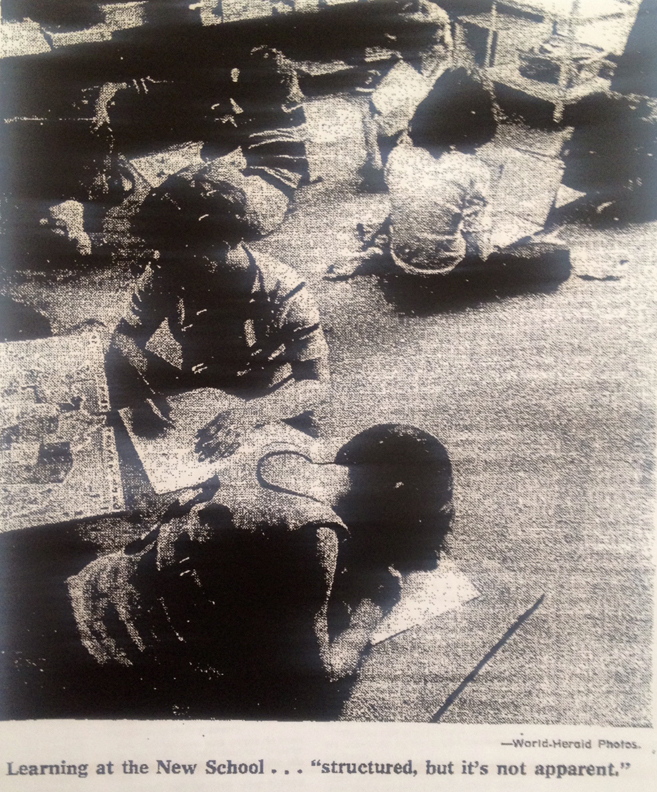 OWH article from April of 1973.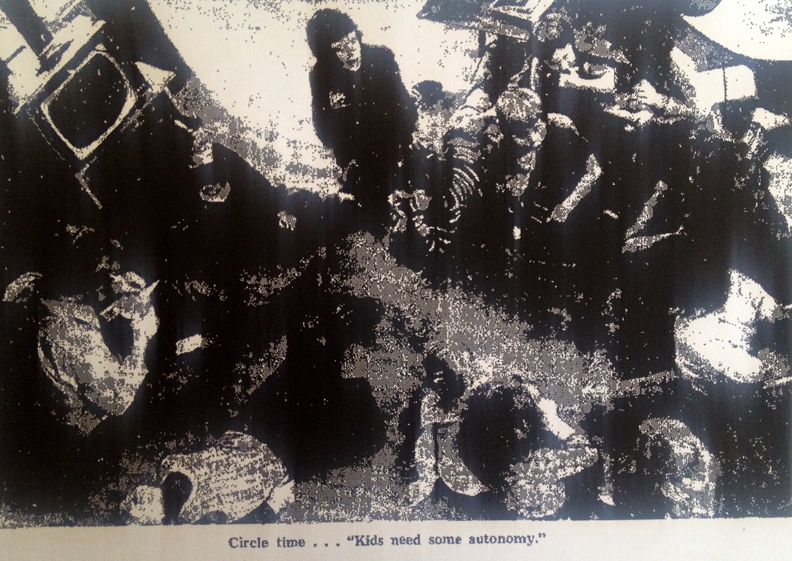 OWH article from April 1973.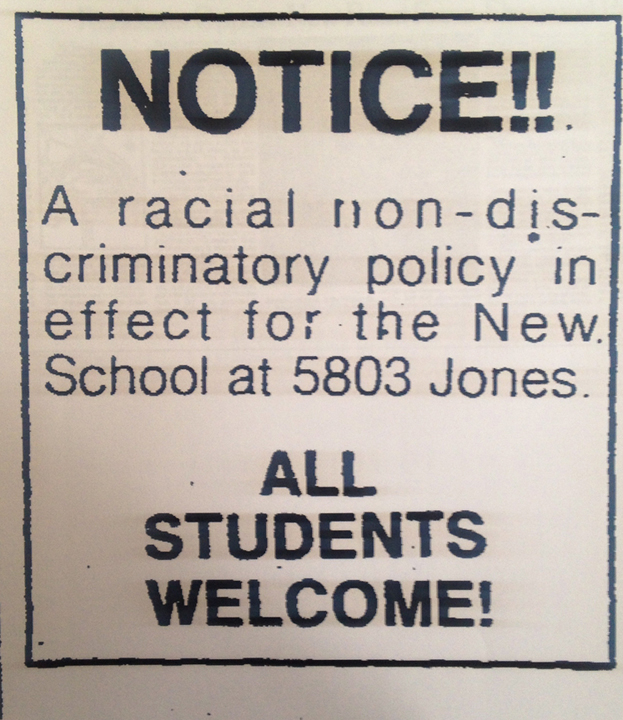 OWH New School notice from September of 1973. I would be interested to know more about this notice. My family did not live in Omaha then but I think that bussing had started. I am not sure if this was a reaction to racial problems at other private schools or if this was a preemptive action to what was to come in public schools.
More about the Elmwood Park Residents
I found a great article entitled Residents Oppose New Road From Elmwood Park in the World Herald, dated April 30, 1978. The story outlines local residents' upset about the "city cutting them off at the pass" regarding the closing of the Jones Street Bridge. "City of Omaha Bridge No. 433 on a dead-end span of Jones Street from Happy Hollow Boulevard into Elmwood Park is being closed to cars because of structural weaknesses." Apparently there was early city talk of "dry-gulching" Green Lake with fill-in. Can you imagine? In addition to tearing down the bridge, there were no plans to keep a footbridge connecting little Jones Street in the park to the rest of Emile. Understandably No One With Any Sense liked the city's plan. Barbara Wright and other residents demanded to see the city's plans in writing.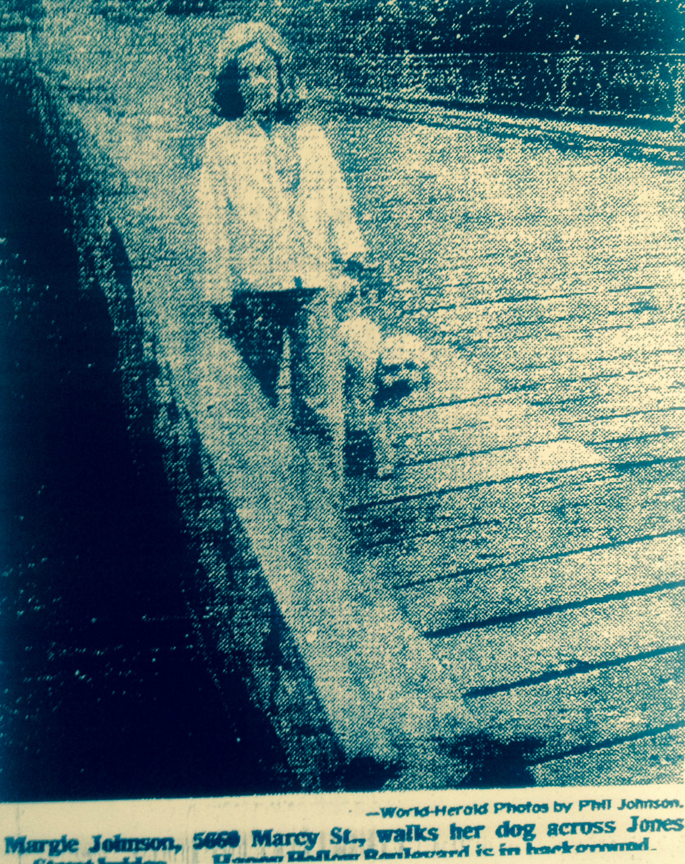 Favorite photo of Margie Johnson walking her dog across the old Jones Street Bridge previous, still wide enough for cars. I just love this shot of her! OWH April 30, 1978
Lucia Grove Scoles and her mother, Lucia Grove were interviewed in the World Herald in 1978. Along with Mr. Harold Grove, the mother and daughter were reasonably Not Happy about the proposed routing of a road through their Elmwood Park "sanctuary" when the city did away with the Jones Street Bridge. The family lived at 5919 Jones. The Groves and many neighbors stood up to advocate on their behalf in light of the new city planners attempts to pave a road from the Happy Hollow straight through to 60th Street.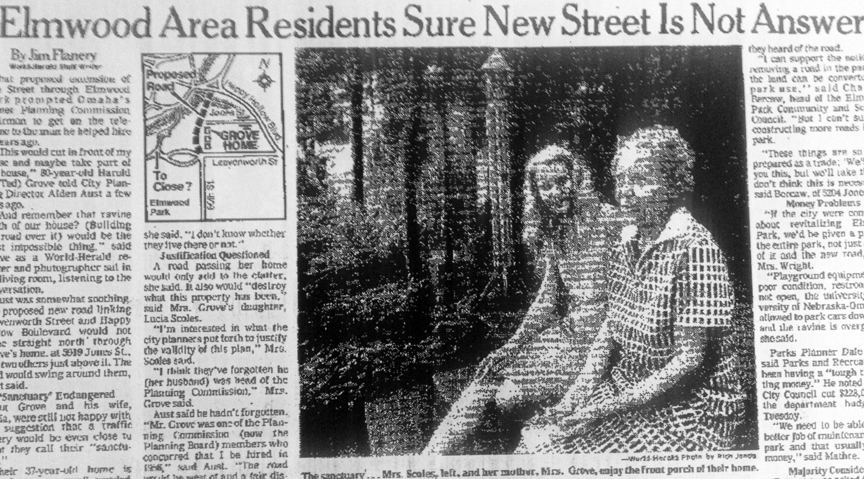 OWH article of August 28, 1978.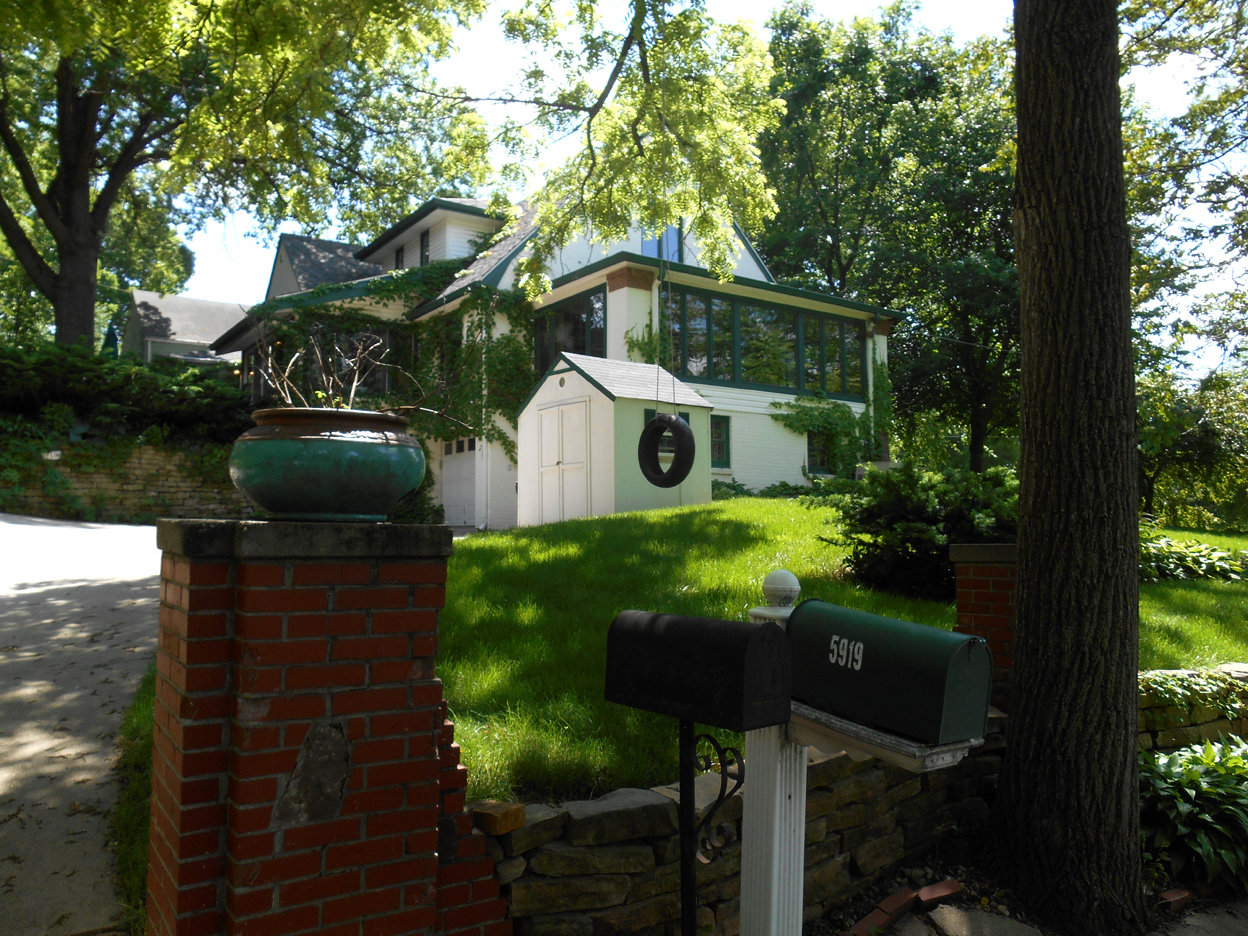 5919 Jones Street as it looks today. The Groves lived in a (then) "37 year old house tucked away on a small, wooded hill just above the park. The park boundary is a rock wall just beyond the Groves' front porch." I believe the World Herald article was referring to my absolute favorite obsession rock wall fence that I drooled about in my first article.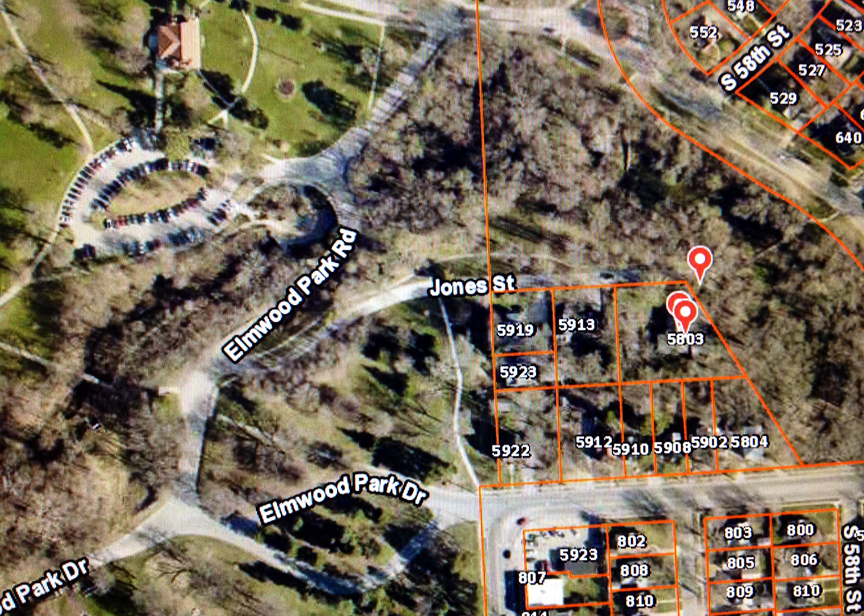 DOGIS aerial map of 2016.
Elmwood Park Drive connects with Elmwood Park Road in a very odd way but, thankfully, does not cut directly in front of that great home at 5919 Jones. From the small map in the 70s article, the early plan was to connect Happy Hollow Boulevard with 60th Street. One can see from this 2016 map how detrimental that might have been to this mystery park enclave. By the evidence, it looks like active neighbors were behind these quirky, diverting Elmwood roads. And you know how much we love our eccentricities around My Omaha Obsession. Let's keep looking for clues and see what else we stumble across. Until next time, detectives.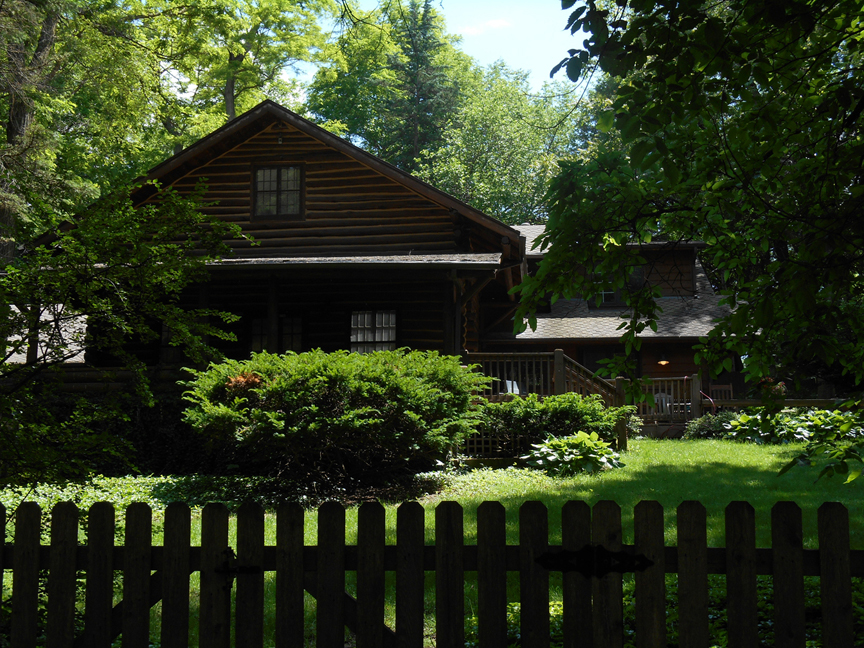 Thank you, thank you everyone for reading my articles and supporting me. It means so much to share this obsession with houses and their people with all of you. I welcome your feedback and comments on this little part of Elmwood Park. I also welcome your kind corrections. We know more together. To enable comments, please click on the header title. If you would like to correspond with me privately, please do so at myomahaobsession@yahoo.com. But I assure you, everyone would love to read what you have to say and it makes the conversation more fun. You can keep up with my latest investigations without even leaving your inbox, by "following" My Omaha Obsession. You will get sent email updates every time I have written a new mystery article. There are lots of fun comments to be read on My Omaha Obsession Facebook page, so stop by there too. Thank you Omaha friends.
© Miss Cassette and myomahaobsession, 2017. Unauthorized use and/or duplication of this material without express and written permission from this site's author and/or owner is strictly prohibited. Excerpts and links may be used, provided that full and clear credit is given to Miss Cassette and myomahaobsession with appropriate and specific direction to the original content.