There was never an afternoon that I didn't look forward to a trip to Downtown Omaha with my grandmother. I felt like I was going back in time. She would get dressed up and expected that I would dress up as well. It seemed that all of the older women observed that rule. Even as I child I had the awareness of the ghostlike, bustling, bygone era of a thriving downtown that I had just missed by decades. Maybe it was because my grandmother and parents told me such great stories of the past, and were generous and vivid with their descriptions of the shops, the varied customers and the workers that made up downtown. Questions were always encouraged. I have found out since, that I was very lucky to have had a family such as this.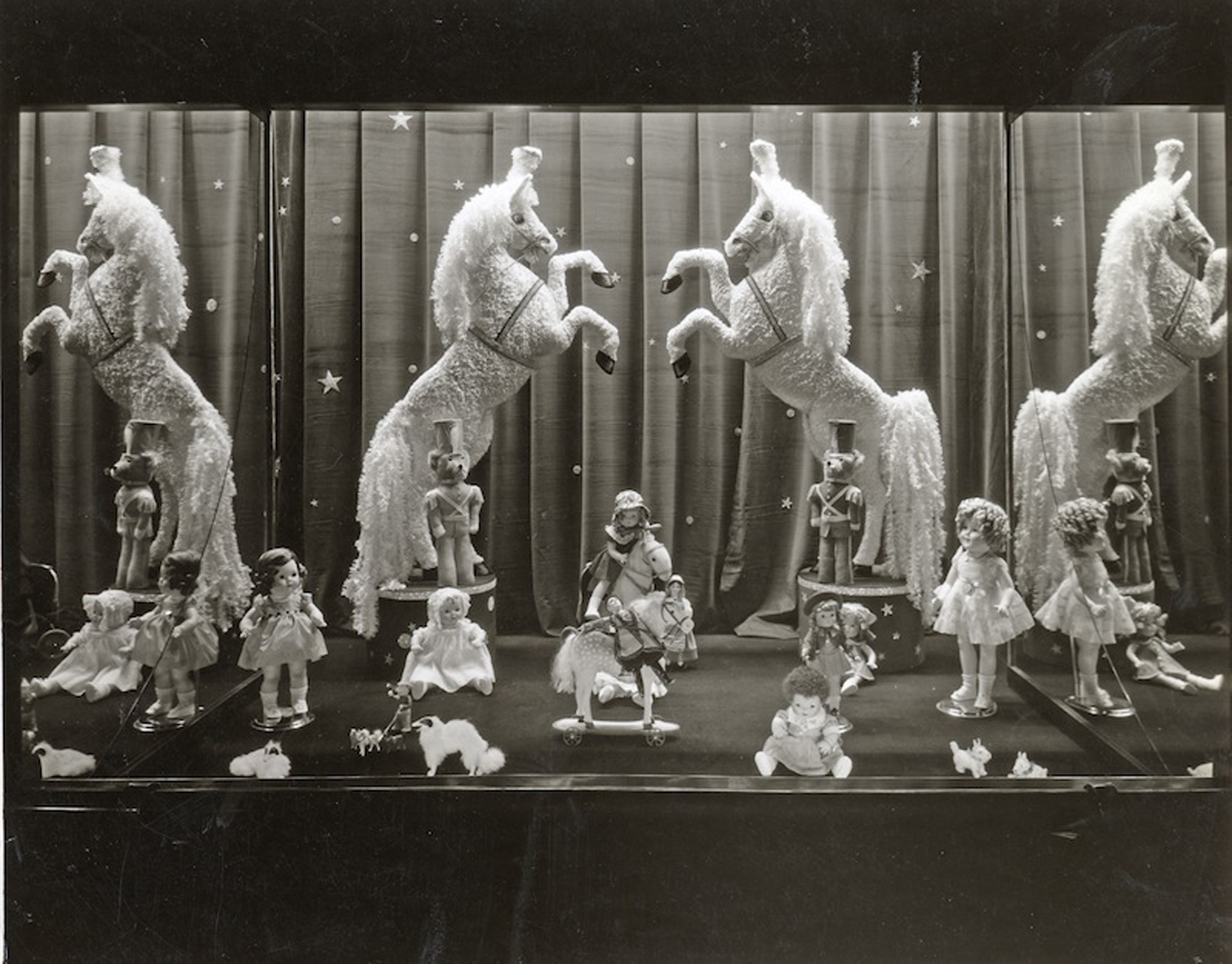 This photo is not from Downtown Omaha. I only use it to illustrate how I remember window displays looked in my childhood.
I am constantly being reminded of enchanting things, which have been forgotten. I can still feel the uncertain excitement of visits to Santaland at the downtown Brandeis Department Store, or the contentment I experienced at the chance to meander the slow-moving sidewalks with her, although Grandmother would inform me with a sort of sniff, the sidewalks used to be much busier before.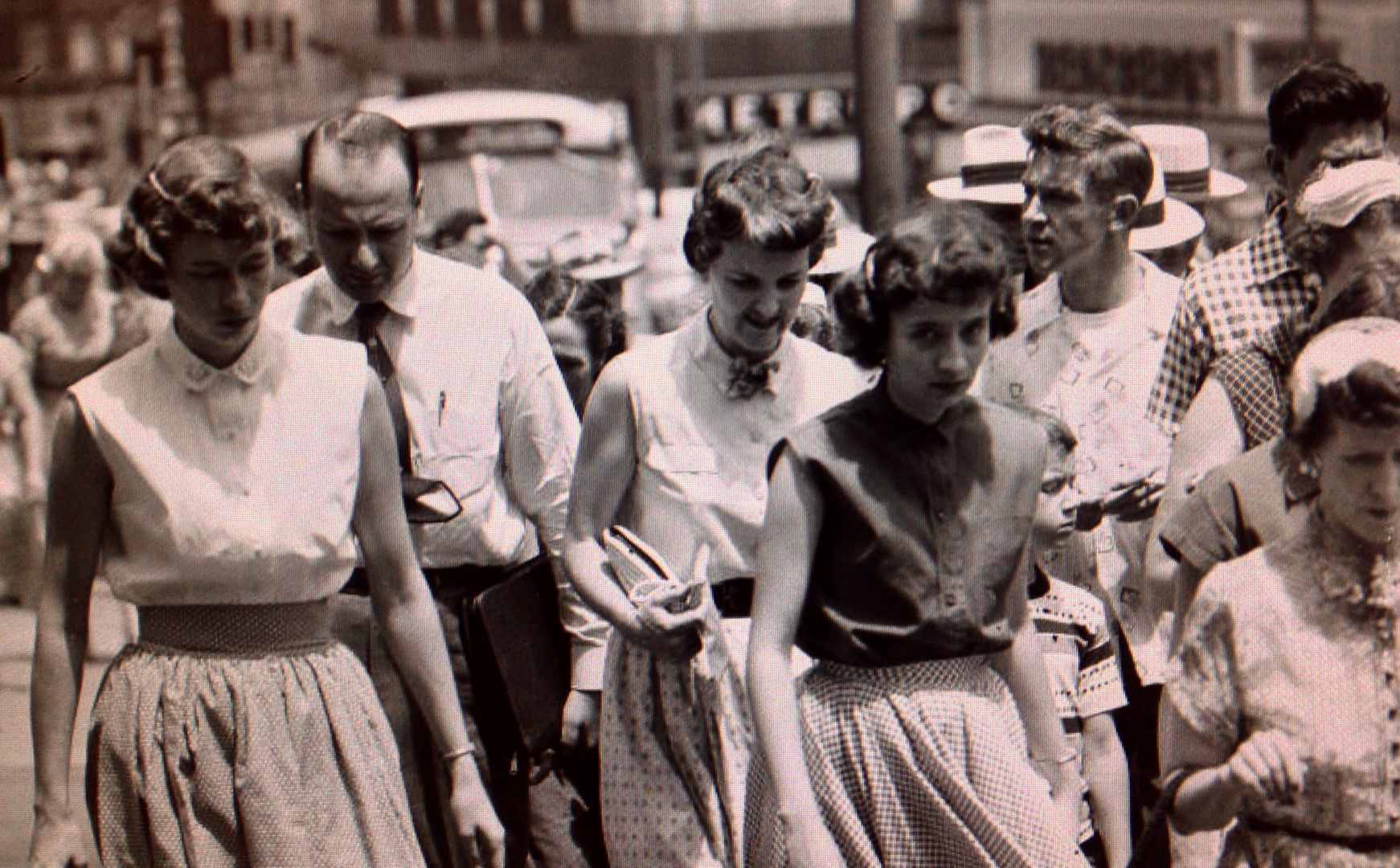 The crowded streets of Downtown Omaha. Please tell me we didn't always walk around and stare at the ground back then. We've always been a humble lot, I suppose. (Photo courtesy of the Bostwick-Frohardt/KM3TV Photography Collection at The Durham Museum Photo Archive).
My grandmother made sure there was time for tea and little cakes in the Ladies' Tearooms of numerous department stores. There was a grace and decorum in a ladies' tearoom of the time that I would need to learn quickly, after all, I must confess, I was The Terrible Child who infamously played on the floor beneath the dinner table at Bohemian Café to the chagrin of my grandparents. And maybe all of Omaha. It's a wonder she took me anywhere after that! Not too long before, women had stopped wearing gloves to downtown tea, although I do remember having to wear them for a few Easters of my youth. If I think on it hard enough, I can envision Omaha women wearing gloves to tea, but that might be a fancy, due to a heavy indoctrination of fabulous Bette Davis movies.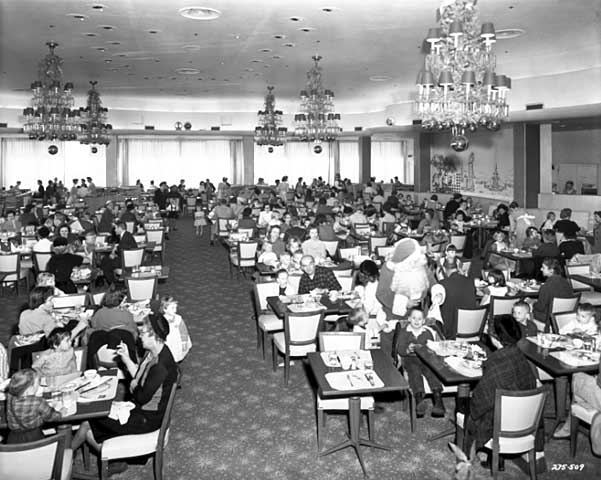 The Sky Room at Dayton's, Nicollet Avenue and 7th Street, Minneapolis, 1960. Much before my time but this is how I remember department store cafeterias and tearooms looking when I was a little girl.
Going to a department store, especially in Downtown Omaha, entailed a service that felt altogether ceremonious. Every precious, little sandwich and cold pat of sweet butter, which I labored to spread on heavenly bread tasted like something special and exotic. The older servers in their uniforms naturally made each table feel welcome and as a child I knew each and every time was a Special Event. If by some strange chance, you should happen to be the sort of eccentric who might like these very things, then you will understand. The experience only feeds the imagination.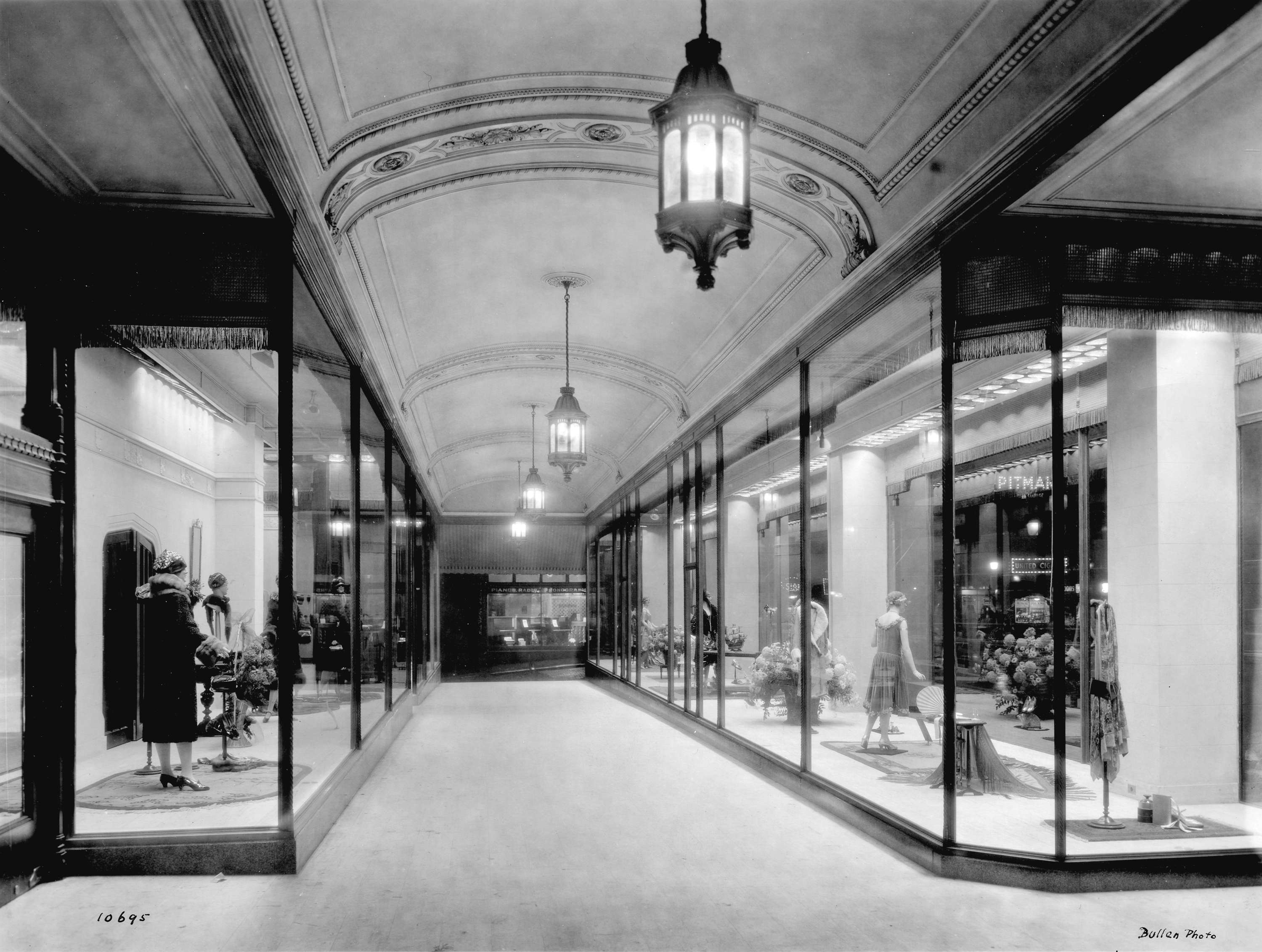 Not Omaha but still dreamy. This foggy reminder takes me back to my early imaginings of the hidden lives of mannequins in the thriving Downtown Omaha scene of the 1920s and 1930s.
All of these ladies' tea memories have me daydreaming quite regularly about the art of teatime and the lost department stores of my early youth….Do you linger there as well? I guess I had always thought the first time that I wrote about a tearoom it, surely, would be one that I had actually dilly-dallied in, but that is not how these mysteries work. Not too long ago I came across an advertisement from the 1900s, which arose to the status of A Curious Situation in my detective's mind. You see, I was doing research on another case altogether when the name the "Cricket Room" and all of the juicy, picturesque details that only that name can conjure, smacked me across the face. You might know me well enough by now to gather that I wanted to drop everything and chase headlong after this Cricket Room lead. But I did not. I was painfully mature and very focused on that particular day. But yes, indeed, I committed a dossier to the Cricket Room, knowing I would return one day. And This, friends, is That day. Consider the name the Cricket Room. I am sure you, like I, will find it far to enticing to pass up.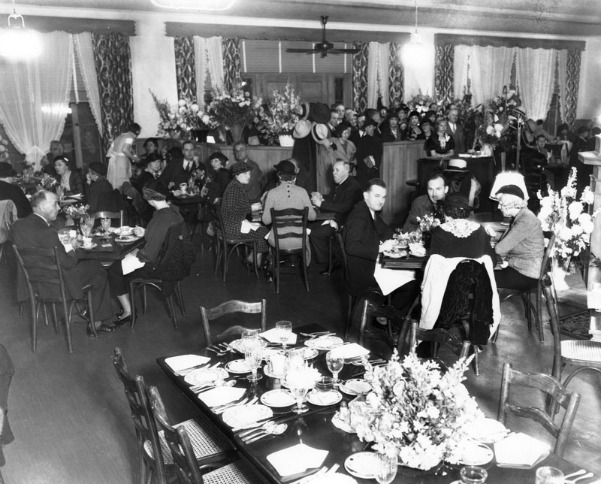 Tick Tock Tea Room from Los Angeles Public Library site.
Side Note to Readers, Only if You like Side Notes. If you do not like being blathered to, please move on to the true beginning of the story.
A few things to know before we head to Downtown Omaha and then, I promise, we will head downtown straightaway. This article was intended to focus on the Cricket Room only but it grew and grew and grew. It is well documented that these architectonic tangents often thwart me. I'd like to think all of the puzzle pieces have importance in the bigger mystery picture. I'm going to attempt to focus my detecting and fix in on the subject at hand—in fact I have cut gobs of clues from this puzzle. Mr. Cassette has said my meanderings are a product of my true obsession and the way I look at architectural and cultural sleuthing. I'd like to think you understand that it just gets BIGGER the more I dig for clues. And of course there's that fortuitous bit about not having an editor. So, without further ado…
The True Beginning of the Mystery
My discovery of the Cricket Room began when I was following clues of the Burgess-Nash Company. If you will recall, this was the fabulous department store in Downtown Omaha started by a well-heeled railroad man turned prominent business owner from an earlier mystery, Louis Charles Nash. If you did not happen to track this thriller with us originally, please do take time to get caught up on the case history: The Secret of Burt Street. It is quite extensive but I would like to think it gives a good framework for the Cricket Room article. My first line of investigation was to detect exactly where the Burgess-Nash Company was located. Through an indistinct search I soon uncovered Burgess-Nash was roughly on Sixteenth or Seventeenth and Harney, (I wasn't entirely sure due to differing accounts), which led to further tempting fragments (confusion) about the Boyd Theatre and the Boyd Opera House. Finally from the Omaha City Directory at the downtown library, I found the exact address: 402 S. 16th Street. This address, as with some of these addresses, changed over time.
The Lay of the Land
From the Register of Deeds office I learned that the property in question was officially Block 146 of Omaha, comprised of numerous lots. Since 1981 this property has been owned by Omaha Public Power District. Yes, that O.P.P.D. It currently carries the address of 444 S. 16th St. Energy Plaza. What were previously 8 lots are now reconfigured as one structure (or two buildings connected?) with a large parking garage attached. It is across the street, to the west of the lovely Orpheum Theater. To learn more about the retail wonders of Sixteenth Street, please read The Case of Napier's Booterie and the Securities Building. Sixteenth Street is a very important part of our Omaha history.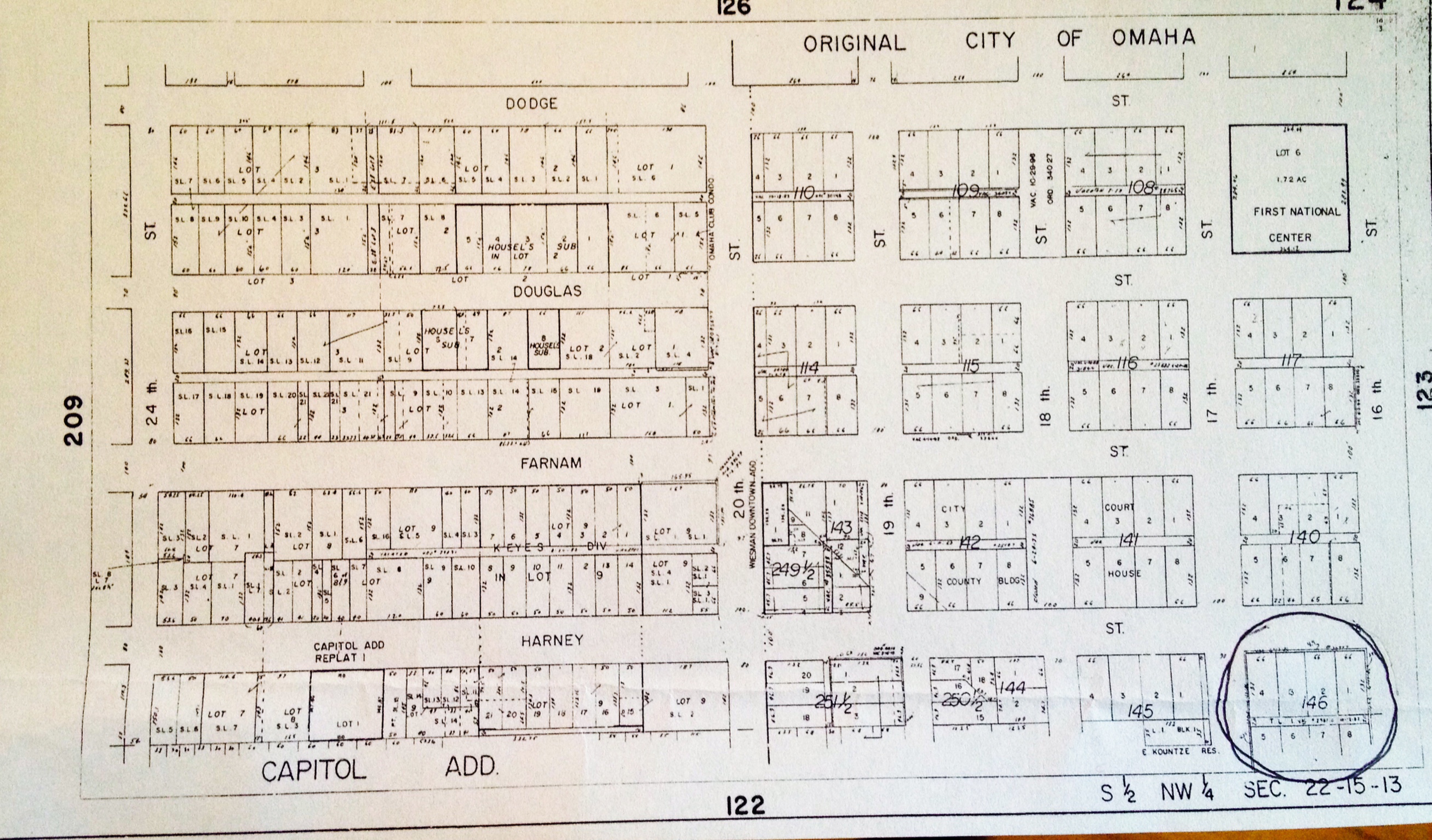 Old city plat map "Original City of Omaha," shared by the incredible Mayor of Benson, a familiar face at the Register of Deeds Office. I thank you, sir. Please note the lower right hand corner depicting Block 146.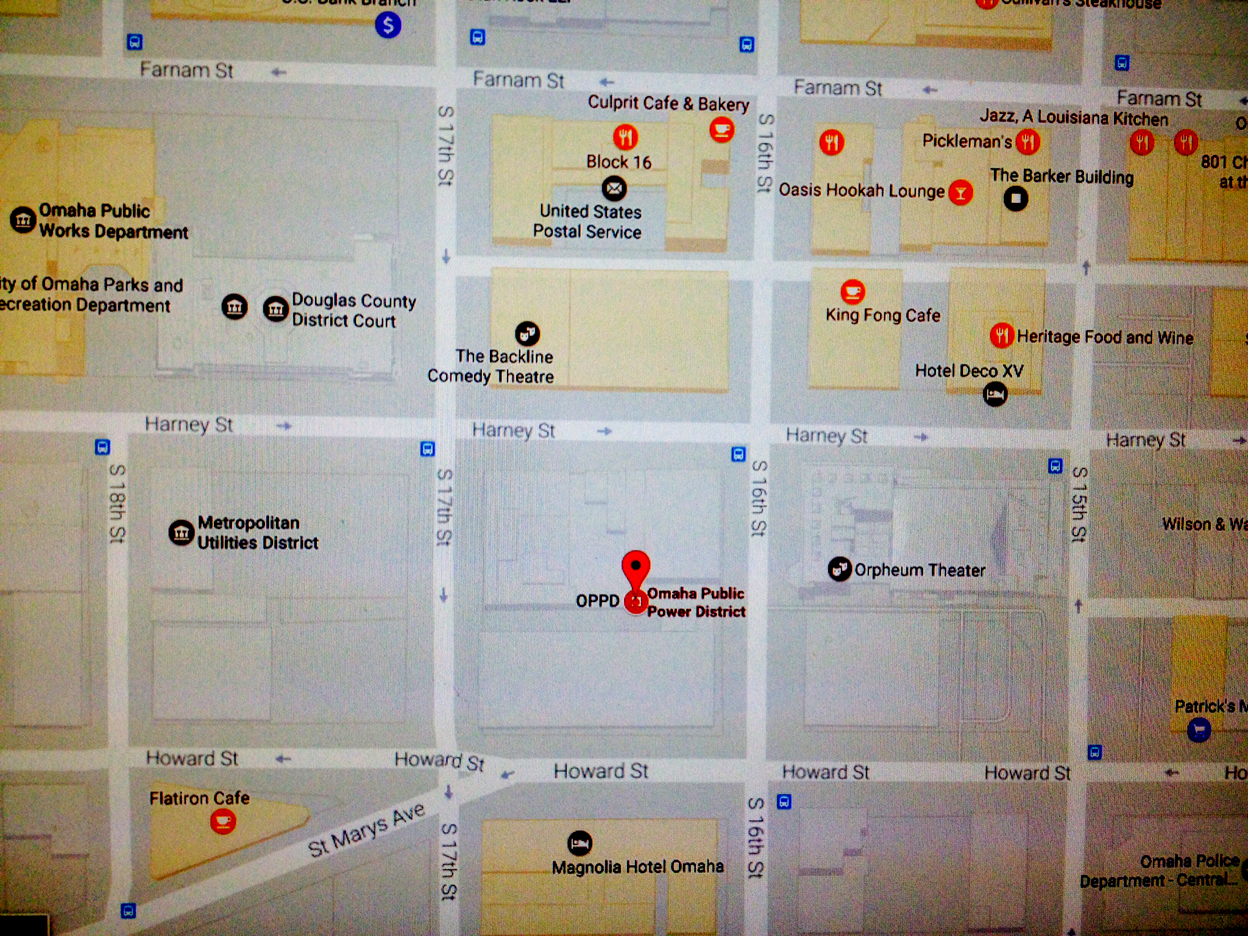 Current 2016 Google Map image. The OPPD building is squarely between 16th, Howard, 17th and Harney Streets. Harney Street runs east-west on the north most side of the structure. From the Streets of Omaha: Their Origins and Changes compiled by H. Ben Brick, I learned Harney Street "was named in honor of General Harney, in command of western troops when Omaha was born in 1854."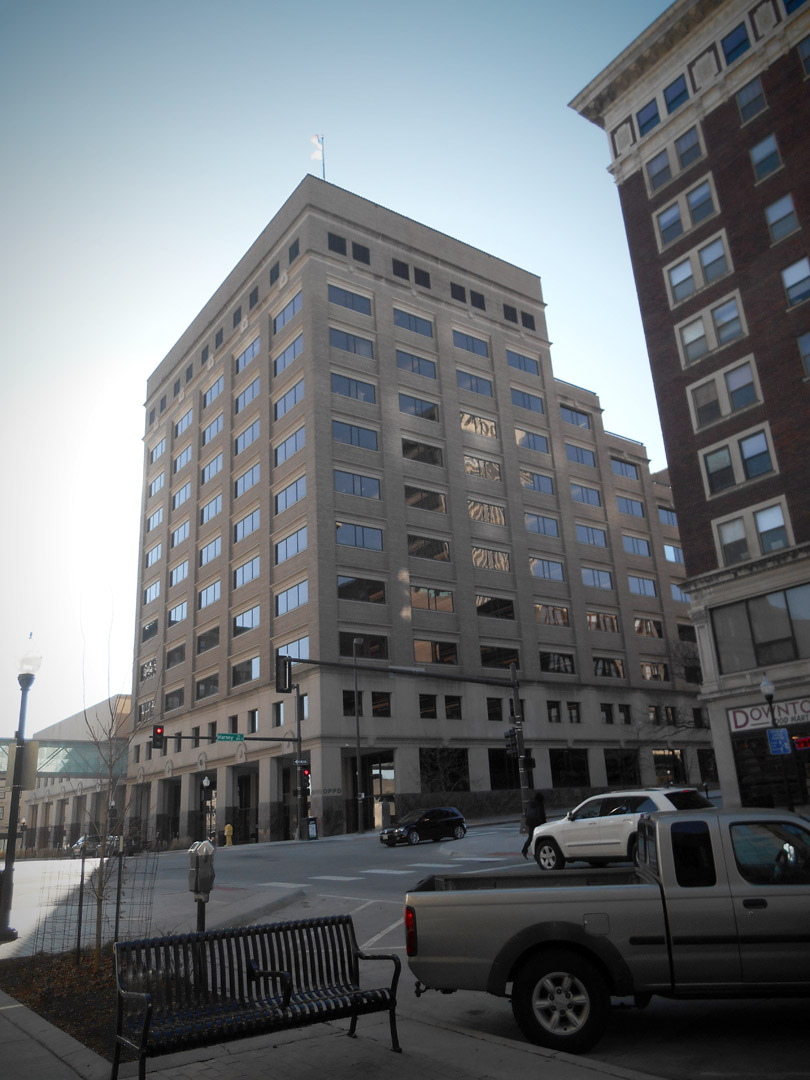 Southwest corner of 16th and Harney, as it looks today. There is a glass walkway over the street, leading to the Orpheum side. The old Regis Hotel is seen on the northwest corner. 2016.
Boyd's Opera House
From the American Guide Series Omaha: A Guide to the City and Environs written in the 1930s, I turned up what was originally on that corner. The New Boyd's Opera House, erected on the southwest corner of 17th and Harney was opened in September of 1891." According to this book the Boyd's Opera House was the city's most popular theater until 1915. Put this date in your cap.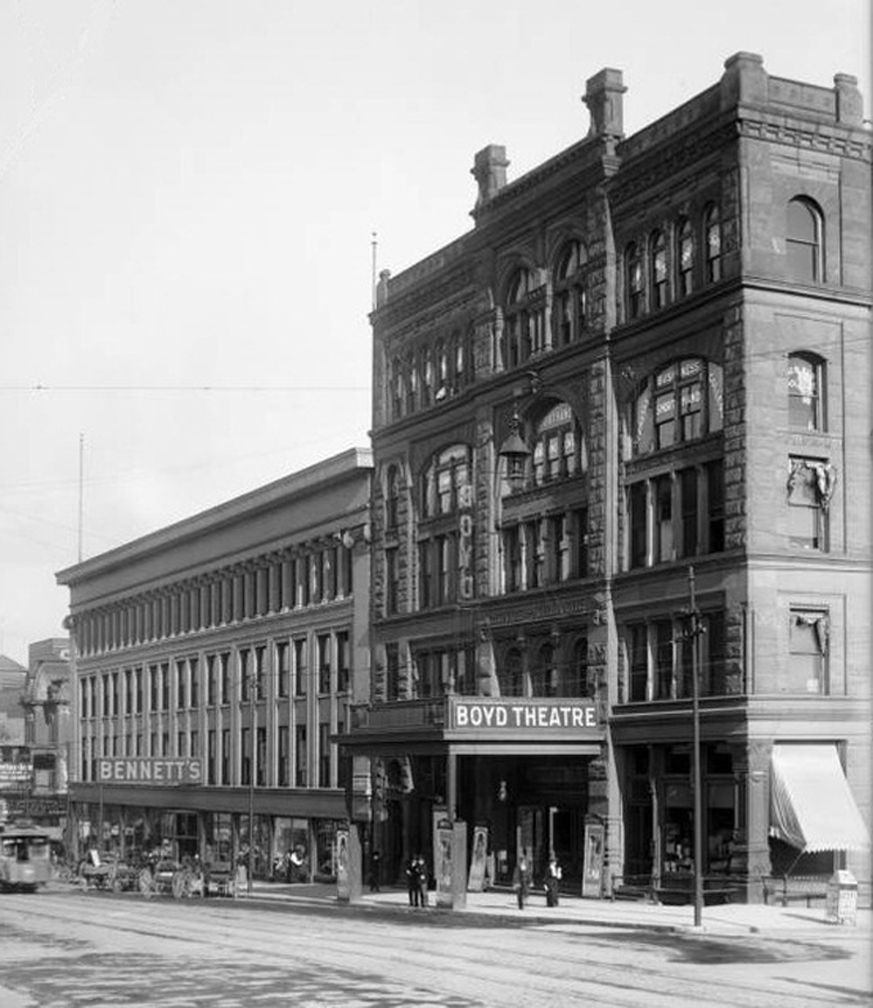 New Boyd's Theatre 17th and Harney St. about 1906. Note the Bennett Company right next door.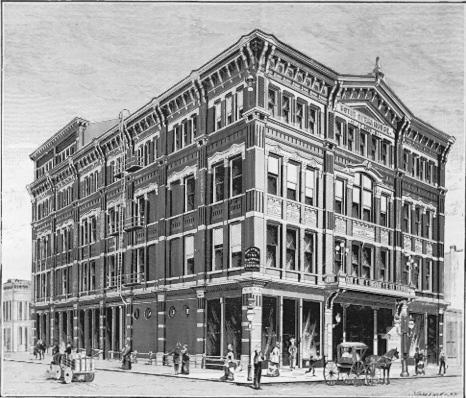 Boyd's Opera House 1889 illustration. As with most of these untidy mysteries of mine, the Boyd's Opera House actually began its long life on Fifteenth and Farnam in 1881. It later moved, to 17th and Harney becoming the "New" Boyd Theater. It would appear from numerous accounts that it was confusingly called the opera house or theater interchangeably throughout its existence. According to Alfred Sorenson's book History of Omaha: From the Pioneer Days to the Present Time, James E. Boyd was a "self-made man." Born in Tyrone, Ireland, Boyd had come to America by age ten. When the Union Pacific railroad was completed to Kearney, Boyd began contracting as a grader and followed the road through to its completion. He famously built the last section of grade, which united the Union Pacific with the Central Pacific. He later purchased a controlling interest in the Omaha gas works. In the winter of 1869 he organized the Omaha and Northwestern railroad and was elected its first president. Through my genealogy investigations I uncovered that James E. Boyd was married to Anna H. Boyd. The couple had two daughters, Margarette and Elnora.
The Bennett Company
At some point in the evidence gathering, I came across the name of the Bennett Company–truly the first retail store in a short list of pointers in our trek to the Cricket Room. The Bennett Company was next door to the New Boyd Theater, on 16th Street.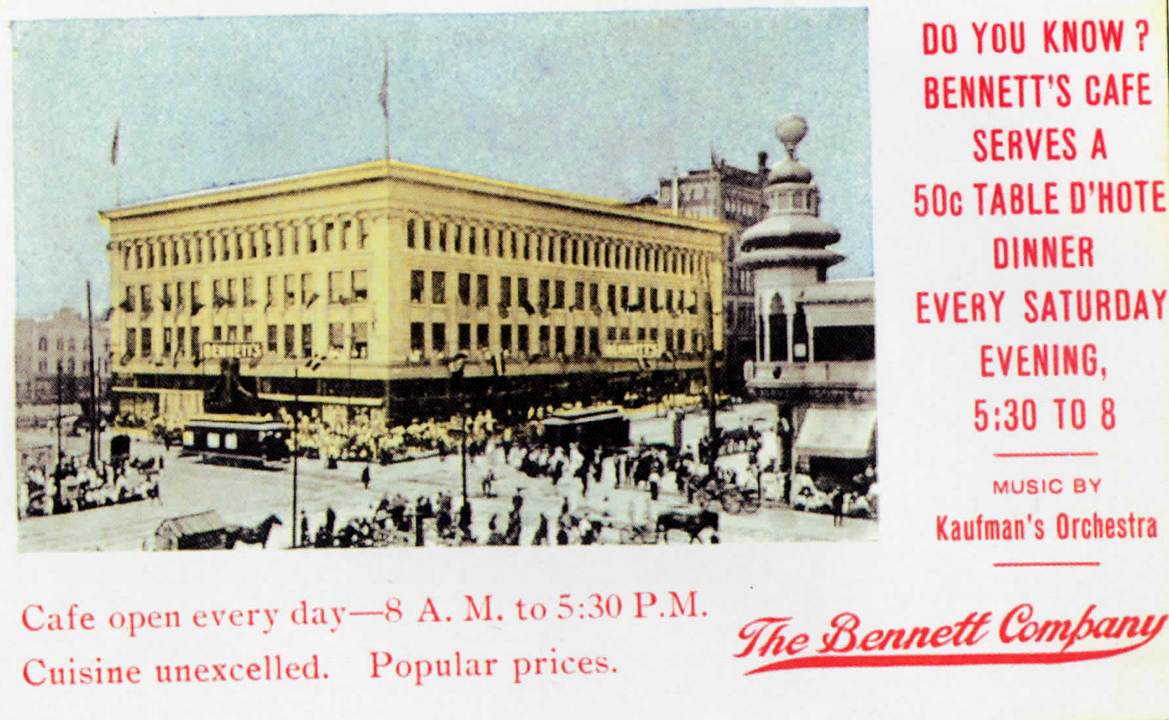 The Bennett Company 16th and Harney 1904 postcard. Unless I'm all turned around this photo was taken from the south east corner of 16th and Howard. The tall building to the north of Bennett's was the Boyd Theatre. You can see "Boyd's" painted near the roof. This would mean that the Bennett Co. had a Howard Street entrance and Sixteenth Street entrance.
Register of Deeds Office Cryptograms
According to the Register of Deeds Office files, Dyer O. Clark sold a portion of the 146 block to Anna H. Boyd in November of 1907. Anna H. Boyd, as you will remember, was wife of James E. Boyd of the Boyd Theatre. The western 1/3 and strip adjacent was sold. By 1910 "James E. Baum and wife" sold the eastern 2/3 of block 146 to Bennett Company in July 1910.The Deeds Office also revealed, in June of 1912 the Bennett Company leased the eastern 2/3 lot to the Orkin Brothers Company. This news was further backed up by an Omaha World Herald announcement on June 17, 1912.
Bennett Company to Orkin Brothers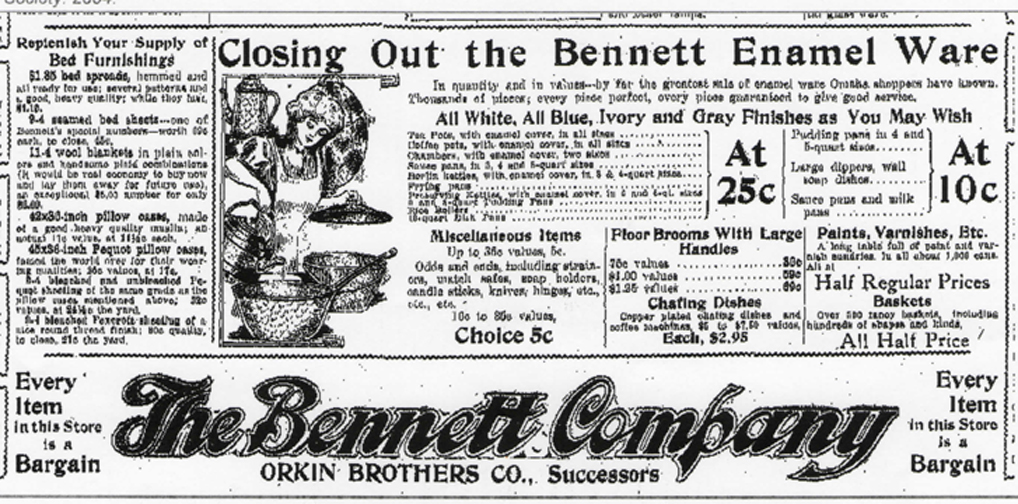 OWH June 17, 1912 The Bennett Company Orkin Brothers Co, successors "Closing out the Bennett."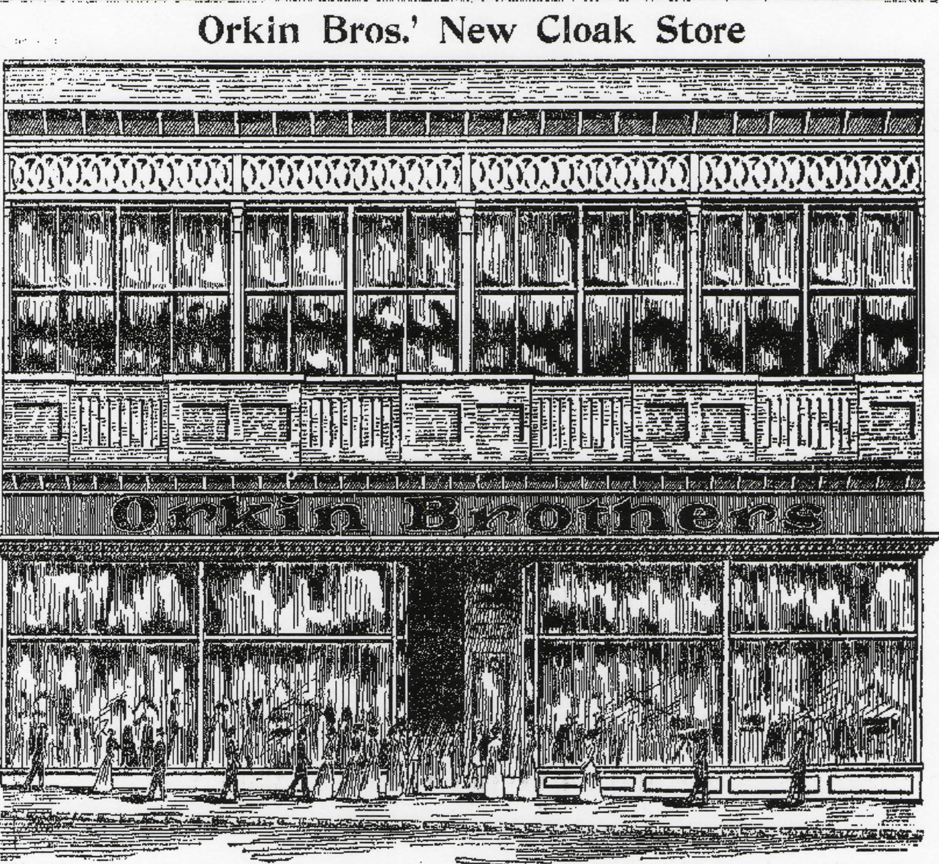 This Orkin Bros illustration could have been sketched by my favorite, Edward Gorey. I love the darkness and font.

On Dec 20, 1913 the Orkin Brothers announced"Our going out of the clothing business sale." The short-lived Orkin Brothers Company packed up their business about a year and a half after opening. Earlier, on May 1913 Anna Boyd sold "W 1/3 and strip adjacent to a Jesse Rogers." Anna Boyd continued to lease parts of the lots. Remember to remember the name Jesse Rogers.
The Burgess-Nash Company Emerges
The evidence led me to the Omaha World Herald's headline of January 15, 1914: "Burgess-Nash Company Succeeds Orkin Bros." Ward Burgess and Louis Nash apparently purchased controlling interest in company. "Mr. Burgess will be associated in the active management of the company only to such extent as Mr. Nash desires his aid. He will remain active in the M. E. Smith Company, but Mr. Nash will sever his connections with the Omaha & Council Bluffs Street Railway Company of which he is secretary." An additional advertisement from this day announced, "Next Monday morning at eight o'clock the new house of Burgess-Nash Co. will take over the business of Orkin Brothers and from that hour will start with the determination to develop a business which shall be a credit to itself and to the city of Omaha."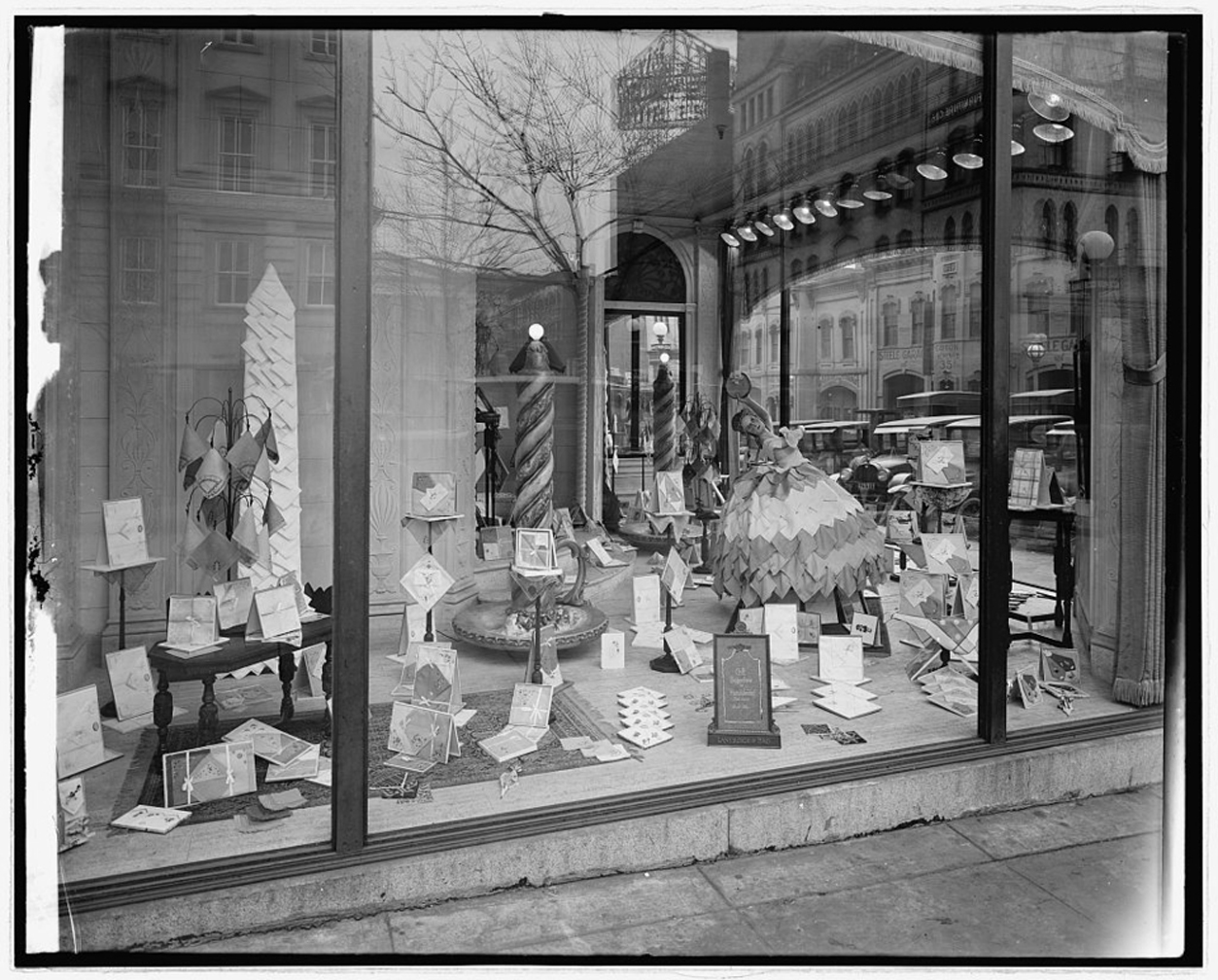 Department store window. Location unknown. Between 1910 and 1926. Library of Congress, Prints and Photographs Division, Washington, D.C.
Ward M. Burgess
This nosy Nancy Drew-er wanted to know a bit more about this Burgess character. An article from the Omaha Bee mentioned him in an article about prominent Omaha jobbers. Considered a "Leading Business Man" by the Omaha Chamber of Commerce newsletter of this time, he was known by his "Omaha, Let's Do It" reputation. Can this, please, become our state license plate motto? Just mull it over and we'll discuss later.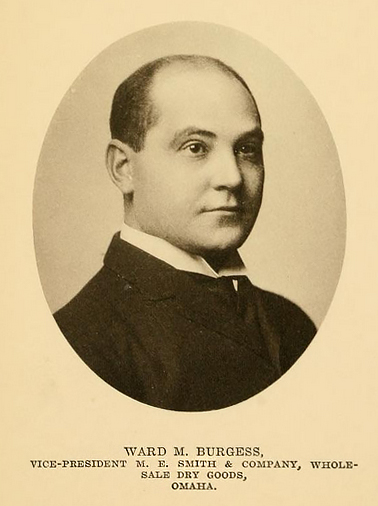 Ward M. Burgess photo from the Find a Grave site.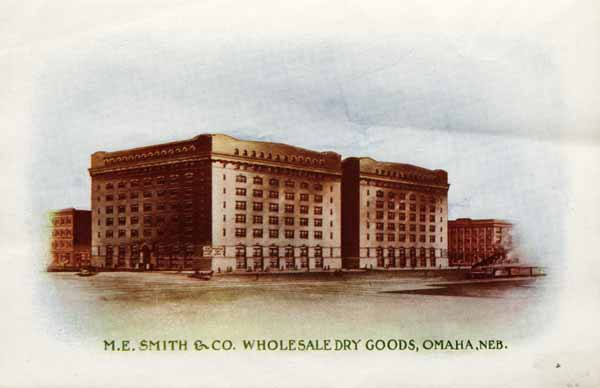 M.E. Smith Company. Ninth and Farnam. This building is still standing. Go have a peek. Burgess started in the mercantile business in St. Joseph, Missouri. He moved to Omaha and began working for the M. E. Smith Company, a wholesale dry goods business. Later Burgess was placed in charge of that large company after the death of Mr. Smith. He also spent time at Hamilton & Co. as an investment broker. Through a bit of shameless digging, I could see that Mr. and Mrs. Burgess were quite well connected. There was a senior Burgess who was part owner of the Boyd Theatre at one point. A relative? It was easy to find the Burgess name in the "Omaha Social Affairs" section. There were many prominent Omaha names, to include W. H. Wheeler, W. S. Poppleton, Joseph Barker, Luther Kountze, Moshier Colpetzer and Samuel Burns. But the friendship I was most interested to find was that of George Prinz and Ward Burgess. Yes, please file that away as well.
An Early Tip-off
The Register of Deeds Office filings allowed me to see Jesse Rogers had sold a large portion of the property to the C. B. Nash Company in May 1914. As you might remember from the The Secret of Burt Street story, the Catherine B. Nash Company was buying large swathes of downtown property in these years. Catherine Nash was also Louis Nash's mother. From the Omaha Daily Bee from May 17, 1914 "The largest single real estate transaction since January 1 was closed last week when a syndicate represented by George & Co. sold to the C. B. Nash Company, the Boyd Theater property at the southeast corner of Seventeenth and Harney streets for $245,000." The theatre was to be torn down and an extension built on the existing store.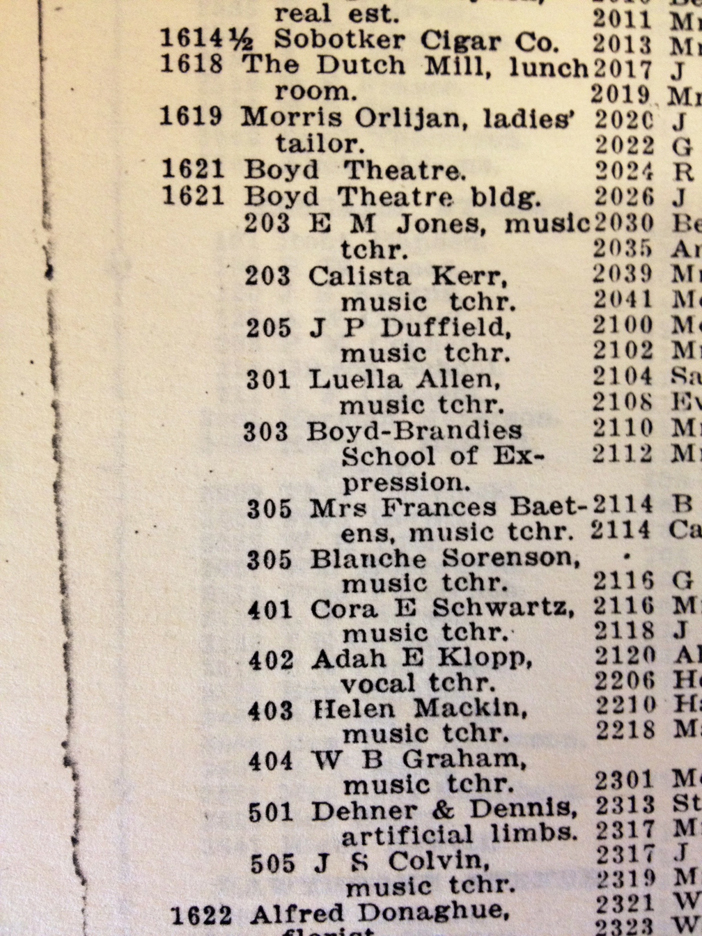 Omaha City Directory of 1914 showing the Boyd Theatre Bldg at 1621 Harney–just to give you an idea of the many professionals involved in the Boyd Theatre. Boyd-Brandies School of Expression. Fabulous. Was that a misspelling of Brandeis? Dehner & Dennis, artificial limbs?
Changes to Come
By the pronouncement in the Omaha World Herald, the Burgess-Nash Company bought out the Boyd with intentions of expanding the smaller store, previously occupied by the Orkin Brothers.The Burgess-Nash Company was often compared to New York City's Lord & Taylor Department Store. Considered the oldest luxury department store in the United States, founded in 1826, Lord & Taylor moved into its famous Fifth Avenue in 1914 in the same year Burgess-Nash started.
The Lord & Taylor Cut Flower Department in April 1914. The walls, ceiling and floor were clad in Rookwood Pottery's architectural faience. Since it was difficult to find interiors of Burgess-Nash Company, I have included a few Lord & Taylor interiors.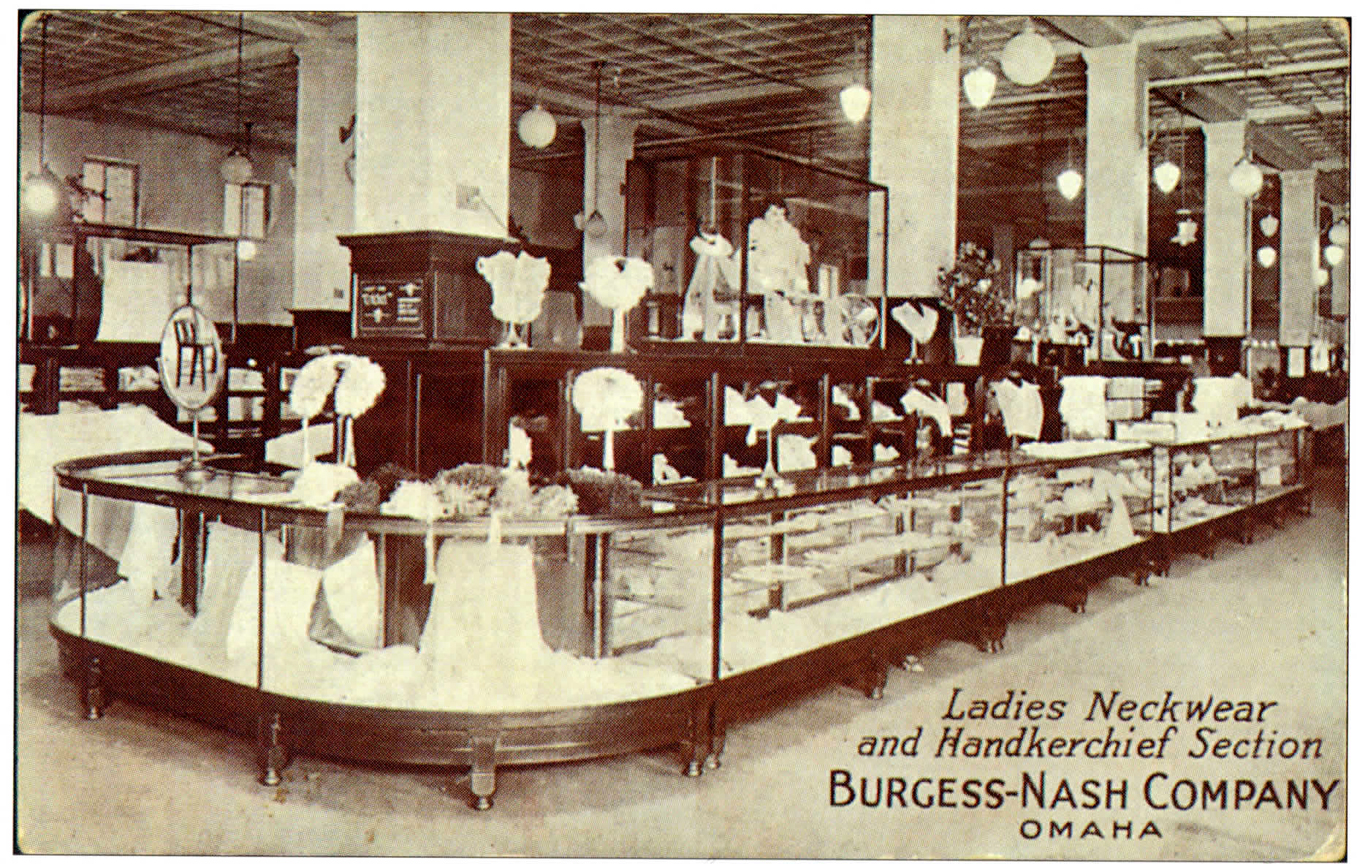 Ladies Neckwear and Handkerchief Section postcard from 1915. I was so pleased with myself to locate delicious descriptions of the Burgess-Nash Company in Mary Patricia Killian's book Born Rich: A Historical Book of Omaha. "Almost everything on the first floor was displayed in beveled glass cases with glass counter tops through which customers could view scarves, gloves, handkerchiefs, ribbons, collars and cuff sets, purses, jewelry and novelties. Customers wishing to examine articles were shown them on velvet or brocade runners placed on the glass counter tops." This was considered deluxe treatment in those days.
Cultural Side Notes about 1915
I love music from the teens. I add this tidbit because you might just love this music too or not know that you do yet. Check out the Phonographic Yearbook series by Archeophone. The entire series of songs from 1906-1922 are outstanding. Archeophone did an incredibly, difficult job of reconstructing these old original songs from 78s and cylinders. The 1915 record is called They'd Sooner Sleep on Thistles. The recordings from these times are ghost-like transmissions. So vivid. Also the album Music of the Lost Generation: 1910s-1930s is pretty fabulous. I believe that listening to music of other eras can really bring these times and imagery back to life. The popular themes and mode of expression give important clues.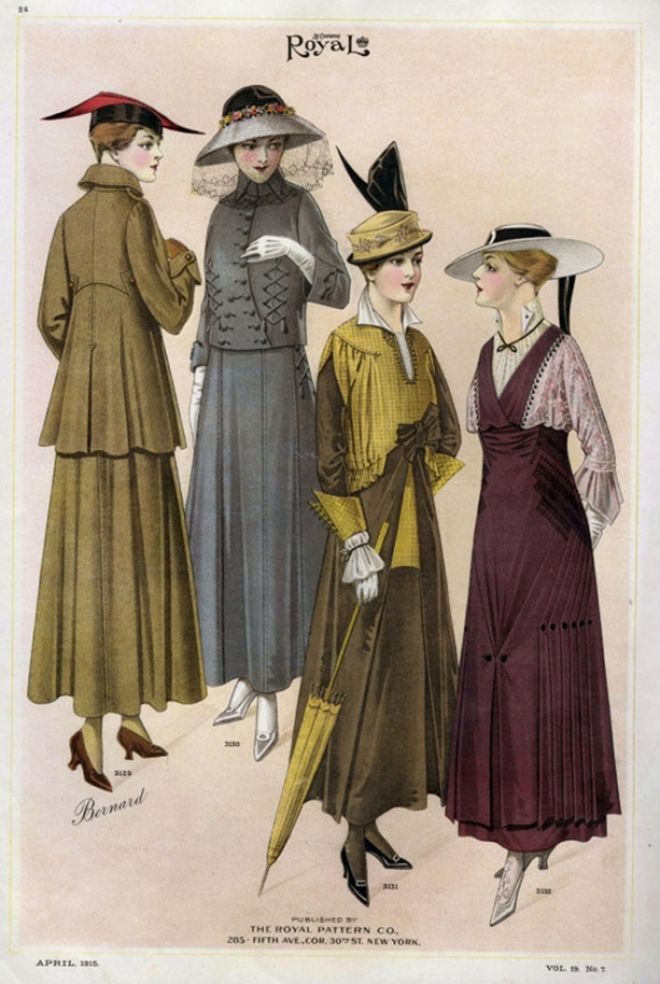 The Royal Pattern Company, USA. 1915. Downtown women's fashions of April 1915. Of course I am always interested in vintage clothing although not my particular favorite time period for fashion.
In 1915 Woodrow Wilson was president, we were in the first year of World War I, submarine warfare was new, the House of Representatives had rejected the proposal to give women the right to vote, Babe Ruth hit his first home run, the Rocky Mountain National Park was established, the second Ku Klux Klan group was established in Georgia and the sinking of the RMS Lusitania were the big news stories—for some perspective on the American collective consciousness.
Dawn of the Cricket Room
I received confirmation at last when I came across an Omaha World Herald article from July 3, 1915 announcing the origins of the Cricket Room. "The Burgess-Nash Co. opens its Cricket Room today. The name Cricket Room was chosen from over 5,000 suggestions from all over the United States for the attractive refreshment station on the first floor and adjoining Boyd Theatre. Miss Hallie Eichelberger of 4402 Prairie Avenue, Chicago, suggested the odd name and wins the $5 prize offered for the best title."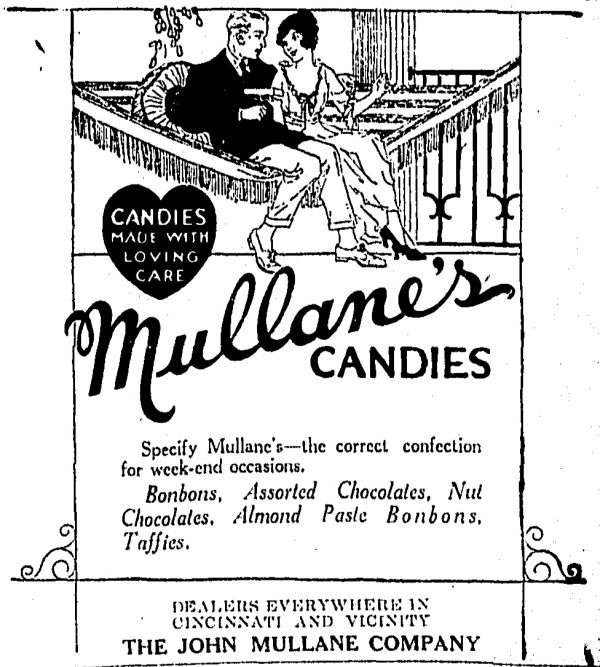 Mullane's famous Cincinnati candy. Their motto: The candy made with loving care. "The Cricket Room is under the management of the McVittie Candy Company, which will serve high-class beverages and sweets and sell Martha Washington, Zeus, Mullane and other candies. The room holds 100 at two and four chair tables."
Martha Washington candy ad from 1922. Their ads infamously boasted, "Old Time Home Made." There was also a stand alone Martha Washington Candy store further in Downtown Omaha.
J. T. McVittie, Candy Man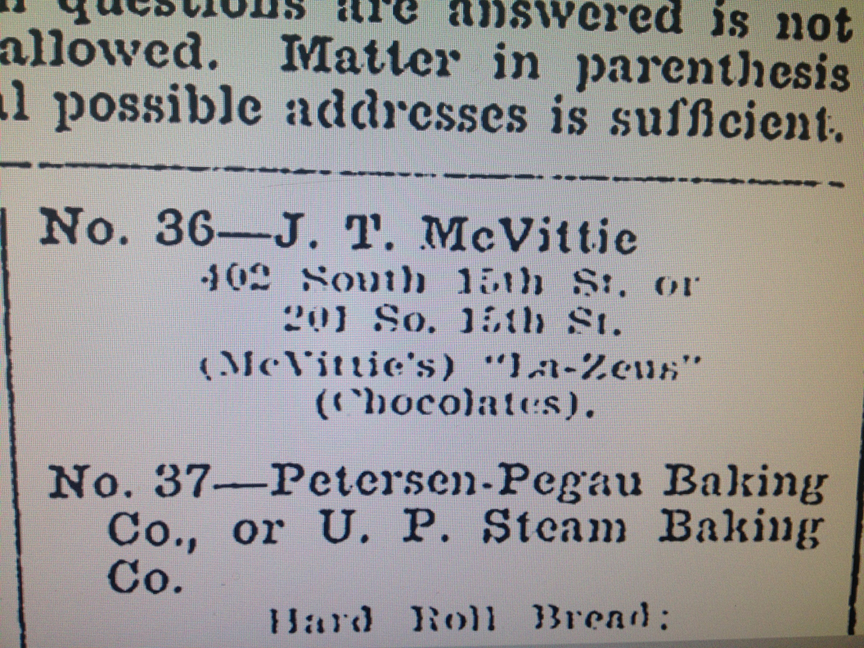 The name J. T. McVittie would come up over and over again in the research of the Cricket Room. Lo and behold, McVittie was a downtown fixture having operated J. T. McVittie Cigars and Candy Specialties on Fifteenth and Harney Streets for years. He also later made a business in the Orpheum Theater Candy Shop.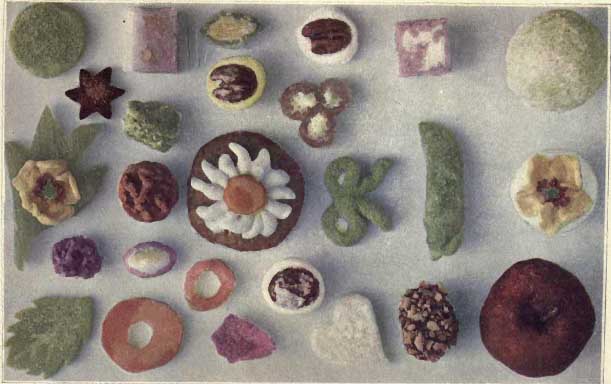 Confectioner's photo of what candies looked like in 1914. I tracked McVittie's name to the 1900 United States Census. James T. McVittie was 37 in that year and lived with his sister, Katherine McVittie who was 30. Born in Iowa, James McVittie had worked as a bookkeeper in 1900. He never married or had children that I could find evidence of. The cigar and candy shops of Downtown Omaha would go on to play host to many a colorful character during the Prohibition era. Please check out my story The Curse of the Clover Leaf Club for more details.
The Early Cricket Room
A great write up from July 21, 1915 encouraged visitors new to Omaha to visit the Cricket Room among other Burgess-Nash favorites like the "Piano and Talking Machine section" with its informal recitals as well as the "Scenographic reproduction of the Panama-Pacific Exposition in miniature on the Fourth Floor."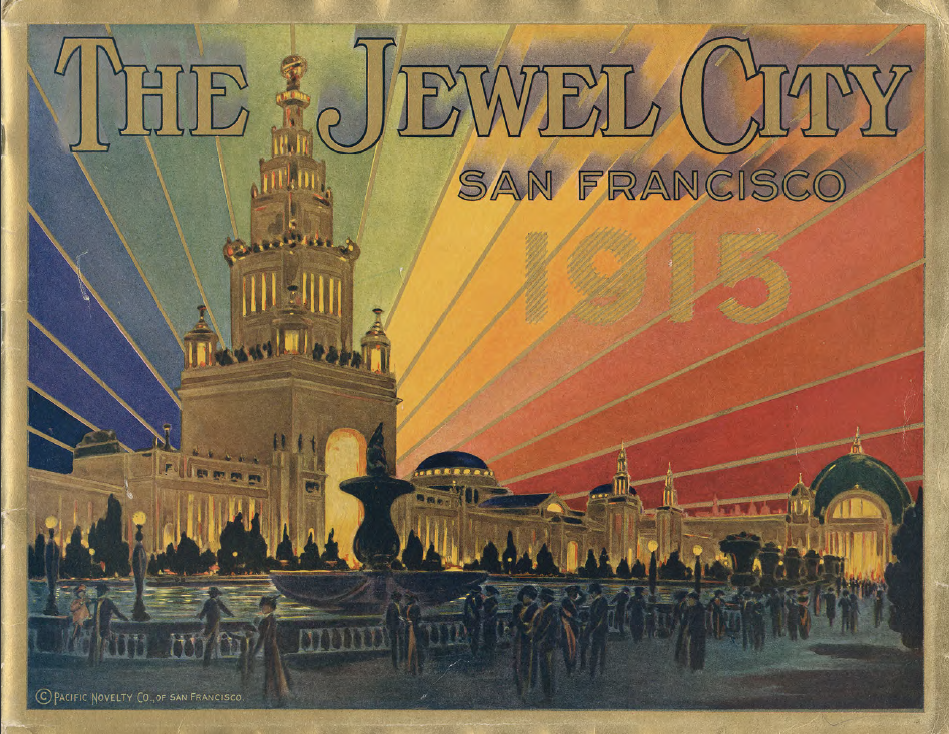 In February of 1915, San Francisco, California opened up the Panama-Pacific International Exposition. This is a souvenir booklet from that Expo.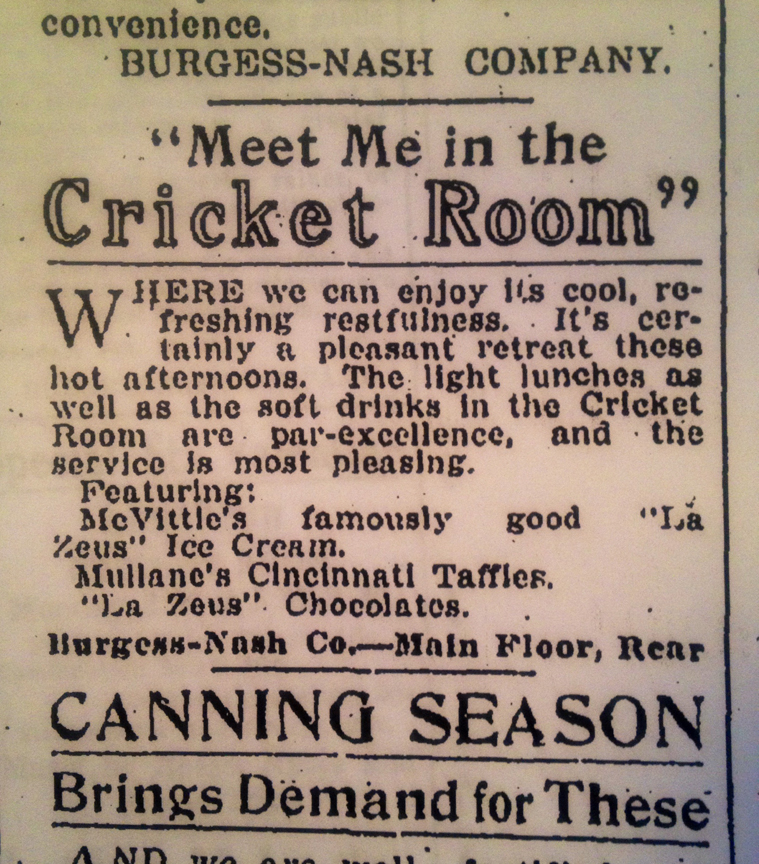 "Meet Me in the Cricket Room." OWH Aug 1915. Like a private men's club, women had their tearoom. The tearoom was customary in a fine department store. I also learned that the ladies' tearoom served as an important community-gathering place over the years for the suffragette movement.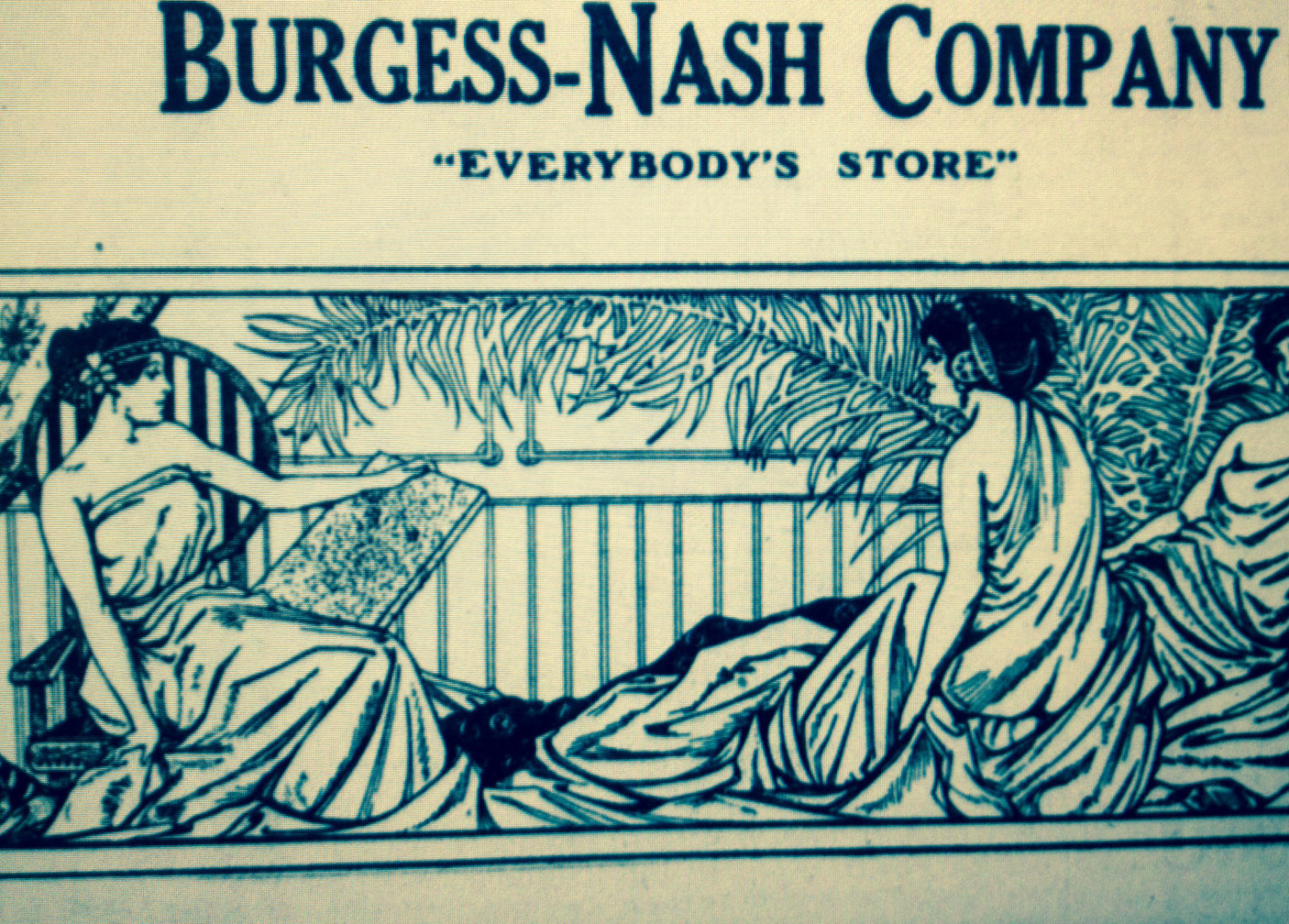 Omaha Daily Bee from September 19, 1915. Burgess-Nash "Everybody's Store" ad for Cricket Room grand opening. Formal opening of the Cricket Room. Proclaiming a state of completion and perfected service. The Cricket Room is a restful retreat where you are served with dainty Light Lunches and purest confections, featuring exclusively La Zeus Ice Cream and Martha Washington Candies.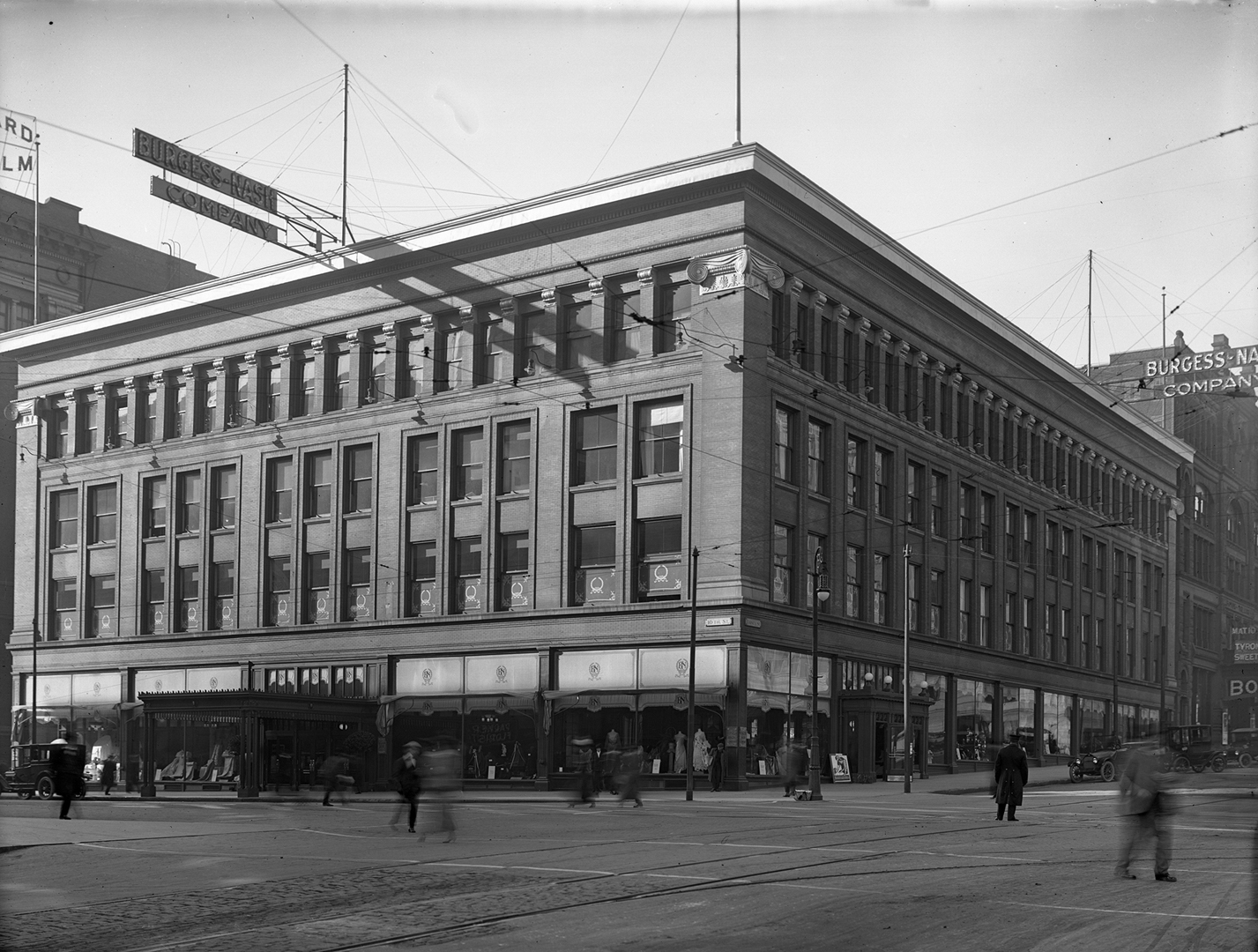 Exterior of Burgess Nash Company at 16th & Harney Streets. November 16, 1915. This photo was taken from the south east corner of 16th and Howard. It reveals both the large southern Howard Street entrance and the smaller 16th side. Note the partial "BO" of the Boyd Theatre marquee on the right side. (Photo courtesy of the Bostwick-Frohardt/KM3TV Photography Collection at The Durham Museum Photo Archive).

Another angle of the Boyd Theatre with the Burgess-Nash sign visible. (Photo courtesy of the Bostwick-Frohardt/KM3TV Photography Collection at The Durham Museum Photo Archive).
1916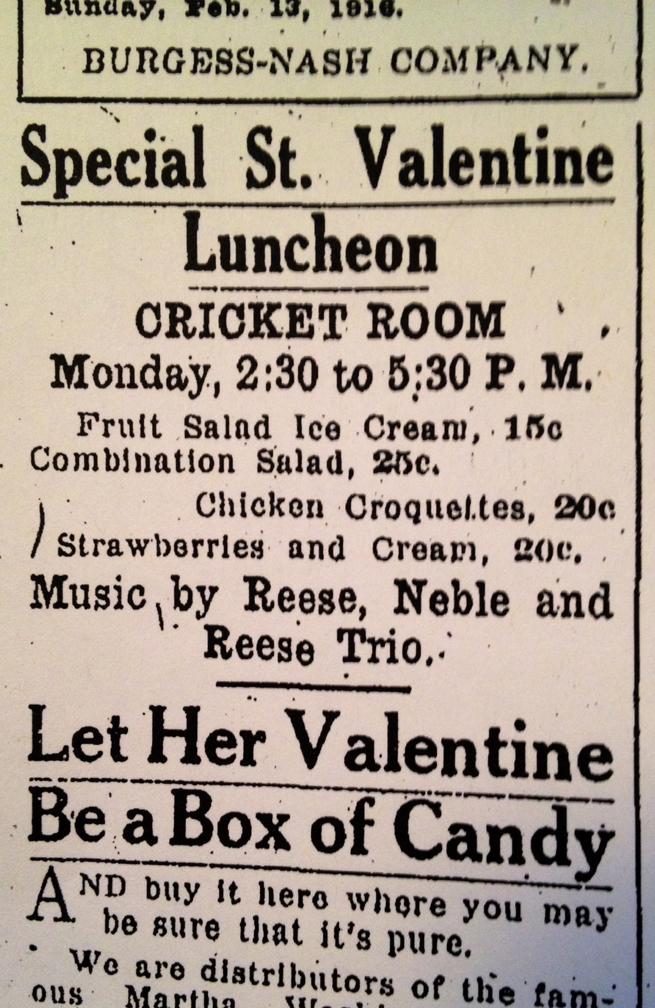 OWH Feb 13, 1916 "Special St. Valentine Luncheon." I love that they had live music playing in the Cricket Room.
May 6, 1916 in OWH I found an article about a water pipe bursting in the Boyd Theatre engine room. "A city water pipe on Seventeenth, between Harney and Howard Streets, burst in the street late last evening, flooding the engine room of Boyd's Theater to the depth of a foot and a half and seeped through to the Cricket Room on the first floor of the Burgess-Nash Company to the depth of two inches before the flow was shut off."
A review that I particularly love from OWH December 17, 1916: "The Burgess-Nash Cricket Room is one of those cozy, comfortable and cheerful places where you get waited on by quickly moving and pleasant young women, and where the cooking is wholesome, dainty and inexpensive. Dishes that are supposed to be served hot are served hot, and those that are supposed to be served cold are served cold. You can get anything to eat that can be gotten in any other luncheon room and a number of others that can't be found, for they have on the list some of their very own special. Noonday luncheons are served from 11 o'clock to 2 o'clock." But what did it look like? I was dying to hear what it looked like and was having a hard time finding any interior shots.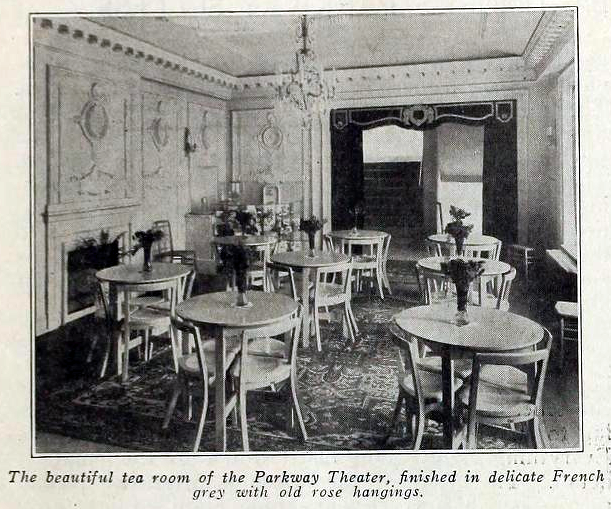 Was it like the Parkway Theater Tea Room in Baltimore, Maryland? 1916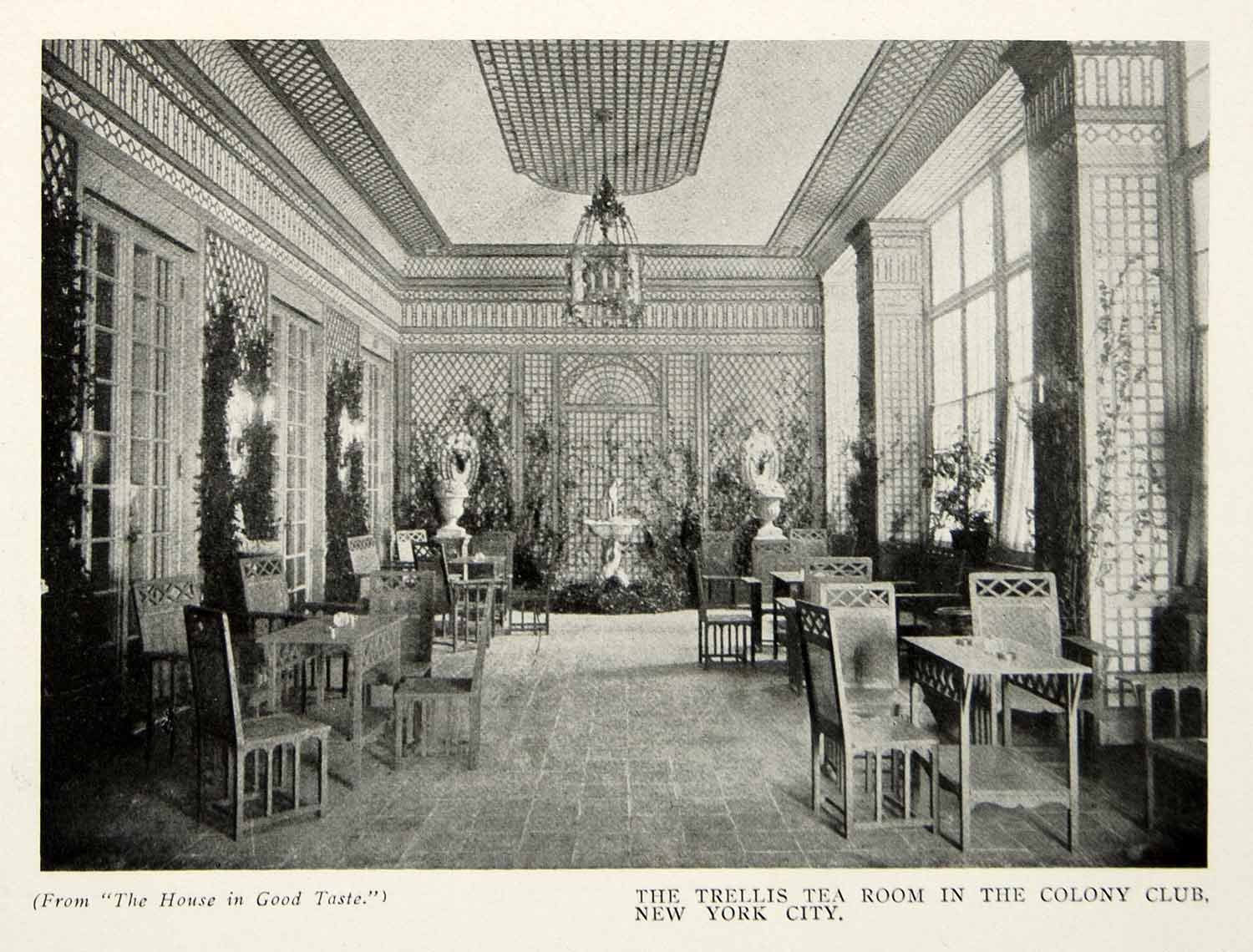 Did the Cricket Room look like the garden themed Trellis Tea Room at the Colony Club in NYC?  1916
More Clues and a Cricket Room for Teens
After an exhaustive search, I found that the Cricket Room became something of a teen dream hangout around this time. There's a beautiful description in Margaret Patricia Killian's fantastic book, Born Rich: A Historical Book of Omaha. Please savor these words: "Burgess and Nash Department Store, which occupied the entire half block on the southwest corner of 16th and Harney Streets, had a lovely lunchroom and after-school area called the Cricket Room. The beautiful divided stairway that ascended from the first floor to the mezzanine space was approached through a wide aisle in the center of the store. At the base of the stairway one was impressed but as the customer neared the top, the chirping of crickets would be heard from the thick foliage encircling a fountain. It was simulated sound, of course, that continued intermittently all day." Oh my word…..thick foliage around a fountain….with crickets chirping? Too much for the imagination.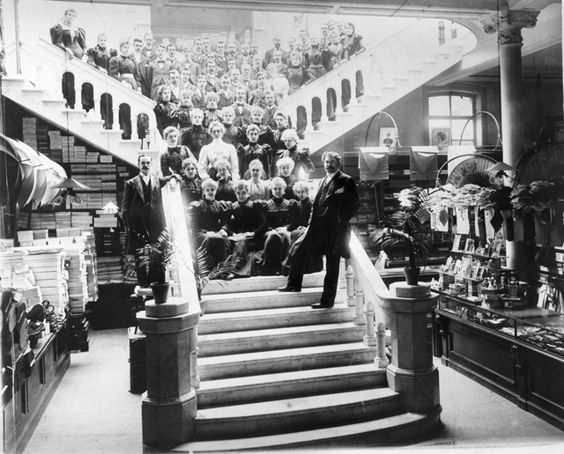 A split staircase with the staff of Anderson and McAuley's department store in Belfast–only used to illustrate the concept. Various society children were in the newspapers, announcing their birthday parties at the Cricket Room. Affluent women would entertain large groups of friends there as well.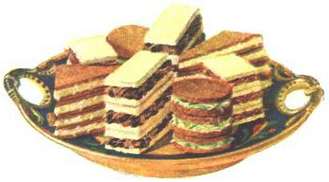 "The room, itself, was spacious and tastefully furnished in fashionable ice cream parlor style. The Cricket was always filled with high school students as soon as classes were over." She described the delightful sandwiches prepared on white bread with delectable fillings spread "at least three quarters of an inch thick." A sandwich cost ten or fifteen cents and an ice cream soda was a nickel. I found an advertisement from this period announcing that a whole special luncheon in the Cricket Room was 35 cents a plate.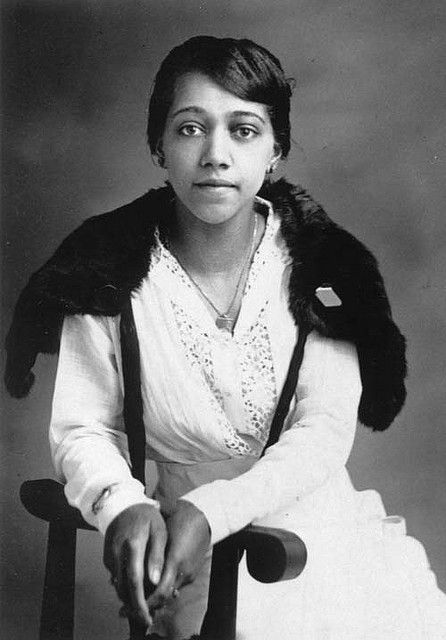 Although I said that I didn't really prefer clothing from this time period, I think this young woman looks exceptionally smart and stylish in her late teens attire.
1919
From the Nebraska State Historical Society records of 1919, I chanced upon a bit of publicity for Burgess-Nash based off of the new popularity of the Curtiss-Canadian airplanes. "The Omaha company realized the opportunity here and took the agency and actually stocked the machine. Three aeroplanes were received ten days ago, and all of these were sold. The Burgess-Nash Company of Omaha, the big department store, bought one plane. While this is largely an advertising 'stunt,' nevertheless the company declares that in some cases it will use the plane for delivering." The curious could see one of the new Curtiss-Canadian planes on exhibition in the salesroom of the Stewart Motor Company. With a wingspread of forty-seven feet, it could accommodate two passengers and was capable of a speed of seventy-five miles per hour."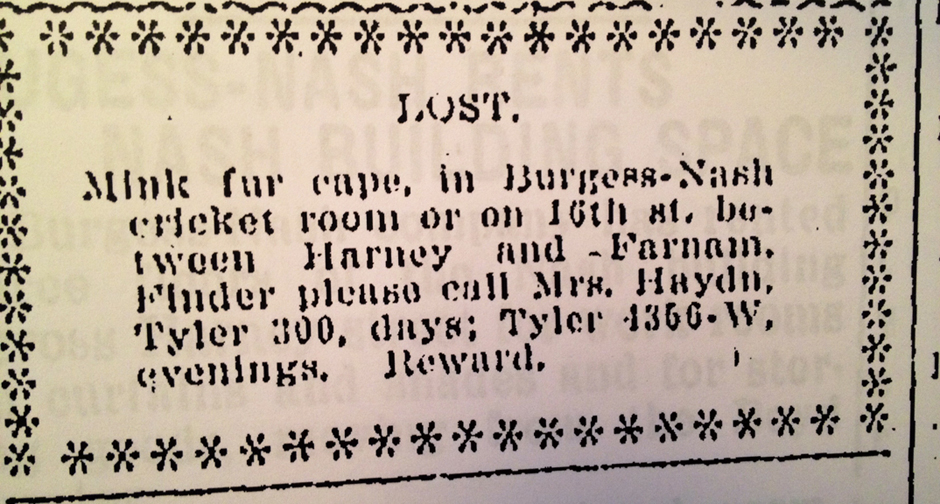 This missing mink fur cape ad did not escape this vintage clotheshorse detective. A real sign that the Cricket Room had arrived was this "Lost" ad placed in the Omaha World Herald in May of 1919.
On July 8, 1919 the World Herald announced the Burgess-Nash Company would be renting three floors of the Nash building across Harney for workrooms on the Boyd Theater. "The Cricket Room and lunch room now in the Boyd Theater, will be moved temporarily to the fourth floor of the Burgess-Nash store after razing of the theater begins." The article mentioned a recent trip that Louis Nash and "Architect Prinz" had made to the coast to look into a change of pillar design and other structural features. It wouldn't be long until the Boyd Theater was razed.
1920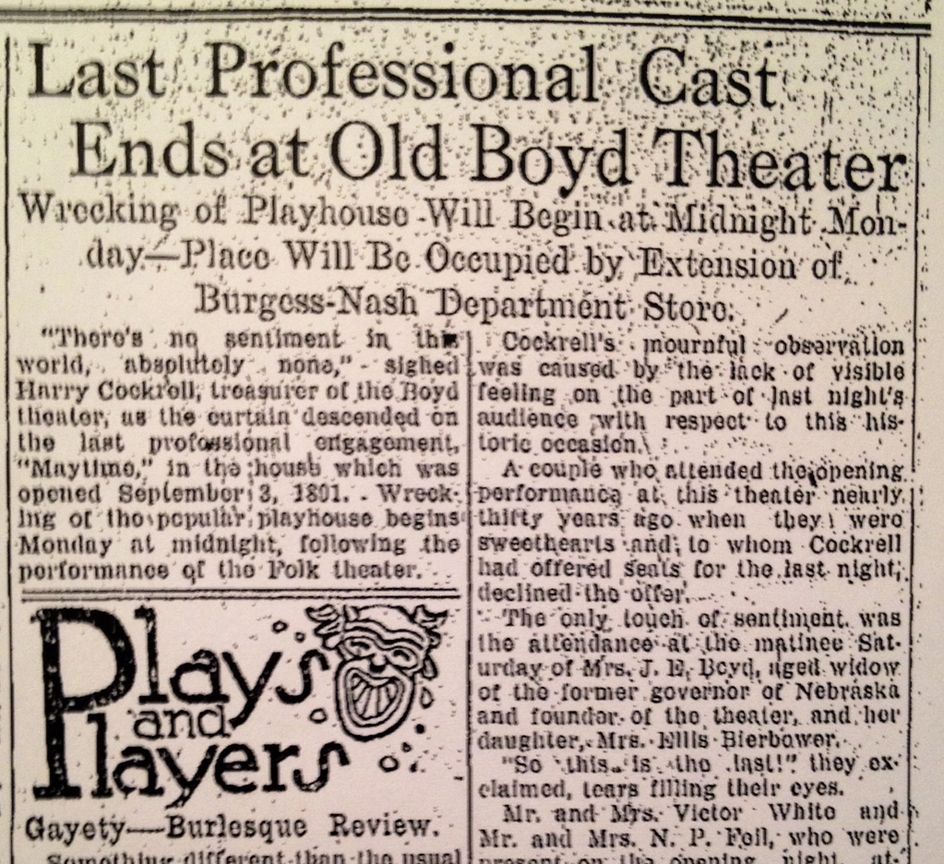 Last Professional Cast Ends at Old Boyd Theater. A very sad story, indeed, from February 1, 1920 reported that the Boyd Theater would meet the wrecking ball the very next Monday at midnight. Midnight? Harry Cockrell, treasurer of the Boyd Theater, was quoted as saying, "There's no sentiment in this world, absolutely none." The story went on to reminisce the last twenty-nine years of the Boyd playhouse.
Some very important changes were to come. C. B. Nash Company sold to Burgess-Nash Company in April 1920. If you recall, this reshuffling of affairs was discussed in The Secret of Burt Street.
By 1920 the Cricket Room was advertising their infamous "dainty lunch." From Lord & Taylor ads and other American tearooms of this same time period, I could see that the dainty lunch was a thing. A very big thing. "Have a dainty lunch or a cool drink in our Cricket Room Fourth Floor. Try one of our delicious Ice Cream Sodas."
The Ward Burgess Clues
At this time Ward Burgess became president of Burgess-Nash Company. In the United States Census of 1920, Ward Burgess (age 49) and his wife, Margaret (47), were living in Omaha with all of their children. Charles, their eldest, was then 22. Their son, Louis was 20 and daughter Margaret was 11. Also living in the home were domestic help: Lenona Temples, 24-year-old governess from Switzerland who spoke French. Margaret Aarbjerg (that's a whole lotta Margarets) age 30 was a maid from Denmark who spoke Danish. Augusta Madverin was a 49-year-old widowed cook from Switzerland who spoke German. This could have been interesting an interesting mix.  George Coleman was a 62-year-old "janitor" from New York.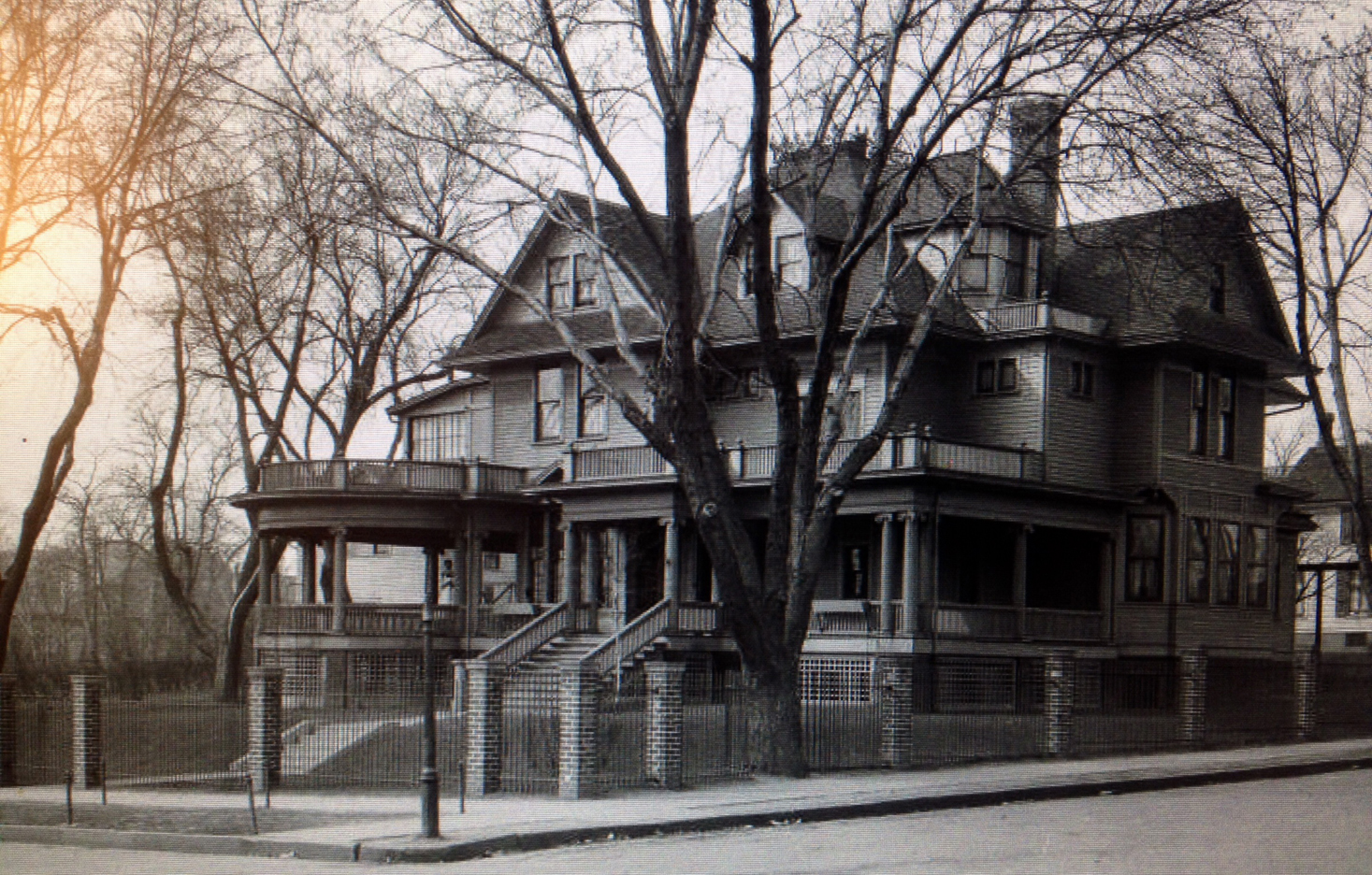 Ward Burgess house located on the corner of 22nd street and Capitol Avenue in Omaha Nebraska. Large home and side yard surrounded by iron fence. Just look at that…and think what is at 22nd and Capitol now. (Photo courtesy of the Bostwick-Frohardt/KM3TV Photography Collection at The Durham Museum Photo Archive).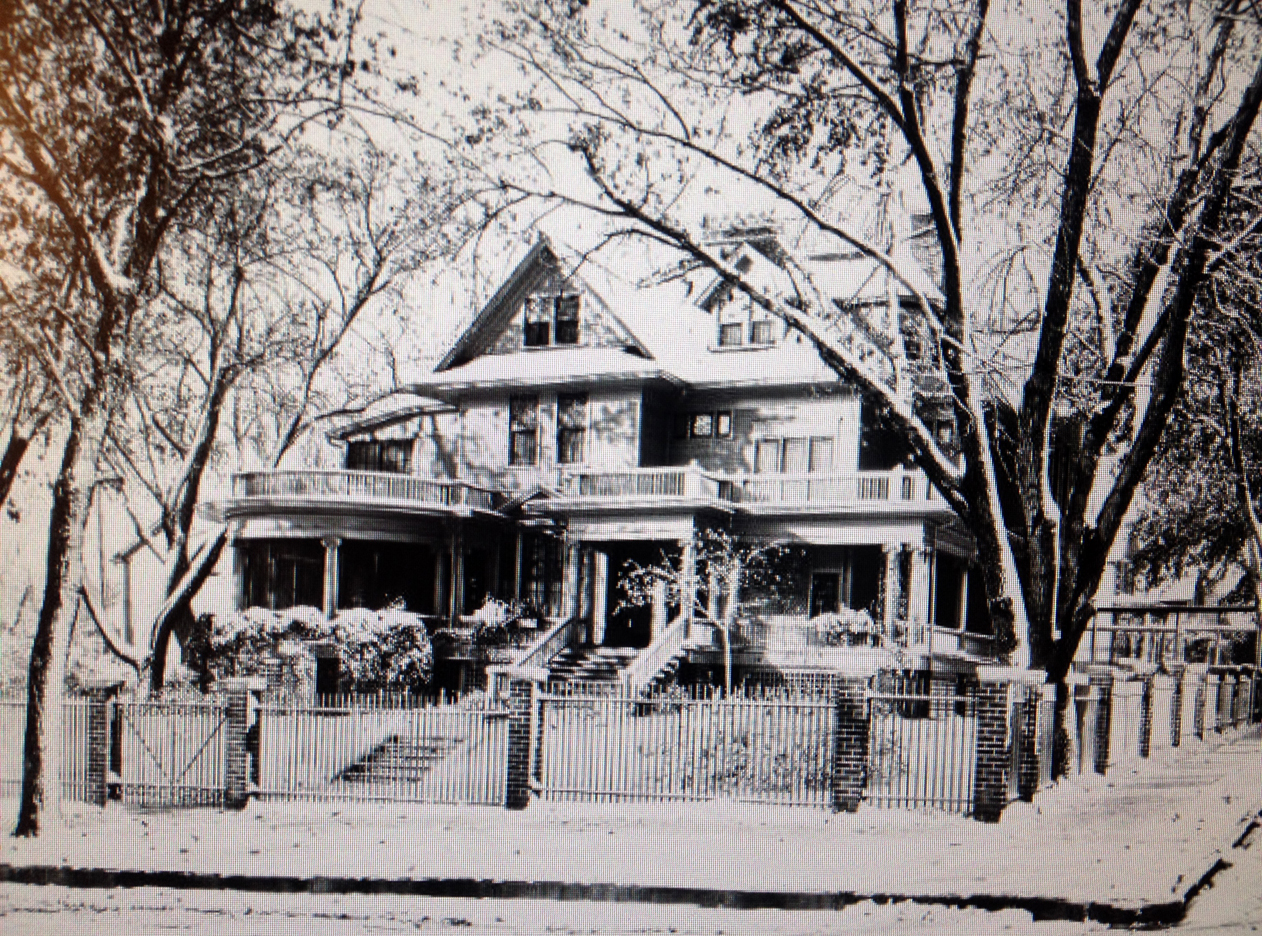 Here is yet another one because everything looks prettier covered in snow. I later learned that the exact address was 122 North 22nd Street. (Photo courtesy of the Bostwick-Frohardt/KM3TV Photography Collection at The Durham Museum Photo Archive).
The Louis Nash Clues
Louis C. Nash photo taken from the incredible book Omaha: The Gate City and Douglas County Nebraska Vol. II by Arthur Cooper Wakeley. In 1920 Louis Nash was Vice-President of the Burgess-Nash Company. He was son to the prominent Nash family. The United States Census of 1920 showed Louis C. Nash then age 39, married to Janet Eunice Rogers Nash (age 37). I began to wonder if Jesse Rogers, who initially sold the property to Burgess-Nash, was a relative of Janet's. Miss Cassette would be willing to wager this was family. Their children were Edward Watrous Nash (obviously named for his grandfather, Louis' father) was age 14. Louis was 12 and Ellen was 9. Elizabeth, the youngest was 8. Also living in the home was the Nashes' domestic servants: Hilda Holm (19), Alma Reiser (18) and Alice Mantle (52.)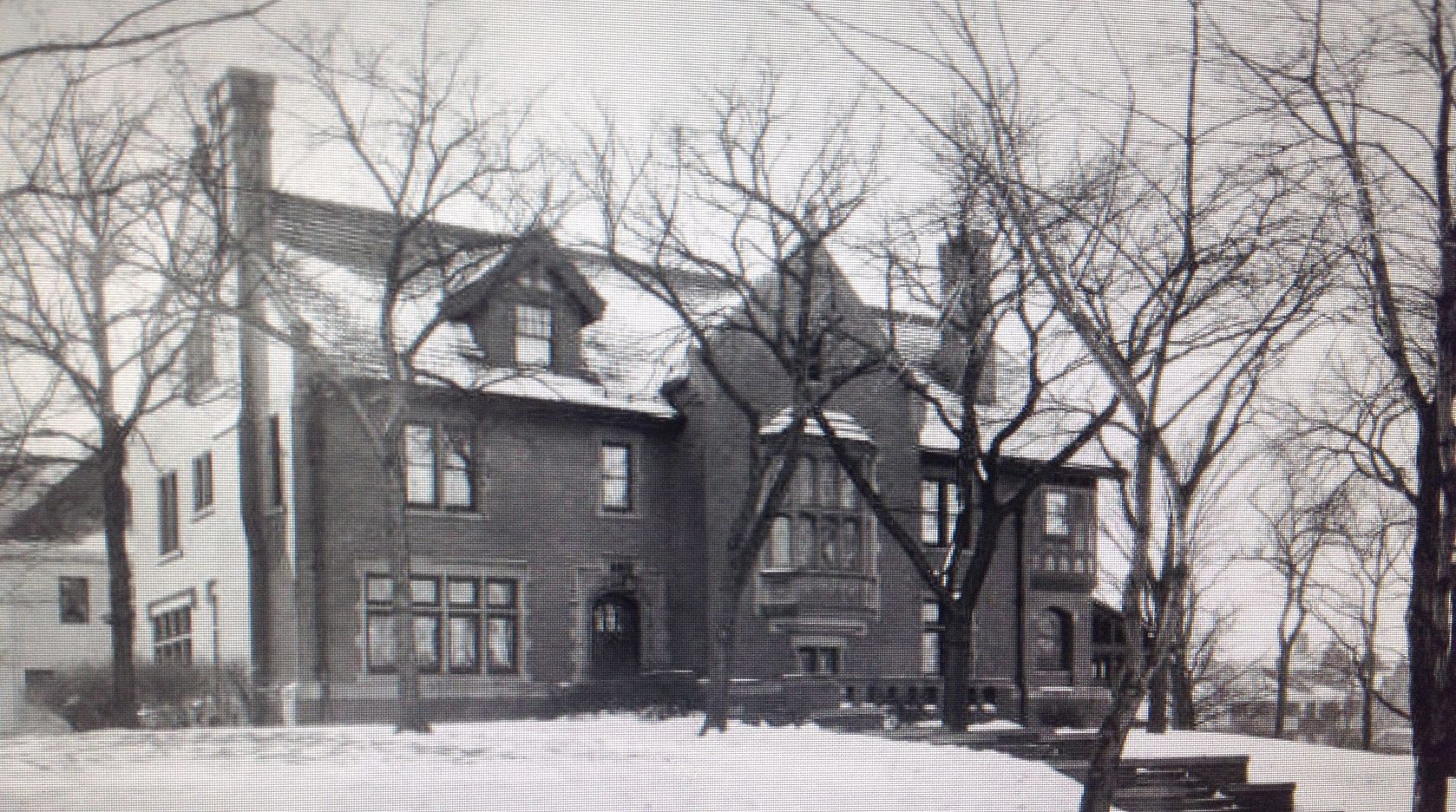 The Louis Nash snowy home at 3807 Burt Street. Still standing beautifully. (Photo courtesy of the Bostwick-Frohardt/KM3TV Photography Collection at The Durham Museum Photo Archive).
Mystery Photo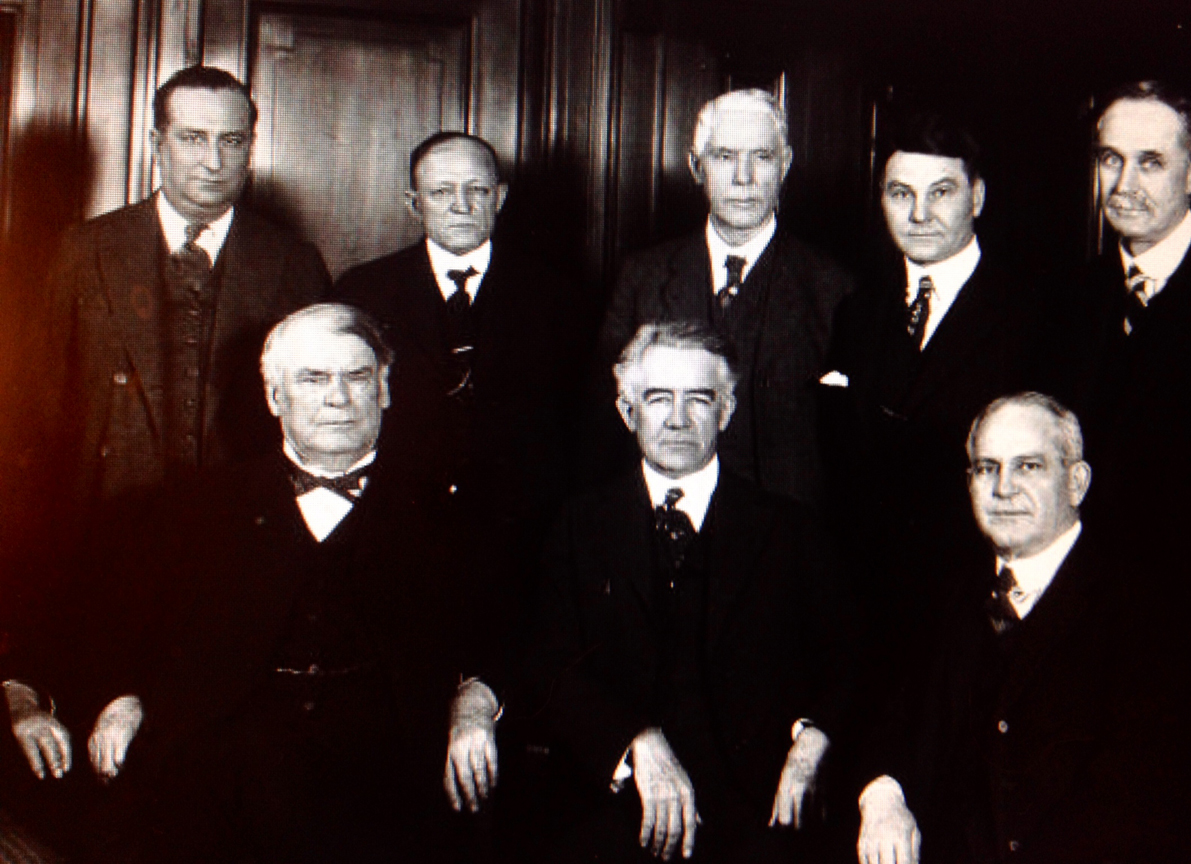 I also found this photo labeled "Omaha National Bank directors and four senators" from 1920. Louis Nash is seen in the back far left and Ward Burgess is shown in the back second to the right. Also shown are Senators Norris Brown, Gilbert W. Hitchcock, Frances Warren (of Wyoming – father in law of General Pershing), and  Joseph H. Millard. Arthur C. Smith,  Judge E.E. Good (Associate Justice State Supreme Court), George A. Day, William F. Gurley, and Walter W. Head. February 3, 1920.(Photo courtesy of the Bostwick-Frohardt/KM3TV Photography Collection at The Durham Museum Photo Archive). I began to wonder if Burgess and Nash were also on the board of directors of the Omaha National Bank?
The George Prinz Clues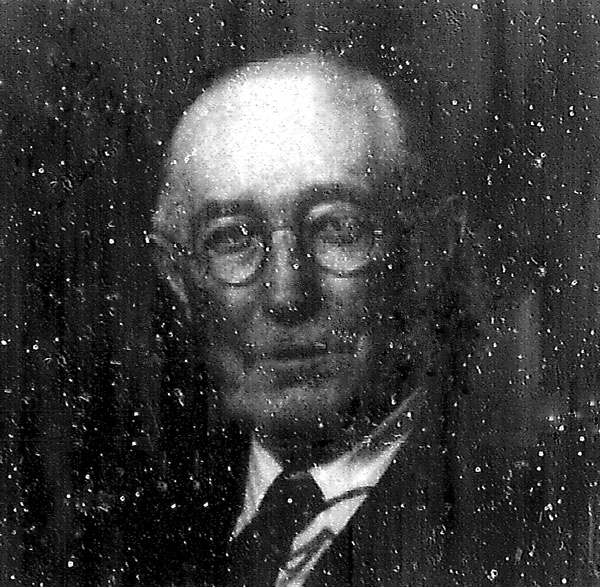 George Bernhard Prinz was hired as architect for the new addition to Burgess-Nash Company. Prinz originally worked for architect Thomas Rogers Kimball but in 1909 set off on his own. A friend to both Burgess and Nash, Prinz had already successfully designed Louis Nash's gorgeous home at 3807 Burt St in 1906. Prinz in 1937 (Photo from the Nebraska State Historical Society.)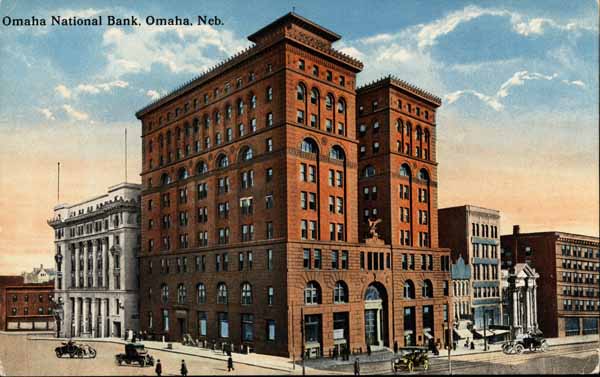 I tracked George Prinz' office at that time to the historic Omaha National Bank Building at 1650 Farnam Street. One of my favorite buildings in Omaha, this structure was originally known as the New York Life Insurance Building. A number of characters in my articles called this building their office over the years.
New Design for the Burgess-Nash Company
With the addition of the George Prinz building, the Burgess-Nash Company was officially on the moneyed map. The Company was looked upon as a well-appointed, posh department store, adopting "the most up-to-date ideas" and amenities available at the time. Their 1920s million-dollar department store would roughly be a $12,515,000.00 department store by 2016 standards. And we can bet the 1920s building materials and interiors were of the highest quality.
I know this is a bit long, but I find these descriptions fascinating.
"First Floor, which is connected directly with the older part of the building, a men's department has been added. A Mezzanine floor with a barbershop and smoker's department are features that will interest men. The second floor will be known as the 'piece goods department.' The feature of the third floor is the women's ready to wear department. The decorations on this floor are attractive and elaborate. There are black and white rooms and many new and convenient arrangements that will please the public."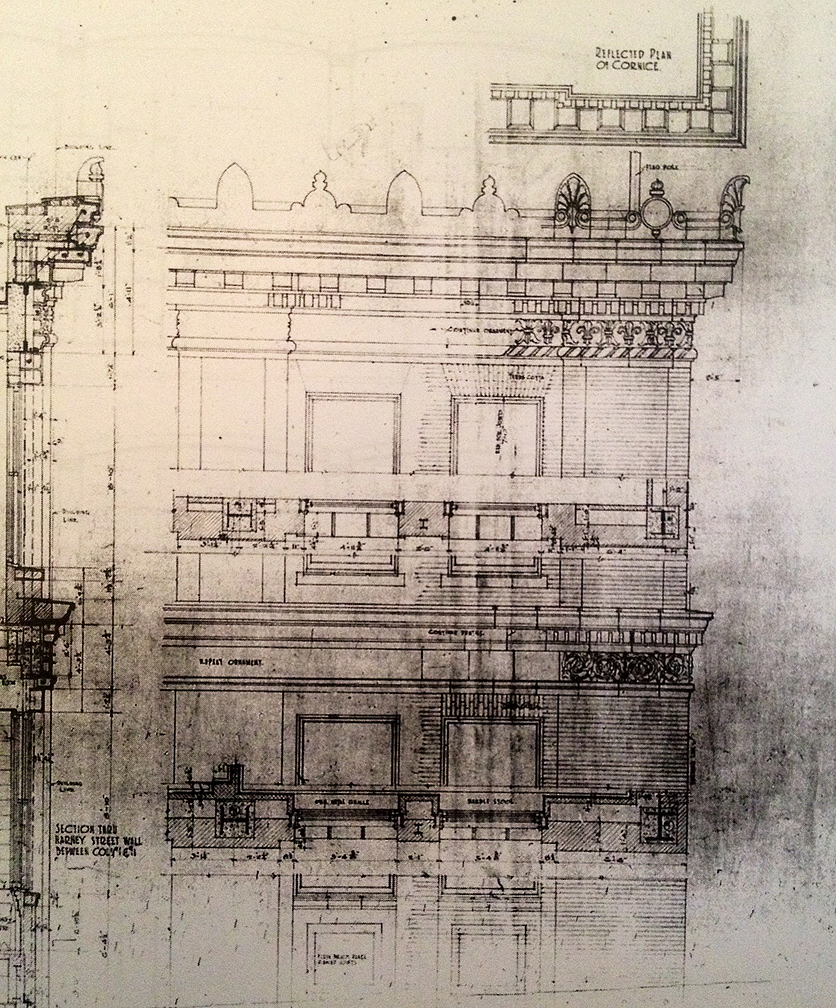 The front of the building, facing Harney Street. The new addition was in the place of the Boyd Theatre on the Harney side. George Prinz' original plans. Thanks to Trina Westman of the Omaha Planning Department for getting me these gems.
"The fourth floor will furnish a surprise and delight for people who appreciate artistic decorations, particularly in the home. The Burgess-Nash Company has given Mr. W. G. Colling, their decorator, full and complete authority to build and arrange on this floor a series of rooms and apartments which will be known as 'galleries' devoted exclusively to decorative art as applies to the home. The reception room connected with these galleries will be a dream in old Venetian. The entrance, the walls, the floors, and the lighting fixtures—everything will be harmonious and artistic to the last degree. The fifth floor will be the home of the music department."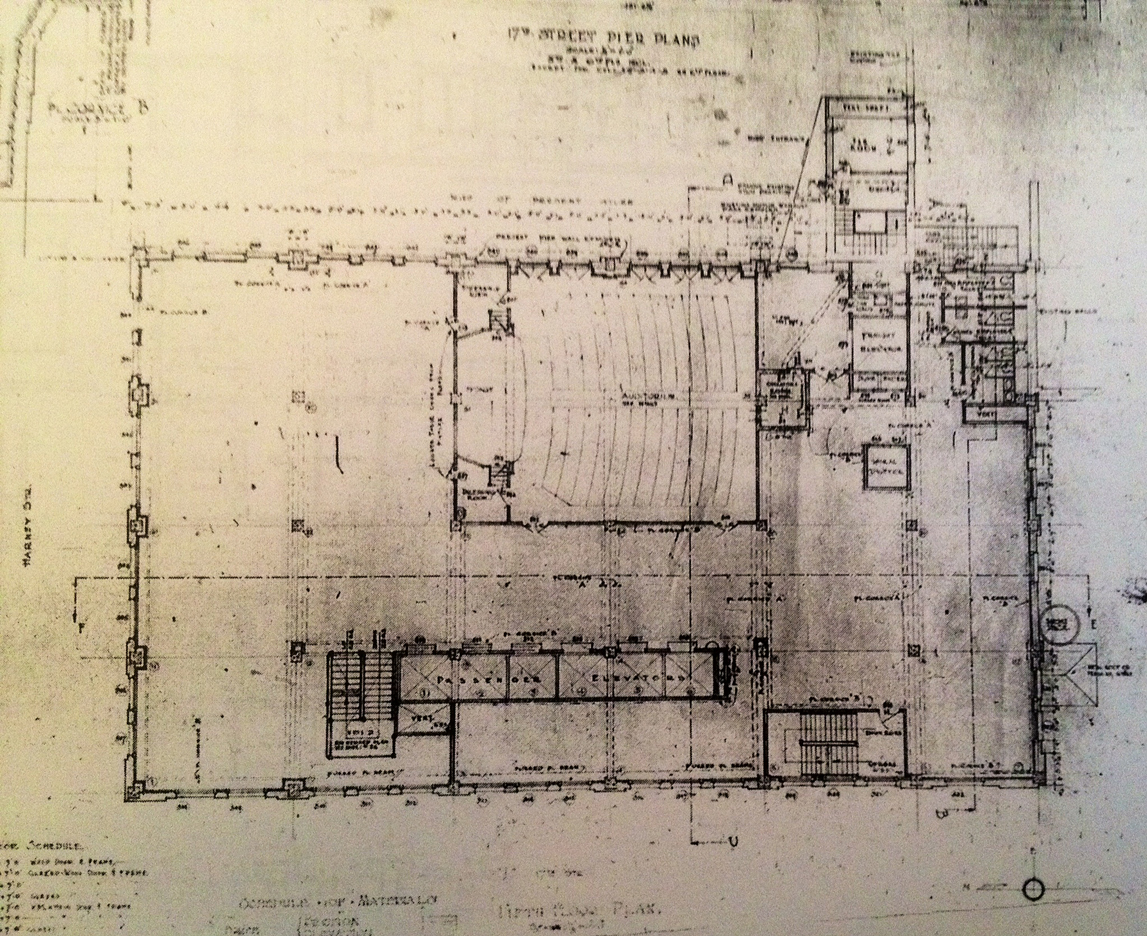 "A large piano room, also a victrola room, connected with a neat and commodious auditorium with a complete stage, characterize the main feature of this floor." The auditorium described as seen in George Prinz' original plans. Thanks to Trina Westman of the Omaha Planning Department.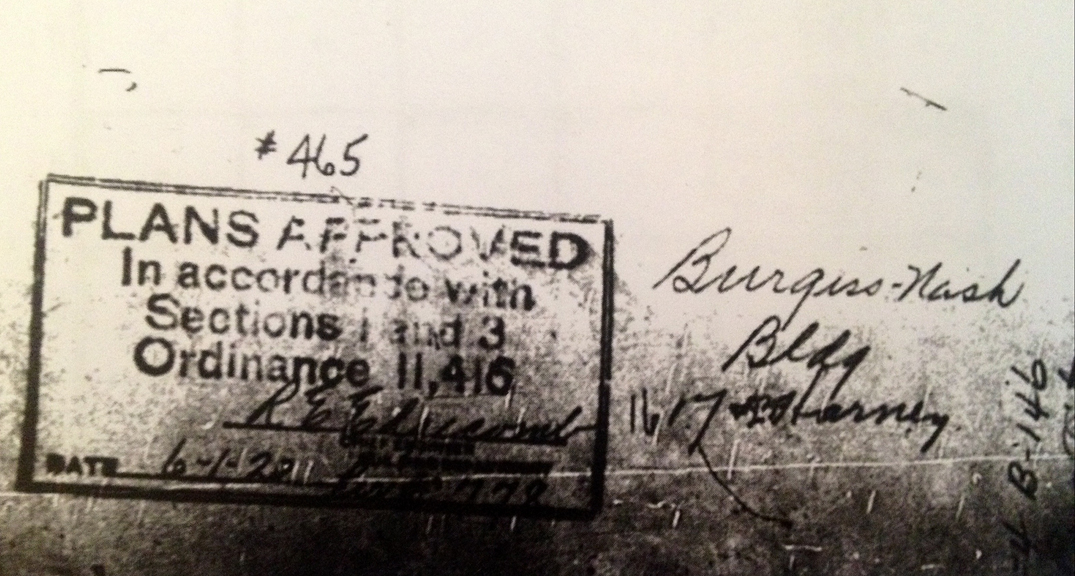 Plans approved by the city in 1920. George Prinz' original plans. Thanks to Trina Westman of the Omaha Planning Department.
"On the sixth floor are the offices of the company, admirably arranged and furnished. The seventh floor will be one particularly interesting to the public. Here we find the women's tearoom or dining room—a large, airy, attractive and beautifully furnished. The department will be in charge of Miss Stephania, who has had years of experience, in conducting dining rooms in connection with commercial establishments. The feature of the eighth floor is the fur repairing department and the large fur storage room. In this storage room the temperature is kept at 32 degrees. The room is strictly fireproof and very large, capable of storing a half million dollars worth of furs.
**Addendum of September 28, 2020.** A wonderful local detective reached out recently with a brilliant clue. She wrote: "While eating breakfast with my sister and her boyfriend this morning at Louie M's Burgerlust, I couldn't stop staring at a framed brochure cover on the wall by our booth. It said to come visit the Burgess-Nash Tea Room, and I was stunned at how pretty it was. I found your article while waiting for my food, and loved the idea of having somewhere to get dressed up and have tea in such a lovely setting. I read through the whole article and saw that you were unable to find a picture of the Tea Room! This photo must be post-Cricket room, but maybe it will still be of interest to you. Ann Clay." Here is that fabulous photo now. Thank you so much, Ann Clay, and good looking out!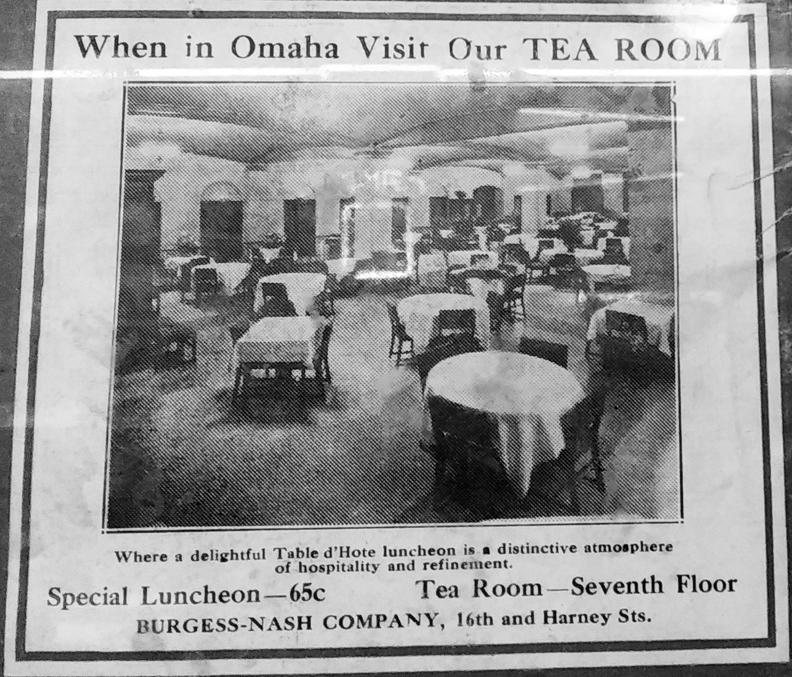 The ninth floor is unique and practical for the reason that it is devoted entirely to the employees of the establishment. There are rest and recreation rooms on this floor for both men and women. There is an emergency hospital, which will be completely equipped with a doctor and a nurse in attendance. There are lockers, baths, lavatories—everything necessary for the comfort and convenience of the employees."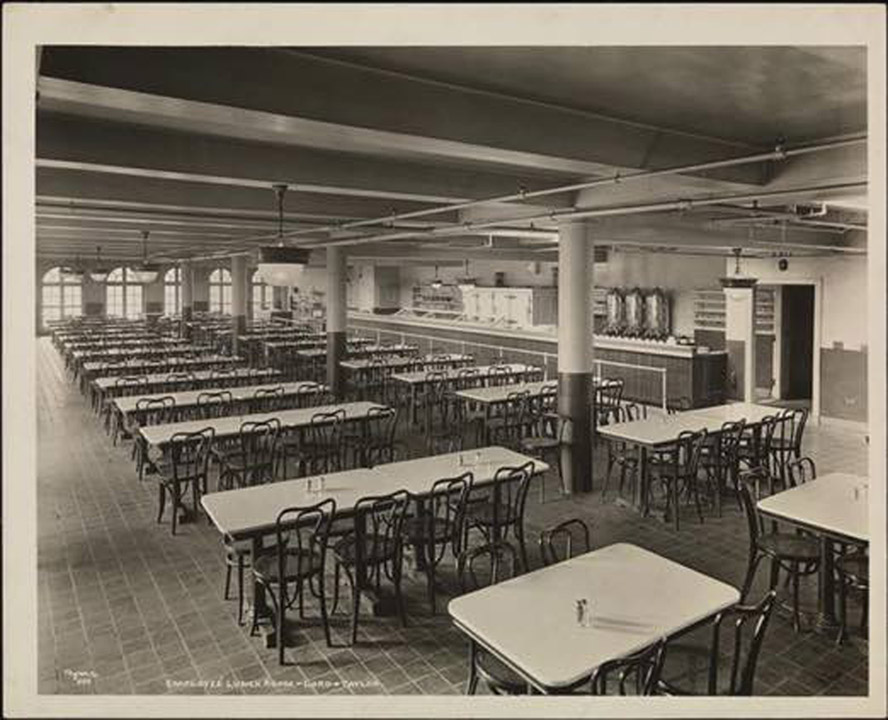 "On this floor there is a large and well-equipped dining room and the employees will be served with hot meals direct from the kitchen. Along the north side of this dining room is a large roof garden overlooking Harney Street, which can be used as an outdoor dining room in warm weather. The entire arrangement is admirable and indicates that the Burgess-Nash Company gives serious thought to the welfare of their employees." Photo is of the Lord & Taylor employee dining area from this time period.
Press from 1920
Another ad from November 1920, made mention of the Rest Room appointed with "Comfortable chairs, rockers and lounges, where you may rest or meet your friends. A free telephone booth with free service to all parts of the city."Miss Cassette would have liked this as a teenager. "A writing desk with stationery, where you can pen your letter."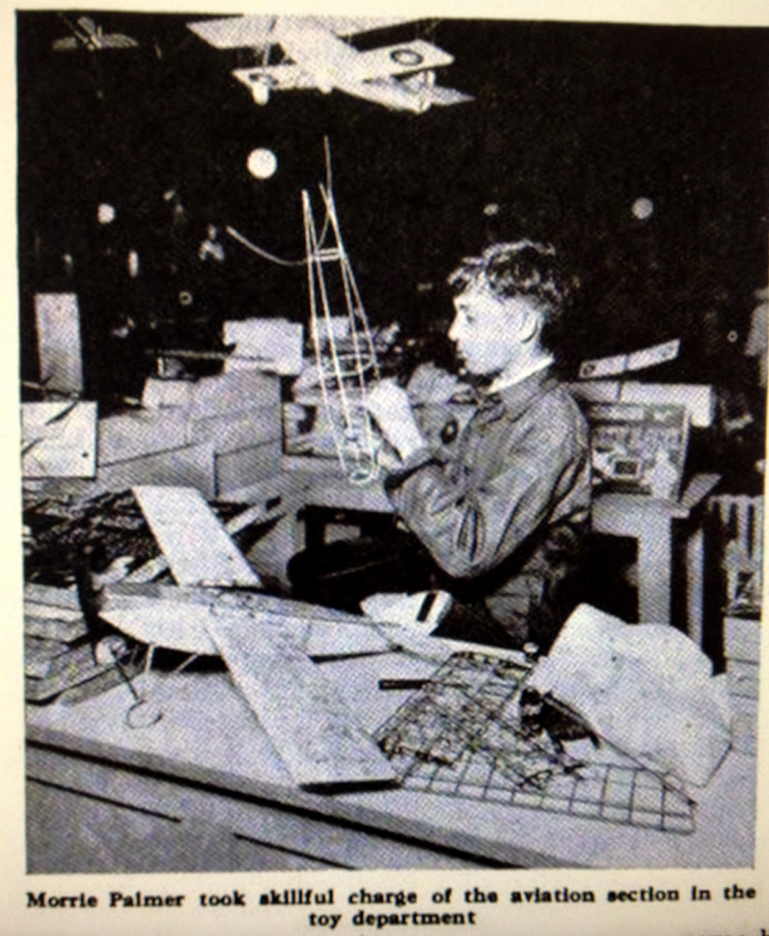 1920 "A Children's Market, Too," by Arthur H. Little from Business Vol. 2 magazine. The story concerns Miss Mary Marston, advertising manager of the Burgess-Nash Company, an Omaha department store concern, and the children of Omaha…The article mentions "For the first time the handsome new store building of the Burgess-Nash Company, adjoining the old store and then not quite ready for occupancy, was thrown open for public assembly—for that extra special Christmas party to the little unfortunates." 1920 photo of Omahan Morrie Palmer playing with airplanes in toy department.
Illustration of Burgess-Nash Company with plane flying by from Omaha Chamber of Commerce Journal, Volumes 9-10, Published 1920 the New York Public Library. Note the plane flying above in the illustration. Now I have a better understanding of why that plane was shown! "One of the most progressive and important transformation in the retail district of Omaha in recent years is that which has taken place during the past eighteen months at Seventeenth and Harney Streets. Where the Boyd Theatre stood two years ago, there now stands a palatial nine-story department store, know as the new Burgess-Nash building. The new structure is strictly fireproof of reinforced concrete and brick construction. The new building adjoins the Burgess-Nash store fronting on Sixteenth and Harney Streets and the entire establishment now covers more than half a block of ground."
Mysterious End of the Cricket Room
I stumbled across a dismal little announcement from the Burgess-Nash Company on January 30th of 1921. The brief proclamation let Omaha know the Candy Department and Cricket Room would be discontinued until the new building was complete. They mentioned the Candy Department in the addition "will be one of the largest and most complete in the city and our Café and Tea Room will occupy one entire floor and will be one of Omaha's show places." The Cricket Room was never mentioned in Omaha papers again.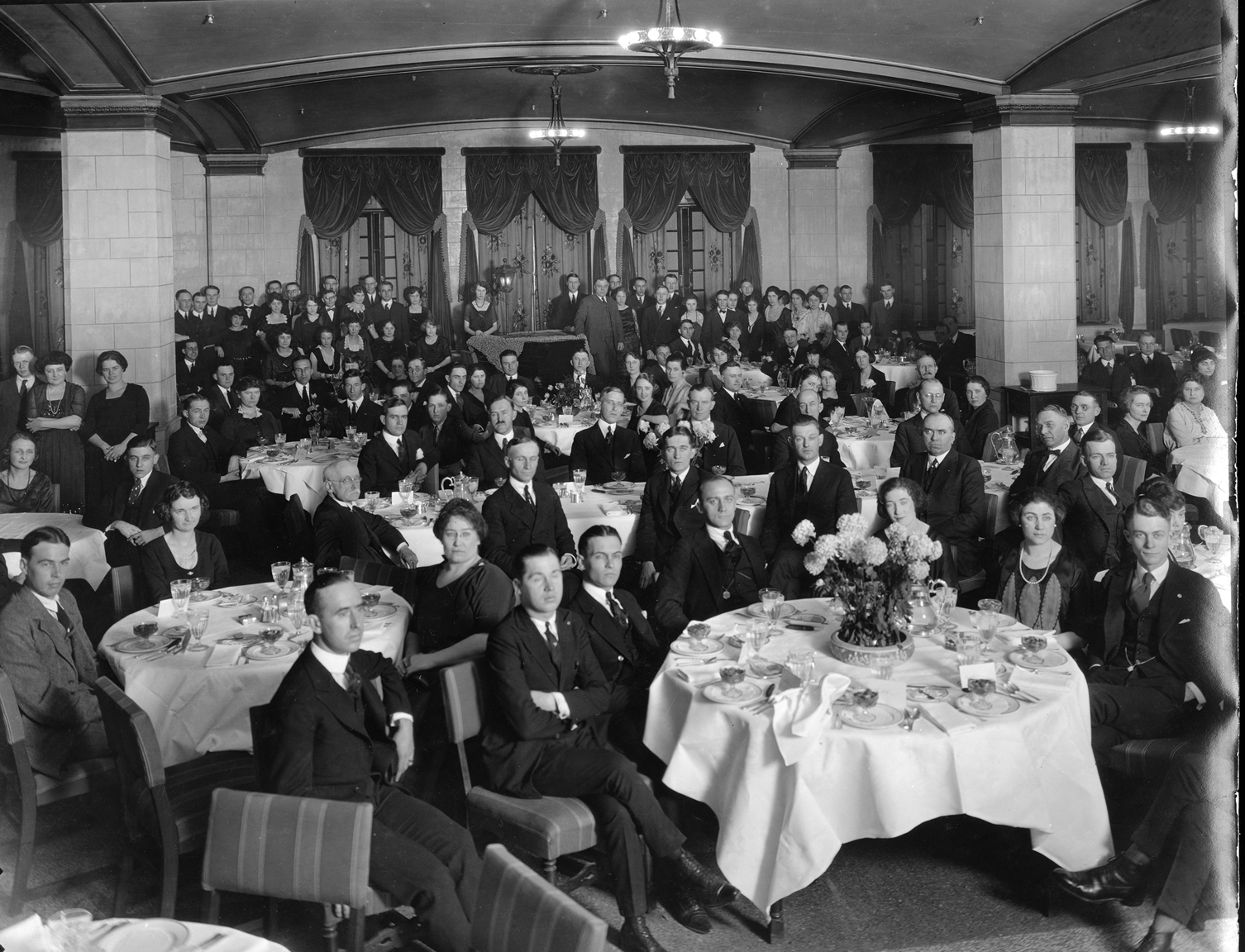 Mystery photo labeled "Formerly the Burgess Nash Tea Room." Could this have been the Cricket Room? Most likely this was the new tea room, after they had closed the Cricket Room. November 18, 1921. (Photo courtesy of the Bostwick-Frohardt/KM3TV Photography Collection at The Durham Museum Photo Archive).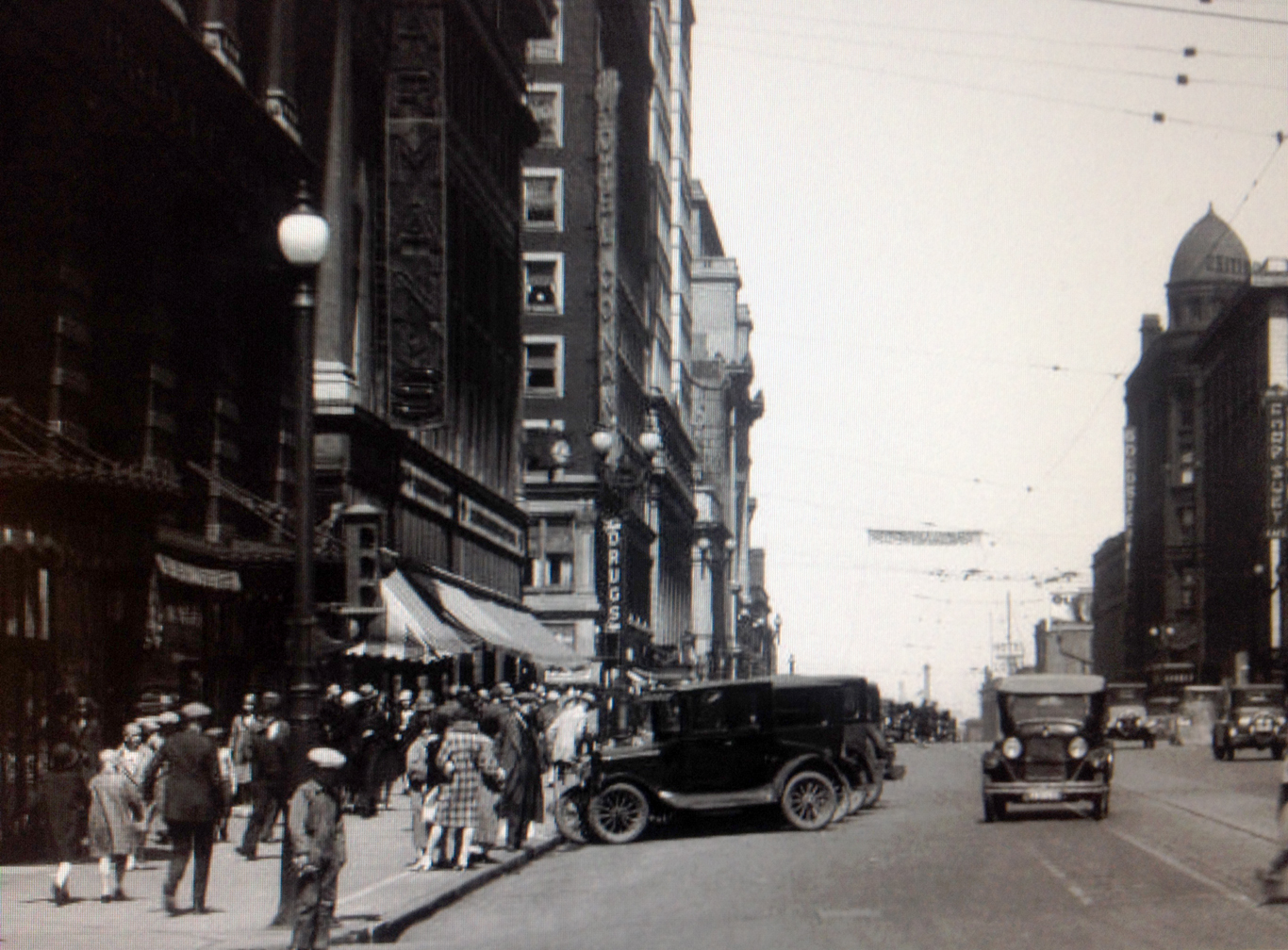 Looking north on 16th Street from 16th and Howard.  (Photo courtesy of the Bostwick-Frohardt/KM3TV Photography Collection at The Durham Museum Photo Archive).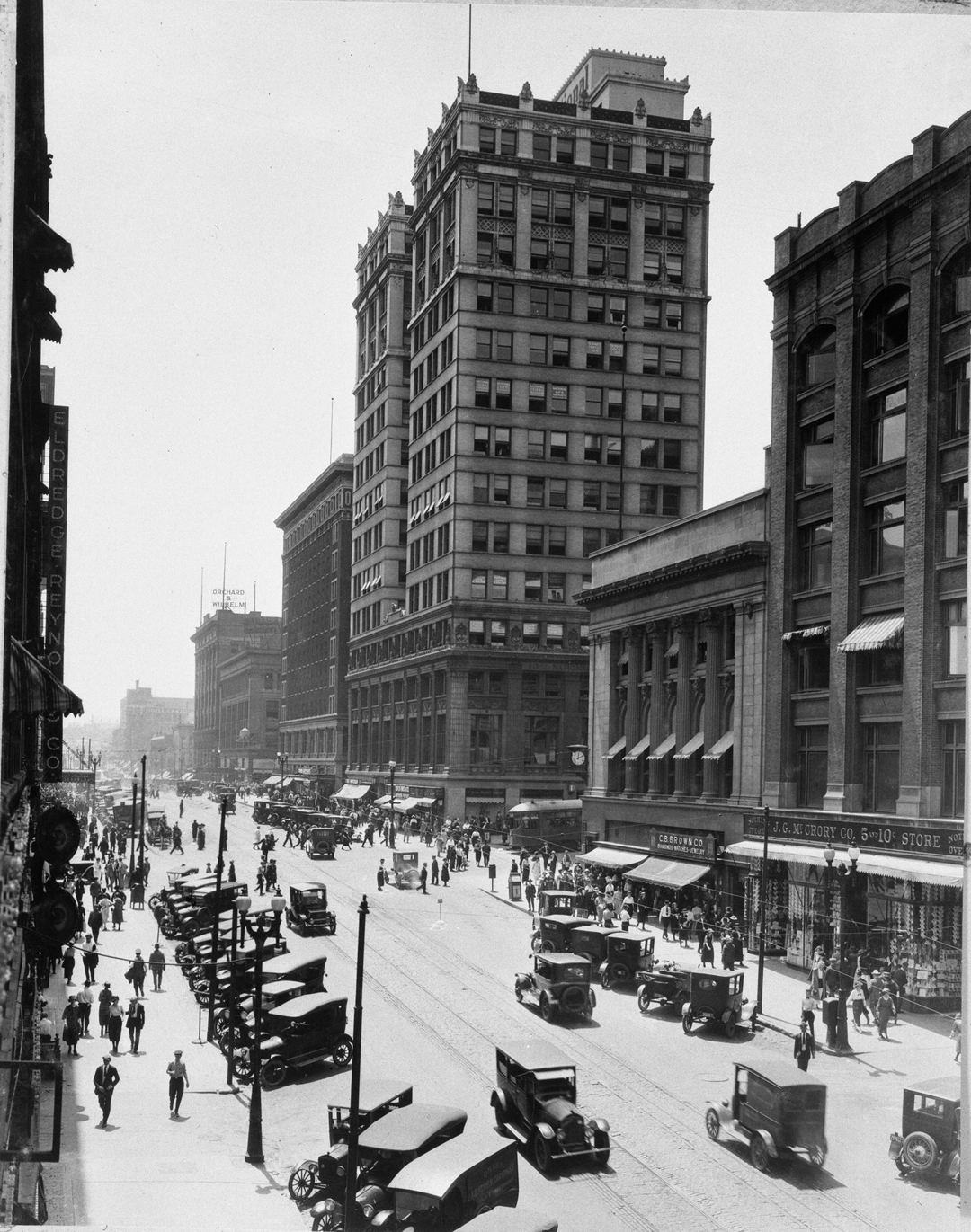 Looking south on 16th Street between Douglas and Farnam Streets, Omaha, Nebraska. Parked cars line the street, cars drive down the street, people walk along the sidewalks. Notable buildings include: J.G. McCrory Company 5 and 10 cent store, C.B. Brown Company, Carman's,  First National Bank Building, Burgess and Nash, and Orchard and Wilhelm. May 24, 1921. (Photo courtesy of the Bostwick-Frohardt/KM3TV Photography Collection at The Durham Museum Photo Archive). I love the eyeglass sign, including eyeballs on the left side by the Eldredge Reynolds Co. vertical marquee.
Rise of Burgess-Nash Company
Interestingly the Bennett Company sold a portion of easement to Baum Realty Co in March of 1922.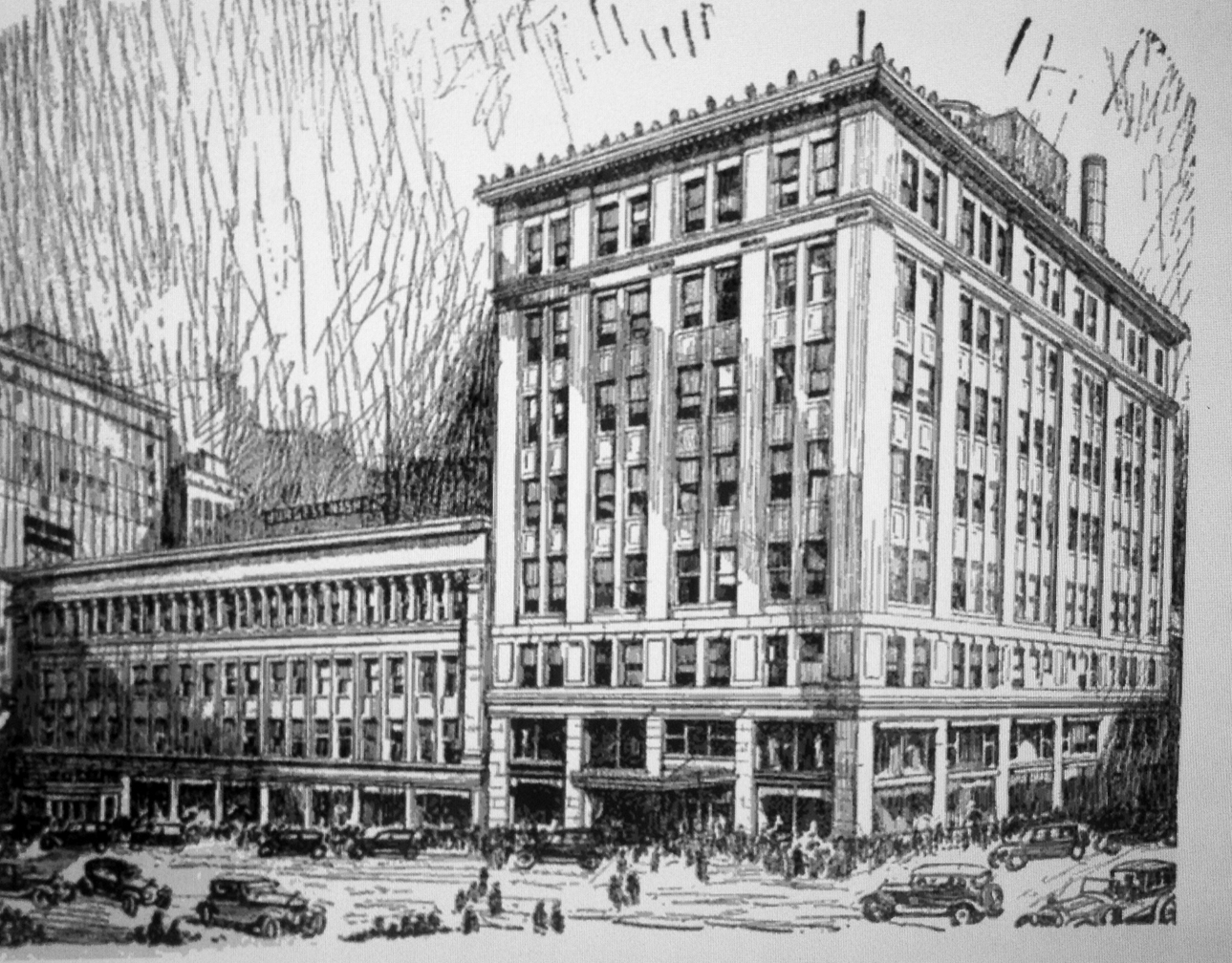 Fantastic illustration from the Valve World magazine, Volumes 19-20, Justin W. McEachren Crane Company, 1922. I found this great write-up: "The new Burgess-Nash department store is said to be one of the finest of its kind in the Middlewest. Its cost was in the neighborhood of $1,000,000. George B. Prinz, Omaha, was the architect; the Neiler Rich Co., Chicago, engineers; the James Stewart Construction Co., Omaha, general contractors; the Sanitary Plumbing Co., Omaha, plumbing and heating material, supplied through the Omaha Branch of Crane Co., is installed throughout this beautiful and strictly modern store. The display windows face three streets—Sixteenth, Harney and Seventeenth—giving a length of more than two city blocks and containing 6,000 square feet of plate glass. There are approximately 60,000 square feet of Wilton carpets used on the floors in the selling sections. There is a general entrance from each of the three streets. Fixtures of sold mahogany and mahogany veneer are installed throughout the main selling sections."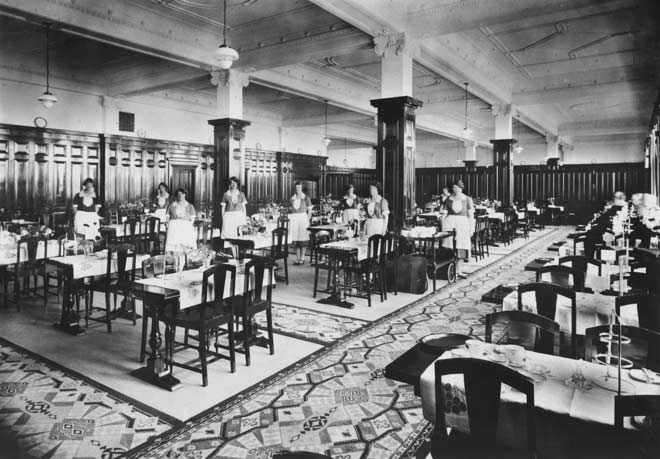 "There are eight passenger elevators. The buildings are protected form fire by automatic sprinklers on each floor. There are emergency hospital, physician's room, men's ward and women's ward; cold storage vaults; mail order department; a post office station: comfortable rest rooms; banking service; employees' lunch room and roof garden; cafeteria; tea room; a flower show; a barber shop for men and a beauty shop for women; a barber shop for children; an auditorium with seating capacity of about 300 which is daily at the service of local organizations, and where free "movies' is a feature of Saturday mornings for boys and girls."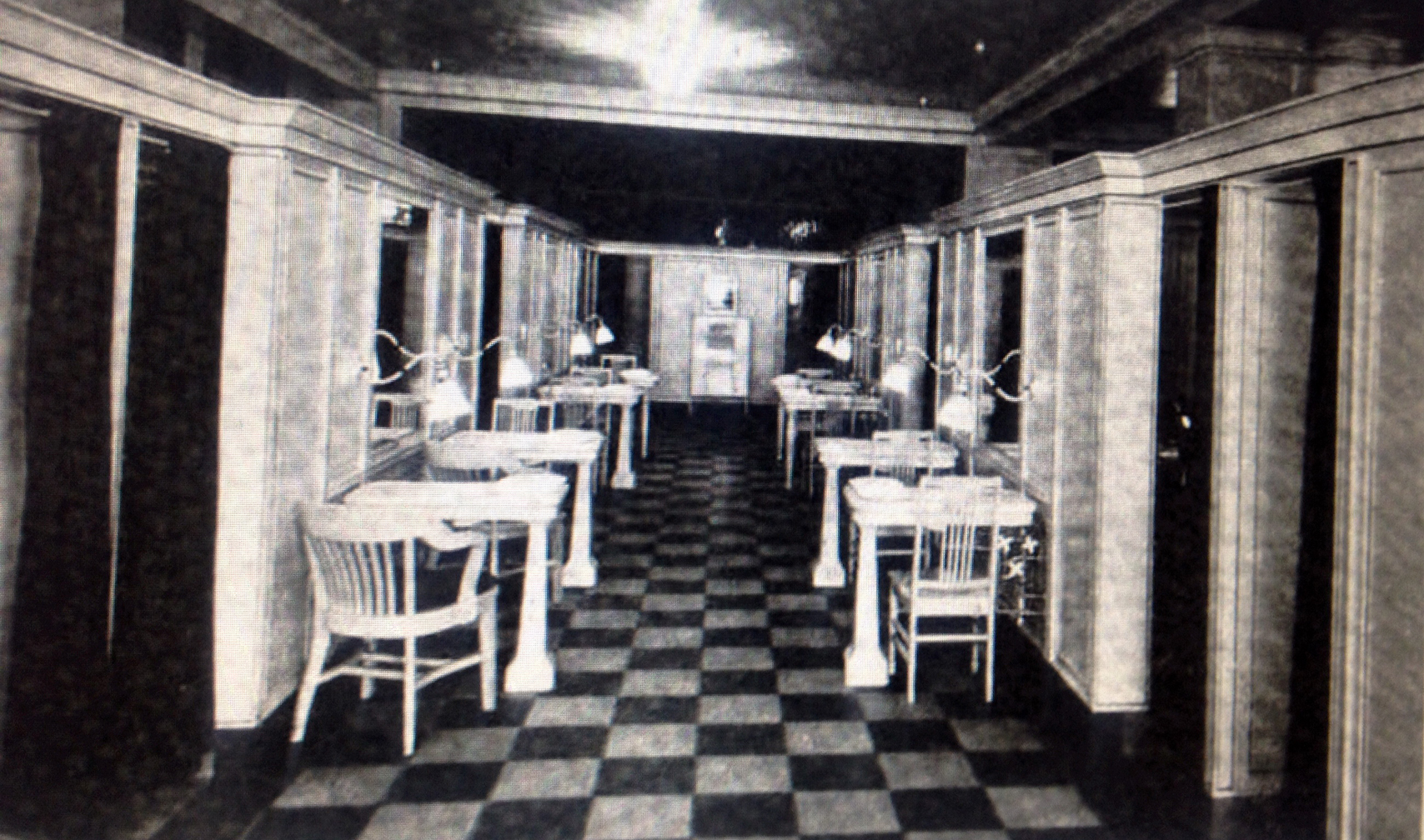 Burgess-Nash Company Women's Beauty Shop from the The Valve World 1922 magazine, Volumes 19-20, Justin W. McEachren Crane Company.
Death of James T. McVittie: Omaha's Candy Man
An article titled "M'Vittie to Hospital After Poison Attack" from OWH of Nov 13, 1924 caught my eye. "Complication following an attack of ptomaine poisoning caused the condition of J. T. McVittie, veteran Omaha cigar man, to become such that he ahs been removed to a St. Joseph hospital. McVittie was stricken three weeks ago and was removed to his home where he remained until Saturday, when his transfer to St. Joseph hospital was ordered. McVittie is 60." What was with the mysterious transfer to St. Joseph? I later discovered through Family Search.org that James McVittie died in that year– No doubt from the poisoning.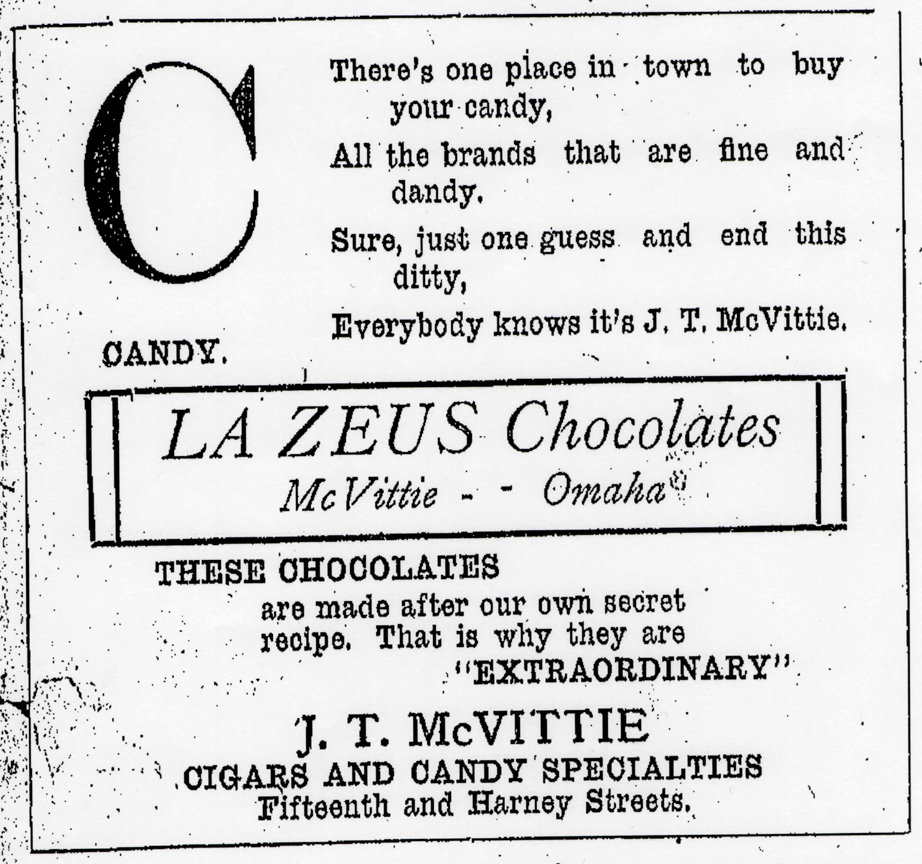 The End of the Burgess-Nash Company
According to Ward Burgess' obituary, he filed petition for bankruptcy as president of Burgess-Nash Company in 1925. I was shocked. After a search of the World Herald from 1925, I discovered…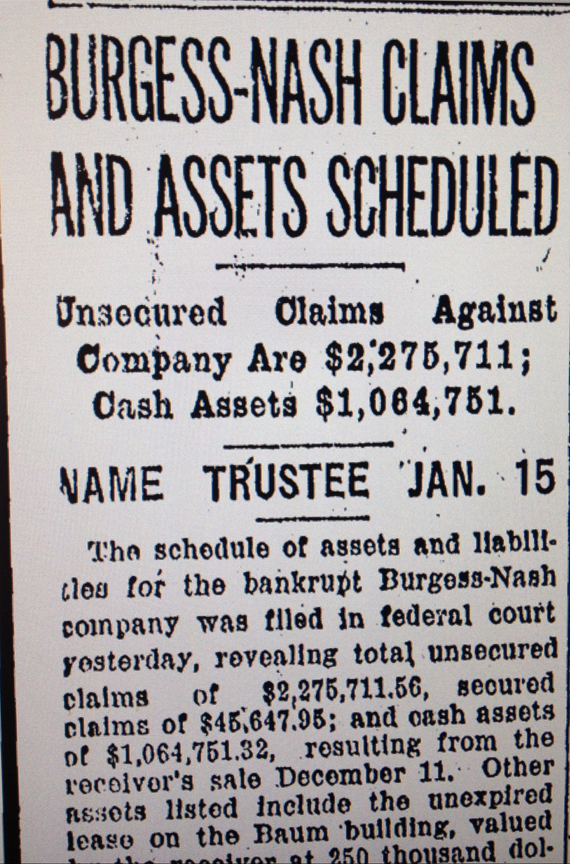 January 1, 1925 Burgess-Nash Claims and Assets Scheduled
And that very same day the Brandeis Department Store ran this ad, announcing their successful swooping!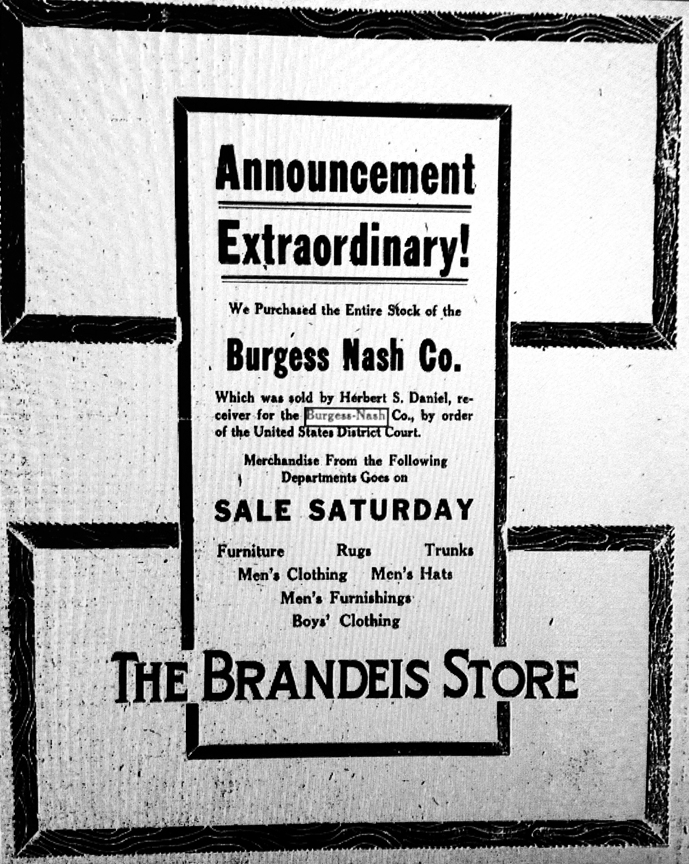 January 1, 1925 Announcement Extraordinary! The next article on the breadcrumb trail described New Year's Eve revelers, surprised by the spectacle of living room and dining room furniture creeping down Sixteenth Street. Apparently the Brandeis employees spent New Year's trundling the Burgess-Nash goods down the street on, no doubt loud, castors. "It was a weird procession of household goods transferred to the accompaniment of whistles, gunshots and shouts of pedestrians as 1925 was ushered in." Brilliant writing.
S. S. Kresge Company
According to the Register of Deeds Office, by April of 1925 Baum Realty Co began leasing to S. S. Kresge Company, specifically the east 2/3 of the building. The S. S. Kresge Company was a very solid five and dime. They were not the high-end department store of Burgess-Nash but more of an every man's store, known for their great service and affordable goods.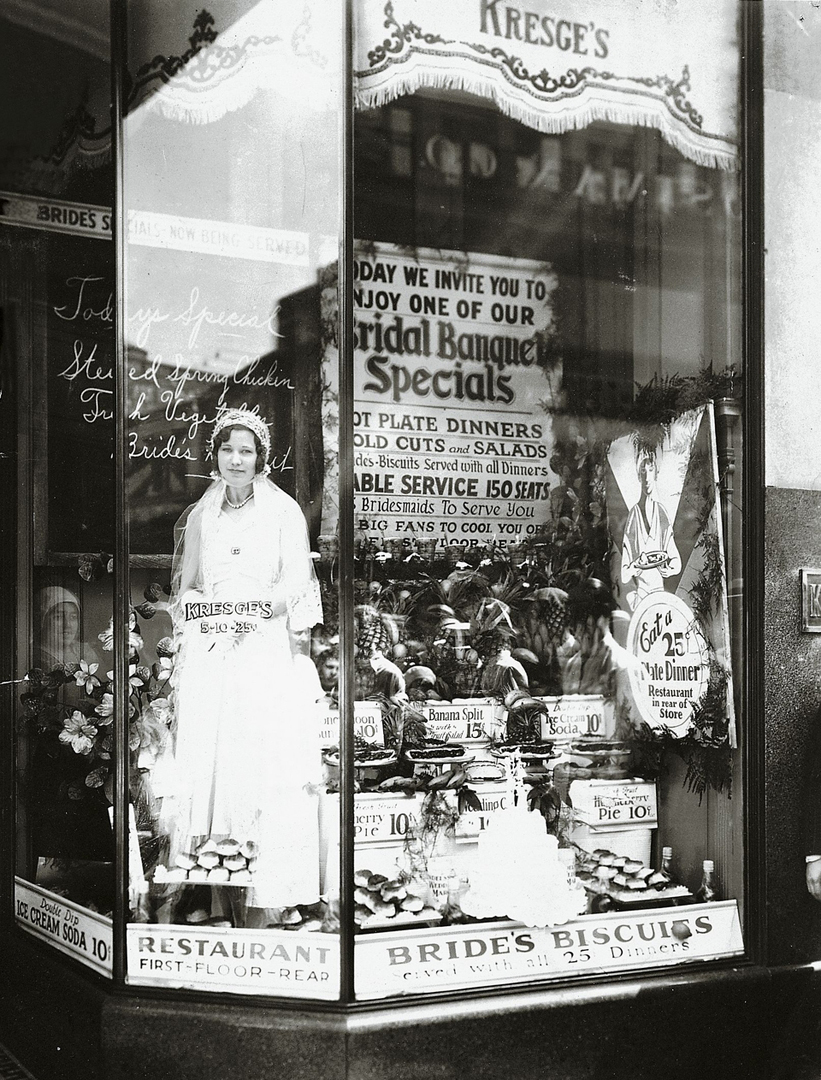 Kresge's window. Live model in S. S. Kresge Company 5-10-25¢ store on Market Street in downtown Philadelphia, late 1920s. Kresge's would go on to own K-mart. S. S. Kresge Company also had a location in South Omaha at 4824 S 24th Street.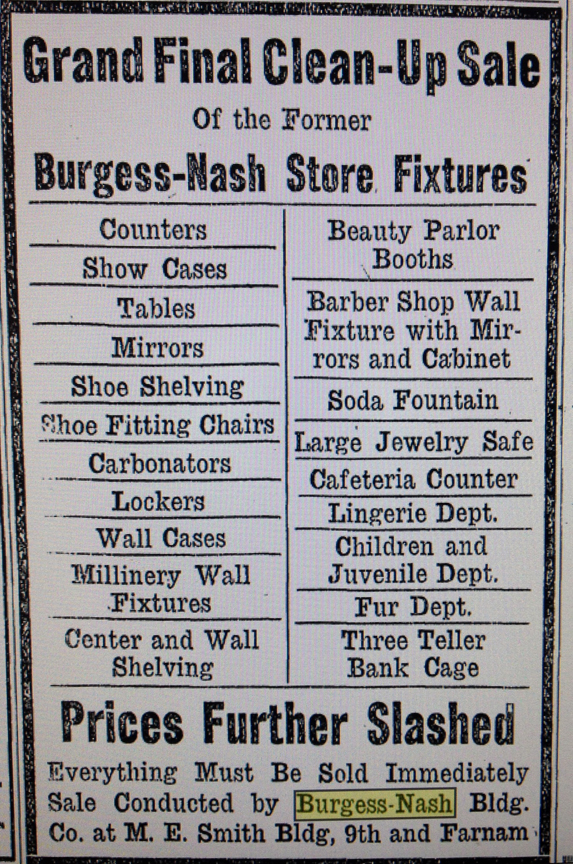 Grand Final Clean Up Sale. By January 10 of 1926 the last of the Burgess Nash store fixtures were being sold out of the M. E. Smith Building at 9th and Farnam. This is the dry goods business that Ward Burgess was also running, according to his obit.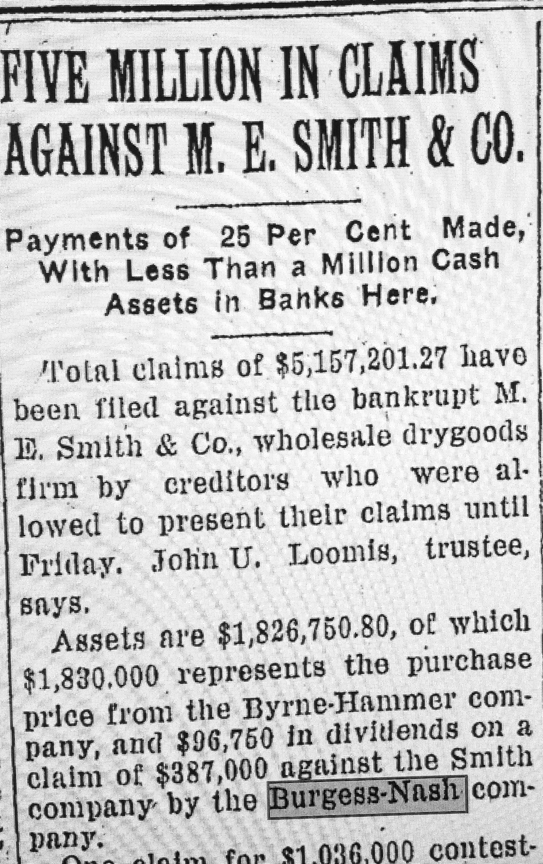 By January 16, 1926 there were "Five Million in Claims Against M. E. Smith & Co" and this department store also went bankrupt.
Deaths of Burgess and Nash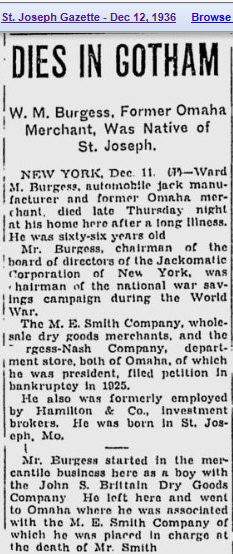 Ward Burgess obituary from the Find a Grave site. Ward Burgess died in New York City in 1936. His obituary listed him as chairman of the board of directors for the Jackomatic Corporation in NY, an automatic jack manufacturer. He had apparently been ill for some time.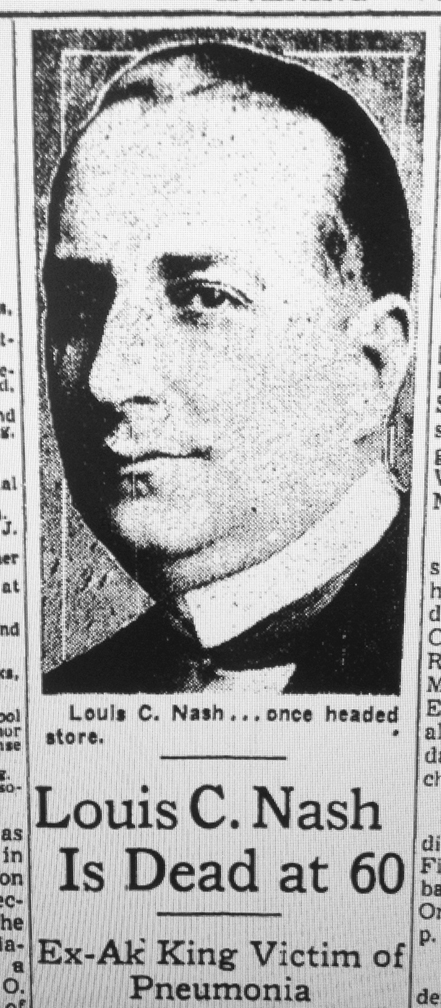 Louis Nash obituary. OWH May 25, 1942. Louis Nash died of pneumonia in Omaha in May of 1942. His obituary stated that he had been a governor of Ak-Sar-Ben for many years as well as the twenty-eighth king in 1922. Nash was a one-time director of the Omaha National Bank. Mystery solved regarding that bank directors photo! He was also vice-president of the M. E. Smith Company, the same company that Burgess ran.
1950s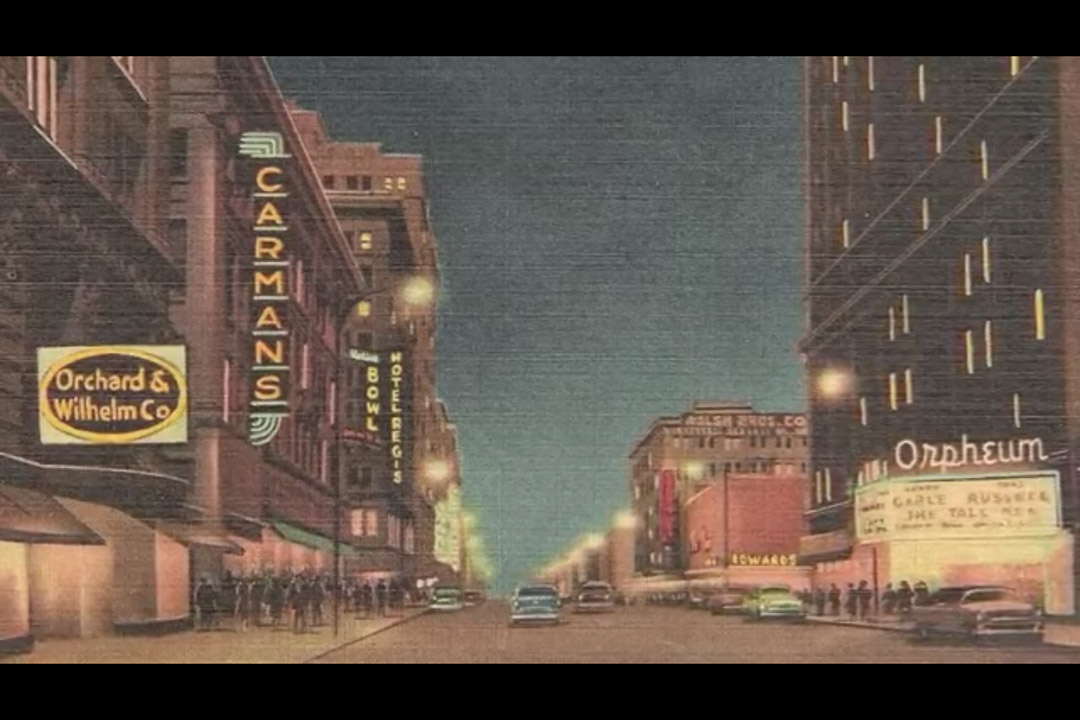 1950s post card of downtown looking north on 16th Street Orpheum on the right, Carmans and Hotel Regis on the left. Orchard & Wilhelm Co sign. By Jan 1955 E. B. Crofoot (Louis Nash relative) had changed a part of the deed and in March 1955 E. W. Nash Bldg Corp sold a portion of the block to Omaha Public Power District. Kresge's is still in the building, although their sign isn't apparent. At some point the bowling alley was put in above Kresge's. I think this needs to be a future story!
1960s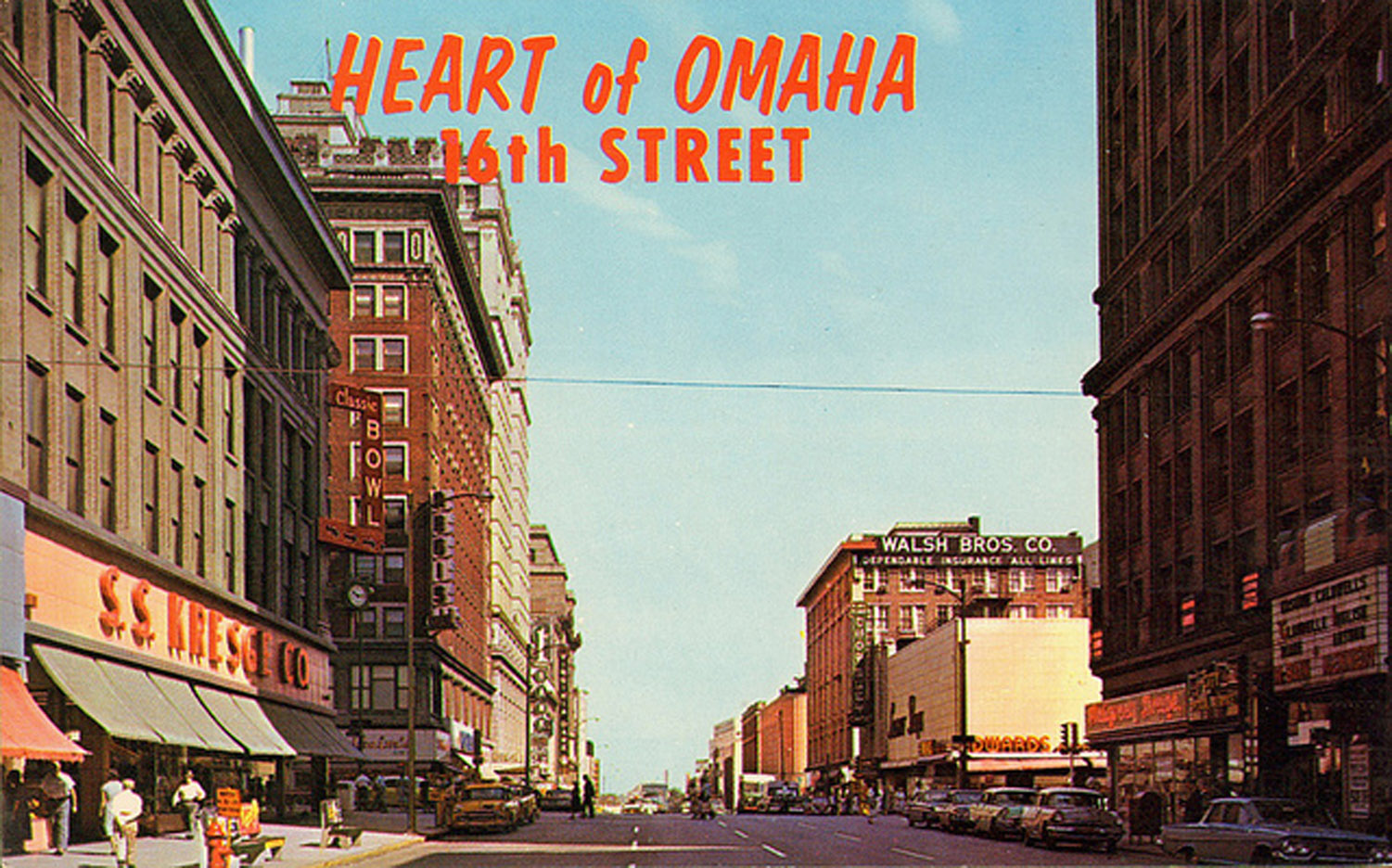 Great 1960s postcards, looking north on 16th Street. Kelley's Classic Bowl is above Kresge's. Orpheum on the right, with the old Lerner's Shop up on the corner.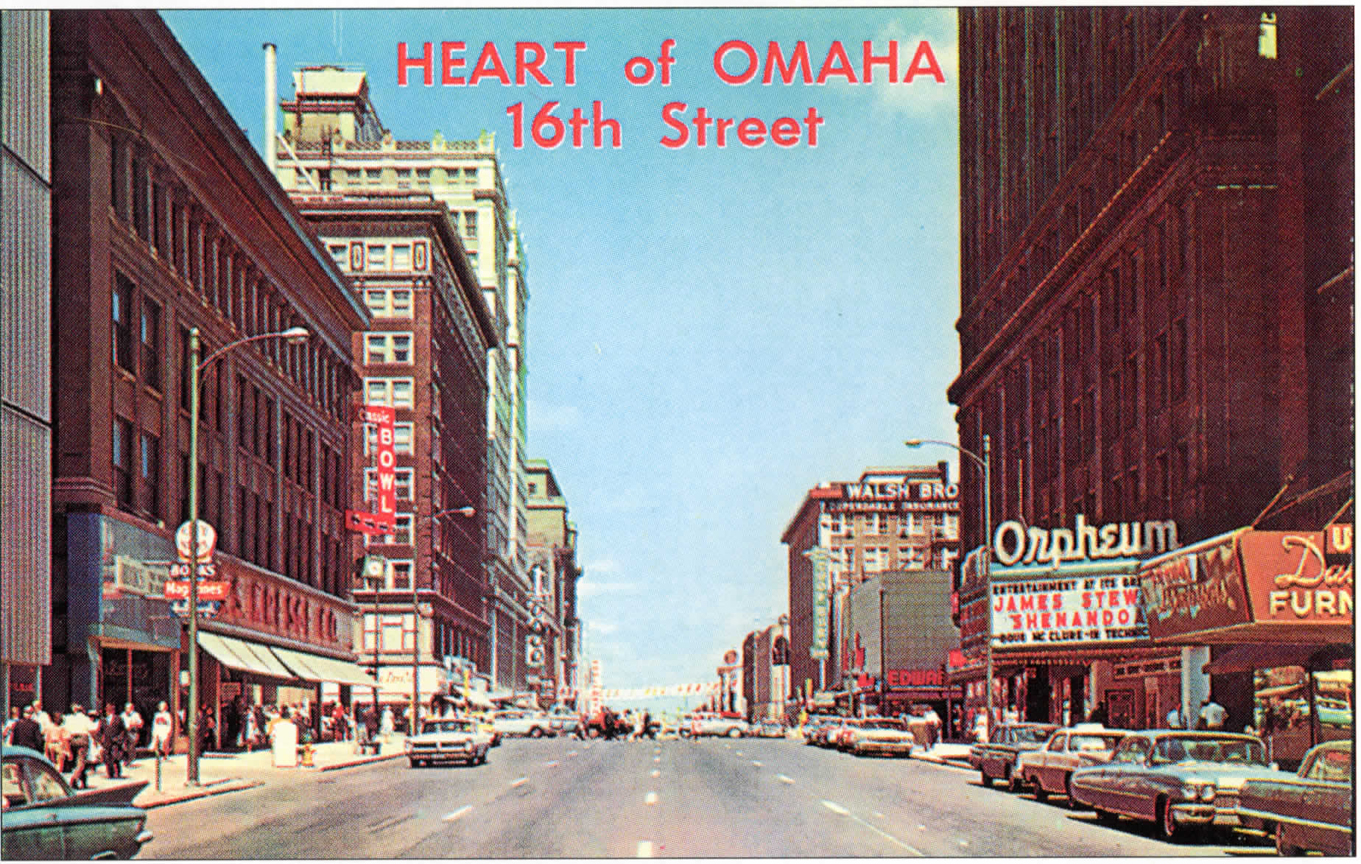 The cars!
Omaha Public Power District and the Clock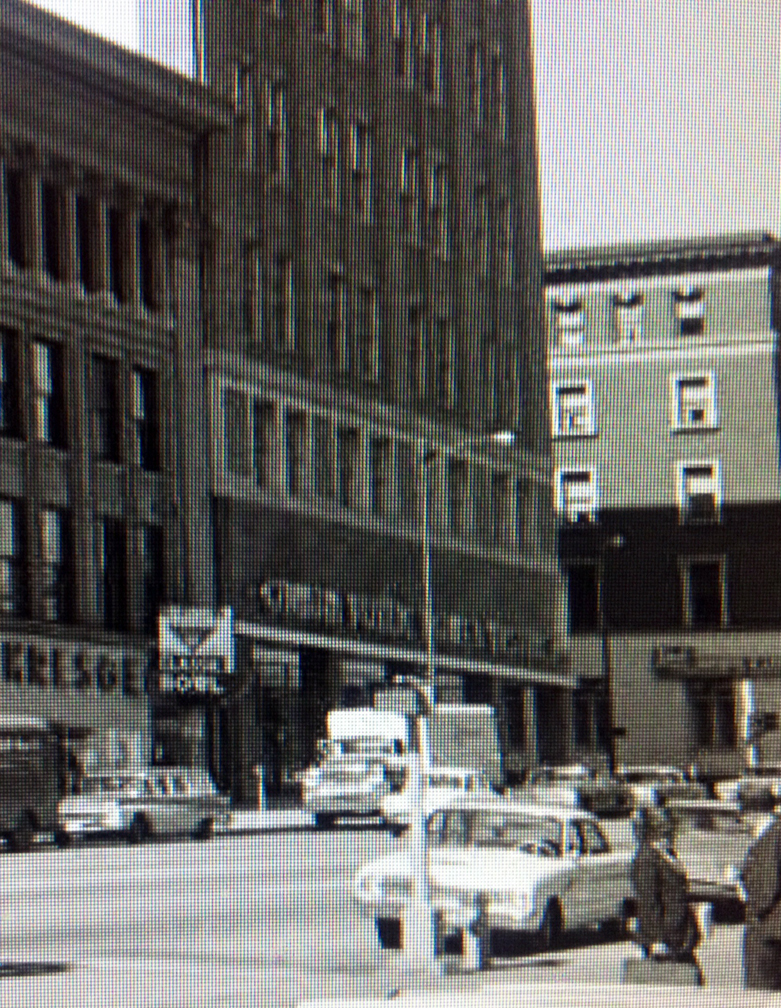 1966 Omaha Public Power District western most portion of the building (Prinz' addition.)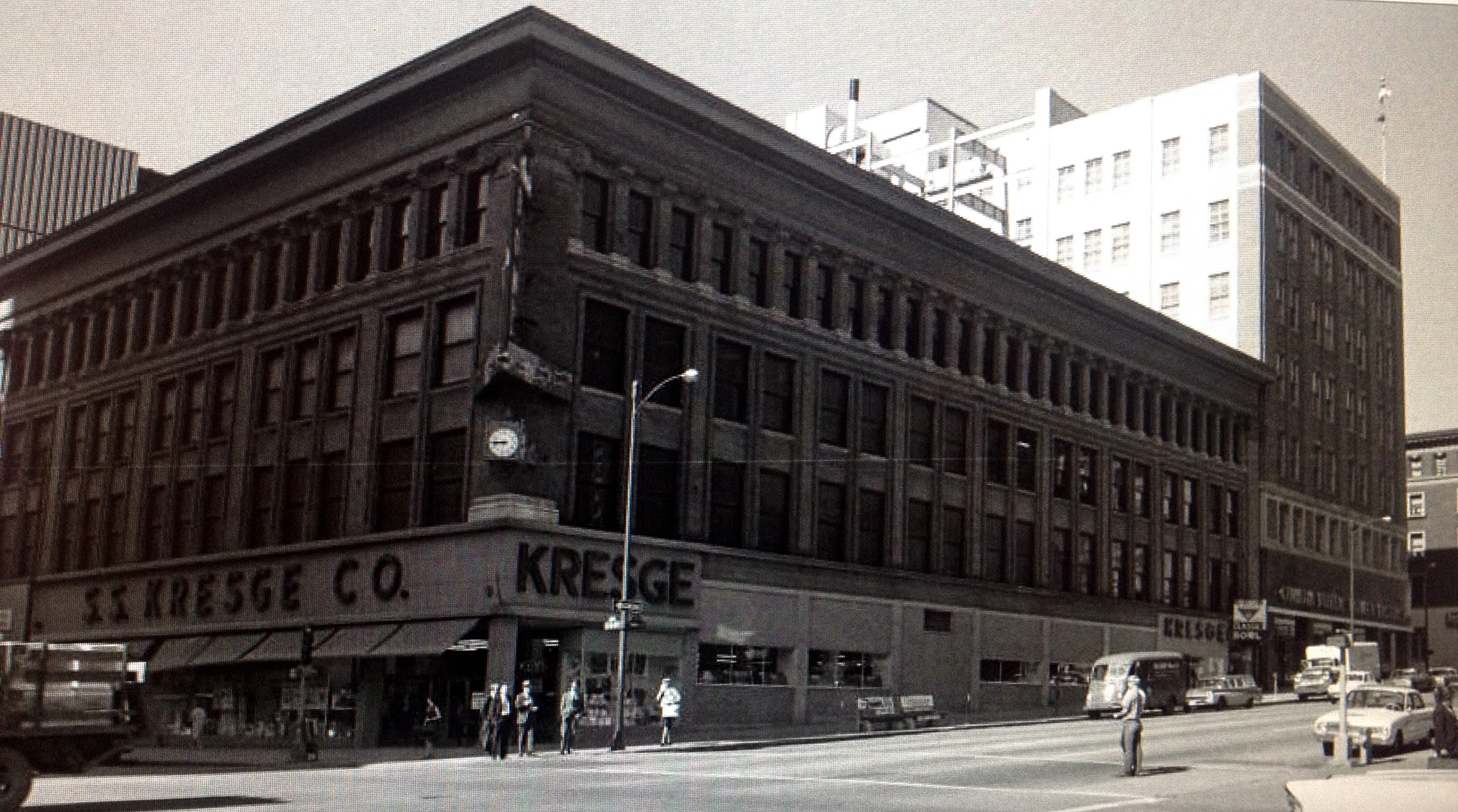 By June of 1966 the Baum Realty Company had sold the rest of the 146 block to OPPD. S.S. Kresge Company Building was officially sold. The S.S. Kresge's Building on the southwest corner of 16th and Harney Street. June 16, 1966.(Photo courtesy of the Robert Paskach Photography Collection at The Durham Museum Photo Archive).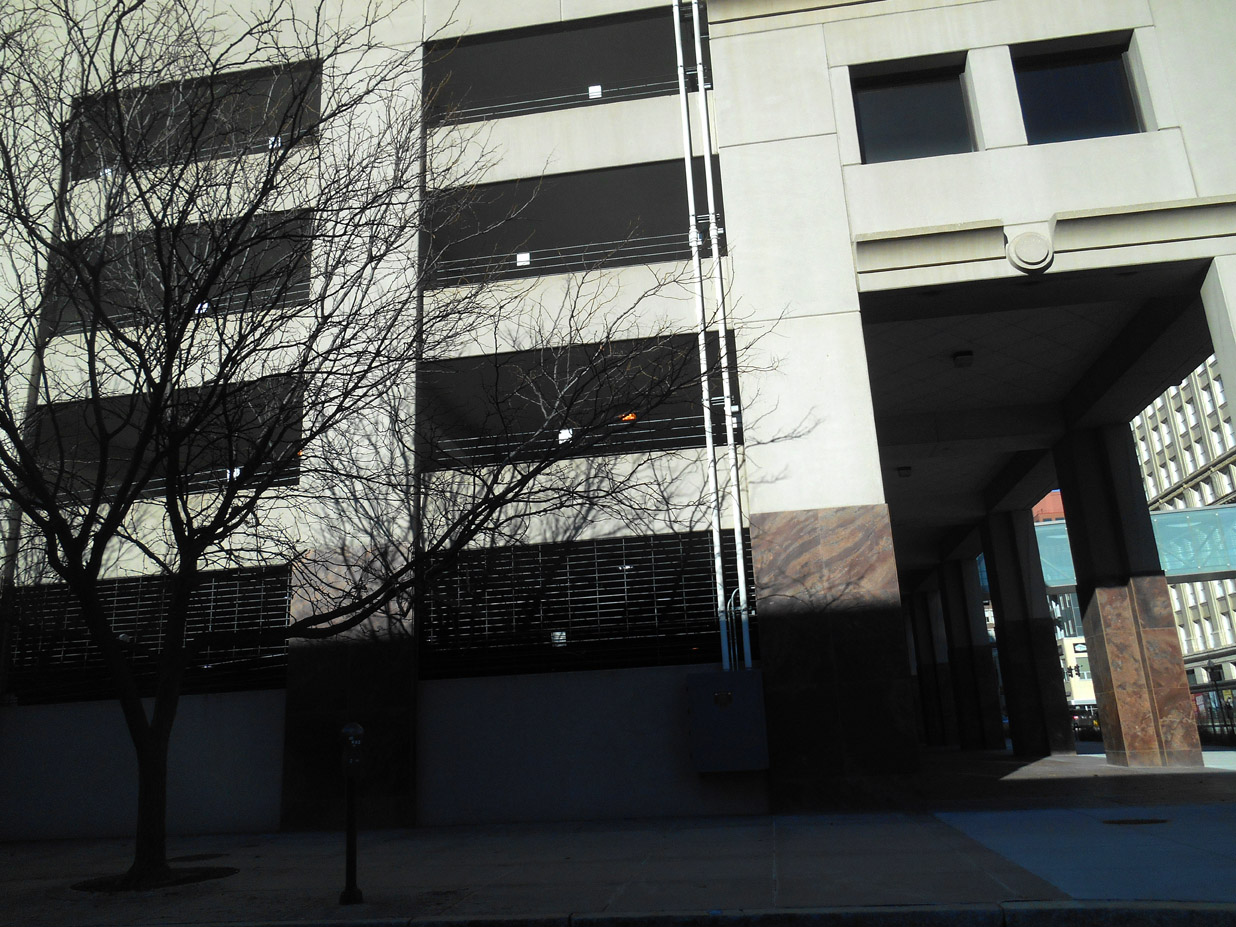 September 9, 1970 was the last set of ads for Kresge's at 402 S. 16th that I could find. According to what I could see on DOGIS site, the southern most part of the building changed to a parking structure somewhere between the 1973 and 1982 aerial shots.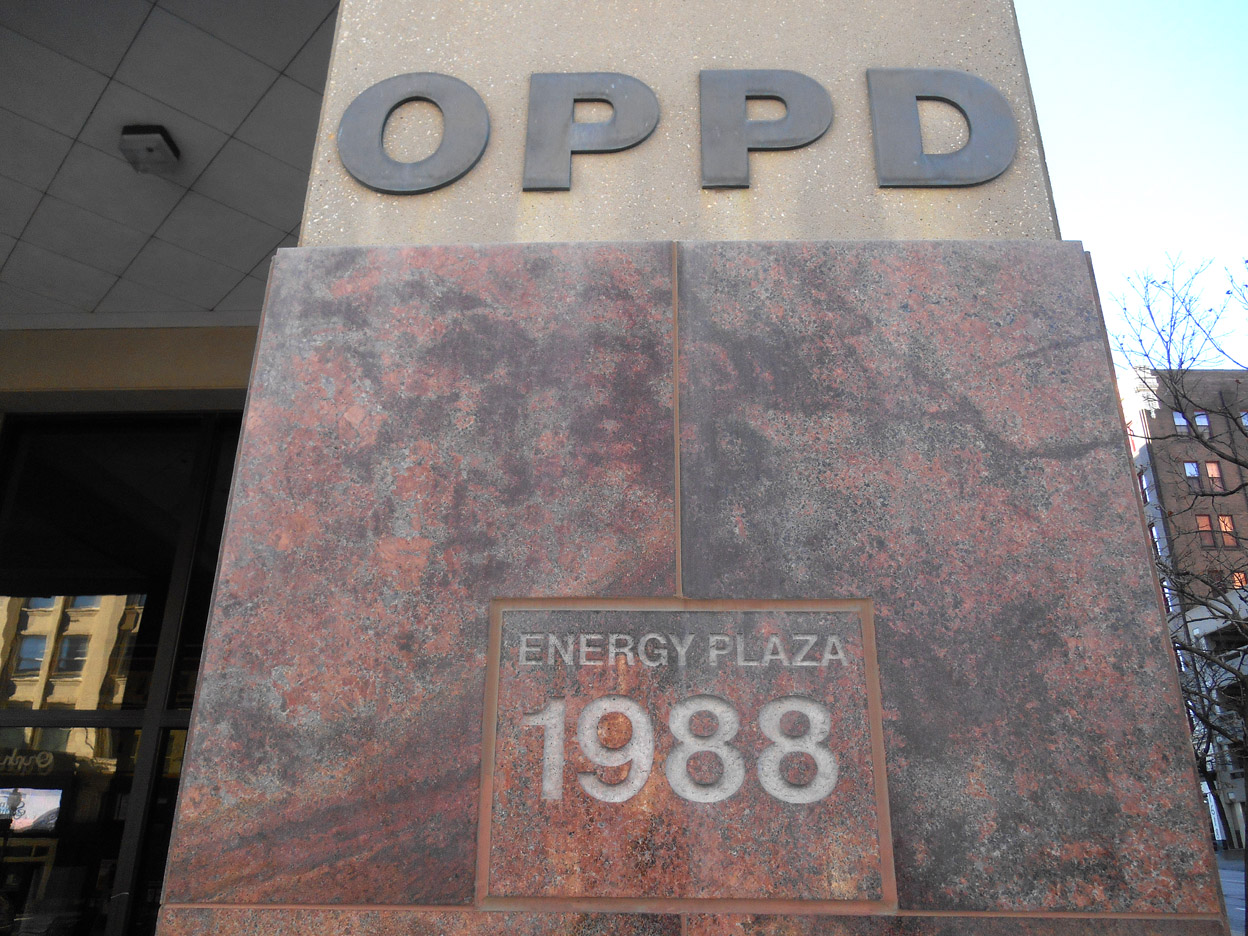 In the fall of 1986 OPPD's customer service department moved from the 17th and Harney Street location over to the Central Park Plaza at 15th and Douglas while OPPD were to build the new Energy Plaza. A $18.4 million headquarters addition was expected to be built by 1988. The fall of 1988 I found an article announcing the opening of the new OPPD building, with a renaming of the address at 444 S. 16th St.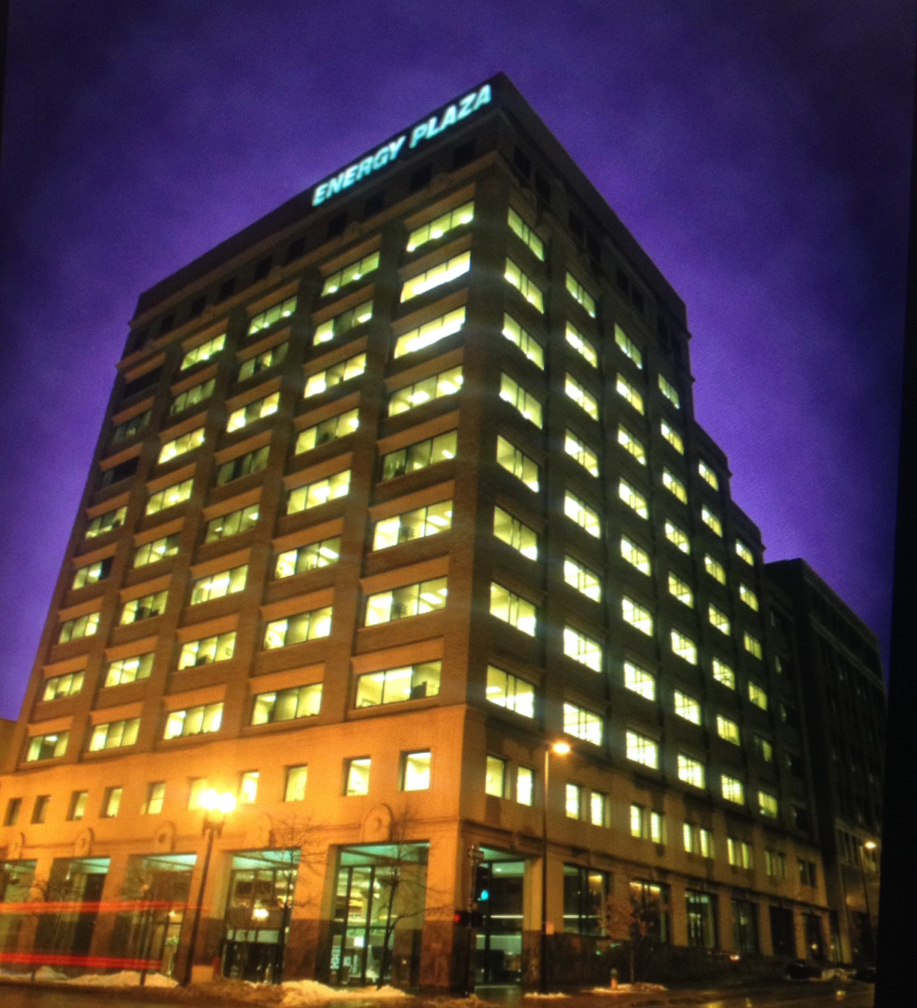 Photo from the OPPD website.  2016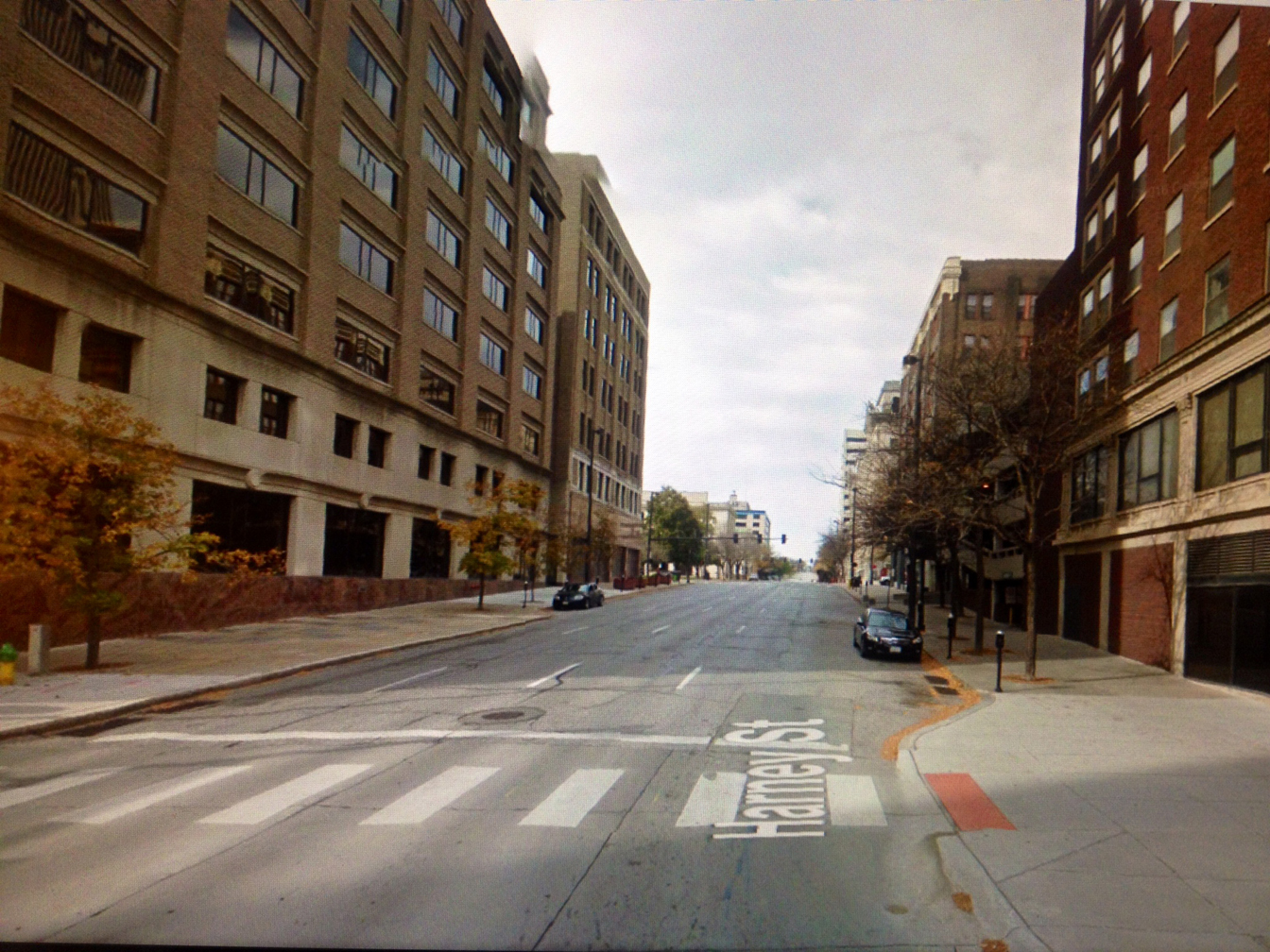 Harney Street looking west from 16th Street. 2016.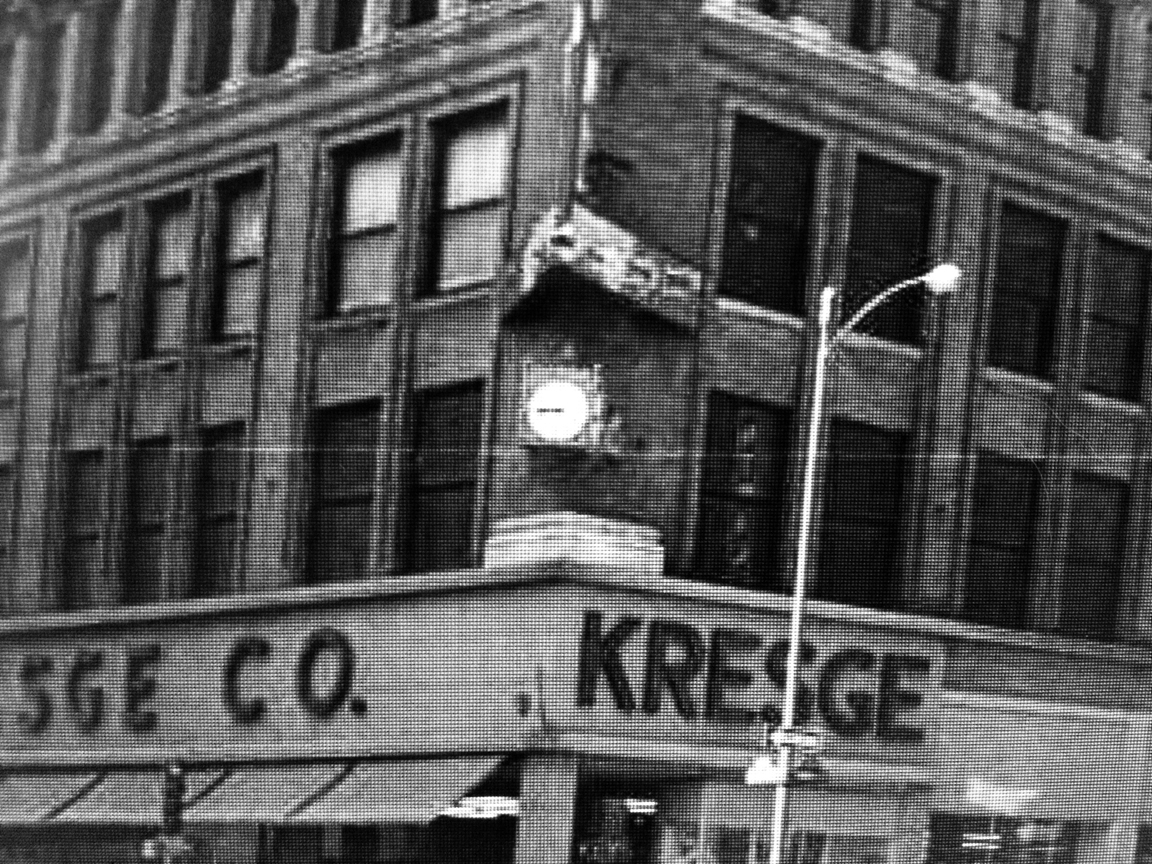 Clock on corner of old Kresge Building.  I found a fantastic article from December of 1988. In it an OPPD spokesman, Mark Gautier, described a clock hanging in the new OPPD atrium. He claimed that the Burgess-Nash Company had affixed a clock to its original building in 1916. "For anyone who used to come downtown years ago, that clock is like an old friend. It was a landmark." He said the clock stayed on the original building until 1975. When OPPD bought the then Kresge building and demolished it, the clock was saved and placed in the old OPPD headquarters until 1976. It remained there until 1982. The clock was put into storage until 1988, when it was restored and hung up in their new atrium. I have no idea if it is still there or not. We've got to get a photo, if it is!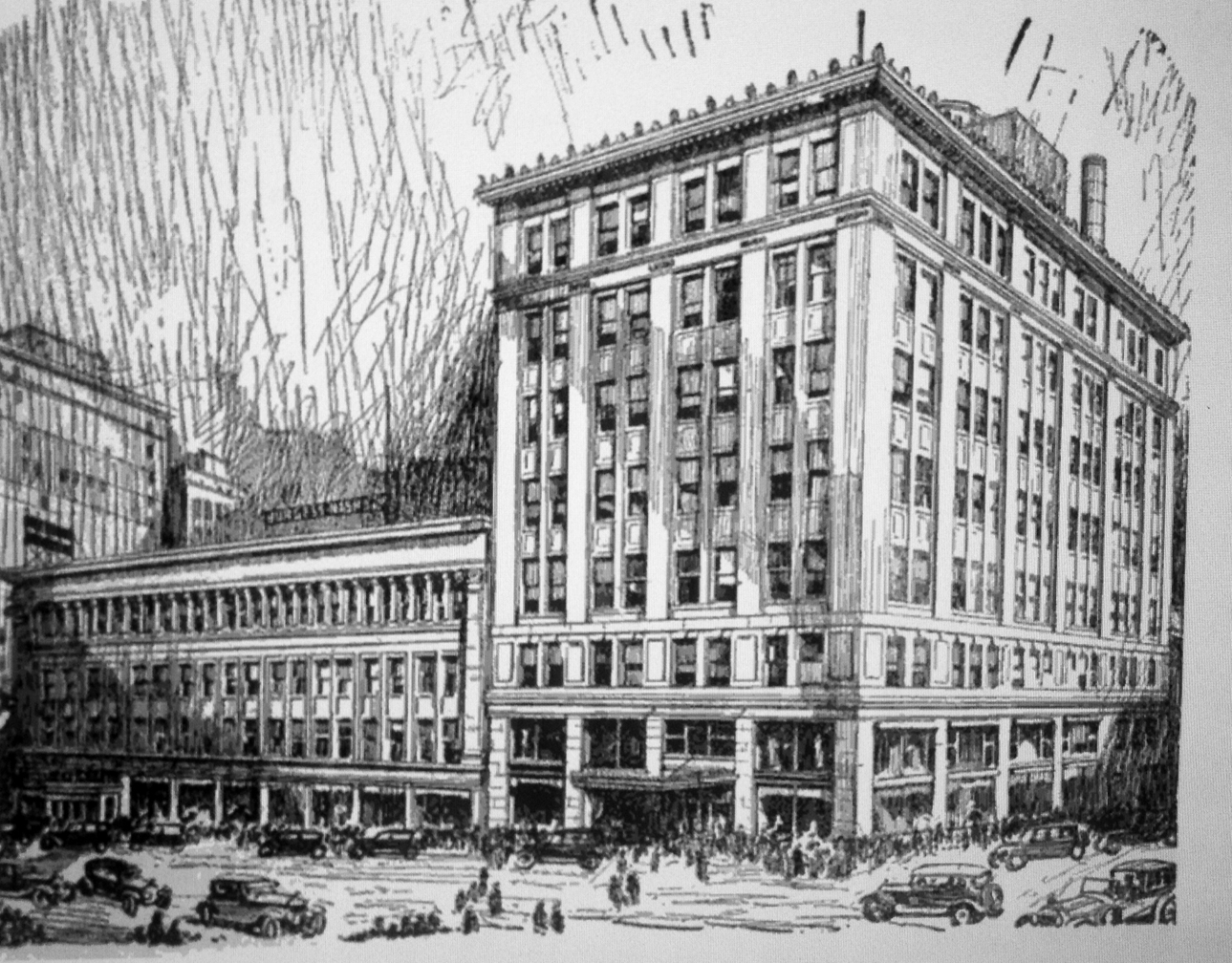 On a certain cold afternoon in the last weeks, I was wandering among the shivery buildings on the South Sixteenth corridor, peering in windows, trying to spot clues, looking for this blessed clock. Everything was closed up. 'This must have been some special sort of corner,' I thought to myself, looking up at the newer concrete slab building. I would like to tell you that I heard a ghost of a trace of crickets chirping or could see that clock in the atrium but I couldn't and I didn't. And I'd certainly like to tell you where you could get a decent cup of tea in this town but I can't. I quickly ran back to the car before the wind blew me away and then Mr. Cassette eased the car in another direction altogether.
I welcome your feedback and comments on the Cricket Room, Burgess-Nash Company and this part of Downtown Omaha. To enable comments, please click on the header title. If you would like to correspond with me privately, please do so at myomahaobsession@yahoo.com. But I assure you, everyone would love to read what you have to say and it makes the conversation more fun. You can keep up with my latest investigations by "following" myomahaobsession. You will get sent email updates every time I have written a new article. Also join My Omaha Obsession on Facebook. Thank you Omaha friends.
© Miss Cassette and myomahaobsession, 2016. Unauthorized use and/or duplication of this material without express and written permission from this site's author and/or owner is strictly prohibited. Excerpts and links may be used, provided that full and clear credit is given to Miss Cassette and myomahaobsession with appropriate and specific direction to the original content.