Hello Hello Hello….mic check one, two, three…ch, ch, ch…okay, once again…one, two, three. Here we are… welcome! Ladies and gentlemen, we're coming to you live from the Peppermint Lounge after many, many months of playing the truant. I want to welcome you back and acknowledge my lengthy, unpardonable absence. I know we really had a good thing going and I up and ran off. More sleuthing fieldwork than disappearing act, truthfully, but The Good News is, my book is finally done. At least my contribution to it. Now it's in the hands of the art department and editor. As we speak they are chiseling away at my architectural madness. One must hope for the best. As to my nonappearance around this neck of the woods, I do hope we can congregate again, rehuddle, find all of our detective tools of the trade, and get back to the business at hand: Investigating Old Omaha.
There is one, large, mysterious home that has been waiting for us. I suppose that is another of her many glorious characteristics; she has always been patiently watching at the window. I imagine many of you will soon know her by description and a fewer grouping will know Even More Delicious Details about her than I could gather for this short article. (Emphasis on Synopsis, not Prolonged Tome.) Together we will fill in the pieces of the puzzle.
I first met the acquaintance of 3205 Harney sometime in the mid 1980s when my boyfriend at the time moved into an apartment on Dewey Street. East of that apartment building, Dewey and Harney Streets meet up at a fine angle, forming an elongated triangular lot, in which 3205 is expansively situated. You may have ascertained I've got a thing for these triangle plots and you would be very on the money. I found 3205 Harney, that is the building itself, to also be oddly elongated and of a California style. I know now her finery might better be described as the Mission style but back then anything reminding me of home in California seemed about right.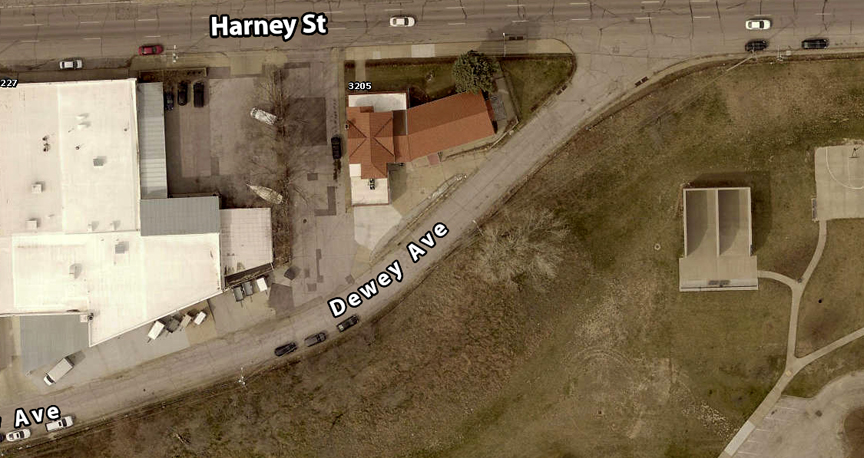 2018 DOGIS site aerial showing the interesting lay of the land.
Now allow me to divert for a second–One of the strangest, (best) qualities of this area was that the angled Dewey Street running the south side of 3205 felt like an alley, or an afterthought. As to Dewey's meandering angle off the grid—it was most likely shaved to the north as it skimmed along the natural ridge of Dewey Park below. At least in those days, the trees grew up thick and gnarled along the fence that overlooked Dewey Park Tennis Courts on Turner Boulevard beneath. Some of you might remember its darkness. A friend, Kenny, and I would use those poor trees, now absent, as handholds one frozen night years later as we laughingly toppled down that very steep incline in an attempt to shorten a drunken walk to a pressing house party. It was all in good fun and I still think of that icy late night jaunt when I find myself in the area. The darkened edge of trees appear to have been cut back dramatically years ago when the city decided to reconfigure and clean up Dewey Park.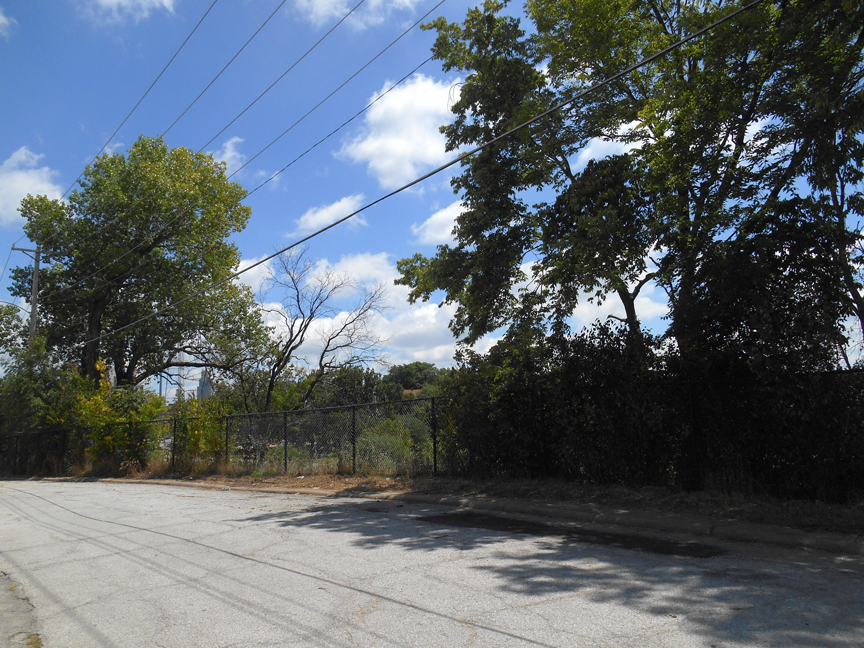 Dewey Street backroad facing southeast.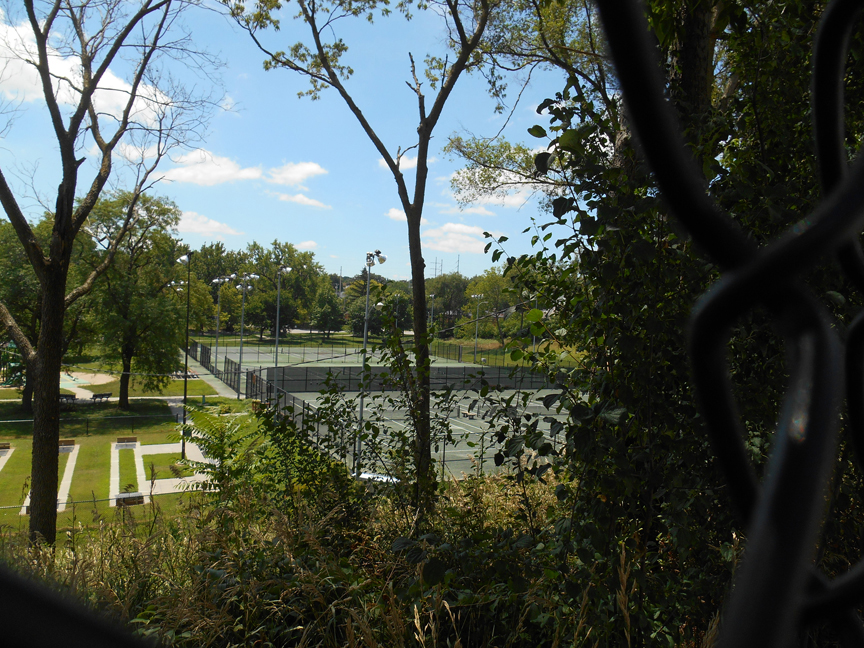 Through the fence, creeping on the Dewey Park recreation area.
In walking around this great neighborhood while still a teen, I would find a funeral home or a church having mushroomed out of what looked like an altogether fantastic, airy California house. It was labeled 3205 Harney. There was a beautiful clay tile roof, stained glass windows, various entrances and funeral home signage as I remember. As intriguing as she was, I never went up to the door. The years would go by and I didn't pay too much attention, as I would drive down Harney with intentions set on Downtown Omaha. It was not until I was doing research for my book that I found 3205 Harney again, keeping vigil. Waiting with a smile. And seeing as I love the role of the casual stranger who might enter unawares, I took the hint and darkened the door. Lyrically speaking.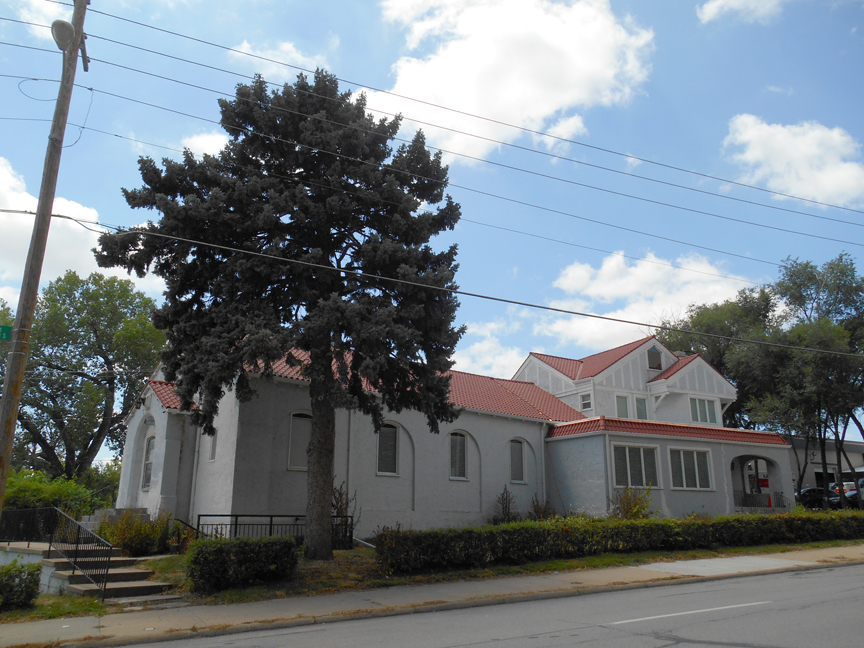 The Official Beginning
3205 Harney, Lot 4, Block 0, at least a portion of the eastern building was constructed in 1911 in the Reeds Sixth Addition. I figured Byron Reed most likely named Reeds Sixth Addition. Reed was a pioneer real estate businessman having moved to town in 1855. He was known as a surveyor, abstractor, (politician) and land developer, and developed many subdivisions around Downtown Omaha.
The 1912 Omaha City Directory displayed 3205 and 3209 Harney held in the name of "G. L. Smith." The directory disclosed additional tips that Smith was in "automobiles" at 2205-7 Farnam. I backtracked to 1911 where I found hints Guy L. Smith had worked in automobiles at 2205 Farnam and resided in "rooms" at the Rivard. I was interested to find the Rivard Hotel, no longer extant, once stood at 1810 1/2 Farnam, currently the Woodman of the World Life Insurance Company Parking Structure. F. R. Dufrene was proprietor of the hotel. I found the January 1911 marriage license for Guy L. Smith and Carrie May Weaver. Later spellings would show "Mae" W. Smith. Mae was the daughter of John D. "Dad" Weaver, well-known secretary of Ak-Sar-Ben. Guy and Mae did not have any children from what I could find. If I am remise in this, please comment.
Going back to 1905 showed Guy L. Smith as foreman at Powell's Automobile Garage. But that was only a smidge of the detailing. Guy L. was a major player in the automobile business, working and managing garages all along "Automobile Row" on Farnam Street. A commercial district on the edge of Downtown Omaha, generally agreed upon to extend from Eighteenth to Twenty-sixth Street on Farnam, featured as many as sixty makes of automobiles to include dealers, garages, and parts stores. As it turned up, Mr. Smith handled the first automobiles sold in Omaha. But he really entered the limelight at 2205-7 Farnam. Side note–although known as "automobile row" this address's basement would also come to house one of Omaha's most well known businesses. Mrs. B's flagship store, Nebraska Furniture Mart was housed in the basement of 2205 Farnam Street, the ground level of husband, Itzic Isadore Blumkin's shop back in 1937. This building and address have been demolished; the ominous Federal Reserve Bank now stands in its place. But back in 1909, Gould Dietz would take out a building permit for a large brick garage to be constructed at 2205-7-9 Farnam Street for his operation, Colt Automobile Co. and Guy L. Smith of the Franklin Automobile Company at a cost of over $14,000. Smith would have rein of the sixty-foot east side front facing Farnam and the Colt Co would have the west thirty-foot room. Thought to be unique in that it would be built beneath a three-story frame tenement at the above addresses, "the first floor of the apartment being removed and the brick garage built up beneath it, thus forming a brick foundation. The garage was expected to extend from Farnam to Harney Street with a mixture of shops, elevators and apartments.
Guy L. Smith didn't just sell cars, he was a showman and at times a speed racer. Many an auto club trophy left with Guy L. Smith for he ran the agency for the popular air-cooled Franklin cars in Nebraska and Western Iowa as well as Peerless mobiles. Franklin also had a strong line of commercial vehicles to include taxicabs. Smith was well respected in the industry and no doubt for that reason, an officer and director of the Automobile Show Association of Omaha. The officers would create Garage Shows with a carnival like atmosphere to attract the Omaha crowds. Why here he is in 1911, showcased for his association direction.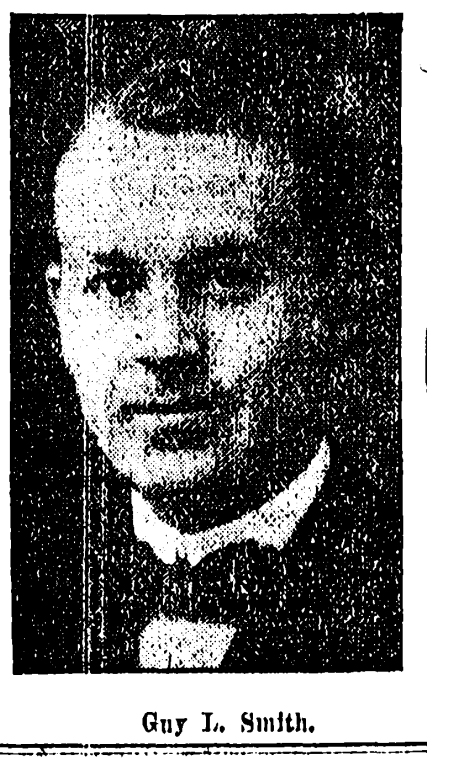 OWH 1911 Guy L. Smith photo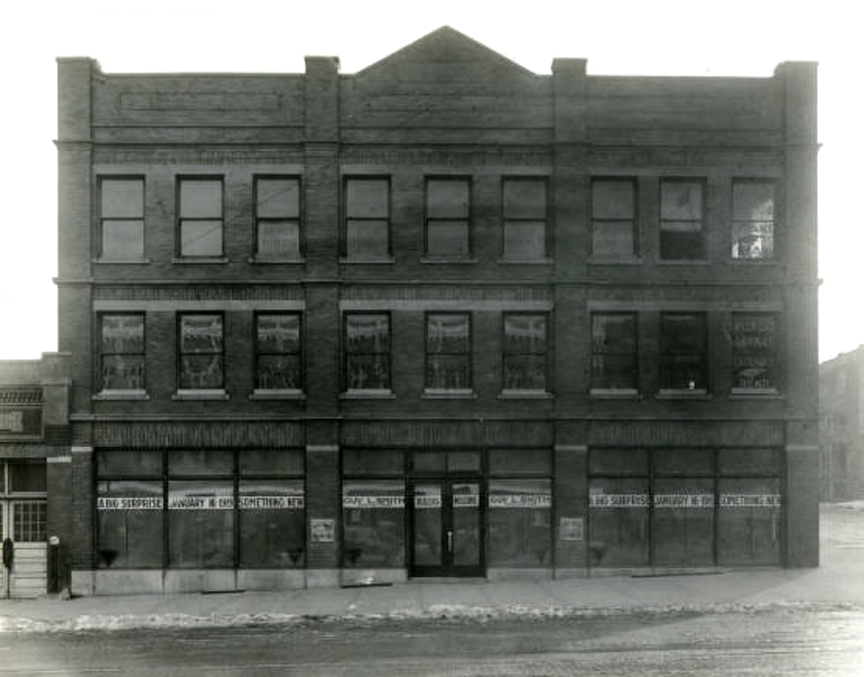 1919. A brick building with nine windows on each floor is on the corner of Sixteenth and Farnam Streets. The windows advertise "A BIG SURPRISE JANUARY 16 1919 SOMETHING NEW, GUY L. SMITH, DEALERS, WELCOME." Bostwick, Louis (1868-1943) and Frohardt, Homer (1885-1972).  The Durham Museum. January 1919.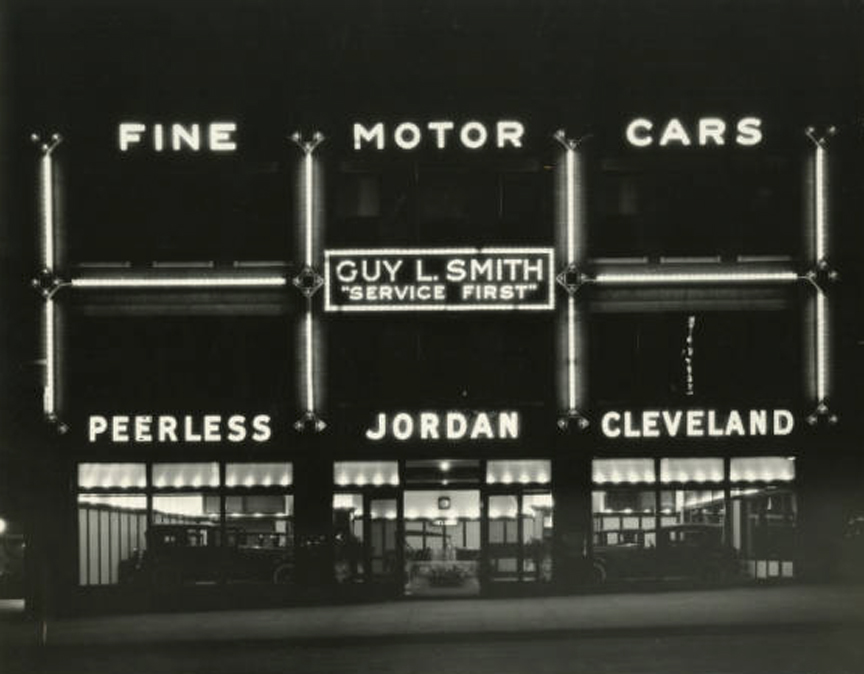 The building for Guy L. Smith "Service First" on Twenty-sixth and Farnam streets at nighttime. The building advertises "FINE MOTOR CARS" and "PEERLESS JORDAN CLEVELAND." Cars are parked in the showroom on the first floor. Bostwick, Louis (1868-1943) and Frohardt, Homer (1885-1972). The Durham Museum. July 20, 1912. Just gorgeous.
3205 Harney Street
I determined the Smith newlyweds  built their 1911 home with a nod to the Mission  style. It was some kind of eclectic melding of the minds for I saw a front-gabled roof Prairie style with stucco and half timbering. California gave rise to this stucco architectural style in the 1890s, taking influence from its Hispanic heritage. The rest of the country followed suit in the early 1900s after builder's magazines featured the breezy look; the Mission type house would appear in Sears Roebuck and Company plans by the late 1910s. There are scattered examples of this style throughout Old Omaha, (and one that Mr. Cassette and I looked into buying in the Field Club area years ago) but like the rest of the country, not many Mission homes are actually found outside of the southwestern states. I will add that 3205 Harney gave me much head scratching. I wondered if its later owner added the Mission elements. Was I looking at a renovation? Was 3205 Harney potentially a stucco smothered Four Square with timbering? Often these Spanish design elements would be adapted to adorn more traditional architecture.
Reviewing McAlester's A Field Guide to American Houses, I would find a few distinguishing characteristics of this style, which I will lay out in a few moments. According to Ms. McAlester, it was not uncommon to find a classic Four Square or frame house design adapted with massive porch supports, clay tile roofs and one or more shaped parapets to create a simplified Mission house look. As it turns out, these design elements were all original to 3205 Harney.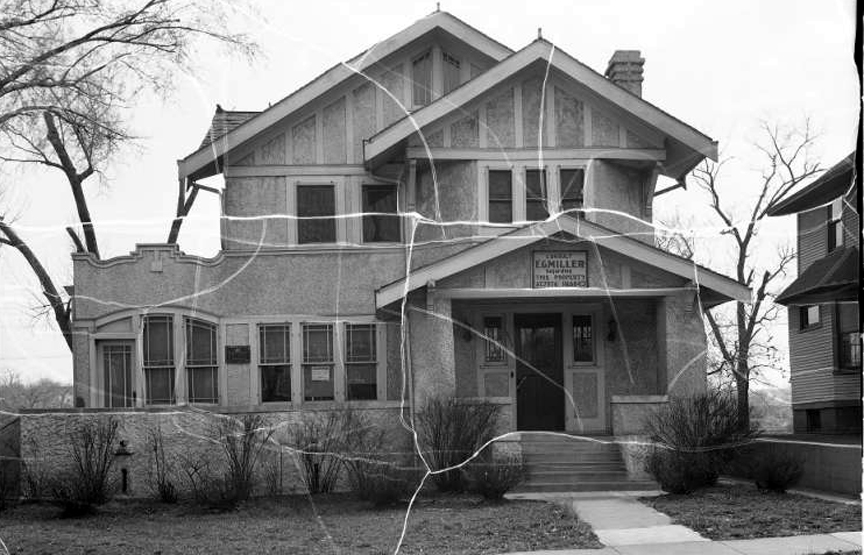 April 14, 1937. The exterior of 3205 Harney Street. Bostwick, Louis (1868-1943) and Frohardt, Homer (1885-1972). The Durham Museum.
The home is in an asymmetrical form. According to McAlester, "the façade asymmetry is superimposed on a simple square or rectangular plan" of about half of the Mission style homes. I would find many examples of the Mission roof parapet over the side sunroom during this time period. Wide overhanging eaves, usually open, giving the airy effect, I noted earlier. Upon closer inspection the original roof  was not of red clay barrel tiles; rather they appear to be slate.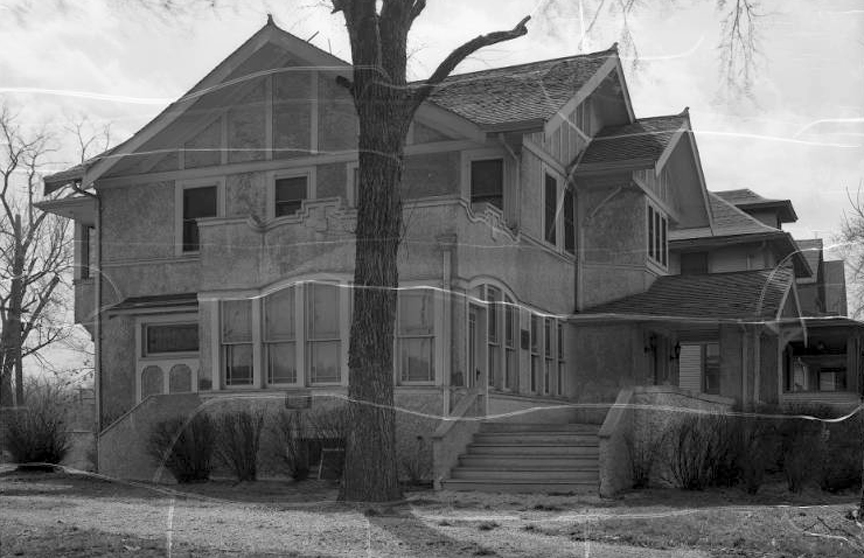 Eastern elevation.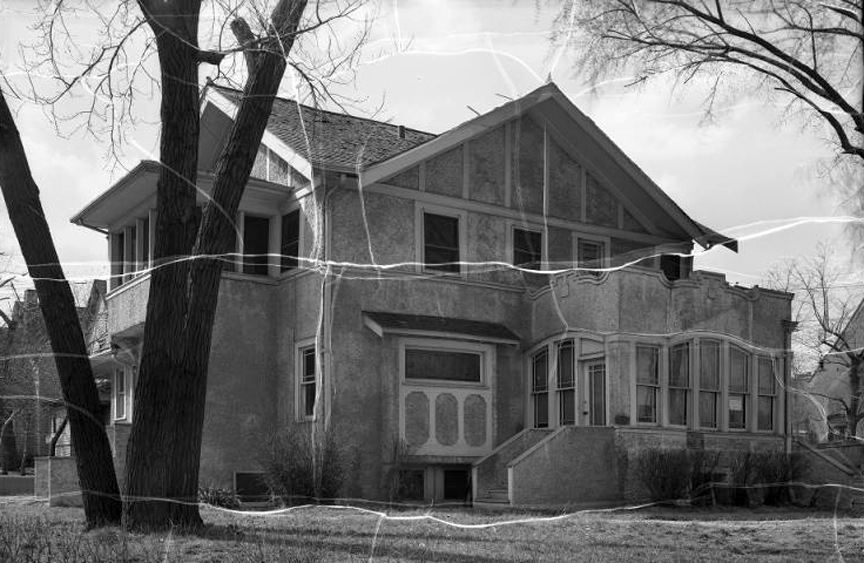 Southeastern corner.
Notes on the Home
In 1926 our beautiful mystery home at 3205 Harney entertained a bit of local notoriety…and some apparent bruising. It was reported that W. F. Bowers, a neighbor at 3322 Harney, fell asleep while driving his Packard Roadster west on Harney. When his car eased into the wrong side of the road, as he approached Thirty-second Street, he sideswiped a parked coupe. He awoke with a jump and apparently hammered on the gas, according to spectators. Bowers' Roadster tore across the curb and "landscaped lawn of the Guy L. Smith home" crashing into the six-foot walls of the stucco and brick terrace on the north side of 3205 Harney. Bowers, unhurt, walked away from his stopped car.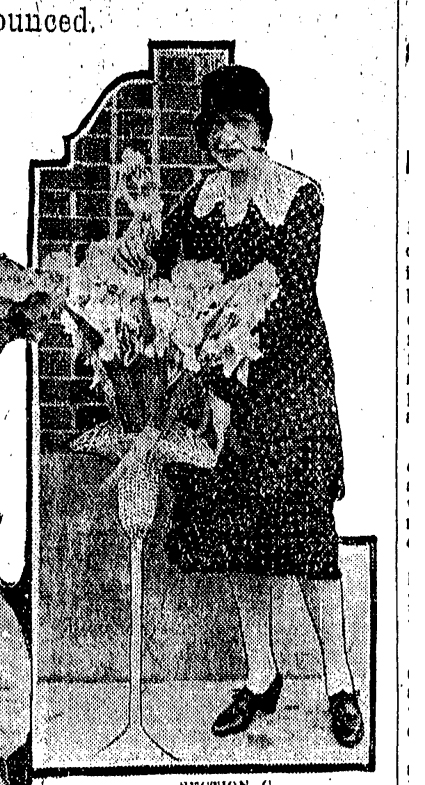 OWH June 1929: "Mrs. Guy L. Smith places the last bloom in an attractive arrangement of lavender Iris cut from her 60-foot hedge of the flower." I would find Mae's garden at 3205 Harney in the news with regularity and I sure wish I could spy upon that sight. Mrs. Smith would win first place for her artistic display of bearded iris and foliage and other recognition in the years to come for her arrangements. Mae Smith must have had a love for the arts, as I soon found her a local photographer and soloist at many churches around town. Mae was also considered a Society Matron and the couple were early Field Club and Athletic Club members. But she was not a stuffy one. In 1916 she was noted for having gone round the speedway in exceleration of 109 miles per hour while her husband watched on.
Side note—Had the Smith couple also owned 3215 Harney? In 1931 I discovered they were running rental ads for this property with their contact at the 3205 Harney address. Of additional interest, Mae's mother, Mrs. "Dad" Weaver, died in the 3205 Harney Street house while staying with the Smiths.
Life Changes for the Smiths
The 1932 Omaha City Directory showed Guy L. Smith was then vice president and sales manager of Douglas Truck Manufacturing Company. Now the Douglas Truck Co. was a long time motor plant at 4024 North Thirtieth and was presided over by none other than L. C. Nash. Louis Charles Nash has made previous appearances in my Secret of Burt Street and Case of the Curious Cricket Room investigations. A very small world, Omaha is. The Douglas manufactured trucks and all matters of truck bodies. And there is nothing wrong with that, although somewhat less glamorous digs than Smith was accustomed. He had been in the paper every day for many, many years. I found it a curious step away from the limelight for our Mr. Guy L. Smith.  In 1933 he was selling used cars with Brandes-Campbell Motor; additionally I found he had moved to an apartment at 3161 Farnam in the year 1934. I knew something had happened. Here I am jumping ahead but from April 1936 I found a surprising article explaining the Guy L. Smith, for many years identified as a wealthy local automobile salesman, filed suit for back salary of $2,286 dollars against the Douglas Truck Manufacturing Company. Smith claimed he went unpaid between February 1, 1929 and April 15, 1933. I wondered if the company had fallen on hard times due to the Stock Market Crash of 1929 and eventual Great Depression. The 1934 City Directory had Guy L. Smith registered for the last time residing at 3205 Harney.
The couple would rebound and move to the sunny shores of Long Beach, California in 1938. Mae Smith's sister had lived in Long Beach and it was a likely connection. Guy L. Smith  died in 1950; his gravesite found back in Omaha at Forest Lawn-the town where he had made a name for himself. Mae would die years later in 1957 in Long Beach. Find a Grave also led me to her burial site at Forest Lawn.
Changes to 3205 Harney
In those potentially hard years for Guy L. Smith, I would trip across a strange little mention in June of 1934. In an article simply entitled "New Construction Projects Employ Men Here," I discovered an unknown clue: "Otto Mavis is renovizing at 3205 Harney." As of this morning I figured out that Otto Mavis was in the building business and was a well-known contractor. So this makes a bit more sense as to why the 1935 Omaha City Directory had 3205 Harney listed as VACANT in their record. Mavis was perhaps readying the property for sale.
Mysteriously Peters and Carlson Mortuary, long in the funeral business, had filed for a building permit, with intentions of renovating 3205 Harney into a mortuary building at a cost of $7,200 in January of 1935. But that never came to pass. I have long been obsessed with the "In the Garden Mortuary" located in the residence of the late Dr. J. P. Lord. As I serendipitously would encounter, Charles W. Peters and Fritz Carlson would create this solarium chapel and garden of ultra rare plants (Investigation Upcoming!) instead of removing their business to the Guy L. Smith abode.
A Funeral Home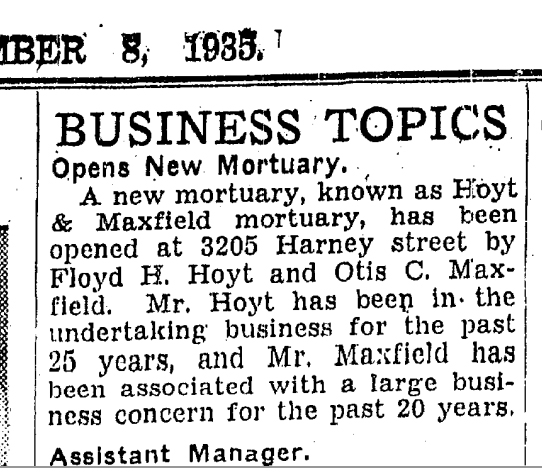 OWH Sept 1935. It is with solid evidence that offer up the Hoyt & Maxfield funeral directors name. The Hoyt & Maxfield operation was listed in the 1936 Omaha City Directory pages. The partnership ran months of mortuary advertisements in the World Herald until late May of 1936, when all of a sudden they placed the building on the real estate block once again. Of course, they did not mention the home's recent line of work in their communiqué.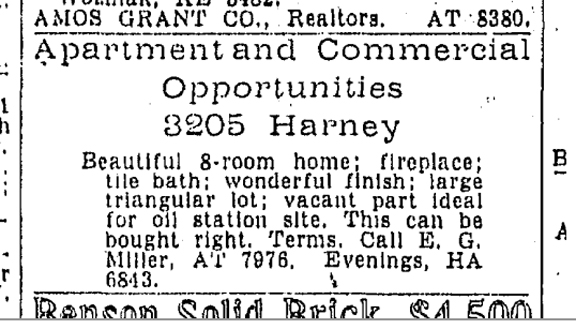 Dec 27, 1936 The house is up for sale. Note the realtor's name: E. G. Miller. The 1937 Omaha Directory had the address listed as VACANT.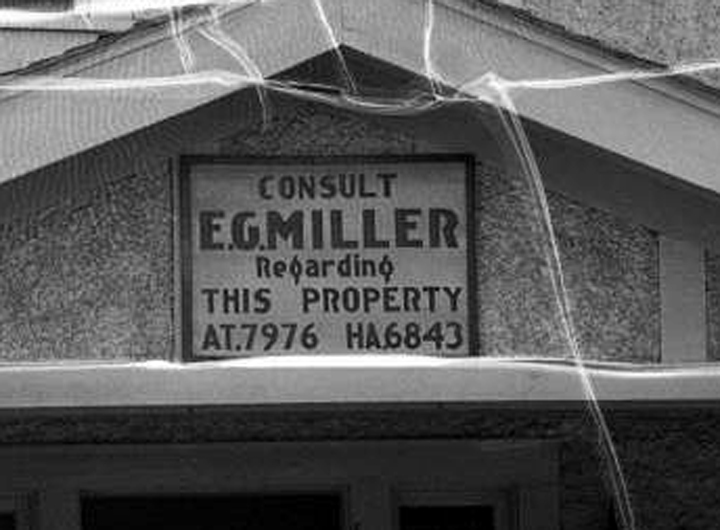 The exterior of  3205 Harney Street. Detail of the sale sign, shoved right up under the gable. E. G.. Miller.  Bostwick, Louis (1868-1943) and Frohardt, Homer (1885-1972) The Durham Museum. April 1937.
A Brief N. P. Swanson History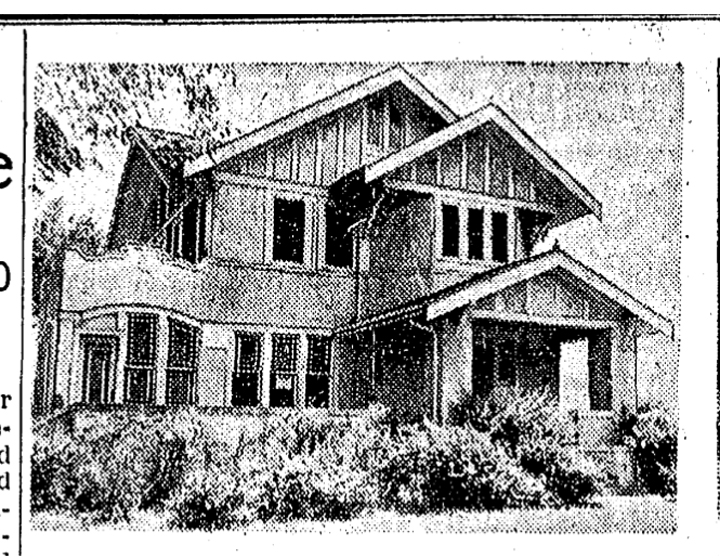 OWH June 20, 1937. This was the photo and accompanying  write-up that lured me back in recently while completing the book.
"N. P. Swanson, mortician, has purchased the above two and a half story stucco house, at 3205 Harney Street, and will remodel it for use as a funeral home. Plans call for construction, on the east side of the house, of a chapel that will seat two hundred persons. At present the Swanson establishment is at 1625 Cuming Street. The new location was purchased from a building and loan company through E. G. Miller." Don't you just love the word mortician?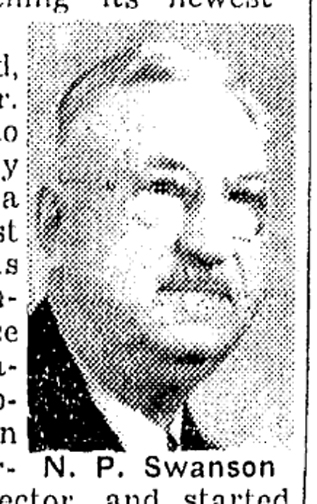 N. P. Swanson, I was soon to find, had been in the mortuary business since 1888. A veteran mortician, Swanson was also considered an Omaha funeral pioneer. According to the 1930 United States Census, Nelson P. Swanson had immigrated to America in 1884. He was born in Sweden in 1866 (other accounts say 1868). I would pinpoint his birthplace to Lund, Sweden. He came to Omaha in 1885, first working in the land commissioner's office of the Union Pacific. He was drawn to the H. K. Burket funeral home, working closely with the funeral director. Shortly thereafter, he branched off to his own business at Seventeenth and Cuming Streets in 1888. I believe this was an example of an old school, speedy apprenticeship. Swanson then entered the embalming and funeral directing business with George C. Valien.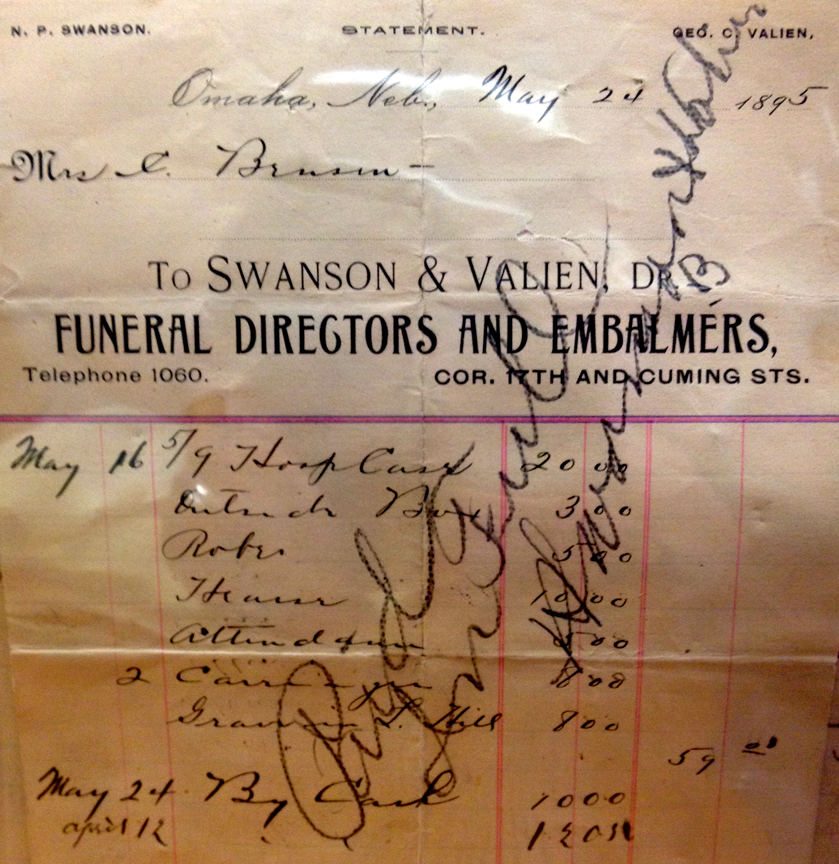 Swanson and Valien mortuary bill from 1895. Funeral directors and embalmers at Seventeenth and Cuming Streets. Am I reading this correctly– that there was an ostrich box? Lent with permission from the W. Dale Clark Downtown Library Reference Desk.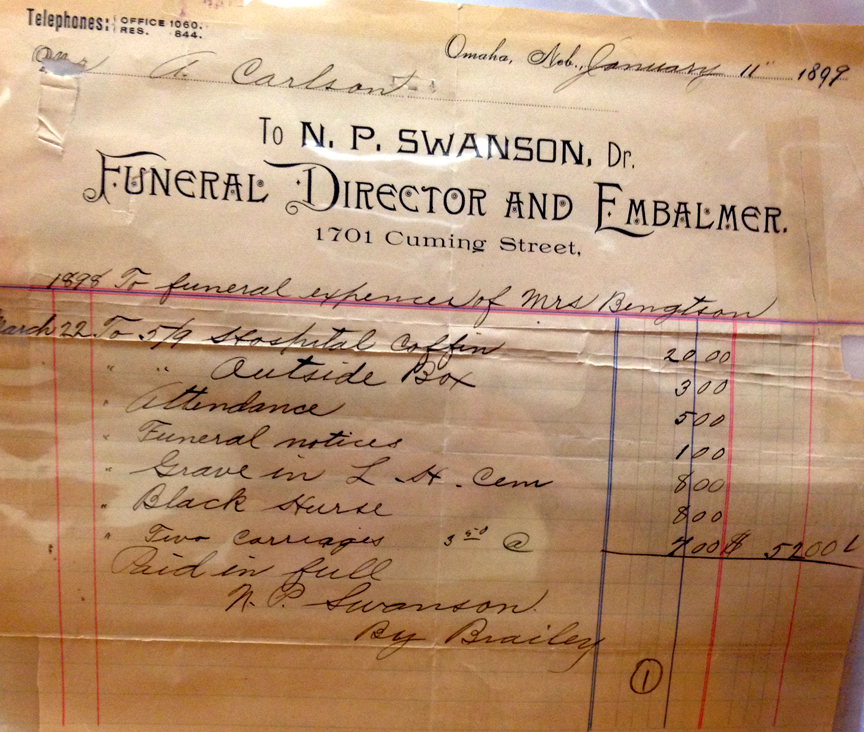 January 11, 1899 funeral bill of 1898 funeral expense for Mrs. Bengstrom from N. P. Swanson Funeral Director and Embalmer. 1701 Cuming Street. Lent with permission from the W. Dale Clark Downtown Library Reference Desk. Sorry if you are hating this but I get very excited about handwritten ephemera and the old time fonts. So beautiful.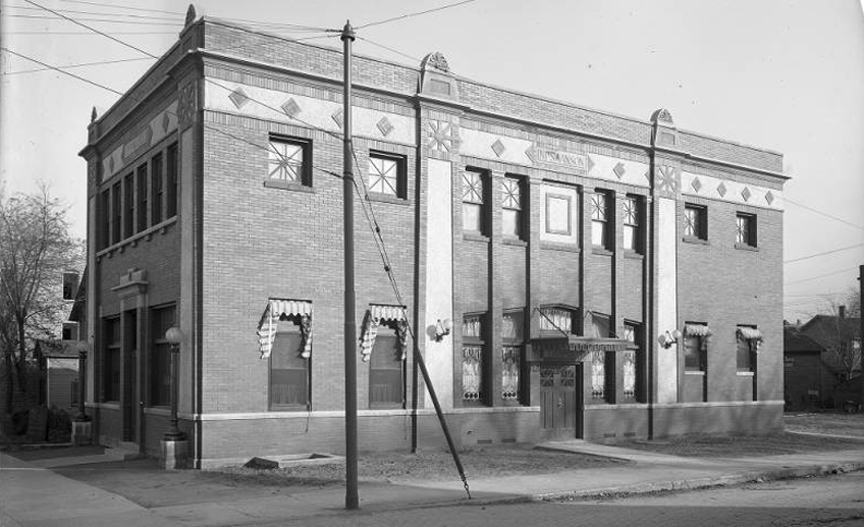 1912. N. P. Swanson's attractive mortuary at 1623 Cuming Street.  Bostwick, Louis (1868-1943) and Frohardt, Homer (1885-1972).  The Durham Museum
The Renovation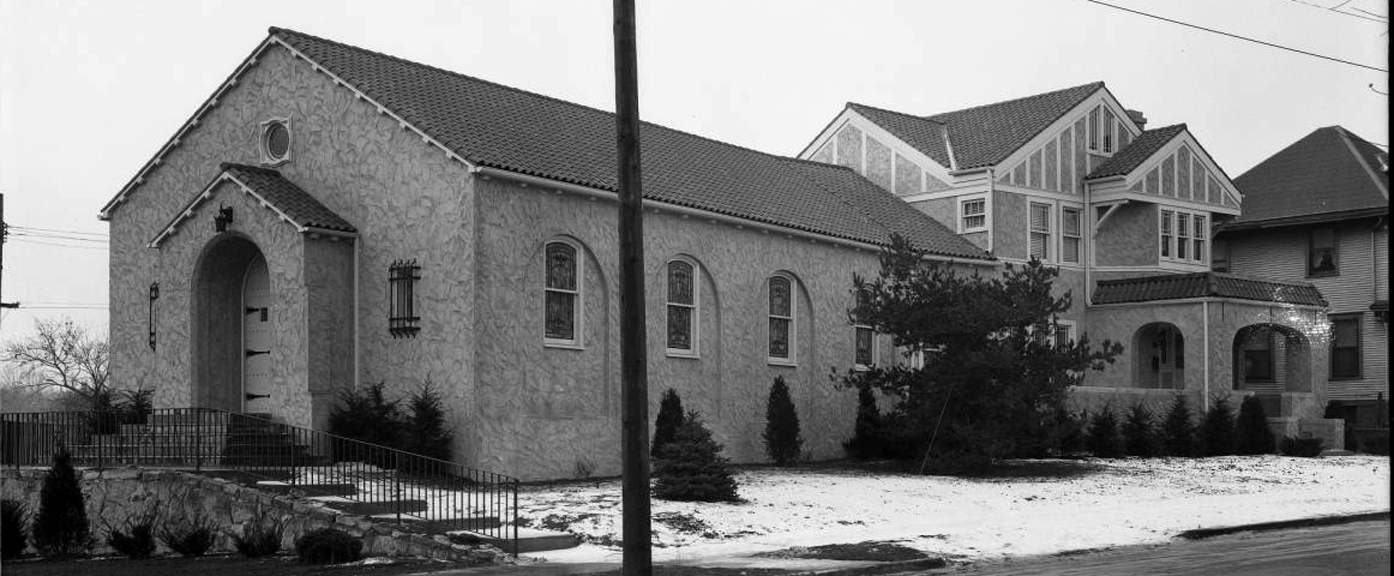 In December of 1937, the Omaha World Herald announced the opening of the new Swanson Chapel at 3205 Harney, seating 250, with an additional drawing room for one hundred. The chapel contains an organ and "hearing devices to aid hard of hearing" were being installed. The exterior was described as of Spanish design. Notice the arcaded entry porch with large square piers, "arched" above and interior of  stucco. The stucco exterior throughout is common. Typically shallow red clay tiled roof, cantilevered from wall surface or called a visor roof.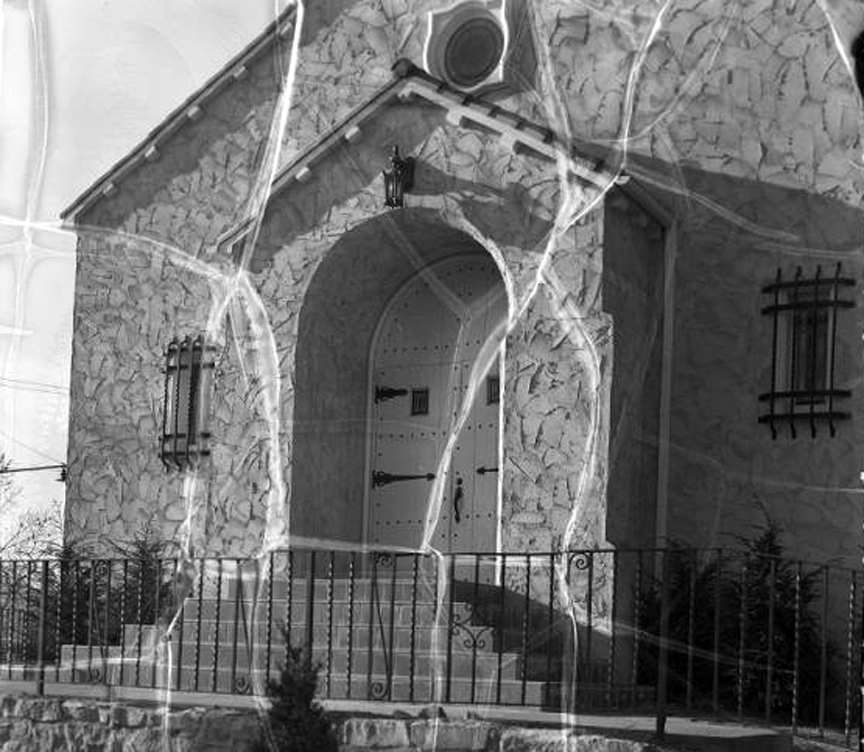 The exterior of the chapel at 3205 Harney Street. Bostwick, Louis (1868-1943) and Frohardt, Homer (1885-1972). The Durham Museum. Date 1937-12-17. Note the wrought iron details on the doors, the hinges, studs and windows, the heavy stucco, the arched door and the great  lantern.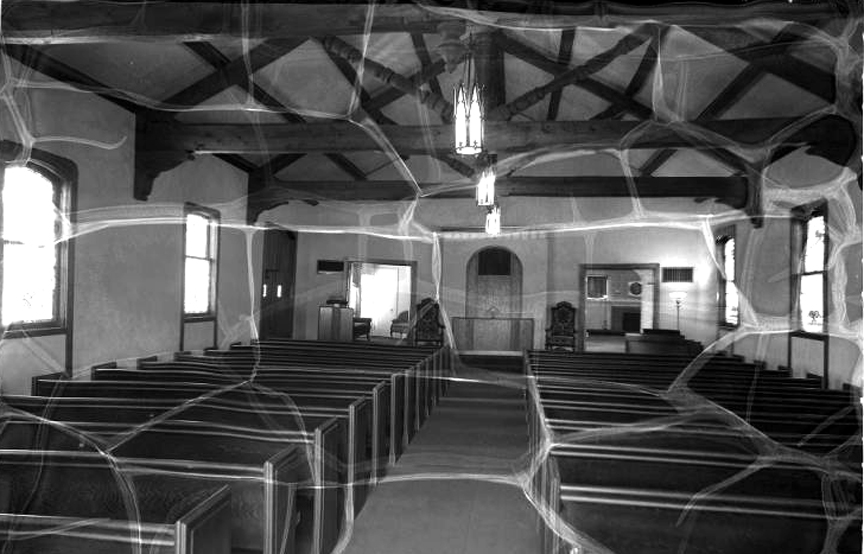 The interior of the chapel at 3205 Harney Street. Bostwick, Louis (1868-1943) and Frohardt, Homer (1885-1972). The Durham Museum.  1937-12-17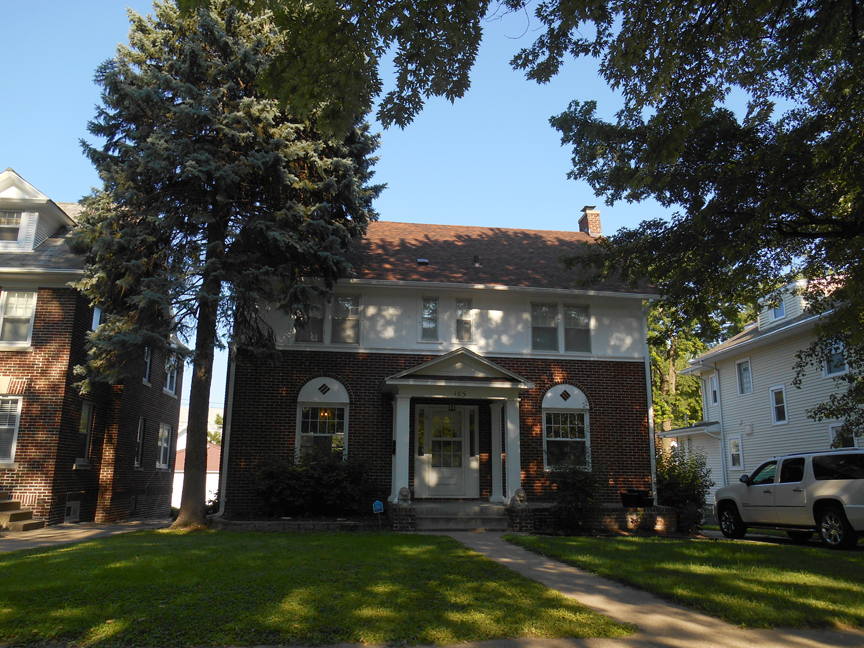 Meanwhile regarding domestic affairs, Nelson P., called "Nels" and Nettie E. Swanson had two sons Ray and Harry. In 1938 the couple lived at 105 South Fifty-first Street located in Dundee. This classic, upright Colonial was built in 1922 according to the Douglas County Assessor's site.
Brief Pictorial History of the N. P. Swanson Mortuary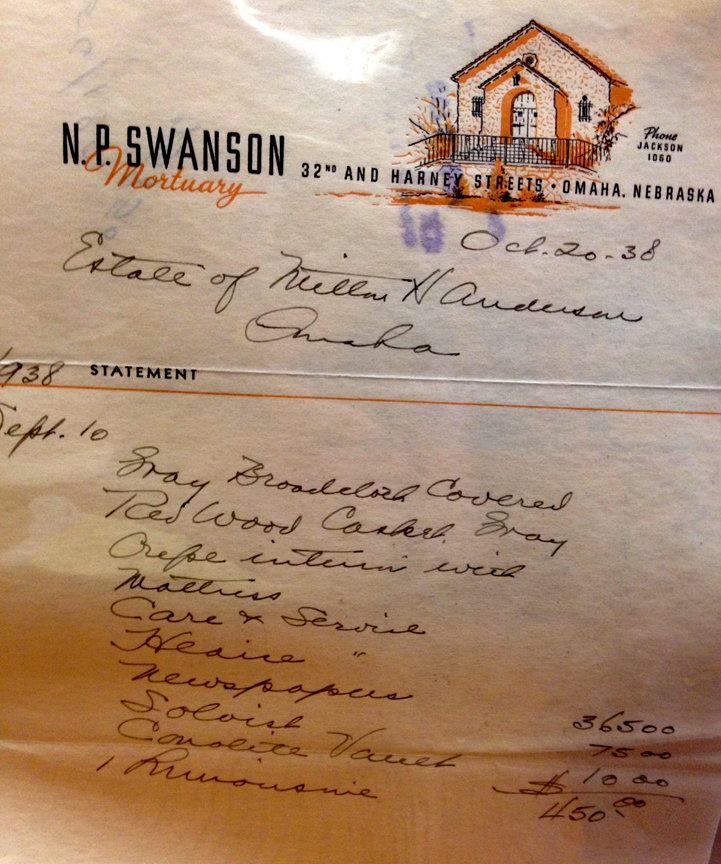 The N. P. Swanson Mortuary would have many decades of success at the 3205 Harney location. Here is a N. P. Swanson Mortuary Bill from Sept 10, 1938. I share it because of the cunning, little, orange illustration of their new addition, the chapel. Lent with permission from the W. Dale Clark Downtown Library Reference Desk.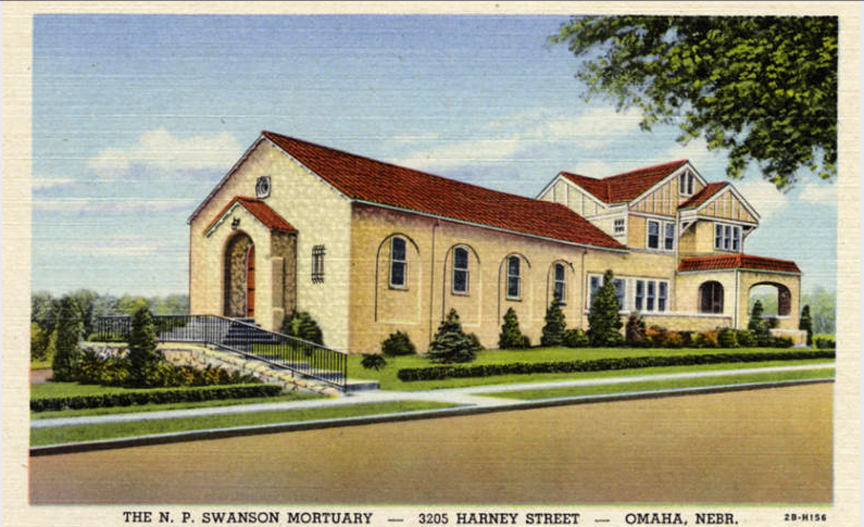 1942 postcard. The N. P. Swanson Mortuary, Omaha, Nebraska. 2BH156. Postcard showing the exterior of a mortuary with an arched entranceway on the left side of the building. Published by Curt Teich & Co., Chicago IL. Borrowed from the Newberry Library.
By October of 1943, Mr. Swanson would advertise a well heated furnished room with bath in exchange for answering "night telephone calls every other night" at 3205 Harney. It would appear that 78-year-old Arthur J. Jackson, might have been one such night telephone attendee. In 1944 he died in the funeral home and his funeral services were held mere steps away in the N. P. Swanson chapel.
Son, Harry Swanson, 55 also apparently lived in the funeral home in 1947 with his wife, Ruth F. Sandberg. By the 1950s Harry R. Swanson was mentioned in all N. P. Swanson ads and his name's font size was getting larger. Had he taken over the family business and had father Nelson died by then? When Ruth died at a young age in 1952, no children were listed in the obituary and likewise I was not able to find any heirs to Harry R. Swanson.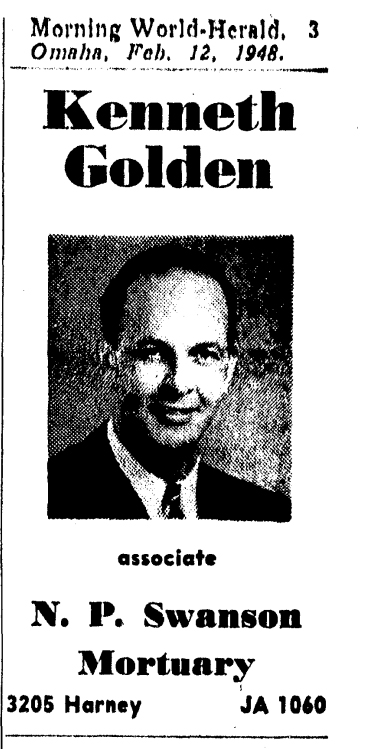 OWH Feb 12, 1948 Kenneth Golden. By winter of 1948, Kenneth Golden would enter an association with N. P. Swanson. Golden had been in the mortuary business for twenty years at that point.
In 1955 the Douglas-Omaha Geographic Information Systems site aerial photo shows three good size houses directly to the west of 3205 Harney, and what looks to be a large apartment building directly across Harney to the north and seven (?) large homes west of that to the Thirty-third street intersection. 1957 Omaha City Directory: 3205 N. P. Swanson Mortuary Inc. in Harry Swanson's name. Next door neighbor to the west was American Linen Supply at 3227 Harney. 3229 was Donovan's Suprette, a grocery store. 3231 was Kitty Lou's Shoppe, a small café. Side note– 3231 Harney would house Circos Bar in the 1980s and 1990s. My word, if walls could talk.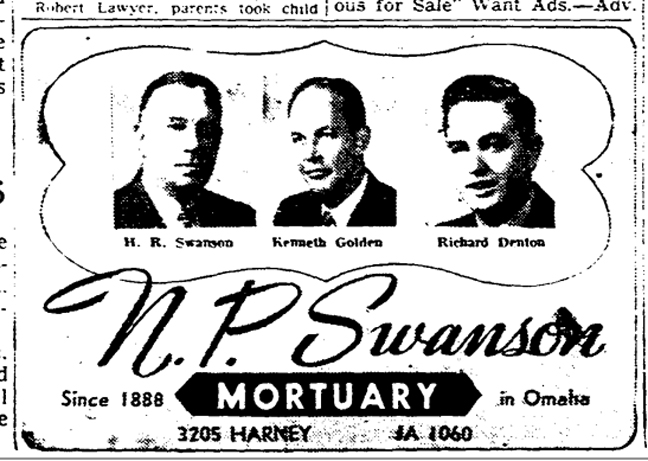 OWH ad of January 8, 1958. Harry Swanson and two others featured. Fantastic Fifties font with a classic Mid Century layout.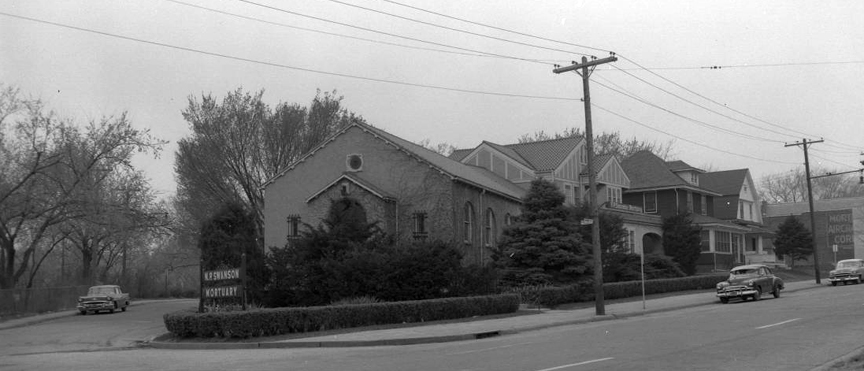 The N.P. Swanson Mortuary in August of 1959. I love everything about this shot. We can see the homes to the west and the great angle of Dewey. Savage, John (1903-1989. The Durham Museum. Very shortly after the row of homes to the north would be torn down and replaced with a private parking lot.
In 1970s the business was still called N. P. Swanson but the Swanson Chapel was transformed to the Kenneth Golden Mortuary with new owners Richard "Dick" Denton and Alan Kula. Through a genealogy site, I would discover Harry R. Swanson had died in 1968. He was buried at Forest Lawn Memorial Park. The Omaha World Herald announced in 1988 "Chapels Merge With Mortuary." The Crosby-Kunold-Burket Funeral Chapels proclaimed a merger with Swanson-Golden Mortuary, to be known as Crosby, Kunold, Burket, Swanson, Golden Funeral Chapels. The Swanson-Golden funeral home at 3205 Harney St. had "been closed," while the chapel in Bennington would remain open, leading me to believe there had been expansion at some point. The main office of the new merger would be at the Crosby-Kunold-Burket chapel at 3166 Farnam Street. Although the article mentioned the 3205 Harney address chapel was closed, the 1989 City Directory still had N. P. Swanson registered as owner of 3205 Harney. I found it interesting that the Swanson name would again be tied with the Burket funeral home. As you might remember Nelson Swanson had originally learned his craft under the original funeral director Burket.
A Merry New Start
Excitedly the 1990 Omaha City Directory presented A Merry Occasion as having taken over the 3205 Harney property.
In January 1990 Merry K. Nimrod, would remodel 3205 Harney Street to the tune of $50,000 with sights fixed on a new design– to turn the former mortuary into a wedding chapel. I cannot be sure what inspired this idea but it was certainly a creative endeavor. The next year she would marry Steven D. Johnson and I believe the couple then operated A Merry Occasion Chapel and Hall, a rental space for events of all kind. 1995 was the first time I found mention of A Merry Occasion Tea Room. When the World Herald did a story on the rising tea trend of the 1990s, Al Kammerer was interviewed and described as the operator of A Merry Occasion Tea Room. Additionally a Yelp reviewer mentioned A Merry Occasion "used to serve lunch, definitely a ladies' lunch place, serving soups, salads and quiches." My word. I was dying to know what portion of the house the ladies' tearoom was situated in.
From A Merry Occasion's website I found these intriguing clues. "After years of renovation, it was opened in 1991 as a unique wedding facility. The building is handicapped accessible with an elevator. The midtown location is next to Mutual Of Omaha, and only several blocks from I-480. The original living area of the house is now an eclectic boutique. The tearoom can also be rented for showers, luncheons, and small parties for approximately 24 guests. We hold about 100 weddings here every year!" The owners also mentioned that the "lower level of our wedding chapel has a 1500 square foot reception area that will accommodate a maximum of 120 guests." And yes, from what I could unearth, funeral and celebrations of life would continue to be held at 3205 Harney, especially in the later years.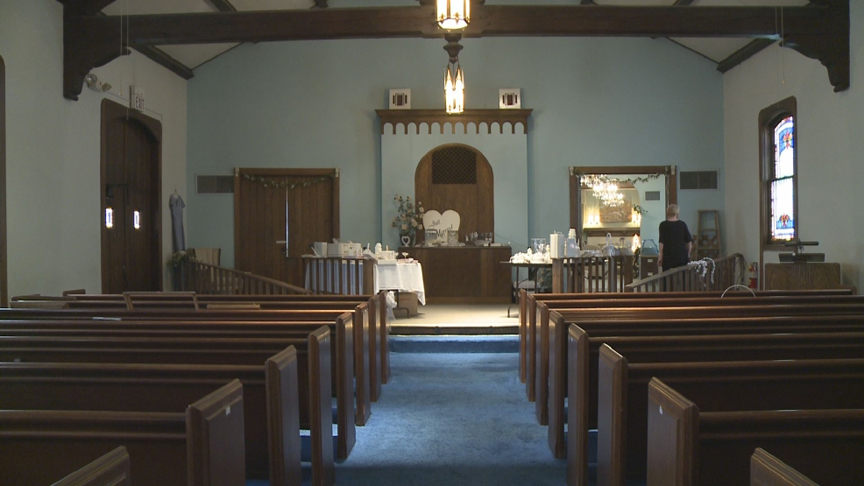 May 20, 2013. Borrowed from the Fox 42 site.
2011 was the last time I was able to find mention of A Merry Occasion in the newspaper and I figured it was sadly on the way out. A KPTM report from May 20, 2013 dealt the final blow. "A Merry Occasion has been serving as a chapel for weddings for the last 24 years. On Monday they decided to close the doors. The owner, Merry Johnson blames the new development by the Mutual of Omaha Plaza. She tells Fox 42 News when they built the parking garage across the street near 32nd and Harney, business began to fall off and she now hasn't had a wedding since January. 'The streets were closed, constantly around here and there were mounds of dirt and trucks going beep beep beep construction truck and no bride wanted to get married to that mess with dirt going into their face,' she said."
The development and parking garage Johnson spoke of was the Midtown Crossing project. The original garage to the west had been in existence since the early 1980's. The public garage, to the north of a Merry Occasion was built, according to the developers, five years prior to 2013. Regrettably Merry Johnson was to hold an Estate Sale to help pay for the cost of closing down the business. She would plan to put the business up for sale the next Tuesday.
New Owner
Through the Zillow site, I discovered 3205 Harney Street was sold as a single family home. It was listed at 4,752 sq ft, containing three bedrooms and three bathrooms. The home sold in October 2013, a mere five months after Merry Johnson announced she was putting it up for sale.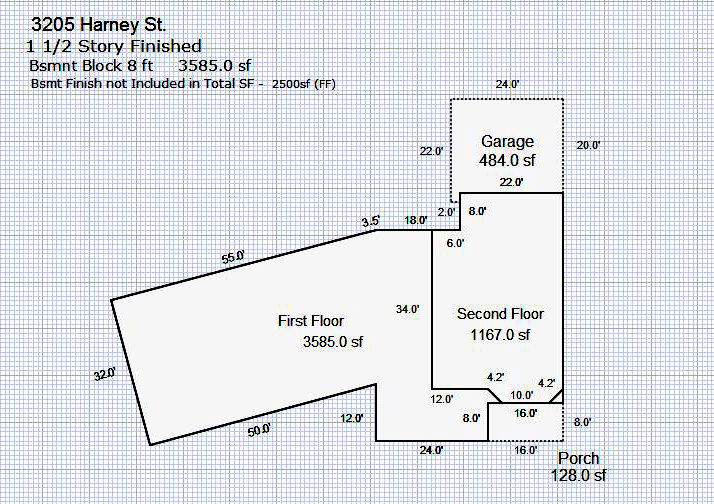 Image from the Douglas County Assessor's site.
I was beside myself and longed to know what 3205 Harney's interior now looked like. According to a building permit filed with the city, the new owner apparently put $55,650 into remodeling just this last May 2018. I delighted to imagine what was in store for the building. Was it really a single family home? Did the new owners intend on opening another business? What were they doing with the chapel now? All things worth knowing! But with regard to the new owner's privacy, I accepted those were questions I might just have to obsessively dream about. You see, at the risk of sounding melancholy, a sunny place I often inhabit, 3205 Harney is but another peculiar legacy of our past. I have already committed to her considerable diversion and dream of a day when I can link my arms in hers and step within that arcaded porch of yesteryear.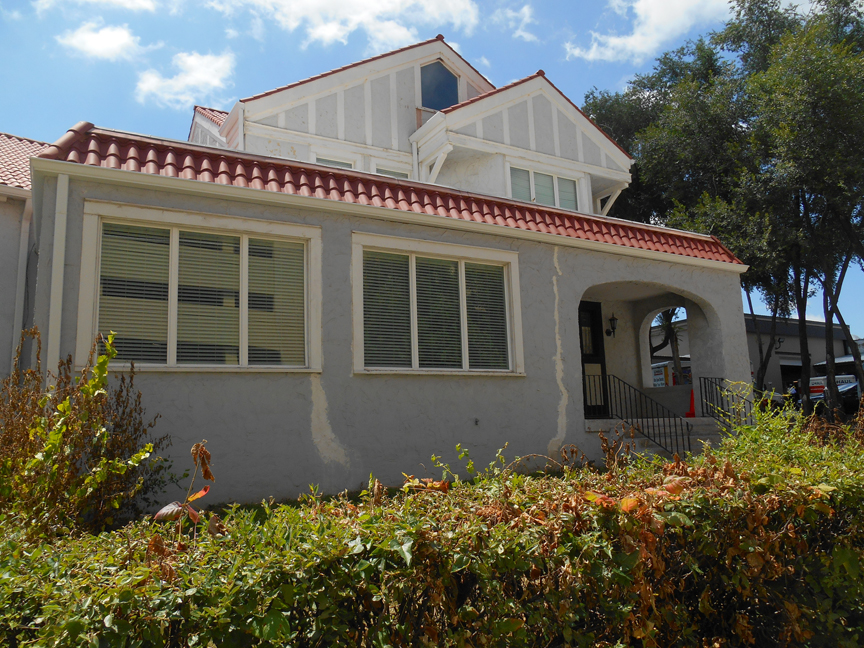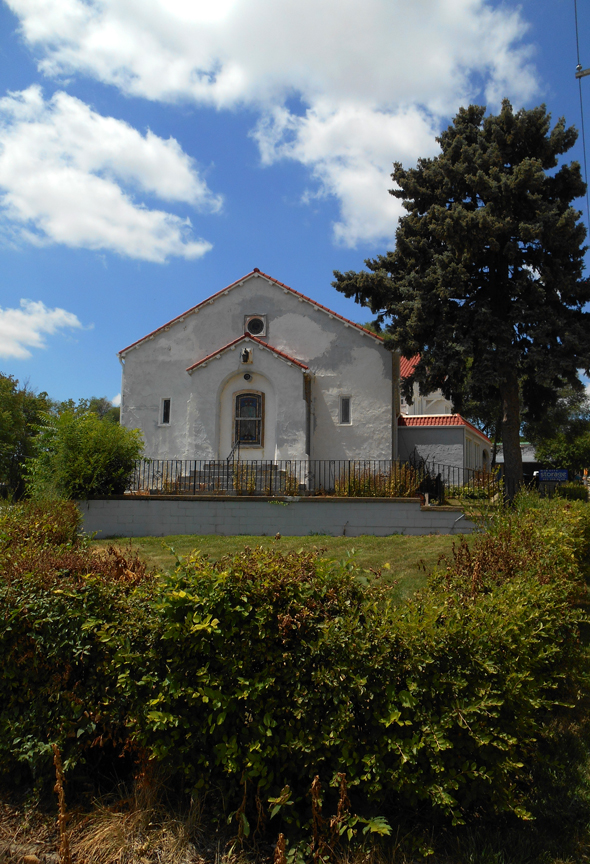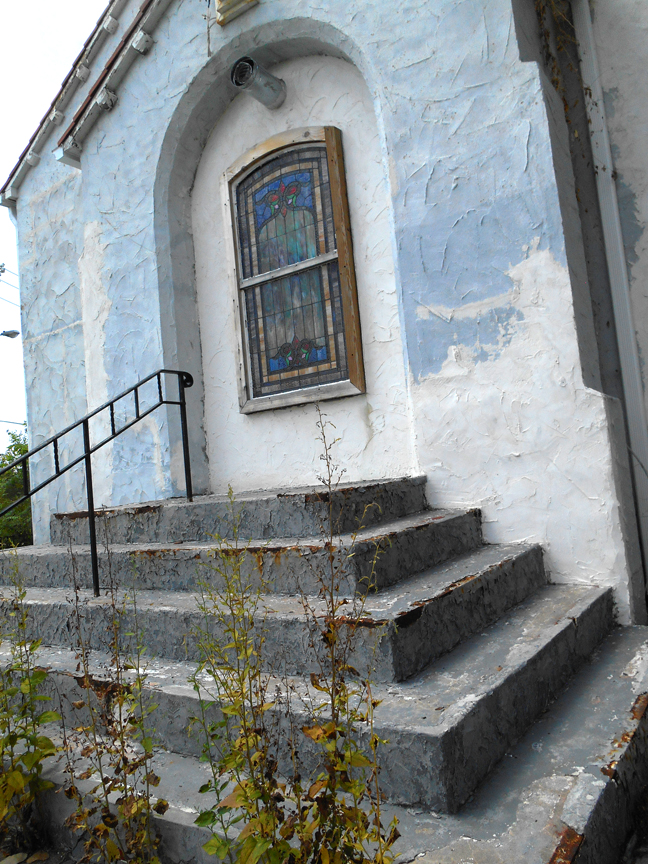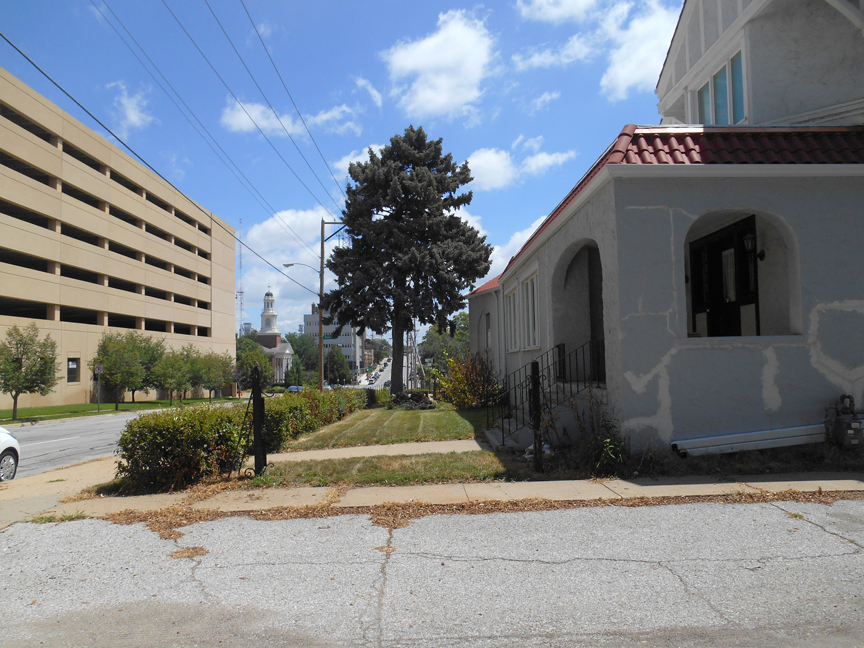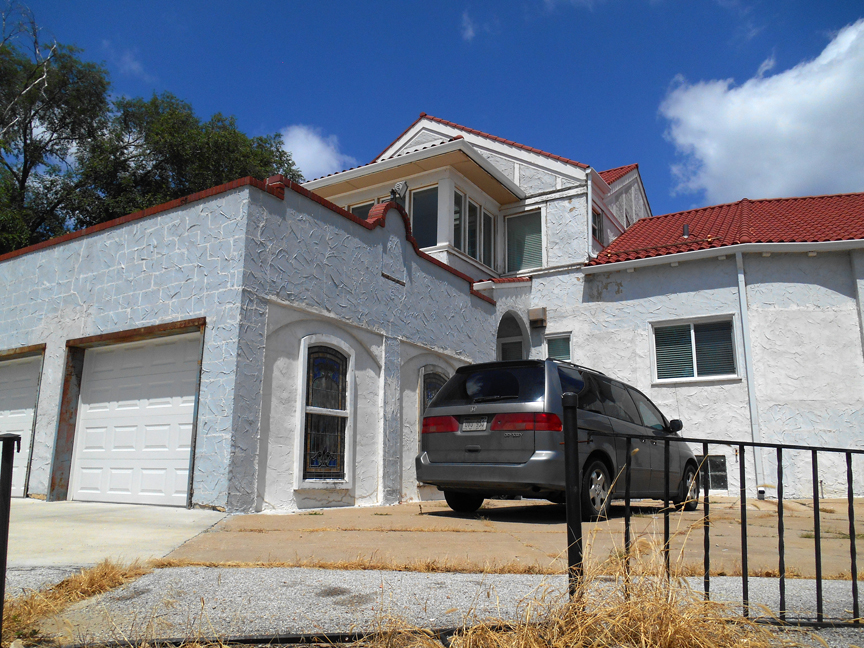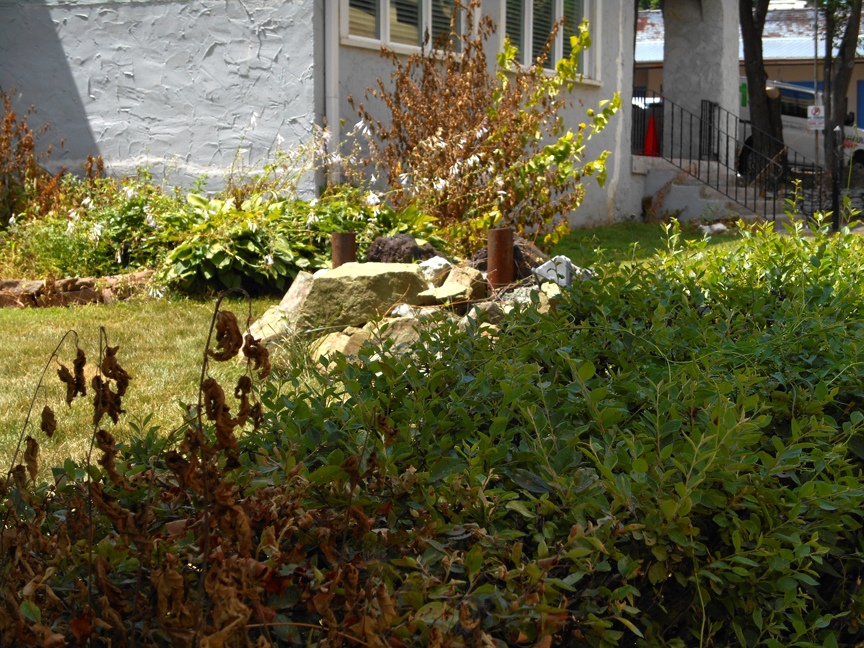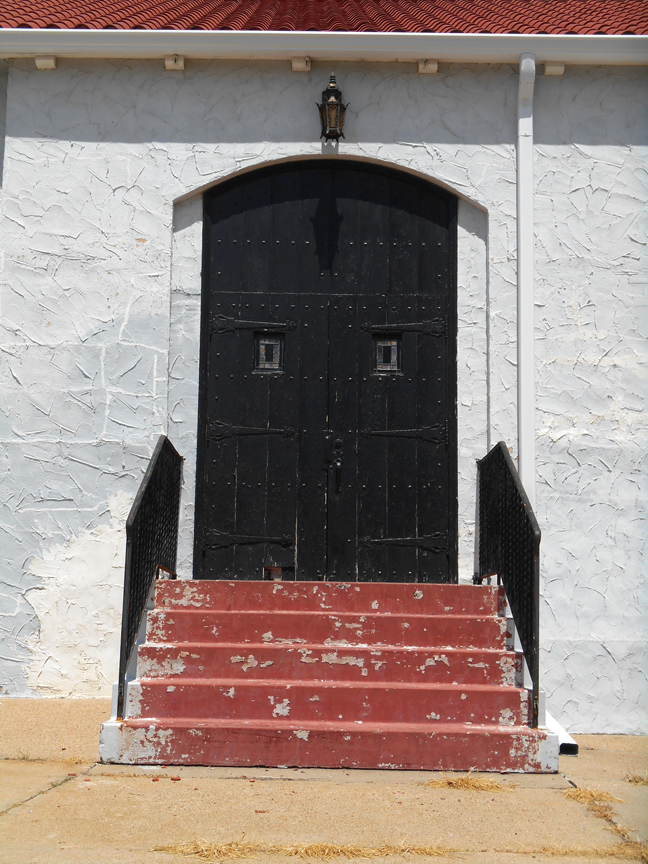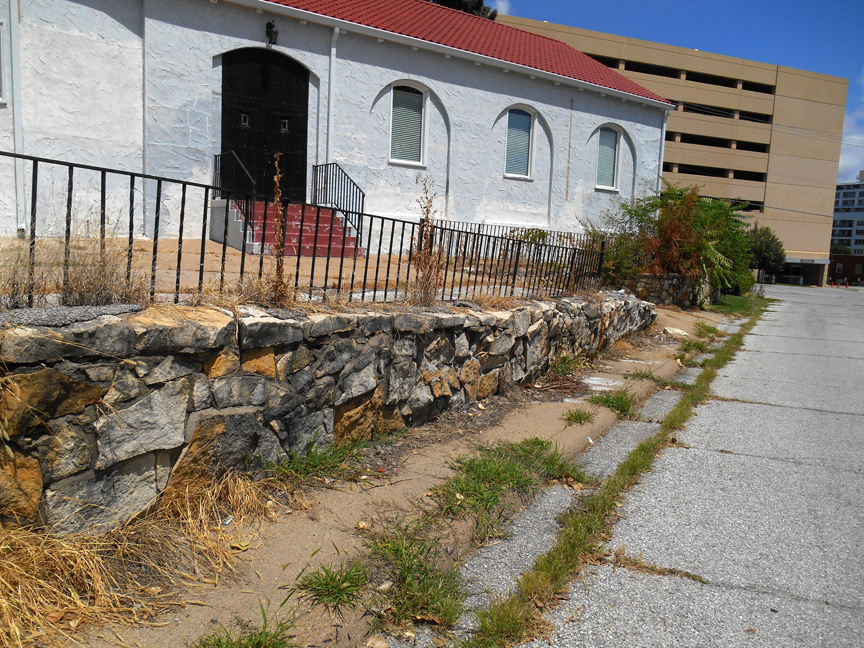 I welcome your feedback and comments on this treasured building, its storied list of incredible owners and the Dewey Park neighborhood. Please share your additional clues to the story in the comments as we know more together.  Everyone would love to read what you have to say and it makes the sharing of Omaha history more fun. I want to hear from you. You can keep up with my latest investigations by joining my email group. Click on "Contact" then look for "Sign me up for the Newsletter!" Enter your email address. You will get sent email updates every time I have written a new article. Also feel free to join My Omaha Obsession on Facebook. Thank you, Omaha friends. Miss Cassette
© Miss Cassette and myomahaobsession, 2018. Unauthorized use and/or duplication of this material without express and written permission from this site's author and/or owner is strictly prohibited. Excerpts and links may be used, provided that full and clear credit is given to Miss Cassette and myomahaobsession with appropriate and specific direction to the original content.