We received a surprise notice from a friend named Julie in the ol' P. I. office box the other day. It was riveting word from the street, succinct and pressing. It read: "One of my favorite houses at 80th and Woolworth, that has been empty forever, just had all the hedges and gravel drive cleared. I am hoping something wonderful is about to happen!"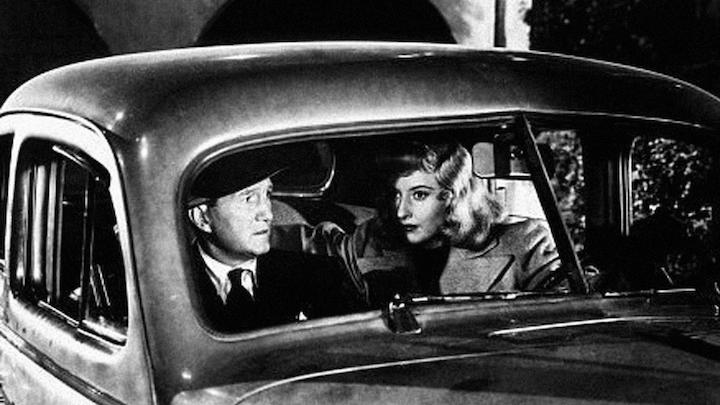 Why fribble frabble around in these fleeting times? Friends and new acquaintances and stragglers, you can believe my architectural allegiance impelled me to drive over there at a lick. Lo and behold, I had never surveyed this contemporary house at 7998 Woolworth Avenue, let alone contemplated the mystery of it all. It is best, as I might have developed a full neurotic infatuation around its very being, had I known.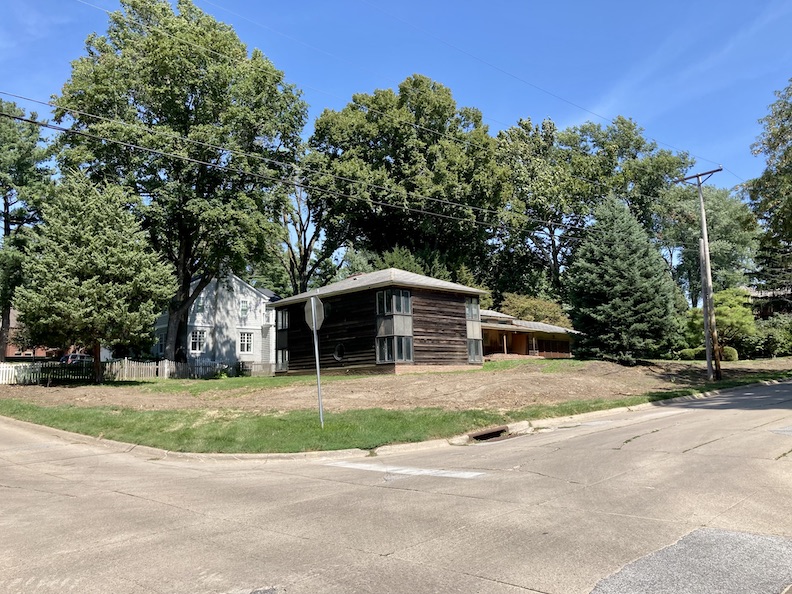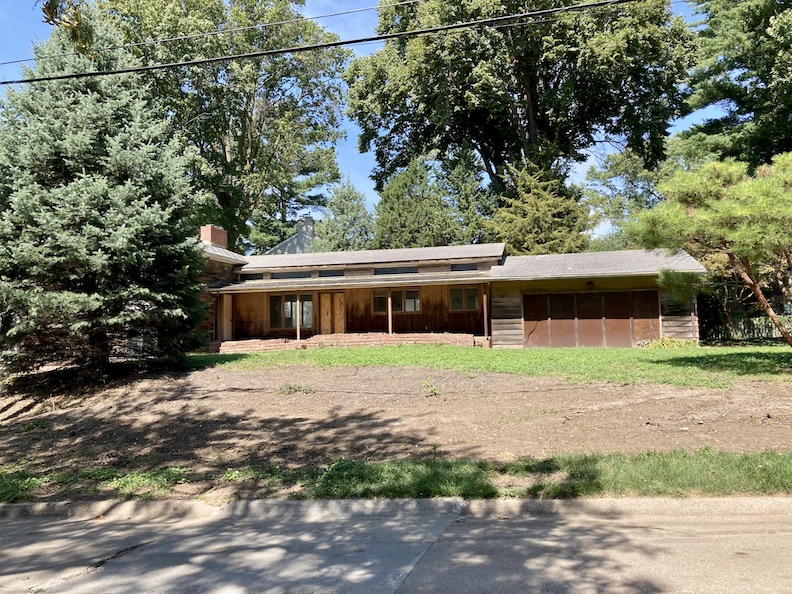 7998 Woolworth Avenue, stripped down, as it appears today.
The dark, rough cedar structure, newly exposed, was one I had all but numerous chance encounters with and somehow never peered beyond its thick border of shrubs. This gird of mature trees and thicket had been doing the undergrowth work of a cloak master, its outward semblance murmured, "Nothing To See Here, Fern." For that trick, we applaud this whole northeast corner.

How it used to look, not too long ago.
In a later huddle with Julie, she would divulge that her partner lives nearby and very often they walk the dog down the street. Her partner has lived there over fifteen years and not known anyone to live in the hidden house.
Now, many of you Lovers of MCM or just Run of the Mill Smarties will say, "That is My Favorite House. How did you not see it, Miss Cassette?" And to you, I say, as Reinholdt F. Hennig is my witness, I did not catch whiff of what was behind that verdure shield and for that, I am sorry. Among its many intriguing characteristics, what I found immediately crushable about 7998 Woolworth, was the potential for Obscurity in those dark cedar boards, the rustic woodiness like a cabin, aged to perfection. This backwoods hint combined with the minimalist, contemporary, hard lines was the ticket. It was unusual and stimulating. Was it 1950s or was it 1970s? My, I felt goosey. Why this strange desire? Where's my will? I implore you, wise ones already in the know, please contribute and help us with today's case.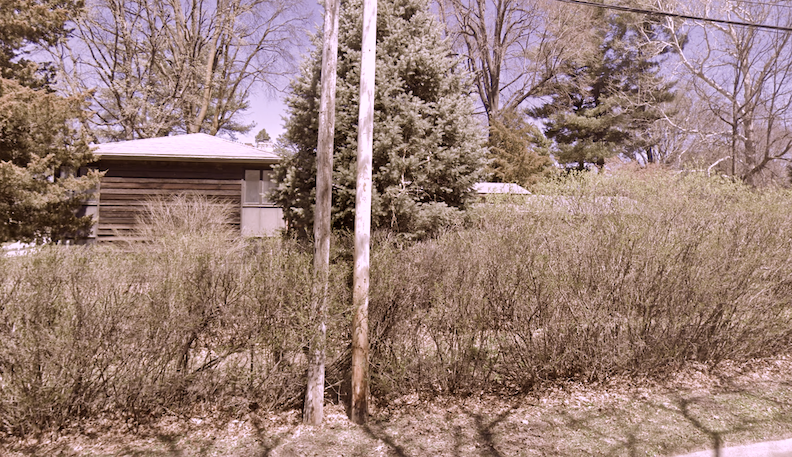 I set in on my own. 7998 Woolworth Avenue was publicly announced as newly sold in early June and oddly, again in August of 2023. It has been empty for quite some time. The city had it listed as built in 1951; I discovered a conflicting date—more to follow. It's legal address is Lot 7 in Block 17 of the Loveland Addition. But the actual crest in the sequence of events that brought me to the floor, clutching my Butterscotch Bakelite Carved Bangle to my heart, was finding that this empty 7998 Woolworth Avenue was the Cedric Hartman house. As in, his personal home. The Cedric Hartman Trust and Hartman, Cedric, trustee recently sold the corner lot house for $400,000.
How could this be? And yet, it also made immediate sense. Over a decade ago I had heard lore of Cedric Hartman but have only ever gotten as close as a preview of his exhibition at Kaneko Art Gallery before his reluctant show opened in 2014. Cedric Hartman is Omaha's quiet, internationally-known, understated lamp designer, working with his team as Cedric Hartman Inc.  He is also quietly famous for his sofas, tables and interior design–he designed Omaha's iconic M's Pub (with John Morford) and the French Cafe. He is an industrial and domestic architect, and started the Afternoon gift shop, along with good friend, Judith Wigton. Cedric and Judith are also credited by Sam Mercer with having the original idea of the Old Market. Like so many of hard working Omaha's behind the secret scenes creators and craftsmen, Hartman's products are coveted across the globe but hardly known of in his own town. I could go on and on and I will, a bit later.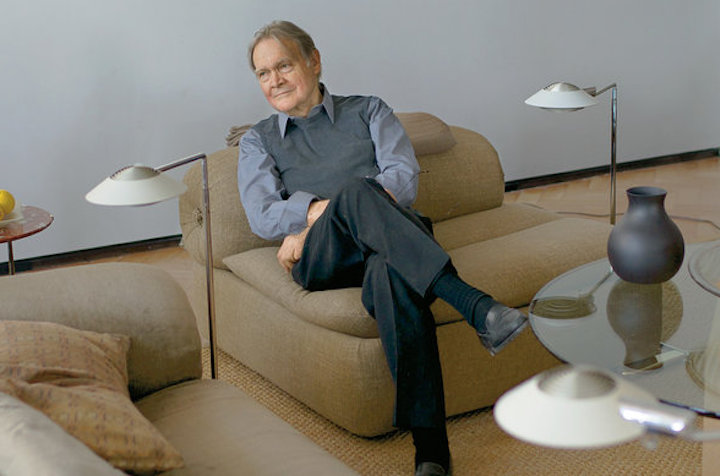 Image of Cedric Hartman borrowed from Andres Gonzalez. New York Times. 2014.
For more peeks and information on Mr. Hartman's designs, check out: Cedric Hartman.com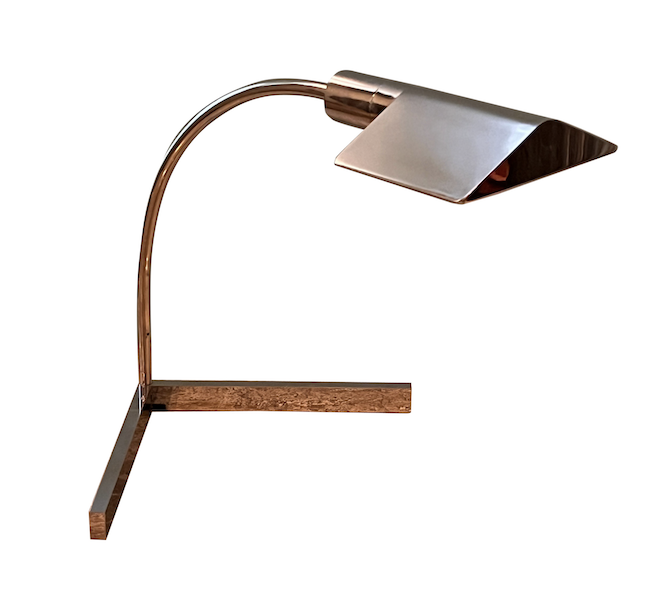 A chrome plated articulating desk lamp designed by Cedric Hartman. 1970s. Although Hartman began his first lamp design in 1963, his first formal output was dated 1966. His subtle, elegant creations have never fallen from fashion.
Faye Dunaway says all of the great homes have a Cedric Hartman lamp. There is a good chance I might never know this glory.
Obviously my pulse had increased. To find that Mr. Hartman and his family owned this mystery home was exhilarating. Let's get back to the matter at hand.
The History of 7998 Woolworth Avenue
Our silent suspect, 7998 Woolworth Avenue, was built in the gorgeous Loveland Addition. Here is the 1922 plat map for Loveland. I outlined the perimeter for 7998. Lot 7, Block 17.

7998 Woolworth Avenue, lower left hand corner.
By the earliest aerial view of this neighborhood (1938) through the DOGIS site, all I could make out was the 1330 South 79th Street house built in 1937. That property is seen on the plat matp as Lot 6. This beauty queen is directly to the east of 7998 Woolworth. She is absolutely gorgeous and my fav of the area. Snow White would definitely lay her head here.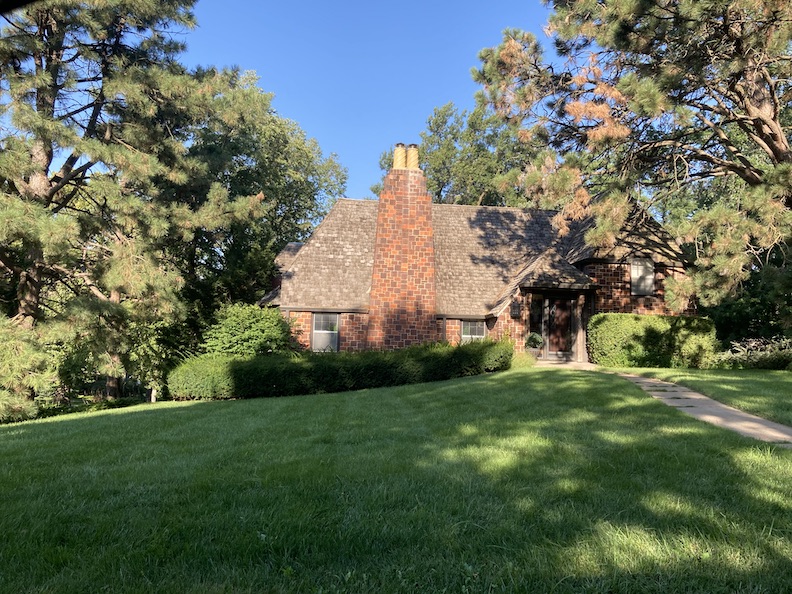 1330 South 79th Street looks as beautiful today as the day she was born. And get a load of those chimney post? Glorious.
I have gone on and on previously about the Shuler & Cary Realtors who developed the Loveland Addition. In 1937 Kittie E. Angood bought Lot 7 in Block 17 (where 7998 Woolworth would later be built) from Mr. and Mrs. Daniel Cary. At that time, Katherine "Kittie" La Barre Angood was widow of Fred C. Angood. Kittie had worked at Beno's Department store for 30 years and lived with her only child, adult daughter, Mary Angood, at 202 North 22nd Street, Apartment 32. These were the Coronado Apartments. Mary, I would find, was a teacher at Central High School. Kittie and daughter Mary would continue to live in the Coronado, so I would guess that they bought into Loveland as an investment or perhaps for a later home for Mary.

May of 1937. OWH. Real estate transaction between the Carys and Kittie Angood.
In the fall of 1946 the unsold Loveland lots around 80th and Woolworth were going for $2,150.00. They were sold by the McFarland & Kennedy firm at that time. Of note back in spring of 1939 one could buy 4 ½ acres at 80th and Woolworth for $2,000 cash.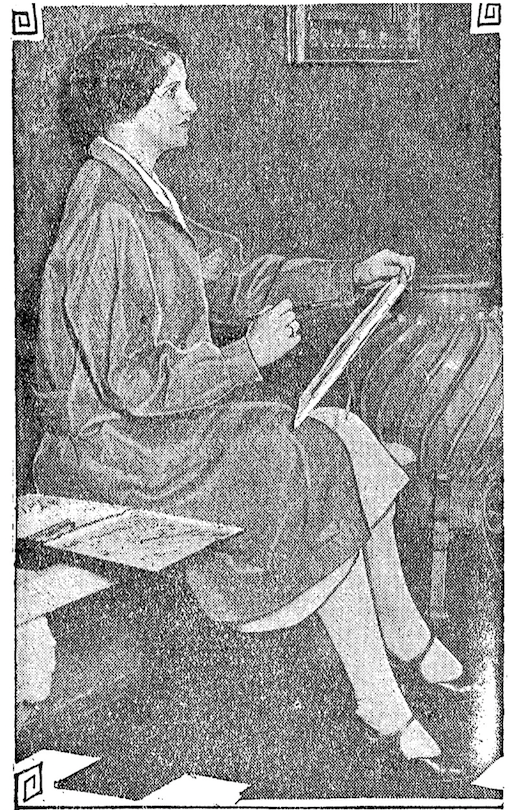 1927 OWH. Miss Angood as seen at the Riviera Theater.
Miss Mary Angood never married, never had a child and never built that home in the suburbs. I would like to think she had her sights set on other preoccupations. Mary Angood was an art teacher at Central High. She had a passion for the Riviera Theatre where she spent countless hours alone taking in the spirit of Italy, observed and felt in the theater's corridors, lounges, flowered balconies and brass hinged doors. She painted and drew etchings within the playhouse and was known to take her students there as well so they could sit and absorb all that she felt there. Miss Angood would become head of the Central High's art department. She lived out the rest of her days at the Corondao, winning best of breed owner in the Nebraska Kennel Club show for her Japanese Spaniel named Koko San.
Mother Kittie died in 1941 and by December of 1947 Mary Angood sold the barren Loveland lot to one Cecil L. Hartman.

December of 1947. OWH. Sale from Miss Mary Angood to Cecil L. Hartman and wife.
Sed Hartman
Cecil LeRoy "Sed" Hartman had already lived a lifetime by most people's standards by the time he purchased in Loveland. Born in 1900, Sed Hartman had played Nebraska football back on the team that twice beat Notre Dame in the early 1920s. Hartman lettered for Nebraska in 1921, 1922 and 1923. He then became athletic director at UNO, then called Omaha University, coaching football (1930-1941) and basketball (1931 to 1935). A deeper dig reveals that he purportedly was coaching for a number of other colleges in the 1920s. Hartman seemed to be pretty tough coach, some disgruntled players rising up in 1939 to demand his firing from the big O. It didn't happen though. Sed Hartman would go down in history as one of the longtime greats.
In this period Sed had married wife, Bonnelynn "Bonnie." The World-Herald referred to Bonnie as " serious artist and an intellectual." The couple had two children–Cedric James Hartman (lamp designer of our focus, born in 1929) and Mary Emily Hartman (born in 1932).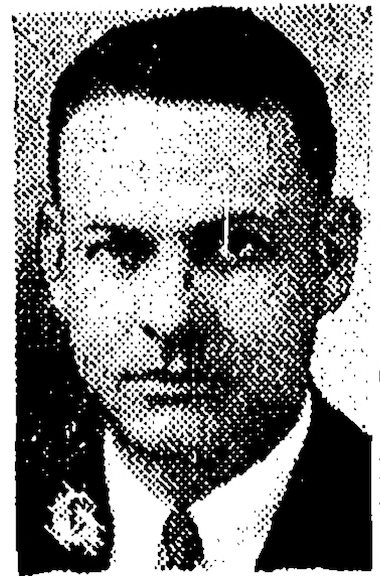 OWH. Sed Hartman at the time of the controversial UNO review due to athlete complaints.
Senior Hartman then served as lieutenant commander in the Navy in World War II. By the time he returned to Omaha in December of 1945, he did a bit of coaching for UNO. Oddly I also found he was fully in the construction and real estate business. I dug further and found that Sed Hartman Associates were doing business in as early as the 1930s.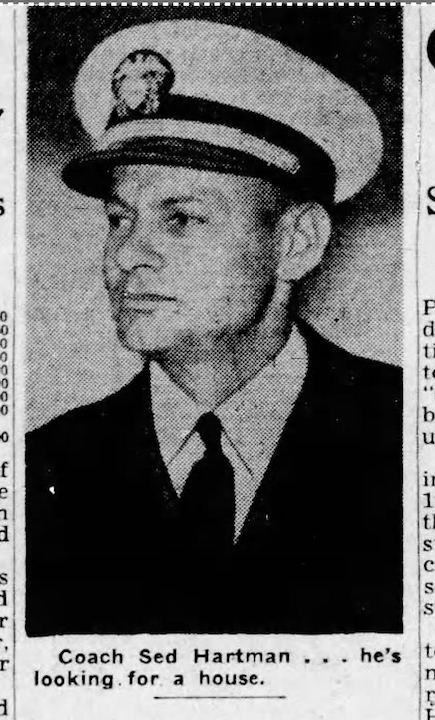 OWH. 1945 Cecil "Sed" Hartman was looking for a house.
The Hartmans had lived at 2714 Whitmore in the early 1940s. By 1949 the Sed Hartmans lived at 1325 South 80th Street. And what a nice house Sed found. This is a gracious home is just to the north of our spotlight in what was previously shown on the plat map as Lot 8. 1325 S 80th St, was built in 1946, and interestingly was considered a three-bedroom brick colonial, with marble faced fireplace. It is now a shingle design with four beds and 2.5+ bath, at 4,761 sqft.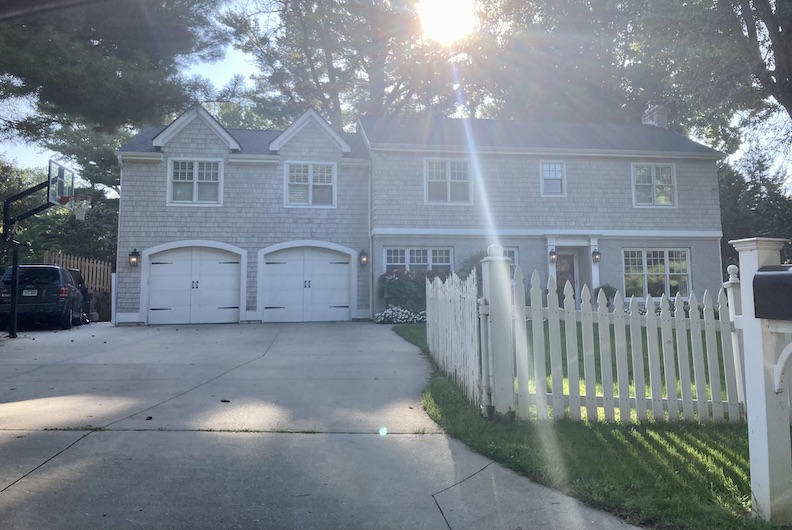 1325 South 80th Street, as she looks today. One can view the original portion of the house, on the right hand side, as a Colonial.
7998 Woolworth
In 1950 Sed Hartman, Cedric Hartman's father, built 7998 Woolworth, three years after purchasing the lot from Mary Angood. No doubt the Hartman family lived in the Colonial to the north while creating their dream home. "The Hartmans planned the house and Mrs. Frances Wilkie drew the plans. Mr. Hartman was his own contractor."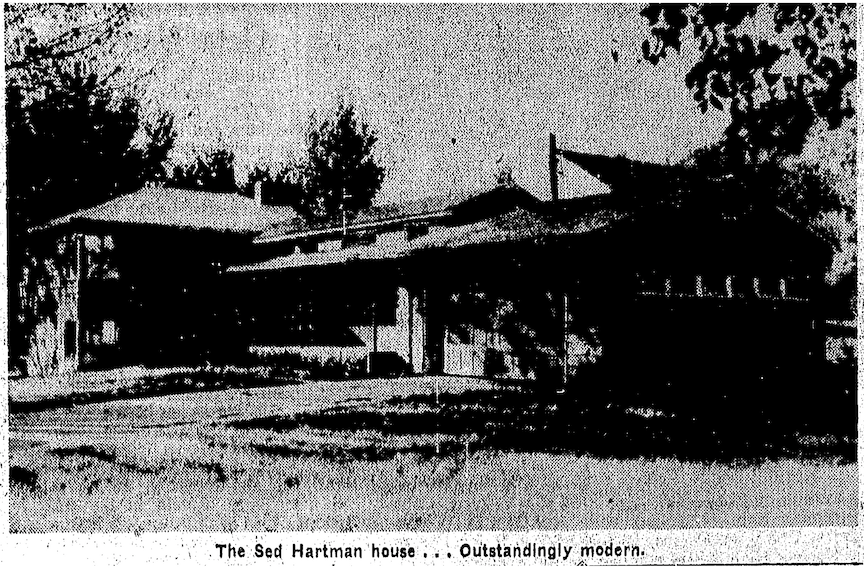 October 1950. OWH. "Home Accents Latest Design: Exterior in Red Cedar; Four Levels." What was introduced to Omaha was a surprise sensation of modernism.
"Modern design shows at its best in the new home of Mr. and Mrs. Sed Hartman at 7998 Woolworth Avenue. The exterior of the four-level house is in stained red cedar with a gray asphalt shingle roof. Inside trim is natural birch with floors in oak, asphalt tile and clay tile. The walls are in near-white plaster, except the dining and music room, where monkscloth was used as a wall covering. Ceilings throughout are of acoustic plaster. The dining area can be set off from the music room by a laminated plywood screen, one of several designed by Charles Ames [sic] that are in the house. A copper chandelier made in Finland hangs over the dining area."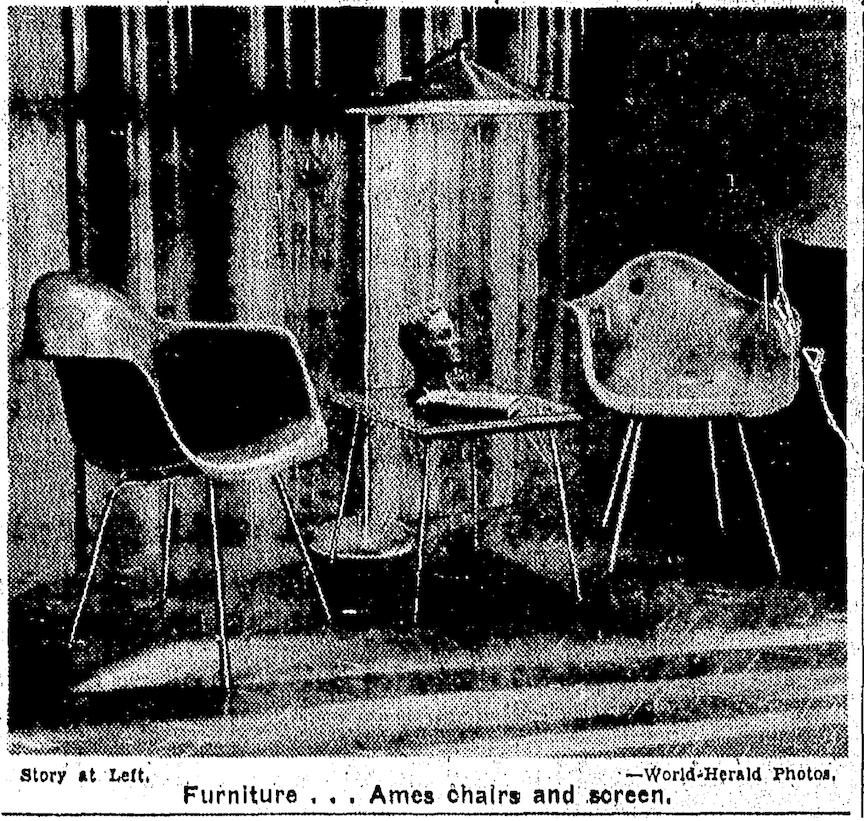 "A low fireplace in the music area is flanked by a built-in loudspeaker and a cabinet containing a record player. The fireplace has a narrow Kasota stone mantel. Stairs leading to the lower level living room and the upper level bedrooms are of oak, with slanted risers. The banister, designed by the Hartman's son, Cedric, is of steel, with a zig-zag tracery of sashcord. The living room, 34 by 16 feet, also contains a fireplace, of brick with a copper hood. Opposite is a built-in bookcase."
"There are three bedrooms and a bathroom on the upper level. Storage space is built in. The rooms have corner windows. Cove lighting and birch cabinets in natural finish distinguish the kitchen, which has a U-shaped workspace. Adjoining the kitchen is a utility room for laundry equipment and a two-car garage. A large basement room contains heating equipment and a workshop. For furniture in keeping with the house, the Hartmans have pieces designed by Mr. Eames, Eero and Pipsan Saarinen, Paul Lalo, George Nelson, and T. H. Robsjohn-Gibbings. Lamps are by Greta Magnussen-Grossman."
As previously noted, "the Hartmans planned the house and Mrs. Frances Wilkie drew the plans. Mr. Hartman was his own contractor."
Frances Mary Schepp Wilkie, also known as Mrs. Leslie Wilkie and Mrs. Frances Wilkie, was "the first female architecture graduate of Kansas State University in 1928." She was married to Leslie Wilkie, also an architect. I would find that our Cedric Hartman, the lamp designer, was a contemporary of Leslie Wilkie's. Frances Wilkie is said to have designed over 6000 homes by 1978. Although she drew up the architectural plans for the 7998 Woolworth, the home is credited to the Sed Hartmans.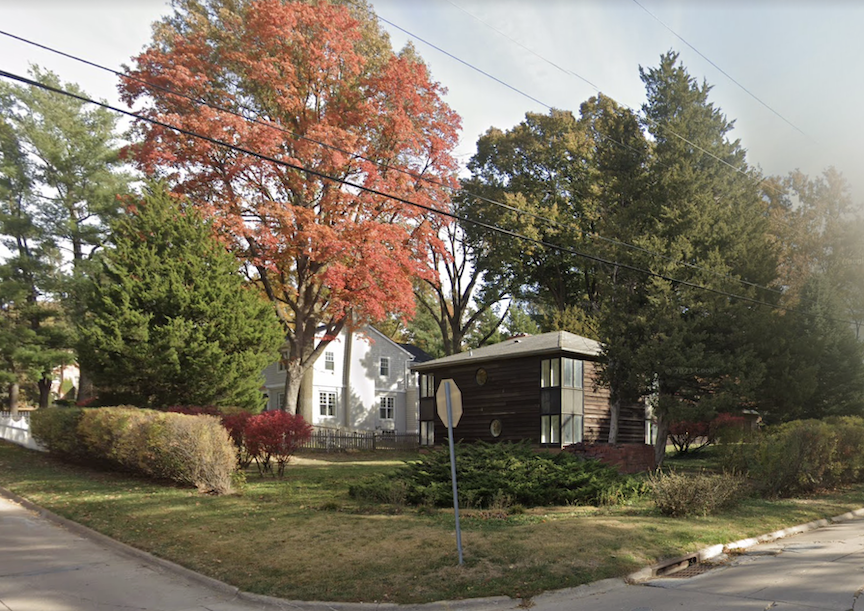 As there were no Reconnaissance Survey photos from this area, unfortunately, I will include photos that predate recent renovation. On that note, if you do own photos of the Hartman home, please let us know. I would like to include more historical photos and give you credit.
The varying rooflines and overhangs of 1950. Classic broad masonry of the MCM fireplace. The garage on the eastern end as not to distract.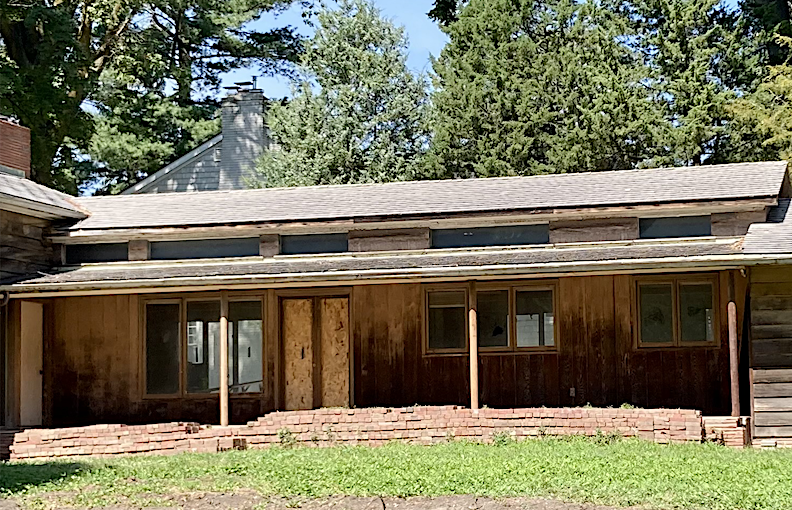 Clerestory windows atop. This image is from the prep work–pre-renovation phase.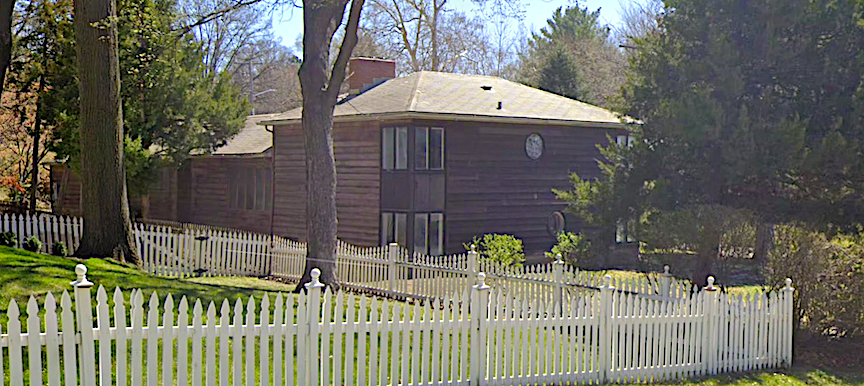 Northwest corner.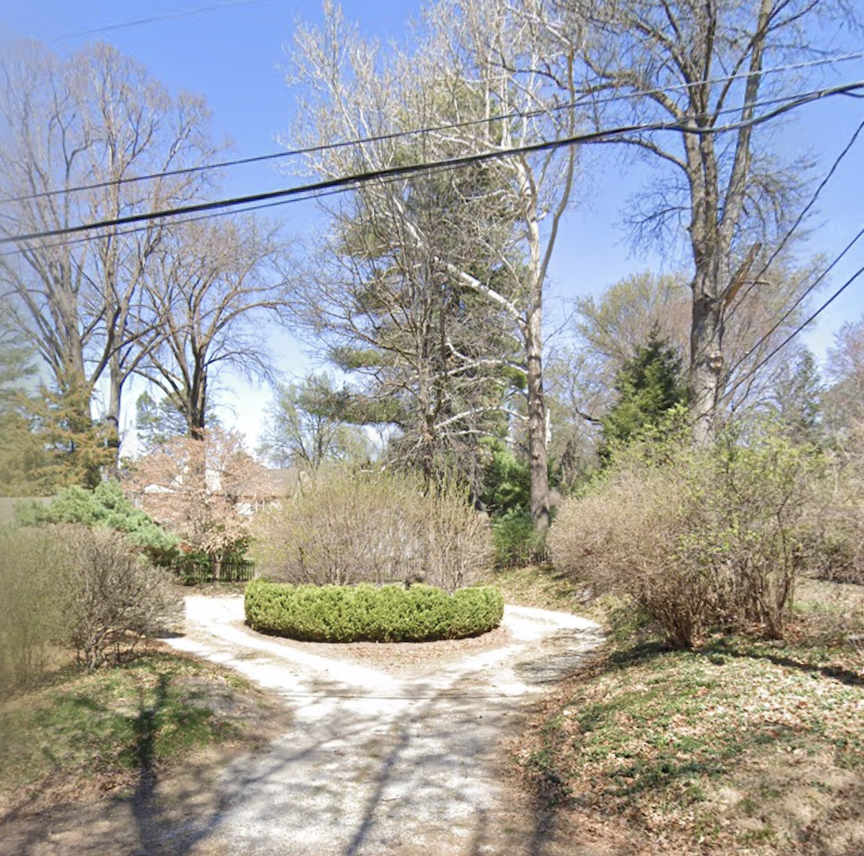 Circular drive adjacent to the east garage.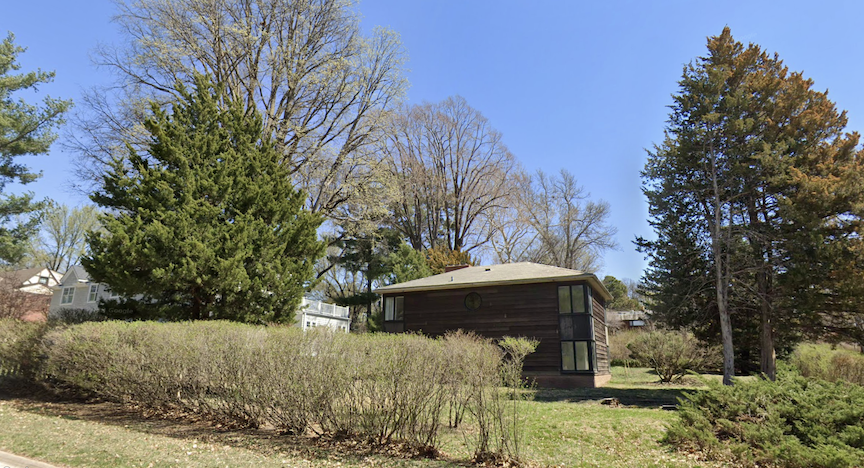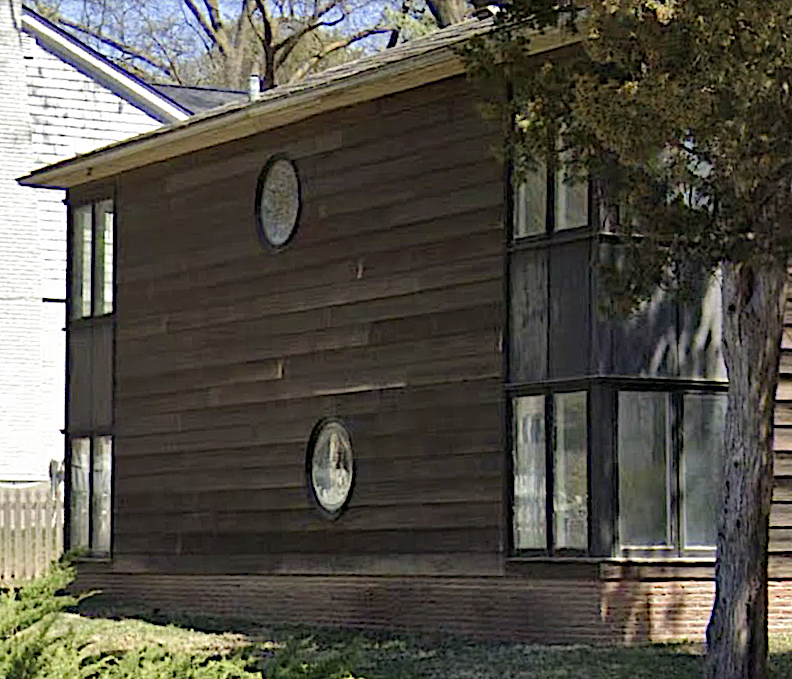 "There are three bedrooms and a bathroom on the upper level. The rooms have corner windows."
Currently the 7998 Woolworth home boasts four bedrooms and 2.5 bathrooms at 1,539 sq ft. Potentially the music room-den was refashioned into an additional bedroom.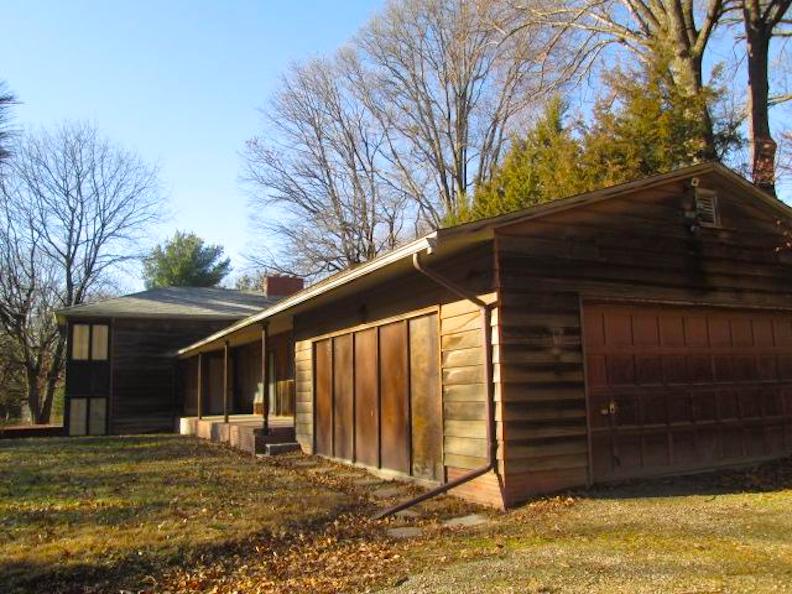 Image borrowed from the Douglas County Assessor site.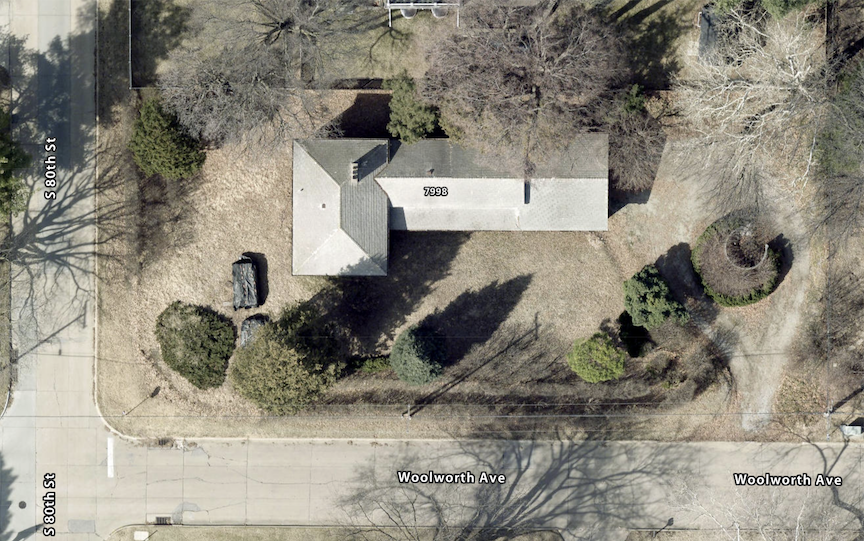 Aerial of 7998 Woolworth Avenue borrowed from the DOGIS site to give an idea of the positioning within the lot.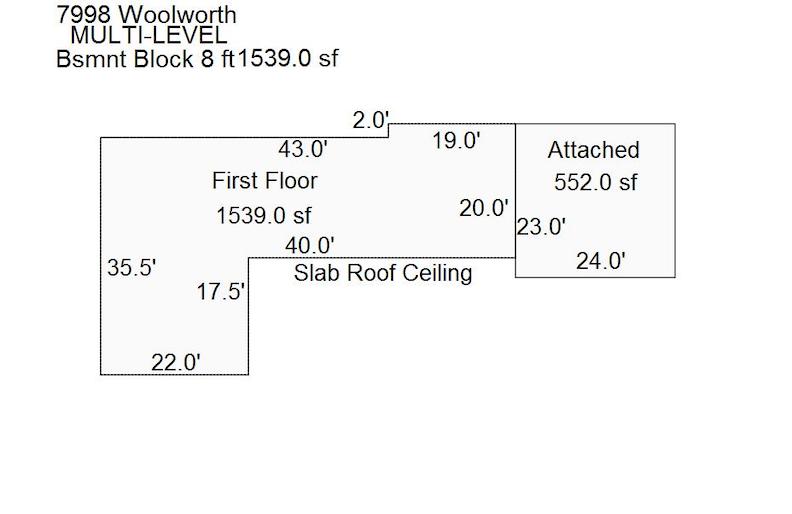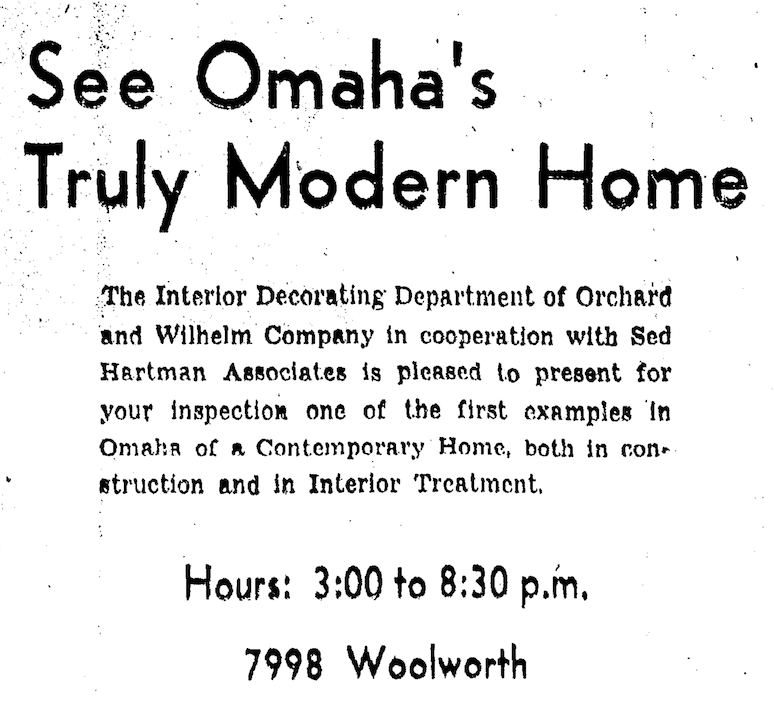 In November of 1950the  Sed Hartman Associates in collaboration with the Orchard and Wilhelm Company were opening up the 7998 Woolworth Avenue home for public viewing. It appeared to be a point of advertising. I would find Sed Hartman involved in building other incredible contemporary homes in town. This isn't one of those exhaustive pieces or I should like to share more.
This contemporary, woody home would remain in the Hartman family name until its sale this very summer of 2023.
Let's get caught up with son Cedric Hartman.
Cedric Hartman
Sed and Bonnie's son, Cedric James Hartman, was born in 1929 in Lancaster County, Nebraska. He just celebrated his 94th birthday. He has called his downtown loft home for many years. His factory, Cedric Hartman Inc. is downtown as well.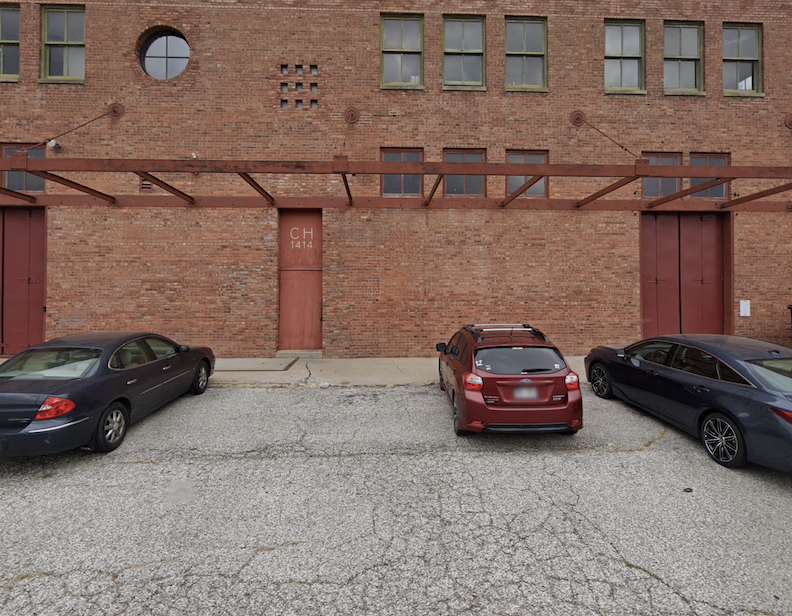 Cedric Hartman Inc. The factory at 1414 Marcy. Like his lamps, the signaling of the factory is subtle, restrained. Perfect. Filled with hand tools, benches, workers and storage style showrooms. From a 1977 OWH article, "He is busy most of the time and doesn't like attention."
Previous to launching his business and the development of his world class lamps, Cedric Hartman began working as an architect. He lived in many different locales until he would return to live with his family at 7998 Woolworth Avenue.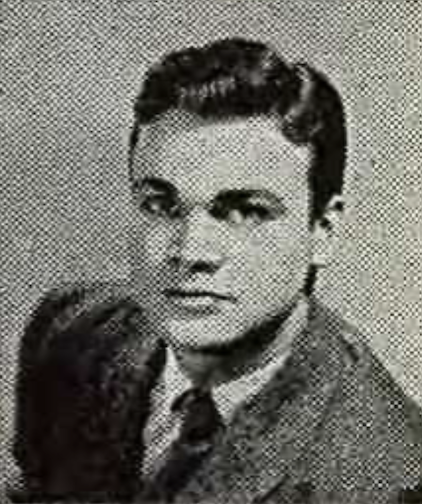 Striking Cedric Hartman as a junior at University of Nebraska at Lincoln in 1949. Cedric would serve in the Army during the Korean War. Like his father, he seemingly has no limit to his talents. A 1977 OWH article described him as "A shy, soft spoken fellow who once went to New York to be an actor but dropped the idea because 'I felt a bit queasy. People look you over like they might look over a horse.'" He lived in different states as well as Europe.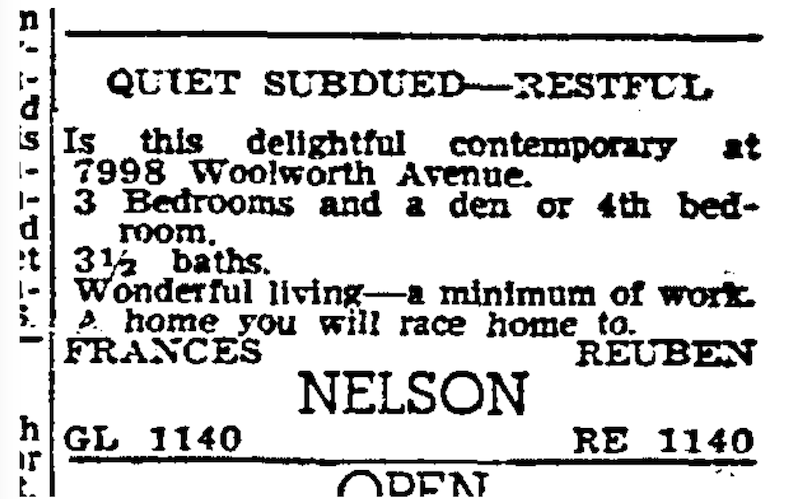 In November of 1957 the Hartman's Woolworth Avenue home was on the market. "A home you will race home to." The home never sold or went into another family's name. I discovered by 1958, Cedric was listed as an "associate at Sed Hartman Associates" and he was living in the house.  I suspect he had been working in construction and design years earlier.  Evidence would show he was an architect, designing homes in Omaha.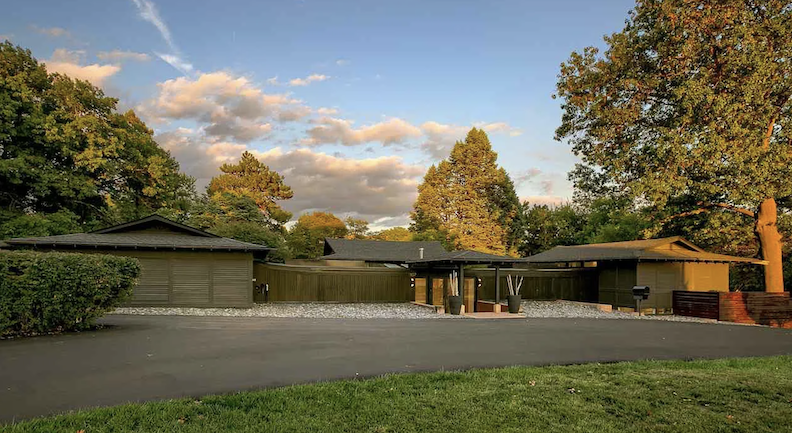 The desirable 1907 North 102nd St, built in 1961, rightfully claims to be a Cedric Hartman original.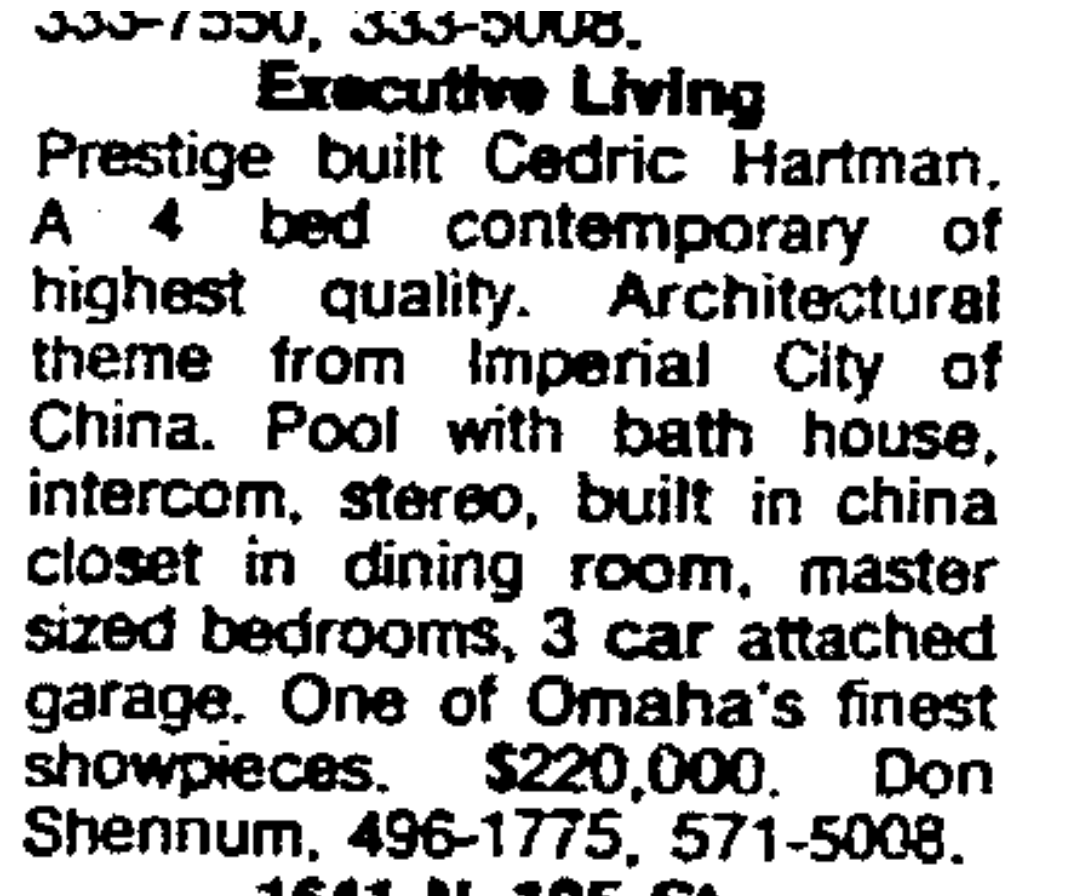 By 1962 friends, Judith Wigton and Cedric Hartman started the Afternoon shop, a high end gift and decorator store that would gain an international reputation. The Afternoon opened at 41st and Harney, then moved to 4015 Farnam, later to the Westroads Shopping Center in 1970. They sold the business in 1979.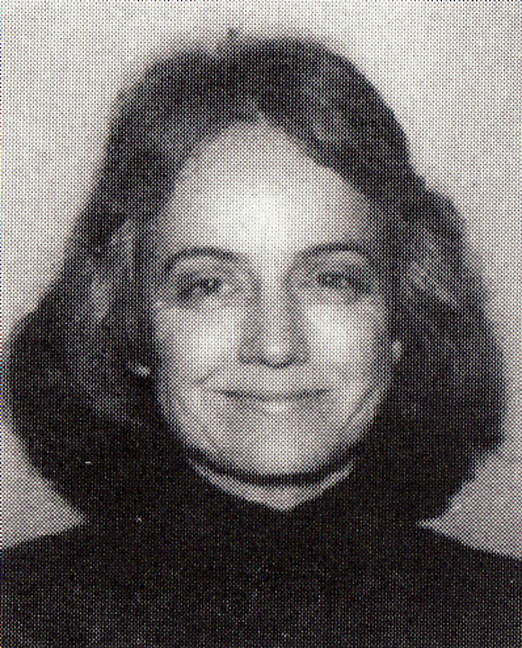 Good friend, business partner and Omaha tastemaker, Judith Wigton. Wigton and Hartman were very interested in and inspired by the old buildings they found downtown in the 1960s. They had the idea to open a shop there and would conceive of a whole development in this collection of buildings. This area is now called the Old Market. Apparently Sam Mercer was very interested in their plan and by 1968, he began working to buy up enough structures for this grouping of local businesses.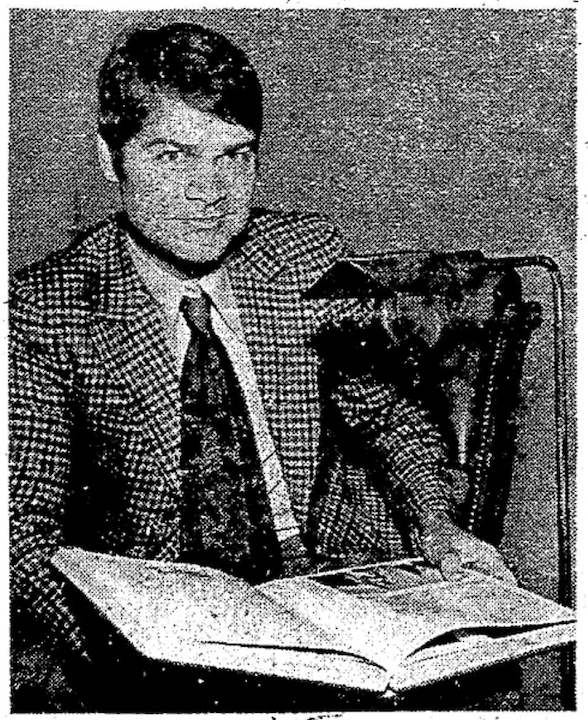 1971. OWH.
He is said to have made his first lamp in 1963. By 1971 Cedric Hartman Inc had "reached a national market with its line of sophisticated reading lamps" which are on permanent display in the Museum of Modern Art. The 1977 OWH article noted Hartman had made "thousands of the lamps," employing nine craftsmen who made his catalog of 25 models by hand. In 1971 Cedric Hartman received the Nebraska Chapter of Architects first Associated Art Award, citing "significant contribution to the visual environment of Nebraska. He was called an industrial, furniture, urban, product and interior designer, instrumental in the creation of Omaha's Old Market, as well as designing the interior of the French Café, and later M's Pub. I have just learned from a reader that Cedric designed a fabric store for her in The Old Market Passageway when it first opened. It was called Patricia Harvey Fabrics. Patricia said this was in the 1978 to 1984 time period, the shop above V Mertz, now the home of Mercers' Garden of the Zodiac Gallery. I can remember the bolts of fabric as seen through the windows of the shop. In Patricia's words: "His designs stay with you for life."
Hungry for more details about Cedric Hartman's domestic interior decoration? Check out the detective agency's earlier investigation at Mysteries of Omaha: 6617 Cuming Street.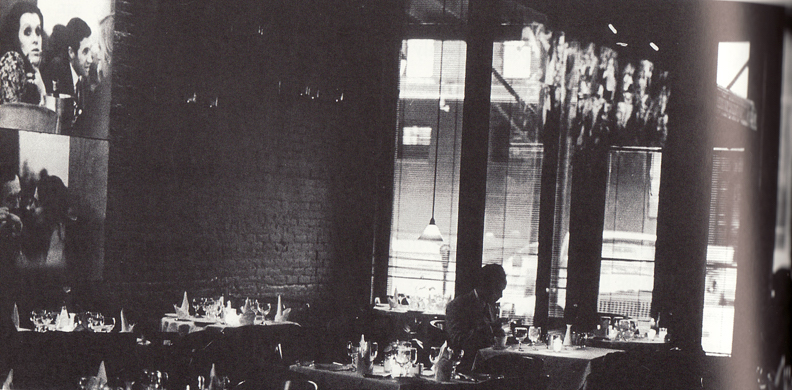 Sam Mercer was said to have opened the French Café in 1969 with business partner, lamp designer, Cedric Hartman. I was surprised to find that not only did Cedric design the interior, he was co-owner. Vera Mercer's photo wall for the French Café, seen on the left hand side of the photo was life changing for me, although I did not see it until there was a very different grouping of photos in the mid 1970s. Image scanned from the wonderful Old Market of Omaha book of 1994. Photos credited to Samuel, Mark and Vera Mercer.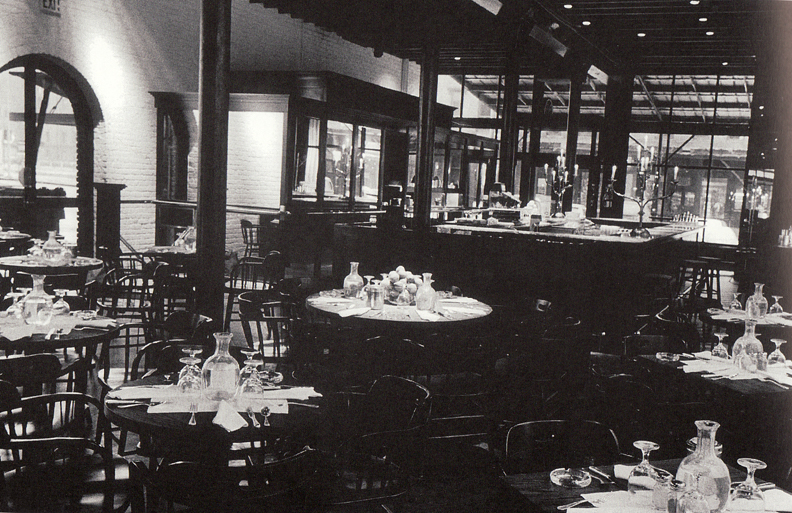 Image scanned from the wonderful Old Market of Omaha book of 1994. Photos credited to Samuel, Mark and Vera Mercer.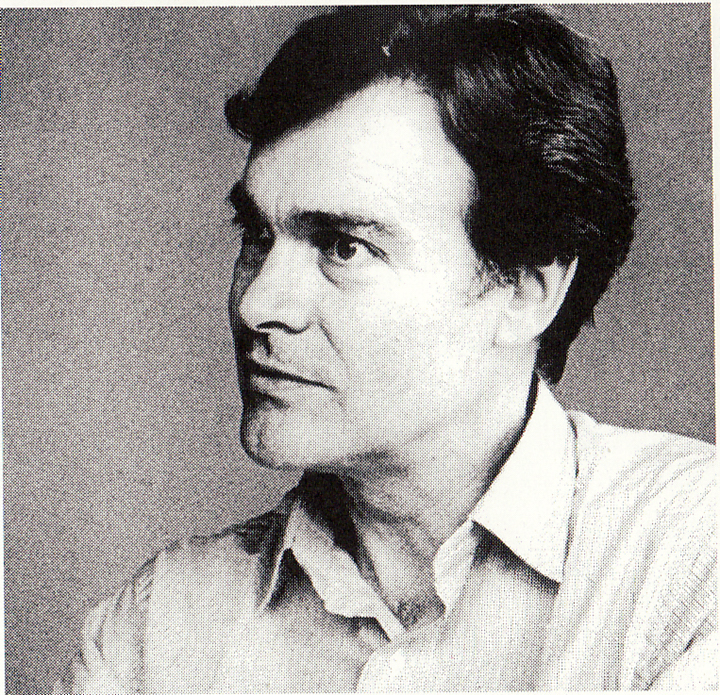 I am charmed and I know I am not alone. Omaha's Biggest Secret: architect and acclaimed designer Cedric Hartman. Cedric H. image scanned from the wonderful Old Market of Omaha book of 1994. Photos credited to Samuel, Mark and Vera Mercer.
7998 Woolworth Avenue, Now
The Sed and Cedric Hartman home is quite a thrill, especially to consider the artistic family of collectors who designed it, lived and created there. The furnishings and décor that has passed through these doors would flabbergast the Sotheby's crowd. Mr. Sed Hartman died in 1988, where he was living at the Paxton Manor. Had the couple divorced or were they separated? Bonnelynn Hartman lived in the Woolworth home until her death in 1995, I believe. I suspect Cedric Hartman removed from the Loveland home in the 1990s when he bought a series of warehouse quarters and began renovation but this would remain his family home property, empty, perhaps in name and sentimentality only. The question is, what is to come for the Hartman home at 7998 Woolworth Avenue. What are the plans of the newest owner?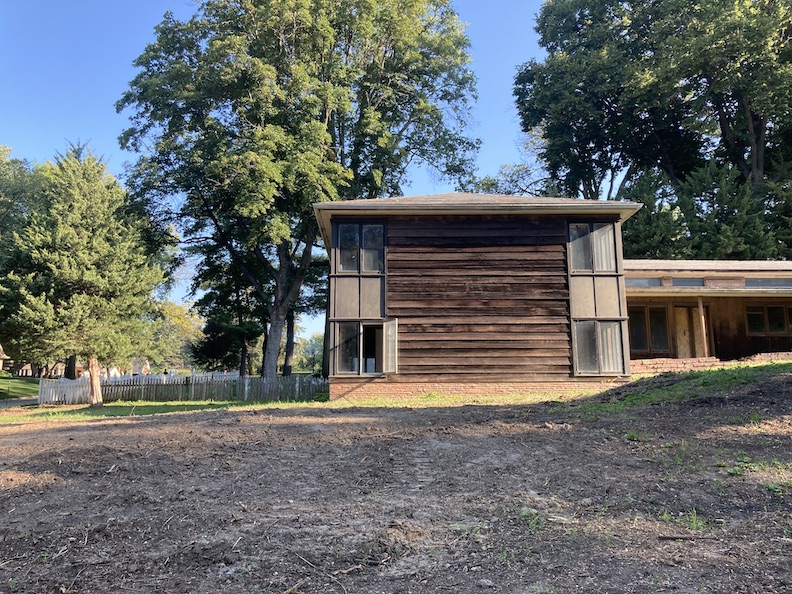 Today's open window. Not a good sign.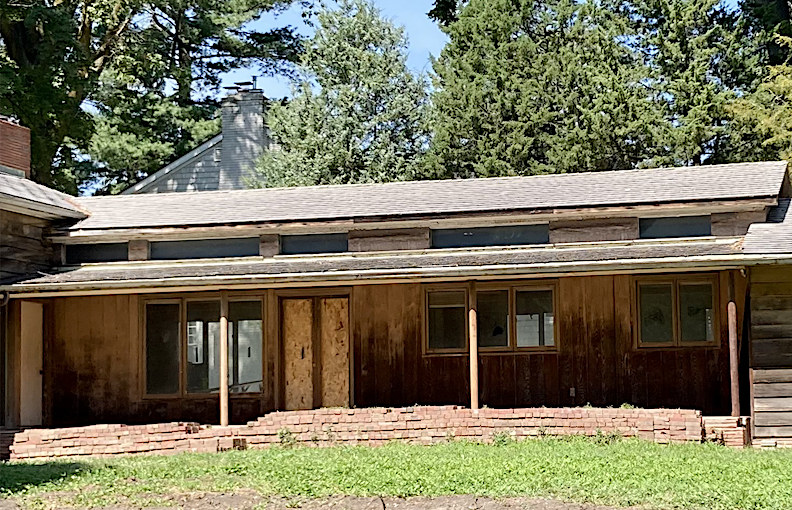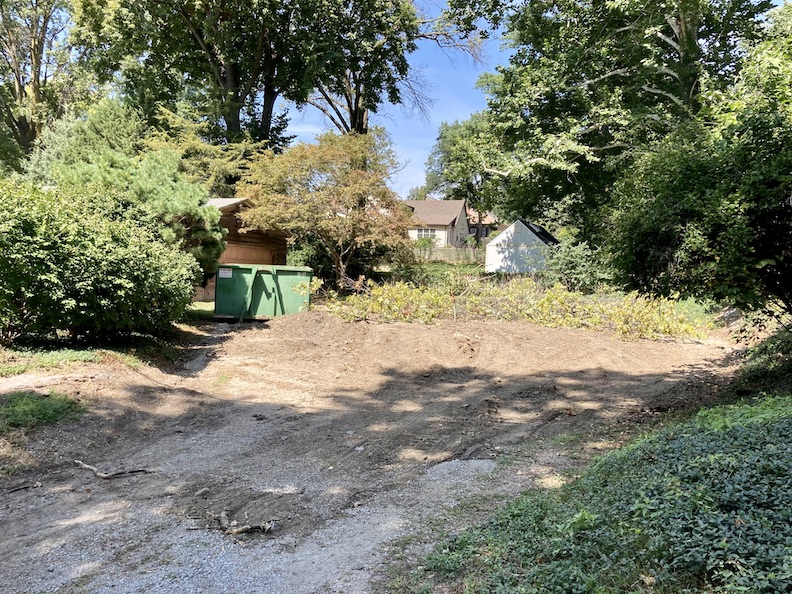 The once circular drive.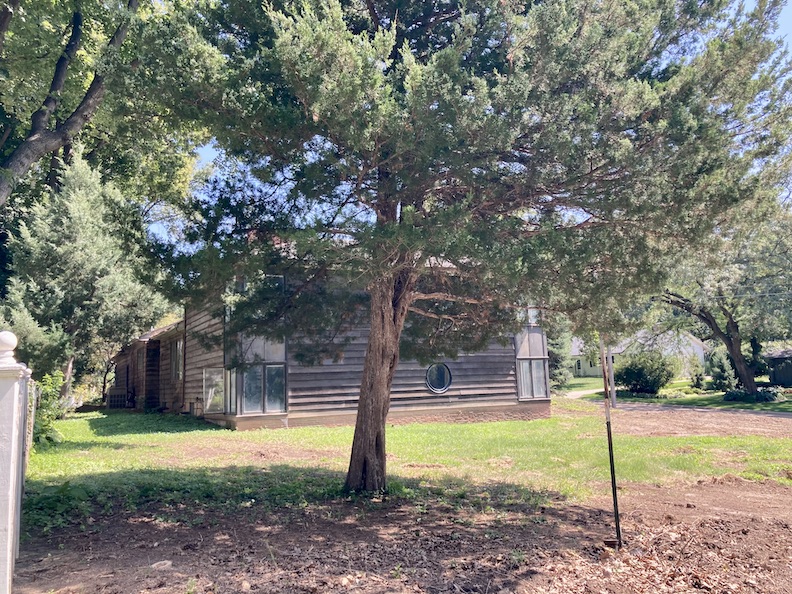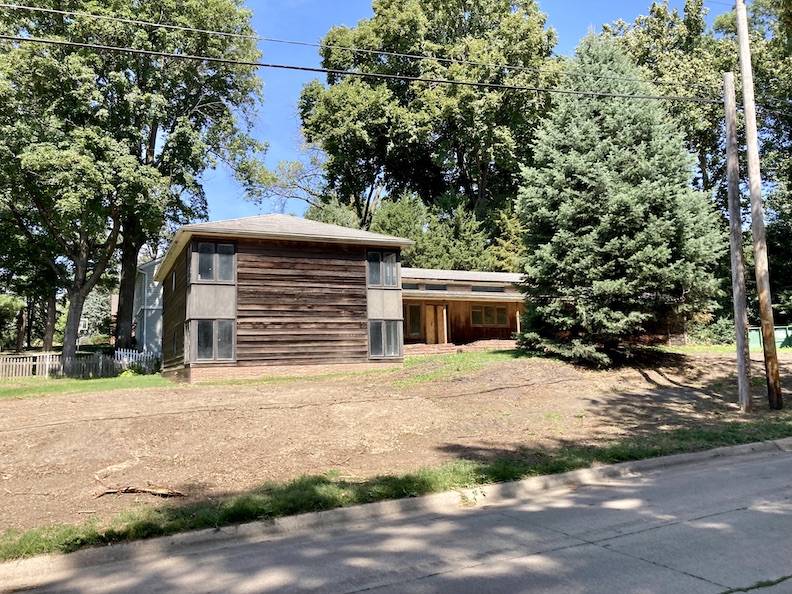 Hopefully the new owner is going to spiff up this cedar dream and create something fabulous for himself.
Thanks to Julie for the great tip.
Thoughts? Secret tips? Photos? Let's hear it, friends.
Thanks to all,
Miss Cassette
Looking for more adventure right up the road? Check out: The Real Estate Secret Agent: 8459 Woolworth Avenue.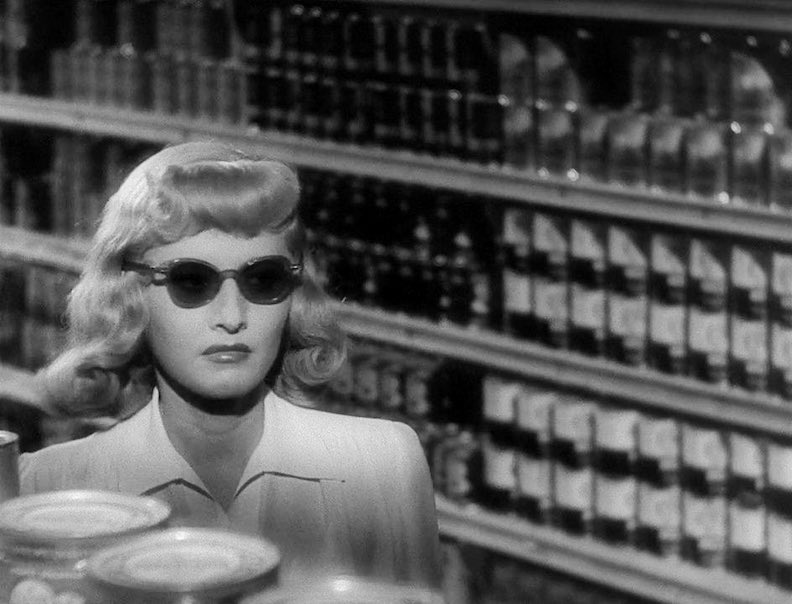 I welcome your feedback and comments on this treasured Omaha home, Cedric Hartman and the Loveland neighborhood. Let us hear from you. Please share your additional clues to the story in the "Comments," as we know more together. Everyone would love to read what you have to say and it makes the sharing of Omaha history more fun. You can use an anonymous smokescreen name if need be. We want to hear from you.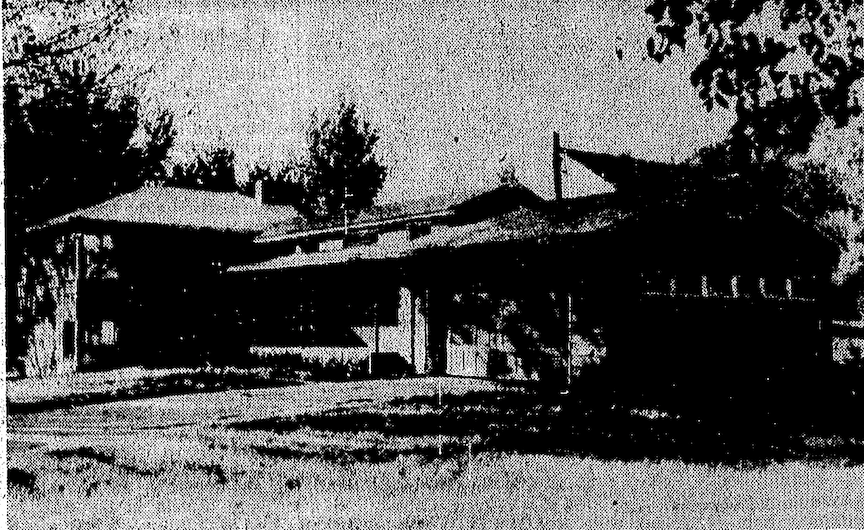 You can keep up with my latest investigations by joining my email group. Click on "Contact" then look for "Sign me up for the Newsletter!" Enter your email address. You will get sent email updates every time I have written a new article. Also feel free to join My Omaha Obsession on Facebook. Thank you, Omaha friends. Miss Cassette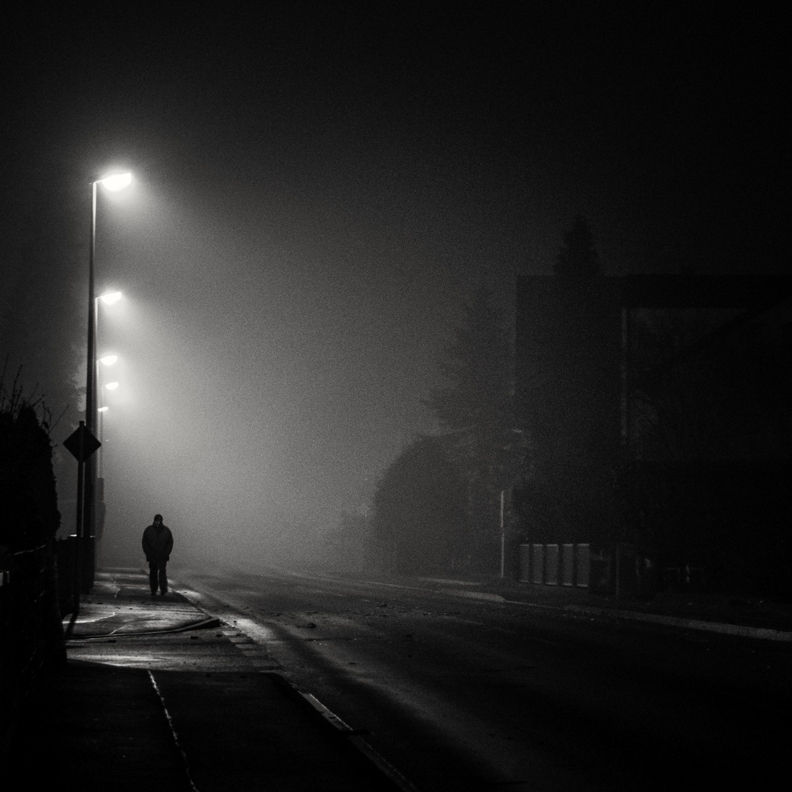 © Miss Cassette and myomahaobsession, 2023. Unauthorized use and/or duplication of this material without express and written permission from this site's author and/or owner is strictly prohibited. Excerpts and links may be used, provided that full and clear credit is given to Miss Cassette and myomahaobsession with appropriate and specific direction to the original content.