The first time I was invited to today's Architectural Obsession, I innocently accepted without knowing what elegance and assurance was lying in wait; a galpal's request was reason enough. I was asked to bring a dish to share on this winter gathering of friends. Those of you with kitchen consternation might know of the familiar foreboding drill. Let us not get caught up in the fact that Miss Cassette would regretfully present a sad offering of some store-bought packaged food item for this particular soiree, perhaps dried, crumbling cookies or brownies, of which no one, thankfully, has a clear memory. Or do they? For this and many other reasons, I believe this untouched package might have returned home and possibly sat on the passenger car seat in a shameful heap until Mr. Cassette threw them out in a fit. This unexplainable proclivity of mine, quite frowned upon by cuisine savvy friends and family, is usually forgiven by the well-timed bestowal of a Napoleon Torte from the Sainted Lithuanian Bakery. No one seems too interested in turning that gift around and sending it back home. Meanwhile I am allowed to gorge on mounds of iced, peeled shrimp, gooey baked dishes, crusty baguettes from secret recipes and various homemade dips.
Now where were we? Oh yes…Some of us fall in love with houses and I have always considered myself very lucky to be one of these sorts. I am quite sure you've bumped into the types who don't see much of anything going on around them, be it a strip mall, an ivy covered gardener's shed or an upright Colonial. Sad, really, but maybe much easier. Truthfully I've inherited an artist's heart and I become vulnerable when enticed by the beauty around me. Needless to say, a well designed home is a fine blend of all of the arts. You see, when I wheeled into the circular drive of 6617 Cuming for the first time, I knew I had been lured through the snowdrifts of Fairacres for an altogether different purpose. She was a dark beauty, quite tucked away from street view, barring the attractive recessed lighting. A smart, contemporary, low-pitched, gabled roof. There was a curious decorative black grille of circles guarding what looked to be a recessed entrance through a lit courtyard. Was that a tree growing within the courtyard? There was a captivating formal quality to the brick home that meant business…or was it a business? Positively Stunning. I would surely be consumed by this concealed, Mid-Century Modern beauty before me. And it would probably be worth it.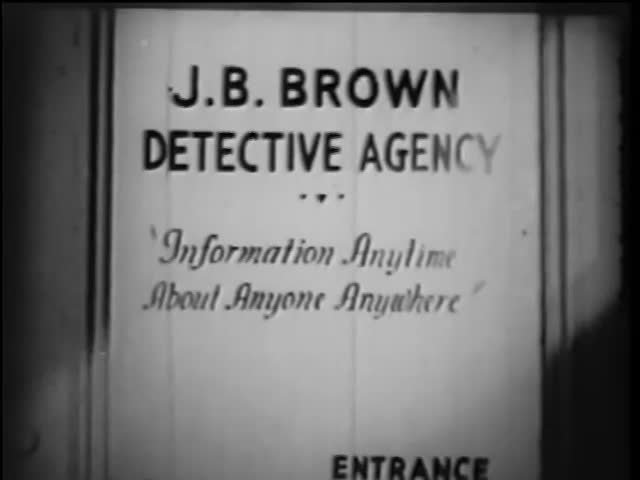 This is a simple story, really, which probably suits all parties involved. Even Mother of Miss Cassette has reported back recently that she prefers my " little stories" rarely channeled out of this website. We all know how things tend to get gnarled around the detective office and I have never had much talent for the telling of brief yarns. My attempt to rein myself in, in this particular case, will be to succinctly bookend the narrative at a particular year: 1976. This decision will all come into focus later and I do hope you will agree this was a good settlement for all concerned. Otherwise I become quite architecturally pathological and we wouldn't want that, for it is summer and I've still got a lot of swimming yet to do. And so do you. If we do tiptoe past 1976 here and again, you have my permission to stop reading.
Spoiler Alert
6617 Cuming Street was built in 1962. It is standing back from the road, positioned on a slight hill, centered on a circular drive. It is a modern house, specifically in the Contemporary Style. According to McAlester's A Field Guide to American Homes, Contemporary homes rose to fame, particularly in California, during the Mid-Century years and are defined by their broad expanse of continuous wall surfaces. They often feature recessed, obscured entry doors, screens serving to further enshroud, low-pitched gabled roofs, (although sometimes flat), windows found peaking just below the roof line with an emphasis on natural materials such as brick, wood, stone. These materials complimented the overall design of the Contemporary home, whose persuasion is to marry the inside out—interior space conjoined with outdoor views. In the specific case of 6617 Cuming, the flat, dark approach to the viewer's eye was the intention—a true façade of what lies in wait. No one would know what garden and light are held within unless they were lucky enough to have entered a Contemporary design. The screen fencing or grille gate protect 6617's front garden courtyard but also offers a tantalizing see-through peek. Throughout the property there are enticing exterior living spaces, what some might call viewing gardens and then a jaw-dropping middle courtyard is presented, bringing the outside into the home. Like a Roman courtyard within the walls of a private home or a Japanese viewing garden just beyond an intimate teahouse, the Contemporary Style aimed to give a multitude of views, an endless array of perception. The window walls of thick plate glass revealing visibility to the interior and exterior spaces Just Beyond are swooningly gorgeous to any unsuspecting houseguest. Likewise the floor material only adds to the spatial effect by maintaining an uninterrupted raw slate pattern from entryway courtyard to interior rooms to once again in the middle courtyard.
I had never seen another Contemporary Style like it in Midtown. There are only a few authentic examples in Omaha total but they are usually found in the fantastic Westside District. I needed to know how this historic Contemporary Style came to be on the edge of the Fairacres Neighborhood.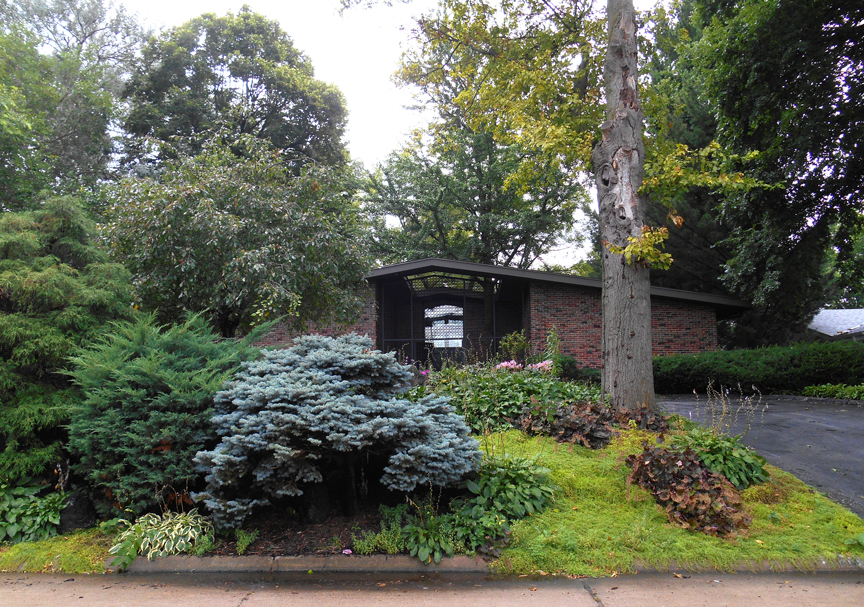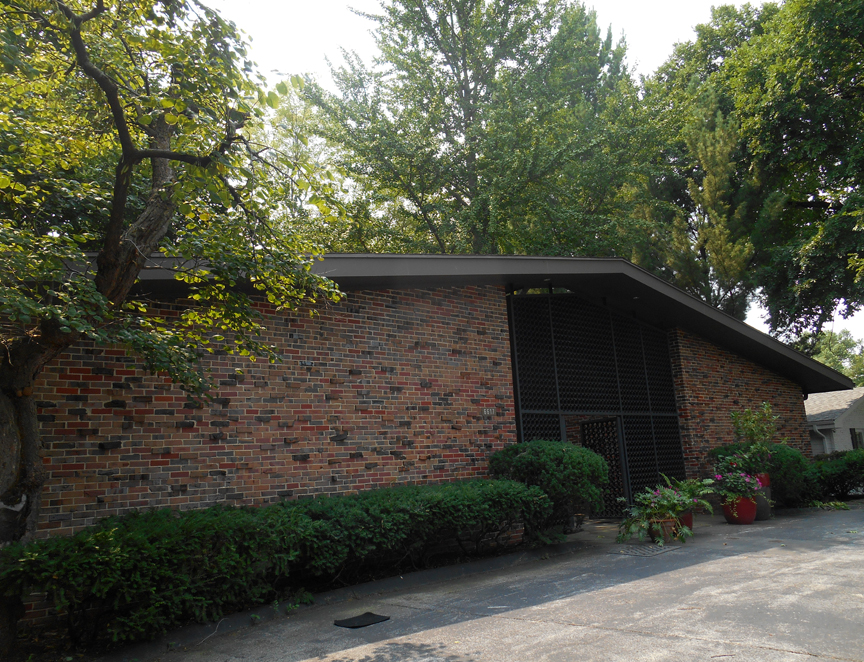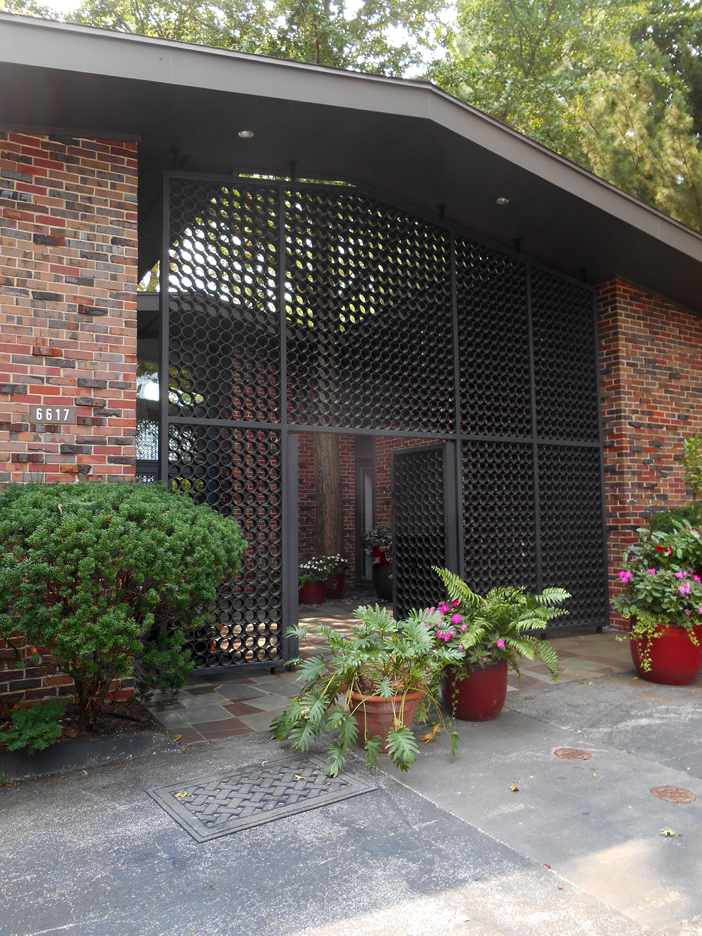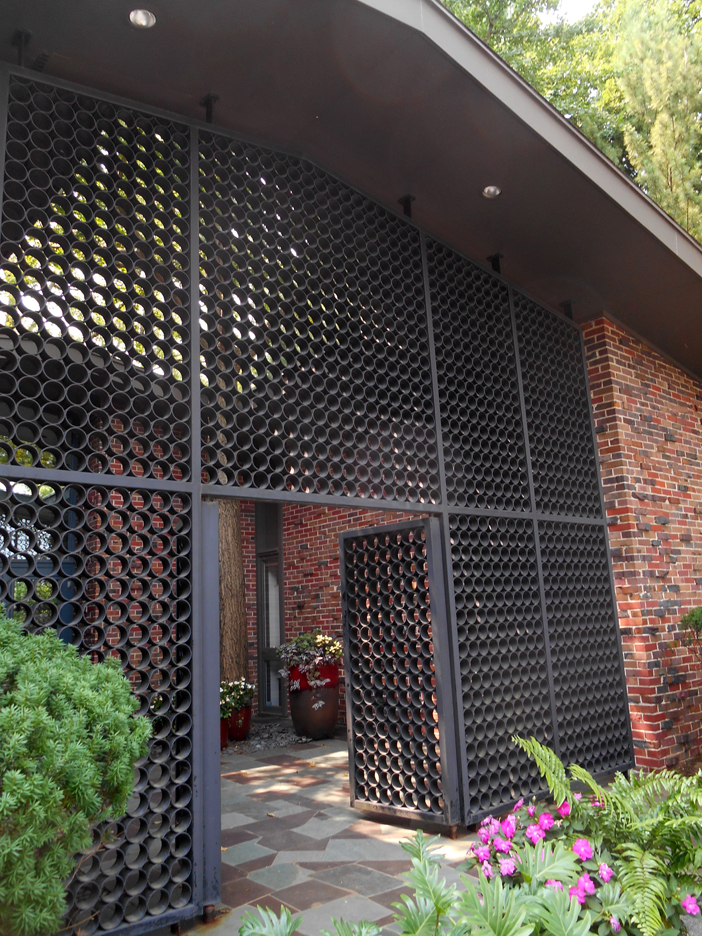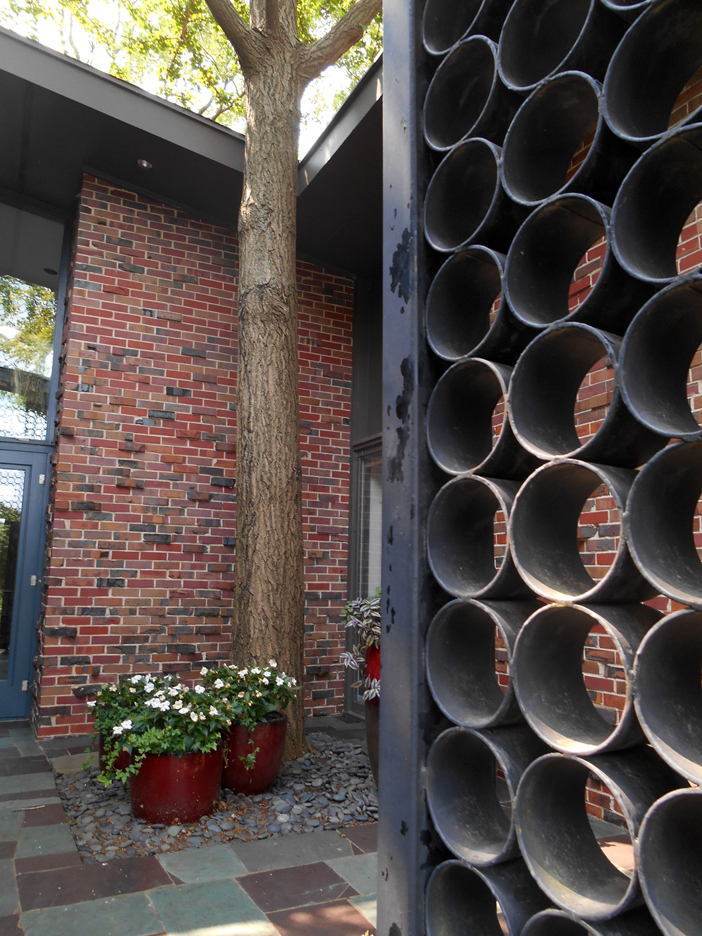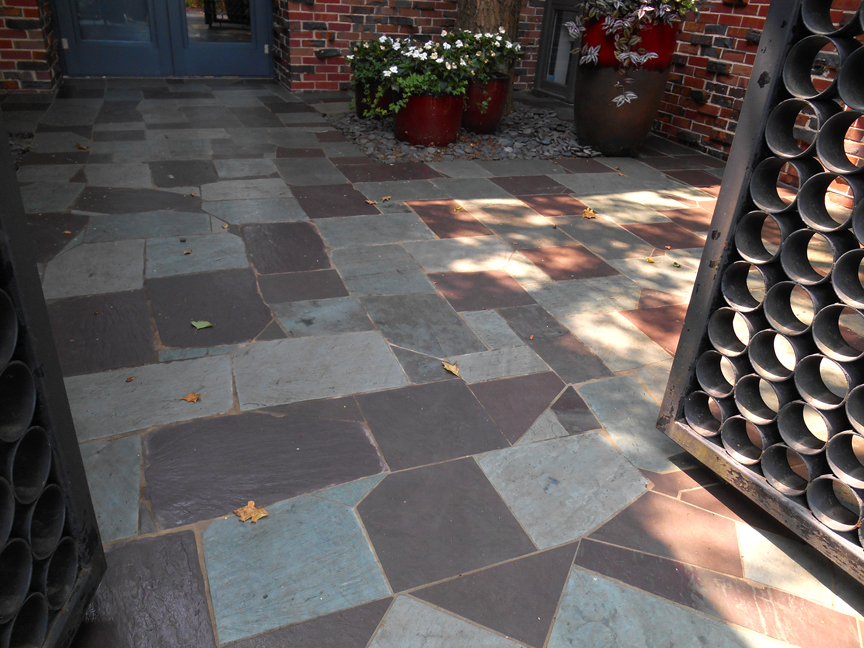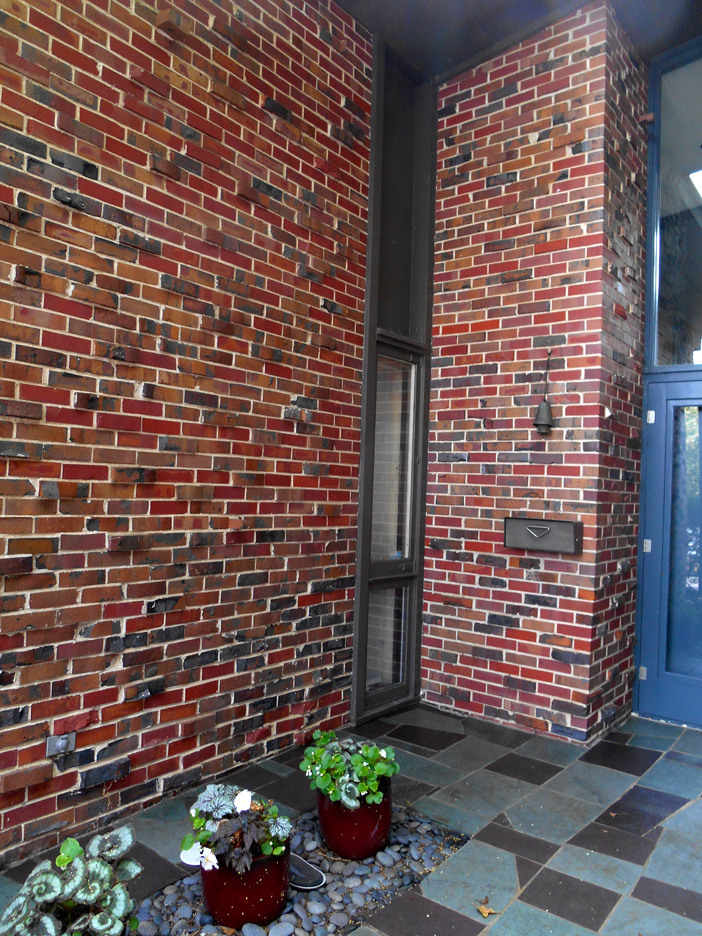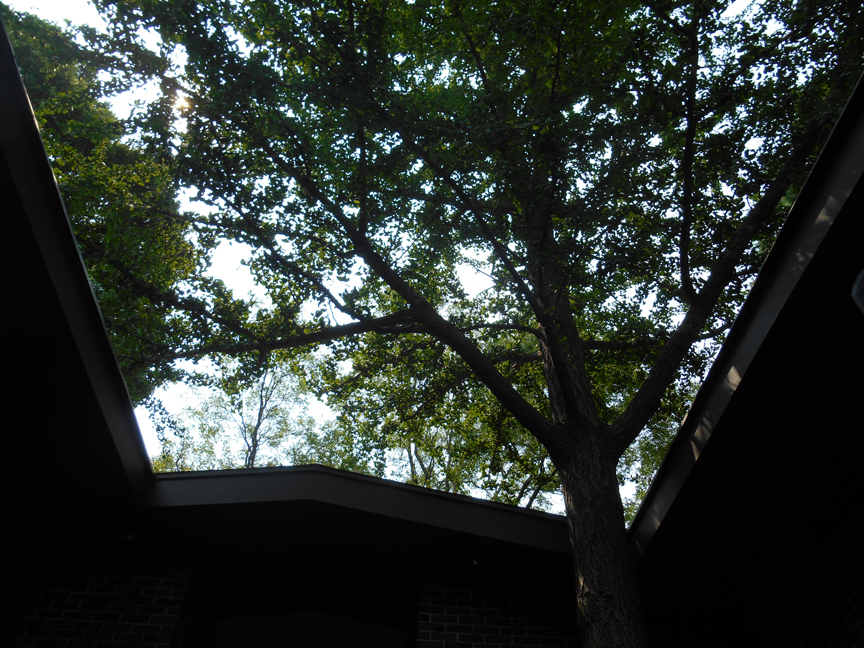 The Initial Survey
There is some matter of mapping and reference that we must attend to first. We Besmitten can get turned around from time to time and I do not want to think of your sour faces if we end up in a ditch somewhere. Then again some of you are just skimming along these pages and don't care to get all that invested—so please skip ahead, if you must and we will meet you down the road. For the Minutiae Mollys, Prickly Petes and Detailed Dans in our group, let us attend to these scouting details. Cuming Street is an east-west road, "named in honor of Thomas B. Cuming, second territorial governor of Nebraska. It was the continuation of the old military road in the original city," as stated in H. Ben Brick's fascinating research, The Streets of Omaha: Their Origins and Changes. Additionally, Burt Street, one block to the south of Cuming was "named in honor of Francis Burt, first territorial governor of Nebraska, by Governor Cuming." Of interest, Burt Street was changed from Cuming Street between 66th and 72nd, according to Brick's fact-finding. I presume this meant that the original Cuming-Military Road was either very wide or meandering. For all I know it might have forked off into these two roads but maintained one name, rejoining again at a later point. We have seen stranger occurences in this town.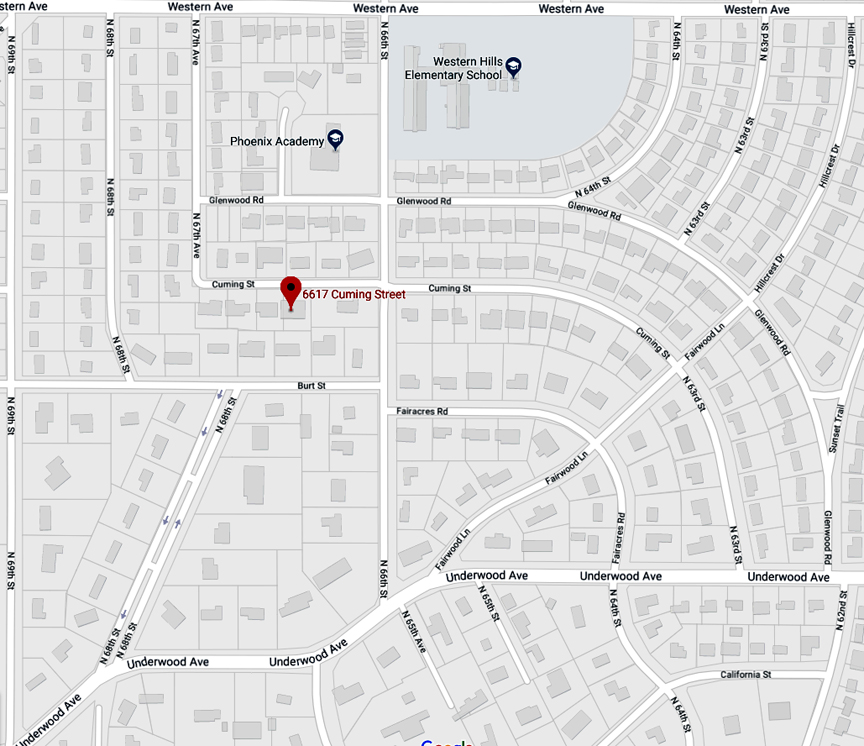 Image taken from Google Map.
For our purposes, the short Cuming Street block where the 6617 house is positioned is flanked by North 66th Street on the east; the western border is created where a curious bend conveniently turns the street northward into North 67th Avenue. I do love a mysterious street that just ends in a lurch, a nonchalant shrug and a good pile of boulders.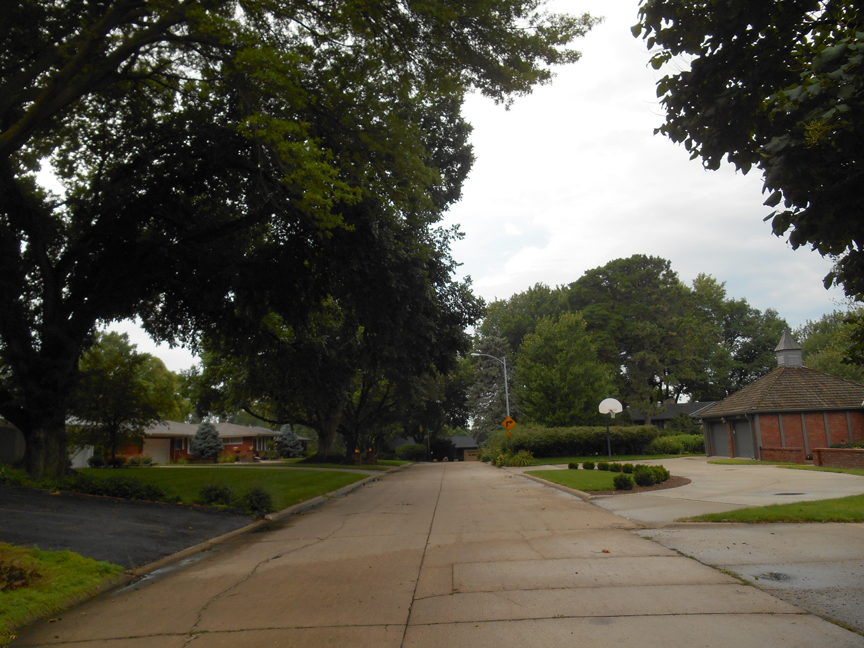 Cuming Street facing west.
This business of streets is of particular interest because these endcaps have assured for one very quiet, out of sight and unfrequented road. I am sure the inhabitants of this stretch of Cuming relish the secret.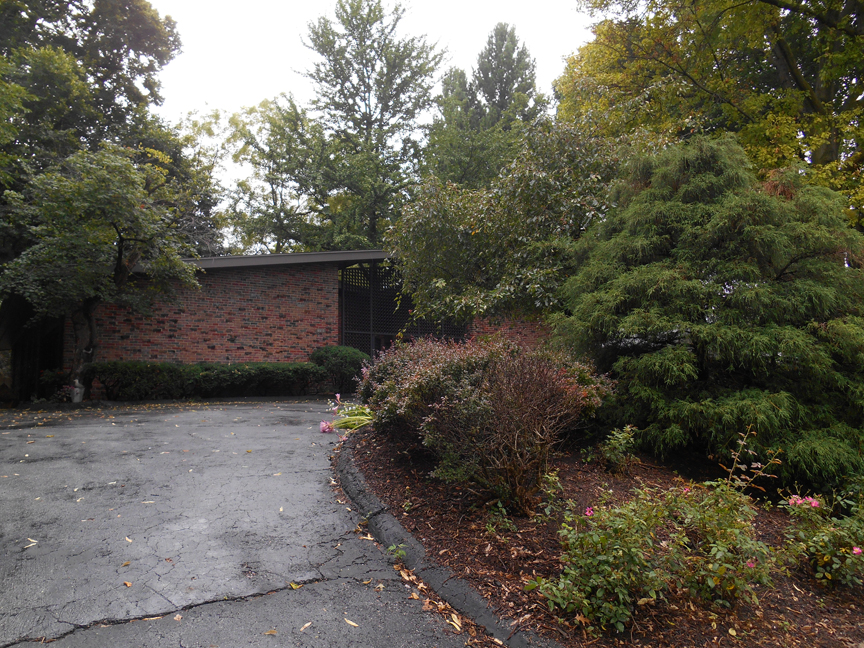 6617 Cuming hidden street view.
A brief scouring of the Douglas County Assessor's site revealed that the contemporary 6617 Cuming was constructed in 1962. By all appearances this date seemed realistic but I would double and triple check this as the weeks went by. I discovered this home and the other three Ranches running along the south side of this short Cuming block were all in the Slosburg First Addition and I made note, were all built in the early 1960s. 6617 was more specifically listed as Lot 1 in Block 0 of this development. Was it truly the first parcel in the addition? I made note of the few other Ranches on the north side of Cuming, although not a part of the Slosburg Addition. I would do more reconnaissance later on foot with the aid of my stealth camera and unvoiced martial arts slippers. I will share those photos in a bit.
The Fairacres Connection
6617 Cuming Street is on the northern edge of one of Omaha's most beautiful neighborhoods, Fairacres. Platted in 1907, "Fairacres originally contained 160 acres; it was subdivided for residential purposed into 69 parcels of from one to seven acres," according to Omaha: A Guide to the City and Environs. A spin along the winding roads of Fairacres will leave you panting through the wrought iron gates of the many spacious gardens, swimming pools, tennis courts with hard-earned views of Omaha's finest historic residences. I am sure this is by design. If I've said it once, I've declared it one million times. The cool, fresh, shaded air of Fairacres is simply better. Divinely better. The lush, green surroundings are proof—every leaf glistens. At the nonchalant entry to the district, sparse blades of green grass faintly sparkle through the bricks of Fairacres Road—the edges of the undeclared entrance coated in a forest green moss. Strangely every time I have tiptoed through the interlacing, secret, curved roads of Fairacres, I leave hardly able to conjure the specifics of the architectural and landscaped memory. This overwhelming absence of details almost never happens to me otherwise—only leading me to believe that Fairacres is some sort of Other World Proffering.
The incredible report "Fairacres Historic District National Register of Historic Places Registration Form" prepared by Matthew Pelz and Kristine Gerber outlines the historic Fairacres Neighborhood as "roughly bounded by Dodge Street to the south, N. 62nd to the east, California St and Fairacres Rd to the north, and North 68th to the west." The pair obsessively (in an exhaustive methodology that Miss Cassette cheers on) documented the waves of residential building in the area from 1907-1961, noting the final construction period occurred, "when Slosburg Realty Company built houses." Detectives, please file this name away. As you have surely surmised, we will be following this surname with fervor.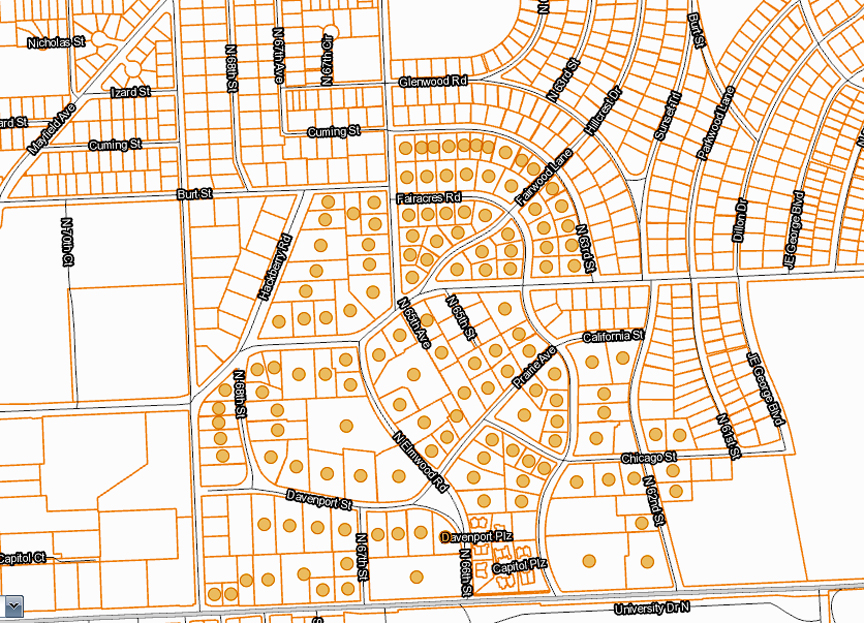 Map from the Douglas County Assessor's site.
So while the Fairacres "Historic District" has some clear-cut boundaries delineated in the National Register, the Fairacres Neighborhood is thought to have drifted north across Underwood Avenue with Cuming St. east of 66th and Burt Street all the way to 68th St. as northern borders. I would find the original Fairacres plat in the "Reconnaissance Survey of Selected Neighborhoods in West-Central Omaha including Fairacres, Dillon's Fairacres, Mel-Air and others" report. Portions of Omaha Residences in the Fairacres Addition (development) are revealed by the dotted parcels.
I have prattled on and on about Fairacres, not only because I am setting the stage for the details forthcoming of 6617 Cuming but because I am truly obsessed and cannot quiet myself. I have two investigations I am working on in Fairacres District and I imagine I intend to blither on in those missives as well. For that matter, if your address included the words Fairacres Road proper, please make contact. No names need be used, if you would wish.
Stanley Slosburg and the Slosburg Realty Company
I began by digging into the foundation of the Slosburg First Addition. The Douglas County Register of Deeds office disclosed "Stanley J. Slosburg + wife" were behind the development. Stanley "Bud" Slosburg would join his brother Harold "Bus" Slosburg in their father's business; the threesome would form the Slosburg Realty Company in 1948. From the current Slosburg Real Property website, I learned father Jacob Slosburg, Jr. founded the family firm back in 1918. The United States Census of 1940 displayed Jacob was married to Sallie, their two sons also living in the home. Stanley's United States World War II Army Enlistment Records show he was born in 1918. He enlisted in December of 1942 at Fort Crook, Nebraska. As an annotation–Fort Crook officially transferred to the 2nd Air Force, and by 1948 was renamed Offutt Air Force Base. By his 1942 enlistment, Stanley had completed four years of college; his civilian occupation was listed as "semiskilled occupations in fabrication of metal products."
Originally a small Omaha real estate and development firm, Slosburg Realty currently focuses on the development, construction and management of retail centers, office buildings and apartment communities both in Nebraska and seven other states. A recent local project of theirs can be found on the northeast corner of Ninetieth and Center Streets–the Loveland Centre. Miss Cassette can often take issue with new buildings in town but honestly, as far as strip malls go, this is quite tasteful–built with substantial, quality materials. Extra points given for not being swayed by the industrial mixed use Box in the Box Trend and for giving wide berth to the Too Often Used Concrete Slab Movement. Bravo.
1948 must have been a big year all around for Stanley for he would marry Miss Eleanor Passer as well as joining the family fold. (I would trace the name Eleanor P. across many warranty deeds and deeds books in conjunction with Stanley Slosburg—so it was all fitting together nicely.) Soon after, Stanley became embroiled in a dispute with thirty Dundee neighborhood residents who opposed a large Slosburg proposed apartment building at 48th Street between Chicago and Cass Streets. The neighbors were concerned this apartment building would block their well-traveled alleyway. I suppose this is the unfortunate trajectory of a local developer.
I would find Stanley Slosburg and the family company becoming involved in the building-development of real estate in the Fairacres Neighborhood in 1948, where the tasteful living was easy. Or at least gorgeous. The majority of their role was that of broker to the wealthy class but they were credited with building a few homes. The Slosburg motto cunningly transitioned to "The Best West." Their marketing accentuated the sunny sitting rooms, Dutch Doors, woody breakfast nooks, attractive, colorful, tiled bathrooms, knotty pine recreation rooms with fireplaces and the rare air conditioning that sent longing hearts a pitter-patter down the private cobbled lane. These well-crafted advertisements still have that effect. Delightful Decadence. By the 1950s the company name had been shortened to Slosburg Realty and had fine-tuned the breezy whistle of the Country Club Set. They began their relentless torment of forlorn house hunters with tales of the "Original Fairacres"—desirous descriptions of sprawling grounds with landscaping that "can be reproduced by time alone" and "separate breakfast room with St. Charles kitchen cabinets." Discriminating Tastes Only were mercilessly tempted by, "a wonderful playhouse separate from the main house. This playhouse is air-conditioned, has a stone fireplace, built in bar and private bath."
The Original Homes of the 1950s
According to the Reconnaissance Survey previously mentioned, "postwar residential development was limited to vacant lots and areas on the west and north sides of established neighborhoods, in this case Fairacres." It did not take magical insight to forecast that a development on the northern edge of Fairacres would flourish instantly. Stanley and Eleanor Slosburg had the capital and ingenuity to acquire those outer fringe empty lots.
Let us pause for a moment and pay homage to the original neighbors of the Cuming block, before Stanley and Eleanor Slosburg set their sights on the area. By 1955 the Douglas County/Omaha GIS Department mapping site showed limited building north of Burt Street. The Cuming Street block between 66th Street and 67th Avenue had a pair of anchors on the western end of the block and a trio on the east corner—the rest of the block was empty fields. The large Ranch at 6626 Cuming on the northeast corner of 67th Avenue and Cuming was allegedly built in 1955, according to the County Assessor site. It is part of the Buckeye Place Addition.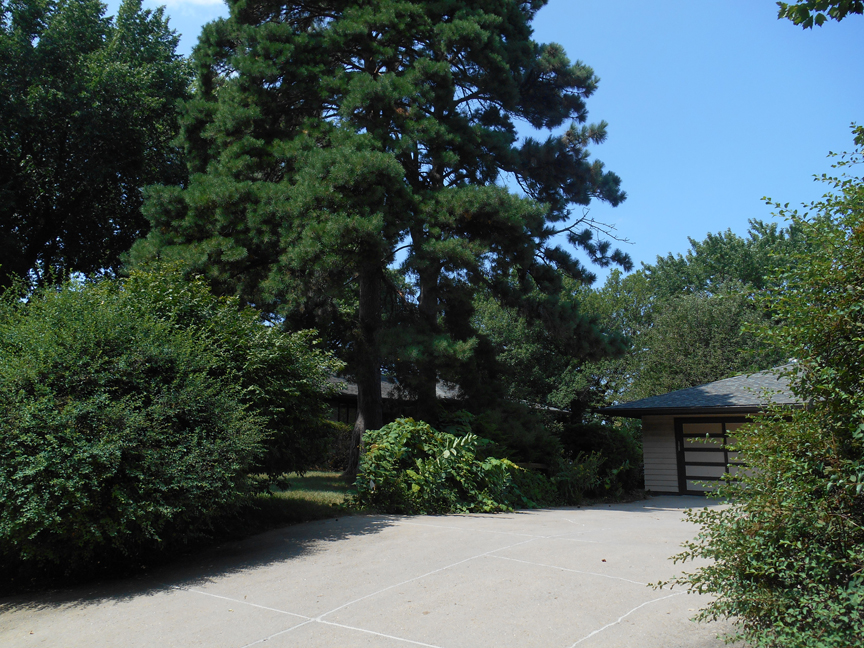 6626 Cuming Street is a large corner lot, obscured by trees and shrubs. Unfortunately this is just a quick peek of the garage. The spacious Ranch is hidden from view. The prominent Dr. Robert Wigton, local psychiatrist and his socialite wife, Marcia, originally owned this great house. Oh the cocktail suppers they threw! As it turns out, the family had moved in by November of 1954.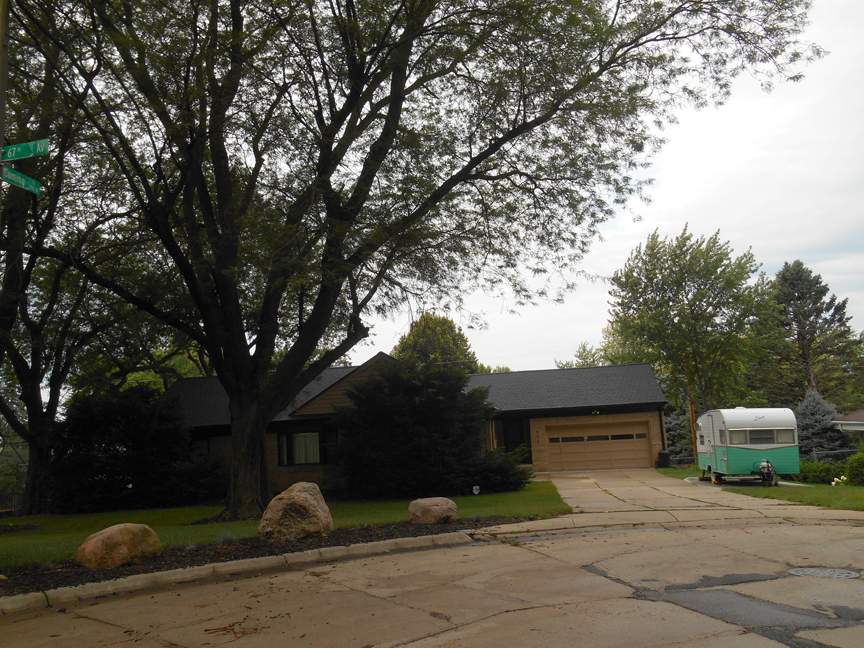 840 South 67th Avenue is just catty-corner to 6626. This home was part of the Fair Lawns Addition and was supposedly built by 1955 as well. This home also has the auspicious duty of being the dead end to Cuming Street on this short stretch. I am loving their new strikingly dark roof. And extra claps given for this cooler than cool little camper.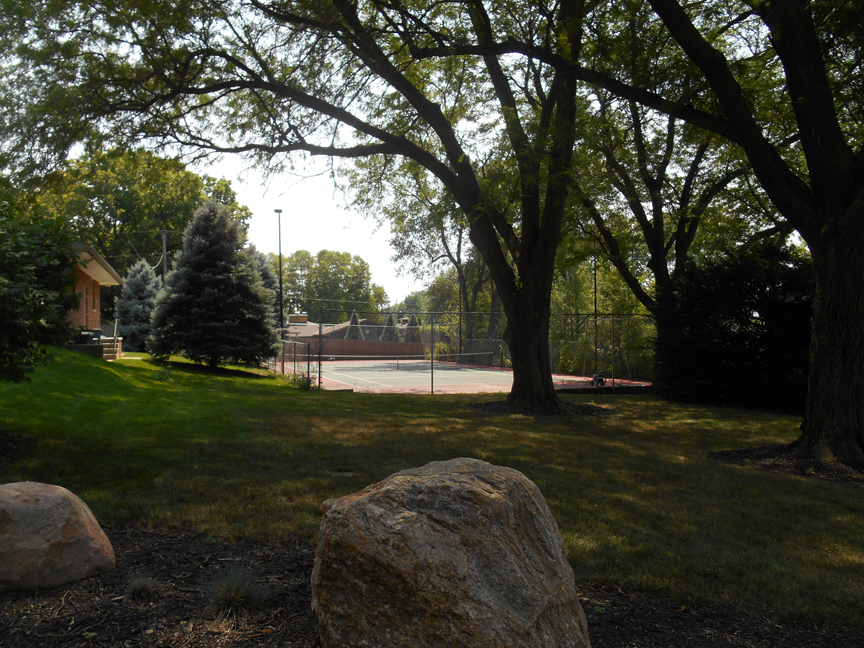 When doing my original reconnaissance work for this story, I found an incredible hidden tennis court to the west of the Cuming Street Ranches. This southern tennis court abuts the 840 South 67th Avenue home. I was intrigued but wouldn't know until later its mysterious connection.
On the eastern most end, 904 North 66th Street is a phenomenal Ranch. Like all of the homes on this north side of Cuming, 904 is part of the Buckeye Place Addition. Back in 1954 this vacant corner lot was advertised as "Adjoining Fairacres—prominent corner, being northwest corner of 66th and Cuming Sts." The corner wasn't occupied until the Jack Gelfand family built their 1957 MCM Ranch.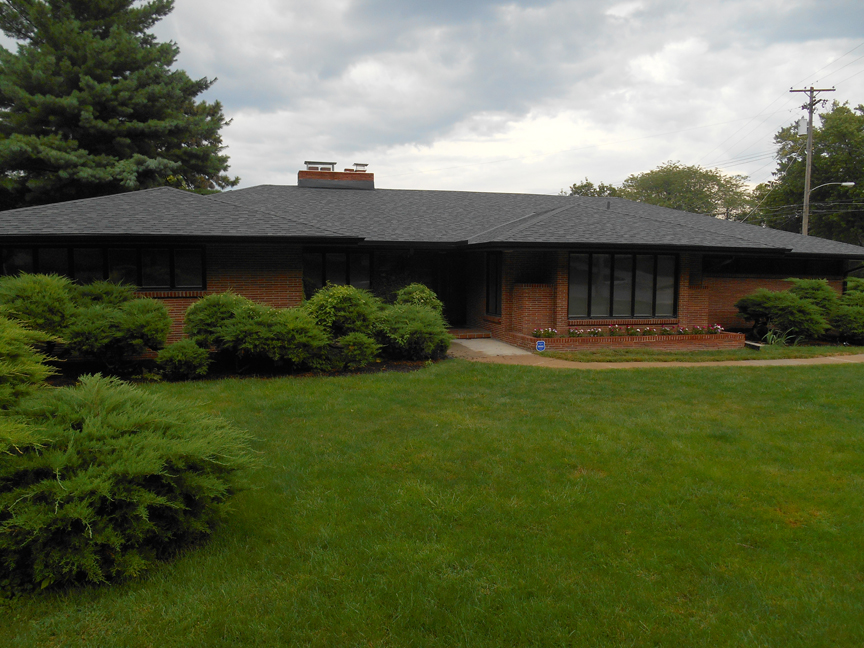 904 North 66th Street. Unfortunately Jack Gelfand would die just two years after building this great home, at the young age of 51. When you have a chance, peek around behind to see the most amazing windows and backyard party area. Such a Mid-Century Dream Home.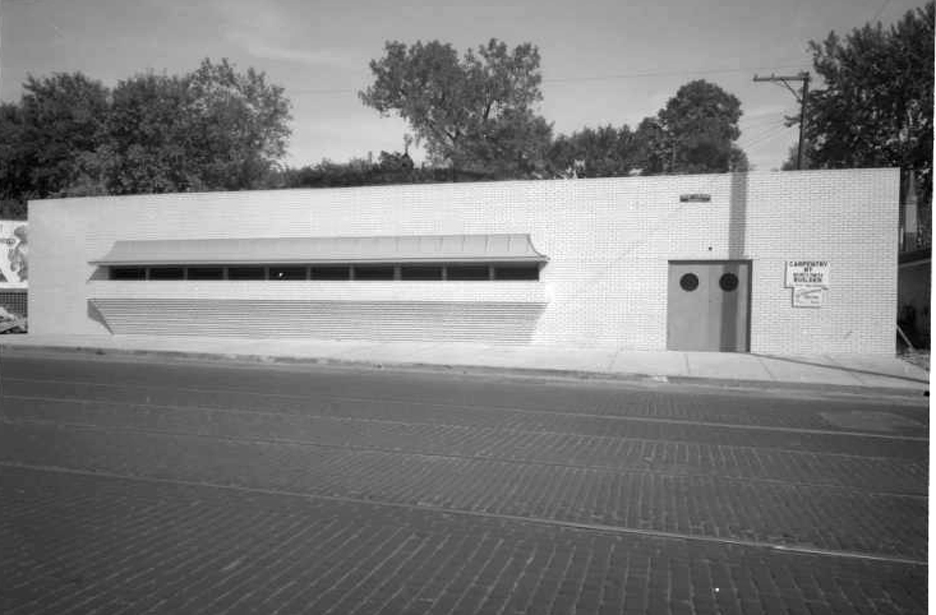 As a marginal note, I had previously written of Mr. Gelfand's outstanding 1953 Roller Bowl at 3716 Leavenworth on the My Omaha Obsession Facebook page. As fate would have it, Gelfand was also the operator of the Muse Theater. See that investigation at https://myomahaobsession.com/2016/10/03/secret-muse-theater/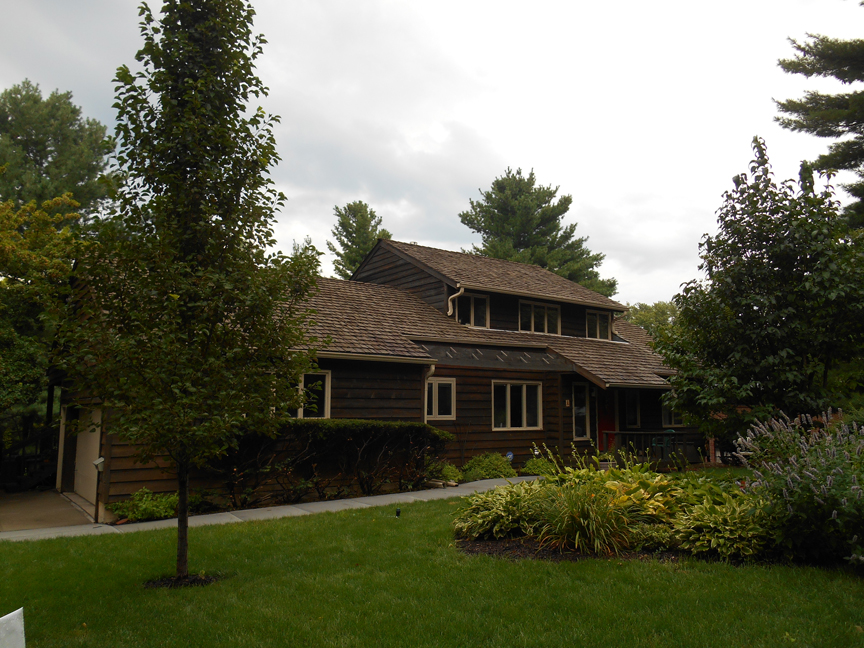 Additionally the property at 6616 Cuming was spied on the 1955 Douglas County/Omaha GIS Department mapping site. Only a small footprint was visible and I cannot be sure of its style or construction year without doing further excavation. The Omaha City Directory logged Mr. Patrick Gill living in 6616 Cuming in the late 50s-60s. This original home was eventually demolished and the current house built in 1978. 6616 Cuming is also comprised in the Buckeye Place.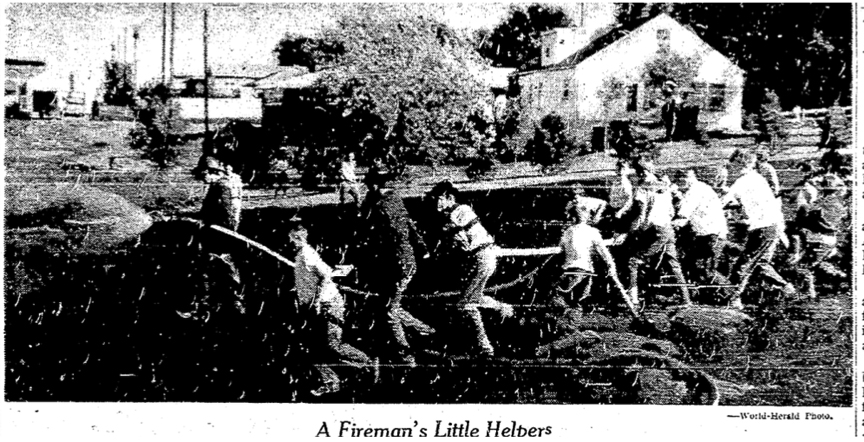 October 28, 1955. It is not surprising that in this climate of randomly undeveloped neighborhoods and empty lots, there might have been some occasional mischief. In this photo local children are seen helping firemen put out a "weed fire" at Sixty-sixth and Cuming. The blaze "burned out a vacant lot" and by outward account started from "burning leaves." Is it improbable that one of these children was the guilty party? I do suppose I am a bad historian as this may well have been a gardener's accident. But while we're questioning the past, can you imagine children being allowed to help the city firemen in this day and age? All of these circumstances are possibly why children are kept indoors nowadays.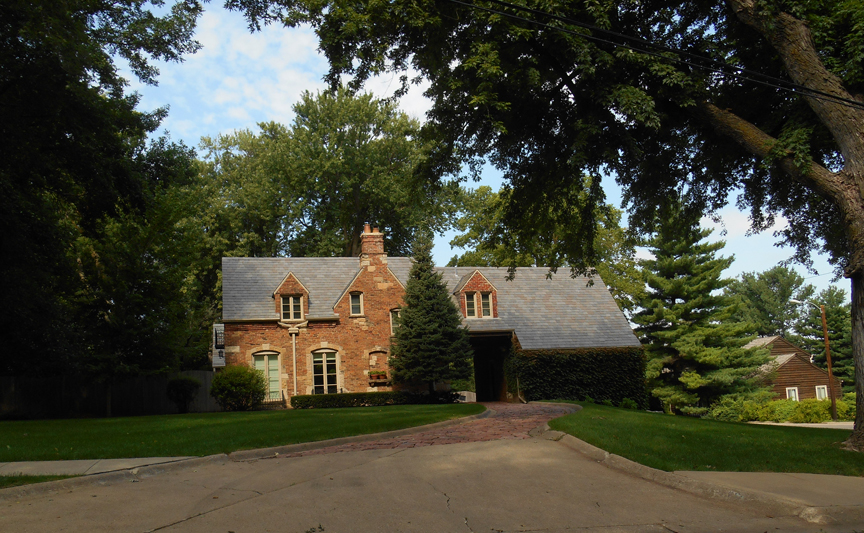 Directly east of 6617 is a glorious home, 812 North 66th Street, which the Assessor site listed as having been erected in 1930. This stone house faces east on the 66th and Cuming corner, more in the traditional Period Revival vein of old Fairacres—and according to the original Fairacres Plat, was in the initial district. The grandest lady of the block has her back turned to Cuming. She is a part of the Mayfield Addition. File this name up your seersucker sleeve.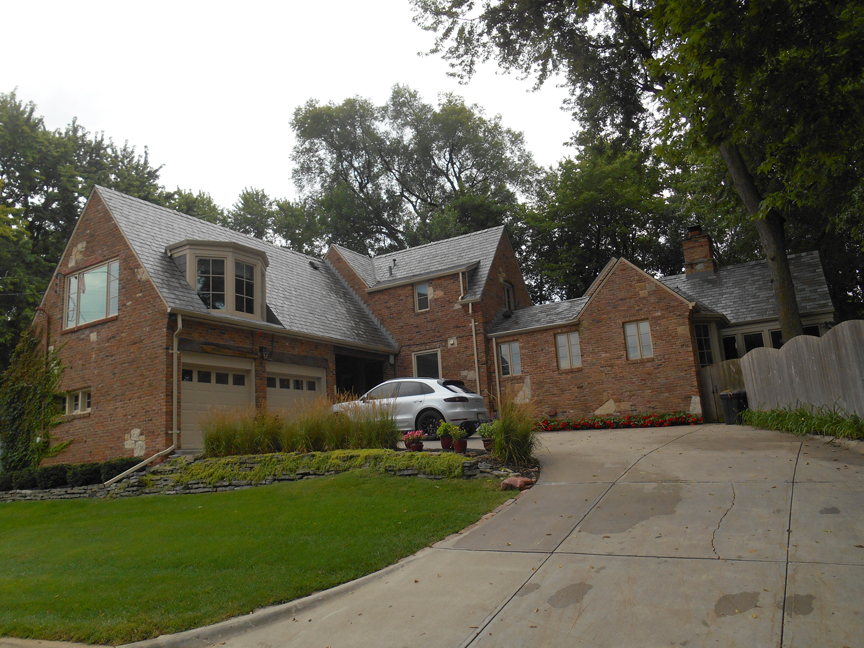 812 North 66th Street. This gorgeous gal was originally built in 1930 but has endured some well-devised additions. The northern wing has been added and I believe the western wing as well.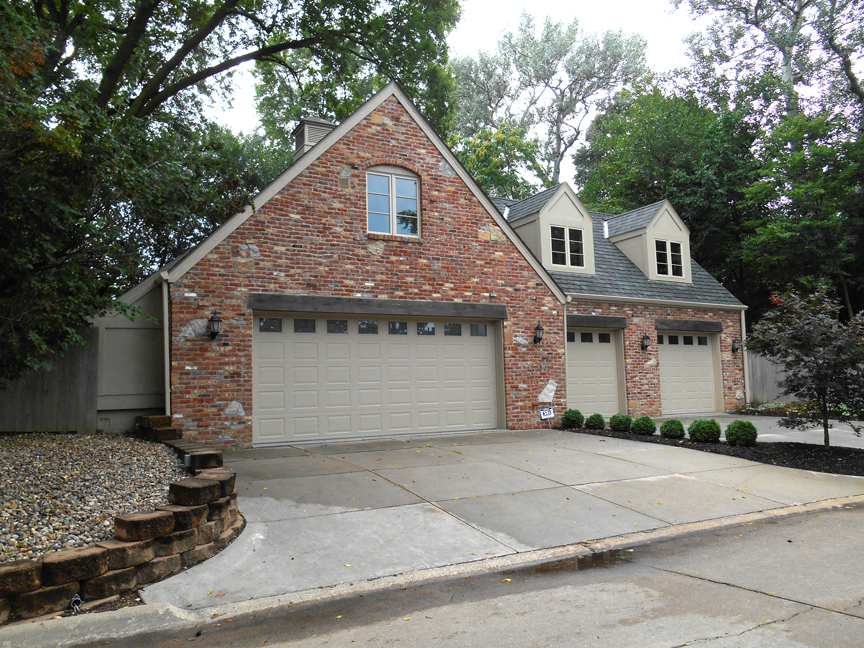 812 North 66th Street. There is also a substantial carriage house apartment, which I understand connects by footpath to the main house offering extra garages below. This structure was built about five years ago and stands west of the main house. This carriage house faces Cuming.
Slosburgs First Addition Clues
I am not entirely sure when Slosburgs First Addition was platted but by the fall of 1959, I found evidence of the Slosburg Realty Company advertising a northern portion of Fairacres, the "vicinity of 67th and Burt Streets." Also I discovered clues of Stanley and Eleanor Slosburg personally advertising lots for sale in the area in 1961. The warranty deed for 6617 Cuming reveals "Lot One, Slosburgs 1st Addition to the City of Omaha as surveyed, platted and recorded, being a replat of the west 393.3 feet of Block Sixteen, Mayfield Addition." This clue indicates a replat from Mayfield Addition to Slosburg. I cannot be one hundred percent sure but I did find corroboration of undeveloped Mayfield Addition lots in the area being sold off in the 1950s. By 1960 there was barely a whisper of Mayfield in the archives, most likely because all were sold. Currently there are ten remaining, intact lots in the Mayfield Addition. Two are located on the east end of Burt Street; five are further north on North Sixty-sixth. The First Methodist Church at 7020 Cass and Lewis and Clark Junior High at 6901 Burt are all that remain of Mayfield.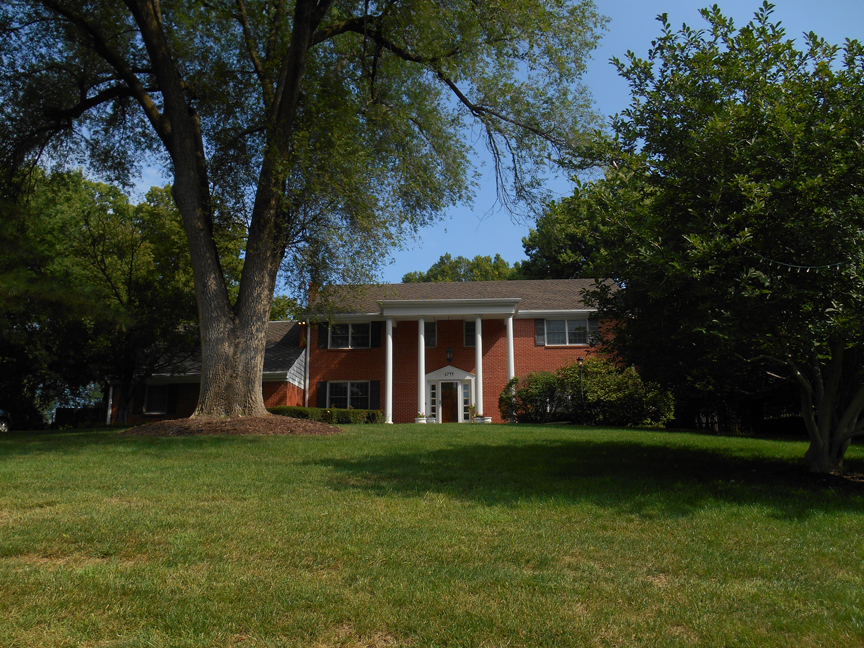 6744 Burt.
From the World Herald I would discover that Stanley and Eleanor filed a dwelling building permit for 6744 Burt in the fall of 1958. The next June of '59, the couple added the swimming pool and privacy fence. Although 6744 Burt was Lot 5 of the Slosburg First Addition, it was by all accounts the first residence completed in the development. This large attractive Mid-Century Modern version of the Colonial was listed with the assessor's as having been built in 1960. According to recent sales history, the home is 4,863 sqft has five bedrooms and seven bathrooms. Aerial views reveal it is an expansive property, with an in-ground pool and room to roam. A charming walkway and gate guide one to the private tennis court. As it turned out, the tennis court wedged to the north west of 6744 Burt was the tennis court I had spied on Cuming. The Slosburgs had these odd, diagonal lots adjoined as 6744 Burt. Miss Cassette loves this type of hidden recreational environ, the more peculiar, the better. This tennis court will enter stage left at a later date, when it became a problem for both the City Council and a neighbor.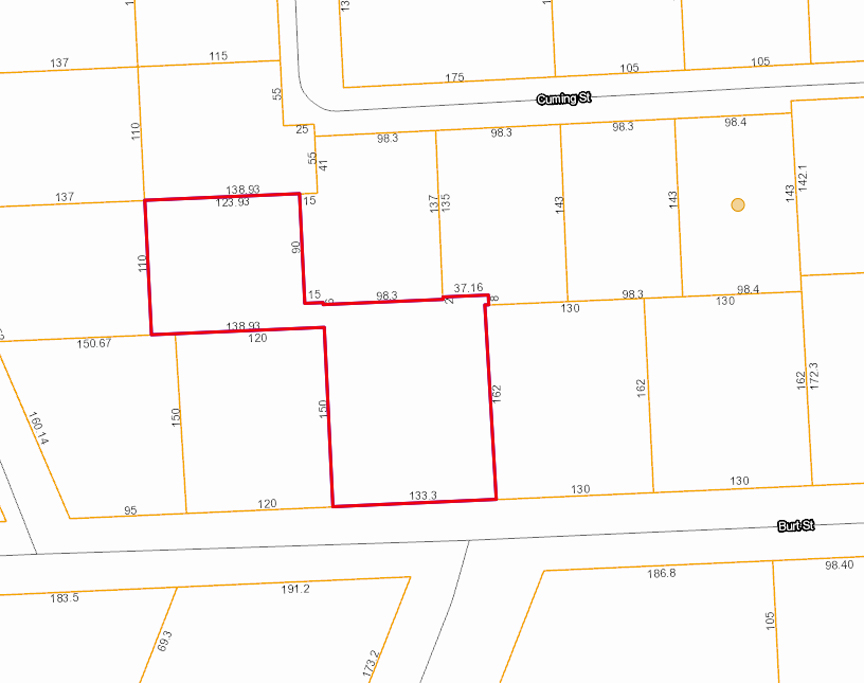 Adjoined Slosburg property map from the Douglas County Assessor's site.
Seven homes total, Slosburgs First Addition is comprised of south facing 6624 Burt, 6634 Burt and the Slosburg home at 6744 Burt. The four north facing lots on Cuming are 6617, 6619, 6621 and 6651.  Of note I came across a Slosburgs Fourth Addition located on Ninetieth and Harney. Is it in bad form to inquire of the whereabouts of additions Two and Three? A sprawling solitary lot of 1.58 acres at 400 South Ninetieth, the home is a mammoth 13,461 sqft and was built in 2001. This addition is not subdivided and remains intact under private ownership in the Slosburg family name. All the more exciting and mysterious.
6617 Cuming Origins
Stanley and Eleanor Slosburg sold the 6617 Cuming Street parcel, Lot 1 to Ruth G. Katzman on January 7, 1961. I would find the original warranty deed and ponder the different signatures as if this held additional hints. I backtracked to the Omaha City Directory of 1961 where I discovered Daniel and Ruth Katzman living at 6468 Cuming Street, just east of Slosburg's new addition. In that same year Mr. Katzman worked as Secretary-Treasurer of Frontier Homes Corporation under President Meyer Katzman. I didn't know it then, but Meyer Katzman was Daniel's father. There were endless Katzmans in Omaha during that time period and they all seemed to be partners in a few businesses. This rabbit hole would become ever more tangled…and I loved it.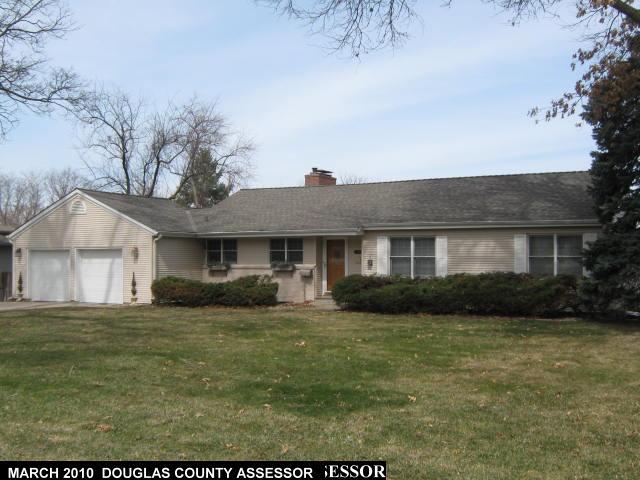 6468 Cuming is a great 1952 classic Rancho in the covetous Dillon's Fairacres Addition. This was Daniel and Ruth Katzman's home previous to building 6617 Cuming. This image taken from the Douglas County Assessor's site.
Curiously in April of 1961, Stanley J. Slasburg (sic) filed a dwelling building permit for 6617 Cuming for a total of $26,353. So although Ruth G. Katzman had bought the land, Slosburg had arranged to have the home built. Or at the very least, filed the permit. This made more sense weeks later when I realized the Slosburgs were experienced, well-connected developers. I cannot be sure between the Katzmans and Slosburgs who suggested or secured the architecture firm but what a well-timed, well-chosen meeting of the minds.
The Architects
Scurry and claw as I did, I was not able to find the architect's name who designed 6617 Cuming until the current owner shared the blue prints with me. This was a squealing moment. The group was Steele, Sandham & Weinstein Company. In June of 1956 I soon discovered the architectural firm took over the business of Steele, Sandham and Steele. William LaBarthe Steele, Jr., Josiah Dow Sandham, and Alex Weinstein would incorporate with ten thousand dollars capital—the latest successor to the Thomas Kimball legacy. Unbeknownst to me, the company would transition from Kimball, Steele and Sandham in the 1920s to Steele, Sandham and Steele after the death of Thomas Rogers Kimball.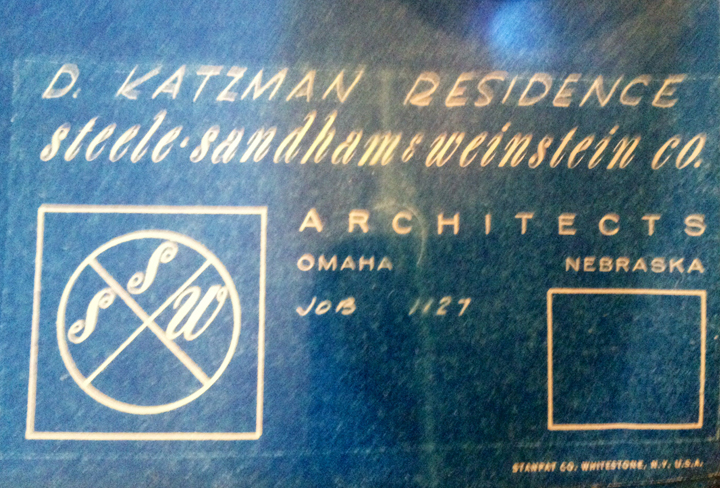 Used with permission by the current owner.  Blueprint for 6617 Cuming.
From the Nebraska State Historical Society Place Makers of Nebraska: The Architects, I would learn more about this firm. Steele, Sandham & Weinstein Company had a relatively short run from 1957-1963 but what a quality run it was. Oddly Sandham had actually retired in 1956 and left Omaha by 1958. As a sidenote Steele, Weinstein & Associates, as they became known after 1964 would later employ the masterful Neil Astle, architect I had written about previously in the https://myomahaobsession.com/2017/07/30/real-estate-secret-agent-2525-south-95th-circle/ story. I would check in with Neil's son, Calvin Astle, and he remembers hearing the names of Steele and Weinstein when he was a child. Charles Morton and Kenneth Nelson were also associates in the firm.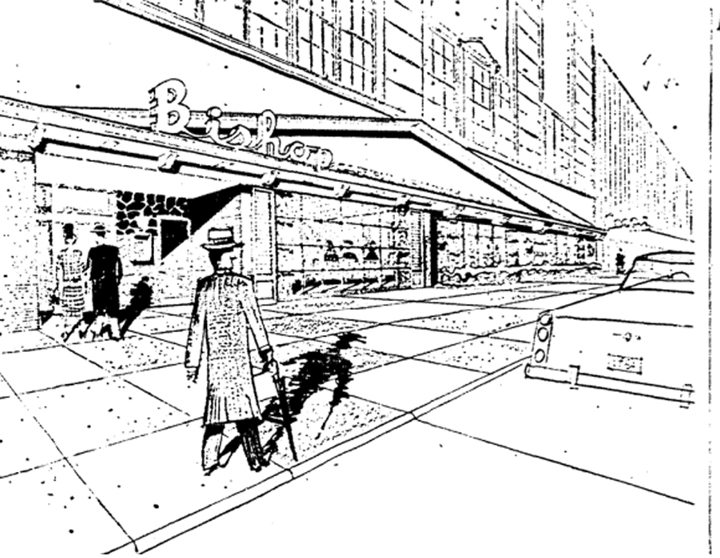 1961 Bishop Cafeteria 1414 Douglas Street in Downtown Omaha. Sketch by Steele, Sandham & Weinstein.
One of Steele, Sandham & Weinstein's first designs in 1961 was converting the 1414 Douglas Street property in Downtown Omaha into a new Bishop Cafeteria. The regional favorite buffet was to be located on the first floor of the old Rialto Theatre Building, as described in my https://myomahaobsession.com/2016/08/02/the-curse-of-the-clover-leaf-club/ story. The Bishop café was anticipated to be "provincial in style with beamed ceiling, warm colors, a carpeted dining area, a fireplace and papered and paneled walls. The exterior will be pink brick and charcoal gray stone."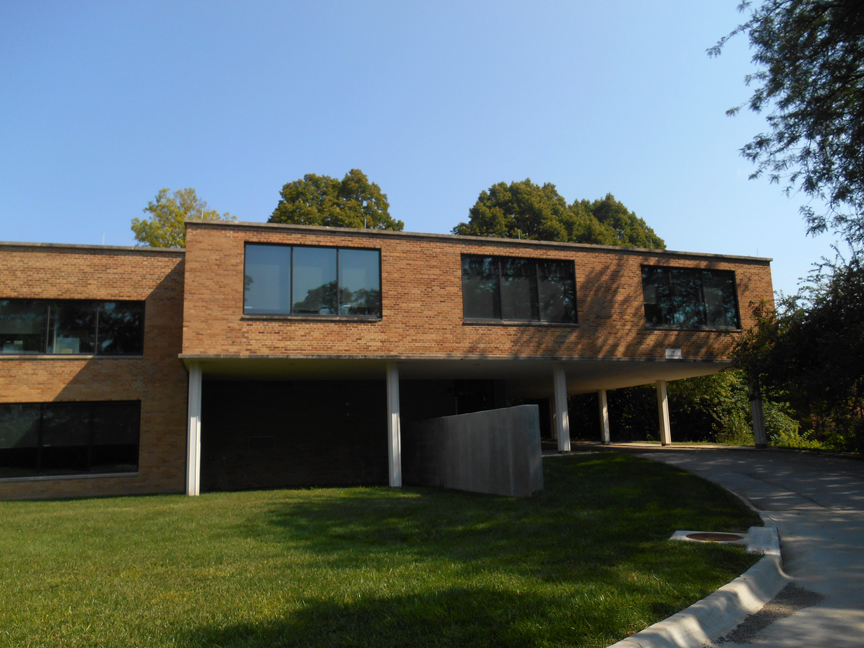 The trio was also responsible for the second story educational facilities design for Temple Israel at 7023 Cass Street. Back in 1961, Rabbi Sidney H. Brooks explained the temple's growing educational enrollment had grown to four hundred, hence the need for the expansion. The two-story structure on the east side of the Mid-Century Modern structure would extend over a driveway. I excitedly drove under this structure just the other day and was fascinated to tiptoe around this facility, now the Omaha Music Conservatory. Check out their offerings at http://www.omahacm.org/ Built in 1950, 7023 Cass was the third location of Omaha's oldest temple; the temple again moved to their newest home in 2013.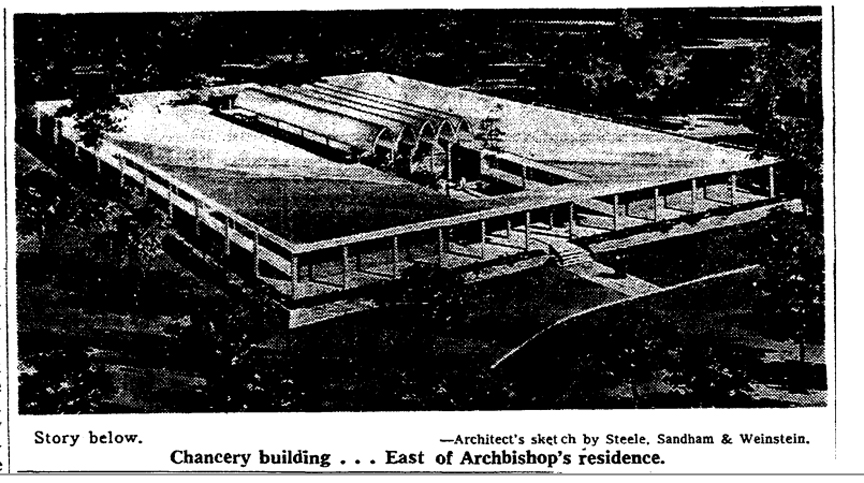 Months later the firm would design the award winning Chancery building at Sixty-second and Dodge (100 North Sixty-second Street) to house offices of the Omaha Archdiocese.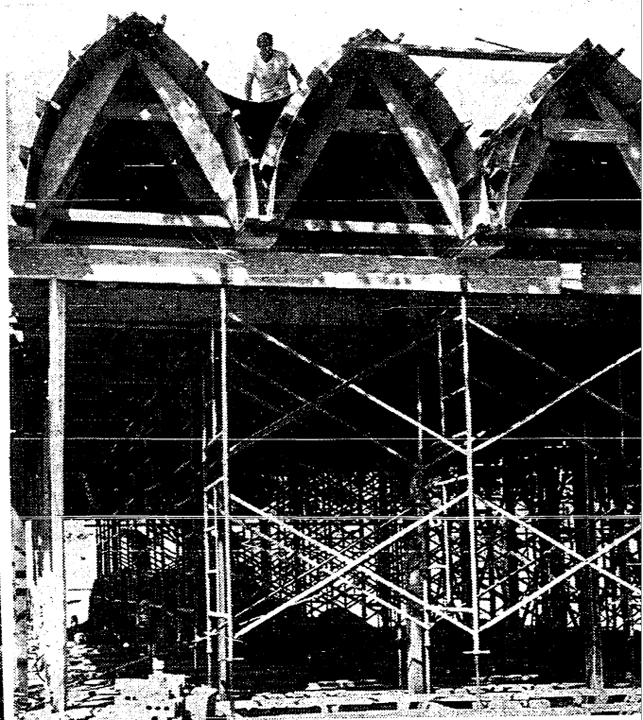 The Catholic Chancery, completed in 1962, gained early recognition for its H-shaped floor plan complete with integrated gardens, a glass-fronted central lobby, surrounded by a covered walkway and series of peaked roofs thought to resemble a ceremonial "Bishop's Miter." The contemporary building was to replace the old archdiocese office at 2507 Cass Street, at the time suspected to soon be torn down for the new "Interstate Highway."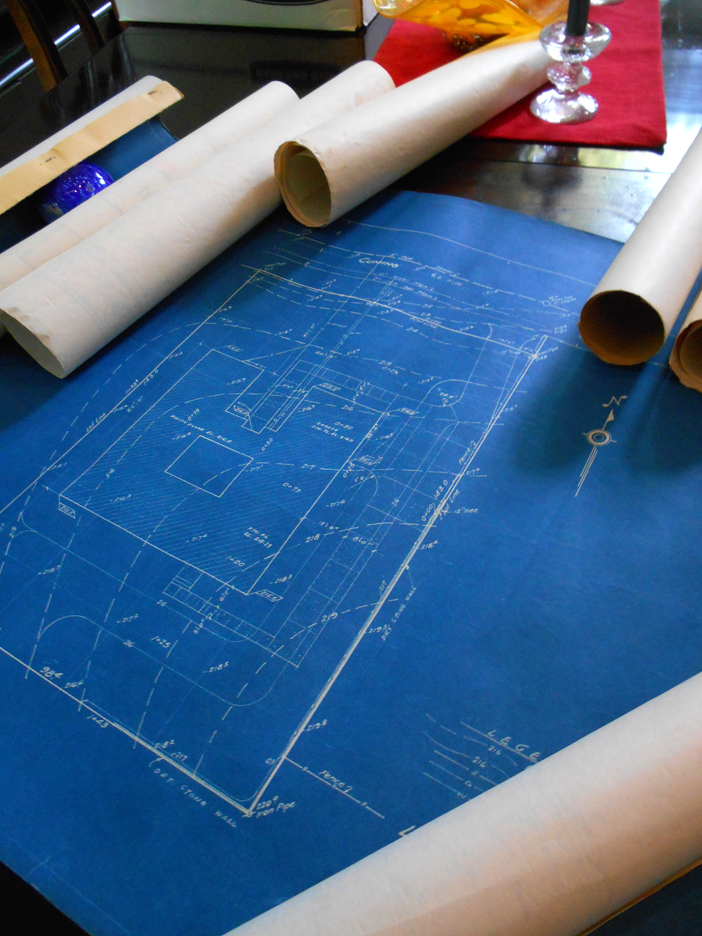 Blueprint of 6617 Cuming Street.
I was pleased to find 6617 Cuming won an architectural award for design. In March of 1962 eighty architects met at the convention of the Nebraska Chapter of the American Institute of Architects at Joslyn Art Museum where awards were presented for outstanding structures in the annual design competition. Honorable Mention went to Steele, Sandham & Weinstein both for the 6617 Cuming Katzman Residence and their Hinky Dinky Grocery Store in Des Moines, Iowa.
Mysteriously in the same year that Ruth and Daniel Katzman purchased their lot, a Nettie Katzman had just completed construction on her handsome Ranch down the street at 6651 Cuming, Lot 4. The fact that there were two Katzmans on Cuming Street sent me into a frenzy. Surely they were related.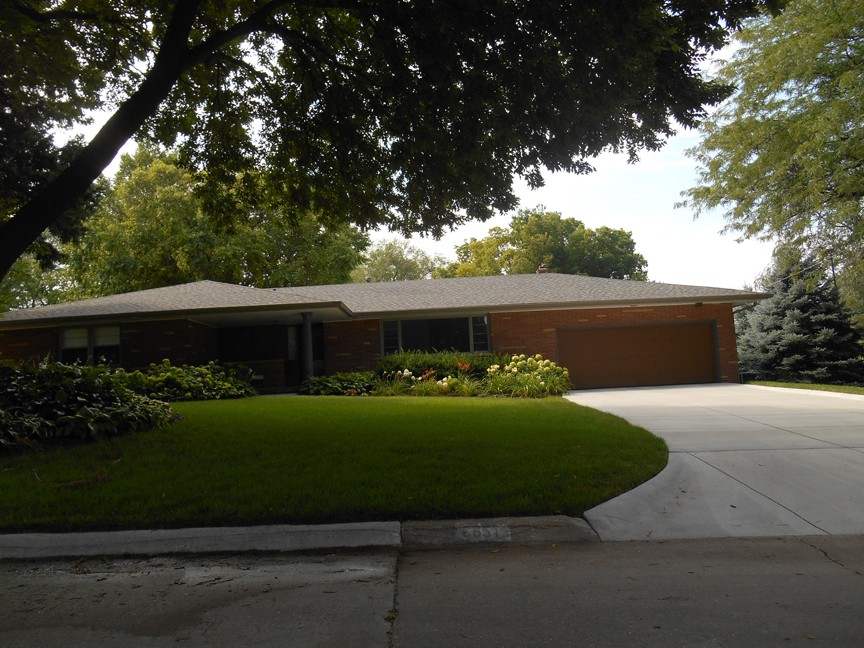 6651 Cuming, Lot 4. Last home on the southwestern border of the block. Directly south and west, off of Cuming is where I found the elusive tennis court positioned. I would begin my search into the colorful Katzmans.
The Katzman Files
Meilach Katzman arrived in Omaha in 1907, having left his wife, Brindal, and their six sons and one daughter back in Russia. Some stories say Davidifka, Russia. He got to work but it wasn't until 1910 that he was able to afford to provide ocean passage for his eight family members. The family would settle in South Omaha where the newcomers would focus on learning English and getting the children through school. The U. S. Federal Census of 1920 showed the Katzman family living at 4425 South 27th Street. Of note this home has since been demolished but of the small frame houses still standing on this proud block, some vernacular styles were built in the 1890s. 50-year-old Meilach was called "Max," or that is what the census taker named him. He apparently owned a junkyard. His wife Anna (I thought her name was Brindal?) was then 48. Meyer, then age 23 was a "junk yard wagon driver." Clara, David, Julius, Samuel and Morris (sic?) were also living in the home. Meilach plainly had the entrepreneurial spirit and later started the first Katzman furniture plant in South Omaha; nine years later his grown sons were able to join in the operation. By 1929 Meilach and sons would move to Twenty-first and Cuming Streets in Omaha to begin their National Upholstering Company Inc. Sons Meyer, David, Julius, Samuel and Maurice, along with Son-in-Law Allan Wohlner and 35 employees would kick start the new plant. As a digression, I would never find mention of this junkyard in the formal Katzman lore. Back in the early 1930s, oldest son Meyer was manager of the National Upholstery Company; I would pinpoint this company's location to 2101 Cuming Street. This building was demolished and now the new Creighton School of Dentistry building stretches out in all directions; its address is 2109 Cuming Street.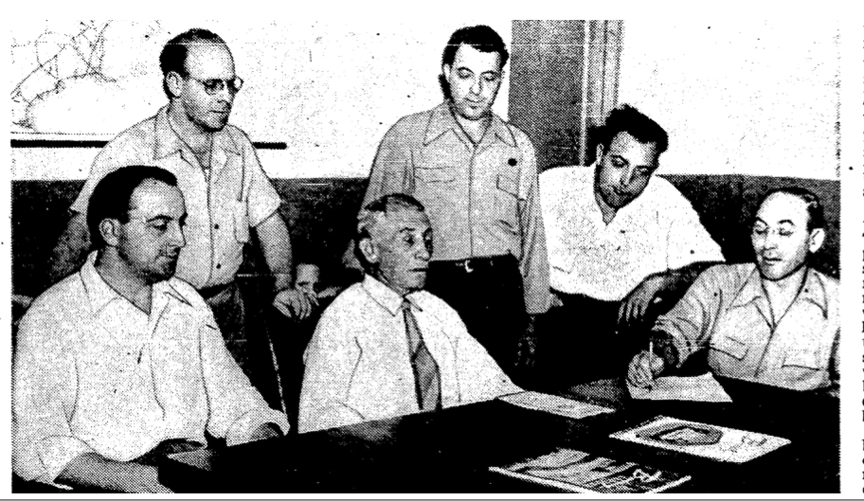 1945 Katzman family partnership sitting left to right is Sam Katzman, father Meilach, oldest son Meyer. Standing is Son in law, David Wohlner, son David and son Maurice.
Within short order a second Omaha factory and a Kansas City factory were opened. By 1941 the Katzmans would rebrand themselves as the National Furniture Manufacturing Company with an expansion to 1111 North Thirteenth Street. Later still they became the Mastercraft Furniture Corporation, a huge furniture company—producing quality furniture from design, to assembly of raw lumber, cotton and steel to finished product, marketing and delivery.

Master Craft Upholstered Furniture at 1111 North 13th Street in 1945. Expansion would soon house a continuous production line 748 feet long, producing at the rate of seven hundred pieces of furniture a day. To see how the Mastercraft Building was reimagined in 2005, check out their site at https://themastercraft.com/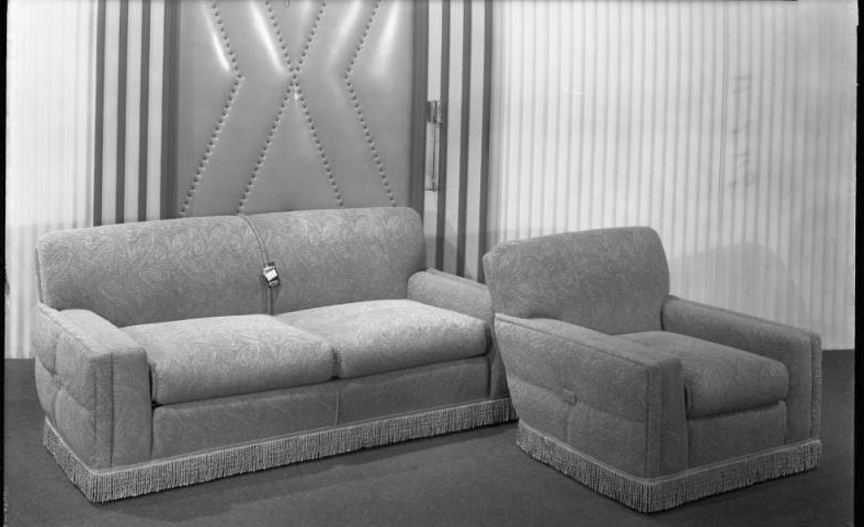 Mastercraft Furniture Corp. (President M. Katzman)- 1111 North 13th Street A matching sofa and chair set with a fringed bottom is displayed with tags. 949-11 is written on the print. Bostwick, Louis (1868-1943) and Frohardt, Homer (1885-1972) The Durham Museum. April 5, 1952. This is Miss Cassette's ideal.
The Dan Katzman Dossier
The United States Census of 1940 divulged Meyer and Nellie (sic) Katzman, were both born in Russia and had three children: Sylvia (18), Daniel (15) and Charlotte (11). I would later unearth Meyer's wife's full name as Nettie Gerelick Katzman–the woman who built the Ranch on Cuming. The Katzmans had lived at 127 North 33rd Street since the previous census of 1930. The family would also employ live-in servants Miss Helen Besely and Miss Rita Beavers from Kansas over the years. An unknown seventeen-year old lodger, Nettie Dray, from Colorado was also staying at the home in 1930.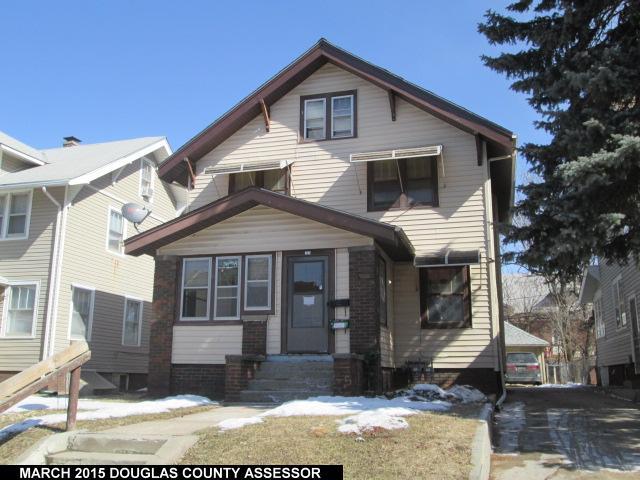 127 North 33rd Street from the Douglas County Assessor's site. This attractive, unfussy 1906 front gable frame house was thought to be 1,541 sq ft.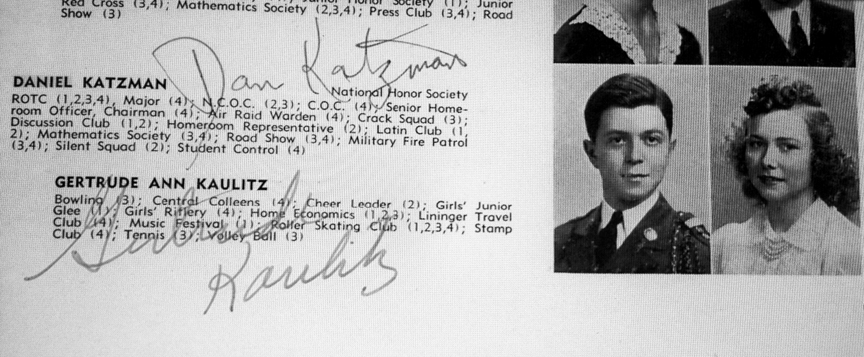 Dan Katzman's 1942 Central High School yearbook photo was actually one of the very first clues I found. Dan's United States World War II Draft Card, dated March 4, 1946 gave additional hints: Dan had been born on August 24, 1924. At the age of 21 he was unemployed and single. More than 50 million American men would be registered. Dan served with Army of the United States from 1943-1946. He had graduated from the University of Nebraska at Lincoln with a Bachelor of Science in Business Administration, a degree I would find served him well.
The Commodore Hotel
If you have not yet caught on or perchance gotten confused when you skipped ahead, Meilach's oldest son, Meyer Katzman, was the father of our Daniel Katzman who would own 6617 Cuming. Perhaps at this point I should be drawing out a family tree. Back in 1948, Meyer Katzman wanted to branch off from the family company and later sold his interests to his brothers. Interestingly he would purchase the stock of the Commodore Hotel Corporation from a Chicago group. This hotel was located at Twenty-fourth and Dodge. Meyer and Nettie would own and operate this hotel for twenty years.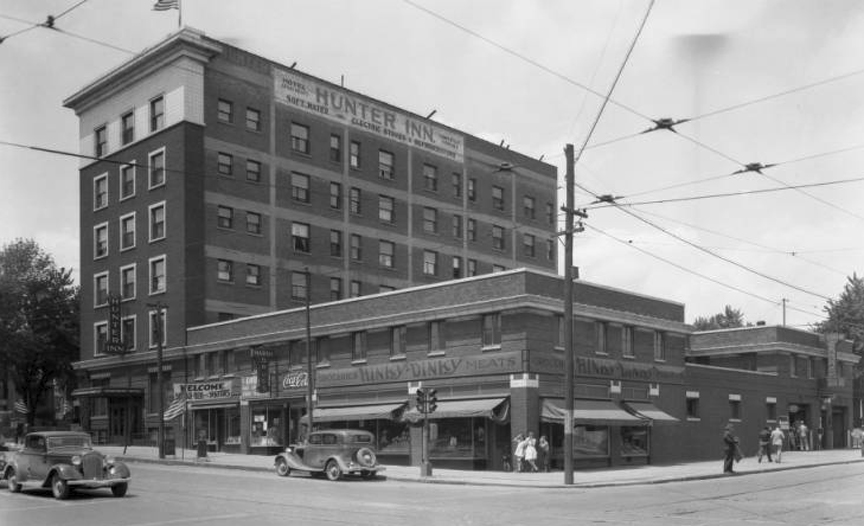 May 30, 1935 Hunter Inn Apartments. Exterior of Hunter Inn (later Commodore Hotel), 24th and Dodge St.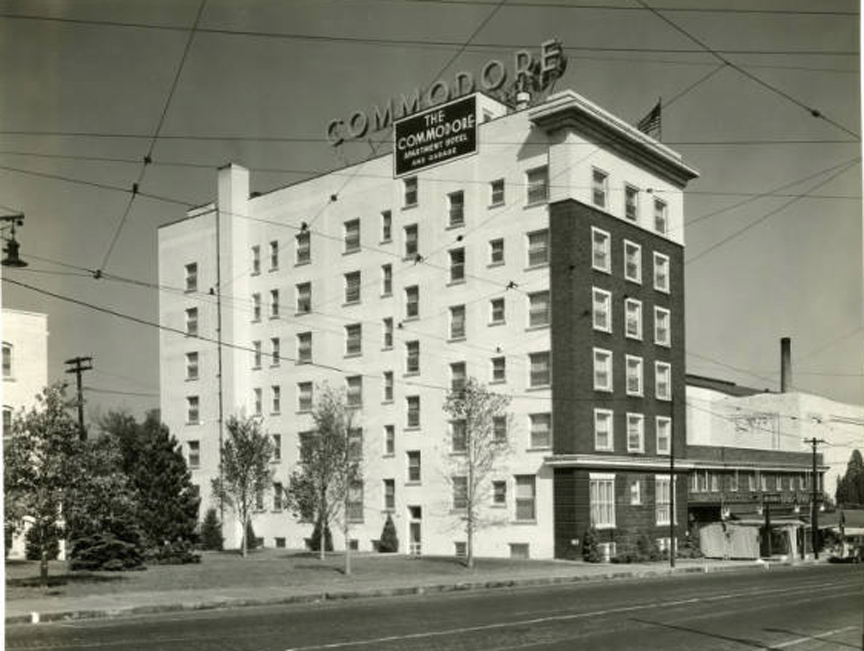 THE COMMODORE APARTMENT HOTEL AND GARAGE. Hinky Dinky Groceries is to the right. Joslyn Art Museum is to the east. 1937.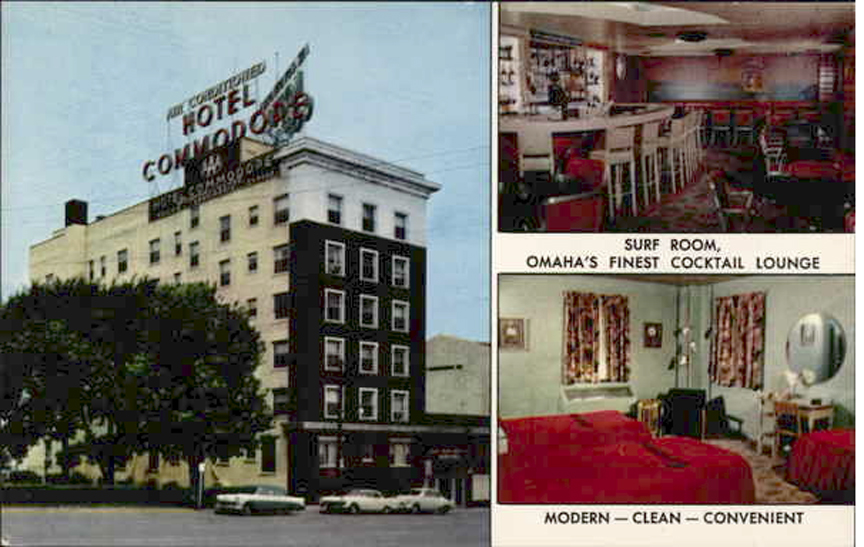 CardCow site. Omaha's Friendliest The Commodore Hotel is the Midwest's newest, most modern. Air-conditioned transient rooms and efficiency apartments. Contemporary furnishings and tile-tub showers in every room. Breakfast and lunch service in the SURF ROOM. Garage entrance to the Lobby, Parking area in rear. The COMMODORE is located near downtown on U. S. Highways 6, 30-A, 275, & 92, at 24th & Dodge Street, Omaha, Nebraska.
A New Enterprise
By the 1952 the enterprising Meyer had also expanded into a new, modern industry of mobile home manufacturing. Meanwhile young Daniel was coming of age and ready to get into business himself. Along with Dan, as Secretary-Treasurer, Father and Son Katzman would build up Commodore Mobile Homes Corporation with their first plant at Fortieth and Lake. As it turns out the travel trailer had been introduced back in the 1930s but by 1950s sales were skyrocketing as Americans began to view the industry as a low-cost housing option. I would learn from American Homes by Lester Walker, that right as the Katzmans were moving headlong into the business, mobile homes were offering more "homelike" qualities, which only served to push sales.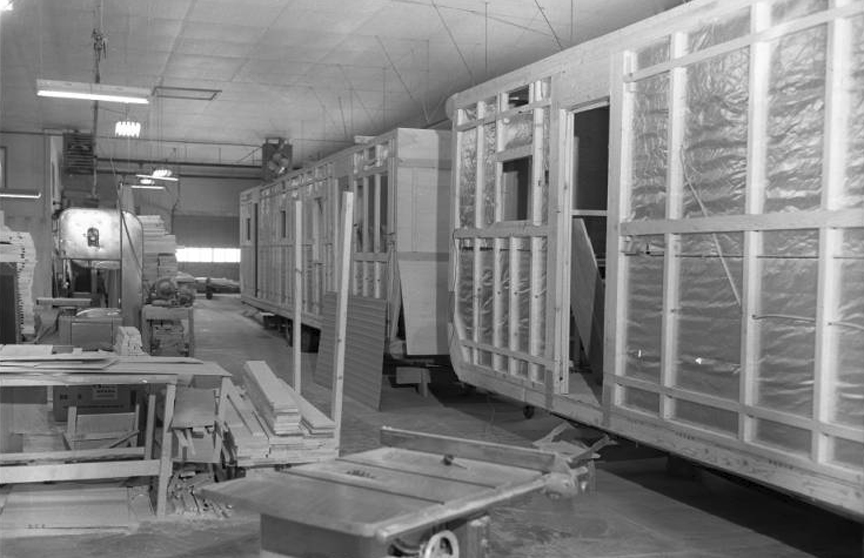 1955. The interior of the factory of Commodore Mobile Homes. The workshop area. Partially constructed mobile homes sit on the right. The Durham Museum.
By all accounts it would appear that Dan worked side by side in his father's many ventures. A review of the 1951 City Directory revealed that Ruth and Dan operated the Commodore Hotel as well and were included as business partners by as late as 1956. In 1955 Dan Katzman was chairman of the Midwest Trailer Show at the City Auditorium, marketing the new fangled trailers. Eighty manufacturers of trailers and accessories were slated to show their wares. Boasting valance lighting, sliding closet doors, air conditioners, picture windows, washer-dryers and "colors as bright as those of the 1955's automobiles," Dan Katzman promised a true spectacle in the fifty-one foot rolling palaces of the future. Meyer and Dan would morph again into Frontier Homes, a manufacturing plant with locations in Meadville, Pennsylvania and Falls City, Nebraska. The firm's executive offices were at 102 South 32nd Avenue in 1959.
The Ruth Goldberg Katzman Clues
Miss Ruth Goldberg Katzman was born in Kansas City, Missouri and was the only child of Max and Leah Goldberg. She expressed an early interest in art and began writing as an art critic while still in high school. Ruth would attain a Bachelor of Fine Arts degree in 1944 from the University of Nebraska at Lincoln and that is where she met young Dan Katzman. I would find a wedding announcement indicating the couple was married in the late summer of 1947. Long before alternative collaborations melding the arts and mental health therapies were introduced, Ruth and her cousin spearheaded dance therapy sessions with residents of Nebraska Psychiatric Hospital in the late 1950s. By the time the Katzmans moved into the Mid Century Modern home at 6617 Cuming, they had two children. I estimated son Steven Edward to be eleven at the time of the move and daughter Sara (sometimes listed as Sara Gail and Saragail) was eight years of age.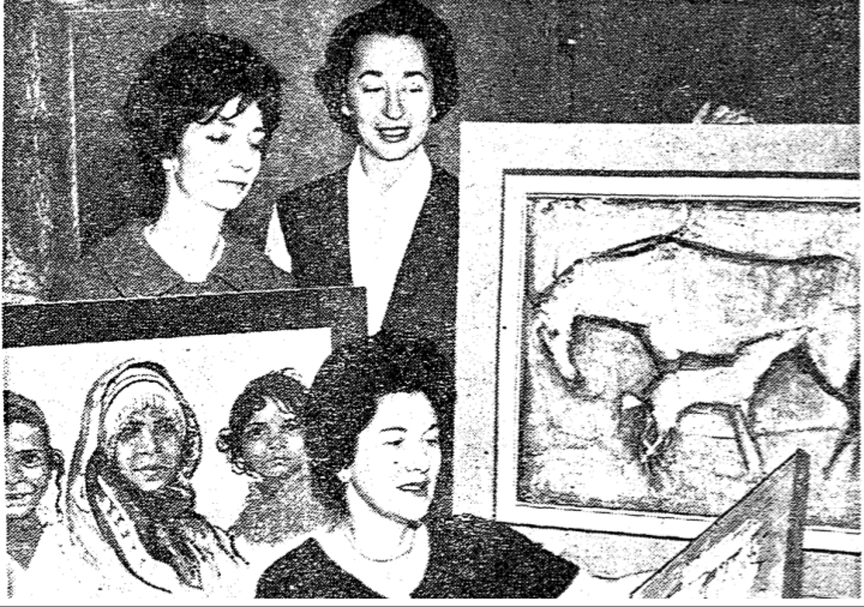 1963 Ruth was very engaged in the Jewish community as well as the arts. Here she is featured chairing the Beth El Sisterhood twenty-seventh annual concert and art event, unpacking the exhibit. Mrs. Saunders seated in the front, Mrs. Katzman left and Mrs. Bernstein right. It would appear that neighbor Eleanor Slosburg, Stanley's wife, and Ruth Katzman were involved socially, or at least were co-chairs for a number of events. Ruth was known to host Art Guild meetings in that glorious 6617 Cuming. Furthermore I discovered in 1968, Ruth and her two sisters-in-law, Charlotte Katzman Zipursky and Sylvia Katzman Jess, would establish Gilah, a local gallery devoted to Israeli art, jewelry and craft. Later Daniel and Ruth would create their own Katzman Foundation, which provided scholarships to local musicians and artists. The more I investigated Ruth, the more I wondered if she was the one who was behind the design of the Contemporary Style house?
Of interest I found Ruth Katzman had signed to a "Statement of Conscience" in the Omaha World Herald. In 1967 1,865 Omahans signed an open document drawing attention to the State of Nebraska' motto: "Equality Before the Law." The statement went on to explain that many Americans of "Negro, Indian, Spanish and other minority group descent" experience racial discrimination in housing, well documented inequality and "denial by our society" when attempting to find adequate, safe housing. The named residents "welcome into our neighborhoods" people regardless of race, religion or national origin and "will help make Omaha an open city in the true spirit of freedom." As the years went by Ruth would host round table discussions in the 6617 home focused on politics, current events and religion–at times a paper would be presented. These female focused collectives were sometimes luncheons, dessert or coffee talks; I had previously traipsed across these discussions, often hosted by society women and homemakers, during this time period from other investigations.
A Jewish Enclave?
We might as well lie out the goods on the few remaining homes of this Slosburg First Addition cohort. Soon after Ruth Goldberg Katzman bought 6617, Slosburg would sell 6619 Cuming, Lot 2 to "Edward A. Rosen and wife." This attractive Ranch was built in 1963.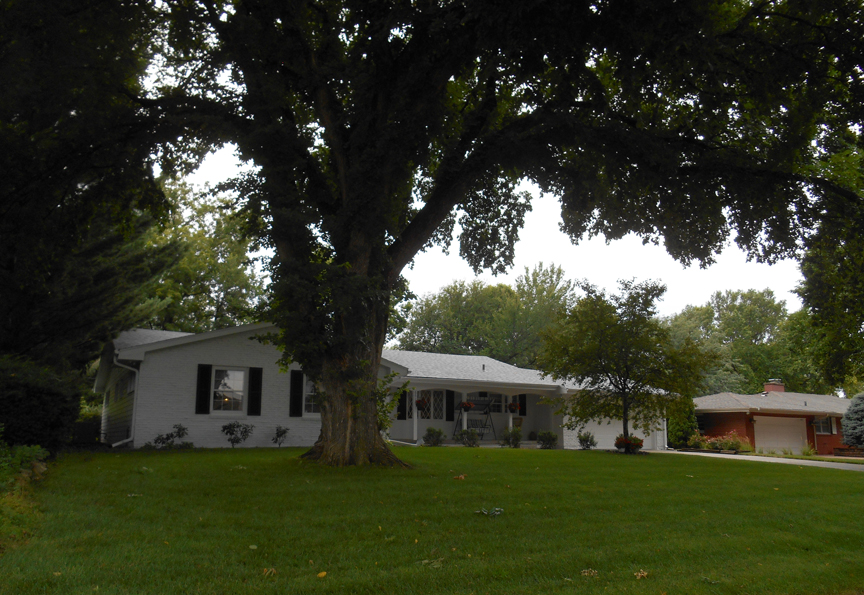 6619 Cuming Street. Edward A. Rosen and his wife Sally Novak Rosen were well-respected community leaders known for their car business. Her father, Ben Novak, an auto dealer had encouraged his son-in-law to join in the family business. Along with brother in law Julius Novak, the two would form Rosen-Novak Auto Company, going on to be one of the most successful dealerships in the region.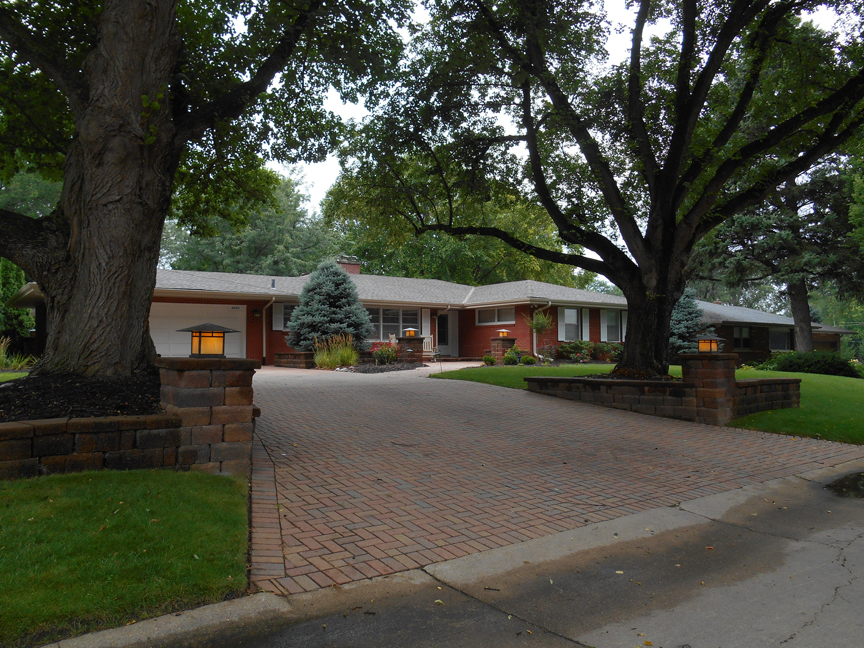 6621 Cuming, Lot 3 was sold to Sherman C. Sperling and wife. Built in 1963. Harriett Kubby of Council Bluffs had married Sherman Sperling of Los Angeles back in 1947.
In October 1961 Meyer and Nettie Katzman of 6651 Cuming Street opened their new modern Ranch to the Jewish Home Tour, where Beth-El Synagogue Sisterhood presented five local homes. The Katzman portion of the tour was focused on the Kosher Kitchen Home, giving samples of Jewish culinary art and a display illustrating dietary laws. Besides the Jewish family names I had already discovered in the developer, architects' firm and residents of the area, I would unearth more surnames of Jewish descent listed in the Omaha City Directory west along Cuming. Weiss, Greenberg, Somberg, Hoffman, Margolin, Feldman, Singer, Krasne and Wasserman. I couldn't help but wonder if this area was some sort of Jewish enclave. I also wondered if this north of Fairacres Neighborhood was a case of friends selling to friends, encouraging friends by word of mouth. I didn't know if the historic Fairacres proper had been a restricted area, forcing Jewish families to live on outer borders. I thought I had found Jewish names amongst the original owners of Fairacres, I argued with myself.
A friend had wisely suggested that Jewish families might have been drawn to the district because of proximity to Temple Israel at 7023 Cass Street, built in 1950. (Now the Omaha Conservatory of Music). For some Conservative and Orthodox Jews, finding a house within reasonable walking distance of their synagogue was-is essential due to rules of not driving from sundown Friday to sundown Saturday. But even if the secular and Reform Jewish families of north Fairacres potentially didn't feel bound to the area because proximity to the synagogue, I am sure a community of like-minded, welcoming neighbors might have been the draw. A marginal note: I found key characters in this story were actually longstanding members of the Conservative congregation of Beth El Synagogue at 119 S 49th Avenue. This incredible structure was designed by John and Alan McDonald after the Zimman family donated land at 49th and Farnam Streets. The building now houses Holland Basham Architects. I do hope some of my reader-detective friends will share more about this phenomenon.
The Two Sidewalks of Stanley Slosburg
A number of articles I can across gave indication that Stanley Slosburg had a lively and strong-willed personality (Also humorous and defiant.) These are all attributes that Miss Cassette much admires in a good character driven investigation. By all accounts, Stanley is still alive and we just might hear from him or family members. As the story goes, back in November of 1961 the Omaha City Council "made an inspection trip to address complaints about paving work at Sixty-sixth and Cuming Streets." I cannot be sure who called in these complaints. As I've stated Stanley Slosburg, wife Eleanor and their children continued to live at 6744 Burt. By October 1962, Slosburg and the city got into more than just a little scuffle over his addition's sidewalks or lack thereof. Slosburg protested when the city wanted to put sidewalks along Burt Street. If they insisted, Slosburg thought the south side of the street would be the best place. Walks should only be installed where they were most needed, he believed. Slosburg suggested around Western Hills School. "If the city insisted on his having a sidewalk, he said, it should allow him to put one in along the curb so as not interfere with his trees," the Omaha World Herald stated. To no avail, the city council voted to put the sidewalk eight feet from his curb. Slosburg was not at that city meeting and we can assume he must not have paid his city council campaign donations, for days later, unbeknownst to him, "the city's sidewalk men" were found "measuring and figuring in front of his property." Well Slosburg marched down to City Hall only to find the crew later brought in a tractor and graded his lawn for a sidewalk. That Sunday when the crew wasn't working, Slosburg defiantly had a sidewalk laid against his curb where he wanted it. When the Public Works Director caught wind of Slosburg's own sidewalk trick, the city went ahead with their original sidewalk plan, eight feet back from the curb.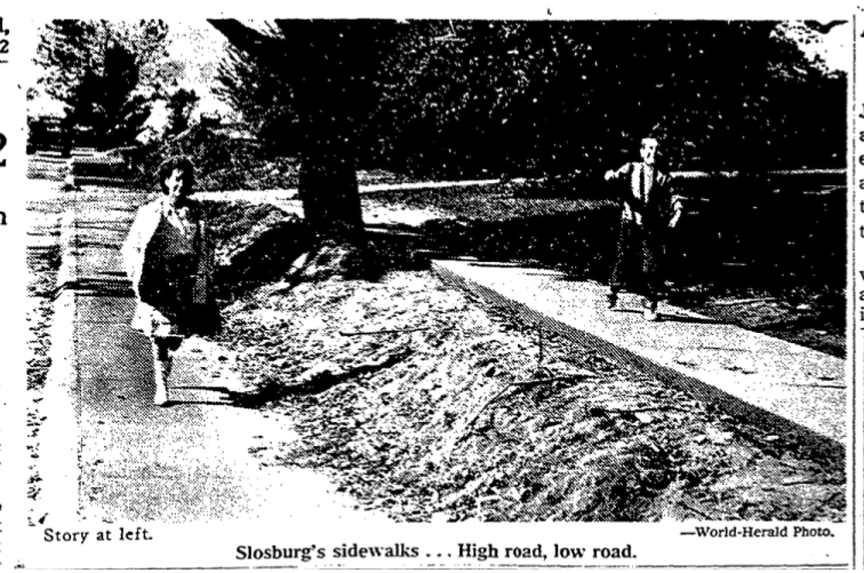 October 1962. For the record, my surveying of the area revealed there is only one sidewalk now.
The Tennis Court Problem
In another tussle the city wanted to enforce a "memorandum opinion," which would make Stanley Slosburg have to tear down a fence around his tennis court, north of his home. He claimed his permit to build the fence was valid. Meanwhile Slosburg had sued to restrain the city from making him remove it. What in the world did this fence look like and why was it such an issue? The District Court would later allow Meyer Katzman, who lived next to Mr. Slosburge's tennis court at 6651 Cuming, to join in the city as a defendant. Things seemed a bit tense in this small Slosburg Addition. Katzman, as it turned out had been a party to an appeal protesting the fence permit back in 1966. Meyer Katzman also took issue with the "floodlights, noise and illumination," which deprived him of the "peaceful enjoyment of his property."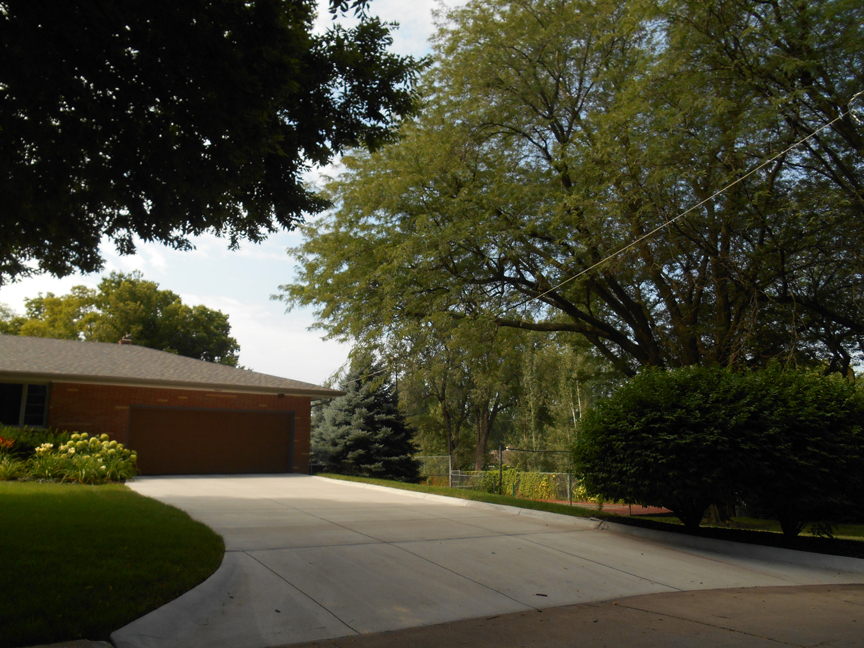 Katzman's home at 6651 Cuming with the Slosburg tennis court directly to the west.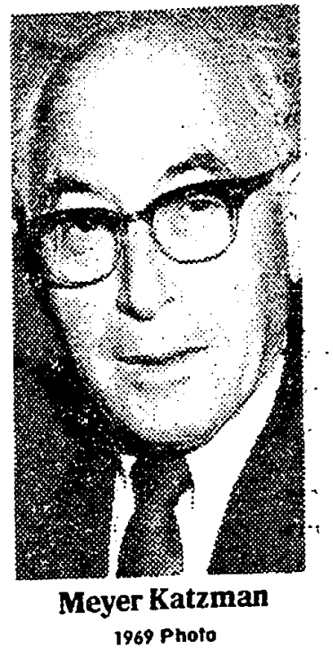 Not long after Meyer Katzman would file suit for $20,000—asking that the Slosburgs be permanently restrained from using the court. In the elder Katzman's words, "the Slosburgs and friends use the court until late evening hours." The loud talk and the lights seemed to be the main issues. I will say this as pleasantly as possible: it would appear the Slosburgs got a lot of enjoyment from their tennis court.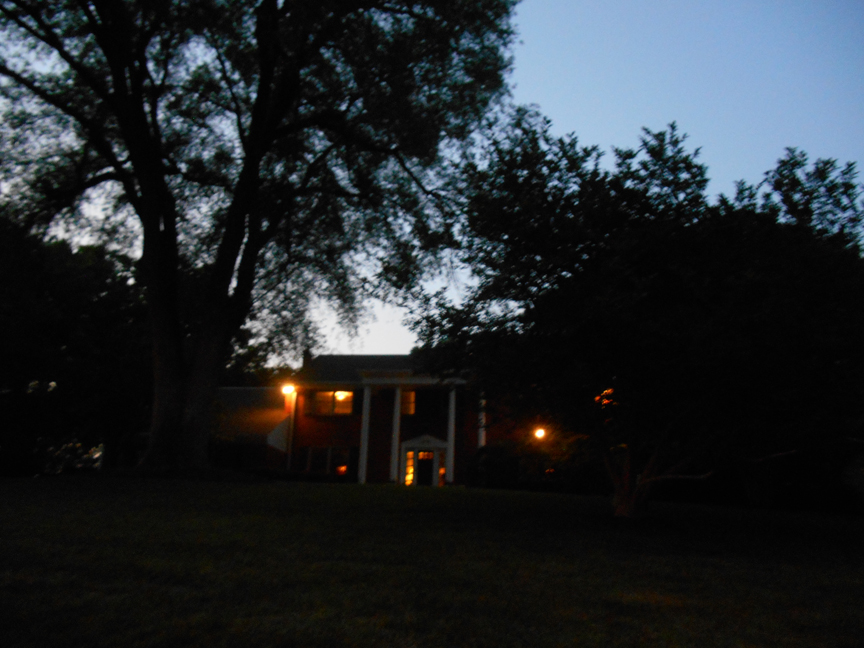 The grand Slosburg home at night. 6744 Burt.
It took until February of 1969 for the court situation to be resolved. From my many spy missions, it would appear that the courts do not get much use as of late, although the neighbors say it does get good use as a Fourth of July fireworks launch pad.
The Fate of the Commodore Hotel
The Katzmans would design an addition to their Commodore Hotel. 217 front footage on Dodge, 250 feet deep from Dodge to Capitol Street to the north. The Motor Inn portion was 72 rooms, two stories and built in 1964. The OWH listed as of January 1965 Daniel Katzman and sister Sylvia Katzman Jess filed article of incorporation for the Commodore Hotel Company with 100 thousand dollars authorized capital stock. The original building was seven stories filled with rooms and a full basement. The Annex, as it was called was a 20,880 sqft where the restaurant, lounge and party rooms were. Altogether 151 rooms. The Katzman's other business Frontier Homes Corporation was housed on the third floor of the hotel.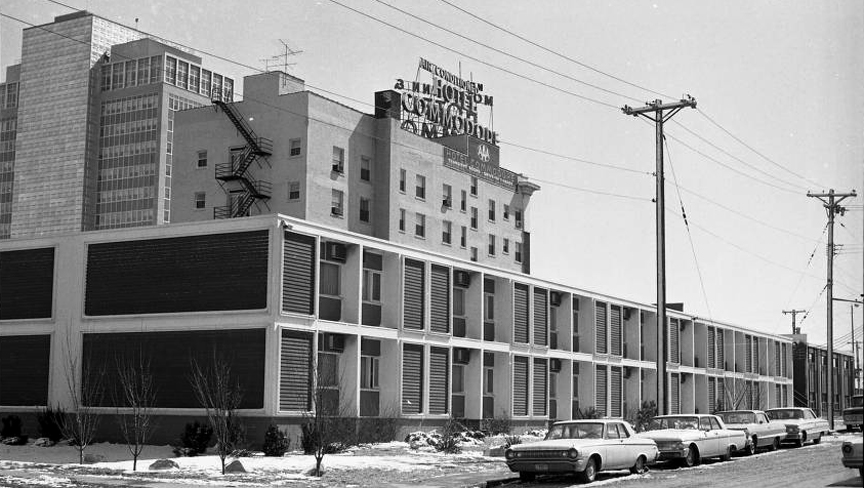 1966. The Commodore Inn at 2410 Dodge Street. The photographer must be at about 25th and Capitol. The Joslyn Museum is directly to the east. People's Natural Gas, later Northern Natural Gas and InterNorth seen from behind the Commodore roofline. The InterNorth building is found at 2223 Dodge Street. The Durham Museum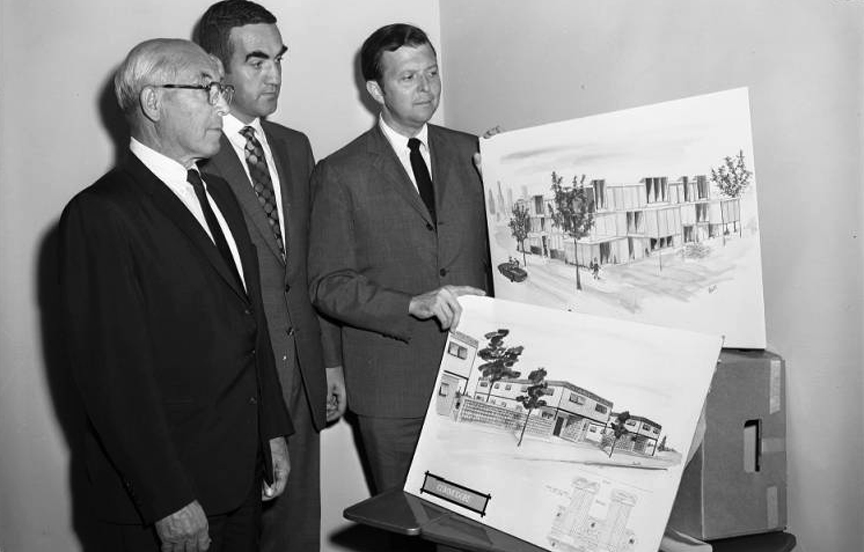 1966 Meyer Katzman, Son-in-law Morley Zipursky (married to Charlotte Katzman) and Daniel Katzman with site plans for apartments with the title on the plans called "COMMODORE". By then Daniel had become president of the company. In 1967 the emphasis was less of the mobile of mobile homes. The mobile home industry had grown, as the homes themselves had become larger, stationary house. Likewise the Katzmans became one of the industry's larger companies as the Commodore Corporation, having moved headquarters to the impressive IBM Building at 8712 West Dodge Road. The Katzmans wisely adapted with the times offering these larger homelike mobile homes, one room school houses, travel trailers and campers. By the 1968 article, they were moving 85 hundred mobile homes a years, had 18 hundred employees at 11 plants in six states. Regarded a community leader, Daniel Katzman was named to the board of directors of the United States National Bank in October of 1969.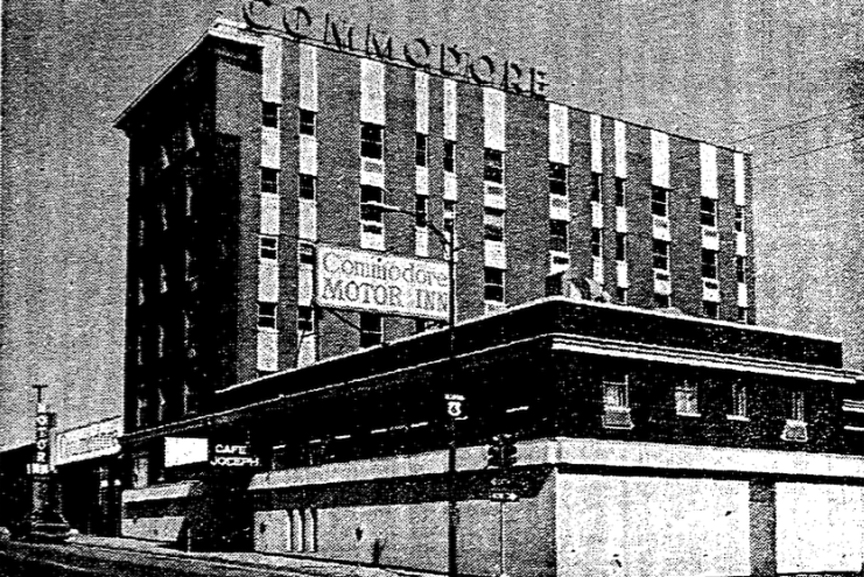 1976 Commodore. This is how I remember this corner looked when we would visit the Joslyn Art Museum when I was a child. The older portion of the hotel had been built in 1910.
At some point, (in the late 1960s) the Katzmans would sell off the Commodore Hotel. The older portion was demolished sometime in the fall of 1976 due to financial drain and cost of maintenance. George Papineau would continue running the Katzman Motor Inn addition with its 75 rooms. But by 1978 Creighton University had bought the motel, converting it to Sheridan Hall, a men's dorm. If those walls could talk! As an aside–When Creighton unveiled their new Performing Arts Center in 1983, its doors and windows were reputed to have come from Sheridan Hall, the former Commodore—as did the toilets, sinks, lights, and mirrors. I miss the days when people were good scroungers.
InterNorth and the Surrounding Environs
**An entirely unnecessary digression but interesting to me**
Northern Natural Gas Company, a large energy company originated in 1931, built their six-story corporate headquarters in the early 1950s, later adding an impressive 16-story Mid-Century Modern tower at 2223 Dodge Street. It later became known as the Northern Natural Gas Building and is now listed on the National Register of Historic Places. 2011 brought a large renovation to the building, creating an apartment complex, called The Highline. Check out the renovation at http://www.thehighlineomaha.com/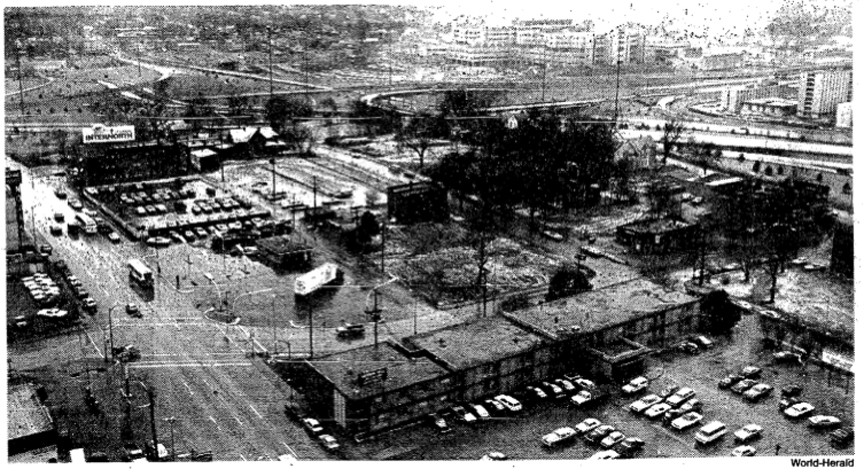 "InterNorth to Build Offices." Back in 1981, Northern Natural Gas and its holding company, InterNorth Inc had set its sights on the old Commodore Motel property just catty-corner from the Northern Natural Gas Building. The photograph's view is to the northwest from an upper floor of InterNorth building at 2223 Dodge. Creighton University's Sheridan Hall is in the foreground; Dodge Street is at the left, Interstate 480 in the middle distance. The concept was to centralize employees near the company's headquarters. Of note InterNorth had already torn down a 91-year old building, the Frenzer duplex, nominated for the National Register of Historic Places. After InterNorth found the building wasn't officially designated a federal or local landmark "and after being advised that it was being used by transients and was a hazard," it was unfortunately razed. But for our purposes, InterNorth Inc., as it turned out, bought the former Commodore Motel from Creighton University, along with 45 nearby parcels in 1981. They would announce plans to build as many as six office structures on a fourteen acre tract of land northwest of Twenty-fourth and Dodge, to the interstate. From my digging it looked like Joslyn Art Museum had also considered buying the Commodore and turning it into their extended parking lot.
Northern Natural Gas and its parent company, InterNorth Inc would build a lavish corporate headquarters on the multi-acre, reconfigured parcel of 2600 Dodge. InterNorth Inc. would later merge with Houston Natural Gas in 1985, creating Enron Corporation. For a time Enron held its mighty headquarters in the Northern Natural Gas Building and the large expanse stretching along 2600 Dodge. According to the Douglas County Assessor's Office, when it was all said and done, Enron Corp had spent $36 million building its six-story 234,000-sqft office at 2600 Dodge from 1983-1985. By that time they employed thousands of Omahans. But in 1986 Enron Chairman Kenneth Lay pulled up stakes for Houston, taking the headquarters as well. The rest of the story became a well-known American scandal, which particularly left a thorn in Omaha's side.
Physicians Mutual Insurance Company would buy the Enron building and grounds in 1986 to the tune of $19 million. The insurance company would move its headquarters to 2600 Dodge, just west of Joslyn Art Museum in 1987. Go look at their large, mysterious gardens. Only a peek can be seen from between their wrought iron gates, always just out of reach.
Evidence of the Katzmans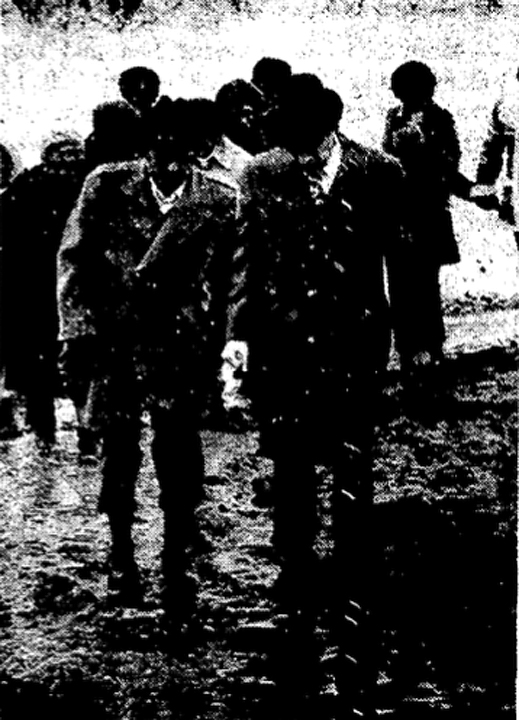 November 1972. The Jewish Community Center Groundbreaking ceremony at 333 S 132nd Street was a muddy affair for the good-humored crowd. Mayor Eugene Leahy was among those scooping out the first shovels of mud. Daniel Katzman was instrumental in getting the new $3.5 million Jewish Community Center built. Dan was the building committee chairman; Charles Monasee was chairman of the J. C. C. board. Dan's brother in law and business partner, Morley Zipursky was president of the Jewish Federation. It was Ruth Katzman who initiated the development of the performing arts wing. The J. C. C. was slated to open in 1974, moving from 20th and Dodge Streets. Life had been going well for the Katzmans in Omaha. And then years later, I tripped across this…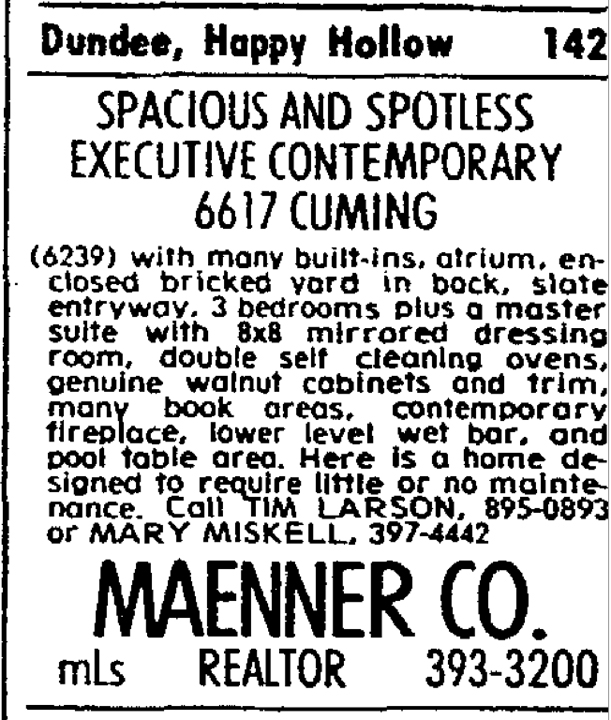 July 10, 1976 house for sale. By October of 1976 the Katzman's ran an ad for garage sale entitled Home Sold. Offered items were original paintings and art work, Russian samavar, pewter tea service, furs, jewelry, decorator furniture, sauna, dog houses and more. It sounded like they were not taking a thing with them, to include potted plants.
The Deed showed Ruth G. Katzman and husband sold 6617 Cuming Street to Glen A. Burbridge and wife in October 1976. The World Herald would shed light on the whereabouts of the Katzmans while introducing a new cast of characters to the Cuming Street home. November 8, 1976 was apparently moving day for Glen and Mary Burbridge along with their children: John, 13, Sarah, 10 and Courtney Anne, almost 1. The Daniel Katzmans left a week previous to live in Longboat Key, near Sarasota, Florida.
This part may be very abrupt and sad so brace yourselves, detectives. As for Meyer and Nettie Katzman at 6651 Cuming, the couple would continue to live there until Meyer's sudden death of a heart attack in June of 1981 at the age of 85. Nettie would die in 1989 at 91 years. I discovered that Daniel Katzman died in Longboat Key on December 10, 2004; his wife Ruth Katzman passed away on October 8, 2009 in Sarasota.
As for the Katzman's glorious 6617 Cuming Street house—it would only exchange hands a few more times. The current owners were so kind to share their experiences and their beautiful, art-filled home with me. And now, the moment we've all been waiting for…steady yourselves…
Interior Shots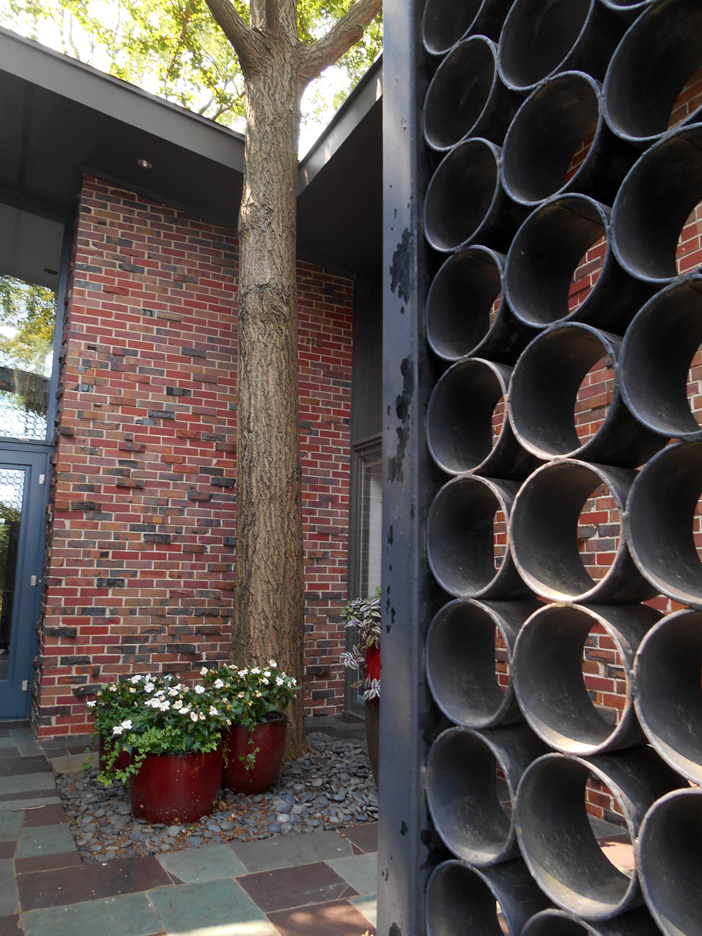 The founder of Mulhall's nursery, John Mulhall,  planted the original trees on the property. When he completed a landscape design, he always liked to include his special Ginkgo tree into a job. This Ginkgo in the entry courtyard is known as his signature. One will find the Ginkgo leaf on Mulhall's logo.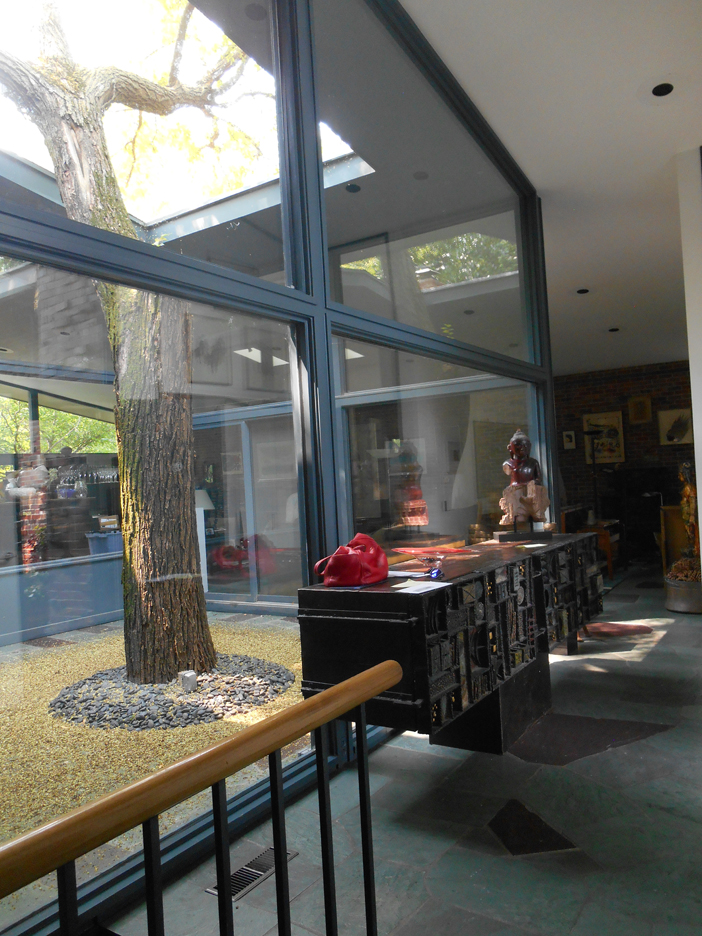 The stunning foyer featuring the slate stone floor, a continuation from the outer atrium. The slate plane continues into the middle courtyard, where an American Locust grows. The first time I saw this view, the inner courtyard was stylishly lit with a light snow falling.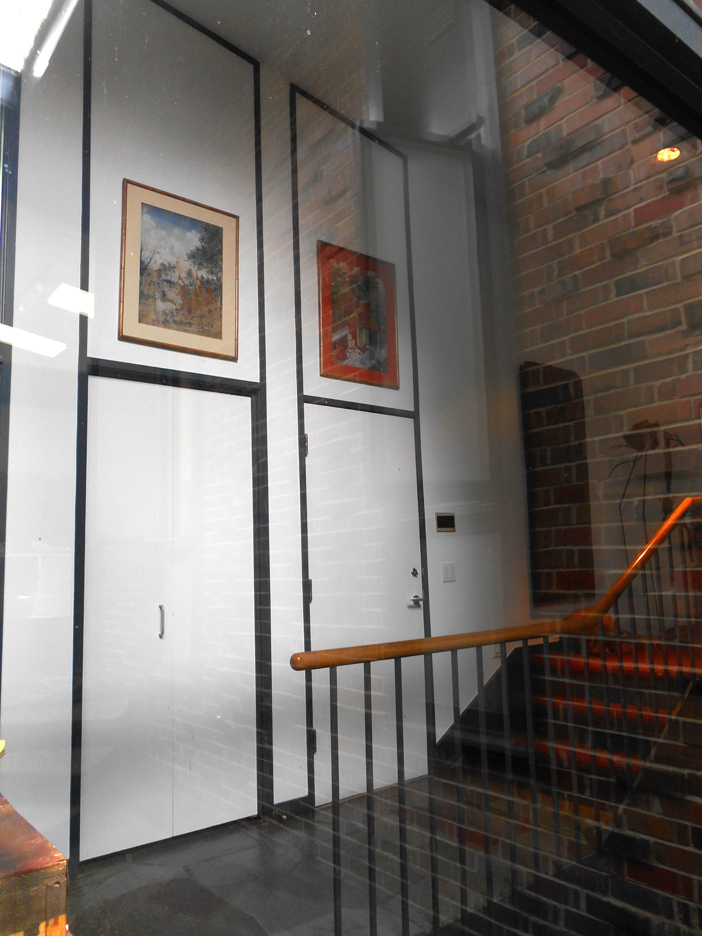 Originally these paneled wall planes were painted in primary colors a la Mondrian.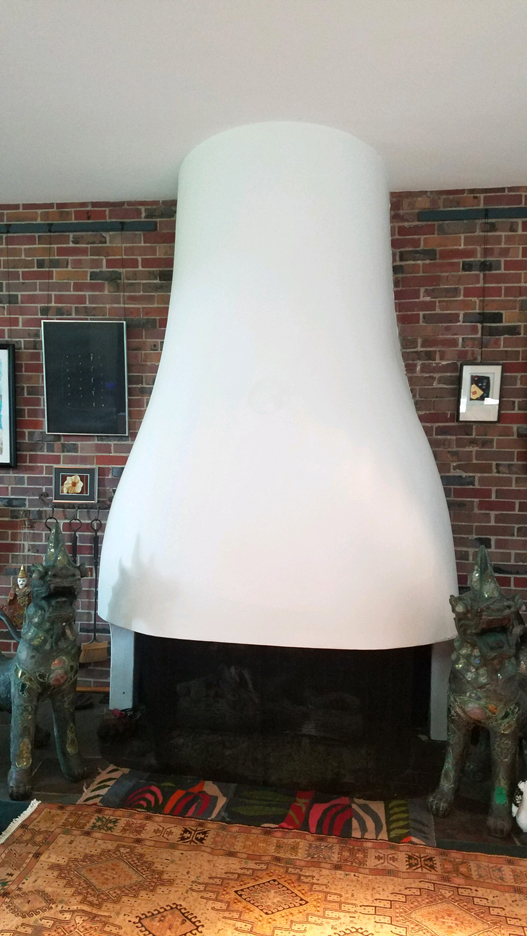 Luxury Mid-Century ski lodge fireplace.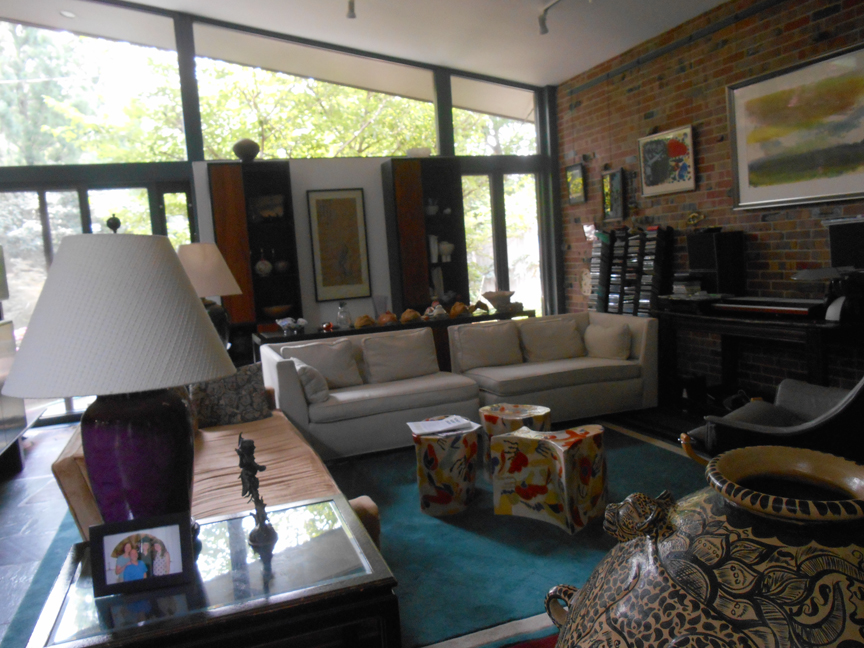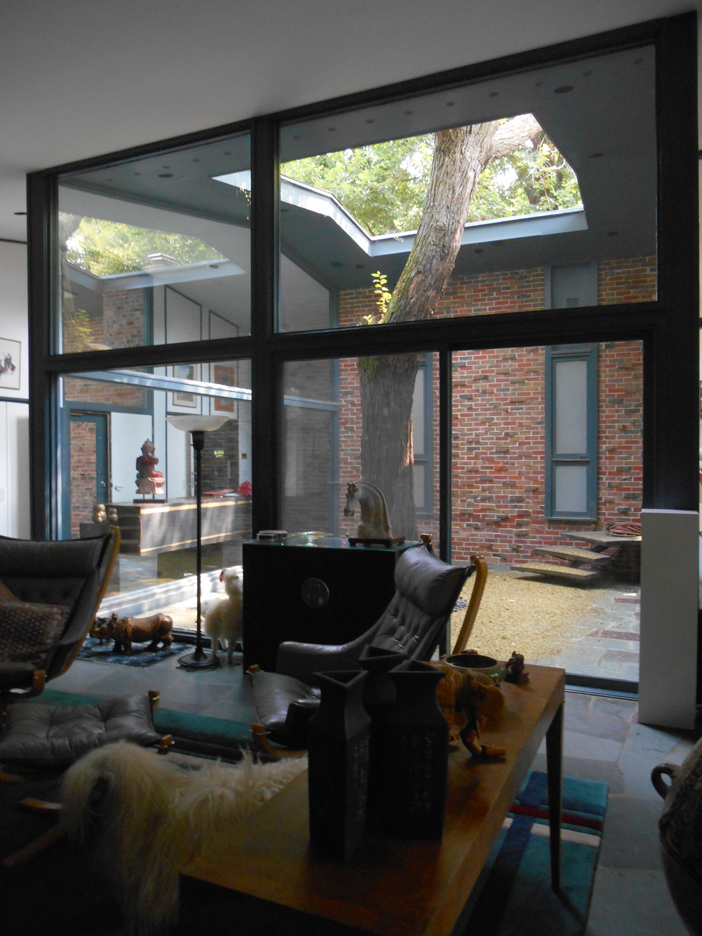 The traditional central hall is omitted in preference of circulation. The 15 foot ceilings enhance the open experience.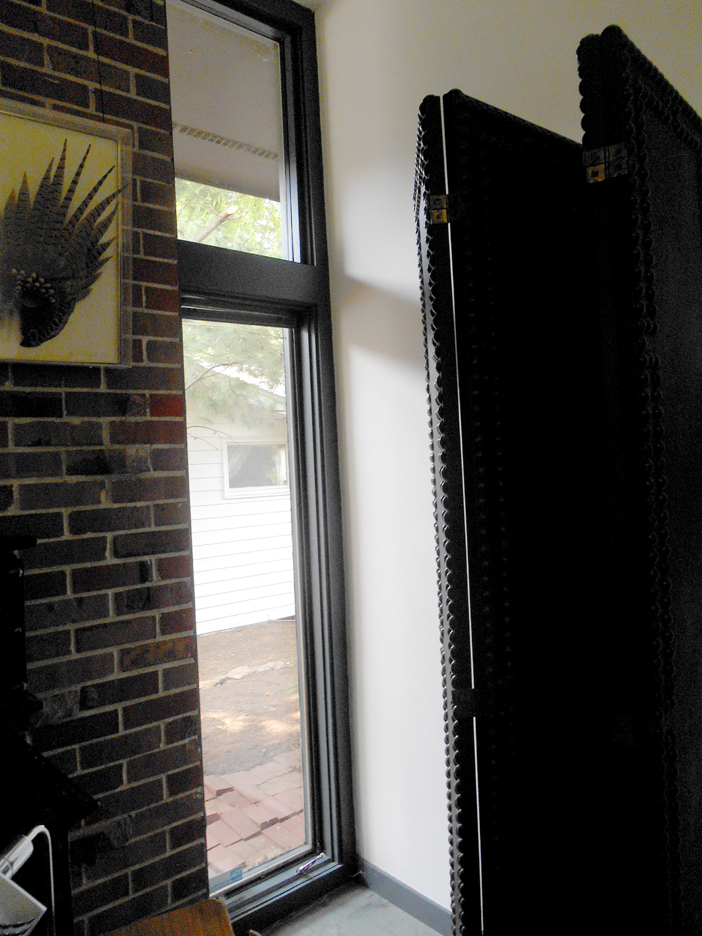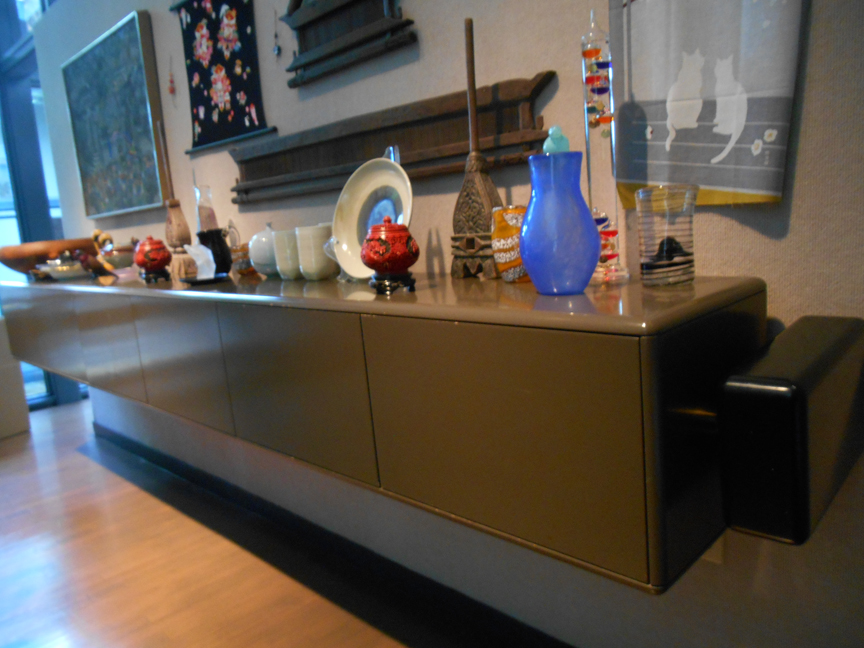 The Burbridge family would have these incredible built-ins added in the very early 80s. This one is in the dining room.  There is also a large room divider. In addition the Burbridges would have a sliding glass door built on the south wall. There are other built-ins found in the basement, to include a dance studio and remnants of a dark room. I believe these were original to the Katzmans, especially after finding out that Ruth  was a dancer!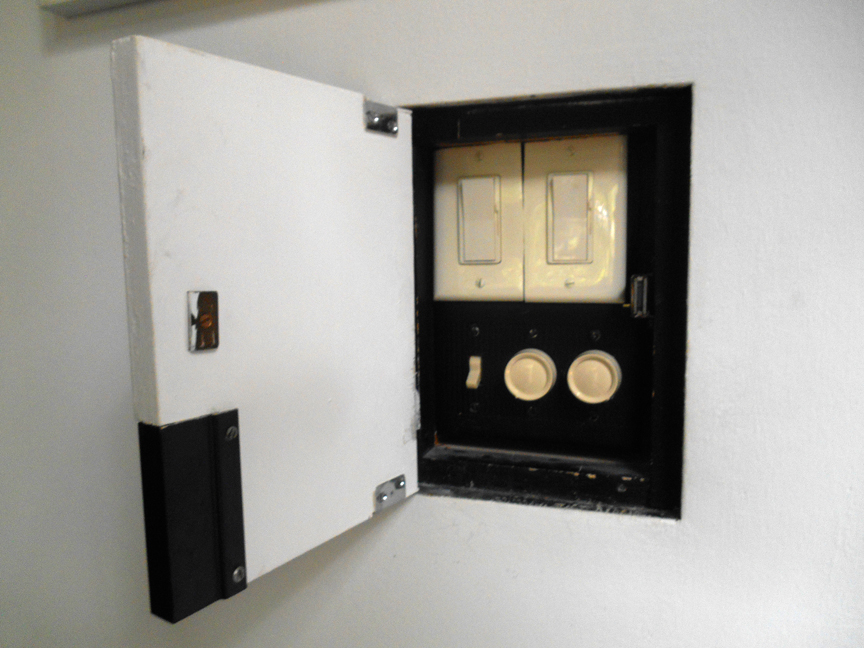 Miss Cassette adores a good secret compartment!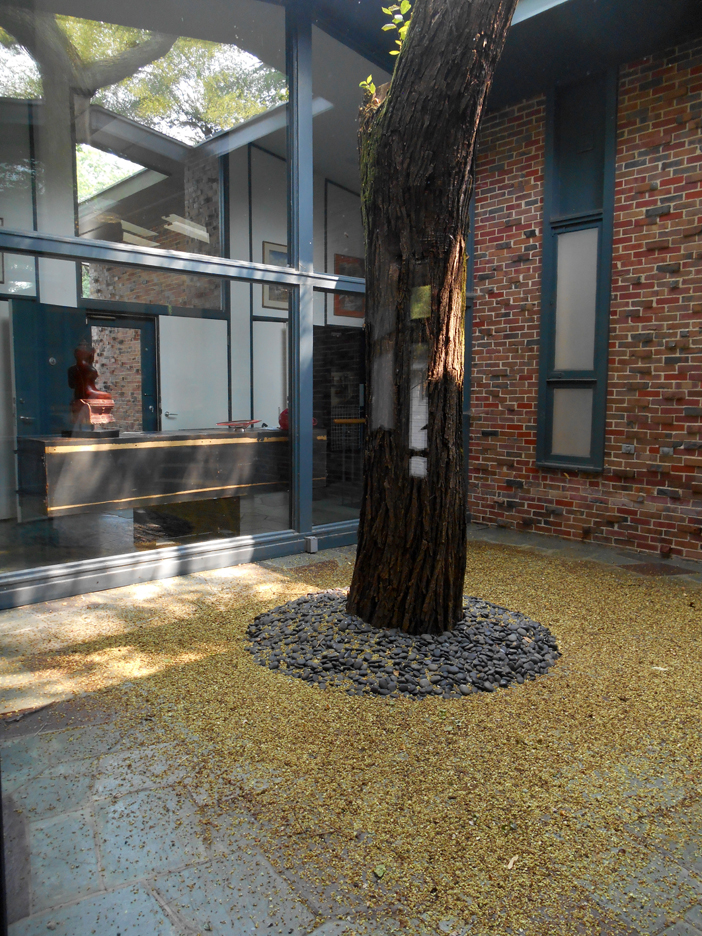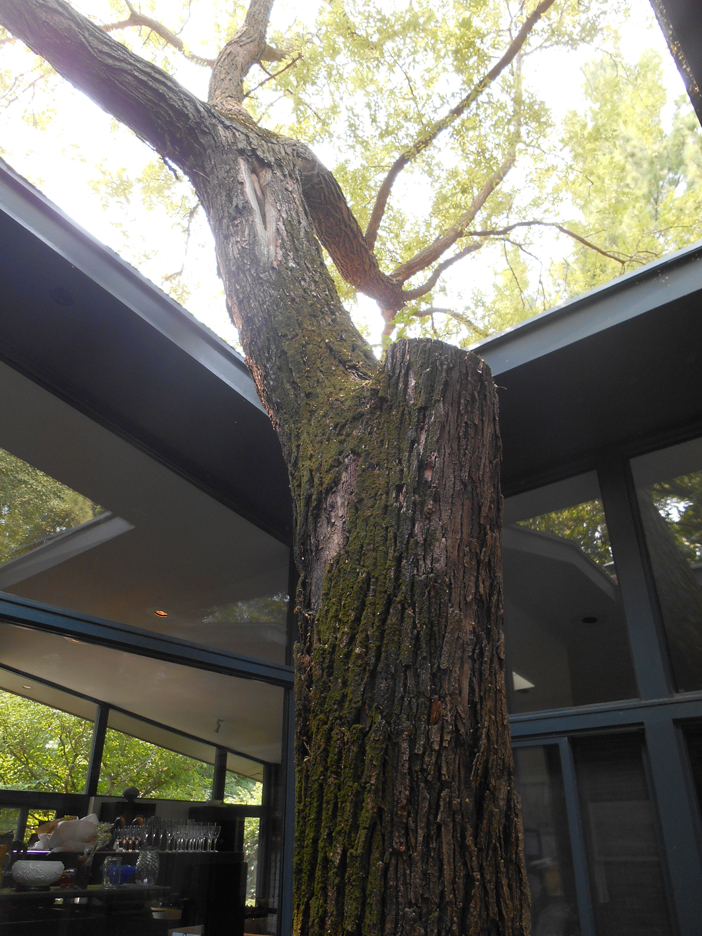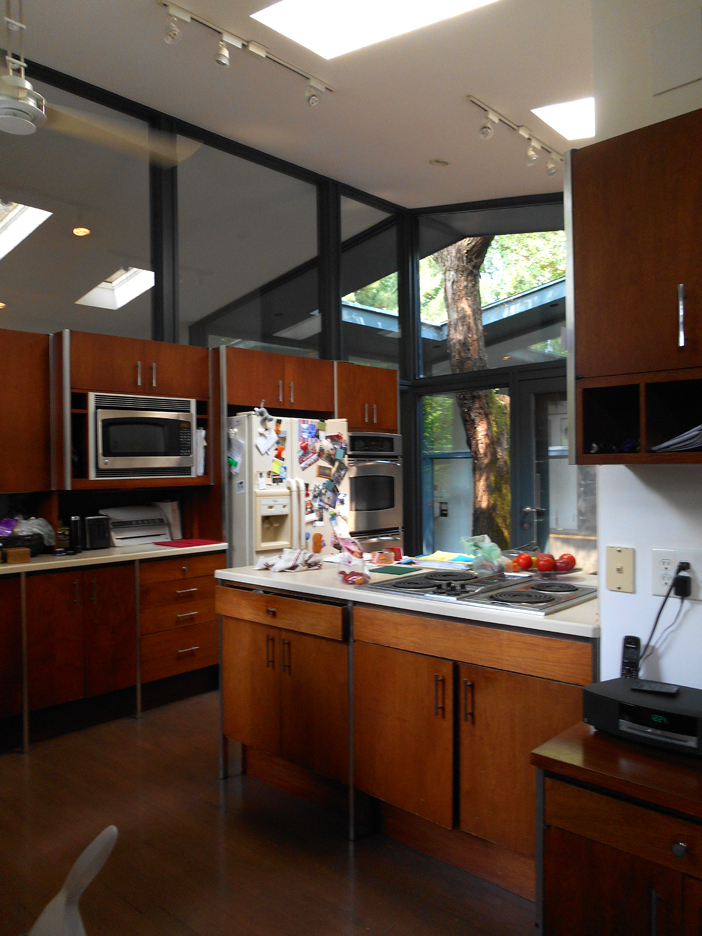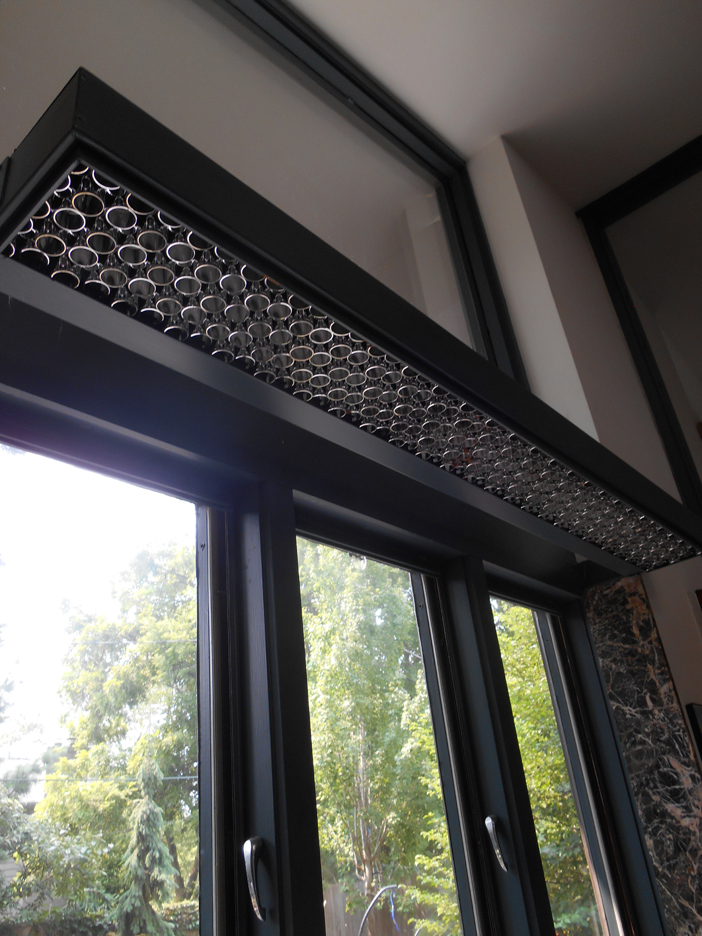 Above the kitchen window is a metal fixture with a fab 1960s fluorescent light. This overhang is also replicated above the wet bar in the basement.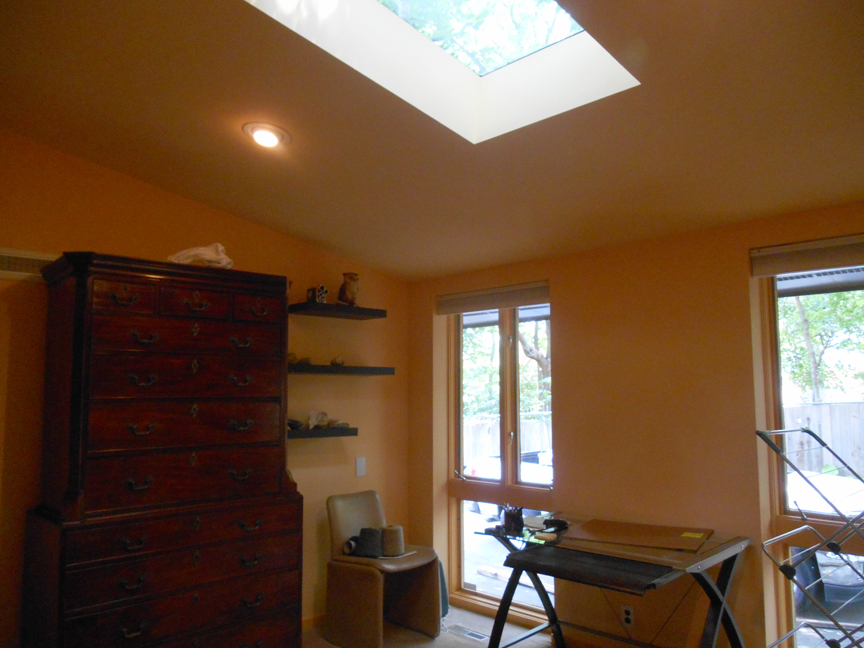 Skylights are found in each of the four bedrooms as well as kitchen. These were later additions.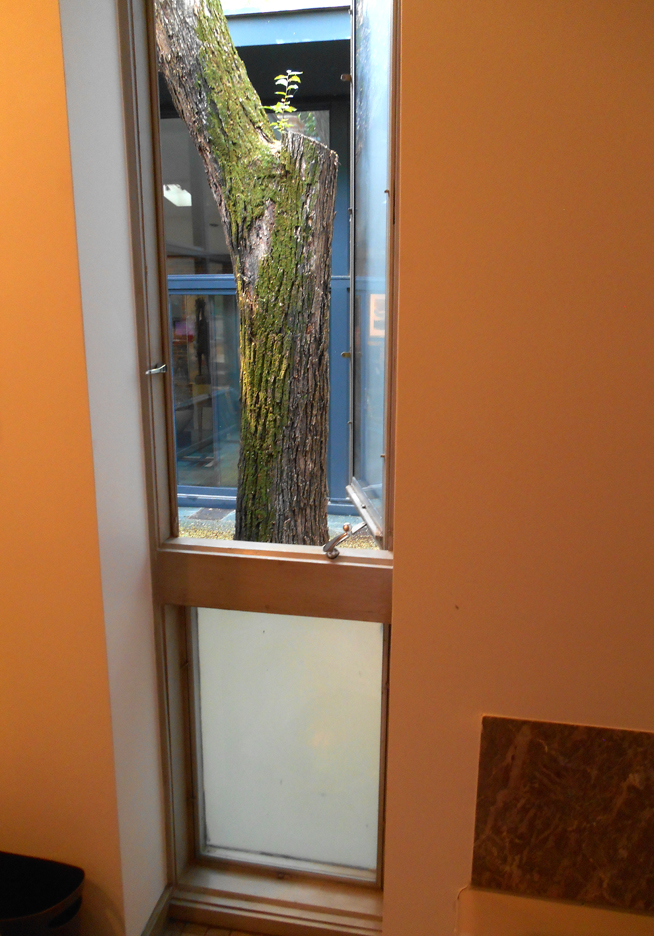 Each of the original children's bathrooms have a view out to the inner courtyard.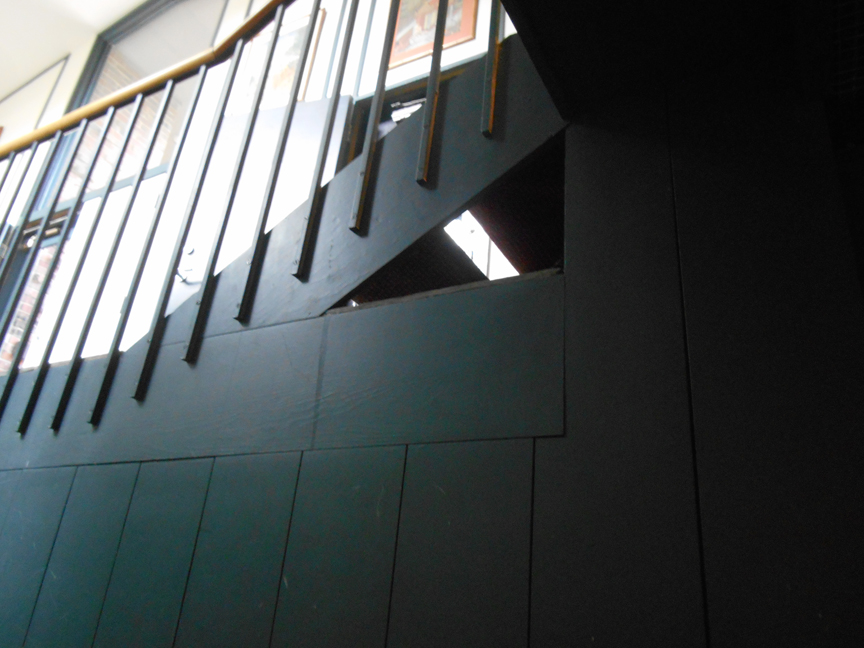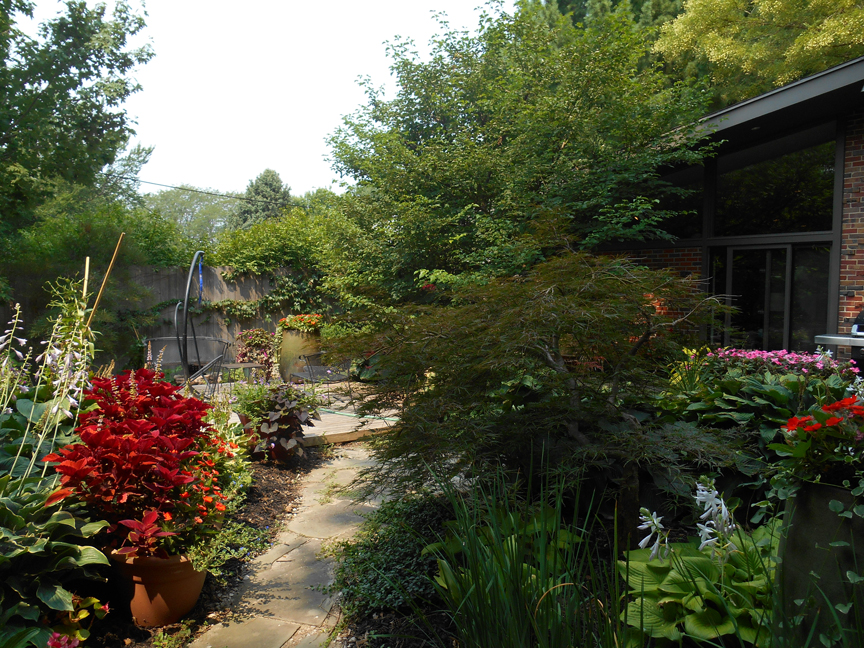 An oasis in the city. The west deck.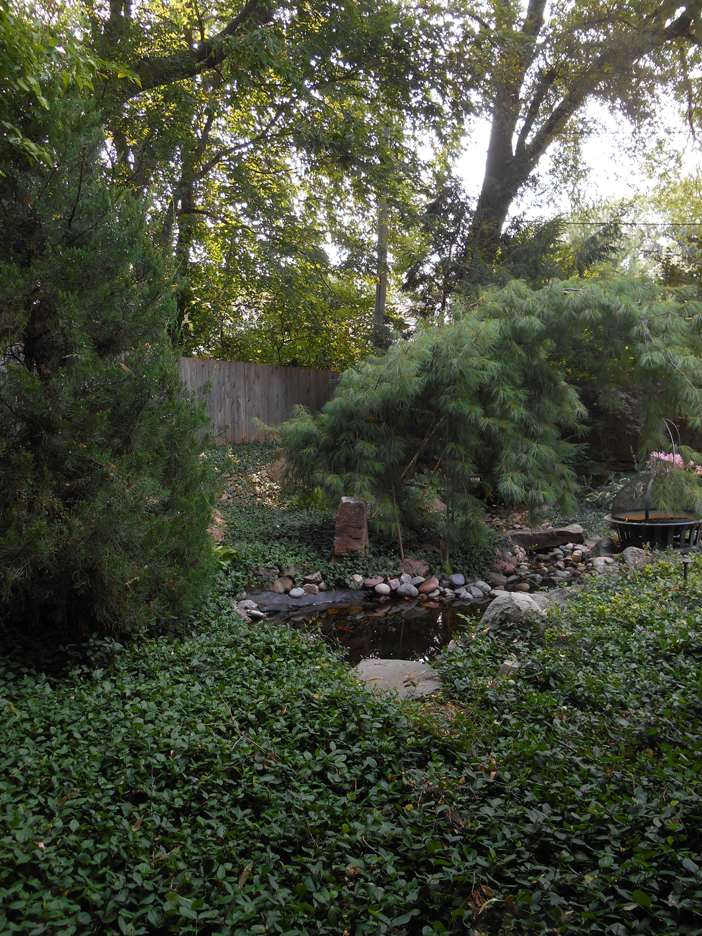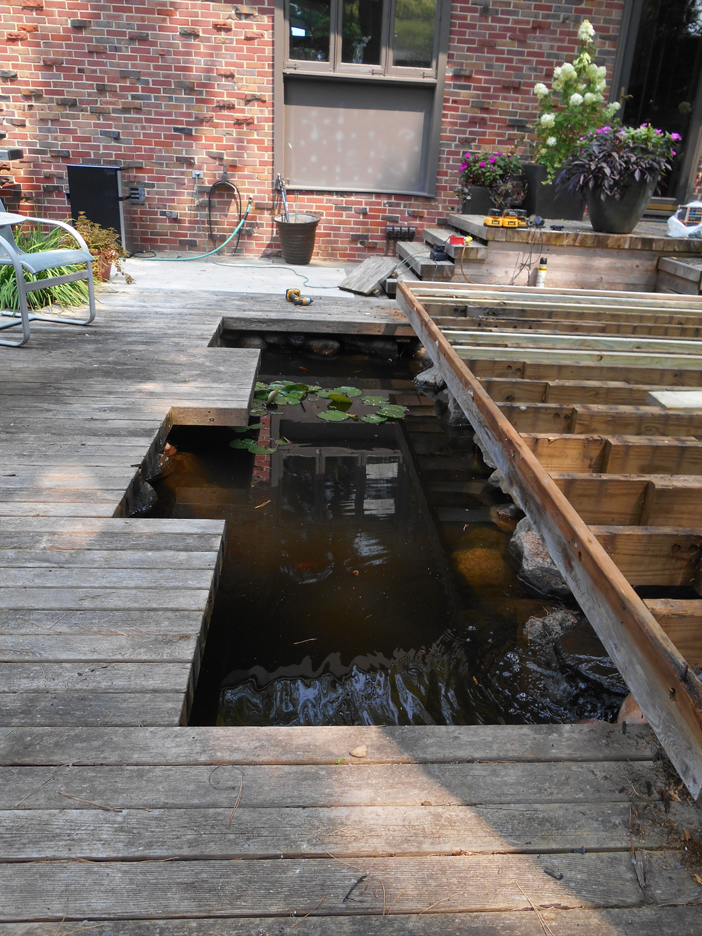 One of two ponds filled with happy fish.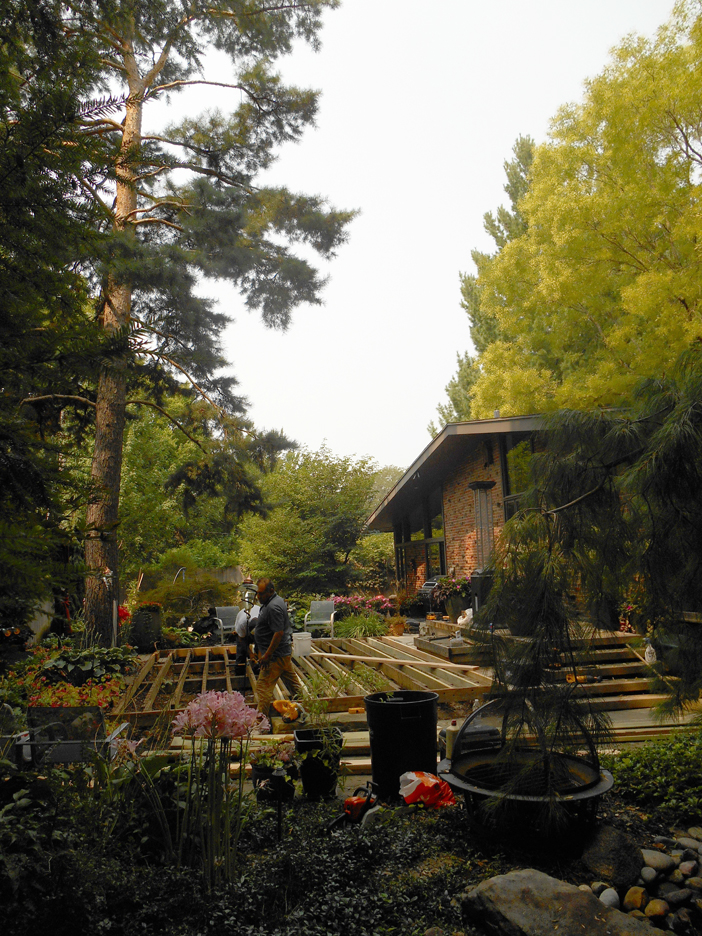 A new deck being built. One of Mulhall's original Pines.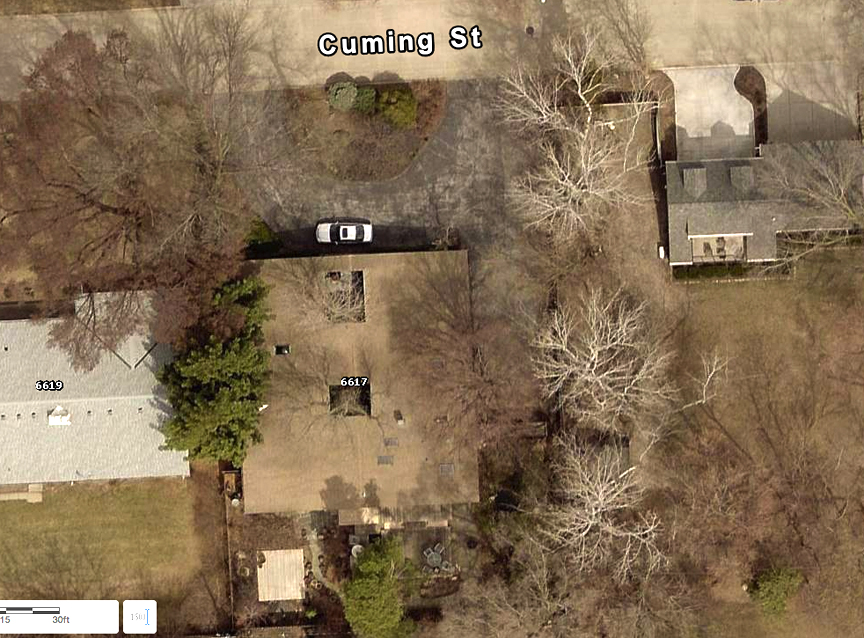 DOGIS aerial from 2018. In typical Contemporary Style fashion, almost the whole lot is used for house.  This shot allows one to see the open courtyards and many skylights.
**December 17, 2018 Addendum** This just in from Steven Katzman. He very kindly allowed me to share his memories here and they are so wonderful. Thank you, Steven.
"Very fond memories of our home. If you would like more details, I have no problem sharing. It was quite emotional for me to read your description about our home. And yes, my parents built me a darkroom in the middle room between the 2 bedrooms.
Alex Weinstein designed the house. He was my Father's best friend and they met in Hebrew School. They were also in the same Bar Mitzvah class of which I recently discovered the class portrait. Alex also designed a few buildings at Nebraska U, Lincoln.
Once people realized that I lived in "that" house, I was quite surprised that they thought it was a church. If you peel all of the distraction that has been added over the years, you could feel a sense of reverence regardless of what religion you believed in. Even in times of darkness, being a teenager while growing up in the 60's, there was solitude despite the raging madness outside.
I graduated Omaha Central in 1969. My parents had wanted me to have the house before they sold it, but Omaha was not in my future nor will it ever be. I returned for my last visit to bury my father's oldest sister, Sylvia.
The Mondrian panels were never painted in the house. The walls had an original texture mixed with sand, which I would always pick at night until I fell asleep. Eventually during the Cedric Hartman remodel, all walls were sanded down to a smooth finish. The kitchen was always solid walnut with black counters. My mother dyed the walnut floors black. In retrospect, it was pretty sexy. The interior courtyard had very fine silk casements, floor to ceiling.
The basement was done when we were in high school. Once again Cedric did his magic. If you're not familiar with him, you should be. The downstairs had a dance studio for my sister, and a weight room. The walls were all blue denim, and siesel floors. Not really comfortable on the feet, but a nice look. A 9 foot Brunswick pool table nested on top of the floor. And thats where my friends hung out. Saarinen furniture through out. Keep in mind that this was in the 60's, so when people talk about mid century…blah, blah, blah. I still have a number of Corbusier, and knoll pieces from the house.
I recently gave my father's Baldwin grand piano to a local high school. After all, doesn't everyone have a grand piano in their living room. There were always fond memories around the piano, my father playing keyboards, I playing sax or flute and my Doberman howling. We were quite the trio.
50 years later (I'll be 68) I still have that solace from that house, from the space that Alex, and Cedric created, and the values that my parents instilled upon me.
In the foyer were to very large venini glass fixtures approx 36" in length. Unfortunately when I was back from college, my great uncle came by for a drink. Not more than 30" after he was seated in the living room, one fell and shattered into 100's of pieces. We laughed and had another scotch.
That was the same time when we had that tornado around '74. My parents had just finished putting on a new roof. We went down into the basement, and wondered about the mother robin sitting in the tree directly in front of the kitchen window over the sink. Freight train roared by, hearing glass exploding from Lewis and Clark, and the Temple, I crawled up stairs expecting to see a section of sky where the new roof was. No damage. But what about the 8' 2×6 coming to a rest next to the robin's nest and failing to shatter our kitchen window. No damage, and the bird withstood the ravages of Mother Nature, two babies born shortly after.
Perhaps some more later, Steven Katzman"
In a cruel or fortuitous twist of fate, the current owners will be moving from our fine town and very shortly 6617 Cuming Street will go up for sale. I have just learned that Megan Owens with Berkshire Hathaway will be handling the sale. At some point there will be a formal listing and professional photographs, I am sure. Much better than this amateur detective could capture.  In the meantime, she can be reached at : (402) 493-4663 and : (402) 689-4984. I have been wholly consumed by this concealed, Mid-Century Modern beauty. Trust me, I've been lighting candles to this house since I first met its acquaintance. And selfishly maybe for myself. I would guess we've got more than a few Contemporary Home lovers in the group who would like a personal tour.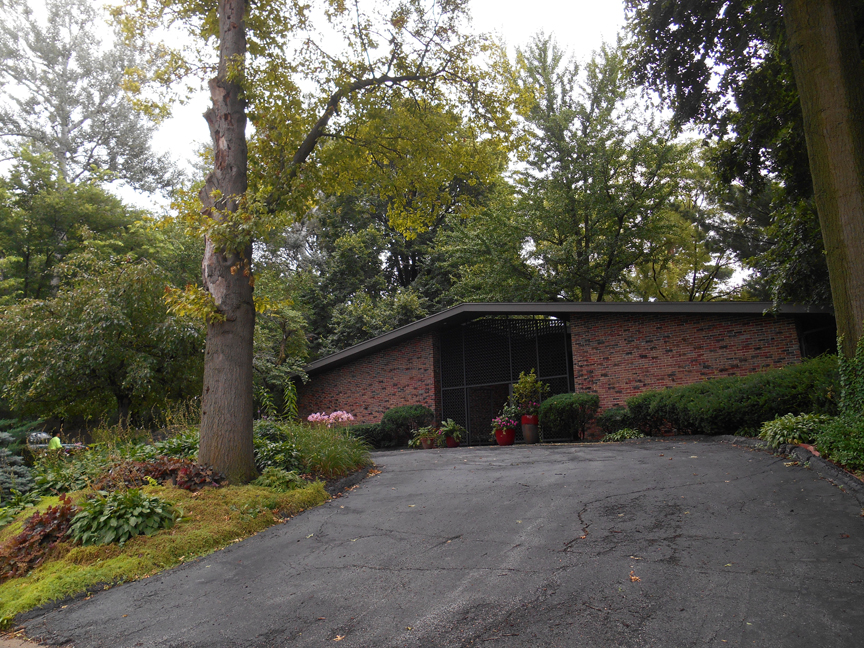 I welcome your feedback and comments on this treasured Contemporary home, its storied list of incredible characters, the Fairacres and adjoining neighborhoods. Please share your additional clues to the story in the comments, as we know more together. Everyone would love to read what you have to say and it makes the sharing of Omaha history more fun. I want to hear from you. You can keep up with my latest investigations by joining my email group. Click on "Contact" then look for "Sign me up for the Newsletter!" Enter your email address. You will get sent email updates every time I have written a new article. Also feel free to join My Omaha Obsession on Facebook. Thank you, Omaha friends. Miss Cassette
© Miss Cassette and myomahaobsession, 2018. Unauthorized use and/or duplication of this material without express and written permission from this site's author and/or owner is strictly prohibited. Excerpts and links may be used, provided that full and clear credit is given to Miss Cassette and myomahaobsession with appropriate and specific direction to the original content.