I have always been infatuated with the Black House at 52nd and Dodge and I know I am not the only one. Although I have heard its library was once lined with only the best smelling leather-bound books, the silver kept polished by servants and the black and white harlequin marble entryway was breathtaking as one's heels clicked across it, I kept a candle lit in my pre-teen mind in hopes that there might be a cemetery enclosed within her once high, black, iron fence. I swore I had seen the little pleading faces from Flowers in the Attic in her well hoisted dormer windows. Once in high school and, let's just say, embracing full funeral rites attire, I envisioned bone colored headstones made up the sunless garden path peered from Dodge Street. The Black House was my dream house where I wanted to live, and I am haunted, in the best way, by what I imagined her to be.
My machinations were assuredly stirred by my grandmother who had been in the Black House at 102 North 52nd Street a number of times. She was friendly with Dr. Albert Black and particularly his stylish wife, Madge Black, from the Women's Ball Committee and had attended ladies' teas and parties at the once renowned, shadowy home. I have since learned the doctor was a pioneering plastic surgeon and the Mrs. was a member of a titled Netherlands' family, the Bitters. I am sure I don't have to remind you that these were the days before painting one's home and stately fence black was commonplace, at least in little ol' Omaha. The striking nature of the whole cloaked scene, the correlation of the color and the surname had to be spelled out only once to be appreciated by a grade schooler, which it was. I was open ears and open arms to the Black choir. My grandmother would tell me of the furnishings and feel of the interior– that the Blacks had designed the Black House with intriguing pieces, some of them black, apparently adding to the interior architecture and there was that stunning black and white floor. These tell-alls were shared as we went whizzing by the crossroads of 52nd and Dodge. I devoured this Black House story much as I filed away all of my grandmother's architectural tales of the posh and truly eccentric of Omaha. I write of her often, as you know, and would love to share in this My Omaha Obsession folly with her now…and get a peek at her late 1950s Rolodex.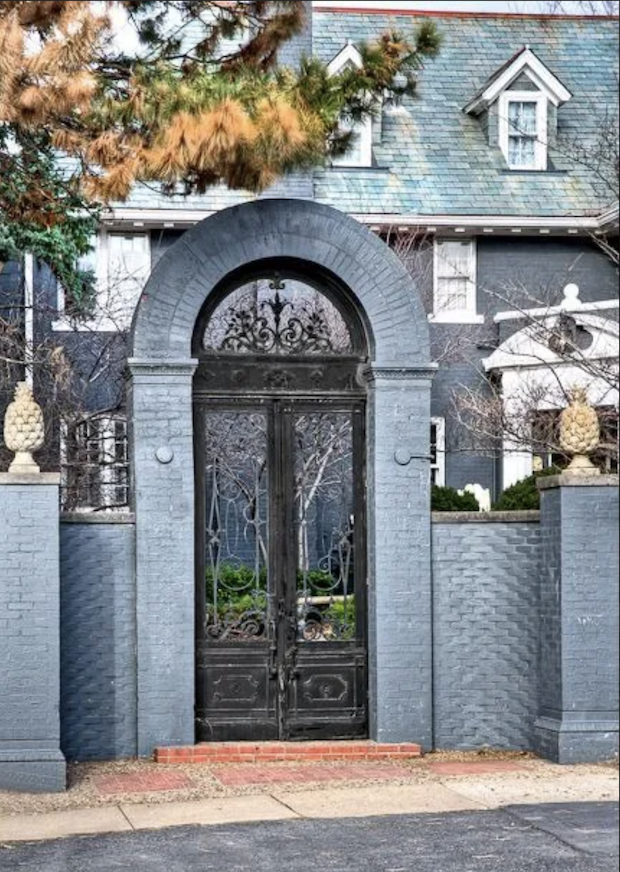 I do not believe the pineapples were in the original Black scheme of things. But there were dim lights on each post of the arch–you can see where they once were attached. Who wouldn't want to tell others in a nod to Shirley Jackson, "We Have Always Lived in the Black House."
The elevated Black home was encircled by a tall, black iron fence, ornate, murky and beautiful, stanchioned with black painted, lofty, brick posts. The crowning jewel, in my eyes, was the high arched, brick entry way—one of the only original pieces left of the astounding ironwork I remember from childhood. Oddly one of my favorite features, a large, rounded mirror on a black iron post by the home's private drive off Dodge, still remains, although not as glorious a remake. I had always viewed it as a giant dental instrument, but its true job was to ensure the homeowners could view traffic when entering and exiting. The house was built up, sumptuous layer by layer—skyward gate, garden hedge, ornamental trees, impossibly gorgeous front door and then seemingly forever-soaring roofline. She still enchants but much like Disneyland, I have come to see that 102 North 52nd Street was built using a technique called forced perspective. I was able to study this phenomenon when I finally had my chance inside when the house was for sale back in 2008.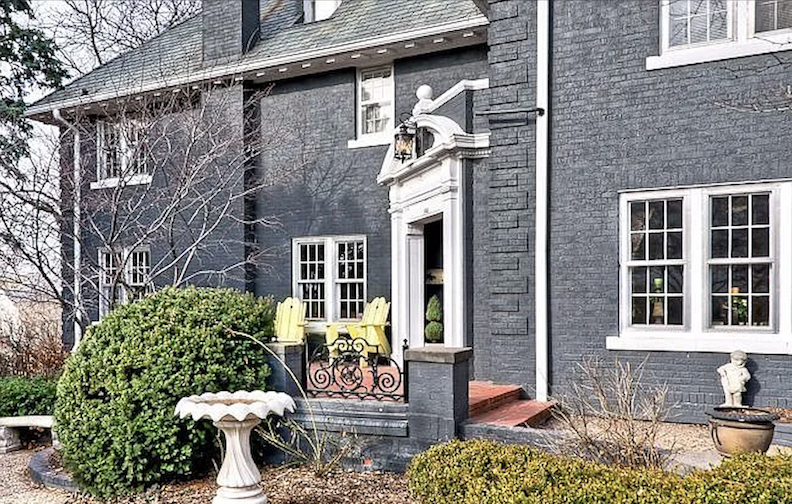 Real estate photos from the 2008 sale. Front door angles to the southeast. A glimpse of the once astounding beauty. In memory the Black House of yesteryear was austere and stately—there were no gewgaws and cement knickknacks on the original stage.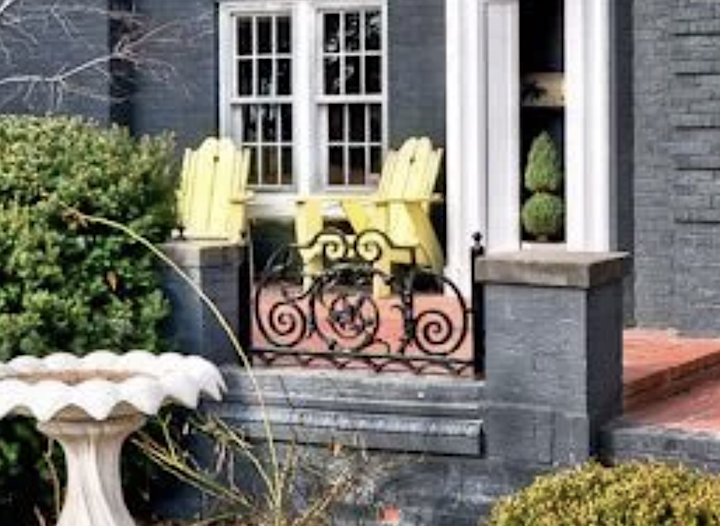 Detail of the black iron fencing. I am not sure if this is original. I had thought it was.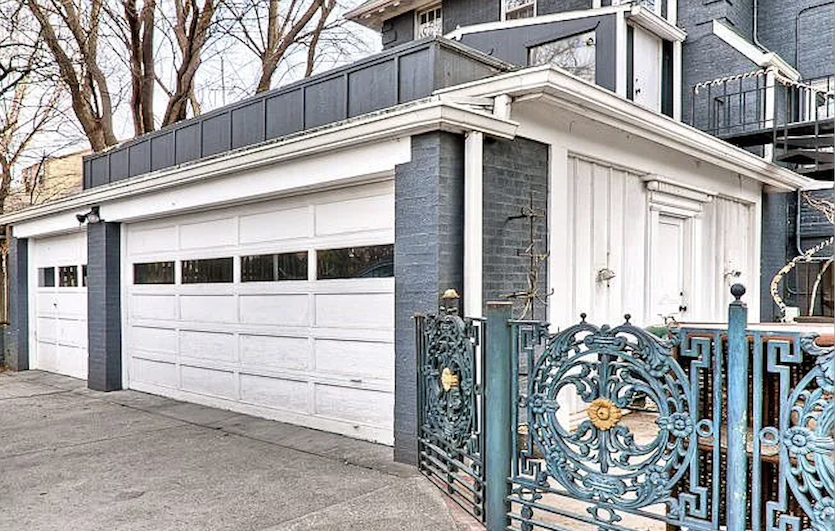 Real estate photos from the 2008 sale. Another portion of the iron fence. The black iron fencing encircling the perimeter, in my memory, was taller and more striking. This seems ornamental, almost French Asian. One thing I know for sure, this lighting is not correct. The building and the fence were black as coal.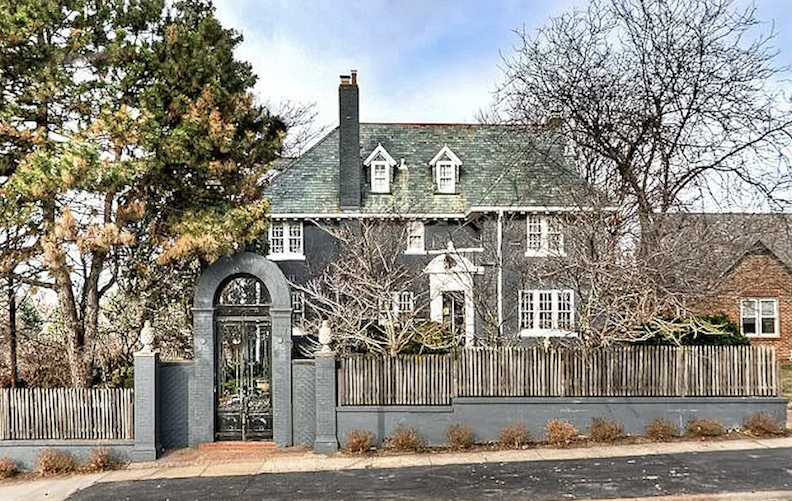 Sometime in the 2000s (?), the iron gate fencing disappeared and this odd wooden stake fence appeared, which diminished the haunting power of the place, although it did add a new flavor of Tiki Terror. I had heard that the past owner built a new house in West Omaha and plundered the Black House's architectural goodies on his way out to bolster the look of his new home. Truth or rumor? Please spill the tea.
A landmark in this town, I believe the very blackness of the Black House kept it steady against the world, even when the home was stripped of its ornaments and jewels over the decades. It still captivates. The current homeowners would quickly take down the wooden spike fence and refashion a modest black fence. Very recently they bought 102 a new roof and just this weekend I noticed they were painting the Black House an attractive light, buttery shade. Now I'm not suggesting three celestial objects will be thrown out of alignment, as when David Bowie died, because of this domestic undertaking, but I do see an energy shift on the horizon. As much as I worship Black House, the buttercream view through the foliage is mouthwateringly delightful. It made me realize I've been meaning to shower 102 North 52nd Street and its owners with adoration for years.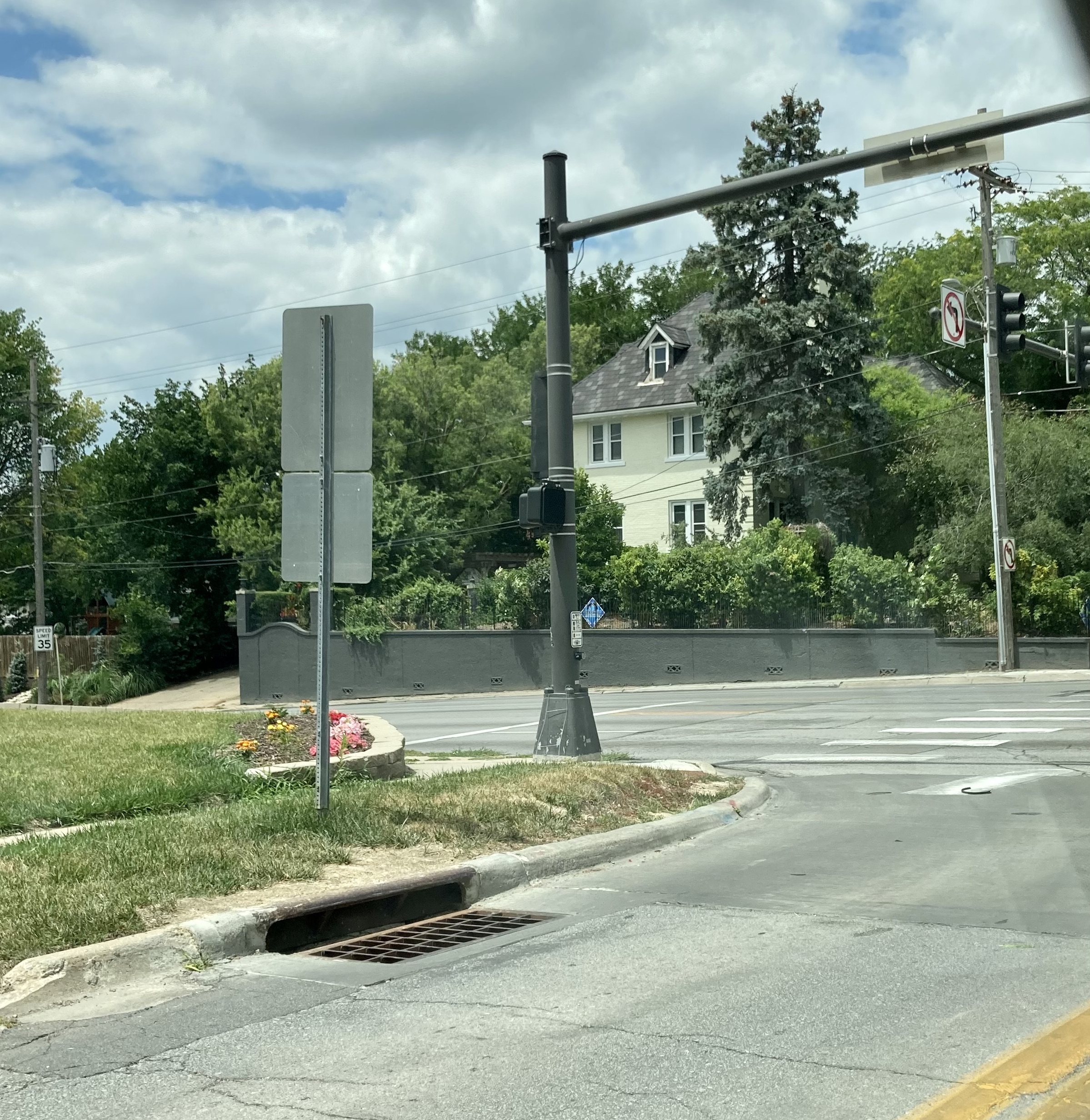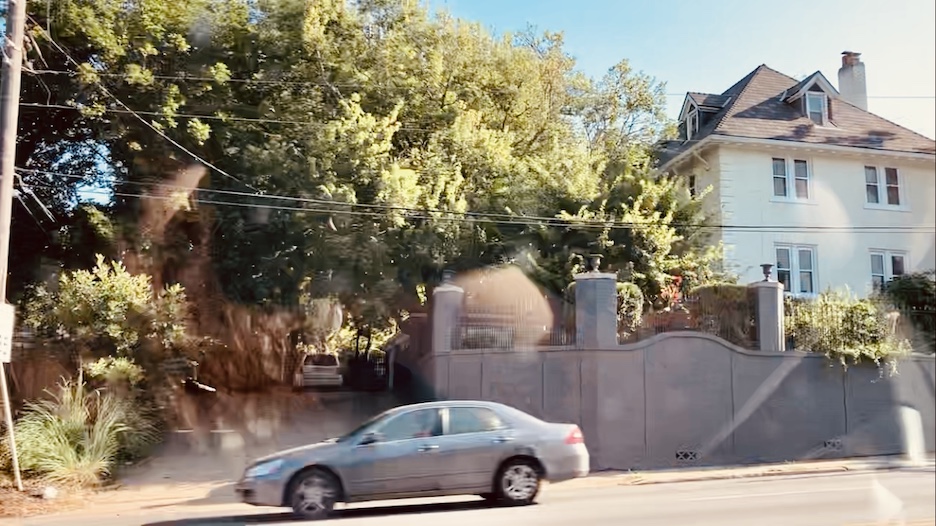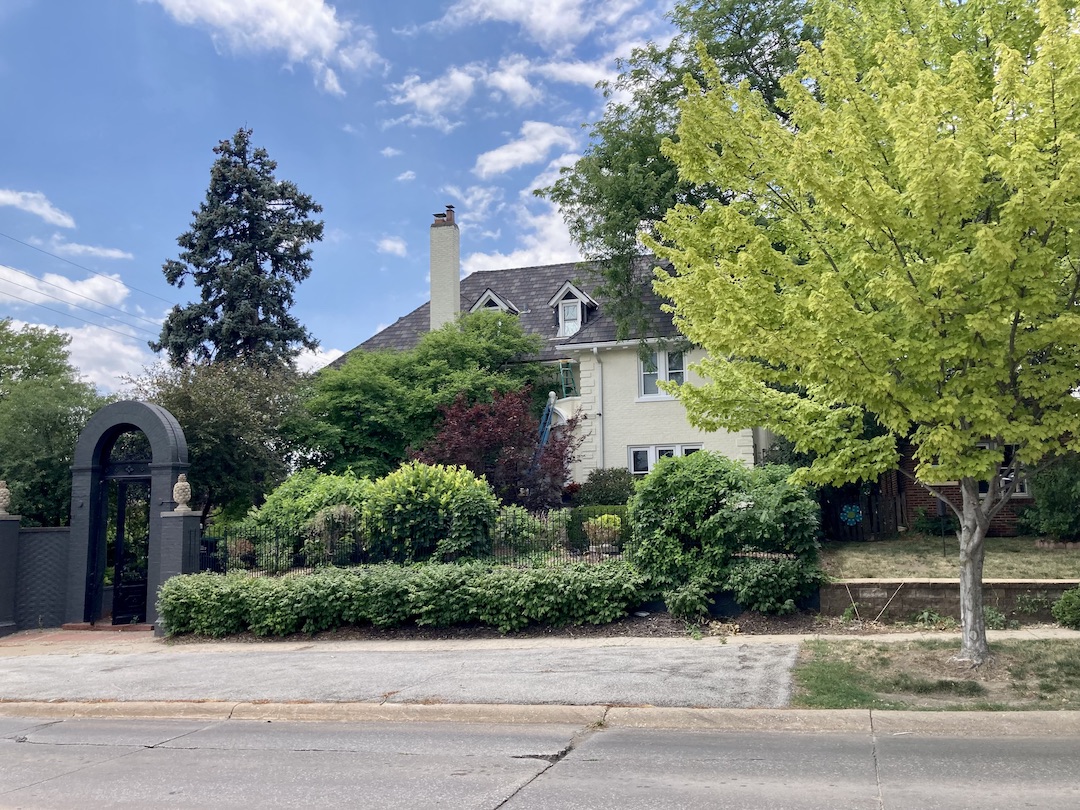 Today's investigation will be a very short venture filled with brief history, my memories and stories I've heard about the Black House. I would certainly welcome your contributions, including historic photos.
The Petersons
102 North 52nd Street was built in 1924 on the northwest corner of 52nd and Dodge. The house was built for the Peterson family. Dr. Alfred Olaf Peterson was born in Denmark, according to the U. S. Census. His family moved to the United States when Dr. Peterson was an infant. He would go on to graduate from Omaha High School, University of Nebraska, the "old Omaha Medical School" and completed postgraduate work in New York City before returning to Omaha.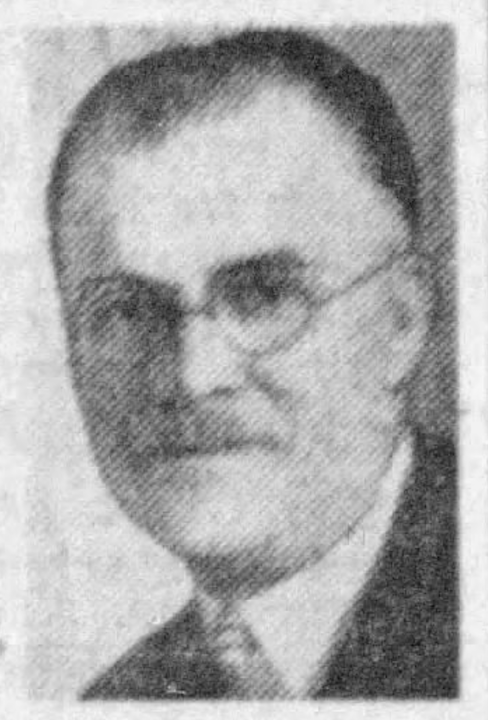 Dr. Alfred Olaf Peterson in later years.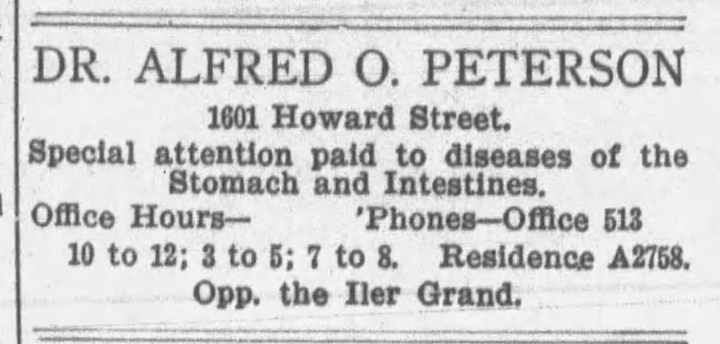 December 1900 advertisement. The Excelsior. By 1900 he had a full practice in Omaha, specializing in the diseases of the stomach.
A year later Dr. Peterson, aged 28, would marry Eva N. Bolshaw, aged 27 of Lincoln, Nebraska. Marriage license June of 1901. Eva Bolshaw Peterson was born in New Jersey and her parents were from England. The couple had two sons, Dr. Richard L. Peterson and Dr. Ward A. Peterson.
I was interested to find the "Alfred Peterson Duplex" (1909-ca. 1915) at 3315-17 Cuming Street. Shortly after the "Alfred Peterson House" (ca. 1910) was built at 3313 Cuming.  Both were listed with the Nebraska State Historical site for architects as these structures were designed by Omaha Famous Architect Frederick Henninger. I have often written of F. A. Henninger in our investigations and filed away his name as a potential architect who built our 102 North 52nd Street. Oddly I could not find the Black House listed on any architectural sites. Side note–these Cuming Street properties would stay in the Peterson family name, in addition to other properties that they bought over time as investments.
Introducing 102 North 52nd Street

OWH. March 1924. The Petersons continued to live at 3313 Cuming until it was announced in March of 1924, Dr. and Mrs. Alfred O. Peterson and family were building a new home at 102 North 52nd St. Considered way out west, this home would become a very public corner of the Dundee development.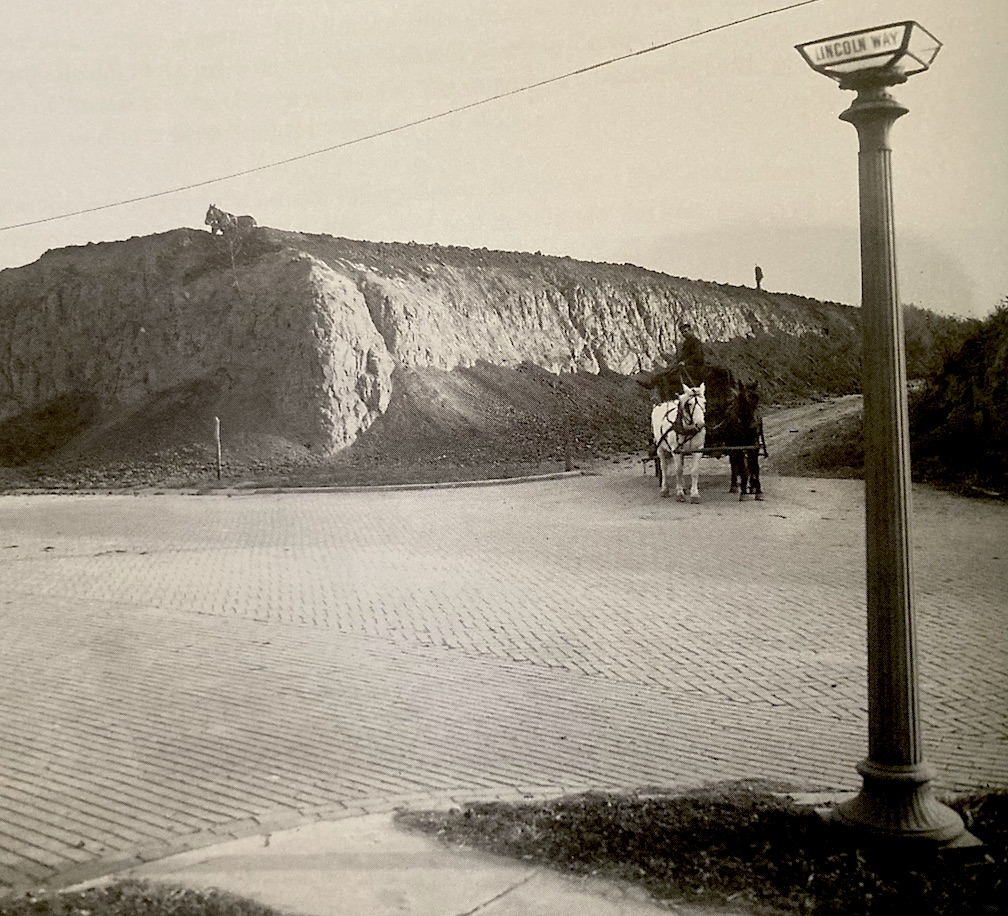 Just ten years earlier, this is what 52nd and Dodge looked like. The camera (faces southeast) is on the corner of our not yet built 102 North 52nd Street site. Horses grading down high bank at the intersection of Lincoln Way (Dodge Street) and 52nd Street. November 13, 1914. Creator: Bostwick, Louis and Frohardt, Homer. Publisher: Durham Museum.

OWH. March 5, 1924. Building permit.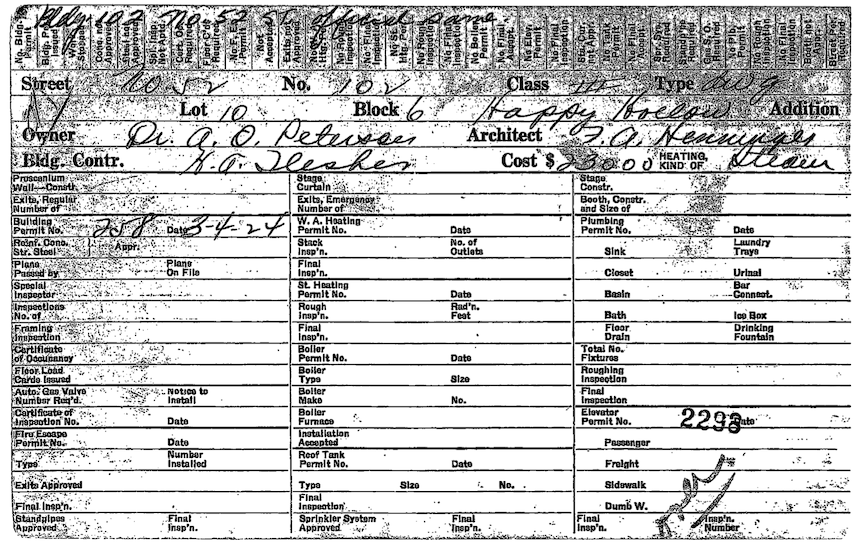 I could find nothing in the Henninger archives about the Dr. Peterson home until I remembered that the Dundee Neighborhood Association offers historic building permits on their site. Brilliant! There it was, my proof. Architect F. A. Henninger built my favorite Black House. 102 N 52 Street is in the Happy Hollow Addition, Lot 10, Block 6.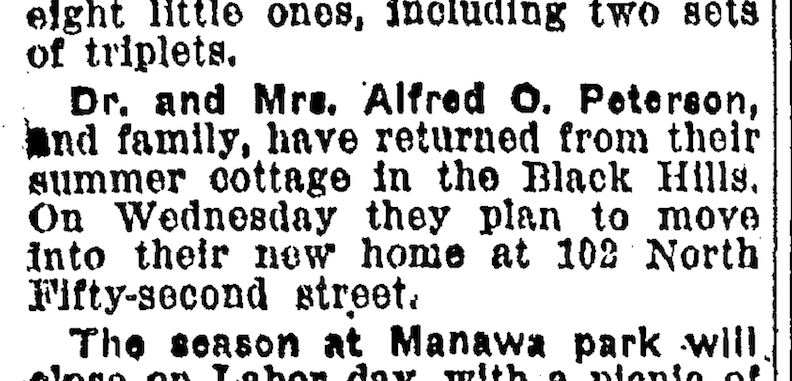 OWH. August 31, 1924. The Petersons move into their wonderful new home. File away this summer cottage in the Black Hills, as it will come up in the future.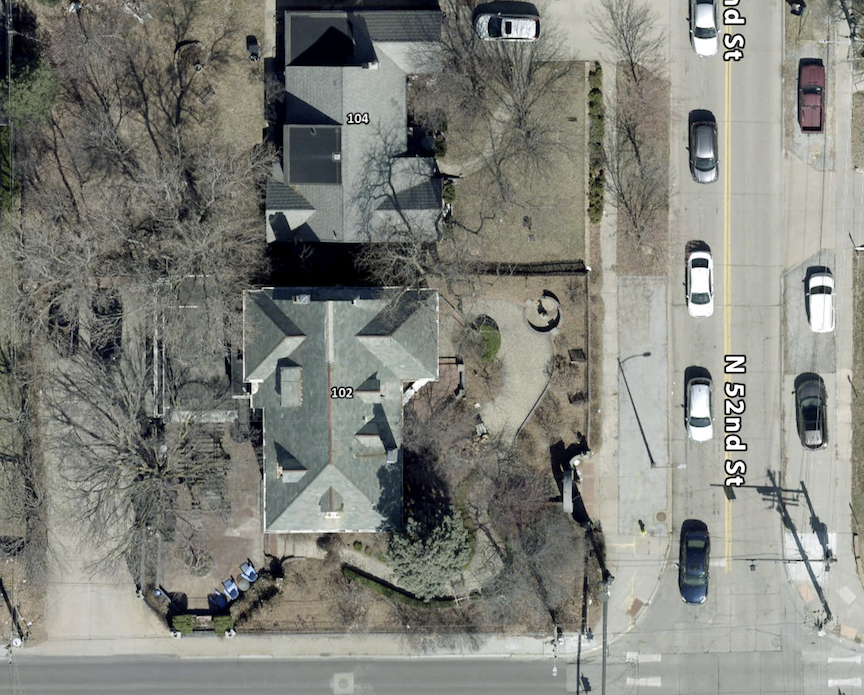 Aerial of 102 North 52nd Street. Dodge runs east to west at the bottom of the frame. As customary with most Midtown lots, the grounds are smaller. At 2.5 stories, Black House had 4,000 some square feet to offer its new family, complete with arched doorways, crown molding, fire places, tons of built ins included throughout but you know I zeroed in on the library and dining room.
Was the Peterson residence black? Was there a large, black, iron fence around the property? Inquiring minds are needled at night for these details. Please help.
On January 1, 1925, Dr. Peterson and Eva hosted the customary "At Home" New Year's Day gathering but theirs was touted as one of the "largest" in the city. "They and their son, Ward Peterson, have invited 350 of their friends." There was to be dancing in the ballroom and coffee served in Mrs. Peterson's studio on the third floor. I was excited to hear of this ballroom. Please read the "Society" review of the unusual home and what the inner circle found once inside 102 North 52nd's front door.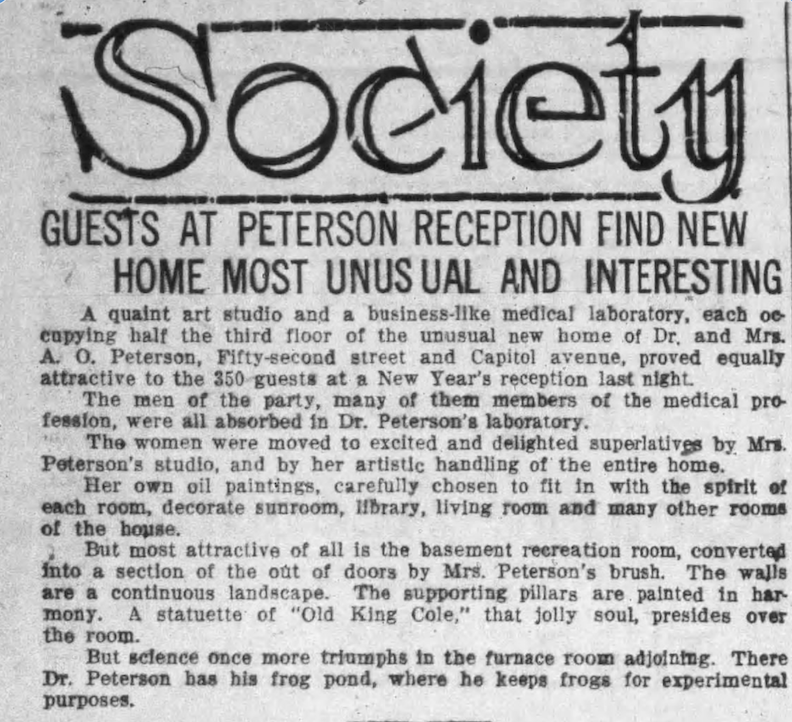 Omaha Daily News Jan 2, 1925. Note "Fifty-second street and Capitol Avenue."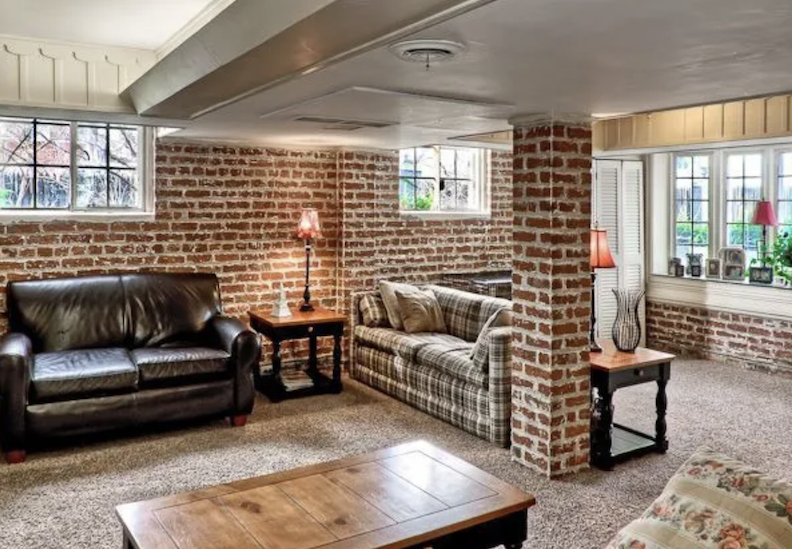 2008 real estate photo of a portion of the large basement. Was this the site of Mrs. Eva's paintings? And where Dr. Peterson kept his frog pond?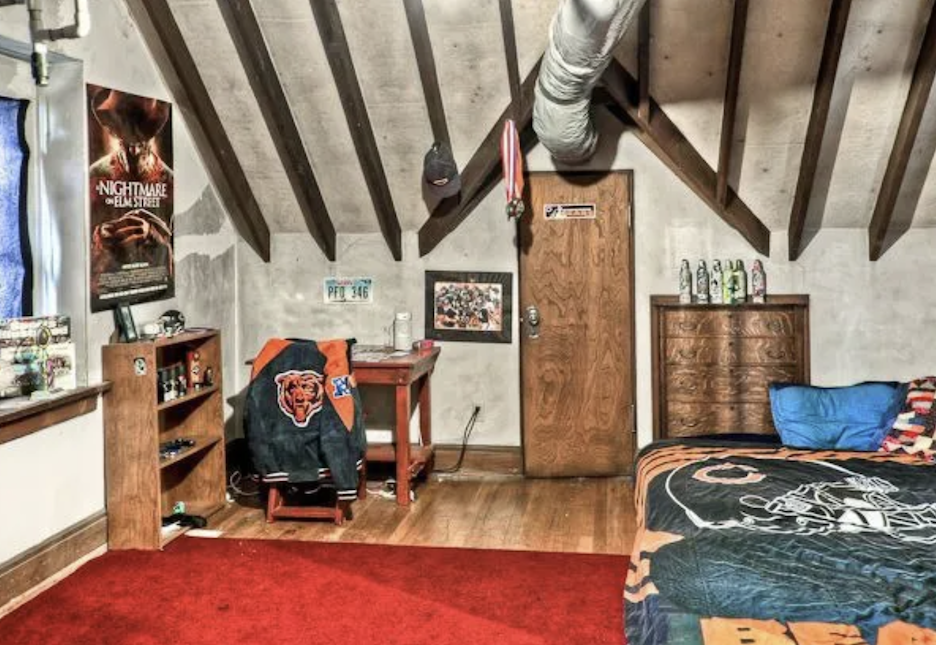 2008 real estate photo of the third floor. Was this the once site of Mrs. Eva's art studio or Dr. Peterson's laboratory?
I discovered the Petersons threw constant society gatherings with the likes of Henry Doorly and the J.M. Hardings. Dr. Peterson was a charter member of the Happy Hollow Club, a Mason and a Shriner– that is to say that they knew many people. Also family, like Mrs. Eva's sister and mother would often live in the large home in addition to servants.
Mrs. Eva Peterson
All of these artistic hints of Mrs. Eva made me want to know more. Tracking her movements were difficult as she seemed to be in the newspapers every week, sometimes daily. Truly she received more press than her husband, a rarity in those days. Mrs. Eva was an artist, a true artist. Oils, watercolor, sculpture, writing, music. Mrs. Eva opened the doors of 102 North 52nd to many in her support and promotion of the arts. The home was center to music gatherings, lectures on literature, book review meetings and pottery talks. In 1927 I discovered an article she wrote of the importance of art and beauty in the home. Small income? She suggested a bright bouquet of wildflowers or saving up for a small rug.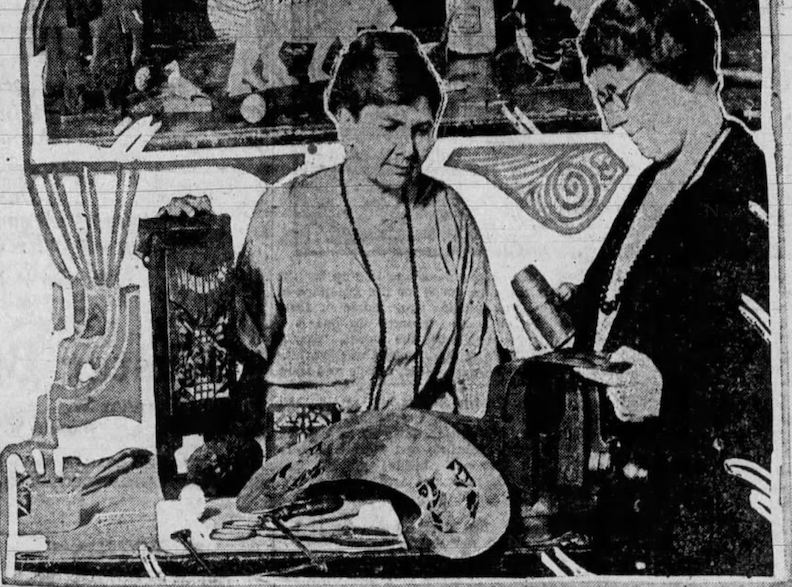 Dec 1923. The Omaha Daily Bee. Artist, Miss Augusta Knight, on the left, holds a mail box of hammered brass designed by Mrs. A. O. Peterson, (on the right) designer and artificer of mail boxes and bronze mirrors. Mrs. Eva had frequent art shows. These two were fantastic friends and would travel together later in life.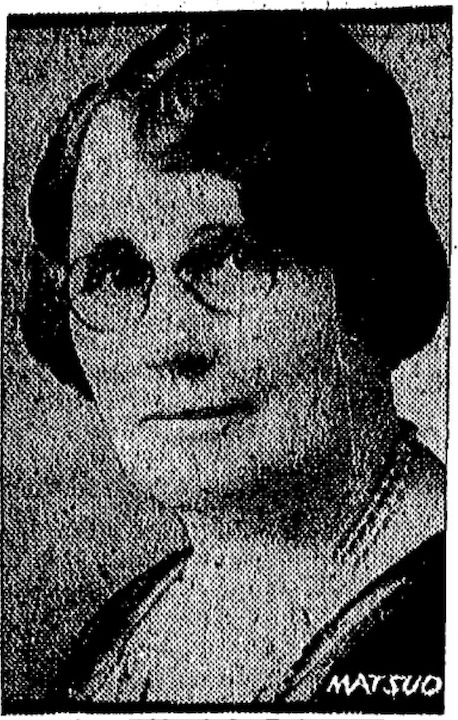 1929. Mrs. Eva became president of the Woman's Club. She was president for the Omaha Woman's Club from 1929 to 1931.
When I read of Mrs. Eva Peterson's ability to paint interior landscape mural scenes, particularly in basements, I couldn't help but wonder if she was the key to the missing link in my 302 South 56th Street investigation. That article here: The Secrets of 302 South 56th Street.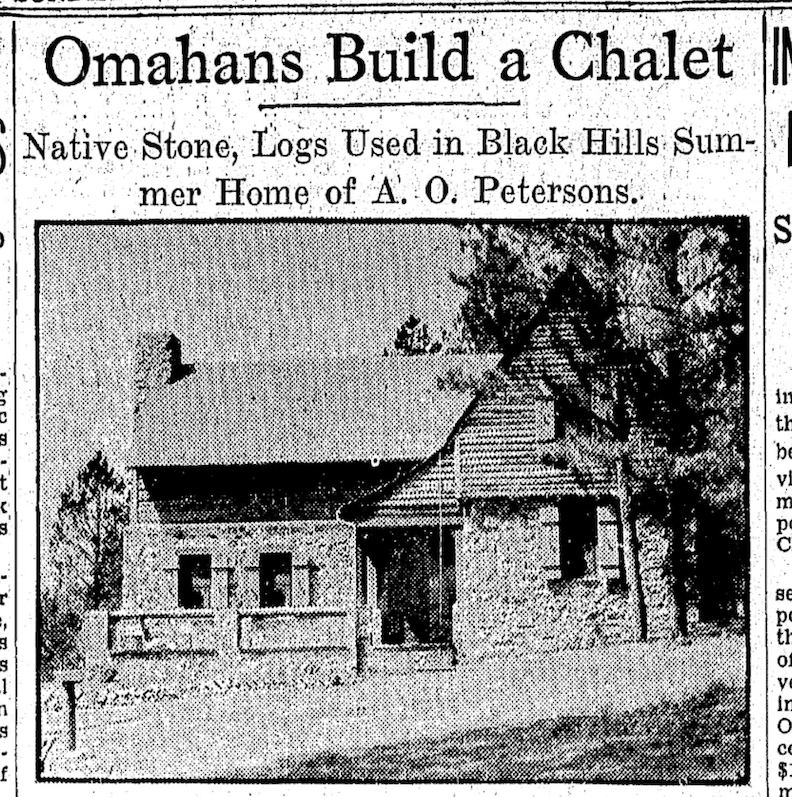 In 1931 the Petersons built their own Swiss chalet near Deadwood, South Dakota. The family had spent their summers in the Black Hills for 23 years previous. The property was purchased by the Petersons in 1929 and had been property of the Golden West Gold Mining Company. This was Dr. Peterson's true passion and his ultimate getaway. I sure would like to know if this is still standing.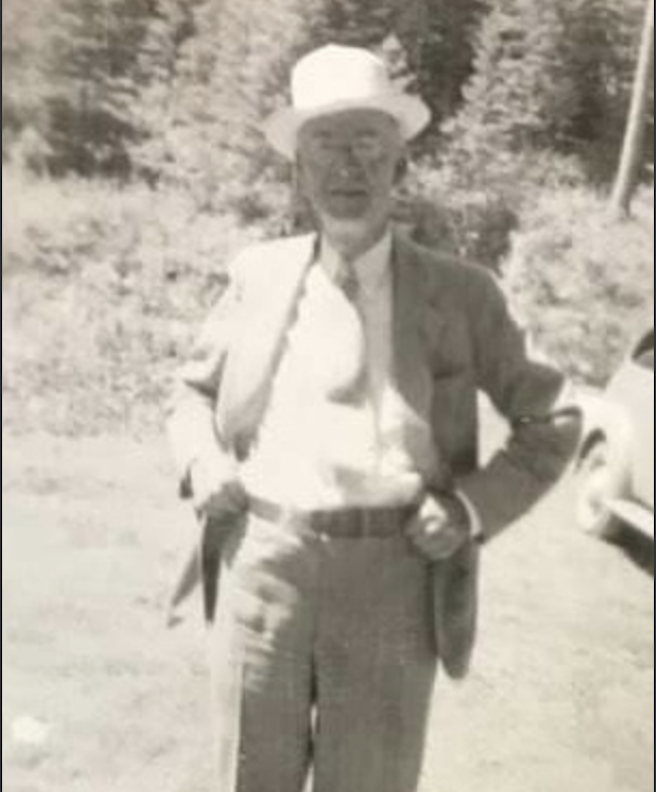 Photo of Dr. Alfred Peterson on vacation in his beloved Black Hills, SD. Photo by R. Robinson Clark, borrowed from a genealogy site.
Passing of the Petersons
At the young age of 65, Dr. Alfred O. Peterson, died at a local hospital in May of 1939.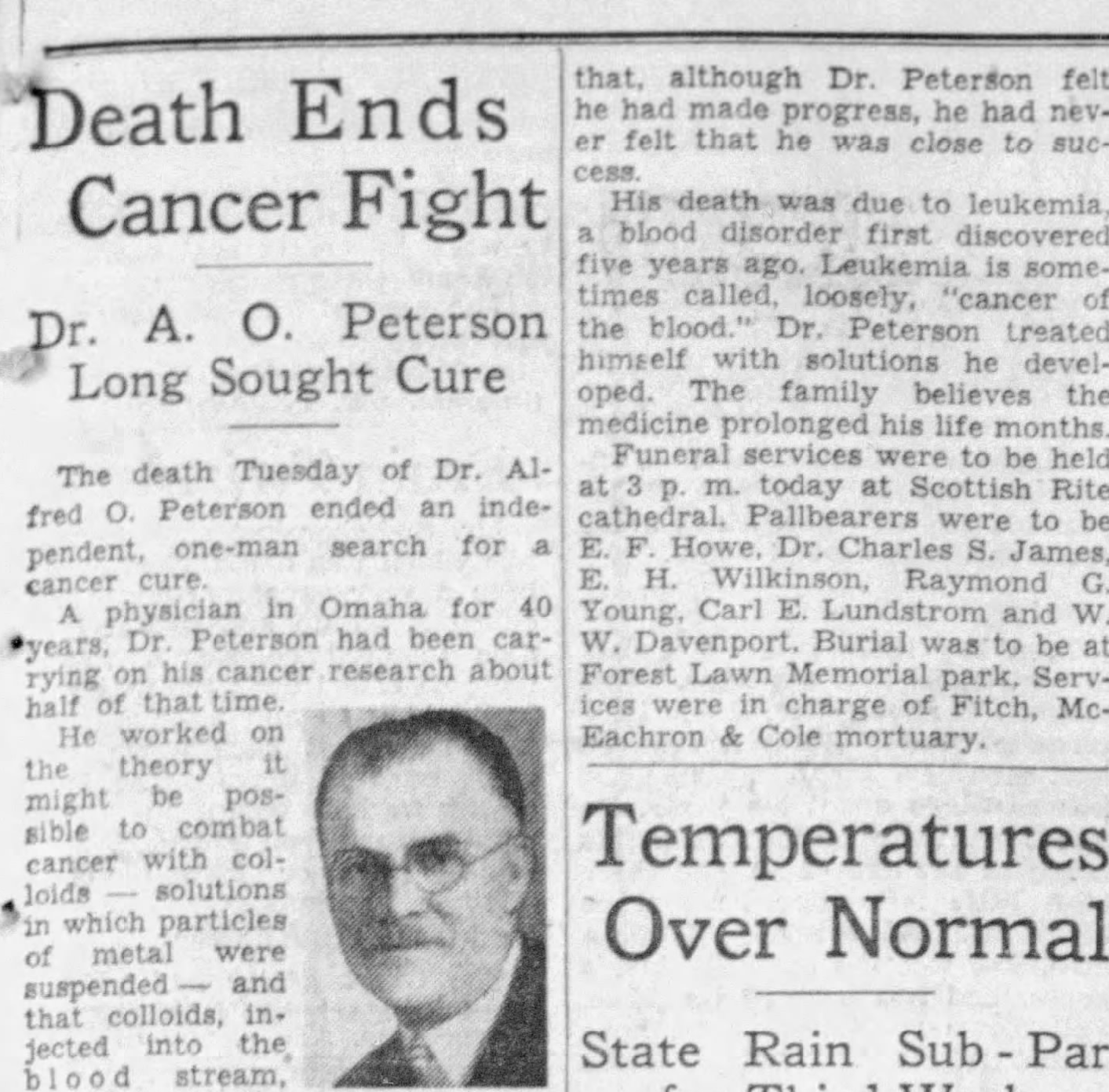 Evening World Herald May of 1939 article. I was fascinated to read that almost 13 years after Dr. Peterson's death, he began getting attention for his private cancer treatment "experiments" using X-rays and colloidal gold. The United States Naval Hospital in Bethesda, MD began researching use of "atomic energy oven facilities" and looked to Peterson's use of X-ray machines, radium and colloidal gold. "Dr. Peterson seemed to be getting some remarkable results in apparently hopeless cancer cases" but he never wanted his research and success made public because he felt he hadn't found "the cure" and didn't want to raise false hopes. His experiments were also frowned upon by the Douglas County Medical Society. It was thought that Dr. Peterson's death "was hastened by damage to his system in use of the X-rays with which he treated patients and experimented."
In August of 1949, I discovered Eva N Peterson sold 102 North 52nd Street to Dr. Albert S. Black and his wife, Madge. It pleased me to think that Mrs. Eva lived in that big, gorgeous house and continued on with her artistic pursuits. Eva N. Peterson, passed away at age 88 in 1960, while in Hamilton, Montana. She is buried in Forest Lawn Cemetery.
Let us not forget that Adelaide Fogg's residence was just down the street from 102 North 52nd Street. That story here: The Quest for Miss Adelaide Fogg.
The Black House Family
The Evening World-Herald in April 1947 announced Dr. Albert Black, Jr. had joined the Creighton University faculty. Dr. "Al" Black and Madge came to Omaha from Mayo Clinic, Rochester, Minnesota. Like the Petersons before them, the couple had two sons, Dr. Steven Black and Michael Black. Also similar to the Petersons, Mrs. Black would have her mother living in the 102 North 52nd Street home.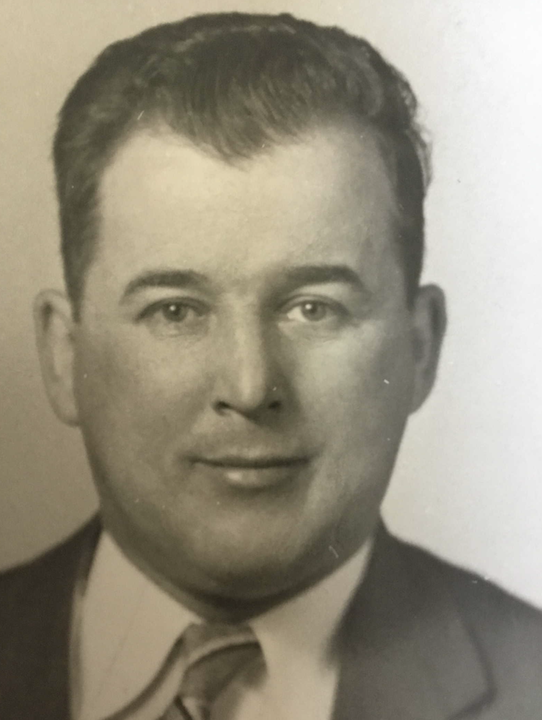 Photo of Dr. Albert Black borrowed from a genealogy site. Image uploaded by Joyce Black.
Dr. Albert Black would become assistant in plastic surgery at Creighton. He graduated from the University of Chicago's School of Medicine in 1940. He received a Bachelor of Science from the University of Washington. Dr. Black specialized in the corrective procedures for deformities and injuries to part of the face and head. He would go on to form the cleft palate surgical team at Children's Hospital in the 1950s. He became president of the Clarkson Hospital medical staff in 1966. He would also hold an office in the same Medical Arts building downtown where Dr. Alfred Peterson had practiced.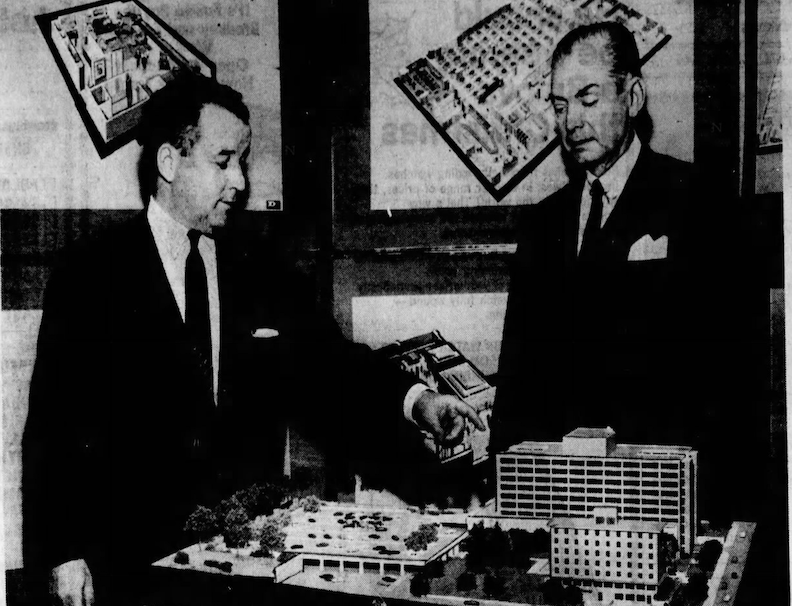 Photo of expansion of Clarkson Hospital in Dec 1966. Dr. Black is viewed on the left pointing.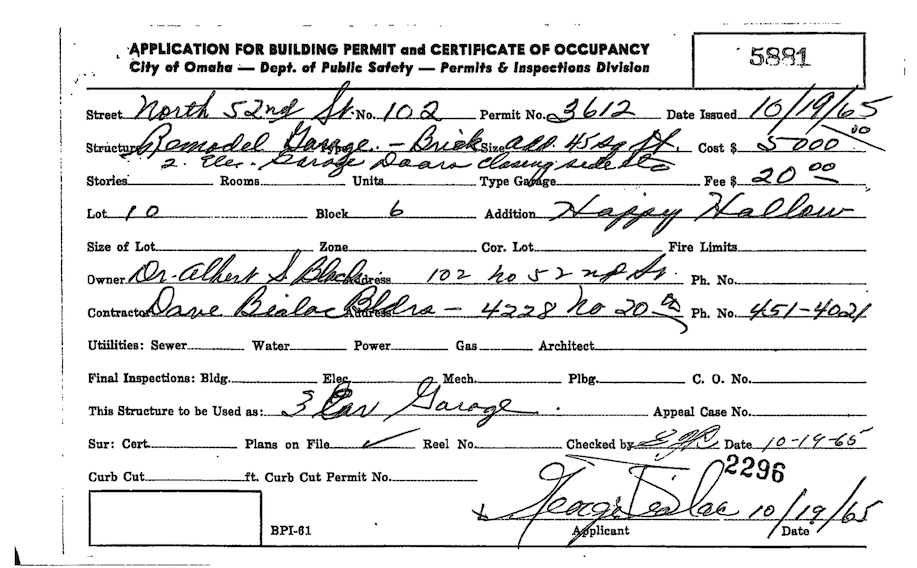 In October of 1965, Dr. Black would have a three car garage added to the rear of the Black House. Permit image borrowed from the Dundee Neighborhood Association site.
The Imposter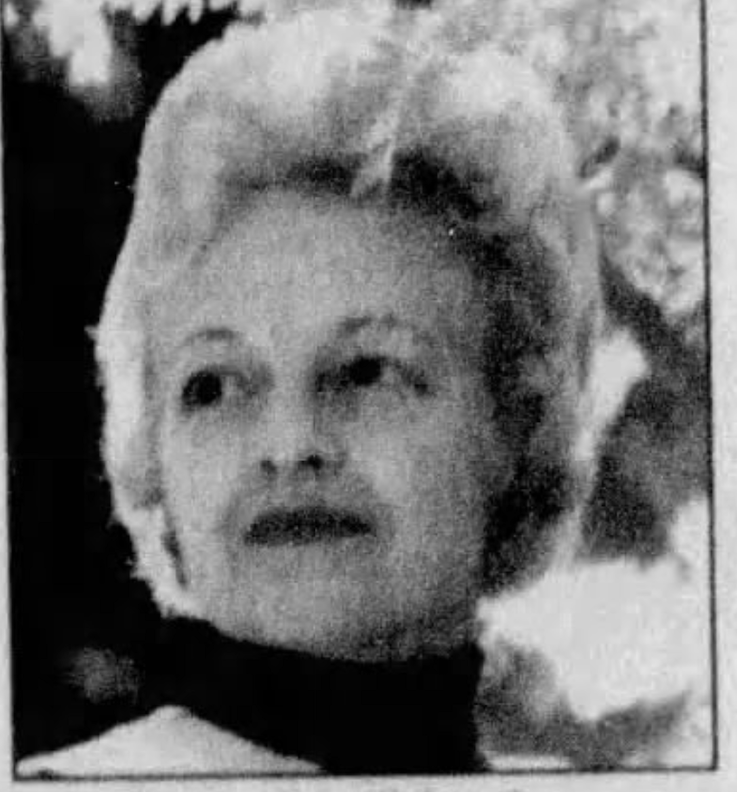 My grandmother expressed to me that Dr. Black's wife, Madge Bitters Black, was a stylish, outgoing woman. I was shocked to discover in the research of this investigation she was also  baroness in the Netherland's Royal House of Orange. Tis true. Her parents were Jacques and Ada Bitters. Many, if not all, in the Ak-Sar-Ben circle did not know this about the gorgeous woman they were dazzled by, because she did not let it out. I don't remember knowing this, if my grandmother did share it with me. Doubtful she would know. Her ladyship was active in Omaha community service including the Bishop Clarkson Memorial Hospital Service League and Ak-Sar-Ben Women's Ball Committee, as well as Joslyn Art Museum Auxiliary. She knew how to throw a party and she had gorgeous, tasteful things and now we all know why. Strangely an article from 1991 reported her name as being Blanche Van Bitters, which I could not validate.
Apparently A. N. Abell Auction House handled the sale of furnishings removed from the Blacks' house at 102 North 52nd Street after the Blacks had moved to another home. Mr. Abell said it was his idea to use the title, Lady Blanche B. Black, in the ad for the sale. "I thought it would add interest," he said. "I found her to be one of the most delightful ladies I've ever met. She was here last year and spoke to us about some of the pieces she wished to sell. "When she sent us pictures later, we got reservations to Omaha immediately. We were enchanted with what we found. The collection includes fabulous Tiffany lamps and many other wonderful things." The Black estate sale, conducted in February of 1991, was described as an Ak – Sar – Ben fete—"the Kingdom of Quivira up for sale!"
Soon after the auction, in May of 1992 Dr. Albert S. Black sold their Black House to Warren C. and Linda H. Wilson.
Deaths of the Blacks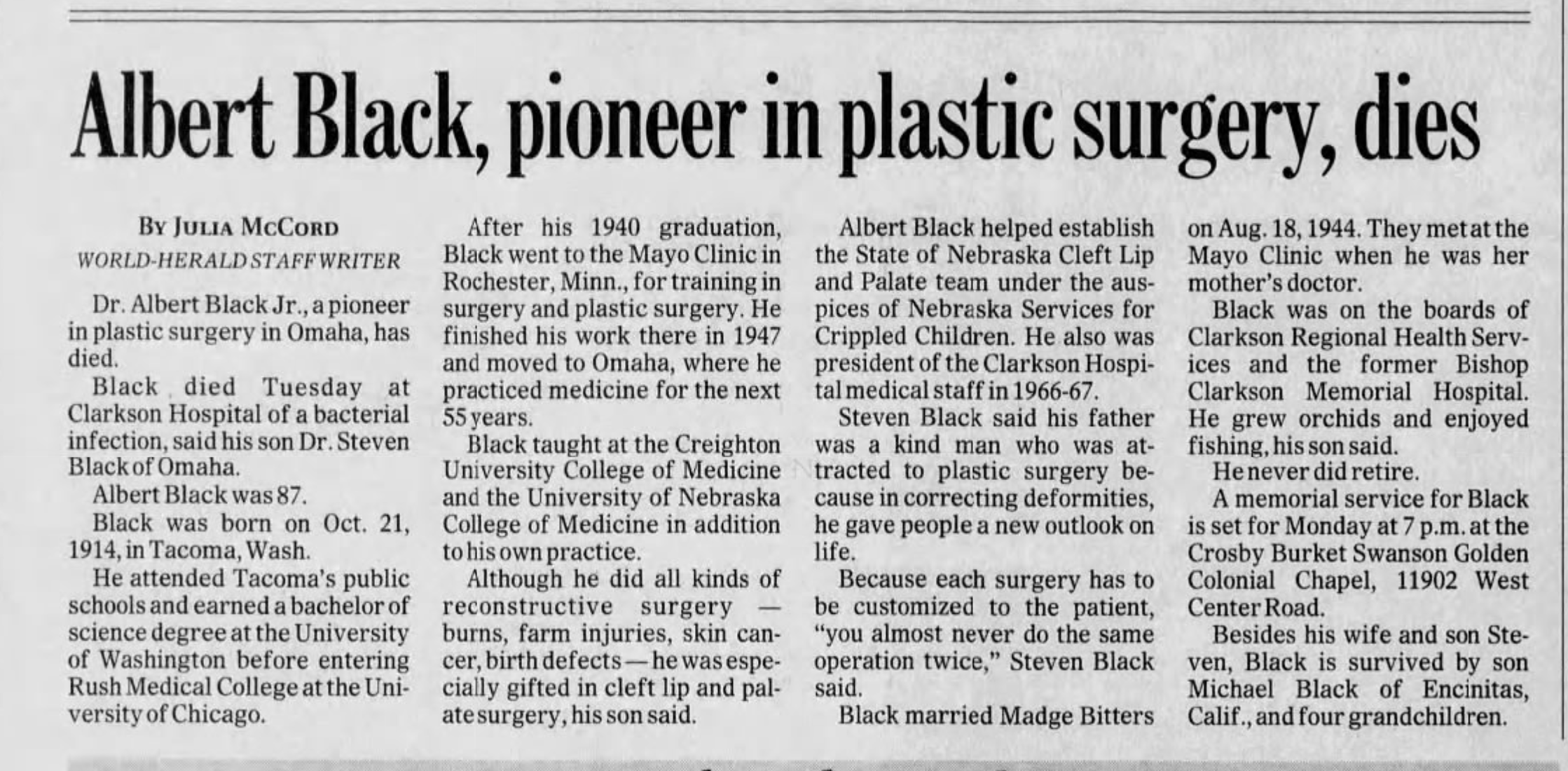 This article is a very good summary of noted plastic surgeon, Dr. Albert Black. From March of 2002. OWH. Mrs. Madge Black died in Encinitas, California, (where she was living by family) on March 31, 2013 at the age of 96. She was buried at Prospect Hill Cemetery in Elkhorn.
**Addendum of June 29, 2023** This just in, sleuths!
I reached out to the Omaha Planning Department to see if they had any of Lynn Meyer's incredible, historic photographs of 102 North 52nd Street or any photos at all. Shelley McCafferty, City Planner/Historic Preservation, was so kind to send along two images from the 2004 survey of Dundee, Morton Meadows and Twin Ridges.  Although I am still hoping for older photos and will accept anything from anyone (hint, hint) this is still a great contribution from the city. Thank you, Shelley!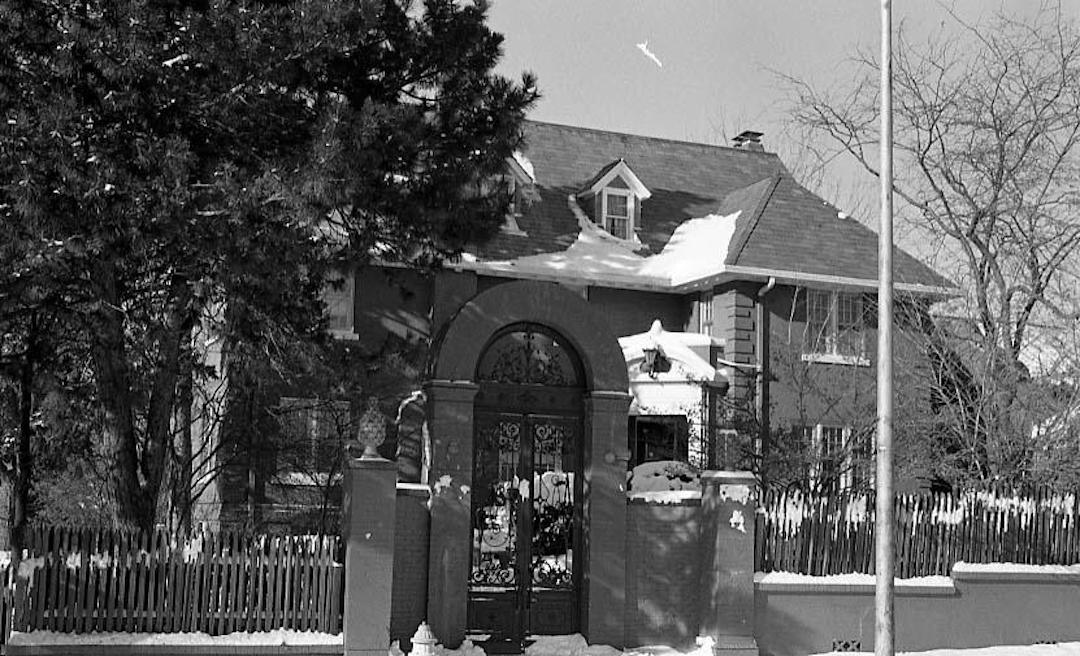 2004 survey. Snow!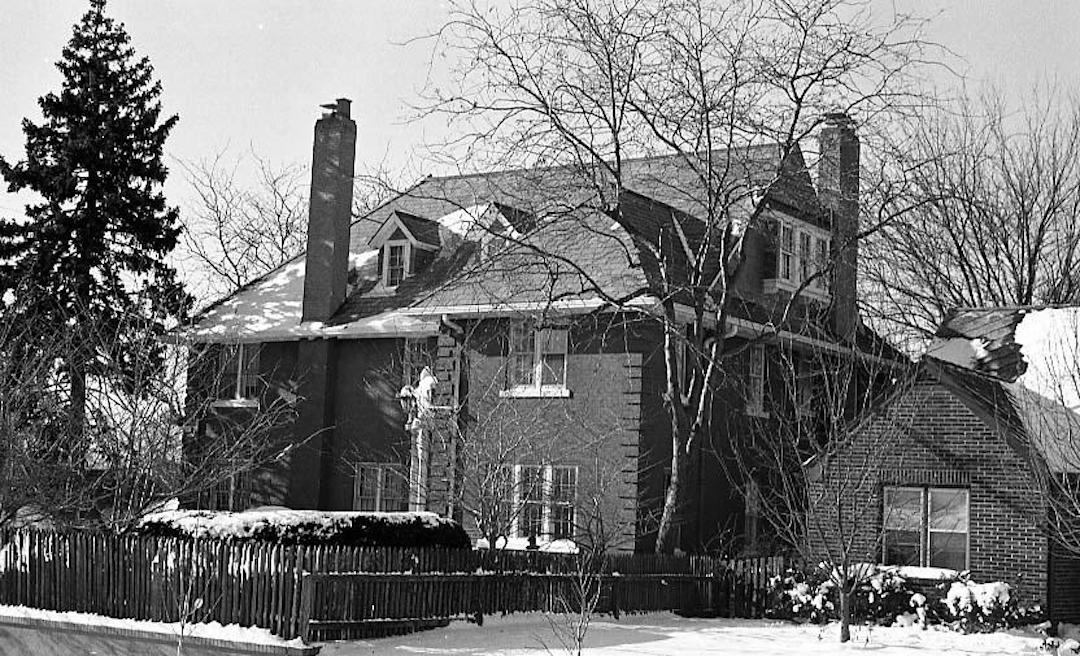 2004 survey photo. Northeast angle, including southern wing of cutie neighbor, 104 North 52nd Street.
Mysteries Remain
In September of 2008 the Wilsons sold the Black House to the new owners. Previous to this, we had toured the home when they had an open house. It was fascinating but it was wholly different than I had ever imagined. We wondered, when did the iron fence disappear, who took it out and where is it now? Did the Blacks auction off their fence? Was there ever a black and white harlequin marble floor? Have other things been stripped from the home? Are there historic photos of the home and would any family member or otherwise be willing to share? Why is this home not acknowledged on any of Frederick Henninger's architectural project lists. I would sure like to know anything you have to share about this gorgeous home, Black or Buttercream.
Thank you all!
Miss Cassette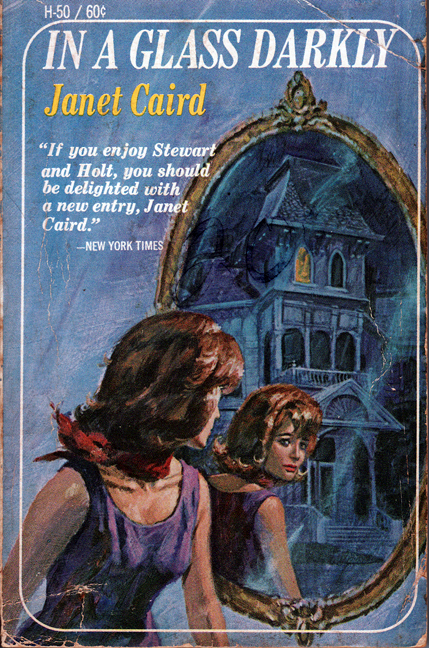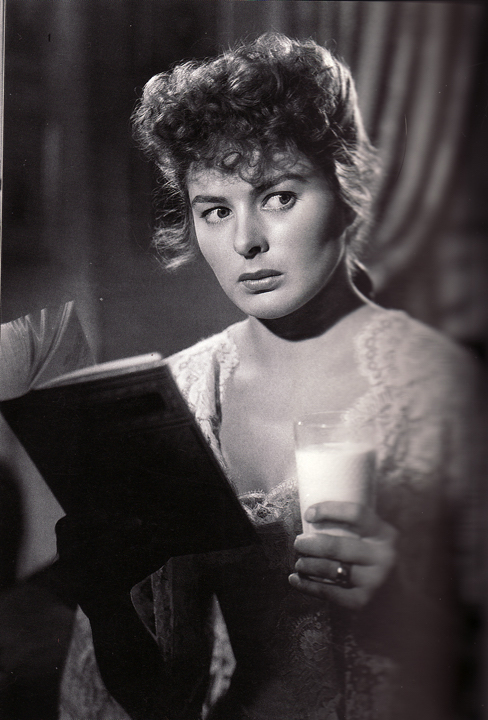 Big News
I just created another My Omaha Obsession Facebook page. If you are on Facebook or were a past My Omaha Obsession Facebook follower, please run, don't walk, to rejoin! It is not the same page and all of our posts and comments for seven years are still lost BUT we are back. I am trying to build it back up, and find the old gang–so please share the page widely. I will not be running advertising again or letting my credit card get anywhere near that account. On that note, in case the Facebook page gets hacked again, please sign up here on this website to get direct emails when stories come out.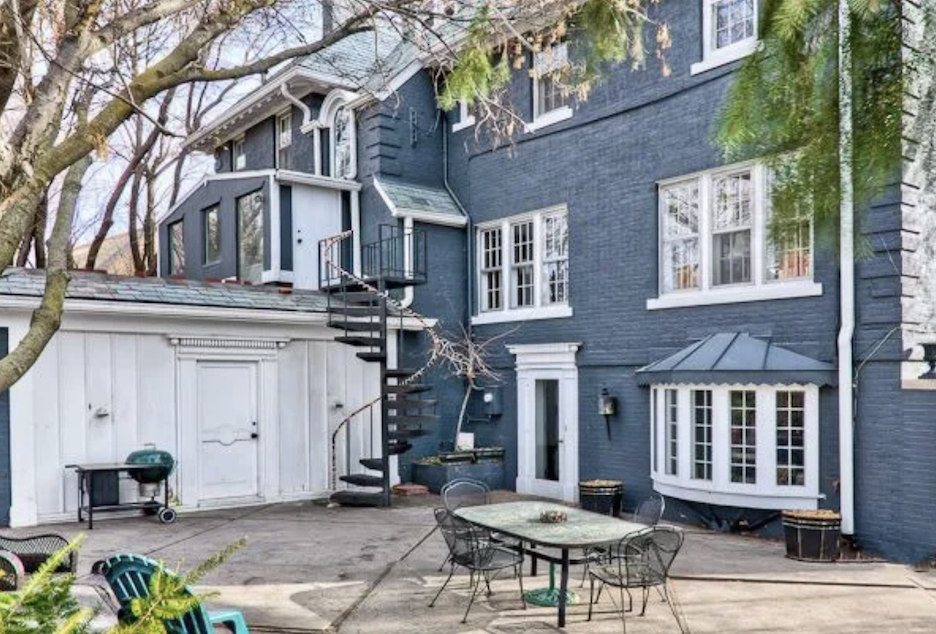 I welcome your feedback and contributions to the Black House article. Feel free to share thoughts in "Comments." If you'd like, please share this article on social media, through email or texts to friends, and join the My Omaha Obsession FB page when you can. I hope you can find some enjoyment here. I am more than pleased to have you tiptoe about. By the time you head for home, I hope you have been fully Sherlocked and Satiated. Thank you, detective friends.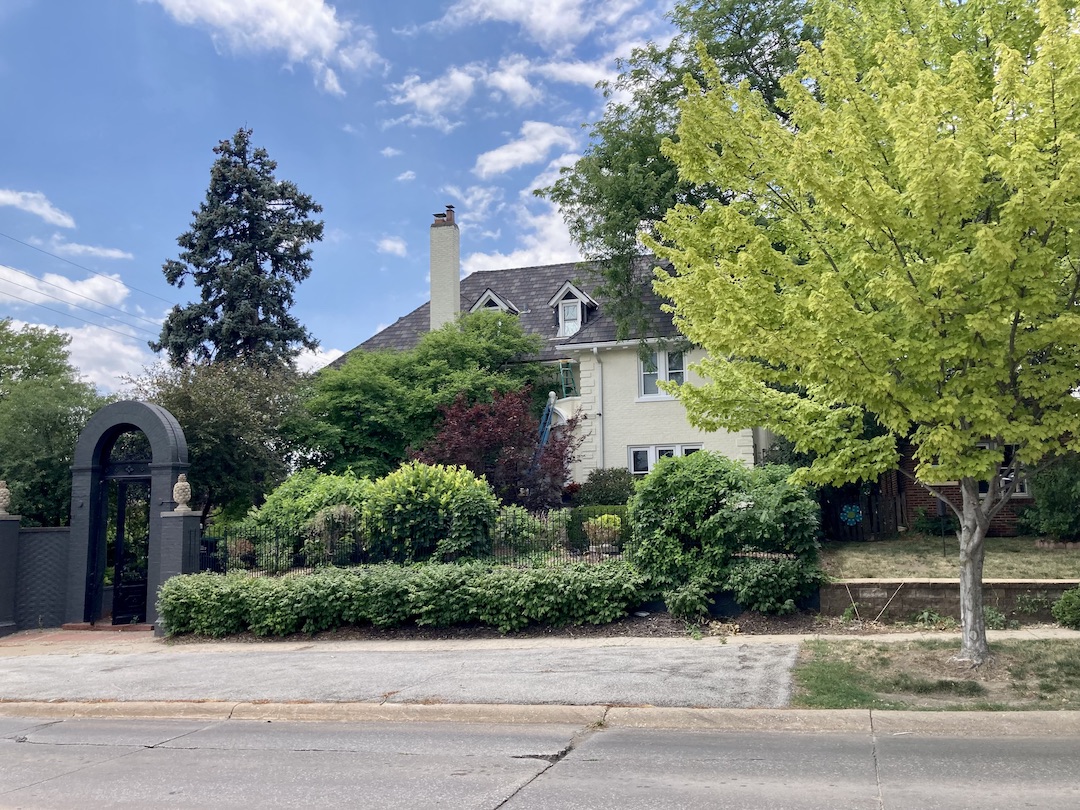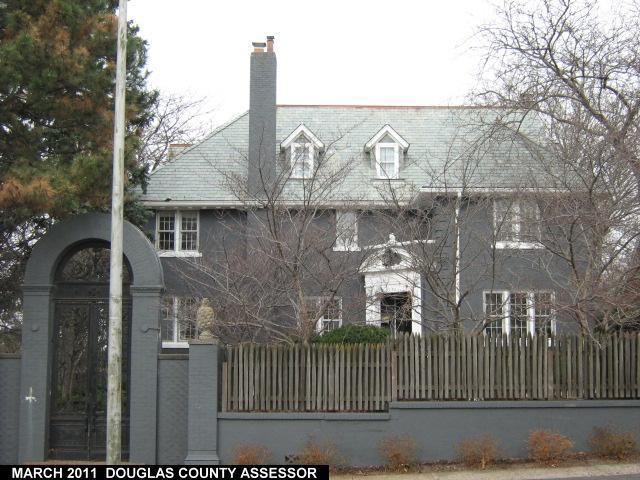 If you like what you see, you can keep up with my latest investigations by joining my email group. Click on "Contact" then look for "Sign me up for the Newsletter!" Enter your email address. It will then display "Thank you, your sign-up request was successful!" Make sure to check your email address to confirm. You will get sent email updates every time I have written a new article.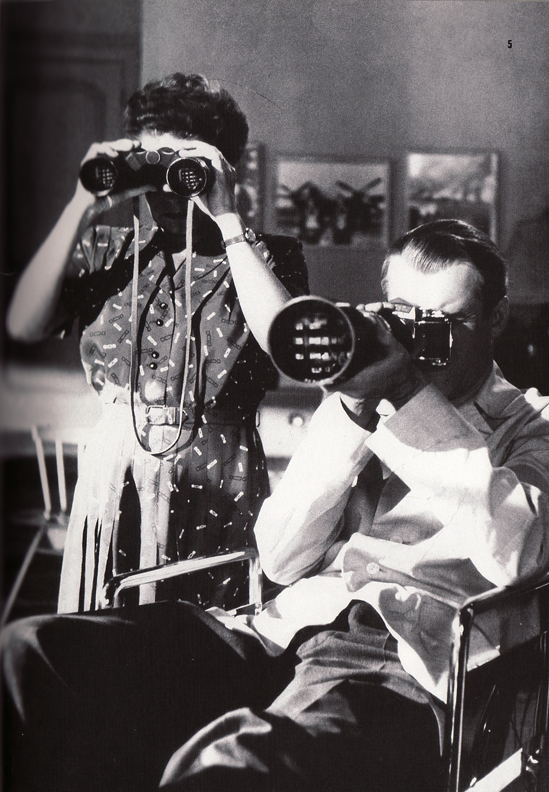 © Miss Cassette and myomahaobsession, 2023. Unauthorized use and/or duplication of this material without express and written permission from this site's author and/or owner is strictly prohibited. Excerpts and links may be used, provided that full and clear credit is given to Miss Cassette and myomahaobsession with appropriate and specific direction to the original content.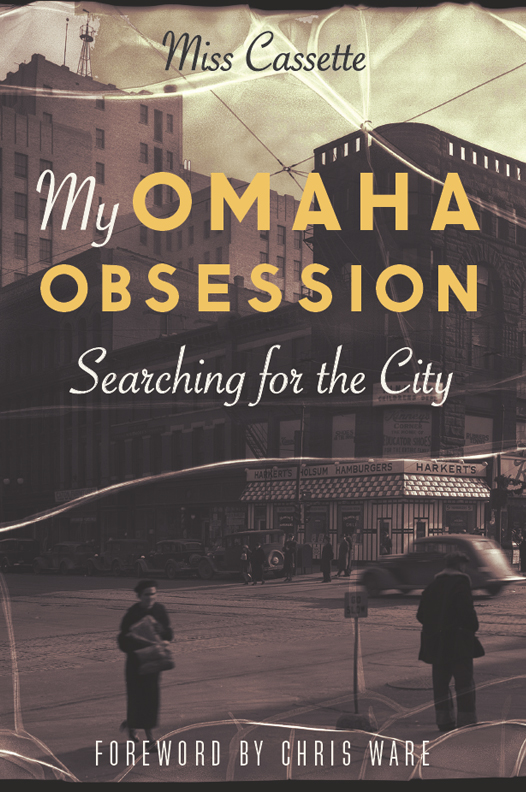 If you are looking for more architectural and Omaha history sleuthing fun, ask your local or big box bookseller for my book: My Omaha Obsession: Searching for the City. You can also order it through this website. Thank you.