The big news of this weekend is that the southeast corner of 38th and Dodge is pink. 3737 Dodge Street to be exact. I wasn't even snooping in this part of town, I promise you that much, but I came upon the scene and there she was. Covered in pink. Even the decorative broken pediment at the entrance was slopped over with the stuff. The Dorothy Parker in my head exhaled imaginary curling gray smoke and said, "What fresh hell is this?" Now I'll be the first to say, this has been a peculiar corner for a number of decades but what exactly was going on now? I had to know.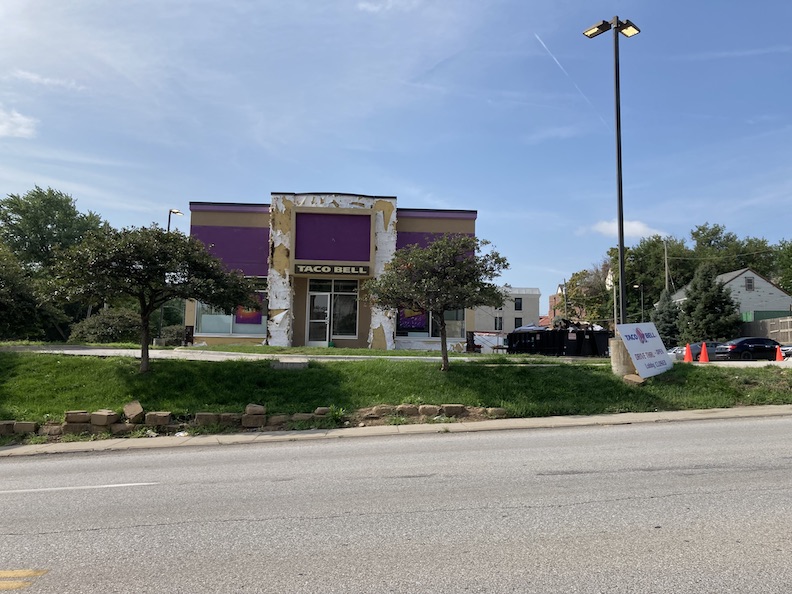 Additionally the Taco Bell up the street at 3855 Dodge looked like it was being torn down right as I was fretting about all the pinkness. I'm not the biggest Taco Bell Lover but I was afraid it was the beginning of this…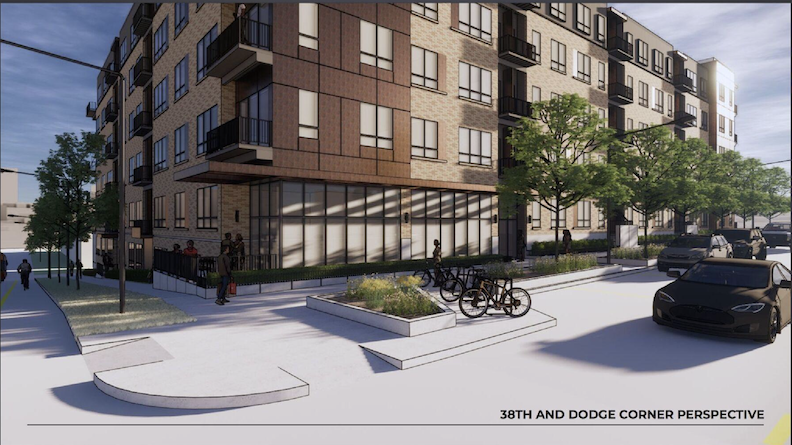 The 38th Avenue and Dodge project. (Image from BVH architecture.) The 131 unit apartment building proposed for the corner of Dodge street and 38th avenue.  Cindy Gonzalez's article from the OWH in 2021 described the plan behind three historic homes coming down along 38th Avenue, just to the east of the Taco Bell. Article here: Omaha Planning Board Oks apartment building at Dodge, 38th Avenue despite concerns. I quickly reached for my smelling salts in the glove box because I thought The Hideous Plan was underway. I rang up Taco Bell when I got home—No, the fast food restaurant is not being torn down. "We're just renovating. Our drive-thru's open though," the employee cheerily informed me. "Oh good! Thanks!" I hung up. The Taco Bell will remain across the street from this promised mammoth construction coming. Of course it will.
But back to 3737 Dodge suddenly turning pink. According to the Douglas County Assessor site, 3737 Dodge was recently acquired by the Women's Care Center Inc. Of note, this parcel was moved into charitable status. Sale date unknown, not listed and not documented in the newspaper. The formal address of said owner is listed as 360 North Notre Dame Avenue in South Bend, Indiana, most likely their central office. "The Women's Care Center, though not a medical clinic, offers free pregnancy testing and transabdominal ultrasounds performed by a trained nurse, as well as referrals to resources for pregnant women and new mothers." The Women's Care Center appear to operate facilities in 12 states out of 34 centers and their signs are usually hot pink. The various locations imply a fondness for hot pink awnings. This painting effort at 3737 Dodge is suggestive of their first all-pink building from my brief review. I imagine hot pink awnings will be added later, rivaling the Colonial Hotel Apartments in the cutesy department.
**Addendum of Aug 7, 2023. They have at least one other pink buildings.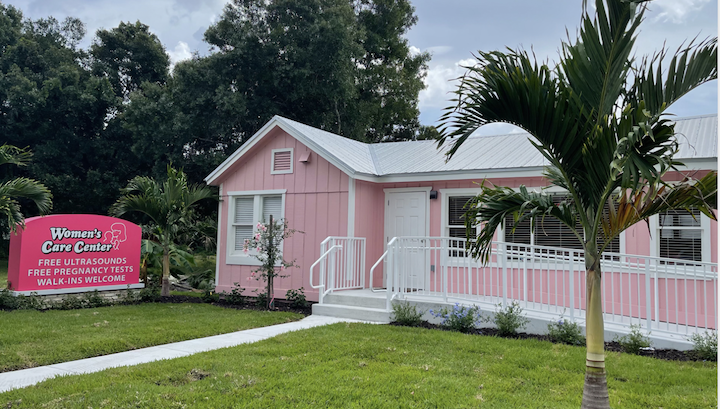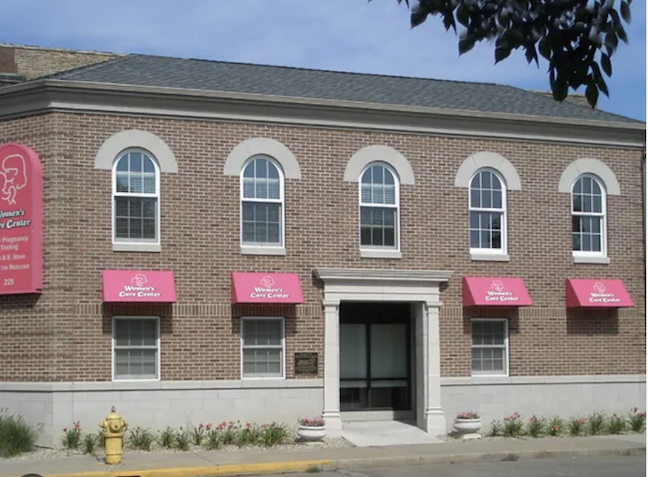 A pink alert refers to a warning or advisory announcing the potential danger of a woman's safety. Code Pink is when an infant less than 12 months of age is suspected or confirmed as missing. Are these codes related? This is a Pro Life organization, so I would imagine it is all trussed in some symbolic association.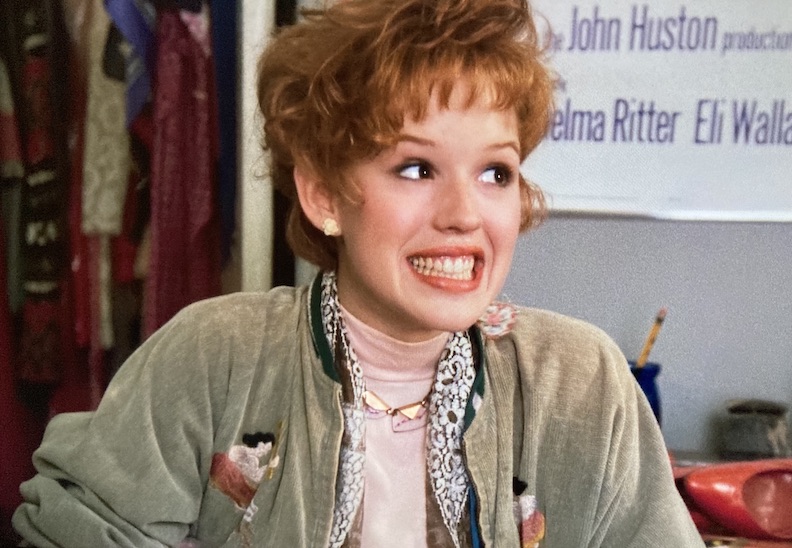 W. W. M. A. A. D?  There's a time in every amateur detective's case when one must ask: What Would Molly As Andie do?
All of this only itched at me because this newly pink 3737 Dodge building has always been something of a mystery.
My bedroom window faced this 3737 Dodge building in 1995 when I moved into at the Radcliffe Apartments (105 North 38th Street). A  good girlfriend who had been living there prior invited me to live with her and I liked it so much I would remain in the rental with other friends when she moved out. I have written about this before but in case you missed it: Then and Now: The Radcliffe Apartments.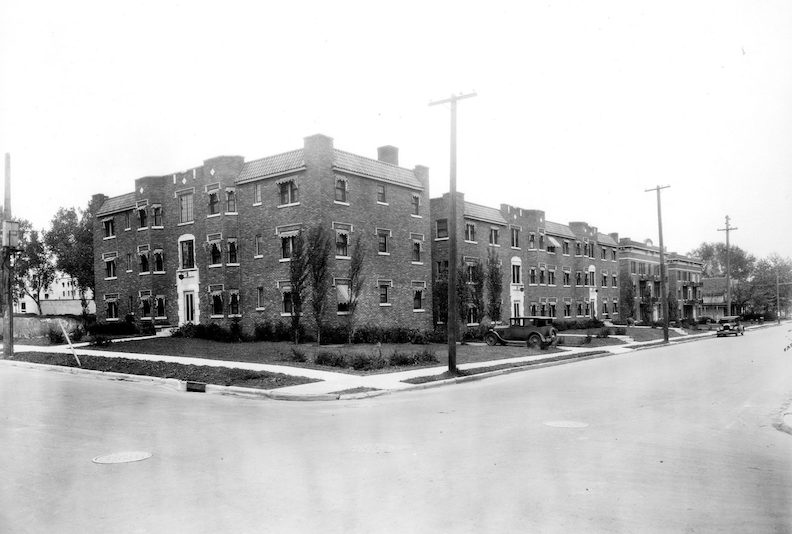 Photograph showing the Radcliffe Apartment Houses. Camera is facing diagonal (northeast) across Dodge on the southwest corner of 38th Street. Bostwick, Louis (1868-1943) and Frohardt, Homer (1885-1972). The Durham Museum. May of 1929. Looks exactly the same, thank you, minus the awnings.
To the south of our Radcliffe Apartment, across Dodge Street, was the ever curious 3737 Dodge. I say curious because it didn't seem to quite fit the tenor of the neighborhood. A Colonial office building plunked down 38th and Dodge. Its scale was off–it seemed swollen and just…strange. Now please understand that I like strange quite a lot. Things didn't need to be pitch perfect for me back then (or now). The hodgepodge mystery unresolved was always a head scratcher but didn't need solved until it turned pink on me.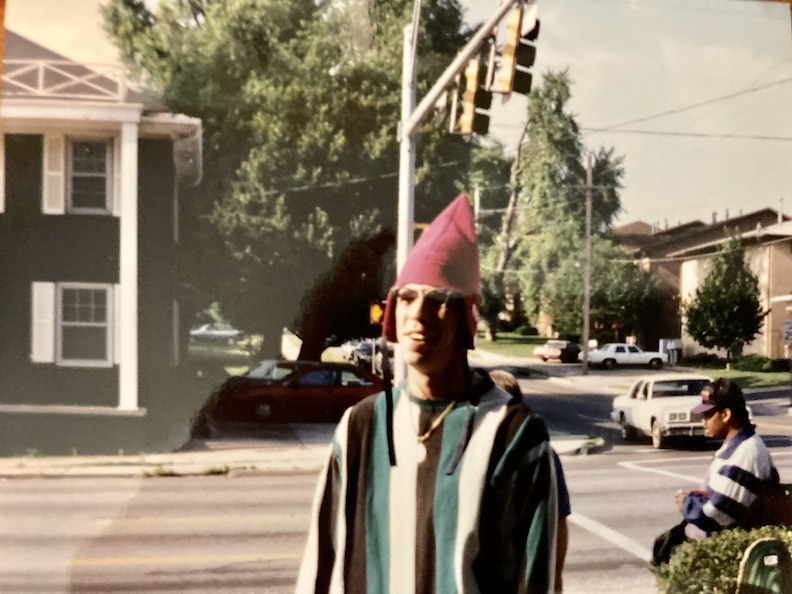 The summer of 1995. The Radcliffe tenants were having a yard sale, of which we joined in. Here is my neighbor wearing and mocking a hat I was selling. (This hat is not pink, if you are wondering how it was that I owned something pink. It was more in the purple-pink range. Kill me.) 3737 Dodge is spied in the background. As one can observe, even though just given a sliver of a view, it was a bit more upstanding in those days. Kind of like these Colonial style professional buildings planned around town in the Mid Century. 3737 had shutters, and Colonial treatments such as columns and this false balcony above. And that slate paint….I liked that. Was it perhaps inspired by the grand house at 52nd and Dodge? The Black House That being said, the 3737 building's windows weren't right. Too small. Too few. The porch was awkward. The mingle mangle. What was off and why was it like that? Like I said, I had an itch.
Some Early Clues
They say 3737 Dodge Street or its legal name, Lot 1 of Block 10 in the Jerome Park addition, was built in 1922.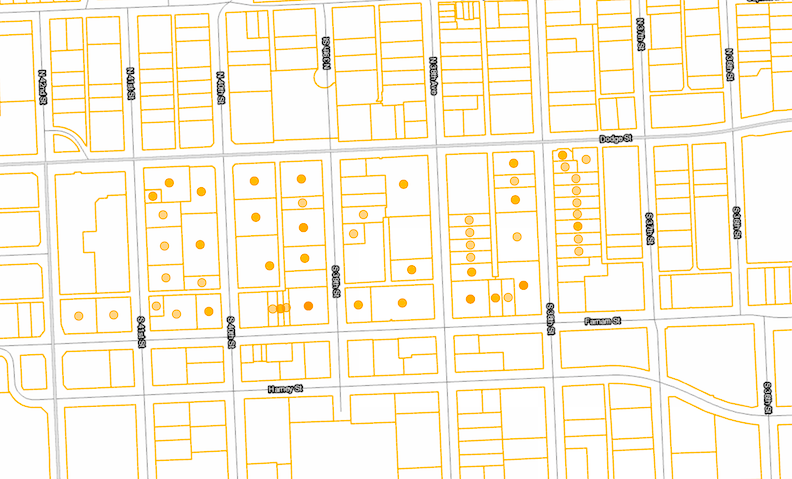 Top of image is north. The orange dots signify the remaining parcels of the original Jerome Park Addition. I found mention of this development in the OWH in 1885. Image borrowed from the Douglas County Assessor site.
I would find that in April of 1902—E.R Downs and husband sold many lots in the Jerome Park addition and in other developments to a Miss Lucy C. Harding. Lucy C. Harding owned lots 1 and 2 of the Jerome Park subdivision. The more I dug into Miss Lucy's life, I would find endless real estate investments over the years.
Miss Lucy professionally went  by "L. C. Harding" and with good reason. She was an independent business woman, who had established herself as such before she had married Randall Pollock.  L. C. Harding ran the Commercial Club in the late 1800s and was well known as Secretary of the Board of Trade of the City of Omaha. She lived out on her property, the Seven Oaks Squab and Poultry Farm, near Florence, where she kept several hundred carrier pigeons. Miss Lucy rose to become the president of the Woodmen Cafeteria, over the years buying out the other owners. The Woodmen Cafeteria seated and gracefully served 250 people at a time and was the massive success "beneath the mammoth Woodmen skyscraper." As her restaurant business and responsibilities grew, Miss Lucy put her infamous ten-acre "Seven Oaks" on the market in 1918, ultimately selling to the Catholic Church. How Seven Oaks Farm became the Notre Dame Sisters Motherhouse and Academy.
She then built her dream home at 2884 Vane Street in Florence.
The good people at Restoration Exchange thought that this lovely home at 2886 Vane Street, included in their 2008 tour, was most probably L. C. Harding's home, even though it had a different address. We know how these slippery addresses go.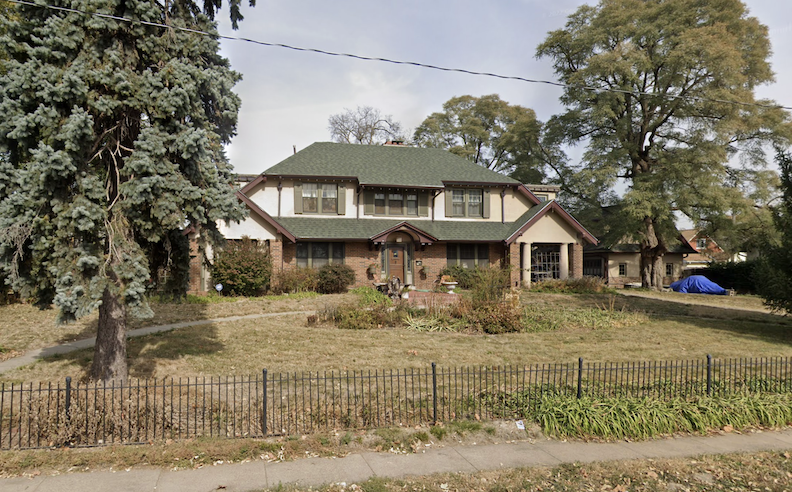 Yes, please.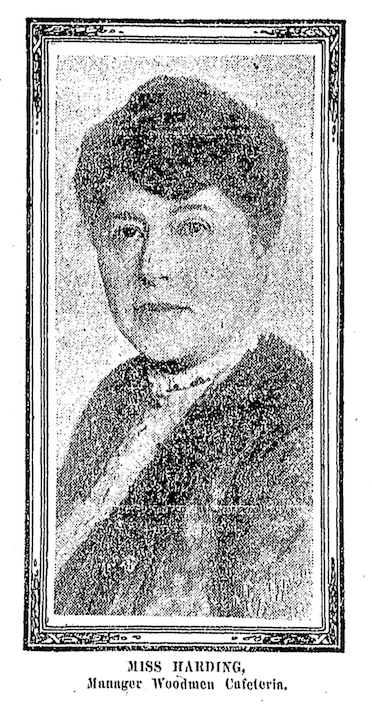 1916 photo. OWH.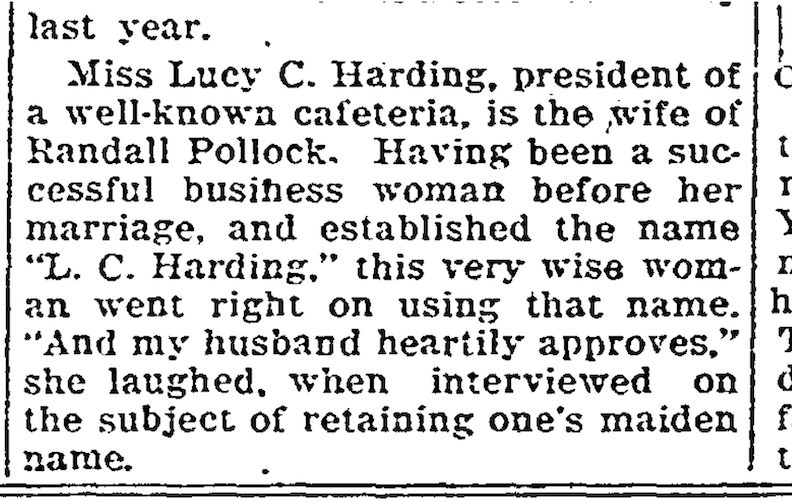 May of 1921. OWH.
L. C. Harding died at the young age of 49 in 1923 in her gorgeous house at 2884 Vane Street. Years earlier the Chamber of Commerce had voted her "The Most Successful Business Man in Omaha."
3737 Dodge
To realign, early on Lucy C. Harding owned Lots 1 and 2 in Block 10 of the Jerome Park subdivision.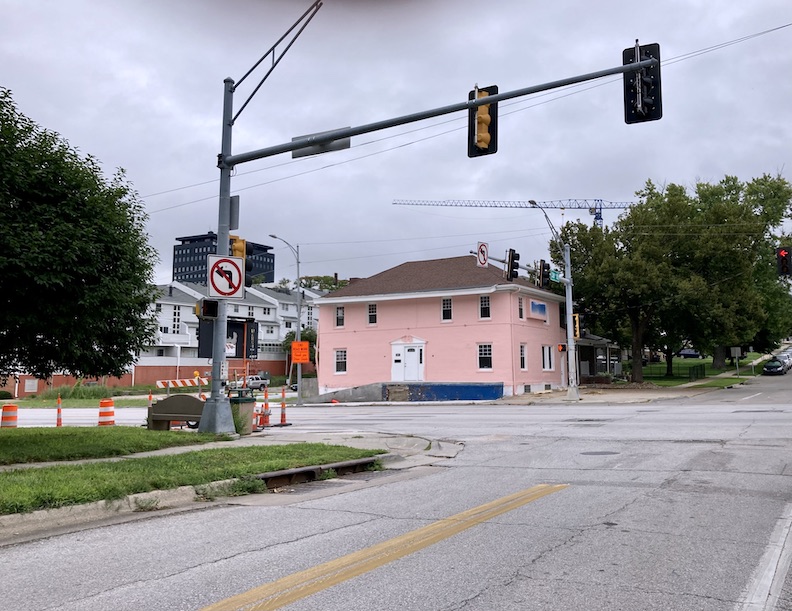 3737 Dodge is Lot 1.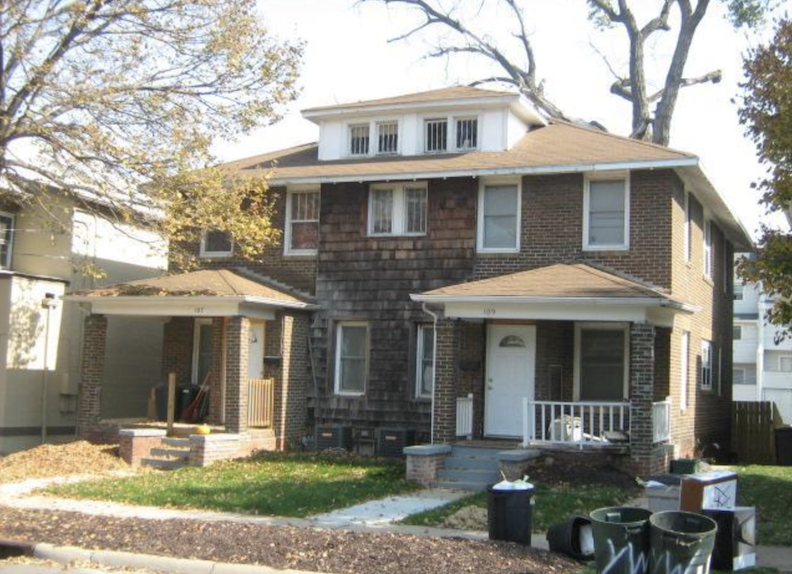 Around the corner, directly to the south is 107 and 109 South 38th Street, Lot 2 of Jerome Park. This cute brick duplex is where our friends lived back in the 1990s. In fact we knew people up and down the block in these good ole days of the Midtown music scene. This duplex was apparently built in 1922, the same year as 3737 Dodge. Which was the first major clue to 3737 Dodge's potential original look.
I more I thought about it, there were these brilliant duplexes and apartments sprinkled all about the surrounding blocks. It was dense with duplexes.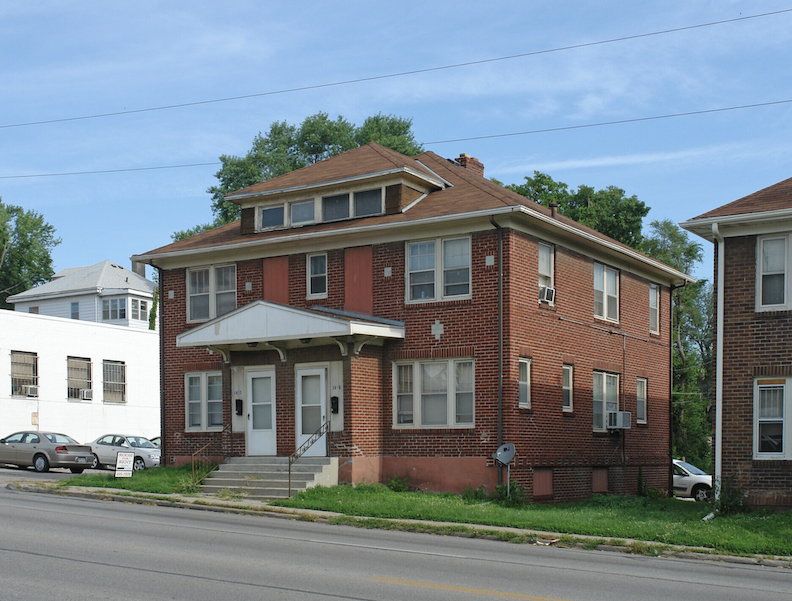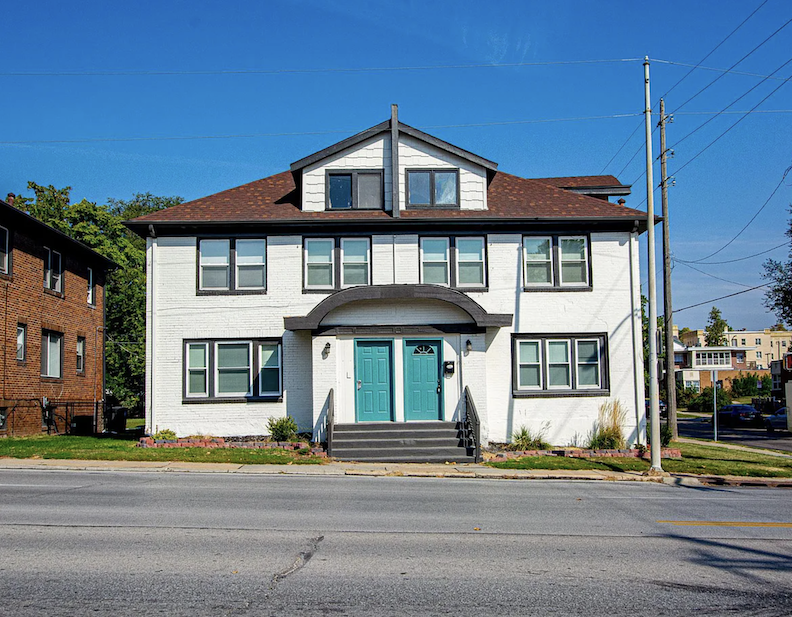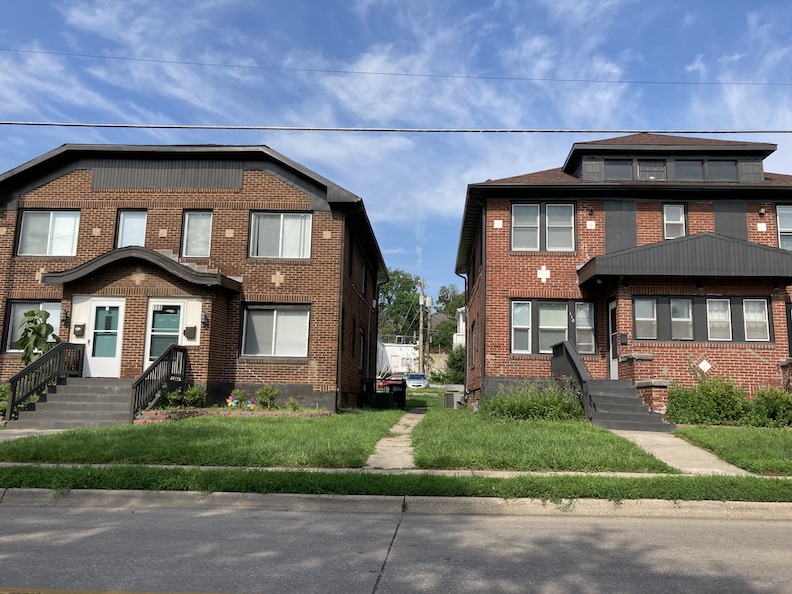 How things in the area look today. Perfect. Don't change a thing.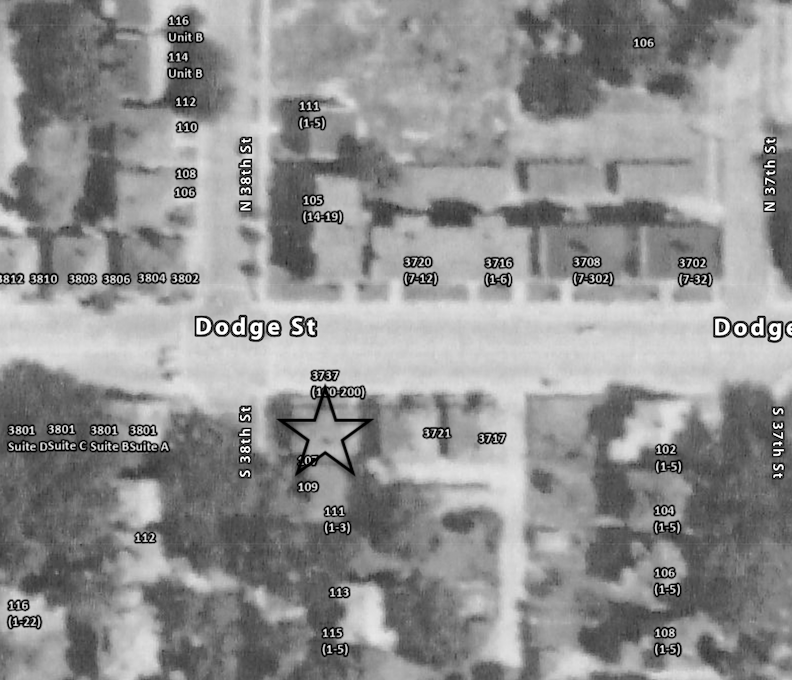 Aerial of 38th and Dodge from 1941. Image borrowed from the DOGIS site. Top of the image is North. I put a black star (for David Bowie) on our 3737 Dodge address. Note the 3721 and 3717 buildings next-door to the east on Dodge. To the south on 38th Street is 107 and 109.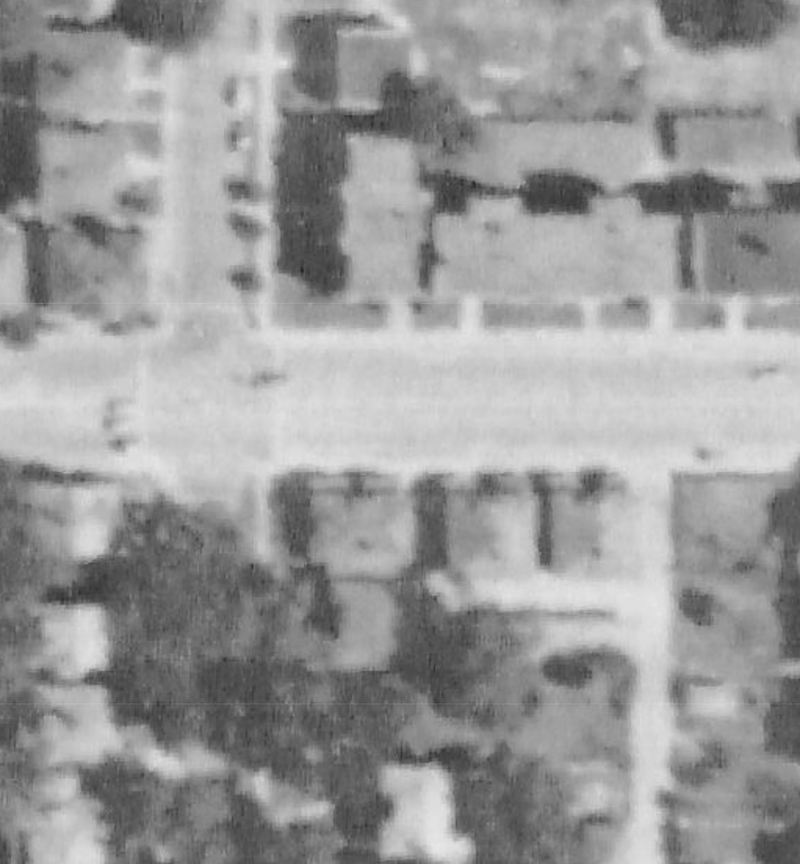 Here is the magnified detail so that we can study the identical triplet roofs of the buildings. 3737, 3721 and 3717. All three buildings have individual porches duplex style. Is 3737 Dodge's roof slightly larger? At any rate we can see that those two entry porches on 3737 Dodge were removed at some point. We can assume it was built as a series and that the previously shown 107 South 38th Street might have been included in this series, considering the year it was built.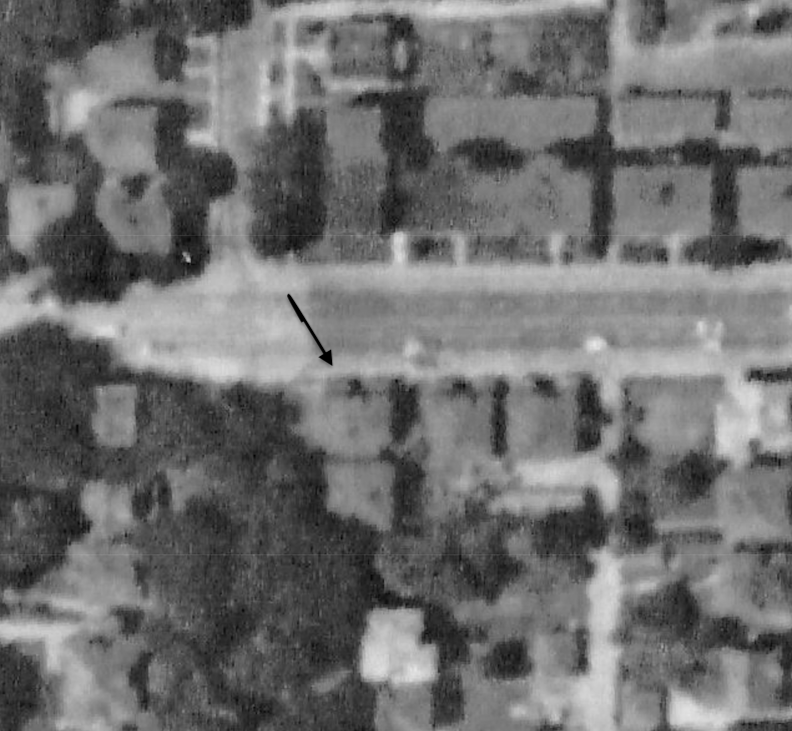 38th and Dodge aerial from 1956. Image from DOGIS. I am merely showing off my ability to draw an arrow. Actually I was interested to find that by MCM standards and the popularity of the Colonial movement in that time, that 3737 Dodge had not yet transitioned to a Colonial business venture.
I discovered all of these duplexes being advertised in the 1924 time period. Each offered gobs of space–three bedrooms, living room, dining room, kitchen and breakfast rooms. Later came garages.
In 1933 Penn Mutual Life Insurance Company sold 3737 Dodge to Anna Abrahamson. Was it already a business office or was this just an investment of the insurance company? Penn appeared to own other properties in the area. It wasn't until I read about the Quinn Insurance firm moving into 3737 Dodge from their downtown office that things began to come together.
After 31 years in their downtown location, Austin, James and Courtney Quinn as the Quinn Insurance firm moved into the 3737 Dodge building in 1963.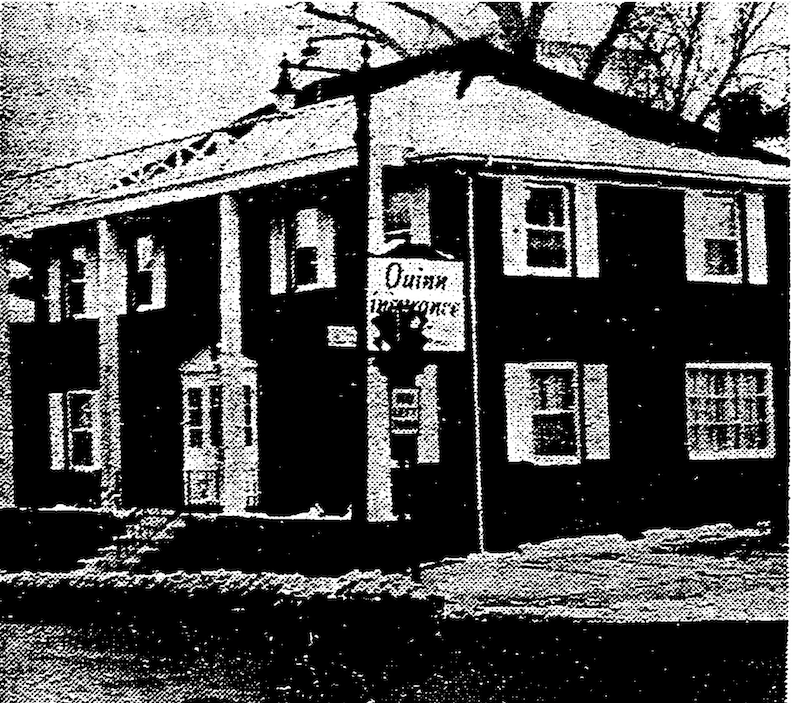 Months later in December of 1963, the newspaper called this rehab a "bright new face." OWH. I loved to find this. Also proof that 3737 Dodge had long ago been slate.
A year later "the firm, Quinn Insurance, Inc. won a City Beautification award in 1964 for the remodeling of its building at 3737 Dodge."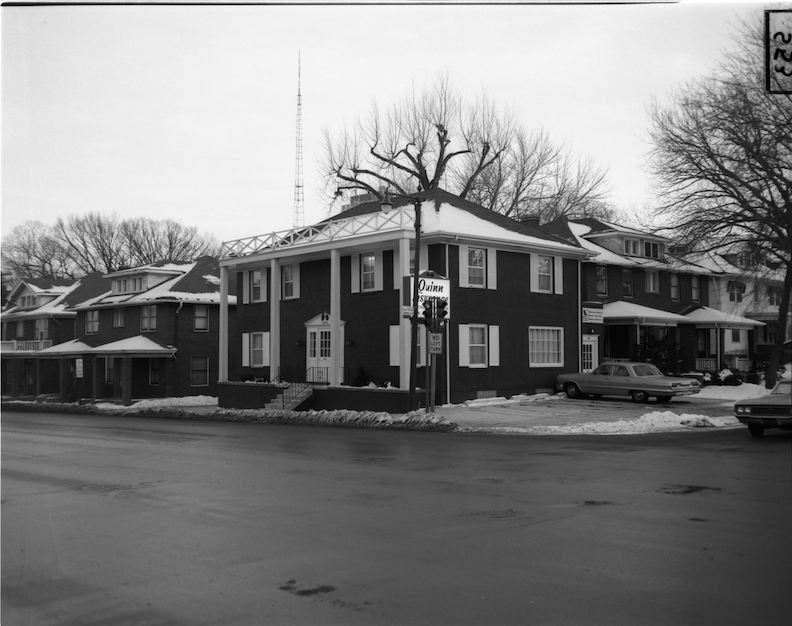 The Quinn Insurance Building at 3737 Dodge. Creator: Savage, John. Publisher: The Durham. Date 1965. Just what I needed to find.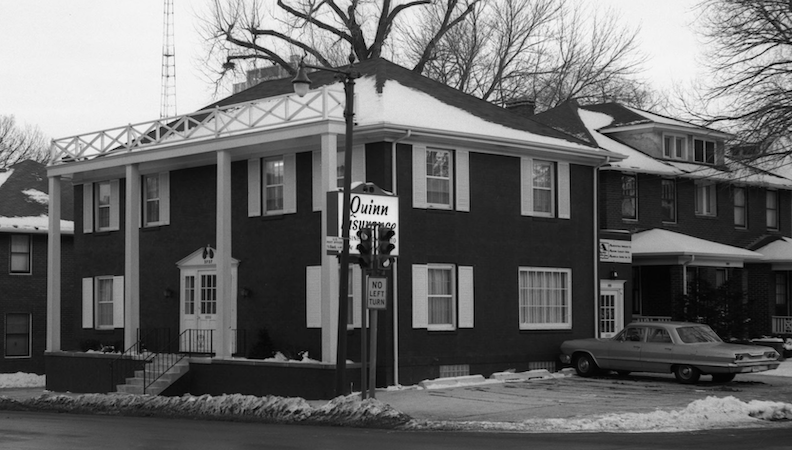 Zoom in. This is a Neoclassical eclectic style, according to My Queen, Virginia Savage McAlester, even though in Mid-century Omaha this was called Colonial. The façade shows symmetrically balanced windows and center door, dominated by full-height porch hinting at classical columns. All for show, of course. These columns were very simple and quite slim. In the 3737 Dodge case, these columns were not supporting a roof, as much as supporting the new look. This porch was attached to the old roof. The "Full Façade Porch" subtype of the Neoclassical style and its interesting roof construction is described well in Virginia Save McAlester's A Field Guide to American Houses. "A colonnaded porch occupies the full width and height of the façade. Here the porch is not covered by a tradition pedimented gable but instead either by the principal gabled or hipped roof or by a flat or shed extension from such a roof." 3737 Dodge seemed to have a little lip protruding in order to secure the very slender columns and simplified roof line balustrade creating a "railing" along the "balcony."Broken pediment at the entrance with surround of windows, was repeated in the Quinn Insurance sign. Please tell me that was lit up. That broken pediment scroll at the top reminded me of the Colonial themed Pacific Village strip mall at 76th and Pacific and the Interlude Lounge sign. So much of that look around Omaha in the late 50s, early 60s.  Also pore over that street lamp. A lovely remnant of the past.
Addendum of August 16, 2023: Stephen Sheehan shared, "My dad renovated that building in the 1960s for a business. If you look at those photos with the crisscross wooden 'fence' on the top, you'll see round balls. Those are croquet balls he painted from a croquet set he bought from Sears. He bought the set home when the job was done. It only had two balls remaining."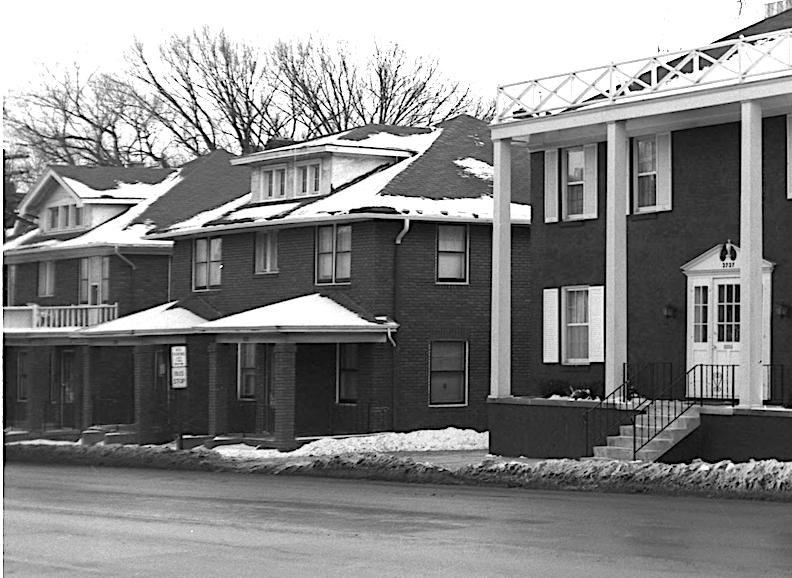 But the details of the corresponding duplexes are what we needed to inspect. Between the years 2007 and 2010,  3721 and 3717 Dodge Street would be razed.
If we accept that 3737 Dodge had the same original footprint, certainly rooflines, as 3721 and 3717 Dodge, as seen in the earlier shared aerials, this photo becomes more interesting. The 1965 photo suggests that the Quinn rehab effort involved building up the original house quite a bit to accommodate the new porch, a larger, more visible front door with Colonial elaborations, the flat, prominent facade, uphold the columns and the weight of that balcony. The windows were reconfigured for a more business like, less residential approach. These are my thoughts and I would really like to hear yours. If you have any photos or know details, please divulge!
In 1978 the Quinns were apparently rethinking their location. I found the 3737 building up for sale. "The neat sign in front of this beautiful office building is viewed by 40,000 cars per day at 3737 Dodge. The Colonial style, charcoal brick with white columns in front lend strong distinction to any type business. Ideal for brokers, accountants, tax consultants, salesmen. 9 private offices, large secretarial area, four restrooms, lots of storage." However the family business stayed on at the 38th and Dodge Street corner until the Merry Maids cleaning service moved in in 1981.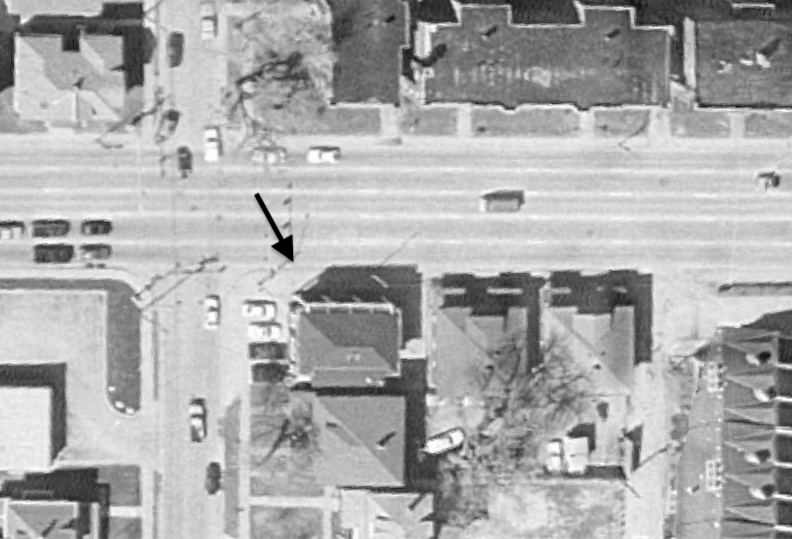 1993 aerial of 38th and Dodge. Front facade with columns is evident. There has only ever been enough room for a few cars to park on that western side. It seemed like it was a law office of some sort when I lived across the street. It has transitioned from law to tax office a number of times.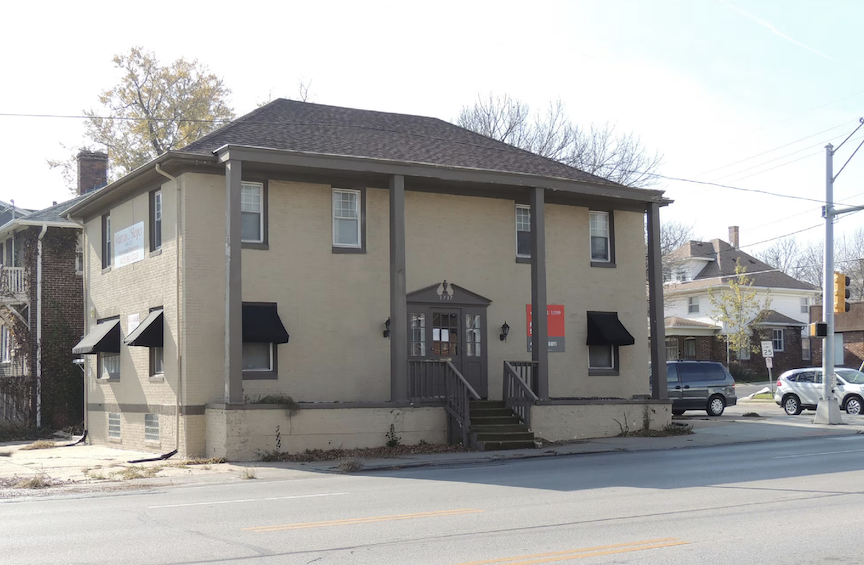 I think 3737 Dodge Street looked like this from 2010-2019? Shutters gone, balcony gone. Bizarre wood railing up to the door.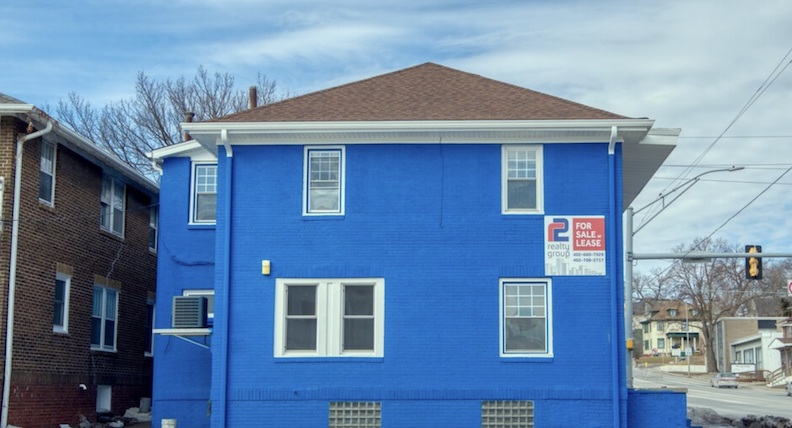 2020. This eastern elevation really lets on that it was a house previously.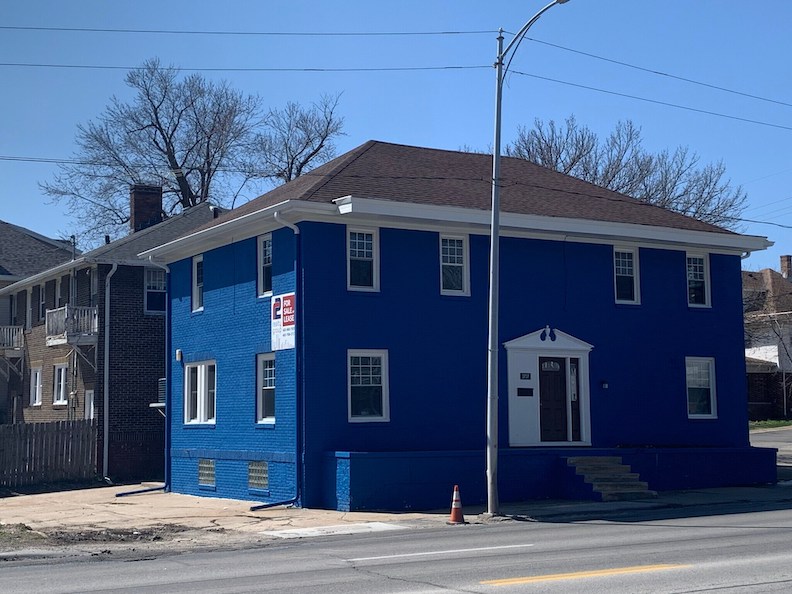 Stripped down even more in 2020.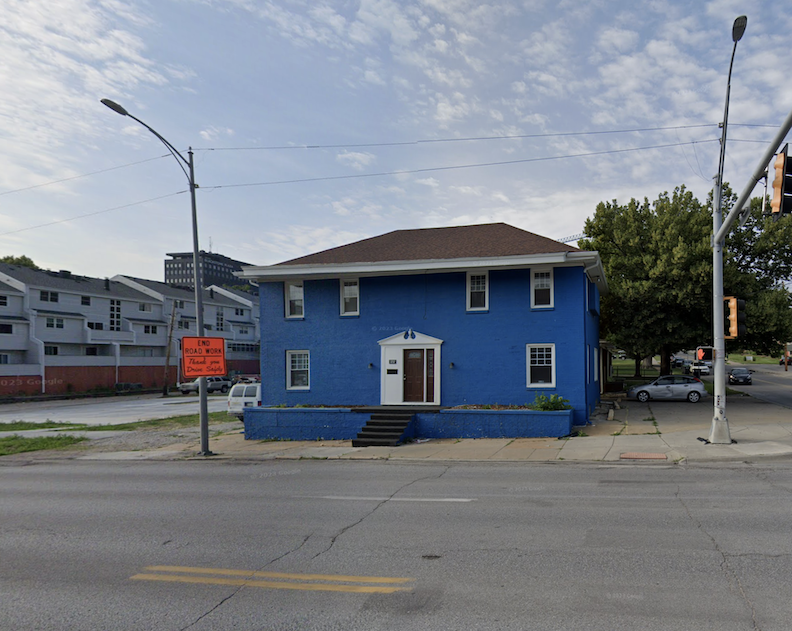 I won't go through all of the history of owners of the building. It is of interest that in September of 2020, DES Properties LLC sold 3737 Dodge to R2 Realty Group LLC for $305,000. R2 Realty Group LLC currently owns the massive empty lots where the 3721 and 3717 Dodge Street duplexes to the east used to stand.

The odd, empty lots where the duplexes used to be. The alley remains, thank you, Ghosts of City Planners of the Past. The Gables Condominiums at 106 South 37th Street are viewed to the east of the alley.  It all makes me wonder what R2 Realty is going to build in these empty parcels. Are they just leasing or lending Women's Care Center Inc. 3737 Dodge for the time being? Are they going to plan a big apartment, mixed space complex on this corner? Or just holding tight to see what happens?
I went digging and found R2 Realty Group LLC, under the name Ryan Basye, entered an Omaha City Planning application of October 27, 2021 to rezone 3717 and 3721 Dodge as additional parking "to be added for the existing office building at 3737 Dodge." That application is here:  https://planning.cityofomaha.org/images/PDFs/PlanningBoardApp/2021/November/19.pdf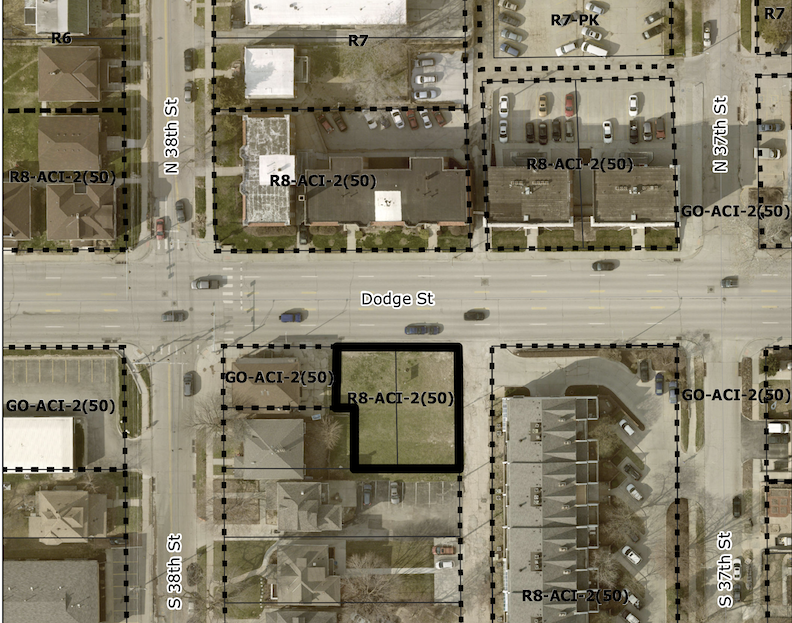 Why would they want to change empty parcels to parking for 3737 Dodge when they were just going to sell the building? Theory: R2 continues to own 3737 Dodge, and the accompanying two duplex lots, now parking lots. They are letting the Women's Center use the 3737 building until R2 eventually tears it down and joins in the Midtown Refashioning of 36th to 40th Streets on Dodge.
A call to County Assessor connections revealed that in May of 2023, a permissive exemption on 3737 Dodge was entered, to allow tax free status. By letting this charitable organization use the building, R2 Realty doesn't have to pay taxes on the parcel until they are ready for their development plan.
**Addendum of August 7, 2023** And my theory was completely wrong. I just received information from Ryan Basye of R2 Realty Group LLC. He cleared up a lot of information. R2 Realty remodeled the 3737 Dodge Street property and sold it outright to the Women's Care Center. Actually, all three lots (3737, 3721, and 3717) were sold to the Women's Care Center. The County Assessor was supposed to make this all one parcel but it has not yet been updated. He wanted to be clear that it was listed on commercial sites, including the parking lot.  There was and is no intention of tearing it all down. Thanks, Ryan, for clearing this up.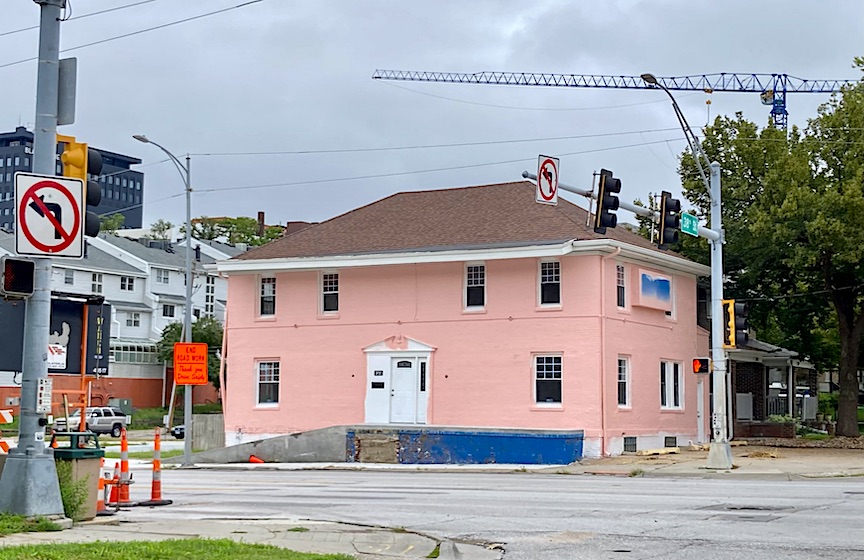 Thoughts? Secret tips? Photos? Let's hear it, friends.
Thanks to all,
Miss Cassette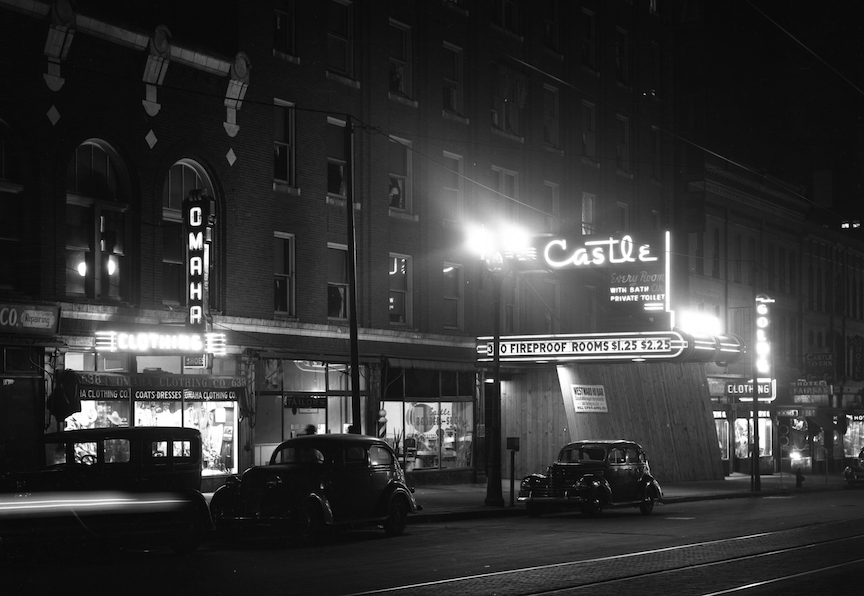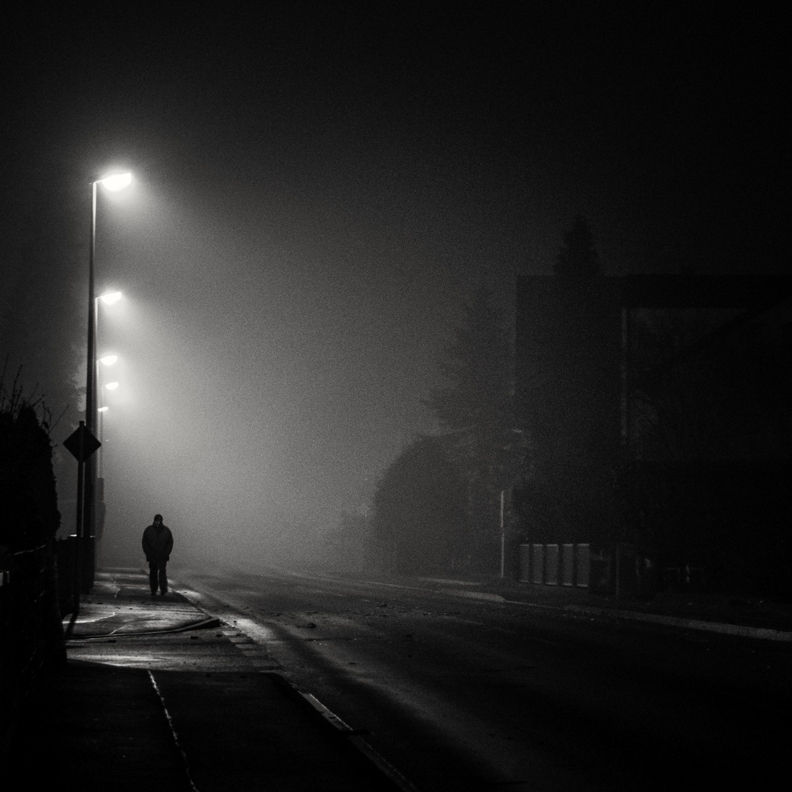 © Miss Cassette and myomahaobsession, 2023. Unauthorized use and/or duplication of this material without express and written permission from this site's author and/or owner is strictly prohibited. Excerpts and links may be used, provided that full and clear credit is given to Miss Cassette and myomahaobsession with appropriate and specific direction to the original content.