Tiny Bit of Confusing History: The Radcliffe Apartments are three separate but similar apartment houses, built quite close together. They all have three floors. 105 North 38th Street faces west and has five total units. 3716, 3718 and 3720 Dodge all face south and together have 14 units. According to the Douglas County Assessor (at times, inaccurate) 105 was built in 1929 and the three Dodge facing buildings were built in 1927. Another source says that all four apartment houses were constructed in 1900. Durham Museum (also sometimes makes mistakes) has the leading photo dated as 1924. There could be discrepancies in any of these dates. This part of town is called Midtown and more specifically Kilby Place, according to Omaha City Planning. Although no one has ever breathed those words, Kilby Place, in my presence. I believe this is part of the Gifford Park Neighborhood. It could also be considered on the fringes of the Joslyn Castle area or the Cathedral area or even the Duschene area. Perhaps the North Gold Coast Area.
Upper: January 11, 1924. Dodge Street looking west at 38th Street intersection. (Photo courtesy of the Bostwick and Frohardt Collection at the Durham Museum Photo Archive.) Lower: March 24, 2016.
Radcliffe Apartments ad from March 2, 1930. "Of the Better Type.
The Radcliffe Apartments
I am obsessed with the Radcliffe and I'm not afraid to tell you why. I will tell you why, I promise, in just a little bit.  But before I do that, just look at the first two photos. I mean really look. If you squint a bit, we are almost there. We are almost back in 1924 (or whenever the heck that photos was taken) in the 2016 photo. I get that Dodge Street was widened and obviously we don't know how to make sidewalks like we used to. I can discern that the street lamps were better in the 20's (beautiful design, I do say), the cars had more personality, the landscaping was superior, the lanes were tidier. I am glad to see the original houses, actually all duplexes or broken into apartments, still leading west on Dodge. Have you noticed that quaint little sign, just happily flapping there on that street lamp on the left? It proudly states "Parallel Parking" in a hand-painted script. Wonderful. Can you imagine parallel parking on 38th and Dodge? Even the 20's photograph is finer than my iPhone snap. So a lot is different and in not so pleasing a way, I might suggest. What gives me the feel of the 1920's and why the 2016 photo is so very similar are the incredible Radcliffe Apartments. There they are. 100% solid and smartening up the whole corner, the whole neighborhood. That is what graceful, forward thinking architecture does. Every time I pass by this corner I feel good.
My obsession with the Radcliffe started in the mid-90's when a close girlfriend of Miss Cassette's asked if I would be interested in moving in. She had already lived in 105 North 38th a while and had an open room. Of course I said yes. This was back in the days when Miss Cassette would move every single, blessed year just so I could experience life in all of Omaha's old, glorious, apartment houses. I could not wait for a year's lease to end so I could move on to my next beautiful, bygone place. Which was a huge burden on any friends who helped me move all of that crated vinyl. But back to the Radcliffe…I was overjoyed to move in.
The living quarters were smartly laid out. A good sized living room flowed into a formal dining area, wrapping around to a big kitchen with a nook area. A large door in the living room separated a very large hallway, the two bedrooms and a full bathroom. The generous lay out lent itself well to two roommates who at times wanted to do different things. One could socialize while the other studied. Someone could sleep while the other listened to music. All of the apartments in 105 were corners, so the windows were on three sides and huge panes of glass. I can still hear the rush of the MAT bus shwwoooshing by the building and gently shaking those true blue, old time windows. The floors were wood, the ceilings were high, the walls were solid, the woodwork was beautiful, the closets were plentiful and large…and, and there was an old phone booth type area in the main coat closet, including old numbers and names written on the wall. The bathroom was 1920's perfection. I loved this apartment so much that I broke my old habit of moving and stayed for a couple of years, living with a number of different roommates.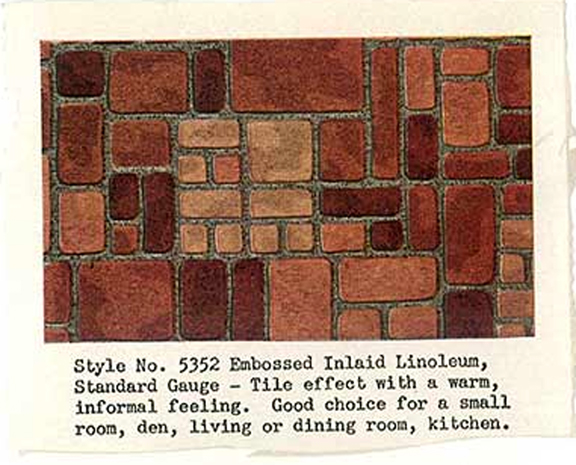 This was the linoleum floor pattern in the kitchen, as I remember it. I recently came across it when doing a search for 1940s linoleum and there it was!
The Dish on Mid to Late 90's Radcliffe
I'm going to give you the goods on the Radcliffe Apartments as I remember them. This may or may not be the absolute truth. There were so many great artist and musician friends that lived up and down 38th Street. This time was filled with parties and small gatherings. It was common to see people I knew coming out of various apartments and houses as I pulled up to parallel park on 38th Street. I remember hearing my new neighbors downstairs, two younger girls, roller skating on those wood floors. It seemed to go on all night. I would meet them days later and fall in love with the flowers and creeping vines that they painted on their walls. We became friends at one of their many parties. They infamously had large, costume parties. You might have even been there.
West side of 38th Street: a long series of great looking duplexes.
I was obsessed with the story of the woman who lived on the first floor. I never saw her. In fact I never saw anyone go in or out of that first floor apartment…ever. Just an older lady's name on the mailbox, written in shaky handwriting. Mrs. Somethingorother. I don't remember the name, just that she was a "Mrs." and of course, her story. Apparently her husband, before he had died, paid for her to live at the Radcliffe "for the rest of time or until she died." He was also rumored to have paid to have dozens of roses delivered on their anniversary every year until the end of time or her death….I am not kidding. This is what my first roommate in the building told me. Apparently her parents confirmed this story.
Cutie Pie Four-Plex, just north of the Radcliffe Apartments.
Now around this time I started noticing the most glamorous late 70's or 80 something year old around the area. She would commonly wait for the bus on 38th and Dodge beneath my window. She only wore skirts, silky blouses, full jewelry, heels, deep suntan panty hose and FULL makeup. Serious pink cheeks and eye shadow. She was fine boned and small. But Her Hair was the real whipped cream. My gosh it was spun like the sweetest cotton candy. Always set. Always immaculate. Her hair was tinted blue or purple or pinkish and sometimes (My Favorite!) BLACK. Pitch black. She was absolutely fascinating. She gave it all and put so much into her look. You rarely see this type of woman any more. I fear they have all died off. After all, she was in her late 70's-early 80's in the mid 90's. I began to imagine that she was Mrs. Somethingorother. I have no way of knowing this.  Miss Cassette, although very curious in those days, was not much of a detective yet. I will say that years after I moved from this neighborhood, I would still see her rolling her grocery cart up and down Dodge, waiting for the buses and still looking smashing in heels. Sadly, I have not seen her in a very long while.
There were two lovely men living on the second floor. One was quite a bit older than the younger. They claimed that the younger (early 40's) was the assistant or care taker of the older one. I want to say that the older one was named Bill. He had to be in his 70's then. They were both quite tan. I mean, bronzed tan. We did not know tan like this in the 1990's in Omaha. They looked great. Together they wore Hawaain shirts with gold jewelry to include many rings, diamond earrings and gold chains. These two loved their collections and their antiques and their knick knacks–so much so that they took to decorating their front door. Pretty soon it all oozed out into the hallway. They had their rugs, their tchotchkes, a hanging monkey, tons of macrame plant holders with plants everywhere, books on antique bookshelves, shell wind chimes and a big ceramic art piece–all out in the hall. It was fantastic. Now mind you this was all teetering on the top of a small landing when you had just climbed the first floor stairs. It was not possible to walk past to the second set of stairs without bumping into part of their unending collection. Some of my friends would occasionally redecorate for them, which the couple were always accepting. Kind of like a collaborative installation. I loved going down to visit those two fellas and spending time in their apartment. That is one of the things I miss the most about apartment living–getting to know such a variety of different types of people, like a little theatre cast of characters.
1990's Radcliffe garage sales.
One of their passions, as you might have guessed, was garage sales. Their own garage sales. Living on 38th and Dodge, they had four sets of traffic lights and a captive audience at their disposal. Every spring, summer, and fall these two would haul all of their goods out onto the lawn. They sold every Saturday and Sunday, all day. Relentless. It was phenomenal. They made so much money. It was flea market meets Second Chance. At times I just marveled at the hoards of bargain hunters coming and going across the lawn. I would wake up early on Saturday to the sounds of people rummaging through the yard, squabbling about pricing.
1990's Radcliffe garage sales.
1990's Radcliffe garage sales. I miss that law office, on the southeast corner of 38th and Dodge Street, being painted black. It looked so cool.
Probably one of my favorite memories of this time was when an older, gorgeous Latina woman and her beautiful, adult daughter moved in across the hall from me. There was one day when we got to discussing eyeliner as we were all sitting around their kitchen table. The mother and her daughter began trying to convince me, in earnest, to get a black line tattooed around my eyes permanently. They had both recently gotten these tattoos and, aside from being quite taken with their new looks, they believed that I could benefit from the long term savings on common kohl eyeliner. I thought of the time saved in not needing to draw those ritual black wings on every day. I often think about how very seriously I considered this proposition, even taking their tattoo artist relative's number. Just the other day as I was driving past the Radcliffe, I thought of that kitchen scenario and the beautiful mother and daughter. I began thinking about how much my eye shape has changed over the years and what those eyeliner tattoos might look like now.
I would love to hear your stories of this great part of town or memories of the Radcliffe Apartments. To enable comments, please click on the header title.  If you'd like to send me a private email about Omaha buildings and news, please write at myomahaobsession@yahoo.com.  Thank you, Omaha friends.
© Miss Cassette and myomahaobsession, 2016. Unauthorized use and/or duplication of this material without express and written permission from this site's author and/or owner is strictly prohibited. Excerpts and links may be used, provided that full and clear credit is given to Miss Cassette and myomahaobsession with appropriate and specific direction to the original content.