I do indeed believe that today we shall be able to get right down to business. Without my dropping of Sam Spade-ish hints and lingering confessionals, I believe we will make good time. I will get to it, right away, I promise. But first allow me to explain that I am right in the middle of a fantastic, complicated investigation focusing on a large, beautiful farmhouse right in the center of our fair town and have been quite consumed with this new obsession. I only share this tidbit so you can understand my despair when this Dark News came knocking. I assure you, I was not out poking under flagstones or behind iron gates. Friends, there is no pretty way to put this.
The News
Word on the street is that 3812, 3816 and 3820 Harney Street are slated for demo in the very near future. This news was brought to my attention and verified by a handful of Omaha Operatives in the know. Other tips came in from neighbors when Terracon was seen with a big truck and drilling rig on this block just last week. This is a neighborhood very dear to Miss Cassette as I have lived off and on very near these homes. These large homes, originally single family dwellings, were early anchors of the West Farnam Neighborhood, Gold Coast Historic District south, also known as the Blackstone District. This specific block is a part of the Highland Place development of the early 1900s. A visit to the Douglas County Assessor's site reveals that these three properties were acquired by the cryptic 3820 Harney LLC, which mysteriously carries an Omaha P. O. Box address. My operatives tell me that this LLC is a guise for yet another Clarity-GreenSlate Development Blackstone Property Grab. Reportedly the plan is for Clarity to undertake the demolition on the three properties, the resulting proposal: a huge apartment complex extending across the three parcels. GreenSlate will then, apparently, take over the management of the property.

Left to right are 3820, 3816 and 3812 Harney, wedged between 38th Avenue on the west and 38th Street on the east. As seen in November of 2016.
Miss Cassette's Opinion
Here are my personal thoughts on this business of tearing down solid, well-built homes in order to a construct large apartment building of inferior materials. Fundamentally, there are some personal matters of taste which you should be acquainted if you are new here. A short list to be reviewed at your leisure: I like old. I like profound ugliness mixed with my beauty. I embrace earthiness and patina and moss. I adore a building that is too hot in the summer and too cold in the winter. I believe a home linen closet should be tall, skinny and irregular, hopefully with one shelf leading to a laundry chute. In fact, an apartment or house should have many fitful closets that serve almost no utility at all, save for a nice cat bed. Pursuit of Luxury is a Weakness and modern apartment amenities are a vile thing, to be avoided at all costs. Please do not speak of apartments and amenities in the same sentence unless you are whispering about a 1920s gated elevator or a true butler's pantry. Windows, of course, should be large and fully functional—after a good emotive shove.

Lynn Meyer's photo of 1986, showing the block, including a fourth house, now torn down.
Back to the Opinion
Let us return to my thoughts on this fateful plan to be. I am all for filling in parking lots, empty holes or previously razed parcels of land with new buildings. I can accept the secret urban code word and concept of Density. I can even understand taking down non-contributing buildings in a historic neighborhood and filling in with more functional structures to include multi-residential housing and businesses. We have already seen this along 38th and Farnam with the removal of  three houses and a gas station, considered non-contributing to the historical context of the Gold Coast neighborhood. My concern is this: These three homes (3812, 3816, 3820) are solid, beautiful, contributing buildings to the Gold Coast Historic District survey. These three grand old homes on the Harney side represent the very properties that make Midtown what it is today, very much like it was yesterday. These historical homes are the very reason that this area is popular. The two western-most buildings at 3820 and 3816 have long ago been broken up into apartments and have housed students and small families ever since I can remember. 3812 was a single-family home, lovingly cared for and toiled over by its stewards when we used to live in the neighborhood. In fact 3812 has a National Register plaque** on the front of the home announcing its historic merits. There was a fourth home but it was already torn down for the Dundee bank project's drive thru that went into the old McFoster's Natural Kind Cafe. On the block's flip side, facing Farnam Street, there were actually three other homes torn down for the Dundee bank parking lot or perhaps, future plans for this current apartment building.

3812 and the lot to the east that used to be 3810 Harney, now part of the Dundee Bank parcel.
**I have received some comments and emails already about what a National Register Listing can do for one's home or if it can prevent a future owner from tearing down a home. This listing can not prevent a future owner or the city from razing a structure. Consider the Jobber's Canyon Historic District. This historic listing is considered an honor for many home owners but it comes with some financial breaks as well, sometimes offering a percentage of rehab costs back to the owner. It is essentially a nod of recognition that one's home is of historic significance to a city, state or neighborhood.

Aerial from 2010, showing the four missing homes. Photo from the DOGIS site.

2017. Aerial of how the area looks now, minus four properties. Photo from Google Map.
As if Midtown wasn't already saturated with these mixed Soulless Space Box apartment buildings, these three old homes are already fully functioning, two being appropriately-priced apartment rentals. These are the kind of places that people are looking for when they want to move to Midtown: solid, magnificent, historical, affordable, a marvel.

38th Avenue facing east.
I must point out that although Harney is a popular thoroughfare, it is quite narrow through this part of the neighborhood and it confounds the mind to imagine an apartment building of that immense scale stuffed onto this narrow street. There are already so many pedestrians and bikers through this quiet community. Can one fathom the stress on these little side streets? Does the Gold Coast-Blackstone Neighborhood Association approve of this new project or even know about this? We are now okay with tearing down whole blocks of contributing, historic homes filled with inexpensive housing in trade for dismal looking apartments that rent for $800-1200+ a month? When will there be enough half-rented, poorly built apartment complexes? Why is this nightmare being foisted on Midtown where character and density are already intact?

This stretch of parking lot along Farnam (to the east) is just asking for housing (if a parking lot could ask for housing) and has been a barren Blackstone Hotel lot for as long as I can recall. This block was once filled with gorgeous West Farnam mansions. Seems a perfect place for a 110-apartment complex. But then again, I'm all for breathing room. I say we've got enough Midtown apartments.
A Look Back
Let's a have a very brief look into the past of these three homes. For those readers who like an indepth study, this is not one of my thorough investigations.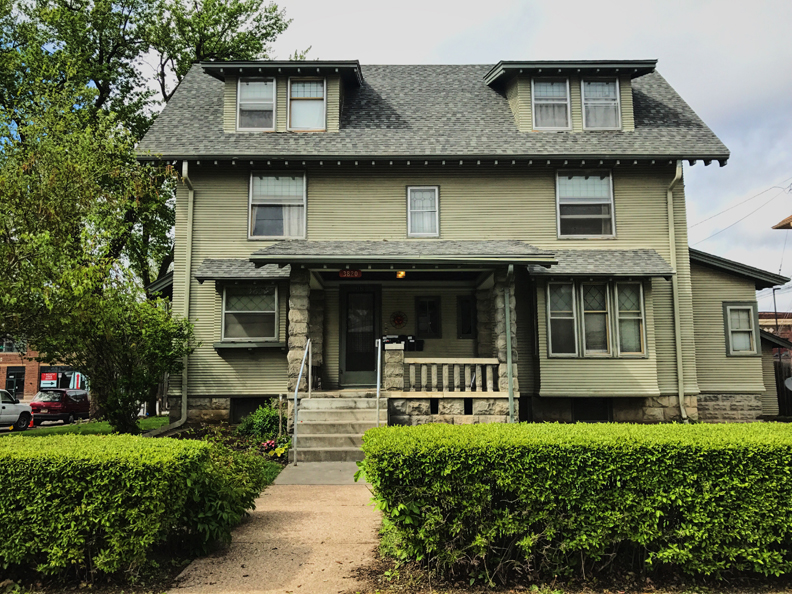 3820 Harney as it look today. Gorgeous photo by my friend, Kevin Cruise. Please see more of his incredible work at http://cruisekevin.wixsite.com/kcruisephotography
3820 Harney, according to the "National Register of Historic Places Registration Form," a report completed by Stacey Pilgrim and Lynn Meyer in 1997, was known as the J. W. Thomas home. Apparently built in 1908, this huge house is 2,699 sq ft and proudly stands on the corner of 38th Avenue and Harney. The Douglas County Assessor's site also reports that 3820 was erected in 1908. I was not able to find mention of 3820 Harney until a 1910 advertisement for in-home servants. It is interesting to note that the neighborhood was probably not yet called the Blackstone District as the Blackstone Hotel, for which the area was named, was not yet built. This incredible hotel would come to the area in 1916. The upper class neighborhood was still called West Farnam. 3820 is one of the earlier West Farnam homes still extant.

Early 1980s photo of 3820 Harney from the Omaha Planning Department. Photo by Lynn Meyer. Thanks to Trina Westman of the Planning Department for sending me this photo.

By 1919 homeowner, Mrs. Paul Skinner, went on a very exciting seaplane ride, which was captured, in full detail in the Omaha World Herald.

December of  1921, Paul Skinner, her husband, former head of the Skinner Packing Company had sailed for Europe. I am not sure how many children the couple had but they had a whole bevy of servants to help care for that large home on the corner.
At some point Mr. and Mrs. Martland were living in the large home. In 1936 it was announced that the Martlands would move from their family home of 3820 to the Fontenelle Hotel, "Where they will live permanently." In the late thirties the large home was rented out by floors and boarding rooms, advertised  as a "good neighborhood." This was a trend in the later 1920s and 1930s as West Farnam families strained to keep these expensive, large homes afloat.

Eventually in 1950, 3820 Harney had been broken up into nine apartments. Nine!

Here is wonderful 3820 Harney in 1968 after a serious thaw.

3816 Harney Street. Great photo by my friend, Kevin Cruise. Please see more of his incredible work at http://cruisekevin.wixsite.com/kcruisephotography As you can observe, a Shingle delight!
3816 Harney is 2,927 ( or 3,080?) sq ft home, situated in the middle of this short block. According to the Douglas County Assessor site this home was built in 1907. I discovered it for the first time in 1909 when the W.J. Hynes family lived there. Mrs. Hynes was advertising for servants and nannies and such. This family notoriously lived at 432 North 38th Street in a Jacobethan Revival wonder in the north Gold Coast area.

Early 1980s photo of 3816 Harney from the Omaha Planning Department. Photo by Lynn Meyer. Thanks to Trina Westman of the Planning Department for sending me this photo.

1918 announced in the Social Pages that Mr. and Mrs. D. M. Vinson-Haler were to move into the 3816 Shingle Style.

Now this is very interesting. A judge turned gentleman farmer. In March of 1920 Mrs. Visonhaler sues for divorce because of extreme cruelty.

In January of 1934 Mrs. Emma Skinner ( a different Mrs. Skinner than had lived at 3820 Harney) and sons were suing for life alimony. Soon after Mrs. Skinner  began renting out various floors and rooms in the 1930s. After that the home became a sort of rooming house, no doubt because it had become difficult to make ends meet. By 1935 "Grand large home" rented out floors and or rooms with meals optional. "Six bedrooms, a sleeping porch etc." The huge house became rental apartments from that time on.

3816 Harney Street from the Douglas County Assessor site. Most recent owners, Frank and Paula Uhlarik, sold 3816 to the mysterious "3820 Harney LLC" in March 2017 for $220,000.

The gorgeous 3812 Harney Street. Nice photo by my friend, Kevin Cruise. Please see more of his incredible work at http://cruisekevin.wixsite.com/kcruisephotography
3812 was built in 1907. I found conflicting information. In fact there were a number of mysteries with this 2,927 sq ft property. From Zillow "This amazing home is listed on the National register of Historic Places. Designed by renowned architect Thomas Kimball the home is gorgeous & boasts large formal rooms. Beautiful woodwork throughout including gossip bench, coffered ceiling & much more. Wonderfully updated kitchen & bath. This home is a must see for any history buff!" Yet, according to the Frederick A. Henninger site, this other well-known, prolific Omaha architect built 3812 Harney in 1909 and was called the "Frame House." I believe this was a Henninger, although I found proof it was erected by 1907. But I, personally, love the 3812 stucco home because of the people who once lived there. Mr. Cassette and I would often see them working on this beauty when we would go for neighborhood walks. I believe they were the ones to adhere that plaque on the home. I clearly remember when it was put up for sale and I would desirously study those interior photos.

January 22, 1907 was the first advertisement for the home. "House-A-Day" Henninger was selling on the cheap!

By July of 1909 Mr. and Mrs. W. J. Burgess had moved into 3812 Harney Street. This couple was featured in my previous story The Case of the Curious Cricket Room and Burgess-Nash Company . Another well-known Omaha family, the Coads, made 3812 their residence in 1916. I've got the Coad story coming up in a future story about the Hi-Fi House on 38th and Farnam.

Early 1980s photo of 3812 Harney (large white home to the right was 3810 Harney) from the Omaha Planning Department. Photo by Lynn Meyer. Thanks to Trina Westman of the Planning Department for sending me this photo.

"Numbered among the attractive matrons of Omaha," Mrs. Lloyd M. Skinner was featured in the Omaha World Herald after recently moving into 3812 Harney in 1919. Yes, this was the third Mrs. Skinner to live in these consecutive houses. This was also the second wife of Lloyd M. Skinner. The previous wife had sued him for life alimony, if you will remember. So bizarre?!! It looks like the did not live next door to one another at the same time. The second Mrs. Lloyd M. Skinner (featured above) was a regional performer known for her oratory work on the stages of Chicago and her readers' training at a summer program held on the Harvard University campus. Other proud owners included the Mr. and Mrs. Albert Sibbernsen family in the mid 1920s, Mrs. Anna McDonald in the late 1920s, Mr. and Mrs. Charles Allison in the early 1930s and Mrs. Lena B Boord from 1966-1974. Sometime in the 1970s, 3812 Harney Street was commercially zoned. for more on this incredible neighborhood, check out my article Brothers Lounge and the Case of the Vanishing Mom and Pop.

3812 Harney stucco majesty. Photo from the Douglas County Assessor site.
For days these previous troubling questions have presented themselves over and over in my mind.  And yet no immediate Harney Street answer was forthcoming so I thought to tell you, my house loving friends. One morning or one evening in the very near future, I hope you find yourself walking around the 38th Avenue and Harney corner. And on that corner, I hope you soak up all that you can soak and take that long beautiful memory with you.
**Addendum of July 2, 2017** The demo of the three houses began a couple of days ago. According to neighbors this take down was to be a proper deconstruction, dismantling and salvaging re-uable historic building materials. This is a time consuming, meticulous process that did not appear to transpire in the end.



I welcome your feedback and comments on these homes, their history and the incredible authentic Gold Coast-Blackstone area. To enable comments, please scroll below. You can keep up with my latest investigations by "following" myomahaobsession. You will get sent email updates every time I have written a new article. Also join My Omaha Obsession on Facebook. Thank you Omaha friends.
© Miss Cassette and myomahaobsession, 2017. Unauthorized use and/or duplication of this material without express and written permission from this site's author and/or owner is strictly prohibited. Excerpts and links may be used, provided that full and clear credit is given to Miss Cassette and myomahaobsession with appropriate and specific direction to the original content.