It is true that these new boxy buildings popping up around town have made fast friends– and enemies too. Like the new girl in junior high, some of us are drawn to novelty and uniqueness. We are refreshed with a new perspective and are welcoming, regardless. Others of us are leery or reserved, not quite sure what to make of the new dynamics. The remaining still may be trying to ignore the newcomer in hopes she'll go away or get the message. The apartment building at 119 North 72nd Street, named Swivel, is the new girl on the block, although she's actually been here longer than most on the strip. (We'll delve into her history in a bit.) J. Development incorporated their new apartment building atop a one-story, longtime, furniture store already onsite. Still in construction phase but "now leasing," Swivel is the first, new multifamily residence to have staked their position in the much-anticipated 72nd and Dodge redevelopment plan.
In today's short investigation we will explore Swivel and the team behind it, apartment building trends and what is possibly guiding their "look," re-use and incorporation of older buildings, my conception of a redefined Dodge Street thoroughfare and a short history of 119 North 72nd Street. Meant as a discussion of New Omaha, this is not a deep dig obsessive piece.
J-Development and Swivel
The building at 119 North 72nd Street is held in the 72 Dodge LLC name. This is the J-Development Company. Established in 2004, this property management and "preservation projects" team has focused on their dream to "build up not tear down." J-Development is known for their historic renovation, such as the Harte Building at 50th and Underwood in Dundee along with reconfiguring older, existing structures. They built the Saddle Creek Records and Slowdown Development including the Filmstreams Ruth Sokolof Theater. https://www.j-dev.com/portfolio/swivel
To their credit, J-Development built the Centerline Apartments at 7007 Oak Street, where they serve as developer, owner and property management. This is a great example of infill on a huge swath of land, previously undeveloped. It is wedged in, what I have always considered, a no man's land. It does not attempt to cram itself into an existing neighborhood, meanwhile it is centrally located. Win-win, in my book. (An aside—at least in my life time, it was always an empty lot but I did go back and find a country home there from the mid-fifties back to the forties.)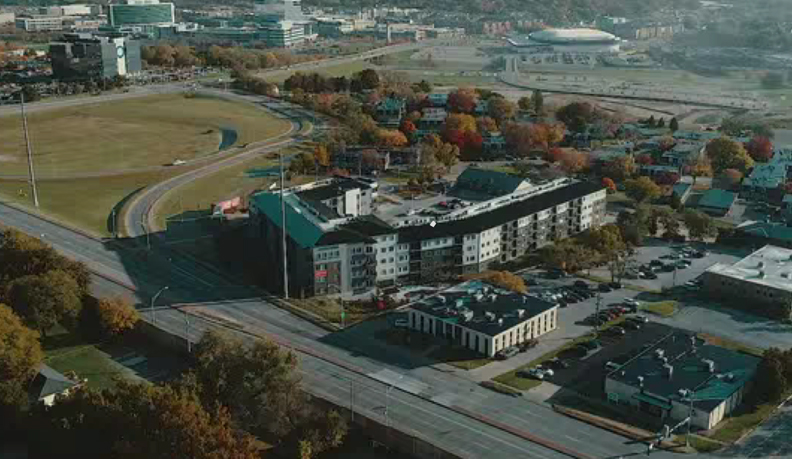 Camera faces northeast angle. A massive, multifamily housing plan–Centerline Apartments. Designed by Holland Basham Architects. Developed and owned by J. Development. The Centerline project offers 162 units. It is just to the east of 72nd, inserted near an off-ramp leading to Center Street. Although gargantuan, the Centerline is bothering no one and surrounded by other rental apartments to the south. If we are going to have this kind of massing, this project gets an A+ for siting.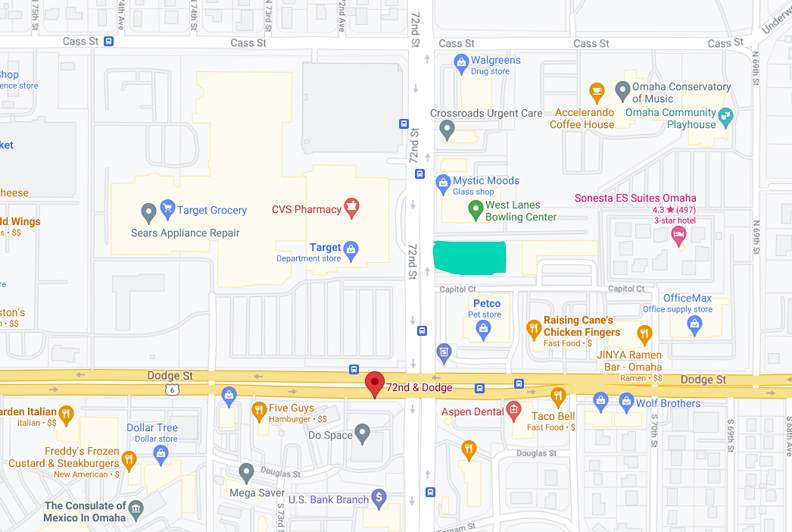 Current Google Map. I blocked out the Swivel property in sea foam green.
The Swivel plan, just north of 72nd and Dodge, offering 158 apartments and street side commercial space, has actually been in the works since J Development's acquisition back in August of 2019. J-Development bought the huge 31,590.0 sq ft Furniture Row retail space with intention to use it as a foundation for their mixed-space complex. Of sound structure, the old furniture store and its up-top addition began, I found, with a building permit from September of 2020.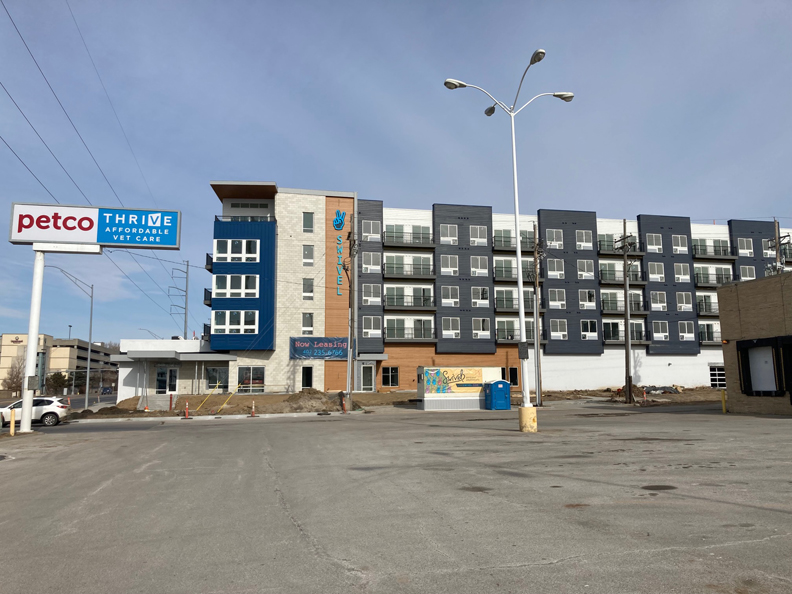 Swivel's southern view, as seen from the Petco parking lot. I took this photo on January 30, 2022.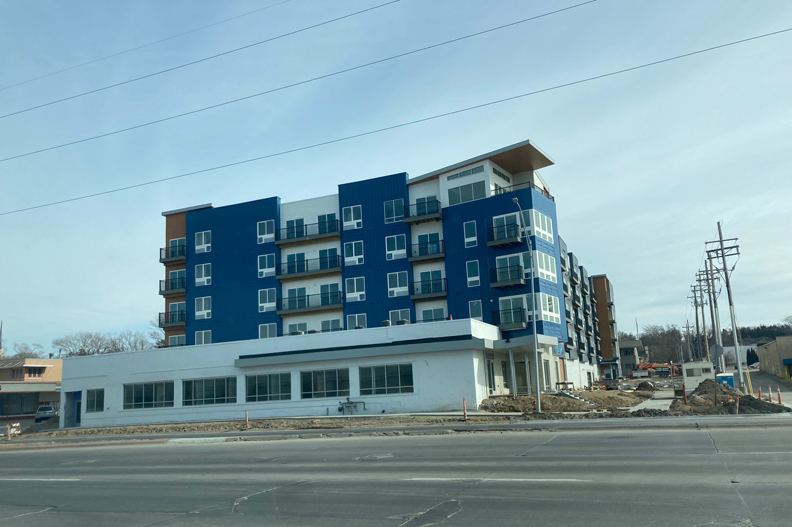 Swivel's west elevation, on 72nd Street. The white portion of the building is the original furniture store, which runs the length of the building. 72nd Street is north-south along the bottom of the photo. J-Development has said, "an office user will occupy about 3,000 square feet of commercial space on the street level" but I do not know who this company is yet.
Addendum of February 22, 2022*** Ryan Renner, realtor with Better Homes & Gardens Real Estate – The Good Life Group wrote in with a clue. "Matt Dougherty State Farm office is going in the retail space."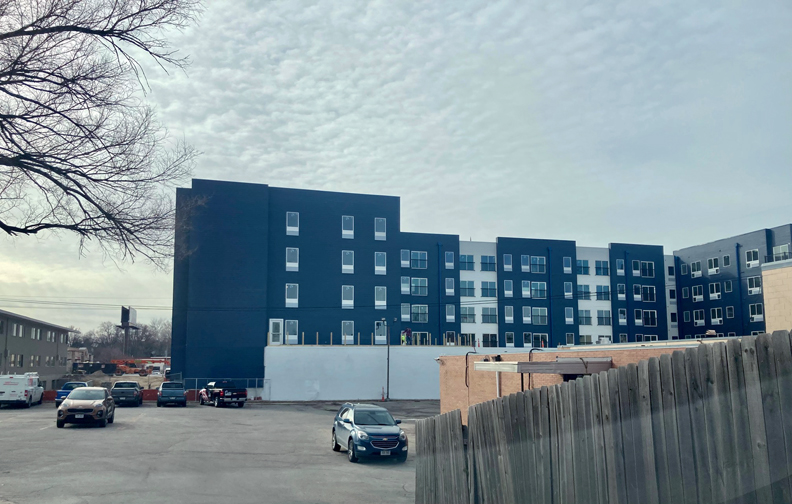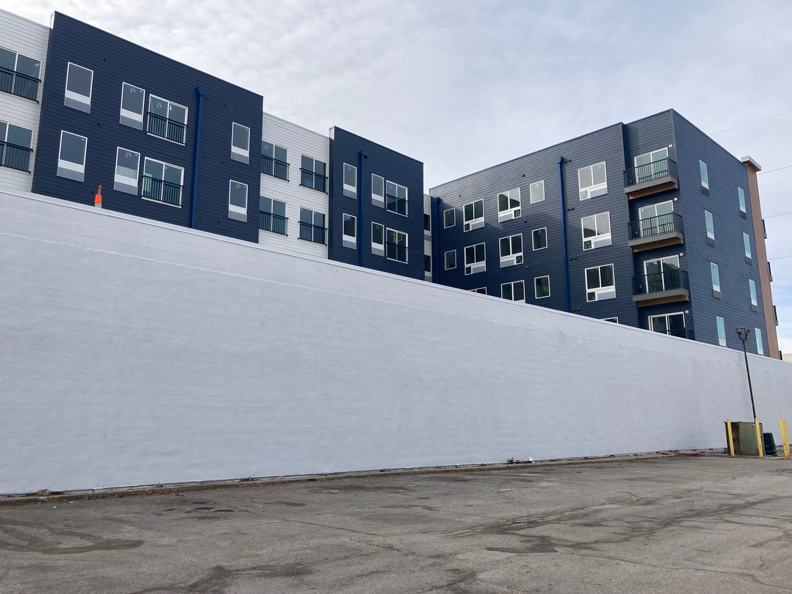 Northern angles, parallel the West Lanes Bowlatorium parking lot. Photos taken in February of 2022.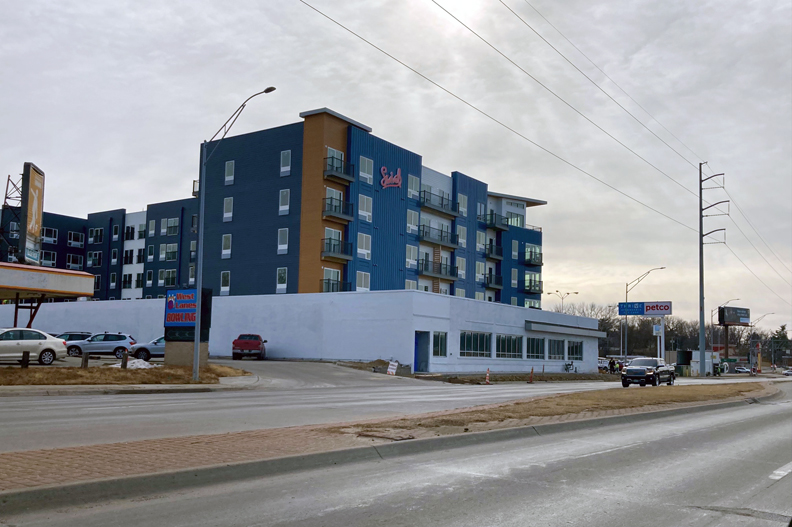 Camera facing southeast angle. I took this photo in February of 2022. From the Swivel website: "Swivel is a brand-new studio and 1 bedroom apartment building with flowing floor plans and modern amenities to fit efficient lifestyles. Leasing spring 2022. Studios start at $795." I will say that this is a low price point for a single apartment, of this style, in town. Personally I don't know why a young person would want to have a one bedroom apartment; when I was single, four or five of us would rent in a pre-war two bedroom and share everything, but I know that was our music scene and now, potentially, human interaction is very different.
In my estimation Swivel, offering studios and one-bedrooms, is most definitely outfitted for the younger set, or those desiring an efficient, minimalist lifestyle. Swivel includes indoor parking stalls and amenities such as a fitness center, upper-level "sky lounge" for residents, outdoor courtyard with fire pits and grills, and onsite management. The complex is bordering the newly excavated Crossroads development, directly to the west. The UNO campus is to the east. Swivel is on the ORBT bus line that Omaha is really pushing. The Do Space digital library is right across Dodge. And here's the coolest, most important connection: West Lanes Bowling is a doorstop away. From the OWH: "The developer is seeking up to $2.86 million from the city in public tax-increment financing. J. Development's Julie Stavneak said her team has talked with city officials about improving the safety for pedestrian and bicycle traffic around the property."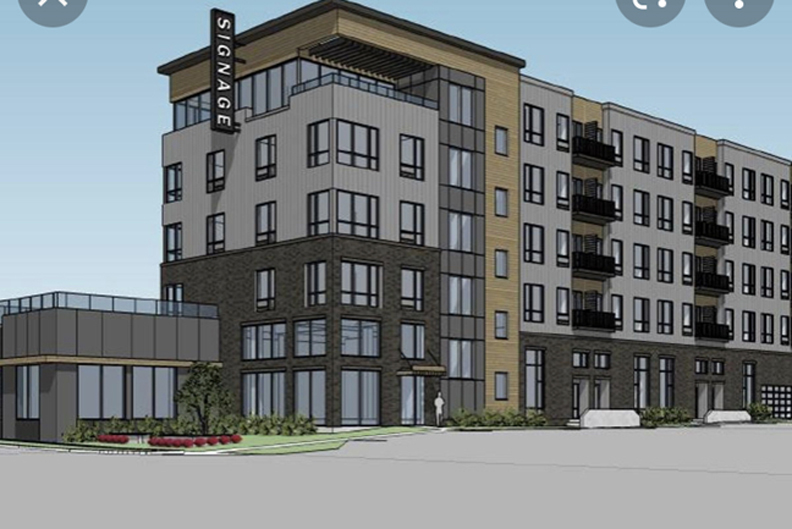 Holland Basham Architects early renderings for the Swivel project. J- Development again teamed with Holland Basham Architects for Swivel's design, as they did for their earlier project, the Centerline. Holland Basham's website labeled their Swivel plan: "High density urban in-fill rehabilitation repurposes exiting furniture store into two level parking garage with retail and apartment lobby."
A Smidgen on Crossroads
Interestingly, unbeknownst to me, Holland Basham Architects is also designing the new Crossroads, with projected opening date in 2024. This immense plan is said to merge retail, business, art, hotels, entertainment, education, housing and health care. The Leo A. Daly's 1960 Crossroads Shopping Center, as it was known, in the northwest corner of 72nd and Dodge would be remodeled and expanded throughout the decades. Frank Krejci had bought the mall back in 2010 with various visions presented to the public over time—always along the line of a mixed housing, retail, office combo. His Century Development would then partner with Lockwood Development and together they announced a new redevelopment plan for the mall site. They would raze Crossroads Mall and rebuild a "$500 million mixed-use campus." Slowly the tenants packed up and the mall trickled to a close. The mall shuttered around September 2020.
For those no longer living in Omaha, the Crossroads Mall is now a flat plane of dirt sans the lone Target Store –the demolition began in December of 2020. I share this information and these images because otherwise it is impossible to understand the city's collective anticipation and the unknowns circulating about "Omaha's busiest intersection." As I've joked before, out of town friends and family members have experienced a drive down Dodge to 90th Street as a barren wasteland, filled with dirt lots and long-weathered construction fencing. The Old West. Tornado Alley. It is hard to envision what will happen next. These images are from the Holland Basham Architects site.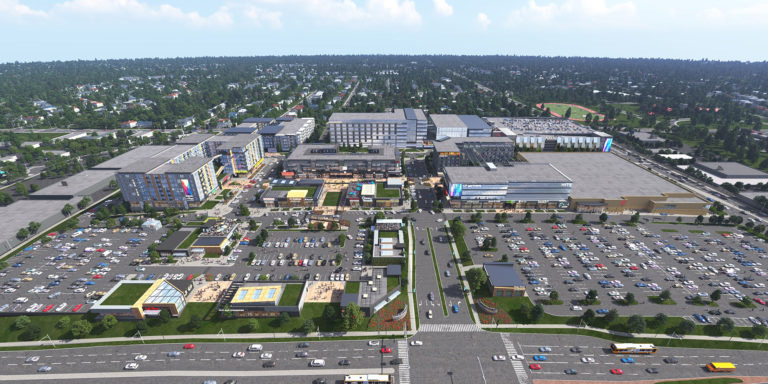 "The Crossroads." Orientation—facing north. Dodge runs east and west at the bottom of the image. Currently present Target store is the beige building on the far right, bordering 72nd Street. Large parking lot on the right side remains the same. The new Swivel apartment building is poised just out of view, facing west toward this parking lot and Target.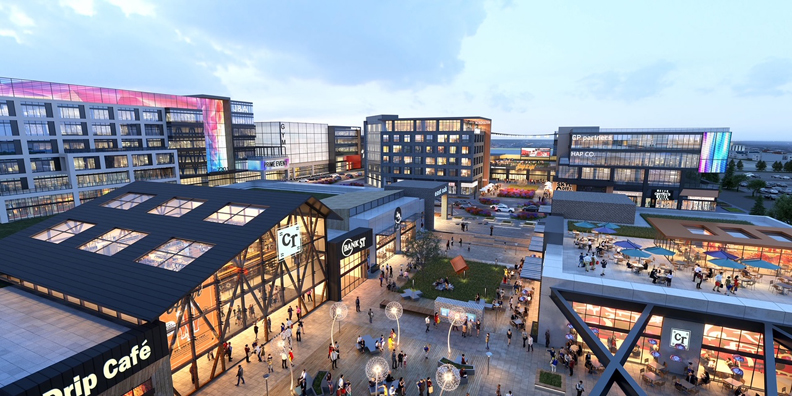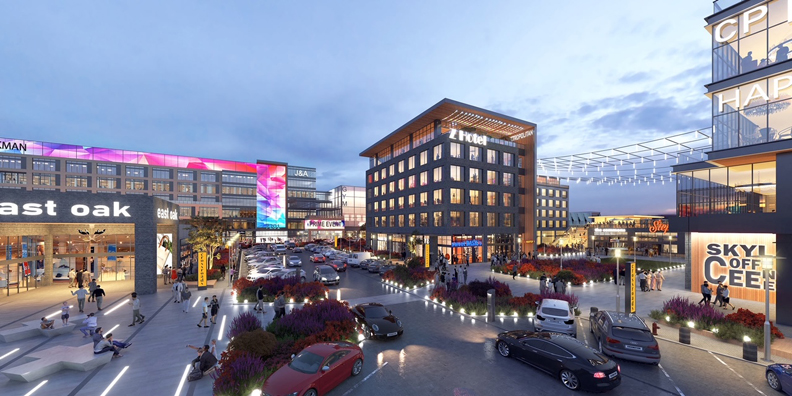 Driving the Look—My Pondering
I understand in typing these words, that many of us find this nation-wide trend in multifamily dwellings innovative, high-density focused, youthful, fun and altogether modernist. Some will label this style of building as gimmicky, soulless, a low-quality mishmash of stud-and-drywall. Here are a few of my thoughts, not entirely fleshed out.
If architecture is an expression of our cultural values, this any-city, large, modernist flat box trend of the last ten years is rumination worthy. This style of building most likely persists in our city, as well as national construction because of practical considerations like money and codes. The argument is, no doubt, that builders and developers are focused on profit and providing "much needed new housing in (insert neighborhood) this area." There are financial constraints and this focus on profit, understandably allows for their company's future projects. I also understand that building material costs have increased and these businesses have got to cover themselves in these cases. Most likely national architectural aesthetics are being shaped by reliance on computer-aided design–again, cheaper and more efficient. The loss of local architectural distinction, because of these practices, is profound when one drives around the country. With builders and architects focusing on efficiency and the bottom line, basic layout formulas and industrial style exteriors are being replicated over and over, honestly much as trends in floor plans existed from WWII on—we just think they looked better. In our city, and obviously other communities, the city planners and approving authorities are rubber-stamping these projects. Additionally when the industrial box style is foisted on an area, much to some in the gallery's dismay, the developers know that folks will gladly commit to a lease and move in.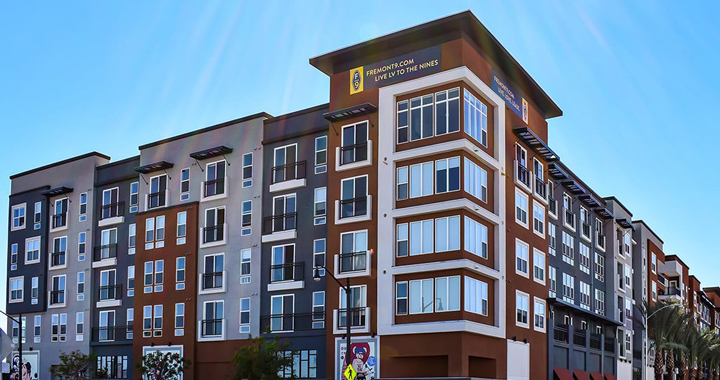 Commodification-driven, computer-generated multifamily housing is simply a mirror of where we are at in contemporary United States. The biggest awareness is that most everything we experience is on a shortened economic life cycle. Some can be lulled or excited with the quasi-luxury of shiny lighting, the over-smothering of a multitude of veneers to the big box residence and the promise of amenities. "The Look Of" has overshadowed and become more important than workmanship. The lure is Escapism. The cruel tickle wink is that it all feels disposable. Rhythm (patterns in walls, windows in architectural mass—lately appearing flat). Scale (square footage and its visibility to public right of way—of late seeming gigantic). Materials (quality of building materials—lacking where some question if these building will last 30 years). These were long elements of architectural design and are obviously impacted with this increasing financialization of real estate development, all things really, as well as attraction to and reliance on the digital realm. Begging the question, do our smoke and mirror surroundings really matter, if we are just staring at our phones? WiFi, technology hubs, as well as work-from-home areas within the apartment or even shared co-operative workstations and large socialization areas to make up for small apartment sqft are on-trend. Modern architecture broke from the past with these goals of pure function and technical innovation—we continue this pattern of urban development.
For more of my writings on boxy Omaha, check out:
New Omaha: Three Grande Old Dames to be Torn Down
New Omaha: 3802 and 3824 Leavenworth
New Omaha: The Substandard Box-In-The-Box Apartments
Which brings us to Pivot, I mean, Swivel.
Another View of Swivel
It would appear that the goal of the Swivel project was a modernist mix of materials, create affordable housing in an up and coming area, increase square footage and find a way to integrate a modern interpretation of the existing building, that didn't seem secondary. The developer-design team seemingly proposed the rooftop addition, set back one structural bay. I don't know if the J-Development team was able to use historic tax credits on this large renovation-addition. Exterior additions within this credit can include multiple floors added to the top of a building, with new structure connected to the side or rear. Usually with any addition to a historic building, (in this case older, but I don't know if this is technically "historic"), the addition must be clearly delineated from the original. Swivel is certainly serving a modern purpose while using the site's historic character to its advantage. One sore thumb vibe, at this point, is that the addition doesn't respect the scale of the 1950s buildings to the north or those around it. The height is helped by the setback from the street, but at this point it is not consistent with its environment. The side elevations are visually prominent from many vantage points. My thoughts are that this will all look differently in the next five years as other buildings fill in.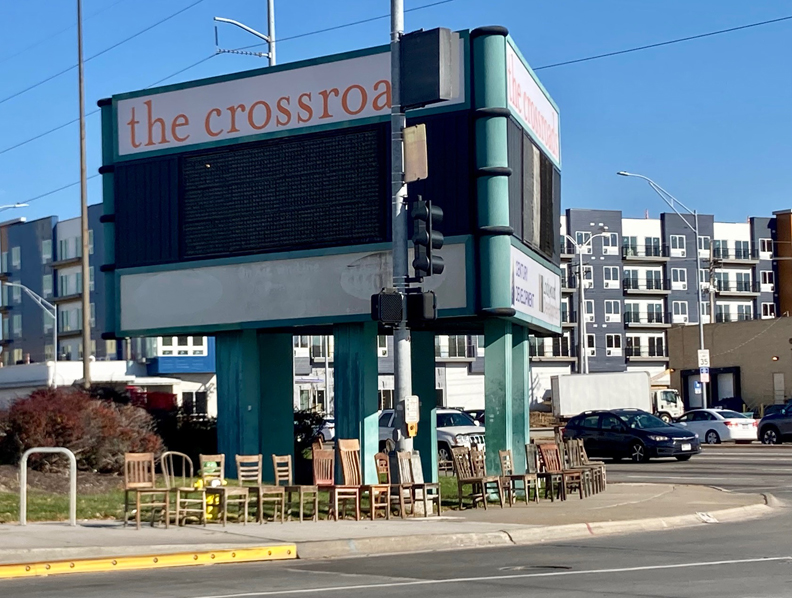 November 6, 2021. Photo I took of the wacky chair lineup under the old Crossroads marquee. The Swivel building is seen beyond. You can get an idea of the scale.
The Swivel building is trendy. That's the point. This isn't a "historic" district. A commercial district yes, but as everyone can see, this whole area is poised for great change. We have been told this will be a densely-built environment (neighborhood) with a commercial core. Swivel is a massive eyeful to take in, what with the varying shades of blue color scheme and rhythm of the top floors, as a high contrast to the neighborhood. I also get itchy about mixing fonts and logos, too many messages and too puny of signs but that's only because I was an advertiser's daughter. I'll be quiet now. Swivel is clearly identifiable; I will give it that. I guess when you're the first newbie on the block, you are also in the position of setting the new tone. Because of heavy reliance on quick trends, her name is Swivel after all, I have concern that this style will not hold value in the long term. As I said earlier, creating a 100-year building (or anything) is no longer a goal. 25 to 30 years is the estimated average lifespan for this new building type. The 72nd and Dodge thoroughfare was not made more beautiful by this apartment complex, but its new functionality was declared. Change is coming to the area and many more buildings of this style, by this architecture firm, will no doubt line up shortly. I can't help but wonder about the long, cold shadow cast over West Lanes Bowlatorium, by the building alone, but I know they can thrive in this new, young people environment. I have promised my dear friend, Mike Pirruccello, a thorough investigation into his family's West Lanes—so look for that upcoming!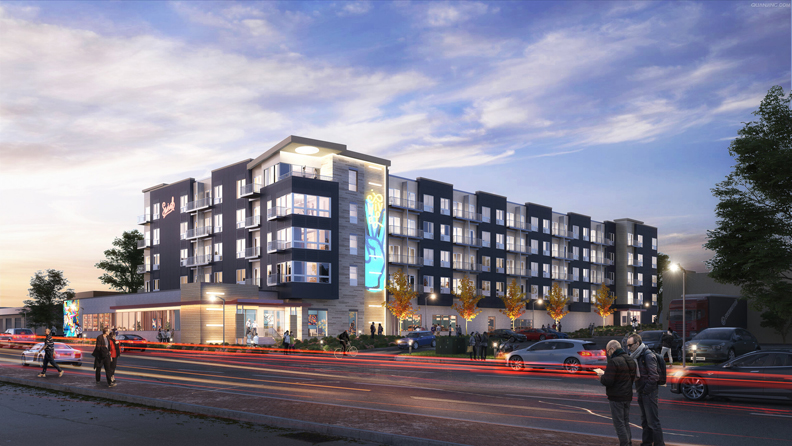 Nighttime Swivel computer rendering borrowed from Holland Basham Architects.
Lest you think today's missive is all doom and gloom…
Adaptive Reuse
I am impressed with a number of key decisions on the part of J-Development and their Swivel project. I respect that this apartment was built to incorporate the furniture store that has stood on the 119 North 72nd lot my whole life. How many times have we asked for this architectural repurposing and integration? The brilliance and true honorable commitment inherent to this project is that the apartment addition extended the life of the original building, which would otherwise be abandoned (it was already) or that it would be razed in time. Most developers would see the furniture store as infeasible of supporting modern uses. The new portion "façade" is set back from the parent building and certainly the addition looks different enough, good or bad, as not to be confused with the 1960s building. I understand that not everyone desires the patinaed copper and limestone façade that we do, but heck, even the original furniture store was never a real beauty. We are not hear to talk about the pretties, we are here to talk about the good bones, practicality and utility. Holland Basham and J-Development's reinvention is fresh and in line with preservation. Honoring of our heritage (the history of 119 North 72nd Street is coming up, I promise) and reimagined for the future—we've now got a building that's unusual and a discussion point. What could Omaha look like if we had reinvigorated and made additions to our older buildings, rather than tear down? I know it's not possible to save every building. This is true mixed-use development. We need more of this in Omaha. Bravo.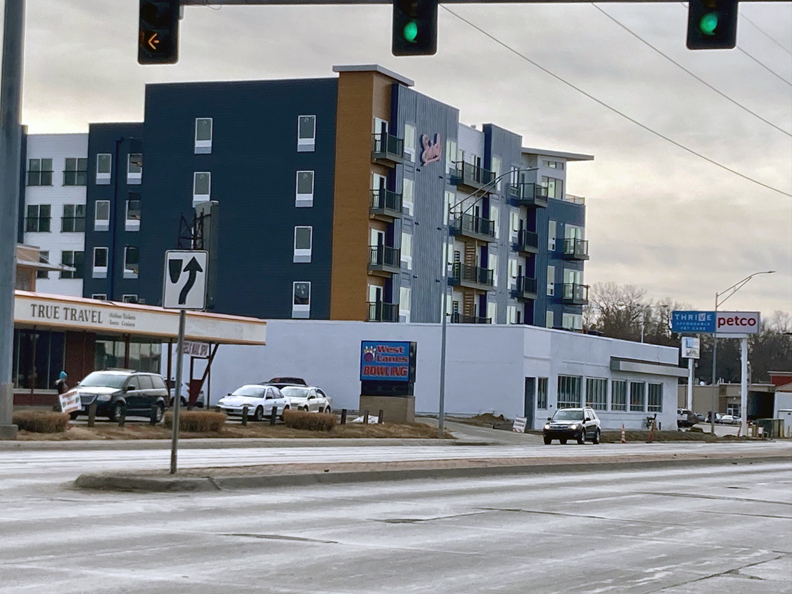 This angle gives a good perspective of the apartment portion, set back from the original. Also a safe design for new residential on busy 72nd Street.
Placement
My second point of praise: Siting. Placement. Thank you for situating this huge apartment building on 72nd Street. On that note, thank you for building Centerline in an open field near the main artery of the city, but not hampering flow. If these massive boxes of housing are the future trend, as developers and every-city planning department are proclaiming, then please, for the love of Georgian and Jacobean Windows, let them mushroom along Dodge Street—which has been a desert of empty lots and blowing tumbleweeds and dust for years now. 72nd and Dodge, extending up to 90th Street can adjust and accommodate these residential giants. Yes, build up these mega-apartments all around this Crossroads development. Like with like. Contemporary mix up, I mean, mixed-use spaces with contemporary mixed-use spaces. Everyone wins. These box in the boxes have too much mass to be crammed into little, historic neighborhoods with narrow streets and older housing. Situating them by ORBT, The Crossroads, UNO and everything else that is always touted as the reason we need more of these veal fattening cages, makes good sense. Another area that can reconcile these massive industrial buildings, are pockets of downtown. The now vacant Conagra area and Heartland of America Park, for one. Why… look at how lovely and fitting this huge, under construction mixed-use building is down at 829 Farnam.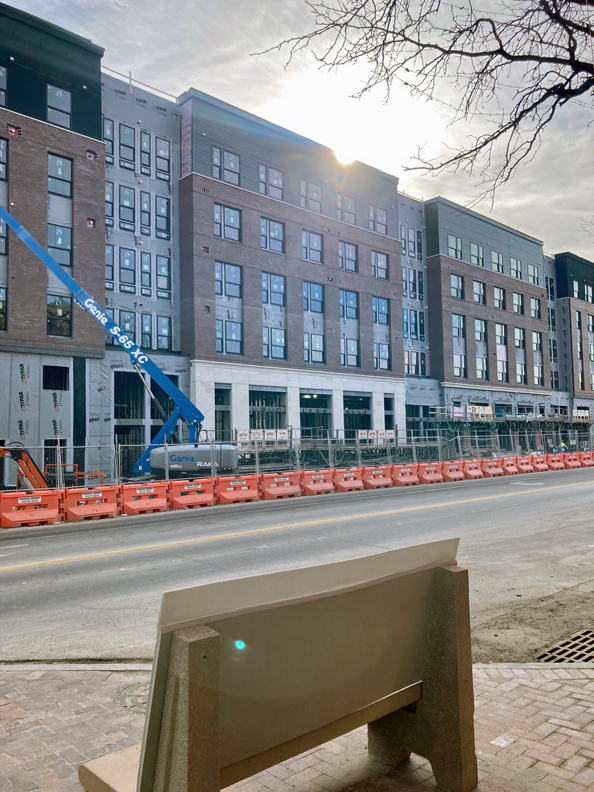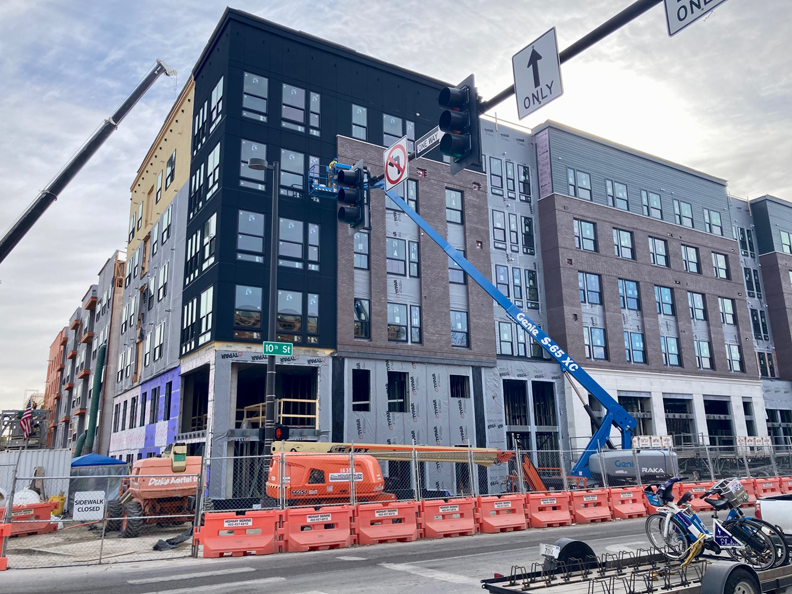 829 Farnam going up as we speak. Now that's a real big girl but the downtown skyline, which is what these big boxes are modeled after, can absorb a building of this scale. Like with like. Please and thank you. A+ for placement. I mean, the disposable design is less than desirable. It could be plopped off in any city, truly and become destructive to our shared psyche. A good heavy stone and oak creation would sooth our souls. But in the scrap and build approach, we've only got another 25 years with 829 Farnam. Who knows what's next?
And now the moment even I have been waiting for…
The Brief History of 119 North 72nd Street
Early Years of Paramount
Paramount Radio Shop had their grand opening in October of 1931 at 2013 Farnam Street, a 12 by 12 foot shop adjacent to the Paramount Theater, also called the Riviera, later renamed the Astro Theater and now rechristened the Rose Blumkin Performing Arts Center. The little radio shop must have enjoyed a cozy proximity to the classy theater. Radios were hugely popular at this time. Was their name possibly playing off of the Paramount Radio Exposition fame, an event held at the Paramount Theater? There had also been a previous 1930 Paramount Radio Service Company at 1420 Capitol Avenue headed up by a Mr. F. Bradden and Mr. F. A. Rudd. This was primarily a fix-it store. All of these businesses were most likely taking their name from the fabulously successful Paramount Pictures' 1916 incorporation.
From what I could surmise, George L. Roth and C. "Frank" Cox, early proprietors of Paramount Radio Shop, really knew how to advertise. Within the year they would take over the adjoining store space and double the size of their shop. By the fall of 1935, they had expanded two more times and were offering three lines of merchandise– appliances, radios and refrigeration. They would stretch out to the northwest corner of 20th and Farnam Streets in about 1939. Later a three-story annex at 1918 Farnam was built. Roth had taken the lead as president of the firm and under his direction, there were more expansions to come.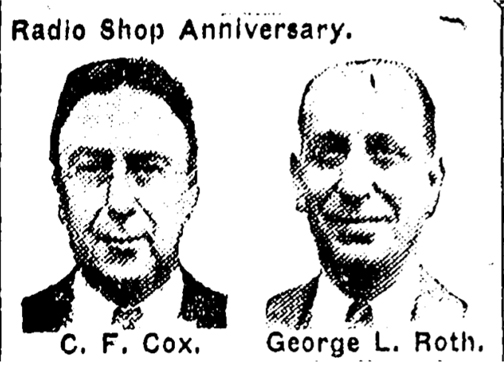 OWH. 1935.
The Edge of Town
In April of 1959 George Roth and his son, Tony, broke ground for the 300-thousand dollar building at 119 North 72nd Street with estimated 62,640 feet of floor display space. 72nd and Dodge, as we've discussed previously was on the edge of town in an up and coming area of soon to be West Omaha. The Roth's newest venture was to be named Paramount Appliance and Furniture store. At that time the store was the largest single appliance retail shop in town and it was air-conditioned!
Just five years earlier this is how barren the area was. This a 1954 view of the "the neighborhood shopping center" being built at 151 North 72nd Street—where the West Lanes Bowling was located and remains to this day. This was originally called the West Dodge Shopping Center and was considered an early strip mall.  Its Mid-century Mod design was thought tres chic.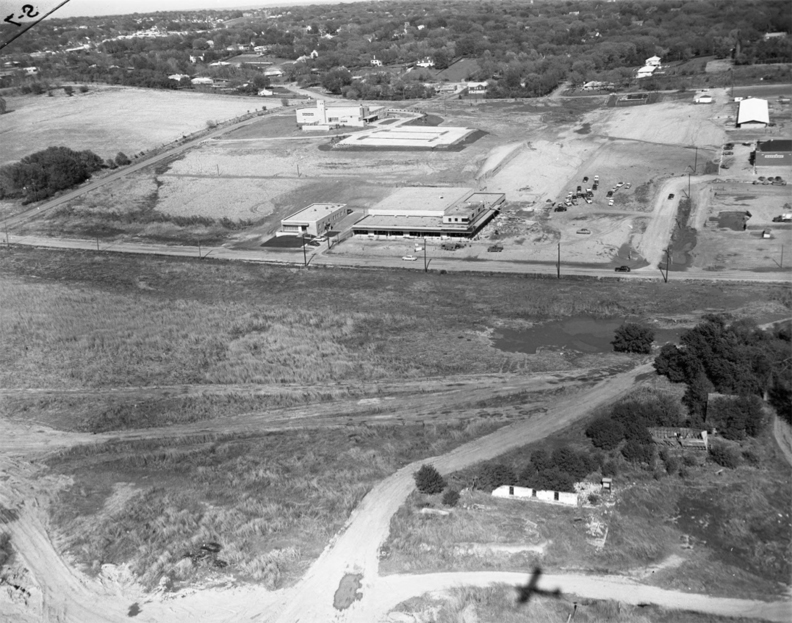 Aerial looking east of 72nd Street just north of Dodge Street. The building under construction is the new West Dodge Shopping Center. Just east, in the distance, is labeled the Omaha Playhouse but it didn't jibe to me. I looked into it—apparently in 1951, 27 acres between 69th and 72nd and Cass Streets were purchased by Temple Israel. After the Park Avenue Temple was sold to St. John's Greek Orthodox Church, they would moved into this new location in 1953. The country road running through the middle of the photo is 72nd Street. The large field in the foreground is where Crossroads Shopping Mall would be built. Photographer: Savage, John (1903-1989). Publisher: The Durham Museum. Date: 1955-05-01.
Closer inspection. Detail magnified of the West Dodge Shopping Center. Gorgeous cars everywhere.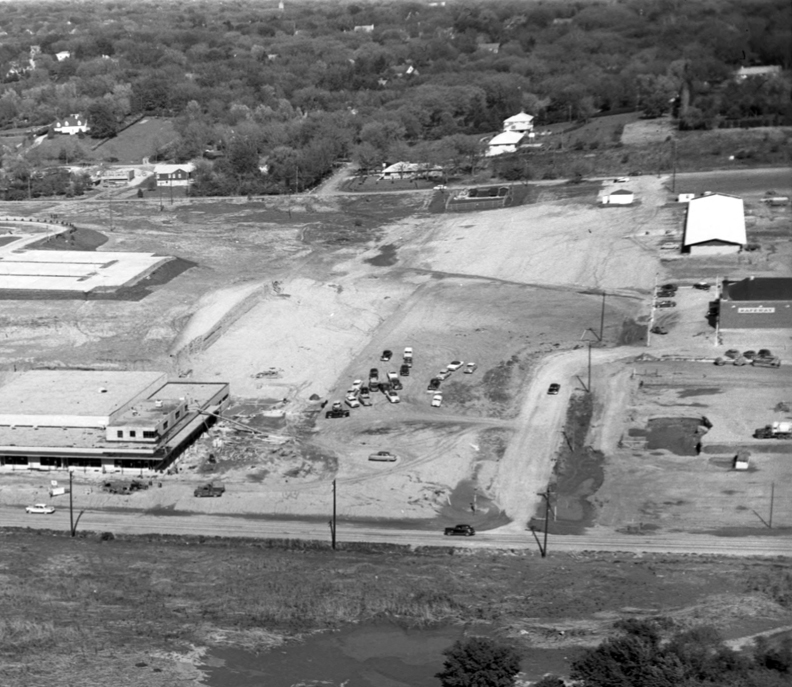 Detail magnified of the empty lot that the Roths would buy for their Paramount enterprise. If you get out your specs, you will see that the dark building to the far right reads SAFEWAY.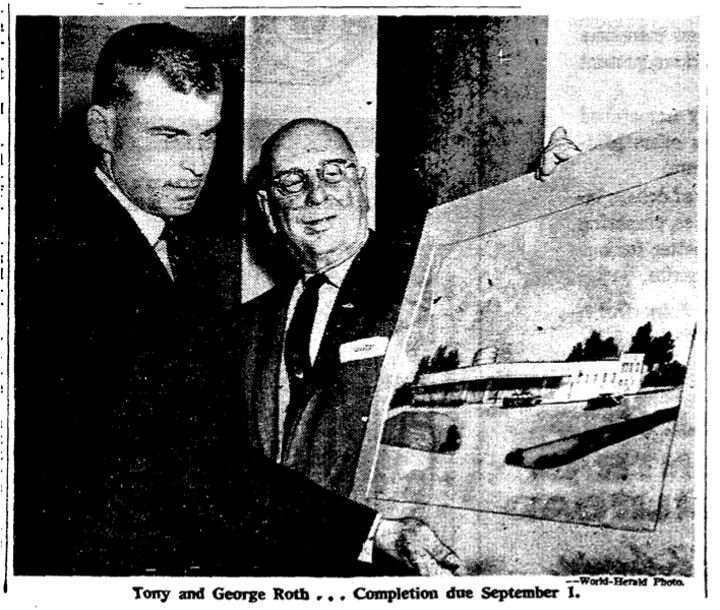 OWH. April 1959. Son Tony and Father George Roth admire the architect's rendering of their new Paramount. Why it looked of the International Style or something very contemporary.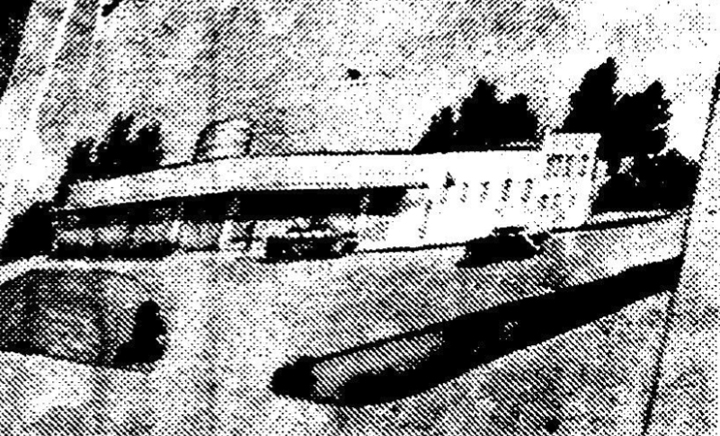 A close-up because I'm obsessed now. How was this 119 North 72nd Street? So interesting. It had rounded corners and a tall futuristic tower. Very MCM.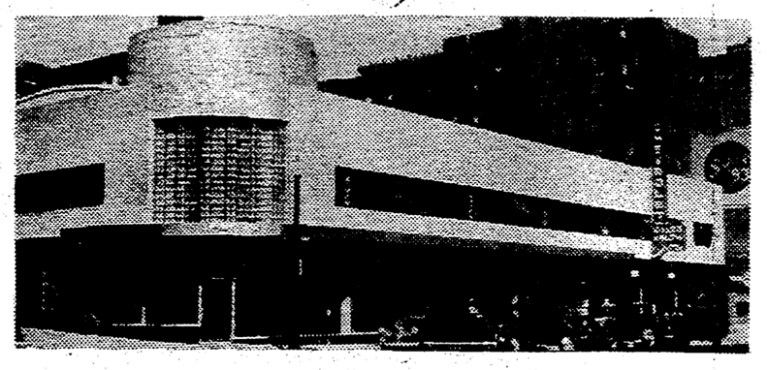 With that central turret on the corner, it instantly reminded me of this building! The 1947 Miller-Knuth Company building at 18th and Howard. Miller-Knuth had hired esteemed architects, John Latenser & Sons, to design their contemporary showroom. For more check out: For the Love of the Miller-Knuth Garage.
119 North 72nd Street
Now the Douglas County Assessor has the 119 North 72nd Street build date at 1961 but it was completed and opened in 1960.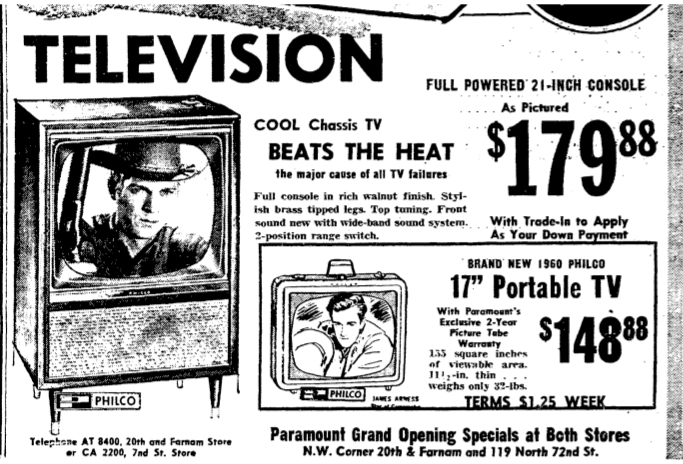 OWH. Here is the May 1960 Paramount Grand Opening Specials at both locations: Northwest corner of 20th and Farnam and 119 North 72nd Street.

Great illustration of the Paramount Furniture and Appliances, no doubt playing on the Paramount Pictures' fame. Looks like opening movie night lights in the sky. Fabulous. This brings to mind a question. Why didn't the new developers use the Paramount Furniture name in their apartment building's reconfiguration? There could have been a lot of yummy ads and fonts to play with.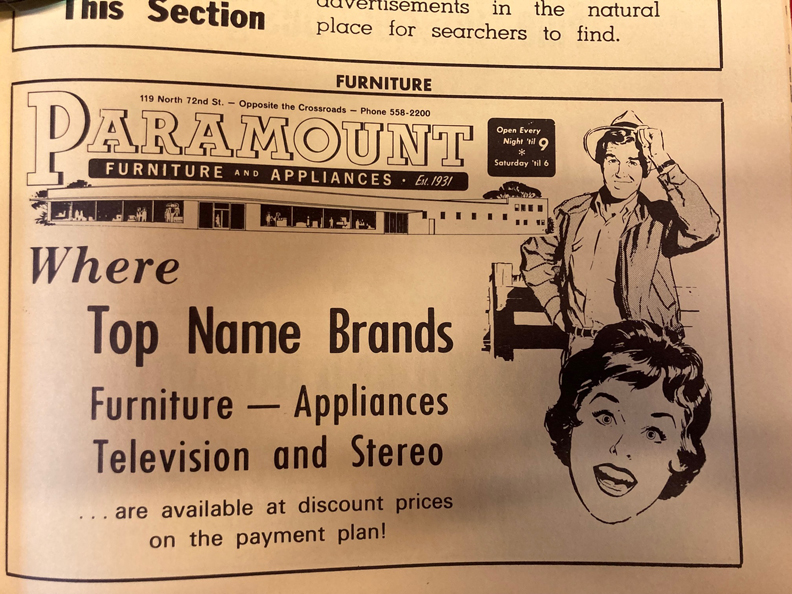 In 1962 George L. Roth doubled the size of Paramount by using his lower level for a show room as well; it had previously served as their warehouse. Love this 1963 advertisement. That had also begun using the "Opposite the Crossroads" in most of their advertising in this time period.
By the later 1960s, the whole 72nd and Dodge area was in full retail swing.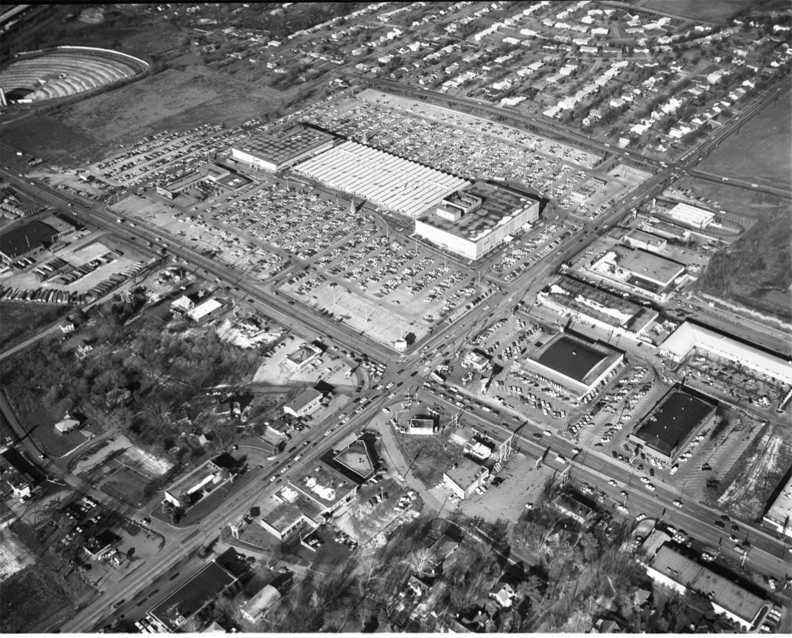 You are looking northwest from the intersection of 72nd and Dodge Street over the Crossroads Shopping Mall. At the top left is the old 76th and West Dodge Drive-In Theater. On the east side of 72nd Street was Paramount Furniture, the West Lanes Bowing Alley with the Hinky-Dinky grocery store on the very corner. Creator: Paskach, Robert (1927-2001). Publisher: The Durham Museum. Date: 1965-12.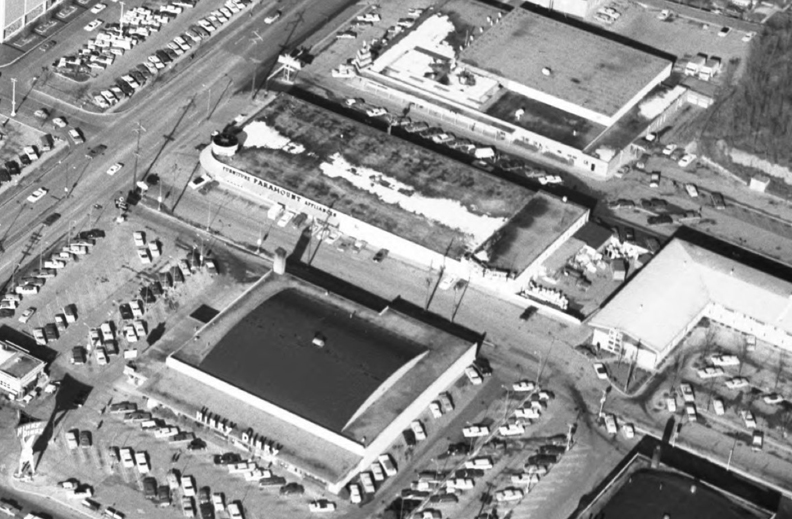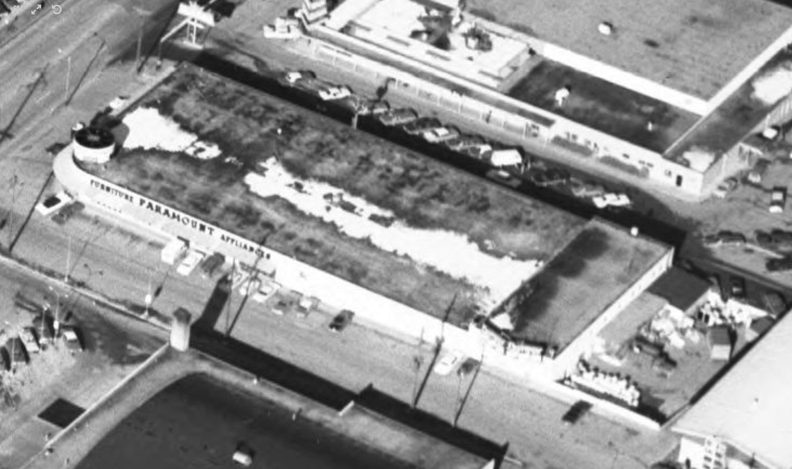 Detail of the Paramount Furniture at 119 North 72nd Street. You can make out the turret on the once rounded corner of the building and the words Furniture PARAMOUNT Appliance. Strangely the road running to the south of 119, now called Capitol Court, had always been there. I thought it had crept into being in and around 1977, that I could see.

1966 advertising.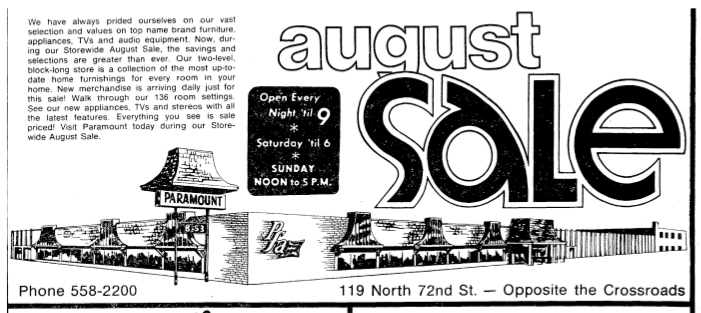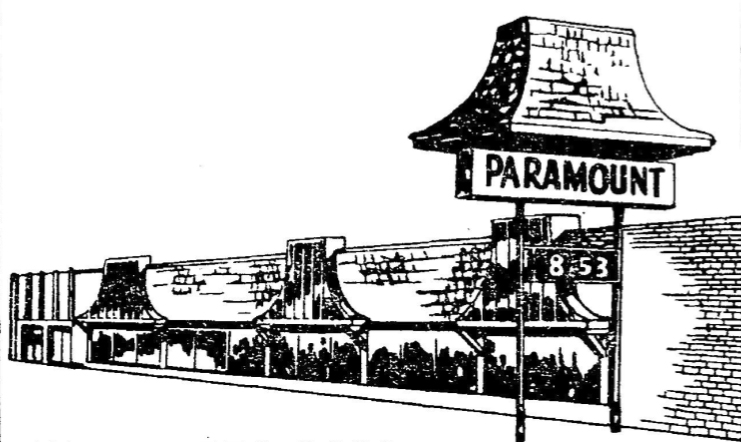 The family store was widely known as Paramount Furniture. Sometime in the 1975 time period, they had given the 119 North 72nd Street building a facelift and added impressive copper canopies and this shingled pagoda-like roof marquee. One can see that the letters PFA were adhered to the side of the building, as if a new marketing campaign had been launched. This is how the store looked by the time we moved to town. I seem to remember going there with my family to buy a television when I was young. I might be remembering incorrectly but it seems like the televisions were in the basement. I was discussing this memory with my mother who just informed me that our family didn't own a color television until the year that the United Stats beat Russia in hockey at the Winter Olympics—1980. My word. That meant my childhood was spent watching black and white cartoons. How did I not know or remember this?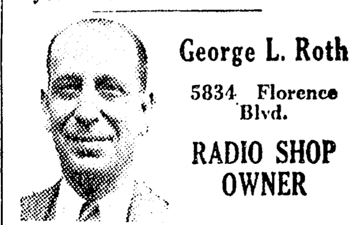 OWH article. George Lawrence Roth. His family's earlier home address at 5834 Florence Blvd.
I would discover that Mr. George Roth died in 1973 and by then, his son, Kenneth "Tony" Roth had moved into head of Paramount. In July of 1981, Charles R. Meline and Keith Edquist, both long time furniture businessmen, purchased Paramount Furniture (the name and the inventory) from Tony Roth. The Paramount building was not part of the purchasing agreement and was owned by the vaguely robotic TOMARO, Ltd. At some point, Meline sold the television and appliance part of the business to Edquist and a year later Meline's furniture line unfortunately filed in federal bankruptcy court due "to economic conditions." The Paramount's last ads at the 119 North 72nd location were from September of 1982.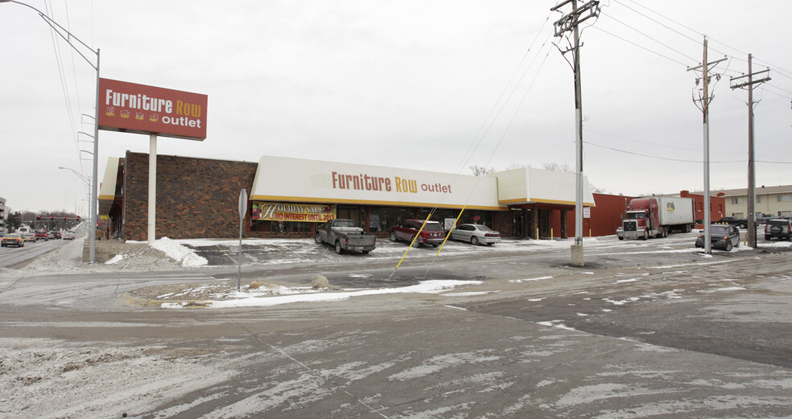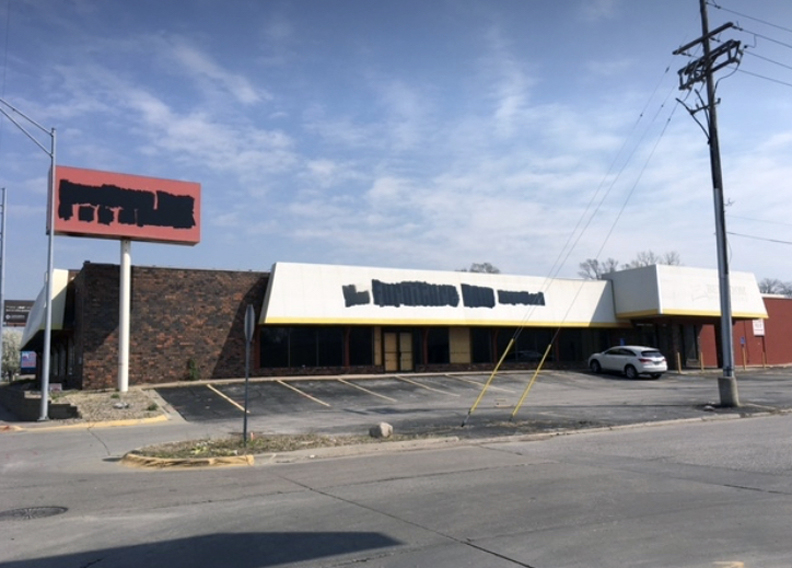 Big Sur Waterbeds of Denver would move into the Paramount building in 1985. Another Denver-based store, Bedroom Expressions then took the lease in 2001. Was there a Sofa Mart also renting here? This was possibly a sister company to Furniture Row Outlet. Furniture Row operated at the site until December 2017. The big building has sat empty since that time.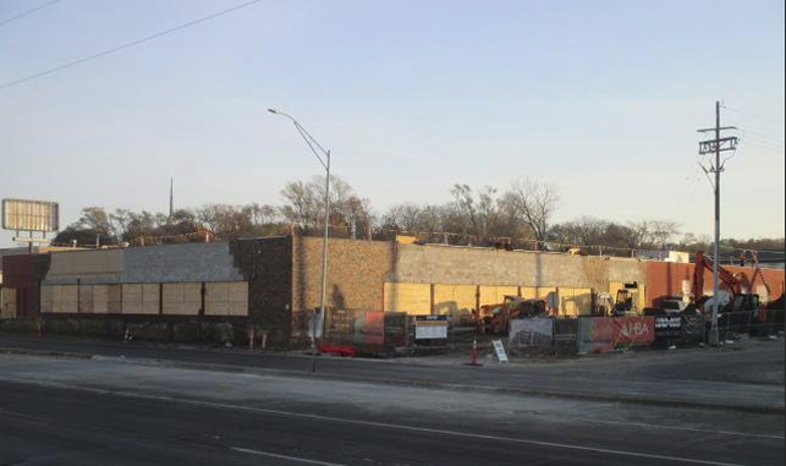 Douglas County Assessor's photo from 2020.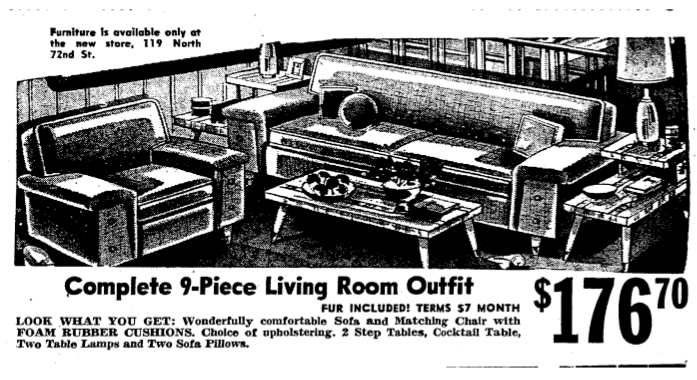 Admittedly I was influenced by the generations before me. Their truths were that the old architecture exhibited high quality workmanship and superior art, which could be instinctively perceived. These soulful, timeless buildings have become too costly to produce, I was taught. As a child I could feel the wonder and interpret the signals from these structures making up the built Omaha, although I didn't have words for it. I am still deeply influenced by the mixed emotions and reactions their architectural styles and materials elicit, whether they present as an honorable Revivalist or a shiny, glass Modern. I know I am not alone in this perception and that often, unspoken intuition guides most people, architecturally speaking. Yes, we are inspired and have a sense of artistic workmanship, the romance for older buildings. Even now. On that note, we also interpret a good old fashioned, architectural fleecing in our midst. When spinning about our beloved Omaha, we observe a mix of architectural styles and through it all, a messaging. I think many of us here today would wholeheartedly vote for heritage preservation, if we were ever allowed such a vote—we experience cities as richer for their layers and layers of building history, like a cultural timeline. Like rings in a tree or rock strata. Getting to know the cultural and historical context of these buildings has been rewarding.
I welcome your feedback and contributions to this 119 North 72nd Street investigation. Did you shop here? Did you know the Roths? What do you think of the new apartment building and surrounding projects? Feel free to share thoughts and clues in "Comments." I welcome you to poke around with your flashlight. Investigate. Hide in the shrubbery. Look under these rocks and down those alleyways. I am more than pleased to have you tiptoe about. By the time you head for home, I hope you have been fully Sherlocked and Satiated. Thank you, detective friends.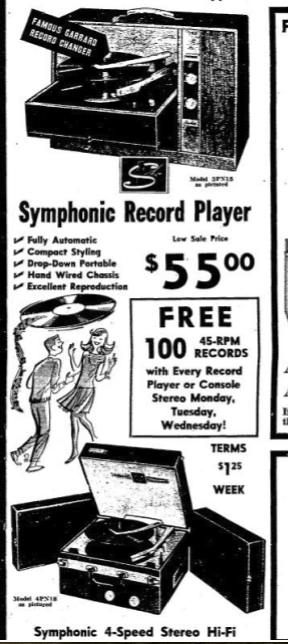 If you like what you see, you can keep up with my latest investigations by joining my email group. Click on "Contact" then look for "Sign me up for the Newsletter!" Enter your email address. It will then display "Thank you, your sign-up request was successful!" Make sure to check your email address to confirm. You will get sent email updates every time I have written a new article. Also feel free to join My Omaha Obsession on Facebook.
© Miss Cassette and myomahaobsession, 2022. Unauthorized use and/or duplication of this material without express and written permission from this site's author and/or owner is strictly prohibited. Excerpts and links may be used, provided that full and clear credit is given to Miss Cassette and myomahaobsession with appropriate and specific direction to the original content.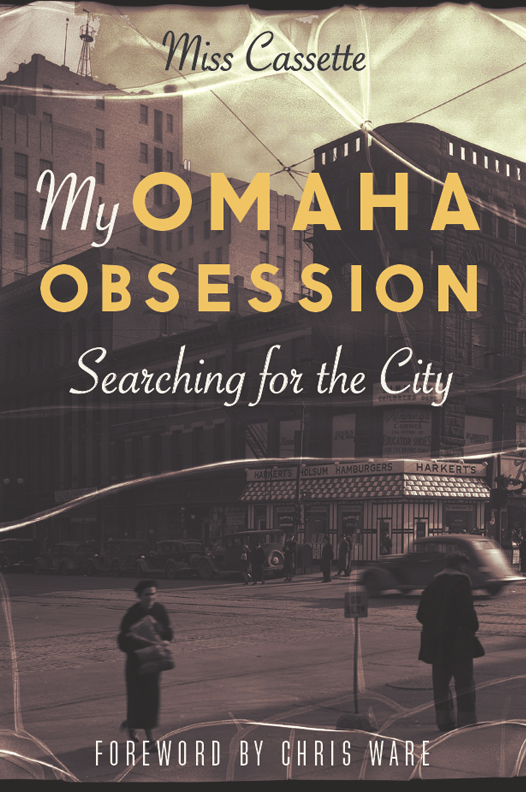 If you are looking for more architectural and Omaha history sleuthing fun, ask your local or big box bookseller for my book: My Omaha Obsession: Searching for the City. You can also order it through this website. Thank you.