From where I stand, all of authentic Leavenworth is mesmerizing. Not in the Dazzling Happy Hollow Way or in the Glorious Woolworth Avenue Way, as much as in the charming, favored shoe way. Or maybe Leavenworth is more of a slipper? At any rate, traveling this road is pure entertainment and it has been for as long as I can remember. I simply cannot imagine that changing and yet, I understand change is constant. In memory, always a house-lined thoroughfare, Leavenworth is colorful, varied, interspersed with quirky, popular businesses. Leavenworth has no pretense. No false airs. Not claiming to be a Dodge Street, nor a 72nd–although there is a distinct manner to this drive. Omahans continue to walk Leavenworth's sidewalks and ride their bikes on this busy street, consistently functional long before any formal group wanted to promote the walk-ability or bike-ability of our city.

Leavenworth Street, just west of 38th Avenue in 1913. (Photo courtesy of the Bostwick-Frohardt/KM3TV Photography Collection at The Durham Museum Photo Archive).
Miss Cassette can always count on seeing the same happy patrons and bartender out in front of the tiled LB when passing by after work. Likewise early in the AM, I am glad to see the same trusty workers setting up mowers or snow blowers in front of Pruitt Outdoor Power year after year. Anyone who knows and loves Leavenworth can describe the frequent characters up and down the way, faces one might never truly know but enjoy seeing nonetheless. I feel the same way about the many buildings of Leavenworth. Old friends.
It would appear that not many find Leavenworth Street all that spectacular, architecturally speaking, each building a piece of the full picture. That is surely why it has been sold off and razed, parcel-by-parcel. But, as a whole, as a corridor, Leavenworth has been a treasure trove of charm, character, and colorful oddities. I argue, The Everyman Street. This isn't the High Road of Omaha, unless you are on, what I lovingly call the High End of Leavenworth by Our Lady's fine home and garden. Please see Fabulous People of Omaha. Leavenworth clearly has its own thing. And yes, I've heard the frequent rumors about UNMC taking over Charlie Graham on the corner of 42nd and the heated gossip about the Laundromat on the corner of 50th and Sandy Kay's Salon and Tanning next door being courted for even more mixed retail-apartments. I cannot bear it and I hope it is not true. All of this UNMC Swallow Up and yet I still haven't recovered from Harry Watts' Pet O'Mine leaving. My point being, as a whole, Leavenworth has a style and continuity unto itself. Is it true that Leavenworth is moving toward a giant UNMC-Midtown Crossing (Crisis) mixed used overhaul?
Forward March
Not long ago I began to take notice of the corner of 38th Ave and Leavenworth. The lonely house in the trees was being shorn of her glory.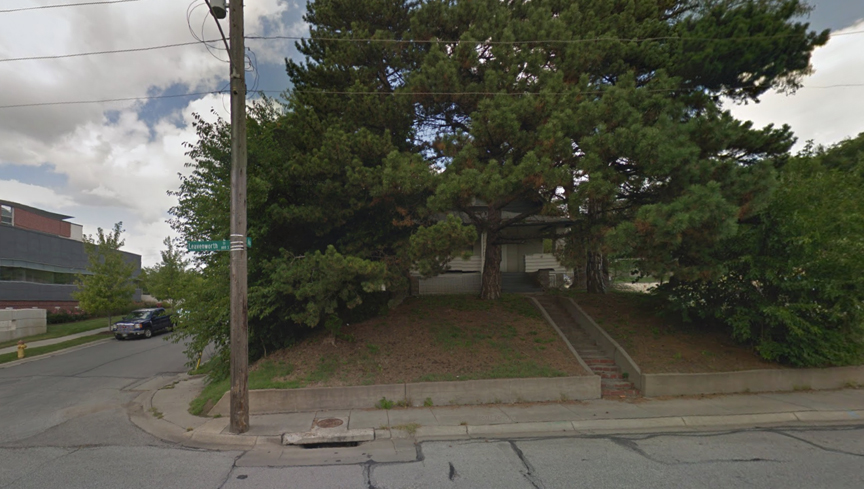 3824 Leavenworth Street. Three bedrooms, one bath. Said to have been built in 1912.

3802 and 3804 Leavenworth, on the corner of 38th and Leavenworth Streets. The Down Under Lounge had been in the basement for as long as I could remember. Douglas County Assessor has this almost 9,500 sq ft property listed as having been built in 1948. I had my doubts.
The house clue coupled with the fact that in 2015, the fantastic new owners of the Down Under Lounge, previously housed in the ship-themed basement of 3802 Leavenworth, had moored up down at 3530 Leavenworth St., where the Side Door Lounge used to be. This new location is doing very well. Check them out at https://www.thedownunderomaha.com/

As it turns out, this whole property from 38th Street to 38th Avenue was sold in 2014 to a developer. The parcels of 3802 (including 3804) and 3824 were combined and sold to Elmwood V. LLC with an address out of Denver. This home and corner building were slated for demolition. This is maybe old, old news to many of you In the Know People. I have been traipsing about mansions and hidden gardens and am terribly behind the times.

Holland Basham Architects rendering of the new project. Image from their website.
The Holland Basham proposed plan is for high-end apartments with street level retail to span this Leavenworth block. I do hope they use all brick and aim for a solid construction, unlike so many new mixed spaces popping up. Apparently the owners are two brothers, who have other developments in town. They have "requested a modern industrial aesthetic that ties into the historic context of the neighborhood." I have rattled on and on about my thoughts on these types of Big Box Within Big Box Buildings (check out New Omaha: Apartments ) but considering its neighbors across the street, this look could actually fit in this particular strip of Leavenworth. Have a peek below.
http://campaign.r20.constantcontact.com/render?ca=6cf377dc-291b-4782-b409-9a95e8ed3f5b&preview=true&m=1109457792991&id=preview

3802 Leavenworth, looking east. Photo thanks to Google Map.
Even Miss Cassette can recognize a goldmine sitting within this city block, what with this empty parking lot, save for a modest house and an ambiguous corner building. Lovers of Urban Density have probably been driven crazy by this empty lot all of these decades. They must have wrung their City Planning and Development Hands and sketched on many a napkin. I can understand the need to fill this space with housing, especially with UNMC right up the way. I can see the dollar signs and recognize that this project will be a success.

And truth be told, no one thought this sweet little home at 3824 was Omaha's Montpelier, although Mr. Cassette Was Obsessed with her pine trees. She had grown over the years in a haphazard sort of way, effortless, hidden perfection. She always appeared so calm and cool behind those dark trees. I will admit, this home did look less forlorn when it was comforted by the now gone neighbor, Armstrong Cleaners.

Same shot as above but how it looked over last weekend. So that's what was going on in the trees. That is the old Columbian School behind, now the Columbian School Apartments at 3819 Jones Street.

3824 Leavenworth, as it appeared this last weekend. I understand the house is gone now.

Eastern most side of 3824 Leavenworth. UNMC, just west of the property and the old Graystone Company building across from UNMC.

The once simple garage.

The only real crime may be the manner in which they recently took down 3824 Leavenworth's trees. To paraphrase the words of Mr. Cassette, they disrespected those pines and other trees by not even taking them down properly. There was no honor in that work, of what looked to be tree tearing. What he said was quite a bit more expressive than that, but you get the idea.

**Addendum of 4/30/2017: 3802 and 3804 blockaded off and ready for demo.

***Addendum of 4/30/2017: East side of the building. The old Society of St. Vincent de Paul entrance.

North side of the building.

East side on 38th Street. I think this concave corner was probably a great place for a lit sign or display in its day.
Looking Back
At some, now hard to place moment, I found myself obsessed with the long gone Down Under Lounge sign on 38th and Leavenworth. In memory it was tall, lit up sign and featured a koala bear. Was it blue or green? Did I dream this, for I cannot find proof that it ever existed? I remembered seeing adults entering this bar when I was younger and I was always intrigued by the darkness therein. I figured now was the appropriate time to find out just a Very Brief History of this building on the corner and the little house at 3824.

This 1941 aerial shows that the home at 3824 Leavenworth originally had four similar sized houses sharing the block with the very same building on 38th and Leavenworth corner–disputing the Assessor's build date of 1948. Photo from the DOGIS site.

By 1955 there were only three houses left on the block. The parking lot is gaining size. Aerial photo from the DOGIS site.

By 1962 just 3824 Leavenworth remained, along with that large 3802 building. Notice the large parking lot. Aerial photo from the DOGIS site.

Just for context, an example of the fantastic homes along Leavenworth in 1964. This one, a large house at 36th and Leavenworth Street; the southern Gold Coast area. Front steps lead up the yard to the front door, house is hidden by plants and trees. (Photo courtesy of the Martin Weil Photography Collection at The Durham Museum Photo Archive). I believe I was born to live on grounds such as these.
3802 Leavenworth

Regarding my old obsession, the 3802 Leavenworth building, where I had first seen the koala bear Down Under sign–my first clue was a building permit from Nov 17, 1934 for a Ralph Cohn–a misspelling of Cohen.


OWH December 15, 1937. I believe early on that the Cohens (brothers Dan and Ralph) had a package liquor store and not too late after, started ….drum roll please….

…The first 11-Worth Grill in the 1940s. This came after a building addition for $800. Soon after becoming the 11-Worth Steak House. It would appear that the package liquor store continued within the growing building, but listed under the name of Burton H. Rosen. By 1948 Dan Cohen expanded the 11-Worth Grill and Steakhouse with a building permit for $11,500. In 1949 the Cohen Brothers put another $3,500 into an addition. 11-Worth Grill and Steakhouse grew again, with an addition to the building on the west and north sides for $22,000. One can see these various additions by walking around the building.
The Fireside Restaurant
Several years on, the Cohens rethought their strategy and introduced the Fireside Restaurant. Omaha must have been astonished by this full service restaurant, offering a variety of themed rooms, two full bars and the ability to serve 300 patrons. Later they were able to serve 400.

Scientifically lighted!
Their famous chicken dinners soon expanded to steaks, prime rib, seafood and such an immense buffet of all you can eat, the luncheons and dinners were regionally well known. In the 1950s Ralph Cohen was the manager and wife worked there also.

The Cameo Room.
In its heyday, it was in the paper daily for its society clientele: farewell lunches, galas honoring the Omaha Who's Who, wedding breakfasts. I got the impression the Fireside was the sort of place where people could be seen and families could run into one another, meanwhile enjoying a great steak. For nearly forty years, the soul of the rooms had been Cohen and Cohen, longtime owners-manager.

The Cameo Parlor. The Fireside Restaurant featured neon signs (wish I could have seen those!) and interior decorating by Else Fogel. The Fireside was stylishly adorned in Mid Century Modern decor, featuring furnishings from Davidson Furniture Company.  The Grill Room was an "informal, casual room" for "late evening snacks." The advertisements said, "Come dressed just as you are," which was a big deal back then. The Manhattan Room offered private dining and featured a NYC skyline mural. It looked to have a 1950s jazzy feel.

But that Pirate's Den. That basement pirate ship really held the clue for me. This is the club that would later become the Down Under Lounge. Here it is on its opening in December of 1954.

Hmmmm….July 29, 1959 Pirate's Den Fireside Restaurant. Pirate's Den Cocktail Lounge

By the 1970s, the Cohens were mixing it up by offering the popular 70s spaghetti dinner. I say that because it seems the Cassettes ate spaghetti throughout the 70s as did all of my friends' families. Their "large juicy tender slab of prime rib" was now going for $3.50. Eventually the Fireside Restaurant had to abandon its buffets and had gone low budget menu. I am assuming this was due, in part, to inflation and the gas shortage, along with changes in restaurant trends.  The all you can eat cafeteria-style affairs "took too much constant care" explained Dan Cohen who was then running the Fireside with son, Alan. By September 17, 1975 Peter Citron, Omaha food critic, announced "After 40 years, Dan Cohen stepped out of the restaurant business this week."
Later Years
It was later announced that El Charro, the favorite Mexican family restaurant down on 5223 South 20th, would open a second location in November of 1975. The Pirate's Den Cocktail Lounge at Fireside would become a Mexican nightclub. Two years to the month, Peter Citron announced that the El Charro had gone out of business.
The next year, son, Alan Cohen had the building up for sale, boasting two full bars, seating for over 400 with ample parking. 3802 Leavenworth was for sale until Dec. 1980, when it was announced that Crenshaw Construction Company was remodeling the building to offices. Renaming it the cumbersome Crenshaw Leavenworth Building, it was announced that Cox Pierce & Associates and attorney William Lindsay would be to be moving in. Days later the building was marketed as the Fireside Professional Center, no doubt trying to connect with the Omaha legend.

I am not sure of what all businesses rented out of 3802 during these following decades but I did find this cool ad for Crenshaw Construction Co. Miss Cassette does approve of geodesic living.
1981 brought the Down Under Lounge to the basement. At least that was the first ad that I found. In my memory it was there in the 70s but I have been known to be way off with my dates. I wish I could have found a photo of that  koala bear or how the building looked in those years. Robert "Bobby" "Goody" Goodwin was the owner. I can't help but wonder how he incorporated the ship theme with the Australian theme? If anyone has a photo, please make contact. Various political campaign offices would rent out space through the 80s and 90s.   In 2014 the newest owners of the Down Under Lounge rescued the bar, creating a much needed respite for the music community, meanwhile introducing a whole new generation to the Cohen's underground creation. As I wrote earlier John and Co. would ultimately move east down Leavenworth.
So just one more thing: Can't we find a way to incorporate our historic buildings into new designs, as they do in Europe? I'm all for filling in the holes, like a huge unused parking lot on Leavenworth and yes, I recognize that not all older buildings are worth saving. I can accept this but not without a moment of memory followed by complete silence. In my estimation, 3802 was a building that quietly dedicated itself to the business of holding up the northeast corner of 38th and Leavenworth. Not a small preoccupation but one that many people have possibly never really considered. Maybe she was too humble. Granted she is not the prettiest building, nor the receiver of the greatest publicity but was a serious-minded contender in her day. Personally I've always thought she was waiting to be a smart white or shell building with bold black trimming, glorious new windows, adorned with crisp black and white striped canvas awnings. But maybe all that white wouldn't have been practical on Leavenworth? For all I know, 3802 Leavenworth did look like that at some point. As they say, onward to the next phase.
Love it, no problems, ambivalent about it, hate it? What are your thoughts on new development along Leavenworth Street?
This story now has a follow-up at The Fabulous Fireside Connection. 

I welcome your feedback and comments on this new project, its history of incredible businesses and Leavenworth Street. Please comment below. If you would like to correspond with me privately, please do so at myomahaobsession@yahoo.com. But I assure you, everyone would love to read what you have to say and it makes the conversation more fun. You can keep up with my latest investigations by "following" myomahaobsession. You will get sent email updates every time I have written a new article. Also join My Omaha Obsession on Facebook. Thank you Omaha friends.
© Miss Cassette and myomahaobsession, 2017. Unauthorized use and/or duplication of this material without express and written permission from this site's author and/or owner is strictly prohibited. Excerpts and links may be used, provided that full and clear credit is given to Miss Cassette and myomahaobsession with appropriate and specific direction to the original content.