I have been told there was once a dark mansion, somber but rich. Enclosed in dense trees and shrubs, this unapproachable beauty was settled within the wood of a hill overlooking Leavenworth Street. If you had happened to meander down the lane, on any sunny afternoon and if you had chanced to balance on tippytoe and squint a peek through the thick foliage, you might have seen a remarkable sight. The structure was rumored to suggest an untimely desertion. In like manner, the surrounding woodland garden appeared gloriously untouched by human hands. Bystanders whispered and the neighbors, each for themselves, had adopted various hypotheses as to the Missing Master over the forgotten decades. Some next-door tales were as dubious as the property itself but who would want to unravel a good-n-knotty ball of local yarn? For their part, many district children had dared to become familiar with the large, enshrouded house and murky wood, each returning to their families and classmates with more curious installments for the fantastic legend.
Since beginning my sleuthing folly, I have received several inquiries from readers wondering about the phantom fantasy residence at 36th and Leavenworth. It seemed their recollections, now turned questions, had plagued them since childhood. At one point I deduced these letters must have been generated by the same hand, playing a little trick on Miss Cassette. Yet as I began the investigation, another part of me dreamt it was the house itself or the fantastically strange family who once lived there who were dispatching these missives from the beyond. I decided if these were real life letter writers or not, it was all quite peculiar, in the best way, how her impressive, disheveled beauty would waft down through the mist to this present day. I've included two letters with permission from the writers for your inspection.
Dear Miss Cassette,

There used to be a house on the southwest corner of 36th and Leavenworth, which as a child I remember looked like some sort of haunted mansion that totally fascinated me. There was a big black wrought iron fence around the property and enough trees to hide the house when the leaves were in bloom and to make it look scary and hidden when they weren't. It was a little forest in a city that didn't belong. I always heard rumors that the man who owned it had an elevator put in when his wife had an accident, leaving her wheelchair bound. I remember as a child being fascinated with it and thinking that I wanted to live there someday but that dream was shattered when they put up those condos. I wonder if that's a house that you've ever explored that I can find in your information and if so, if you could help guide me to where I can find it. I always wanted to know the story of that house.

Thank you,

Bill Emsick
Forsooth! I was certainly intrigued (and what obsessive house lover wouldn't be?) as I had happened upon what sounded like Bill's haunted house in a previous investigation from April of 2017 called New Omaha: 3802 and 3824 Leavenworth. But that was only a brief mention as a side note and so long ago.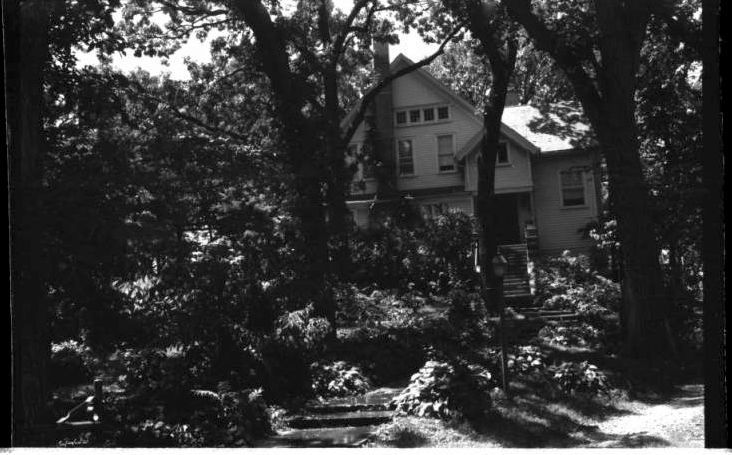 I sent the above photo from my earlier article to Mr. Emsick and he confirmed I had what looked to be the right spooky place. Yes, it was a nice private retirement but not at all what I considered a mansion. I took note. Photograph of large house at 36th & Leavenworth Street. August of 1964. Durham Museum General Photo Collection.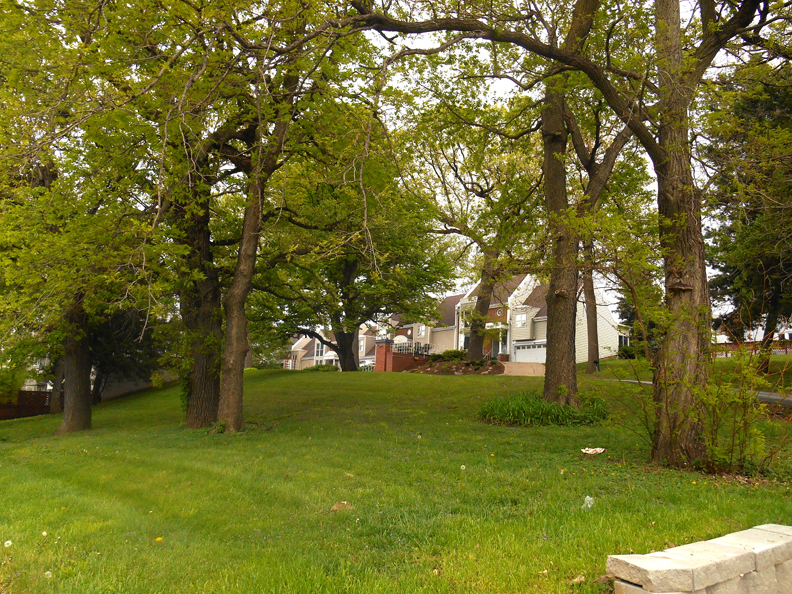 The current state of affairs. The oddly named Leavenworth Crown Townhome Condominiums, on Leavenworth Court, betwixt 36th and 37th Streets. The name suggested royalty or something conjuring English architecture but the buildings had firm roots in America. Camera is pointed in a southeastern direction toward the highest part of the property, as seen from 37th and Leavenworth.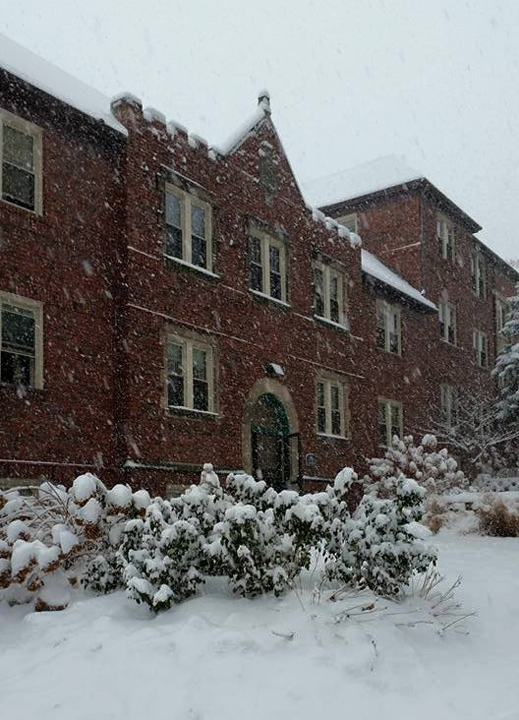 At any rate, I did not know the original house personally. Those large condos in the trees between 36th and 37th along Leavenworth had been there forever in my recollection. I had lived at Green Lodge, (photo above) around the way, at 35th and Jones in the late 1990s. We would hop-skip up to the Kwik Shop on the northwest corner of 36th and Leavenworth (directly to the north of the townhouses) for cigarettes and Milk Duds some late nights. Always an adventure along this portion of Leavenworth! And then when Mother India (restaurant) moved into the little catty-corner northeast building in 2010, we returned to frequenting this active intersection. But because I am not particularly drawn to a modern townhouse style, I honestly had never given the condos in the trees much thought. Too many shadows and damp leaves in headlights while speeding past. What a dummy. The rise of the land, the foliage and the seeming city block told me that this could be the site of the hidden, haunted place Bill remembered, even if my found photograph didn't spell out MANSION to the uninitiated.
Before long I would receive a letter from a Mister J.  (Writer's true name withheld by request.) He shared a similar remembrance:
I wanted to suggest another long gone estate to investigate… I have only a faint recollection but it was on the south side of Leavenworth between 36th and 37th Street. It filled the entire block (it was where those 1970s town homes now sit.) I vaguely remember it as a kid going to Dr. George Johnson's office in the little mid century building on the SE corner of 36th & Leavenworth… it looked like the definition of the haunted mansion on the hill, surrounded by trees, all very gothic. I also vaguely remember reading something about it… the magnificent woodwork and windows… German or Dutch comes to mind… anyway thought you I might peak your interest in more sleuthing.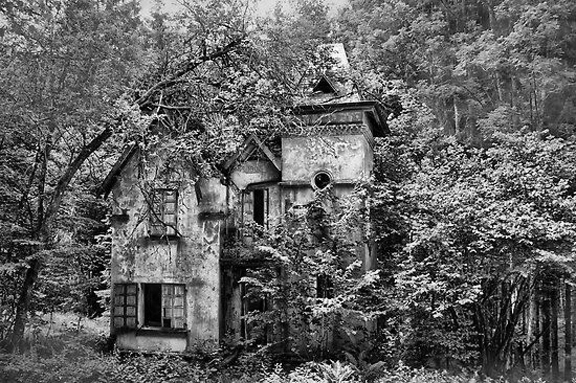 Could I raise her? I would study the surrounding neighborhood. I would walk the property and survey the trees, the embankment, the buildings. I would interpret the signs. Taking the auspices…if only! As to my ethical predicament of unraveling local lore and potentially destroying the mysteries of childhood, I paused at the precipice. I told myself, sometimes we need our balled up yarn. Ultimately I discovered I could disentangle this story for years and Never Know the Half of It.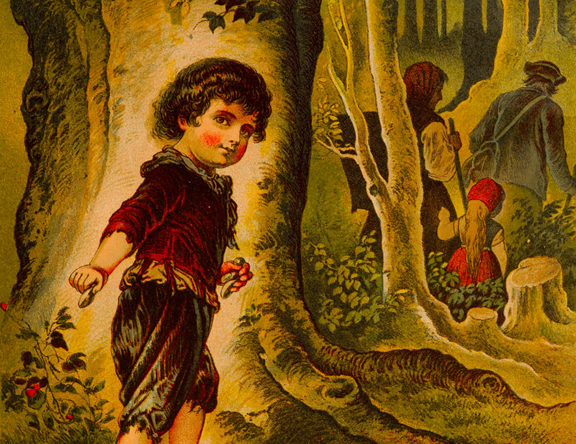 Part One
An Uninvited Guest
The large home of local legend that once existed on this stretch of land along Leavenworth was razed the first week of 1977. This clue, I tell you outright because I thought it would be interesting to work the investigation backwards. I longed to find where the original structure was located and of course, information of its humans and fascinating particulars. Given the considerable new construction we observe having occurred on the site since 1977, let us start with what is observable.
The southwest corner of 36th and Leavenworth reveals the backside view of connected town houses. I suspicioned these tall, narrow, row of attached town homes were built within the 1980s time period. The mature trees on the property and the expanse of green space have always been the real standout, lending a shadowy, lushness to buzzing Leavenworth. In recent years a large tree or trees came down after a storm on that very corner and caught many people's eye, certainly Mr. Cassette's. I had always thought the building appeared undone and somewhat exposed on that lower Leavenworth side–almost like a mossy, back porch. Stopped at the red light on Leavenworth over the years, I would note the owners' various cars pulled in snuggly close to their front (or was it back?) door.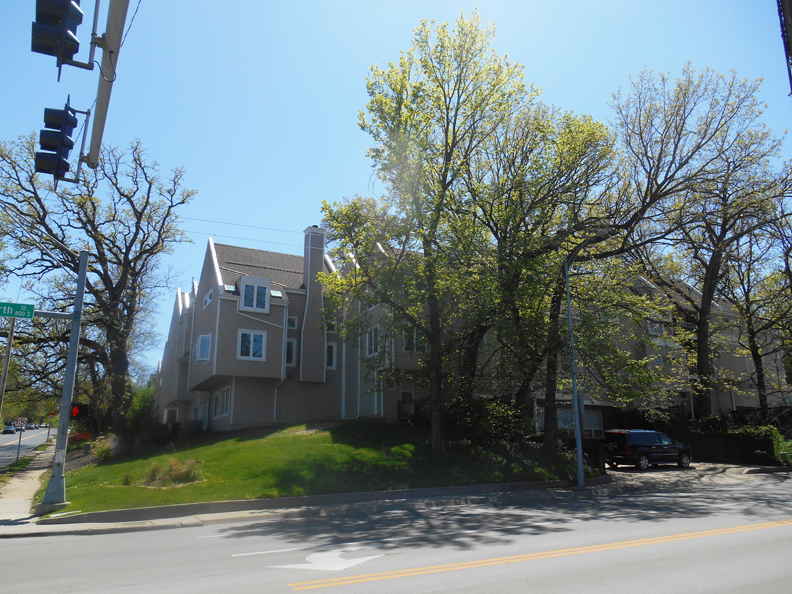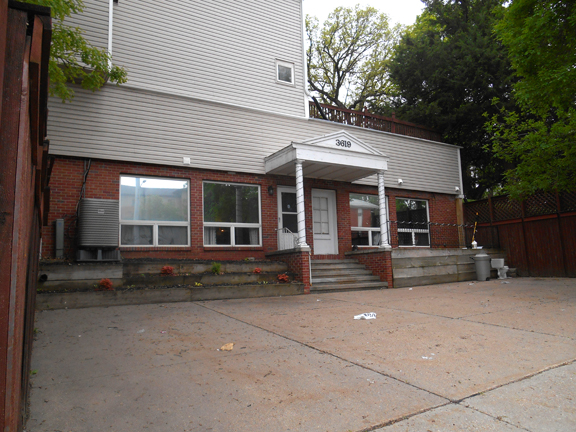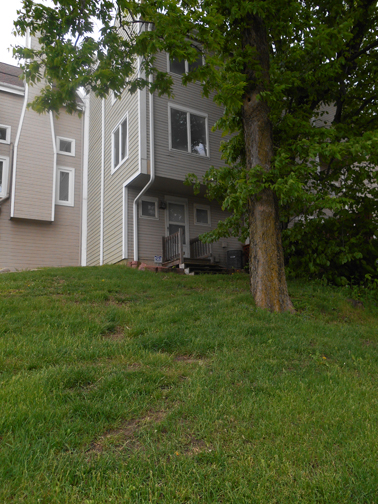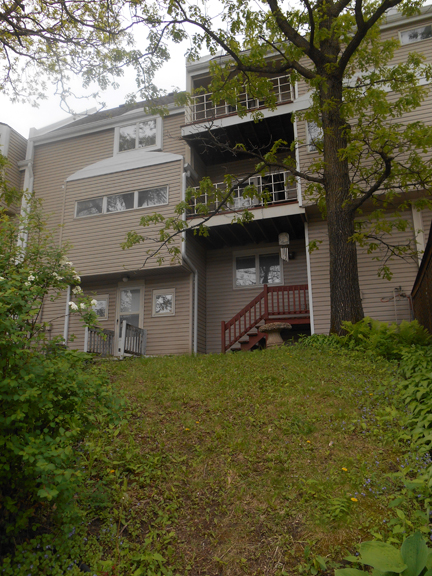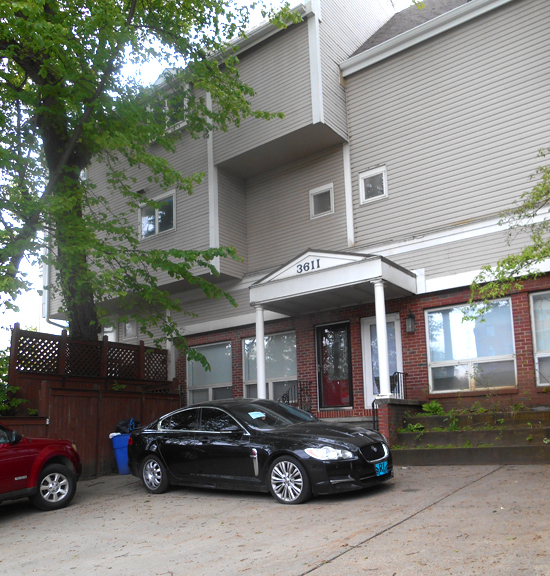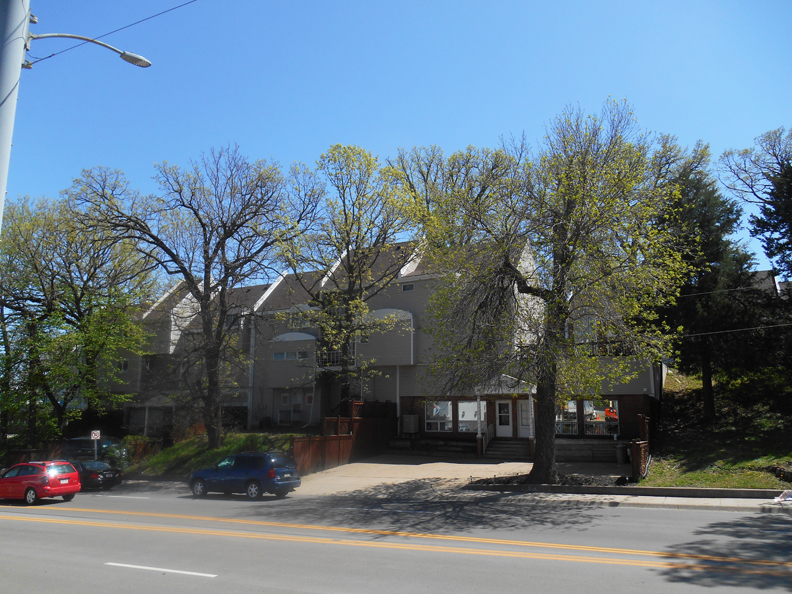 Medley of views as seen from Leavenworth Street–camera pointed south.
"Were those new potted plants?" "Look, someone is coming out of that little door to walk her large dog." These were my thoughts over the years. It felt wrong to look into the owners' personal space but somehow unavoidable for all parties involved. I would come to believe these particular ground level doors were initially planned as offices. More of those hunches later. I now know the larger, proper perspective of the town houses is further up the hill; there is a plateau to the south, where the clustering of similar buildings welcome their guests through formal pillared entrances, discovered on both 36th and 37th. There is a sunny exposure, a curious clearing of a shared, almost courtyard covered in asphalt with green space rolling off to the west. A lovely, quiet enclave. I feel silly to have never crept up the green gradient for closer inspection, for now it is all I can see.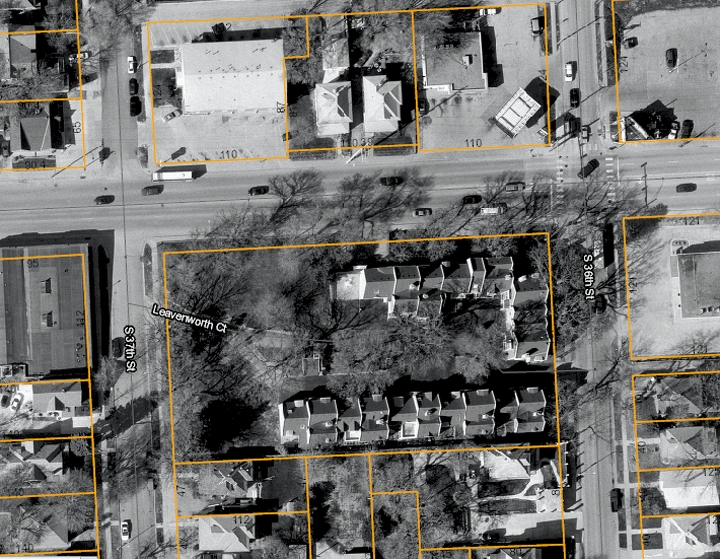 Aerial of the Leavenworth Crown Condos in 2004. Image borrowed from the Douglas County Assessor's site. Top of photo is north, bottom is south. 36th and 37th Streets are labeled. Leavenworth is the wider-laned thoroughfare running east and west, almost through the center of the photo. An enclosed suburb-in-the-city design, the large parcel offers long rows of attached condominiums. I counted 19 individual homes, concluded by their distinct roofline parapets.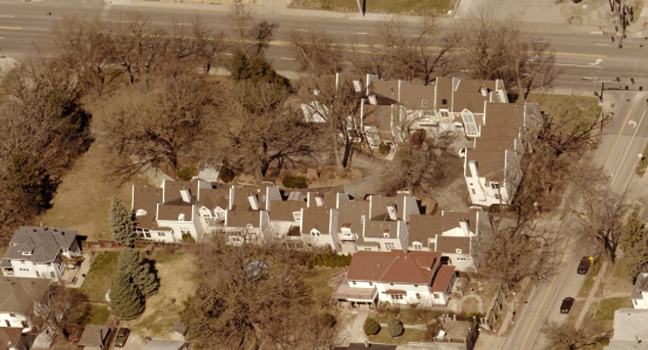 Another aerial shot of the Leavenworth Crown Townhomes from March of 2020. Image borrowed from the DOGIS site. Get a load of those expansive Four Square houses to south of the large property.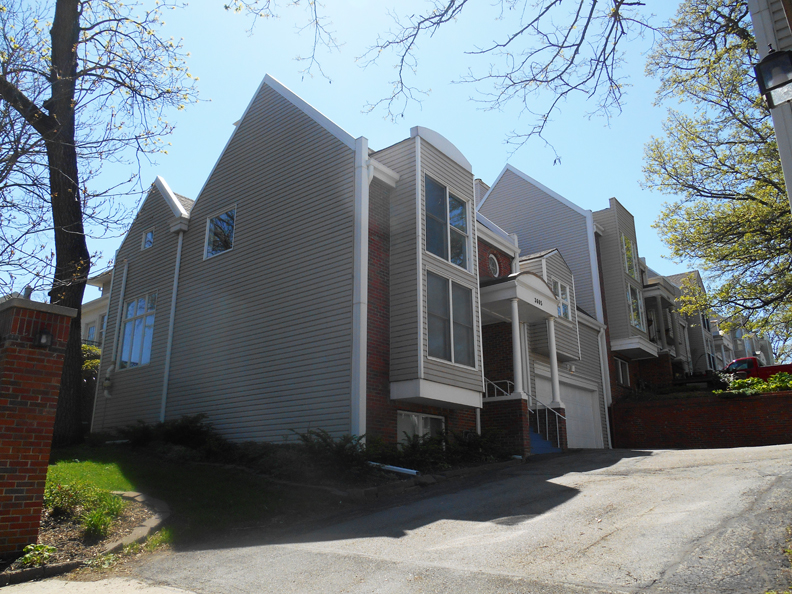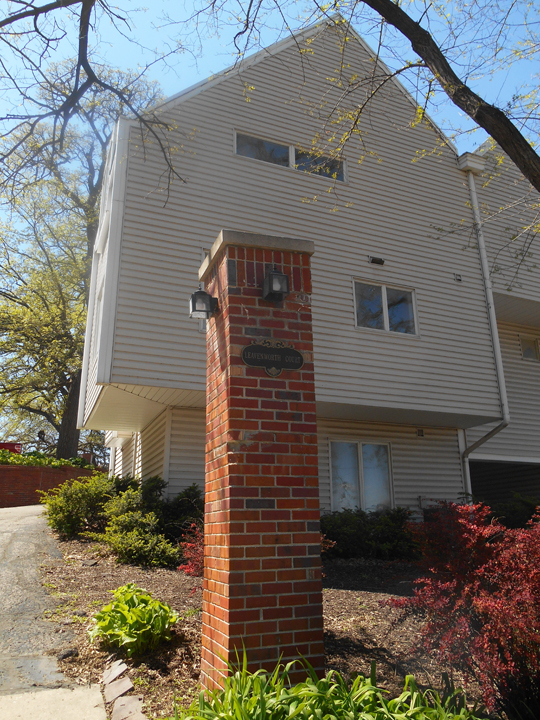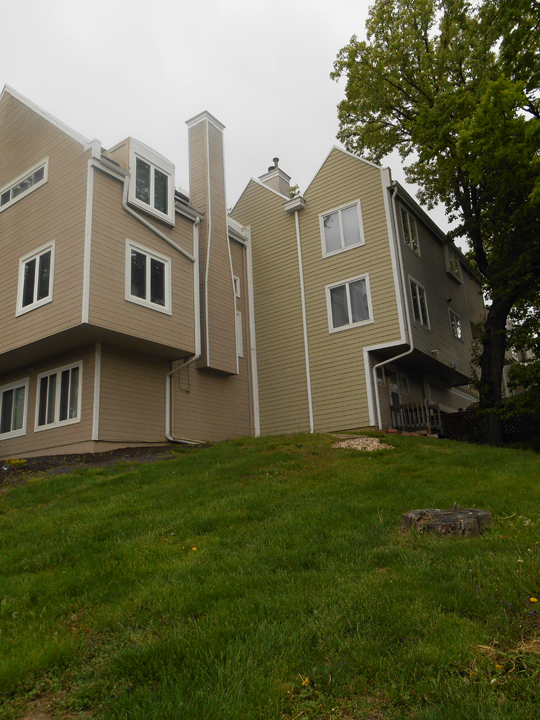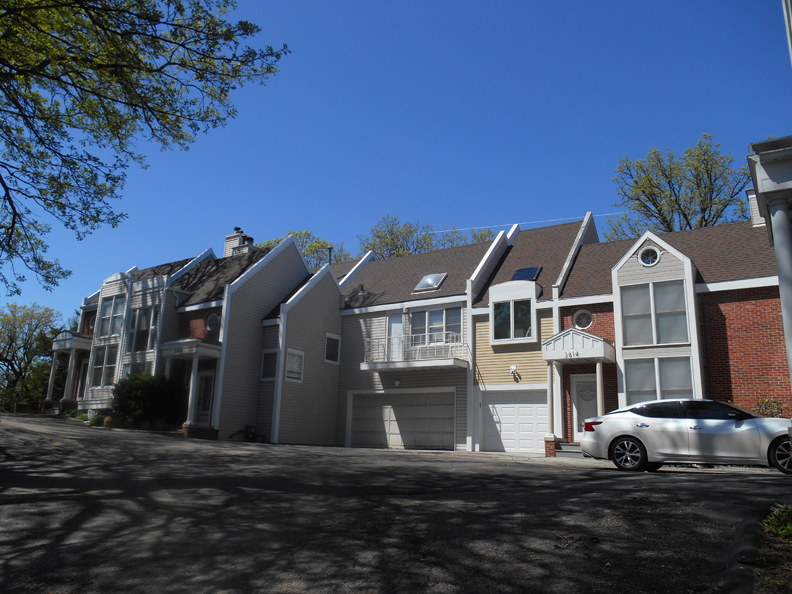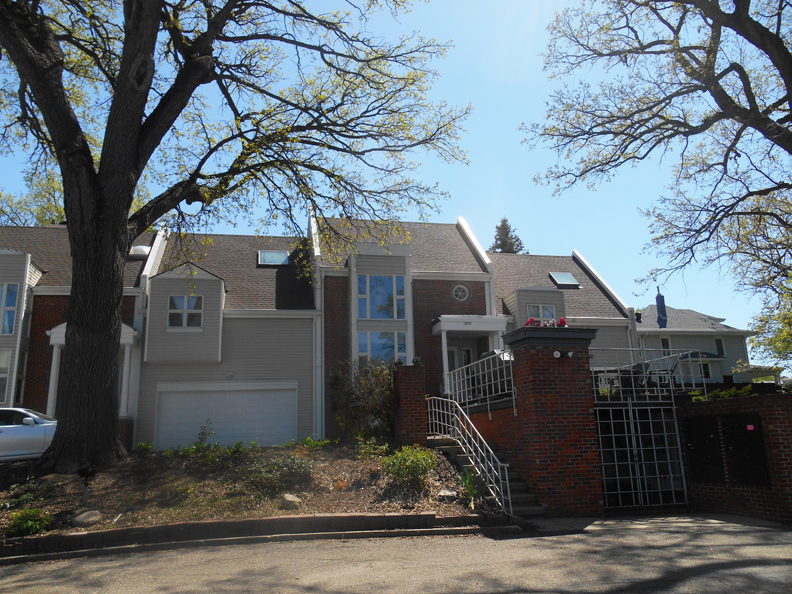 Different views, different days from my detective's camera. This last image displays the strange and fantastical bricked in space with white ironwork. This is  one of the many odd features atop the hill. I longed to know what was held behind those gates. Trash? Mailboxes? Someone's private grill?
The overall design gave an impression of Postmodern 1980s. I saw imitations of traditional architecture but applied in ironic (I think) combination. I believe the intention is one of playful appropriation—a wink at a classic townhouse. (On that note, I am sure someone in our group is better schooled in these matters and I welcome your lessons.) An unconventional mix of architectural elements and eccentric forms can result in either fresh expression or a muddle of confusion; in Leavenworth Crown's case, each town house exhibits its own subtle individual features with varying window style, projecting wings, sometimes appearing top heavy, entryways, floating chimneys, stairwells, and interchangeable volumes. Aside from the all-inclusive asymmetry and high pitched rooflines, the unifying characteristic is a neutral cladding of wood or siding, on a wood frame displaying portions of brick. Veneer or solid masonry? I'm not sure. The brick appears to just be a style element. All planes are framed or outlined in corner posts of off white and the previously mentioned crisp, highlighted parapets dividing the roofs add to the drama. Of note, the side facades offer few or no windows, which is a very New Traditional suburb. A shallow porch would not be usual with a townhouse, but these prominent entryways offer a Neoclassical wink with their exaggerated pediment and slender columns. In some ways it is a forerunner of the Millennium Mansion entry porch. It reads, "Here is our door but do not linger." Underscaled and missing some details, while other elements were exaggerated. Did the individuality of parts and fragmentation of influence nod to Deconstructivism? It was pretty interesting to consider. The project was not without charm but it was the feel of concealment that lured me in.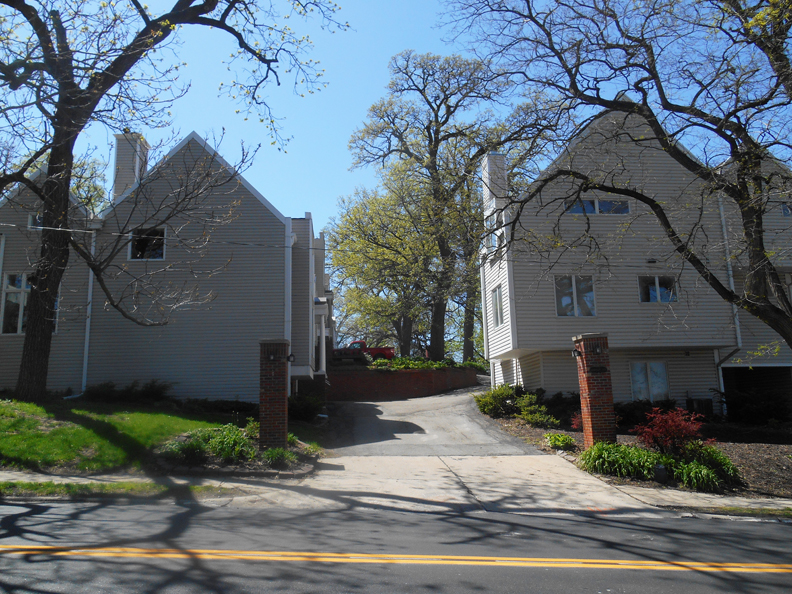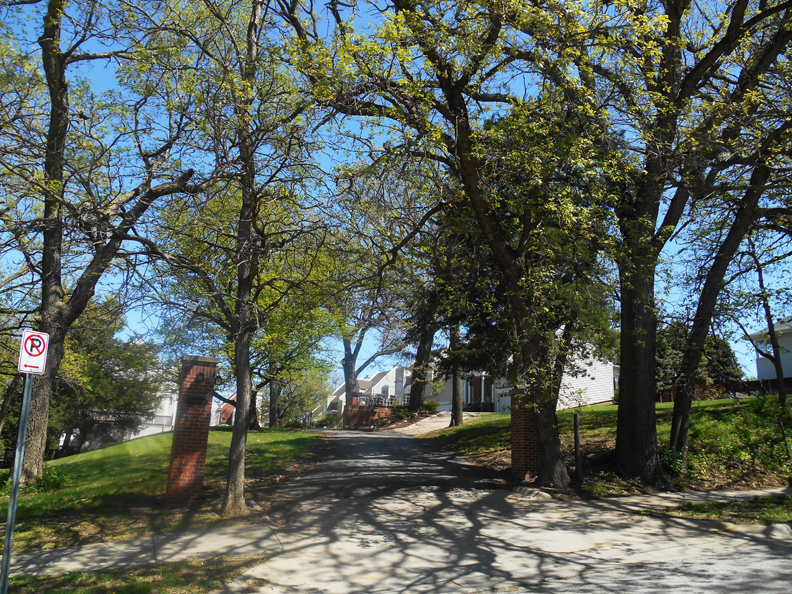 The entrances are unassuming, even though announced by double pillars at east and west entrances. First photo is from the 36th Street entrance. Second photo shows the park like setting as viewed from 37th Street. Were these leaning brick columns constructed for the Leavenworth Crown project or some of the few relics left over from the neighborhood house of legend? There was a strangeness to the cooling air. An emptiness. A dreamlike quality.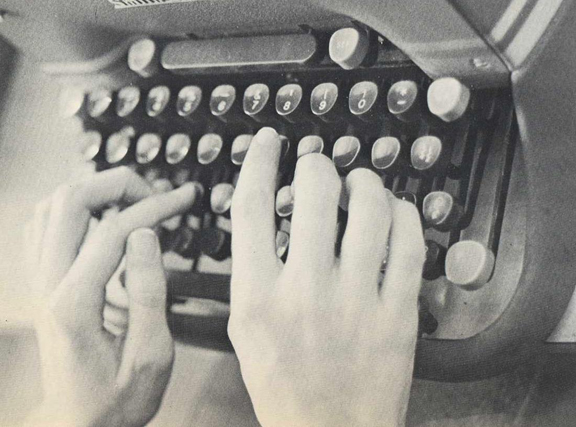 Brief History of the Leavenworth Crown Townhomes
After the mansion of our pursuit was razed in early January of 1977, the wooded hills south on Leavenworth sat for almost a year and half. I am sure the closest neighbors wondered what fate would befall the acreage. I've got to assume that local teens and college age kids sniffed out the area and got into mischief.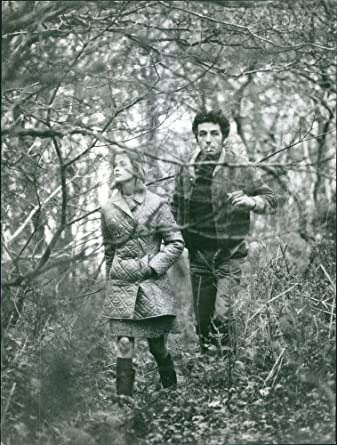 It wasn't until September of 1978 that the land was advertised for sale. At least that was the first I would find it openly marketed to developers.  "Attention developers beautiful treed, vacant lot (one full half block) at 36th and Leavenworth. Presently zoned R-8 for medium rise, multi-family dwellings." Even then, it would be years until the project got off the ground.
It wasn't until November of 1980 that Architect Tom Findley and his brothers, Scott and Jim, made public their plans for the "luxury condominium project." The Findleys were rosy with success of their recent Treehouse design at the northwest corner of 60th and Western Avenue. (Since that time the project has had an address change—now "Lafayette Court" ribbons through the design.) The fantastic Treehouse was built around its original 1934 home, of a Cape Cod style. The Treehouse was completed in 1978. As an aside, I first became aware of the Treehouse project when I was fourteen years old, years after it was built. I promptly decided it was The Most up to the minute, woody, inventive and chillingly, adult object of desire I had ever witnessed. I bet a lot of us teens were obsessed! The cedar clad houses and decks offered a private oasis in the city. A new high school friend I had just met lived very nearby and she worshipped the place. I can still remember giggling up the private drive with her, to inspect the buildings. It provided a close approximation of our 1960s commune dreams!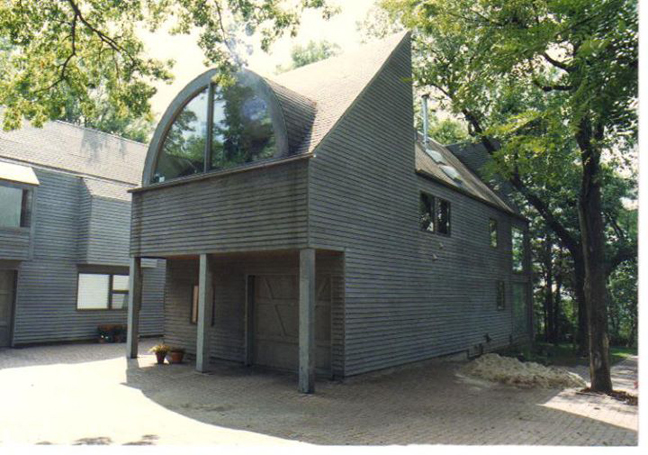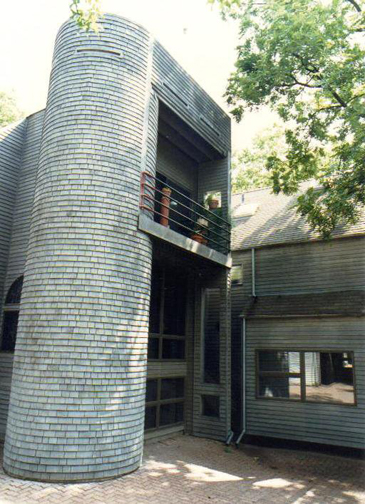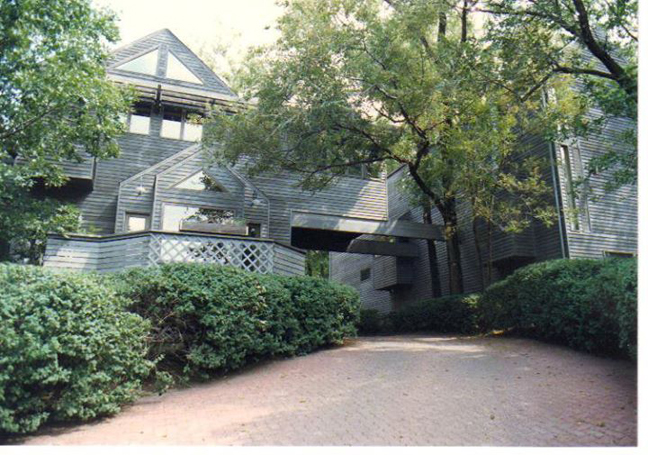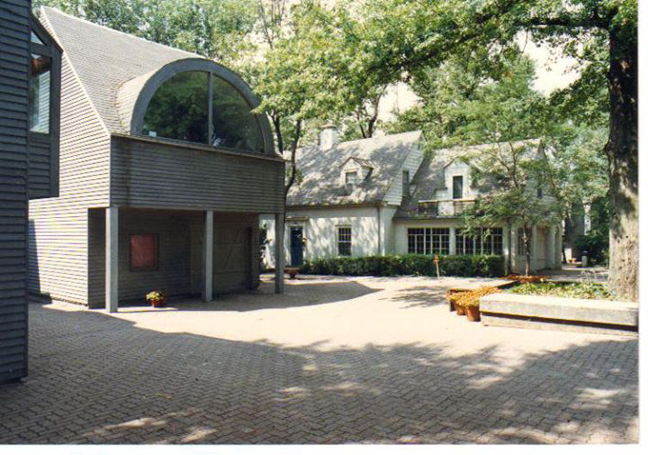 Incredible Treehouse photos borrowed from Gary Tasich, partner. The Treehouse would go on to win many awards and lead by example of gracious, urban infill living of the highest order. We do not often see this is Omaha, as you well know. The collective was comprised of architects Gary Tasich, Tom Findley, Gary Bowen, Jack Savage and Scott Findley. Rumor has it that the Tom Findley family originally lived on the wooded tract in the Cape Cod. In 1976 when the whole property came up for sale, Tom rounded up the other architects to form the Treehouse alliance. The group built eleven individual condominiums, both attached and unattached on two acres of the wooded land. The original house remained and Treehouse project maintained a public space courtyard. It is interesting to study the shingly, sublime 60th and Western Avenue-Lafayette Court project and compare it to what the Findleys and Jack Savage developed for 36th and Leavenworth years after.
Back in 1980 Findley expressed a rather restrained, pragmatic tone. "The next six months will show whether people really want to move downtown or not." This levelheaded phrasing is quite unlike the overzealous sales pitch we have heard in real estate since the 2000s. Findley Limited was seeking 14 or 15 potential town house owners who would be given a say in the design. Modeled after a "London barristers' house" Findley had seen on a recent trip, Findley would replicate the two and three story town houses around a brick courtyard theme, "similar to those found behind old British mansions." At that point he estimated the 36th and Leavenworth townhouses would sell in the $85,000 to $150,000 range. Straight away, Findley's plan was to create a neighborhood within a neighborhood, citing "the rough edges along Leavenworth Street, which has been allowed to deteriorate a bit," Findley said. "But our project will look more to the south and be a self-contained unit." Apparently Findley's inkling was well founded. There was something troubling about the 36th and Leavenworth proposal. Perhaps a sign of the times, lack of interest in new-fangled development in Midtown, inflation of the late 1970s, housing trends, the location on Leavenworth, limited funds and/or rising interest rates *take your pick* but by February 22, 1981, little had been accomplished (that I could dig up) other than christening the projected 36th and Leavenworth design, the Leavenworth Crown.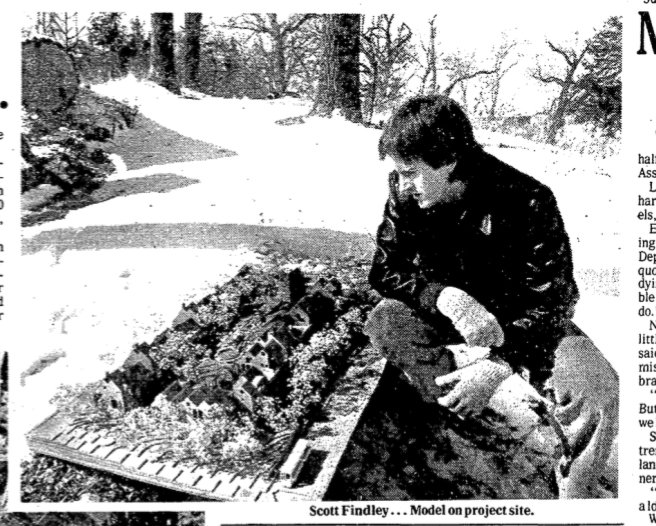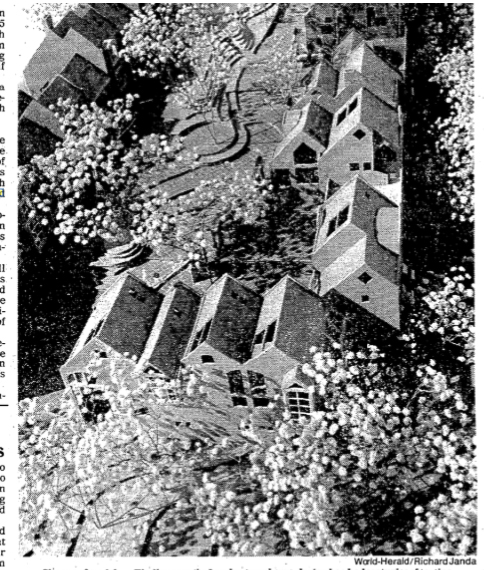 OWH February 22, 1981. Scott Findley overlooks the townhomes mini model, sitting in the snow at the site. Keeping the dream alive! Note the model displayed many more windows, in a variety of sizes and styles (similar to the Western Avenue) than what the end result offered.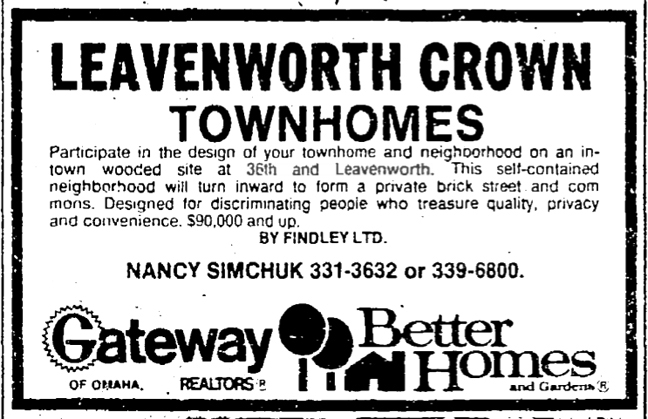 OWH June 13, 1982 Leavenworth Crown Townhomes officially listed.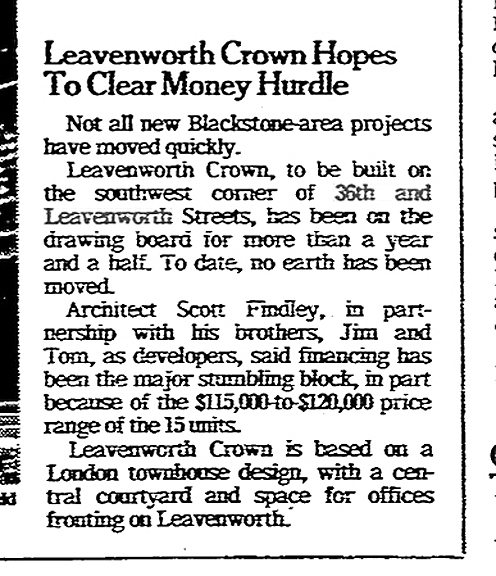 By October of 1982, the cat was out of the bag. The project was having financial issues.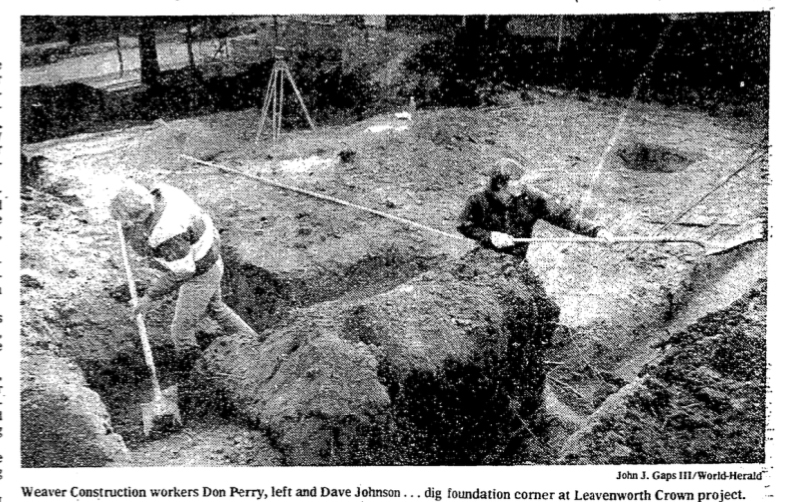 OWH November 19, 1983. Weaver Construction workers Don Perry and Dave Johnson at the 36th and Leavenworth woods.
At long last in November of 1983, the foundation for the Leavenworth Crown project was being dug out. OWH: "It took nearly two years for the Findley brothers to line up financing for their 1.4 – acre Leavenworth Crown condominium project at 36th and Leavenworth Streets. The first condominium was sold on December 25, 1983, to be ready by the summer of 1984. At that point, the game plan was a total of 16 brick residential townhouses and three commercial units. These commercial units were to face Leavenworth Street, on that lower level–this is what I had made note of earlier. The condos were to be arranged around a courtyard with lampposts, a fountain and a gazebo.
Lineup Changes: Later still it was announced Findley Limited Inc. had joined development forces with Knollwood Inc. Architectural design was attributed to Savage and Findley Architects. Weaver Construction was off the job and Caniglia Builders had been hired as general contractor. I would discover numerous building permits for Leavenworth Crown from the Caniglia Builders in 1984. Eight condo units were completed near the end of 1984, with the remaining eight residential units and three commercial offices (to face Leavenworth) to be completed by mid 1985. Tom Findley would later proclaim these three 1,000 square foot spaces were for professional offices, no longer up for commercial use. Perhaps a rezoning issue or lack of parking caused the change.

Obsessive aerial of Leavenworth Crown from April of 2010. Photo borrowed from the GIS viewfinder.
No doubt in promotion of the new Leavenworth Crown, the condos were featured in the Spring Parade of Homes in both 1985 and 1986. If anyone out there in Omaha Land has photos of the Leavenworth Crown project when it was launched, I would love to see them! The commercial bays turned offices eventually became condos for sale. I am not sure exactly when. I did not find the lampposts, fountain or gazebo but they were possibly removed. It made me wonder about the bricked in area I had seen and a sort of fenced parkpad I discovered. If there was originally a central brick courtyard drive, it has been replaced by a black top. I have a feeling the Leavenworth Crown looked differently early on.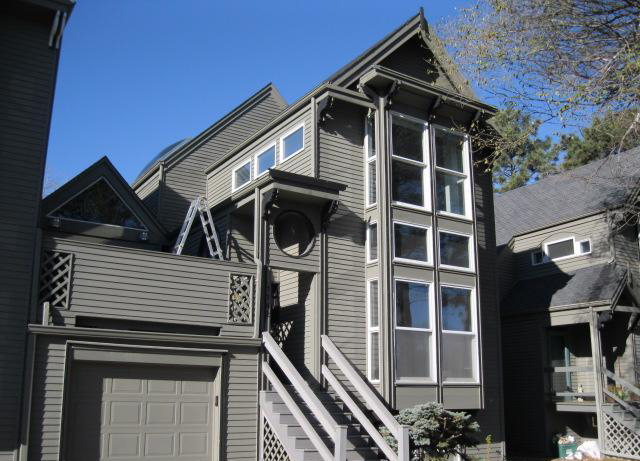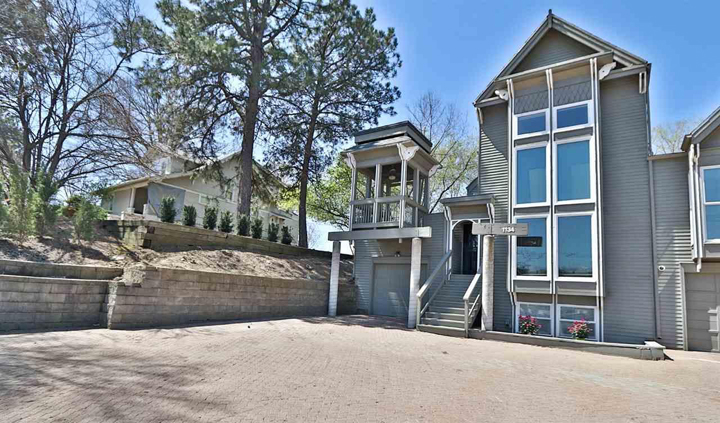 Photo borrowed from the Douglas County Assessor's site.
In the middle of all the hullabaloo of the Leavenworth Crown building, Tom Findley and Jack Savage mysteriously completed another unique "treetop townhome" group, labeled urban infill on the southwestern corner 66th and Western Avenue—the Western Row Homes in 1982.  You must swing by this striking grouping when you can. Like the Treehouse project but with a healthy hint of the Victorian and Edwardian houses of San Francisco.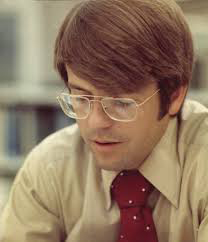 Architect Thomas Leland Findley would go on to design buildings in cities around the world. He worked for the Leo A Daly firm from 1969 through his retirement in 2011. Most recently Findley was recipient of the Harry F. Cunningham Gold Medal for Architectural Excellence in Nebraska. For more on this architect, check out http://aiane.org/aia_design_awards/Cunningham/2018_ThomasFindley_CunninghamGoldMedal.pdf
Part Two
An Invitation to Sleuth
After reassembling the pieces from the Leavenworth Crown years, I still had a number of questions—the kind of thorns you can't extract from historic record. I was excited to lay out my clues and connections of the very early years in hopes of finding the mysterious home that once was. I found what hints I could through studying maps, aerial photos, the Omaha Bee, Omaha World Herald and other regional newspapers, various U. S. Censuses, burial and genealogy sites, Omaha City Directories, deep dig online searches, books from my library and historic photos. I was not always sufficiently assured in my pursuit, so we will skip my internal dialogue…for the most part. But you should know I wanted that house. I needed to excavate those buried remains and see them with my own eyes. I had to know that woodland garden, riddled with brambles and nettles and just the kind of hooks that would pull me into a deep, dark hole. I know you like those things too.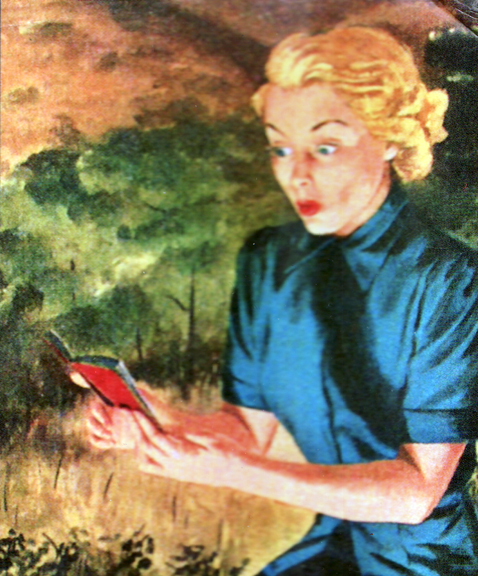 An Unexpected Corner
Because I like all things old and rather enjoy fussing about with my little excavation brush, it is at this point that the story really begins, in my estimation. And it begins with a dignified character found at the utter, bottommost of the mystery. May I introduce Mr. Anton Waldin? The founder of this once stately "mansion" at 36th and Leavenworth was a gentleman noted for having served as aide-de-camp to the Prince of Reuss in his homeland of Gera, Saxony. Germany, to those scratching their heads. After serving seventeen years, the later in this prestigious, high-ranking position, Anton Henry Waldin might very well have been the talk of Omaha, on a number of accounts, by the time he and wife, Johanna Pilling Waldin (sometimes spelled Billing) arrived in our town. It is unknown what prompted the Waldins to relocate from very old Gera, the hilly landscape in east Thuringia, to the far removed, Quincy, Illinois in 1864. Three years later they transitioned to relatively new Burlington, Iowa in 1867 and bought a 160-acre farm north of town. What I do know is that many Germans would settle in Iowa and Nebraska during this time period. The couple had five children while in Saxony, two of whom died in infancy. Bernard (originally Bernhardt), Walter and Olga were all adults by the time the senior Waldins settled in Omaha in 1878. Of interest the Waldin brood and their spouses evidently moved in concert with their elders and all three Waldin males were known to be farmers. What drew the German family to the corner of 36th and Leavenworth?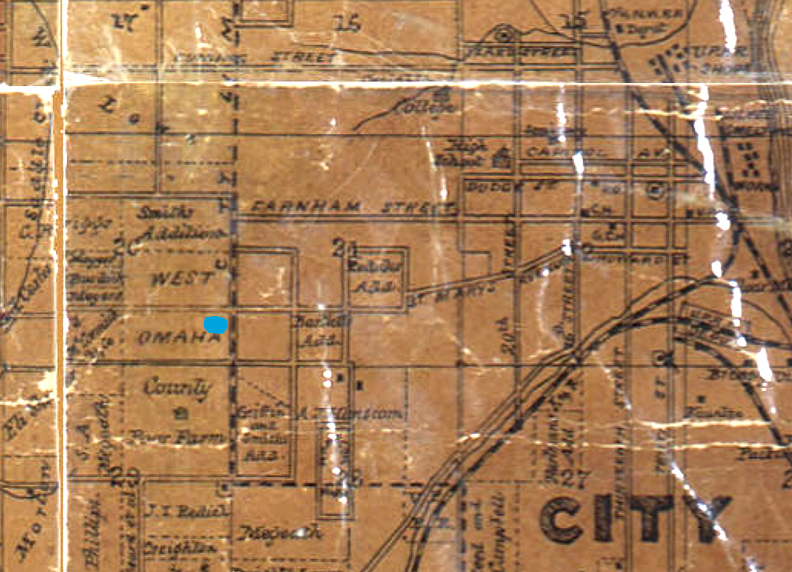 Plat Map of Douglas and Sarpy Counties, Nebraska. Compiled by Andrew Rosewater. Published by Boggs and Hill, real estate brokers and conveyancers. Lithographed by August Gast & Co., St. Louis. Digital Publisher: Omaha Public Library. Date: 1878. A study of this map, although interesting, did not give many details about the vague corner of 36th and Leavenworth. I put a big blue dot in the vicinity. The striped black line that runs north and south reads "City Limit." "CITY" is shown in the lower right hand corner where south of the Downtown area is. The majority of Omahans still resided in the sixteen some blocks west of the Missouri River at the time this map was drawn up. A study of the map will show that the blue dot is located in the lower right quadrant of the "West Omaha" addition—an early subdivision, literally named, as it was "past the city limit."
It was Anton and Johanna Waldin, their daughter Olga and Olga's husband, R. F. Koehneman, who I discovered built the legendary house at what would come to be known as 812 South 36th Street (36th and Leavenworth) in 1880. However back in those days, this property was considered the very western outskirts of Omaha. To be fair, some say 36th and some report 37th Street, was the official city limit. I found mention that Leavenworth was not graded past 37th, hinting that this might have been the city boundary. Nevertheless, I would pinpoint the Anton Waldin's purchase of a whole desirable city block, from 36th to 37th along Leavenworth. Lots One and Two of Block Twenty in the West Omaha addition, as surveyed, platted and recorded in Douglas County. A review of the 1866 West Omaha addition plat reveal that George Smith and Oscar B. Selden intended to map out a wealthy, modern enclave, the likes of which Omaha had not yet experienced. Finger on the pulse, Selden & Smith's West Omaha was later home of the Gold Coast-West Farnam Districts where many of Omaha's finest homes continue to flourish. A blacksmith by trade, Selden had moved to Omaha just twelve years prior, by way of Michigan and quickly met with success after forming Selden & Smith, proprietors of a large part of South Omaha. The duo would buy up and develop various pricey swaths of Omaha. By 1886 Oscar Selden had moved to Manville, Wyoming with the intention of developing a whole town until he was assassinated while sitting at a table in his home.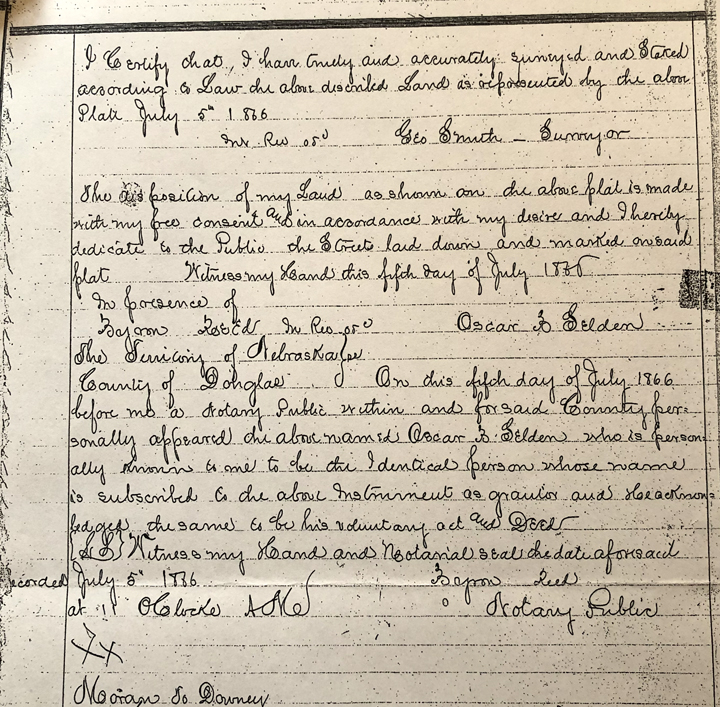 1866 West Omaha Plat borrowed from the Douglas County Deeds Office. Please survey the Cudahy Mansion investigation for more details on the enchanting West Omaha subdivision.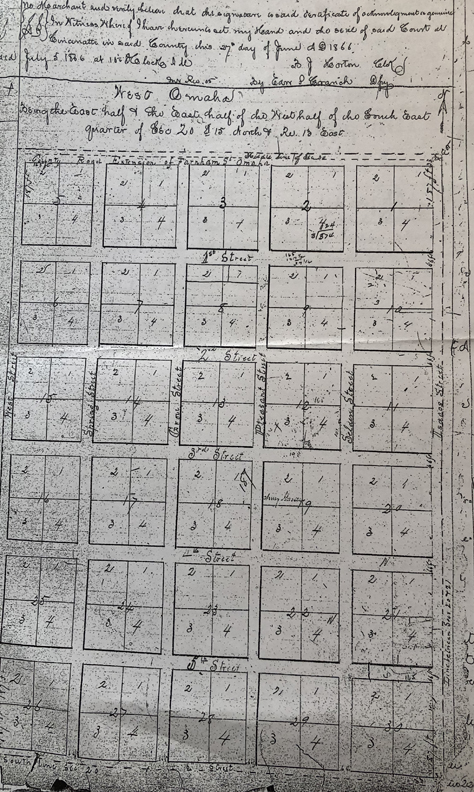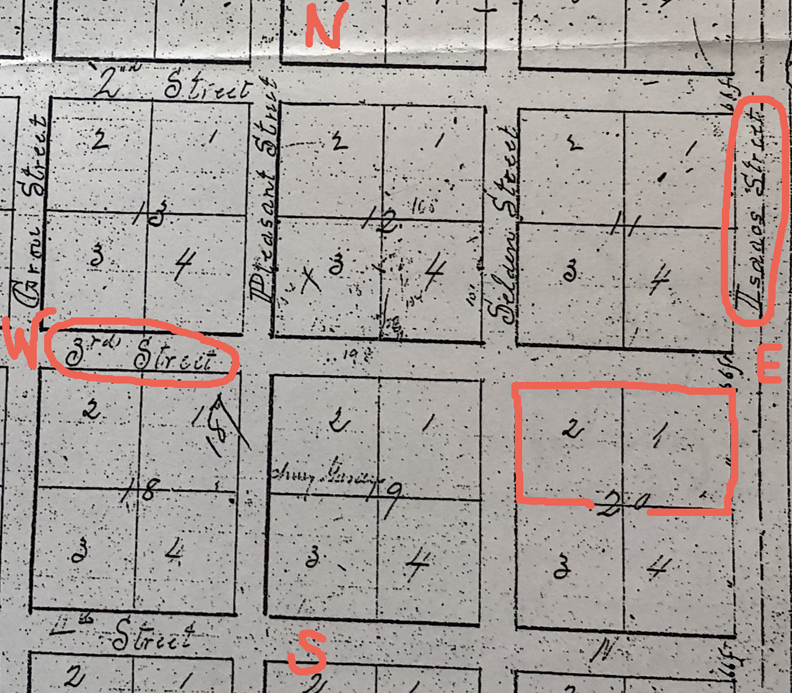 1866 West Omaha Addition early map. Map borrowed from the Douglas County Deeds Office. The lower image is a detail, enhanced for your viewing pleasure. The Waldins' parcels are outlined in orange. The street names are circled. If you ever questioned if I was professional, this map will make clear that this is Amateur Hour.
According to the Streets of Omaha: Their Origins and Changes by H. Ben Brick, 36th Street originally went by the name Isaacs Street. Leavenworth Street, oddly, was a recast of Coburn Street. Of peculiar note, once past Isaacs Street (36th Street), Coburn Street then transitioned to Third Street. To twist matters even more tortuously, today's Leavenworth thoroughfare was only called Third between Isaacs Street (36th Street) and Lowe Avenue (40th Street). I am devoted to these intricacies!
Two-Way Detecting
According to the Omaha City Directory, son-in-law, Mr. R. F. Koehneman, (sometimes spelled Koehnemann) draughtsman,  then evidently working for the government. They resided at the northwest corner of 17th and William in 1878. I would learn from another city directory that his later position was within the chief engineer department of the Union Pacific Railway. Did the Waldin parents live with the Koehnemans at that time? I would suspect, from my Iowa clues that the Waldins and Koehnemans lived within close proximity in Iowa and transported to Omaha with their shared multi-generational household plan, not unusual in those days.

Image from the Omaha City Directory of 1878. Back when a working man was a butcher, owned a saloon, was a painter, a cigar maker and a watch maker.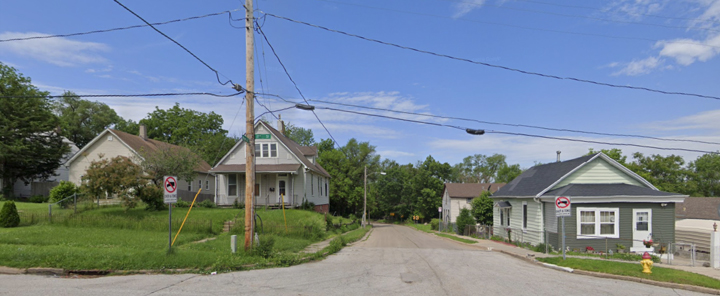 Northwest corner of 17th and William as it looks today. Image from the Google Map 2019.
Olga and Her Brothers
Olga Marie Waldin married Rocchus (usually spelled Rochus) Frans Koehneman in September of 1871 in Des Moines, Iowa. Olga, as we know was born in Saxony. Rochus was born in Oldenburgh, Germany in 1836. Previous to the Union Pacific, Koehneman had worked as an engineer for the Army's Department of the Platte. Serving as a civilian under General George Crook, Mr. Koehneman was said to have mapped the territories of the Dakotas, Idaho, Montana and Utah. The Koehnemans had one child, that I could find, Antoinette (sometimes Antoinetta). Antoinette was born in Iowa in 1873 and her name was no doubt, a nod to her grandfather. I act so sure of myself and yet there are a lot of moving parts in the puzzle. For example some clues reported her birth year was 1879. Was it true her full name was "Antoinette Olga Marie Agnes von Heimberg Koehneman, of the Barony of von Heimburg, acclaimed to be of the line of Hohenzollerns, leaders of Prussia, uniters of Germany?" For that is but a small thread from the folklore ball of yarn.
The eldest son of Anton and Johanna Waldin was Bernard Arthur Waldin (1858-1922). After living in Omaha a while, Bernard and his family would later moved to Miami-Dade County, Florida where he was a known fruit farmer. Middle child, Walter Waldin (1862-1924) would likewise move to Miami-Dade. Interestingly Walter had a demonstration farm at the edge of the Everglades where he "held experiments that farming can be sustained in the Everglades Swampland."
By the 1880 United States Census the Koehnemans were securely registered living at 812 South 36th. Rochus was then a railroad surveyor, 44 years of age, and Olga was age 29. "Antonietta" was age 7. 812 South 36th was considered Dwelling 1 of the West Omaha Precinct. Oddly there is no mention of the Waldins from the census data.
The Missing House
But what of this glorious mansion, you are wondering—as was I! We desired a large gathering at the front door, bated breath in the eagerness of our shared curiosity. If we tried the door, would it yield to our collective hand or would it be flung open wide by a sudden gust of wind? Just within the entrance might be a row of servants who would reveal handsomely furnished rooms, darkened by curtains, a tidy succession of leather bound books on shelves, a hidden staircase behind the grand staircase… A loud dismal sigh…there was nothing. No proof of its architectural majesty. No evidence that I could tease up, other than the Koehneman family registered there by the 1880 census.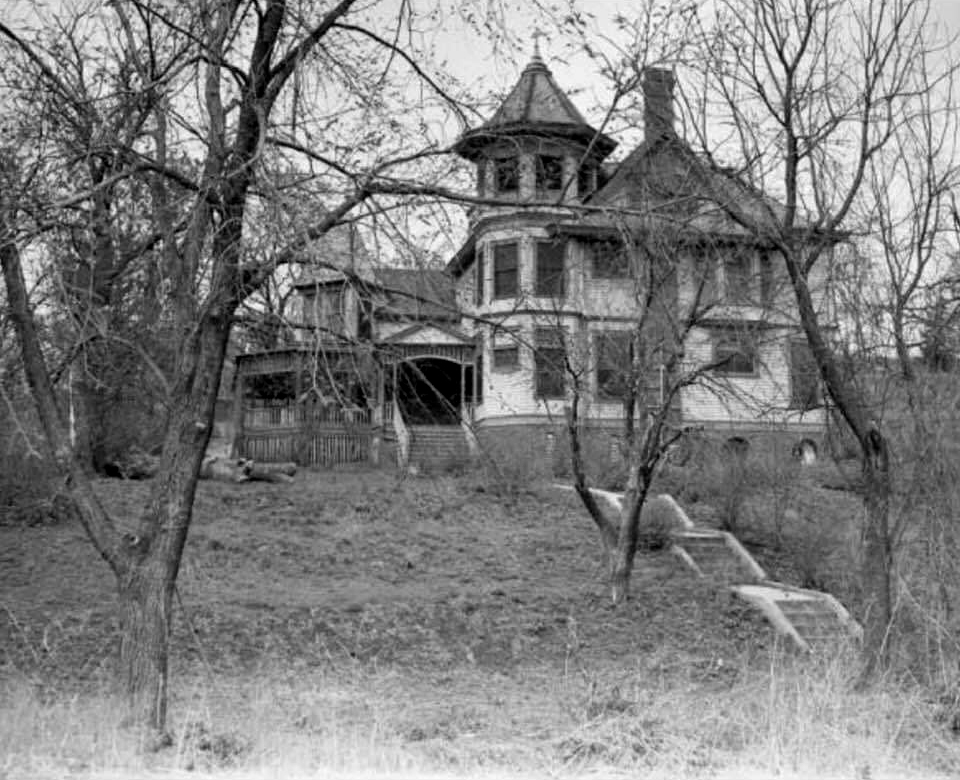 Upon further exchange, our faithful letter writer, Bill Emsick, sent along this photograph of the house. He found this image on the Forgotten Omaha site long ago and said that it was labeled as the 36th and Leavenworth house. "Girl Howdy!" I squealed. Bill remembers the home in the woods looking like this. This was getting much warmer to a mansion than the previous photos. And who knows how far back it extended? Is this photo of the 36th and Leavenworth estate? What year was this taken? I do not know for sure but it imbued just the kind of creeping beauty that I love. It is a bewitching, weathered place, conjuring of scent and rumination–my interests were piqued three fold after viewing! I did many a reverse image search as to the origins of this intriguing photo and found nothing, so I assumed it must be from someone's private collection. Later I will show you the images I did find and we will compare and contrast. We'll need your input, sleuthers!
The Magnetic Well
But it gets better and more complicated still. This fine wooded upslope of southwest 36th and Leavenworth, then called Isaacs and Coburn or Isaacs and Third, dependent on which way one passed, was rumored to be the favorite "first watering stop" on the wagon trail heading west from the Missouri River. The adventurous pioneers of the 1850s were said to have paused at the well for clean spring water, guided only by the tracks of the wagons that had preceded them. Some reports claim this site was the very first hand-dug well and watering site in the state of Nebraska along the Oregon Trail. The opening was said to be on the southwestern most part of the property, which I noted was likely the highest plateau from Leavenworth. This is the area of green space, of the underdeveloped Leavenworth Crown portion. Noted to be a "high, sightly property, busy since Nebraska was opened up—at the south end was a spring."
I longed to know more about the Native Americans from this area. Surely Native people had accessed this groundwater prior. Good flowing, a good tasting spring would have been a true delight and an essential resource. I would love to know more. It really made me wonder where the aquifer source was located and where this reservoir relocated to.
I shivered to read of the stately oak tree, perhaps the oldest character in this tale, believed to have grown from the 1800-1815 time period. He offered a "shady retreat for pioneers who paused on the outskirts of Omaha and drank from a well at 36th and Leavenworth." How many people touched his bark and leaned against his back? The distinct tree and its spring were said to be a "favorite stopping place." How did people know to stop at the well hidden in the trees? I saw the well's carved wooden sign, a sort of marker–as familiar as it was first hammered to a nearby tree in my imagination. Was it the Waldin-Koehnmans who would construct the picturesque well house over the spring? My reverie…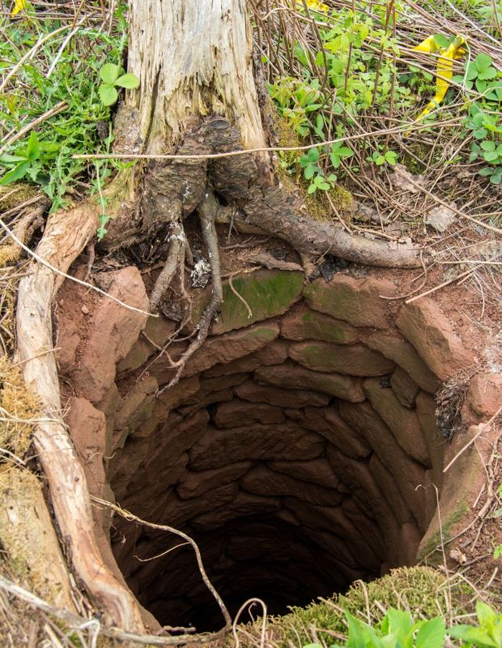 The well was said to be hand-dug, which were often perilous to build. Much could go wrong. Stone masonry might have lined the basin.
Although this spring was regarded as a destination point, most likely because it was a clean resource, it is interesting to consider its significance. Allow me to become Very Irish for a minute or two. Often regarded as special or magical, in ancient times a well or spring found some distance away from its watercourse was given special notoriety. Especially if it opened up on a hillside or slope. Sometimes viewed as an offering or a gateway between the natural and supernatural worlds, there are writings, which esteemed the wellspring as an entrance to the Otherworld. Holy Wells were also thought to be a place to cast votive offerings or possessing healing powers. The highly medicinal, revered water from a spring in the Grotto of Massabielle in Lourdes, France comes to mind. While wells and springs are thought of, in any time period, as a beneficial resource, there are cases of evil wells that were thought to allow supernatural denizens a passage to the natural world. I have not read that the wellspring on the Waldin-Koehneman land was regarded as possessed or magical or otherwise. I was, however, terribly interested to know of this early landmark, the fact that its water sprung from the hillside and of its local notoriety in Old Omaha. Those reasons alone make it magical to Miss Cassette.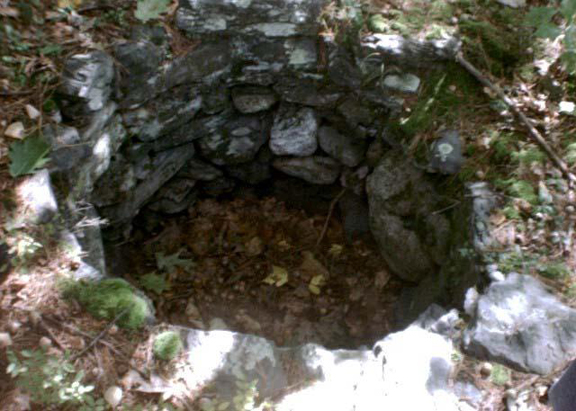 A Researcher's Ruse
Anton Waldin died in March of 1892. After the death of her husband, Johanna Waldin is said to have divided her time at the homes of her children. However she was often registered living at 812 South 36th Street.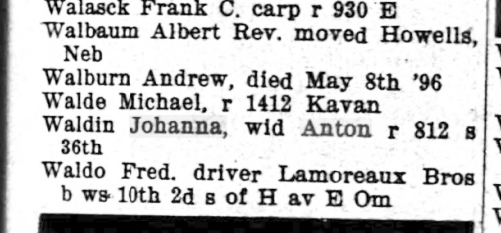 1897 Omaha City Directory shows Johanna Waldin, "wid of Anton r 812 South 36th Street."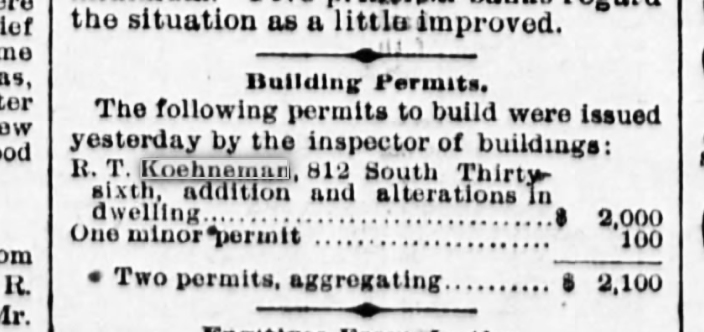 Over a year after Anton's death, the Koehnemans began making alterations to the home. Omaha Daily Bee. July 12, 1893 building permit issued to Koehneman for a frame addition and alterations. These are the kinds of clues I go crazy for!
According to the inflation calculator, $2,000 in 1893 is equivalent in purchasing power to about $56,976.44 in 2020– a nice little chunk for home renovation. I know that there was another large addition after 1910 but this 1893 revamping is what intrigued me. According to the World Herald, the house was rumored to be in the design of "the great German castles–the walls were wooden but floors inside were stone and marble. The many bedrooms and servants' quarters had ornate woodwork." The Koehnemans eventually installed electricity but were thought to prefer candlelight. The family would plant more trees, landscape the property and enclosed the spring in a wellhouse. There were two sweeping drives leading from 36th and 37th Streets. As viewers looked upward, they could see an imposing, proud structure, however withdrawn from Leavenworth. It was called a castle, for Pete's sake.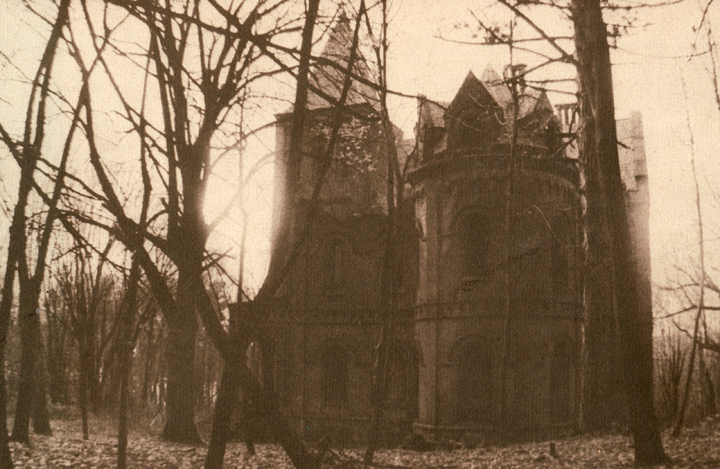 My idea of an American Castle.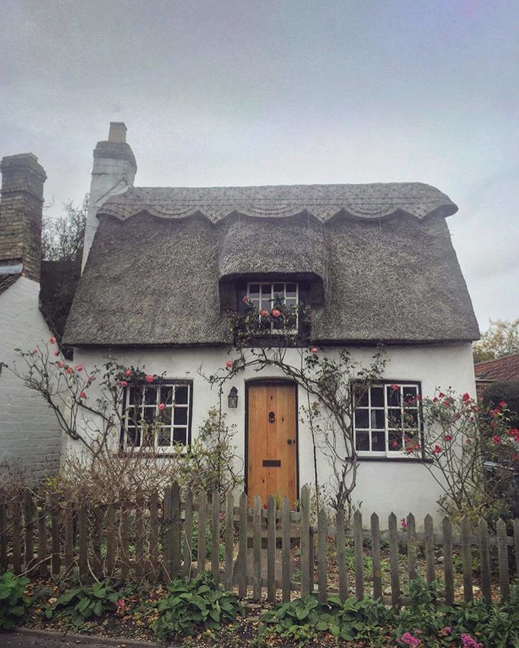 Before you run off and tell everyone that Miss Cassette is a Castle Snob, please know that this is my idea of fine home. A Fairy Cottage with a typewriter would suit me just swell.
I was flummoxed. It was hard to imagine the two photos attributed to 36th and Leavenworth being called a mansion or a castle. However these days the trembling words "mansion," "castle" and "estate" have lost their impact and are thrown around with casualness. I wondered–could it be that the Waldin-Koehneman exterior was in the Omaha modest tradition and its interior was ornamented in this German castle style? That would explain a lot, for I learned the common Midwestern impression of the Waldin-Koehneman's property was overall one of strangeness and novelty. This description only made the mystery home more desirous in my book! The once grand home was said to be furnished with family heirlooms from the Waldin and Koehneman estates. Chock full. Tripping over full. Mouth hanging open full. We have found in our past investigations that rich people just adored naming their houses, summer homes, vacation homes and farms in the past, such as Lilac Cottage or The Firs. I wondered if the Waldin-Koehnemans christened their home The Castle? Who was I to question her name?
For what it's worth, the Omaha German community regarded Rochus Koehneman as stoic, withdrawn, aloof. This I gathered from the World Herald and it is interesting character development to consider. Few were invited to the home. I did find Olga Koehneman in the Society Pages for trips to Hamburg, Germany to visit "her people, who are officials in the German army" in the 1900s. She was also involved as treasurer of the Deutch-Amerikanischer Hilfs-Verein (German American Relief Association) in 1915 but that was the sum total of her society involvement, that I could find. I have got to think that the Waldin-Koehnemans were an insular family unit; they were very invested in upholding their family ties in the old country. I found no parties or gatherings, ever, in the castle as would have be the custom in any time period. I imagined the silence throughout the home was fantastically endless. The whisk of an Iowan turkey feather duster, distant clock chimes, the shuffling of leather soles on stone floors and the whispering curtains of the bedchambers.
If the Koehneman family and grounds were a truly closed encasement, the entrancing mystique only created more fervor from the nearest adventurers. It seemed as though there was a longstanding allure to the area, beyond that natural spring water. I smiled to discover this: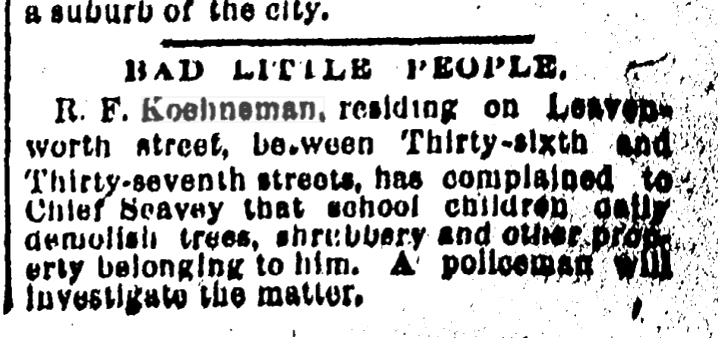 September 22, 1893. OWH. "Bad little people." Rochus was sick of it of the school children's destruction. Did they find the outermost portal through the trees and shrubs? It is interesting to consider that roaming freely across unenclosed private property was allowed in early America, the only obvious boundary was a fence or wall. Even then a wanderer was only to keep a respectful distance from a landowner's home. It wasn't until 1920 that "freedom was rendered null in the presence of a simple 'no trespassing' sign." The Right to Exclude has given landowners more privacy increasingly over the years. Quite possibly the Koehnemans had not thought to erect a fence, as this was a rarity in those times.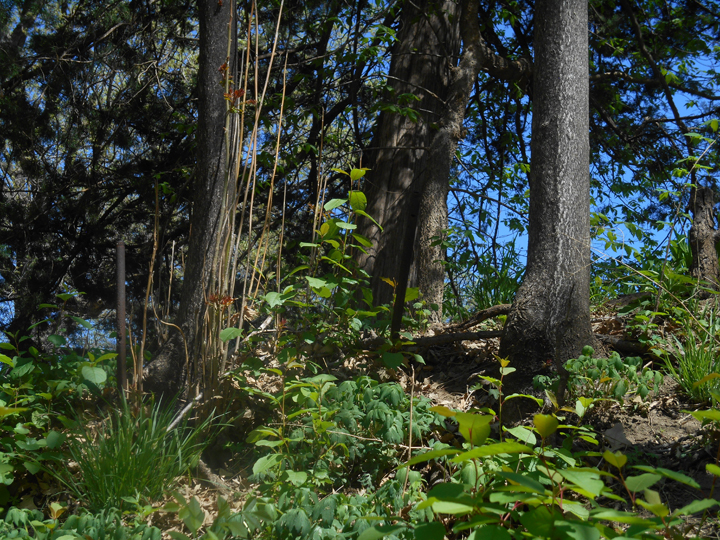 Remains of iron poled fencing on the western most border, facing 37th Street. How old, I do not know.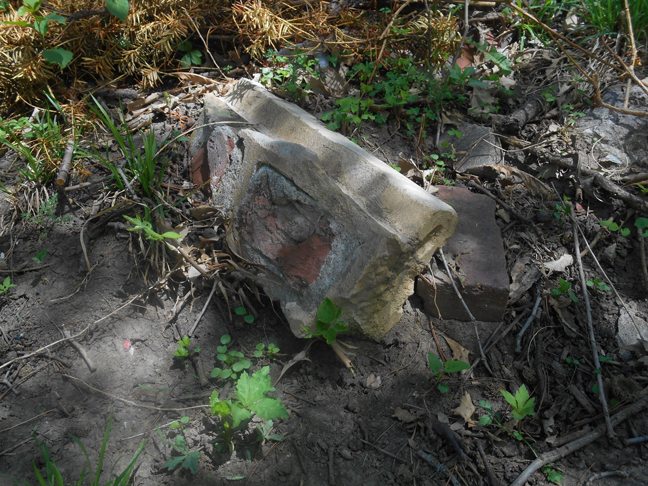 Remains of bricks encased in cement on the west side of the property. It looked like carved limestone. Some type of border from long ago?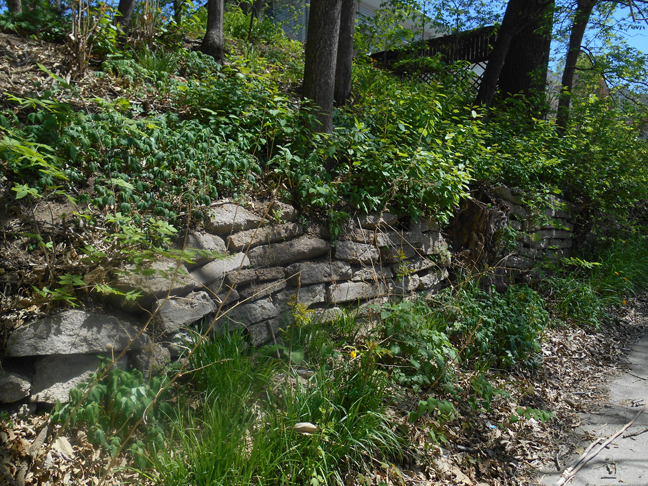 Old embankment found girding the property on the 37th Street side.
By the time I tracked Johanna Pilling Waldin's death to May of 1900 at the age of 70, the Burlington Evening Gazette made plain that Mrs. Waldin died in the home of her daughter and the funeral service was to be held in the residence as well. Johanna Waldin had recently returned to Omaha from Miami, where she had passed the winter with her son, Walter. Although records would designate 812 South 36th Street was in both the Koehneman and Waldin names, from then on the 36th and Leavenworth property was solely under Koehneman.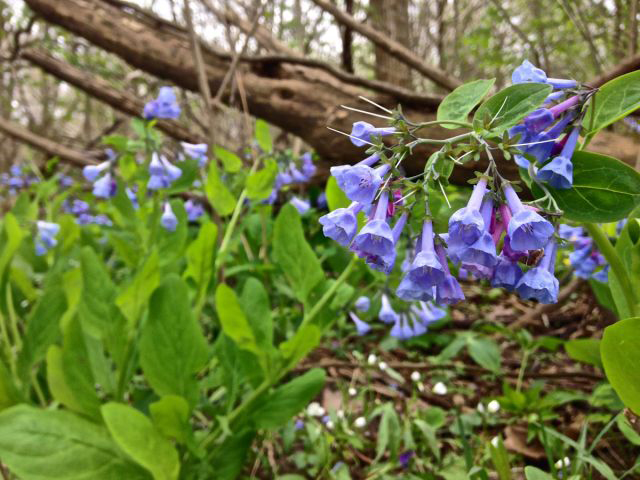 Enter Arthur Allwine
Around the turn of the turn of the century, Rochus was a surveyor for the Union Pacific Railroad. He would meet a fellow named Arthur Allwine who also worked in railroading. Arthur Ashton Allwine, (I know, great name) was born in 1880 in Grand Island. His parents, Melissa Adella Hake and John W. Allwine, were from Pennsylvania. I am not sure under what conditions their friendship was forged, these two men who were not known to entertain friendship, but Arthur Allwine began renting a room at the Koehneman's large home in the woods in about 1910. Arthur had never married nor had children that I could find. I estimated him to be about age 30. Likewise the Koehneman's daughter, Antoinette had never left her parents' side or that desirous house for marriage or otherwise. If it is true that Antoinette was born in 1873 or the even later birthdate claim of 1879, she was considered getting on in age by the standards of her day. Miss Cassette doesn't fuss about these matters of social norms—just interesting to consider the information. This information, coupled with later details of how very particular she was known to be, could aid in sketching a foggy outline. Antoinette was working out of the spacious home, giving lessons from the family's private music room.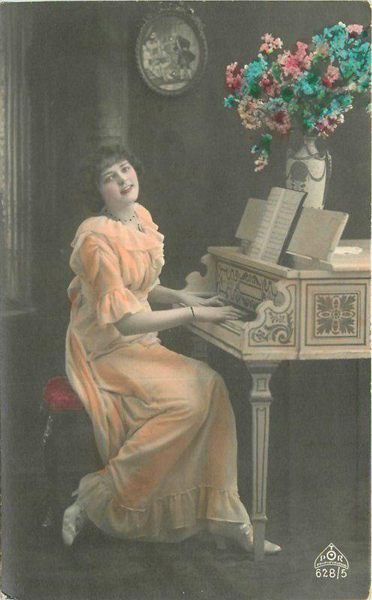 1916 Omaha City Directory reveals that Antoinette was a music teacher.
The Arthur and Antoinette couple were apparently fond of one another. Or some sort of agreeable arrangement. Theirs was a lengthy courtship. I was able to track their wedding date to April 17, 1917, according to the Deed Books at the Washington County Courthouse. The wonderful Washington County Genealogy Society volunteers compiled this data from 1856 through the end of 2009! Arthur registered with the U.S. World War I Draft in September of 1918 at age 39. He listed his birthday date as Sept 5, 1879. It is interesting to note he was then Assistant Secretary at the Omaha Building and Loan Association. Side Bar: By 1930 I would find Arthur had opened the Allwine Realty Company, logged at 832 South 24th Street. Of note by the time of his WWII Draft Registration on 1942, Arthur listed his birthdate as September 25, 1880. Hmmm? Antoinette and Arthur would continue the multi-generational living plan by residing with her parents, as was the pattern in this home. They never had a child.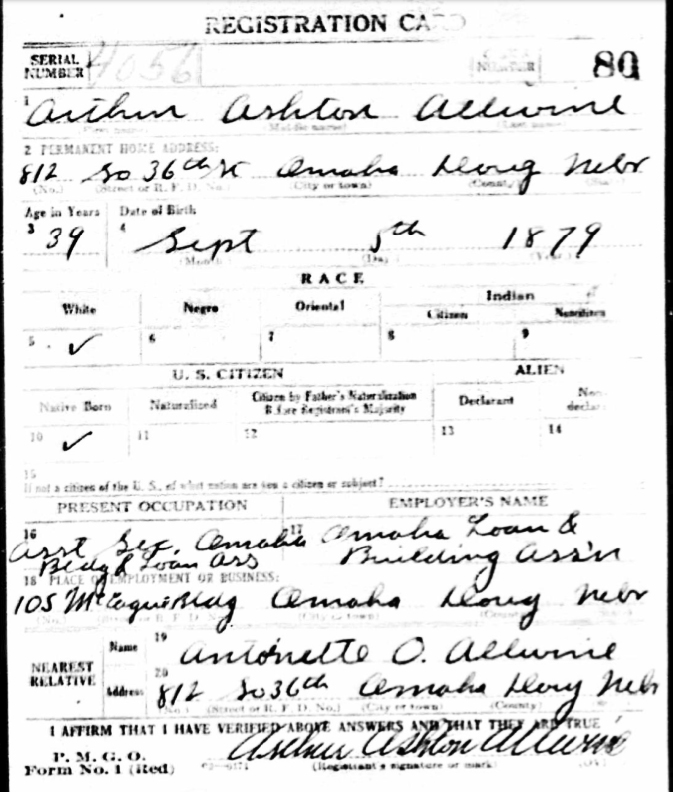 Arthur Allwine's WWI draft card registration from 1918.
The Koehnemans' Passing
Olga Marie Waldin Koehneman died in 1920. Sadly her obituary called her Alta Koehneman and the address was mislabeled as 812 South Thirty-fifth.  But the stranger part was that the obit mentioned her having died at age 54 and an Omaha resident for forty-two years. That would have made Olga twelve when her parents, Anton and Johanna moved to town. Contrarily we had already learned that Olga was married to Rochus and had already given birth to daughter Antoinette back in Iowa. I questioned that perhaps there was a second wife named Alta. I gave that scenario a real thorough scrub but this is better explained by Olga vacillating on her age or newspaper error. I have already suggested that daughter, Antoinette, was also an age hedger.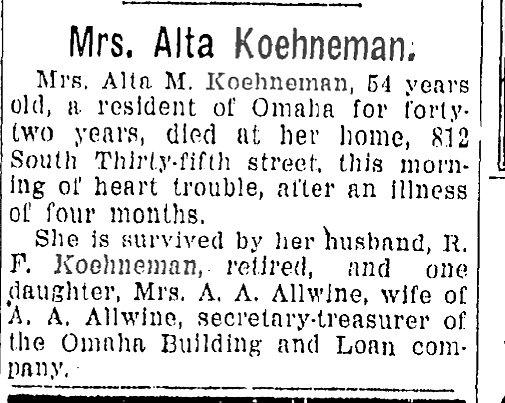 Rochus Koehneman was known to walk his property amongst the trees that he planted until old age. He was said to keep a trusty German Shepherd by his side. I would dig and dig until I discovered Rochus Koehneman died in October of 1924. He is buried at Prospect Hill. Is it weird that I wanted someone in this insular clan to be buried on the family's one block plot of land hidden in the trees?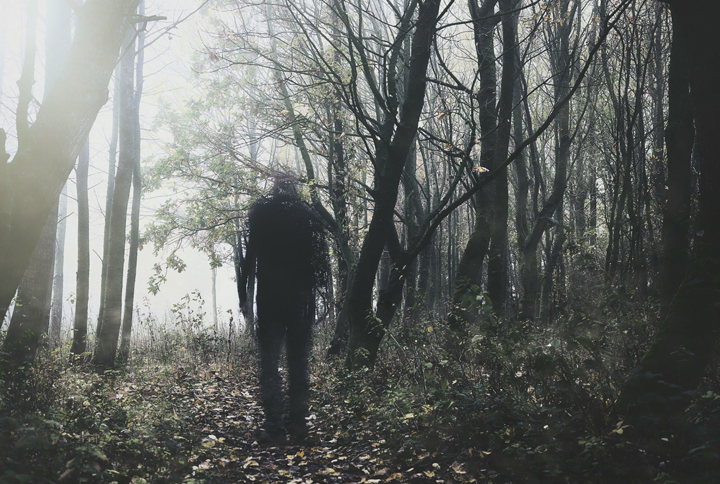 A Valuable Inheritance
After Mrs. Koehneman's passing, and questionably while Rochus was still alive, Arthur and Antoinette were said to have remodeled and enlarged the family home considerably, adding "an impressive wing that resembles a baronial great hall." This wing was designed and decorated by Antoinette with "a lofty beamed ceiling, paneled walls, gracefully arched double doors, a huge stone fireplace, a floor of marble slabs and even a minstrel's gallery" overlooking the dining room. "Some of the elaborate, heavy furniture Mrs. Allwine designed herself, some was inherited from the Waldins." The home was described as "eerie" with an "old castle-like interior" complete with high, arched leaded windows.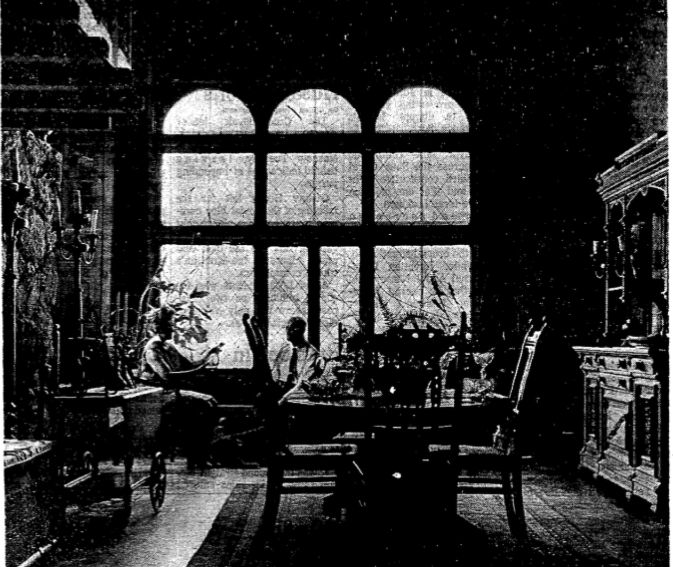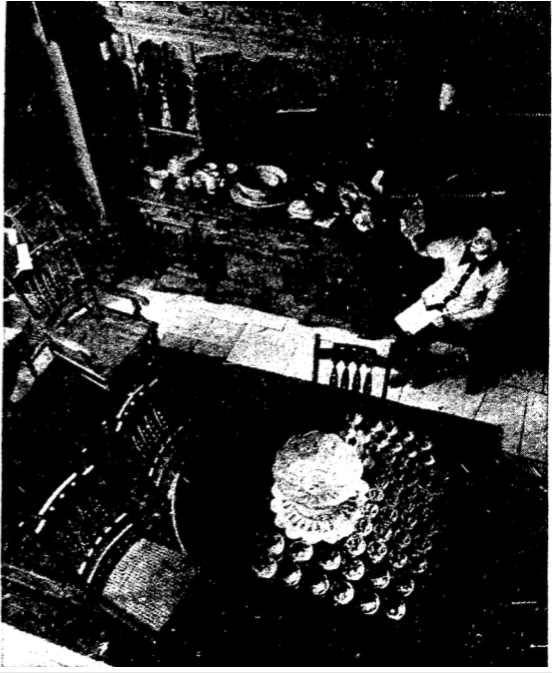 OWH. 1974 Striking interiors of the great hall-dining room that Antoinette Koehneman Allwine designed.
After studying photos of the home and a survey of aerial images, I had come to believe that the Waldin-Koehneman house was situated perfectly center of Lots One and Two in the West Omaha addition. But it was this drawing from George William Baist's survey from 1918 that made plain. The house was literally surrounded by woods, toward the high, "back" of the property.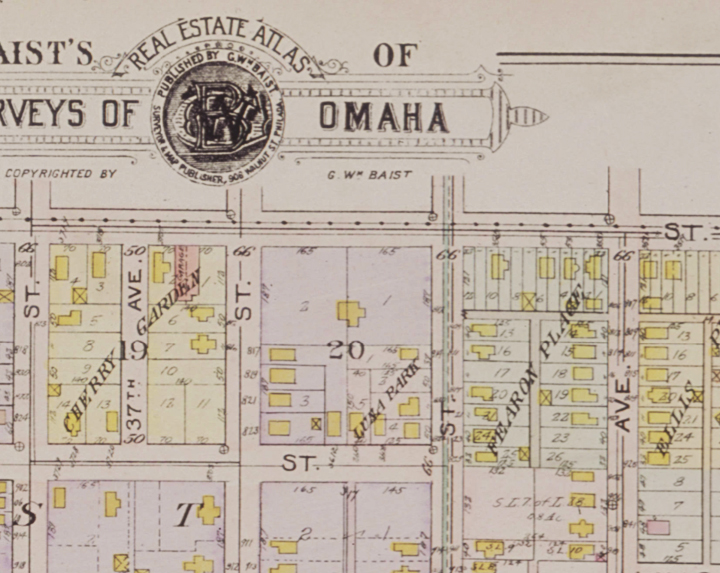 Baist's Real Estate Atlas of Surveys of Omaha. Copyrighted 1918 by G. Wm. Baist. Digital Publisher: Omaha Public Library. Date: 1918. Orientation: Top of the map is north. The dotted line on the running across the map is Leavenworth Street. City Limit is denoted by the green green road with dashes, 36th Street. Look at the pale blue squares labeled 1 and 2 with a yellow footprint of a home centered between the two. This is the 812 South 36th Street property.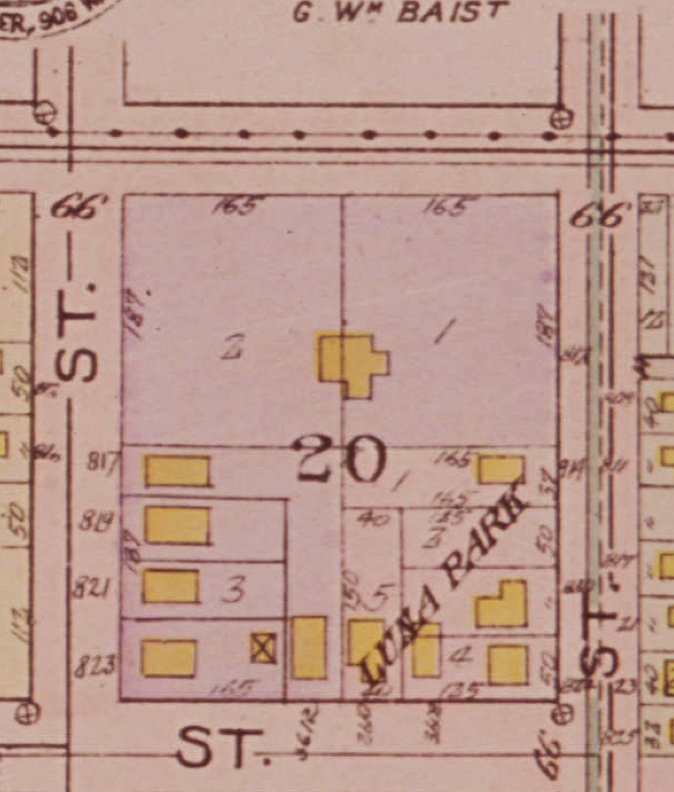 Detail of the Baist's Real Estate Atlas of Surveys of Omaha. Copyrighted 1918 by G. Wm. Baist. Digital Publisher: Omaha Public Library. Date: 1918. Study the outline of the house. I would pore over it for months. The images I would find did not match the outline from the survey. I believe that Antoinette and Arthur's remodeling efforts possibly changed the footprint in a significant way. I needed to know more!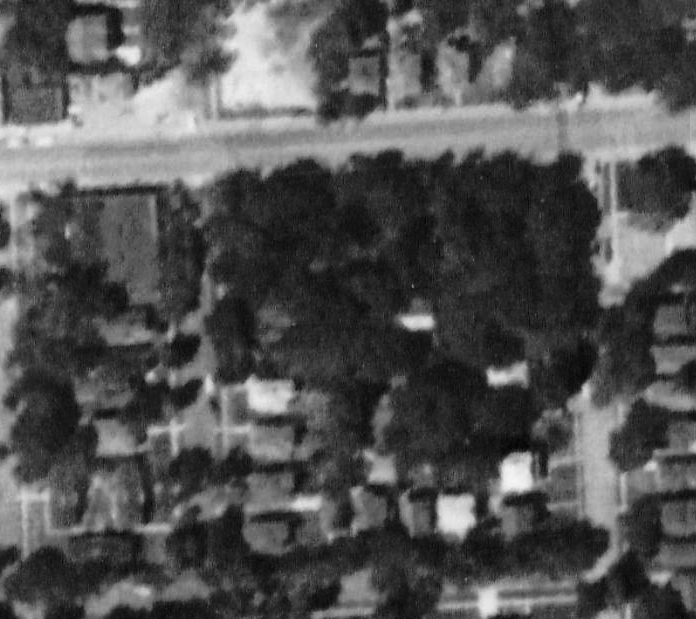 Some will say this 1955 aerial photo of the same area is pretty vague. What we can learn from this image is that by the mid fifties, the Waldin-Koehneman canopy was substantial. Also good for viewing the roof of the home, centralized toward the rear of the lot. Photo borrowed from the DOGIS site.
If you are like me, you wondering what direction the front of the home faced? 36th, 37th or Leavenworth? This has been a most pleasurable time consuming obsession. I am certain there will be great consultation and dispute amongst our group of detectives. If we compare the presumed historic image of the home that Bill Emsick offered up, it is hard to make out the surrounding area for detail.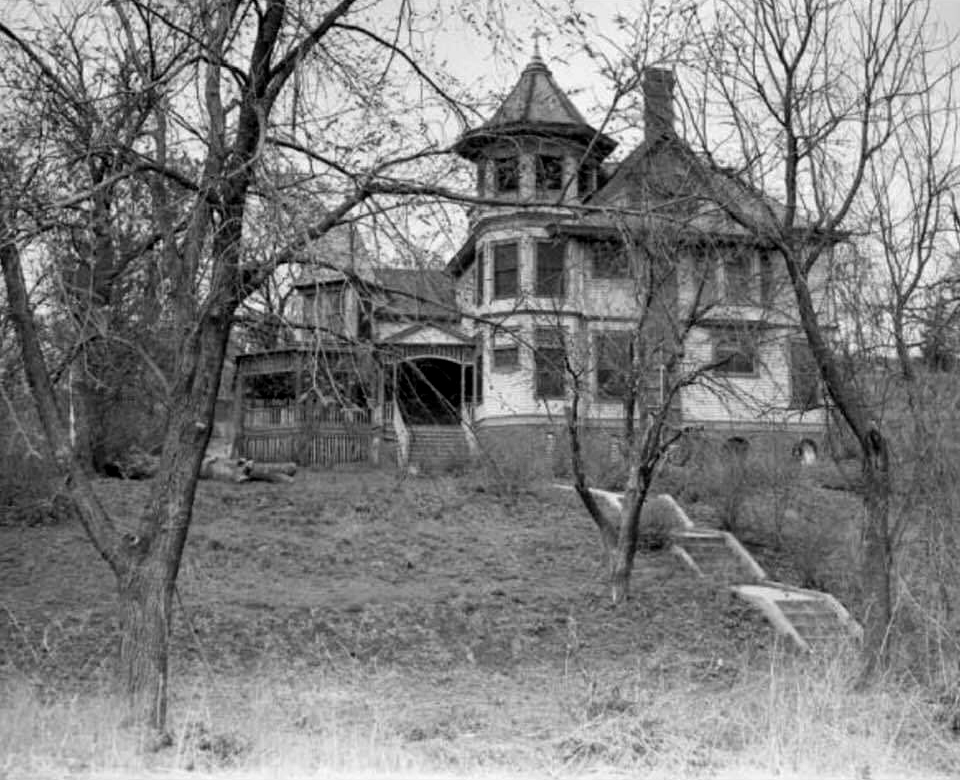 Bill's photo in question. What direction? What year?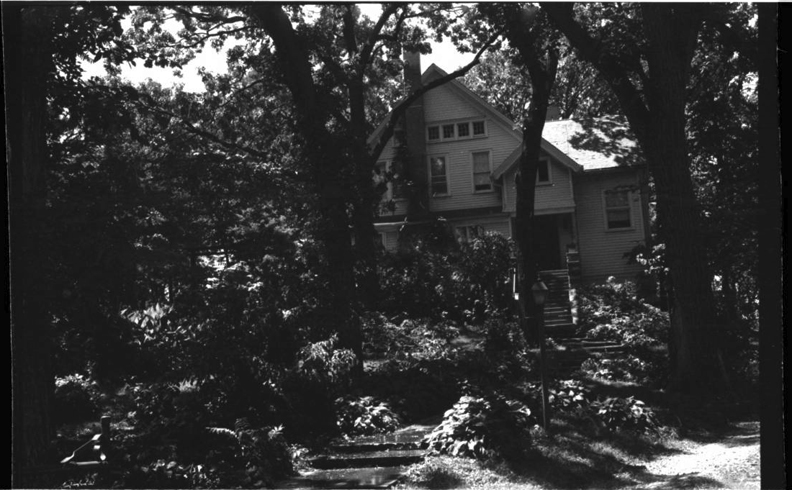 This later image from the 1960s is quite different. Was this perhaps another side of the house? 36th & Leavenworth Street; Creator: Donated by Weil, Martin. Publisher: The Durham Museum. Date: 1964-08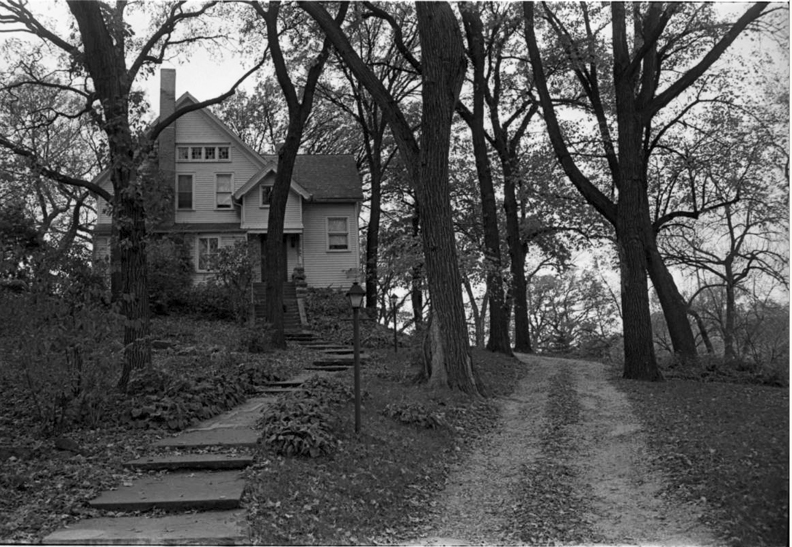 In this view, one can see the quaint drive running alongside the house. We had previously learned that the drives to the home entered on 36th and 37th. There was no Leavenworth entrance. Further proof of these brick pillars came in the form of this missive: In May of 1961, "57 year old Alfred Buda lost control of his northbound, downhill car on south Thirty-sixth Street, swerved to the left and crashed into the pillars and it hurtled into a fence and two gate pillars at 812 South Thirty-sixth Street at about 7:40am on Tuesday." Mr. Buda was okay, everyone. But we learn that there was most definitely an entrance on 36th that had pillars and a fence.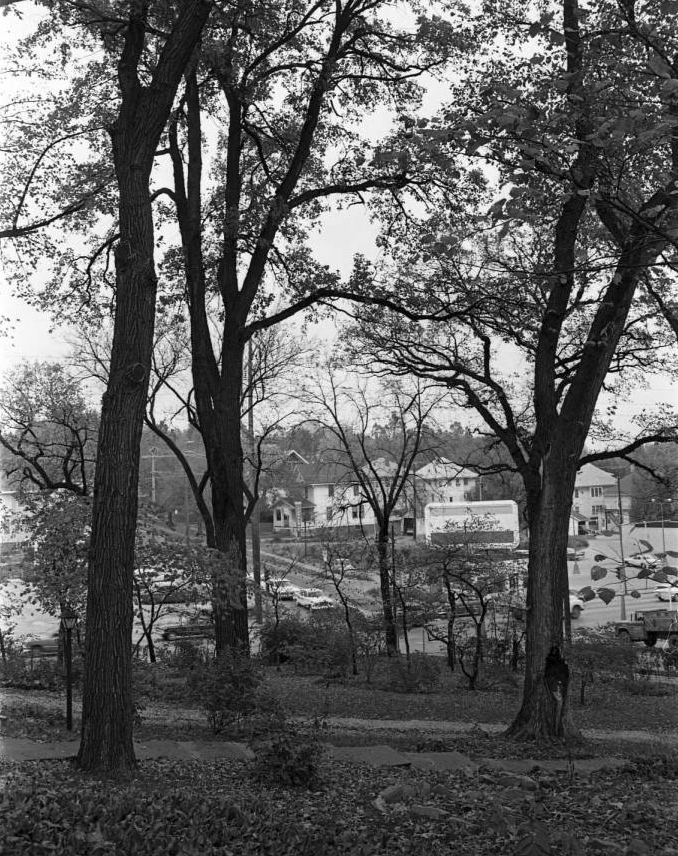 But the 1963 image still had me scratching my head. In this alternate view, the camera faces northeast. One can see 36th Street headed north across Leavenworth. There is a large billboard where the Taste of India building now stands.The Waldin-Koehneman drive suggests it cuts through the property midway; the steps in the foreground would therefore descend to the 36th Street side.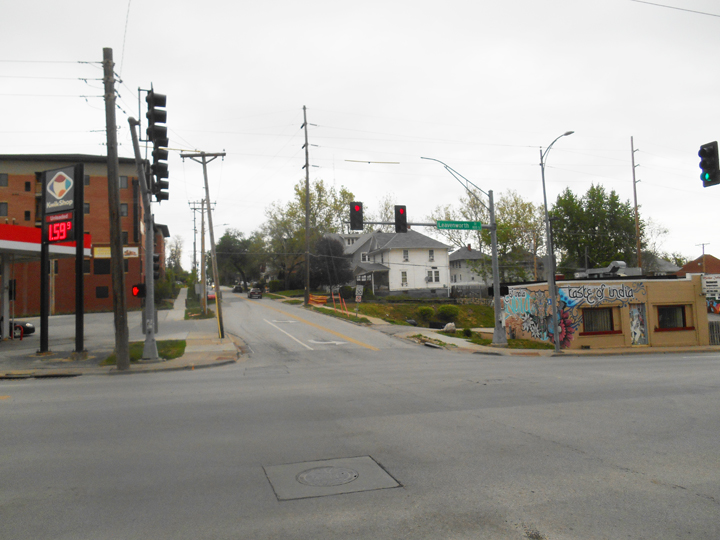 I included this current image of northeast and northwest corners of 36th and Leavenworth for comparison to the previous historic image. The tiny Taste of India building, formerly Mother India is shown on the east side of the street. Those Four-squares further north are still hanging tough.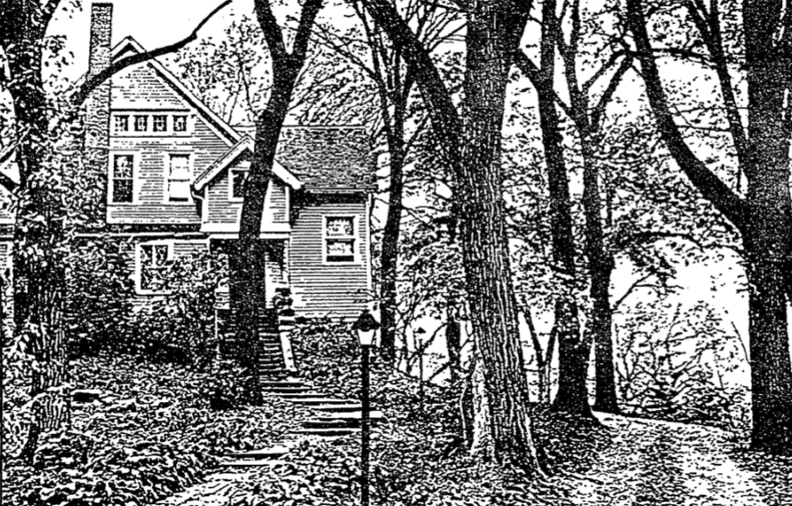 So now we know that this door faces east, or 36th Street. The remaining question is, was this the front of the house or the backdoor? It had been very seriously remodeled, if this was the same elevation as the photo Bill supplied. This image does look like a 1920s home. Could it be that there was a proper front door that faced 37th Street and this, the back door faced 36th? And where was this colossal German wing? For our own part, we allow these mysteries to float on for a while until we find our proof.
The Neighbor Boys' Clues
I would review with Bill Emsick again. He said he didn't remember much. His father, who we will call Mr. Emsick "lived up the street from the mansion," south of it on 36th and Pacific. He was open to my queries. Mr. Emsick said he delivered papers to the Waldin-Koehneman-Allwine home and "you had to enter on the 37th street side of the lot and you had to walk the paper up." He also stated he "didn't have a lot of interaction from anyone except someone always had the money ready in an envelope." To his recollection when he returned from college, the 36th side of the lot was also open for entry/exit. Dependent on the years he was reminiscing, that would explain Mr. Buda's collision with the 36th Street pillar in the 1950s. Son Bill also shared, "My dad said the house always had a haunted feel to it so he always wanted very little to do with it. My uncle said the house was so overgrown and with all the trees, it was spooky so he normally got my dad to collect there." So funny.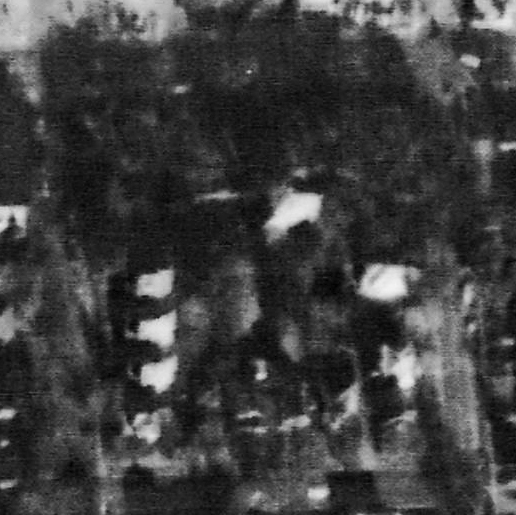 This 1973 aerial view of the property is a much later gaze and a pretty congested view at that, but it is the only image I could find that depicted 812 South 36th with the 36th and 37th Street sweeping drives. Side Note: Call me a snoozer, but one might gather that at least at some point, the Waldin-Koehneman front door faced 36th, considering the home address. Photograph borrowed from the DOGIS site.
Brothers Robert and John McCormack also grew up near the Waldin-Koheneman house, on the northside of Leavenworth, at 36th and Jones. Later they would become attorneys and form McCormack, Cooney and Mooney Law. Robert happened to be my girlfriend's grandfather; John was her great uncle. Both men have passed away now. Great Uncle John McCormack was interviewed by the World-Herald in 1977 about the castle and its goings on. John thought the Allwines were not married until many years later their introduction. McCormack thought he understood that "the marriage was a scheme between the two lovers and Antoinette's mother that Rochus never heard about it until later, perhaps not at all." This certainly added a twist to the story line! The furnishings, heirlooms from both the Waldin and Koehneman families filled the castle. They included two clocks from the time of Louis XIV; Meissen, Dresden and Haviland china; beer steins; sabers; coin and stamp collections; and hand-carved furniture from Germany. Much of it dated to the 14th century, said McCormack. A house that never looked occupied held many stories within its walls. How did John McCormack know so much about the home? Was he allowed inside as a young man?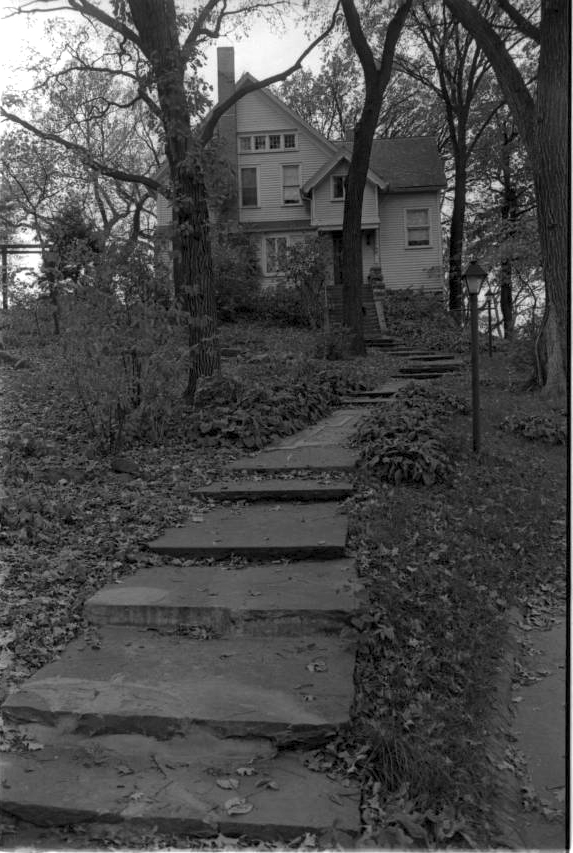 Strange Visitors
By 1930 Arthur Allwine had left the building and loan association and opened his real estate business, previously mentioned. Arthur was fond of walking to work, a habit he enjoyed deep into the 1960s.  Antoinette and Arthur lived quietly on their property and were attended by live in servants—still unable to suss out those names. One article mentioned a full servant quarters. It would appear there were not many coming and goings on the grounds. Possibly the only people privy to the Allwines' lives were those servants and nearest neighbors. Oh to spy on them! I found this hushed lifestyle was often met with uninvited visitors of all types and these are just the wanderings I could find in the news. I include them here because they offer savory clues.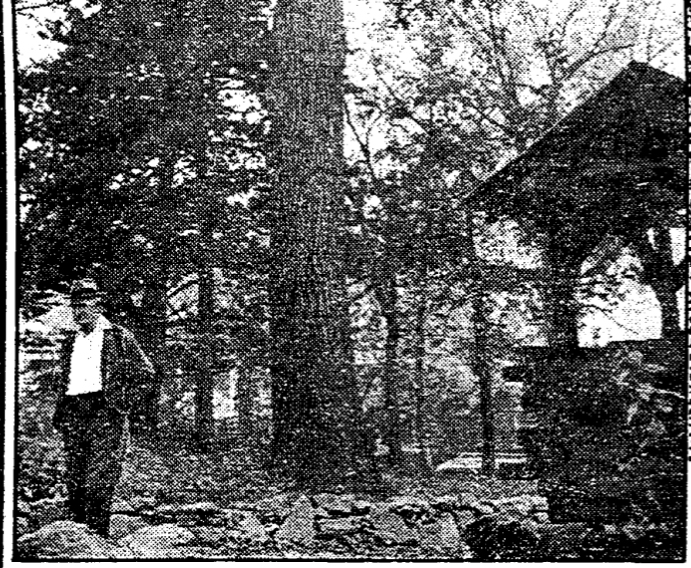 Early 1960s. OWH. Arthur Allwine enjoying a contemplative stroll on his wooded estate. Note the rocks, similar to what I found on the west side of the property. And what looks like a Jack and Jill wellhouse!
In 1950 Arthur Allwine thanked the strangers who drove the two large Irish setters out of the Waldin-Koehneman rambling grounds. The setters had patently killed five of the Allwine's pet mallard ducks in just a few minutes. Had it not been for the strangers, Allwine expressed, the setters "would have killed them all. These ducks are not only pets but benefit the whole neighborhood by destroying obnoxious insects." This was an understandable galling point for the Allwines. In 1956 two Dalmatians apparently broke into their property, snuck into the duck pen and killed 13 mallards. I would love to know more about these pens and where they kept their animal friends.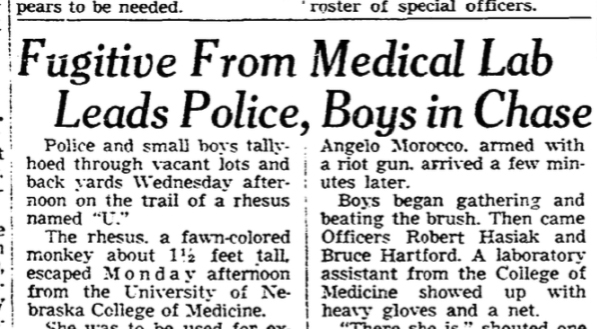 June of 1955. OWH. Fugitive from medical lab found a safe retreat in the Allwine's wood.
"U" was another visitor to the estate. U was the laboratory letter of a monkey who escaped from the University of Nebraska College of Medicine. She and other monkeys were used for experiments in the neuro-surgery laboratory. It was thought to be about feeding time on a Monday when U made her big break. She ran through the backyard of Mr. and Mrs. Arthur Kuehl of 704 South Fortieth. Their 13 year old Stanley chased U around the house and over to an empty lot at 40th and Jones. A policeman arrived with a riot gun and along with a number of neighbor boys gave chase. Little one and half foot U ran and ran, when even more officers and a laboratory assistant from the College of Medicine showed up with heavy gloves and a net. U booked it southeast and rested in a tree at 39th until she found Leavenworth. "She made it into the yard of Mrs. Arthur Allwine of 812 South Thirty-sixth Street. The search party fanned out over the yard, but the thick underbrush made a perfect cover. For the time being, that was the last of U." I could not help but dream that Antoinette brought U into the castle as her baby just like Norma Desmond in Sunset Boulevard! I can't tell you how many people I know who had monkeys as house pets in the 1950s. The missing monkey most likely only added to the mystic of the German mansion.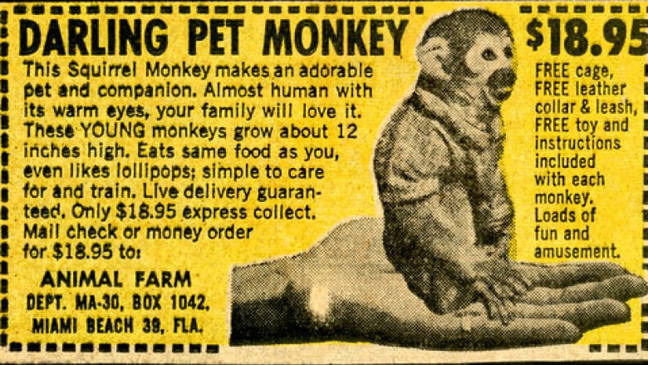 Advertisement from the 1950s.
A Donation
Aside from the untold riches that Antoinette and Arthur inherited, Allwine Real Estate Company was a profitable and successful enterprise. This money allowed the Allwines to donate many things. In the fall of 1959, I discovered Milo Bail, then president of the University of Omaha, announced that Antoinette and Arthur Allwine had deeded a 160-acre farm two miles northwest of Irvington, to the university. This space is now a Nebraska attraction site and can be toured by the public. The Allwine Prairie Preserve, as it is now called, is a part of the Glacier Creek Preserve collection, a 320-acre space dedicated to UNO's Department of Biology. The Allwine's donation joins two other acquired land tracts—the Papio tract of 83 acres and the North Viewshed tract comprised of 76 acres; the collection of land continues to offer restored tall grass prairie, stream woodlands and seep habitats. The Allwine property contributes "more than 250 woody and herbaceous plants, 109 bird species, 12 kinds of amphibians and reptiles and 24 mammal species are located on the preserve."

Allwine Farm in 1960 with University students along the fence.
Mystery Year
In the fall of 1963, Arthur and Antoinette Allwine unexpectedly allowed a photographer to visit their grounds. Arthur, at age 83, was also seen in these fantastic images, our only real glimpses behind the fence of the family estate. Antoinette, as usual, was a real ghost–not seen or heard from. It is unknown what prompted the photography session but I am so grateful whatever the cause. I would come to believe that the couple knew what the future held and wanted some record, however misty it was. If they only would have allowed the camera INSIDE. What follows are the striking images from that fall day.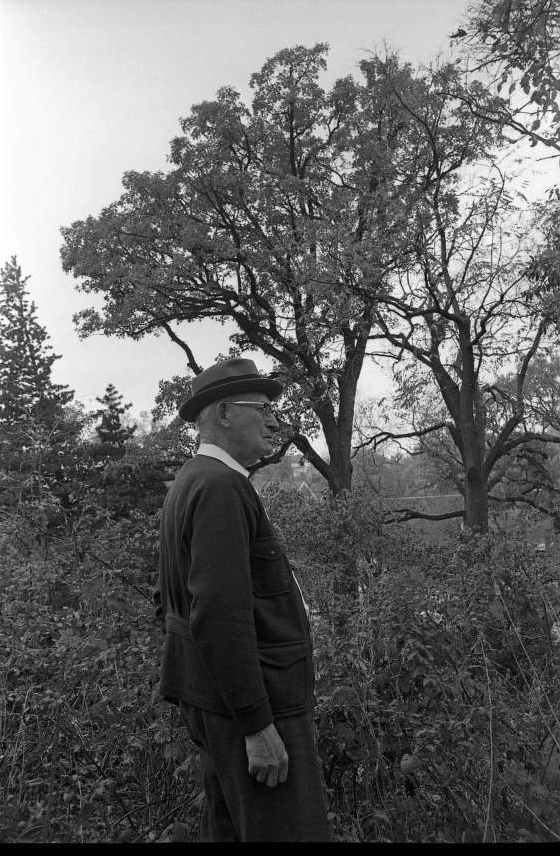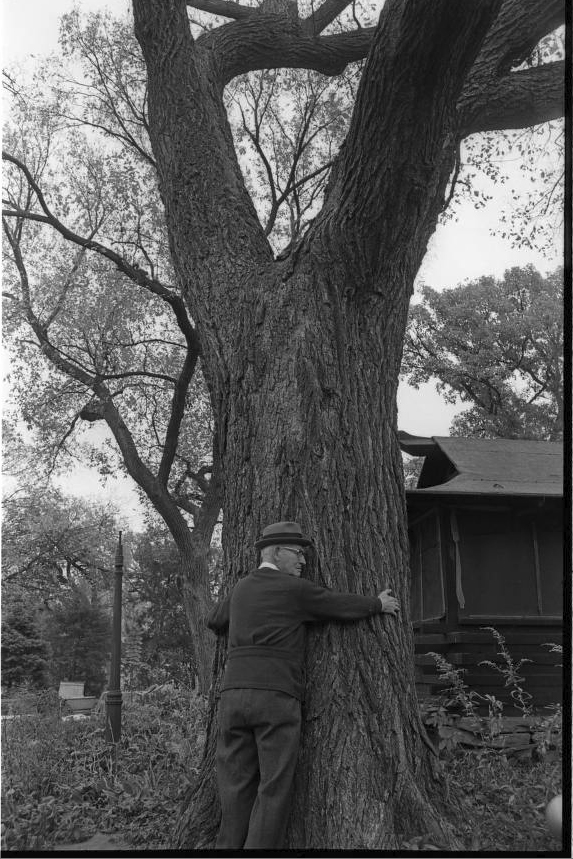 Allwine: This stately oak, believed to be about 150 years old, once offered a shady retreat for pioneers who paused on the outskirts of Omaha and drank from a well at 36th and Leavenworth." Here Arthur is hugging the then 150 year old tree. So beautiful. Hints of another outbuilding, to the right. Such great style and construction, much like a cabin. Looks to be a 1950s BBQ house or some form of day tea house. Or maybe it was a cabin. Imagine listening to the birds on this property.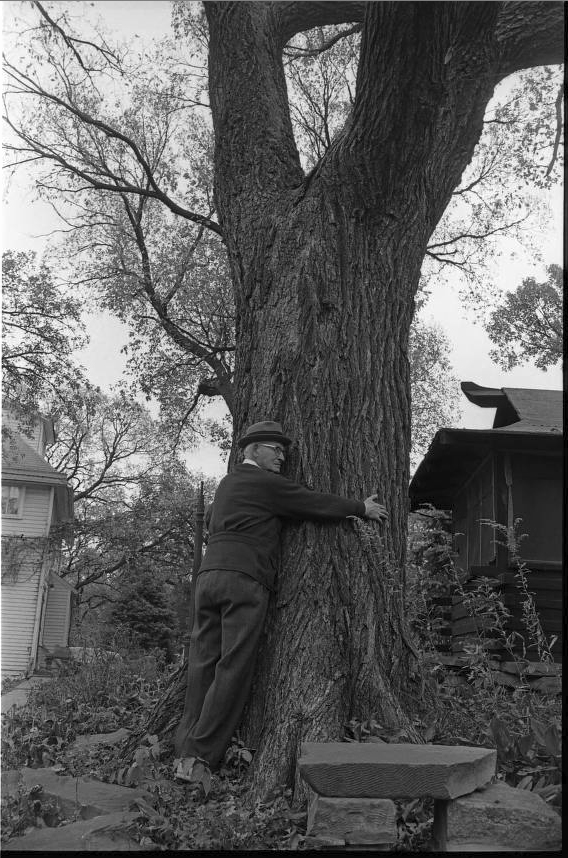 Another view of the historic oak. This time the Allwine house is seen with proximity to the oak and the cabin.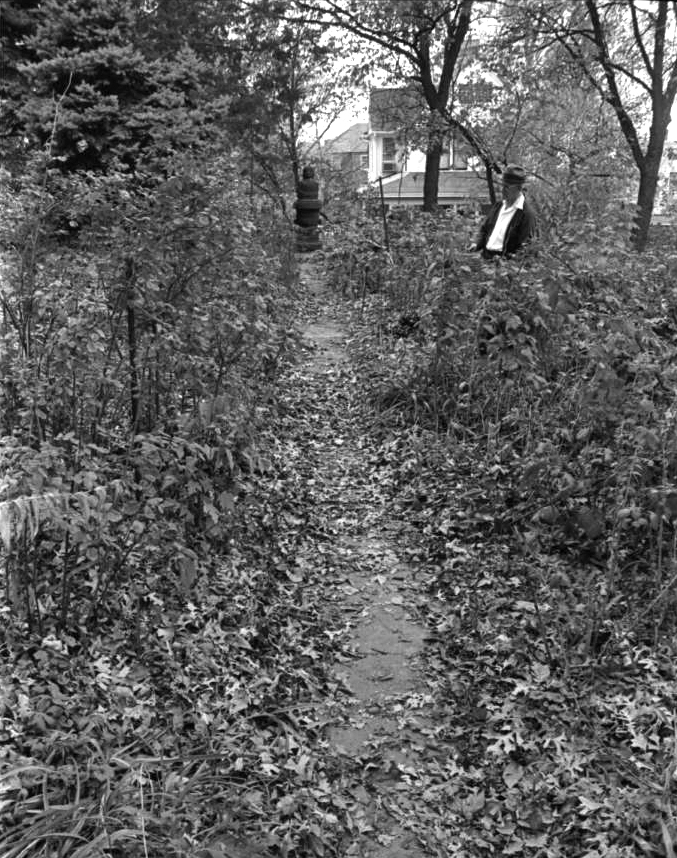 An example of the sculpture found around the property. Antoinette was known to be artistic. Did she make this sculpture?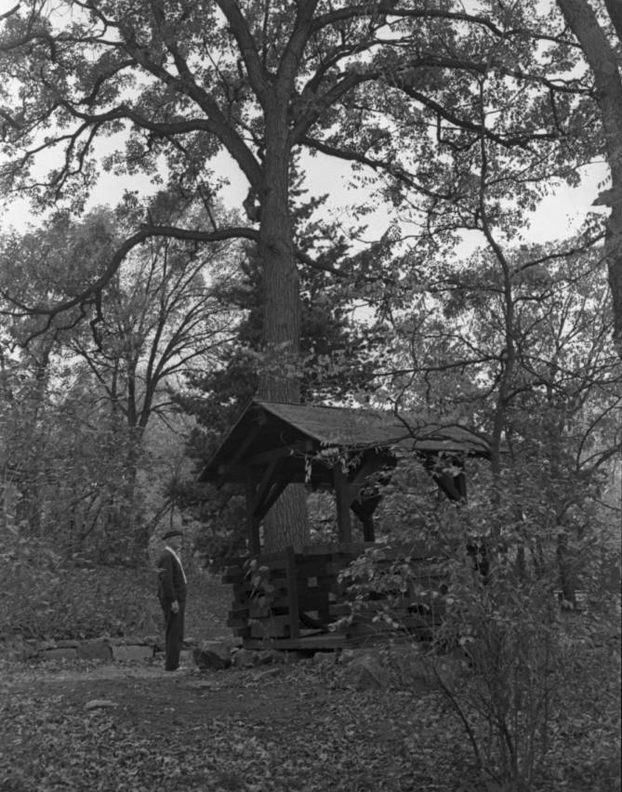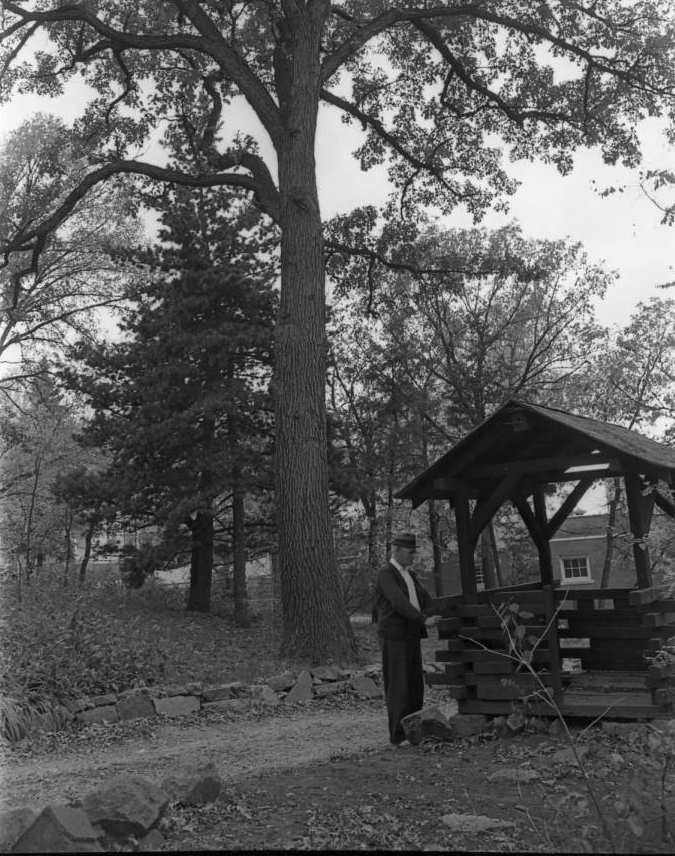 And finally the wellhouse with renowned flowing spring below. I think the second image reveals the 37th Street drive. The brick building in the distance looks familiar from my snooping around but I had not realized the spring was so close to the boundary.
Death of Antoinette
In February of 1964 Antoinette Koehneman Allwine died in the residence at 36th and Leavenworth. This was the third death in the home that I could find—maybe more. I was losing count.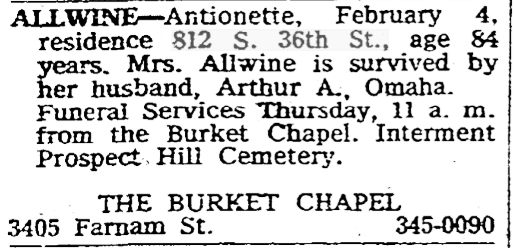 It was at that point that Omaha learned of the strange and fantastic Waldin-Koehneman plan. Well, one of them. There would be more shockers to come. Upon reading Antoinette's will, it was asked that her "choice family heirlooms be sent to Germany, homeland of her ancestors." Oddly it was revealed that Arthur had never traveled to Germany with his wife, although she was thought to visit their often. In the following years (estimated two to five) it was thought that Arthur made 18-20 pilgrimages to Germany, in the service of wife Antoinette's will. Let us not forget that he was 83 years of age in the previous photos. Many of the family heirlooms, china, crystal, silver, pewter and liners were taken small haul at a time, delivered by hand with the help of Mrs. Frederick Braun. Emily Braun lived in Saarbrucken, Germany and her relatives were friends of Antoinette's Braun would arrange Antoinette's family heirlooms-glorious items that belonged to Rochus and Olga Koehneman and Anton and Johanna Waldin. Can you imagine what was included? The antiques and German treasures were delivered to museums "in Altenberg and Detmold and Dresdon; to the Waisenhause, an orphanage and Blindenverein Landsteil, a home for the blind, and a home for the aged in Altenberg." The dedication.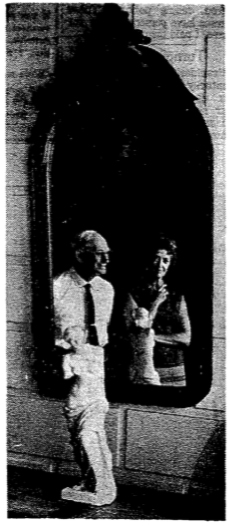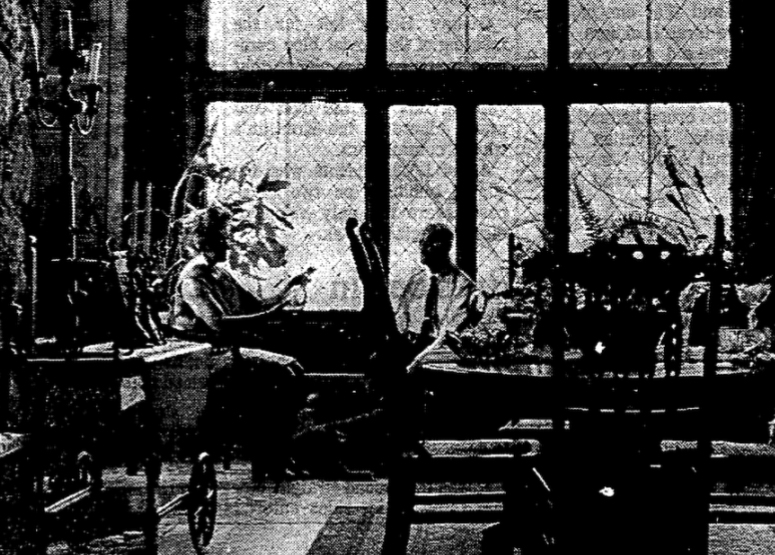 Wonderfully, weird photograph of Arthur Allwine and Emily Braun, as seen reflected in a mirror. Notice the construction of the wall and statue. Arthur and Emily discuss the matters at hand in the baronial dining hall, designed by Antoinette. These photographs haunt me in the best way and I am not exactly sure why…yet.
**Addendum of August 22, 2020** Great clue from super sleuth, Susan Mullin: "According to this entry, I think AA Allwine has another birth year that differs from those in your article, and that the brother's name is spelled with one l." Detective Mullin included a photo of the Who's Who in Omaha in 1928 cover and the page mentioning Arthur Allwine as well as typing out what the book had to say about our mysterious Arthur and Antoinette.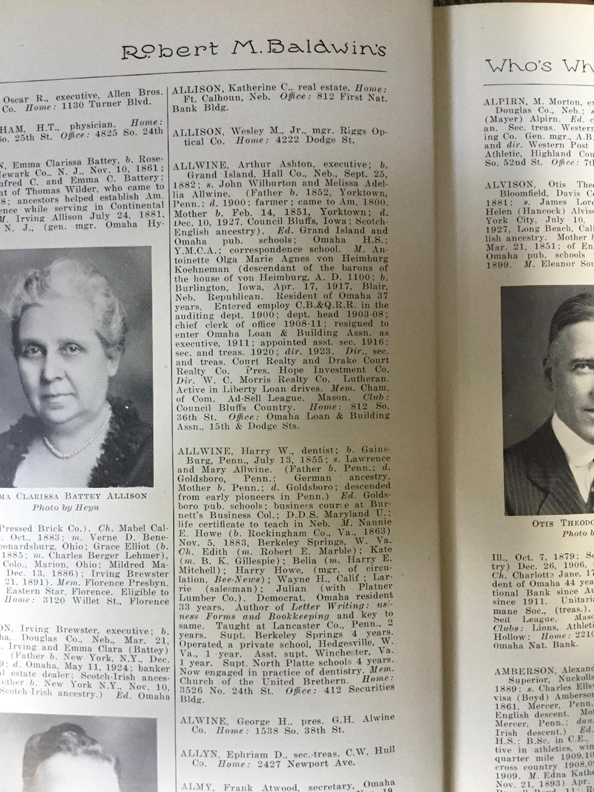 "ALLWINE, Arthur Ashton, executive; b. Grand Island, Hall Co., Neb., Sept. 25,1882; s. John Wilburton and Melissa Adellia Allwine. (Father b. 1852, Yorktown, Penn.: d. 1900; farmer; came to Am. 1800. Mother b. Feb.14, 1851, Yorktown; d. Dec. 10, 1927, Council Bluffs, Iowa; Scotch-English ancestry). Ed. Grand Island and Omaha pub. Schools: Omaha H.S.; Y.M.C.A.; correspondence school. M. Antoinette Olga Marie Agnes von Heimburg Koehneman (descendant of the barons of the house of von Heimburg, A.D. 1100; b. Burlington, Iowa, Apr.17, 1917, Blair, Neb. Republican. Resident of Omaha 37 years. Entered employ C.B.&Q.R.R. In the auditing dept. 1900; dept. head 1903-08; chief clerk of office 1908-11; resigned to enter Omaha Loan & Building Assn. as executive, 1911; appointed asst. sec 1916; sec. and treas. Court Realty and Drake Court Realty Co. Pres. Hope Investment Co. Dir. W.C. Morris Realty Co. Lutheran. Active in Liberty Loan drives. Mem. Cham of Com. Ad-Sell League. Mason. Club: Council Bluffs Country. Home: 812 So. 36th St. Office: Omaha Loan & Building Assn., 15th &Dodge Sts.
Underneath reads:
ALWINE, George H., pres. G.H. Alwine Co. Home: 1538 So. 38th St."
This is further proof of the Antoinette Olga Marie Agnes von Heimburg Koehneman (descendant of the barons of the house of von Heimburg, A.D. 1100 claim. Thank you, Susan.
Part Three
Arthur's Death
Arthur Ashton Allwine died in December of 1971 at the age of 91. Unlike the Waldin-Koehnemans, Allwine died in a local hospital. The obit mentioned one brother, George, of Omaha.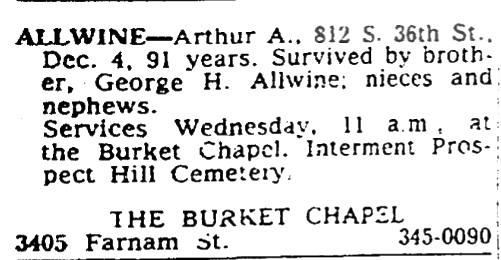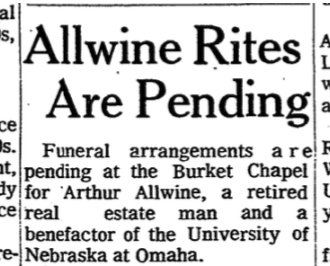 December 6, 1971 OWH. "Allwine Rites are Pending." Shortly before his death, the University of Nebraska honored Arthur in 1970 by naming their new science building, Allwine Hall. He had retired a real estate man years earlier but had continued to manage the apartments buildings he owned in town up 'til a few years before his death. A great OWH article from 1977 divulged that Arthur "puttered around the half-block grounds, occasionally drove his 1928 Cadillac, and was cared for by two old servants." But the strangest revelation of all was that Arthur and Antoinette Allwine had divined a joint will. The Waldin-Koehneman house would be deeded to the Greater Omaha Historical Society "as a museum only in the event of common disaster–their deaths at the same time." Because the couple died years apart there would be another design. The house would be burned down or destroyed after the last partner died. Curiously Antoinette didn't want anyone but family living in it. As I alluded to, a very particular woman she was. As you can imagine, the Great Omaha Historical Society contested Arthur's will, but since the Allwines had not died at the same time and a new, hand-written will by Arthur superseded, the estate was to be sold off.
After Arthur's death the wellhouse was razed. The historic spring was filled. The house of mystery and rumor was boarded up but not before a fine auction. The Allwine auction, held in January of 1974 was well attended. Of course! Who wouldn't want to have rummage around that garden and rumored castle? I would later discover an auction for the land, as well.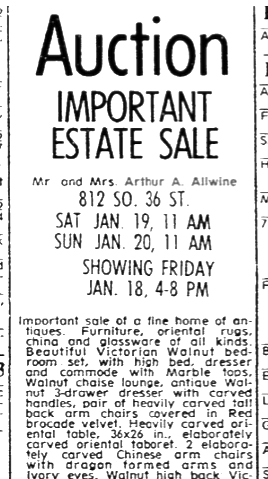 OWH. January 16, 1974 auction. I found the Cosgrove Auctioneers working out of the 3805 Leavenworth location in those days. Mrs. Mack Cosgrove, of the auction firm, inspected the cut glass dishes and made order of the Allwine treasure not hand delivered back to Germany. The auction's article mentioned some desirable clues: "There is the odor of a musty house, which has seen little care in recent years. Cobwebs drape down from beams. Hazy windows diffuse the sunlight. Dust coats walls and floors."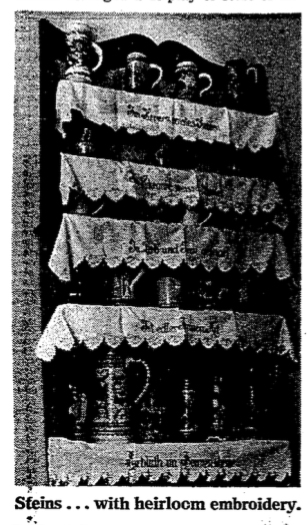 That weekend antiques lovers, nostalgia buffs and junk-hounds would discover quite an eyeful at the 812 South 36th Street scene. "Many fine pieces of cut glass and china, in addition to bronze figurines, remained in the home, prior to the auction. A collection of handsome beer steins, some about a foot tall, given to Allwine by the widow of the late Capt. Albert A. Wedemeyer, bandmaster of Fort Omaha, were slated to go to the auction block. Among furniture to be sold were massive, hand carved chairs and tables. Also to sell at the fall of the gavel were books, a coin cabinet, sabers, a roll top desk, cane seat chairs and steamer trunks."
The Curious Mr. Leary
At the time of Arthur's passing, First National Bank of Omaha, executor of the Allwine estate, announced that the "property would be sold later." I would discover Ronald and Joneile Weber had a daughter in the years subsequent to Arthur's death; their home address was listed at 812 South 36th Street. I wondered if they were some sort of caretakers for the family or the bank?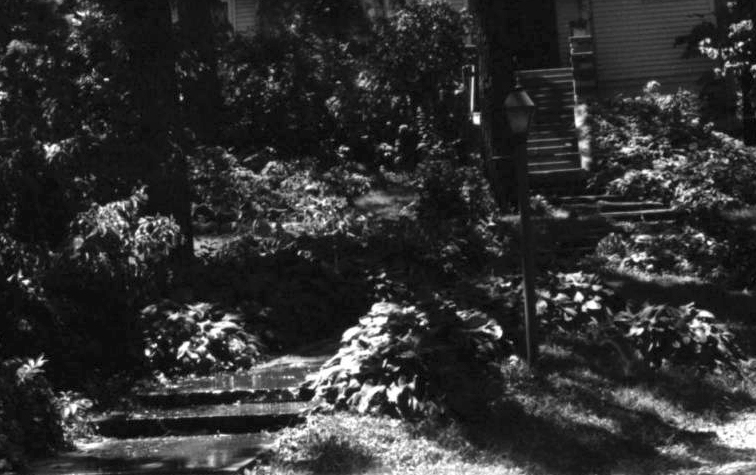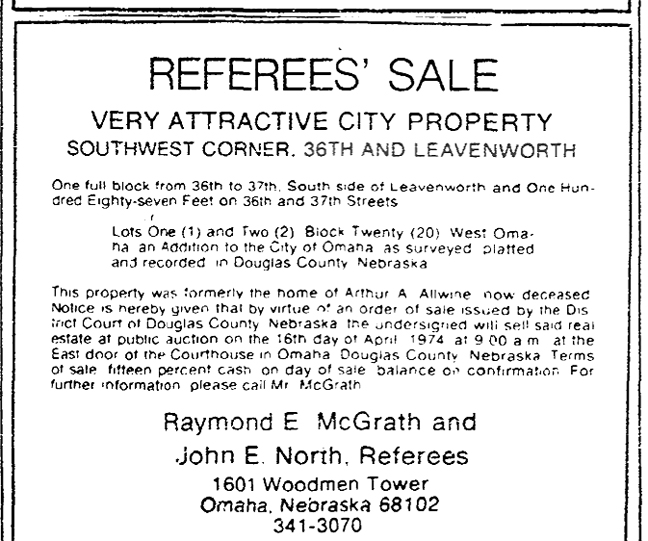 April 14, 1974 Auction listing. I found that before the razed property was sold to the Findley architects, it went up for public auction in April of 1974. "Very attractive city property one full block from 36th to 37th. Lots one and two Block twenty. West Omaha addition as surveyed platted and recorded in Douglas County. Real estate public auction on April 16, 1974."
Attorney Thomas Pennell. Leary would buy the house and land at that auction. He later flatly stated, "No decision has been made about the property. It had been vandalized badly since Arthur died in 1971." Is that why the Webers lived there? I was perplexed because I thought the Allwines demanded the structure itself be torn down upon their deaths? And when exactly was it boarded up? I wanted to know more about the local mischief.
I began to look into Thomas P. Leary and some evidence shows that he was taken with the work of Charles Fort, Francis Bacon and a mysterious Oak Island. Check out Secret Treasure of Oak Island: The Amazing True Story of a Centuries-Old Treasure Hunt by D'Arcy O'Connor https://www.joshuablubuhs.com/blog/thomas-pennell-leary-as-a-fortean   It is rumored that Mr. Leary studied the work of Charles Fort. Forteans follow Charles Fort's methods and interests and for some, an all out obsession with unexplained paranormal phenomena. Was Mr. Leary interested in the 36th and Leavenworth castle and land because of paranormal interest or was it just a swath of real estate for development?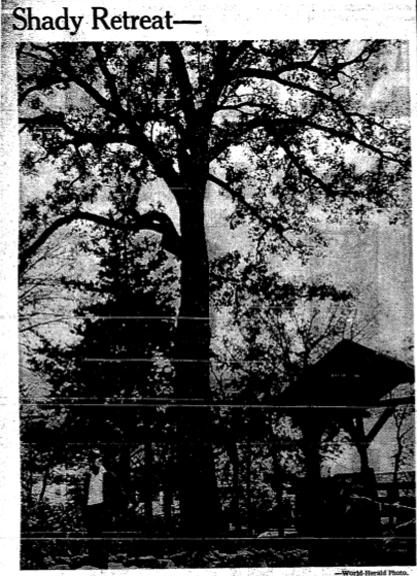 I will go on record and say that I believe there is something magical about Waldin-Koehneman the land itself. In fact, I can't recall a more interesting terrain and positioning that I've investigated thus far, other than one story forthcoming. It was also another great property that I had never paid much mind. Hidden. It would not surprise me to hear that Thomas Leary knew something special about these two lots. I also wonder if Antoinette might have cast a special spell on this wooded block previous to her death.
As we know the castle was razed the first week of 1977. Bill Emsick remembered being so sad when the large home was torn down for the condos. "I truly had a fantasy that someday it would be my home." I am sure many children in the area had the same dream. As much as I yearned to believe Leary wanted the property for its innate energy and to further explore its portals to another realm, but there is greater evidence to suggest that Mr. Leary wanted to develop the property himself. In February of 1980, the neighboring property owners around the Waldin-Koehneman land objected to Thomas Leary's "requested zoning change to build four apartment buildings at 812 South 36th Street. One woman said she would rather live next to a business than apartments 'which won't have quality tenants.'" By June the local homeowners continued to voice opposition to developers' plans to build apartments. "Attorney Dennis Hogan, representing Thomas Leary and Curtis Hicks, said the plans have been scaled down from 72 units to 60. Additionally Hogan said only two buildings would be built instead of four." More and more problems plagued Leary's design, much like the Findleys would discover years later. Mr. Leary would eventually drop his plans and sell the quarrelsome block.
**Addendum of July 14, 2020** Thomas Leary's son, Brian Leary included some wonderful clues about the 36th and Leavenworth Street home, his experience within and information about this father on the My Omaha Obsession Facebook page. He was kind enough to allow me to share this information in the story. "A friend of mine and I went in the house when Dad owned it. Beautiful place, but old and a bit trashed at the end of its life. I don't remember too much detail, except the places that really surprised me. We wandered around the first floor, and explored the main room that you show in two of your photos. One of the most surprising things was that it had an elevator. The electricity was still on, so I got in it, closed the gate, my friend closed the door, and off I went up to the second floor. Scared the crap out of me! On the second floor, I found a small entrance door shaped like a lancet, and entered the minstrel's gallery, which inspired me to own a home that had a landing looking over the entryway, which is how our home is laid out. The place had quite an effect on me. I remember the hall that it looked down over, and I think it is the room that is shown in two of the photos, as there is an overhead shot in your photo collection."
I asked Brian if he remembered renters in the home subsequent to the sale. He wrote, "I don't remember seeing anything that would indicate that people lived in it at that time." Additionally he shared insight into his father, Thomas Leary: "And while my father was deeply involved with Francis Bacon and Oak Island, he never mentioned any interest in Charles Fort or the study of paranormal activity. As for the Forteans, that article is news to me. (With regard to the link I included) If he was a member, he never mentioned it. Seems like the writer was trying to make a connection that doesn't exist. I'm fortunate that my mother is still around and doing so well at 93. He did buy it as an investment property, I believe to redevelop it, but couldn't get approvals, so he sold it. She recalls that his intention was to build apartments for disabled people, which would have been unique at the time. But for some reason he and another investor, who was a builder, couldn't borrow the money, so they sold it to another builder. Mom also said that before he sold the property, they had a cocktail party at the house! I moved away when I was 18 to go to college in Denver, but still come back to visit my mother. The 'Allwine House' will always be a fond memory for me." Thank You, Brian!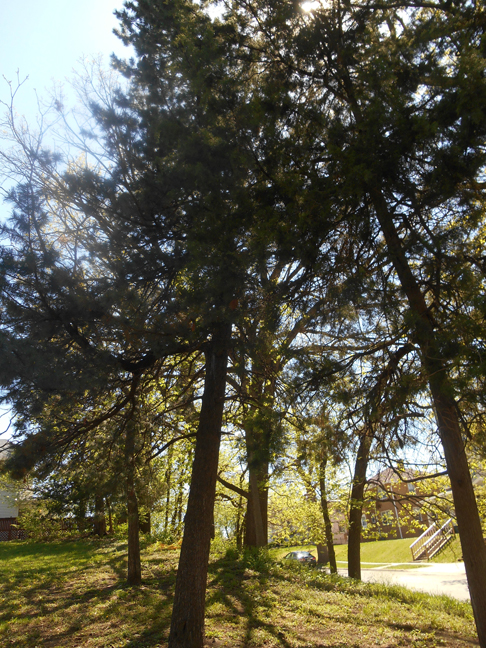 Gorgeous trees guarding the western perimeter.
As already elaborated, the Findley brothers would buy the land in due course and take up their own project, which likewise came with numerous misfortunes and difficulties along the way. They would eventually get Leavenworth Crown built but still, unbeknownst to many, the project has yet to be finished. Interestingly in May of 2010 the rolling open, green space of the property was being offered at auction on the premise. The auction announcement detailed that according to the original site plans and full set of building plans, nineteen separate condo units had been laid out; in 2010 only twelve of the units had been completed, leaving seven unimproved condominium parcels available to be developed. As of 2010 only twelve had been completed. The seven parcels for sale were to be developed on the green space. Barry Taylor of Taylor Plumbing, Inc. had made the decision to sell this land. As of yet, the area of the estate where the historic spring was once located, is still vacant. Why, I wonder?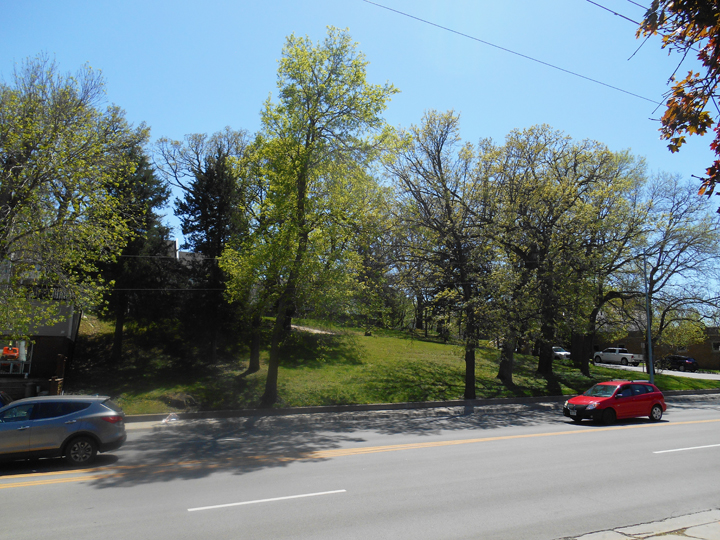 My Questions and the Archetype of the Haunted House
When it came to the corner of 36th and Leavenworth, what made the local Midtown kiddies shiver so? Was it the architecture? The grounds? The feel? And as "haunted" as the property supposed was, why was everyone drawn to it? It was unclear whether the home was threatening or not, or if it was just the right kind of alluring mystery. True architectural ambivalence. Large deserted, drafty, old homes on large deserted overgrown estates tend to attract the curious and get the collective minds humming with haunted story lines.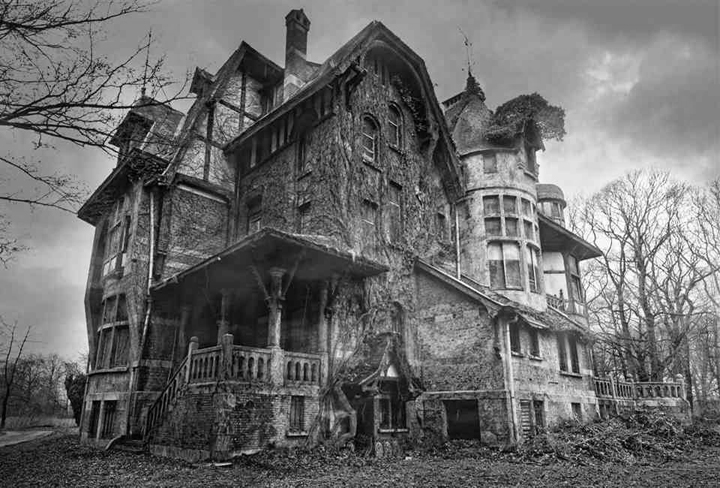 It has always been odd to me that many of us like discomfort or rather, want to explore the perceived psychological discomfort. I would bet my ding-ding man money that someone reading this article might have squeezed a tiny ear through the craggily fence in hopes of hearing a moan of wind pass beneath the house's grand threshold. Did you see ragged curtains rustling behind the tall, beveled glass windows? Passing by this legendary wood on foot at night would have made me hold my breath! And if I was a teenager, those potential supernatural paths and outbuildings might have called to me for trespassing exploration.
I had already felt the spirit of the property when I embarked on this journey—just from the letters and the sole photo. The wooded estate of 36th and Leavenworth offered every chilling psychological tonic known to man, woman or child. Large, dark, remote, a hidden locale within the city. A fence of some sort with layers of hedge. The natural high slope of the land. Two separate pillared gate entrances, complete with long, meandering sweeps of drive. Surrounded by an overgrown wood and untouched vegetation. Little visibility from the gates. Dark glimpses of surprising architectural features and outbuildings. A crumbling, winding stairway through the foliage. Eccentric, wealthy homeowners, never seen. Perceived lack of communication with the neighbors, with the outside world, leading to Legend and Folklore. Just as many who felt the home was haunted, were drawn to it for various reasons. The estate was a refuge in the mind. A secret forest garden. One could not help but eventually dream of owning her. The luxury and mystery to quietly dwell, observing the natural environment without bother. Security and Peace. Above it all. To look out and see but remain unseen.
Thank you castle and thank you, Waldin, Koehneman and Allwine families. I feel so much richer after this investigation. Fallen and buried family members, trees, the homes and the clues will not be permitted to just molder into the earth as long as we share their stories.
I welcome your feedback and comments on the 36th and Leavenworth property, West Omaha addition, Midtown Omaha and the Waldin, Koehneman and Allwine family. My compiled research is only a small part of the story. We'd all love to hear your clues and additional input.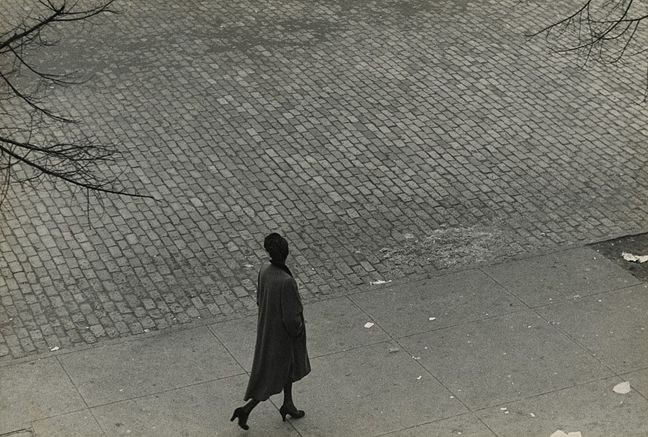 You can keep up with my latest investigations by joining my email group. Click on "Contact" then look for "Sign me up for the Newsletter!" Enter your email address. You will get sent email updates every time I have written a new article. Also feel free to join My Omaha Obsession on Facebook. Thank you, Omaha friends. Miss Cassette
© Miss Cassette and myomahaobsession, 2020. Unauthorized use and/or duplication of this material without express and written permission from this site's author and/or owner is strictly prohibited. Excerpts and links may be used, provided that full and clear credit is given to Miss Cassette and myomahaobsession with appropriate and specific direction to the original content.