I shall never forget the thrill I had when I first saw a photograph of the darkened Cudahy Mansion. It was a pleasant, summer day and had been invited to an intimate noon gathering. Let us pretend this was a get-together with Miss Cassette's favorite Omahans, long deceased, Margaret Killian and Ben Sylvester, among others. Upon my arrival Miss Killian casually explained, "Styles in luxury changed and the servants' quarters were torn down to build a swimming pool," as she waved to a picturesque grouping of wrought iron lounge chairs and tables. We lunched under a striped, Tiffany-blue and white umbrella on her poolside patio– a light, whipped-up, bygone affair of deviled eggs, chicken salad with grapes and walnuts on flakey croissants. In memory it was a real Slim Aarons' slice of breezy glamour. My glass of iced tea was magically full every time I drew it near for a cool sip.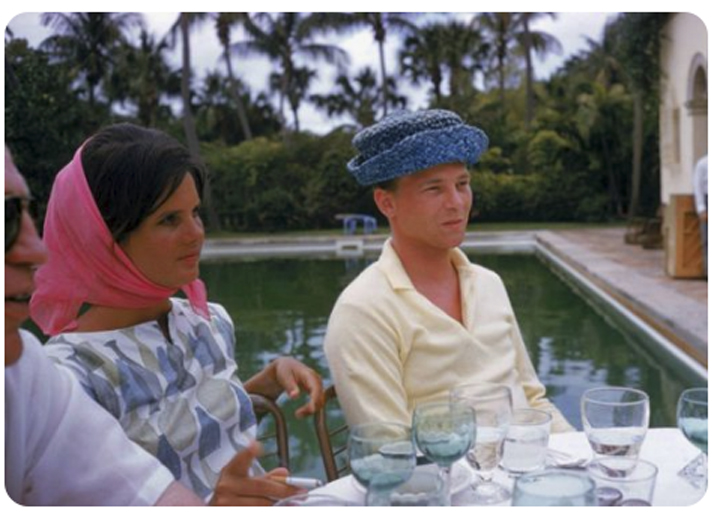 After he had consumed a few Mint Juleps, but who was counting, Mr. B. Sylvester, committee historian, had both strangely loosened and become serious as he revealed a dossier and pulled out what he called "a microfilm blowup from the Omaha World Herald." The moment I had waited for. As he leaned forward in his chair, unsmiling, he passed the image of a haunting, Gothic mansion, surrounded by an equally intimidating iron gate. I was disturbed, in the best of ways, by the looming residence. Somehow familiar.  The home was built for E. A. Cudahy of Cudahy Packing Company fame, Mr. Sylvester dispensed. To entangle matters, young Eddie Cudahy had been victim of, or some believed, involved in, a fine scandal—a kidnapping the likes of which Omaha and the nation had never seen. The Cudahy child snatching happened very near the family's twenty-two-room mansion, prominently positioned in the West Farnam District.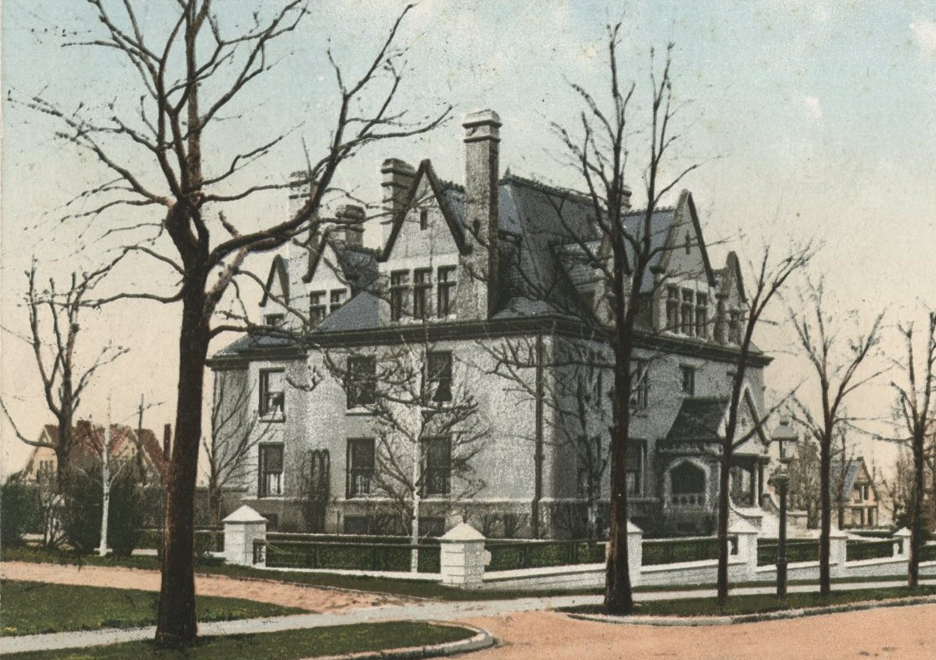 1900. Detail of a colored postcard from the Douglas County Historical Society. Nichols Postcard Collection. Exterior view of the residence of Edward A. Cudahy. Kind gift of My Omaha Obsession friend, Merrilee Moshier Miller.
The historical capturing and return of Eddie Cudahy was, indeed, authentic but my summer time pool conjuring was all horseradish, you understand. Would that it were so! The truth of the matter is I inherited the Cudahy File through rather lowly means but distinctive nonetheless. When one enjoys architecture and weird Omaha history, the word gets around. Pretty soon everyone and their great auntie is gifting strange boxes of artifacts and battered, manila folders. I am not one to complain (except about lazy architecture, short-sighted city planning, sneaky land grabs, and cheapskate developers), but somehow I have become The Keeper of Many Fantastic Things. And yes, sometimes these treasures come straight from the dumpster. I have written of these strange collections before. Disregard the wilted lettuce discoloration, this initial Cudahy File was one of those rescues.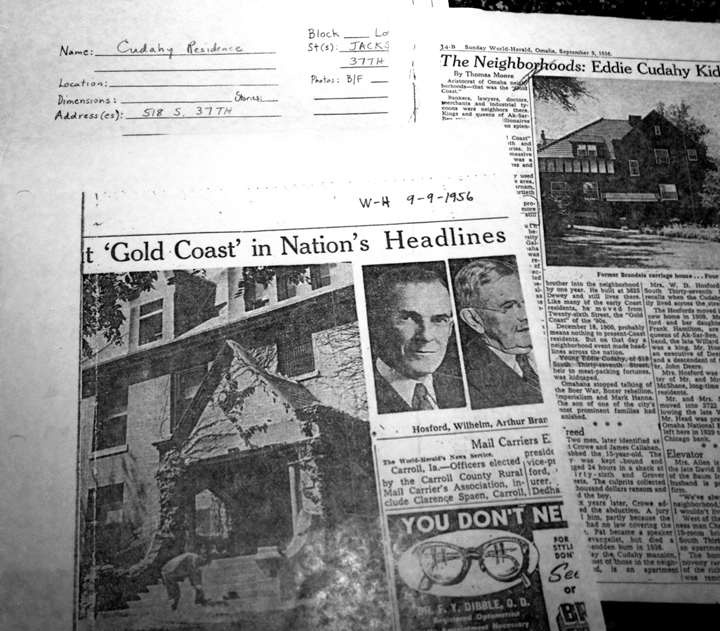 The slim file. Only three pieces of paper total, two were photocopies of a newspaper article. One was a title page, almost like a confident pledge to start a file that never came to fruition. I had not heard of this home, long gone before there was a Miss Cassette, and considered these papers as an invitation from the past to look into matters.
There are greater mysteries to be solved than who amongst my dear and clever friends dumpster dives. But while we're on that measure, Agent A. is a wonderfully, tiny thing—able to slither through iron bars, under gates and slip amidst almost any barrier and yet strong as an ox. She has also been a successful Omaha entrepreneur numerous times over, can weave a wicked yarn but known to disappear for months into years on end. When Agent A. arrives back on the home front, she always has treasures in hand and unbelievable adventures to tell.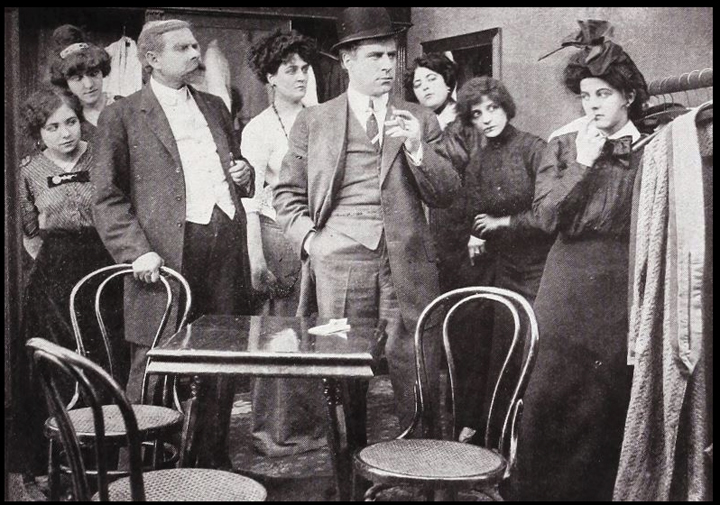 "On with it!" the sleuths from the balcony demand. "What are the greater mysteries to solve?" Come close, friends and lean in. The greater mysteries to solve are as follows:
Who, Pray Tell, created these Omaha files, oft discovered in the trash, to begin with? They were/are wonderfully obsessive, kindred spirits. I have reason to believe that the largest cache was created by an older woman, (because of the handwriting), who has perhaps passed away or been put into a nursing home, (because this special person would never have allowed her collection to be disposed of or out of her reach. I know this type). Or did she make these records for professional reasons?
Who, Pray Tell, would throw these life-long obsessions into the garbage? They were unearthed in Downtown Omaha Dumpsters, nowhere near apartments or houses. Has an intern or volunteer of a potential institution thrown these seemingly neurotic files in the rubbish pile? Shudder. The whole mental mess of trashcan file mysteries continues to needle in the night.
So we seem to have a  number of story lines commingling here and some newcomers might become confused. Maybe even some of our old time detective friends are scratching their heads. I will attempt to right the course, as we might never learn who created these Omaha history collections.  For the most part I had accepted that for whatever reason I had inherited the assignment and was merrily chiseling away at the mountain of evidence, when unbeknownst to me, the Cudahy investigation would come to a screeching halt due to some book publishing issues this past summer. My dumpster file sat moldering away in the ol' tanker at the office while we were on hold. Mr. Cross saw fit to complain bitterly of the imagined odor so I sent him home to weigh up his attitude while I fretted and edited in peace.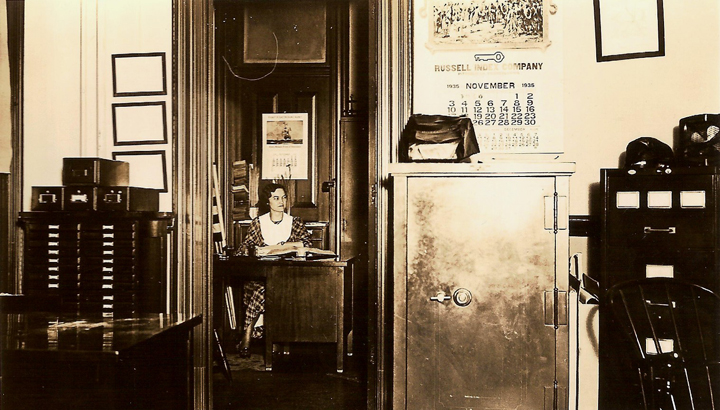 Credit Where Credit is Due
While realigning, I would come to know of a book published about the Cudahy kidnapping–a wonderfully, interesting book, by the way. In fact, you must all rush out and purchase World Chase Me Down by Andrew Hilleman, if you don't already own it. Additionally the fantastic North Omaha History blog wrote about the "crime of the century" many years ago. Look into Sasse's exploration at https://northomahahistory.com/2009/09/18/a-history-of-a-famous-kidnapping-in-omaha/. Also peek at https://history.nebraska.gov/publications/cudahy-kidnapping. To top it off, the kidnapper, Pat Crowe had written a book about his child snatching exploits and possibly other books have been published as well. So I was rather Late to the Party but I will trust  you will investigate the well-treaded details of the event and get up to speed.
While the kidnapping was quite intriguing, I must come clean that I was most drawn to the image of and accompanying physiological sensation in viewing the Cudahy Mansion and surrounding environ, especially when I learned where it was located. Tingle-y. Disturbed. Imprinted. I decided then and there my contribution would be a case study of the Cudahy home. So while I won't tiptoe too heavily into the famous Eddie Cudahy kidnapping, I might give a brief mention as it applies to the overall history.
Another False Start
Since the late 1800s through to its eventual demise in the 1960s, the Cudahy Mansion would change hands only a handful of times. One would think, a fairly easy investigation to shadow…but before we begin, allow me to whinge on just a bit longer. *These are made-up problems, as I die for these details and complications. It makes detection all the more fun.* For starters the Cudahy Packing Company name made the papers multiple times a day, every day, for many years. What with the sweet pickle room floor caving in, the constant injuries in the pens and on the cutting floor, the ongoing legal issues, the twenty million head of cattle. Tough Days with consistent coverage meant loads of archives to sift through. Also there were the Cudahy family social obligations and lively engagements covered by the Society Affairs to trudge through. (Occasionally but not as much socializing as one would expect. I found that odd and made a note.) To complicate matters, the Cudahy Mansion, I was soon to learn, had four confounding addresses over its history: 37th and Dewey Avenue, 518 South Thirty-seventh Street, 504 South Thirty-seventh Street and 500 South Thirty-seventh Street. And there were too many Emmas at one point. Possibly the worse offense I must confess: I would become distracted over and over again by the gorgeous homes that were once sprinkled all over the West Farnam District, now long gone–the kinds of homes offering architectural features, virtually inimitable now, that exist only in the pages of books and in the sumptuous memories of those who were fortunate enough to have seen them for themselves. And I would love to hear from those of you in our crowd Who Do Remember Homes Like These: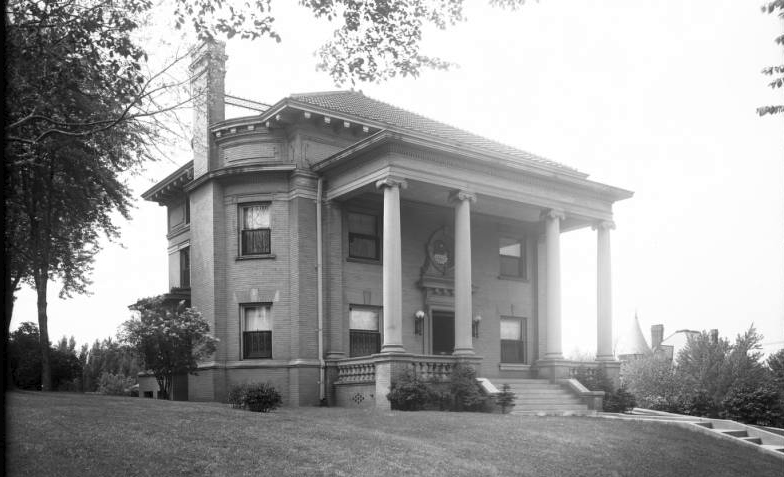 The L.M. Lord Mansion at 312 South Thirty-seventh Street. Notice the home in the distance to the right–pretty sure that is perpendicular Farnam Street. Creator: Bostwick, Louis (1868-1943) and Frohardt, Homer (1885-1972). Publisher: The Durham Museum. Date: 1924.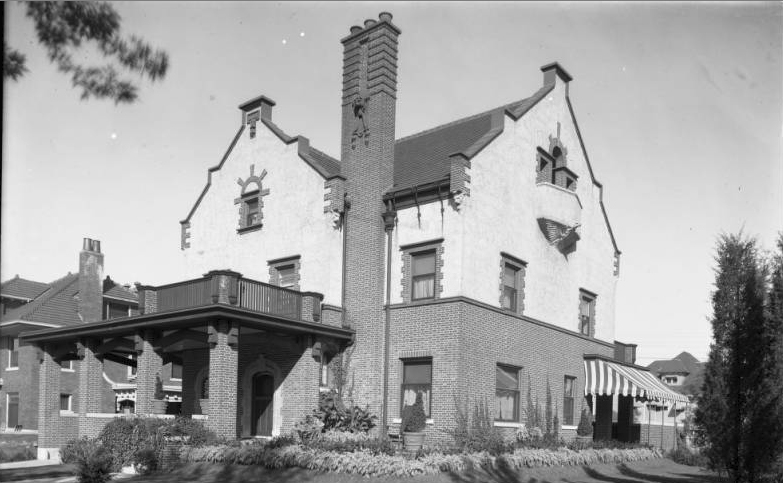 House of J.J. Hanighen at 327 South Thirty-seventh Street. Large three-story home. Creator: Bostwick, Louis (1868-1943) and Frohardt, Homer (1885-1972). Publisher: The Durham Museum. Date: 1919.
These unique, irreplaceable homes and landscapes once stood proudly only a block north of where we detectives will survey today. (Thirty-seventh and Dewey, for my impatient sleuths.) Many fine, old buildings in the West Farnam-Blackstone-Cathedral-Duchesne Neighborhoods, collectively called the Gold Coast District, would be threatened with destruction in the late 1950s-1960s; ultimately some of the greatest of residential behemoths were taken down because of the financial burden of maintenance or to make room for Harney Street or progress or, I should say, whatever was viewed as current progress. The only positive I can muster up is that if all of these mansions still existed in Omaha, I would never get a day's work in because I would be Consumed by Beauty. And where would one be without one's job in which to toil? Drooling on the sidewalks in front of mansions, I imagine.
So let us get to work. This Is What Separates the Infatuated from the Obsessed.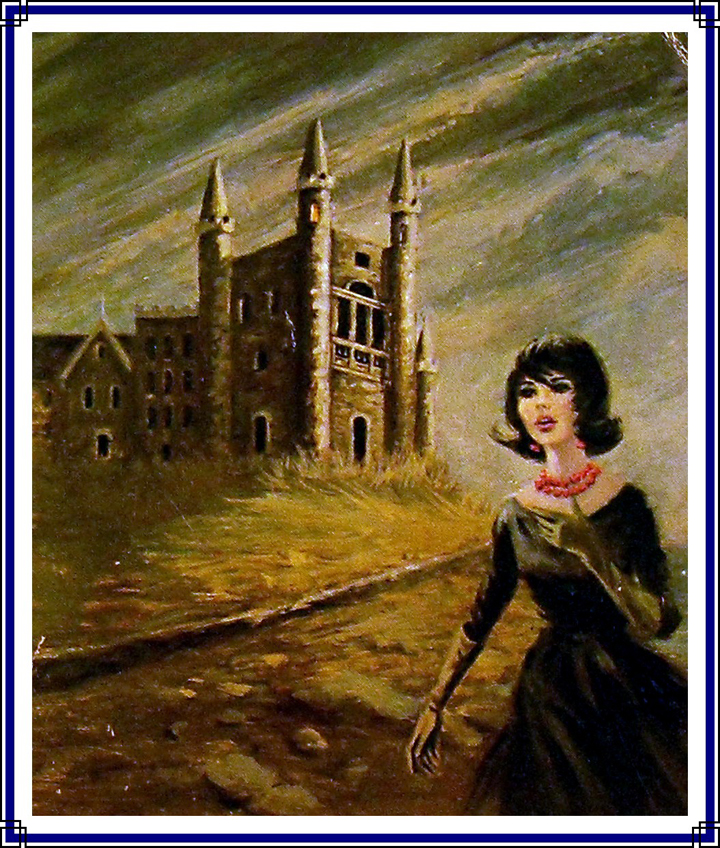 Part One
The Cudahy Family
Edward Aloysius Cudahy was born in Milwaukee in 1860 to Irish immigrants, Patrick and Elizabeth Shaw Cudahy. Edward had older siblings, Michael (born in 1841) John, Catherine, Patrick, and William (born in 1853). Edward, by far, the youngest. I include this because Mother of Miss Cassette has always persuaded that birth order matters. Edward married another Milwaukean of Irish descent, Miss Elizabeth Murphy. The couple wed in November of 1884 and the following year had their first child, Eddie, Jr., born in Illinois. Children Eugenia, Helen, Florence, Alice and Robert soon followed, all born in Omaha.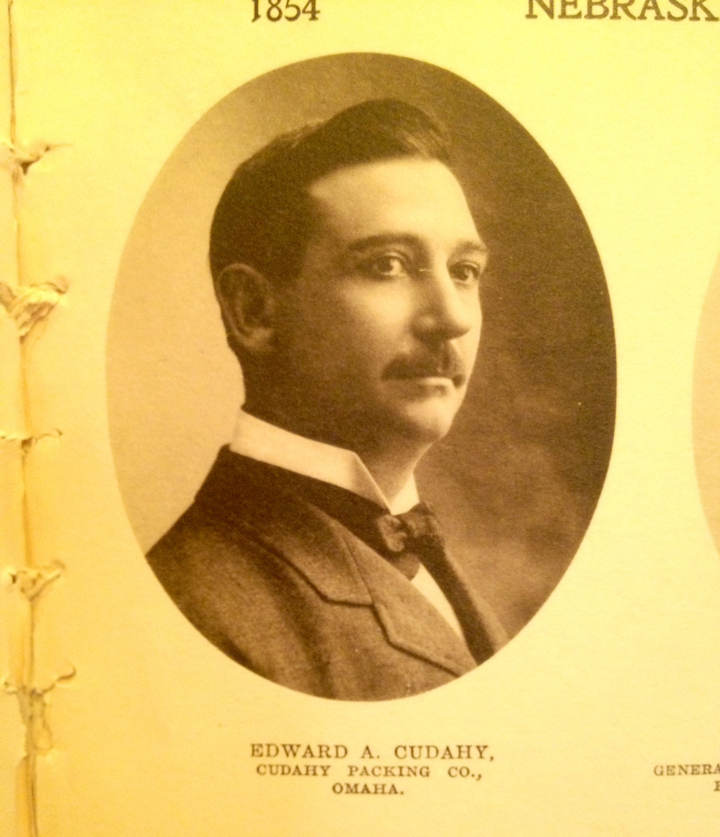 I will say Edward Cudahy was not found in any of my favorite Omaha books, except for one. And only his photo was revealed. Here it is and what a great photograph it was.E. A. Cudahy, scanned from one of my favorite books,  Nebraskans 1854-1904 by the Bee Publishing Company, Omaha, Neb. 1904. You can see it is practically falling apart but I love it!
Friends, you know how I can obsess when I get on my late night hobbyhorse. There was nothing to be found on ol' E. A. Cudahy in these Omaha Bibles. Decades later description of his glorious, haunting mansion and his son's kidnapping are mentioned.  I assumed that Cudahy's absence was an oversight or, perhaps, because he was not from Omaha and did not stay long. We can be a bit cliquish, I've heard tell. But I argued with myself–many famous folks have blown in and out of here in shorter time spans and we like to lay claim to them Forever, just for having toddled on Happy Hollow Boulevard or whispered once in Westlawn Mausoleum, let alone those who crossed the Playhouse stage as a tween, or tap danced in a forgotten ballroom as a wee one. It was a mystery. Did Edward Cudahy or his clan offend The Powers that Be? Was Cudahy perceived to have Taken the Money and Ran back to Chicago? A selfish, social faux pas? Just information to ponder, I suppose.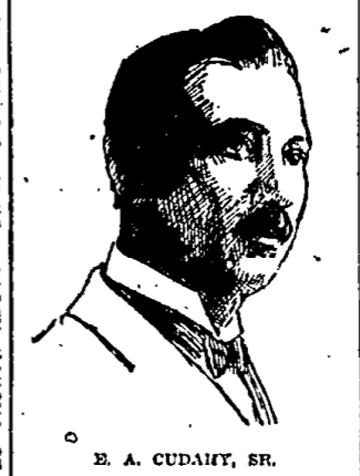 Fantastic little illustration of E. A. Cudahy from the Omaha World Herald in 1900.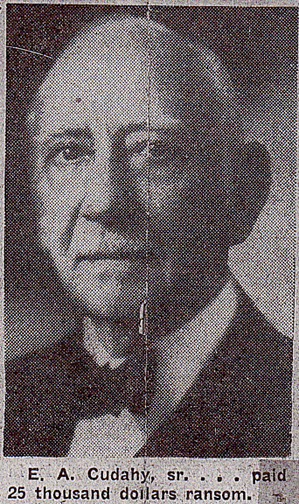 Photo of Mr. Cudahy as an older gentleman, from his obituary of 1941. Photo borrowed with permission from the W. Dale Clark Library reference desk clippings file.
Cudahy Meat Packing
I will be the first to admit that I am not an expert in anything, let alone Omaha's nationally known stockyards, but to get to the bottom of the Edward Cudahy Mansion, I needed to gather some clues. According to his recollection, Edward Cudahy came to Omaha in 1887 at the age of 27. Early on the World Herald reported " Omaha is destined to become the principal market west of Chicago for the sale of cattle, sheep and hogs." The bulk up really began in 1877 when the Omaha Board of Trade's livestock committee began promoting "good railroads, good water, good feed…on the rim of the sprawling rangeland" in hopes of drawing in strong packing houses. Mr. Cudahy's version of history is that he moved to Omaha to manage the Armour-Cudahy Packing plant. There existed numerous reports and conflicting information in my survey of the events but from what I could sew together, Scotsman Sir Thomas Lipton (of Lipton Tea distinction) opened a South Omaha plant in 1887—just one of the many companies lured to town with promise of bonuses and success. Incredible journalist-historian Jim McKee reported back in his 2013 article, John McShane, then President of the Union Stockyards, purportedly traveled to the Armour house in Chicago in an attempt to bring the company to South Omaha. McShane knew that Lipton would soon abandon the Union Stockyards after "he could not acquire enough pork"  to roll out his need for English bacon.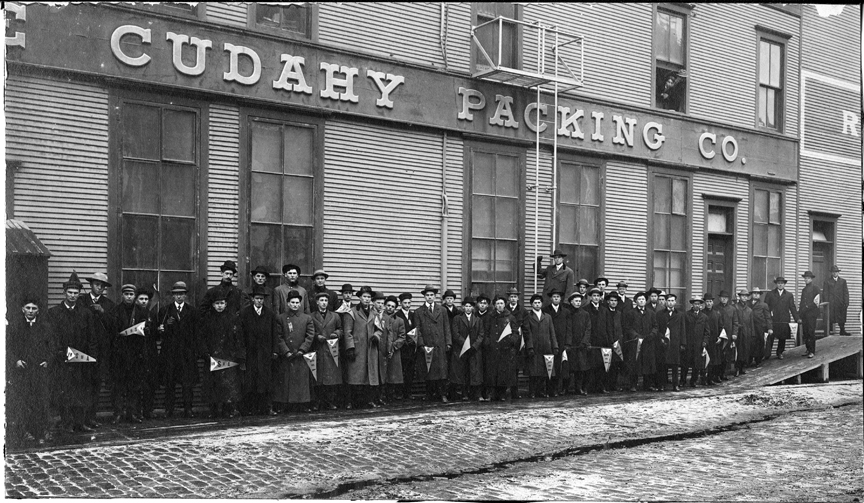 University Agriculture group is standing outside the Cudahy Packing Company. Creator: Bostwick, Louis (1868-1943) and Frohardt, Homer (1885-1972). Publisher: The Durham Museum. 1909.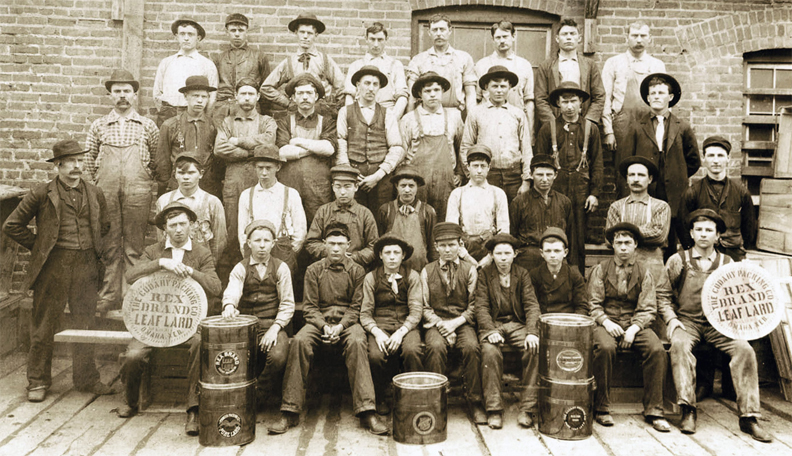 1895. Workers at the Cudahy Meatpacking Plant. Image from the Nebraska Studie.org, which they credit to the Nebraska State Historical Society.
Brothers Michael and Edward Cudahy had been working for Armour & Company meatpacking plants in Wisconsin and Chicago. Edward claimed to have begun in the meat packing industry by age 12 in Milwaukee. Before he was 15, he was considered an "expert in the Plankinton plant." With backing secured from Philip Armour, the brothers moved to Omaha to take over the Lipton plant. Later Armour-Cudahy Packing was forged with Michael Cudahy at the helm and younger brother Edward Cudahy as superintendent. As with many packing ventures coaxed to South O, Armour-Cudahy "received a Union Stock Yards Company bonus of 150 thousand dollars." Subsequent to this bonus, the Cudahys built a large packinghouse and began slaughtering hogs. Cattle followed but a month later.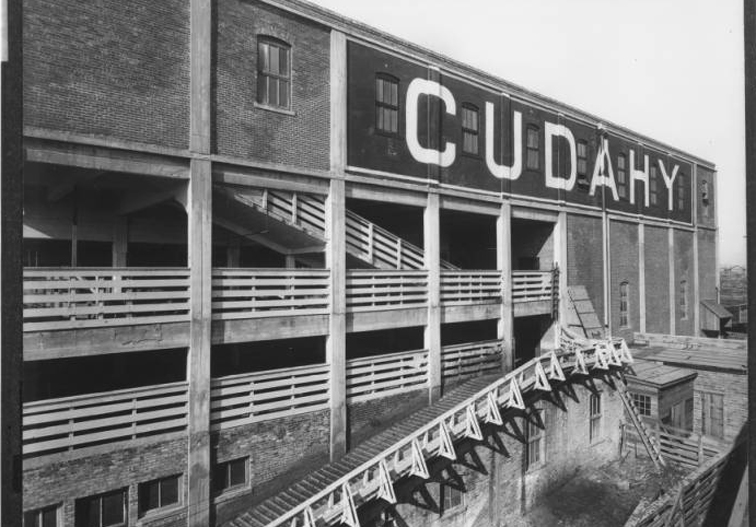 1913 Cudahy Packing Company. The company plant north of 33rd and Q Street. Stock chutes leading into the plant interior. Creator: Bostwick, Louis (1868-1943) and Frohardt, Homer (1885-1972) Publisher: The Durham Museum.  "1500 heads daily. Visitors Welcome." I am sure, in those days, many visitors did tour the plants. I don't think I'd like that very much but I might have in the 1800s. What sort of slaughter house boots might I have worn?
By 1890, the brothers bought out Armour's interest and settled the Cudahy Packing Company, Inc. "with $750,000 capitalization," according to History of Chicago, Volume III: The Rise of a Modern City, 1871-1893, by Bessie Louise Pierce. Michael was president, (remaining in Chicago) and Edward became vice-president and general manager. Pierce reported Cudahy Headquarters were based in Chicago. Rumored to be "popular" in the packing world, Edward Cudahy estimated being the "only resident-owner" in the Union Stock Yards helped his image. Apparently all of the other packing plant owners were based out of Chicago, like his brother, managing their companies from afar.
I have previously written about the Cudahy Packing Plant in other investigations and thought  you might like to have a looksee: Mysteries of Omaha: 3825 South 25th Street and The Secrets of 302 South 56th Street.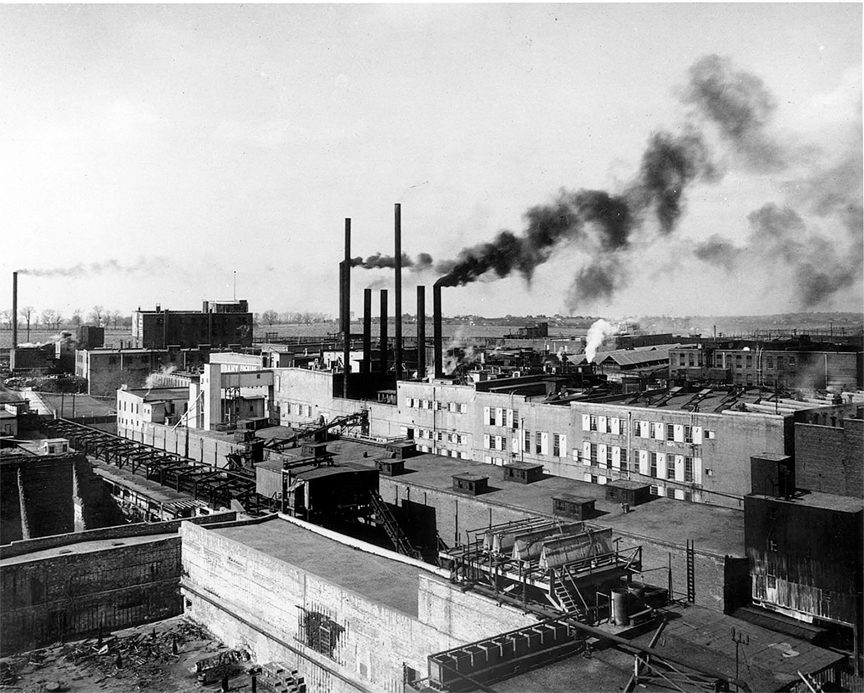 Cudahy Packing Plant from 1900. Image borrowed from the Nebraska Studies.org site. From McKee's investigation, I would learn Cudahy was considered "the second largest packer of its kind in the world." He wrote: " The South Omaha plant had two primary buildings connected by tunnels on a nearly 24-acre campus with six new buildings (worth about $250,000) under construction, including its own 10-man fire department and 150-seat company cafeteria and employee grocery outlet. The packing plant had a daily capacity of 6,000 hogs, 1,200 cattle and 1,000 sheep, which was supplemented by branch packing plants in nine states."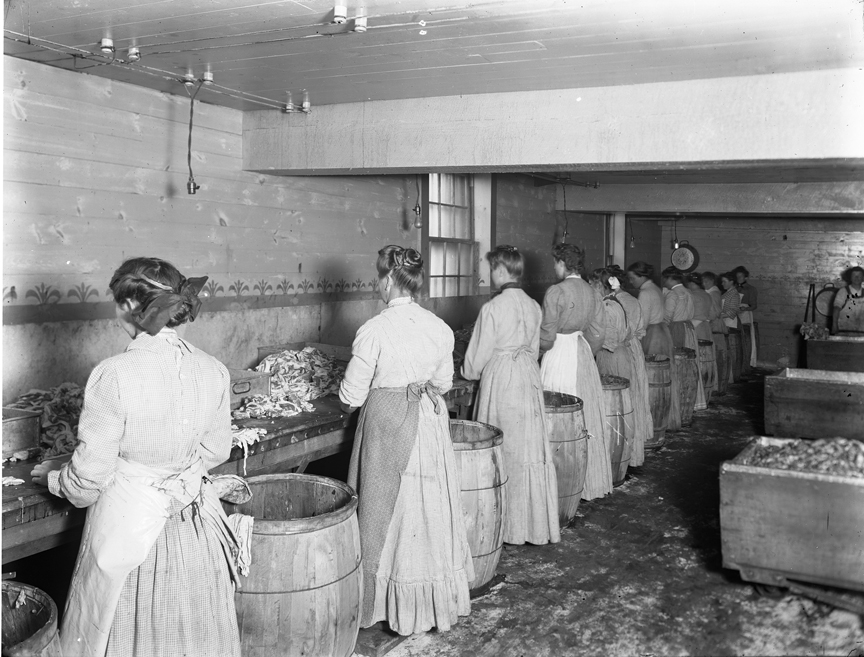 Cudahy Meatpacking would come to employee 2,400 Omahans. In time females were hired. Here they are seen at a long work counter; each woman has a large pile of dried beef on the counter in front of her and a large wooden barrel at their side. Creator: Bostwick, Louis (1868-1943) and Frohardt, Homer (1885-1972). Publisher: The Durham Museum. 1909.
History of the City of Omaha and South Omaha by James W. Savage and John T. Bell, published in 1894, offered this overview of the South Omaha stockyards: "Of the two hundred and fifty acres of grounds owned by the company (the Union Stock Yards Company), thirty-seven and one-half acres were covered by stock pens in January 1, 1892, twelve acres being allotted to hogs, twenty and one-half acres to cattle and five acres to sheet…" I learned the Union Stock Yards Co. and the Union Stock Yards Railroad held the same officers. The board of directors consisted of "W. A. Paxton, Jhn A. McShane, John A. Creighton, A. C. Foster, Milton Rogers, E. A. Cudahy and B. F. Smith" and two others from different cities. These names come up again and again in my investigations but are certainly important to note for this exploration, as these men also held clues to the very neighborhood where Edward Cudahy would build his mansion.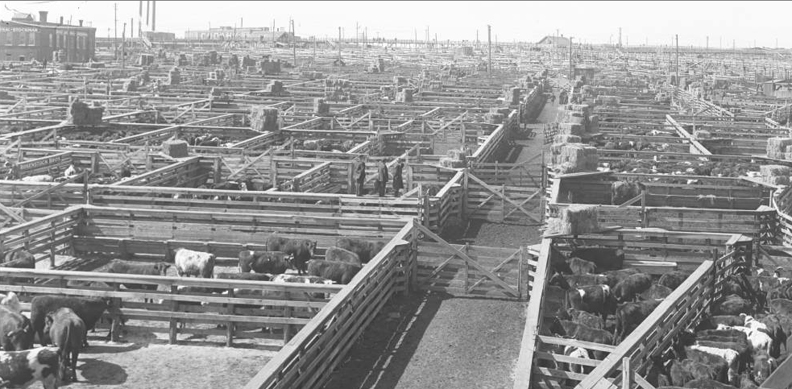 Looking west over the stockyards cattle pens towards the old Cudahy Packing plant near 33rd and "Q" Street. Creator: Bostwick, Louis (1868-1943) and Frohardt, Homer (1885-1972). Publisher: The Durham Museum. Date: 1917.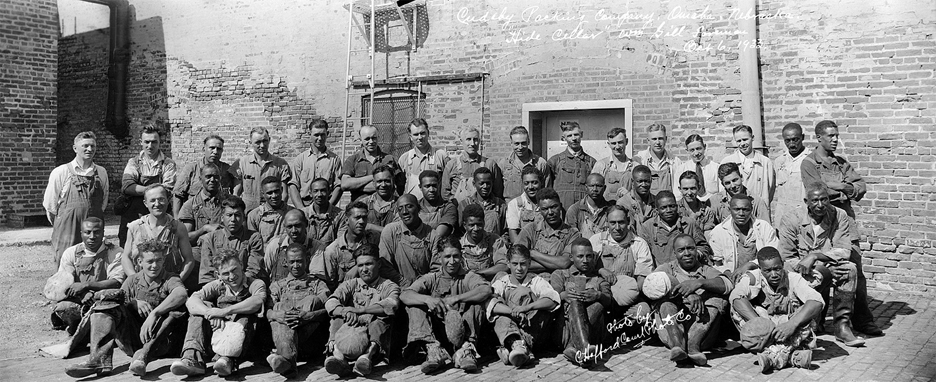 From the 2008 NET television program Beef State: "Since the 1920s, the major meatpackers (Swift, Armour, Cudahy, and Wilson were called the 'Big Four') held a near monopoly on beef production." 1933 Cudahy employees. Photo borrowed from the Nebraska Studies.org site.
Side Gloss about Cudahy Wholesale Meat
From the Omaha City Directory of 1892, I would learn that Edward Cudahy, as vice president and manager of Cudahy, for a time at least, held an office at 1217-1219 Leavenworth Street. I couldn't understand this until I would discover the tall Union Stock Yards building, the Livestock Exchange, at 4920 South 30th, wasn't completed until 1926. This Leavenworth building (still standing!) was the Cudahy Wholesale Meat Store-business office location. These addresses are now home to Natural Therapy, a wonderful acupuncture and whole health clinic and a storage rental business. According to the Douglas County Assessor site, this warehouse was built in 1886. I have investigated this 1217-1219 Leavenworth Street warehouse previously on the blog's FB page but have yet to migrate it over to this website. I must get to that.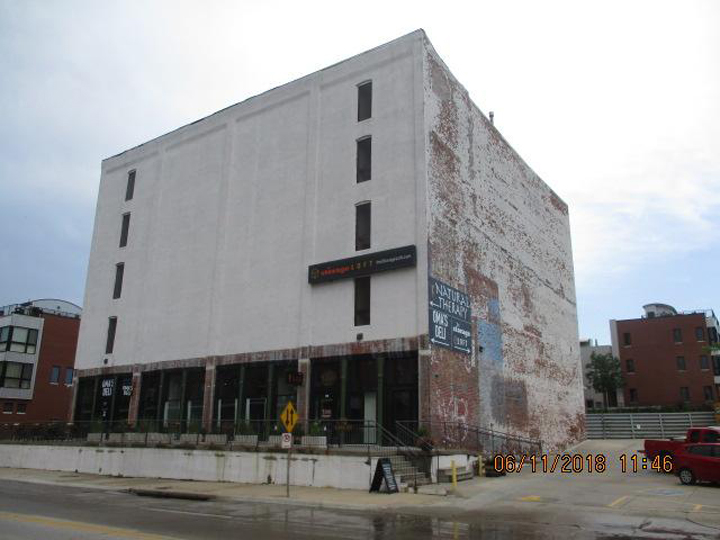 1217-1219 Leavenworth Street. I'm sure you've seen it at 13th and Leavenworth. Image borrowed from the County Assessor's site. Deeper dig, still: according to the Chicago Journal of Commerce and Metal Industries, Volume 71 of 1897, the Baum Iron Company began in 1888 as a hardware company out of Lincoln. When they removed to Omaha they purchased the business of Edney & Gibbon, then located at 1217-1219 Leavenworth. By 1890 Baum had secured 1212, 1217 and 1219 Harney and have maintained their location to this day—although it is now registered as 1221 Harney now. Same great building, however.
The Cudahys' First Home
I would rush to my favorite library, the W. Dale Clark in Downtown Omaha, for some much needed evidence. A review of the Omaha City Directories, roughly 1891-1897, registered the Edward Cudahy family residence at 546 South 26th Street, until that fateful relocation to the posh Gold Coast district. Their 26th Street home is no longer extant but I did have a photo in my collection of where I believe the home once stood. I continue to be possessed by this area, long after having lived in the neighborhood.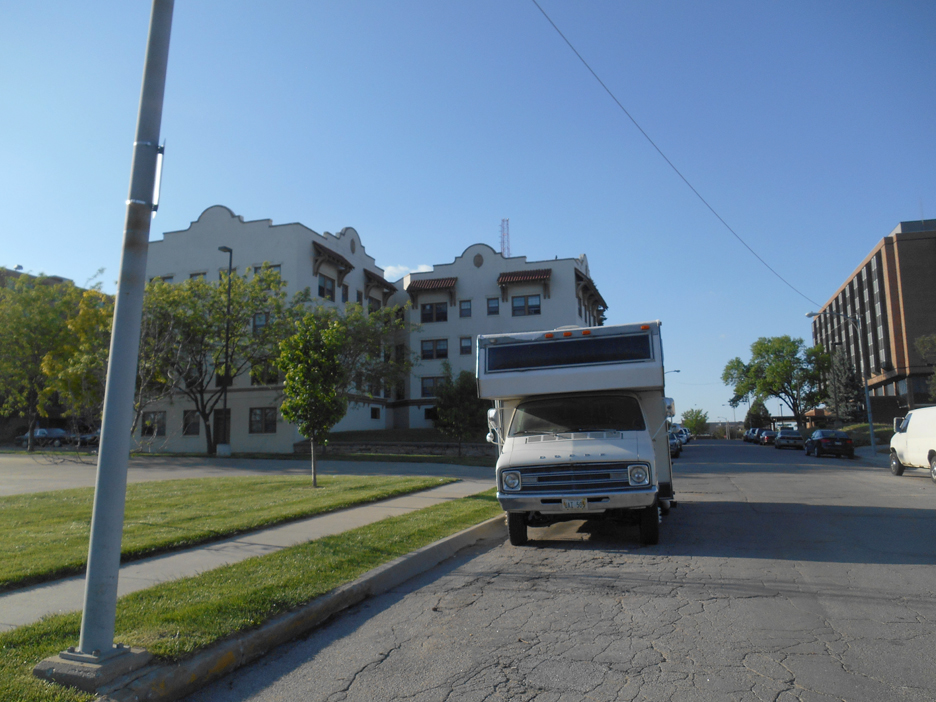 In the vicinity of 546 South 26th Street. From my collection, taken in 2017. I imagine this earlier home must have been quite grand, as well, for Mrs. Elizabeth Cudahy called upon all variety of domestic help– from a maid, to a laundress, to a nurse girl. In May of 1897 the Mrs. was advertising for "a good laundress" to take to the family's country home; weeks later an "In Society" write-up revealed the Cudahys were headed to Mackinaw for their summer cottage, where they were thought to remain until September. With their good laundress in tow, one can assume.
The Cudahys were listed at their 546 South 26th Street home until the City Directory 1898, where their residence was found entered, for the first time, as 518 South 37th Street. A study of archival newspapers still showed Mrs. Cudahy advertising for domestics at the 26th Street home into October of 1898. I made a note.
The West Farnam- Gold Coast
Now I'll admit, I walked into this investigation with an air of confidence, knowing the Cudahy's Mansion had been located on the southwest corner of 37th and Dewey, smack dab in the middle of the area I call the South Gold Coast. Dewey Avenue, I would consider a bystreet nestled south of the popular Farnam thoroughfare. The venerable mansion site was undoubtedly chosen as a quiet corner in a prestigious neighborhood. The property now plays hostess to a large condominium called "The 500" Building, assigned a new address of 500 South 37th Street.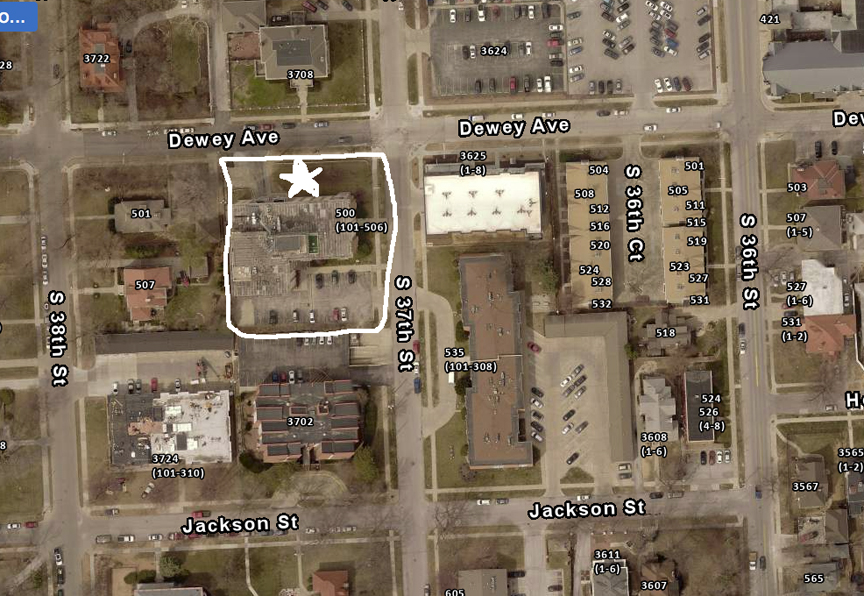 2019 aerial from the GIS mapping site of the Douglas County/Omaha NE GIS Department. Image depicting large parcel of the non-extant Cudahy Mansion.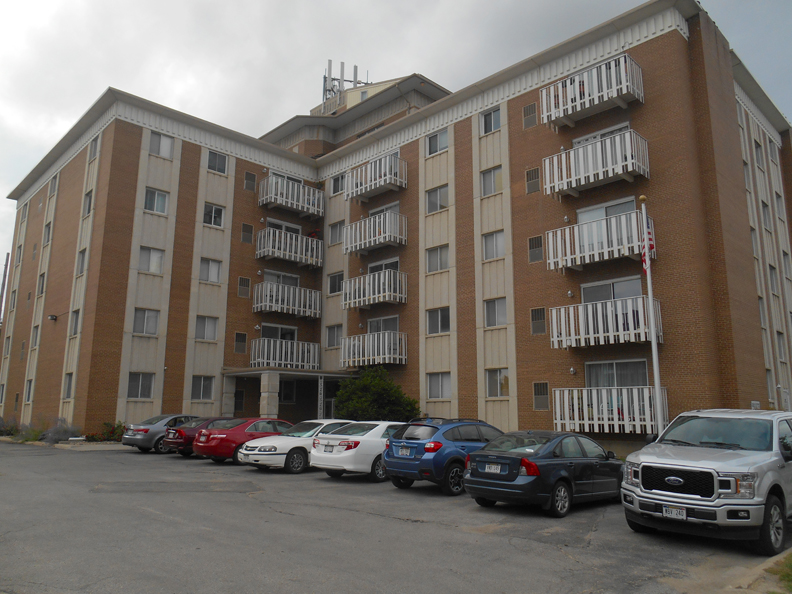 The 500 Condominium building from a southeastern angle, opens onto the residents' parking lot. This is the 37th Street view. The entryway is not pretentious–in fact, Enshrouded might be the perfect word. One has to creep onto the property to even find the front door. I'm sure the inhabitants prefer the privacy. I used to live not far away and will admit, I had never observed this building, let alone the front door. Hidden in Plain View.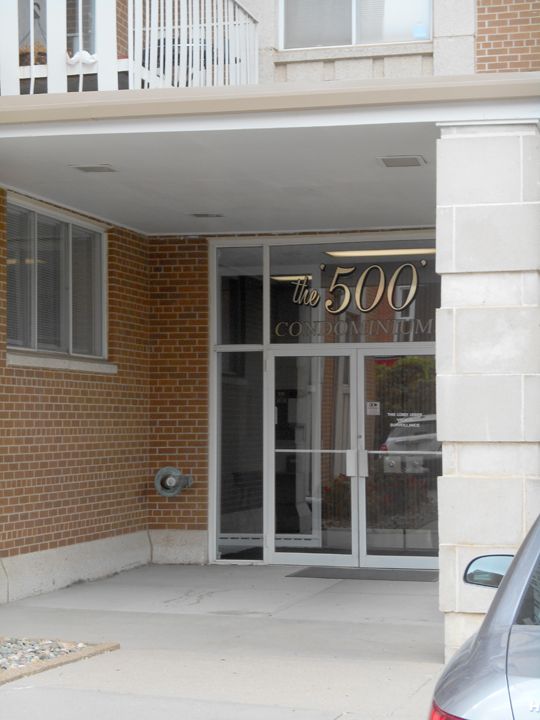 I found the formal front door but did not want to be a full-on stalker.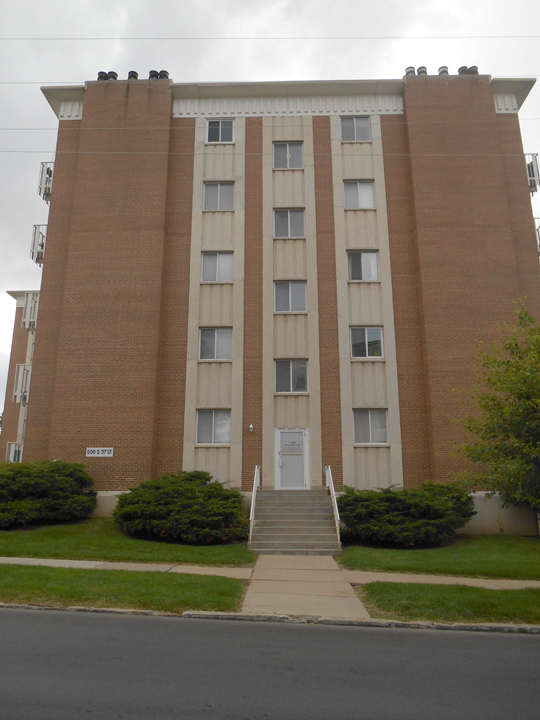 The northern elevation faces Dewey Street.
Previous to the Cudahy's home, I had no inkling of what had been on the lot. Maybe it was countryside? I also wasn't entirely sure when the West Farnam- Gold Coast Neighborhood truly began. I was excited to look at the Omaha City Directory of 1891 for a survey of the cross streets. On South 37th Street I found house numbers and their accompanying owners:
332 Clark Woodman
334 Milton Rogers
Howard Street crosses*
510 Julius Jadeker
Jackson Street crosses
604 F. P. Kirkendall
610 C. A. Coe
*Note that Dewey Avenue was called Howard Street at that time. More on this later…
I would pull out my worn copy of the Gold Coast Historic District report written by Stacey C. Pilgrim and Lynn Meyer for purposes of the National Register of Historic Places back in 1996. This report is in my top five favorites for both exceptional clues and writing style. Pilgrim and Meyer worked in City Planning at the time. By their estimation, the Gold Coast District, approximately thirty blocks total, comprised of 36th to 40th Streets, Jones to Cuming Streets. Ben Sylvester, however, assessed the boundaries at 32nd Avenue to 40th Street, Davenport to Jones, in his self-published gem, West Farnam Story. It is largely agreed that the most glorious range of architecture in the area (still extant) spanned 1889 to 1920, although Pilgrim and Meyer included structures built until 1946 for their survey. Once a showplace for homes of every architectural style, each a proud display of their owners' status and taste, the varied built environ of large mansions, smaller single family homes, duplexes, small businesses and apartment buildings (way more bulky apartments have appeared since the 1996 writing) of the West Farnam- Gold Coast district, in my view, offers some of the most invigorating structures in our city. From their report: "The district contains two distinct areas—the West Farnam (currently called the Blackstone) and the Cathedral neighborhoods. These two areas, although distinct, were actually part of a much larger area called the Gold Coast." My suggestion, in hopes of clarity, is to think of the area as North Gold Coast and South Gold Coast with Dodge Street serving as a dividing line. But please don't get any ideas about tacky neighborhood street banners and try to market the idea. Let's uphold some discretion.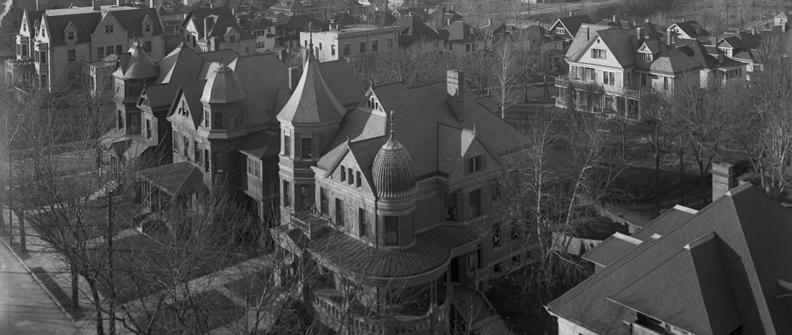 Looking northwest at 36th & Farnam Street. Creator: Bostwick, Louis (1868-1943) and Frohardt, Homer (1885-1972). Publisher: The Durham Museum. Date: 1915-11-22. I think we can safely assume the area was named in an imitation of Long Island's Gold Coast.
An earlier "Gold Coast" was once located along South 10th as most of Omaha's elite built their mansions in the Capital Hills District. All that remains, as we explored not long ago in the https://myomahaobsession.com/2019/07/22/finding-rose-lazio/ investigation, are a sprinkling of mansions. We had also previously unearthed the Society Stretch of once renowned 16th Street.  "As the city grew, the new rich moved west to the area called West Farnam." As Mr. Sylvester summed it up, "The name West Farnam denotes a district, not the street. For about 25 years before World War I, the West Farnam District was the last capital of Omaha Society." However times change and it is interesting to note, as Pilgrim and Meyer's report pointed out, between 1890 and 1920, the largest mansions in the area were built by the city's professionals and entrepreneurs, not "Old Money." The New Gold Coast, considered to be on the western-most outskirts of Omaha in 1884, upheld its boundary that "coincided with 36th Street and West Omaha was still a suburb." The city would annex the upper crust West Farnam-Gold Coast district by 1897.
A chance peek into A Comprehensive Program for Historic Preservation in Omaha compiled by the Landmarks Heritage Preservation Commission, (1980) let on a fascinating clue. "Because the depression of the 1890s effectively halted building activity in the city, most of the extant structures dating prior to 1900 were erected in the 1880s. However the depression failed to halt construction of residences for the wealthiest of Omaha citizens, who began to build homes in the city's developing Gold Coast, located west of 32nd Street along Farnam Street." This signified to me that the extant mansions comprised in the area were of another kind of exclusive cohort—possibly some of the only buildings constructed in Omaha from the 1890s to 1900.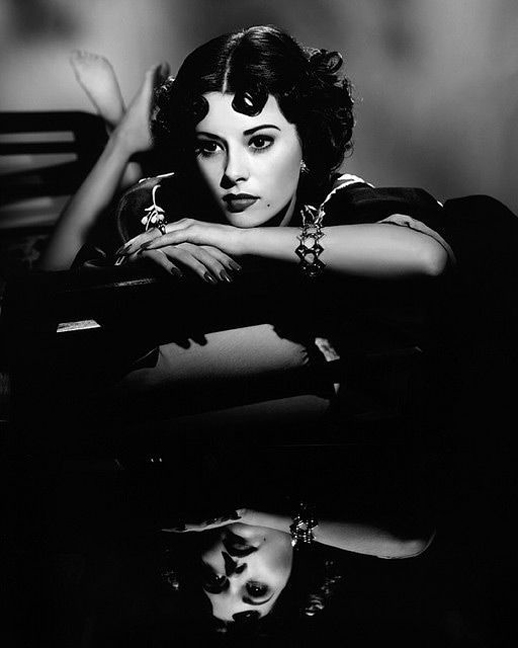 But I needed to know more. The Kind of More that only a visit to the Register of Deeds could provide.
Visit to the Register of Deeds
From the Douglas County Assessor's site I could view the legal description of the property had changed when the Cudahy lot became a condominium. The current legal name is 500 Building Cond Prop Lot 403 Block 0. The large condo was purportedly built in 1969. The properties surrounding were assigned to the "West Omaha" plat, so I surmised the original Cudahy lot/s had been a part of that addition as well. Detectives Joanna and Tom at the Register of Deeds would join in the search and helped me tremendously. It was Detective Joanna who figured out its original legal description: Lot 1 Block 2 of the West Omaha Addition. That clue made all the difference.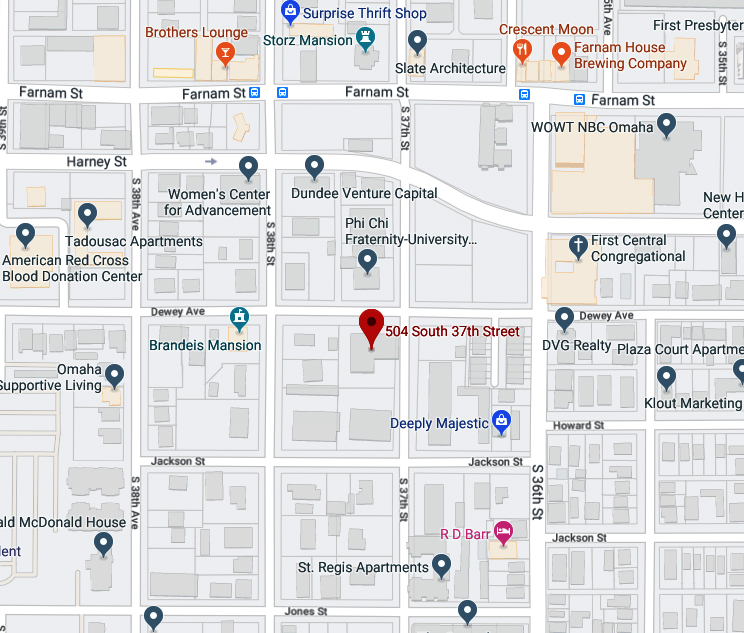 Current Google Map image of the area surrounding 37th and Dewey. 500 (504) South 37th Street is marked. Image borrowed from Google Map.
I held the "West Omaha" precinct plat, drawn up in July of 1866 and if I squinted my eyes just right, I could almost untangle the queer handwriting to make out the names Oscar Selden and Cornelius A. Downey, among others. Being of a certain age, I would like to think I have a good handle on cursive but perhaps my understanding of 1860s curly-qs were shakier than thought. When I reviewed the actual map of the proposed West Omaha Addition, I observed 37th Street was preemptively named "Selden Street" and 36th Street was drawn up as "Isaacs Street." On that note, Isaacs & Selden Addition was later developed in its own right.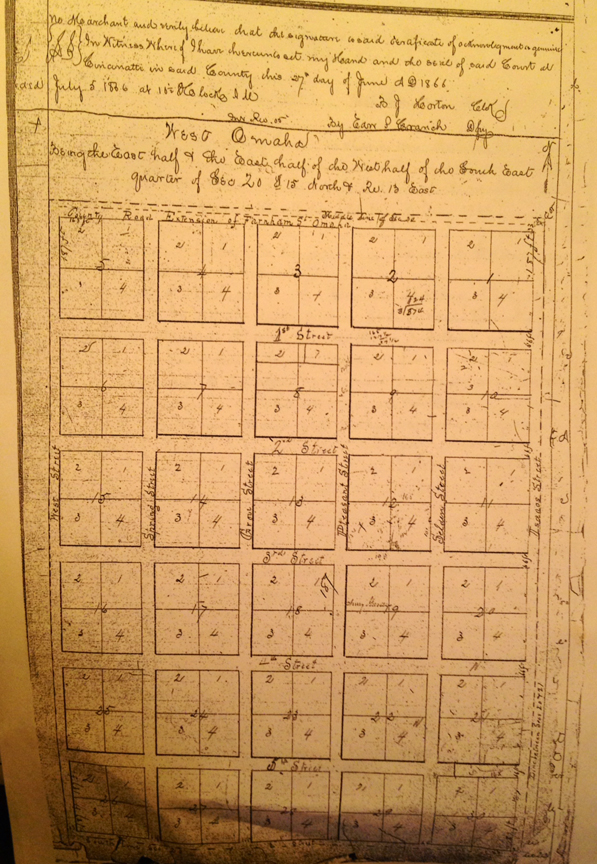 The 1866 Plat. It read: " I, James Moran of Omaha, Nebraska in consideration of two thousand dollars in hand paid do hereby grant unto (illegible) Cornelius A. Downey (blahalbah) Lot eight in Blocks Two." I struggled. "'West Omaha' Being the east half and the east half of the west half of the South East quarter of …"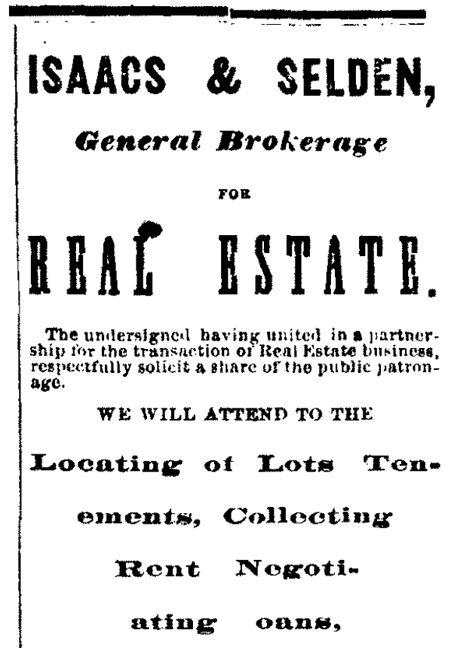 1868 Isaacs & Selden ad from the OWH. The plat did point to Isaacs & Selden having developed the "West Omaha" area, a portion of the West Farnam district. John A. Scott, another name on the plat, I nailed down as a trustee of the Omaha National Bank. His name was seen frequently in the archives listed in acquisitions of property. Cornelius A. Downey was, I believe, the C. A. of the C. A. Downey & Co. Government Claim Agents, two years later turned into the C. A. Downey Real Estate Agents, along with John R. Cox. My guess–he was either a part of Isaacs & Selden or coordinated the sale with the mysterious James Moran.
The Cudahy Mansion
Let us waft into some tempting, breathless details, the reason we have gathered here, after all.
For as imposing a Gothic Revival mansion as 518 South 37th Street presented in her day, she began her life under the vaguely guarded designation "37th and Dewey Avenue." Surely she had could have enjoyed a more dramatic name like Whispering Gables or even After Dark, Absinthe, but she was never named, or that I could find. I do love a good estate christening. The Cudahy residence, upon completion, must have had a stunning, monumental effect on the West Farnam District and all who crept by her stone and iron gated confines. The home struck me as being one of the largest, most solidly built houses I had ever seen in Omaha or never seen, in this case. A stone base girded the shadowy house.  Her pale, cold, brick exterior walls were adorned with limestone transomed sills and impressive, almost tormenting, pointed dormers on the third floor. The acutely peaked dormers, faced the four cardinal directions, some cleverly offering three window groupings; dormer after dormer rose out of the third story slate roof, each one bolder than the next, virtually two-stories high. How many cluster of chimneys in the midst would I count? They were proudly positioned for aesthetic balance and we can assume, functionality. It was all painfully gorgeous. The east facing entryway mimicked the steep pitch of the roof. A curving driveway swayed up from 37th, leading under a prominent porte-cochere that appeared to have been detailed in stone Gothic tracery—do I spy the Trefoil? Oh goodness—it's replicated in the front-facing gable of the front door as well. I had to recline numerous times in the study of these images. What must the hushed West Farnam crowd have thought? I am sure speechless passersby found reasons to circle again and again for the sake of strolling through her massive shadow—extending from both the line of trees and the great home, for it would not be long until every townborn child was familiar with the Cudahy family manse.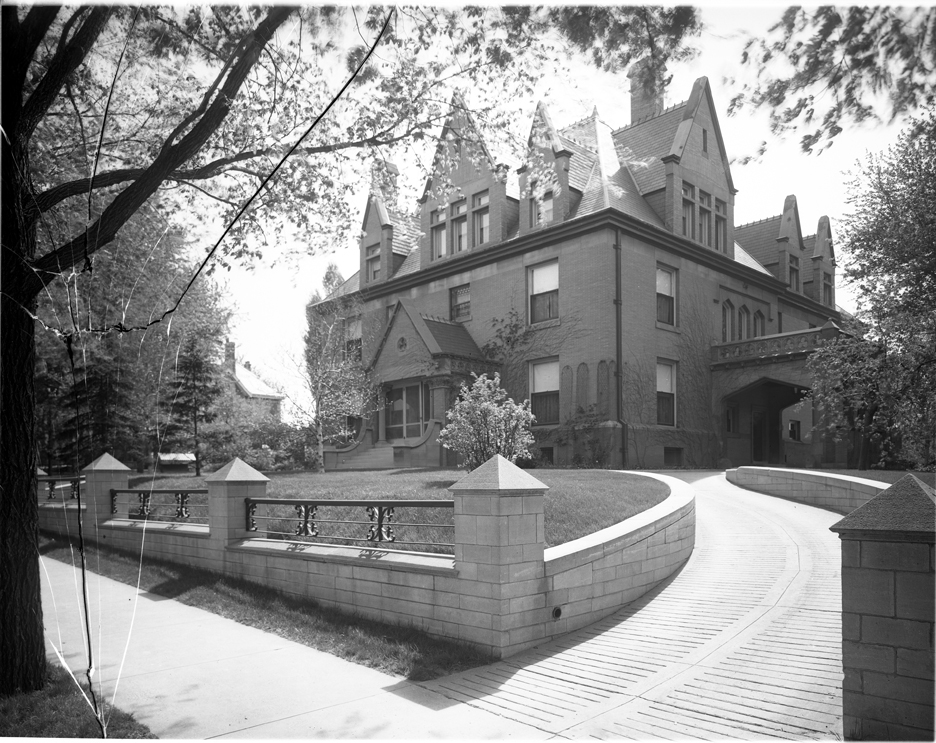 The Cudahy Mansion in later years. Photographer facing southwestern angle from corner of 37th and Dewey. Creator: Bostwick, Louis (1868-1943) and Frohardt, Homer (1885-1972). Publisher: The Durham Museum. Date: 1916-05-10.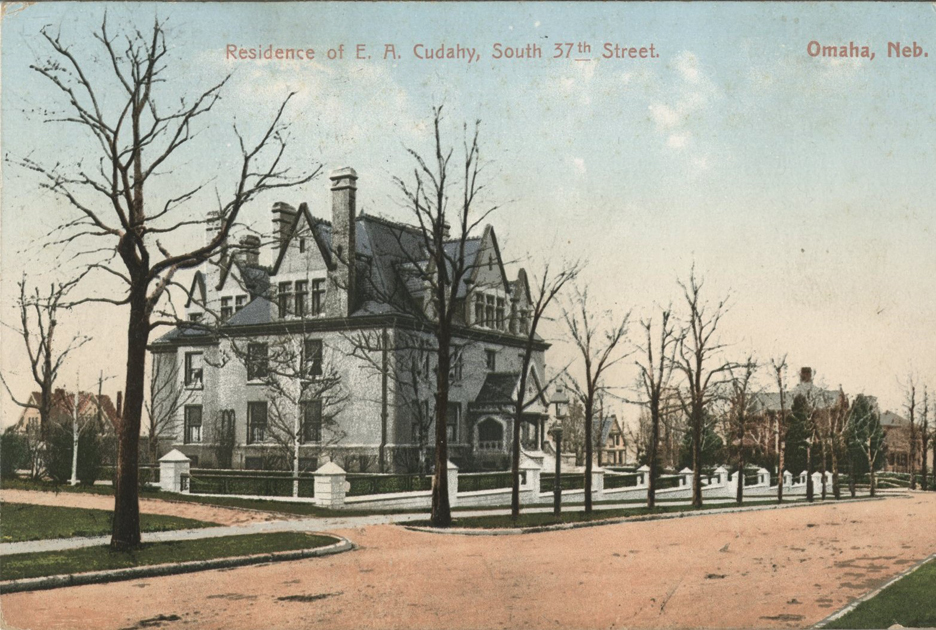 1900. Colored postcard from the Douglas County Historical Society. Nichols Postcard Collection. Exterior view of the residence of Edward A. Cudahy. Kind gift of My Omaha Obsession friend, Merrilee Moshier Miller. Southeastern view of the home, photographer facing north on 37th Street. Notice the homes around the structure. Now one could assume from the looks of things that this photo was taken on a dark, dreary day. But some of us have our doubts. I can hear you considering her demeanor and arguing amongst yourselves. Did doom and gloom dither all about the Cudahy's Mansion?
On the authority of Ben Sylvester's, West Farnam Story, the beautiful but haunting gal at 37th and Dewey was built in 1897. "It had 22 rooms, ten fireplaces and seven baths. The woodwork on the first floor was solid mahogany with hand-carved representations of musical instruments, such as flute and violin in the music room. The reception room was decorated in gold leaf. A grand stairway had three stained glass windows on the landing. First floor ceiling was 11 feet; second floor ten feet; third floor nine feet. There were five servant rooms, besides quarters in the carriage house for gardener and coachman. Five thousand pounds of copper were used in the downspouts and roof trim." She sounded like I needed to be her Mystery Houseguest.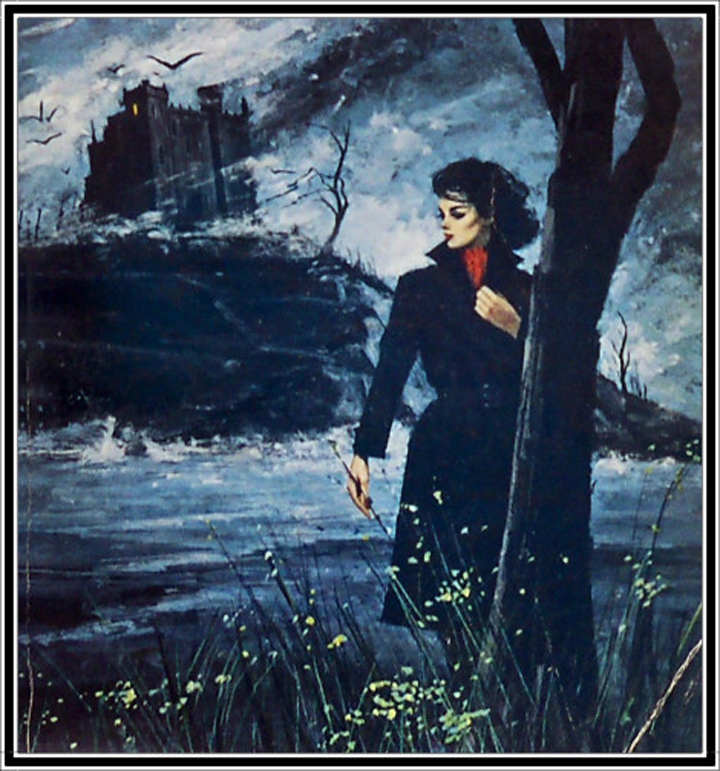 "And then Miss Cassette discovered the terrible secret—a family cemetery hidden within the ivy-enshrouded walls of the garden." I deceive! If only I had been born earlier…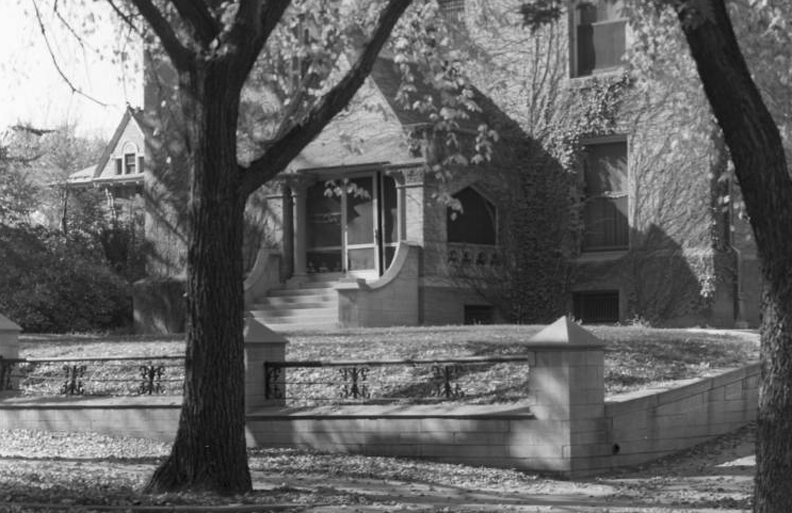 Detail of the Cudahy Mansion in later years. Photographer facing southwestern angle from 37th Street. Creator: Bostwick, Louis (1868-1943) and Frohardt, Homer (1885-1972). Publisher: The Durham Museum. Date: 1940-10-21.
From a 1943 World Herald article, I gathered even more morsels of information, however conflicting: "Edward A. Cudahy built the home at 504 South 37th Street in 1894, paying 20 thousand dollars for the grounds alone. 187 by 165 grounds. A feature of this substantial and stately old 18 room home, luxuriously finished inside, was an air conditioning system. Natural ice was placed in air ducts and the air circulated by a blower fan. Under all the water pipes a copper trough was placed to catch any leak and prevent damage to any part of the house. The home is brick with slate roof and a large garage."
All of the history books and fine historians of the past attributed the Cudahy Mansion to Architect Henry Ives Cobb, asserting that the home was completed by 1897. And I am sure you sly sleuths noticed the OWH article stated it was built in 1894. Honestly friends, I struggled to find solid proof of these oft published facts and being that I do not like to just repeat and not gather my own information, I began the dig, confusing and exciting as it was. I felt it imperative to warn you that this next portion gets brambly and many of you might want to wander on ahead and look at more bewitching photographs.
I will plan to gnaw at this a while. You have been warned.
The Finer Details
Back to minutia gathered at the Register of Deeds Office: The warranty deed on Lot 1, Block 2 West Omaha addition showed Omaha National Bank as grantor (seller) to grantee John A. Scott in May of 1898. Now we had already learned that Mr. Scott was a representative of the bank. Scott then (granted) transferred the deed (buyer-owner) to Cudahy Packing Co in November of 1898. The warranty deed was later changed into Edward Cudahy's name by the time he sold the property years later. Let us remember that the Cudahys were listed at their 26th Street address until the City Directory of 1898; there was an additional clue that Mrs. Cudahy continued to advertise for domestics at the 26th Street home until October of 1898, signifying the family was still living in the old address or was between addresses. The evidence would point to the Cudahy Mansion not being constructed until 1898 or later. Let us go back and drill down deeper.

A Mr. Knudt Thompson sold Lot 1, Block 2 West Omaha to Eliza Towle in the summer of 1886. An afternoon's excavation displayed Mr. Thompson in the newspapers frequently during this period for selling land in Omaha. A Lot of Land. I reviewed my collection of Omaha books, which ultimately would not help because he was not a "Society Man." The Omaha Daily Bee would later mention him as a farmer. If I am making the correct connections through an online genealogy site, Mr. Knudt Thompson was born 1844 in Norway and was married to wife Clara. Then I found this site: http://blackenedroots.com/blog/the-diary-of-knudt-thompson/
My gosh, was this the same Knudt Thompson? This blog writer was like finding a long, lost, obsessive brother. What I surmised is, along with James Moran (from the original "West Omaha" plat), most likely farmers and rural landowners such as Mr. Thompson held these parcels until one by one the Omaha Society crowd bought them up.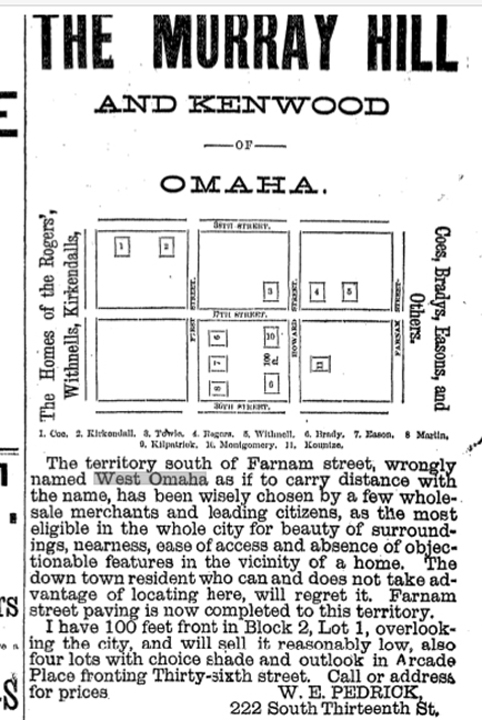 Murray Hill name in competition with West Omaha of West Farnam? I was able to suss out this odd marketing bit from August of 1887, the following year, where Lot 1 Block 2 (an empty parcel) was being sold. I found the phrasing fairly insulting of the West Omaha subdivision's name, usually not a good idea in real estate sales but no matter. If I hadn't already known most of the area's homeowners, I might not have thought much of this due to the mix of development names. But it appears that Cudahy's soon-to-be-lot was up for grabs. If we adjust ourselves to the Farnam Street marker, I am pretty sure "Howard Street" would later become Dewey Avenue. This was something I observed in the City Directory. My point is that square #3 on this map denotes the Towle property, which I believe the Cudahys would subsequently acquire. Perhaps it was this very advertisement, with all of those hoity names listed, which drew in Edward Cudahy?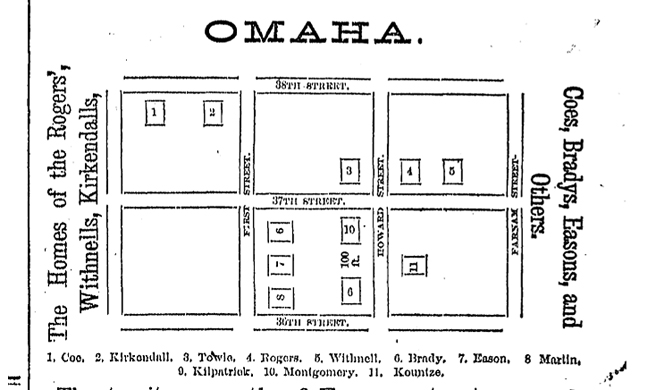 The Towle property was seen in this detail of the above map. Eliza Towle was a prominent Omaha Society woman, once viewed as a leader in social, religious and civic circles. She was married to George C. Towle, president of the Nebraska Fuel Company. Many generations of well-known Towles in Omaha have secure their Omaha Famous standing in Miss Cassette's book. Not my real book but in my estimation. You understand me. It appears Mrs. Eliza Towle's greatest passion was in her role as state regent for the Daughters of the American Revolution. Mrs. Towle and her husband owned large swaths of property across Omaha and apparently, put a great number of parcels in the Mrs.' name. Had Mrs. Towle bought the West Farnam land as an investment?

Ten years later, a tiny snippet from the World Herald in December of 1897 stated Mr. Cudahy had made improvements at 37th and Dewey–"Raised from $2,200 to $4,000. Improvements on above raised to $5,000." Huuh? I am gathering from this vague phrasing that building (or was it grading of the land?) was underway on the parcel, potentially ten years after Eliza Towle sold the land. Did this phrasing mean that the mansion was completed? I don't think so. And why was Cudahy not listed on the warranty deed until 1898? Had I missed something? December seems a cold time of year for whatever the improvements were.
The Mystery of Henry Ives Cobb
Architect Henry Ives Cobb had been identified in a few key Omaha writings as the designer of the Cudahy home. But it was clear as mud, for even the Historic Nebraska Architecture sites didn't credit the Cudahy Mansion to Cobb. Also from that site, I read sources had perhaps misleadingly also attributed the Guy C. Barton house of 1899 to Cobb as well. Guy Barton was executive of the Omaha and Grant Smelting Company and a local banker; his residence, now razed, was located at 3522 Farnam. "More definitive sources, however, show that house was actually built for John Withnell, and was designed by Fisher & Lawrie, Architects." Stranger still, in 1899 the Omaha World Herald ran a series of photographs, one of the Cudahy home, reporting the residence was newly built, giving credit to Architects Fisher & Lawrie.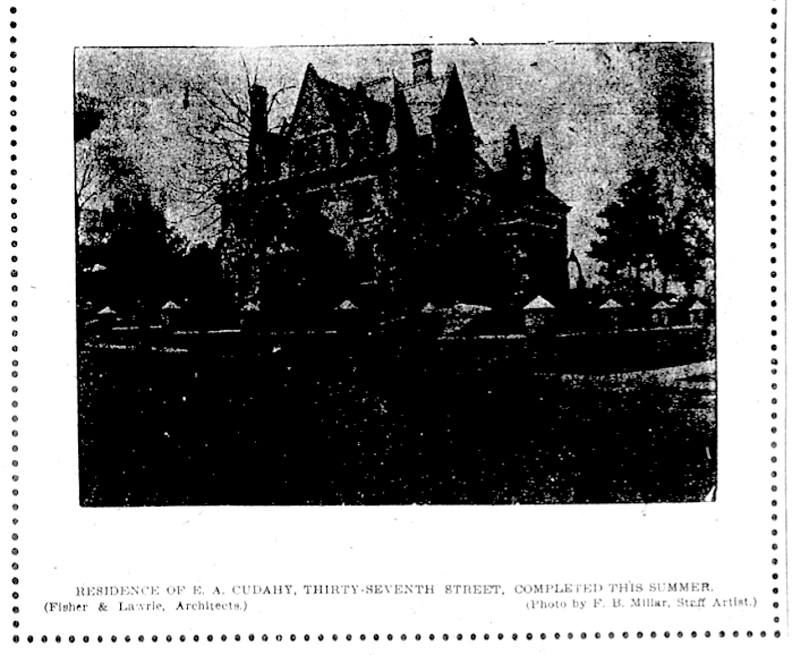 July 23, 1899. OWH photo, giving credit to Fisher & Lawrie for the Cudahy design. Isn't this photo foreboding and fabulous? Like a Cast Shadow.
**Sly Sleuths—note "Completed this summer."
Days later Fisher & Lawrie would come clean, reporting they could not lay claim to the majesty of the Cudahy Mansion, as it was indeed designed by one Henry Ives Cobb. I was so glad I finally found that correction article, months later. Like a needle in the haystack–that was the proof I needed.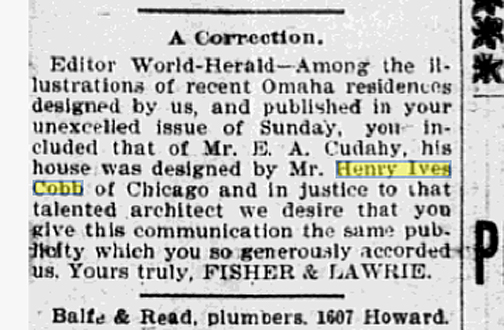 July 30, 1899. OWH Fisher & Lawrie make a very formal, lovely announcement a mistake was made and Henry Ives Cobb built the home.
We had met Mr. Henry Ives Cobb when we discovered he had designed the Offutt-Yost house between 1894-1895, featured in my Bertha Yost Offutt investigation. Bertha It was true, the Offutt-Yost and Cudahy homes were very similar. In fact the Gothic Revival style of the Bertha Yost Offutt house was the curious familiarity I had upon seeing the Cudahy Mansion for the first time. "The Yost house is a square, two-story, fourteen-room brick block whose Gothic detailing corresponds to that of the (Cobb's) contemporaneous University of Chicago buildings."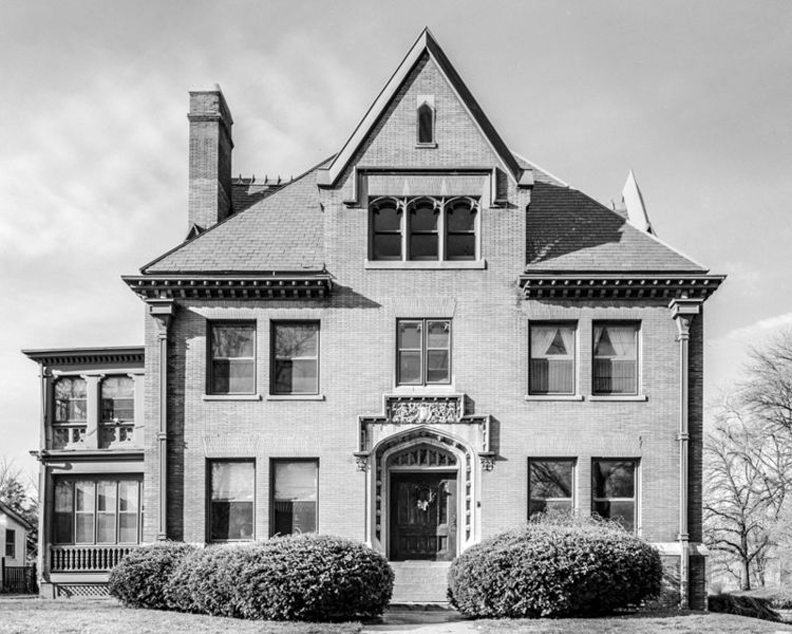 Very powerful image of the Bertha Yost Offutt Mansion by Lynn Meyer, Preservation Planner, borrowed from the Nebraska Historical Society site. One can see this is almost, dare I say, a Mini Cudahy Mansion. If you have ever been lucky enough to tiptoe inside the glorious Offutt abode, and felt how huge and solid she is, imagine how Massive the Cudahy version once was. I cannot fathom the size and I found no listing of square footage.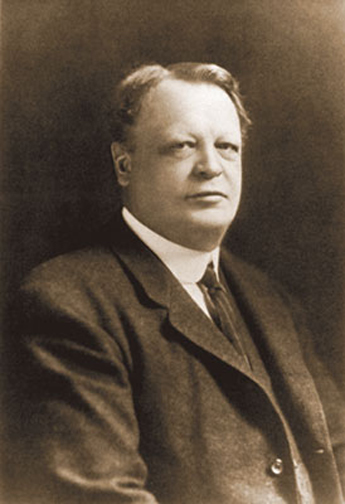 Henry Ives Cobb was a Chicago-based architect, nationally known for his Romanesque and Victorian Gothic styles. Image of Ives Cobb borrowed from the Find a Grave site.
The Art Institute of Chicago formally credits Cobb with the Cudahy Mansion, apparently his second Omaha commission, however the Art Institute's files record the Cudahy Mansion build date as 1899. From their dossier: "Now razed, the twenty-two room Edward Cudahy house was considerably more pretentious than the Charles Offutt-Casper Yost house, Cobb's first house in Omaha. Its brick walls rose from a smooth stone basement; the same stone was used for windowsills and as a border of the top of the second floor. Like the Charles Offutt-Casper Yost house, the first two floors were a relatively simple rectangular block. The third floor, however, with its bold, almost two-story dormers with large, rectangular, stone-transomed windows, achieved a monumental effect. The addition of a stone porte-cochere at one side lent the house a further sense of distinction." If you want to see a breathtaking collection of Cobb's commissions, check out http://digital-libraries.saic.edu/cdm/search/collection/mqc/searchterm/Other%20collections/field/subcol/mode/all/conn/and/cosuppress/1
A Death
I felt a bit unnerved with so much untidy evidence regarding the build date of the Cudahy Mansion. We know without a shadow of a doubt the family was living in the home by late fall of 1898. Announcements of the newly built magnificent residence and Mrs. Cudahy having resumed her favored advertisements for servants (in very early January of 1899) tipped me off. But it wasn't all exhilarating, housewarming parties and new celebration. A number of traumatic events happened in a short time frame.
Edward and Elizabeth's youngest child, Robert Cudahy, not yet a year old, died on Christmas Eve of 1898. I cannot imagine losing an infant, although I have come to realize through historic research, this was a painful reality for many–a way of life in Victorian times complete with its own hard to imagine customs. I am not 100% sure that little Robert died in the new Cudahy Mansion but the facts reveal that many people died in their homes in those days. The candlelit wake and funeral most likely took place within the Cudahy parlor, home décor reflecting the dark mourning customs, all family members likely outfitted in darker than darkness for public effect. I don't think it would be an exaggeration that a wealthy family as the Cudahys would have gone all out for public display of their loss over Robert, especially considering they were Irish. Mourning etiquette could extend for years, with domestics even donning appropriate clothing.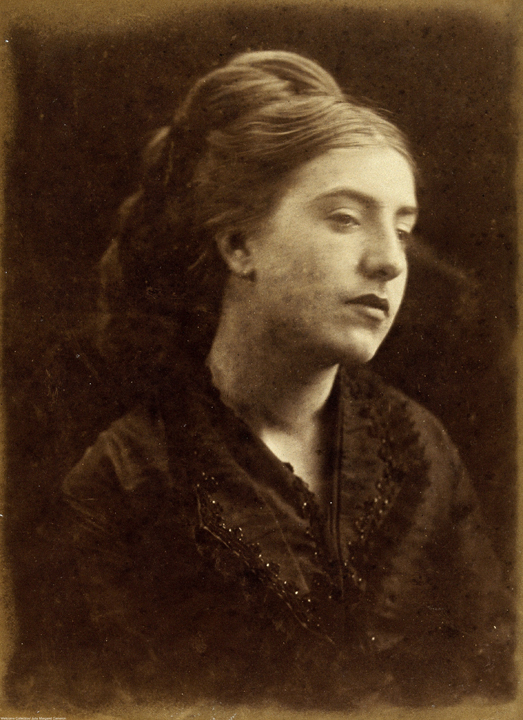 Beautiful Victorian woman dons appropriate mourning wear. Others were depicted in somewhat gruesome black, full lace mourning veils. Stunning. Dec 25, 1898: "Much sympathy is felt for Mr. E. A. Cudahy in the loss of his infant son, which died yesterday."
I found in the 1900 United States Federal Census, Mrs. Elizabeth had reported giving birth to seven children total but only five were living at the date of the census count. I wondered why I had never noticed this census query–very telling of the times. Mrs. Elizabeth did not have any more babies after the death of young Robert. But that wouldn't be the end of her worries.
It is perhaps telling of the Cudahys' state of grief, that the family did not host any In Society Gatherings at their home, until February of 1900. Perhaps I am being an overly emotional gumshoe, making connections that weren't there. But their mourning, both the reality of the experience and the social protocol of the day, made more sense to this detective than the Cudahys having built Omaha's most impressive mansion and not thrown Social Events—also considered a Social Norm of the elite class. By February of 1900 the Cudahy party was summarized in this way: "Nobody could help enjoying himself a function in the Cudahy house. This was the first dance ever given there and society people are praying that it will not be the last. The house was very lavishly decorated with roses, the dining room being especially attractive with immense clusters of American Beauties."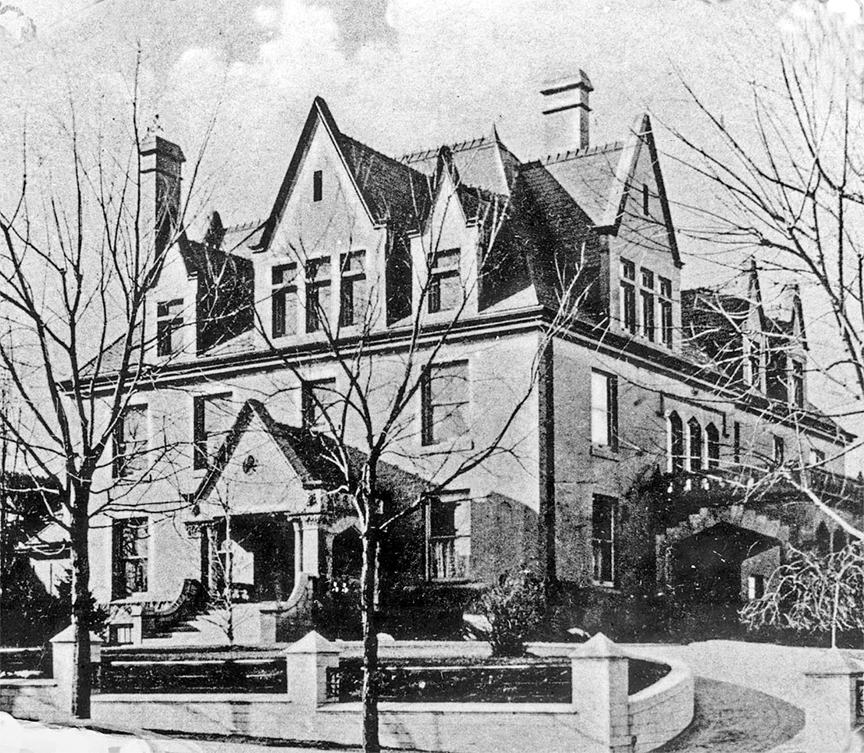 Cudahy Mansion, circa 1900. Courtesy Douglas County Historical Society, borrowed from the Nebraska Studies.org site. Was the home in a State of Mourning in its first year/s?
The Domestics
Maybe it is because I have been rereading The Turn of the Screw and listening to Kate Bush during the writing of this investigation that my mind envisions shuttered windows and drafty silence, save the steady tick of the clock. I wanted to daydream of the Cudahy Mansion, full, warm and lively. It helped to learn that in 1900, 37th and Dewey was home to twelve people. At that time the Cudahys were Edward, Elizabeth, Eddie, Eugenia (called "Jean"), Helen, Florence and Alice. Because I am obsessed with domestics, I was happy to find the particulars of these people employed in the Cudahy residence:
Coachman Andrew Gray, age 41. Born in Ireland.
Servant Sarah Gray, age 33. Born in England. Probably a married couple.
Servant Mary Carlson. 27. From Sweden.
Servant Mary McNally. 32-year-old woman from Iowa.
Servant Sophia Pearson. 49. Born in Sweden.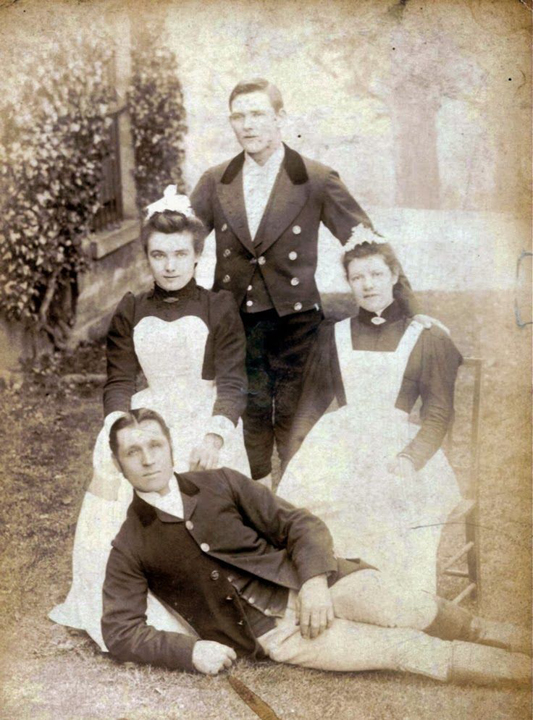 Servants from the late 1890s. Image just to give an idea of the period. I understand, at times there were even more Cudahy servants employed. Was it strange the family could never seem to keep anyone long? I convinced myself domestics might come and go with regularity, as there were many opportunities to serve Omaha's wealthy families.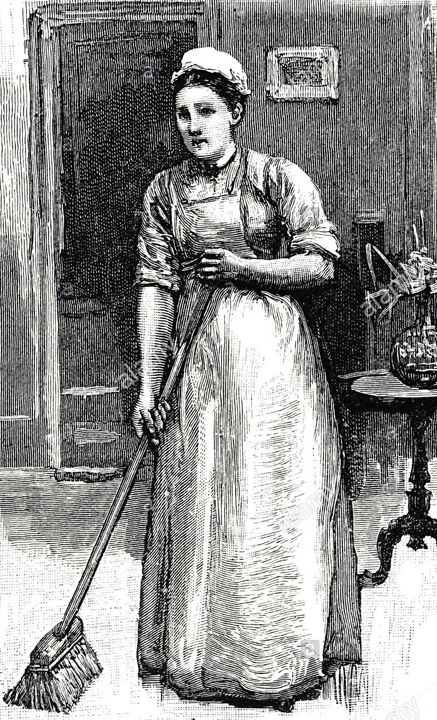 The reported five servants' bedrooms in the Cudahy house most likely were quartered on that spooky (perfect) third floor or tucked into an attic hideaway, near the very cobwebbed rafters. I would put together that the Cudahy Coachman typically lived in the "Cudahy barn" as it was often called—sometimes the carriage house, in later years. Often a full time gardener was employed. All of the once grand Omaha homes of this scale could not have functioned without a full fleet of these behind-the-scenes helpers, often life-long employees. A butler, cook, gardener, maid, nursemaid, laundress, maintenance man, seamstress, coachman—these were the people who lived in servitude, giving all to their employers' families, to include affection. When one considers Omaha Society often attended private, in-house luncheons among 60 other guests, sometimes three luncheons a week and invitations to four dinners a week, it is a bit easier to visual the amount of domestic staff essential to the running of an upper class household during the 1800s to early 1920s. If I could find a way to document and write about these other Omahans I would…they knew the real stories!
Brief Synopsis of the Cudahy Kidnapping
We are here to hold vigil for the glorious Cudahy Mansion but I suppose we must touch on the kidnapping of Eddie Cudahy–if for no other reason but to consider all that poor Mrs. Cudahy had been dealt in these early years. I'll also throw in some weird information that you might not find elsewhere. After their successful dancing party of 1900, the Cudahys were back on the scene, regaining their footing in the social stratosphere of Omaha. Edward and Elizabeth had been out on the evening of December 18th, at one such event and returned to their home by 10:30 p.m. Eddie, Jr. and his pup had run an errand to the neighbors' much earlier in the night. When a lonely dog returned to the Cudahy Mansion, Senior's suspicions were piqued. Eddie, it seemed, had disappeared. Senior Cudahy sent "half a dozen servants to scour the neighborhood." With regard to the West Farnam Neighborhood, the World Herald entertained in sensational, Gothic detail, "The district Eddie Cudahy traversed is the most aristocratic section of the city…illuminated not only by electric lights but by street lamps in front of the palatial homes…However there is one alley of almost simmerian darkness…"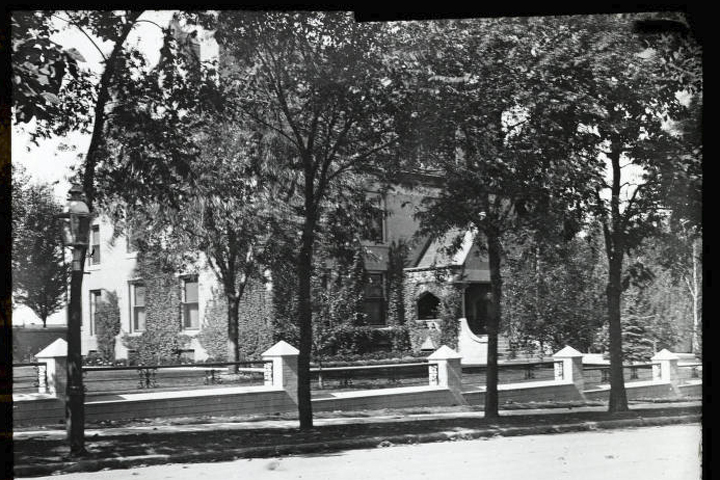 Photo borrowed from the Omaha Public Library website. Photographer: Wallace, William, 1841-1915. This lantern slide shows the residence of Edward A. Cudahy, located at 518 S. 37th Street. The view of the large house is partially obscured by the trees in the front yard. Digital Publisher: Omaha Public Library. Date: 1890-1900. Can you imagine this view at night with those street lamps described?
I will cut to it. 15-year-old Eddie was made target as the only son of the city's wealthiest citizen and heir to the Cudahy Packing Company. He was stalked and abducted half a block from his home. A former, disgruntled Cudahy Packing Plant employee, Patrick Crowe, and one James Callaghan (some reports say yet a third henchman) had kidnapped young Eddie, blindfolded and manacled him, took him to a house where he was held for 26 hours. A city-wide search was underway until a mysterious note was found in the Cudahy lawn of 37th and Dewey.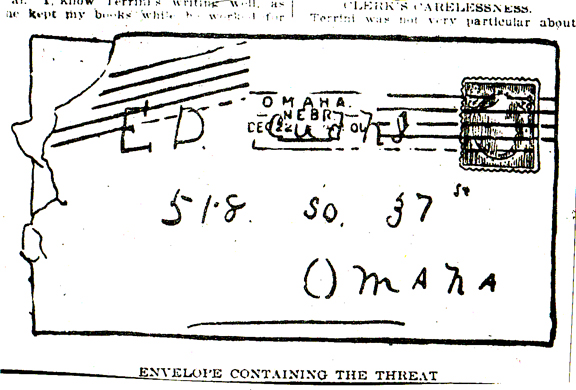 The image of the envelope run in the OWH. One storyline said a brick was thrown with the ransom note tied to it—in another it was a stick with the note tied to it? The men demanded $25,000 from Mr. Cudahy for the release of young Eddie or the kidnappers threatened to "put acid in his eyes and blind him." This letter, printed in the papers, was later said to be bogus but later still there was a genuine letter delivered. Boy, oh boy, it was all confusing. The Omaha Police didn't want Cudahy to pay the ransom but it was Mrs. Elizabeth who convinced her husband it must be paid. Her other son, Robert, had died exactly two years earlier to the month.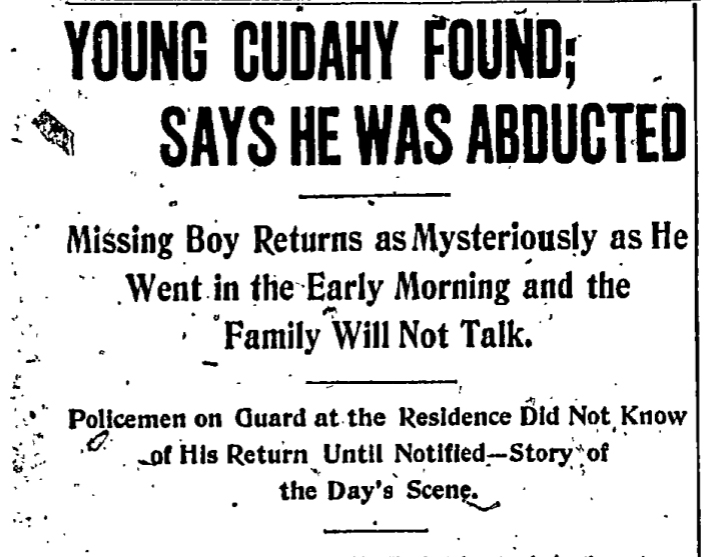 December 20, 1900. OWH. Mr. Cudahy would get his head cattle buyer to make the money drop "eight miles west on Center Street" by a lantern tied with black and white ribbons near some railroad tracks." Son Eddie was then released a mile from the Cudahy Mansion and was said to have walked into the family manse, unharmed. I would imagine Mrs. Cudahy fainted right on the floor. Everyone was okay, friends. I will let you investigate the Rest of the Story, considered of national intrigue. Just a hint—it gets way stranger.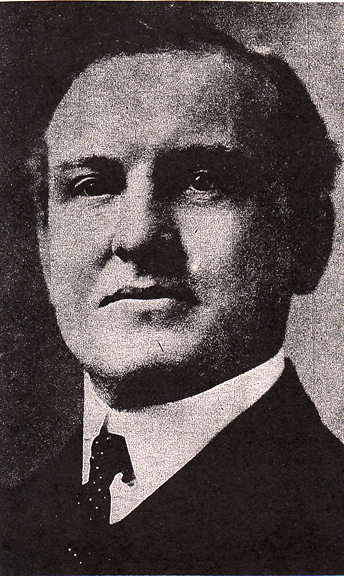 Pat Crowe. Photo from the 1940s World Herald. Not what one would expect, right? Proving once again that even crooks looked debonair in the early 1900s. An OWH article gushed of Pat Crowe, "Not precisely a blonde, he is of that general type. His hair, mustache and complexion are all light. He is about six feet tall. He is rather handsome and has the rakish cast of countenance, which is commonly supposed to belong to the romantic criminal. In reality Pat Crowe is one of the most picturesque criminals in the country because of his daring and the magnitude of his adventures."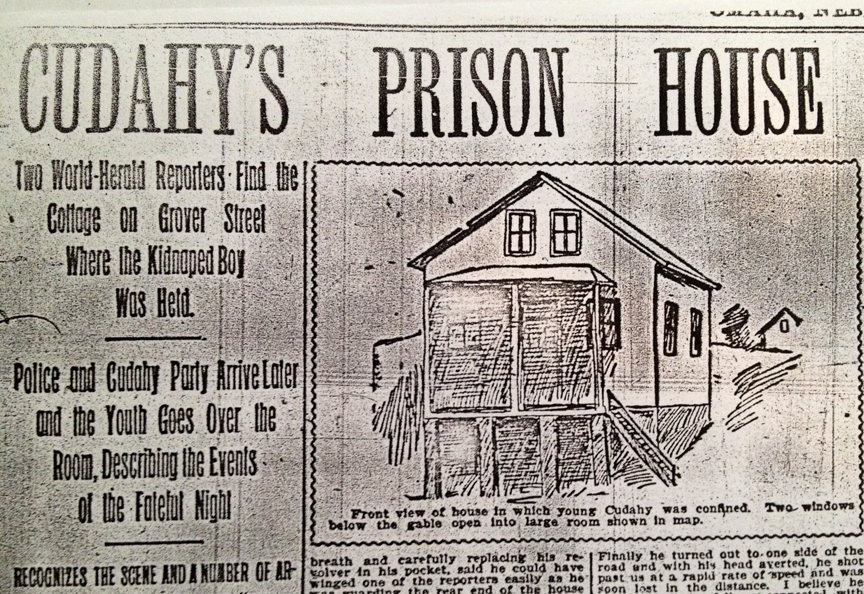 The "Prison House" illustration, as the press called it, was a Workers Cottage style at 3604 Grover. OWH. 1900.
Neighbors had spied the kidnappers at 3604 Grover Street and come forward. This address turned out to be where Eddie was held. 3604 Grover Street no longer exists, perhaps taken down when 1-80 was carved through but 3606 Grover is standing. However this 3606 home was built in 1920. The fine house a few doors down at 3626 fits the bill, both in the Workers Cottage style and the time period. The Workers Cottage most likely lined this street back in 1900.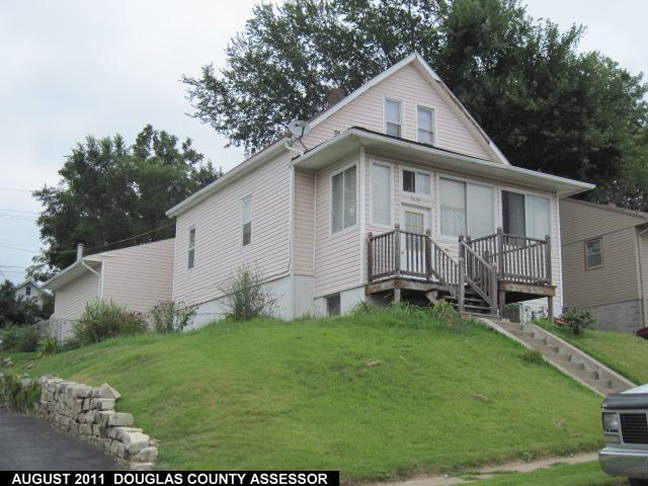 3626 Grover home, built in 1900. Image borrowed from the Douglas Count Assessor site.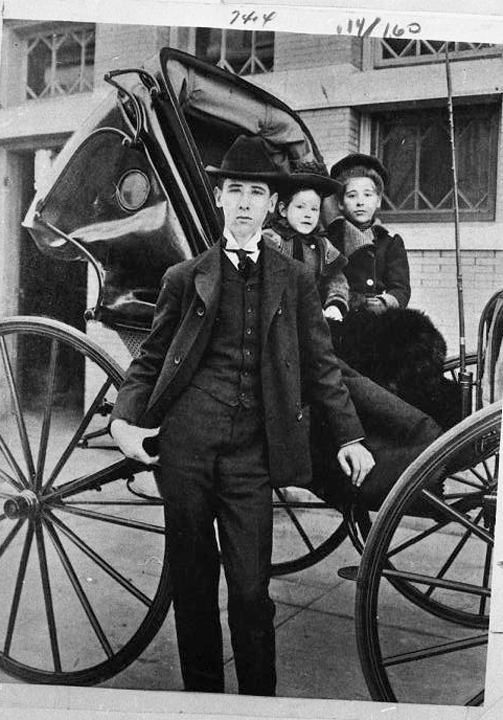 Young Eddie Cudahy and two of his sisters pose in the very carriage used to make the ransom payment. I can positively identify Jean Cudahy on the far right, based on how she looked as an adult. The national news demanded to see the Cudahy children. Isn't this a strange and powerful image? Eddie's posture…I have it hanging in my office. In reflection, time and time again, I would return to this photo. I wondered if Eddie's flattened expression and model-like demeanor were possibly assignable to PTSD. Again, maybe I'm grasping from a current lens view. We did not understand or discuss such matters back in 1900.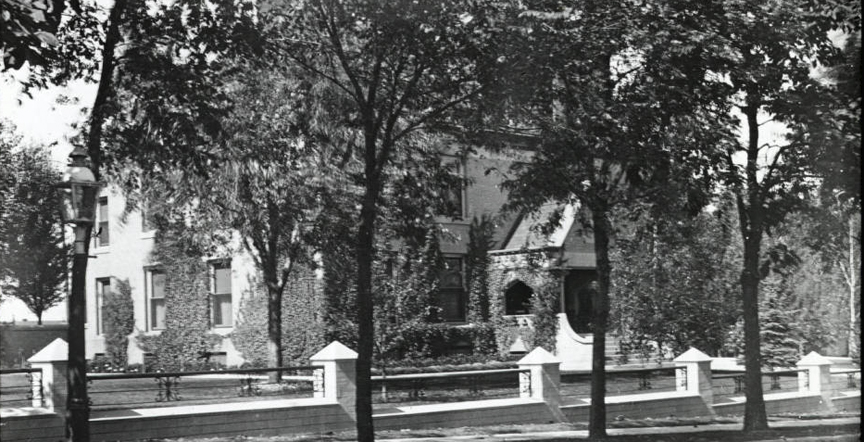 Detail of photo borrowed from the Omaha Public Library website. Photographer: Wallace, William, 1841-1915. Digital Publisher: Omaha Public Library. Date: 1890-1900.
Regarding the mansion of our focus—for the decade to follow, out of town tourists asked to pass by the Cudahy Mansion on their visits to Omaha. Like the yearly drooling in front of Warren Buffett's residence. People couldn't help but be intrigued by the Cudahy kidnapping and the mystique of the Gold Coast-West Farnam District. "Where is the carline that will take us past the Cudahy home?" they inquired. For the record, the famous kidnappers' red lantern would remain in the Cudahy carriage house out back, found long after the Cudahys had moved back to Chicago. I considered the power of folklore, wealth, mystery, and just how impactful this child snatching case must have been to Omaha and the nation. Two stories from Mr. Ben Sylvester gave indication. According to him, grown men in the late 1960s could still recalled their West Farnam nursemaids threatening them as tots with, "Pat Crowe will get you." Long after the Cudahys had returned to Chicago, out of town gawkers would travel past the venerable residence, assuming any little boy in the impressive front garden was Eddie Cudahy—even though "little" Eddie was a grown, married man by then.
Another Unpleasantry
A month after the traumatic kidnapping scandal, the Cudahys experienced a third strike in a string of bad luck. A fire broke out in their basement, accidentally started by a servant who was filling an oil lamp. Who in the heck would "throw down a match" in that situation? It all seemed fishy. I understand life can sometimes hand us continual misfortune and accidents happen, or so I have heard. The fire was ultimately confined to a storeroom for window screens and old furniture. (Sounds like the entirety of the Cassette basement). The following details, from successive articles, fascinated me. Following the fire, the mansion was valued at $50,000, with furnishings and contents appraised at $10,000. In other words, from the inflation calculator: $50,000 in 1900 is equivalent in purchasing power to about $1,494,683.53 in 2018. The insurance on the home was about $40,000. "The residence of Edward A. Cudahy is guarded night and day by an officer detailed from the police dept." The Omaha Police Department admitted the Cudahy manse "is always under guard of an officer," no doubt in the wake of the kidnapping.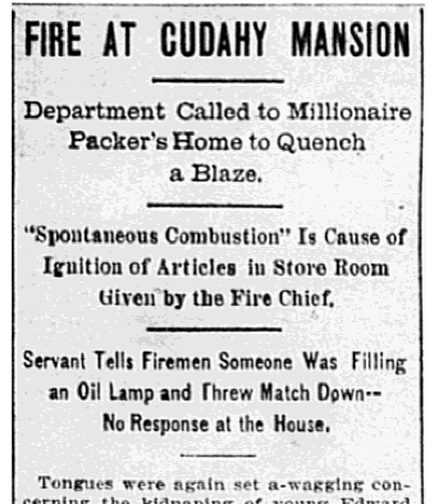 January 1901. OWH.
The Remaining Cudahy Years
I would prefer to fill a bigger folio volume of the Cudahy period residing in 518 South 37th but fear I must make short work in order to leave room for our other cast of characters. They are waiting patiently, although you might have different to say! In better years the Cudahy family were known to entertain many celebrated guests at their prominent residence, including one of the papal delegates to the United States early in the century. The old Tuesday Morning Musical Club convened at the mansion frequently. Mrs. Cudahy, who sang in the choir at St. John's Church, was often on the musical program.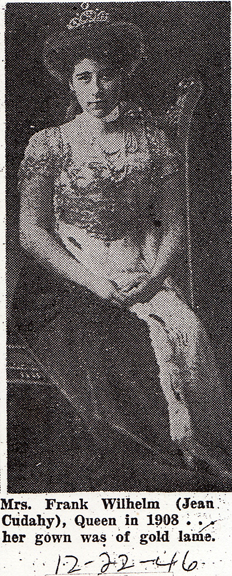 Fantastic little photo of Miss Jean Cudahy as Ak Sar Ben Queen in 1908. Image borrowed with permission from the W. Dale Clark Library reference desk clippings file. Always love those little, handwritten librarian dates. Jean and Frank stayed briefly in Omaha following their wedding but eventually moved to Chicago with the other Cudahys, settling in the Amazing Lake Forest. The couple also kept a home in Palm Beach, Florida.
In June of 1911, the home graciously provided a wedding party for Miss Jean Cudahy. The family's oldest daughter married Frank Wilhelm, both a neighbor and a member of a prominent family. I was interested to find the Charles Wilhelm family living around the way at lovely 3623 Jackson Street. Charles Wilhelm was both a King of Ak Sar Ben and cofounder of Orchard and Wilhelm Department Store in Downtown Omaha. A perfect wedding article chronicled the event and the Home of our Obsession. "The event of the season was the Wilhelm-Cudahy wedding, Saturday evening. The scene of the ceremony was in the music room, a mass of pink Dorothy Perkins roses, pink peonies and ropes of smilax. The entire palatial home of Mr. and Mrs. Cudahy was a bower of blossoms. In the library, which is an unusually large and beautiful room, were many roses. The mantel was abloom with roses and stands and clusters were placed about there. The doorways and the magnificent stairway were entwined with feathery smilax, as were all the chandeliers and lights in the entire house. The dining room was a dream of beauty. In the center of the table as a magnificent cluster of fragrant magnolias fresh from the California home of Mr. and Mrs. G. W. Wattles. From this room the buffet supper was served to 500 guests. The bridal party had supper in the billiard room, which was gay with many beautiful pink roses and peonies." Could you envision 500 guests being served supper in the home? Glory Be.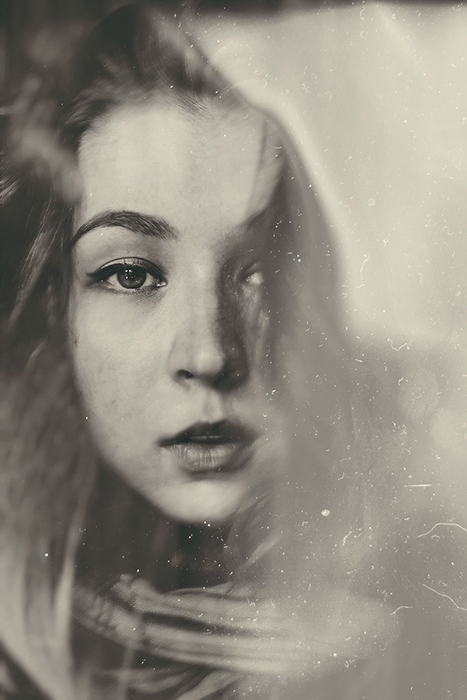 I couldn't help but notice the unmentioned stormy night nuptials, the cruel howling from the third floor during the exchanging of vows, a strange houseguest, and terrible secrets revealed. I made all of that up but I can almost bear witness in my Gothic Dreams.
The Move
There were many curious dates and events to track down in this period. Prior to the Jean's Society Event Wedding, Father Edward Cudahy put their renowned mansion on the market back in November 1910 with these particulars: "E. A. Cudahy's Home Offered for $125,000. Possession of this house will be given in the spring. Cudahy has also put on the market his property on Douglas Street between 18th and 19th streets." * $125,000 in 1910 was equivalent (in purchasing power) to about $3,225,263.16 in 2017, according to the inflation calculator site. I made a note.
Following Jean's wedding, a June 24, 1911 declaration put forth Omaha's wealthiest family was officially moving to Chicago in the fall. "Plans to enlarge the South Omaha plant for an office building were underway when news of Michael Cudahy's ill health came with a warning that Edward would be called to Chicago to manage the business from that hub." Upon Michael Cudahy's death, Edward took the role of Cudahy Packing President. "Residence at 37th Street is only property he has put on the market at over $100,000. His other property retained include his lots on Douglas Street, north side from 18th to 19th, his part interest in some other property and his large holdings of stock in the Omaha National Bank and in the street railway." Although the Cudahys left Omaha, the Cudahy Packing Company in South O would remain in operation until 1967.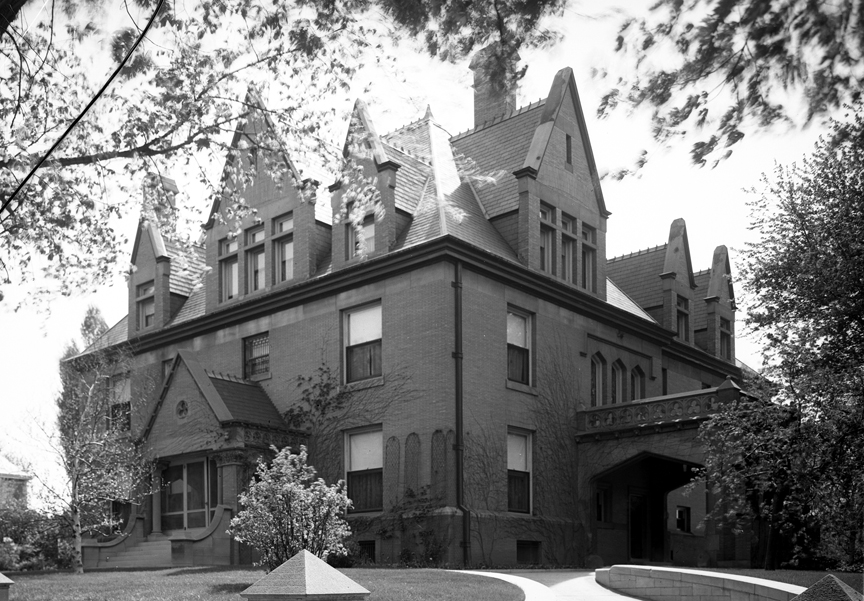 According to Ben Sylvester, Jack Drew, well known local antiques dealer and architectural historian, had seen most of the gargantuan houses in the Gold Coast and surrounding areas. It was Drew's conclusion the greatest residence of the period was the Gothic Cudahy home. Sadly her architectural significance is hardly whispered of today, wholly obsolete where once "tongues were set a-wagging" concerning her novel positioning. With respect to her once famed standing, I divulge one last Cudahy Anecdote shared by Mr. Thomas J. Byrnes, 90 years old in 1973. Purportedly he held a number of patents in the packing industry but as a young man, Byrnes worked with the telephone company. Mr. Byrnes claimed to have installed "batteries for the old generator-type phone at the Cudahy residence at 37th and Dewey Avenue. The first long-distance phone calls out of Omaha originated at the Cudahy house via the Union Pacific telephone wire to Chicago."
Part Two
The Creighton-Nash Ownership
The 518 South 37th Street Gothic home did not secure a buyer until January of 1912. Did Jean and Frank Wilhelm live in the house in those fall-winter months until the sale or did my Dream Home perch by her lonesome? The Omaha City Directory of 1912 mysteriously unveiled Albert Miller living in the 518 South 37th Street home the day the surveyors came knocking. Was Mr. Miller a renter, a caretaker during the interim, an interrupted break-in or specter? Oooo, I do hope it was the latter. I couldn't help but wonder how many Miss Cassettes and Curious Catherines took a tour of the large residence as a "Potential Buyer?" Wink. The Register of Deeds Office scrolls displayed Edward A. Cudahy and wife sold to John D. Creighton. Six months later in June of 1912, Mr. Creighton had transitioned the deed ownership to Emma C. Nash's name.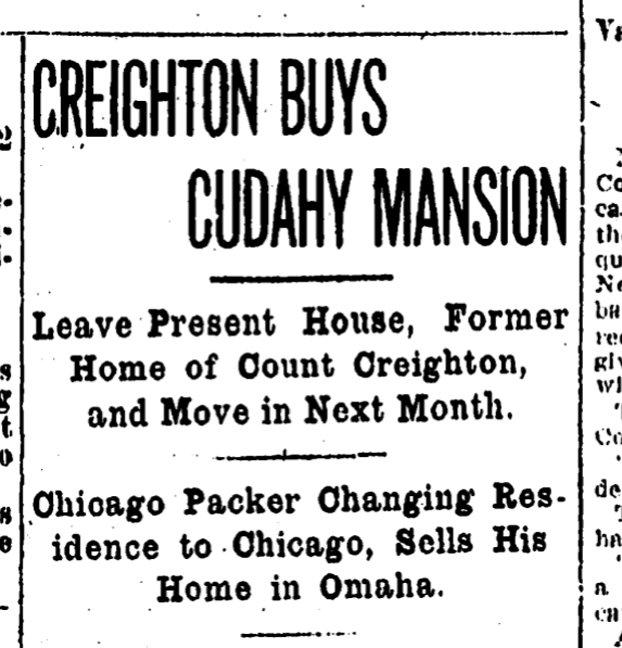 January 1912. OWH. John D. Creighton purchased the former home of Edward A. Cudahy. "The Cudahy house at the southwest corner of 37th and Dewey Avenue is one of the stateliest and most valuable in the city. It is constructed of gray stone and gray Roman brick with exquisite interior finish and contains about sixteen rooms. The sale was made through A. P. Tukey & Son." The Tukeys were well-known realtors and long time West Farnam residents.
John D. Creighton and his wife, Ellen, had people whispering about an earlier purchase of a large home at 20th and Cass Streets, which was acquired some months after the death of John's uncle, Omaha Famous Count Creighton. Count Creighton was formally recognized as Count John Andrew Creighton, an early Omaha capitalist, philanthropist, banker and president of the Union Stock Yards. The latest Mystery in Omaha was who would reside with the Creightons in their new mansion, as it had been hinted by relatives the couple had no intention of occupying it alone. After all, how would two people even hope to bump into one another in a home that large? It was rumored they had invited F. A. Nash and-or Dr. Allison, sons-in-law, to share the house with them." I would discover much later that prior to his death, Mr. Creighton had taken ill at his 20th and Chicago home, hinting to me the Creightons continued living at the Count's house. Perhaps it was a gift all along…and what a lovely gift. By the looks of it, daughter Emma Creighton Nash drew just the right straw and daughter Katharine Creighton Allison was out.
John D. and Ellen Hennessy Creighton had five children (Charles, Clara, Edward, Katharine and Emma). Emma, their youngest, had married Omaha Famous widower, the much older, Frederick Augustus Nash, in about 1900. I had covered the Nash family in the Burt Street myomahaobsession.com/2016/10/31/the-secret-of-burt-street/ investigation and won't footslog too far here. It gets complicated. Frederick Nash was President of the Omaha Electric Light & Power Company, general agent of the Milwaukee railroad and was second vice president and general manager of the Nebraska Central Railway Company. Mr. Nash was a very prominent Omahan and honestly, didn't need anyone buying him mansions but he surely knew what communication this acquisition would send. The In Crowd Diurnal and invitations to the attractive West Farnam District aforesaid, had assured a Creighton-Nash study of the grand Cudahy residence.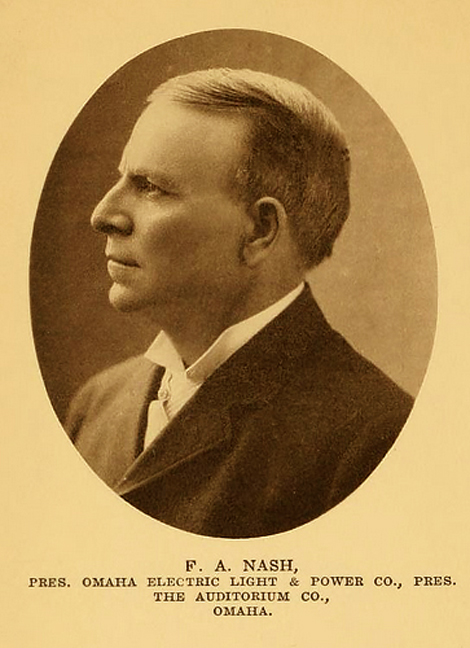 Frederick Nash. Another glimpse from one of my favorite books: Nebraskans: 1854-1904.
Fred and Emma would have children Edward W. Nash II (1902-1904), Frederick A Nash III (1904-1988) and Emma Creighton Nash McDermott (1907-1988). Yes, I know. Confusing with the number of Edwards, Fredericks and Emmas in their lineage. Just be glad I did not involve the Barbeaus and the Nash Chapel Crypt this time through.

February 13, 1912. OWH article.
By February of 1912, after finding our Gothic Mansion up to his standards, F. A. Nash listed his former home, at 120 South 33rd Street, non-extant, on the market. This home appeared to be very near where the Midtown Crossing buildings are now. As aforementioned, the 518 South 37th Street deed moved into wife Emma's name that June of 1912. When Mrs. John D. Creighton died in August of 1914, it was disclosed the Creightons had initially planned to share the large home with Mr. and Mrs. F. A. Nash, "but a stroke of apoplexy befell Mrs. Creighton that put moving out of the question and in time she and her husband gave the Cudahy house to Mr. and Mrs. Nash.
With the new Nash family settled, there seemed to be an ease in the home or were those my slanted perceptions? The couple's son, Frederick A. Nash "would grow up playing with the red lantern from the famous Cudahy kidnapping." The large home entertained well and became a frequent Omaha Tango Dancing Club site. It also became "Home to Mrs. F. A. Nash's Needlework Guild." The Nash family socialized with gracious regularity and I loved to imagine a stroll past the mansion in those days—the large windows filled with warm light, smiling faces and lively discussion. For the muddled record, the Cudahy Mansion address was reassigned in this time period from 518 South 37th to 504 South 37th Street. It's a headscratcher.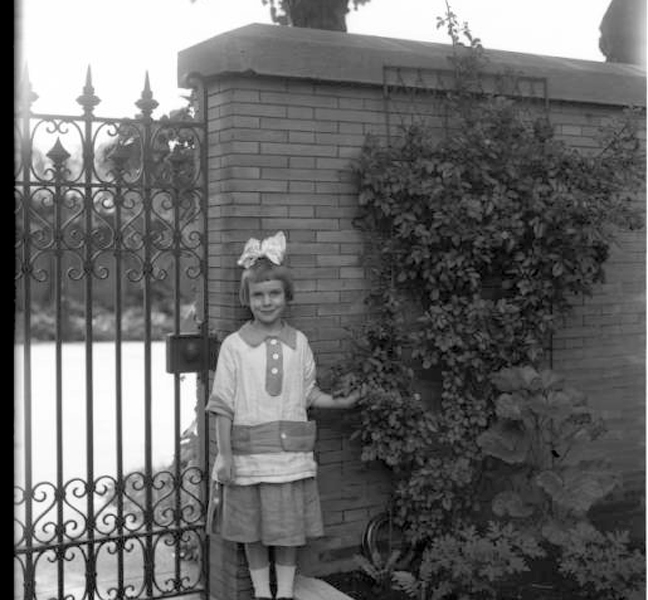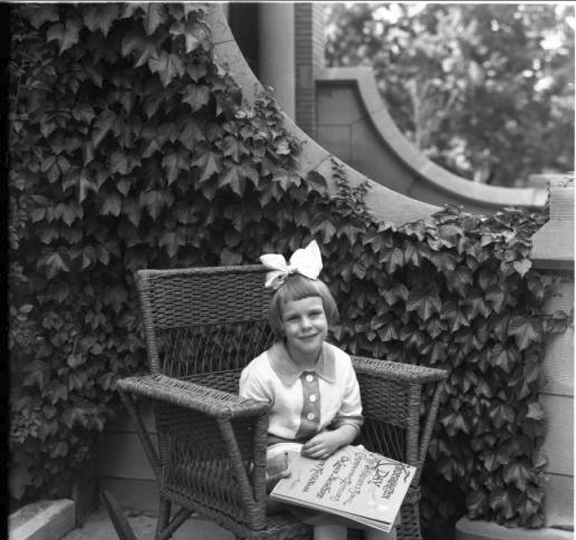 Daughter of F.A. Nash standing by the garden gate at the family home at 504 South 37th Street. This must be a higher, private gate in the rear. Is this little Emma Creighton Nash? Seated in a wicker rocking chair on the side of what looks to be the front door. Creator: Bostwick, Louis (1868-1943) and Frohardt, Homer (1885-1972). Publisher: The Durham Museum. Date: 1914-06-10. Mr. Cassette said this is Boston Ivy growing on the Cudahy Mansion.
Gold Coast Neighbors at 37th and Dewey
It seemed irresponsible not to share the very neighboring mansions that seduced me off course time and time again in the Cudahy investigation. And this juncture seems a good fit, as a few of these beauties were built during the teens. These distinguished ghosts of homes, many long gone, seemed to affect me both with their magnificent edifices but also the imagined passing of varied and strange lives within their walls. I entertained these lives in the many 37th Street NightWalks from my dreams. It has been such a pleasant journey! The realization that Old Omaha was once possessing of beauty and imagination seemed worthy of recounting and of a certain pining. These are just a few of the homes surrounding the Cudahy Mansion.
John McShane, previously disclosed in the investigation, owned a good deal of the early West Farnam District. I would put together he had owned, I believe, the whole east side of 37th Street from about Harney to Jackson Street and portions of the parallel 36th Street swath. 528 South 37th Street (non-extant) was built by 1887. The McShanes lived there in the golden years of the district. By the 1900 U. S. Census Addison and Annette Carter along with their servants, Annette Shaw and Francis Gift, inhabited the large, richly finished twelve-room home. It would later be broken into apartments by at least the 1940s. After 1961, it unfortunately, was razed. If any detective has a photo of this home in their collection, I would love to see it.
One parcel to the north of the McShane residence would become 525 South 37th Street. 525 was across the street (to the east) from the Cudahys. 525 South 37th boasted six bedrooms and four baths, a cherry wood fireplace with glorious black marble. The Hosfords moved into this mansion in 1909. Mrs. Hosford was the daughter of Mr. and Mrs. John A. McShane; she married well to Willard Deere Hosford, executive of the Deere & Company (of machinery fame) and descendant of founder, John Deere. The Hosford household was made up of kings and queens of Ak Sar Ben during their reign from 37th. Upon John McShane's death, the Hosfords would come to own 525 South 37, 3614 Jackson, 3628 Jackson and 506 South 36 St. These four lots were all put up for sale in 1966 and marketed as an "ideal high-rise apartment site."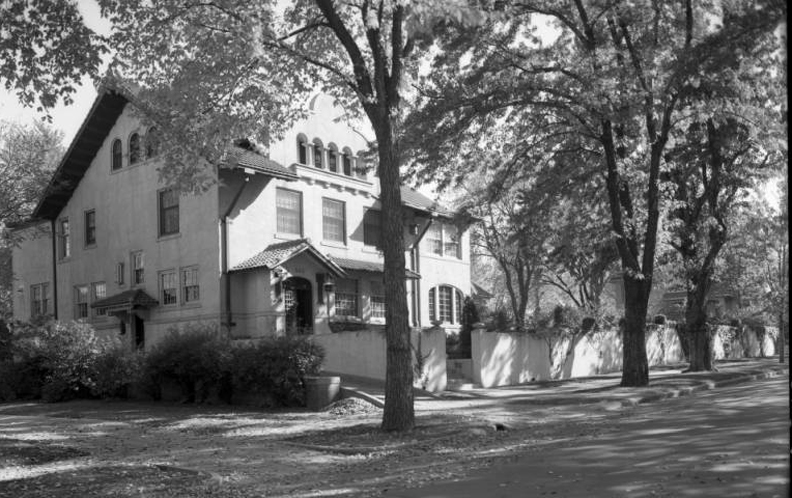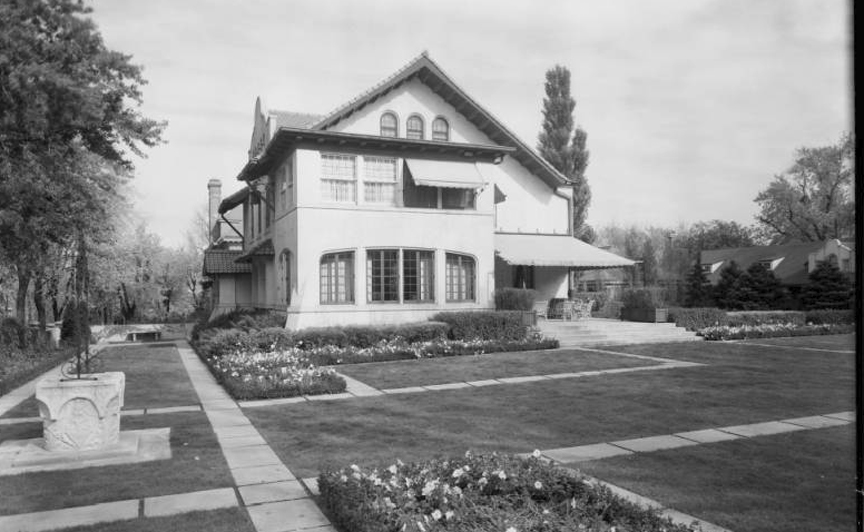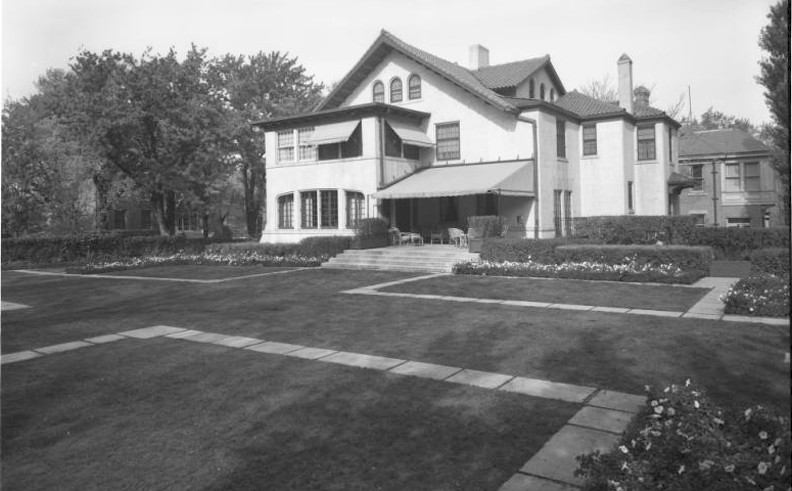 The 525 South 37th photos reveal what the dreamy neighborhood used to look like. Willard Deere Hosford Mansion. The backyard and gardens are divine and spacious. An awning covers a patio area; flowerbeds and walkways run throughout the space. A concrete lawn ornament is on one side of the yard. The house has a Spanish Colonial architectural design. The Cudahy-Nash home is seen enshrouded in trees to the west, across 37th in the last photo. Creator: Bostwick, Louis (1868-1943) and Frohardt, Homer (1885-1972). Publisher: The Durham Museum. Date: 1940.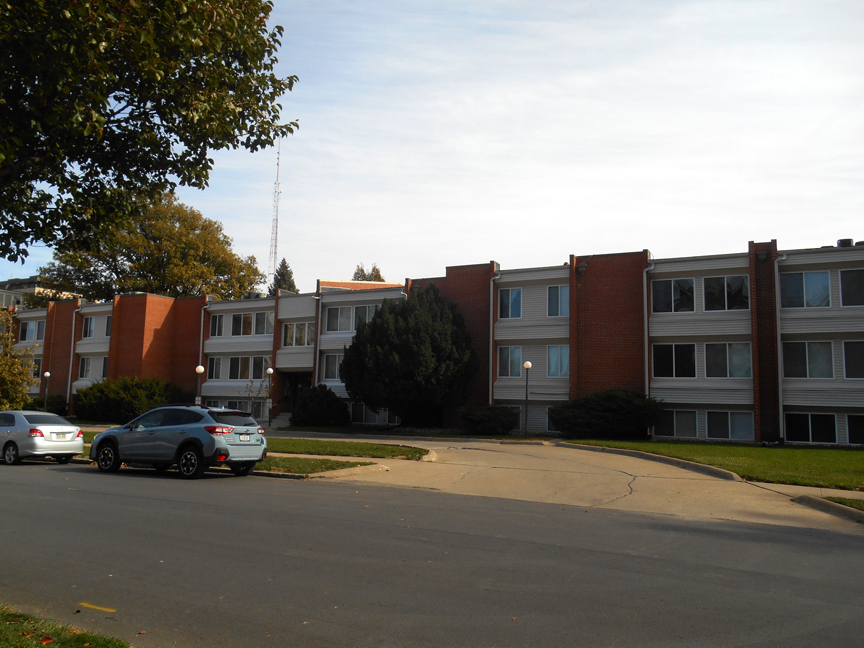 What the Hosford Mansion looks like today. Jackson Square Apartments, at 535 South 37th Street, were built in 1974 and extend down to the McShane property abutting Jackson Street. I took this photo last summer.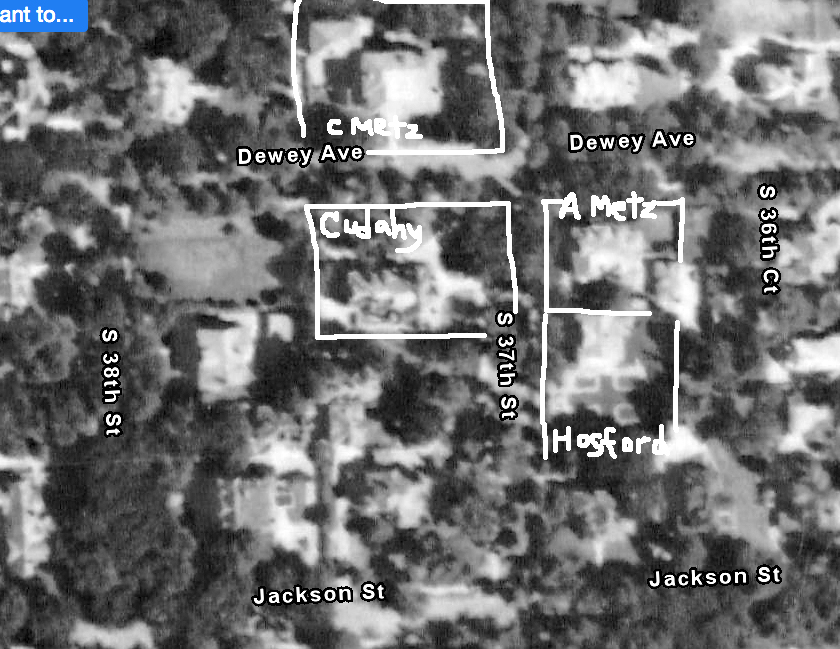 Fairly psychotic, stalkerish map I made of the area from a 1941 aerial. Borrowed from the DOGIS page.
February of 1913 brought Arthur Metz to the West Farnam neighborhood. Arthur was one of the illustrious brothers of the Metz Brothers Brewery Co. empire. Mr. Metz purchased the southeastern vacant lot at 37th and Dewey from John A. McShane. It was announced that he would immediately build a home there. "The lot has 100 feet front on 37th and 140 feet on Dewey Avenue and is across the street from the Creighton-Nash home, formerly the Cudahy residence." Metz hired Architect George Prinz to design his landmark house at 3625 Dewey, completed in 1914.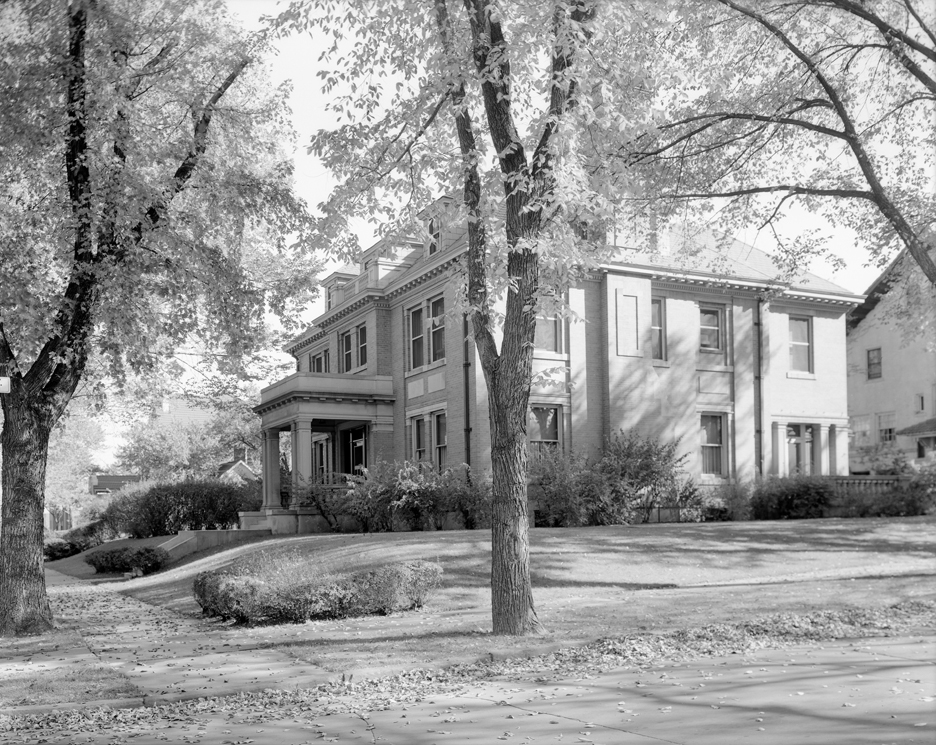 The gorgeous family home of Arthur Metz at 3625 Dewey Avenue. Creator: Bostwick, Louis (1868-1943) and Frohardt, Homer (1885-1972). Publisher: The Durham Museum. 1940. The Arthur Metzes lived in the home until the late 1950s. It appeared the home was modified into apartments subsequent to his death or sale. The newest owner, Mansion Flats LLC, would move forward with demolition after a terrible fire condemned the home a few years ago. John Metz, a distant relative, had offered to buy and restore the once stately home but his offer couldn't sway the LLC, who had dreams of an apartment building positioned for the new Blackstone Rebirth.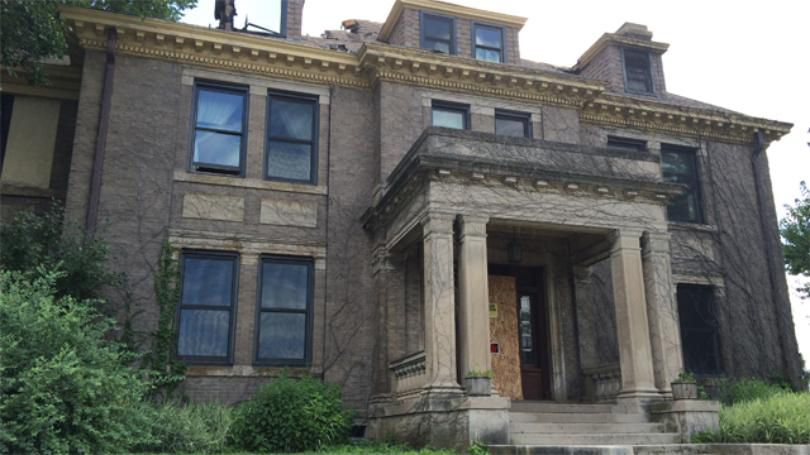 Photo taken by WOWT in Omaha, after the Metz apartment fire.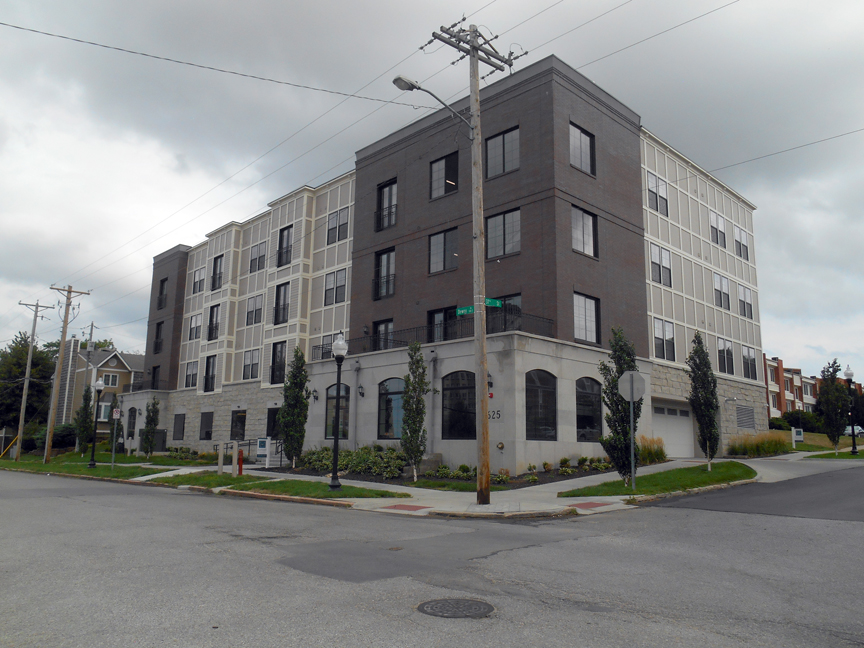 What 3625 Dewey looks like today, named Dewey 3700 Apartments. I think they could have been more creative with the name, say, The Morgue Flats. It looks like a good ol' stripped down East-European Sanatorium and this is coming from someone who admires any kind of fine, haunted institution.
In 1915 the Charles E. Metz Mansion at 3708 Dewey was built. This property sits on the northwestern corner of 37th and Dewey, directly to the north of the Cudahy Mansion. Charles Metz was brother of Arthur and President of the original Metz Bros Brewery. According to B. F. Sylvester, the lot was one Hugh Murphy had purchased from the Milton Rogers estate years earlier. Metz would build a fine, 37-room residence of three stories. This beauty cost $175,000 when it was built. Architect George Bernhard Prinz designed the home. There is rumored to be a third floor ballroom and a fountain in the sunroom. A turntable floor feature is in the carriage house!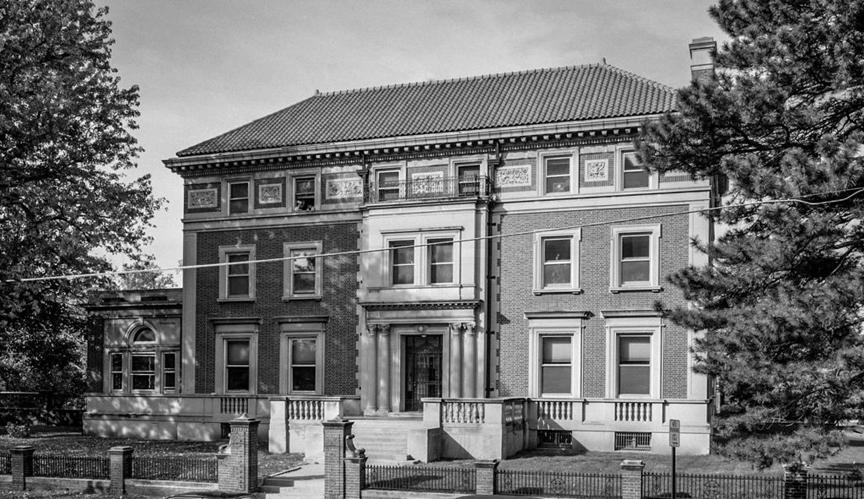 Photo of the Charles Metz home at 3708 Dewey Avenue by Lynn Meyer. Thankfully Still Standing! Go by today and blow a kiss.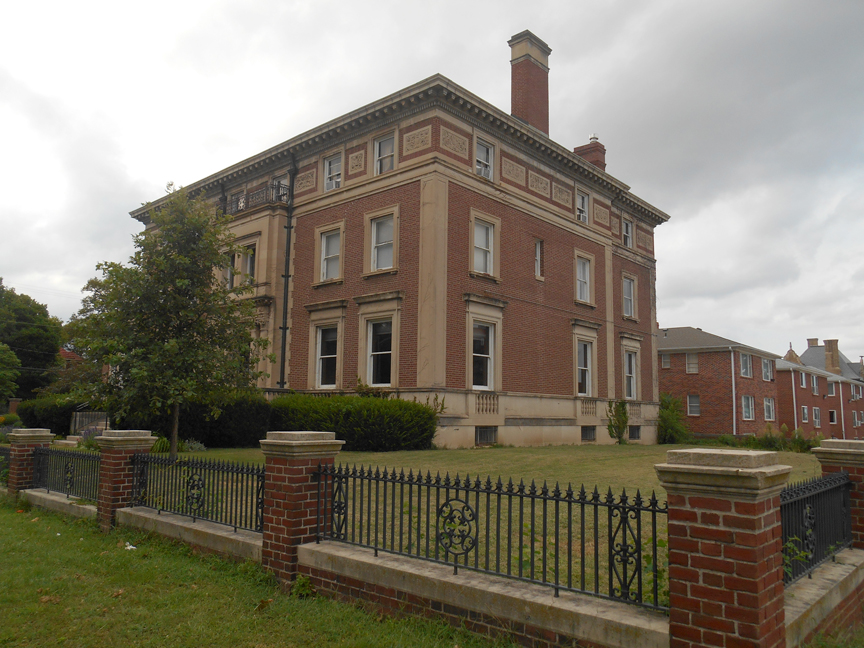 My photo of 3708 Dewey Avenue, facing a northwest angle. The Charles Metz residence is currently home to the Phi Chi Medical Fraternity and has been for many decades. Have you ever seen perfection such as this? There were so many little, furry friends playing in the side garden on that fine summer day.
The Nash-McDermott Years
In 1931 the Nashes' daughter, the other Emma Creighton Nash, married James "Jay" Francis McDermott. Emma Creighton Nash McDermott had four children. The oldest was Emma Nash McDermott. Yes, another wonderful Emma made for confounding detective work until I had hammered everyone into place. Goodness! The McDermotts lived in the home with Grandmother Emma C. Nash. Jay Francis McDermott was very active in military affairs, the Republican Party, and made the news when he organized a 1935 drive to restore Omaha Post No. One as the "largest of the American Legions posts in the country."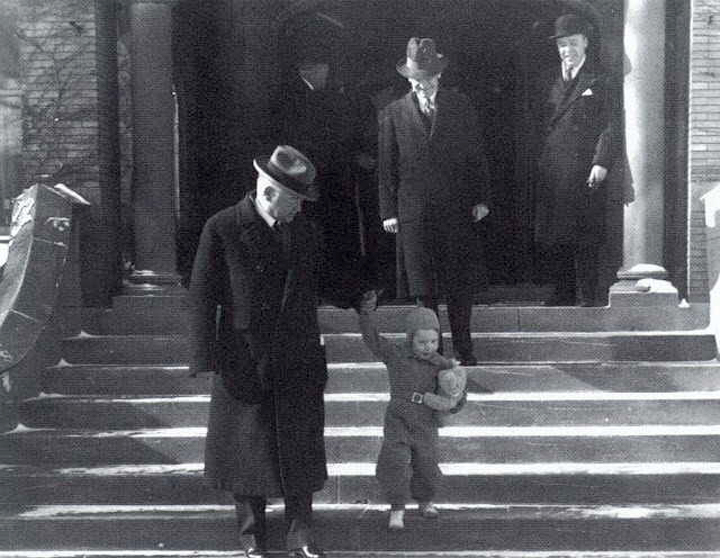 In the Omaha Times Remembered, OWH Company 1999, it read: "President Herbert Hoover steps out of the Fred Nash home at 504 South 37th Street holding the hand of Emmy McDermott. Emmy's father, Jay Francis McDermott, was active in Republican politics. Submitted by Mary M. Maxwell." I hope Ms. Maxwell does not mind me sharing this image with our fellow sleuths. If so, I will take it down.
Nash home at 504 South 37th Street. Gorgeous, surrounded by trees. Creator: Bostwick, Louis (1868-1943) and Frohardt, Homer (1885-1972). Publisher: The Durham Museum. Date: 1940.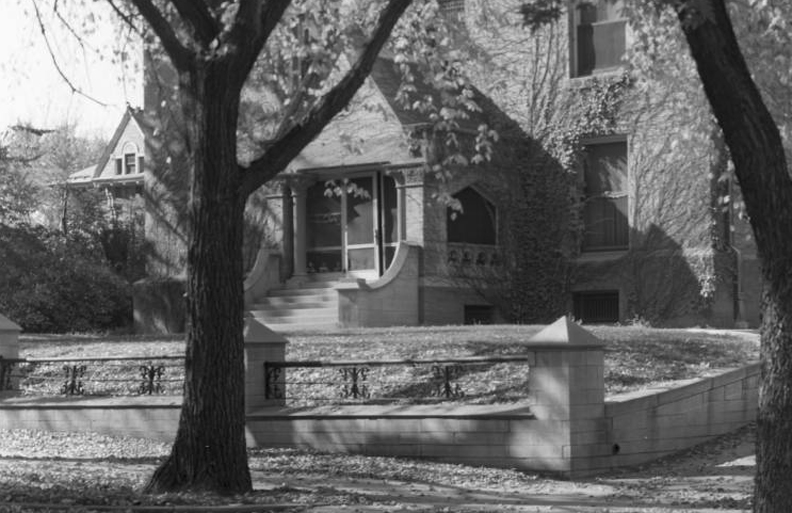 Detail of Nash house photo exposes home directly to the south. I believe this was the mysterious 527 South 37th Street, often linked to the T. L. Davis family.
Mother Emma Creighton Nash would switch the deed over to daughter, Emma Nash McDermott's name in November of 1942. The glorious Cudahy Mansion was officially Jay and Emma's home…or so I thought.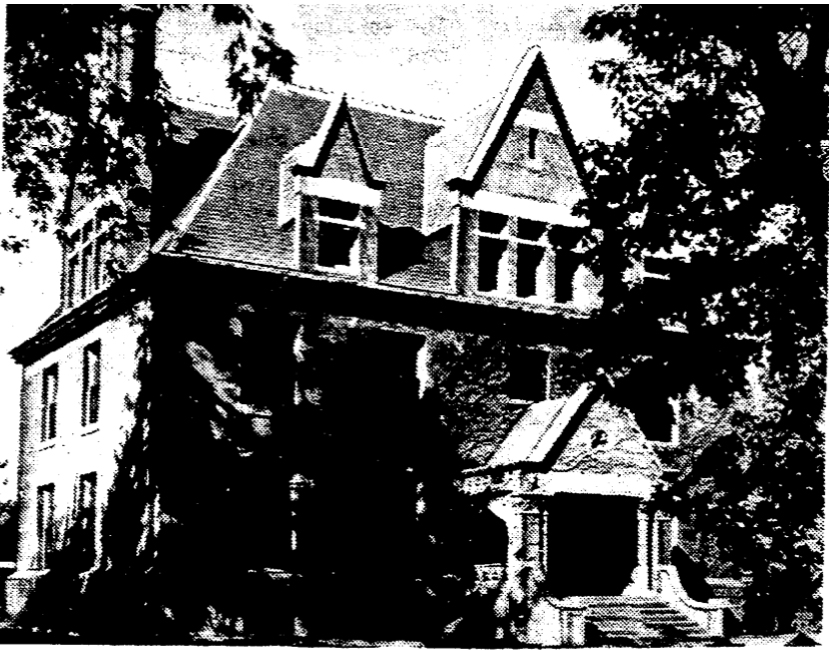 Image from the OWH.
The Mystery of Emma McDonald Norton
The warranty deed disclosed Emma Creighton Nash sold the home to Emma McDonald Norton in 1951. I had assumed Emma Nash McDermott or Emmy" McDermott had married, divorced, changed names or perhaps chalked the difference up to a misspelling at the Deeds Office. These things happen while trailing history. A curious World Herald article from August of 1943 had me rethinking everything. Of course this smacked me in the gob late one night and cause much stirring and burning of midnight oil. Truthfully things have not been very tidy with this investigation ever since but that didn't necessarily mean I would find the banished and bedridden relatives of the third floor dormers. Although I think you know by now, I would keep searching.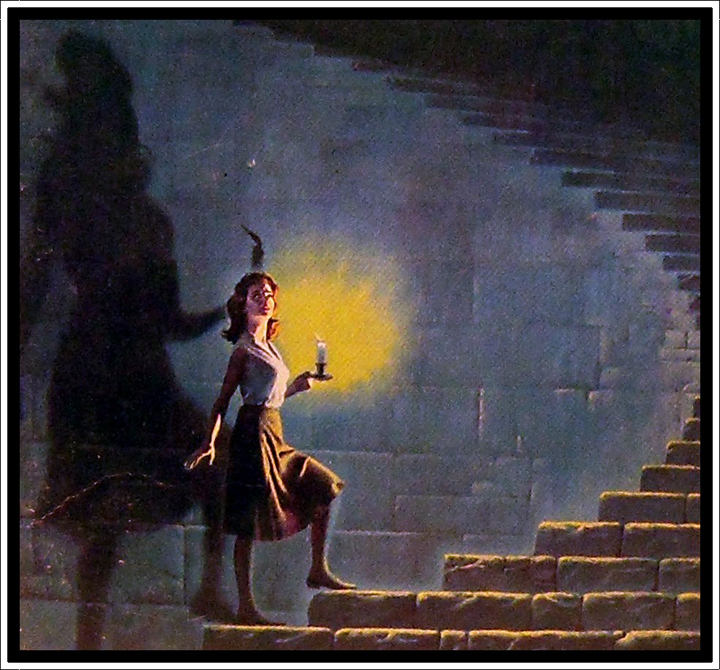 Helllllllooooo? Is there an Emma in the house?
The Elusive Emma K. McDonald Norton had swept in and purchased both the Cudahy Mansion and the famous C. N. Dietz home. I would come to question that she was not of the Creighton-Nash-McDermott lineage at all.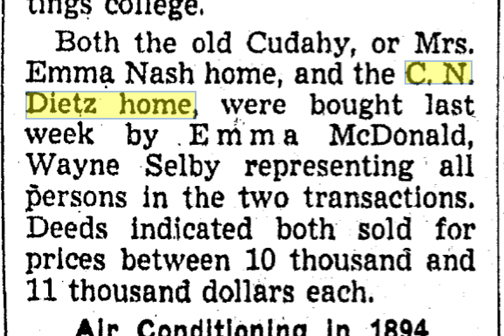 September of 1942. OWH. News article referred to her as Emma McDonald, however the deed showed her last name as Emma McDonald Norton.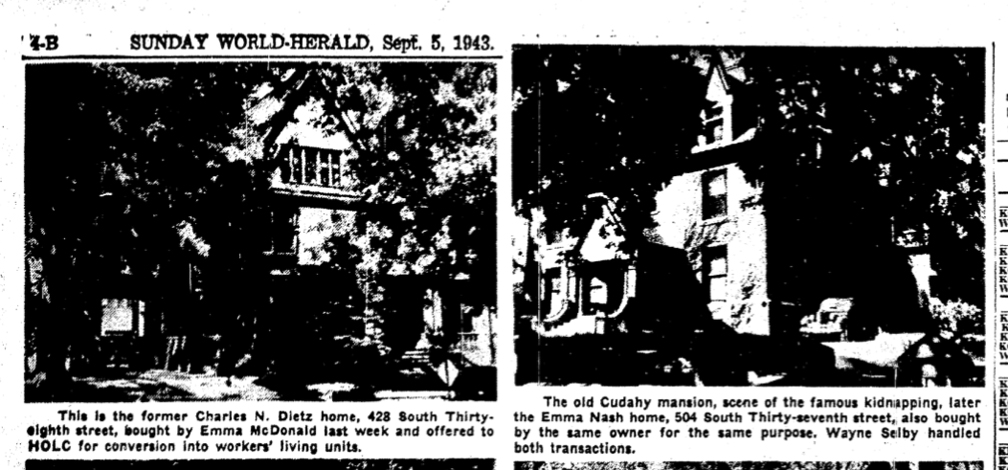 OWH Sept 1943: "Old Homes of the Rich for War Workers." This fascinating article educated that four Omaha structures, both institutions and large residences, were being converted to multi-family dwellings in the war effort. An "old hospital" (Clarkson Hospital at 21st and Howard Street) and "four old dormitories" (at the Bellevue College Campus) and "two old mansions on Omaha's Gold Coast" (the Cudahy Mansion and former residence of C. N. Dietz at 428 South 38th Street) "all known to Omahans and Nebraskans over many years, may be converted into living quarters for wartime workers under the new housing project." The announcement was made by Col. C. Russell Cravens, regional manager of the Home Owners' Loan Corporation, which was charged with public conversion of existing structures. I was stunned. "The two mansions were the scenes of social gatherings over many years. They would provide six living units each." As an aside, I point out that whenever Omaha is polishing up the wrecking ball or readying for a complete overhaul, they will historically initiate reference to said structure as "old" in order to influence public opinion and throw shade on its character.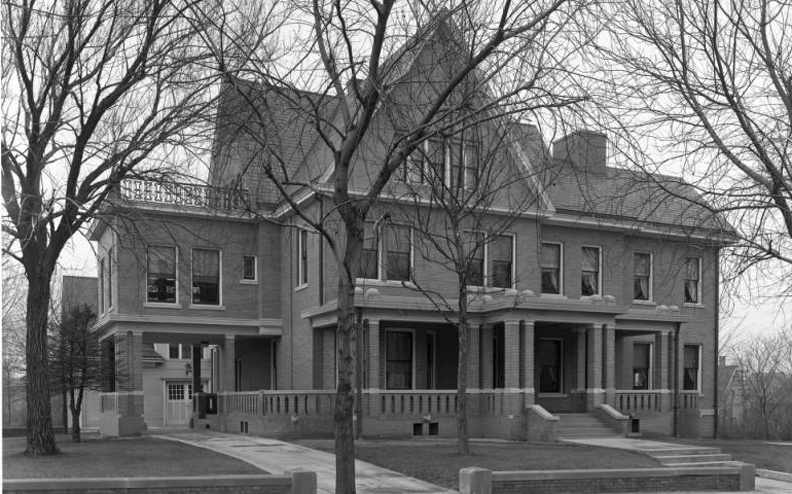 Charles N. Dietz was President of Dietz Lumber. The 14-room Dietz residence at 428 South 38th Street, originally had clapboard siding and fish scale shingles, two recreation rooms, a home elevator. It was erected in the West Farnam Heyday of 1890. The brick veneer was added later in 1913 as a contemporary renovation. Creator: Bostwick, Louis (1868-1943) and Frohardt, Homer (1885-1972). Publisher: The Durham Museum. Date: 1913. This good looking home is still standing strong in Blackstone. You must go look!
By 1944 the Skogman Construction Company had completed conversion of the C. N. Dietz home for the Home Owners' Loan Corp. "The old brick building was converted for the use of war workers' families, creating six units." Was the Cudahy Mansion ultimately converted to its six units, as projected? Search as I might, I could find nothing on Emma K. McDonald Norton from genealogy sites or the local newspapers, save for another alteration to the land deed. Emma McDonald Norton would have John K. Norton removed through a "Quit Claim Deed" in 1952. The newspaper shared his name as John H. Norton.

1952. OWH. John H. Norton. Husband? Business Partner?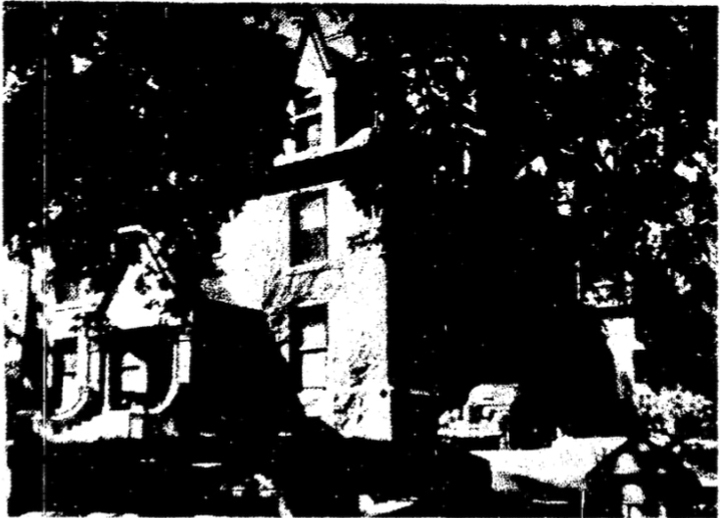 Photo from the OWH. A stark view.
Student Housing and Apartments
In February of 1944 I found evidence of students at the University of Nebraska College of Medicine and students from the School of Nursing residing at the Cudahy Mansion. What accommodations. I would like to imagine my college days spent in luxury such as this. Of course I would have given a good root around. Throughout the mid 1940s there were numerous, random names attached to this address deep into the 1950s. In the slim Great Depression and World War II years, it became very difficult for single families to maintain these behemoth structures and afford their extensive, continual upkeep. I could understand these cheek by jowl mansions of the Gold Coast had to be broken up into apartments or rooming houses in order to preserve themselves but being an Unshakeable Dreamer of the Mythical Mansion Days, my heart hurt to envision the end of the fantasy.
The Omaha City Directory of 1945 displayed a sad reality for the 37th and Dewey block:
504 South 37th Street: VACANT
525 South 37th Street: Willard Hosford
528 South 37th Street: VACANT
By 1949 the Charles Metz mansion had became the medical fraternity of the University of Nebraska.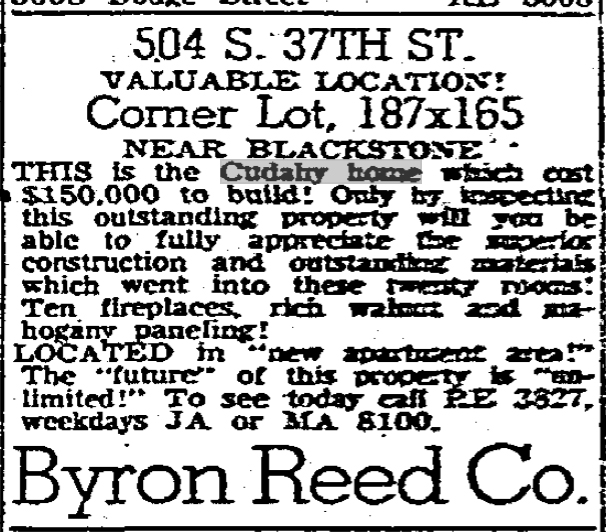 1953. OWH. Apparently in 1953, Emma McDonald was trying to unload the Cudahy Mansion. Advertised as being located in the "new apartment area! The future of this property is 'unlimited!'"
One name would continually be found in the Omaha City Directory, even though he was not displayed on the Warranty Deed until years later. Henry Schulz was shown to consistently lodge 10-15 people in the Cudahy Mansion under his name. And I knew we were way past the days of keeping a large servant staff. The World Herald of 1956 confirmed the reality. "Today the Cudahy Mansion, like most of those in the neighborhood, is an apartment house.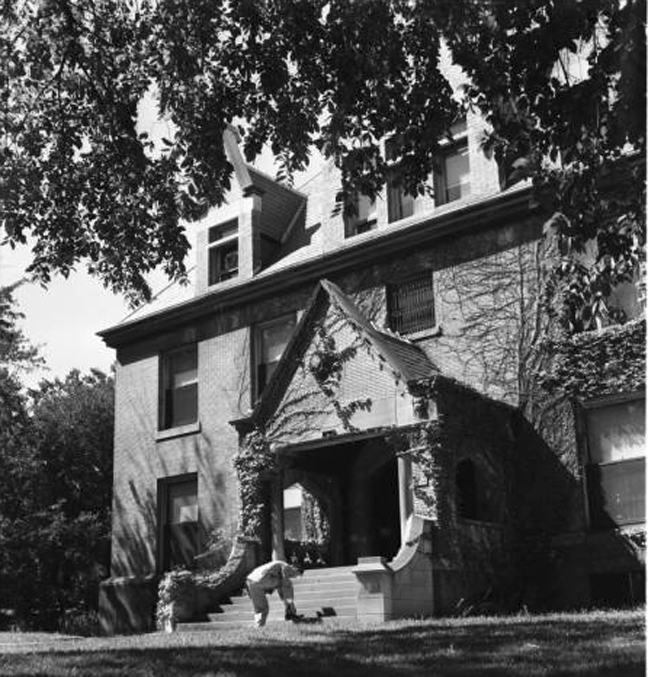 Photographer Robert Paskach must have known the mansions of the Gold Coast's days were numbered. Within his Gold Coast Neighborhood Series, I found a 1956 image of our Cudahy mansion. This must have been one of H. A. Schulz's tenants. Photographer: Paskach, Robert (1927-2001). Publisher: The Durham Museum. Date: 1956.
Enter Mr. H. A. Schulz
Emma McDonald Norton sold the Cudahy Estate to Henry A. Schulz in 1959. According to genealogy sites, Henry Adolf Schulz was born in Chicago in 1895. He was married to Thelma Arlene Eader, also born in Chicago. The Schulzes had three children (Thelma, Henry Jr. and William). Henry had two sisters Mrs. Emma McDonald (our Mystery Woman!) and Mrs. Elsie Van Doran. The fact that the Dietz home and the Cudahy home was in sister Emma McDonald Norton's name was an interesting brooding point. The newspaper article linked the purchase of the homes to be used specifically for apartments. Did that mean that Brother Henry Schulz managed these properties as investments?

1919. OWH. H. A. Schulz was discovered to be a local dentist. The infamous landlord Dr. Schulz was said to be "one of the four men that helped found Boys Town."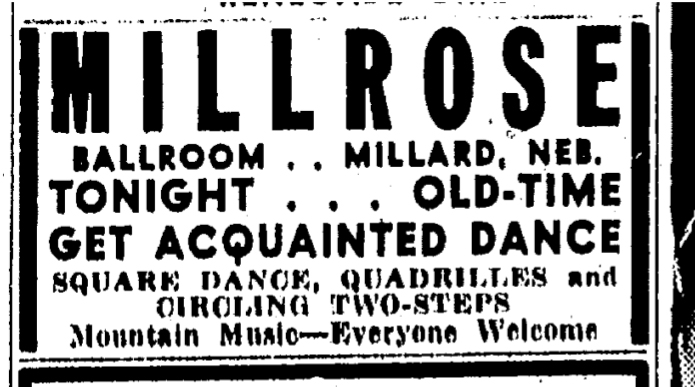 1948 Millrose advertisement. When I discovered a liquor license under H. A. Schulz's name, I dug until I found links to his ownership and management of the Millrose Ballroom (135th and Q) in Millard.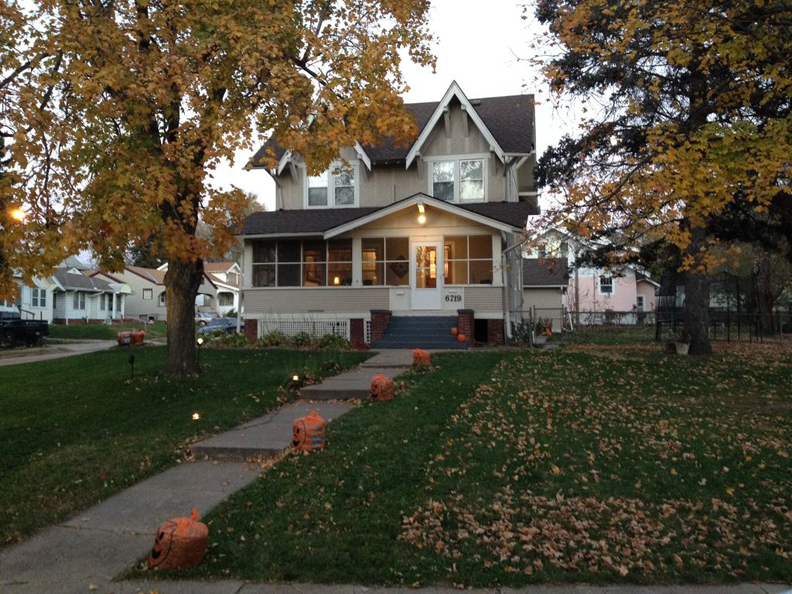 The 1940 U. S. Census showed the Schulzes living at 6719 Minne Lusa Boulevard. Of course once I heard they had lived in Minne Lusa, I knew they had exceptional taste in homes. 6719 Minne Lusa Boulevard as it looks today. "Practically Perfect in Every Way." This gorgeous home must have been so much more manageable than Schulz's Cudahy Adventure.  Photo borrowed from a real estate site. I would later read, by Dr. Schulz's estimation, he had moved his family into the Cudahy Mansion by about 1943.
The Big Proposal
Although Dr. Schulz would not be moved to sell the Cudahy Mansion until July of 1963, according to the record of the deed, the newspaper let on he was soliciting offers by 1960. Note: Only one year after becoming official deed holder. The West Farnam area, called the Blackstone Neighborhood at that point, was all-abuzz about the glamorous Heritage House coming to 37th and Dewey. Schulz was courting the big fish and must have thought he had a sure thing. In early 1960 a 10-story luxury apartment house was being proposed for rezoning at the request James A. Batson and Wendell Switzer.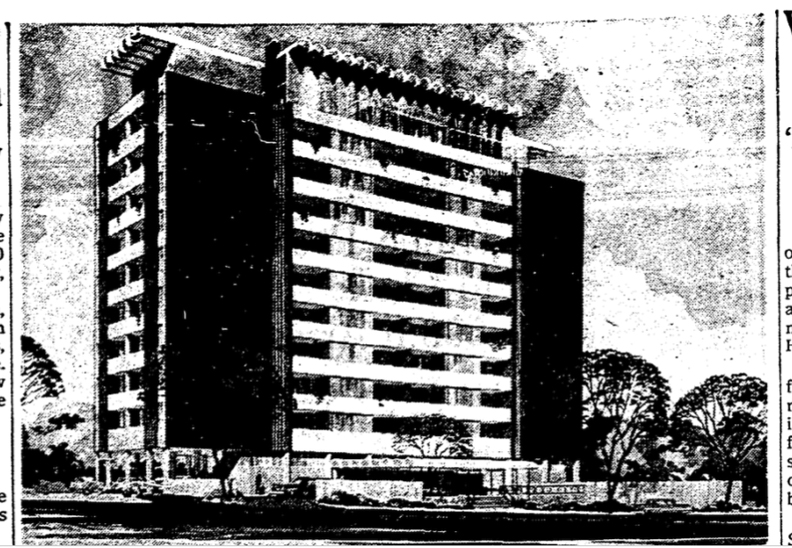 The November 19, 1960 proposed Heritage House design. The article dazzled about a luxury apartment building to cost $2,200,000. The 12 story projected building boasted of a 46 foot heated pool with a real sand beach, a sundeck, a putting green and penthouse party room. The plans, sketches and a scale model were displayed by the developer, Switzer-Batson Company at a design preview at the Blackstone Hotel. F. Marshall Boker, Denver CO was named architect.
The Apartment-Condo Fiasco
Something was not sticking in these years. Henry Schultz and wife did eventually sell the landmark property to Garden Apartment Homes Inc. in July of 1963. "Batson Invest Co and W. W. Switzer," previously mentioned were taken off the Garden Apartment Homes deed in a QDC (quit claim deed) from the same time period. The luxury plan was ultimately scaled back; there were also problems with the planning board due to restriction on building heights. In the following years, companies jockeyed on and off of the deed.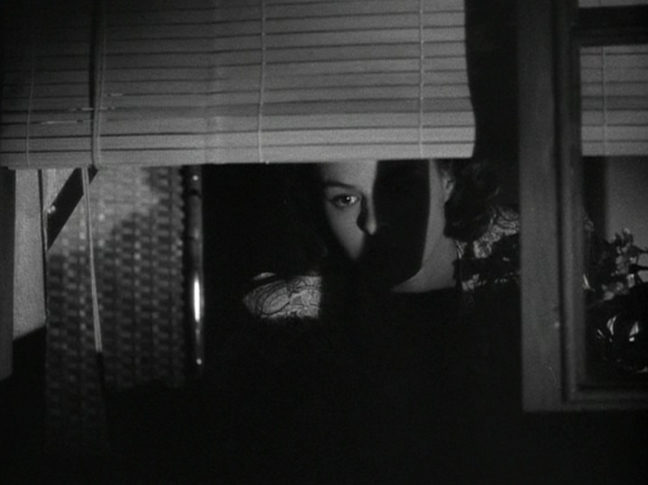 I don't like the looks of this…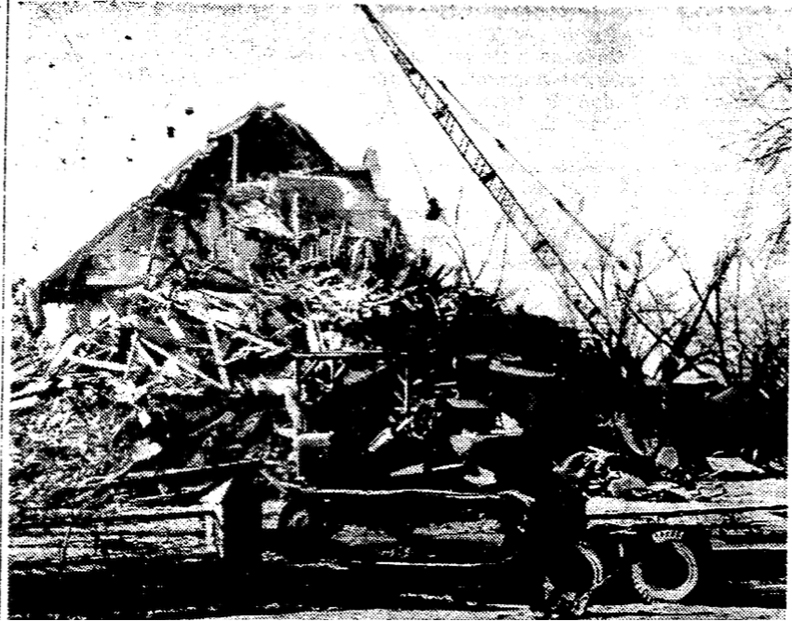 OWH Feb 9, 1964 "Glory of Past Now Rubble"
"It took a one-ton iron ball only a day to make a shambles of a mansion. Announced for the site is the 12-story Heritage House, with 90 luxury apartments. The third and last owner, Dr. Henry A. Schulz, ground out movies of the destruction." (Detectives, how can we find these home movies? Open letter to all Schulz relations: Please help find these movies.) "He was the only one present who knew the mansion intimately. Schulz said: "It had 22 rooms, 10 fireplaces and seven bathrooms. There was also a three-bedroom apartment over the barn. Some of the marble inside was imported and there was a great amount of copper tubing and guttering. But rising taxes, over a hundred dollars a month and monthly heating bills of two hundred dollars ran up huge maintenance bills." Oh my…. I knew it was coming but how devastating.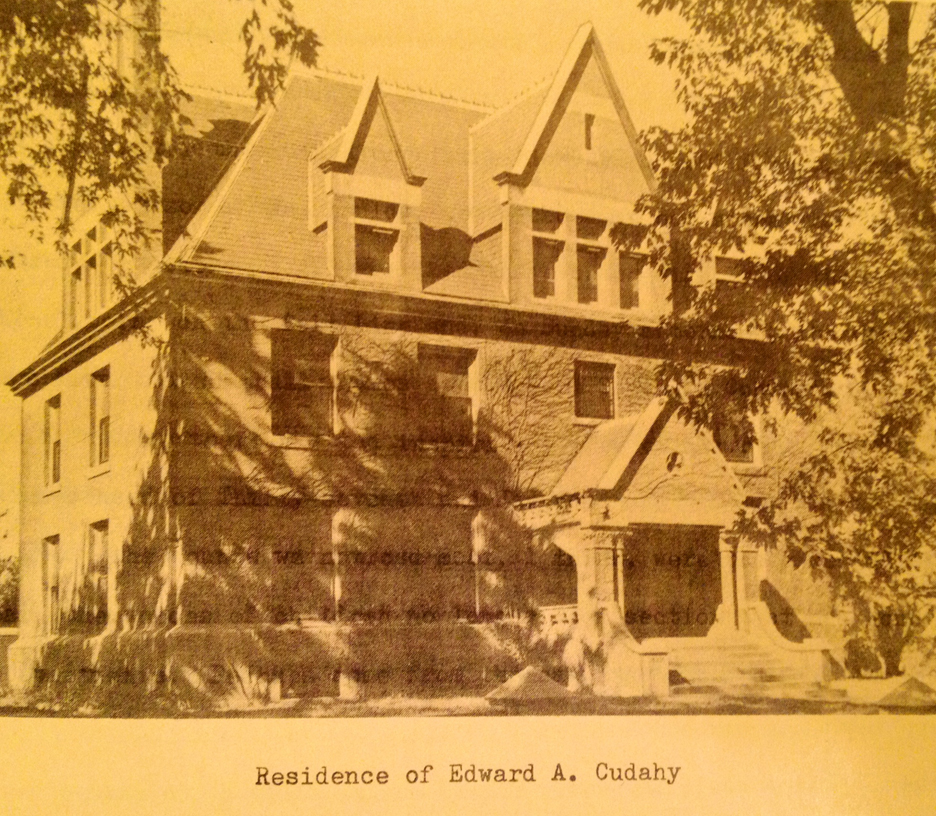 B. F. Sylvester photograph of the Cudahy Mansion from the 1950s-1960s. Scanned from his West Farnam Story book.
Enter 500 South 37th Street
Our southwest corner of 37th and Dewey would be reassigned the 500 South 37th Street designation it now carries. By about 1969 "Apartment 500" as it was initially called, was completed and offered five stories with 38 apartment units. Teig & Johnson Architects created the design. Garden Apartment Homes Inc. unloaded the lot to Ernest C. Rorick in 1967. Rorick Construction sold to John Riturn. John Riturn and wife sold to 500 Inc. in March of 1970. The 500 Partnership transitioned to the 500 Bldg Condominium in July 1973 post Lamp, Ryerson and Tilly's redesign in March of 1973. Dizzying.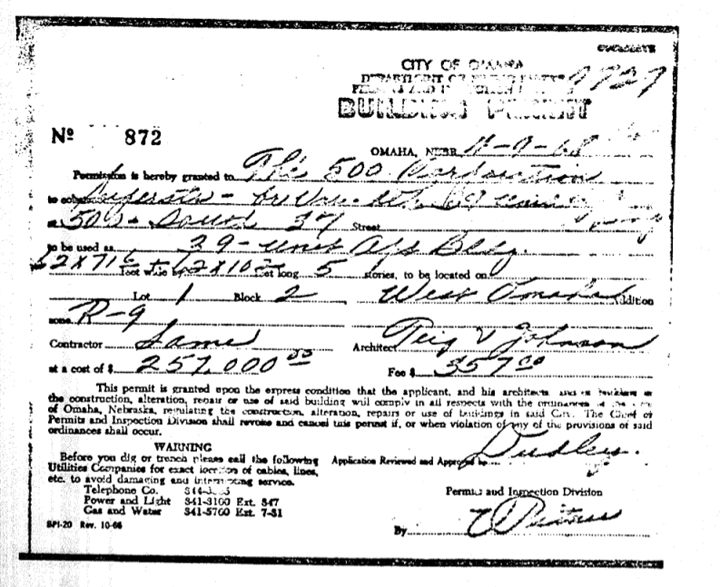 1968 Building Permit for 500 South 37th Street.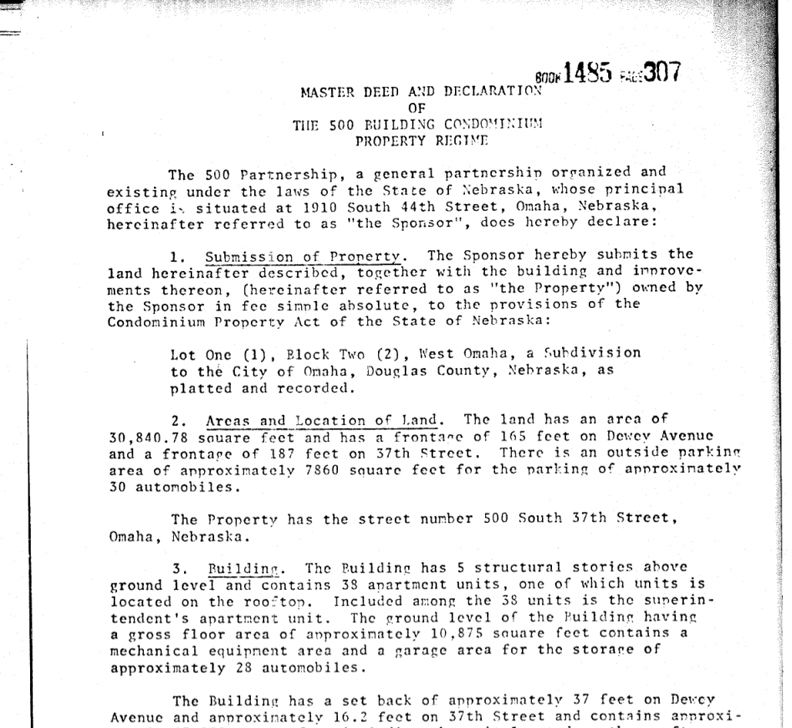 The Master Deed that changed Lot One, Block two of West Omaha to the 500 Building Condo development.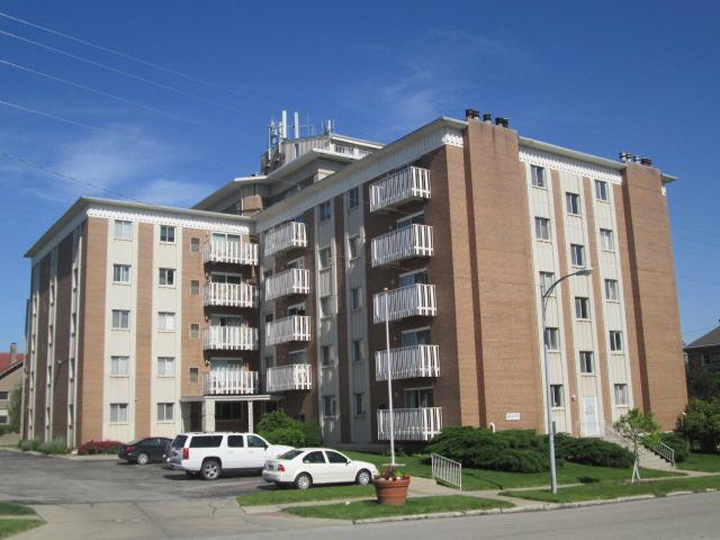 Photo of 500 South 37th Street borrowed from the Douglas County Assessor site.
Rescued Artifacts
In June of 1964, Jack and Louis Drew of Drew's Antiques gushed of having newly acquired other savory Cudahy clues. "The impressive relics of the Cudahy-Nash house recently razed include the immense French bronze chandelier in the style of Louis XV; a copper lantern; a section of the iron fence that now serves as a rail along the sweep of stairway in the main hall."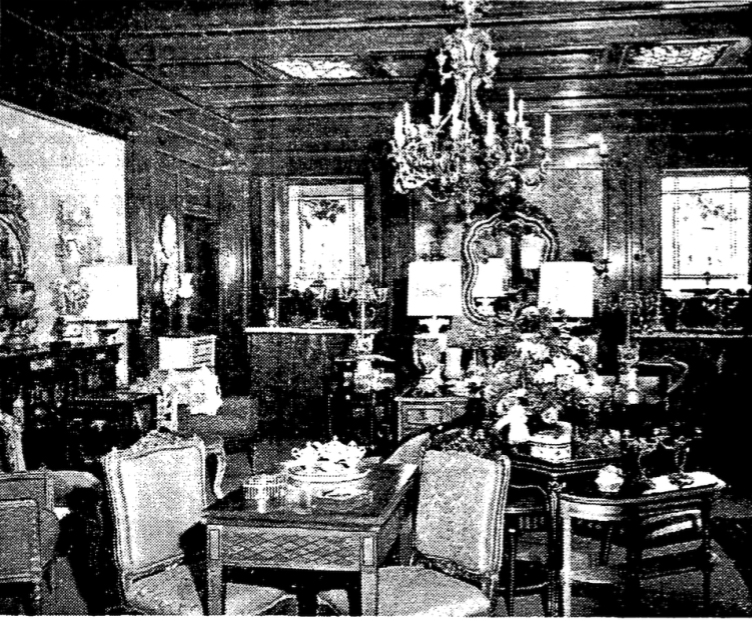 Heavens. The Cudahy bronze chandelier hanging in the Drew Antiques showroom in 1964. Photo from the OWH.
At the same time the John Offutt family, of 3419 South 102nd Street apparently "saved a lion statue from the porch of the Cudahy home," mixing it into their Mid-Century Modern patios. "The Cudahy lion mingled with the Brandeis Theater ram's head and another statue rescued from the Paramount Theatre." Dying to see. By summer of 1967 Dr. Henry Schulz lived at 10229 Wright Street and had sold a good swath of farmland out in Millard to the city of Millard for construction of a sewer line. I discovered a 1979 Auction for Dr. Schulz saying he was packing it in and moving to Hamburg, Iowa to live with his daughter. Among his many antiques, too numerous to list, he was selling a "large ornate mirror out of the Cudahy home, approx 65 in high and 70 long. Very ornate frame."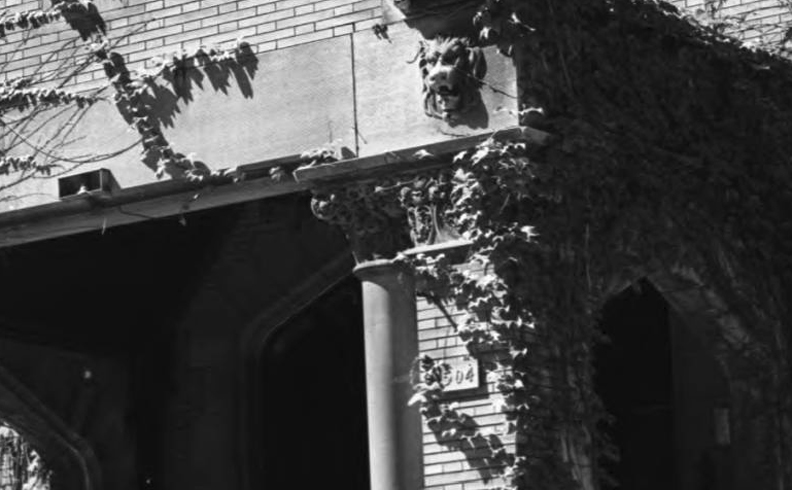 Beautiful detail of the original Cudahy porch. Might this be the lion the Offutts salvaged? I hope so. I adore the mini "504" address plaque.
"Why have you come back?"
"Just to look at you. Just to remember …"
I would stumble across my own relic, what I believe was the once proud gate around the Cudahy Mansion on the northwestern perimeter of the 500 Building. I delighted in its existence. I just know there are other clues within the property boundaries, hidden in the shadows. I held a fondness for her imagined dark secrets.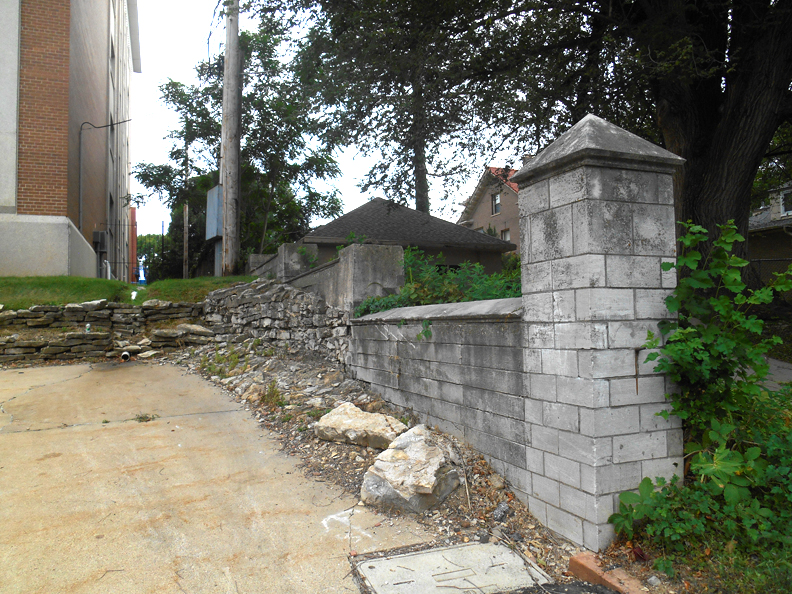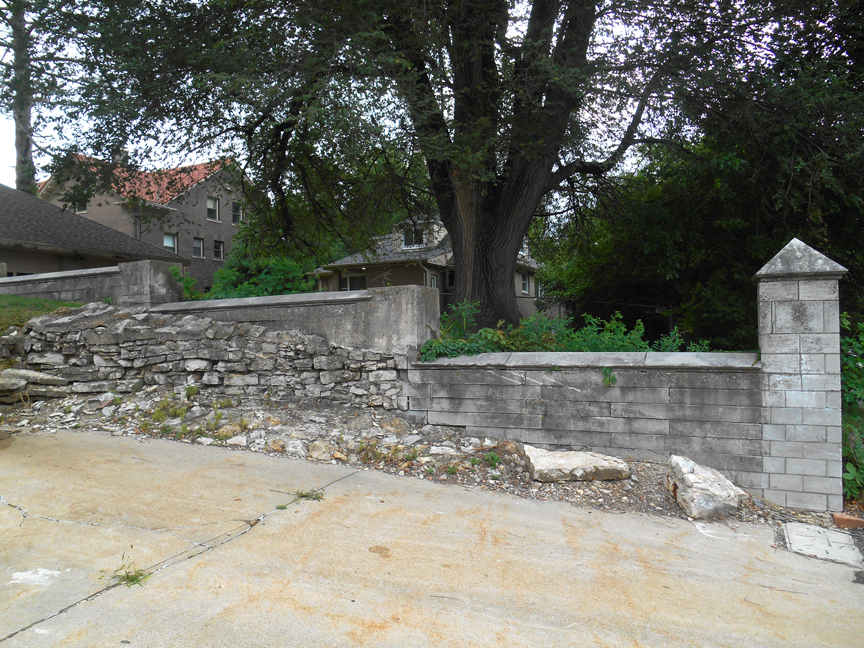 This is only a part of the Cudahy Mansion story. Those who lived within her walls, in the Blackstone Neighborhood or curious lookeylou-ers from the time period would know infinitely more about her contributions to Omaha than I could every scrape together. We would all love to hear your stories about the neighborhood or from those personally involved. Please feel free to leave a memory or thoughts. I believe we know more together. Thank you, Omaha Friends.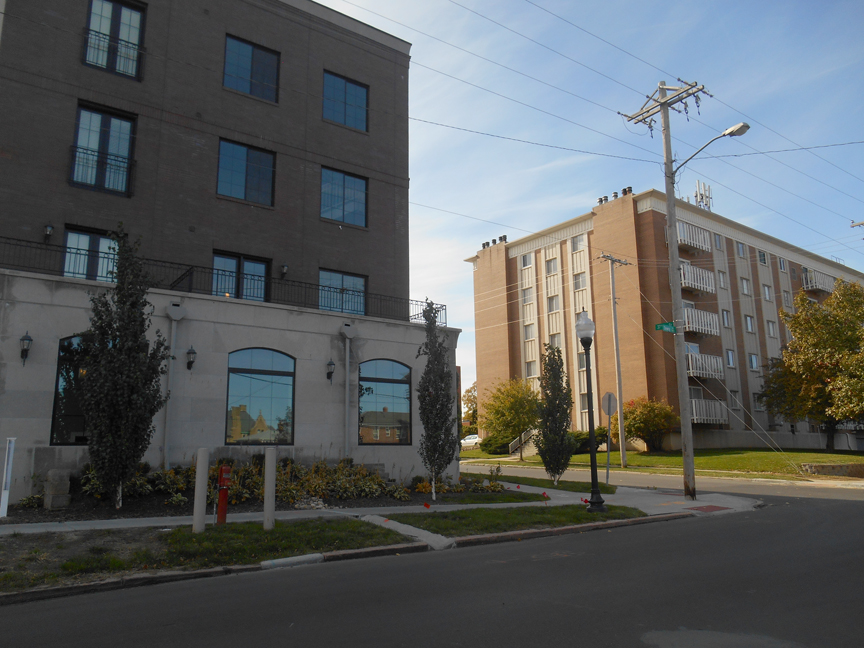 You can keep up with my latest investigations by joining my email group. Click on "Contact" then look for "Sign me up for the Newsletter!" Enter your email address. It will then display "Thank you, your sign-up request was successful!" Make sure to check your email address to confirm. You will get sent email updates every time I have written a new article. Also feel free to join My Omaha Obsession on Facebook. Thank you, Omaha friends. Miss Cassette
© Miss Cassette and myomahaobsession, 2019. Unauthorized use and/or duplication of this material without express and written permission from this site's author and/or owner is strictly prohibited. Excerpts and links may be used, provided that full and clear credit is given to Miss Cassette and myomahaobsession with appropriate and specific direction to the original content.