For all of my years working at the antiques store, I never found the hidden portal in the back of the giant wardrobe or that coveted, inner panel toward the bottom of a steamer trunk. It was not for the want of trying. Some of you will understand when I confide that I still look for these passages. There would be other clues that gave me hope. The last whiffs of long ago perfume on a silken scarf, a lipstick kiss on a scalloped cocktail napkin in the bottom of a handbag, a lone, bronzed baby shoe tucked in a musty bureau drawer. There was a light! But it was through a small, handwritten diary that I would find the most satisfying kind of time travel—the exuberant, at times sorrowful, missives of a young Omaha woman during World War II.
Almost twenty years ago I was bequeathed the hand-sized A Page A Day book from my boss, an incidental to a recent estate sale haul the antiques store negotiated. A faded pencil mark, denoting three dollars is still visible within the cover but I don't remember paying a cent. It seemed fated that I would come into this beautiful thing. As I flipped through the pages of perfectly controlled cursive, I was to learn that the woman who filled the journal in the 1940s had recently passed. Allegedly there were boxes upon boxes of unopened treasures, still wrapped in tissue, from all of our town's best department store offerings, found in the woman's basement, closets, within attic nooks and spaces beneath stairs. I was never in the home and I still marvel to consider the possibility of the elusive clues therein. Subsequent to the older woman's recent death, her out of town relations were liquidating the family household out of necessity–a lifetime of stored goods and memories. From said cache, a black and white photograph of the diary's (then) young author was soon produced and it was decided that I should also maintain this image. The book and photo remain prized possessions, for it was through her peculiar, personal, tidy hiding place that I would be allowed to view unknown and unseen places.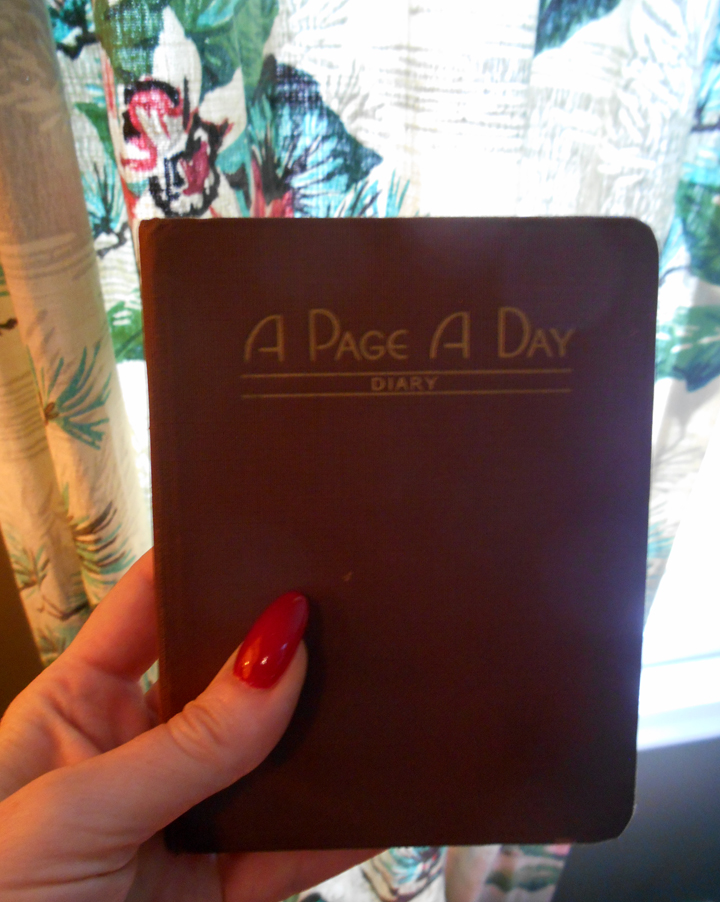 For those that require quick, bite size Internet reading, here is your synopsis: Through the 1943-1944 diary of a young Italian American woman, a personal view of wartime Omaha emerges. Her soldier brother, missing in action, has just been pronounced dead as the new immigrant family comes to grips with the painful reality of their loss. Omaha nightspots, drinking, dancing, restaurants, theatres and a local Italian community are highlighted in my pursuit to find who penned this emotional, engaging correspondence from the past.
My Process: a Note on her Notes
First and foremost, out of respect for Miss Rose and her family, I will not wholly divulge the contents of her diary, as it is comprised of her inner most private thoughts and experiences. I know I am incredibly lucky to even have gotten the chance to glimpse into her world and I hold vigil in her memory. I know my place. My intention is to include only brief passages and places mentioned in the diary in order to shed light on Miss Rose's personality and her dreams of "Polka Dots and Moonbeams." Decades after becoming The Holder of her diary, my curiosity about Rose Lazio sent me on an amateur sleuthing exploration to find where she lived, how she lived, her favorite haunts and a brief history of her family. Because as mundane as her 1940s working class girl existence on 10th and Hickory might have seemed to a young Miss Rose, her observations, strength, optimism and vim remain absolutely fascinating. I hope to show through historic photographs where Miss Rose and many young Omaha women spent their World War II days and nights, anticipating "When the Lights Go on Again All Over the World."
The Beginning
Rose Ruth Lazio was a pretty, petite brunette of twenty-seven, living at home with her beloved mother, Lena, when she first wrote in her little, brown diary on December 31, 1943.
FRI. We got a notice that Tony was officially pronounced dead. It was a shock! We don't believe it tho! At 12:30 PM, Chuck and I left for Judy's farm. Chuck had to stand all the way. Some nice looking fellow gave me his seat. He later bought me a great big apple! I had fun with him and a good-looking blonde sailor. I was in bed at 10:30 P.M. and slept right through til morning.
The penwoman's lettering and cursive were altogether impressive–small, controlled and perfectly pretty. Regrettably we don't see this manner of script too often these days. I was hooked from page one. It would take me a long time to understand all of these first named characters whom I was reading about and only in the last months have I figured out the family names. I would lay awake in bed and piece together what I could of the Lazios of 10th Street. Tony was Rose's oldest brother, whom she had always been quite fond. There were a number of Charleses or "Chucks" in the Lazio family orbit but my gut tells me that this was her sister, Mary's husband, as they were all three very close. Upon learning of the news of Tony, the two would take a bus to visit Judy, Tony's young wife. Previous to Tony's disappearance, Judy had given birth to their baby, Mary Ann. Much to the Lazio family's sadness, Judy and Mary Ann would keep distance in Morse Bluff after Tony's death. To imagine a time when receiving the gift of a piece of fruit in the dead of Nebraska winter was something so special…But let's back up a bit.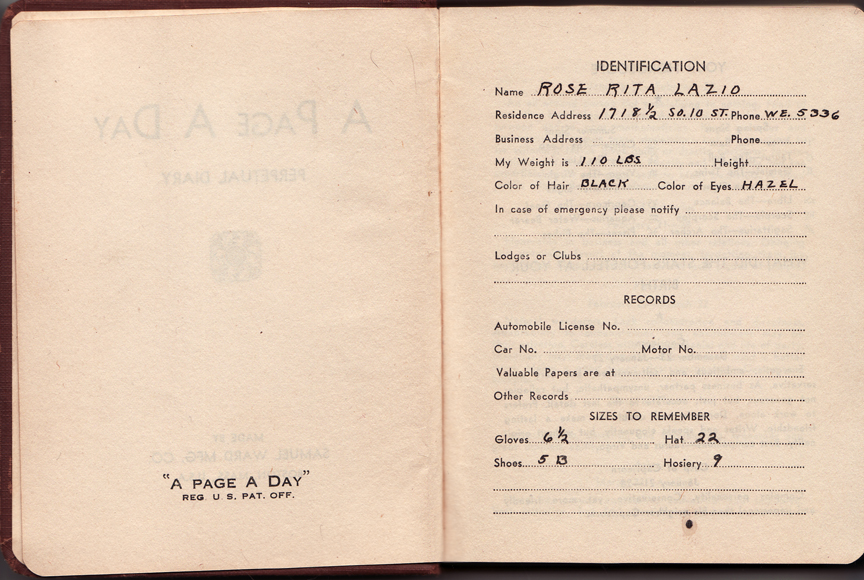 First Identification page of the diary. Rose was a tiny beauty with size five shoe. It's because of the Rose Lazios of the world that vintage clothing stores are lined with miniature dresses and shoes that no one can fit into.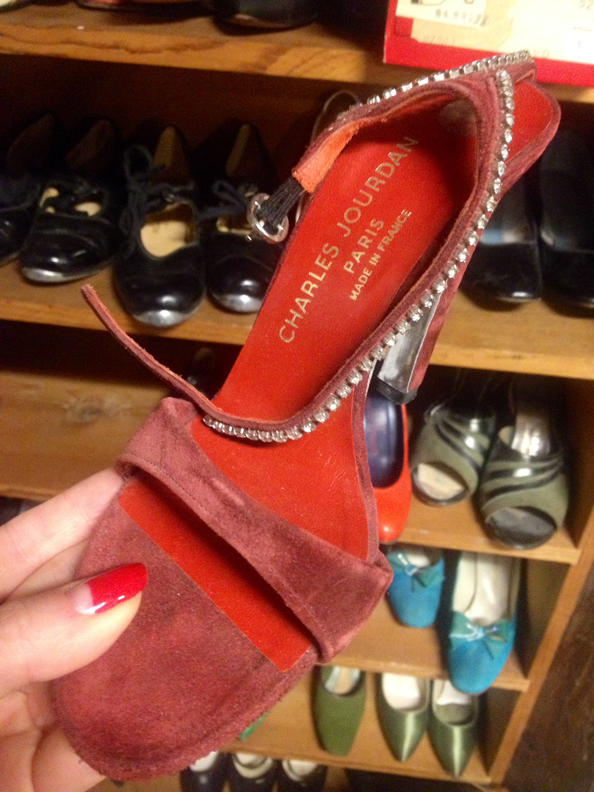 A marginal note: Here's one impressive, diminutive model from our store that very well could have been Rose's. She loved beautiful, colorful clothing.
The Lazio Home(s)
The identification page of Rose Lazio's diary made plain her 1943 residence was located at "1718 1/2 So. 10th St." (I just love 1/2 addresses, don't you?) I would find the property between Hickory and Center Streets, just south of the storied Cascio's Steakhouse and Omaha Famous Olsen Bake Shop. Happily I discovered two quaint homes still stood on the lot. The front home was a good-sized American Four Square labeled 1718 South 10th. The smaller home in the rear was denoted with a 1718 1/2–a smaller wood frame, worker style cottage commonly seen in this part of town. The way the smaller home was offset behind the larger, gave indication it was designed as a Mother in Law Cottage. Later my friend, Syd Reinarz, who was involved in the original Rose Lazio Battiato estate sale for the antiques store, would confirm that there were two homes on the lot that he visited during negotiations. As I would later learn, both were inhabited by Rose's family. This is when I really got to digging.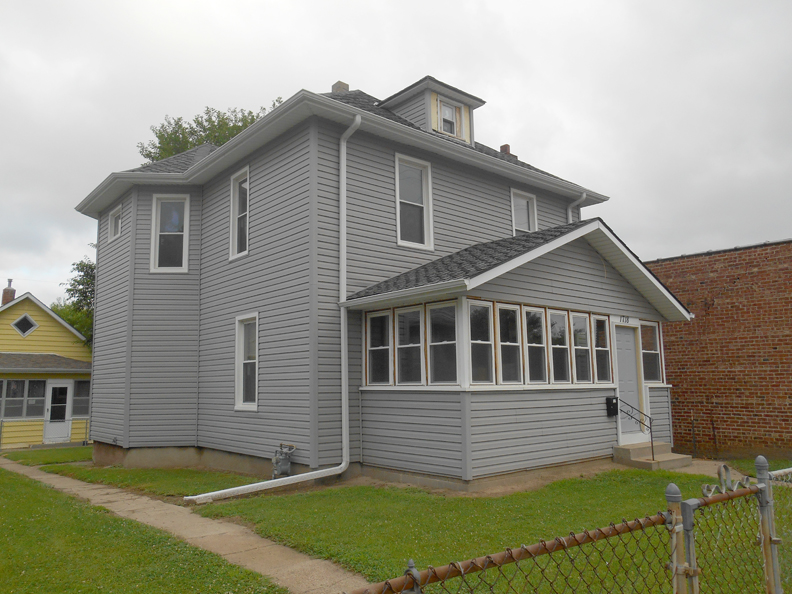 1718 South 10th Street. According to the Douglas County Assessor's site, this home is 1,803 sq ft on Lot Five of Kountze 4th Addition. Thought to have been built in 1890.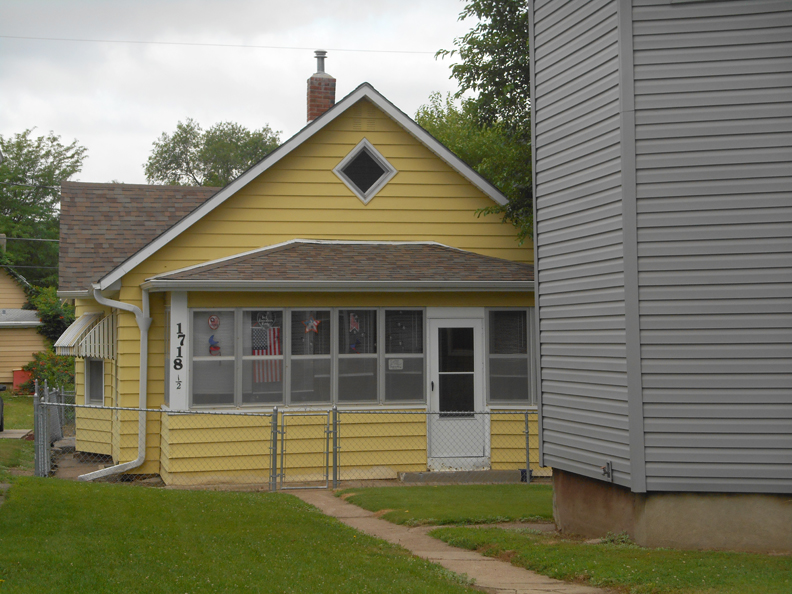 1718 1/2 South 10th Street. According to the Douglas County Assessor's site, this home is 942 sq ft, also on Lot Five of the Kountze 4th Addition. Labeled as being built in 1890, the same year as the front home. There is a great little alley, that runs behind the 1/2 house. On that note this part of town offers many alleys cutting behind blocks, dare I say—the way it should be!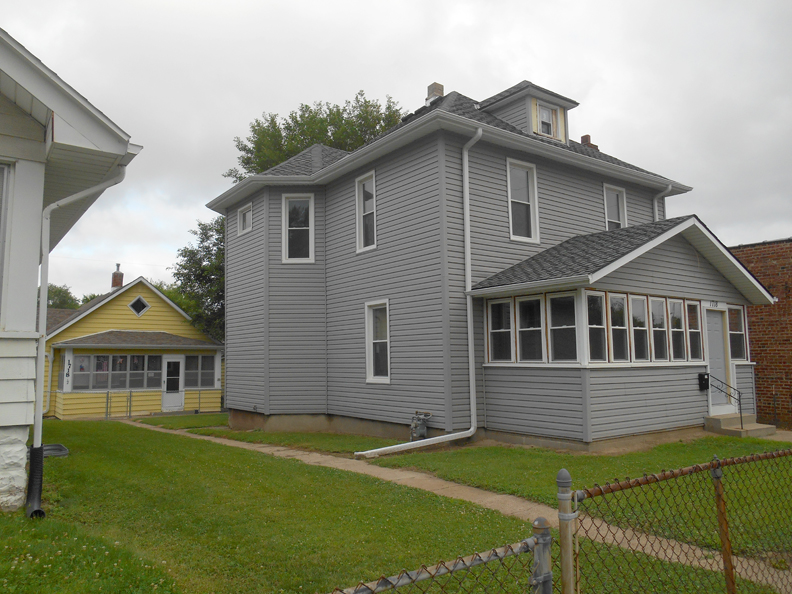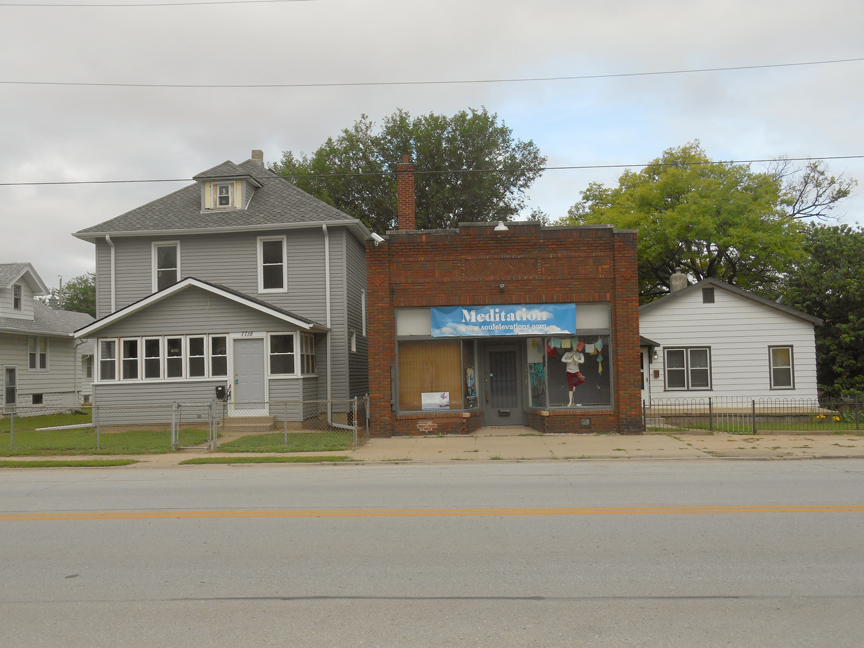 Directly to the north of the main house is 1716 South 10th Street. Built in 1886, this flat roofed, brick storefront, now is host to Soul Elevations, a yoga studio. This solid building looks like it was originally a neighborhood grocery or a bar.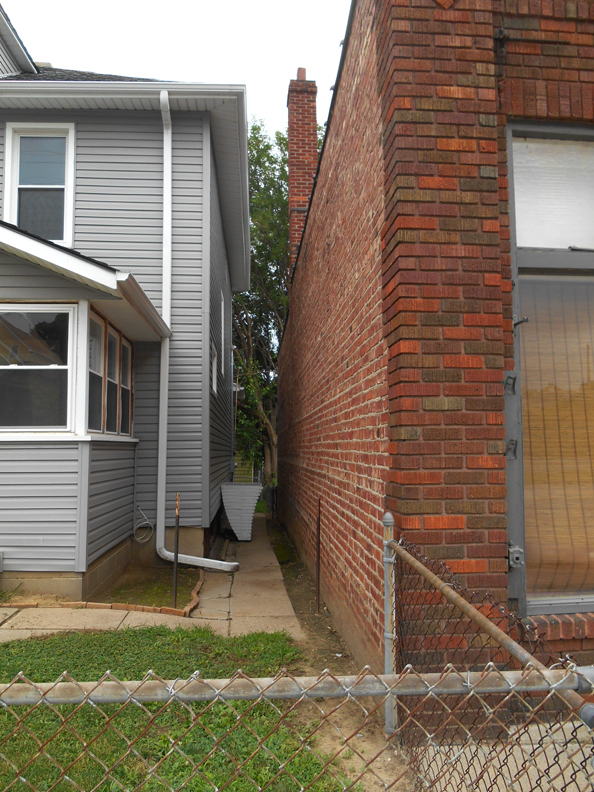 This great neighborhood shop was built very close, very cozy to the 1718 Four Square, separated by a thin sneak path…my favorite!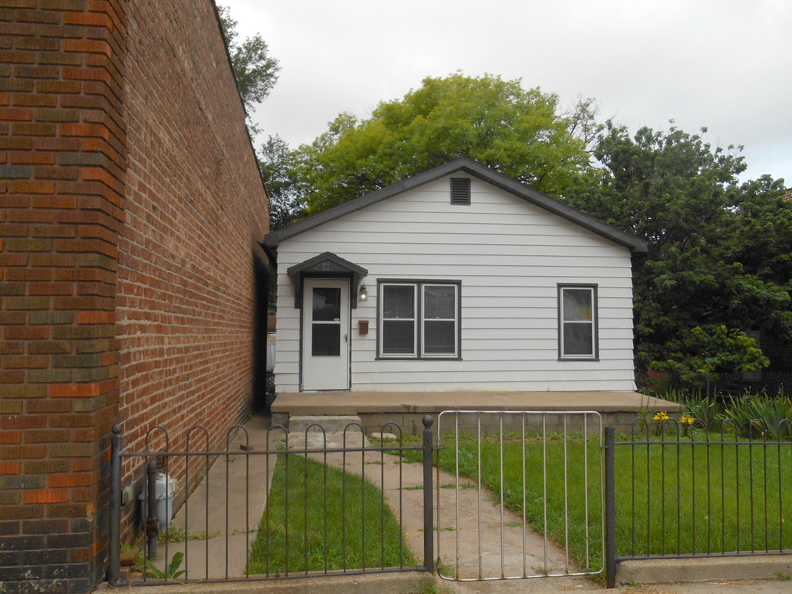 Additionally on the north side of the 1716 storefront, there is a snuggly, small home built also built very near the building, that is included in the parcel. Only a whisper or a Vanilla Wafer could slip between these structures. Love this fence—particularly the gate.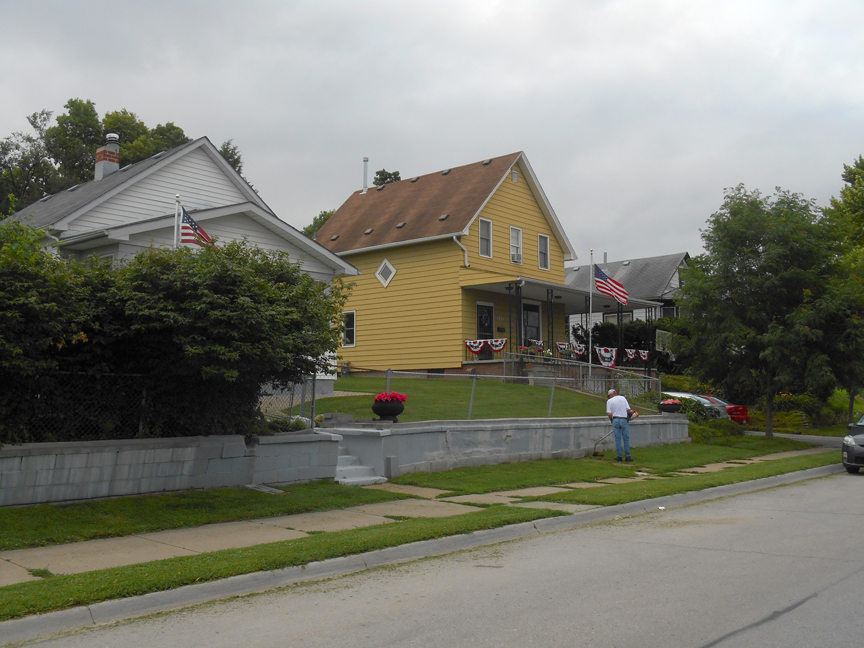 East of Rose Lazio's property, across 10th street, I would spy other tidy Worker Cottages. This side of the block sits at a higher elevation.  It is a very well taken care of neighborhood and I was quite roused by all of South 10th Street.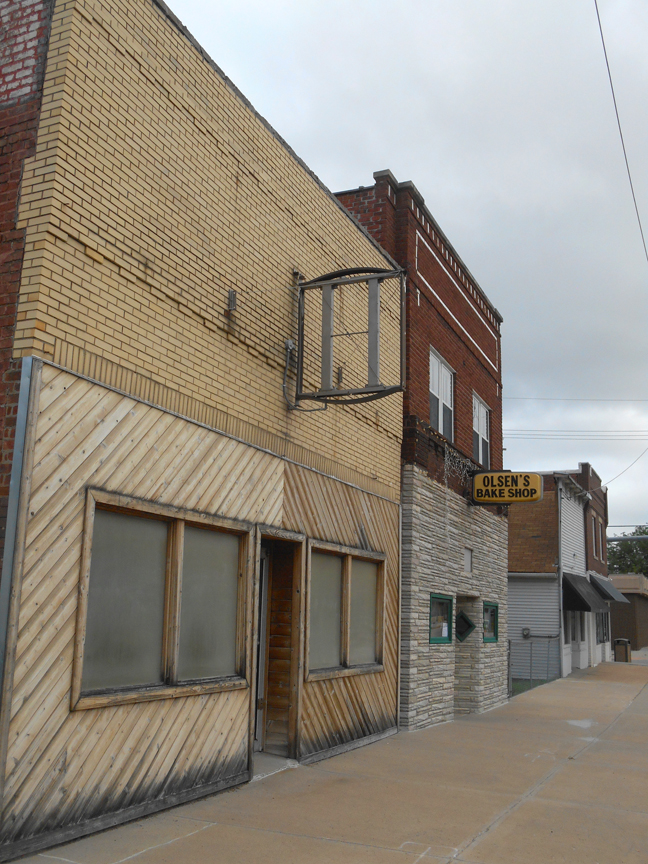 A hop and skip further up north on 10th are a number of great buildings. One is the Olsen Bake Shop at 1708 South 10th Street. I ask you: How can a simple cake donut with a thin slathering of chocolate frosting taste so delicious? Perfection. If I lived on this block it might become Dangerous.
The 10th Street Area
Originally platted in 1854, the Dahlman Neighborhood was the namesake of Omaha's eight-term mayor, Cowboy James Dahlman. Modern street banners now have branded the neighborhoods Little Italy and Little Bohemia, for any newcomer. For more on this great area, check out this website: http://dahlmanneighborhoodomaha.homestead.com/index.html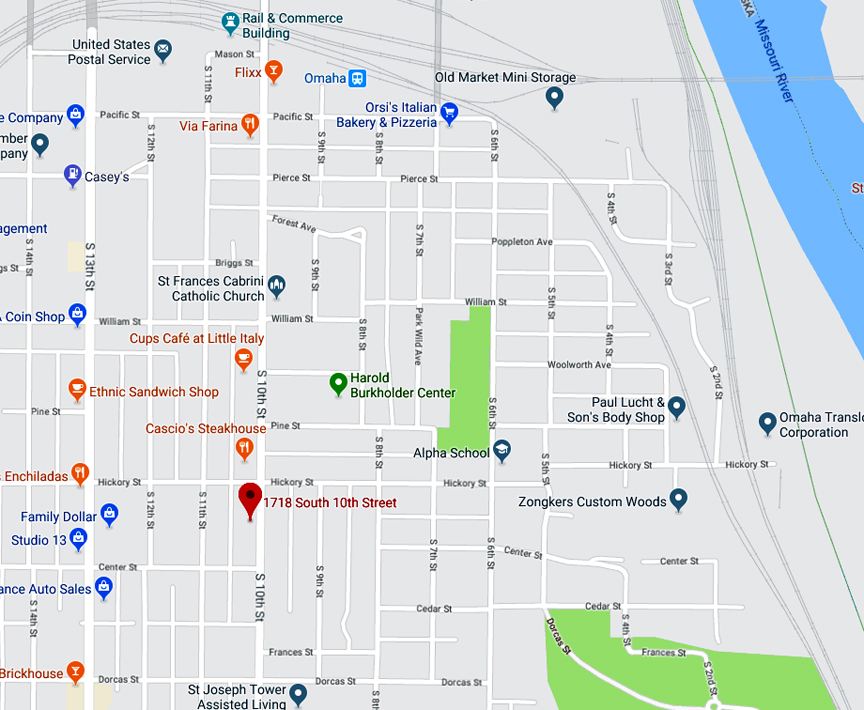 Image borrowed from Google Map. 2019. The red symbol pinpoints the Lazio property.
South 10th Street must have been quite the promenade in its day. Everyone knows how obsessed I am with The Streets of Omaha: Their Origins and Changes by Ben Brick. Brick reported that north-south running 10th Street had its name changed from Belle View Road, south of Pierce Street. Pierce was one of the main streets of Little Italy. A direct thoroughfare to Downtown Omaha, South 10th spun a guy or gal on an easy-breezy streetcar ride straight by the train stations, hotels, Jobbers Canyon, (houses of prostitution and gambling within) and the Old Market where indeed, it once functioned as a true brokerage district for fresh vegetables, fruits and everything good in the world. Although the streetcar tracks have vanished, South 10th remains a fascinating vestige of old Omaha, in my opinion, one of the greatest assemblages in our city– for it offers a mixture of mansions, Regular Joe Homes, small businesses, industry, Workers Cottages, churches and everything else. And it's nice and wide and proper. I like that.

Photographer is in the middle of 10th Street, facing north. Hickory is the cross street in the distance. Streetcar tracks run the center of 10th. Parked cars and houses line the street. Gem Theater is shown on the left, the building that is now to the south of Olsen Bake Shop. And there hiding amongst the houses is the Lazio house. Creator: Bostwick, Louis (1868-1943) and Frohardt, Homer (1885-1972). Publisher: The Durham Museum. 1939.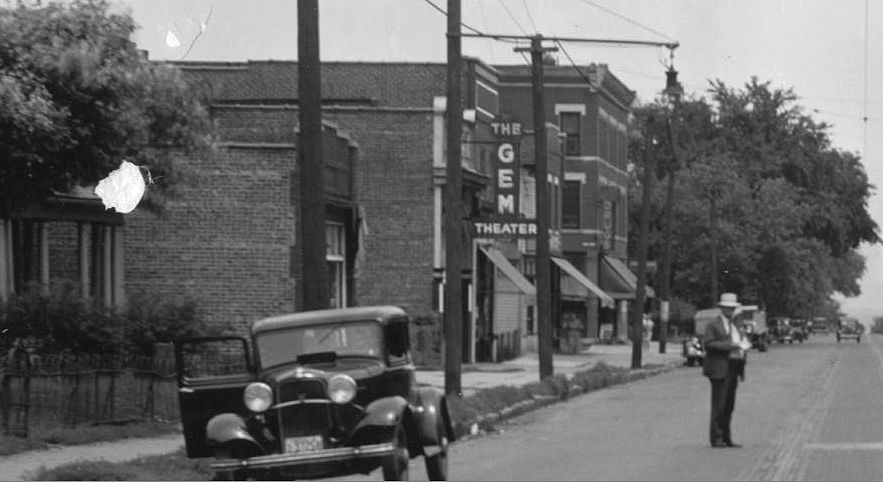 A detail of the above photo because I Am Obsessed with seeing. There's the little yoga studio and the porch of the house.

How the same area looks today in 2019. The house on the left is 1718 South 10th Street.
The remnants and clues to this neighborhood are plentiful, even though they say much by way of architectural history was already torn down. As this is a different kind of My Omaha Obsession article, I didn't go in for deep, deep dig of Little Italy and the Dahlman neighborhood. I might later. For now check out: https://www.omaha.com/money/development/urban/th-street-development-galvanizes-residents-i-just-hate-to-see/article_eedaec51-e008-5652-b7f1-7fa43b60b0ee.html
An Ethnic Enclave
A review of the United States Censuses from 1910-1940 would reveal most households around the Lazios Two Home Lot on 10th were made up of foreign-born families from Italy, Czechoslovakia, Ireland, Germany, and Denmark. I found the greatest number of nearby families to be of Italian descent. Southern Italians were known to have come to America in the late 1890s, creating Little Italys throughout the States. According to the American Guide Series Omaha: A Guide to the City and Environs written and compiled by the Federal Writers' Project in the late 1930s, the main district of Little Italy in Omaha extended from 10th Street, east along Pierce and Pacific Streets to the Missouri River and south to Hickory—although loosely acknowledged to stretch west to 20th and south to Dorcas. (From my research, 10th Street appeared to be somewhat of a boundary for both Italians and Czechs, with Little Bohemia laying claim to the western side, extending up to 16th Street.)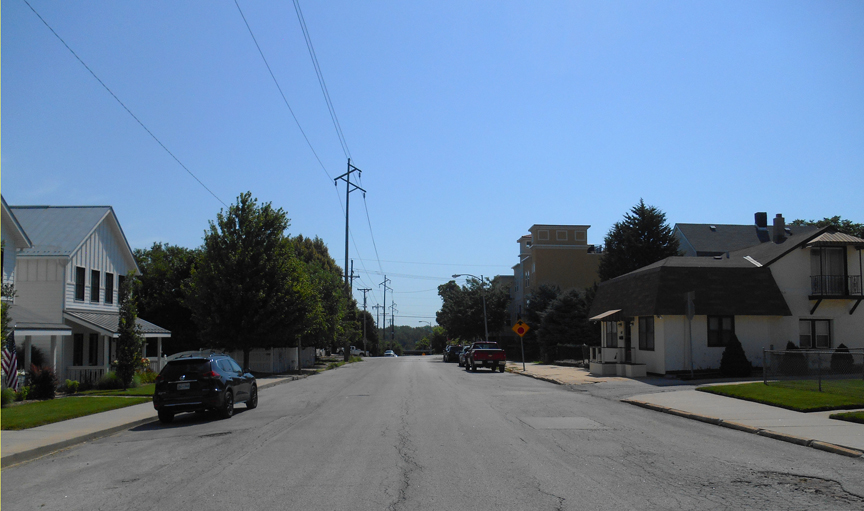 Facing east—6th and Piece intersection in the distance.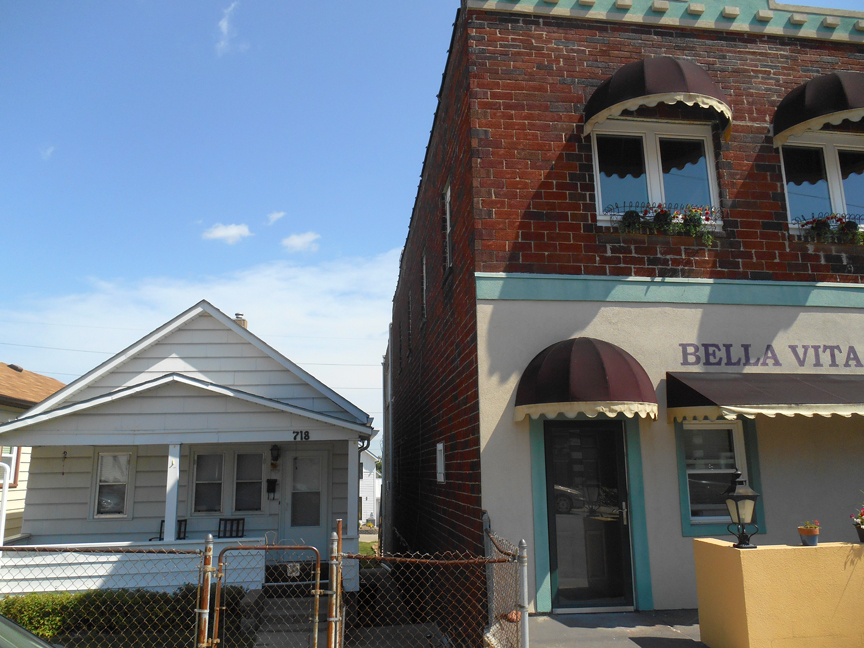 The fabulous Piccolo Grocery, now coined Bella Vita, with neighboring home on Pierce Street.
The book alludes to a large group of Sicilians having migrated to Omaha in 1900, settling along lower 6th Street, where "they secured employment in the smelters and packing plants and with the railroads." The warm hum of the railway cars can still be heard in this neighborhood as the rails cut a diagonal through the eastern edge of Little Italy.
I also frequently found Italians entering the fruit and vegetable peddling business early on.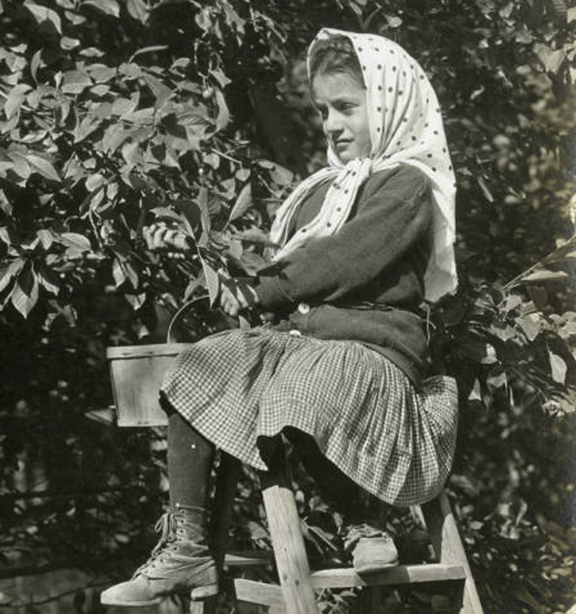 A young Italian worker on a ladder picking cherries on the Allen Brothers farm. Creator: Bostwick, Louis (1868-1943) and Frohardt, Homer (1885-1972). Publisher: The Durham Museum. 1913.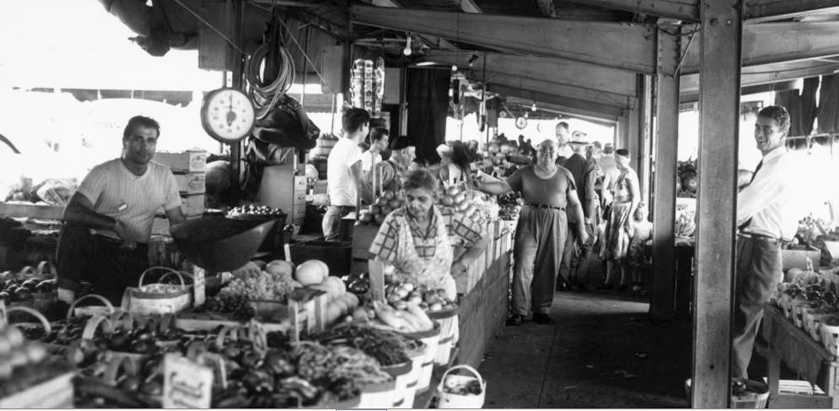 The vegetable stands under the sidewalk canopies at 11th and Jackson Street in what would become the Old Market. Many from Little Italy would shop the vegetable and fruit market at 11th and Jackson Street. Creator: Savage, John (1903-1989). Publisher: The Durham Museum. 1938.
A subsequent Italian wave in the 1912-1913 timeframe and more still relocating to Omaha after World War I, would serve to populate these neighborhood streets, with expansion out to 20th. Little Italy would also become notorious for bootlegging during Prohibition. To be clear, the Italians were not the only ethnic group of bootleggers, although perhaps the best winemakers just round the corner. I have had two friends tell me of separate, secret passageways under streets that they discovered while living in this area. From these "unpainted shacks hidden along the ravines," some of the most lucrative ventures were forged, providing alcohol to Tom Dennison's city-wide machine, among others. At the end of Prohibition, some of these little empires made good, reinventing themselves into Above Board restaurants and taverns.
Italian Gardens was one such refashioned operation. (There were many, many fantastic offerings all over Little Italy, all the way to The Strip by AkSarBen when I was a child in the 1970s. I feel so lucky to have experienced many of these legendary institutions, often featuring a seemingly Celebrity Family Member Host, by then famous for their steak and chicken dinners with a small side of spaghetti or mostaccioli.) Respectable and well-appointed, the original Gardens served up Italian food and wine and, according to this late 1930s survey, was considered "the most prominent" restaurant of its kind in Little Italy. I would imagine that meant it ingratiated itself to a larger, mainstream Omaha. Located at 1228 South 6th Street, Josephine Marcuzzo was the well-known proprietress.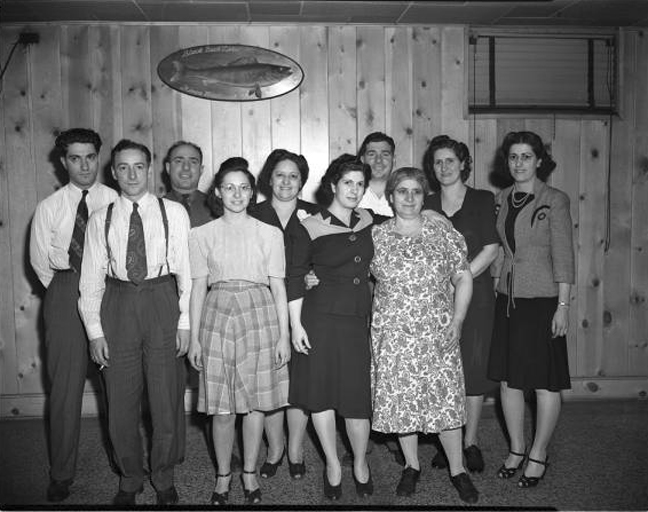 Group of men and women posing for a picture at Italian Gardens. Looks like a knotty pine paneled basement to me. My favorite! A party for Mondo Marcuzzo. Creator: Savage, John (1903-1989). Publisher: The Durham Museum. 1945.
The Italian Catholic community in this colorful quarter congregated at St. Philomena Church at 10th and William. The Roman Catholic Church, particularly this church, just a quick stroll up the road from the Lazio's family home, would play a significant role in Miss Rose's daily life. Through her diary I would learn Rose and her mother would not only faithfully attend Sunday Mass but the two would frequent devotional evening novena prayers.  Considering their shared hope that brother Tony was still alive, it is understandable that many prayers were needed and candles were lit in his absence. It was heartbreaking.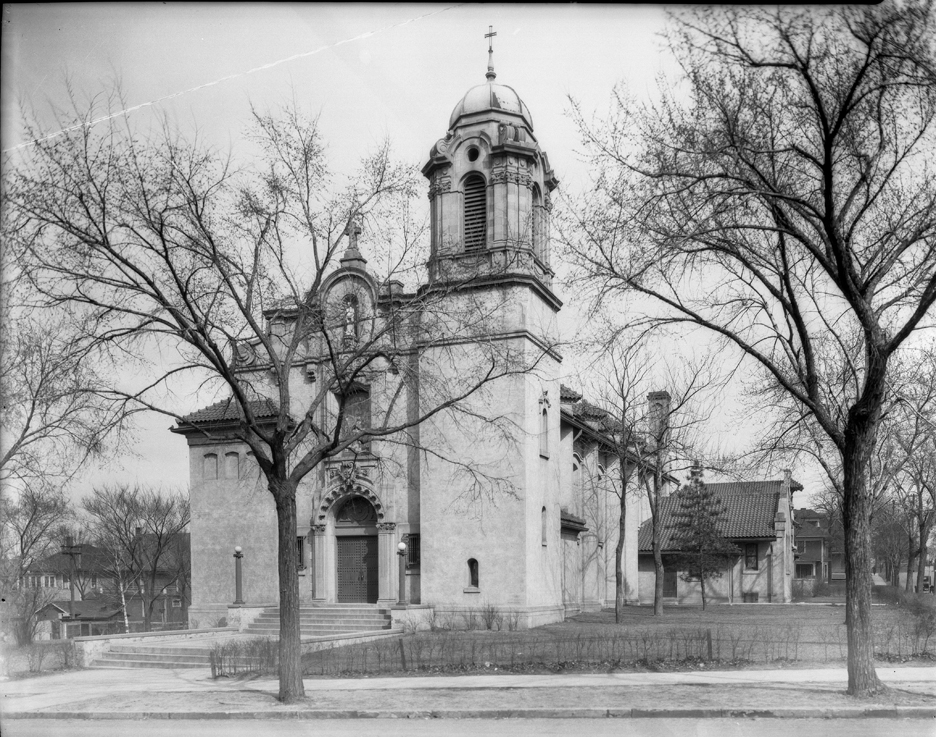 The exterior of St. Philomena Church. Creator: Bostwick, Louis (1868-1943) and Frohardt, Homer (1885-1972). Publisher: The Durham Museum. 1922. This church was renamed St. Frances Cabrini in 1958 (some accounts say 1961) to honor the first American canonized saint but it would appear that the St. Philomena name stuck in Little Italy, at least initially. Miss Rose would call it St. Phil's in her diary, perhaps just a short-hand version but I liked it. Maybe an old time member can tell us if this was the church's nickname. According to Mother of Miss Cassette, legend holds that the real St. Frances Cabrini, for whom the church is now named, visited St. Philomena's on a trip through Omaha. She walked up 10th from the train station and attended mass, supposedly. There also appears to be some controversy with poor St. Philomena not being officially canonized, the Holy See having ordered her name struck from liturgical calendars in the early 60s. Miss Cassette does not really have the time to sort through this mystery now but winter is coming soon enough. (On a personal note—I am bothered when they later rename streets and buildings in honor of people. Why muddle? In this case the building is on the National Register of Historic Places under the St. Philomena name. Just my Traditionalist Bugaboo, I suppose.) St. Philomena was once the Cathedral of the Omaha Diocese in the 1800s. This knock out Spanish Renaissance Revival replaced the original cathedral in 1908, designed by my architect crush, Thomas Rogers Kimball.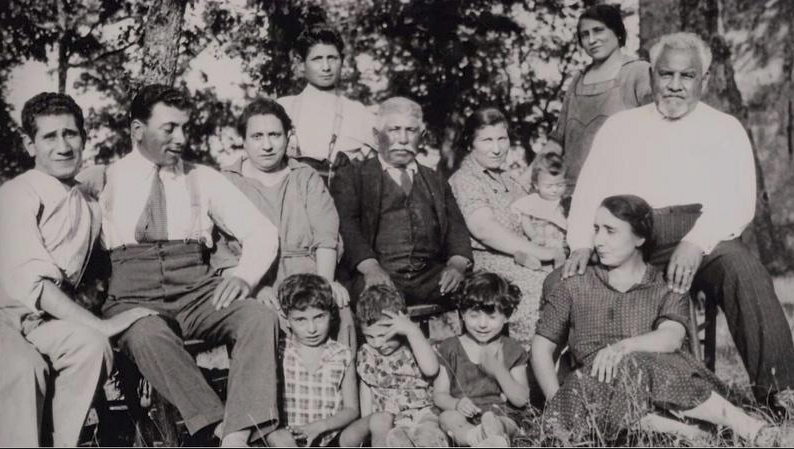 Photo still borrowed from the Italian Americans, a PBS documentary series.
The Federal Writers book described the Little Italy district in a mixture of terms, noticeably absent in the writings about other ethnic groups or enclaves. Phrasing such as "peasant stock," "a poorer district" and "slow to conform to American customs" rubbed me wrong—perhaps evidence of the surveyors' bias or the pressures for new immigrants to quickly assimilate in those days. It is my understanding that many Italian Americans were suspicious of the larger mainstream culture and wanted to hold on to their traditions. The 1941 Works Progress Administration book, The Italians of Omaha, describe both people of a "sunny disposition" and "theatrical, clannish, hardworking, courteous and vindictive." Meanwhile the surveyors wrote with a obvious romanticism about the Italian Omahans, which was interesting. They pointed out the Italians' adoration for summer flowers decorating their irregularly shaped yards, heavy prominence of vegetable and fruit garden-filled back properties, gazillions of children playing in the streets and after sunset, apparently, mandolin and guitar music, matched only by lovely singing voices, wafted from the quaint porches and terraces of a close knit neighborhood. What a vision. I was smitten. The more I learned, the more I found reason to walk the beautiful, hilly streets and sometimes spy from my car, listening to Anthony Dominick Benedetto and Dino Paul Crocetti all the while. I surveyed the environment with new, soft eyes.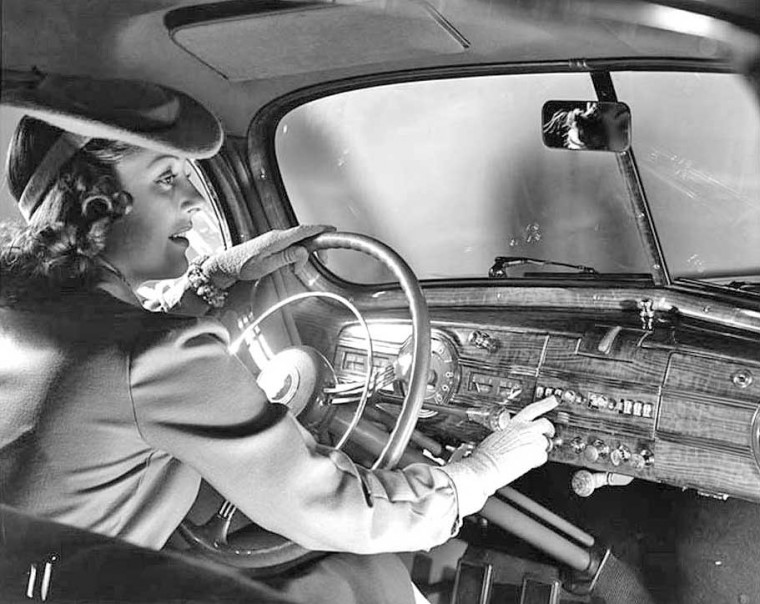 The Lazios of Little Italy
I estimated Antonio Lazio (1852-1939), sometimes called Anton or Tony, was one of the early wave Italian immigrants to Omaha. I base this on the fact that when Senior Lazio died in 1939, his obituary approximated he had been in Omaha 42 years. As an aside–there is a gorgeous region in central Italy called Lazio and I am not entirely sure if our Omaha Lazios emerged from this beautiful environ, but I might be willing to bet on this in a weakened moment. Wife Mary (sometimes called Maria) Campagna Lazio (1860-1910) died young at age 50 in Omaha. The Lazio couple had children Joseph, Thomas, Josephine and Frances previous to moving to America, let us assume in the late 1890s. Antonio Lazio was one of the many hardworking Italians who labored in the fruit and produce business once in Omaha.
Based on my pindowns in the Omaha City Directories and Omaha World Herald archives, I would track the early Lazio household to 1318 South 12th Street. I was so glad to find this home Still Standing near the portions of Still Brick 12th Street, a gentle elevation up from always buzzing 13th. I cannot be sure how many of the Lazios resided in this home back then but it most likely was very close quarters. Prima la famiglia.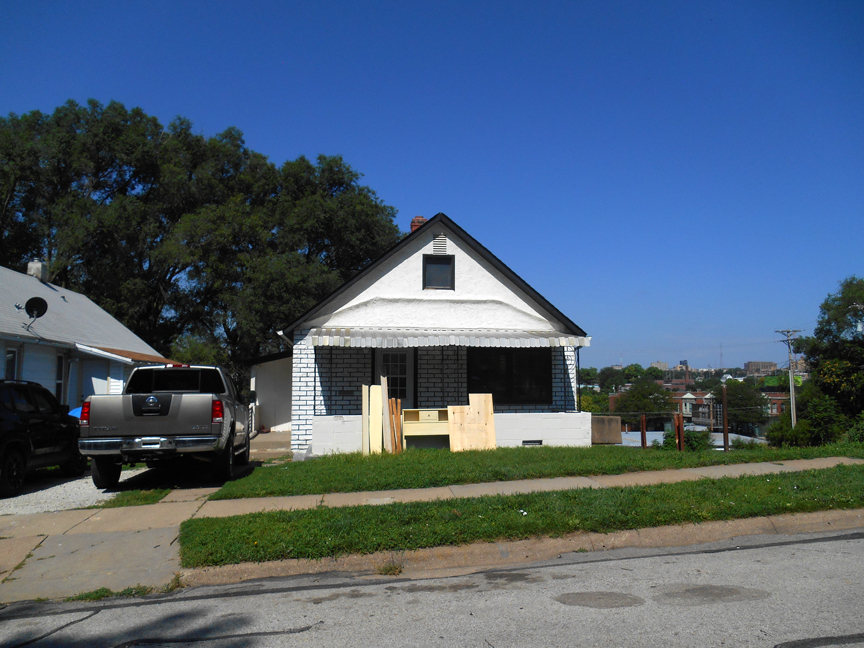 1318 South 12th is a very cute, east facing home, perched on a ledge above Hempel Sheet Metal Works at 13th and William. The lot to the north of the old Lazio abode is empty. Great view to the west!
In September of 1907, adult son, Thomas "Tom" Lazio was living in the family home, side by side his parents and his wife, Lena. Not surprisingly, Lena was born in Italy. Son Tom was also in the produce business, eking out a living in the downtown market area. The young couple had their first born that year, a son, whom they named Tony. According to the 1910 United States Census Tom Lazio was 24. Wife Lena was 20, Tony was 2 and Tom's parents– Anton L. was 58 and Mary L. Lazio was 50. From birth records I would discover Lena had a set of twins, a boy and girl, in January of 1910. I believe these twins most likely died, as I could not find record of them past their birth. Sadly Tom's mother, Mary also passed away that year in the small family home on 12th Street. Oddly Mary's burial card stated she was 53.
1718 1/2 South 10th Street, Here We Come
Tom and Lena Lazio would move into the smaller Mother in Law house on the 1718 South 10th Street property sometime in 1916. Previous to the "1/2" address designation, the home was labeled the "rear house." It appeared to me that the Lazios might have rented early on from Jeremiah Sullivan. The "Jerry" Sullivan family lived in the larger Four Square in the front. Anton Lazio, the produce peddling grandfather, continued to live with his son's family, after the death of his wife. Lena had given birth to Charles (1911), Mary (1915?) and last but not least, our focus, Rosie (1917?) I still have questions about exact birth years for the two girls, as I estimated these dates from census data. (For the record regarding 1318 South 12th—I believe it stayed in the Lazio name with Tom's brother, Joseph and his wife taking it over. There is evidence that Father Anton Lazio would move back in later.)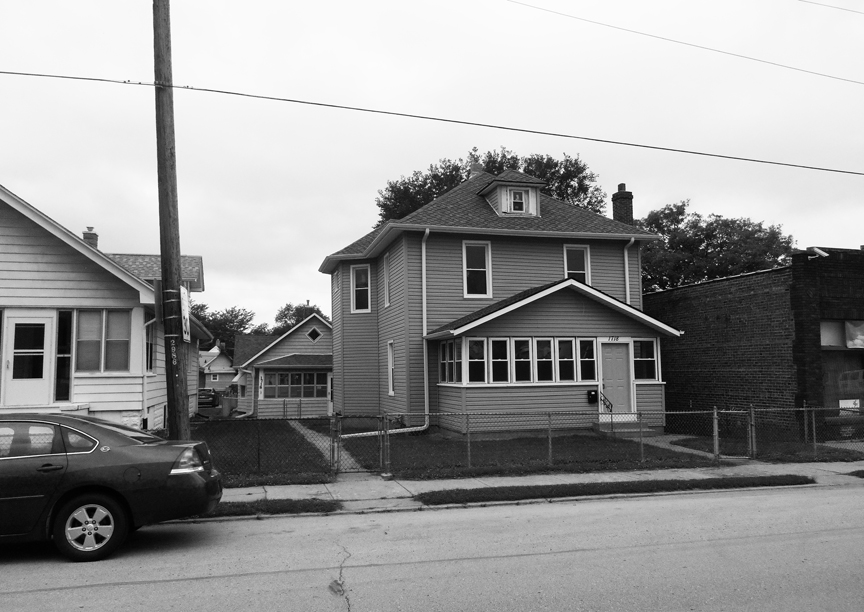 The Troubles
The same year that the young Lazios would move into the 10th Street house, the World Herald reported "Tommy Lazio" was arrested on a warrant, charging embezzlement of $30.40 from Trimble Brothers, Omaha Famous potato merchants.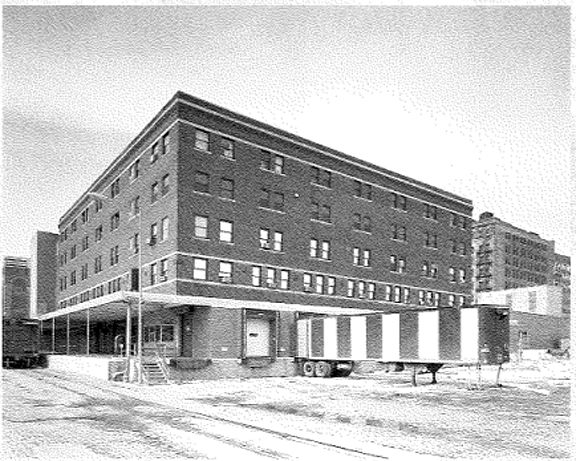 Trimble Brothers building (non extant) was located at 802 Jackson Street, one of the structures taken down in the Jobbers Canyon debacle in the late 1980s. Photo taken by Lynn Meyer of the Omaha City Planning Department. The Trimble Brothers built what was considered a modern model plant, according to the industry rag The Western Fruit Jobber of 1921. Up to date ventilation, refrigeration and insulated storage rooms, the plant was "splendidly located in the midst of the wholesale district o the corner of Eighth and Jackson" less than one block from both the Union Pacific and Burlington Depots. The U.P.'s delivery track were adjacent to the Trimble loading docks and the Burlington tracks were on the building's north side.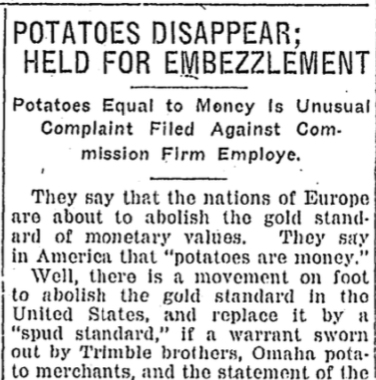 Image borrowed from the OWH archives. November 1916.
Apparently Tom Lazio didn't log the potato sale when a customer bought four sacks worth of taters and the company was holding Lazio accountable. In Lazio's own words, phonetically spelled out by the World Herald in a mocking manner: "Just four sacks of potatoes. A man, he get 'em, I weigh 'em but I so busy I forget, don't put 'em down in da book. Da man no get away. Dey catch him." Back in the days when the World Herald used to voice an opinion, the paper sternly shook its head at the Trimble Bros for charging "embezzlement" when Lazio didn't make off with the money or the potatoes, for that matter. I couldn't find any more about this matter; perhaps the case was dropped but it seems things got worse for the Lazios from there.
That next March, Tom Lazio would go on public record, announcing that he would no longer pay for his wife's debts. I will admit, I initially judged this action to be in bad form. But I am Irish and private and anxious by nature. Was this a common custom of public denouncement when a man was leaving his spouse or was he simply setting a financial boundary? In these early stages of the Lazio wide-angle fishing surveys, I had no way of knowing what I was catching regarding Tom and Lena's relationship. Truthfully, I probably still don't, but I would come upon a closer view the more I observed the interesting clues.

OWH archives: March 1917. It was clear as mud: Tom Lazio was no longer going to pay for wife's debts. Now we all know that a partner can be held liable for the spouse's debts if these are shared obligations in both names but I got to wondering about this time period. What would make a fella run a damning advertisement like this about his wife? Did Lena have spending problems? Did Tom have money problems? I've got to think that Tom would be held responsible for Lena's debts, possibly through old spousal laws or he could have placed this ad to deter liability through lines of credit at local stores. Perhaps this was a normal decry for someone moving on or wanting to teach their wife a very public lesson? Meanwhile the 1718 South 10th Half address Mother in Law home remained under "T. J. Lazio"'s name throughout 1917 and 1918. It all seemed questionable.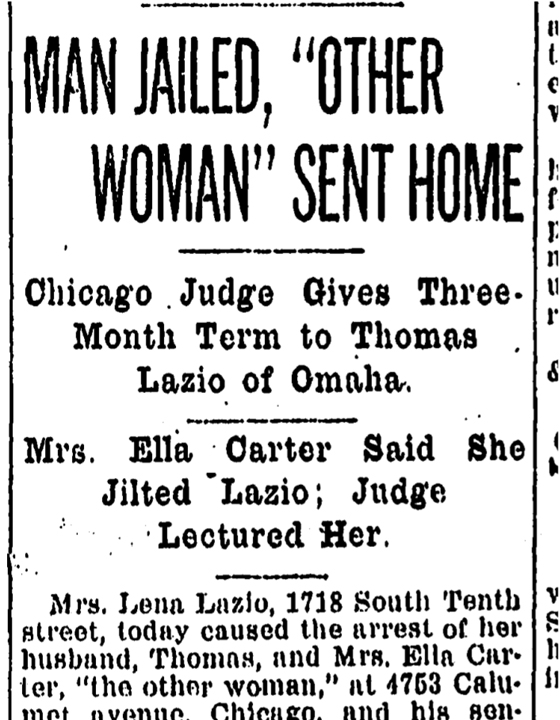 Image from the OWH archives. Feb 1919. It all went from bad to worse. Lena Lazio would take matters into her own hands when she discovered her husband Tom and Mrs. Ella Carter, "the other woman," were carrying on up in Chicago. Tom Lazio was "sentenced to three months in Bridewell Prison, according to dispatches. Mrs. Carter was scored by the judge and ordered to return to Omaha." According to the article, Lazio, who worked with a "fruit commission firm," left Omaha in October of 1918. "His wife traced him to Chicago and he promised to care for her and their four children, the oldest which is not yet 10," according to Mrs. J. L. Kinsell, the next door neighbor. "Mrs. Lazio returned to Omaha to care for the children, intending to join her husband in Chicago this spring. He wrote her that he was going to get a divorce." Lena Lazio packed up and headed for Chicago to fight the suit. As of the writing of the article, Lena had not returned to Omaha. Mrs. Carter, "the other woman," told Judge Stelk in Morals Court, where Tom and she were on trial: "Mr. Lazio came to me with his jaw bleeding and told me his wife had struck him. My heart went out to him." The judge sternly said, "It is women like you who incite murder and I'm going to have you photographed and your picture put in the rogue's gallery." Whew…this was all very public. And to think, it was only 1919.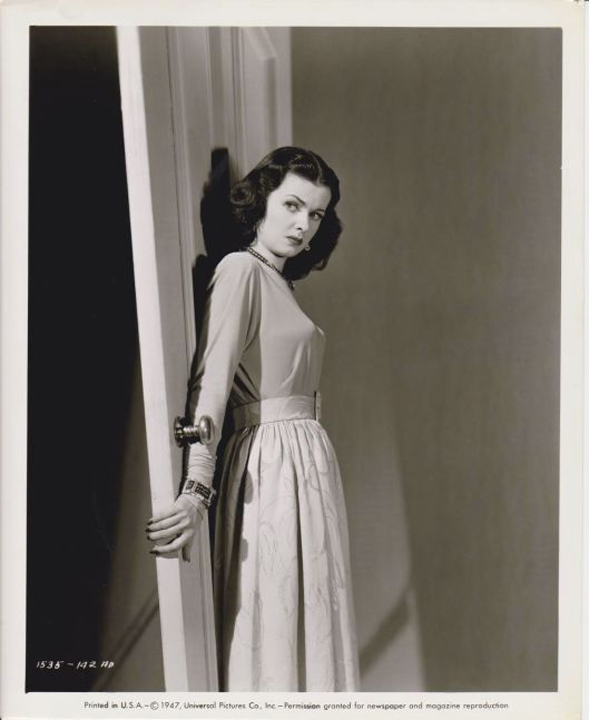 I share these stories because it illuminated the family system in which Miss Rose Lazio grew up. Whether it strengthened, harmed or otherwise, the Lazio children had to have taken note of their small, feisty, take no guff mother. Did Lena start fights? I was often unclear and I suppose it doesn't matter one bit now. Certainly Rose adored Mother Lena and was one of her strongest, most outspoken defenders. As tiny as she must have been, it would appear that Miss Rose also learned to stand up for herself against the odds. From my estimation, Lena taught her girls to be strong, voice their minds, set boundaries and have faith. She also allowed them personal freedom and they seemed to enjoy a good time.  I'm getting ahead of myself but one of my favorite, repeated Rose mantras discovered in her diary from 1943-1944 was written of best friends, neighbors or potential boyfriends alike: Don't Push Me Around.
She likes to boss me around too much + I won't let her or anyone else!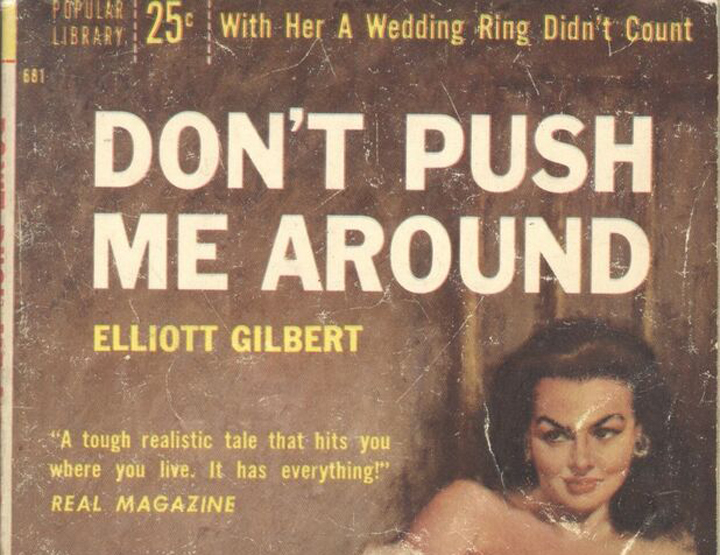 A portion of a favorite old book cover of Miss Cassette's that just might be framed and hanging in the ol' detective office.
The 1920s
The 1920 United States Census clarified the direction the family would go in. Mother Lena Lazio took up as matriarch head by age 29. Her father in law, Anton Lazio remained in the home at age 67, still registered as a "fruit peddler."
Tony, son, 12
Charles, son, 8
Mary, daughter 5
Rosie, daughter, 3
The Lena Lazios continued to live in the smaller, back house while the Jerry Sullivan family occupied the front. Of interest the Frank Hirs Bakery occupied 1708 South 10th where the Olsen Bake Shop is currently located.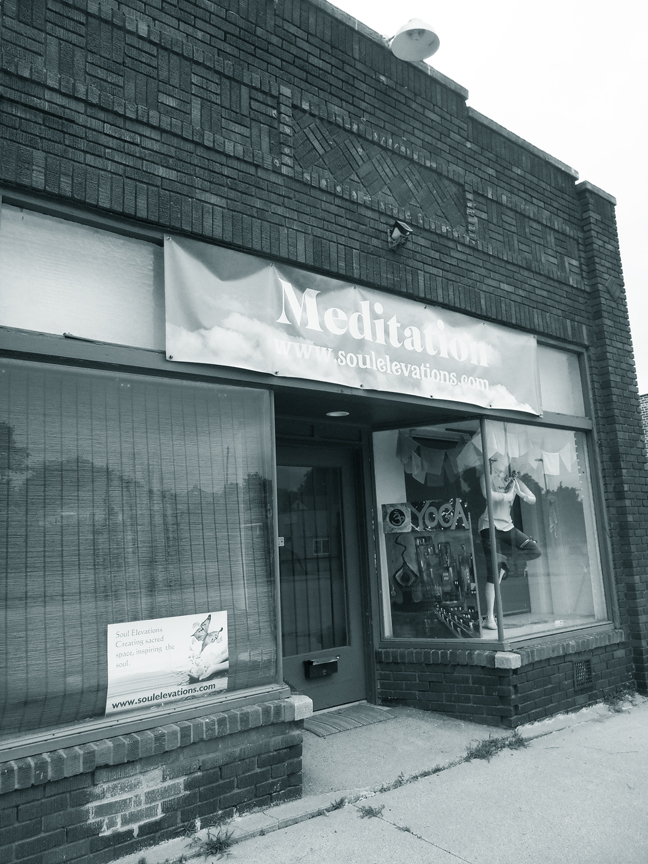 The 1926 City Directory revealed that the Sebastian Circo Dry Goods had moved into the 1716 South 10th Street address—the brick building very close to the Lazio property. I've got to think this is the same Circo family who later owned the fabulous Circo's Bar, a classic neighborhood watering hole on 32nd and Harney Street. Fond memories!
Tragically in 1927 Rose's brother, Charlie J. Lazio, died at the age 15 of an unknown cause. Oddly Tom Lazio's brother, Joseph, also had a little boy around the same age who surprisingly also died around this time period. The two young cousins. These losses must have been very difficult for a family that had already endured so much. This sad, eerie coincidence of Tom and Joseph's sons' deaths would unfortunately repeat decades later.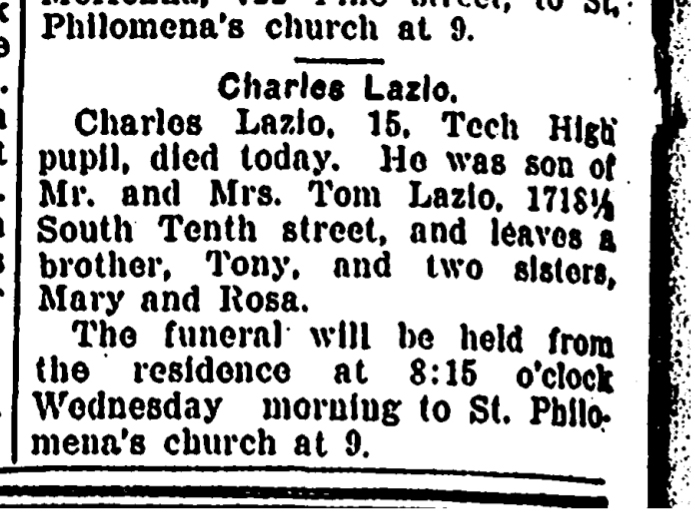 Image from OWH archive. Aug 1927. Charles "Charlie" J. Lazio born in 1911-died in 1927. As an aside, I believe this obit's mentioning of Rose's name as Rosa, was the beginning of a genealogy mystery gone wrong. More on that hairpulling event later!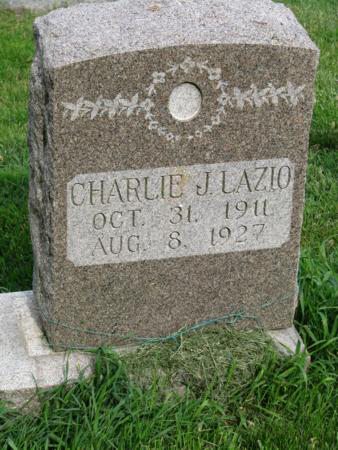 Photo borrowed from the Find A Grave site. Photographer: Warren Cupples. Sadly it looks as though Charlie's ceramic headstone photograph is missing. I love those things and am always dismayed to see them missing. Those little ovals offer so much.
The 1930s
Lazio family life continued on at 1718 1/2 South 10th with some interesting plot changes, as is often the case. The 1930 United States Census displayed the curiosities. Apparently wayward Father Tom Lazio had moved back into the home at age 45. Lena was then 40 years of age. Eldest son Tony was 22 and working as a sales clerk at a shoe store. "Charles Filipcic" was listed as "son in law" at age 19. Daughter Mary's last name suddenly read Filipcic also, even though she was only 16. Youngest Rose was then 14 years old. A news article explained the headscratcher.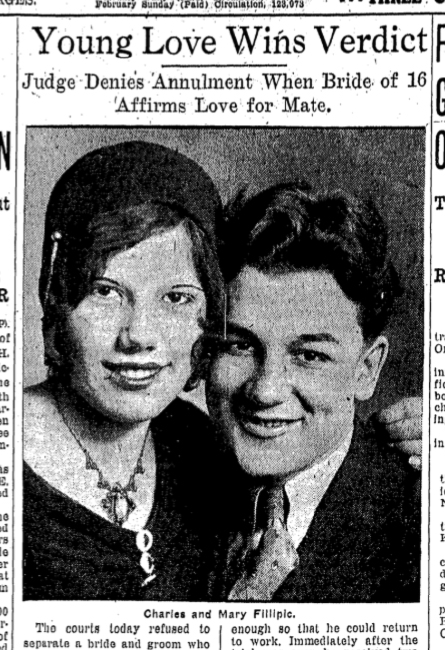 Image from the OWH archive. March 1930. I love this photo of beloved sister Mary and brother in law Charlie, who fill the pages of her diary.
"The courts today refused to separate a bride and groom who are under the legal age of marriage but who proved to District Judge Rhoades that they didn't wed just as a lark. He dismissed the suit of Frank Fillipic (sic), 2226 South 10th Street, to annul the marriage of his son, Charles, age 19 to Mary Lazio Fillipic (sic), 16, which took place at Council Bluffs on March 4." Mrs. Lena Lazio would testify on their behalf that she was willing that they should stay together and that she would make a home for them in her house. The older Fillipic and his wife had opposed the marriage apparently because their son was hurt recently and not able to work, although drawing compensation. Of interest Senior would admit that he, too, had been married at age 19. Mrs. Jennie Caruso, of 1704 South 12th Street, aunt of the girl, would act in the role of mediator. Numerous relatives and friends were there in support of the marriage. Fillipcic's father was not enthusiastic but the young pair started for his home at once "to make up and be friends."
Official Divorce?
Soon after the controversial newlyweds moved in with the Lazios, Lena and Tom Lazio apparently parted ways for good; I would find evidence of Tom moving out to Inglewood, California. The whole Lazio-Filipcic clan lived in the smaller Half-Address-Mother-in-Law- Home until about the mid 1930s, when Charlie and Mary Filipcic would buy the front Four Square at 1718 South 10th Street. The 1940 Census listed the Filipcic family had grown to include children Charles, Donald and Madonna "Donna" Jean. I believe Don and Donna were potentially "the twins" that Rose wrote about frequently in her journal? Lena, Tony and Rosie lived in the house behind, finally solidifying the true meaning of a Mother in Law House.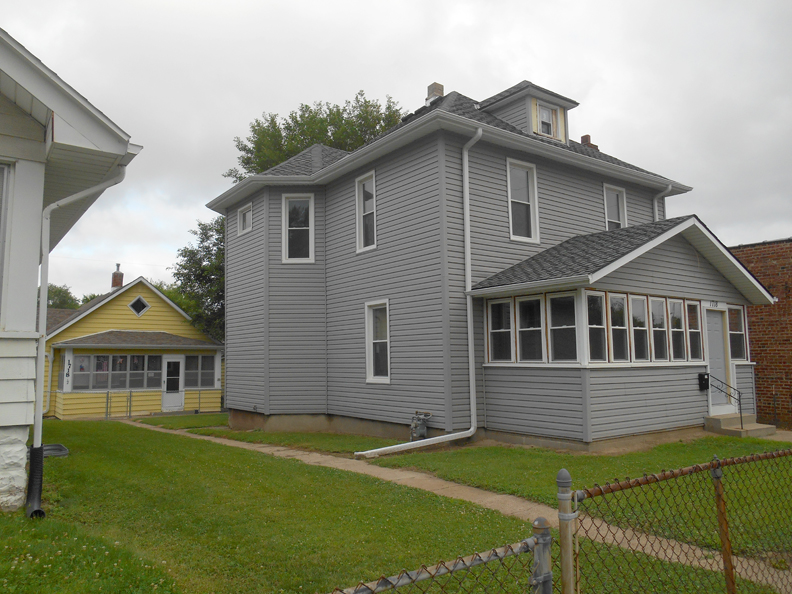 Unfortunately Anto Lazio, their 81-year-old grandfather had died in 1939, one of the early Italian immigrants of our town. Imagine the history book he could have written. Senior Lazio had moved back in with his son, Joseph's family to the original 12th Street home, at the time of his death.
Brief Encounter with George
Let me backtrack a wee bit for chronological reasons only, before we head into the year of Rose Lazio's diary passageway. Throughout Rose's diary she mentions the infrequent hauntings of George, a man who would try again and again to pester his way into her affections. When I first received her journal many years ago I had no idea who this George was, why he kept driving by the Lazio-Filipcic property on 10th Street and looking longingly at the homes and ringing up Rose at the worst moments. Upon re-reading I finally put together that George was her "ex-hubby," as she called him in one brief entry and these attempts were a hope of a reconnection. I was stunned to find proof, when I wasn't looking for it, that Miss Rose had truly been married to a George Fleetwood in September of 1939.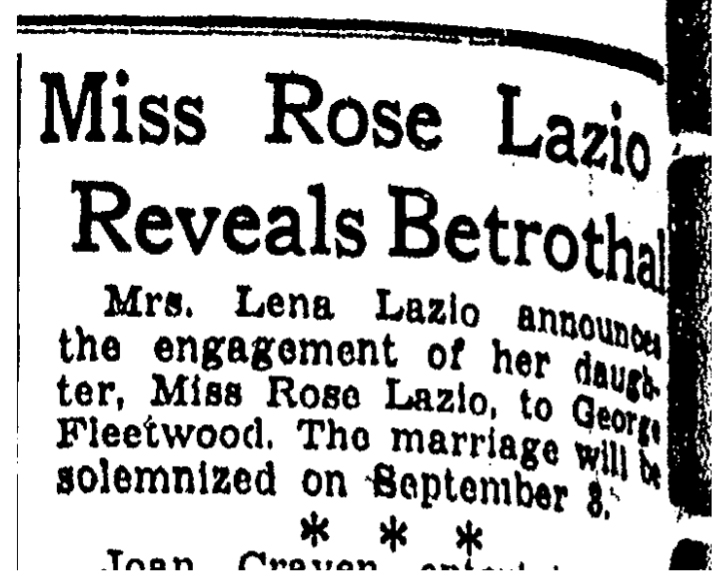 Image from the OWH archive. 1939 Rose was engaged to George Fleetwood, to be married in September. In a strange replaying of Rose's parents' relationship, soon after their nuptials, George apparently ran off with another woman and married her illegally while still married to Rose. Heartbroken, Rose did not put up with this intolerable behavior and moved back in with Lena; although he continued to besiege Rose throughout her diary year, she stood her ground and would not consider reuniting. A chance session with Mrs. Harder, a fortuneteller, would warn Rosie to "never take George back again because he'll never change." Was this just the fortuitous caution that our Rose needed? Evidently. Soon after, his speeding tickets and bigamy charge appeared minuscule when I discovered George was linked to smuggling sacks of dried buttermilk out of the Omaha Cold Storage Company. George, a company truck driver and pal, Milton Babbit, a feed mixer, would help themselves to bundles of buttermilk, which they would cleverly tuck under loads of trash on the way to the junkyard and later sell the purloined goods. That old absconded in the trash routine. Perhaps it was best that George remarried, had children and moved on his way.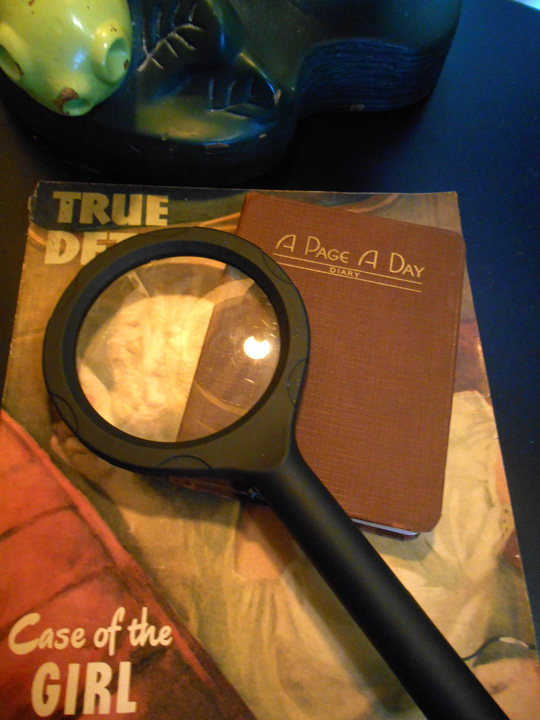 The Diary: 1943-1944
By the time I was introduced to Rose Lazio through her A Page A Day timemachine, she was a young, confident, working girl, living with her mother and hopeful of a bright future. The treasured photograph of Rose Lazio, given to me by my boss, had been tucked away in her book, preserved all these years. Unfortunately there was no secret note or hint of indication on the backside but the beguiling flower, her hairstyle, her eyeglasses, her dress and heels all securely point to the 1940s. If I am not mistaken, this photographer is facing east–the back of the big Four Square that the Filipcics lived in. This yard could possibly be the space between the family homes. The house in the background is very close to the Circo Dry Goods brick building to the north. This back area would have been where Rose and the family spent a lot of time. I live for these old cellar doors! Hopefully a family member can shed light in the near future.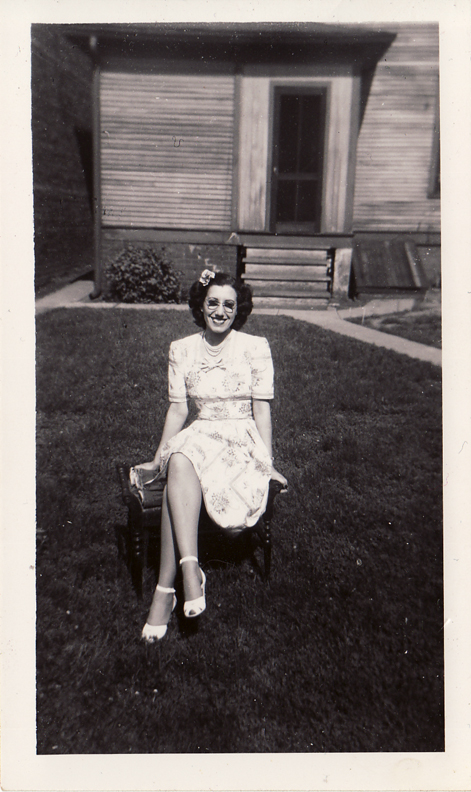 Like most Americans I would imagine, the 27 year old spent a good deal of time praying for the end of war. But that did not mean she curled up in bed and called it quits, although she was not opposed to taking to her bed for a good cry in privacy. These were brief occasions. (On that note: Rose appeared to be self-regulating and not encumbered by emotionality. I found her constitution and enviable homeostasis very Un-Irish. This is my Irishman's attempt at a joke, as I am becoming very melancholic just in staring at Rose's photo. Was she a product of the times or had being raised amongst of large, loving family group helped give her mind order? I like to ponder her temperment.) Even when her beloved brother Tony went missing in action, Rose Lazio only became more determined to put one foot in front of the other. I marveled at her attitude and her faith. I don't mind sharing that I began studying and imagining through the pages of her diary; I called upon Rose throughout every day and she strolled round my dreams as well. I would lounge on barkcloth stuffed pillows in our back sunroom as I made Billboard hits of 1943-1944 the soundtrack to my exploration. Walking the streets and hideaways around the two-house property at 1718 South 10th Street, which would remain in the Lazio-Filipcic family name until the end of Rose's life, only added more details. The surveying and slow savoring of Little Italy clues charged my summer.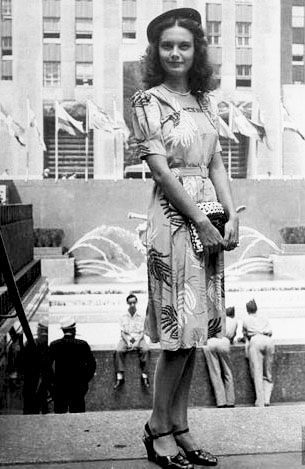 Pretending to be a Private Eye in All Too Wise Little Italy.
Tony Lazio
I would backtrack and scour to find out what exactly had happened to Rose's brother Tony. Tony had attended Tech High, later working at the Union Pacific Railroad. (I finally found the RR clue.) As a member of the National Guard, he was trained in field artillery at Fort Knox, Kentucky. He was sent to England in May of 1942 before deploying to Africa. "On December 6, 1942, after a mission with an infantry unit to Medjez el Bab, Tunisia, he was reported missing in action." His family received word on December 31, 1943 that he had been given up as dead. This date is when Rose's diary began.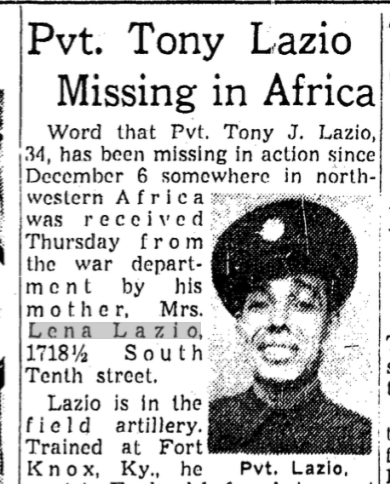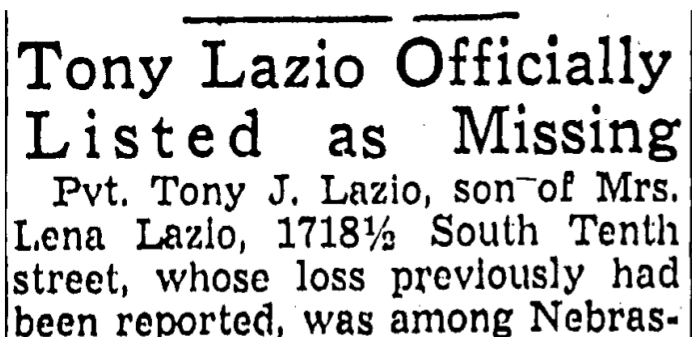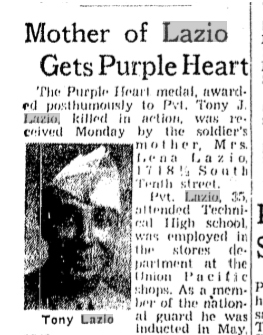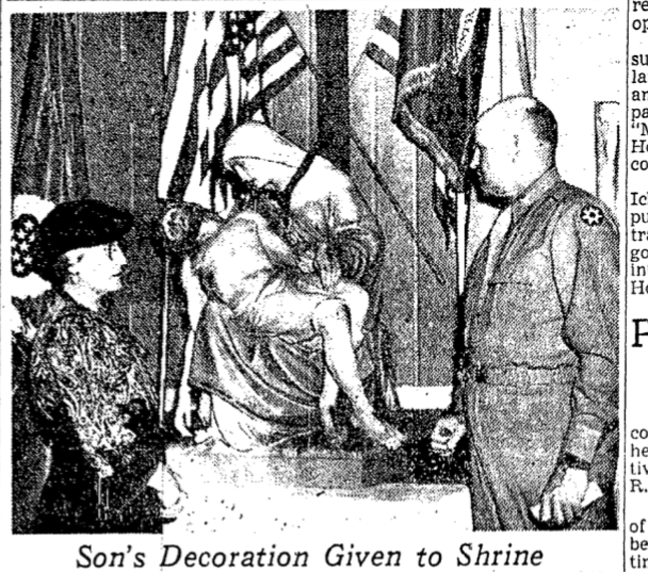 OWH archives from Feb 1943, March 1943, February of 1944 and the image from Sept 1944 of Mrs. Lena and Major Ivan Cahoon. From that article: "Mrs. Lena presented the Purple Heart decoration awarded posthumously to her son, Pvt Tony Lazio, to the Soldier's and Sailor's Shrine of Our Sorrowful Mother, at service Friday night at St. Saviour's Church, 13th and Hickory. Mrs. Lena received the decoration on Jan 31, 1944. Pvt. Lazio was a member of the Nebraska National Guard prior to 1939, was reported missing in action in Tunisia, Feb 27 of 1943. The war department listed him dead December 31, 1943. Many, including relatives of Pvt Lazio, attended the services, which are held weekly for service men. Lazio's wife and daughter, Mary Anne, live in Morse Bluffs (sic), NE."
March 25 SAT. Today Tony's picture was put in the window at Brandeis store for War Heroes, with a nice write-up beneath. Esther & I went to see it & it's a swell one!
According to public records, Tony Lazio and Judy Kadlec married in July of 1942. Judy would continue to live with her parents in Morse Bluff, Nebraska. I would find a heartbreaking mention from April of 1943, announcing "Tony and Judy Lazio of Morse Bluffs (sic), Ne" gave birth to a daughter–mentioned often in Rose's diary as baby Mary Anne, the little doll. I might be off on this genealogical connection, as I am borrowing others' research, but I think Judy Lazio remarried Bill Chromy, also of Morse Bluff and later became Julia Chromy. She passed away in 1987.
To compound the loss in the Lazio family, Tony and Rose's cousin, another Pvt. Anton Lazio, was killed in action while serving with the infantry in France on September of 1944. He was 32. Anton Lazio's father was Joseph, Tom Lazio's brother. This was the second time Joseph and Tom would have their boys of similar ages die within a short time span of one another.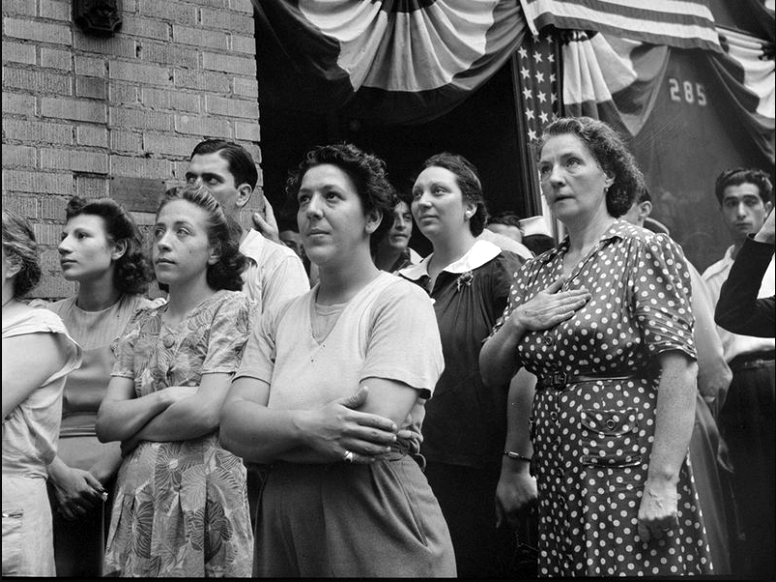 Photographer Marjory Collins documented home-front activities during World War II, particularly capturing fantastic images of Italian Americans. This one is labeled "Italian-Americans in the rain watching a flag raising ceremony in honor of the feast of San Rocco." 1942.
Factory Girl
In December of 1941, the United States entered World War II. In those days Rose was employed as a stenographer and brother Tony, then 32, worked as an ironworker in a steam railroad shop, both living at home with mother Lena.  But by 1943, Rose had secured a full time day job (nine hour shifts) at the Omaha Famous Tip Top Products Company, a local manufacturer of liquid solder, hair accessories, and other plastic goods founded by Carl W. Renstrom. Renstrom was most well known for his "Easy Curler," offering four aluminum curlers on a card priced at 10 cents. Rose and her best friend, Esther worked on an all female assembly line, handling these very curlers.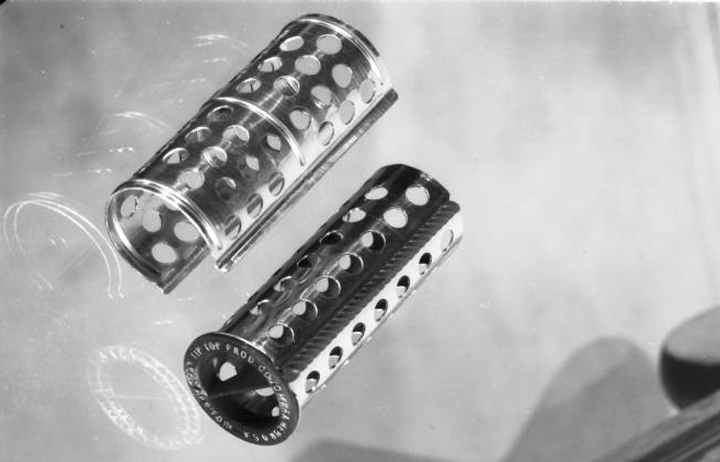 A two-piece metal hair curler by the Tip Top Products Company. Creator: Bostwick, Louis (1868-1943) and Frohardt, Homer (1885-1972). Publisher: The Durham Museum. Date: 1948-02-07. My grandmother had old metal curlers like this in a box, within a box, high up on a shelf, in her pink bathroom closet. I've got to think, now, they might have been Tip Tops.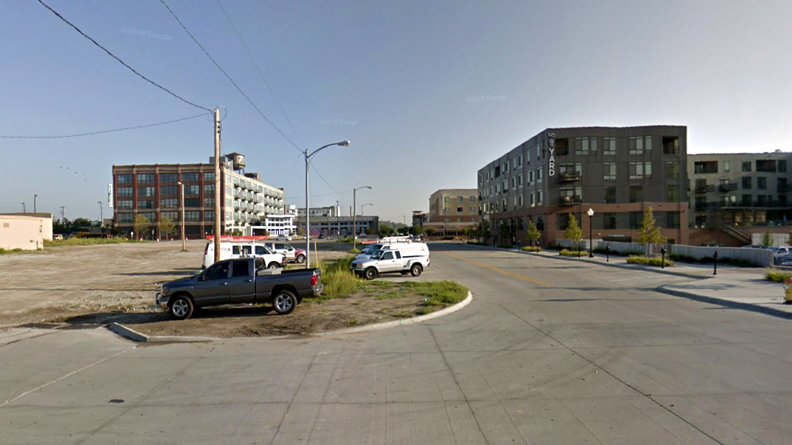 The original Tip Top Products factory was located at 1508 Burt Street, north of Downtown Omaha. Rosie did not make mention of this locale, but after digging around I found this was the initial building that Carl Renstrom purchased. It is no longer extant. The later Tip Top warehouse is seen on the left.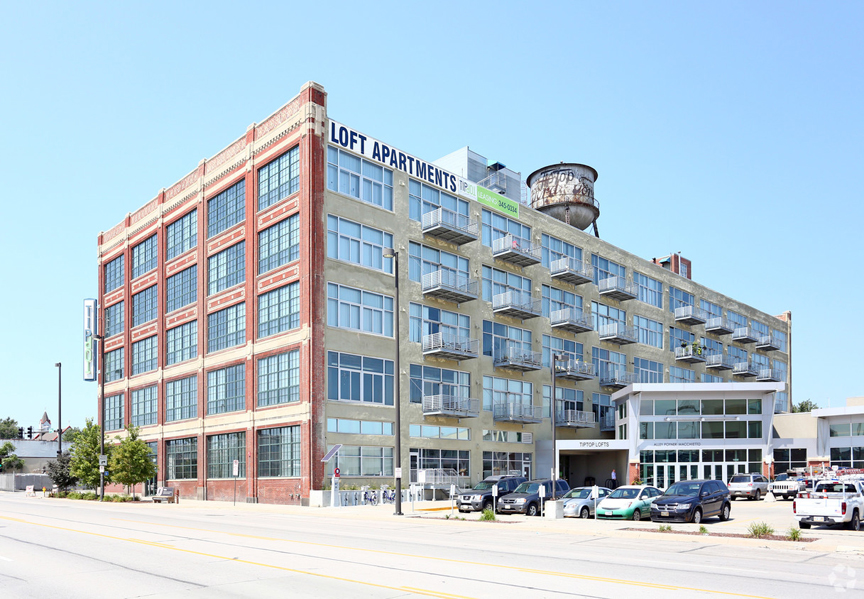 Later the Tip Top factory would move here (1524 Cuming St), into the old Ford Motors plant in the 1960s. The factory is now host to apartments. I borrowed this photo from their website. Check it out at http://www.thetiptoplife.com/
"When World War II intervened and aluminum was at a premium, Renstrom retooled the machines that had once produced curlers to fabricate military wire reels, barbed wire throws and land mine crates." Rose and her work friends continued to make curlers throughout her diary-writing year. Rose was apparently a nimble worker as she often completed her curler quota and then moved to another area for a different kind of assembly, not described. Perhaps this other assembly work was in line with what I read of Renstrom's War Department contracts. By the way have you heard that Rosie the Riveter was named for an Italian American girl– Rosina Bonavita of Peekskill, New York?
Carl Renstrom
Rose wrote often of interactions with Tip Top boss, Carl Renstrom. It is from her writings I assume Rose must have been a good employee and an engaging, beautiful woman. It was always with utmost respect that she wrote of her boss. Mr. Renstrom would commonly ask her to dance at the frequent parties he threw for Tip Top employees at the Blackstone Hotel ballroom. Whether for award banquets, holiday gatherings or fellowship building, can you imagine the luxury of this environment? He was a very generous man and knew how to win the favor his employees—perhaps this was typical in those days. An orchestra or smaller band would play to a crowd of dancers after a catered meal.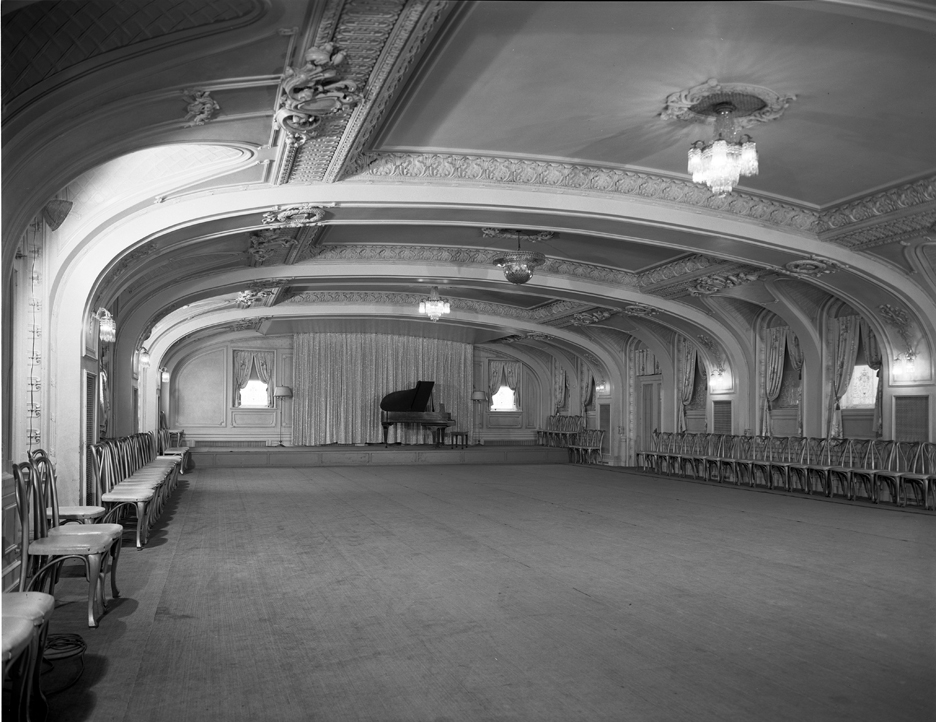 The 1915 Blackstone Hotel originally was a residential hotel, located at 302 South 36th Street. When Rose and Tip Top girls were attending parties here during World War II, the Schimmels owned the luxury property, and offered a number of bars, restaurants, gardens and of course the famous ballroom. These were in the days when people would come to hotels for entertainment, not just to spend the night as an out of town guest. This is how the Blackstone Ballroom looked when Rose Lazio and friends attended the private Tip Top affairs. Ornate arched ceiling ballroom in Blackstone Hotel at 36th and Farnam Streets (southwest corner); showing chandeliers, chairs lining the sides and piano at far end. Creator: Frohardt, Homer (1885-1972). Publisher: The Durham Museum. Date: 1939-03-29.
Rose and her close galpal, Opal Van Beck, were chosen to work on Mr. Renstrom's political campaign when he ran for office as a Douglas County Commissioner. Carl Renstrom won that election in 1944 and served through 1948.
April 4, TUES. Ethelyn, Dorothy Holmes, Lou, Myrtle, Opal and I started on the campaign this morning. Harold Griffin drove us around in his car. I was kind of nervous at first but then I gradually got used to talking to the people at their doors. I just said to vote for Carl Renstrom! That he is a good man to vote for. I only wish I had been dressed in slacks instead of high heels & fur chubby. Well I learned my lesson and so did the other girls!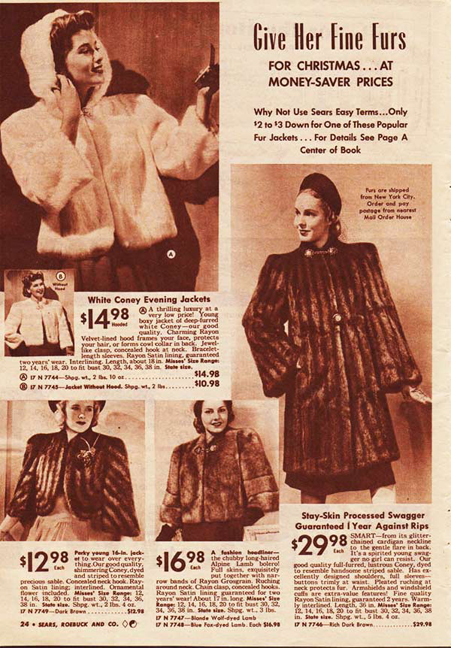 A 1940s "fur chubby" was a young, fashionable, waist-length fur coat. Although the bulky, blocky coat was tres chic for its time, it sounds as though it probably didn't cover her fanny. Great for a night of clubhopping but not for going all day in the Omaha cold. The following days Rose would write of wearing smart slacks!
Shopping
From what I could gather it would seem that Rose was allowed to spend her Tip Top income on herself. She did contribute groceries to the family but the good majority of her take home pay went to her beautiful clothing and nights on the town. When I was sharing this revelation with Mr. Cassette, he reminded me that women didn't often have to buy drinks in those days. Furthermore I got the distinct impression that Lena owned her home by then and that the family was financially secure. Of course in those days department stores offered fabulous layaway so a girl could afford most anything she needed! Rose very much enjoyed shopping for the newest fashions in Downtown Omaha with her girlfriend, Esther. They would commonly go after work. Rose also liked to buy her sister, Mary and her mother Lena clothes. Green gloves, black wool hats, dresses and printed blouses. I loved to read the descriptions and imagine.
March 25 SAT. I wore my purple outfit today + all the gang at work just loved it! People downtown sure looked at me + men whistled!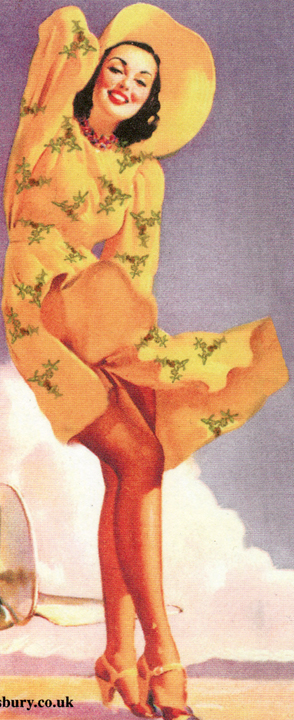 I love this 1940s pin-up style illustration and I include it because it reminds me of my black-haired, hazel-eyed Modish Rose.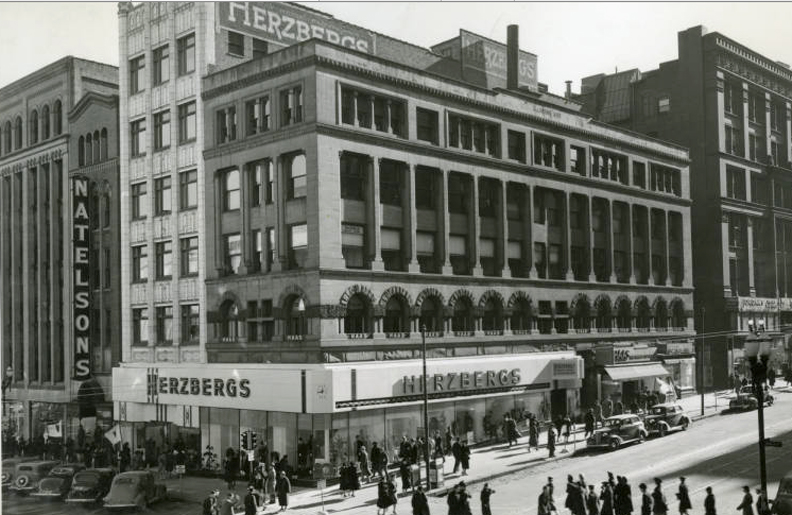 The Herzbergs building is on 16th and Farnam streets. Natelsons is to the left of Herzbergs. Haas, Jordans, and Goldstein-Chapman's buildings are to the right of Herzbergs. Herzbergs and Natelsons were the shops most frequently mentioned in Rose's diary. I was very happy to find this photo. Creator: Bostwick, Louis (1868-1943) and Frohardt, Homer (1885-1972). Publisher: The Durham Museum. Date: November 1938.
Home Life
Building permits on 1718 and 1718 1/2 South 10th Street from July of 1944 revealed Lena Lazio had "brick siding" and porches repaired on both homes to the tune of a whopping $790. Wow. These were the only changes or upgrades I would find on the houses through the years.
Home was a simplicity and calm that I do not often hear of today. The Lazio family would gather round and listen to their favorite radio shows together, the two households operating as one. When Lena's radio "went on the blink," Rose wrote in her diary of the dead silence in the home. The windows were open or a small fan would cycle making a metallic sound in the corner. The two went over to Connie Battaglia's house right quick to hear her radio, staying until after 9 p.m. Can you envision the sight? Everyone enjoyed a little Frank Sinatra.
We listened to Lux Radio. They had Alan Ladd + Dorothy Lamour in 'Coney Island' + after that was Radio Theater with Humphrey Bogart + Ida Lupino in 'High Sierra.' What could be better than to hear 2 favorite actors!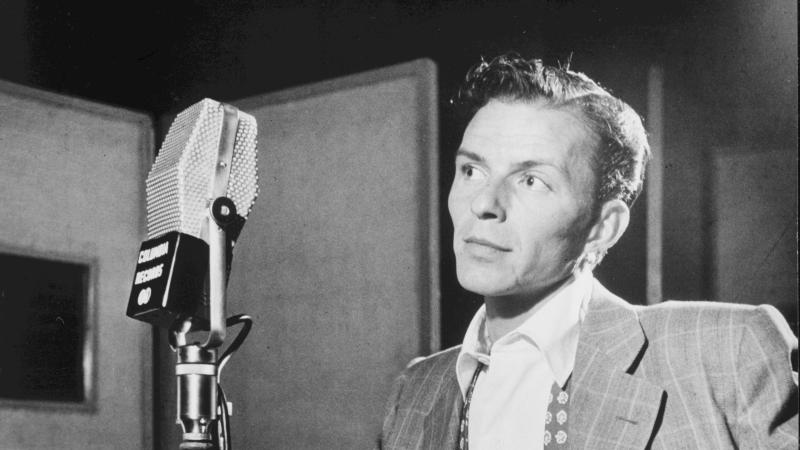 Sometimes after Sunday mass at St. Philomena's, Rose would nap on one couch in the front room and her mother also drifted in and out on the opposing couch. They would awaken, talk and go back to napping. I was astounded to find that Mother Lena, Rose, Sister Mary and a number of visiting girlfriends of all three would gather around 9-11 p. m. at Lena's house for homemade cake and coffee Every Night. Do you have Italian family members who enjoyed this indulgence right before sleep decades ago? Sometimes Lena served homemade cookies but usually she had made a cake. And always with hot coffee in the days before decaf! The joyful ritual was often consumed after a full night of running around the town, enjoying dinner, dancing, drinking or shopping department stores and taking in a movie. After all of their cake and coffee was served, the girls were off to bed. How did anyone sleep? Rose would commonly paint her nails in her bedroom after coffee, write in her diary and then go to sleep. Only to wake up and go to the factory again. What a gal. Miss Cassette tried on occasion to polish her nails before slumber but this never seemed to work out well.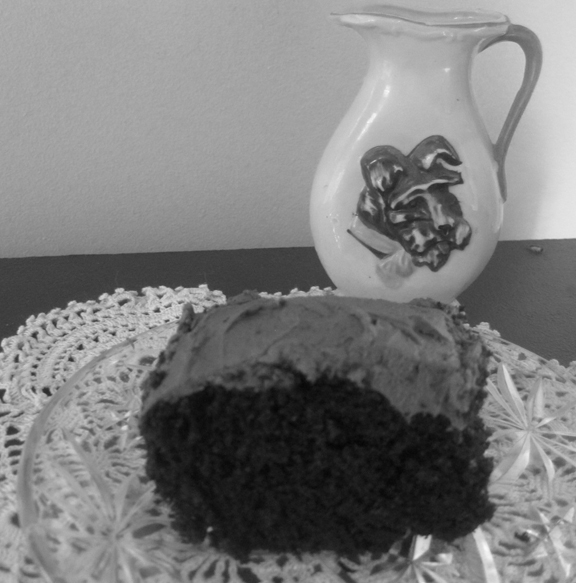 Favorite Spots
Rose and her girlfriends enjoyed their free time skipping from hotspot to hotspot around Downtown Omaha. Work nights often found Rose and Esther eating dinner, having a few beers or drinks and meeting sister Mary and brother in law Charlie for a movie. Mother Lena sometimes joined. But Saturday nights were, for what seemed like, unending fun.
Esther +I had lunch at Ernie Holmes. At 3 p.m. we went to the "Cane." Sammy was there and bought us our drinks. We had so much fun! I danced with Dick too.
I couldn't help but wonder if this was the old Walking Cane Club? The girls frequented this "Ernie Holmes,'" a luncheon destination I had never heard of. I found Ernie Holmes had established an early basement billards club in Downtown Omaha, called Holmes Recreation Parlor. By the time Rose and her girlfriends were frequenting the joint, Ernie Holmes was also operating a popular café—simply coined Ernie Holmes' or Holmes Cafe but it didn't appear to have a formal name and no need for advertising whatsoever. Located at 1519 Farnam Street (on the Farnam Street side of the Securities Building on happening 16th Street), Holmes established his namesake business 1916. It would later become a smash hit with Creighton athletes, something of a downtown landmark. After Ernie Holmes' death, his sons, Gene and Jack wisely kept the successful restaurant-billiards club going until Jack went into service. The brothers would sell the business in 1945 for 40 thousand dollars to buyers Robert O'Toole, Rudy Jancik and Meyer Ferer. This group would change the name to The Rocket. I have heard from my secret contact, Mr. X, (the ex-con with the fantastic memory) that the Rocket would enjoy a scandalous history. Jack Holmes would go on to open the Holmes' Steak House in 1947 at 50th and Center and was back at it in the 60's with his Omaha Famous Ground Cow Restaurant.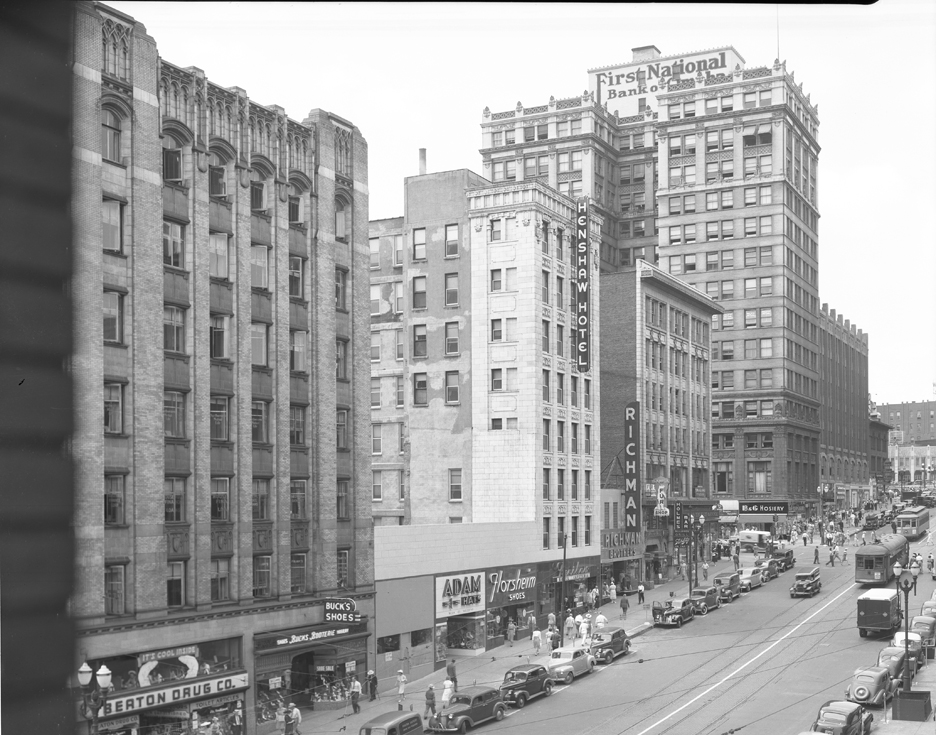 Looking west on Farnam Street from 15th Street. Beaton Drugstore, Bucky's Shoes, Adam's Hats, Florsheim Shoes, the Henshaw Hotel and the Richman Bros Store are on this block. Notable buildings include: the Barkley building, Securities Building and the First National Bank Building. Creator: Bostwick, Louis (1868-1943) and Frohardt, Homer (1885-1972). Publisher: The Durham Museum. Date: 1940-08-09.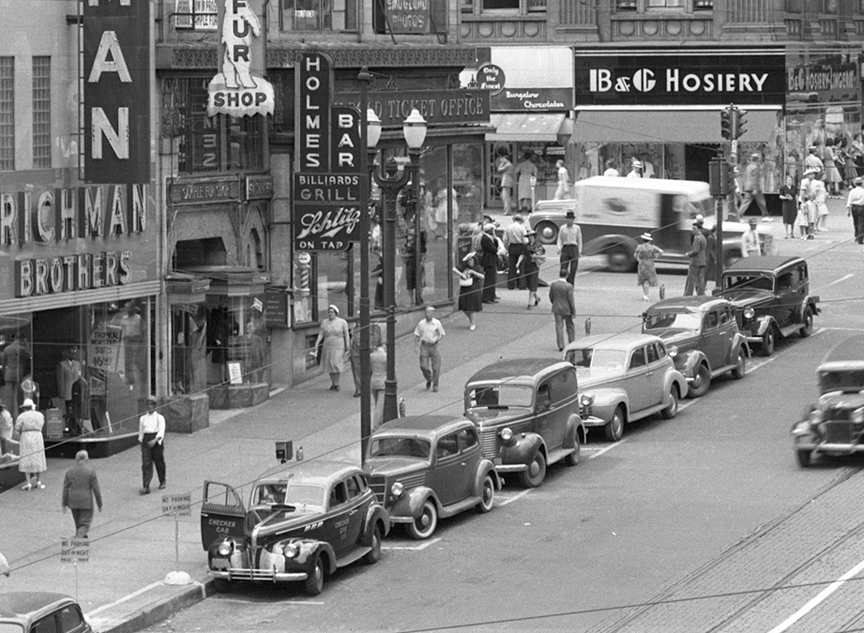 Oh yes, and here is that same photo as above–a highlighted detail of the Ernie Holmes Bar—the luncheon spot the girls adored.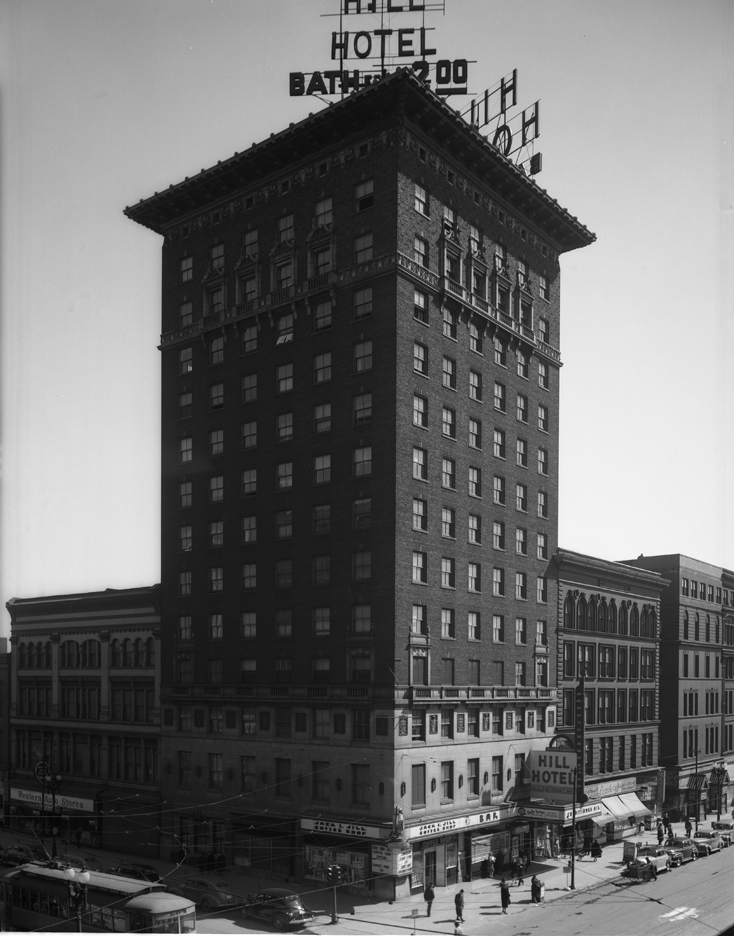 The fabulous Hill Hotel, on the southeast corner of 16th and Howard. 505 South 16th Street. Converted into Kensington Tower in 1994. This was the site for the girls' favorite bar, "the Cave." Please see my investigation https://myomahaobsession.com/2017/02/13/i-wish-i-could-have-gone-to-the-cave-under-the-hill/ for every last detail on that Omaha institution. There is also a large thermometer attached to a sign that reads, "WEATHER FORECAST" and "HILL HOTEL". Creator: Bostwick, Louis (1868-1943) and Frohardt, Homer (1885-1972). Publisher: The Durham Museum. Date: 1942-03-23.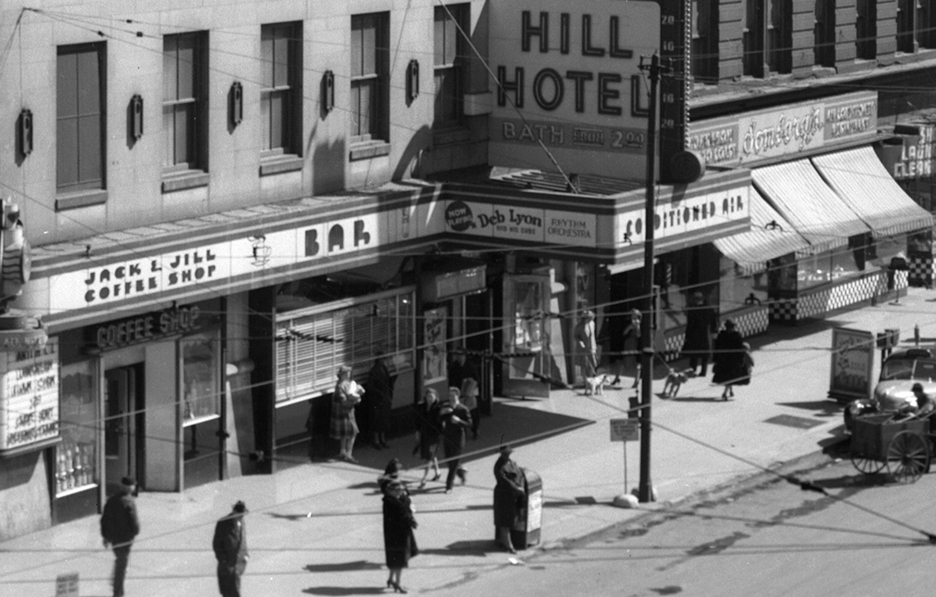 A close-up of the above photo, to show another spot they preferred: Somberg's Restaurant with the great neon and striped awnings. Just south of the Hill Hotel Somberg's, at 507 South 16th Street, was run by Mr. Ben Somberg. One of the leading day-time restaurants of the downtown area, Ben's venture also was popular with the after-theater crowd. This was back when people stayed out late, had fun on the town and still got up for work. Dinner was served until 1:30am. Geez Louise.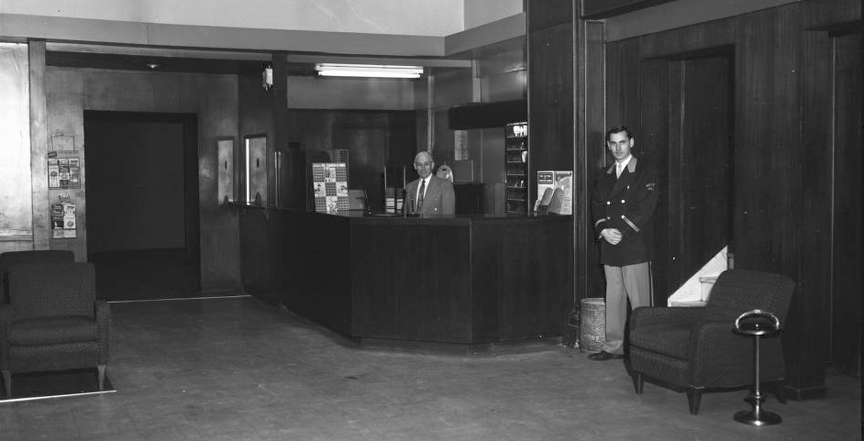 The Hill Hotel lobby was a popular place the Tip Top girls would meet friends. I am not entirely sure why the kids were allowed to congregate in this lobby but they did. Even in my dad's age. They would either head downstairs to "the Cave" or galivant off to another location. The lobby in the Hill Hotel where a desk clerk stands behind the counter and a bellboy stands attentively by the elevator. Creator: Savage, John (1903-1989). Publisher: The Durham Museum. Date: 1956.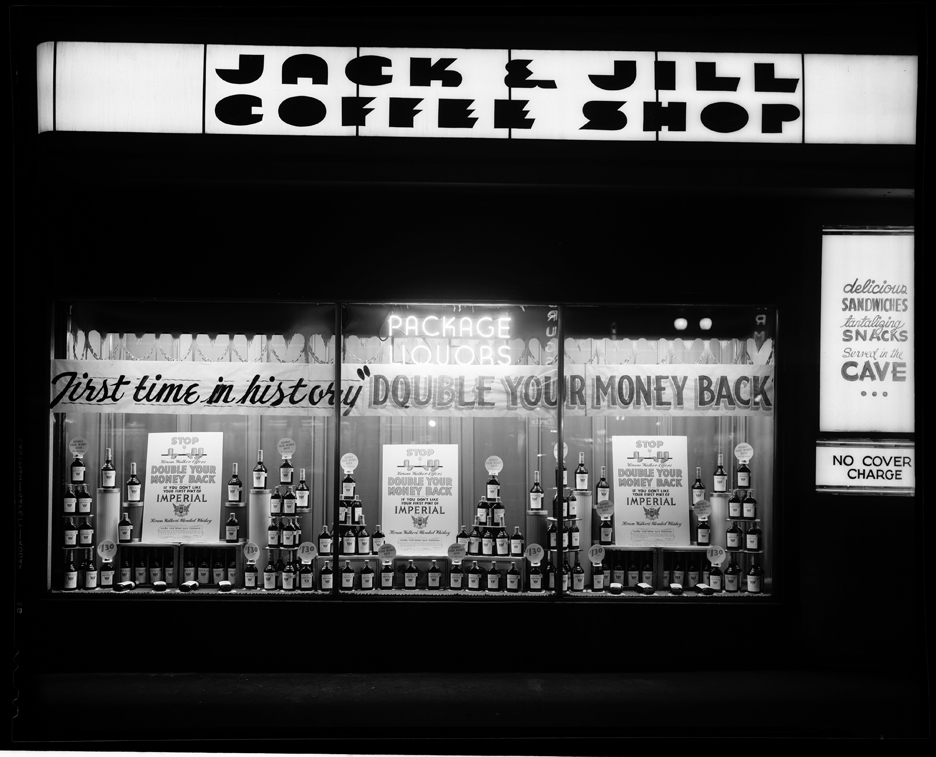 A night shot of the window display at the Jack and Jill Coffee Shop. Located at 16th and Howard St., northside of the Hill Hotel. Another favorite haunt of Rose and Esther's. They would often get coffee or have lunch here before setting on an afternoon of daydrinks. These were wild times, man! Creator: Bostwick, Louis (1868-1943) and Frohardt, Homer (1885-1972). Publisher: The Durham Museum. Date: 1941.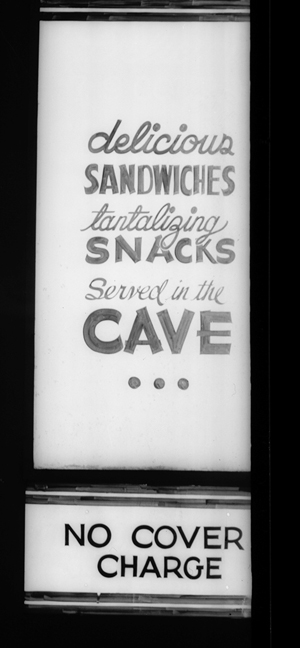 I just love a handpainted sign, especially one on a lightbox. Tantalizing, indeed.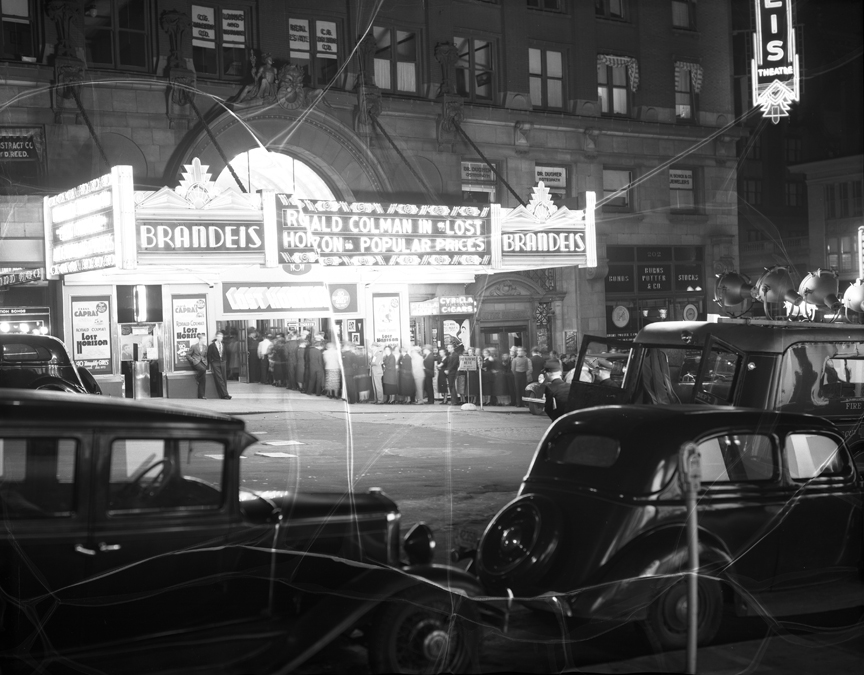 Movies were so very popular at this time in American history. Affordable, air-conditioned, a lovely distraction and often glamorous environments. What wasn't to love? In the late 1930s, Omaha offered 27 motion picture houses. When The Brandeis opened in 1933, there were four downtown theaters to include Omaha's two largest, the Riviera and the Orpheum. The Lazio family often attended movies at the Brandeis Theatre at 17th and Douglas. I can see how this Hollywood style venue, all lit up in splendor might help ease the aches of the war on the home front, if only for a few hours. In this photo a group of people form a line in front of the theater at 208 South 17th St. The marquee promotes "Ronald Colman in 'Lost Horizon' Popular Prices". Creator: Bostwick, Louis (1868-1943) and Frohardt, Homer (1885-1972). Publisher: The Durham Museum. Date: 1937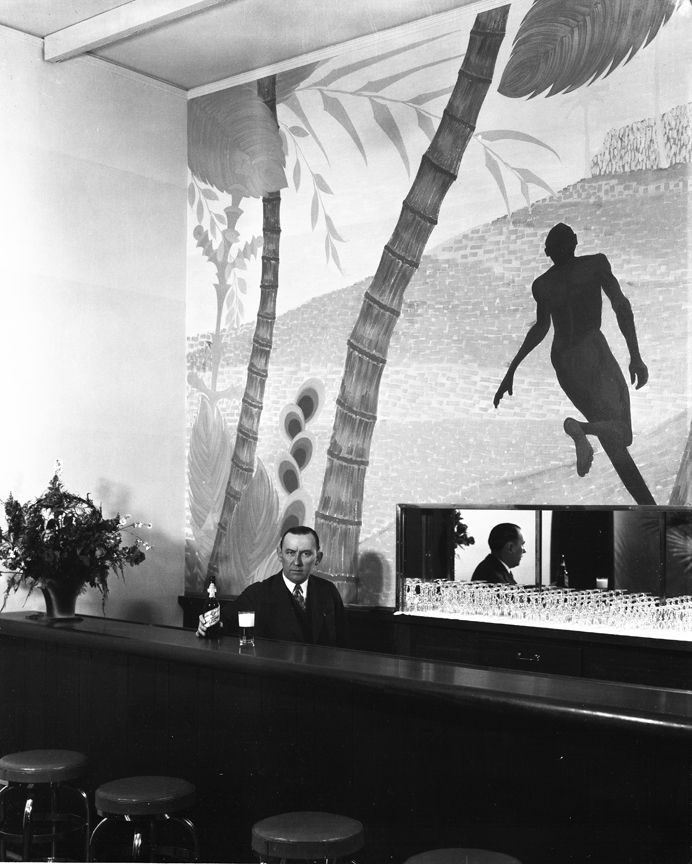 If Rose was out with Esther or Mary they might also indulge in a beer while at the Brandeis Theater. I love this photo I found of the bartender at Joe's Bar, within the Brandeis Theater. Is that you, Joe? The large mural is something I could stare at it all night. Creator: Bostwick, Louis (1868-1943) and Frohardt, Homer (1885-1972). Publisher: The Durham Museum. Date: 1935.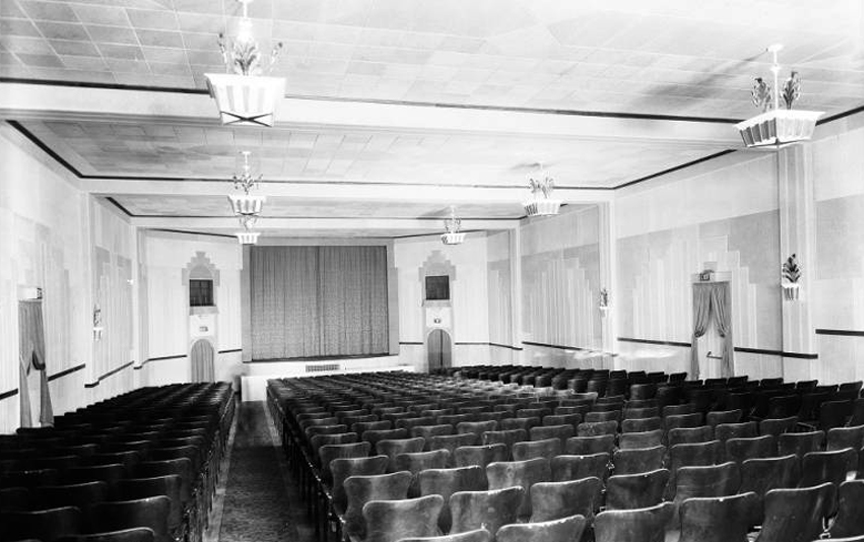 Another frequently mentioned movie house in Rose's writing was the Berkeley Theater. I had never heard of it. Here it is as the newly remodeled Maryland Theater. It later became the Berkeley Theater at 1425 South 13th Street. It looks very much like a small Dundee or any classic neighborhood theater of this time. Creator: Bostwick, Louis (1868-1943) and Frohardt, Homer (1885-1972). Publisher: The Durham Museum. Date: 1935.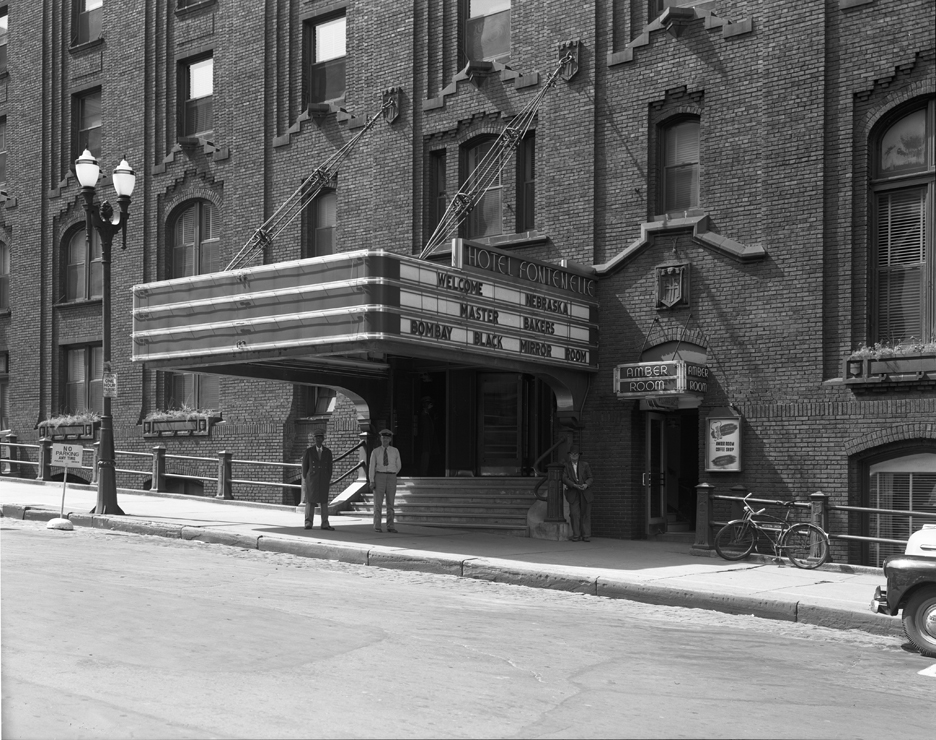 Toward the end of the diary, Rose began to mention the Bombay Black Mirror club. I thought that sounded quite mysterious but as it turned out, it was inside of the Hotel Fontenelle. So Posh. This photo displays the large canopy with a marquee on it over the main entrance to the Fontenelle Hotel, once located at 18th and Douglas Streets. The marquee reads "Welcome Nebraska Master Bakers Bombay Black Mirror Room". A smaller door to the right of the main entrance has a sign over it that reads "Amber Room". It is the entrance to the Amber Room Coffee House. A man stands near the entrance to the coffeehouse while two hotel employees stand under the canopy by the main entrance of the hotel. Creator: Bostwick, Louis (1868-1943) and Frohardt, Homer (1885-1972). Publisher: The Durham Museum. Date: 1942.
I was so glad to find a photo of the Mysterious Black Mirror Room!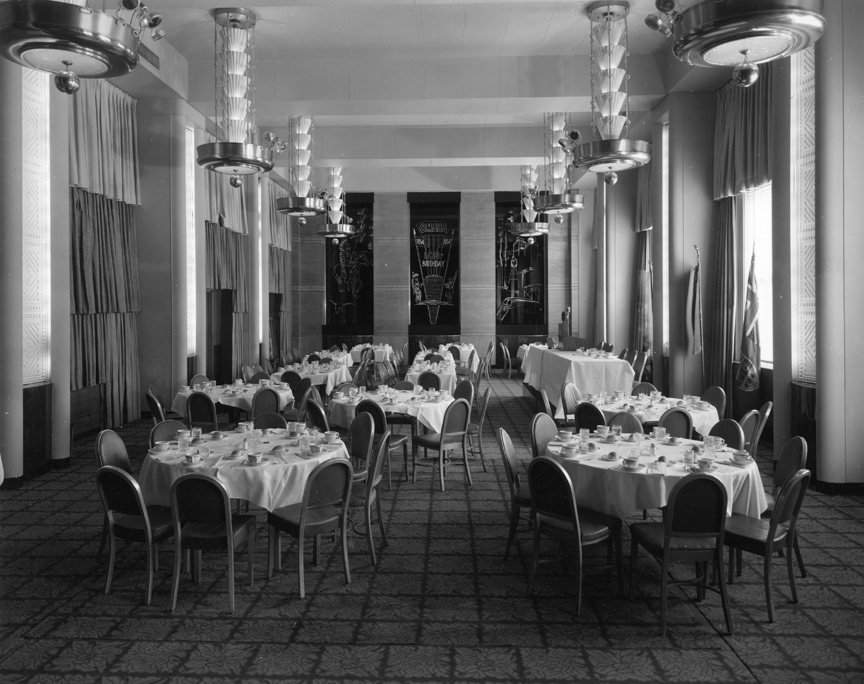 The Hotel Fontenelle on 18th and Douglas Street. The Bombay Room-Black Mirror Room offered an island bar and in the 1940s was considered, "one of the best known and most attractive cocktail lounges in the city." Opened from 11 am to 1 am; after 9 pm it combined dazzlingly with the Black Mirror Room where an "ensemble music unit" played until midnight. Creator: Bostwick, Louis (1868-1943) and Frohardt, Homer (1885-1972). Publisher: The Durham Museum. Date: 1954.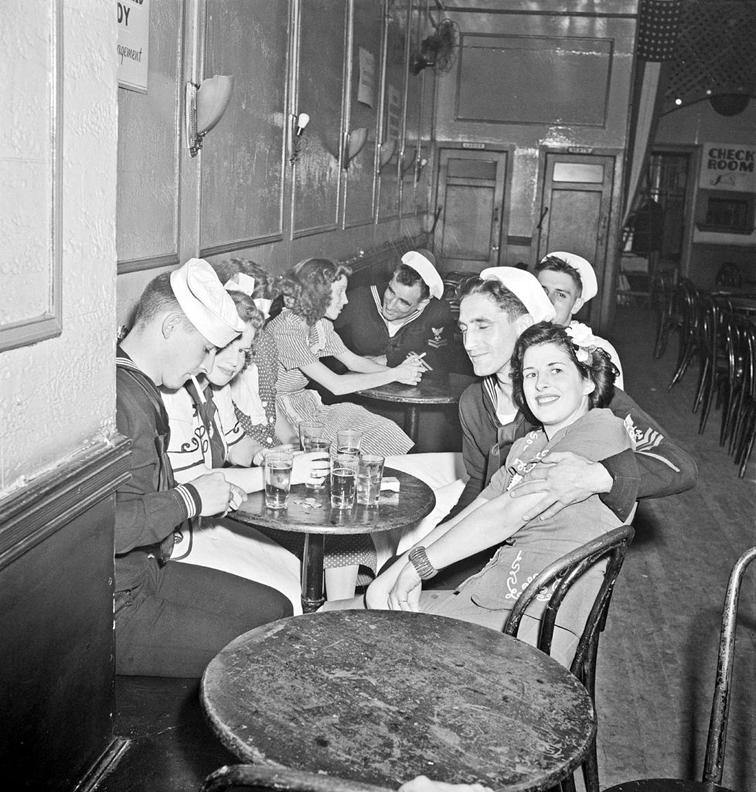 Photographer Marjory Collins documented home-front activities during World War II. She captured this image and it reminds me of Rose's nights on the town, where the girls mingled with nice-looking guys and swell dancers.
Rose Lazio's diary ended before the close of 1944. As an aside, my good friend, Syd Reinarz, who helped to handle the family's estate sale back in 2000, could have sworn there were other Rose Lazio diaries. I never saw them. Mysteries Abound!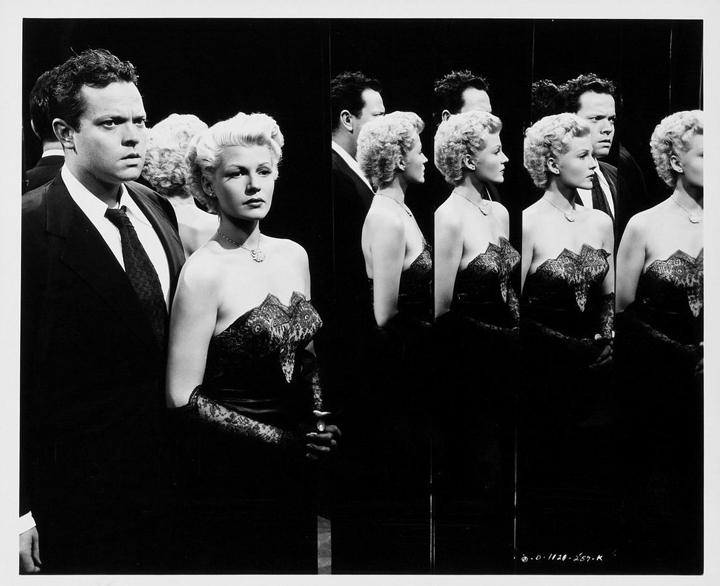 Rose Gets Married
So my search continued, because I am that kind of sleuth. The World Herald announced the wedding of Charles J. Battiato of 1328 South 20th Street to our Rose R. Lazio in October of 1947. Because our story is getting a bit long, (you know how I like to meander) I won't tell you how very difficult this clue was to find. There was no Charles Battiato listed in the City Directory previous to 1949 but that subsequent listing would help me discover Charles' occupation. He worked as a painter and later carman with the Union Pacific Railroad, a very good job in those days. It would appear this Charles Battiato was a newcomer to Omaha. Was he a new immigrant, invited by family already established? A 1950 World Herald article wrote that the Lodge was a newly formed social organization, an offshoot of the Sons of Italy Club. Joe D'Agosta was elected president of the newly organized Lodge Victoria at the group's formation meeting. Boasting a membership of 75, this social subsidiary elected Rose's husband, Charles Battiato, trustee, along with a bunch a fellas with terrific names. I was happy to hear of how involved Charles was, as I knew Rose to be a real butterfly.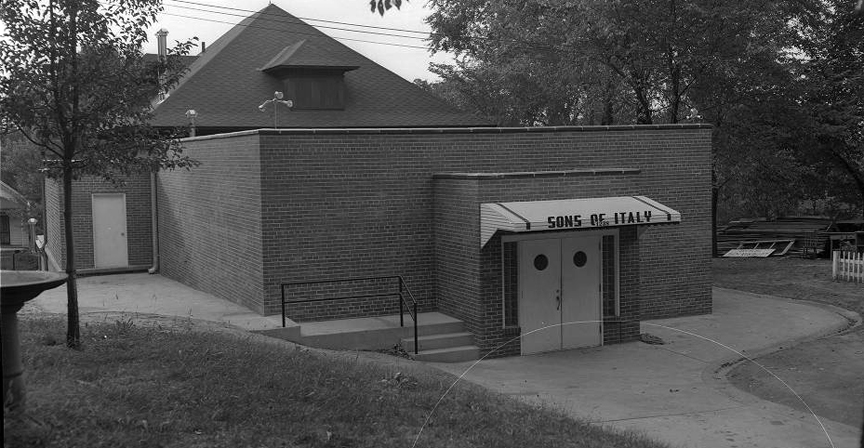 The Sons of Italy building located 1238 South 10th Street. Creator: Savage, John (1903-1989). Publisher: The Durham Museum.
The Rest of the Story
and get your hankie
I found Rose and Charles "Chuck" had baby Charlene by 1949, their only child. The Battiatos continued to live in the smaller Mother in Law house with Lena. Sister Mary, Charlie and the Filipcic children resided in the front 1718 South 10th Street home. Lena Lazio, the strong matriarch of the family died in September of 1956, at the age of 66. Thomas Lazio, the family's father died in November of 1966 in Costa Mesa, California. Of interest I discovered that in 1989 the county court appointed Charles and Rose Battiato to be Charlene's "conservators and guardians." I was confused. In 1993 Charlene was transferred from her parents' home on 10th Street to the Maple Crest nursing home. Apparently Charles Battiato died in 1996, and Rose, "due to physical infirmity, resigned as Charlene's conservator and guardian." One of sister Mary's children then was appointed by the county court as successor conservator and guardian.
It was through this information that I learned Rose's daughter, Charlene Battiato was born "severely mentally retarded, spastic quadriplegic with seizures, who cannot talk, is visually and hearing impaired and cannot care for or feed herself." Rose and Charlie had cared for their only child in that little home on 10th Street all of those years by themselves. The devotion and love poured into family! As tears of joy and deep sadness welled up, I already knew that Rose Lazio Battiato died sometime in 1999 or 2000 due to the estate sale. I had no idea. A photo of grandmother Lena's and granddaughter Charlene's shared gravestone from the Find a Grave site would have one think that Charlene was still alive but I found an obituary from August 2013. She was 63 years of age when she died.
In the summer of 2000 both the Lazio-Battiato and Filipcic houses sold, according to the Douglas County Assessor. Astonishingly the families had maintained those two homes for decades.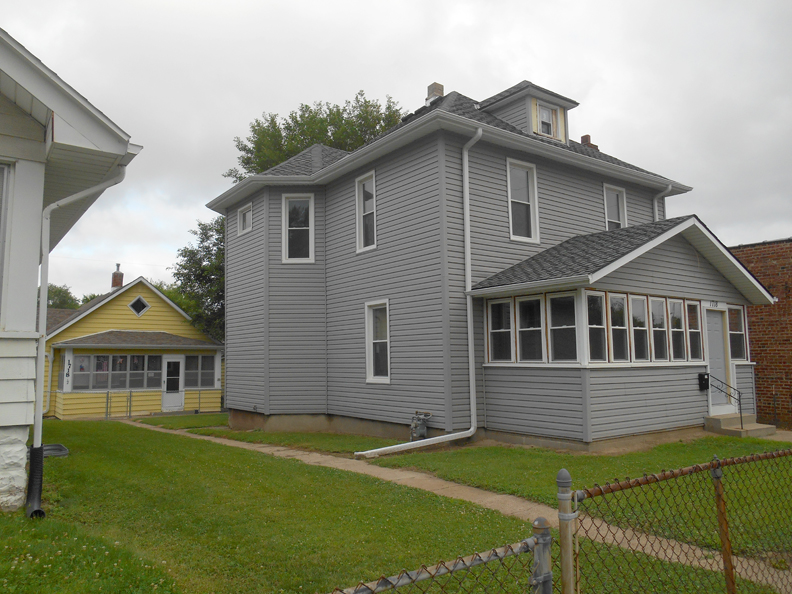 My Missteps–Other Rose Lazio
As it turns out, there once lived another Mrs. Lazio Battiato—this one, a Rosalee (sometimes Rose or Rose Lee) Lazio Battiato. Believe or not. You can imagine I went on quite an expedition figuring this out. Unfortunately there is a lot of misinformation in Genealogy sites, connecting this woman to the Tom and Lena Lazio family. This woman was married to a Mr. Anthony S. Battiato; the couple resided at 4929 Grand Avenue. Back in 1940, Anthony Battiato was a 26-year-old "draftsman" working in the "building construction" industry. Rose Lee was 24 years of age and a "cashier" at a "5 + 10 store." I would later trail them to Scottsdale, Arizona. Rose Lee was born in 1915 and passed away in 1995 at the age of 79. The couple is interred at the Calvary Cemetery, 78th and West Center Road, in one of their beautiful mausoleums.
Because of their almost exact names and a bit of misinformation, I have not been able to find out more information about the year my Rose Rita Lazio Battiato died. This is a curious situation. I would certainly like to know where she is buried or to find her headstone. I would suspect Chuck and Rose are at Sepulchre Cemetery with the other Lazios.
**Addendum of July 30, 2019** Thanks to Super Sleuth C.P.N. for finding Rose Rita Lazio Battiato and Charles John Battiato's much sought after burial information. C.P.N. found Miss Rose's elusive information on Catholiccem.com. (A new site for me filled with fabulous clues!) Rose passed away in 2002 and was buried at Holy Sepulchre Section S; Sub Lot: 10; Div 4: 35; Space: 3M. Husband Charles Battiato, respectively in Space: 2M A new hint also—Charlie was born in 1917. C. P. N. has updated the family's information on findagrave.com and hopefully the other RoseLee Lazio Battiato's information will become untangled from Rose Rita's in time. Thanks to all involved for setting the record straight but a very special nod to C.P.N. for taking the time in helping with this important mission.
**Addendum July 31, 2019** The headstone was found! Photograph by Keith Gee. Borrowed from Find a Grave. Thank you. Updated by C.P.N.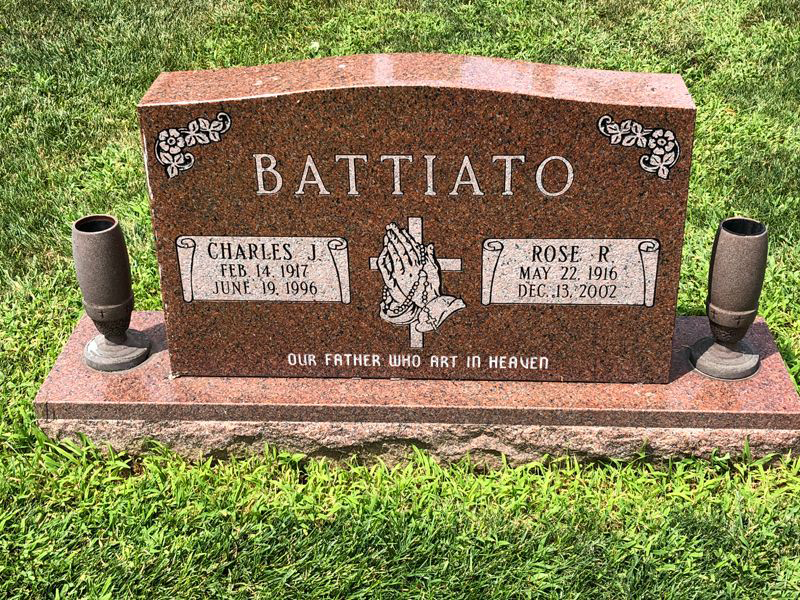 Ann B. was over in the evening. Mary was playing all kinds of old songs on the piano + we were singing them. Oh, what memories.
For my path through the unseen passageway to just one year in the life of Miss Rose, I was deeply grateful and forever changed. Her diary ended all too soon but there once was a light. She really lived and boy, did she dance. She danced with the best of 'em. I will still look for these passages and I thank you for the lifetime of clues, Rosie.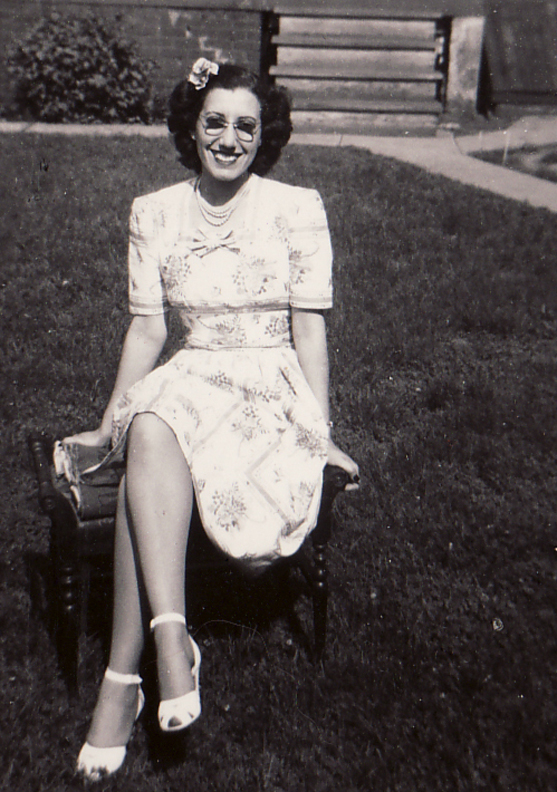 For Rose and Susan. Rest in Peace.
**Addendum from July 1, 2023**
Although not a hugely popular article, since I published Finding Rose Lazio, I have continued to hear from dear Rosie's various family members, all over–some living in Italy. Every family interaction has been as exciting and mercurial as the investigation. I won't divulge the specifics but my material connection to Rose Rita Lazio is about to end. The precious diary is about to be wrapped up and mailed out. Hard to let go but I've got to trust and let the book live on in her family's hands.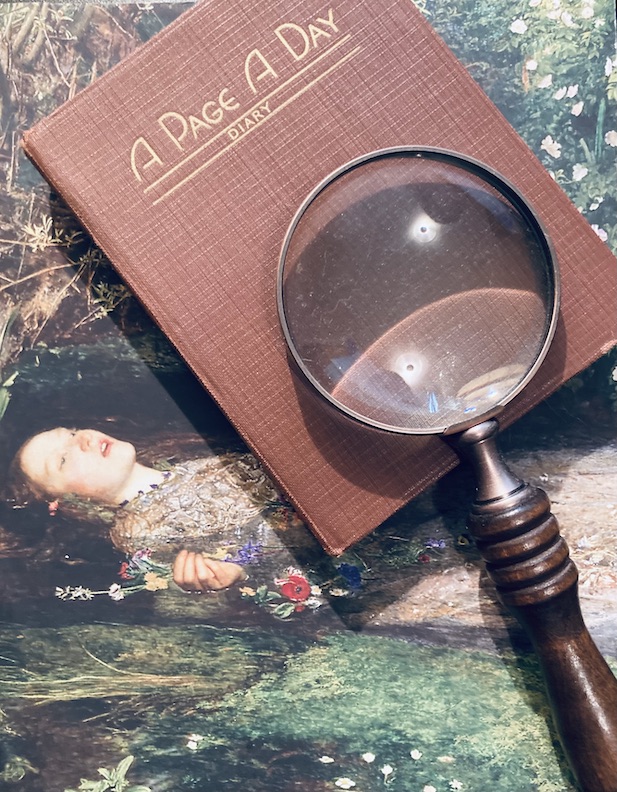 I think I'll enclose her photo too.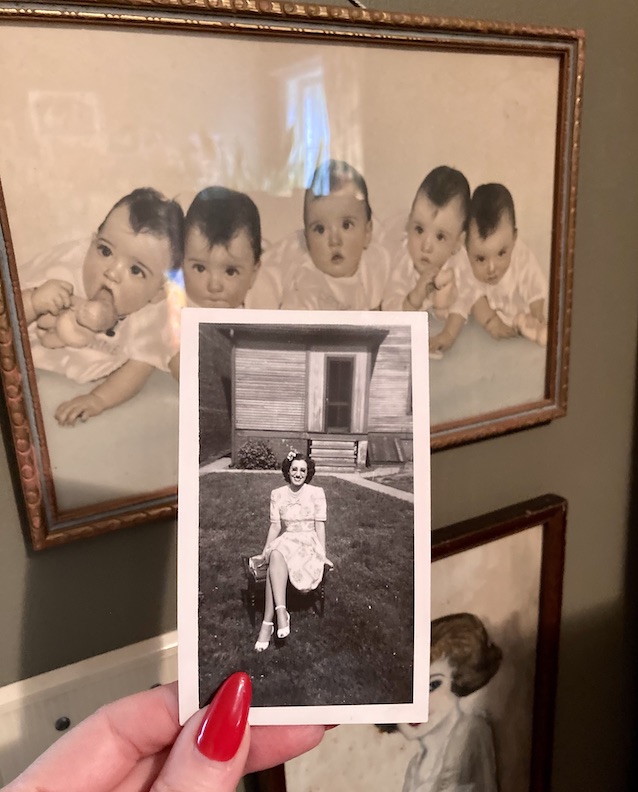 This is only a small part of the Rose Lazio Battiato story. We would all love to hear your stories of Little Italy, the Dahlman Neighborhood, if you knew the Lazio family, historical insight, opinions or insider clues. Please feel free to leave a memory or thoughts. I believe we know more together. Thank you, Omaha Friends.
You can keep up with my latest investigations by joining my email group. Click on "Contact" then look for "Sign me up for the Newsletter!" Enter your email address. It will then display "Thank you, your sign-up request was successful!" Make sure to check your email address to confirm. You will get sent email updates every time I have written a new article. Also feel free to join My Omaha Obsession on Facebook. Thank you, Omaha friends. Miss Cassette
© Miss Cassette and myomahaobsession, 2019. Unauthorized use and/or duplication of this material without express and written permission from this site's author and/or owner is strictly prohibited. Excerpts and links may be used, provided that full and clear credit is given to Miss Cassette and myomahaobsession with appropriate and specific direction to the original content.