When we last dispersed and everyone was tucked into bed, I ventured out alone in the darkness. I pressed on, searching, as the Hidden House's Byzantine plot swirled with other smoky ringlets in the air. I hope you can excuse my secret beat. I imagine no one is surprised to find the mystery only deepened. I gathered my unraveled findings on the reclusive estate and its inhabitants and put on a soundtrack of noir standards in mono, complete with pops and hisses. The record player in the next room accompanied as I typed away from my bathtub like a 1940s newspaper columnist. I suppose in this dream detective scenario, the worn record was magically turned through the wee hours. Let's not worry about these finer details. I was delirious and a prune by the morning's light.
Investigation at a Glance: Let's kick off the New Year with one of my longest, juiciest of investigations into one of the most exclusive properties in Omaha. Hidden House was written in the winter of 2017-2018 and wrapped up with the transition to spring. It was intended to be a large investigation for my book. Unfortunately there was not room for it and this discreet home history was ultimately nixed. Hidden House is a decadent, longform series, shared in parts, and is meant to be read by a fire on a cold winter night or two. Part Four introduces the Einar Berg family and recurring character, Carl Renstrom. How'd you like to stay up late with this Edge of Loveland thriller?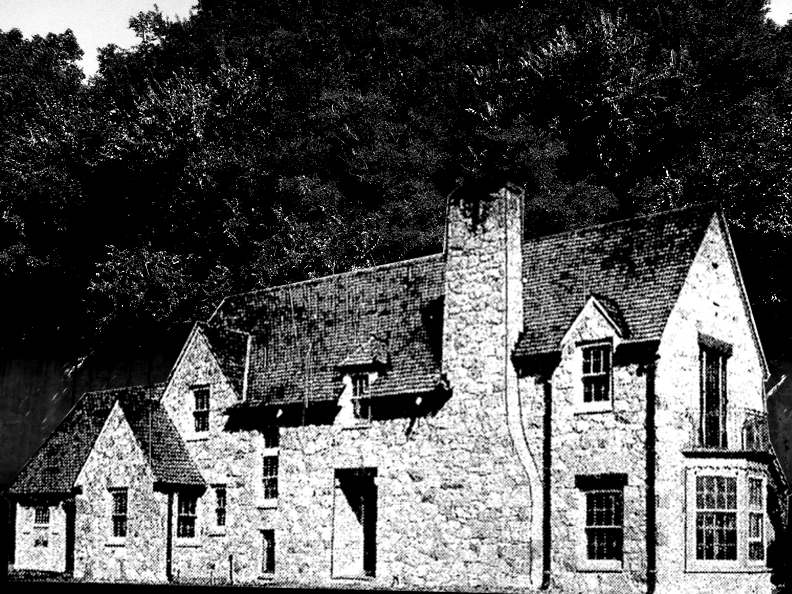 Please review Hidden House Part Three as a brush up. A word of warning must be issued, as we very assuredly will not be concise or punctual in our exploration. That is of no interest to us. We are here to dillydally.
Einar and Louise Berg
Under the spell of these names, I examined the particulars with a fine-toothed comb. As an aside, I found the name Einar Berg to be beautiful and strong and perilously similar to (a) beer(s) I once consumed on a dangerous night at the Uber House beneath the Crescent Moon. So fraught with danger was this memorable night (and a few others) that I no longer have the thirst for alcohol. Friends, that digression is not to be deemed Mr. Berg's obstacle and was only a stage whisper after all. Of Scandinavian origin, Einar (pronounced EYE-nar) means one warrior. The Bergs bought 1023 South 96th Street from the Reichstadts on February 9th, 1943. As mentioned, the large property had been reduced (again) from five acres to 2.314 acres. Essentially the Bergs acquired the fully developed piece of the estate, including the well-designed stone home, the circular drive, and surrounding gardens, all of which were prepossessing. How could you forget these celestial descriptors?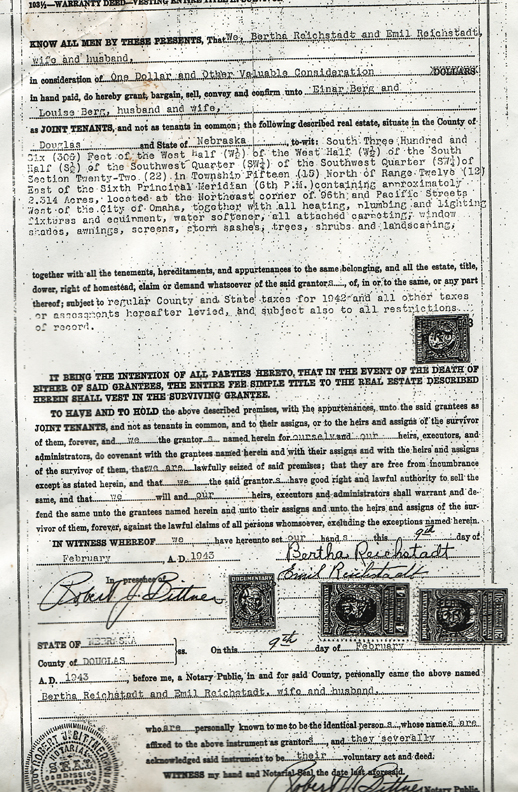 The Reichstadts sold to the Bergs in 1943. Please forgive me, for I love things like this. Maybe you do too? If you probe closer, you will see fabulous phrasing of awnings and storm sashes and signatures. Warranty Deed hard copy borrowed from the Douglas County Register of Deeds Office.
Let us review the 1941 aerial shot. The Reichstadts would hold on to the remaining swath (to the north of the proper home) until 1952. Did they rent it out to a farmer? Did they have intentions of developing it? Had they already built another house on the parcel? We will get into that fine curiosity much later.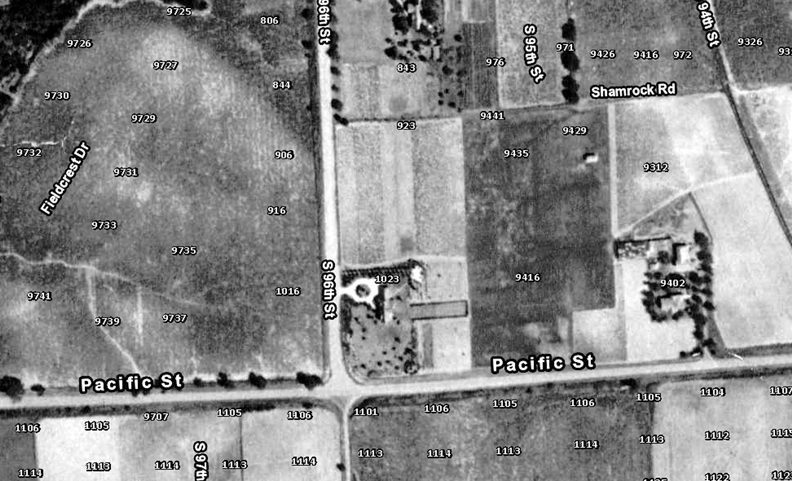 1941 aerial image of the 96th and Pacific Street corner. The stone house, labeled with the "1023" address sits on the northeast corner of that intersection. Image borrowed from the DOGIS website.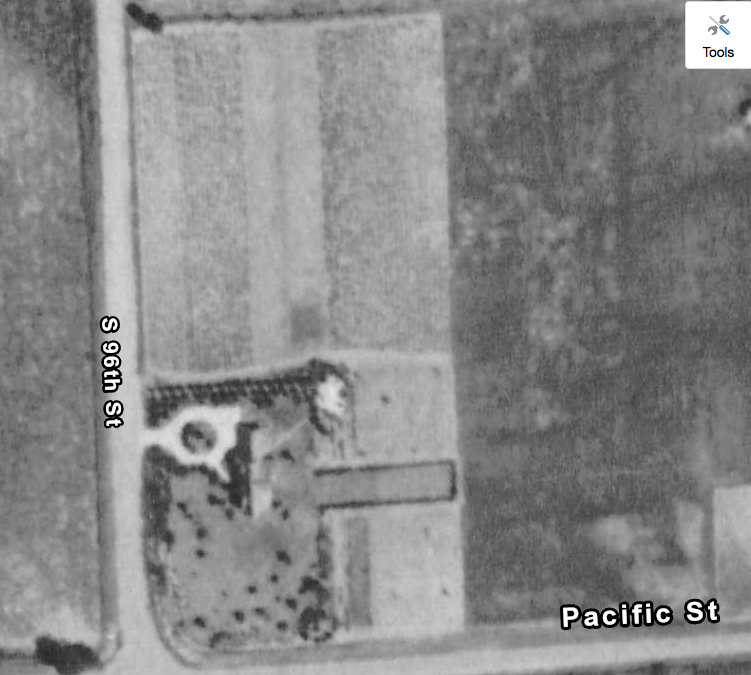 Magnified for your pleasure—a detail of the above photo. 1023 South 96th Street is seen proudly situated on the lot. Circular drive intact with entrance directly off of 96th. Trees line the northern perimeter. Plantings in place and an elongated garden extends to the east. Image borrowed from the DOGIS website.
The 1942 City Directory pointed to Einar and Louise Berg having resided at 3901 North 18th Street previous to their West Pacific Street purchase. I would discover later, Einar Berg was involved with the Berg Clothing Company. The Berg Clothing Company, known for Men's Ready to Wear, was stylishly housed at 419-421 South 16th Street. During this time, 16th Street was the fashionable promenade of downtown Omaha. This menswear store had weaved its way into so many of my previous cases that finally making a formal acquaintance felt some sort of Divine Coincidence. I told myself, "How very Omaha." For more on 16th Street, please visit this investigation:  My Obsession with Frank Salontay. I thumbed backward in the directories to find Einar Berg listed as department manager of Berg Clothing into the 1930s. Einar and Louise had lived at 3901 North 18th Street for many years previous. This address is now an empty lot, in the Boulevard Park Addition. The attractive frame homes encircling this lot were built in 1905 and 1909 and I surmised 3901, most likely, was erected in this time period as well.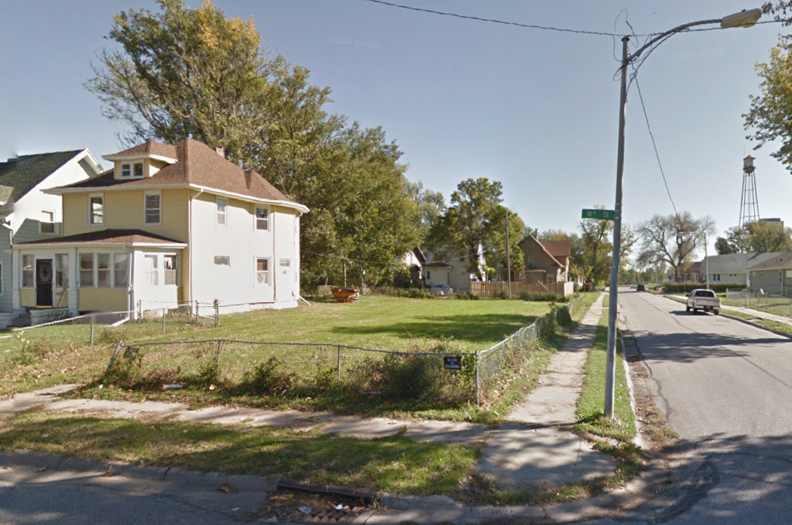 18th and Laird. Photograph of the empty lot where the Bergs once had their family home. Image borrowed from Google Map.
According to the United Stated Census of 1930, Einar Berg was born in Norway and immigrated to America in 1910. His 1917 U. S. World War I Draft Registration Card displayed young Berg living at 3804 Farnam Street, which I gleefully concluded was the Colonial Hotel. Originally the 1910 Renaissance Revival styled, three-story apartment building accommodated sixteen luxury suites with front elevation facing east on 38th Street. Architect Lloyd Willis's initial design would be enhanced in the following year with the inclusion of a four-story building to the south, with front entrance facing south on Farnam. I was surprised to find The Colonial was not converted to a hotel until 1943. This untamed, well-populated, should-have-been-a-1990s-comicbook-backdrop was once a well-respected place to hang one's hat. For more inside clues to The Colonial's history, take a peek at my old Brothers Lounge investigation.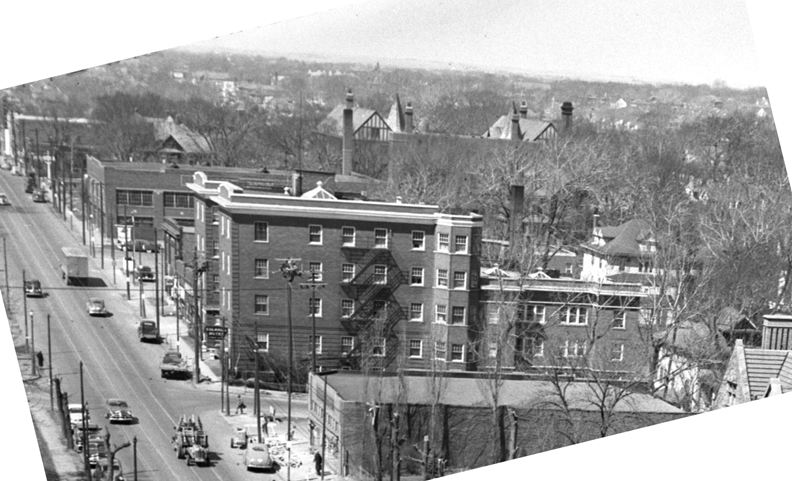 Looking west on Farnam Street from above. The corner of 38th and Farnam Street is shown. Both the apartment building and the attached, taller Colonial Hotel are seen in the distance. Creator: Savage, John (1903-1989). Publisher: The Durham Museum. 1949.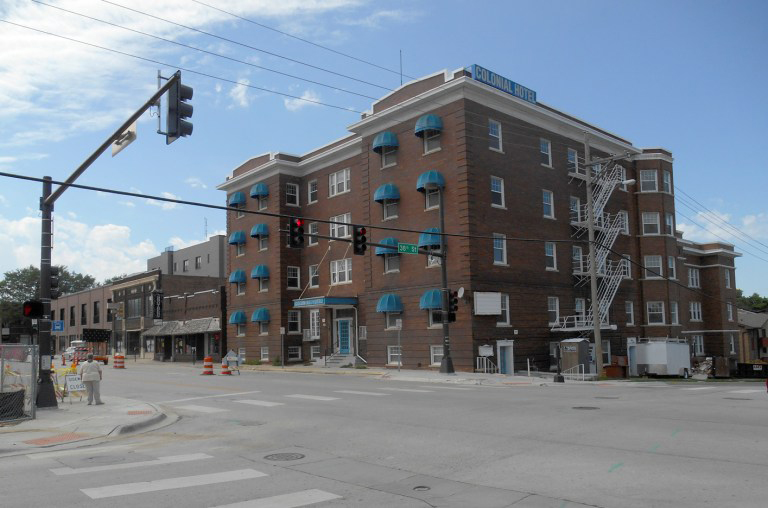 Photograph I took of The Colonial as it looked in 2016. Endless entertainment watching the ol' Colonial antics from the McFoster's patio—at both places, actually.
When Einar Berg lived at the Colonial Apartments, he was a twenty-six year old salesman working at the Berg Clothing Company. I had assumed he was a son to the owner. Born on August 13, 1892, Berg was listed as an "alien," having moved to Omaha from Honefoss, a small town in Norway. His U. S. World War II Draft Registration Card of 1942 revealed even more details of Berg. Then age 49, Einar was six foot tall, a light-complected Caucasian man, blue eyes, gray hair, and 165 pounds. I have found draft registration cards to be an excellent source of men's oft hard to find middle names. In this case, Einar had no middle name listed. (I would discover much later it was possibly Nils.) His wife Louise was seven years his junior. At the time of the 1930 census, the Bergs had seven-year-old son, Richard. Confounding as it was early in the case, Richard would be called "Ollie" at times and other times, "Dick." Ultimately I unriddled that son Ollie Richard "Dick" Berg was born in 1923. There would be another Ollie woven into the tale, which gave much wrinkling of forehead. By 1936, daughter, Miss Sally Ann was born.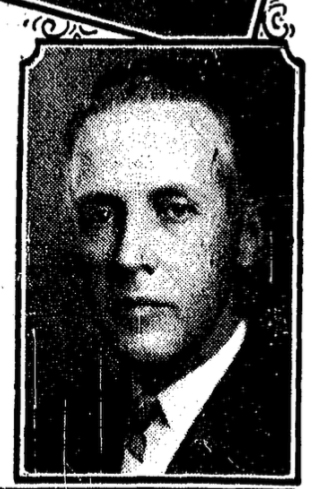 Mr. Einar Berg, in a fun illustrated frame, as seen in the World-Herald.
The Ollie and Gertrude File
My jumblement really began when I came across the 1936 Omaha City Directory where the Berg Clothing Company was listed under ownership of Ollie E. Berg. This Mr. Berg and his wife, Gertrude, lived at 115 South 38th Avenue. I would trace this Ollie Berg residence back to the 1921 directory as well. The large 1912 brick house, two doors down from Dodge Street is still standing in the Gold Coast area, although long ago broken up into apartments. Despite the multitude of mailboxes and parking spaces, these once posh single family residences-turned-apartment dwellings remain such noble homes. 38th Avenue, both north and south of Dodge, are jam packed with these functional beauties. (I did not recognize at that juncture that our man Ollie Berg was regarded as a "pioneer businessman" in early Omaha. By now you surely know how I obsess over this phrasing.) I had stumbled upon articles positioning the Ollie Bergs firmly shoulder-to-shoulder with the likes of the Crofoots, Casper Yost, Bertha Offutt, the Redicks, George Joslyn, and the Pickens and frequently socialized within the inner sanctum of these Omaha high steppers. The Omaha Daily Bee of 1920 revealed Ollie Berg in a trapshooting tournament of the Omaha Gun Club with George Brandeis among others. Although not a mansion, 115 South 38th Avenue was a gentle contender, one of many early teen and 1920s homes erected on a favorite stroll of mine when I used to live in the area. In memory I toured one of its open apartments long ago when a galpal was looking to rent a studio in the late 1980s.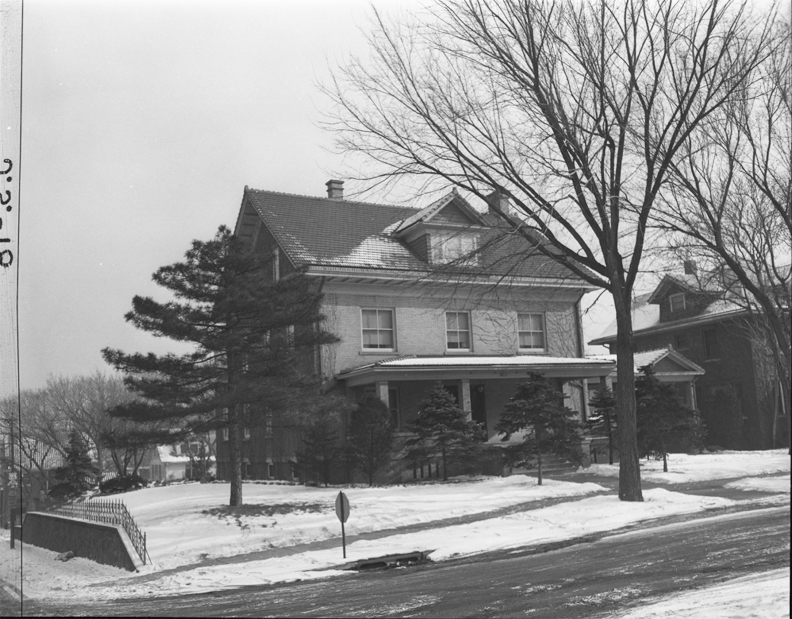 The LeMar home at 101 South 38th Avenue, one door to the north of Ollie and Gertrude Berg's home. The lovely Berg home is visible to the right. I share this image so we can envision the area when these were still refined, single family homes. Creator: Savage, John (1903-1989). Publisher: The Durham Museum. Date: 1948.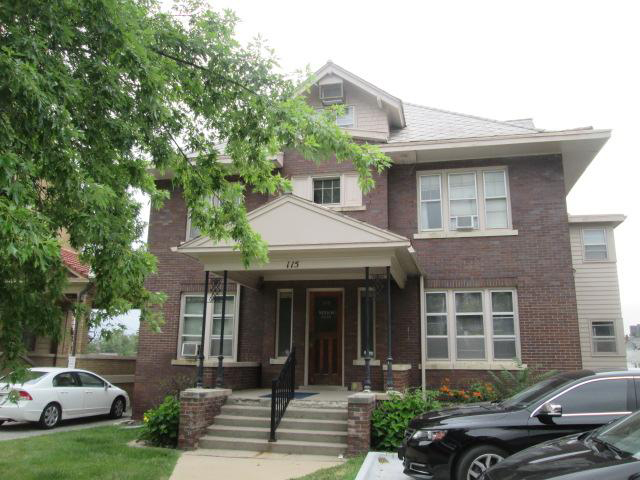 115 South 38th Avenue, the Berg residence, as it now appears.  Photo borrowed from the Douglas County Assessor site.
Within Omaha: The Gate City, and Douglas County, Nebraska, Volume 2 by Arthur Cooper Wakeley, I was pleased and surprised to find our "O.E. Berg" mentioned in what I sometimes jokingly refer to as, the Omaha Bible. Curiously Ollie Berg was only mentioned for having married Miss Gertrude Selleck. Charles Selleck, Gertrude's father, was originally from Connecticut. Selleck made a name for himself as a pioneer freighting operation, driving all over the state hauling goods "when it was a wild and unsettled district." He partnered with John Lutz, who owned a stone quarry in what was considered "the center of Omaha." I pledged to find this quarry! On one of Selleck's feral freighting adventures to Denver, he allegedly discovered gold, which he slavishly extricated for at least six weeks—later "taking out the first gold" that was ever sold in Montana. By then Mr. Selleck had caught the gold bug, earned notoriety and began mining in full for years to follow. Remarkably, Selleck returned to Omaha and produced the capital to conduct the Farnam Hotel, later emerging as the leading hostelry in town. I believe this hotel was located at 19th and (you guessed it) Farnam Street. Update: The Farnam Hotel was at 1821 Farnam Street. In usual Omaha fashion, this is now the Woodmen Parking Garage. Charles Selleck married Miss Mary Pashley whose New York family came to town because of the Union Pacific Railroad. Of the three Selleck children, only one survived, Miss Gertrude, born in 1873. I can only assume Miss Gertrude had enjoyed the good life and all that Omaha social privilege could offer. Miss Gertrude and our Ollie E. Berg were married on March 15, 1893 in Washington County, Nebraska.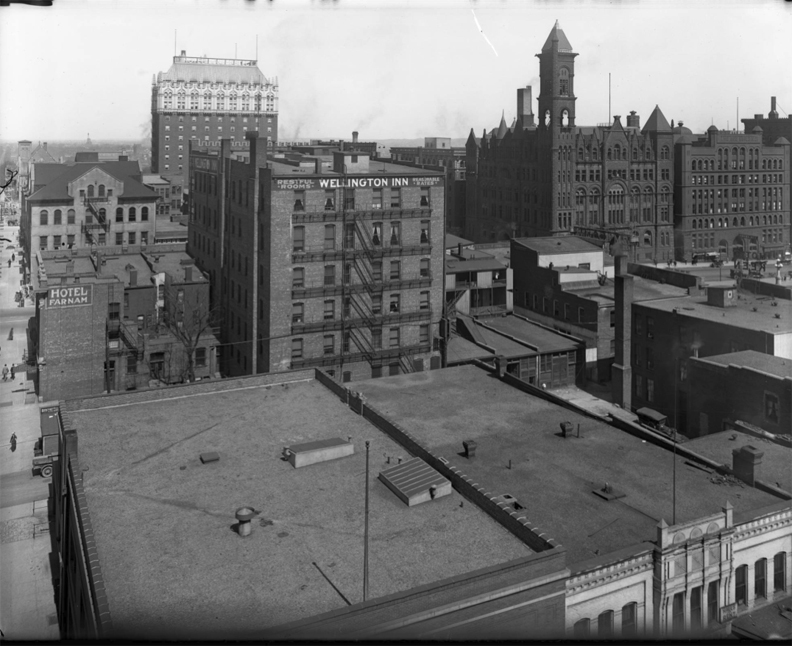 Looking north and east from the roof of the Omaha Grain Exchange Building at 19th & Harney St. In the center are the backsides of the Farnam Hotel and the Wellington Inn. Directly north is the Fontenelle Hotel. Off to the right is the old City Hall and the Omaha Bee Building. Creator: Bostwick, Louis (1868-1943) and Frohardt, Homer (1885-1972). Publisher: The Durham Museum. Date: 1916.
According to the 1900 U.S. Census, Ollie Berg was born in Norway in 1866 (other accounts say 1862.) He was rumored to have come to America at age seventeen, after the death of his parents, settling in Herman, Nebraska. (To those who become rather particular: for the record, Blair, Nebraska, nine miles away from Herman, also lays claim to being Ollie's original Nebraska home.) A brief stint as a farmhand, made plain his growing disinterest and set him on a new course– that of a traveling salesman in the garment business. Ollie, under the employ of a Milwaukee wholesale clothing firm, came to realize his passion for men's ready-to-wear. He moved to Omaha in 1902 after having ventured into business with a real Omaha mover and shaker to be mentioned later. The 1930 Census divulged Gertrude was twenty years Ollie's junior and as far as I could gather, the couple never had any children. This might be one reason Uncle Ollie was so close to his nephew, Einar Berg. Of interest Einar also came to the States at age seventeen and he smartly associated himself immediately with his Uncle Ollie and his business in 1910. From a May 6, 1918 article in the Omaha Daily Bee, "Sergeant Einar Berg of this city who has been at the Mineola Aviation Camp for some time is home on a furlough visiting his uncle O. E. Berg of the Berg Clothing Company." Having entered World War I almost one year previous, Einar Berg believed American aviators were being sent to finish their courses in flying at English and French camps "faster than are available." When Einar returned to Omaha, he would continue work at his uncle's side as store manager of the Berg Clothing Company.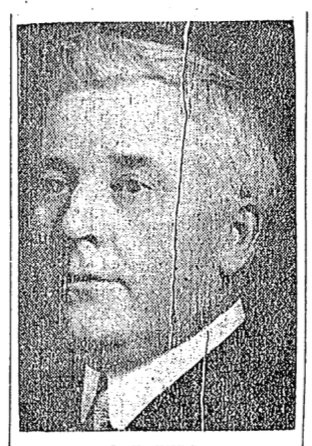 Ladies and gentlemen, Mr. O. E. Berg. 1913. OWH archive
Berg Clothing
By the time Einar and Louise Berg had moved into our Study in Stone on 96th and Pacific, the Berg Clothing Company was a classy operation at 421 South 16th on "Sixteenth and Howard." But as it turns out, it began as a modest venture almost forty years previous when Einar's Uncle Ollie moved to Omaha in 1902 and entered the ready-to-wear business as a partner of Mr. John A. Swanson. The two men established the Berg-Swanson Clothing Company at 15th and Douglas Streets. The Browning-King & Company, which we've stumbled upon elsewhere in our adventures, also coordinated efforts with this department store. The Omaha Daily Bee alerted me, as of July 1907, the Berg-Swanson Company was then recast as the Berg Clothing Company, once Ollie secured outright ownership. I found a great photo of Berg Clothing in the sacred vault behind the reference desk at the W. Dale Clark Library from 1910 when Ollie apparently shared department store digs with the Hartman Furniture and Carpet Store. The Swanson Company would later morph into the now famous Nebraska Clothing Company when John A. Swanson and William Holzman bought it in 1912. Nebraska Clothing Company had begun in 1886 as one-room operation. More about this cast of characters and the department stores in The Izard Street Castle investigation.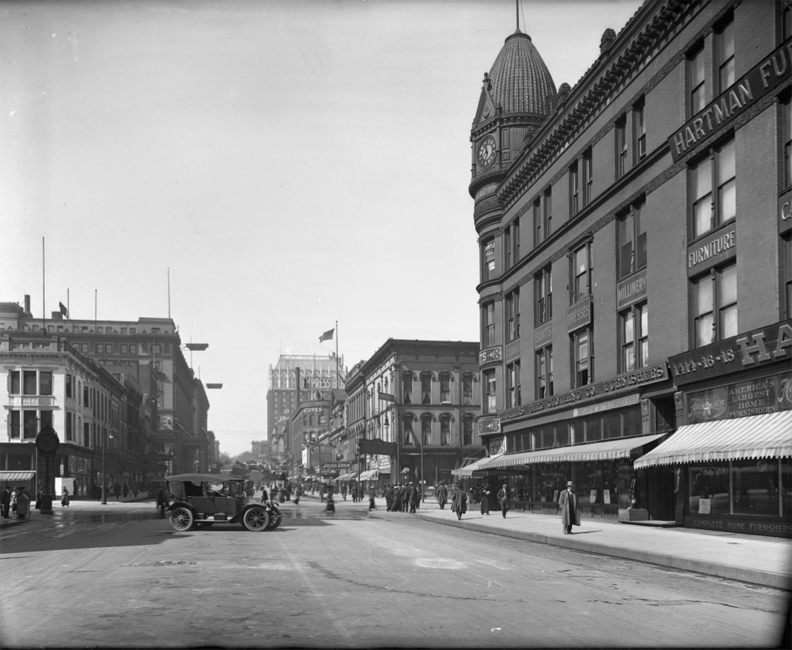 Looking west on Douglas Street from 14th Street. An early incarnation of Berg Clothiers is on the right. There's the Hartman Furniture store on the immediate right. The building on the next corner is the Continental Building that was totally destroyed by fire later. Just past you can see the sign for the Empress Movie Theatre at 15th Street. On the far end you can see the Fontenelle Hotel at 18th & Douglas Street About halfway down on the left is the Brandeis Department Store. Creator: Bostwick, Louis (1868-1943) and Frohardt, Homer (1885-1972). Publisher: The Durham Museum.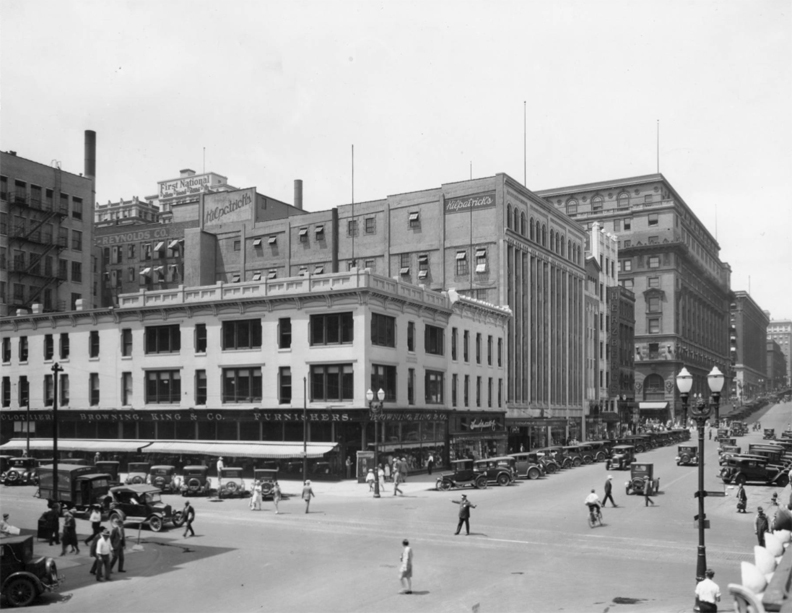 Looking southwest from 15th and Douglas Street. Notable buildings include: Browning-King Store (later became Kilpatrick's) and the J.L. Brandeis Store. Originally this light building was the Berg-Swanson Clothing Company location, until morphing into Browning-King and Co. Confusing? Just wait—there's piles more complication later! Creator: Bostwick, Louis (1868-1943) and Frohardt, Homer (1885-1972). Publisher: The Durham Museum. Date: 1928.
Oh here's another great photo I had from my Goodrich, Pease and Drexel Buildings Part Two: The Look Book investigation.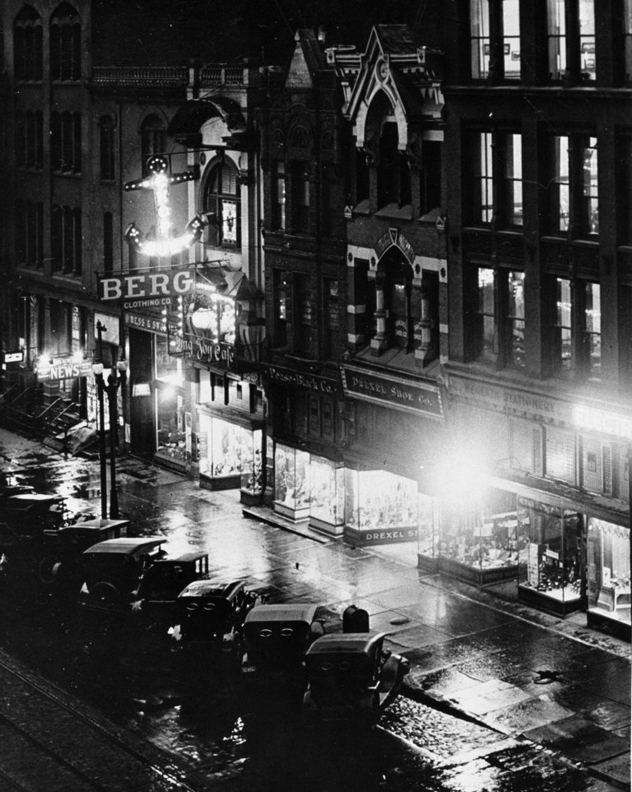 Between 14th and 15th on the south side of Farnam Street. The sidewalk is wide and wet with rain. Cars parked on a diagonal. The mysterious Chop Suey anchor has appeared outside of the King Joy Café. The Berg Clothing Company is on the first floor of the Goodrich building at 1415 Farnam. Pease Brother's Company is apparently called Pease-Black Co. at the time. Photo courtesy of the Omaha City Planning Department and the Landmarks Heritage Preservation Commission Photo Archive. 1925.
I came across numerous Berg Clothing print ads and can assure you they were the most fabulous of Harvard style illustrations. At that time Berg Clothing was known as a "men's furnishings" store. Men's "drygoods" were sold by a "haberdasher." Don't you love it? Berg's would later incorporate a collection of womenswear, from what I would find.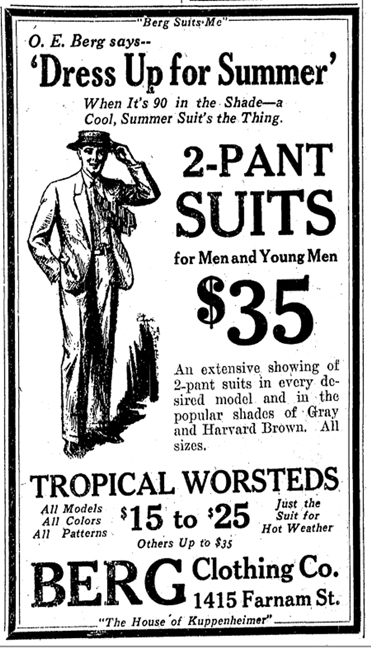 I love this illustration and layout. Berg Clothing Company advertisement from May 22, 1925. O. E. Berg's classic slogan "Berg Suits Me." Two-pant suits available in "popular shades of Gray and Harvard Brown." At this point in 1925, Berg Clothing was at 1415 Farnam. OWH archives.
In 1927 the Berg Clothing Company transitioned into their 421 South 16th Street location in the respectable Webster-Sunderland building. This solid structure, no longer extant, was designed in 1906 by team George Lee Fisher and Harry Lawrie, known as the Fisher & Lawrie architect firm to the specifications of John Robinson Webster and J. A. Sunderland. We have discussed this building, its fateful razing and the two prominent fellows who had it built in our other examinations. Two investigations that come to mind, offering more clues are: The French Fairytale story and I Wish I Could Have Gone to: 1512 Howard Street.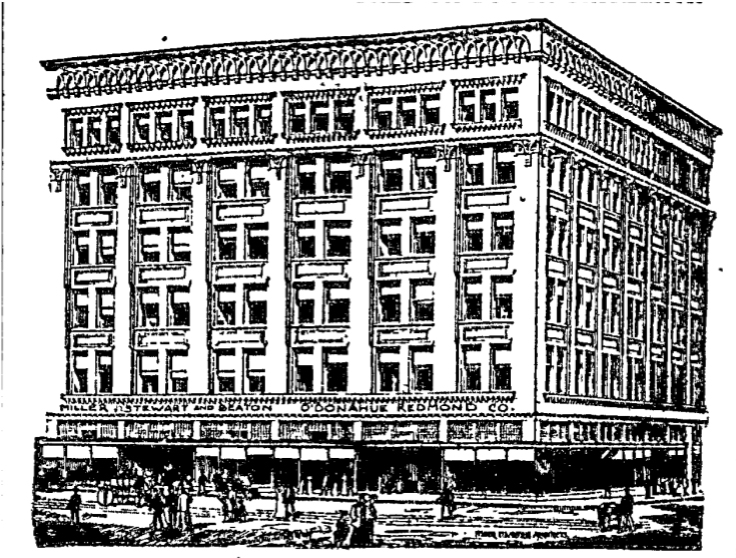 The new Webster-Sunderland Building as illustrated back in May of 1906. Front elevation was facing the glorious promenade of 16th Street. South doors faced Howard Street. OWH archives.
Night and the City
In July of 1937 Uncle Ollie E. Berg died at his Gold Coast home at 115 South 38th Avenue. The Washington County Enterprise reported "The 75 year old clothier had been in failing health since an operation April 19." Early on it was disclosed Ollie's will bequeathed the bulk of his three hundred thousand dollar fortune to his widow, Gertrude and nephew, Einar Berg. In fact the men's department store clothier had purportedly left full possession of his haberdashery to Einar. Gertrude, on the other hand, was left fifty thousand dollars by the will. Controversy entered in when terms of the will were halted by Mrs. Gertrude Berg, who publicly elected to "take her widow's share," under the statute, receiving one-half of her husband's estate. She claimed the estate was highly liquid and could be divided easily with her nephew Einar, "avoiding high cost of administration."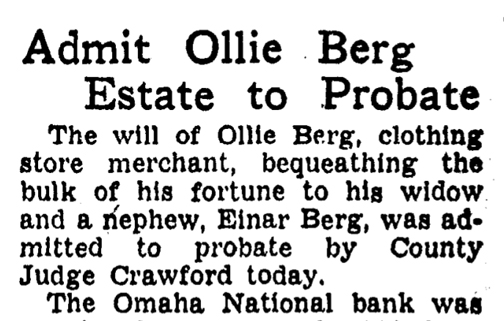 Berg's estate goes into probate. OWH archives. September of 1937.
By late February of 1938, Einar Berg was given complete possession of the Berg Clothing Company. I found evidence that the Omaha National Bank operated the store as executor of the will, pending this settlement. George W. Pratt, attorney for the state, estimated Gertrude Berg would receive $132,500. This 1938 inheritance roughly held the same buying power as $2,269,000.00 at the time of this writing (2018).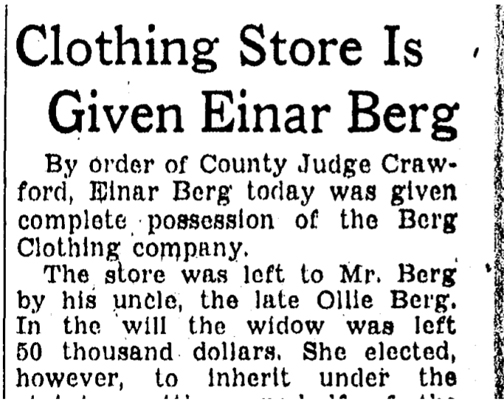 OWH. February, 1938.
Unfortunately there would be more family disputation and court proceedings in late 1939 when Gertrude Berg unsuccessfully went after profits the Berg Clothing Company had accrued since Berg's death. By 1941 Gertrude would again attempt to recover a portion of the estate, a profit produced, I am assuming, from the clothing store. The sum of $14,490 was evidently awarded to Einar. I am not sure what effect this might have had on the family relations but I've got to think the arrangement was strained. Auntie Gertrude would continue to live in the Gold Coast home until her death in 1960.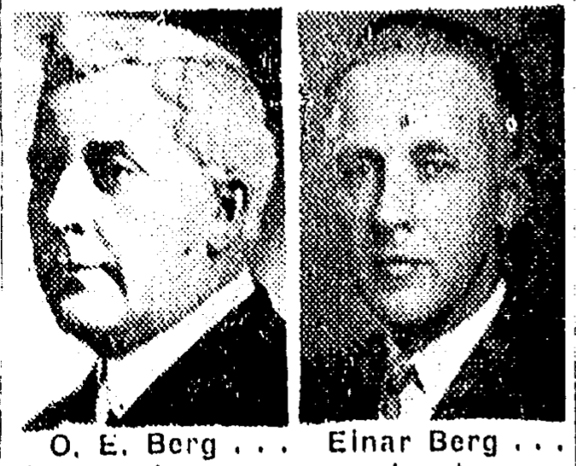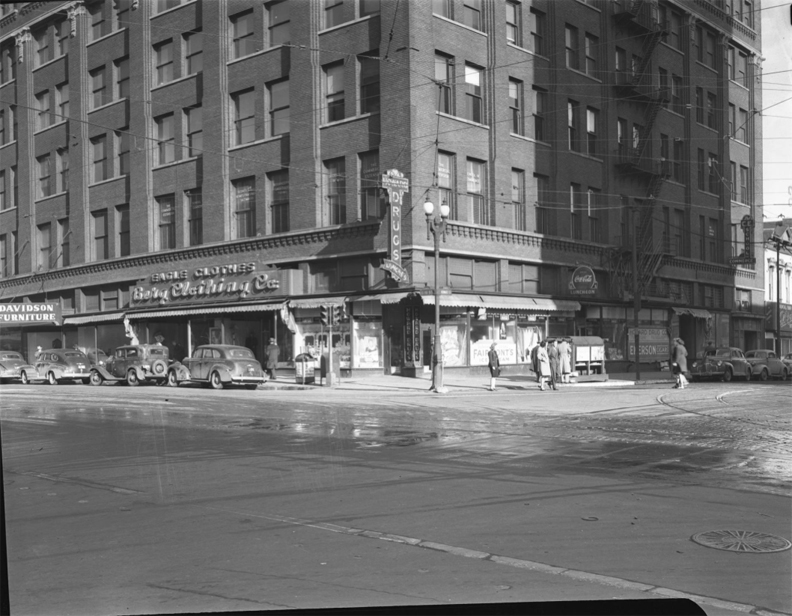 Berg Clothing Store at 421 South 16th Street. The Davidson Furniture store is seen one door to the north in the same Webster-Sunderland building. The Orpheum Theater is in the next building to the north. The Howard Street Drugstore is one door to the south of Berg's. Great cars are parked in front. Creator: Wentworth, William (1892-1982). Publisher: The Durham Museum. Date: 1938.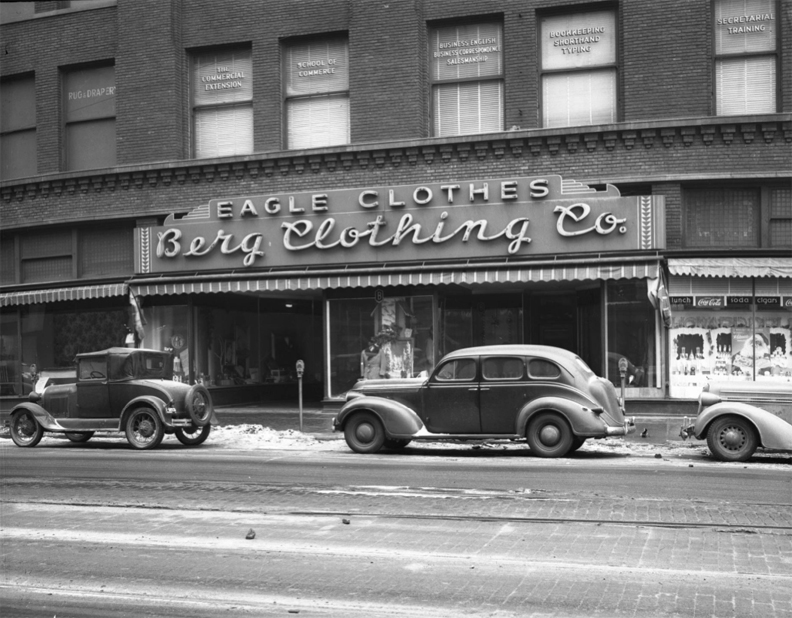 Detail of Berg Clothing, showing the display windows. These modern retail windows drew a customer in, through a corridor, rather than showing a flat, old-fashioned, flush street-view. Berg Clothing Store at 421 South 16th Street near the Orpheum Theater. Creator: Wentworth, William (1892-1982). Publisher: The Durham Museum. Date: 1938.
To his credit, Einar Berg poured his attention and money into the betterment of the Berg firm, by expanding during the troubled times with his auntie. He remodeled the Webster-Sunderland building location at 16th and Howard streets to the tune of twenty-five thousand dollars. Said to be twice as large as his uncle's establishment, the added square footage was gained from whittling down former storerooms. Einar added "New and Modern" lighting fixtures of the fancy fluorescent variety in all display cases and in display windows, the walls were painted ivory, and the store outfitted in solid maple furniture. The World-Herald photos revealed my Dream World– a late 1930s décor set within a thriving downtown Omaha. These were good years for retailers and shoppers alike. America would not enter World War II for two more years.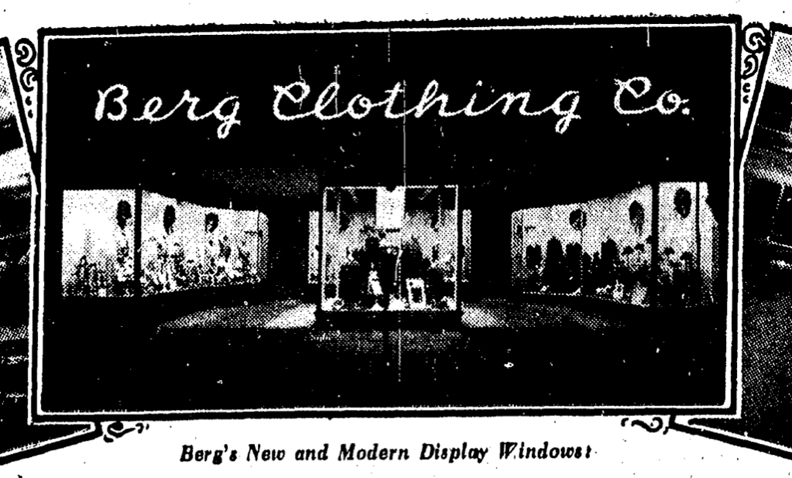 Berg Clothing Company in 1939, noted for its modernity. I do love these inky, nighttime images of old Omaha. OWH archives.
February 1943
The Reichstadts had only lived in the home of their design for a few years. There was a part of me that assumed son Bob's death had driven them to move on, but I could never know for sure. The mystery would slowly unravel in my sleep where I dreamed I was a 1940s newspaper columnist who types while in a hot bath…something from film noir. I solved the riddle in my dreams by running up that hill even though I chain-smoked while doing so. In my waking hours, it was another story. What was it about the country home on the hill at 1023 South 96th Street that appealed to Einar and Louise Berg? The couple would acquire the property in the winter of 1943 when son Dick was twenty and little daughter Sally was six.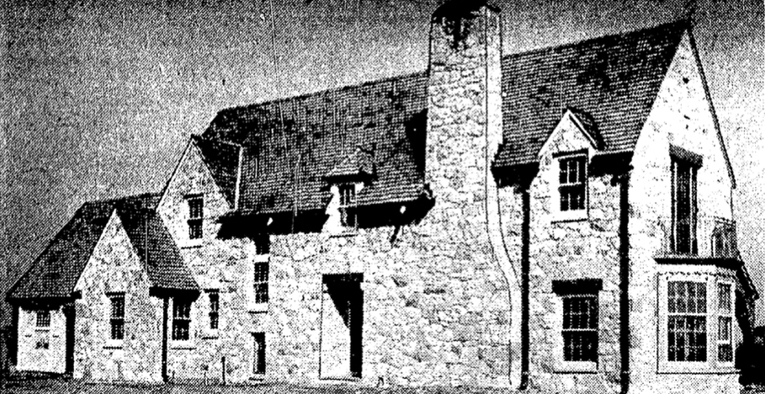 In an article dated March 20, 1938, I was able to find the crème de la—the exterior photo of my dreams, when the Reichstadts built their house. The OWH headline read: "European Provincialism Marks Home." With addition of shrubs, trees and plantings, perhaps those awnings we read about, the house must have looked very similar by the time the Bergs moved in. I would guess the overall design had settled into a natural part of the environment, with its quiet and unpretentious charms. Perhaps a vine or two had winded along the chimney. Speaking of the chimney, do I spy a chimney initial (also called a chimney monogram) in this photo? I distinctly see a curling, fabulous "R." The chimney monogram is something that I have seen around town in older neighborhoods and of course, I LOVE these personal details. The fact that these initials were so well manufactured that they still exist pleases me greatly.
I was satisfied to find the Bergs lived in the cloistered country house from 1943 until 1964. Can you imagine the changes to the area the Bergs witnessed from their perfect view? The home's entrancing characteristics were obvious to me, or really anyone with eyes, I would estimate. I began to realize that the home wasn't altogether hidden when the Bergs took ownership. Very possibly the trees on the estate hadn't reached maturity and all one had to do when passing by was to look up at it, as Mr. Cassette had instructed me to do on that fateful day. At times I wondered if the real question might have been who could endure all that beauty or who had the stamina of the senses to continuously take in the spirited stimuli of 1023 South 96th? The Bergs did! In their case they could just look out on the whole McArdle region. I would imagine how they must have sat up in bed and enjoyed the view, the same view that had bewitched the Reichstadts, conceivably the Otts and countless others. For twenty years the Bergs breathed in that beautiful estate. I longed to know more about the Berg family. It was particularly Sally Berg who I thought about, living atop that hill from age six on—one's formative years. This view would be some of the most lasting I imagined the young daughter's eyes would ever behold. Sally was born to privilege and wealth but this pastoral countryside would surely have shaped her youth. Did she have a horse? Did she play out scenes from Frances Hodgson Burnett's Secret Garden? Did she tiptoe about the estate pretending as a young Nancy Drew? I could not resist lingering over Miss Sally's charmed life.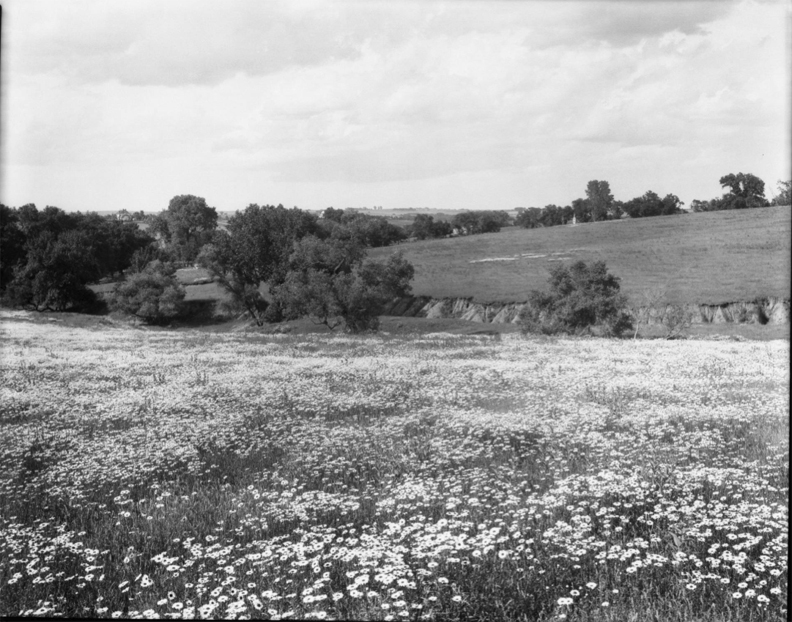 A field of blooming daisies on West Center Road in West Omaha. Creator: Bostwick, Louis (1868-1943) and Frohardt, Homer (1885-1972). Publisher: The Durham Museum. Date: 1932.
Being Norwegian, one could surmise Einar had a love of nature and quiet solitude but I suppose that is an amateur sleuth's stereotypical assumption. In 1940 there were five thousand Scandinavians living in Omaha. Of these, about three thousand were Swedes, 2,500 Danes and three hundred Norwegians. If one included the second generation Scandinavians, the numbers more than doubled. The Omaha population in those days consisted of one-seventh foreign-born. Was this a group that Einar identified and aligned with? 1023 South 96th Street certainly offered a coincidental draw for two back-to-back foreign-born American owners. When I trialed my Norwegian theory on an audience of Mr. Cassette, he argued, "But who wouldn't want to live in a mansion up there on those incredible grounds? Anyone would want to if they could." True. True enough. Perhaps it was all serendipitous. After all, the hubbub of a busy department store in downtown Omaha might lead one to desire the rural expanse of the countryside, room to roam, and the simple, unadulterated clear view at 96th and Pacific–stables, open meadows, woodlands and farms. Or was it the prestige that drew the Bergs westward? As owner of the Berg Clothing Company, the couple was surely moving in new social circles and most likely gave heed to their stature. The country estate ably reflected the Bergs' personal taste, a discriminating mingling of the well bred and the rustic. Despite its positioning in wilds on the outer limits of Omaha, the Bergs' visitors must have felt as though they were transported into a world where posh country life traditions of both America and England prevailed.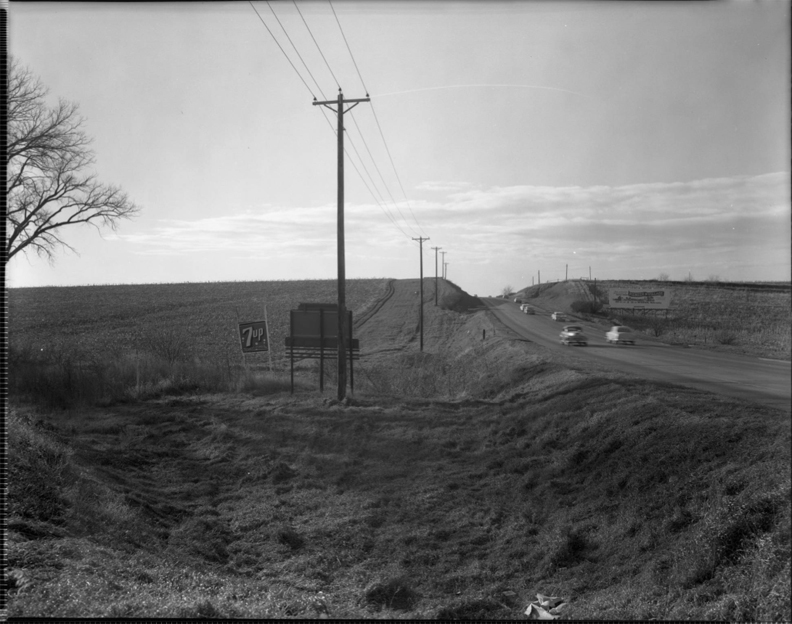 A brick highway somewhere in West Omaha. Creator: Bostwick, Louis (1868-1943) and Frohardt, Homer (1885-1972). Publisher: The Durham Museum. Date: 1958.
Ollie Richard Berg
The Berg's eldest child, Ollie Richard "Dick" had graduated from North High School where he had already been recognized for his aptitude in military training exercises. By the time Bergs moved into 1023 South 96th, Dick was twenty but I am not sure he ever lived with his family in the home. There is evidence that he attended both the University of Nebraska and University of Omaha. According to the World-Herald, in March of 1944, four aviation cadets from Omaha had just completed the Army's primary flight training course at Thunderbird Field in Glendale, Arizona. "Ollie R. Berg," then twenty-one years of age, was one of the cadets. The United States was in the midst of World War II. In August 1944 Dick had graduated and was a commissioned officer at Luke Field in Arizona. When this news made the papers, it is interesting to note the Berg home was identified at "Ninety-sixth and Pacific Streets." That November it was announced Dick was a student in the Four-Engine Pilot School at Roswell Field, New Mexico. March of 1945 he entered a course at the AAF Training Command's B-29 transition school in Roswell N. M. Army Air Field to become a B-29 pilot. Of course I had illusions Dick was somehow privy to the Roswell Field UFO incidents–the scandal would arise publicly two years later. Upon completion of this training he was stationed at the Gulf-Port Army Air Field in Mississippi. Unfortunately I was not able to unveil the history of Dick's service overseas although I knew he trained as combat crew. What was clear was the younger Berg's service and lifelong love of flying; he would later become a flight instructor in the civilian sector as well. I vaguely offer up that somewhere in these years, Dick would marry Pauline Anderson. It was not surprising to learn that in between all of that flying, the Berg son had begun another lifelong practice—that of the men's clothing business. I cannot be sure when Dick began working at Berg Clothing Company but apparently he was quite young.
The 1945 Folder
I discovered a surprise in the newspapers in March of 1945. Louise and Einar Berg filed a petition in divorce court. The particulars were not elaborated on for public consumption but their domestic details must have been sorted through over time or accepted in some capacity, as the couple never did actually divorce. The 1945 Omaha City Directory showed Einar and Louise Berg living at "h: 96th and Pacific," conveying an obscure home on a corner.
Franklin Delano Roosevelt had just been inaugurated for a fourth term as President of the United States as the war raged on. The daily news was filled with stories of bombings, selling of war bonds, the national war effort and the realization that roughly three percent of the world had been killed as a result of World War II. A favored old song of mine, and obviously everyone else back in 1945, was the top of the hit parade's "Rum and Coca Cola" by the Andrews Sisters. This massive single, a Calypso sing-along, was a sweet, simple distraction to the war. I was surprised to find "Rum and Coca Cola" was actually a plagiarized folksong from 1943, originally written by Trinidadian, Lord Invader. His lyrics lament the United States soldiers debauching local women, pointing out that the mothers and daughters prostitute themselves "workin' for the Yankee dollar." Like most fantastic songs from World War II, I had been singing along to his hit unawares. I was not the only one. The Andrews Sisters also innocently claimed they did not pick up on the true meaning nor did they know of the song's authentic composer. I tried to fathom these times, the service members, their families and the collective weight felt by every American. I submit these simplistic interpretations as a way of explanation and my attempts to comprehend a cultural feel for the times, but perhaps I am impaired by the decades.
By October of 1945, area men's stores were highlighted in the news because of wartime rationing. World War II had officially ended but the empty shelves found at nearly every clothing department would continue for months. Men's shirts and pajamas were particularly scarce. Shoes were taken off the ration list but various sizes were not yet an option, leaving many without shoes and no shipments in sight. Einar Berg was quoted as saying he had no shirts in stock and was only receiving a shipment every sixty days, which sold out immediately. It is interesting to this vintage clotheshorse that after the war, the local clothier noted men's growing interest in and demand for snappier, more colorful clothes. As this was my favorite time period for men's clothes, allow me to ramble off what Einar Berg most likely was referring to. From what I would find, fabric rations had ended the 1930s trend of pinstriped and colorful, loose and long styles, double breasted cuts, large lapels and proud shoulder pads. Post War trends brought back the celebratory baggy and pleated trousers with the bravado of wide suit jackets, the swagger of the wide brim hats. America, and particularly American Men were on top, which these new clothes accentuated. The Hawaiian "Aloha" shirts became a casual weekend favorite brought over from Hawaii after World War II. The 1940s version is my absolute favorite, another informal, brightly printed or hand painted boxy cut, a revolutionary untucked, loose look for men in rayon, cotton, and silk.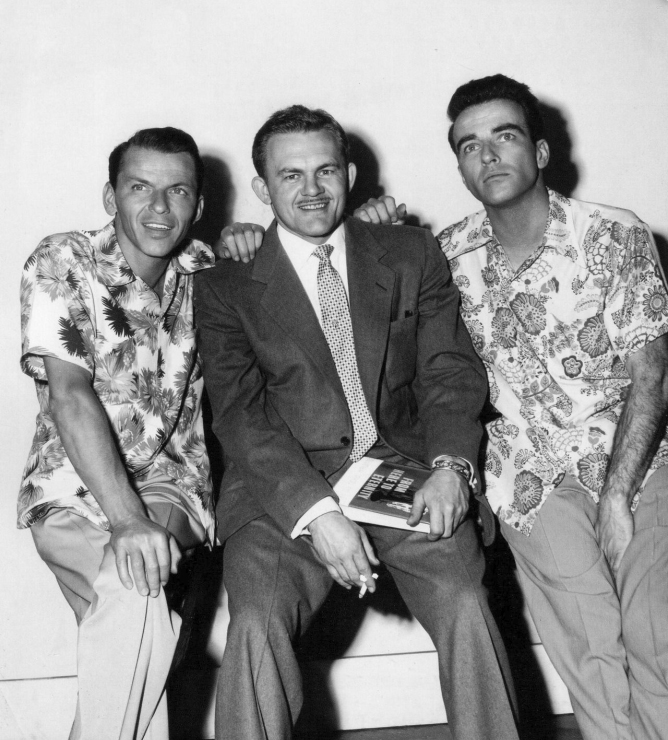 Frank Sinatra, From Here to Eternity novelist, James Jones, and Montgomery Clift, sporting their Aloha shirts.
Another leisure look introduced in this time period was that of the western style shirt, a nod to the expansive, untamed American frontier as seen in the slew of amazing 1940s western movies. The cowboy shirt of the late forties is possibly my most desirous item of all time, although they are so hard to come across these days. They must all be holed up in a Japanese boutique for millions of dollars.

Mid-40's western wear shirts.
The colorful or subdued cowboy shirt featured the most intricate of cuts, appliqué work, contrasting darts and breast pockets, stitching, embroidery, contrasting cuffs with piping, and pearl snap buttons in numerous spectacular shapes. Some fellas completed the look with a cowboy hat, boots and dude ranch trousers. Wool plaid and or flannel camp board shirts also signaled the weekend had arrived. These woody plaids delivered a relaxed campfire or a retreat to nature message all in very bright to deep rich tones in the later forties–as well as blousy gabardine shirts with peek-a-boo fronts, traditional button up or ribbed waistbands, all in an incredibly abundant palette. By 1954 the Berg Clothing Company would swell to become the self-proclaimed, "largest exclusive men's store in Omaha."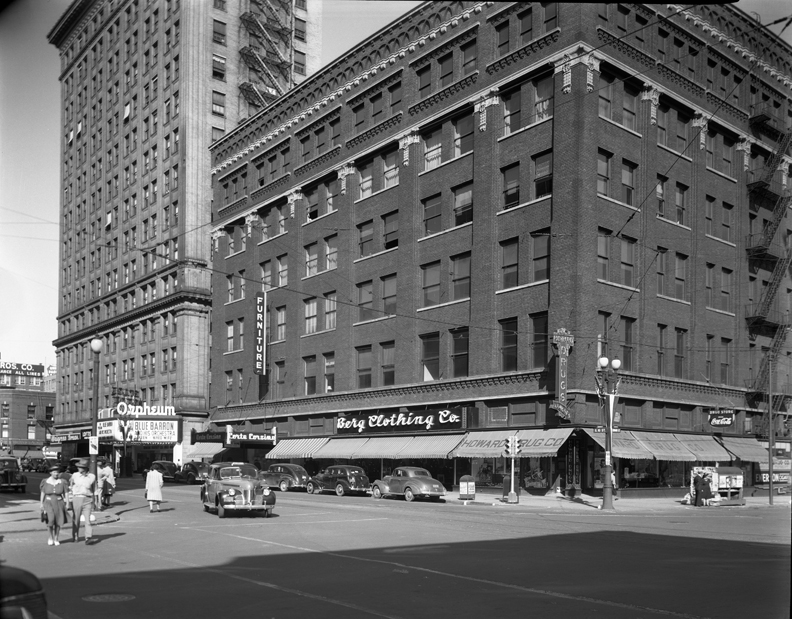 Looking at the northeast corner of 16th and Howard Street. Berg Clothing entrance on the west side. The Orpheum Theatre, Corte Corzine Furniture, and Howard Drugstore found on this block. Notable buildings include: the City National Bank Building and the Webster-Sunderland Building. Creator: Bostwick, Louis (1868-1943) and Frohardt, Homer (1885-1972). Publisher: The Durham Museum Date.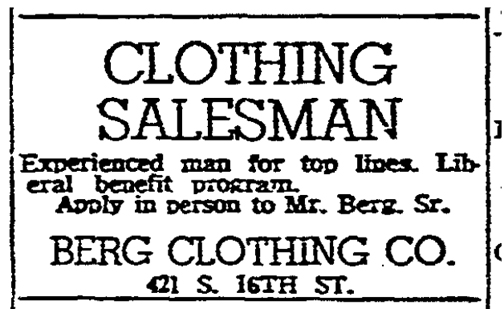 "Apply in person to Mr. Berg, Sr." OWH archive.
An Alluring Neighbor
During this time internationally renowned Omaha businessman, local county commissioner, real estate developer, multimillionaire, sometime playboy and monkey fancier, Carl Willard Renstrom moved to the West Pacific area. I tracked his movements to the 1947-1948 time period where he apparently moved into "an existing English Tudor style home built in the early 1940s." Mr. Renstrom, his wife Catherine Gannon and daughter Vera had previously lived in comfort on the outskirts of Omaha on ten acres in, what was then called, Keystone Park. Back in 1935 it was the Keystone neighborhood and cozying with rural folk that spurred the solder and curler tycoon to become interested in county government as well as the equestrian lifestyle.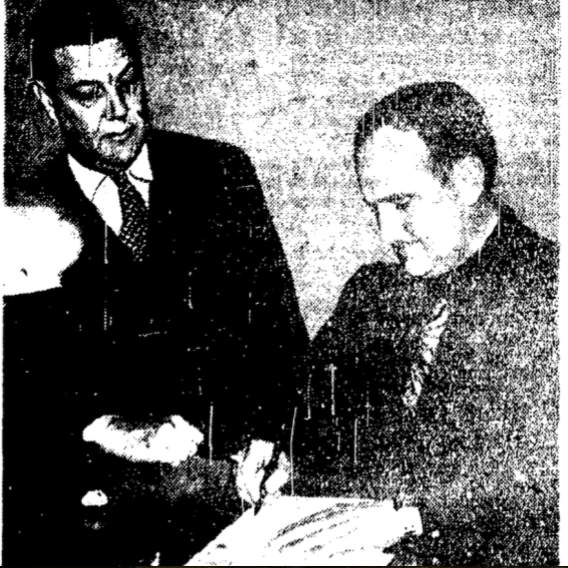 "Commissioner Carl Renstrom…signs his oath of office as County Judge Robert Troyer looks on." January 4, 1945. OWH archive.
The Renstrom horse farm, as it came to be known, out on 100th and Pacific was originally that of the Eicke (sometimes Eieke) clan, reputedly "some of Omaha's first (Caucasian) settlers." Henry Eicke met his future wife, Elizabeth Sohl, aboard ship when each sailed from Germany to start a new life in America. The couple married in New Orleans and then headed west where Mr. Eicke found work as a freighter in the Colorado portion of Nebraska Territory. The couple arrived in Omaha in 1854 (documented elsewhere as 1856) when Mr. and Mrs. Henry Eicke initially settled in a small frame house south of 6th Street by the train stations. Evidently Mr. Eicke initially leased equipment to the railroads and helped contruct the early rail lines until 1870, when Elizabeth and Henry purchased their farm on Pacific Street, then within McArdle Precinct bounds. Mr. Eicke became "one of the best known of the Douglas County farmers." The family's Freisen-Holstein herd was a novelty in the region. By the time the senior Eicke died in 1901, he was considered "one of the wealthiest farmers in all of Douglas county," owned a number of farms and other personal properties totaling over seven million dollars by today's value (2018). His daughter Lizzie Jensen and son William Eicke would each inherit 160 acres along Pacific Street. This land can be seen in the early McArdle Precinct maps that I shared in Part One. For more on the Eicke and Jensen families, check out The Ballad of Balla Machree investigation.
Interestingly the Carl Renstrom mansion at 100th and Pacific was rumored to be constructed incorporating the same sandstone blocks from the original Eicke dwelling. Under Renstrom's ownership the property would swell to 180-acres, much later reduced to 92-acres. Renstrom and his tenant and manager of his farm, Donald Drenner (sometimes Drennen), had jointly built a large, modern barn with washroom in 1950, earning Drenner the Grade A status needed for his local dairy farm operation. Additionally Renstrom and Drenner would keep stalls on the property for neighbors' horses and ponies. I would find evidence that local children of the well to do boarded their solid-hoofed friends with the Renstrom stables. This large Renstrom pasture was most assuredly a health environment that allowed the neighbors' horses to interact in a herd but scavenge as I did, I could not find a link to Miss Sally Berg. File this away, detective friends.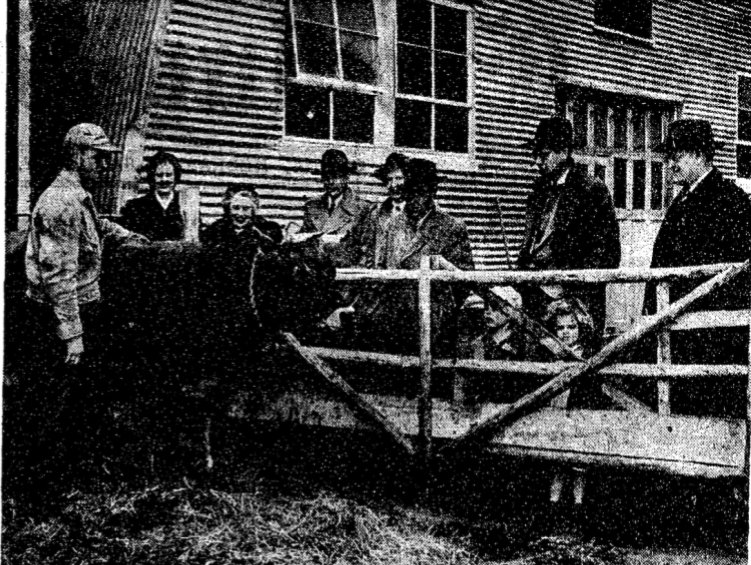 "Health board meets cow…Donald Drennen shows one of his registered animals." OWH archive. March 1950.
I was fascinated to uncover the Renstrom family had kept horses on their earlier ten-acre Keystone estate, registered at 8001 Poplar. But this postal address is no longer used. Through H. Ben Brick's fine Streets of Omaha: Their Origins and Changes, I would discover Poplar Avenue "changed to 83rd Street and to Keystone Drive." This made a lot more sense. Could it be that the Renstrom home was that of my childhood obsession: 8001 Keystone Drive? Built in 1913, the 8001 property was something of a grade school mystery. The large white house, encircled with a proud thick chain and stanchion posts, was quite unlike anything we kiddies had ever seen in Benson. There was even a second hidden house on the grounds. Back in 1907 Mr. W. A. Paxton, D. V. Sholes and George Payne had developed Paxton's 552 acre "Keystone Farm" into a country resort of sorts with tree-lined drives and three parks—a second summer home for wealthy city folks and a year round community for those who kept race horses. The 1970s and 80s horses of the Keystone Neighborhood were another curiosity of mine. I distinctly remember beautiful, older girls riding their horses into the middle-most Keystone park in the late 1970s, as if it were "no big deal," where the rest of us knobby-kneed shrimps stood open-mouthed.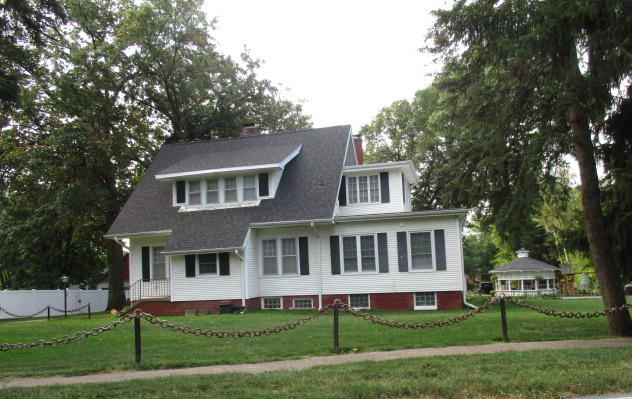 8001 Keystone Drive remains absolutely fascinating. Photograph from the Douglas County Assessor site.
My late night quandary was a delicious one: Was the Walter F. Cozad home, previously examined in Part Three, sold to Carl W. Renstrom? Cozad's mansion was being constructed in the 1934-35 time frame on– what appeared to be, the exact pinpoint of Renstrom's parcel. Cozad had noted they would begin building but only after "an old house on the property is razed." Renstrom's mansion was supposedly built in the early 1940s, but people lose track of history and this could be an easy oversight by modern day owners who are not nearly as obsessive as we are. If it was the same mansion, this would mean that our architect Noel Wallace had built his Cozad Klinker masterpiece literally around the historic Eicke home.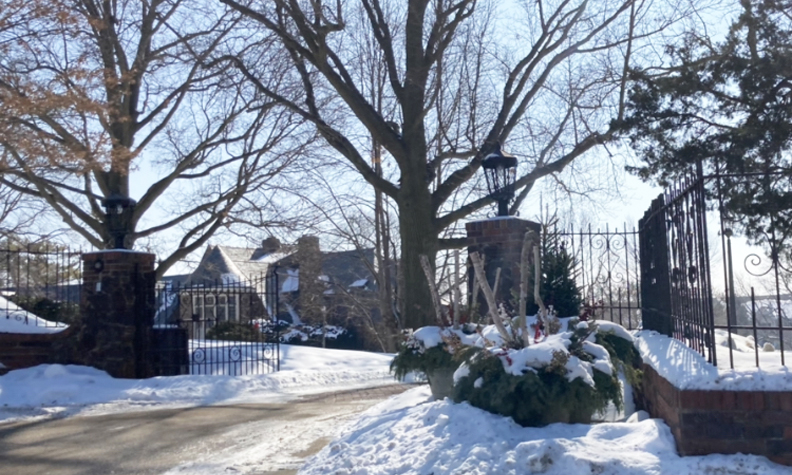 The Renstrom Mansion at 100th and Pacific, what I suspicion to be the original Cozad Mansion.
That mystery would continue to persistently roll in my head until I vowed to undertake it at a later date. Pleasingly Mr. Renstrom would enter the 96th and Pacific Street investigation again and again. We will explore this details further, as you shall see. For more clues to Carl Renstrom, for those who cannot wait, check out my previous investigation: Finding Rose Lazio.
Neighbors and Wanderers
Excitedly I had thought I had tripped over a story of our Ollie "Dick" Berg's mystery bride. In August 24, 1950 the World-Herald chronicled the sad story of a lost wallet. This missing wallet contained $133, all the money a young military wife had to her name. Also missing was her Social Security card, drivers license, Army Post Exchange card and commissary card. When this tale was recounted as the "wife of Army staff sergeant now stationed in England. She is staying with her mother in law, Mrs. O. S. Borg of Ninety-sixth and Pacific streets," I assumed there was some sort of mistake, after all Dick Berg was called Ollie about half the time. But Mrs. Clair W. Borg was no misspelling and this is where life gets magical and strange. I would learn later that Mr. and Mrs. Oscar S. Borg lived at the opposing 96th and Pacific Street corner with their son Alc Raymond R. Borg, also an Omaha service member, who was married to the Unfortunate Clair Without a Wallet. These must have been very trying times for the postman out on "Ninety-sixth and Pacific" with Bergs and Borgs all around. This confusion is what led me to the discovery of the Borg family having moved to the vicinity back in 1930.
I imagine not many visitors wandered to the stone mansion at 1023 South 96th without permission, seeing as it was so isolated and atop the hill and all but that didn't stop a fella named Ben. Ben must have been drawn into the entrancing 1023 lair, much as we were except Ben, part-Shetland pony, apparently hoofed it from 84th and Maple all the way to 96th and Pacific where the young George brothers discovered him. They soon after brought Ben to their home on 97th. Can you imagine those days? After being sheltered at the Hillside Stables at 101 South 108th Street for a time, his owners (or someone simply in want of a horse) were able to find him through an advertisement placed by Mrs. George. Mrs. George found it odd that Ben was just picked up one day without much as a goodbye. And on that note, how did we know his name was Ben?
The Earl G. Hawkins and 923 South 96th Street Mystery
According to the Douglas County Assessor's site, 923 South 96th Street, one door to the north of 1023 South 96th, was built in 1949. This was the mystery address listed as the place of death for our Dr. Emil Reichstadt. Additionally the county site shows that there was new building to this structure in 1966 and remodeling completed in 2007. This secluded property is currently estimated at 5,646 sq ft, comprises a swimming pool as well as a pool house. I only mention this, keen followers, as potential clues to a puzzle I have not yet decoded. For you see, on August 28, 1952, our Bertha Reichstadt sold a portion of the 1023 South 96th hilltop property to one Earl G. Hawkins and wife.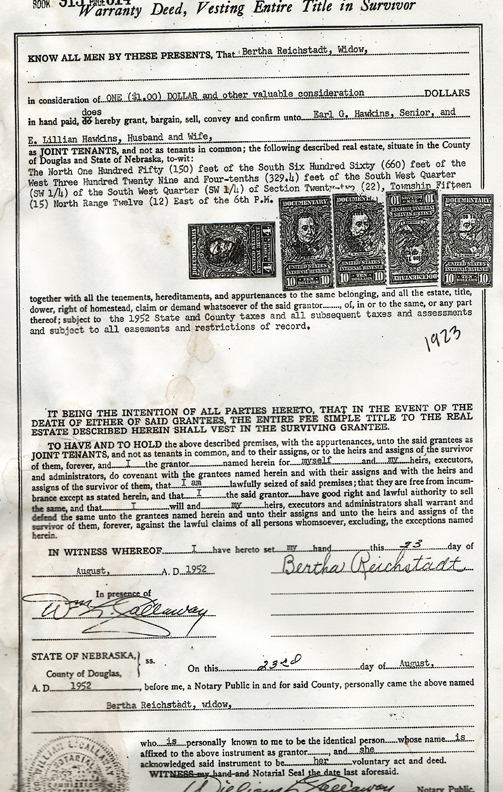 August 1952 deed copy obtained from the Register of Deeds office. Bertha Reichstadt, widow, sold northern portion of the land to the Hawkins family.
The City Directory revealed that Earl G. and Lillian Hawkins had lived at 307 North 54th Street in 1945. I was able to dig further back and find a beautiful photo of their Dundee home when the couple bought the property back in November of 1939. A red brick Colonial affair with scrumptious Georgian details, I couldn't help but die a little over the fantastic formal columns balancing the entryway as well as the clay terracotta tile roof. The home looks as divine now as it did back in 1922 when it was built. I decided that the Hawkins family needed a bit more investigating.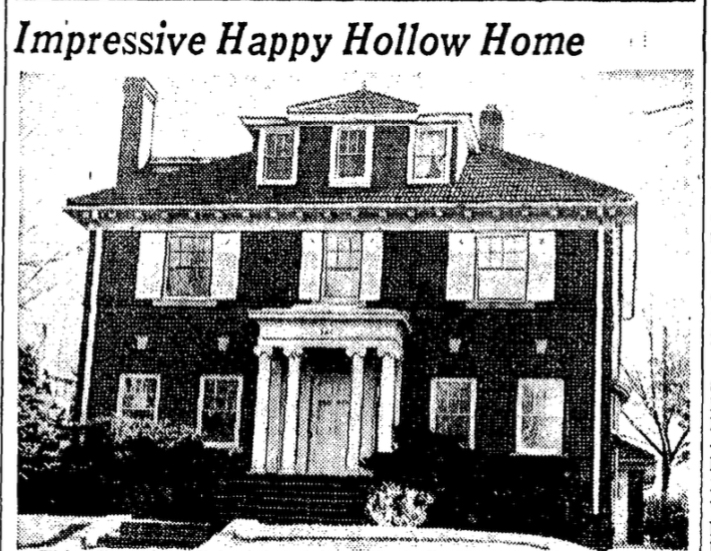 "This Georgian Colonial brick house at 307 North Fifty-fourth Street, has been purchased by Earl G. Hawkins from Eleanor Miller." OWH archive. November of 1939.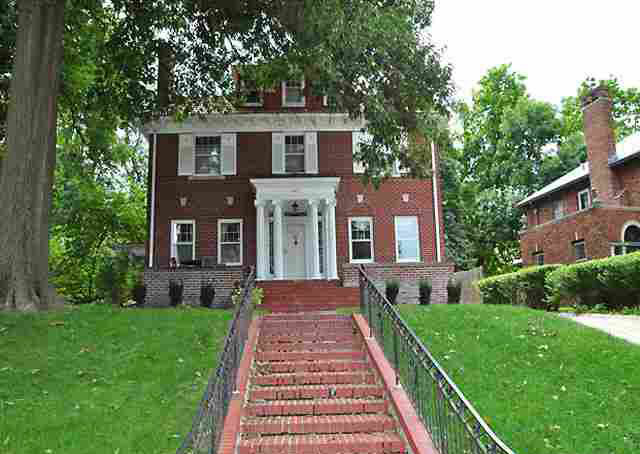 How the lovely 307 North 54th Street home presents today. Current photo found at the Realtor.com site.
Hawkins was superintendent of the 1888 Parsons Construction Company, housed at the 404 Arthur building back in those days. Miss Elva Lillian Shinn of Chicago met Earl Hawkins when they were both students at the University of Nebraska in Lincoln. Earlier I had lit on a "Lieutenant Earl G. Hawkins of the Twenty-seventh division" who had just returned from service in France in April of 1919 after World War I and was known to be a University of Nebraska athlete. I've got to believe that this was the same fellow. After receiving their degrees, the couple would wed in Chicago in 1922. From a World War II draft card completed in 1942, I learned Earl Guy Hawkins was born in Oshkosh, Wisconsin. He would become Vice-President, later President of the Parsons Construction Company, a well-known, outspoken local contractor. The company would build the Memorial Stadium on the UNL campus in 1923, even though owner Grant Parsons turned the job down for being "too big." Earl and his brother Kenneth famously took on the Memorial Stadium job themselves. The brothers continued to work for Parsons, eventually buying the firm in 1931. Earl and wife Lillian raised a family in those years: older sons, William "Bill", a Marine and Earl Hawkins, Jr. a paratrooper in Manila and a private first class had served in New Guinea, while Belva Ann and youngest Nancy were still at home.
1955 Clue
By January of 1955 Bertha Reichstadt ("widow" it read in parentheses on the warranty deed) would sell Earl G. Hawkins even more of the original Reichstadt land. This time "the North 204 feet of the South 510 feet of the West 329.4 feet of the Southwest Quarter of the Southwest Quarter of the Section 22, Township 15 North, Range 12 East of the 6th." It is fascinating to peer at the aerial photo from the Douglas Country Geographic Information System taken in 1955. Notably the 923 South 96th Street property comes into view—their new driveway and house are evident, surrounded by farmland. The original Reichstadt-turned Berg estate had filled in with more mature trees. During this period Einar, Louise and Sally Berg lived in the original stone house. The tangled bits, yet to be divined are baffling…. and dare I say, fascinating to consider. If the 923 South 96th Street house was correctly dated at 1949, then potentially this home was a part of the Reichstadt estate. And it was somewhat more probable that Dr. Emil Reichstadt had actually died at this address in 1951. What we know with accuracy is that the Hawkins bought land from Bertha in 1952 and 1955, however I could find no solid clues of the Hawkins clan moving from 307 North 54th until 1954, which I verified with the Omaha City Directory. Ever puzzling is the ghost house time frame of aerial photographic evidence; the aerial shots were taken in 1941 and 1955, breezing over the years that would help clarify our case by showing when exactly 923 South 96th Street came into being.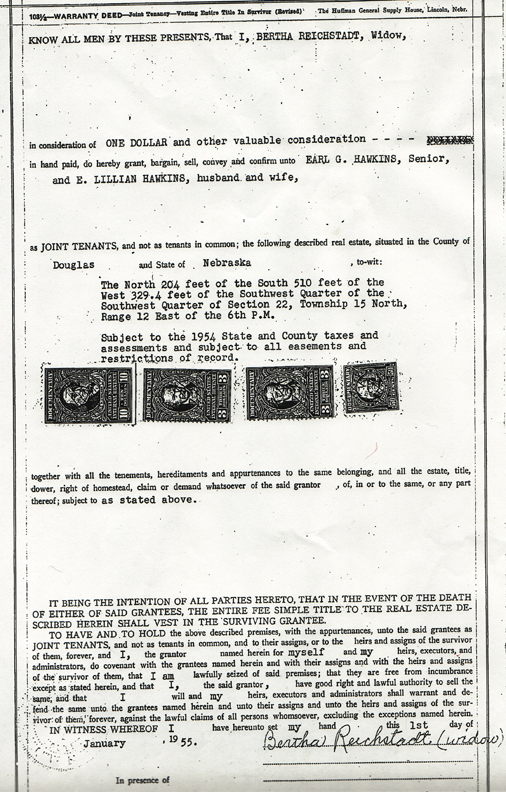 1955 warrant deed. Sale from Reichstadt to Hawkins. Copy obtained from the Register of Deeds office. Land now considered part of the 923 South 96th Street parcel.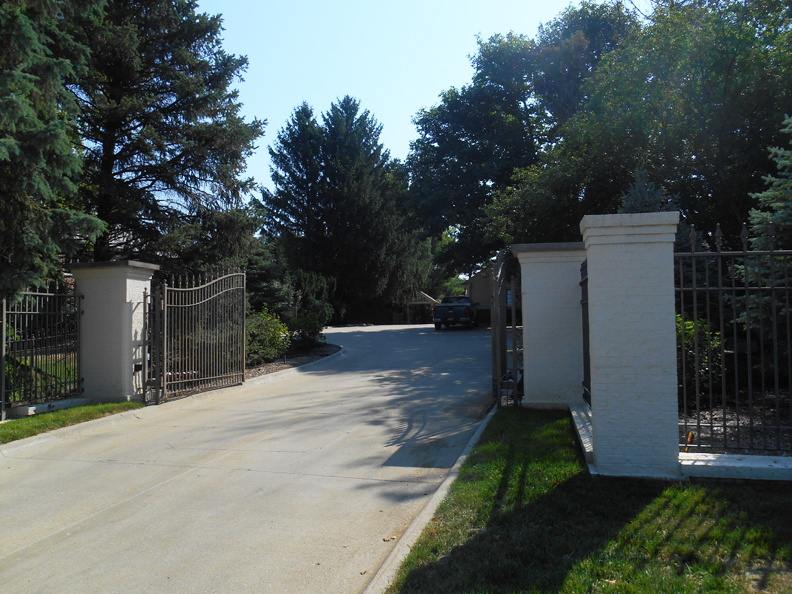 The formal entrance to the mystery house at 923 South 96th Street. This is the home that the Earl Hawkins family lived in, although it would appear from public documents that it is a much larger home now with multiple additions over the years.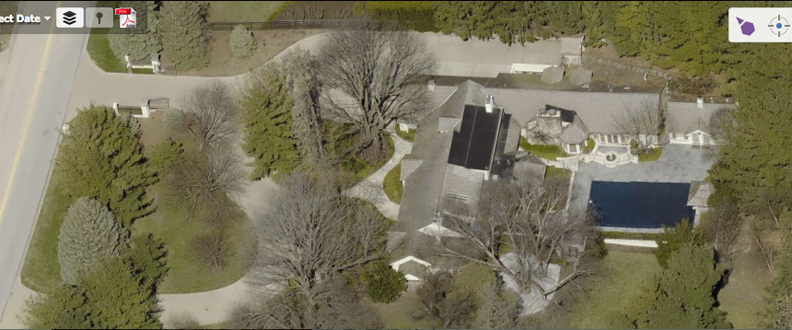 2020 aerial of how the 923 property looks. Top of photo is north. 96th Street is on the left side of image. Photo borrowed from the Douglas County/Omaha Geographic Information Systems site. Public domain.
As you might have guessed, after thirty years at Parsons Construction, Earl and his brother Kenneth would branch off in 1960 to form the Omaha Famous organization, Hawkins Construction Company. There is conflicting information about whether Earl owned a part of that venture. But without a doubt the Hawkins brothers would build a number of Omaha's hard hitters: the Omaha Civic Center (R.I.P.) was built in 1954 at 1804 Capitol Avenue; The Northwestern Bell Building at 100 South 19th Street erected in 1957 was once called "the block that talk built;" The St. Margaret Mary Church, Dowd Chapel of Boystown, First Methodist Church, St. Philip Neri Church, South High School, Redick Tower, the Peter Kiewit Conference Center at 1313 Farnam and the United States National Bank. Later, Kenneth and his son Fred, Sr. would continue to grow the Hawkins Construction Company into the legend that it is today. Still going strong!
The Lady Confesses
My late night rumination of the Berg country house very often spotlighted party guests exploring the expansive estate or their delight in watching a private autumn sunset from the front of the house. I found paper lanterns strung up in the back garden or a gathering of women in pretty dresses, all holding glasses of lemonade around a bricked patio—some laughing in the distance under a crisp white and yellow striped cotton umbrella. The reality of my Slim Aarons' styled dreaming was not too far off. Mrs. Louise Berg had long been hostessing all the right parties; the ladies who lunched included her close galpals, Mrs. Byron Grunwalk and Mrs. Fred Hawkins. Was this Kenneth Hawkins' new daughter-in-law or older Omahan, Winnie Hawkins? I hadn't a foggy notion and I could find little else of a personal nature. The United States Census of 1930 gave indication Mrs. Berg was born in 1900 in Illinois. Of interest, two of Mrs. Berg's sisters carried the last name Quilliam, which led me astray believing this might have been her maiden name. I could find no further confirmation. By May 13, 1954 Edward C. F. Jorgensen and Louise Berg were crowned King and Queen Eternity XIV at the Omaha Athletic Club Coronation dinner. This was another social honor, similar, but smaller in scale to the Ak-Sar-Ben Coronation Ball.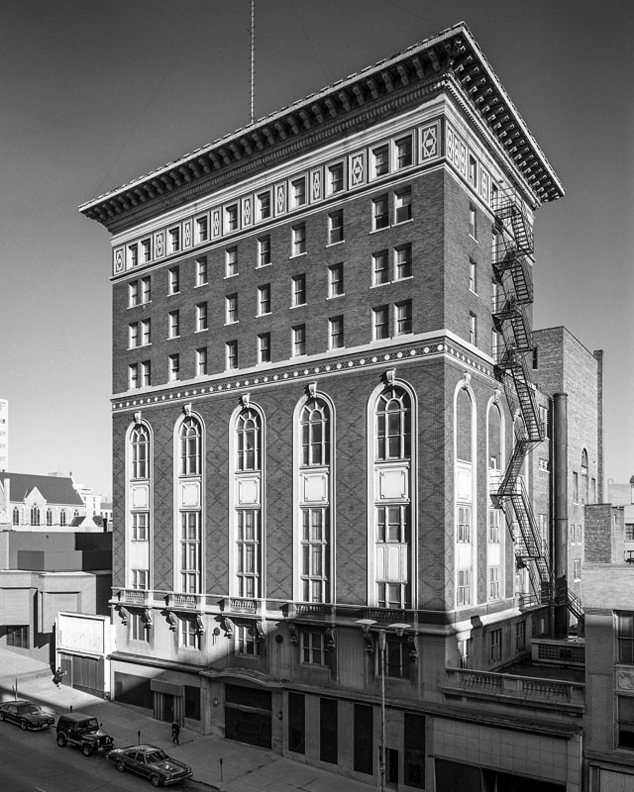 The Omaha Athletic Club, built in 1917, was at 1714 Douglas. I've written of the Omaha Athletic Club elsewhere in our investigations. A social club meets private gymnasium, the Club served members only. There was a ballroom, numerous lounges and dining rooms, furnished hotel room accommodations with club guests, in addition to offering a bowling alley, a nine-hole golf course, rooftop hand ball and squash courts, a swimming pool and a two story gymnasium. John Latenser & Sons, Architects. Other cities have maintained their private athletic clubs but Omaha's was closed in 1970 and torn down in 1992. Photograph by Lynn Meyer. 1980.
I had found her name associated with the Omaha Athletic Club heretofore but it was her partiality for volunteerism that won my attention–for Louise Berg was about service. Ms. Louise, as I will call her henceforth, was most passionate about children with disabilities. Her group, Omaha Volunteers for Handicapped Children, established through the Omaha Athletic Club, performed good works throughout the city. Ms. Louise served as chairman for the group's fundraising—leading the auction rummage sales for many years. The busy group also held a weekly swim program for physically disabled children as well as planning various activities for kids through the year. One such outing was featured in the World-Herald where the Omaha Athletic Club Volunteer workers and children were spied in an antique car on its tour of Elmwood Park. Ms. Louise was glimpsed in her chosen habitat, enjoying a backseat piled with happy children and girlfriends before the picnic.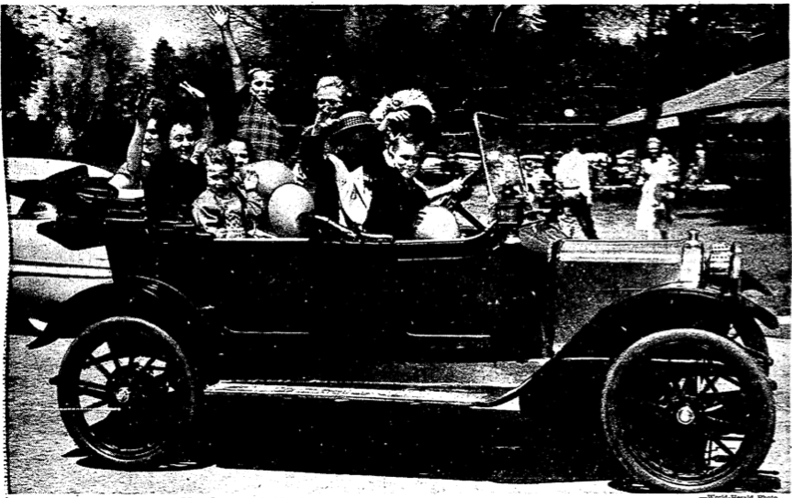 Elmwood Park. Ms. Louise seen in the backseat. Mrs. Byron Grunwald is driving her husband's car. Mrs. Fred Hawkins in the front seat. OWH archive. May of 1954.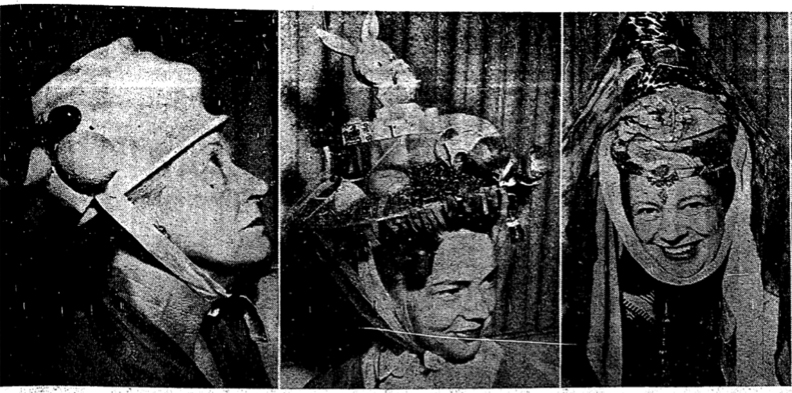 Ms. Louise and her friends organized their Omaha Athletic Club Volunteer Workers for Handicapped Children group and held a mad hatter's luncheon. "Who can guess what inspired Mrs. Einar Berg? She garnished a white porcelain chamber pot with fruit and plastic posies and anchored the creation with tie-under-the chin ribbons!" OWH photo archives. March 1961. Ms. Louise on the left, Mrs. Richard M. Reese in the middle and Mrs. Meredith Anderson on the far right.
I also found Ms. Louise an active member of the Daughters of the Nile. This women's organization was founded in 1924, and is still in existence today, to maintain a permanent endowment fund to benefit the Shriners Hospital system. Their focus is on children who have experienced burns, spinal injuries, serious orthopedic conditions, cleft lip and palate, offering surgeries and medical procedures all done without charge to the families. This enthusiasm corresponded with Einar Berg's membership in the well-known fraternal organization, the Shriners, also recognized for their social and philanthropic activities. If a mother shapes a daughter, it might be the clues to daughter Sally Berg that were most evincing of our Ms. Louise.
Bewitched by Sally Berg
By the year 1950 Little Miss Sally Berg began receiving Society Press. I've got to assume she was preoccupied wandering around that Alice in Wonderland garden, playing hide and seek behind the hedge or grooming a pony in all of those years prior. I estimated she must have been about fourteen in 1950. Her early coverage began with an invitation to an exclusive dinner party at the Castle Hotel at 16th and Jones Streets where the Mabbett family celebrated the return of son, Jan, from the Missouri Military Academy.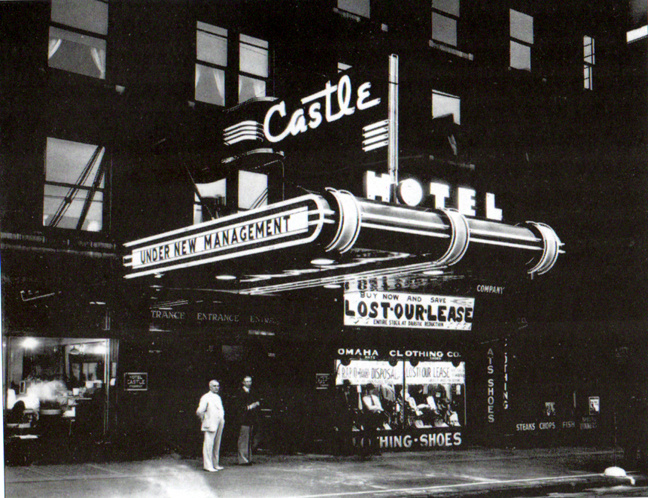 I cannot resist sharing a favorite photo of the Castle Hotel on 16th and Jones. Unfortunately I don't know who to credit for this great photo as I've gotten a bit jumbled around here.
Evidently Miss Sally was an eighth grader or freshman of the exclusive Duchesne girls school in 1950, when I found her arranging games, movies and a tea to entertain eighth grade girls from other schools. Later as a junior of Central High School, Sally enjoyed a ten-day house party at a girlfriend's cabin at a regional favorite, Lake Okoboji, in Iowa. Sally Berg was not surprisingly nominated for Queen of the Hi-Y Coronation Ball at Peony Park in the spring of 1954. These sorts of subtle adolescent news stories are oft the nonchalant indication of the leisure class—a casually paved, lead-in to a life of quiet luxury. After all who would truly be interested in twelve 16-year-olds sharing a cabin on a lake or the teenaged social front? I would. Possibly any proper sideline Nancy Drewer! I savor the details and only wish there were more. This foundational social network set the stage for Sally's entrance to the University of Lincoln in the fall of 1954 where she pledged membership to Pi Beta Phi sorority days later. She volunteered, she taught children's swimming lessons (part of her mother's program?), she chaired different events and soon enough Omaha Society received word Miss Berg had not only become engaged to First Lieutenant Jerrold L. McKenzie, she was designated as a 1958 Ak Sar Ben Coronation Ball princess. Her photos were absolutely gorgeous.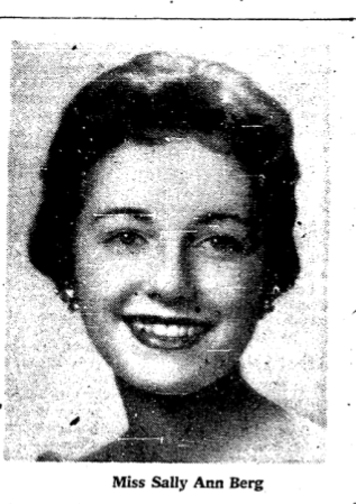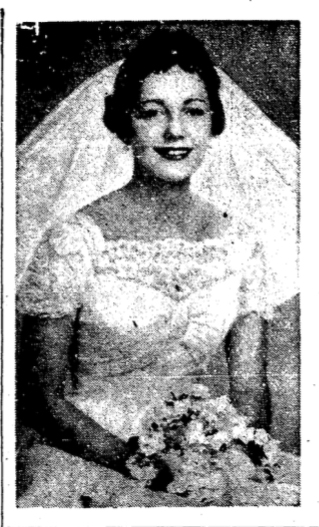 OWH archives. Miss Sally Berg in October and December of 1958.
At 22 the hazel-eyed, redhead loved sewing, horseback riding and wanted to work with "handicapped children." She graduated from the University of Nebraska where she majored in child development and family relations. Her storied marriage to Hebron boy, Air Force Lieutenant Jerrold Louis McKenzie (sometimes spelled Gerald) meant the couple would travel the globe, making a home where they were stationed. He retired as a Lt. Colonel in 1984 while stationed at Offutt AFB. By then the McKenzie family had settled down in neighboring Springfield, where they later owned and operated Merry Meadow Farm and Boarding Kennel, in addition to breeding and showing Arabian Horses. But I've jumped ahead…by decades. I do hope you can forgive me. Of utmost importance–did we detect the clue that Miss Sally Berg was a horse lover? Did we discern that Sally aspired to work with children with disabilities as her mother before her? And as with our previous characters weaved into the charms of 1023 South 96th Street, I shivered with delight.
Bordertown
In the fall of 1957 the Bergs were to receive news of an unexpected next-door neighbor. "Baptists to Form a New Church," read the headline. A new congregation was formed on a five-acre tract of land at "Ninety-fourth and Pacific Street" directly bordering the Berg estate on the east. Reverend William A. Bingham announced the congregation's intentions at the Westside High School auditorium. Is that why the Bergs put their home up for sale in December of 1957? I found a seductive advertisement for the home. It read, "Beautiful country home on 2 1/2 sightly acres. Well landscaped grounds. 4 bedrooms—3 1/2 baths. You'll love this home on its secluded grounds." Almost a full year later, the home was still listed for sale but additional savory details had been added. October 5, 1958: "True English Country home on 2 1/2 beautifully landscaped acres. Sunken living room with beamed ceiling. Wood-paneled dining room. 3 bedrooms and den or 4 bedrooms. 3 3/4 baths. High, sightly but secluded grounds." The ad from December of 1958 called it a "Country Gentleman's Estate." These illuminating clues only served to torment me further. For the record, the country home never did find a new buyer in that year.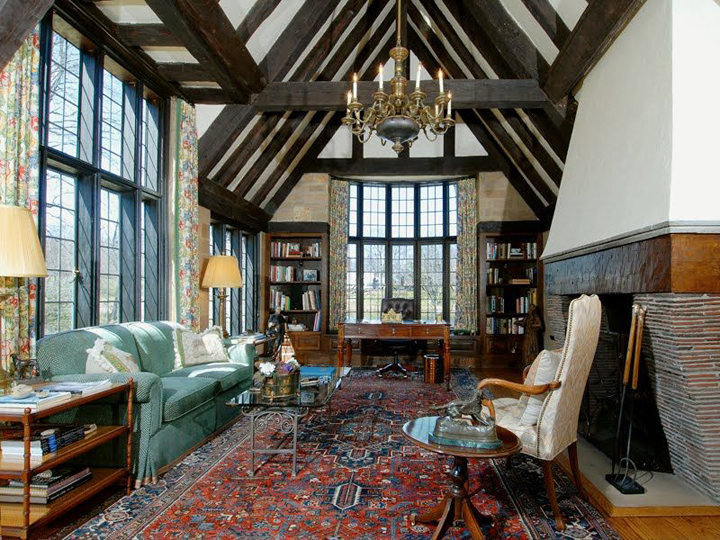 The "sunken living room with beamed ceiling" clue gave credence to my previous interior machination. Oh dear Architect Wallace, was I tickled to imagine it.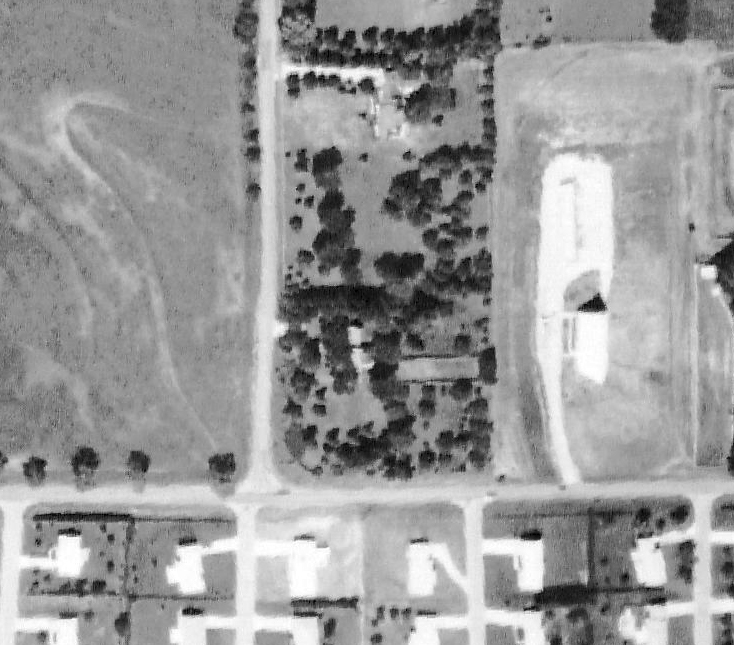 1962 aerial. The Sunset Hills church and parking lot are seen to the east (right) of 1023. 1023 South 96th Street's trees are filling in. We have an even better view of 923 South 96th to the north. On the south side of Pacific, the MCM neighbors are filling in. Image from the Douglas County/Omaha Geographic Information Systems site. Public domain.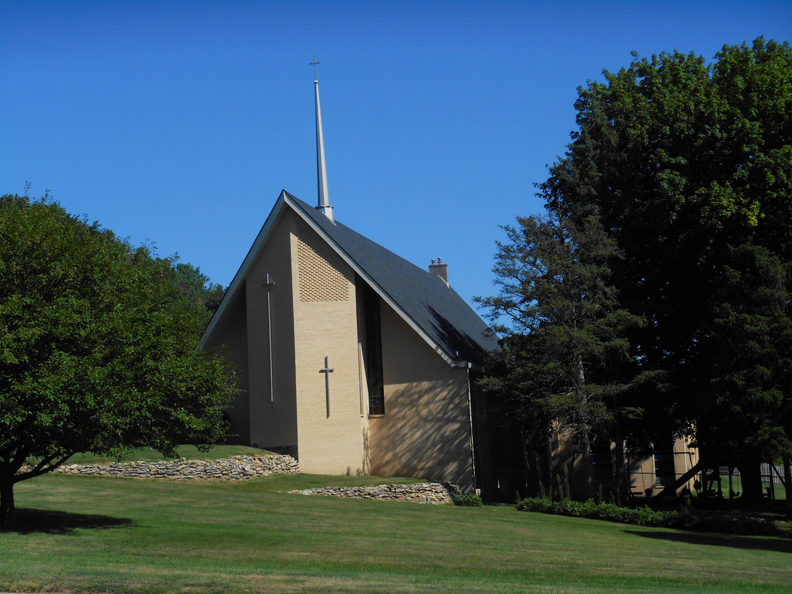 Sunset Hills Baptist Church at 9416 Pacific. Looks exactly as it did the day it was born. I took this photo in the summer of 2020.
In the meantime the congregation to the east had christened themselves Sunset Hills Baptist Church; the church building would be completed in 1959 and is still going strong at at 9416 Pacific Street. Its large parking lot surrounds the mid-century modern church, with grassy knoll rising up to abut the property line of 1023 South 96th, defined by a wooden privacy fence. The next historical marker in the form of the 1962 aerial photograph reveals that there was not much division between the 923 South 96th and the 1023 South 96th properties. Except for the trees, it is hard to make out as much as a fence. It appeared that 923 South 96th was a larger plot, evidenced by the expanse of clearing around the home. The Sunset Hills Church to the east looks to have barely taken shape by the 1962 photo. Adding further to diversity in the area, the Board of Zoning Appeals toiled over an application the Omaha Public Power District filed in the fall of 1961. OPPD proposed to locate a substation in a first residential West Omaha district. You will find the substation not so discreetly hidden at 9312 Pacific Street, wrapped around, behind my most desirous, rustic property of 9402 Pacific Street. Understandably a large group of neighbors protested this proposed site. The bewildered neighbors had suggested locating the frightfully unappealing unit "somewhere between One Hundredth and One Hundred Fifth Streets." Earl G. Hawkins was a strong opponent, as the substation would abut his backyard. I think we detectives can figure out what transpired, by the fact that OPPD maintains a massive substation on this land.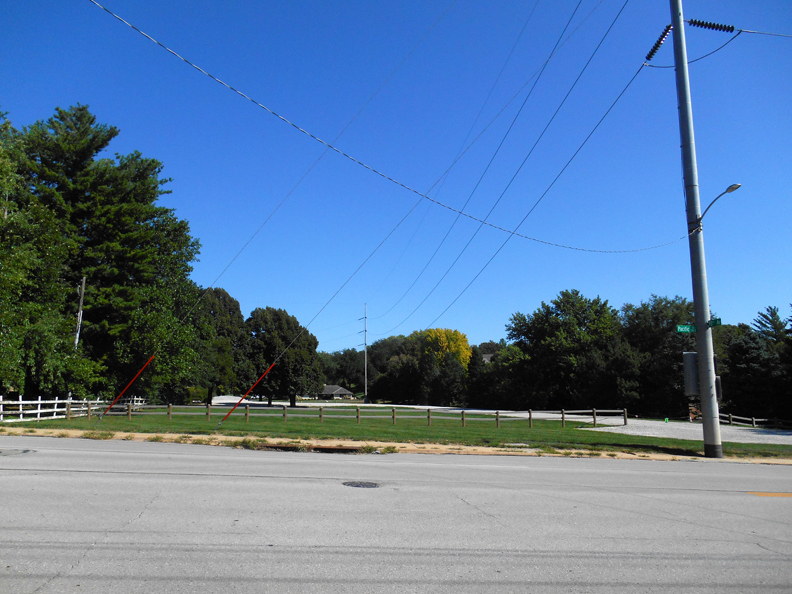 The Omaha Public Power substation entrance at 9312 Pacific Street, looks much like how the whole of this area used to look when I was a girl—country fences and people on horseback. The actual substation is behind my favorite 9402 Pacific (spied on the far left in the thick treeline) but is best viewed from the neighborhood directly to the north. Have fun driving around in the neighborhood back there. I took this photo in the summer of 2020.
In a Lonely Place
In 1962 Dick Berg would make a fateful announcement about the demise of Berg Clothing Company that mirrored many people's unfortunate view of downtown Omaha. The declining pedestrian traffic in downtown Omaha was thought to bring the end of this long-time, family-owned men's clothing store at 421 South 16th Street alongside many other Omaha staples. It is hard to imagine having persevered through the Great Depression and World War II only to fold over a fading downtown. The Berg business began selling its stock and would plan to shutter its doors, January 1, 1963.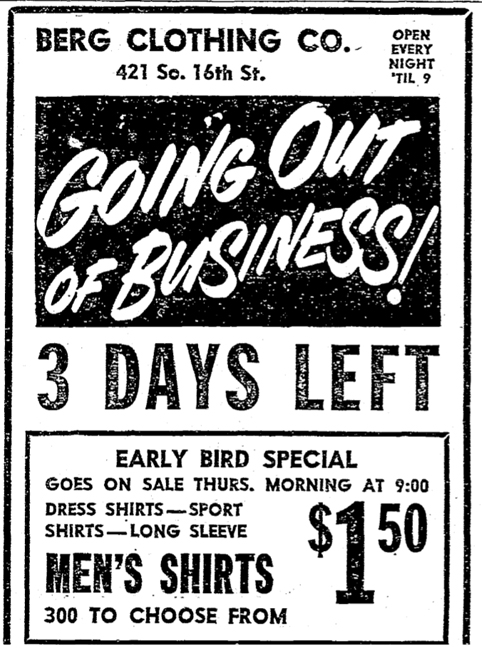 Goodbye advertisement from January of 1963. The store fixtures were still being auctioned off in February of 1963. OWH archive.
Richard Berg explained, "The pedestrian traffic has been dropping in this location for some times. We still have our regular customers but we just don't have the drop-in trade we need." Absorbing to think of Einar Berg's litigious auntie, Gertrude Berg, having watched the rise and fall of the Berg business mysteriously from afar; she passed away in 1960. After the company was dissolved, Einar Berg was rumored to retire and spend his time traveling and fishing. I was saddened to find the Omaha Famous menswear clothier had died not very long after his retirement date on March 18, 1964 at the age of 71 years in a local hospital. The more I read of this Portentous Phenomenon, the more I plan to never abandon the slavish wheels of capitalism–only meaning retirement doesn't seem to be all it's cracked up to be the more I look into history. Our Einar Berg was entombed at the West Lawn Mausoleum. For his part, faithful son Dick Berg would continue on in menswear with a career at the fabulous Thomas Kilpatrick & Company, renowned Omaha dry goods retailer and clothing manufacturer. When Kilpat's, as every Omaha woman called it in its day, was bought out by Younkers in the 1970s, Dick would move to Des Moines, Iowa continuing in his proud family tradition as a men's clothing buyer and tastemaker.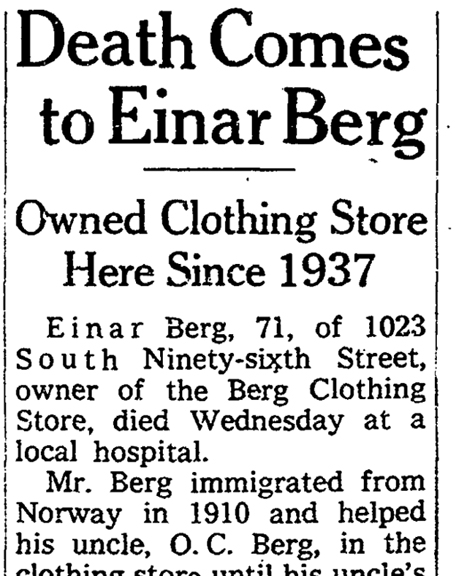 Mr. Berg's obituary from March of 1964. OWH archive.
Dolefully months later a Warranty Deed revealed Louise Berg, newly labeled "widow," sold 1023 South 96th to another family. I understood the passing of proprietary rights, as we architectural detectives have spied time and time again but it somehow struck me as Just Plain Awful to have to leave one's home after the death of a loved one. Like a two-fold blow. Perhaps it was with a renewed lease on life that Ms. Louise decided to move from the Hidden House on the hill? I quietly hoped that was true. The home was listed for sale in June of 1964 and by October of the same year, Daniel Lee and Mary Elizabeth McKinney had purchased the property. It was not hard to understand the draw of the high knoll, affording truly a sunset view amongst sunset views. My copy of the warranty deed bespoke the imperfections of a bumpy office typewriter and the tight curly-q signature of Ms. Louise. I treasure this document. Of interest, the 1963 Omaha City Directory had finally labeled the Berg residence as "1023 South Ninety-sixth Street" specifically, instead of the generic "96th and Pacific" it had always been.
The Richard E. Berg Case File
Richard Berg, son of Dick and Pauline, grandson of Einar and Louise, reached out to me during the uploading of this massive tale. He so generously filled in the details of his family and even scanned photographs from the Berg family collection. These are amazing clues! I feel so rich to be able to peer a little deeper into this family's past and private images from their country house. Thank you so much, Richard.
"My grandfather, Einar, was born Einar Knutson in Norway in 1892. He changed his last name to Berg when he came to America, no doubt in honor to his uncle Ollie. My father (Ollie Richard "Dick" Berg) was named after his great uncle.
My grandmother, Louise Quilliam, was born in Galena IL in 1900. The family had Manx ancestry. She had three sisters: Eleanor, who married and lived in Galena, Katherine "Kitty" and Elva, who both never married and lived later in Madison WI. Elva was considered "handicapped' and spoke with an impediment. This may have influenced Louise in her work with handicapped children.
More on Einar and his death. Einar had been a smoker most of his life. I recall his brand as Viceroy during the 1950s. No doubt starting with unfiltered cigarettes while in the Army during WWI. He had COPD and I recall him having to stop after any exertion, with labored breathing. He did stop smoking but the damage was already done. He was a life-long hunter and fisherman. In retirement, he would drive to his favorite haunt, Piney Ridge Lodge, on Whitefish Lake in Minnesota, to fish for Walleye and Northern Pike. My brother and I used to go with him but he made his last few trips alone. He would fish with his long-time guide, Bob, so at least he didn't have to fish alone. I remember visiting him at Clarkson Hospital several days before his death, not realizing how dire his condition was or that I would never see him alive again. Sally came home from Germany and was inconsolable at the funeral, as was I.
More background on my father, Dick. He was trained in multi-engined aircraft. Started in B-24, then selected to train other pilots, graduated to B-29 co-pilot. He was scheduled to enter the war in the Pacific when the war ended so he never saw combat. My mother, Pauline Anderson Berg's first husband, William B. Robinson, was killed on his first mission over Austria in 1944. He was a navigator/bombardier in a B-24. She later met Dick on a blind date and they married in January of 1948."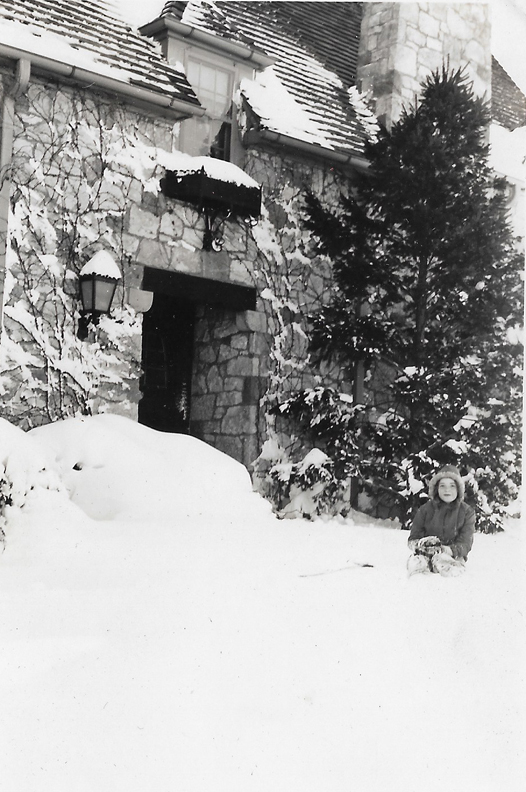 "Sally Berg by the front door of the house, 1943." Just amazing. Little Miss Sally by that beautiful door.
"Ollie Richard 'Dick' Berg, at front door, 1946 after the war, dressed in civilian clothes." Two beers on the walk and there are the shrubs and plantings I imagined had filled in. Great 1940s outfit.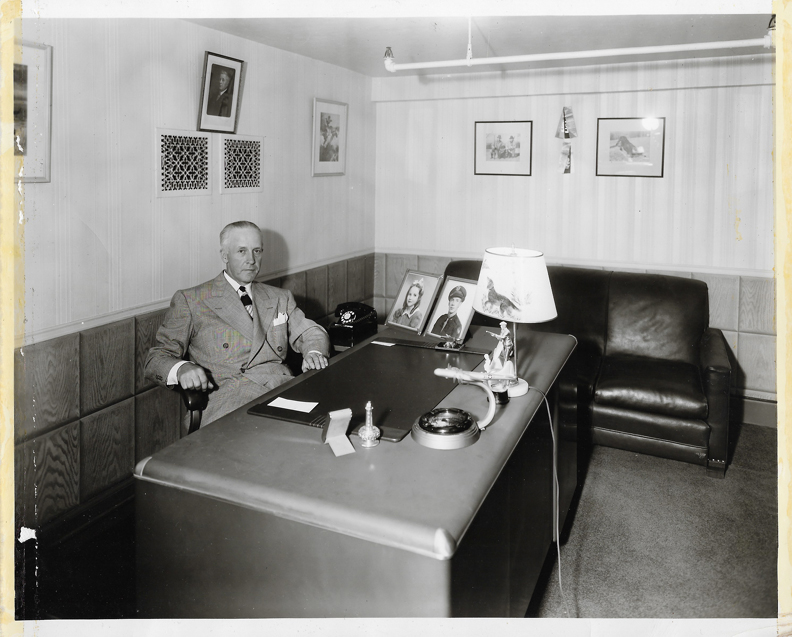 "Einar Berg in his office at Berg Clothing Company during the late 1940s. On the wall behind him is a picture of his uncle, Ollie Berg. On the desk are pictures of Sally and Dick."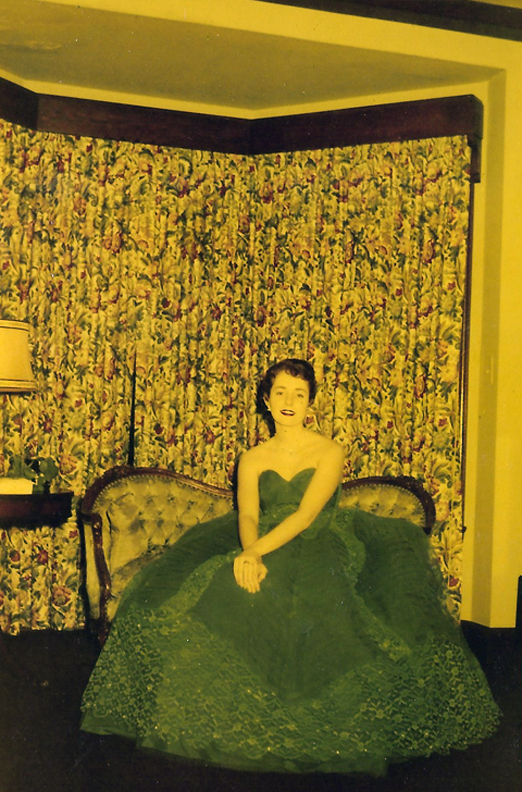 "Sally Berg in a gown for the Military Ball in 1954. She was a senior at Central High School. This shot is in the south living room in front of the bay window." Divine. Just divine.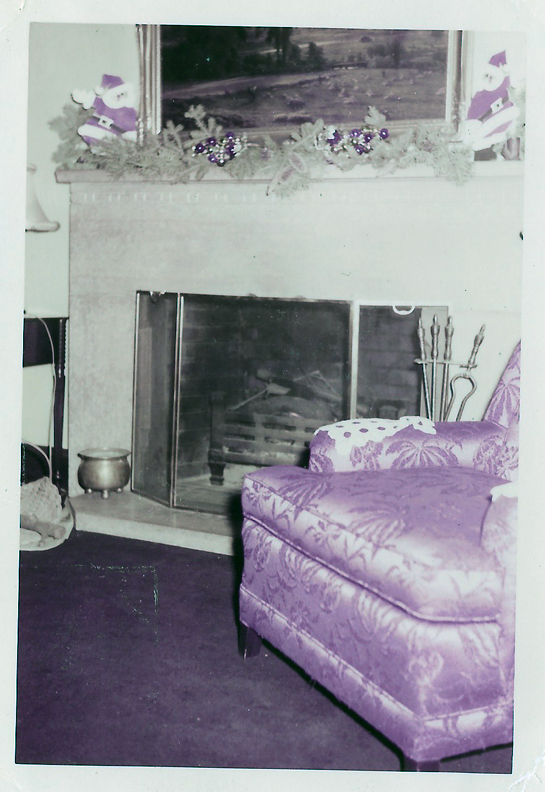 "1955, the fireplace on the west side of the sunken living room."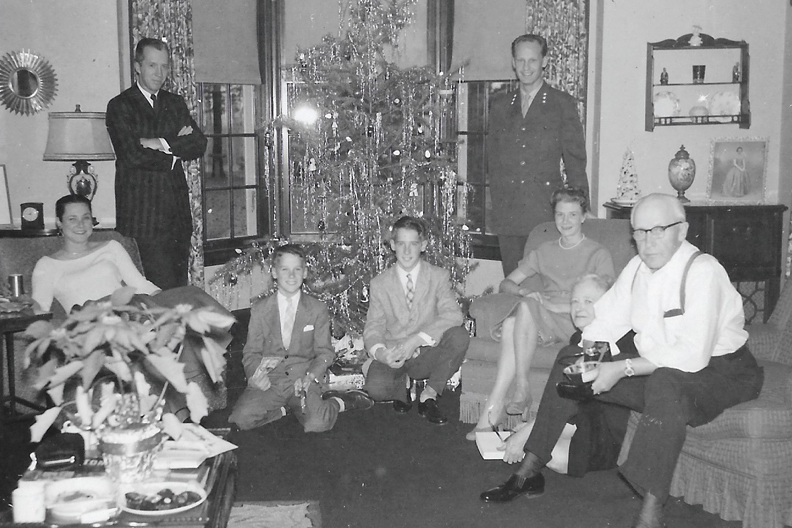 "Christmas, 1959. Left to right: Pauline Berg, Dick Berg, Paul Berg, Richard E. Berg, Arne (nephew of Einar, in his uniform of the Norwegian Army, the wife of the Danish officer taking the picture, Louise Berg (on the floor), Einar Berg. South end of the living room."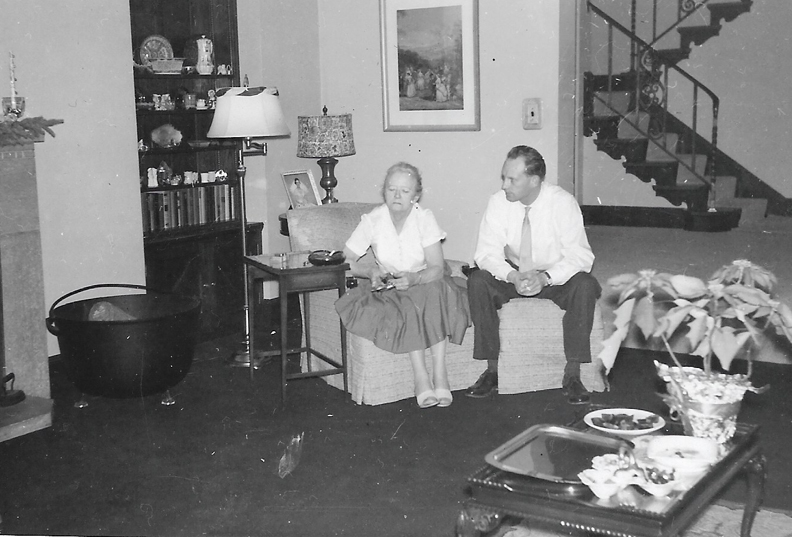 "1959, Louise Berg with her nephew Arne visiting from Norway. North end of the living room. Entry way and stairs to the second floor in the background."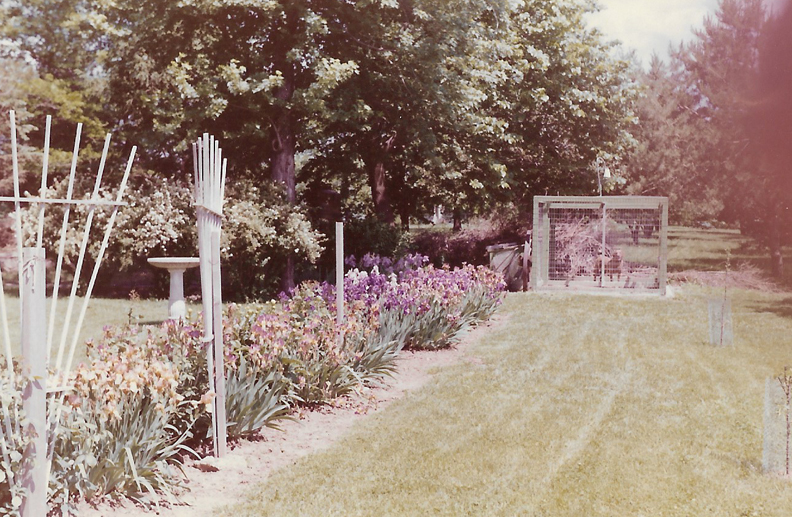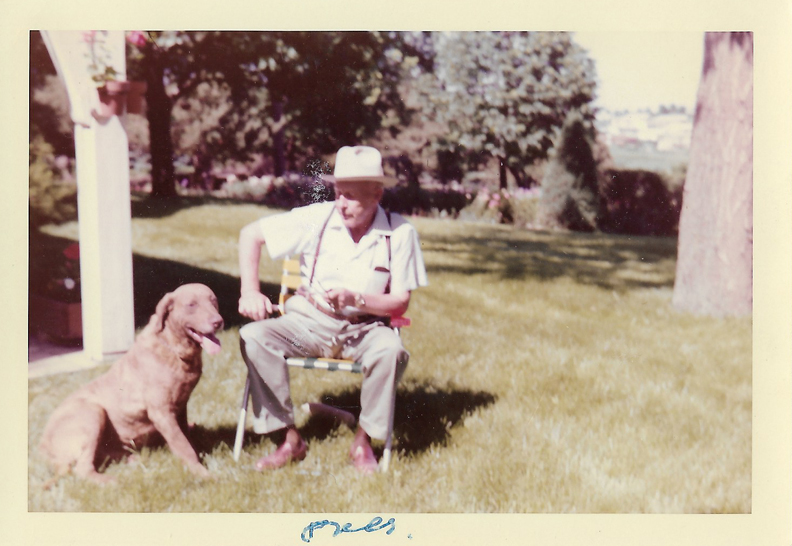 "1960, Einar's flower garden east of the breakfast nook. Hunting dog kennels in the background for Mike and Buck, Einar's Chesapeake Bay Retrievers."
"1960, my favorite picture of Einar with Mike, southeast of the covered patio. The back of the photo has the caption in Einar's handwriting, 'Mike and yours truly.'" In this very last lovely photo, we can see that infamous view in the background.
Before we proceed with the McKinney family clues, I must share with you a most astonishing revelation. I tell you because I cannot keep this bit of intelligence from you any longer. At some point on the trail I reviewed a current aerial photograph of 1023 South 96th and discovered to my shuddered delight two other houses had materialized on the acreage sometime after 2001.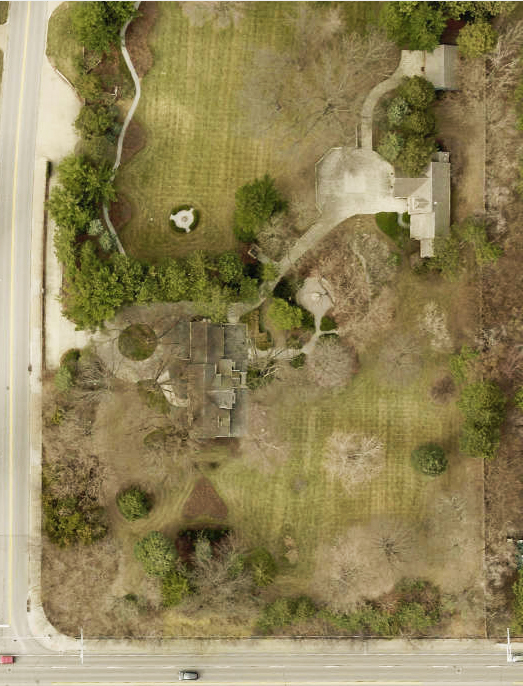 2018 aerial. 1023 South 96th Street. Top of photo is north. Original Reichstadt home with the circular drive in the lower left hand quadrant, now joined by two other mystery buildings. Image borrowed from the Douglas/Omaha Geographic Information System site. Public domain.
I could not believe my eyes. In a late night spy session from the Sunset Hills parking lot slant, I could see lights coming from the hidden property. The newest structures adjoined the eastern fenced perimeter, bordering the church. Cleverly absent on the newest buildings were any east facing windows. How curious, these details. My operative's manual clearly instructed that I scale the incline and have a proper look-see, putting to rest this mare's nest but passersby on Pacific would surely notice my precarious ascent. And who wants to be questioned or arrested for being a creeper? I fretted. A master sleuth would have worked this slim clue to conclusion but fear of legal reprisal kept me tethered to my car down in that sad lot. If it had been another decade, I might have smoked a cigarette in the rain, turned up a collar and fastened my gaze. I figured there had to be another method to get my proof.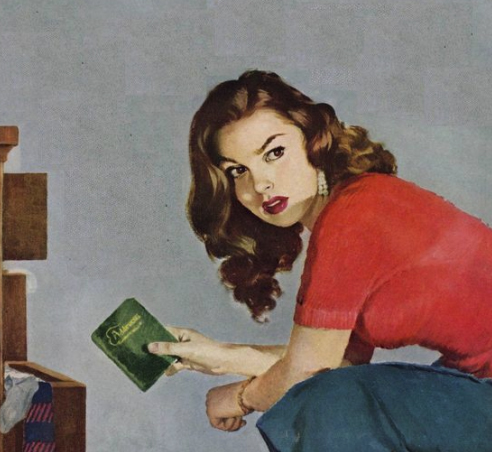 Detectives, once again we are out of time. Yes, we must say "Goodnight" for now but without a doubt, we'll be back together shortly for Hidden House Part Five. I cannot wait to tell you what happened next, more Berg clues and the whos and whys and wheres and how this incredible Hidden House came to be the secret property it is today. Until we gather again, keep your eyes peeled for beautiful surprises.
This investigation now has a follow-up. Please follow this link to: Hidden House Part Five.
I welcome your feedback and comments on this portion of the story—the wonderful Berg family, the Berg Clothing Company and the whole 96th and Pacific district. Feel free to leave a thought in Comments. I welcome you to poke around with your flashlight. Investigate. Hide in the shrubbery. Look under these rocks and down those alleyways. I am more than pleased to have you tiptoe about. By the time you head for home, I hope you have been fully Sherlocked and Satiated. Thank you, detective friends.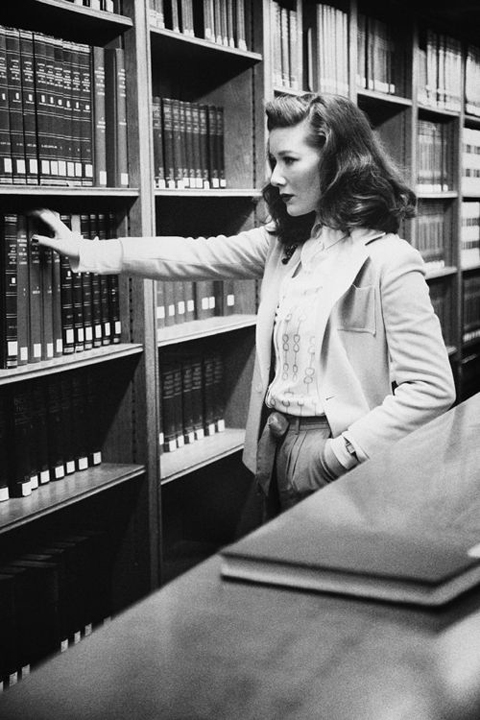 If you like what you see, you can keep up with my latest investigations by joining my email group. Click on "Contact" then look for "Sign me up for the Newsletter!" Enter your email address. It will then display "Thank you, your sign-up request was successful!" Make sure to check your email address to confirm. You will get sent email updates every time I have written a new article. Also feel free to join My Omaha Obsession on Facebook.
© Miss Cassette and myomahaobsession, 2021. Unauthorized use and/or duplication of this material without express and written permission from this site's author and/or owner is strictly prohibited. Excerpts and links may be used, provided that full and clear credit is given to Miss Cassette and myomahaobsession with appropriate and specific direction to the original content.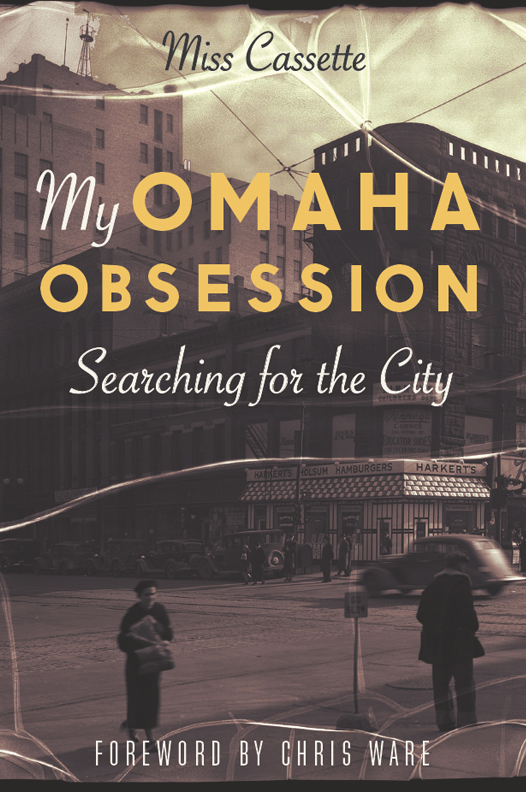 If you are looking for more architectural and Omaha history sleuthing fun, ask your local or bigbox bookseller for my new book: My Omaha Obsession: Searching for the City. Also available everywhere online. Thank you.