There is a wild and wooly environ just a stone's throw from the huge, Hidden House we churned about on 96th and Pacific that I've been meaning to return to. 9402 Pacific Street, my longtime dream property in this area, is situated on two acres, studded with mature trees and outlined by a weathered, white-painted horse corral style fence. There is a large, dark canopy of green that swells over Pacific and very nearly extends across. I just know you've seen it and some of you luckies have even been inside. Amidst the setbacks and well-groomed front lawns of the stretched out hills west on Pacific Street, this home always maintained a rustic, cool indifference behind the leaves. As a House Character, I chose to personify the familiar air of cheekiness. Somewhere betwixt and between Barbara Stanwyck's fictitious Christmas in Connecticut farm and Lash LaRue's cabin, 9402 had winkingly loosened the silky, equestrian scarf at her neck long ago.
Whether born from Outlawry or Bred-in-the-Bone Old Rich, 9402 had enticed more than a few dreamers by her careless lure. My impression of turning down that extended, dappled drive was effortless. I longed to accidentally find my way up to the 9402 house. It appeared she had just that right frame of mind for an unexpected houseguest. Oh my delusions!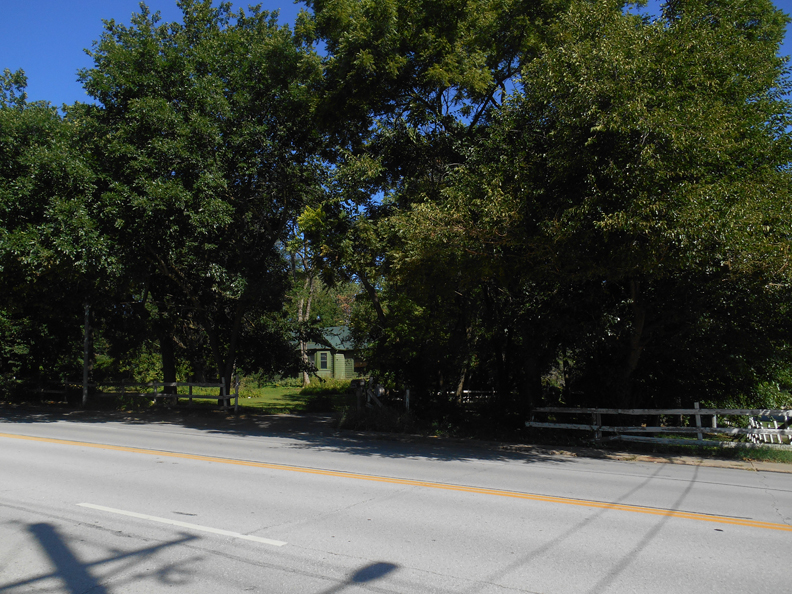 While working this case, a deeply recessed memory of the home emerged in a light color, some variation of white, in harmony with her rural fencing. Back then she seemed easier to spot in passing not only due to her fair coloring but because this wasn't always such a screened in property. My recollection was one of sunny, illuminated countryside, although the general sense was a message altogether unconcerned and distant. What intrigued me beyond the property's casualness was that all manner of rusticity sprawled freely on every side of the lot as well. Was this a farmstead? To her east was an undeveloped hinterland unsurely fading away to the north. As far back as I could remember, a precariously perched church sat to her west and had most certainly materialized from a pasture. I promise you, I remember horses being ridden along West Pacific Street as a girl. As sure as I could see it right before my eyes, the whole area felt like uncharted frontier rawness and the nearby folks toing and froing seemed highly accepting of that fact.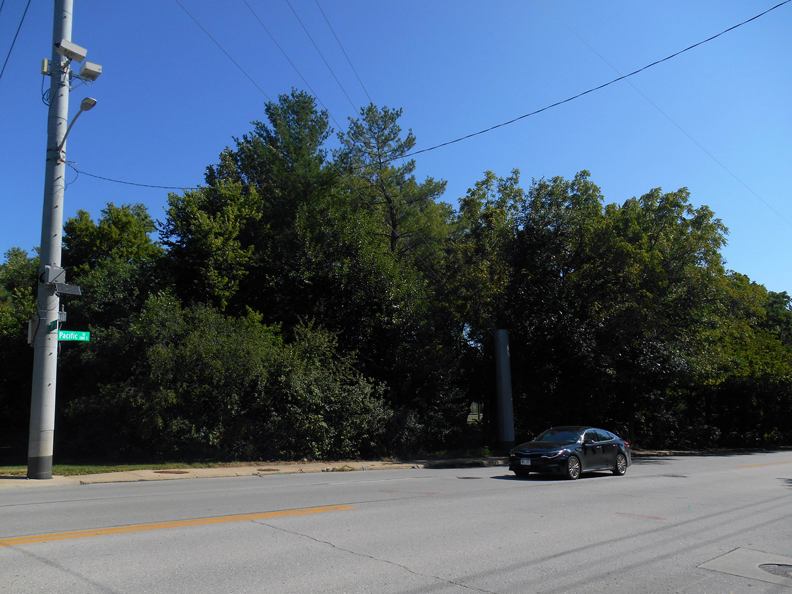 Could it be that they've never even noticed her?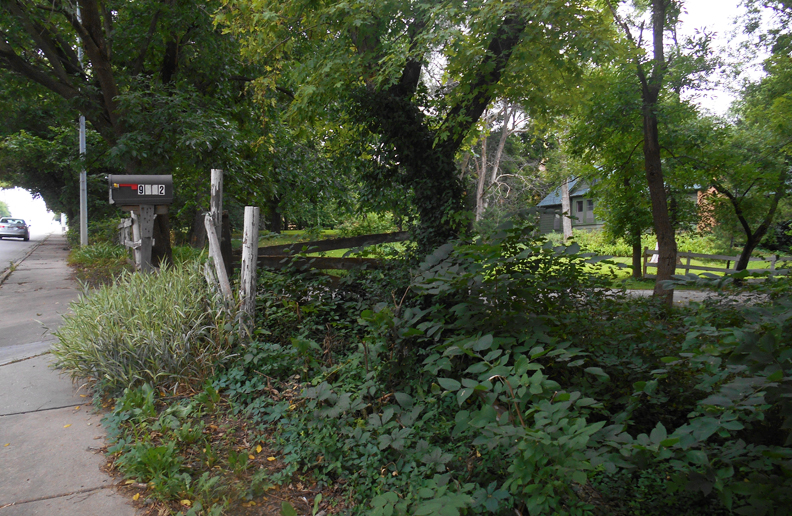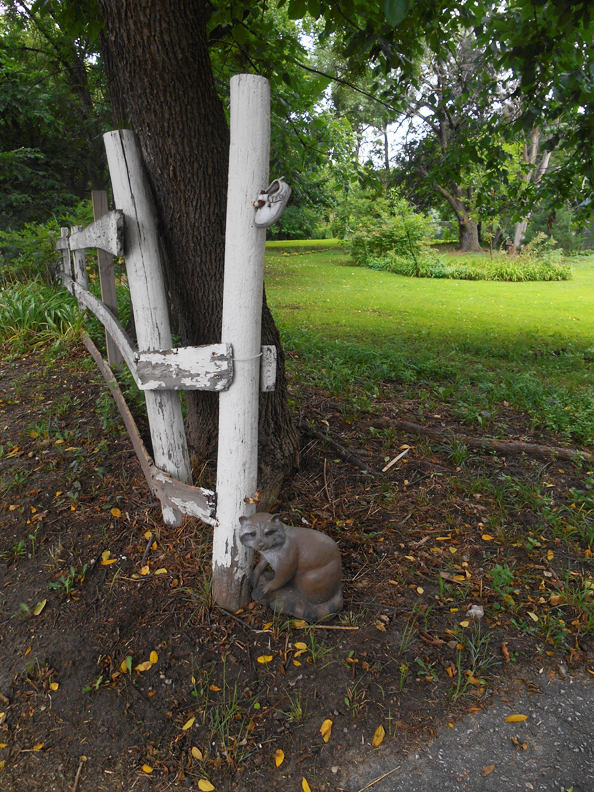 But how could they not? There were so many clues and occasional notices of the human touch. The baby shoe, the raccoon, the driveway of colorful hardhats ordered on posts, and the mossy cowboy boots were positioned just so. Even the disorderly placement of the address numbers began to seem intentional the more I obsessed. It was all strangely beautiful, cobbled together, and most often humorous. Was this the home of a virtual recluse who liked to send up conflicting epistles or the hideaway of eccentric pranksters?
After I started this investigation business, I learned 9402 Pacific had originated as an early 1900's farmhouse. I now have my proof she is one of the oldest structures in the area, if not The Last One standing. Once a portion of a fully functional farm, like most of the neighboring properties in this expanse of West Pacific, her landowners kept horses stabled and had a fenced pasture. In time she would undergo a city sprucing, the farm dwelling converted and modernized with the addition of wings, an interlacing guesthouse, her once pastoral property and out buildings assumed the gestures of suburbia. Her simple architectural details and rambling property were celebrated as unique at a time when a certain kind of country home was new code for luxury. 9402 naturally entertained and charmed Omaha Society with great panache, wearing her bucolic adornments like this season's country club accessory. She hosted genteel gatherings of local platform tennis enthusiasts on her private court, while others toasted with gin and tonics and Falstaff around her backyard barbecue house. Pacific Street itself was expanded and the suburban homes would eventually come to fill in around this swath of green. Their varying styles and sizes would also lend to the distinctive character of this neighborhood.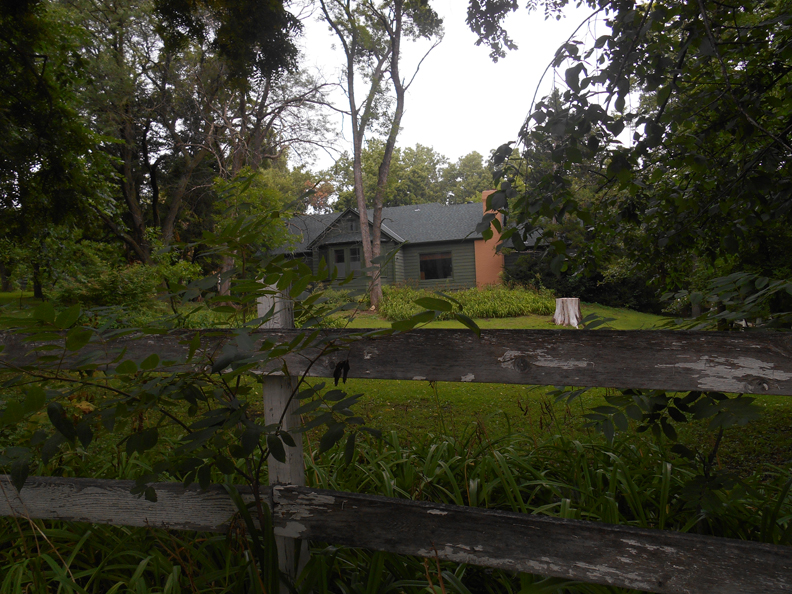 Now dense and overgrown, the recent decade has found the 9402 residence reclined in a green on green camouflage ensemble, further concealed and almost subsumed under the abundant verdant growth. Whereas this paint-up served as a sly disguise for the easily hornswoggled, this covert garb only made once rural 9402 Pacific, in every sense, more of a curiosity to our Fervent Gallery of the House Obsessed. Her full personality hidden from sight singularly induced a deeper longing. What was going on there? Why was the 9402 Pacific Street property and surrounding parcels left untouched in all these decades? It pointed to an intriguing puzzler. You understand, we have an affinity for the timeworn mystery. And now in the final cadences of the old gal's perceivable earthly phrase, it's high time we detectives climb through the country fence, poke around behind the leaves and darken the doorstep of 9402 Pacific Street. I was more compelled than ever to peel back every layer of her past. Who's with me?
Back-story: I had written about neighboring 1023 South 96th Street back in 2017-2018. If you have not read this investigation or if you'd like some supplemental reading, please follow this link to sheer delight: Hidden House. It lays an obsessive foundation for today's inspection. Concurrently the preliminary investigation into 9402 Pacific had begun at that time. Only now could the finishing touches be drawn together but as we know, an investigation is never really complete. And that is where you come in. What follows is a longform investigation and is meant to be enjoyed slowly on a desk or laptop computer. I aim to be joyfully exhaustive.
In the Course of Time
Fellow obsessives and newcomers alike, we are going to dig right into the current news of 9402 Pacific, as some of you like to have an overall understanding off the bat. We will move at a good clip. If you would rather survey the distant past first, skip ahead to The Early Clues.
Sitting towards the middle of the 9402 Pacific property, the low-profile, main house has a front-facing chimney and large, dark, southern windows. There are two other buildings, in addition to the home, all wood frame, within its over two acres. An in-ground swimming pool is found between the two outbuildings and a platform tennis court abuts the western perimeter. The parcel is "held in lands," as the professionals say. Section 22, Township 15, Range 12, IRREG S 300 W 304.2 FT E 10 AC S 1/2 SW 1/4 SW 1/4 – 2.003 AC, specifically. According to our Deeds buddy, Mary Barnes, 22-15-12 describes a specific area of town. This particular plot of land was never platted, consistent with some of the large properties encircling it, so the legal description, instead of an addition name, is listed in "City Lands," with a section-township-range description through the Public Land Survey System. So as much as this "Lands" clue signified to me that 9402 Pacific might be an original farm house, a contemporary home can also "be held in lands"—it only means that a property was never a portion of a larger development. On that note, I'd like to thank Mary Barnes and Susanna Nunes for helping me work the early historical portions of this case for the last couple of years.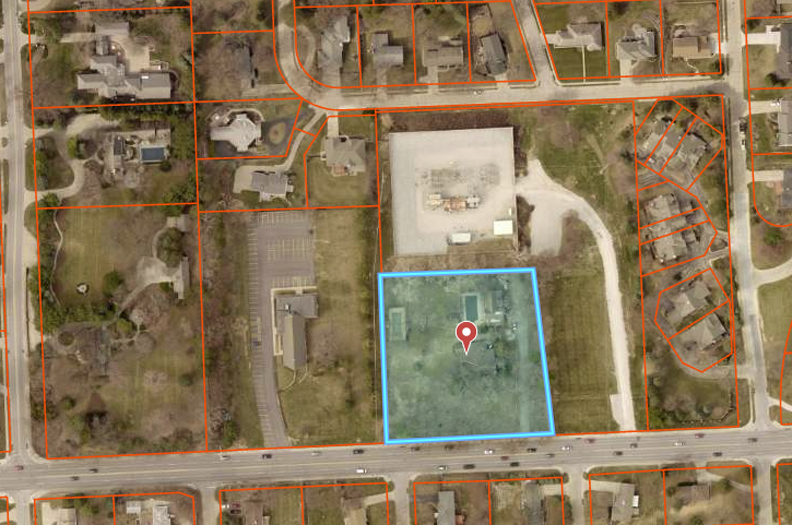 Orange property lines map borrowed from the Douglas County Assessor site. 9402 Pacific is highlighted in blue. Pacific Street, at the bottom of the photo, runs east and west. The perpendicular road on the right hand side is intersecting 93rd Street. 96th Street is on the far left hand side of the image. OPPD owns the parcel that literally surrounds 9402 on the east and northern border.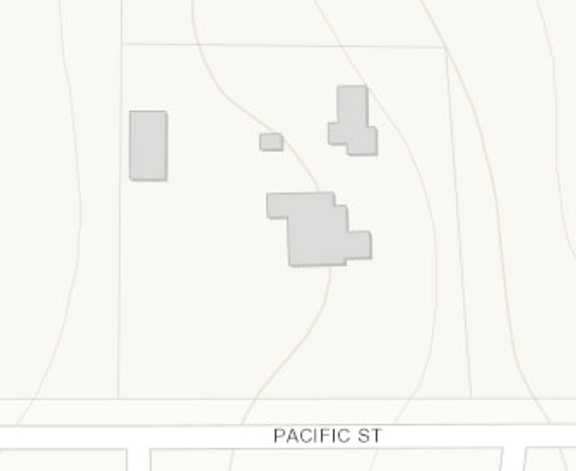 The footprint of the 9402 Pacific built environment. Image borrowed from the Demolition Tracker site. We will review each building upcoming.
First, the discomforting news: The 9402 property had quietly been on the market for some time before my full investigation began. I remember seeing photos of it online when it was not so quietly for sale. A review of real estate listings show the owners first put the property on the market and subsequently removed listings off and on in 2013, 2015 and 2016. Advertised by John Heine of Investors Realty as a "Great In-fill location in District 66. 14 units per acre allowed. Isolated from immediate neighbors," these descriptors are never welcome phrasing for old house dreamers, preservationists and architecture buffs. However, it has become commonplace to see this type of advertising in the Westside area as buyers and developers are overtly encouraged to scrape off the existing original homes.
Photos from John Heine Investment Real Estate from an old listing. You can move over these images to enlarge them. Sorry the images are so pixelated but they give you an idea of why I had heart palpitations early on—to be able to see behind the Pacific Street tree screen! The Assessor site, Trulia and Deeb Realty mentioned two buildings; the main house was 4,196.0 sqft. Three bedrooms and four baths. Built in 1904; remodeled in 1974. A second building was 1,054.0 sqft and was built in 1904. Oddly, the listings provided no interior photos, let alone exteriors. Usually not a good sign, but every so often we see these interior photos omitted for privacy reasons like an amazing art collection or other pricey goods.
And now the more pointed news: When their folks retired and moved away in December of 2000, Paul Klein and five of his seven siblings purchased their beloved family home at 9402 Pacific Street from their parents. I had the good fortune to meet Paul for an interview and formal tour in August of 2020 (details to follow), a gracious introduction paved by our mutual friend, Michael Leahy. The siblings had all moved on for the most part (with Paul managing the property onsite) and it seemed impossible to imagine the upkeep of the large place into the future, hence the occasional real estate listings. By the time I met with Paul, he was finalizing the sale of the property and headed for a quick closing in September. I was told the new buyer had not set foot on the premises when they penned the deal. Dismally the land was expected to be developed into 20 unit condos. I noted the Douglas County Assessor transitioned the ownership from the Klein siblings' LLC to Fairview Dundee LLC by Dec 28, 2020, but the sale date and purchase amount still has not officially been updated. It is a mystery as to why it remains so foggy. Many in the neighborhood know of the sale and rumored development plan. I can only assume they've been tracking this acquisition with interest as long as I have.
Truth be known, Paul would eventually sour to my architectural questioning and meddlesome ways, perhaps thinking I was going to dash his big sale. I suppose my curiosity about construction dates and plats can be needling unless one knows what My Omaha Obsession is driving at. Michael Leahy would fill in as many missing details as he could. I am thankful to Paul and Michael for their time and graciousness and I can't wait to share more from our interview and tour in the follow-up investigation.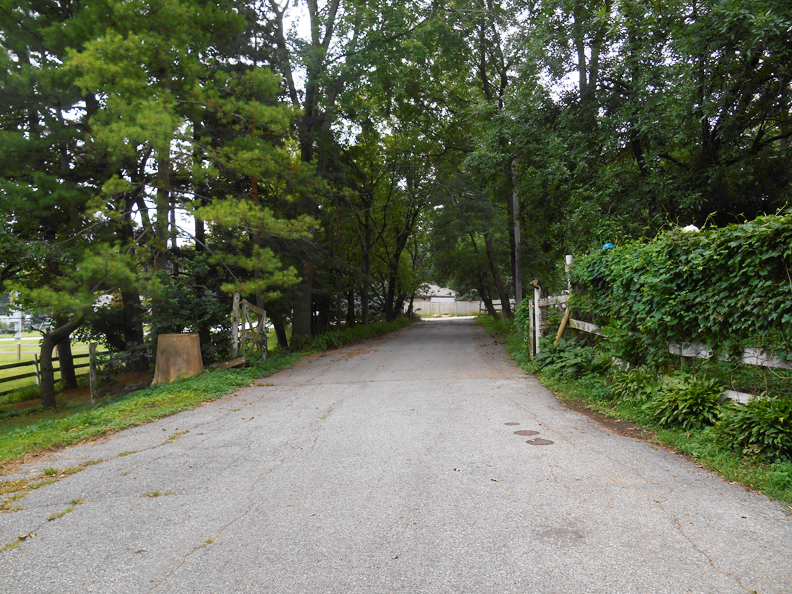 August 7, 2020. Finally my chance to walk the country drive of my dreams.
The Murky Drawing Board
As it turns out, there had been quite a few fits and starts to the proposed condo development of 9402 Pacific, further explaining just how pleased the Klein kids must have been to sell in 2020. The City of Omaha Planning Board case exhibits from August of 2018 revealed a preliminary plat approval of the "Preserve on Pacific Addition," a subdivision to be developed at the 9402 Pacific site. This project was the conception of Landmark Homes and Erhart Griffin & Associates. But nothing happened. Then three years later at a City Planning Board pre-meeting case review on July 7, 2021, they gathered for the Preliminary and Final Plat approval of "Pacific Rows," described as a "minor plat inside city limits, along with rezoning from R1 to R5 and approval of the MCC Overlay District" at 9402 Pacific Street. Shortly after, Grow Omaha announced: "A town home development known as Preserve on Pacific is planned for a 1.99-acre residential lot at 9402 Pacific Street. The developer, First Management, Inc., plans to demolish two existing single-family houses and construct 21 town home units." I've got to assume they meant the main house and the guesthouse.
The information conflicted, at least in the names and specifics. What was going on? It seemed the developers' plans were falling through. I could view what the original 2018 designs were but that was about it. Brace yourself, sleuths, the following images are disturbing.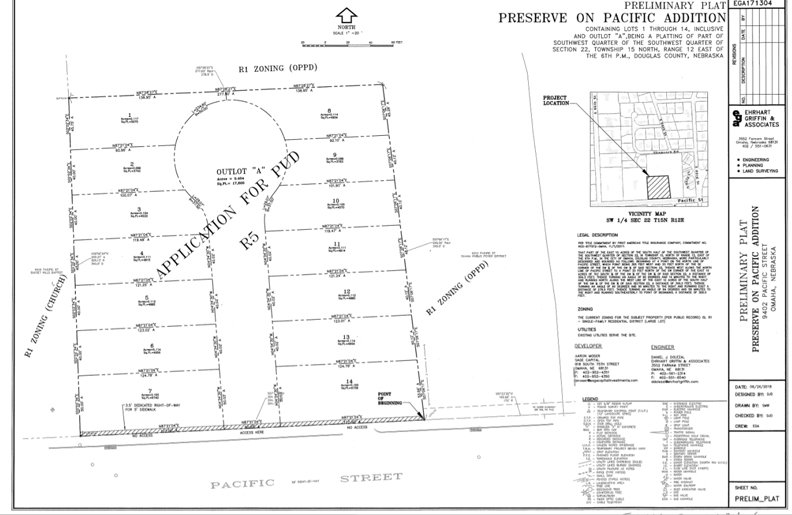 "Preserve on Pacific" from 2018. Preliminary plat drawn up by Erhart Griffin & Associates.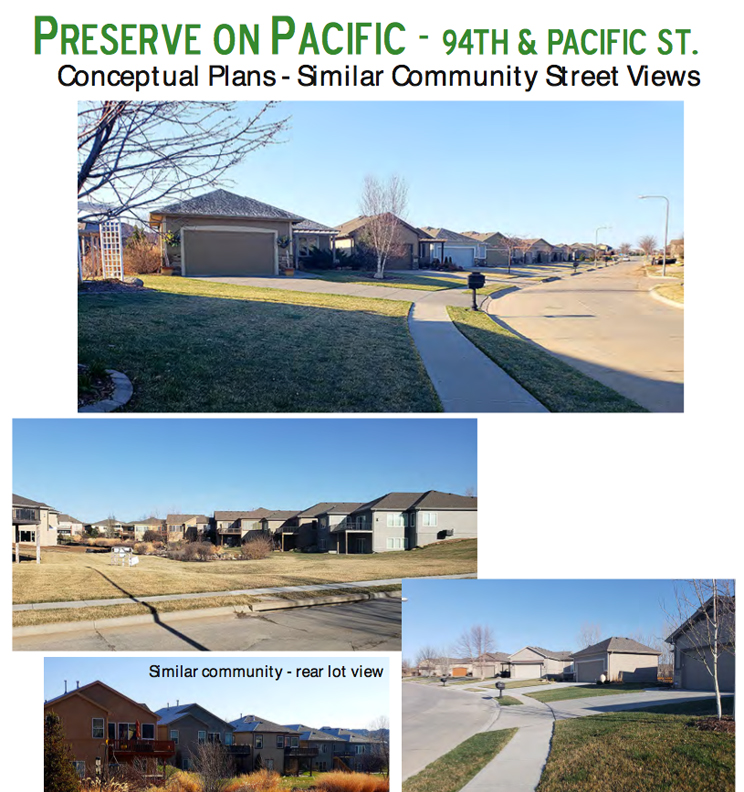 Why even tittle about with the name Preserve on Pacific when the trees will be leveled and these types of houses are built on a cul de sac? The name is a slap in the face. Of note—a site visit was conducted on July 5, 2018 by J. T. of Lanoha Nurseries, Steve Faller of Landmark Homes and John Meng-Frecker of Erhart Griffin & Associates. At that time the trio noted that "none of the trees" at 9402 Pacific were planted by the property owner, "except for the Apple." A large percentage of the volunteer trees are considered by the City of Omaha as "poor trees"- (Ash, Black Walnut, Buckthorn, Cedar, Cottonwood, Elm, Hackberry, Locust, Mulberry, Silver Maple). "The good trees we found are Apple, Aspen, Ginko, Linden, Oak, Spruce, Sycamore, Tulip and White Pine." It seemed like they were revving up the tree cutting equipment with that pathetic assessment. Paul Klein was told the entire parcel will be razed and as of this date, there are mixed reports of the plans for the trees. The neighbors have been told the majority of trees will come down. At any rate, Preserve on Pacific is no longer the plan. Or is it? What does Fairview Dundee LLC have up their sleeve? To this date, the redevelopment attempts have come to naught.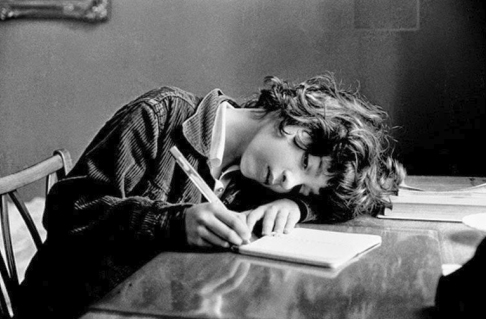 Related Note: If you are new here, we might get confused and turned around and immersed in the rolling, rural West Pacific areas, in light of the fact that we've places to be– 9402 Pacific, primarily. Wakeful wandering. For myself, I like to get dizzy with sensation, luxuriate in the mise en scène and kick up a bit of mania but I recognize for the casual reader, this can be a good amount of minutiae to carry from page to page. What can we do? I am a story teller who likes old drafty buildings and maps. This one will be map-heavy. I will employ many delicious or tedious maps (you can decide) because they give me a thrill! I will proceed as if I have scared off the accidental stragglers and speak to you as if you are one of us, The Infatuated.
The Early Clues
We had previously followed the trail of Anna and John Ott, who owned twenty acres by the time we caught up to them, extending from what is now the 96th and Pacific Street corner all the way down to the 9402 Pacific Street home—and I believe even a bit further to the north and east.
But long before the Otts farmed the land, John P. Folley had bought the property from the United States government, "…containing forty acres according to the official plat of the survey of the said lands returned to the government land office by the surveyor…" The wording was wonderful and nutty, complete with some fashion of short writing. The document was signed on April 27, 1870 at two o'clock in the afternoon when Asa Hardy sold to John P. Folley. Mr. Hardy appeared to represent the government in this sale, as the land was granted by the United States and approved by President Andrew Johnson. I am sure Omaha has always had a number of good Irish John Foleys roaming this town and I can vouch for two of them, but I could not track this variant John P. Folley fellow in Omaha.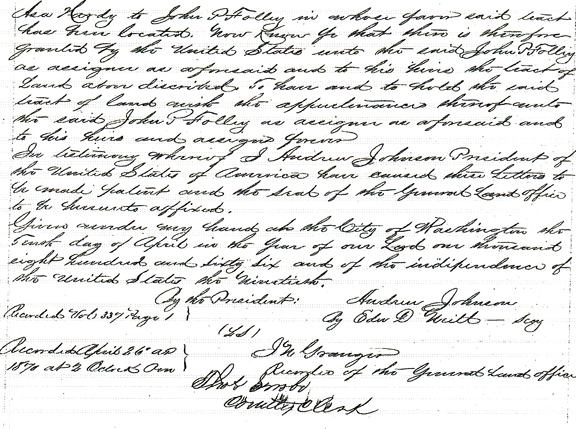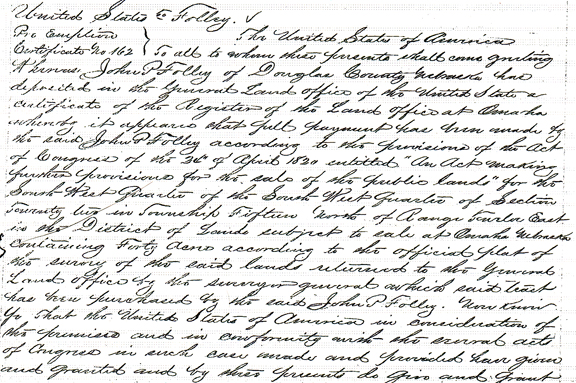 There were occasional notices, obscured and revealed. In land office records, John P. Folley bought an Omaha parcel(s) back in April of 1866. In July of 1914 the Dakota City, Nebraska paper, The Dakota County Herald posted a public announcement to John P. Folley notifying him of a state tax suit brought against him for the year 1912. Apparently in November of 1912 Mr. Folley bought Lot 12, Block 223 from the Dakota County treasurer at a public auction and they hadn't seen hide nor hair of him since. Likewise The Dakota County Record broadcast another notice a year later stating "John P. Folley, William C. Orr, Sarah Buchanan and the unknown owners of the real estate" of Lot 1, Block 85 in the Village of Dakota City, had fallen into arrears dating back to another purchase in 1912. Folley was not winning friends within the Dakota County Court.
By the time Folley sold the Pacific Street land, including our 9402 Pacific Street obsession, to a wealthy Douglas County farmer, it was little clearer. At that point John P. Folley was residing in Durham County in Ontario. Was he a Canadian buying up land in the newfound state as an investment? Folley sold one hundred and sixty acres along Pacific Street to Henry Eicke for three thousand dollars. This procurement was in the language of section-township-range and I made an economical decision I would not follow that thread through time. The size of the parcel either meant that Folley had continued to accumulate land from the government and other frontiersman over time, amassing the 160 acres when he sold to Eicke, or that Folley had built up even more land and only sold a portion to Eicke.
For our purposes 9402 Pacific, now encompassing two acres, was once part of a much larger plot of land—greater than I had imagined.
McArdle Township and the City Limit
When Mr. Folley sold his land to Mr. Eicke this West Pacific area was considered Douglas County but it was not a part of Omaha. This area was called McArdle Township or Precinct, which I have written about previously in the Hidden House saga. According to the Everts and Kirk Map of Omaha City from 1885, the southern (Center Street) and western (36th Street) borders of Omaha decisively ended at the southeastern borders of the County Poor Farm–just a few blocks west of Hanscom Park. The Douglas County Poor Farm was a large acreage outside of town where the county "housed" the poor. This farm appeared to be where the Field Club, Douglas County Hospital and the VA Hospitals now stand. My point in all of this is that it would be many decades until Omaha spanned to the 94th and Pacific property.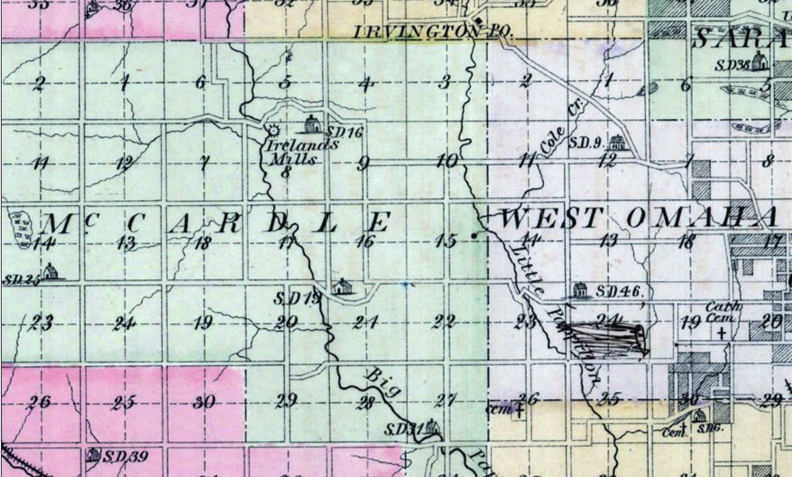 Detail of McArdle Precinct as it abuts West Omaha from the Nebraska State Atlas 1885, published by Everts and Kirk. Borrowed from the collection of Historic Map Works Rare Historic Maps.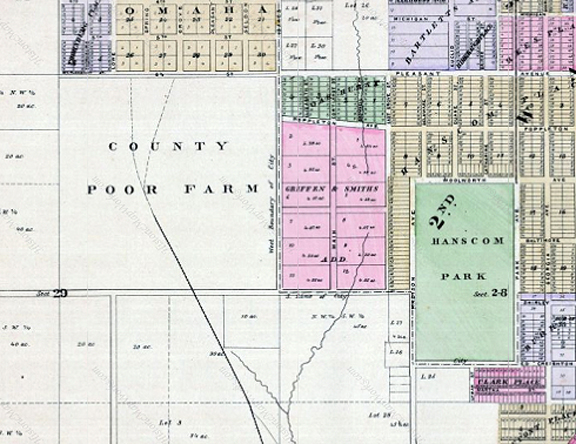 Detail of the County Poor Farm from the Omaha City – Southwest Map within the Nebraska State Atlas of 1885, published by Everts and Kirk. This map was borrowed from Historic Map Works Rare Historic Maps Collection.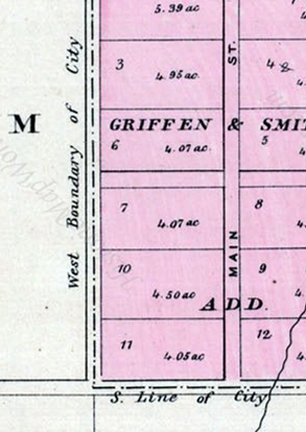 Magnified version of the above map to show "south line" and "west boundary" of Omaha. Borrowed from the Omaha City – Southwest Map within the Nebraska State Atlas of 1885, published by Everts and Kirk. This map was borrowed from Historic Map Works Rare Historic Maps Collection. Southern line was Center Street and western boundary was 36th Street, coincidentally the southeastern borders of the County Poor Farm.
Six Miles West of Omaha
Our concept of West Omaha has only extended further and further, as any Omahan, long ex-pat or still hunkered down, well knows. Before the Greatest Generation had moved out to the suburbs after WWII, the land west of Omaha in this 80th to 100th Streets stretch on Pacific was country land. I am calling this West Pacific Street but in 1898 "West Pacific Street" was pinpointed to the 40th Street crossover. It is fun to envision this whole District 66 area as a country setting. Macadam roads, developed in 1820, used crushed stone in compact layers. Pacific Street out in this 94th to 96th Street area was most likely dusty macadam. Imagine the sounds it produced with horse and buggy. In fact Pacific is shown on upcoming maps as a "wagon road." Well wooded with "fairly rolling hills," the West Pacific "road" was a "well traveled thoroughfare." It was "oiled" in 1917 and was boasted "in excellent shape for your Sunday drive." Paving and road graveling of Pacific were not started until 1922 with the development of A. J. Love and W. R. Wood's farms by Shuler & Cary. Archibald "Archie" Love's land became Loveland and William Righter Wood had a large dairy farm operation in what would become Ridgewood. This development was between 80th and 84th Streets, leaving me to wonder what the road up to 9402 Pacific looked like.
For more on this area, check out Mysteries of Omaha: 8120 Pacific Street.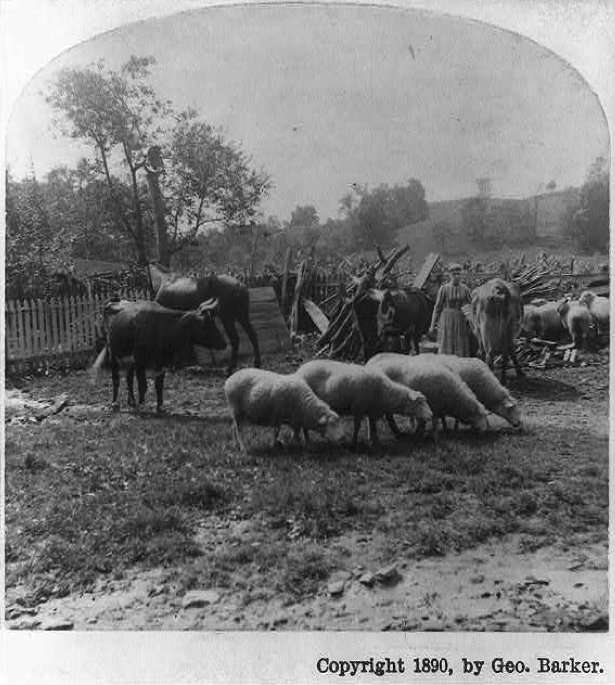 The old farmyard. Barker, George, 1844-1894, photographer. Created / Published: c1890. Borrowed from the Library of Congress. If anyone has photographs of old Pacific Street or old McArdle Township that they'd be willing to share to this investigation, please get in touch.
I've written about it elsewhere but from what I could infer, McArdle Township was a separate rural division of Douglas County, starting six miles west of the Omaha city limits. The first traces I would gather were from the mid to late 1800s. The McArdle Township, apparently used interchangeably with McArdle Precinct, was named after an early pioneer to the area, wealthy landowner, James H. McArdle. James McArdle came to Nebraska from Pennsylvania in 1854 and later took a 160-acre homestead on West Dodge Road, becoming the well-known family estate. A quaint announcement from 1882 notified, "A bridge is being built over the Big Papillion at or near James McArdle's place." I've always enjoyed these innocent approximations of Old Omaha, when a widely known homestead road marker was enough. The old McArdle Mill settlement became a familiar landmark and is rumored to have been the namesake and actual land, later developed into the Old Mill area. The various McArdle maps would reveal the township carved a large swath, with sometimes changing geographical limits, through the middle of what we now consider Central West Omaha. To my estimation it stretched from portions of Old Loveland on the east, west on Pacific all the way to the outskirts of West Omaha on 160th, straight north to the Westroads- Old Mill area, continuing on in places to Maple Street. From my gathering of clues, there were consistent stand out hints that many living throughout the McArdle Precinct were considered wealthy and owned "fine farms."
**Addendum of October 29, 2022 from Richard Gann: "Regarding James McArdle – I am a descendant of James' sister, Ellen McArdle. It was actually James' parents–Patrick and Catherine–who were responsible for bringing the family from Philadelphia to Nebraska just a few years after arriving from Armagh, Ireland. Patrick and Catherine's shared gravestone (in St. Mary Cemetery) describes their eponymous settlement of McArdle Precinct (Township) in Douglas County."
The Farmhouse on the Left
Johann Heinrich Friedrich Eicke (sometimes Eieke) was born in 1831 in Brügge, Rendsburg-Eckernforde, Schleswig-Holstein, Germany. Henry Eicke met his future wife, Elizabeth Sohl, aboard ship when each sailed from Germany to start a new life in America. In one version of the story, the couple married in New Orleans and then headed west where Mr. Eicke found work as a freighter in the Colorado portion of Nebraska Territory. There is inconsistent evidence that the Eickes were part of a group of Germans who originally moved to Davenport, Iowa and later transitioned to Douglas County, becoming "some of Omaha's first (Caucasian) settlers." Another version of the Eicke history revealed the couple was married in July of 1856 in Scott County, Iowa. Davenport, Iowa is in Scott County.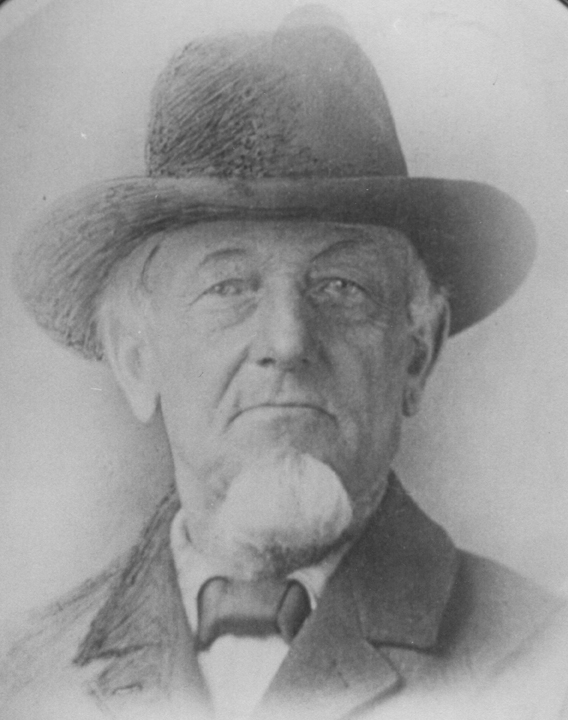 Illustration of Henry Eicke uploaded on WikiTree by Laurence Hennessy.
Postscript Pout: I view my job as an amateur detective is to try to suss out all of the clues. Some do not jibe, as you have seen. It is rarely a tidy affair and when it is, I swoon and sway like a Blossom Dearie song. Allow me to be sensitive for a moment and point out that my negative reviews oft criticize me for not being more of a succinct, authoritative history writer. Bless your heart if you have come here for definitive answers. That is not what I am about at all. Many Omaha history writers have already done that and, honestly, I see consistent mistakes. Some readers are annoyed by my inclusion of my mistakes as if I'm wasting their time. Some are annoyed by the perception of my bragging. It seems you can't please everyone. I do my best to follow the leads, being honest about my findings and try to link up a chronological chain. The exploration is the delight for me. The missteps and sharing of seemingly unrelated clues is where other history detectives and genealogists will find meaning in the future…and sometimes, I get to hear from them with their additional nuggets. So let us clear the air, take a sippy of wine, clutch our pearls, take hold of our flashlights or part ways. Beyond Tomorrow, friends!
The Eicke couple arrived in Omaha in 1854 (documented elsewhere as 1856) where they lived in a small frame house south of 6th Street by the train stations. Evidently Mr. Eicke leased equipment to the railroads and helped construct the early rail lines. The U. S. Census of 1860 revealed the Eickes had two children, Emma and Henry. Senior Henry, age 30, was documented on that day as married to "Hannah Eicke," age 30, leading me to believe Elizabeth went by Hannah or that there was another "secret" wife when Elizabeth went to market or that the census collector logged her name incorrectly altogether. There is indication that the Eickes left the 6th Street residence in 1870, when they purchased their farm on Pacific Street, then within McArdle Precinct bounds. But I also came across evidence from the September 22, 1867 Omaha Herald that shows Henry Eike [sic] was a registered voter in McArdle Precinct, along with a slew of names commonly associated with the early township—John, Patrick and Patrick Jr. McArdle, Thomas Pollard, Carsten and Hans Rohwer, Leopold and Charles Doll, Henry Kruse. This would lead one to believe the Eickes had been in McArdle earlier than 1870. Perhaps they still lived in Omaha proper and farmed in McArdle before their move. Why am I purling on this point, you may ask?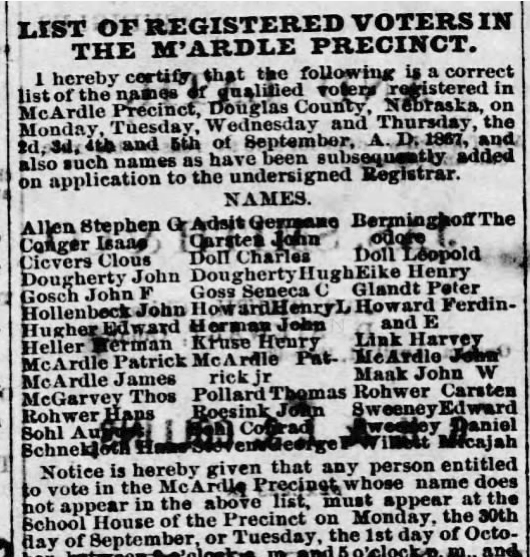 Image from The Omaha Herald, 22 Sep 1867, Sun, Page 2.
Mr. Eicke became "one of the best known of the Douglas County farmers." His Freisen-Holstein herd was a novelty in the region and Eicke's exotic German carp dazzled the crowds of the Nebraska State Fairs. He was noted to not only have a practical interest in farming but also a "scientific interest in agriculture and horticulture" and was, for many years, an active member of the state horticulture society. Henry Eicke was also active in local politics by at least 1870, particularly focusing on McArdle matters and furthermore served as Douglas County Commissioner in a day when the pressing issues were construction of the Union Pacific Bridge.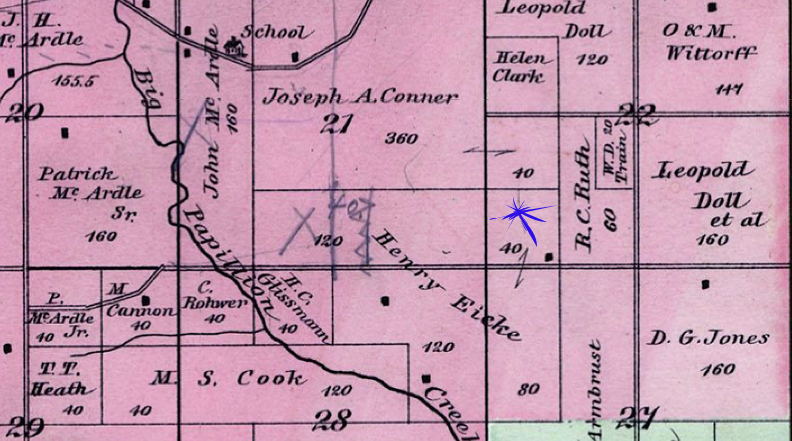 1889 McArdle Township Map. Published by National Publishing Co. in 1889. Borrowed from the Historic Map Works Rare Historic Maps Collection.
This historical land ownership map from 1889 shows that the Henry Eicke farm extended north and south along Pacific Street, encompassing our 9402 Pacific obsession, 120 acres of what we now know as the Regency neighborhood, in addition to the Carl Renstrom mansion and grounds on the south side. (I put a happy blue star where 9402 Pacific sits within its then 40-acre parcel.) Pacific Street is depicted with a double line running east west. 96th Street cuts north and south through the Eicke land. Please file away the "H. C. Glissmann" parcel to the west of the Eickes, as this will come up again.
The Cedar Grove Farm
Henry Eicke's farm was "six miles southwest of Omaha" in what we now know was the McArdle Township/Precinct. An Omaha Daily Bee article from July of 1880 stated that the Eickes were celebrating their "twenty-fifth wedding anniversary out at their farm"—another tip-off mentioned the Eickes had occupied this farm for those twenty-five years. This suggests the couple was married in the 1855 time frame and had farmed their land since then—long before Mr. John P. Folley sold them 160 acres. Their property was christened the Cedar Grove Farm, which I love. According to an 1887 Daily Bee article, Mr. and Mrs. Alfred Mayhew sold Henry Eicke another 147.73 acres for $6, 832. As it turned out, Farmer Eicke owned land all over the area.
The Eicke family's original estate was located on the site of the Renstrom Mansion and grounds, on the south side of Pacific Street at 100th Street, across from Regency. 10001 Pacific Street, to be exact. You have possibly heard my incessant squeaking about this historic bullion for some time.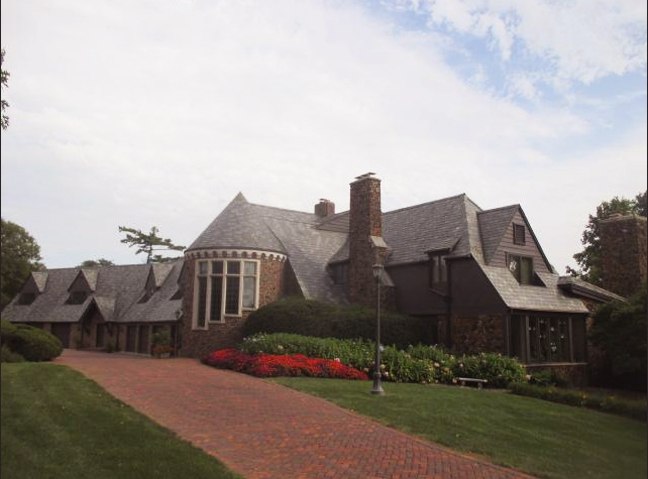 10001 Pacific Street. Photo borrowed from the Douglas County Assessor site. One of four houses on the Renstrom estate.
This once mammoth estate has now been parceled off as well and what remains (still a huge, glorious property) is held in the Watanabe family name. Interestingly, the Carl Renstrom mansion, previously built as the Walter F. Cozad home, was rumored to be constructed incorporating the same sandstone blocks from the original Eicke dwelling. Architect Noel Wallace designed the Klinker brick Tudor home. The question is, did Wallace wholly raze the historic Eicke home, did he build around existing portions or did he utilize the sandstone blocks for further surface ornamentation of an all new structure? When Renstrom governed the property, the one time Cedar Grove Farm upheld 180 acres, much later reduced to 92-acres. By the time we moved to Omaha, the Renstrom Mansion or Renstrom horse farm, as it came to be known, had a massive horse pasture and horse track, now the site of apartments and the One Pacific Place strip mall. More delicious details at Hidden House Part Four.
The Glissmann Detour
In November of 1891 Emma Eicke Glissmann, beloved daughter of Henry and Elizabeth Eicke died. Their daughter was married to Hans Christian "H. C." Glissmann and their family lived on a large parcel called "Rock Brook Stock Farm" just to the west of the Eicke's Cedar Grove Farm. H. C. and son Henry eventually sold their 200-acre Rock Brook Stock Farm to the Happy Hollow Golf and County Club of Omaha in 1922, now called the Happy Hollow Club, and moved to Valley View, their smaller, adjacent 70-acre farm. Valley View was said to have a high, rolling, beautiful view of the Big Papillion valley. According to a historic Golfdom Magazine article, the Glissmanns helped build the future Happy Hollow course under the direction of the course architects and in this experience, learned quite a bit about golf. With the hands on know-how, the Glissmanns got into landscaping and later helped build the Omaha County Club course in 1926. Father and son then converted their farm to Valley View Golf Links, a fee course; they later took up the lease on the Dundee Golf Course. Son Henry Glissmann was featured in my I Want to Live at Swanson Towers story as operator of the Indian Hills Golf Course, located on the south side of 84th and Dodge previous to development of the Indian Hills area.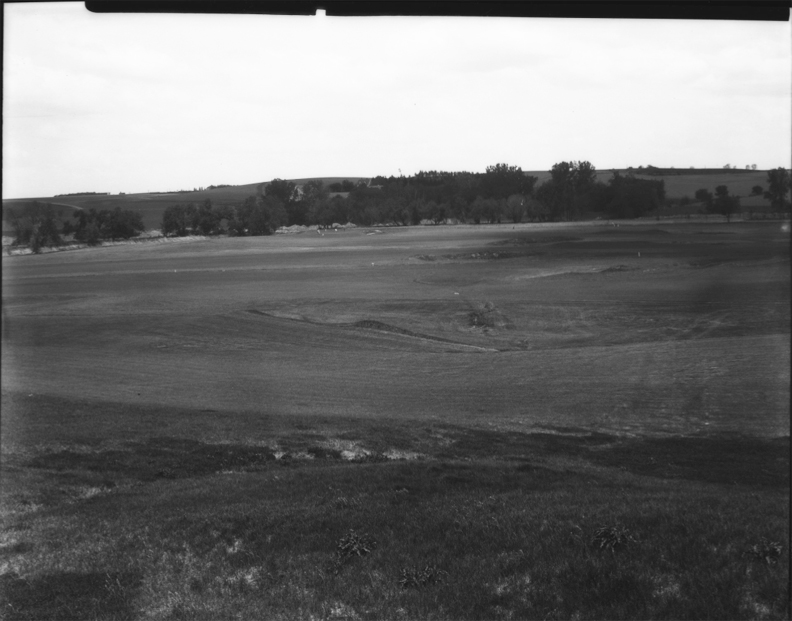 I share this 1927 image of the grounds at the Happy Hollow Club, located on the corner of 102nd and Pacific. It gives a good gander of what the area looked like back in the Glissmann days. Creator: Bostwick, Louis (1868-1943) and Frohardt, Homer (1885-1972). Publisher: The Durham Museum. Date: July of 1927.
Eicke Deaths
In 1897 wife and mother Elizabeth Sohl Eicke died at 63 years of age. The papers read, "A Pioneer Woman Called Away—Elected to be Cremated." Evidently Elizabeth's remains were taken to Davenport, Iowa (giving credence to an earlier rendition of the Eicke history) and were cremated. "Considerable comment was excited by the fact that he (Henry) placed the urn containing the ashes (of Elizabeth) in his yard near the entrance to the front door of his house." I couldn't help but wonder if Elizabeth's ashes persisted in that position even after Henry married second wife Maria "Marie" Ceifler. Now for the record of confusion, genealogy sites sometimes list the second wife's name as Maria Piets Eicke or Anna Maria Eifflers Eicke. Eifflers and Ceifler are pretty close. Evidence points to Henry having married Marie in October of 1898, the year after Elizabeth's death.
August 22, 1901 Omaha Evening Bee circulated the death of "old resident" Henry Eicke of Douglas County, who passed away at his home—"death being caused by pneumonia." 70-year-old Eicke was considered "one of the wealthiest farmers in all of Douglas county," owned numerous farms and other properties,  rumored to have "amassed a considerable fortune." His daughter Elizabeth "Lizzie Eicke" Jensen and son William Eicke were each bequeathed 160 acres along Pacific Street. This land can be viewed in the early historic land ownership map of McArdle Precinct. Son Henry Jr. was "already provided for." Second wife, Marie Ceifler Eicke filed objection to the probate of the will of her late husband. She alleged that the will was made several years before their marriage and that no provision was made for her. I am not sure what happened with her suit.
R. W. "William" Jensen and his wife, Lizzie Eicke Jensen continued to own large swaths of the Eicke holding in this West Pacific area under a couple of different names. They are the ones who sold to Gene and Hilma Melady in 1918, the family who later built their gracious 1018 South 90th Street. (For more on that house and the Eicke, Jensen and Melady families, check out The Ballad of Balla Machree investigation.) I am just now putting those puzzle pieces together but that would infer that at some point, the Eicke-Jensen land extended all the way from 90th Street to 105th, if not further.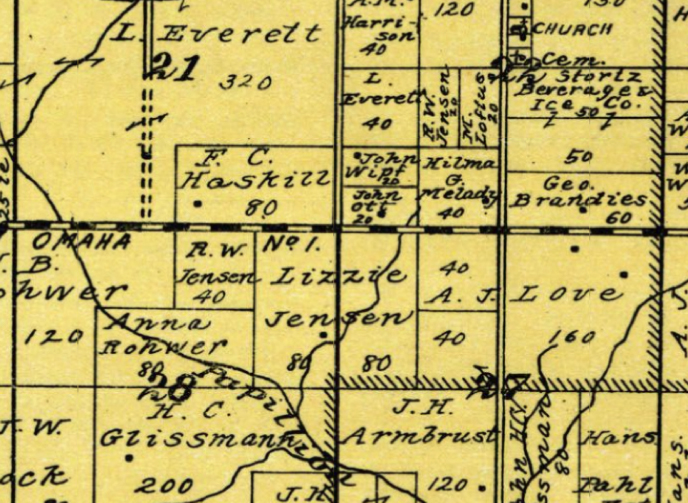 1920 McArdle Township Map. Published by Anderson Publishing Co. in 1920. Borrowed from the Historic Map Works Rare Historic Maps Collection.
I recognize I am jumping ahead a few decades—I'm only sharing this now to illustrate the Eicke-Jensen holdings.
I know it might be difficult to acclimate to this hand drawn map, so allow me to help. The black and yellow striped candy cane line through the middle of the map represents Pacific Street. The map legend explained the dotted line as a "rural route." 90th Street is drawn with two parallel lines north-south—the map legend calling this a "wagon road."Positioned in the northwestern corner on 90th and Pacific there is a property line perimeter creating a square that reads "Hilma G. Melady 40." The 40 represents how many acres were comprised in the Melady tract of land. To the direct west of the Melady land, sits John Ott's parcel, at 20 acres, wedged in the corner of 96th and Pacific. This is the location of our 9402 Pacific Street property. To the north of the Melady land is a "R. W. Jensen" plot at 20 acres.  Please note south of Pacific was the large A. J. Love farm or "Loveland." Love owned 40, 40, 160 and 80 acres, represented as separate tracts of land. Note to the left (or west) of Loveland Farm it shows Lizzie Jensen 80 and 80. And west of that it reads "R. W. Jensen," Lizzie's husband. Just south of the Lizzie Jensen land is the 200 acre property of H. C. Glissmann, right where the Happy Hollow Club is now. Across the map there are a sprinkling of black dots. These signify houses on the parcel. If they are in any way accurate, the dot on the Lizzie Jensen land suggests that the Renstrom mansion (which is within close proximity to Pacific Street) was definitely not built on the original Eicke home site.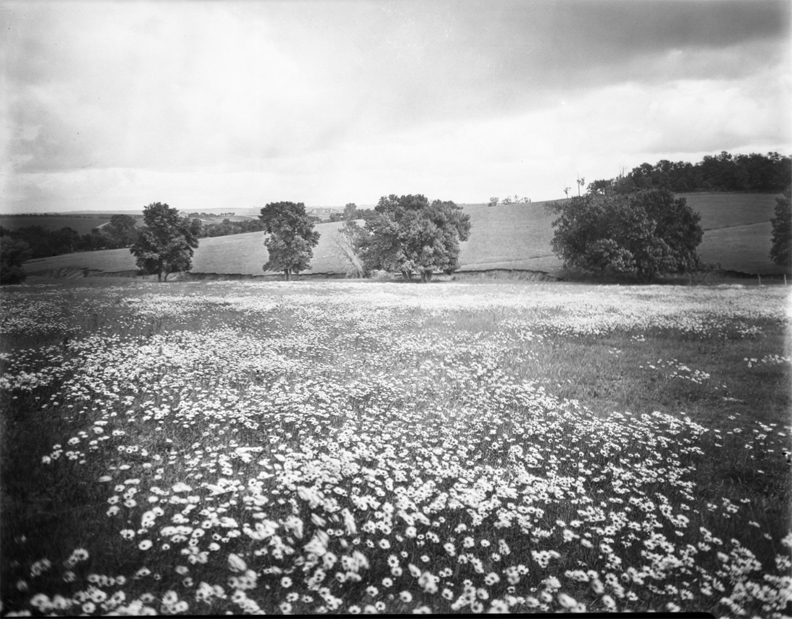 "A field of daisies in the countryside." Although not specifically labeled to this area, I feel this photo belongs right here. Such a beautiful image. This is very much how I view the West Omaha area in the early days of Archie Love, though there were probably gobs more trees. Creator: Bostwick, Louis (1868-1943) and Frohardt, Homer (1885-1972). Publisher: The Durham Museum. Date: June of 1928.
The Elusive Schieburs
Let us backtrack and refocus on the parcel at hand. Henry and Elizabeth Eicke sold the Folley land on the north side of Pacific Street to Rudolph and Friedericka Schiebur on April 1, 1892, with a clause specifying that the Schieburs could not take possession before March 1, 1893. Vaguely put, we can presume the Eickes were using the land for something. Rudolph Schiebur paid the Eickes three thousand dollars. How much land was in the parcel at that time—that is the question? Using this Eicke to Schiebur deed, I was able to compare the Section-Township-Range specifics to the Folley description as well as the owners to follow after Schiebur. "The South half of the Southwest quarter of Southwest quarter of Section Twenty-two (22), Township fifteen (15), North Range Twelve (12), East of the sixth principal meridian and containing twenty acres more or less, subject to all legal highways." This description carried through two sales. I won't bore you with my tedious technique but what we need to know is that the Eickes held on to approximately 140s acres of Folley land and sold 20 acres, "more or less" to the Schieburs.
I was pleased that our 9402 Pacific property was now within reach, and I could get my eager arms around the smaller 20-acre parcel. Somehow the research felt more contained or that I could hope to hone it in from there. However 20 acres stretched a long way. I was interested to find Rudolph Schiebur in the 1890 and 1891 Omaha City Directory, living on Ames Avenue as a gardener, 4806 Ames Avenue specifically. This address is now, roughly, the site of the Centris Federal Credit Union, on the northwest corner of 48th and Ames, diagonal from Fontenelle Park. When I was a little girl this building was a prime 1970's sneak spot for my father and I, in the form of an early McDonald's. You don't forget those essential landmarks.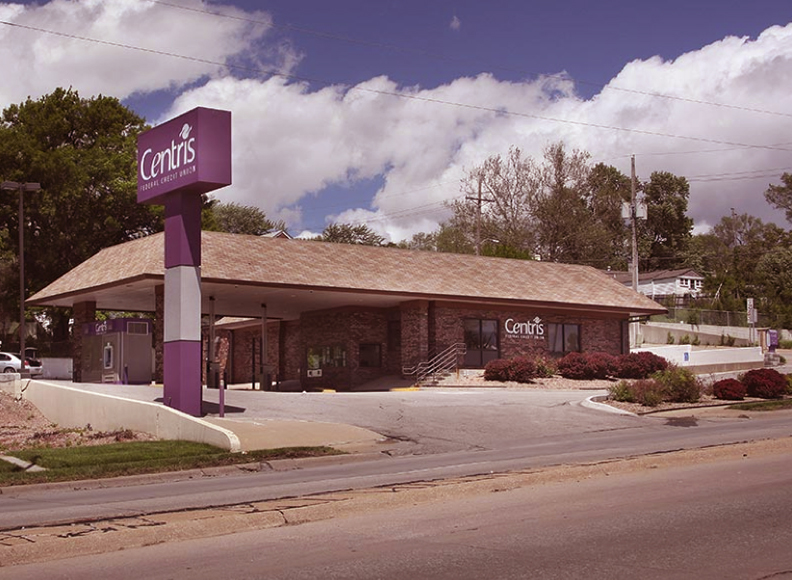 The McDonald's of my youth, now refashioned into Centris Federal Credit Union.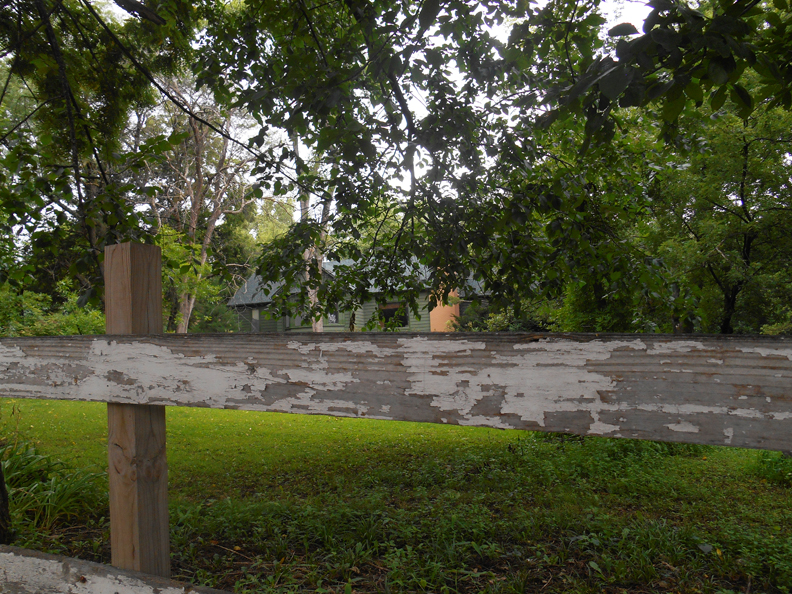 9402 Pacific Street from my August of 2020 visit.
Did the Schieburs live out at 9402 Pacific and farm the land in their 11 years of stewardship? Did they build the original farmhouse, now labeled 9402? Dismally I could not definitively nail down those clues, although substantial intel came in later from the subsequent owners' family members. According to a genealogy site, Rudolph Schiebur was born in 1856 and passed away in 1910 at the age of 54. Nothing on wife Friedericka. If you are a relative of either or would like to take up this task into the corridors of genealogy, please let us know.
In September of 1903, Rudolph and Friedericka Schiebur sell the 20 acre tract of farmland for $3,700 to John Ott. My expert at the city has 9402 Pacific as being built in 1904 "or close to it." Considering they bought the land in 1903, rustic 9402 made sense as a possible Ott farmhouse.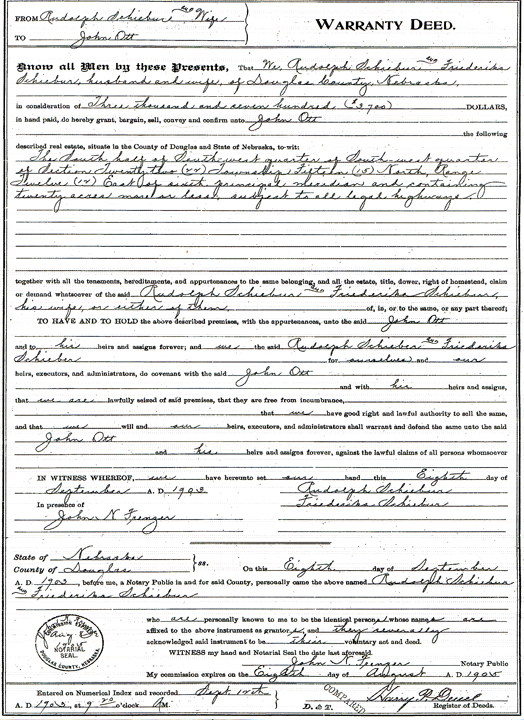 In September of 1903. Schiebur to Ott warranty deed. Hard copy from the Register of Deeds Office.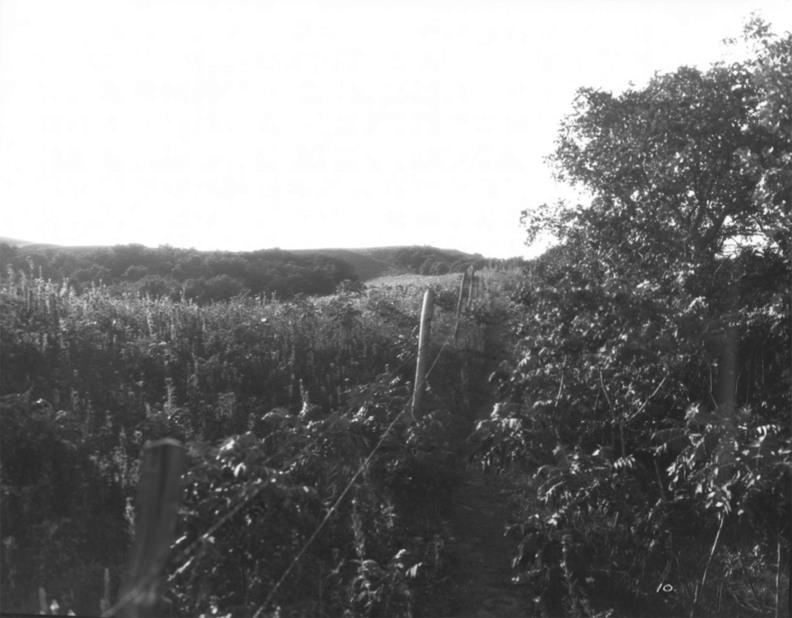 "Shot of a countryside somewhere." Bostwick's vaguely titled photo gives such a tactile view of the countryside. I can smell it. I can feel it. I imagine the rolling hills of Pacific might have looked just like this. Creator: Bostwick, Louis (1868-1943) and Frohardt, Homer (1885-1972). Publisher: The Durham Museum. No date.
The Ott Plot
Long before bucolic McArdle amplified to the suburban mystique of West O, the John and Anna Ott family arrived to the rustic setting at 94th and Pacific in 1903 with intention of commencing their farm operation. I could not find evidence of either having worked as growers. The parcel encapsulating 9402 Pacific was most likely not in a state of frontier rawness, as two known farmers had previously owned the land, most likely for agricultural purposes. By the time the Otts came into ownership, my suspicions are that the borders extended from what is now Shamrock Road on the north side, to 93rd Street on the east, Pacific on the south to western perimeter 96th Street. I added up the surrounding acres in a nice rectangle including the 923 South 96th, the corner of 96th and Pacific, the Sunset Hills Baptist Church lot, the OPPD lot, the Pacific Park lots and a portion of residential along Shamrock. We know from previous investigations that the Meladys owned the land to the east on 90th Street, with a western border at 92nd Street. There is a triangle plot where 92nd and 93rd converge but I believe that is held within the Melady's Balla Machree farm later turned subdivision development. If my acreage math is off, and it very well might be, there are a number of lots to the north of Shamrock Road that easily could have been included in the original Ott 20 acres.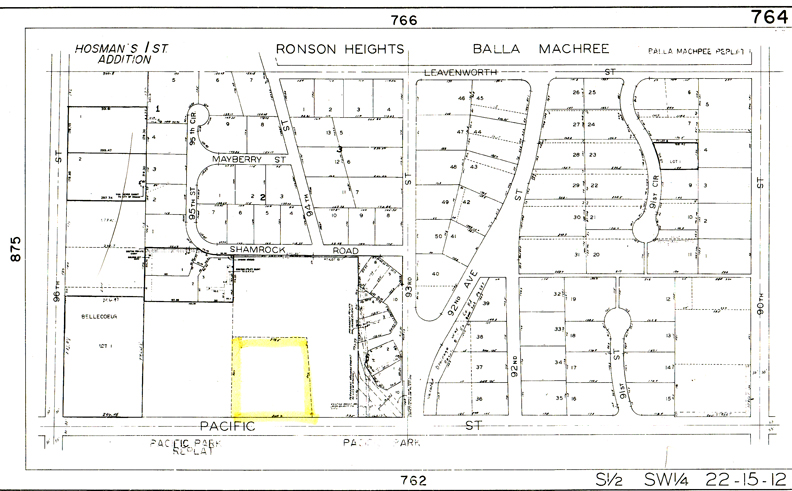 Property lot map of the whole area printed at the Register of Deeds office. Pacific Street runs along the bottom of the map. The 9402 Pacific property is outlined in yellow. Subdivision names for the lots that were properly developed spelled out above.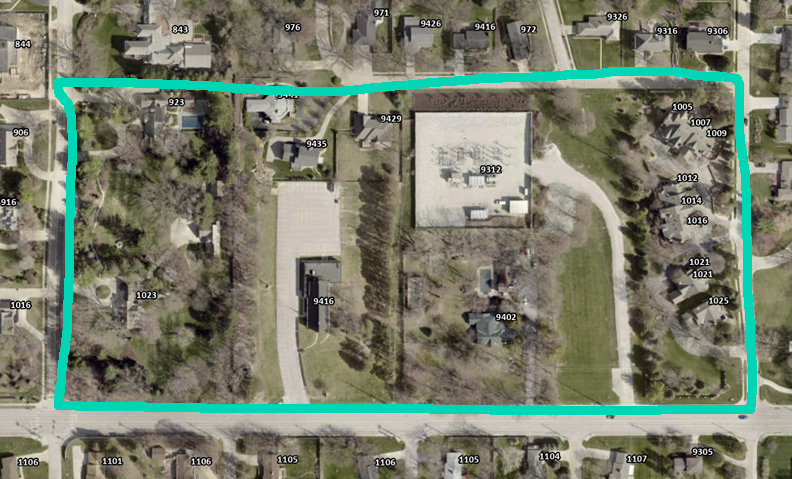 Aerial image of the seventeen separate properties, nine lots, that I believe, were a part of the original John Ott parcel. Turquoise line is my estimation of the original boundary perimeters. Top of the photo is north. The wide street extending east-west at the bottom of the image is Pacific Street. Image from the Douglas Omaha GIS site.
On the western most end of the farm, the 1023 South 96th Street and 923 South 96th Street properties; these were discussed at length in the Hidden House series. If you click on each photo, there are more details.
I have a small Ott ledger and most of its contents were shared in the Hidden House investigation; I will only touch on a bit of their history just for review purposes. The Otts were married in April of 1900, according their certificate found at Nebraska Marriage Records. At that time, the couple was listed as living in Chalco, Nebraska. According to the United States Census of 1910, John Ott was born in 1856 in Hanover, Germany and immigrated to America in 1882. (The 1920 Census gave conflicting data—displaying that John Ott immigrated to the U.S. in 1875.) At the time of the 1910 census, John was 54 years of age. His wife, Anna, age 45, had also had been born in Germany, although the 1920 Census would list her birthplace as Austria, later still Austria-Hungary.
Anna had previously been married to John Balster Sr., (some documentation spelled Bolster and Balstar) from Holstein, Germany. After viewing the Nebraska marriage records, I would learn the couple was married in September of 1887. John and Anna had six children together, living in downtown Omaha in the "Sixteenth and Leavenworth" area, where Balster worked as a bartender. He eventually left the 16th and Leavenworth public house, venturing off to 612 South 13th, where he commenced his own saloon.
The Ghost Breaker
I was so pleased to hear from Mr. Woodrow "Woodie" Arp, an Ott relative, long after the Hidden House story came out. Hearing from family members is one of my greatest delights in these investigations! Woodie was a lovely, generous person to correspond with and he was a wealth of information about the Otts. It gives me great pleasure to share his family's clues with his permission.
Woodie included two documents: "They relate to John and Anna prior to their moving to the 9402 address and, most likely prior to acquiring the 20 acres. They were still living in Chalco, NE and operating the hotel and saloon there. Anna's first husband, John Balster had died and she was taking over the hall before she married John Ott. Then he took over and applied for a liquor license. They must have left not long after this."
I asked Woodie if he had any knowledge of John Ott being a farmer prior to moving to 9402 Pacific. "I don't have any evidence as to what John Ott was doing except prior to this time he was working as a bartender in South Omaha. He may have known John Balster because John was also a bartender in the Omaha area. I am guessing that when John Balster took over the bar/saloon and hotel in Chalco, John Ott may have gone with him to work for him there. That is only a guess. I am also thinking that John Ott bought that 20 acres in order to go into truck farming when they sold the hotel/saloon."
The saloon-bar tips are fascinating clues because they illuminate the years leading up to 9402 Pacific and perhaps the years after. If you click on the images, there are more details.
The Best Clues
Woodie shared two photographs from his family's archives. (He shared others but those will come along later.) These early images reveal the 9402 Pacific home, presumably, in its original architectural state, as well as finally exposing John and Anna Ott. I was beside myself. Woodie wrote: "Heinrich Johann Ott was the person that my Aunt noted had built the home. This photo was around 1918." Woodie's Aunt Irene of the Arp family was the granddaughter of Anna Ott. She passed away a number of years ago.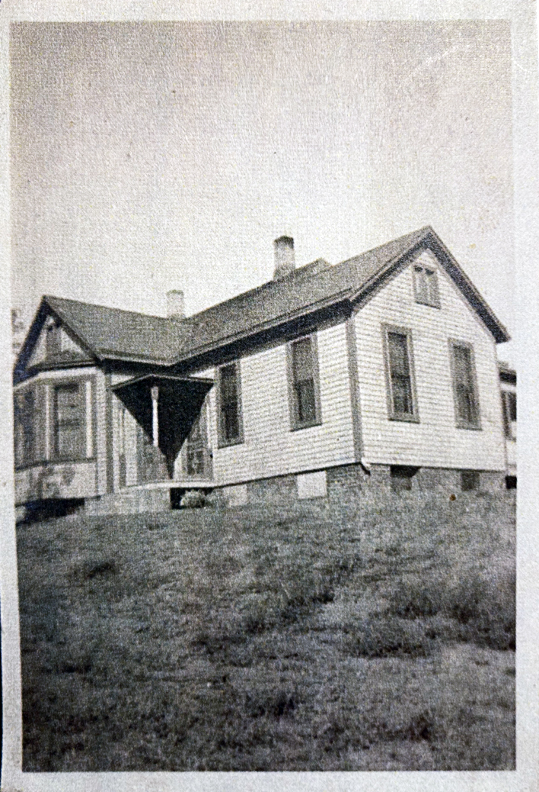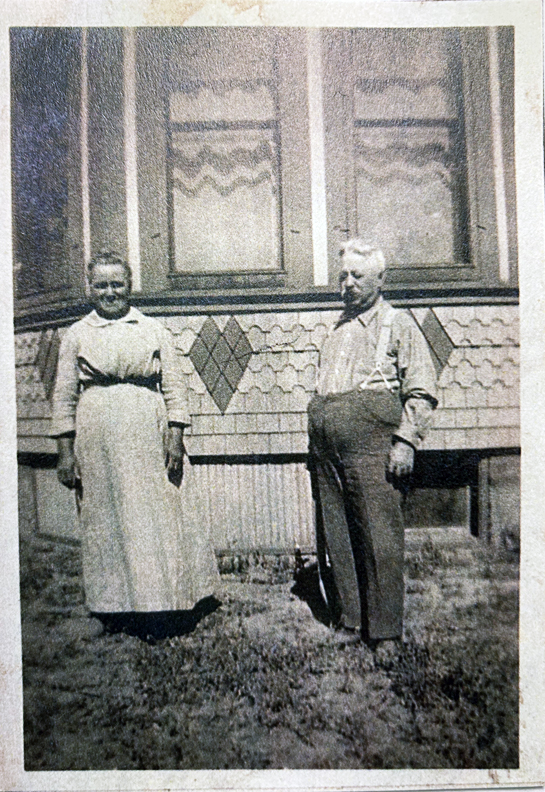 It was telling that Aunt Irene had documented her grandfather, John Ott, built the 9402 Pacific house. Family members tend to log these histories when no one else seems to remember. Douglas County Assessor has the home pinpointed to being built in 1904. Meanwhile in Woodie's other archives, someone had written: "Grandpa Ott built this place" and a different cursive: "Built in 1901." That is why I had questioned if the Schieburs were living out at 9402 Pacific because in 1901, the Otts weren't in the area. But let us not split hairs. 9402 Pacific was most likely built in the 1903-1904 time period.
The Bones and the Facelift
Using Woodie's 1918 photo, let us compare to this image from February 26, 2022.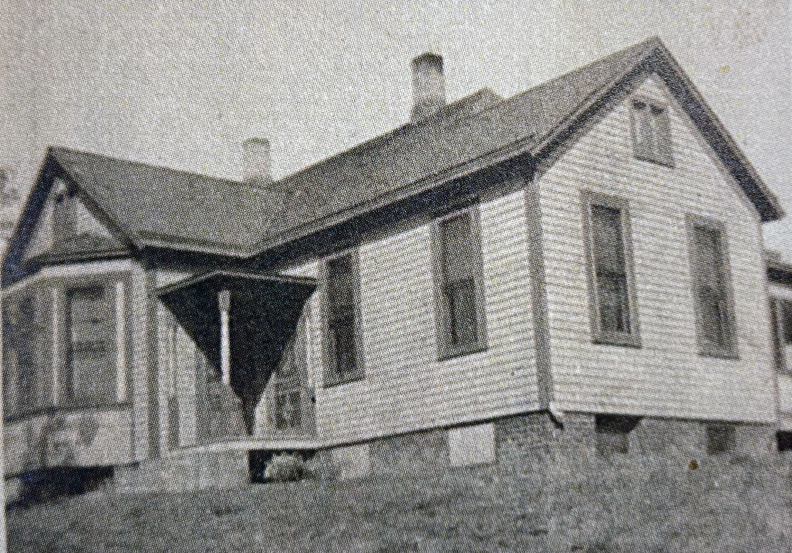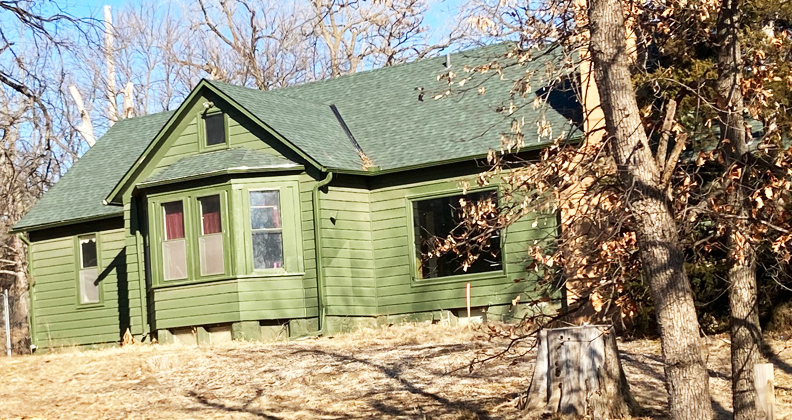 We can see that some subtle changes have occurred over time, although surprising minimal. The bulk of architectural changes will be discussed in our second episode. The original home was a "T" shape. We can see from the 1918 photo that the house extends to the north from the middle of the house. The front door/s have been altered (moved to the north side–more on that later), with the stairs and entryway roof taken off. I write "doors" because it appears to me that there were two separate front doors back in 1918. One entering to the north and one to the west. Am I seeing that correctly?A fine MCM exposed chimney was added, obscured by the trees in this photo, as well as an eastern wing added on past the chimney. The long farmhouse windows are largely intact but a south facing picture window was added. The original gingerbread under the bay windows, where the Otts stood, is now gone, although the lower basement windows remain.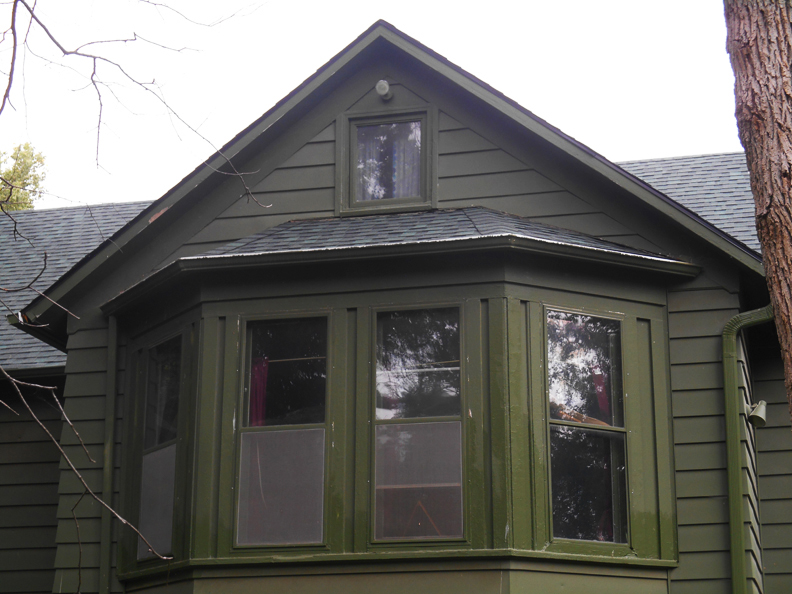 The bay windows at center of the house would have been considered an elevated architectural element for a 1904 farmhouse. I include an August 7, 2020 photo of the bay windows to show how not much has been changed over time. The vertical mullion and two panes of glass seen in the second floor transitioned to a single pane window in simple frame at some point.
Another part of the original Ott farm buildings is that of the historic barn with horse stables to the rear of the acreage. Thought to have been built in 1904, in the same year as the house, the barn has, for many decades, functioned as a multi car garage, an artists' space, a rec room, guesthouse, an apartment. We will tour the barn later, I just thought you'd like a peek for the time being. As I mentioned earlier, I would very much love to dive into the architectural specifics of what I found in the following episode.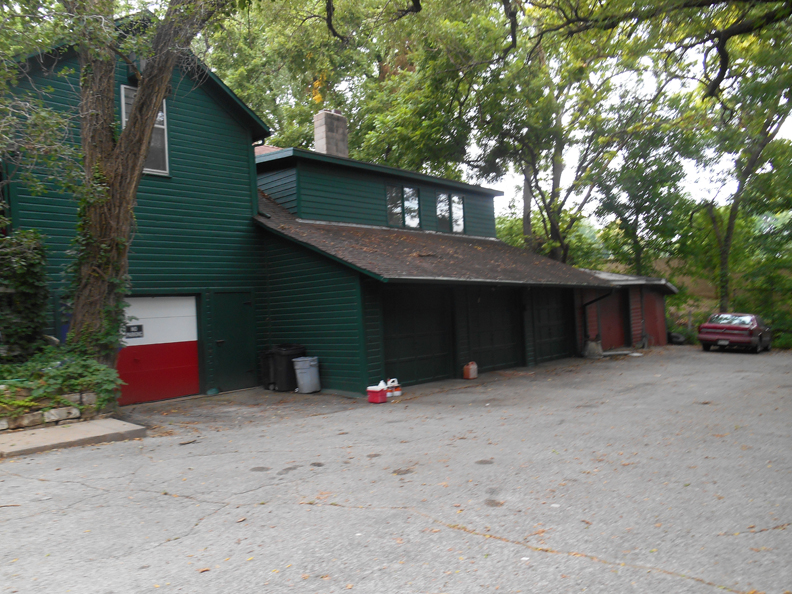 The byzantine barn, like the house and other outbuildings, has morphed and mushroomed over time. This is how it appeared on my visit in August of 2020.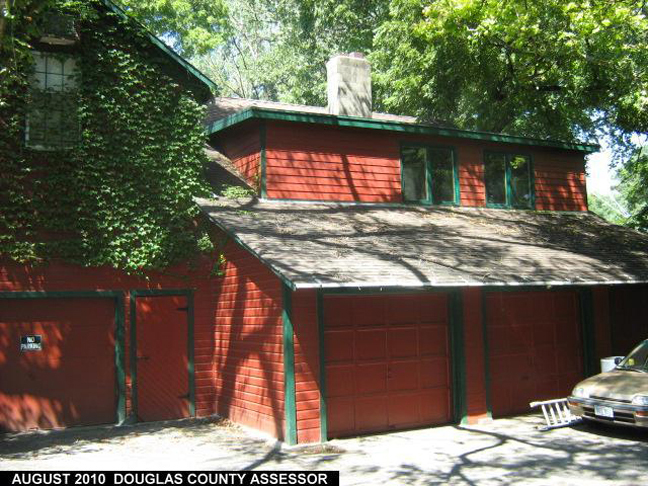 The barn captured in 2010 by the Douglas County Assessor.
A short film I made on April 4, 2022, capturing the beautiful sounds of the 9402 Pacific Street property. This is the east side of the barn and the eastern fence. One can see the eastern enlargement to the home with yet another bay window, in comparison to the previous historic Ott photo.
Much thanks to Woodie Arp for his great clues and contributions to this tale. We will be hearing from him again as I weave more of his information in later.
Go West
Now dear sleuths, I realize much of what is to follow will be a repeat for those of you with long retentiveness. I will aim to keep this brief but I just want to connect these last fascinating Ott dots in order to send us on our way for Part Two.
According to the 1920 U. S. Census, John Ott was a "tractor farmer," residing in "McArdle, Douglas County." We know that he worked the land at 94th and Pacific with his sons.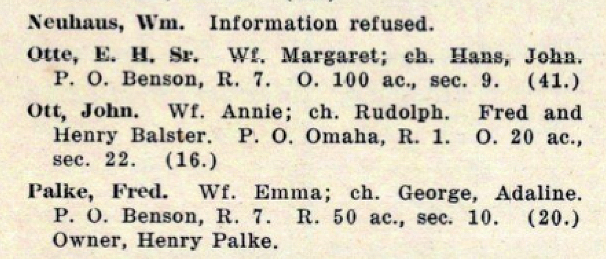 I was so pleased to find the Otts listed in this McArdle directory, in part because my eyebrows were knit much of 2018 not being able to find them in the Omaha directory. Additional toast to finding out that Anna went by "Annie." Image: Full Title: Farmers' Directory of McArdle Precinct. Full Atlas Title: Douglas and Sarpy Counties 1920. Publish Date: 1920. Publisher: Anderson Publishing Co.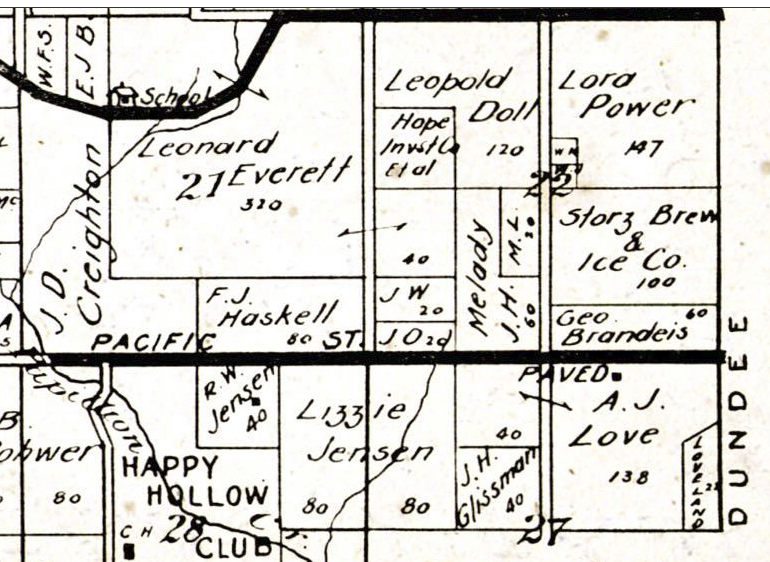 1925 McArdle Township within Douglas County map. Map borrowed from the Historic Map Works, Residential Genealogy™ historical map collection. Thick black line is Pacific Street east to west. Double line running perpendicular is 96th Street. Note the "JO" on that northeast corner. "20" denotes the size of the acreage.
John Ott died in April of 1927 at the age of 70. His modest obituary gave an additional clue to the family's residence. His wife, biological child and stepchildren were all listed. Funeral services were held at the Ott residence. Anna Ott would later sell off approximately five acres of the Ott farm. The 1938 McArdle Township within Douglas County map, borrowed from the Historic Map Works, Residential Genealogy™ historical map collection, show the land was reduced to "15" acres. "AO" standing for Anna Ott is penned on the 1938 map. Horizontal line is Pacific Street. The most central perpendicular street is 96th. Those of you who have been around the block with us a few times, will surely recognize the surrounding surnames on this map.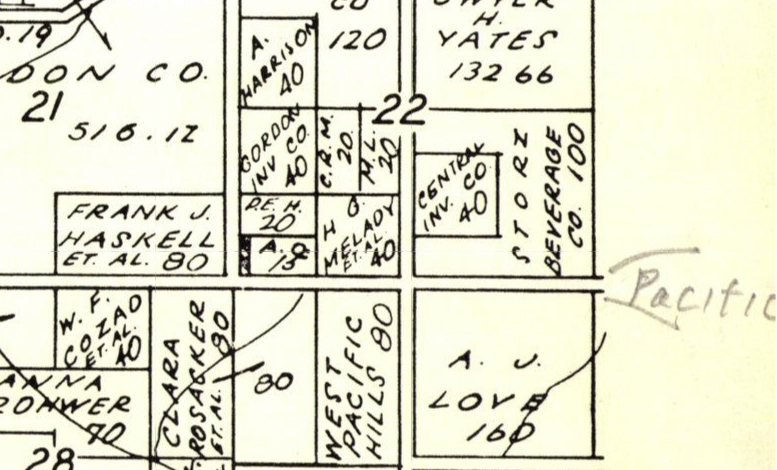 McArdle Township map from Douglas County 1938, Nebraska. Published by Perkins Map & Directory Co. in 1938. Borrowed from the Historic Map Works Rare Historic Maps Collection. Show "AO 15"

OWH archive. July of 1937. It is a bellwether that Anna Ott had sold the furthest west five acres of her farm, according to the deed, to Bertha Reichstadt in July of 1937. This was the beginning of our Hidden House adventure, high on the hill of 96th and Pacific.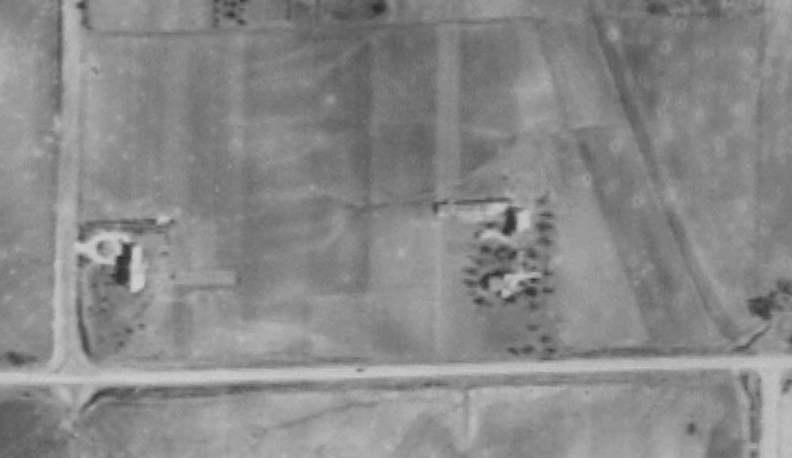 1938. The first photographic aerial of the 9402 Pacific property. The origins of the glorious 1023 South 96th Street are taking shape to the west. The properties are surrounded by countryside. Below image is the 9402 Pacific farm magnified. Image borrowed from the DOGIS website.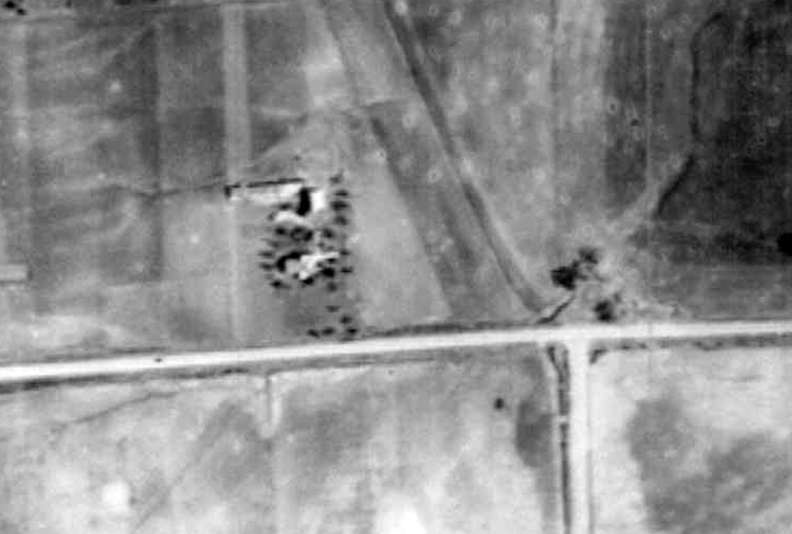 The Ott house with outbuildings. The large trees were planted with intention, outlining the buildings. The woods once described along Pacific Street are all gone, in lieu of agriculture. Anna Ott would live in her 9402 Pacific until 1941.
The Road to Suburbia by Leslie Ragan.
The 1930s brought a sea change, before the 1950s suburban flood. The eastern end of McArdle Precinct was by then populated with up and coming families, the heads of household who primarily worked in Downtown Omaha—this according to an interview with one Mr. Archibald J. Love in 1934. The developer of Loveland predicted that the farmers were being bought out and the rural setting was soon to change as new families wanted a cut of the "fresh air" of soon-to-be West Omaha. What unfolded in the following years was more closely related to the Social Register than the Rural Daily News.
The End of Part One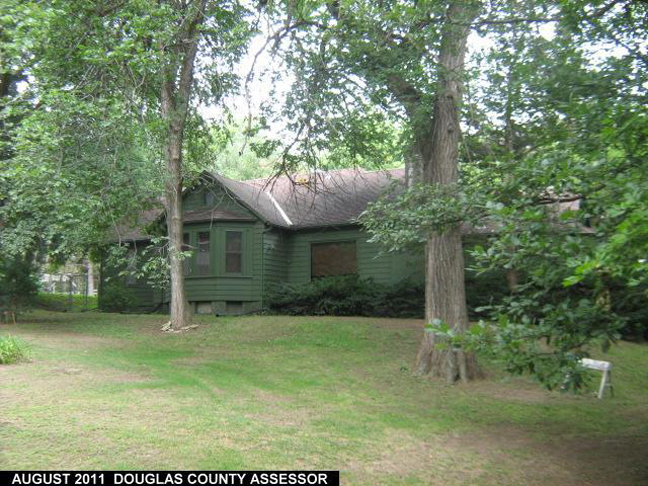 Fellow Obsessives, Please join us again for Part Two as rural 9402 Pacific learns to entertain the country club set, finds her eclectic disposition, and upholds her utopian, organic tradition, lives as a virtual recluse, all the while surrounded by a changing culture. The strangely beautiful 9402 Pacific–a hidden history waiting to be told! Until then, architectural mystery lovers, hold tight by the glow of the city's bright lights. I've futzed about for so long and now in the last gasps, I am typing feverishly and squinting in the night trying to complete this report before the 9402 Pacific area is leveled. On that note, why was the 9402 Pacific Street property and surrounding parcels left untouched in all these decades? I love her rustic ways. The Door With Seven Locks. Onward!
This investigation now has a Part Two. Click this link to follow the mystery to unforetold joy. Mysteries of Omaha: 9402 Pacific Street Part Two.
In Memoriam
In the last recent weeks three very special people passed away. Not only were they great supporters of my writing passion and of My Omaha Obsession, they gave tremendously to this Earth through their gifts and their abilities to connect with people. Their warm contributions to this realm are deeply missed. I will never forget you, Dr. Mike Holman, John Mountjoy and Angie Dappen Scott. I love you all. Rest in Peace, dear friends.
I welcome your feedback and contributions to this 9402 Pacific Street investigation. I want to hear about 9402 Pacific and its history of owners, but please recognize that we have only crept up to 1941 There is much more to come—please don't spoil the rest of the story. Feel free to share thoughts and clues in "Comments." If any family members have photos to share, please email me so I can include these in the article. I am asking you to share this article on social media, through email or texts to friends, as I no longer have any social media accounts.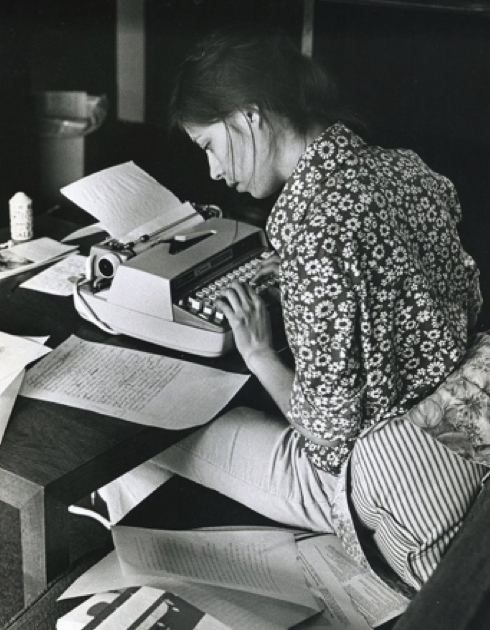 I invite you to poke around with your flashlight. Investigate. Hide in the shrubbery. Look under these rocks and down those alleyways. I am more than pleased to have you tiptoe about. By the time you head for home, I hope you have been fully Sherlocked and Satiated. Thank you, detective friends.
If you like what you see, you can keep up with my latest investigations by joining my email group. Click on "Contact" then look for "Sign me up for the Newsletter!" Enter your email address. It will then display "Thank you, your sign-up request was successful!" Make sure to check your email address to confirm. You will get sent email updates every time I have written a new article.
© Miss Cassette and myomahaobsession, 2022. Unauthorized use and/or duplication of this material without express and written permission from this site's author and/or owner is strictly prohibited. Excerpts and links may be used, provided that full and clear credit is given to Miss Cassette and myomahaobsession with appropriate and specific direction to the original content.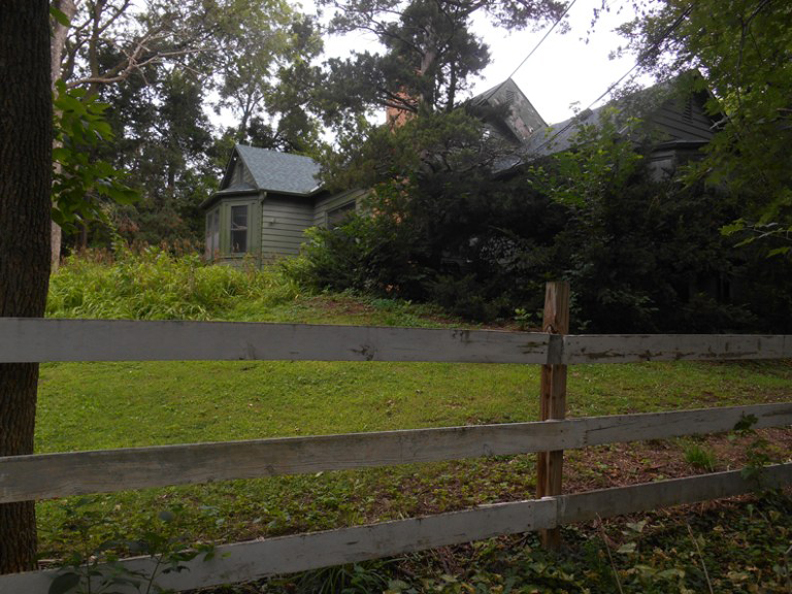 If you are looking for more architectural and Omaha history sleuthing fun, ask your local or big box bookseller for my new book: My Omaha Obsession: Searching for the City. You can also order it through this website. Thank you.