I spent one of the happiest mornings of recent memory lounged on a chaise of Mr. Cassette's family lake house dock, watching. Turned toward the beach, I lazily gazed as Mr. Cassette was bending down over the sand, head hanging and with quick, whisking movements, he uprooted small, determined, Cottonwood Sprouts and Sedge Sprigs, much like his grandfather had toiled for decades previous. To see the world upside down while experiencing sand between one's toes…The Life of Riley, I sighed. Not a lot of newspaper gets read at the lake. By the time we got back to town, I was sun drained in the way that makes one blissfully dizzy and almost tipsy, truthfully–the kind of natural fulfillment one rarely speaks of because the sun has fallen from fashion, afterall. I thought I might straighten up in city clothes, rearrange my hair and perhaps check in with the office. When I arrived, Mr. Cross, the agency's Man Friday, sniffed and passed a mysterious ecru envelope my way. "For you," he enunciated in an aloof manner. Then he studied me with curled lips and announced, "You've got freckles."
I pulled the stationery from the skillfully slashed envelope. Mr. Cross really is quite efficient with his silver letter opener and afterall, he does need little jobs with which to occupy his ill humor. I would ease back into my favorite, a solid quarter sawn oak swivel number and kick off my wedges under the desk as I studied the handwriting…
"August 20, 2018

Dear Miss Cassette,

My wife and I moved into 1010 S. 90th St. about a year ago. I am writing to you about the home next door to us at 1018 S. 90th St. This home was originally built in 1919 by Mr. and Mrs. Eugene Melady and was named Balla Machree. Unfortunately, it has been vacant for a few years, and needs a number of renovations. More unfortunate is Ontic Properties recently purchased the home and has indicated they intend to tear it down and build either attached row houses or detached house. Obviously we have a strong preference they do not do this, but I am in touch with the reality of the situation. I wanted to see if you would have any interest in writing about Balla Machree and the Meladys. They built a few homes along 90th street, but Balla Machree was the largest…"
Mr. Murphy shared a number of historic articles on the home, unconcealed in Mrs. Murphy's own research. He would include a newspaper article from 1924 where the trend of naming one's country home was thoroughly and deliciously elaborated on. This was all ringing familiar. Strangely I had studied just this very article for an investigation in my book last winter. I filed it away to memory, as it gave hints to the romantic fashion of local estate names, borrowed from Europe. Although I was following the breadcrumbs of another country home's trail, in it "'Balla Machree,' with Irish flavor, identifying the country place of Mr. and Mrs. Gene Melady on West Pacific Street" came into clear view. I had a momentary vision of the imagined 1018 South 90th Street property and butterflies very nearly tickled my insides to the point of exuberance. Or was I delirious from the day's sun? No matter, it had to be very near the same place, certainly the same West Pacific Street area I had surveyed so closely months earlier.
The couple signed their name, "Spencer and Elizabeth Murphy" including an email address and a cell phone number. How exhilarating, I mused… and what passionate fellow detectives they were!
I quickly slid to edge of the oak chair and gassed up the office computer. A quick review of the Douglas County Assessor's site showed the spacious home and sprawling grounds I knew I had seen before.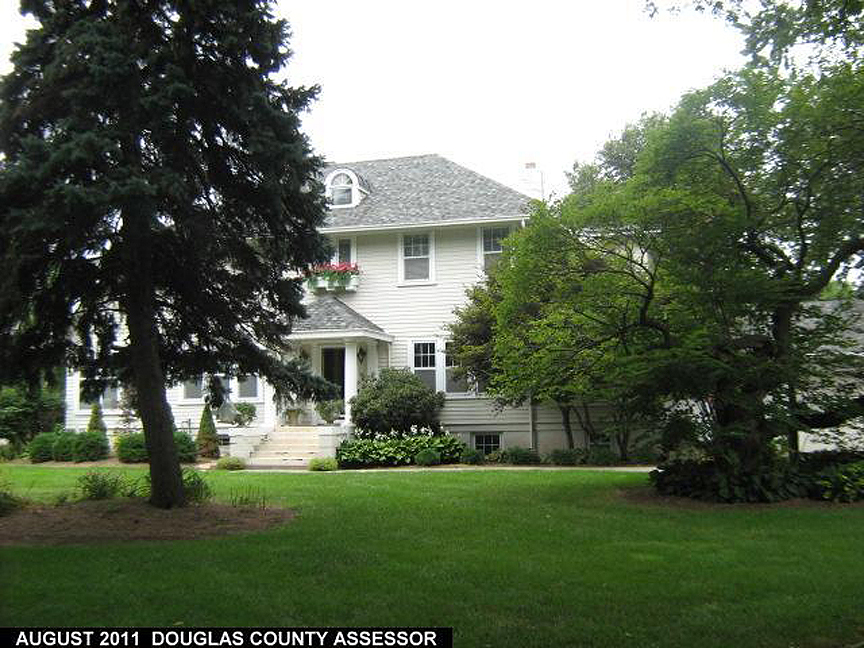 Photo from the Douglas County Assessor's site. 1018 South 90th was listed as 1.34 acres and built in 1921. I would hurriedly draw a long yellow notepad from the drawer and scratch a preliminary note, as there were already conflicting clues in this quickly forming case. The property was owned by West Coast Properties LLC; the LLC carried the address of 16511 Crestfield Drive—a privately owned home. Now I had two conflicting bits of information I had to square away, if the Murphys were on the right path.
–Was the home built in 1919 or 1921?
–Was the home owned by Ontic or West Coast?
Every now and then a letter comes across the ole tanker agency desk that I simply cannot ignore. Never mind that the Murphys' communication came through email rather than a letter. And never mind the miniscule details that I have not hired a real 1940s Man Friday, let alone have yet to lease a properly, dark-paneled, smoke-soaked agency office. Pay them no mind. I think we all know by now that if there were a real Mr. Cross inhabiting my detective agency, he would have found a way to open that email before me just the same. The truth of the matter was this was a pressured kind of investigation. There would most likely be a strict timeline to be observed if this large, gorgeous house was, indeed, to be torn down. I would begin communicating with the Murphys with more frequency in the next weeks. I made a little plan of it all.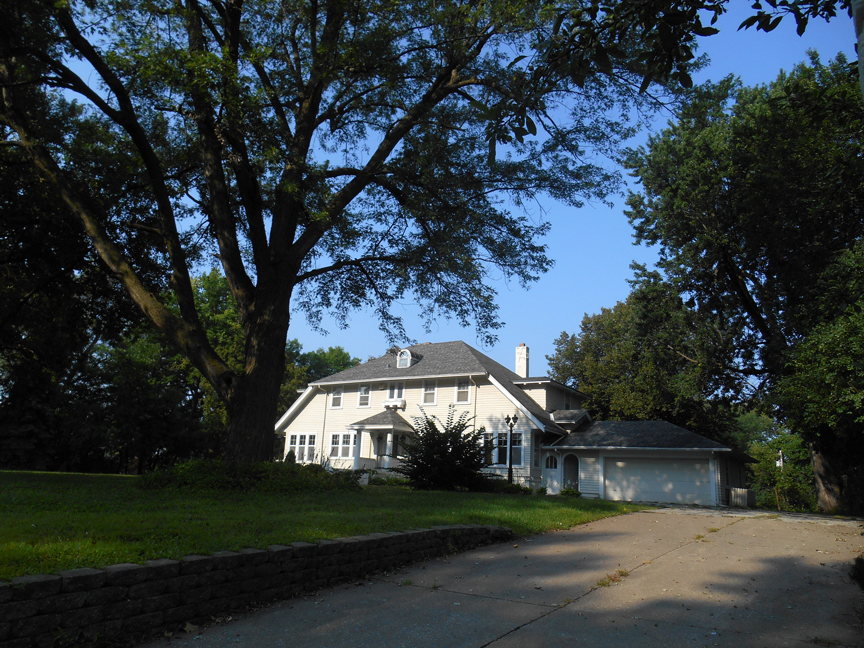 Events, which I have yet to relate, make it necessary to mention in this place that this is an investigative Long-Form article. This is an intriguing and somewhat sad story, the recent part that is, although none of us, as yet, knows how it will end. Some of us will collectively cross our fingers, some of us might light candles and some might be compelled to action. In short, it's an Irish type tale, so plan your hankies accordingly. But for my part, this trail will be a Long Read. And I only warn you of this because sometimes New Comers become rather fussy and take a while to slot in to our sleuthing, meandering ways. It is best to read these sorts of things in chapters, not all in one sitting. Might I suggest you take notes or pencil out a map, bring a compass, a flashlight or don a wig and costume of some favored decade. Personally I am drawn to a pencil skirt with a bowling shirt as of late. But where were we? Oh yes, let us pace ourselves. Mystery and uncertain peril awaits.
First Things First
On impulse, I would complete a multitude of fanatical ring-around-the-1018-roseys the very evening after hearing from the Murphys. I tracked 1018 South 90th Street two doors up from the northwest corner of 90th and Pacific. On first passing I saw the large, beautiful, pale house atop a slight plateau, stretching across an even wider park-like property. The trees were magnificent. There was a strange, incongruent retaining wall banding her back from the sidewalk, probably from when the city widened 90th Street. I had glimpsed her a million and one times, hadn't I, but somehow, now, she appeared forlorn and disheveled. Was it that I knew a threat loomed there? It wasn't hard to notice an excessively large sign in the lawn demanding attention away from the actual house it's rendering was depicting. The bold font read "Coming Soon." I would have to inspect that on a later date. Where had her smart awnings and flowering window box gone? Her form was still quite brilliant even though she sat far back from the road, centered in that darkened clearing. Her once stately entrance still offered well-proportioned brick pillars, with black lanterns proudly intact, although slightly overgrown with grasses and weeds having found their way through the cracks. The massive lawn was mowed and the shrubs were cut back but there were telltale signs to this method of rush-job that lacked a personal gardener's loving care, often noted in the manicured estates of the well to do.
As I circled round and round I caught glimpse of a soft, amber light glowing from the edges of the absent living room drapes. The Irish coined Balla Machree…The various wrought iron lampposts dotted across the estate were lit for guests on that very night, as I perceived the entry gate pillars' lanterns adopt a warm twinkling. I spied a charming, well-appointed, little eyebrow dormer winking from the third floor. I hoped there was a hidden playroom behind her cunning fanlights. Perhaps I could detect a small fluorescent type light glimmering from between louvered interior shutters of a second floor bathroom. And there…wasn't someone clearing dishes beneath a grand chandelier, just beyond the dining room sheers? On fourth rotation I was most certain I could discern Peadar Kearney's "Erin Go Bragh" resonating from the home. A somber strange march seemed to float in the air and mingle with those grand green leaves above the private estate grounds… "Some have come from a land beyond the wave, sworn to be free." It all seemed so real and so lovely the more I studied her.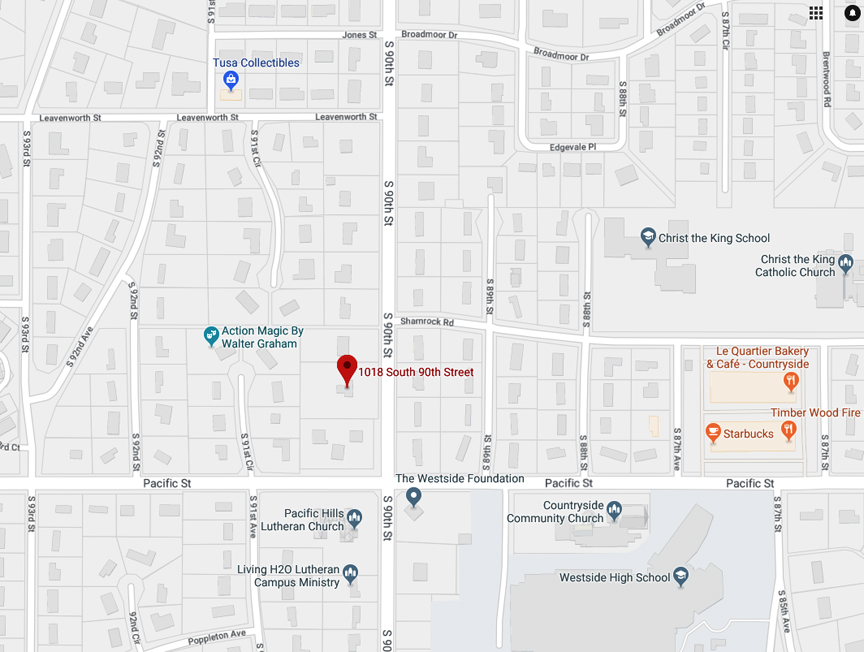 2018 Google Map. Image taken from Google site.
The Mystery of Ninetieth and Pacific
Before we tiptoe but one inch further, let us huddle here on 90th and Pacific and have a good look-see. I've compiled a brief photo collage to help us quickly acclimate to the surroundings, to be surveyed in a clockwise orientation. Let us remember that the home of our focus, 1018 South 90th is but two doors north of this dense corner and sits on the west side of 90th. On the northeast corner of the 90th and Pacific intersection is a solid ranch home built in 1960. This neck of woods is called the Greenacres Addition and I will touch on its origins later. What you need to know now is that this area is comprised of MCM homes, to include the eastern ribbon along 90th Street and undeniably constructed in the early 1950-1960s. 1027 South 90th is a great looking ranch, typical of the Greenacres Addition.
The southeast corner of 90th and Pacific is solidly represented by a brick beauty, once a family owned home, since acquired by the Westside Community Schools. The home serves as their Alumni Association building. The County Assessor's site lists it as built in 1906, which seems a bit early by estimation. Also part of the West Pacific Hills Addition, I always remember this as the Montessori School. I would later come to believe that this was possibly the second home to the A. J. Love country estate. After a tour of England and Scotland in pursuit of home and garden ideas, Mrs. Love was in a better position to make her tasteful last minute recommendations for the brick beauty. Rumor has it, the home on the sloping lot was completed in 1926.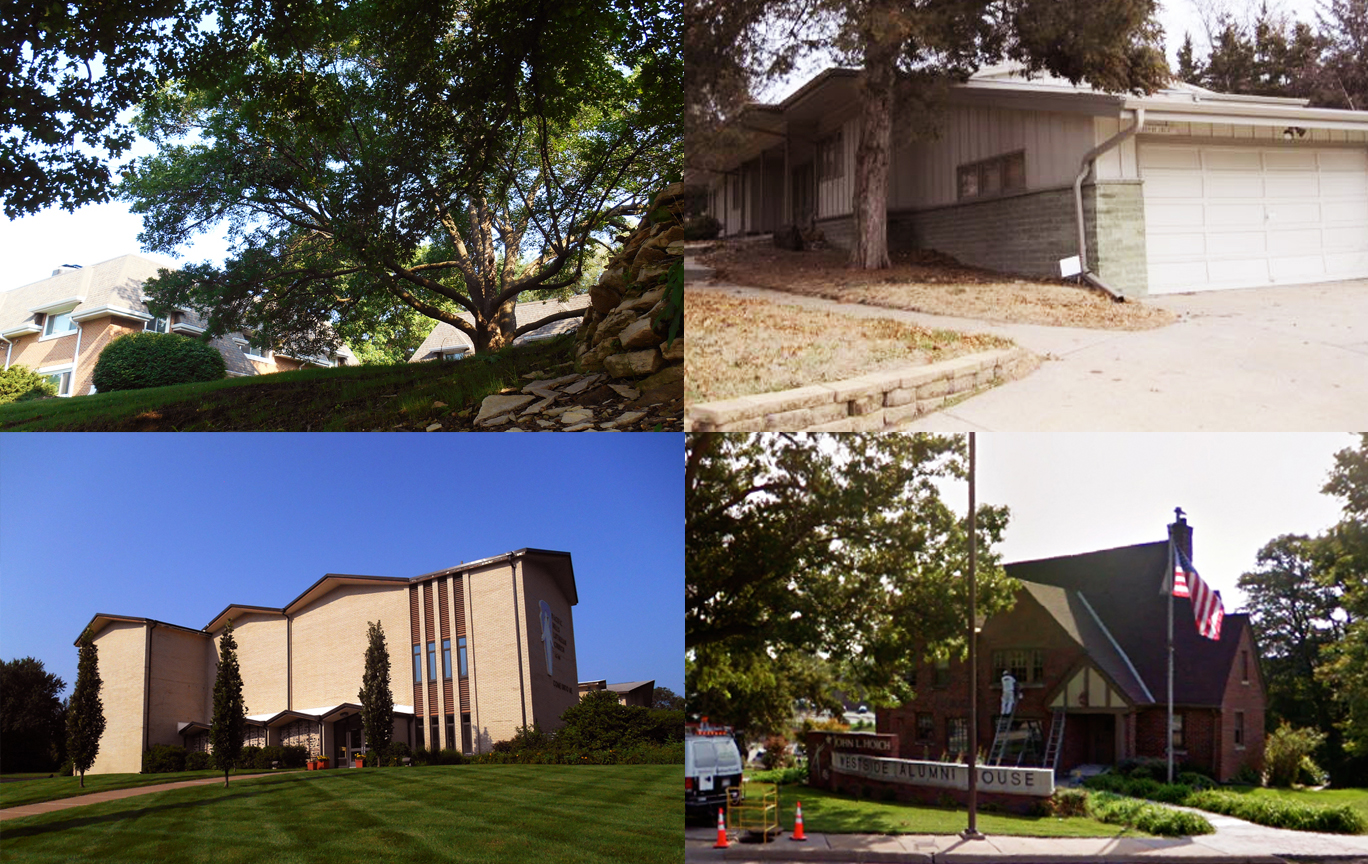 Wrapping back around clockwise, the southwest corner of 90th and Pacific houses the aptly named Pacific Hills Evangelical. This large church was built in 1963 and is also within the West Pacific Hills Addition.
And finally the northwest corner of 90th and Pacific is completed by a number of attractive late 60s townhomes. These exclusive duplexes were built in 1967 by Ted Reeder Construction and have forever hidden behind the pretty trees of this elevated corner. I have always associated these proud townhomes, along with Swanson Tower, with my grandmother's girlfriends. She had a number of close older ladyfriends living in both of these glorious places when I was a child and savored visits involved tiptoeing across deep, white, plush carpet and trying not to drop my cucumber sandwich with the crusts cut off on aforementioned pristine carpeting. I have always secretly dreamed of passing my adult years and jumping straight into haughty senior accommodations in pursuit of these favored memories. After a good amount of sniffing around, I found the 9002 Pacific Street condominiums to be the same high-minded living quarters I had fixed into recollection. Their backyard abuts the sprawling 1018 South 90th property.
Trace Markers
Now that we've adjusted our compasses and righted ourselves, some detectives, in the meantime, have scampered off to do various important things like laundry or mixing a drink. I want to discuss the cultural changes to the surrounding environs back in the late 1900s. For the record 90th and Pacific was outside of the city limit in the teens, not yet a part of Omaha proper. If I'm telling you things you already know, you must excuse me. What we consider the Loveland district or the Westside Community area was rural, a lovely, wooded, rolling countryside. However the Western Trail was gaining some traction nearby in those teen years. The Charles W. Martin Company and the Byron Reed Company had advertised plots "no smaller than one acre," boasting of the early benefits of West Omaha living, although not yet coined West O. New buyers were being seduced out of the city limits back in 1918, with coaxing such as "Feel the thrill of the soil" and "breathe deep of pure country air." Indeed. The Schuler & Cary real estate developers had also been buying up great West Omaha farmland in the 1920s. They were the supergroup behind the Loveland and Rockbrook additions. By 1926, their suburban residential venture grew to include property lying south of Pacific Street from Seventy-eighth all the way to Ninety-sixth Street due to a prestigious country club uprooting, which we will discuss in a short while.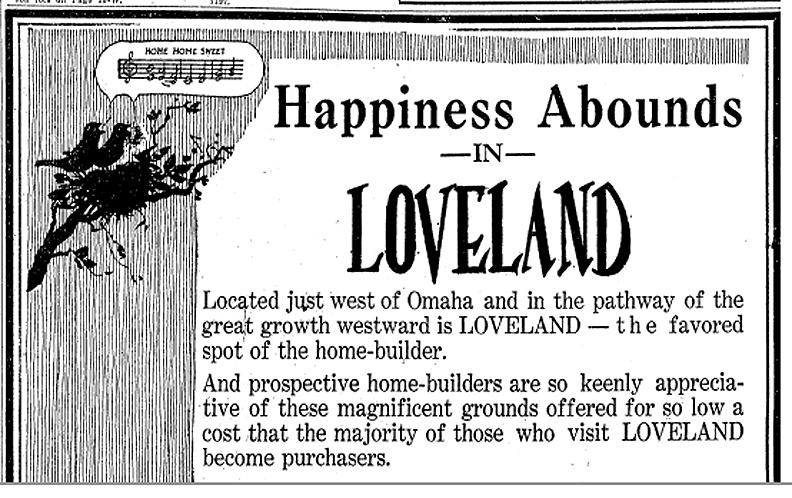 This whole country trend and the return to one's rural roots was a neurotic focus of one of my investigations in the book, so forgive me as I merely scratch at these concepts here. As you might recall from our excavation in Mysteries of Omaha: 8120 Pacific, we learned about Archibald J. Love, A. P Wood and the swath west of 72nd Street, clustered around Pacific Street, known as Pacific Territory. If you have not yet read this history, you might want to hit pause and backtrack.
The Pastoral Phenomenon
Archibald J. Love, as I see it, was the true bellwether of the region, having established his farm, Loveland Farm in what would become the Westside Community-District 66 area. Now there were plenty-o-pastures and other farmers up and down Pacific Street back then, so that achievement was not really the Genius of Love. His swansong was developing an eighty-acre suburb east of his farmland, labeled after his property namesake, the gorgeous and desirable Loveland Neighborhood. Along with the wise marketing of Shuler and Cary, developers of the addition, a 1922 spin down the newly paved road from Elmwood Park to Loveland Drive promised a luxurious afternoon's drive. One of my all-time favorite areas in Omaha.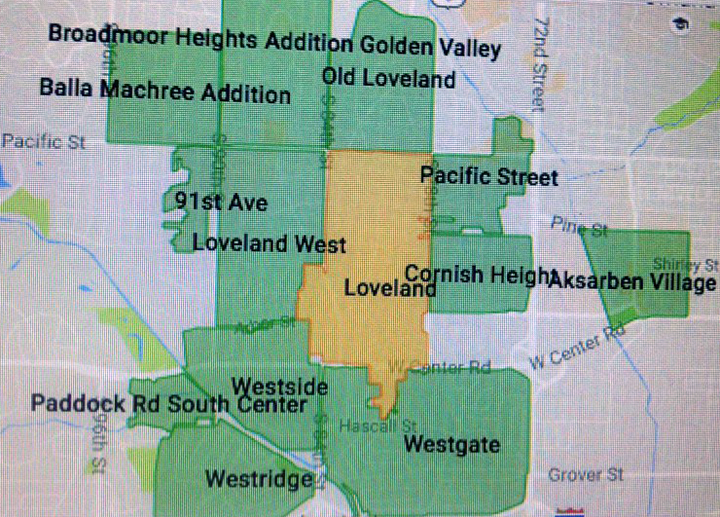 In 1918 Archibald J. Love purchased an additional 40-acre tract of land at the southwest corner of 90th and Pacific for $7,000. I estimate this corner is where the Pacific Hills Evangelical Lutheran Church now stands. Although the Archibald Love family had resided at the nearby Loveland Farm to the east, they saw fit to buy this plot of land even further west. Perhaps an investment with an eye toward the oncoming westward sweep? I found evidence he also owned a 160-acre farm on West Leavenworth that he was trying to unload to the new Happy Hollow Country Club board in 1917. Following national trends, the streetcar (the streetcar never did not make it out to 90th and Pacific) and soon the automobile (the Model T become more economical in 1920) allowed for the growth of the suburbs, as some wealthy and middle class Omahans left Downtown and Midtown for greener pastures. One would assume the man for whom the Loveland Neighborhood is named might have been a farmer, but I suspect he was more of a hobbyist from the John Muir school of philosophy. "Keep Close to Nature's Heart." Not to say Love didn't work the land on some level; he was known for his extensive Ayreshire registered herds. Archie Love made a faithful daily route to Downtown Omaha as the well-heeled president of the Love-Haskell Insurance Company, located at the Woodman of the World Building. He was also proud manager of the German Fire Underwriters of Omaha, located in the same building. Later he would refashion into the A. J. Love Insurance Company.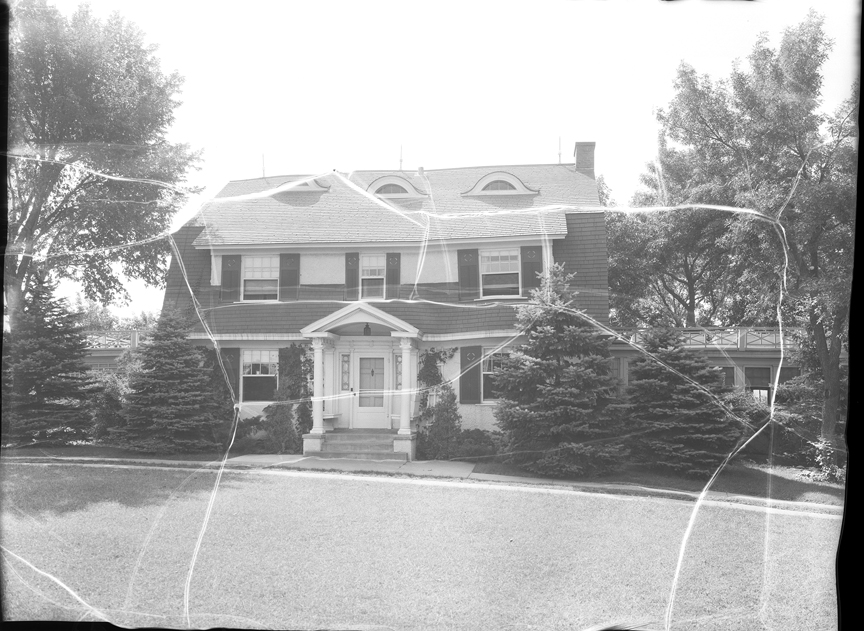 8400 Loveland Drive. Archie Love's family home. Creators: Bostwick, Louis (1868-1943) and Frohardt, Homer (1885-1972). Publisher: The Durham Museum.
Another bucolic, white collar professional, Arthur P. Wood, a railroad contracting engineer in the firm Wood, Bancroft & Doty, along with his son, William Righter Wood were equal partners in the Arwood Dairy Farm, thought to be very valuable property on the north side of Pacific at about 79th Street to 84th, opposing Love's land. The Woods would also later sell their dairy farm and develop the area into the glorious, hidden, winding Ridgewood Addition we know today. More than a short list of Moneyed Omahans longed to experience the promised fresh air of the new rustic areas in the 1920s and 30s, but before the safe subdivision masses entered in droves, pastoral nostalgia had bitten some pioneering arbiters of taste. As the Comprehensive Program for Historic Preservation in Omaha, compiled by the Landmarks Heritage Preservation Commission, pointed out, "some Omaha residents did not wait for the land to be subdivided." Which I understood to mean, some progressives packed up for the country before it was developed into neighborhoods or standard practice. **Newsflash: as of publication, I have recently learned that there were no taxes outside of the city limit. A Big Draw**
The Groundbreaking Melady Clan
Unbeknownst to me, and possibly many other Omahans, another prestigious family was an early trendsetter to the 90th and Pacific area: the Gene Melady family. A delicious clue, dated June of 1918, disclosed the name of these Pioneer Suburbanites—a family who "did not wait for the land to be subdivided." This clue divulged a good deal about the origins of 1018 South 90th Street. The World Herald headline read: Gene Melady Buys Country Home Site. "Gene Melady, livestock man and sport promoter, has bought forty acres of sightly, rolling land, well wooded, two miles west of town where he will build a country home and raise blooded stock. The land is on the north side of the West Pacific Road, diagonally opposite Loveland Farm. He paid $20,000 for the tract, buying through the O'Keefe Real Estate company of I..William Jensen." I couldn't quite make out the first name or initial of the mystery Mr. Jensen.
The expression "Ninetieth and Pacific" first entered the lexicon of the local press in the April of 1920, when the World Herald publicly announced the home of our obsession, 1018 South 90th Street. A Very Important home, as it turned out. The brand new Melady structure was reputedly situated "on a forty-acre tract, one and half miles west of Elmwood Park." I finally figured out that Elmwood Park was so often used as a marker in town because it was the end of the line, the edge of the city. Streetcars did not go past the park. Also rural miles out west were always measured to the Downtown commercial district or the river.
Deeds Office Visit
A trip to the deeds office would confirm that 1018 South 90th Street was never developed as or included in a larger neighborhood or addition. Its address was held in the Lands-Section-Township-Range files of the county assessor, which those of you, who collect here regularly, have possibly heard my grumblings about. LANDS SEC-TWN-RGE 22-15-12 N 205 S 434 W 285 E 318 FT SE 1/4 SW 1/4 – 205 X 285, to be specific. But let it be known, I am becoming more skilled in these pearl diving searches. I would go down to the Douglas County Register of Deeds office and pore over the large Land Section Township Range books, all the while the carpet was being ripped up from under my feet due to an extensive renovation. It was all rather exciting. But under that pressure, I found it more difficult than usual to read the CurlyQCursive of clerks long gone. Now where had I put my magnifying glass? Oh yes…Mr. Cassette said he was enjoying it lately and probably had left it somewhere. With the flooring glue rising in the air and but a smidge of space to teeter, it appeared that "R. W. Jensen & wf" had sold the original land to a "Nelmco G. Molady" on July 13, 1918. I knew this was a catastrophic misspelling. Book 423 pg 279 online would give the exact contract I needed.
When I breathlessly pulled up that document, it revealed the land was indeed purchased for $20,000. R. William Jensen and wife, Elizabeth Jensen sold to a Hilma G. Melady. (I will confess, I had never heard the name Hilma before. I would come to realize it was Gene Melady's wife after a while.) Furthermore the Metropolitan Utilities District would make "connection for the supply of water to the premises" on October 11, 1924 to Hilma G. Melady. This indicated the Meladys either bought the land years before building their large house or that they had built closer to the purchase date and simply were not using MUD city utilities until 1924. I considered that 90th and Pacific was possibly not within the reach of MUD in those days.

July 7, 1918. A week later I would find this great little snippet, lending further validation to clue I had tripped over at the Register of Deeds office.
The William and Lizzie Jensen File
I needed to know more about who sold the original land to the Meladys. According to the United States Census of 1900, William Jensen, was a 38 year old, born in Denmark in 1862. He immigrated to the States in 1882. His wife, Elizabeth "Lizzie" was a Nebraska girl, four years his junior. It is estimated the couple were married in 1887. They lived with their children Henry, Alma and Clara. By 1910 the family had two servants, Earl Beck and Edward Dykes living in the home, which I misconstrued as somewhat miraculous, having assumed they were a farm family. Were they farmhands? Of course nothing is what it seemed in the West Pacific area. But it was the tip-off that the Jensens resided in "McArdle Township" that sent me reeling. In doing research for my book, I had previously come across the McArdle Township Mystery. I will save the mystery for the book but suffice it to say, the map I discovered, drawn up in 1920, would bring everything into view.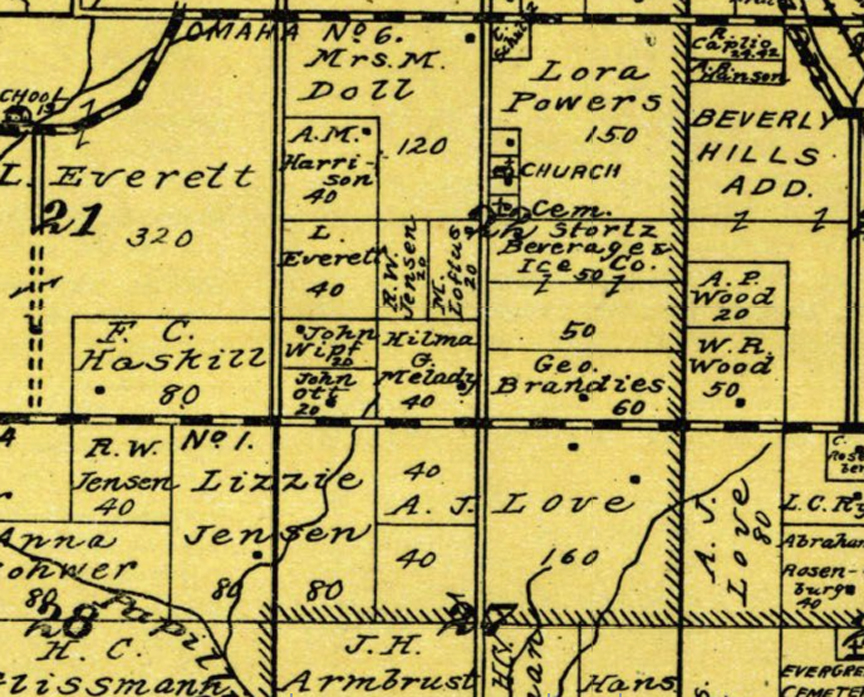 1920 McArdle map from the Historic Map Works site. I know it might be difficult to acclimate to this hand drawn map, so allow me to help. The black and white candy cane line through the middle of the map represents Pacific Street. The map legend explained the dotted line as a "rural route." In about the center there is a property line perimeter creating a square that reads "Hilma G. Melady 40." The 40 represents how many acres were comprised in the Melady tract of land. 90th Street is drawn with two parallel lines north-south—the map legend calling this a "wagon road." Across the map there are a sprinkling of black dots. These signify houses. Please note south of Pacific was the large A. J. Love farm or "Loveland." Love owned 40, 40, 160 and 80 acres, represented as separate tracts of land. Note to the left (or west) of Loveland Farm it shows Lizzie Jensen 80 and 80. And west of that it reads R. W. Jensen.
For those who took a powder and now back but deeply confused, let me summarize: I..William Jensen, R. W. Jensen and William Jensen are one in the same; his wife was Lizzie Jensen. Although I was not sure how, together the couple had amassed a large chunk of rural West Omaha. Of course it was not yet known by that name and as we've already established, this was actually the McArdle Precinct. As other wealthy Omahans began to show an interest in West Pacific Street, it became plain the Jensens were holding all the cards. R. W. and Lizzie Jensen could be found shaving off desirable slivers of their land at a pretty penny in the next decades.
But my fun didn't end there. Mrs. Lizzie Jensen was only just beginning to come into focus. In 1898 Lizzie was running a flat at 709 South 16th Street, now a dreary parking lot across from the old Diamond Bar, now known as Howlin' Hounds Coffee Shop. (If you haven't gone in there yet, Greg is wonderful and the coffee is superb—plus it's a great historic building. 712 South 16th Street.)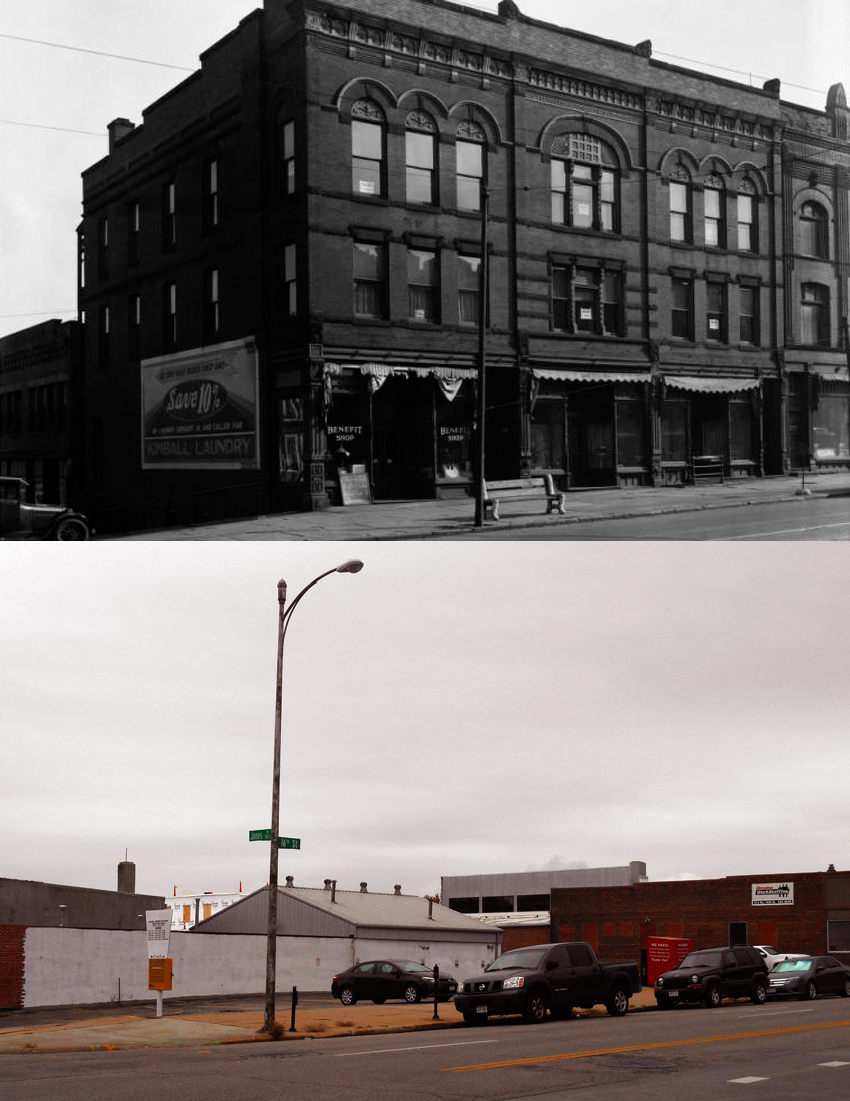 The Burbank Building on the southeast corner of 16th and Jones Street. A billboard attached to the side of the building is advertising Kimball Laundry. Corner store says Benefit Shop. There is a lonely bus stop bench in front of the building. Creator: Bostwick, Louis (1868-1943) and Frohardt, Homer (1885-1972). Publisher: The Durham Museum. 1934. When I look at this photo, it just roils me to see proof of how Omaha continues to demolish its wonderful buildings for these no purpose empty lots. Let me center myself and continue….I believe this is the building that Lizzie was running her flat out of.
In response to the complaints of some Nosy Nadine Neighbors, the Omaha Police raided Mrs. Lizzie's property and found it to be a Disorderly House. That's right–A man and a woman were found occupying the same room. The couple and Lizzie Jensen were locked up in the city jail. As it turns out, Lizzie was the wealthy only daughter of one of the most prosperous farmers in the Omaha region.
The Eicke File
Henry Eicke moved from Germany as a young man; he was headed for America when he met his future wife, Elizabeth Sohl, also from Germany, aboard a ship. As luck would have it, the two hit it off and married in New Orleans. They would venture west, where Eicke "worked as a freighter in the Colorado portion of Nebraska Territory." Like so many after them, the Eicke couple thought little Omaha would be a good place to raise their family. They settled here in 1856. From an ancestor site I would gather the couple had twelve children. I am not 100% sure of the validity of this number but after double checking names, birth and death dates, it appeared all died in childhood except three children. Our Lady Lizzie Jensen was one of the surviving Eicke offspring to live past childhood.
"Mr. Eicke leased equipment to the railroads and helped construct their growing lines until 1870, when he purchased a farm." He was known, particularly, for his novelty herds of Freisen-Holstein. Henry Eicke owned a number of farms and together with his personal property was worth over $250,000 at the time of his death in 1901. By today's purchasing power, Lizzie Jensen and her brother, William Eicke's inheritance was estimated at $7,295,238.10. Another brother, Henry, had a separate inheritance. The Eicke family's original estate was located on the site of the Renstrom Mansion and grounds, on the south side of Pacific Street at 100th Street, across from Regency. This once mammoth estate has now been parceled off as well and what remains (still a huge property) is held in the Watanabe family name. Interestingly rumor has it the Renstrom Mansion was built "around" and is thought to "incorporate" the original Eicke home.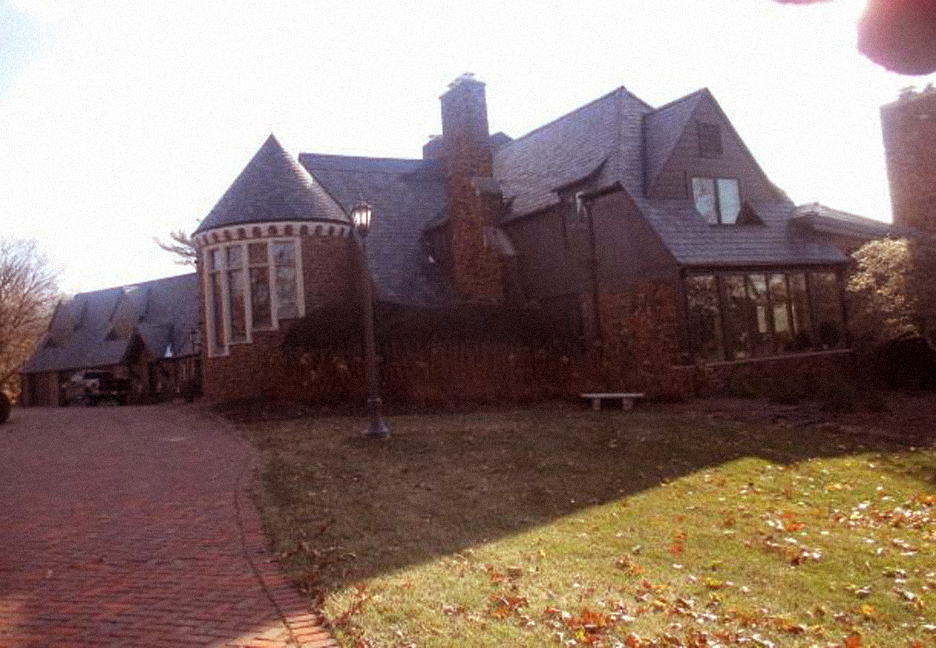 Renstrom Mansion.
I was beginning to understand how William and Lizzie Jensen owned so much farmland along Pacific Street and how they could keep servants. I was surprised to uncover Lizzie Jensen's death certificate. It stated she died at the age of 63 in 1931 during the Great Depression in the Jensen house on 90th and Farnam Streets. Evidently she had been ill for two and a half years. Two other announcements said she died at the Eicke family home at 100th and Pacific where she was born. Her once mighty personal estate had been whittled down to include only 40 thousand dollars worth of farmland; about $675,400 in 2018 dollars. Her husband William Jensen died later in 1937 at the age of 75. At the time of his death, they said he had farmed in Douglas County for 54 years.
Construction Date Mystery
Not many hints could be traced of the Meladys' decision to move to the West Pacific area or much about their previous homes. I did discover in 1916 the Melady family lived at 3136 Chicago street. A glorious 3,106 sq ft home allegedly built in 1892, according to the Douglas County Assessor's site. Long ago broken up into apartments.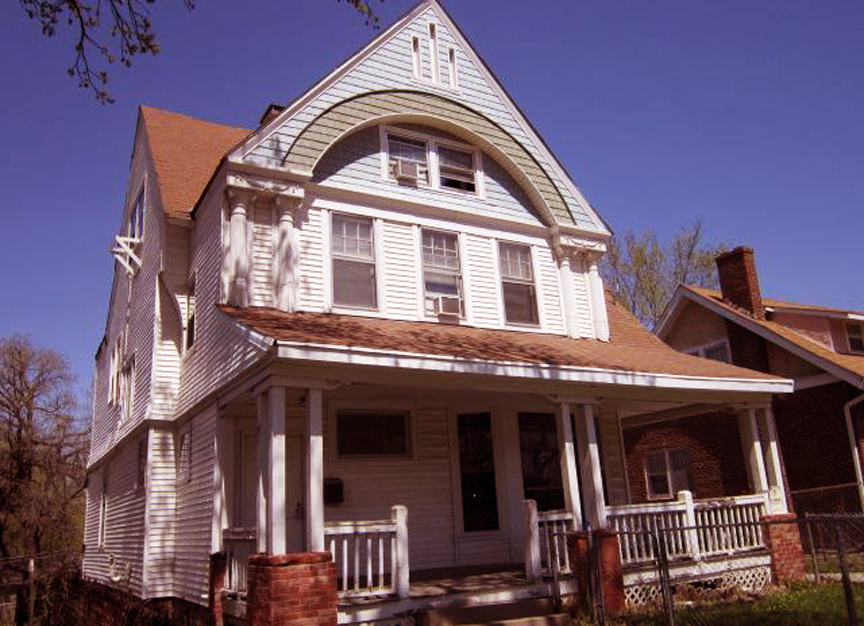 3136 Chicago Street.
In trying to track if the Melady home was built in 1919 or 1921, I visited the city directories. The 1918 edition showed Eugene Melady was living in the Colbert Apartments #11 built by the well-known Frederick A. Henninger. As we know the family bought the land from the Jensens in July of 1918, it would make sense they had possibly sold their home and were living in temporary accommodations. Of course the library's 1919 Directory was dismally "missing." The 1920 also revealed the Meladys still renting in the Colbert but by 1921 they were registered vaguely at "90th and Pacific." This would give potential credence to a 1921 build date for Balla Machree.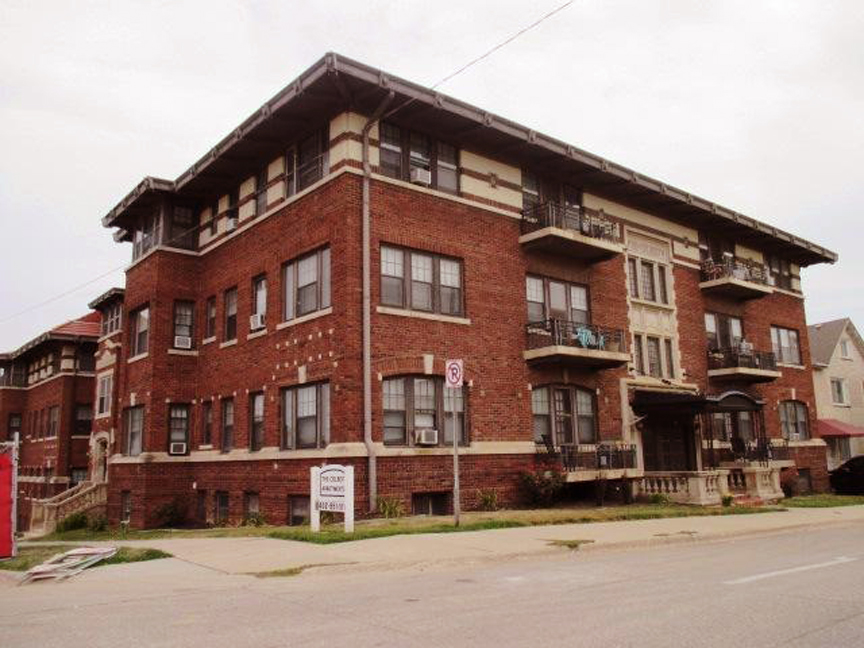 The Colbert Apartments. The O. D. Kiplinger family had plans drawn up by Architect Frederick Henninger in 1914 for their large apartment house covering two lots at Farnam, Harney and 39th Streets. Named after Mrs. Kiplinger's family, the four stories on Farnam, three stories on Harney were predicted to cost $90,000.
The Architect
I would gleefully discover Frederick A. Henninger designed the Melady Residence, supposedly in 1918. Was it a coincidence that they were staying at the Colbert designed by the same architect? I would call my fellow detective friend, Martha Miller at the State Historic Preservation Office and she would put me in touch with a number of other people until I reached the amicable Patrick Haynes, Survey Coordinator and Compliance Reviewer. He would further scour the History Nebraska files on the 1018 South 90th property but couldn't find much more than the attribution to Henninger and the curious build date of 1918. That date just didn't seem right, considering they had just bought the land that summer. I guess I had dreamt History Nebraska would have oodles of original plans and private Melady-Henninger documents. It was not to be in this case, but I sure met some nice preservation folks along the way.
Because I cannot control myself, I share this tidbit. At the time of his Melady design, Mr. Henninger resided at 3060 Woolworth Avenue on the border of the Field Club area. This incredible 1890 home is a real standout on the border of Hanscom Park.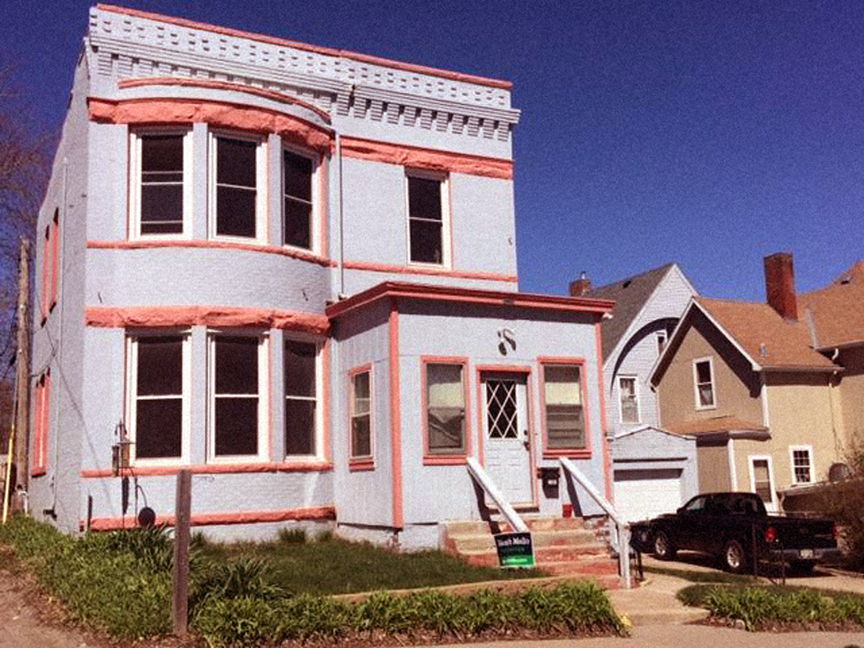 3060 Woolworth.
From the Nebraska State Historical Society, I would learn Frederick A. Henninger was born on February 25, 1865 in rural Iowa. After attending the Chicago Art Institute, Henninger moved to Lincoln and later Omaha where he worked as a draftsman. By 1898 he began making a name for himself after designing the Dairy Building at the Trans-Mississippi & International Exposition of Omaha. Henninger was marveled at for his work ethic, earning the name House-a-Day Henninger. Old Omaha is filled with the fantastic, solid designs of this prolific, leading architect.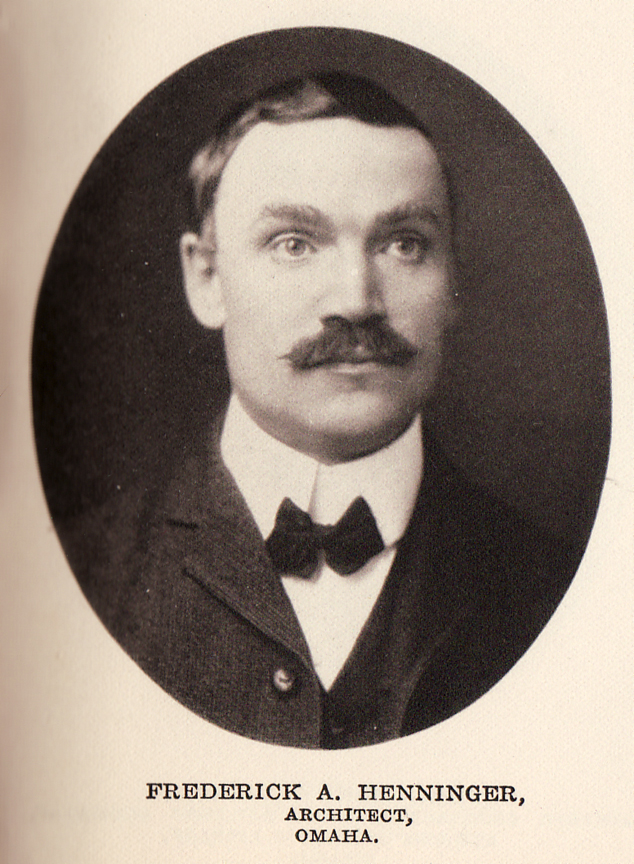 Frederick A. Henninger. I searched and I searched to find a photo of this giant. It turned out he was in my Nebraskans 1854-1904 book all along! Isn't he a bright eyed, fancy man?
The Elusive Date
I felt as though I might pull my hair out until I finally found a well-timed grouping of clues. The first was a news article from August of 1919, proclaiming that the Melady home was being built. In a classic boast from the time period, "The home will be the last word I modern equipment, with a Kewanee electric pressure water system as one of the features." I longed to know more details like this. (Only for big nerds like myself: Kewanee Boiler Corporation was a long time American company, having begun designing and fabricating boilers in 1868. They would soon offer electric light systems, sewage disposal, air pressure systems etc.) Although purchased in the summer of 1918, I could appreciate the Meladys for taking their time. Maybe the Meladys paid as they went, their money fell through, construction was called to a halt because of limited building materials or workers' issues could have interrupted the plan, for all I knew. Around April of 1920 the large house on 40 acres was finally complete. A proud announcement on April 27, 1920 publicized Mr. and Mrs. Eugene P. Melady and family had moved into their new country home, Balla Machree. "The old Gaelic tongue means, 'Home of My Heart.' It sounds as though our Balla Machree was erected in 1920.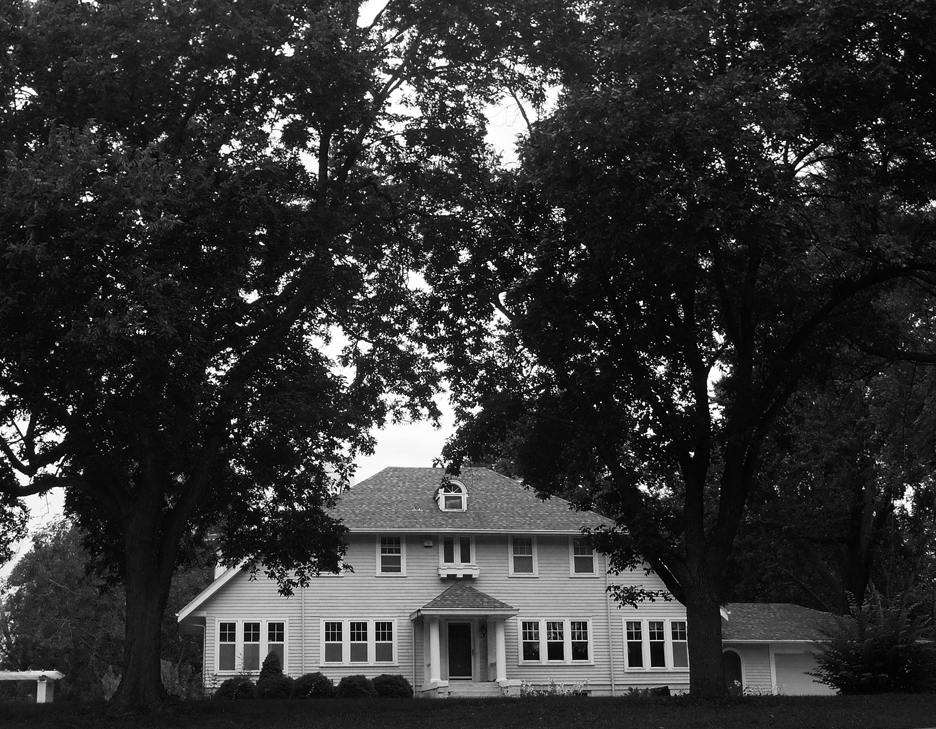 The Style
Although I am no expert in this area, Balla Machree appeared to be an eclectic mix of Colonial Revival style meets Craftsman influence. I would be nowhere without the guidance of Virginia Savage McAlester's Field Guide to American Houses. The open, slightly overhanging eves, although no rafters exposed, easing into the gambreled side slope roof intimates an intentional carefree country lifestyle. I found the almost pale sweet butter colored, original wood clapboard in impressive condition. And an interesting, casual incorporation of the side wings—sunrooms? The central, second floor window box read very Craftsman style to my eyes, as did the attractive groupings of two and three windows in one assembly. Each rectangular, they were a mix of six lights over one and four lights over one, double-hung sashes. The rounded gnome door transitioning between the connected garage and the house gave a nonchalant European country air. Meanwhile the upright nature of the home, with its modest but formal entryway supported by traditional, slender columns and its obsession with balance announced a beguiling Colonial Prudence. It also exposed the interest of someone still concerned with the Gaze of the City Set. I found it a becoming medley and of course, a study in psychology and culture of the times.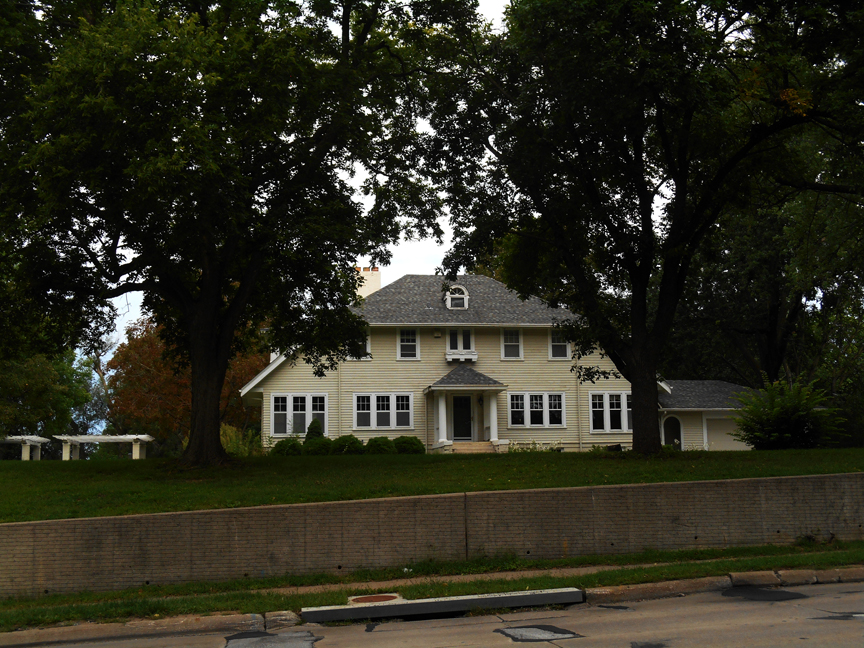 The house, as we know, is on a slight elevation, set far back from 90th. At that time 90th was still a dirt road and the home, potentially, set on an even higher hill, dependent on what kind of grading was done over the years. 90th Street was not paved until approximately 1922. The Melady's house was enveloped by a wooded 40 acres. Without the Greenacres Addition directly to the Melady's east, the view of the forested surroundings and Arwood Dairy in the distance must have been lovely. Later I would spy, the Meladys were generous with their magnificent view and extended lush grounds. "During the four years they have resided there, Mr. and Mrs. Melady have established a reputation for boundless hospitality." This single pointer would consign me to many a rabbit hole in search of what kind of people the Meladys were and what their land was like.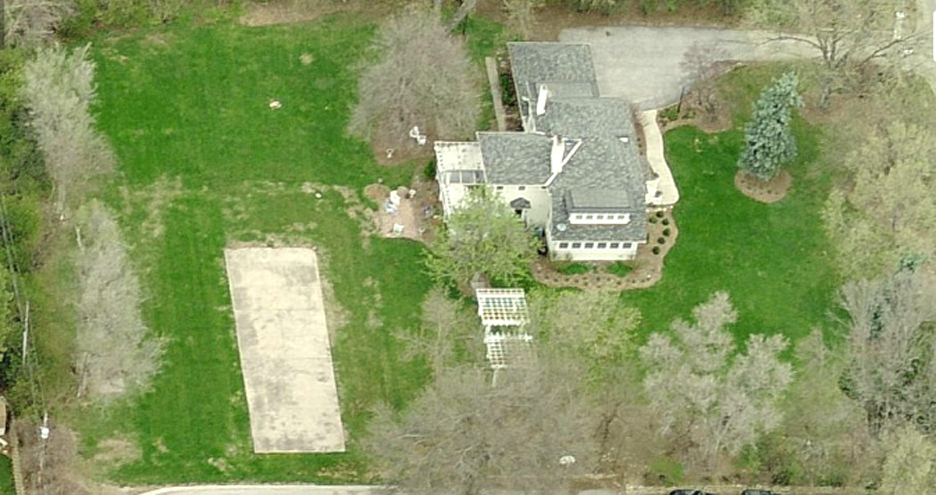 2010 Aerial from the DOGIS site to show the layout of the large grounds.
Eugene "Gene" Melady
There are many, many incredible traits I learned about Eugene Patrick Melady but I figure the first thing you should know is that he was an Irishman by way of Mankato, Minnesota. I believe this solitary fact brings the rest of the colorful narrative into perspective. Known to be warm and easygoing, Melady's approach to life appeared to be All Around Enthusiastic. Rumored to be one of Notre Dame's very first football team, Melady unbelievably captained the team at age 16 years, straight off the family farm. I would tend to believe this was some sort of Irish yarn but I eventually found evidence of a gold medal he received from the Notre Dame Alumni Association on the fiftieth anniversary of his graduation. (But wait…now that I think of it, that doesn't really secure the football captain story. No matter!) This athletic directive would set the stage for his lifelong love of sports, organization and community.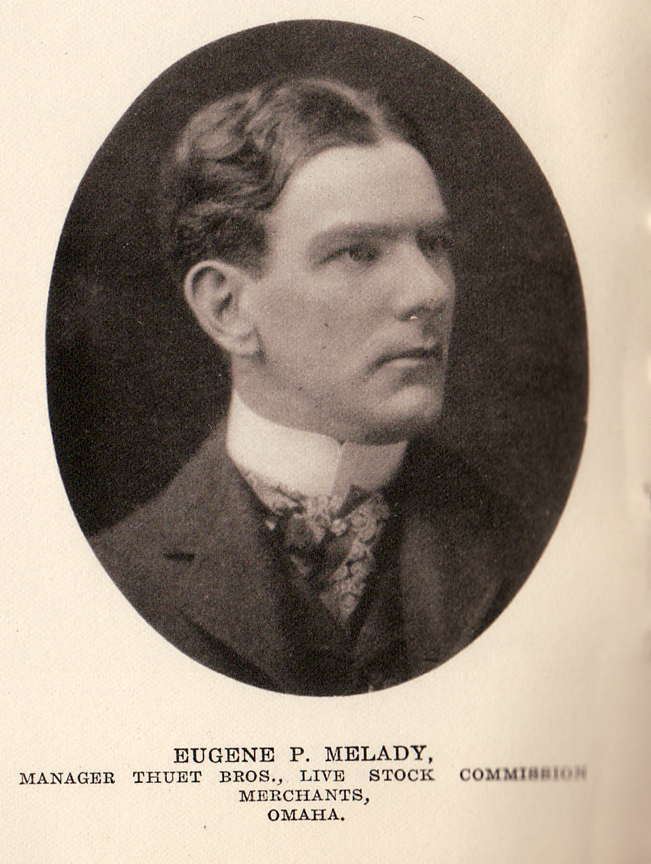 Eugene Melady, young man from Nebraskans 1854-1904. Created / Published: Omaha, Neb., The Bee publishing co., 1904. Such an Irish face.
Gene's father, James Melady, was had done well for himself in St. Paul Minnesota, having engaged in the coal business as well as local politics. He had come to America from County Meath, Ireland. Catherine Kane Melady, Gene's mother, was born in County Leitrim, Ireland. The eleven Melady children were raised in a family environment of "substantial prosperity." Gene would set off on an even foot, working for his brother, John Melady, who was a leading wholesale paper dealer out of St. Paul. Gene and his brother Lawrence would later enter the livestock commission business with the Thuet Brothers.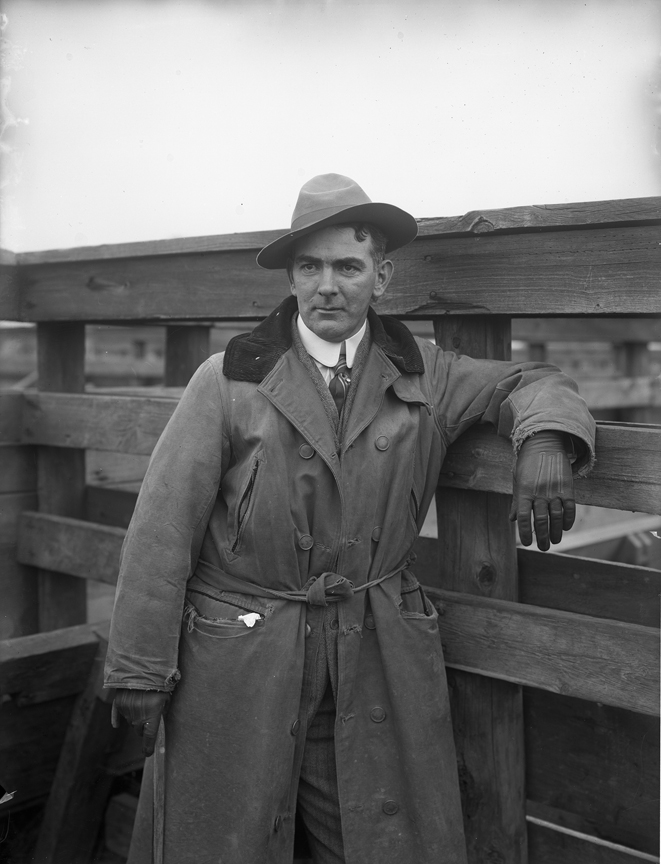 Portrait of Gene Melady of Melady Commission Company standing in a corral in the yard of the Union Stockyard located in south Omaha Nebraska. Customer name: Union Stockyards. Creator: Bostwick, Louis (1868-1943) and Frohardt, Homer (1885-1972). Publisher: The Durham Museum. Date unknown. A very stylish older woman at Esther's once taught me how to tie a belt in this fashion many years ago and I have been grateful ever since.
When Gene offered to conduct a branch business for the firm down in Omaha, the Meladys would remove to this area; later the two brothers would sever ties with the Thuets and branch off for the Melady Brothers Live Stock Commission Company. In time, Gene would become treasurer of the South Omaha Live Stock Exchange. The 1916 City Directory suggested that Eugene and Laurence C. (sic?) of Melady Brothers worked at the Livestock Commission at 204 Exchange Building.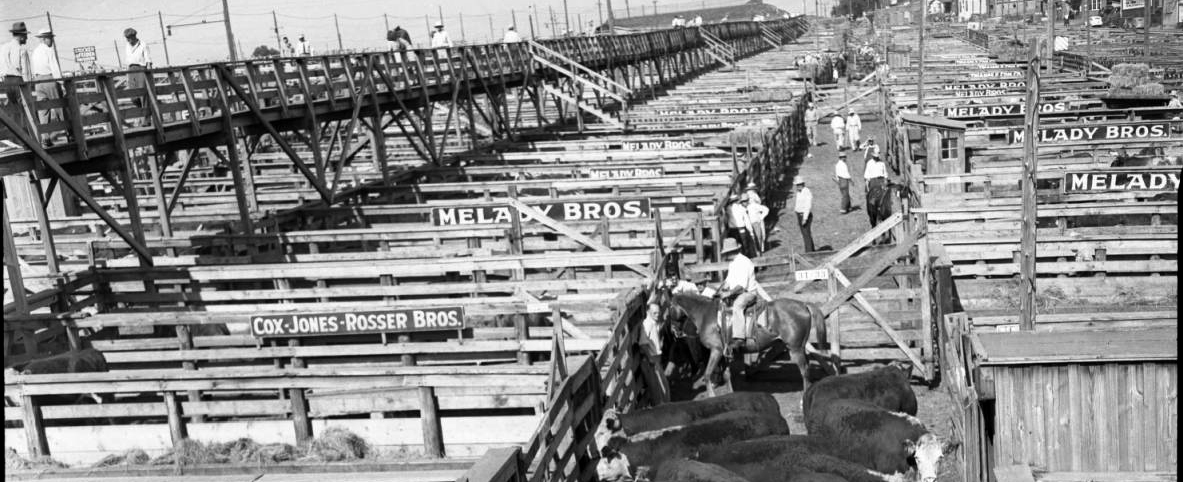 1946. Cattle being herded down a lane between the pens at the stockyards. The Melady Bros holding pens are in the background. View is looking west on L Street from about 28th Street. Creator: Savage, John (1903-1989). Publisher: The Durham Museum. Date: 10-1946
Gene Melady was possibly most well known for promoting the sports of wrestling and boxing on a national level. He was most definitely Omaha's leading sports promoter, later helping to secure legal status for Nebraska prizefighting in 1921. A national magazine would proclaim, " Gene Melady of Omaha has projected himself into the limelight as about the only high class wrestling promoter of whom the United States may now boast." Melady got involved early on as a worker "in the training camps of champion prize fighters such as Bob Fitzsimmons and Jim Corbett." Gene was also a familiar figure at the major bouts in Jack Dempsey's ring era. Melady soon began promoting his own events. His name was particularly upheld for his honesty and love of the game–distinguishing himself for his Clean Mat Game. The cornerstone of his sporting creed was "Protect the public, first, last and all the time." Gene Melady discovered and managed wrestler, Joe Stecher, a Dodge, Nebraska boy, who ultimately captured the heavyweight championship. Melady was also noted for discovering Earl Caddock out of Iowa; Caddock would later dethrone Joe Stecher. The bout of Stecher and Ed "Strangler" Lewis in 1916 became the stuff of legend—an agonizing, nearly five hours of holds, ending in a dismal declaration of a draw. He had secured the old Douglas County Fairgrounds in Benson, renaming it Melady Stadium, across from the Krug Park, The event was said to have drawn between 10,000 and 20,000 spectators.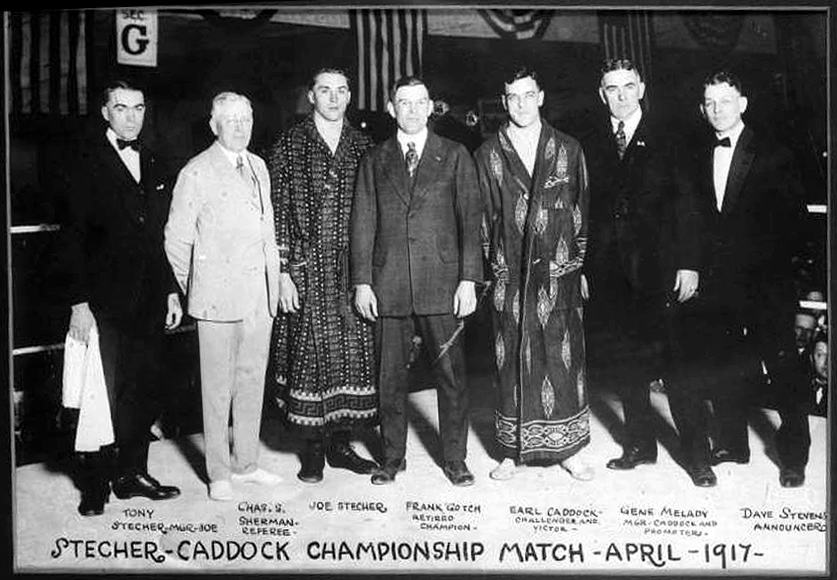 1917 This is the Stecher-Caddock Championship match of April, 1917. The caption below identifies each man as (left to right), Tony Stecher – Manager of Joe; Charles S. Sherman – referee; Joe Stecher – wrestler; Frank Gotch – retired Champion; Earl Caddock – challenger and victor; Gene Melady – Manager of Caddock and promoter; and Dave Stevens – announcer. Creator: Savage, John (1903-1989). Publisher: The Durham Museum. Love Those Wrestling Robes.
Let it be known Gene Melady also enjoyed a good habit of that of host, giving large and frequent parties at Balla Machree. He was a member of the Knights of Columbus and held membership at the Omaha Athletic Club as well as sometimes serving on their board. On a personal note, I also found ample evidence that Gene enjoyed Irish music and was moved to performing as an Irish minstrel in order to raise money for Notre Dame's first uniforms. This subtle clue, passion for music, weaved throughout his life. Melady was known to host visiting musicians from Ireland, to include a famous opera tenor; visitors stayed at their home for weeks on end. The Meladys were known to be generous hosts, often inviting Omahans with whom they hardly knew to join in their large group of friends and family. Balla Machree became site to many celebrations and picnics of all types. I would come to realize after a while, their spacious grounds were designed with ease of celebration in mind.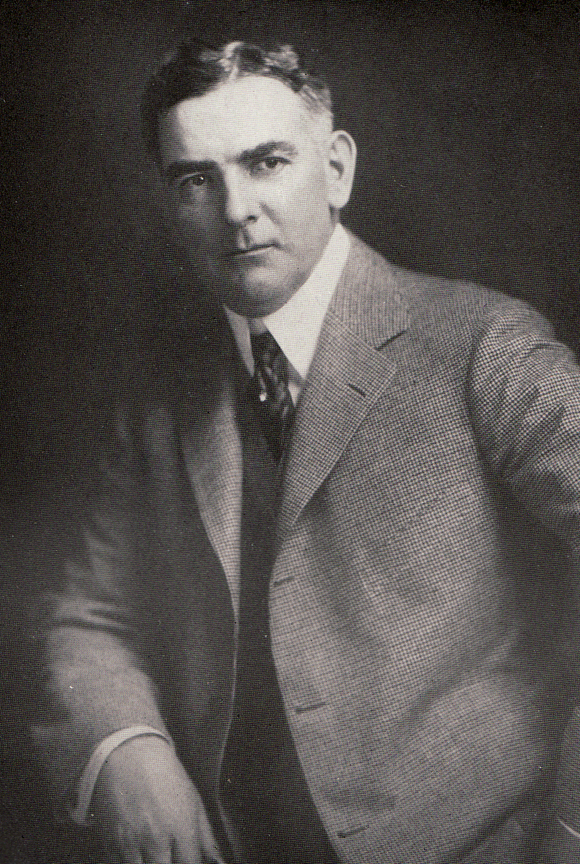 Eugene Melady from Omaha: The Gate City, and Douglas County, Nebraska, Volume 2. Front Cover. Arthur Cooper Wakeley. S.J. Clarke publishing Company, 1917
Hilma Grace Anderson Melady
Hilma Grace Anderson, a native of Omaha, married Eugene Melady in Chicago on November 22, 1911. Their one child, Eugene Patrick, Jr. was born in December of 1912. Of course, as with most of my dire searches into the lives of historical women, not much color could be discerned. The Family Search site revealed she was born in May of 1876, making her approximately 25 at the time of her marriage. Like most women of her day, Mrs. Melady was very involved in church activities.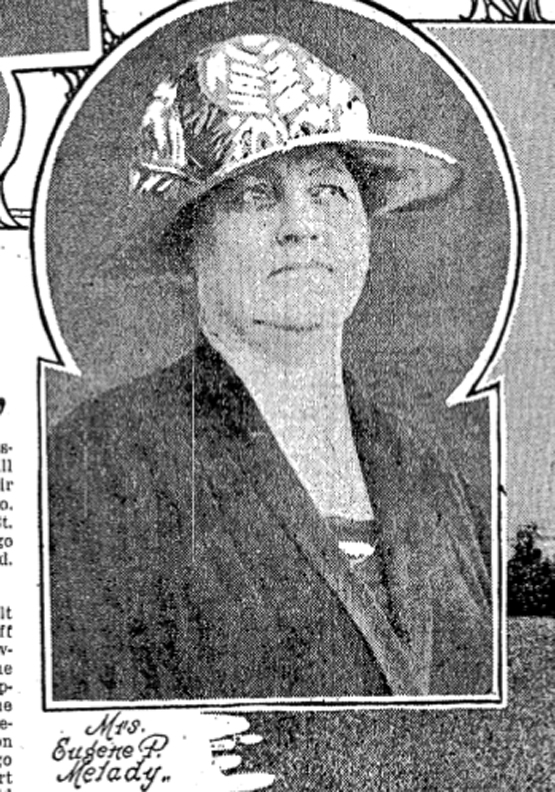 May 24, 1925. Mrs. Eugene Melady photo from the OWH. I can see from this sober photo she had piercing blue eyes and lips that wanted to smile.
The Meladys' Grounds and Gardens of the 1920s
One of the first things I discovered was the Meladys were given credit for starting The Tulip Bed Madness of Omaha. "The Meladys farm estate, along with Dr. William Califas, within the city limit, have two of the finest tulip beds of Omaha." In developing Rockbrook, near the new Happy Hollow Country Club, the Shuler & Cary developers ordered nine thousand tulip bulbs to mimic the Melady grounds. Omaha was thought to "become known as 'The City of Tulips' next year, so many people had begun ordering and planting the bulbs" after coming to view the fine style of the Melady and Califas gardens.
A quote lifted from the OWH in 1924 makes plain the wonders of spacious Balla Machree: "Balla Machree, a little further out than Fairacres, has a beautiful garden. The Meladys have endeavored to secure every shrub and plant that grows in this locality. The bridal wreath, lilacs, peonies, roses, irises, and jonquils that grow in this garden are especially attractive. The Meladys are very fond of tulips and have more than 15 hundred tulips in their garden. Among them are some black ones that are quite rare."
1920s landscaping was, without a doubt, considered the utmost in luxury. Lush greenery, sunken gardens, teahouses, birdhouses, fishponds and rock gardens were the outdoor decorations of the wealthy class. These beautiful garden beds of the well to do were viewed as showcases in and of themselves, with local Omaha walking tours being scheduled for regular folks' contemplation and pleasure. The desire to celebrate nature through curated flowers and the planting fruit bearing trees and shrubs were becoming popular choices with the rich; this drew birds to the garden for the new bird watching hobby as well as the envious eye of one's neighbors. One's front yard or front garden was viewed as a public place in the 1920s, sans fencing of any kind. I would imagine that the Meladys' country estate was wide open. From the ezinearticles article, "A Look Back In Time: Landscaping Trends From the 1920s-50s," I would learn that 1920s walkways and driveways were typically lined with "perennials, such as Canterbury bells, irises, foxgloves, phlox, pyrethrum, coreopsis, hollyhocks, roses, columbine, delphinium, poppies, and carnations and annuals, such as California poppies, cosmos, petunias, snapdragons, verbena, bachelor's buttons, centaurea (sweet sultan), strawflowers, marigolds, drummond phlox, asters, etc. Shrubs were boxwood, holly, yews, abelia."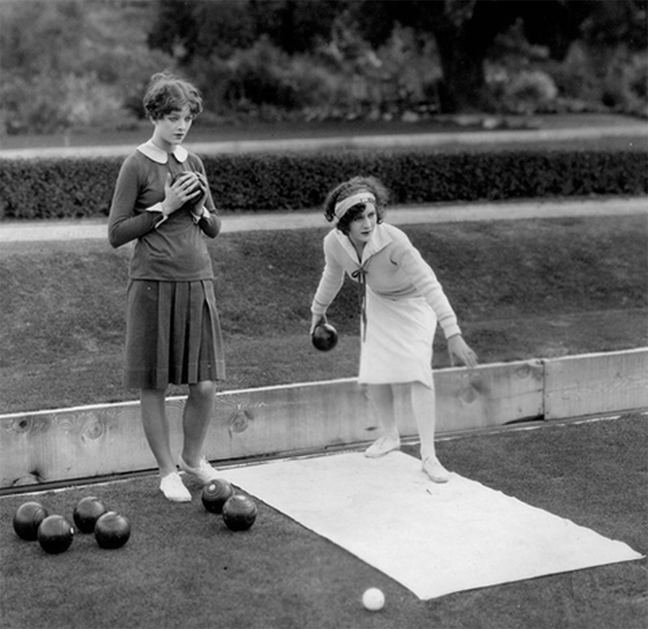 The backyard or back gardens were private places, often surrounded by a border of trees or shrubs. The desire to celebrate nature encouraged new outdoorsy focused recreational activities, mostly still wealthy class ventures) and these, in turn, found their way into backyard landscape design: campfires, bowling greens, putting greens, picnic areas and croquet grounds were popular outdoor features with the social set.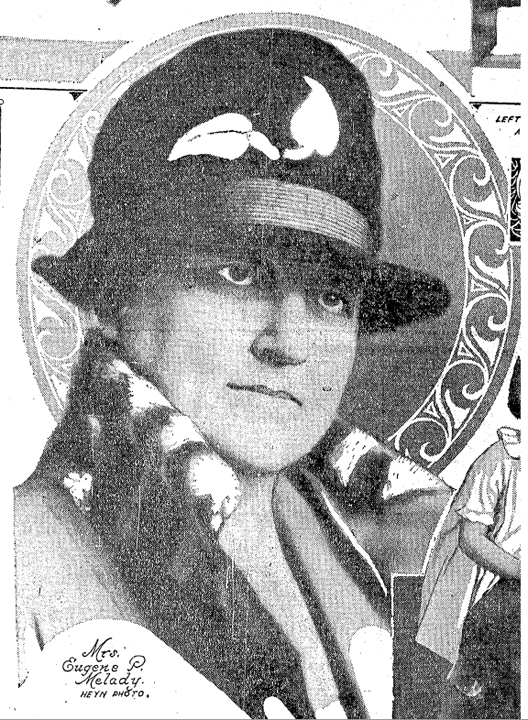 An article from October of 1927, "In the Social World" section, with an accompanying photo of Mrs. Melady lent some savory descriptions. The article read, "Mrs. Eugene P. Melady is lending her time to the committee of the John McCormack concert which will be given on November 11 in the Auditorium. Mr. McCormack's appearance at this time is sponsored by the Omaha Council of Catholic Women. Mrs. Melady is one of Omaha's pioneer suburbanites. With Mr. Melady and her son, Eugene, Jr., Mrs. Melady has converted the grounds surrounding their home on Ninetieth and Pacific Streets, into numerous gardens. A sunken garden with pools and softly toned water lilies vies in popularity with the rose garden and the arched pagodas, as a result of the landscaping of the owners. An ideal picnic ground is also arranged on the grounds of this spacious estate. Here a brick oven and permanent picnic tables are shaded by tall Lombardy poplar trees. Mr. and Mrs. Melady have named their place, 'Balla Machree,' Gaelic for "home of my heart."
I discovered some mislabeled photos in the Durham archives, which I believe are of Balla Machree. These photos were attributed to a later Melady home at 804 South 90th. For one thing, the Meladys did not live at 804 in 1926 and secondly it was not built yet. If you look closely this is the original home at 1018 South 90th. This current southwestern angle reveals that a large addition was made to the back. Also the pergolas that stand, although lovely, are mere shadows of what once stood—more of a trellised walkway with fine brick pillars. This will all come clear when you see my upcoming photos of my stalking mission.
These are mislabeled garden photos. Creator: Bostwick, Louis (1868-1943) and Frohardt, Homer (1885-1972). Publisher: The Durham Museum. Date: 6-1926.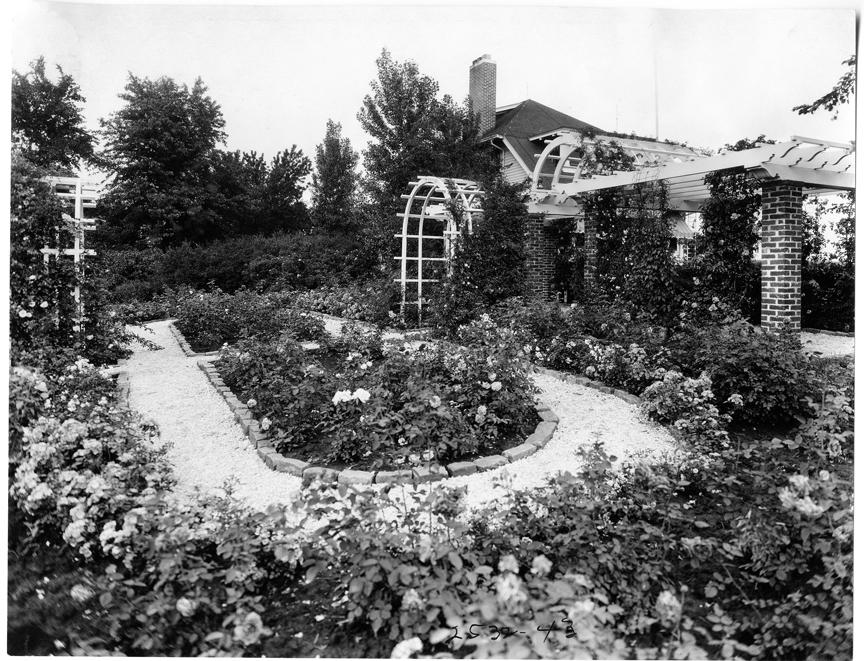 Photographer is facing northeast, the backside of the home is present—pre-addition. 90th Street would be to the east. Note the formal rose garden and strong privacy hedge, with a northern windbreak behind. Love the paver-edged crushed rock path.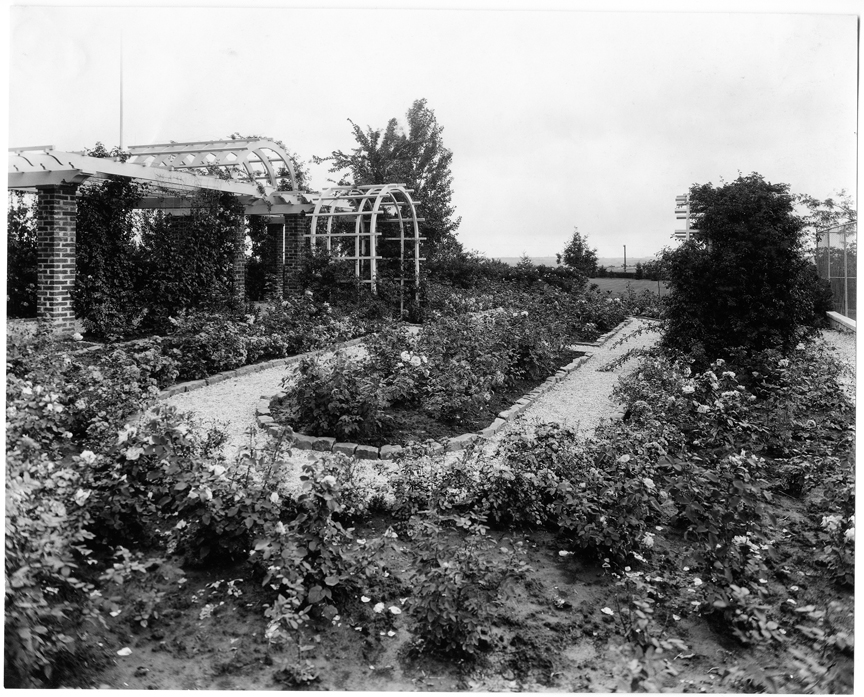 Photographer is facing the south. Pacific Street is seen in the distance. This shows the Melady farm's reach. The townhouses were not yet erected to their south view. The fencing seen to the west was potentially the tennis court.
The 1920s Society Picnic
Now the Meladys, just loved to picnic. They would give picnic breakfasts to honor foreign guests, picnic lunches for fundraisers and picnic lunch-teas for high society. I couldn't quite understand. May of 1925 found Mrs. Melady planning a picnic supper, to be served from 6 until 7 o'clock, "cooked in the picnic grove back of the Melady home which is especially equipped with an outdoor stove, kitchen pantry and permanent table." This particular display was in honor of the Women's Division of St. Cecilia's parish in which Mrs. Melady was a member. The group hoped to raise funds for the new St. Cecilia's school. "After supper, card tables will be placed for those wishing to play and music will be furnished for dancing on the large cement driveway and wide walk fronting on the house. The five-acre tract on which the Melady home stands and which is one of the most beautiful hereabouts, will be turned over to the picnickers for their pleasure that evening." (Did anyone else catch the Melady grounds had shrunk from 40 acres to five?) I had not previously heard of this picnicking trend or why this was a new thing? Maybe the wealthy class thought it seemed like something country folks would do? Then again I did love that Picnic at Hanging Rock film about a mysterious early 1900s picnic gone wrong.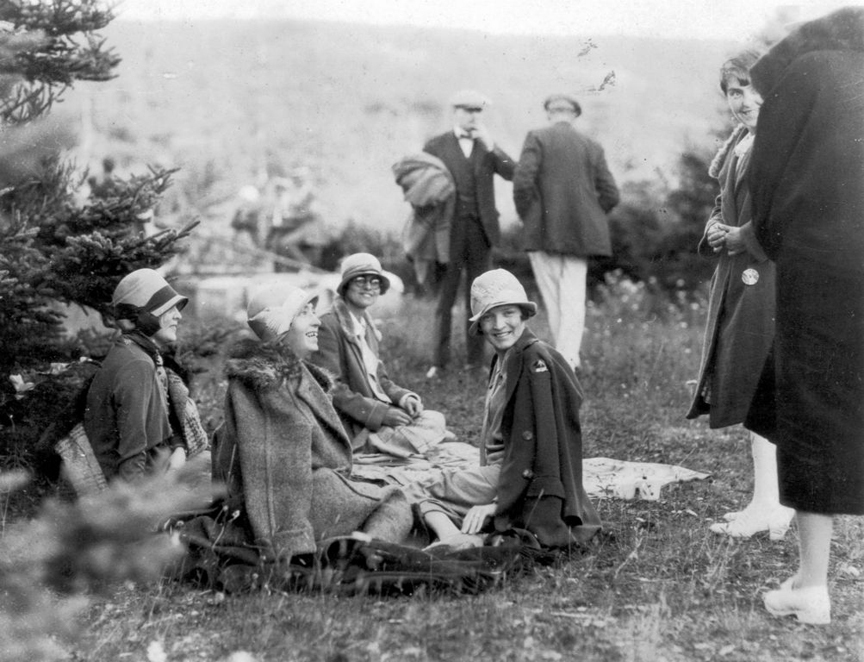 1920s picnic
The concept of the society picnic in the 1920s was a serious affair, thought to have been an offshoot of the English hunting lunch. Again, keep in mind, the out of doors were being celebrated at new heights, both for health reasons and high-low fashion. There was fascinating picnic fare of the day: "Cups with handles, but no saucers, are desirable for tea and coffee. Cold Roast Chicken. Sandwiches of Potted Rabbit. Bewitched Veal. Small Rolls with Salad Filling. Cold Baked Ham. Egg Salad. Buttered Rolls. Hard Boiled Eggs. Crackers. Chow Chow. Bombay Toast. Pickles. Orange Marmalade. Quince Jelly. Sugared Strawberries. White Cake. Almond Cake. Cocoanut Jumbles. Lemonade. Tea Cakes. Raspberry Vinegar." My goodness…Yes!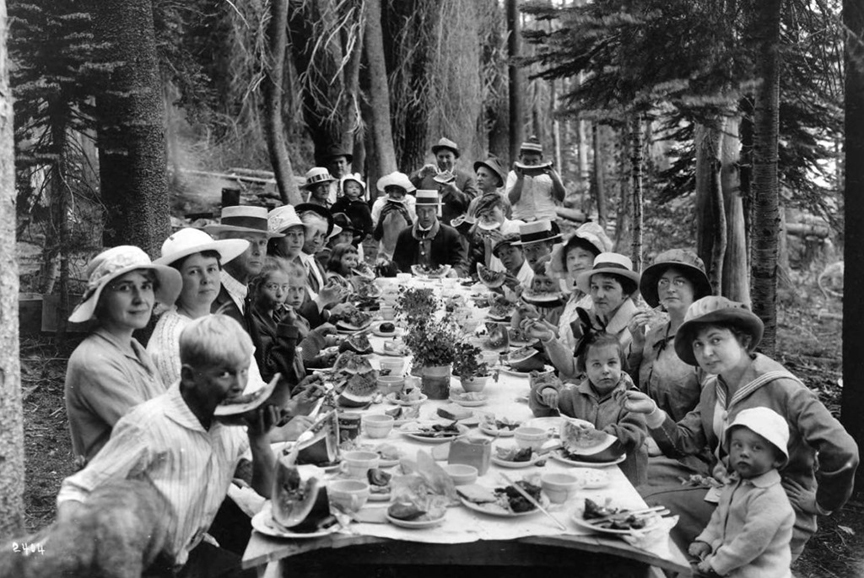 1920s picnic
From "Queen of the Household" by Mrs. M. W. Ellsworth, I would learn, "There is no reason why the outdoor meal should not become a habit with everyone except in very stormy weather; children should be encouraged to take their luncheons outdoors on Saturdays. There is nothing so wonderful as the adventures of playing 'camping out' in the spring, summer, or late fall…During the warm weather the family can frequently eat outdoors, on the piazza, roof, in the backyards, or in a near-by park. A delightful way for a city woman to entertain her city friends in the summer is by means of a picnic lunch in the park, because it is a novelty, and because, after all, everyone loves the out-of-doors."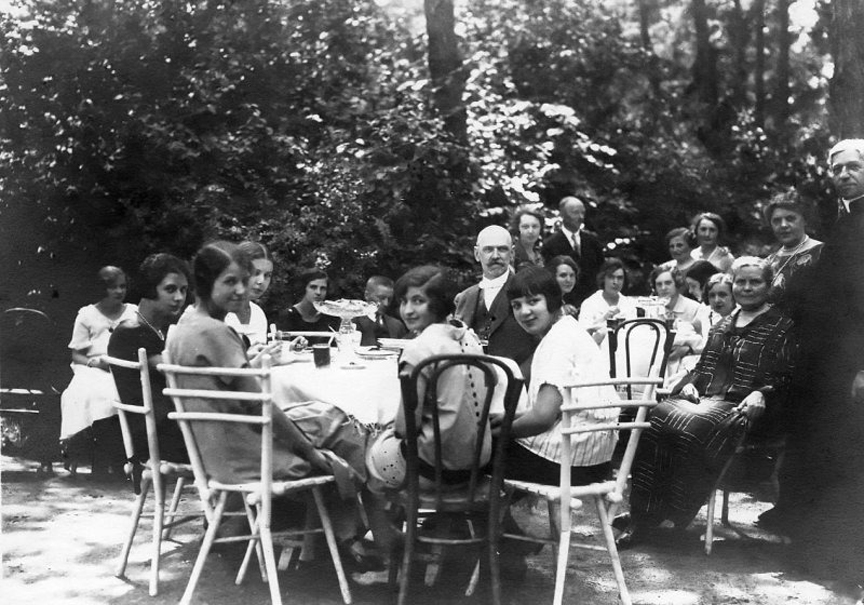 1920s picnic
By 1924, the Meladys were again acclaimed for their progressive (love of) nature. The family would "maintain an ideal picnic spot in the grove back of the house. There a permanent table and outdoor stove have been installed and there they have erected a small house to accommodate a complete cooking outfit, dry kindling wood and table service. Groups of friend of Mr. and Mrs. Melady have enjoyed many breakfasts and suppers in this grove."
Another piece on the Melady picnicking fervor, gave even more craved details. "Picnic luncheon followed by bridge, entertained in this delightfully informal way. Country fried chicken dinners or broiled steak. Mr. and Mrs. Gene Melady have perhaps the most commodious picnic grounds on their pretty place 'Balla Machree.' To the back of the house is a closely wooded spot in which the owners have built a large brick oven, with a chimney rising to the tree tops to carry away the smoke. A permanent cupboard with service for a large number of guests is a part of the plan that is completed with large tables and steady benches comfortably placed for this a frequent rendezvous for diners out of doors." I had to find that grove and any artifacts that might be hiding.
My Scamp About
Early on a Saturday morning, I paid a visit to the house. I had parked far away and slinked across busy Pacific to the sound of honks and general upset. Not a very walkable part of town, if I do say. Or had I ignored the crosswalk light? I can't be sure. 1018 South 90th never looked more beautiful as I crept up her once impressive drive on that dewy morning As I neared the grounds, a morning haze from the massive lawns, surrounding shrubs and trees lifted ever so gently. I wanted to perceive an elderly caretaker overdressed in a tweed suit, fussing about in the front garden, slowly snipping away at the shrubbery as if he was giving a painstaking haircut. And there she was, up close and personal, with the sun bright in her east facing eyes. I felt as though I couldn't breathe. It wasn't until much later I realized the wet blades of grass had left my flats soaked through to my feet.
In the spring I imagined all things would come alive in Mrs. Melady's many garden areas. Where were the little crumbly paths of crushed rock? What were the heady scents in this yearly returning to life stage of 1018 South 90th? I could smell wafts of jasmine, the roses, and lilac…imagine the birds, bees and butterflies. I could see the stone pillars, wrought iron arches and bricked garden walls bordered by fronds of ferns and foxgloves. I spent along time wandering about the grounds looking for remains of a reflecting pool, foundations of garden benches, the permanent picnic tables, the base of the outdoor stove and oven, a fountain…the tennis courts. Was there a gazebo? Would I find an ancient oak or a black pine? Now where were those Lombardy trees? I was restless and watery eyed imagining the green and lush past. I couldn't help but hum the traditional Irish song, "The Foggy Dew."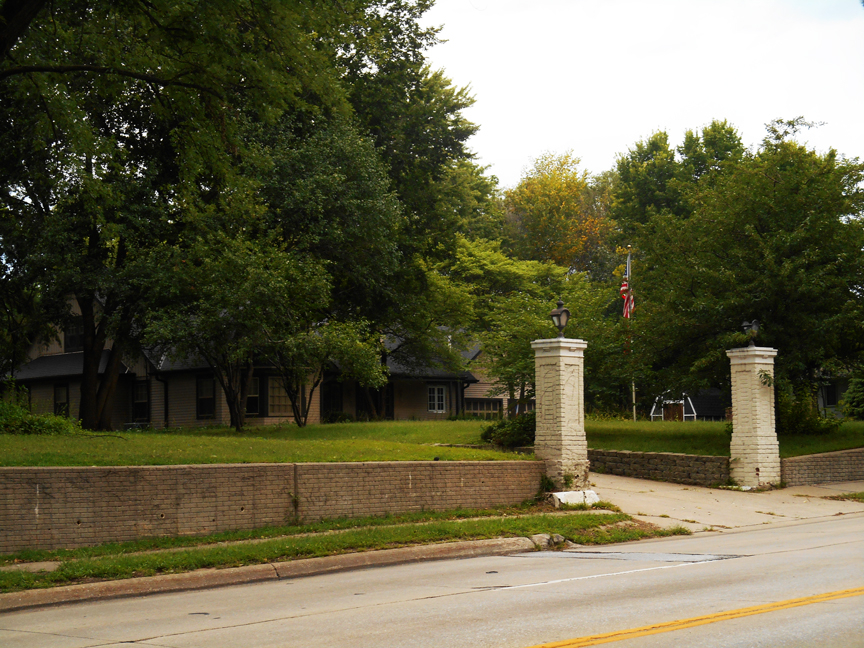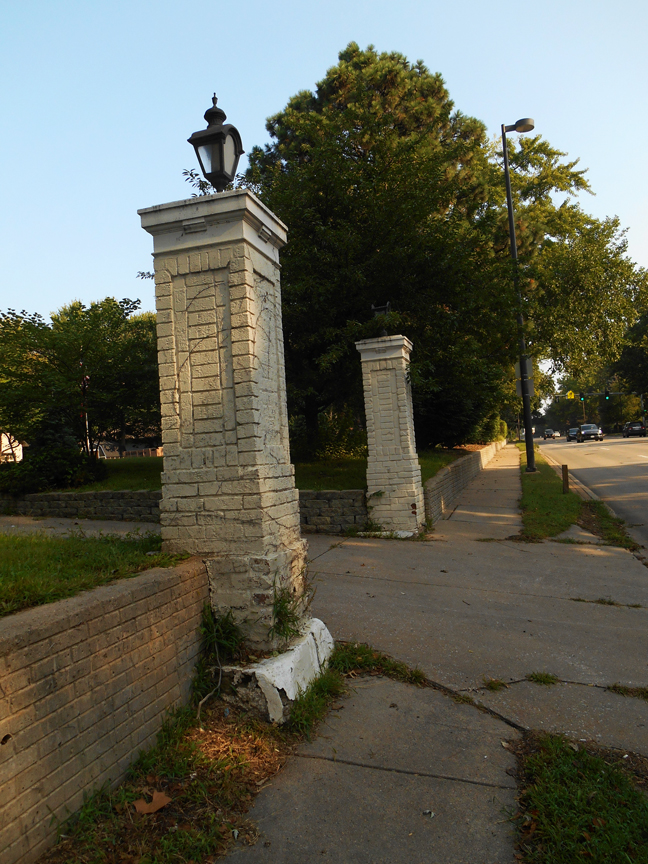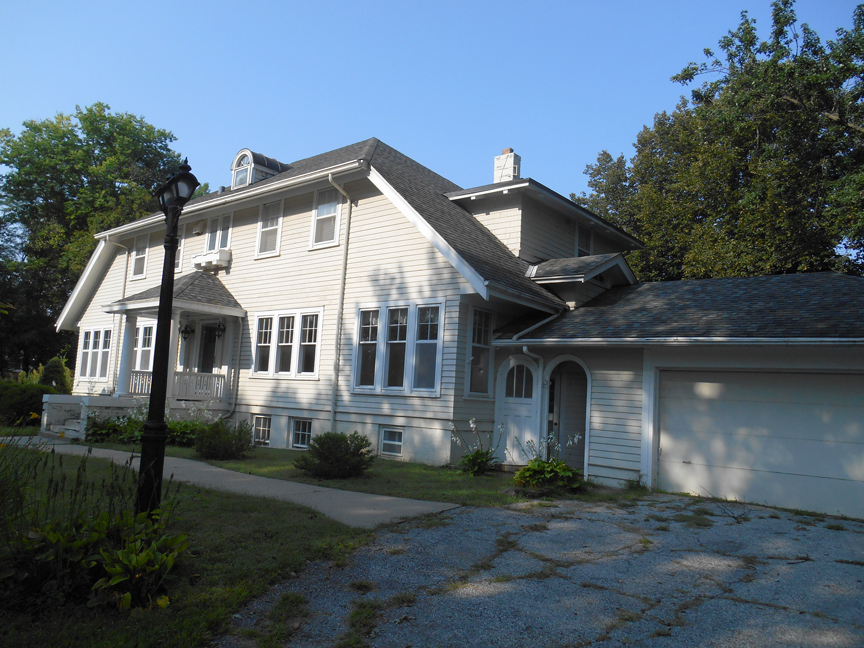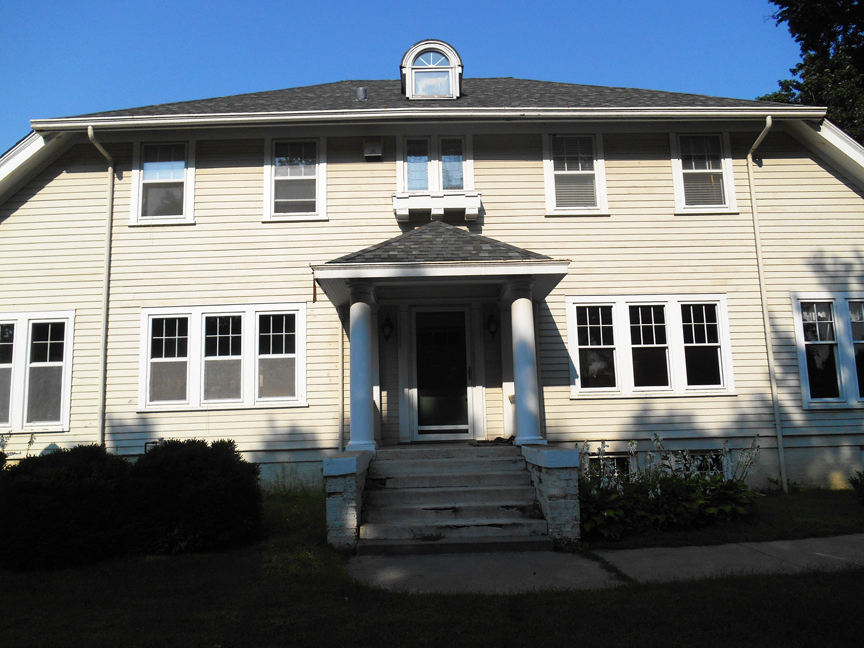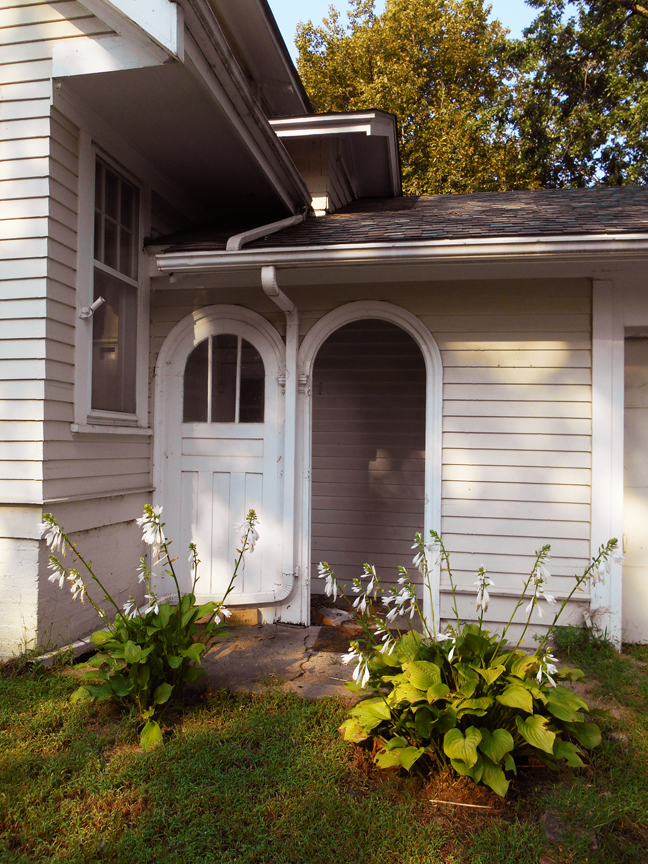 Why oh why was the gutter permanently built in front of this lovely door? Heavens…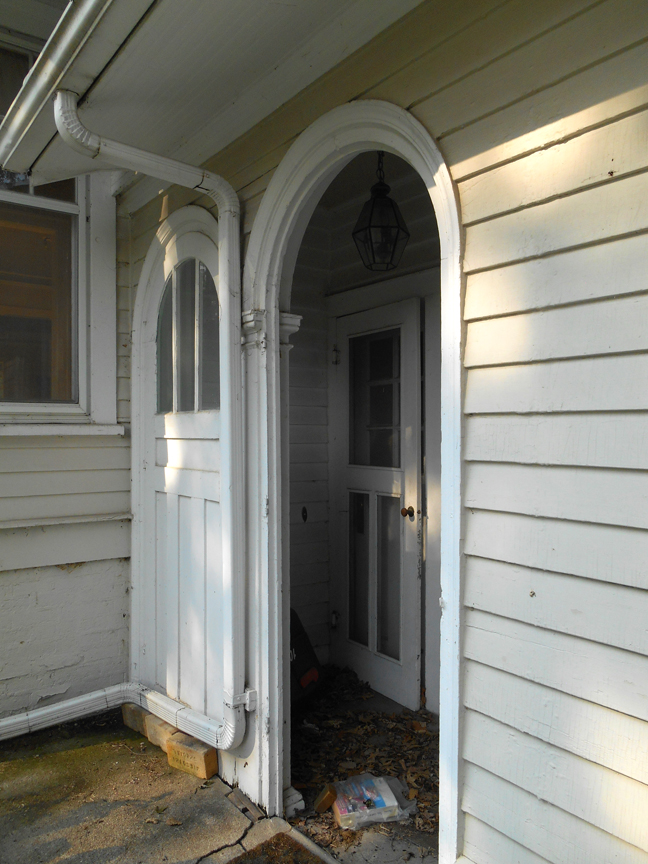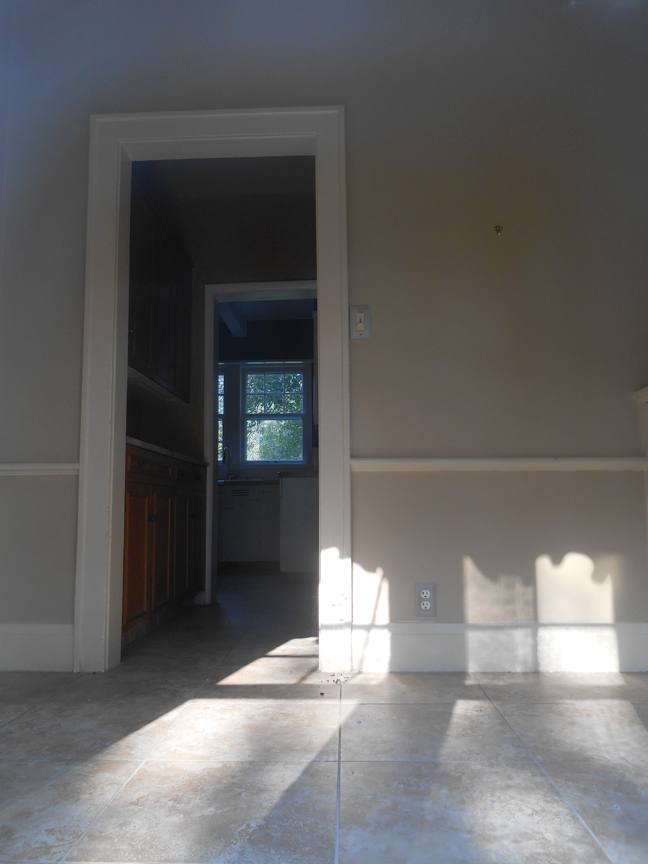 Spying on what must have been a gracious eastern facing breakfast nook, now remuddled into the bland neutral zone.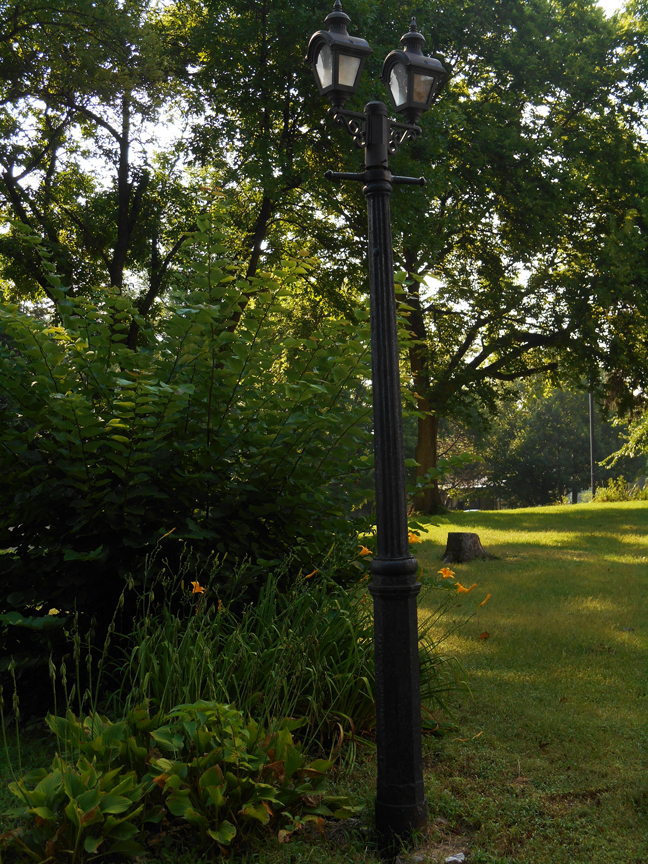 Front facing park-like lawn with antique lantern.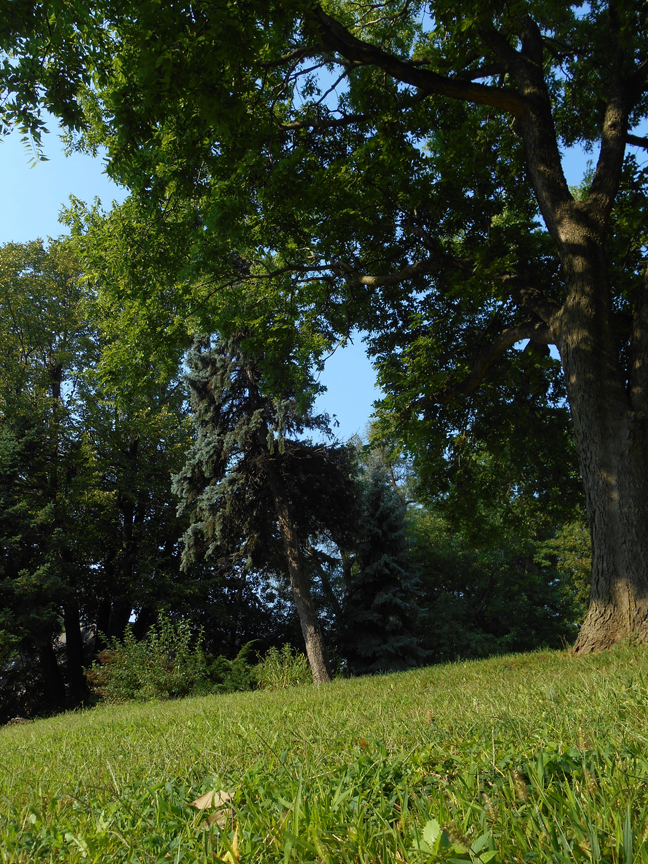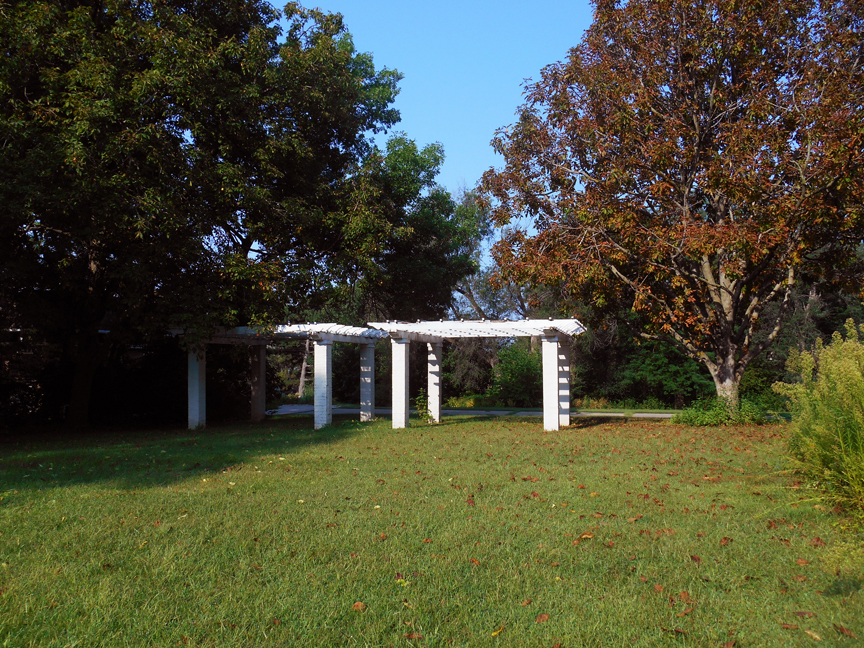 South side of house has two barren pergolas. Not quite of the same stamina of the originals but quaint.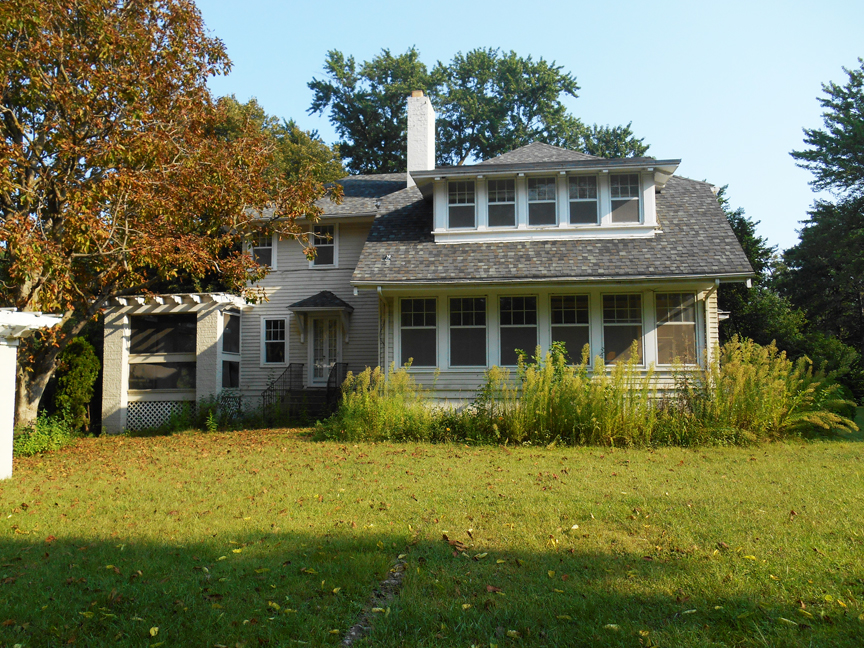 Southern elevation. Notice what I suspect are two separate additions, on the backside of the original house.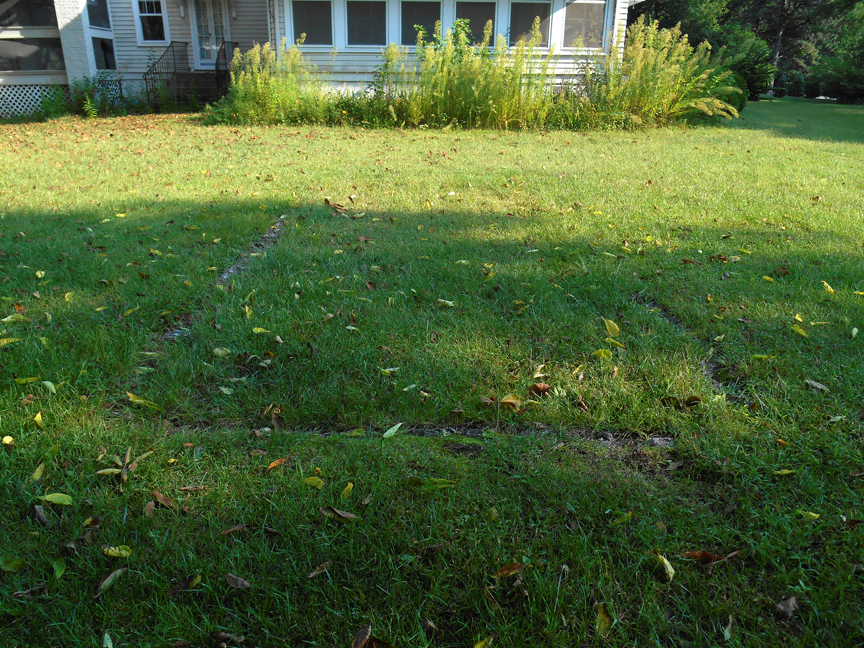 An outline of cobblestone bricks. How exciting.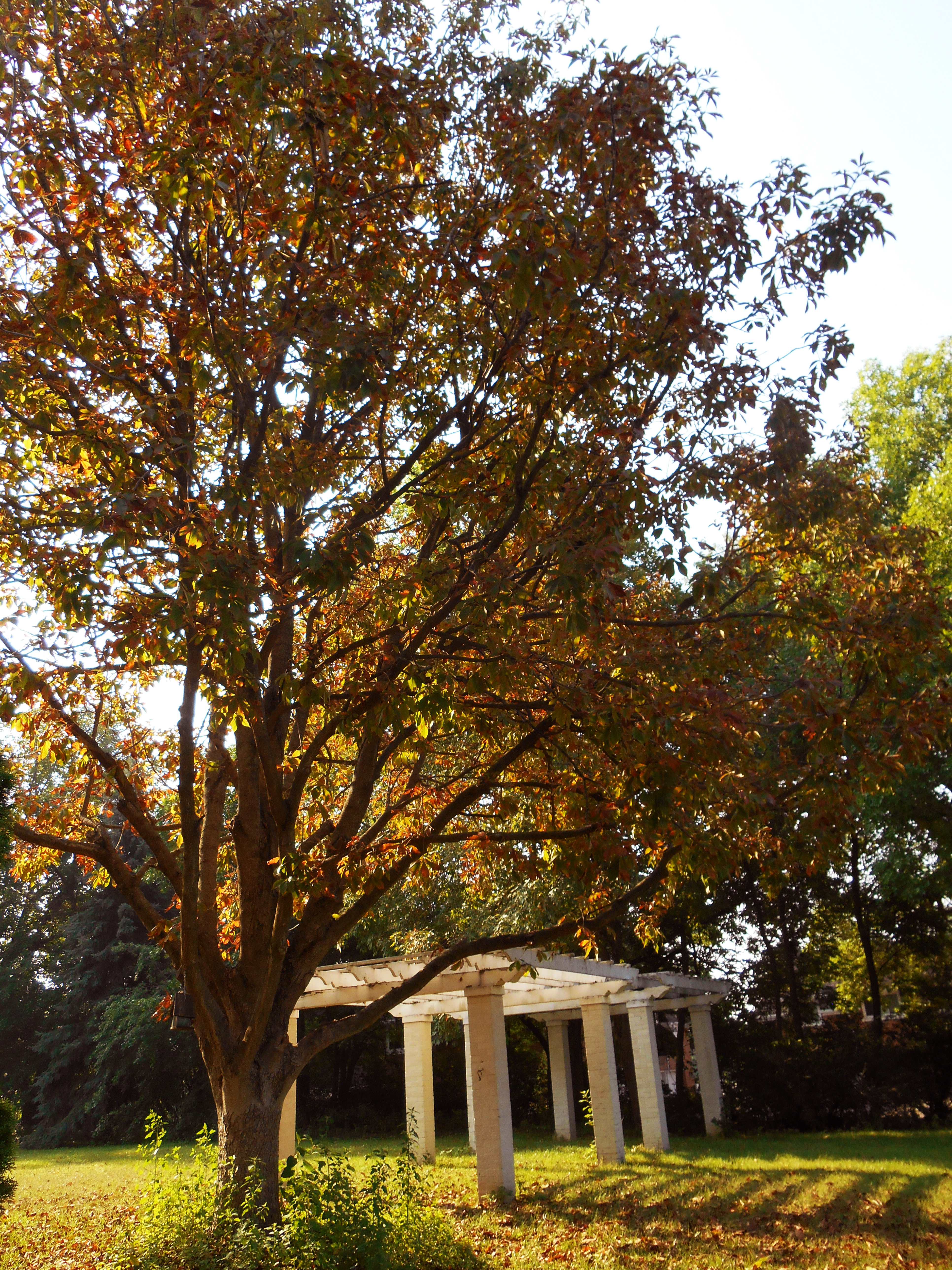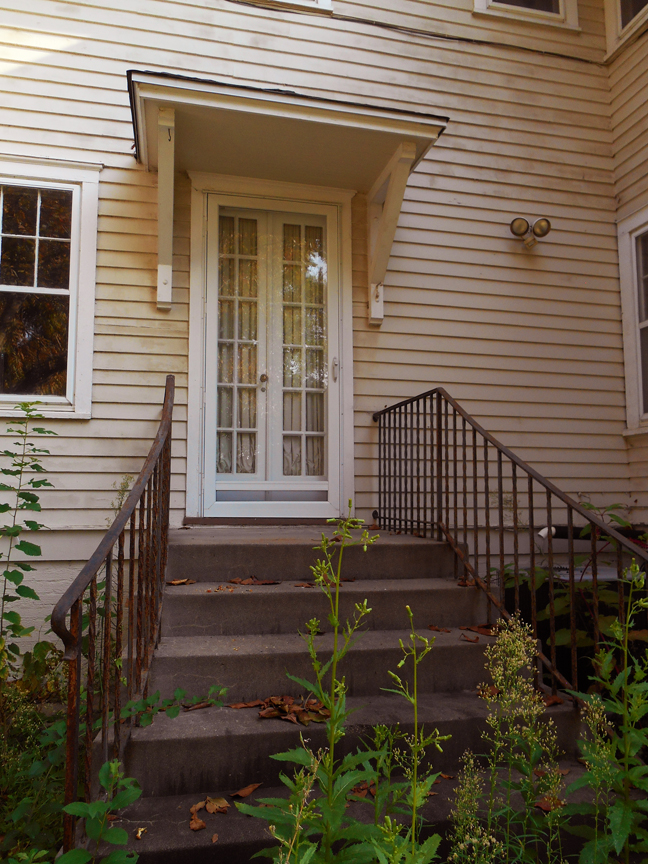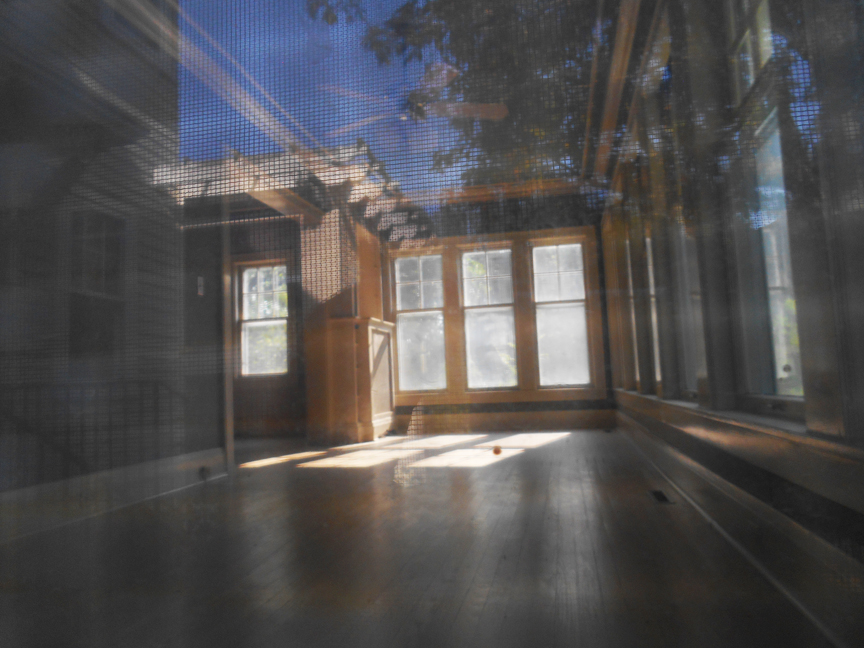 Spying on the south facing sunroom interior. I would discover later that this was, indeed, open originally.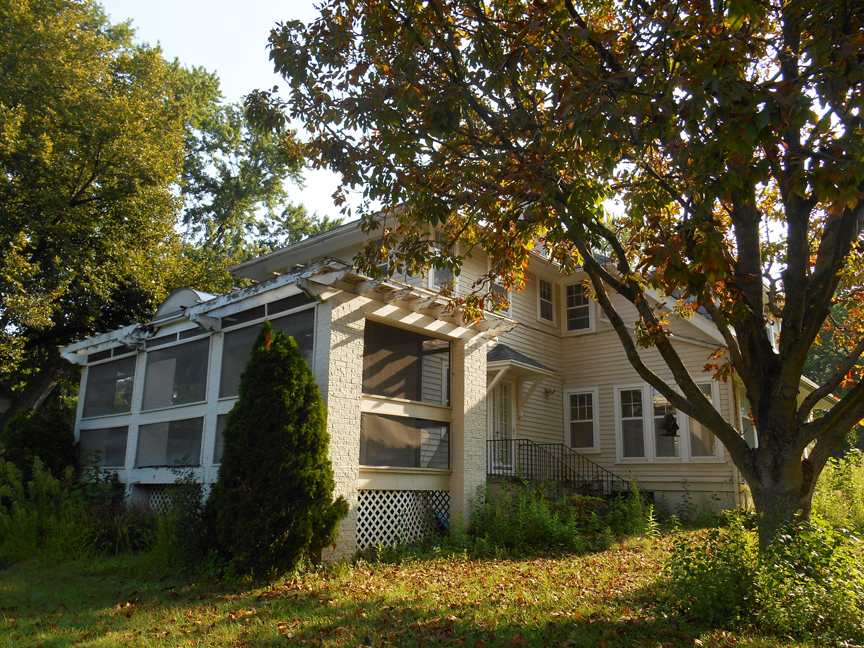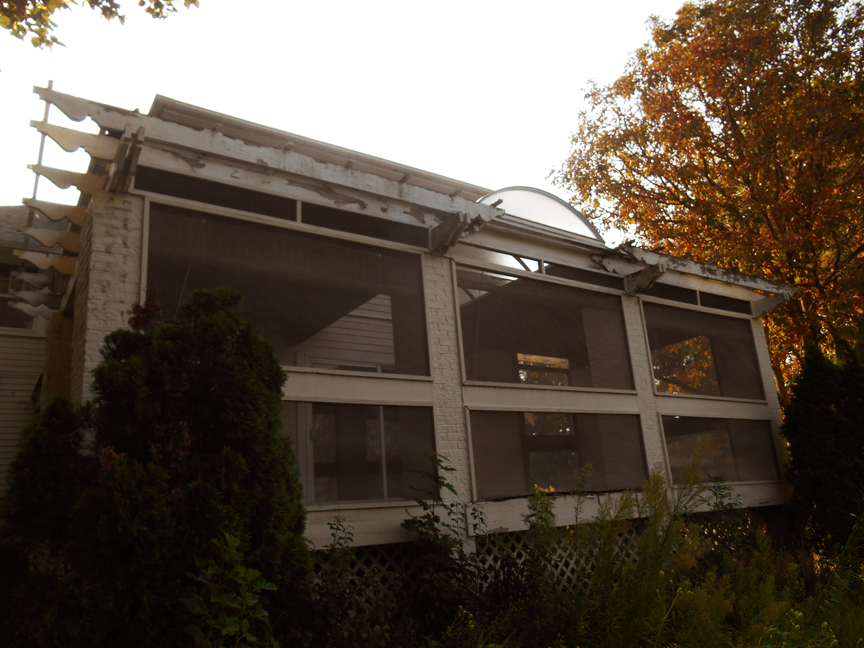 What seems to be a newer, west facing sunroom with an interesting sunhall/ skyroof.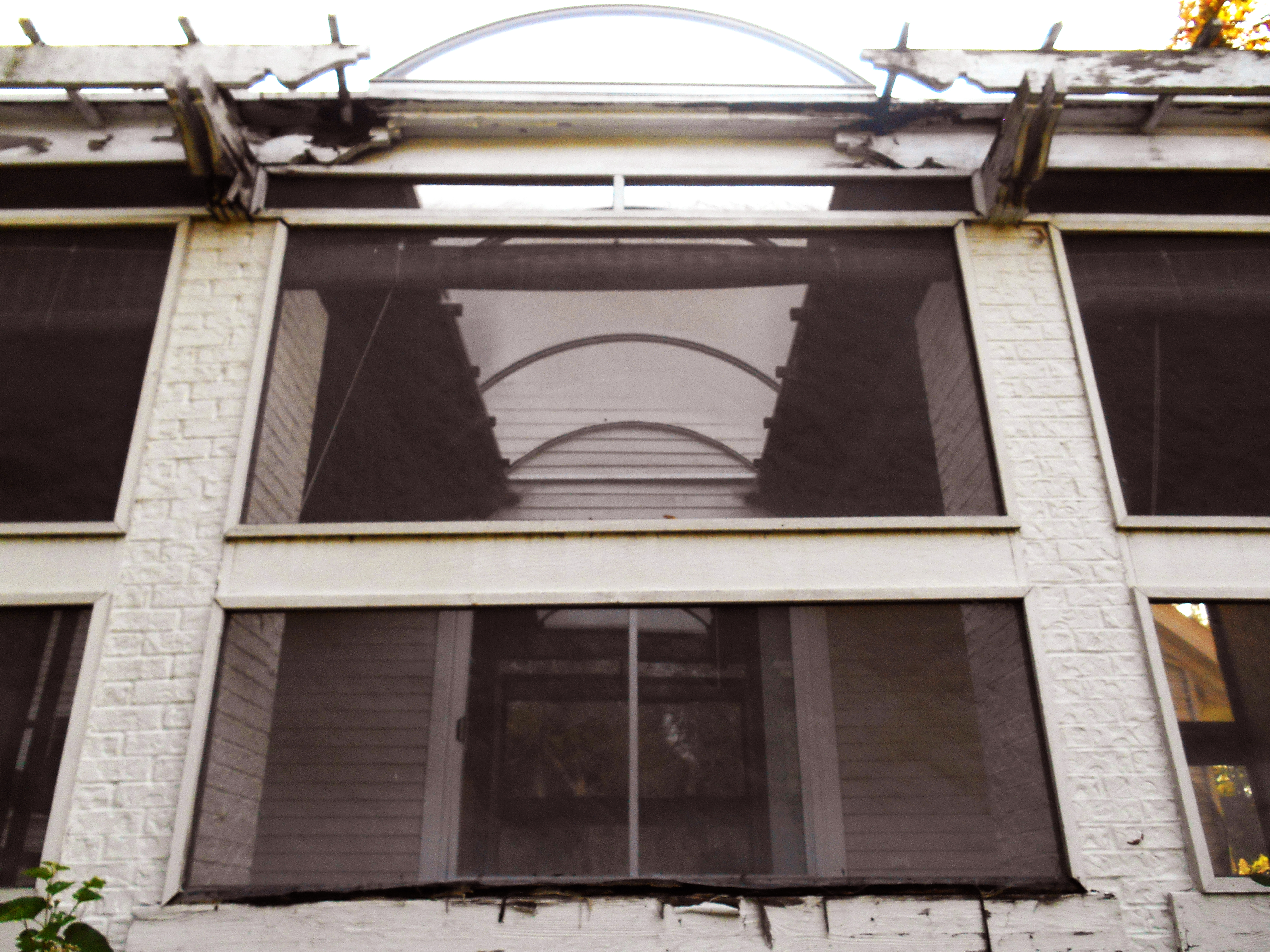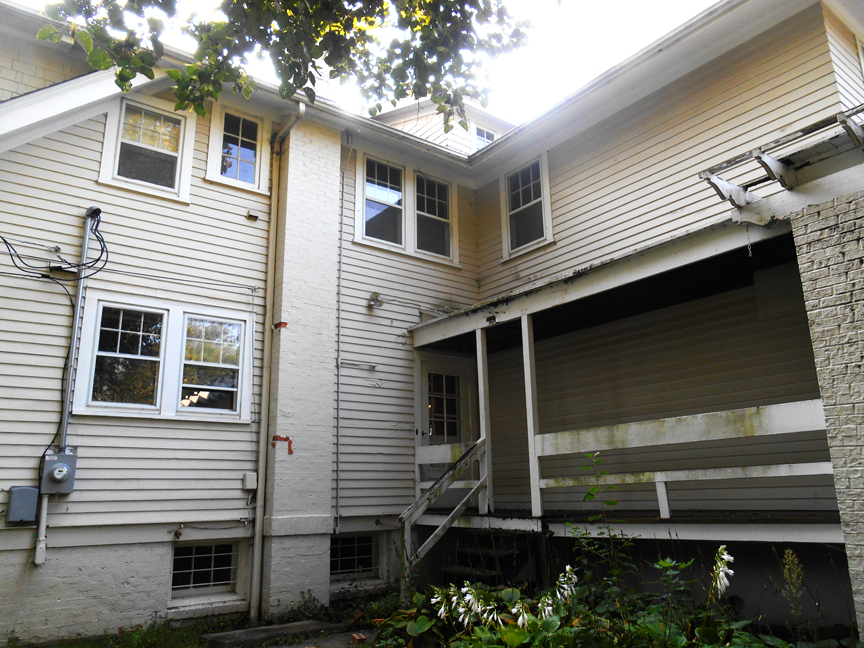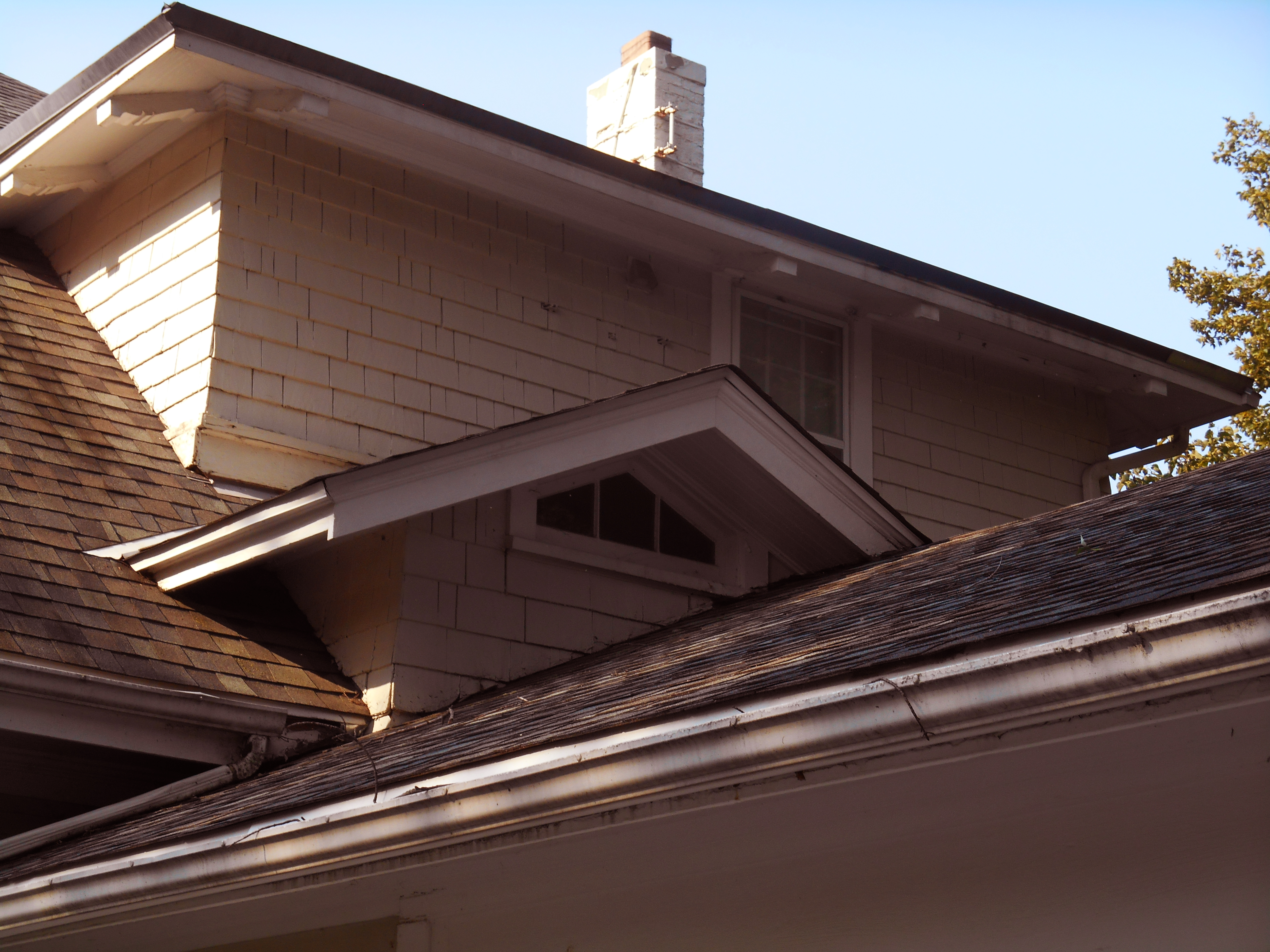 Western elevation addition clues.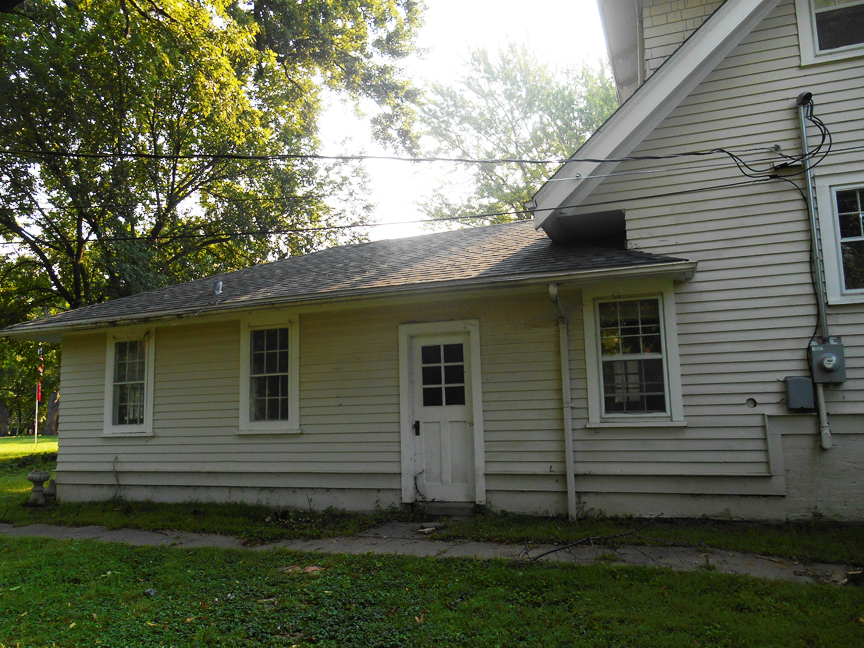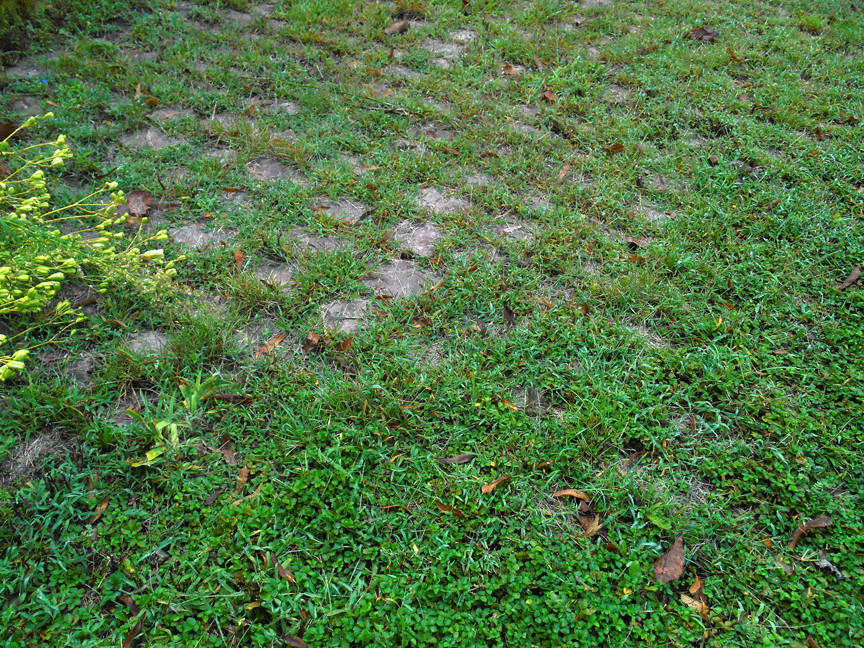 More cobblestone clues in the back, north portion of the property.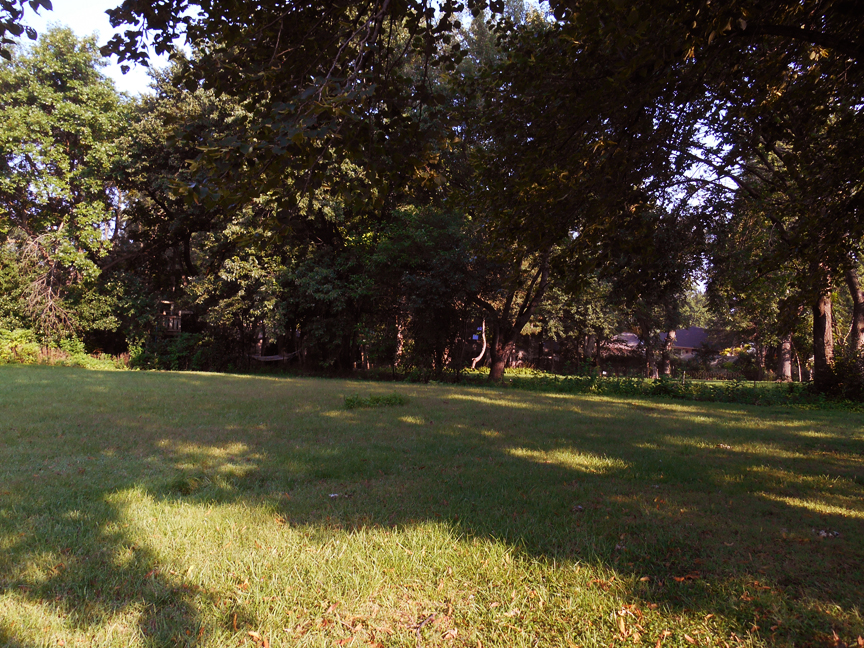 North-facing garden. Where was the picnic glen?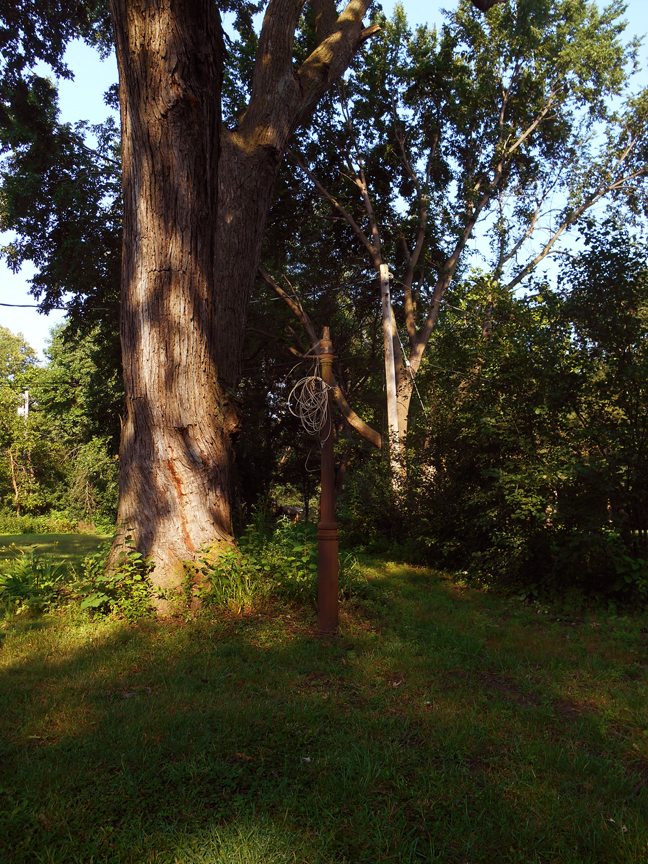 Cool utility pole of some kind found on the northern side of estate. Another lantern?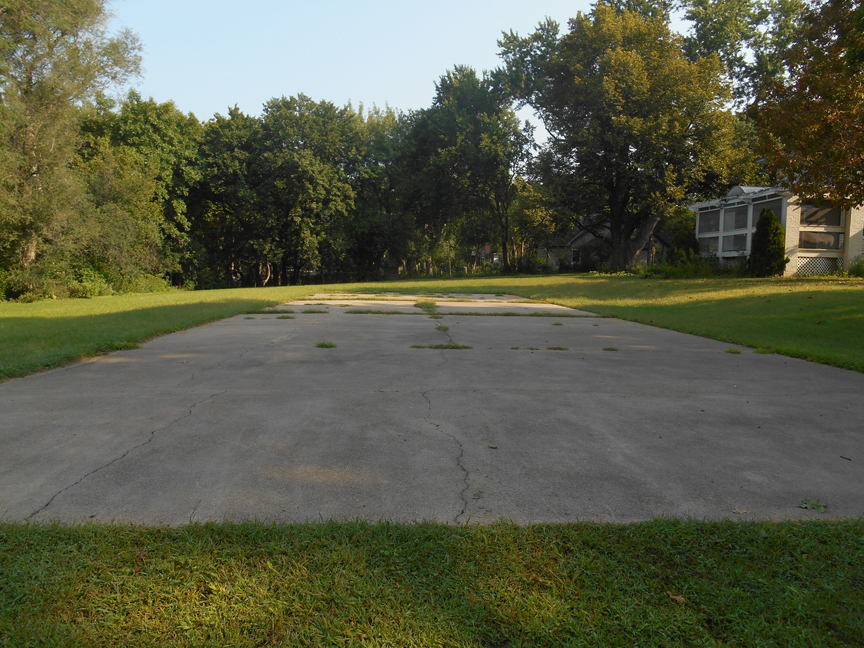 Strange concrete plane. Part of the tennis court? A basketball court? Aerial images of the property going back to the 1940s did not give any additional clues to this flat area.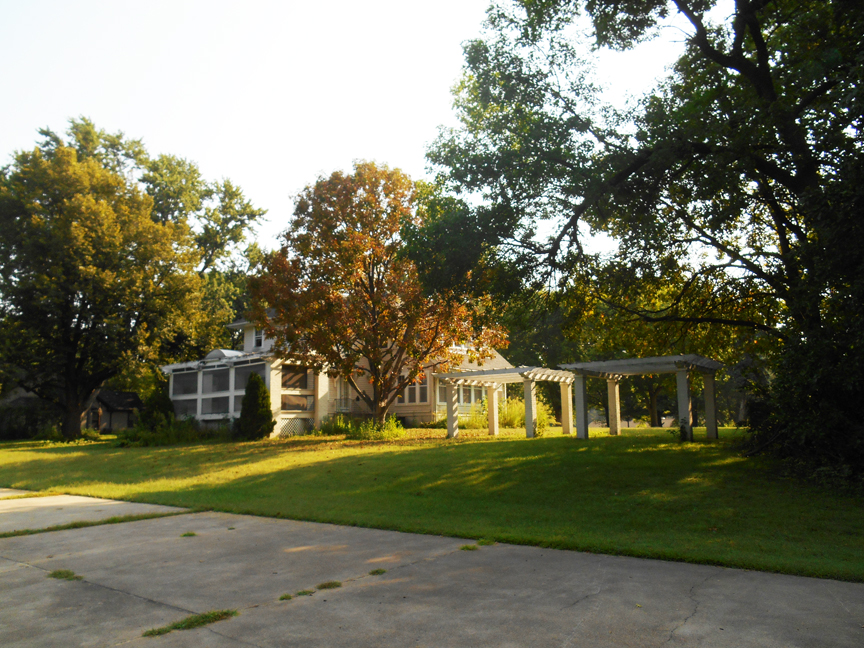 **October 7, 2018 Addendum** Additional clues just in from Spencer Murphy: "There is some evidence of a past fountain on the property. It is covered by a manhole type cover, but easily removed." This looks to be some type of cistern or well. I am not sure…but fascinating.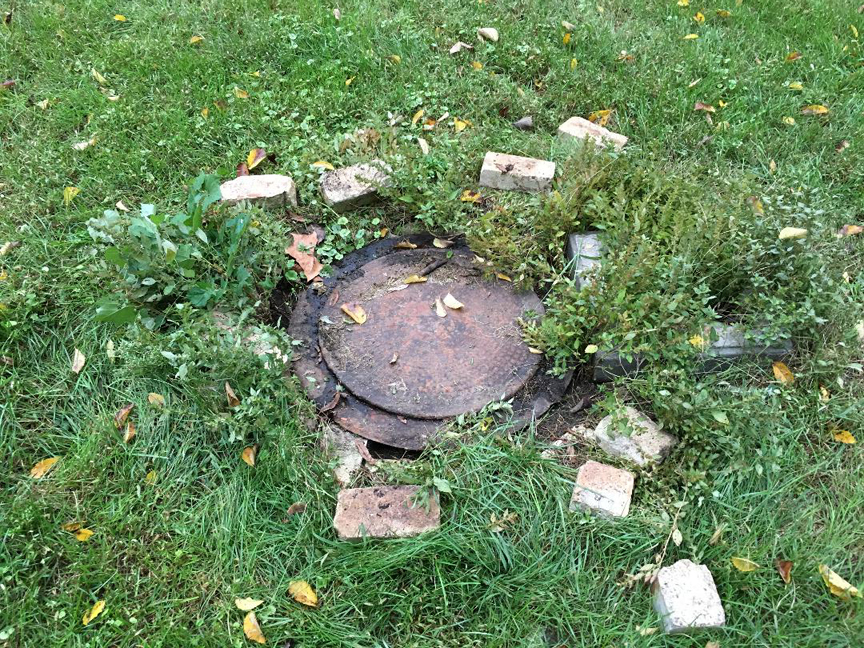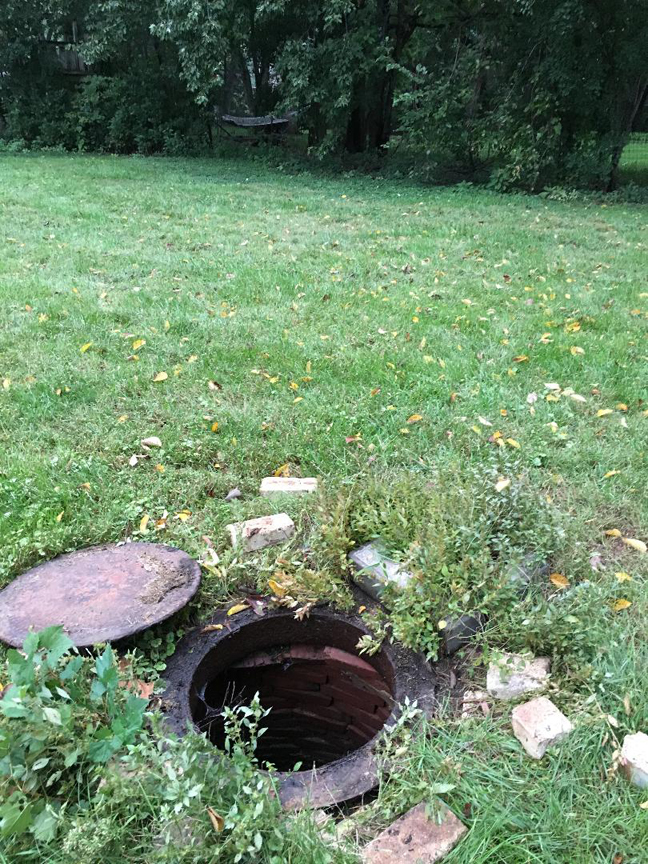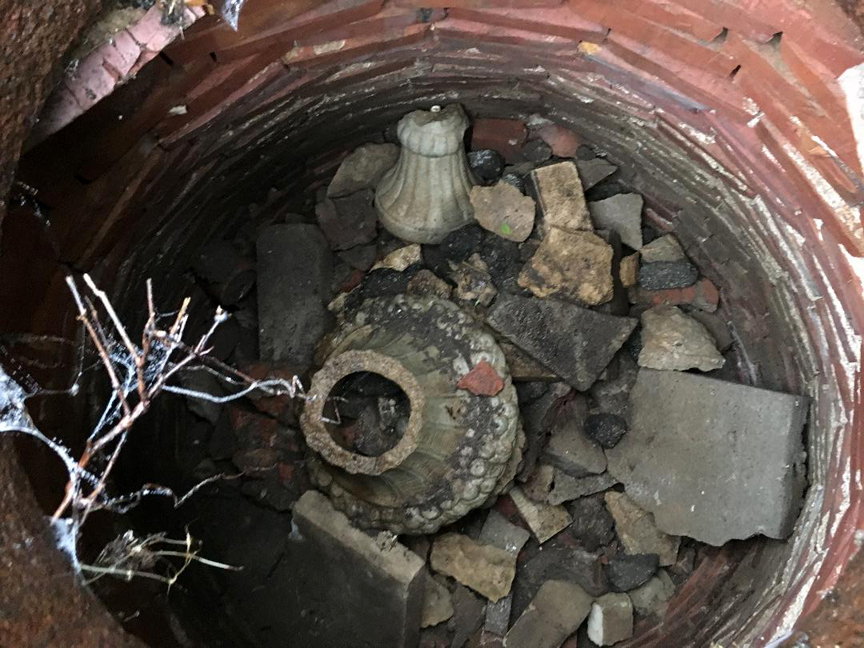 Thanks to Spencer for the great detecting!
Interior Indicators
After peering into her cobwebbed, barren interiors, I wished I could go inside. She did not appear as I thought she would. After searching, I would find a mid 40s advertisement for Balla Machree, giving some coloring to how she presented in her prime. Hold yourself back as you read these trembling words.
"You'll see a glimmer of white through the many full-grown trees of this fine country home. There is a formal flower garden, permanent tennis court, picnic glen, small greenhouse and barbeque oven in its lovely grounds. The glimmer of white is a large gracious, English-style home of 10 wonderful rooms. There isn't the space here to tell you all of the features, except that the living room is 27 feet long, there is a sunroom, a large knotty-pine den, powder room, of course and a separate breakfast room on the first floor. The kitchen has tile-tex walls, Monel metal work tops and General Electric metal cabinets. 5 bedrooms plus a sitting room and 3 beautiful tiled baths on the second floor." A knotty-pine den? To Die For.
Year later a savory 1950s ad would illustrate the divine interior further: "Top-Drawer Location. Secluded, beautiful grounds. Spacious Suburban Residence. Large, comfortable living room with fireplace, bright sunroom, paneled Family Room, formal dining room. Provincial Décor. Beautiful master bedroom with dressing room and own bath. Vast closet space. Beautifully landscaped grounds. Tennis court, heated greenhouse, perfect space for a swimming pool. Large 2-car garage."
1925 and the Happy Hollow Country Club Days
It is quite telling of the West Pacific and Melady magnetic draw that in December of 1922 three country clubs had their sights set on land just west of Omaha. This quote puts a finer point on the Melady Allure."Happy Hollow has already selected a site adjoining the Gene Melady farm at Ninetieth and Pacific…" The Happy Hollow Club would eventually settle in at the 1701 South 105th Street address, the Omaha Country Club would ultimately move up north to 6900 Country Club Road in 1925 and Highland Country Club would select 132nd and Pacific Streets.
I found an article from 1925, crediting matters to the Meladys' providence. "Mr. and Mrs. Eugene P. Melady were among those who anticipated the movement westward by five years. That long ago they built their home, 'Balla Machree' in the midst of a cultivated tract of five acres, part of their forty-acre holding. Their home is at the intersection of Ninetieth and Pacific streets and is one of the handsome landmarks of that district. Mr. and Mrs. Melady will entertain at the benefit-picnic at their home Monday evening for group No. 11 at the woman's division of St. Cecilia's Cathedral. Proceeds will go to the school and convent fund. About 110 guest will be present." This quote also made clear the bit about the five acres vs. forty confusion.
A May of 1925 article entitled "Happy Hollow Club Draws Interest Westward," about the opening of the Happy Hollow Country Club on 105th Street gave many a savory clue. "Nothing so indicates Omaha's expansive growth as the fact that one of its leading country clubs has chosen a site at 105th Street on which to build and that a group of one hundred club members have purchased lots surrounding the club, many of whom will build thereon in the near future. It taxes the imagination a bit to think of Omaha stretching out to 105th Street from the river."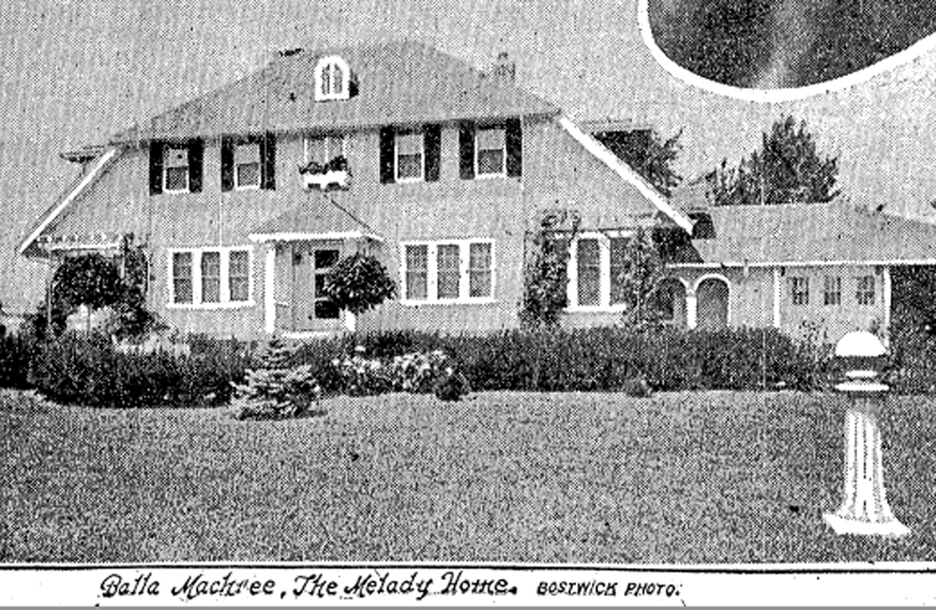 Melady House was given credit for starting the westward trend in May 24, 1925.
Neighbors
With the Melady home as the beacon on the hill, more and more wealthy Omahans began building in the area. The once remote countryside was being dotted with glorious homes. From November 1927—"West Pacific Hills tract of 100 hundred acres on the southwest corner of 90th and Pacific was announced by Shuler & Cary, realtors. Grading, landscaping, electric lights, power service and water mains were supplied. This was the fifth unit of the West Pacific and Happy Hollow club district to be opened by Shuler & Cary. The realty firm opened a temporary branch office at 90th and Pacific. Near the development are the Gene Melady and A. J. Love country homes and the Frank J. Haskell residence." I offer up a photo album of new properties.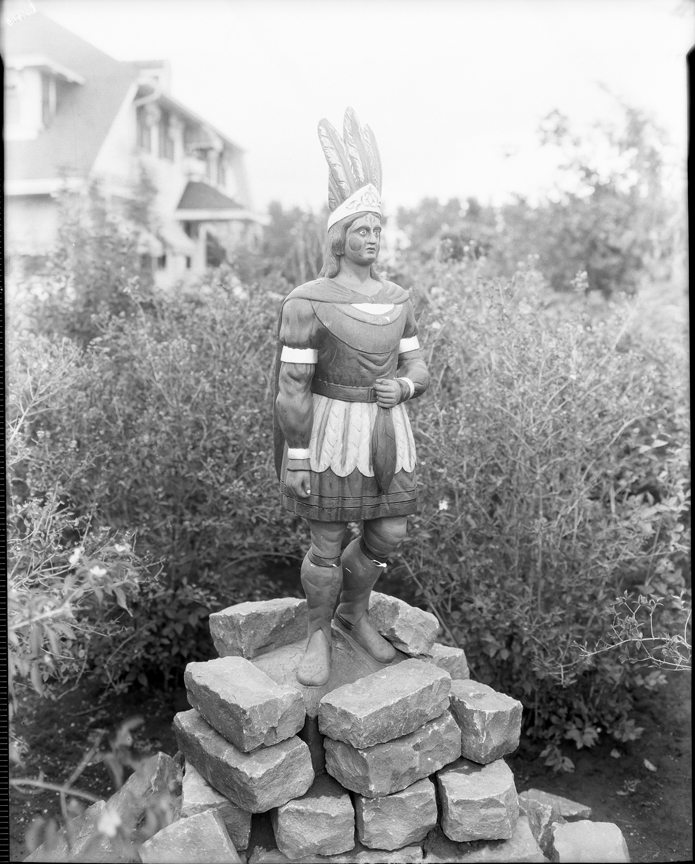 Another shot of the Melady home, again mislabeled but proof that these photos were taken on site at the 1018 South 90th Street home. A curious cigar store Indian statue found in the front garden. Creator: Bostwick, Louis (1868-1943) and Frohardt, Homer (1885-1972). Publisher: The Durham Museum. Date: June 1926.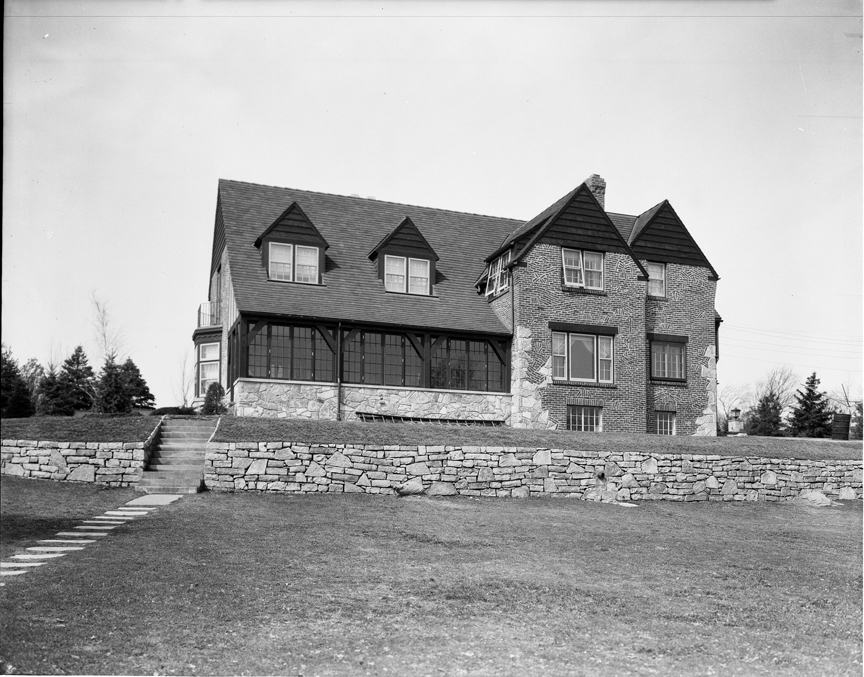 E. K. Corrigan home near 90th and Pacific in 1931, large two story brick home surrounded by a stonewall. The address was found in the City Directory as 1111 South 90th Street. Creator: Bostwick, Louis (1868-1943) and Frohardt, Homer (1885-1972). Publisher: The Durham Museum. 1937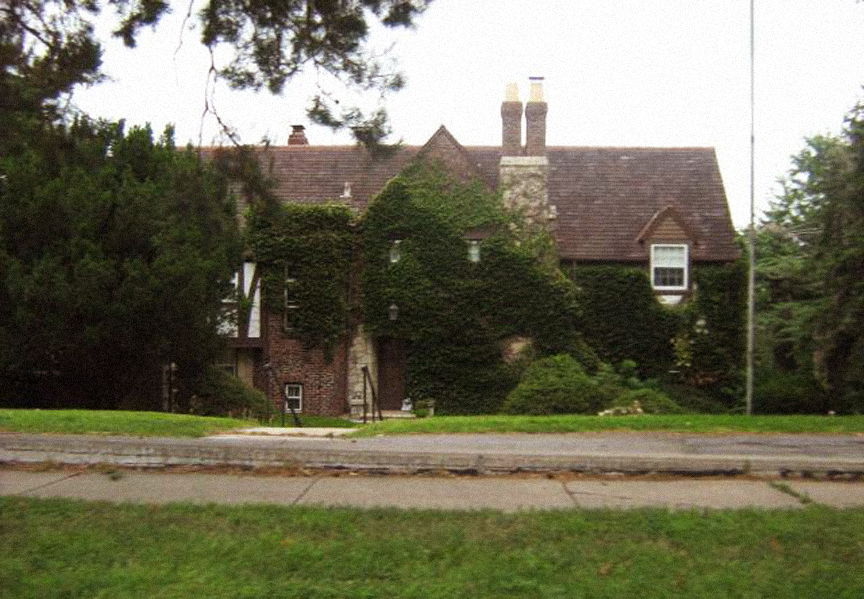 1111 South 90th Street. West facing elevation of the original Corrigan home as it looks today.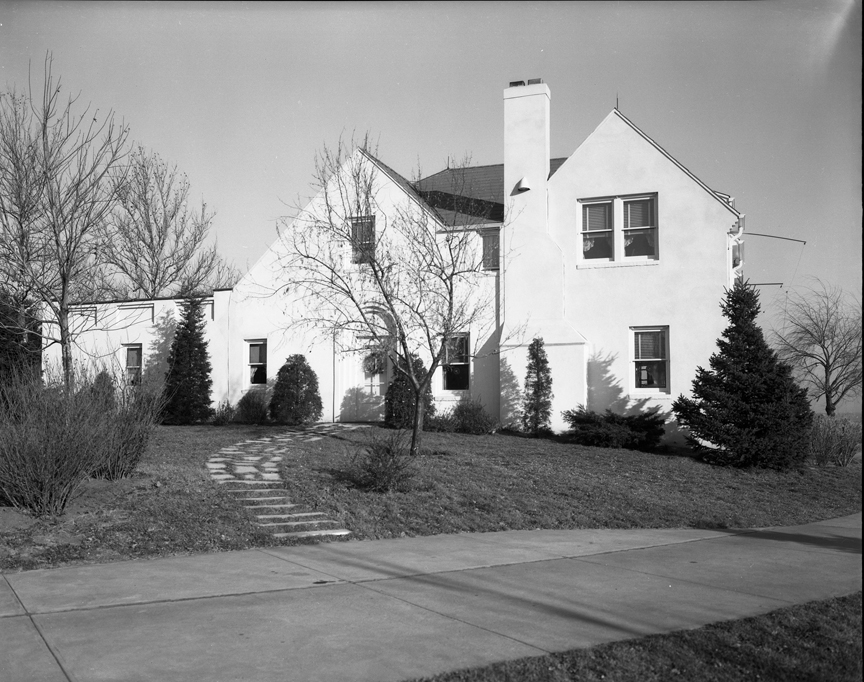 Frank Stanberry house. 90th and Farnam. Creator: Bostwick, Louis (1868-1943) and Frohardt, Homer (1885-1972). Publisher: The Durham Museum. 1938.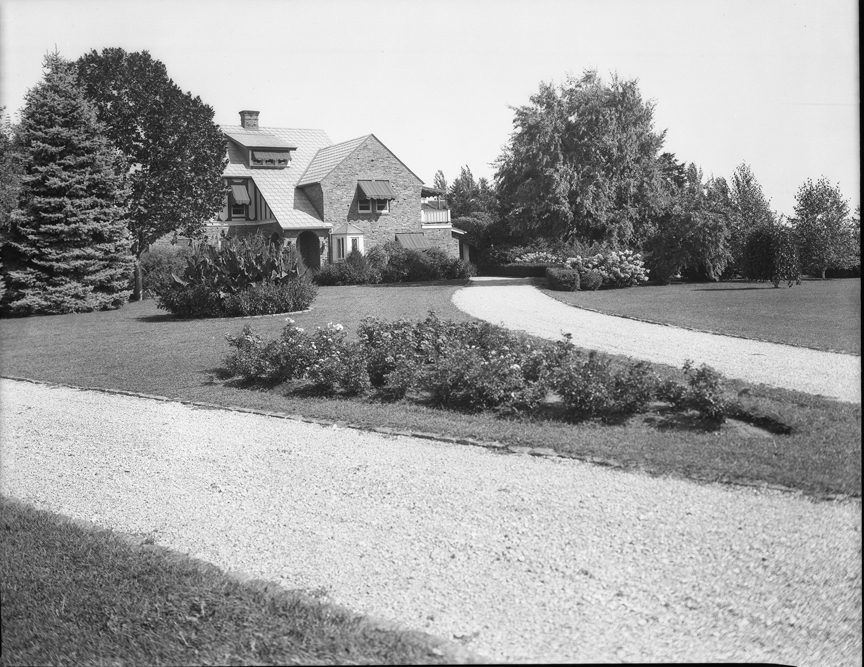 John Kerns Construction Company The front yard and driveway of the Kerns' home near 90th and Dodge Street. Creator: Bostwick, Louis (1868-1943) and Frohardt, Homer (1885-1972). Publisher: The Durham Museum. 1933. I would discover this home in the directory by 1928.
Enter Edwin Busch
Our Mrs. Hilma Melady sold Balla Machree to Edwin Busch on June 10, 1935. This was confirmed by the paperwork discovered at the Register of Deeds Office. I wondered what the Meladys were up to but knew already from the Murphy's clues, that Gene and Hilma would build other homes on 90th Street after their beloved Balla Machree. I also wondered if she had sold all 40 acres to Busch or just the five that the house was situated on?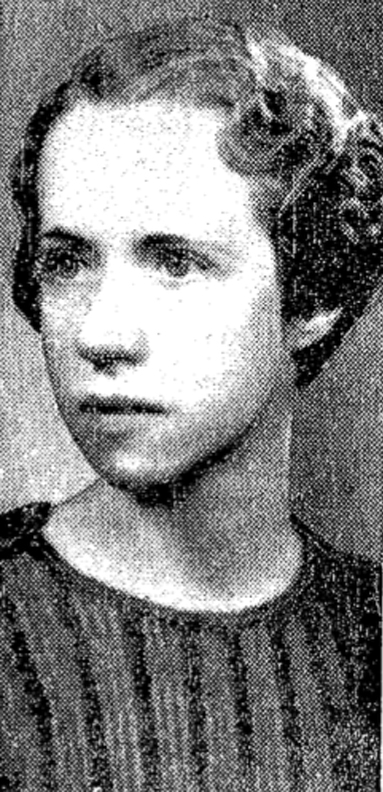 On June 24, 1935, a wedding announcement described Mrs. Jacy Allen Dunham married Edwin J. Busch at 4:30 Monday afternoon at the home of her mother, Mrs. Oscar Allen. Mr. Busch reported to have recently purchased the Gene Melady home and planned to occupy it, with his bride about the middle of August. Recently purchased literally meant the day before, I guess. I would backtrack and find the sale announcement in the papers on June 23, 1935. The Omaha City Directory revealed that in 1934 and most of 1935, Edwin J. Busch was a clerk at the Federal Reserve Bank. His home was located at 3820 Cass Street.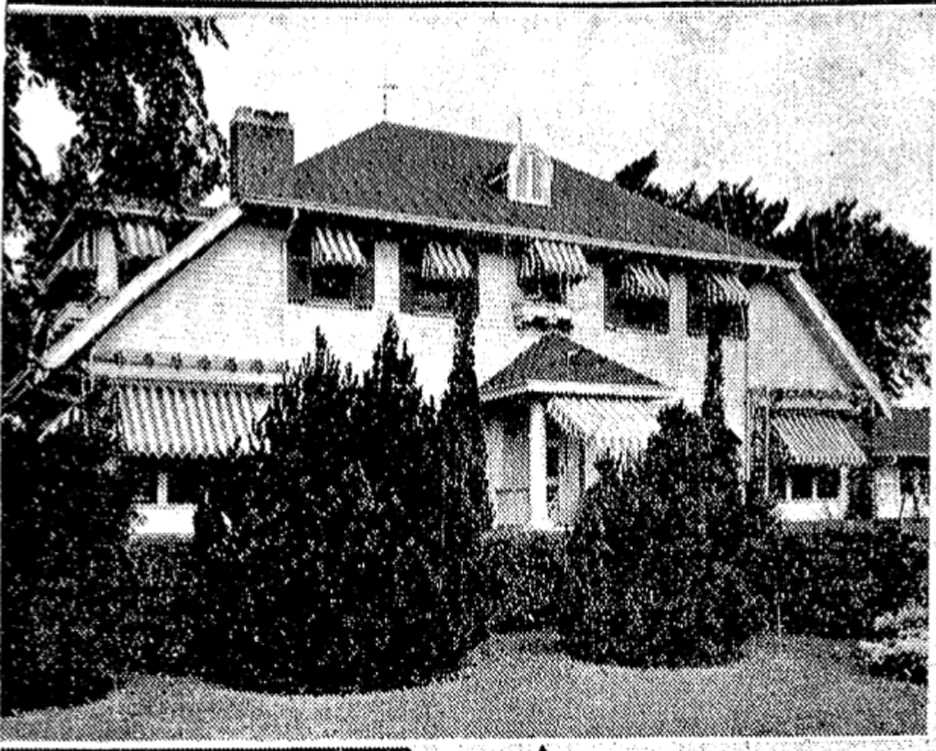 June 23, 1935. Another article was tantalizingly named, "Demand Grows for Larger Homes." It gave these clues of Balla Machree. "The 10-room house is situated on a four-acre tract. There are many varieties of trees and also formal gardens, a rose garden, pergolas, a tennis court and picnic grounds complete with oven, outdoor 'pantry' and tables. Mrs. Busch, whose engagement to Mrs. Jacy Allen Dunham was announced recently, will take possession August 1. Booth-Pedersen Company represented both parties. The Meladys plan to build on a nearby tract." This clue was very descript in that it alluded to the Balla Machree tract having been slimmed down to four-acres. I believed the Meladys still owned the other 36 acres and maybe more, considering they were building nearby.
Miss Jacy Allen was raised in Omaha High Society in the prominent Oscar Allen family. She married young to Howard Dunham, son of B. H. Dunham, former federal bankruptcy referee in Omaha, who apparently had moved on to California after Jacy filed a divorce suit and restraining order in 1934, well covered in the papers. I had become obsessed with Jacy during the writing of my book as it appeared to me she was one of Omaha's early It Girls. I had secretly named her Racy Jacy for all of the (sometimes scandalous) press she received. Of course, scandalous in the 1920-1930s was a very different thing altogether. I am sure she was a sweet and lovely, very wealthy girl.
Let's be frank. Mr. Edwin Busch also came from Money. How Old of Money, I never did figure. His parents were the R. B. Buschs. Those who know my ways by now, know that I simply had to get out my Omaha Bibles for further dizziment. I found Edwin's father depicted in the fantastic, Nebraskans 1854-1904 book published by Bee Publishing, where every man is both a pioneer and a babe. Reinold B. Busch was then Vice-President of Crane Company, Wholesale Steam and Water Supplies. From "The Valve World" magazine of 1913, I discovered R. B. Busch entered the employ of Crane Company as a city salesman in Kansas City. He was promoted to Manager at the Los Angeles branch and late in 1892 was transferred to Omaha to take charge of that office. In 1896, he was elected Vice President of the Crane-Churchill Co. until his resignation in 1915, when Crane Company purchased his interest in the Crane-Churchill Co and dissolved the corporation. Reinold B. Busch died in 1923.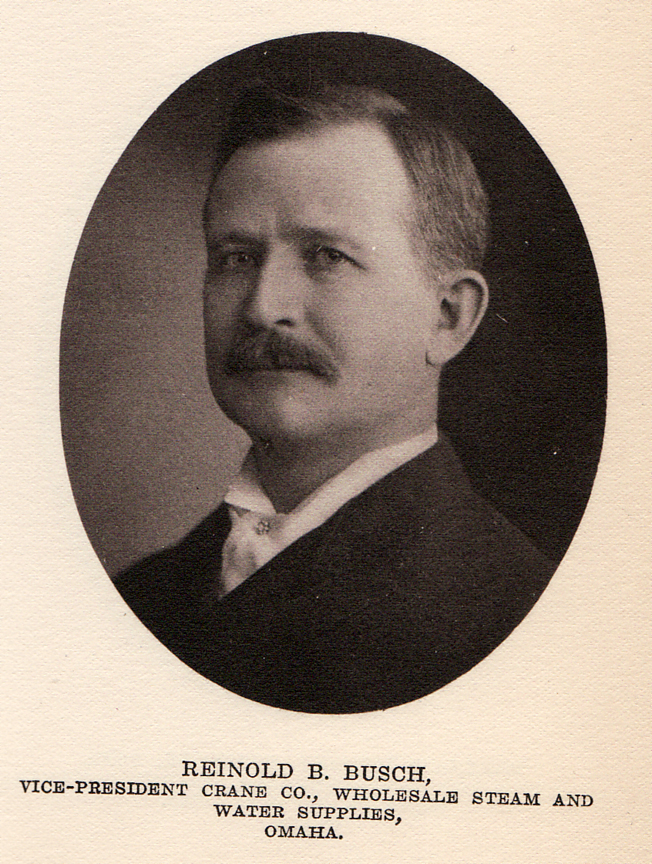 Reinold Busch from Nebraskans 1854-1904. Created / Published: Omaha, Neb., The Bee Publishing Co., 1904. I am sorry that at times my scanning goes a wonky.
Raised in the inner circle, Edwin, his sister Margueritte and brother Alfred had been making the social page since they were youngsters. Edwin, the youngest would attend school at Lake Forest College. After some obsessive digging into young Edwin's social engagements, it would appear that he had previously married a Miss Margaret Rogers of Davenport, Iowa in the late summer of 1921. Margaret, by all appearances, fit in well with this set, hosting teas and entertaining luncheon guests along with her sister in law, Mrs. Albert Busch at the Aquila Court as well as the Fontenelle Hotel. A lead from a swimming party at Peony Park in the summer of 1933 revealed Mr. Edwin Busch attending solo, the only single in the group. Hmmm…He was also a single member of the Dundee Dancing Club back in 1932. I pushed on until I discovered Margaret Rogers Busch had died suddenly of an acute heart attack at the age of 27 back in 1930. The couple had a little boy called Johnny.
When Edwin met and married Jacy Allen, it was considered a prestigious step to acquire the honored Melady home. In case you had wondered, the young couple would take on the picnicking tradition. I think it goes without saying that this might be a mandatory commitment when one buys into such spacious digs with a built-in, highly publicized picnic area. Johnny, Edwin's son, began hosting school picnic parties straightaway, probably making him very popular in all of West Omaha. Oddly starting in September of 1942 through 1943 I could not ignore the insurmountable evidence of cocker spaniel pups for sale at Balla Machree address. Surprisingly 1018 South 90th Street would later be linked to the A.K.A. Busch Kennels. These curious ads ceased after 1945.
Balla Machree, the Addition
On another venture to the Douglas County Deeds office I went digging for the origin of the Balla Machree subdivision. Walter J. Black etal sold a large amount of land under this addition's plat "to whom it may concern" in 1942. Hilma G. Melady would also sell "to whom it may concern" in the very same year. It came into view that a Mr. Walter J. Black originally owned the bulk of rural land, later split into lots 1 through 50 in the Balla Machree neighborhood. The Meladys contributed lots 5, 15 and 16 of the original plat. My estimation would be that Black and Melady platted the Balla Machree Addition, honoring the original farm.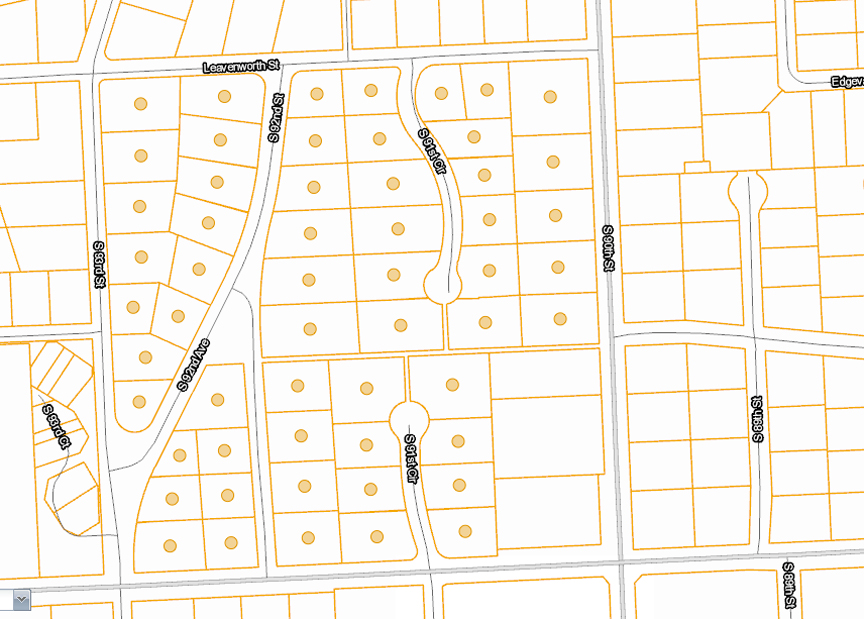 Balla Machree Subdivision properties designated by the little orange dot. This addition was created with the original Balla Machree tract, combined with Walter Black's land and then subdivided into smaller lots. I found homes within this addition oddly dating back to 1940 and 1941, many in the later 40s and 50s. If you have a chance, when you spin by Balla Machree proper, go give a curious eye to the 91st Circle cul-de-sac and surrounding addition streets. I have previously written of the coolly, indifferent, unpaved, pot-holed backroads of District 66 and some of these winding roads are no different. Plan accordingly and do not be dismayed. To be traversed with a sense of high adventure and appreciation! So Lovely. The houses are divine.
The Greenacres Addition
According to the Selected Mid-Century Modern Neighborhoods Omaha Historic Building Survey of 2010, prepared by the Alley-Poyner Macchietto Architecture group, the Indian Hills area, bounded by Dodge Street, 84th Street, Pacific Street and 90th Street was developed into the Indian Hills Village, Broadmoor Heights and the Greenacres Additions. I've got more information on this in my The Real Estate Secret Agent: 912 South 84th Street. Broadmoor Heights was the first to be platted in 1948. Greenacres Addition, directly the east of our 1018 South 90th Street house was platted in 1950. The gracious Greenacres neighborhood is a subtle, unpretentious locale, conscientiously designed with spacious lawns and ranches. Indian Hills Village came after in 1957.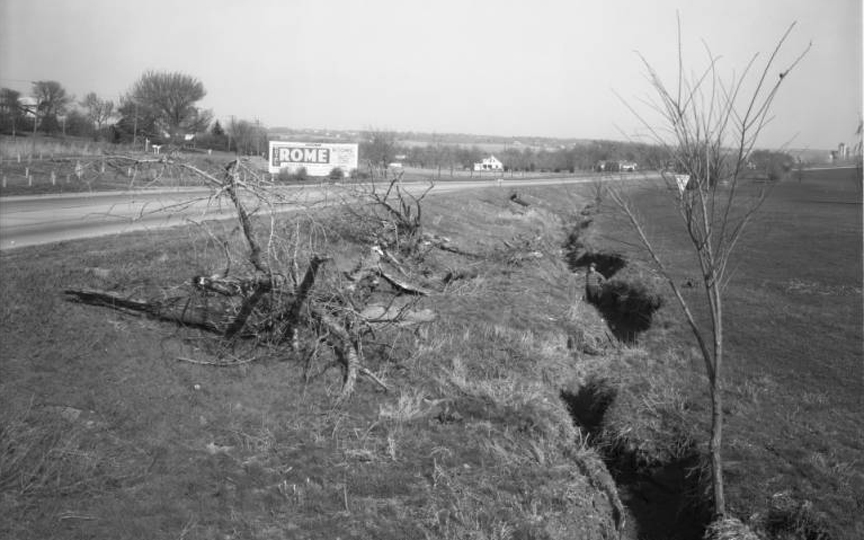 Indian Hills. Looking east on West Dodge Road from about 90th Street. There is a man standing in a deep gully off to the right. There is a billboard for the Rome Hotel on the left side of the road. The area to the right was later known as the Indian Hill area. Creator: Bostwick, Louis (1868-1943) and Frohardt, Homer (1885-1972). Publisher: The Durham Museum. 1948
A Succession of Owners
The deed introduced Edwin J. Busch and Jacy Allen Dunham Busch sold to Ward and Vivian R. Lindley on December 31, 1945. (I believe Jacy also divorced Edwin at some point.) Ward worked at George T. Lindley & Son Abstract & Title Company, as the "Son" part of the equation. The abstract company was housed at the 220 Keeline Building in Downtown Omaha. The Lindleys then sold to Charles Spaulding and wife Ann in 1948. Charles was vice president and secretary of the Refinite Corporation. Refinite, I was to learn, handled Kohler Works, complete water conditioning, swimming pool, municipal and sewage disposal. This would explain the hopeless piles of hints I found on Balla Machree advertising swimming pools. Peculiar as it was, I would later find that Charles Arthur Spaulding died in late March of 1950 at the age of 62. Still the swimming pool ads continued. I was not sure if Ann Spaulding was in the business as well of if their only child, Charles Arthur, Jr. had taken over. At any rate the Balla Machree address continued to be listed for Refinite business for many years.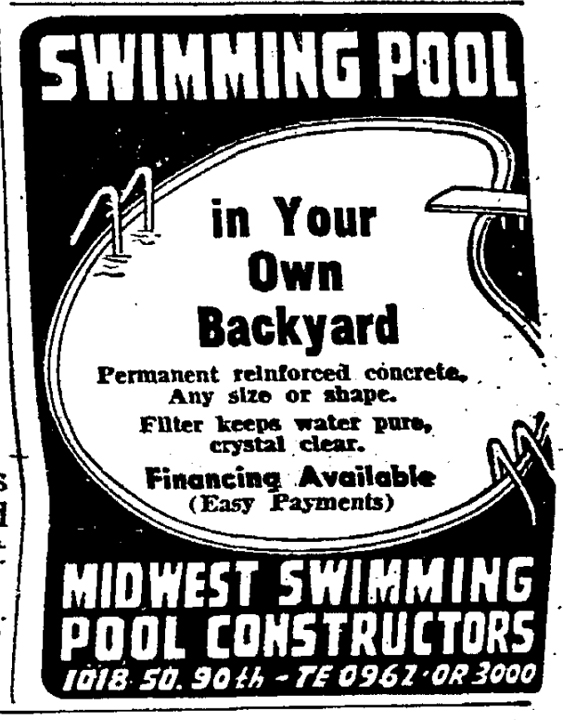 Swimming Pool ad from the World Herald, March of 1957.
The Original Balla Machree is Divided
Days previous to his early death, Charles Spaulding sold a portion of his land to Philip H. Ames (sic?) and wife on March 11, 1950. There was another entry to the deed on Aug 1, 1956. The Omaha City Directory of 1957 showed Philip Amis lived at 1010 South 90th Street, just one door to the north of 1018 South 90th Street. The 1010 house was built in 1951, according to the Douglas County Assessor's site. It looks as though Amis might have had some kind of land contract initially in 1950 with Spaulding until full purchase in 1956. I am not entirely sure. This great property is where the Murphy's live—the family who wrote me the initial email about Balla Machree. Of interest, this property was also situated in Land Section Township Range and was not incorporated into the Balla Machree subdivision.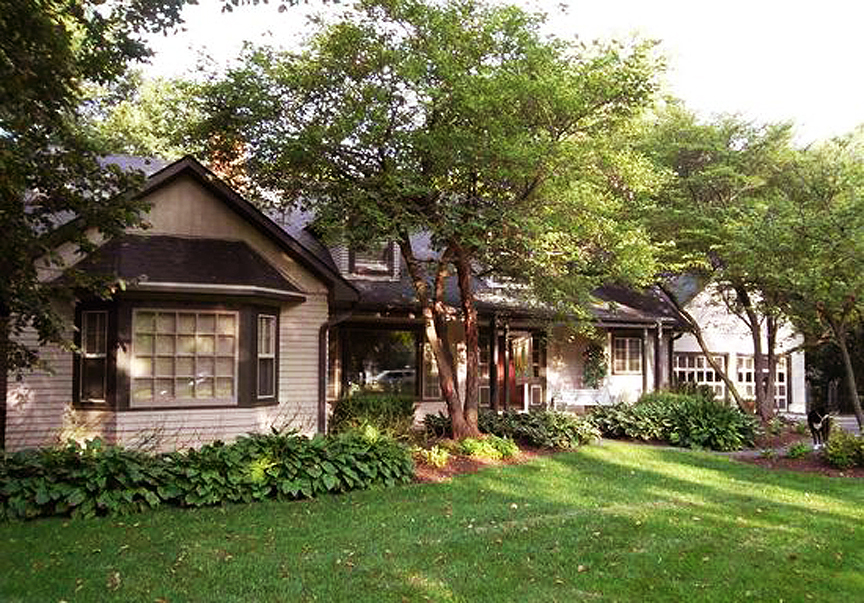 1010 South 90th Street. One home to the north of the Balla Machree estate.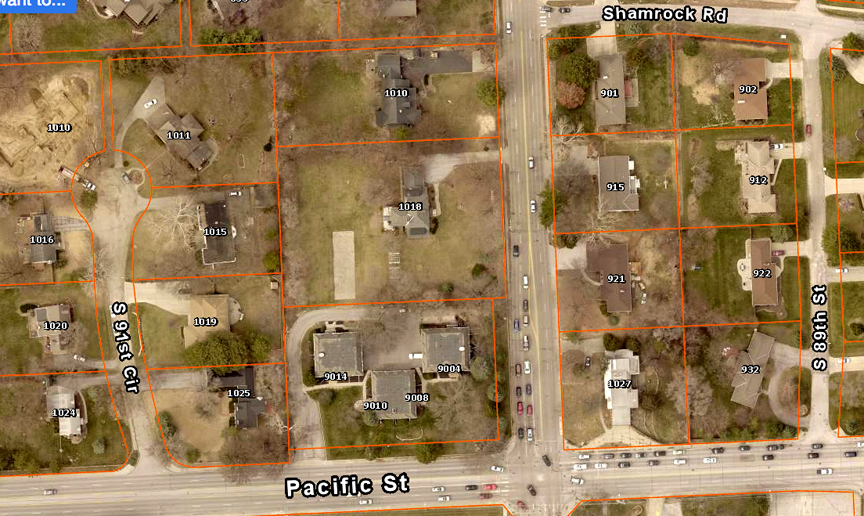 2018 Aerial from the DOGIS site, displaying orange property line for the area around Balla Machree. 2018 Aerial from the DOGIS site, displaying orange property line for the area around Balla Machree.
Death of the Meladys
Gene Melady died at the age of 84 in January of 1957. His only son Eugene Jr., by then resided in California. Omaha's most well known sports devotee, longtime livestock commission dealer and part time Irish minstrel had died in his home at 830 South 90th Street, in the very area he helped to establish for Omaha. There is evidence, after removing from their Balla Machree estate, the couple would go on to build 902 South 90th Street, in addition to 830 South 90th and yet another house near 91st and Pacific.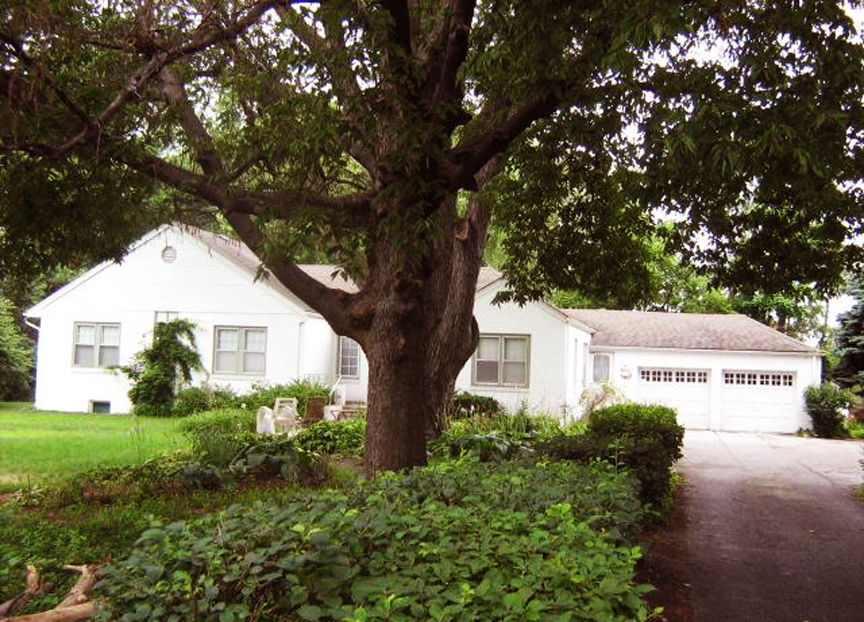 830 South 90th Street. Balla Machree's very similar brick columns with lanterns welcome one at the gates of 830. This was the property the Meladys lived in until Gene's death.
Hilma died shortly thereafter in November of 1958 in Barstow, California at the age of 81. She must have moved to live with their son. Both Eugene and Hilma had funerals at nearby Christ the King Church and are buried at Calvary Cemetery at 77th and West Center Road.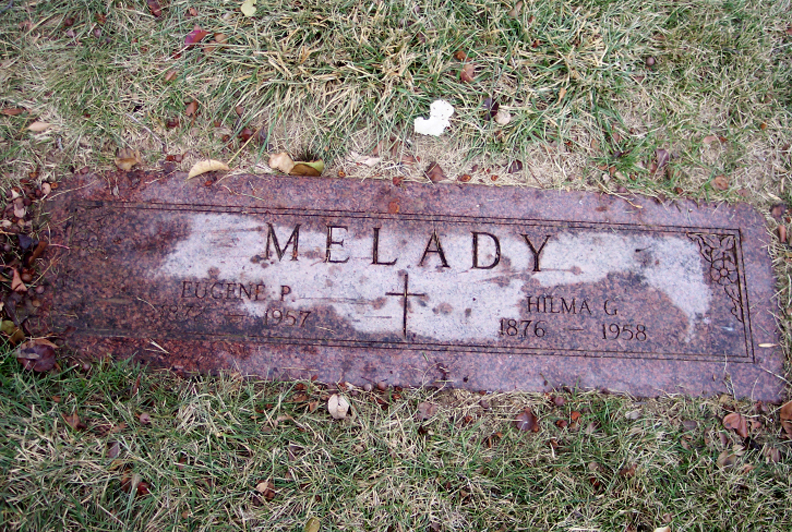 Melady headstone from the Find A Grave website. I did not take this photo.
The Andersen Story
I will try to keep this brief. I really will but when I found out that Kurt Andersen's family had lived in the Balla Machree home, I about fainted. Kurt Andersen is one of my favorite, famous Omaha writers. His father, Robert K. Andersen served as a quartermaster first class with the Coast Guard during World War II and had fought in the South Pacific. The Senior Andersen received undergraduate and law degrees from the University of Nebraska, later joining the Omaha law firm of Swarr, May & Royce in 1948. He had married wife, Jean and the couple would later have four children, Kristi, David, Erika and Kurt. At some point, Mr. Anderson would depart to steer the new Omaha firm of Andersen, Berkshire, Lauritsen & Brower. I am not entirely sure in what year the Andersens chose to make Balla Machree their home but how very apropos and coincidental that the story would roll in this direction. I was struck immediately with the intelligence and showering of accolades the older Andersen children would receive in the 1960s and 70s, securing full ride scholarships and degrees with apparent ease. This was all before learning that Kurt Andersen, the youngest, was Kurt Andersen.
Andersen was drawn to journalism and provoking authority from an early age. I couldn't help but wonder how that worked with a father who served in World War II. Andersen wrote through his years at Arbor Heights (now Westside Middle School) and Westside High. He graduated Westside early, working for the World Herald before leaving for Harvard as a Presidential Scholar and National Merit Scholarship winner. Andersen graduated magna cum laude in sociology in 1976, later moving to New York City. A successful novelist and radio host, my favorite of Andersen's work are his essays and articles—one article in particular, "You Say You Want A Devolution?" single handedly brought his keen observation to my awareness. It was during his years at Spy, the monthly political and social satire magazine that Andersen and Graydon Carter (long time at the helm of Vanity Fair) started in 1986, the pair infamously and irreverently named then, New York developer Donald Trump, a "short-fingered vulgarian."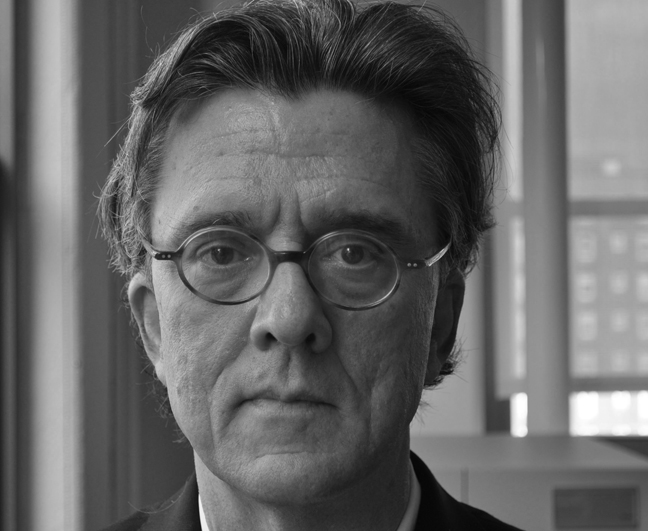 After father Robert's death in 1988 at the age of 67, Jean Andersen sold the family home at 1018 South 90th Street with plans to spend most of her time at their lake house near Morse Bluff. Balla Machree "was simply too big," she said, with all the children gone.
**October 7, 2018 Addendum**
As of today, I have heard from all four of the Andersen siblings but haven't secured permission to reprint all of their memories. Erika Andersen generously allowed me to share her thoughts.
"To fill in some of the blanks in your narrative during our tenure (and I've no doubt that Kristi, Kurt and David will add in their own memories): we moved into the house in the summer of 1957, and as you say, our mom sold the house in 1989, the year after our dad died. When we moved into 1018, Kristi was almost 10, David was 8, I was 5 and Kurt was 3. Our parents had bought the house for $37,500 – quite an investment for a young lawyer with a wife and four kids to support. But they loved the house, and believed it would be a wonderful family home. We all immediately loved it.
I remember being completely enchanted with all the overgrown mysterious elements in the landscape. To the south of the house, there was a kind of formal area: a square, brick-edged gravel path around the perimeter, with a rectangular concrete (cement?) pool in the center, with a rock border and a fountain in the middle. I don't remember it ever being active – my siblings might have different memories. We called it the "lily pond." West of that was an elaborate structure made of brick columns topped by a beautiful white wooden trellis, arched in the middle. Then west of that, down a slight hill, was an old tennis court surrounded by a tall chain-link fence. None of us really ever learned to play tennis very well, but we spent a LOT of time down there, batting balls around and riding bikes, trikes, scooters and wagons on the nice flat surface! West of the tennis court was a little summerhouse: concrete floor, white wood walls and big screen windows. For many years my mom had a rhubarb and strawberry garden next to the summer house – she believed that the previous owners (the Spauldings) had had a garden there – and we did find some ancient asparagus at some point.
The rest of the back yard was more wild (to the north of the house), although there were some plantings and brick paths that kind of implied that it had been more "designed" in previous years. The front yard – as you've pointed out – was very grand. Before 90th was widened and the retaining wall put in, we had a high hedge all across the front that made it very private. The was also a brick patio to the right of the front porch where we had a grill and a picnic table. During the summer we would quite often have dinner out there, after which all four of us kids would run screaming around the front yard, trying to hit the bats that fluttered and swooped around us with the crab apples that had fallen off the tree next to the driveway (we never succeeded.)
One cool architectural element of the house that we all loved a lot (especially our mom, I think) was a laundry chute. In the corner of my brother Kurt's room, there was a little door set at an angle, and when you opened it, you could look into the little square chute – about 18×18 inches – lined with galvanized steel. On the main floor, the laundry chute door was set into the wall next to a built-in desk, and in the basement, the chute opened high in the laundry room wall. There was always a laundry basket underneath it – and as you can imagine, with four little kids, many things other than laundry ended up in that basket!
The TV room (we called it the Family Room) was there when we moved in. We spent lots of time in that room, especially when it was too cold or rainy to play outside. We'd create and put on plays (directed by Kristi), and play "school" or "grocery store." We also set up our Christmas tree there every year. Our folks added the sun porch in place of that room after we'd all grown and gone. Just a note: most of the time we lived in the house it was painted green, with darker green shutters. And I remember that awning always being extended on the south side of the house, because there were lots of big south-facing windows in that room (we called it the Sun Room), and I imagine it would have gotten quite hot in there otherwise – also, I suspect my mom wanted to protect her piano, which was in that room.
I've attached a Christmas card from our early years in the house."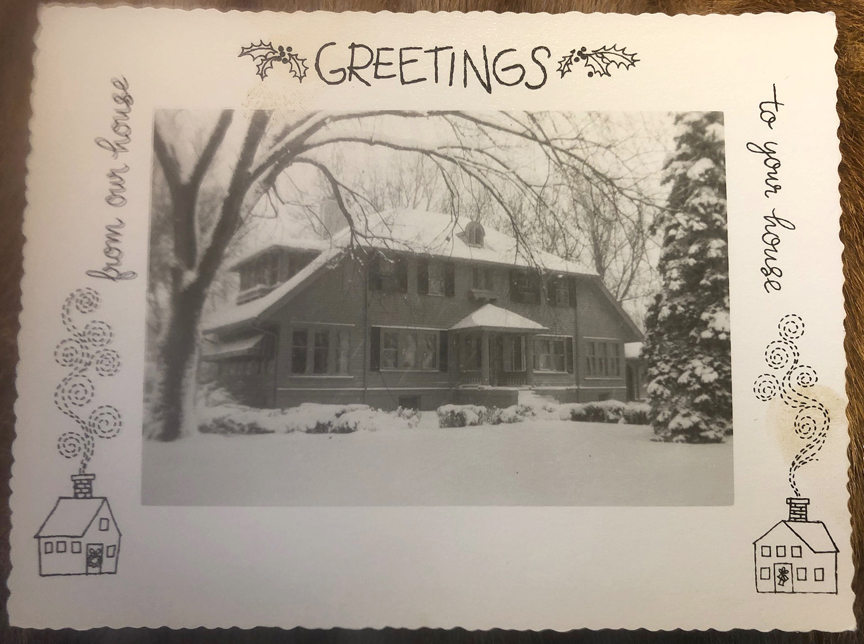 Much thanks to Erika for these illuminating clues to the time period the Andersens lived in the home.
Mysteries Abound
Jean E. Andersen sold the Balla Machree home in June of 1989 to a local family. Out of respect for this family, I will not divulge their name as they potentially still live in town. They resided at 1018 South 90th Street for many years. I am not sure if this last family made the additions to Balla Machree or if the Andersen's made the alterations. I am also not entirely sure who, if any, of the families stripped the home of its historic architectural features or if the house was scavenged by one of the developer-owners to follow. Perhaps one of the previous families had made renovations or attempts at modernization and removed authentic objects from the home out of ignorance, thinking of them as "dated" or not of their current taste. Some people think nothing of gutting a room under the "out with the old, in with the new" mindset. On the other hand, buying older homes and scavenging objects to sell isn't new either, although a loathsome human habit. Afterall objects being pulled from historic houses, to include doors, original fixtures and built-in features are a crucial part of its overall design. It would appear that another development group had owned the home after the last family and had intentions of renovating it; they possibly had stripped the house in their remuddling efforts or intentionally scavenged the home for side sale. There was no sane, respectful way to find out. I was able to find a slew of interior photos from the home's last sale in 2017. I am not sure when these images were captured, but as with peering in the windows on my reconnaissance mission, I was taken aback by the lack of defining interior characteristics from a home of this time period. Can we agree, the Bathroom is Perfection? There is light and beauty throughout the spacious house, and I couldn't understand who wouldn't want to love her.
These photos are attributed to CBS Home. They are borrowed to show the interior of historic Balla Machree. I did not take these photos. You can click on these images to enlarge.
Abandoned Plans
1018 South 90th Street was sold in May of 2017 for $381,000. It appears that Bridget Olsen, under the designation of West Coast Properties LLC, had made the purchase. To tie up loose ends, the initial ownership address I had found for Balla Machree on the Assessor's site early on was Olsen's home. Olsen had collaborated with Aaron Carlson Design, apparently with good intentions of renovating-restoring the country home. The large sign I had spied in the front lawn that first night was evidently all that remained of the abandoned makeover.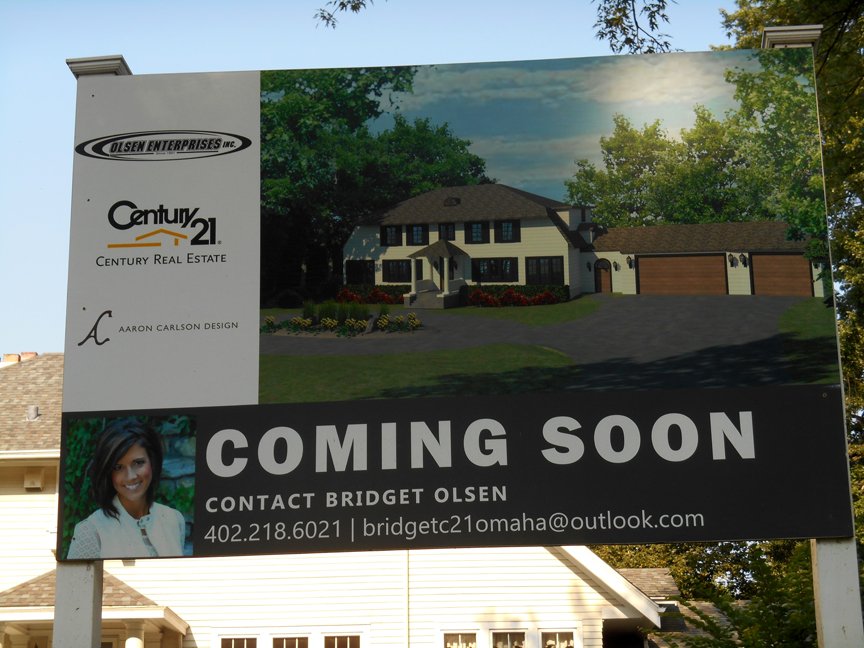 I would find a mysterious listing on the house, hinting at plans in the works, previous to West Coast LLC having acquired the parcel. Plans had obviously fallen through for another owner: "Check out this amazing property in the heart of District 66, situated on 1.3 acres+. This home is being marketed in "as is condition." Builder is willing to sell as is or see renovation plans attached to make home into 2.5 story home. Home currently has 5 bedrooms w/ and option to have 6+." This called into question who was that other builder and what renovations had they devised? Were they the ones who had created this problem by stripping the home or were they trying to restore it?
I called Century 21 where Olsen had listed the house and spoke with an administrative assistant. She dutifully reported Ms. Olsen "had 1018 South 90th Street up for sale but it was cancelled as of January 2018." The employee did not have any other information as to why the listing was cancelled. Then I called Bridget's cell phone but didn't leave a message.
I then called Aaron Carlson Design. A member of his team knew right away about the property. She reported Aaron and team "completed the design and the plans were then stopped." After more questioning, she shared, "As of now the design is floating and there is no word as to if they will be used in the future." She wondered if I wanted Carlson to call me back and I said, "No thank you." A neighbor to 1018 South 90th Street, I found Carlson's work beautiful and longed to know what the proposed plan had been. Check them out at https://www.aaroncarlsondesign.com/. I've come to assume that these plans were aborted due to financial issues. There are potential significant problems with the home that I am unaware of and/or the renovation cost of home and land has surpassed the budget of many single family homeowners.
The New Plans
As of this date, I am not sure how or when the property changed hands, as this transaction was concealed on the county site. Upon recent viewing, the Douglas County Assessor's site has updated the newest owner, the vague PACIFIC 90 LLC. I would share emails back and forth in the weeks following with the Murphys, the couple who thankfully tipped me off to Balla Machree. The Murphys would meet with Ontic Properties, the developers behind Pacific 90 LLC, who procured 1018 South 90th from West Coast. Mr. Murphy approached the Balla Machree property when he saw a group of people inspecting the grounds. It was at this chance meeting the group identified themselves as the Ontic company and that they intended to close on the parcel. To the neighbor's surprise, Olsen-West Coast was apparently in the process of selling the home. Murphy was taken aback to learn of the new developers' plan to tear down the original Balla Machree home. No formal plans were shared with Mr. Murphy at that meeting.
Shortly thereafter Murphy became privy to Ontic's proposal to charge the existing grounds with 8-9 attached row houses or detached houses. Ontic had apparently obtained the parcel at a $500,000 price tag. It was the developers' standpoint that renovating the large home was a higher level of investment than they planned to make. For their earnest part, the Murphys would share the many historic articles they had uncovered on the Balla Machree property with the Ontic group, in hopes of encouraging the real estate investors to restore the home to its once former glory. One of the members of the Ontic team assured the Murphys their historical research would be taken into account, as the planners inspected the property and drew up concepts.
In the meantime other neighbors became very concerned with hear tell of the redevelopment scheme for the Melady property. It is easy to imagine it might be quite a lot to digest, having lived so close to a once grand estate such as this. Growing suspicion was that these newly proposed town homes would disregard all conformity and historical integrity of the neighborhood, would be an obvious overbuild for the shrinking 1.3 acre lot and in turn, overwhelm the dense neighborhood.
A formal meeting was held, between the Murphys and Ontic Properties in the following weeks, where drawings were presented. The team proposed to build 8-9 homes on the 1.3-acre Balla Machree property. At one point in the meeting, 18 attached homes were boldly thrown out as an option. Meanwhile the Omaha City Planning Board had already, allegedly, approved Ontic's 11-12 homes at a pre-application meeting. As if this many structures plopped on the 1.3-acre lot weren't enough, the plan set out only five feet between the neighbors' property lines and the new Ontic structures. Screening was proposed by Ontic but at five feet, the neighbors were rightfully dubious of any hopes of privacy. For the record the neighborhood would like to see 15-20 feet between their properties and any new structures or road in addition to adequate screening. With pushback, the Ontic developers agreed to reconfigure an updated plan within 30-60 days, most likely projected to incorporate some type of courtyard.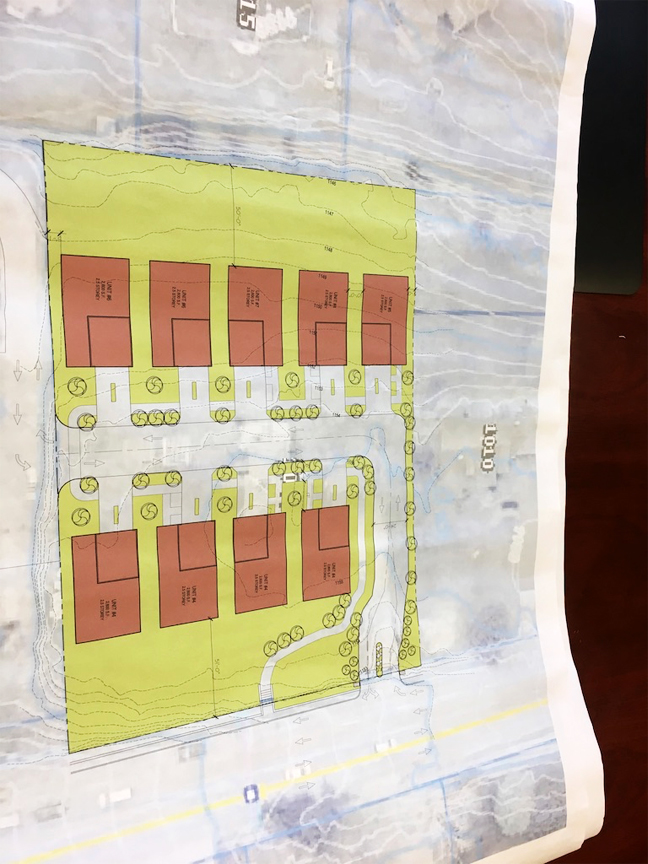 Ontic Properties Proposal
The Balla Machree neighbors would understandably like to see a final plan in place before the demolition of the Melady home. They have heard Ontic Properites would like to raze the historic home in a month or two.
Miss Cassette's View
I have driven by the town homes I have heard this project seeks to emulate. What I am calling The Mini Millennium style is not formally based in traditional architecture and will be a real stretch if it hopes to meet the high standards of conformity within this historic District 66 neighborhood. The Mini Millennium is the little sister of the Millennium Mansion and cousin to the McMansion. These names refer to new housing that is either oversized in comparison with adjacent homes or disjointed in style and composition. The concept is to overfill a property lot. The overall look, as with the Millennium Mansion, is one of height, sporting a very busy roofline and strange emphasis on the prominent garage. Often seen is multiple wall cladding materials, to include bizarre uses of stone and wallpaper-like faux brick. Differing window sizes, shapes and arches are slapped on the front facade, usually without regard to the side façade windows—a technique most definitely seen in M. M. row housing. The roofline is precarious, with complicated hip-on-hip-on-hip cascading roofs. This emphasis on vertical appearance is usually to incorporate a dominant, though shallow entryway—the pièce de résistance of any Millennium and to make up for lack of architectural quality through ceiling height. Well it also houses the mechanical systems between floors.
But those are just aesthetics, albeit very important. The real meat of the matter is that often developers' financial drive is to build out to the limits of the "zoning envelope" by design. Sadly this form of hyper multi housing units can be built on higher priced land because the vertical massing allows developers to squeeze in more square footage than a solid, high quality horizontal home or in this specific case, renovate and incorporate the Balla Machree structure already in place. There was probably never a plan to renovate the Melady home. This Mini Millennium concept whether row, town home, detached, villa housing or otherwise has been foisted on older neighborhoods across the country, used as "infill" and peddled under the password of increased "density" by City Planning Departments.
About-Face
I am not saying these things to demonize local developers, as Balla Machree was up for sale fair and square. When older homes are allowed to fall into disrepair, who among us will bare the expense? It would be easy to point the finger at developers but for whatever reason, no single family came forward or could afford the anticipated renovation or upkeep costs. Yes, I would prefer developers of these types of projects channeled their energy Way Out West where they can be as creative or mundane as they prefer, surrounded by the same aesthetic. The fact is our neglected historic homes on expansive swaths of land are left open prey in this day and age, a sad reality we will see play out in the next twenty years. As we know, when an original, historic home is torn down, the whole area is threatened and viewed as prey to future development.
Moving forward the only hope for salvaging this situation is one of challenging taste, elevating quality building materials and respect for the neighborhood. Honoring the local architectural, historical and aesthetic qualities of this varied district require doing one's homework. I recognize this is a time consuming task for any developer. Conformity within a neighborhood district, especially one with such rich history and varied historic architectural elements as seen around 90th and Pacific Street, calls for a long study–astute observation of the character and the identity of the built environ with intention geared toward understanding architectural appropriateness of height, scale, mass and aesthetic–an intention also focused on respect for the neighbors and future tenants. I believe Chicago and her suburbs do a wonderful job of creating new multi-unit houses that leave the viewer wondering, "Is this building 'contributing' or 'non-contributing'?" to the architectural value of their historic neighborhoods. Meaning is this new or old, I can't really tell? What if Omaha was able to build with quality materials, solid design elements rooted in history with longevity in mind? I believe a restored Balla Machree or a congruent, historic-nodding architectural plan is a chance to enhance 90th Street, in keeping with the integrity and character of the great, authentic Westside Community neighborhoods.
**October 7, 2018 Addendum** This just in. A Balla Machree Neighborhood meeting slated for October 9 at 6:30 pm. Meeting held at the Melady home at 830 South 90th Street.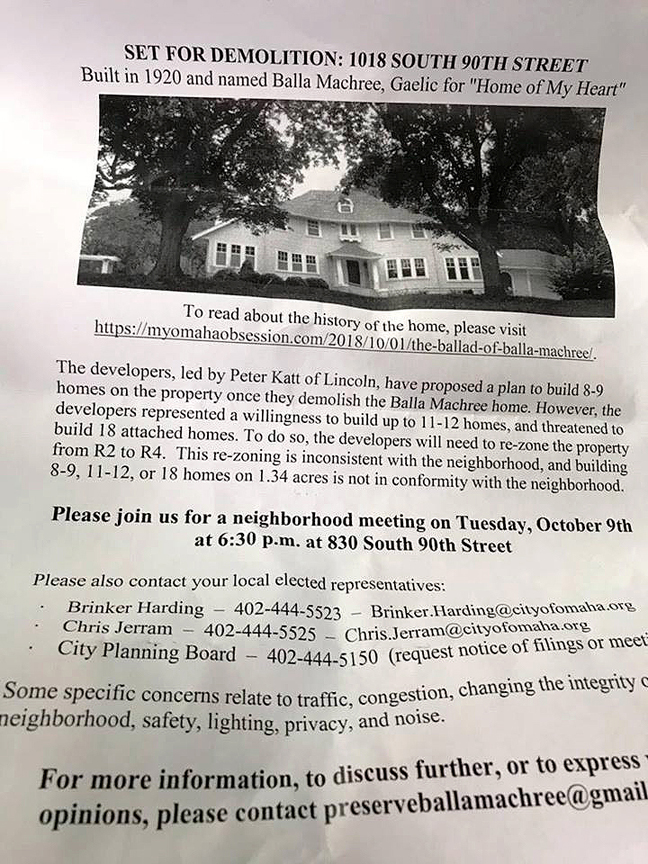 This article was written with love and dedication to the wonderful Melady and Murphy clans, without whom there would be no story. Mo chairde anam Éireannach! And cheers to Balla Machree, the landmark house that started West Omaha. Twas a pleasure to be in her company. In the meantime, let's keep looking out for one another and our great neighborhoods. Miss Cassette
This investigation now has a follow-up. Please follow this link to: The Balla Machree Photobook.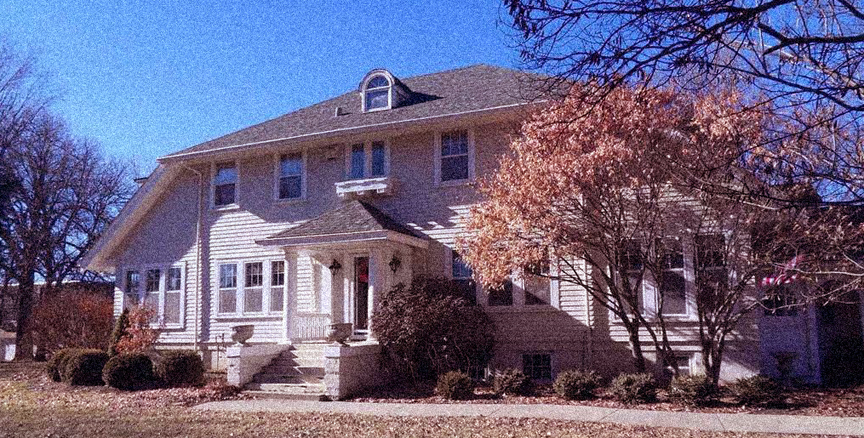 I welcome your feedback and comments on the treasured Balla Machree, her storied list of incredible owners, 90th and Pacific Street, and the Westside Community-District 66 area. Please share your additional clues to the investigation in the comments, as we know more together. Everyone would love to read what you have to say and it makes the sharing of Omaha History more fun. I want to hear from you, fellow detective friends.
You can keep up with my latest investigations by joining my email group. Click on "Contact" then look for "Sign me up for the Newsletter!" Enter your email address. You will get sent email updates every time I have written a new article. Also feel free to join My Omaha Obsession on Facebook. Thank you, Omaha friends, Miss Cassette.
© Miss Cassette and myomahaobsession, 2018. Unauthorized use and/or duplication of this material without express and written permission from this site's author and/or owner is strictly prohibited. Excerpts and links may be used, provided that full and clear credit is given to Miss Cassette and myomahaobsession with appropriate and specific direction to the original content.