Between you, me and the postman, I should have rang that doorbell when I had the chance. The shake shingle and stone cottage was a New England Classic. Any beady-eyed lingerer could see, 10805 Poppleton Avenue was the Real Deal Mystery disguised on this winding loop of unseen West Omaha. Long ago planted in that woodland garden cove, she sat comfortably in the shaded hollow near a ravine that skirted the property—her subtle architectural hints, a seemly weathered remnant of a couple's East Coast Dream held not long ago. Quiet, comfortable and bookish, most assuredly chummy with casual privilege. I would tippytoe into the basin of the sun streaked front garden, as not to disturb any woodland friends and ring the doorbell in my daydream. Its chimes echoed away into the distance, reverberating into a warm, preserved shell, like all well worn home bells of the past. I rang again just to listen.
For those that require quick, bite size Internet reading, here is your synopsis:  An Omaha Famous preservationist couple of long ago, built a Hudson River Valley reproduction. However in a wry architectural twist, this home was very recently purchased and renovated utilizing the Popular Open-Floor Plan and is now touted as a "Luxury" home. Yes, thankfully the home is still standing and retains a number of its original features modeled from the 18th Century. It is currently up for sale.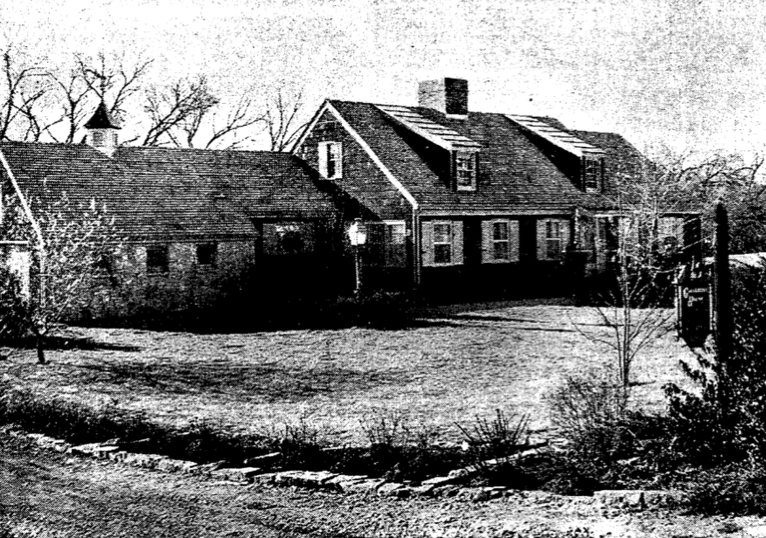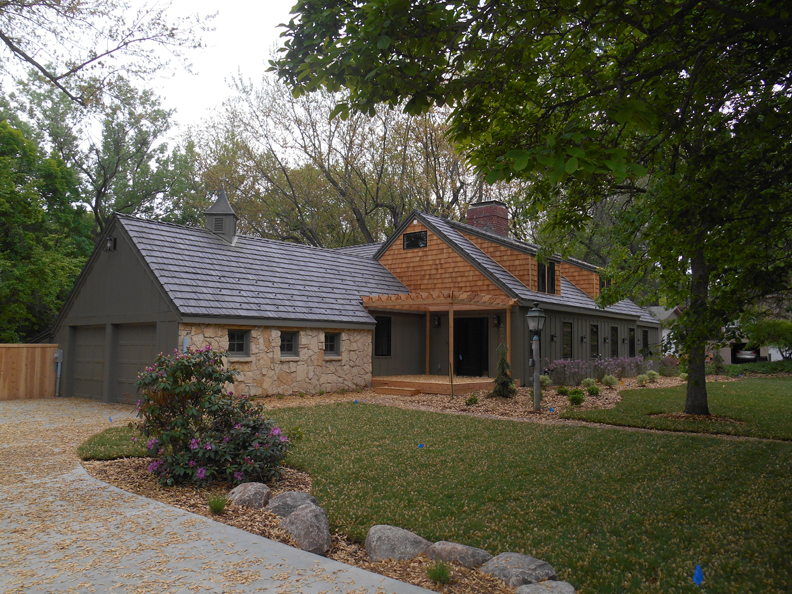 For those that want More Than a little More and enjoy our collective detective wanderings: I am impelled to follow the crosshatched path to 10805 Poppleton Avenue and I do hope you will join me.
For the latter: This article could easily be filed away in our Real Estate Secret Agent dossier, considering the home is currently on the market and will be chock full of modern interior photos. However 10805 Poppleton Avenue and I have been flirting for a number of years. This was already a full-blown investigation before she was shockingly put up for sale and renovated. Who was I not to oblige her demands? There was a story to be told!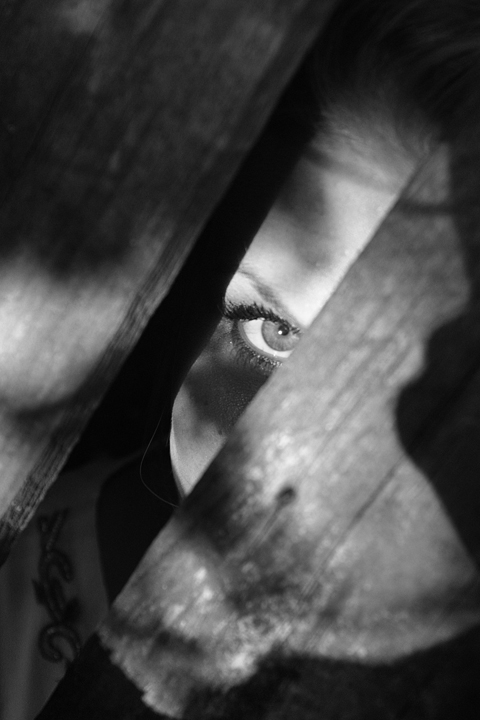 The Remarkable Utleys
Let us just jump right into it. It was indisputable, after all. William and Beatrice Utley lived the creed of Preservation, Conservation and Restoration. The couple would come to be known as local Champions in the Epic Battle of the Omaha Bulldozers. I would also discover they designed and built a number of fantastic Omaha homes. (We will look deeper into their public contributions later in our investigation.) "Bill" Utley's ancestral roots were found deep in Virginia and the South, while wife, "Bea" was a proud product of the Midwest and New England. I am not entirely sure how these two found one another, but trailing the Utleys' history certainly revealed a Couple of Like Mind. Their courting days were spent refinishing old furniture and touring East Coast early American homes once open to the public decades ago. The young team slowly amassed a fine antique collection starting with inherited family pieces. From what I could find, the couple only had one child, William, Jr. From my shadowing it would appear the Utleys relocated to Omaha in about 1947, when Bill took over as Chairman of the Department of History and Political Science at the University of Omaha—later renamed UNO. Subsequently Professor Utley would become Dean of the College of Continuing Studies.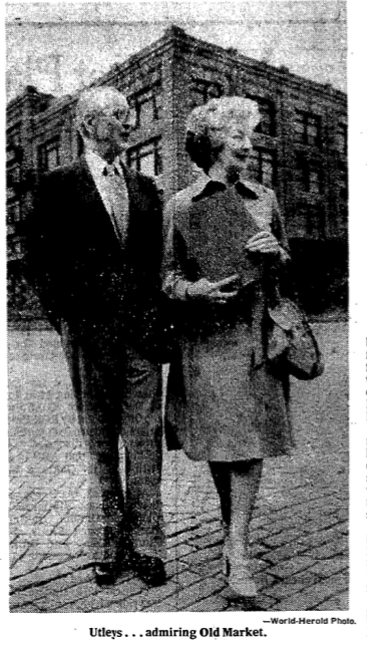 OWH. 1978. Bill and Bea Utley.
Bea Utley detailed an early life brought up in museums on the East Coast. Fine art, antiques, history, and lessons in the handcrafts filled and enriched her young life. She was adept at painting, crewelwork, design, interior decoration, gourmet cooking and a professional antiques consultant. Was she professionally trained or self-taught? Once in Omaha, Mrs. Utley devoted endless days to Joslyn Art Museum, serving on its art and entertainment committees and as president of the Joslyn Women's Association. She later became the first female board member. Most impressively, Bea was Joslyn's conservator—restoring paintings, mending and reconstructing their damaged artifacts to include her expertise in porcelains. Bea Utley would often joke that she could have another life as a marvelously successful art forger. Highly skilled as well as passionate, Mrs. Utley became a national authority, later serving on the advisory board of the National Trust for Historic Preservation. Having some minimal insider grasp of art history, the museum culture stratosphere, not withstanding the particular perfectionism of preservation and archival studies, my mind reeled at the adventures of Bea Utley! How exactly did she do it?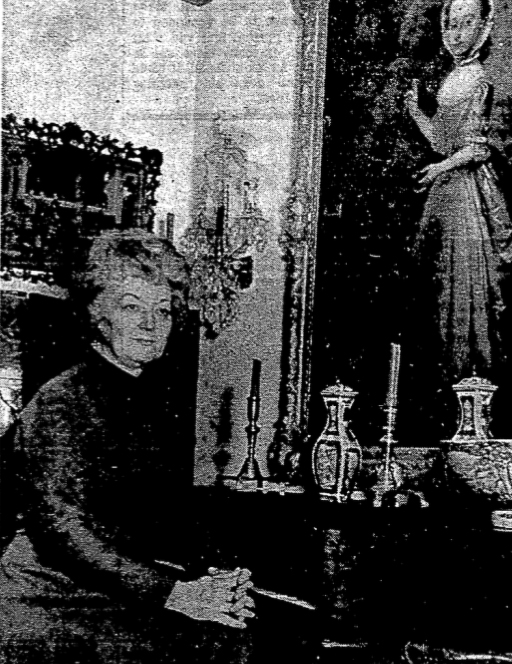 OWH. 1971. Bea Utley.
108th and Poppleton Avenue
What influenced the Utleys' decision to build their reproduction of an 18th Century Hudson Valley River stone home in the now shaded haven of 108th and Poppleton is altogether unknown. But one could ruminate on this dreamy-screened-hollow deep into the night. And I have, friends, I have. The easy-rambling hills and secret nooks of the Bel-Air Second Addition are just to the west of the Happy Hollow Country Club across 105th; the retreat is tucked in, to the south of Pacific Street. If you were not beckoned down these enclosed musing lanes (id est: A Nosey Nellie), you might never have known these homes existed. And I am sure that would be more than fine with the hidden cranny's cozy inhabitants. There is a great thicket of trees veiling the drop-off ravine on the southern edge of the 10805 Poppleton property. What lies below is a meandering creek bed, an offshoot of the Big Papillion Creek to the east. Why do I love that?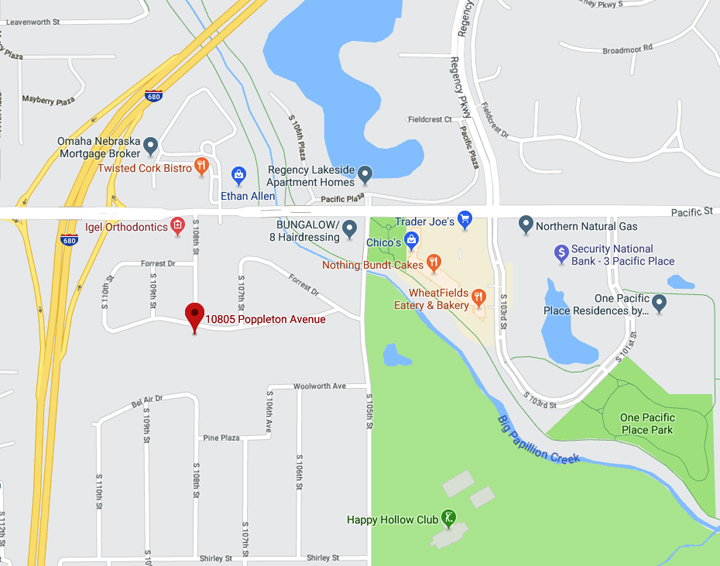 2019 Google Map image borrowed from, you guessed it– Google Map.
This little known creek and its skirted camouflage of trees abutting our Utley obsession were present in aerials dating back to the 1930s when this area was farmland. The Happy Hollow Country Club at 1701 South 105th Street had moved to the area in about 1924. This fortuitous relocation brought many new families to the West Omaha locale. By the 1940s and early 1950s the Bel-Air First and Second additions remained rural countryside without homes, not yet incorporated into the city of Omaha. The closest residence (in 1941) appeared to be that of the Mullens, the focus of an earlier investigation. One could guess the Utleys liked the rolling countryside and in their pursuit of recreating a New England styled home, would have no doubt led them to undeveloped land—drawing the couple Westward. For more scrumptious details on this part of Omaha, check out The Curious Case of the French Fairytale Cottage: Part One and The Ballad of Balla Machree articles.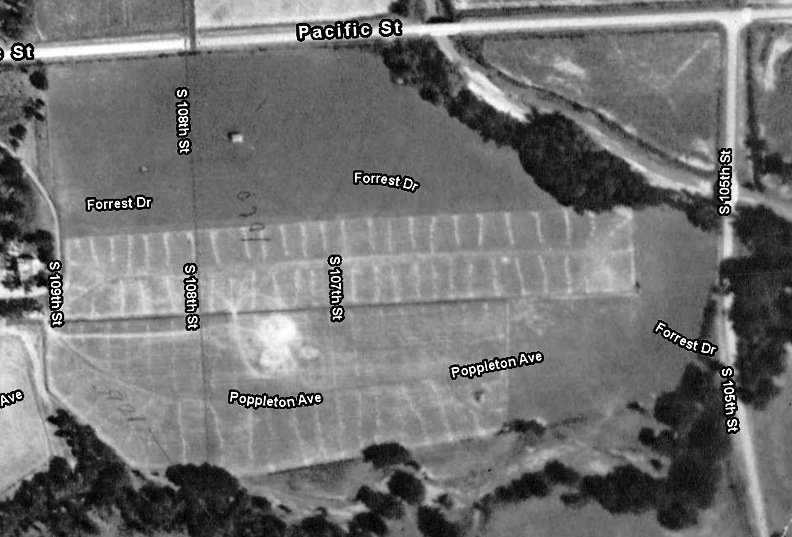 1941 aerial photograph. Image borrowed from the Douglas County of Omaha GIS mapping site.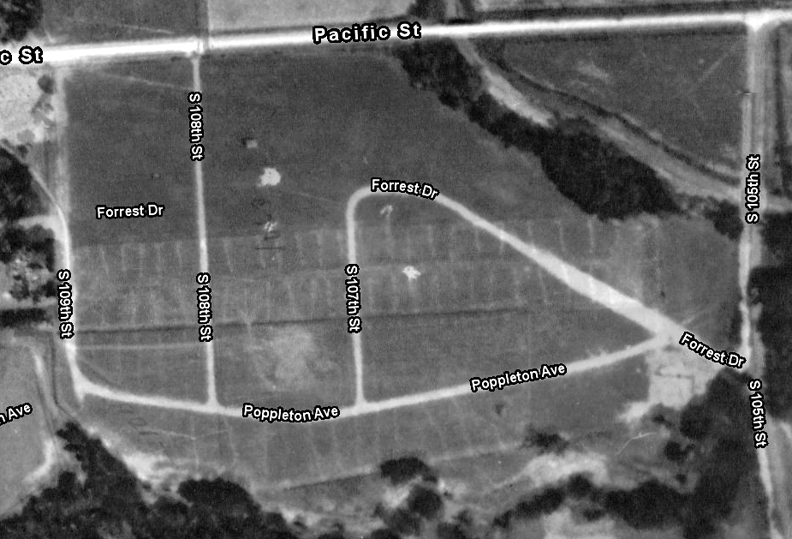 1955 aerial photograph of the 108th and Poppleton, Bel-Air Second Addition site. Image borrowed from the Douglas County of Omaha GIS mapping site. It is interesting to note that the streets were already paved although homes would not follow for a few years.
According to the Douglas County Assessor's site, the shake shingle home at 10805 Poppleton Avenue was built in 1957. This construction date is also made plain on multiple real estate sites, which is not to say that it is fact. I am not 100% on this build date. And fellow sleuths, I did not go down to the Register of Deeds office to double check. It would appear that most of the Bel-Air Second Addition homes surrounding 10805 Poppleton Avenue were erected from 1960-1962. The home, one lot to the west of our Shake Shingle Obsession, was reputedly built in 1957 as well. I did review the Omaha City Directories at the Downtown Omaha library and found some interesting clues.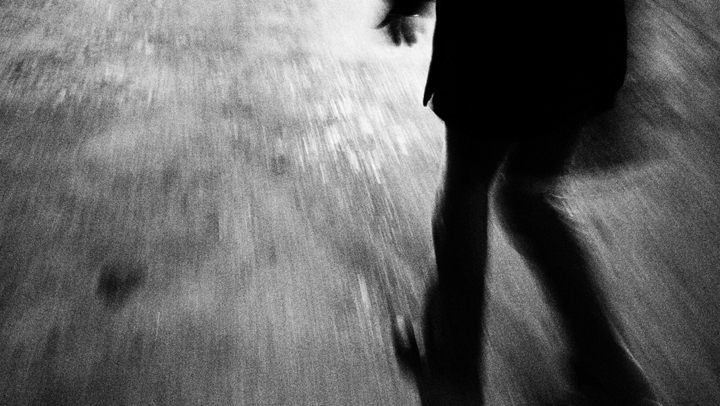 Visit to the W. Dale Clark Library
In 1955 William T. and Beatrice Utley lived at 1309 South 92nd Street. However this address no longer exists. After scouring, I would come to believe their home must have been at 1309 South 92nd Circle. This perfect Cape Cod, built in 1953, is wedged right along Poppleton Avenue in the West Pacific Hills neighborhood. Later I would learn that the Utleys had "built their first home in the Cape Cod style." I wagered this 1309 model fit the bill handily and is in the correct timeline of events.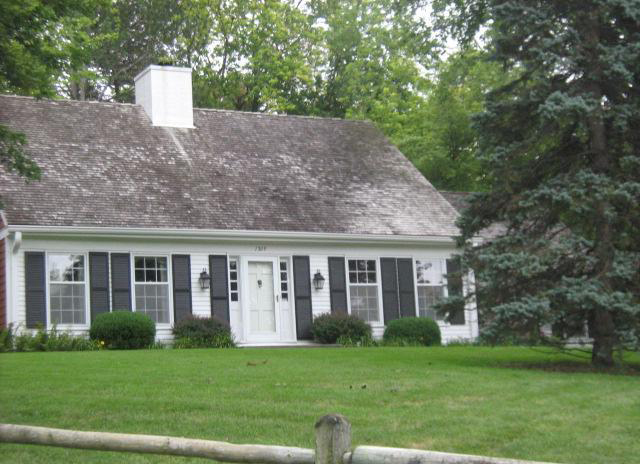 1309 South 92nd Circle. Photo borrowed from the Douglas County Assessor's site. Everything I want in a solid Cape Cod!
The 1957 Omaha City Directory recorded the Utleys at 1628 North 94th Street. This home, if documented correctly to begin with, is no longer extant. There was no address or even surname listed for the Utleys in 1958. The 10805 Poppleton Avenue address was not introduced, at least in the directory, until 1959 under the Utley name.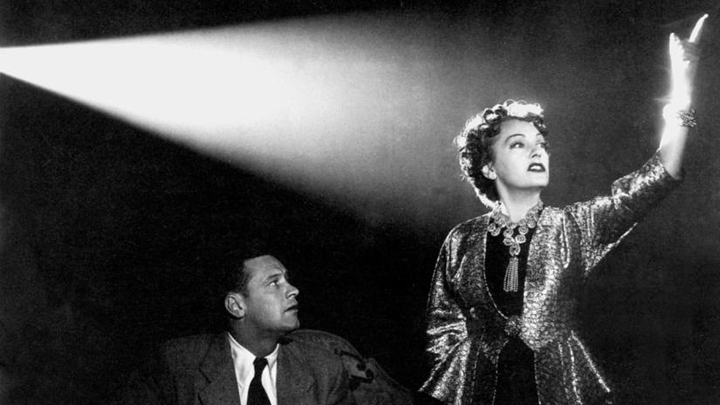 My Indulgence
I began obsessing and *stalking* 10805 Poppleton Avenue in about 2017. You might remember Miss Cassette is a devout, deep-dyed Shingle Style traditionalist; a compulsion was made clear in previous investigations. (For those hungry for more on the Shingle Style, look into my Mysteries of Omaha: 2226 Howard Street  and Mysteries of Omaha: 8120 Pacific Street investigations of the past.) But have I already shared my proclivity for all things Happy Hollow Boulevard, Woolworth Avenue and Poppleton Avenue? Sometimes I cannot remember what worrisome divulgences I have aired. So if I haven't exposed these facts, let it be known these street names drive me wild. Up a wall, so to speak. The chance intermingling of a New England Shingle found one day on the savory Poppleton Avenue brought forth a pathological reaction beyond my control. I almost spilled my coffee.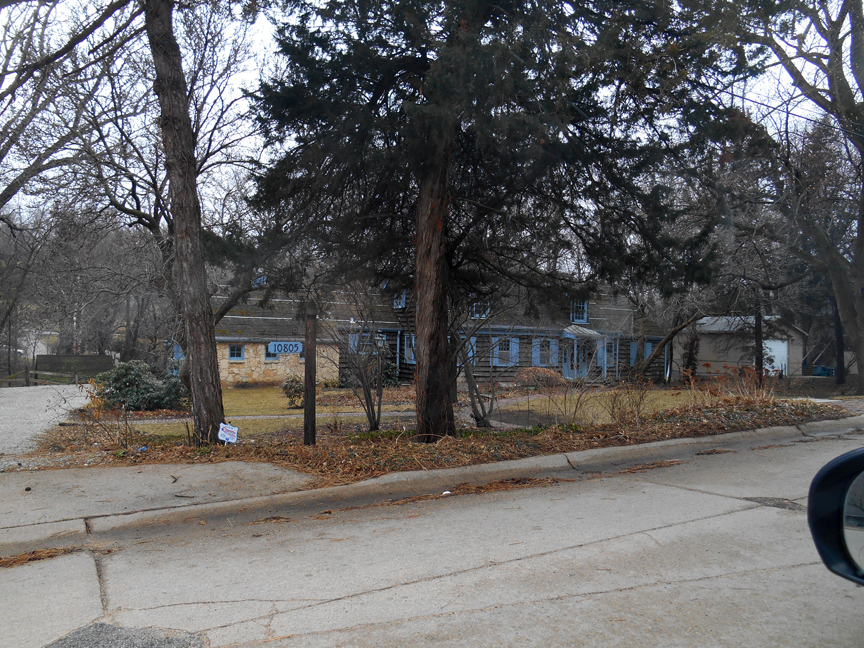 Now this digital roll of film is stamped March of 2016 but I think it had be a year later than that. I also become faint to wander across a brown, rough-hewn farm style shingle flattered further by winking, (a bit darker than) Tiffany Blue shutters. Bold and privileged. I had found this charming matchup at the 8120 Pacific shingle and in the 1950s dresses at my beloved Second Chance. My grandmother would let me know that any brown-dress-loving gal of the 1950s would Always Compliment with pale blue or cream accessories. Like a perfectly worn pair of men's chinos, this 10805 seemed both collegiate and incidentally American.
**A few choice words about stalking based on emails and social media comments. No, I do not have time or interest in truly stalking anyone or anything. I have a full life of friends, family and passions, as well as a professional career. I reserve the right to employ literary flair and exaggeration for the sheer joy and entertainment of doing so. One would think most people know I am embellishing my architectural fervor when I use dated medical terms to dramatize My Condition. Mr. Cassette, having never read even one of my articles, displays occasional concern that some of you might believe I just lie about it vintage muumuus, consuming mass quantities of Ben & Jerry's, chain-smoking and stalking people online through paid sites. Not true. But what an engrossing character he has envisioned! I do duck into the agency office when time permits, where I razz Mr. Persnickety Cross. And for Pete's Sake, I trust you know I would only wear fine leather soled shoes and a fitted jacket and skirt with a peplum when I am working a case. Geez Louise.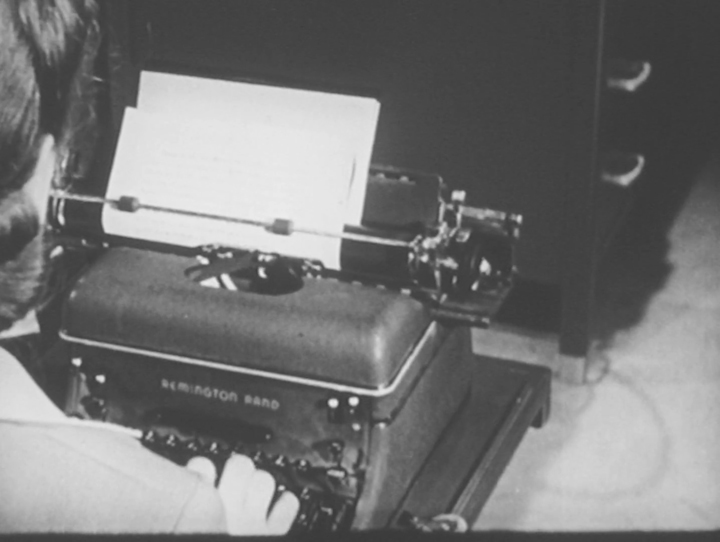 The Architectural Style
The Utley residence at 10805 Poppleton Avenue was constructed of cedar shingles and what appears to be fieldstone. The architectural style was an eclectic hybrid based on the couple's passion for the farm houses found in the Hudson River Valley in New York State—meanwhile their design cleverly melded with its 1950s cohort, the ever-popular Mid-Century Ranch. 10805 would easily secure its positioning in the Soon To Be West Omaha possibly without many in the Country Club Set even knowing her original influence. Although 10805 offered two shed windows on a high-pitched roof, she had an elongated MCM presence, due to the garage. This fantastic adjoining garage on the east side of the home featured Miss Cassette's All-Time Favorite– the classic, country cupola complete with a weathervane. Cedar shingles were used on all exterior walls and roofing in a single, glorious continuation. Stone was utilized only on the garage walls and found at the lower exposed foundation in the rear of the home, lending an asymmetrical, rusticated, casual appeal.
10805 Poppleton exhibited elements of Dutch vernacular architecture found up and down the Hudson Valley in the 17th and 18th Centuries. I also spied similarities in the Postmedieval English houses of the 17th century, found in Virginia Savage McAlester's, A Field Guide to American Houses. The Utleys' many tours of early American homes came to mind. Thought to contain "a composite of ideas they gained from trips to the New England and Middle Atlantic states," the Utleys' architectural plan forged a solid medley of New England tradition meets 1950s functionality. The one and half stories with side-gabled roof, little overhang, and simple, central front door were All Dutch. (As a side note: McAlester hinted that the English building traditions of shingle siding influenced the Dutch to replace their steadfast stone construction.) The Pennsylvania fieldstone walls, a steeply pitched roof, exposed beamed ceilings, interior paneled walls, the jambless fireplace, wide plank floors, sash windows were more Dutch influence, even within the cedar cladding.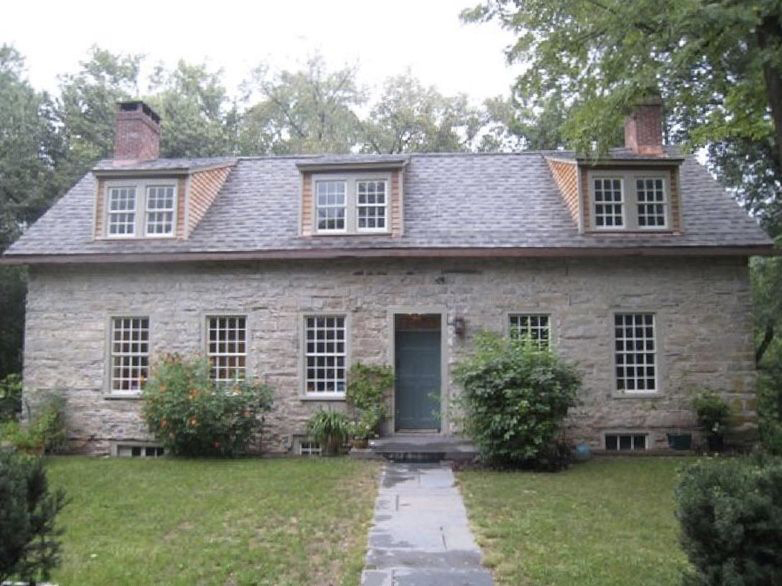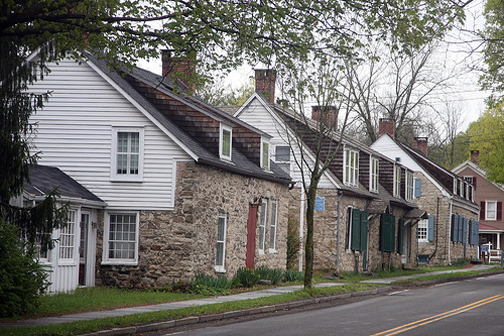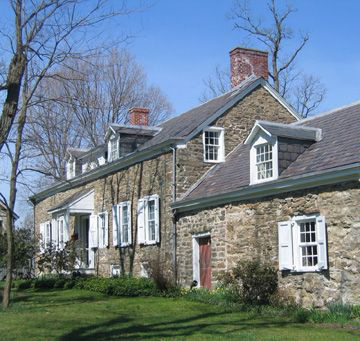 Grouping of Hudson River Valley Dutch vernacular homes.
Gooseberry Hollow
One of my favorite 1950s Omaha house journalists, David A. Sadler, said of the 10805 Poppleton Avenue home that it "was built to house Professor and Mrs. Utley's collection of Early American antiques." Can you imagine? The couple would complete their second Omaha home built within ten years, christening 10805 "Gooseberry Hollow." Apparently this glorious home was named for the ravine running behind the house—leading one to believe that there were-are, quite possibly, fruit bearing gooseberry bushes growing in this darkened woodland understory haven. If I didn't already love the little shake shingle dream home, the name Gooseberry Hollow cinched the deal—for I Love when a good home is designated a proper name. Oh My Land.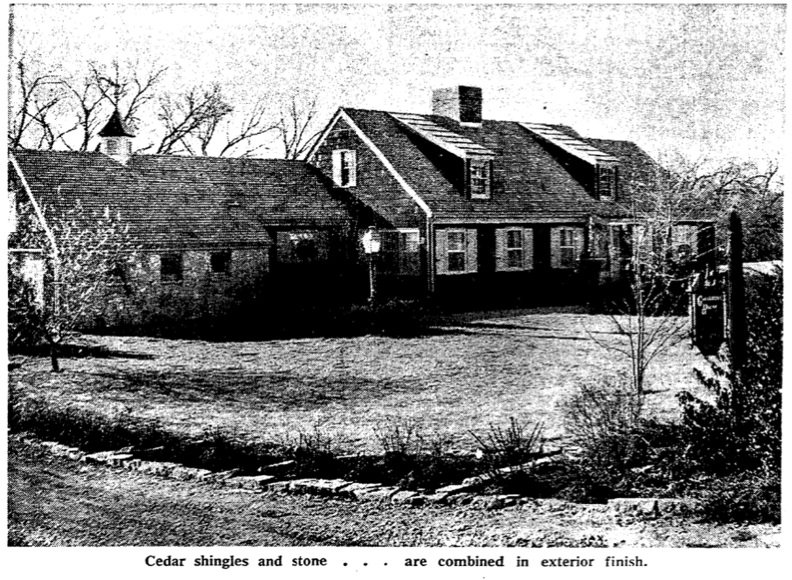 OWH. 1959. Just country perfection. A black labrador retriever running 'round back, tennis rackets thrown on the lawn and more duck motifs inside than you can shake a dinner bell at.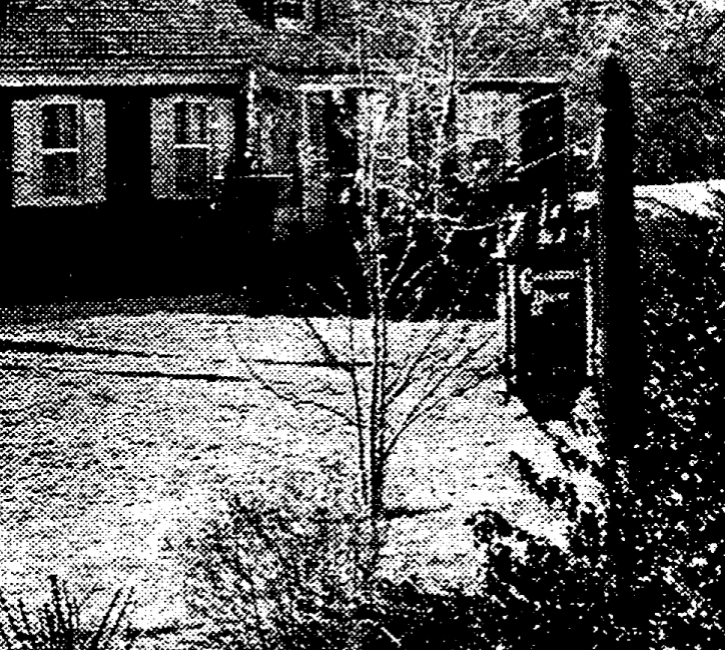 In case you were so stunned that you missed it—this is a detail of the post and hanging name plaque the Utleys had designed. Yes, it says "Gooseberry Hollow." I was dying at this point. And I suppose I needed to inspect that hand-painted font I imagined Bea toiled over.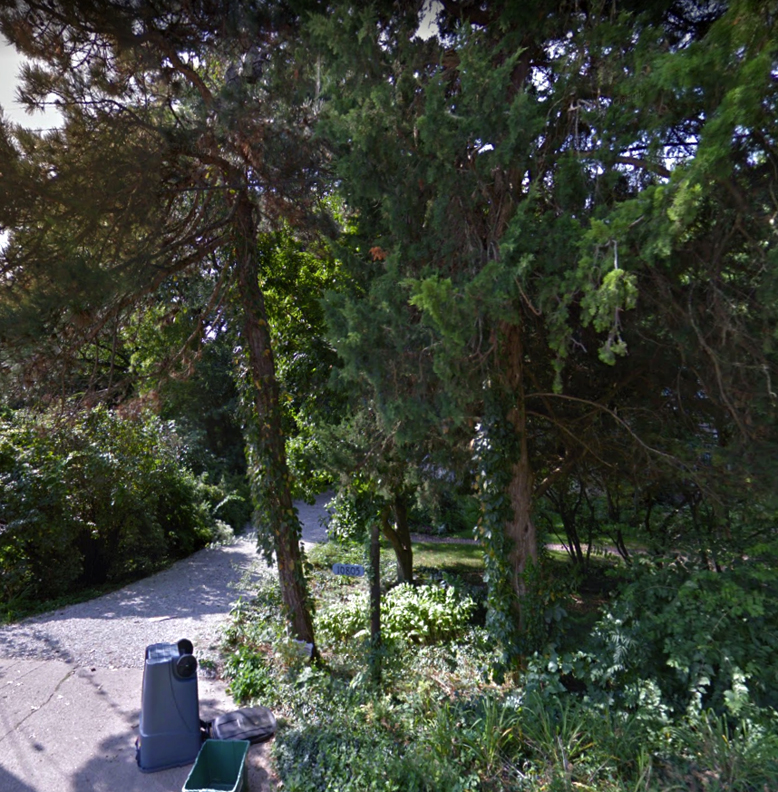 In digging for relics, I submit what I believe to be the hidden original post—by 2017 displaying just the house number minus the "Gooseberry Hollow."
The Historic Interior Images
Now detectives, stow away Sadler's words and the following photographic images so that when we review the current real estate photos, you will have a better understanding of the updates. It is all fascinating.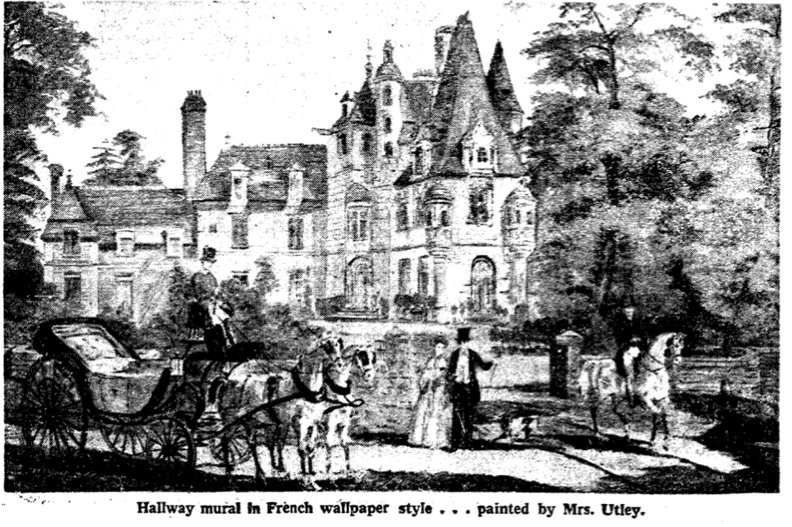 Sadler's desirous report shed luminous clues: "The entrance hall, extending through the house, has a mural painted by Mrs. Utley in the manner of French Eighteenth Century wallpapers."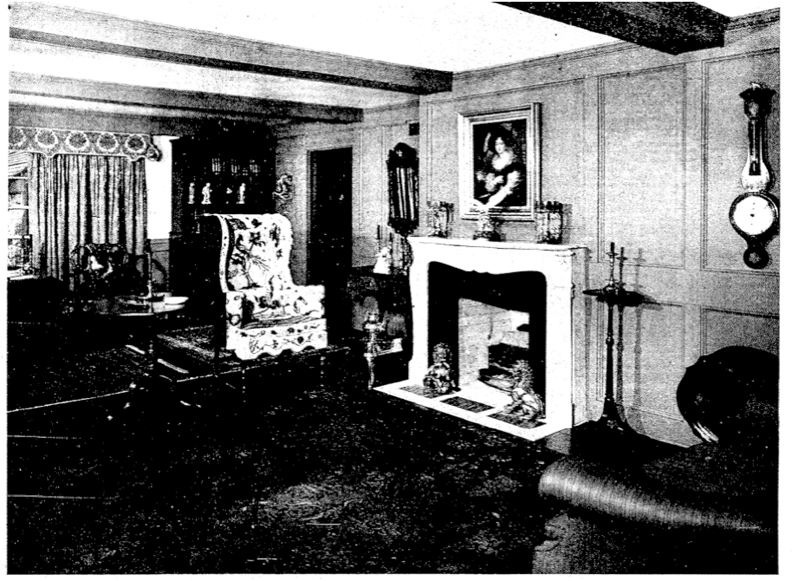 "The living room has a paneled wall, dadoes, and boxed beams painted in Williamsburg blue with matching damask draperies and cornices. A formal fireplace is in white marble. Plaster walls are unpainted. The floor, in random widths of pine, was stained a dark red to reproduce the patina of Early American houses. Box locks of brass, operated by heavy keys, were fitted to the paneled doors, which are in the Cross and open Bible pattern."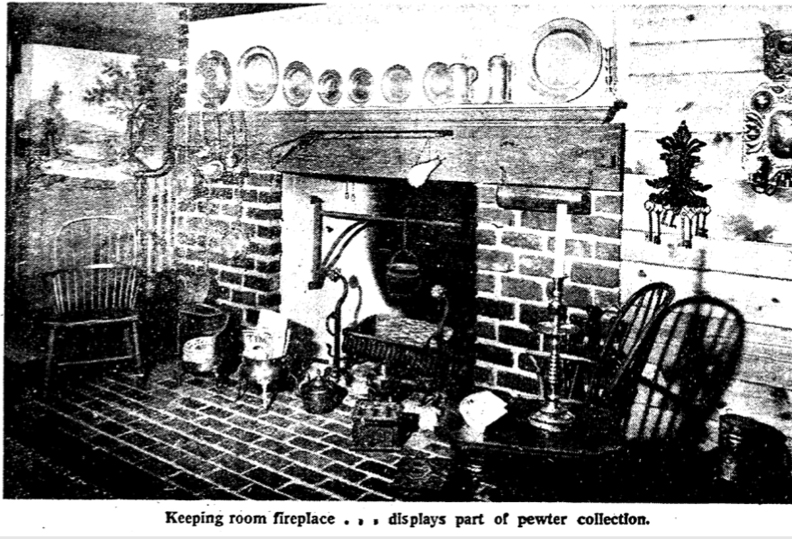 "A less formal keeping room at the rear of the house contains much of the Utleys' collection of pewter. A fireplace of old brick has a hearth four feet deep and 12 feet long. Ceiling beam are hand hewn. Walls are in knotty pine stained a warm brown. Draperies are in a Deerfield restoration toile pattern. The room was inspired by those in Bucks County, Pennsylvania houses. In a hall off the keeping room is a stub stairway ending at a door. It leads to the attic." I would pore over the concept of the "keeping room," as it was one I had never heard. For those who don't know, the Keeping Room originated in Colonial times and often was a multi-use room adjoined to the kitchen focused on its fireplace. During this excavation I would find the keeping room is interestingly gaining real estate clout once again due to the popularity of the Open Floor Plan. Surely the new owners of 10805 Poppleton Avenue behind this renovation-flip knocked down walls and instated a kitchen island within view of the Utley's original fireplace with this hearth concept in mind.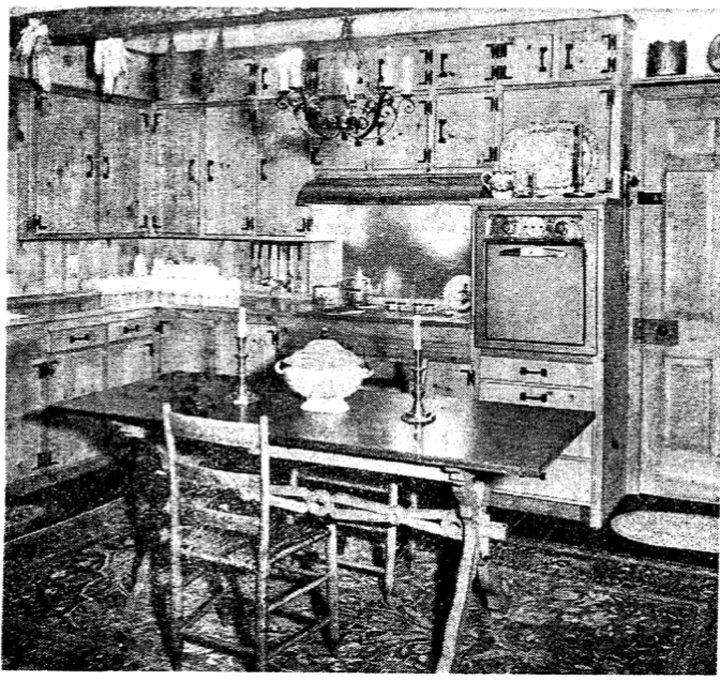 "The kitchen, with knotty pine cabinets and antique hardware, is an extension of the keeping room. An unusual touch is its Oriental rug." You know my thoughts on knotty pine! More, More, More…
"The master bedroom has a Federal eagle pattern wallpaper in pale blue and olive green. Jeffersonian swag curtains repeat those colors. Furnishings include a four-poster bed dating to 1800, a Dutch desk and a gilt mirror. The Chinese rug is dark blue. The Utleys' son, Bill, has a bedroom with walls above a pine dado painted a soft gray blue and light-colored ceiling. One wall is covered in maps. Chinese red is the predominant color of the bathroom walls above a light blue tile wainscot and fixtures. Mrs. Utley decorated the vanity and medicine chest in gilt, following a Jean Pillement design."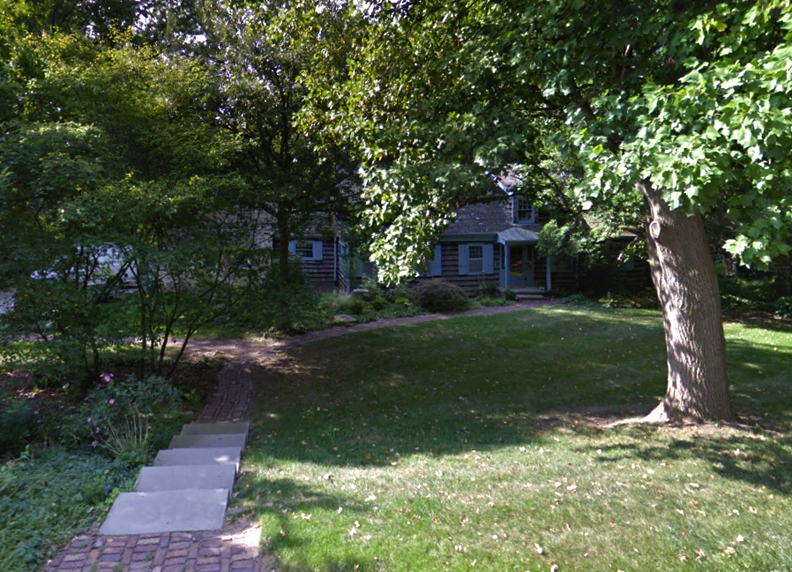 2017 image.
I needed to fan myself, this description was so heavenly preposterous. Having researched the Utley's lifelong obsessions, I could envision this home was a reflection of their multifaceted passions. Every detail was attended to. The love poured into this house was indeed, spectacular. I can only imagine the early years of 10805 Poppleton Avenue and the fun Bea must have had decorating. I would find the remarkable Bea leading local discussions on "Preservation of Our Historic Homes." Mrs. Utley suggested that "house museums are all very well" but historic Omaha buildings could also enjoy new life as tearooms, antiques shops or offices. "Preservation of the past gives a city flair and individuality. Houses and places are third-dimensional history—show and tell history instead of just tell." Miss Cassette salutes this notion.
Gooseberry Hollow Sale
In the spring of 1961, Gooseberry Hollow was surprisingly up for sale. The couple would soon build yet another New England gem. (This one will be featured in an upcoming investigation so I don't want to divulge its location. But as a strange sidenote—I've also been Obsessing about this Third House even longer than 10805 and had No Idea it was built by the same people. So Omaha!)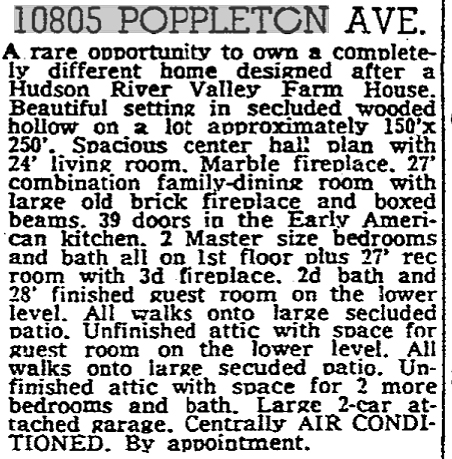 OWH ad. April 1961. Surprise For Sale advertisement with even more clues.
The Work of the Utleys
A few years after moving out of 10805 Poppleton Avenue, the Utley couple bought an authentic Early American dream home in 1963. Slowly but surely the Utleys began moving their antiques and treasures to the Connecticut village where their eight-room home, built in 1750, became a secret getaway. Meanwhile back in Omaha, the Utleys had completed construction of their third replica home by 1971 "around their 18th century furniture and objets d'art." Apparently three times they sold their reproduction showcases, once arranged perfectly so. Amazing. I would find other homes they renovated and lived in as well. They were known to fully rehab their homes, adding touches of glory and intrigue using salvage from torn down historic hotels and buildings in Omaha. What I would give just to talk to Bea Utley or tour one of her homes.
Probably of most interest to our fellow Omaha Sleuths is that the Utleys would help found Omaha Landmarks in 1965, later called Landmarks Inc, a local preservation group formed to save the old Post Office at 16th and Dodge Streets. Bill Utley stated, "In its early days Landmarks didn't save much but we stirred up a lot of fuss and kept the idea of preservation alive." After losing the Post Office battle, the Omaha Landmarks supposedly went dormant.
Street scene photograph of Omaha Post Office on April 22, 1900, at that time identified as the "Custom House." The "Old Post Office," as it would come to be called, located at 16th and Dodge Streets, was built in 1898. The building was demolished in 1966.
The organization would again be reactivated in 1974 when the Omaha Building and the General Crook House at Fort Omaha were going to be bulldozed. Both were saved and renovated. Later still the group would become the Landmarks Heritage Preservation commission. This group hoped to have more suggestive power with the City Council—tipping them off that certain buildings and area be designated for historic preservation. Bea Utley, serving as restoration consultant and Dodge House trustee, was instrumental in getting the Dodge House in Council Bluffs restored from an apartment building in 1974. Over nine years into the mission, Mrs. Utley could claim the Historic General Dodge House as a major success. We spent a lot of time at the Dodge House as a family and I always loved it. Does anyone remember their dreamy show of touring dollhouses? There were room after room filled with the most ornate and impossibly decorated dollhouses. It was one of my most fantastical childhood memories.
But by 1978 Bill and Bea were moving to their Connecticut getaway stating, they were ready for life in their authentic pre-Revolutionary War home. Was it their frustration with Omaha's inability to recognize and incorporate its built history or were they just ready for a change? The World Herald announcement reported the Utleys had hoped that Omaha, as a community was "finally coming to realize the great and rich tradition it has in its old city. A tremendous amount of the city has been destroyed and it will be a continuing fight to preserve buildings." Their hope was that Omaha would develop the awareness that "everything over 50 years old doesn't have to be torn down." Two stalwarts of the preservation movement bid an understandable adieu to Omaha after a thirty-year endeavor. We stand on their shoulders.
The Lovely Lemons
An article from September of 1961 revealed hints as to the new lucky owners of the New England Charmer: "Moving vans also have been doing a brisk business on Poppleton Avenue just west of Happy Hollow Club. Arriving last week from Weymouth, Mass, a suburb of Boston, were Dr. and Mrs. Henry M. Lemon and family who are living at 10805 Poppleton Avenue. Dr. Lemon is director of the new Eugene C. Eppley Institute for Research in Cancer and Allied Diseases, to be erected on the University of Nebraska College of Medicine campus. The Lemon children are Elizabeth Anne, 19, who will attend UNO, Harvey, 17 and Stanley 14 senior and sophomore at Westside High. David, 11 and Jennifer, seven." I quite enjoyed thinking of all of these children's voices filling the halls of the revitalized Gooseberry Hollow.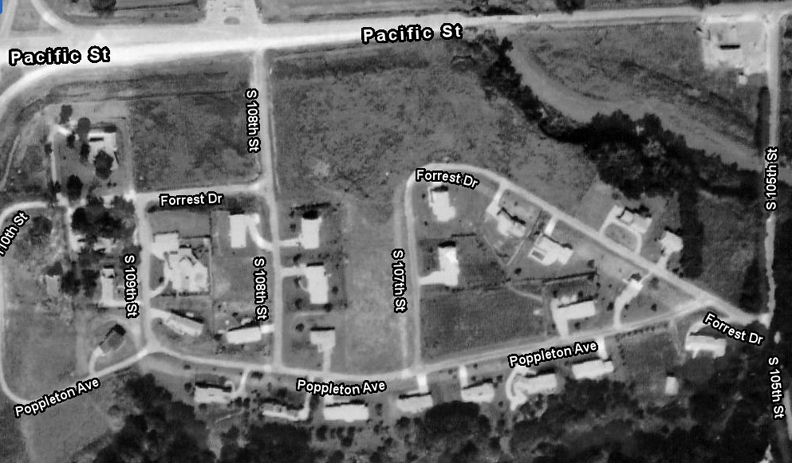 1962 aerial map, revealing the development of Bel-Air Second Addition. Photograph borrowed from the Douglas County of Omaha GIS mapping site. A good number of parcels had been sold and developed.
In the 1962 Omaha City Directory, Gooseberry Hollow was entered under both the Utley name (by accident?) and the Henry M. Lemon name. Dr. Henry M. Lemon was logged as Director of the Eppley Research Institute and University Hospital, an old pattern of listing someone's profession publicly. Strangely 10805 Poppleton Avenue would continue to register in the Utley family name until 1964, leading me to question– were the Lemons initially renters?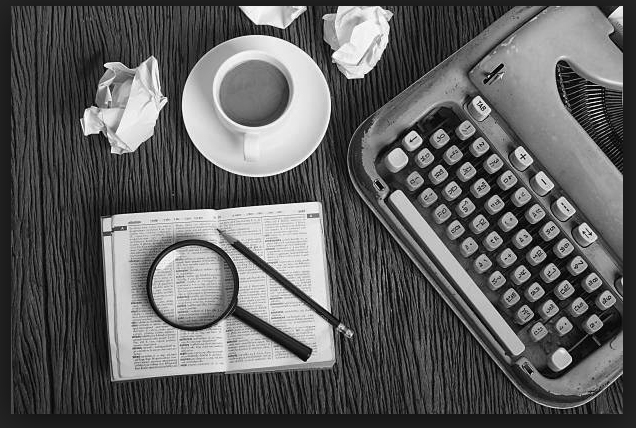 I found the Lemons to be a fascinating, admirable family. Dr. Henry Martyn Lemon was the first director of the University of Nebraska Medical Center's Eppley Cancer Institute. He would become the state's first medical oncologist. He had also served to captain Medical Corps United States Army from 1943-1946, then Colonel United States Army Reserve. Known as a physician and educator, Dr. Lemon's lifelong research focused on breast cancer and the role of estrogen hormones. Breast cancer prevention and women's health was a central theme of his work. A University of Chicago and Harvard Medical School graduate, Dr. Lemon was well published in medical journals and was held in national esteem. Of note Dr. Lemon warned of the cancer causing effects of smoking cigarettes back in the mid 1960s and was a part of the failed attempt to get health warnings placed on cigarettes packs sold in Nebraska.
Mrs. Lemon was previously known in Massachusetts as Harriet Tuxbury Qua, daughter of the late Honorable Stanley E. Qua, formerly Chief Justice Supreme Judicial Court of Massachusetts. The Qua clan have solid roots on the Eastern Coast and a small snooping session will land you at the bottom of a storied rabbit hole. Not only did Dr. and Mrs. Lemon, somehow, economically fit five children into a three-bedroom home (I figure they must have finished that attic or filled the basement with rows of single beds as we did back in the 1970s in Benson) but also Dr. Henry eventually moved his father into the home in 1965. Now Dr. Henry's father was also a renowned Dr. Lemon. Harvey Brace Lemon, who's early research involving activated charcoal, evidently helped develop the gas mask. Dr. Lemon would work with the government prior to World War I to develop the gas mask while a physics professor at the University of Chicago. The senior Dr. Lemon served during World War I as captain of ordnance; then in World War II, he served as civilian director of the rocket research program at the Aberdeen proving grounds in Maryland where anti-tank rockets were developed. During his career he would write a number of books, his "most successful" being From Galileo to the Cosmic Rays. Can you imagine the nightly dinner discussions around the Lemon dining room table at 10805 Poppleton in those days? A few months later Dr. Harvey Lemon died.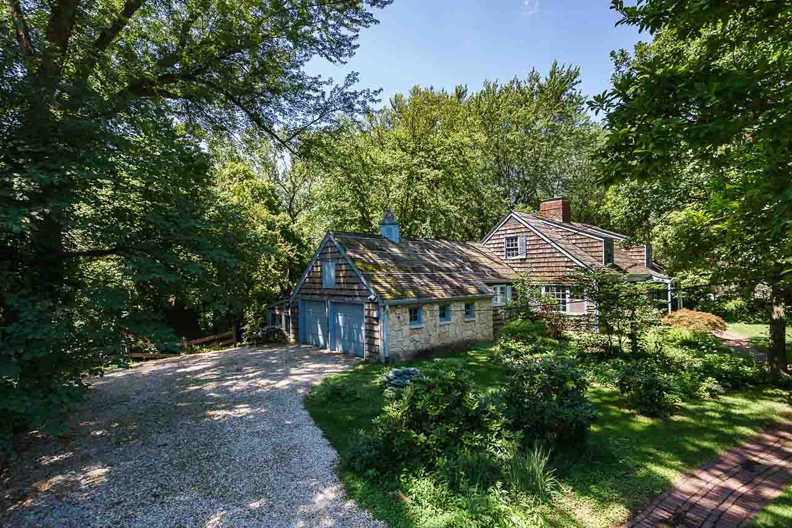 This incredible photo of Gooseberry Hollow was taken by Mark Graves Photography. I am assuming he took this photo when the home was previously for sale. See his newer work at https://www.smilehome.us/
Sadly in January of 1976 Mrs. Harriet Tuxbury Lemon died at the young age of 61. She apparently had been ill for some time with a neurological disorder. 60-year-old Henry Lemon applied for a marriage license six months later and would marry 44-year-old Dorothy Ruth Pheney Campbell, soon to be known as Dixie Lemon. Isn't that a clever name? Now I am not absolutely sure but I believe Dixie might have had a daughter named Sue.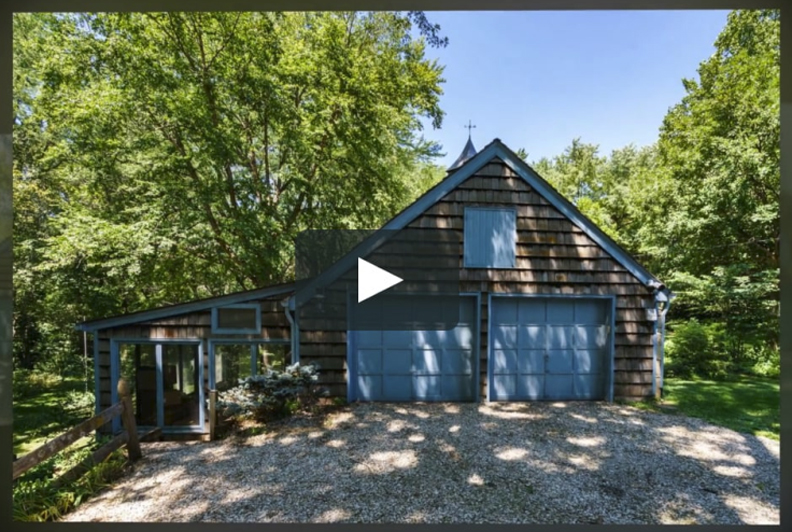 This is a still from a VIMEO video of Gooseberry Hollow, by Mark Graves Photography. It gives a good view of the eastern side of the garage and sun porch. I love it! I am assuming this video was uploaded when the home was previously for sale. Unfortunately it is no longer viewable or I would have played it 10805 times by now! See his newer work at https://www.smilehome.us/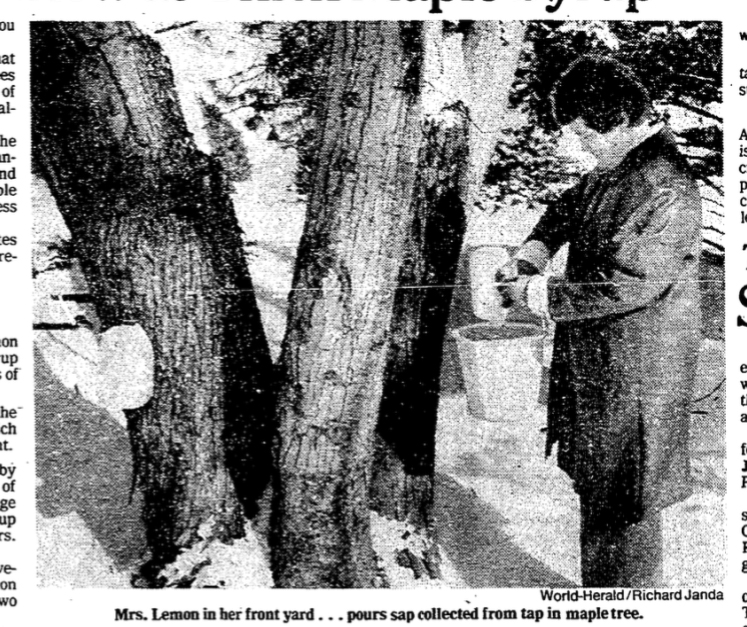 OWH. March 1980: Dixie Lemon and her maple syrup photo. Dixie Lemon was also quite the character. An active member of the Omaha League of Women Voters and the First Unitarian Church of Omaha, most interestingly I found her featured in an article about making maple syrup. Back in 1980 Dixie had tapped four of the eight maple trees on the property of 10805 Poppleton, with plans to tap the other four when they matured. She steadfastly collected about one gallon of sap per day from each tree. Dixie held "the earlier in the season, the better the syrup is." A personal passion not estimated to be lucrative, Mrs. Lemon said she made two gallons of maple syrup for about 80 gallons of sap. Hours boiling 80 gallons of sap yielded about two gallons of syrup. It was Dixie that I thought of as I studied the trees of the glorious 10805 Poppleton Avenue.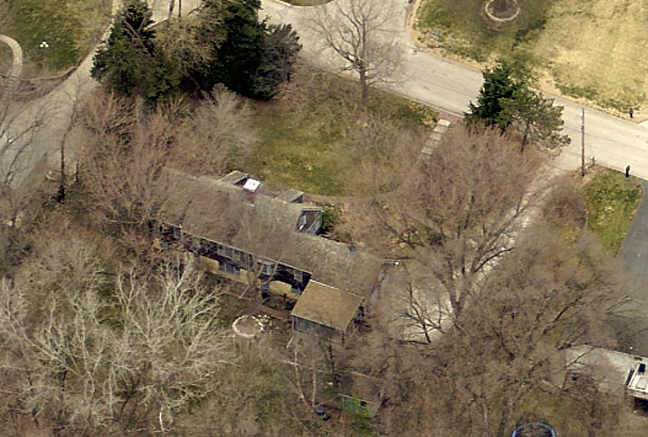 2016 aerial photograph from the Douglas Omaha GIS page. Camera is facing north, the rear (southern facing) elevation of Gooseberry Hollow is displayed.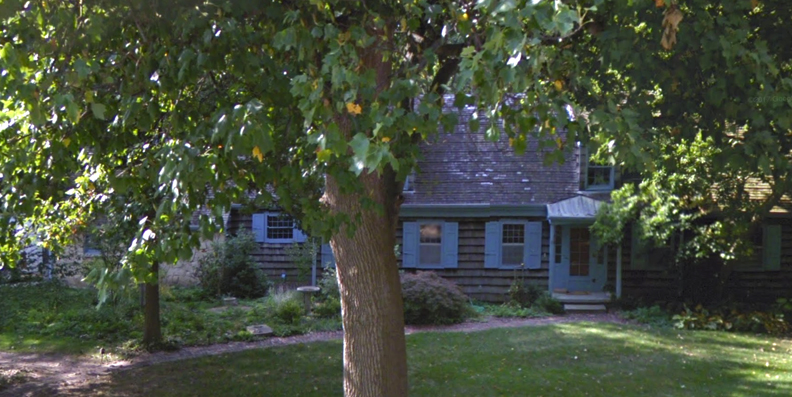 The Lemons must have loved Gooseberry Hollow as they lived there for many decades. Sadly Dr. Henry Lemon died of complications of heart disease in November of 1997. Through his obituary and further scrambling I would find the family had produced at least two more Dr. Lemons—there may be more! Son Stanley was then chairman of the microbiology and immunology department at the University of Texas Medical Branch in Galveston and son, David Tuxbury Lemon was board certified in General and Pediatric Surgery. All seemed right with the world, the apples very near the tree. Of note, Dr. Henry Lemon is buried in the Qua crypt in Lowell, Massachusetts.
**Exciting Update** Addendum of June 12, 2019
In the middle of the night I would receive a delicious mystery dispatch from a private source. A reader, who asked not to be identified, would have access to a wonderful dossier of the past and generously sent along these images. These photographs of 10805 Poppleton have become an unpardonable diversion in the last 24 hours and I knew I must share them with you. They pre-date the 2013 sale. This is our coveted chance to see the home as the Utleys and Lemons once enjoyed it. The woodwork and built-ins are fabulous. The air is heavy with dreams.
At that time four bedrooms and two bathrooms were listed along with this description: "This is a rare opportunity to have a true New England style home in the heart of District 66. There are wide plank wood floors throughout the main floor, crown molding, 3 Fireplaces, lots of pine, & it is nestled on a large, wooded lot in the heart of District 66. There are 2 bedrooms on the main floor & 2 additional bedrooms in the walk-out lower level. There is a large upper story which has never been finished."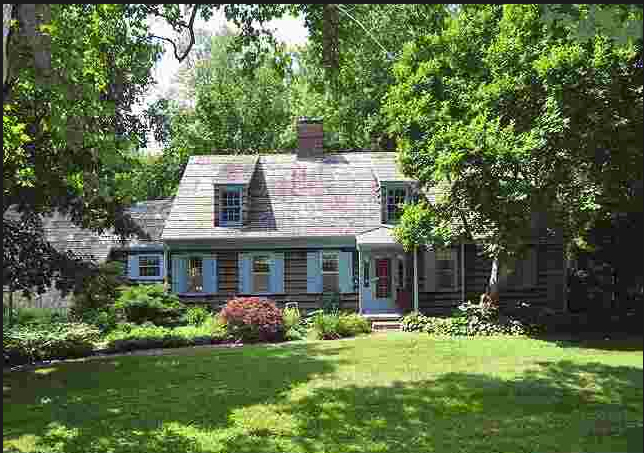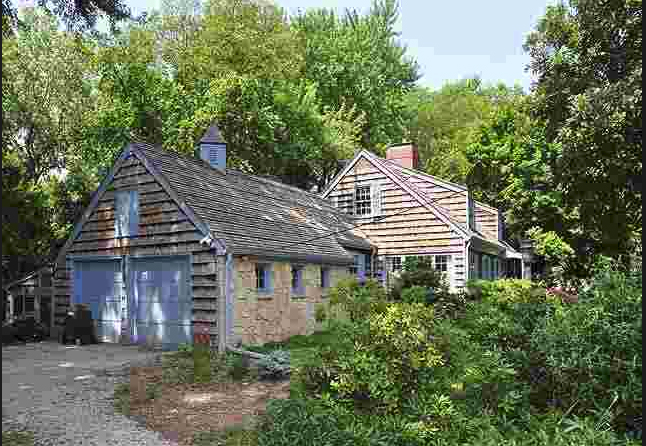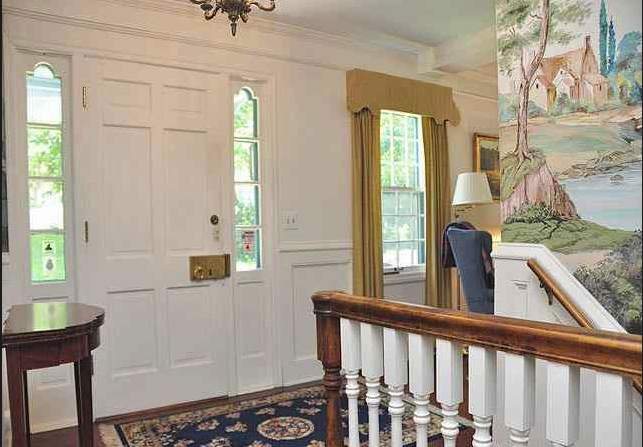 The old central hall plan.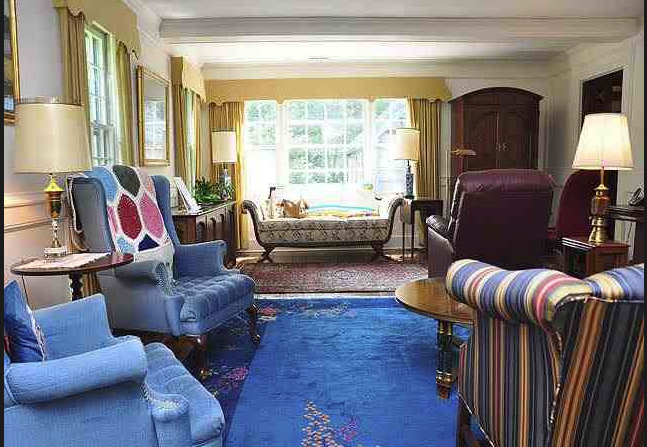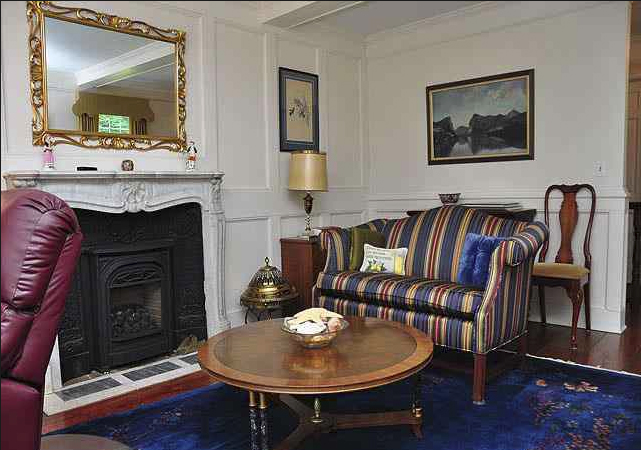 The original marble fireplace in the living room.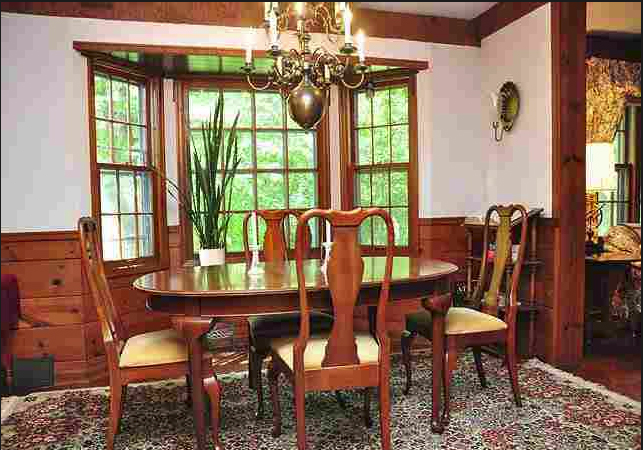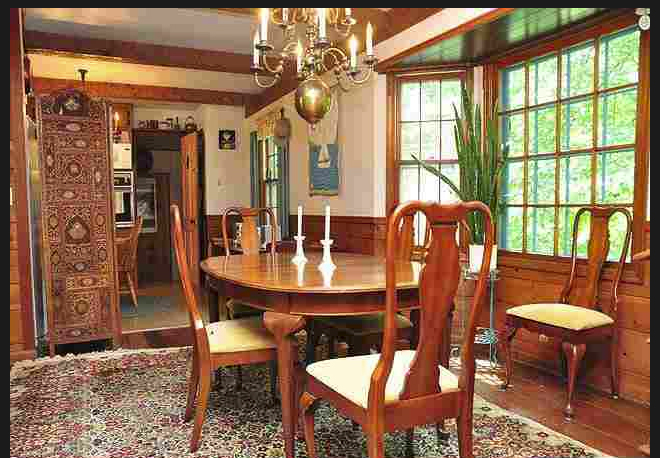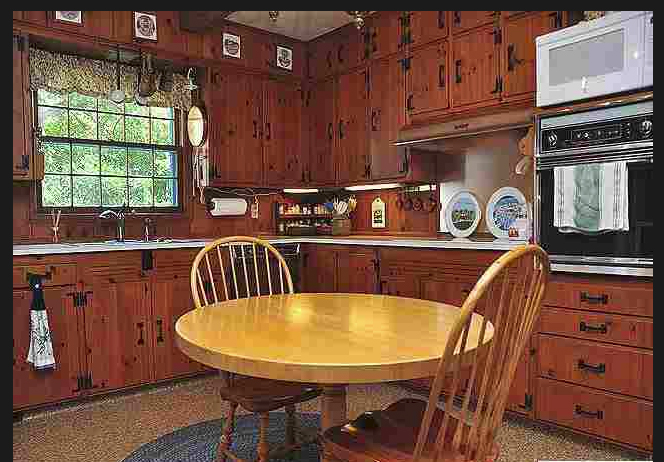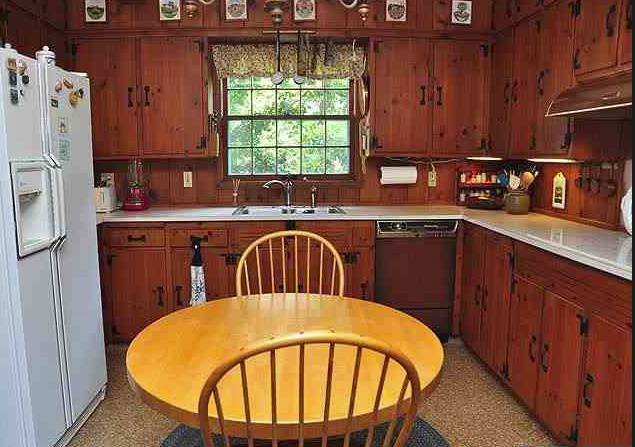 My knotty pine kitchen in full color.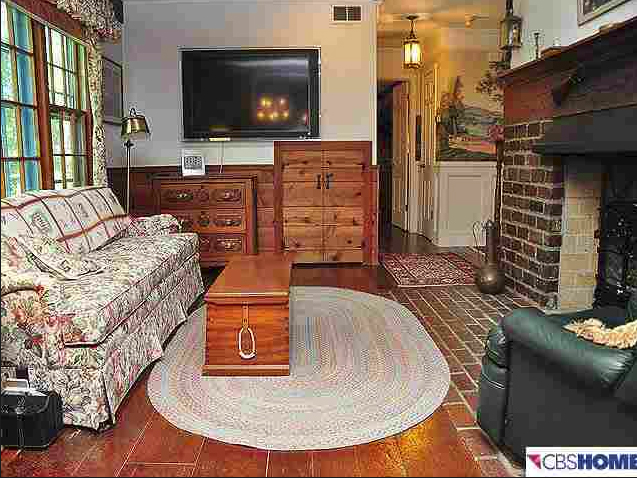 The original keeping room at the rear of the home.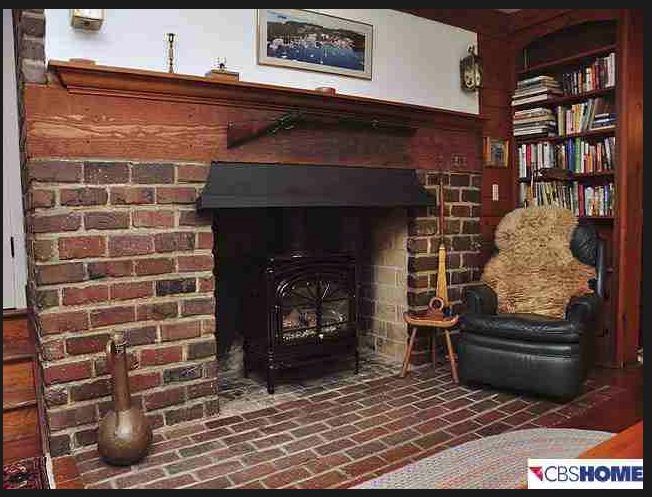 The amazing hearth.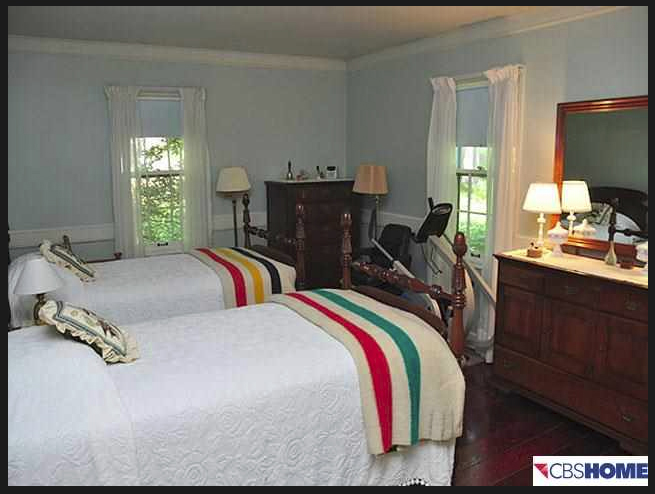 This type of home wouldn't be complete without a grouping of thick Hudson Bay blankets.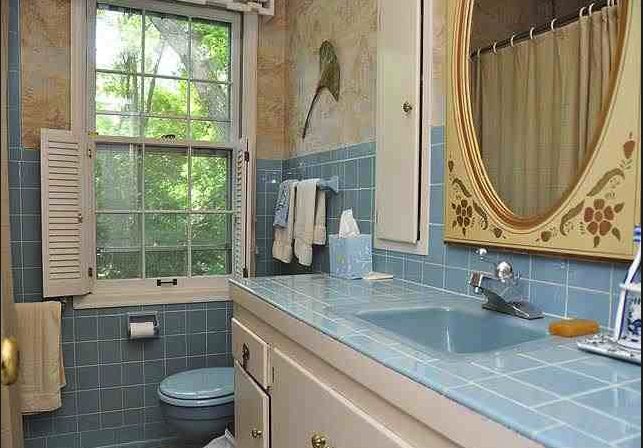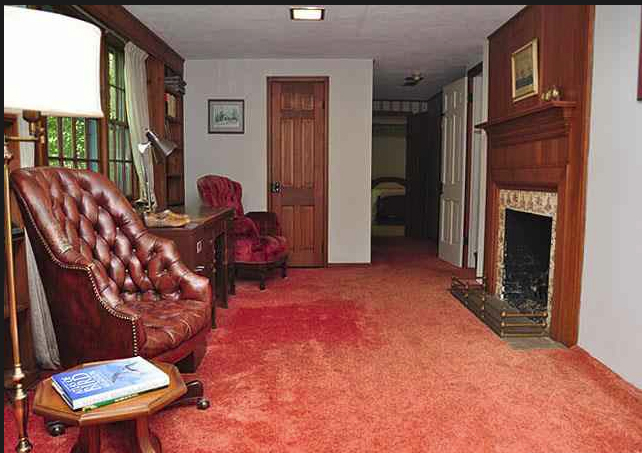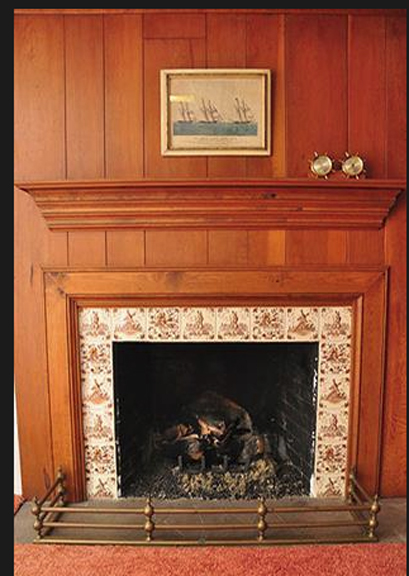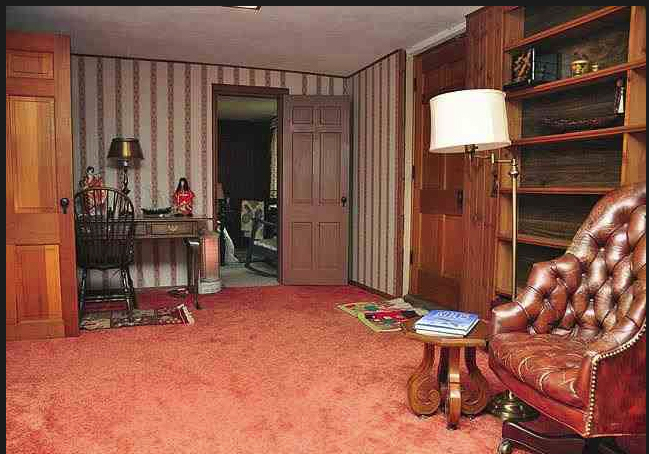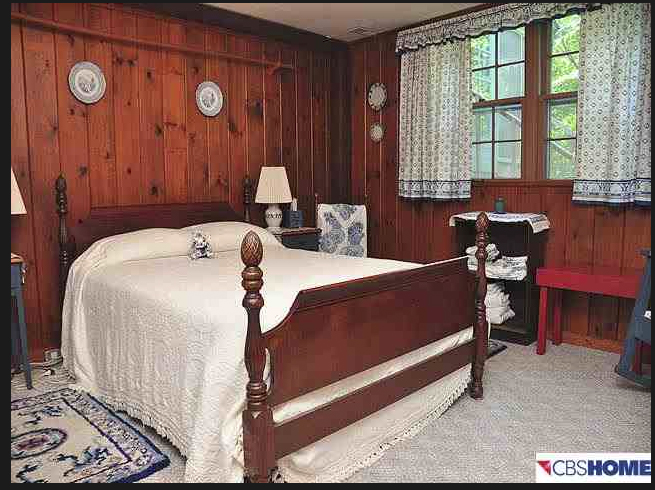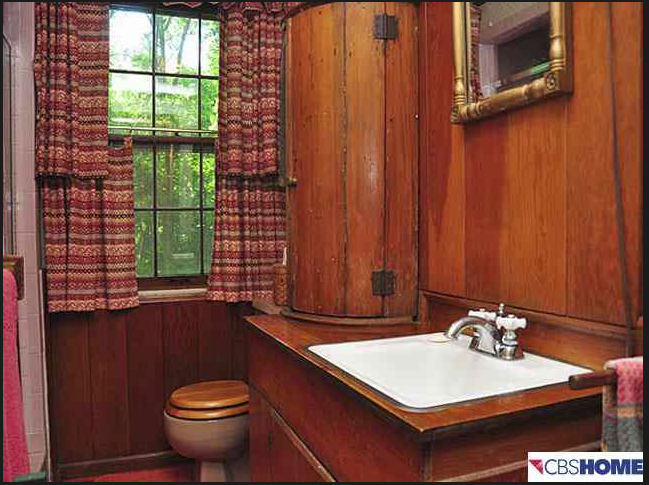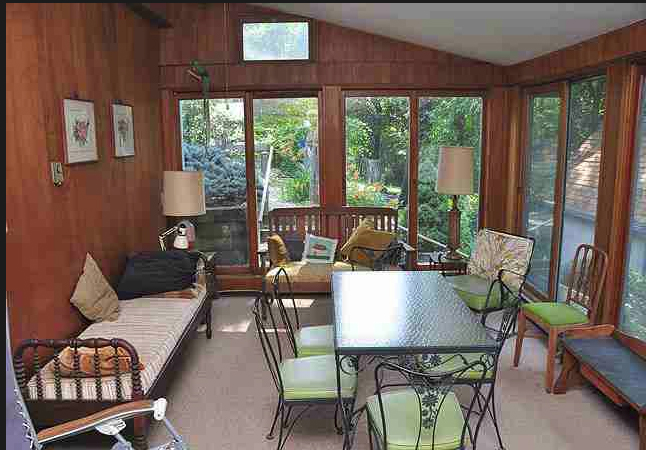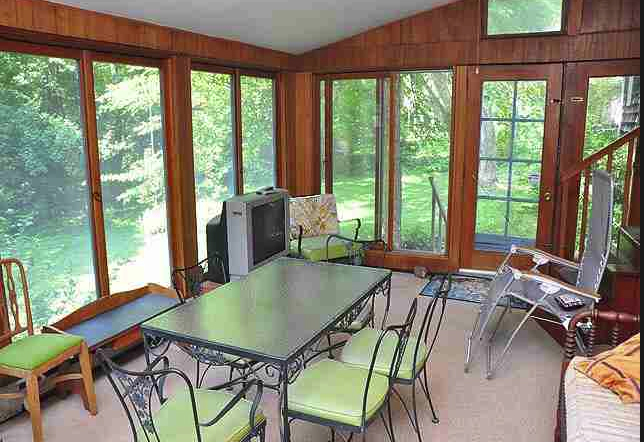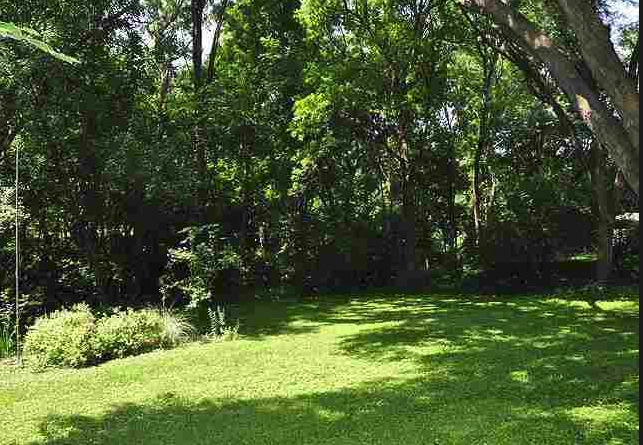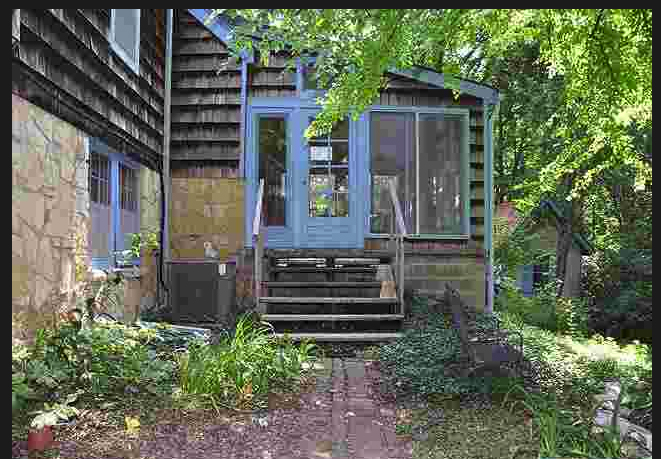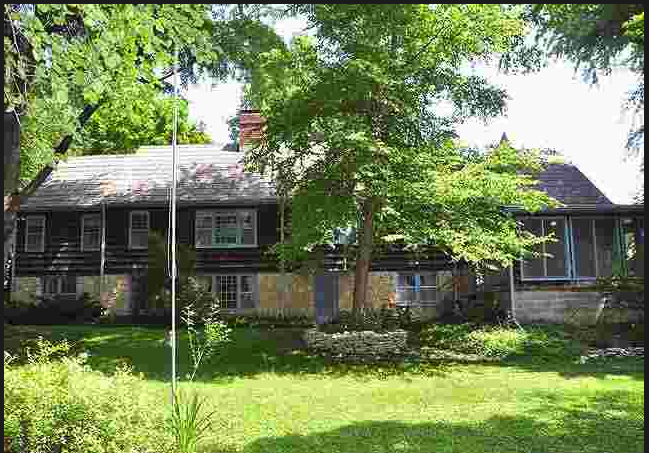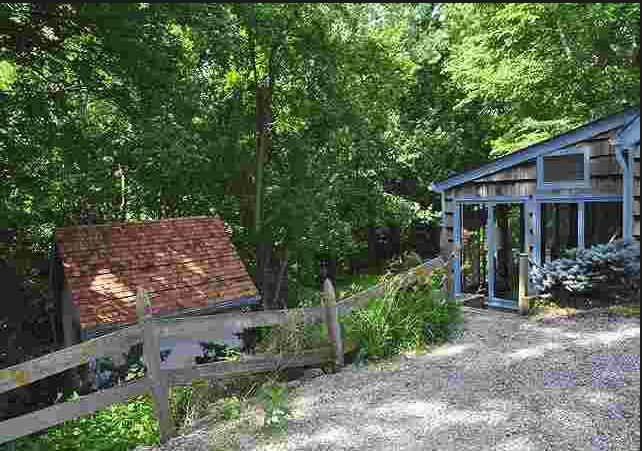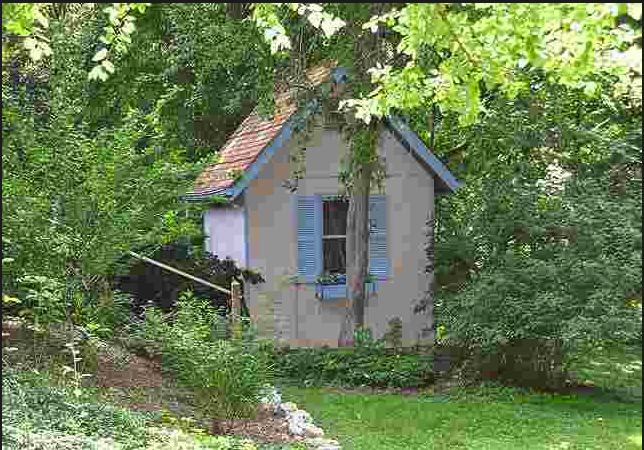 Thank you to the My Omaha Obsession Secret Sleuth. Ya done good in my book. Much appreciated.
Big Changes
As for our gloriously weathered cedar shake, the Eastern seaboard cottage would loyally remain in the Lemon name until September of 2013. A total of 52 some years. I cannot be sure if Dixie resided in the home all those years after her husband's death or if she rented it out. What is for sure, Dixie would eventually sell the home to a Mr. Michael Anton Classen for $317,500.00 that fall of 2013. I am not 100% convinced what became of the property after that (Single family home? Rental? A bunch of fellas living as roommates?) but Classen would also put 10805 on the market in the summer of 2018. It was originally listed at $425,000, ultimately selling for $370,000 in September of 2018 to a hazy H4 LLC. This LLC carries the address of 8114 Maple Street.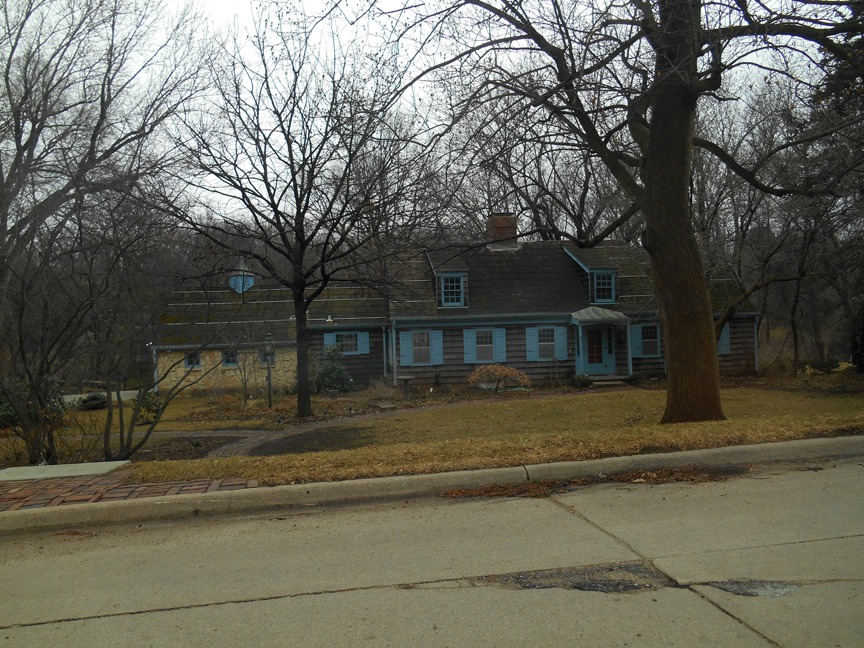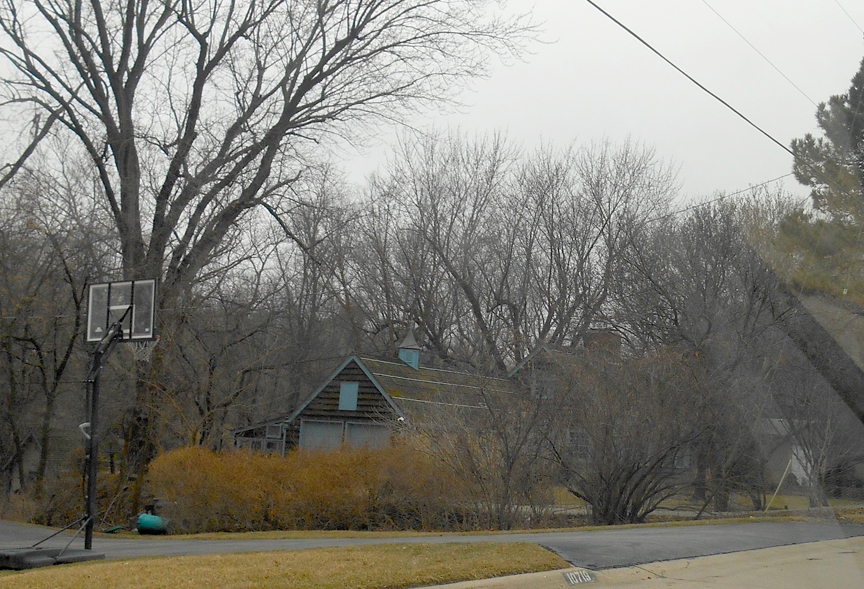 My stakeout from March of 2017 or 2018 before H4 LLC entered stage left.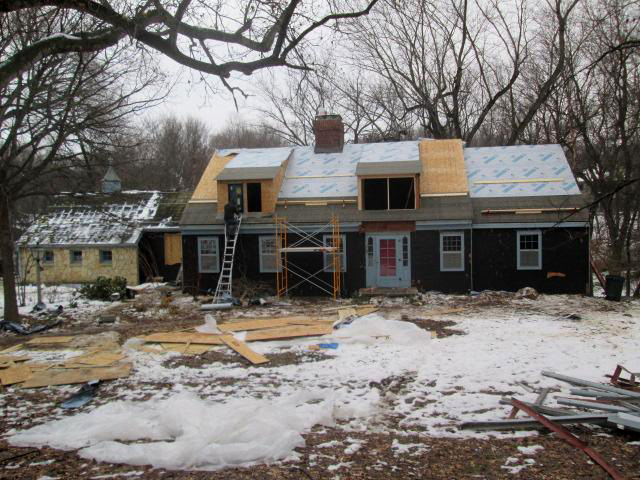 Renovating the house. According to the Omaha World Herald building permits, in November of 2018, H4 LLC (address listed as 814 Maple) began a residential remodel to the tune of $40,000 at the 10805 Poppleton Avenue. It wasn't long at all until Gooseberry Hollow looked nothing like its original influences. And now the moment we've all been waiting for….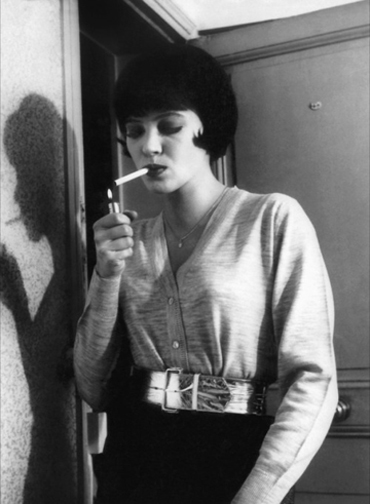 I spoke too soon. Some of us might require a quick break and a fainting couch.
The NEW Facts
LOCATION: 10805 Poppleton Avenue, Omaha, NE 68114
SUBDIVISION: Bel-Air Second Addition
PROPERTY TYPE: Single family residence
YEAR BUILT: 1957
SQUARE FEET: 5,638 sq ft
LOT SIZE: 0.81 acres lot size
PRICE: $958,800
DETAILS: 5 bedrooms, 4 full bathrooms.
AGENT: Travis Taylor of NextHome Signature Real Estate
http://nexthomesre.com/associate/7cca5486-189b-47c4-8856-1ebb2c10f1eb/Travis-Taylor/
email: travis@nexthomesre.com
office phone: 402-445-4899
Previously the Douglas County Assessor had 10805 Poppleton Avenue documented at 1802.0 sq ft, featuring 2 bedrooms, 2 baths, 1.5 stories with a wood shingle gable roof.
More details and additional photographs at
https://www.trulia.com/p/ne/omaha/10805-poppleton-ave-omaha-ne-68144–2061800531
SUMMARY: Miss Cassette borrowed this from Trulia.com.
"Old world charm meets modern day luxury living. Tucked away in the heart of the city – this stunning property situated on nearly an acre with sensational grounds is a must see! A recent remodel and addition completes this sophisticated and functional masterpiece. At the center of the home, the stunning gourmet kitchen dazzles with a full Thermador appliance package including a hidden built-in refrigerator, refrigerated drawers, professional range and an amazing custom hood! Huge gallery windows highlight the sprawling kitchen and family room spaces. Travel upstairs to the new and spacious master suite retreat and luxurious spa bath. The downstairs has been completely updated and extended to deliver endless possibilities. New Pella windows throughout, brand new DaVinci roof, updated electrical and mechanical. Located in highly sought after District 66 and near Happy Hollow Country Club, this is your perfect next home!"
Miss Cassette's Two Cents
Some of you will love the remodel and addition, finding it fresh, spacious and innovative. Those purists in the bunch may not like it at all, believing it weakened, muddled and incongruent. To state the obvious 10805 Poppleton is no longer under the spell of the Utley's Dutch influenced Hudson Valley farmhouses. Miss Cassette has christened this architectural style the Millennium Industrial Shed. I find similarities to the Modern Shed Style. Hardlined, bold vertical wall cladding, emphasis on simple window variations and overly conscious with being well lit, it offers a crisp curbside view for every Insta post whim. I am intrigued. Try as I might, I am not sure of the consumerist class who will discern this particular dog whistle. I am generally not trusting of those who require this level of cold tidiness as I have always embraced an authentic coating of moss and patina. I am a It Doesn't Look Good Until It is Worn In Traditionalist and find no need to be exposed as if on stage round the clock. But perhaps the most perplexing architectural juxtaposition is the casual Latin Pergola entry now affixed to the east side of the residence, plopping a visiting guest directly in the once formal living room. I may be out of touch but I do not know many buyers in the $958,800 price range who would like a pergola attached to the front of their home. But like the Shed Style, the front door is meant to be inconspicuous. This is a Millennium Hyper-Obscured Entry.
One could assume that the previous entryway– central hall layout may now be gone. The blue shutters and shingles have vanished but there are new shake accents visible. (It might be that the overall shingle style cladding could not be rehabbed.) The once cedar shake roof has since been replaced by the popular Da Vinci (plastic graham cracker) roof. The shed dormers have been widened to double windows. More windows in varying dimensions were added, which is always good and a ginormous addition, offering the popular open-floor plan to a new back wing of the home. I will say, there are some lovely new updates and thankfully, there were some well-cautioned Interior Architectural Saves within the home that are breathtaking. The photos are fantastic and give a wonderful view into the home I have dreamt of for years. Enjoy.
The New Interior Photos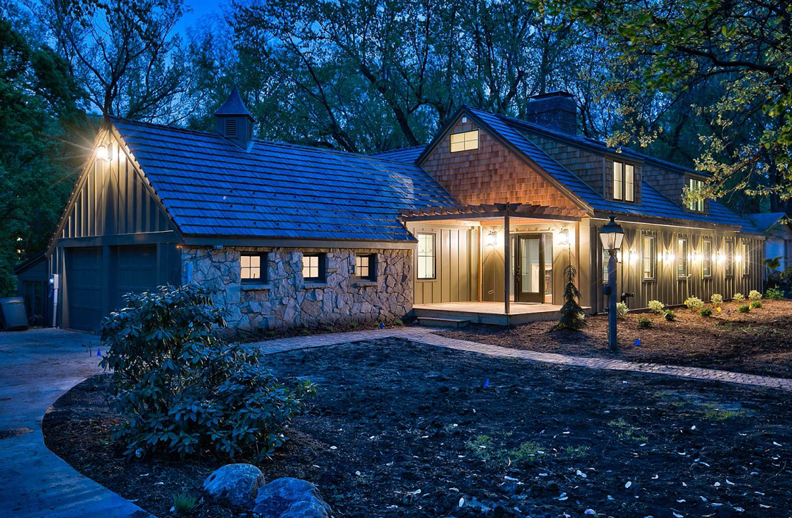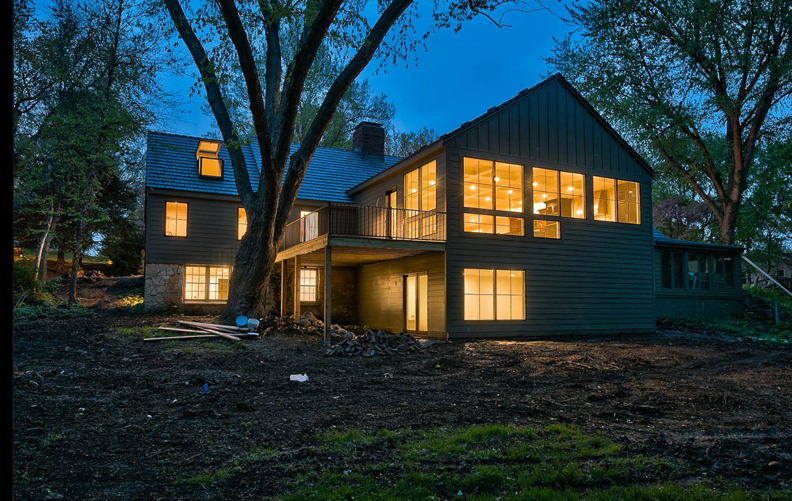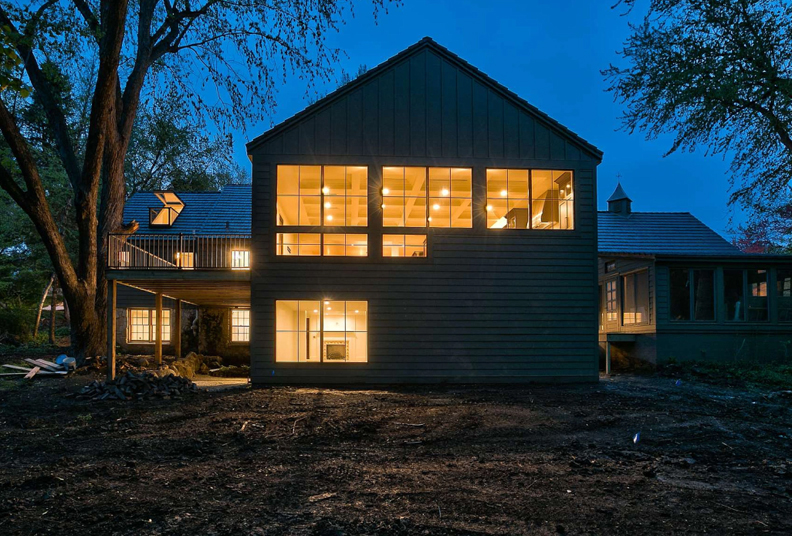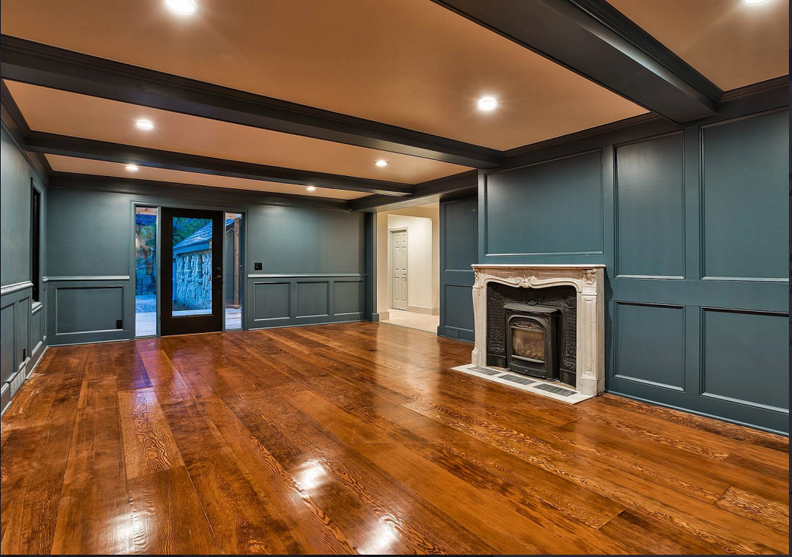 The formal living with the marble fireplace, new front door found on the east. Widened hallway door on the southern wall. Perfect, unadulterated floors were preserved.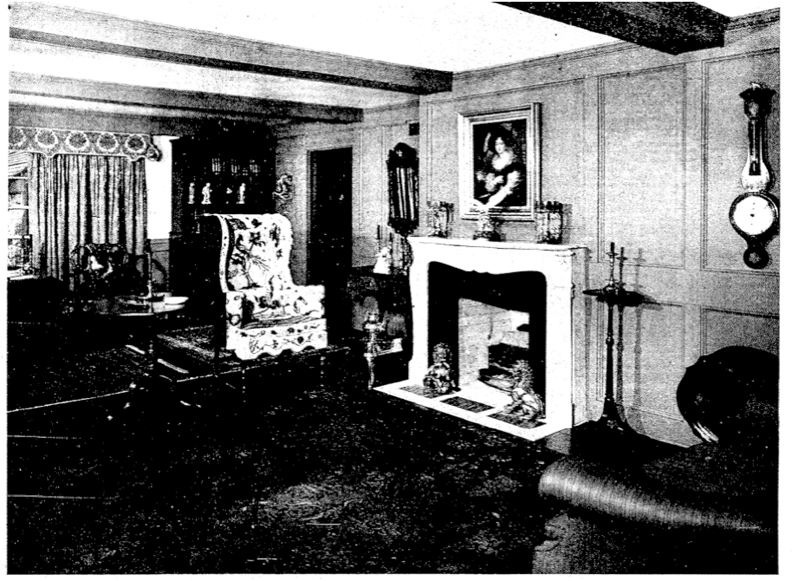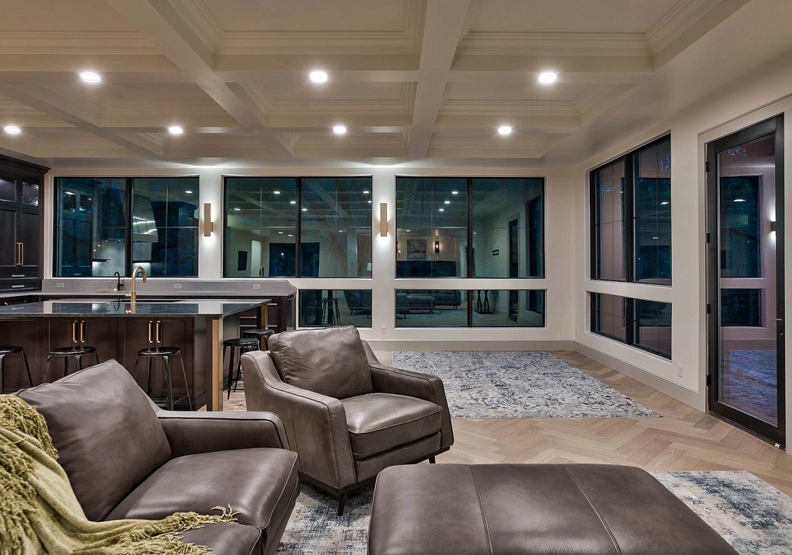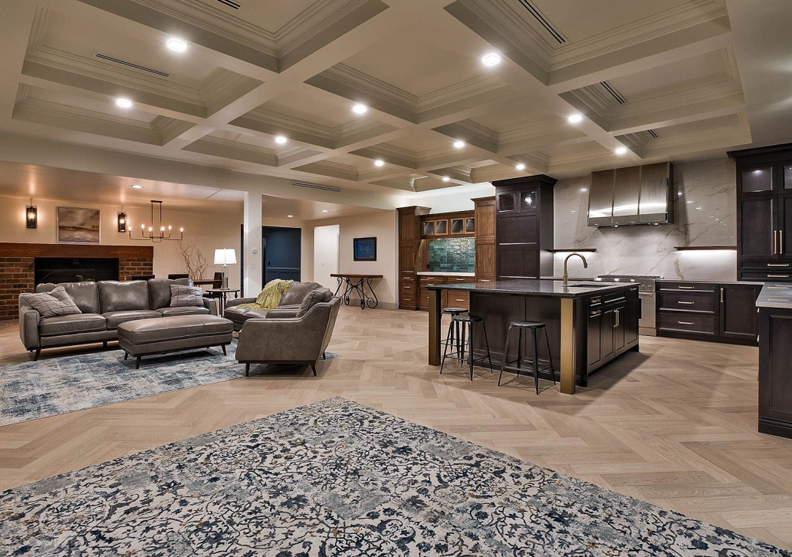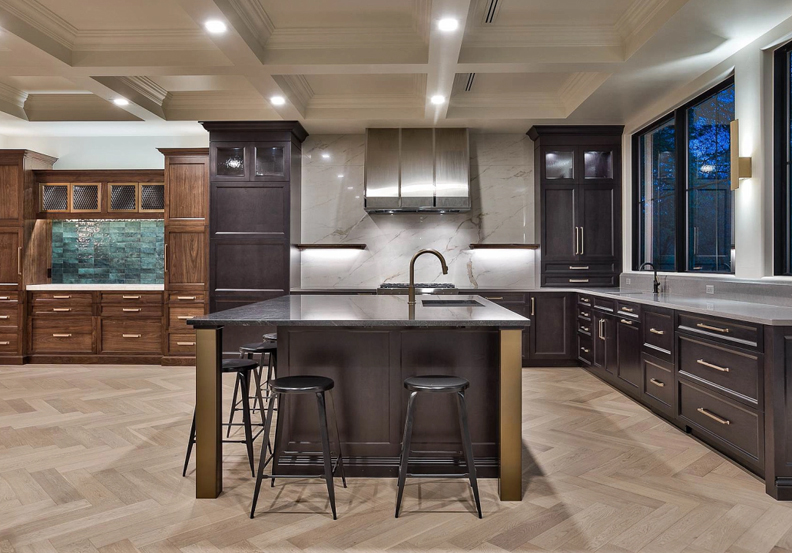 From the sign in the front garden, I would determine that Tangerine Designs was behind the kitchen and potentially the bathroom remodels.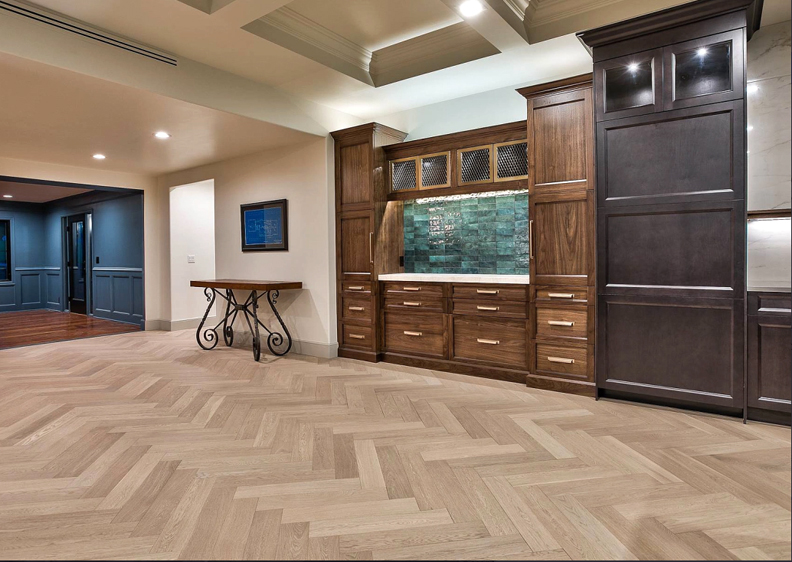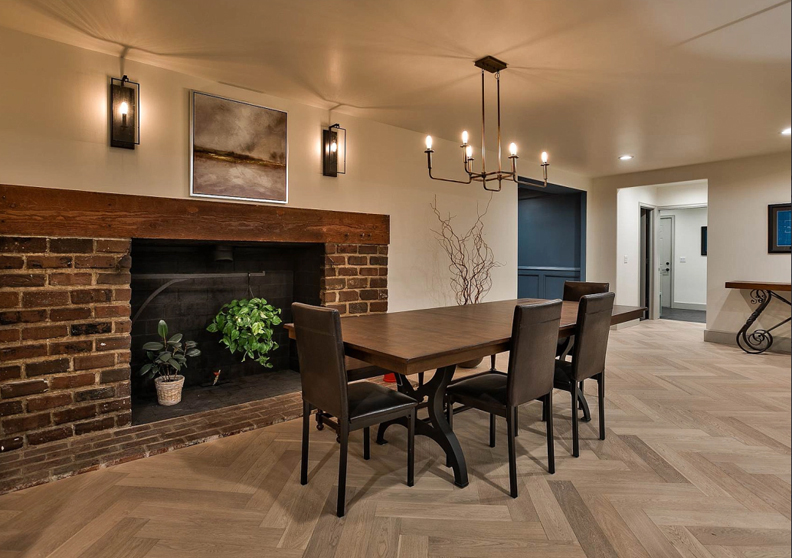 There it is folks, the Keeping Room Hearth. Why are there plants in the fireplace you ask? Photo below from the 1959 photo shoot.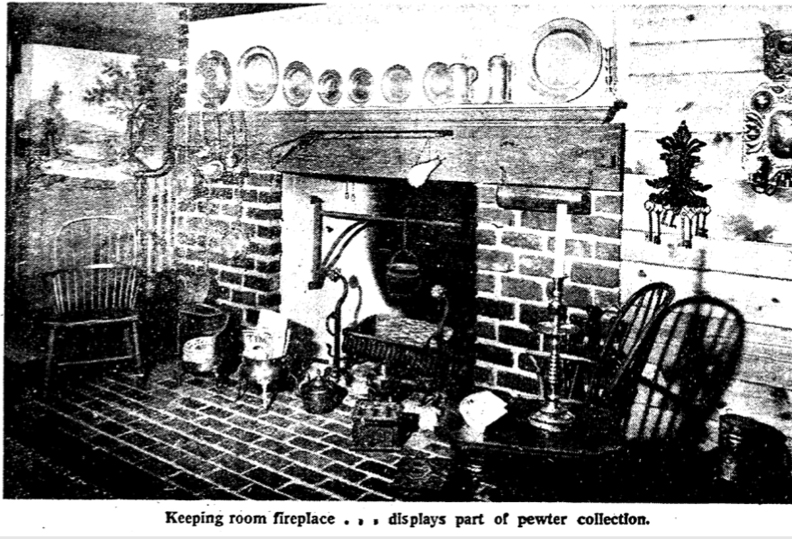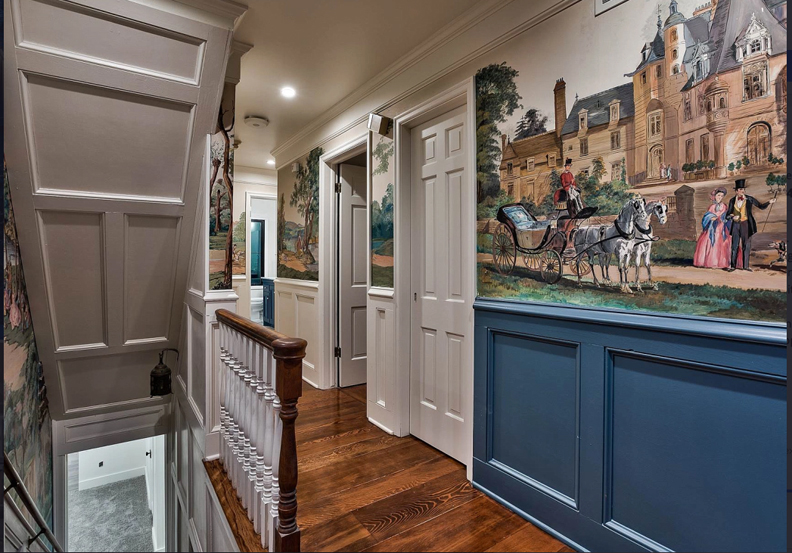 Bea Utley's mural in magnificent full color!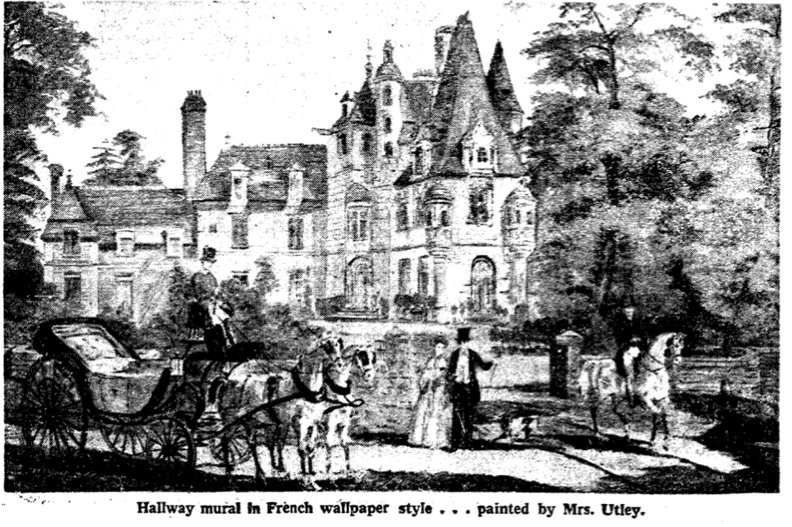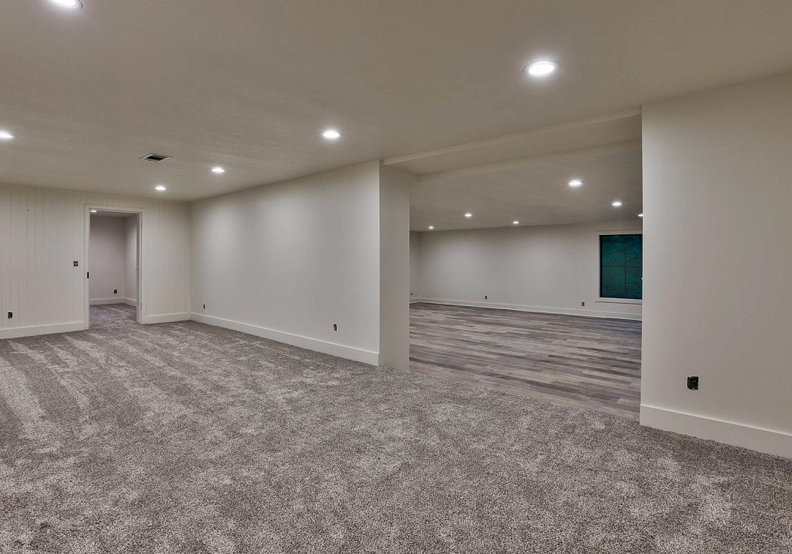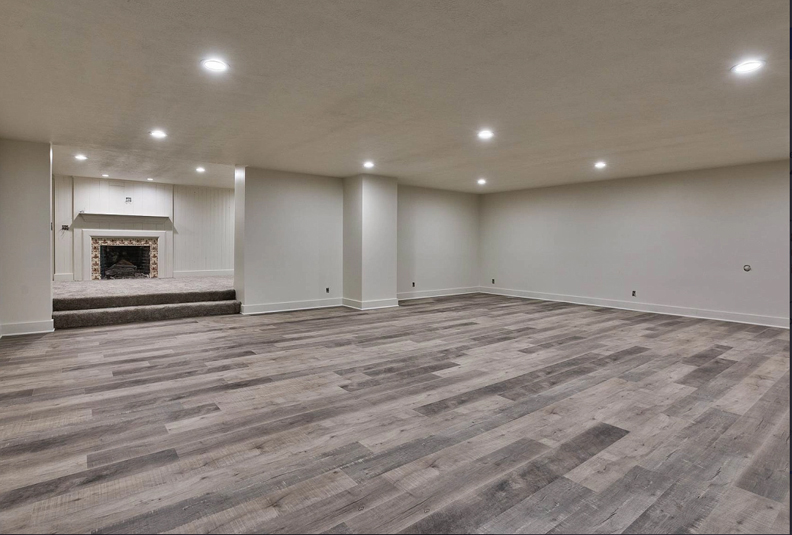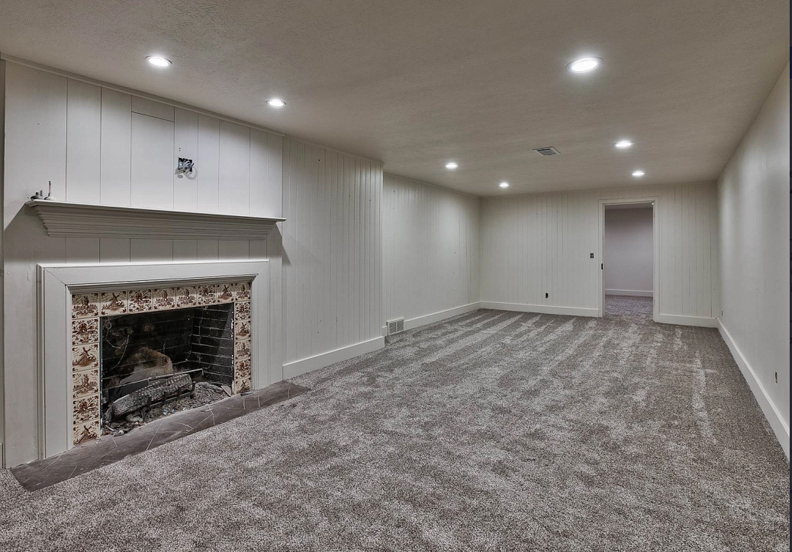 Dutch illustrated tiles make up this quaint original fireplace in the basement.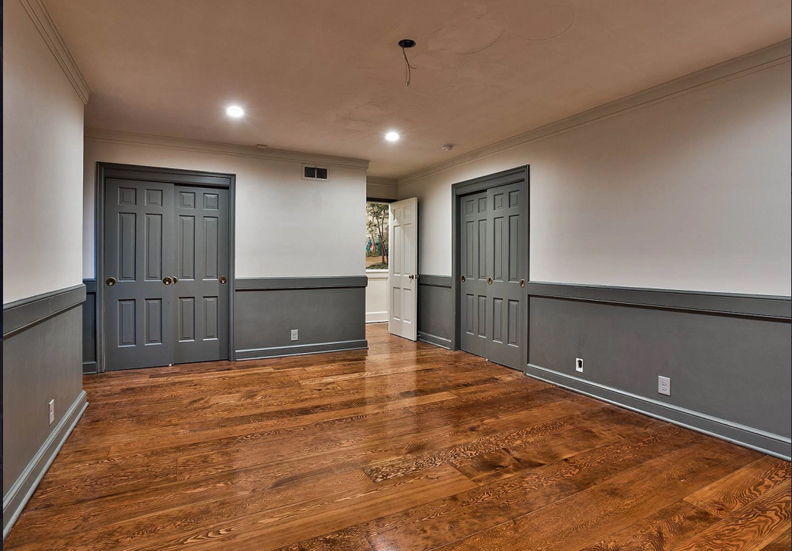 One of the original bedrooms, featuring resplendent floor–mural visible in the hallway.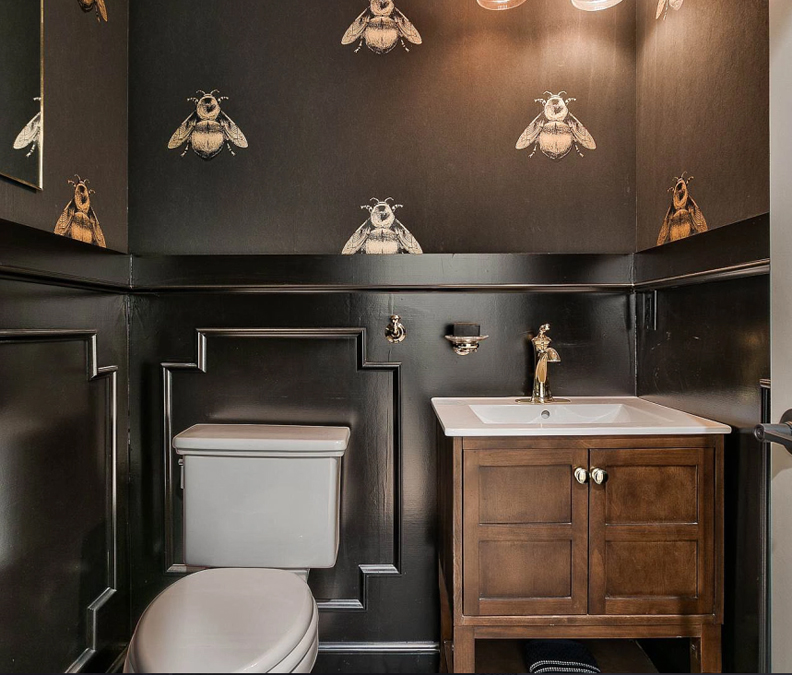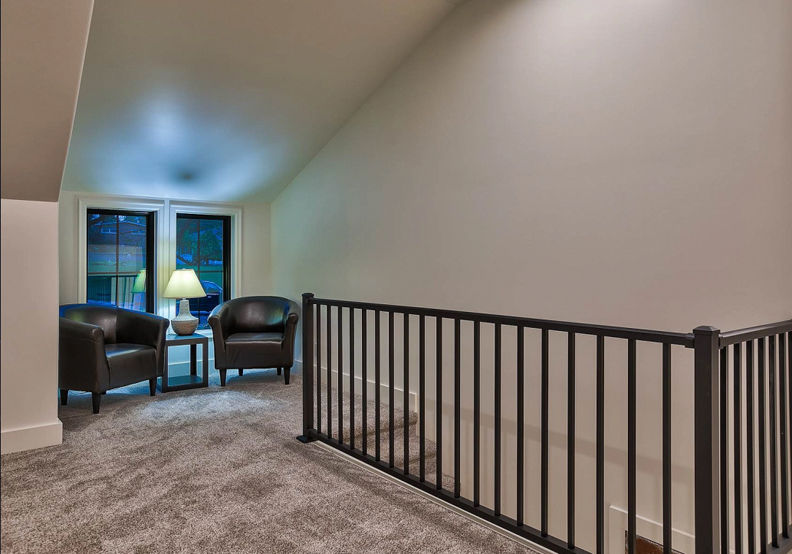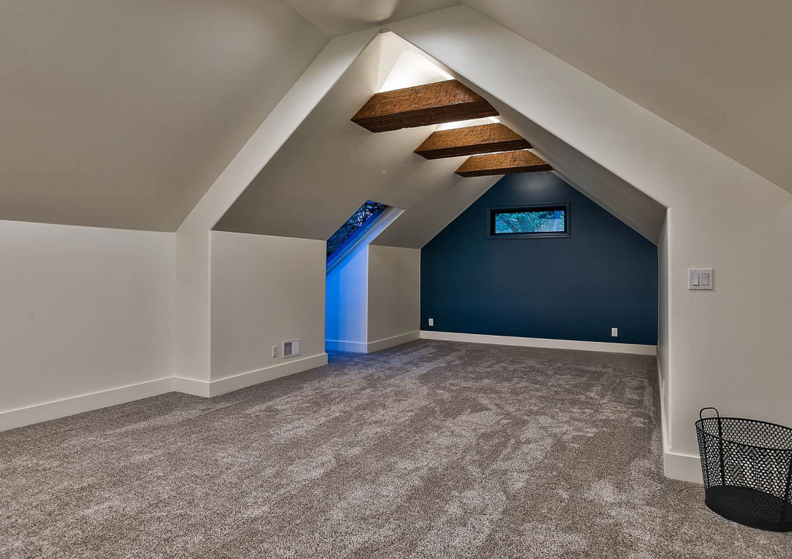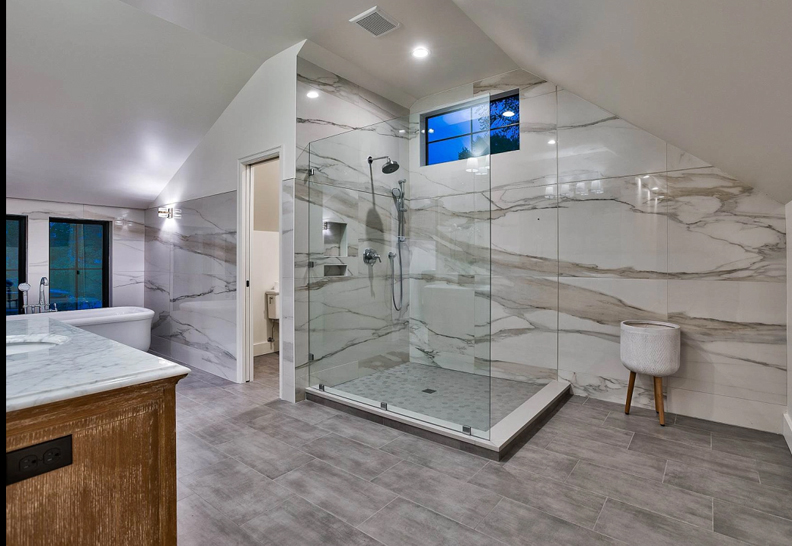 Disclaimer: My Omaha Obsession is not a real estate company and does not represent any home or property you will ever see here. Please contact the real estate agent or company for status, condition and more information. Miss Cassette offers no guarantee to the accuracy or validity of any information on this site and will not be liable for errors, omissions or any losses arising from its display or use. Comments from fellow readers should be viewed as opinions and may not reflect the accuracy of the listing details, condition or status of the home. Homes and buildings shown on My Omaha Obsession may no longer be for sale and is up to interested parties to investigate the current status. Once again, Miss Cassette is not the agent, owner or photographer. If a realtor, owner or photographer want credit for these images or is upset that My Omaha Obsession is promoting the sale of your property (head scratcher), please email me directly.
My Last Stake-Out—Photographic Dossier
Because sometimes the pretty marketing pictures don't capture the details we detectives crave. I discovered so many Gooseberry Hollow Clues that made me smile on that day.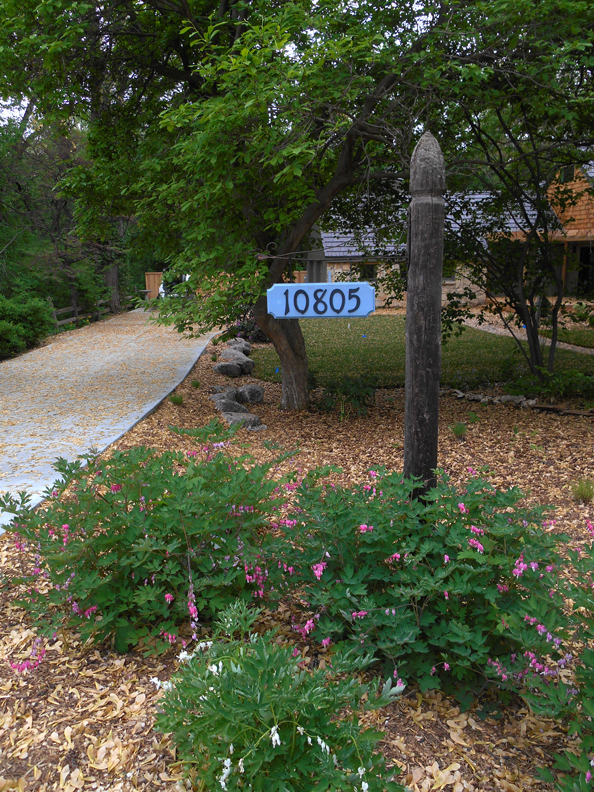 The original Gooseberry Hollow name post, standing amidst the Bleeding Hearts, displaying the former blue address. Please Never Change this, new owner.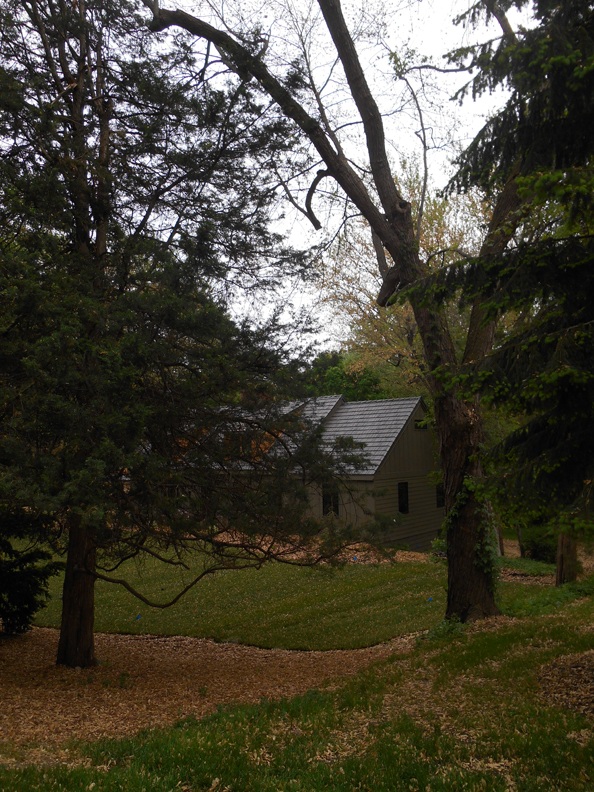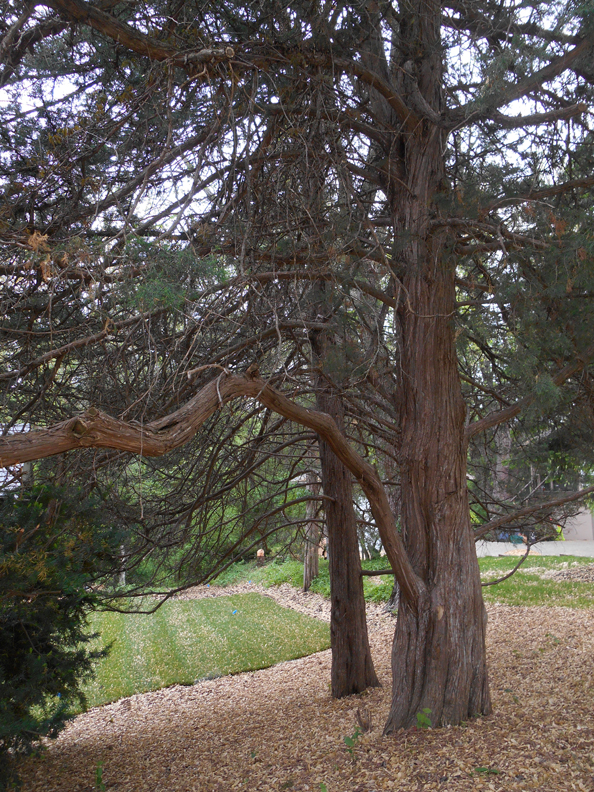 The cedars. So lovely.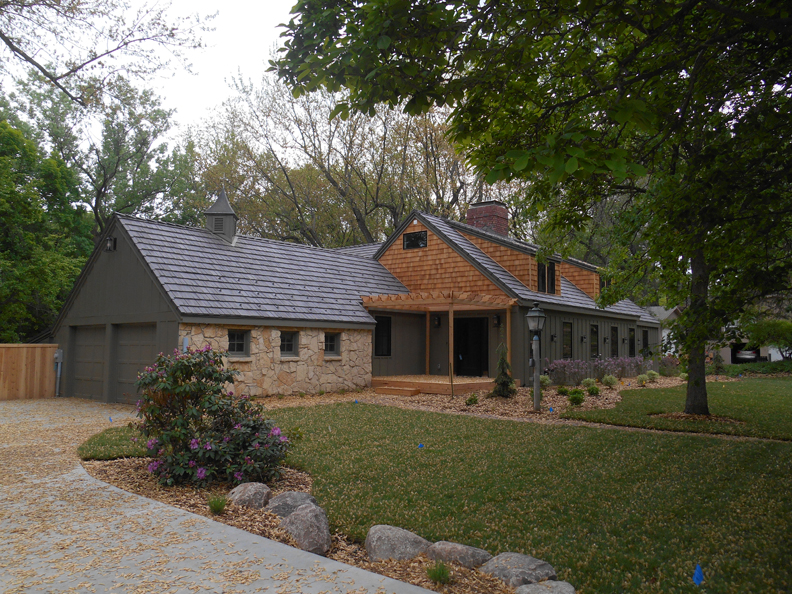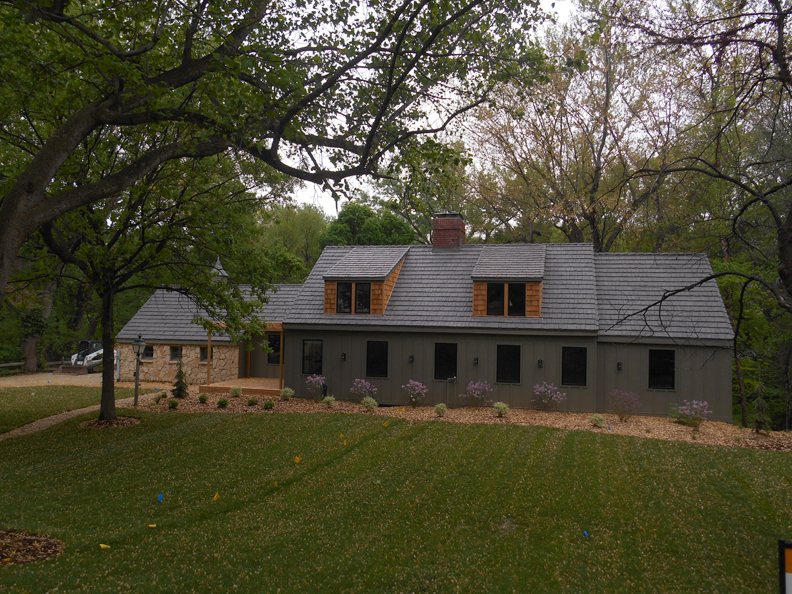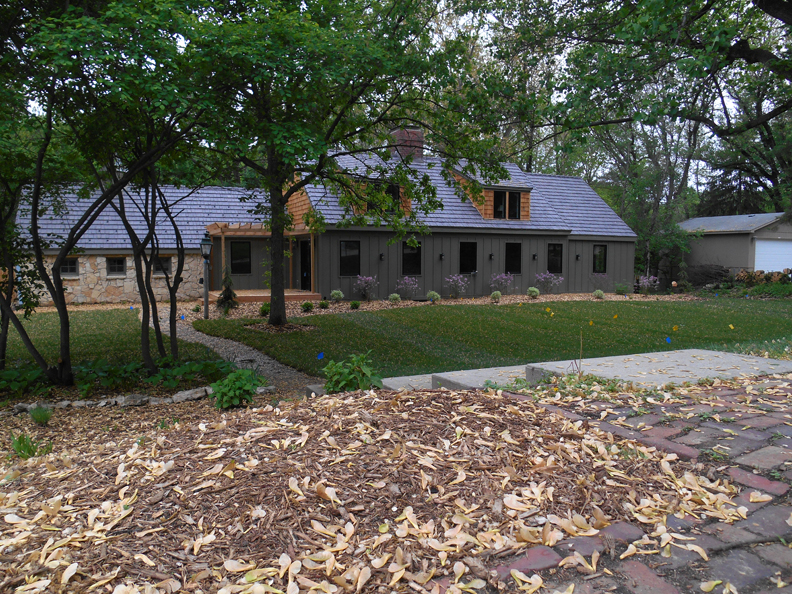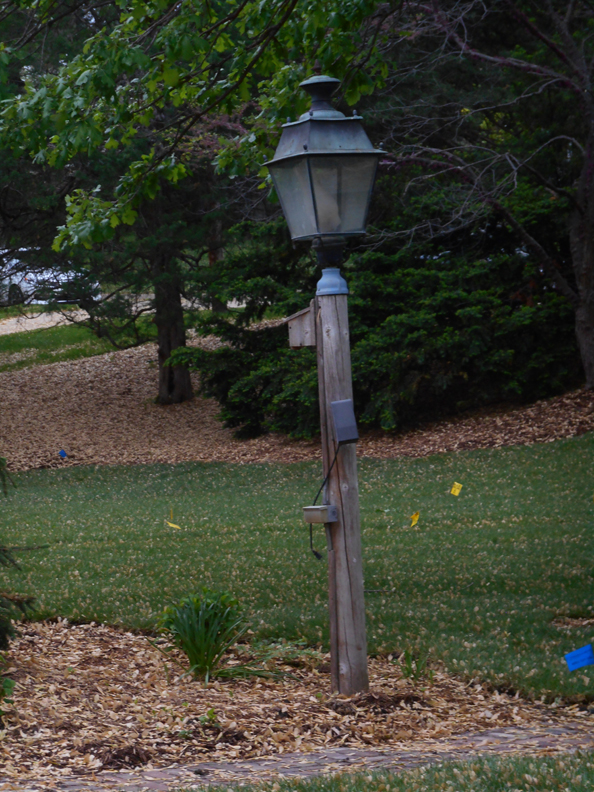 Looks to be the original Gooseberry Hollow lamppost.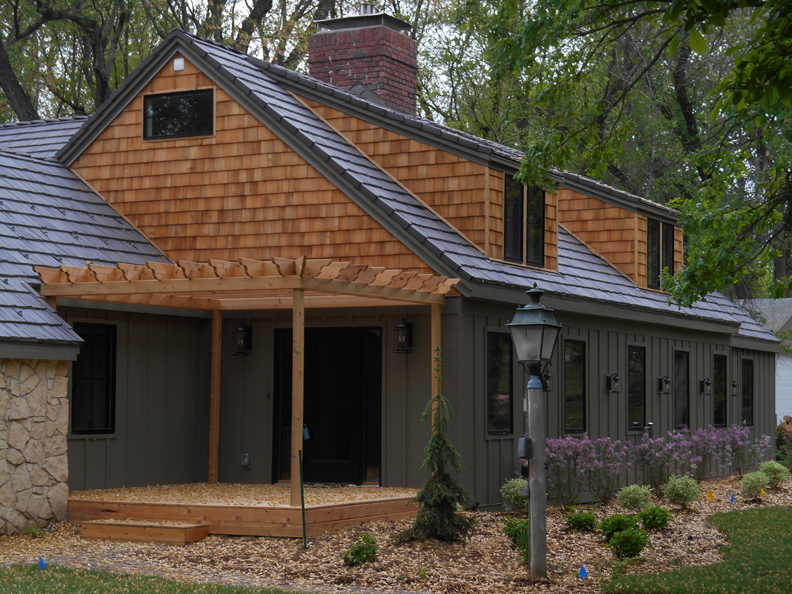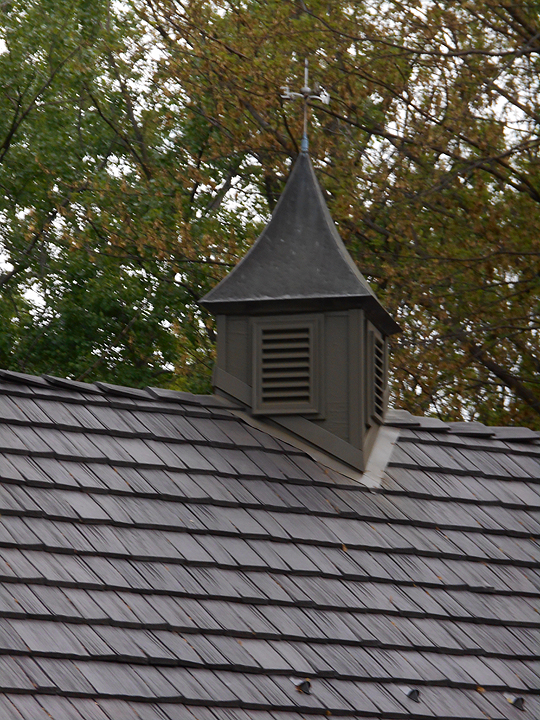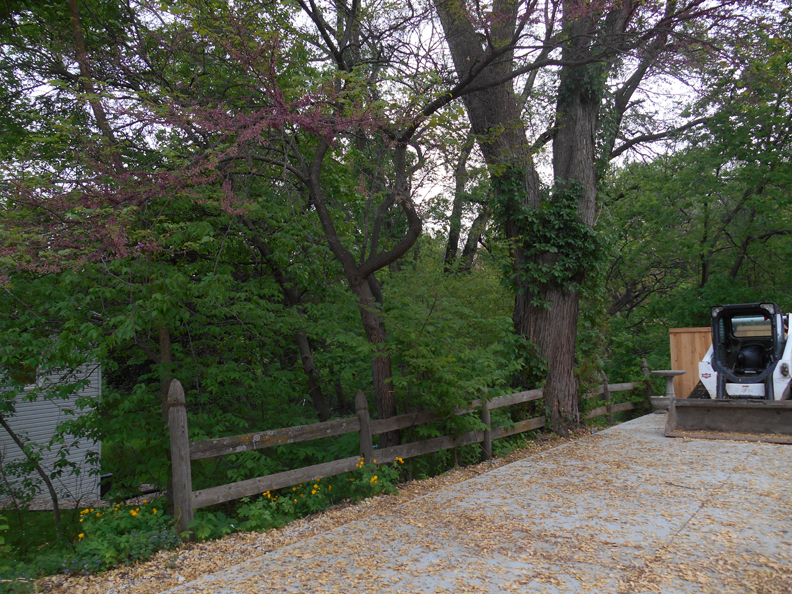 The original Gooseberry fence with a newly laid drive.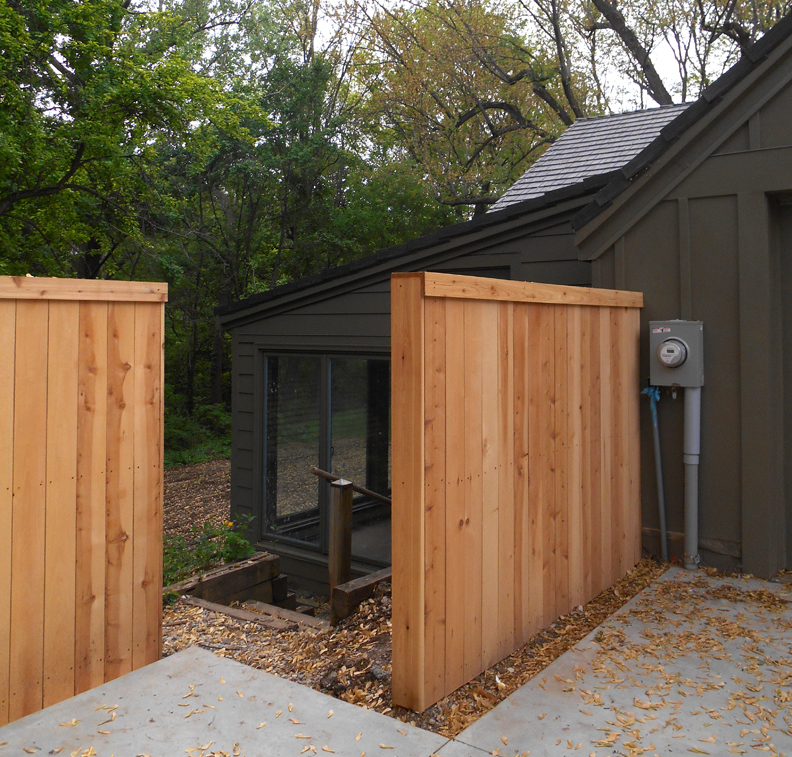 A fresh, new privacy fence, leading to the backyard area.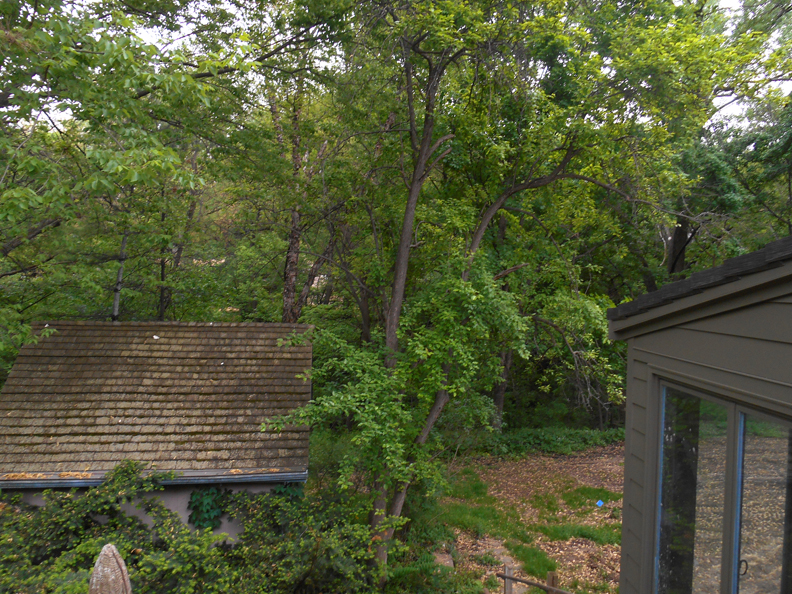 Perhaps the original outbuilding and the ravine in the distance.
Between you, me and the postman, I should have rang that doorbell long ago. I suppose I have my regrets. Postmen know nearly everything worth knowing in Omaha—just ask them. In the meantime keep your head up, sleuther and keep looking for those Bea Utley "third-dimensional history" clues. I just love that show of the show and tell. Brilliant. I will see you around real soon.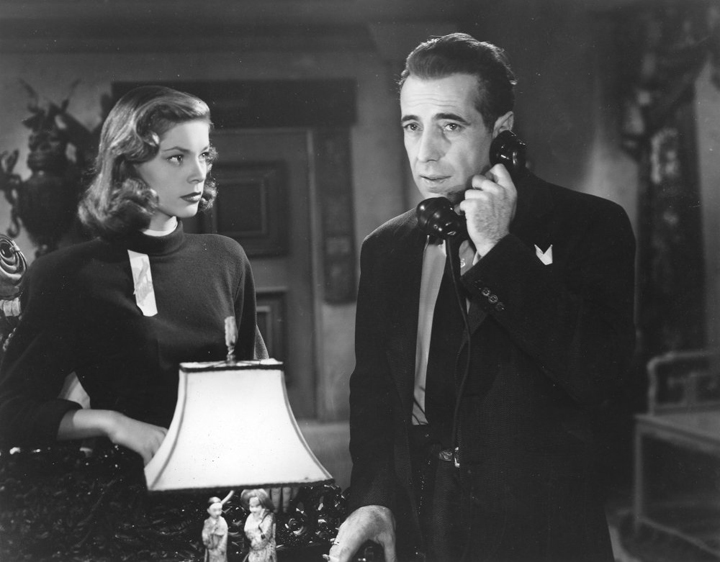 This is only a small part of the story. We would love to hear your opinions or insider takes. Please feel free to leave a memory or thoughts you have of the 108th and Pacific area, Gooseberry Hollow or District 66 in Comments. Thank you, friends.
You can keep up with my latest investigations by joining my email group. Click on "Contact" then look for "Sign me up for the Newsletter!" Enter your email address. It will then display "Thank you, your sign-up request was successful!" Make sure to check your email address to confirm. You will get sent email updates every time I have written a new article. Also feel free to join My Omaha Obsession on Facebook. Thank you, Omaha friends. Miss Cassette
© Miss Cassette and myomahaobsession, 2019. Unauthorized use and/or duplication of this material without express and written permission from this site's author and/or owner is strictly prohibited. Excerpts and links may be used, provided that full and clear credit is given to Miss Cassette and myomahaobsession with appropriate and specific direction to the original content.