I received a mysterious night telegram from 9402 Pacific Street, possibly emitted from the warning trees, which caused me to hurry up to the property without delay. I cannot be sure how I got there, but I had cast off my thick Hudson and bed clothes along the way. A dim, dream lantern swung from my white leather opera glove and guided me down her snowy drive, as I became aware I was just warm enough in a men's black cape with a velvet collar fastened by a chain…or was it a men's green, brocade, smoking jacket and furry mukluks? There was every cause for alarm, besides the fact that I was in theatrical, clattering attire–the wooded corridors of 9402 Pacific that had been visible from the road were like a movie set and as I floated past, through the snow, the home, her outbuildings, the platform tennis court, the pool, and the hidden, inky recesses were clear in the distance. I was too late. Excluding my faint lantern, it was dark as a tomb. Not a car passed on Pacific. The cowboy house with the Bred-in-the-Bone Old Money past had dissolved. My main character was gone. This is horrible, I thought, as I lit a cigarette in that snowy darkness. I was wearing a smoking jacket, after all.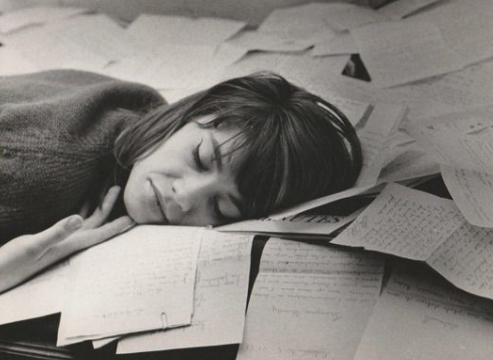 9402 Pacific, it is true, was not mine, but I felt that I had a moral right to it. She had lured me astray and I had willingly retired from the modern world under her spell for years. This was a long infatuation, simply based on the feel of the place as I found it. If I am honest, this architectural detective believes there is a communication, or at least an understanding, with a house after all the devotion. Isn't that silly? Tis true, friends. There is energy and just as the home replenishes the life force of its humans, the physical object holds their vibrational resonance. And on that note, for myself, this impression of understanding is not felt with every home I meet but with 9402 Pacific it was always there. To me the whole sense and spirit of the home and grounds were at once aloof and protective. She certainly had a local renown, and I supposed every nook or fold of her landscape had a nickname given by her inhabitant children. I was sure the neighboring kid investigated the acreage also–that is to say, back when children jumped fences, set off on high adventures and roamed the city blocks as the gods intended. A perplexing and rebellious needler, she was, smack dab in the middle of the West Pacific District. Again and again I studied and followed her clues, making rigorous inquiry.
I had always thought I was enchanted but now, I will admit, 9402 Pacific haunts me, in the best way. We have joked about her veiled retreat further into the environ in recent years, slipping into her peculiar, matching green Kaftan and draped turban, but never more so had she convinced me that believing is seeing. For the more that I pursued, hers was a seductive collection of circuitous mystery stories. Who was this house? Who were her humans? What were they thinking? How did she last so long? Had I/we intended to so weight her fabled existence? What can this property, in its time and place, tell us about ourselves?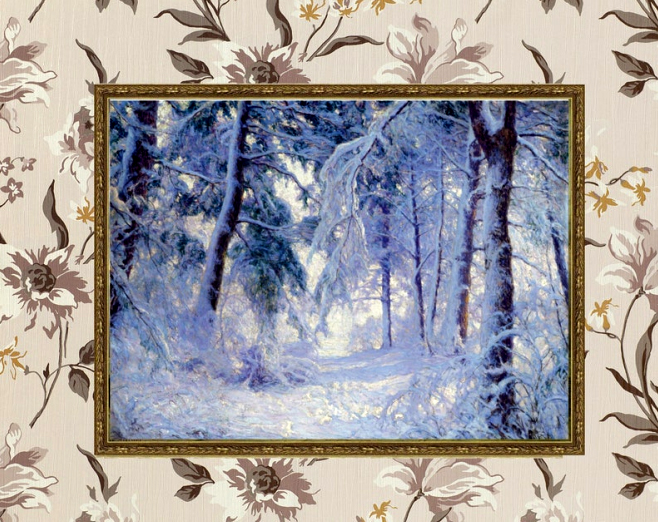 In the last few chapters, I worked to keep to a system of arduous chronology and I believe we will continue on that same knotty audit. We are looking for clues, truth, memory, rumors and mystery. Now, mind you, we will be pulled into seduction and slippery charms. I want curiosity and insatiability to be contagious. Tiptoeing across her once horseshoe-trodden field, we will gather and measure evidence strewn across the landscape of 9402. We will talk to some of her inhabitants. I have inferred that her behaviors over the decades were mysterious–to some, rather suspicious in recent years. The inference is only compounded when we learn what was going on. If you are an uptight historian, a Crispy Christina, or like your bullet points boiled down to a single note, like a classic Irish supper, this might not be your cup of tea. Tonight we are open to all experiences and looking to be wholly subsumed into the entangled files and buried under with delight! 9402 Pacific, really the whole area thereabouts, is subject of a thick dossier kept in the Cassette Detective Agency. Well currently it's spread out all over the tanker. If you are new here, the easiest and most complicated thing to do at this point is review the first two installments: Mysteries of Omaha: 9402 Pacific Street Part One and Mysteries of Omaha: 9402 Pacific Street Part Two. 
If you really want to strap on the snowshoes and get into an exhilarating, moody muddlement of this whole area, I would encourage you to phone in tomorrow. Make a fire. Mix up a hot drink. Call in a dog and or two. Get under a Hudson and start in on these: Hidden House (there will be five glorious parts) and The Ballad of Balla Machree.
The Hunter*
As a reminder to the greenhorns or the inattentive alike—the methodology in surveying 9402 Pacific and its humans is purely driven by my excitement and where the spirit takes me. As should be clear to the reader, this narrative conveniently obfuscates any hint of academic discipline. It is about my personal journey, fueled by coffee and good music. You will find I have gone in depth to the point of being exhaustive with some of the following homeowners and other holders will be seemingly tiptoed through. These disparities are due to my neurotic whims, time constraints or that I wasn't able to locate much in the Omaha annals. If you are a family member, a once homeowner or a friend and you have additional information or want to make a correction, please feel free to comment.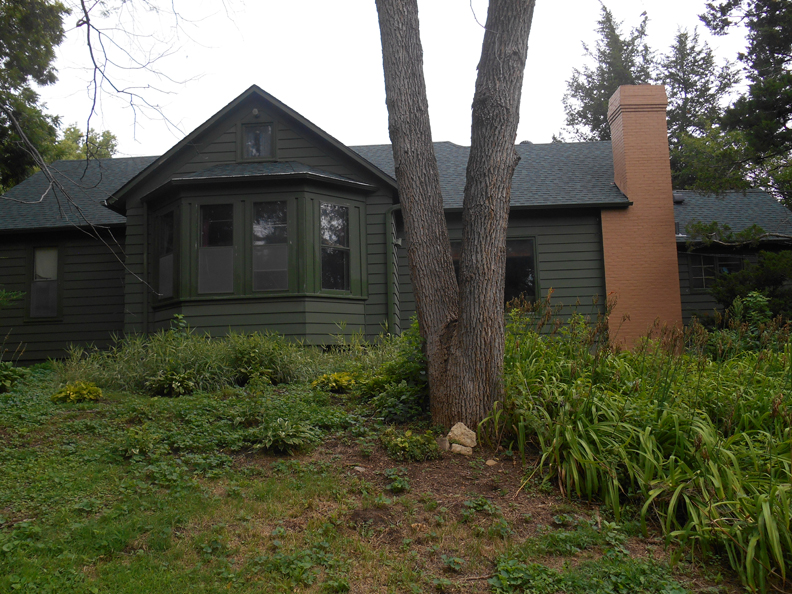 9402 Pacific, as she looked August 7, 2020. This elevation faces south, Pacific Street. From what we have learned, she was historically white or a light shade in all of her glory years, until the last decade. In 1903-4 this was considered the front of house, and just a portion of it, at that.  The formal entrance door would interestingly evolve to the north-facing elevation in the 1960s.
Darlings, this just in: As of the writing of this article, a demolition notice had been issued with the city for 9402 Pacific Street on February 13, 2023. Sewer and water cut-off permits were filed on March 1, 2023. Both demo and plumbing permit records are in LOCKED status.
Wild at Heart
When we last gathered in 1955, Helen Holman Farquhar and her second husband, Raymond Farquhar had just sold two-ish acres of their 9402 Pacific Street property to the Raymond and Betty Dundis family. As you will recall, the 9402 plot was comprised of ten acres at that point in time. The Farquhars' real estate listings were cleverly crafted and encouraged interested parties to consider buying a portion of their estate, on the road to the West Omaha Promised Land. This is precisely when we learned the couple was open to parceling out their land. This 2.003 acre tract must have been the agreed upon boundary. We previously marveled that 9402 Pacific had been able to defend its confines at 2.003 in the middle of the city all of these years. We now know that 1955 was the year that it was whittled down from 10 to two-ish acres. I wondered if the Dundises were initially buying the larger plot of land in parts—sold across years, how that would be taxed if so and if I could even understand that information from the deed?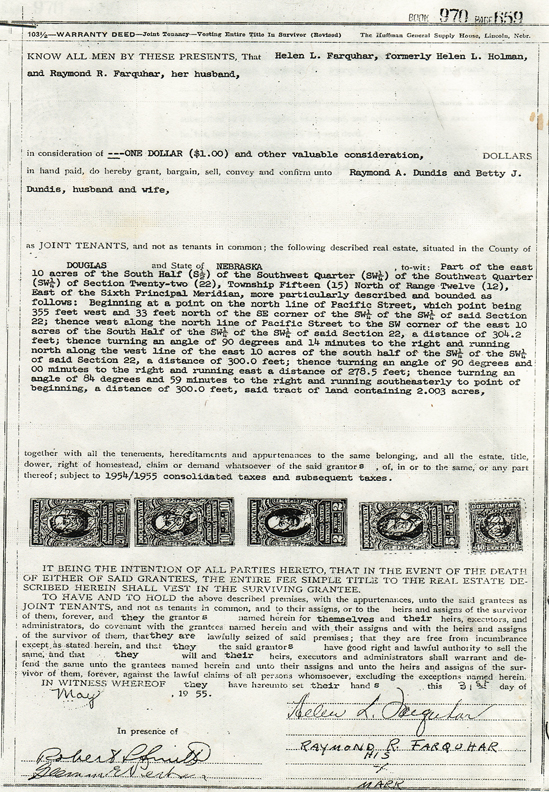 1955 Warranty Deed attained at the Douglas County Register of Deeds Office.
By February 21, 1956 this warranty deed was amended because of an error on the 1955 summation of the township, range, section. From what I could make out, there was not enough descriptors included that delineated the new boundaries of said 2.003 acres. Additionally Mr. Raymond Farquhar had passed away and his name was removed from the deed.
My query about the Dundises intending to buy portions of the larger plot was spurred on by two separate OWH real estate transfer listings over a period of time.
OWH. June of 1955: "part of E10 acres of s 1/2 of SW 1/4 of SW 1/4 of 22-15-12."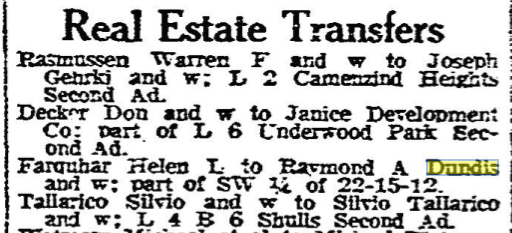 Whereas the real estate transfer dated March 9, 1956, Farquhar, Helen L. to Raymond A. Dundis read "part of SW 1/4 of 22-15-12."
Was I splitting hairs? Yes. Did this mean anything or just a World-Herald error? I don't know and perhaps. It seems best explained by the OWH listing these transfers when a warranty deed is altered, as both OWH listings occurred a month after each warranty deed modification. At any rate, if a Dundis family member or anyone with inside information knows about these transactions, please share.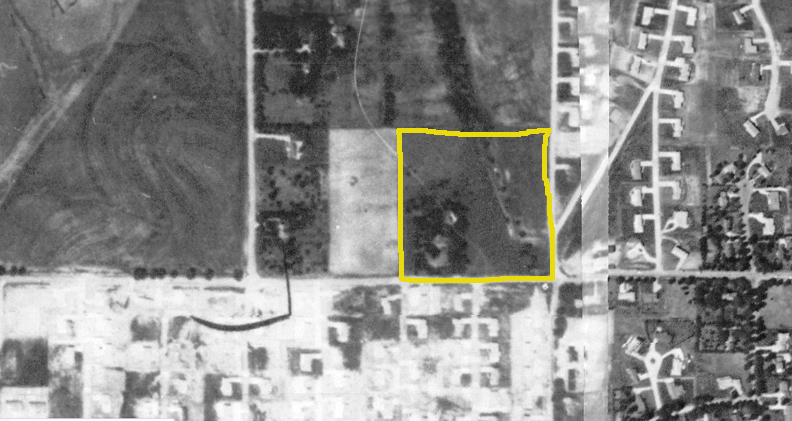 The 1955 aerial photo of the 9402 Pacific property and surrounding area. Image borrowed from the Douglas County/Omaha NE GIS Department (DCGIS) site. Pacific Street runs east and west horizontal across the almost midway point of the photo. I outlined the 9402 plot in yellow, north of Pacific Street. The home property, which was divided into two acres is the darkly wooded portion in the shape of a vague rectangle amidst the yellow square. The soon to be church property, Sunset Hills Baptist Church at 9416 Pacific, is curiously graded to the west in what appears to be a light soil or paving mixture. I say curiously because the church did not build on the land for many years. MCM tract housing has now encroached and is encircling our 9402 Pacific, from 93rd Street to the east and south of Pacific –later additions that would become Ronson Heights, formerly Carriage Hill, to the north, Balla Machree to the east, Hosman's 1st Addition further up 96th to the north and Pacific Park to the south of Pacific Street. In April of 1954 the Sunset Hills Addition was formally platted, bounded by 93rd, 96th, Pacific and Pine Streets. The 9402 Pacific Street property still extended to 93rd Street in 1955. Once again we can see the creek that winded through the property, where the Pacific Park Condominiums on 93rd Court now cluster. The Regency development is still a landowner's dream to the west of 96th Street.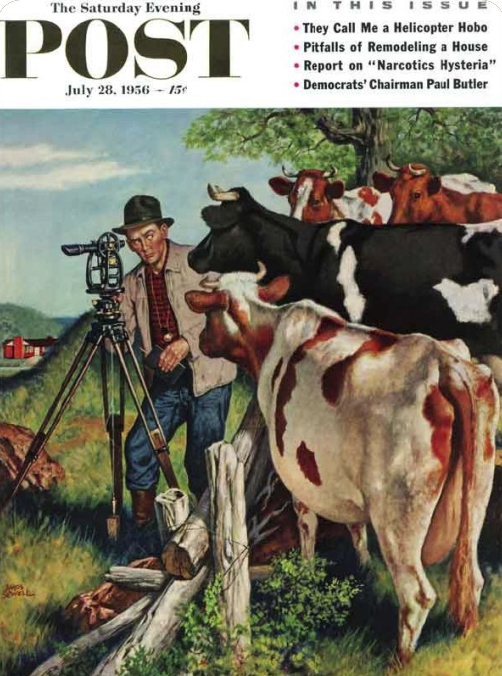 I must include Amos Sewell's The Audience from The Saturday Evening Post of July 28, 1956 because he depicted the times well. I imagine a land surveyor assessing property in the West Pacific Hills area as the livestock and locals alike looked on was surely observed throughout our nation in the formation of the American suburbs.
Chasing the Adman
Raymond Anthony Dundis was born in 1923 and graduated from Omaha South High class of 1941. His mother, Catherine, was a widow after the death of Ray's father, Alphonse B. Dundis. Ray's siblings were Nestor, Loretta and Alphonse "Al" Jr. Dundis.
After serving in the military and attending college at the University of Omaha (later called UNO), our man Ray Dundis joined a local advertising firm around 1946. This was an exciting time for advertising– radio and print ads, with television introduced in 1947. Hopefully there are a few of you who have watched Mad Men and the Edward Bernays' documentary, The Century of Self. As some of you may recall, my father was in advertising in another life during the Golden Years of Advertising and so I am drawn to this line of work—the panache, the egos enticed to the field, the creativity, the older design elements and the psychology of selling. A local advertising company would have had a wealth of Omaha and regional clients—every big business and corner mom and pop that sought professional marketing could hire from a number of reputable firms in town. When one thinks of the scads of hotels, restaurants, bars, and diversity of industries–locally manufactured foods and goods, production companies, retail commerce, entertainment businesses, professional services and construction—Little Omaha was going places. Of course some larger companies had their own in-house advertising; the newspapers also had a small team that created very simple print ads; a mom and pop could just draw up their own logo freehand. Unlike the large, national, faceless campaigns launched by franchises and big box stores where everything-looks-the-same these days and appears to mirror both social media and reality tv, the local advertisements and regional print ads of yesteryear gave a colorful glimpse into the city's distinct culture and particularly captured our "aw-shucks" Midwestern gestures.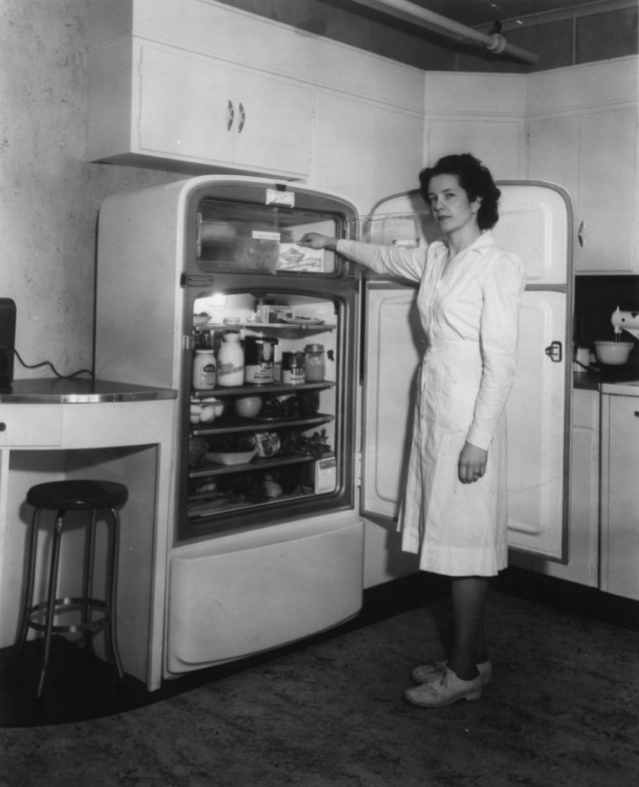 Here we see a woman standing in front of an open refrigerator stocked with food; she is touching a frozen dessert of sorts. Please note the classic 1940s linoleum kitchen floor and treatments. The photo was labeled: "Ray Dundis -342 North 35th Street." It was created by: Bostwick, Louis (1868-1943) and Frohardt, Homer (1885-1972) in December of 1947. Publisher: The Durham Museum.
This is an interesting clue because Ray Dundis was already working in advertising at the time of photograph and very well might have paid to have this image taken for one of his campaigns. Perhaps the stocked up refrigerator itself or the groceries inside, suggest a down-home advertisement. Maybe for a Harding frozen dessert? I would discover from a later marriage license that Raymond actually lived at 342 North 35th Street. Was the photo taken in Ray Dundis' home or was the simply address listed to identify the photographer's client and the photo was taken at another location altogether? I believe this photo could have been taken within Ray's own home, which only led to questions of who this woman was. Was this Mrs. Catherine Dundis, Ray's mother? Was this a model? Was this Ray's sister, Loretta? Is this step-in, front zip, white dress a uniform? Maid, waitress, nurse?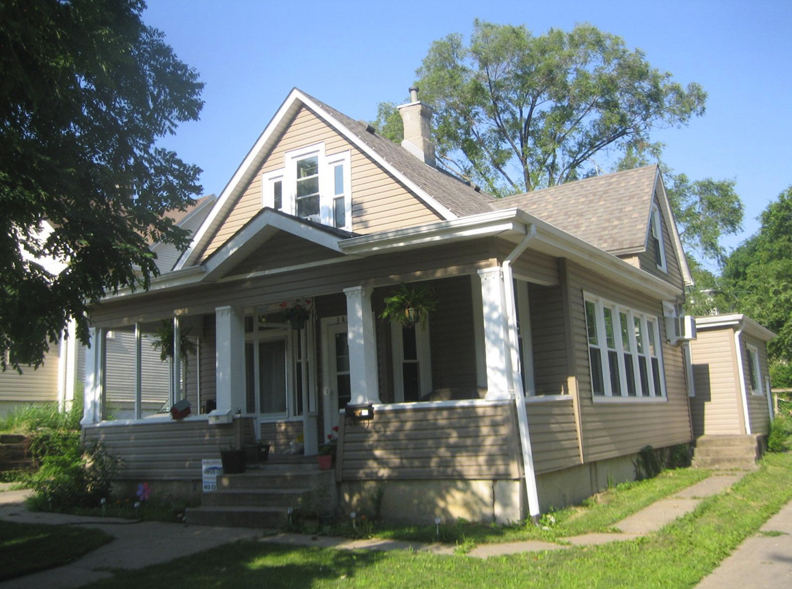 The original 342 North 35th Street is still going strong. Photograph borrowed from the Douglas County Assessor site. Love this porch, the pillars, the windows and the clever side door for driveway access.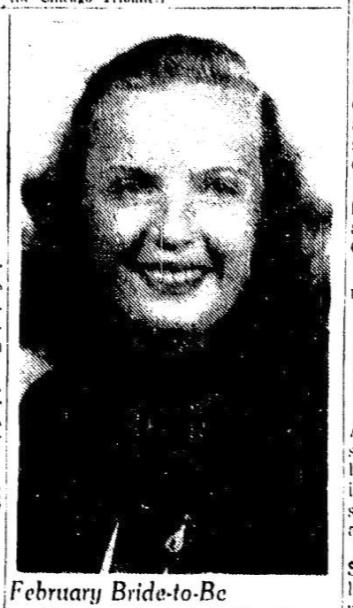 Simultaneously I had discovered the betrothal announcement of Ray and his bride to be, Betty Straka. OWH archive photo. Nov of 1948. "February Bride-to-Be. The engagement of Miss Betty Jean Straka to Raymond A. Dundis has been announced by her parents, Mr. and Mrs. Lee A. Straka. The couple will be married in February. Miss Straka attended Doane College in Crete and the University of Omaha. Mr. Dundis, son of Mrs. Catherine Dundis, also attended the University of Omaha."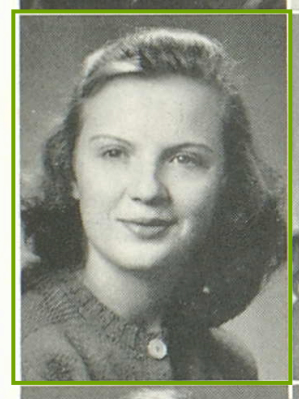 And this adorable one from the Central High Yearbook of 1945: Betty Jean Straka. Betty was clearly a timeless beauty and easily could have modeled in the pages of 1980's The Official Preppy Handbook.
The Omaha Area Marriages blogsite revealed the couple was indeed married on February 25, 1949. In finding the marriage license for Raymond and Betty, I could see that Raymond (age 25) lived at 342 North 35th Street. Betty J. Straka (age 21) lived at 3029 Nicholas. 342 North 35th must have been the Dundis family home and not Ray's rental, because shortly after, I believe brother Nestor's engagement was listed with this same address. Ray and Betty's addresses were not too terribly far from one another and I don't know if that proximity impacted how they met. I followed the nuptial breadcrumbs to the ceremony at St. Margaret Mary's where "the bride wore a gown of heavy heirloom satin with a square neckline." A wedding breakfast was hosted at the home of the bride's parents. "The couple honeymooned in San Antonio and would return to Omaha to live."
By fall of 1954, I would find Ray Dundis' name tied to the Omaha Famous Buchanan-Thomas Advertising Company—a solid firm from the 1920s, housed down at 412 South 19th Street, under the direction of C. Coe Buchanan, James C. Buchanan and Lyman Thomas. Now I may be connecting dots that don't link up and this very well might just be an Omaha Coincidence, but according to the late 1950s advertising journal, Broadcasting, Paxton & Gallagher Co., specifically the Butter-Nut Coffee line, appointed Tatham-Laird Inc., Chicago, as its national agency—pulling their contract from Buchanan-Thomas Advertising, Omaha, which ended a 34 year relationship. Although dismal news for the home PR team, the reason I include this connection is that Ray Dundis might have known Mr. Roger Holman, a striking character from our earlier chapter, or known of his Butter-Nut Dream Home out at 9402 Pacific Street. It is also wonderfully strange that we should find the fingerprints of Mr. Holman and Mr. Dundis both having worked in marketing and living at our rural 9402 Pacific home.
The Dundises Discover 9402 Pacific
We know from the historic warranty deed that the Dundises were keen to the 9402 Pacific property and had purchased a portion of it by May of 1955. I was able to backtrack and find where they had lived up to that sale. In May of 1955: "Raymond Dundis and wife sold lot 26 of the Tegtmeiers Replat" to Mr. and Mrs. Edward C. Pomeroy. This is a great, tucked-away neighborhood of ranches and other MCM yummies from about Harney, to Beverly Drive, Howard Street to 83rd Street. The Tegtmeiers area seemed befitting of a modern adman and I wasn't exactly sure what drew Mr. Dundis and his wife to 9402 Pacific until later.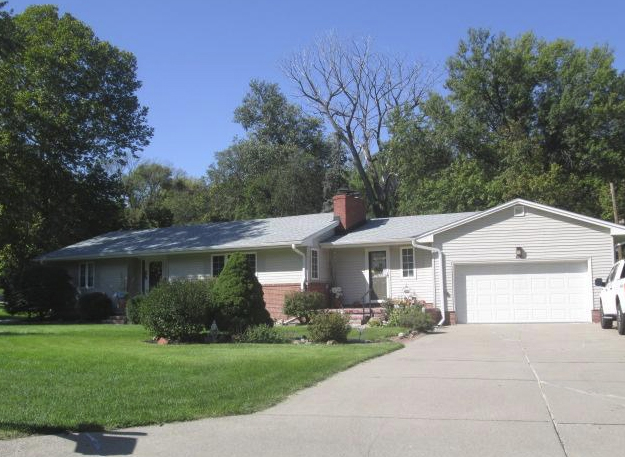 Photo of 460 Beverly Drive borrowed from the Douglas County Assessor site. I submit this photo of 460 Beverly Drive (Lot 26, Block 0), built in 1954, because I spent a psychotic amount of time trying to find the Dundises' home. It was a queer compulsion that kept me prowling house by house in Tegtmeiers. I believe this is it! The new buyer, Mr. Edward C. Pomeroy, was in the mattress business. He had started with the L. G. Doup Company, a Serta Mattress Company manufacturer, back in 1921, moved his way up and later served as president for twenty years from 1949-1969. I would discover that Mr. Pomeroy and his wife cleverly began snapping up ranches in the Westside area in the 1950s. I do not believe they ever lived at 460 Beverly Drive—I think it was an investment.
Domestic Affairs
From where I sit, legs crossed with a good strong cup of joe, who wouldn't have wanted to live at 9402 Pacific in the mid-fifties? No City Taxes, room to roam in a peaceful, pastoral setting, presumed safety, rustic appeal with a hint of the maverick. Easy coolness. I imagined these were just some of the mid-century benefits of living out at West Pacific. With the sprinkling of neighbors, near but not too close, could there have been a more idyllic setting for a large family? To explore just a corner of the unspoiled, all the while being near other children and city conveniences? I assume any neighboring pal would want to chummy up and help examine the grounds. Can you envision the forts, baseball and football fields and tea parties held under trees? It felt like a childhood is supposed to–minus the crabby lady who yelled at my best girlfriend and me for eating her from her apple tree. In their years of stewardship at the 9402 Pacific property, Ray and Betty had at least two of their four boys; the July of 1956 and July of 1958 papers noted sons were born. Additionally, I was happy to find in the Omaha City Directory of 1958 that Raymond's mother, Mrs. Catherine G. Dundis lived with the family.
The Dundises expanded the home, modernized and made it their own, all the while upholding and overseeing the quaint, historic nature of the rural property. Although they lived there a short while, from what I could find they were true stewards of the once Ott farm.
Down to two acres, but encircled by pasture and building-less land, "with room for a pony or two," the Dundis family had prepared level ground for a swimming pool nestled between the barn and the picnic-barbecue house. 9402 Pacific wouldn't know the luxury of a pool for decades, (we will discuss this further when the Klein family moves in) however we credit the Dundises with the in-ground pool idea and the motivation. Under Ray and Betty's watch, the converted Ott farmhouse grew to four bedrooms and three baths in the main house with addition of the "louvered-glass" to the enclosed porch. One of their main contributions to the home was the "Deluxe Modern Kitchen" — completely re-done in pink Formica counters and platinum pine built-ins. I believe the Ott-Holman families' "country kitchen" was done away with in these years in preference of a 1950s "sparkling new family style kitchen," complete with a long breakfast bar. A "handy washer-dryer nook" was added right around the corner—another contemporary Dundis renovation, I believe.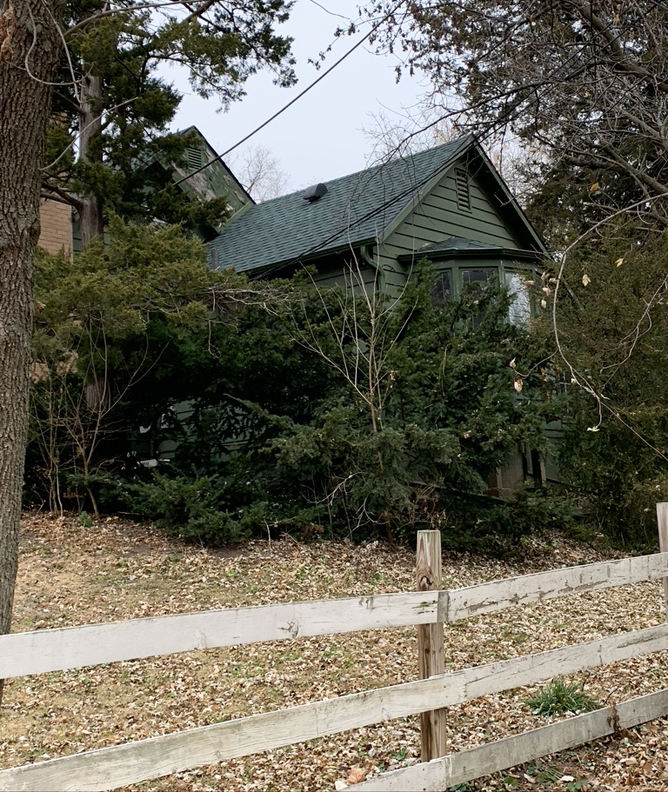 Photo by Michael Leahy, November of 2020. Camera is facing a northwest angle, from the long drive. The weathered horse corral fencing borders the drive. This eastern "kitchen" addition with gabled roof, extended past what I believe was the Holman's addition. Although this bay window in the kitchen was added later, I do believe the Dundises had a hand in this kitchen extension. I believe the original Ott farmhouse gable is seen as the tallest roofline, furthest to the west, with an in between Holman-Farquhar gable.
When they sold 9402 Pacific years later, the Dundises referred to the historic Ott barn as a "studio building with fireplace—ideal for large parties, dancing, indoor picnics, trophy or game room. 3-car garage." I was most interested to read of the separate brick barbecue house, two-horse stable and their horse corral.
Rural Nostalgia
The mention of a two-horse stable and horse corral was all I needed to hear. I was champing at the bit as I rededicated myself to finding 9402 Pacific's spirited, show jumping legacy. I was energized to discover, in addition to working in advertising, Raymond Dundis was an equestrian and early, local Appaloosa enthusiast. I say early enthusiast because in those years, this breed of horse was enjoying something of a comeback. According to my brief internet search, the Appaloosa Horse Club (ApHC) and the American Quarter Horse Association (AQHA) were in their formative years during the 1940s and 1950s. By 1958 the 9402 Pacific property was again lodging to at least one horse (possibly more), this time a five-year-old registered Appaloosa mare. Months later Mr. Dundis was unveiled promoting the "Appaloosa Horse Club" and looking for fellow interested parties. "Contact Mr. Dundis at Ninety-fourth and Pacific." I always cherish that welcoming, if not vague phrasing of yesteryear. Was he encouraging us to just pop by for a visit? It was so delightfully telling of what a landmark 94th and Pacific really was in those days. With reverence and my silky buckaroo scarf, once invited up to talk Appaloosa, I might never have left. Shortly thereafter I would find Dundis as Secretary of the Nebraska Appaloosa Horse Club. When did Ray develop this passion or had he long been in the equine lifestyle? It certainly explained why he was proactive in moving his family to 9402 Pacific. I was so excited to find yet another historic link to a 9402 Pacific owner keeping horses on the property. Even though this was decades before my time, it somehow warmed my childhood memories of seeing people ride horses in this area in the 1970s.
In August of 1958, Mr. R. A. Dundis educated Omahans through the newspapers, as part of a promotion for Nebraska's first Appaloosa horse show to be held in Atkinson at their Hay Days: "A spotted appaloosa is one the earliest breeds in America. The horses were brought to North America by the Spaniards and were propagated by the Indians. The Appaloosas are good working horses on ranches. They are used for cutting and roping. They don't get edgy after being worked, and so at the end of the day, they can be used for riding." Also noted was that Nebraskans paid "as high as five thousand dollars for an Appaloosa."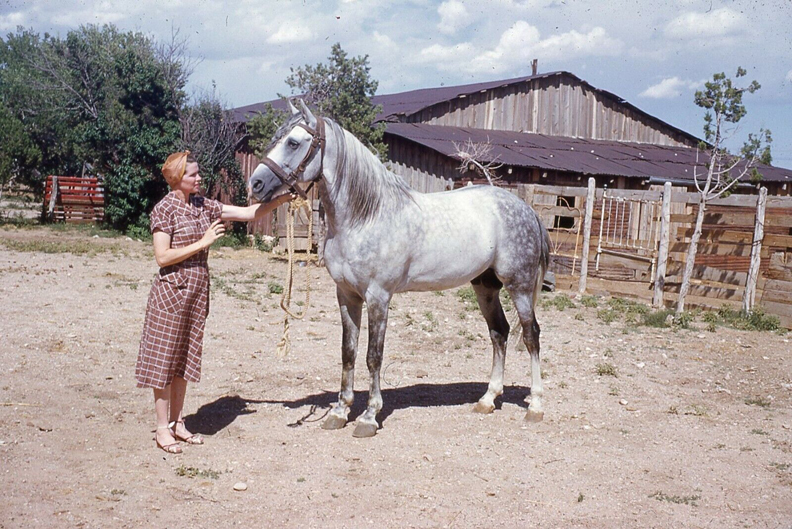 This 1950s photo is not of a Ray Dundis family member. I am including the image to give the look and feel of the times when the beautiful Appaloosas became popular again. A 1950's woman posed with a gorgeous, gray spotted Appaloosa horse.
The Stranger Next Door
Let us return to our 1955 aerial query about the seemingly graded or paved property to the west of the Dundises' new home—what would become the Sunset Hills Baptist church. From our previous Hidden House investigation: In the fall of 1957 the Bergs, residing in the gorgeous stone house on the corner of 96th and Pacific (1023 South 96th), were to receive news of an unexpected next-door neighbor. "Baptists to Form a New Church," read the headline. Evidently a new congregation had their eyes "on a five-acre tract of land" at "Ninety-fourth and Pacific Street" directly bordering the Berg estate on the east and, we now know, to the west of the Dundis' property. Reverend William A. Bingham announced the congregation's intentions at the Westside High School auditorium. Is that why the Bergs put their home up for sale in December of 1957? It possibly came as a surprise to the Dundises as well.
Going back to January of 1957, an application by the Nebraska State Baptist Convention to use Oakdale School for the organization of a new West Omaha parish was denied by the District 66 School Board. Their rejection was based on their policy of only allowing church use in emergency conditions. By November 3, 1957, the World-Herald announced the Nebraska State Baptist Convention announced plan to form a new congregation in West Omaha. A rally was held at the West Side High School auditorium to open the membership drive. Reverent Mr. Bingham was the organizing pastor. Bingham said "the five-acre tract of land in the vicinity of Ninety-fourth and Pacific Streets is being purchased."
This would take some days of digging back in 2017,  which I continue to uncover more of in 2023. It never ends. William A. Bingham served as pastor to the Benson Baptist Church at 64th and Maple for years. His new Baptist offshoot congregation was soon to christen themselves the Sunset Hills Baptist Church, no doubt because of the neighborhood. It was announced in September of 1958: "a church building is to be constructed at 94th and Pacific streets next year," with Rev. Edward E. Chipman installed as new pastor. The clues would point to the Sunset Hills members having met at the Sidles Company Auditorium at 7302 Pacific throughout 1958.
There may have been complications. The church had publicly announced their plans to buy at 94th and Pacific in 1957 and 1958 but this did not materialize. They did not appear to take possession of the parcel until April of 1959.

Real Estate Transfer from the OWH archive. April 8, 1959: Ainscow James S. and wife sold to Nebraska Baptist State Convention: E 1/2 of the W 1/2 of S 1/2 of SW 1/4 of SW 1/4 of 22-15-12. Was this the church lot or a portion of?
The current church parcel is legally labeled as the following: "LANDS SEC-TWN-RGE 22-15-12 -EX N 200 FT- W 5 E 15 AC S 1/2 SW 1/4 SW 1/4."
In January of 1959, George Shrivanek and his wife also sold Lot 7 of West Pacific Terrace to the Sunset Hills Baptist Church. Because of the timeline, I mistakenly thought this might be a portion of the land by 9402 Pacific and would feverishly track that subdivision to a great brick ranch at 902 South 76th Street, nowhere near our obsession site. Was this a home for the new pastor? I don't know and because of time constraints, I needed to let go of this mission. I include it here because someone out there may know more about this particular intriguing transaction.
Meanwhile I went batty trying to link James Sexton Ainscow, Jr. and wife Betty Smith Ainscow to the undeveloped five acres, because I didn't incontestably see a signpost of when and where they acquired it. These are my little, dark jokes, as anyone on these hunts will tell you—the markers are rarely offered up in any plain fashion. His father, the senior James S. Ainscow, was an Englishman and had been the manager of the Model Steam Laundry. Sr. died in 1935. Ainscow, Jr., as it turns out, was a real estate man, a developer, president of the Building Owners and Managers Association of Omaha and an upper up, for a time, in the Byron Reed Company. So involved in the upbuild of Omaha, Junior Ainscow qualified into Douglas County Who's Who in Nebraska of 1940. The question remained, was he representing a landowner in this transaction or had he bought the soon-to-be-church-site property as an investment from the Ott clan?
A building permit for the church was filed for $56,000 in July of 1959. A day later the newspaper specified the church was adding a sanctuary for $36,000. I am not sure of the discrepancy. Later still the total building construction was assessed at 85-thousand-dollars. The eager congregation moved in to their Sunset Hills Baptist Church at 9416 Pacific Street on December 20, 1959.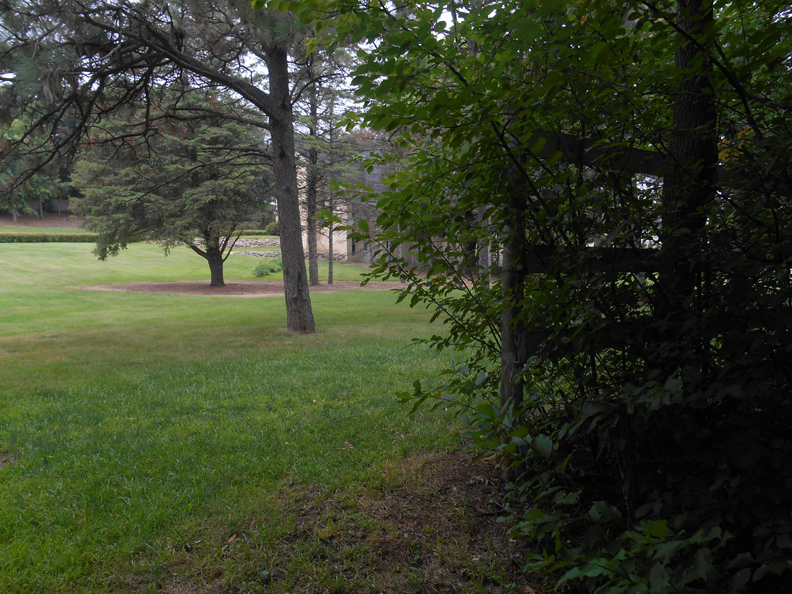 I love this photo of the church, as seen from the dark and hidden 9402 Pacific property. Camera facing northwest.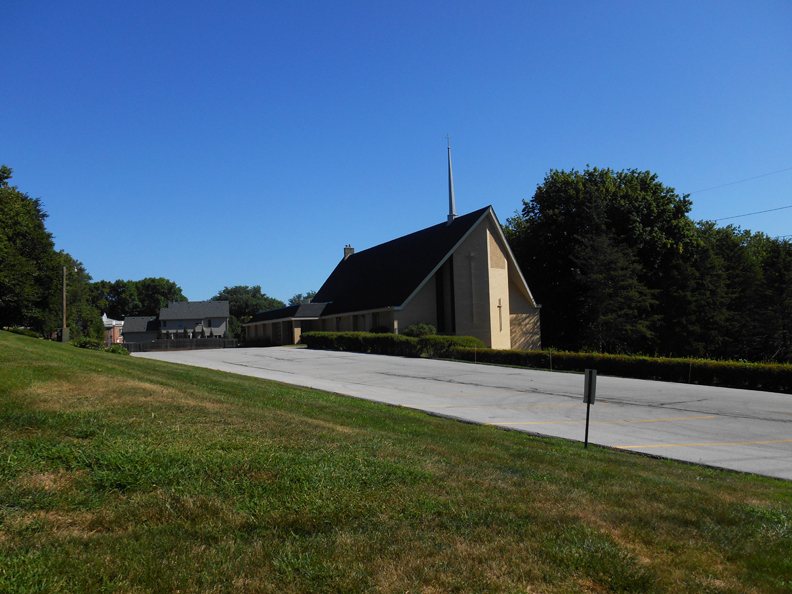 9416 Pacific Street. A large parking lot surrounds the mid-century modern church, with grassy knoll rising up to abut the property line of 1023 South 96th, defined by a wooden privacy fence on the west. Behind the church properties are three other homes previously mentioned accessible through Shamrock Road, that were once a portion of this large lot.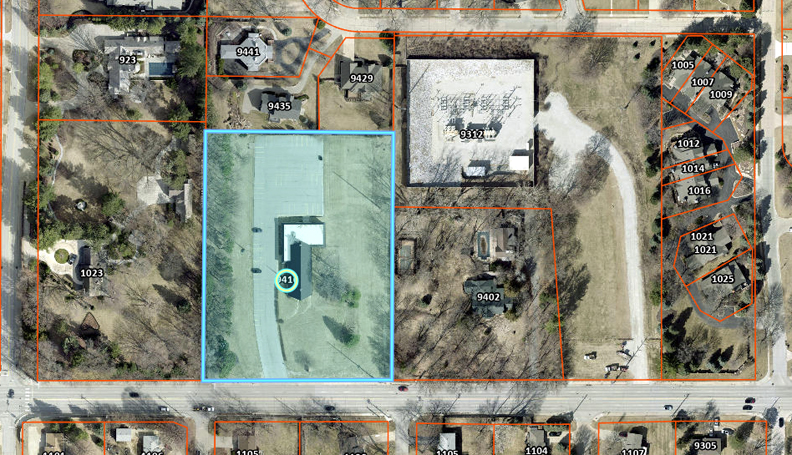 Current orange property lines map borrowed from the Douglas County/Omaha NE GIS Department (DCGIS) site. 9416 Pacific church property is highlighted in blue. OPPD owns the 9312 Pacific parcel that literally surrounds 9402 on the north and eastern borders.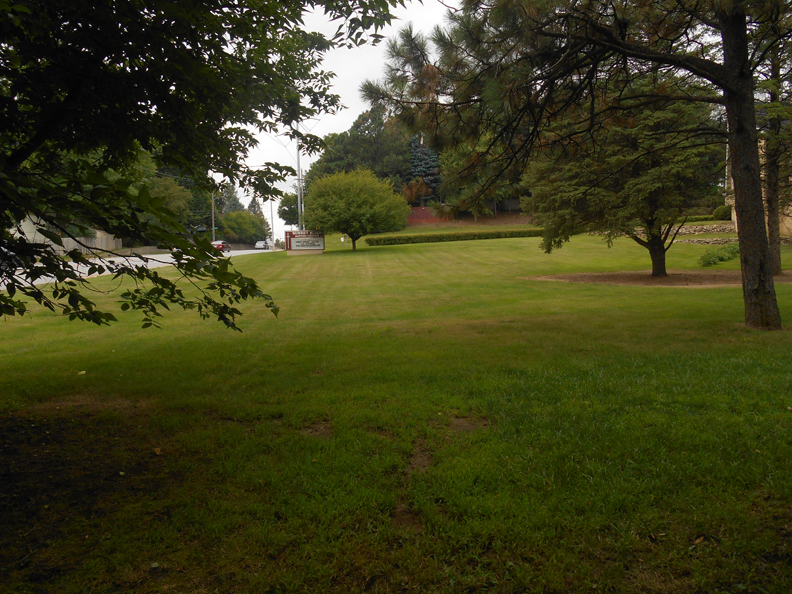 I worship this one. Camera faces west from the eastern-most edge of the church property. The Sunset Hills marquee is in the distance. It gives a hint of an idea of how large this expanse of land is. If you sit quietly you can feel how it might have been in the Ott days.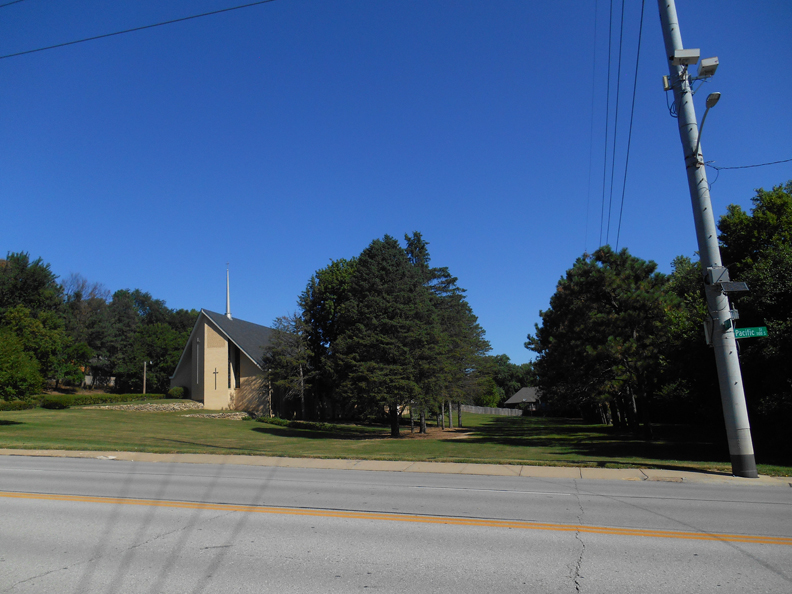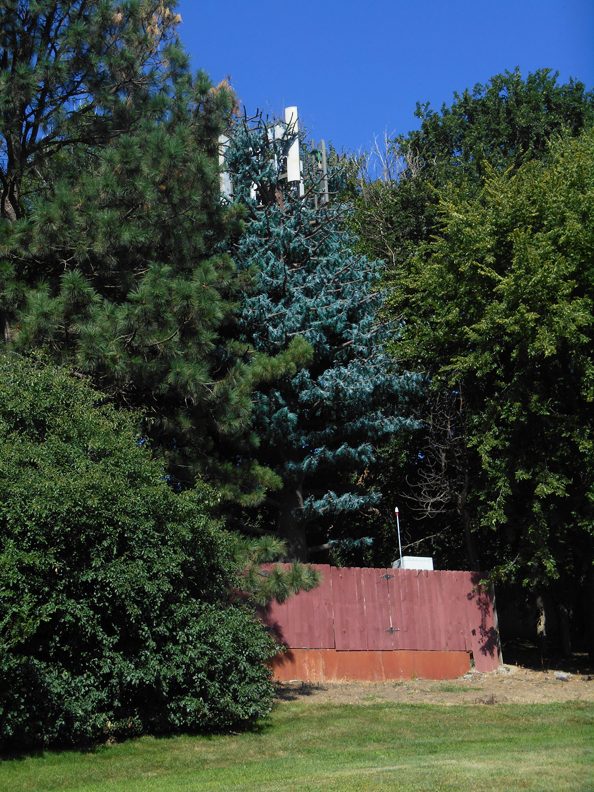 The fake 5-G tree, is a cell tower, along the tree line on the western most side of the 9416 Pacific property and the eastern border of 1023 South 96th.
The Big Pitch
It is worth saying a bit more about Ray Dundis and his illustrious advertising career as the family's time at 9402 Pacific came to a close. In July of 1959 Buchanan-Thomas Inc filed incorporation papers under the names of Robert E. Savage, Frank S. Keogh, Jack P. Hultgren, John W. Chapman and Raymond A. Dundis for 300 thousand dollars. In accordance, the 1959 Omaha City Directory detailed our man Dundis as Secretary-Treasurer of the Buchanan-Thomas Inc. firm. By the by–this is where Omaha history becomes endlessly exciting and weird for me. Frank Keogh had previously been tracked in our investigation: The Real Estate Secret Agent: 5429 Western Avenue. Fortuitously Frank S. Keogh had also been the northern division manager for the Butter-Nut Coffee Company out of Minneapolis. Coincidence? I think not. Obviously all roads lead back to Butter-Nut in this tale.
These 1956 through 1958 advertisements illustrate America entering a new level of swagger, riding high from the end of World War II. Many households by then had televisions and commercials and colorful print marketing were spurring the newfound era of consumption. I also included some wacky Omaha print ads to paint a picture of the local flavor we had discussed beforehand. I do not know what firms created any of these advertisements.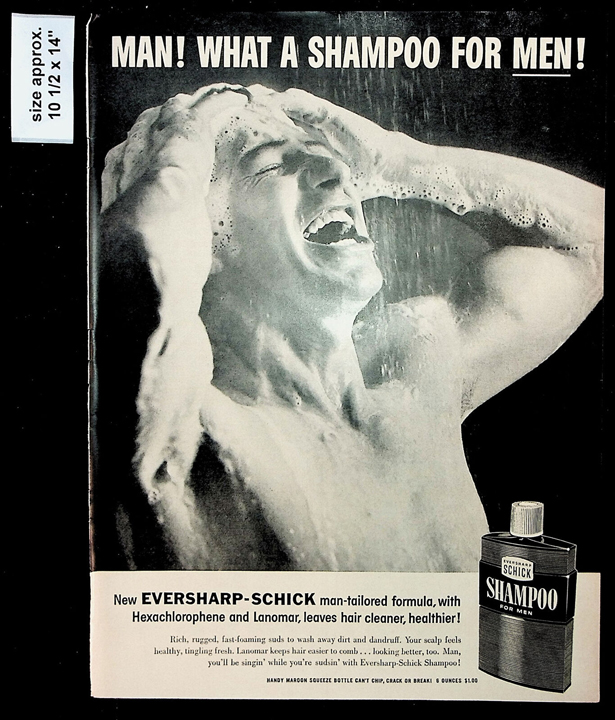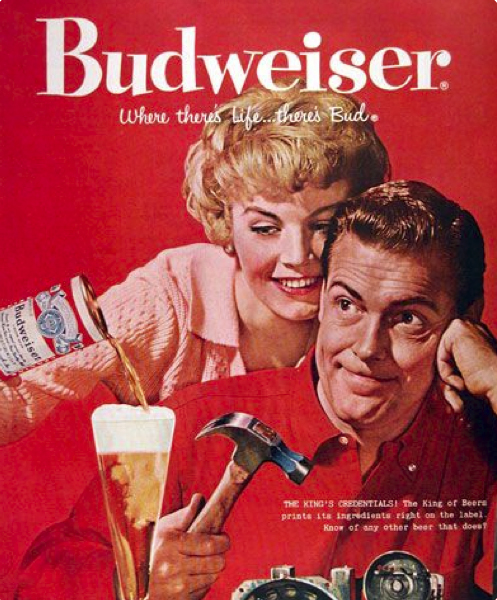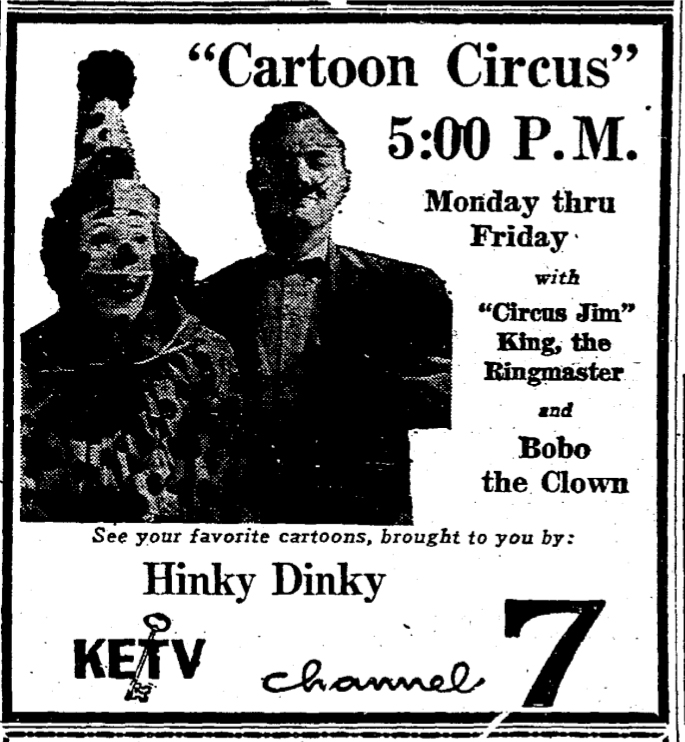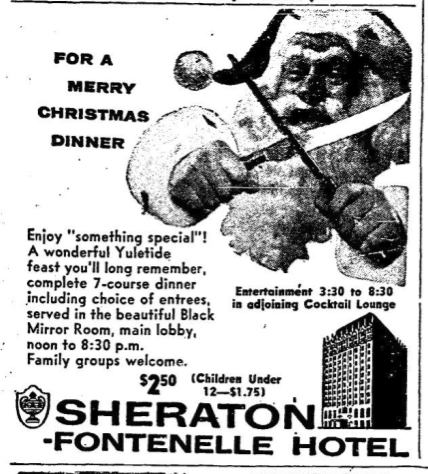 OWH. 1958. The Cartoon Circus show brought to you by Hinky Dinky and KETV, featuring Circus Jim King, the Ringmaster and Bobo the Clown.
OWH. December 24, 1958. OWH. Print ad for the Sheraton Hotel. The Black Mirror Room! I've written of it before. In this day and age we probably wouldn't see an advertisement of Santa sharpening his carving knife.
Raymond Dundis set out on his own in 1961, opening an advertising and public relations agency under the moniker, Ray Dundis Inc. He quickly secured the Roberts Dairy account, a real cash cow, as they say, and later I found mention of the the New Tower Hotel Court account as well. Frank S. Keogh was named vice-president of Ray Dundis. By 1964 Ray Dundis Inc. was booming and John Chapman was named creative director.
Sunset
A few months after James Ainscow sold his property to the Baptists and the parish began building their Sunset Hills Church, the Dundis family put their country house on the market. Were these sales interrelated? I couldn't know for sure. 9402 Pacific had always known pastures to her north, east and west. Had Mr. Dundis been renting the church property for his horses and was sore about it? Or was this just too close for comfort? I did scrape up one clue that could be significant. In 1963 the Dundis family was living in the country, in Washington County, north of Hummel Park. I might never have tracked that had Raymond not joined with other country folks as they turned out in force to fight neighbor, John W. Webb. Now apparently Mr. Webb had ideas of turning his 260-acre farm into an Omaha refuse landfill operation. In his configuration of things, the city dump trucks would haul trash out to the farm area. Ray Dundis accentuated, in reaction to potentially living near a waste dump, his family "moved from West Omaha to the area" so that they could "live more like human beings." I found that telling, if he was referencing his perception of progress or crowding along along West Pacific.
In August of 1959, the Dundises were moving on. One thing was clear—if Ray Dundis had a hand in the marketing of the 9402 Pacific Street house, he sure could write to my liking! And obviously our next stewards of the home were drawn in also. Who wouldn't be?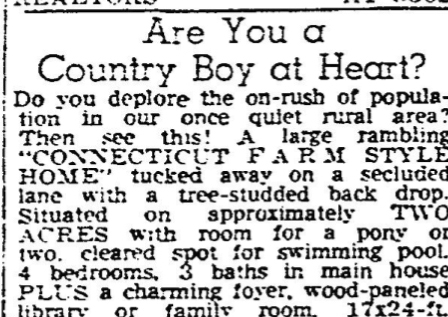 OWH archive. Aug 12, 1959. There were only three ads for 9402 Pacific listed that I could find and each was more divine than the next.
Hard on the heels of that ad, John and Cornelia Davis bought 9402 Pacific on September 28, 1959. The Davis family would become the perfect homeowners with regard to affinity for the structure and the land, in harmony with time and place. Under the Davis guardianship, 9402 Pacific would find loving maintenance, esteem and local celebrity.
The Dundis Epilogue for those who need to know…
I can report Mr. Dundis' passion for Appaloosas continued on; I was pleased to find he entered a 1960 National Appaloosa Show with his horse, Prairie Dog. In the 1980s, I found Betty Dundis living in Texas and by the 1990s she had an address in Joshua Tree, California. I was able to backtrack and find the Dundis couple's divorce was granted in 1983. Interestingly Raymond bought 531 Park Avenue in 1985 and lived there the rest of his life. As synchronicity would have it, I touched on this home in another investigation: Park Avenue Recollection.
Intermission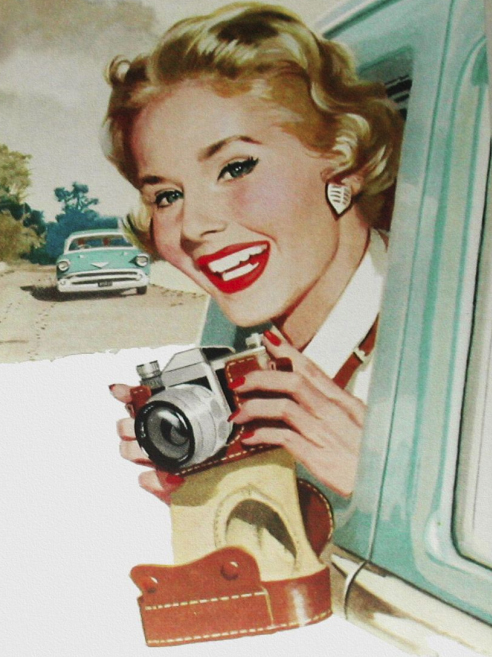 And now for something completely different as we stretch, throw another log on the fire or plump our pillows–Doesn't this look like the great American detective, Veronica Mars?
I've got some advice and I know, friends, though it may sound frivolous, you should have a nice drink handy. Some prefer cocktails or a nice hot tea. For myself, I no longer indulge in alcohol but I know without a shadow of a doubt having a drink before and along our tour of the Davis grounds will not only serve to clear the eyes but free the spirit. The trees do grow. Pacific Street will widen. Little Papio does flood. All manner of peril will surround our dear 9402 to include a power substation. Through it all there is beauty and intrigue behind the white country fence. The happy mental catalogue of historic clues, memory and photographs will coalesce as we detect with our own eyes the melding of a Connecticut dream farm and Lash LaRue's cowboy cabin.
Through the Wood
Mr. and Mrs. John B. Davis purchased 9402 Pacific Street and signed the warranty deed on September 28, 1959.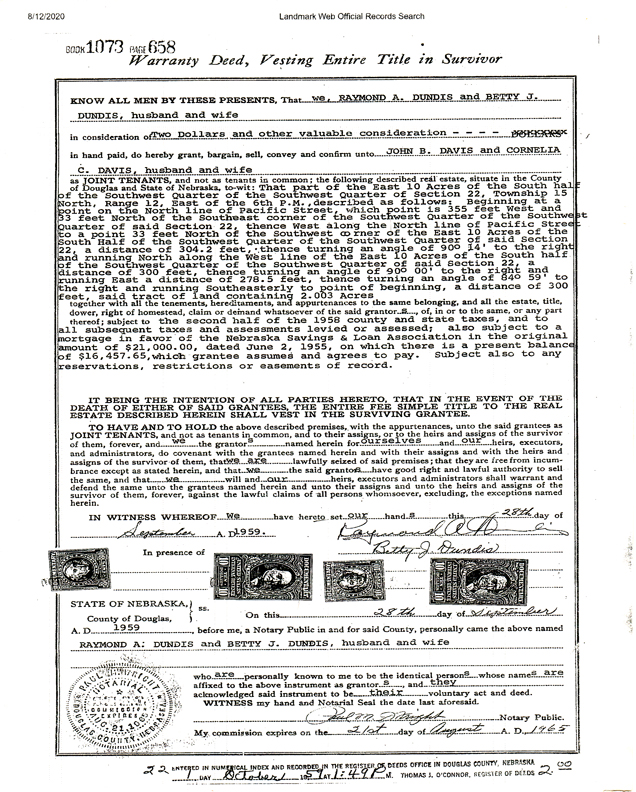 Warranty Deed, dated September 28th, 1959, when the Dundis couple sold to the Davis couple. Document obtained from the Douglas County Deeds Office August 12, 2020.
The World-Herald would reveal a small shred of a clue—that the new family didn't move into their property until months later. "In time to greet spring" in March of 1960–"Dr. and Mrs. John B. Davis. They and their children, Dana, 10, Jay 81/2 and Cynthia, 5 1/2, are getting settled at 9402 Pacific Street." Shortly after, when the paper followed up with the Davis's Easter Parade ensembles, I knew I had found a notable family or Omaha Famous, as we like to say.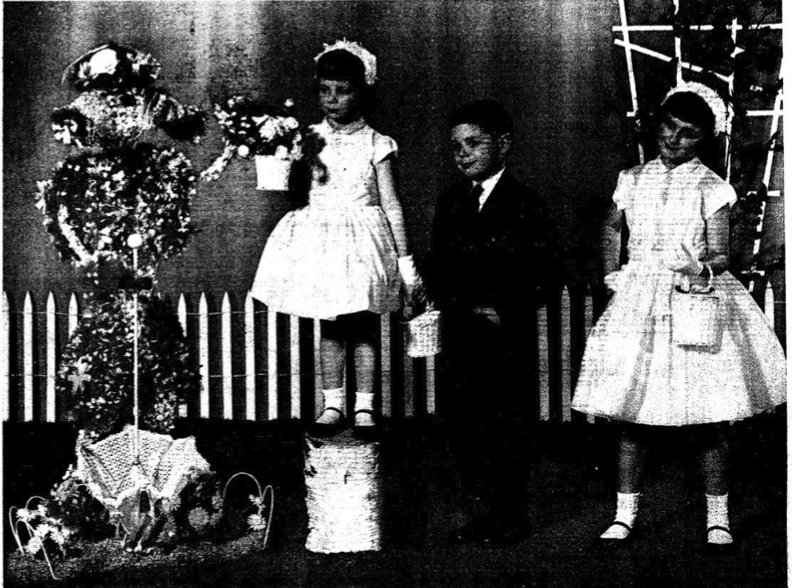 OWH April 1960. "Dress rehearsal for the Easter Parade. Cynthia 5 1/2; Jay 8 1/2 and Dana 10. Children of Dr. and Mrs. John B. Davis with pink 'friend.'"
This morsel was the clue I needed to get out my flashlight, sleuthing heels and reconnaissance duffle. Because we are not all offered the opportunity to show off our Easter gloves and patent leather shoes in the Society Page, I knew I was in for a deep dig with loads of delicious evidence.
The Byron B. Davis Chronicles
I was fascinated to find that our newest homeowner, Dr. John Byron Davis, came from both an esteemed medical family and a prominent business family. John's grandfather and the family patriarch was Byron Bennett Davis, M.D. An early Omaha Medical College professor of surgical pathology and clinical surgery (1890s), Byron Bennett Davis was president of surgical associations across the state and served on the boards and was a charter member of numerous medical organizations both regionally and nationally. At the time of his death in 1933, he was chairman of the department of surgery at the Medical School, by then merged into the University of Nebraska system. So important was Dr. B. B. Davis to the upbuild of early Omaha, he was featured in both Nebraskan 1854-1904, Bee Publishing Company, 1904 (the book that I have joked made everyone look remarkably handsome, warm and of current days, compared to the stilted photographs from that time) and Arthur Cooper Wakeley's Omaha: The Gate City and Douglas County Nebraska, Vol. II, 1917 (another favorite book I have hinted as being the Omaha bible.) Another full-page photo of Dr. B. B. was displayed in the latter, which I am not including for the sake of space. Trust me, it was quite agreeable.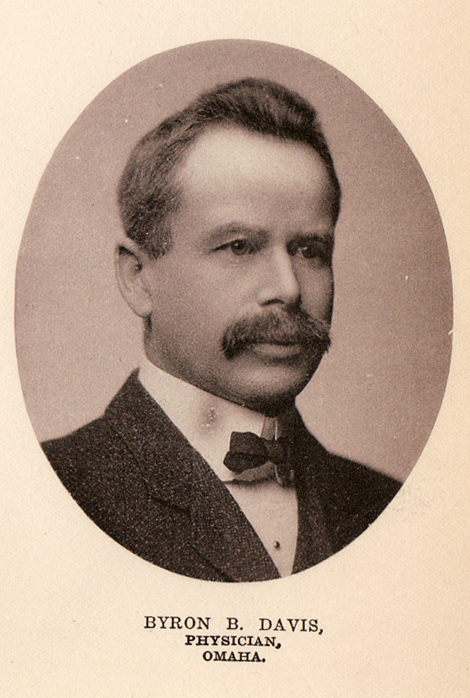 Wonderful photo of Dr. Byron Bennett Davis scanned from the Nebraskan 1854-1904, Bee Publishing Company, 1904.
From Wakeley's tome: "On the 7th of June, 1887 in Beatrice, Nebraska, Dr. Davis was married to Miss Sophia Myers (spelled Sopha most everywhere else), a daughter of P. J. Myers, now deceased. They have one son, Herbert Haywood Davis, who was born in Berlin in 1894 (…)."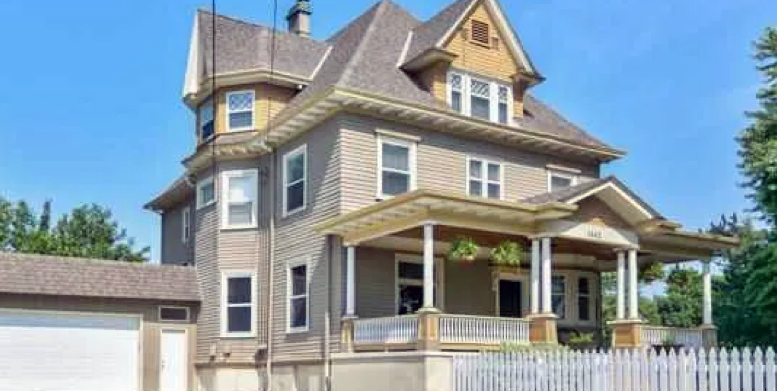 The B. B. Davises lived in the Field Club area on the prominent corner of Woolworth and 32nd Avenues, catty corner to Hanscom Park. They resided in the lovely 1502 South 32nd Avenue home, built in 1900. The Davises were early Field Club members and I discovered them socializing with the likes of the Nashes and the Prinzes in the early 1900s. For more on the Nashes, delve into The Secret of Burt Street. More to come on the Prinz connection.
In his day Dr. B. B. Davis was considered "one of Omaha's most prominent physicians and surgeons. " It was his other passion, to be discussed in a wee bit, that I am most interested in. Buried by time, I believe his other fixation also had great influence over Dr. John B. Davis and also the fate of our 9402 Pacific.
Byron Bennett Davis' son, Herbert Haywood Davis, also a surgeon, was Dr. John Davis' father. Dr. Herbert Haywood Davis graduated from Cornell University and Johns Hopkins Medical College. In 1921 he married a member of another prominent Omaha family, Olga Antonio Metz, daughter of Arthur Metz and Emma Smith. Yes, that Metz family. Herbert and Olga's nuptial announcements covered in the Social Affairs pages were identified as one of The Large Society Events that summer. (I will presume that the Metzes approved Herbert having been born in Germany, among his other plentiful virtues.) Olga's grandfather Fred Sr. and his brother, Philip founded Metz and Brother in 1864. Olga's father, Arthur, and three brothers would later take over the brewery, incorporating under the name Metz Brothers Brewery Company. Arthur Metz, was treasurer of the Metz family business from the late 1800s until it closed in 1919 because of Prohibition. Please pardon this Metz diversion, as I believe it is relevant to the Davis storyline development, if not luxuriously indulgent for my sake.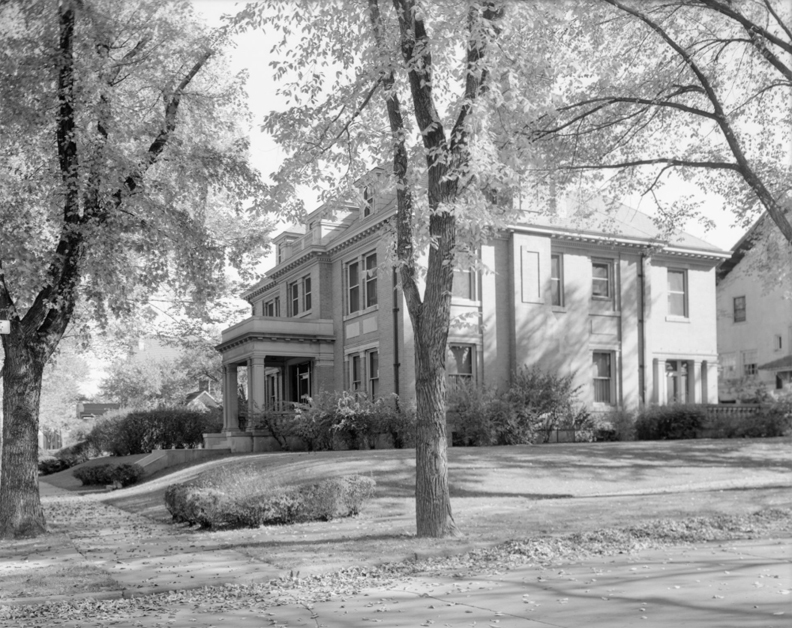 This was Dr. John Davis' grandfather's house–the family home of Arthur Metz at 3625 Dewey Avenue in the Gold Coast Neighborhood. A two- story brick and stone house, Arthur Metz affectionately called this bit of glory The Rock of Gibralter. Creator: Bostwick, Louis (1868-1943) and Frohardt, Homer (1885-1972). Publisher: The Durham Museum. Date: October of 1940. According to the Nebraska State Historical Society, Omaha architect, George Bernhard Prinz, who we have highlighted in numerous investigations, built the Arthur Metz home in 1914. (File this Prinz name in your secret pocket, as it will have another connection to the Davis family home upcoming.) Sadly the 3625 Dewey family home, an obsession of mine, was devastated by fire in January of 2015, demolished that very August. Shortly thereafter a crematorium was built in its place–I mean the desperate Dewey 3700 apartment building. I will confess to you now, that this tragic event turned travesty is what encouraged me to launch My Omaha Obsession publicly back in 2016.
The Davis Doctors, father Byron and son Herbert, would embark on their Omaha private practice, along with Dr. C. A. Hull. Like his father, Dr. Herbert Davis was focused in academia and joined the College of Medicine as an instructor, in time the director of laboratory research and later a professor. By 1948 he too became the chairman of the department of surgery. He was a member of innumerable professional organizations, societies and boards.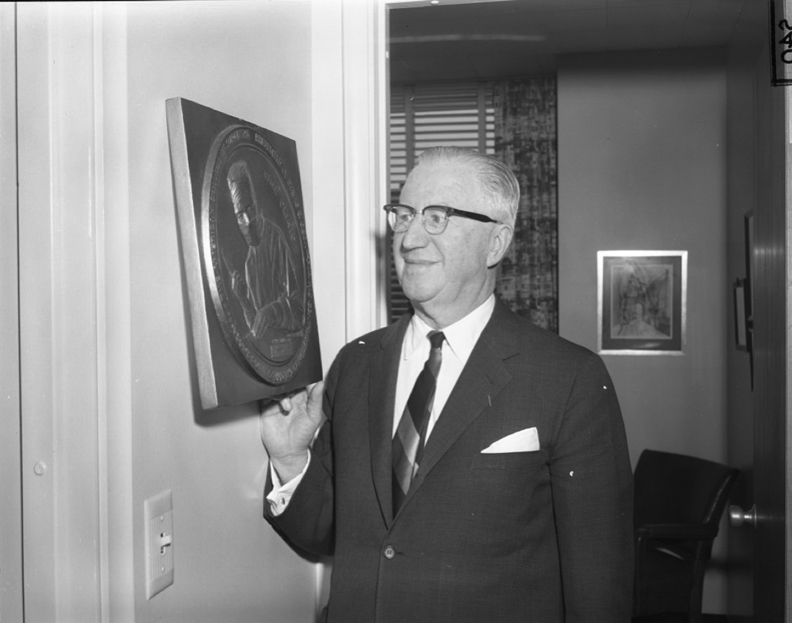 Later in his life–Dr. Herbert H. Davis with a large medallion honoring him. Creator: Savage, John (1903-1989). Publisher: The Durham Museum.
Herbert and Olga Davis File
By all accounts the Dr. Herbert Davises had a glorious life—one of travel, rich, varied social circle, hobbies, civic commitment, focus on sport and out of doors, pastoral activities and family. I share these clues because it gives color and foundation to our John Byron Davis–that he was introduced at a young age and accustomed to both high taste and rural life. Dr. Herbert and Olga appeared to enjoy their stature. The couple was featured in the 1940 Who's Who in Nebraska, where their three children were listed–John Byron, Herbert Haywood Jr and Emma Louise. Olga's hobby was noted as "collecting music records," which made me become firmly attached to her. Dr. Herbert was an avid tennis player. Their 1940 residence was listed as 5212 Underwood.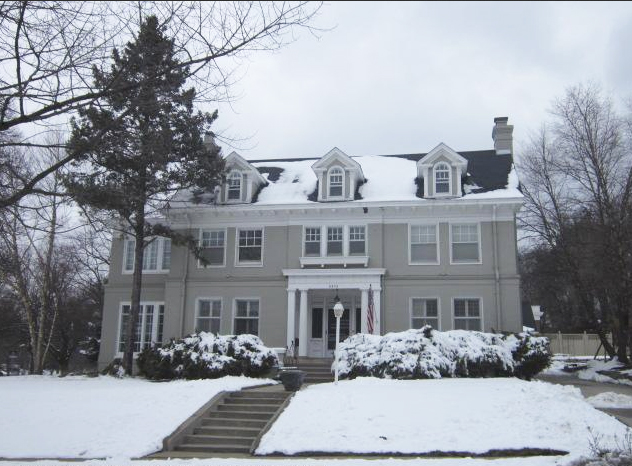 5212 Underwood is a stately home, a central anchor in Dundee.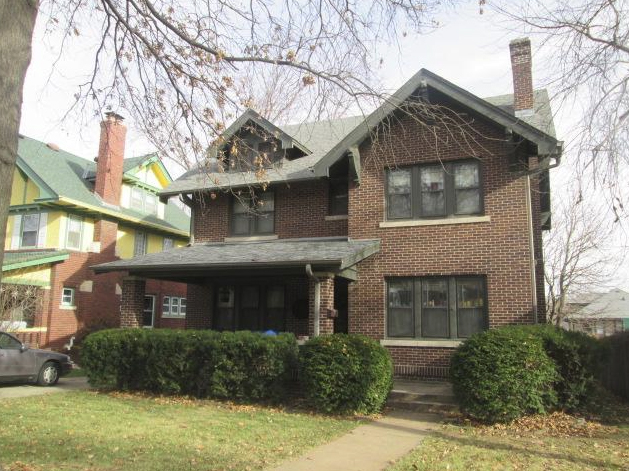 I was able to footmark back and find that the family had lived at 115 South 51 Street throughout the 1920s.
But it was tracer to another home and a getaway country home, to be pored over in upcoming chapters, that made me fall in love all the more. Hold yourselves, friends.
In 1940 Dr. Herbert and Olga Davis bought the George B. Prinz Home at 112 South Elmwood Road. (I had asked you to slip away the note card for Architect Prinz and made mention that there was another Metz-Davis connection. This is it.) 112 South Elmwood was a glorious home that Prinz designed for his own family. 112 South Elmwood Road was already familiar with the social spotlight by the time the Davises bought it and it was a real showplace for all of Olga's treasures, of which she had amassed a fine collection. Notification of the Golden Chesapeake Bay Retrievers mixes living in the Davis home gave me pause to imagine these four-legged friends weaving in and out of fragile statuary but it was also telling of the Davises' other "country life." Part of my obsession with discovering their connection to this house was that I had found it before in my wanderings. The John Cleary family bought 112 from the Davises in 1963. UNO then bought it in 1971 through eminent domain. This is the neighborhood that has disappeared, South Fairacres, as I call it, when swallowed up by UNO. All but a few of the houses were torn down. I have written of it before and I've been meaning to get back to this enchanting neighborhood.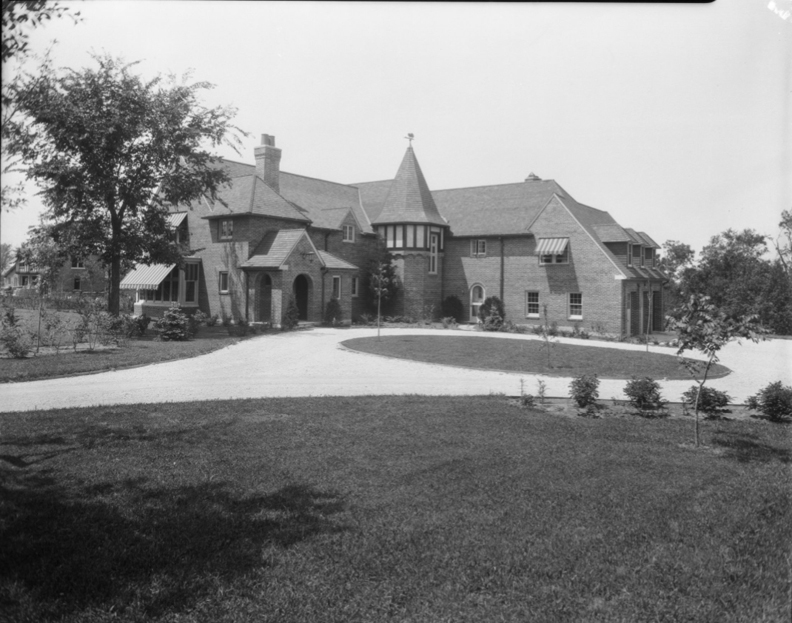 Two story brick home at 112 South Elmwood Road. There is a three-car garage on the north side of the house. George B. Prinz home. Creator: Bostwick, Louis (1868-1943) and Frohardt, Homer (1885-1972). Publisher: The Durham Museum. Date: June of 1925.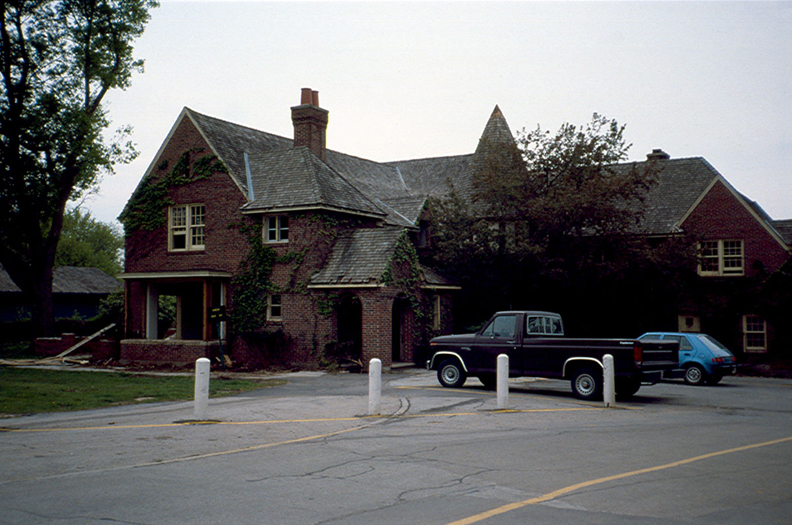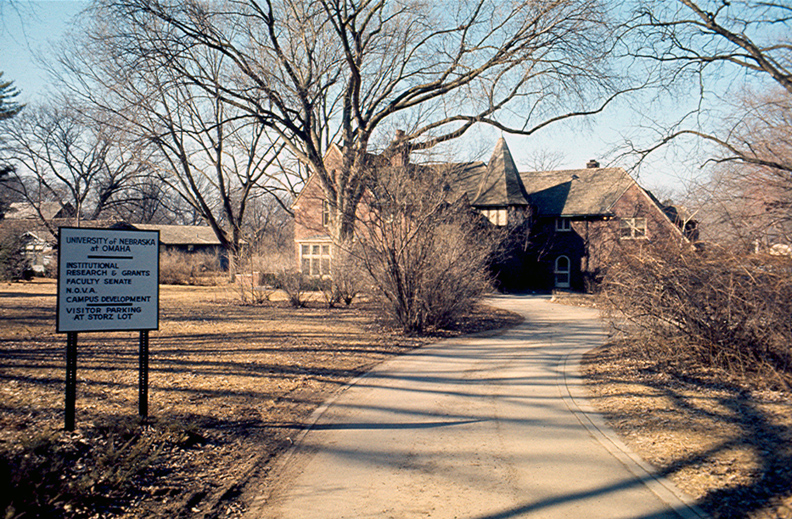 The George B. Prinz house. Owned by Herbert and Olga Davis from 1940-1963. Seen here as it was used by UNO previous to being demolished. Photos borrowed from the UNO archives.
With this foundation laid for Dr. John's family history, let's tiptoe further and start to survey the owners of 9402 Pacific.
The John and Nene Davis Case
John Byron Davis, M.D. was born in 1922. He would graduate from the Asheville School for Boys in Asheville, N.C., in 1941 where it is said he met his future wife, Cornelia "Nene" Cowan. After high school he enrolled at Yale University, but his military service in World War II postponed his education. From UNMC's write-up, when the Davises were honored as the College of Medicine's first "Legacy Family" in 2022: "He (Dr. John B. Davis) served as a communications officer in the Mediterranean, and later was the commanding officer aboard the U.S.S. LST920 during the liberation of the Philippines, Guam and Saipan. He was on the first ship to make port on Hakaido, the most northern island in Japan, following that country's surrender." John Davis returned to his schooling and graduated from Yale in 1947. He graduated from the University of Nebraska Medical College in 1951. The  youngest of the Dr. Davises completed his surgical residency in Chicago before returning to Omaha to practice surgery with his father.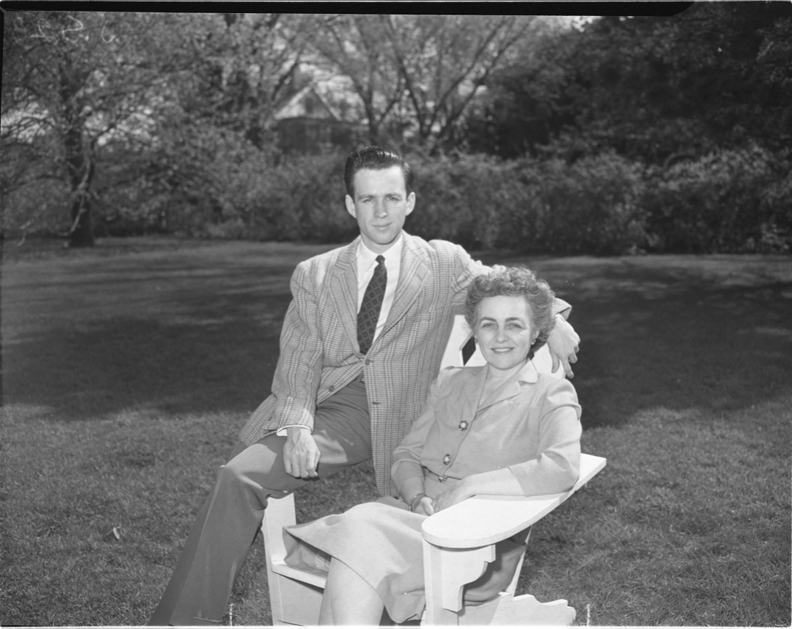 This is possibly my favorite photo of tonight's investigation. I would guess this is the late 1940s. Olga Metz Davis with her son, John B. Davis. Because of the timeline and background, I would assume that this was taken in the garden of the 112 South Elmwood Road Davis home. Creator: Savage, John (1903-1989). Publisher: The Durham Museum.
Before John graduated from Yale University, he married his sweetheart from his high school years. Miss Cornelia Alexander "Nene" Cowan was born in 1925 in Asheville, North Carolina to parents Elsie Alexander and James Gerald Cowan. Nene married John Davis on July 27th 1946 in Buncombe County, North Carolina.
Nene Cowan Davis was described as a "a brilliant, elegant woman" who grew up in Biltmore Forrest, North Carolina. The Cowans were good friends with George Henry Vanderbilt Cecil, who's family owned and continues to own the Biltmore Estate. She attended St. Catherine's School in Richmond, Virginia her senior year of high school, and was a graduate of Vassar College, graduating in a tidy three years. She and John frequently saw each other while he was at Yale (one of the eight Ivy League brother schools) and she was at Vassar (one of the classic Seven Sister schools), with a highlight of their relationship at that time being they would often meet at the famous clock in Grand Central Station in New York City.
Nene's parents, Gerald and Elsie Cowan, were quite concerned when she was determined to marry John Davis from Omaha, Nebraska, thinking that Nebraska was very far away and not as well developed as it really was.
From son in law, Bill Miskell: "Their marriage was so unique particularly compared to the current day. I am guessing that they only saw each other in Asheville a handful of times before John graduated from the boarding school. Yet somehow they both knew. When John decided to enlist in the Navy and leave Yale, he contacted Nene at Vassar and asked her to meet him in New York. There he told her that if he survived the war, he would return and they would get married!"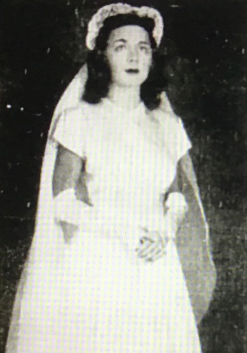 Wedding photo of Cornelia "Nene" Cowan Davis borrowed from The Citizen Times. Asheville, North Carolina. July 28, 1946.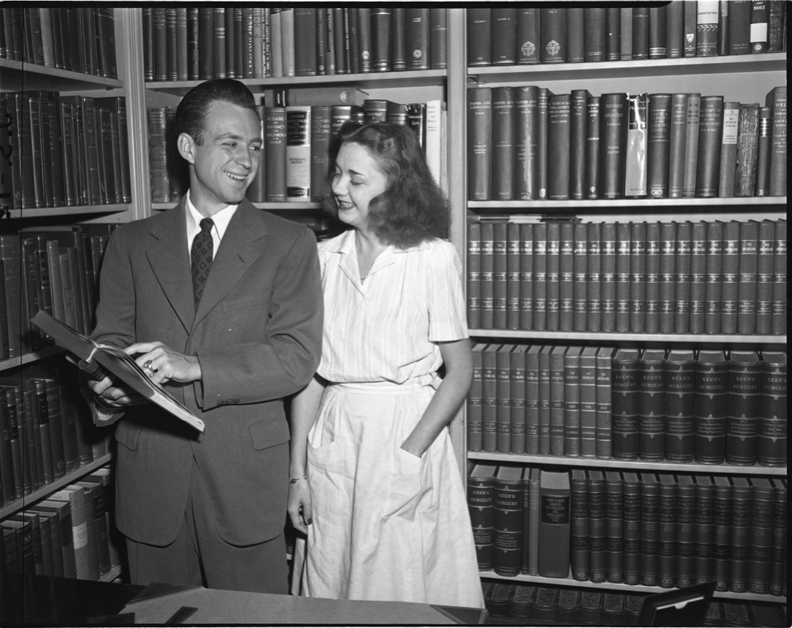 Mr. and Mrs. John Davis in a library. Married only a few months, I enjoy this funny posed photo of the newlyweds. I see a young Bette Davis. Creator: Savage, John (1903-1989). Publisher: The Durham Museum. Date: September of 1946. On the note of posed photos, I wondered if newlywed Nene Davis knew she would be photographed so much when she moved to Omaha. I did not have time to dig into her past. For all I know, she was accustomed to it.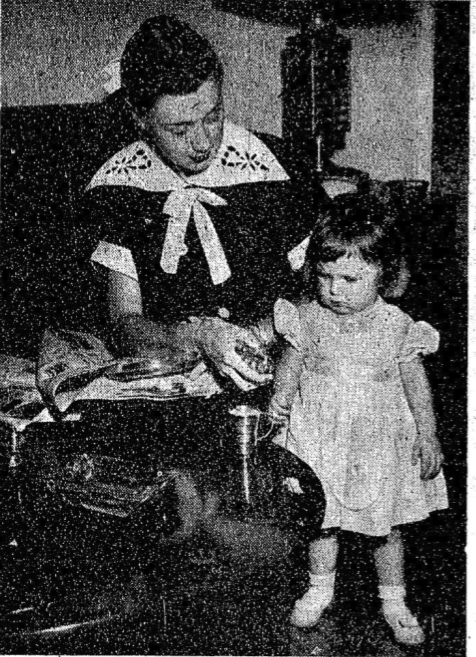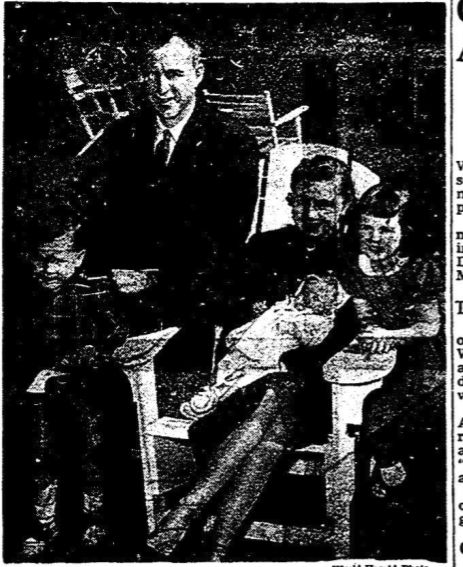 OWH. 1951. Cornelia "Nene" and little doll-like Dana "preparing to move to their new home. "Leaving for Chicago where Dr. Davis will begin an internship at Presbyterian Hospital." I can't help but be infatuated with what appears to be Nene's eyelet collar.
OWH. 1954. While visiting his parents in Omaha, the Davises. I believe this is the same Elmwood Road back garden as seen previously. Dr. John, Nene and children—Dana, Jay and baby Cindy. Dr. John Davis completed his residency and the family moved to Omaha in about 1956.
Dr. John Davis entered practice with his father, Dr. Herbert Davis from 1956 to 1961—other documents reported that father and son shared the same office for ten years. One thing is for sure that when his father retired, Dr. John continued his own practice until 1985. Dr. John, like his family before him, became an associate professor of surgery at the Medical College. He was later president of the medical staff at Immanuel Hospital and was on staff at a handful of local hospitals throughout his career. It was not difficult to find clues that John Byron Davis excelled in tennis, loved golf, hunting and was an avid horseman– the markers of an old guard upbringing, afternoon sports and boarding school days–I assumed no less of a well-bred prep. What I could not see early on in my search was that the Davis history and noteworthy focus on the pastoral was a substantial part of this purview as well. "Dr. John Davis was obsessed with country life," an obsession that would drive him to write Too Tough to Die, his book about the village of Cody in the Sand Hills of Nebraska. All local breadcrumbs led back to the family getaway country house I asked you to remember. Pull on your wellies and let's go there now.
Friesland Farm
Dr. Byron Bennett Davis and his wife bought 230 acres of rural land outside of Omaha in May of 1907. The Davises purchased from the James Henry and Anna Elizabeth Taggart McShanes of Omaha. By that time Mr. McShane was long considered an early (Caucasian) settler, having arrived to Omaha in 1869 and a reputable pioneer railway and telegraph builder, through which he secured the Union Pacific Railroad contract under the aptly named James H. McShane & Co. Every sleuth has tripped upon the McShane parcels encircling and within early Omaha. Our Dr. John Davis, owner of 9402 Pacific, had said his uncle started a ranch near Cody, Nebraska in 1905. "As a child, he said, he often visited the ranch for brandings and hunting." I include this information as the uncle's initiation of his farm coincided with Dr. Davis' grandparents buying the McShane land, which we can assume also greatly influenced him.

OWH. May 9, 1907. Dr. B. B. Davis bought land from the McShanes.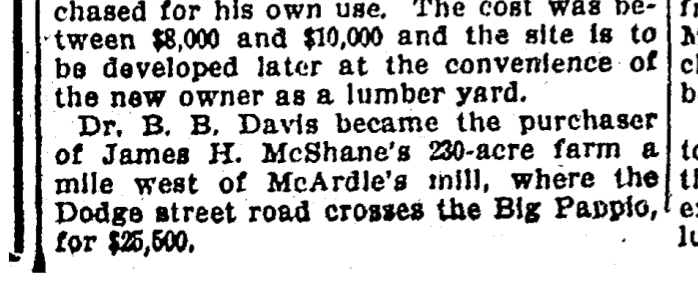 OWH. May 12, 1907. The Davises newest acquisition is spelled out for the viewing public. 230 acres. "Where the Dodge Street Road crosses the Big Pappio…" Site of ongoing flooding. One future flood stranded Dr. B. B. Davis out at the farm and away from the office.
The Davis holdings would grow over time but this early McShane sale was roughly in the 114th and Dodge area. The parcel would expand to a western boundary of 120th, to Blondo on the north perimeter. Just for nerd fun, because you know I am obsessed with maps and any chance to involve a map–a look at 1889.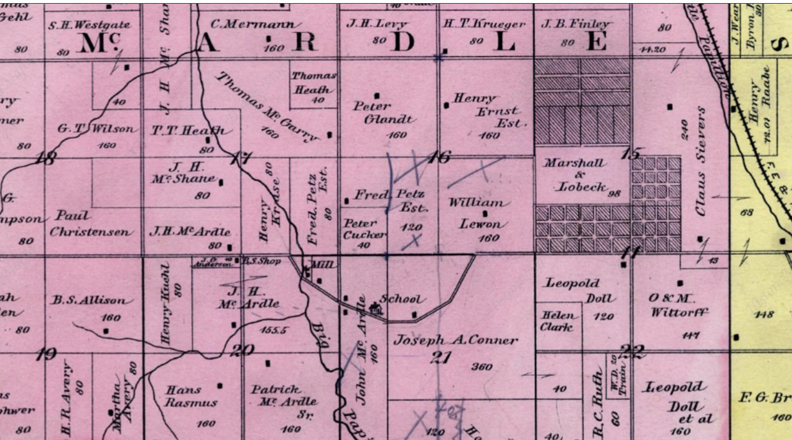 Overview of the 1889 McArdle Township. North is top of image. West Dodge Road is seen running horizontally across the middle of the map. Scan for the J. H. McShane property, north of that line, to the west. In 1889 the McShane parcel was depicted at 80 acres. Take note of the Henry Kruse lot to the east, shown at 80 acres. McArdle, Benson, Millard, Douglas, West Omaha Map. Full Atlas Title: Douglas and Sarpy County 1889. Publish Date: 1889, National Publishing Co. Borrowed from the Historic Map Works Rare Historic Maps Collection.
By April of 1909 the Andrew G. Kruses also sold land to the Davises—I believe relative to Mr. Henry Kruse—neighboring property owner. It wasn't until 1915 that I began to find evidence of Dr. B. B. Davis beginning his focus on the pedigreed cow. In October of 1916, in the early morning hours, a fire destroyed the large cattle barn out at the Friesland Farm. "It is supposed that the fire was caused by spontaneous combustion in the loft, where over 150 tons of hay were stored. The loss, totaling $11,000, is partially covered by insurance." There were no cattle in the barn and no one was harmed. Miraculously Dr. B. B. Davis, stated that another barn was already under construction and could be used until a large rebuild would take place. "Friesland Farms is one of the showplaces of the city, and the plans and construction of the buildings were much admired by the members of the National Milk Association when they visited the city last year."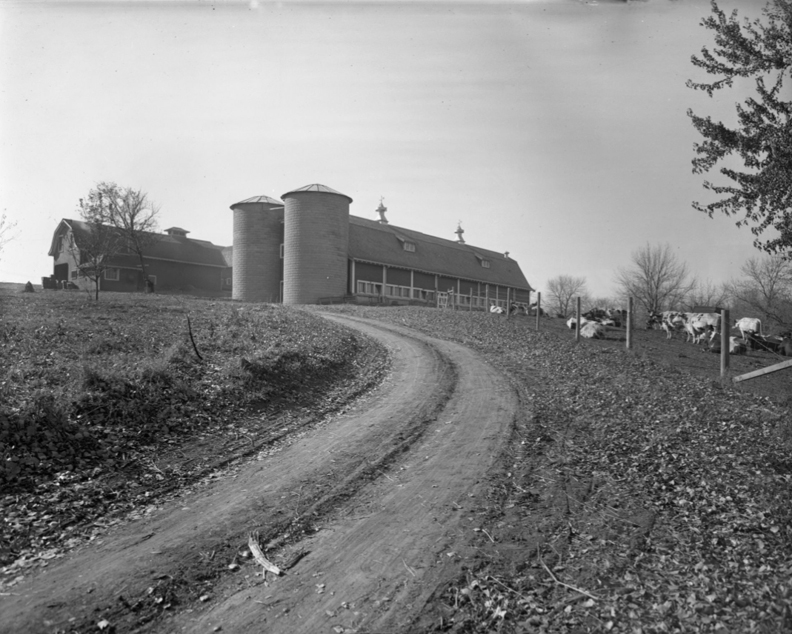 A dirt road leading up to a barn with two silos. Cows are in a pen next to the barn. This wonderful barn was purportedly the first architectural project of Frank Latenser, built to Dr. B. B. Davis' specifications. We have spoken of Frank Latenser previously—he was one son of John Latenser & Sons. 1401 North 120th Street. Friesland Farm. Creator: Bostwick, Louis (1868-1943) and Frohardt, Homer (1885-1972). Publisher: The Durham Museum. Date: November of 1917.
By the next summer of 1918, the Davis family had begun to outfit their property, turning their dairy showplace into their "summer home near the West Dodge Road." In the years to follow their summer escape was openly called "Friesland Farm, the country place of B. B. Davis." I had thought maybe this was the originating family farm but the more I worked to hollow it out, it appeared to be named for the high quality Holstein Friesian cattle Dr. Davis became known for. Friesland is a province of the Netherlands.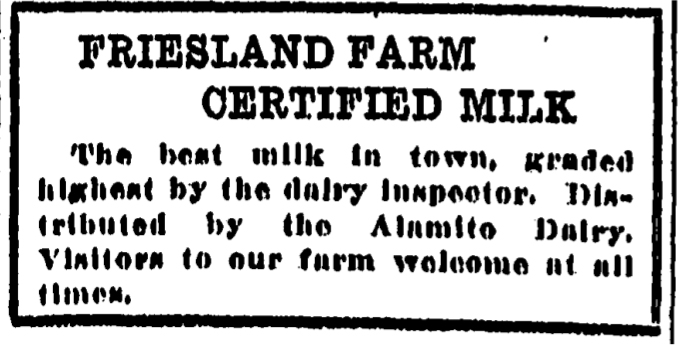 By 1919 the World-Herald proclaimed that Dr. B. B. Davis' Holstein-Friesian herd out at his Friesland Farm was one of the "show herds of Holsteins in the United States and the 140 animals in the herd are all pure-breds." His was considered a "classy farm." The farm was particularly known for its exceptional dairy with local restaurants bragging of their Friesland Farm milk and cream. I marveled that in the Friesland Farm days there was an open invitation to anyone in town, welcoming them to drive out to the dairy and see for themselves.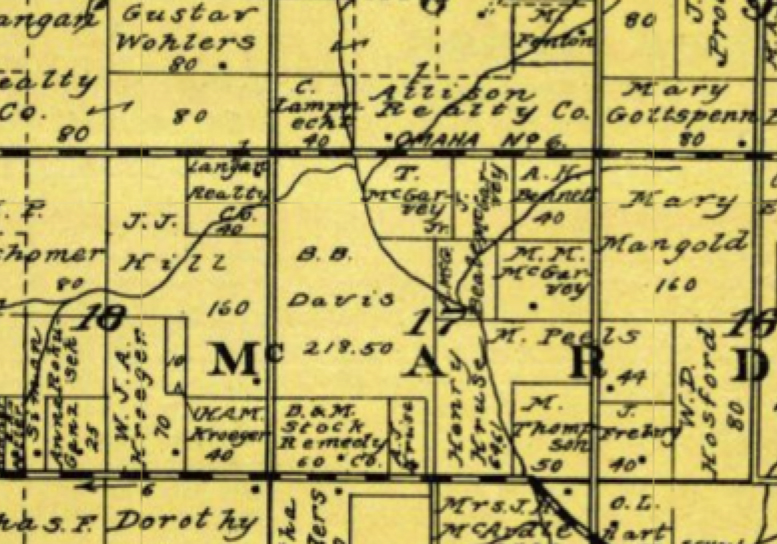 The 1920 B. B. Davis "Friesland Farm" has grown. McArdle, Millard, Douglas and Benson Townships Map. Full Atlas Title: Douglas and Sarpy Counties 1920. Publish Date: 1920, Anderson Publishing Co. Borrowed from the Historic Map Works Rare Historic Maps Collection.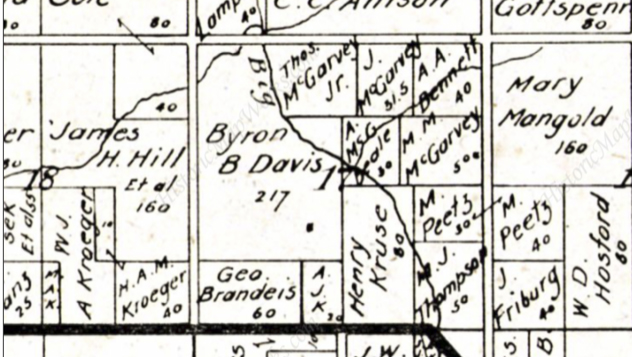 McArdle Township Map. Full Atlas Title: Douglas County 1925c, Unattributed. Borrowed from the Historic Map Works Rare Historic Maps Collection.
When Dr. Herbert and Olga started their family, they spent more and more time out at Friesland Farm, refashioning it as "Tuckaway." The World-Herald reported, "Siblings Emmy Lou, John and Herbert Davis Jr. lived with their parents in the Dundee area, but the family spent summers during the 1930s on their farm. At the time, the Davis farm was in the country far west of Omaha. The children rode horses, played tennis and scrambled around in the barns. The boys swung from vines across Papio Creek, pretending to be Tarzan." We have spoken of the Gentleman Farmer and the rural weekend escape. There is no better summary for the dreamy Tuckaway Farm. From my digging it appeared that J. P. and Mildred Jensen were running the dairy farm for the Davis family by the 1940s; I am not sure who managed the large dairy and cattle operation earlier but certainly with business a this large, the Davises would have had a fulltime team involved in the day to day. I would find evidence of the family letting newlyweds and friends live out at Tuckaway, perhaps how a family cabin or beach house is shared nowadays. From 1943 "The lucky pair will occupy the attractive farm residence of the Dr. Herbert Davises. Tuckaway Farm is located at 114th and Dodge Streets." Tuckaway became a social gathering place for picnics, school clubs gatherings, barn dances, parties, private family fun and civic gatherings.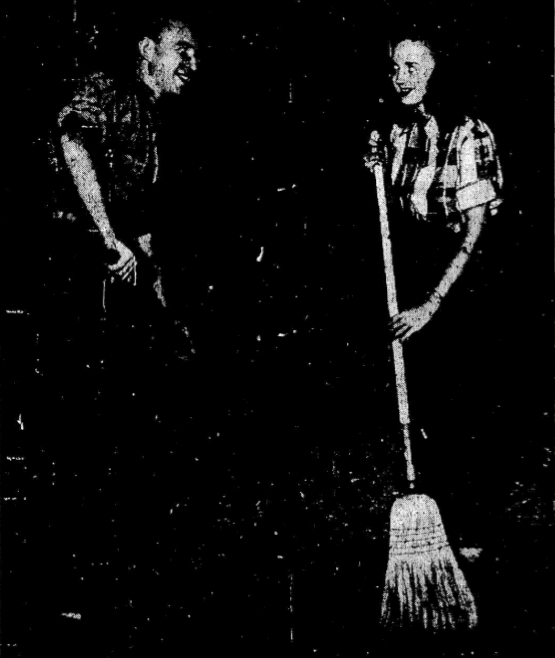 OWH. 1948. This is about as cute as it gets. Here is Dr. John and Nene Davis at a Tuckaway barn dance party. "Swing your partner…guests at the barn dance given by Mr. and Mrs. John B. Davis and Mr. and Mrs. Anthony B. Cudahy for Miss Louise Baker and her fiancé, Robert M. Garrett, spent the evening learning to square dance. The party was given at the Dr. Herbert H. Davis farm, Tuckaway Farm."
In April of 1959, I found Dr. Herbert H. Davis chairmen of both Cedar Hills Golf, Inc and Friesland Farms, Inc in creation of an "18-hole golf course on West Blondo." Dr. Herbert would eventually recast his Tuckaway Farm– design, build, own and operate Miracle Hill Golf Course in Omaha from 1962 until his death in 1982. (To catch us up to our timeline of events, in that same 1959 period, Dr. John and Nene Davis were buying 9402 Pacific from the Dundis family.) Dr. John Davis, his brother, Herbert "Herb" Haywood Davis, Jr. (investment banker and golf course developer with their father) and sister Emmy Lou "Petie" Hilsinger would come to own and manage the Miracle Hill Golf and Tennis Center. They later opened an indoor tennis facility "with four courts in 1978 and added four more in 1982."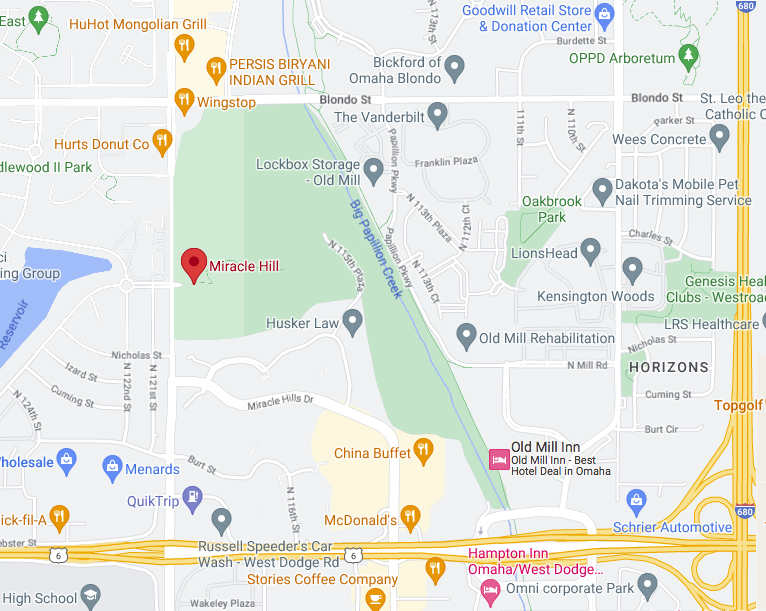 Google Map image of the Miracle Hill Golf and Tennis Center as it looks today.
Now that we have fully entangled ourselves in the back story of Dr. John Davis and the Davis family ('the insolence of it!'—the unexpected range, the academic and cultural inheritance, the hard work and productivity—things I did not anticipate when picking up this spade!), let us resume our consideration of the 9402 Pacific Street property. It is the distinct moment for stock-taking. I calculate, this sidetracked investigation into the past will make 9402 all the more precious…at least to me.
The Unofficial Assignment
If we review our case, the John Davis family most likely moved into 9402 Pacific in the winter of 1960. In the Davis years our house obsession would transform and neaten up to my Christmas in Connecticut dream farm. They had money to expand the home and the new wings would branch from the original Ott farmhouse, although it remained a livable, comfortable, unpretentious house. This larger renovation happened by at least 1962. I imagined well-stuffed closets of tennis rackets and ball gowns alike and wonderful rooms upholstered in foreign fabrics, tassels, shotguns, club chairs, paintings of horses and dogs coincided with framed family silhouette portraits. I would envision its revamping as a joyful game between John and Nene where the cowboy, the country club and the inherited pieces mingled in the library and overflowed into the cardroom and wetbar.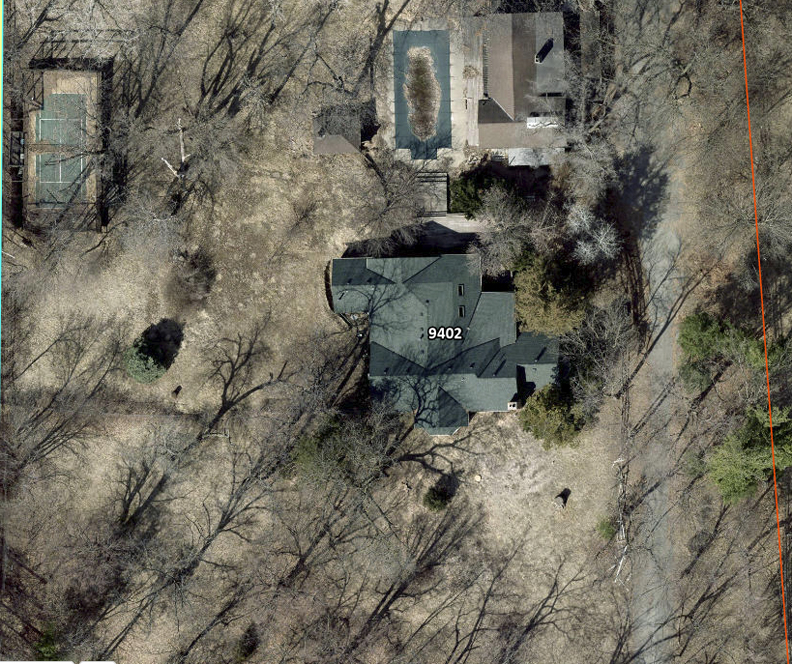 In an attempt to gather our bearings–2022 aerial of a portion of the 9402 Pacific Street property. North is top of image. Pacific Street is cropped out, but would run perpendicular to the bottom of the photo. Image borrowed from the Douglas County/Omaha NE GIS Department (DCGIS) site.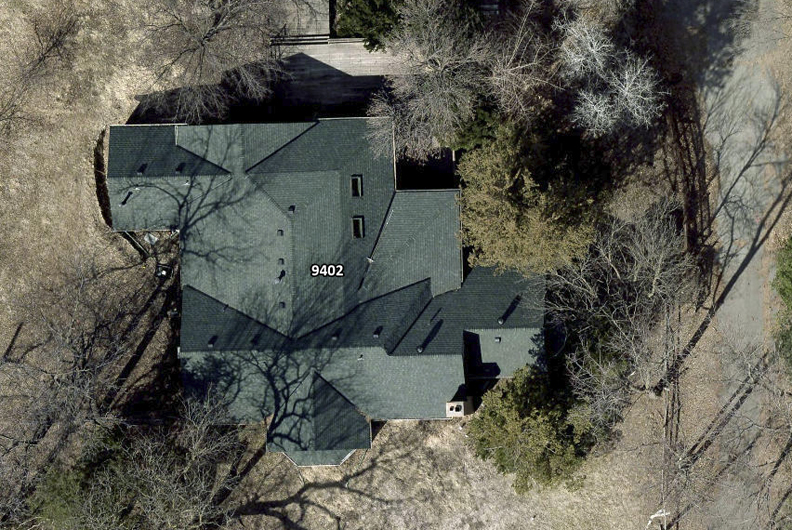 Our detective work: 2022 aerial of the 9402 Pacific Street footprint magnified. My typewriter is a sad substitute (and my photoshopping skills as well) for the camera. One can review 9402 Pacific Street's magnificent roofing clues—gable ends, hips, ridges, valleys and peaks to get the full picture of decades of additions and renovation. A combination that might seem complicated from the air is a true labyrinthine network of rooms once inside. It was fascinating to see for myself! In the words of Paul Klein, the last owner who gave me a tour in 2020, "I don't actually know how many bathrooms are in here. Your guess is as good as mine."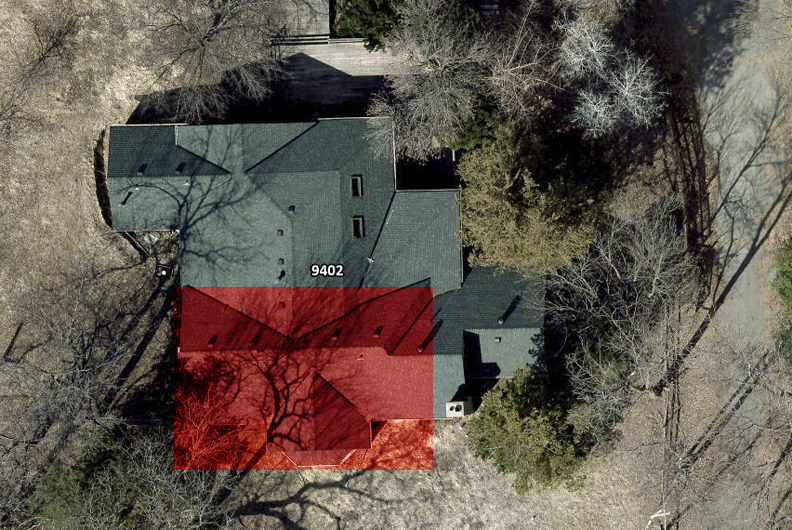 I have placed a red overlay where I believe the original Ott farmhouse footprint was. The eastern gable depicted in the earlier Woodie Arp photo, showed a slight extension to the north, hinting at another wing. 2022 aerial of a portion of the 9402 Pacific Street property. North is top of image. Image borrowed from the Douglas County/Omaha NE GIS Department (DCGIS) site.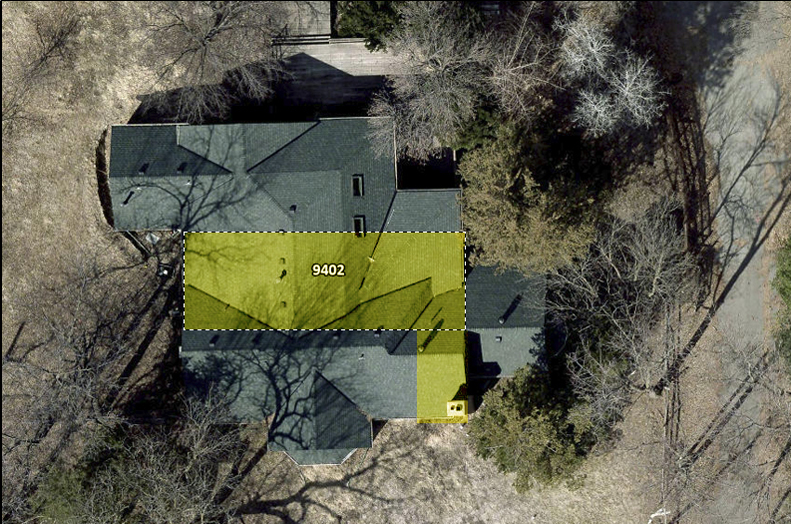 I have highlighted in yellow the portion that I believe the Holmans-Farquhars added to the farmhouse. Essentially a dining room, kitchen, bedroom, bathroom? The MCM chimney is seen in the lower right (eastern) corner, which I include to their "addition" credit—however at this late juncture, I would come to learn was a Davis renovation. More later! Image borrowed from the Douglas County/Omaha NE GIS Department (DCGIS) site.
The northern most, east-west wing and the south-eastern wings, I think, were added by the Davises.

This is a neat eastern angle on the home from April of 2020. It shows with more discernment the various additions. Image borrowed from the Douglas County/Omaha NE GIS Department (DCGIS) site.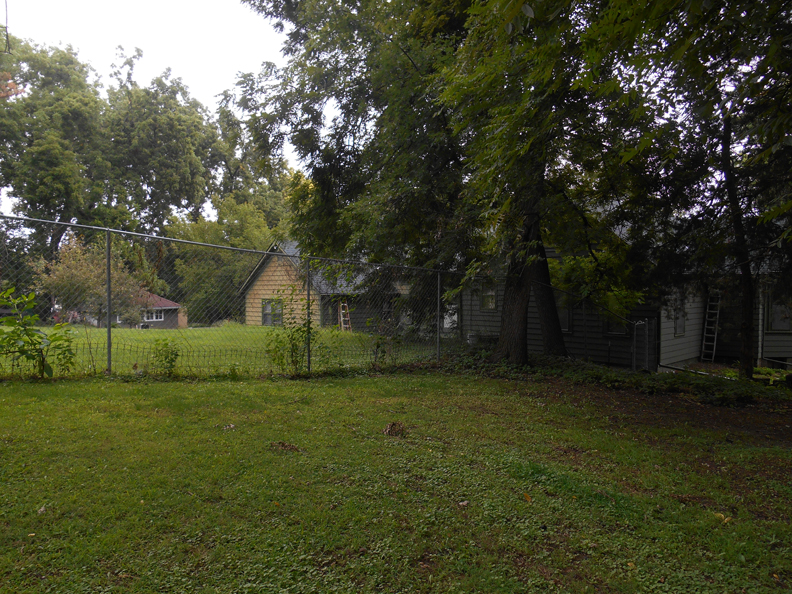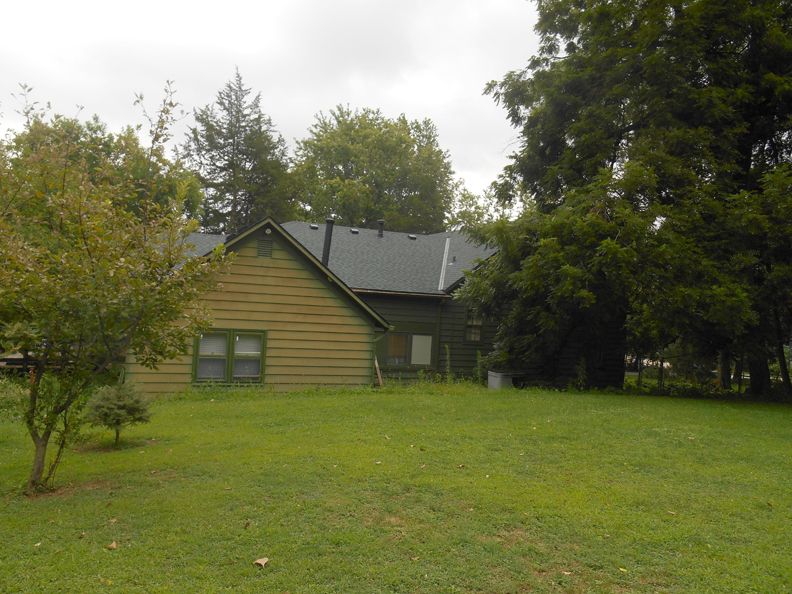 I took these photos of the western side of the home in August of 2020. It gives a better idea of just how large 9402 Pacific is—unknowable from its curbside view. One can see that the east-west wing cuts into the slight sloping hill. This very wing, added by the Davises, was found in a lighter color from the rest of the dark green house.
When I began all of this madness I had no way of knowing the Davis family themselves would come forward with a treasure trove of 9402 Pacific Street exterior and interior photographs from their personal archives—an act of generosity that only made the investigation all the more rewarding. I would formally like to thank Dana Davis Miskell and Bill Miskell for their scanning of the OWH articles, house photos and for sharing anecdotal information. I owe a heap of gratitude to J. B. Davis, who also reached out on behalf of his father, Jay Davis. Many of the Davis family photos that follow are from Jay's photo album.
The First Season
In the following photos, shared by the Davises, we see our lovely 9402 Pacific in the winter of 1960.
9402 Pacific Street southside view. It was in studying this photo that I discovered the large, pale chimney was not present in 1960!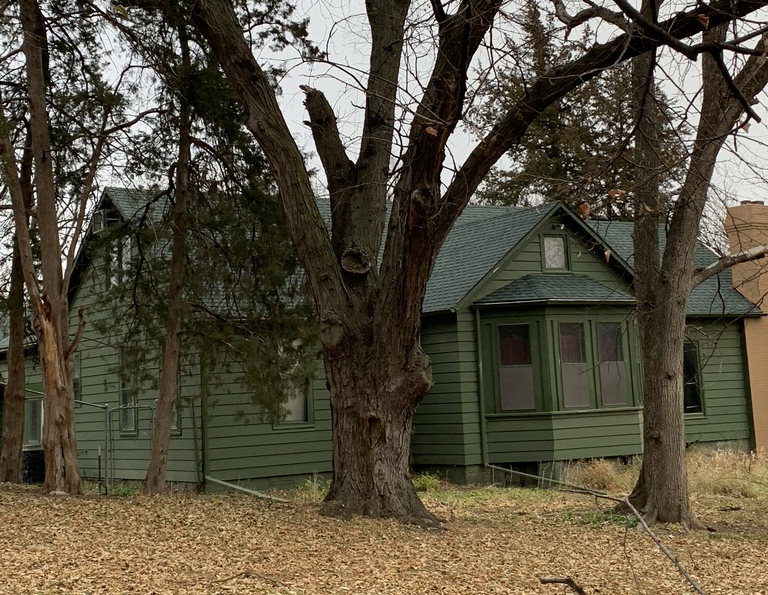 A photograph of Michael Leahy's taken in October of 2020 for comparison.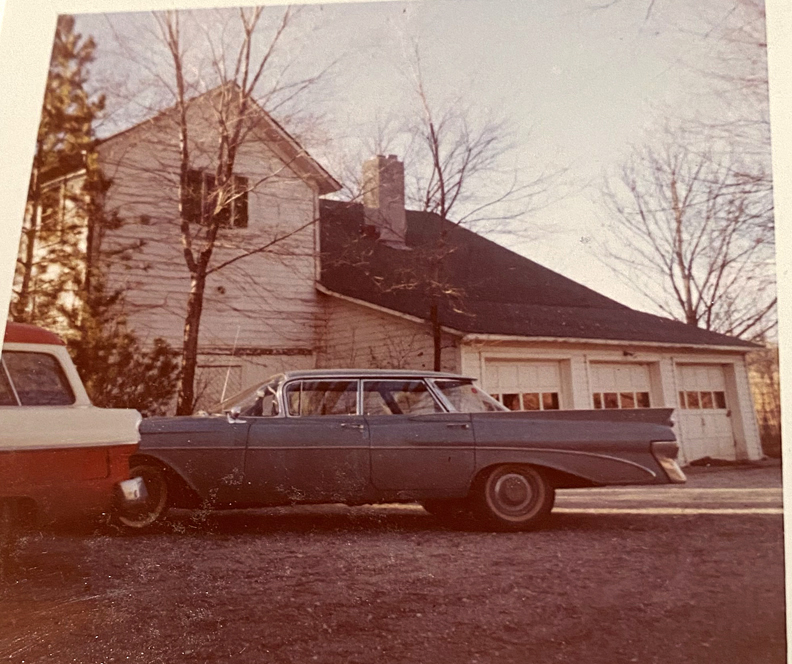 The eastern view of the barn-garage-guest house. The barn looked so different from my visit! All eyes are surely transfixed by the 1959 Pontiac Catalina Vista hardtop sedan. Was this Dr. John's car ? My good friend, Syd Reinarz, tipped me off to what this gorgeous car was.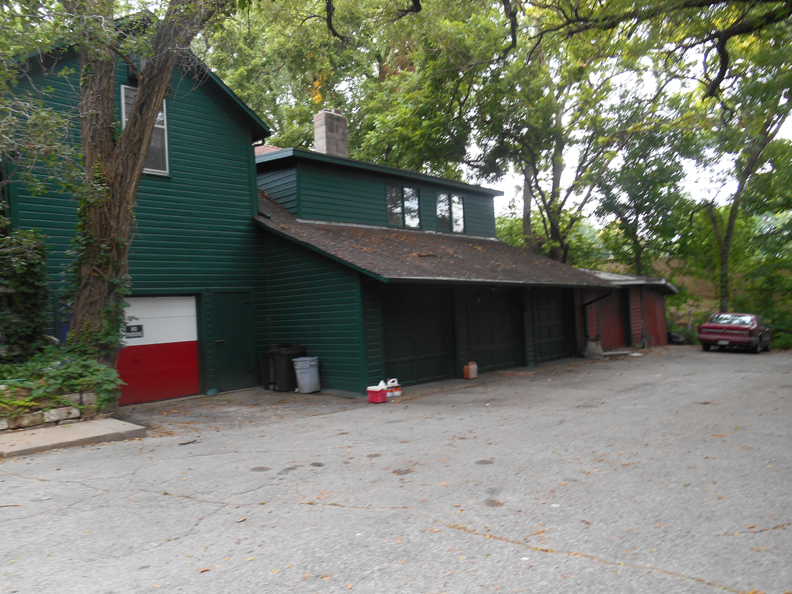 Just to compare for fun—my photo from August of 2020.
Name in Lights
In July 22, 1962, the Davis family and their renovated 9402 Pacific Street house were featured in a proper World-Herald David A. Sadler spread. I savored every glorious detail, as documented by this scrumptious writer from 1960s Omaha. Whenever I come across Sadler's home pieces I sink to the floor in a pile. So good! For myself this article proved what I already knew in my heart about 9402 Pacific. She was beautiful. Beautiful in her aversion to prevailing beauty. I suppose many people of 1962 or even today would find her buildings ponderous, even banal. Was the public curious about the Davises' folksy property or was it an altogether pastoral sentimentality that made others sense a heartening place? I imagined the Davises wanted a style that would suggest ruggedness and strength while offering a certain solid comfortableness. The unforced beauty of 9402 Pacific presented itself.
I will include Sadler's writing in quotes and thankfully the Davises saved the actual newspaper clippings, which I included—much better than my inky archival images.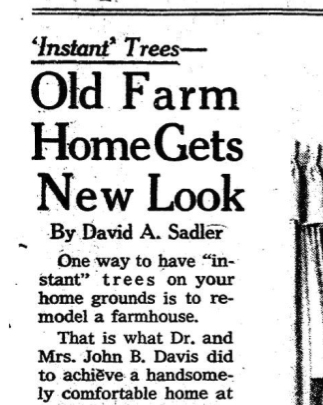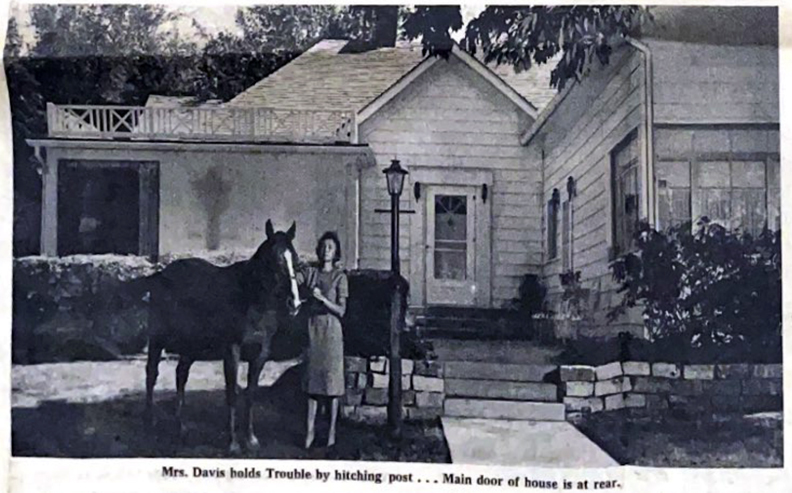 Did I already pick a favorite photo? Well this is my equally favorite photo and plan to get this framed. Mrs. Davis and the horse, Trouble. The front door has now moved to the once rear of the house—the north side.
"One way to have 'instant' trees on your home grounds is to remodel a farmhouse. That is what Dr. and Mrs. John B. Davis did to achieve a handsomely comfortable home at 9402 Pacific Street—a home with grounds large enough to include a corral for horses. They did it by adding wings and converting several rooms from their original uses.
There is also a separate building—a garage guest house-family room—that once contained an artist's studio.
The age of the house, dating from 1904, is evident in the high ceilings and tall windows. This shows particularly in the living room, one of the rooms retaining its original use. However the old front door was closed off and the house now is entered from the rear."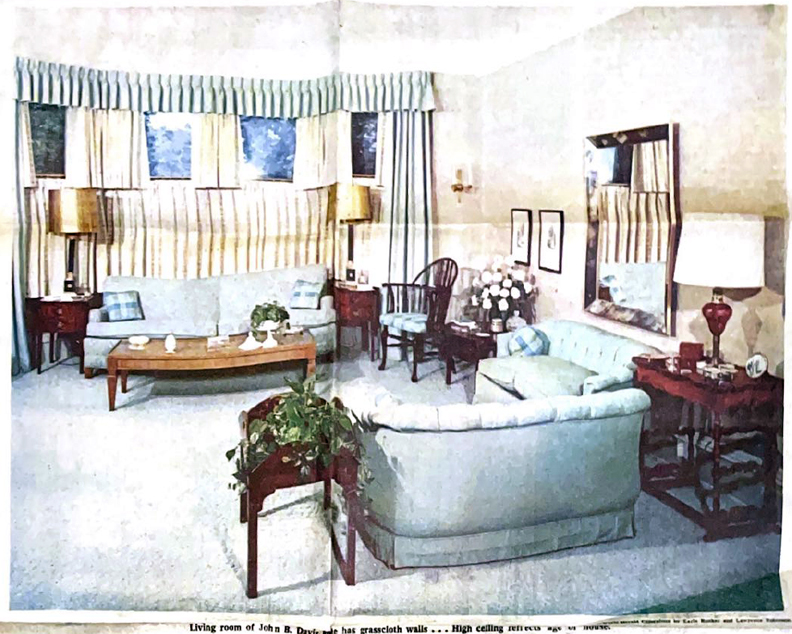 "The room is carpeted in blue green, with matching draperies, and walls are covered in pale blue green grasscloth. Bookcases and a gun cabinet were built in."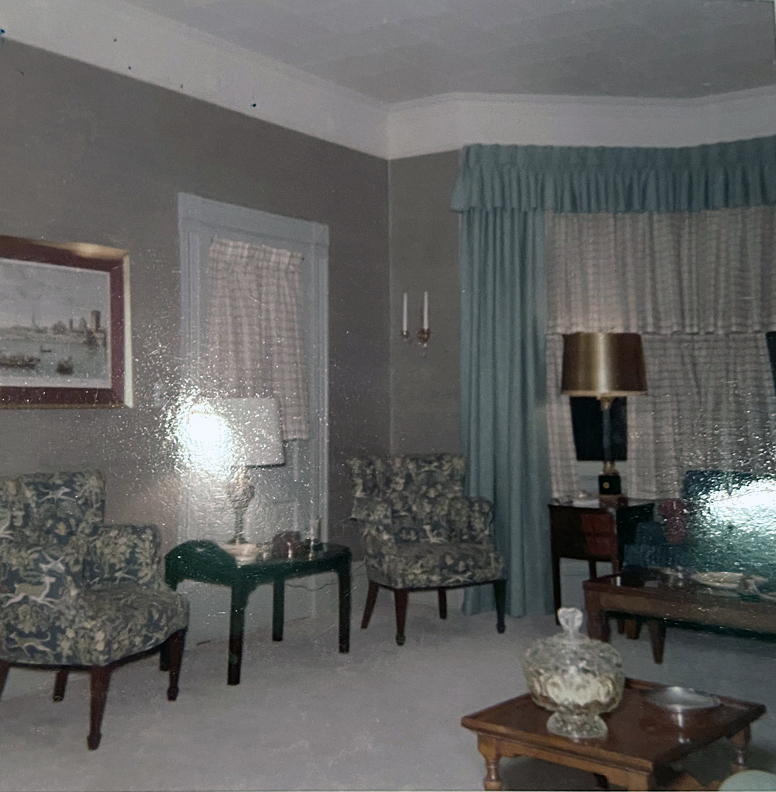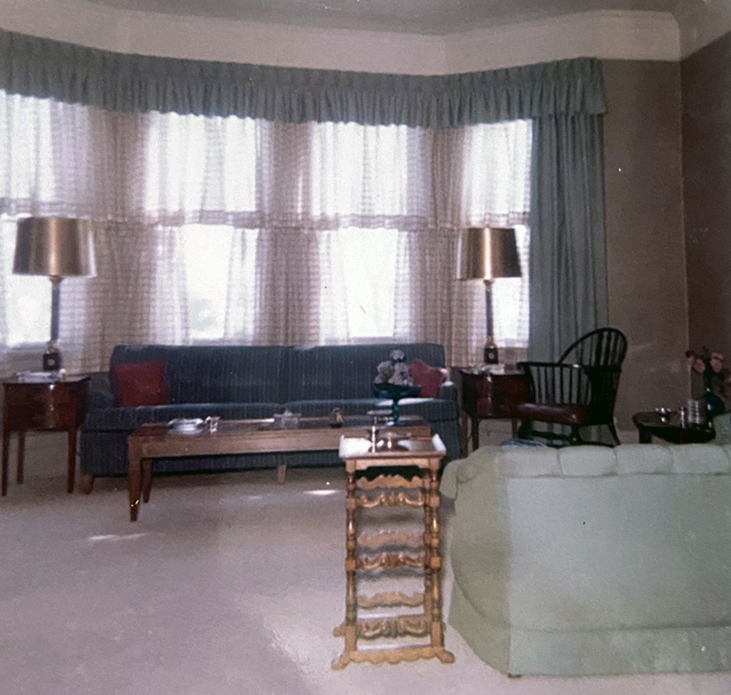 These are supplemental Davis living room photos from another personal cache, not in the OWH story. These photographs display what was the original Ott front door, no longer used by 1962.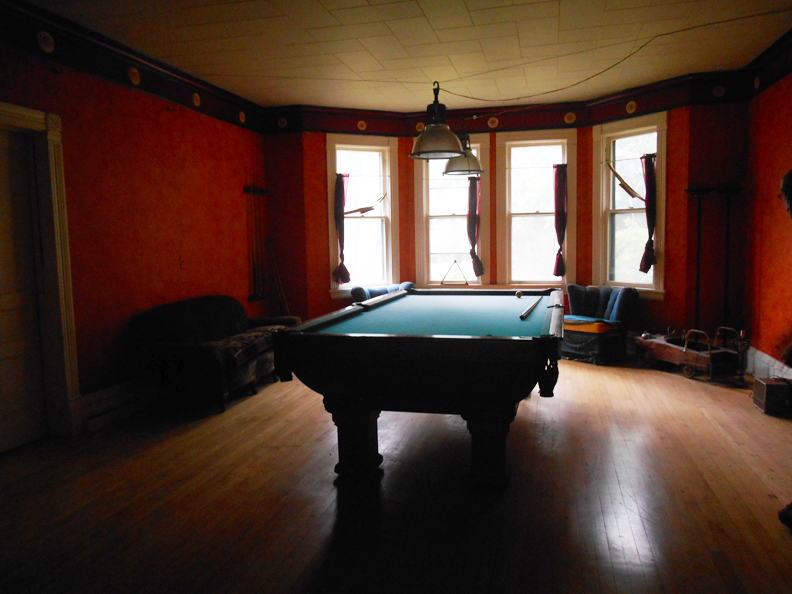 I include this image from my August 2020 tour, because I timidly surmise that this is the same living room. Other than the surprising wall colors, it is interesting to note the original Ott pine floor is exposed and the once front door was officially sealed off. Now mind you, the Klein family had long ago moved out and son Paul Klein and boarders had been living at 9402 Pacific as bachelors. Many of the proper layout of rooms had transformed to frat house type accommodations.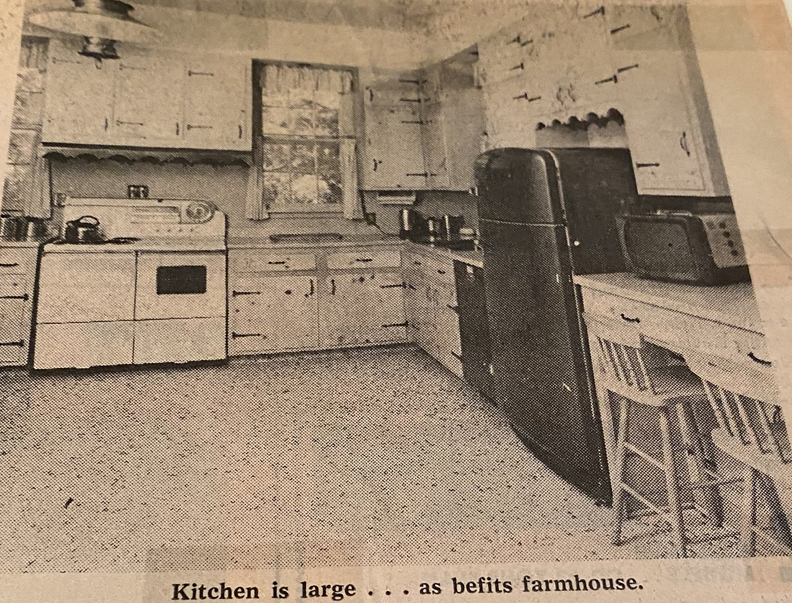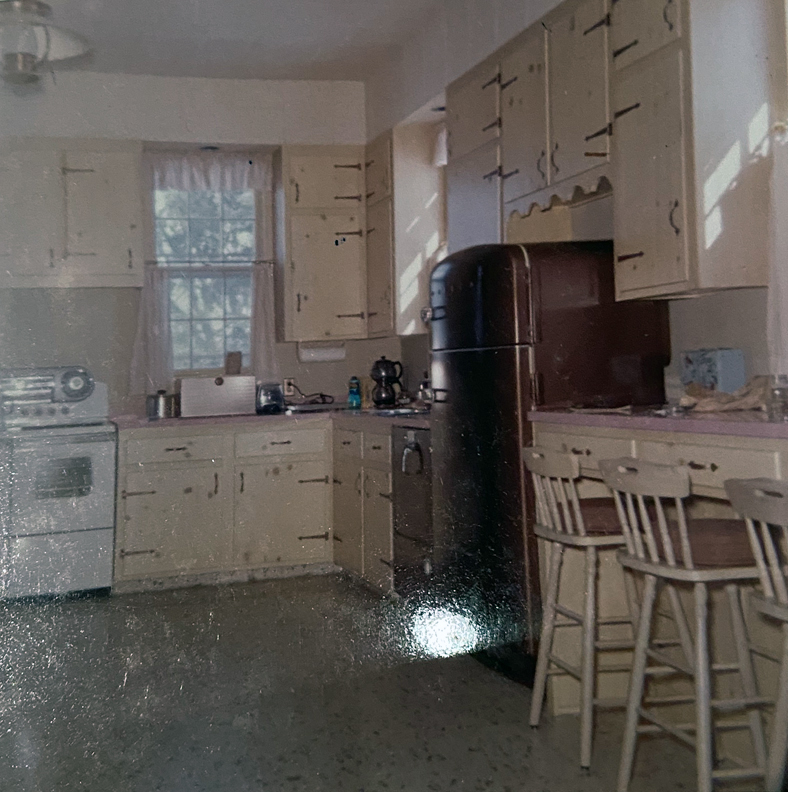 The above photo from the OWH article; the bottom, a Davis supplemental photo. Notice the Dundis' pink kitchen countertops remain. I love it!
"The kitchen is large, as expected in a farmhouse. The floor covering has a beige, brown and pink spatter pattern. Knotty pine cabinets have been wiped with white. The wallpaper has an Aesop's Fables pattern. Off the kitchen are a utility room and a full bathroom. The latter once was a bedroom."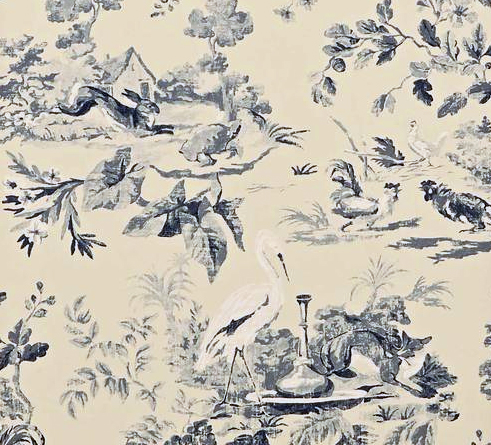 'Aesops Fables' for the uninitiated is an incredible, complex toile French wallpaper, featuring well-loved scenes from Aesops Fables. Example of Aesop's Fable themed toile. Fabric and wallpaper taken from a design found in Mulhouse France dating back to the 19th century.
"A small dining room was added at the rear of the house. It has a beige carpet and walnut paneled walls. What once was a window to the utility room has been covered with shutters. Large corner windows afford a view of the grounds. The foyer has a blue carpet and pale blue wallpaper in a stylized pattern.
The master bedroom has a blue carpet and walls covered with an early Nineteenth Century pattern of blue on white. The adjoining bathroom and dressing room also are blue and white."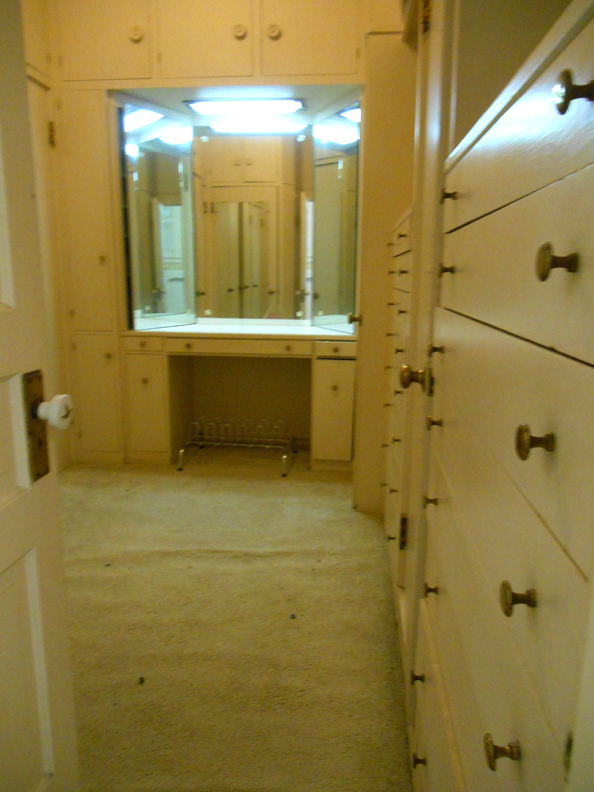 This dressing room photograph was taken on my August 2020 tour. I verified with the Davises that mother Nene Davis had a large dressing room and I believe this is it. I was very taken with this luxurious layout. Wishing I could have captured it all, I see what a sliver view I am left with.
"Jay Davis has a room with windows across its width. It has a tan carpet, and horizontal wood-paneling painted a cream color. His sisters, Dana and Cindy, have a sitting room, bedroom and bath in pink and white. The sitting room has a pink carpet, white walls and ceiling with a plaid and daisy pattern in pink and white. Pink daisies are on the ceiling of their white bedroom. The bedroom carpet is pink and the walls and ceiling white."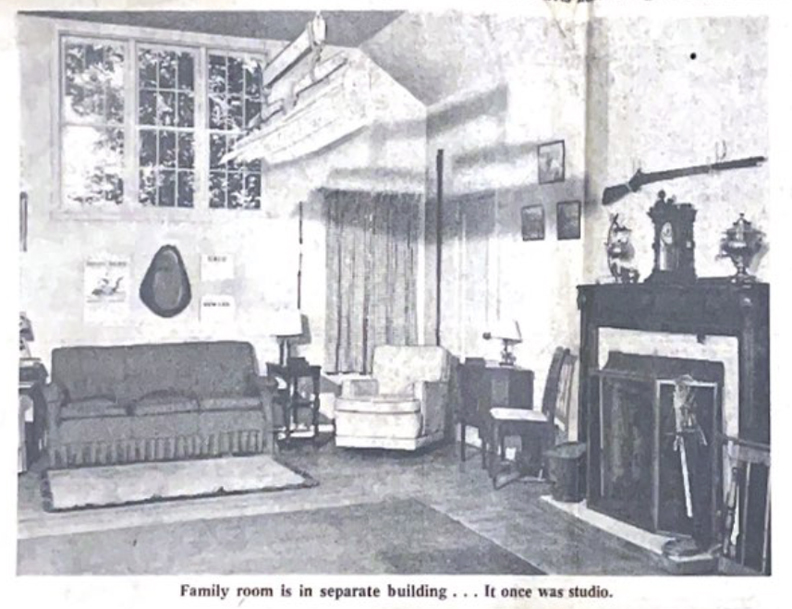 "Family room is in separate building. ..it once was studio." This is the Ott barn, once refashioned into Helen Holman's art studio. It was so wonderful to view this generous room as the Davises initially outfitted it. I loved to see that huge, northern window where Helen received "the good light" for her paintings. I, too, was in this room but those photos will have to wait.
I was so grateful for receive this renovation summary shared by Dana Davis Miskell and husband, Bill Miskell. Thank you.
"As far as the additions while the Davis' owned it:
– The bedroom on the far northwest side was changed to a sitting room and a new bedroom was added to the west. In addition the two bedrooms on that north side shared a bathroom so when this new bedroom was added, a new bathroom was added for that new bedroom.
– The old kitchen was made into a family room and a new kitchen was added on the southeast of the house.
– The dining room on the north was a screened-in porch when the Davis' bought the house and they made it into a dining room."
The Invisible Enemy
All the while the Davises were settling into their new property, another stranger was eyeing the land around our 9402 Pacific. Adding further to diversity in the area, the Board of Zoning Appeals toiled over an application the Omaha Public Power District filed in the fall of 1961. OPPD proposed to locate a substation in a "first residential West Omaha district." You will find the substation not so discreetly hidden at 9312 Pacific Street, wrapped around the east and north, behind my rustic 9402 Pacific Street. Understandably a large group of neighbors protested this proposed site. The bewildered neighbors had suggested locating the frightfully unappealing unit "somewhere between One Hundredth and One Hundred Fifth Streets." Earl G. Hawkins was a strong opponent, as the substation would abut his backyard. I think we detectives can figure out what transpired, by the fact that OPPD maintains a massive substation on this land.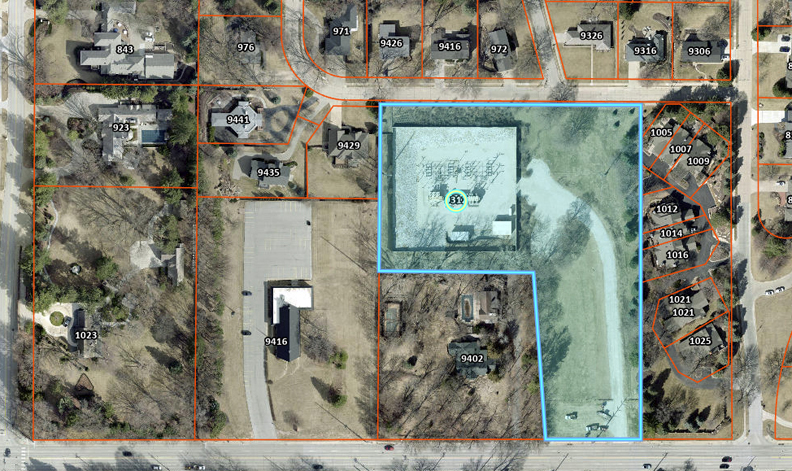 Highlighted in turquoise, currently 9312 Pacific (at 4.564 acres) is owned by Omaha Public Power District. This was once a part of the 9402 Pacific parcel. Did Mrs. Holman sell to the city? Image borrowed from the Douglas County/Omaha NE GIS Department (DCGIS) site.
I would work backwards to find OPPD's commitment to moving westward was announced publicly back in September of 1961. OPPD had purchased five tracts of land to be used as future substation sites. "The largest tract is 1.37 acres on the northwest corner of 93rd and Pacific Streets. It will be bought for 20 thousand dollars and a substation will be completed there next year." About a week later, our Dr. John Davis took a stand. " More than 50 residents of the area protested. In addition an opposition petition signed by 275 was presented. Dr. John Davis, 9402 Pacific Street, said the station would be built adjacent to his 60-thousand-dollar home. 'The home's value and usefulness would be destroyed,' he said. But instead of chasing off OPPD, unfortunately, a few weeks later they leaned in closer to our beloved 9402. "The Omaha Public Power District switched from the original location at 93rd and Pacific Streets and requested another on 94th Street north of Pacific." By November OPPD had acquired in excess of nine acres in the area. The neighbors continued to oppose it.
I worked and worked to see if Mrs. Helen Holman Farquhar had sold to OPPD. In December of 1961 the Omaha Public Power District won its fight for a permit to build a substation three hundred feet north of Pacific Street at 94th Street. The vote was unanimous. "The district owns 9 1/2 acres and has agreed to covenants pertaining to landscaping and construction with run until 1982."

July 25, 1962: OPPD contract awarded to the W. Boyd Jones Co for construction of walls for the new substation.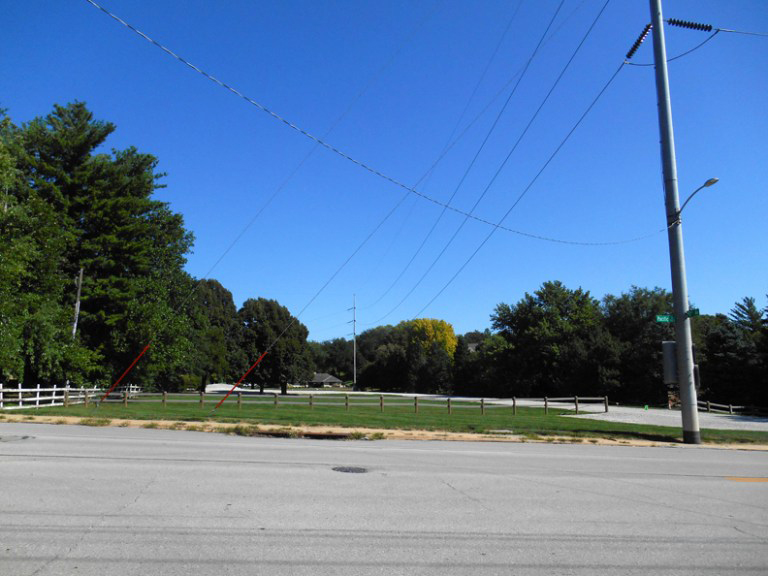 The Omaha Public Power substation entrance at 9312 Pacific Street, looks much like how the whole of this area used to look when I was a girl—country fences and the occasional person on horseback. Mysterious. Unclear. The actual substation is situated squarely behind my favorite 9402 Pacific (spied on the far left in the thick treeline) but is best viewed from the neighborhood directly to the north. I took this photo in the summer of 2020.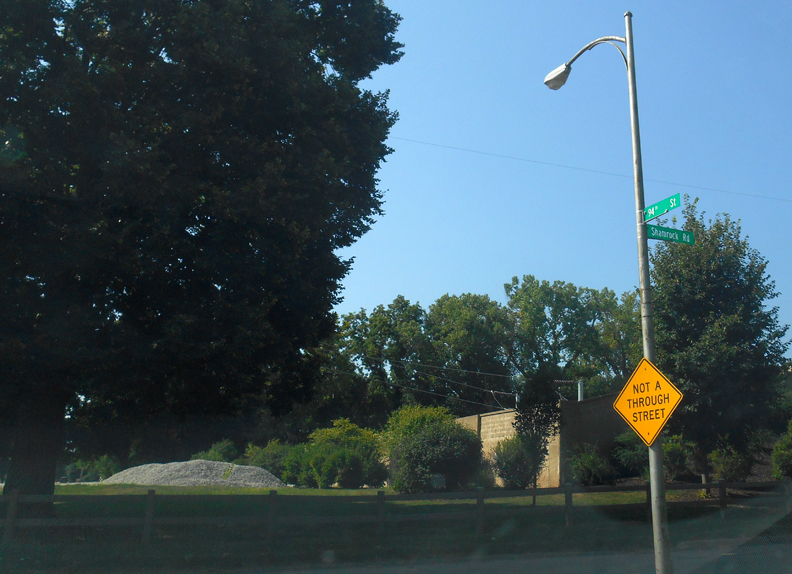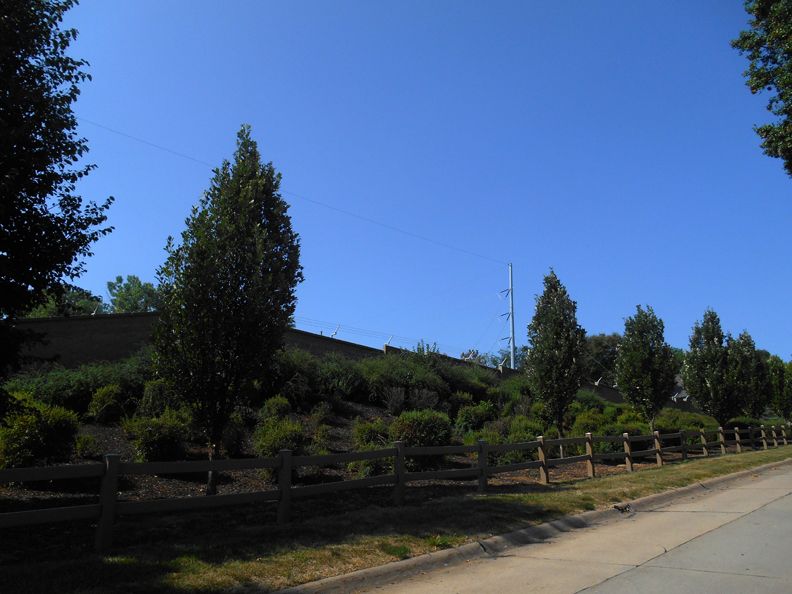 The Elephant in the Room. "What is that low-grade humming, Muffy?" What the substation looks like from the northern 94th and Shamrock neighborhood view. My obsessive wanderings from the summer of 2018.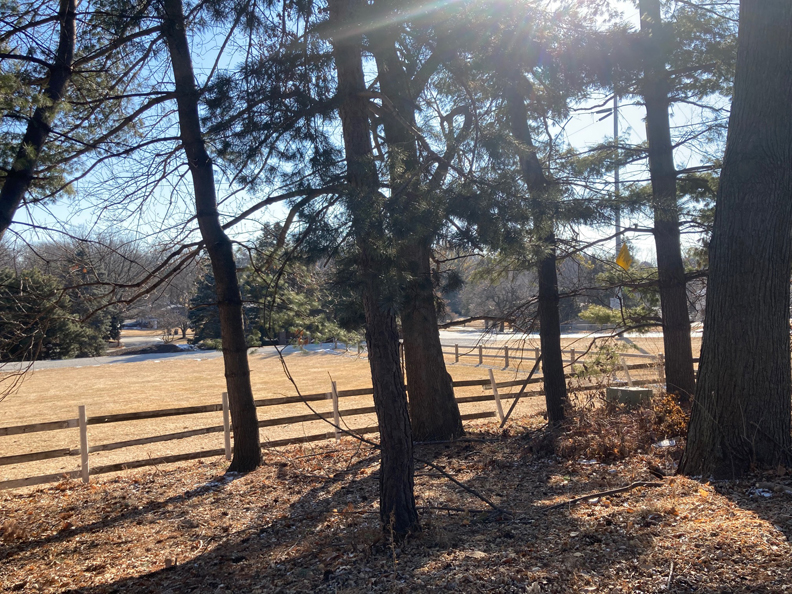 OPPD empty lot as seen from the Klein property at 9402 Pacific. Camera facing east. February 28, 2022.
Click the white arrow to view of the 9402 Pacific barn and revolution to the east, OPPD site. One can see the OPPD support wall to the north of the barn. April 4, 2022. Don't forget volume to take in the gorgeous dawn chorus.
The Country Estate
Although Dr. John Davis sensibly feared 9402 Pacific's "value and usefulness would be destroyed" by proximity to OPPD's substation site, it is evident by the amount of years the Davis family lived at their country estate and the loving photographs they took of the ol' gal, that they found comfort on the Ott farm place. As a Miss Cassette aside, in the overall scheme of things, it is my personal opinion that the substation and even the church, unfortunately, served to unravel what was desirable about 9402 Pacific Street and the continuity of the neighborhood as a whole—as diverse as it was at that point. The introduction of these two elements, in addition to the already distinct fit of a rural setting, two-acre parcel, including rustic outbuildings, minus a big, showy house, within West Omaha, would make finding a suitable owner and keeping a good owner more and more challenging as time went by. But don't listen to me at this point—I'm getting ahead of myself and being a Cross Clara.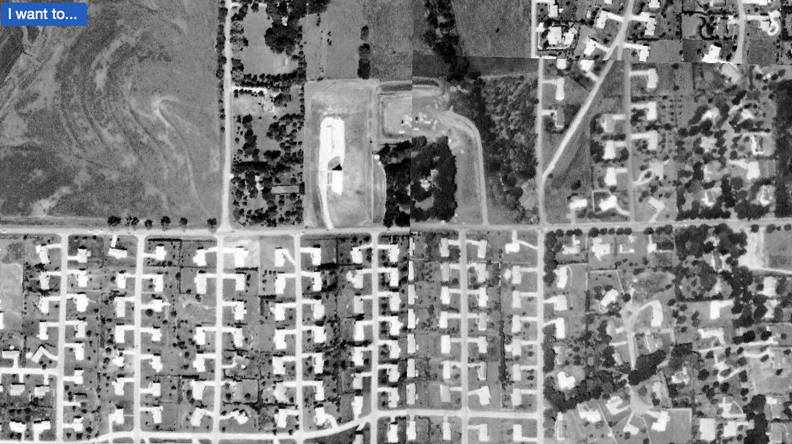 I think this 1962 aerial of the 9402 Pacific area, including the surrounding Sunset Hills Church and OPPD substation puts a finer point on it. 9402 Pacific is enveloped by trees. The larger view shows suburban expansion. Image borrowed from the Douglas County/Omaha NE GIS Department (DCGIS) site.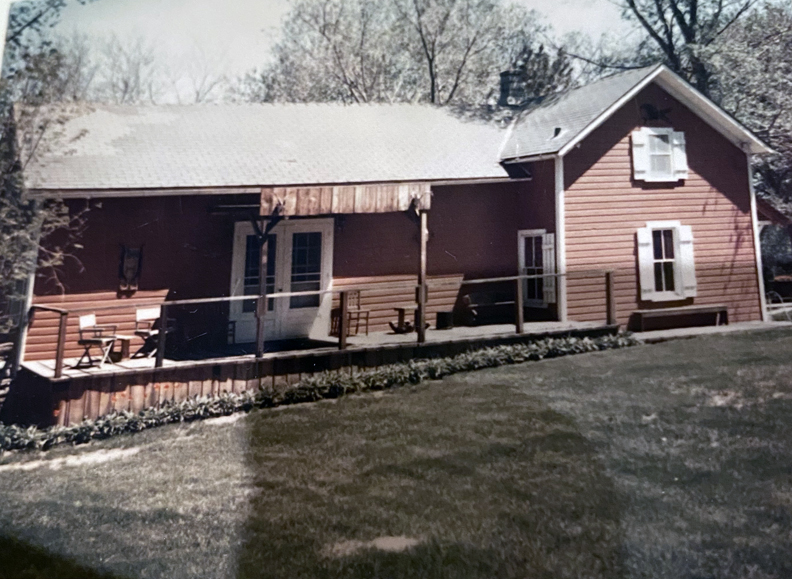 West side of the barn turned studio turned Lash LaRue's party house-guest house.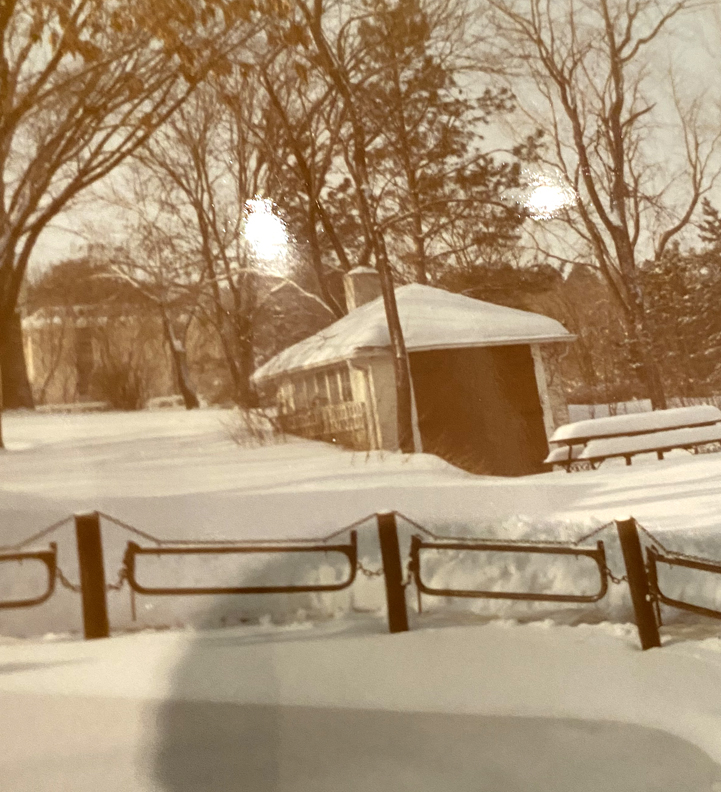 Bar-b-que house in the snow with incredible, black, wrought iron fencing. I love anything with stanchions and chains.
The fact is, the John Davis family loved their 9402 Pacific and by all appearances, these were good years. They gave it everything they had. The home was filled with children, friends, various pups (a black lab, Dachshund, a poodle) and they stabled a number of fine horse over their years-a registered quarter horses an 11 year old sorrel mare; 5 year sorrel mare; 5 year old gelding. According to the Miskells – Dr. Davis built a horse corral on the west side of the house. This dovetails with Kevin Tierney's memory, who was a neighborhood kid at the time. When Dr. Davis had a day off, he could be found doting in the large yard, many times mistaken for "the lawn man." In a particularly sweet tale, as shared by the Miskells: "Shortly after Dr. Davis went into practice with his father, he received a panic call from their housekeeper. Their mare had had a foal, however somehow the foal was born on the Pacific Street side of the house with the mare on the other side of the fence. Dr. Davis immediately left the office in a rush. As he was leaving, his father (Dr. Herbert Davis) asked where he was going. Dr. John Davis responded that it was 'an emergency.' His father said 'Great,' thinking this was a medical emergency, as Dr Davis did not have many patients at that time."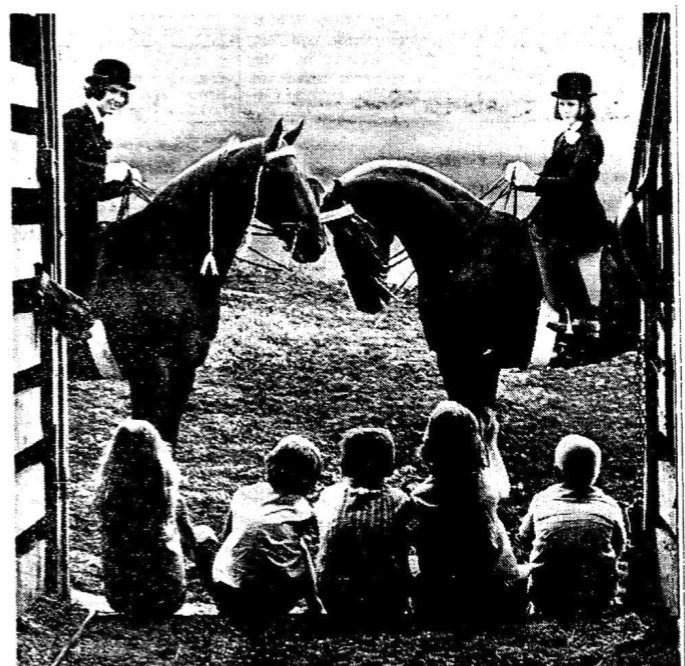 I wish I had photos of Dr. Davis' horse corral on the property but this one is pretty nice. OWH Aug 3, 1965. "The Davis clan will be well represented at the Omaha Charity Horse Show by Dana on Pagan King (left) and her sister, Cindy, riding Rocklands Beau in equitation classes. The girls' father, Dr. John B. Davis, will ride in the men's western pleasure class."
I will let the Davis' adoring, personal photos tell the story. All images from Jay Davis' photo album.
The Barn Face Lifting 1963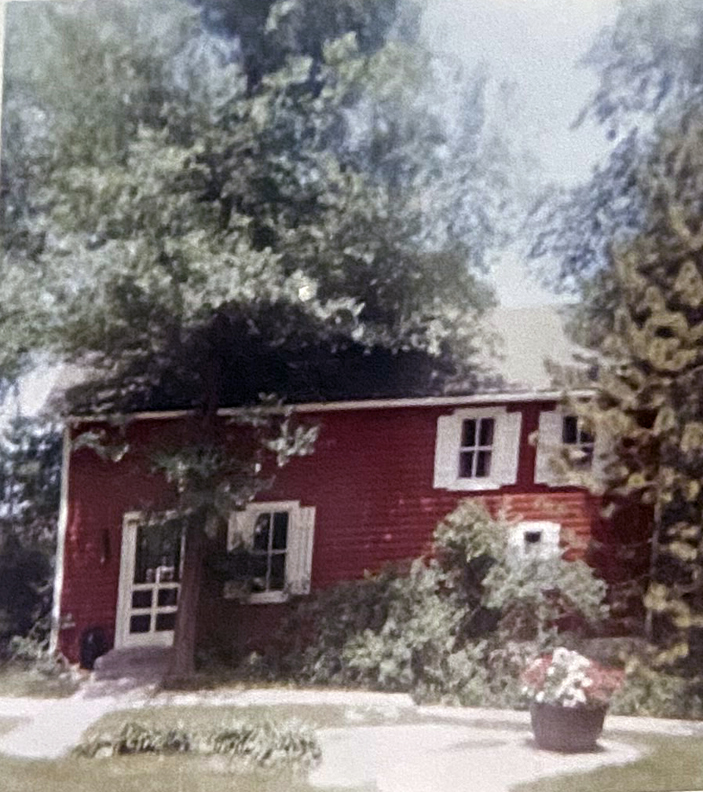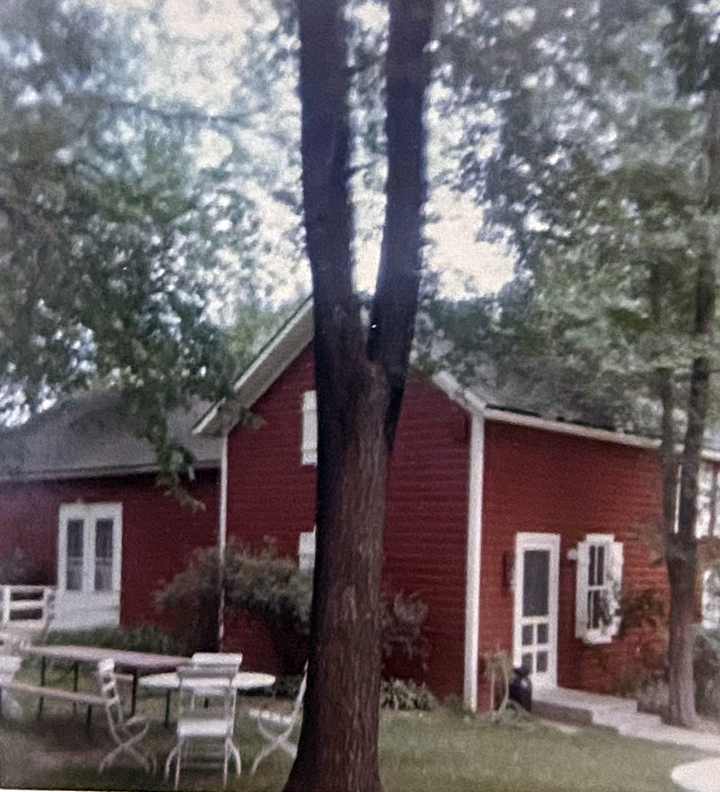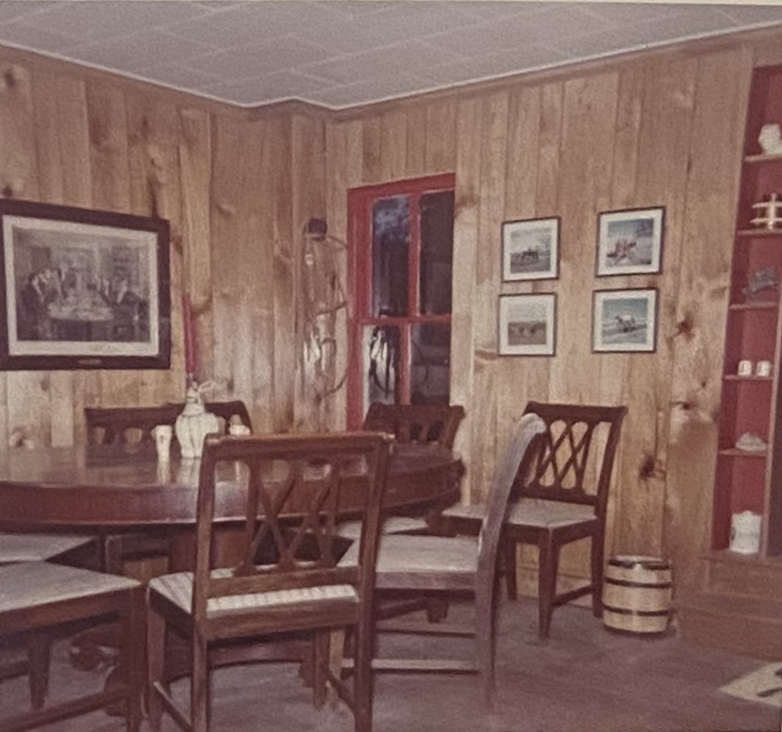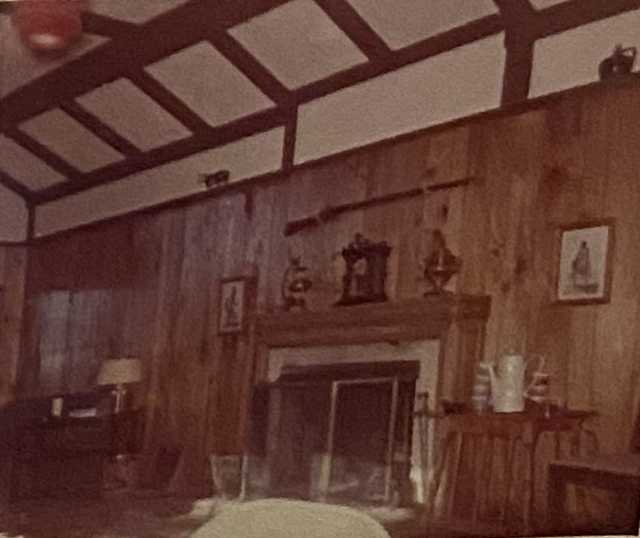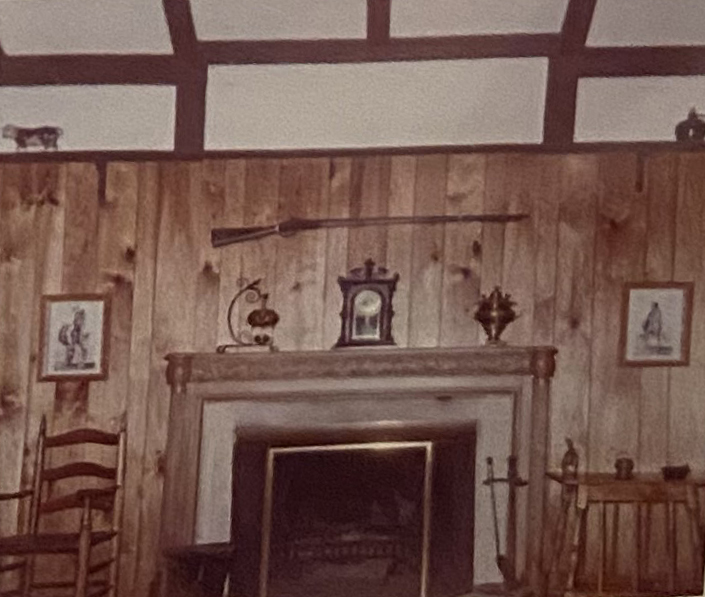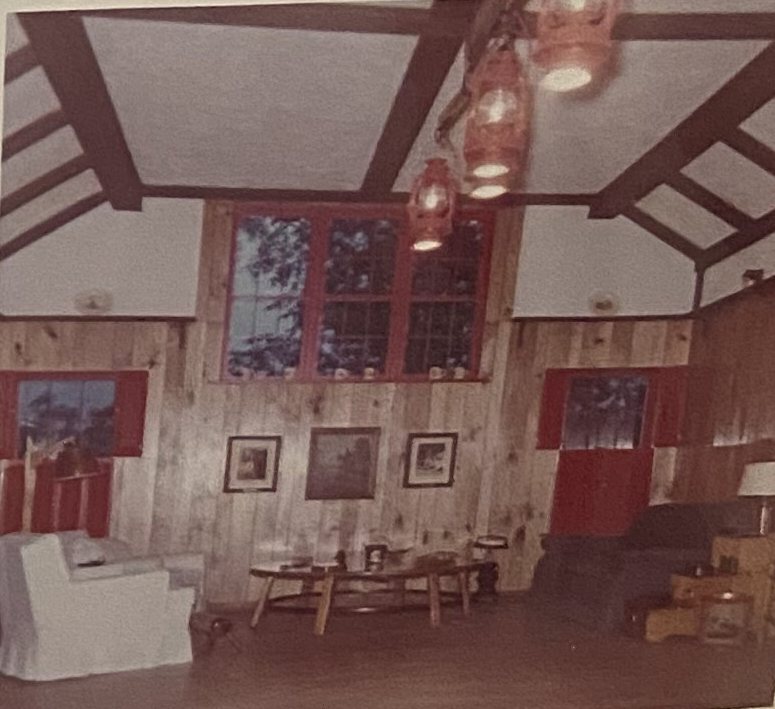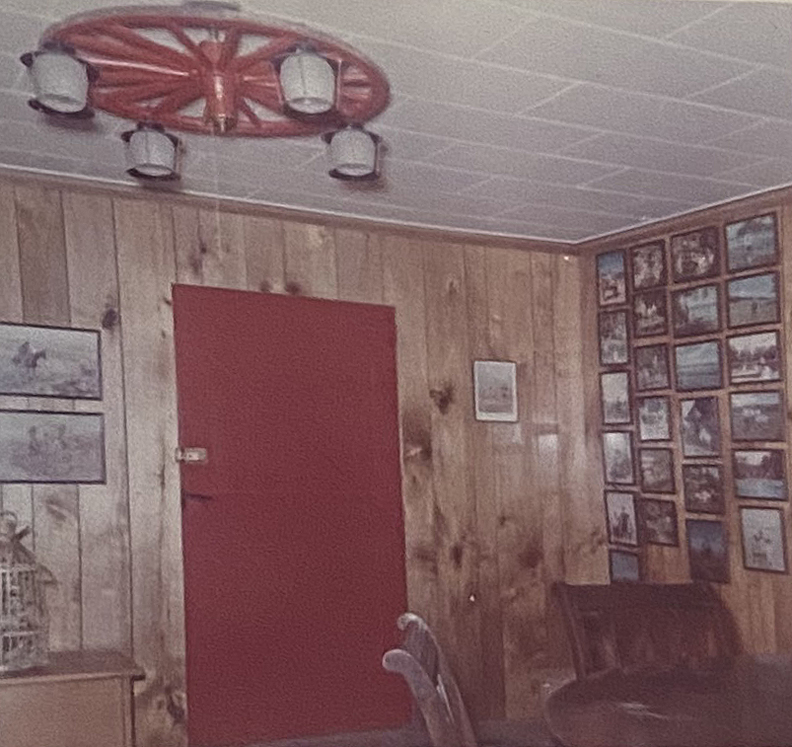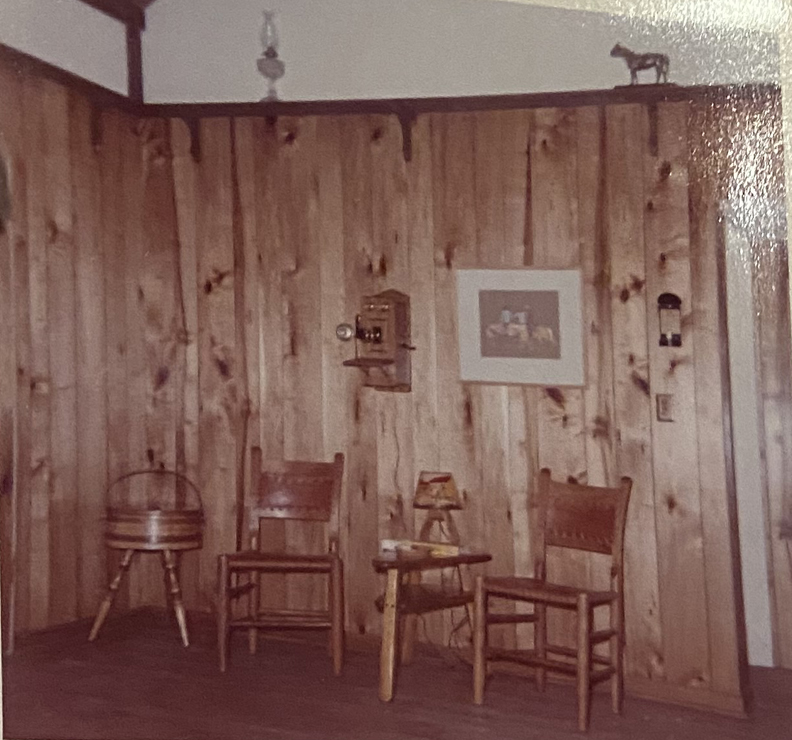 Barn Lore from Dana Davis Miskell and husband, Bill Miskell: "One year Dr. Davis proudly painted the guest house white. After he had completed it, he asked Nene what she thought of the paint job. Her comment was – shouldn't barns be red?! He had to repaint the whole guest house red. This was especially difficult on the east side of the guest house – he had to anchor a ladder from the bed of a pick-up truck."
" The guest house hosted many parties with the Davis' friends. What was nice is, after a night of partying, Nene and John could just go to their house and not worry about cleaning up the guesthouse until the next day.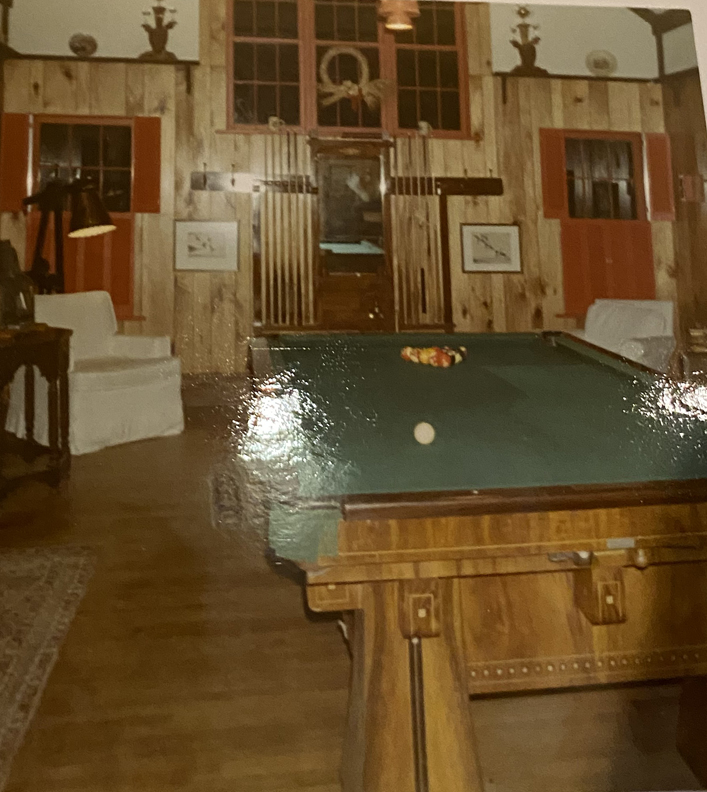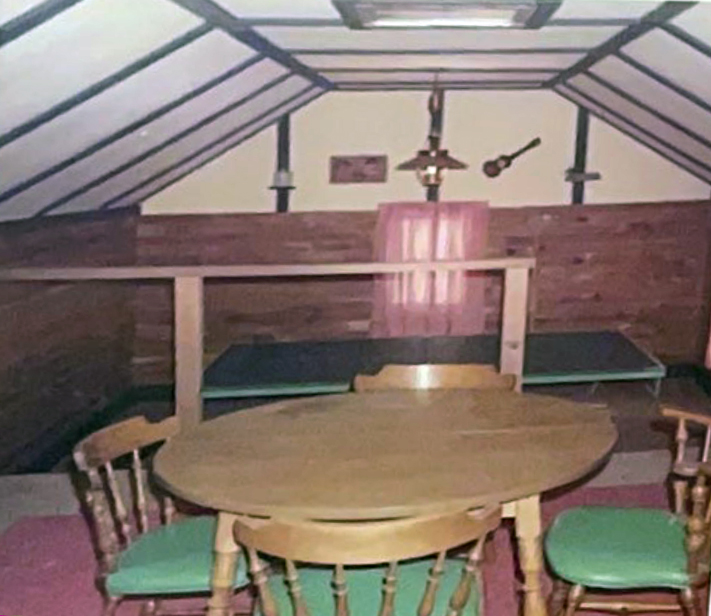 These are later photos but I include them here because of theme. A pool table was added to the main guesthouse party room by December of 1969. These two other barn-guesthouse photos were taken in 1971 and 1972. I am not sure if they coincided with renovations or if these upper rooms always had card tables and ping pong.
This whole slew of incredible Davis pictures struck me like a bolt, because I could finally understand the context of what I had viewed in the barn on my August 2020 tour. The barn bore a striking resemblance to these images other than being jam-packed with all manner of Klein family sporting equipment and artifacts of high adventure. The lantern chandelier! The wagon wheel light. The half timbering. The red shutters. The wood paneling. The fireplace! It was as if someone had closed the door and left the barn exactly as it was from when the Davises moved. It was all there, like relics from the past.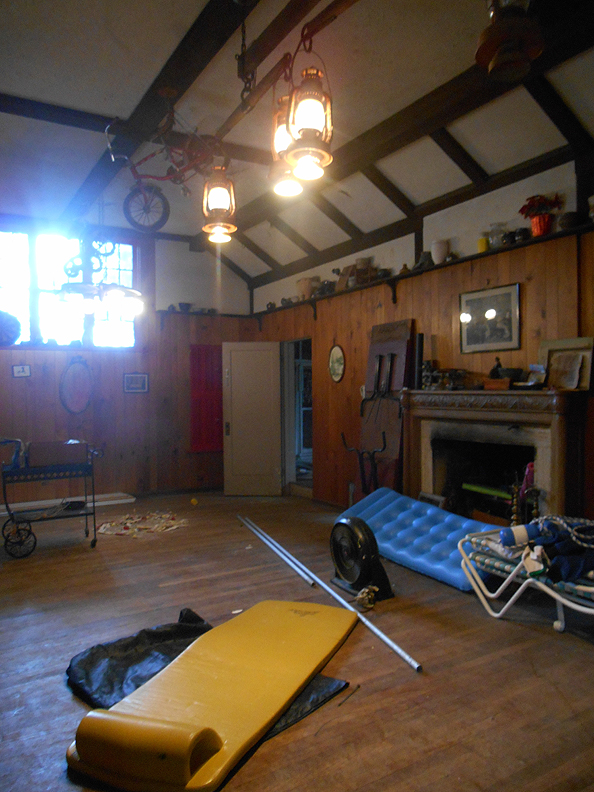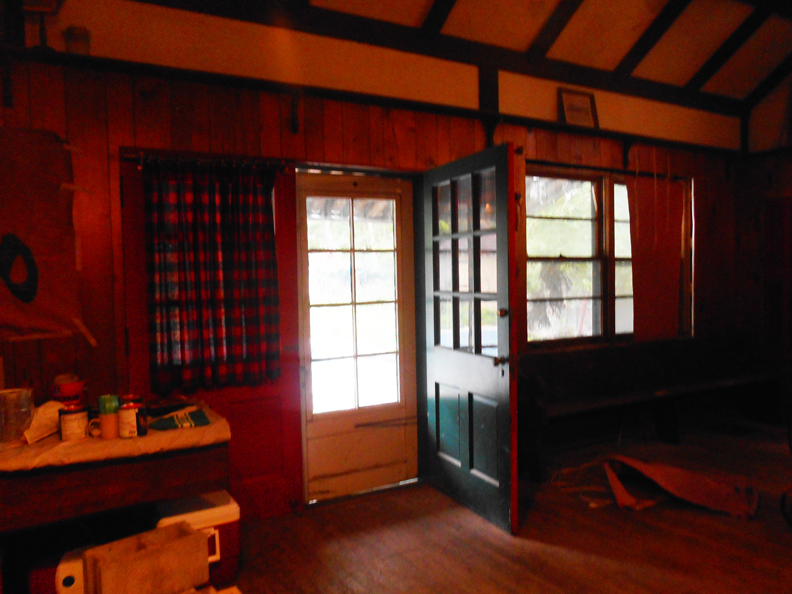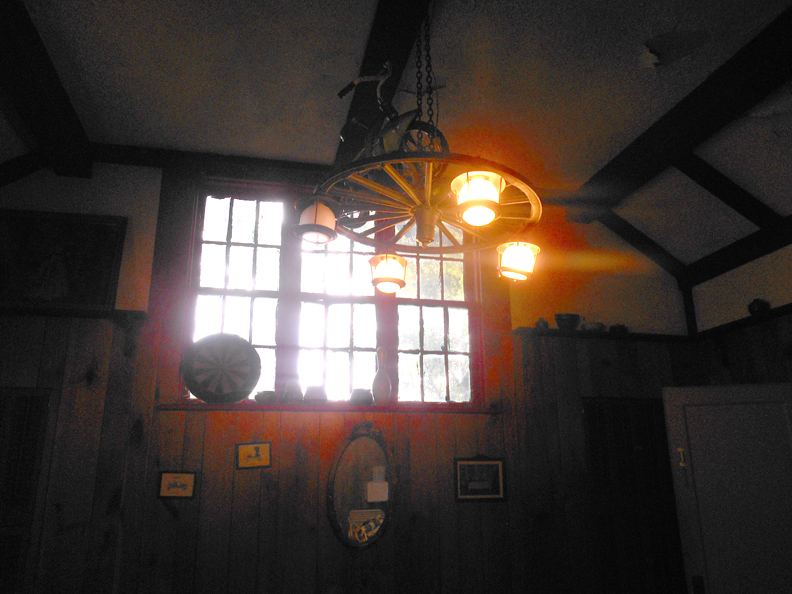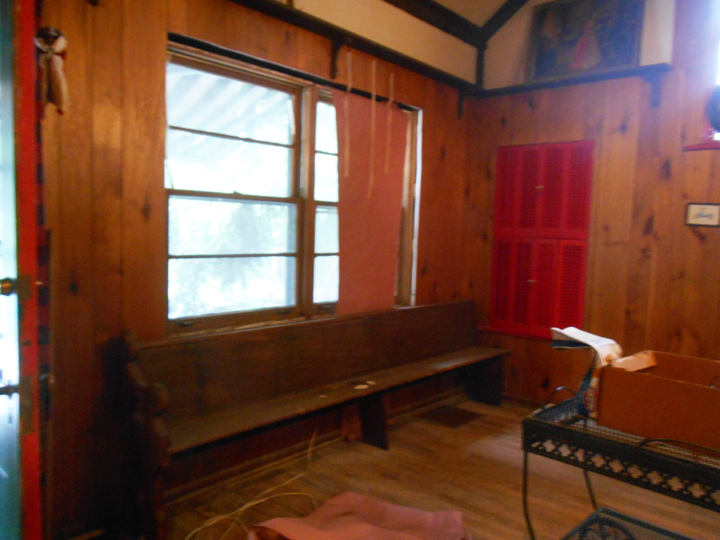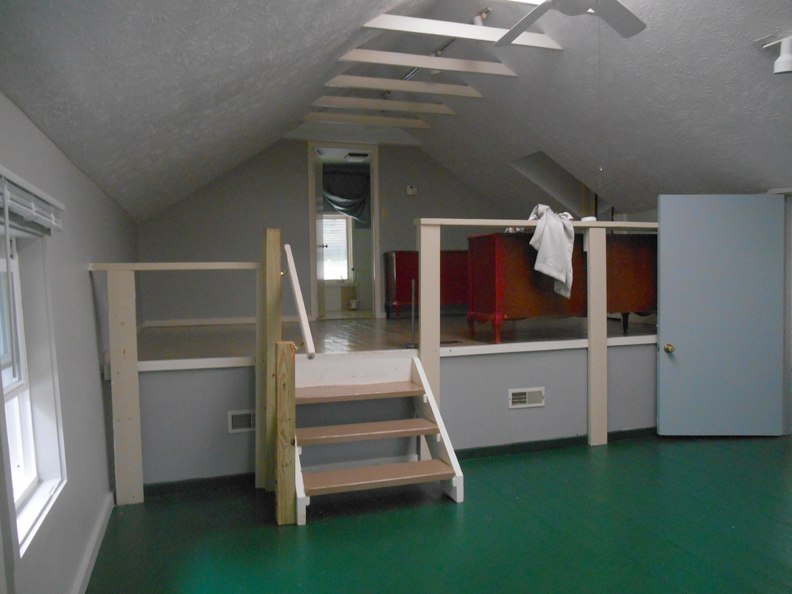 My barn interior photos from August of 2020.
The World-Herald Knocks Again
Tales of the Davis barn parties and unusual high-brow meets rustic style had surely circulated throughout the Who's Who of Omaha. For this reason, I am sure, the Omaha World Herald came calling for their May 1966 Women's Section—the newer name for the Society Page. The "Farm Relics Feed His Hobby" article was shared by Bill and Dana Davis Miskell. Full disclosure–I had not found this piece in my investigation and was aghast at the thought of having missed these incredible clues. Everything I needed to know about Dr. John Davis was spelled out. I include the fantastic photos and almost all of Marjorie Witted's writing. I had not come across her work in the past but this is good stuff!
"If Nebraska centennial committees are looking for old time farm equipment, they well might consult a third-general Omaha surgeon, Dr. John B. Davis. His hobby is collecting and renovating interesting old pieces of farm machinery for modern use. Evidence of his hobby is immediately apparent when one approaches his West Omaha home, once a farm residence. The mailbox perches above the seat of a piece of pre-tractor-era harvesting machinery, a John Deere binder, complete with green-painted gears."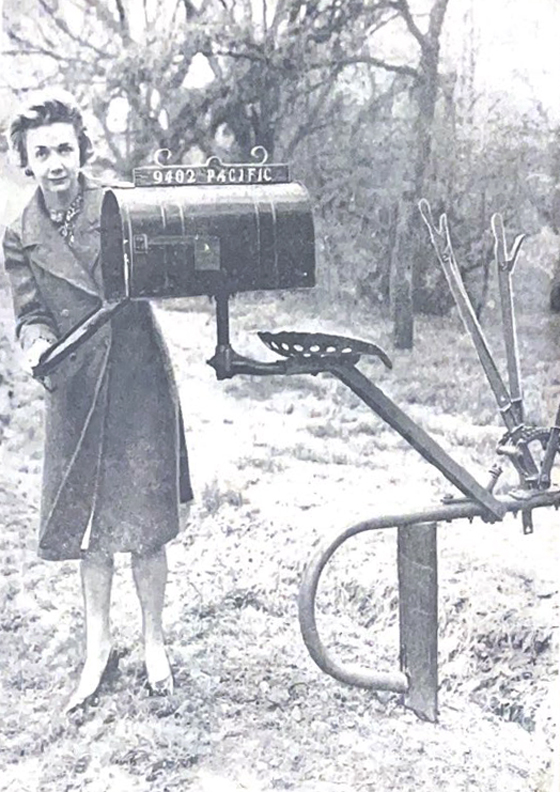 "Uncle Sam's emissaries can't miss the mail box at the John B. Davis home at Pacific Street. Mrs. Davis stands beside the box which is perched above the seat of an old binder." I thought we had found my favorite photos, but this. This is my Favorite. Mrs. Nene Davis in her smart, well composed double breasted coat and heels. And just look at that mailbox. My stars…
"Further evidence shows up in the fence, made of cow stanchions (restraining devices), which lines the walk. Out near the red barn, which doubles as a family room, party house and garage is a refurbished chuck wagon used for serving picnic suppers or as a bar. The serving area at the back of the wagon folds up into a compact box-like structure and serves as storage space for utensils. There's another wagon in Dr. Davis's collection, too. A decrepit antique when he found it. Dr. Davis was searching rural areas for a new seat for the vehicle when he discovered the chuck wagon—complete with seat. He promptly bought the chuck wagon, seat and all and refinished it."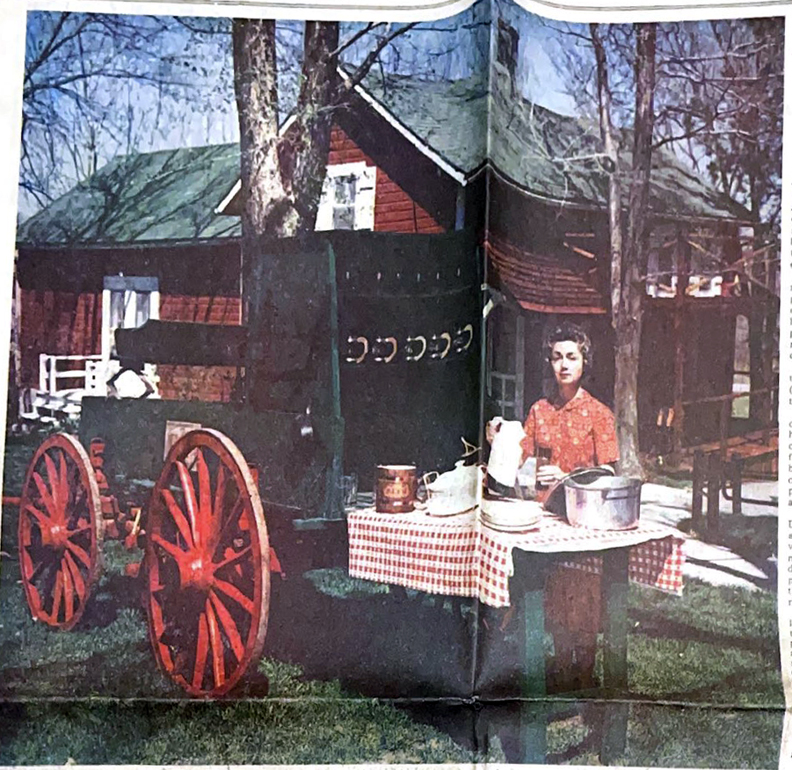 "Mrs. John B. Davis…A chuck wagon refurbished by Dr. Davis makes backyard picnicking a simple operation at their home. The table at the rear folds into the storage area for utensils." The genius of it, made all the more perfect by this richly saturated photo.
"In the Davis family room in the barn stands a lamp made from an old milk can, a singletree and a pump. On the wiring was the work of an electrician. An old hand plow evolved into another lamp, which stands outside. A wagon doubletree became a chandelier and an old horse collar surrounds a mirror. Old farm machinery has fascinated Dr. Davis for a long time. The building and renovating hobby began in is boyhood when he spent his summers on the family farm, an area now occupied by Miracle Hill Golf Course."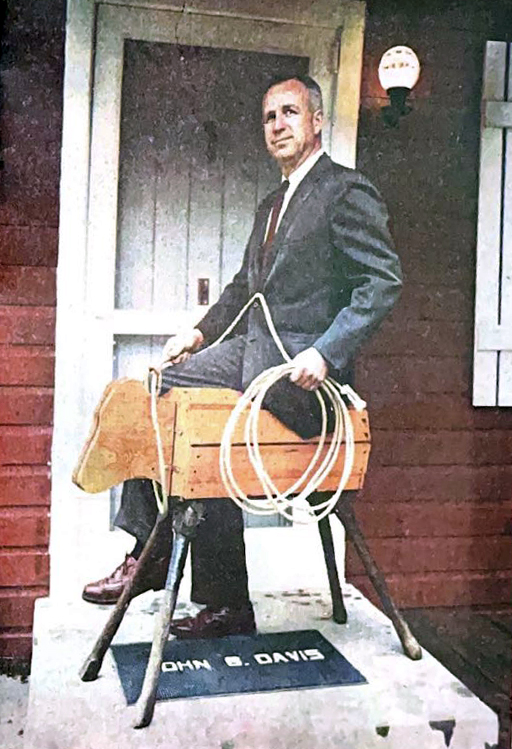 "This calf's not for roping…Dr. Davis rebuilt the roping practice gadget as a seat for the porch of the Davises' renovated barn, family room and party house." Such a striking image.
"'There were always things to be built or repaired there,' he recalls. A small stable and a doghouse at his present home testify to his building accomplishments, which Dr. Davis achieves without the help of power tools. He insists that he doesn't make things that really 'look good.' If a project requires special skill, he says, he hires someone to do it. As he drives about the Midlands countryside, Dr. Davis keeps his eyes open for farm relics. Generally he says, farmers are happy to part with such an 'antique' which he carts home and stows in a barn until he decides what use to make of it. The barn is filled with such potential 'Westernalia' as a plow to transform into a lamp and the like. Wednesday afternoons and weekends provide Dr. Davis with time for his hobby. But it's strictly a personal one. Although Mrs. Davis and their daughters, Dana and Cynthia and son Jay, enjoy the fruits of his hobby, they leave it to Dr. Davis to produce them."
Interiors from the Davis Look Book
These interior photos range from 1966-1971 and were shared by Jay Davis and his son, J. B. Davis. As we're going a little long into the wee hours here, I will share my 2020 comparison photos in our next chapter.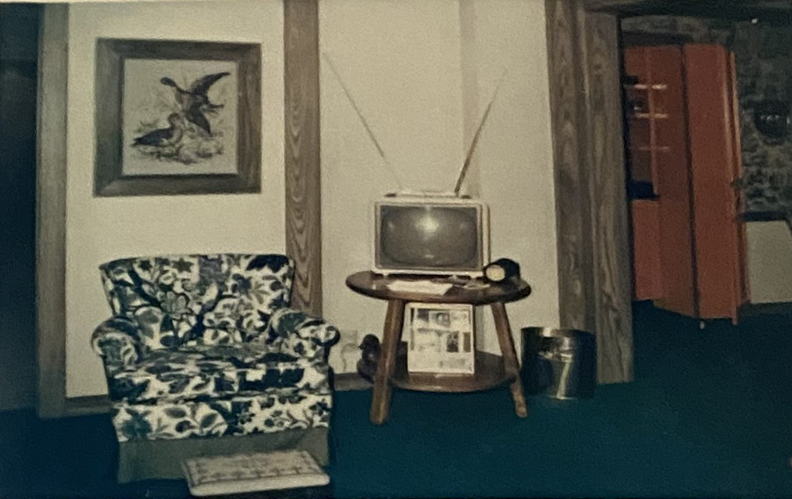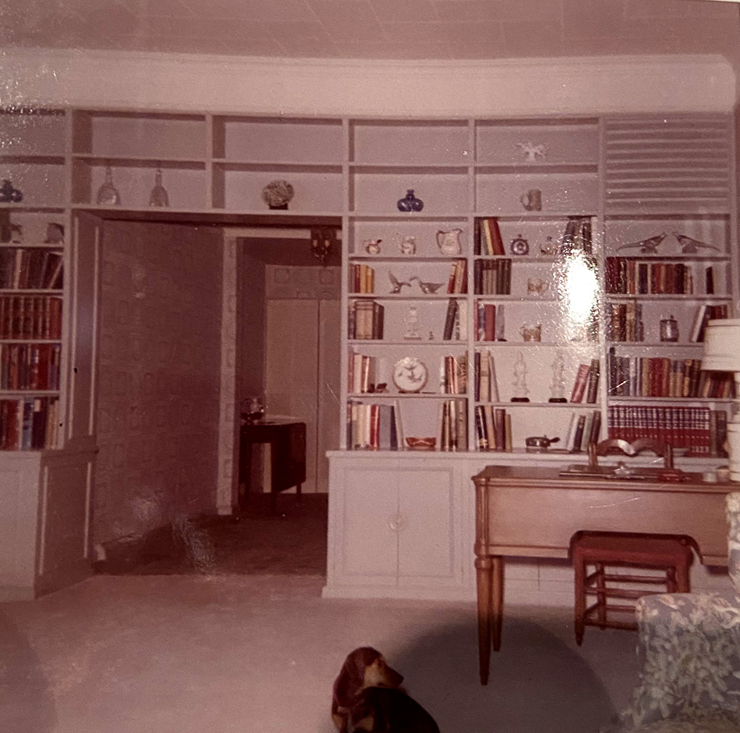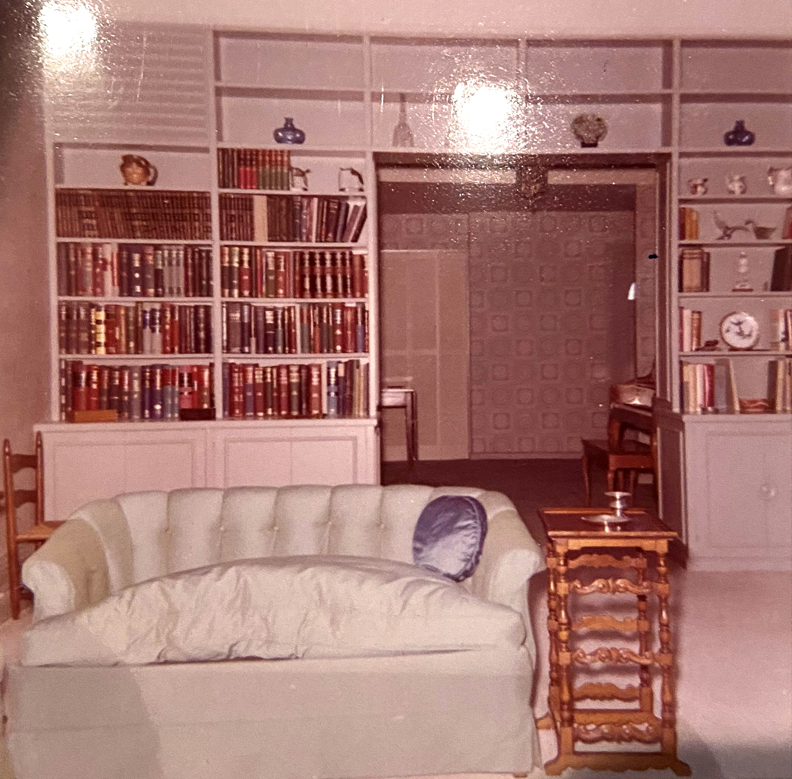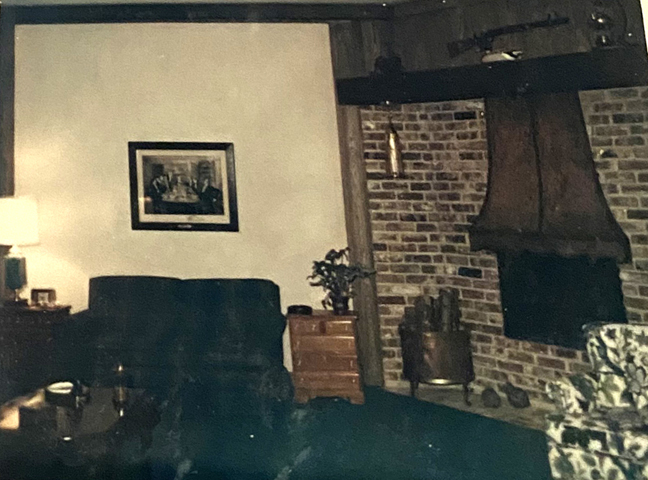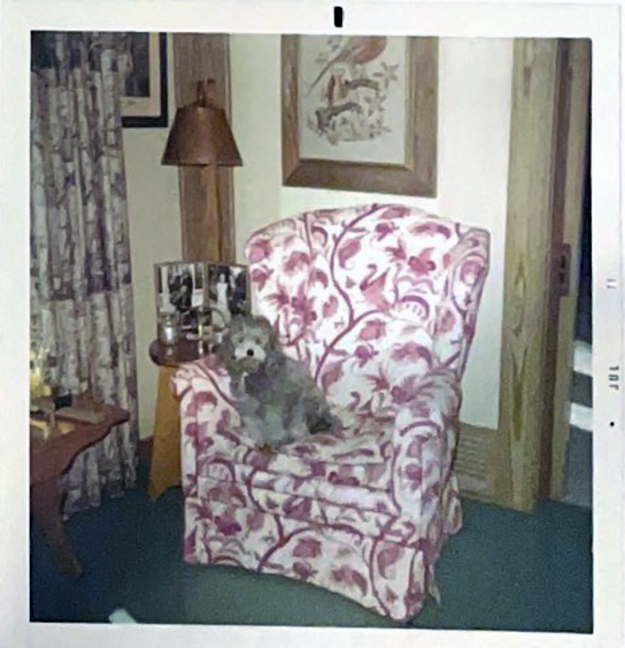 Exteriors from the Davis Look Book
Images shared from Jay Davis' photo album, dated 1969-1971. What is revealed in these photos is a gracious, rolling private property—a hidden farm in the city. Of course any quality could have been drawn out of 9402 Pacific, and would be under the owners to come, but after reading about Dr. John Davis, I can see he accentuated the country aspects. More of the picnic wagon!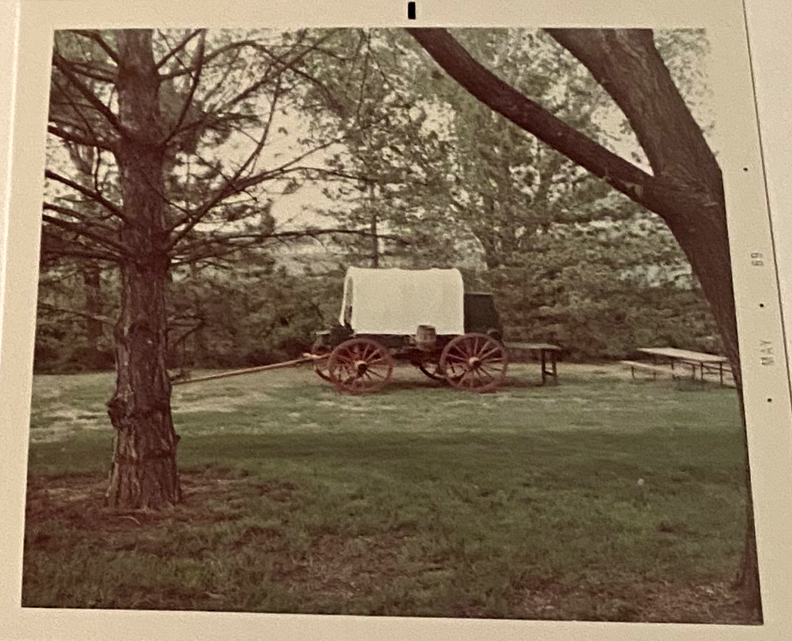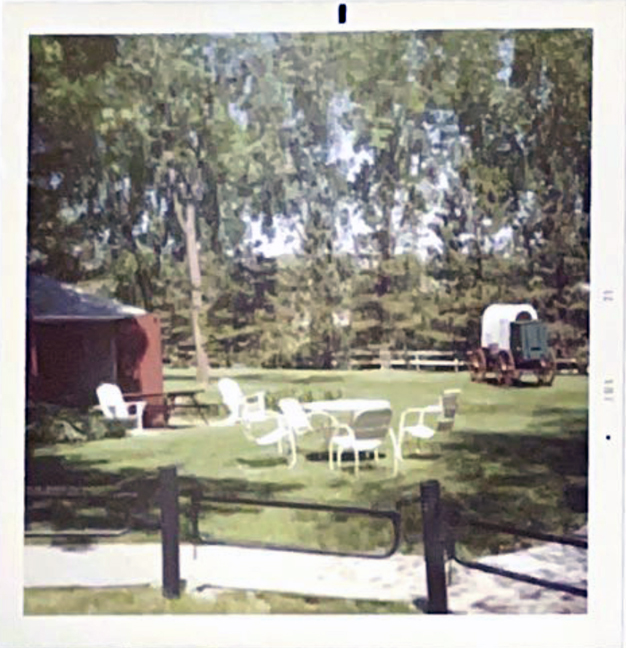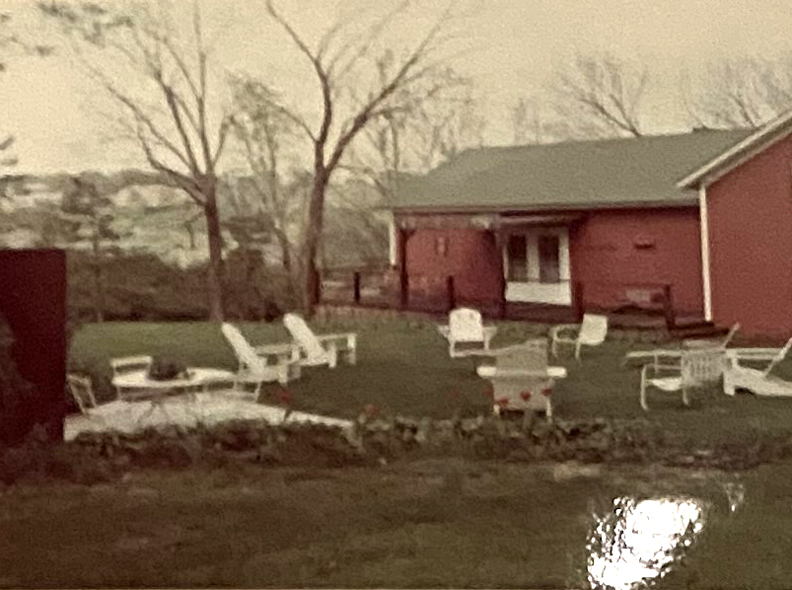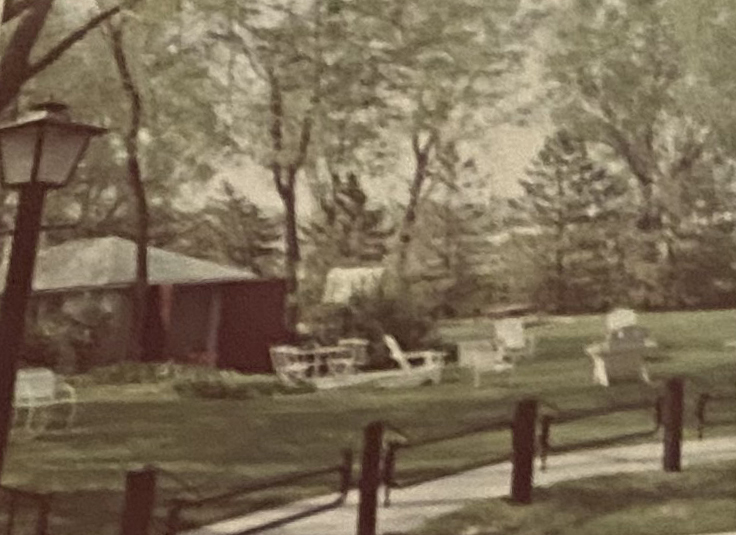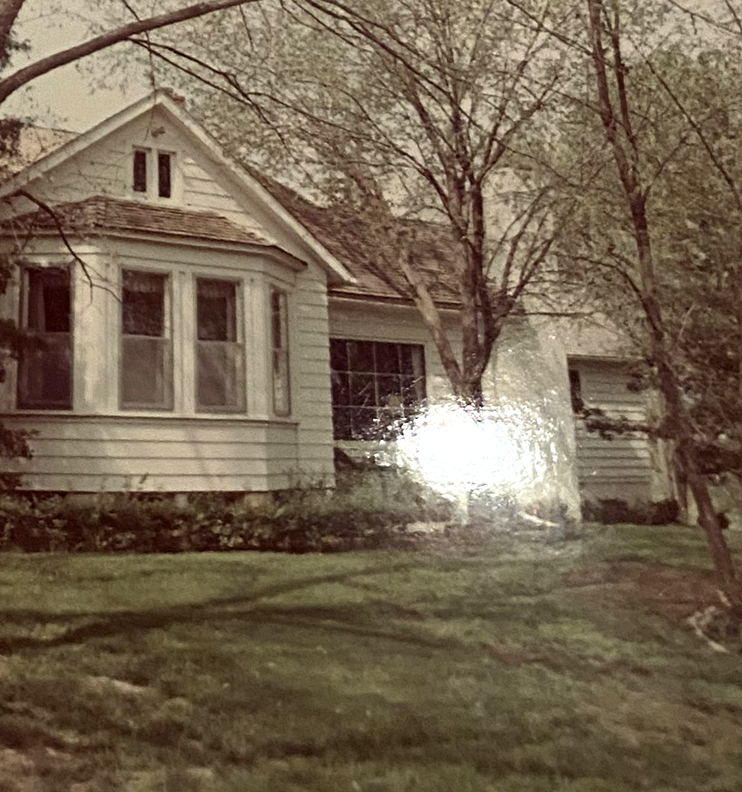 I must interrupt to point out that the chimney was painted white!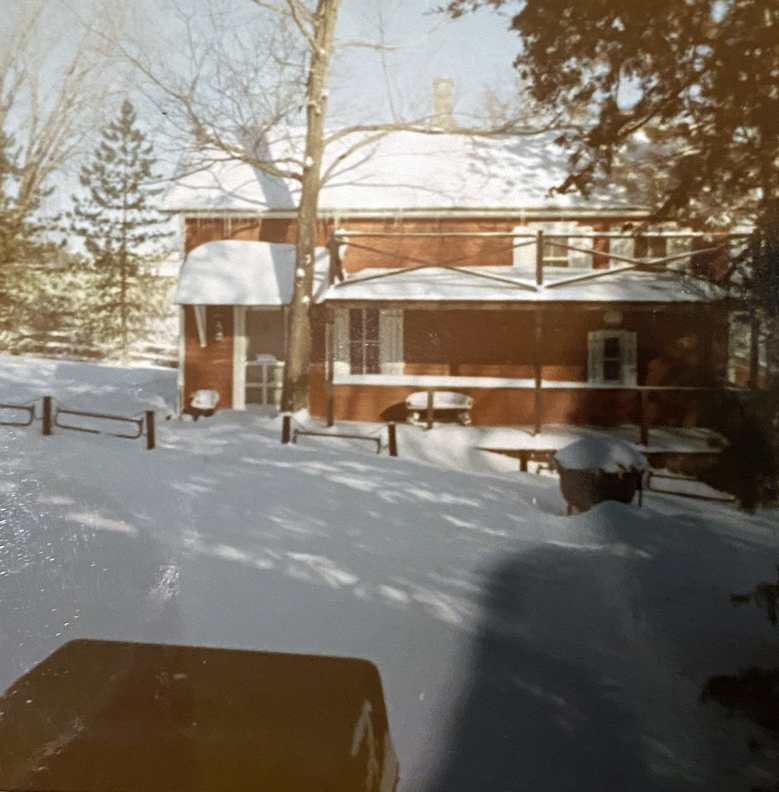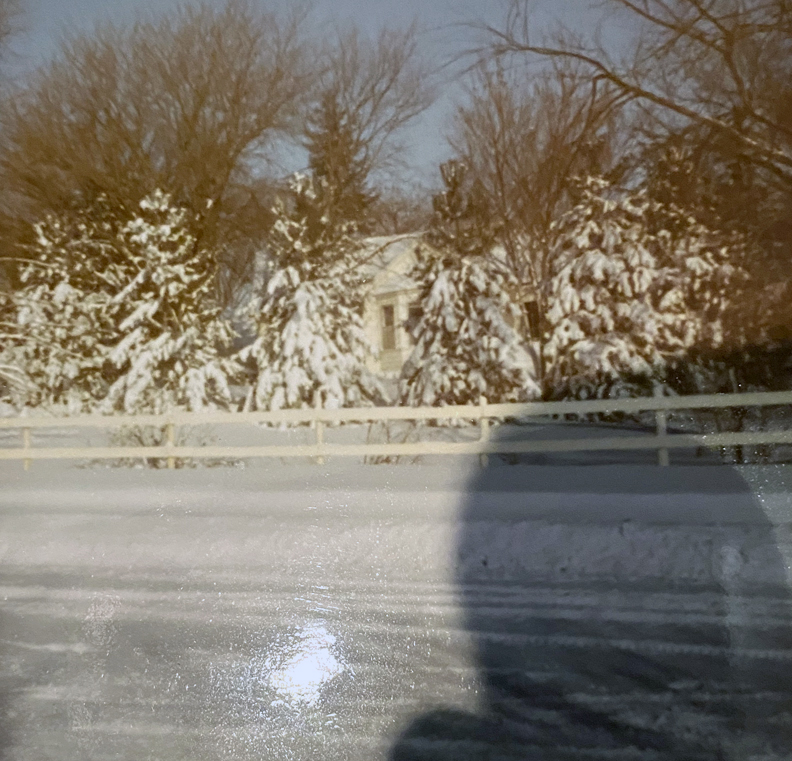 I had teased about 9402 Pacific's veiled retreat in recent years donning her green on green ensembles, but I was surprised to find that she was even more hidden in the past! White on white on white. And she dared winter white even. How elusive. How vanguard.
Addendum of March 22, 2023** Photos of the horse corral, courtesy of Jay Davis and his son, JB.
The horse corral that Dr. John built, on the west side of the property by the church.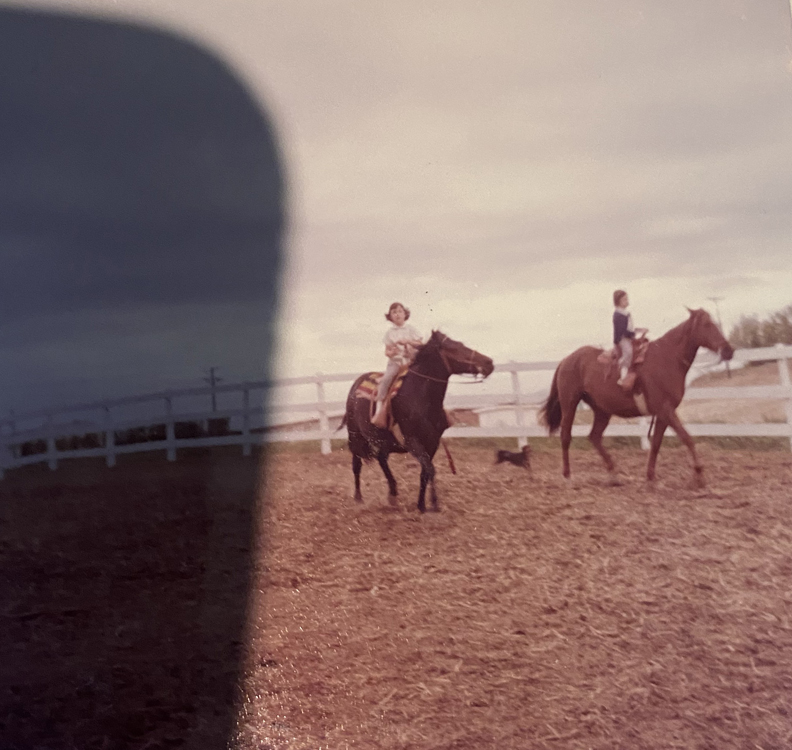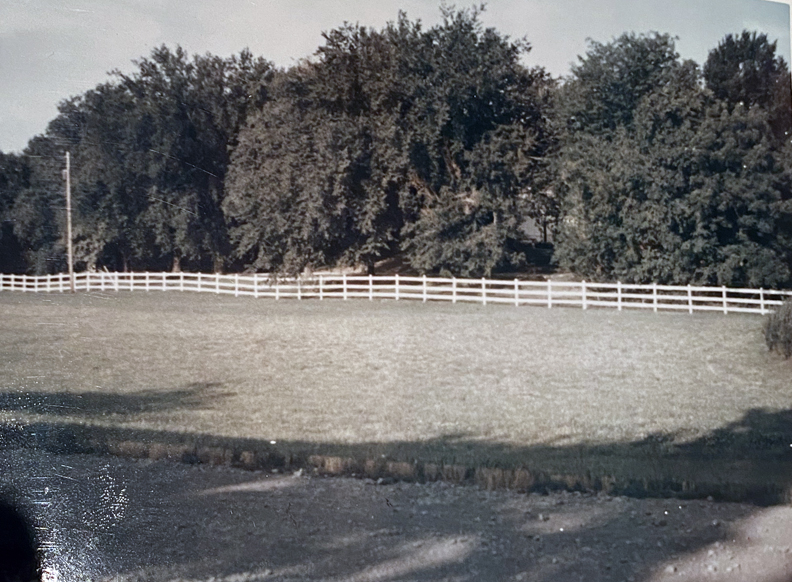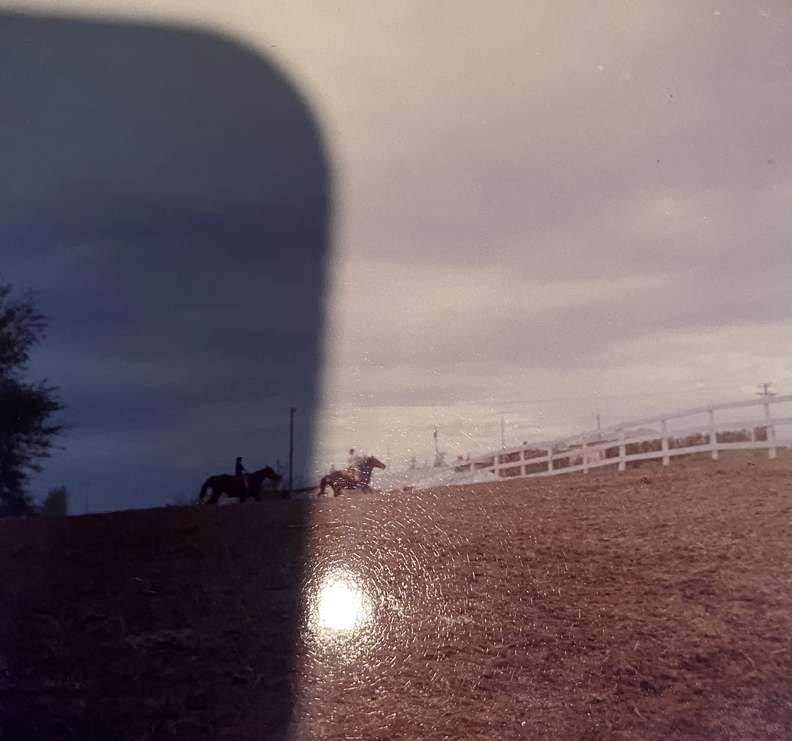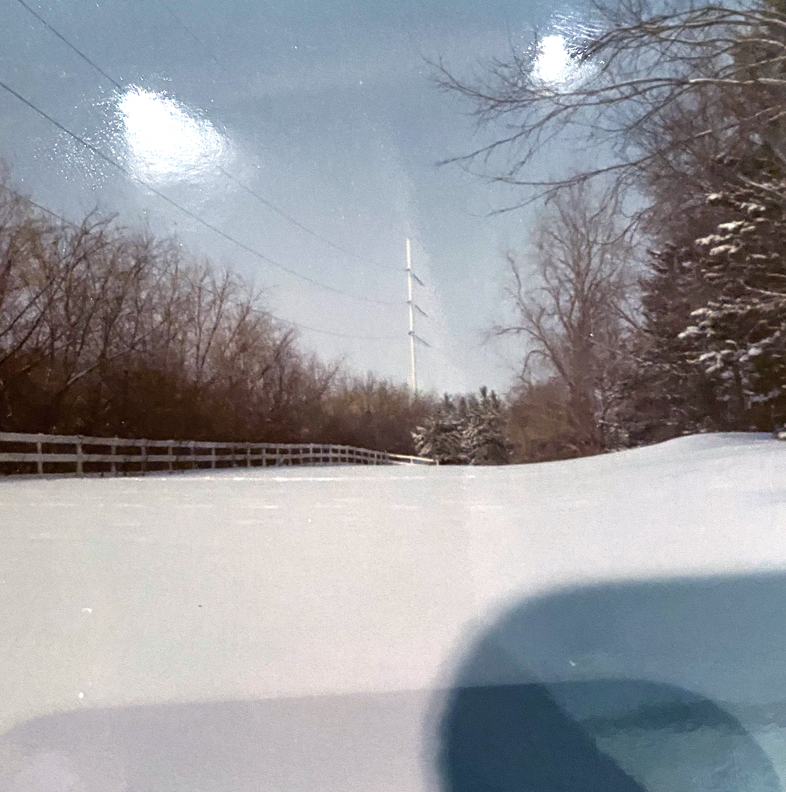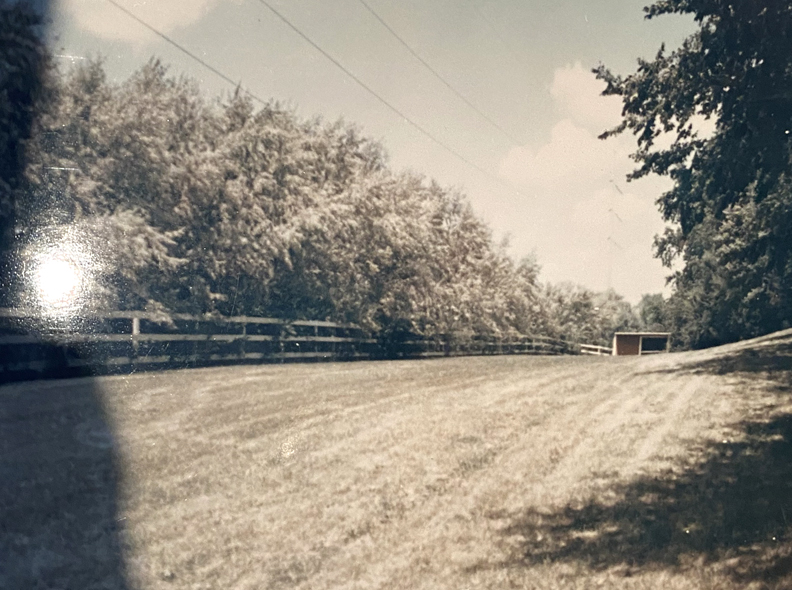 In this image I can make out a horse stable in the rear (north side) of the property. I believe this is the stable that John talked about as having built in the OWH article.
Weird Side Note for those who like such things:
In 1968 Don Dahlberg of 1133 South 96th Street, was out working on his property. Supposedly he found, stuck in his bushes, a "World War II meat-ration book." Described in good condition, the book contained four unused stamps and had been issued in 1942 to "John Byron Davis, 112 South Elmwood Road." As a reminder, this was John's parent's home that was torn down for UNO. When consulted with, Dr. John Byron Davis, then living at 9402 Pacific Street, verified it was his, but had no idea how it got into Mr. Dahlberg's yard. Mrs. Davis said the book "may have been among 'some old things' she threw away about three weeks ago." "Maybe it fell off the garbage truck," she suggested. Hilarious. "Mr. Dahlberg, meanwhile, would like it known that he had cleaned his bushes last fall and there was no sign of a ration book in them at that time." Would like it known among the reading public. Priceless. It reminds me of the terrible tornado of 1975 when we were all finding one another's private documents and random things for many months to come.
Widening of Pacific Street
There was a third event that impacted our 9402 Pacific Street and her humans. In March of 1969 an article detailed the dangerous blind intersection at 96th and Pacific Streets. Under proposed street and freeway improvements, the hill on Pacific Street would be leveled and Pacific Street between 74th and 96th Streets would be widened. The corner of 96th and Pacific would receive four way traffic lights (later) after a series of terrible car accidents over the years.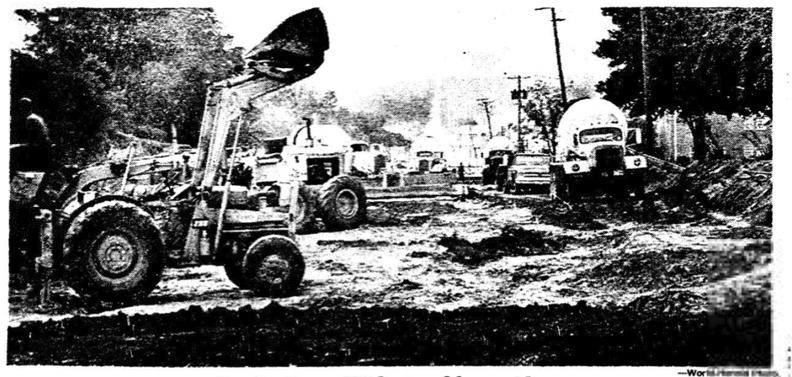 OHW June 19, 1970. By 1970, the boundaries had shifted to include 73rd Street in the city project. "The widening of Pacific Street to four lanes between 73rd and 96th Streets was in full swing Friday. The job being done by the Vrana Construction Co. at a cost to the city of $978,238 is expected to be completed late this year. The view here is looking east on Pacific from Beverly Drive."
This widening of Pacific would have cut into the Davis property, as it did all of the properties down the line from 73rd on. During this time period of the widening there was some significant flooding of the Little Papio, which "cut the road near 93rd and Pacific." This was in the area of the Pacific Park Condos, which were not built yet. This area was also the proposed-near miss area for the OPPD substation.
The Davises Pack Up
For whatever reason, in the fall of 1972, Dr. John and Nene put 9402 Pacific Street on the market. I have outlined a few reasons they might have been interested in selling but there could certainly be a hundred more. Bill Miskell, mentioned throughout this chapter, had by then married eldest daughter, Dana Davis. Bill just so happened to have a realtor in the family, Mary Miskell. Mary, a well-known realtor in town, was able to sell the gorgeous country property of the Davises within months. Of course I knew when I began this work, that the Davis family did not stay forever, but still it crushed a bit.
OWH. December of 1972: "Country Atmosphere. Charming 'story book" house nestled on a spacious 2-acre treed location. The neighborhood is superb…close to schools and shopping. The spacious interior, which is refreshingly unique, including 4 bedrooms, 3 1/2 baths, gracious living room, dining room, family room with fireplace (bricked from ceiling to floor), card room and wet bar; deluxe modern kitchen, rustic charm best describes the 1,360 sq ft guest house. Ideal for play and entertaining."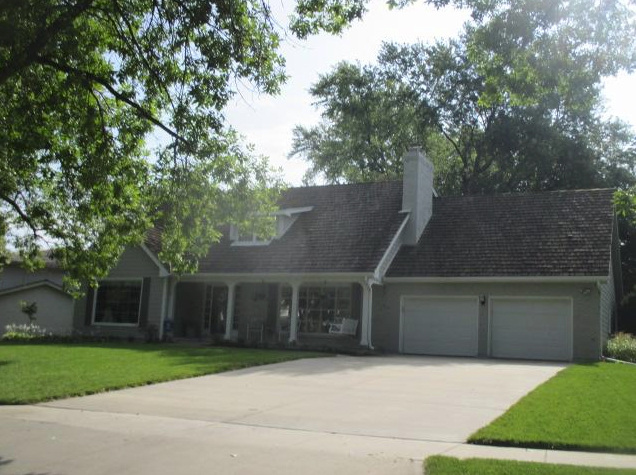 The Davis couple would continue to garner good press, so tracking their next move was not hard. In February of 1973, "Dr. and Mrs. John B. Davis moved last week to a new home at 9937 Devonshire in the Regency area." Built in 1973 at 3200 sq ft, I could finally understand. I could see it. After living in a 1904 house on a busy street by a power station, one might be in the mood for a brand new, tidy experience in Regency. 9937 Devonshire photo is borrowed from the Douglas County Assessor site.
In Memoriam
When Cornelia "Nene" Cowan Davis passed away in September of 2008, at the age of 83, the couple had been married 62 remarkable years. Dr. John B. Davis passed away in November of 2018. He had remarried wife Marlene. I am saddened to report that daughter Cynthia Davis Bringardner died of cancer in summer of 2021. Thanks to the Davis family for their cheery correspondence and sharing of family archives. It means a lot.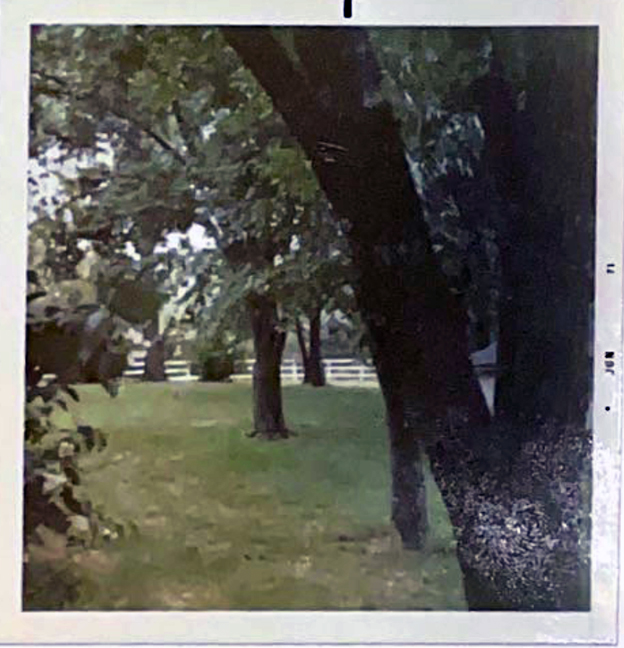 Fellow Obsessives, this concludes tonight's broadcast. We are all weary…well most of us. Some will still be up til the early dawn. When we meet again, we will find two more lovely families, time traveling from 1972 to 2023. We will learn how 9402 Pacific became the greenhouse before us now. Please join us again for Part Four.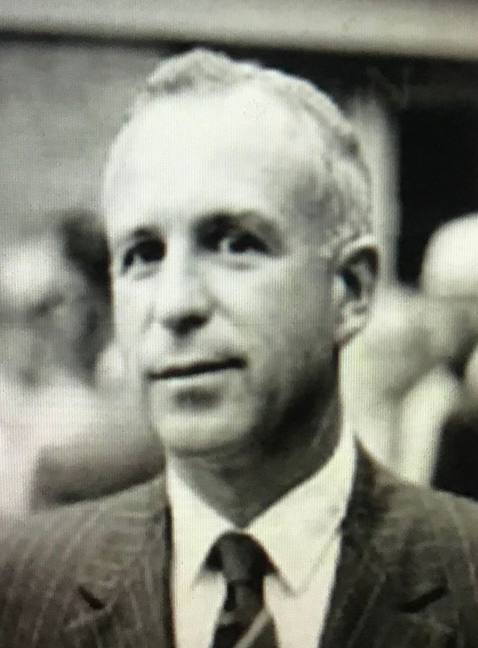 I welcome your feedback and contributions to this 9402 Pacific Street investigation. I want to hear about 9402 Pacific and its history of owners. Do you know the Dundises or the Davises? Do you know the next two families to have ownership? Feel free to share thoughts and clues in "Comments." If any family members have photos to share, please email me so I can include these in the article. I am asking you to share this article on social media, through email or texts to friends, as I no longer have any social media accounts.
I do what I do out of love. The obsession is driven by the curiosity and the love of a house dream. The hope for meaningful human connection. For story telling. There is no other reason to engage in this sort of madness—this detailed, time-stealing mayhem. I hope you can find some enjoyment here. I am more than pleased to have you tiptoe about. By the time you head for home, I hope you have been fully Sherlocked and Satiated. Thank you, detective friends.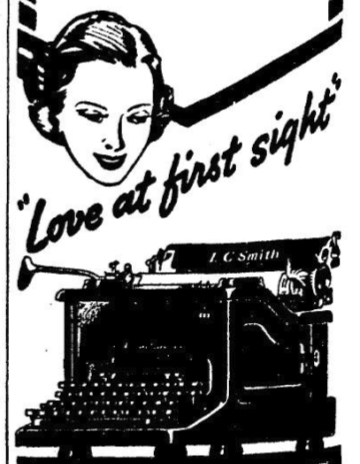 If you like what you see, you can keep up with my latest investigations by joining my email group. Click on "Contact" then look for "Sign me up for the Newsletter!" Enter your email address. It will then display "Thank you, your sign-up request was successful!" Make sure to check your email address to confirm. You will get sent email updates every time I have written a new article.
© Miss Cassette and myomahaobsession, 2023. Unauthorized use and/or duplication of this material without express and written permission from this site's author and/or owner is strictly prohibited. Excerpts and links may be used, provided that full and clear credit is given to Miss Cassette and myomahaobsession with appropriate and specific direction to the original content.
If you are looking for more architectural and Omaha history sleuthing fun, ask your local or big box bookseller for my new book: My Omaha Obsession: Searching for the City. You can also order it through this website. Thank you.