In my years of making the tour on Western Avenue, I had never seen a sign of life at 5429 Western, although it was plain she was very well looked after. All the same, having observed her for that amount of time, one would think one might catch a glimpse of a human now and again. The little 1920s Tudor on the south side of tree lined Western Avenue had captured my curious eye. If you've ever steered down the desirous Happy Hollow neighborhood, you've surely noticed her and perhaps you felt a warm acquaintance as well. Just recently late one night I found that she was listed on the market and it was like reading about an old friend in the newspaper.
5429 Western Avenue has a coy asymmetrical, front facing gable, a prominent chimney and an Eclectic French Meets Tudor appeal. Is it the clean buttercream stucco and newer sassy tomato door that draws me in? There are a number of black accents, a hue Miss Cassette never shied away from. Notably there is a black, almost cast iron, silhouette of a hen and rooster affixed the proud chimney. Fantastic. A bold choice- part folk art and weather vane, mimicked in the front lamppost.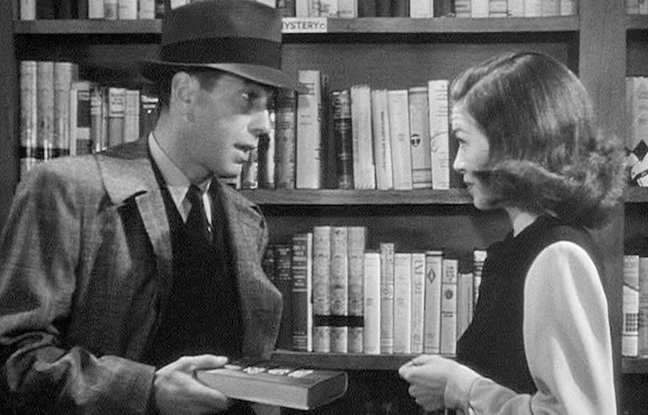 My big idea was to run a new My Omaha Obsession shortened series called The Real Estate Secret Agent, focusing on great real estate in town while I finish this book up. I'm already up at three am hunting for these dream places anyway. This new series has all but eliminated my interactions with my man clerk, Mr. Cross, and for that I am grateful, because I've really needed him to organize all of those photographs for the book. This particular article on 5429 has a little history thrown in because I just couldn't resist. I wanted to share only the pure, unadulterated properties that I've come across and some semi-pure as well. 5429 Western Avenue is pretty darn close to the Real Deal Time Capsule but looks to have many new overhead lights, ceiling fans and a significantly overhauled handicap accessible bathroom. Understandable. She has enough bells and built-ins and pine and parquet whistles to more than makeup for a few missteps in lighting and a renovated bathroom. I think you will agree that she is Simple, Understated Perfection.
5429 Western Avenue has a traditional front yard lamppost (see previous photo) and if you're like me, this welcoming feature fills you with delight every time. Six over one sash windows framed in a strong, wide, black trim. I am not Omaha's biggest fan of vinyl-clad windows but I was willing to suspend all doubt to get a better look at that hen and rooster drama play out. The pedimented front entry offers up a friendly sunburst and a classical pilaster with a stately entablature. I would guess these were all later additions to spruce the modest brick-stepped entry. But there is also evidence that varying interpretations of the formal doorway were added to this cottage style Tudor throughout the United States in the 1920s.
I will admit I obsess about discovering a false thatched roof atop this old girl one day, the thatch giving a convincing English fairy tale cottage curve to the gorgeous gable. Hasn't happened yet.
The Cold Facts
LOCATION: 5429 Western Avenue, Omaha NE, 68132
SUBDIVISION: Happy Hollow Addition
PROPERTY TYPE: Single family residence
Four bedrooms, four bathrooms, two fireplaces, detached garage
CONSTRUCTION: Stucco
YEAR BUILT: 1924
SQUARE FEET: 2,597 sqft approximately
LOT SIZE: 1/4 Acre
PRICE: $319,500
MSL: #21710470
LISTING AGENT/COMPANY:
Mary Robson Rensch
NP Dodge Real Estate Sales, Inc
(402) 690-6279
Source: NP Dodge Real Estate
Summary from CBS Home:
"Fabulous two story Happy Hollow home with newly refinished hardwood floors. Fresh interior paint. 4 Bedrooms, 4 Bathrooms, 2 fireplaces, large 1 car detached garage. Same owners for over 50 years show pride of ownership: newer vinyl clad windows, roof, Heat pump & water heater. Main floor addition features an open kitchen & family room. Main floor laundry and a 3/4 bath. Private backyard with awning covered patio."
http://www.cbshome.com/homes-for-sale/5429-Western-Avenue-Omaha-NE-68132-205957944
Zillow site:
For Sale
$319,500
Price cut: -$9,500 (7/13/17)
Zestimate®: $353,139
Est. Mortgage
$1,179/mo
Real Estate Source Links:
CBS Home
NP Dodge
Zillow
Trulia
Realtor.com
Redfin
Berkshire Hathaway
Disclaimer: My Omaha Obsession is not a real estate company and does not represent any home or property you will ever see here. Miss Cassette certainly is not in the business of selling real estate, although I should be. I am always staking out homes and tipping friends off to marvelous Omaha locales. And Lord knows the majority of summaries on these real estate sites are lacking. Just know that I am not working for someone and no realtors will be sending me "ideas" for my articles. Please contact the real estate agent or company for status, condition and more information. Miss Cassette offers no guarantee to the accuracy or validity of any information on this site and will not be liable for errors, omissions or any losses arising from its display or use. Comments from fellow readers should be viewed as opinions and may not reflect the accuracy of the listing details, condition or status of the home. Homes and buildings shown on My Omaha Obsession may no longer be for sale and is up to interested parties to investigate the current status. Once again, Miss Cassette is not the agent, owner or photographer. If a realtor, owner or photographer want credit for these images or is upset that My Omaha Obsession is promoting the sale of your property (head scratcher), please email me directly. If this property has sold and you no longer want the address posted for personal reasons, please email me directly.
Detectives, I can't wait to show you what I have found.
Photos and Observations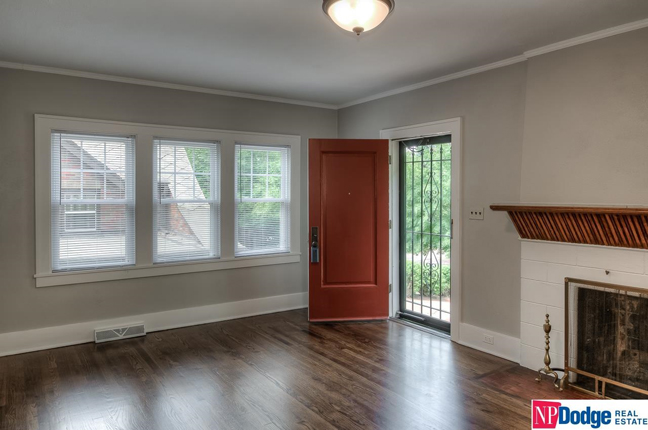 There's that tomato door. The first floor includes the Living Room, Dining Room, Den/Study, Family Room, Kitchen, and Laundry Room.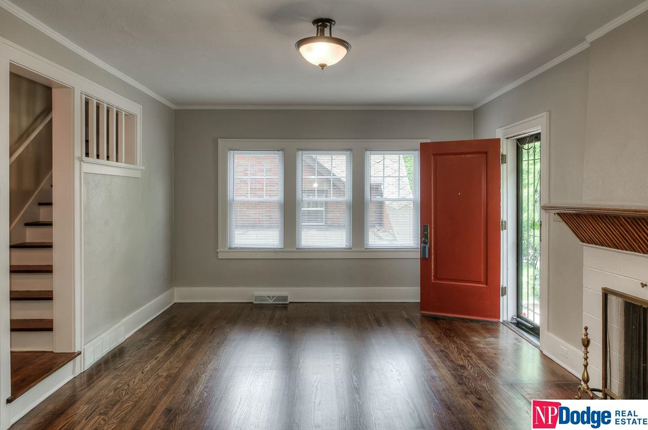 Miss Cassette would love to know what the original ceiling light had been in the living room, if any. Many living rooms from this time period did not have an overhead.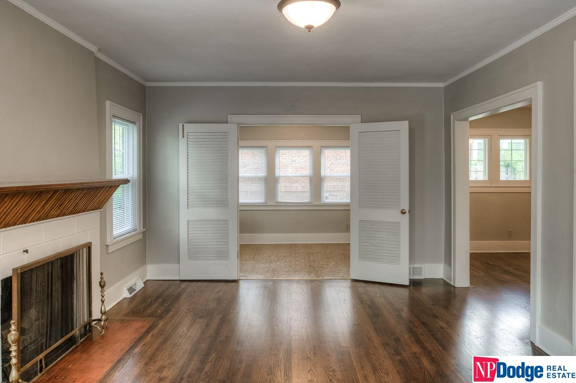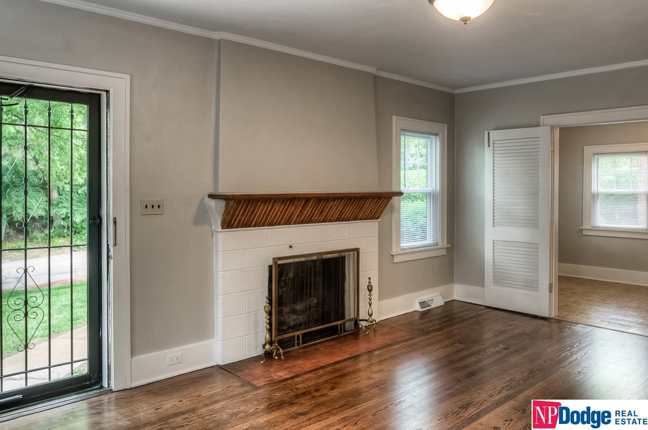 I am curious to see and understand this striped wood mantle better. Enchanting. I say that as if I will be invited in in the near future.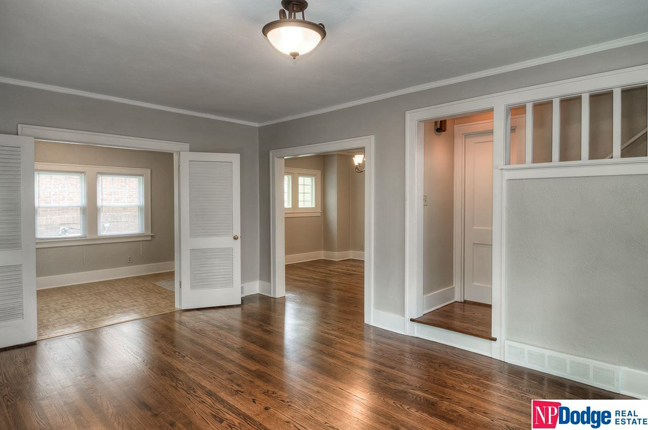 Gorgeous. Clean and open. Inviting, but establishing formality. I love the wooden bars allowing you to peek at yet another lit vestibule, the stairwell hidden away.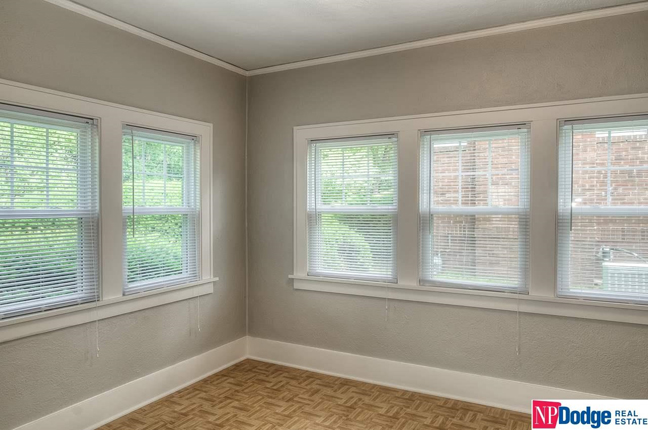 Look at that gorgeous parquet wood floor in the sitting room off of the living room. It used to be that Miss Cassette would not consider an apartment unless parquet was part of the deal. Which reminds me of how I learned what parquet was. One time, very long ago, my girlfriend and  I were rollerskating inside of her family's palatial estate. Her mother, a proper society woman, was usually too busy to notice what her youngest child was doing and I will confide that the house was purposefully so large, she usually wouldn't have been able to find us, even if she wanted to. So we were rollerskating and having a grand time when I skated right into the maid, who shrieked, "The Parquet! The Parquet! Get Off of the Parquet!" My girlfriend somehow beat it out of there. This alerted the family's many dogs who began barking and yapping, depending on size and breed, which only served to apprise the Mrs. She came charging down the grand curved stairwell and joined in the shrieking of, "Parquet! Parquet! Parquet!" Terrified, I wasn't quite sure what parquet meant till the women were bellowing, "Stop Skating!" in unison. I was frozen in my heart but continued to skate lumberingly in an attempt to find a forgiving Persian rug. Have I mentioned it was a huge house? I eventually got down on all fours and crawled away in shame. It was all a terrible nightmare BUT I learned on that day about the value of parquet.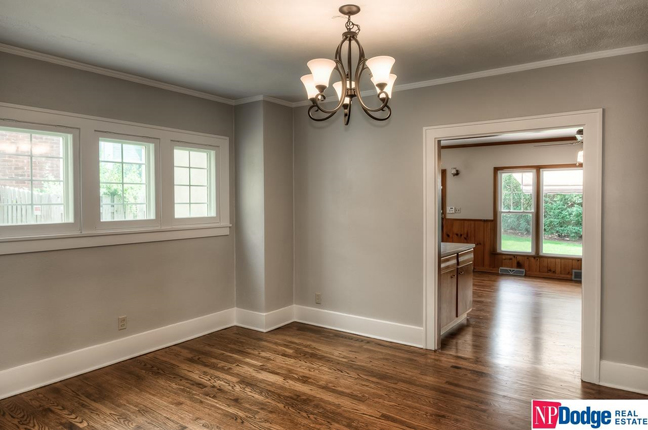 I love those darling little dining room windows. Would have loved to have seen the original dining light fixture. Sometimes I want to question, "Omaha, must we all buy the same blessed Millennium Five Light Single Tiered Rubbed Bronze model from Lowes?" If I sound bitter, it only because I struggle with the Cassette lighting–a past owner having ripped out a good amount of the original 40s light fixtures in his penchant for the Lowes fake Tiffany and hideous track lighting. Mr. Cassette is against my ripping these from the ceiling until I have an approved proposal and antique replacements in hand. So I continue to wring my hands and shake my head at these irritants.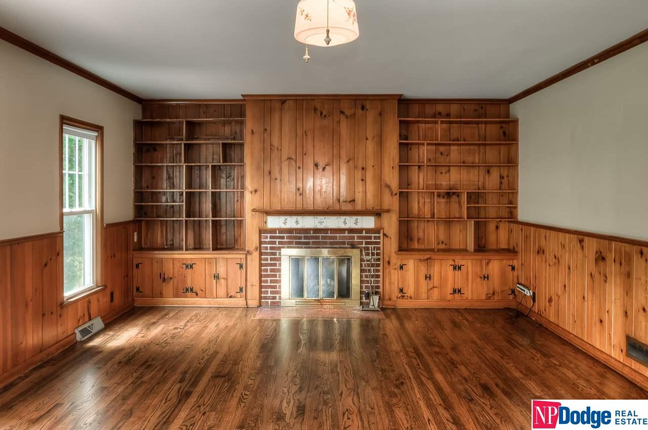 Overcome, I have fallen down in that family room. Knotty pine study of my dreams. Imagine it filled with a million books and an old trophy or two, once colorful, now faded Persian rugs, a leather chair, and a milk white seashell found on the beach in the 1960s.  The perfect preppy pine paneling family room. Can you see the ghost shadow from the clock above the mantle?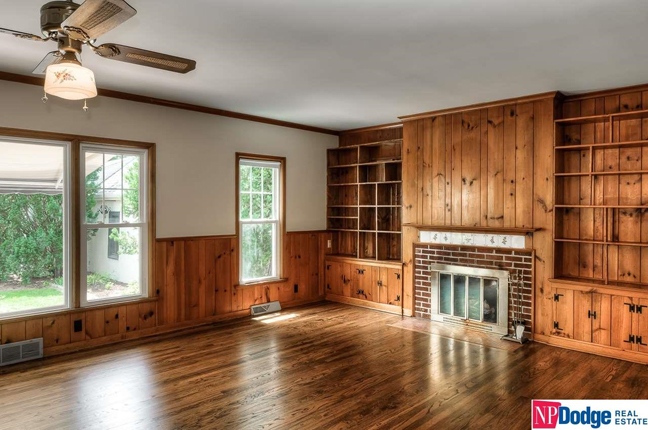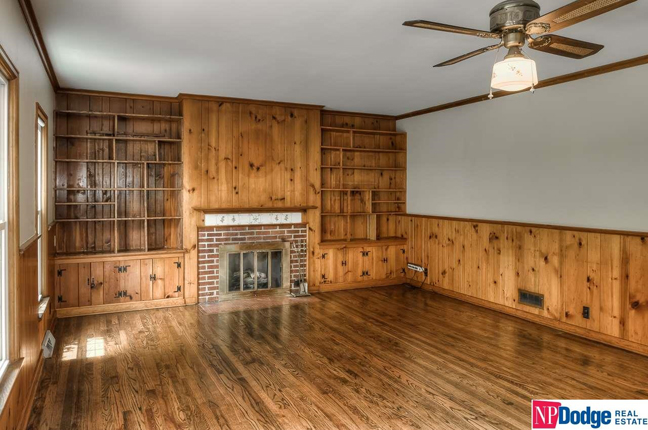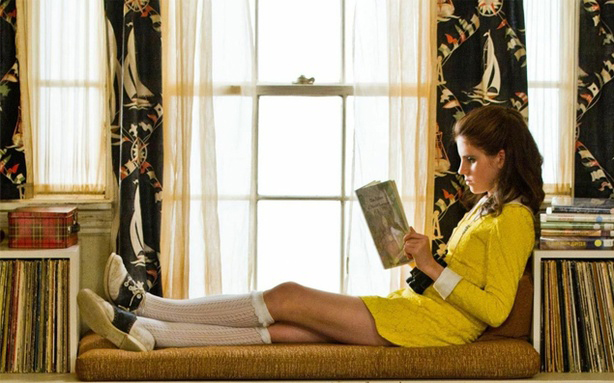 Given an opportunity to live in that family room, I would become Suzy Bishop, read all day and listen to Valaida Snow on repeat.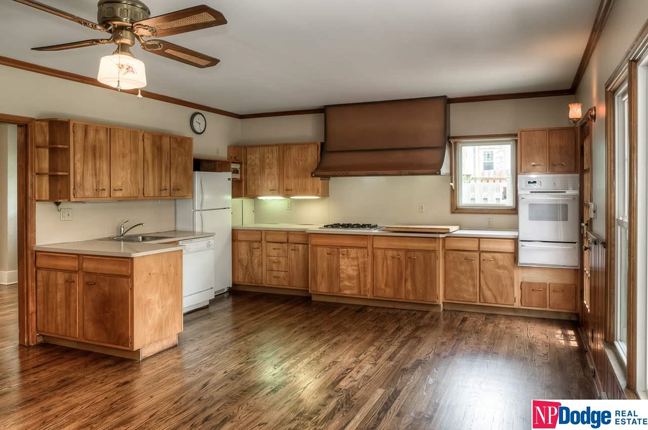 The east side of the family room. Glory Be! Was this a MCM renovation?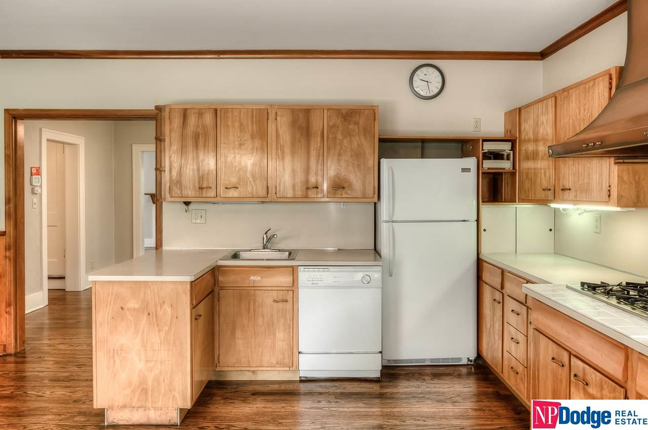 Antique kitchen complete with copper patina drawer pulls and hardware.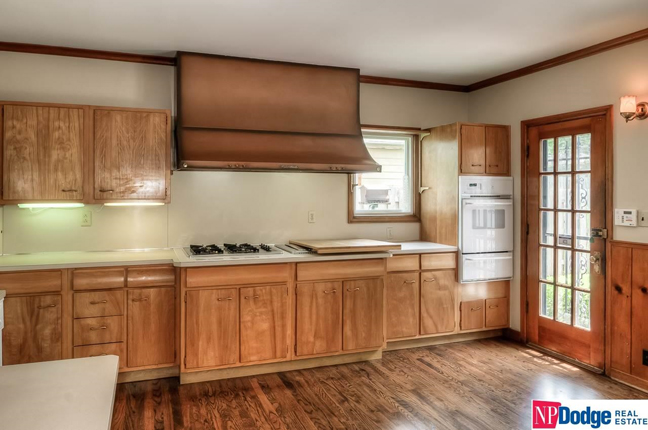 Look at that antique range hood. Is it copper or another metal brown patina?  Thousands of My Omaha Obsession readers will cry bitter, loud tears if anyone comes in and makes a 2017 mess of this gorgeous kitchen. Restrain yourself Extreme Makeover fans.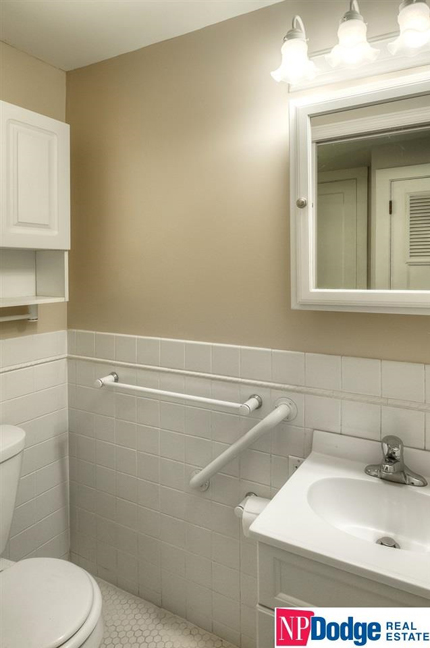 The modernized bathroom.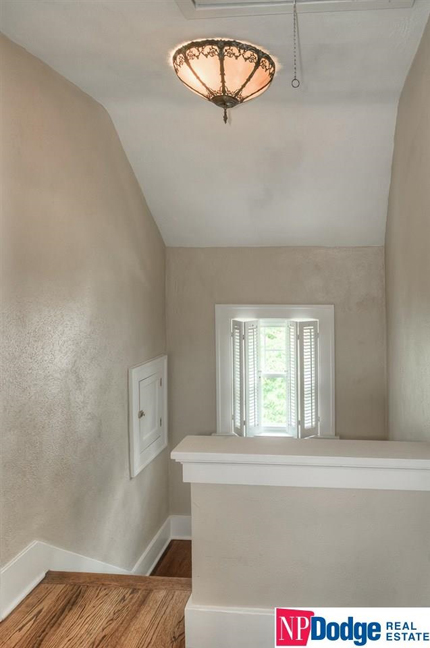 Shuttered blind stairwell window. I could become consumed with that little landing and cunning window if that is, perchance, a laundry chute door? Is that pink hallway light a 1920s original? It sure looks like it from here. And have I just spied a trap door to the attic? My sainted aunt.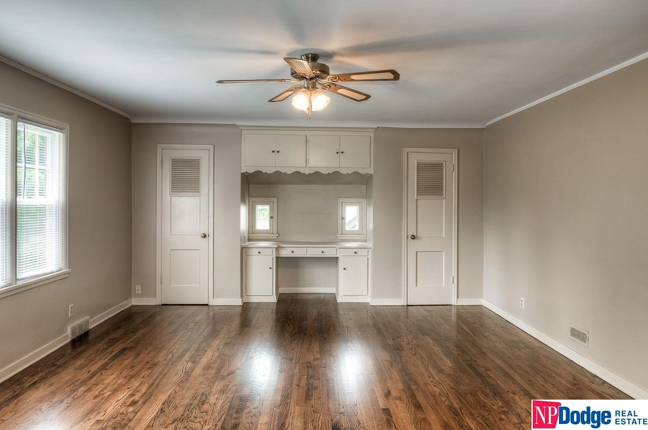 The master bedroom, featuring pale built-in double vanity, cabinets and twin vented closets.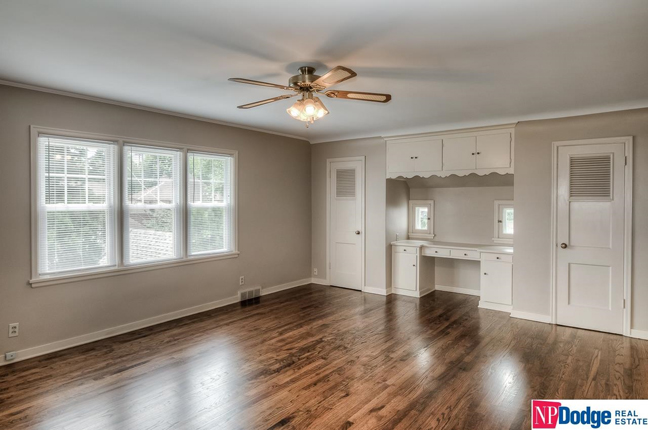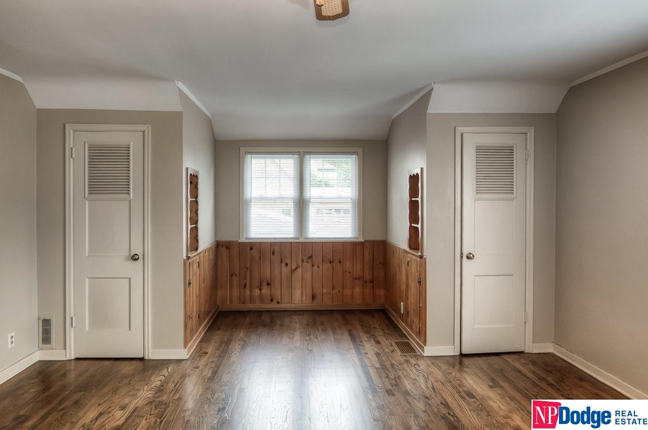 Pine built-ins nestled in the master bedroom bookended by vented double closets.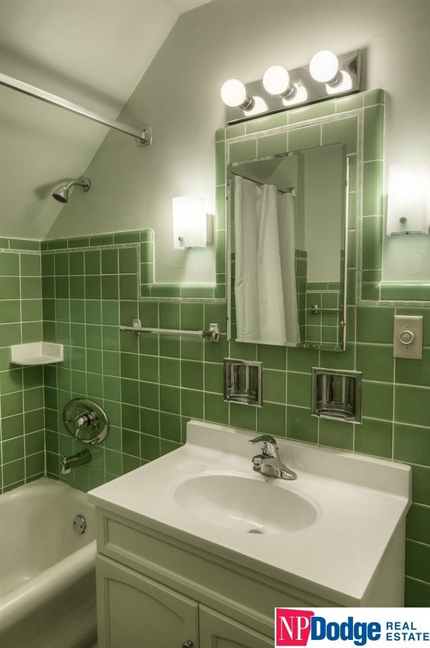 Avocado bathroom to die for. All we need to do is find the right sink. I know just the place.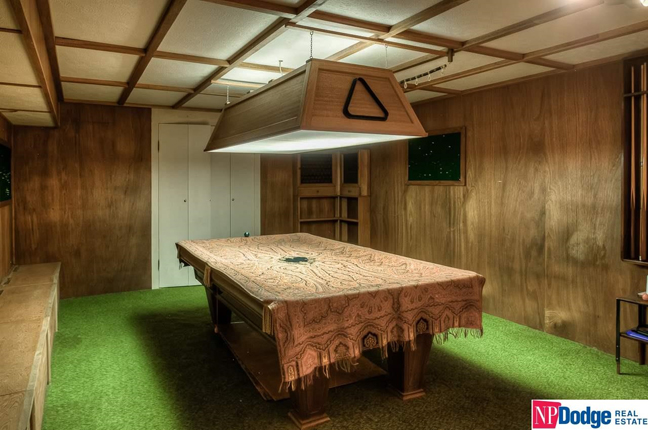 Fantastic paneled rumpus room.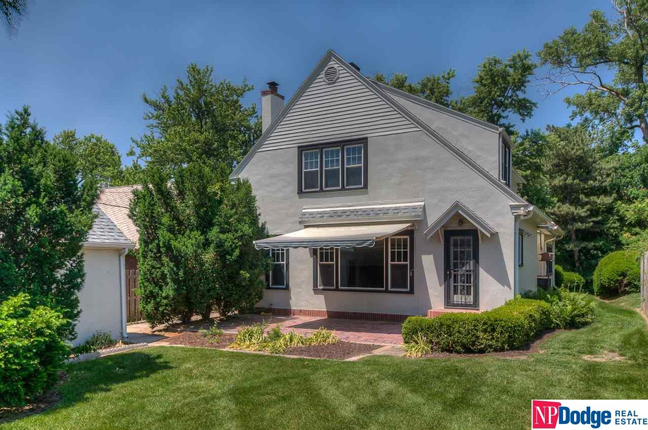 I adore the subtle octagon gable louver touch and the pedimented back entry.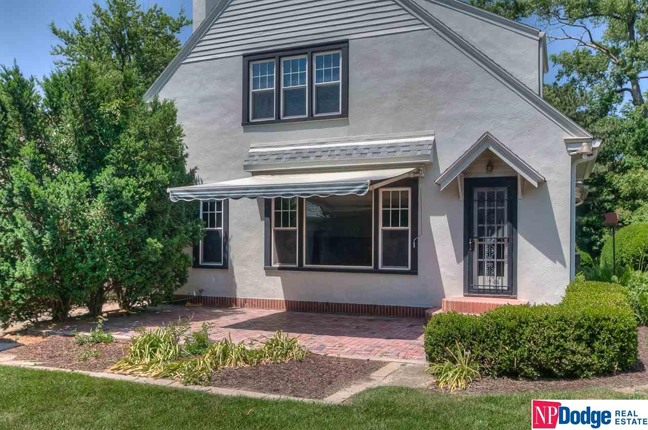 Miss Cassette is obsessed with houses that look as attractive from the back yard as they do curbside. 5429 Western Avenue clears that hurdle easily.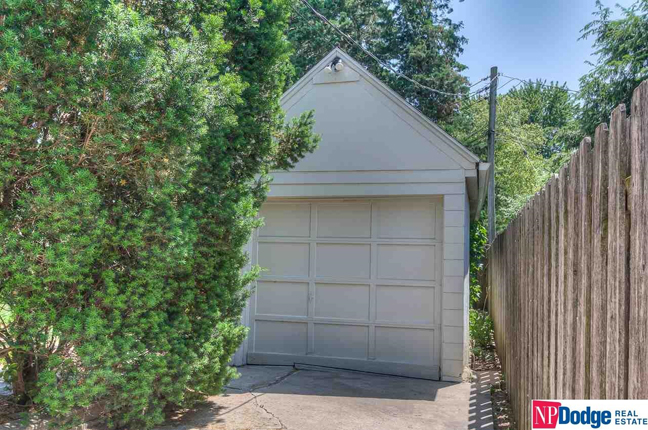 Quaint, unattached single car garage.
My Field Notes
My brief inquiry revealed George & Company was the real estate corporation behind the development of Happy Hollow Addition to the town of Dundee. This addition began in the summer of 1913. A year was spent grading and improving the six block, 82 lot tract. The first addition was said to overlook the original Happy Hollow Country Club, offer a beautiful view of Elmwood Park, and boasted of a close proximity to Lincoln Highway, to the south. This highway is now known as Dodge Street. Dundee was annexed into Omaha in 1915.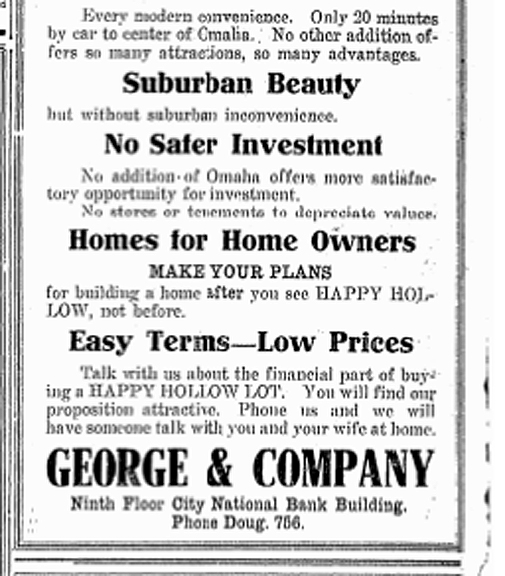 Note that it was "Only 20 minutes by car" to Happy Hollow. From Downtown Omaha or from out in the country?
Considered an exclusive residential district, one of the first homes built in the Happy Hollow Addition was that of Frank Keogh in August of 1915. By 1924, the proposed construction date of 5429 Western, the Happy Hollow Addition was on its third residential add-on tract. It should be noted that although the Happy Hollow Addition would extend west, 5429 Western does not truly fall within the boundaries of Dundee. Happy Hollow Boulevard is the western border of Dundee. I have always heard this area called Happy Hollow or south Country Club.
November of 1924 brought paved roads, sidewalks, gas, water, lights and sewers from Happy Hollow Boulevard, along Underwood Avenues up Western Avenue.
News of the "sunroom prowler" gripped the area after a "break-in artist" robbed two neighboring homes on Western 5427 and 5429 making off with more than $700 back in 1934. The burglar entered both homes through their sunrooms and ransacked the properties taking jewelry, money, several rings, a watch and a lady's coat. The Richard Baliman family lived at 5429 in 1934. His daughter, Janis Baliman, would later make the news for her acceptance into Northwestern University in 1945.
Walter W. and Gladys Barrett family would later own the home. He was a former entomologist for the Strategic Air Command. Walter was then transferred to Hawaii in July of 1966 so the family packed up their children Lee, Earl, LaCinda, Jan and Barbara and away they went. The Barretts continued to own 5429 Western but rent out the home to another airman, Captain Clifford Bewig.
In 1966, while Captain Clifford Bewig was stationed in Naknek, Alaska, Mrs. Bewig (formerly Suzanne Vickery) spent his year's tour of duty in Omaha with their children (Bob and Sara Seaton and Cliff, Jr. and Roger Bewig) at 5429 Western. All of those bedrooms and all of those kids.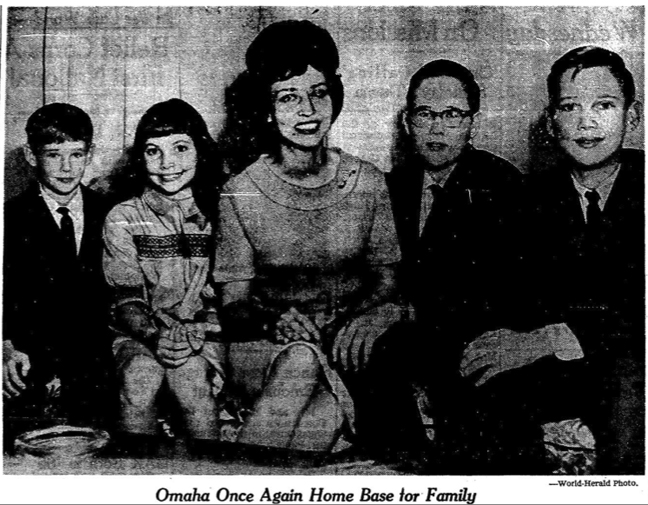 Why, here they are now… pictured in the 5429 Western Avenue home. Sept 11, 1966.
The Bewig family eventually bought the cottage from the Barretts and has owned this beautiful home all of these 50+ years. They obviously cared a great deal for this home. From all of us Omaha Obsessives, thank you for being such incredible stewards. Here's to the next 83 years.
***Update from July 24, 2017*** Thanks to the wonders of Facebook, I received some comments from Sara Seaton Hanifen, the Bewig's daughter, shown in the above photo with her mother and brothers. She said it would be alright to share this additional information with the fans of 5429 Western Avenue: "The reason (there was) little sign of life is that we were always in the big family room in the back of the house. It was filled with books and yes, Persian rugs! We never used the front door….only the side. The light fixtures in the stair well are from the 1920's. Oh and by the way, my father built the wooden mantle piece on the living room fireplace to hold his miniature Santa Claus collection maybe 12 years ago. He was a master wood worker even into his 80's (taught industrial arts after retiring from the Air Force)." I treasure these personal stories and thank you, Sara.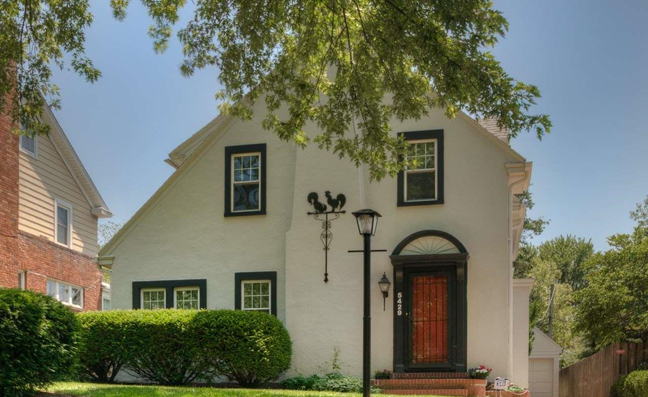 I welcome your feedback and comments on 5429 Western Avenue and the Happy Hollow neighborhood. To comment or read others' comments, please scroll to the end of this page. If you would like to correspond with me privately, please do so at myomahaobsession@yahoo.com or in "Contact." But be assured, everyone would love to read what you have to say and it makes the conversation more fun. You can keep up with my latest investigations by "following" myomahaobsession. You will get sent email updates every time I have written a new article. Also join My Omaha Obsession on Facebook. Thank you Omaha friends.
© Miss Cassette and myomahaobsession, 2017. Unauthorized use and/or duplication of this material without express and written permission from this site's author and/or owner is strictly prohibited. Excerpts and links may be used, provided that full and clear credit is given to Miss Cassette and myomahaobsession with appropriate and specific direction to the original content.