Architectural detectives, real estate devotees and those still astir at 3:00 am, let us gather. The focus of our obsession today will be the veiled and inspiring 3217 South 101st Street. A work of art in and of itself, this Contemporary residence was built for a fellow obsessive like ourselves–however the late owner's passion not only included great architecture but modern art collecting. This glorious residence is hidden within Glen Oaks, a wooded area south of the Rockbrook neighborhood. The home was designed to incorporate natural light and blend in with the landscape. We could technically label 3217 South 101st Street an Omaha mansion, owing to its square footage and price tag but I would rather dream of this secluded estate as a connected series of visions, a collaboration of owner and architect, extending through the woods and progressing through time. It is aesthetically stunning and I expect some of you might know it.
On that note–just a friendly word of warning: You most likely will become overwhelmed and, possibly, lose your breath as we fixate on 3217 South 101st Street. It is altogether too dream provoking. Don't faint, darlings. Keep your salts close. If you require reviving, just wave your hand and follow my voice. The more seasoned among us already know. I will be talking a mile a minute because I am clearly infatuated and overly caffeinated.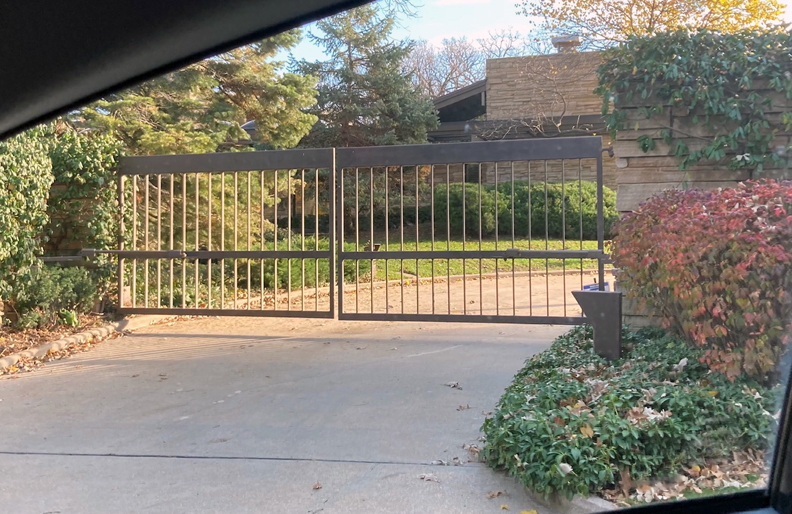 I am sure I am not the only one to make Strange Pilgrimage to this home. Nothing to see here, folks. Move along.
Out of respect for the home's family members, I will not be naming names. Just know that Mr. Homeowner was a prominent business owner–a nationwide manufacturer and direct seller of home-improvement products since 1962. He was a generous benefactor, a creative philanthropist eager to provide educational opportunities to children in need and he was a family man. His private MCM and contemporary art collection is astounding–one of the largest in this region. There is so much more to say but I won't without permission. Mr. Homeowner passed away in 2010. Just weeks ago the family hung a $2,500,000.00 price tag on their Donald Polsky-designed home. Now Mr. Polsky, as you might recall, happens to be one of My Omaha Obsession's favorite architects, so it all made sense why Mr. Homeowner would enlist him: Donald Polsky was a true visionary.
3217 is one of the youngest houses I've ever researched. Lovingly maintained by its original family through all these decades, the initial, central structure has experienced glorious transformation by way of wings and subordinates to the main house. What is this, you say? You shall soon see! I am happy to report, the residence upholds the original Polsky design, as the architect was seamlessly plotting the fantastically angled additions with the homeowners all the while. What is most impressive is that the separate, crisp lines of the residence and the overall composition are harmoniously placed within the wooded, natural environment. The sliver of a cloaked view from the street is gorgeous, if not agonizingly veiled– if only one could see more! Alas, privacy is the design's intention.
Not surprisingly, 3217 South 101st Street has never been on the market…until now.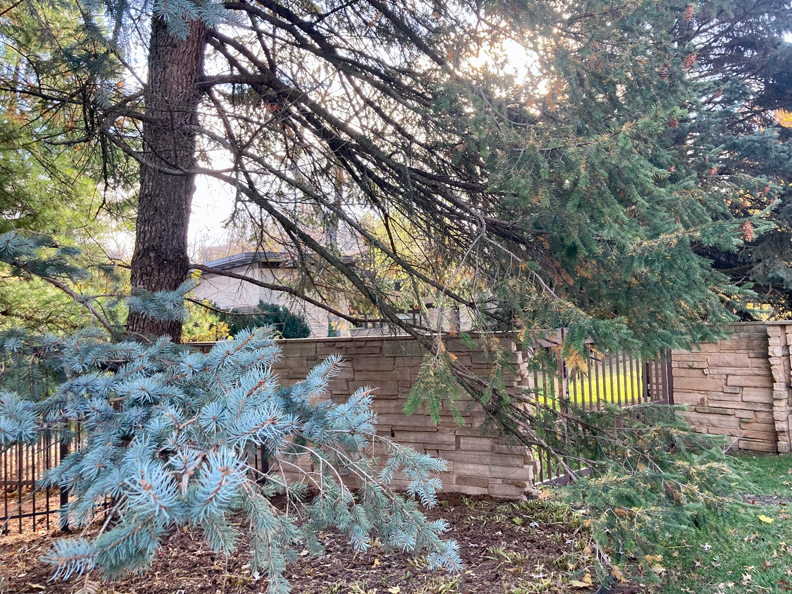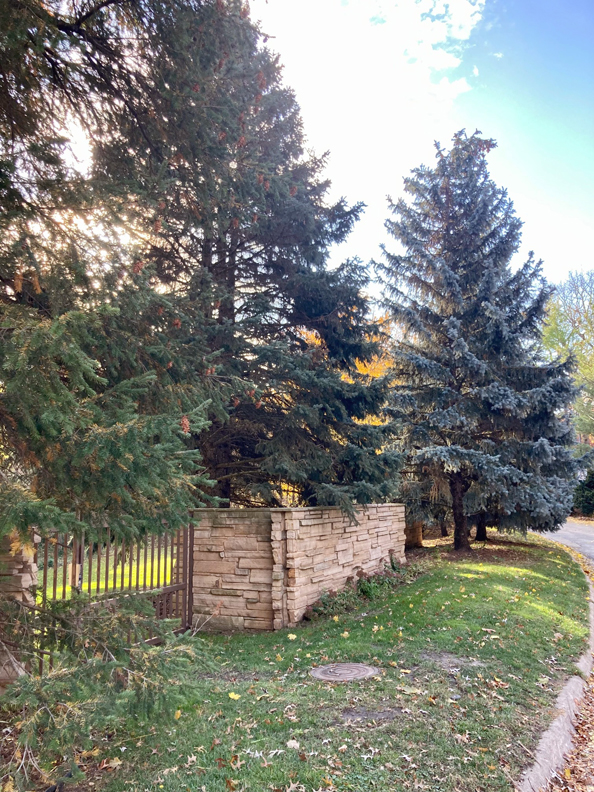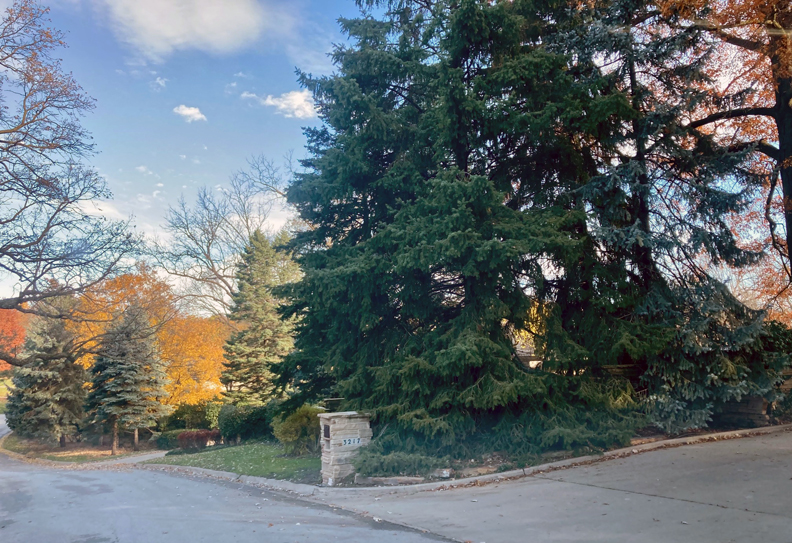 When a property of this caliber is put on the market, every Nosey Nellie comes foraging out of the woodwork. There are no For Sale signs at this home and no gandering for the gawkers. (On that note, please Do Not Disturb the homeowners or premises. For the love of Pete, let us uphold respect for one another.)
My idea was to run a new My Omaha Obsession short series on great real estate in town but I haven't kept up this folly. If you are not familiar, this is not one of our delicious deep digs. As this is intended to be a short piece, I will confide in you, dear sleuths, I did not visit the Douglas County Deeds Office to dig up who owned this farmland to begin with.
Disclaimer: My Omaha Obsession is not a real estate company and does not represent any home or property you will ever see here. Miss Cassette certainly is not in the business of selling real estate, although I should be. I am always staking out homes and tipping friends off to marvelous Omaha locales. And Lord knows the majority of summaries on these real estate sites are lacking. Just know that I am not working for someone. Please contact the real estate agent or company for status, condition and more information. Miss Cassette offers no guarantee to the accuracy or validity of any information on this site and will not be liable for errors, omissions or any losses arising from its display or use. Comments from fellow readers should be viewed as opinions and may not reflect the accuracy of the listing details, condition or status of the home. Homes and buildings shown on My Omaha Obsession may no longer be for sale and is up to interested parties to investigate the current status. Once again, Miss Cassette is not the agent, owner or professional photographer.
Architectural obsessives, let us descend to facts.
The Facts
LOCATION: 3217 South 101 Street, Omaha NE, 68124
SUBDIVISION: Glen Oaks Estates
PROPERTY TYPE: Single family residence
(5 bedrooms, 11 baths, 5 car garage, outdoor swimming pool)
YEAR BUILT: 1973
SQUARE FEET: 18,596 sq ft
LOT SIZE: 2.49 acres
PRICE: $2,500,000.00
MLS # 22125295
LISTING AGENT/COMPANY:
Cindy Forehead
Berkshire Hathaway Home Services Ambassador Real Estate
cindy@omahahomesales.com
402-510-5012 or 402-697-4056
SUMMARY: found at bhhsamb.com
"California Modern style home designed by Don Polsky. Mid Century and Frank Lloyd Wright influences make this ranch iconic. Original structure built in 1973, additions and renovations completed in 1988 makes entire home function as a new dwelling. Double gated entrances, Port Cochere with marble decking and double copper clad doors. Marble foyer lends access to Parlor, Living Room, Family Lounge room, Gallery, Great Room, with clerestory windows, Formal Dining Room and main powder bath with lounge area. Hearth area located near center of the home functions as a primary gathering area and is comprised of kitchen, dinette and hearth areas. Spacious Primary Master suite. Glass panel and copper railings on three stairways to walkout lower level with four en-suite bedrooms, game room, recreation room. Sliding door on main level to timber tech deck and concrete surround for in ground pool and pool house. Exclude all art work inside and outside."
Site listing: https://www.bhhsamb.com/real-estate/3217-s-101-street-omaha-ne-68124/22125295/115459211
Douglas County Assessor info:
Legal Description: GLEN OAKS ADD LOT 13 BLOCK 5 IRREG S 82.8 W 193.88 FT LT 6 & IRREG W 38.03 S 218.90 FT LT 10 & ALL LTS 11 & 12 & IRREG W 38.03 N 150.28 FT LT 13 BLK 5
Parcel Number: 1144320596
Square Footage: 10,082.0
Acres: 2.4903
Percent Complete: 100.0%
Quality: Excellent
Exterior: Frame Stone Veneer
Roof Cover: Comp Shingle Heavy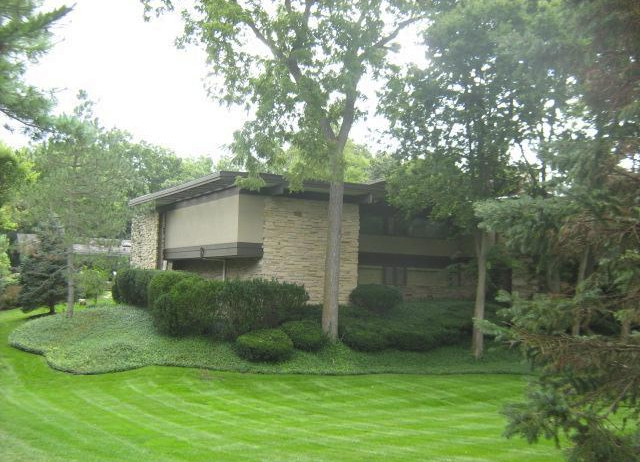 2011 Douglas County Assessor image of 3217 South 101 Street.
I noted slight discrepancies from site to site during an obsessive online scouring. Only The Shadow Knows.
The Photos
The incredible exteriors of 3217 South 101st Street were photographed by the Berkshire Hathaway Home Services Ambassador Real Estate company. All professional images borrowed from their listing. Now the curious boys and girls might be wondering why there are no interiors displayed on the Berkshire site. I've got to think it is for privacy reasons and the extensive, out of this world art collection within. Prepare, these are the weak-in-the-knees moments I warned you about.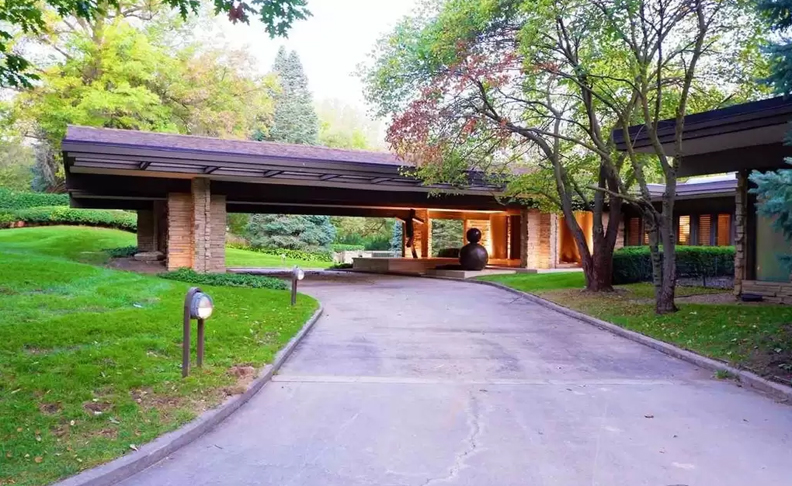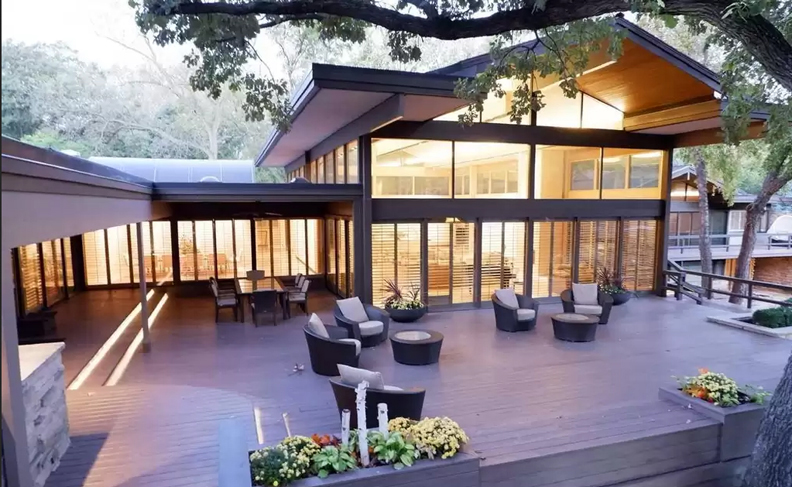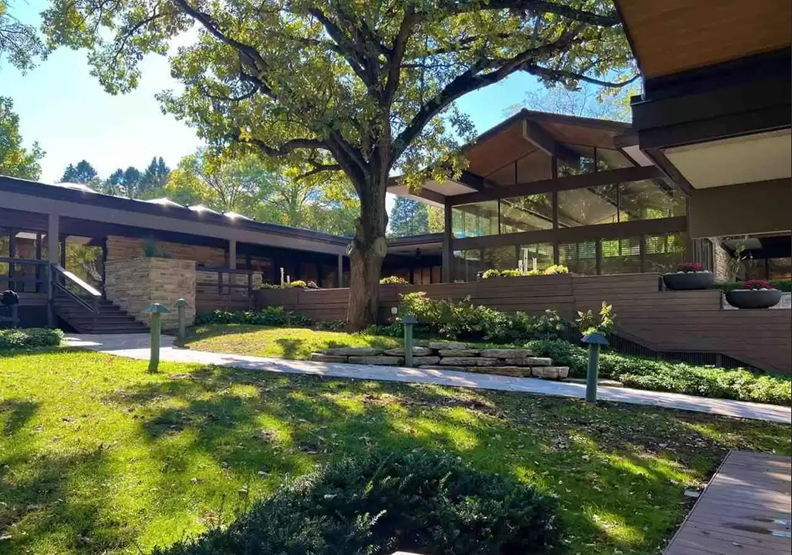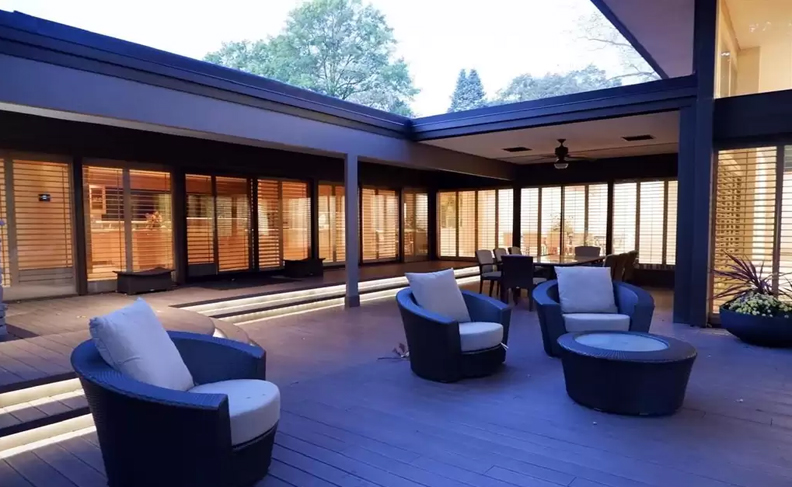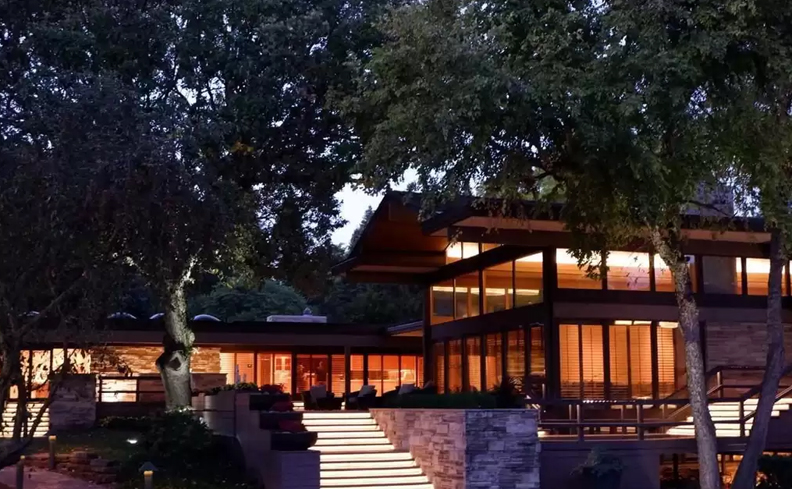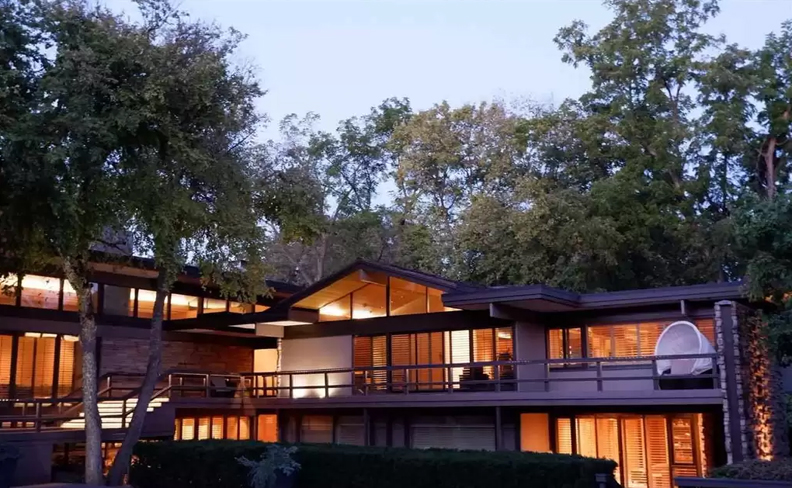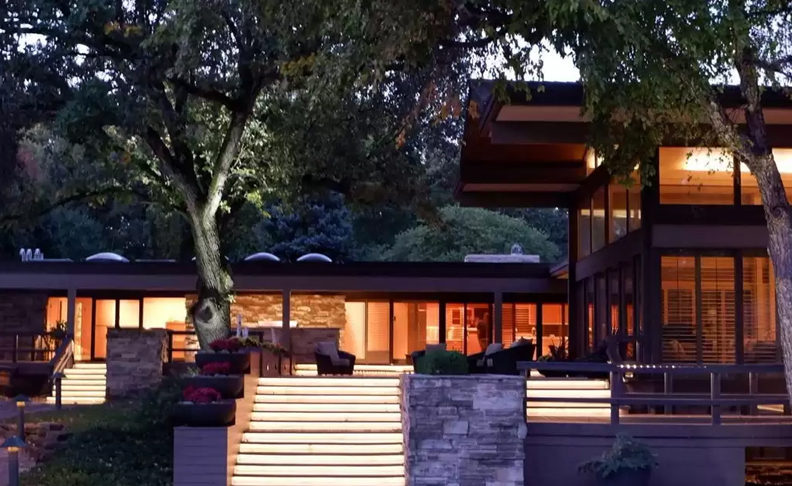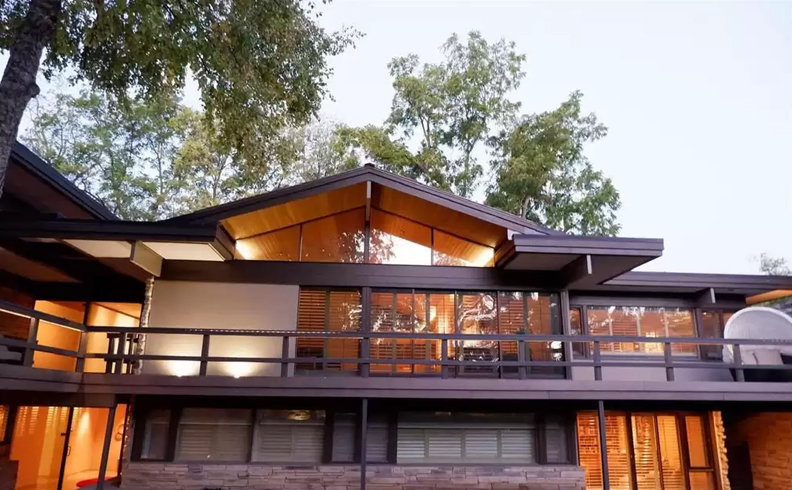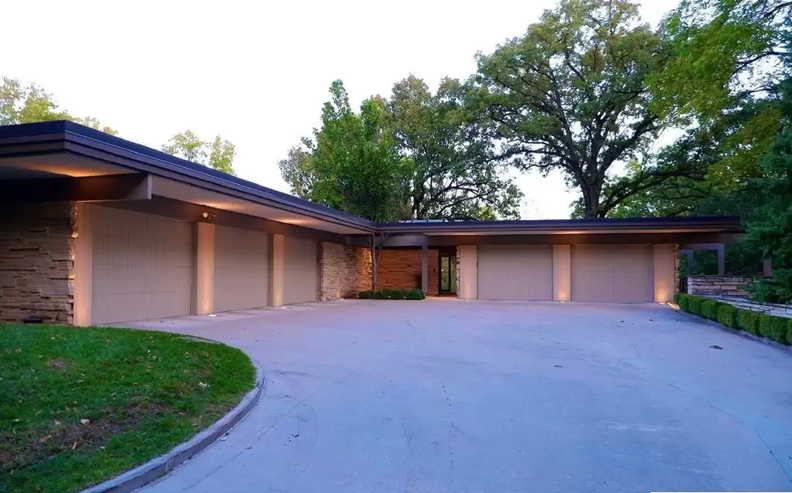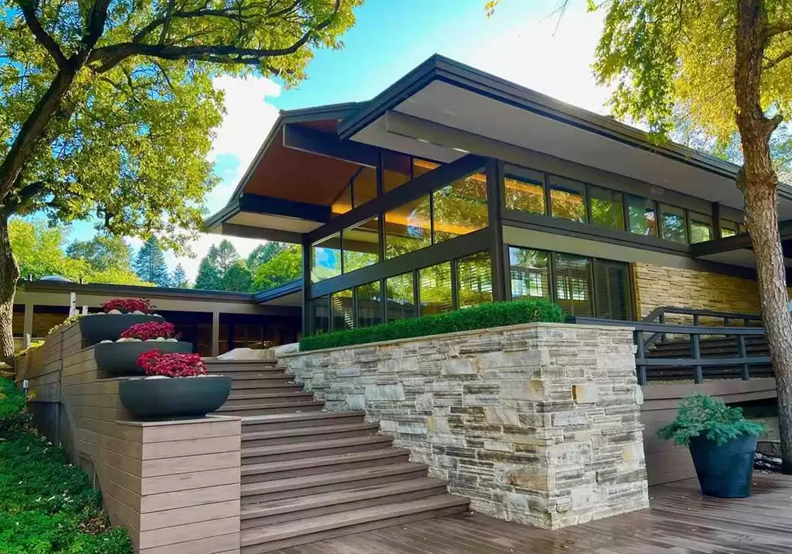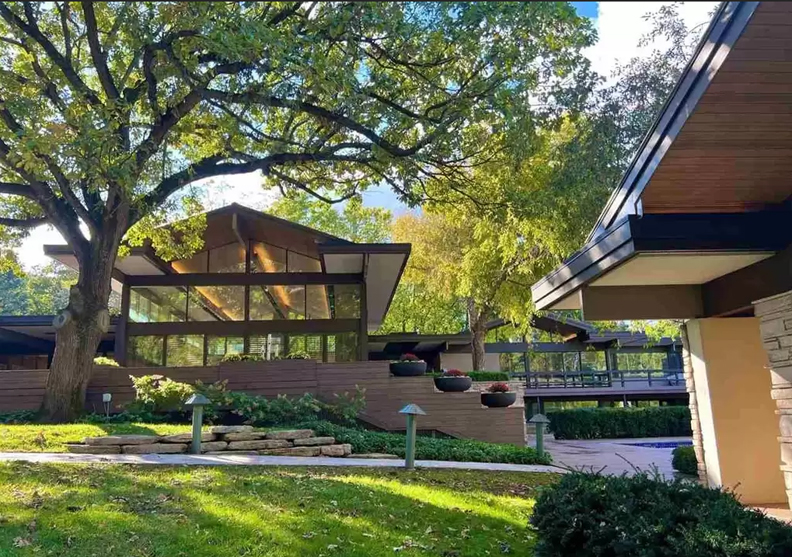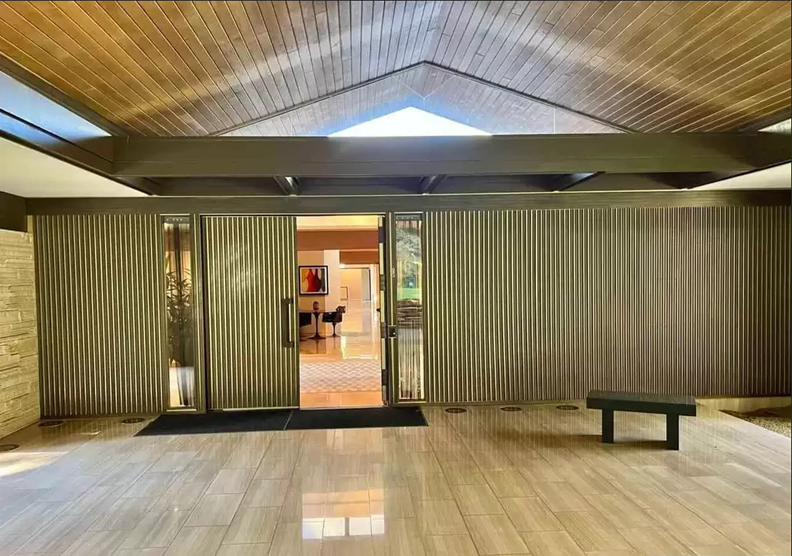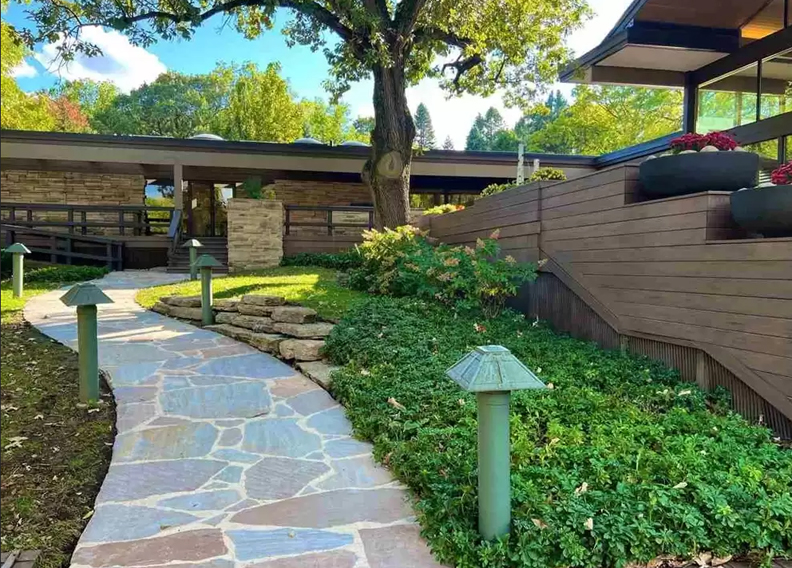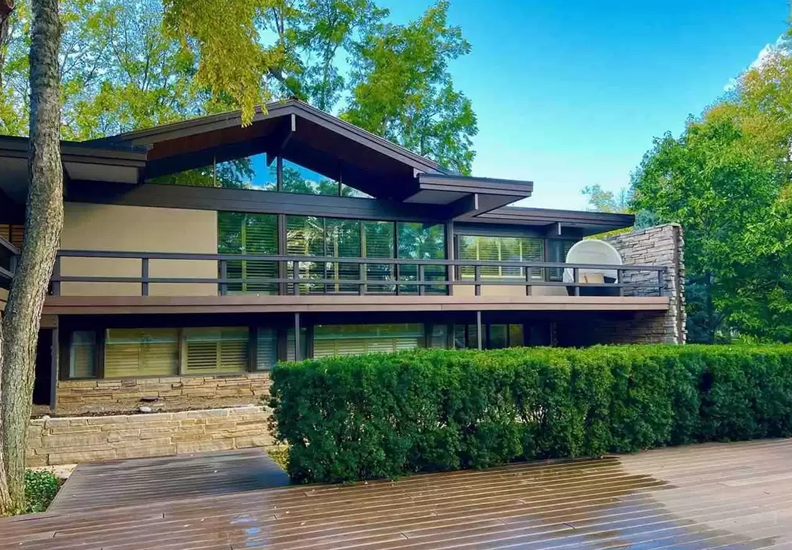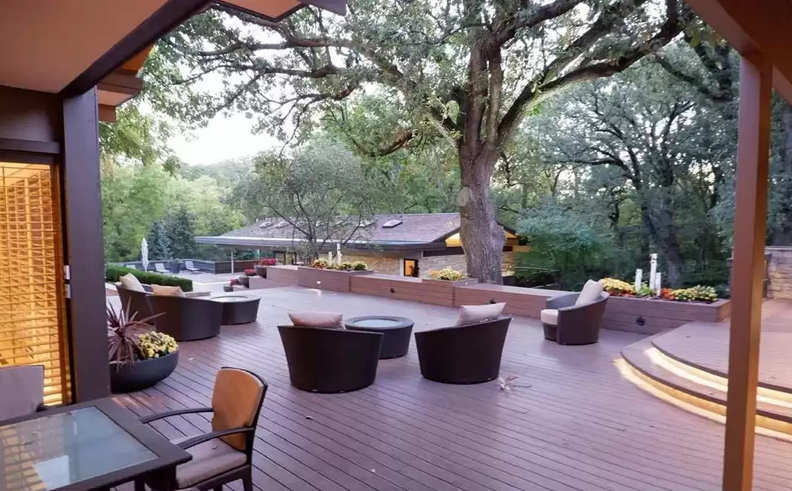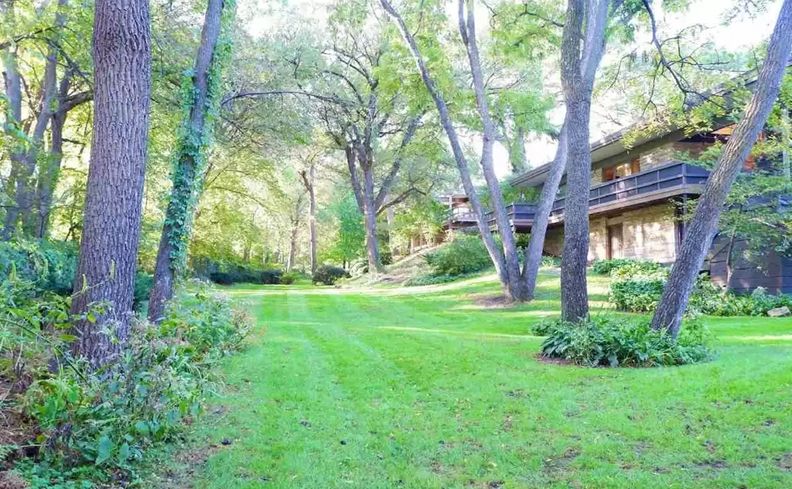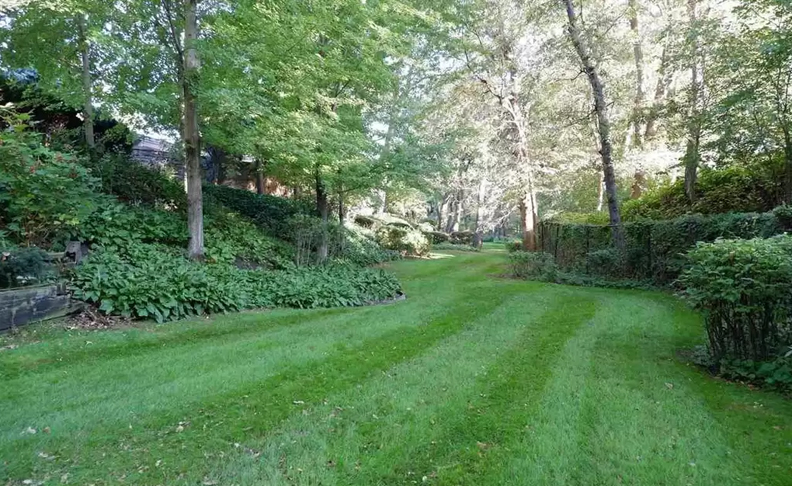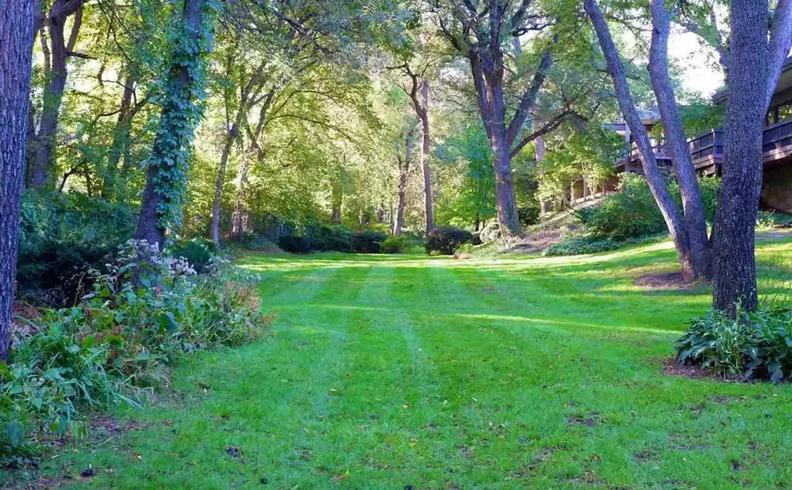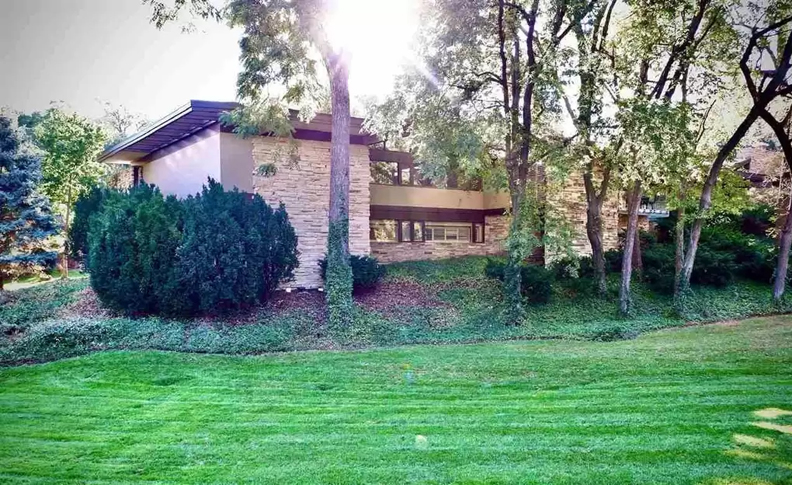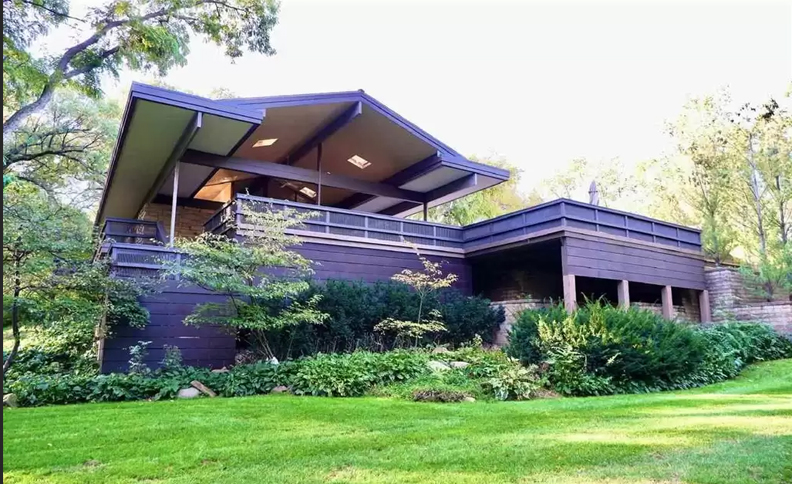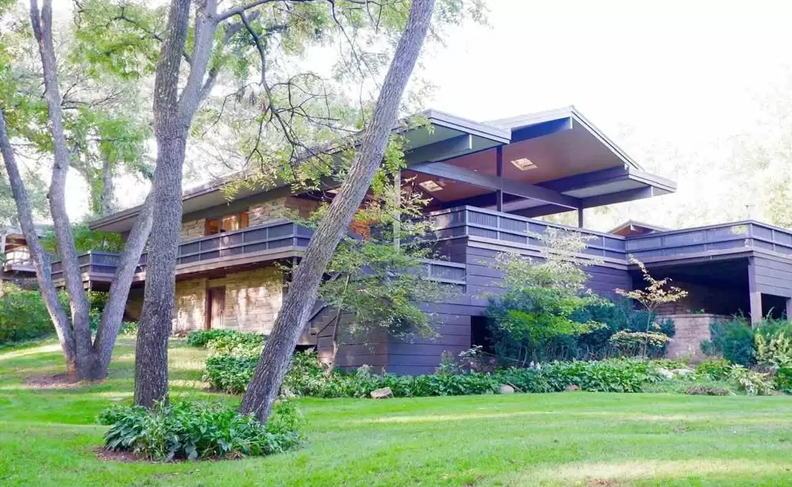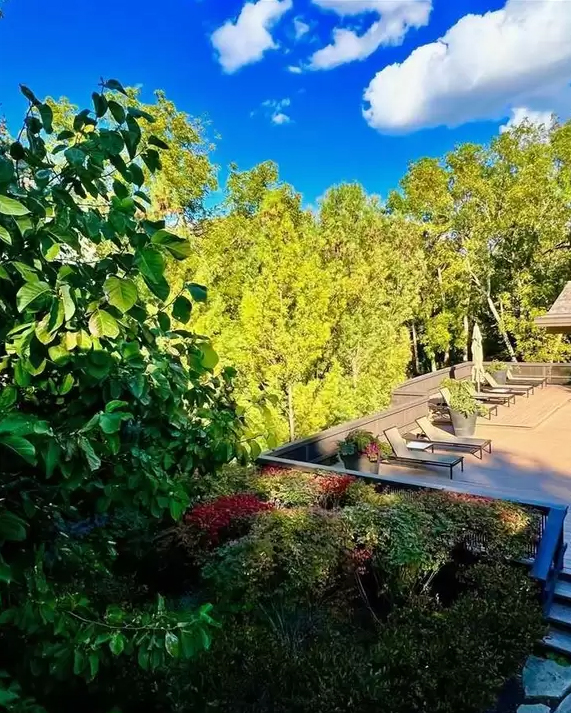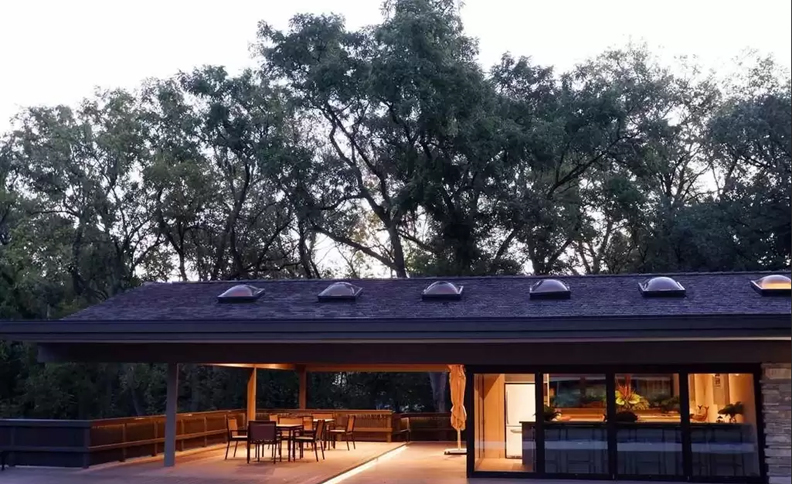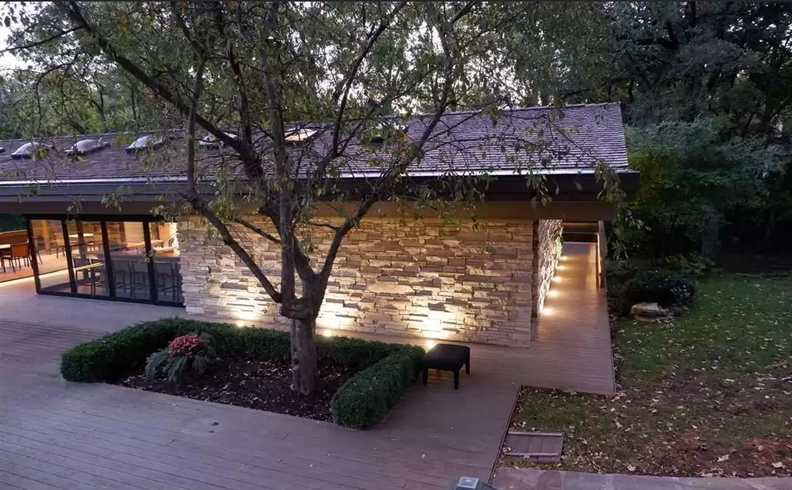 Still with me? Let's gather ourselves. There is more breathlessness to follow. We must be brave.
Glen Oaks Notes

In June of 1956, the Glen Oaks addition planners received final approval for development. The addition was described "on Bancroft Street, between 98th and 101st Streets." Lot sales began that August. By the summer of 1958, the development had upgraded to the posh-er ring of Glen Oaks Estates. Anyone who has driven through, knows the terrain is beautiful in this part of Omaha and Glen Oaks, south of Center Street, surely offered that country, suburban feel that many west-moving families wanted in the fifties. From Contemporary to Saltbox Colonials, Glen Oaks tempted with expansive lots, gentle rolling hills and mature trees. One of my favorite parts of the area, other than the park-like design of the curving roads and trees, are the large lots and spacious homes, all of various styles. No cookie cutters in the bunch. Sunken rooms, Georgia marble and swimming pools galore, all near the Oakdale School. I'll go on record and say I prefer having a dry cleaner and little diner and even a package store right around the corner. I am a teetotaler, it is true, but I like to surround myself with those imbued of the spirits. Every now and then a gal needs to take her cha-cha heels to the cobbler a skip away. And let's come clean–sometimes a girl detective longs for a good chocolate phosphate from the local counter or Ding Dongs and a MoonPie in the middle of the night. I like living in town, snuggly houses surrounded by others, with our sharp corners on the old Omaha grid and of course…sidewalks are essential. But Miss Cassette can appreciate the early country suburban developments. I particularly love the District 66 neighborhoods, a neurotic adoration of which I've blathered on and on about. Glen Oaks is off the beaten path. It is a small collection and rather indifferent. It doesn't flaunt a silly sign declaring itself. Basically a meandering loop with a jagged Frederick Street crossing, Glen Oaks is dotted with gorgeous homes seemingly built with attention to the natural environment. Those massive, old man trees. Divine. I love a good secret.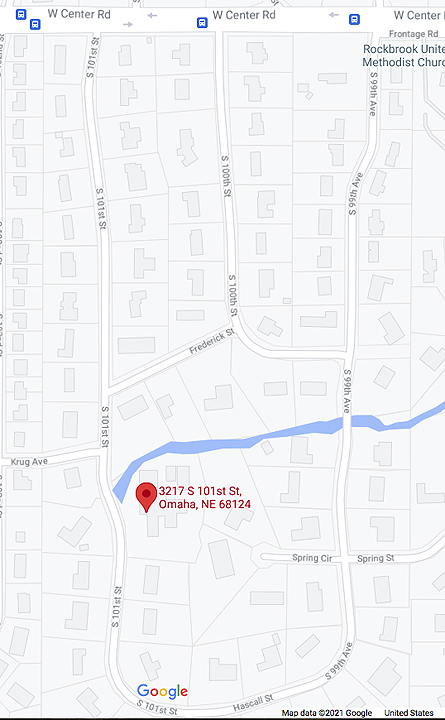 The 3217 South 101st Street property, as seen in this 2021 Google Map image. West Center Road offers the north entrance to Glen Oaks. Note the ravine/creek that flows through the area—especially framing 3217's lot on the north end. How does it trickle all the way to the Big Papillion Creek, you ask? Why does it end at 3217 South 101st Street? I believe it is a magical place. Maybe someone smart will let on to the specifics.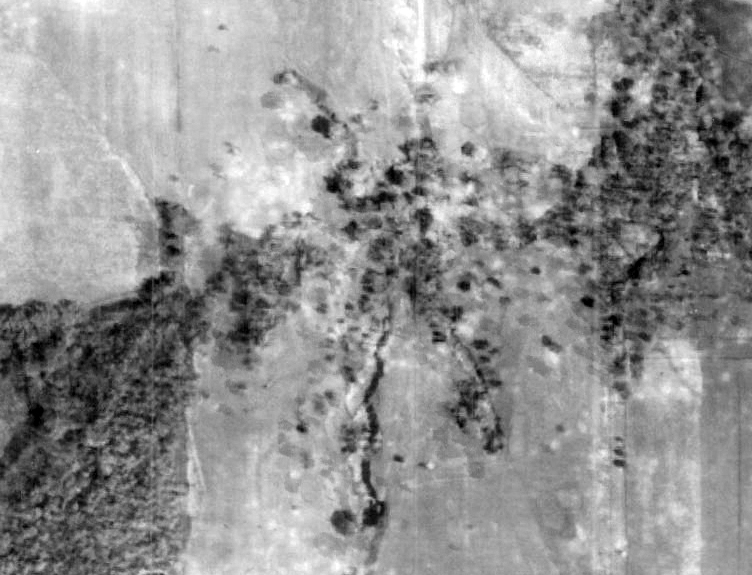 The beautiful, easy hills and wood of pre-Glen Oaks as seen in this 1938 aerial, the first year Omaha began photographing the terrain. Photo borrowed from the DOGIS site.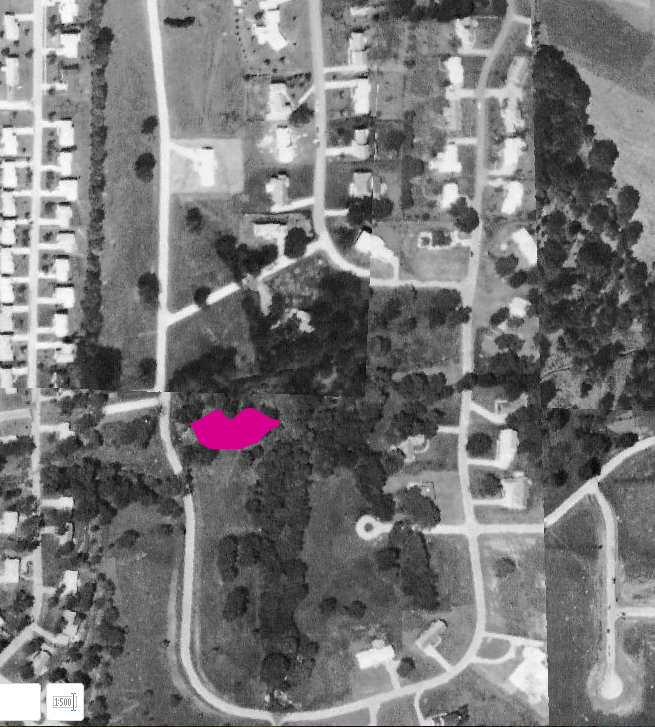 By 1962 the streets of Glen Oaks were paved and many of the original homes were built. The 3217 South 101st Street house, not built yet, is sealed with a kiss. Only one house is found on 101st Street, none on the west side. Image borrowed from the DOGIS site.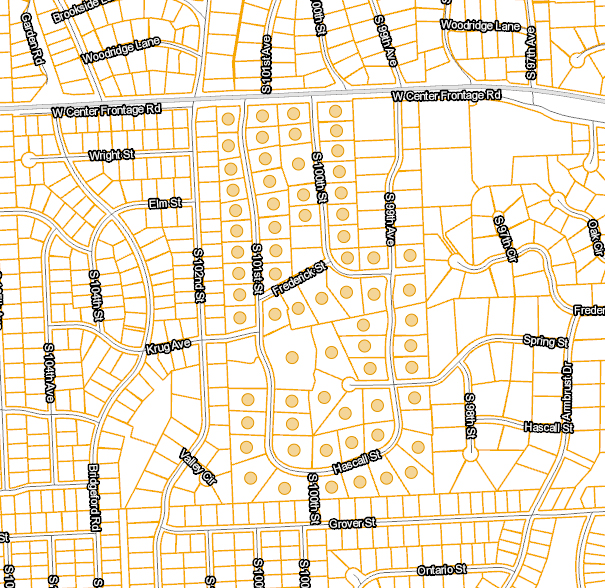 People who hate weird maps and aerials are wondering when Miss Cassette will stop obsessing on charting Glen Oaks. But I Can't Stop! The parcels within the Glen Oaks development are dotted. Image borrowed from the Douglas County Assessor site.
After I'd gotten all goosey, Mr. Cassette corrected me that no one from this neck of woods called this area Glen Oaks back in the day—that it was (and still is) actually called the Oakdale neighborhood. (Boundaries: Rockbrook Road, 96th Street, F Street, 105th Ave.) As I've mentioned before, he attended Oakdale Elementary and must have gotten a very good education because he seems to know Everything. Check out: The Case of the Vanishing School: Oakdale Elementary. We drove around this whole Glen Oaks-within-the-Oakdale area and he pointed out who lived where and where they rode their bikes and what houses were thought to be mysterious and all about the wandering, hidden creek and the secret schoolboy passageways and where the old house and farmland used to be. It was so great! I feel like everyone should get the Glen Oaks tour from a third grade boy-now a grown man's view point.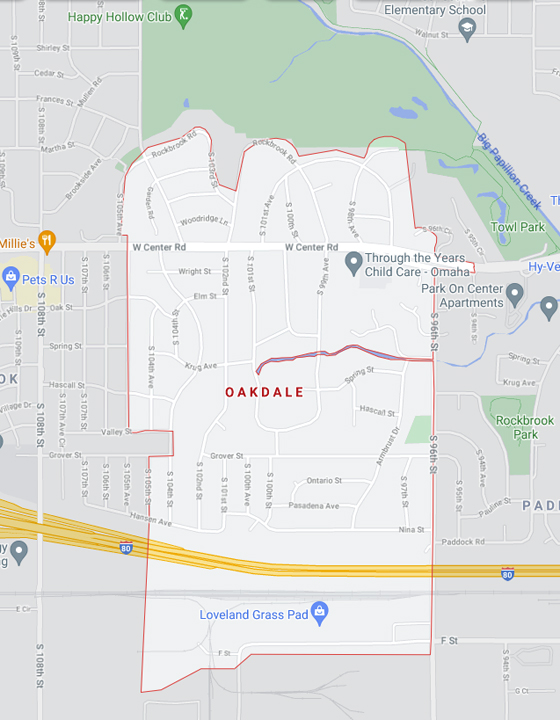 The Oakdale Neighborhood, according to Mr. Cassette. I stand corrected! Thanks Google Map.
The Brief Don Polsky File
3217 South 101st Street was designed by Architect Donald Perry Polsky in 1970. Polsky is known for his Mid-Century Modern style, celebrated in these parts for having introduced California Modern to Omaha. Born in Milwaukee in the late 1920s, Polsky grew up in nearby Lincoln, Nebraska, where he would graduate from the University of Nebraska College of Engineering in 1951 with a degree in architecture. He served as First Lieutenant of the United States Air Force from 1951-1953. Polsky met Richard Neutra through the Air Force on an installation in French Morocco. Richard Neutra, an Austrian American architect, was known for defining modernist architecture, particularly in Southern California. https://www.laconservancy.org/architects/richard-neutra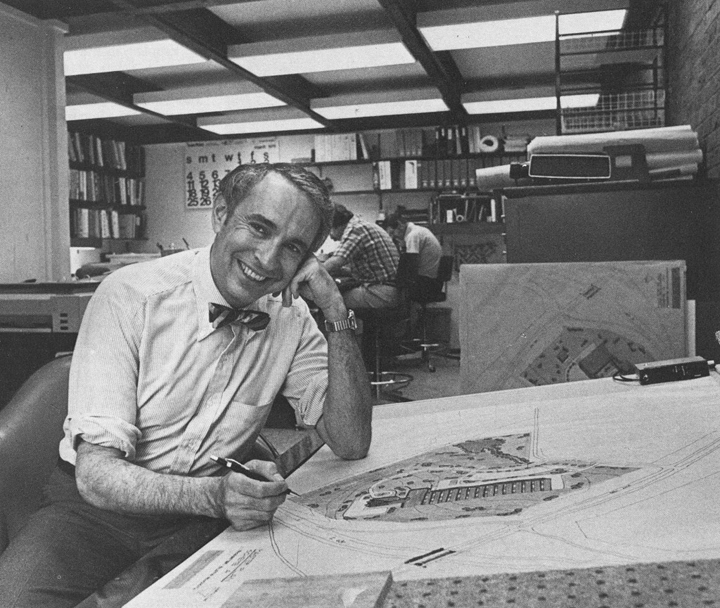 Donald Perry Polsky 1979.
Polsky would secure work under well-known Neutra's wing in the years following his service, 1953-1956 but by the mid 1950s, had formed Donald P. Polsky, AIA and Associates. Later merging into Polsky and Gassman, I would find him registered in both California and Nebraska. By 1962, Polsky had a strapping business with an office in Beverly Hills, was designing for celebrities and winning architectural awards left and right.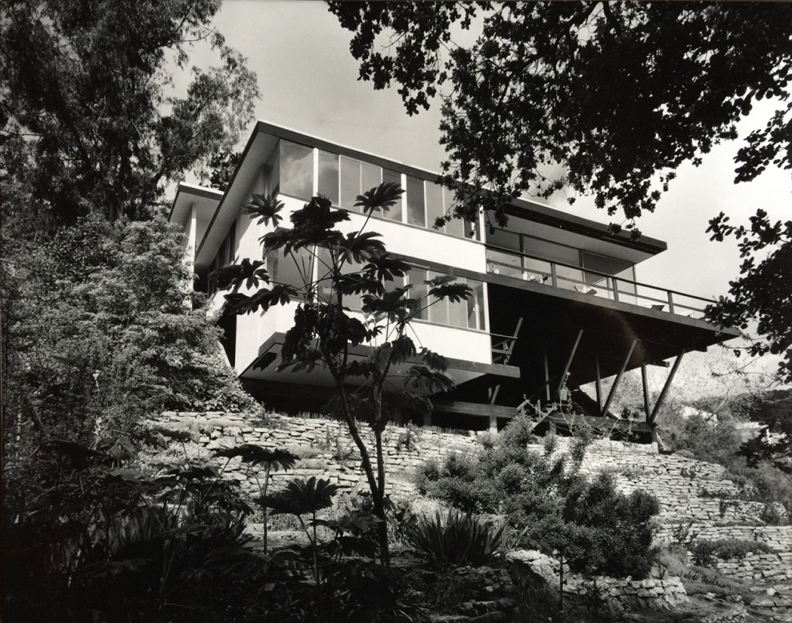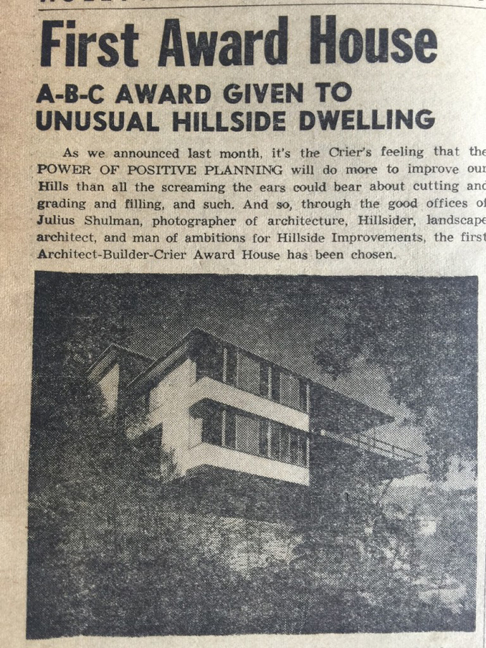 Mr. Polsky won praise and awards for his Mills Residence at 8840 Lookout Mountain in Laurel Canyon, CA, 1960. Photo by the great Julius Shulman and newspaper article about the award from the L. A. Times.
But by the mid 1960s, Donald Polsky began designing an incredible dream home for his Omaha friend, Mike Milder, which lured him to our town. From the late sixties into the seventies, there would be more Omahans who were lucky enough to secure their Polsky dream homes. Interestingly Don Polsky was considered a pioneer in the design-build method of project delivery—to be sure, his plan with the project owner (home owner) was individualized and communication was essential, as his team handled all aspects of the building. There are only a handful of Polsky's architectural wonders in town and each is quite unique, tailored to the owner's needs. This is evident when one compares 3217 South 101st Street to the other limited Polsky designs. Donald Polsky, similar to his mentor Neutra, was known to study the environment and draw inspiration from the surrounding terrain. The overall effect, to my perception, is that the hard, crisp planes of his buildings seem to spring forth out of the land or even a rock ledge, as we previously saw. Almost like the wind gently blew away layer by layer of soil, exposing a great modernist delight. This is to say, Polsky's houses are not merely plopped on a flat parcel as houses were in my part of town. These Polskys are works of art thoughtfully designed into the environ. As we delve into 3217 South 101st Street, one can see his careful assessment with regard to the wooded and rambling Glen Oaks. I also marvel at Polsky's commitment to energy conservation, passive solar and other green techniques long before we pushed for green architecture. This often isn't mentioned when others talk about Polsky's contributions. I am not 100% sure how the 3217 Homeowner came to know Mr. Polsky. As a MCM art collector, Mr. Homeowner would have long been gaga for Polsky's aesthetic—this we can bet on. Polsky also designed a home for Mr. Homeowner's brother and sister in law.
Thanks to his son, Jeffrey Polsky, I was able to interview Donald Polsky by telephone in 2020, as he was back residing in California. Sadly Mr. Polsky died in 2021. I feel fortunate to have had the chance to talk to him and to let him know that we still obsess over him back in Omaha. If you'd like to know more about my first Polsky-designed home investigation check out: Mysteries of Omaha: 312 South 70th Avenue. For my interview with Donald Polsky, please follow: The 312 South 70th Avenue Lookbook and Interviews.
The 3217 South 101 Street Design
Donald Polsky's architectural description lets on he designed the 3217 home by 1970. A couple of times his phrasing alluded that the residence was actually built at that time. I would like to know if these briefs were, perhaps, written years later? A clue from the Omaha World-Herald read that a building permit was filed in August of 1971. "3217 South 101st Street, dwelling, $40,160." The fact that the permit stated dwelling and not addition signified we had possibly arrived at a time line. Of course the newspaper could be wrong. To complicate matters, the realtor and Douglas County Assessor currently have the home listed as being built in 1973. Unless there was something significant that really threw the building plan off course, I would wager that 3217 South 101 was completed in 1971 or 1972. Then again, I am sure the homeowners know when their Polsky saw the light of day. I would love to know the details of these dates.
** Addendum November 17, 2021
A My Omaha Obsession friend, a real super sleuther, just wrote in with new info. She had tracked down the original deed for Mr. and Mrs. Homeowner's house. Laurens E. Orchard and Lucile E. Orchard, husband and wife sold their Lot 11 of Block 5 in the Glen Oaks Addition to Mr. and Mrs. Homeowner on April 22 or 1963. This means that the family owned the lot almost ten years before they built their dream home.
Additionally the super sleuther found an OWH article of significance. Back in August of 1972 new neighbors in the Glen Oaks area were welcomed at a party given by Dr. and Mrs. Chester Singer, Jr. Although invited to the gathering in their name, Mr. and Mrs. Homeowner's "new home will not be completed until December." I began to suspect that with the date being pushed back to the cusp of the new year, that the home very well might have been completed in 1973.
The architect's drawings and photographs forthcoming were borrowed from the Omaha Landmarks Heritage Preservation Commission: Donald Polsky Collection. I discovered them when working on my previous Polsky investigation. I never thought in a million years I'd be using this material so soon and honestly, I didn't know where the house was located, as the address isn't in the documents.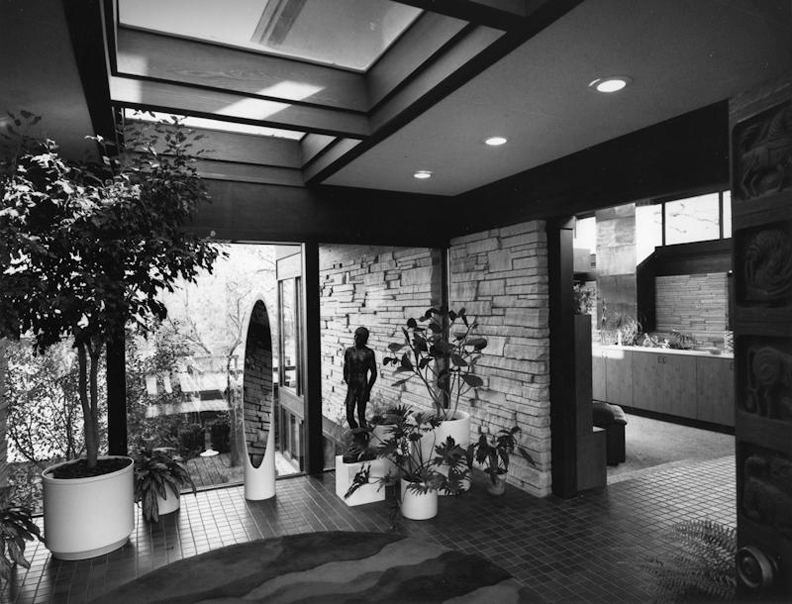 3217 South 101st Street is a Contemporary design within the Modern movement, of which Frank Lloyd Wright helped to shape. The Contemporary had its rise ca. 1945-1990. Its standout features, from Virginia Savage McAlester's A Field Guide to American Houses, are an asymmetrical layout; low-pitched gabled roof, sometimes flat with widely overhanging eaves; entry door is often recessed or hidden; roof beams are exposed; emphasis on natural materials (wood, stone, brick); broad expanse of uninterrupted wall surface; open terraces and patios surround the home; balconies and decks also surround; large expanses of window walls open interior rooms to outdoor spaces and may include glass doors. Rather than fixate on the decorative details applied to the exterior, as seen in previous architectural styles, the Contemporary is "more concerned with the spaces inside the house and the way in which each space related to the outdoors Therefore, the design is created from the inside out, with the attention not on details visible as one approaches the house but rather on the functionality of the interior space and the integration of outdoor views." Savage McAlester also makes a point that Japanese influence was present in the Contemporary movement as seen in wood construction with exposed timbers and panelized appearance. You can also see this Japanese influence in the roof lines, balconies and treatments found in the upcoming photos of 3217 South 101st Street.
Taken from Polsky's design brief:
"This residence serves as an eight-member, three generation family, which by its nature requires a special balance of open gathering areas and private individual spaces. Entrance and entertaining areas were to be as open as possible and yet were not to be disrupted by simultaneous family activities in other areas. The entry is, therefore, designed as an axis which divides sleeping areas from activity areas, while the two-level plan further divides main-level adult and formal family areas from lower-level child areas and casual family areas."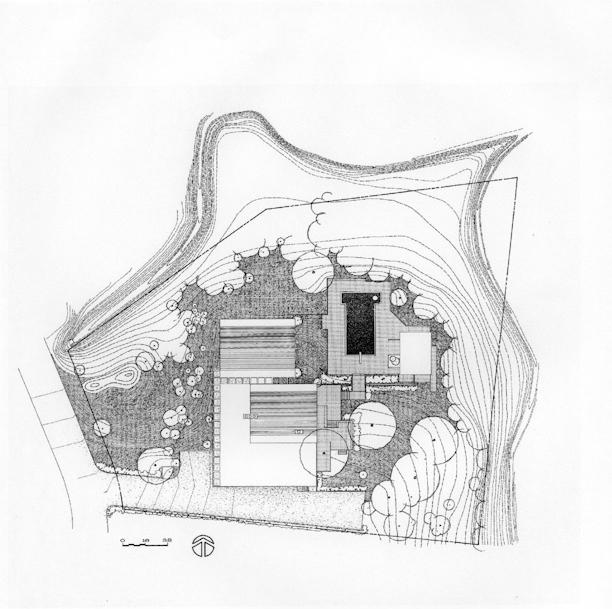 The original module with swimming pool and pool house. The stylized arrow orients to the north.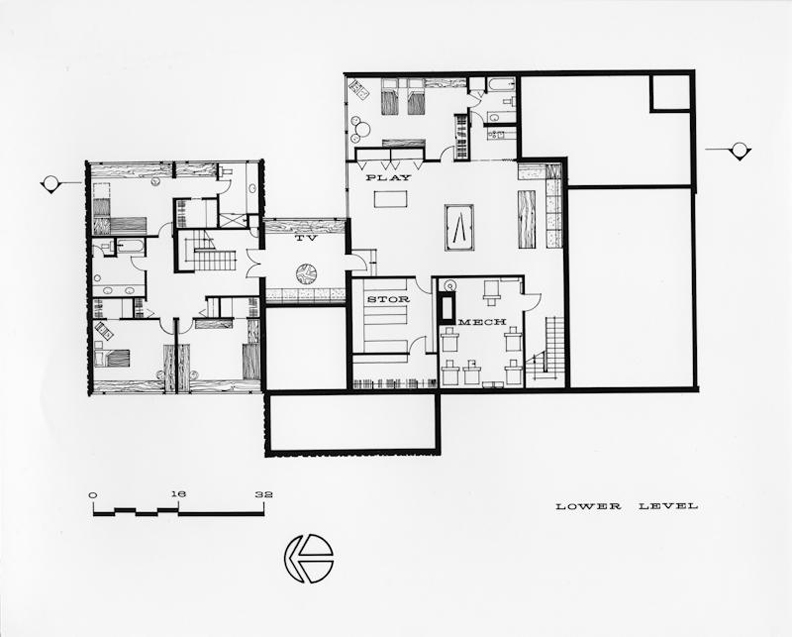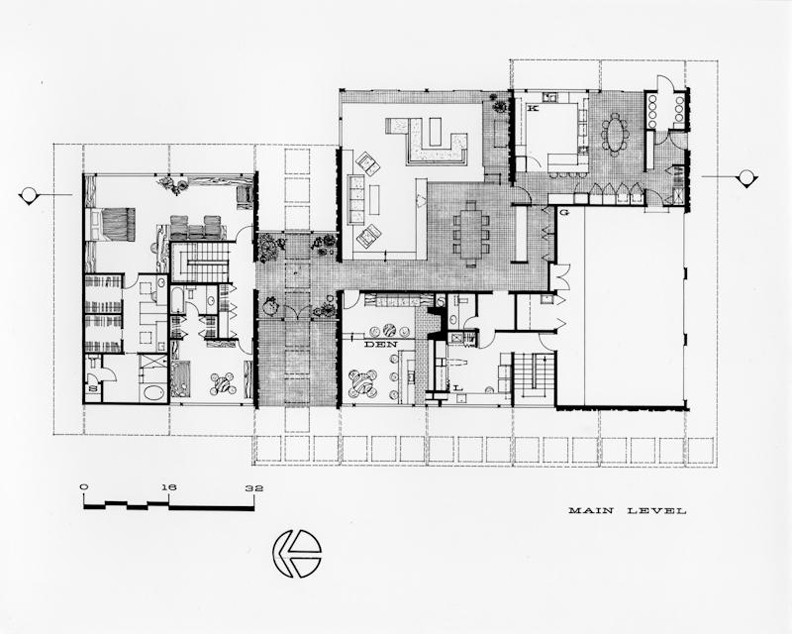 The stylized arrow orients to the north.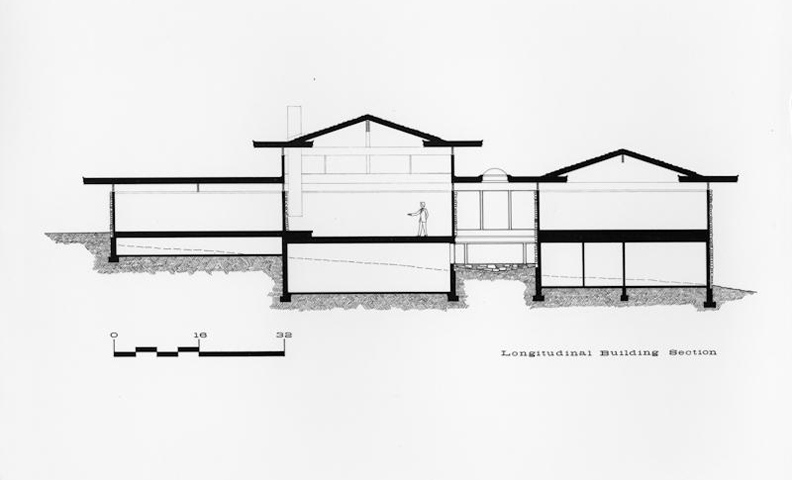 "The site is bound by a residential city street on the west (101st Street) and by a massive four- story house to the south. Buildable areas were restricted to elevations above the projected flood level of heavily wooded storm drainage ravines on the north and east. These conditions dictated a northeast orientation to maintain a privacy and to provide solar protection for glass areas."
Please remember this four-story house to the south. We will get to this in a bit.
"Alteration of the environment has been minimized by confining access to the southwest and by the structure's conformance to existing contours and tree locations. Virtually no grading was required and not mature trees were removed. Thus substantial benefits are gained by natural protection from the elements and the feeling of wooded seclusion has been preserved."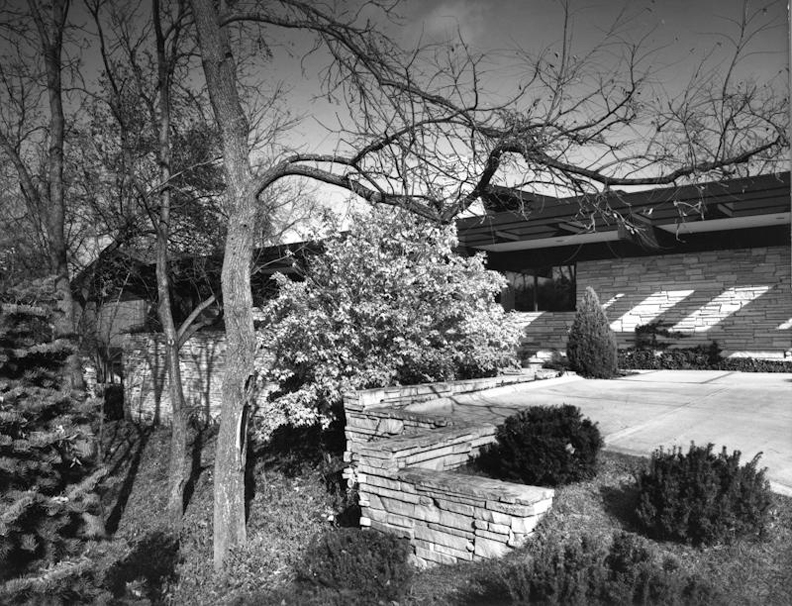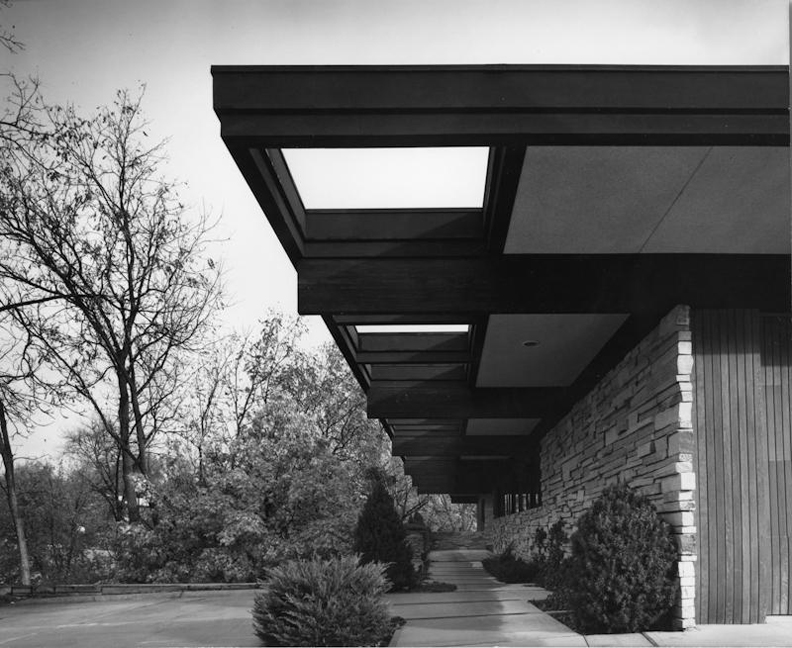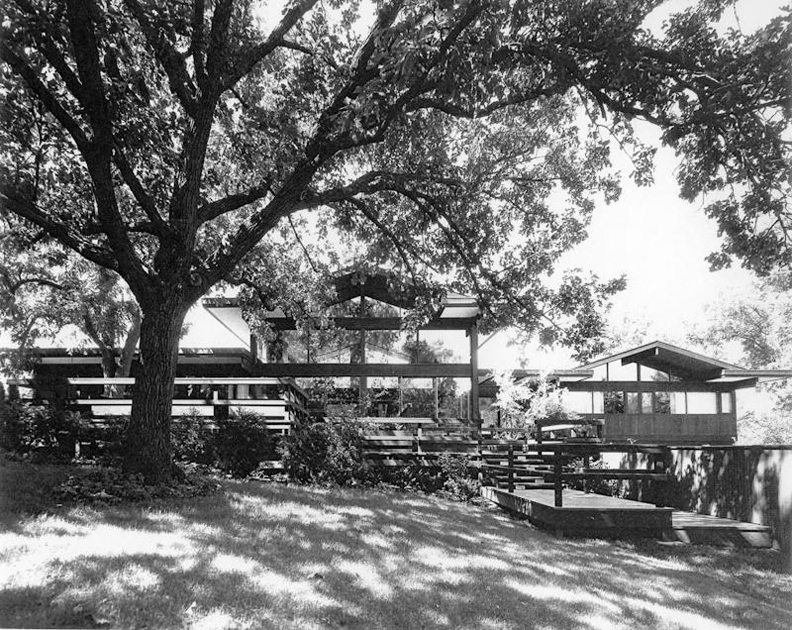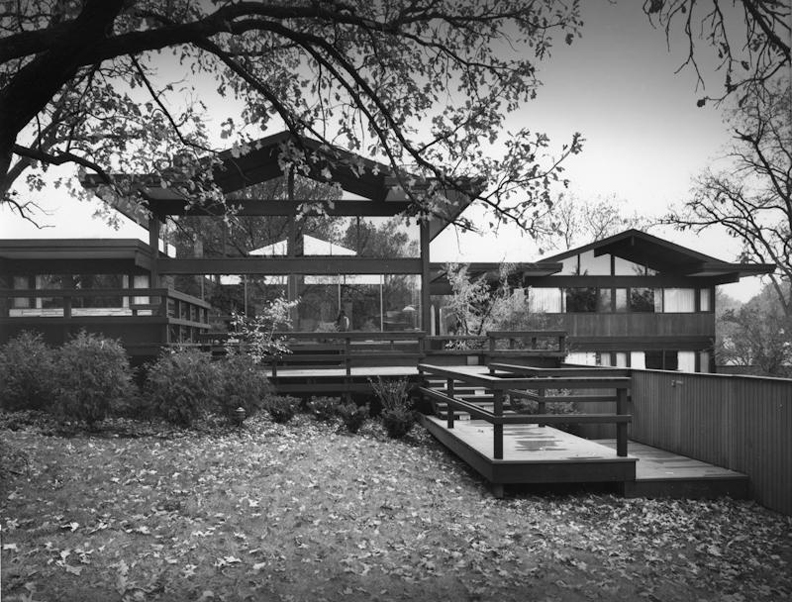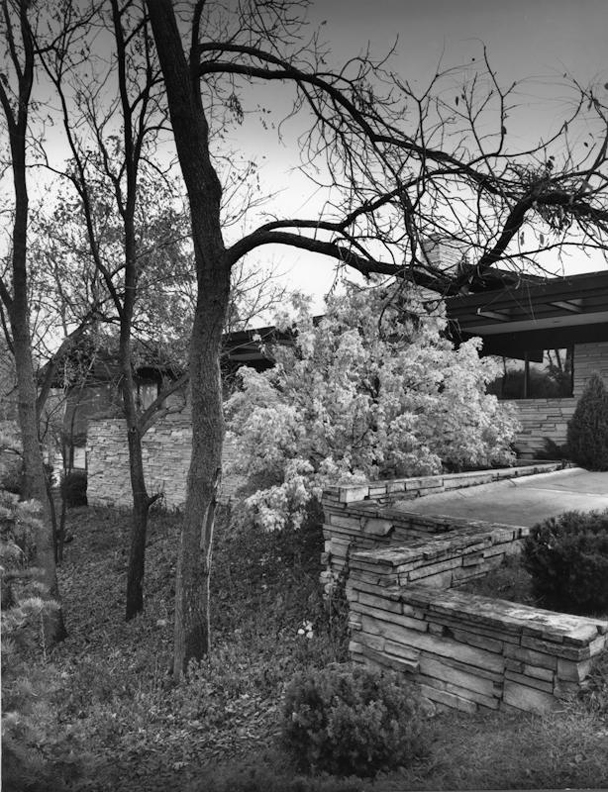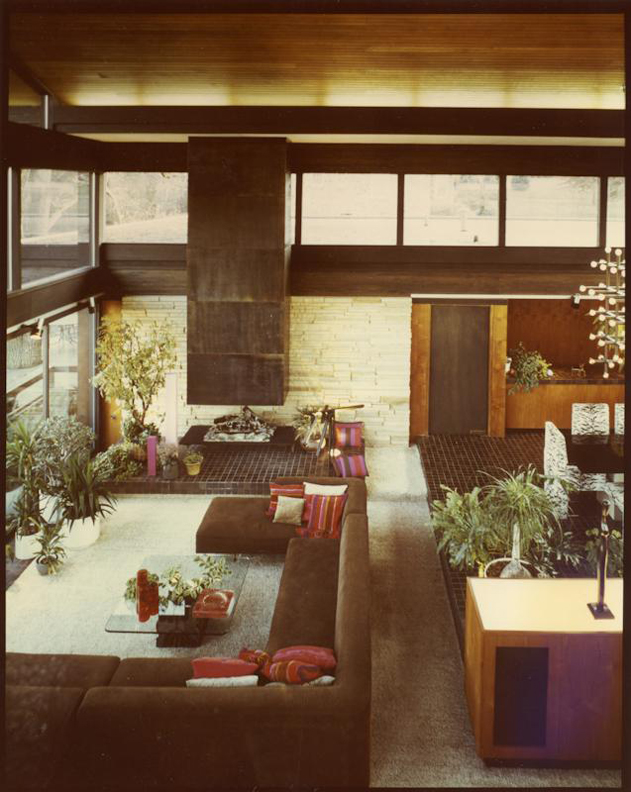 Must interrupt to say, the Seventies Never Looked So Good. Must know about this fireplace. Very nearly all I can think about is filling this house with my books, laying on the floor and blasting Brian Jonestown Massacre through the whole house intercom system. Small Needs.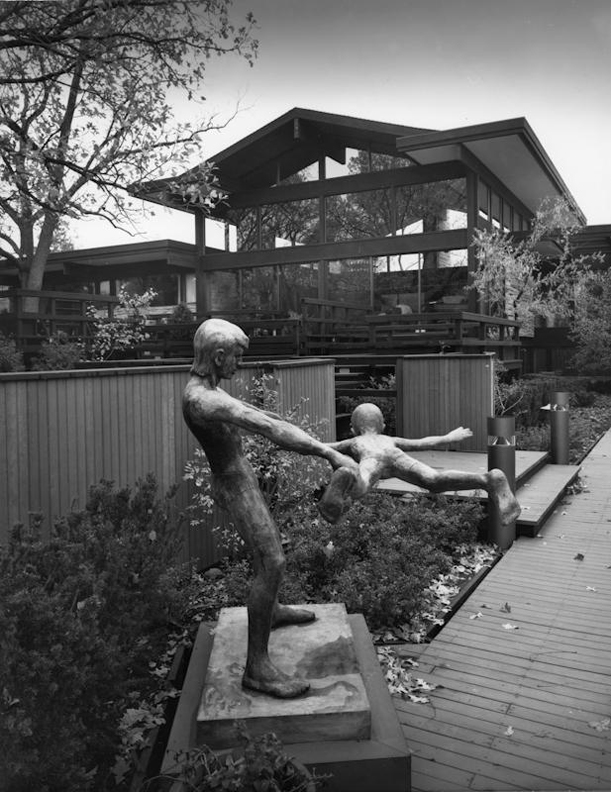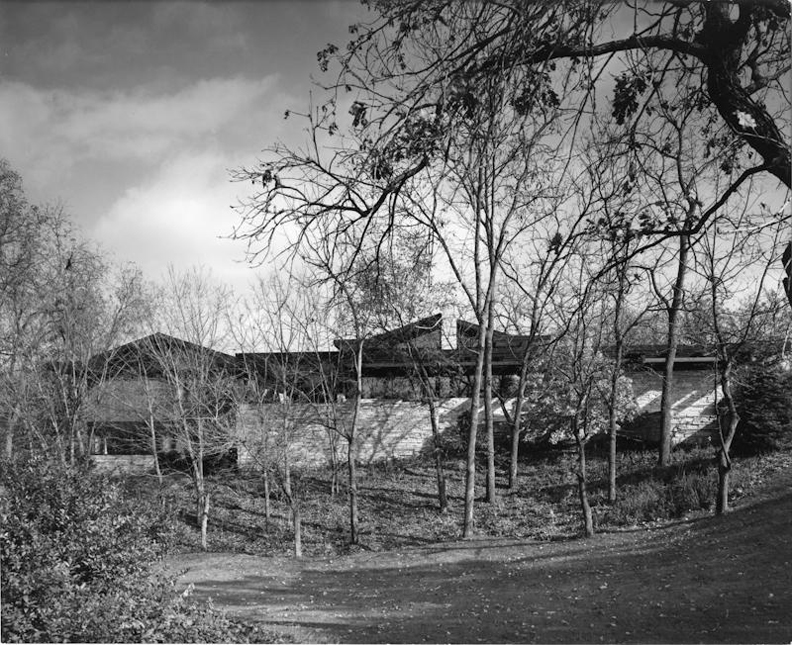 "Thermal comfort is controlled by an active system of mechanical equipment as well as by a passive system of architectural design elements. The passive system of architectural design elements is also extremely important both in providing thermal comfort and in conserving energy. The largest expanses of glass are shielded from solar heat gain by the northeast orientation to the site and by the wide roof overhangs. Clerestory glass is shielded by roof overhangs and existing trees in summer, but the low winter sun angle and absence of deciduous tree leaves in winter permits solar gain to assist heating."
Other Delicious Investigative Notes
As I previously mentioned, through the years, the homeowners and Architect Donald Polsky continued to compliment the original home with additions and modifications, as the family's needs changed.
I found a building permit from June 1975 for a swimming pool to the tune of $15,000. Additional permits were filed in the years to come.
September 1983: "addition to the home $25,770."
September 1984: "interior remodel, $34,450."
December 1987: "addition, $81,000."
Polsky's architectural notes made a point of a "massive four-story" home to the south of the 3217 property—a consideration (obstacle) when designing the Mr. Homeowner's house. The aerial photographs expose that the 3217 South 101st Street parcel is actually a merger of two Glen Oaks lots. That explained how 3217 now sits on almost two and half acres compared to the neighbors' properties. The 1972 and 1983 aerials show there was indeed a large home to the south but by the 1993 aerial, Mr. and Mrs. Homeowner had obviously acquired the tall house on that southern lot, razed it and and expanded their 3217 parcel.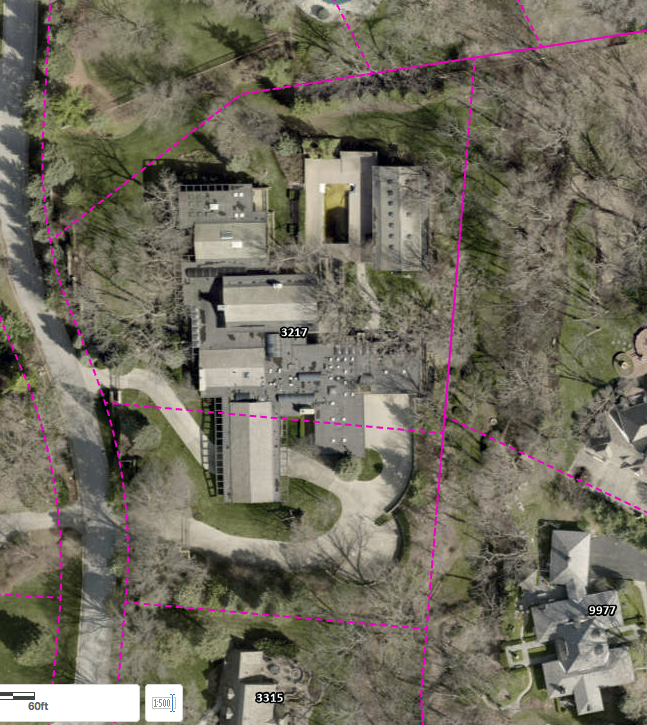 3217 South 101st Street, as it looks today. Very hidden and very large. 101st Street passes north-south on the left side of the image. The new drive, porte-cochère and expansion cross over into the other, southern parcel for a total of 2.4903 acres. 2020 aerial image borrowed from DOGIS.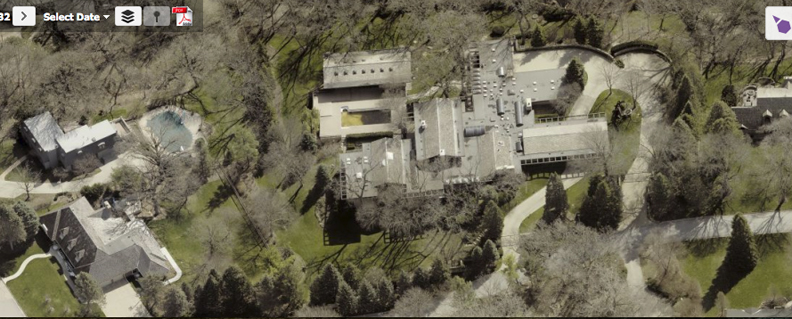 Aerial camera faces east. This image lends a better understanding of the scope of the 3217 property with relation to two neighbors on the north end. Image borrowed from DOGIS.
Donald Polsky's notes on the "Pool House-Guest Quarters" gave supplementary clues. The new addition created "enclosure with the existing structure and environment." He also wrote: "The original structure was designed by the architect in 1970. Previous major additions: 1974, 1978, 1982 and 1986. (It would appear that the years Polsky listed, pre-date each building permit addition in the OWH by one year, which makes sense from an architect's perspective.) This is the latest phase in a project that has been progressing for twenty-four years." From that hint I figured the Pool House addition was made in 1994.
The architect's drawings and photographs forthcoming were borrowed from the Omaha Landmarks Heritage Preservation Commission: Donald Polsky Collection.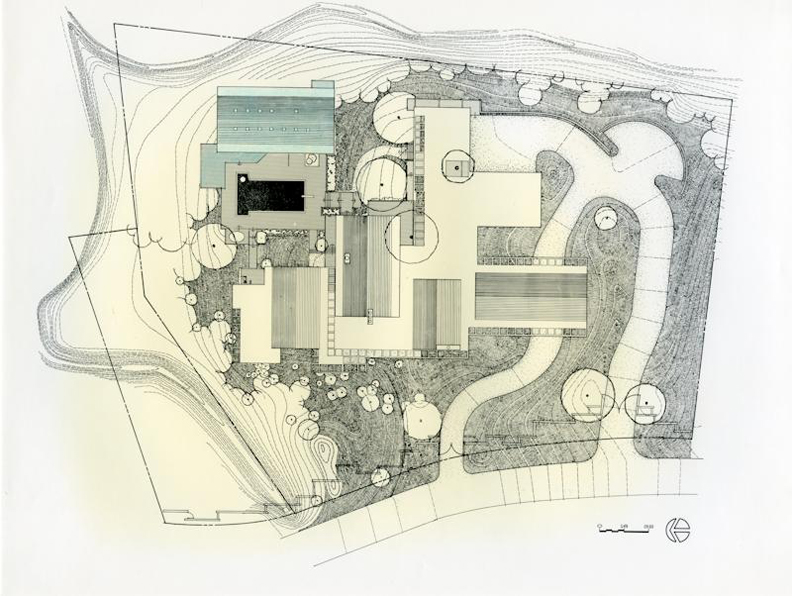 Pool House-Guest Quarters on the property's north end highlighted in a light blue. Stylized arrow orients to the north. One can see how the footprint had grown since early plan.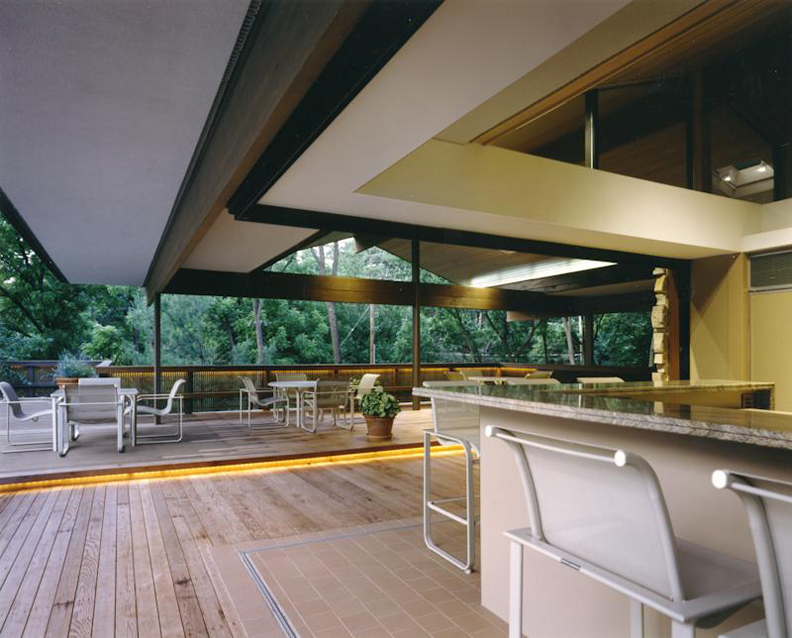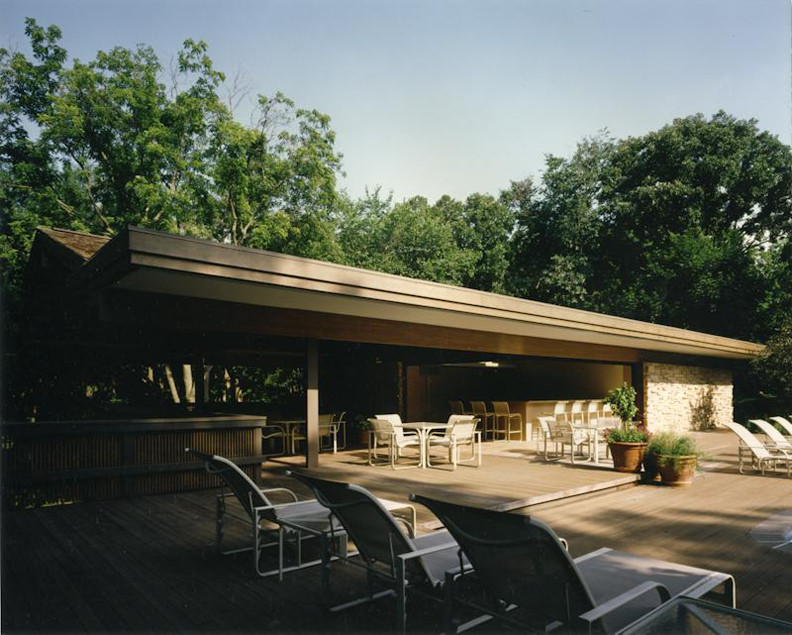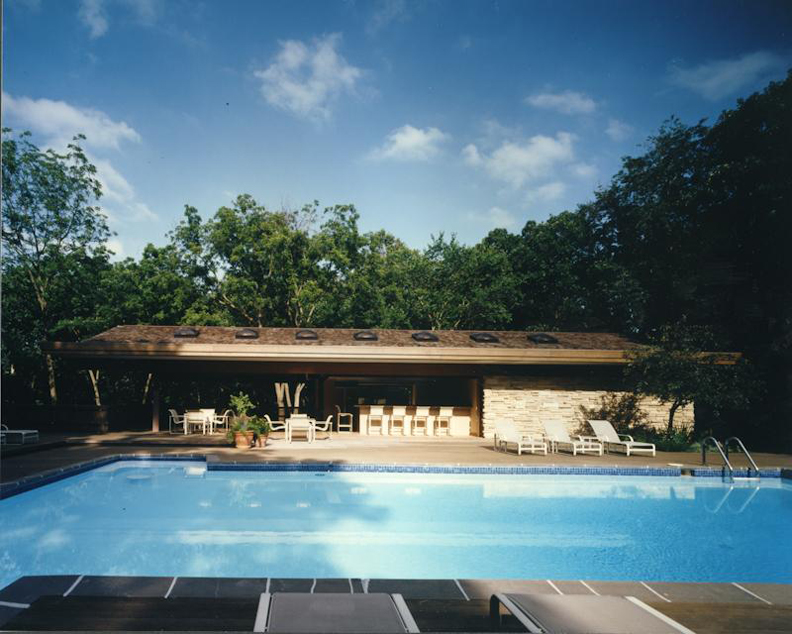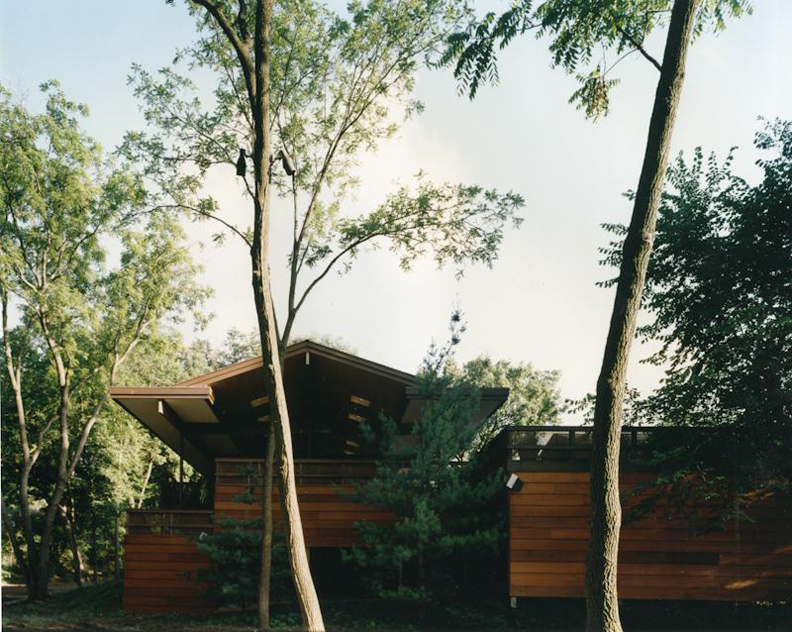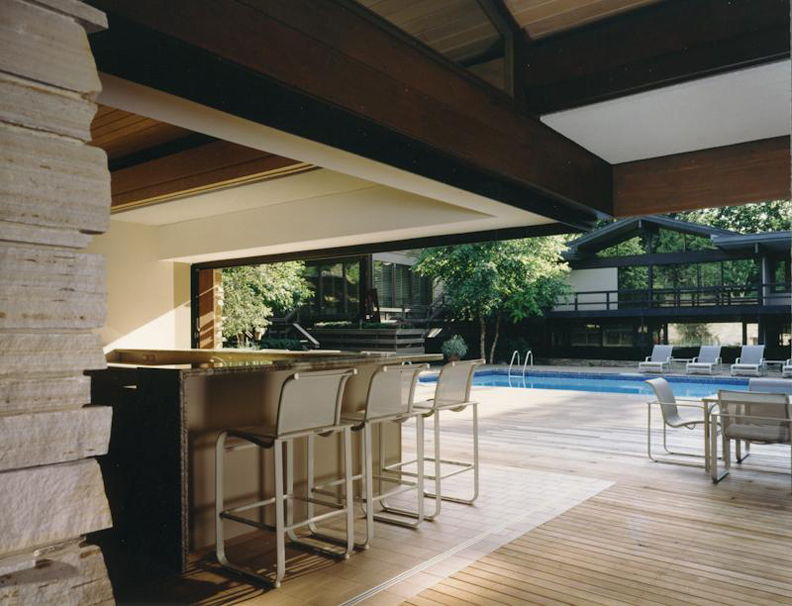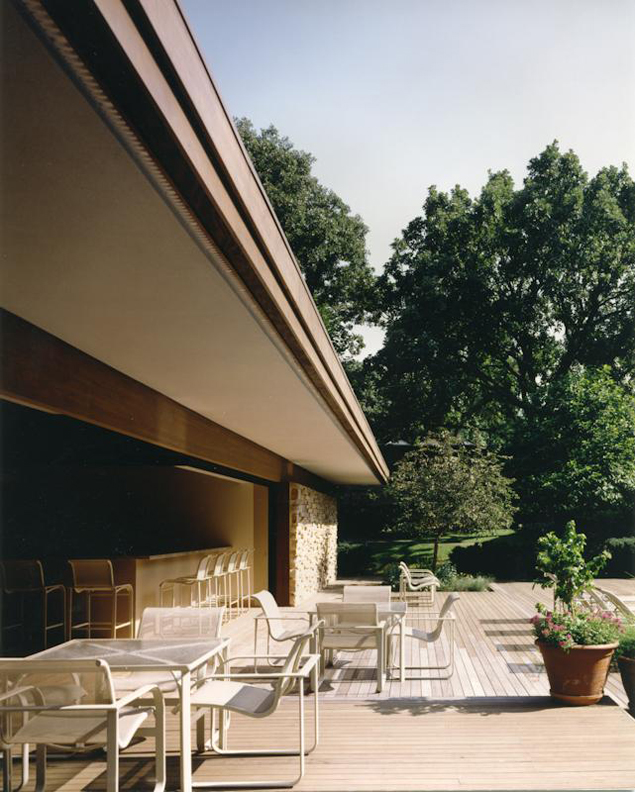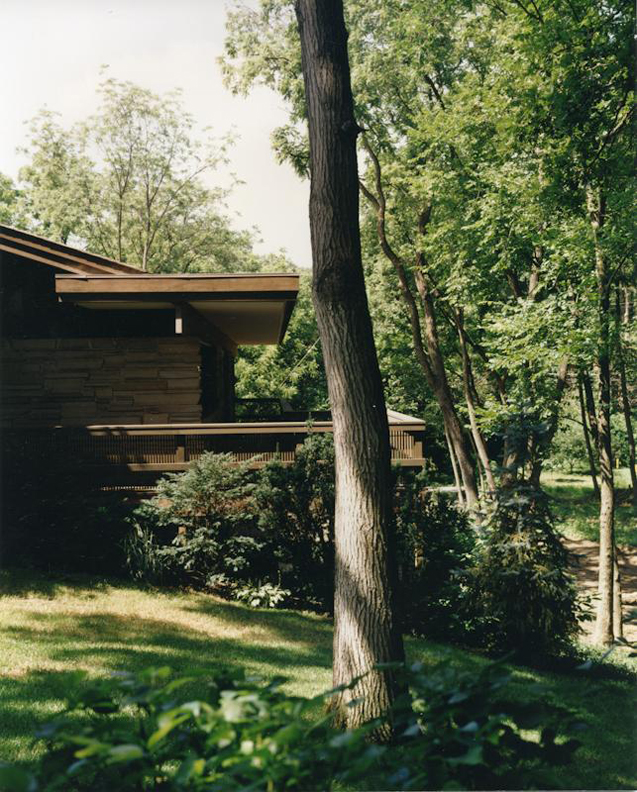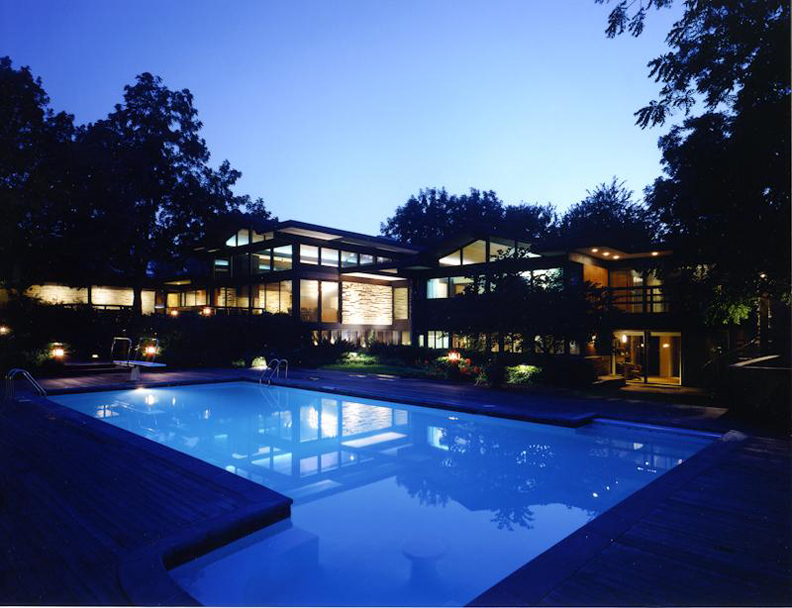 I know. I know. Don't die. There's more.
Donald Polsky completed yet another project for the family. This was a complete redesign of the kitchen into a Hearth Room concept. Interestingly this new Hearth Room was formerly the family's garage. The architect also noted, "the original kitchen from 1970 did not keep up with the extensive and numerous enlargements and enhancements of the residence." The new Hearth Room plan "was to create a kitchen serving area that could be used by the family or for entertaining large groups, that was large enough to accommodate caterers and proportional to the size of the residence…By adding sliding glass doors, windows and large barrel vault skylights, natural light shines into these areas."
The following architect's photographs of the Hearth Room addition and adjoining rooms were borrowed from the Omaha Landmarks Heritage Preservation Commission: Donald Polsky Collection.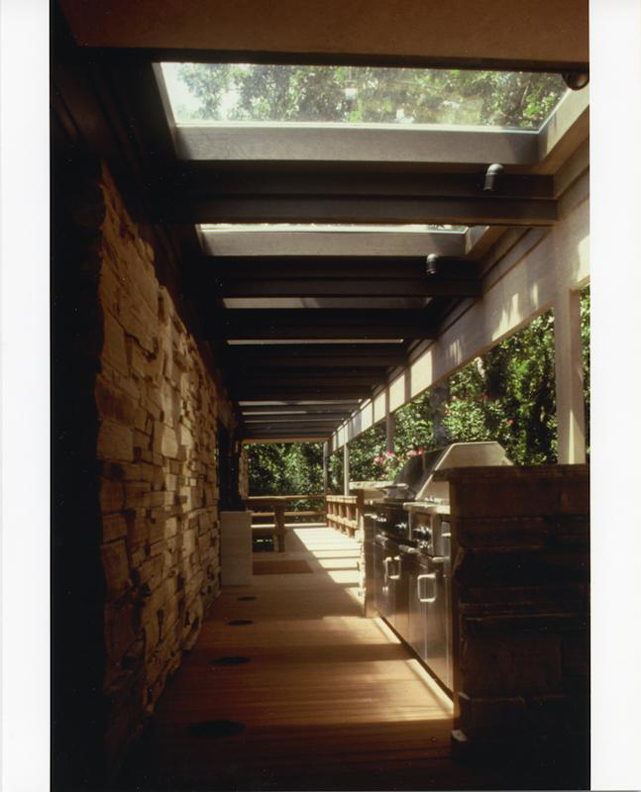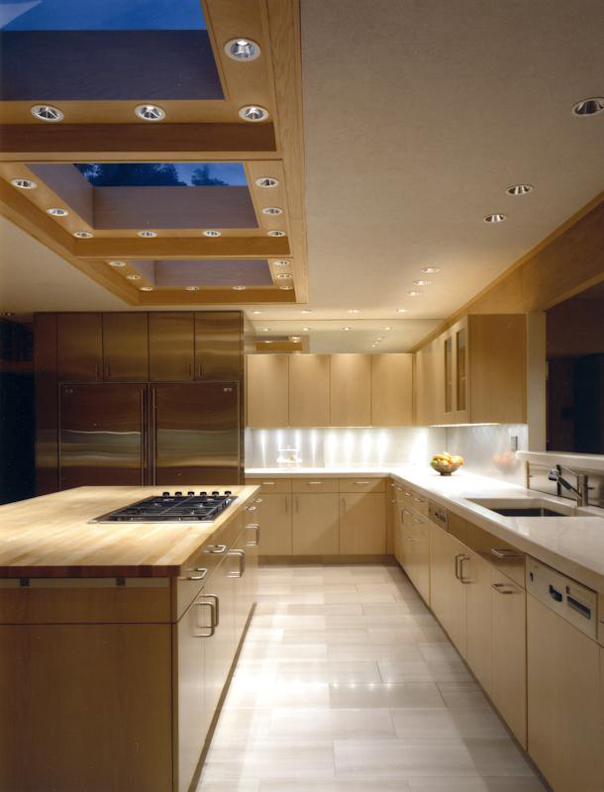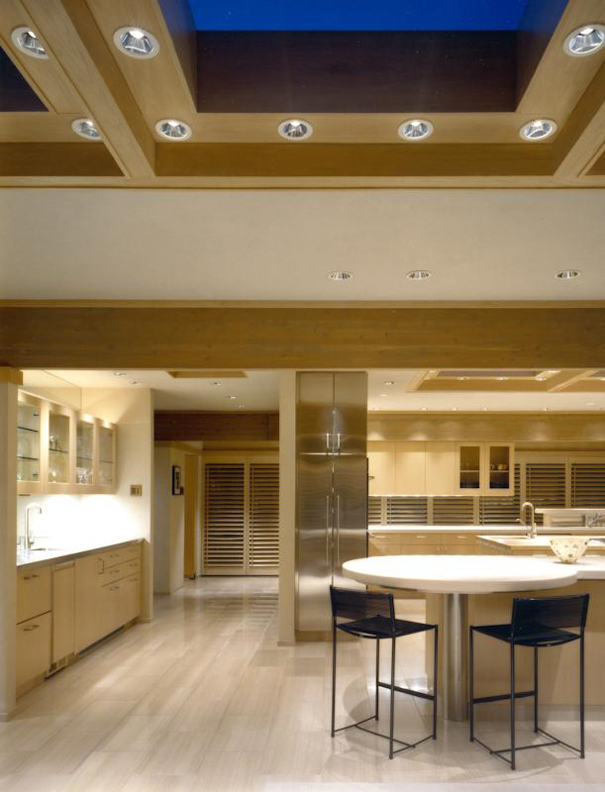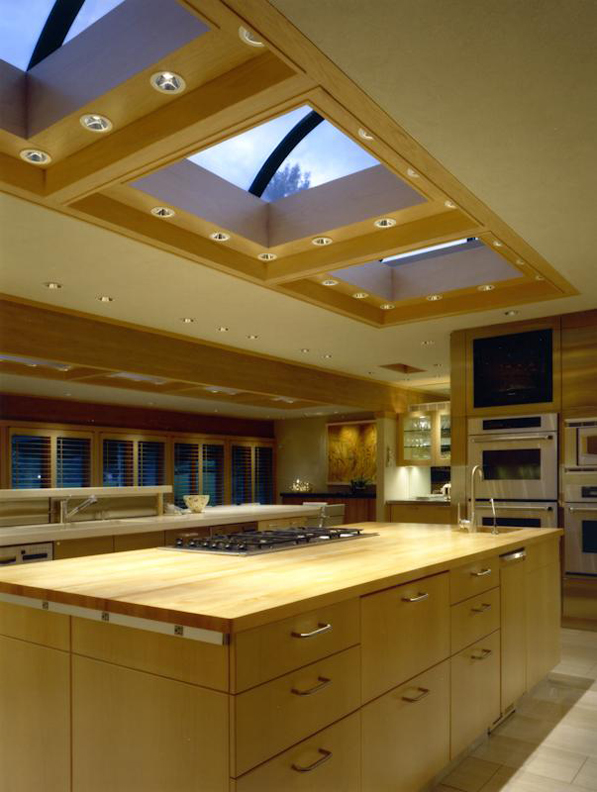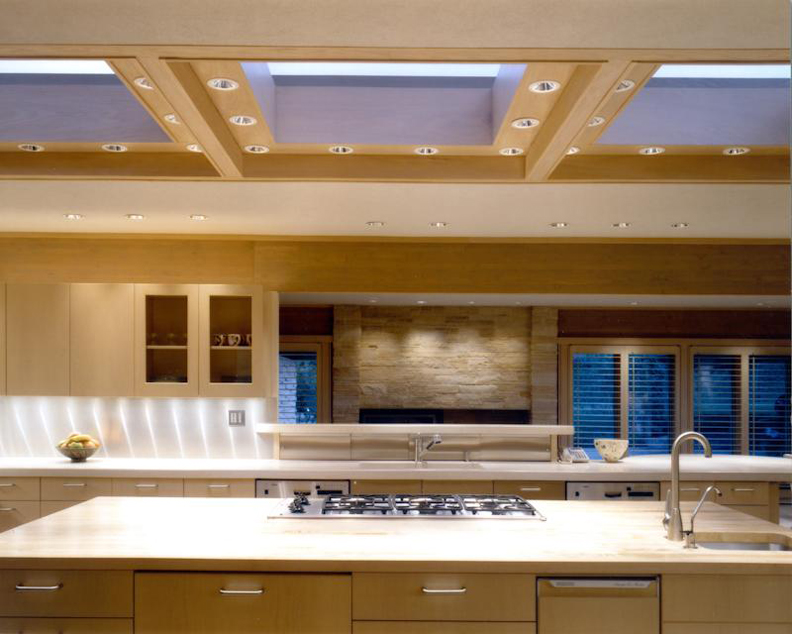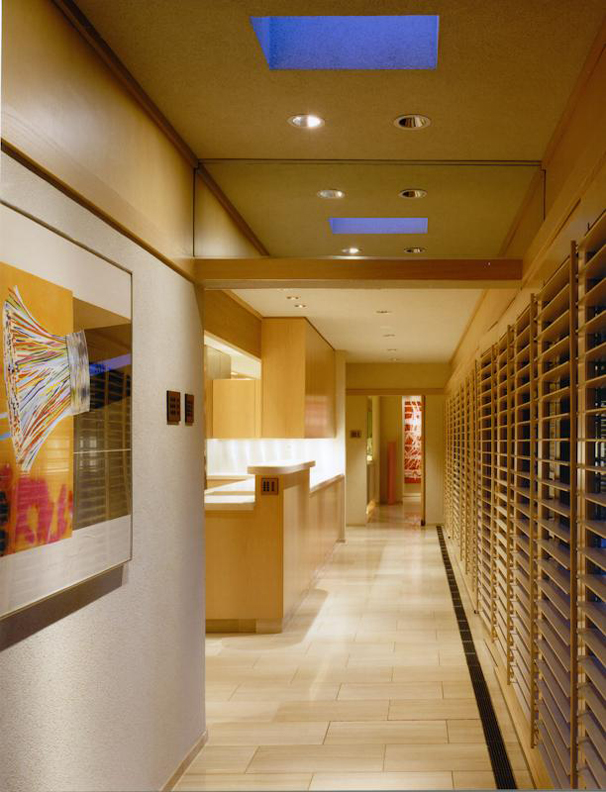 The building permits continued through recent years.
January 2013: "remodel residential $57,160."
August 2014: "remodel , $94,350."
November 2020: "remodel $141,512."
Take this long list of additions as a very large hint that 3217 South 101st has never been ignored by its homeowners or descended to shabbiness. I can only imagine what last year's remodel entailed–its price tag the equivalent of a nice home.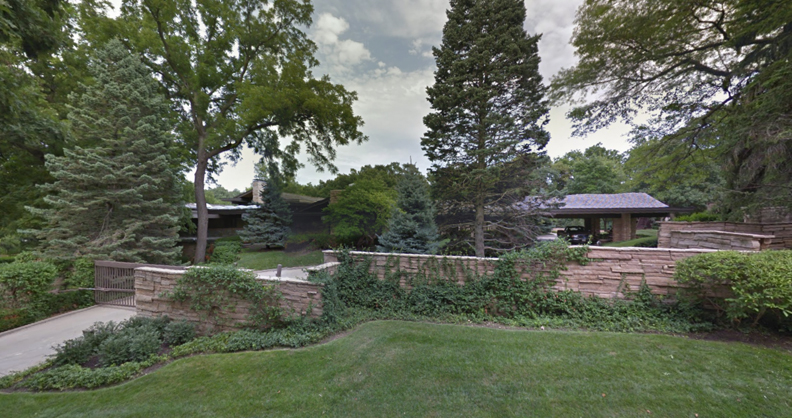 Google Map 2020.
Very Nearly The End
By 2004 the 3217 South 101st Street property had made the Douglas County Assessor's shortlist of the 24 most extraordinary and expensive homes in Omaha. "Assessor Roger Morrissey has created a special list of the properties in an effort to make sure that affluent homeowners are taxed fairly." Probably not a list anyone wanted to be on, but as an architectural detective, it was wonderful to read of these sumptuous and costly residences sprinkled around town. I marveled to think of all that these local homeowners had poured into their creations–their homes. The lavish daydreams it provided me.
Architectural detectives and real estate devotees, I want to thank you for joining in the search. Let us now light a candle for 3217 South 101st Street and send out a little wish that this glorious home finds its perfect second family. I would also like to send special thanks and well wishes to Donald Polsky and Mr. Homeowner, now both passed. What an incredible dream collaboration they shared.
This investigation has been a pure extravagance and I've loved every minute of it. Thank you all for joining me.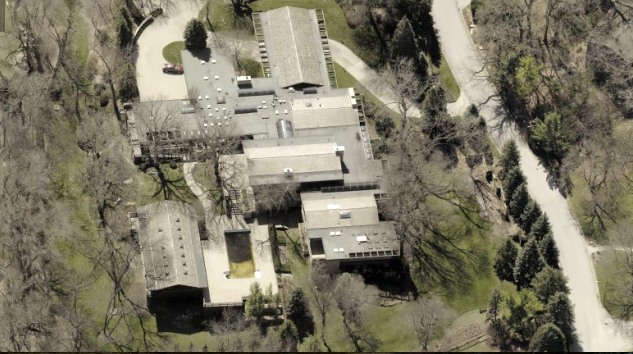 I welcome your feedback and comments on 3217 South 101st Street, Glen Oaks, Donald Polsky, and the Contemporary movement. Have you been in or around this house? Do you live nearby? We want to hear from you! To comment or read others' comments, please scroll to the end of this page. Be assured, everyone would love to read what you have to say and it makes the conversation more fun.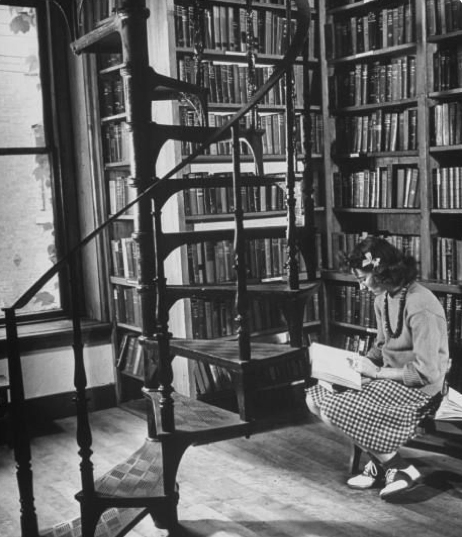 Do you want to join us for more investigations? You can keep up by joining my email group. Click on "Contact" then look for "Sign me up for the Newsletter!" Enter your email address. It will then display "Thank you, your sign-up request was successful!" Make sure to check your email address to confirm. You will get sent email updates every time I have written a new article. Also feel free to join My Omaha Obsession on Facebook. Thank you, Omaha friends, Miss Cassette
© Miss Cassette and myomahaobsession, 2021. Unauthorized use and/or duplication of this material without express and written permission from this site's author and/or owner is strictly prohibited. Excerpts and links may be used, provided that full and clear credit is given to Miss Cassette and My Omaha Obsession with appropriate and specific direction to the original content.