I am not one of those people who refuse to go west of 72nd Street. In fact some of my very favorite homes in Omaha are west of 90th Street. But in recent years, I will confide, Center Street (west of 72nd, so it is officially West Center Road) is one of my least favorite jaunts around town. At times it can seem downright miserable. Slowly but surely every last building along Center is being replaced by concrete slab throwaways with even more slabs being used for neutral-colored exterior paving. It is all really too damaging to the spirit. When the long overgrown Putt-Putt Golf, House of Pies-Gamez and the infamous Westside turf Burger King were bulldozed, I knew the West Center Road gig was up. So hold on, my friends, because this one does not end well.

Oakdale's fabulous cupola with brackets. Louvered vents including that classic patina weathervane. And that sign. One the best signs in Omaha.
Oakdale Elementary School, at 9801 W Center Rd, has always stood like a beacon on the hill—to me, drawn straight from the Officially Preppy Handbook. Oakdale, in fine company with Loveland Elementary and St. Margaret Mary's are some of my absolute, most adored schools in all of Omaha. Like an East Coast coed boarding school or a proper blueblood country day school, I often imagined Oakdale covered with ivy where young children were being taught field hockey, where to vacation in France and the fine art of how to make their parents great gin and tonics. I am speaking, of course, about the northern most building of the campus, the Tudor style, classic wing that faces West Center. I have always loved the look and feel of the school, thinking that it stood as a testament to the class of our West Omaha forefathers. Just as charming is the brick road leading to Oakdale and all of the weird, winding roads and split intersections of this part of town, guiding to some of the most fabulous, hidden woodland homes, sprinkled around this school in all directions.
Gulp.
Mr. Cassette and I were driving Center the other night to meet family for dinner in Rockbrook when we came upon the missing school. I should add, at this point, Mr. Cassette attended Oakdale Elementary kindergarten through sixth grade and, of course, was properly shocked. There was the Oakdale pedestrian overpass but the school had vanished. I began digging into the missing school and its history when we got home.
Modest knee and bracket details. Really quite fabulous school doors.
In my search I discovered District 66 was previously called District 31, of which Oakdale Elementary was a part. It was officially called the Oak Park School District. From the District 66 website "Oakdale Elementary School was built in 1871, and it consisted of a one room school house with forty students. District 31 merged with District 65 (Loveland), and District 46 (Underwood/Peony Park) in 1947. This merger resulted in the establishment of District 66."
Early photo of the school and meeting hall.
Oakdale in 1927.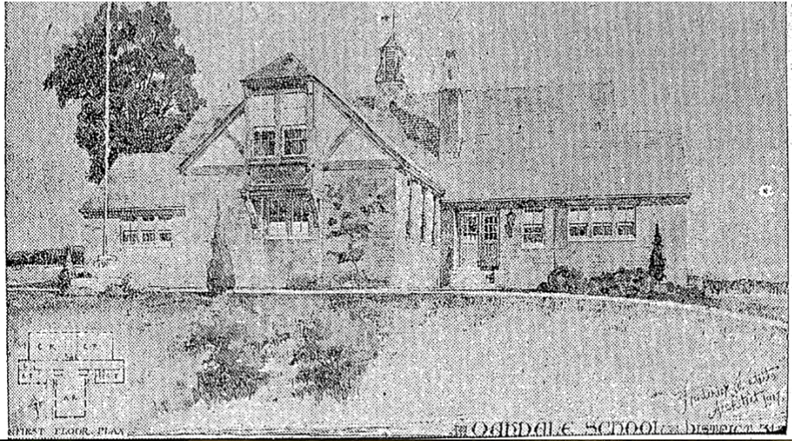 Frederick S. Stott was Architect of the Oakdale School. Stott's drawing shows the new Oakdale, then called "Oak Dale" school planned for District 31. "The building is to be built on a sightly two-acre tract on paved Center Street, opposite Rockbrook addition at Ninety-seventh Street. The land is purchased from the Jacob Armbrust estate." OWH archive. 1927.
OWH: "The building has been designed to harmonize with the rural residential character of the neighborhood. It is to be a modified English type, with exterior walls of extremely hard-burned Omaha common brick, selected with rich red and brown colorings. The gables will be of stucco, with timber work stained brown. The roof is to be slate."
By 1927, the glorious Tudor section of the school was added. Oakdale at that point became a K-8 school. The rest of the school was added in stages during the 1950s. Mr. Cassette has told me of the fun he had when he was a student at Oakdale. Just south of the school, long before all of those newer houses were built, there was a large, hilly farm with a house far in the distance. The school children had spread rumors for decades that the farm and house were haunted. They would often go exploring on that farmland, terrified of it, but braving the adventure, as they got older. He also described the creek winding around the area.
Oakdale aerial in 1941.
He described the large front Tudor building as being the music room. It had a large peaked ceiling with beautiful old English wood beams. He said he was keenly aware of the room's age and historical feel when he was in music class. The spacious room was filled with instruments, a piano and particularly, recorders. There was also a heated corridor, joining the 1927 building to the more modern structure, in which he remembers waiting for his ride. If a student rode the school bus, they would wait on the north most side of the 1927 building.
North, facing Center. Bricks of various shades and lengths
I found a fantastic account from an older Oakdale alumnus, who truly remembers the old school. For a very interesting read, check out: http://imagineadistrict.org/oakdale-alumnus-ken-koch-talks-old-school/
Bracket from the 1927 Tudor building, laying in the grass.
I located some OWH articles about the new Oakdale Elementary plans. I was saddened to hear that the neighbors' only complaint about the plan to demolish this great school was fear over parking issues or soccer balls flying into their yards. Nothing about building around or incorporating the older structure into the new design. Nothing about historic preservation, save for a few elements of the structure. I am confused by this lack of understanding. When these authentic beauties are gone they're gone. Please check these articles: http://www.omaha.com/news/education/neighbors-voice-opposition-but-officials-move-ahead-with-oakdale-elementary/article_b0ecaf6c-fc49-11e5-97d4-7b77259f1e5
http://www.omaha.com/news/education/westside-school-board-oks-design-for-new-oakdale-elementary-approves/article_27133e3d-234b-5d69-baf0-f9a8b3fccaa0.html
Historic cupola and its sad weathervane laying in the parking lot.
Of interest "The current building, the oldest part of which dates to 1927, will be demolished and rebuilt on-site, with certain historic features preserved. Pitched roofs at the main entrance will pay tribute to the current Tudor design, and bricks and a cupola will be salvaged for the new school."
Construction on the new Oakdale Elementary will be completed during the 2017-2018 school year.
Meanwhile, east of the razed Oakdale Elementary is a very odd new development, called Oakdale Cottages, at 9515 West Center Road. There is one strangely configured house framed up on the acreage with its sad address spray painted on the front. Apparently seven more cottages are coming. Like any good beacon on the hill, Oakdale Elementary has given the official warning signal.
Thank you for reading my blog. If you have any memories you would like to share about Oakdale Elementary, District 66 or the very cool Rockbrook area, please feel free to comment. To enable comments or to read comments, please click on the header title. Thank you so much, Omaha friends. Always a pleasure.
© Miss Cassette and myomahaobsession, 2016. Unauthorized use and/or duplication of this material without express and written permission from this site's author and/or owner is strictly prohibited. Excerpts and links may be used, provided that full and clear credit is given to Miss Cassette and myomahaobsession with appropriate and specific direction to the original content.