This installment is Part Two in an ongoing series of the mysterious French country home located in the Rockbrook Neighborhood. If you are joining us for the first time, please take some time to get up to speed on our newest investigation. Believe me, reading The Curious Case of the French Fairytale Cottage: Part One first will make this all the more enjoyable as I won't be retracing the breadcrumbs on the trail.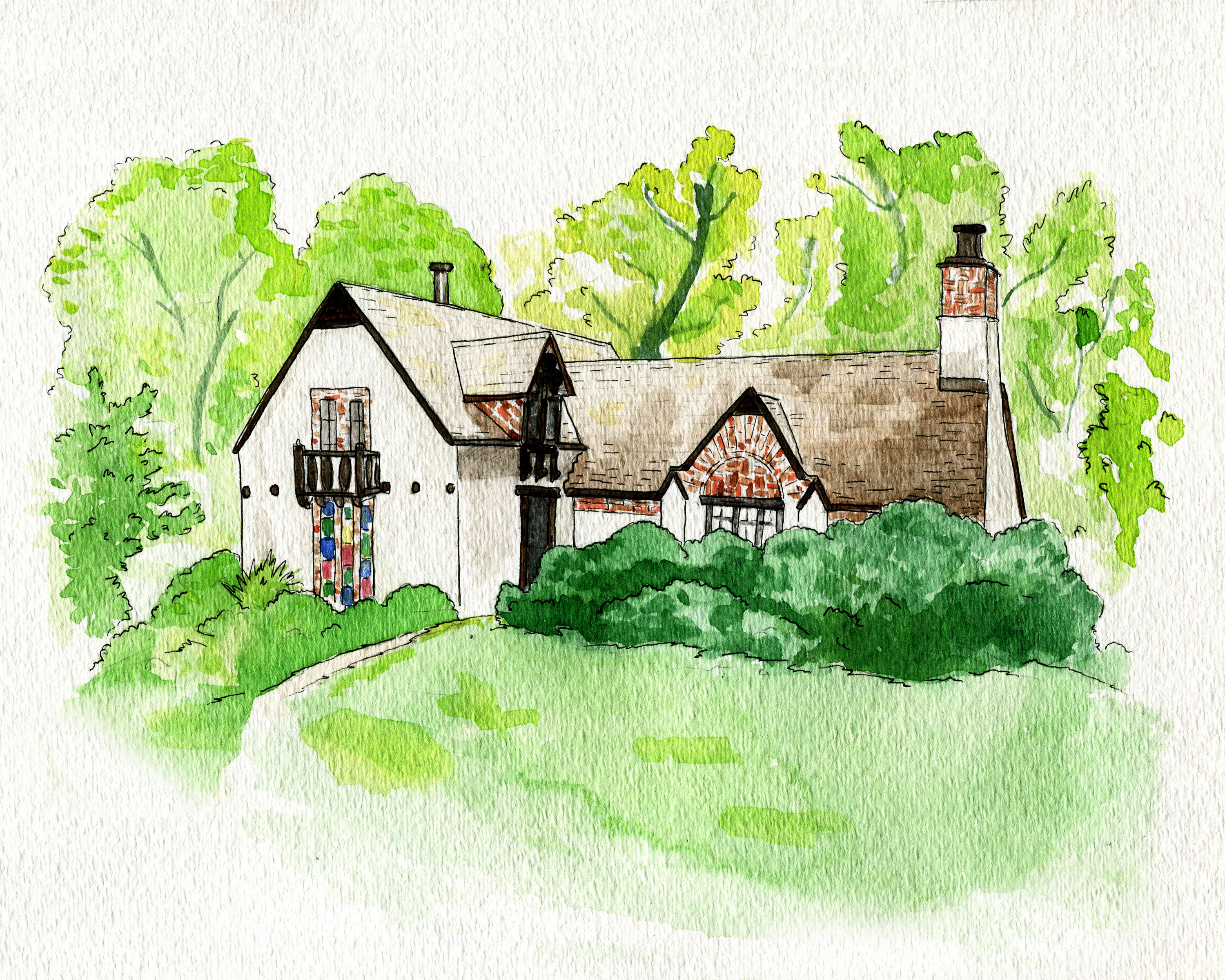 Lovely illustration of 2417 S. 105th Avenue by my friend, Kelsey Wallerstedt-Gilman. To see more of her work, check out https://www.instagram.com/kelseyandkelsey/.
The Irene S. Driver and Fred J. Driver Jr. Evidence
 In February 1936 Minnie Pritchard sold 2417 S. 105th Ave. to "Irene S. Driver and husband," according to the Deeds Record. I was interested that this was the second time the home was in a woman's name, somewhat unusual for this time period. It wouldn't be the last. Fred J. Driver, Jr. was son of Dr. Fred Driver and Helen McLain Driver. Helen McLain's parents were considered a pioneer family in Omaha. The McLains came to Omaha in 1857 and were among the founders of the First Methodist Church. After Helen married Dr. Fred they moved his practice to Shenandoah, Iowa and later would ranch in Alberta, Canada for years. The couple would have two daughters Helen and Margaret and two sons, Dr. R.W. Driver and Fred J. Driver, Jr.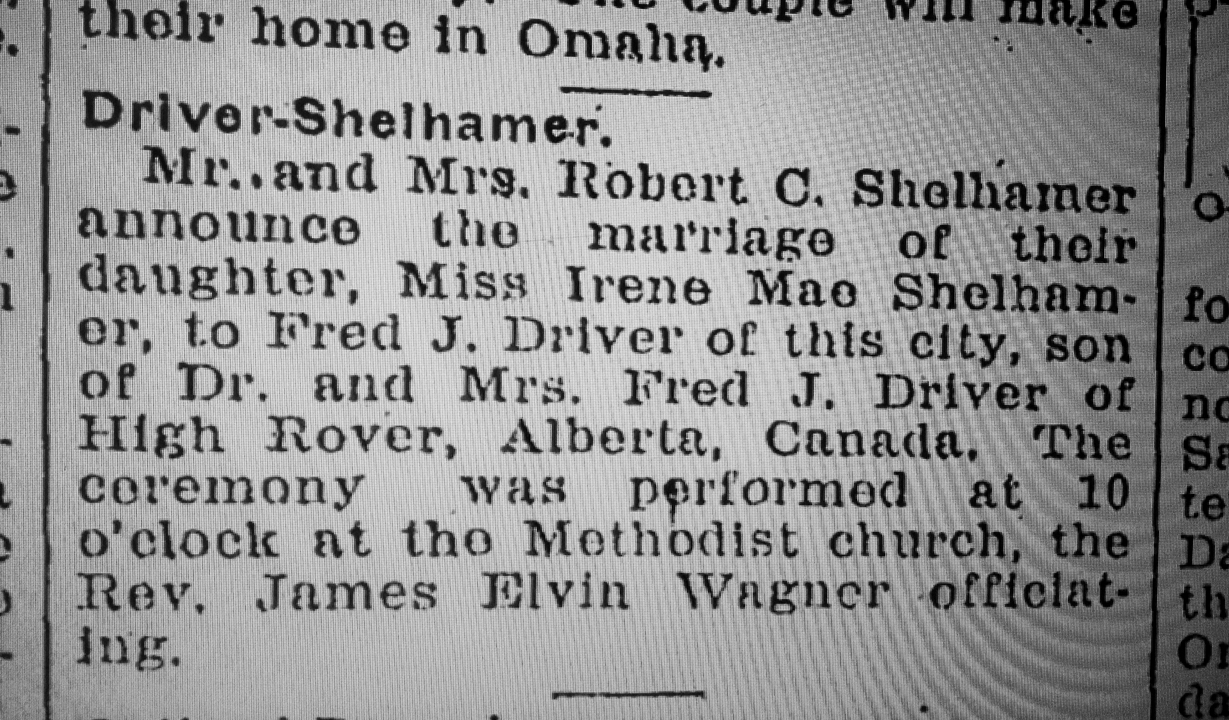 Fred J. Driver, Jr. and Irene Shelhamer marriage in June of 1925.
At this time I found the Perfect Clue, which would make plain my previous predicament. An OWH article of June of 1933 explained that Mrs. Helen McLain Driver, age 59, died in Iowa City. Dr. Fred had died the year before in an auto accident. "The body will lie in state at the Fred J. Driver, Jr. home, One Hundred Fifth and Rockbrook Road, until 9 pm."Aside from the realization that Mrs. Driver had her public funeral viewing in my French country home living room, I began to realize that Miss Minnie Pritchard owned the home in 1933, not the Drivers. That is when I pieced together that Fred and Irene must have been renting the property from Miss Minnie for years until they bought the place themselves.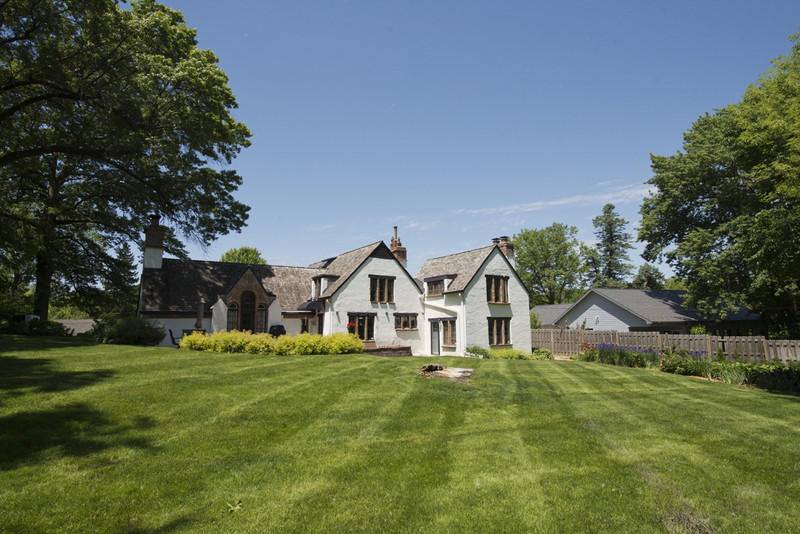 Back of the home and extensive grounds. Miss Cassette really loves when a residence looks as beautiful at the patio door as it does the front. 2417 S. 105th Avenue more than passes the test. Gorgeous. Photo by owners.
I tracked down the 1937 City Directory listing of Fred J. Driver, Jr. and Irene S. residing at "105th and Rockbrook Rd.," a pattern of vagueness that surely made some sense to the postal workers. From my rooting around, I discovered Fred was president of Driver & Company, an advertising agency. "Driver & Company offers Complete Advertising Service." Not the cleverest of slogans for an ad man but those were different times. Fred was also the Nebraska secretary of the United States Junior Chamber of Commerce. Driver & Company was located at 503 Redick Tower Building at 1508 Harney.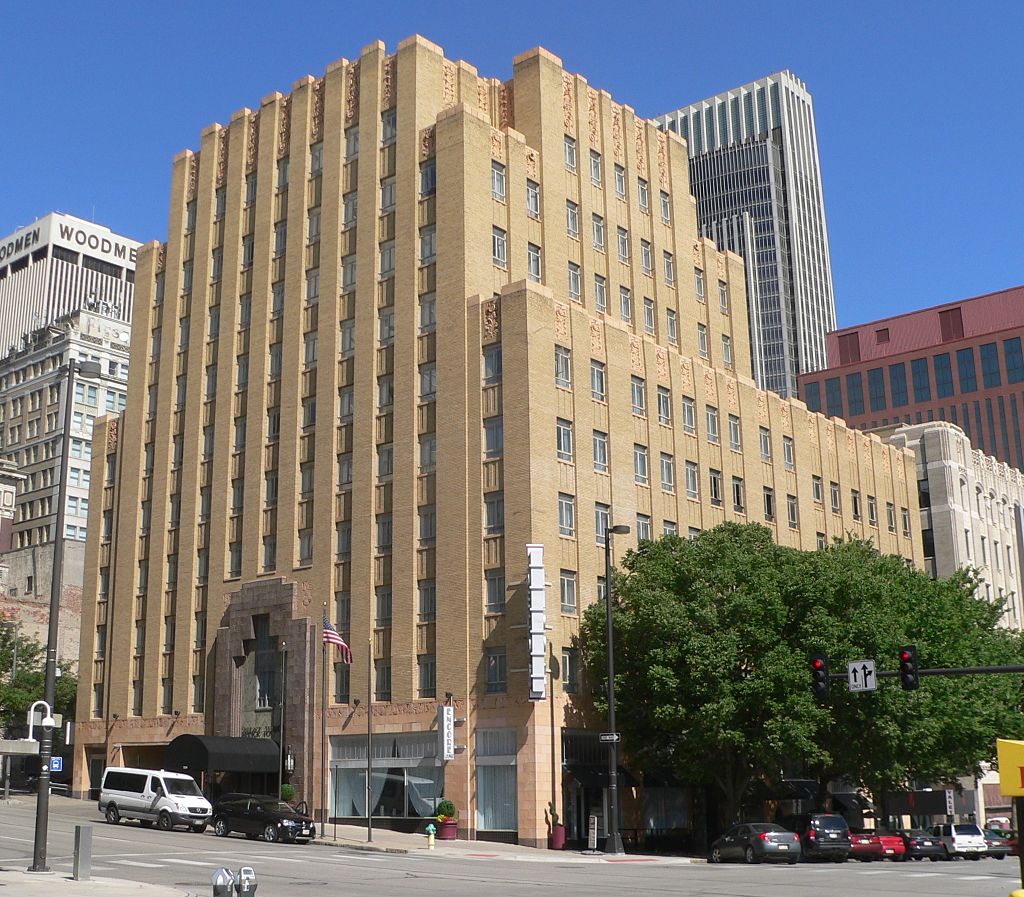 The incredible Redick Tower, one of my favorite buildings, is currently operating as Hotel Deco.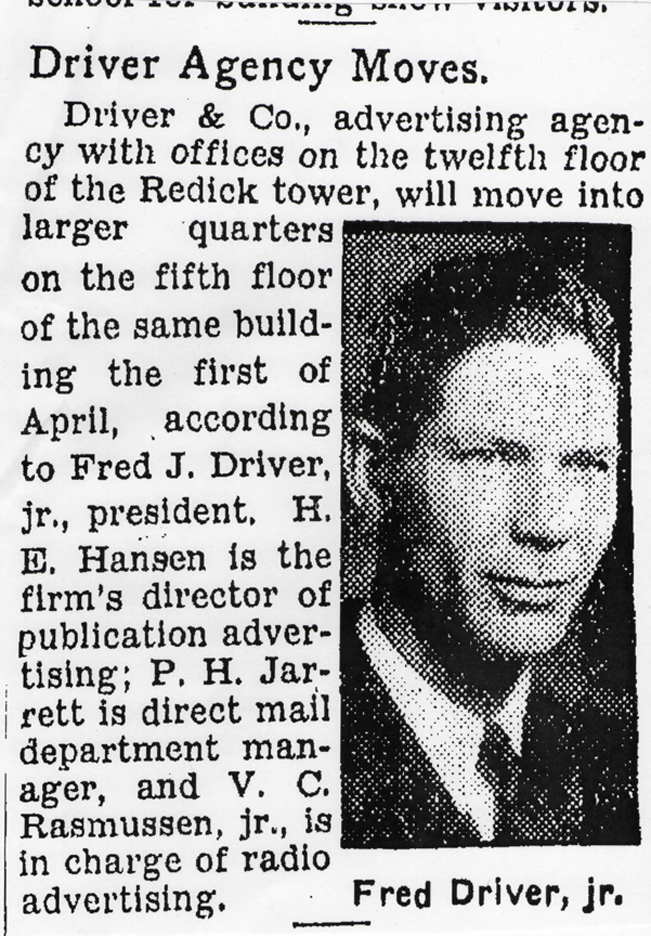 Driver Agency moves. March 29, 1936
Meanwhile "Mrs. Fred Driver Jr. named by sorority." Irene was elected President of the Alumnae Chapter of Pi Omega Pi by University of Omaha. The couple was featured prominently in the newspapers for their various city involvements as well as "a six week vacation and business trip in the east." Irene was also an early working woman, employed as a stenographer in 1937 at Morsman & Maxwell, Attorneys at Law in suite 520 of the incredible Farnam Building at 1613 Farnam.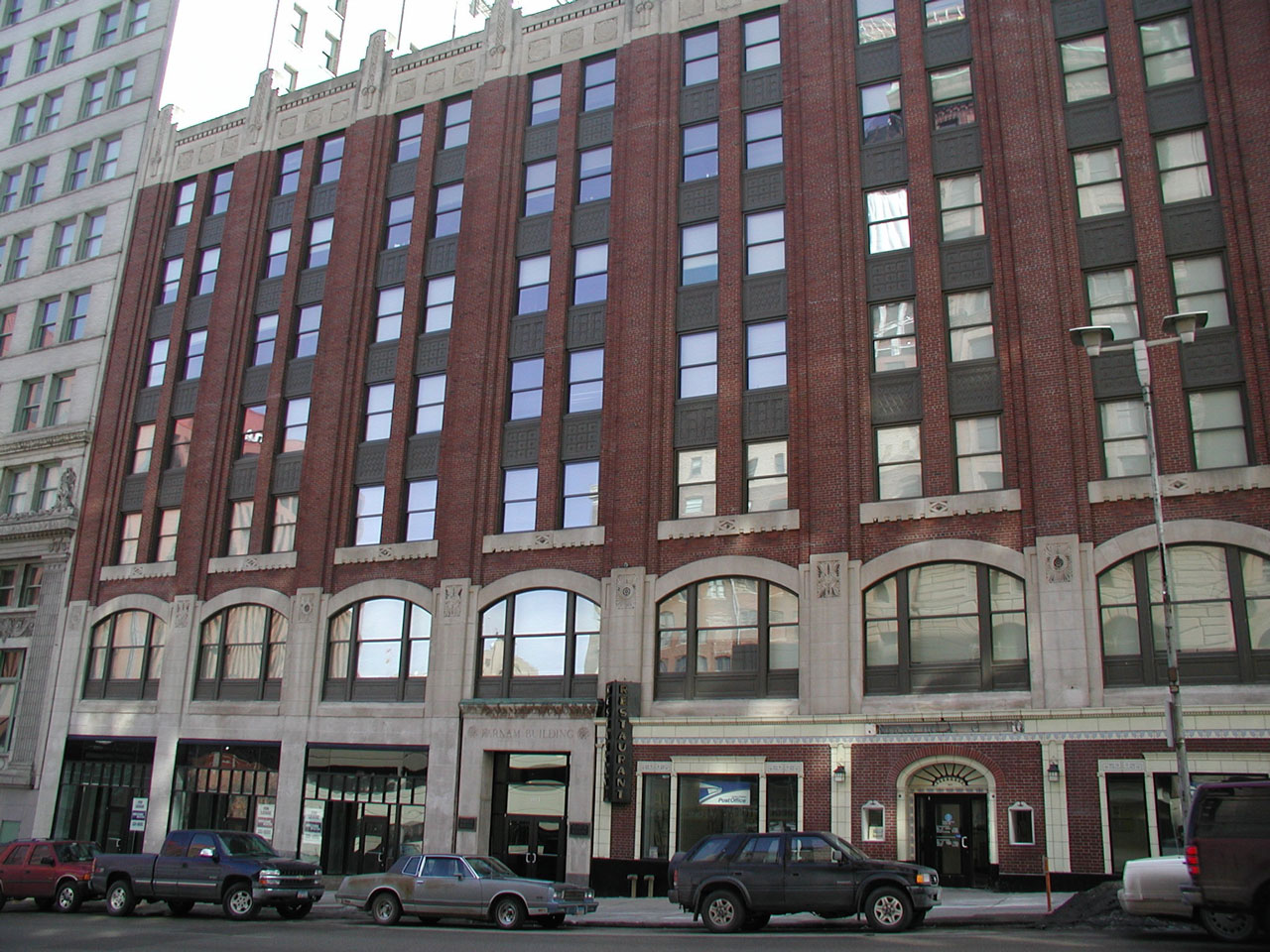 1613 Farnam, now part of the Omaha Housing Authority lower income housing. I love this building and the Northrup Jones Company sign. That "Restaurant" sign is simply one of the best in Omaha.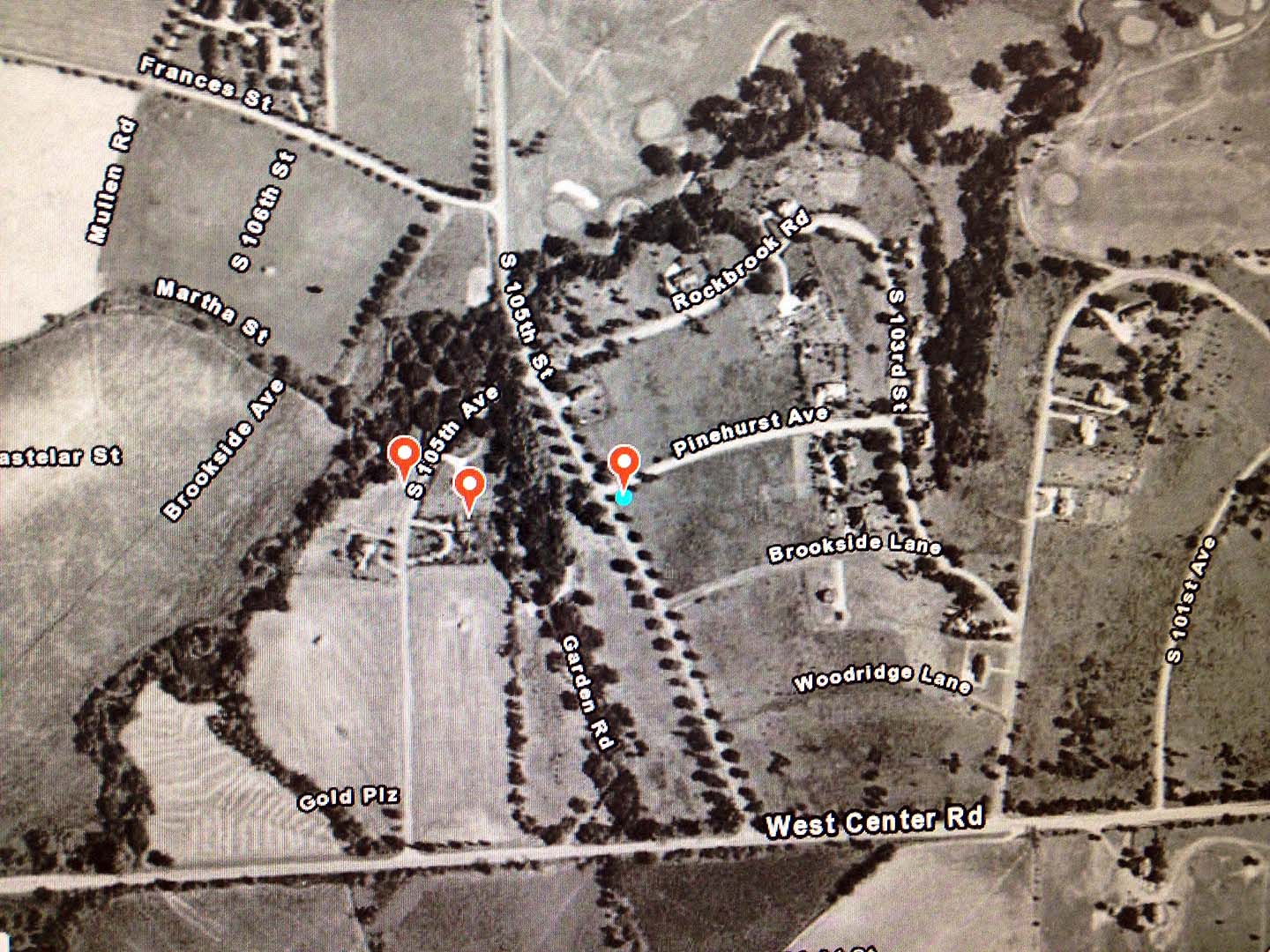 Douglas Country geographic information service aerial of 2417 S. 105th Avenue from 1941. Unfortunately three pins were dropped. The property is the center pin with the horseshoe drive. As you can see the area was primarily rural although the Rockbrook streets are already laid out in a leisurely, winding, suburban manner. Notice the early trees planted along 105th Street. I am guessing that the Mullens lived in the home across the street or, more likely, the palatial spread right above where it reads "Rockbrook Rd." This home is no longer in existence, according to the Douglas County Assessor. I counted roughly twelve homes total in the Rockbrook Neighborhood in 1941.
The Drivers must have fallen on hard times. Due to a series of unfavorable events, perhaps World War II, I chanced upon a "Notice of Indebtedness" for Driver & Company Corporation from December 31, 1941. By April of 1942, the couple would be forced to sell the best little French house on 105th Ave.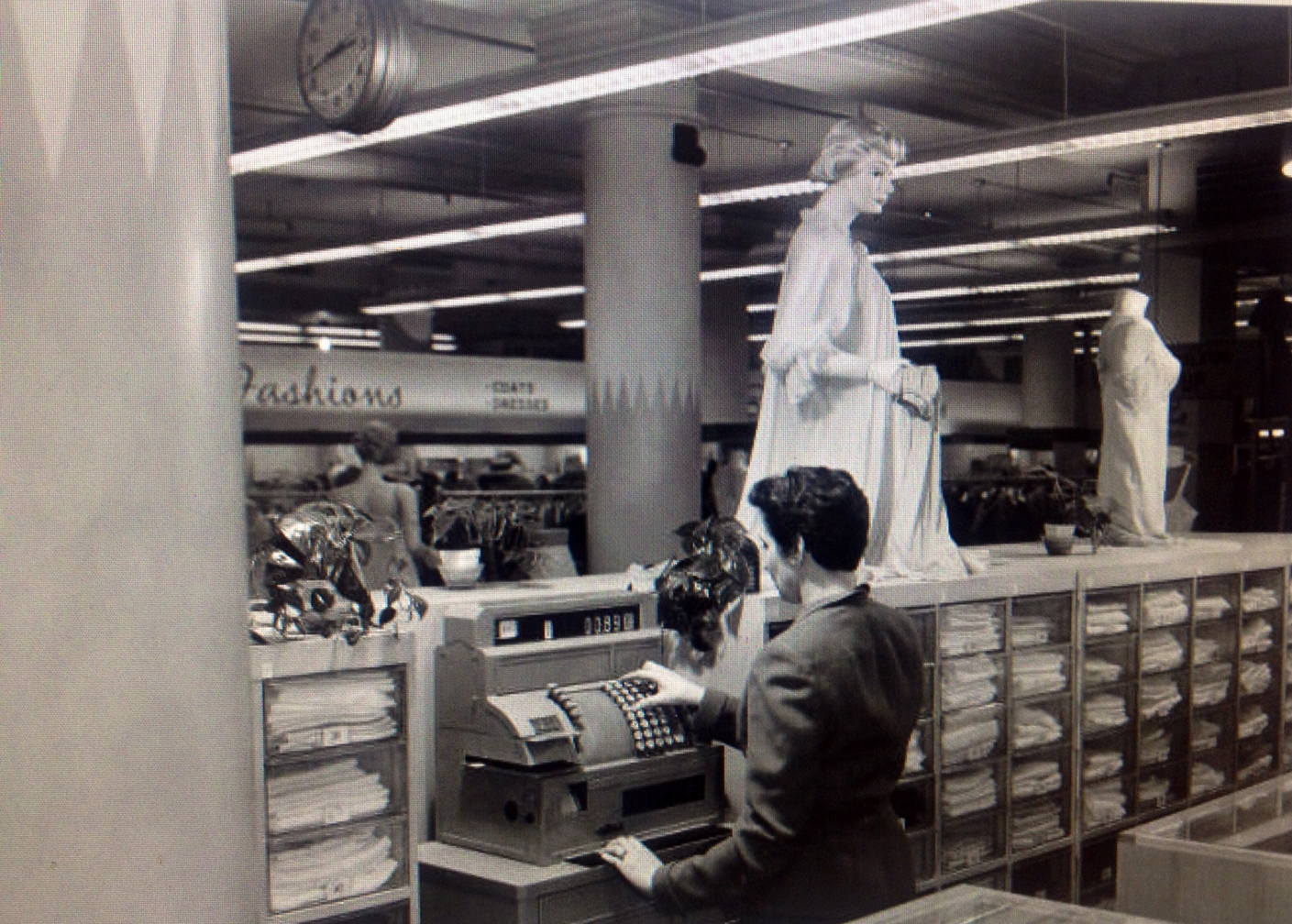 By October 14, 1951 Irene Driver was a Brandeis employee. Fred Driver, Jr. became a bottler at Falstaff Brewing Company by 1958. Please read my story Mysteries of Omaha: 3214 Center Street for more details about the incredible Falstaff Brewing Company. Later still Irene would become the assistant of alterations in the J. L. Brandeis Women's Department. The couple had moved to 2709 S. 10th Street. Irene and Fred did not have any children. I just had to include this photo because I LOVE it so. This is not Irene featured in the photo but this was from the same time period that she worked there. My gosh, is this her? Cashier at the register in the women's department of the Downtown Omaha branch of Brandeis and Sons Department Store. Women's clothing surrounds the register (and that mannequin!) 1958. (Photo courtesy of the Bostwick-Frohardt/KM3TV Photography Collection at The Durham Museum Photo Archive).
The Irvin Svoboda Case
According to the Register of Deeds office, Irene S. Driver signed the property over on April 17, 1942 to "Irvin Svoboda et al." After looking into this, I found et al is typically used as a space saver by the deeds office when it would be impractical to list every person involved by name. This was where the story got interesting for me. (Something tells me Irvin could have his very own My Omaha Obsession book or maybe I just like to say his name in an accent?) Irvin Svoboda was born to Frank and Rose Mary Svoboda. Father Frank was born in Czechoslovakia. The 1930 Census revealed more about the Svoboda household: At the time, Frank was 52, Rose Mary was 40, Sylvia was 22, George was 20, Helen was 17, Irvin was 16, Roy was 11, Stanley was 10 and Morris was 8. WOW. Lots of Svobodas. Mother Rose Mary later died in 1939. At the time of the 1940 US Census, Irvine was 25 years old. He lived with Stanley age 20, Roy age 21, Inelda Svoboda age 20 and Leona Gleeson at 48. I assumed Inelda was one of the brothers' wives. Leona Gleeson might have been Inelda's mother or a live in servant.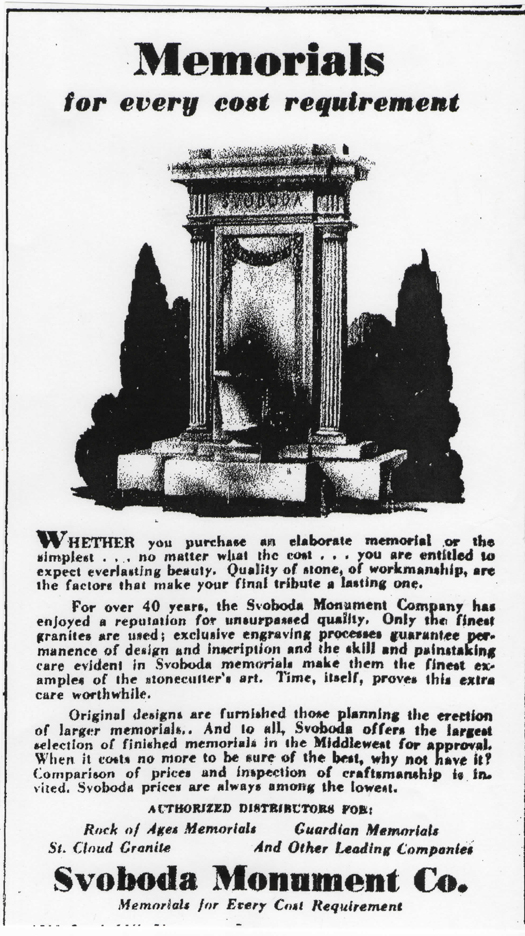 OWH Sept 8, 1940– Svoboda Monument Ad.
Irvin Svoboda was well known in town for his family run business, the Svoboda Monument Company. George, Irvin, Roy and Stanley Svoboda ran the company out of 1215-1229 South 13th Street. "Direct from Quarry to Consumer" was the Svoboda motto. This business address no longer exists, but it appeared to have been between Pierce and William streets, down on 13th. A feel good part of town.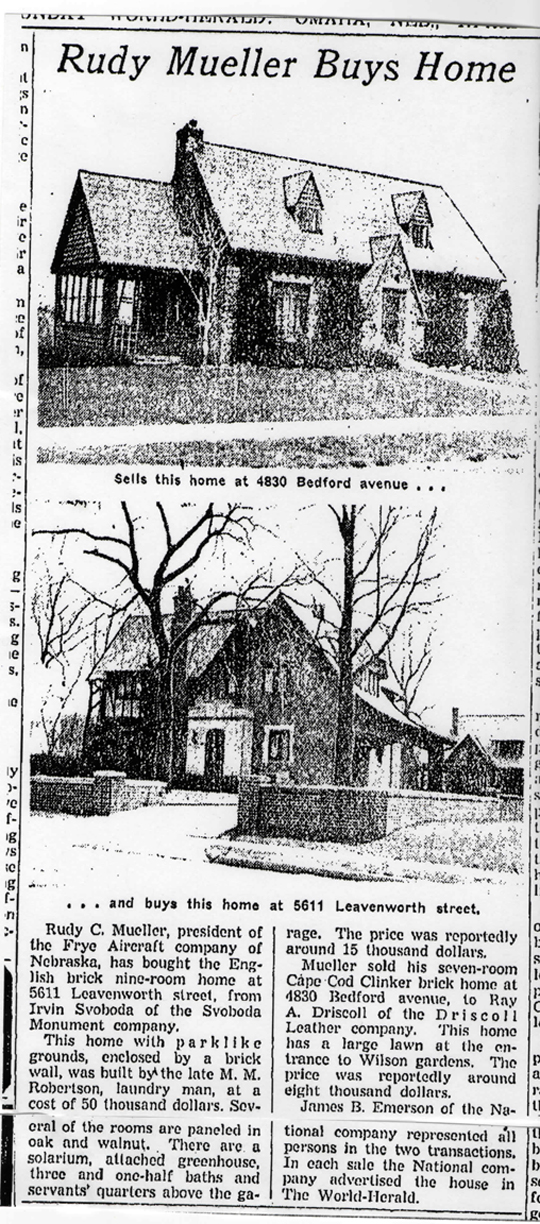 At some juncture, Irvin Svoboda married a woman named Rose. From this peachy 1942 article about Rudy Mueller of Frye Aircraft Co. buying a new home, I discovered Irvin's home was sold. I was delighted to find the Svobodas had lived at 5611 Leavenworth Street, what I affectionately call the High End of Leavenworth, in one of the prettiest homes in Midtown. I'm pretty obsessed with it. It is currently enshrouded in shrubs. This home is right by Our Lady of Leavenworth's home and if you don't know who that is, check out Fabulous People of Omaha to read up on her.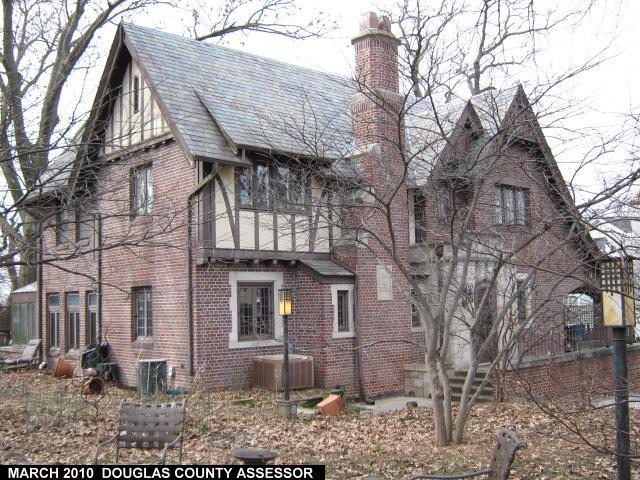 This is the County Assessor's photo of Svoboda's home at 5611 Leavenworth. Have you peered behind the concealing hedge to see this Real Looker?
The dates added up, dear readers. Irvin Svoboda sold his Leavenworth home to Rudy Mueller, in the same month that Irene Driver sells Irvin Svoboda our 2417 S. 105th Ave focal point. (Did you think I had strayed from our focal point? I considered it when I came across 5611 Leavenworth.) But let us move on.
It would appear from the Register's usage of "et al" that a number of people moved into the French country house with Irvin and Rose. I cannot be sure of whom they were but from record we know he did have an extensive family. The Svobodas only stayed in the residence for two years, selling the Rockbrook country home in 1944. In February 19, 1945 Irvin Svoboda, Carl Grant and Lewis Roberts filed articles of incorporation for the Roberts Novelty and Advertising Company, venturing off into other businesses.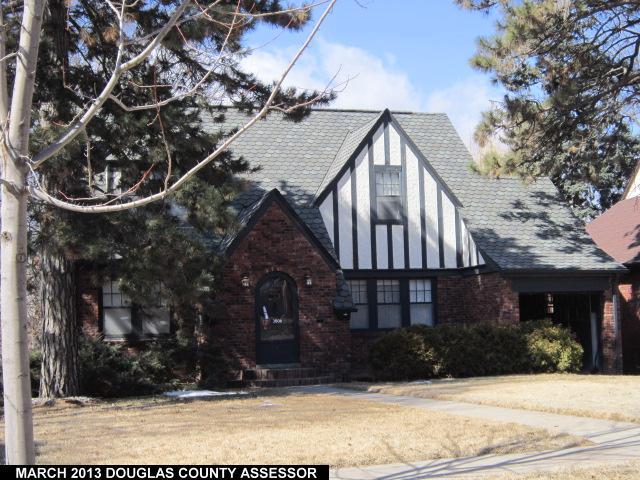 By 1948 Irvin and Rose M. lived in this 1929 Charmer at 2008 North 54th St. It would appear that the Svobodas had the same taste in houses as Miss Cassette and they moved around a lot. I like this idea—sample all of the great homes in town. I mean….really. Just look at this one.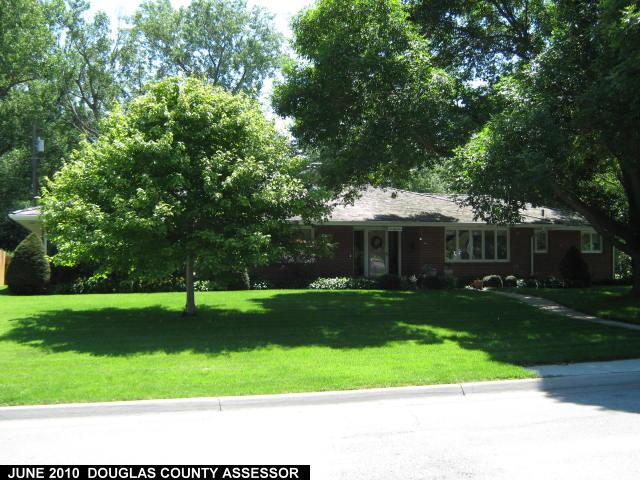 In the 1960's Irvin and Rose Svoboda resided at this great ranch at 653 Dillon Drive.
It was during the early part of 1960 that Omaha Vice would finger Irvin Svoboda, in something of a local scandal in our fine town. According to police records and the newspaper, Irvin leased the Lee Hotel downtown for approximately twelve years. He was sentenced to 60 days in jail for permitting prostitution at the Lee while he was operating the hotel. An appeal bond was posted for $500 and Irvin asked for a jury trial. Apparently a 26-year-old prostitute from San Francisco "heard how much money girls were making at the Omaha hotel."40-year-old bellhop, Jack Young, with a record showing previous convictions involving prostitution, requested the sex worker's skill set at the Lee Hotel. She would later testify that she began making between $800-$1500 a week while living at the Lee. This was exclusive of the 40 to 50 percent of her earnings she paid bellhop Jack Young. Let me remind you that this was in the late 1950s. Soon other prostitutes came forward as well. Irvin Svoboda was accused, by the sex workers, of hiring an additional prostitute for $200 a week to "manage the other girls of the sixth and seventh floors of the hotel." Also denied was the prostitutes' charge "that a professional bondsman was paid money taken from the hotel safe to post a bond for a prostitute when she was arrested." Irvin Svoboda denied all knowledge of this sordid side business. Svoboda's day clerk, Lillian McKee corroborated his testimony. Irvin Svoboda was cleared of all charges when he went to court a second time in July of 1960. Svoboda claimed to have no knowledge of the prostitution ring actively "using the sixth and seventh floors." He reported "that because of his health, he is only at the hotel between the hours of noon and two p.m. He said his wife is with him constantly." Jack Young, the bellhop, would go down with a felony.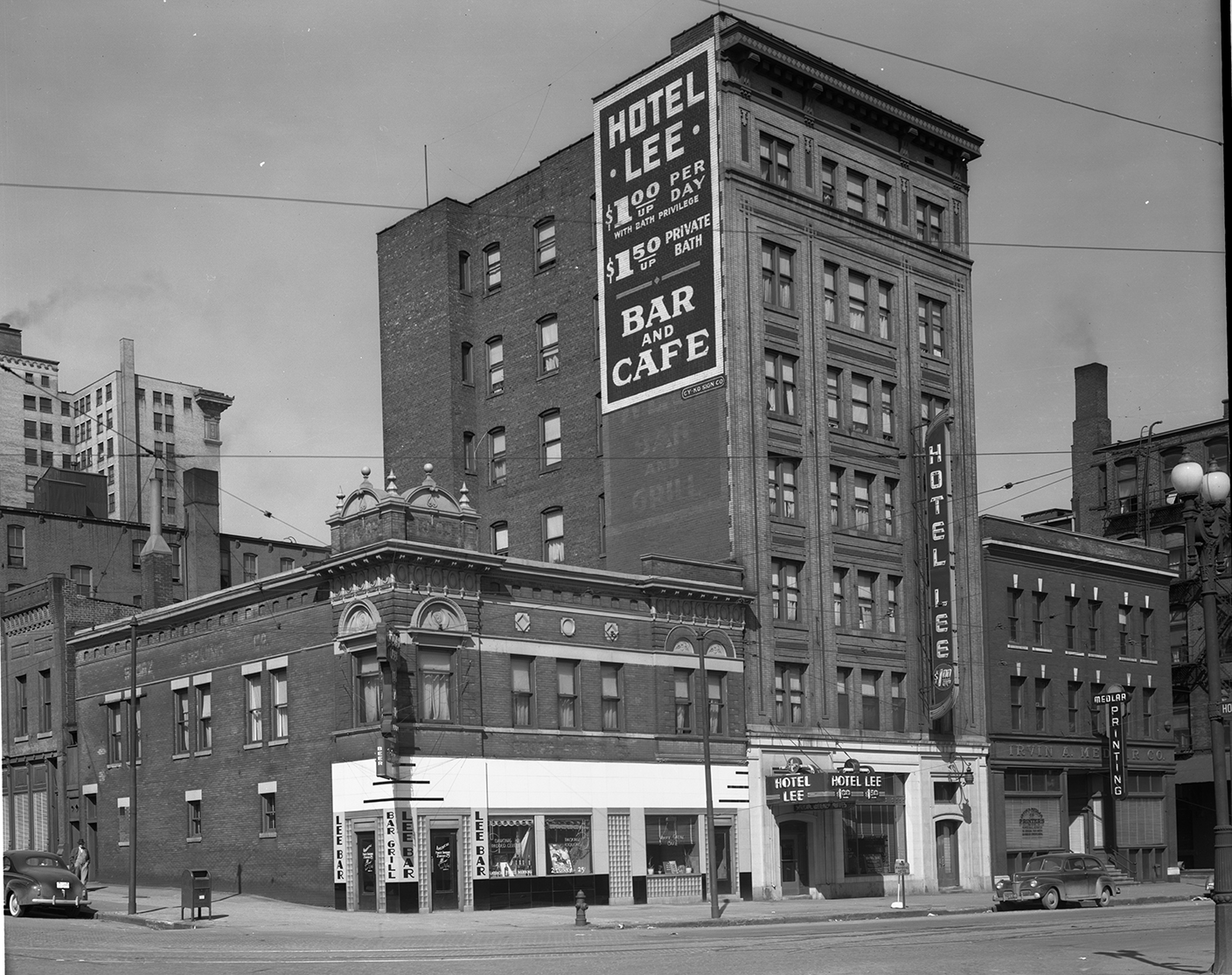 The Lee Hotel (formerly the Plaza Hotel) at 418 South 14th Street. To the right is Medlar Printing and to the left is the Lee Bar. 1942. (Photo courtesy of the Bostwick-Frohardt/KM3TV Photography Collection at The Durham Museum Photo Archive). This block, for the most part, no longer exists. The Medlar Printing building is the only one standing and is now home to Reinhardt & Associates, Architects.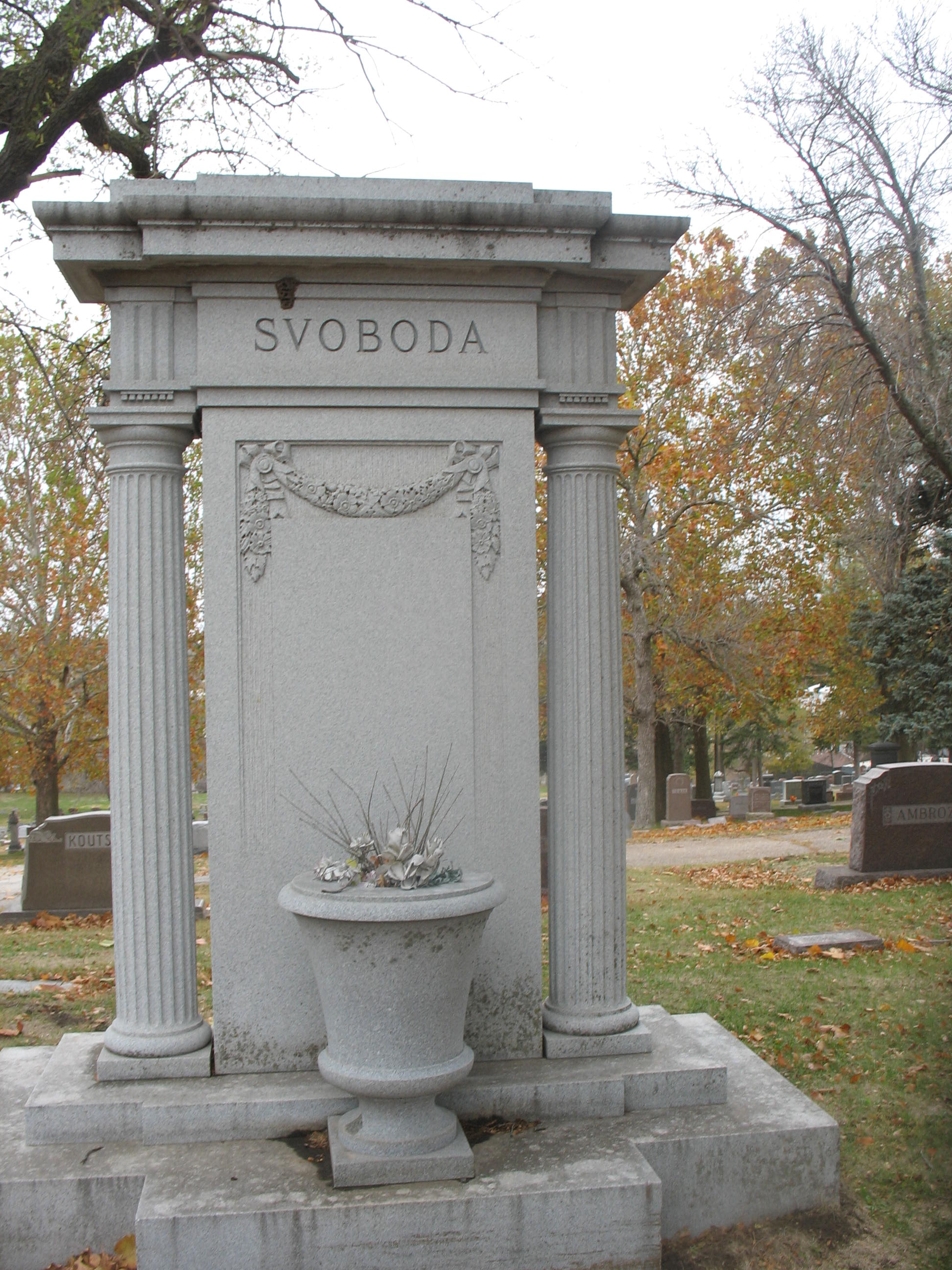 The Svoboda family plot. Bohemian Cemetery in Omaha. This is one of my favorite cemeteries in town. Especially in the fall. I adore the entrance and the original Czech sign. This is the very monument shown in their Svoboda family advertisement from decades earlier. An additional article of 1966 listed Irvin at age 44 and quite ill. I am not sure what his condition was. He passed away in 1972 at age of 58. To my knowledge, Irvin and Rose did not have any children.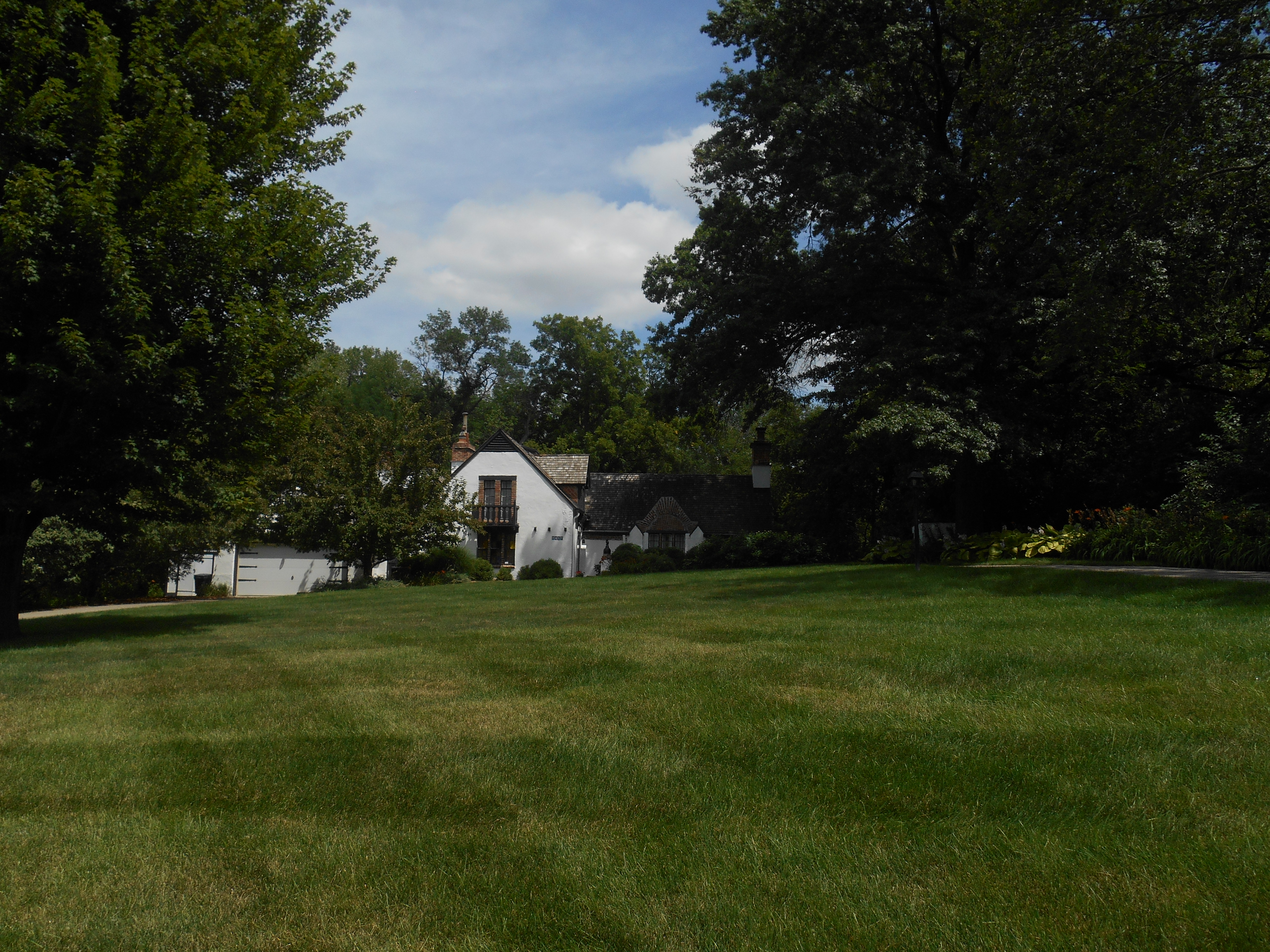 The Fern J. Kinder Mystery
Indication from the Register of Deeds pointed the way to Irvin Svoboda having sold 2417 S. 105th Ave. in 1944 to Fern Kinder. Yet another female owner but this time without a "husband" next to her name. In addition to that clue, I was able to find this sale in the OWH from September 29, 1944.

"Svoboda, Irvin & w to Fern J. Kinder: lt 2 b 25 Mullen's ad."
My sleuther's enthusiasm became somewhat scotched when block after block prevented me from finding many leads on Fern Kinder. I did find she had lived in Council Bluffs, Iowa as a young schoolgirl. She completed high school. Unsettled I called upon the help of Genealogy Ace, Martha, W. Dale Clark Librarian. In no time flat, Martha discovered Fern J. Kinder and Walter G. Kinder moved to Omaha from Dayton, Ohio. Fern was born in 1889 and died in 1960. She worked as a housewife. Walter was a salesman of machinery. The couple had lived in Dayton, Ohio from 1934-1944. Martha whipped circles around me.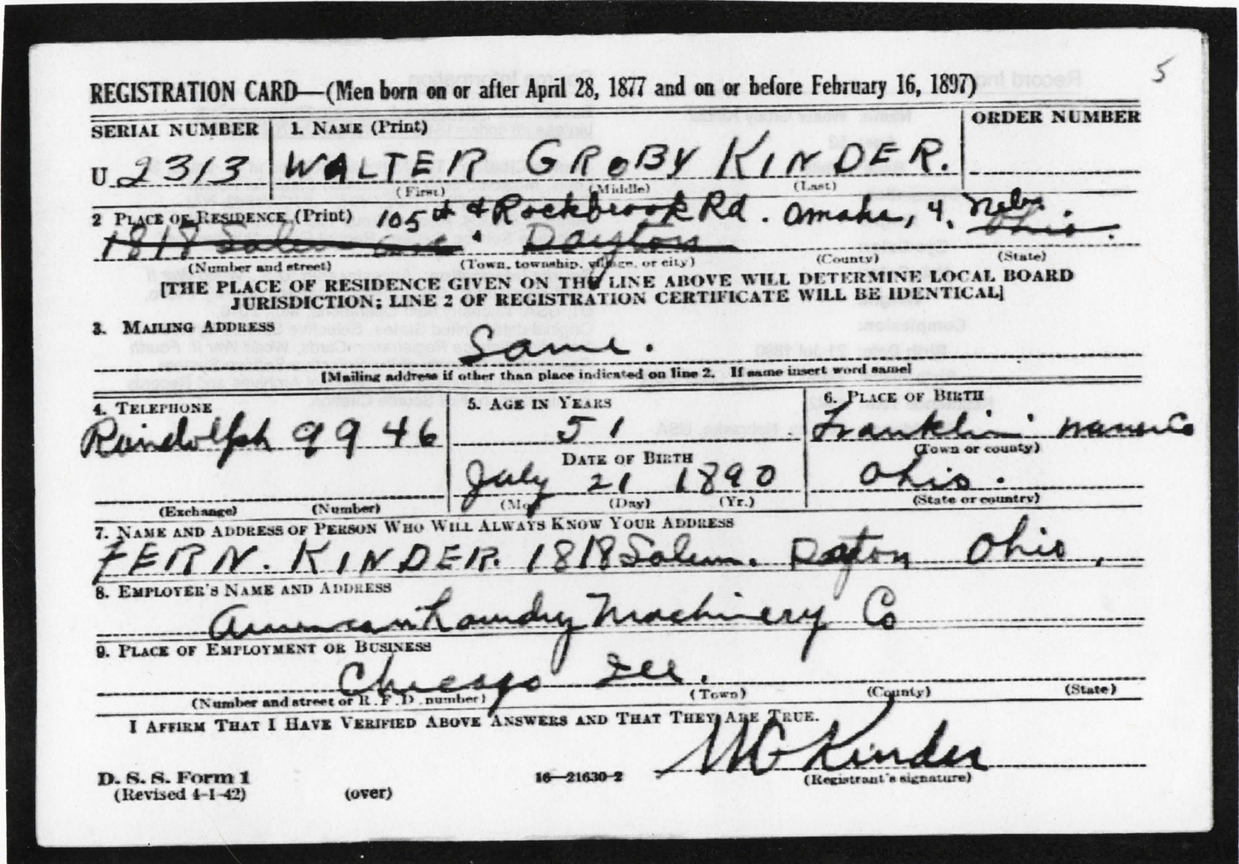 Walter Groby Kinder's World War II Draft Registration Card, 1942. Martha said that even though Walter was 52 at the time, he would have still been required to register for the draft. Note his address is listed as 105th and Rockbrook Rd. Wife, Fern, is listed as still living in Dayton, Ohio but obviously this line hadn't been corrected as they did the previous one. Walter's employer was American Laundry Machinery Company in Chicago, Illinois. I wondered if this was why the home was in Fern's name? Or maybe they owned numerous properties?
As it turns out, searching for a female in this time period could be somewhat veiled, in that, many women were listed by their husbands' names. With this primary piece in place, Fern's husband's name, I was able to move forward with the investigation.  Mrs. Walter G. Kinder offered numerous clues from the later 1940s and the 1950s.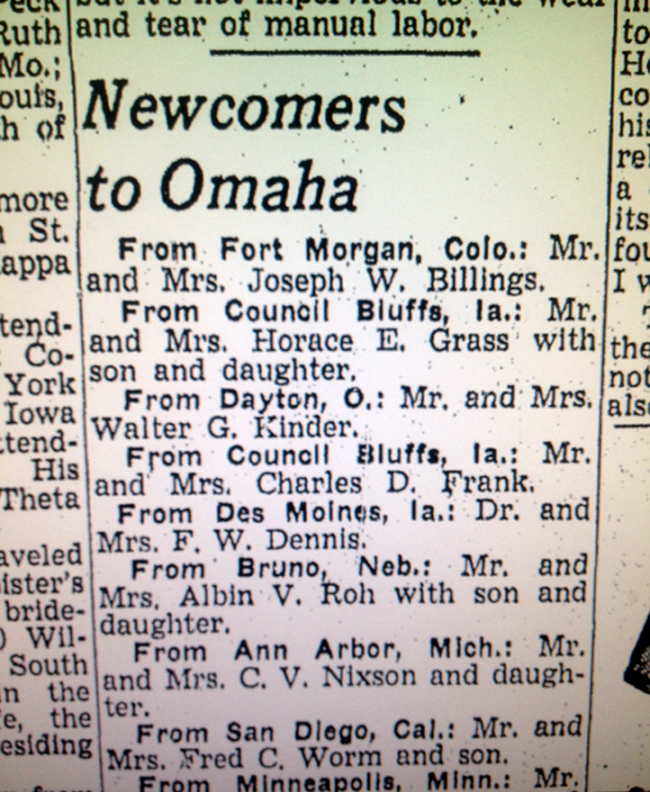 Welcoming Newcomers to Omaha from December 4, 1944.
Of interest, during 1945 the address of the French farmhouse changed to 105 Rockbrook Road.  Meanwhile in District 66 news, by 1946 the rural Boards of Education, specifically districts 19, 31 (Oakdale), 46 (Underwood/Peony Park) and 65 (Loveland) met to explore a merger. In March of 1947, District 66 was formed as a way to combine resources. District 19, apparently declined the offer. Nearby Oakdale Elementary School, built in 1871, at 9801 W Center Rd, was now part of District 66. Please read The Case of the Vanishing School: Oakdale Elementary to discover the fate of the original Oakdale structure.
June 4, 1952: "Art Guild 1 will hold its final meeting at the home of its president, Mrs. Walter G. Kinder, this Friday. Mrs. Kinder will be luncheon hostess." Can you imagine the art community gathering at her beautiful home? Fern was a lover of the arts, featured in numerous fundraiser and art event articles. She was also in the Garden Art Department, active in the Joslyn Art Museum as well as many civic and community affairs. The active couple did not have children.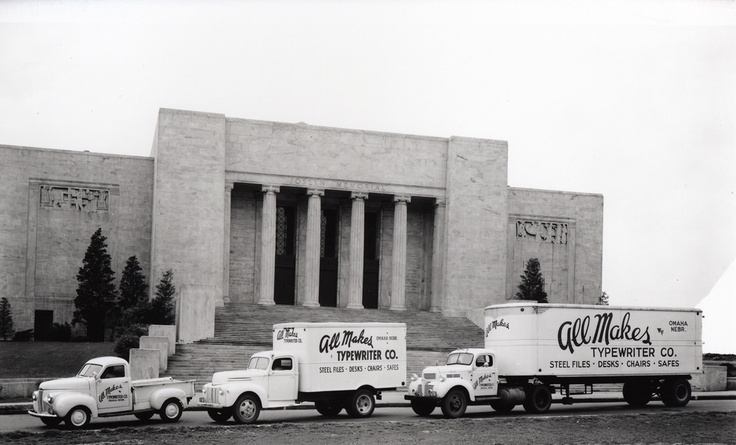 Joslyn Art Museum, at 2200 Dodge Street, pre-addition, in the early 1950s. This was the time period that Fern was involved with the Joslyn. All Makes Typewriter Company trucks making some sort of delivery. Check out my previous story leading to traces of the All Makes' history at Mysteries of Omaha: 2561 Douglas Street.
I located Walter G. Kinder's obituary from April of 1953. The Kinders' address was noted as "105 Rockbrook Road." From this source I was able to gain more information about their move to Omaha. Mr. Kinder had been a representative in Omaha for the American Laundry and Machine Company. Previously Walter had been a former educational director in the foreign department of General Motors. Fern would move to Seattle the following year after Walter's death in 1954. Fern had resided at 2417 S. 105th Avenue for more than ten years; strangely, the longest anyone had possessed the estate. Fern later died in Seattle in 1960.
The Eli F. Jr. and Mary V. Rottman File
February of 1954 Eli F. Rottman, Jr. and wife bought the property from Fern Kinder. Trust me when I say, it took everything I have to find the name of his wife: Virginia. Eli Frederick Rottman was born in 1923. I stumbled across proof that Eli had been a refrigeration engineer for York Corporation. York Corporation was owned and managed by Fred Downs. The company manufactured and sold refrigerators at 1213 Jackson Street. This location is now part of Fairmont Antique and Mercantile Mall and apartments, at approximately 12th and Jackson, next to Cubby's in the Old Market. I am not sure if this company is related to York International Corporation or not. I would estimate that chances are good, as York International deals in air conditioning. The Rottman home in 1954, previous to their Rockbrook move, was 4915 Miami.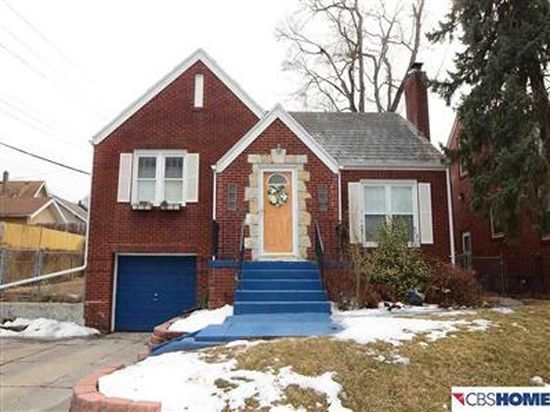 The little Benson cutie at 4915 Miami.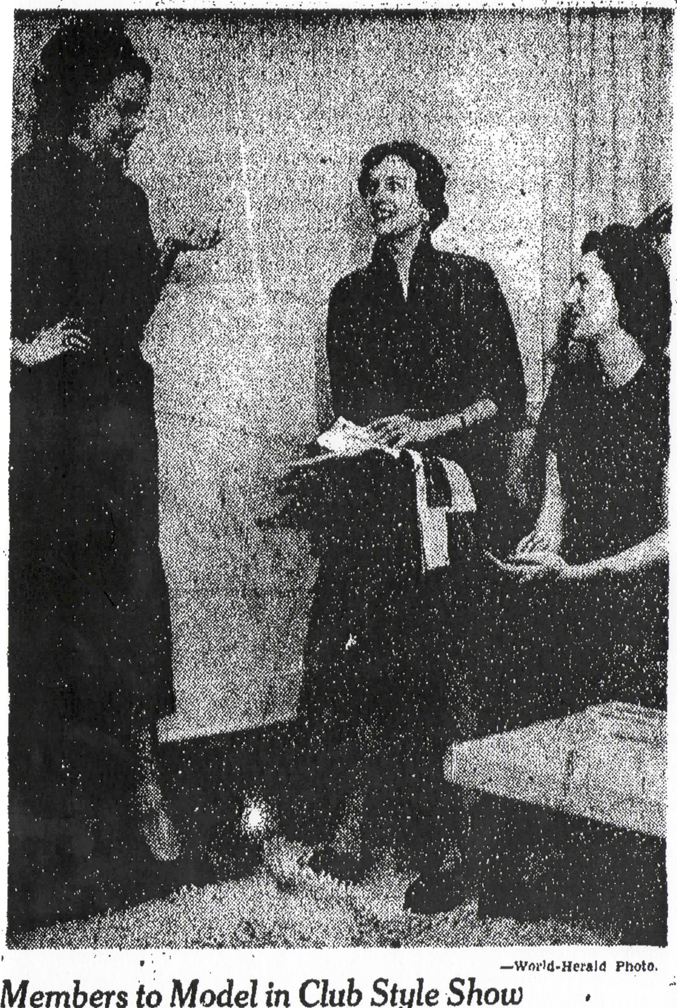 From March 3, 1950, I found this wonderful picture of Virginia Rottman: "Newcomers' Club will sponsor a luncheon and style show Wednesday at 12:30 p.m. in the Blackstone Hotel. Pictured above are three of the 12 members who will model spring fashions. Mrs. R. F. Van Sant, Mrs. Robert Gates and Mrs. Eli Rottman." Virginia Rottman is shown on the far right. I love this photo and only wish it was more visible. I have an adoration, which you may have picked up on, for 1940s and very early 1950s clothing.
I was dismayed to find the Rottmans lived in the home for less than two years. (An aside: Is anyone else wondering at this juncture why so many homeowners moved in and out of this lovely place so often? Why does that bother me?) 1955 was the one year Eli and Virginia were listed in the City Directory as having lived at the property. Eli was then employed as a refrigeration engineer with Omaha Cold Storage.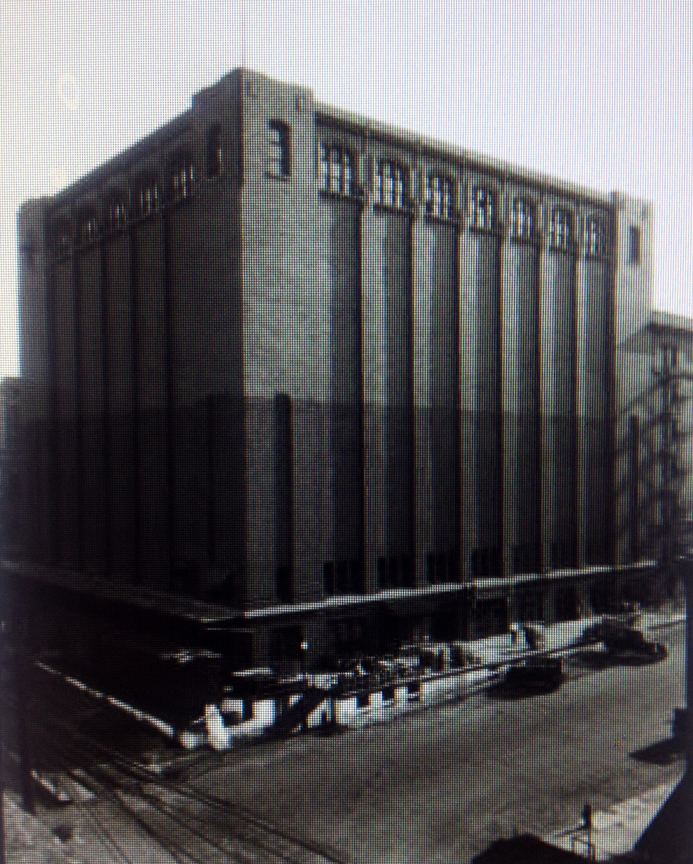 Omaha Cold Storage at 801 Farnam Street. This formidable building was sadly razed in April 1989 for the Conagra Campus project. The Omaha Cold Storage was founded in 1899 in a small building at Eleventh and Jackson Streets–right by Rottman's previous employer, York Corporation.
A freebie, now antique, metal ice pick, given out as an advertisement for the Omaha Cold Storage Company. So that's what an ice pick looks like.

Great postcard. I did a little more digging into Omaha Cold Storage Company and found that in late 1955, they merged with Consolidated Foods Corporation, a leading canner-processor-distributor out of Chicago. I was somewhat satisfied, at that point, to assume that Eli Rottman and Virginia moved out of 2417 S. 105th Ave to Chicago because of this company merger. I would later find that a Virginia Rottman had lived in Illinois.
The Architect: Reinholdt F. Hennig
It was around this time that I got the Big Break in the case that I was dying for—news about the architect and some breathtaking history on the French country home. Truly an architectural detective's dream. As the story goes, during World War I, a critically wounded American soldier crawled to a farmhouse in Normandy, France. The American soldier would eventually return to the US and asked an Omaha architect to return with him to France to measure the farmhouse where he had recovered from his wounds. This Omaha architect was none other than Reinholdt Frederick Hennig. Hennig's wife, Ruth Madden Hennig, confirmed this intriguing story.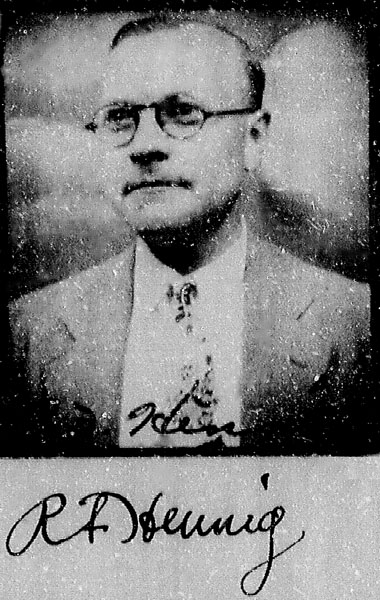 Reinholdt F.Hennig 1938
In 1928, Hennig's sketches were used to build the Rockbrook home at 2417 S. 105th Avenue and at least two others in Omaha. 2417 S. 105th Ave is thought to remain the most authentic to Hennig's original design, although I found record that it, too, has been altered. The other homes have been remodeled and altered more extensively. They, in my opinion, are so very beautiful, nonetheless. Hennig has been credited with building thirteen Omaha home. These three homes are thought to be Omaha's original French eclectic country architecture. All three cottages feature exposed beams, irregularly laid shingles, little use of nails, irregularly laid brickwork, planked doors, amazingly thick walls, floors of irregular slabs of varicolored marble. Divine! The Rockbrook cottage is described as including a steep roof, gabled dormers, three massive chimneys, rough stucco walls, leaded-glass windows, and heavy timber doors with wrought-iron latches, bolts, hinges and door pulls. Interior highlights include imported marble floors and wrought-iron light fixtures, hand-carved ceiling beams and woodwork with wooden pegs, hand-painted windowpanes and a brick fireplace in the living room with a vaulted ceiling.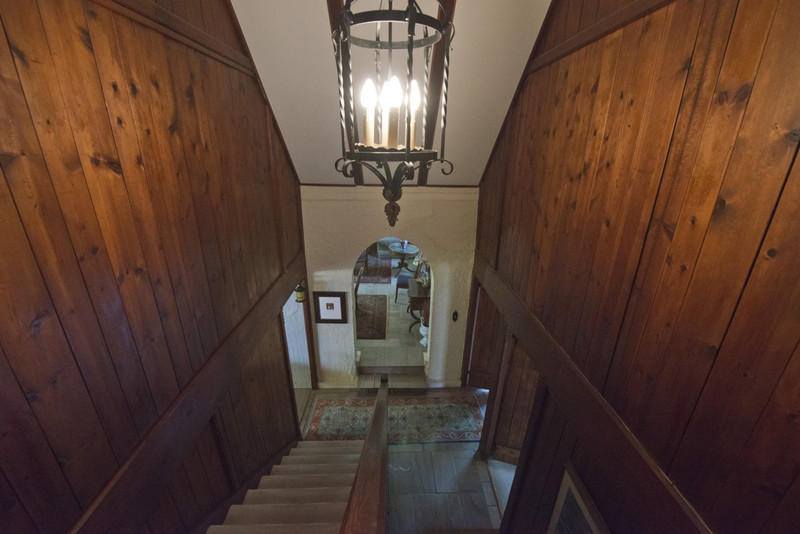 Gorgeous woodwork and authentic wrought- iron light fixture in the stairwell of 2417 S. 105th Avenue. Thank you to my friend, Jeremy, for helping me get these sensational interior shots, taken by Sarah Elizabeth Studio, Lincoln, Nebraska.
Alas…I have strayed from the most interesting of revelations. Three homes were reportedly based off of Hennig's original French sketches. Three homes? This is where, for me, the story became rather unbelievable, but I promise you, reader friends, this is exactly how it unfolded.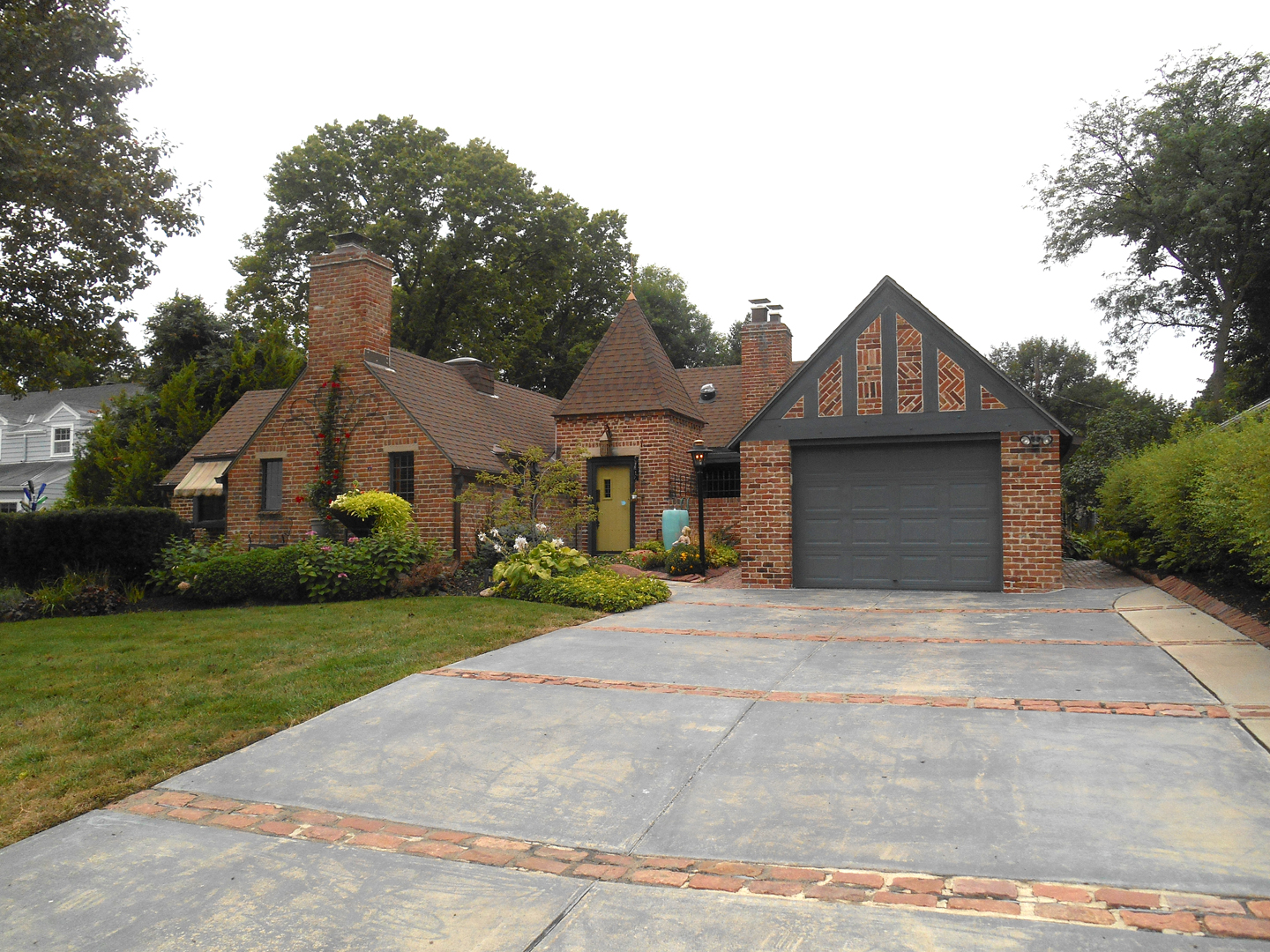 808 S. 67th Street across from the appealing Elmwood Park. Months ago, while on a walk with my new friend, Ward Peters, Omaha's Walking Wizard, we briefly paused in front of one of my favorite homes by Elmwood Park: 808 South 67th Street. I was admiring the property, when Ward offered, "There are three of these in Omaha." I was momentarily baffled but promptly filed it away without too much thought. We were quickly onto another subject. I was not thinking about French country homes, after all.
A while back, my girlfriend, Neely Jenkins, sent me the address of 715 J. E. George Boulevard, asking if I could investigate this glorious home for her. Neely has actively been Obsessed with this house for years. I was immediately taken with this property,  which I had never seen before. My gosh….it was disturbingly gorgeous. Again, I filed it away, thinking I was busy with my next article and would get to it later. As my research of the 105th Avenue residence deepened and my understanding of Hennig's style grew, I realized the three properties were interlinked. Such an Omaha happenstance. I was giddy beyond belief and, as you can imagine, there were not all that many people who would enjoy this type of architectonic discovery. So I would smile to myself, until just now.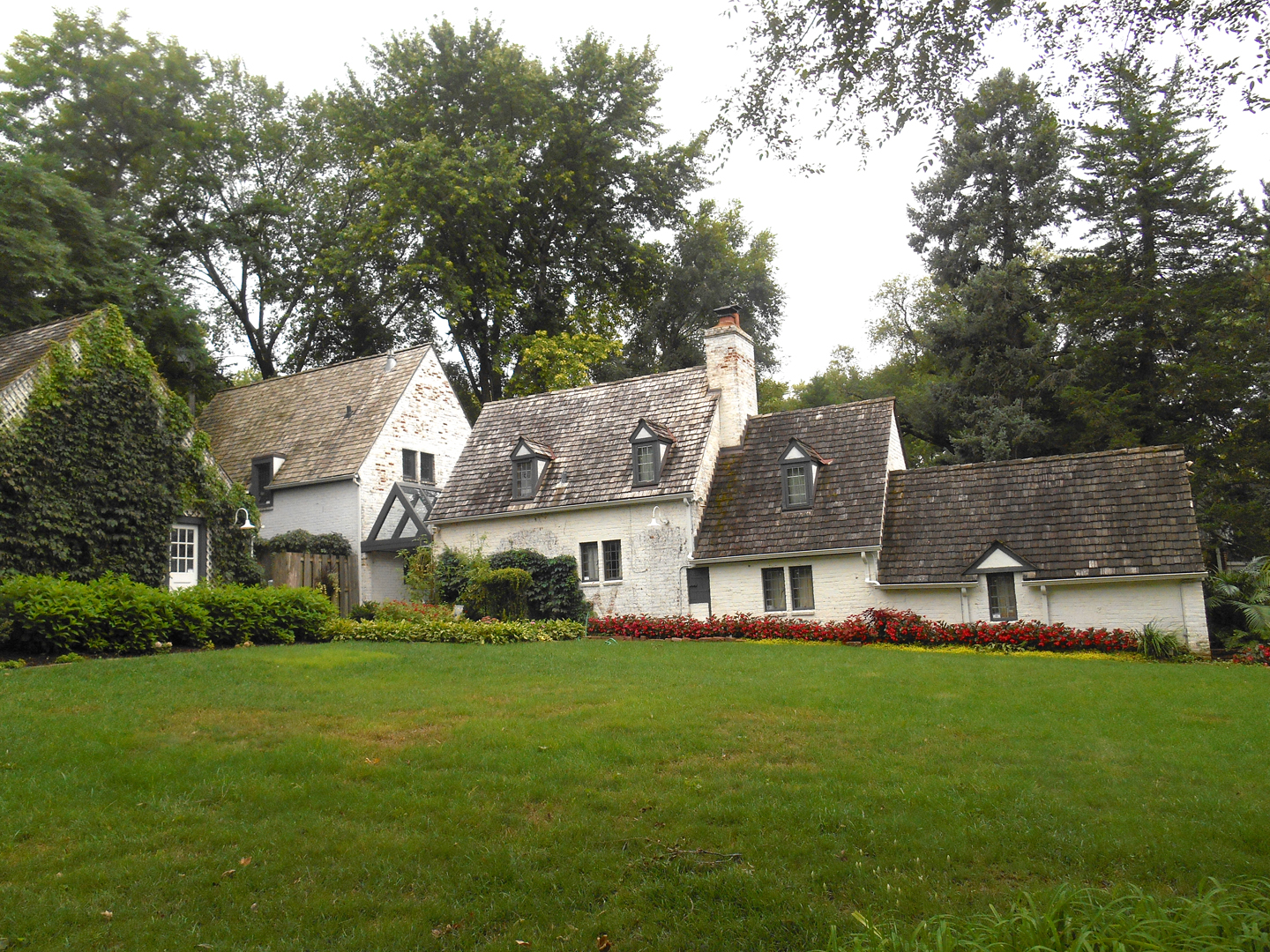 715 J. E. George Boulevard in the Desirous Fairacres Neighborhood.  Look At That. According to Ruth Hennig the "J. E. George Boulevard home was built first" and the Hennigs "lived in the house for one year." She thought the residence was built in 1929. This was incongruous with my 105th Ave build date of 1928. Because I am quite the obsessive, I had to get to the bottom of the evidence. As I had already revealed, my findings proved that the 105th Avenue home was constructed in 1928. Additional news clippings show that the 808 S. 67th Street home was built in the same year, 1928. Further research uncovered that the J. E. George Boulevard home was erected in 1927, which made more sense with my confirmed timeline. Is anyone else dying over this?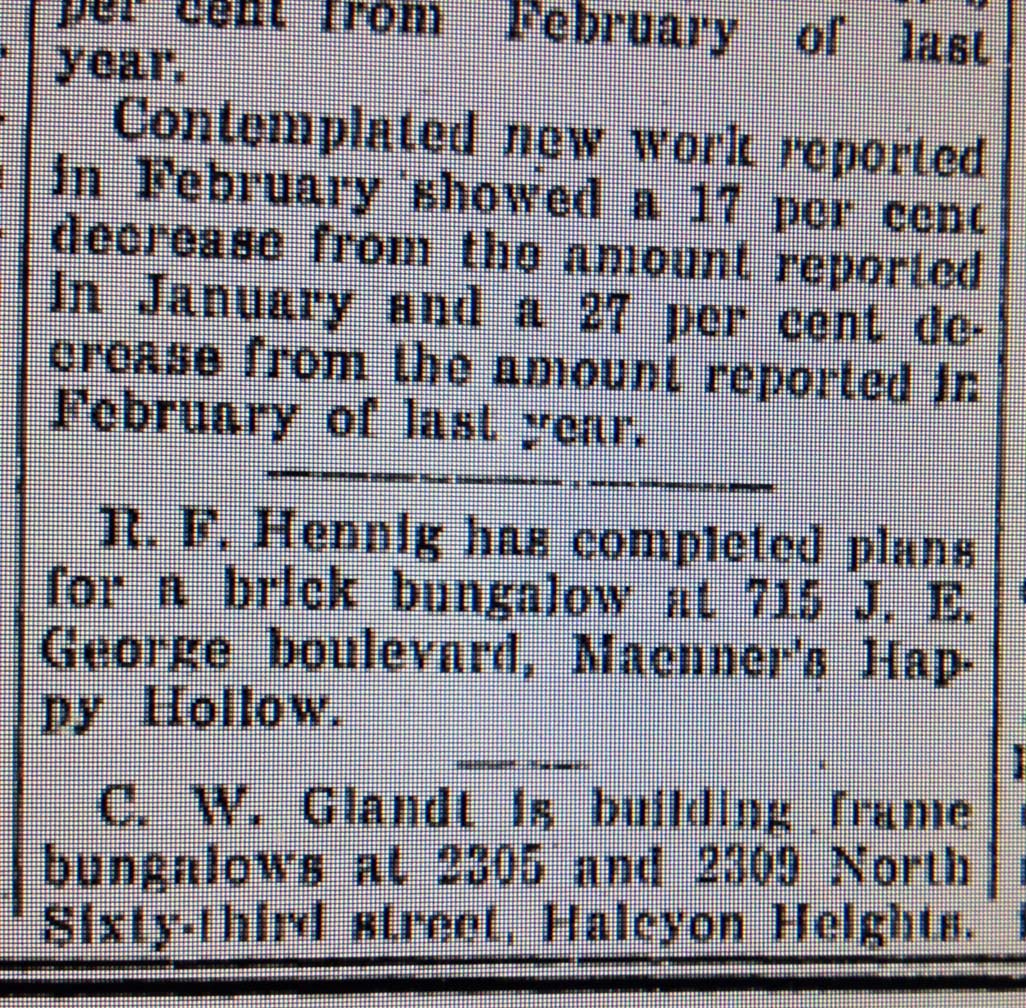 March 27, 1927 announcement about 715 J. E. George Boulevard. Later erected the same year.
From A Comprehensive Program for Historic Preservation in Omaha by the Landmarks Heritage Preservation Commission, 1980, I found more about Hennig. Reinholdt F. Hennig was known for his experimentation with modern architecture. Hennig was influenced by the works of Frank Lloyd Wright, particularly his Usonian house theories—the outcome, an ecologically sound house organically growing out of its setting, a Prairie School philosophy. My obsession with him was his obvious flair for the fairytale abode and his storybook castle apartment buildings but he is probably most known for his "House of Tomorrow" at 2043 North 53rd, which I plan to cover at a later date. Truth be told, I plan to write a lot more about Hennig, as I quite fell in love during the writing of this story. I naively did not realize that some of my favorite buildings in town were designed by my new crush. So, I promise you, I will get more in depth at a later date. For now, it is important to note that Reinholdt Frederick Hennig died of a heart attack in 1961 at age 59 while making something of a comeback on the Omaha architecture scene. He is buried in Forest Lawn Memorial Park. Ruth Madden Hennig lived on into her 90s, often interviewed by the World Herald for her wonderful knowledge of Omaha history and architecture. I would have loved to know this fascinating couple.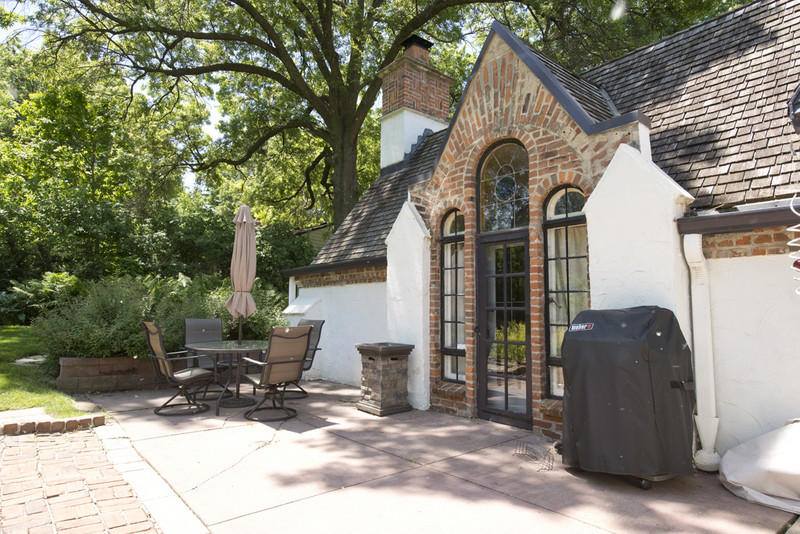 Patio photo taken by the owners.
Part Three is coming soon. The ongoing Curious Case of the French Fairytale Cottage series continues…..This article now has a ending. Please see The Curious Case of the French Fairytale Cottage: Part Three when you have time.
I welcome your feedback and comments on this home, its history of incredible owners, the architect and the Rockbrook area. To enable comments, please click on the header title.  If you would like to correspond with me privately, please do so at myomahaobsession@yahoo.com. But I assure you, everyone would love to read what you have to say and it makes the conversation more fun. You can keep up with my latest investigations without even leaving your inbox, by "following" myomahaobsession. You will get sent email updates every time I have written a new story. Thank you Omaha friends.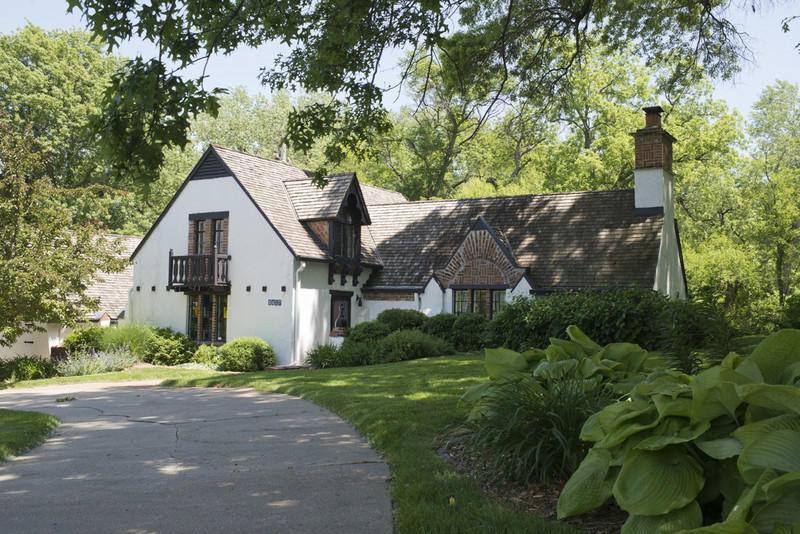 Beautiful photo taken by the owners.
© Miss Cassette and myomahaobsession, 2016. Unauthorized use and/or duplication of this material without express and written permission from this site's author and/or owner is strictly prohibited. Excerpts and links may be used, provided that full and clear credit is given to Miss Cassette and myomahaobsession with appropriate and specific direction to the original content.