This is the third and final installment of the Curious Case of the French Fairytale Cottage. If you are joining us for the first time, please take a spell to get up to speed on our newest investigation. Believe me, reading The Curious Case of the French Fairytale Cottage: Part One and The Curious Case of the French Fairytale Cottage: Part Two will give you the particulars you might enjoy knowing before embarking on this Omaha exploration.
The Ernest Streisinger Story
1956 brought new homeowners, Ernest and Gladys Streisinger to 2417 S. 105th Ave. Ernest had served in the US Navy from March of 1942 through October 1945. He had fought in WWII. Ernest would be recognized and receive service compensation for his injuries from the war. I was interested to learn that Ernest would become one of Omaha's premiere florists. Something of a celebrity florist, from what I gathered, although we didn't have silly names for things like that back then. By that I mean that Ernest was interviewed regularly, considered an expert in the world of floral arrangement and business and was certainly an Omaha tastemaker. He was a long-time, well-known employee at the J. L. Brandeis and Sons Department Store Flower Shop in downtown Omaha.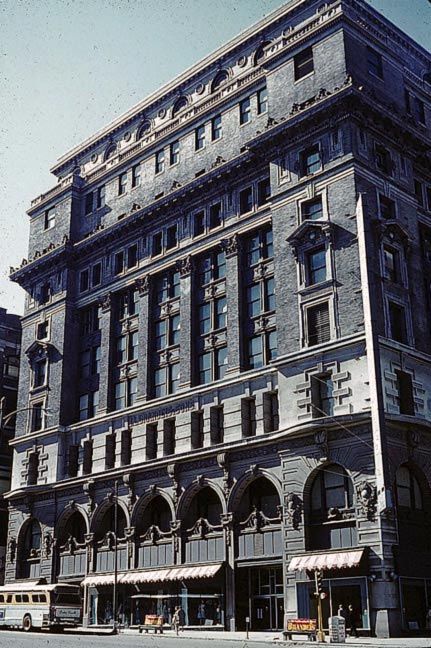 J. L. Brandeis and Sons Department Store. Downtown Omaha. 210 S 16th St.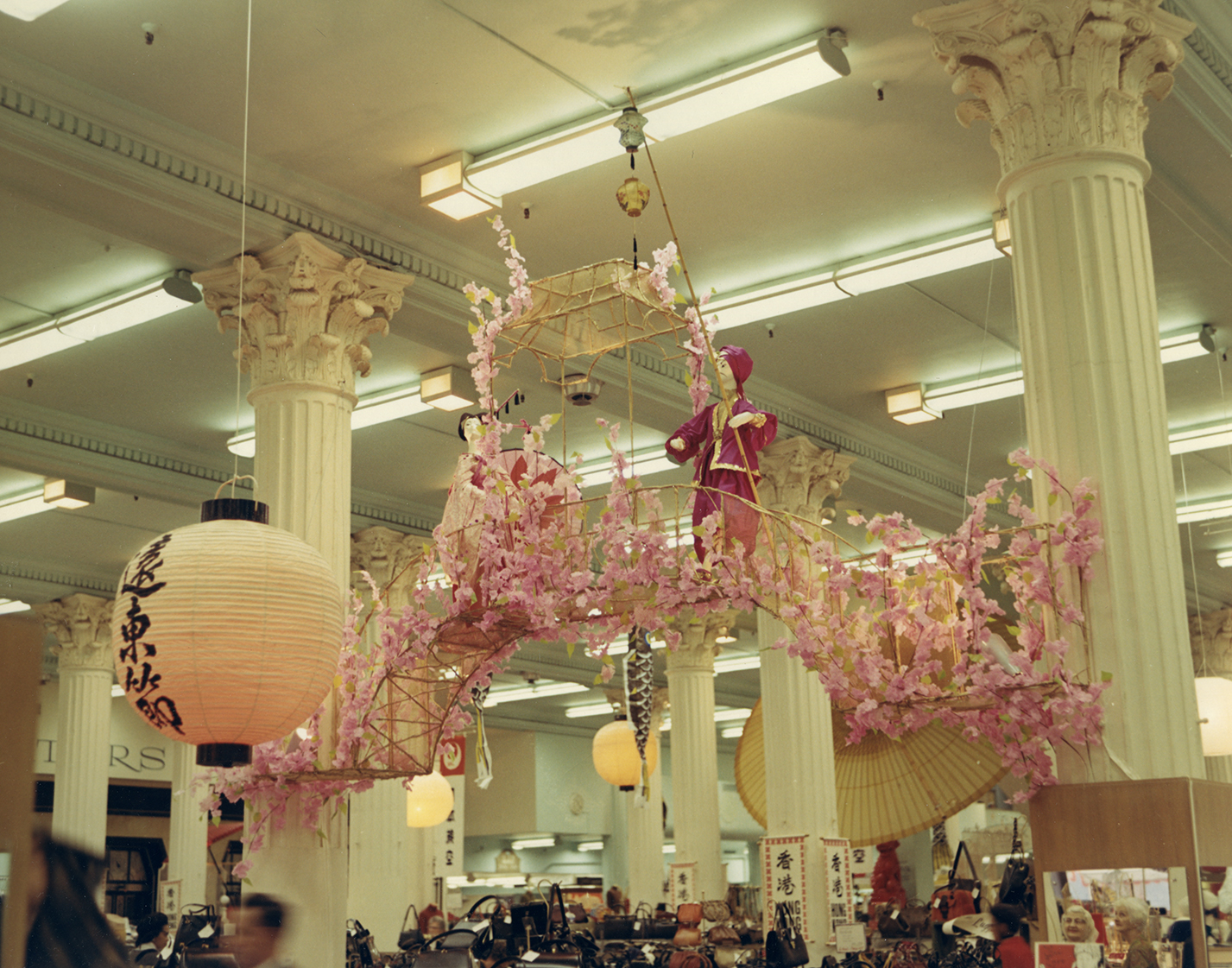 Brandeis flower decorated walkway hangs from the ceiling of the downtown Brandeis Department store, which is decorated for the Far East Fair. Streisinger, no doubt, had a hand in this stunning, fragrant cherry blossom interior design. 1965. I, for one, could stare at this image forever, remembering the beautiful Brandeis store. (Photo courtesy of the Bostwick-Frohardt/KM3TV Photography Collection at The Durham Museum Photo Archive).
Streisinger got his start in the late 1930's, previous to the war, when he worked in the floral shop of the Edgewater Beach Hotel in Chicago. Gladys Streisinger, his wife, was known to host many a fine dinner party at their stunning Rockbrook home. As I pored over the pages and pages of evidence regarding the Streisingers time at 2417 S. 105th Avenue, I began to get a real sense of this well-suited union—if a home can be finally united with its humans? I believe so. The Streisingers were just so joyous and fun to read about. These types of people make house-detecting fun.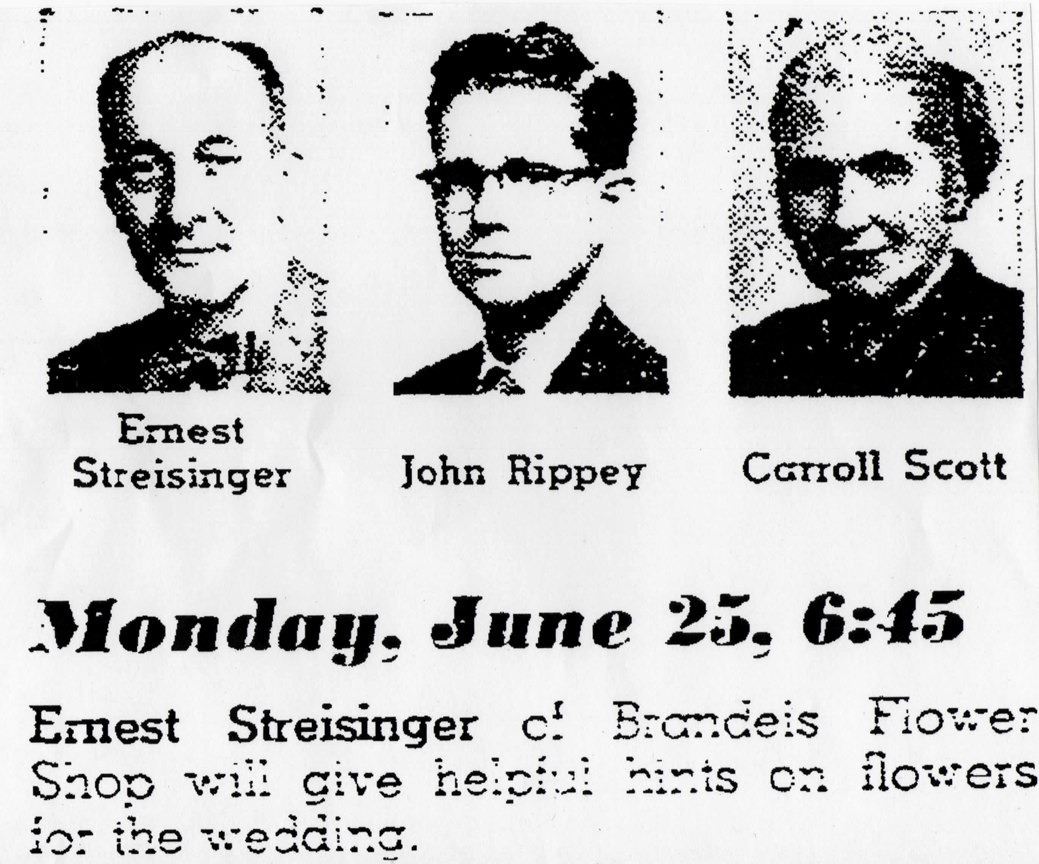 June 20, 1962 Ernest Streisinger is featured giving a talk on floral hints for weddings. He also found numerous accounts of his featured speeches at the Omaha Rose Society meetings over the years.
Meanwhile during this time period, Larry and Virgie Myers built one of the first shopping centers in Omaha in the early 1960s. Rockbrook Village was built just down Center Road on about 110th.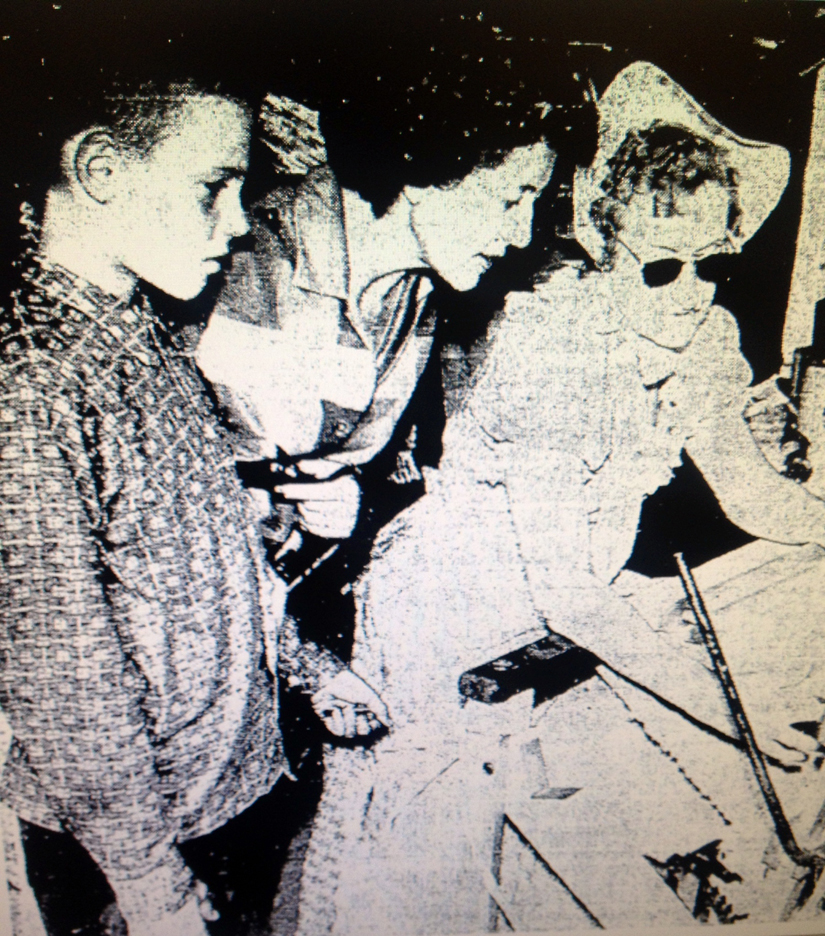 In October 15, 1962 "Mrs. Ed Yates shows rug weaving skill to Mrs. Ernest Streisinger and son, Mike, of Omaha." Mrs. Streisinger is in the middle.  I was puzzled to find Ernest and "Margaret" Streisinger listed in the 1962 City Directory. Was this Gladys' middle name, had they divorced or was this a mistake?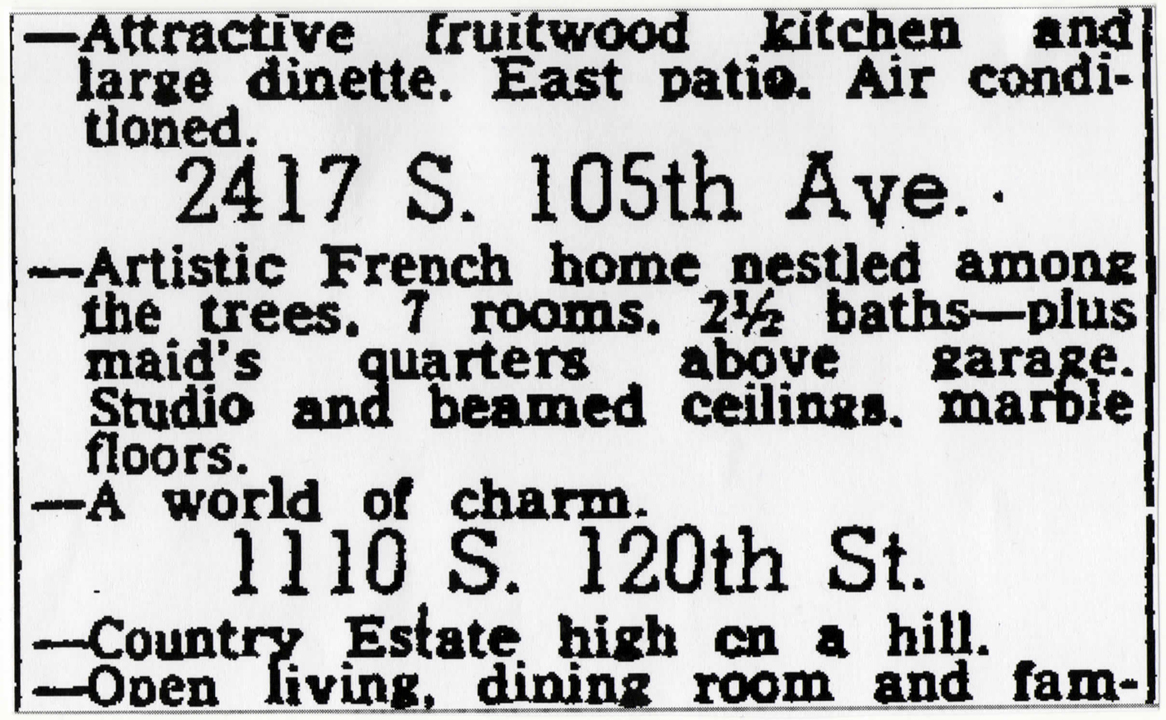 The Streisingers, for one reason or another were ready to move on. They ran this ad back in August 1963. "Artistic French home nestled among the trees." Supernal, in my estimation.
By April 26, 1964 there was another ad for the Streisingers' moving sale: "Moving-Garage Sale Sat and Sun. Furniture, blue plates, child's ice cream chair, castor set, cut glass, pewter, telephones, brass umbrella stand, load of good and junk antiques." They had finally sold the home to Mrs. Jeanette M. Caldwell and would vacate shortly after their sale.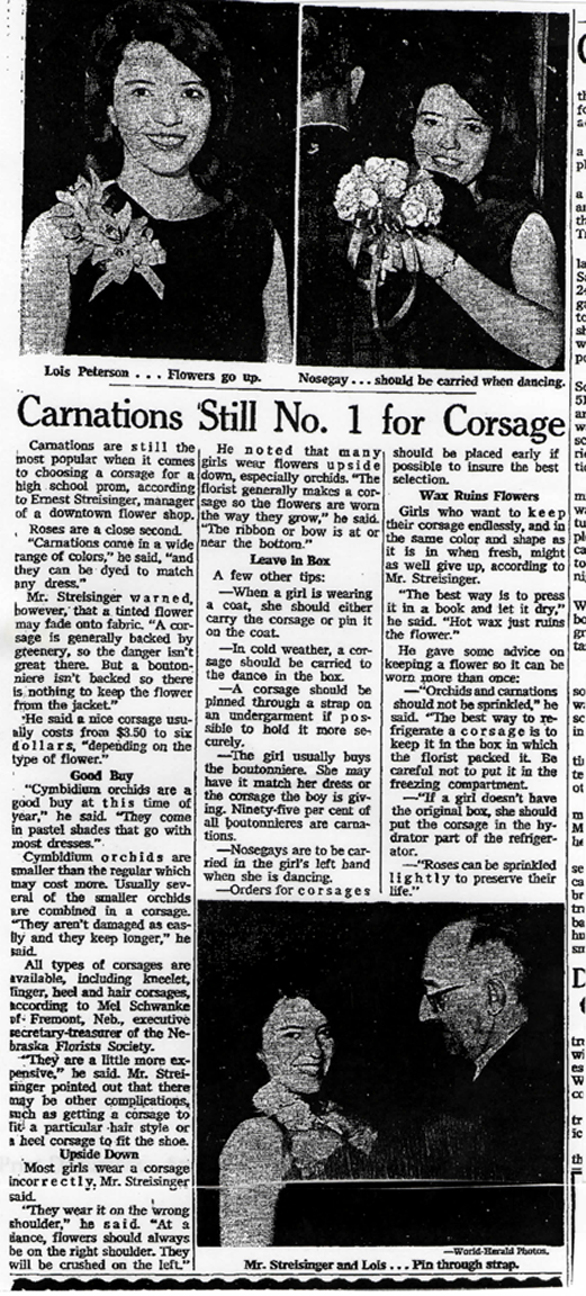 Years later Ernest Streisinger continued to be featured as an expert in all things floral. I love this article from 1967 featuring a young Lois Peterson with Ernest pinning the corsage and giving his professional tips. He warned, "A tinted flower may fade onto fabric." An ugly lesson Miss Cassette won't soon forget.
From 1973 "Ernest Streisinger of the Omaha Brandeis Flower Shop" headed up a three-state retail florist convention at Omaha Holiday Inn. There were 700 florists in attendance. I found that Ernest would go on to work at Younkers Department Store. I couldn't help but wonder if my grandmother ever knew him from her love of the downtown Brandeis Department Store. Ernest Streisinger died in April of 1982. He is buried at Calvary Cemetery in Omaha.
The Mrs. Jeanette M. Caldwell Case File
I was pleased to see that once again, a female purchased the French country home, which was certainly not unheard of but an interesting phenomenon with this particular property. I began digging into the life of Mrs. Jeanette M. Caldwell. From my research, 1955 found Mrs. Jeannette M. Caldwell and Robert T. Caldwell residing at 4114 N. 79th Street: A very cool ranch built in 1953. This estate is in the fabulous Keystone Neighborhood, where, if you remember, Arthur Mullen Jr. would later move from his parents' home. This MCM home is one of the largest plots of land in Keystone. Just amazing.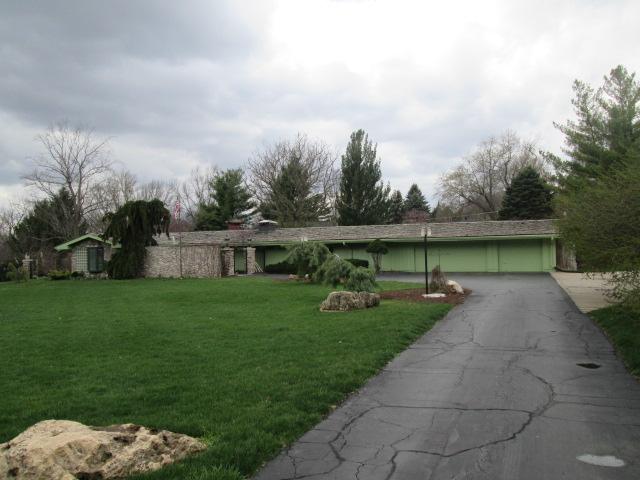 4114 N. 79th Street. This photo doesn't really do it justice. Just look at the bones of this Mid Century Modern dream in this video. https://www.youtube.com/watch?v=xvG0CoSXTYI
The Caldwells both worked at Western Housewares Company also called the Western Flavorseal Company. This was a cookware and home products company, marketed to females. I believe it was a franchise that local salespeople would then sell door to door, like Amway or Fuller Brush. Later I learned that Mrs. Jeanette was actually President of the Western Flavorseal Company, which was located at 2002 Burt Street.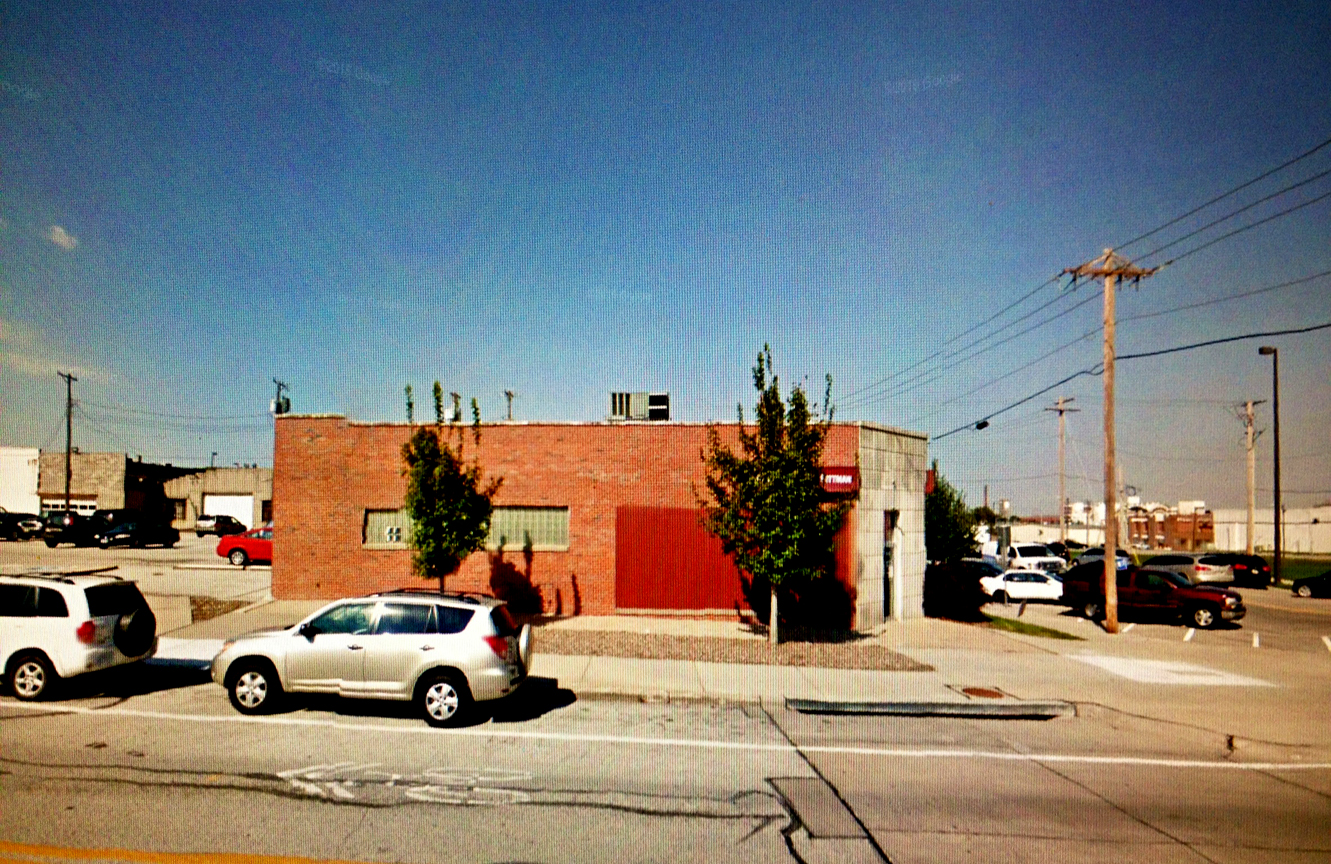 Home of Western Flavorseal Company. 2002 Burt Street. This is down by Creighton University. I trailed Mrs. Jeanette's Western Housewares-Flavorseal ads and paperwork back to the early 1950s. In a demonstrator wanted ad from 1952: "Required at once, sales-minded woman, preferably with experience to demonstrate new 'CORY' product to housewives, 'Not cookware.' Salary plus bonus, hours 9:30 to 4 pm, 5-day week. Apply Monday afternoon or Tuesday to Mr. Teneyck. Western Housewares Co." Miss Cassette was a bit miffed when she found an ad in the 1957 Benson High newspaper targeting young girls. "After graduation….Hope Chest Time. Start your beautiful Coreling tableware, Flavorseal by Cory cookware and enjoy it for lifetime. Call Western Flavorseal Company." This was how you built a cookware empire in the 1950s–get the young girls. Mr. Cassette gently asserts, at this point, "There is nothing wrong with a woman learning how to cook."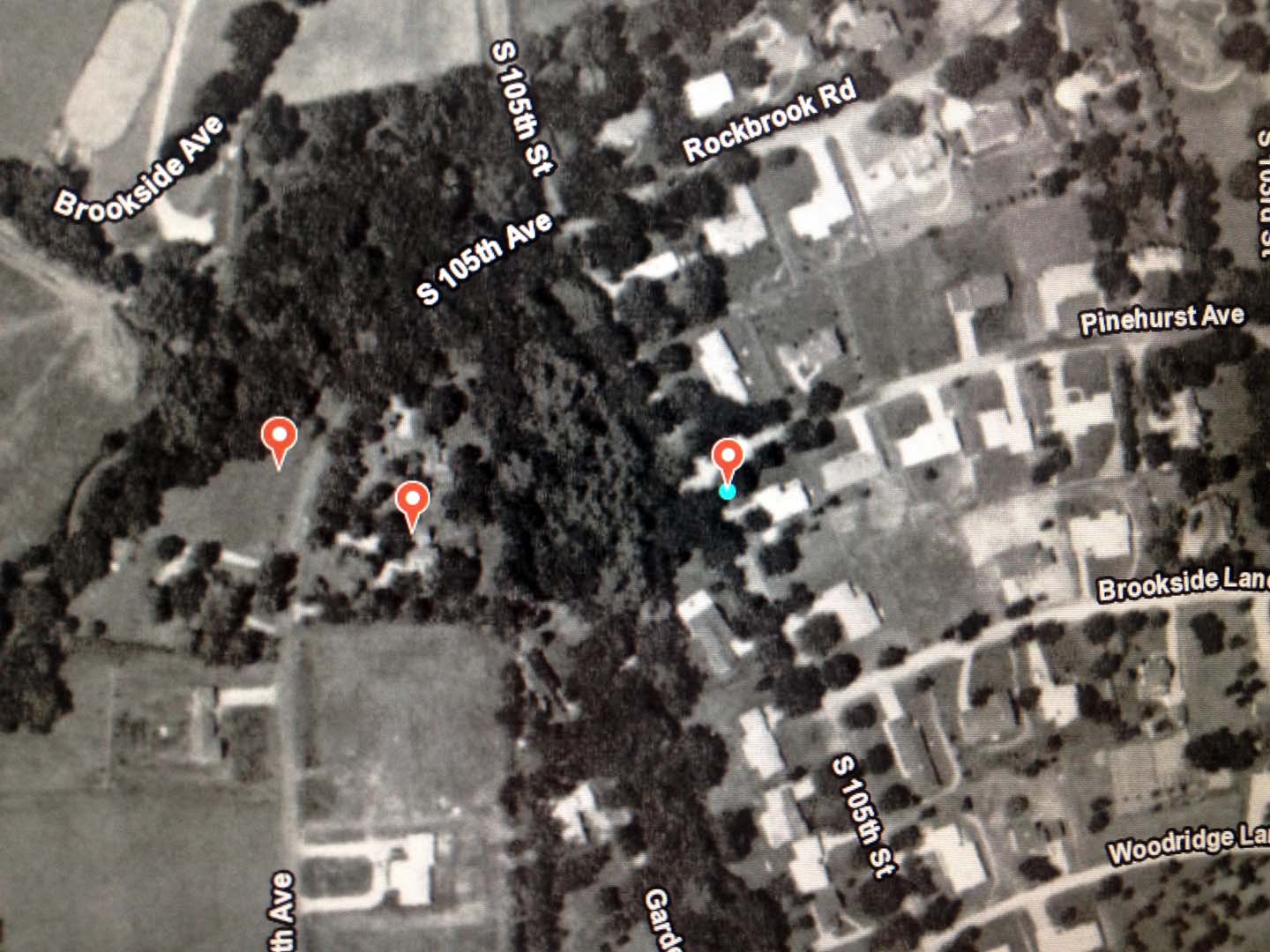 From the Douglas Country geographical information system, I found this great aerial from 1962. A quick step back to 1955 shows more than 50+ houses in the original Rockbrook proper. As you can see the area has expanded, is very dense and fully developed. A wider expanse of the area shows that the interstate is laid out, the outskirts of Rockbrook are all in place and not much rural life left. Rockbrook Village was not yet built at the time of this aerial but the land was primed and level.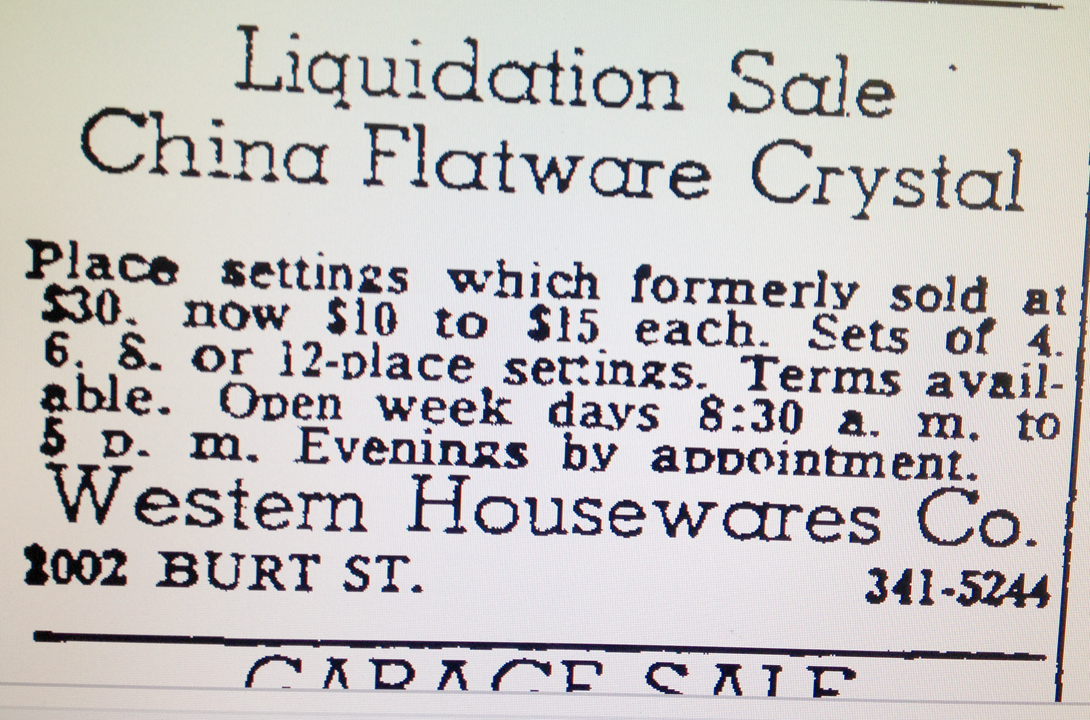 In this August 9, 1964 ad for a"Liquidation Sale" of the Housewares Company, I began to wonder if Mrs. Jeanette was really going out of sale or if this was a just marketing scheme? It was this same year Jeanette M. Caldwell bought 2417 S. 105th Avenue.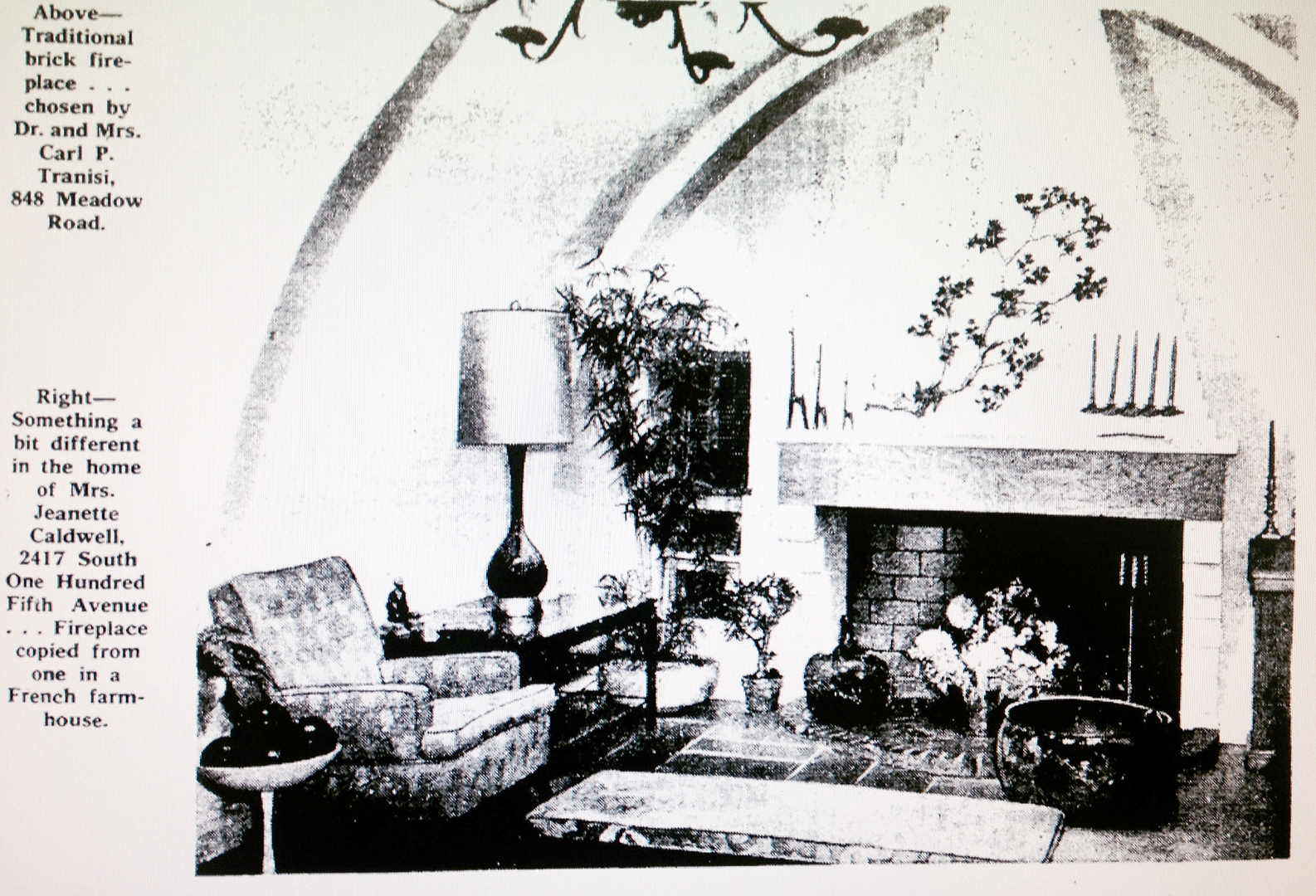 I was simply perishing when I found this one. From November 7, 1965, Mrs. Jeanette Caldwell home photo featuring the living room of 2417 S. 105th Ave. The most divine photo of the bunch! A real view into the glorious home and world of Mrs. Jeanette Caldwell. The photo was among a number of well-appointed, stylish environs. Only days later, mysteriously, Mrs. Jeanette would list the home for sale. On November 28, 1965 she ran an ad,"French Normandy home in beautiful setting. 2 Bedrooms plus maid's room in den. Marble floors, beamed ceiling, circular drive, air conditioned." Well, I thought, she was adept in sales and marketing, after all… but did the home not suit her? Did she have to sell so soon after buying because of going out of business? Did she get a divorce or did her husband die? But more to the point, why, why, why did people move in and out of this lovely home at such a frequent pace?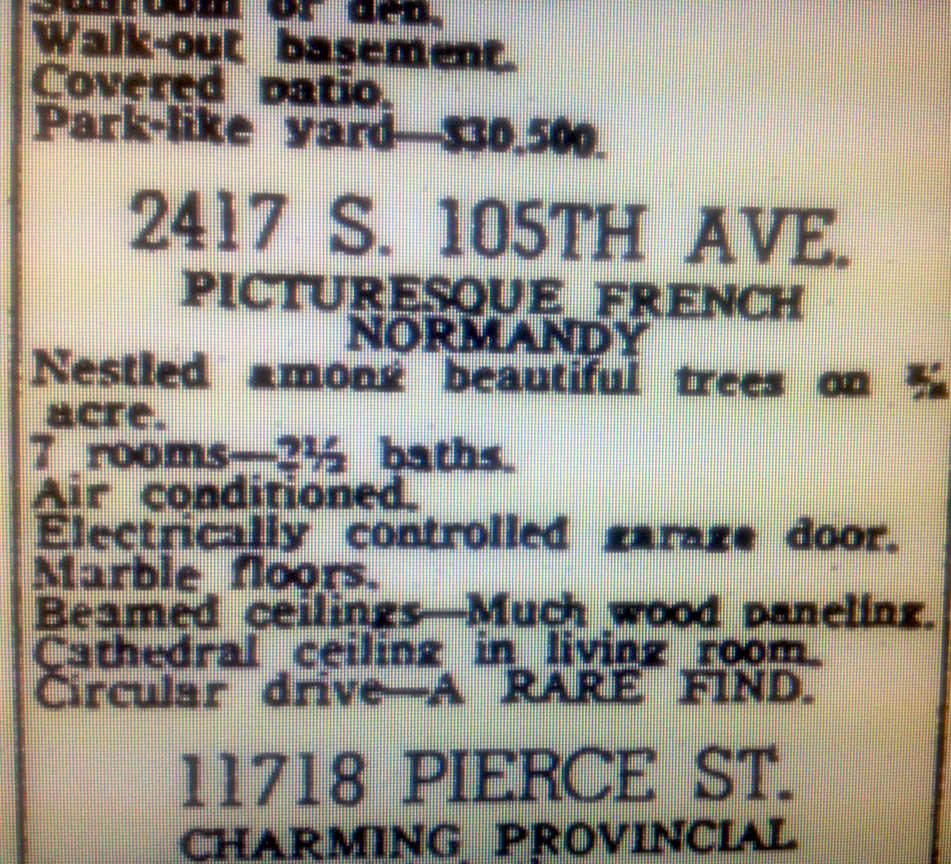 Mrs. Caldwell then ran this ad, months later in March of 1966 "Picturesque French Normandy." From July 28, 1966: "2417 S. 105th Ave. Quaint French Provincial nestled among the trees. There's that phrasing again. Circular Drive, marble floors, beamed ceilings, spacious patio, priced in the 30's. I love "Electrically controlled garage door." It would take her one and half years to find the right buyer.
The Thomas M. Moriarty Story
In July of 1967 Dr. Thomas M. Moriarty and his wife, Zaiga acquired the home at 2417 S. 105th Ave. The good, solid Irish name Thomas Moriarty won me over from the get go, Gaelic for "Sea Worthy Twin." The couple had been married three summers prior.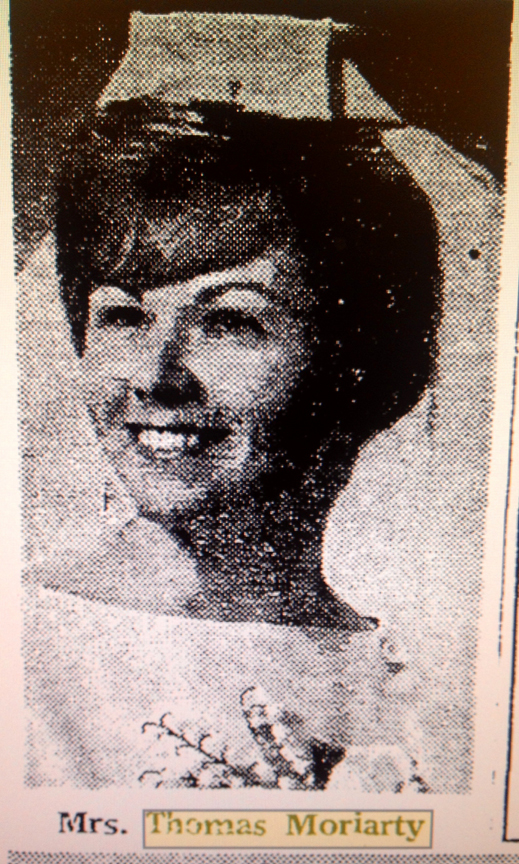 August 23, 1964 Zaiga Jansons' to be wed. Different sources would spell her name Ziaga. It turns out, both are female first names, so I am not exactly sure. According to their wedding announcement, Zaiga Jansons was from Lincoln and Thomas Michael Moriarty's family was from Columbus, Nebraska. The couple left for the Bahamas after a reception at the glorious Blackstone Hotel. This sounded Beyond Acceptable to Miss Cassette.
After a bit of investigation, I found Thomas Moriarty was born in 1932 and was a local dentist. His dental practice was pinpointed to 4701 Center Street, one of Miss Cassette's favorite little haunts.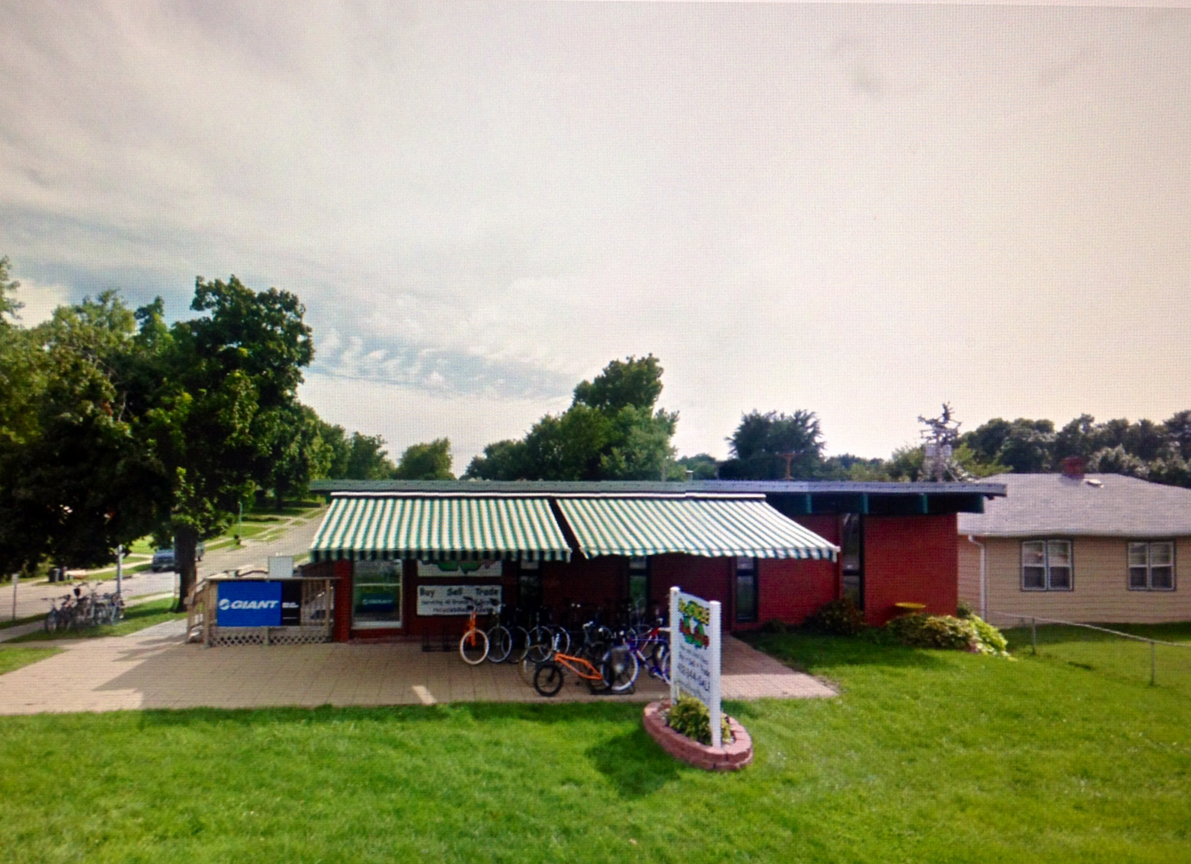 The Re-Cycle Bike Shop at 4701 Center Street, former site of Dr. Moriarty's practice.
The Moriartys originally lived at 4212 North 48th Street. Apt. 10. This is no longer an address and looks to be a community garden currently. By 1968 his dental practice had moved to 1325 S. 72nd St Rm 109, by the old Aksarben entrance. This address no longer exists. The couple had a son, Michael Christopher, in January of 1969 while they lived in the country home.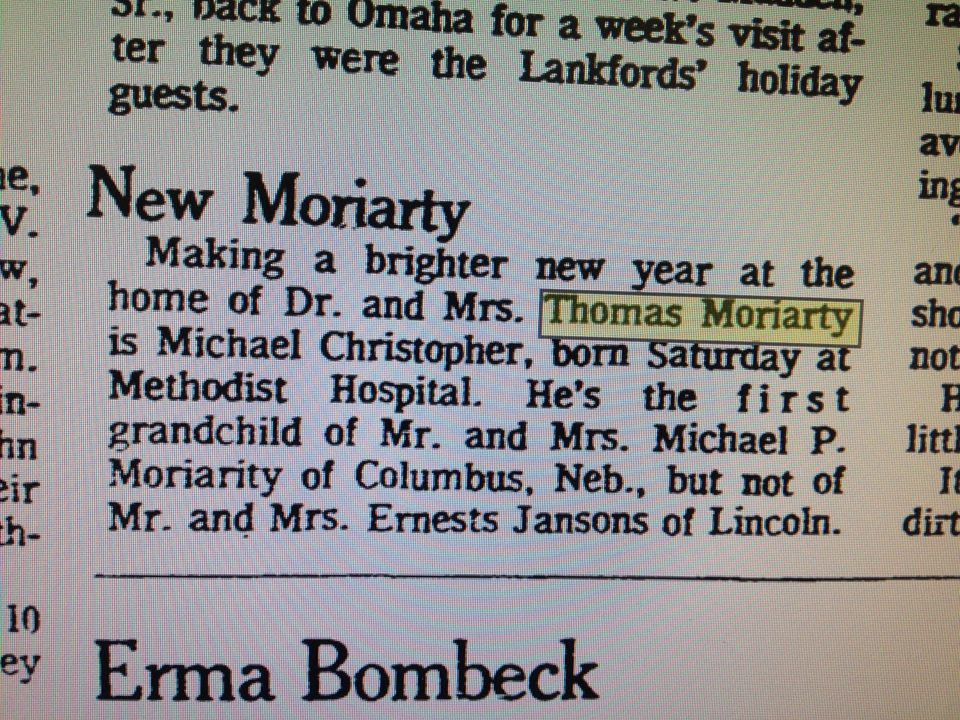 According to an OWH quote of Dr. Moriarty regarding his Rockbrook home, "The house originally had gas lights to fit its style. It's filled with secret passageways." Wait…what is this? Secret passageways. I was transfixed. I had read similar about the J. E. George Boulevard house. All the more reason to do a follow up story on that cunning R. F. Hennig character.
***Addendum of 6/23/2017***
Zaiga Moriarty shared these photos of the home from her and Tom's personal collection. I am over the moon about these photos and I am so thankful for her generosity!


Zaiga in the master bedroom.

Christmas in the living room. Loving that 60s flocked tree.

The best kitchen.

The Moriartys in their living room.

A relative visiting the French country home.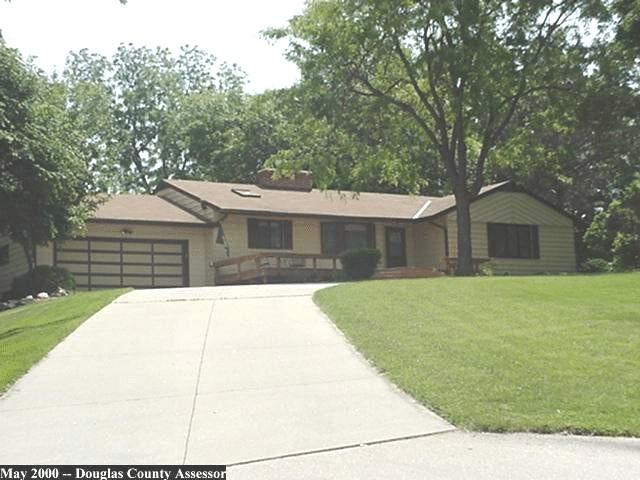 Thomas and Zaiga sold the home in April of 1971. They must have liked the Rockbrook Neighborhood because they later moved one door south to, 2507 S. 105th Ave. This home was built in 1957.  According to Social Security, Dr. Thomas Moriarty passed away in 2011.
The John W. Webster Dossier
By April 1971 John Wallace Webster had purchased the home. John W. had married Asenath Main Kepler in the previous February of 1970.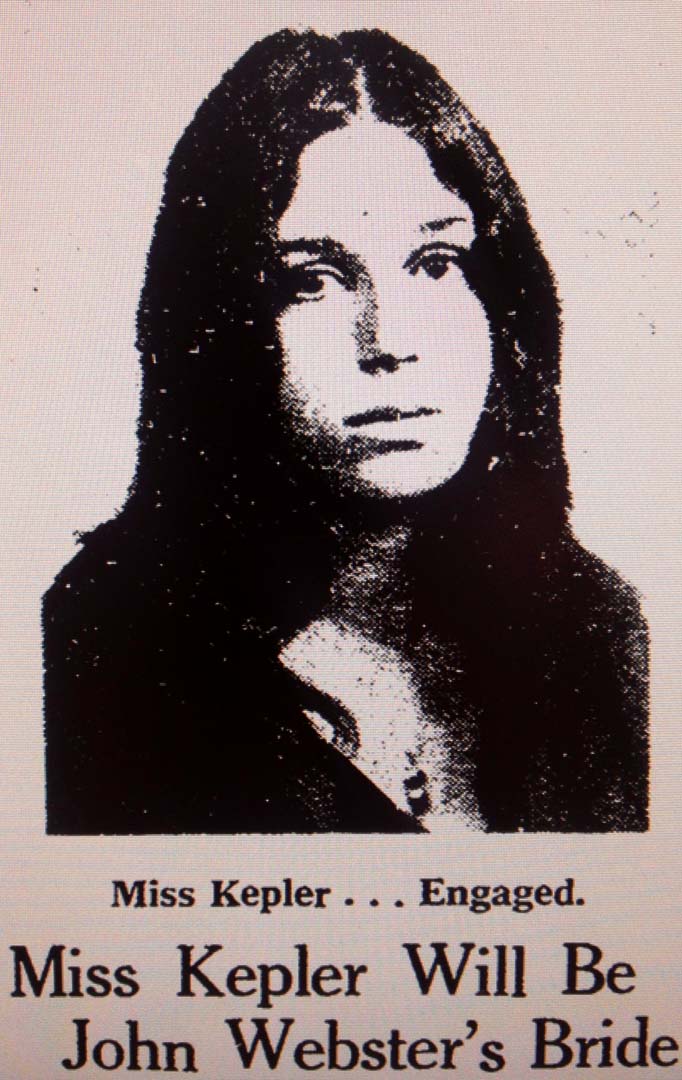 Asenath in 1970…..I kind of love this engagement notice. I think this could easily be an album cover or that there could have been an Asenath television show. The look on her face and her name….spellbinding.
It was easy to find an abundance of historical data on the Webster family. At the time of moving into the French country estate, John W. was the secretary of the John R. Webster Company, a personal investment and real estate firm located at the City National Bank Building.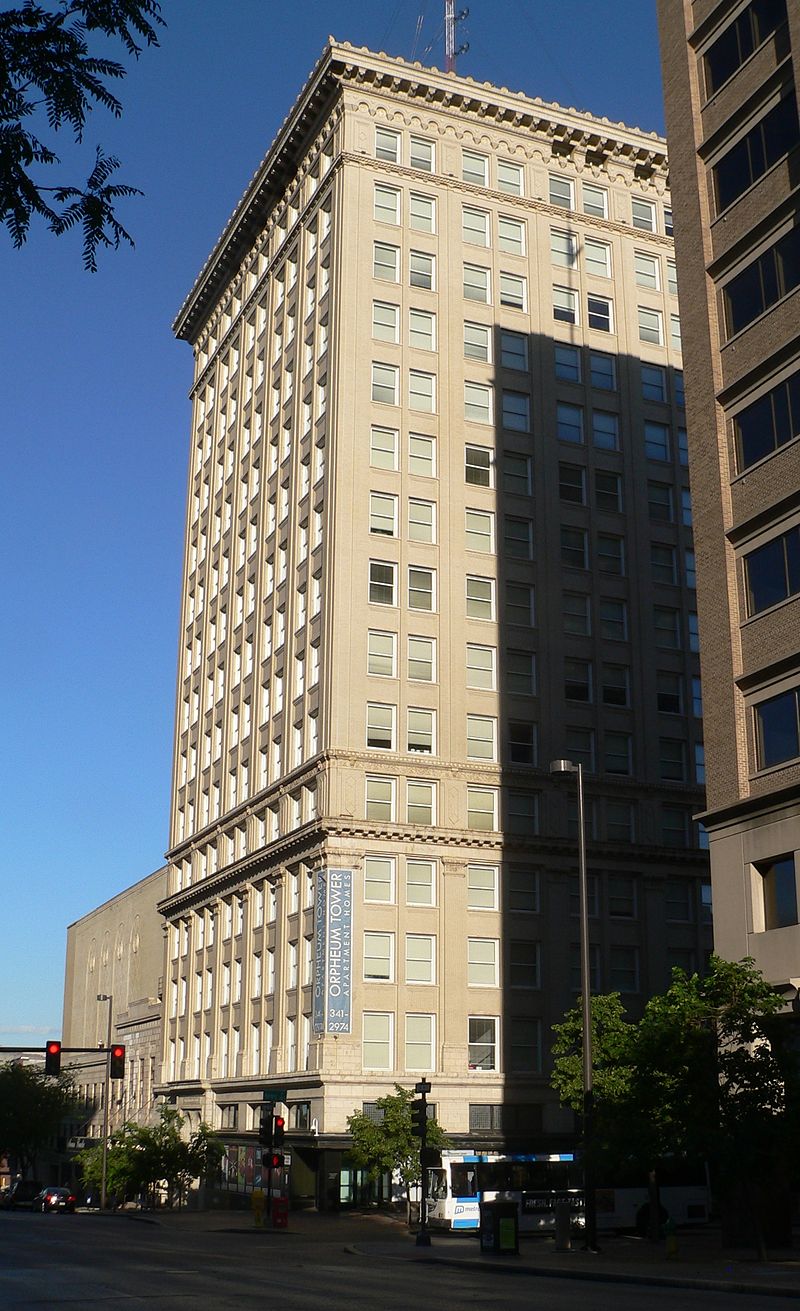 1540 City National Bank Building. Also known as the Orpheum Tower. It was the tallest building in Omaha until 1912 when the Woodmen of the World was completed. Check out my story on the Woodmen of the World at Mysteries of Omaha:2501 North 61st Street. The building is now known as the Orpheum Tower and is a 132-unit apartment building.
John W.'s great grandfather, former regent of the University of Nebraska, founded the John R. Webster Company. From what I could unearth, this company was formed in 1903. John Robinson Webster was quite a prominent man in early Omaha as was his great grandmother, Gertrude Potter with long East Coast colonial lineage. According to Arthur Wakeley's fascinating book, Omaha: The Gate City and Douglas County Nebraska, from 1917, John Robinson Webster moved to Omaha an attorney and soon established himself in the fire insurance agency of Potter, Webster & Company, later changing to Webster, Howard & Company. Along with his associates, John R. Webster helped to develop the district of East Omaha, the construction of the East Omaha Street Railway and the Omaha Bridge & Terminal Railway. He became vice president and general manager of that enterprise. John R. would later join with J. A. Sunderland in the construction of the Webster-Sunderland Building at Sixteenth and Howard Streets. Dear reader, do you remember that Lee Brewer, our first homeowner, has his business Lee Brewer Insurance Reports out of that very building? John R. would also become director of the City National Bank Building Company of Omaha and of the Ash Grove Lime & Portland Cement Company of Kansas and Missouri.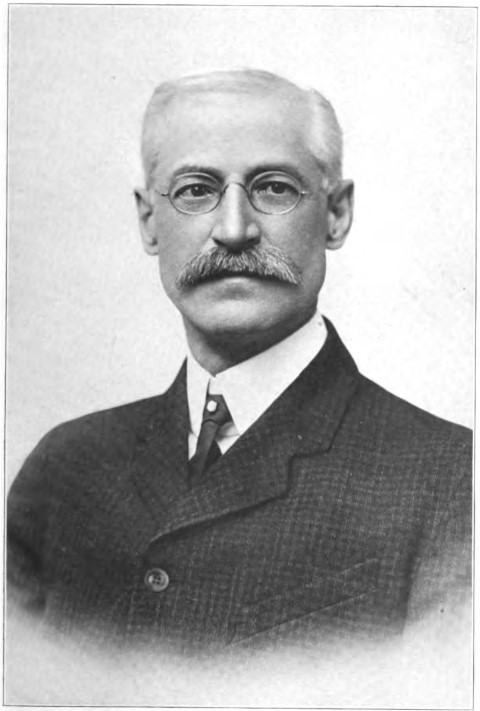 John Robinson Webster. Great grandfather of John Wallace Webster.
John R. Webster and Gertrude M. Potter would have one child, John Potter Webster. John P. would go on to be president of the John R. Webster Company and director of the Ash Grove Cement Company, in his father's footsteps. He was also a trustee of the University of Nebraska Foundation and Clarkson Hospital. John Potter Webster would have a son William. William and Barbara would have a son, John Wallace Webster. His birth announcement in the newspaper stated that he was named after his two grandfathers. John Wallace Webster would go on to attend a military academy in Minnesota. He later attained a degree in business administration.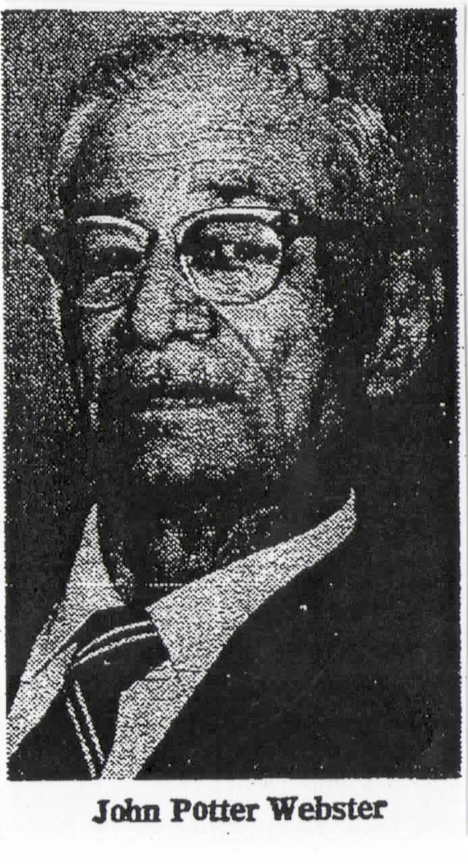 John Potter Webster. Grandfather of John Wallace Webster.
I was able to track down that in October of 1971 John and Asenath Webster had a son, John "Jack" Potter Webster II. I found on the original deed that Asenath was "Qcd" off of the Rockbrook deed in November 1973. Again I had to investigate the meaning of the acronym. "Qcd" stands for a quitclaim deed. In this way, the person, or grantor, is giving the deed over to another person or estate, the grantee, is quitting any claim or interest she may have in the real property. I assumed from this that the couple had divorced. In August of 1975 John Wallace Webster and Linda Jean Liebsch had applied for a marriage license. Coincidentally I found side-by-side articles from 1973, announcing John Wallace Webster as a member of the Aksarben Coronation Ball Floor Committee, right next to the engagement announcement of Linda Jean Liebsch to a Spencer W. Dillon. By April of 1977, John and Linda Webster gave birth to a son. John W. and Linda later divorced in the summer of 1982.

John Wallace Webster
Throughout the 1970s and 1980s, John W. was named a member of the Aksarben Coronation Ball Floor Committee. He sat on the boards of the Western Heritage Museum, Joslyn Art Museum, was remarkably civic minded while in a prominent position for further elbow rubbing.  John W., his father William, along with Joe Baker, started Webster-Baker Broadcasting in 1976 to acquire the licenses of radio stations KEFM/KOIL. The Websters at that time operated Webster & Son, an Omaha firm involved primarily in real estate. Joe Baker had been program director of KMTV for 23 years.   Later John W. became President of the Nebraska Broadcasters Association as well as president of Webster communications (KEFM) and John R. Webster Company, like his father and grandfather before him.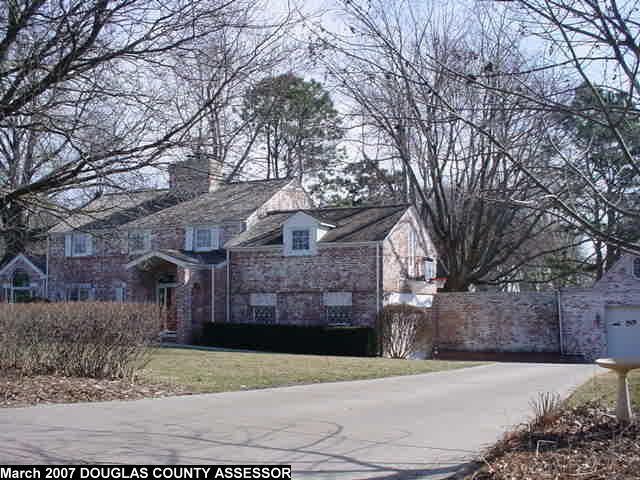 Years later John Wallace Webster would move into this lovely 1931 home at 1715 S. 91 Ave.  John W. and Nancy L. Dunning would marry in 1984. The Websters are very well known Omahans as they have had many charitable, social and political interests over the years. The short list includes involvement with the Omaha Home for Boys, national trustee of Americans United, president of Scottish Rite Foundation of Omaha, chairman of events at Joslyn Art Museum, president of Brownell Talbot School foundation, president of Fontenelle Forest Association and involvement with the University of Nebraska at Omaha.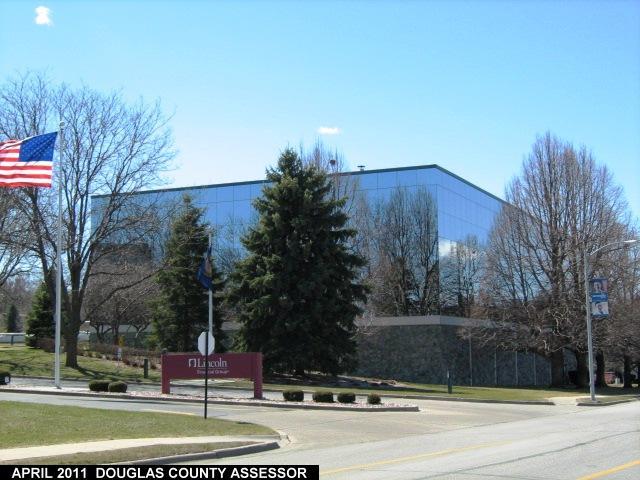 Currently the John R. Webster Company Inc-Webster & Sons is located in a suite at 8805 Indian Hills Drive. Established in 1903, this company is one of the oldest, private, family owned businesses in our city.
Michael and Patricia Sherman Story
Michael R. Sherman and his wife, Patricia Shafer Sherman, became the new denizens of 2417 S. 105th Avenue in July of 1979.  Michael's parents were Mr. and Mrs. Irvin Sherman. From a birth announcement of September of 1957, I learned the couple had a fourth son, Daniel, in addition to Michael, Stephen and Mark. Grandparents were listed as the David Shermans and the Leo Waxenbergs. These names would come up again in researching Michael. Patty was daughter of George Jacob Shafer, a World War II veteran, and Miriam "Mickey" Shafer. Patty has one sister named Bunny Shafer Rothenberg. (I have always had good feelings about the name Bunny.) As it happens in Omaha, our big- very small town I had met Bunny's acquaintance previously through email. Bunny had written me shortly after my Brothers Lounge story came out. Her grandfather, a Russian born immigrant, Isadore Shafer and uncle, Aaron Shafer were owners of the Shafer Brothers Tailors and Cleaners on Farnam Street. To read a bit more about their business, check out the story Brothers Lounge and the Case of the Vanishing Mom and Pop. Needless to say, when the subconscious puzzle pieces fit together late one night, I was jolted out of bed with a start. Another serendipitous Omaha moment. Maybe some of you readers will understand, that in time, I expect my home detecting adventures will prove to connect all of us.
In 1979 Michael R. Sherman was listed as an executive of the Cornhusker Packing Company. Sheldon Waxenberg and Irvin A Sherman owned the Cornhusker Packing Company. I believe Irvin to be Michael's father and Sheldon, a grandfather or uncle? Interestingly Irvin's sister, Bernice Sherman Brodkey was wife of Edward E. Brodkey, president of Brodkey Jewelers. The Cornhusker Packing Company was located on 4436 Dahlman Avenue. This is now the home site of Carpenter Paper Co.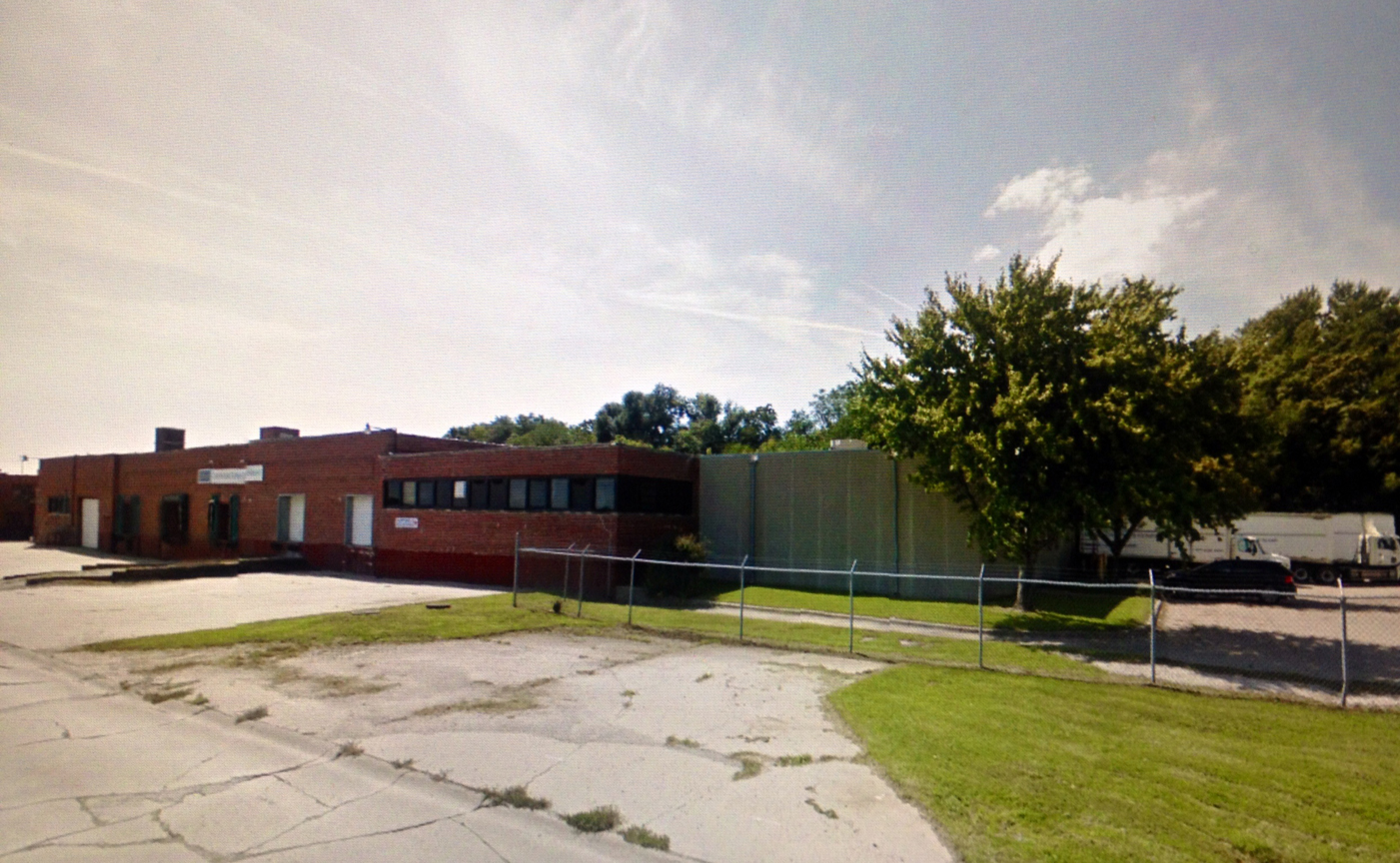 4436 Dahlman Avenue. The Cornhusker Packing Company was situated right by the railroad tracks, just north of the Union Stockyards in South Omaha. Dahlman Avenue, in fact, turns into 30th Street, which ran right in front of the Livestock Exchange Building. For more on South Omaha, check out my article Mysteries of Omaha: 3825 South 25th Street. Not known as one of the big meat packing plants in Omaha, Cornhusker operated for decades. The company closed in 1994.
According to an OWH article, the only structural change to the original design of 2417 S. 105th Ave, to that point, was an 800-square foot, two story family room and master bedroom addition in 1979 by Patricia and Michael Sherman. "We made sure the addition fit the style of the house, "said Mrs. Sherman. The Shermans renovated the kitchen and utility room, updated plumbing, wiring and installed a new roof, an air conditioning system and a second furnace due to the "chilly concrete walls with no insulation." This was the first indication, I found of why anyone might have wanted to move out of this glorious property.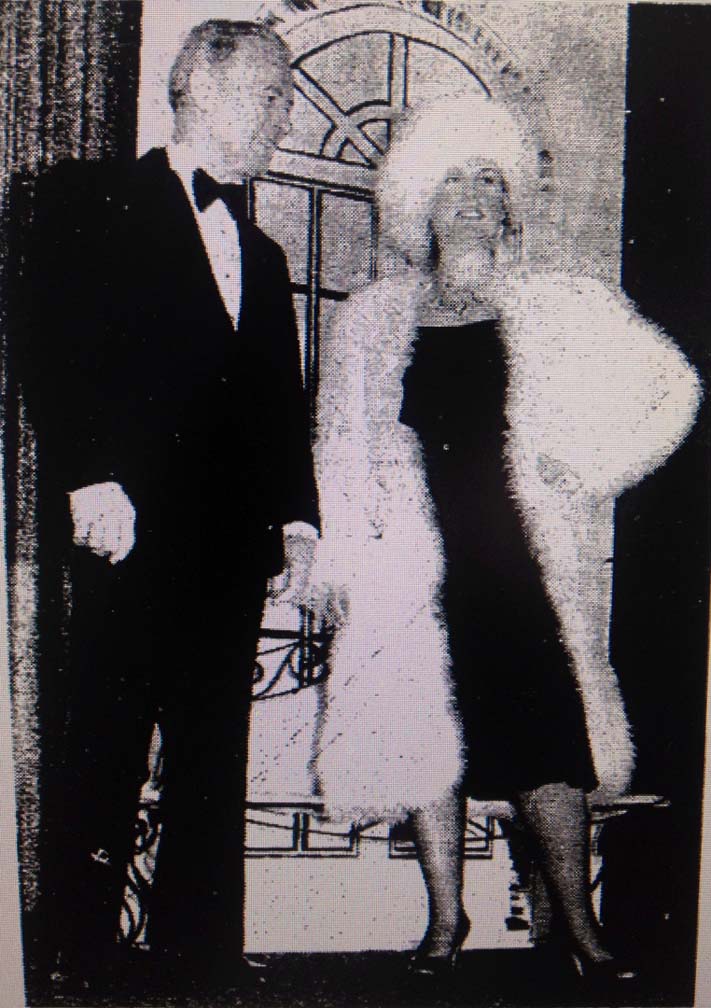 1981 Broadway Meets Runway in a Clarkson Hospital fashion show held at Peony Park. Some models were local boutique employees, some members of the Clarkson Hospital Service League. Here Red McManus and "Mrs. Michael Sherman" are featured. She is wearing a white marabou fur coat and black slip dress from Braggie's Women's Apparel. Remember the fantastic Braggie's? I am not 100% certain that this is our Patty Sherman, as there was another Mrs. Michael Sherman in town, now deceased.
In one of the more interesting articles I've ever read, I came across the story of an alleged gallstone theft ring involving the Cornhusker plant. By 1988 Michael Sherman was president of the Cornhusker Packing Company. During this time period he suspected some sort of theft of cow gallstones from his packing plant. These are the kinds of things that Miss Cassette had no knowledge of! Did you know that gallstones, with a value of hundreds of dollars per ounce (in the 1980s) are used in the Orient as an aphrodisiac? Who knew? "When asked why he suspected the gallstone thefts, Sherman said the number of gallstones had decreased." Sherman apparently confirmed the thefts after calling the laboratory to which the theft ring were selling the stones. The police later obtained four checks totaling about $4,500 written out to the six Cornhusker thieves. Are you getting all of this down?
As the clues would unfold, I found a really great article from 2000 on Michael, which, if the gallstone story hadn't won me over, really secured my fondness for this fellow. The article was entitled "Yarn Habit A Peek Inside." It described the rising popularity of knitting, with a new niche interest among professional men. This was speculated to be a direct result of men's comfort with "spatial, mathematical things." Michael Sherman, then 48, had taken up "knitting about six years ago after he closed his Omaha meatpacking business, Cornhusker Packing Co. Sherman's wife and two college-age children do not knit and have no interest in learning, he said, but you won't hear them complaining when he bestows hand-knitted wool sweaters on them." Michael went on to say he had tried woodworking and stained glass when he retired, to settle upon knitting. "I only knit in the colder months, when I can't play golf or work in the yard."
Through the newspaper I received confirmation that Michael R. and Patricia S. Sherman sold 2417 S. 105th Ave. to Kenneth R. Dodds in 1986 for $193,000.
The Kenneth R. Dodds Report
According to the Douglas County deeds office, Kenneth R. Dodds officially bought the residence in November of 1985, later to be announced by the OWH in 1986. Kenneth Dodds was a municipal finance lawyer and young partner at Kutak, Rock and Campbell, a nationally known law firm. A California native, Kenneth was unmarried. Kutak, Rock and Campbell was also located in the Omaha Building at 1650 Farnam.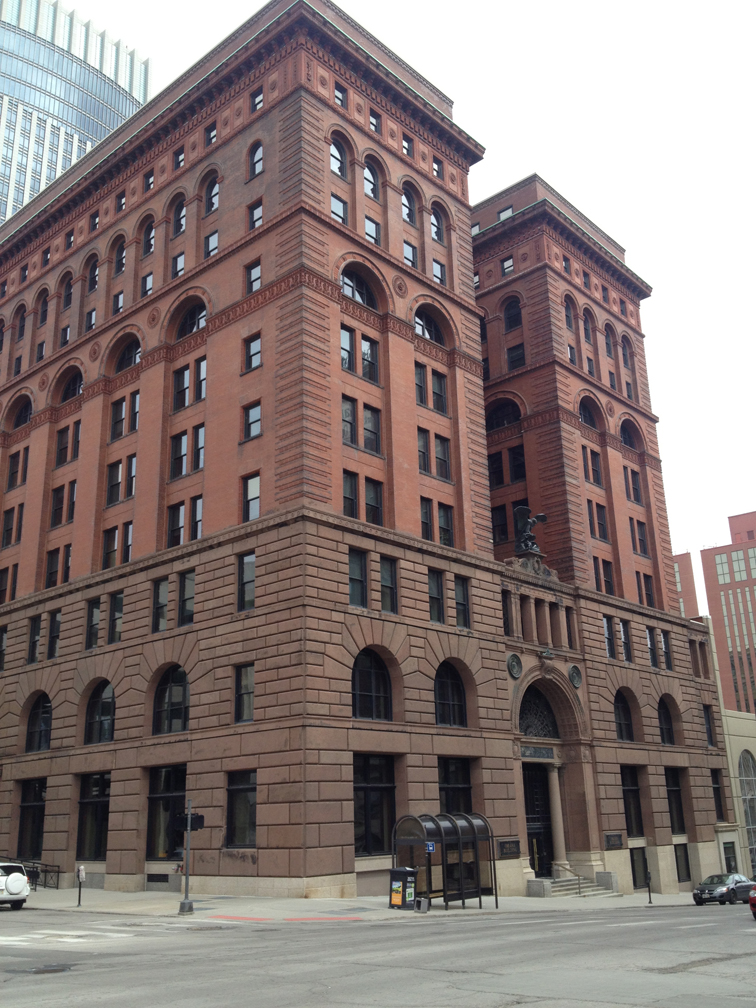 Kutak Rock The Omaha National Bank Building was built in 1888–89 at 1650 Farnam Street in Downtown. Built in the Italian Renaissance style, it was listed on the National Register of Historic Places in 1972. The building was originally known as the New York Life Insurance Building; it was renamed the Omaha National Bank Building in 1906. As you will remember, reader friend, the Mullen & Morrissey, Attorneys at Law were also housed in this very building. Yes, Arthur F. Mullen also made this daily commute from 105th Ave to the Omaha National Bank Building. Kismet? Omaha National Bank later merged with another bank and moved out of the building in 1972. After being vacated it was slated for demolition in 1978. However, the building was rehabilitated in 1978 and converted to office space. Today, called the Omaha Building, it is home to the law firm of Kutak Rock. This is one of the marvels of Omaha, in my eyes. Next time you are at Culprit Cafe, sit at a table on the north side of the restaurant and Stare at This Building while you sip your Americano. I guarantee you will feel uplifted.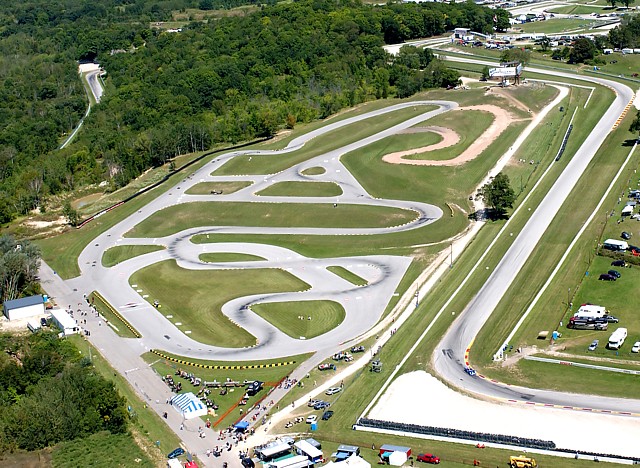 Road America in Wisconsin.
Sadly Kenneth owned the house for only short nine months when he was tragically killed in an auto accident at Road America, Inc., a track in Elkhart Lake, Wisconsin. Known to be an auto racing enthusiast, Kenneth has competed previously in racing events as well had a real passion for vintage and historical cars. Kenneth was practicing for a private vintage car race when his car ran off course and crashed. He was flown by helicopter to St. Elizabeth's Hospital in Appleton. He died of head and chest injuries. This whole thing made me very sad for Kenneth, his coworkers and his family. Kutak Rock would go on to create an annual memorial award in Kenneth Dodds' name, to acknowledge legal advocates for equal justice, called the Kutak-Dodds Prizes. If any of my readers have a photo of Kenneth, I would love to be able to include this in my article.
The beautiful French country home would sit empty for two years. Unable to find new owners, I wondered what the air and energy of 2417 S. 105th Avenue was like inside. This tragedy was further verified when I stumbled across the next sale from "Gregory W. Searson, personal representative of the estate of Kenneth R. Dodds, to Roger E. Foltz, 2417 S. 105th Ave., $150,000 in May 15, 1988."
Roger Foltz Story
I felt a relief when I found clue after clue about the new landowner, Roger Foltz. Dr. Roger Foltz was a composer, artist, art collector, art appraiser and the chairman of UNO's music department. He had traveled through Europe and I am sure had a keen interest and devotion to our dear 2417 S. 105th Ave. He was known to compose and play his piano in the large vaulted living room of the French cottage. According to a newspaper article he loved the eclectic home, in part, because of its ability to feature and highlight his varied art, extensive art collection, décor and furnishings from his world travels. He reported that the home was somewhat overgrown when he moved in, which is understandable for sitting by its lonesome for two years. Foltz removed a pine tree in the front yard and pruned the shrubs. At the time of his purchase, Roger was looking forward to planting a large garden.

Roger Foltz photographed at his piano in the living room from an OWH article.  Thanks to Zaiga Moriarty for lending me this photo from her collection.

Another photo from the OWH article. Look at those awnings and the door appears to be red to match. Thanks to Zaiga Moriarty for lending me this photo from her collection.

Another photo from the OWH article. Thanks to Zaiga Moriarty for lending me this photo from her collection.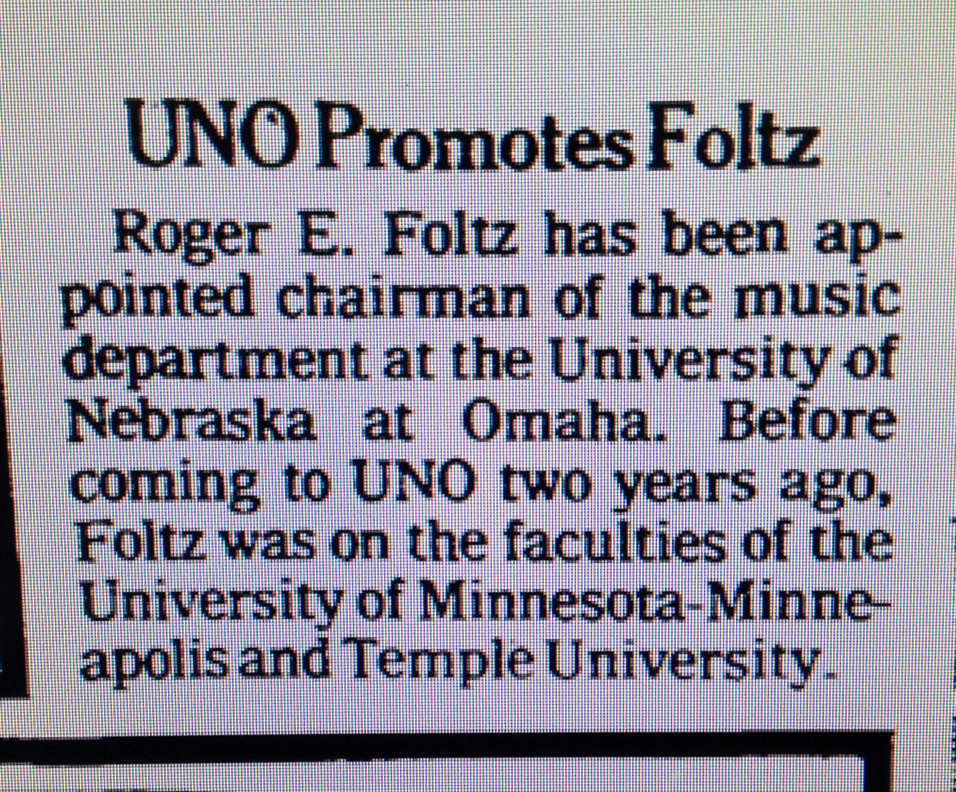 October 22, 1990 UNO promotes Foltz. In 1990 he was Assistant to Dean College of Fine Arts at UNO.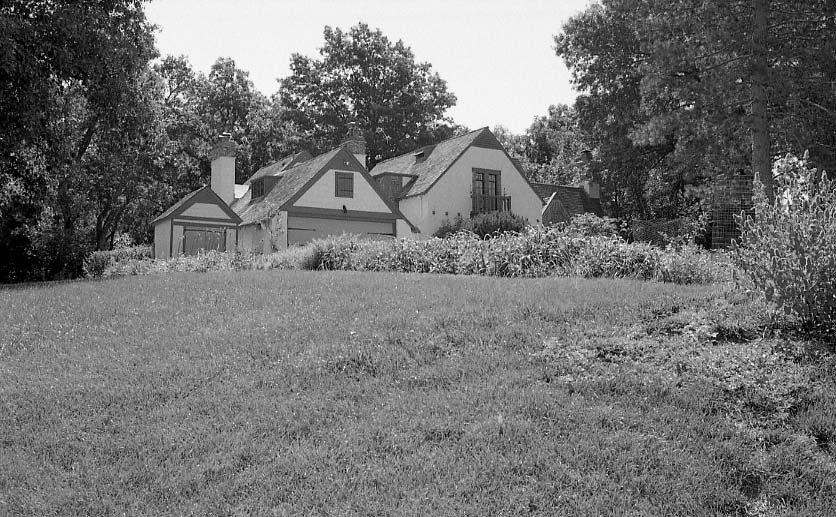 This photo is from the Millard-Rockbrook historic survey of 1991. Thank you to Trina Westman of the City of Omaha Planning Department for kindly sharing this photo.
By 2002 Roger Foltz had sold 2417 S. 105th Ave. to the new owners for $335,000. I know he must have enjoyed the home immensely to inhabit the country home for so long.
Aside from his side job as an art and antique appraiser, I found this description of Roger Foltz from the 2012 MTNA fellowship award list. Foltz at that time had been a professor of music at the University of Nebraska at Omaha for 33 years and was currently director of international music studies. "Previously, he was on the faculties at Temple University and the University of Minnesota. At Nebraska, he has served as department chair and assistant dean. Foltz has co-authored two theory textbooks and several dozen articles on various aspects of music theory and technology. He has served Nebraska MTA as treasurer, newsletter editor, commissioning chair and president. He has been coordinator of the MTNA Composition Competitions. Foltz was recognized with the Andersen-Gouttierre Award for enhancing international awareness."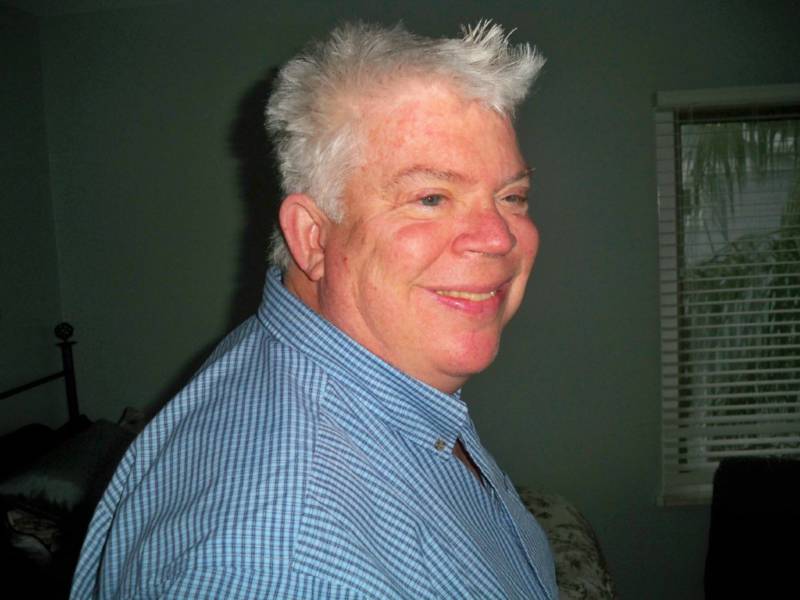 Roger Foltz
The amateur sleuth in me is (delighted and) willing to wager that Roger Foltz is now in the art business down in Sante Fe, New Mexico. I found this website http://www.twopinesart.com/about.html, in which a Roger Foltz, with an Omaha phone number, is working with collectors, dealers, museums, law firms, and insurance firms handling appraisals of private, corporate and museum collections. It would appear Roger and a partner named, Ken Bales, broker individual pieces and entire collections, featuring an expertise in antique tribal art. Yes, yes. This sounded exactly like our Roger Foltz. I was so glad for him.
Current Owners and Current Photos
Miss Cassette has loved this house for a long time indeed. I had no idea it had been for sale recently or I would have surely talked a realtor into making its acquaintance. It would appear that the home was sold to another member of the same family. Or there appears to be the same name used twice in the county records. I cannot be sure. Because of issues raised about using current owners' names, I will refrain from breathing a word, for privacy reasons. But let me assure you, the new owners are quite design-savvy and very well suited for this historical property.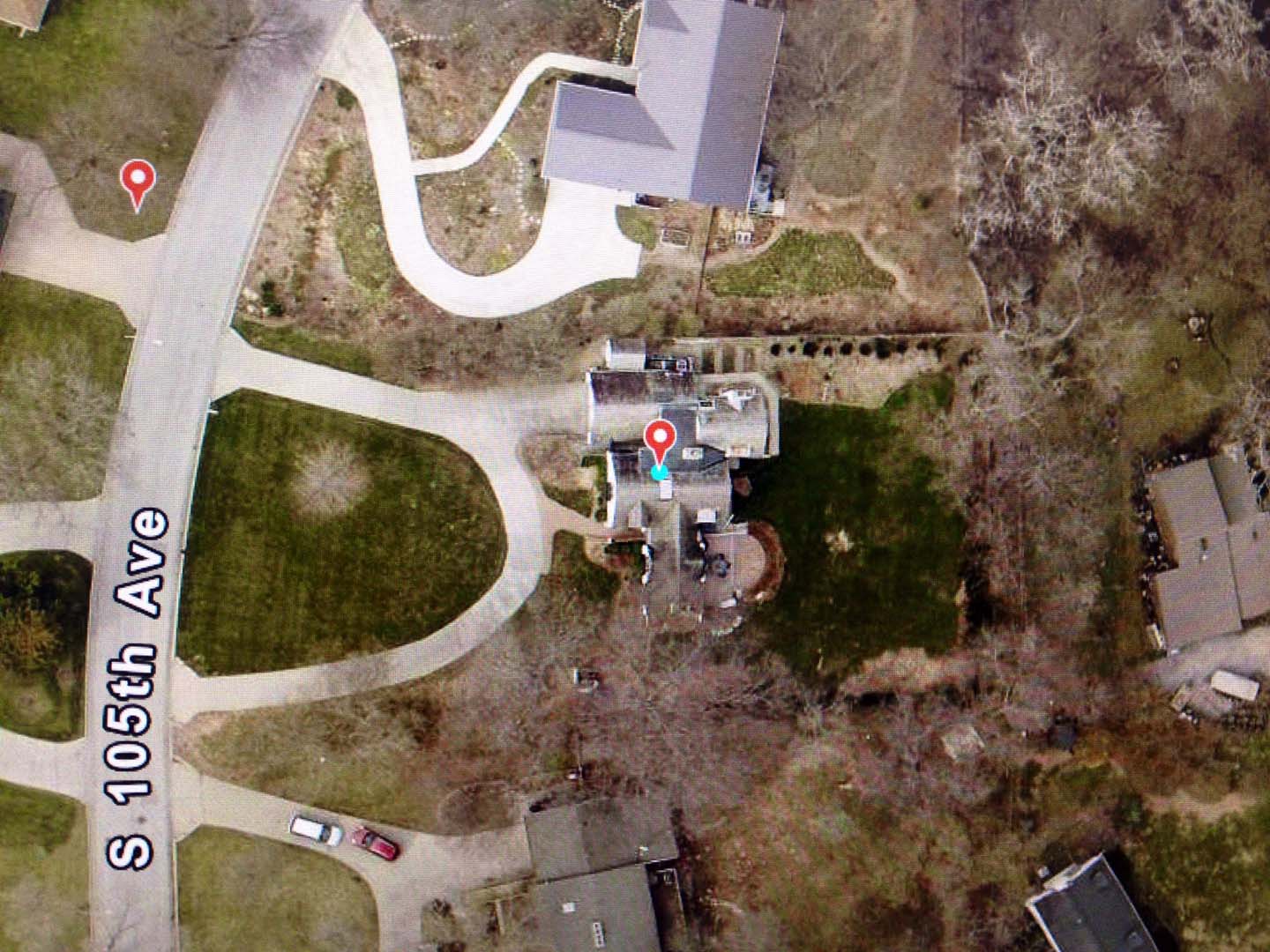 2016 Douglas County geographic information systems aerial detail of 2417 S. 105th Ave. property.
I will leave you with interior photos from this current sale as well as the basic floor plan. Thank you to my friend, Jeremy, for helping me acquire these photos. Try not to salivate too much or just let loose, dependent.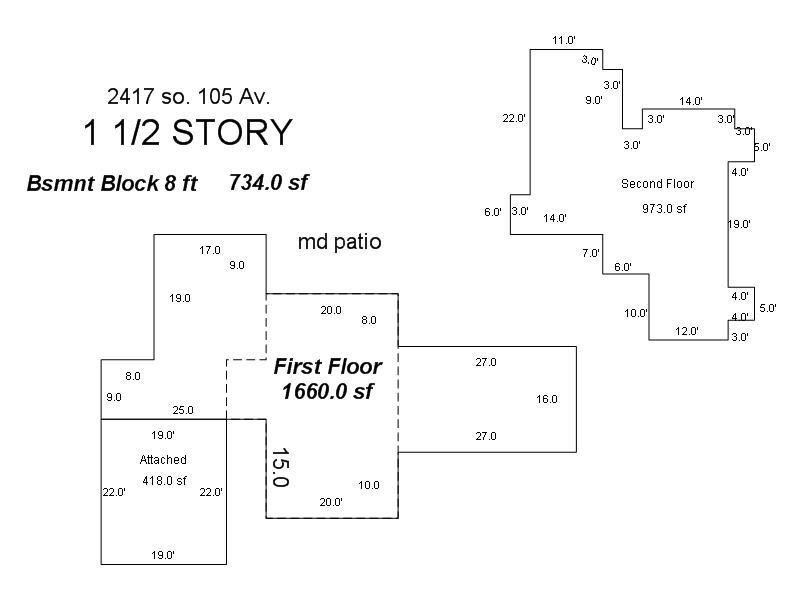 Very basic floor plans, of 2,633.0 sq ft., from the Douglas County Assessor site.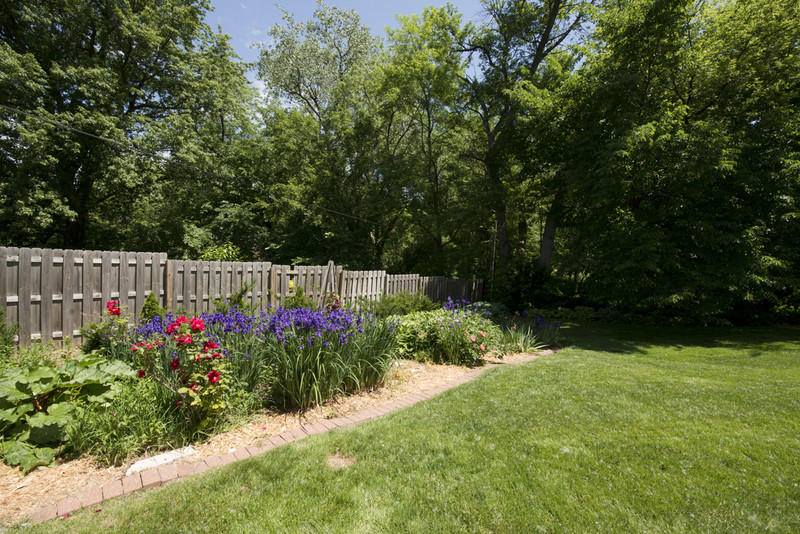 North garden. .63 acres At one point, the grounds and gardens of 2417 S. 105th Ave. were photographed by Better Homes and Gardens magazine. Miss Cassette would love to get a hold of those photos! This one was taken by the owners.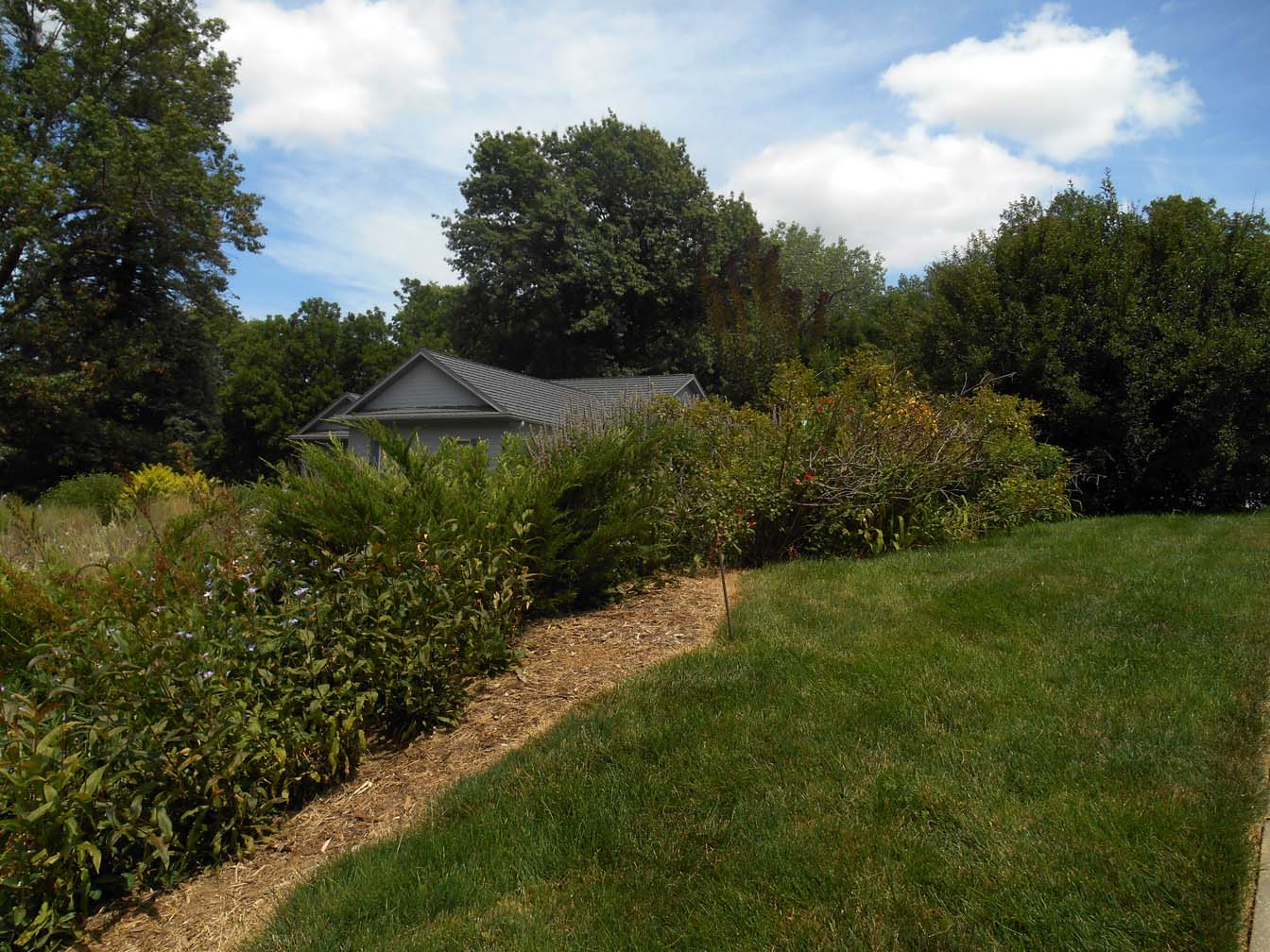 I am not entirely sure whose wonderful perennial border this is. The mixed hedge between the two properties. Portion of the neighbor's home at 2319 S. 105th Ave. This adjacent home was built in 2012.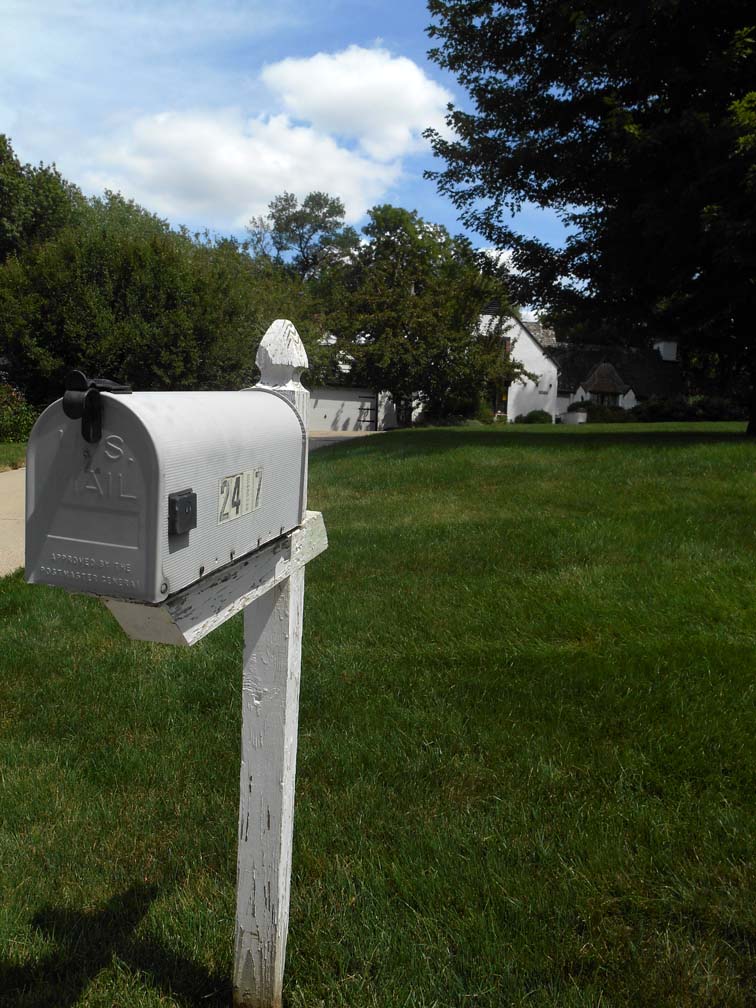 A lot can be learned from a mailbox. This one has a soft-pedal honor about it. Like a good loafer or a friendly retriever. Unfortunately the neighbor's large, plastic mailbox-contraption also occupies the grounds of 2417 S. 105th Ave. It has a guilty expression.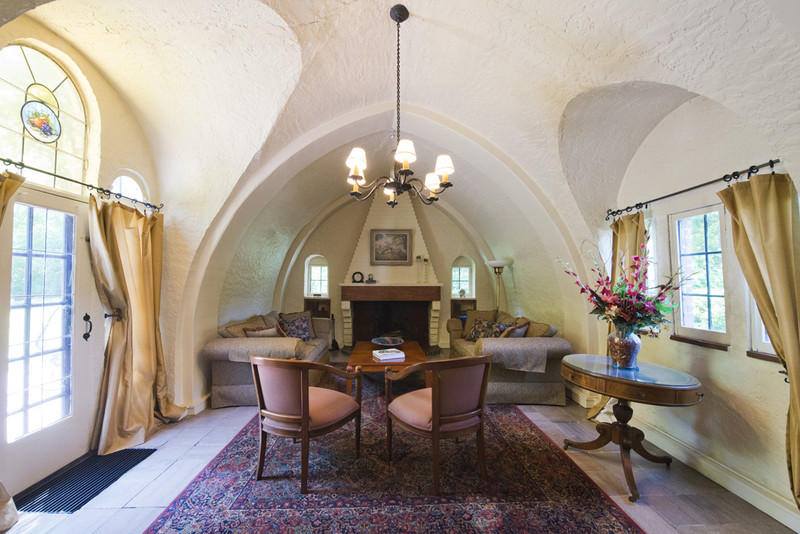 Here is an extended shot, showing the living room previously seen in Mrs. Caldwell's OWH article. Photo by Sarah Elizabeth Studio, Lincoln.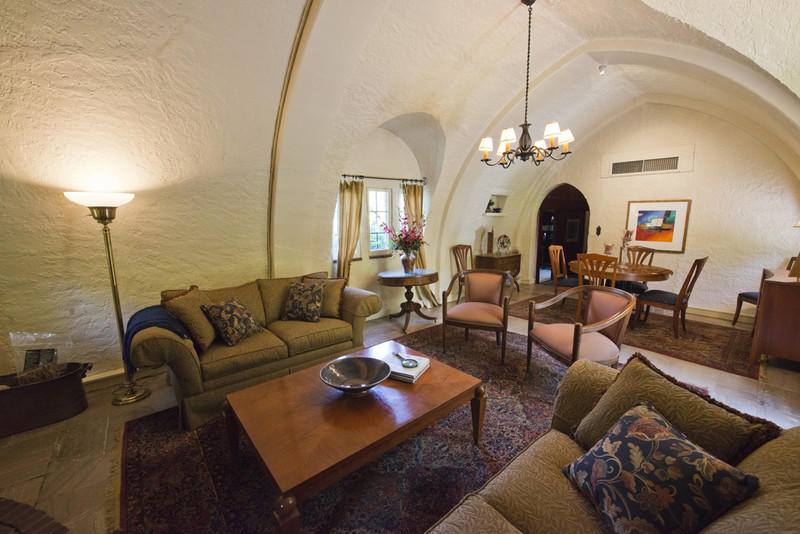 Photo by Sarah Elizabeth Studio, Lincoln.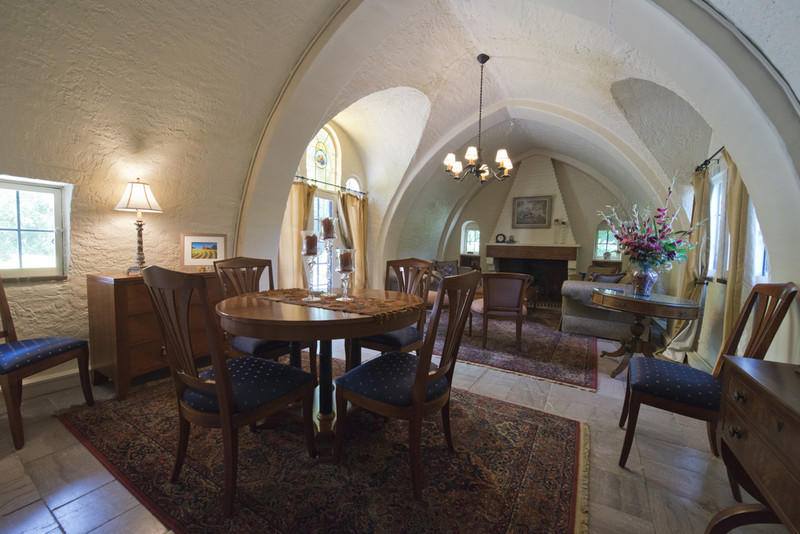 Photo by Sarah Elizabeth Studio, Lincoln.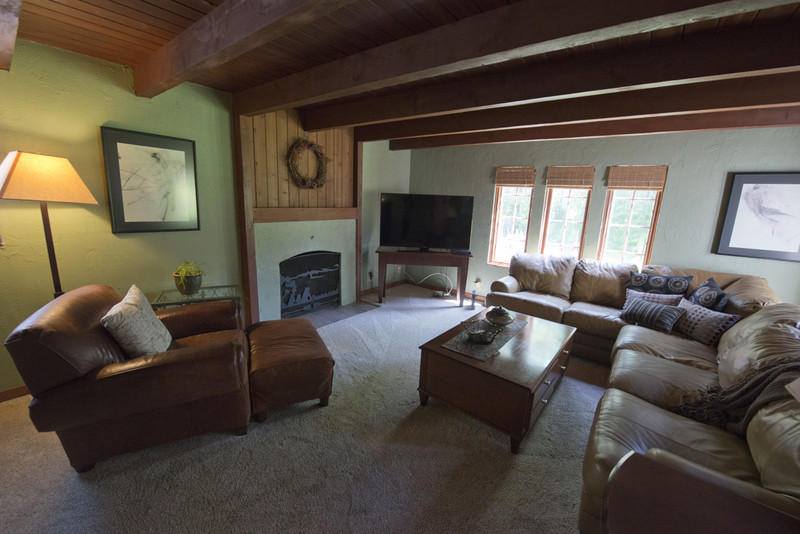 Photo by Sarah Elizabeth Studio, Lincoln.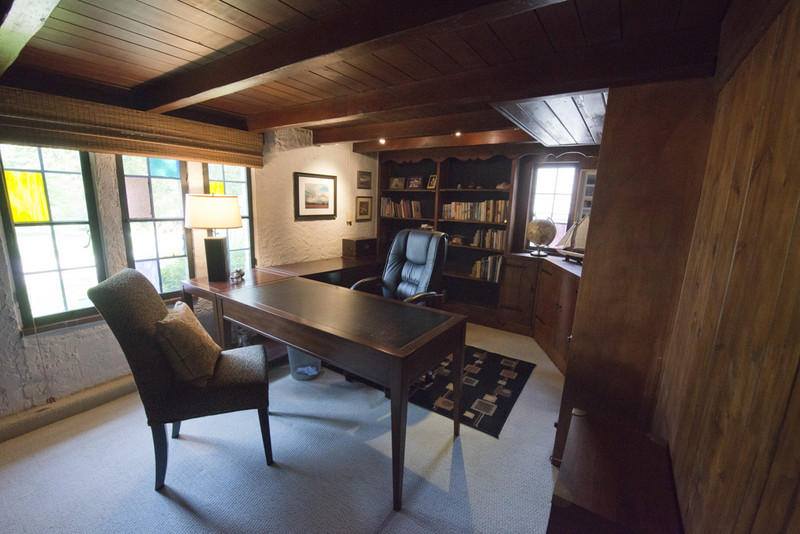 There is my color hand-painted panes, I had been dying to see. Lovely little study. Photo by Sarah Elizabeth Studio, Lincoln.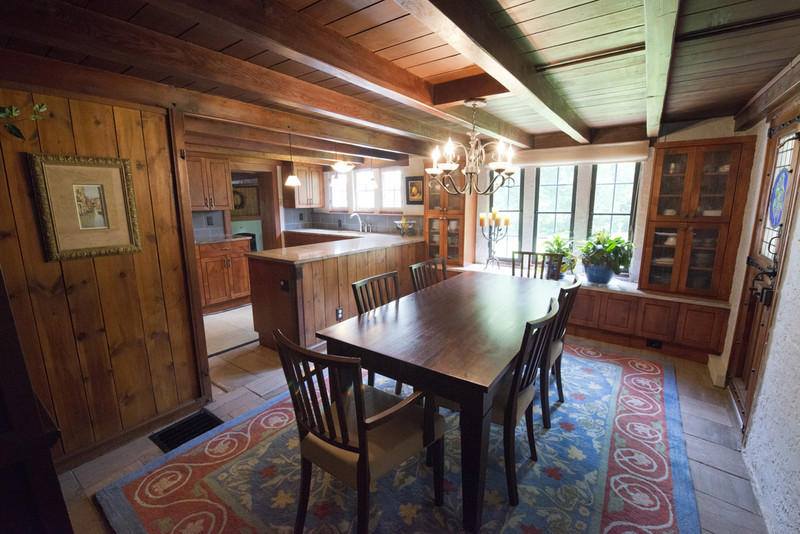 Photo by Sarah Elizabeth Studio, Lincoln.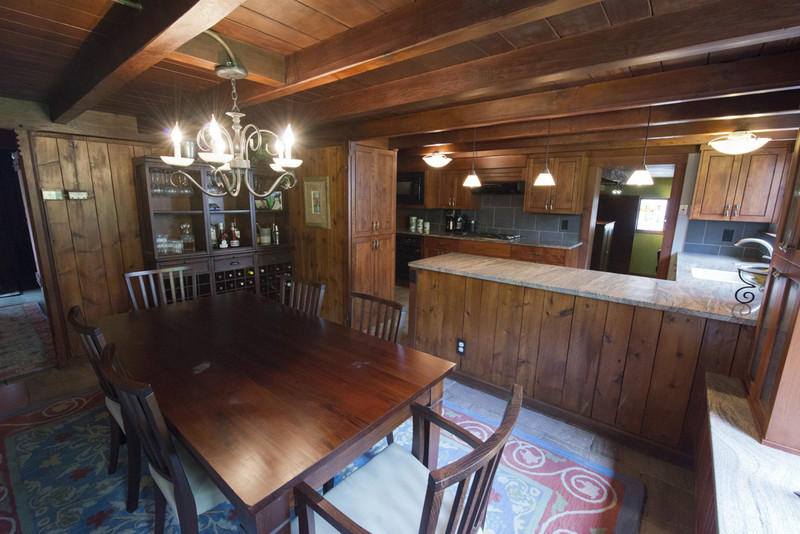 Photo by Sarah Elizabeth Studio, Lincoln.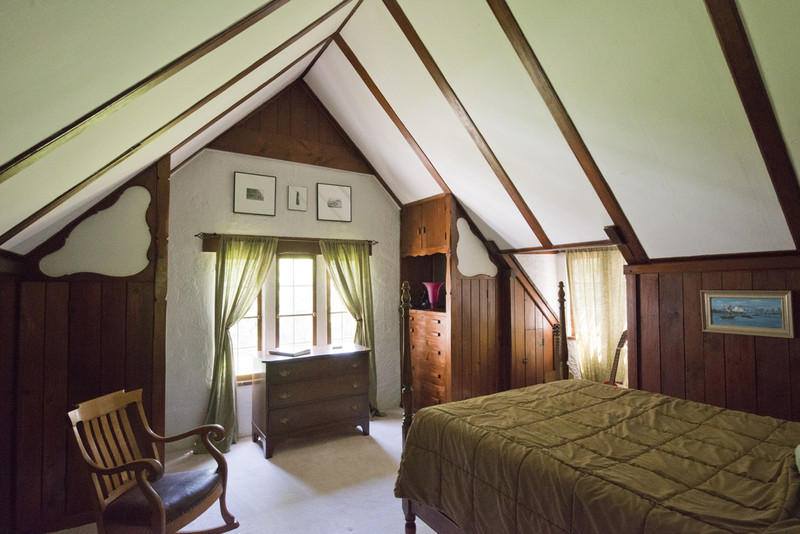 This looks, to me, to be the addition. I could be wrong. Photo by Sarah Elizabeth Studio, Lincoln. **Addendum of 3/16/2017. I have learned from former owner, Zaiga Moriarty that my theory was incorrect. This room was the original master bedroom. The woodwork and built-ins are all original to the home.**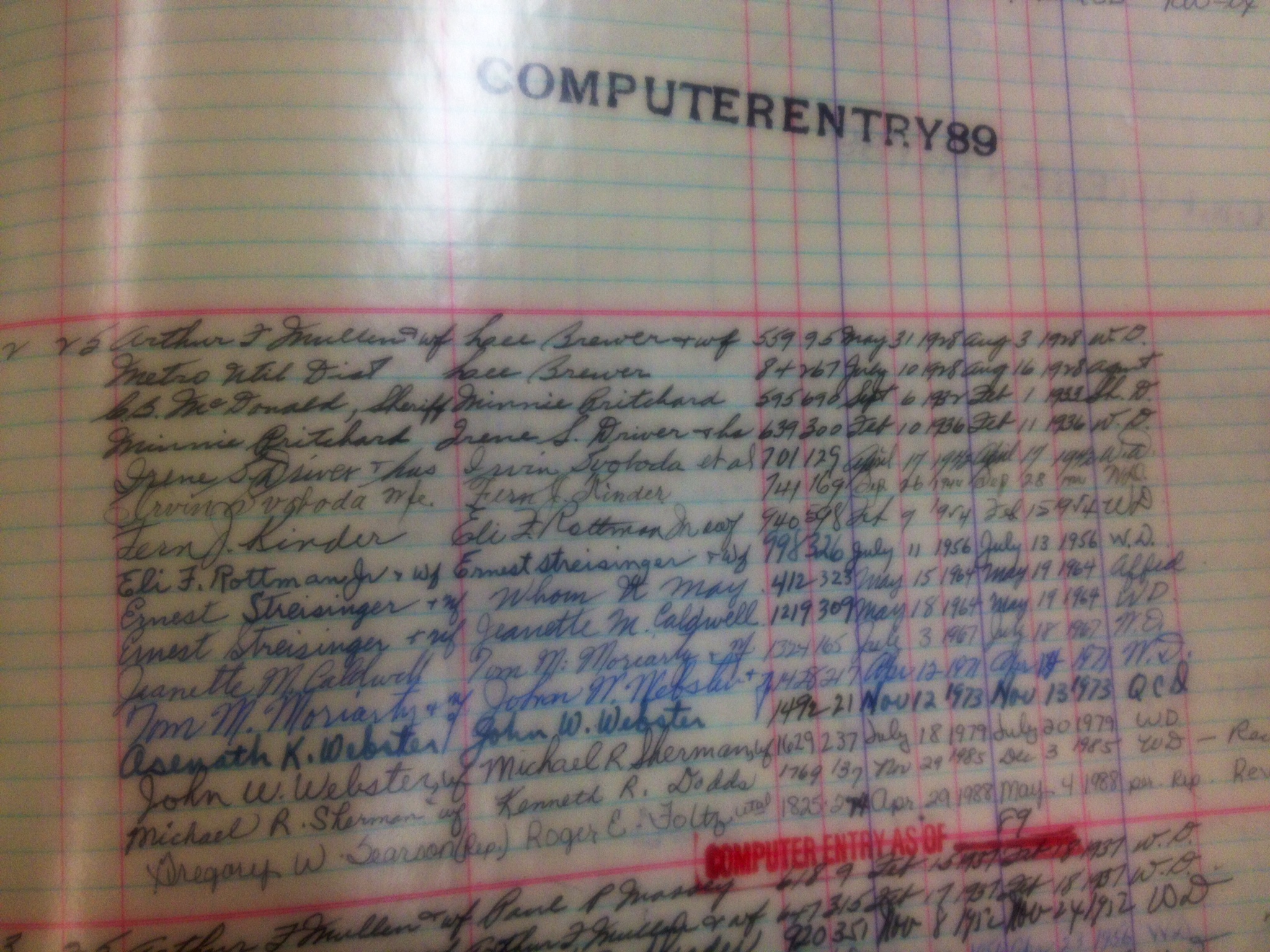 The original County Deeds list, complete with perfect, individual cursive.
By the end of the trail, I was admittedly weary but exalted. I felt I had a better understanding of the history of the home but still so many questions about the frequent moves. Perhaps it is more telling of our modern life. Without a hint of a princess or a dwarf or even a wolf in disguise, I was sad for the investigation to end. A sort of dreamy melancholy I had felt before with the closing of all the storybooks of all of the incredible Omaha homes I've come to know thus far.
Omaha friends and timid ghost lovers, this story now has a follow-up. Find it at The French Fairytale Cottage Case Continues.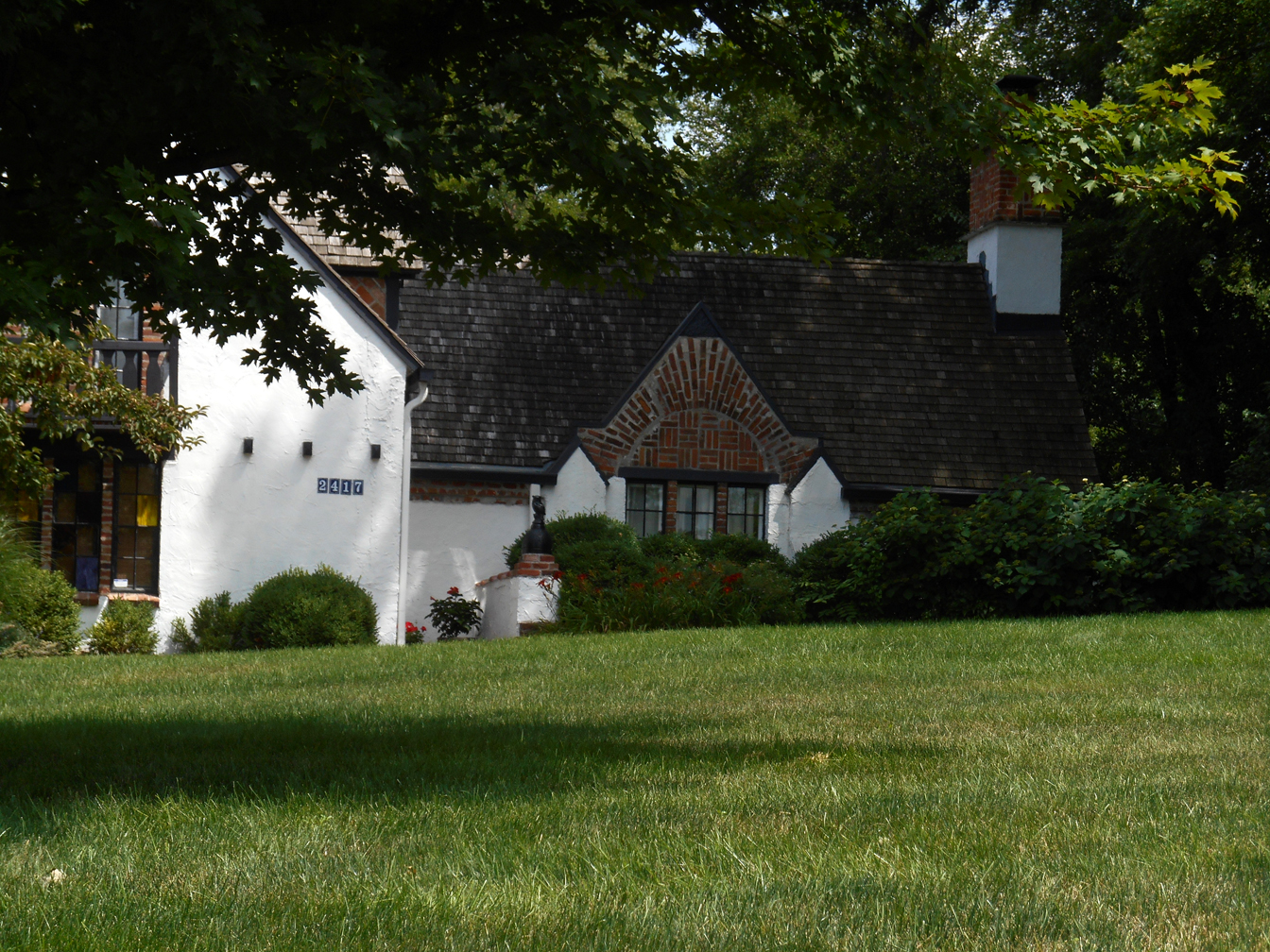 I welcome your comments on this home, its history of incredible owners and the Rockbrook area. I had such fun researching and following her trail. To enable comments, please click on the header title. If you would like to correspond with me privately, please do so at myomahaobsession@yahoo.com. But I assure you, everyone would love to read what you have to say and it makes the conversation more fun. You can keep up with my latest investigations without even leaving your inbox, by "following" myomahaobsession. You will get sent email updates every time I have written a new story. Thank you Omaha friends.
© Miss Cassette and myomahaobsession, 2016. Unauthorized use and/or duplication of this material without express and written permission from this site's author and/or owner is strictly prohibited. Excerpts and links may be used, provided that full and clear credit is given to Miss Cassette and myomahaobsession with appropriate and specific direction to the original content.