Omaha friends, I've been hoping that you'd drop in. Your hands are like ice. It's bad out there. No cabs to be had out there, as they say in a favorite holiday song. Might I recommend you just hunker down and stay a while? We are in good company, friends. Settle in and make a hot drink. Mr. Cassette is currently building us a fire. Eartha Kitt and Bing Crosby's voices are floating through the house, mingling with frankincense, Texas cedar wood and lime oils in the air–a new mixture that I would like claim as my own, but alas Mr. Cassette originated. It smells so divine. Little lights are twinkling on the mantle. Our animal friends are running around the house because they know what happens when the newspapers, pine cones and logs are brought before the hearth. It's all very exciting and but I am ready to indulge in Some Particular Details of Utmost Importance.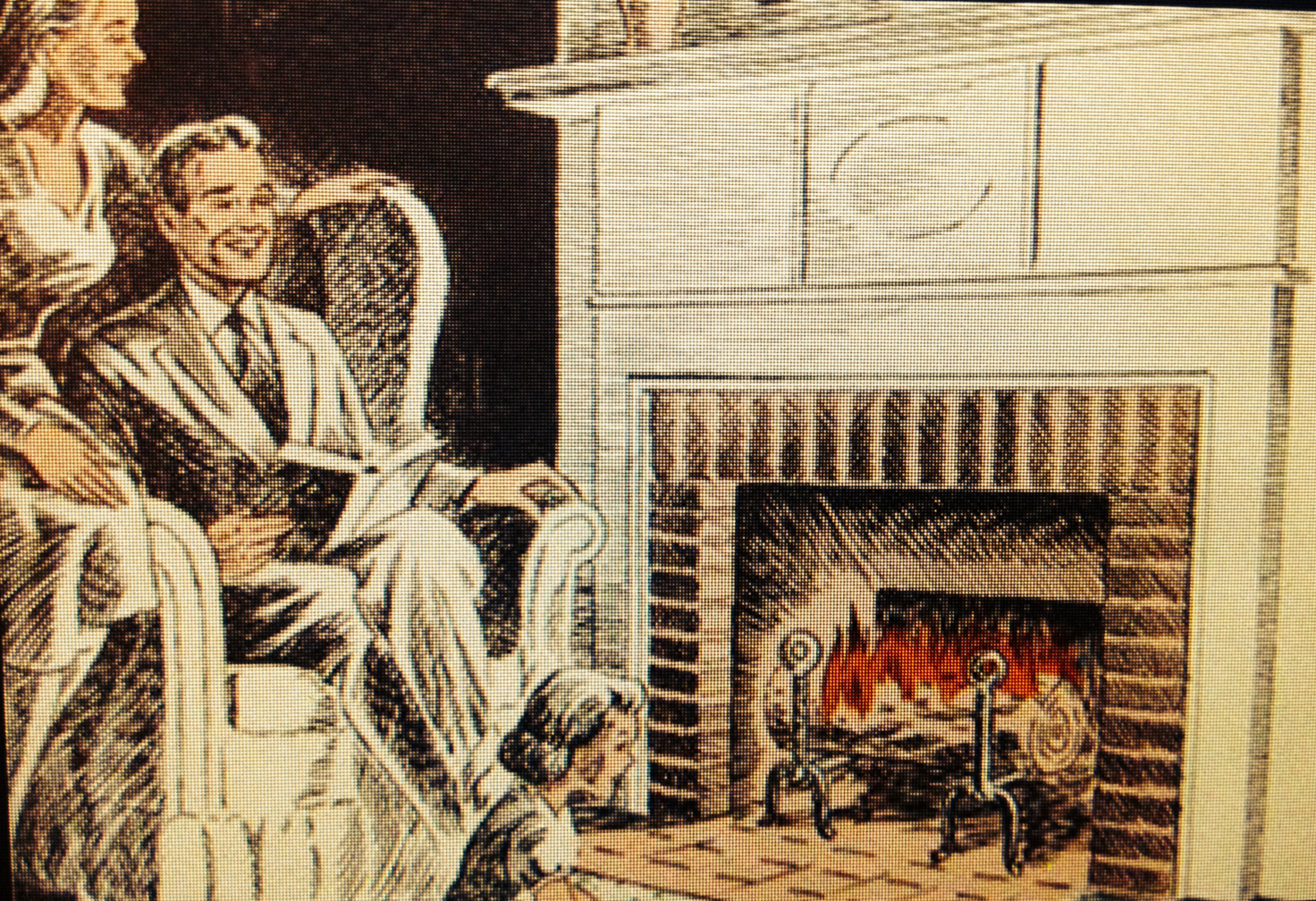 And by that, I mean revisiting….Bertha Yost Offutt and the Mysterious Gold Coast Mansion.
In case you have not read the first installment, Bertha Yost Offutt and the Mysterious Gold Coast Mansion, please, for the love of obsessions, do take some time and get caught up. These Particular Details of Utmost Importance will not make much sense otherwise…because I intend to plow straightaway and do not want to flit around on these keys backtracking when we've got a fire and merrymaking to attend to. The article was a smash hit in my estimation, because I received so many fantastic, personal emails and comments, I was beside myself. I loved to hear from all of you. In particular when I received emails from Bertha Yost Offutt's family letting me in on familial background information, I knew I would have to write up a Part Two, with their permission, of course. I, too, had come across gobs more interesting tidbits.
The Two Missing Mansions
From Born Rich: A Historical Book of Omaha by Margaret Patricia Killian, I had learned that there were at least two mansions on the land that would become the TraveLodge on 39th and Dodge. These properties were three houses to the south of the Yost-Offutt mansion at 39th and Davenport. Using the DOGIS map, I was able to obtain this aerial of the Gold Coast area from 1941.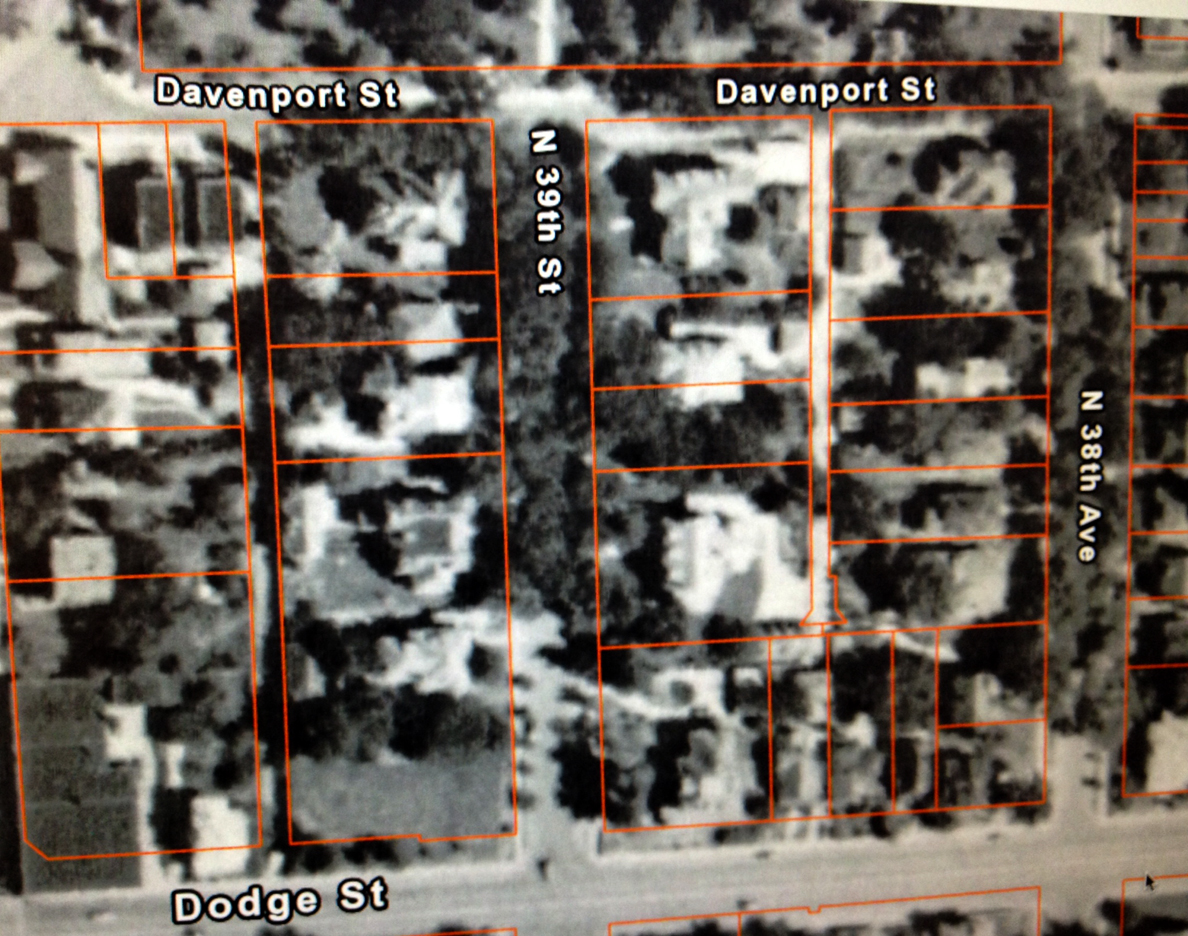 1941 shows the rooftop and property of two mansions on the old Travelodge property. They were still visible in the 1955 photo. By 1962 aerial view, the homes have been razed and TraveLodge appeared. The TraveLodge became a Travel Inn and it, too, was razed in the 2000s.
Bertha Yost Offutt's Travels
I was able to find Bertha Yost Offutt's passport application from a fantastic trip in 1924. Additional information confirmed previously detected information about Bertha. But I did not remember knowing that she had been born in Nebraska.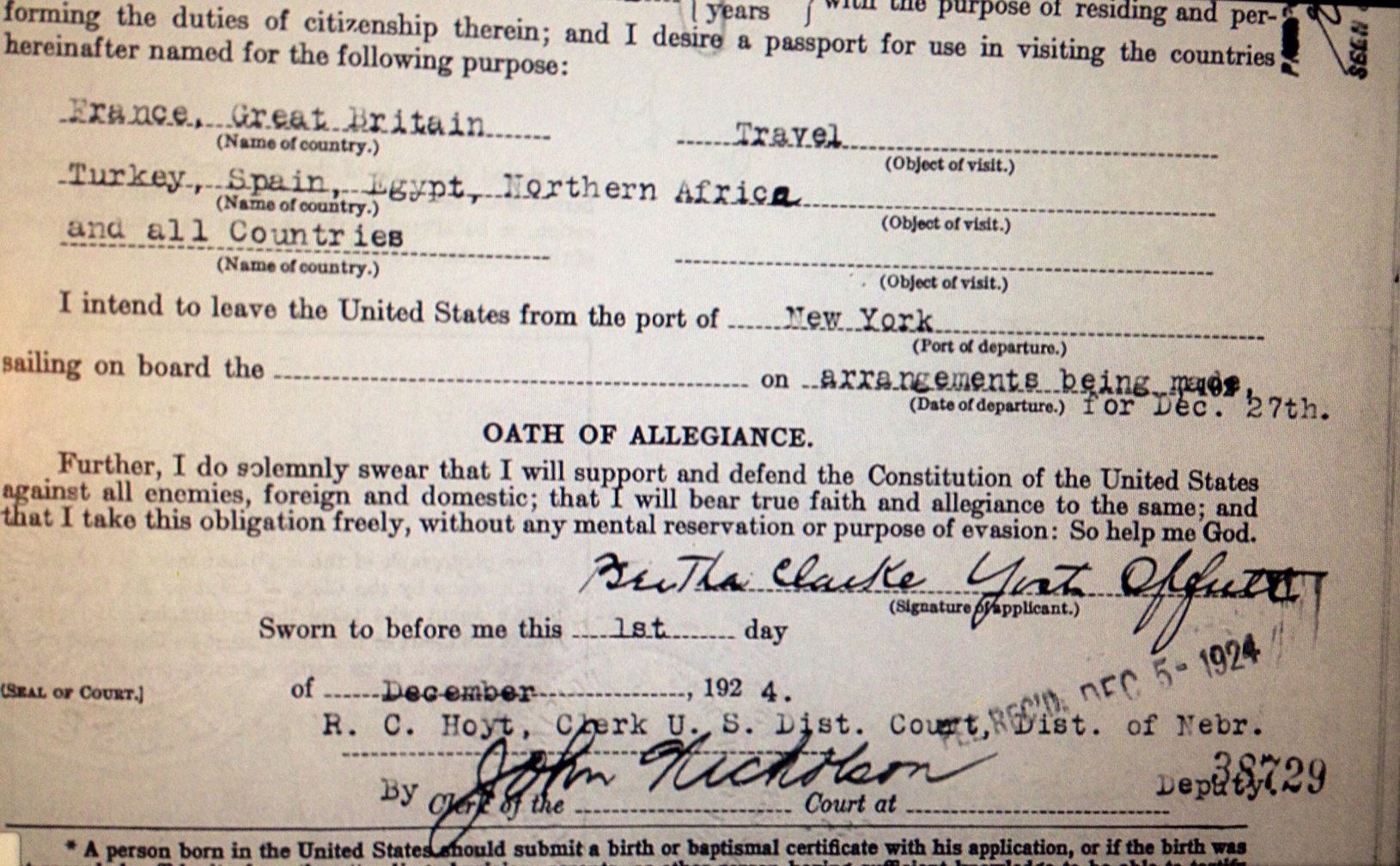 France, Great Britain, Turkey, Spain, Egypt, Northern Africa. Leaving on December 27, 1924. That must have been quite the holiday.
 The Casper Yost Offutt Home
The current owners of 109 N 54th Street have confirmed that Casper Yost Offutt built their home in 1924. They found the original picture of their gorgeous home in the attic and as well as the original landscaping blueprints. They report that they are the fifth homeowners. They are currently restoring the house and happily report that Casper Yost Offutt's home has been very well taken care of over the years. I discovered in an OWH article of 1990 that 109 N. 54th Street was one of five Happy Hollow homes featured on Landmarks' Candlelight Tour that year. Named the Atwood residence at the time, 109 N. 54th St. "Hidden by trees, this home reflects the rich detailing, top – quality materials and intimate floor plan that was characteristic of Omaha architect F.A. Henninger." I about fell over. Do you recall my obsession with F. A. Henninger? Dying with love. I sensed another story in the future! Please check out The Curious Case of the French Fairytale Cottage: Part One, The Curious Case of the French Fairytale Cottage: Part Two, The Curious Case of the French Fairytale Cottage: Part Three articles for more details on Henninger.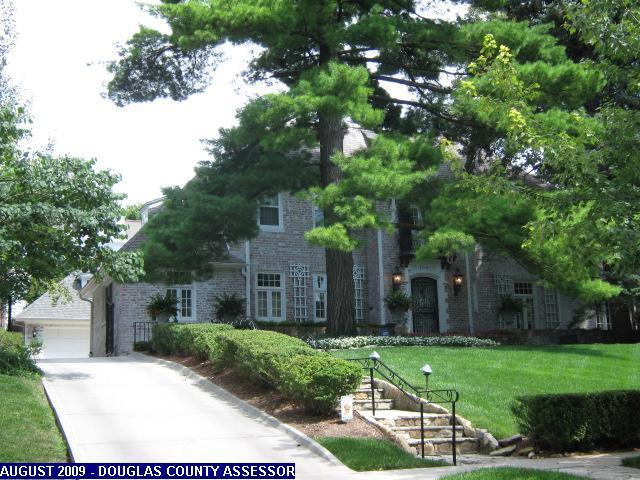 109 North 54th Street.
More about Casper Yost Offutt
Bertha Yost and Charles Offutt's oldest child was Casper Yost Offutt. He was born October 30, 1893. My original article has a good amount of information about Casper, as he was quite a successful man with a varied life. But here is even more about this remarkable man. According to his OWH obituary of 1987, from 1917 to 1919, Offutt served as the second secretary of the U.S. Embassy in Chile and first secretary and charge d'affaires in Panama. From 1926 to 1940, Offutt practiced law in Omaha and taught a course in corporate law at Creighton University. Later he served as a director of Carpenter Paper Co., and Wright and Wilhelmy Co. In 1941, Offutt joined the trust department of the U.S. National Bank. He retired in 1958 as senior vice president, trust officer and director of the bank. After retiring, he traveled to South America for several months, and then returned to teach Latin American history at Omaha University. "His salary went to the university's library for the purchase of books. He also taught two years at Creighton University at $1 per year."
Later I came across an obituary for Casper from the New York Times. http://www.nytimes.com/1987/12/23/obituaries/casper-yost-offutt-former-diplomat-93.html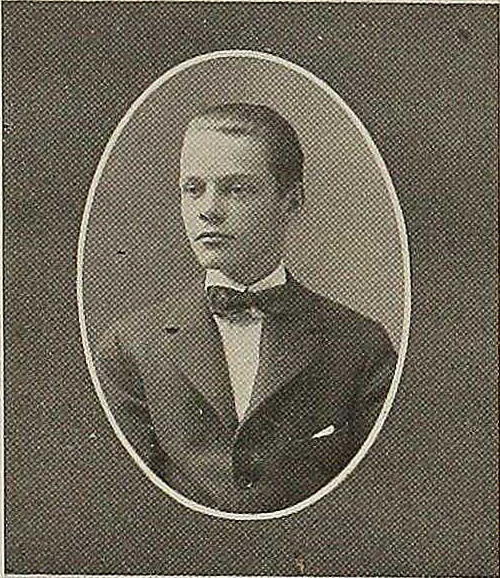 From the Offutt Family Genealogy page, I was able to find this school photo of a young Casper from 1911. It is easy to see the family resemblance. What a beautiful young man.
Initially from the Offutt Family Genealogy site I only found mention of Casper's one son, John Longmaid Offutt, born in 1933 at Omaha. I mistakenly thought he must have been an only child until I received a number of emails from family members. According to the grandsons of Casper Yost Offutt, John Longmaid Offutt was actually the youngest child of Casper and Mary Offutt. Janet Offutt was their first-born. Janet is still alive, living in Cold Springs Harbour, New York. Casper Offutt, Jr. was the couple's second child. Casper, Jr. (their writers' father) is alive and well in Portola Valley, California. John Offutt, the youngest child, died on June 11, 1992 in Omaha. He was buried on June 15, 1992 at Forest Lawn Cemetery.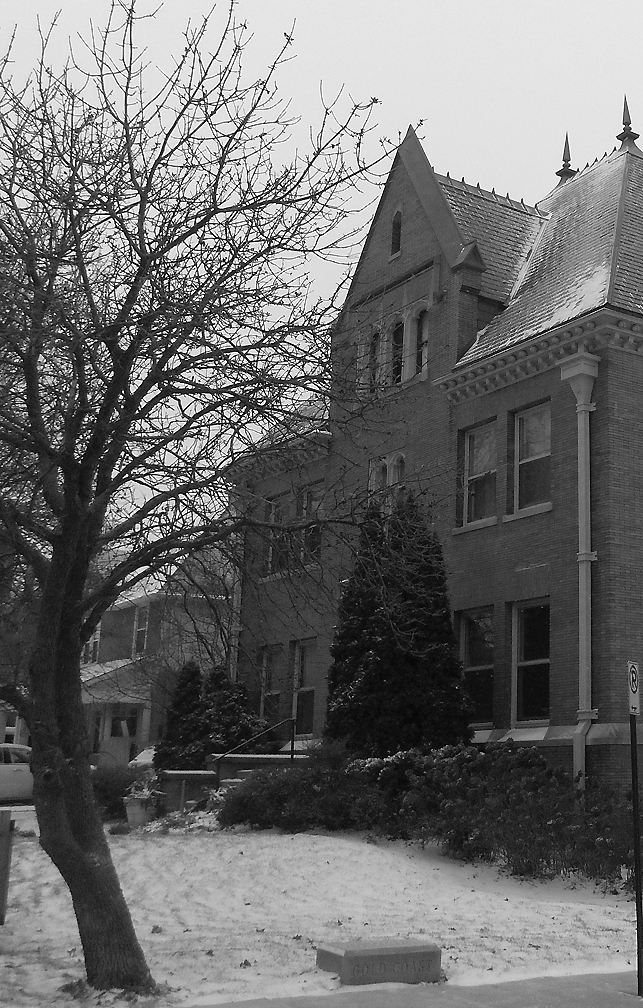 Memories from Casper Yost Offutt, III
I was so pleased to receive some warm emails from Casper Yost Offutt, III. "Bertha (Yost Offutt) was my great grandmother. I can tell you she moved in with her son, Casper (my paternal grandfather), at 109 N 54th because she had gone blind. I was born in Omaha in 1951 and recall sitting on her lap while she would feel my face with her fingertips. Creepy to a small kid. I have never been in the mansion but I vaguely recall being in the Joslyn Castle with my grandmother, Mary Offutt, as she visited her friend Mrs. Joslyn. I remember being closely watched so I wouldn't run off and touch 'stuff'."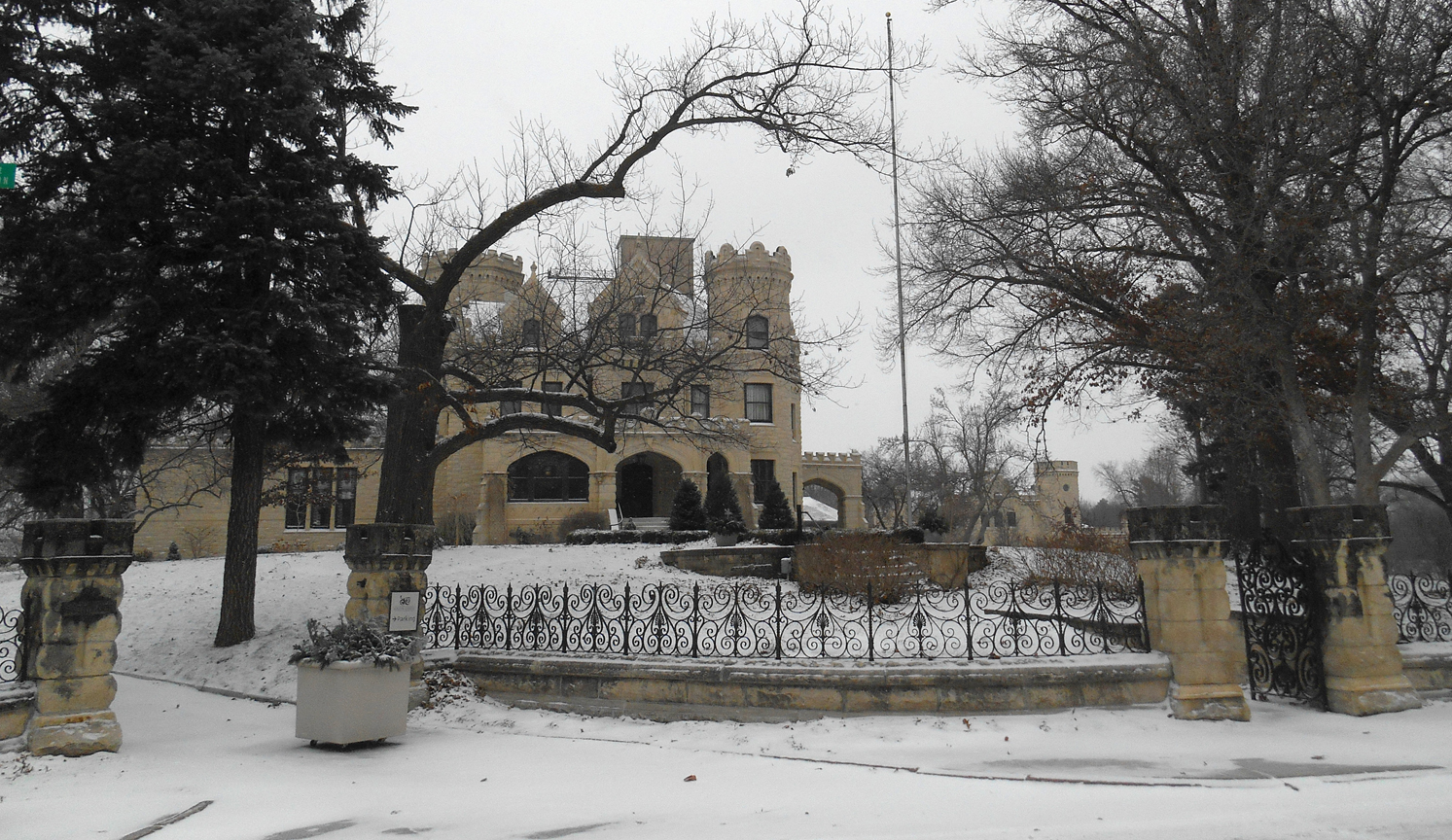 Joslyn Castle  at 3902 Davenport St, across from Bertha Yost Offutt's home.
"There IS a tunnel connecting Joslyn Castle with the Offutt mansion. They were friends and wanted a weatherproof connection. This, according to my father Casper Yost Offutt, Jr. who grew up playing in his grandmother's mansion." I was absolutely fascinated that this was reason for the tunnel. I wanted to know more. Through my years in Omaha, I have heard of the numerous underground secret tunnels in this town. This tunnel was one of the longest private tunnels I had heard of.
Haydenville Tunnel in Ohio, used only to illustrate what a tunnel under Davenport, connecting the two homes might look like.
He wrote further. "Bertha did have a chauffeur. I have been told he was a former cowboy, possibly named Tom. I have a tiny tin toolbox he made in the workshop in the mansion garage. He would drive Bertha and others to Lake Okoboji summers." Can you imagine? A former cowboy chauffeur named Tom? This was very good stuff.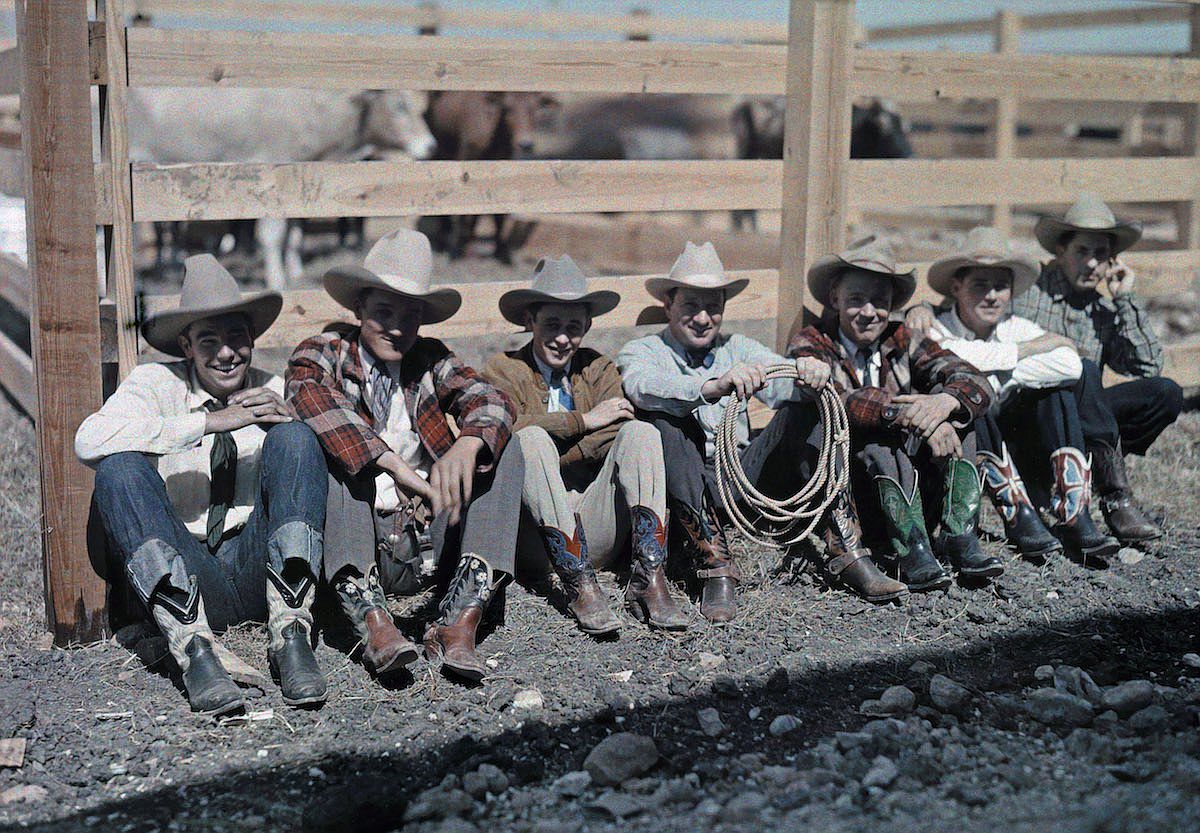 1928 San Antonio, Texas – Cowboys and riders sit along a fence at the Rodeo. From the first color photos, called autochromes, of the 1920s. Not chauffeur Tom, only used to illustrate what a cowboy from this time might have looked like. And I would love a pair of vintage boots in the style of any of these. So cool!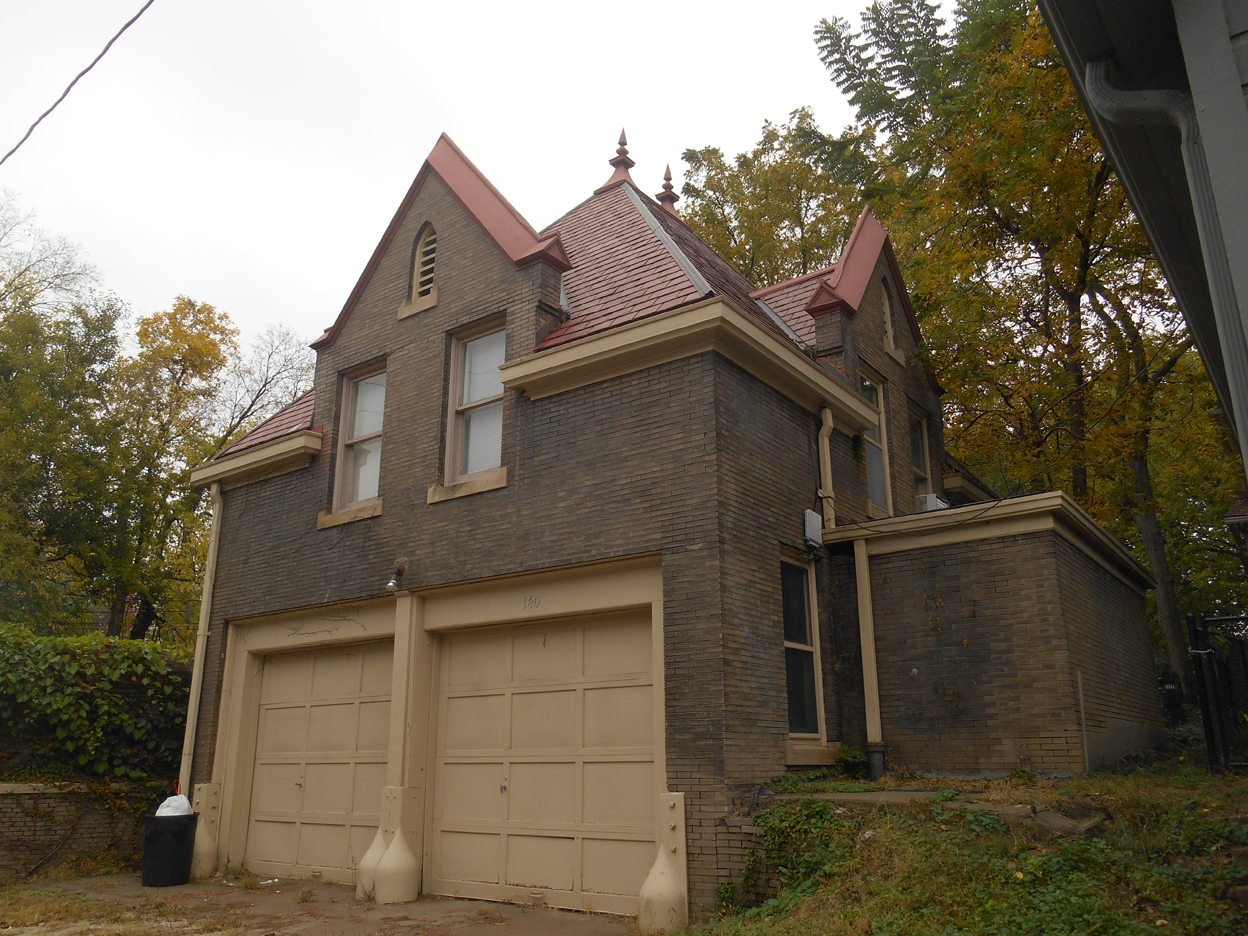 "There is a chauffeur's room attached to the garage. I grew up in Omaha from 1951 to 1963 and knew very little about the mansion. It was rarely discussed with us children." I suppose that is the way with children. You do not know what you have before you, or rather what to make of what you have before you, told or untold, until you are out in the world and have some perspective.
Memories from David Offutt
I also received some great messages from David Offutt. David is also a son of Casper Yost Offutt, Jr. He is brother to Casper Yost Offutt, III, who had written previously.
"My father, Casper Yost Offutt, Jr., was the grandson of Bertha Yost Offutt, whom I knew as a child as a great grandchild. She was blind in her later years, but a very loving person who always enjoyed seeing the kids. She lived with my grandparents, Casper Y. Offutt Sr., who lived on N. 54th Street, just off of Dodge. My dad spent quite a bit of time at the house (Offutt Mansion) as a youngster, and still knows many of the stories related to the house (including the underground tunnel that connected to the Joslyn house). He is currently 89, but doing well and living in California.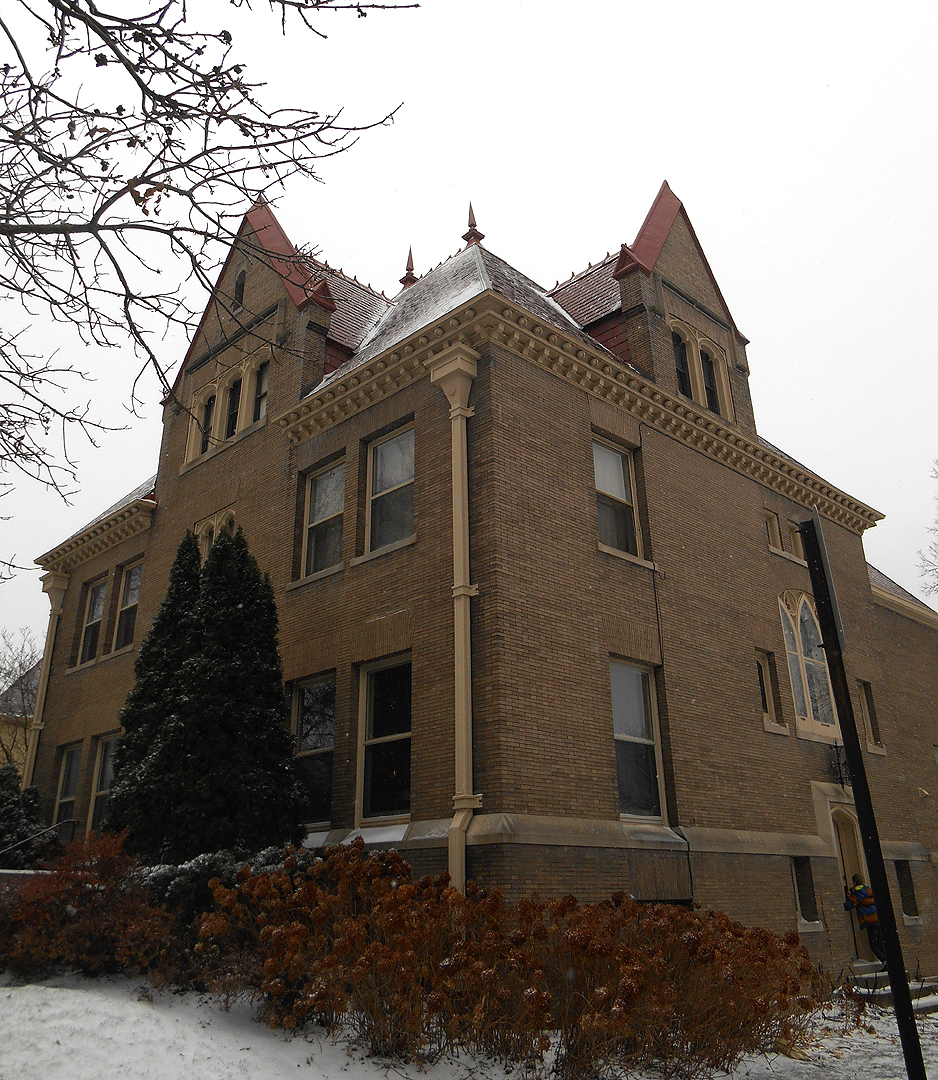 My great grandmother, Bertha Offutt, lived in the (109 N. 54th St.) house (we called it the "Blue Bedroom") while I was a child, passing away in 1958 when I was five. The maid, Marie, lived in the attic bedroom, and I still have great memories playing their as a child. My grandmother (Mary Longmaid Offutt) passed away in the early 1980's, but my grandfather (Casper Yost Offutt) was there until his passing in 1987 — 60 years in the same house. I'm glad it's been well cared for; it was always a beautiful house!
Dave had many memories that were triggered from my first article. Henry the Chauffeur, to the names of the maids of the house (Hilda, Marie, and several others), the tunnel that went from the house to the Joslyn Castle. He reported that his father spent a good deal of time there when he was younger, "and still remembers just about everything." Apparently there was a Tiffany chandelier in the dining room (of the Offutt mansion.) "It was purchased by my great grandparents (Bertha, I called her 'Bapa'), but eventually sold by one of the former owners. I believe my dad said it fetched $300,000-600,000 at an auction many years ago."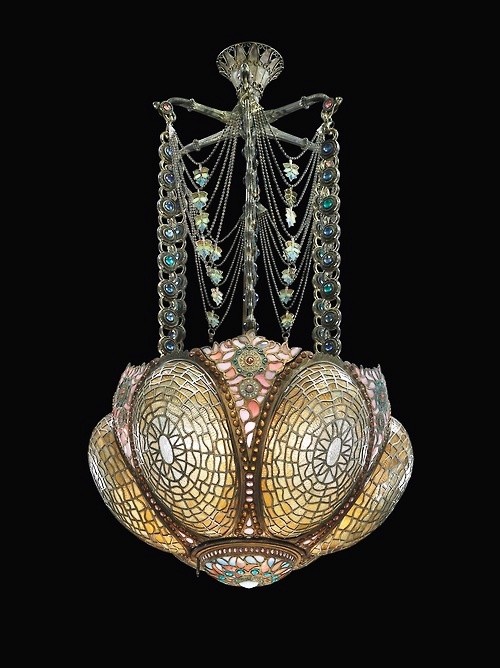 Rare, breathtaking Tiffany chandelier which is probably too small for a large dining room the size of Bertha Yost Offutt's BUT I love how intricate this majestic piece is. I would wear this around my neck if I could bear the weight.
Virginia Offutt Gates
In the original article this sleuther was not able to uncover much good information about Bertha's youngest child, Virginia. I did know she was born September 16, 1896. I have since done a bit more digging. I have found that Virginia was married to Omahan, Milo Talmage Gates in 1921. She was listed in the Omaha World Herald as upholding the privileged position of one of the "Ladies of the Court" in the Ak Sar Ben coronation ball festivities of 1923 and 1928. I longed to see a photo of Virginia.
After a time, I was able to track her husband, Milo's obituary. According to the OWH August 26, 1947 "Milo T. Gates, 52, former Omahan Monday at his home in Piedmont, CA. He was manager of the western branch, Crowell Publishing Company. Survivors: wife, Virginia Offutt Gates; sons, Milo Jr. and Jarvis O, both of Piedmont." This followed with my pervious findings that Virginia had moved to California.
Later I found Virginia's obituary, dated, June 22, 1988. From OWH: "Virginia Offutt Gates, sister of Jarvis J. Offutt, for whom Offutt Air Force Base was named, died Saturday in her home in Oakland, Calif. She was 91 and had suffered a long illness, a family spokesman said. Mrs. Gates, born in Nebraska, was a member of a pioneer Omaha family. She had been a longtime resident of Piedmont, Calif., the spokesman said. Mrs. Gates married Milo Talmage Gates in Omaha in 1921. Jarvis J. Offutt was Omaha's first air casualty in World War I. Mrs. Gates' older brother, Casper Y. Offutt, a lawyer and a director of the former U.S. National Bank, died last year in Omaha. Mrs. Gates' survivors include a son, Milo S. Gates of San Francisco; daughter – in – law, Mrs. Jarvis (Elizabeth) Gates of Piedmont, Calif.; eight grandchildren and a great – grandson. Private services will be held in California."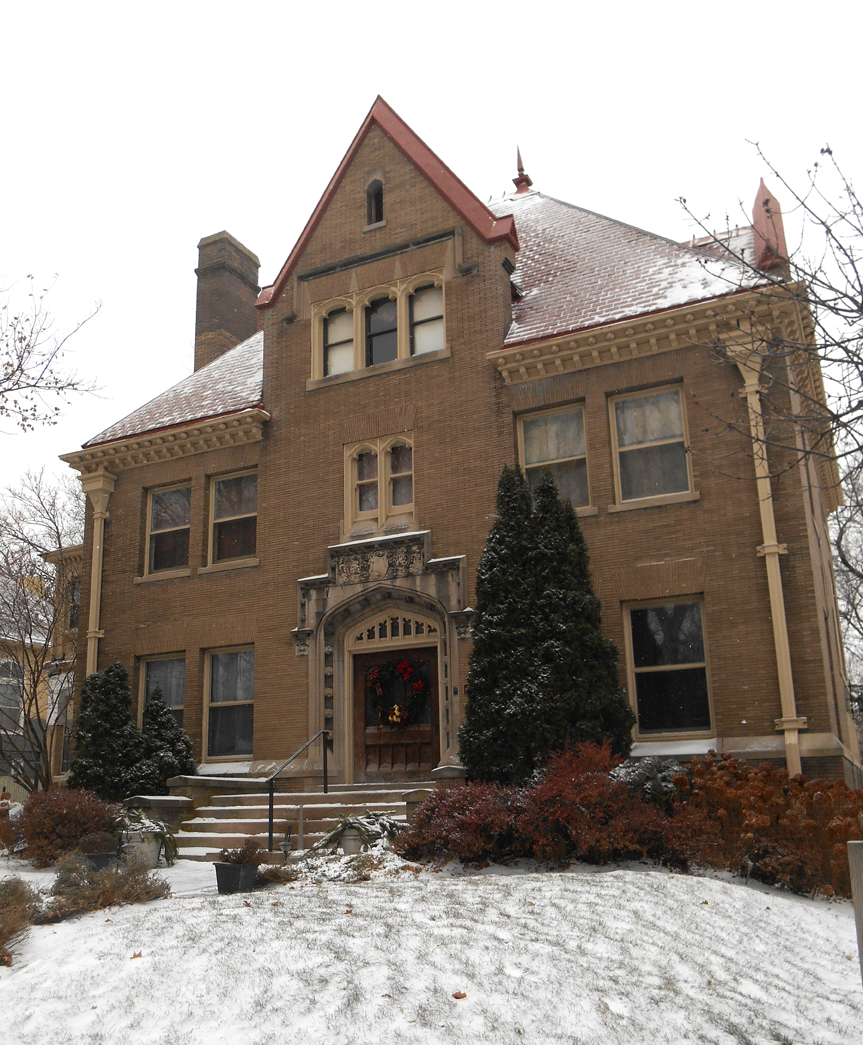 Memories from Virginia Offutt Gates' Great Granddaughter
It was such a special day to receive an email from Virginia's great granddaughter. She generously filled in some details on the mansion, the clan and gave that personal touch to Virginia's life.
"My father, Ned Gates, son of Virginia Offutt and Milo Gates, was born in and lived in the Offutt house until he was about 8 when he moved with his father, mother and brother to California. Virginia lived in Piedmont where she raised her two sons Ned and Jarvie (Milo and Jarvis) until she died in 1988. She was married to Milo Gates, an ad man, who was a great husband and father. My father adored him. Sadly he died early, in the forties.
'Bapa' spent her later years living half the year with her son Casper in Omaha and the other half with my grandmother in Piedmont. My eldest sister remembers her well.
Virginia was a lovely woman; elegant and very kind she loved fashion and had a wicked sense of humor. She was great fun to be around."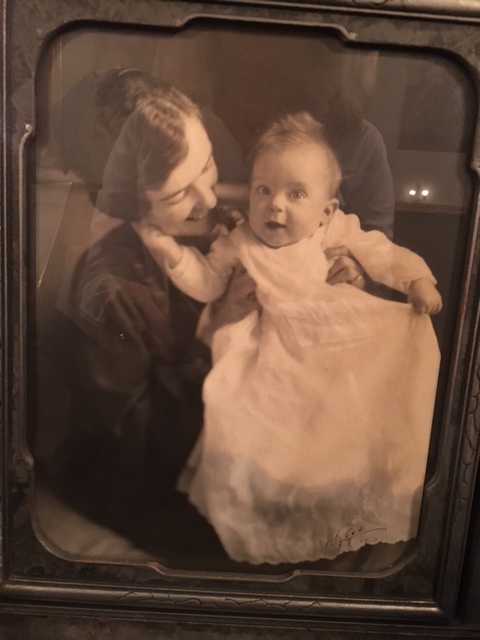 She was so kind to include these photos! "Virginia with baby, Milo (later known as Ned.)"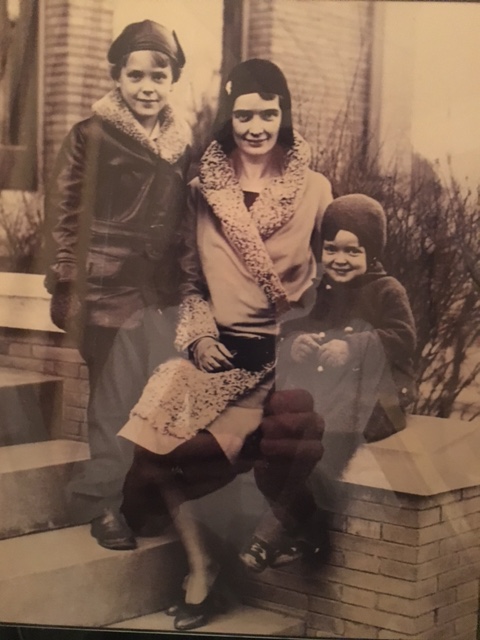 "Virginia with both sons, Ned and Jarvie." Anyone who knows me, knows that I am coveting Virginia's whole attire. I must know what color that divine coat was and if that was a curly Persian lamb trim? Also, those boys are about as precious as it gets. But my favorite is that Virginia Offutt Gates' great granddaughter, who sent me these , is seen in the photo with her ancestors, like a ghost figure. Thank you so much.
Special Dedication from the 1970s
From the Omaha World Herald, dated November 9, 1971, I learned that Casper Yost Offutt and his sister, Virginia Offutt Gates donated a beautiful portrait of their brother, Jarvis Jenness Offutt to the Offutt Air Force Base.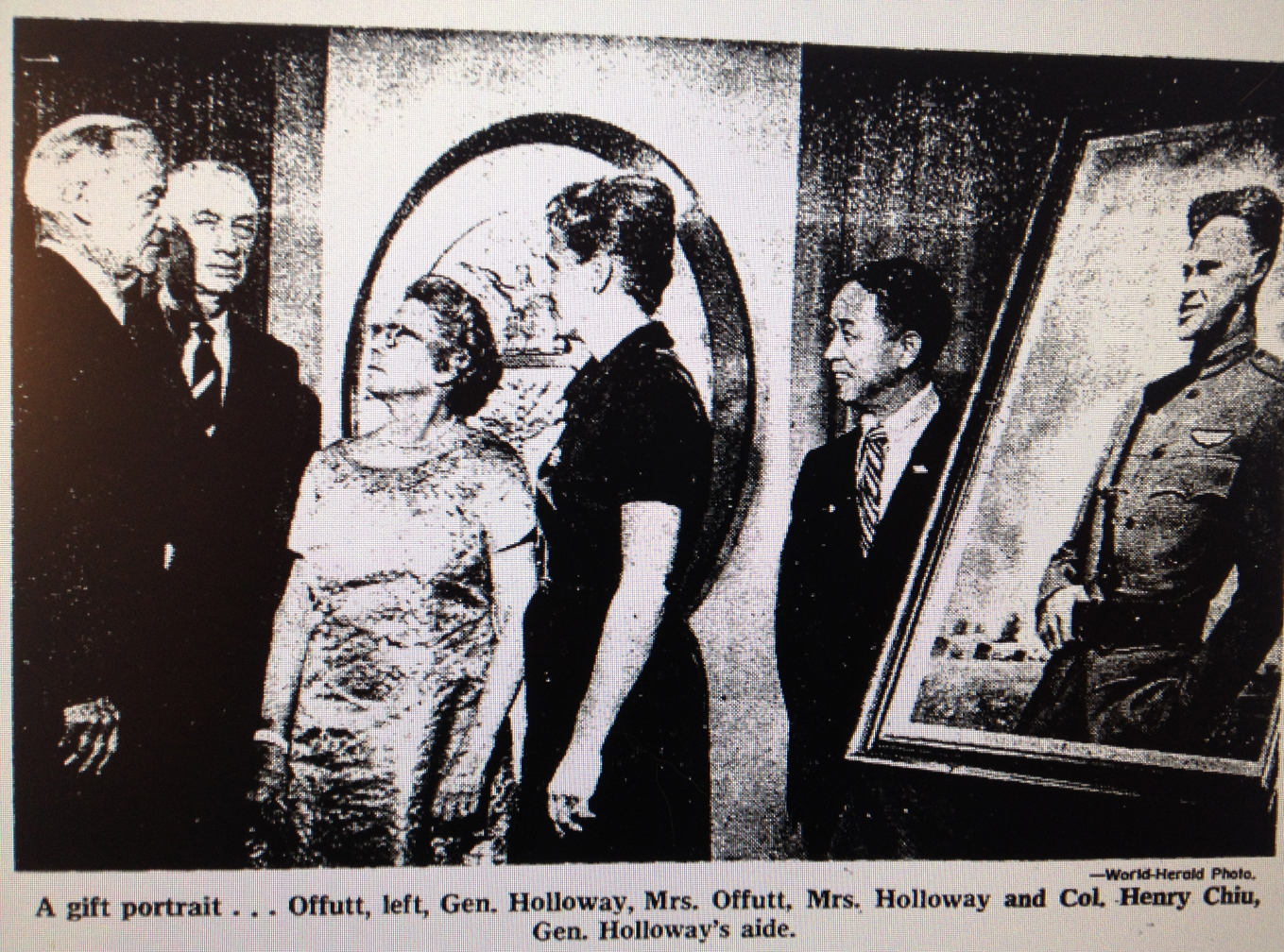 General and Mrs. Holloway, Casper Yost Offutt and his wife, Mary Longmaid Offutt, unveil a portrait of Jarvis at the party held at the Offutt Air Force Base Officer's Club. "The portrait donated by Casper Offutt and his sister, Virginia Offutt Gate, of San Francisco, will hang in the dining room at the Officer's Club." The painting was done by Woodi Ishmael, a professor at the Troy State University. I wonder if that painting still hangs at the Officer's Club?
I thank the Offutt family for reaching out to me and all of you that wrote in. I look forward to hearing more from you all in the future. Let us hope that you are reading and enjoying this Part Two on a day as freezing cold as I am writing it. Do you remember our Omaha winters? I do hope you've had a sleeping Saint Bernard on your feet as you've read along. Is it about time to mix up another warming drink? I, myself, really must go now. It would seem that both the fireplace and Mr. Cassette are calling my name from the living room.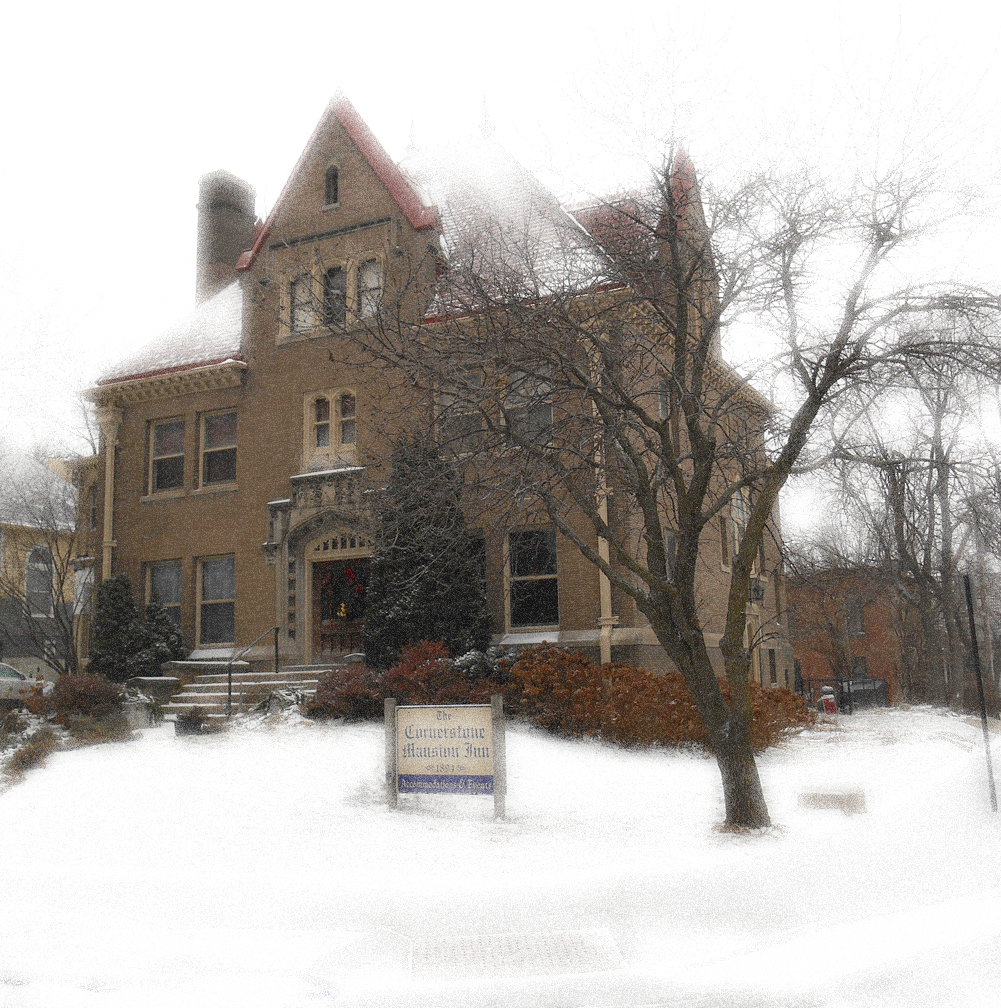 Thank you, thank you everyone for reading my articles and supporting me. It means so much to share this obsession of houses and their people with all of you. I welcome your feedback and comments on this article and its previous installment.  We know more together. To enable comments, please click on the header title. If you would like to correspond with me privately, please do so at myomahaobsession@yahoo.com. But I assure you, everyone would love to read what you have to say and it makes the conversation more fun. You can keep up with my latest investigations without even leaving your inbox, by "following" myomahaobsession. You will get sent email updates every time I have written a new story. Also please join My Omaha Obsession on Facebook. Thank you Omaha friends.
© Miss Cassette and myomahaobsession, 2016. Unauthorized use and/or duplication of this material without express and written permission from this site's author and/or owner is strictly prohibited. Excerpts and links may be used, provided that full and clear credit is given to Miss Cassette and myomahaobsession with appropriate and specific direction to the original content.