Here in the detective office, just as at home, I like to keep up appearances, if for no one but myself. The mishmash of a period-imbued backdrop fans my little dream, nudged along by the likes of Ethel Waters and Scrappy Lambert and his Colonial Club Orchestra. It keeps me going, quite frankly, where the present-day world seems determined to knit my brow. There have been times lately when I, too, weigh up a comfortable costume of contemporary sneakers and stretch pants. Soon after I recognize I have strayed into the darkened hovel of my soul, similar to a vague outlet mall. Not to besmirch athletic wear or our active members of society, for I've heard they do exist and just the other day I saw one such contender texting out a missive in Mr. Cassette's woodland garden but for my amateur girl sleuth and entertainment duties, I have an arrangement with myself. I simply remind myself of what my childhood etiquette book cautioned–that I never know when I may be called upon to stake out an ivy-enshrouded mansion or embark on the delicious footwork of eavesdropping from behind a hidden bookcase door. Except now that I think of it, the etiquette book mentioned that one never knows when one might be introduced to a foreign dignitary or experience an unfortunate visit to the emergency room. 100 brushstrokes of the hair every day and clean underpants, girls.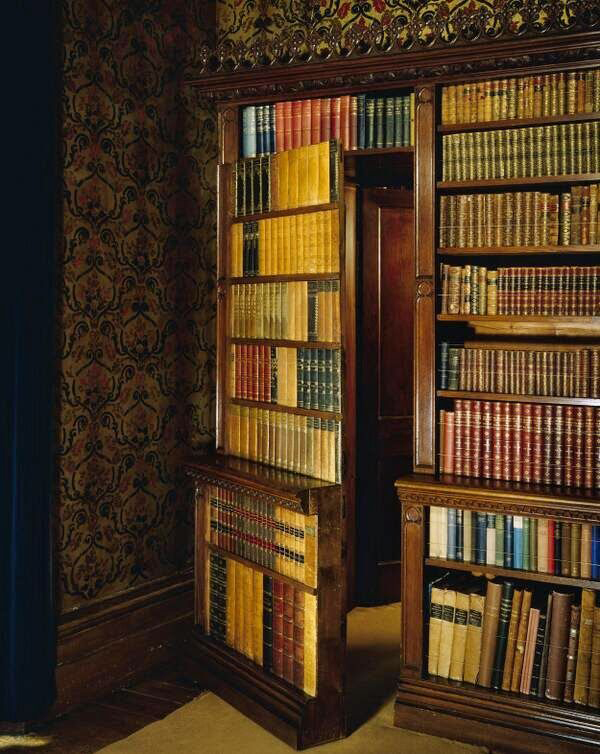 No matter. When one is a plucky snoop, one has found it best to dress as a vintage debutante, to offset this irreverent personality. And let's be honest, one never truly knows just when crooks or clues might come calling. Even though no one is dropping 'round to see much of anyone these days.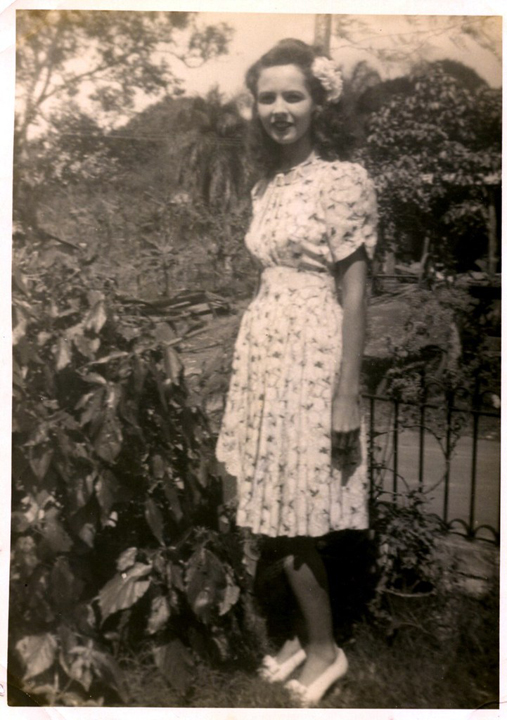 These are my jokes, of course, for Miss Cassette has her multitude of monstrous muumuus, quarantine or not, just as every woman does. On occasion I aim high. When not dressed in period office clothing at the Agency, I do rather prefer padding about the house in vintage, silken Asian robes or men's dressing gowns and smoking jackets (the desirous kind with a contrasting or quilted lapel), especially with an empty butterscotch Bakelite cigarette holder. It just feels right.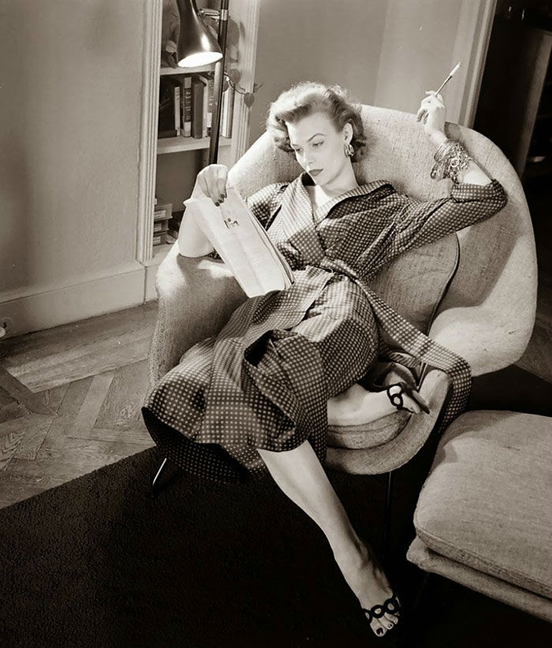 I am not a smoker or a drinker but in recent weeks I've considered starting up again. All this present-day magging of women and their glasses of wine… I truly believe a juniper-rich, gin and tonic with a generous wedge of lime rings apropos, given the current set of circumstances, but I never was one to tarry about with wine. I had always appreciated an intentional, lively, eye-opener…at any hour. These are simply personal choices but for myself, I've decided there are enough spirits to contend with rooting around old glorious houses. A good cup a joe's just swell for now.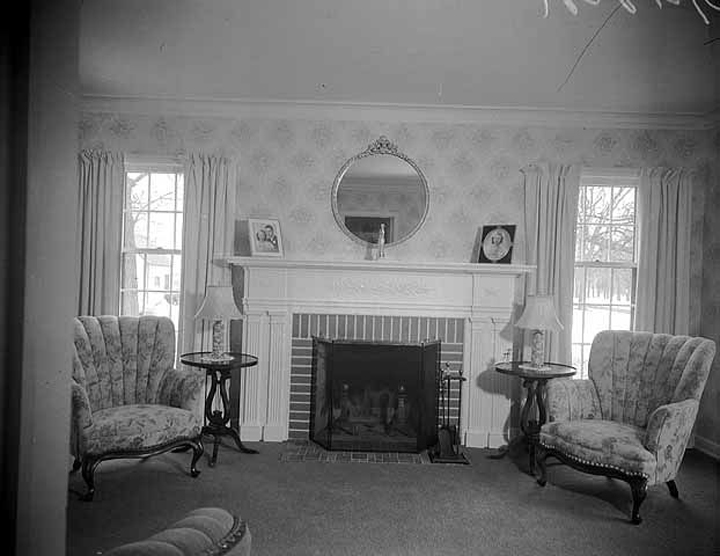 Yes, I really must insist on aspiring to another era. It is a bit like floating in a living sculpture or a movie set from the late 1930s and 1940s. The storyline of breathing in this period's temper, furthered by the complementary décor, keeps my head uplifted and a wide, lucent, dreamy perspective. This is my ideal Cream in My Coffee.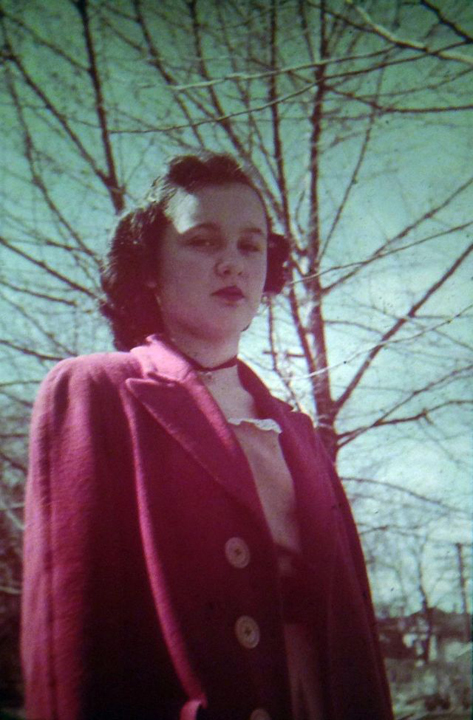 I recognize the uncertainty and anxiety around us as new to many people. At times my pursuits seem silly with all I read in the news and observe within our little city. But I continue to duck into this shadowed door and plunk myself down behind the tanker because I need to—for this is an untroubled exploration. The way I see it, there in no greater agenda for the Agency than in continuing the dig for pure joy. You uplift me and I hope I can do the same for you, my friends. Please take care of yourselves.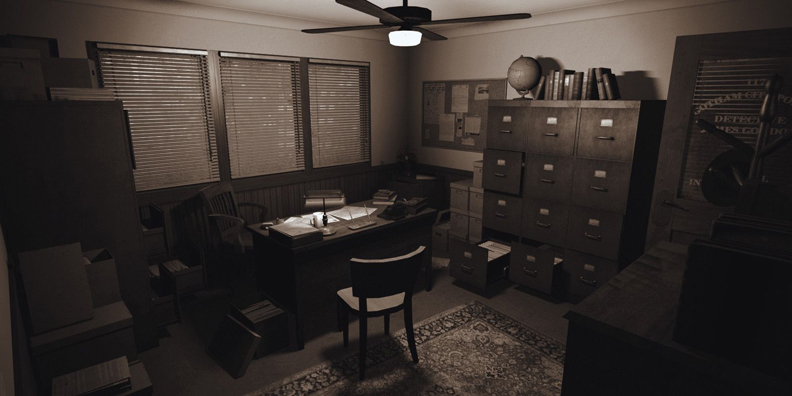 The Case Resumes
I listened briefly to the tap of leather-soled heels, passing outside the office window, accompanied by a faint drift of voices as I typed. It is rare to hear pedestrians' steps or a voice beyond the curtains these days. So little distraction out front and yet, hauntingly nostalgic within these four walls. I had pledged a few weeks back, (which now seems like five months ago) at the occasion of my website's anniversary post, that I would continue to refocus, codify and chip away at my old investigation files. These were architectural surveys not yet finished and hunches barely examined.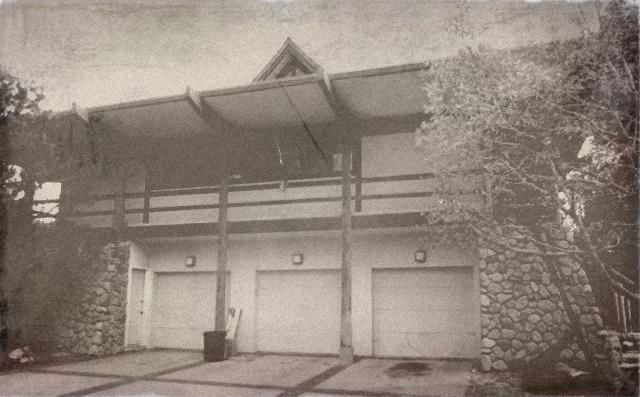 Today's Mid-Century Modern case file was a joy to stumble across and become reacquainted with. This was intended as a Part Two for a popular exploration into 312 South 70th Avenue from last year. Like so many files in the drawer, this dossier was buried over. This new Lookbook and brief interviews function effectively within my (purely made up) set parameters without threatening to pique my dangerous habit of wandering, architectural endeavors, baffling mysteries, brambles or becoming gushingly emotional. What could go wrong?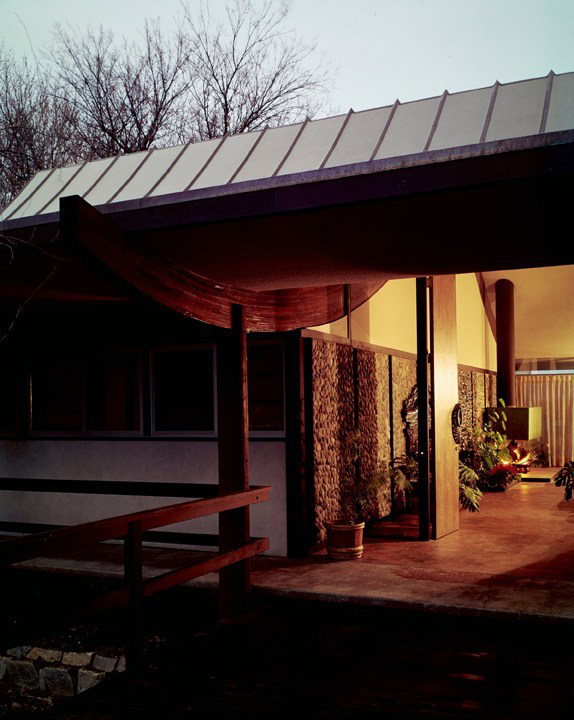 Detectives, please review clues from the myomahaobsession.com/2019/07/01/mysteries-of-omaha-312-south-70th-avenue/ investigation. Or if this case passed you by originally, take your time with it. I won't be doing much backtracking in today's study. Let us get underway without delay!
Architect Donald Perry Polsky is perhaps best known for his Mid-Century Modern style, celebrated in these parts for having brought California Modern to Omaha. He is also noted as a pioneer of the design-build concept. Born in Milwaukee in the late 1920s, Polsky grew up in nearby Lincoln, Nebraska, where he would graduate from the University of Nebraska College of Engineering in 1951 with a degree in architecture. After serving as First Lieutenant of the United States Air Force from 1951-1953 and a fortuitous brush with Modernist Architect Richard Neutra, Polsky moved to California. How was it that he came to build the fantastic Milder home in Omaha?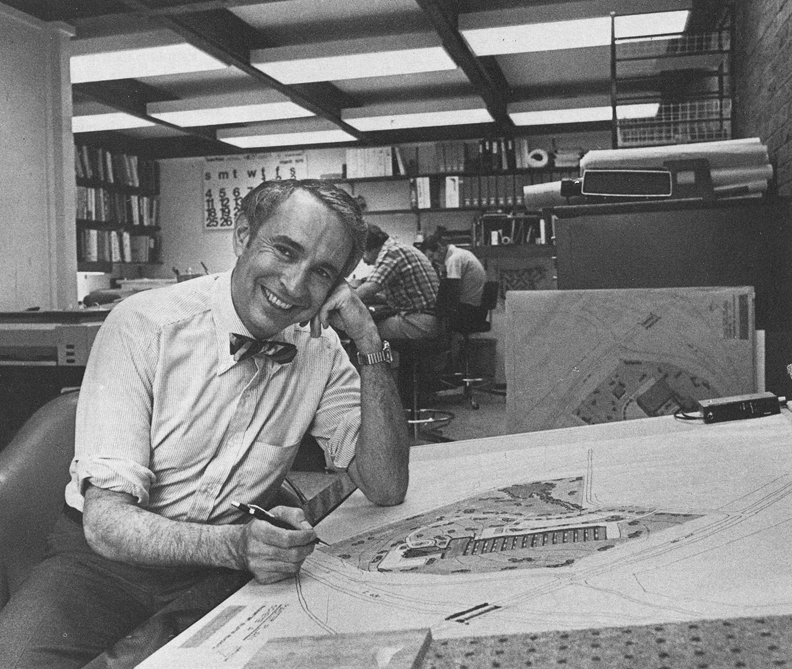 Don Polsky photo borrowed from the Landmarks Heritage Preservation Commission website.
I called landlines and other lines in the Polsky name with the dream of asking my questions back when I was hunting for tips in the original exploration. I feared the great architect had possibly passed away and I was too late. Thanks to Polsky's friend and local historian, Travis Sing, I would learn Donald Polsky was alive and residing in California with family since 2014. Aided by the generosity of Sing, I would acquire Mr. Polsky's email address in hopes of touching base.
Soon after the release of the 312 South 70th Avenue report, in early July of 2019, I received an email from Jeffrey Polsky, son of the pagoda house architect, Donald Perry Polsky. I had given up hope of hearing back…but alas, the Polskys rang! Son Jeff Polsky wrote:
"Don Polsky is my father. He is 90 years old and isn't great at answering e-mails. I'm sure, though, that he'd be happy to talk to you about his work on the Milder house. Would you like me to arrange an opportunity for you to talk to him by phone? Regards, Jeff"
I was beside myself and most assuredly crowed with delight. By mid-July, Jeff, Don and I had ventured into a conference call during my lunch hour where I was able to speak with the great architect and gain more information about the splendid Milder home. Jeff was very kind to have printed out my whole investigation for his father to review. Our delightful exchange involved Don surveying the printed images, which served to stir up the over fifty year old memories of his design-build. I took notes and asked questions when I could get a word in!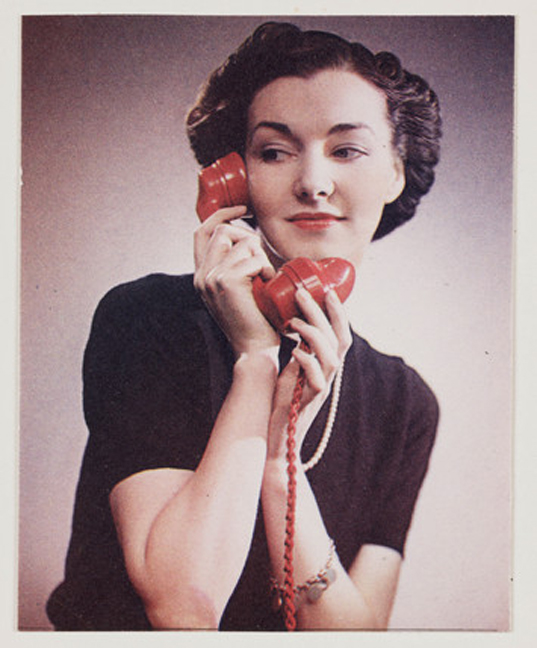 Meanwhile tallying correspondence with former homeowners, Emily Milder and her mother, Ducky Milder had lofted me quite over the moon. Emily shared even more fabulous photos of the Milder home's interior included throughout this story. Ducky was able to divulge more about husband Mike's plans and remembrances of the Polsky-Milder stratagem. What follows is, I hope, a pleasurable weaving of these new clues.
The Interviews
From our telephone discussion, Mr. Polsky shared: "My family moved to Omaha in 1964. It was to design and build Mike's house." When asked how he came to know the Milders, Polsky explained he had first known Mike's older brother, Orvel Milder.
Lois "Ducky" Milder: "Several architects tried to capture his (Mike's) idea. We were friends with Don and Kini Polsky and thought to ask Don to design the house. Don Polsky went to the University of Nebraska and was a good friend of Orvel Milder (Mike's brother)."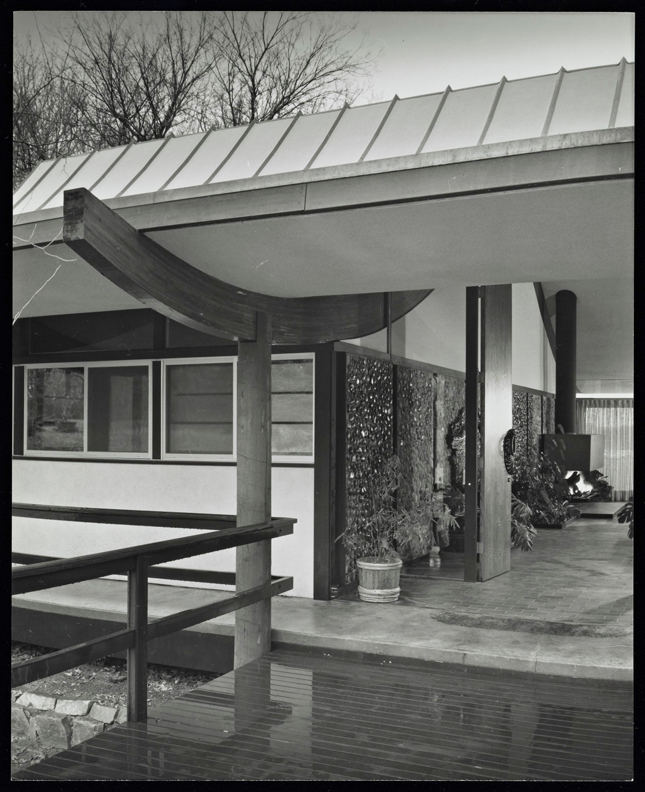 Ducky Milder: "Don's first draft was marvelous!!! My husband Mike loved our pagoda house. Actually the roof is Japanese inspired."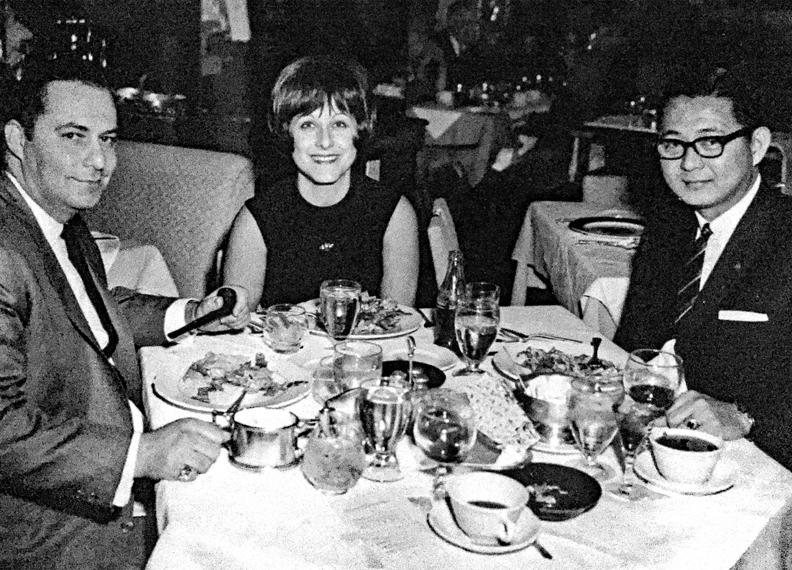 Mike and Ducky Milder enjoying a dinner with friend, Ishikawa. Photograph from the Milder family collection.
Ducky Milder: " Mike was the International Junior Chamber Vice President and widely traveled, having dear friends all over the world including Hong Kong and Tokyo…thus, the Asian influence. Don's blueprints are the finest, most detailed, pointed out by John W. Kostitch, our friend and a brilliant Omaha decorator. Kostitch did the finest homes in Omaha…never trendy…not this year's colors…a decor that lives forever!"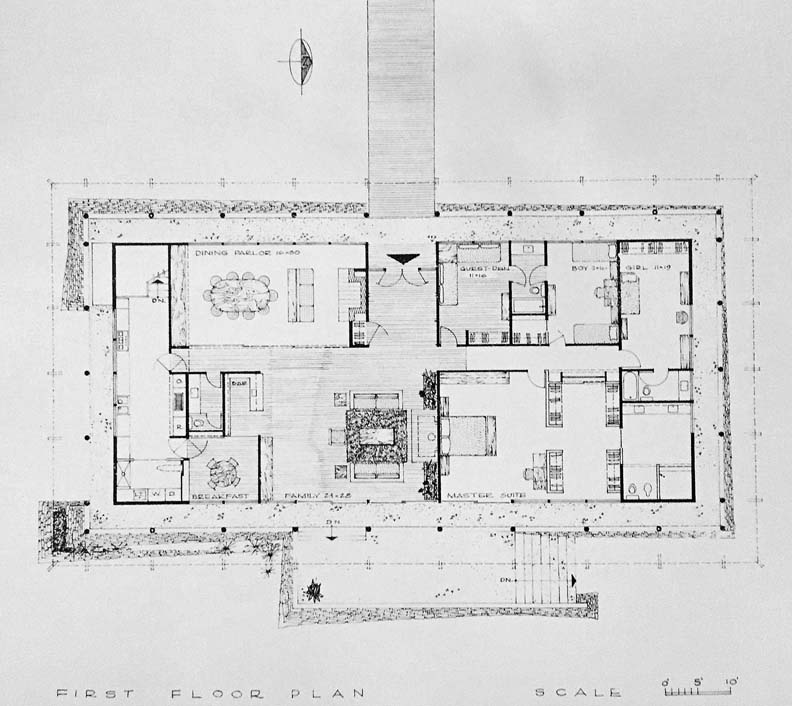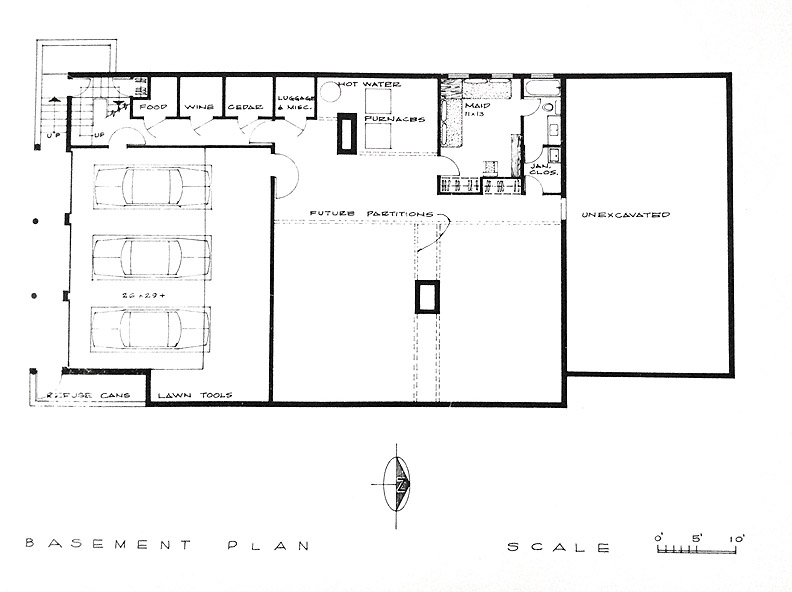 Polsky's Milder House First Floor and Basement Plans from the Milder family collection. When it was built, 133 South Elmwood Road was commonly described in Omaha as a "Modern Oriental" home.  The Milder residence was said to feature a 21-foot high ceiling on the main floor. Purportedly the 3000 plus square foot home was divided into two parts. One side featured the formal rooms: the living room, dining room, parlor, kitchen, breakfast nook and utility room. There are two original fireplaces. The other side of the home offered the master bedroom-bathroom suite, plus three other bedrooms and two bathrooms. Polsky designed with the popular Open Floor Plan. There was a spiral staircase in the middle of the house connects to the equal-sized lower level. The maid's quarters and larger than large recreation room (this was the mid-60's after all) were in the basement.
Don Polsky: "Mike wanted a house with three things…an Oriental style house, a curved roof and a combination of fireplace mixed with water." I would hear more about those in detail.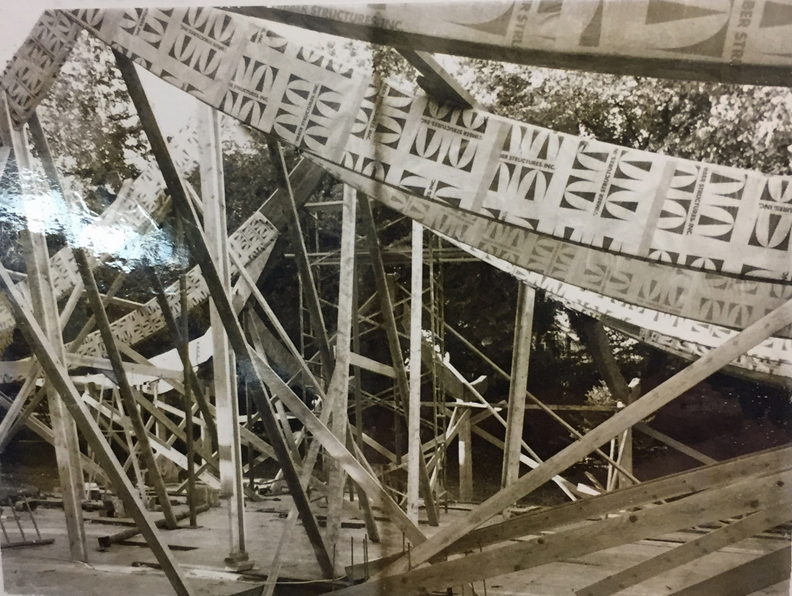 Home being built. Photo from the Milder family collection. From my investigation I had learned Architect Polsky was not consciously trying to design a Japanese style house, per se, a repeated clarification. In our discussion, Don pointed out: "The curved beams of the roof. Oriental structures are not curved up. Also this was a much bigger house. The pine beams were delivered from the northwest in large trucks. The different sizes were wrapped in different colored paper. Mike wanted that roof rounded—curved up."
Don Polsky: "The four columns of the four corners of the Milder house were hollow to route water. These four poles were made hollow so that rain water could pass through them." I marveled at the modern spirit and the potential for directing this water straight into a garden. I considered his 30 lodge pole pine columns, which support the roof around the edge of the home. A wooden bridge entrance, leading to ash wood portals and a roll roof with copper battens, projecting out to the very corners.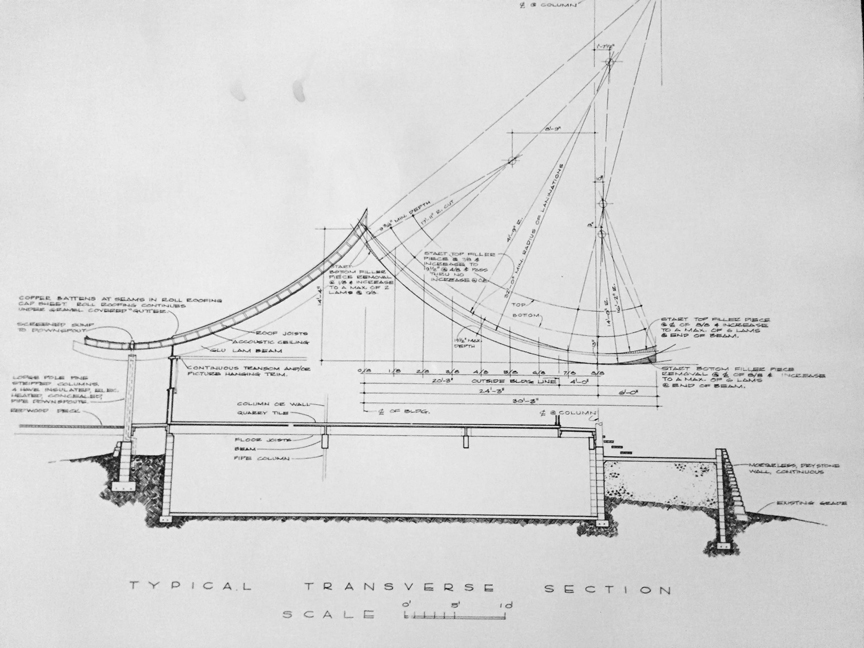 I could see from the "Transverse Section" of Polsky's original blue prints the notation about these four columns. It read: "Lodge pole pine stripped columns. 4 have insulated, elect. Heated, concealed pipe downspouts." Additionally above it, I spied: "Copper battens at seams in roll roofing cap sheet. Roll roofing continues under gravel covered 'gutter.'" Another descriptor pointed to the top of one of the columns. "Screened sump to downspout."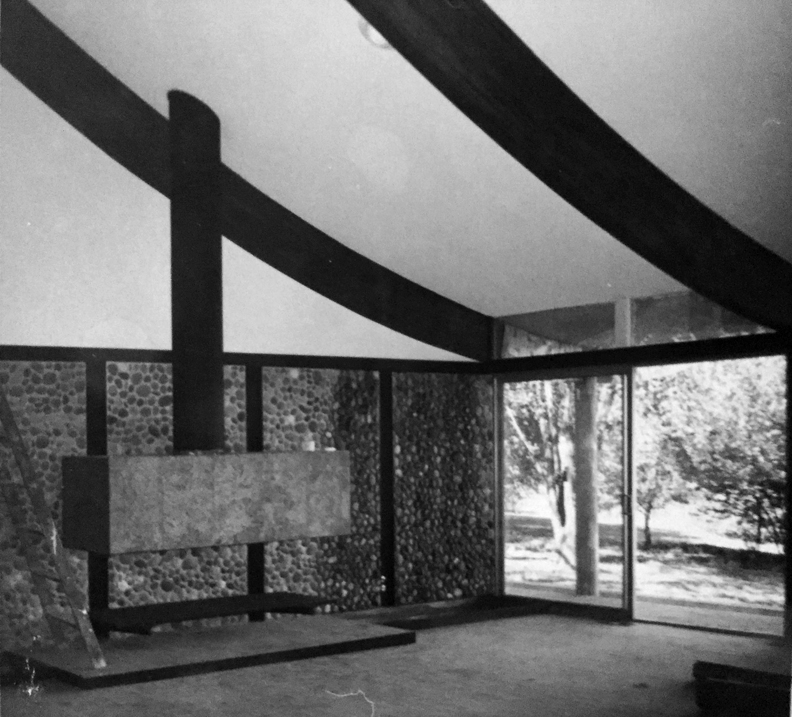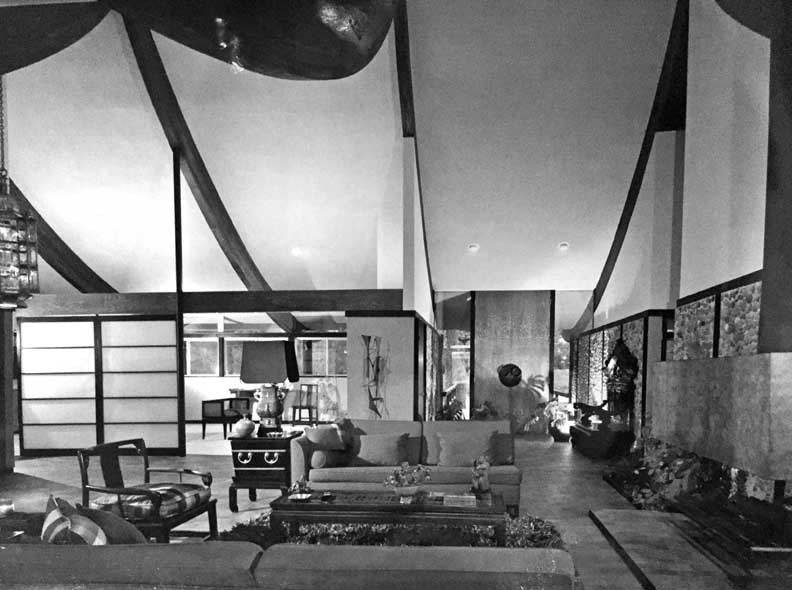 Julius Shulman photography archive, 1936-1997 of the living room borrowed from the Milder family collection.
In one of the more curious disclosures, the architect lit on a memory from viewing the living room photograph. Don Polsky: "Mike really wanted that combination fireplace with water (feature). There were metal sides on the Milder fireplace. The water was separate. The water ran down the stone and re-circulated." After studying the image of the fireplace above it did look as though these were water pools at the base of the stone walls.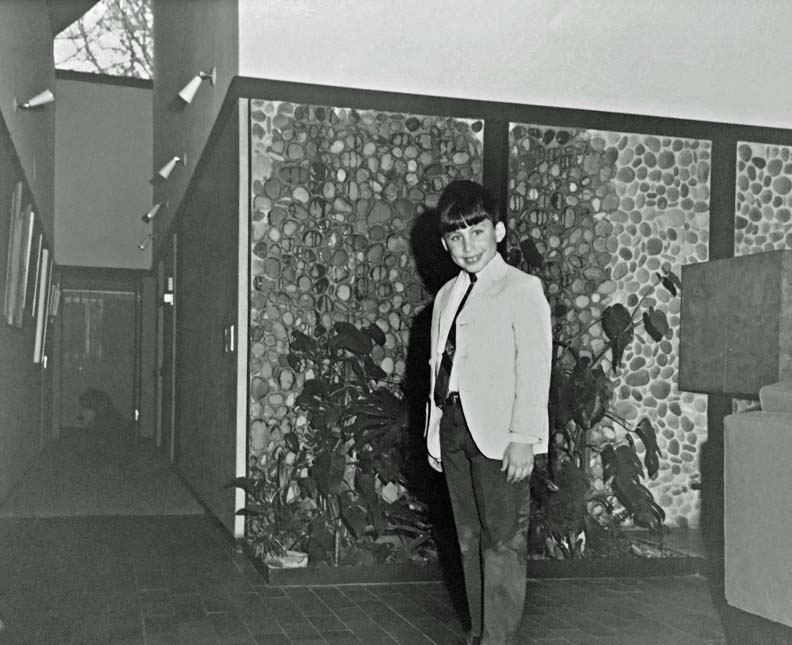 Little Mike Milder, Jr. in front of the same great stone wall. There again, the stone wall does look wet and as if it is collecting in a possible pool on the floor filled with plants. Also take note of those hallway lights. How cool! Image borrowed from the Milder family collection.
Shulman photo of the living room borrowed from the Milder family collection. Upon seeing the image of the sculpture in the foreground of the living room, Don Polsky: "The statue of the girl was made of copper."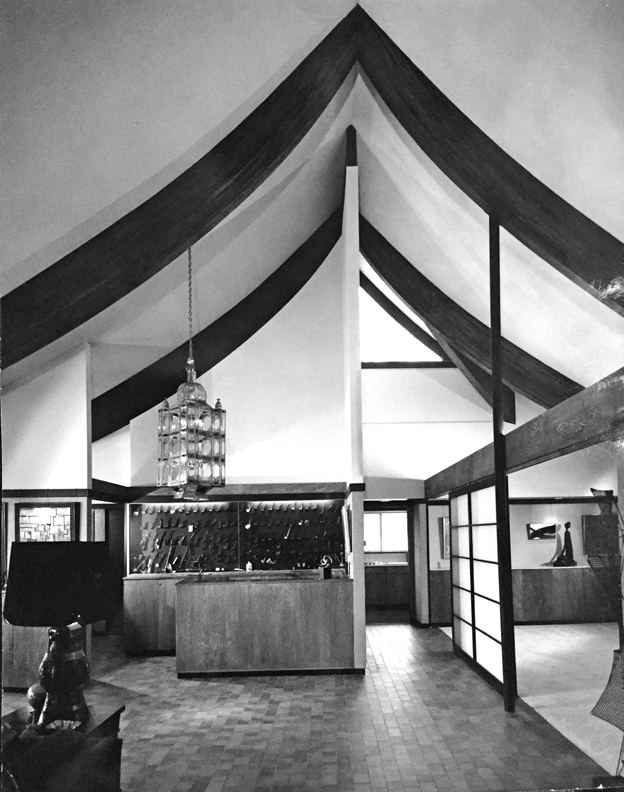 "Bar and dining room" Julius Shulman photography archive, 1936-1997. Image from the Milder family collection. Is that, per chance, a pipe collection?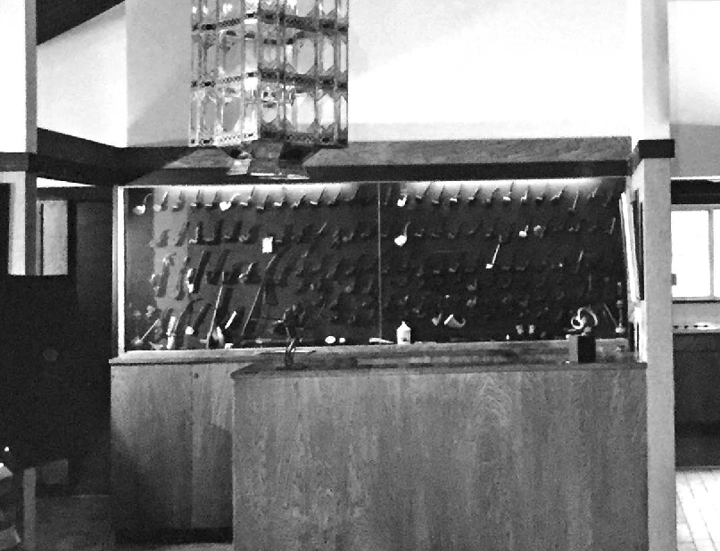 Magnified for your pleasure by Miss Cassette. By golly, those sure look like pipes. What a collection. I had seen Mike Milder holding one in an earlier photo featuring a dinner with Mr. Ishikawa.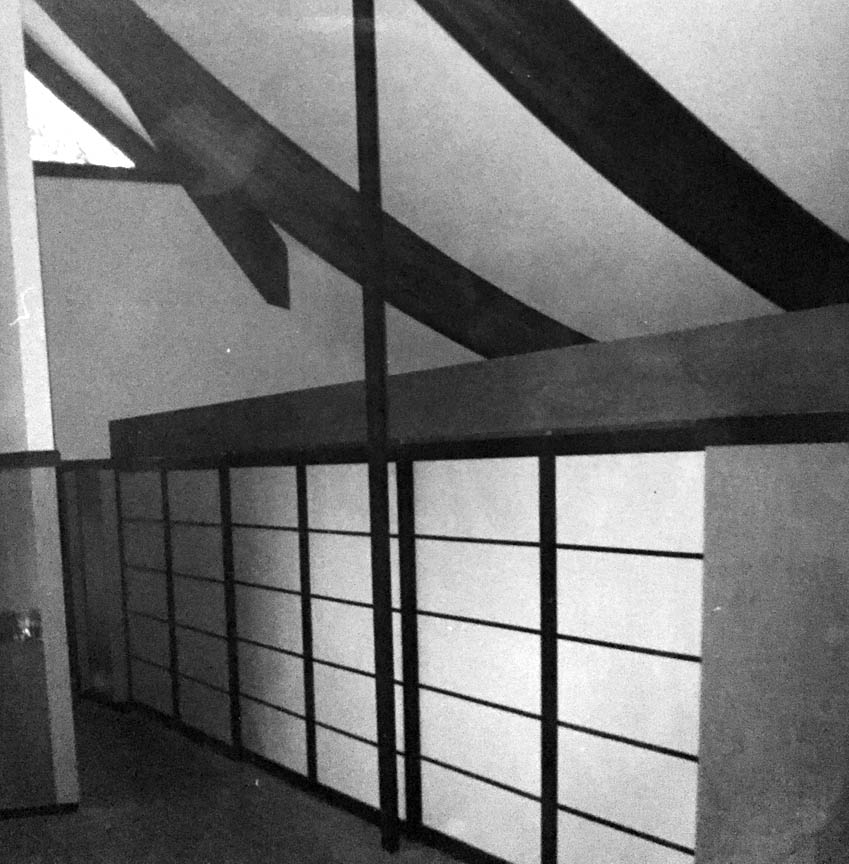 The dining room beyond the Soji doors. Glorious. Julius Shulman photography archive, 1936-1997 from the Milder family collection.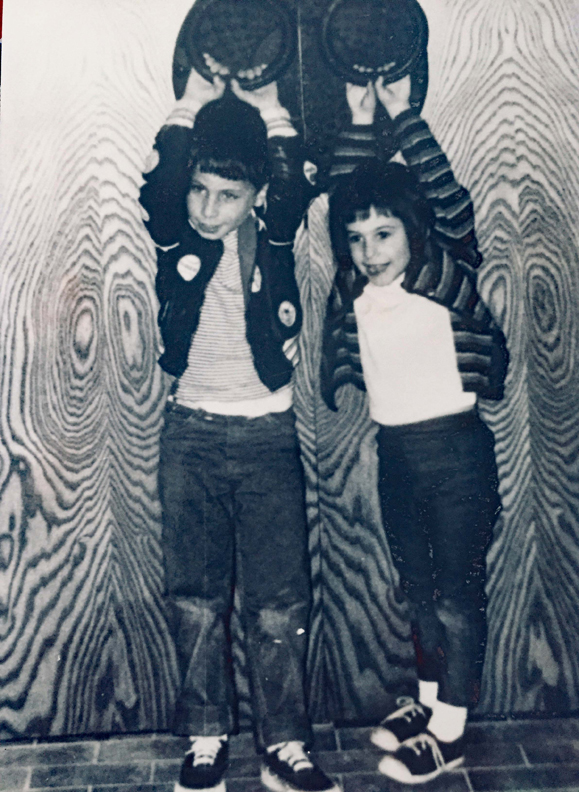 Young Mike, Jr. and Emily Milder hanging out by their front door. And what an impressive pair of doors. Photo from the Milder family collection.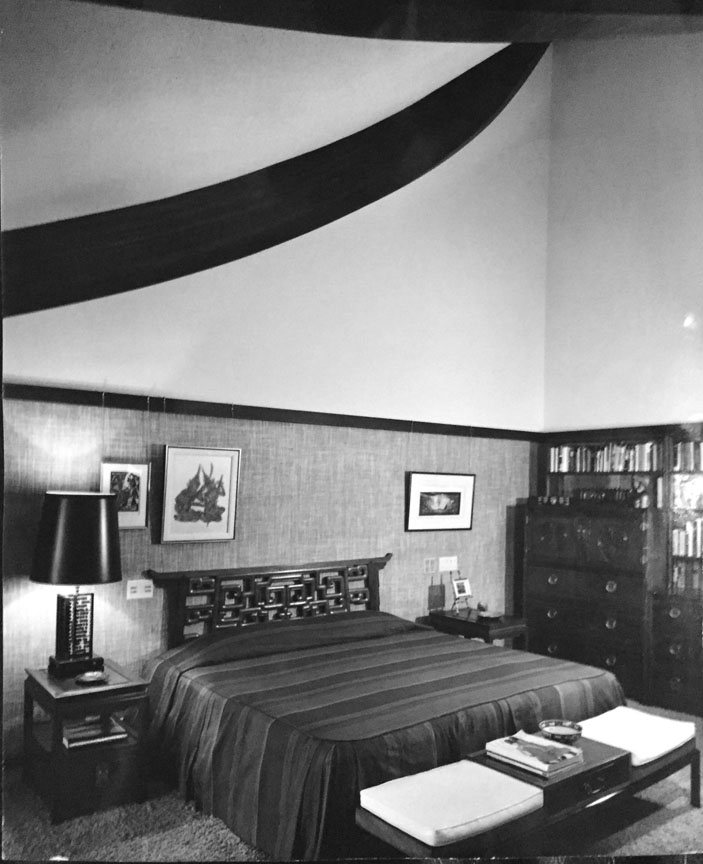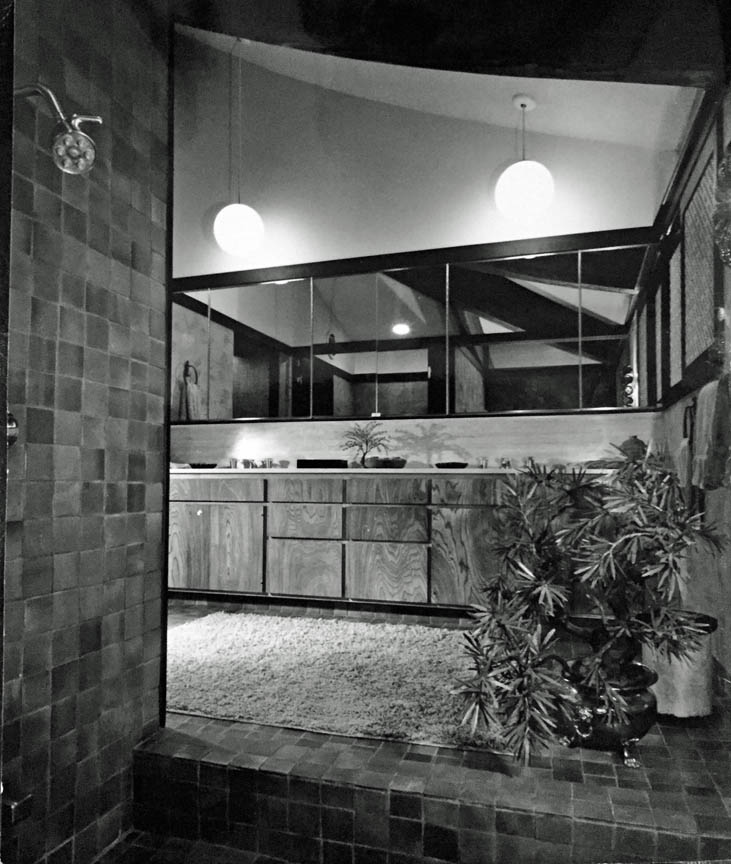 Above photo–The master bedroom. The height of the ceiling and the imagined air quality makes me want to fall asleep right now (and gently snore like Big Bird.) Lower photo–The master bath with a sunken Japanese tub. I just love this house. Julius Shulman photography archive, 1936-1997 from the Milder family collection.
Homeowner Mike Milder and Architect Donald Polsky worked on the design of the Milders' home throughout 1964 and 1965. Mike and Ducky's home was completed in 1965; the original address was 133 South Elmwood Road.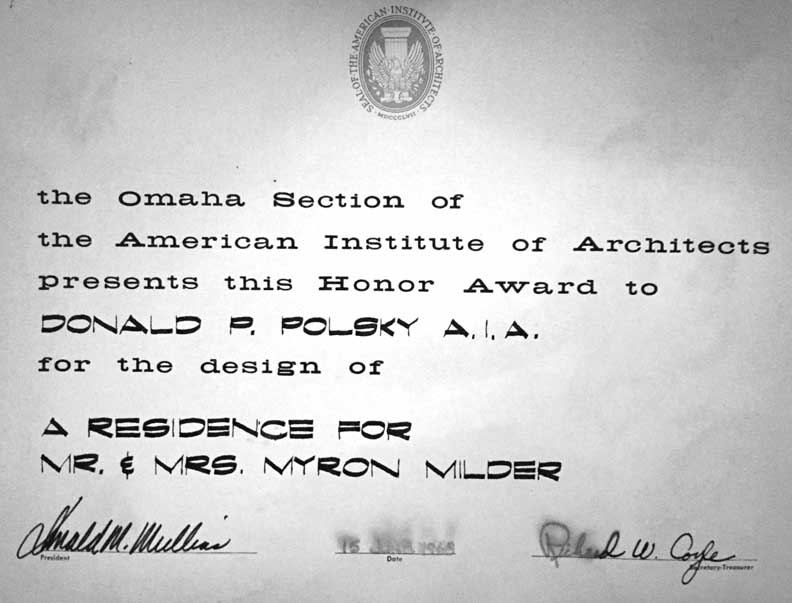 In June of 1968 Donald Polsky won an award from the American Institute of Architects for the Milder home, stating it "wasn't Oriental" in design. Image from the Milder family collection.
Ducky Milder: "It was 1965 and the Papio Creek had overflowed causing water in the basements of many local homes. Don went to inspect them and found them to have too few footings…so he watched our construction carefully and found our footings lacking in count, which he had torn out and redone."
I might have misunderstood this point coming from Mr. Polsky but I think it further illuminated Ducky Milder's memory of the secure home footings. I believe Don was telling me of the difficulties the movers had in removing the Milder home in the 1990s from the University of Nebraska at Omaha campus due to the substantial footing he added to the home. Don Polsky: "They were mad. It was really bolted down!"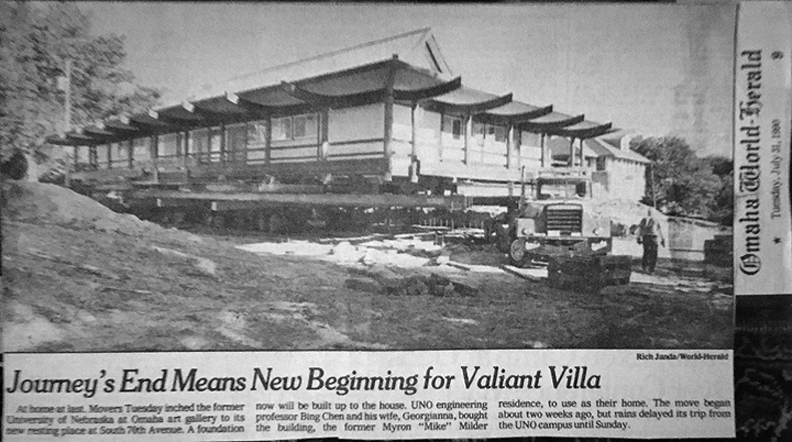 Image of moving day from the Omaha World-Herald from the Milder family collection. The Milder house is now situated at 312 South 70th Avenue and is home to Dr. Bing and Georgianna Chen. Please read of the Chen's incredible rescue mission and story from the original link.
I am grateful to Don and Jeff Polsky for their time and consideration in answering my queries. I would have no story without you! Much thanks to Ducky and Emily Milder for their good cheer, delightful details and archives. You have made me feel rich.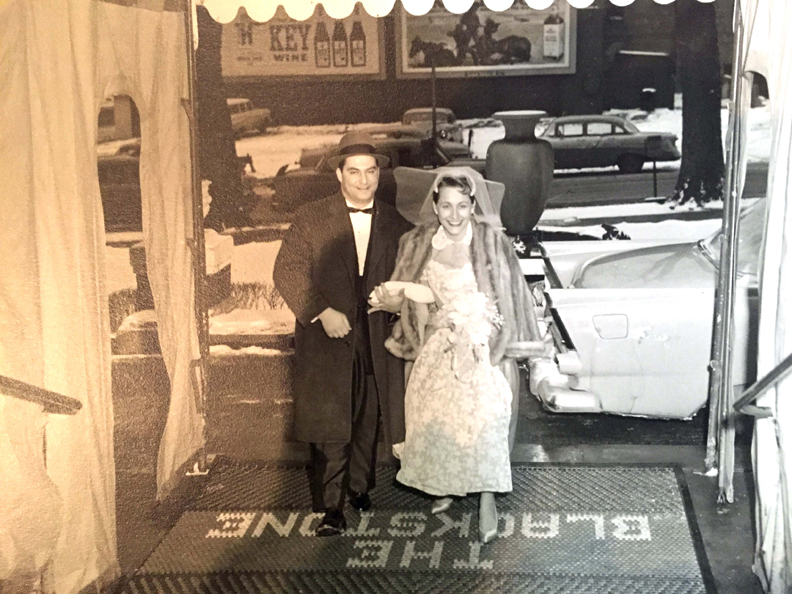 Myron "Mike" and Lois "Ducky" Milder on their wedding day, stepping into the Blackstone Hotel for their reception. I just had to share this! Ohhh I would have loved to have seen it. Photo from the Milder family collection.
I welcome your feedback and comments on the Milder-Chen House, Shulman photos and Don Polsky's design This is only a small part of the story.
You can keep up with my latest investigations by joining my email group. Click on "Contact" then look for "Sign me up for the Newsletter!" Enter your email address. You will get sent email updates every time I have written a new article. Also feel free to join My Omaha Obsession on Facebook. Thank you, Omaha friends. Miss Cassette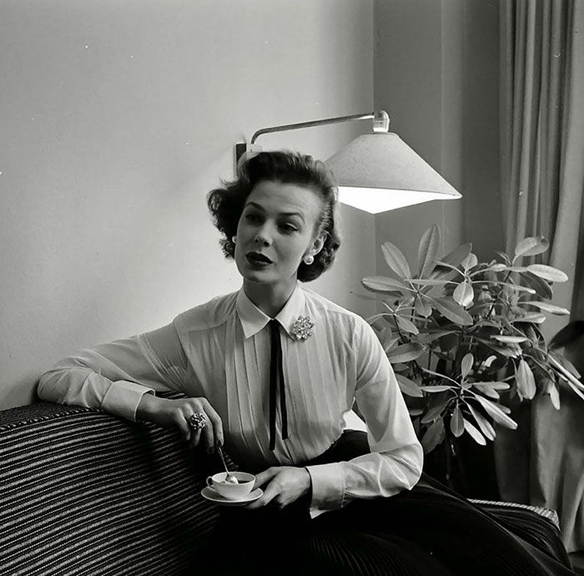 And now…a coffee break.
© Miss Cassette and myomahaobsession, 2020. Unauthorized use and/or duplication of this material without express and written permission from this site's author and/or owner is strictly prohibited. Excerpts and links may be used, provided that full and clear credit is given to Miss Cassette and myomahaobsession with appropriate and specific direction to the original content.