I have always felt that winter was the absolute best time of year for house spying, what without all of the beautiful, interfering foliage, the disturbing undergrowth, the distracting flowers, all forms of plant life that normally wink and divert. These are the unhinged amusements that can whip up a dangerous hysteria amongst the gardening club circles come spring but let us admit, they can certainly block a girlsleuth's view. For many, like Mr. Cassette, all of that verdure is the whole year's focal divertissement but these lush-loving, fresh folks with dirty hands, although lovely people, are not exactly like us– the House Obsessed. Our palms perspire to catch a glimpse of a new Architectural Love Affair.
Investigation at a Glance: Let's kick off the New Year with one of my longest, juiciest of investigations into one of the most exclusive properties in Omaha. Hidden House was written in the winter of 2017-2018 and wrapped up with the transition to spring. It was intended to be a large investigation for my book. Unfortunately there was not room for it and this discreet home history was ultimately nixed. Hidden House is a decadent, longform series, shared in parts, and is meant to be enjoyed slowly, under a blanket on a long winter's night or two. How'd you like to stay up late with this Edge of Loveland thriller?
And so it was, on that very first day, without glorious intrusion of greenery that Mr. Cassette and I were slowly driving the stretched out hills west on Pacific Street. 96th and Pacific, to be vaguely specific. My palms go clammy to think of it now. To the uninitiated, there were four corners, non-descript, on the peak of the hill near Regency. Only a grown child of the neighboring Loveland District might know to look up into the tree line of that northeast corner. Mr. Cassette had obviously taken note in childhood. "The question is, what is up there?" he pointed with an emphatic wave, as if through an opened convertible top.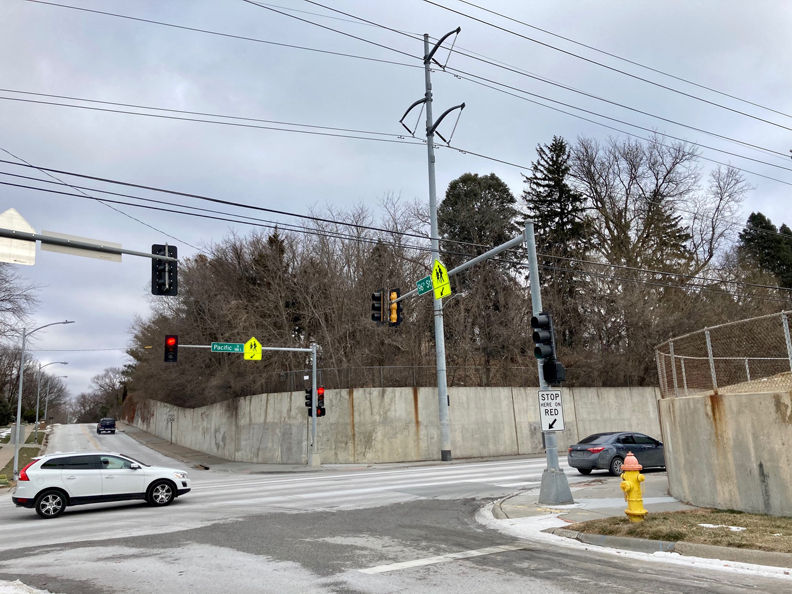 96th and Pacific intersection. Camera facing north. Property in question on the right (northeast side), above the concrete embankment.
I still remember his emphasis on the word There. That same poured concrete retaining wall with its familiar rust-stained drip pattern had held back the swollen hillside for as long as I could remember, offering little visibility of anything else. I will confess to you, friends, I feel the shamefaced tinge of never having considered the heavily wooded steep slope or that it might have accommodated a dwelling. Had I given it much thought, I might have assumed it some sort of condominium community or a sprawling Millennium Mansion house, the kind with the complex roof forms, a menagerie of architectural styles and three-story arched entryway. Bleck. But here I am justifying my inexcusable negligence to you now. I will admit, the four-foot high fence atop the concrete embankment, with notation of occasional graffiti throughout the years, was as far as I had gotten.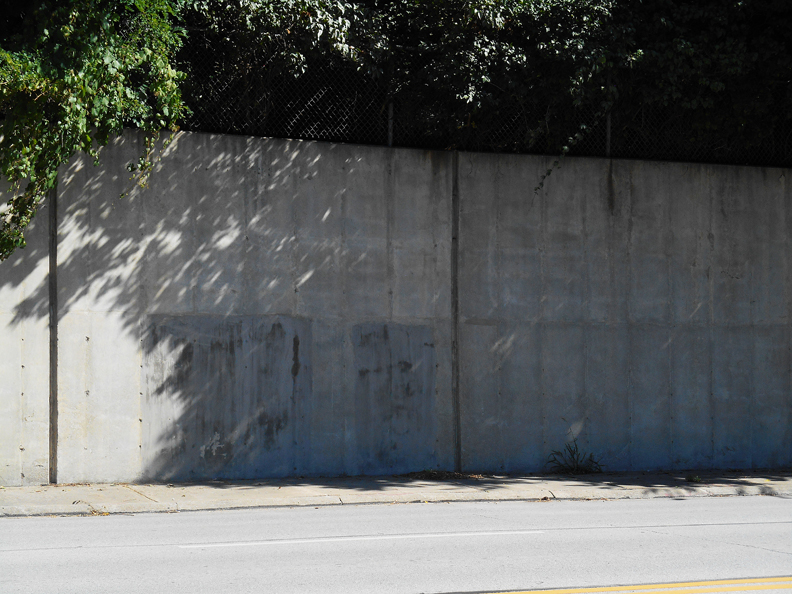 North side of Pacific Street, before the 96th Street intersection. Often the site of graffiti through the years. A photograph I took of the embankment from August of 2018.
I assure you Mr. Cassette was only lured in by the dense, beckoning woods, as he doesn't care much for this House Folly of ours, but thanks to his keen antennae, I did look up at the property on that day. Or at least the tempting boundary's edge. Suddenly it was the Only Thing I Could See, although, admittedly, not very well. And now I cannot quite Unsee It, even though I have yet to meet its acquaintance in full. I do hope you will understand my fevered preoccupation with seeing the unseeable and these neurotic words as I type them. Let me tell you, fellow eccentric PIs, there was a curious road that rose up and climbed along the western side of the property.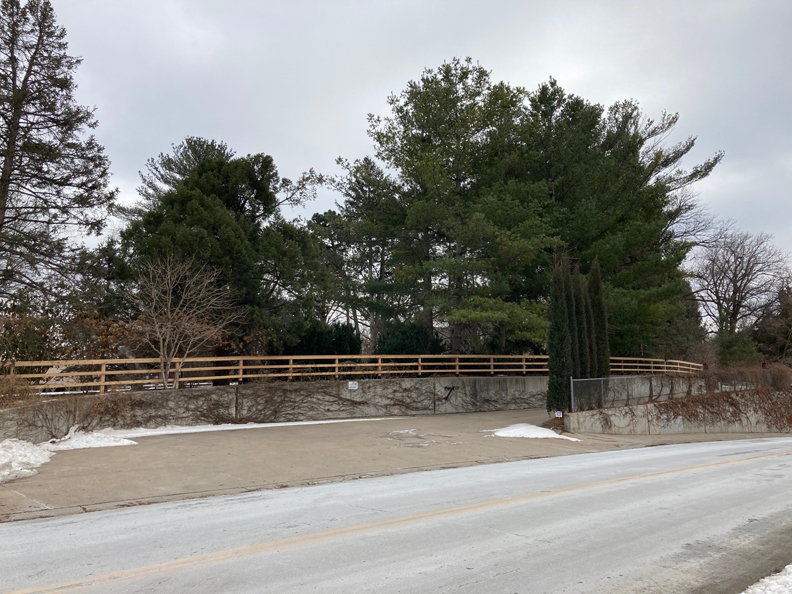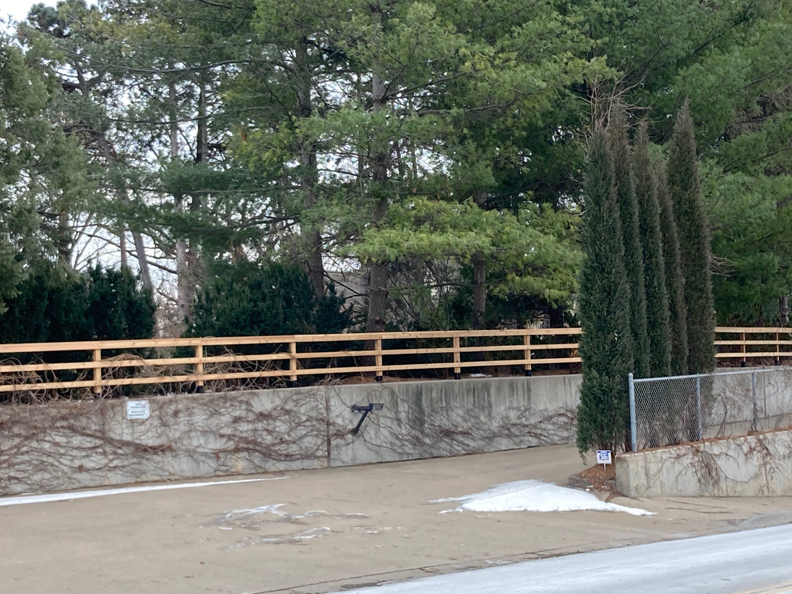 The roof and light colored stone house. Can you see it?
The mystery incline ran parallel to 96th Street. Midway on the private drive was a fine custom wooden gate, closed. Previous to that incline was a visible keypad affixed to a wall of concrete. The entire experience of planning, pavement and engirdled environs was puzzling to behold. Of the best sort! Through the tree line, beyond the perfectly planned obstruction of the angled Taylor Juniper-lined entrance, on the other side of the exasperating fence, I thought I perceived a large home constructed of light colored stone. Difficult to get an eyeful, as it was similar in tone to the winter sky. Its proper front entry appeared to face west. Maddening…if I squinted, the secluded structure emerged as a historic structure. But how could that be? This was 96th and Pacific, right on the edge of Regency for Nancy Drew's sake.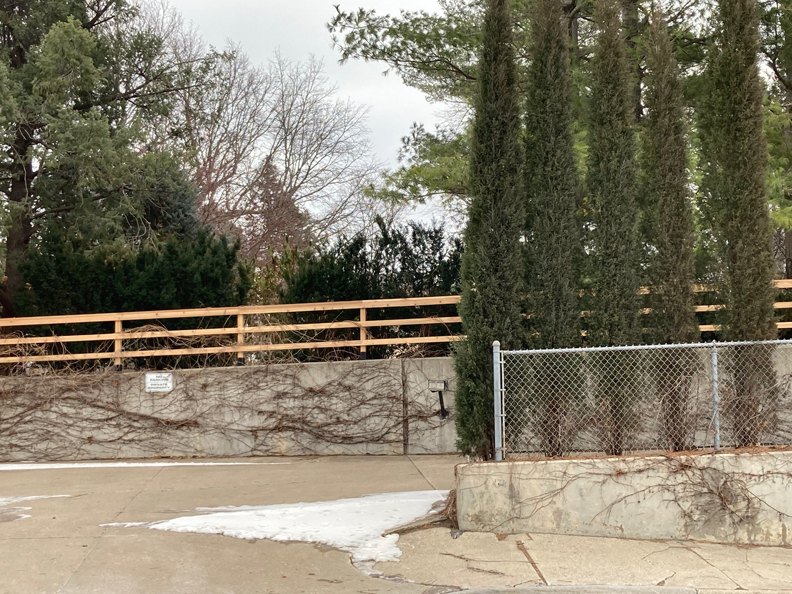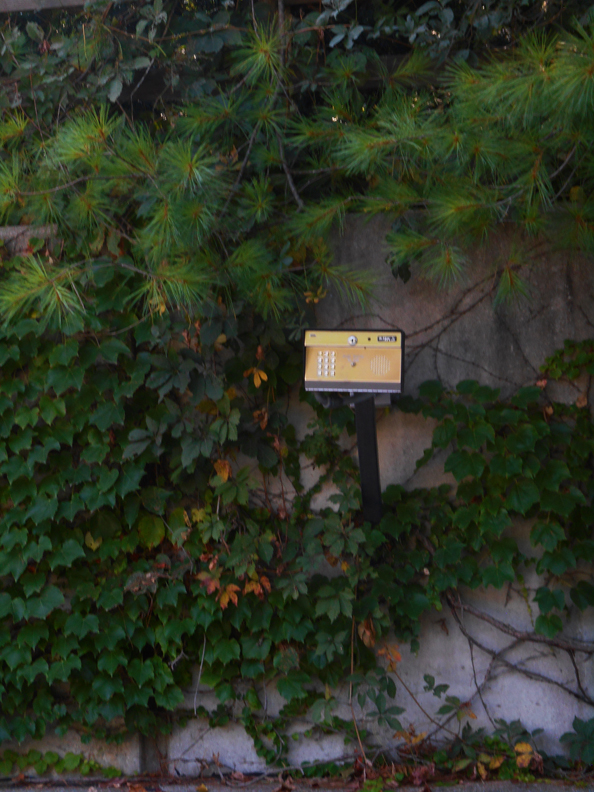 Keypad from a photo shoot back in August of 2018.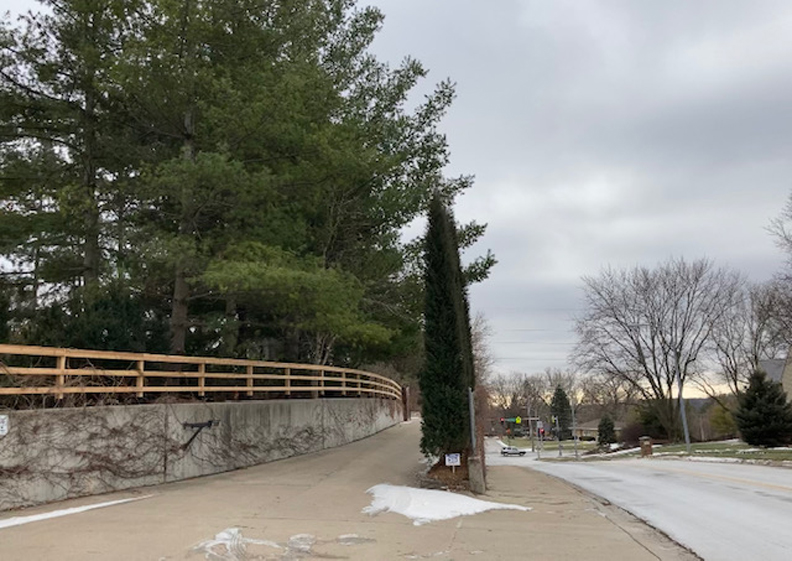 Private drive raises up to the south and runs parallel to 96th Street. Camera facing south with view of the Pacific Street intersection in the distance.
Yes, upon third obsessive revolution, there was what looked to be an alluring, light colored stone country house up there in the trees. Too proud to be a rustic farmhouse. More of an English Country Estate. Whoever she was, young or old, she was purposely obscured from view. By then I was squawking and flapping circles in my head. I worked to quiet myself, bargaining that the house on the hill was most likely some strain of New Traditional Home, like many in this neck of the woods. A well-intentioned but deceiving knock off. But if it was of an older era, I delighted, that would mean I had just stumbled across the best mystery ever. And didn't its color seem all the gayer on the fourth go 'round that day?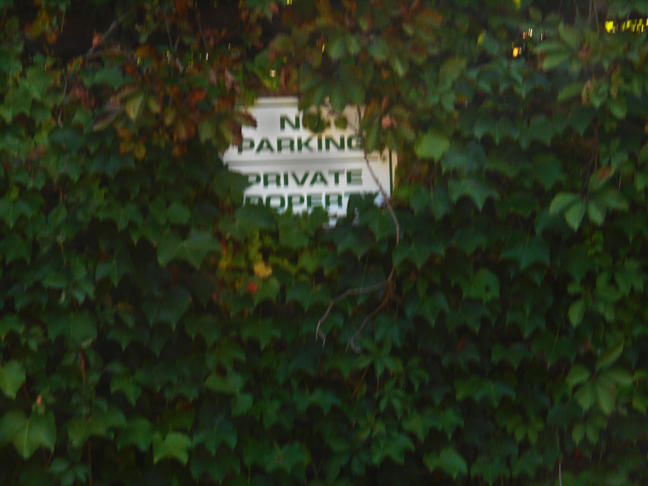 Discrétion s'il-vous-plaît. Sign framed in foliage from August of 2018.
I am breaking with tradition when I reveal at this early juncture the Infatuation House on the hill was built in 1938. Of course I tracked it to the Douglas County Assessor's site the very minute we returned home later that night. The heavenly photo showcased on the simple site sent me shivering. The stone house was recorded at 3,608 square feet, a gable roof covered in wood shingles. Those divine words. By record, 1023 South 96th Street was remodeled in 2003. It also read, "Adjusted year built 1990," which I took to mean it was reappraised in 1990, either for condition or age. I would later email helpful contact Scott Barnes, a real estate appraiser at the Douglas County Assessor's office, about my query. Scott explained, "The 'adjusted year built' is an appraisal data calculation that's used when valuing a property." He gave an example that if a house was remodeled in 2003 and is shown to be 80% remodeled, the assessor uses a computer valuation model, a nationwide practice, that "makes an adjustment to the 'physical' age of the property to account for its remodel and gives it an 'adjusted year built' to add the value that the remodel would give the property." Detectives, I'd like you to write down that our 96th Street property was remodeled in 2003—we will return to that lead later.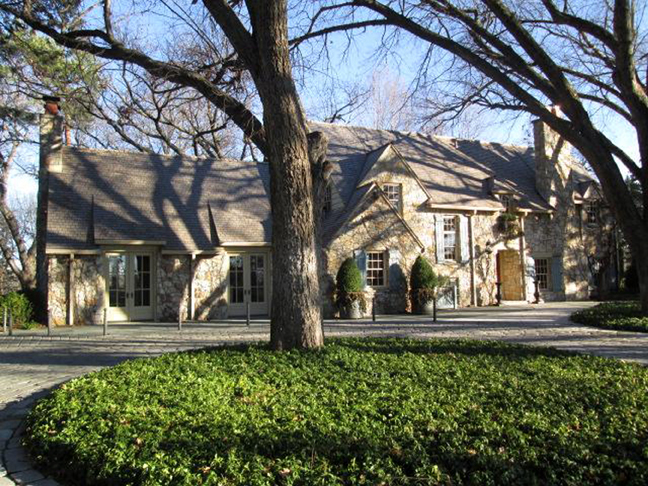 Glory Be. Photograph of 1023 South 96th Street from the Douglas County Assessor's site. Public domain.
And why not break with formula and tell you of these early tipoffs, I thought? You surely understand my madness by now and it is so hard to keep secrets from you. Can you imagine if I had dismally found 1023 South 96th Street was constructed in 2014? We would not be gathered here today. What lovely Norma Desmond type had luxuriated about in silken vintage robes, dramatically draping herself across grand, old furniture, drinking old wine from above her 96th Street perch? This lovely portent most resembled a narrow sort of hole-and-corner, allowing me to squeeze through, and from there I would burrow into mounds of history, armed with my trusty trowel in pursuit of the country estate, its hidden house and the people who had lived there.
Blind Alley
Any obsessed private detective will tell you that their favorite investigation is always the one they are currently working, the infatuation growing with each puzzle piece collected and positioned into place. 1023 South 96th Street was no different, although I will divulge I would struggle considerably with my usual detective tools of the trade. It might come as a surprise that my native habitat is not the library, although I do adore the W. Dale Clark Library and the UNO library. I love the smell of library books on those shelves! (I often dream I live in either one–a Murphy bed and little lamp would lower from between the stacks or perhaps I could set up a proper cloak-and-dagger sitting room in one faraway corner. But I suppose that could get uncomfortable for other patrons and therefore have yet to broach the topic with either library administration.)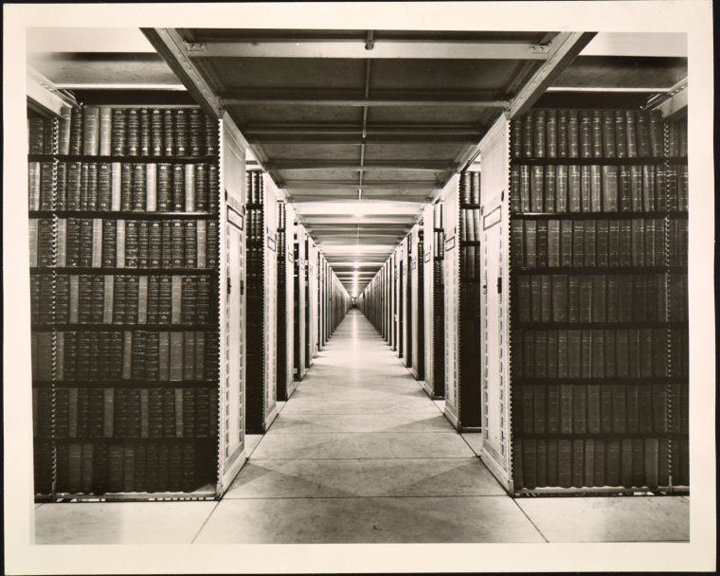 My point being that at times my coffee-fueled research methods left me in the dark with a flashlight on the blink. Rather my natural inclination had been one of slinking about on darkened streets, trailing years in an unmarked car while Wes Montgomery with the Wynton Kelly Trio 1966 classic Smokin in Seattle: Live at the Penthouse thrummed in the background. Honestly the snow mixed weather had been the perfect backdrop for these furtive outings.
All manner of charming distractions aside, allow me to make just a bit of a fuss about the insurmountable wall propping up 1023 South 96th and the figurative wall as well. There were no address listings to be found in the Omaha City Directories. Pacific Street of yesterday ended in what we now call Midtown Omaha but back then it was the Edge of Town. There was no documented 96th Street, or Ninety-sixth Street either, although the streets counted out just the same. There certainly was no 96th and Pacific directory collection. By the time 96th became commonplace, throughout the 1970s, the Omaha Directory data collectors would sadly list "No Return" in their attempts to gather information about the mysterious residents of the property on the hill. It was pure intrigue. Maybe that was by design?
Out of the Fog
I recognize that the more elaborate my attempts in the description of a locality, the more confused many in the audience's mental impression become. I can become quite dizzy myself. Are the woods to the right or to the north? On the contrary, some of you have proven yourself to be quite topographically-minded and it would not matter how many times I spin us about, some will negotiate any direction like a map-read aesthete following red ribbon trail markers in the forest. I only forewarn of this, as we really do need to establish a regional lay of the land before we set off. We'll be walking this terrain at all times of day, through many decades and I don't have as many red vintage scarves for the marking as I had hoped.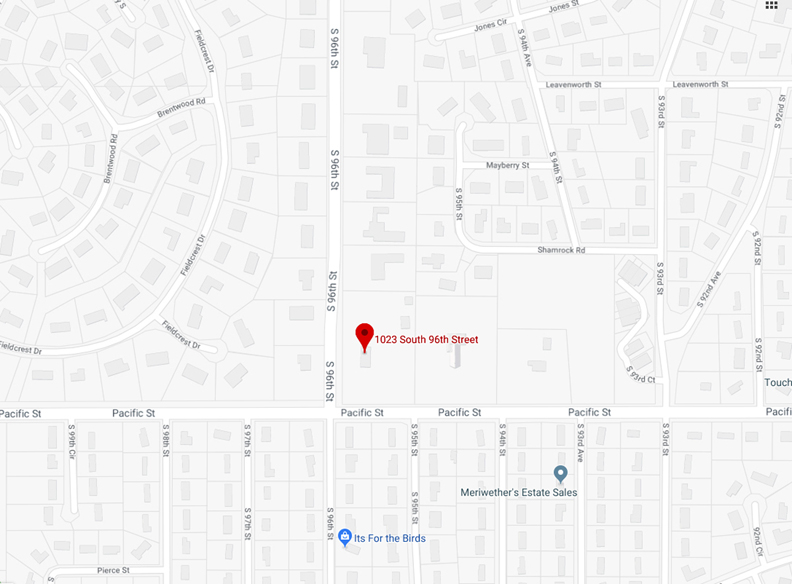 Image from Google Map. 2018. Public domain. Top of image is north. Red flag is our 1023 South 96th Street property.
The 1023 South 96th Street home is situated on an elevated three-acre lot, positioned parallel to Ninety-sixth Street, which extends north-south along the west (front) of the property; the other boundaries include Pacific Street which travels east-west along the south side of the house. The property is high above the public sidewalk and not accessible to those passing by on foot. The eastern perimeter is a shared property line with the Sunset Hills Baptist Church at 9416 Pacific Street. This church and its large parking lot extends north-south, almost the whole distance of 1023 and holds roughly three acres as well. The fenced-in 1023 property is likewise high above the Sunset Hills parking lot and not a welcoming site for anyone on foot hoping to get a better look. Except those of us who cherish decadently gorgeous, surreptitious grounds.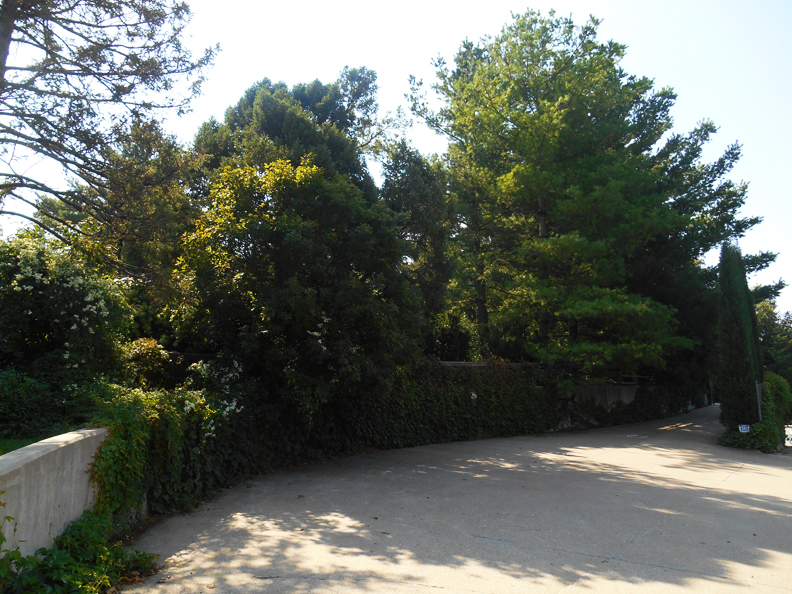 Gorgeous summer view of the western side of the property, facing 96th Street. See what I mean? Who would think there was a fabulous older house snuggled back there?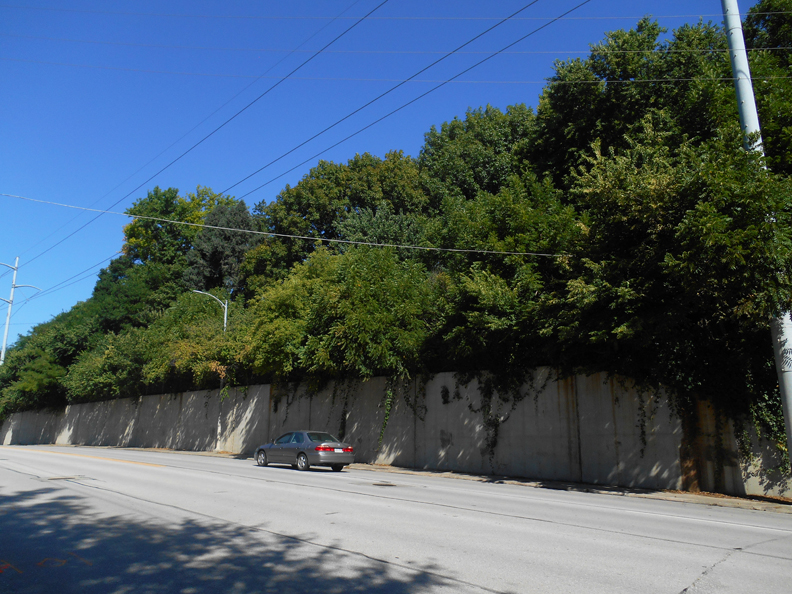 Pacific Street border on southern most side of the 1023 South 96th Street property.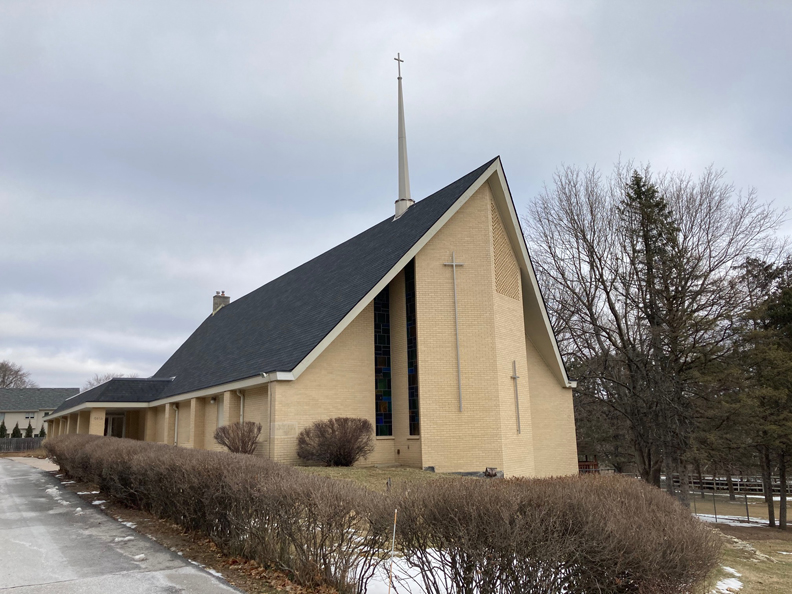 Sunset Hills Baptist Church at 9416 Pacific Street.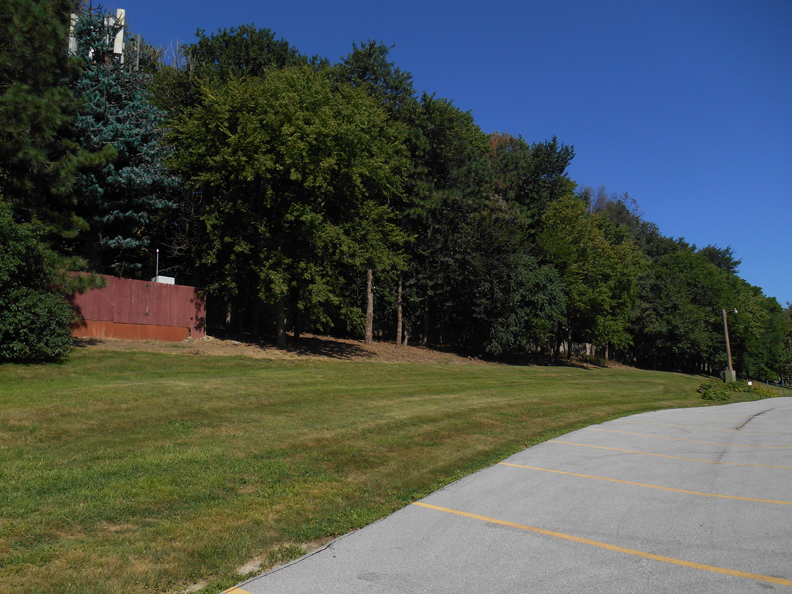 Eastern border of 1023 along the Sunset Hills Baptist Church. Lush photo from August of 2018. Can you spot the 5-G fake tree in the bunch?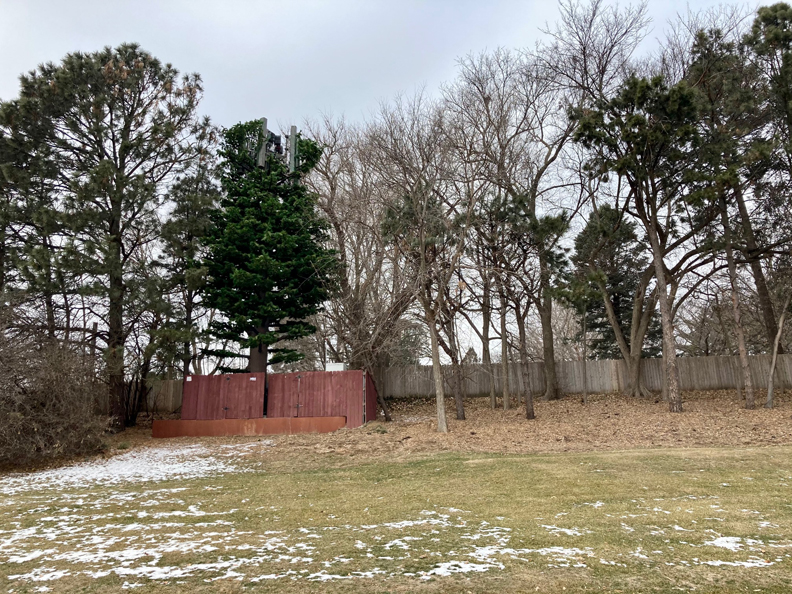 Same eastern perimeter but taken in the sparse winter.
Immediately north of the 1023 corner lot is another family residence, which shares the extent of the north side property line. 923 South 96th Street is a 1.25 acres property, enclosed by a gate. The palatial ranch home boasts 5,646.0 sq ft, a swimming pool, guest housing and is on record as having been built in 1949.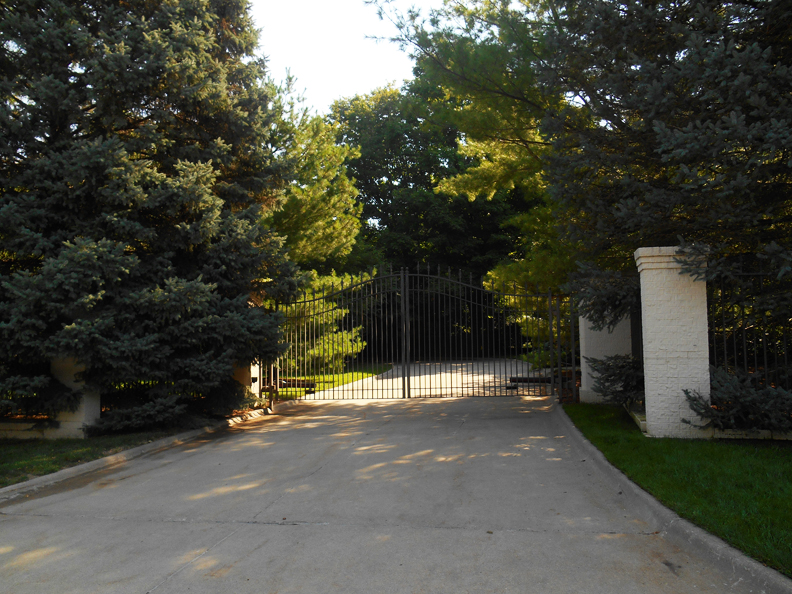 Heart Palpitation Main Gate to 923 South 96th Street from the summer of 2018.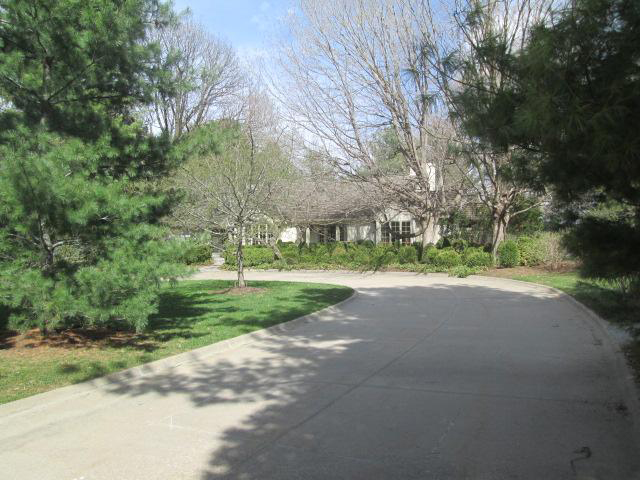 923 South 96th Street. Photograph from the Douglas County Assessor site. Public Domain.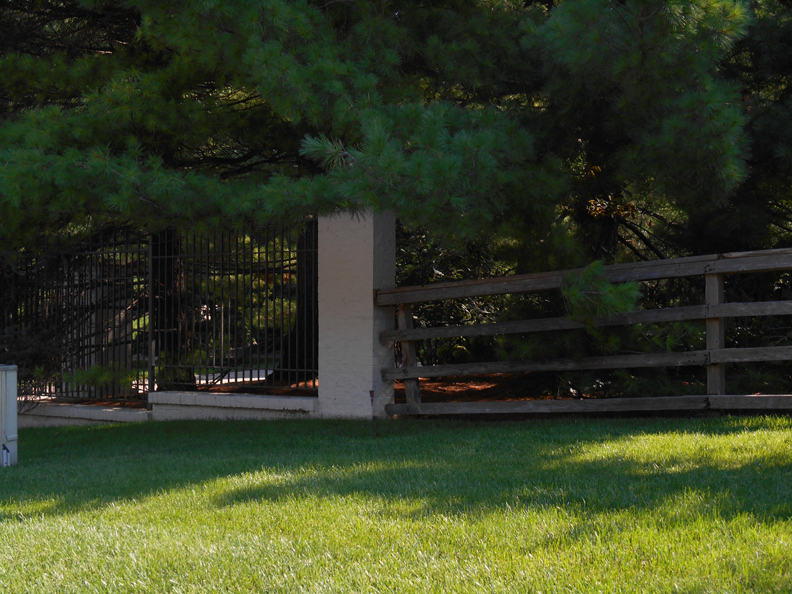 One of my favorite curious clues. Where the rustic fence of 1023 South 96th meets 923 South 96th.
9402 Pacific Street is the second nearest house, one property to the east of the Sunset Hills Baptist Church. I mention it here, so you can also jot this into your log, as it will come up again. A mysterious rustic property built on two acres in 1904, this 4,196.0 sq ft home also includes a pool, guesthouses and outbuildings. It is enclosed in a beautifully worn, wooden pastoral fence. One could simply go mad…and possibly will, as the sly beauty unfolds.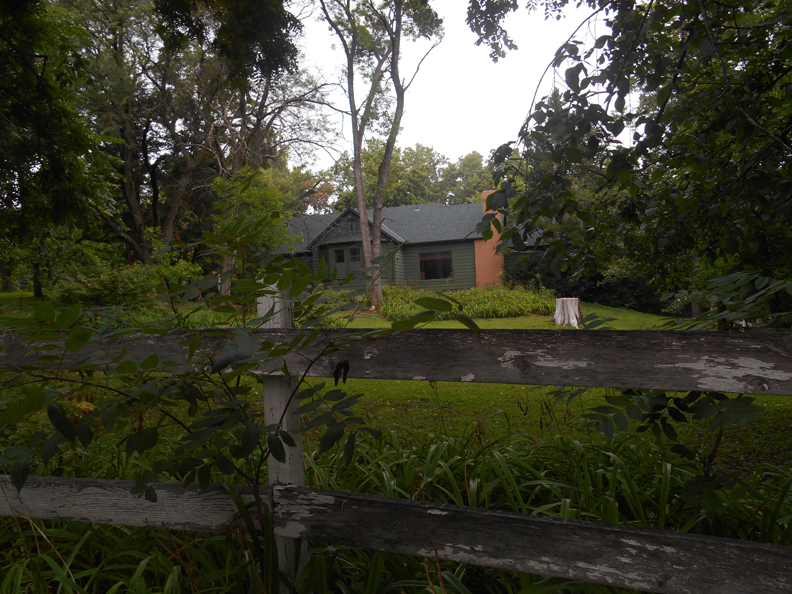 Wild, dark and woolly. My favorite 9402 Pacific Street. I took this photo this last summer of 2020.
The upscale Regency Neighborhood is found across 96th Street on the west side of the street. The Loveland, Old Loveland, Broadmoor Heights, Green Acres, Golden Valley and various other real estate additions border Pacific Street further to the east. The Sunset Hills development is south of Pacific Street. I only ramble on about these details to point out that 1023 South 96th and the specific properties outlined around 1023, are all, intriguingly, included in Omaha's LANDS SEC-TWN-RGE books, along with many properties to the northeast side of 96th Street. An inarticulate, guttural reaction might have escaped my lips in that Register of Deeds office when I realized the properties of interest were measured in the kooky public land survey system of townships, range, section and quarter-quarter section. For those new to this rather complicated legal narrative, the fact that the 1023 South 96th property, as well as 923 South 96th Street, 9416 Pacific and 9402 Pacific, were described in a township-range-section format only meant that this rural land had not been acquired and developed for a formal neighborhood addition or split into subdivision back when the area was being bought up by real estate developers. My work would be a wee tad more complicated, as developed areas tended to have more historical data available. I looked around but no one seemed to have noticed my sigh of vocal displeasure. This was a good thing, for I loathe a Sighing Sally in public.
Origins of Pacific and 96th Streets
I found a fantastic bound thesis: The Street Names of Omaha, at the library, written and presented by Aartje Potts to the UNL faculty back in 1931. We are so lucky to have these treasures in our local library. Potts discovered that back in 1854, when early white settlers created the plat of Omaha, it contained twenty-two primary streets. Eighteen, not surprisingly, bore the names of noted regional men, while four carried the names of a city (Chicago), a state (California), an ocean (Pacific) and a title of a building, which stood at that place at one time (Capitol Avenue). Admittedly I was quite surprised to learn that Pacific Street was one of the first thoroughfares in this town, considering how far south it is compared to downtown and the others streets threading through early Omaha. A deep, shocking, side note secret Potts uncovered—"nearly all the politicians and statesman after whom the streets were named were of the Democratic faith."
96th Street, or Ninety-sixth, as it was called, was a bit more reluctant. I would assume this elusive passage was surely an old country road in its early years. It would appear that 96th truly gained traction in 1922 when the Happy Hollow Country Club proclaimed they had acquired 320 acres of the Rohrer and H. C. Glissmann farms. The tracts were located between Pacific and Center streets, bounded on the east by 90th and western limit at 96th. This recently purchased land was to be developed into Happy Hollow's new golf course and club site after they removed from the Patrick estate in Dundee. Eventually the Happy Hollow club borders would expand to 105th Street but that's for another adventure. From what I could find, this announcement was The First Time that Ninety-sixth Street was publicly introduced and formally named in the local press.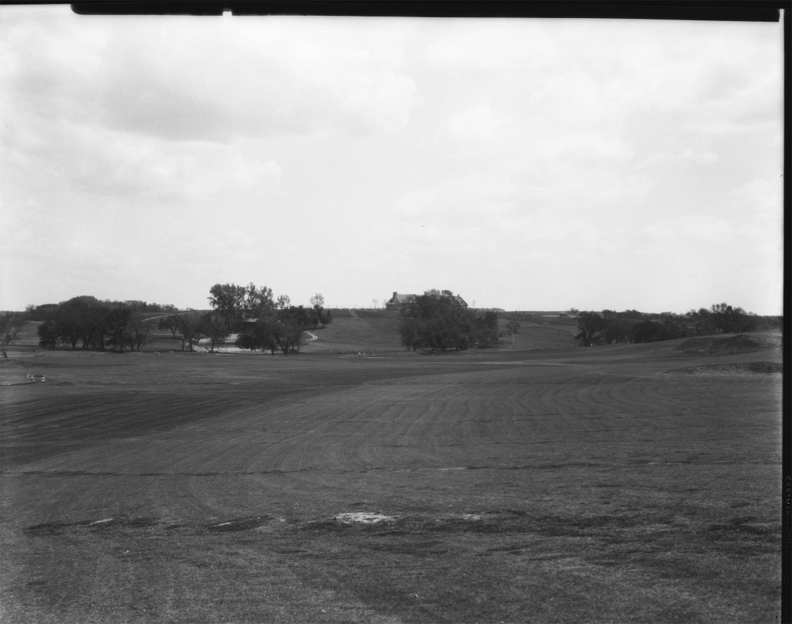 Early view of the "Happy Hollow Club golf course at 102nd and Pacific. Trees are placed around the course and the clubhouse can be seen in the background." Creator: Bostwick, Louis (1868-1943) and Frohardt, Homer (1885-1972). Publisher: The Durham Museum.
The Unseen
The closer I got to the origins of 1023 South 96th Street, I surmised the cloaked corner was most likely not that of an affluent, sentinel shrub existence–the kind of estate once christened, under the delightfully privileged English belief that every good house should be named. This corner surely commanded respect and brought pride to any owner down to their very home-loving marrow but I began to adjudge it was most likely rural countryside in its early days. There were no Phoebe Tyler Wallingfords or Thurston Howell the IIIs in the mist but there was something quite fantastic, I was sure of it. In view of the muddle that plagued my exploration, we'll just pick up where I began to recover some real clues and spare you the slow thud of my hitting wall after wall. As I recall, I had ventured down to the Register of Deeds office when I first uncovered the name "Anna Ott."
Anna Ott, a widow, sold "five acres more or less" on the northeast corner of 96th and Pacific in July of 1937. At that juncture I was not sure if these two additional acres stretched to the north or east. For all I knew, the modern expansion of 96th or Pacific might have cut into the property line. If the stone home of our investigation had indeed been built in 1938, as the earlier Assessor's clue indicated, this summer sale date was in the right ballpark. I would begin to document my findings in a logbook and you may want to do the same if you get tangled easily. Mrs. Anna Ott sold her five acres with the caveat that the property be restricted for residential purposes only. With the aid of Susanna Nunes, Register of Deeds assistant extraordinaire, further digging exposed a notation in the lands deed: "Matter of the Estate of John Ott Deceased. March 7, 1927. Date of record: June 1928 will." John Ott's will could be found in Book 548, page 392; my sad efforts to find a hard copy from the source proved unfruitful as there were, or what felt like, one million entries leading to Almost Everyone in Omaha's Will. I was thoroughly dedicated to the mission for about forty minutes but eventually had to forge on, as there were other secret passageways calling where my time could be better spent. Having initially discovered Anna Ott labeled a "widow," I had an elementary inkling that John Ott was her husband.
**Addendum to the investigation in the summer of 2020.** Mary Barnes of the Register of Deeds was able to track down my hard copy of the will! Because the story never ends, here is that clue for your perusal.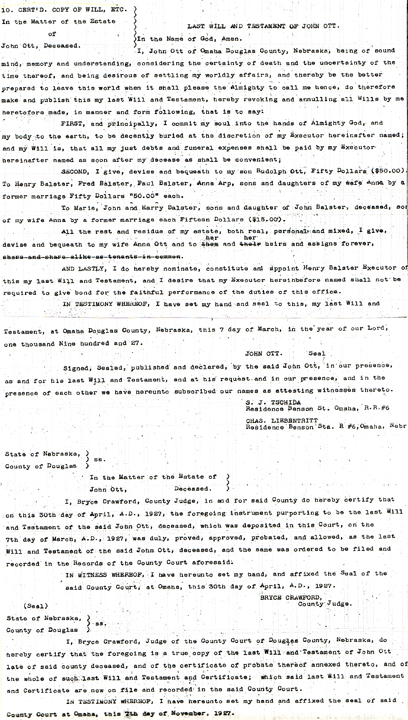 The Family
According to the United States Census of 1910, John Ott was born in 1856 in Hanover, Germany, as had his parents. He immigrated to America in 1882. (The 1920 Census gave conflicting data—displaying that John Ott immigrated to the U.S. in 1875.) At the time of the 1910 census, John was 54 years of age. His wife, Anna, age 45, had also had been born in Germany, although the 1920 Census would list her birthplace as Austria, later still Austria-Hungary. This distinction may have had something to do with changing geographic perception in the year of her immigration to America. There were a number of children living in the home, all born in Nebraska. Later I was to discover Anna had previously been married to a Mr. Balster, (some documentation spelled Bolster and Balstar) from Holstein, Germany. Whether Anna's first husband died or the couple separated, I did not know with certainty at that point. Just between you and I, I would certainly like to know the history of why there were so many Holstein immigrants living in Omaha at that time. Believe me when I say, Holstein comes up time and again.
John Balster Sr. and Anna Wachtler
It would take me a considerable amount of time to unravel the Anna Ott clues, all of which have not been amassed or reassembled to this date. With perseverance, I would find that Anna Ott was originally Anna, "Annie," or Ann Wachtler. Her parents, Paul and Elizabeth Wachtler, although from Austria, had potentially moved to Omaha as well. Or at the least a Mrs. Elizabeth Wachtler had lived at 1429 South 17th Street. My first crack in the case was found on a genealogy site: Anna Wachtler's first husband was John Balster, Sr. I was beside myself. This was confirmed very recently with the aid of John Ott's will.
From there I set off on my own path to find the Balster connection. The first account I discovered of John Balster was in 1886 where I found Sam, Charles and their father, J. C. Stevens, having assaulted our Mr. Balster at an Omaha suburban park on a Sunday afternoon. This never ends well, I said to myself. There were clues to a John Balster having lived and farmed in Blair in the 1890 period, known for bringing his choice heifers to market but I cannot be sure if this was the same Balster. After viewing the Nebraska marriage records, I would learn the couple was married in September of 1887. John and Anna would have six children together. John Jr. was born in 1888, Anna Elizabeth born in 1889, Theresa born in 1890 (died at one year of age), Paul J. born about 1890 (twins?), Henry born about 1892, and Fred "Fritz" born in 1894. (John Ott's will also mentioned that John Balster and Anna also had a son Harry. Additionally John Balster had a daughter Marie, with another woman.) But it was under this 1894 birth announcement from the World Herald, I found John Balster listed for the birth of his son, the family residence was registered at "Sixteenth and Leavenworth."
The Omaha Fireproof Storage building on 16th and Leavenworth Street. Advertising on the building offers various kinds of storage facilities. This is now the Iron Mountain Company building on the southwest corner of 16th and Leavenworth. Creator: Bostwick, Louis (1868-1943) and Frohardt, Homer (1885-1972). Publisher: The Durham Museum. Date: 1920.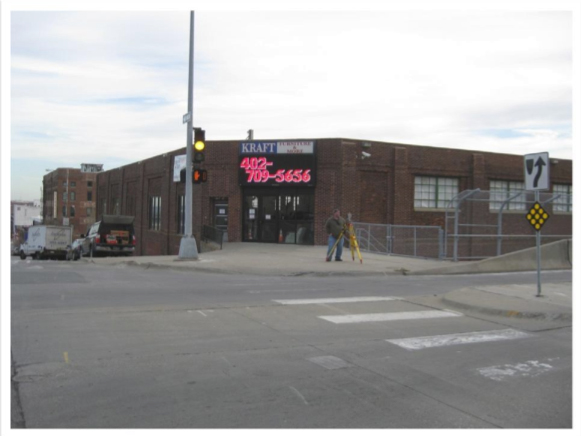 Southeast corner of 16th and Leavenworth. Photograph of Kraft DC borrowed from the Alfred Benesch and Company.
The former Balster address is currently considered on the edge of the warehouse district of Downtown Omaha, a favorite area of mine. There is a most fascinating business on the southwest corner of this intersection, 1601 Leavenworth Street, called Iron Mountain, a records management center. Floor after floor of "document storage"… Imagine what secrets are held in that warehouse? Across the street, to the east is the old National Furniture Company at 801 South 16th Street. This sprawling three-story building was constructed in 1916 and housed the Kraft Furniture Discount Center for as long as I could remember. It is now named the Imaginarium Super Store. Both stores were filled to the gills with Omaha clues and were a fantastic way to squander an afternoon, if I do say. Of interest, I found Mr. Balster from this 16th and Leavenworth address making Big News back in 1895.
Apparently Balster was a barkeep of a saloon based out of the main floor of said 16th and Leavenworth building. Balster would wait every morning for Henry Anderson, a man who also lived above the saloon, to come downstairs–for a little nip, I presume. Or did Anderson own the bar? When Anderson never appeared, John Balster became alarmed. Balster had a terrible time arousing Henry Anderson and his family, when he discovered them sound asleep after having been chloroformed and robbed of $130 and checks amounting to $180. As strange as the whole thing disentangled, the police were on the lookout for "Montana Jim," a notorious western crook, who infamously used chloroform in committing burglaries. Montana Jim was rumored to be in the company of an ex-convict from Canon City, Colorado.
John Balster eventually left the 16th and Leavenworth public house, venturing off to 612 South 13th, where he commenced his own saloon. This address no longer exists but in its day, Balster's establishment was shoulder to shoulder with the incredible Nicola's Italian Wine & Fare and Cubby's in the Old Market.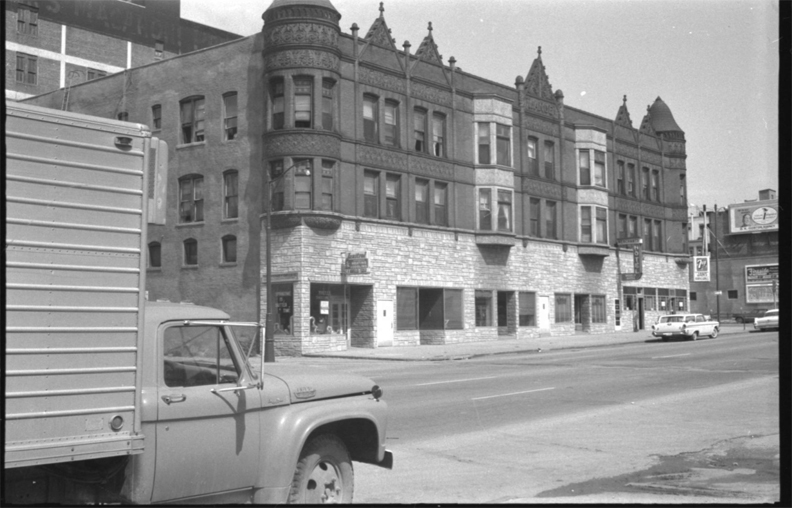 Although I cannot be sure that Balster's missing bar was in this building, it was in the general vicinity. Merchants Hotel in the 'Lange Building' at 606 1/2 South 13th street. Another fascinating building no longer in existence. Creator: Donated by Weil, Martin. Publisher: The Durham Museum. Date: 1964.
In February of 1896 Hans Schumann, a close friend of John Balster's, walked into Balster's saloon where he shot and killed himself. A moment earlier Schumann had been laughing and talking with a group around the bar. That was the last time John Balster was mentioned in the press and by 1899 he too had died at the young age of 37 under unknown circumstances.
Let us retrace. By 1910 we have proof that Anna Wachtler Balster had married John Ott, a man thirteen years her senior. The census records clarified the Balster children would live with their mother after her second marriage. John and Anna Ott would have one child together, Rudolph J. Ott (sometimes spelled Rudolf), born seven years after Fritz Balster, in 1903. This left a couple of years between John Sr.'s death and baby Rudolph's birth; I had guessed the Otts were married in 1902 until I found this marriage certificate from April of 1900. So that settled that.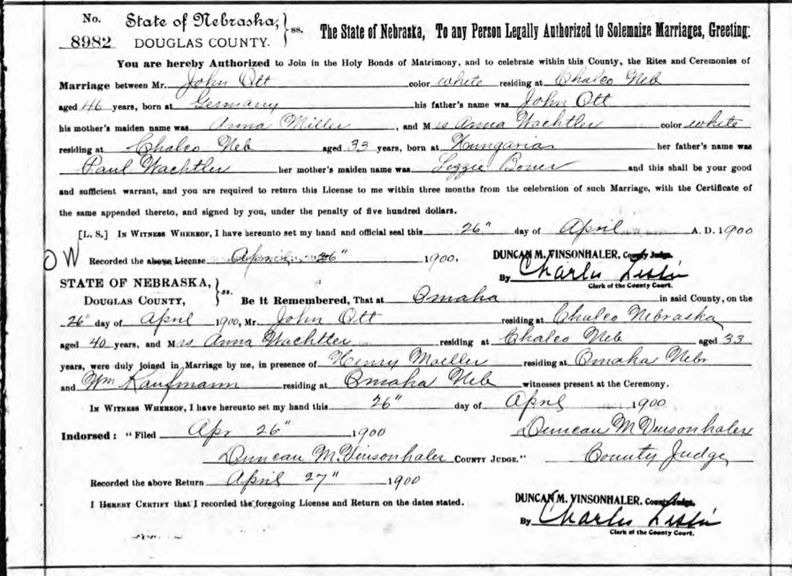 Image from Nebraska Marriage Records. Interestingly the couple was listed as living in Chalco, Nebraska.
As the Balster-Ott children became adults, they would continue to live together, a custom sometimes found, perhaps due to pooling of finances and working the land together. Daughter Anna Elizabeth Balster married Ernest Arp at the age of 20 in 1910 and moved out of the family home in that year. Additionally I located notification that Mr. and Mrs. Ott had buried their son, John Balster, Jr. in 1916, when he died suddenly at the age of 28. As with his father's death, I am not sure of the cause. The son's funeral was held in the family home with interment at Evergreen Cemetery. Of note, in June of 1916, the Ott family home was described on the vague "West Leavenworth Street."
The John Ott Lead
There were many John Otts to be found throughout Omaha history and it seemed everywhere one looked one found a John Ott. But our John Ott was a "tractor farmer", who had lived quietly under the social radar, or any radar for that matter, thirty plus years in Douglas County. The 1920 Census would turn out to be The Tipoff I was looking for. At the 1920 data collection, John Ott was listed as having resided specifically in "McArdle, Douglas County." My spiral into the McArdle rabbit hole only ended just a week ago. Was the McArdle clue the reason why I could not find the Ott family listed at 96th and Pacific in any Omaha Directory?
Slippery McArdle Township
The breadcrumbs led to a 1925 antique map of McArdle Township within Douglas County, which I found online as part of the Historic Map Works, Residential Genealogy™ historical map collection. This was my favorite kind of old, handwritten map where a homestead property was vaguely delineated by loose lines and an owner's name, penned in ink. Acclimating to Loveland and the general area of the Happy Hollow Country Club, I was able to find what appeared to be 96th and Pacific. Pacific Street was drawn with a heavy black line. Low and behold, there was a tiny "J. O." handwritten on what I determined was the John Ott family lot. A subsequent 1938 map revealed an "A. O." scrawled upon the same plot of land, which I presumed stood for Anna Ott, after John's passing. I had only just begun to scrape away the surface of McArdle Precinct and already felt as though I had found a bar of gold in my backyard. Strangely, I had never even heard of this township.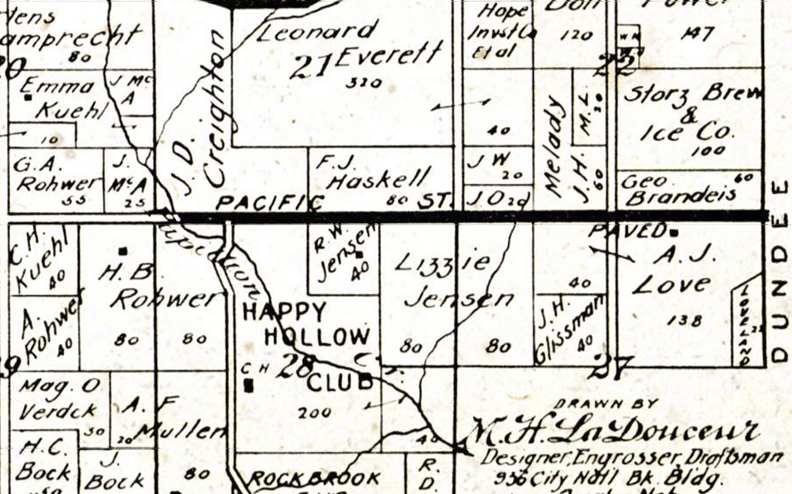 1925 McArdle Township within Douglas County map. Map borrowed from the Historic Map Works, Residential Genealogy™ historical map collection. Thick black line is Pacific Street east to west. Double line running perpendicular is 96th Street. Note the "JO" on that northeast corner. "20" denotes the size of the acreage. You will see other surnames from our various investigations in this area.
For more information on this area depicted in these maps, check out my previous investigations: the Balla Machree property, the Dodge Street mansion, and the Tomlinson Woods investigation.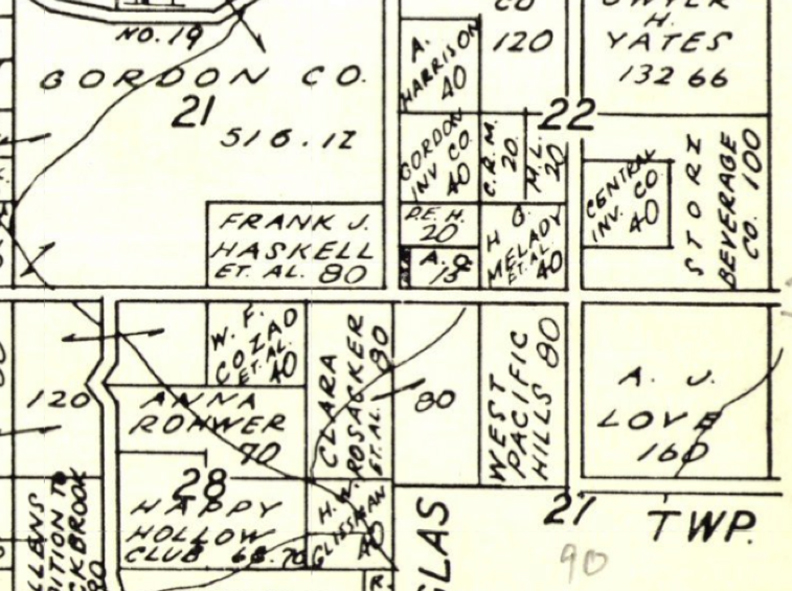 1938 McArdle Township within Douglas County map. Map borrowed from the Historic Map Works, Residential Genealogy™ historical map collection. Horizontal line is Pacific Street. The most central perpendicular street is 96th. The lot now reads "A.O. 15."
The Key to McArdle Precinct
From what I could infer, McArdle Township was a separate rural division of Douglas County, eight miles west of the Omaha city limits. The first traces I would gather were from the mid to late 1800s. The McArdle Township, apparently used interchangeably with McArdle Precinct, was named after an early pioneer to the area, wealthy landowner, James H. McArdle. James McArdle came to Nebraska from Pennsylvania in 1854 and later took a 160-acre homestead on West Dodge Road, becoming the well-known family estate. A quaint announcement from 1882 notified, "A bridge is being built over the Big Papillion at or near James McArdle's place." I've always enjoyed these innocent approximations of Old Omaha, when a widely known homestead road marker was enough. The old McArdle Mill settlement became a familiar landmark and is rumored to have been the namesake and actual land, later developed into the Old Mill area. The McArdles would have nine children, eight of whom resided in Omaha the rest of their lives, the ninth remaining within Nebraska. To this day, there are many, many McArdles in our city. The gregarious James McArdle served as county commissioner for eighteen years, was quite involved in the Democratic Party and local politics. At the time of his death in 1899, James McArdle was honored as one of Nebraska's oldest, earliest citizens. He was buried at Holy Sepulchre in Dundee.
**Addendum of October 29, 2022 from Richard Gann: "Regarding James McArdle – I am a descendant of James' sister, Ellen McArdle. It was actually James' parents–Patrick and Catherine–who were responsible for bringing the family from Philadelphia to Nebraska just a few years after arriving from Armagh, Ireland. Patrick and Catherine's shared gravestone (in St. Mary Cemetery) describes their eponymous settlement of McArdle Precinct (Township) in Douglas County."
It was through the early 1940s ration board redistricting listings that I learned of rural McArdle, comparable in scope to rural Benson, Union and Jefferson townships. McArdle even had its own elementary school. The various McArdle maps would reveal the township carved a large swath, with sometimes changing geographical limits, through the middle of what we now consider Central West Omaha. To my estimation it stretched from portions of Old Loveland on the east, west on Pacific all the way to the outskirts of West Omaha on 160th, straight north to the Westroads- Old Mill area, continuing on in places to Maple Street. From my gathering of clues, there were consistent stand out hints that many living throughout the McArdle Precinct were considered wealthy and owned "fine farms." As was popular at the time, there were numerous bothersome, vivid descriptions of the horrible events that befell the sometimes bad luck residents of McArdle, surely satisfying the morbidly curious minds of outsiders. But it was through these articles that I began to see rural life in West Omaha, the draw of the West for citified Omahans and the culture of Horse Country, particularly seen along Pacific Street even into the 1980s. I longed to know more about these hidden, winding bridle paths and horse paddocks.
Ott Footsteps
With my McArdle Maps in hand, I had the proof I longed for. The time frame narrowed with evidence pointing to the Otts having moved to the 1023 South 96th Street acreage sometime between 1916 and 1920. I estimated after 1916 because of the previous clue from John Balster, Jr.'s funeral taking place at the then Ott family home on Leavenworth. Was this even correct?
**Addendum from 2020**I would discover this summer, after research into the nearby 9402 Pacific Street home, for a completely different investigation, John Ott owned twenty acres, most likely extending from what is now the 96th and Pacific Street corner all the way down to the 9402 Pacific Street home. He had bought the large stretch of land from Rudolph and Friedericka Schiebur back in September of 1903. 1903!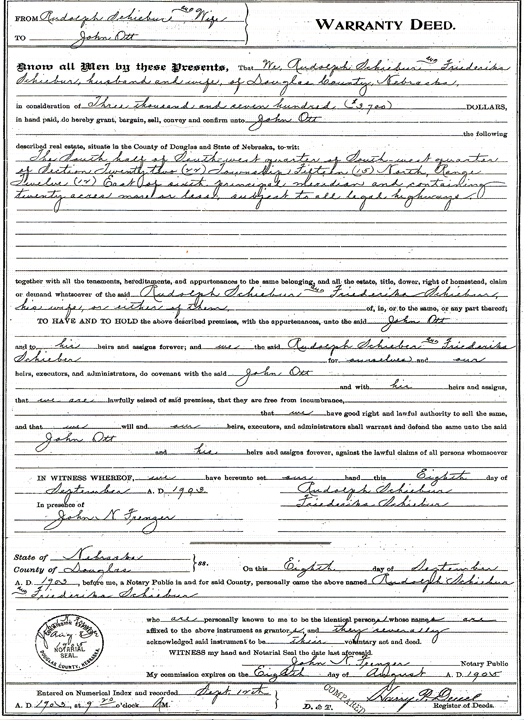 Schiebur to Ott warranty deed. Hardcopy from the Register of Deeds Office.
The Schieburs had purchased the parcel from Henry and Elizabeth Eicke in 1892. The Eickes acquired the land from a John P. Folley. Folley bought it from the United States government. It was all fascinating and I'm still hammering out these details for that future tale. (Thanks to Mary Barnes for getting me these records when I couldn't get in to the Assessor's because of COVID restrictions.) The takeaway at this juncture is that the original Ott parcel stretched to and encompassed my favorite 9402. Considering the age of that home and the flatness of the land that the home stands on, I began to ponder if this was perhaps the original Ott home? Or any early Ott outbuilding? It seemed reasonable. We will plan to dig further into the 9402 Pacific Street property investigation very soon!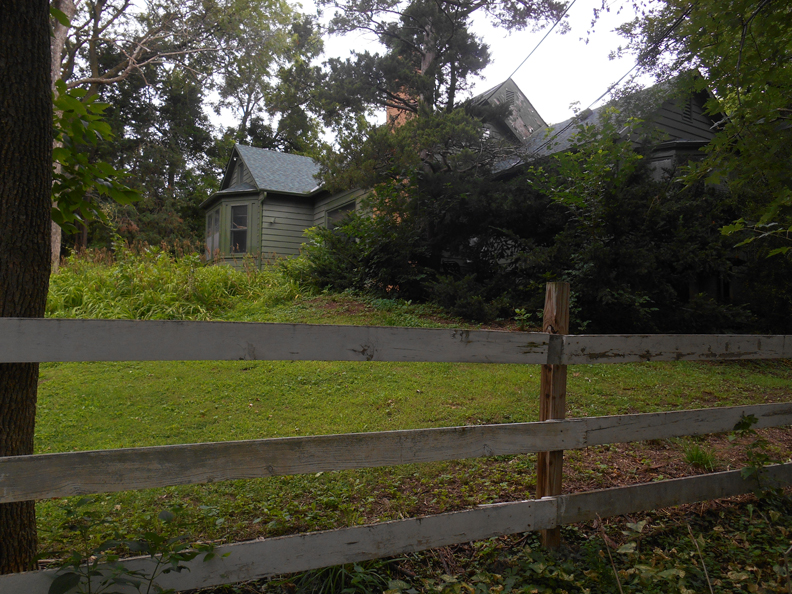 My favorite dark mystery: 9402 Pacific. Thought to have been built in 1904 or close to it, rustic 9402 made sense as a possible Ott farmhouse.
Regrettably there were no John Ott clues in the 1925, 1926 or 1927 Omaha directory. The 96th and Pacific area, within the boundaries of McArdle, was rural country. There was likewise no trace of our Anna Ott. But on July 2, 1927 their son Henry Balster ran an advertisement in the "Lost and Found" after having crossed paths with a stray black horse at 95th and Pacific. This would not be the last lost horse on Pacific. Within the window of 1916 and 1920, I knew with certainty the Ott-Balsters did not reside in the fine country home that exists high on the corner today. Unfortunately the Douglas County/Omaha GIS department only has photographic aerials from 1941 to current day, so I was not able to survey the land for a definitive trace of the Ott footprint. Based on the details I had taken down in my ledger, John Ott had died in April of 1927. His modest obituary gave an additional clue to the family's residence. It stated Mr. Ott died at the age of 70 "at his home at Ninety-fifth and Pacific streets." This clue, if not mistaken, gave further credence to the family living nearer to what is now the Sunset church property or the 9402 Pacific Street house. His wife, biological child and stepchildren were all listed. Funeral services were to be held at the Ott residence.
The 95th and Pacific Connection
The clue that the family potentially resided down at the base of "95th and Pacific," a flatter area than atop the hill, made quick sense with regard to a farmstead. I pinpointed 95th and Pacific to actually sit where the Sunset Hills Baptist Church is now standing but with meandering addresses, 9402 Pacific could have also fit the bill. I had taken note of the small "20" written on the "JO" property of the 1925 McArdle map, later reduced to a "15" penned on "AO" 1938 map. Those numbers likely stood for acres and signified that Anna had sold off five acres after John Ott's death.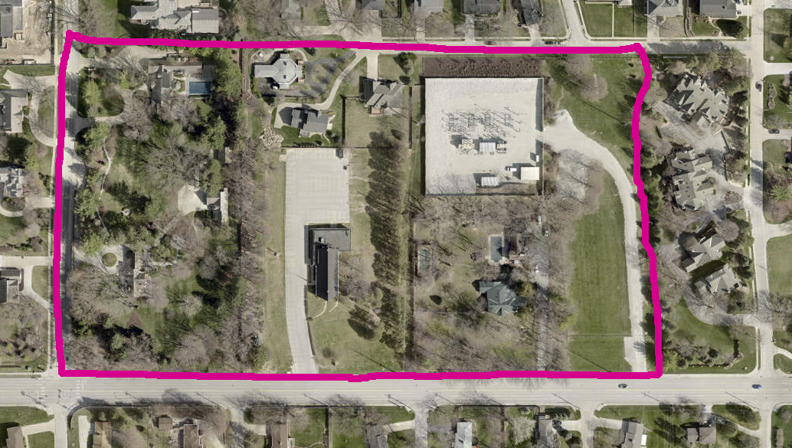 Aerial image of the eight separate properties that, I believe, were a part of the original John Ott parcel. Hot pink line is my estimation of the original boundary perimeters. Top of the photo is north. The wide street extending east-west at the bottom of the image is Pacific Street. Image from the Douglas Omaha GIS site.
The Plot Thickens—An Aside
A matter of utmost importance had been tousled in my minds for weeks. Now get this, I discovered John Ott and John Balster share the same burial plot and headstone at Voss-Mohr Cemetery in Chalco, Nebraska. It is true, I found the headstone engraved OTT-BALSTER. John Balster, Sr., who died first in 1899 is buried on the right. Unusual as a man would typically be buried on the left. John Ott who died in 1927, is on the left side. Which brings into question where was John Balster's grave in the years before John Ott passed away? Anna Wachtler Balster Ott is also buried with them; the backside of the memorial stone bears her name. Mysteriously her name is inscribed with the same flowery border as Ott-Balster, although her surnames appear out of order. On that strange note, why was son John Balster, Jr. buried across town at the Evergreen Memorial Cemetery? I would guess this Ott-Balster monument was a financial decision by Anna and the Balster Ott offspring or perhaps to make her children's cemetery visitations easier. I had not seen this practice before.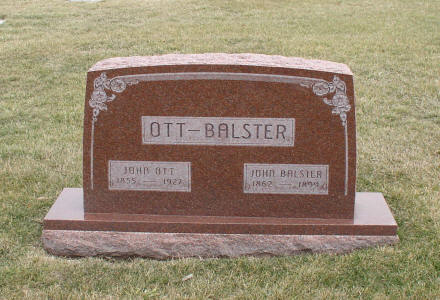 Voss-Mohr Cemetery in Sarpy County website. Photograph by "Vikki" from March 16, 2005.
Make Hay While the Sun Shines
There was evidence that the Ott-Balster family continued to live under one roof and work their small farm at 1023 South 96th. However there were inklings of a change on the horizon in February of 1930. Son Henry Balster ran two mystery ads on the very same day. The first declaimed, "Lumber from new bungalow, 20X32; good as new. Must be sold at once or trade for good car. Henry Balster, 95th and Pacific." Whether this meant the family had built a new house or this was lumber from another property, I was fascinated. The second ad left little to interpret: "Sound black mare, harness, McCormick mower and rake, John Deere cultivator, 10 inch plow, Gardner wagon, baled and loose alfalfa hay. All good stuff. Must be sold. Leaving city. Henry Balster, 95th and Pacific." Does anyone else get the distinct impression that the two black horses, the one previously lost and one to be sold might have been one in the same? Whether son Henry Balster did in fact move out of the city in 1930 or merely a sales tactic, Anna Ott continued to own the acreage at 96th and Pacific until 1937.
A Changing Culture
Before we tiptoe one creep further, let us huddle here and study the cultural changes to the surrounding area in the time that Anna Ott owned 96th and Pacific. The Western Trail was gaining traction in those years and it is this particular subtext that beguiled me. The Charles W. Martin Company and the Byron Reed Company had trumpeted an early tune about West Omaha living, alongside advertised plots "no smaller than one acre" in the marketing of their Beverly Hills addition (78th to 84th, wedged between Dodge and Pacific) back in 1918. "Feel the thrill of the soil, to plant and harvest, to help yourself, your neighbor, and your country, to build up physical strength and financial independence, to breathe deep of pure country air."
Homes were being built much smaller during the Great Depression and the ostentatious homes of the Gold Coast-West Farnam District were seen as over the top and passé. A return to the unpretentious, rustic look was an aesthetic as well as a budgetary resolution to the times. Return to the Rustic Movement, let us call it, but this go-round embodied a European flair. We will touch on this trend later. Elm trees, assorted fruit bearing trees, a garden, a lily pond, chicken house, combined barn and gardener's outbuilding. The idea of packing one's bag for a weekend at that delightful country house or dairy ranch had me dreaming of the Christmas in Connecticut house where Barbara Stanwyck pretended to be a farm wife and mother. I am obsessed with that house and Barbara, of course. The same with Katharine Hepburn's country house in Bringing Up Baby, coincidentally from the very same year that the 1023 South 96th Street home was built.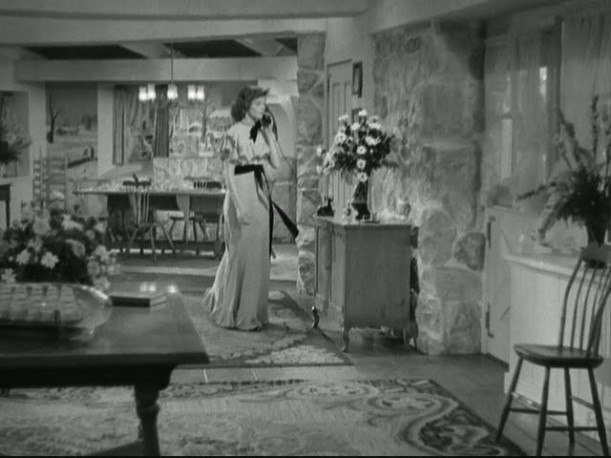 Katharine Hepburn's fabulous "rustic" country house entry from Bringing Up Baby.
As I mentioned earlier the Happy Hollow Club had moved outside the city limits to 98th and Center in 1925. The club's early advertisements in those years made a point of driving "south on Ninety-sixth from Lincoln Highway," what we now call Dodge Street. I found that an odd path to travel but what do I know? I estimated from the previously exhibited McArdle map, that 96th had been something of a major thoroughfare because of how it was emphasized. My growing awareness was that 96th was on the map of the well to do. The lure and prestige of the Country Club only encouraged more building in the areas out west and certainly in Rockbrook. The Shuler & Cary real estate developers had also been buying up great West Omaha farmland in the 1920s. They were the supergroup behind the Rockbrook addition. By 1926, their suburban residential venture grew to include property lying south of Pacific Street from 78th all the way to 96th Street.
My Omaha Obsession sleuth, Joan Field, shared in the blog's early days that her maternal grandfather was Daniel Greene Cary of Shuler & Cary. She illuminated that in the 1920's the duo developed parts of land east of Happy Hollow Blvd to about 50th and between Dodge and Howard that was called Lockwood. Cary built a home at 535 South 53rd Street where Joan's mother grew up. "To encourage people to build west, I believe in the late 1920's, with partner Irenaeus Shuler, he also helped develop in Loveland and West Pacific Hills. Shuler built a palatial home facing Happy Hollow Club on, I believe, 105th. My grandfather went on his own and later built a home at 600 South 93rd St in 1939. My parents married there in 1942. Daniel developed additions in Rockbrook, West Highlands and Southwest Village." Thank you so much, Joan Field.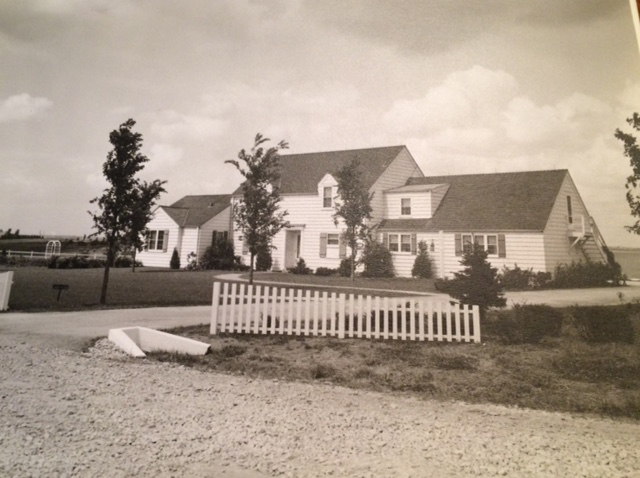 The Daniel Cary home at 600 South 93rd St, built in 1939. Photograph from the Joan Field collection.
More than a short list of moneyed Omahans longed to experience the country feel of the new "Loveland" area, coincidently just south of the previously mentioned Beverly Hills addition. This new development aimed to offer up deep-pocketed country life west of 72nd Street. Horse pastures, dairy farms, the promised fresh air of West Omaha, complete with sheep, goats, chickens, horses, a cow. Can you imagine the popular 1930s pup, the Fox Terrier, allowed to run free on an acreage? My land. Those scrappy little friends. And yes, a country house and a town house to entertain oneself. Hear! Hear! One might think I am joking but there were Omaha families who lived in more than one home at a time in this town. The Leo A. Daly family, for one, enjoyed country life and a swimming pool at their West Omaha home on the weekends, all the while maintaining their proper city home. I have the best story coming out about the Dalys in the future. I liken this to the weekend cabin lifestyle popularized in Omaha back in the mid 1950s. But long before all of that, the 20s and the 30s was a period where pastoral nostalgia had cultivated in Loveland and surrounding environs. This may seem silly to those of you who grew up on a farm but I am sure at this point, many city dwellers appear ridiculous. I have written about him before but Archibald J. Love had developed eighty acres east of his farmland, into the spectacular Loveland in the District 66 area. Detectives, jot a little note that by 1932, Loveland had crept, in all of its loveliness, west on Pacific, nearly to 96th Street. (Some early records show it encapsulated 96th.) A Comprehensive Program for Historic Preservation in Omaha, compiled by the Landmarks Heritage Preservation Commission, made the point that "some Omaha residents did not wait for the land to be subdivided." This small, precious fact will come in to full fruition later in our adventure.
The Muzzy Midtown Close
There were mounds of information piled up around me, much like last night's daunting snowfall, but no clues brought the satisfaction of the full picture I desired. There was some mystery about the Ott-Balster family and I couldn't quite put my finger on it. Maybe it was the profound haziness of it all. I pressed on, nevertheless. According to the United States Census of 1940, three years after selling 96th and Pacific Street farm, Anna Ott, then 74 years old, continued to live with her children in Henry Balster's house, who evidently returned to Omaha. Perhaps he never left? He was age 46 and unmarried. Also sharing quarters were brother Fritz, (45), half brother Rudolph (37), Rudolph's wife, Frances Ott (32) and their son, Rudolph Ott, Jr., called "Jack" (10). I found where brother Paul had married and moved to Los Angeles. At the time of her death in 1945, Anna Ott was 78 and living at son Henry's 5834 Hickory Street, a Minimal Traditional frame house in the exceptional Aksarben-Elmwood Park Neighborhood.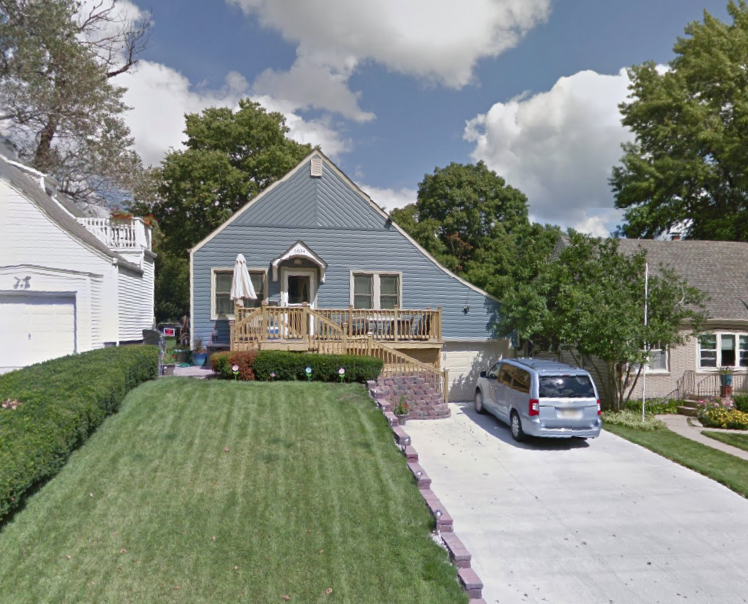 5834 Hickory Street. In recent years this front gabled cutie has received some loving touches, such as a new front porch. Photograph from Google Map.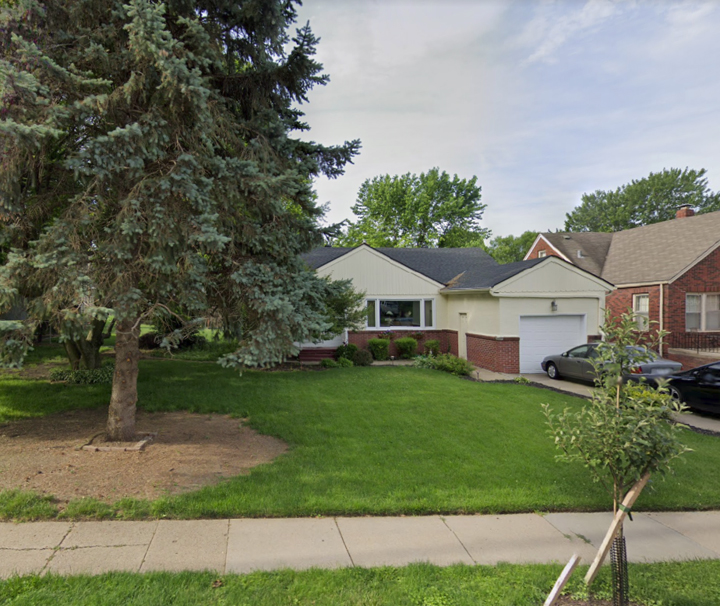 I've probably passed this one five million times. Great neighborhood. 5815 Pacific Street. Photo from Google Map.
Henry Balster later purchased 5815 Pacific Street, upon completion in April of 1954, and the whole Balster Ott family would again move with him. From what I could find (or not find) I believe that Henry and Fritz remained single their whole lives. Within seven months of buying the new property, Henry Balster died at the age of 61. He was buried at Evergreen Cemetery, where his oldest brother, John Balster, Jr. was interred.
The End
Even as I drew a large net around them, the Balster Otts seemed ever more out of reach. I would continue to drive by the 95th through 96th and Pacific corner looking for clues of the family. The snowy rain and still more snow would persist in those weeks. In my mind I was hiking quietly, high atop the hill in snowshoes. The crisp Crunch, Crunch, Crunch as I surveyed the land, looking over hedges, peering through the tree line out over the street and houses below. Of course I did not really cross the premises, although a dream sequence of events would begin to enter my subconscious at night where I would gather misplaced evidence and find corroboration I had overlooked. Again and again when I awoke I thought I had finally solved the story of the Balster Otts and deciphered their time on that West Omaha hill! I suppose I am still under their spell.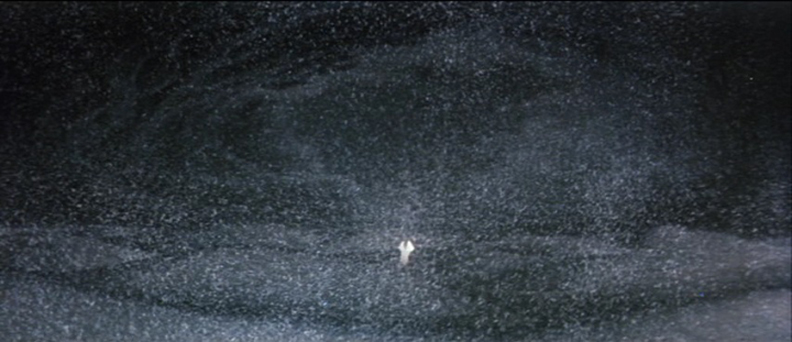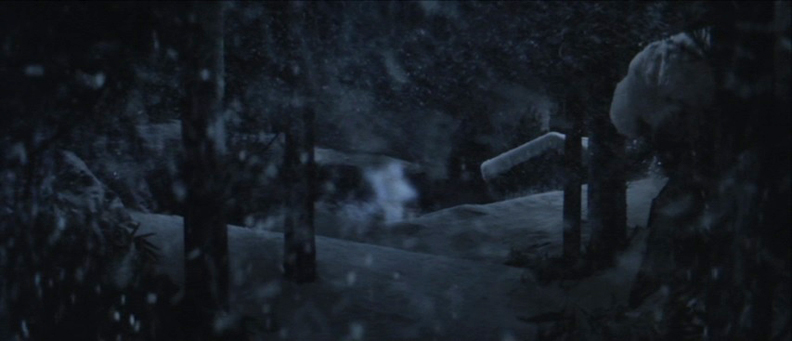 Detectives, seems we just get started and before you know it, comes the time we have to say, "So long." Yes, we must say goodnight for now but without a doubt, we'll be back together shortly for Hidden House Part Two and what a great time we will have then. I can't wait to tell you what happened next and the whos and whys and wheres and how this incredible hidden stone home came to be. Until then, keep looking for beautiful surprises.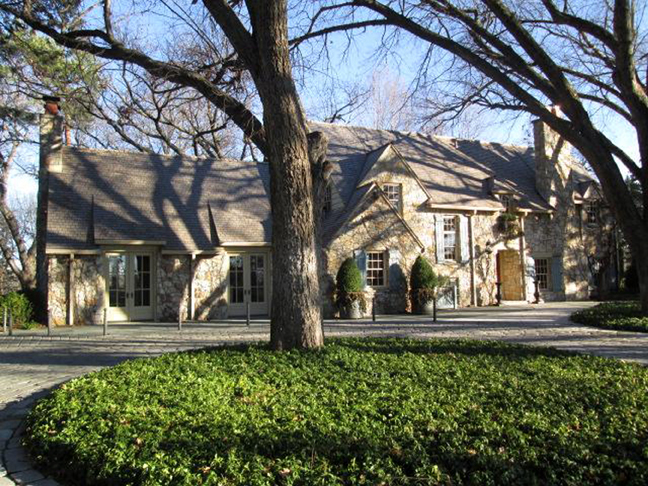 This is not nearly the end of the story, in fact only the beginning. We are about a fourth of the way in. And why fixate on a hidden property behind a grey embankment? It is so perfectly and discreetly Moneyed Omaha. Nothing To See Here, Folks. Keep moving. These are the unpretentious gems that we girlsleuths mine for!
Hello fellow snoops, this investigation now has a follow-up. This way to Part Two: Hidden House Part Two.
I welcome your feedback and comments on this portion of the story—the wonderful and mysterious Balster-Ott family, the McArdle area, and the whole 96th and Pacific district. If you are a relative or knew any of the families, please let us know anything you want to share. Feel free to leave a thought in Comments. I welcome you to poke around with your flashlight. Investigate. Hide in the shrubbery. Look under these rocks and down those alleyways. I am more than pleased to have you tiptoe about. By the time you head for home, I hope you have been fully Sherlocked and Satiated. Thank you, detective friends.
If you like what you see, you can keep up with my latest investigations by joining my email group. Click on "Contact" then look for "Sign me up for the Newsletter!" Enter your email address. It will then display "Thank you, your sign-up request was successful!" Make sure to check your email address to confirm. You will get sent email updates every time I have written a new article. Also feel free to join My Omaha Obsession on Facebook.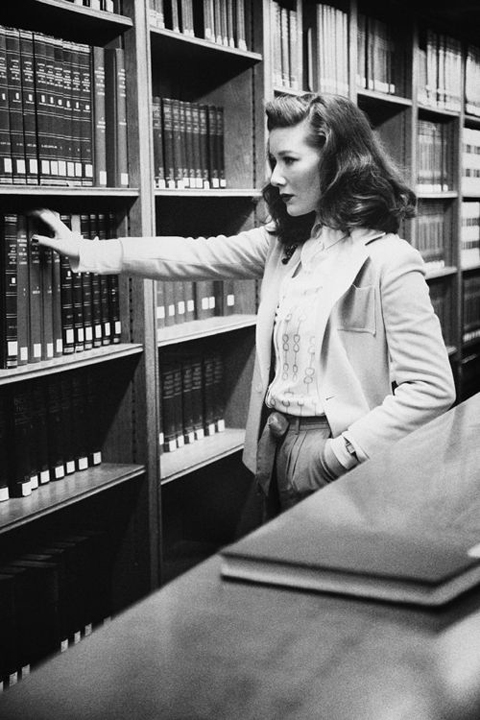 © Miss Cassette and myomahaobsession, 2021. Unauthorized use and/or duplication of this material without express and written permission from this site's author and/or owner is strictly prohibited. Excerpts and links may be used, provided that full and clear credit is given to Miss Cassette and myomahaobsession with appropriate and specific direction to the original content.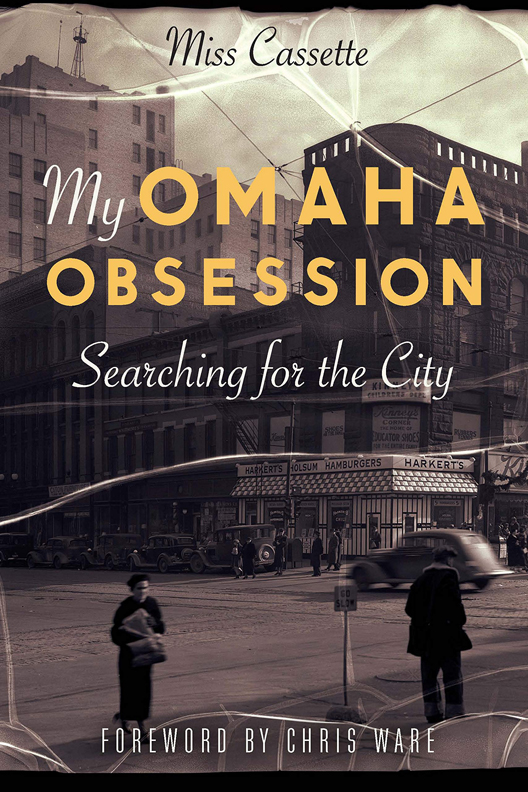 If you are looking for more architectural and Omaha history sleuthing fun, ask your local or bigbox bookseller for my new book: My Omaha Obsession: Searching for the City. Thank you.