I will openly confess, I began to dig for McKinney leads and their Hidden House property with a sort of preconceived inclination. I suppose that was biased of me. My desire was that the newest couple to own 1023 South 96 Street would be Omaha's David Niven and Hjördis Genberg Story. Or maybe even a troubled Bette Davis and Gary Merrill Version. These were my farfetched designs. I do hope I can be honest with you at this point, as prejudiced as I was in my hunt, considering all we've been through up to this point. But these day musings were not to be. Jaw-droppingly, the McKinneys were not those eccentric characters from old Hollywood, although I am sure someone from their inner circle could offer more specific guidance as to their animated personalities and goings on behind the scenes. As I type these very words, I believe in my heart we are all colorful characters deep down.
Investigation at a Glance: The conclusion of my longest, juiciest of investigations into one of the most exclusive properties in Omaha. Hidden House was written in the winter of 2017-2018 and wrapped up with the transition to spring. It was intended to be a large investigation for my book. Unfortunately there was not room for it and this discreet home history was ultimately nixed. Hidden House is a decadent, longform series, shared in parts. Part Five introduces the McKinney family and traces the outlines of the current owners with lots of strange details in between. Rainy spring nights are perfect for reading. How'd you like to stay up late with this Edge of Loveland thriller?
If you have just now joined us, it would behoove you to tiptoe backward and read these chapters first: Part One, Part Two, Part Three and Part Four. You'll be glad you did. I only suggest this direction as a clue-obsessed, worry-wart hostess. But if you are the type who enjoys taking up drawn out investigations in the middle of the action, we welcome you to follow along.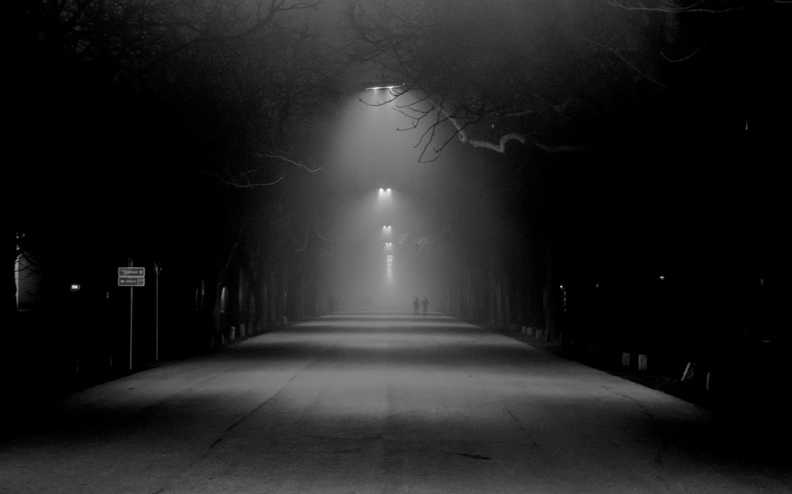 Shadow of a Doubt
After my growing awareness I was seeking a Margo Channing narrative, I realized I would have to settle down and simply trace the pointers wherever I found them. I would go in for whatever I could extricate but soon came to yet another new understanding. Searching through Old Omaha archives is always a mishmash of irksome, fascinating nettles and rabbit holes but one thing I had learned through my adventures was that journalism, and certainly writing style in general, had changed over time. Perhaps because of this development, the public's expectation of reporting changed as well. Or maybe the influence was the other way around? I began to see these cultural changes reflected in the Society Pages. The era in which the McKinneys rose to stature, as well as the coincidental time period of their 1023 South 96th Street home ownership, is precisely when Society Desk news began transforming. Or I should say, became less vivid. It is all very regrettable.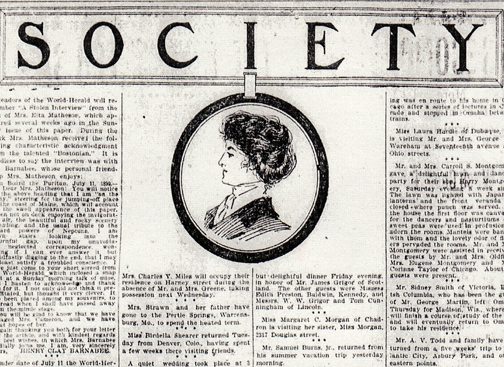 World-Herald "Society Page" of 1893. OWH archives.
From what I could gather, the first society reporters in America were generally women and not surprisingly, hardly embraced by their subjects in the 1800s. This printed coverage peering into the lives of the rich and famous, their social gatherings, their holidays and their attire were viewed as vulgar early on, as the High Society Belles of the Ball were, understandably, not used to having their private lives discussed and publicly consumed. Let us be clear, it was simply in bad form to gambol about or discuss money amongst this class, American Polite Society. One can imagine how this press might have affected the exceptionally reserved Omaha Society, generally not as secluded a circle compared to other cities, but decidedly more constrained. Decades on, the upper class and inclusion of the upper-middle class strata, became reluctantly accustomed to the newsies with a public, cool indifference, and I wager, casually amused behind closed doors at the documentation of their exploits. But it was the pedestrian classes who were ravenous for the Well-Heeled Behind the Scenes Antics. Nationally these Society Pages or "Women's News," as it was often called, were growing in popularity, covering local high society, fashion, etiquette, gardening, interior decorating, although typically disregarded as Less Than News. 'Twas sad, really, as I've always believed we need to collectively dream–without worry of attainment. Wasn't that why we watched American Castles in the nineties? To derive pleasure and draw inspiration from—what better way than to peep into the lives of the beautiful people, their glorious homes and gardens, their impossible collections? The mystery of how the other half lived, although clearly not the measurable other half, was the intrigue. The psychology of it all. Fascinating, really.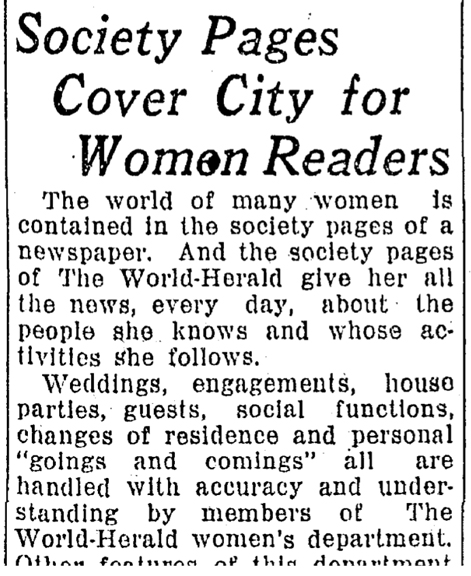 1920s Omaha "Society Page" from OWH archives.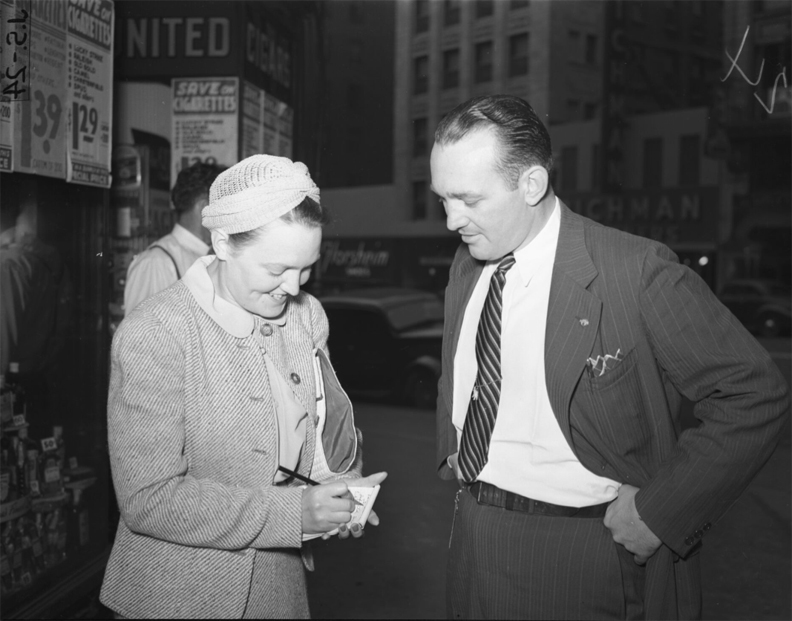 Evelyn Simpson, Omaha World Herald Society reporter interviewing an unidentified man next to a newsstand at 16th and Farnam Street. Creator: Savage, John (1903-1989). Publisher: The Durham Museum.
Omaha's Society Desk appeared to follow national trends, although in keeping with our practical, unpretentious manner, our seemingly reserved breeding (social detachment) both on the side of the reporter and the affluent focal point, prevented the truly radiant, melodramatic details that were exposed in other cities' papers. Humble as we are, the 1890s through the teens disclosed the most downright tempting of cultural and social clues as the writing of that time was quite sensational across the board. And the run-on sentences! Breathtaking. One sentence could last for paragraphs. Heaven forbid you tripped across the description of a suicide or murder from that era. The delivery of society news in the twenties through the forties became more proper, more upright with each year but fascinating nonetheless. I daresay I imagine many concealed gentlemen secretly pecked at the coverage of ladies' teas, bridal veils, debutantes and Ak-Sar-Ben Ball season from behind their morning eggs and toast. For they, too, must have needed dreams.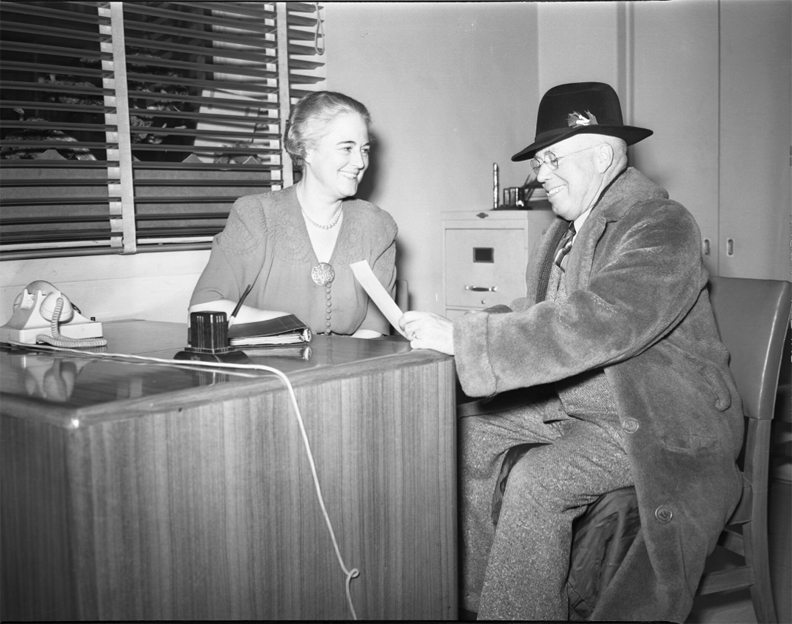 Judge Charles Foster visits with Myrtle Mason of the Bee News Society at her desk. Creator: Savage, John (1903-1989). Publisher: The Durham Museum. Date: 1940.
The 1960s reintroduced a period of cloaked existence for the wealthy, at least in the Omaha press. I have not discovered any real research on social or cultural history to back up my theories, just what I have surveyed. Yes, one could still find that Mrs. Wyman served on this or that year's Ak-Sar-Ben Ball Committee and that Miss Perth was invited to a breakfast buffet but the tasty tidbits were absent. Nonexistent were the particulars of the stamina required for the pace of the debutante season. Nothing about the zestful urgings of many a ladder climbing mum! So although the rest of us bashfully nosey Omahans were DYING to know the finer details of said cocktail party, the view became obscured, as privileged privacy again gained significance. Was it all a matter of renewed decorum? Or did the upper and upper-middle classes view of their coverage change and found they wielded enough power to stop the intrusion? Did they take issue with the  fabulous female reporter manning the Omaha Society Desk? Closing the vine covered gates and drawing the curtains, meant that it became difficult for any Sniffing Susie Sleuth, like myself, to uncover Mr. and Mrs. So and So's home address. Or details of one's children. (They used to give home addresses accompanying children's photos in the World-Herald!) There were no garrulous descriptions of holidays abroad and just who allowed whom to stay at their sprawling home while they were abroad. Absent were the digressive details of who had shimmed down the drainpipe prior to their coming out, who employed a private nurse, the pet monkeys' names, servants, the chattery trifles of which dessert was served and what gift Master So and So brought to the children's party. All of those once delicious, exceptional signals, at least for most in the privileged set, apparently became passé.
I suspect Society Reporting became tacky, as well as a growing matter of safety concern. Power and influence would demand and could maintain true privacy and security. Meanwhile Women's News in the 1960s and 1970s would push even further from behind the desk, leaving behind the once domestic interiors of the well to do and the aspirations of the upwardly mobile to greater focus on gender issues across the classes–liberation, sexism, reproductive rights and the expanding workforce. Simultaneously  newspaper trends during that time emphasized contextual reporting—creating a background of a story as well as a deeper, investigative journalism, often in a series of reports. Both as a profession and societal contribution, journalism from this time period had new, lofty goals, which I acknowledged, but as a Nancy Drewer of the modern era, I counted on and longed for those secret breadcrumbs of the prosperous past. Lacking mid-century sensational societal gloat, as it came to be viewed, it would become my arduous task to uncover the whos, whats, whens, wheres, whys and hows of the neighbors on West Pacific. Little did I know I would be up against these contemporary monoliths of privacy and security, as the Hidden House on the hill investigation further developed. I was left wanting into a flat spin.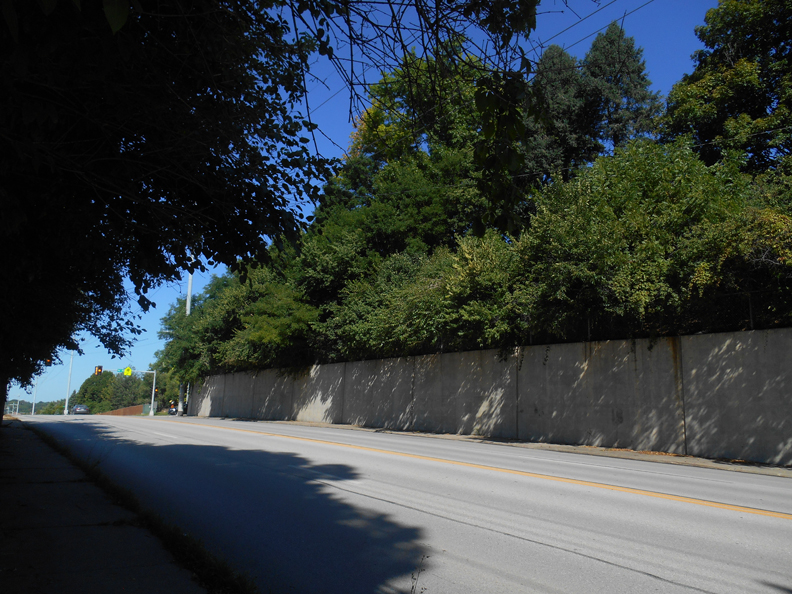 Not a ghost of a chance. The perfectly elusive southern edge of 1023 South 96th Street, as seen from Pacific Street. The church parking lot entrance is to the east. Photo taken in the summer of 2020.
Although there was not much to go on, my second reckoning was that the McKinney family and their neighbors are still very much a presence in Omaha. With respect for their privacy and that of their family members, I made an early resolution to Holly Golightly through their personal history, intentionally creeping with caution near their family tree and those of their neighbors. Warily, this courtesy would restrain my usual scouring techniques and in this precarious state, I learned. Between you and I, I believe it is good mental practice to strive to work a variant lead from an adaptive lens from time to time. I found the McKinneys to be upstanding citizens. Their civic minded actions left Omaha a better place. I will divulge these sparse clues later but above all else, the most fascinating, elusive indication of Daniel and Mary McKinney was, straightforwardly, their choice to purchase the country house on the hill. This determination was what brought me to their Wallace-designed arched doorstep, after all. I will say there was not one clue to be found about their tasteful selection, how they decorated their country estate or any other scant disclosures. I would have coveted even the smallest thorn. What became clear was that the McKinneys inhabited the stone mansion from a unique vantage point, at a unique point in time. That envious view and that coveted land would become all the more intriguing in the years under their possession.
The Daniel and Mary McKinney File
Daniel Lee McKinney was born on April 20, 1931 to Dr. Daniel McKinney and his wife Luella. The elder Dr. McKinney was a veteran of both World War I and World War II. Having graduated from the University of Michigan Medical School, the older Dr. McKinney would practice in Lafayette, Indiana for forty years and later retire in Omaha. In the meantime son Daniel Lee McKinney was reputed to have graduated from medical school in 1956. I would track Daniel Sr. and Luella to 801 South 52nd Street, which in those days was called the Masonic Manor. Now this mythical building, standing on the site of the former Harding Sealtest Ice Cream family compound at the corner of 52nd and Leavenworth Streets (for more details, check out my early investigation: Mysteries of Omaha: 5120 Mayberry Street) and the large McKeen residence, is known as the Elmwood Tower. Dr. McKinney Sr. died at age 77 in 1974.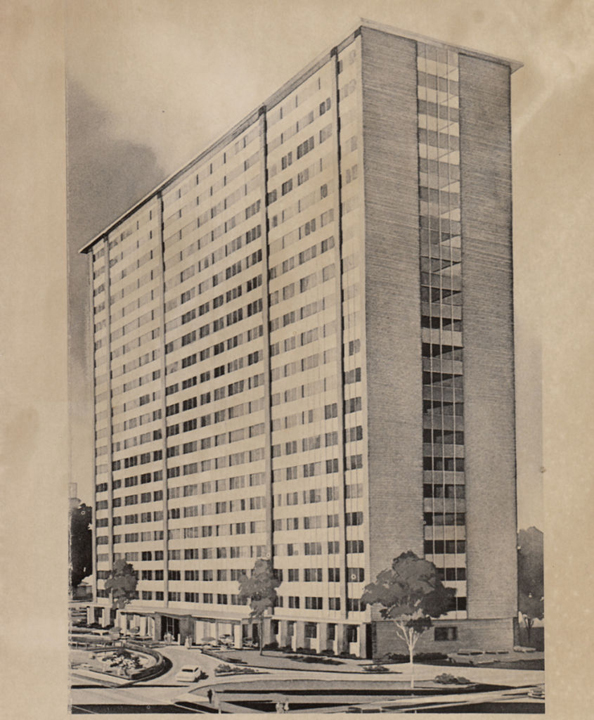 I love architect's drawings from this time period. The Masonic Manor, on the drawing board.
A Montana county birth database revealed Mary Elizabeth Freeman was born on September 13, 1926 in Butte, County of Silver Bow, Montana to David R. and Ora Perkins Freeman. Silver Bow is almost a movie set of an idealic mining town with the best buildings imaginable. I cannot be sure of when or where our Dr. McKinney and Mary Elizabeth met and married or what even brought them to Omaha. Perhaps it was a job in Omaha's ever expanding medical field? I did find that the couple had two aptly named children: Daniel and Mary Nell McKinney. Why break with a good, solid tradition?
The evidence would show the McKinneys purchased the large 96th and Pacific property from Louise Berg in October of 1964. But I could not confidently pin down their actual occupation of the home until 1967. Oddly it wouldn't be until 1968 that Daniel and Mary McKinney were formally listed at the 1023 South 96th Street property in the City Directory. I consoled myself that just because I could not solidly track them to the stone house address did not mean the McKinneys didn't live there. On the other hand, I knew by the warranty deed that neighbor Earl G. Hawkins did own what was the northern most portion of the Berg estate in addition to his 923 South 96th Street parcel. Why was that and just who occupied the original large stone house in the years from 1964 through 1967? Was it rented out? In the interim of my quest, I would begin to gather a cache of publicity for Mrs. Mary McKinney regarding charitable works, leadership, advocacy and volunteerism, leading me to connect she was much more than just one of the ladies who lunch. The first indication was a 1966 mention of Mary McKinney's arrival as program chairman of the Creighton Circle Dinner-Dance. I would file this away.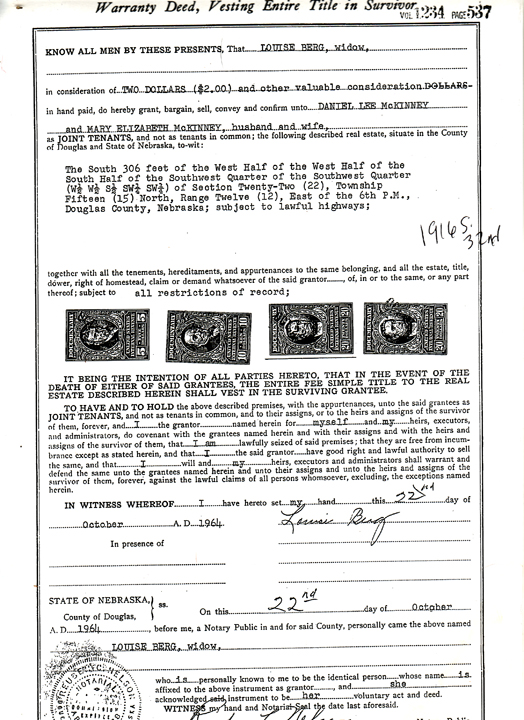 Warranty deed showing sale from Louise Berg, "widow," to the McKinneys in October of 1964. Hard copy from the Douglas County Register of Deeds office.
The Omaha City Directory of 1967 displayed the McKinney family lived at 2306 South 90th Street, a splendid example of a minimal traditional home constructed in the Westside area in the mid fifties. Or did they reside in this home and did they rent it out?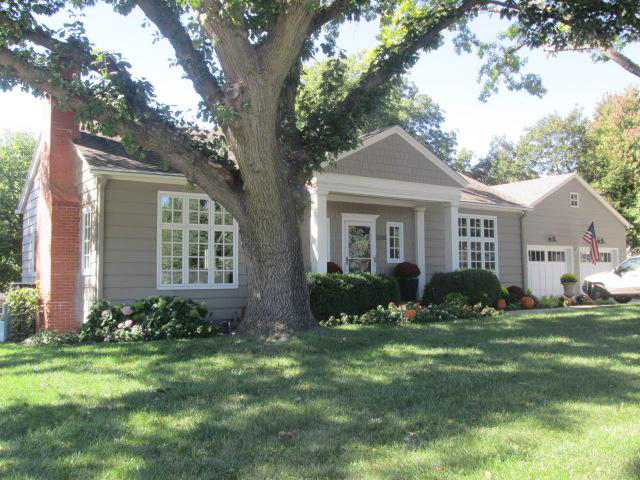 2306 South 90th presents as the perfect Martha Stewart Block Island, Rhode Island home. I have often dreamt it is filled to the rafters with pillow ticking, white porcelain and friendly plants. Please let it be so. Photo borrowed from the Douglas County Assessor's site.
A June 27, 1967 Omaha World-Herald article offered firm evidence of the McKinneys living at 1023 South 96th. Again the Omaha City Directory would not list them at the 96th and Pacific home until 1968. Dr. McKinney had a practice in the Medical Arts Building down on 101 South 17th Street. I had come across this fantastic 1926 building in previous investigations, assuming Almost Every Omaha doctor had leased a medical office therein at some point in the height of its glory days. "The building was originally designed in 1920 by John & Alan McDonald, Architects, together with Thomas Rogers Kimball, but financial difficulties lead to abandonment of the project until 1925, when Joseph G. McArthur (1887-1934), Architect was retained to modify and complete the building." Alas the Medical Arts Building was razed in 1999, the grounds now occupied by the 45-story First National Bank Tower.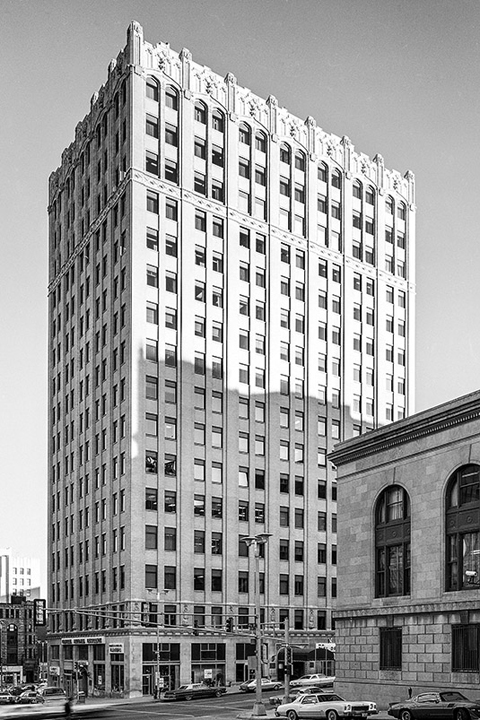 Medical Arts Building (1920, 1925-1926), 105 South 17th Street. Photo date: 1977. Photographer: Lynn Meyer; Omaha City Planning Department. Photo and above quote borrowed from the Nebraska State Historical Society page.
The Woman in the Window
The time of the year that most Omahans make preparations for the holidays and begin to hunker down for winter, found Mrs. Louise Berg, our Ms. Louise, the honoree at a local party. In November of 1967 Ms. Louise was recognized for her work with the Omaha Volunteers for Handicapped Children at a large gathering in her name. The Omaha City Directory showed her living at 1407 Marbee Drive Apartment 4 after moving from 96th and Pacific. I had come across these Marbee Drive apartments in my other investigations and found they were tres chic in their day, especially with well to do widows and divorcees. The very next month Ms. Louise had invited guests to a luncheon at her apartment. Sadly an ambulance had to be called when the guests arrived; Ms. Louise had died of massive hemorrhage at the young age of 67. I would obtain word Ms. Louise was also entombed at the West Lawn Mausoleum, the impressive 1916 Classic Revival and Greco-Roman building atop the mysterious hill at 5701 Center Street. This was Nebraska's first community mausoleum, although by 1937 it became non-cooperative, and was controlled by private families. West Lawn would merge with the Hillcrest Memorial Park directly to the south to become the Westlawn-Hillcrest Cemetery. This is thought to be one of the highest points in all of Omaha. I made a personal commitment to revisit this remarkable marble structure and try to suss out if Ms. Louise's maiden name was possibly Quilliam.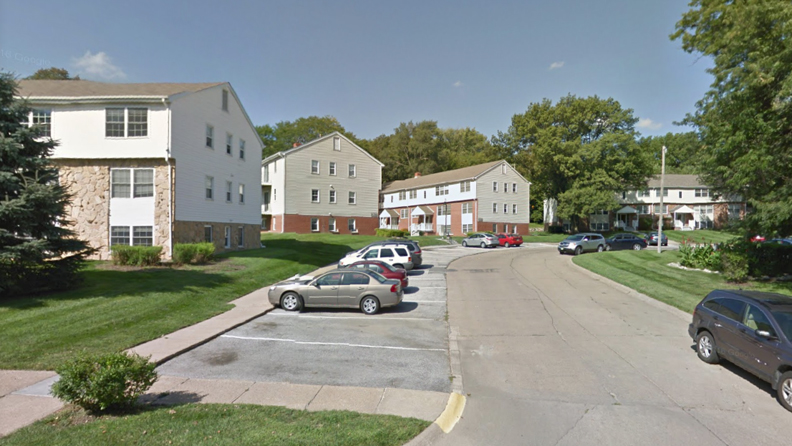 The Marbee Drive apartments, now condos, are sprinkled in a hidden enclave within borders of Pierce Street, 76th Avenue, Woolworth Avenue and 78th Street. You must go on a drive if you haven't seen these apartments. It remains a fascinating vestige to the hip West Omaha apartment life that many older women would come to explore in the mid-century. Photo borrowed from Google maps.
The Origins of Regency
The 96th Street and West Pacific neighbors received a surprise announcement in January of 1966, when Carl Renstrom and John J. Moritz brought a zoning request before the City Planning Board. And this is where things got very interesting. The pair sought approval to develop a 43-acre subdivision northwest of 96th and Pacific, hastily named "Ren-Mor Estates." We are all very happy that this robotic, trying name, a combination of Renstrom and Moritz, did not take hold, but it would be a while until the Regency title reached inception. The reshuffling and establishment of ideas came quickly, however, and just days after the zoning request, the 43-acre proposition had expanded to 80 acres. A fascinating meeting behind closed doors at the Elks Building heard the request from the Westdale Construction Company. The once farmland was to be developed by the Jack Moritz Real Estate Company to include two twelve story apartment buildings, four to five smaller apartment buildings, 65 one half to three quarter acre single residence lots. Each lot was slated to cost between 13 and 20 thousand, with homes construction costs between 60 to 125 thousand dollars. Moritz noted that 70 of the 80 acres were being purchased from Carl Renstom. As you will recall, Renstrom lived in the large home on the south side of Pacific in what I speculated was possibly the Henry Eieke farm-Walter Cozad klinker mansion at 10001 Pacific.
A Full-Stop for my Renstrom Obsession
The impressive Carl W. Renstrom estate at 10001 Pacific Street was an 11,000 sq foot home, stables, pastures of thoroughbred horses, paddocks, a duck pond, an arched bridge to a pagoda, fountains, two swimming pools, tennis courts, wandering peacocks, at one time a monkey and oodles of acres, 94 to be exact. By the time Mr. Renstrom donated his monkey to the zoo, he had a purported 180 acres along Pacific. Renstrom was a world famous hotel owner and founder of Tip Top Products, down at 1524 Cuming Street—now re-imagined as the converted chillwave Tip Top Apartments. Renstrom entered the workforce as a former Fuller Brush salesman, who later struck gold with the invention of a low-cost hair curler, as well as other beauty products. He would eventually sell Tip Top in 1964 but not before making a fine fortune. I've got it from an old time Omahan with a shadowy past, our infrequent informant, Mr. X, that Tip Top was known for giving hard time prisoners a second chance in the form of a job once out of the clink.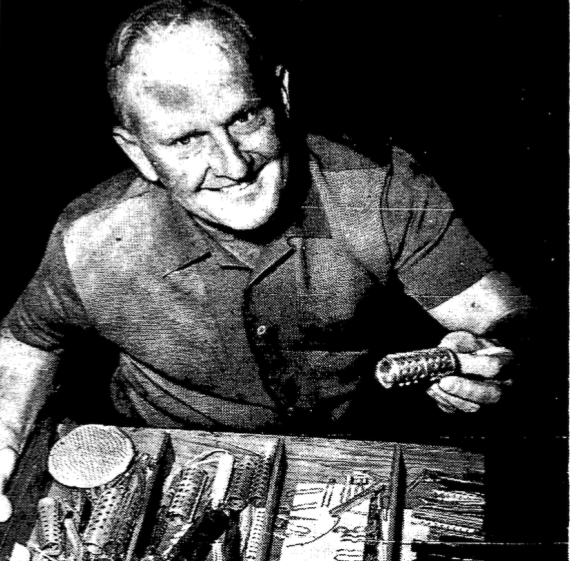 Mr. Carl Renstrom holds his curler invention. OWH archive.
With regard to the actual Renstrom estate on the south side of Pacific, part of their large pasture of the horse farm later evolved into the One Pacific Place Shopping Center at 10381 Pacific Street along the Papio Creek in 1988, in addition to other development of offices, commercial areas and apartments. Renstrom had also built a gorgeous home at 10009 Pacific in 1965 for the estate's caretaker. Nothing to sneeze at! I am no ferrier but I would take up quarters very contently in that abode. A fabulous, dark, rustic cabin, a glittering pond filled with swans and lush grounds and other enviable attributes are still visible from the 101st Street perspective.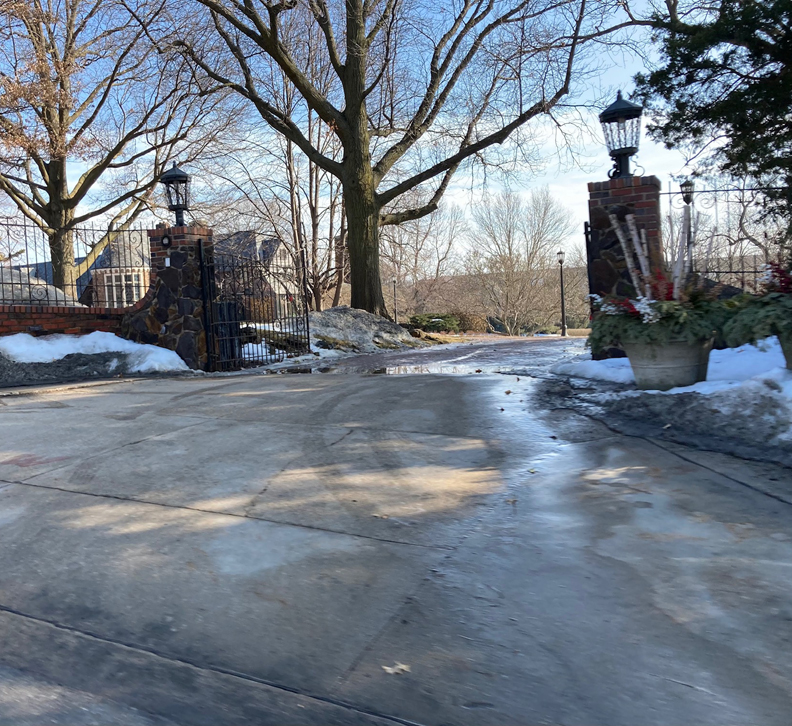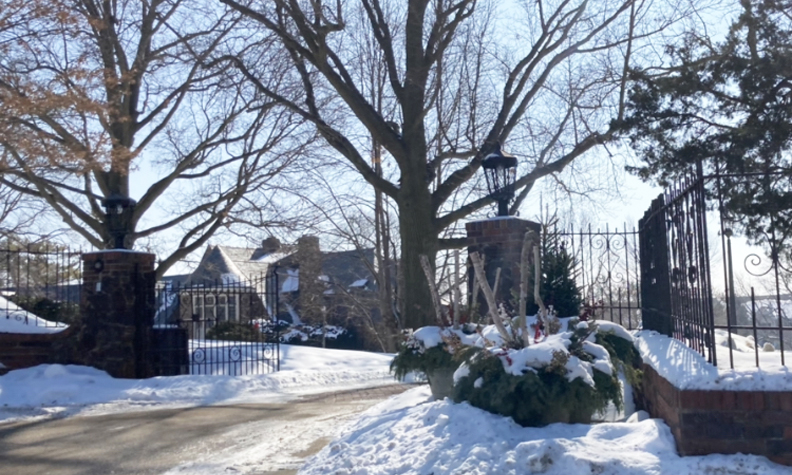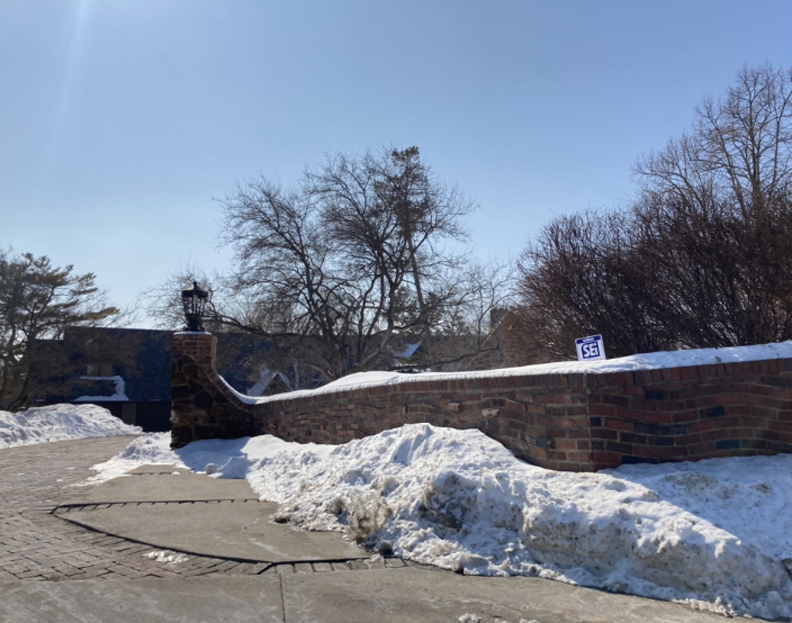 Eastern entrance off of Pacific Street.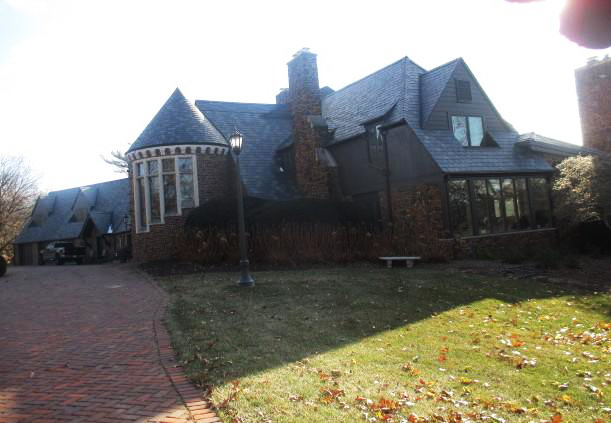 The Renstrom mansion has now to swollen to an amazing display at 18,000 sq ft and I believe is built around the early Wallace-designed Cozad English Tudor. A quick spin by Pacific will mostly reveal a newer turret and unending garages but the western most side of the building reveals the earlier built part of the home. Third photo was borrowed from the Douglas County Assessor site.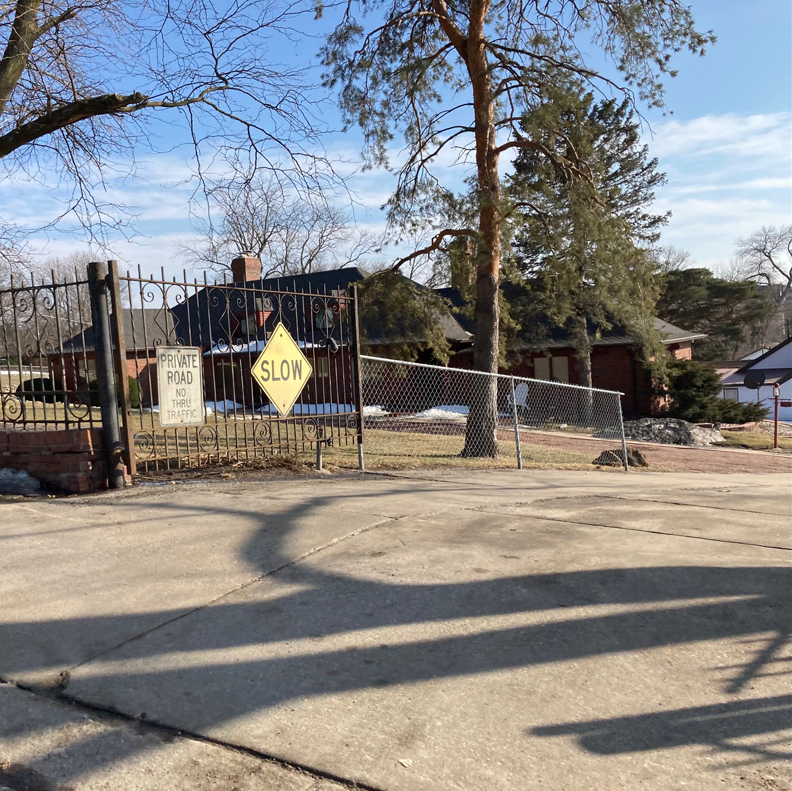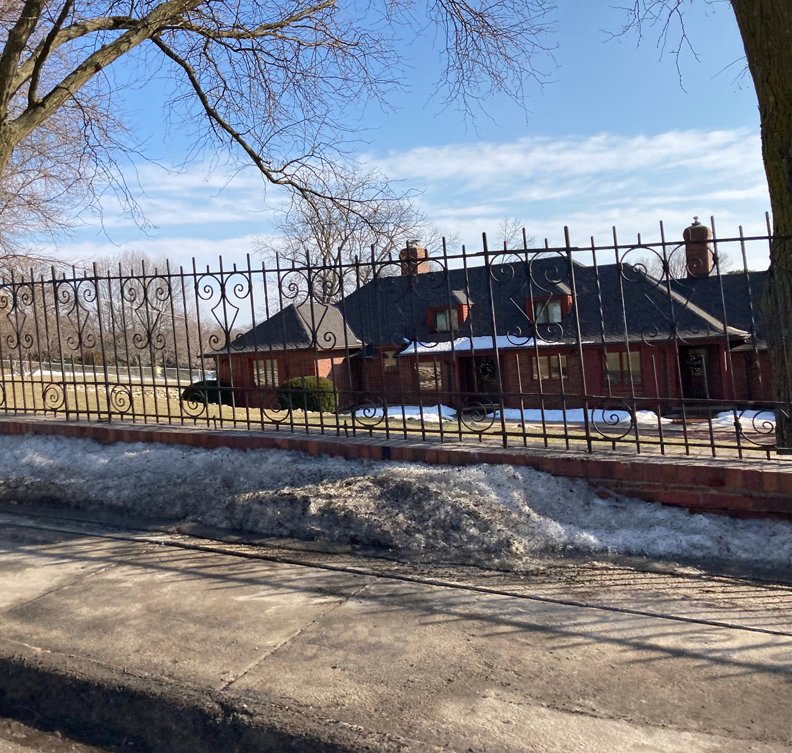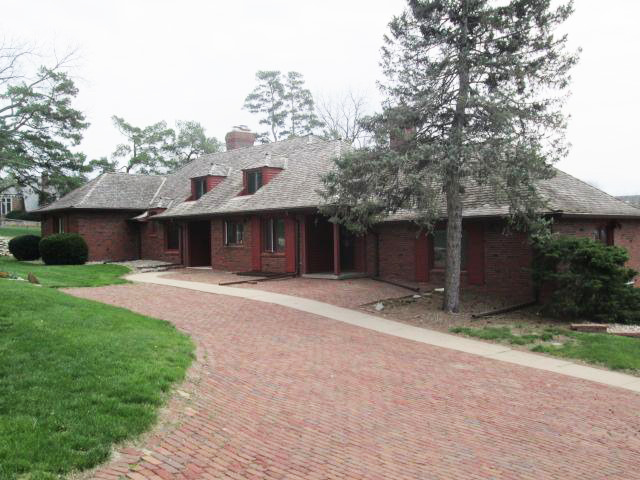 The "caretaker's bunk" on the western portion of the estate. Third photo was borrowed from the Douglas County Assessor site.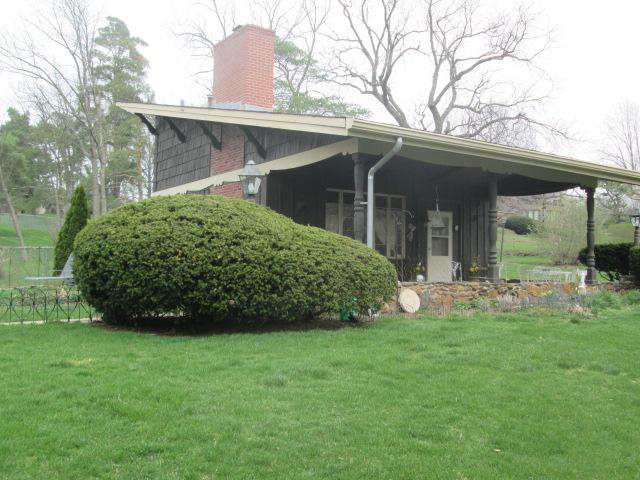 There were additional buildings to include this yummy 1945 getaway lodge. I Must Linger in this cabin at some point in my life. Photo borrowed from the Douglas County Assessor site.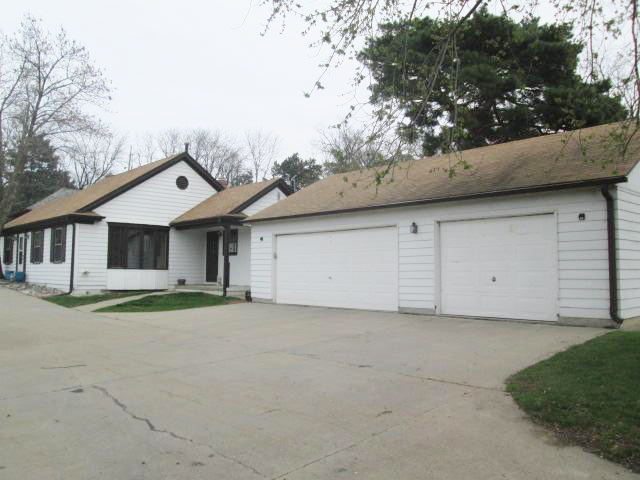 Another building on the southwestern portion of the parcel. Originally servant's quarters? Farmhands? Groundskeeper's residence? Renovated stable? Photo borrowed from the Douglas County Assessor site.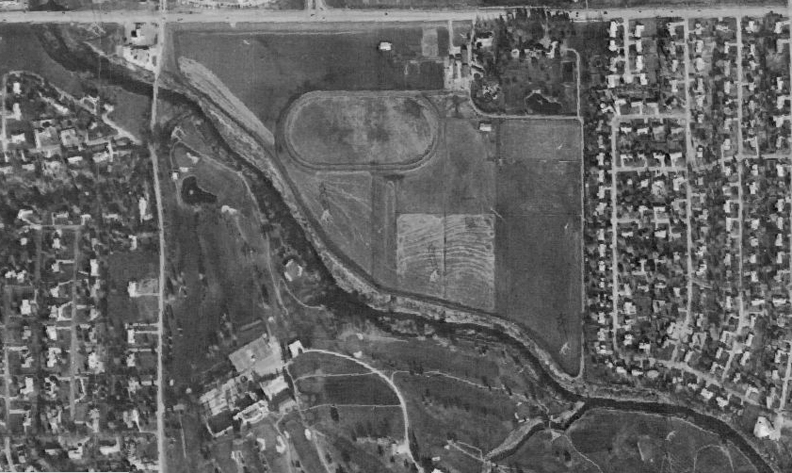 The Renstrom estate and horse farm. Aerial from 1973. Pacific Street is shown on the top (north) of the photo. The wavering Papio Creek separates the Renstom property from the Happy Hollow Club to the south. There appears to be a fenced paddock or track near the stables. The Renstrom mansion and other buildings are clustered in the upper northern eastern portion of the expansive property. Aerial borrowed from the DOGIS site.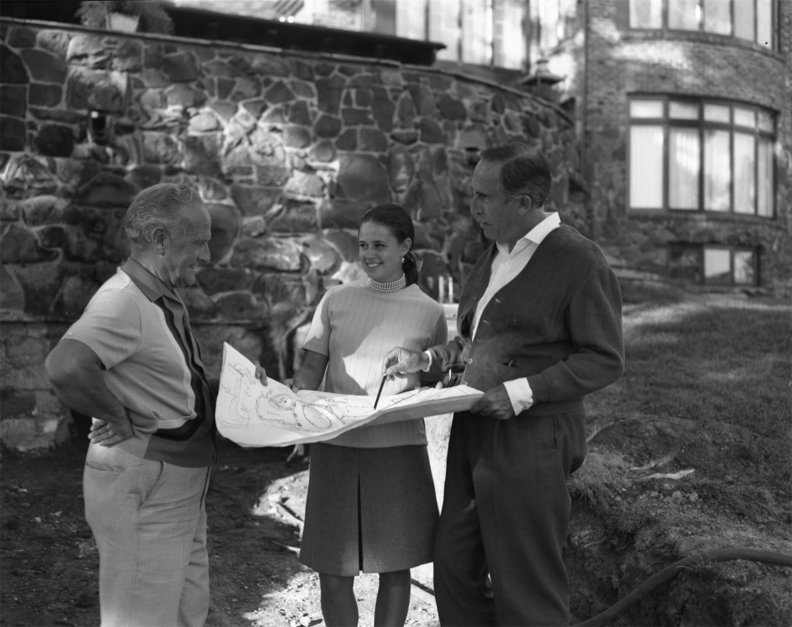 Carl Renstrom with Mr. and Mrs. Manuel Perra, holding blueprints of the beautiful estate. Magnifying their blueprints, I've got to wonder was the Perra couple landscape architects or perhaps making additions to the home? Or maybe redesigning the pool? The ground is torn up. Creator: Savage, John (1903-1989). Publisher: The Durham Museum. Date: 1966.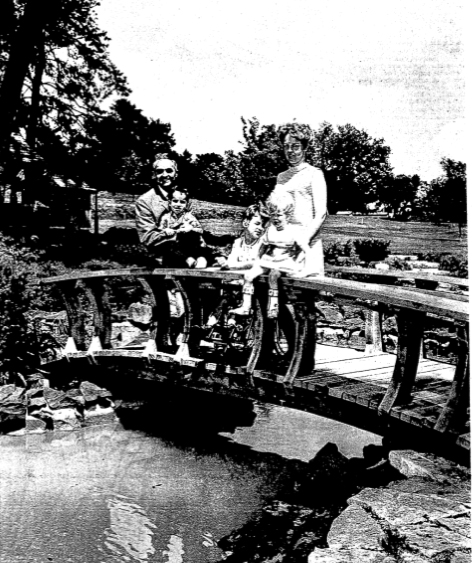 The Dr. Paul Pearson family visit the previously seclusive Renstrom estate on a Garden Walk in 1968. Photo OWH archive. Look at that.
Back to the Origins of Regency
What this Elks Building meeting revealed was that Carl Renstrom also owned 70 acres north of Pacific, roughly between 91st Street and 103rd Street , a portion of what we now know of as the Regency neighborhood. Renstrom made mention that a number of persons had approached him with development schemes for the 21 block area over the years but the buildings planned never appealed to him–for the multimillionaire had envisioned Ren-Mor Estates as "another Fairacres."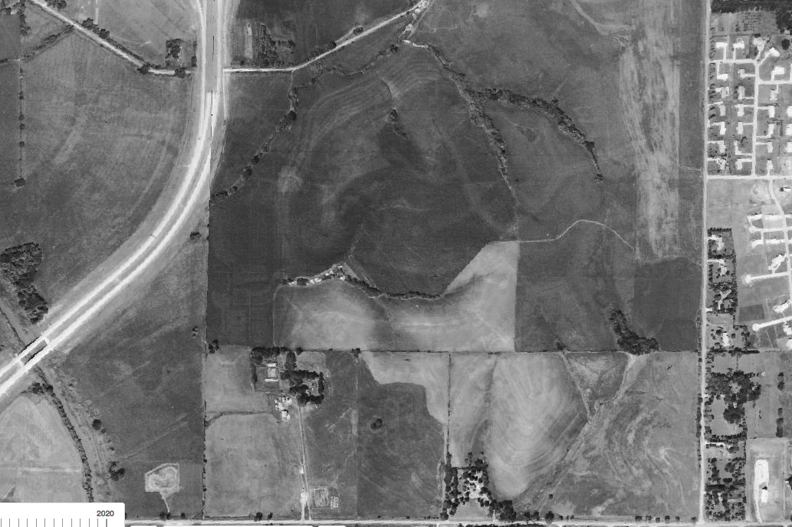 1962 aerial of the Regency neighborhood previous to its establishment. Primarily agricultural with development shown on the east side of 96th Street, shown on the far right. 6-80 runs the left side of the image. Our 96th and Pacific Street fascination is seen in the very lower right hand corner with Sunset Hills Baptist next door. Photo borrowed from the DOGIS site.
Seemingly not everyone was willing to roll out the red carpet for Ren-Mor Estates, even if it was prophesied on par with the Fairacres Neighborhood. Milton G. Swanson who lived at 1604 South 99th Street and neighbor Conrad Pfeffer of 1612 South 99th feared Ren-Mor's drainage issues. I reviewed the current Google map of this area, directly to the south of the old Renstrom estate and although the Swanson and Pfeffer land are no longer extant, one can see their concern. A ditch that carried run off water south to the Big Papio Creek ran very near their property. To this cause of alarm, Renstrom said he would pay half the expense of expanding the drainage ditch. Also vocal were residents with homes facing 96th Street from the east. A. W. Gordon of 701 South 96th and our man, Earl Hawkins at 923 South 96th, rightfully complained upon learning Ren-Mor Estates plans called for homes on the west side of 96th to face west, essentially leaving their backyards exposed to all passersby on busy 96th. Gordon and Hawkins urged that the new homes face 96th Street and think about adding beauty to the overall community, not just insular Ren-Mor Estates.
Footpath to the Gordon Home
Since I have mentioned neighbor A. W. Gordon…a delicious side note of a hushwhisper sort–our favorite. The Allen-Busch family had lived six doors to the north of the Bergs in their modern, nine room stone ranch at 701 South 96th Street. Mrs. Jacy Allen Busch was daughter of the late J. C. Allen, of Allen Brothers fame, an Omaha early-day wholesale grocery company. Back in the mid 1930s Edwin John Busch had asked Jacy's hand in marriage and the couple immediately moved west to the Loveland area, specifically to the expansive property of Gene Melady at 90th and Pacific Street. You may recall our exploration of the Meladys and Busches in our Ballad of Balla Machree story. The Busch family received almost weekly society press in addition to their praises for raising chickens and planting a large victory garden during World War II. E. J. Busch would move his family north of Pacific, along 96th Street after building their très chic stone ranch-style abode in 1948.

"The E. J. Busch home…wings shown contain the living room and service facilities." April 1949. OWH archive.
Although this photo doesn't do it justice, the Busch designed home was a marvel of its day both in terms of its ample size and its contemporary lay out. It had a Y-shaped, three thousand foot floor plan all on one level. Busch had been a food company executive but in drawing up his own house plans, shunned the formal dining room in lieu of a large kitchen, flowing "breakfast room" and large living room where the family was said to have eaten and thrown parties. This was a Very MCM concept. There was also a birch-paneled den, screened in porch, full basement and offshoot wings for the bedrooms. The master bedroom suite apparently had its own wing on the Y-shape footprint, offering full windows in three directions.
The Busch buffets, breakfasts, cocktail parties, with an apparent proclivity for "duck dinner" parties, won them many society write-ups. Not long after Jacy's death in the family home in December of 1956, Alfred Wallace and Almyra Breckenridge Gordon would purchase the sprawling property in 1957. A. W. Gordon, Sr. had moved to Omaha in 1894 from Chicago and although he did not attend college, he roes to become a very successful Omaha businessman and philanthropist. By the 1920s he had his sights set on establishing Omaha as The Medical Center of the Midwest. He was known for his work as one of the founders of Children's Memorial Hospital, the Meyer Therapy Center, J. P. Lord School, Hattie B. Munroe Home and Clarkson Hospital. He was board chairman of the Omaha Loan and Building Association and director of the Herald Corporation, Fairmont Foods Company and the Omaha National Bank. The Gordons and their children had resided in Almyra's childhood family home at 3611 Jackson, situated in the posh Gold Coast district. The Gordon family inherited the home, now on the National Historic Register, after Almyra's father's tragic death. Mr. Ralph Breckenridge had been attorney and general counsel for the Union Pacific Railroad. The Gordons' trendfollowing move out to the Busches' 96th Street property was yet another westward signal of Omaha's upper crust, although, honestly, they had lived at the St. Regis in the interim. Alfred Wallace Gordon also died in the 701 South 96th Street home in 1969 at the age of 85. Almyra Breckenridge Gordon would continue to live alone at their 96th Street home until her death in the residence in 1978. Maybe I am not the only one fascinated by the number of prominent deaths in this fascinating Y-shaped home.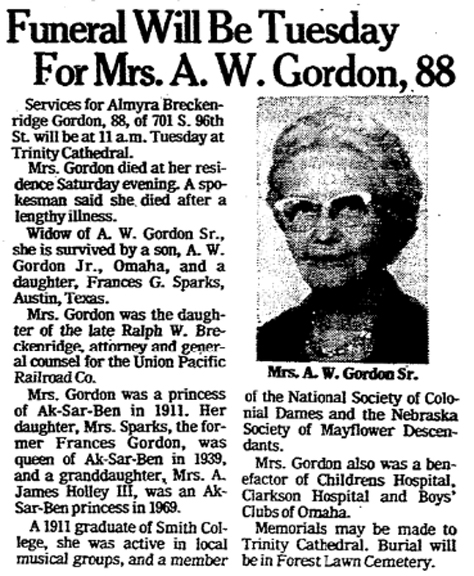 Mrs. Gordon's obit. May of 1978. OWH archive.
In the following years the Allen-Busch turned Gordon Y-shape mason ranch would mount up into an incredible 10,000+ sq ft stone European mansion complete with a dramatic, rounded, stonework tower, leaded glass windows, meandering wings and lush gardens. I made a note to tiptoe back to this estate for further unscientific detection at a later date. But here are a few photos for those who simply cannot wait.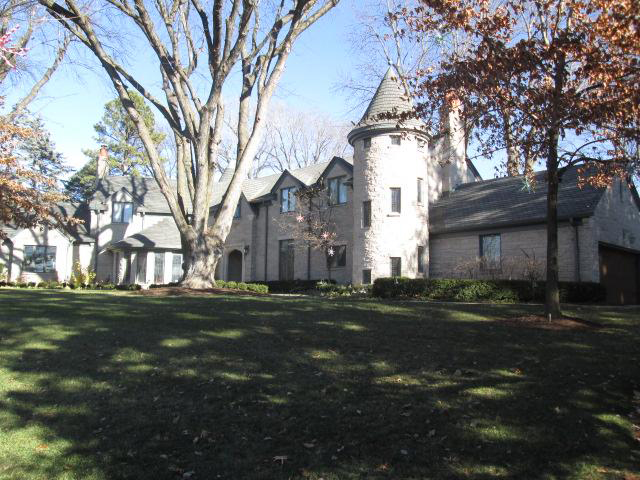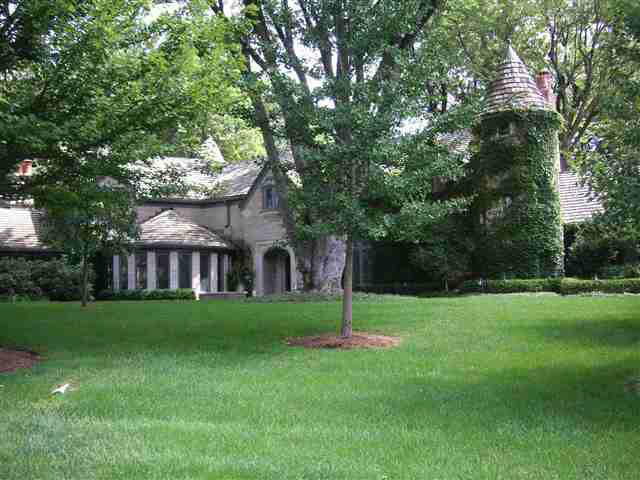 701 South 96th as she appears today. Quite a dramatic change but certainly in line with the transformation along 96th Street in years to come.
The 96th Street Issue
Developer John J. Moritz of the Jack Moritz Real Estate Company and landowner Carl Renstrom were suddenly at an unexpected roadblock. Ren-Mor Estates, with its proposed cluster of high rise apartments and high priced homes on an 80 acre tract, had reached an impasse due to the powerful neighbors on 96th and their city connections. City Planning director, Alden Aust, headed up a beautification project along 96th, the longest boulevard proposed since the 1920s. It was to be a mile long from Pacific Street to Dodge on 96th. The city appeared to suddenly take up interest and did not want Ren-Mor backyards to border the boulevard as Moritz and Renstrom had framed. "The boulevard also would solve a problem in a pending rezoning case on which the board is scheduled to take final action," Mr. Aust said. The developers argued that 96th sloped downward and therefore was not suitable for their project's front yards. City Planning proposed the boulevard on the down slope, and with this design, the Ren-Mor homes on level land, would face the street. Only three boulevards had been built since the 1920s, all less than a half mile: Maple Village, Tomahawk Hills and Westwood Heights.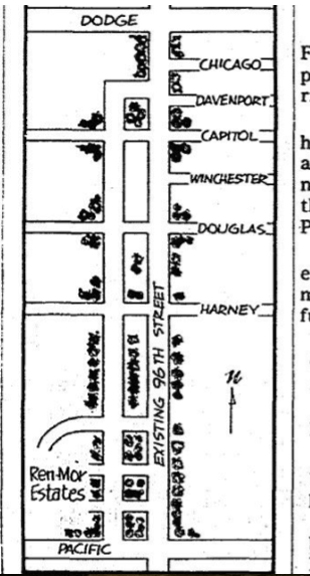 Not the most explicit image, but we can see the proposed boulevard would have jutted out into the western parcels and run parallel to 96th. March 1966. OWH archive.
In one drawing proposal I appraised, a huge apartment building complex was being planned for the northwest corner of 96th Street and Pacific, extending west to 103rd Street. This must have been the anchor of high-rise towers and smaller apartment structures mentioned in the articles. Again Earl Hawkins of 923 South 96th Street came out swinging. The McKinney's neighbor objected to the Ren-Mor plat, calling for the new homes and apartments on the fringes of 96th to face east. Mr. Hawkins rightfully argued he didn't want to look into backyards. "All we're asking is that these homes face east. We want a good development there." Attorney Edward Shafton, representing all of the neighborhood objectors stated, "You owe a duty to the people living on the east side of Ninety-sixth to see that this street does not become an alley." Attorney Edward Garvey, speaking on behalf of Carl Renstrom, said, "I think Carl has spoiled the neighbors. He has kept an attractive pony pasture there for 10 or 15 years." Indeed. This clue let on that Renstrom's land, both north and south of Pacific, had been used for horses.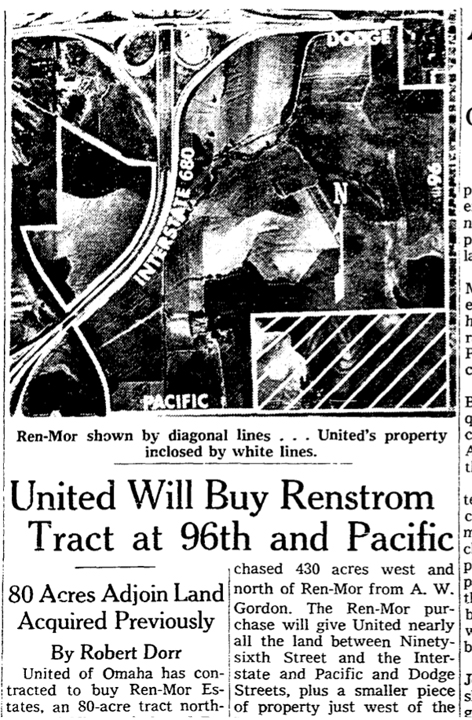 The 1966 shocker. OWH archives.
Presenting Regency
In a surprising turn of events, United of Omaha, bought 80 acres of the projected Ren-Mor Estates from owner Carl Renstrom and developer Jack Moritz. United of Omaha Life Insurance Company, I was surprised to learn, was founded as a subsidiary to Mutual of Omaha in 1926. This 80-acre tract adjoined the 430 acres United had already purchased from A. W. Gordon's land. This new deal gave United most of the land between borders of 96th, Pacific, the Interstate 680, and Dodge Streets. This was the same Mr. A. W. Gordon who lived on 96th Street in the Busch residence and had complained about the Ren-Mor Estates project. I supposed this is how things are done in Omaha and other cities.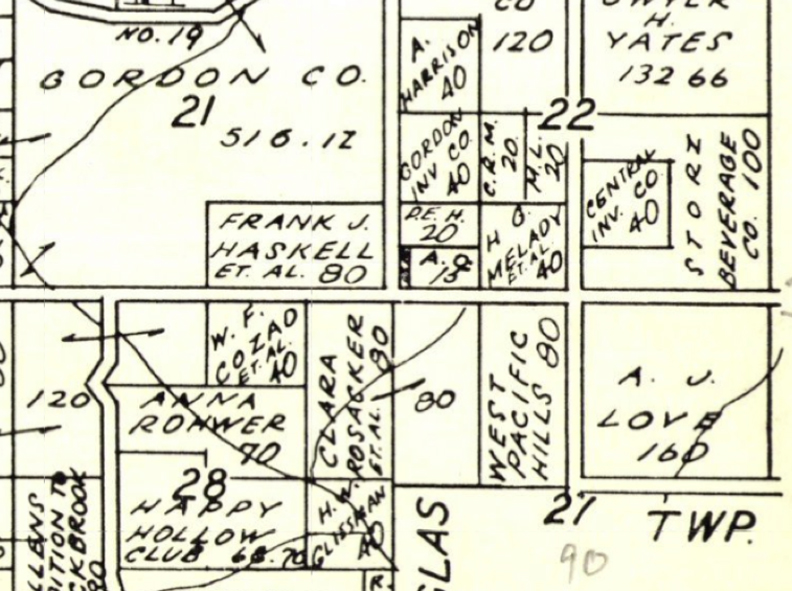 1938 McArdle Township within Douglas County map. Map borrowed from the Historic Map Works, Residential Genealogy™ historical map collection. Horizontal line is Pacific Street. The most central perpendicular street is 96th. The house of our obsession is marked "A.O. 15" for Anna Ott, 15 acres.
I would recall that I had tucked away an early McArdle district map from our part one of this tale. The line drawing from 1938 showed the early property owners, and lo and behold, Mr. Gordon possessed the large plot of land that would become the Regency subdivision. This smaller portion depicted, labeled Frank J. Haskell was later purchased by Carl Renstrom. This northwest corner of 96th and Pacific was the proposed Ren-Mor Estates strip. I had to do some digging to put it all together. Mr. Gordon had purchased 555 acres "west of Omaha" back in 1937. He paid $125 an acre for a total of $75,000 for the whole tract. By 1966 when he sold the 430 acres to the Regency development, he made a reputed cool $2,784,340. Oddly Mr. Gordon also owned the land that would later become his home on 96th, seemingly where the Busches built the Y-shaped house. I was perplexed but assured myself I had already made a mental note to investigate this mysterious property.
Soon after, French film star Brigitte Bardot and her German husband Fritz Gunter Sachs honeymooned at the Acapulco hilltop mansion and grounds of Carl Renstrom. Perhaps after the relief of his big Ren-Mor Estates sale, Renstrom would purchase the Orchard and Wilhelm Company in downtown Omaha. I love it all. What does all of this prove? Renstrom and Gordon owned the original land, soon to be renamed Regency. Under their ownership it was largely upheld as an open, bucolic countryside where animals grazed, much as it had since the beginning of the McArdle days. Also of note United of Omaha had inexplicably gotten into the "planned community" business and were considered the new landowner. Additional focus should be placed on the particulars of 96th Street. The western Regency lots on that corridor offer eastern facing, level frontages and they are very attractive, if I do say. A win-win. Also unless Miss Cassette has had her head in the clouds for decades, 96th Street was never made into a proper Horace Cleveland boulevard from Dodge to Pacific Street.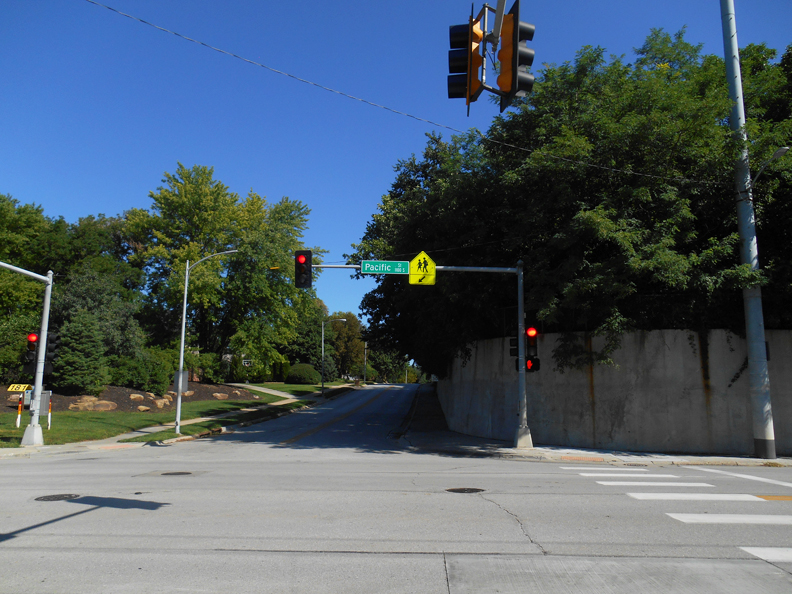 North facing camera on 96th Street, with the Pacific Street crossover in the foreground. No boulevard in site. Our Hidden House, lest you forget, is atop the concrete wall, within the trees.
By July of 1967 there was a new strategy brought before City Planning Board.  The 55 million dollar development to be called Regency, represented the "most intensely planned community in the area," said John R. Maenner, head of T. H. Maenner Company. The newly drawn up "450-acre Regency" met every one of the Board's demands and passed with no opposition. Maenner had taken the reins and would handle the development going forward. Regency was projected to be a Midwestern Showplace, according to Maenner, featuring houses, townhouses, parks, a 21-acre lake with marina (by the 1971 this had expanded to a 56-acre manmade lake), boathouse, recreation center, swimming pool, and tennis courts. The Regency Fashion Court, "a French city under glass" wouldn't be fully realized until 1973.) By September of 1967 the graders had started to reshape the farmland soil into the envisioned Regency Neighborhood.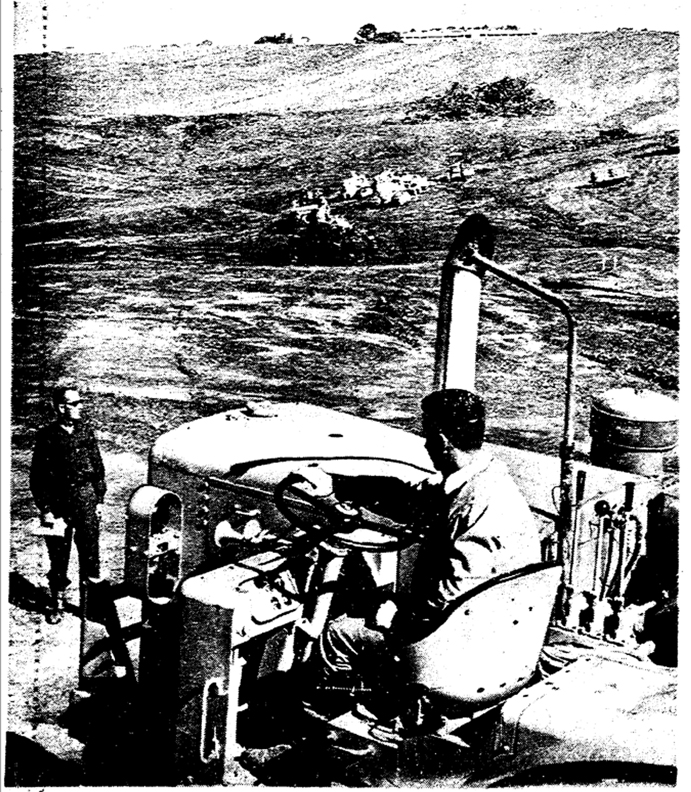 September 21, 1967. OWH archives. C. W. Petit Construction Company of South Sioux City and Negus-Sweenie Inc. of Omaha were the contracted graders. The camera looks north from 96th and Pacific Streets, with the newly-forming Westroads Shopping Center visible in the distance. Although the Westroads, at 100th and Dodge Streets, wouldn't officially open its doors until August of 1968, I was interested to learn the Fox Westroads movie theatre opened in November of 1967.
The papers recorded merely a nonchalant nod as wealthy families would build and move into the exclusive Regency neighborhood. Soon enough, Regency would push the boundaries of Omaha, defining a new culture in the perception and display of wealth as well as a new vision of West Omaha. Omaha's Gold Coast was said to be moving west. District 66 schools would change their boundaries to encapsulate these new Regency families. In 1968 the Regency development became West Omaha's first upscale neighborhood to break the $100,000 price barrier for a single family dwelling, with twenty-three "pioneer" families having built homes by 1970. I counted businessmen, lawyers, physicians, dentists, engineers, a wholesale lumber dealer, a steel company district manager, an investment banker, an orthopedic surgeon, two supermarket chain executives, contractors, presidents of companies among the whos who in Omaha's largest and costliest residential and commercial development. These twenty-three homes were thought the forerunners of the anticipated 475 single-family dwellings.
The mansard roofed homes, the Asian influences sprinkled about, shake-shingled suburbs meets true Hollywood Regency Moderne stylings are but a few of my obsessions. Oh yes, and the street lamps.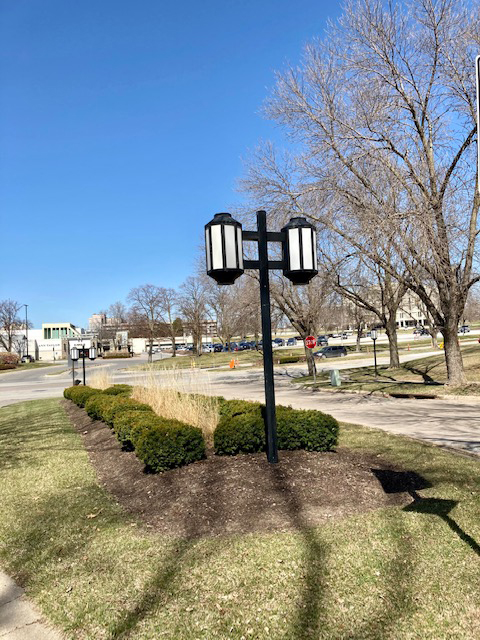 The Regency Lampposts at the western entrance off of Regency Parkway. They remain the same style as when Regency first opened.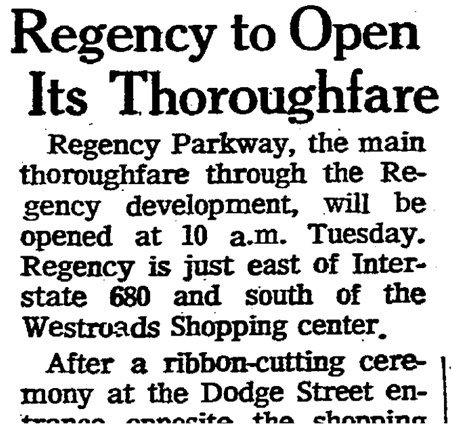 November of 1969. OWH archive.
Early Regency is easily one of my favorite time capsules in West Omaha development. I became taken with Regency as a young girl when I attended an afternoon tea at the home of my grandmother's friend and a pool party years after. I smirk to reflect on my tweenie years spent wandering the halls of Westroads Mall with girlfriends. I began affecting a British accent, introducing myself to other young mall wanderers as one in a set of triplets, sent overseas as foreign exchange students to live in a sprawling Regency residence with a host family. It was so farfetched it seemed a cinch that no one could check the layers of fabrication. This was such a winter folly for us galpals, leading to many party line phone calls with unsuspecting young fellows and endless gales of laughter. Did you ever happen upon the single English triplet of Westroads with a gaggle of girls? I only stumbled when we met our match in the form of an adolescent male, regrettably, a true Regency resident, who pressured me for an address and a family surname. Isn't that terrible? He was an incredulous one.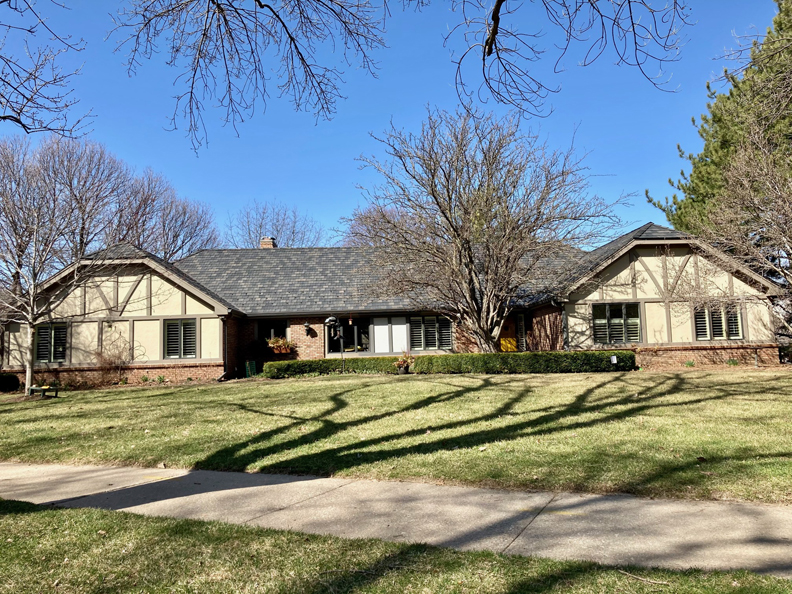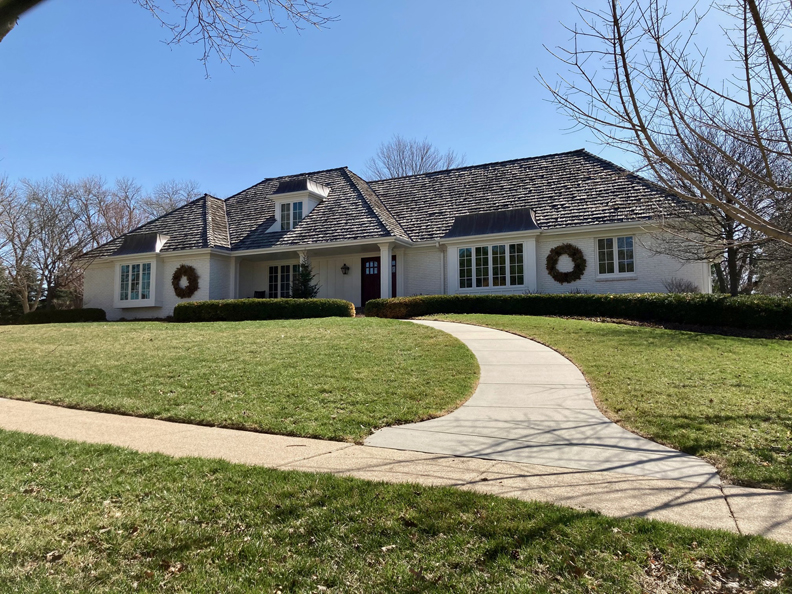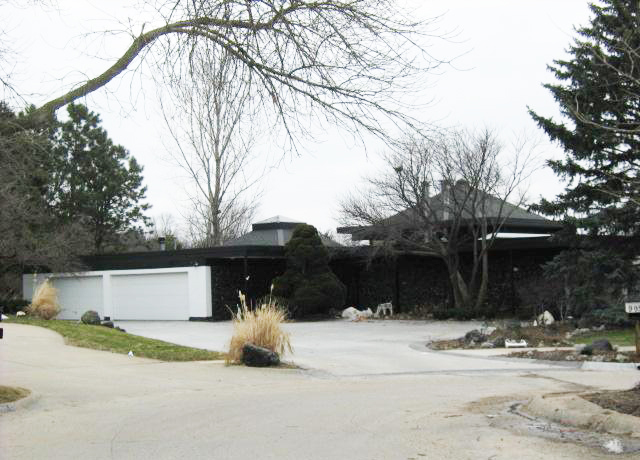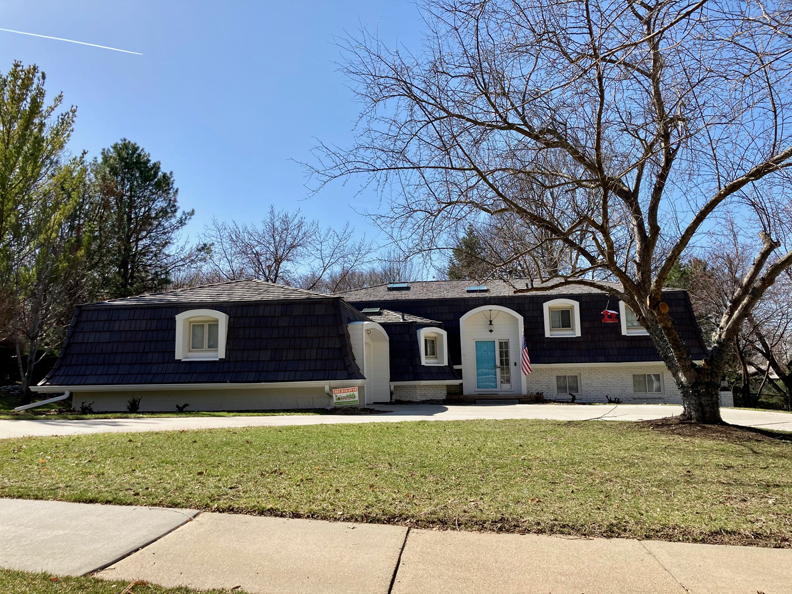 Classic Regency homes.
Some of the most unbelievably, chaotic high school parties were held within Regency's perimeter, as these baffling, affluent 80s parents tended to leave their houses, car keys, credit cards and seemingly all responsibility to their children. I never understood why but was always grateful to attend a posh kegger with a fine house to roam about in. Then again my friends' parents with far less money also allowed us the same freedoms as the wealthier parents. None of us complained. We loved house parties and keggers–playing out real life scenes from a John Hughes movie. To this day, the deceivingly open, winding roads of Regency remain one of the most mysterious, insulated communities of Omaha. The fact that there exists a quirky Ascot Drive, within Regency's borders, only makes my heart beat faster. And I have been fully enraptured since my earliest memories.
The Mark of the Whistler
I breathlessly printed off a warranty deed contract from August 21, 1969, which I happened across at the Register of Deeds office. It was so very curious to me. Earl K. Hawkins Sr. and E. Lillian Hawkins sold a portion of land back to Daniel L. McKinney and Mary Elizabeth McKinney. I only suggest "sold back" as I assume this was an original part of the Ott land that the Reichstadts mysteriously sold to the Hawkins. Did that mean that the McKinney's land was recovered at a full three acres? I loved to examine the cursive signatures and imagine what I could of the personalities of the endorsers. Of utmost interest—the mesmerizing real estate description: "The South 170 feet of the North 204 feet of the South 510 feet of the West 329.4 feet of the Southwest Quarter of the Southwest Quarter of Section 22, Township 15 North, Range 12 East of the 6th P.M."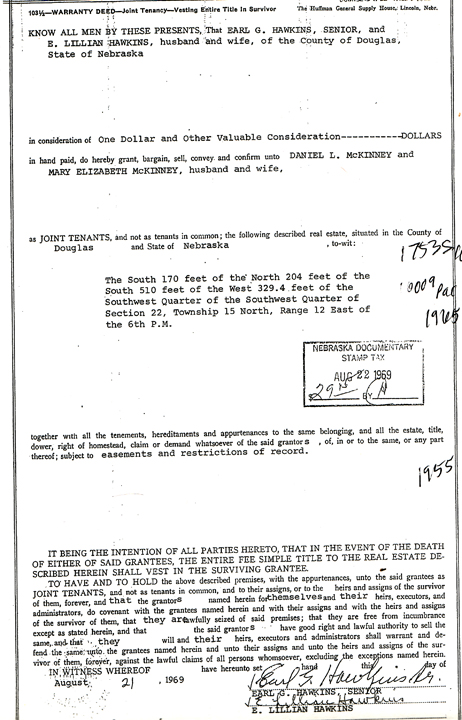 Warranty Deed from Hawkins to McKinney, signed August of 1969. Hard copy borrowed from the Douglas County Deeds office.
Upon study of the original 1955 warranty from Bertha Reichstadt to the Hawkins, this land description appears to exactly match the 1969 sale. Full heed was paid in learning that one year after the land sale, the great neighborhood advocates, the Hawkins, would move from 923 South 96th Street to a brand new apartment building at 10322 Broadmoor Court in the Regency Neighborhood. This upscale apartment complex is still well maintained, nestled between the twisty Regency Parkway Drive and Regency Lake.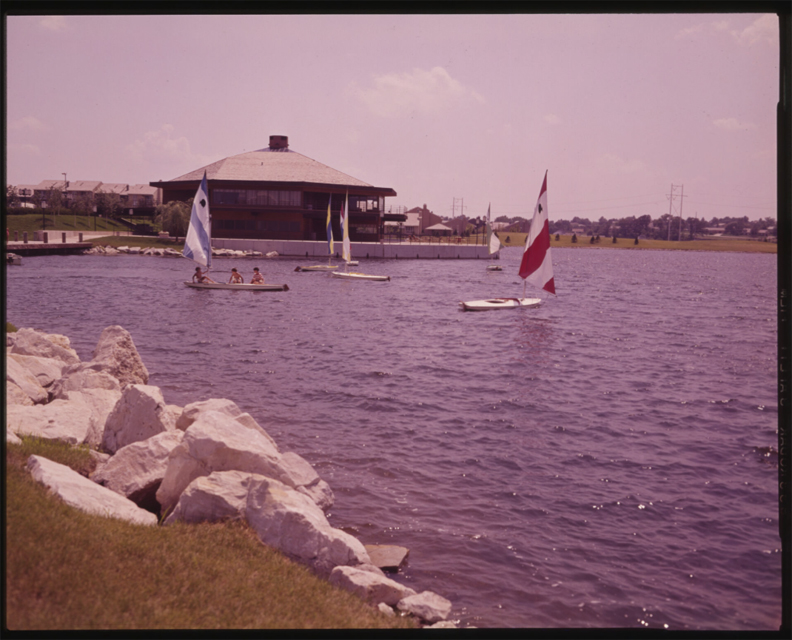 Early view of the Regency Lake and Tennis Club Clubhouse. Creator: Paskach, Robert (1927-2001). Publisher: The Durham Museum.
A strange World-Herald photo from March of 1969, taken from inside of a car driving west on Pacific Street, showed the raw hillside of the 96th and Pacific property. This was my one and only glimpse of what the Reichstadt-turned-Berg-turned-McKinney estate had looked like long ago, sans retaining wall.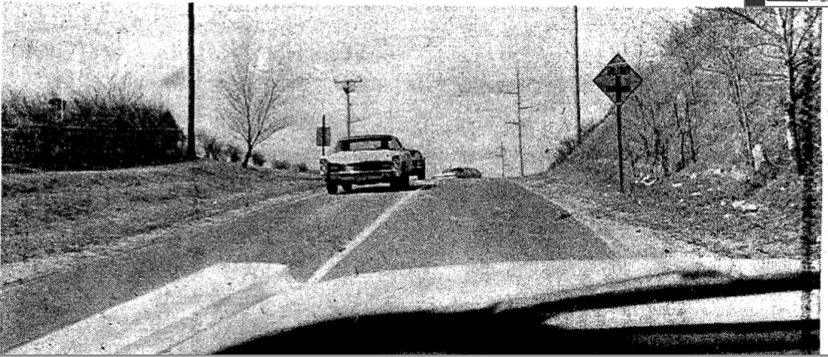 March of 1969. OWH archives. Moving car on narrow Pacific Street, headed west. The edge of the McKinney property seen on the right side of the photo.
The article detailed the dangerous blind intersection at 96th and Pacific Streets. Under proposed street and freeway improvements, the hill on Pacific Street would be leveled and Pacific Street between 74th and 96th Streets would be widened. The corner of 96th and Pacific would receive four way traffic lights (later) after a series of terrible car accidents over the years. Can you imagine attempting to drive out of that blind corner previous to those lights? From what I could suss out, the Pacific Street construction work began in the summer of 1970 from 78th to 96th. The 1973 Douglas Omaha Geographic Information Systems aerial photo showed for the first time a distinct concrete retaining wall around the south and west property line of our 1023 South 96th obsession house.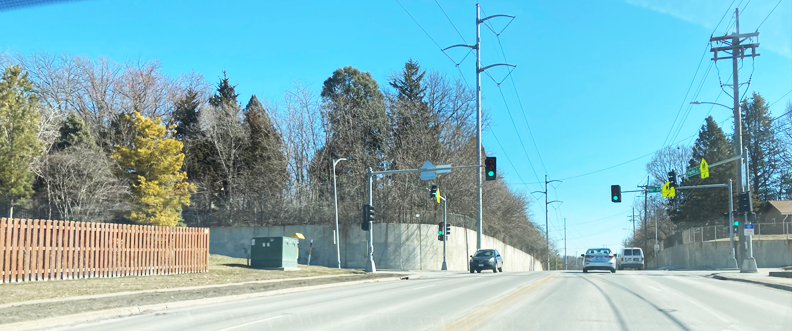 The 96th and Pacific Street intersection today, on the crest of the hill. Our property is within the trees. Camera facing east.
The 1973 DOGIS aerial also disclosed the first of the Regency homes being built on the opposing, west side of 96th Street. The 1982 aerials show Regency homes were taking formation even closer to the 96th and Pacific corner. West Pacific Street would maintain a tinge of its rural flavor, in my perception, deep into the Eighties, as evidenced by the horse stables and fenced fields where people kept and rode their horses. The city would later annex Regency in 1982. I like to imagine the western facing, elevated stone house that the Reichstadts built, enshrouded in trees and fog, seen or unseen by passersby. She would continue to hold her ground, now considered to be closer to the geographic center of Omaha.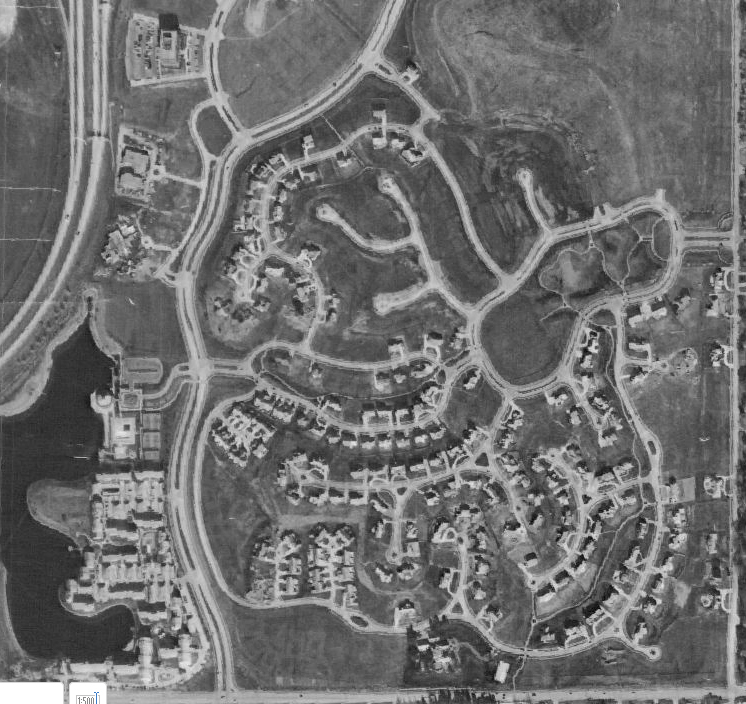 1973 burgeoning Regency aerial. Photo borrowed from the DOGIS website. 96th Street runs on the right hand side of the photo. Pacific Street is seen on the lower border.
The Mary McKinney Dossier
The spring had come to Omaha as the mud season lifted. Just as Holly Golightly visited Tiffany's when she felt a tinge of sadness, I would find myself pulled up and down Pacific, discovering new reasons to travel 96th, such as spying on emerging sprigs and tufts. What I found was full-blown drama. Tree leaves had opened their unbelievably shiny green new growth, dare I say, like perfect plastic frond. With the tulips boasting of their blooms, the birds too would sing once again. Loudly. The birds and the bulbs. I often wondered about the lucky birds and even the squirrels that inhabited the trees of the 96th and Pacific corner, high above the streets below. What kind of 4:00 a.m. Dawn Chorus did those feathered friends present the home dwellers of 1023 South 96th? A beautiful racket. I was sure they must be a terribly immodest lot, if they had any true sense of where they resided. And I am secure they must have a sense of these things. I often intended to go have a listen but my constitution hampers my arising from my bed before seven A. M. most weekends.
In those days I would learn more of Mary McKinney and begin to intuit a growing fondness for her. An active society woman, Mrs. M. M. as I would come to call her, could easily be found arranging a fashion show or gala, as president of Friends Association of Brownell-Talbot School, an active member of the Omaha Opera Guild board and easy associate of the Junior League. Recognized as an outstanding volunteer by the Nebraska Chapter of the National Society of Fund Raising Executives, she also gave of her time as a Joslyn Foundation board member. Through these organizations, Mrs. M. M. would generously throw open the doors of her house on the hill to many friends, community leaders and strangers alike in hosting formal tea, luncheons, open houses, entertainment at cocktail receptions, private board members' parties. Who would send regrets to the chance at a party at the English country estate? Mrs. M. M. also reigned as Bergan Mercy Hospital Guild president. As it turned out, I would discover her husband, Dr. Daniel McKinney was a well-respected neurosurgeon, who served on the Bergan Mercy Hospital Board of Directors from 1983 through 1990. Dr. McKinney was also Bergan Mercy chief of staff from 1988 to 1990.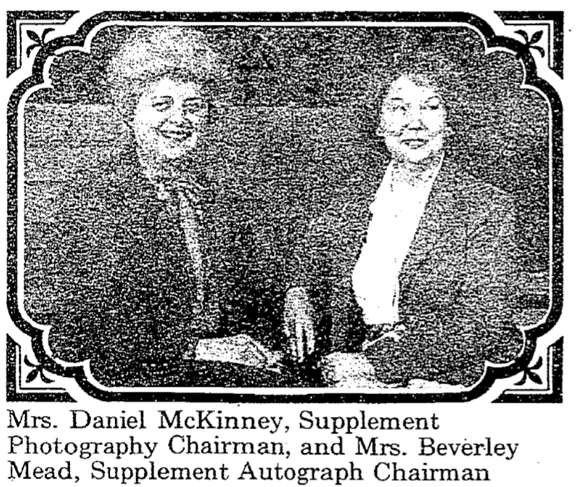 Mrs. M. M. and friend in March of 1981. OWH archives.
It is hard to believe, but Mary McKinney was once described as "a very quiet person" by a fellow board member. Meanwhile I thought it easy to envision another of her publicly discussed characteristics- her "dogged determination." Mrs. M. M. must have been an intellectually curious person. My interests piqued when I discovered, through her involvement in the American Association of University Women (AAUW), McKinney used the stone country estate to facilitate a meeting place for the grassroots organization. The American Association of University Women was founded in 1881 as an advocacy group for women, focusing on education, public policy and research. These club meetings, sometimes a coffee, dessert, lunch or dinner gathering, were held in local women's homes all over the United States. I am not sure how topics were selected but it would appear that Mary McKinney would hold round table topics open to the public as well as bring in special speakers. 1023 South 96th, at least for a time, was a women's center for discussing the world problems, with topics such as political parties in developing nations, political action by the military in developing nations, agriculture in connection with foreign aid, structure by domestic policy, and history of Middle East foreign policy. Oh to be a wallflower and observe those lively discussions. It is exciting to imagine that one of our female detective friends gathered here today might have attended a round table at Mary's invitation.
Mary McKinney began a journey on one of her most dedicated paths, that of volunteering for the Western Heritage Museum, shortly after it opened in 1975. The museum occupied the gorgeous former Union Railroad Station at 801 South 10th Street; this showplace would later be reconfigured as the incredible Durham Museum. By 1988 she would rise up to become the acting museum director and trustees chairman, heading up a huge renovation centered around the $7 million Byron Reed coin and document collection. Completed under her leadership, some experts had ranked the coin and document collection among the fifteen finest in the world. Construction had begun on the first floor, converting the original restaurant kitchen in the Union Station, to gallery space for the Byron Reed Collection. I found that in 1992, Mrs. M. M. was diagnosed with cancer; she would die in her home at 1023 South 96th Street eighteen months later. At the time of her death she was considered a leader in developing Omaha's Western Heritage Museum and a well-known charitable volunteer throughout Omaha. Mary Freeman McKinney was only 67 years old.
1023 South 96th Imaginings
I would get lost in fantasy about what the McKinneys' guests might have thought as they ascended the mythical environ on the hill. The long rectangular eastern formal garden that had always run perpendicular to the stone house had evaporated between the 1962 aerial photograph and the 1973 overview. The potential boxwood hedge was no longer. I longed to understand what I was viewing but the 1973 photo was very dark and incomprehensible. This much was clear–the land on the northern most portion of the estate remained compulsively mowed and open, whereas large trees enshrouded the home and gardens to the south. One might surmise that the forest quality began to take hold in these McKinney years. Did the McKinneys enjoy gardening? When might they have had time? Or did they employ an older, wizened man who putzed about with a great weaved basket and soily hands? Maybe there was a small army of gardeners who toiled to maintain the grounds, the background for the hostess extraordinaire's many spring and summer gatherings. The 1982 photo is also dark and nondescript but by the 1993 image, a square garden, perhaps with a small hedge, (or was that a small playing field?) almost takes shape again to the east of the house. There appeared to be some sort of contemplative garden with footpaths and winding steps. I hoped there were dreamy crushed stone paths that went "cooosh" underfoot, charming cast iron urns placed just so and at least one rose covered arched trellis. I could see there was also a rectangular, perhaps a cement, flattened patio area at an angle to the northeast of the stone house. It was all very exciting. The 923 South 96th Street property to the north appeared to have put in a strong fence between their property and the McKinney land.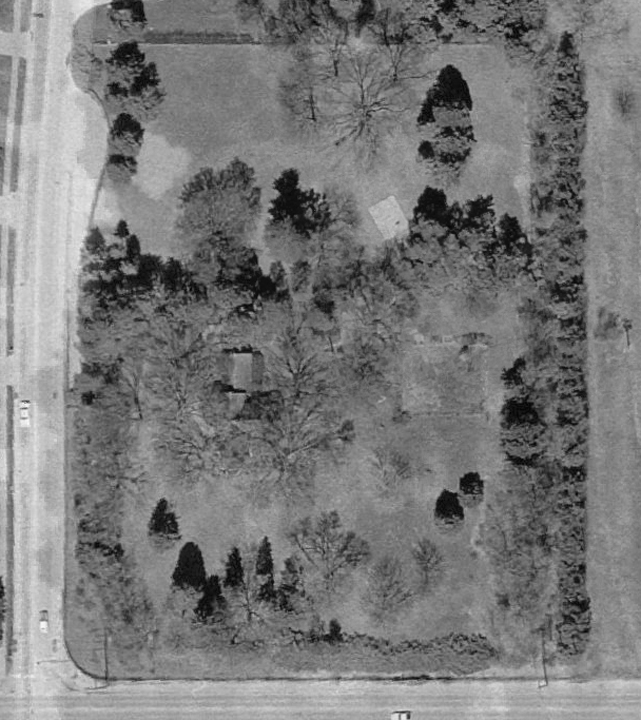 1993 aerial of the McKinney property. Top of photo is north. Image borrowed from the DOGIS website.
Street of Chance
After the Hawkins family had moved out of 923 South 96th Street, the McKinneys would have a series of lively neighbors. Dr. Richert J. "Buzz" Taylor, a well-loved Omaha specialist in obstetrics and gynecology would buy the property with wife, Ann Hahn Taylor, and her children from a previous union, Bill and Mary Hahn. Lithographs and paintings and other items were stolen from the expanding home in the 1970s and 1980s. There were actually quite a few thefts along 96th Street in those years. The couple would later move and divorce. By 1988 Dr. Taylor was named to the board of Bergan Mercy Hospital, where neighbor Dr. Daniel McKinney was Chief of Staff and board member. I believe Clarence L. Werner, founder of the famous Werner Enterprises, Inc, (freight carrier and transportation company) would buy the home and construct a fence around it to the tune of $28,000 in 1988. Were those the origins of the gorgeous, moneyed wrought iron and white brick fence that encircles the property today? You simply must have a peek. Especially where the 923 posh gates meets the rustic wooden fence of 1023.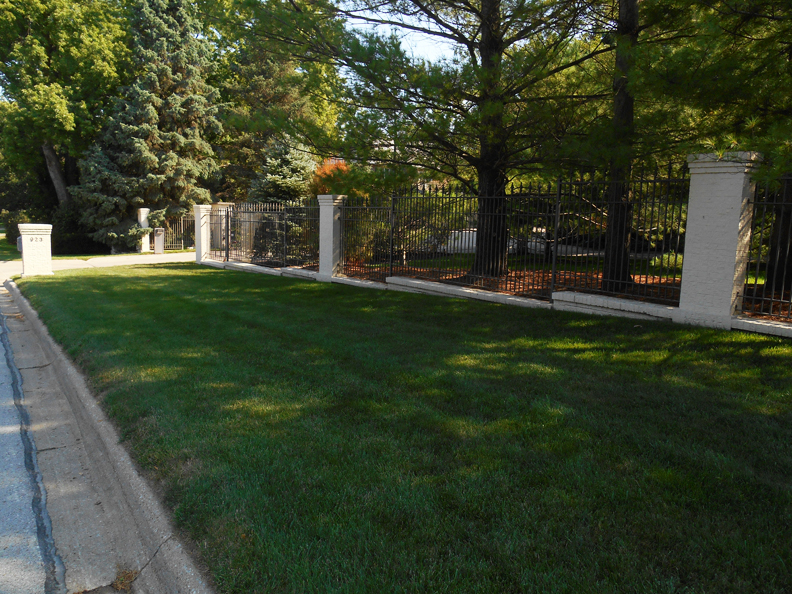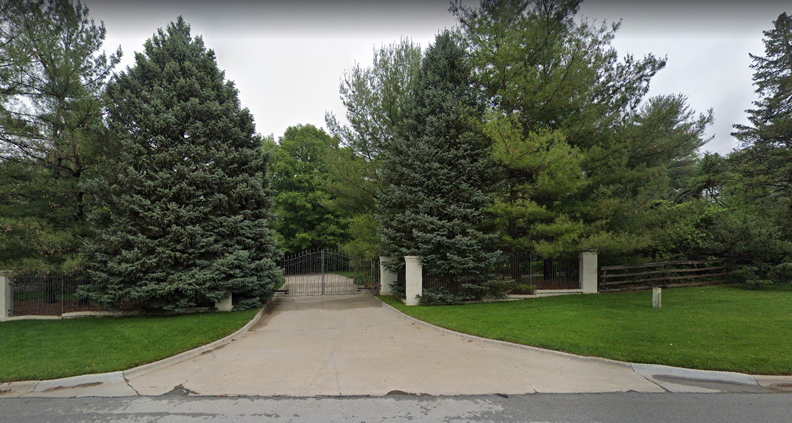 Beautiful glimpses of 923 South 96th Street.
In this time I had become so obsessed with the 96th and Pacific area, I would hardly give much heed to Mr. Cassette's Irises, the Cherry Blossoms, the Plum Blossoms, the Tall Coreopsis, the Serviceberries, a blanket of Toad Lilies in our own back yard park. He would beg me to take time and enjoy what was under my very nose. Truthfully Sleuths, I was relentless in my pursuit of the West Omaha puzzle. At times I couldn't believe my own self-imposed blinders. In my guilt of not observing the friend birds, rabbits, hawks and squirrels of our own backyard, I would take time to finally sit cross-legged under our grandfather Larch tree one day, share a pot of tea with my beloved Mr. Cassette and dream of making field recordings of the brilliant animals living in our midst. As hard as I focused to remain present, in the far reaches of the back of my brain, I was working the case, for I had recently learned a new clue.
Voice in the Wind
By the early 1990s a very successful multigenerational Omaha business magnate would move next door to the McKinneys. And this is where things get Very Interesting indeed. This Omaha family enterprise owner had previously resided in the Regency Neighborhood. After consulting with an attorney, I decided not to disclose their family name or particulars, with respect for their privacy and that of their family members. Heretofore the successful business owners shall be called Mr. and Mrs. Nextdoor. The Nextdoors began to make impressive additions to their property at 923 South 96th Street to including remodeling, various transformations and a new pool entry very soon after buying the plot. I found evidence that they continue to upgrade and recondition to this very day, but I am getting ahead of myself.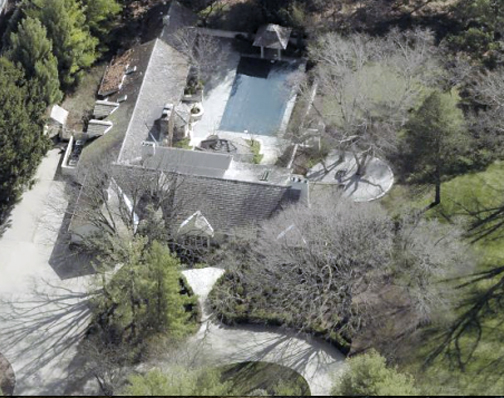 Behind the gate. The westfacing aerial of Slim Aarons-worthy, 923 South 96th Street. Photo borrowed from the DOGIS website.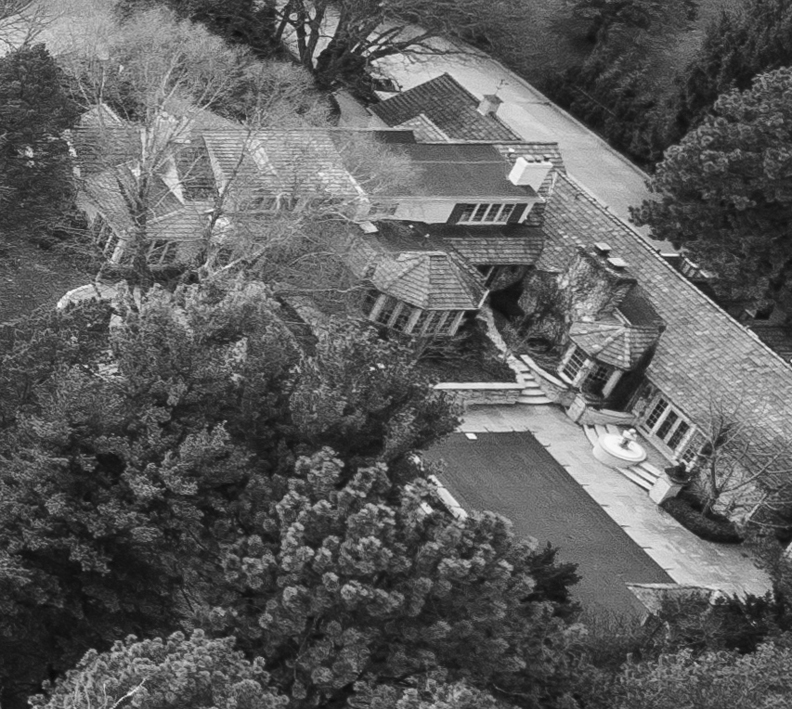 Behind the gate. 2018 P. I. Slam Bradley's aerial photograph. The photographer's lens faces northwest. Eastern exposure of the glorious 923 South 96th Street. The inground pool is covered for the season.
Mysteriously the very last listing of Mr. and Mrs. Nextdoor was found in an early 2000s City Directory. Likewise 2001 was the final time I would find Daniel L. McKinney's name registered at the 1023 South 96th Street address. I should mention, I was pleased to find Dr. Daniel McKinney had remarried; Dr. McKinney and Dorothy Marguerite Stenner wed in February of 1996. After 2001 the 1023 South 96th Street address strangely ceased to exist. The house number had literally fallen off the books. A combination of obsessive hand and electronic searches substantiated the number address had indeed been scrubbed from all formal record. There was no longer a personal name or address attached to the corner lot thereafter. Paul Goodsell, writer with the Omaha World-Herald, would put out a fascinating story from March 28, 2002, entitled, "A vein of gold is struck in Omaha Sales average $650,000 an acre."
The article described that Mr. Nextdoor, conveniently at 923 South 96th, approached Daniel McKinney about selling his property, which was recounted as a spontaneous offer of $2 million. Dr. McKinney related, "We knew it was worth something. But that certainly was a little bit surprising." The focus of the article chronicled this sale being instrumental in turning "the east side of 96th Street into some of the priciest residential land in Omaha." The Douglas County officials were to raise land valuations in the area "ninefold in an effort to catch up with the hot market" after recent sales had averaged about $650,000 per acre for the underlying land. It is interesting to consider the area's tax valuations had been set previously at about $35,000 per acre. Although the McKinney's 2,618 square feet home and extensive grounds at 1023 South 96th are my heart's desire and the focus of our investigation, the World-Herald report noted the property was incongruent with its new price tag. Likewise the country estate high on the hill had become a bit secluded for the couple's taste. I would discover that upon sale, the McKinneys moved to a Regency townhome. "McKinney paid about $75,000 for the property in the 1960s. These days, county officials estimate, the house itself is worth less than $200,000. What makes the property valuable, they say, is the underlying land." A bellwether had signaled earlier in 2000 when Thompson Rogers bought a 1.23-acre "vacant lot" at 821 South 96th Street for $1,150,000, close to $1 million an acre.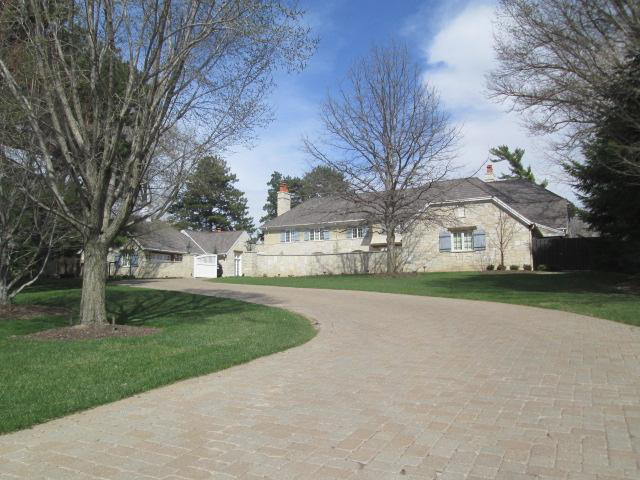 This vacant lot clue was a needling one. If you will recall from Part Three, this land was home to the original Hosman summer country cottage. 821 South 96th Street is now a single family home, constructed in 2006. Sitting at 9,349 sqft, including 6 bedrooms and 6 baths, the current home is valued at over two million dollars. I had wondered aloud if the new residence shared bones with the Hosman house and I suppose we have our answer now. It did not. Photo borrowed from the Douglas County Assessor.
Mr. Nextdoor, the new owner of 1023 South 96th in addition to the home just north at 923 South 96th, declined to be interviewed for the World-Herald article. A wedge of the takeaway was that in September of 2001, Mr. Nextdoor bought 1023 South 96th for two million dollars—described at the time as "3.28 acres and the house." Things began to become clearer and yet foggier in many respects after that.
Code of the Wandering Sleuth
The current Douglas County Assessor's site lists 1023 South 96th Street under the "John Q. Bachman Trust." This property has never been held in Mr. Nextdoor's name. John Q. Bachman is a well-known Omaha attorney, in the Pansing Hogan Ernst & Bachman group (LLP) located in Regency. A simple review of their website reveals their practice focus: "Extensive involvement in the acquisition, exchange, development, financing, condemnation, leasing and sale of real estate. We represent a host of clients that are involved in the development of real estate for residential subdivisions, shopping centers, office buildings and apartment complexes. In connection with these development projects, we work actively with the city and county in planning uses and zoning for property." From a search into the partnership and the numerous Bachman ventures, I would soon learn many Omahans engage Mr. John Q. Bachman regarding private acquisition of property–further confirmation of the previously mentioned contemporary concern for privacy and security. The fact that the 1023 South 96th Street property was procured in this shrouded manner points to a number of theories. From where I sat typing away within a tiny 1940s Midtown cottage, all theories seemed fascinating and shadowy, in the best way.
Of neurotic interest: In July 2002 the newspaper displayed 1023 South 96th Street underwent an "addition to dwelling and interior – exterior remodel" to the tune of $108,696 as well as the addition of a detached garage for $36,360. These projects were also in John Q. Bachman's name. I would surmise that this was the addition to the northern side of the home, which I pointed out earlier. (Side Detail: The Douglas County Assessor's site states there was a 2003 remodeling. This is a discrepancy.)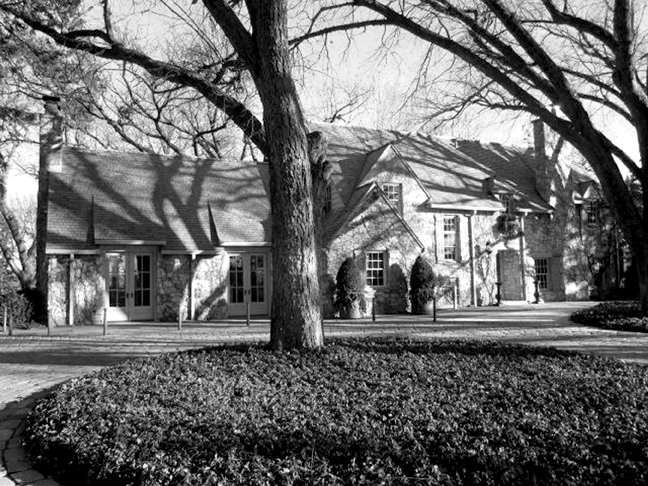 Tasteful addition to northern side of the 1023 South 96th home, previously analyzed in Part One. Photo borrowed from the Douglas County Assessors site.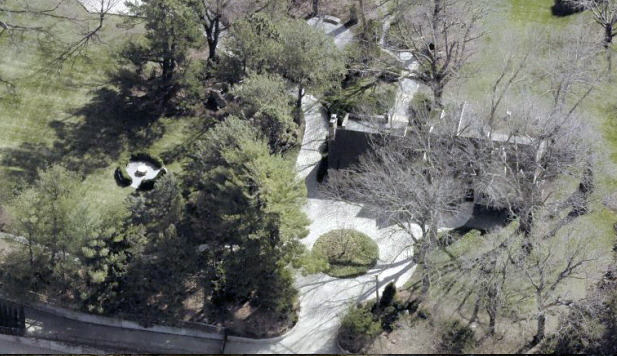 Aerial of 1023, west facing, borrowed from the DOGIS website. Addition is shown.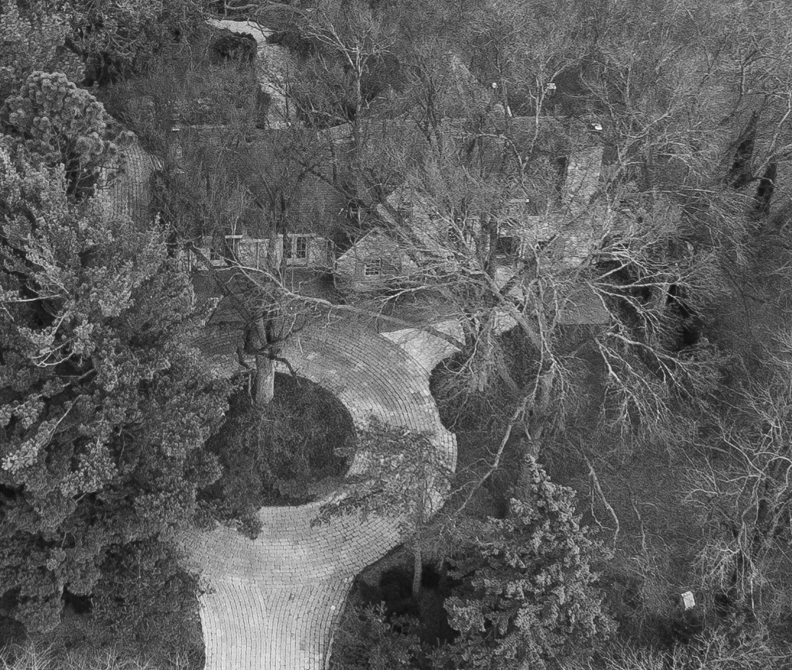 P. I. Slam Bradley's scrumptious aerial photograph from 2018. The photographer's lens faces east. The perfect 1023 South 96th scale is shown within the trees.
Blurred Theory Number One could argue that Mr. and Mrs. Nextdoor devised to move this property into a trust for estate planning—the future ease of their heirs upon notice of the Nextdoors' unfortunate deaths. A chief advantage of a clearly directed trust is predetermined distribution of assets without the delay and costs of probate court, which we learned in the Berg family case, could be ongoing. Preservation of wealth is foremost. Having created the 96th and Pacific property trust under John Q. Bachman's name will, no doubt, reduce taxes for the Nextdoors' heirs and in doing so, established a clear, legal foundation for a fiduciary relationship and the beneficiaries. I have discovered through my investigations, there has been a growing popularity of sophisticated wealth transfer strategies offered in personal estate planning, real estate developers and their potential shell companies—the transfer of high-value assets to protection trusts and limited liability corporations. Sometimes created in conjunction for total asset protection. This is where tax, legal counsel or an asset protection consultant educate and potentially play upon the wealthy set's privacy, litigious and security concerns. These residence trusts and LLCs are encouraged estate planning techniques to help protect and manage wealth. All of this makes the job of an architectural sleuth all more maddening (exciting) as trusts are now showing up on warranty deeds and then being put into LLCs. **Addendum of 2021** Since writing this investigation back in 2018, I have only found more and more large properties moved into trusts and LLCs.

Spectacular view of the eastern side of the stone Hidden House. Heart-shaped garden bed will be discussed later. Photo borrowed from the DOGIS site.
A visit to the Douglas County Register of Deeds Office lent further strange pointers. The 96th and Pacific country estate would again be shaved down to three acres but this time under the Legal Description: Bellecoeur* Lot 1 Block 0 irregular. There was no other reference to the Bellecoeur Addition in any surrounding parcels or anywhere else in Omaha for that matter. What this meant was that on July 18, 2002, Mr. Nextdoor and Mr. John Q. Bachman transferred 1023 South 96th Street out of the original Lands Section Township Range survey system and into, essentially, the Bellecoeur subdivision or replat. The previously platted lot lines were altered in some way, as 1023 had been reconfigured at three acres, down from the 3.28 at the time of the McKinney-Nextdoor sale. The Planning and Zoning Commission approved the Bellecoeur replat in September of 2002. I would file the land surveyor's certificate into my teetering pile of leads. Why would the Bachman-Nextdoor trust plat a new addition with only one parcel/house listed, I wondered?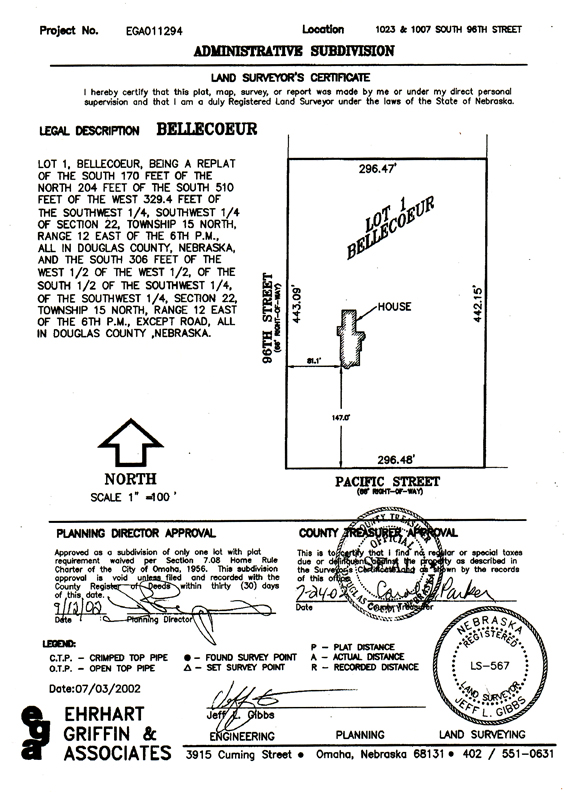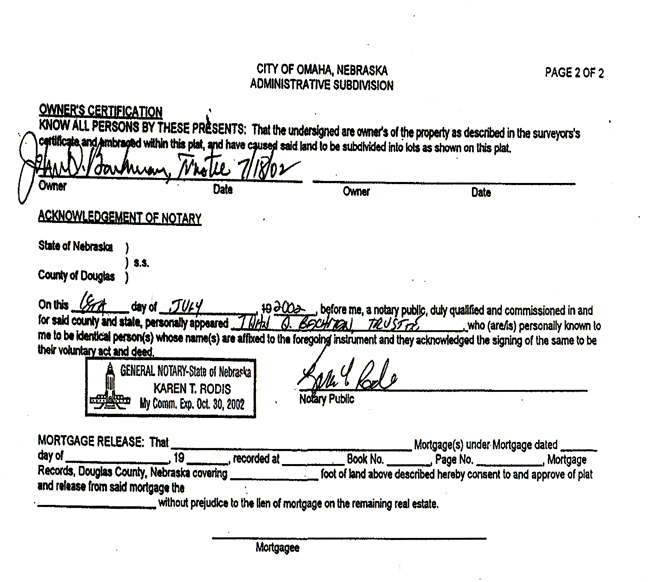 Land surveyor and administrative subdivision paperwork for Bellecoeur, the new plat. Mysterious Party of One…originally.
Misty Theory Number Two postulated Bellecoeur was the beginning of a future investment, a future real estate development. Initiation of the subdivision in 2002 would be an easier way for developers to create allotments in the future. Potentially Mr. Nextdoor bought this corner for two million dollars with plans of increasing the value of the land by developing the property. Or not. He certainly raised the area's property values and taxes. The strategy was possibly to make it easier for his heir/s to sell to buyers interested in utilizing the development potential of 96th by dividing into numerous parcels. A proposal might be that the Nextddoor heirs also sell the 923 South 96th Street family home and or acquire more surrounding land, creating more plots in Bellecouer. It was all dizzying.
But what of that name Bellecoeur? I looked into the word. There is a La Place Bellecour, (spelled differently) also known as Bellecour Square in Lyon, France, said to be one of the largest open squares in all of Europe. Purportedly the Archbishop of Lyon grew a vine known as Bella Curtis, or "beau jardin" translated as "beautiful garden," in this center of town in the late 12th Century. Translated from French, "Belle Coeur" means Beautiful Heart in English.
Speculative Theory Number Three posited that the Nextdoors had always loved the McKinneys' tasteful home and the gracious, expansive estate. They were enamored with the expansive view, the seclusion of the green forest, the peripheral gardens and how it all neatly rolled right up to their very own door. Perhaps when they sensed the McKinneys were ready to "move on" from the isolative estate, the Nextdoors saw their chance to expand their property without hindrance of neighbors. And that name Bellecoeur…wasn't that like naming one's country home of yesteryear? We love that. They must have had some sort of affinity for the English estate, mustn't they, I dreamed. The Nextdoors had loved it, as any previous owner had after standing on the fine steps, walking the grounds and sniffing the country air. The quieter moments…the ethereal afternoon light or those autumn sunsets through the hillside forest. Obviously, under these circumstances, the Nextdoors had to do something about it and they made an offer. I so wanted this theory to be correct. I believed the naming of the new subdivision explained a flowerbed curiosity I had perceived from an aerial view of the property.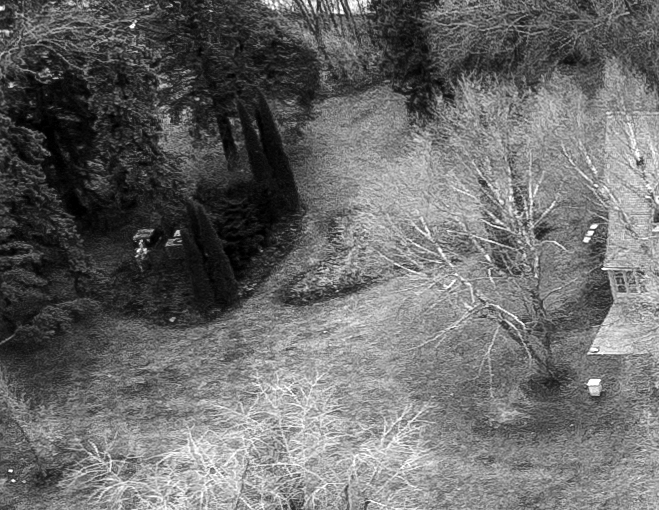 Directly to the south of the house is a large, whimsical heart-shaped flowerbed. A bed of colorful loveliness formed into a heart–no doubt fashioned after the Bellecoeur namesake. There are tall stately Junipers just south of this bed, surrounding a remote area of dark, rich green. Were those stone statuary lurking behind the Junipers… or stone structures of some making? I prayed there was at least one hidden Italian sculpture amongst this manicured lawn.
The Petrified Forest
It was not a twinge of witchcraft, I am sure of it. Nor was it a psychic manifestation. But what authentic glitter and unearthly magic had whispered to me from the enclosed hill, over the fence? This blurred enchantment commanded my attention. I would fortuitously cross paths with amateur private investigator, Samuel Emerson Bradley. "Slam" to coppers and crooks alike. That is a small sleuthing joke but I'll keep it up. Slam Bradley was introduced by a friend of a friend of a sleuth and could be hired to photograph the Bellecoeur hidden estate from the sky without crossing over a property line. I thought it sounded like a fine idea, when we hatched a plan over coffee. I needed to know more about the two newest buildings of Bellecoeur that had come into sight in the years since the McKinneys moved out. They simply called to me.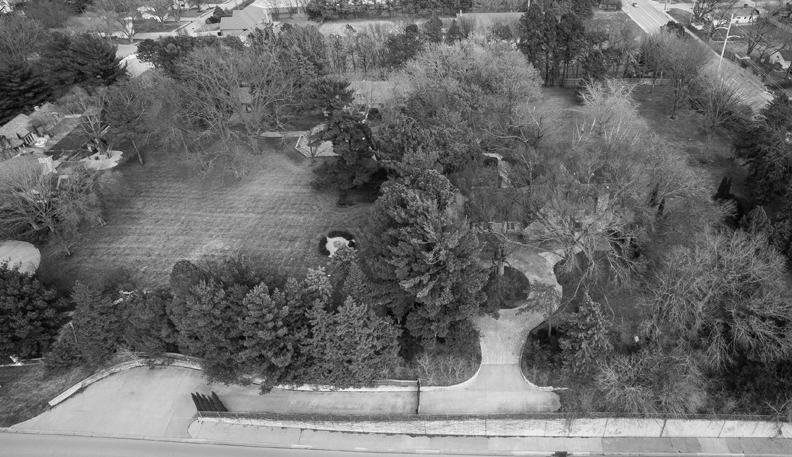 P. I. Slam Bradley's 2018 aerial photograph. The photographer's lens faces east with 96th Street running along the photo's edge.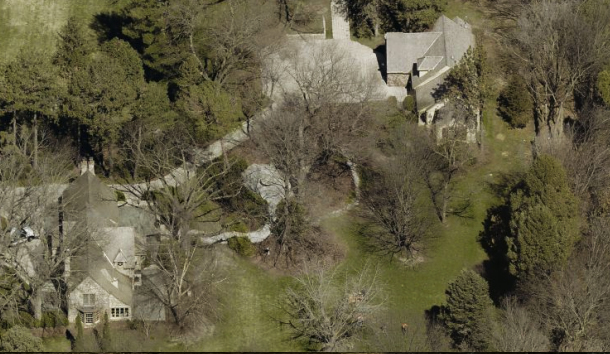 DOGIS aerials facing east and north. Images borrowed from the Douglas County Omaha GIS website.
Frontage on 96th Street. As one can detect, there is no longer a fence between the 923 and 1023 houses. The properties run seamlessly together like a gorgeous rambling park. Trees envelope the stone country house at 1023, giving privacy. The circular drive is paved in what look to be light colored stone. There are paths leading to two new houses behind the country estate.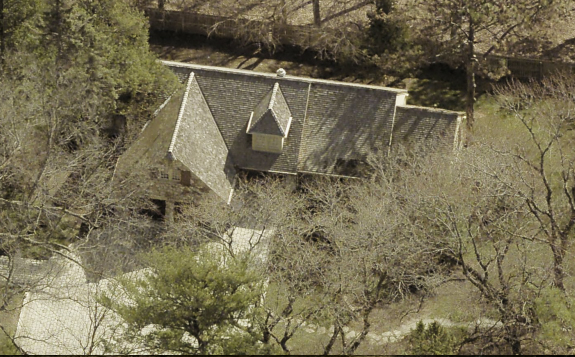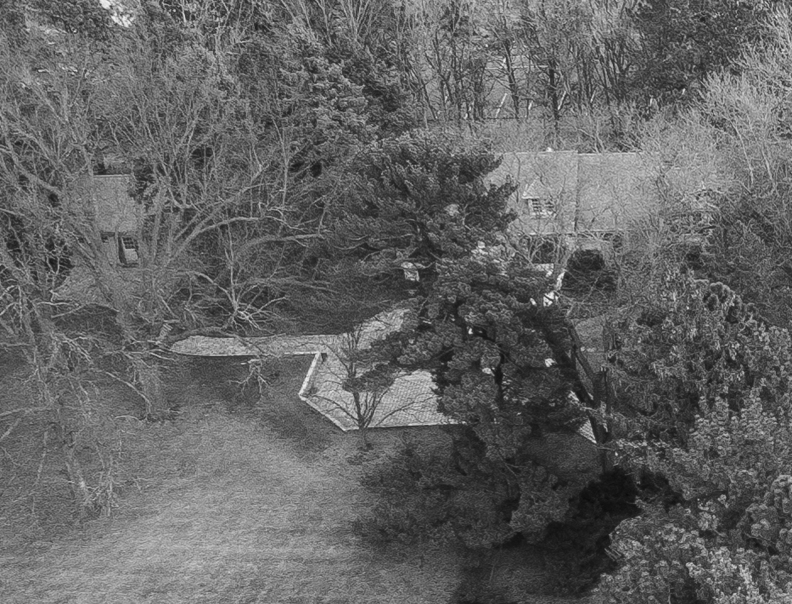 The larger house to the rear has what appears to be a dormer window and its own full circular drive. I am not able to detect the architectural specifics of this larger house, but it is most certainly of a high taste New Traditional style. The smaller house is of simpler design, perhaps an artist's studio, a writer's workshop or in the style of what used to be called a Mother In Law Suite. I remembered that back in July of 2002 the newspaper let on about the "addition of a detached garage for $36,360" listed in John Q. Bachman's name. One of these buildings must fit the bill. All three houses are mysteriously considered Lot 1, Block 0, without their own distinct addresses. 923 South 96th Street is visible to the north, the shake shingle roofed home and its various wings framing a covered pool.
Slam Bradley's 2018 aerial, west facing photograph.
The backside of 1023 South 96th. My eyes sauntered the wandering paths of the photo, content with the great beauty and obvious serenity therein.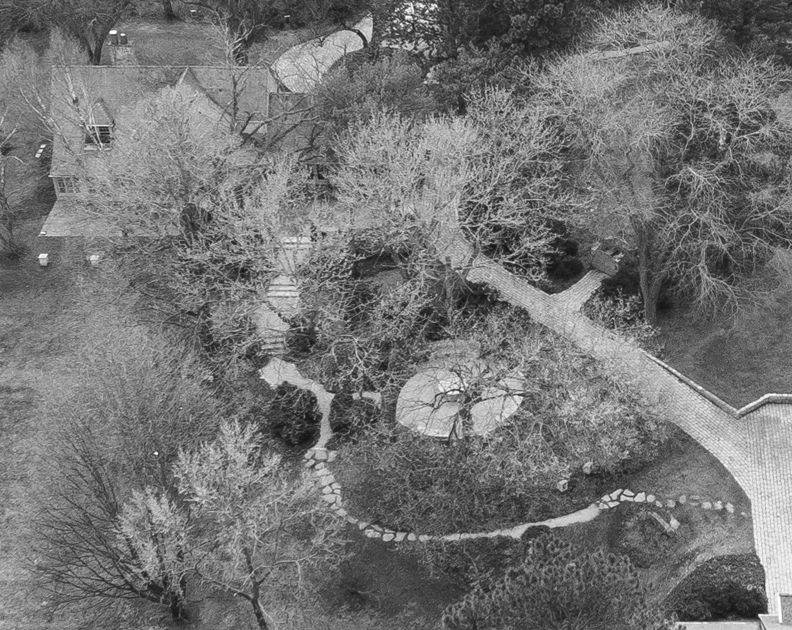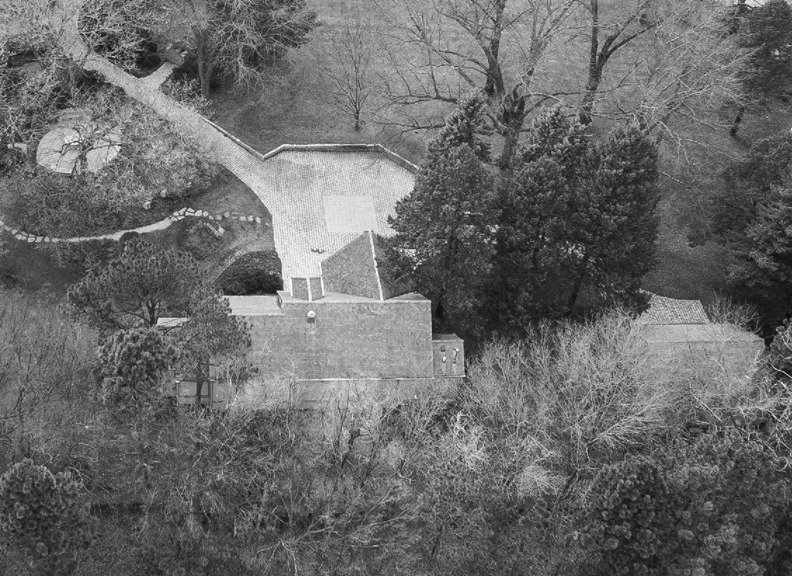 Tantalizing magnification for those who need more!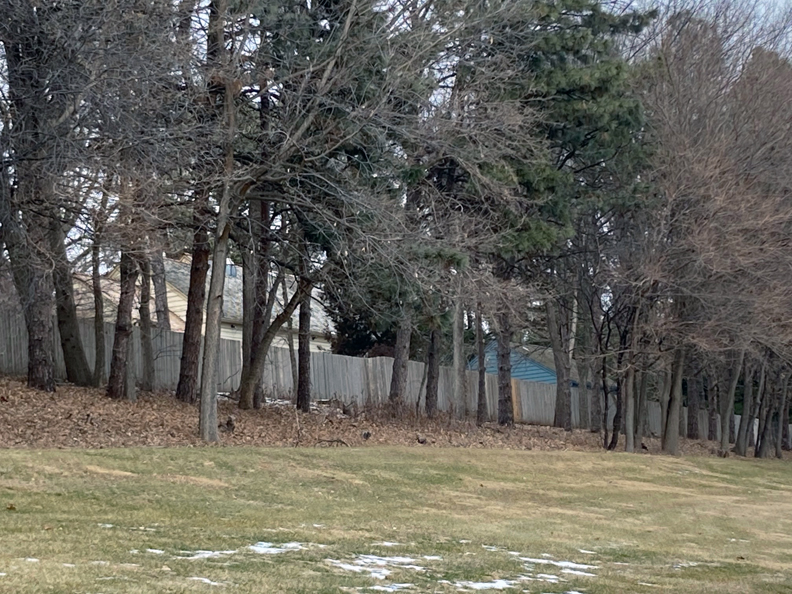 My only clue to the smallest house. A photo I took from the church parking lot years ago. Of a blue shade, this third house remains a true mystery.
My eager eyes trailed the contemplative gardens and sitting areas, little vignettes, special areas were engirdled and others begged deviation from the trail. I envisioned a confection of budding, color-balanced Tulips, burst of Bleeding Hearts, shrubs, flowering fruit trees, newly awakened leafy vines, wild hedges, shameless beauty scampering to and fro, daffodils, each ravishing display upstaging the next, all encompassed by the grand elder Pines dotting the secluded estate. The finery. Was there old stonework hidden in overgrown terraces, beneath creeping phlox? I could clearly see two brick pillars, behind the stone house, perhaps remnants of an older entry to the Reichstadt's formal garden? I dreamed of Miss Sally Berg wandering the property. One can see the new stone paving of the drives leading up to each house on the compound, generated from the central circular drive of the original home. There is a pottering footpath from Mr. Nextdoor's house to the Bellecoeur property, which casually moseys parallel to 96th. Our true indicator was the lead to the overhaul of the main stone house in July of 2002 but my only real timeline or clues to the new buildings came from review of the Douglas Omaha Geographic Information Systems. There were aerial photographs taken in 2001 and not again until 2004. The two additional houses, behind the original stone house, the drives and paths were created in that ambiguous three-year period.
Hazy Theory Number Four points to the Nextdoors having created a family compound of sorts. One could argue that 923 and 1023 South 96th Street were now an adjoined property. Did the Nextdoor children, grandchildren, or other family members live in the three homes to the south? Was that the original motivation? Whose lights were shining from these buildings at night? Did the Nextdoors rent the three houses? For all intents and purposes, I could not find any names linked to these three homes nor could I unearth their separate addresses. A basic survey would prove that the Nextdoor family members lived elsewhere. I did ruminate on a backstairs meeting with a wayward postal worker but I would never want to get anyone in trouble with my monkeyshines. How could I be so absorbed with this European Country Estate that I was even considering these clandestine operations, still and all never having given the stone house on the hill a proper eye to eye?
**Addendum from winter of 2021**
While I've been uploading this lengthy 2018 story in parts, I received a mysterious letter from a woman, which served up many fascinating clues. I won't disclose her name, as I wrote her back for permission to do so and she never returned with an answer.
Hello, the current owners of this carriage house are ****** (name withheld). They live in a second home on the property. The carriage house was remodeled in the last 15 years with the help of local architect Anthony MacKenzie. A second building (a garage in the same French provincial style) was also added to the property. I'd love to hear more about their contributions to the community.
I am not exactly sure what the mysterious writer was referring to as the carriage house, the second home or the garage but it is all very exciting. I did find an Anthony McKenzie, spelled differently, but nothing specifically about the Nextdoor buildings. It was even more curious that someone who knew so much about these elusive buildings would be looking forward to my dishings when it seemed she had the inside track. I let her know that I would not be divulging names or specifics about the Nextdoor family but I never heard back. Whatever her connection, I was mystified and thankful.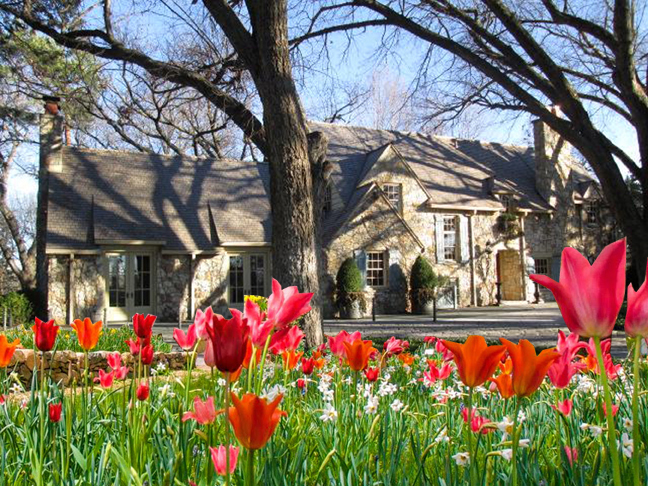 I had romanticized the idea of the secluded haven for so long. It was kind of like falling in love with a singer's voice on the radio as a child before it was an option to know what the singer looked like. Anything that could haunt one like that, through all of these months of searching had a distinct power. It was the enigma. It was the symbol of the American Mansion on the Hill. I longed to walk those serpentine paths leading from house to house to house to house. Indeed my palms did perspire. Would I be able to find indication of the Otts, if allowed a closer exploration? I closed my eyes. The mystery of it all…
The End
I would like to acknowledge that subsequent to the writing of this Hidden House investigation, two women who had the privilege of calling this beautiful house their home passed away. I had hoped this story would be a special surprise for them but I was too late. Peace and condolences to their families.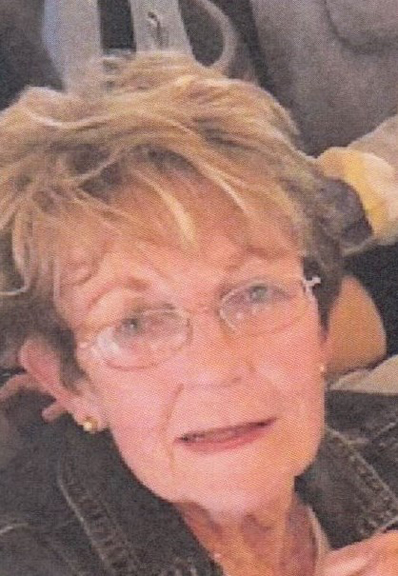 Sally Berg McKenzie died in November of 2018.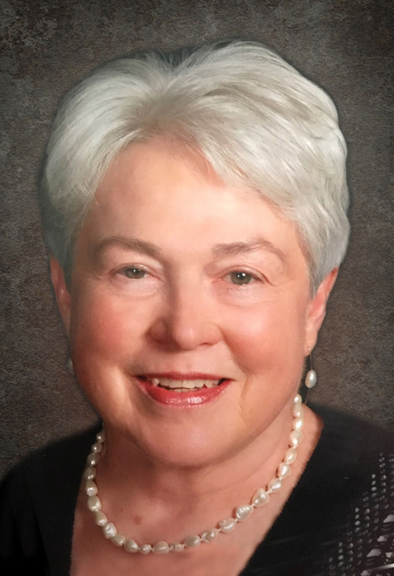 Dorothy O'Toole Stenner McKinney passed away in February of 2020.
I welcome your feedback and contributions to this 1023 South 96th Street investigation. Feel free to share thoughts and clues in "Comments." I welcome you to poke around with your flashlight. Investigate. Hide in the shrubbery. Look under these rocks and down those alleyways. I am more than pleased to have you tiptoe about. By the time you head for home, I hope you have been fully Sherlocked and Satiated. Thank you, detective friends.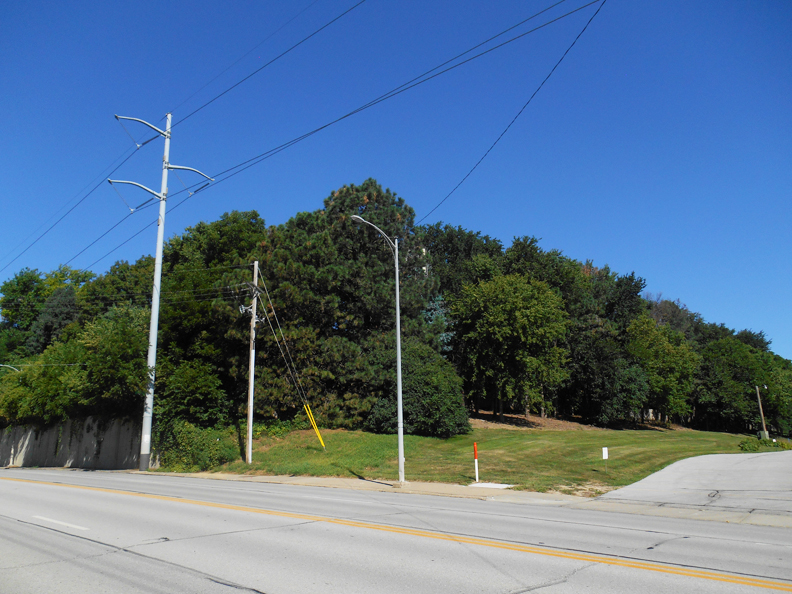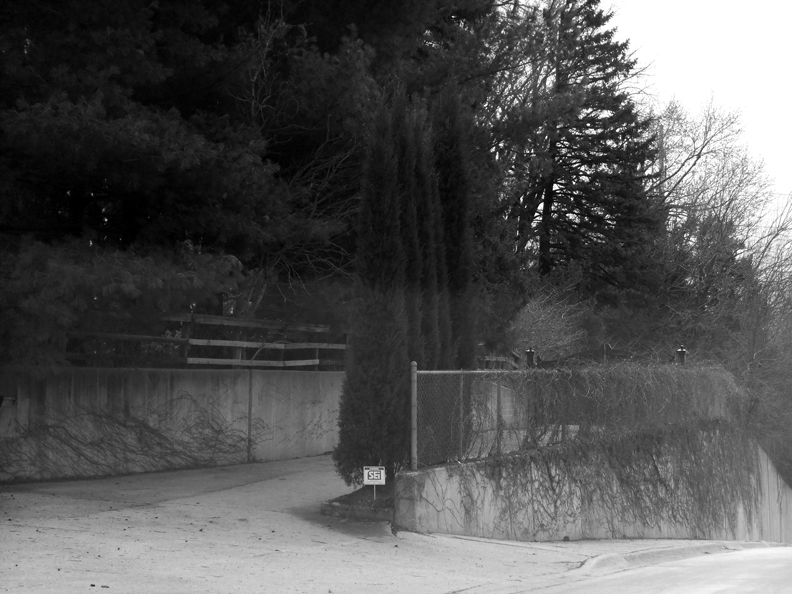 If you like what you see, you can keep up with my latest investigations by joining my email group. Click on "Contact" then look for "Sign me up for the Newsletter!" Enter your email address. It will then display "Thank you, your sign-up request was successful!" Make sure to check your email address to confirm. You will get sent email updates every time I have written a new article. Also feel free to join My Omaha Obsession on Facebook.
© Miss Cassette and myomahaobsession, 2021. Unauthorized use and/or duplication of this material without express and written permission from this site's author and/or owner is strictly prohibited. Excerpts and links may be used, provided that full and clear credit is given to Miss Cassette and myomahaobsession with appropriate and specific direction to the original content.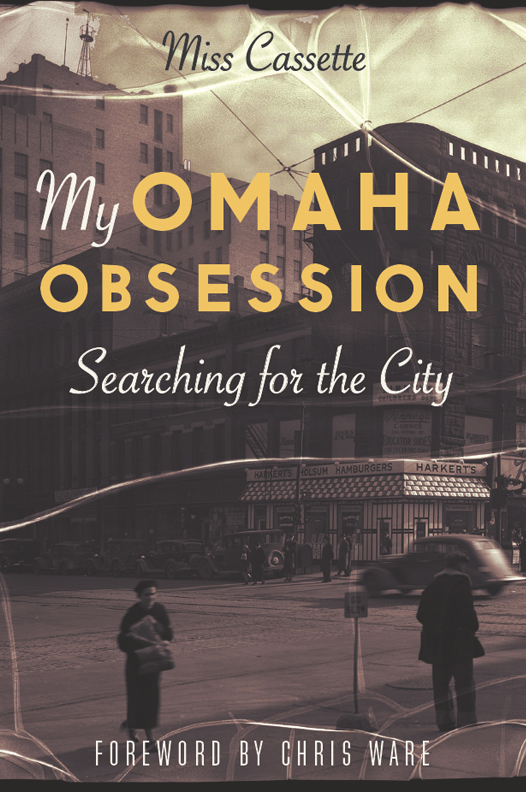 If you are looking for more architectural and Omaha history sleuthing fun, ask your local or big box bookseller for my new book: My Omaha Obsession: Searching for the City. You can also order it through this website. Thank you.