At last meeting, we had assembled for unpardonable diversion and it was divine. Veiled Mystique! Intrigue! The Hidden House on the Hill! We couldn't help but obsess in our growing group of detectives. Cloaked in dark tweed and a good deal of mystery, we wandered about, leaving no stone unturned in our quest to document the lives of the family on the hill. After all of our headscratching and query, it was long last time to lay aside the shared magnifying glass, flashlight, the typewriter…and for some of us, the cocktail. The hour had come for sleep and as I remember it, the air was heavy with dreams of the Reichstadts and their glorious endeavor—the stone house, now concealed by a private wood. A bit of dark foreshadowing, as well. I only gently nudge you as reminder, so we can set our teeth for what lies ahead. Our detective work is not always filled with whimsy and witticism. I suppose I should add, if you haven't already read Parts One and Two of this investigation, please do so by following this link: Hidden House Part One and this link: Hidden House Part Two as I won't be recapping our previous adventures. For the rest of us gathered here, let's find the snow dusted breadcrumbs again as they linger along the trail.
Investigation at a Glance: Let's kick off the New Year with one of my longest, juiciest of investigations into one of the most exclusive properties in Omaha. Hidden House was written in the winter of 2017-2018 and wrapped up with the transition to spring. It was intended to be a large investigation for my book. Unfortunately there was not room for it and this discreet home history was ultimately nixed. Hidden House is a decadent, longform series, shared in parts, and is meant to be read by a fire on a cold winter night or two. Part Three continues on the Reichstadt trail with introduction of the West Pacific neighbors. How'd you like to stay up late with this Edge of Loveland thriller? Follow along with us!
My goodness gracious…some detectives have just now rejoined the pack with fresh cocktails, Bota wine bags, and vintage wooden snowshoes. Oh, you humor us. What, no St. Bernard equipped with a small barrel of brandy? We should be so lucky. So you won't fear that we go careening down a large hill, I will stick with coffee. This will be an interesting venture. Careful along the icy path, friends of imbued spirits. Let's pick up where we left off with the Reichstadt family of 96th and Pacific.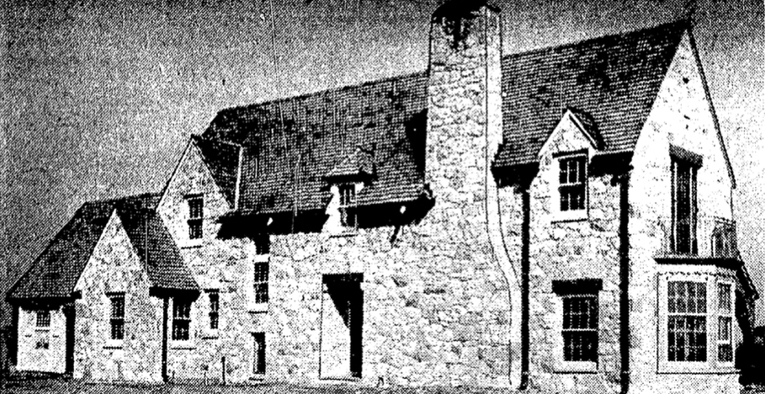 Our Newfound Center of Attention at 96th and Pacific, as it appeared in March of 1938.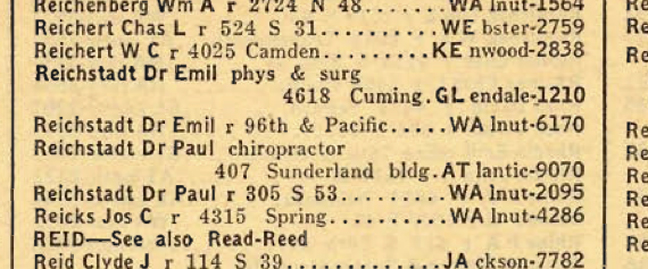 Long sought-after Omaha Telephone Book listing for the Reichstadt property. 1940.
Whispering Footsteps
In July of 1938 the World-Herald would announce the approaching nuptials of Helen Evelyn Fox and son Paul Richard Reichstadt. Miss Fox was a Red Oak, Iowa girl–the two having met while studying at University of Nebraska at Lincoln. The article mentioned that both were recent graduates, although it did not mention what Miss Fox's degree was. Miss Cassette is always interested to know of these pioneering women who attained college degrees before it was the norm. After a month's honeymoon in Canada, the couple intended to make their home in Omaha. I puzzled about if the couple had initially considered building a house next to Paul's parents? If you recall, Paul had purchased a portion of the large family estate on the hill back in 1937. Alas the couple and their young daughter, Suanne, eventually made their home in Lincoln, Nebraska.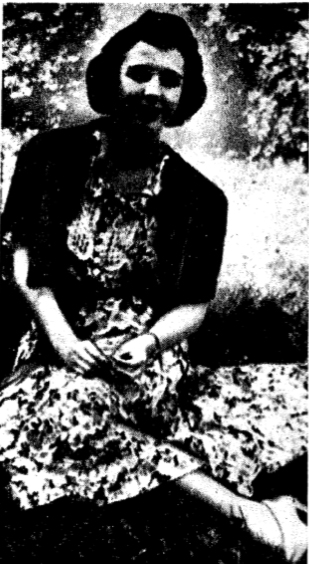 Bride to be, Miss Helen Evelyn Fox, as seen in the July 1938 wedding announcements. I love this casual photo, her shoes and dress and the spirited aura around Helen's body. OWH archive.
Son Robert, "Bob," would receive coverage when he concluded Army basic training at Randolph Field, Texas. He had entered the Army's air corps training in October of 1937 at Randolph Field, once known as "The West Point of the Air." The Daily Nebraskan made a point of documenting Bob aka"Dutch" Reichstadt's Sigma Nu campus adventures as well as love interest in the beautiful Beth, starting in 1939. Beth Howley was quite a remarkable gal— simultaneously regarded as highly intelligent and the established beauty of the day. Miss Howley was the reigning Nebraska Sweetheart on more than one occasion, most memorably the Sweetheart when the University played football in the Rose Bowl Game of 1941. One might gauge Bob and Beth had met while students at Omaha's Central High where he was a letterman and she, the "Intercity Sweetheart," had entertained a great deal of adolescent success and popularity.
More about Miss Beth later. Bob graduated with a Bachelor of Arts midyear in late December of 1939, with the largest graduating class to that point in UNL's history. He was to advance to Kelly Field in Texas for three months of final instruction in June of 1940, months after his college graduation. Once completed, Bob Reichstadt would become a commissioned second lieutenant in the Air Corps Reserve and officially get his wings.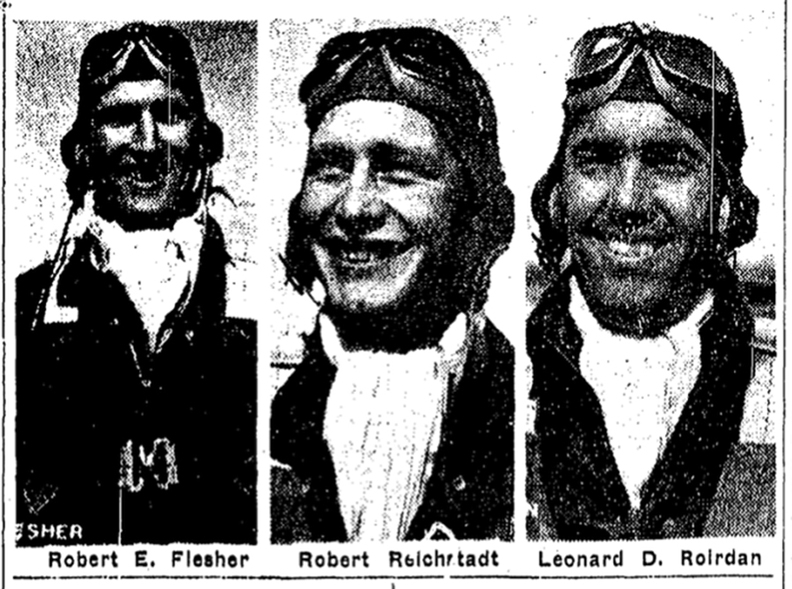 Here young Bob was shown with two other Corpsman: Robert E. Flesher and Leonard D. Roirdan. Months later I found he was Cadet Robert Reichstadt, having completed his advanced courses. 1940 OWH archive.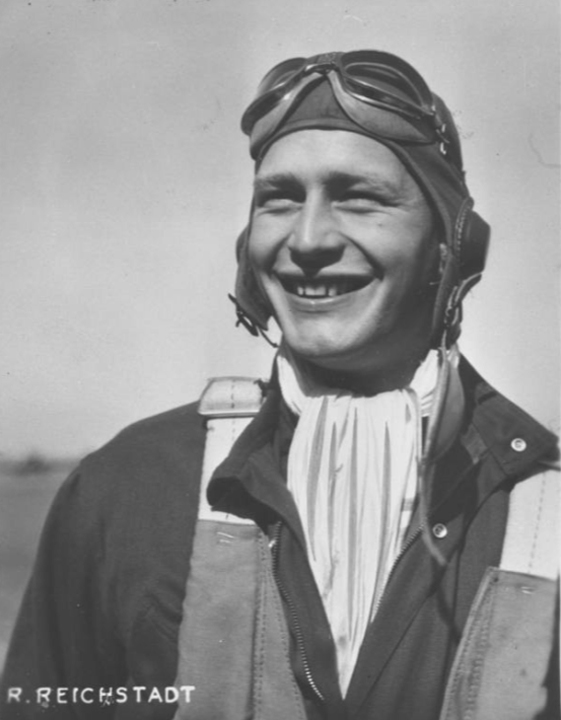 I delight when I can find the original photograph from a newspaper article. Bob Reichstadt in his aviator's cap. Photographer: Savage, John (1903-1989). Publisher: The Durham Museum.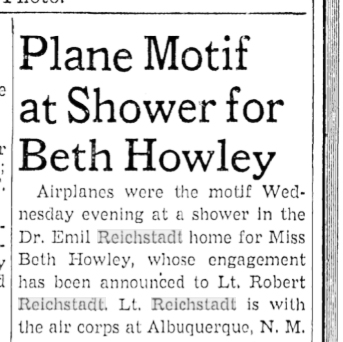 July 1941. OWH archive.
When I envisioned the historic, memorable Reichstadt family events and dinner parties with friends central to that hidden house atop the hill, I would let my mind wander. Like a voyeur, I was guided by a Ghost of Christmas Past to peer in on each warmly lit room wrapped by the luxuriant fabric of snow covered gardens and woods. The beautiful country home at 96th and Pacific served as backdrop to Beth Howley's bridal shower, held in July of 1941. Miss Howley was a recent UNL graduate, an honor student, a pep group member and student council member. The bride-to-be's patriotism and indelible support of her fiancé was exhibited in her party decor. A red, white and blue airplane theme was said to have decorated the Reichstadt interior. Miniature planes were hung at different levels from the chandelier. At the buffet supper, the table centerpiece was decorated as a small airplane hangar. A large ice cream airplane spelled the name "Beth" on one wing and "Bob" on the other. Small cakes were decorated with the letters "U. S." in red, white and blue to the discernible delight of the family's thirty guests. Now why would my eyes get misty at this point? You know how sensitive I can be. To think that America would enter World War II months later, made me both sentimental for a time of unimaginable country unification and for the nostalgia of young Beth's simple, loving gesture by choosing an airplane motif for her own bridal shower.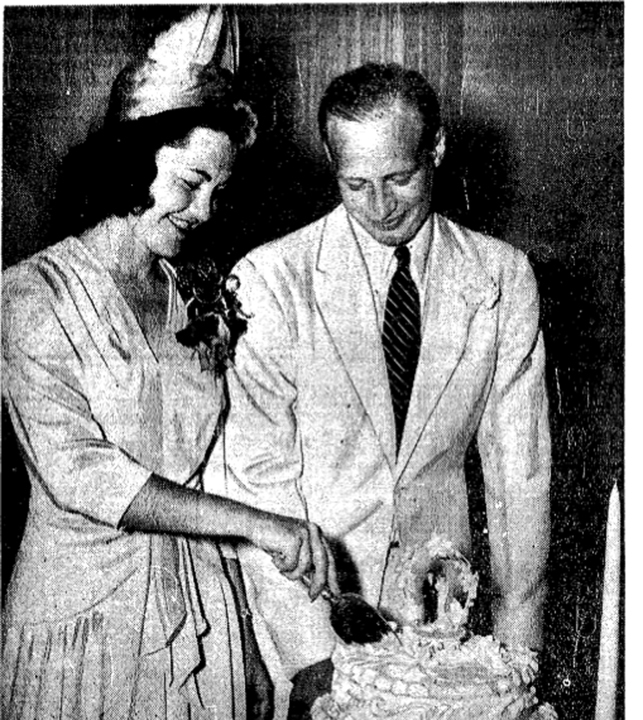 July 18, 1941 the Rose Bowl Sweetheart and Lieutenant Dutch cut their wedding cake. The couple married on a Thursday afternoon in front of the Howley family home fireplace. I love the idea of a Thursday afternoon wedding. The couple would return to live at Bob's station in Albuquerque, New Mexico. OWH archive.
Death of Robert Reichstadt
I would trail each piece of evidence about son Bob's accomplishments until I could find no more. And I mean no more. It was like he disappeared. It wasn't until I found the sad news from the Daily Nebraskan, dated October 15, 1941 that read "Reichstadt Funeral Set for Today." From there I was able to retrace and find the tragic news. 23 year old First Lieutenant Robert Reichstadt was fatally injured when a B-17 Army bomber, in which he was flying, crashed near San Antonio, Texas on October 11 of 1941. I also read the accident happened while Reichstadt was taking off and that the bomber crashed into a building at Duncan Field. I imagined the horror of his parents and poor Beth having mentally prepared that Bob might have been sent to war, only to have him die in Texas because of an accident. Bob's service was held at the Dundee Presbyterian Church, interestingly with pastor Robert Miller of the First Unitarian church officiating.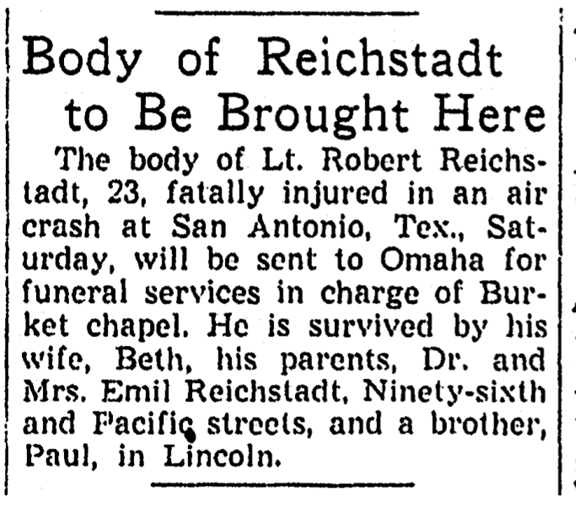 October 1941. OWH archive.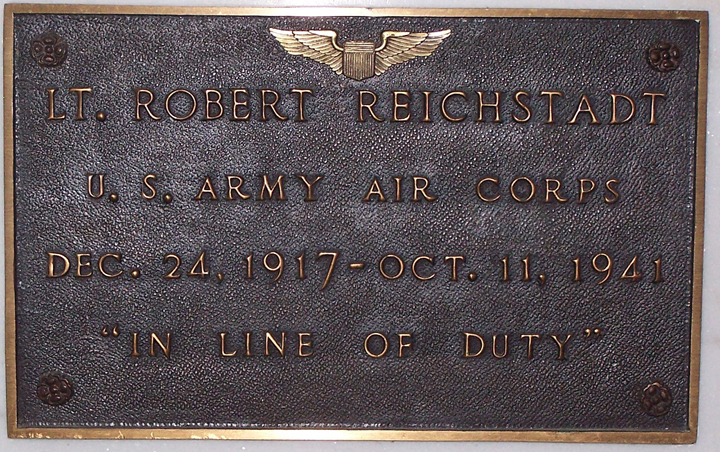 Single, large plaque for Lieutenant Robert Reichstadt's interred remains. Photo by Loren Bender, borrowed from the Find a Grave website.
The autumn of 1942 found Mrs. Beth Howley Reichstadt moving to Oklahoma by herself where the determined newlywed-widow had accepted a graduate assistantship in philosophy. I was comforted to hear that her storied life took on yet another chapter of adventure. Not one to turn away from a mystery, I followed Beth until I discovered she had married again in 1945. A brave one, Beth married Army Air Force pilot, Lieutenant Walter G. Lamb.
I could not imagine the pain of this loss for the Reichstadt family. Like Robert Frost, I was left watching the wood fill up with snow. I envisioned mother Bertha to open all the windows of her stone sanctuary, dreaming the cold winds would carry away her heartache. I returned to the work of exploration once again.
Good Fences and Good Neighbors
While I initially surmised West Omaha along Pacific Street was comprised of the upper-echelon social movers in the 1930s, there was also a dash of maverick inherent to those called westward. Who could deny the fresh air, the rolling countryside culture of horse lovers, stables, open meadows, woodlands and farms just beyond the city limits? The endless views described from the Reichstadt's windows, in all four directions were that of dreamy horse paddocks, bridle paths and the occasional barn. This is but a peek into the comings and goings of the fabled families among various homes on Pacific. My fascination (as well as those westward devotees) with land acquisitions would only grow as time passed. For those able to enjoy the privileged life beyond the grip of the city, the West Pacific area was sprinkled with both permanent and seasonal residents.
The Hosman File
One such neighborly maverick was D. Fay Hosman, distinguished restaurant man. In late 1937 Mr. Hosman had bought a "country home on twenty acres near Ninety-sixth and Pacific Streets." Hosman had made a name for himself in Omaha as proprietor of the Woodmen of the World cafeteria, the Keen Coffee Shop in the Keen Hotel, the Chamber of Commerce dining room on the eighteenth floor of the W. O. W. building, and manager of the Elks Club. Later he commanded Hosman's Restaurant and specifically his Cape Cod Room therein, noted for its "quiet Colonial atmosphere and appetizing food" at the Keen Hotel at 316 South 18th Street.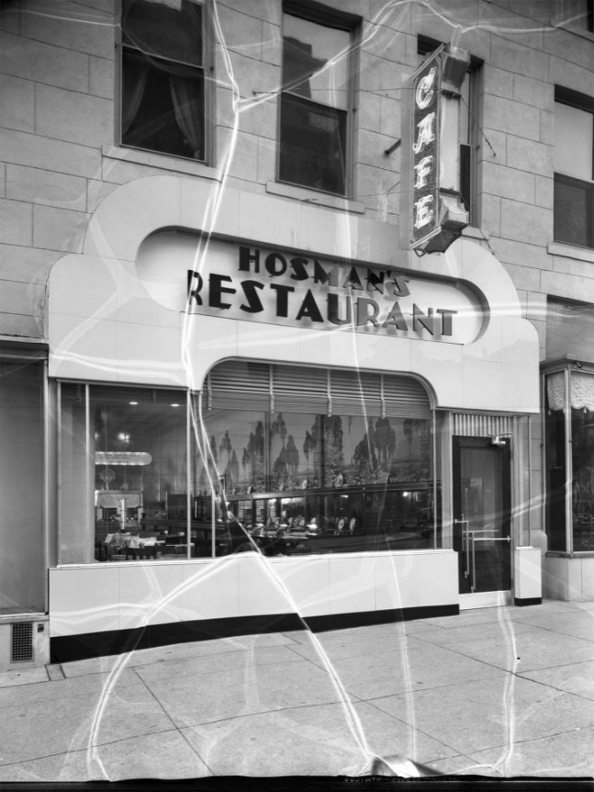 Hosman's Restaurant at the Keen Hotel, 316 South 18th Street. (Negative is delaminating—my spooky favorite!) Now this is a wonderful façade. Can you magnify and look at those dreamy tree murals inside? Creator: Bostwick, Louis (1868-1943) and Frohardt, Homer (1885-1972). Publisher: The Durham Museum. Date: 1935.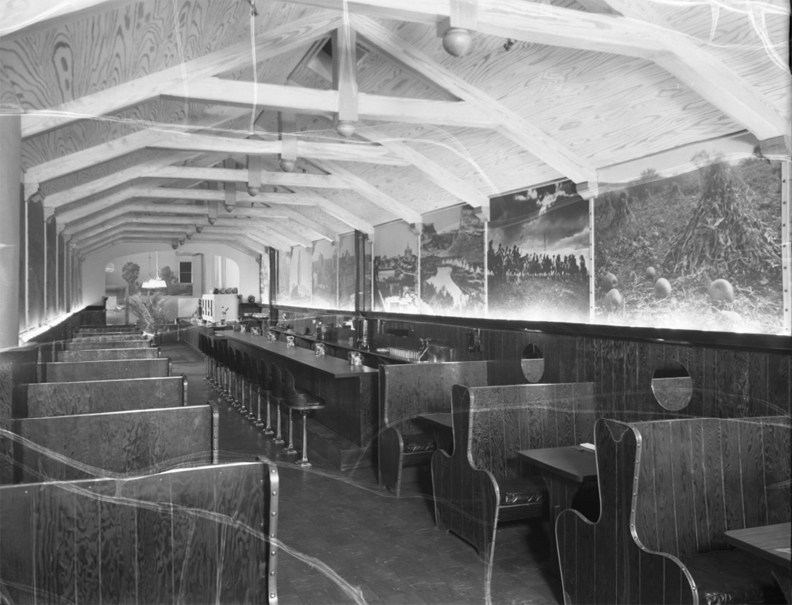 Hosman's Diner at the Wellington Hotel, 1819 Farnam Street. (Negative is delaminating and ghostly noir.) Get a gander, boys and girls. These are the interiors that I miss! So much time, energy and money spent to create a special, individual environment evoking much needed dreams and sensation. Creator: Bostwick, Louis (1868-1943) and Frohardt, Homer (1885-1972). Publisher: The Durham Museum. Date: 1937.
David Fay Hosman (it took me forever to find his true name, by the by) and wife Dagmar Anderson Hosman, along with their three children, resided at 5005 Charles Street, a six-room frame house (originally on two lots,) still standing proud on the outskirts of the Metcalfe Park close-knit neighborhood.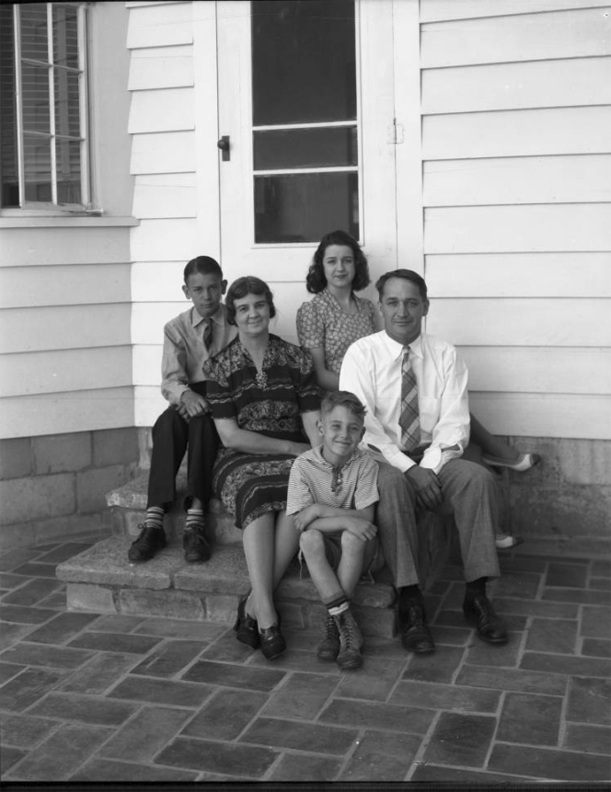 The Hosman family at home at 5005 Charles Street. Creator: Bostwick, Louis (1868-1943) and Frohardt, Homer (1885-1972). Publisher: The Durham Museum. Date: 1937.
I finally shadowed the new Hosman address a week later to 821 South 96th Street. This was, to my knowledge, initially a "summer cottage" only. This address is currently three doors north of the original Reichstadt home.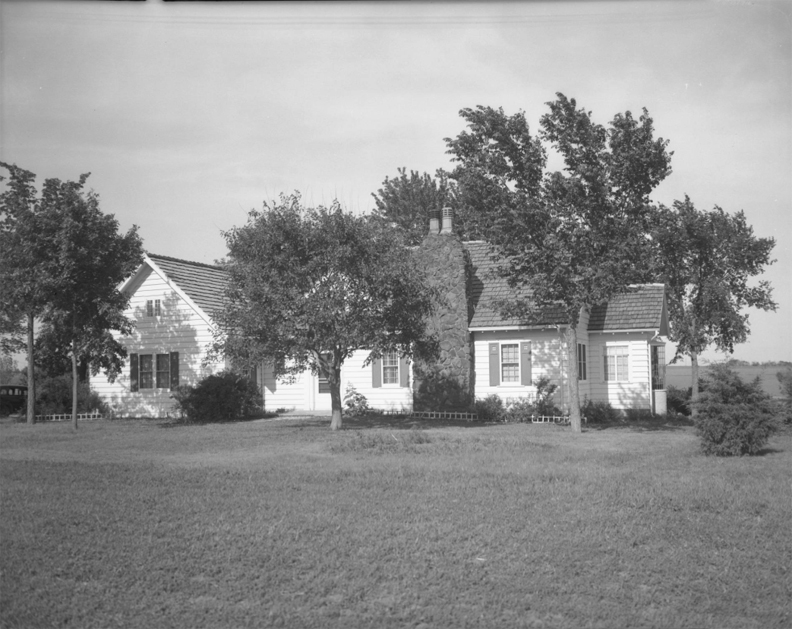 Hosman's summer cottage at 821 South 96th Street. Mere mortals would label this beyond a cottage–Simply Divine. Would ya getta load of that view? East of 96th, over 821's shoulder is all rural. Zoom in. Considering Hosman owned twenty acres, this might well have been his land. Creator: Bostwick, Louis (1868-1943) and Frohardt, Homer (1885-1972). Publisher: The Durham Museum. Date: 1938.
It is interesting to imagine what 96th and Pacific offered a family. One could assume that the peace and quiet with room to roam in the country was more than enough of a draw but the low taxes outside of the city limit were an incentive. The Hosmans inhabited their 96th Street property for decades to come. Their original retreat was torn down and now a single-family home containing 9,349 square feet, built in 2006 occupies the lot. The current home is valued at over two million dollars.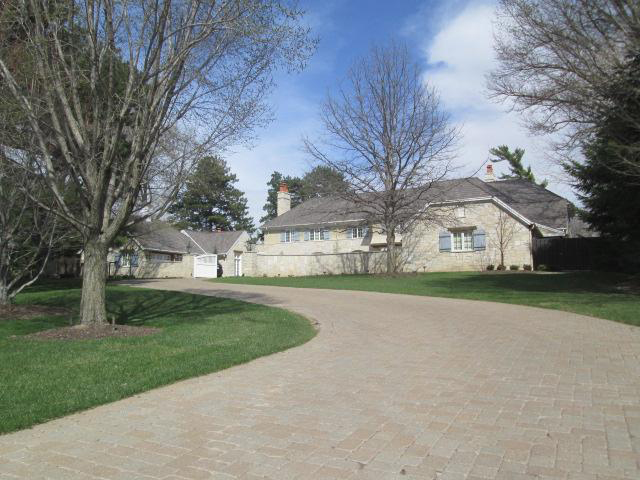 The Mysterious 821 South 96th Street estate, a compound of the enshrouded sorts, as it appears today. The question is, does it share bones of the original Hosman home? Fascinating either way. Photo borrowed from the Douglas County Assessor.
The Holman File
Another wild environ was that of 9402 Pacific, my longtime favorite home in this area. This property is currently considered two doors to the east of the Reichstadt house. Originally thought to be a 1904 farmhouse, this dwelling has experienced truly magnificent additional wings, a connecting guesthouse and back buildings over the years, only adding to its dark mystery. **Addendum of January of 2021** (I will not divulge too much today, as I do have a large, upcoming investigation into this very home, which included a proper tour!)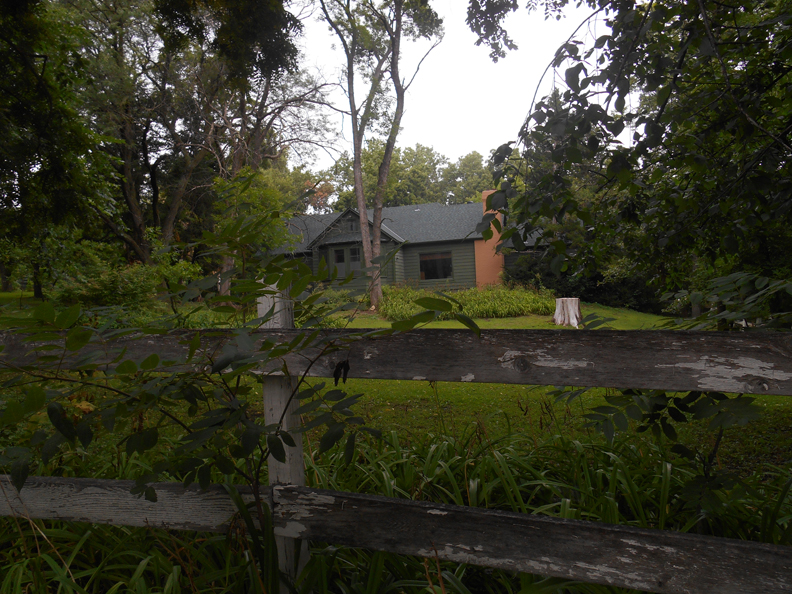 Photograph I took of 9402 Pacific in August of 2020.
Situated on two acres, encircled by a raw wood horse corral or farm style fence, 9402 Pacific maintains a rustic cabin look or a bucolic dude ranch style, even to this day. I remember a few fences similar along Pacific when I was younger. But back in 1938 it was a small, fully functional farm, and like most of the neighboring properties, the owners kept horses and maintained a stable. I followed mention of the Holman family at "Ninety-fourth and Pacific" in a 1942 article. The Omaha World-Herald was astutely reporting on this westward trend with a piece entitled, "Suburban Way of Life Gaining." They made plain that many Omahans were leaning toward the pastoral, both in residence and on holiday, accentuated since World War II. "Family interests again are centering about the home, with an emphasis on the land and what it produces." Both their garden output as well as the tremendous quantities of eggs, duck, chicken and beef were boasted about as only city-folks can do. The photos showed well to do families herding their cattle, coddling their chickens, children riding in a basket cart led by a pony at a summer getaway on a friends' farm, along with vacation play at an upper crust weekend ranch on the outskirts of Omaha. It was all so intriguing. I had found the local photographic proof to my theory!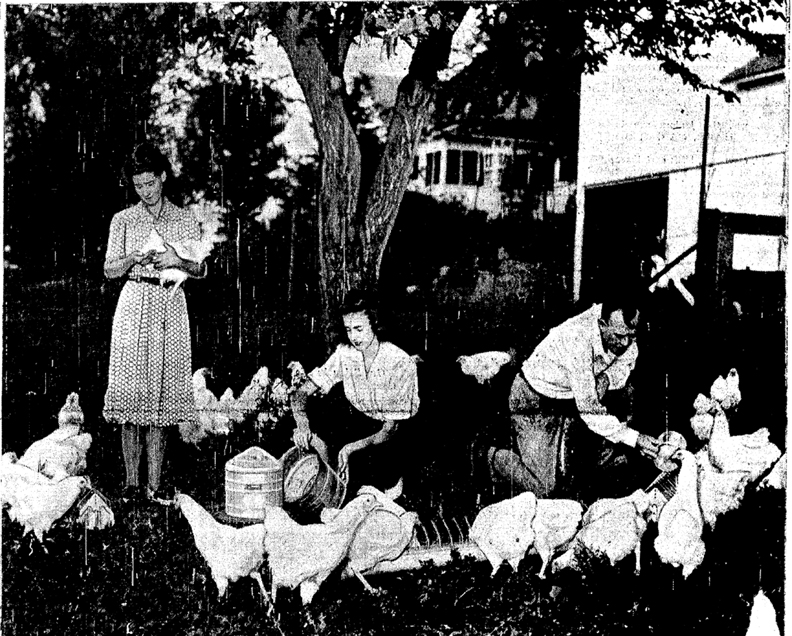 "Breakfast time for the Holmans' White Rock pullets finds both Mr. and Mrs. Roger Holman and their daughter, Miss Sally Holman, center, keenly interested." 1942. OWH archives.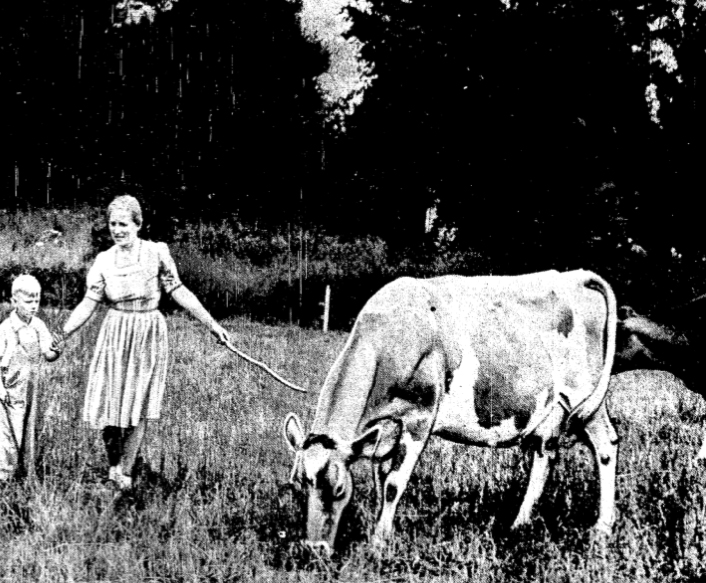 Society country life. Mrs. David Crofoot and her son, Philip, as they herd their cows. I LOVE this photo. OWH archive.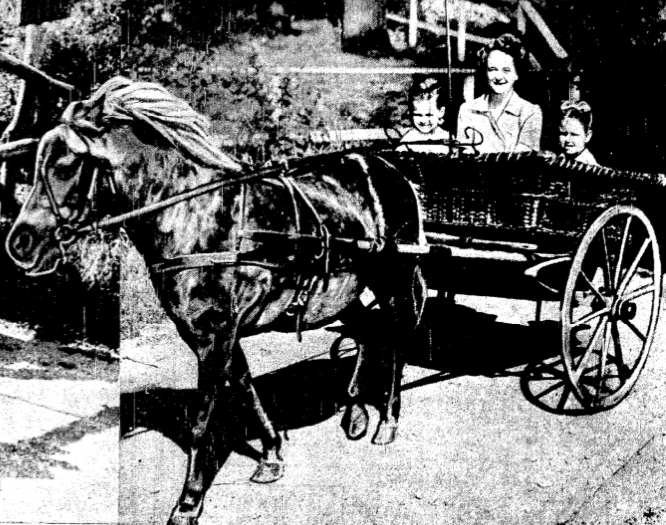 "Mrs. Louis Metz in the basket cart with her children, Louis and Eliner, riding with Mousie, the pony. The Metz family is spending the summer on the Dr. Herbert Davis farm." OWH archive.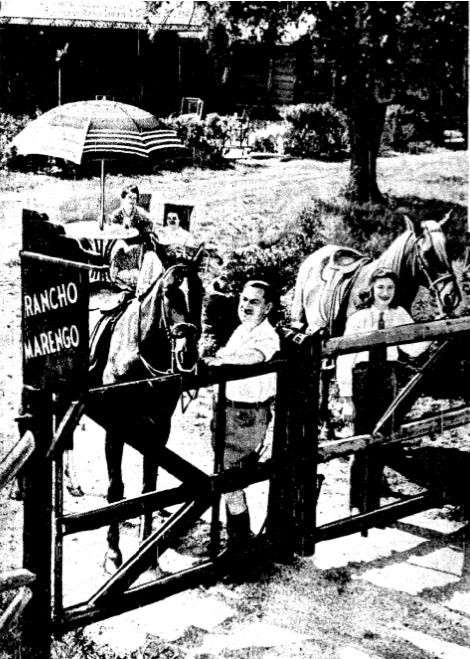 "The Dana Van Dusen family enjoys their picturesque Rancho Marengo. Mr. Van Dusen with his horse, Reta, and Miss Betty Van Dusen with Sonny are the riding enthusiasts. Mrs. Van Dusen and Miss Jeanne Van Dusen are under the sunshade." OWH archive.
It is interesting to ponder the farmers who had worked the nearby land for decades. Not to be a rural elitist but it seemed strange to recognize Mrs. Holman for conquering the wartime food problem in 1943, or at least within her family. I acknowledge that every little bit helped and I credit the plucky Holman brood for doing their part. It was important to contribute. My case in point is that this sort of favored farming was covered in the "Omaha Society Section," specifically focused on advantaged Women's Activities. I only shine the flashlight on this ironic burgeoning farm trend because this slim late 1930s-early 1960s window exhibited a rare integration along west Pacific Street—the last of the authentic agriculturists coinciding with the nostalgic Johnny-Come-Lately suburban dwellers. As I would discover, it would all change in a few short years. In the meantime the affluent would garner great press for their unusual barnyard endeavors and it is not my intention to snub their achievements, although fascinating from a distance.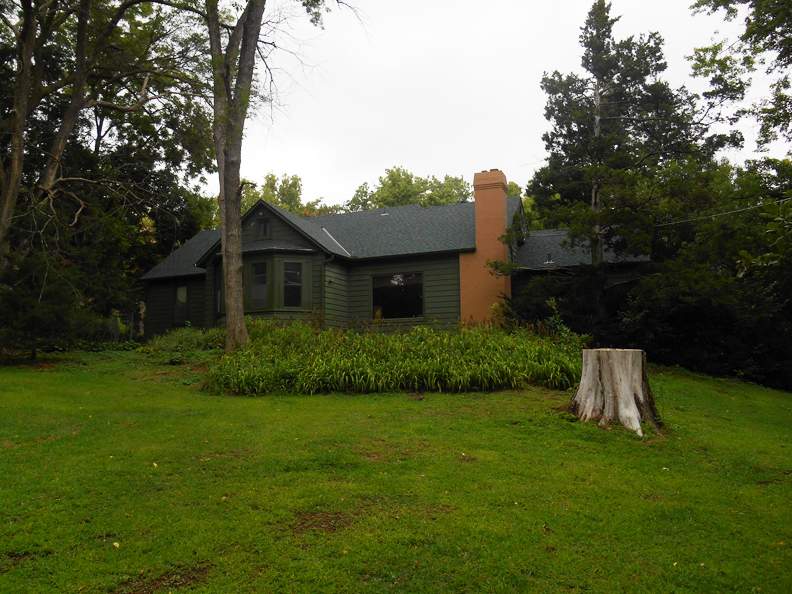 My absolute favorite 9402 Pacific, as seen in August of 2020.
Mrs. Roger P. Holman chronicled her 75 laying hens, two hundred chicks and an extensive vegetable garden, measuring 50 feet wide by 150 feet long, "not counting potatoes and sweet corn." Mrs. was even planning a second large garden on her extensive grounds. Apparently the family moved out to the 94th and Pacific area "as a war service measure" even though Mrs. Holman had never embarked in this type of gritty work before. "The farmlike atmosphere of the Holman country residence has been enhanced since Christmas by the addition of a saddle horse, 'Mimi,'" a gift to the Holman's daughter, Sally. Although I did not come across my perfect sliver of evidence, it was beguiling to speculate—was the Holman homestead and my 9402 Pacific Street dude ranch one in the same? **Addendum of January 2021** (New clue: Yes, the Holmans did, indeed, buy the 9402 Pacific Street farmhouse and property in 1941.)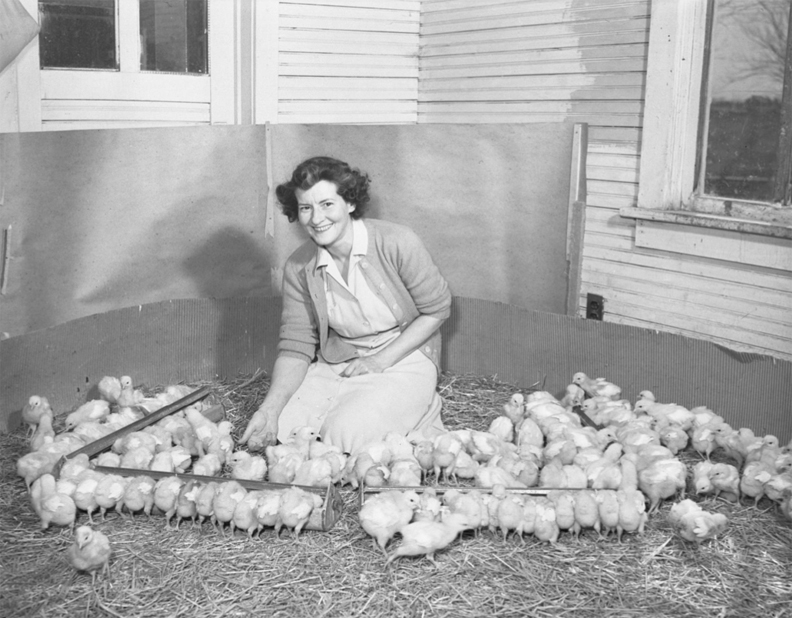 Helen Holman, wife of Roger P. Holman, knelt with numerous chicks at the 9402 Pacific farm. I felt so fortunate to find this one. Creator: Savage, John (1903-1989). Publisher: The Durham Museum. Date: 1943.
The Cozad File
Walter F. Cozad was another Pacific Street maverick but perhaps better known as the general manager of the Northwestern Bell Telephone Company, Omaha Chamber of Commerce president and prominent civic leader. I knew I stumbled across Mr. Cozad in my other queries. Previously the family had resided in a comfortable, stylish district at 131 North 34th Street before moving west.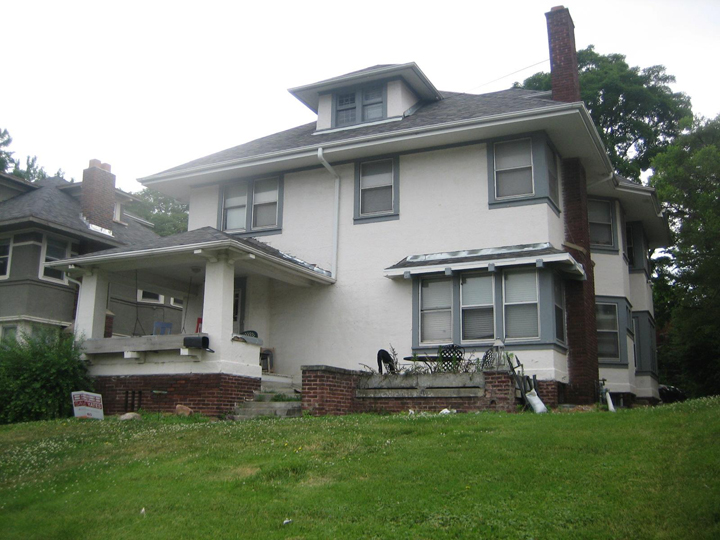 131 North 34th Street as she looks today. The Cozads' earlier home is listed with the County Assessor's as having been built in 1920.
Cozad handily snatched up a 40-acre tract in the new up and coming Gentleman Farmer area, bounded on the north by Pacific and on the west, by the fashionable Happy Hollow Club in the summer of 1933. In March of 1934 Cozad announced, "As soon as an old house on the property is razed," his intention was to build a nine-room home of brick and stone on the 40-acre tract at 100th and Pacific, just north of the Happy Hollow Club. (Over time this mysterious Cozad property was listed at "109th and Pacific," "10003 Pacific" and "110th and Pacific." Much later in this tome, I will uncover my findings as to the location!) I was thrilled to find Noel S. Wallace was architect of the large Walter Cozad home; Peter Kiewit Sons was contractor. As a prompt, Architect Noel Wallace would later built the stone home of our obsession, the gorgeous Reichstadt home on the hill of 96th and Pacific. The Reichstadts had most likely taken a cue from this country Wallace example.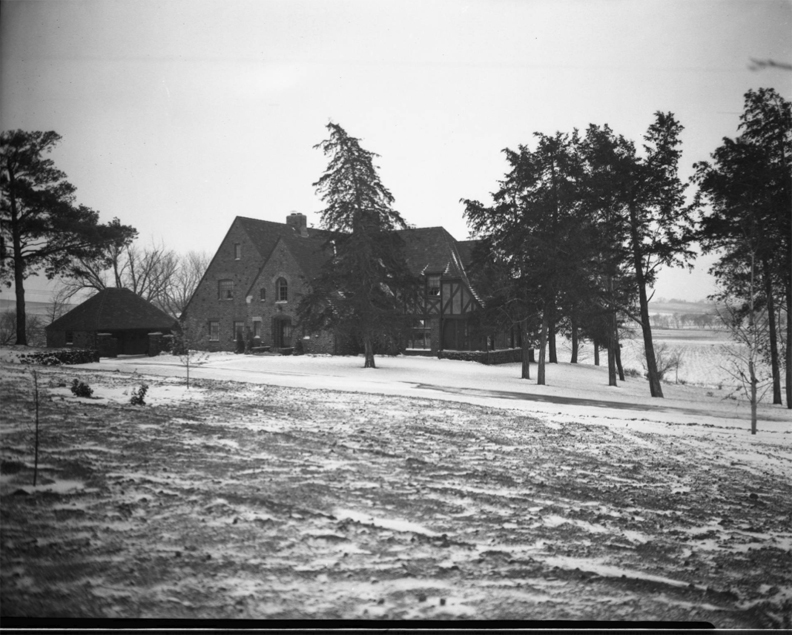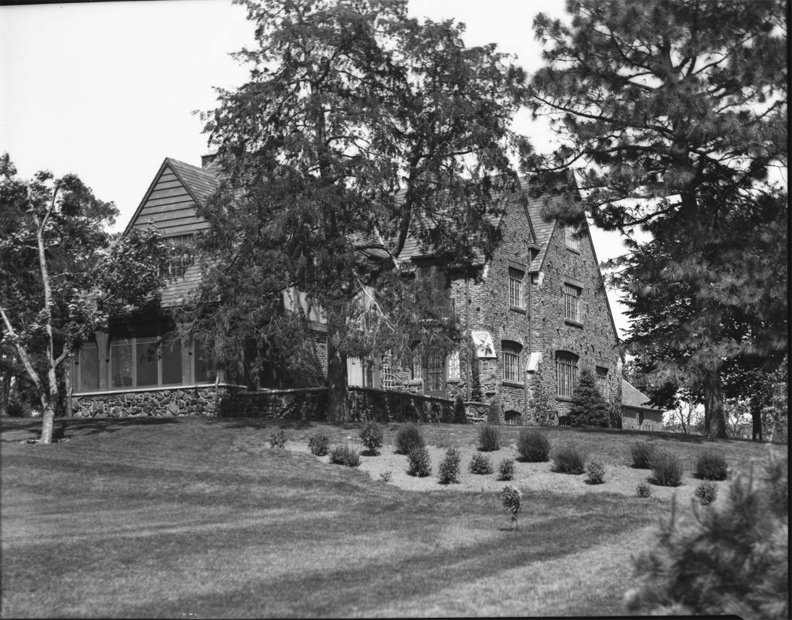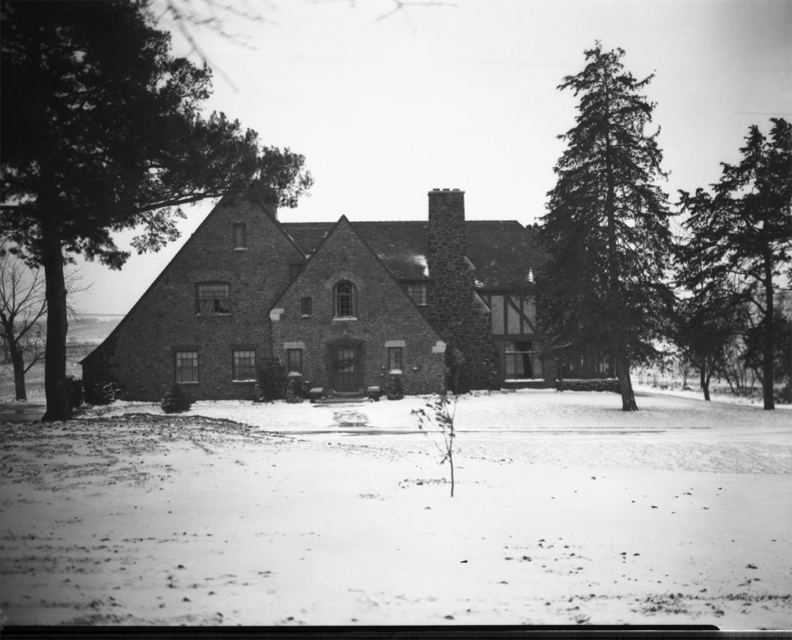 Photos to die for. Cozad family home at 100 West Pacific Road. Creator: Bostwick, Louis (1868-1943) and Frohardt, Homer (1885-1972). Publisher: The Durham Museum. Date: 1934 and 1935.
Upon completion, the Cozad residence was described as a beautiful "English type country home," boasting Klinker brick, a slate roof, many bedrooms with just as many baths, three car garage, natural stone walls and terraces, exclusive picnic grounds with a natural spring all upon "rich, fertile land." The 1940 U. S. Census illuminated Walter and wife, Mabel inhabited the English home with with frequent visitor, mother in law, Ida Russell and two live-in servants, Charles and Virginia Smith. The Cozad children Richard (sometimes Robert) and Helen were on their own by that time.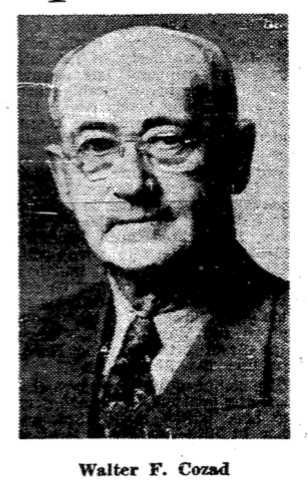 Walter Franklin Cozad. OWH archive.
Although a farmer worked most of the forty-acre estate, Cozad was known as a master gardener both of flower and vegetable. He lovingly planted and maintained a two-acre garden, which he boasted never was reseeded or fertilized. With great amusement I point out that Mr. Cozad was well known to walk to his office downtown on fine fall mornings, even though his new home stood at 100th and Pacific. The newspapermen at the time keenly observed of Mr. Cozad's walking habits, "somebody generally sees that he gets safely within the city limits before he begins his trek." As a reminder, there was no Pacific streetcar option.
It is important to note that West Pacific Street, although paved, was only a narrow two-way street in the early Cozad-Reichstadt days. (More on the widening and development of Pacific Street later.) And apparently at some times of the year, it was even narrower, as seen in this snowy image.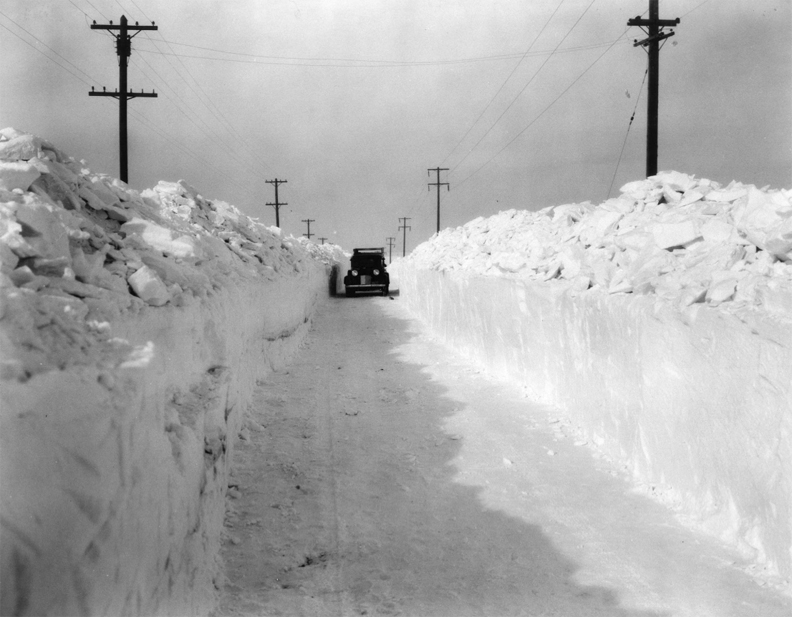 A path has been cleared at West Pacific Street after a heavy snowfall. A car drives between tall mounds of snow. Creator: Bostwick, Louis (1868-1943) and Frohardt, Homer (1885-1972). Publisher: The Durham Museum. Date: February 1936.
The amazing Cozad residence was put on the market in 1945 before the family's eventual move to Portland Oregon, finalized by 1947.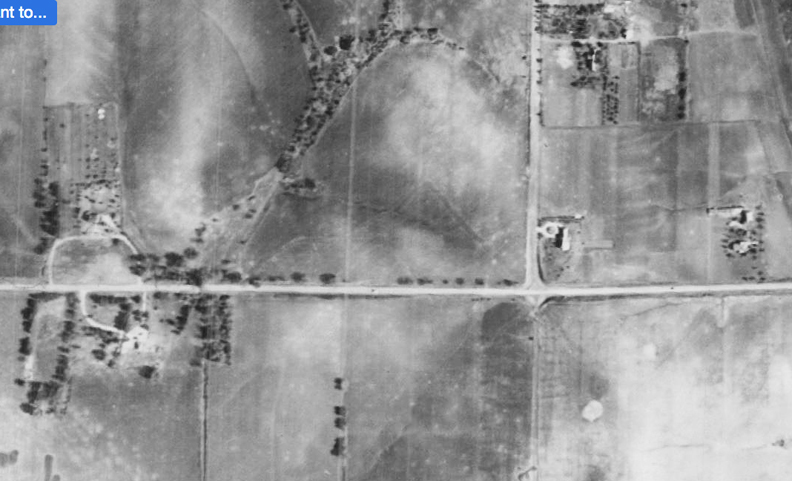 We might want to review the 1938 second McArdle Township Map in our spare time, previously shared in Part One. In the mean time this fantastic 1938 aerial illustrates perfectly the large stretches of land between the Hosman, Reichstadt, Holman and Cozad properties. The top of the photo is north. East-west Pacific runs almost along the middle of the photo. North-south 96th Street is seen to the right of center. Note the Reichstadt parcel on that northeast corner. Atmospheric. I like to imagine the solitude of Pacific Street at that time. Isn't this divine? Aerial photograph borrowed from the DOGIS website.
Another neighbor I'd like you to file away for later recollection is the Oscar S. Borg family. We will follow up with the Borg clan later in our adventure but from all evidence, they appeared to have moved to the surrounding environ by 1930.
Big Sale
Let us rejoin Dr. Emil and Bertha Reichstadt in their Hidden House.
As you will recall, son Bob had died tragically in 1941. Son Paul and his new family were residing in Lincoln, Nebraska. The senior Reichstadt couple was left to their stone lodging on the hill and while surely settled in the comfort and standing of their station, I am cannot attest to their enjoyment. The World-Herald gave indication of a soon to be Reichstadt transformation. I would cross confirm this with the Douglas County Register of Deeds office. In January of 1943, son Paul and his wife, Helen Reichstadt sold back their parcel of the family plot to mother Bertha Reichstadt.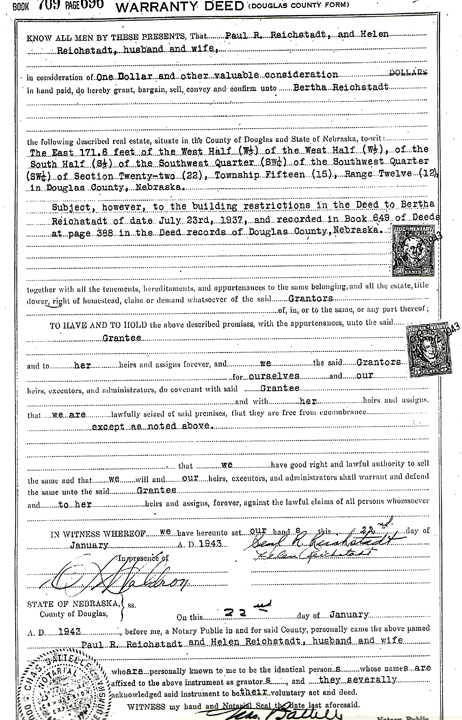 Warranty Deed hardcopy. January 1943. Borrowed with permission from the Douglas County Register of Deeds office.
One month later, on February 2, 1943 a Warranty Deed instrument was entered from Bertha and Emil Reichstadt, husband and wife to grantees, Einar Berg and Louise Berg. This time the parcel size and descriptors interestingly had changed. 1023 South 96th Street was now whittled down to "2.314 acres located at the Northeast corner of 96th and Pacific Street, West of the City of Omaha, together with all heating, plumbing and lighting fixtures and equipment, water softener, all attached carpeting, window shades, awnings, screens, storm sashes, trees, shrubs and landscaping." The house and the majority of the parcel were sold to the Bergs but the Reichstadts would mysteriously hold on to a segment of large five-acre estate. I was not exactly sure why that was. More on this discovery later.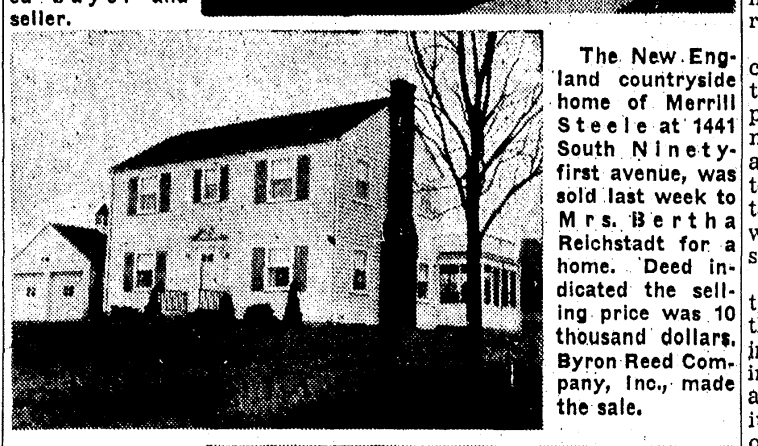 On April 25, 1943 Mrs. Bertha Reichstadt had purchased a new ten thousand dollar dream house at 1441 South 91st Avenue—another "New England countryside home," as the World-Herald had summarized it, sold by Merrill Steele. OWH archive. 1943.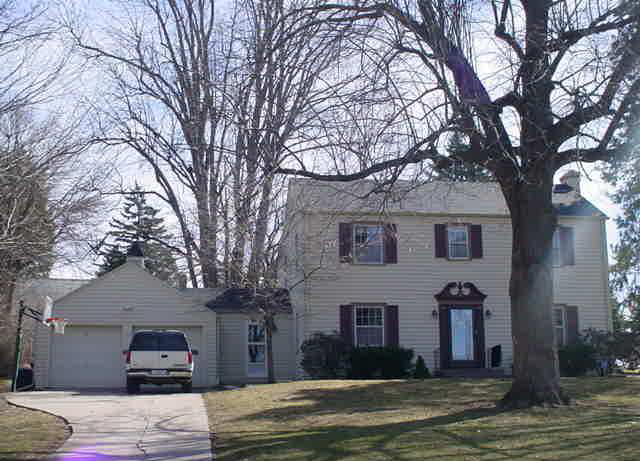 The new Reichstadt home, as photographed by the Douglas County Assessor in 2007.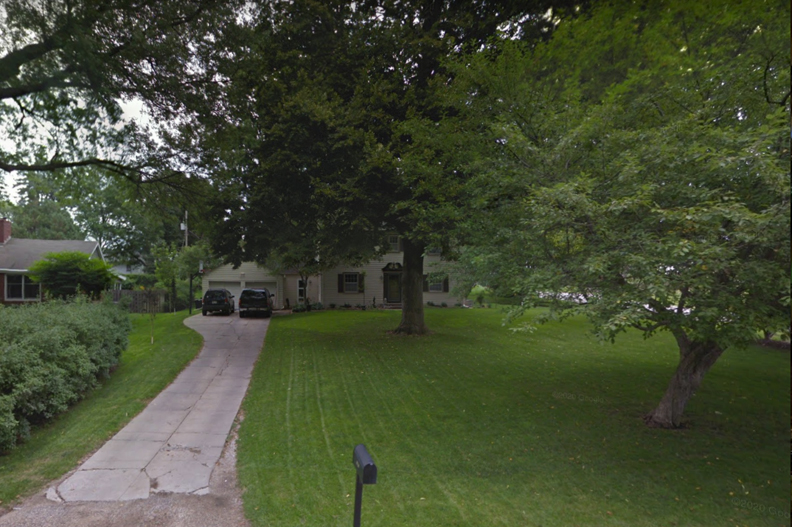 1441 South 91st Avenue as photographed by Google Map back in 2014. This second image captures the more accurate feel of the area.
I believe the Reichstadts were drawn back to Colonial living, or at the very least, a fresh start. The rolling country hills in a new up and coming area must have sounded like just the ticket. Is that a cupola I spy on their two-car garage? This New England Colonial maintains its tidy air of upright perfection, sitting back on a huge expanse of yard, far from the purposefully pocking District 66 streets. Why, it is country living in the city. Only the most of determined of detectives and beauty seekers tool along these rutted roads. Always worth the journey!
The Berg family story awaits and I promise you, they are all huddled stage left awaiting their blocking cues for just the proper dramatic effect. We will get to them shortly, having ensured proper sight lines for their anticipated entrance. In the meantime, the story of the Reichstadts did not end with their move from 96th and Pacific. And because I had become quite consumed with the lot of them, my torment continued. I do hope that you understand my passion.
Dr. Emil and More Mystery
What transpired in the following months and years amounted to unending Reichstadt land acquisition but more than that, my detective's growing awareness of a family cloaked in shadow. After a series of misfired adventures in breadcrumb detection, I lighted on a 1946 purchase. Dr. Emil and Bertha bought yet another three hundred acre "improved" farm three miles west of Modale, near Missouri Valley, Iowa. Bertha was said to have paid 60 thousand dollars in cash to the Behm family—the family farm had been in the Fred C. Behm family's name since 1913.
In the meantime I discovered Dr. Emil Reichstadt's presumed retirement from sale clues of his Spanish bungalow at 4618 Cuming Street in 1950. By the following year, Dr. Emil died at the young age of 69. He was entombed at the West Lawn Mausoleum, now called the Westlawn-Hillcrest Mausoleum.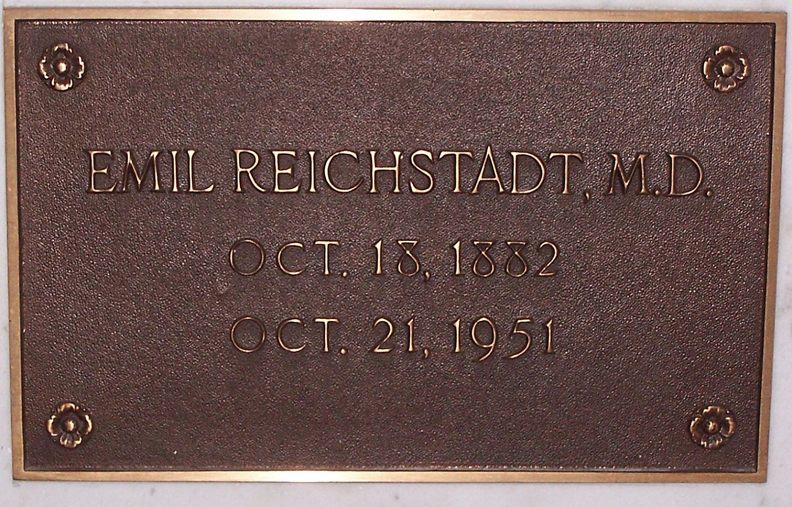 Dr. Emil Reichstadt's funeral plaque from the Find a Grave site. Photo by Leah Hubbard. I always notice when the date of death is just days after a birthday.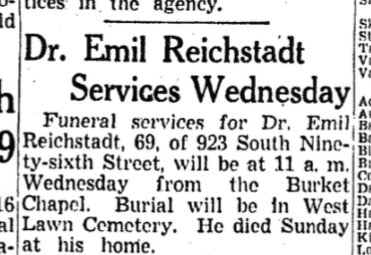 October 1951. OWH archive.
This is where the mystery gets ever curious-er. Dr. Emil reportedly "died at home," however his home was listed as 923 South 96th Street in two accounts. If the newspaper got the address right, that would mean Reichstadt had resided and died in a home one door north of their original stone 1023 South 96th house.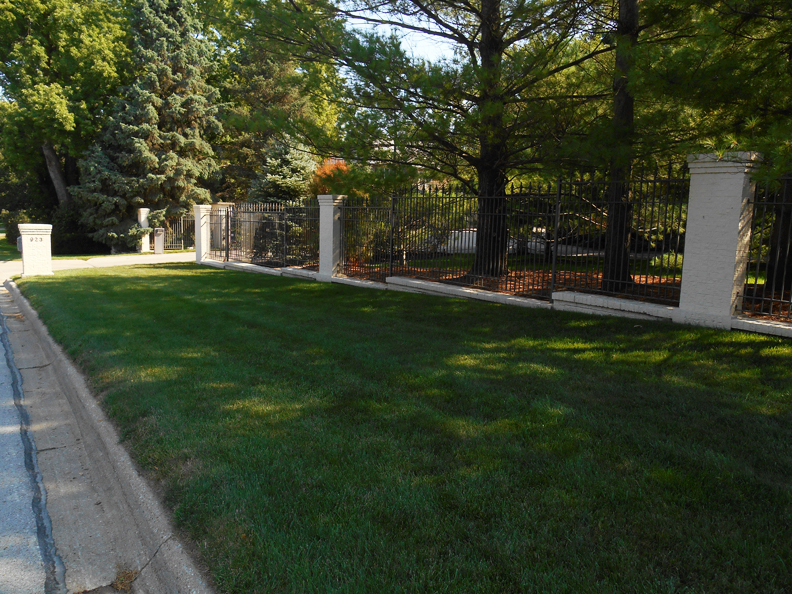 We had reviewed the gorgeous 923 South 96th Street property in Part One–the one with the formal fence, abutting Hidden House.
This was confounding, as I had earlier tracked Dr. Emil and Bertha to yet another home, post-Colonial, at 670 South 85th Street by Christ the King Church.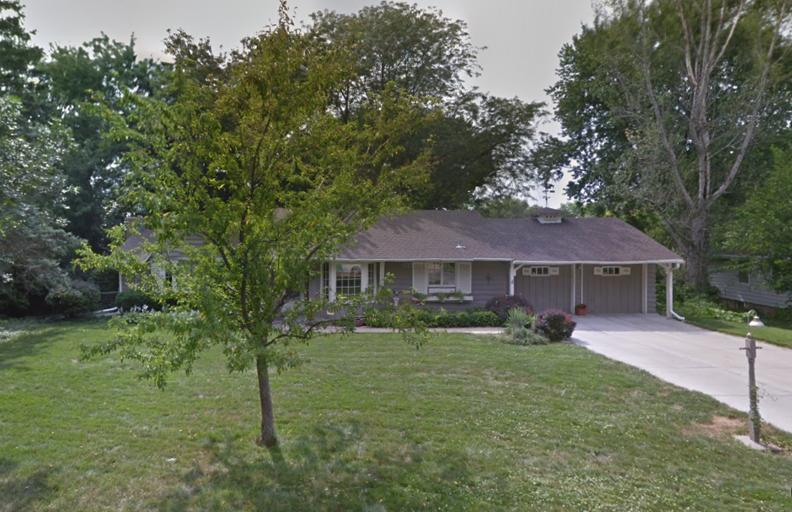 The beautiful country rambler, 670 South 85th Street, as photographed in 2014 by Google Map.
My mind spun down the snowy rabbit hole to a darkened offshoot–a slush and mud-filled research plateau called "The Unknowable to This Date." Thankfully I had on my big girl wellies. Every Miss Marple among us will know of this cold and shadowy place. Barely a blinking headlamp to light my way, I was at a standstill. First halting matter—had the newspaper made a mistake as to where Dr. Emil died? If not, this would mean the Reichstadts had built an additional home to the north of the stone Hidden House. Was this the parcel of the compound that son Paul had bought from his folks and intended to build a home on? From my musings, it appeared that son Paul had owned a sliver of the eastern segment of the land, whereas 923 is situated on the original northern fragment of the once whole property. Were Emil and Bertha living in the 923 South 96th Street home the whole time I assumed they had moved into the Colonial? Was this why the larger Reichstadt property had been whittled down by the time of the Berg sale? Were they acquiring these other Omaha properties as investments all along?  Or had the Reichstadts privately separated and was Dr. Emil living in 923 South 96th alone? After much rumination and with a hope that clues would fall together in the future, I packed up my dossier and climbed back out of the hole while I still had my wits.
Dr. Paul Richard Reichstadt
Dr. Emil and Bertha's eldest son, Dr. Paul Reichstadt, would go on to complete osteopathic school at Still College in Des Moines after having graduated from UNL. Emphasizing a whole-person approach, osteopathic physicians have a different philosophy than mainstream American doctors of medicine. Son Paul would return to Omaha in 1945 to practice with his father where Bertha was apparently an assistant in some capacity. By all accounts Paul had a fantastic practice and was featured in the papers frequently, a well respected doctor amongst colleagues and the public alike. His marriage to Helen Fox, his children, Suanne and Robert (no doubt named after his deceased brother) and their social prominence were also the focus of many news articles. Eventually Paul would remarry, Madelon McPherson Green, who had three children from a previous union, Marcia, James and Deanna. Like his parents before him, the Paul R. Reichstadts were socially connected, engaging people. The only indicator of a personal note was of Paul's great love of music.
Friends, I'd like you to steel yourselves for this next section. I will refrain from being overly graphic but it is none too pleasant.
Blood Plasma Services
In 1971, 1916 Harney Street had become site to "Omaha's newest business" and it was garnering the city's attention. The collection of blood plasma to be used in manufacture of drug products was a thoroughly modern concept. The new ninety-minute procedure paid out at $5 a session and attracted about forty men a day for the blood draws. The center boasted of their accommodating late night hours—open til 9:00 PM. Every new participant was to be examined by a doctor, who was on duty fulltime. Dr. Paul Reichstadt had recently retired from his active osteopathic physician practice and at age 62, became medical director of the Blood Plasma Services at 1916 Harney Street.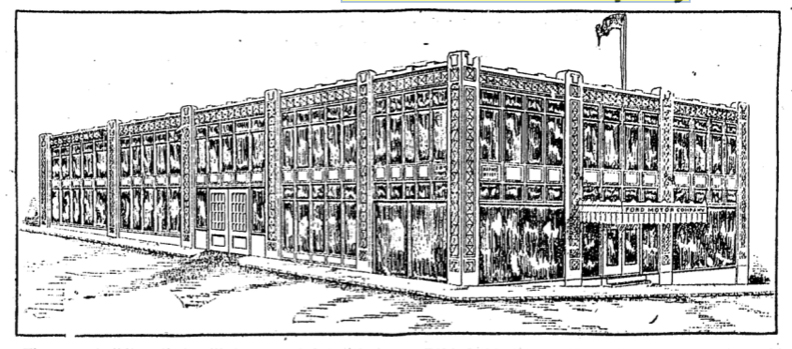 OWH archive. 1910.
Back in 1910, the 1916 Harney Street building was the talk of the town for a different reason. The Ford Motor Company built its own branch office and showroom at 1916 Harney Street. With sixty-six foot frontage on Harney and 132-foot frontage on 20th Street, the brick building featured beautiful terra cotta details but was particularly touted for its solid glass walls on two floors. This gave ample opportunity for the display of the Ford cars. Vehicles were said to have arrived at the showroom "partly assembled and were completed there."
By the summer of 1916, the Ford Company had moved on to their newly built assembly plant at 15th and Cuming. The Van Brunt Automobile Company then leased the space by at least 1918. The Dort Sales Company would refashion the 1922 car showroom to suit their needs; the Markel, Hudon & Essex Auto Company also leased for a time.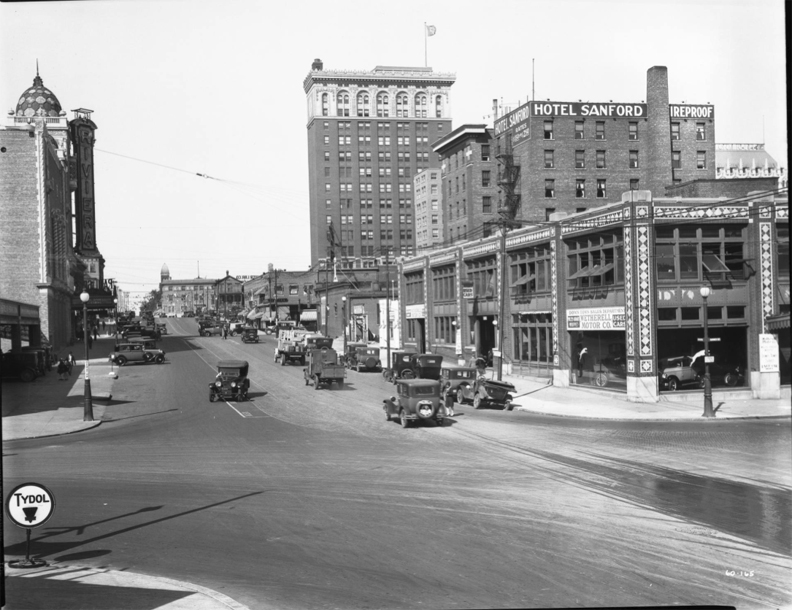 Looking north on 20th Street from Harney Street. Notable buildings include: the Riviera Theatre on the left, the Northwestern Bell Telephone building, the Sanford Hotel and the Ford building on the right. Creator: Bostwick, Louis (1868-1943) and Frohardt, Homer (1885-1972). Publisher: The Durham Museum. Date: 1928.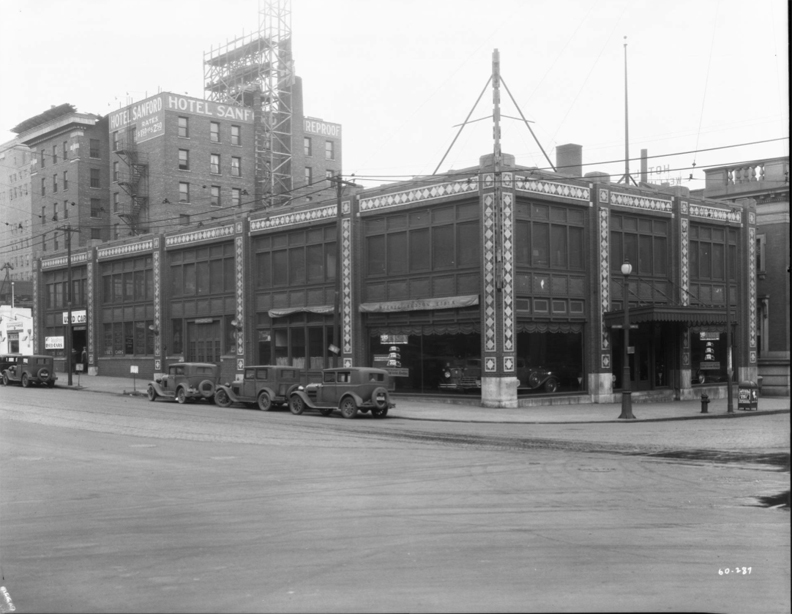 Looking northeast at 20th & Harney Street. Markel, Hudson & Essex Auto Co. is in the Ford Building on the corner. Directly behind, there is construction scaffolding at the Sanford Hotel. Creator: Bostwick, Louis (1868-1943) and Frohardt, Homer (1885-1972). Publisher: The Durham Museum. Date: 1931.
By 1954, 1916 Harney, or the "Ford Plaza Building," as it was called, had again shifted in order to play host to the Social Security Administration office, where they made an office until 1960.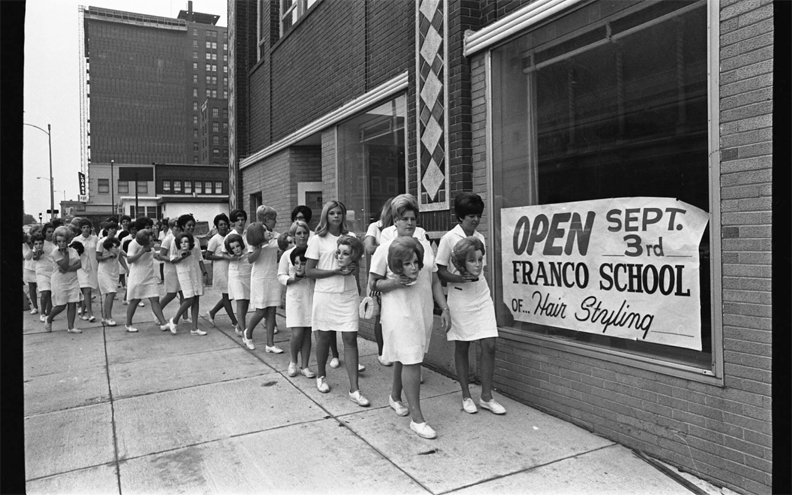 A group of female students, all in white uniforms and holding mannequin heads, walked down the sidewalk to the Franco School of Hair Styling. The school's sign is seen in the window of the previous Ford Motor Company showroom. Creator: Paskach, Robert (1927-2001). Publisher: The Durham Museum. Date: 1968.
Subby and Joe Franco would move their Franco School of Hair Styling out of the location after selling the property to the Stewart family in 1970. The Francos, having just completed a remodeling project at 7912 West Dodge Road, had hoped to expand into synthetic wigs. The Stewart cosmetology school must have been a short-lived venture because the Blood Plasma Services operation soon took over the lease.
On a Thursday morning in October of 1978, Dr. Reichstadt and other staff were in the Blood Plasma Services clinic, readying for the day's work when a man walked in brandishing a knife. A drifter, James Tulloch, attacked Mrs. Bernadette Fuller, nurse aide clerk, at the front counter after she apparently declined to take his blood, because of a high blood pressure reading. When the bearded man stabbed Fuller, Dr. Reichstadt intervened. Both Paul and Bernadette were killed in his frenzied assault. Tulloch also attacked a man waiting to donate blood, who later recovered. The knife wielding man came at other employees, but was ultimately chased out by manager Rick Williams who had grabbed a shovel. Bernadette Fuller had been a nurse aide previous to working at the plasma center, a young wife and mother of a three year old son. Dr. Paul Reichstadt left behind his mother Bertha, his wife, son, daughter, three stepchildren and grandchildren. This traumatic event had to have stunned all of downtown, as well as the whole city. I was shocked and saddened to read more of Mrs. Fuller and of course, was immediately thinking of our Bertha Reichstadt having lost both of her boys under horrific circumstances.
James L. Tulloch, the assailant, was a 33-year-old drifter living with schizophrenia. Tulloch was experiencing psychosis and was tormented by delusional, paranoid thoughts back on that fateful day in 1978; he was found not guilty by reason of insanity after the blood donation center murders. Tulloch was confined to the state mental hospital, the Lincoln Regional Center, and it only got sadder from there. He was assessed to be dangerous to himself and others, holding a paranoid belief that the plasma center and staff were active in a nationwide conspiracy plotted against him. The tragic clues led me to Tulloch's suicide at the Lincoln Regional Center in 1995. He was found dead in his room at age 50.
The Blood Plasma Services would move out of downtown in the winter of 1980–the site of the grisly murders would be torn down, a parking garage erected in the years to follow. This was all such startling information and I would be lying to you if I said I wasn't taken aback. The investigation was halted as I retreated to my Popie's Frieze chair in my detective's library for a time.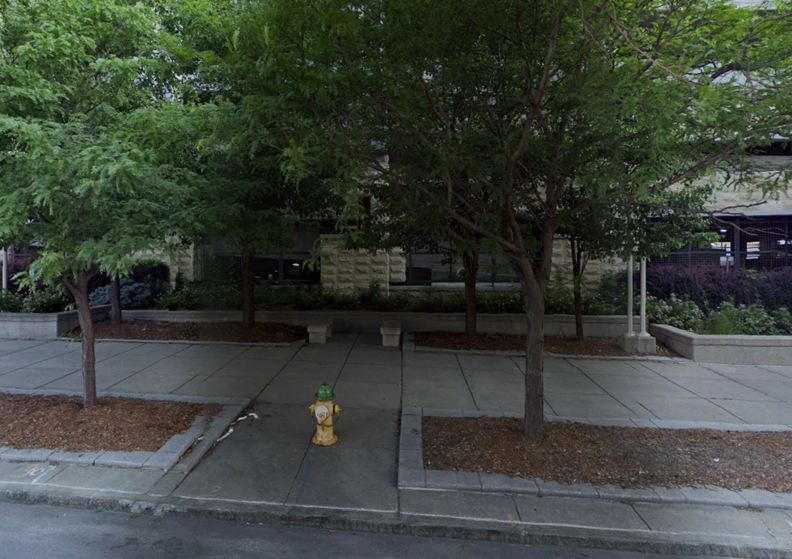 The nondescript parking garage that now stands at the site of the razed Ford Plaza Building.
After the passage of days, I would realize, like Nancy Drew, that I should not be the stay-at-home kind of gal. It only leads to more festering. When I returned upright to the case, I was ever so glad to find that our Bertha Sophie Hertle Reichstadt lived until age 99, traveling the globe with a fevered abandon and other single galpals by her side. From what I could retrieve the Reichstadt family are interred at the West Lawn Mausoleum. The impressive Westlawn-Hillcrest Mausoleum, as it is now called, sits atop the mysterious, high hill at 57th and Center. How fitting, I thought. The mausoleum's green stained glass windows and huge bronze doors are among my very favorite things in Omaha. Designed by architect, Henry Bacon, the Colorado Yule marble mausoleum at West Lawn was often compared to Bacon's most famous project the Lincoln Memorial in Washington, D.C.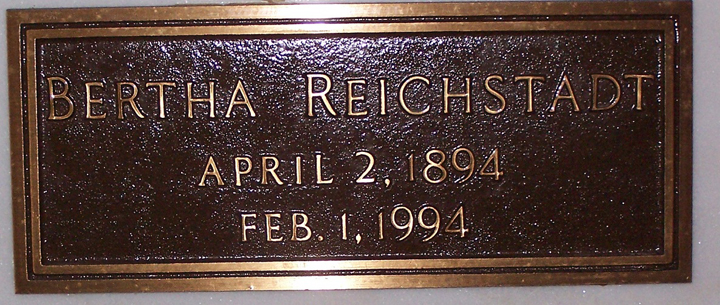 Bertha Reichstadt's funeral plaque from the Find a Grave site. Photo by Leah Hubbard.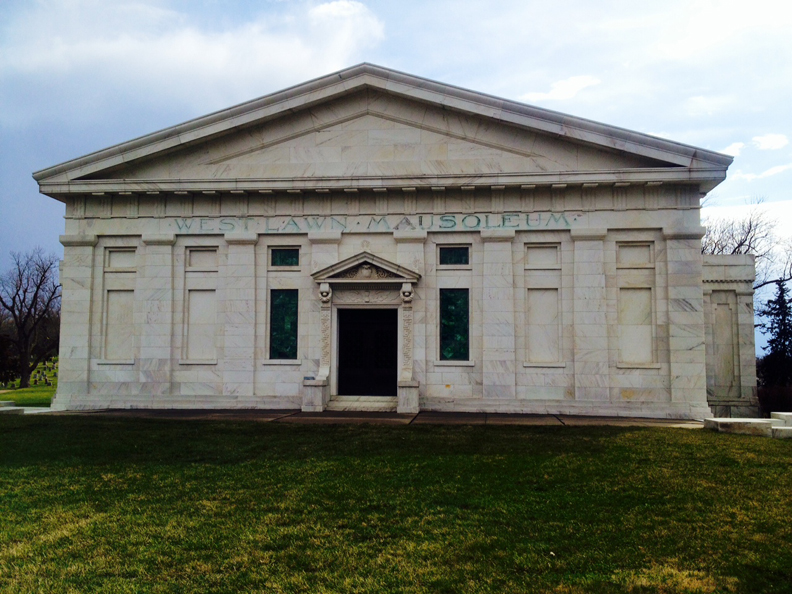 The West Lawn Mausoleum. A photograph I took on a fantastically strange day back in 2016.
With renewed vigor, I set out to discover the Berg history and their path to 1023 South 96th Street–a path I was assured had been previously carved and cleared by the Reichstadts. A bit of my own imagined lurking about had heeded warning of where to bend one's head, perilous boughs on dark evenings, boxed garden paths and slightly raised pale stone slabs. Surely my detective work forging ahead would not be as crazy making. I will admit to you, and I suppose it is a bit of personal idiosyncrasy, but at that point in the journey, shining a flashlight on the glorious stone country house was as exhilarating as finding a new family tree. Both obsessive tasks were necessary, I convinced myself. And somewhere along the line while shuffling dusty records within the Reichstadt dossier, spring in Omaha had arrived. The tulips blinked at me as they were roused awake by a light breeze and every garden's cobbled stone footpath begged to be tiptoed upon. I suppose I owed more to this sweet spring serenade than I had previously known. I may very well still be balled up in the Frieze club chair. My friends, we have a lot of gallivanting or trudging to do, whatever your personal sleuthing ethos. I prefer to set in with a sort of prance.
Until we meet again for the fourth installment, please, for the love of Cornell Woolrich, let's keep our eyes open for a bit of mystery. It is all around us.
Miss Cassette
This investigation now has a follow-up. Please follow this link to: Hidden House Part Four.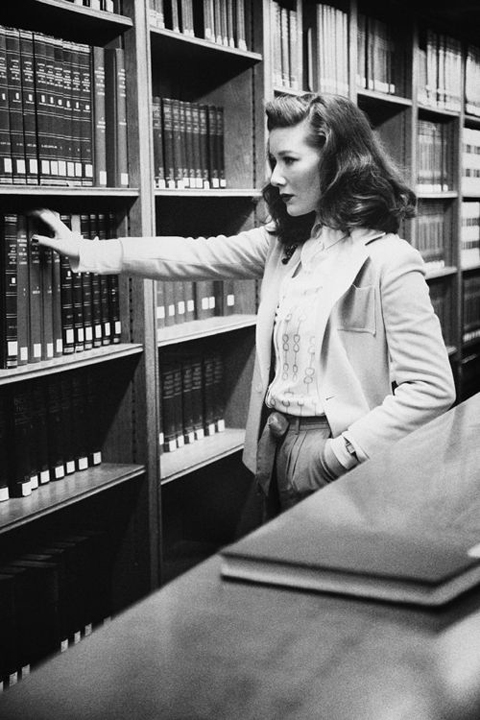 I welcome your feedback and comments on this portion of the story—the wonderful and mysterious Reichstadt, the West Pacific area, and the whole 96th and Pacific district. Feel free to leave a thought in Comments. I welcome you to poke around with your flashlight. Investigate. Hide in the shrubbery. Look under these rocks and down those alleyways. I am more than pleased to have you tiptoe about. By the time you head for home, I hope you have been fully Sherlocked and Satiated. Thank you, detective friends.
If you like what you see, you can keep up with my latest investigations by joining my email group. Click on "Contact" then look for "Sign me up for the Newsletter!" Enter your email address. It will then display "Thank you, your sign-up request was successful!" Make sure to check your email address to confirm. You will get sent email updates every time I have written a new article. Also feel free to join My Omaha Obsession on Facebook.
© Miss Cassette and myomahaobsession, 2021. Unauthorized use and/or duplication of this material without express and written permission from this site's author and/or owner is strictly prohibited. Excerpts and links may be used, provided that full and clear credit is given to Miss Cassette and myomahaobsession with appropriate and specific direction to the original content.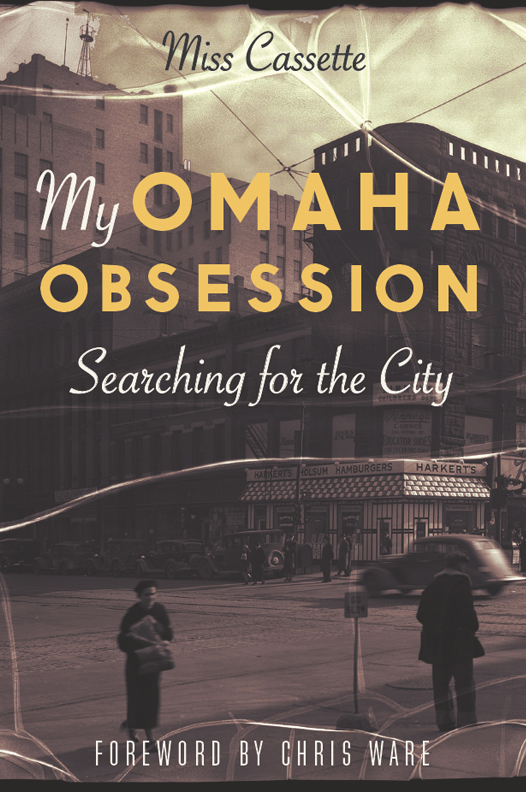 If you are looking for more architectural and Omaha history sleuthing fun, ask your local or bigbox bookseller for my new book: My Omaha Obsession: Searching for the City. Thank you.