No one would blame you for not knowing about 5120 Mayberry Street or if you might never have even heard of Mayberry Street. As far as east-west streets go in this town, Mayberry is pretty discreet. It gets cut off a lot, it isn't flashy and it's left picking itself up after many blocks of disappearing acts. And to top it all off, it didn't even start it's inconsistent life as Mayberry. It used to be called Melton Street. I can assure you that part of Mayberry Street's charm is that it is off the beaten path and that is exactly what the neighbors love about it.
How I Fell in Love
I first became aware of 5120 Mayberry about ten years ago. Mr. Cassette and I were out for one of our long, adventurous walks and happened upon it quite unexpectedly. We took a turn behind Three Happiness on Leavenworth and thought we were headed down another modest, midtown neighborhood on south 51st. Quickly we found a park-like setting just to the west of the street. Looming in the distance was Elmwood Tower but through the many gorgeous trees were a couple of homes. As we walked west on Mayberry, a dark shingled, gloriously, preppy, east coast estate was hiding amongst the trees. Having always loved large, older homes, I went into utter convulsions. It was something like the Secret Garden meets Grey Gardens.
Entrance to the estate, facing north.
What immediately struck me about the estate was the fact that it looked hidden. It also didn't make much sense in this small, quiet neighborhood which made it all the more intriguing. 5120 wasn't trying to be a Happy Hollow Home. It didn't put on Fairacres' Airs. It was a Modest Midwestern Mansion, if you know the type–so immediately Old Money Omaha in its denial of affluence and lack of showiness. It was wrinkled and had just the right amount of mess. The rustic style was there off-handedly. Unpretentious but self-possessed. All the while with her back turned to Elmwood Tower as if she had better things to do. I imagined that the house had been built long ago and probably had many more acres around it originally. I figured it had predated Elmwood Tower and that possibly it had been one huge property at some time. The entrance had two large supporting columns with a wrought iron gate. That all made sense. But it was attached to a common, chain link fence surrounding the perimeter of the estate. There must have been a more dignified fence at one time, I wondered. I immediately thought of that once gorgeous house on the north west corner of 52nd and Dodge. You know the one. The old Black's estate. It famously had the best fence in Omaha. One of its more recent owners was rumored to have stripped out the original black and gold fence and took it with them to their new west O home when they moved–forever leaving the rest of us sitting at the red light while viewing that sad, wooden, spiked replacement. But let me get back on track. Had the owners of 5120 let their home go to ruin? Was it abandoned? Did I just see someone in the window or were they sailing back east? My mind raced and I just had to go inside but the high gates were locked. They would remain locked pretty consistently for the next nine years.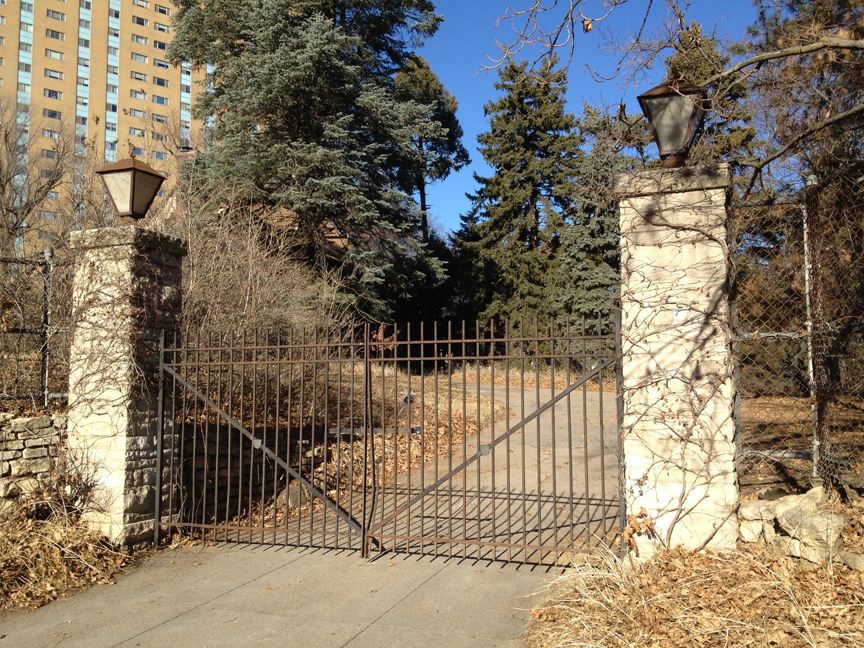 Entrance to the estate, Elmwood Tower looming in the background. This is how the gate looked every time we lurked past. I took this photo back in 2011.
Western facing, backside of the home.
Steady Obsession
Mr. Cassette and I would continue to walk by Mayberry for the many years to follow, always pausing to look through the fence at 5120. "Man, the gardening I'd do," Mr. Cassette would say and I would exclaim dreamily about what I'd do to that fabulous house. 2.07 acres of land and 3,776 sq ft of mansion. Everyone wins. I had already found it's owner on the county assessor site: Paul F. McGill. I knew he was married to Kate. I had found out his children's names and that one of his kids was in the storage business. I knew that Mr. McGill spent most of the year in California and that previously he had been quite a real estate developer in town. He had been the president of Sunset Realty as well as run Western Hill Plaza Partnership out of 5120. He owned many real estate properties as well as had owned and created Omaha's beloved Dubliner Pub, Dingle Bay Oyster Bar and a favorite of ours, the Brass Grille, all in the Old Market. Around this time, I had befriended a realtor who shared a lot of this information with me. Together, the realtor and I began to discuss how to write a dream letter to Mr. McGill. I wanted to let him know how much I was in love with his estate and wanted to ask if he would ever consider selling it. Really silly, I know and definitely out of the Cassette Price Range. It was naive of me. But by now I'm sure you're beginning to see how I can obsess. I never wrote that letter but I did tuck away all of Paul F. McGill's information for a later date.
Mayberry Street, looking east.
Heartbreaking News
Many years later, this last fall of 2015 to be exact, I heard a rumor about Bluestone Development working on a new project in the midtown area. Bluestone is known for rehabbing a number of properties downtown, created the Soma homes, Little Italy Row Houses and is known for having built new, loft-type warehouse spaces that the city really seems to like. The talk was that Chris Christensen, Bluestone and Alley Poyner Macchietto were planning to develop a large apartment complex "behind Three Happiness." I thought, "Oh that's cool…with UNO so close." Soon after, I would learn that the near 200 unit apartment complex was slated for my beloved 5120 Mayberry Street address, along with 5110 Mayberry (Mr. McGill had already acquired this years ago), 836 S. 51 St and 812 S. 51 St. These properties, I had imagined were all part of that original estate. In recent decades they all were fenced and divided but looked like they shared this large, rambling, tree-filled oasis. I quickly went on the county assessor in disbelief and, strangely, all previous traces of Paul McGill were gone. There wasn't a breadcrumb of a sale or any tax history. Normally they will list all the particulars of recent sales. Poof. The new owner was listed as Mayberry 51 LLC c/o Chris Christensen. This is where the mystery began for me.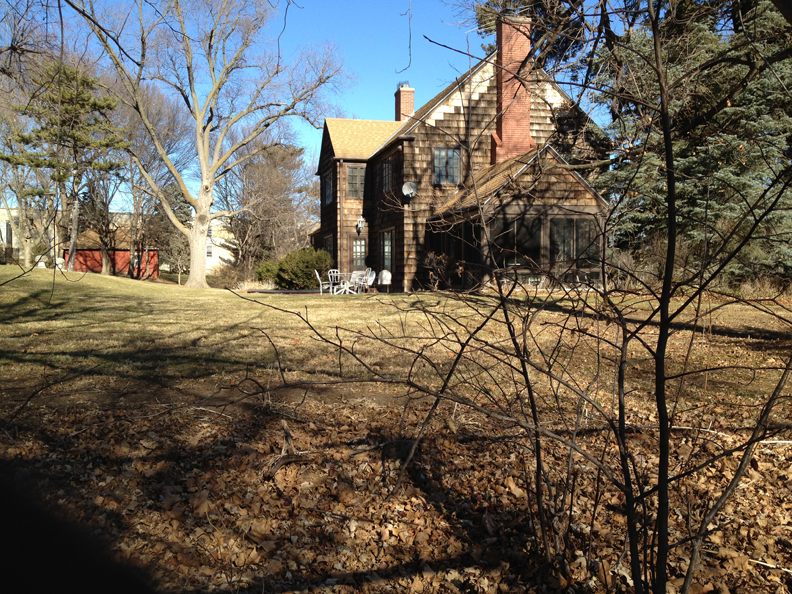 The southern side of my obsession. I took this photo back in 2011 when I was out gumshoeing about.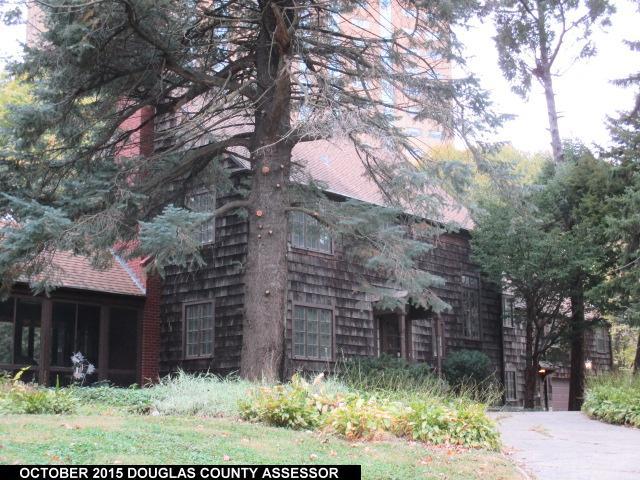 More Questions
Understandably, the neighborhood was shaken with the news. After interviewing a number of the Mayberry neighbors, I learned that there had been mysterious happenings on the short block for some time. I cannot be sure of this information, as it is hearsay. It is interesting that all their stories match one another. A number of the long-time neighbors said they had seen the multi-complex development coming for a while. According to them, they thought that Mr. McGill had wanted to buy surrounding properties (5110 Mayberry, 836 S. 51 St and 812 S. 51 St.) with just this future development in mind. Don Gill had owned a corner lot with a small house at 836 S. 51 St (now part of the Mayberry LLC parcel) and apparently had been approached to sell a number of times in the decades of his ownership.
Plastic fenced off area where Mr. Gill's house had been, previous to razing. Corner of 51st and Mayberry.
Mr. Gill had always refused the offers of Mr. McGill, in fact it was reported that he wanted to donate his house to his old high school. Gill rented 836 to tenants who wanted to buy it themselves, because of Gill's beautiful plantings of trees and flowers. A lover of birds, he had instilled in his tenants his appreciation of nature, for which this large wooded area was a haven. It is the perception of the neighbors that when Mr. Gill became ill, he was moved out of the state so that his family could sell his property to Mr. McGill without further issue. Don Gill died about two years ago and his tenants at 836 were asked to move out shortly after. 836 S. 51 St was torn down last year after being sold to either Paul McGill or Chris Christensen by way of Mayberry 51 LLC.
Portion of Lanphier's property, facing west.
Mayberry neighbors also reported that they thought it was odd when their collective property values dropped a few years ago–later to learn that 5120 and surrounding acres had been designated as blighted. In their current belief, this area was blighted for the purpose of commercial redevelopment and was part of the already-in-motion plan. That also explained to them why someone had let 5120 fall into apparent disrepair over the years even though the McGill's had plenty of money. No one knew about the sale of 5120 Mayberry. It happened very quietly and very quickly. The neighbors first formally heard about the plans to develop a large apartment complex at the same time as the rest of Omaha, although some had suspected. They are concerned about overbuilding the area and that the tiny, congested, Elmwood neighborhood street can't support the increase in traffic. As I mentioned earlier, this short strip of Mayberry is off the path, has two serious turns and in it's current state takes some maneuvering  when two cars are coming down the road. Please see Chris Burbach's OWH article for more details: http://www.omaha.com/news/metro/omaha-planning-board-approves-plan-for-apartments-at-st-and/article_39dc5a58-18d1-552a-b97c-55220339a8a5.html. There is a rumor that Three Happiness and connecting strip mall will be removed to try to make room for the increase of traffic onto Leavenworth Street. Currently the neighbors say that 5120 has a renter staying on the property in a short term eight month lease, who is bound to a legal gag order regarding the estate.
There are a number of plastic fences around small groupings of trees that apparently will be saved for the new development.
The Lanphier home at 812 S. 51 St was the last parcel acquired by Mayberry 51. Apparently the owners had just moved out this Saturday. They are rumored to have held out against this development and received a good amount of money when they finally surrendered. This spacious, white, ranch with its sprawling property, is directly south of Three Happiness. It is expected to be razed in the next couple of months.
Although I love older homes and buildings, I understand that urban development sometimes means adaptation. I can understand why Bluestone wants to cram these apartments into a tiny neighborhood with no thoroughfare. No, really…I do get it. It's about money. I've got a pit in my stomach for the ol' girl at 5120, but I can, hopefully accept it.  This much space in the middle of Midtown is a luxury and an opportunity, for some. Ultimately I do have high hopes for this project. The below design was created by Alley-Poyner Macchietto/Bluestone Development for their February 3, 2016 planning board meeting.
Part Two: Looking Back
Out of my love for 5120 Mayberry, I thought I would share my historical findings for one of my absolute favorite homes in Omaha. I know you must be thoroughly exhausted by now but here we go for Round Two. Although 5120 Mayberry is listed as being built in 1939, I did not find this to be true. It also was not listed in the city directory by 1940. The below building permit was entered in the Evening World Herald in December 9, 1940 by J. M. Harding.
J.M. Harding was the secretary and treasurer of Harding Cream Company, later to become Harding's Sealtest Ice Cream. Sealtest Dairy, a brand later acquired by Kraft, was a premier dairy company in its day, with plants across the Midwest and northeastern states. They were known for their milk, ice cream, cream and, oddly, lemonade. Imagine being born  into big ice cream money.
(Photo courtesy of the Bostwick-Frohardt/KM3TV Photography Collection at The Durham Museum Photo Archive.)
But J.M. Harding and his wife already lived at 825 S. 52nd St, directly west of 5120 Mayberry. This 825 address is now gone but I believe it is part of what the Elmwood Tower property would become. This four acres of Elmwood Tower (originally built in 1963 as the Masonic Manor) and the two acres of 5120 Mayberry (directly east of it) was the Harding Family Compound. West bound by 52nd St, North bound on Leavenworth, East most side on 51st St and South boundary of Mayberry St. 1942 finds the whole family gathered at the original 825 S. 52nd St address. J.M. and wife are seated, with children, spouses and grandchildren surrounding them.
(Photo courtesy of the Bostwick-Frohardt/KM3TV Photography Collection at The Durham Museum Photo Archive.)
As it turns out, 5120 Mayberry was built for their daughter, Mary, newly married to Lawrence Brinker. The 1941 city directory lists Lawrence Brinker as owner of the brand new 5120 Mayberry Street. Mr. Brinker had started Lawrence Brinker & Company in 1927, working in investment securities at the First National Bank building at 16th and Farnam.  He apparently was quite a bit older than Mary. It would appear that they never had children. Lawrence died on October 15, 1951. He was buried in Holy Sepulchre Cemetary right across the way on Leavenworth St. August of 1954 found Mary advertising for a live in white girl for cooking and cleaning. I found a couple such ads placed by her over the years. Also in 1974 there is an addition of  Mr. Edward Gaber to the address which seemed very mysterious for that time. I wasn't sure if Mary had taken in a renter.
On June 13, 1978 there was a terrible tragedy at the estate. According to this clipping there was at one time a pool on the property. This was oddly thrilling to me (not the drowning). In all the years of peeping through the fence, I had thought it looked like there was or had been a swimming pool in the back yard. There is a flatness to the ground and the way the backyard is configured lent itself to a pool. So there was a pool and by the sounds of it, Mary shared it with another couple on the next block over, by her parent's original home. Also note that Mr. Edward Gaber, chauffeur, found the drowned boy. So that explained the man's name listed in the city directory. Of course Mary wasn't taking in a renter. Of course she would have had help living in that large home all alone.
Mary Harding Brinker died in September 1977. She must have had so many gorgeous things in 5120 Mayberry. I can only imagine the treasures she acquired. This ad from November 13, 1977 is the first of a couple of notices I found for her estate sale.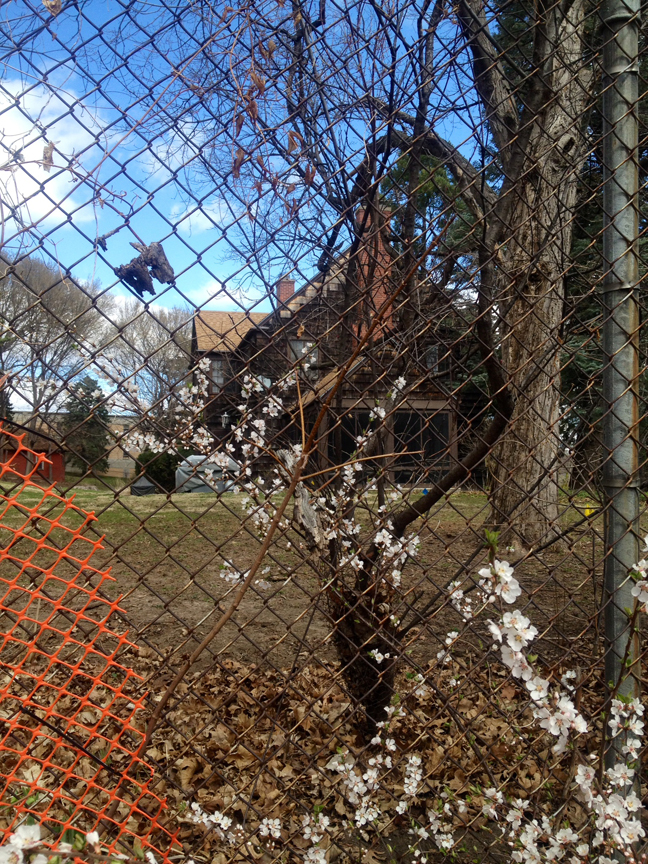 South side of the house.
1978 is the first time Paul F. McGill enters the city directory under 5120 Mayberry. He and wife Kate and their children would live there until a late 80's move to California. The couple continued to own the home and when they would return throughout the year, neighbors would report seeing Kate tending her plants and flowers. I am sure 5120 Mayberry welcomed their return. I do find it touching that only two families lived in this property in all of those years. I would like to leave you with this last picture. I encourage you to go by this great, old house. I, for one, hope to get behind that fence with Mr. Cassette and walk amongst those glorious trees before they cut them all down and say hello to that beautiful dream girl house crush up close and personal.
5120 Mayberry Street Look Book
This article now has a followup story. Please see Mysteries of Omaha: 5120 Mayberry Street Part Two.
I would love to hear your comments and memories about this great part of town. Please be compassionate in your support to the neighbors. Click the title header to enable comments. Thank you, Omaha friends.
© Miss Cassette and myomahaobsession, 2016. Unauthorized use and/or duplication of this material without express and written permission from this site's author and/or owner is strictly prohibited. Excerpts and links may be used, provided that full and clear credit is given to Miss Cassette and myomahaobsession with appropriate and specific direction to the original content.