In high school I thought it peculiar that Omaha's Park Avenue, perceivably a street of once high standing, was so far removed from its namesake. I had assumed it aspired to New York City's Park Avenue. Our Park Avenue ran north-south (still does), a short fourteen blocks from Ed Creighton Avenue on the southern border of Hanscom Park to its northern conclusion at Dodge. The rumored drug busts and overall seediness of little Park Ave., at least in junior and high school days, made it all the more interesting to teenagers—not that we were peddling by on a vintage tandem with our parasols but certainly worth a slow drive-through now and again to see what we could make out. Now I recognize that many of my observations are no longer true, owing to the passage of decades and the Park Avenue pendulum is now swinging in an upward movement. It was a lifetime ago and we were still in adolescence. We knew an older someone who lived in one of the historic corner, brick apartment buildings at Jackson and Park Avenue, and if his colorful exploits weren't enough, our parents' evening news warned of the decrepitude. More than its well-publicized disgrace, what really held my attention was the emotional palette of the area–the intriguing architectural mash-up of historic structures, their dense, tightly woven placement, a wide promenade of a street, slimmed down to one-way in portions and the chance to mingle with real people, as varied and adorned as the built environment. It was clearly not my Benson and I loved every small distraction. I was a self-proclaimed artist and there was a stirring sadness and grit in the frayed inverse of Park Avenue–the strange and murky backwards of New York's iconic Waldorf-Astoria and their million dollar apartments that I was drawn to. I certainly wasn't looking for Dark Blue Property Sets in those days but I was touched by the impression that Omaha's Park Avenue had detectably seen tremendous social and economic changes. Who had ever seen so many Queen Anne and Romanesque towers, corbels and dentils, those detailed brick patterns and fish-scale shingles? Not I! Those charming duplexes, row houses, occasional brick streets, proud, formal apartment buildings, such prominent, historic places of worship, and mammoth single-family homes, many long ago cut-up into teetering apartment rentals, informed that this stretch was once a nobby drive.
Investigation at a Glance: Park Avenue's revitalization is but a pendulum's swing through time dating back to the 1880s. Prominent, disdained, ignored, adored and forever functional, the incredible, architecturally strong, long lived Park Avenue neighborhood has been able to absorb anything that comes along. This is a brief, personal remembrance from the mid 80s punk years. The 1980s, that is. With love.
Just a sliver of the sampling of Park Avenue Beauties. I included historic photos where I could. Click on each image for more details.
I am not exactly sure what it was about Park Avenue, other than its beautiful, forlorn buildings, affordable rents, proximity to downtown and the interstate, but there was plenty of action along this corridor in the seventies and eighties and most of it, by mainstream Omaha's standards, was up to no good. Seemingly an eye-opening quarter of sex workers, drug activity, disordering conduct, theft, graffiti, public drunkenness, knife fights and other fits of violence, I observed a concentration of artists, single mothers with kids, gay men, fancy ladies in pantyhose, punk rock kids and groups of single, old-age pensioners, as they were called then. I now know the neighborhood was a diverse medley, not unlike any once glorious, abandoned, older neighborhood in any city. And by abandoned, I mean evacuated for newer, higher ground with more breathing room–further out west. Yes, as my girlfriend Laura, who lived on Park Avenue remembered, there was an element of danger lingering about, but this close quarters awareness never bothered us in those days. Privacy was not one of Park Avenue's mysterious qualities.
I didn't know it back then, but Park Avenue was once the western most fringe of Omaha. With upscale Hanscom Park and the Hanscom Place neighborhood on the southern end to the massive homes of Redicks addition on the northern side, I would soon learn that 1880's Park Avenue was an ideal development of its day. When questioned where one lived, owners and tenants surely exulted, "Park Avenue" with every bit the same flourish as a Park Avenue New Yorker. Its high-density mix of well-designed multi-family dwellings alongside mansions on the early streetcar line connected workers to downtown Omaha and likewise transported the rest of Omaha up to tranquil Hanscom Park. Some might say the neighborhood was in decline by the time a number of the large, older homes were torn down for the Housing Authority high-rise apartments in the mid-60s on the southeast corner of Park Avenue and Woolworth, bordering Hanscom Park. Some might suspicion it was the hundreds of homes and businesses razed for the clearing of Interstate 480 (Gerald Ford Freeway) along the eastern swath of 29th Street in the late 1950s-early 1960s that served to fracture Park Avenue from the city. Or was it a series of scandalous nightclubs that settled into the surroundings in the same period? Perhaps someone here could shed light on the Park Avenue district in the 1960s and 70s, for I believe the bad press stigma settled in that period.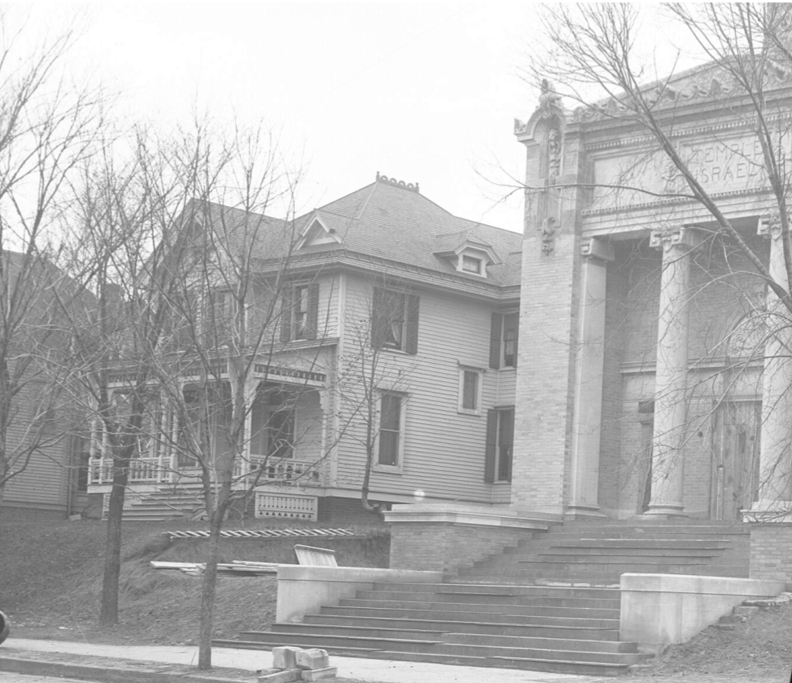 The original Temple Israel Synagogue is now home to St. John the Baptist Greek Orthodox Church, 602 Park Avenue. The two large homes seen to the south are non-extant but a good vision of what once lined Park Avenue. Creator: Bostwick, Louis (1868-1943) and Frohardt, Homer (1885-1972). Publisher: The Durham Museum. Date: 1908.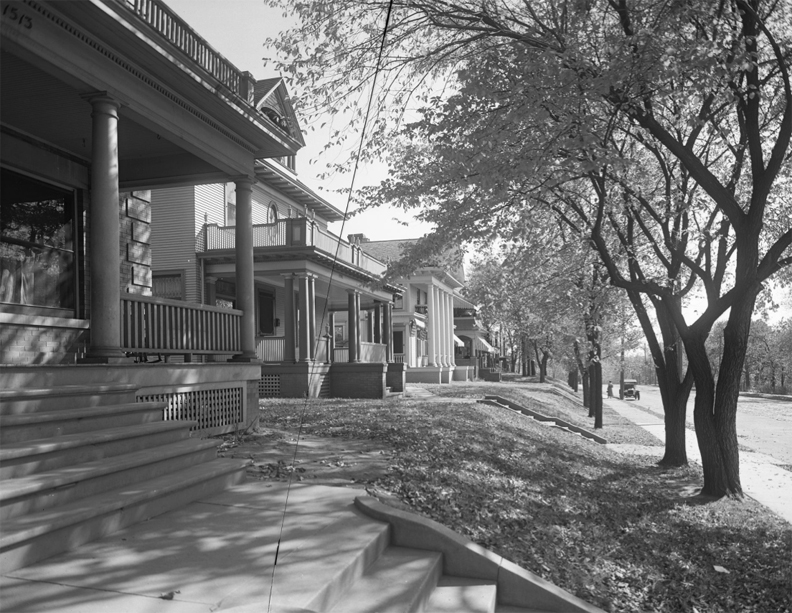 Historic photo of 1513 Park Avenue, east side of the street, facing Hanscom Park. The Real Lovelies. Creator: Frohardt, Homer (1885-1972). Publisher: The Durham Museum. Date: 1918. Non- extant–I believe torn down for the Park North Tower at 1501 Park Avenue and Park South Tower at 1601 Park Avenue.
By the time we were old enough to leave home in the mid to late 80s, some in our circle secured flats along Park Avenue and its side streets, to include parallel South 29th Street. Cycles of us concerted unofficial leases at the Georgia Row House at 1040 South 29th, although then called The Castle. These swift moves in the night suited our collective impulsive nature, our thrift store- wooden fruit-crate decor and creative economic arrangement. Where else in this town could we find functional, well proportioned apartments from the Gilded Age, Edwardian and Jazz Ages, as well as postwar styles within a few blocks? (I am happy to say  most of the buildings of Park Ave and surrounding areas are still going strong!) The forsakenness of the surroundings only seemed to fuel our independence of spirit. We may have missed the Park Avenue glory years, but this was our time to live stylishly on a shoestring with bedroom fireplaces and secret closets the size of servants' quarters. To know that some lonely, memorable character of the 1920s had stretched out or sighed loudly in the very room you occupied. Divine! Like a revival, I felt fortunate to cinch my first apartment in such a darkly, haunting building as The Castle, on the predictable edge of uncertainty, encircled by my chosen lot of the punk scene and strangers alike. (I know I've been saying this for five years, but I really do have an investigation solely on my beloved Georgia Row House.) This strange intermixing of neighbors and wanderers all treaded along the familiar sidewalks, struggled to parallel park boats for cars (if we had them to park), or ducked down alleys or between buildings to use the precarious, outdoor, backstairs. These practical alleys also supplied a good alternative route for avoiding the neighborhood "Scary Larrys," a saying I stole from my dear girlfriend, Jude.
If you click on each image, you can enlarge and read the details.
At certain hours there were apparent meetings called in the front of lawns. I was never privy to these clubs but some elderly tenants of Park Ave, as we called it, customarily sat out on folding lawn chairs, having a cigarette or a can of beer in their assigned, flat, postage stamp plots. There were the occasional younger, wilder ones milling about in these informal garden parties under trees or in entry ways. Theirs was a strong leisurely community. This was back when men of a certain age wore the clothing of their distinct time and place, classically vintage from the 1950s to early 60s, or so it appeared. In memory they all seemed tucked in or donning a brimmed hat–not the vague, sporty, fast fashion of today. It emerged that public intoxication, in all forms of its clumsy glory, was a natural, consistent event on Park Avenue. To my 19-year-old eyes, I was passing kings and princes. The older fellows also made for the hideaway of the tiny but fascinating Park Avenue Bar on the triangle of St. Mary's and Leavenworth (3011 St. Mary's.) Through all of The Regulars' set activities, the street wayfarers moseyed along, the big talkers worked out their acts, whether evangelists or hinky promoters, and a series of somewhat complicated one-way streets served to ensnare the occasional lookey-louer. I smile to think of this peculiar, architecturally strong neighborhood, able to absorb anything that came along.
These are the three buildings that I specifically remember the socializing and courtyard antics. There were probably many more but these were standouts. If you click on each image, you can enlarge and read the details.
I've probably mentioned before about walking up from The Castle and having to wait at the bus stop in front of the Walking Cane Club at 2909-2913 Leavenworth (years later revived as Sheri's Nite Club). Fred's Friendly 66 Service at 2901 Leavenworth always had a smile and offered a paternal sense of an anchor as I reached my bus stop. There I would endure the hoots and hollers of lonely passersby on those mornings. I had assumed the Cane was some kind of country western bar by the patronage and always loved the vintage neon walking cane cleverly in motion but maybe it was transitioning to a strip club by then? I learned quickly not to wear my micro minis with tights or any form of leopard print while positioned under that marquee. Unbeknownst to me, a My Omaha Obsession friend, Jay Rosen, worked right next door at Kohll's Pharmacy at Park Ave and Leavenworth, delivering prescriptions years earlier. This was a drugstore we would commonly walk to at night for sodas and snacks. Although Jay was there most nights doing deliveries and restocking beer, I missed a chance encounter with him as he already moved to California by 1984. Jay recalled "a neighborhood patina and a lot of alcohol sales" in the Park Ave district but that he didn't feel unsafe with the local proceedings. The Walking Cane Club building is now gone, as is the western most portion of the Kohll's building. At least I remember Kohll's being more on the corner of Park Avenue and Leavenworth? This empty lot now serves as parking but I think their proper drug store extended back then.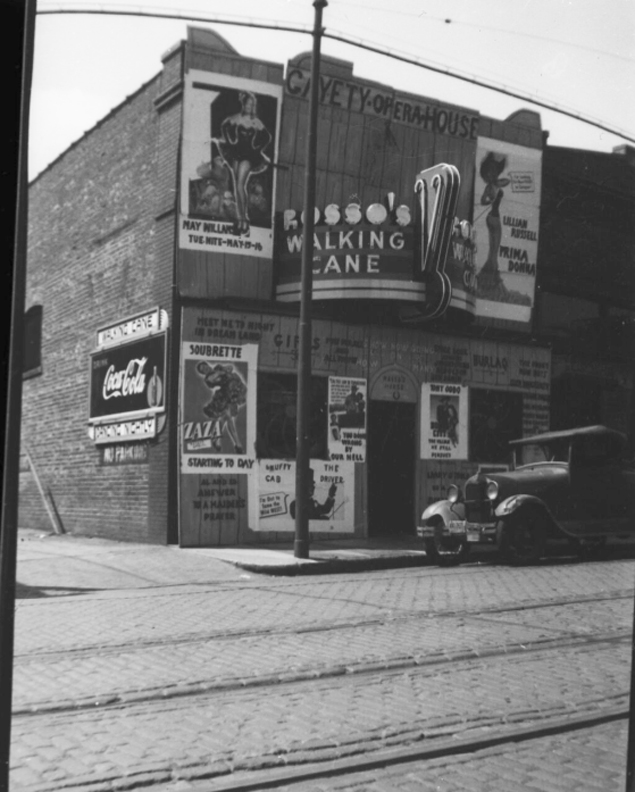 Rosso's Walking Cane Tavern at 2913 Leavenworth Street in its early years. Creator: Bostwick, Louis (1868-1943) and Frohardt, Homer (1885-1972). Publisher: The Durham Museum. Date: 1939.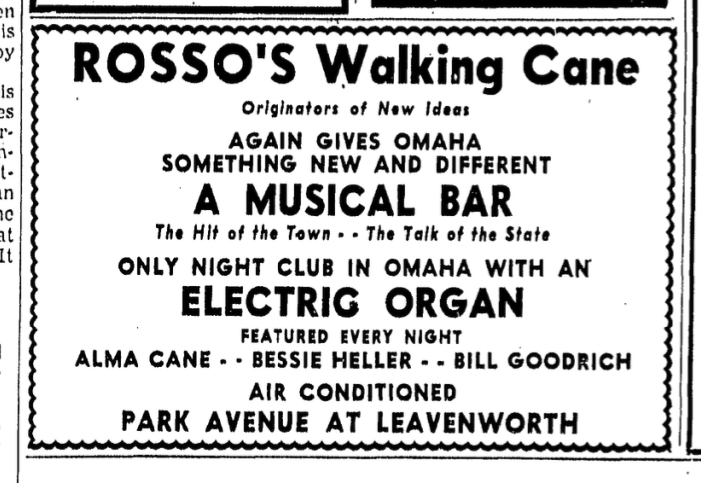 An early Walking Cane advertisement. "Only night club in Omaha with an electric organ." 1940. OWH.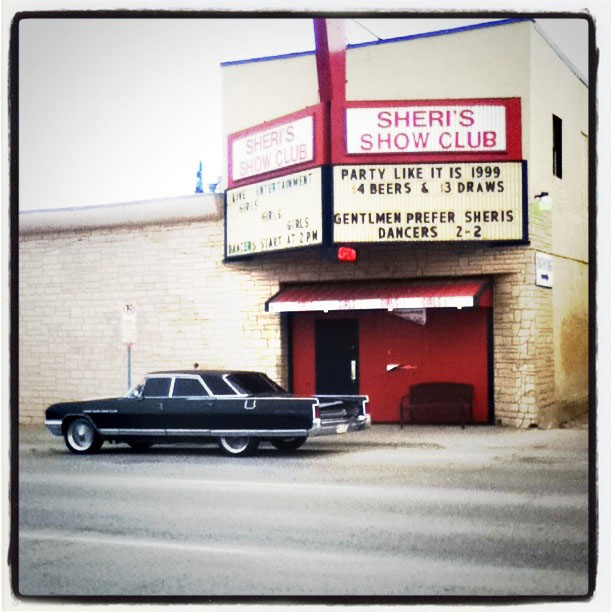 I did not take this incredible photo and would love to credit whoever did. This is how I remember the Walking Cane building looking back in 1987. You can see an addition to the eastern portion with a MCM stone facade. The neon walking cane sign was still functional—removed during the Sheri's Show Club days. Love It.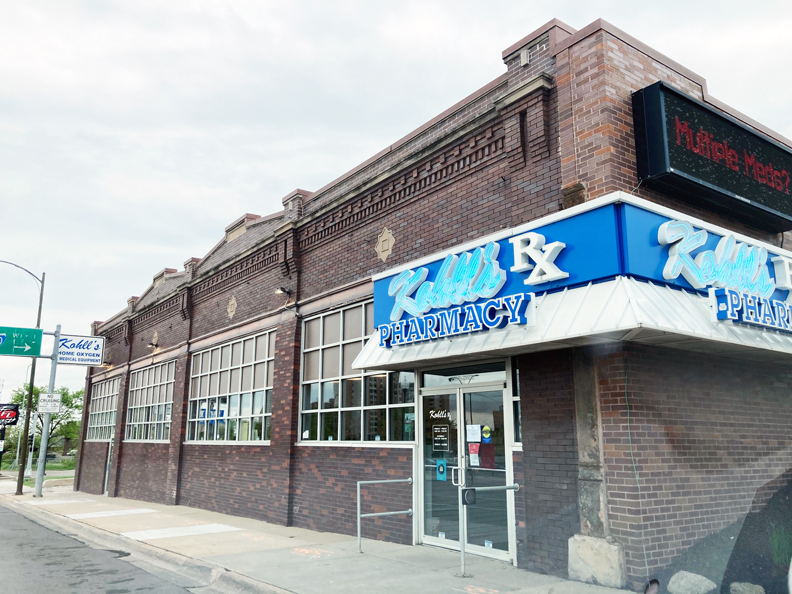 How the 1948 Kohll's Pharmacy stacks up today. Same cool building at 2915 Leavenworth (Leavenworth and Park Ave.) but with newer signage. Does anyone else remember the thrift store one door to the east of Kohll's, same building? As I wrote earlier, I think the Kohll's front door was one bay to the west, subsequently razed for more parking.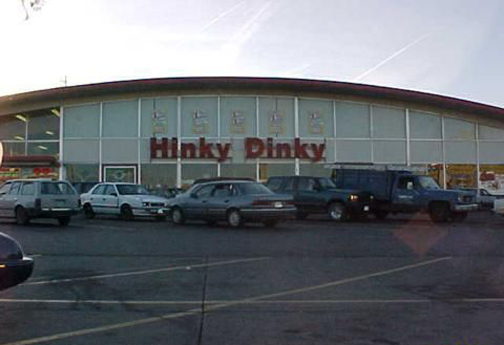 Jay's casual perception of the neighborhood was exactly how we punks viewed it and all of these locales were conveniently reached on foot at any time of day without much concern. The old Safeway Supermarket, built in the early 1960s, across the street from the Walking Cane, at 2900 Leavenworth (now a Supermercado Nuestra Familia) is where we purchased our groceries–although I think it was a Shaver's Food Mart back then. I had to look that one up, actually. The linoleum floor covered with cart-pressed lettuce and produce made a lasting impression as well as the tile mosaic out front. It would later become a Food Basket and by 1988 transition to Hinky Dinky. I didn't live in town in those days. Hinky Dinky had sold by 2000.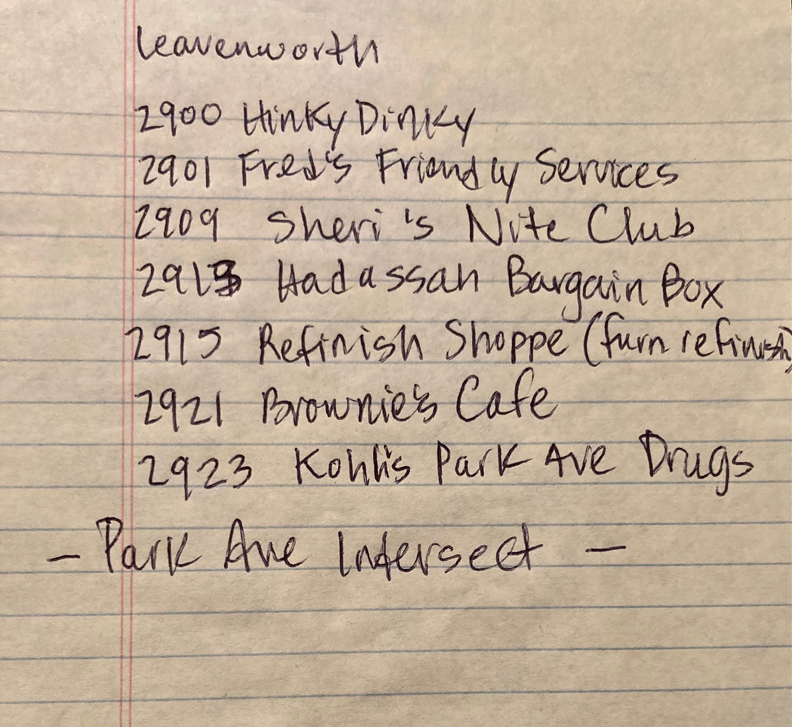 *Addendum of August 29, 2021. I just found this list in my Leavenworth file from 2017. Lord. I must have gone down to the library and looked up the Omaha City Directory from 1988.
My girlfriend, Diana rented at Park Avenue and Pacific along with her roomie friend. They lived in the gorgeous Normandie Apartments at 1102 Park Avenue. Diana fondly remembered the biker bar across the street from the Normandie. The girls would customarily "sit out on the roof and watch the bar fights." Now doesn't that sound like a good time? I was able to do a little digging and find that this neighborhood bar was none other than Andy's Ark at 1101 Park Avenue. Still standing, although now appears to be a residence. Andy's Ark Tavern was named for Andy Laux, who had owned this bar for 38 years, until his death from cancer in 1971. A Park Avenue neighborhood bar for 38 years! Imagine the history book Mr. Laux had been. RIP. From my search Andy's Ark began having some problems in the late 70s, in the form of bar fights and, congruent with the times, occasional stabbings. But Andy's Ark remained a thriving business and lively community throughout our time of living around Park Avenue—only later transitioning to Haecke's Ark. Diana reminisced about one afternoon in the winter. "It had snowed a ton and my car got stuck in the front of the building. Three guys came over from the bar and pushed me out!!" Thank You Andy's Ark Daytime Patrons, wherever you roam.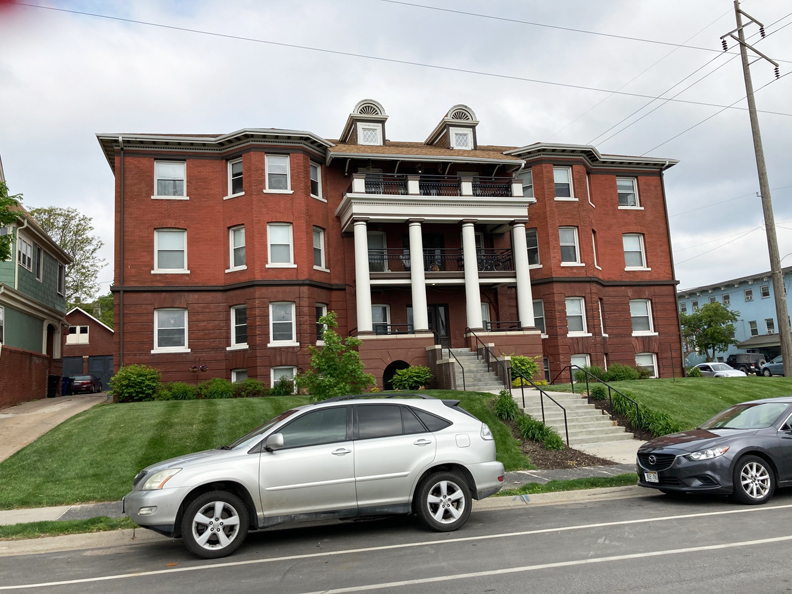 The beautiful Normandie, as she appears today. 1102 Park Avenue. Years later I would go to tour an open "garden level" apartment within but unfortunately it was nothing like Diana's. I was so young–I didn't know that meant the dank studio basement.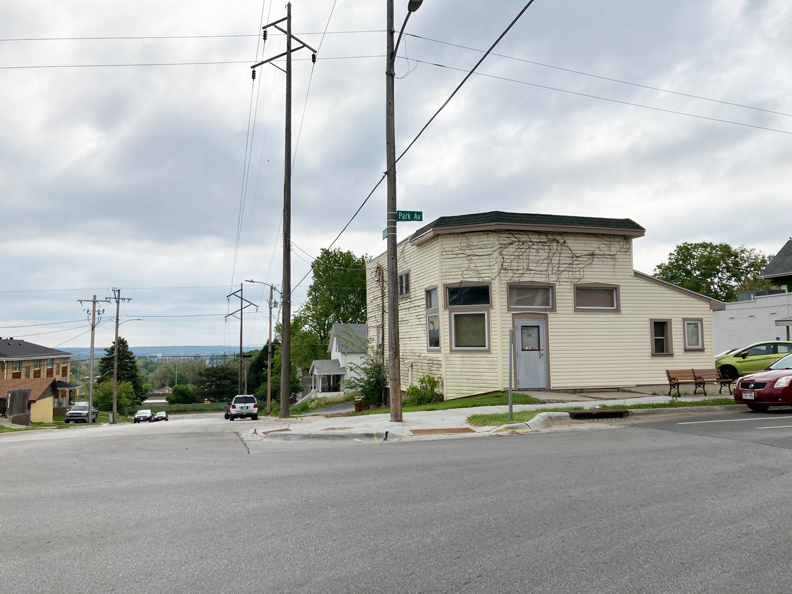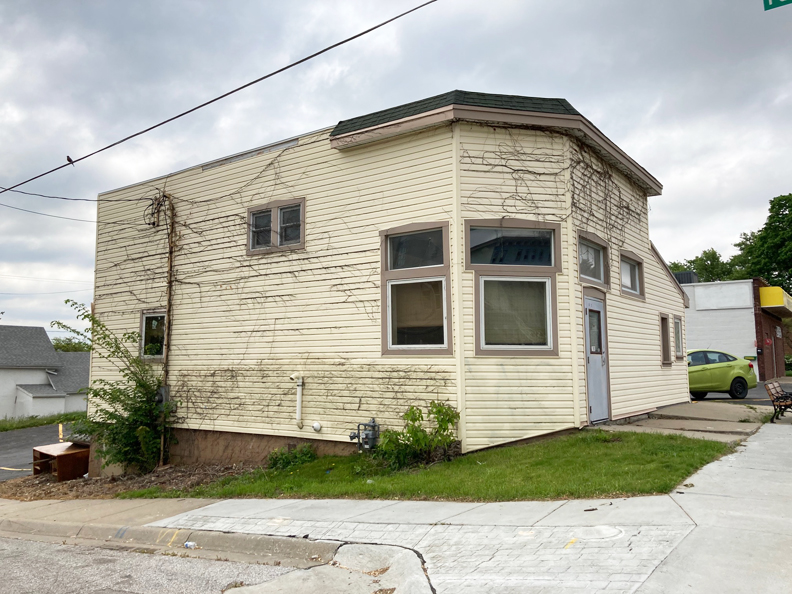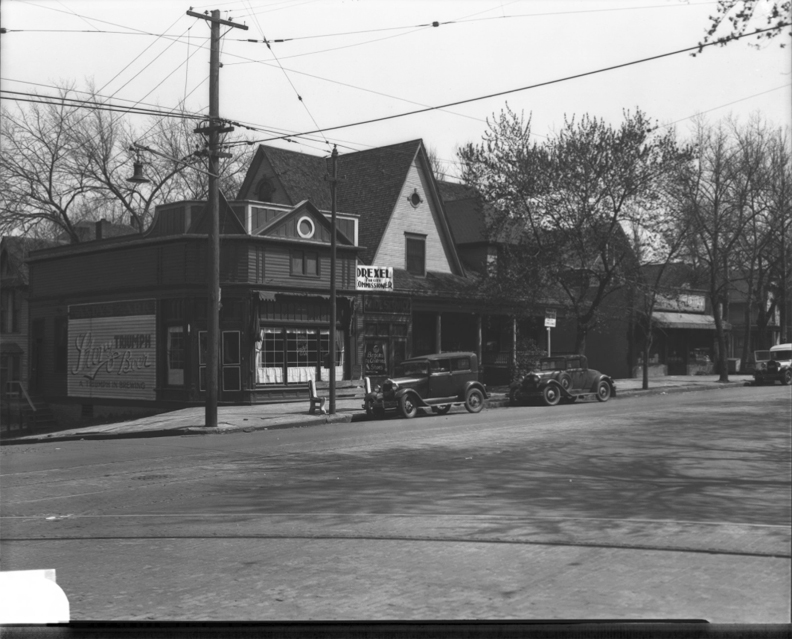 How the old Andy's Ark, at 1101 Park Avenue, (southeast corner of Park Avenue and Pacific) looks today. I believe it is someone's home or office. Goodness Gracious. Who knows what all has transpired between these hearty walls? The last image is the yummy one: Historic Andy's Ark & Shoe Service on the corner of Park Ave and Pacific Street. Creator: Bostwick, Louis (1868-1943) and Frohardt, Homer (1885-1972). Publisher: The Durham Museum. Date: 1936.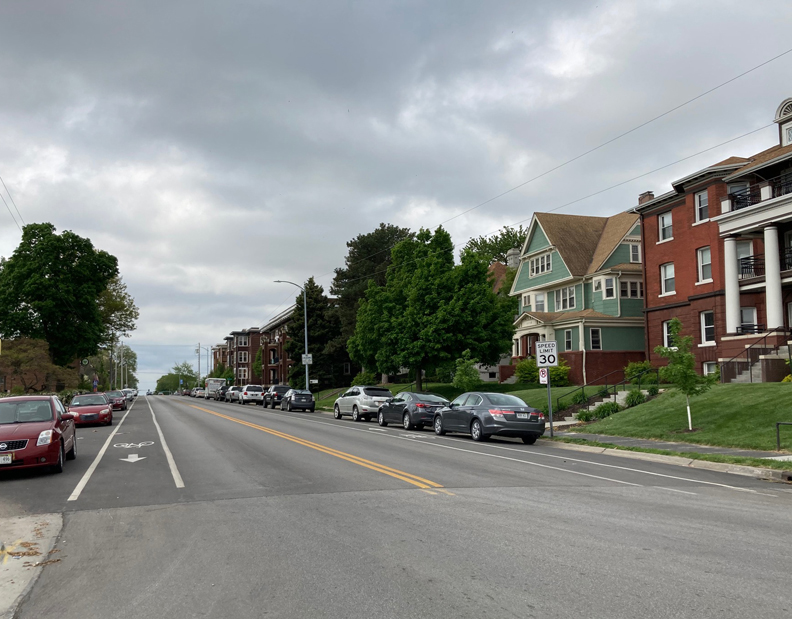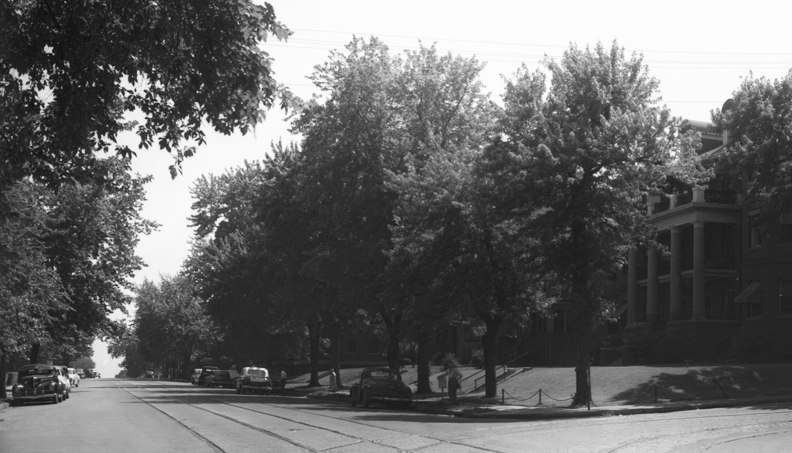 Looking south on Park Avenue from Pacific Street. Current 2021 and historic 1951 views. Normandie Apartments seen on the far right, with many great homes down the lane. Black and white depicts the streetcar tracks at Park Avenue and Pacific Street. The Normandie is enshrouded by trees. My father has assured me that every street was lined with trees back in the fifties. Creator: Bostwick, Louis (1868-1943) and Frohardt, Homer (1885-1972). Publisher: The Durham Museum. Date: 1951.
I now wonder if Park Avenue was simply named because it edged Hanscom Park, rather than a yearning for Manhattan's Park Avenue? H. Ben Brick's splendid contribution, The Streets of Omaha: Their Origins and Changes, offered that Park Avenue was long ago "officially changed to 29th Street, but due to popularity, retained its original name." As a side note and only shared to deliciously complicate matters, 29th Street was once called Georgia Avenue, hence naming of the Georgia Row House. It was assigned in honor of Georgia Hanscom, daughter of Andrew Jackson Hanscom, who would later donate the 72 acres that became, you guessed it, Hanscom Park. It is interesting that 29th extends both north and south throughout Omaha but maintains the Park Avenue name in this distinct area.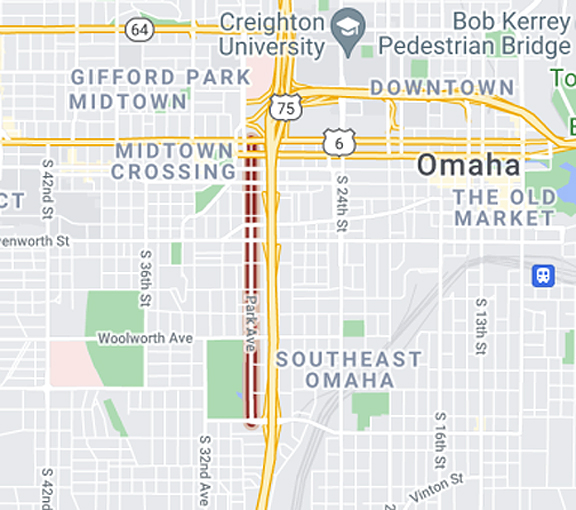 The long past, short-run of perfectly mysterious Park Avenue. Image borrowed from Google Maps.
Years Later
There used to be a large pale building on the southeast corner of Park Avenue and Dewey Avenue that I never particularly noticed but evidently viewed as backdrop to a larger, more colorful stage. Many of you will know exactly what I mean when I say this building was once home to Doctors Hospital. I had long since moved from the Park Avenue area and I cannot claim that I knew of the building's history when I read of an apartment opening up in the early 1990s. (For those chomping at the bit, the structure is gone now and since replaced with SPACES, a titanic apartment complex.) But back then, the advertisement promised a rentee a health club membership, complete with indoor pool privileges. The Park Avenue Health Club and Apartments, it was called, at 501 Park Ave. It all sounded so prestigious, but knowing it was on Park Avenue made we wonder what kind of tricks it might have up its sleeve. I secured an appointment for a tour and when I arrived, the rental manager introduced me to a strange environ, the likes of which I had never seen before or since.

Old Park Ave advertisement found in the Omaha directory. "Luxury apartments and full service athletic club." One can see how I was enticed by this marketing.
If you have gathered with us for a while you must know by now that I worship anything old–architecture with a history and soul. I embrace the peculiar. I have only ever lived in older buildings and I used to sign new leases every year so that I could experience all that Omaha had to offer by way of original tile and woodwork and plaster. I was accepting of many different styles, as long as they were from the 1940s back and I now know, I must have been drawn to the very flaws that others had seen as un-livable. I only offer this up so that you don't assume I went charging into the old hospital building expecting a Regency Lakeside hi-rise. But I'm with friends and most of you already get this adoration of the past. When I arrived at the Park Avenue Apartments I was giddy to enter the building, because of its age and institutional-like formality. I do not remember the manager explaining its history but he must have mentioned it, right?
The first thing that comes to memory, as I think of it all of these years later, was the overpowering smell of chlorine and mildew—of musty wetness all around. Today I might have inquired about the odor but back then I was sweet and quiet and wouldn't have known how to approach the unexpungeable stench. I recall we walked the hallways of what felt like an institution, an institution filled with all older, single males, superficially wandering or keying into doorways and briskly ducking inside. I felt so very uncomfortable in those halls. There was something terribly off. It seemed even the manager felt ill at ease with the proceedings and the inhabitants. The indoor swimming pool, from another time altogether, seemed to be centered lowly within the wings and offshoot halls, to recollection. I might be wrong on that account. A lifelong swimmer, the water and surrounding walls of this pool room did not give respite or call to me. In fact, I felt panicked and smothered in that large but shrinking room. This has always bothered me. Perhaps the ventilation was poor, I thought. Although I remember parts of the building being very interesting, the apartment offered me was on a lower level, in memory, and there were far too many things that felt trapped about the place. I slipped away quickly and continued my apartment search elsewhere.
Years later I would find out two of my friends had similar eerie, if not downright disturbing, experiences within this building. I will share those later in our investigation but while we are here…I am wondering if any of you lived at or found your way to the Park Avenue Health Club Apartments? Please email me your memories. We can keep your name anonymous, if that suits you.
Boys and girls, I realize I have really gone off coarse of our hospital investigation but this has been such a great trip down Park Avenue memory lane for me. Inspired by the festivities, I got out the Birthday Party and Gun Club records and really let myself dream of 1987. When we meet again, I will share my formal study and all research on the hospital at Park and Dewey Avenues…in our next chapter of Park Avenue and the Mysterious Hospital.
Long a Park Avenue devotee, a chance encounter with the Park Ave Health Club and Apartments in the early 1990s spurred my hunt to unravel the unusual origins of this strange building. Readers are given exclusive entry to the privately run Nicholas Senn Hospital. Follow along the twisting path to meet its founders and the story behind their Field Club mansion, a mysterious death, the mermaid nurses and daughters, the Doctors Hospital, lingering spirits, memories and Omaha lore.
This investigation now has a follow-up story. Follow this link for more: The Case of Park Avenue and the Mysterious Hospital.
I welcome your feedback and contributions to this Park Avenue investigation. Feel free to share thoughts and clues in "Comments." I welcome you to poke around with your flashlight. Investigate. Hide in the shrubbery. Look under these rocks and down those alleyways. I am more than pleased to have you tiptoe about. By the time you head for home, I hope you have been fully Sherlocked and Satiated. Thank you, detective friends.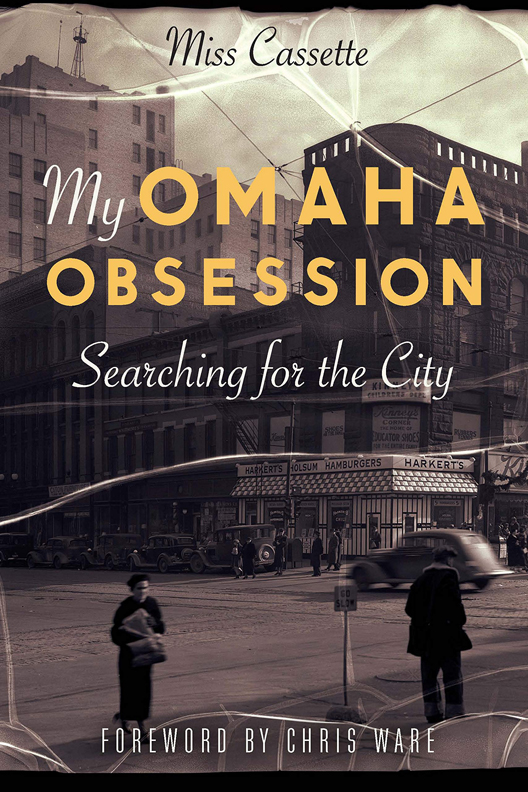 If you like what you see, you can keep up with my latest investigations by joining my email group. Click on "Contact" then look for "Sign me up for the Newsletter!" Enter your email address. It will then display "Thank you, your sign-up request was successful!" Make sure to check your email address to confirm. You will get sent email updates every time I have written a new article. Also feel free to join My Omaha Obsession on Facebook.
© Miss Cassette and myomahaobsession, 2021. Unauthorized use and/or duplication of this material without express and written permission from this site's author and/or owner is strictly prohibited. Excerpts and links may be used, provided that full and clear credit is given to Miss Cassette and myomahaobsession with appropriate and specific direction to the original content.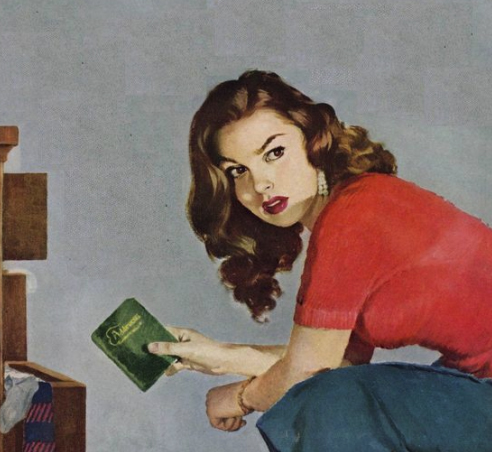 If you are looking for more architectural and Omaha history sleuthing fun, ask your local or big box bookseller for my new book: My Omaha Obsession: Searching for the City. You can also order it through this website. Thank you.