Calling all Mister Daddy-Os and Miss Cool Kittens. The drugstore's jukebox jumpin' but right now and not later, babies! Gather 'round the soda fountain and let me tell you a story of Sparkle Moore, the rockabilly singer from Omaha. Just out of high school in the mid 1950's, her fictitious name preordained for the big lights, Sparkle Moore was already playing the local teen sock hops. I don't mean maybe. She had sealed a record deal, recorded two 45s, and was soon on a national tour with rockabilly legend, Gene Vincent. Hot Dog! But within a few years, Omaha's gumptious Female Elvis had vanished. Poof. Although she's known internationally in all the tuffest, soul stompin' crowds, Sparkle Moore remains an unsung wax hero in her hometown. That's about to change, if Miss Cassette has anything to do about it.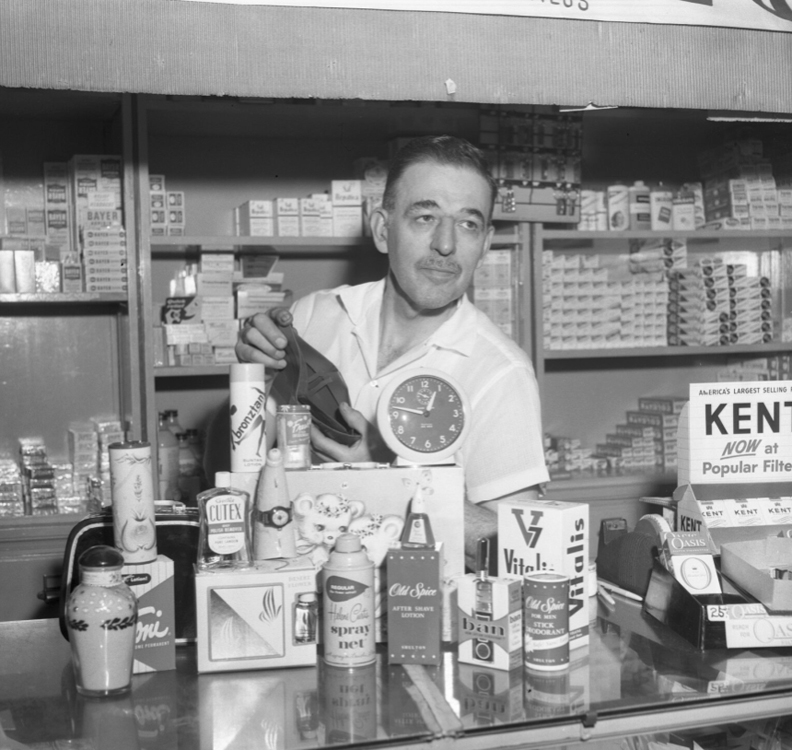 Button it. Lay dead–we gotta square at three o'clock. Let's move to the back booth, so we can have some privacy.
My Intro to Sparkle Moore
It's true I live for the early rock 'n' roll, rockabilly, exotica, 50's doo-wop, raw country blues, swingin' surf, rhythm & blues, country-fried swingbilly, punk rock, creature feature kitsch, those electric blues, garage and any of those kooky, raw rockin' ditties that defy musical category. I am obsessed with other types of music too—it's a fortunate sickness, really. The Bird is Most Always the Word in the Cassette house! But today we've got to talk rockabilly–that truly neurotic, hiccupy melding of country (western swing and hillbilly) with Black American rhythm & blues. Bill Haley, Elvis Presley, Carl Perkins, and Jerry Lee Lewis are generally considered the originating rockabilly artists. Of the mainstream female rockabillies, Lorrie Collins of the Collins Kids is my personal favorite but Wanda Jackson and lesser known Barbara Pittman are up there too. (There are many more but these are my favs!) In a day when there had not been many women in rock 'n' roll, (although gospel guitarist Sister Rosetta Tharpe is often credited as having influenced the early rock and roll musicians, as did other female rhythm and blues artists) Janis Martin, Jean Chapel and many of the rockabilly pioneers were touted as "The Female Elvis." Most likely any record label, promoter or platter pusher knew that a solid link to the heppest Hillbilly Cat would garner the right teen scene for their favorite dolly rocker. Interestingly most of these gals cut their records in 1956, the same year that Omaha's Sparkle Moore recorded her first 45 single. 1956 was also the year that young Elvis Presley's debut album was released, although he'd been recording sides with the Sun label since 1954. Of note this was also a time when a musician could reach fame within their small towns or region—a fame that might never be recognized outside the area. Likewise 45 rpm 7-inch singles were becoming a popular way to record these artists on the cheap with tiny burgeoning record labels also popping up all around. So to name one gal "the First" female rocker or "The Female Elvis" over another, seemed impossible to track and futile.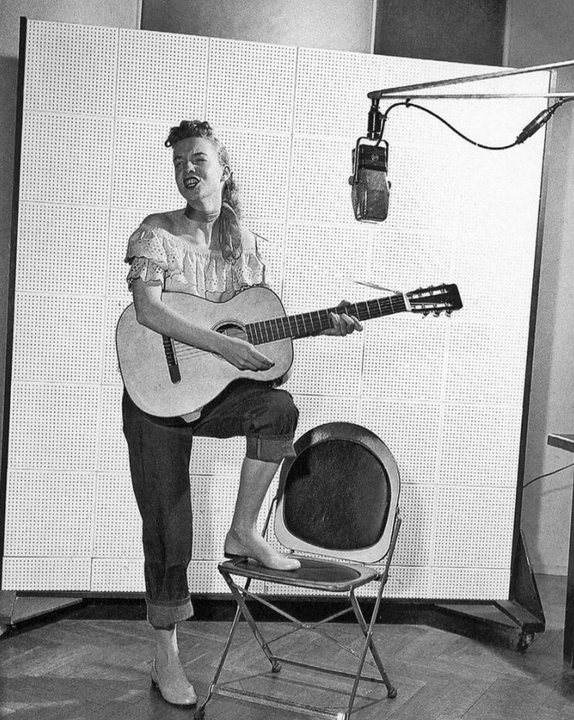 Janis Martin, the official "Female Elvis," recording in the studio in 1956. Janis was a strong singer and had a very non-threatening, girl-next-door sound, much like her look. Very clean production, her rockabilly recordings are pristine. The "Will You Willyum" star was only 15 years old when she was taking names in the male-dominated music field but truth be told, little 13-year-old Miss Martin was known to have played country and rhythm and blues in a "proto-rockabilly" style back in 1953. I like my rock 'n' rollers a whole lot dirtier but Janis Martin deserves her legendary status.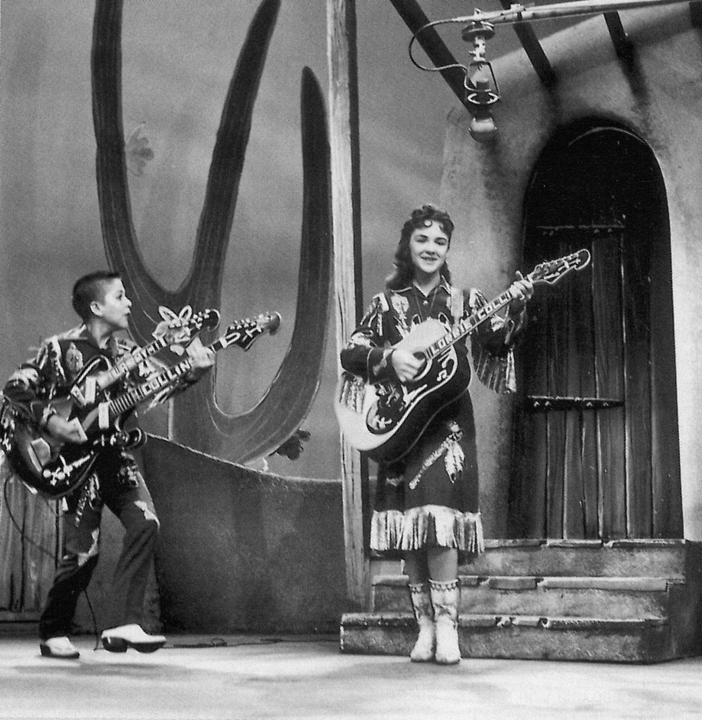 My girl Lorrie Collins with her little brother Larry Collins, of the Collins Kids—performing on live television! "I'm only 14, but I'm goin' on 15…" Lorrie had that edgy but coy rockin' roller voice and lyrics that I love. Everything she touched is amazing. Whether under the Collins Kids or she's purring solo, Lorrie Collins is the ginchiest!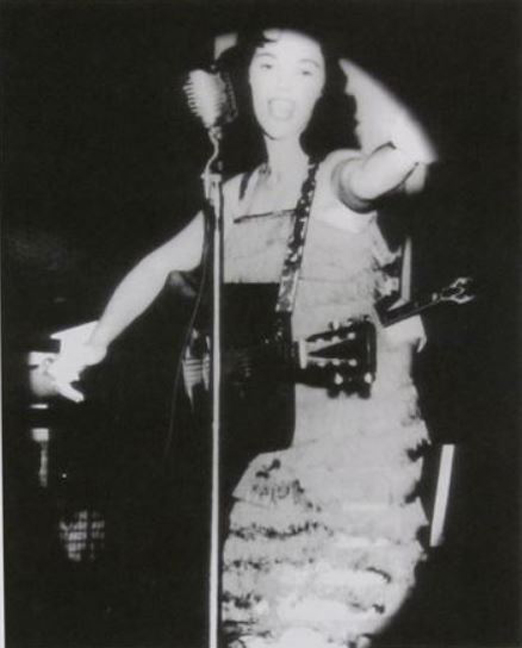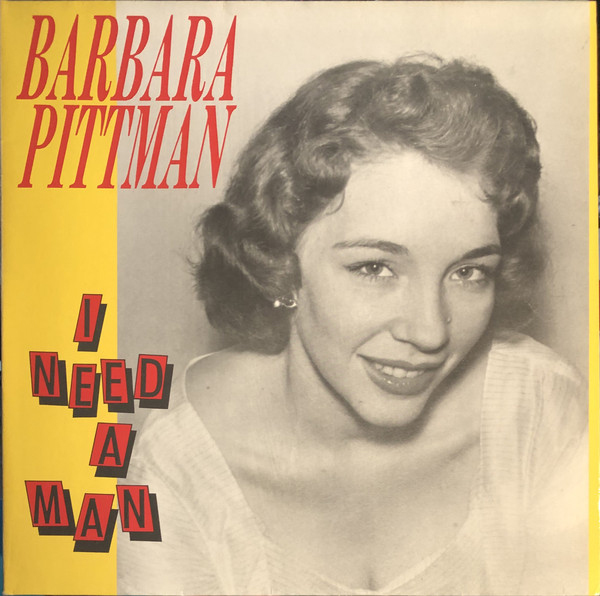 The Incredible Wanda Jackson performing in 1958. Wanda's voice defines the genre and her unparalleled songs have stood the test of time. She earned her title as "The Queen of Rockabilly." Beautiful Barbara Pittman. A favorite–her manic-y panic-y single "I Need a Man" was released on Sun Records in 1956. The way Barbara sang on this side is impassioned and psychotic. Truly, the unhinged voice of what rock should be. These are compliments, friends. So good!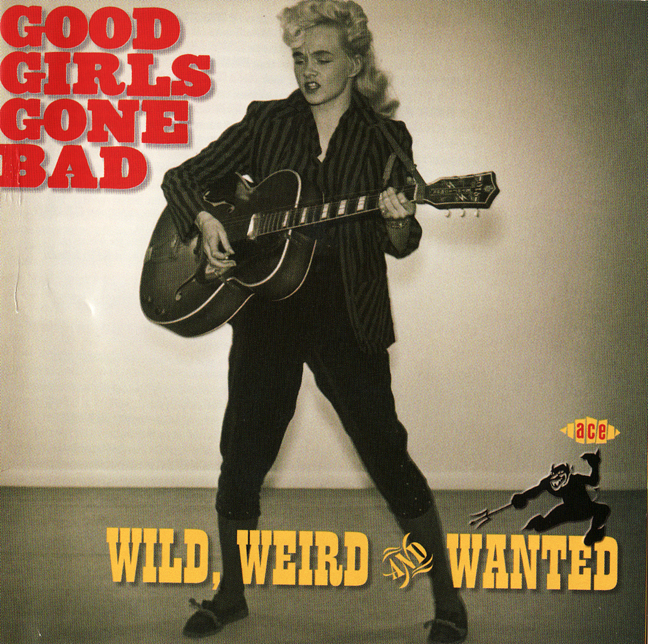 Good Girls Gone Bad: Weird, Wild & Wanted compilation. Here is stunning Sparkle Moore right on the cover and yet, I wouldn't know who she was for a long time.
I thought I knew many of the women in the early rockabilly scene until 2004's Good Girls Gone Bad: Weird, Wild & Wanted compilation was released by the fantastic Ace label. These wax wonders were seemingly packaged as rock 'n' novelties. All five of Sparkle Moore's songs were found on this female rockabilly collection and luckily, that served as my introduction. Moore's hoodling and yodeling were electrifying! Not surprising, she, too was marketed as a "Female Elvis." Mysterious Sparkle Moore was also included on two obscure assemblages of influential music that presumably inspired Lux Interior and Poison Ivy of the Cramps, everyone's favorite retro-horror rockabilly band of the punk scene.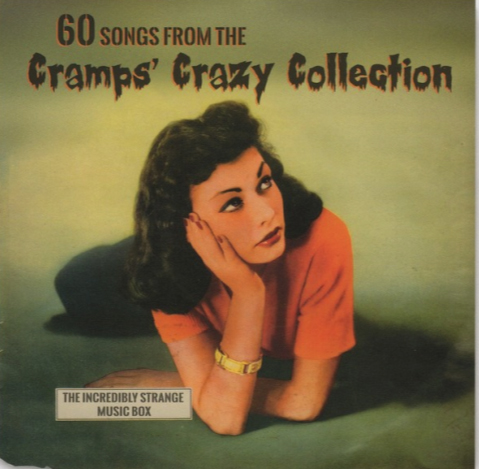 The Incredibly Strange Music Box: 60 Songs From The Cramps' Crazy Collection and Beat From Badsville, Vol. 3: Trash Classics From Lux and Ivy's Vinyl Mountain. I would find Sparkle Moore on another Cramps related comp–these are the ones that showed me how influential she was.
Even my introductory steps into the water, I was real gone on Sparkle Moore. My frantic thrill of discovery was a mirror of her alluring and shivering voice. Her lyrics were wild and dark and funny but hardly a joke. Her small five-single offering to the world of rockabilly felt wild-eyed and juddering, like good, raw underground music should. It was odd and coy at the same time. How did I miss this queen of all the teens? What 1950s "girl singer" was writing flirty songs labeling men "Skull and Crossbones" or "Killer" as a reluctant warning? There was nothing cutesy about this. Furthermore she wrote all her own music and lyrics and played guitar. Forward-facing, Rockin' Miss could have been-should have been from the punk days, as her message struck me with a real outsider poignancy, (by the 80s into the 90s, the rockabilly and garage scene was gaining attention again and that's where I entered) but the fact that Sparkle Moore recorded these quirky gems in the mid 1950's, made her all the more cutting edge.
Sparkle Moore's debut single "Rock-A-Bop" Fraternity 751 (1956). Love the guitar on this and just wish it were more prominent! Little 13 year old Brenda Lee later recorded the similarly named "Rock the Bop," written by Mel Tillis and Wayne Walker and it was released as a single in 1957. Lots of bop in those days but let's give Sparkle her due.
https://www.youtube.com/watch?v=oVSEsFjFKR8
The flip of "Rock-A-Bop" is my favorite side on this release: "Skull and Cross Bones." Fraternity 751 (1956). "You're a jinx to my soul!" This song would later be covered by Richard and Linda Thompson and probably others too. "I said, a big X that means a-crossbones."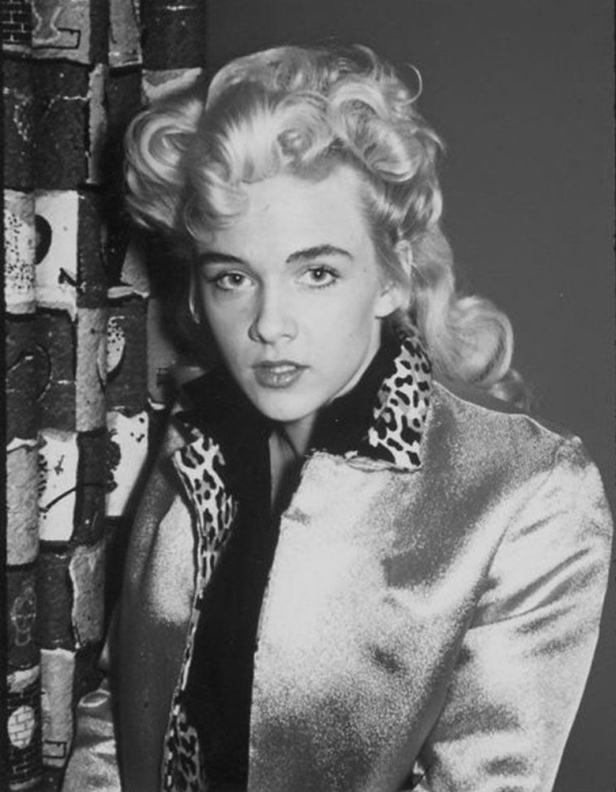 Those blonde to-die-for curls. That is some ginchy girl!
When I finally saw her stunning photograph, it sent me over the edge. Still outré. I was also jealous. Those dark eyebrows and huge blue eyes. Hers was the best platinum hair I had ever seen and it was coifed into a style that was both sexy and tuff–so far ahead of the peer Female Elvises. Her hair was highly unusual for the time. The shiny blonde tendrils were molded into a faux pompadour in front with long curls that hung down her back. (Let's be honest–I have yet to see anyone reach this rockabilly pinnacle, male or female.) Sparkle Moore's look was a knockout, custom blend of men's tailored stage jackets and chunky men's style rings with feminine touches like her little black flats and what look to be black velvet pedal pushers. Cloaked in animal print, killer stripes, reversible lamé with black accents, no heels were required. She was often posed comfortably with some model of (1955-57?) Gibson ES hollow body "Sunburst."  As a fashion design school dropout myself, I could see an ambitious clothier a mile away. Who was creating or tailoring men's clothes into these angsty gems? As you can see by the previously shown photos of Sparkle's contemporaries, those gals were mostly assuming the store-bought, western fringe filly look. Sparkle Moore's kicky, eccentric rockabilly wax cuts riddled with dark humored themes, coupled with her unrivaled appearance is what drove me to discover she was from little ol' Omaha. My heart went a pitter patter. I had to start a formal investigation.
Notes on the Investigation
As with much content online, there were conflicting interpretations, assumptions and misinformation about Sparkle Moore repeated from article to article. This is probably because the larger press wasn't covering the Sparkle Moore beat in the mid-1950's before she took a powder and even in the subsequent decades, Sparkle Moore did not give many interviews. I could only find two interviews with Sparkle Moore, which I will include information from. Many aspects of her life, I could not know. Sure, there was a tiny line or two, here and there. I set out to delve into areas where other music writers had not gone–her formative years. I love the architectural scouting and coming to understand the culture and built environment from which Sparkle Moore sprang forth. I was able to use the library resources–Omaha City Directories, archival newspapers, the U.S. censuses, historic photos, genealogy sites and driving and walking the streets of Omaha to fill in some blanks. What I discovered was Barbara Morgan, the young person behind Sparkle Moore–a creative, driven, beautiful girl who had actually been written about in the local papers since 1936. This girl was not hard to track. Barbara Morgan must have been extraordinary, always, I told myself.
Currently the pioneering rockabilly musician is believed to live in Iowa. Because others have tried, without success, to interview her, I figure Barbara Morgan does not want to be pestered. I understand. For that reason, I kept my research to her early years. That being said, I do not claim to be a Sparkle Moore aficionado, rather with curiosity, studied from the skin of a student. I would love input from anyone who was on the rockabilly scene in the day. This investigation is for all those who crave a deeper dig.
The drugstore fountain's hoppin' with Sparkle Moore. We've got a whole lotta gum-heelin' to do. Who's with me? Let's goose it.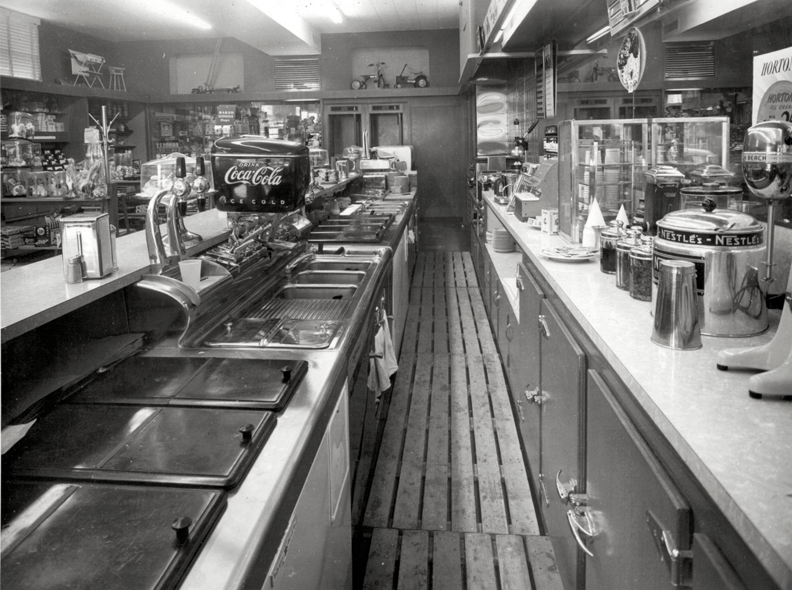 Finding Miss Barbara Morgan
Long before anyone had heard of the rockabilly legend Sparkle Moore, let alone of rockabilly itself, Barbara Jean Morgan was drawing attention in her hometown of Omaha. I was able to find a strange, little article (from 1941) about baby bunting Barbara when the World-Herald was running a numerology series as related to local inhabitants. How they compiled this data, I do not know but obviously the writer was a fellow obsessive and I quite enjoyed the mental acrobatics. Maybe regular folks were encouraged to write in with their numerical coincidences? The number six pattern was compassed in the life and times of young Barbara, who just happened to be born in the six o'clock hour, the morning of November 6, 1936, weighing in at six + pounds, she was a sixth grandchild and oh yes, do not forget, M-O-R-G-A-N has six letters. (This is important to file away because most of the historical information on Sparkle Moore erroneously repeats that she was born in 1939. And her age becomes important when we square her high school years and when Sparkle Moore recorded her rockabilly singles.)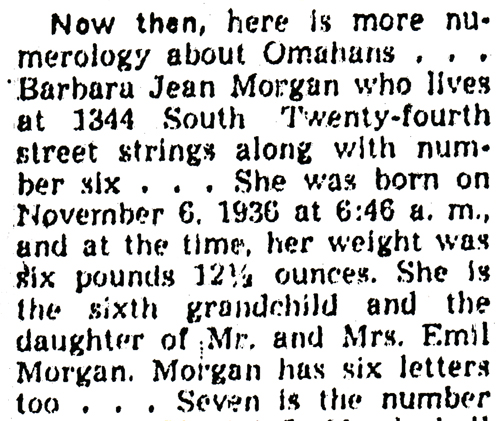 Article image borrowed from OWH archive. November 5, 1941.
In the previous year little Barbara was featured in the 1940 newspaper for her "First Place" Golden Spike costume and after surveying said costume, I proclaim it was her natural beauty and camera-ready disposition that garnered the attention. 1939 was the official year that Omaha celebrated the Golden Spike Days, a four-day celebration of the Union Pacific Railroad. Held in April, this one-off event was marketed in conjunction with Cecil B. DeMille's film release, Union Pacific, which premiered in Omaha. Parades, parties, period costumes from the 1869, and all manner of false fronts added to downtown stores, the one-off was such a success, it would appear that the pioneer celebration was later plotted as an annual spring festival. It was reinvigorated that next May of 1940, when three and a half year old Barbara Morgan won first place for her costume. Now I realize that most households had a more than qualified seamstress back in those days, but considering Sparkle Moore's great rockabilly threads, I couldn't help but wonder if it was Mrs. Morgan who was nimble in the sewing machine department.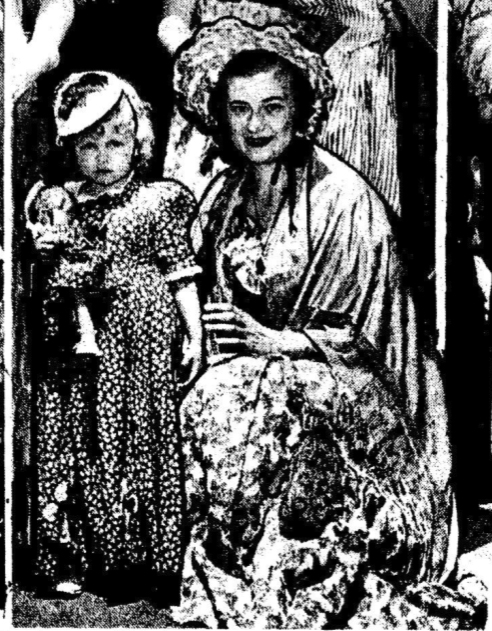 Photo borrowed from OWH archive. May 9, 1940. "Golden Spike costumes were again on parade. The first place went to Barbara Jean Morgan, 1344 South 24th Street and Mrs. Elsie Neff of 3658 Avenue A in Council Bluffs. Here they are now." Barbara Jean Morgan is about three and half years of age here and already as pretty as can be. She wears the platinum curls and commands a piercing pout Sparkle Moore would later be known by. It should be noted that she is shown with another costume winner, not her mother.
Mr. and Mrs. Emil Morgan
The earlier article mentioned Barbara Morgan's parents. Emil Cipra Morgan (born in 1904) and Agnes Emma Greeley Morgan (b. 1912) were married when Emil was 22 and Agnes just 16. Not unusual in those days. According to the census their marriage occurred about ten year previous to Barbara's birth. On November 18, 1936 the World-Herald recorded the birth of vague "daughter" born to the Morgans–the couple then living at 3309 Jones Street. This address has now fallen off the books but it was somewhere in the Midtown neighborhood of Dewey Park. I believe Barbara was their only child (that I could find.)
Emil Morgan
The 1920 U. S. Census revealed that Emil's mother was Helen Cipra, logged as a "divorced" 37 year old. She was a dressmaker who worked out of her home at 916 South 27th. A dressmaker! Could it be that Grandma Helen sewed Barbara Jean's first place costumes or rockabilly get-ups many years later? In 1920 Emil was then 15 and his brother, Carl was 13. A few steps back and genealogy sites would show Emil's parents as Helen Sistek and Albert Cipra. Cipra is both a Czech name and Peruvian name but my money's on the Czech bloodline. Sistek is also a Czech surname. Coincidentally, according to Dictionary of American Family Names, the Sistek name from the maternal line was derived from the word "six." "This is sometimes a house name, from a house on which the number 6 was prominently display. In addition, it is a nickname for someone with long hair that hung down and curled at the bottom, resembling the figure 6." Because of the World-Herald's numerology fixation on Barbara Jean's six and the way that Sparkle Moore wore her hair years later, I developed goosey bumps from the synchronicity.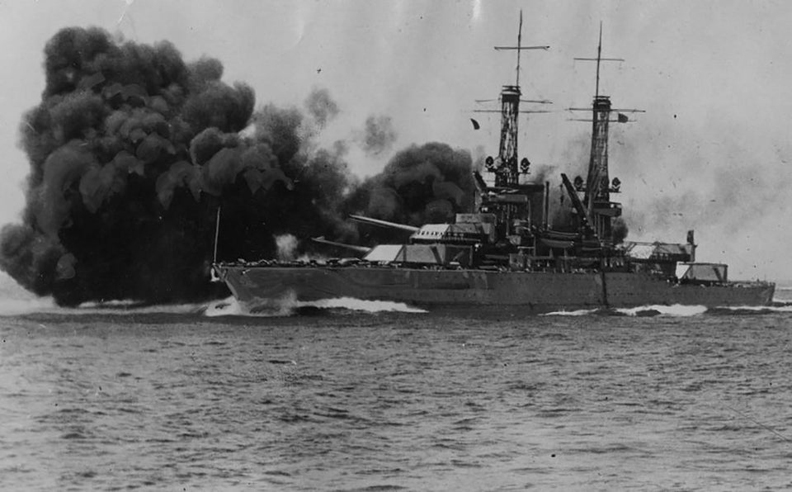 USS Mississippi, off the coast of California, was conducting gun trials in June of 1924.
In June of 1924, the World-Herald printed a tale of heroism, as detailed in a wired statement by young Emil Cipra, then known as Emil Morgan. Emil reported that fellow Omahan, Allister Koeberlin, had risked death in the "ill-fated battleship Mississippi" subsequent to an explosion where 48 men were killed. In other articles this USS Mississippi battleship accident was described as a "Navy disaster." Emil notified that pal Allister had been manning the station pumps below, covered in soot after explosions and later fire. We now know in hindsight that the explosions and fire took place in gun turret no. 2, killing most members of the turret crew and four members of the rescue crew. At the time this was considered the deadliest peacetime disaster in the Navy's history. The Omaha boys lived to tell the gruesome tale, thankfully. I share young Emil's experience because anyone with family members who served knows that a horrific event like this can shape a whole family for generations to come, even if unspoken.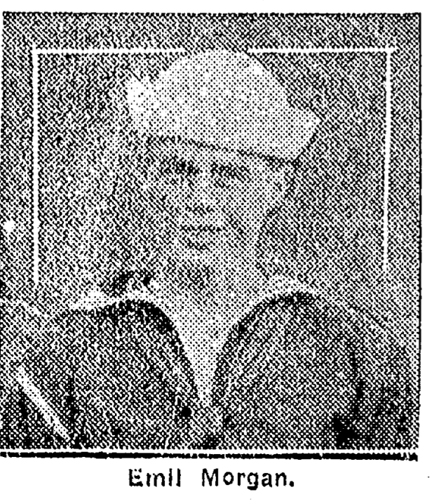 Photo borrowed from the OWH archive. June 15, 1924. Emil Morgan was 20 years old. He "enlisted in Omaha about a year and half ago for a period of four years. He is a senior mechanic." The article listed Emil's mother as "Mrs. Helen Morgan of 521 South 29th Street."
For those history buffs—the USS Mississippi later went to war in the Pacific in 1943 where it was met with another eerily similar turret explosion tragedy. https://ww2db.com/ship_spec.php?ship_id=134
The Morgan Houses
Starting with the 1936 Omaha City Directory, I found Emil and Agnes moved yearly in Barbara's early life—most likely renting. (I won't list all of the addresses as I would in my normal investigations.) Father Emil worked as a car salesman until 1938 when he worked for a year in a lab for WPA. The Works Progress Administration was part of the New Deal, created by President Franklin D. Roosevelt in 1935. But by 1939, he was again working in auto sales. The 1940 U. S Federal Census, logged the family living at 1344 So 24th Street, where they would stay for about three years. Emil Morgan, then age 34, was "seeking work" as a "car salesman," Mother Agnes Morgan, 28 and Barbara J. Morgan was 3 years of age.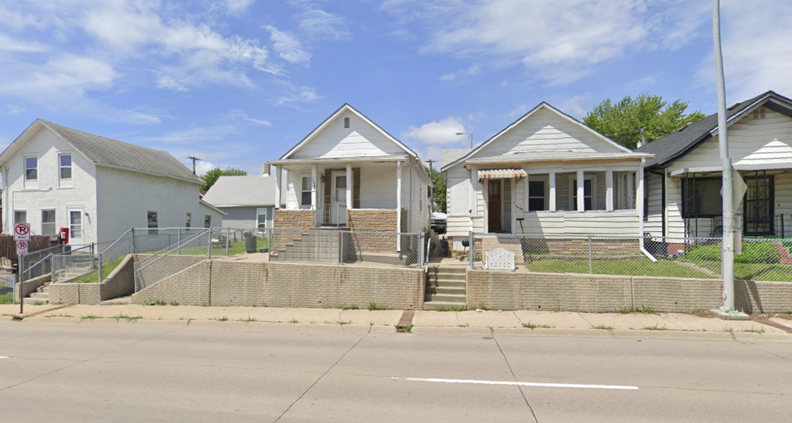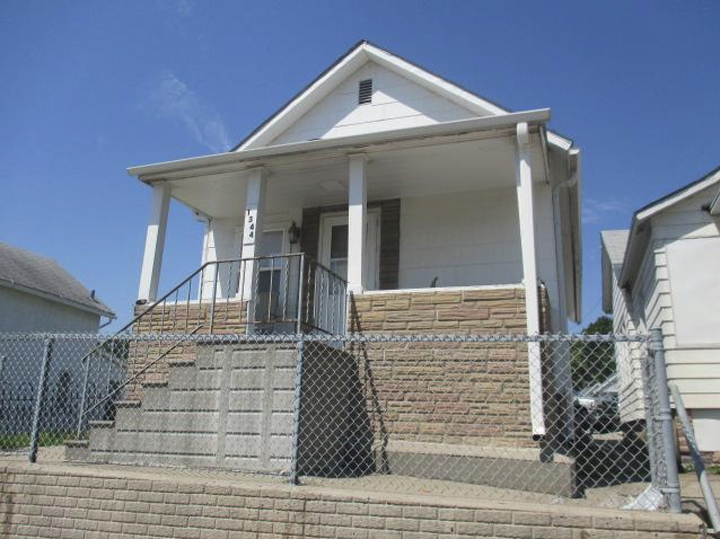 1344 South 24th Street is a gablefront, folk house built in 1880. Like many in Shull's Addition, the working class dwellings dotted up and down the block in the Columbus Park neighborhood were built from the 1880s to the nineteen tens—a few from the twenties. Typically of a simple design, I especially like the narrow tidiness of the working cottages and their use of a long, rectangular lot. Anything is made better with a good front porch and the Morgan home communicates an upright, clean feel. For more on working gablefronts, check out: Old Omaha, False Dawn. Barbara Morgan-Sparkle Moore lived in this great house until 1944. You must drive by soon.
Emil and Agnes bought the 1510 South 28th Street lot in the Hanscom Place addition from "Bonnie Faulk and husband" in December of 1943.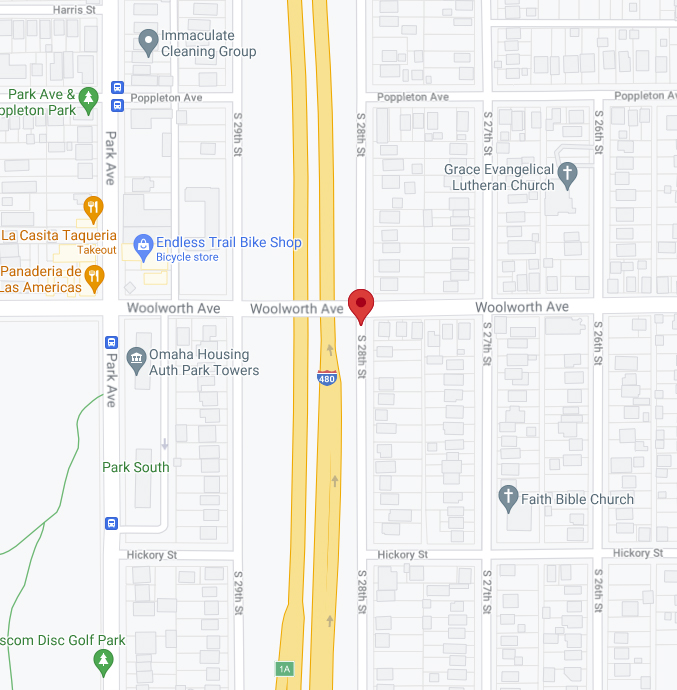 I went to 1510 South 28th  or what I thought was the address. The homes on this street are a bit larger but of the same time period as the Morgan's previous neighborhood. 1510 South 28th Street was built by at least 1899. The I-480 East interstate cut through the Hanscom Park neighborhood in the late 1950s-into the early 1960s, at the time called Route 3 and unfortunately the west side of South 28th Street's homes were removed at that time. Additionally I found an empty lot on the block. The 1510 Morgan house had most likely been razed. When I returned home and looked up the empty lot on the Douglas County Assessor site, the blank parcel was labeled 1511 South 28th Street. Had the address changed over time and was later torn down or had the Barbara Morgan-Sparkle Moore house been on the west side of the street and torn down for the new interstate? As I put the pieces together later on, I am now of the belief that the Morgan house was razed for the interstate because the date of the Morgans' move coincides.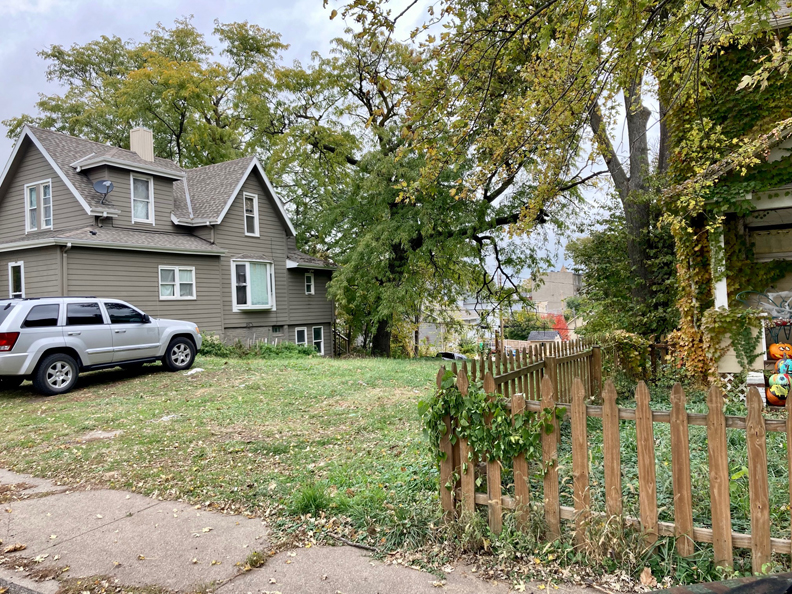 The empty parcel assigned 1511 South 28th Street.
ABC Boogie
In May of 1948 I found that Barbara Morgan was chosen to be in a pilot group of the Greenhouse Laboratory Club of Park School. Park and Recreation Superintendent Ralph McClintock of Hanscom Park had the idea of teaching children from Park School about horticulture as well as develop the greenhouse into "the floral center of Omaha." The department hoped to use the Sarah Joslyn Conservatory for the children's activities. The twelve sixth-graders went to the greenhouse once a week under the leadership of City Forester Frank Pipal where they learned to plant seeds in flats, pot and transplant them. The photo included showed the school children with Pipal but it was so dark I couldn't use it. Our Barbara must have been about 11 years old. Her interest in the natural world only blossomed.
Barbara's elementary school was the Park School at 1320 South 29th Street. Designed by Thomas Kimball, the stately school was built in 1918. As with many landmarks in the area, the school's name was inspired by Hanscom Park. It is down the street from the Georgia Row House that I used to live in. For an earlier intro to this area, check out my story: Park Avenue Recollection. Built in a U shape, the large two-story elementary school building was closed in the 1980s. Omaha Public Schools sold it in 1988 and the Park School was later renovated into apartments.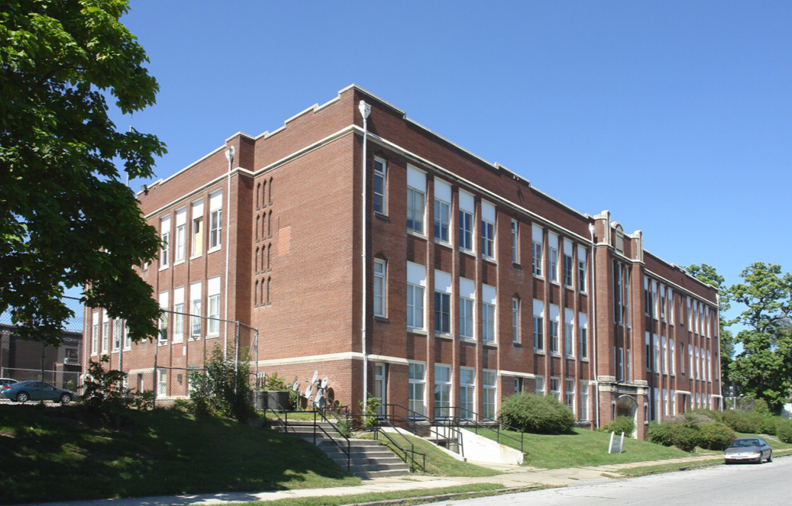 1320 South 29th Street, now called the Park School Apartments. Ignore the satellite dishes and dream of 1948. Photo borrowed from the Park School Apartments website.
In this time period, Barbara's father, Emil Morgan, began working as a "trucker," according to the 1948 city directory. I assumed this was an over the road gig. The trucking job would allow him to become independent and he was self-employed until his retirement. The Morgan couple also started buying some properties around town. However when I later found Emil selling dump trucks regularly out of his home address, I came to believe his independent business was that of dump truck rental or hauling for other companies.
October 23, 1949 OWH offered an article called School Shows Product Tree. The students at Park School showed off their creations made of wood. "A big share of the entire exhibit was made by Barbara Morgan, another eighth grader. She mounted more than one hundred different types of leaf patterns taken from a single mulberry tree. Her mounts were called 'nearly perfect specimens' by Mrs. Pat Booard of the Park and Recreation Department."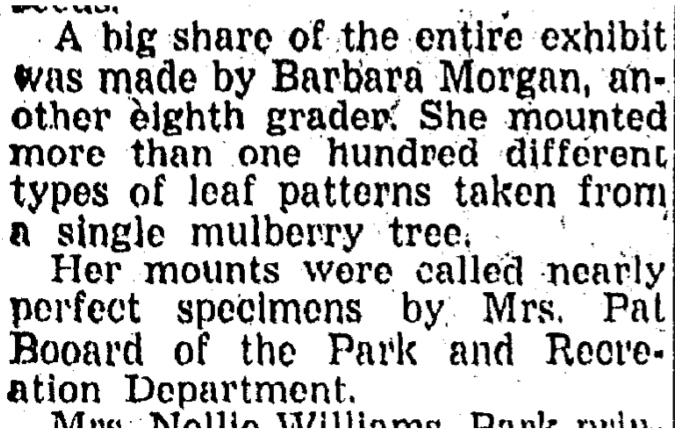 OWH archive. October 23, 1949. I sure would have liked to see her one hundred different leaf patterns. A fellow child obsessive to the hilt!
Later in her eighth grade year, Barbara Jean and her green thumb finally had a good photo op. Here she is with classmates planting and presenting a ginkgo tree to the city.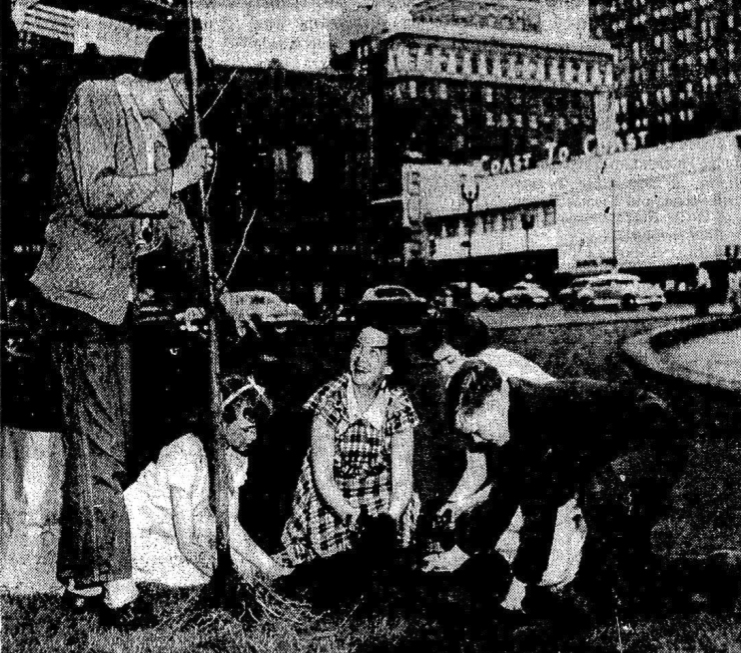 Photo borrowed from the OWH archive. May 18, 1950. Barbara Morgan-Sparkle Moore is on the left in the light colored dress, fair hair and a ribbon for a headband. "A gift to the city… Harold Ashley, Barbara Morgan, Joelissa Snyder, Geraldine Heine and Terry Ashley. Two ginkgo trees now stand on the lawn before the Douglas County Courthouse. Dedicated 'to the people of Omaha' by the Council of Junior Foresters, a group of more than 1,500 nature minded youngsters. The city council last month named the ginkgo the city's official tree." In the background is my favorite bus depot that used to be to the north of the Douglas County Courthouse at 1701 Farnam Street.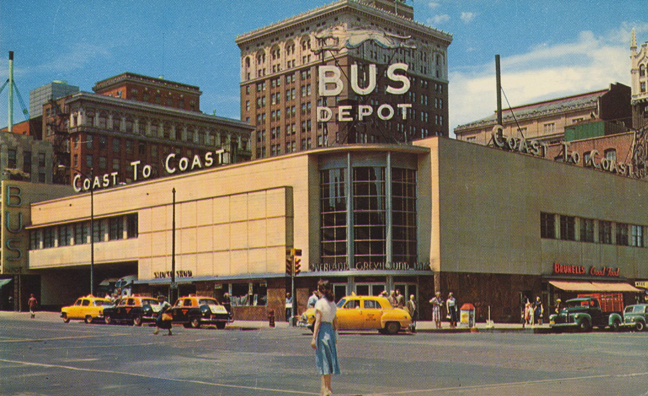 Why here it is now! Or a postcard, rather. The Overland Greyhound Bus Depot was once headquarters for the 17-state operation of the Overland Greyhound Lines. For more on this bus depot, check out my other investigation: For the Love of the Miller-Knuth Garage.
While I tracked little Barbara Morgan and found her to be an involved, creative student, it would appear her musical interests were also piqued in those early years. Writer Carmilla de Rosa of The Pinup Club website put forth that Barbara Morgan's "first serious musical pursuits began at the age of ten, when she got an acoustic Hawaiian steel guitar from a pawn shop and practiced many hours playing it. She also played a cello in the grade school orchestra and later the string bass and bassoon during her high school years." The Bargain Hunter's Denise Daliege-Pierce also stated that Morgan loved music from an early age and "had played any instrument that she could wrap her fingers around. At the age of 10, she purchased a Hawaiian steel guitar from a pawn shop…" I am not sure where these writers gathered this information but it is fascinating to consider the young Barbara. Perhaps it was from the Sparkle Moore website that's been under construction for a while.
Women in Rock and Roll's First Wave website described similar of Morgan: "She grew up loving music and had diverse influences. She developed a particular affinity for the sound of the Hawaiian steel guitar and learned to play the instrument herself, but she also listened to country, gospel, vaudeville." Their contributing journalist, Leah Branstetter, would win one of the only known, coveted Barbara Morgan-Sparkle Moore interviews back in 2012. At that time, Barbara shared she had sung and played country and pop music prior to the mid-fifties rock and roll she would come to love. "Initially, as a young person, Sol Hoopii was my almost sole inspiration in playing Hawaiian music. I was dedicated to playing the Hawaiian steel guitar. All time vocal and entertainer inspiration came from Al Jolson-the movie The Jolson Story." Barbara Morgan also cited other musical interests in that interview–the early Grand Ole Opry singers (I found this weekly hour-long show was nationally broadcast from 1939 to 1956), Blue Yodeler Jimmie Rodgers, Hank Williams, and Mahalia Jackson.
Bluejean Bop
Barbara Morgan would attend Omaha Central High School. Designed and built by John Latenser, Sr., Central High is one of Omaha's most iconic buildings. "Latenser deliberately chose the Renaissance Revival for his steel-framed Central High School in order to emphasize the physical and historical importance of the site and to place the new edifice on par with other prominent Omaha buildings of the period."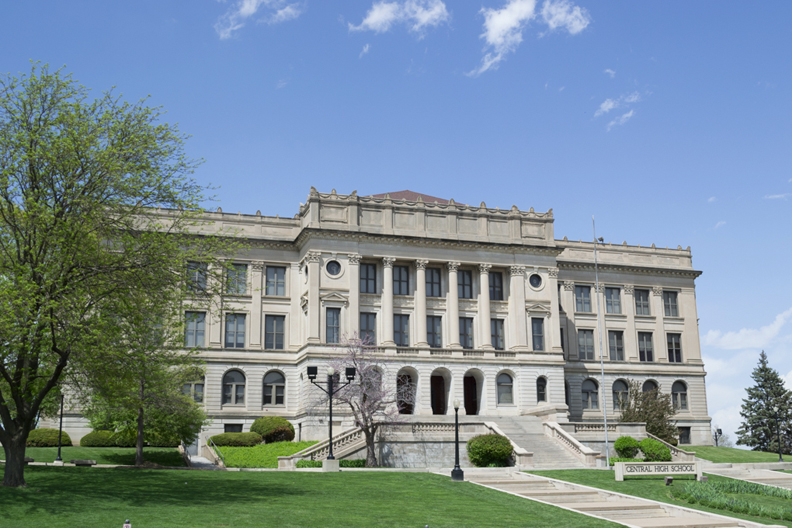 Stately Central High at 124 North 20th Street, overlooks downtown Omaha. Photo by Peter Olshavsky.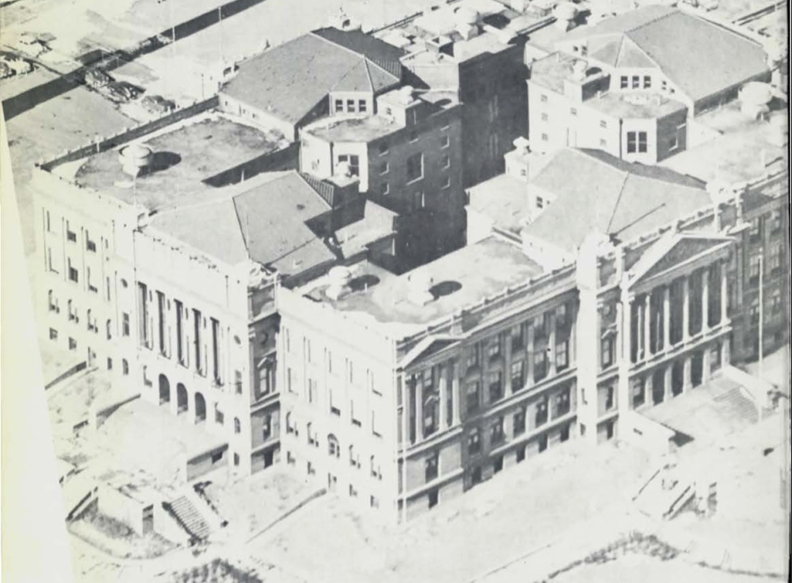 Here is Omaha Central High, as it was known, back in 1955 when the courtyard was still an open air court. Photo borrowed from the Central High 1955 yearbook. Photo by Frank Gaines, who graduated from Central High in 1956. Frank was the photographer for the newspaper and yearbook. He snapped this one from the top of the Northern Natural Gas Building.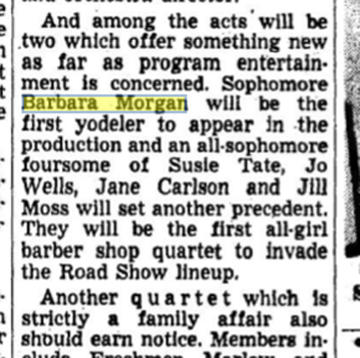 OWH archive. March 8 of 1953. Article about Central High School's yearly Road Show. This year's show would feature a cast of 250 students in 26 separate acts. "And among the acts will be two which offer something new as far as program entertainment is concerned. Sophomore Barbara Morgan will be the first yodeler to appear in the production…" It was exciting to think of Barbara yodeling in a school performance and it also filled in some back story to Sparkle Moore's individual style. By my math (not my strong suit), Barbara Morgan would have been in high school from 1950 to 1954 as she was previously mentioned being an eighth grader in the 1949-1950 school year. But in this March of 1953 article, they labeled her a sophomore. I came to believe this was an error and she was really a junior at the time of that 1953 Road Show.
Following the lead of this 1953 article, I became deeply obsessed and had to scour each and every Central High yearbook for her photos and any savory details. Barbara Morgan had been in Concert Band her freshman and by senior year, she was in Orchestra and Opera. She was in the Road Show (talent show) sharing who knows what acts all four years. She was in French Club and service groups such as the Colleens and the Y-Teens. (That is not a punk band. Those are two separate clubs.) She won awards and was on the Senior Committee. She participated in "Girls' Sports" three years. Why did I delight to find she had such a well-rounded, active high school experience? Probably because Sparkle Moore was a punk before there was punk and I assumed she had been an outsider. No. Anything but.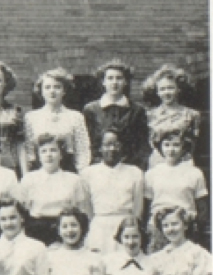 The Y-Teens of 1951. Barbara Jean Morgan as seen in her freshman year. Top right corner. The Y-Teen was a student club organized in 1915 as part of the Girl Reserves of the YWCA. The organization emphasized character-training. She was also a member of the Central Colleens for three years, a service club promoting school spirit since 1926.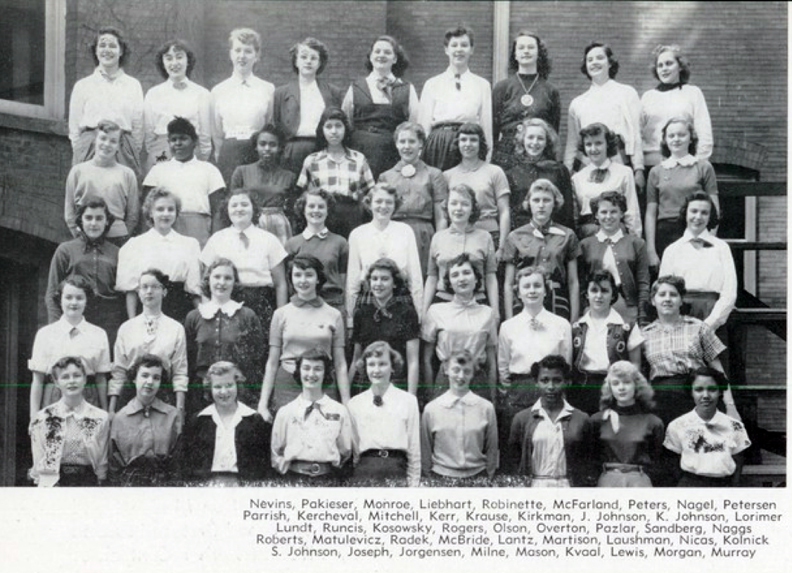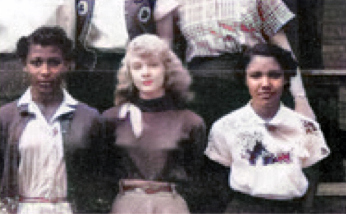 Y-Teen group of 1953. Junior Year Barbara is in the lower right corner with the white neckerchief. I added a colorized detail for fun.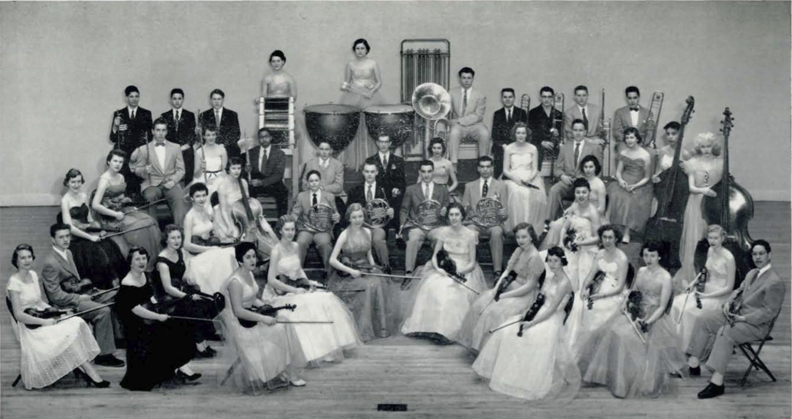 Most impressive is the 1953-54 year Orchestra photo. Those outfits are dynamite. I zeroed in on Barbara (far right) in the double bass role. The biggest string instrument—zowza!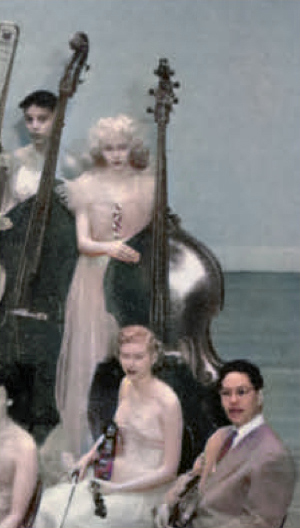 Like a porcelain doll in full length tulle. Lovely Barbara Morgan in her senior year. Colorized for your viewing pleasure.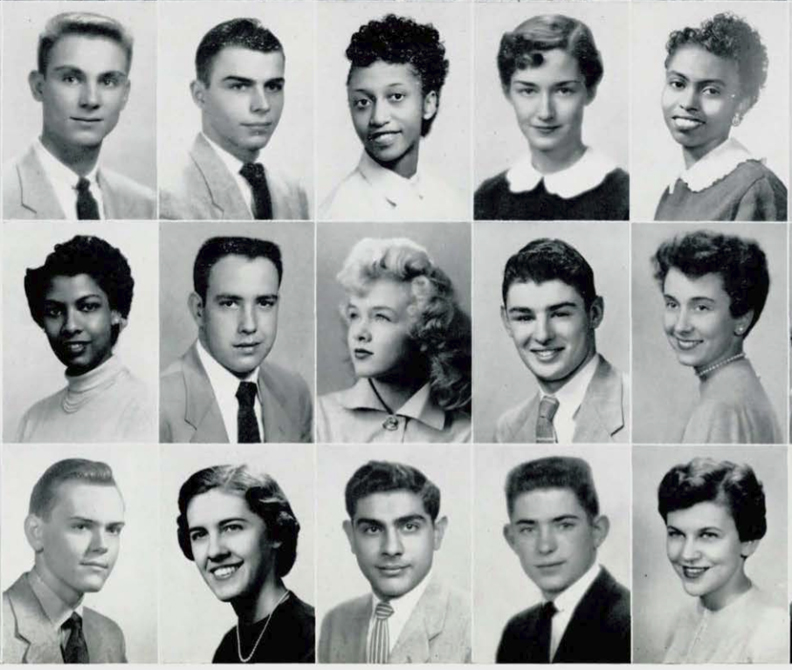 Omaha Central High Class of 1954. Barbara Morgan, soon to be Sparkle Moore, spotted in the middle of the page. These senior photos are a great comparison of how other girls wore their hair in this time period. Barbara is a gorgeous standout but perhaps a curiosity in her peer group, who wanted to look mature in pearls, scalloped collars and short-coifed curls.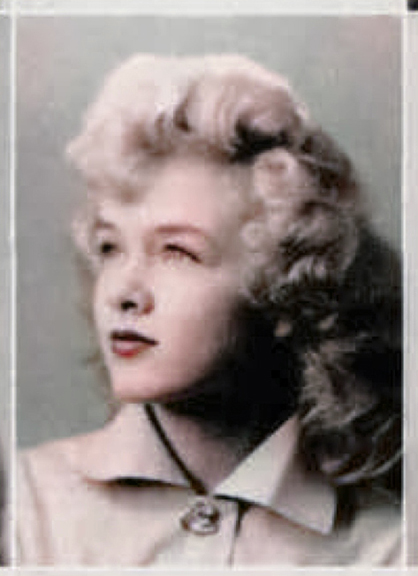 Barbara Jean Morgan, Class of 1954. A real tear snatcher.
I was interested to find in the Central Yearbook that Morgan attended school all four years, as I had read in the previously mentioned accounts online that Barbara Morgan "had run away from home at one point to join a band." "As a teenager, Sparkle was enamored with the new rock and roll scene, and once ran away from home for a short time to join the New Orleans Rock Band" and "she ran away from high school to join a New Orleans rock band." Was this an oft repeated rumor or based in reality? According to the Sparkle Moore Reflects on Her Early Career interview by Leah Branstetter from Women in Rock & Roll's First Wave website, Barbara did not begin playing rock until 1955 and as we now know, she had graduated high school by then. Although I could not track its origin or the truth of the matter, the delicious chatter persists.
Rock This Joint
The year following her graduation must have been an exciting time for Barbara Morgan, as it was also the period that our Sparkle Moore was created. The 1955 Omaha City Directory listed "Barbara J. Morgan" living with her parents at the 1510 South 28th address, having secured a job as a "typist Woodmen of the World Life Insurance Soc." (When one graduated from high school, the directory began listing their name independently, even if they lived with family.) Attaining a secretary position of the nationally known insurance company was considered a very good job for young woman just out of high school. The prominent Woodmen of the World building was located in lively downtown Omaha, where the lunchtime sidewalks were filled with women in heels, who made up the many clerical pools.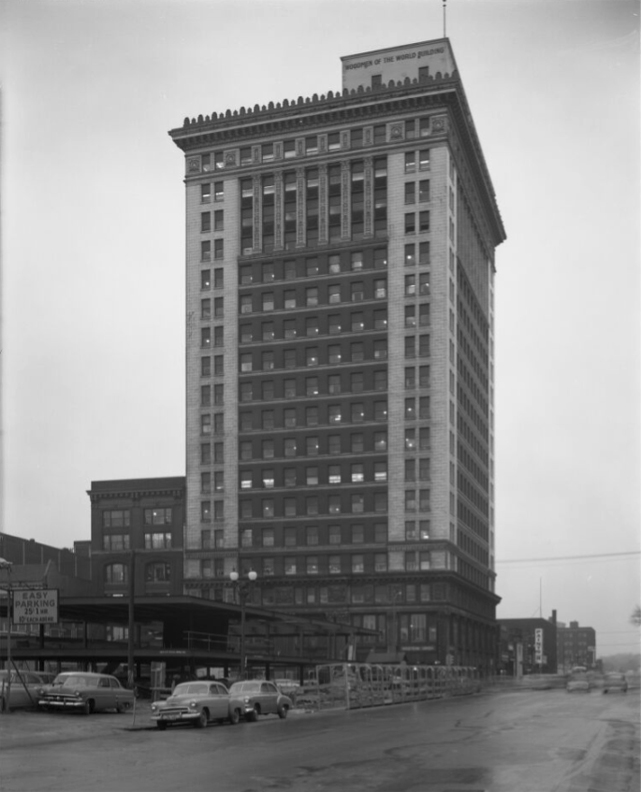 This photograph depicts what the Woodmen of the World building looked like when Barbara Morgan punched the clock. A parking garage is under construction next to the building at 14th and Farnam Street. Creator: Bostwick, Louis (1868-1943) and Frohardt, Homer (1885-1972). Publisher: The Durham Museum. Date: December 1953.
Typewriter ribbon aside, we are told that 1955 was also the year that Barbara first heard and began experimenting with rockabilly. From her Women in Rock and Roll's First Wave interview with Leah Branstetter, Morgan explained she discovered rock and roll unexpectedly when she saw Bill Haley perform at a country music show in the mid 1950s. "These guys were wild, and the public response to it was unlike anything anyone had ever seen, with songs like 'Shake, Rattle, and Roll.' I had been singing and playing country and pop music prior to that time. But this new music was fantastic and was the turning point. I was a convert (…) The mid-fifties were an unusual time for music. It was the beginning of 'teen' music. The new mix of country and rock, called 'rockabilly' was a new phenomenon. There were few rockabilly artists at that time. It was just being born." She cited Bill Haley (1954), Elvis (1954), and The Platters (1955) as early influences. Barbara also told Branstetter she began playing rockabilly at venues around Omaha by 1955.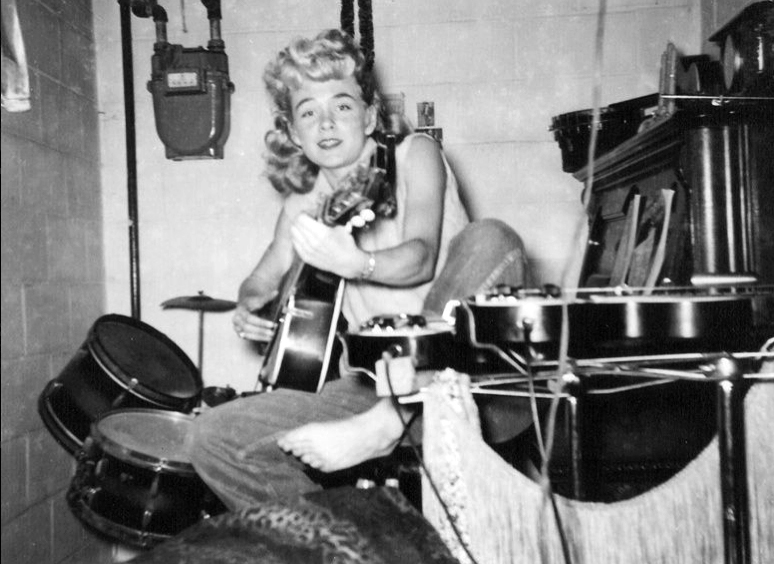 This photograph of an early Sparkle Moore practicing, looks to be taken in a house basement complete with cinder block walls and utility box. Was this Barbara Morgan's family home? It is jam packed with instruments. I adore this image because of the intimacy. She is barefoot and casual in blue jeans. I borrowed the image from the Sparkle Moore website.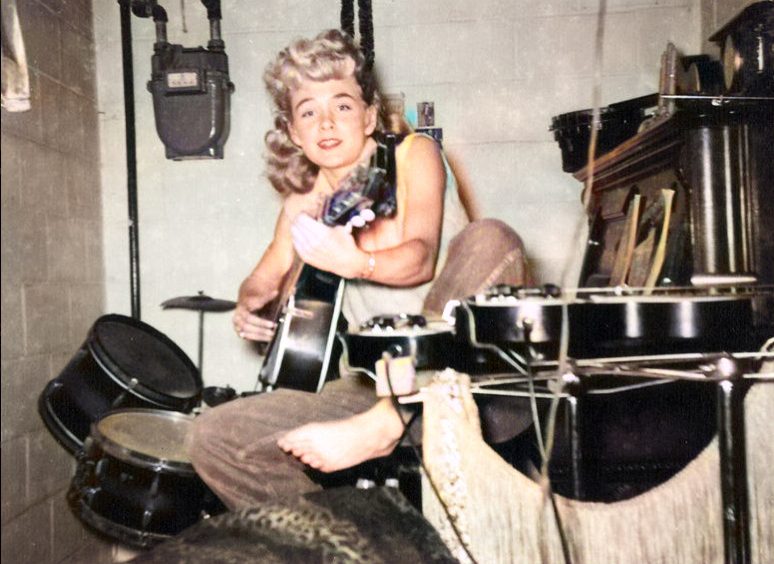 And here is a colorized version I made. I want to know what images are taped to the wall behind her. Who did Sparkle Moore model her playing after? I believe that is a leopard print in the foreground.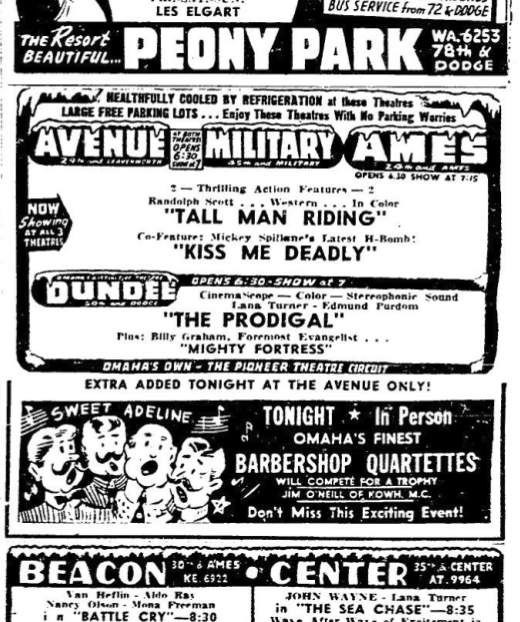 OWH archive of July 1955. Omaha's finest barbershop quartets "will compete for a trophy" at the Avenue Theater.
Electrifying and frantic, this early rockabilly caused a commotion and I would love to know where these Omaha venues were that allowed such music to be played. I would find that teen sock hop dances were very popular at the South Side Turner Ballroom at 1724 Vinton Street. "No Jeans!" But they did not appear to offer live music at these teen dances (just yet) in 1955. There were formal concerts and symphonies, of course, but it seemed more likely that Sparkle Moore was created for the open stage nights of the Music Box at 19th and Dodge, the Royal Grove at Peony Park or a local tavern like the Torch Bar at 16th and Leavenworth. Perhaps she was one of the many local variety acts that graced the stages of the movie theaters before or after a feature length like The Avenue Theater at 29th and Leavenworth. According to my detective work, these stages and other community halls all seemingly offered a newcomer chances to perform in 1955. If you know the specifics of the music scene from this time period, by all means, please let us know.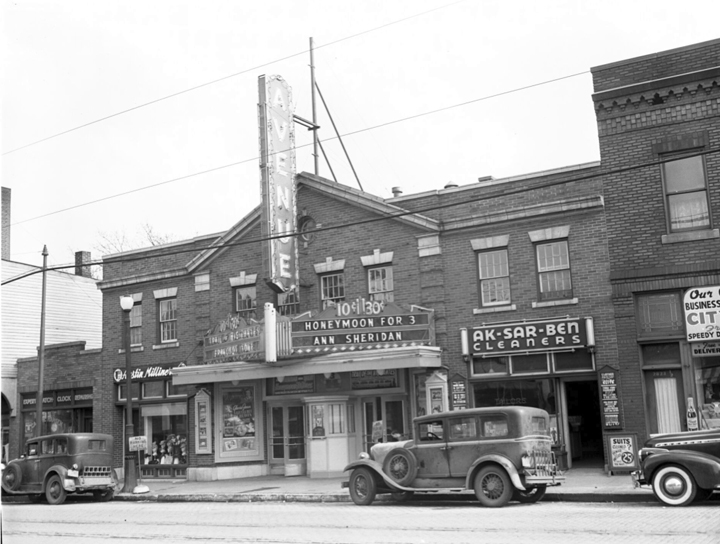 The Avenue Theater at 2819 Leavenworth. Publisher: The Durham Museum. This was a movie theater that would often have live performances on the same night.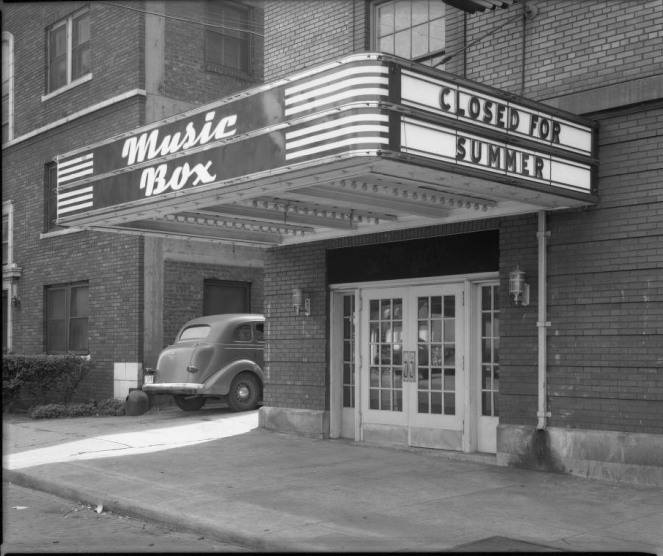 The Music Box Ballroom at 118 North 19th Street. Marquee reads "Closed for the summer." Creator: Bostwick, Louis (1868-1943) and Frohardt, Homer (1885-1972). Publisher: The Durham Museum. Date: 1942. This ballroom featured national and regional live music for their dances. They also showcased smaller local talent shows.
Ain't She Sweet?
The alluring but strange stage name, Sparkle Moore, is a point of fascination in the Barbara Morgan story. Dick Tracy was a police detective in a hugely popular American comic strip of the same name, launched in 1931. Barbara would spin her name from the Dick Tracy side character, Sparkle Plenty. Coincidentally, that character name would have been funny at the time because it was an American household cleaner. "Cleaning the World's Finest Chandeliers Since 1903!" None of it made much of an impact on me until I looked up the Sparkle Plenty character. Barbara's long time platinum hairstyle with shorter curls in front, long golden waves down her back, a very fetching, feminine pompadour of sorts, was so very similar to Sparkle Plenty that I've got to think Barbara might have picked up the nickname from passersby sidewalk comments. The likeness was stunning. Barbara was certainly clever to refashion the character's name.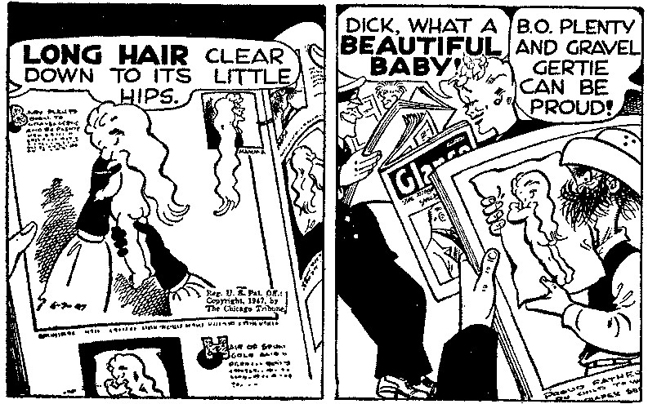 Sparkle Plenty's birth in 1947 from the Dick Tracy comic strip.
It is interesting to consider that all of America knew the story line of comic strip character Sparkle Plenty. Little Sparkle was the offspring of B. O. Plenty and Gravel Gertie—a joke on backwoods country folk, a common, easy target in those days. As the new arrival to these two homely parents, her birth was all the more surprising because of her stunning beauty and in the comic strip, Sparkle Plenty's birth made the national news. Not long after, Mother Gertie began teaching little Sparkle to sing and play mandolin and Papa B. O. would enter her in television talent shows where she again garnered national fame and success. Dick Tracy would get actor Vitamin Flintheart signed on as Sparkle Plenty's agent. The Sparkle Plenty journey to fame went on and on. The pretty little character could easily be marketed for numerous toys and other products to the American public.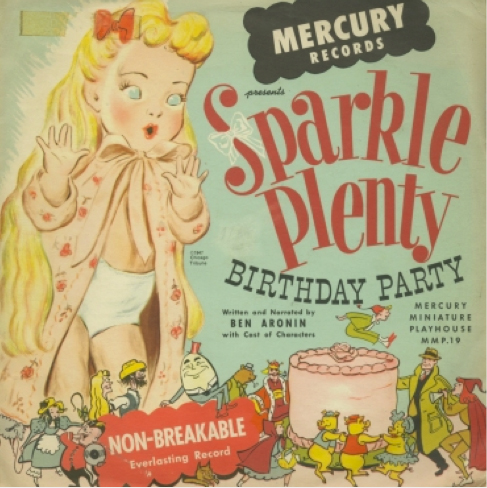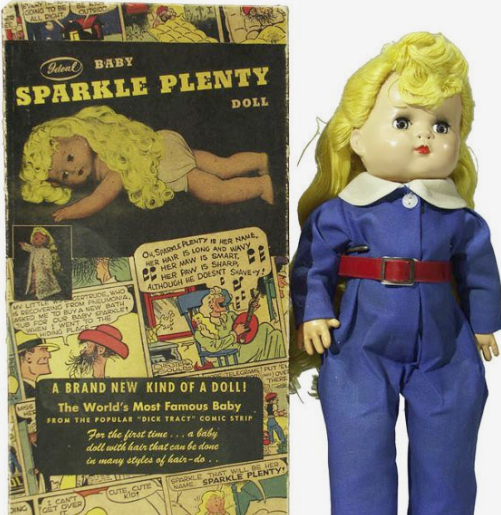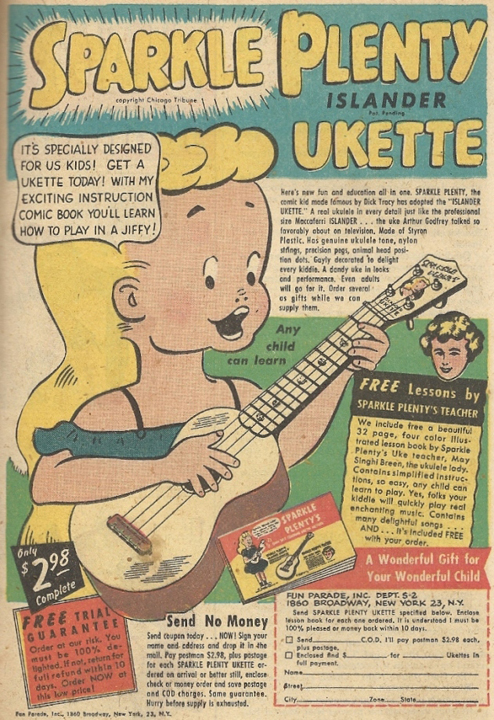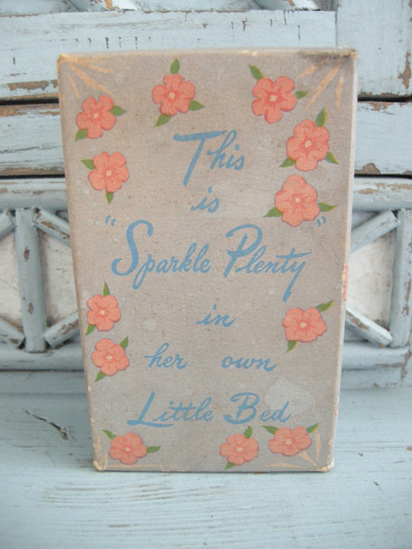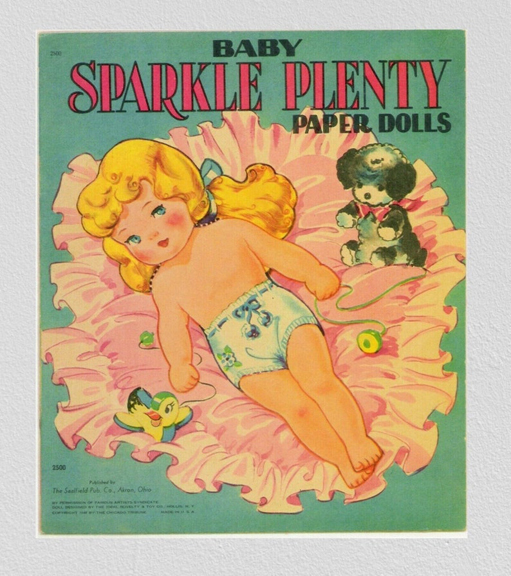 A 1947 children's record, a doll, soap, paper dolls and ukette instrument. And these are just a few of the spin-offs. Sparkle Plenty was a solid, marketable personality.
"Discovered" and KOWH
By her own description, Barbara Morgan was playing smaller shows and honing her style around townin 1955. Somewhere in that time period she fortuitously crossed the radar of Grahame "Crackers" Richards, local radio disc jockey at station KOWH. Robert and Todd Storz of the Storz Brewery family owned KOWH, at that time. (For more on this family, check out: I Have a Ballroom in My House.) Some accounts say our young rockabilly star "sent a homemade dub" to Grahame, some say he "discovered" her. Richards was also noted to have taped her first recordings in his mission to find her a record contract. While the 1956 Omaha City Directory continued to list Miss Morgan employed as a typist at Woodmen of the World, living with her parents, this was also the year Mr. Richards became Sparkle Moore's formal manager and helped secure her deal with Fraternity Records, a small, regional label out of Cincinnati, Ohio. The more I've dug into this story, I've come to see that many artists were "discovered" in those days by local djs, who then conveniently became their managers. At just 19 years of age, our Barbara Morgan headed into the studio to record "Rock-a-Bop" and "Skull and Crossbones," released later that year.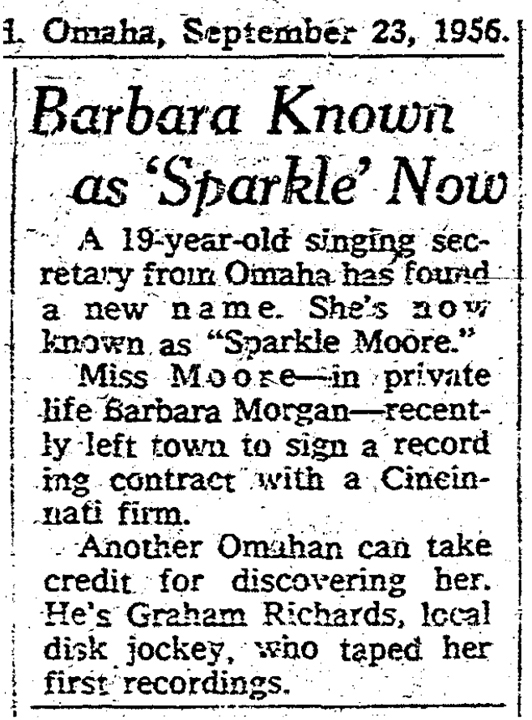 OWH archive, September 23, 1956. "Singing secretary."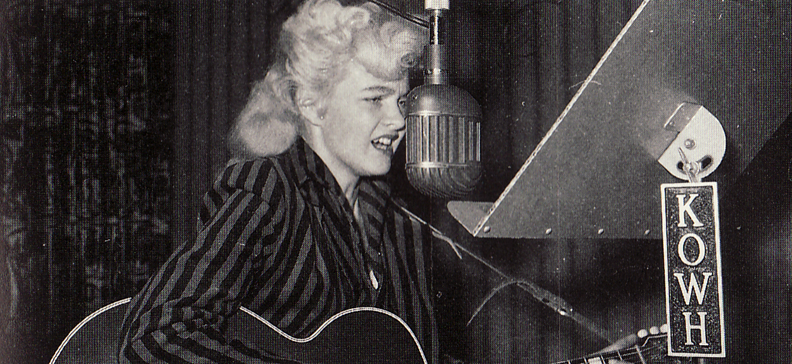 Sparkle Moore at Omaha's KOWH radio station. I scanned this photo from the Fraternity Records label compilation released by ACE. Did Grahame Richards record Sparkle Moore's demo in the KOWH studio? Were these photos taken when she was live on the air? Or were these just promo shots for upcoming marketing?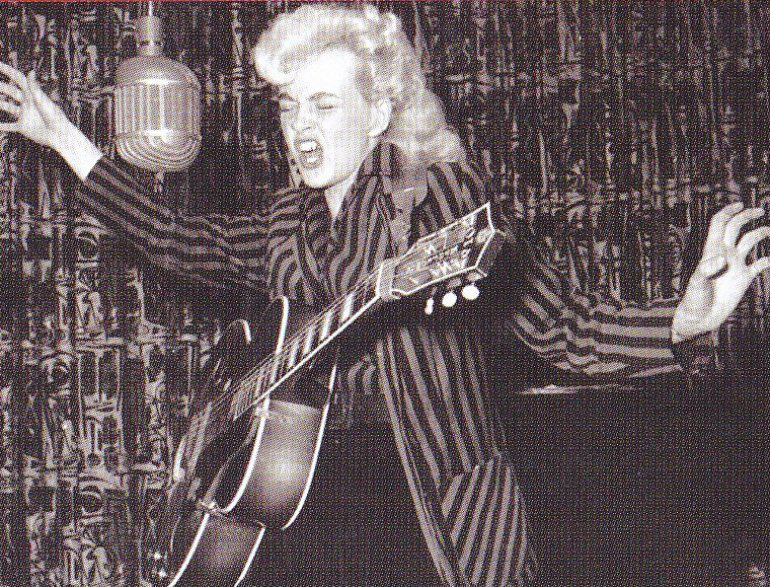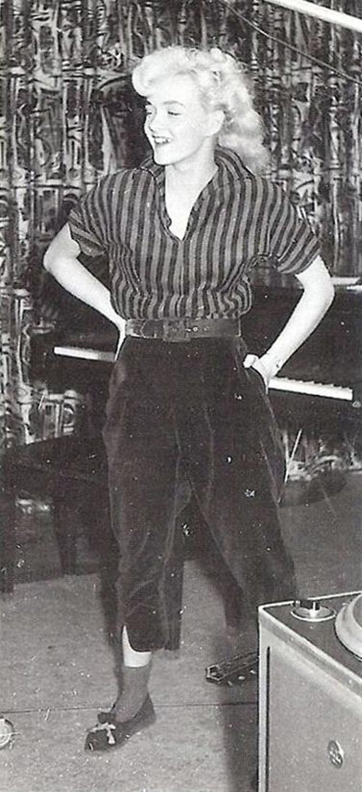 Judging from the fabulous MCM exotic curtain, the pro radio station turntable, and Sparkle's equally outstanding outfit befitting of a pirate, these images were snapped at the very same KOWH radio session. I scanned the photo on the left from the Good Girls Gone Bad: Wild, Weird and Wanted comp and the one of her standing naturally (on the right) was scanned from the All American Rock 'N' Roll from Fraternity Records comp.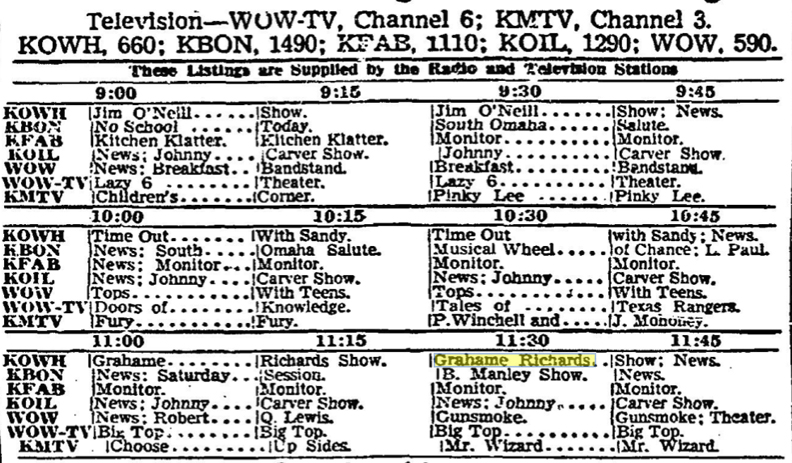 OWH archive from 1956. KOWH radio station listings. This was a very popular radio station focused on Top 40. "The Grahame Richards Show" at 11:00 followed the "Time Out with Sandy" show. We will talk about the importance of Sandy in a bit. For more on the KOWH history check out: https://worldradiohistory.com/KOWH_Birth_of_Top-40.htm   and
A History of KOWH, North Omaha's Radio Station
Side Story on Radio: My father is a bit younger than Barbara Morgan but as a junior high boy, he was definitely taken with the new sounds of rock and roll, discovered through radio. I've got to think that all kids were. Although losing popularity to the new-fangled television, radio was still a major lifeline to culture and certainly for young people at that time. My dad and his pals would often go to the corner drugstore after school for peanuts thrown into bottles of O-So Grape soda. (I had heard of peanuts in Coke–was this spin-off concoction a quick liquid peanut butter and jelly sandwich, Dad? He didn't remember why they did it.) This was not the quintessential, dreamy 1950s drugstore fountain with a jukebox of Hollywood but rather a simple shop with a young gal working the cash register who would play the radio on her afternoon shift. My father remembered hoping that Elvis' "Heartbreak Hotel" would be played at the frequent visits, because they could talk the cashier girl into turning up the new hits. He reminisced that they would stand around and quietly listen. Of course when telling this story recently, Father Cassette had to sing me the chorus of "Heartbreak Hotel." He also told me all about what his folks and most adults thought of the new teen sound. Not impressed! He spilled the tea on double entendre solid gold hits such as Hank Ballard & the Midnighters, "Work with Me, Annie," although not rockabilly, and probably not anything played on the radio in conservative Omaha. These were the 45s of lore—the chance to learn about life through lyrics and dance.
Grahame "Crackers" Richards
Grahame Richards was a local radio disc jockey and emcee personality for Omaha events. I could only find Grahame in the Omaha paper in 1956, as seen in the above radio time schedule. Maybe he split town for another gig after getting Sparkle Moore signed? Nope, turns out, sometimes his name was misspelled Graham Richards.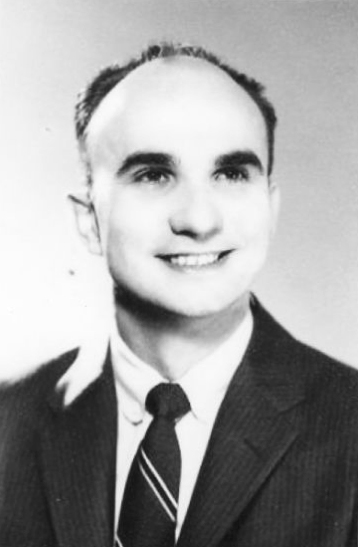 Grahame "Crackers" Richards, Sparkle Moore's manager. Photo borrowed from the Sparkle Moore website.
Richards later moved into a program director position for the Inter Mountain Network. By 1959 he had reached a pinnacle—he became national program director for the Omaha-headquartered Storz Stations. Storz Stations? From beer to broadcasting–check out The Birth of Top 40 Radio: The Storz Stations' Revolution of the 1950s and 1960s by Richard W. Fatherley and David T. MacFarland for more details. The five Storz Stations had call letters in Minneapolis, Kansas City, Oklahoma City, New Orleans and Miami. Storz Stations would customarily hold large conventions for disc jockeys. 1958's convention program roster offered seminar titles such as "Is Rock 'n' Roll a Bad Influence on Today's Teenagers?" and "The Program Director—Friend or Foe?" In 1961 Grahame Richards was only 35 years old and was the new vice president of the Storz Broadcasting Company. Past 1961, he fell off the Omaha books.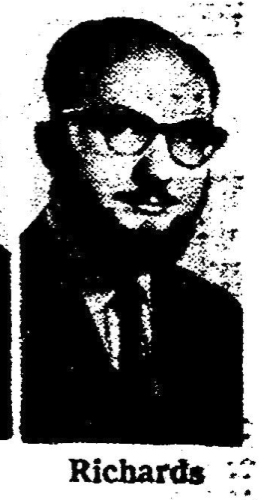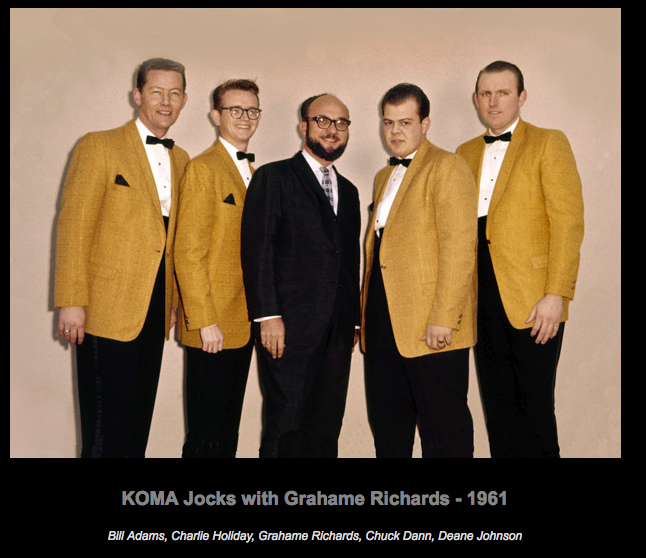 Black and white OWH archive from February 1961. I like the beard.
Color photo from 1961 KOMA in Oklahoma City. KOMA jocks Bill Adams, Charlie Holiday, Chuck Dann and Deane Johnson with Grahame Richards in the middle with the beard. Photo borrowed from KOMA site.
So let's get back to Sparkle Moore. The Pinup Club website reported Mr. Richards had drummed up five major label contracts for Sparkle Moore but in Leah Branstetter's interview with Sparkle Moore in 2012, Moore said Richards had found seven. Potato potato, right? "My manager, Grahame Richards, was also a DJ for KOWH in Omaha, Nebraska, and had a tremendous and influential sales ability. He found seven interested recording companies and wound up selecting Fraternity because it was a small label, probably more willing to invest more resources, and the owner of the company was a very persuasive individual. Plus they had just had a hit record." Apparently within weeks it all came together or so the story goes.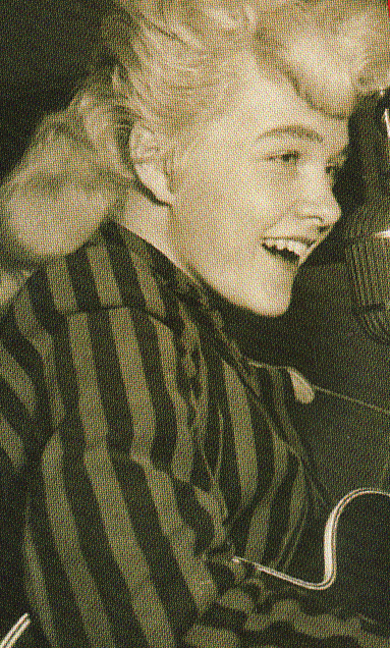 Sparkle Moore photo courtesy of Ace Records.
Fraternity Records
Born on a farm near Holdrege, Nebraska in 1904, Harry Carlson always loved music. He studied piano and saxophone as a young person and by the 1930s was a songwriter and saxophonist in dance bands. He would move to Cincinnati, Ohio and find success in the photography business. There the Nebraska farm boy made good founded the Fraternity Records company at 413 Race Street in 1954, (perhaps as a nod to his Greek days at University) as a fun, passion project–simply a way to promote the big band sound that he had always loved. Along with silent partner, Dr. Ashton Welsh, Carlson seemingly tended to avoid rhythm and blues and hillbilly in preference of popular music such as jazz, romantic ballads and light orchestral arrangements. At fifty years of age, Carlson was older than most of his competitors in the record business, with his goal to tap "Mid-West talent without specializing in blues or hillbilly." On that note, King Records was the larger, better known Cincinnati label that did embrace all manner of r &b and hillbilly. Coincidentally Hank Ballard & the Midnighters' "Work with Me, Annie," promoted by my father, was also recorded on Cincinnati label, Federal Records in 1954.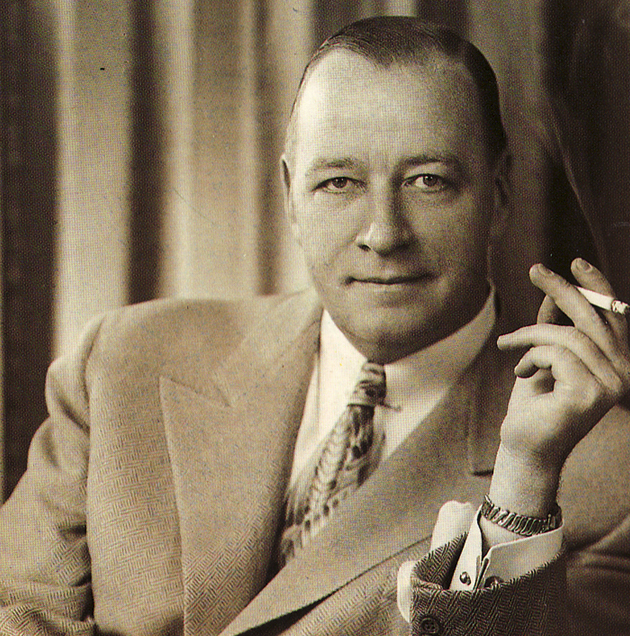 Harry A. Carlson, owner of Fraternity Records. Photo courtesy of Ace Records.
When Sparkle Moore mentioned that her manager, Grahame Richards was drawn to Fraternity, potentially, because they had just had a hit record, I've got to think that was with Cathy Carr's single, "Ivory Tower," which reached No. 2 on the charts in March of 1956. Taking into account the usual Fraternity Records stock, this might be why Cincinnati's Al Schottelkotte offered this preemptive dig at Sparkle Moore.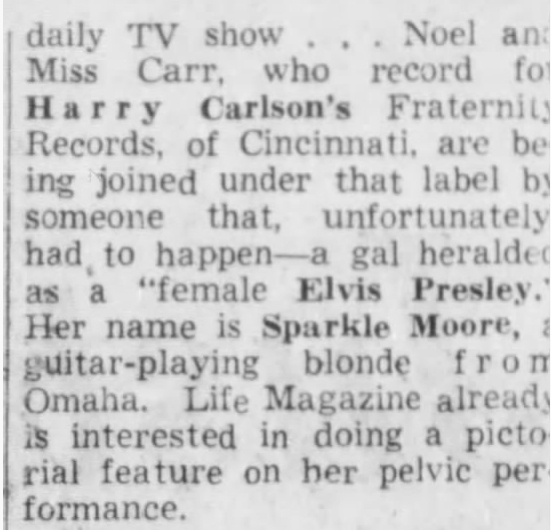 October 19, 1956. The Cincinnati Enquirer, Cincinnati, Ohio archive. Al Schottelkotte's "Talk of the Town" column was snarky: "…unfortunately had to happen—a gal heralded as a 'female Elvis Presley.' Her name is Sparkle Moore, a guitar-playing blonde from Omaha. Life Magazine already is interested in doing a pictorial feature on her pelvic performance."
Barbara as Sparkle Moore had been whisked off to Boulevard Studios in Chicago to record "Rock-A-Bop" with "Skull and Crossbones" on the flip in short order. According to the liner notes from the All American Rock 'N' Roll from Fraternity Records compilation (1991), "the early Fraternities were cut in Chicago with Dan Belloc's musicians." Born in Chicago in 1924, Dan Belloc had directed Billy May's orchestra and, according to Fraternity Album Discography by David Edwards and Mike Callahan (2003), was also a veteran of the big band era; this love of big band was something he no doubt, shared with label owner, Harry Carlson. From the Fraternity Records comp: "That these avuncular, middle-aged figures should have helped produce the fistfuls of rock 'n' roll insurrection heard here is one of the more surprising aspects of the Fraternity story."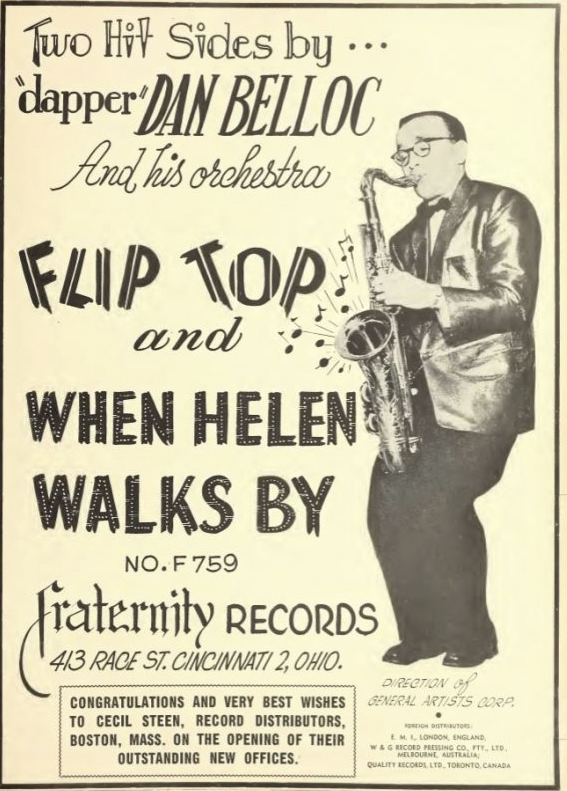 Photo of Dan Belloc from 1957. Belloc had his own record on the Fraternity label. Dan Belloc was an American producer, composer and big band leader. From Discogs: "During these years and even until recently, he was the owner of the Holiday Ballroom (4847 N. Milwaukee Av.) in Chicago, which he transformed to a ballroom in 1956. Belloc was mostly known as a producer and bandleader in the Chicago area. He co-authored 'Pretend' with Nat King Cole, and co-produced 'Kind Of A Drag' for The Buckinghams. He partnered with Carl 'The Screaming Wildman' Bonafede producing garage rock bands." But all this garage business came later for Belloc and I've got to believe he, too, cut his teeth on those Sparkle Moore sides.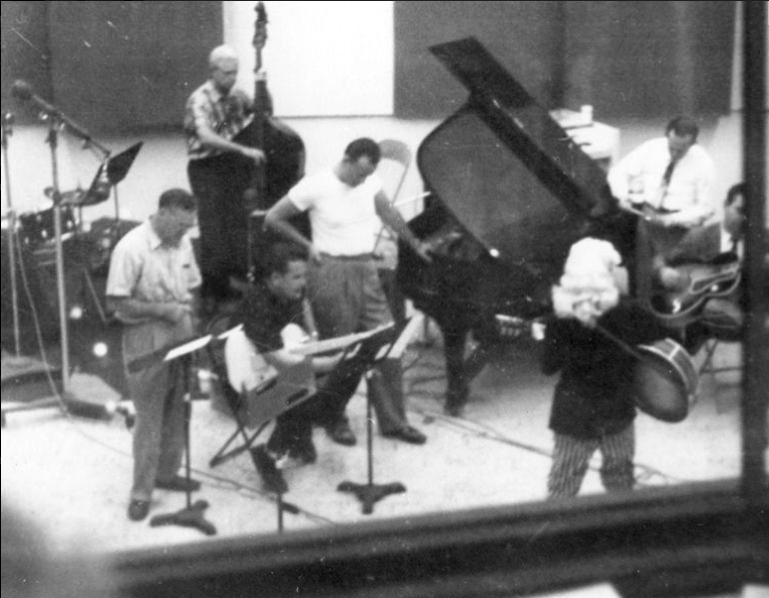 The Fraternity recording sessions. Probably one of my favorite photos of this investigation. (Now I realize no one probably likes to meditate on Sparkle's fashion as much as I do, so bear with me here. Note she is wearing a black coat in the studio, perceivably black velvet like her rockin' velvet pantelones, and the previous striped fabric is now used for pants. These subtle switch offs but of the same fabric, tell me she was not wearing men's clothes, as often repeated. Someone was designing and sewing these interchangeable pieces for her.) Sparkle Moore with Dan Belloc and his Orchestra. Courtesy of the Sparkle Moore website. Sparkle wrote all of her own songs lyrics and played guitar. What would these recording sessions have looked like, trying to get what she wanted out of the rhythm section of an orchestra? It is interesting to think that our Sparkle Moore's "Rock-A Bop" was literally the first of Harry Carlson's rock 'n' roll releases.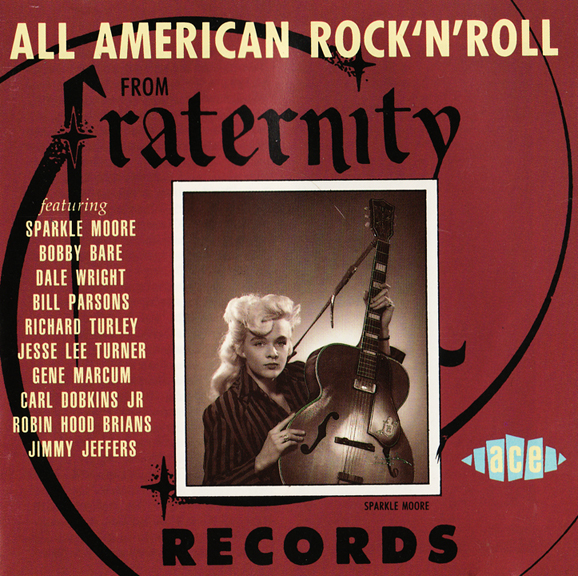 This taken from the All American Rock 'N' Roll from Fraternity Records compilation: "(Sparkle Moore) was recorded in Chicago with Dan Belloc's rhythm section. Whether his drummer was quite attuned to rockabilly rhythms is debatable but the material is almost as wild—some would say less polished—as anything by Lov Berry, Carl Cherry or Ronnie Self, three of the rockabillies with whom she played in her hometown of Omaha." Barbara Morgan's take on the recording experience, reported by Leah Branstetter in 2012, was not necessarily a positive one. At least in retrospect.
LB: What were the recording sessions like for you?
SM: Honestly, strange, and slightly disappointing, in the sense that I had no control of sound. I wasn't accustomed to playing with an older established orchestra. I felt uncomfortable and thought the music didn't sound right. I wanted a lot of echo, etc, which never happened. The music wasn't loose enough I thought."
An Aside, Just My Thoughts: What could Sparkle Moore's sides have sounded like with an actual band or with players from her age group? What if she had penned her singles to Capitol or Sun or recorded in a studio hep to the rockabilly sound? The mind reels. She might have ended up with something she liked better. But for what was offered up, there was a rawness captured on those five tracks (the second 45 yet to be discussed and a single that didn't make the cut) that really got to me. It was a bit messy—the honesty of a regional recording, only discovered when combing the thrift stores and second hand record bins for original 1950s 45rpms. This kind of free-howling rock 'n' roll held a strange, smirking power, lost to formatted, mainstream radio. I hear Sparkle Moore's come-ons and teases but it is not overt. It's a wink by today's standards. I would like to hear her guitar more! Her voice is quivering and lilting—her reaction and contribution to a burgeoning sound revving up around the country. A sense of a real life. It is more interesting than a smash hit. To think, many towns had these obscure rockers and record labels who the rest of us would never know or hear.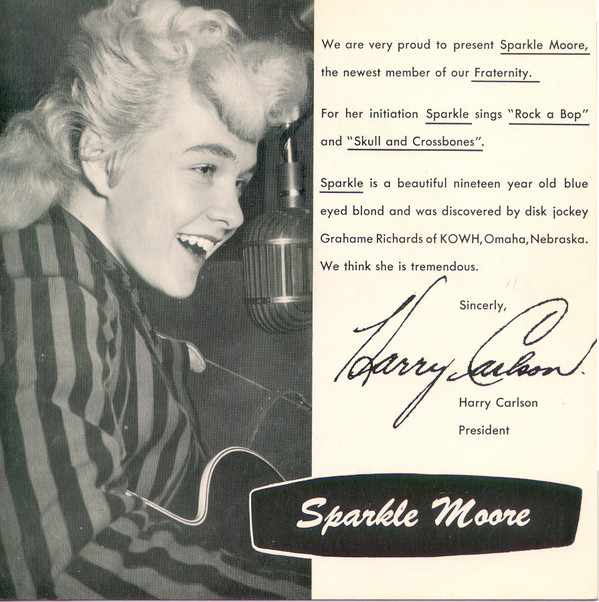 A record store kid, I love these promos. This one is particularly good.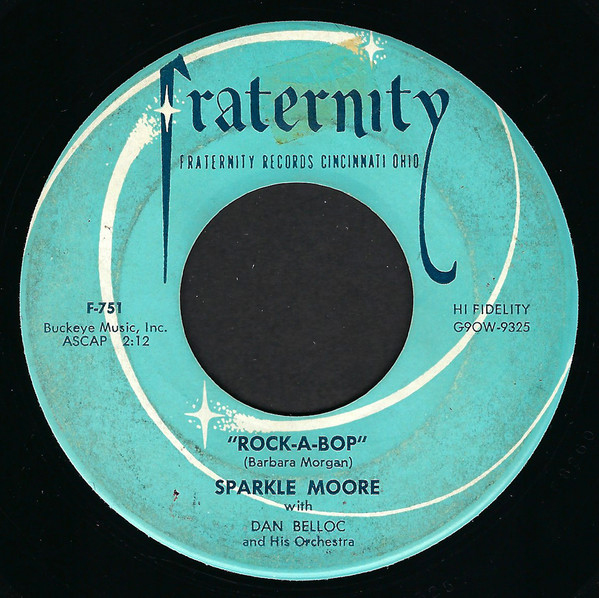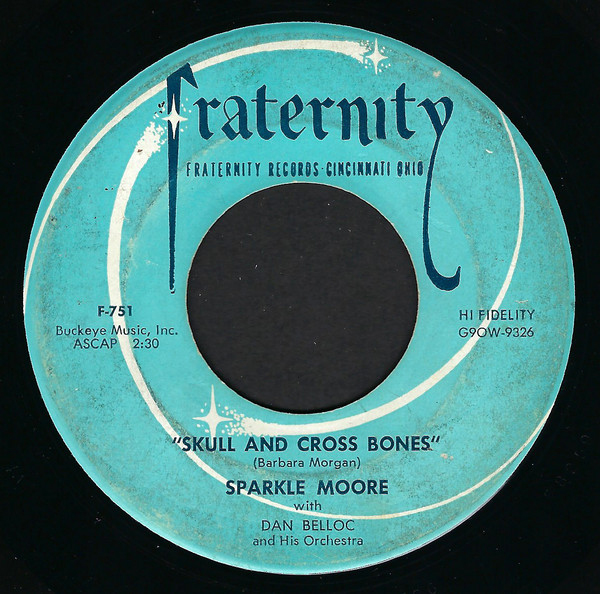 Fraternity F-751 – "Rock-A-Bop" / "Skull And Cross Bones" released November 17, 1956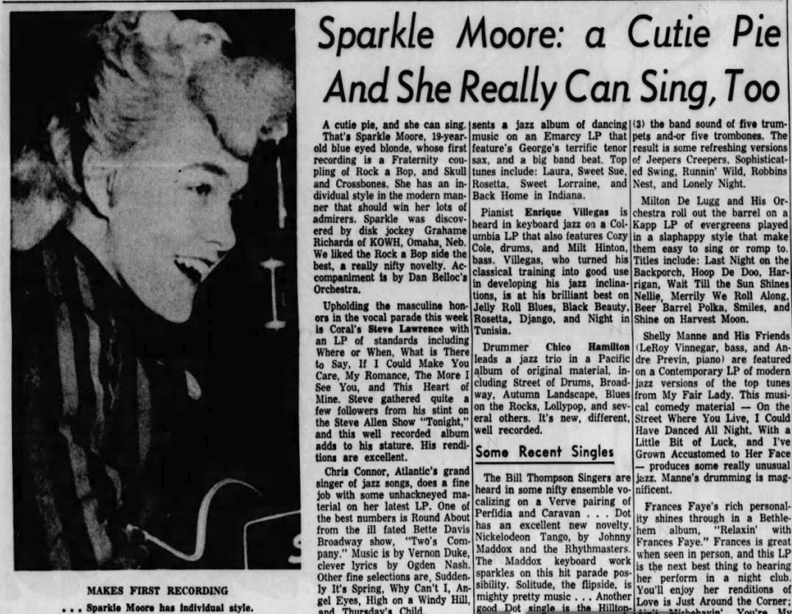 November 25, 1956. St. Petersburg Times, now called the Tampa Bay Times, out of St. Petersburg, Florida. "Sparkle Moore: A Cutie Pie and She Can Really Sing, Too." "Sparkle Moore has individual style." They called her "a really nifty novelty," choosing "Rock a Bop" as the best song of the two sides. Billboard Magazine wrote approvingly of Sparkle Moore when reviewing her debut 45 in November of 1956. "Gal pulls a female Elvis Presley and belts out a catchy rock and roll ditty with style and drive."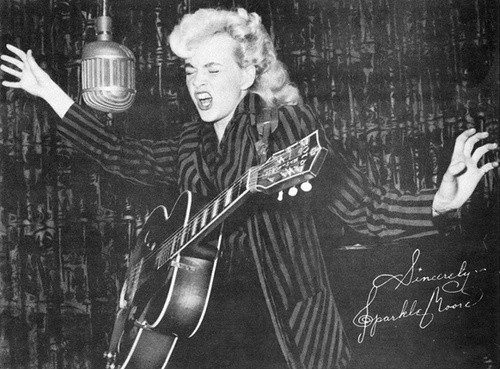 Great photo. This image would be used later for the cover of the Sparkle Moore 10" reissue on Vivop. Her four singles were remastered and released in 2018 as Wild and Exciting, Here's Sparkle Moore. Not surprisingly, international music fans and record labels are gaga over Sparkle Moore and all things rockabilly.  People from other countries seem to have an appreciation for our roots music that Americans don't have.
I'm Left, You're Right, She's Gone
Newly returned to Omaha with a single under her cinched belt, this had to have been an exciting time for Barbara Morgan. She was accomplished. I know Sparkle Moore did not get much more local print than what I've already shared but maybe there were other doors opening up for her that I couldn't find at this late date. I've got to think there wasn't a formal red carpet rolled out for her in the way other towns were promoting their new male rockabillies. I base this on the fact that most current national acts living in Omaha right now are barely known to the locals. We are a stiff lot in that regard but also, in line with the larger mainstream of the time–Sparkle's music and look were edgy for 1956. Let us thank the record store gods, hers was not the presentation most expected of a "girl singer." Moore recalled in her 2012 Leah Branstetter interview that she "simply dressed like the male rockabilly musicians she was influenced by." Miriam Linna, one of the geniuses who created Norton Records, writing for Kicks Magazine also interviewed Sparkle Moore in 1988. "People would see me when I went to play somewhere, and they'd say, 'Can't you wear something more sexy, like a gown?' Moore said. 'And I never would. I always wore a playing suit, and I'd say, 'This is as sexy as I get.'"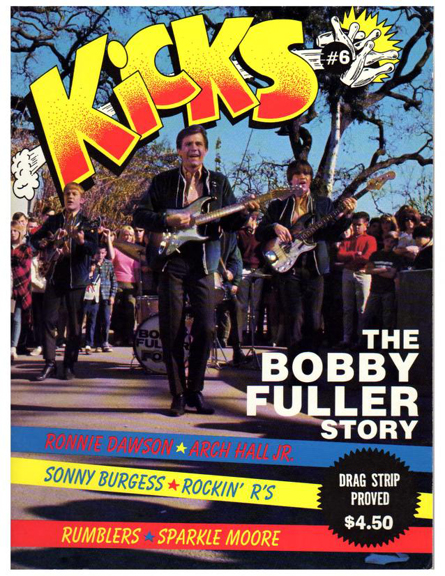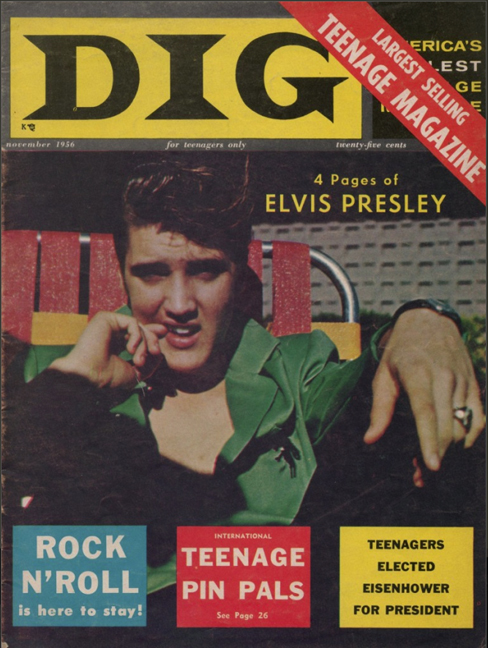 Meanwhile I discovered there were whispers that Sparkle Moore was not just a "Female Elvis" but also a "Female James Dean." Dig Magazine, the largest selling teen rag at the time, hinted that Moore bore "an amazing resemblance to the late James Dean…Presley's style and Dean's looks."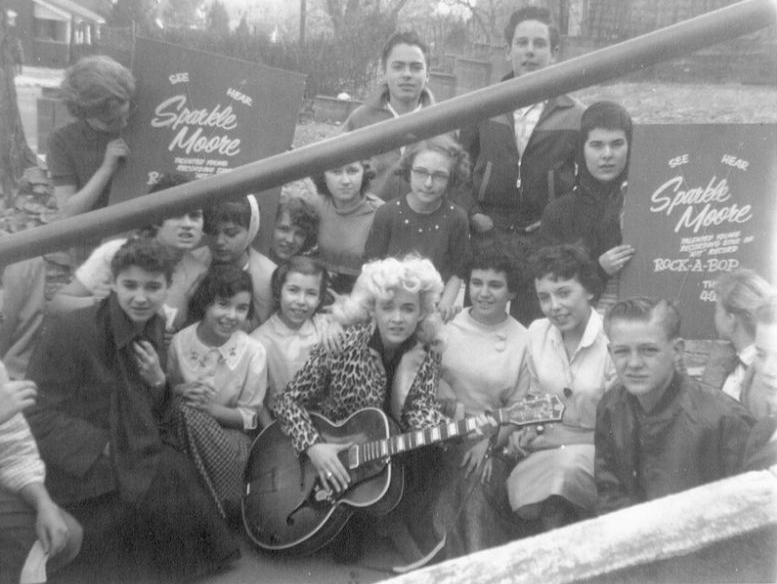 Here we see Sparkle Moore- Barbara Jean Morgan with her teenage fan club. Sparkle is wearing a killer leopard coat, her curls not as pomaded into place. I can't get enough of this one. Photo borrowed from the Sparkle Moore site. From Leah Branstetter's interview with Sparkle Moore: "Always, the kids loved me. Parents seemed to go along with it. The bars were a different story. One bar owner said I was welcome to play in his establishment any time I wanted, but 'wear something more sexy.' I told him 'this is as sexy as I get. I sell music, not sex.' I never played there. It always irritated me to think a woman had to sell her flesh to perform a song, but the same criteria was not demanded from a man. Therefore, I continued to dress the way that was right for me. Of interest, one time I was playing in a club getting no particular acclaim and I happened to look out the front windows. There were a bunch of kids out there with their faces against the glass. Due to age, they couldn't come in. After that, I always tried to play at places where the kids could get in."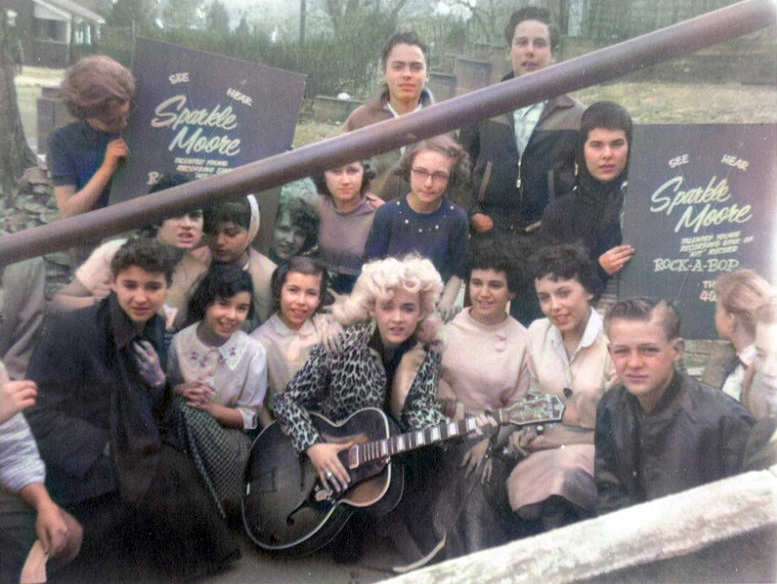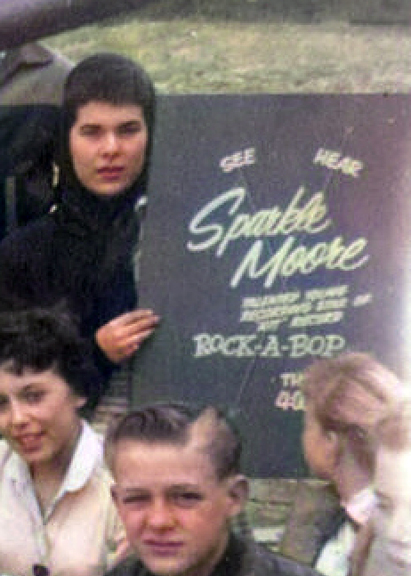 The Kids Are Alright. I colorized the squad and zeroed in on this cutie with the dark kerchief and the neato promotional sign. The hand lettering and professional nature of the "Rock-A Bop" sign tells me this more than likely was the work of Grahame Richards or Fraternity for an event.
***Addendum of March 27, 2022 I was so excited to hear from Wendy Bell. Wendy wrote in that her mother, Jane Mendes Renken, was the young girl holding the fan club sign. Wendy reported her mother had said something about listening to records in Sparkle's house and having fan club meetings there. She sent this great current photo of her mom.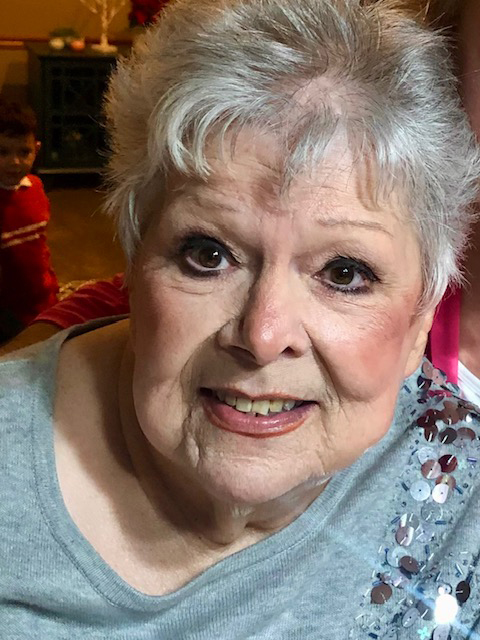 Jane wrote of Sparkle Moore: "She was a great performer and so kind to a bunch of kids from Park School who were getting ready for high school. She went to Park School too when she was younger. We found out she didn't have a fan club yet and we jumped on it. We had seen her perform and had been buying her records, which we loved dancing to. We called her (she lived several blocks from Park School) and told her our plan and asked if she would come and sing in front of the class. She said yes! Wow were we thrilled! She showed up on the arranged day in full rockabilly out fit! Lots of glitter and her gorgeous guitar. So beautiful! You have no idea what her kindness and generous attitude meant to a bunch of kids about to start high school. Sparkle was a huge hit with everybody and even teachers stood in the hall outside our classroom! I never forgot her. We held fan club meetings in her basement and Sparkle would always sing for us. What a gal! When I saw the picture of all of us with her, I just about cried. Thanks for the memories. Jane Mendes Renken. PS. If Sparkle is still around, tell her Hi for me."
Thanks so much to Wendy and Jane. I just love this.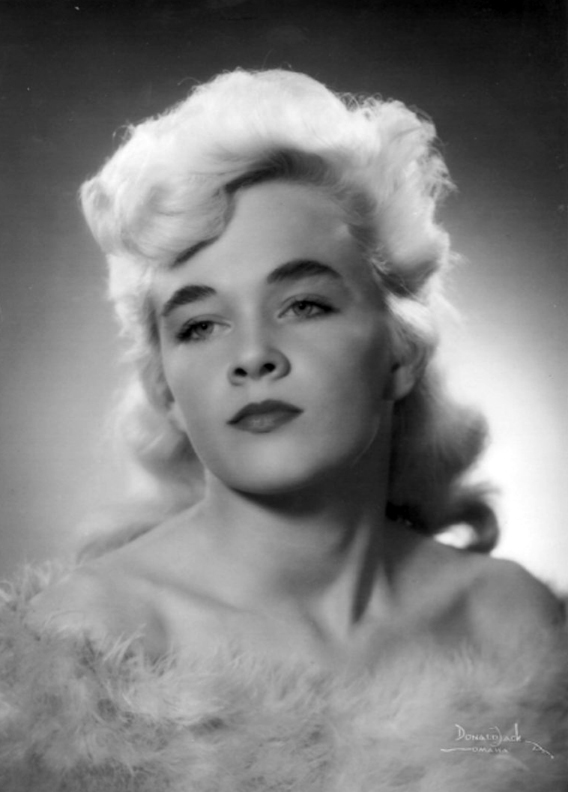 For what it's worth, there is at least one stereotypical feminine photo of Sparkle Moore, although it's anything but regular. Miss Cassette is no stranger to the powdery pale colored ostrich feather stoles of the 1950s. In fact I love it all but even I can see that this is not quite Sparkle Moore, although lovely. May I suggest a black marabou number? Getting out my magnifying glass, I could spy that Omaha's well-known photographer "Donald Jack" signed this photo, most likely one in a session.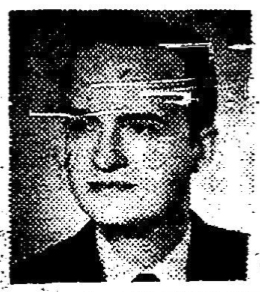 OWH archive. 1958 photo of Donald Jack. At this time, The Donald Jack Studio was at 4807 Dodge—advertised as "Master Photographer of Portraiture." Donald Jack would run a photo studio in Omaha for many years.
I believe Donald Jack took these other professional photos for Sparkle Moore. She is donning her custom cool look. It might not be my place to say but she does not appear as relaxed as in her previous radio station photos. Posed photo shoots are usually pretty awkward, I told myself.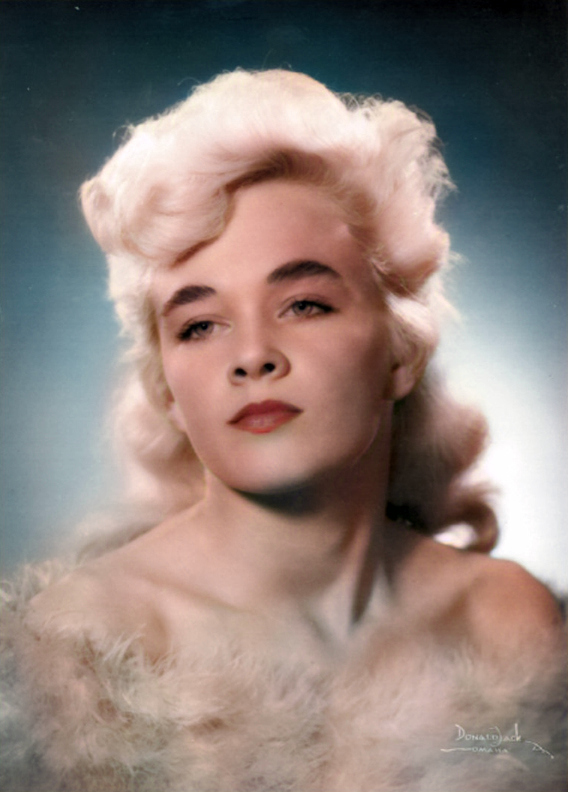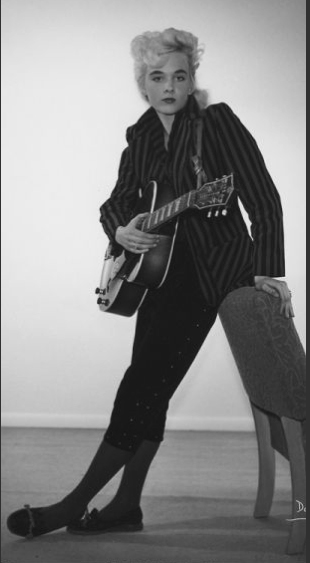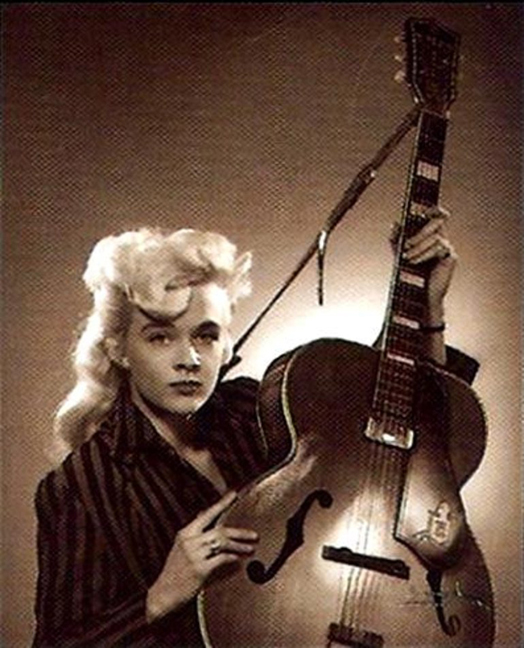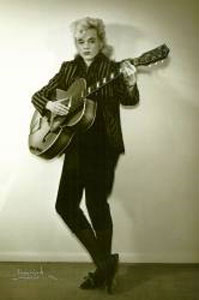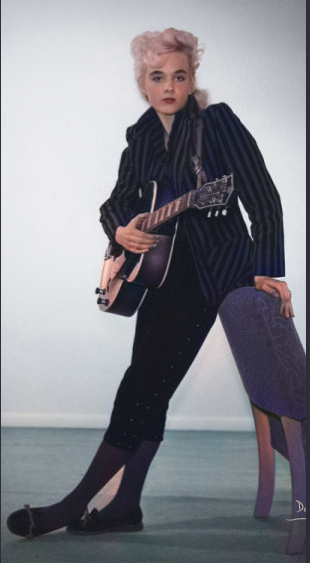 Tours
It is oft repeated that Sparkle would embark on a 1956 national tour as opening act for Gene Vincent. I have not found solid proof of those tour dates. Considering her leadoff 45 rpm came out in mid November of 1956, there wasn't much left to the year. Maybe this tour took place in 1957? It is also written that Sparkle Moore was just 17 at the time of this tour but truly she was 19 or 20 years of age, dependent on if the tour happened before or after her record release. At any rate, securing a slot on the Gene Vincent tour would have been a major score for any artist.
Gene Vincent and His Blue Caps hailed from Norfolk, Virginia. Vincent's huge hit "Be-Bop-A-Lula" had also just come out in 1956 and was/is still considered rockabilly solid gold. Sparkle was touring with a band at their peak right out of the gate. Vincent was known as something of a wild card and I can only imagine the antics that ensued on the road.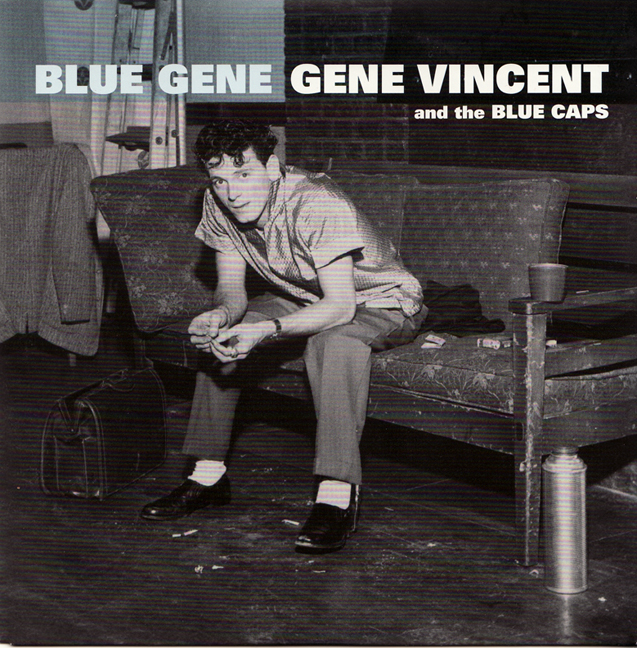 I scanned my 45 record because I love this photo of Gene. Gives a real feel for the times. "Blue Gene" single, four unissued demos put out by the great Norton Records.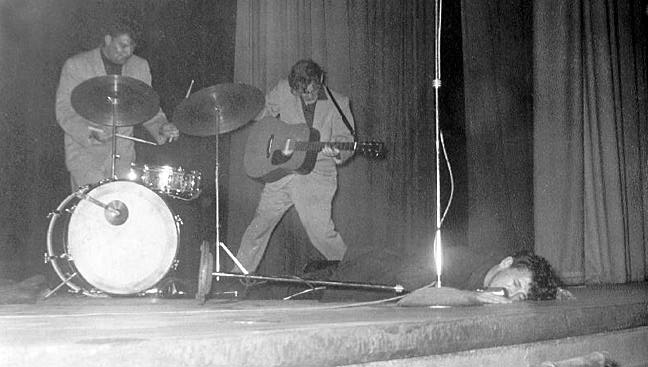 Going Ape. Get an eyeball. Gene Vincent performing live in 1956. Photo by Party Pooper. Is Sparkle Moore behind the curtain stage left?
Tongue tied. Photo of Sparkle and Gene from that fated tour. Image borrowed from the Sparkle Moore website. Road life is draining. This is The Most punk thing I have seen. I say–Red bluejeans and a ponytail. Oooh-wee! In love with this photo.
It is also rumored that "a planned appearance on radio's Grand Ol' Opry was canceled due to a bout with laryngitis." Max Decharne wrote in A Rocket in My Pocket, "Sparkle Moore played on bills with the Wilburn Brothers and Ernest Tubb and there was even talk at one stage of a 1957 package tour of Brazil."
Sparkle Moore would later say "After recording in 1956, teen sock hops were very popular, radio and TV stations, schools, bars, dance halls." I take from that that there were more opportunities, venue wise, for our gal Sparkle Moore to take the stage. Did she headline her own tour? I don't believe so. And by the way, who was her backing band? How did her act go over with the Vincent crowds? There was so much I wanted to know! According to her interview with Leah Branstetter in 2012 Sparkle Moore received "no assistance from the record label. Also, wherever I played, the records seemed never available for purchase in that area." That being said, I don't know that Barbara Morgan made whole lotta do-re-mi as Sparkle Moore—and that possibly wasn't even what drove her. Obviously she wanted to make music and perform. I found that she continued to live with her parents in the family home and work at Woodmen of the World as clerical staff.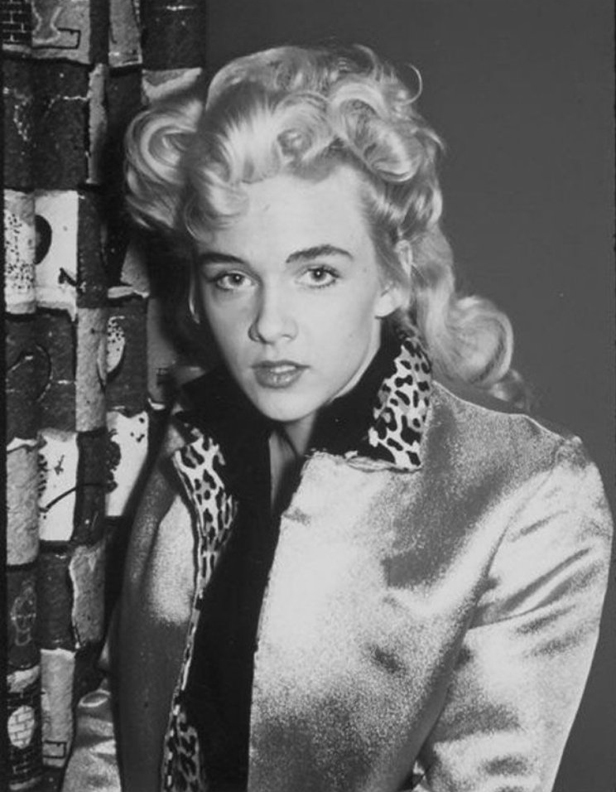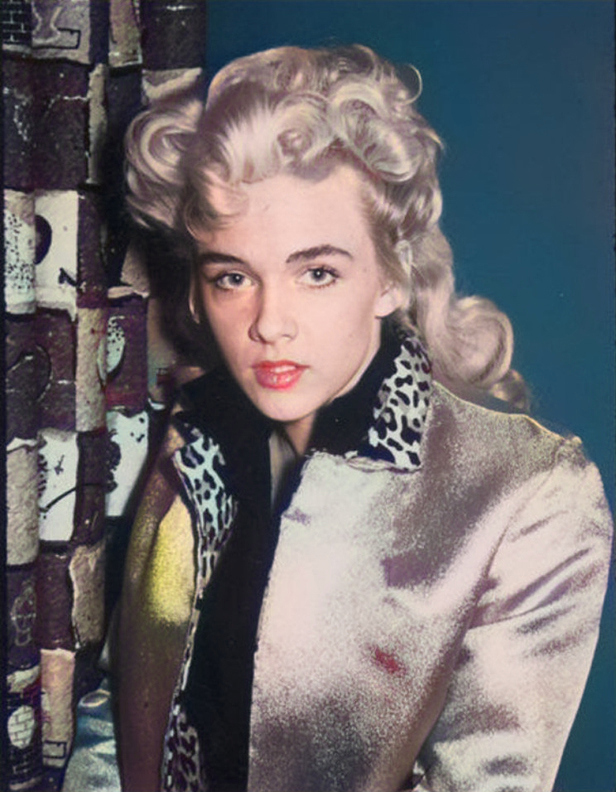 Reversible leopard lamé with a backdrop of MCM barkcloth curtains. Yes, ma'am. Real Gone
1957 Rock Boppin Baby
In May of 1957, Sparkle Moore cut another slab on the Fraternity Records label. In my estimation, these two sides were something to flip about. The guitar has stepped into the light. "Killer" was chosen as the A side. Similar in theme to "Skull and Crossbones," Sparkle is warning about a real cool guy who is out there breaking girls' hearts—lest you worry: "I'm not a victim of the killer's arms." Sparkle's singing is audibly stronger, no doubt confident from her time on the road. She's in another gear on this release. I am goofy for how she pronounces killahhh. She also throws out some off-handed "mmmmms" or "screams," dependent on which version you hear. The official single featured the Dick Noel Singers version of male doo-wop in the background and the whole things is a bit stilted. An alternate "Killer" take from the original 1957 studio sessions came out on 2004's Good Girls Gone Bad: Weird, Wild & Wanted with Sparkle fake screaming. The drumming and guitar are more prominent– the song has a jaunty vibe. It moves and the session feels loose and fun on this unreleased version.
Fraternity F-766 – May 1957 – "Killer" by Sparkle Moore.
"He wears blue jeans and a faded shirt, he wears a duck tail and he loves to flirt he goes for anything that's wearin a skirt."
Alternate of "Killer." This great version was not available for sale and didn't see the light of day until the Good Girls Gone Bad comp by Ace Records released it.
"Tiger" is the B-side. It opens with an almost beckoning yodel—with a strange, similar spin to Billy Ward and the Dominoes "Sixty Minute Man." Thematically, Sparkle warns the man called Tiger is all trouble! His M.O. is record collecting. If he starts playing you sides from his record collection, you are in Danger. The song is swinging and seductive but also weird as can be. There's a rollicking piano, real nice guitar solo and Sparkle has learned to nail those hiccups interspersed with her personal yodel stylings. She particularly sounds like Elvis singing on "Milkcow Blues Boogie" from 1954—a cover of James "Kokomo" Arnold from 1934. To my ears, this is her strongest song and she sounds at ease in the studio. It's a wax banger.
Fraternity F-766 – May 1957 "Tiger" by Sparkle Moore. Dan Belloc and his Orchestra are accompanying. Is that Sparkle's guitar solo? Dying to know. I am a steadfast Side-Two kinda gal, ask anyone. I also cheer the second string, B-movies and champion the uglier twin. So, with that in mind, tiptoe bravely to the next song.
"Flower of My Heart," a unique, impassioned ballad, was supposed to be the A-side (in lieu of "Killer") but was cut altogether. Dark and emotional, both the theme and song structure are unusual. After possibly too many listens, I think the true haunting of the song is deeply connected to the "narrator"—a strong imagined likeness to the main character in Charlotte Perkins Gilman's short story "The Yellow Wallpaper" with hints of a young Roy Orbison in his Teen Kings years and dashes of Hank Williams, Sr. There is a disturbing tenderness here and I can only hope this song made her live set list. By the way how long was Sparkle Moore's usual set? Surely she had more songs. "Flower of My Heart" was included for the first time by Ace Records for their Good Girls Gone Bad comp.
"Flower of my Heart," unissued track.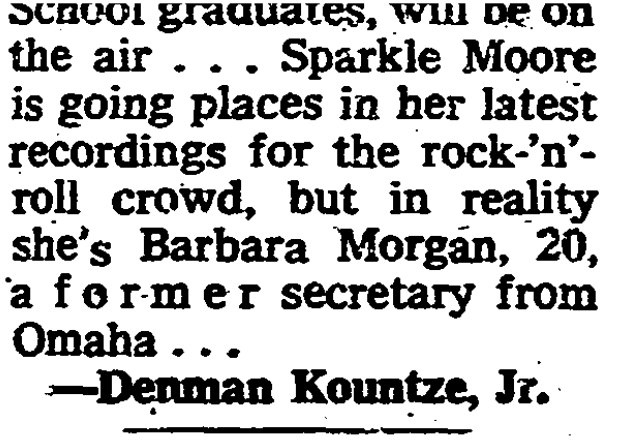 OWH archive. May 27, 1957. Sparkle Moore, folks. For her sophomore rockabilly release, the World-Herald would offer this blurb, calling her a 20 year old "former" secretary.
Two days later, a local fan wrote in to the "Public Pulse" column demanding some attention for Omaha's Rockin' It Girl. The World-Herald mustered a measly photo that barely looked like Sparkle Moore to run in conjunction with the fan's letter. Barbara Jean Morgan should have gotten way more from the hometown team.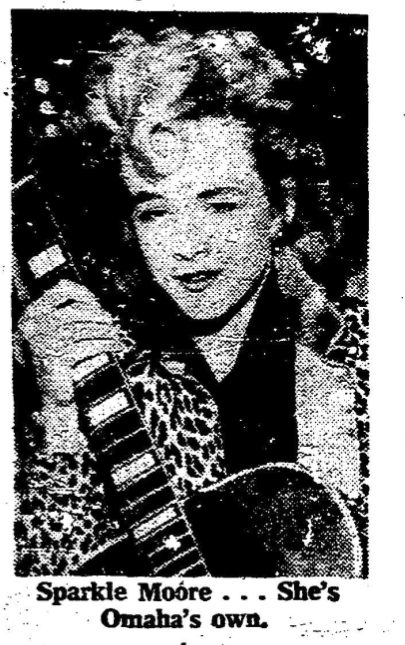 Photo borrowed from the OWH. May 29, 1957.
'Moore of Sparkle' Here's a pat on the back for Omaha's own Sparkle Moore. This gal's been stirring up quite a controversy and the objectors seem to be those same old patrons of the anti-Elvis Presley movement. I say, let's have more of these exciting type singers. Let's have Moore of Sparkle!' Signed T. W. Workman.
Was it true that there were objectors to Sparkle Moore in town? If the problem was rockabilly, the racket it made and the perceived decaying of society, it would make sense that Sparkle Moore and her ilk were viewed with disdain by the stuffed shirts. The more I thought about it, the conventional newspapers have rarely, if ever, covered a youth movement in real time. In fact as far as hype went, the only rockabilly that one could find in the World-Herald, named as such, was in the form of a 1957 musical, Rockabilly Baby. "She's a Rockabilly Baby and Mother was a Showgirl!" Why would Sparkle Moore or any musician garner attention from the stiffs? Meanwhile there was new teen movement germinating across the country and rockabilly was entering its peak. Most likely word of mouth, television, radio, handbills, flyers and posters spread the news of live performances and records to the kids.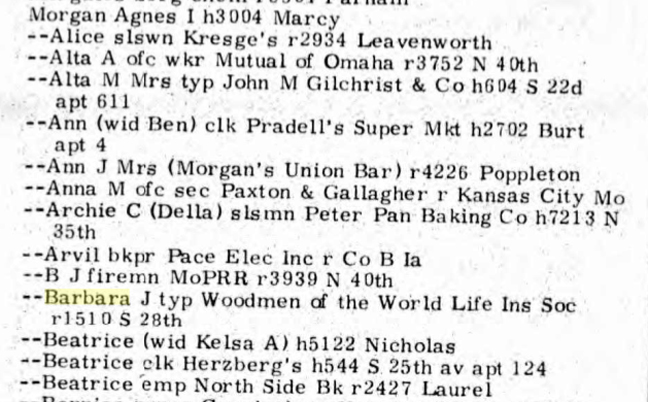 Snap of the 1957 Omaha City Directory. Our "Barbara J. Morgan" is highlighted. The 1957 Omaha City Directory insisted that our Barbara Jean Morgan was a nice, young typist, living at home with her parents. From my snooping into Barbara Morgan and personal understanding of band culture, this very likely was true. She would have needed a home base and a job to return to when she wasn't on the road. One website proclaimed, "She toured widely to promote the records. She also remained active as a songwriter; by 1957, she had about forty songwriting credits to her name." I do not know the particulars of these tours or how many songs she wrote in this time period.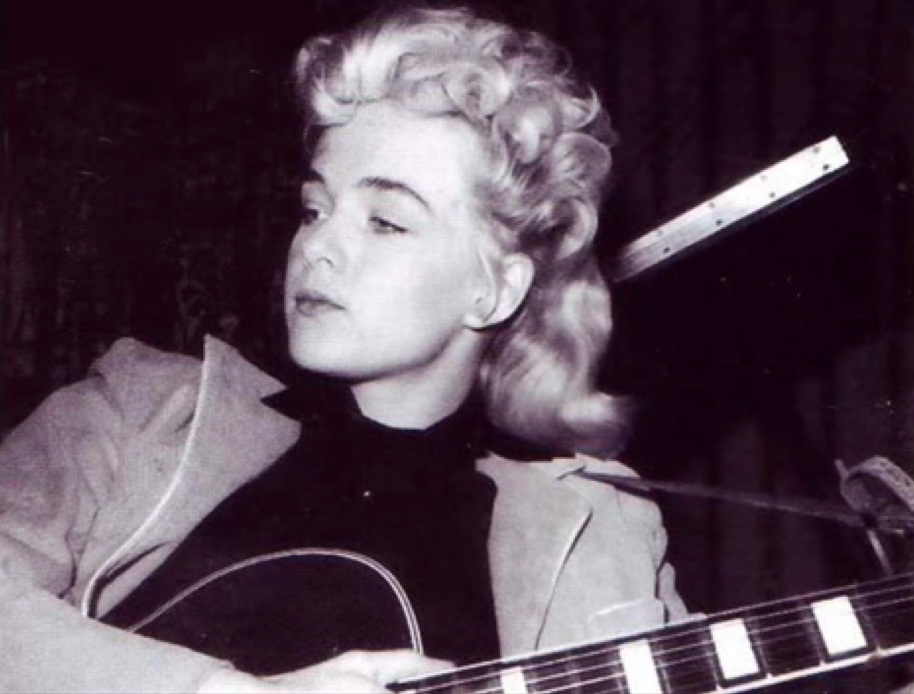 Date unknown for this intimate close-up of Sparkle Moore.
Made In the Shade: The Other Guys
Now guys and gals, before we crack the next chapter, just a word: I most likely will not be mentioning your granddad or even your brother Phil's band. There were so many greats. Please remember, this is not an all-encompassing list of the Nebraska rockabilly scene. I am only touching on the early regional artists known to have played gigs with our Sparkle Moore.
During this time period, we have evidence Sparkle Moore shared the stage with like-minded contemporaries also revving up their own jukebox rockabilly rippers for the cool teen set. Both Fraternity Records and Good Girls Gone Bad comps made mention of Sparkle Moore performing "with local rockabillies Carl Cherry and Ronnie Self, among others," in Omaha and around Nebraska. The Fraternity Records comp particularly name dropped rockabilly artist, "Lov Berry," a person of interest that I could not track. Short for Lovel, I wondered? No, just a simple misspelling on the record label's part. Turns out, in the 11th hour that Sparkle Moore played with Lou Berry of The Berry Brothers. (More on them later!) Going on these leads, I tried to get a feel for Sparkle Moore's fellow finger zingers, skins players, slick backs and the rockabilly scene in general. I discovered Cherry in the local papers as Carl Cherry and the Rhythm Kings.
http://https://www.youtube.com/watch?v=najndOsoHwA
Love the drumming on "The Itch." They evidently recorded "The Itch" and "Baby Doll" at Tene Records at 1512 Douglas in downtown Omaha.
Omaha rockabilly player Carl Cherry, who later fronted The Cherry Flips and recorded the hit song "The Itch," was said to play shows with Sparkle Moore. I will give it to him–Cherry had a real hot plate in in 1959, seemingly around the time Sparkle had stopped performing. Carl Cherry would come to be known as a "teen-age idol." Rockabillyhall wrote: "Back to 1959, Carl Cherry and The Cherry Flips were often found playing around Eastern Nebraska and gained a tour invitation after opening for Gene Vincent in Omaha." A pinnacle our Sparkle Moore had already attained, I wondered how many rockabillies Gene would pluck from the Nebraska scene? Very cool.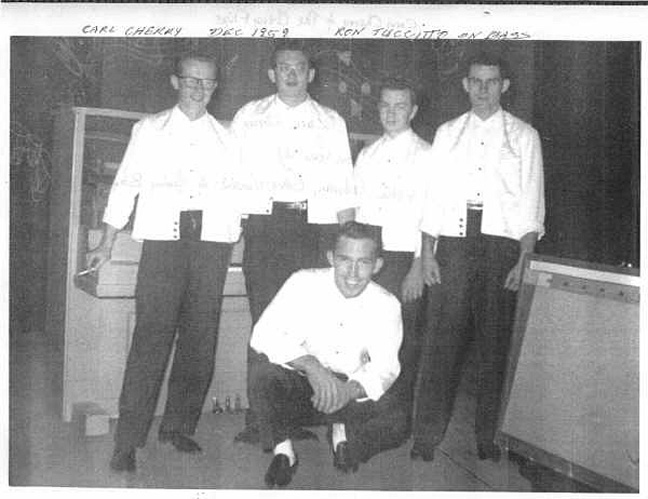 Great photograph of Carl Cherry and lads labeled December of 1959–borrowed from rockabillyhall.com. I have only been able to find two of Carl's sides and they are both killer. Would love to hear more.
Ronnie Self was selling out the Peony Park teen hops with his hit "Ain't I'm a Dog" back in 1957. Self was an 18 year old from Missouri when he caught a great break– a chance to wax a disc on Columbia Records. "Ain't I'm a Dog" is ace in Miss Cassette's black book. Self's voice is gravely and on that feverishly neurotic rockabilly edge that I love. The guitar playing is big and beefy–18 karat gutter. I really dig when I can hear the large studio recording rooms of the 1940s and 50s, all the musicians playing live. The warmth of reverb enclosing it all. The imperfections of true life! None better than this plate.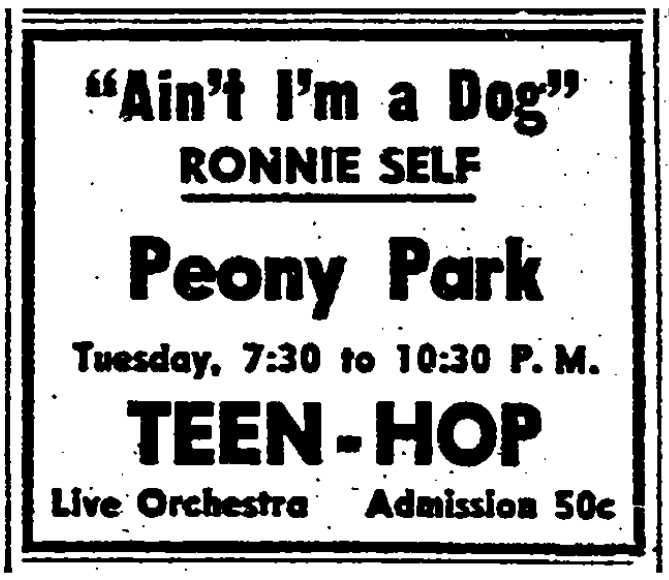 OWH archive from November 18, 1957. Ronnie Self playing Peony Park. Teen-Hop! Fifty cent entrance fee, my goodness. This most likely was the kind of bill that Sparkle Moore played on.
https://www.youtube.com/watch?v=FhZRvyvzi7Mhttp://
Ronnie Self's hit "Ain't I'm a Dog." Released in 1957. Written by Troy Martin and Wayne Walker. Wayne Paul Walker was a huge country and rockabilly songwriter.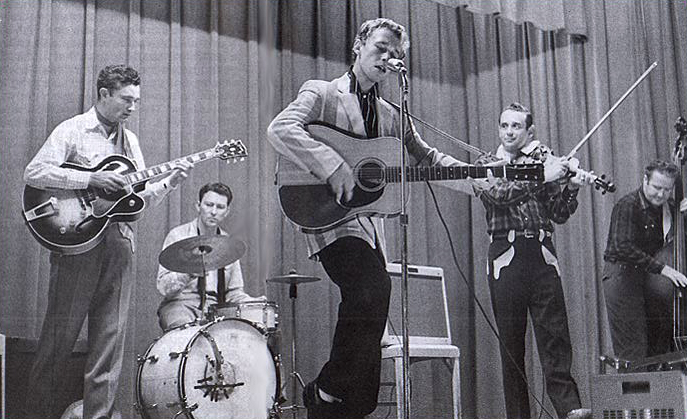 Ronnie Self and his band playing live. Git it, man!
Ronnie recorded Webb Pierce and Mel Tillis' song "Bop-A-Lena" in 1957. This rockin' slab was released about a month later to great regional success. (Remember Mel Tillis and Wayne Walker's hit "Rock the Bop" mentioned earlier? That Mr. Tillis sure liked his "bop" themed songs.) As for Ronnie Self, he would go on to pen other songs and in Brenda Lee's hands, "I'm Sorry, "Sweet Nothin's" and "Everybody Loves Me But You," became major pop classics.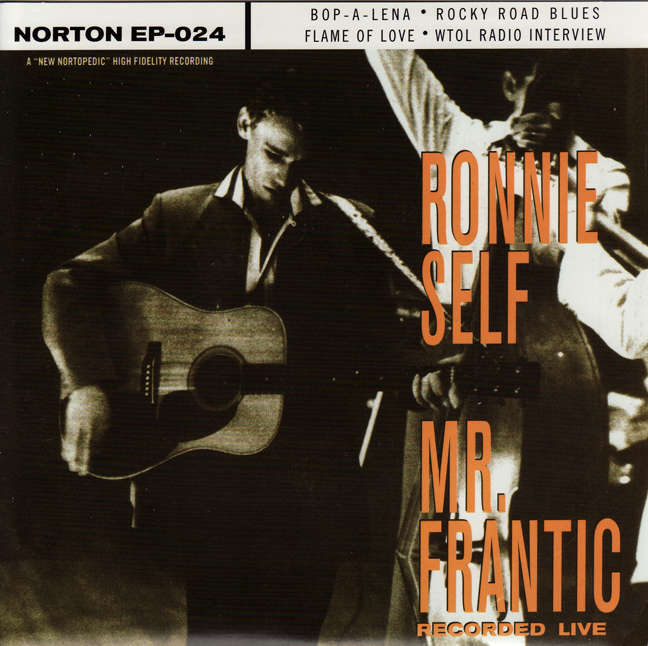 I scanned my 7-inch of "Mr. Frantic Recorded Live" because I adore this Ronnie Self photo—like a young Jeff Buckley. Four tracks "dubbed from previously unissued acetates." Love It. From the good people at Norton Records.
Another cool cat to dig on—Mr. Lou Berry. Lou was a rockabilly guitarist that Sparkle Moore was said to have played with. Now it turns out that Lou was part of a family of cool cats and man did they get echo, harmonies, delay, reverb and when to gas it. Amazing family band of the Berry Brothers, who also operated under the Bel Raves moniker.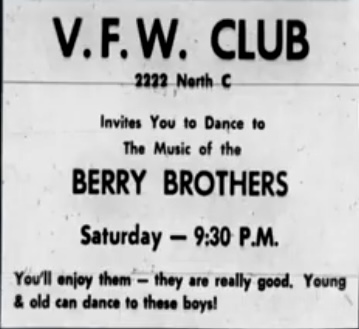 No doubt a sweet gig at the local VFW Club. At this time if the opportunity presented itself, you would take the gig, make a bit of scratch and hope to spread your name.
1959 white hot instrumental by Lou Berry. "Hot Rod" really moves with that Jerry Lee Lewis style piano playing and the peel out guitar session. Loads a fun, greaser style. "Hot Rod" was a local hit.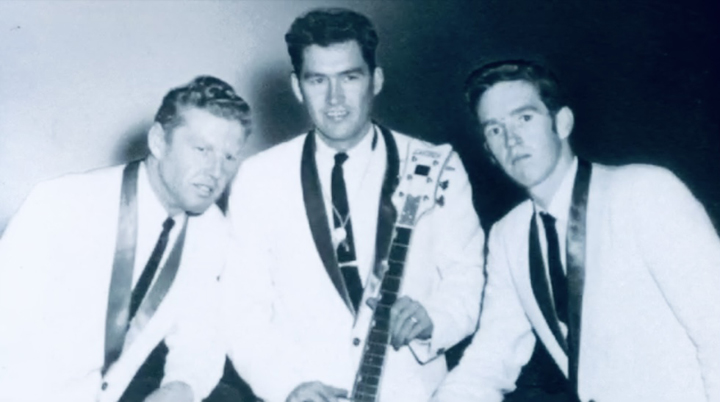 Brothers Lou and Red Berry recorded with the Bel Raves name. Dreem Records, another of the small Omaha labels, captured their wax sides magnificently. "What a Dolly," on the flipside, is a very cool single in Red Berry and the Bel Raves's name, also from 1959. "What a Dolly" was shortly thereafter picked up for national release by 20th Century Fox. The Berrys were great guitarists, very strong singers and those vocal harmonies…gonna flip. Lots more polish than the other boppers. We were in good hands with both of these solid singles. Would love to know if they ever cut any other records.
Red Berry and the Bel Raves. "What a Dolly." Dreem Records 1001. The label reads Dreem Records at 8504 North 29th. Released in 1959. Supreme cut.
1958 Rock-A-Bop
I was pleased to find confirmation of Sparkle Moore playing live shows into 1958. With a larger legion of rockabillies and their followers for support, it appeared there were a few more venues and opportunities for these early-on marginalized musicians to perform–oddly, in the previously thought stuffy ballrooms, auditoriums, and even the Peony Park Royal Grove of their parents' generation. As seen with the aforementioned Berry Brothers' VFW gig, little clubs and hall were slowly opening their doors. As much as rock 'n' roll resonated with the teens, clearly a youth-driven movement, it was largely jazz, show tunes, country, classical, rhythm and blues, doo-wop, pop vocalists (what we call easy listening vocalists now), and blues that held America's attention. That was mainstream.
Here is a photo of Sparkle on stage with a curious banner that was soon a clue. "Sing Boy Sing." What did it mean?" Sing Boy Sing was a soundtrack released in 1958 by Chicagoan, Tommy Sands. Musician, singer and actor, Sands became a teen idol after he was on the Kraft Television Theater in January 1957. His Singin' Idol character prophesied the future with his side "Teen-Age Crush." The song catapulted Tommy Sands into a new stratosphere. The soundtrack, Sing Boy Sing, also coincided with a movie of the same name, starring Tommy Sands and Lili Gentle. Tommy, who was quite crushworthy, toured his Sing Boy Sing and apparently Sparkle Moore opened the bill.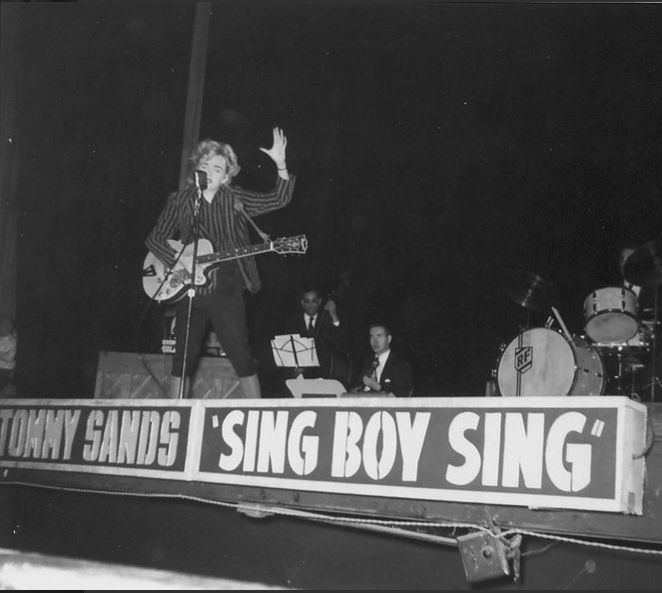 Incredible photo borrowed from the Sparkle Moore website. Tommy Sands was considered rockabilly in the earlier part of his career.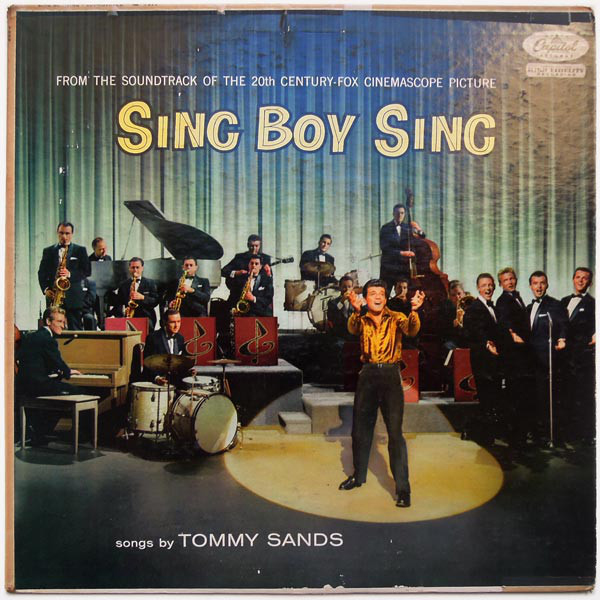 Tommy Sands Sing Boy Sing album released in 1958.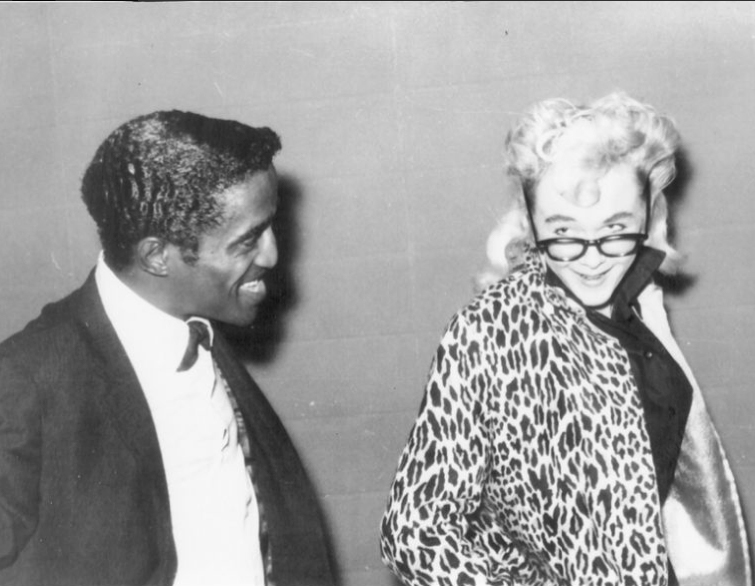 Sammy Davis Jr. and Sparkle Moore. The effect of this photo is quite bizarre and magical. Sammy Davis Jr. was a singer, actor, dancer and comedian. At the time of this photo, he had been in show business his whole life and was the consummate professional. What a career and he wasn't even in the Rat Pack yet! Other websites report Sparkle met Mr. Davis on tour; some say she played shows with him. I am wondering if it might have been on this Tommy Sands variety show tour? I was not able to uncover the tour or the truth of the matter. Apparently Mr. Davis found Sparkle to be a real life likeness of "James Dean." Photo borrowed from the Sparkle Moore site. No date.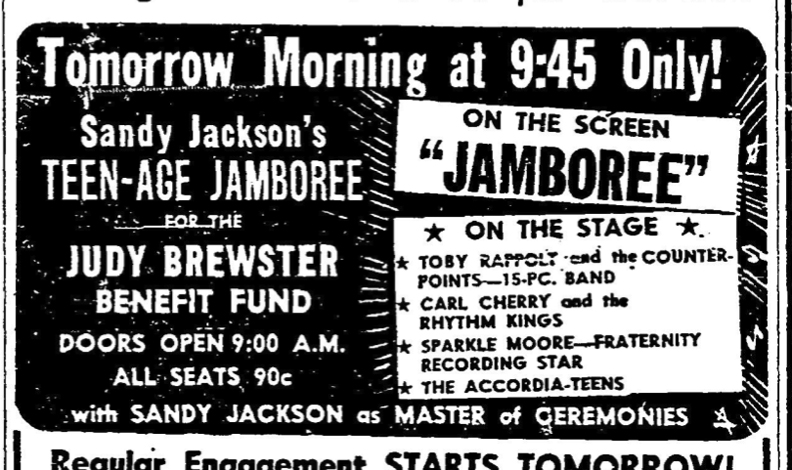 OWH archive from January 17, 1958. Sparkle Moore was on the roster of acts. Local dj extraordinaire Sandy Jackson was hosting a teen-age jamboree in conjunction with the movie Jamboree. Sparkle Moore "Fraternity Recording Star" is listed to play along with Carl Cherry and others. Love the name The Accordia-Teens! "Doors open at 9:00am" My, that must have been an early load-in.
Sandy Jackson contributed greatly to the teen rock 'n' roll scene in Omaha. He was Charles "Sandy" Jackson, known as Omaha's first disc jockey. They say it all started in 1944 when Sandy did a live one-hour show at 11:00pm. By 1950, Sandy had transitioned to KOWH with "The Sandy Jackson Show." (He can be found in the program I posted earlier in this article when tracking the movements of Grahame Richards. The two worked at KOWH together.) By the late fifties, Sandy transitioned again, this time to KOIL. The Sandy Jackson Show was also known in the area as a night of live music—I'm wondering too if this show was live on air, as well. As everyone older and cooler than I knows, by 1964, Sandy Jackson opened a teen club up in Benson called "Sandy's Escape," where the best local groups performed to teen crowds upwards of 400 a weekend night. Sundays nights were "College Night," where a lucky duck had to be 18 to enter. Unfortunately Sandy's Escape teen club closed in 1969.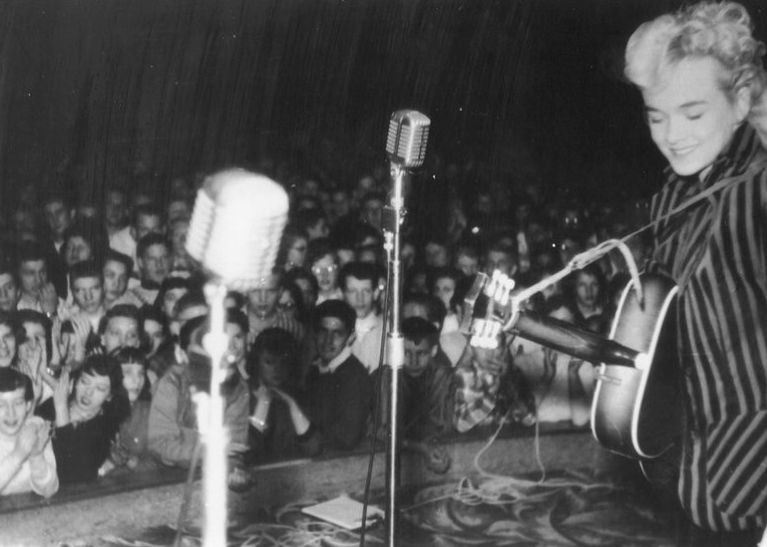 Sparkle performing live, camera facing the audience. Brilliant photo. The Kids knew what was good. Image borrowed from the Sparkle Moore site. Unknown date.
Throughout most of 1958, our Barbara Jean Morgan-Sparkle Moore was just 21 years old and yet a veteran in the Omaha rockabilly scene. The other local musicians wouldn't cut their first rockabilly records for another year. The Omaha City Directory listed her employment as a typist at Woodmen of the World Life Insurance Company. All the while, she continued to live at home with her folks.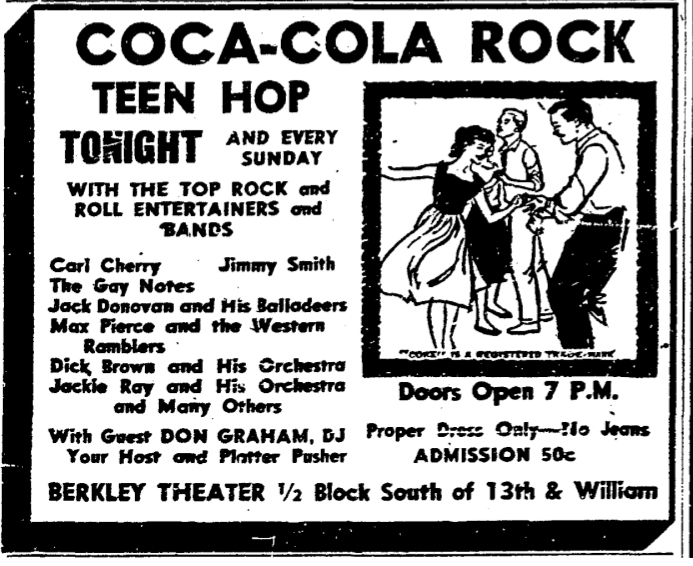 OWH archive. August 10, 1958. Coca-Cola Rock! Teen hops every Sunday evening at the Berkley Theatre Building "just a 1/2 block south of 13th and William Streets." The weekly teen dances had moved to live music and that was a good thing for musicians. No jeans!
I would discover the second Berkley Theatre (sometimes spelled Berkeley) was at 1425 South 13th and for a brief blip, became a teen hot spot. Formerly the Maryland Theatre, the "new" Berkley Theater opened the week of April 1940. There had previously been another Berkley Theater opened in the early 1900s.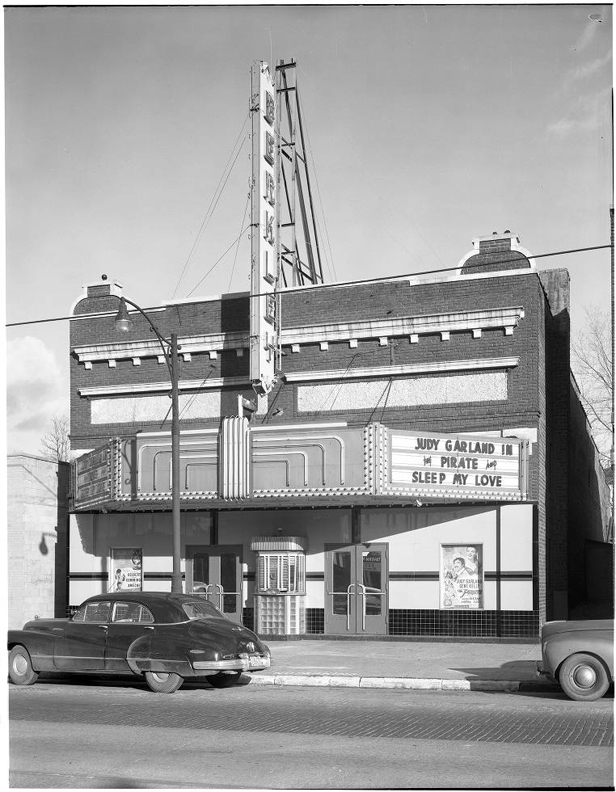 The Berkley Theatre at 1425 So. 13th Street. (on 13th St. between William and Pine Street). Original name was "Maryland", owned by Chas. Nepodal. Marquee reads: Judy Garland in Pirate and Sleep my Love. Creator: Bostwick, Louis (1868-1943) and Frohardt, Homer (1885-1972). Publisher: The Durham Museum. Date: November of 1948.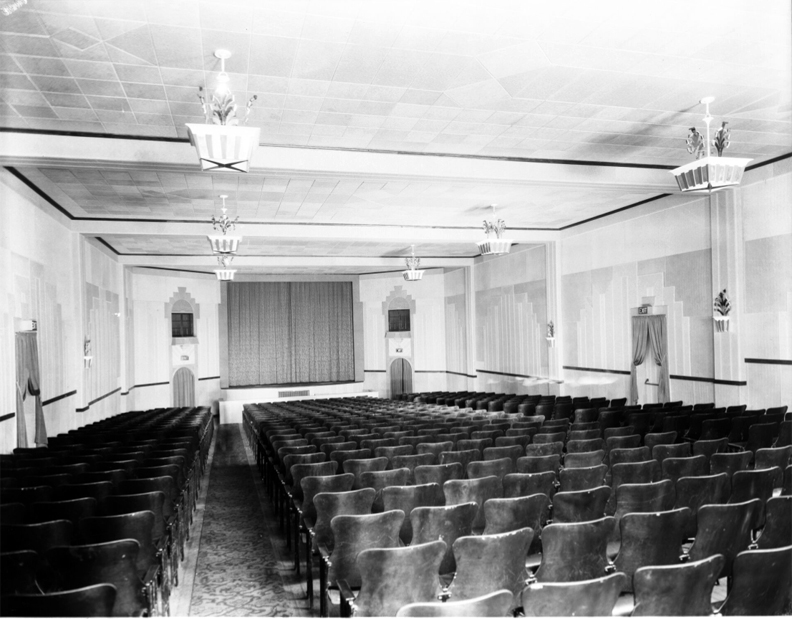 Interior view of remodeled Maryland Theater, later named Berkeley Theater at 1425 So. 13th Street. Creator: Bostwick, Louis (1868-1943) and Frohardt, Homer (1885-1972). Publisher: The Durham Museum. Date: June of 1935. I include this interior shot to give an idea of where these teen sock hops took place.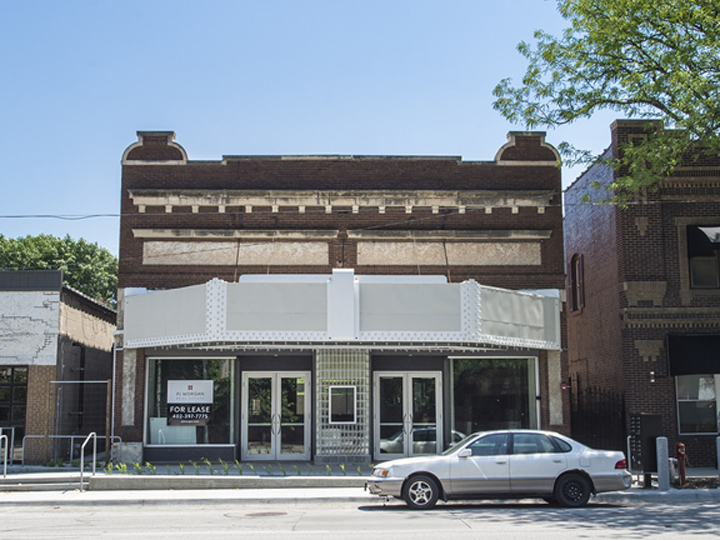 Photo by PJ Morgan group of 1425 South 14th Street.
The former Berkeley Theater, 1425 S. 13th St., still stands and she looks good! Even better. Back in 1957 the Berkeley had been freshly remodeled. They began having these teen sock hops after that—seemingly a mix of big band, pop singers and rockabilly. It was not long lived—the usual Omaha story. Soon it was up for sale again but by February of 1959 there had been a large fire in the building—actually two fires were set, after the pay telephone and jukebox had been broken into. Seems like something kids would do. "Until recently the building had been used for teen-age dances and as a meeting hall for the musicians organization," the OWH reported back in 1959.
The Rumor
Okay kids, we are getting down to it–the rockabilly mystery that only the Shadow Knows. I am not The Shadow, for all concerned. I found over and over again in Sparkle Moore's lore that she became pregnant in 1957 and dropped out of the music business or that Fraternity Records cut her loose because she was pregnant. Rumors like "Moore learned she was pregnant and abruptly quit performing to focus on raising a family" and "in late 1957, only a year after her first record release, she discovered that she was pregnant, was dropped by her record company, and retired from the music scene." I am here to scotch the tittle-tattle once and for all. I simply could find no proof of them. Of course if My Omaha Obsession hears from the Rockin'est Miss herself, to verify these rumors, then let it be. Here is what I did find…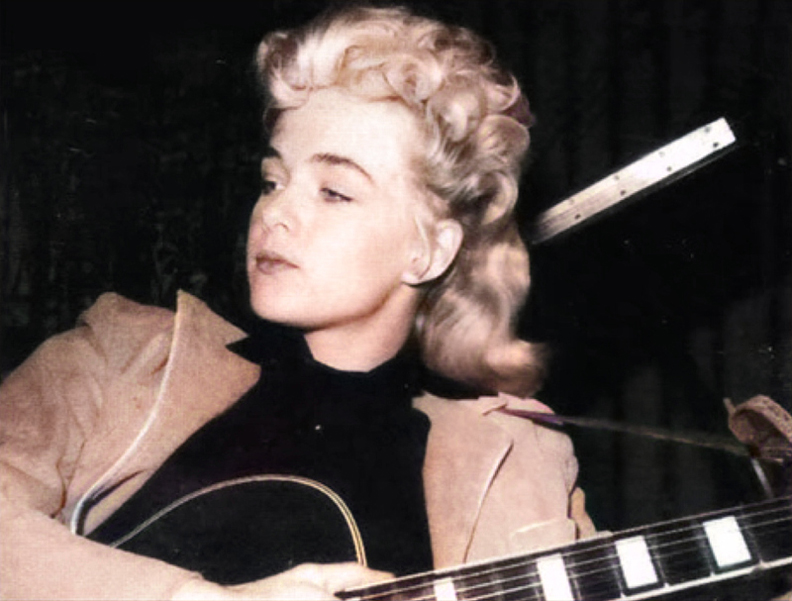 "What's your Tale, Nightingale?"
Sparkle Moore played shows in Omaha in 1958. I could not find any advertising or publicity after that. As we've established, these were not well publicized shows to begin with, so it is possible she went on from there but I am pretty sure things had wound down for her in this span. The Omaha City Directory of 1959 logged Barbara J. Morgan as still living with her parents at 1510 South 28th but newly employed as a "typist" at the Austin Art Studios. The Austin Art Studios was an interesting place from what I could dig up and working as a secretary there might have been more her speed. Brothers Forrest J. and Howard K. Austin made their living as costumers. At the time Barbara Morgan was in their employ, the enterprise operated out of the 2420 South 60th Street address. The Austins opened in the mid forties and were frequently "hiring 22-40 year old women to manufacture 'novelties.'" These novelties were fascinating! My favorite kind of sweet nothings like toy eyeballs, bloody fingers and toes and fantastic costumes of all sorts. I would imagine, in line with Mangelson's Halloween stock and Nobbies kitsch but, dare I say, better because these Austin goodies were made by locals and of quality material. (When I want a good bloody finger, I'm willing to shell out.) Seriously though, Austin Art Studio was "one of the nation's largest makers of Halloween masks." Who knew? The firm also made costumes and, interestingly, baby diapers. Austin Art Studios were originally at 2406 Leavenworth and then 1023 Harney. In 1956 they began construction on their 60th and Arbor Streets factory on a 6 1/2 acres tract at the northwest corner. The studios ran ads into the 1970s. The address has vanished from the pages of Omaha history but I believe this ultra cool factory of the weird was where the Holy Cross Field is now. Obviously a very creative woman, I dream that Barbara wasn't only the Austins' secretary but that she was allowed to get into designing.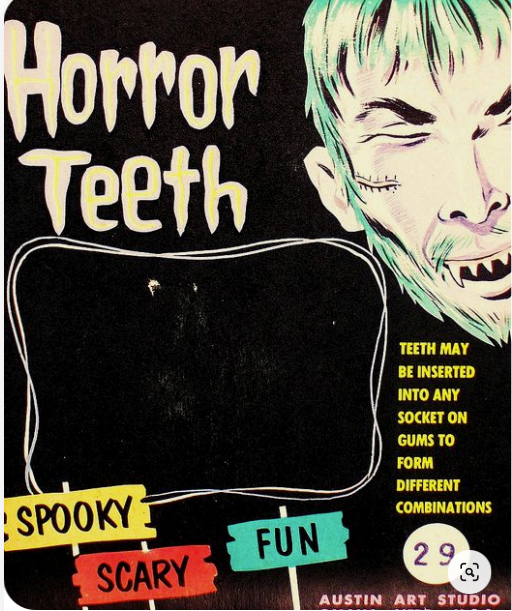 By the mid-1960s Austin Art Studio was making classics such as Horror Teeth. The packaging art is great. Too bad the Horror Teeth are missing!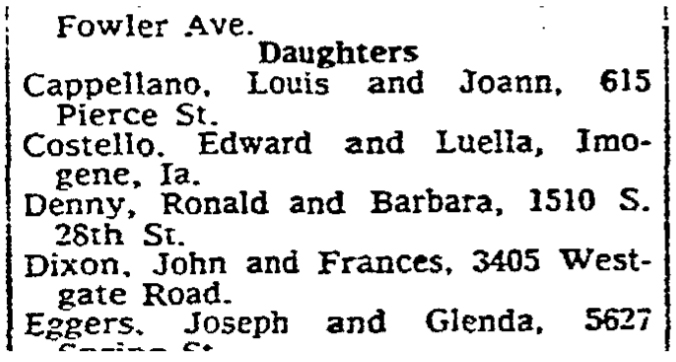 OWH archive. February 2, 1960. On February 2 of 1960 the World-Herald announced a baby daughter was born to Barbara and Ronald Denny of 1510 South 28th Street. Surprisingly or not, our little Barbara Morgan got married and had a baby. It is true. Barbara would have been 23 years of age when she had her daughter.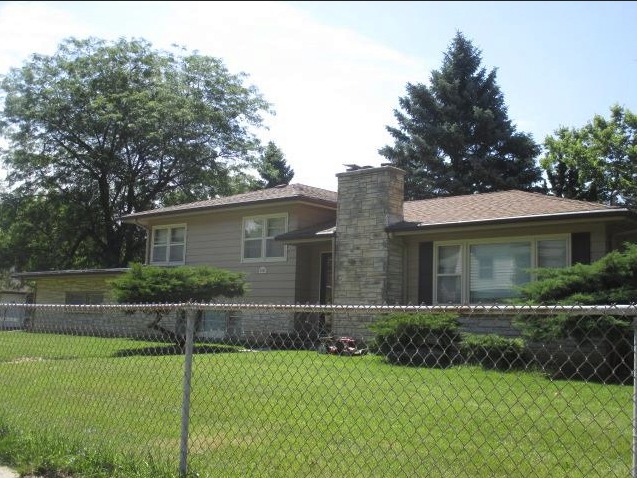 2553 Hickory. Photo borrowed from the Douglas County Assessor. The home that Emil Morgan built and died in.
As you will recall from my early ramblings, in this time period the I-480 is getting ready to slam through the Hanscom Park neighborhood. In August of 1960, Emil Morgan, Barbara's father, built a new house at 2553 Hickory. Still in the Columbus Park neighborhood, this is a larger home in the MCM style. It is still standing. The Morgan's 1510 South 28th Street home then vanishes in this timespan, leading me to believe it was leveled for the new interstate. Parents Emil and Agnes would continue living in their 2553 Hickory creation until Emil's death in the home in 1968.
When the Morgan family home was torn down, I would gather that our Barbara Jean Morgan, new husband and new baby girl moved on. The trail went cold. And truth be told, I stopped with the deep dig at that point.
Spark-A-Billy
From the Copyright Encyclopedia I would find 34 documents under the name "Sparkle Moore, pseud. of Barbara Jean Morgan Denny." By all accounts she stayed active in writing and recording her music, in all of these years, if only for the personal pleasure of it. There is solid indication that our Barbara Morgan lives in Iowa with her family, as she was inducted into the Iowa Rock and Roll Hall of Fame in 2010. I am so very glad that Iowa wisely gave her this honor. This was also the year that Sparkle Moore released a home recording of a 22-song CD called Spark-A-Billy.
Barbara Jean Morgan as Sparkle Moore is not and, perhaps, was not as well known as the other Nebraska rockabillies and rock 'n' rollers that came after her. But I want all that to change. I've never seen or heard anyone like her. Sparkle Moore was a bellwether. The excitement and color of early rockabilly came from these little guy and little gal musicians on the rough edge, taking risks, making mistakes, looking to progress. Programmed perfection was not the thing. Sparkle Moore was so far out in front that we forgot her here in Omaha. Meanwhile she is remembered all over this world by true rockabilly fans. I plan to formally nominate her to Nebraska Rock 'n' Roll Hall of Fame with this investigation as proof of her history of contributions, for the love of Sparkle Moore.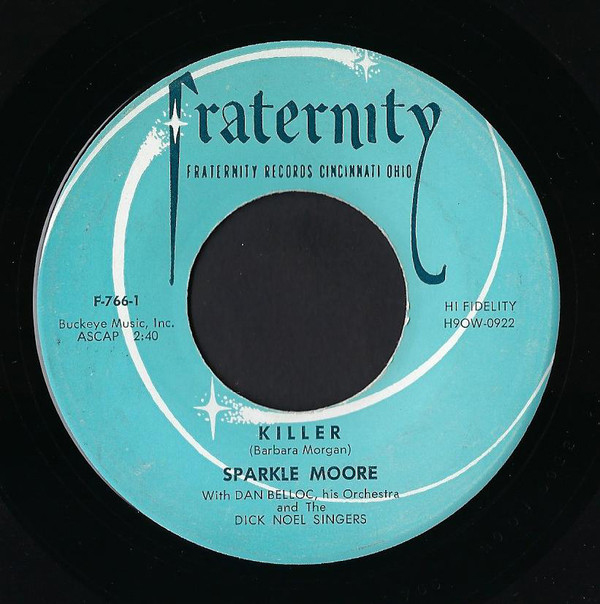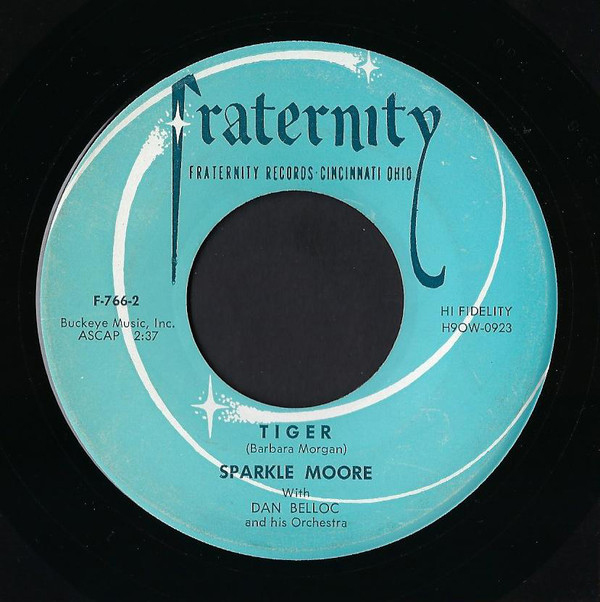 I welcome your feedback and contributions to this Sparkle Moore investigation. Feel free to share thoughts and clues in "Comments." I welcome you to poke around with your flashlight. Investigate. Hide in the shrubbery. Look under these rocks and down those alleyways. I am more than pleased to have you tiptoe about. By the time you head for home, I hope you have been fully Sherlocked and Satiated. Thank you, detective friends.
If you like what you see, you can keep up with my latest investigations by joining my email group. Click on "Contact" then look for "Sign me up for the Newsletter!" Enter your email address. It will then display "Thank you, your sign-up request was successful!" Make sure to check your email address to confirm. You will get sent email updates every time I have written a new article. Also feel free to join My Omaha Obsession on Facebook.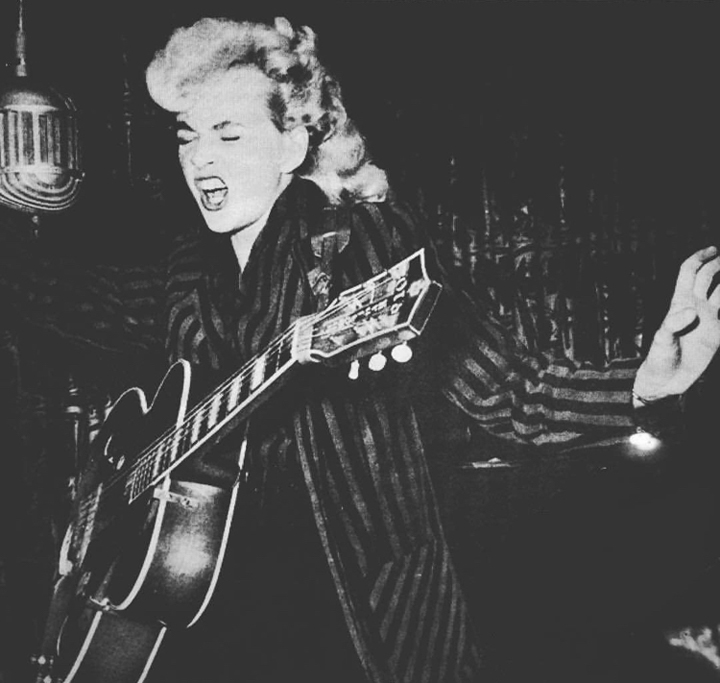 © Miss Cassette and myomahaobsession, 2022. Unauthorized use and/or duplication of this material without express and written permission from this site's author and/or owner is strictly prohibited. Excerpts and links may be used, provided that full and clear credit is given to Miss Cassette and myomahaobsession with appropriate and specific direction to the original content.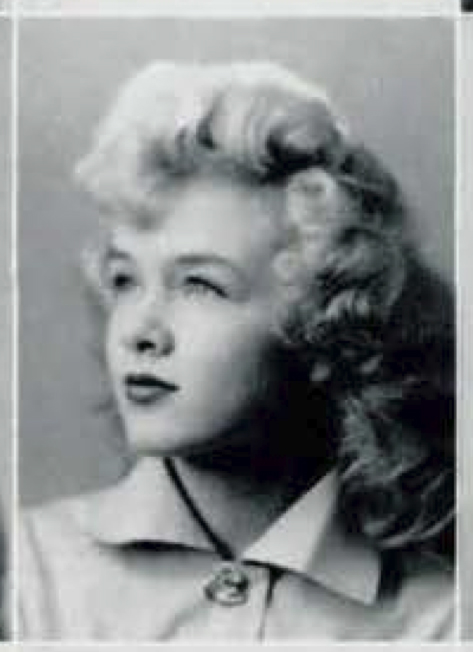 If you are looking for more architectural and Omaha history sleuthing fun, ask your local or big box bookseller for my new book: My Omaha Obsession: Searching for the City. You can also order it through this website. Thank you.