The Miller-Knuth Chevrolet Garage occupied the northeast corner of 18th and Howard, just north of the historic triangular Flatiron Building with points at 17th Street, St. Mary's Avenue and Howard. The garage opened in 1947 and its streamlined body shape and dynamic glazed tiles were both futuristic and at once the proclamation of great things to come in America. Like the architecture of its cohorts—the modern diner, the gas station, the supermarket or drive-in, the curvy Miller-Knuth garage proudly stretched out, trimmed in stainless, with a clean, horizontal and confident panache. Perhaps influenced by the simplicity of the International Style or the specific Streamline Moderne style, the entire Miller-Knuth corner was clad in outstanding, gleaming yellow and black tilework; glass blocks were set into a rounded tower above the entrance, positioned right at the crossroads of 18th and Howard like a spotless motor oil can. Or was it like the body of a jet aircraft or that of a nautical vessel? This tower had long since disappeared. There were oversized plate glass windows on the ground floor, service bay doors to the east, and an International sliver of illusionary second floor windows banding the building, creating long horizontal lines, sprawling to the north and east. There were peeks to be had, at a certain angle, of its huge, barreled roof. It always reminded me of the dark, brooding twin to the Charlie Graham building at 42nd and Leavenworth. The Miller-Knuth garage's large vertical neon sign called to those traveling St. Mary's Avenue. I've got to think in its day, the whole building signaled speed and efficiency to the contemporary motorist. "Smoke! Smoke! Smoke! (That Cigarette)" played on the radio that year and television was just being invented while this eye-catching new era of the Mid Century Modern spread across the United States, mirrored in Big Small Town Omaha.
Razed in October of this year, after a controversial decision to build a juvenile detention center at 18th and Howard, this is my love letter the Miller-Knuth garage.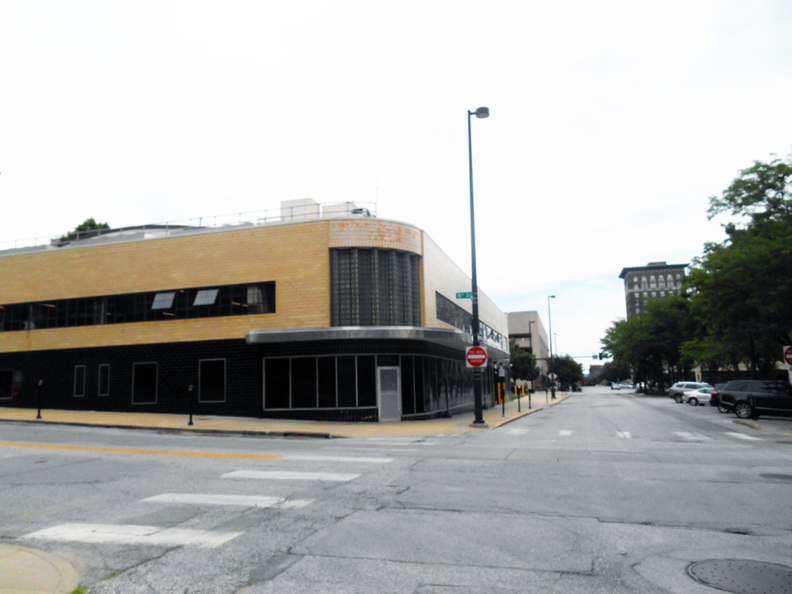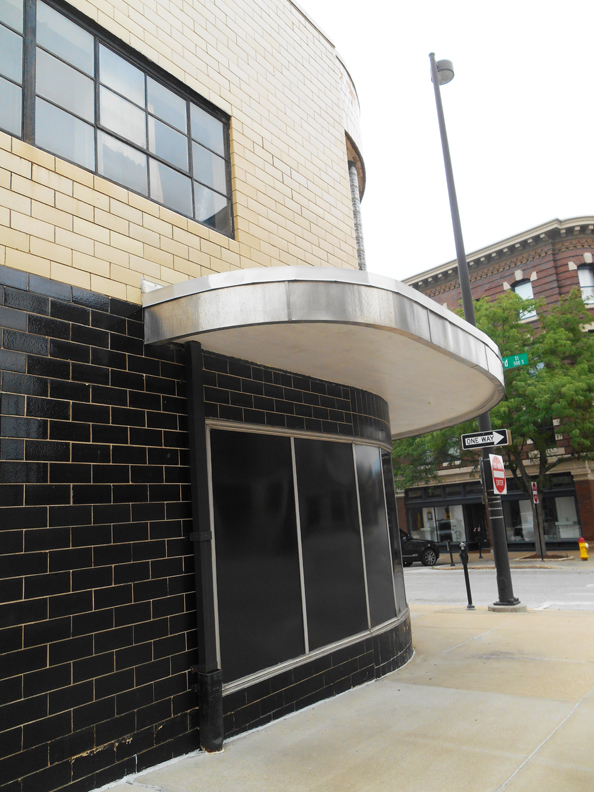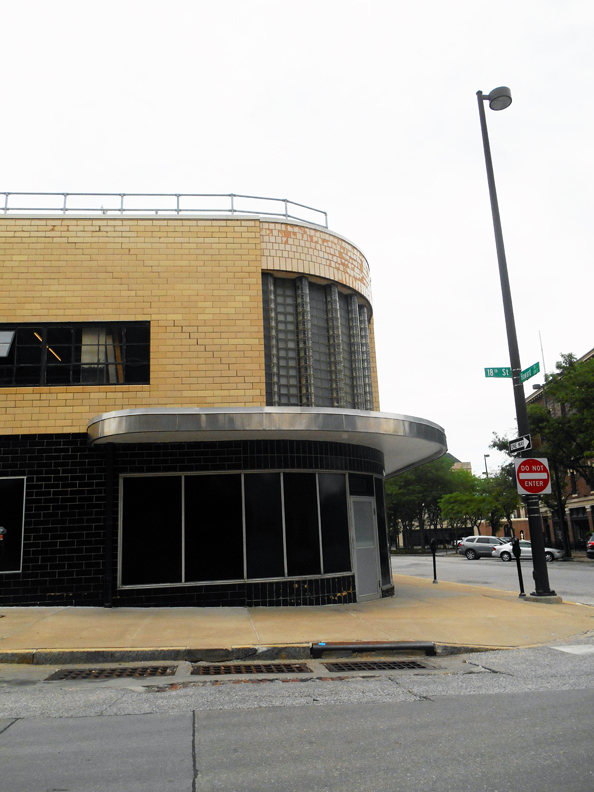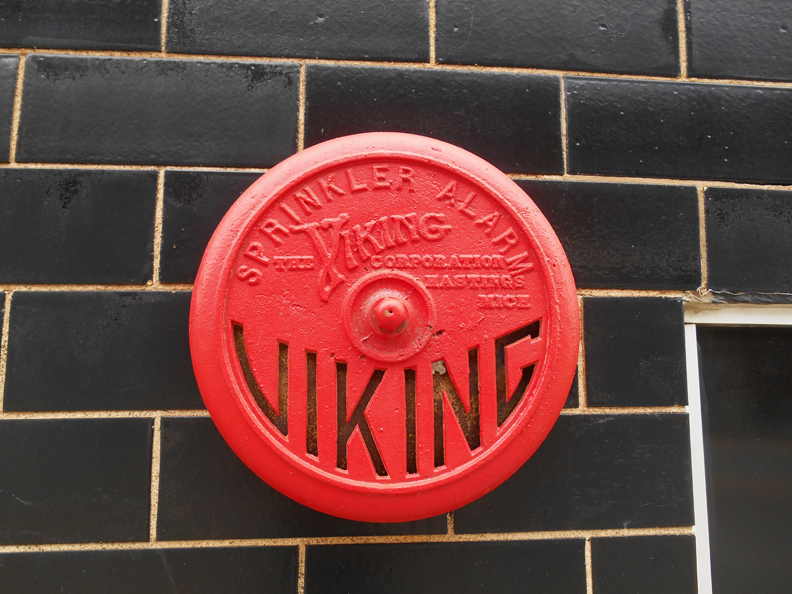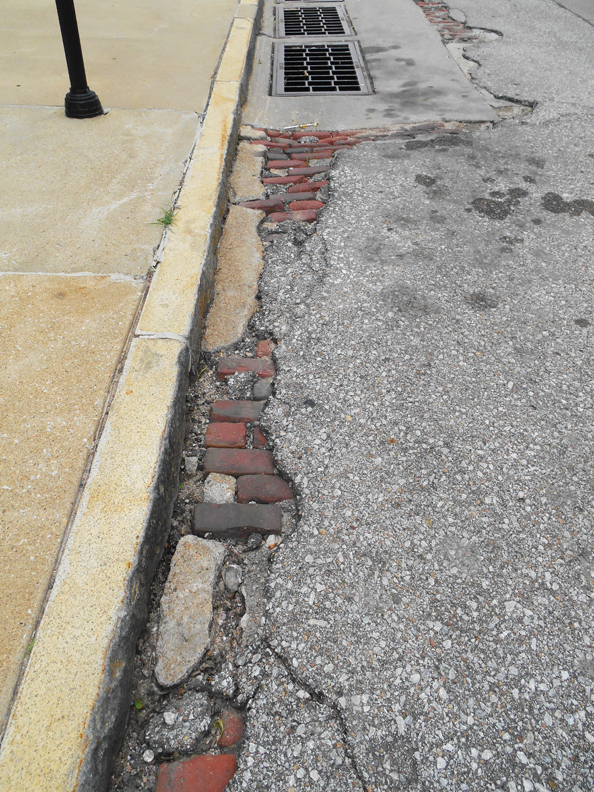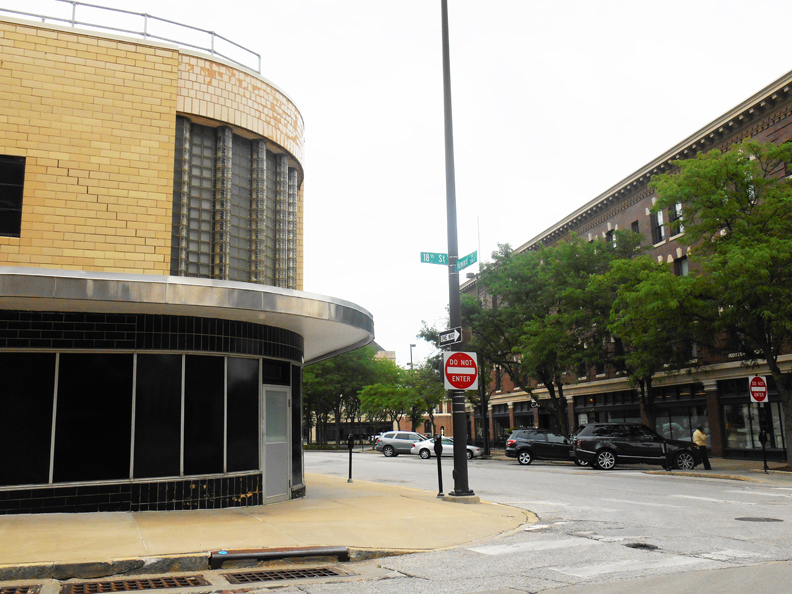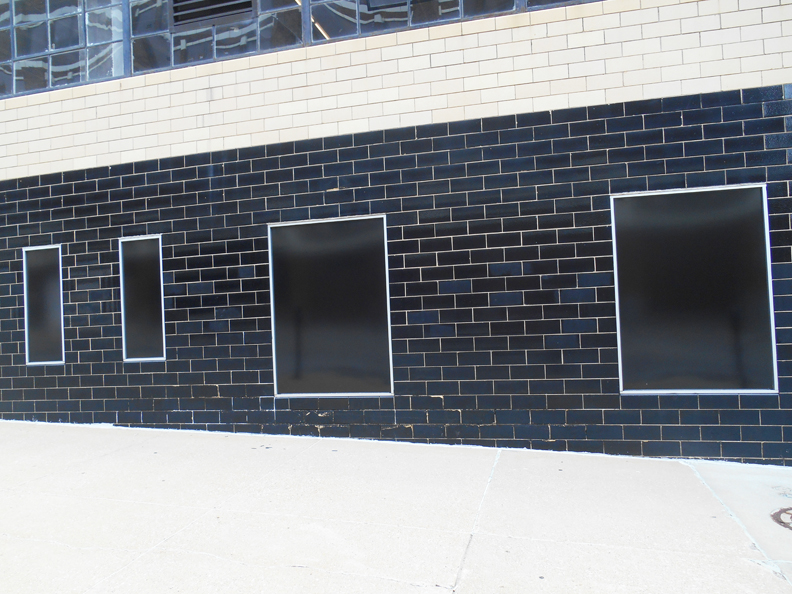 Photographs I took at a visit to my mystery garage on June 16, 2017.
A few of my old time Omaha veterans clearly remember this corner and this garage and perhaps all of downtown and if so, I would love to hear more from you. By the time I was riding the city bus or catching rides with friends in the 1980s, downtown Omaha seemed like a fascinating, edgy, newly evacuated business and retail district where we never knew what we'd find behind any given corner. There were many meaningful buildings in the city with good bloodlines, I was sure of it, but they never held my interest like the down at heel, forlorn structures. In an unexacting manner we would discover these back alleys, fire escapes and steaming vents of the disheartened buildings for my own black and white 1940s film. And the real life characters too, once so easy to come by–the motley of carousers, nighthawks and artistic wanderers. They were The Downtown Regulars. There was a grit I was drawn to, as well as the glorious remnants of the not too distant past. In simple terms, it was not the Westroads Shopping Center. Downtown represented strangeness and freedom, which is, perhaps, why all of us punk teens were pulled in like a magnet.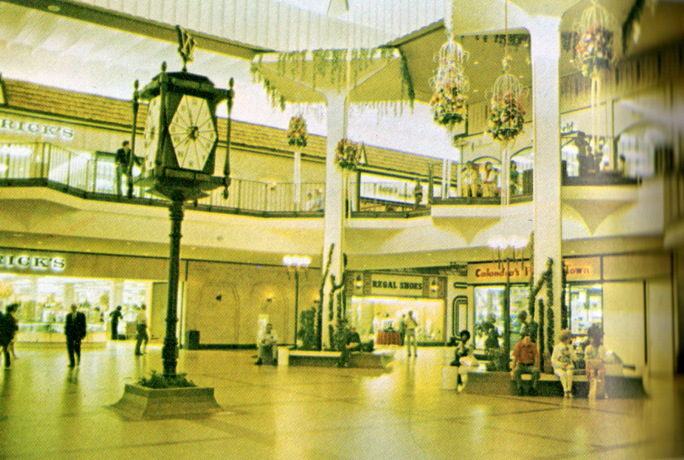 The Westroads Shopping Center as it appeared in 1974.
I have written about the Old Market and many in the bull's-eye of downtown haunts but this corner of 18th and Howard had conjured memories of somewhere off the beaten track. This rounded, modern Miller-Knuth garage, although I never knew what it was in the 1980s, was one of those fantastic hidden clues to the past. It was quite unlike any of the three other buildings it shared a shadowy intersection with. The other three buildings were all constructed in the 1920s. The garage had no signage, no workers that ever came or went. Like so many buildings we were drawn to, it was a true mystery, a locked up vestige to another time. 18th and Howard is at the base of a slight hill that rises up to one-way Harney to the north. One is keenly aware as 18th Street slopes down from the courthouse, creating a lower dim crossing, perfectly wedged for a noir vignette. Our teenage adventures involved walking and looking down frowsy lanes and old businesses closed for the night…or shuttered for eternity. The Flatiron Building possibly initiated my triangular parcel obsession but not because it was the fancy gal it is today. She resembled a flophouse of sorts, like the best kind of Jim Jarmusch location. I believe there was a boxing club nearby, underground garages and other seemingly installation piece oddities.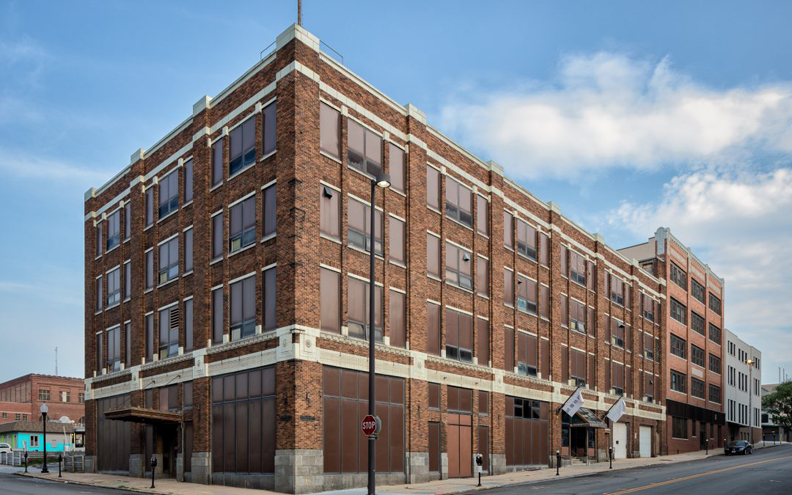 On the northwest corner sits 420 South 18th Street. Always a large brown mystery. Photo borrowed from Restoration Exchange Omaha.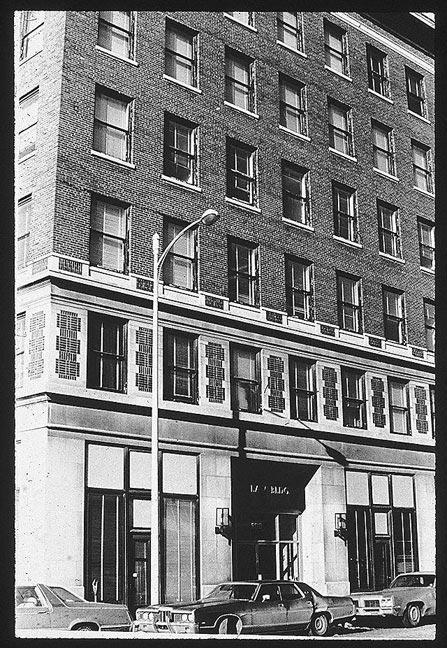 On the southwest corner is the Standard Oil Company. Photo from the 1970s.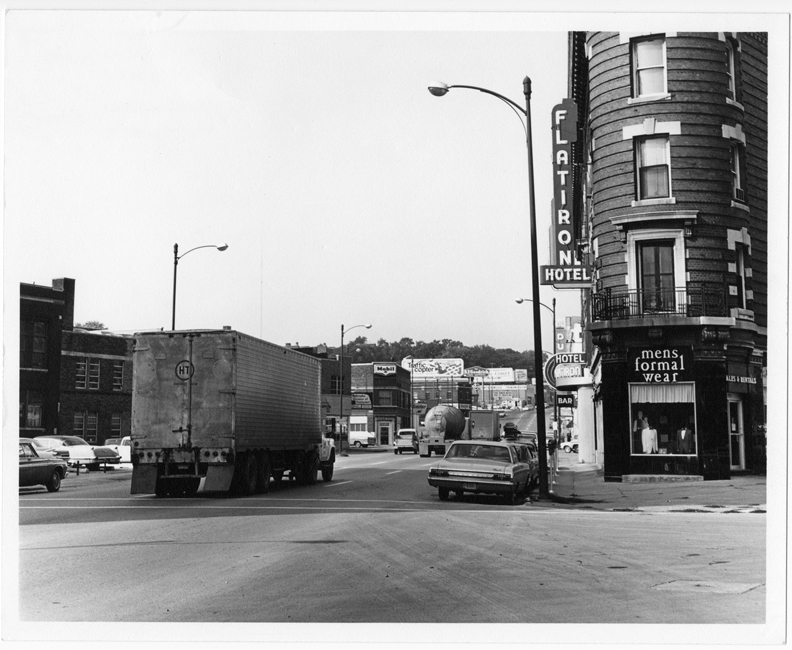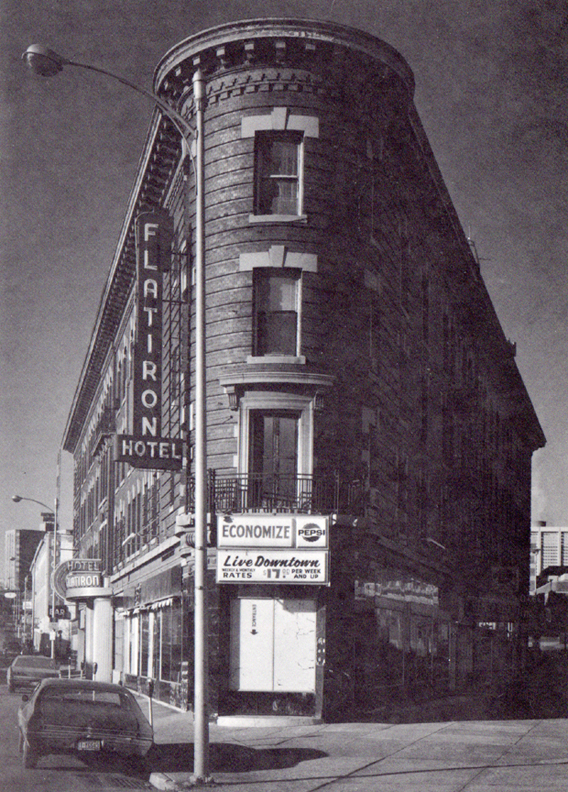 On the southeast corner is a portion of the strangely fantastic Flatiron building. Photographer on the eastern most point, facing west. Photos from the 1970s.
Having parked in this stacked up hollow of 18th and Howard in adulthood, when dining at the fabulous Flatiron Café or walking to and from the Orpheum Theater for a show in the dark of night, is the quickest sensation of time travel to earlier Omaha. And it still feels wonderfully murky.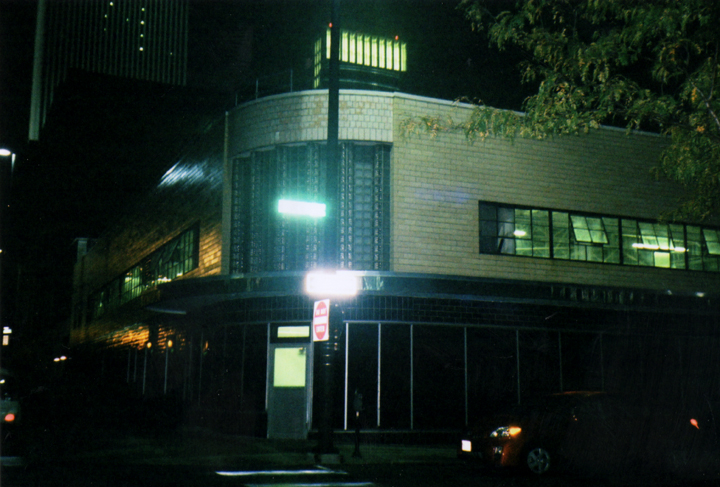 The lit-up mystery garage at 18th and Howard and its mesmerizing glazed tiles. An image I captured on October 18, 2014—a wonderful fall opera night with Mr. Cassette. Great swooshes of steam and clanking noises discharged, like the best of basement boiler rooms. Was it an old bus terminal? I never understood what was going on inside, which made me love it all the more!
Which reminds me, another teen den we quite enjoyed in the 1980s was the bus depot on 18th and Farnam, gone by the early 1990s. The Interstate Transit Lines Bus Depot at 18th and Farnam streets was, coincidentally, one such cohort of the Miller-Knuth garage, built in 1947. It offered a two-story lobby with a (very cool) hanging floor above the concourse and a sweeping stairwell. Ribbons of stainless. The bus depot would change owners and subsequently its name a number of times. I think it was on the northwest corner of 18th and Farnam.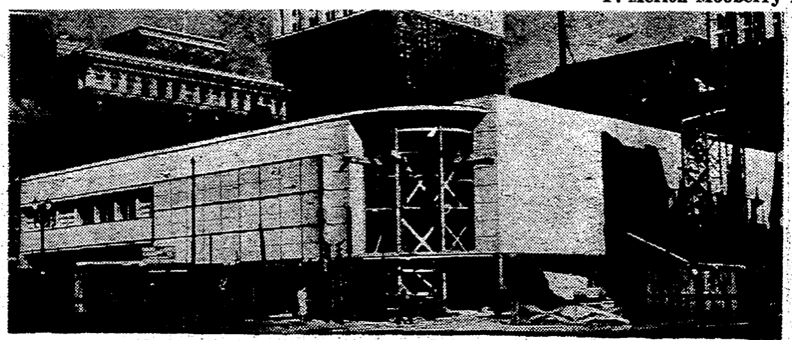 Interstate Transit Bus Depot. Just being built in 1947. Omaha World-Herald archives.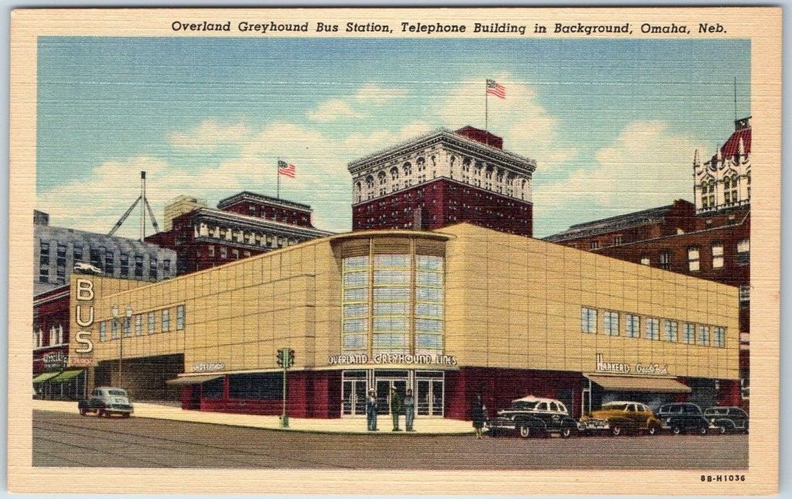 Postcard: Overland Greyhound Bus Station on 18th and Farnam. Oh look—there's a Harkerts' Hamburgers. At "The Crossroads of America!"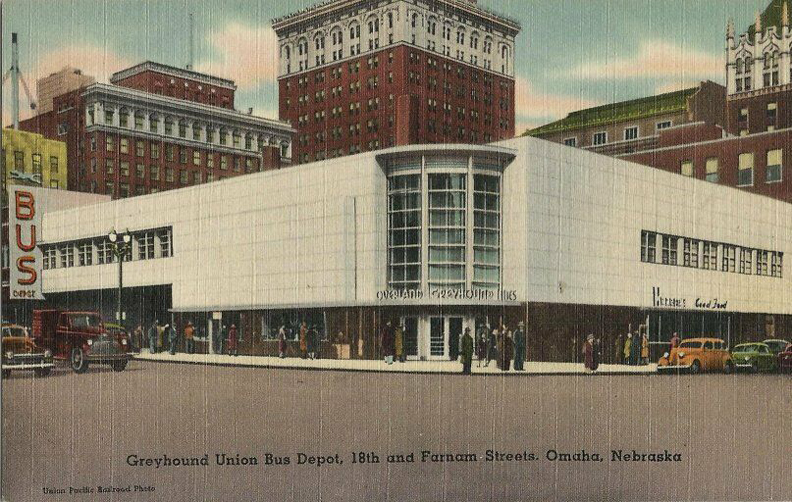 Postcard: Greyhound Union Bus Depot. Just the way I remember it looking.
This hidey-hole of a depot was no secret but because of the sheer foot traffic and convenient brushes with all walks of life, mostly not from Omaha, the bus station made the perfect hangout for our tucked away human behavioral studies, endless laughs and smoking of cigarettes. Relegated to the unlooked corners because of how we dressed and conducted ourselves, most of the time we held court on the outskirts. In a group of six, we usually had tallied enough funds to order French fries, maybe a soda and a pack of cigarettes. This pattern of hanging around, nursing one fountain soda between a large group did not usually fare well at local establishments. Most of these visits went smoothly until someone in our crowd was buttonholed and a manager came bellowing from behind a door. And so we scuttled about, looking for places that would have us. Godfathers and Little Kings of the Old Market did treat us well. Usually we ended up where the boys in our group wanted to skate, a good "new place." As the boys skateboarded, we girls would sit on the sidewalk or a curb smoking cloves, singing, backcombing each others' hair and trying to look cool.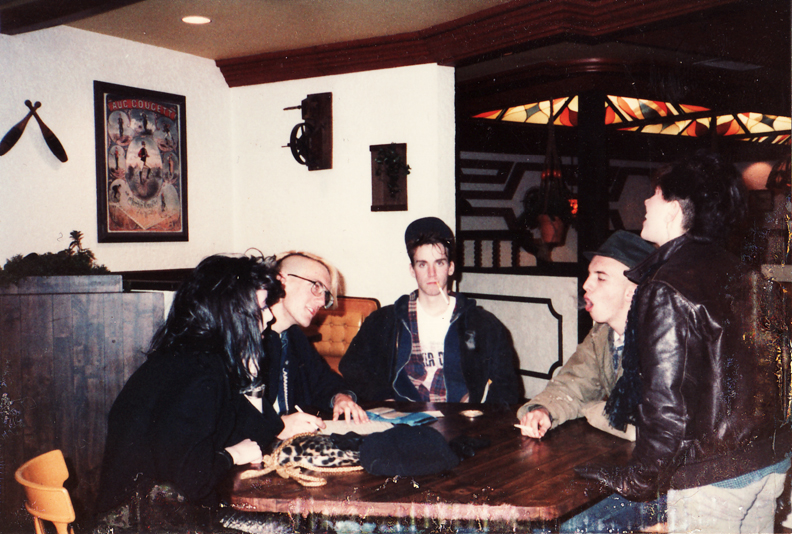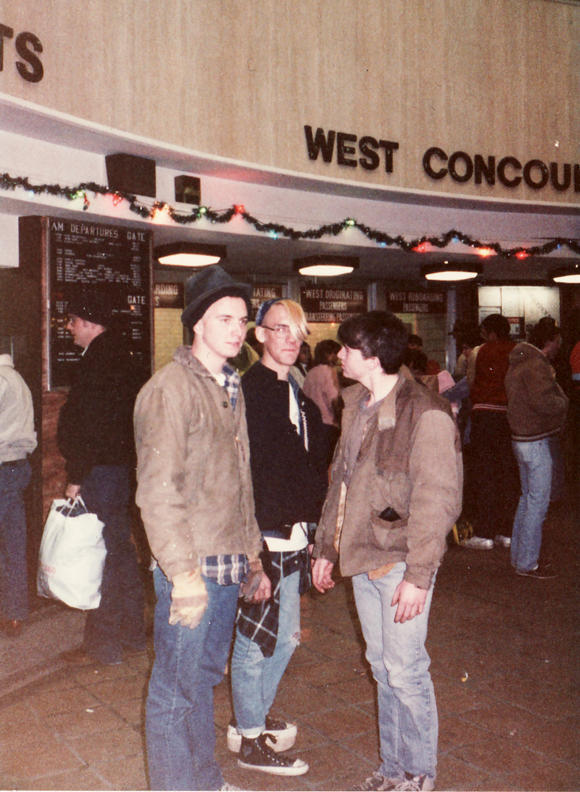 Scenes from the bus depot on 18th and Farnam back in 1985. Where the three punks stand, you can see the large terminal with the hanging room overlook above. I honestly can't remember if there was a Burger King or just some local hamburger place in there? Great place to people watch and observe arrivals and departures.
At the expansive crossing of 11th and Jones, a magnificent, disheveled series of punk rock kickball games were held. Mohawks vs. everyone or was it shaved heads vs. everyone else? The Old Market didn't seem to extend that far south back then and I don't even remember a passing car interrupting a game. We would stroll amongst the warehouses and landings of the Jobbers Canyon, like it was a playground but I imagined it was an abandoned movie set. The Paxton Hotel, an old folks' home then called the Paxton Manor, had its doors strangely unlocked for any small group of giggling high school girls who wanted to spy on its splendid ballroom and its slow moving occupants. The hallways smelled slightly musty, like closed away carpet and of cooked dishes long fallen from fashion. Most of the residents dressed in clothes from the 1950s and 60s and I was particularly interested in the women's hairstyles in this peculiar showplace. It was divine. Finding our way into the old train yard inspired photo shoots and even amateur films probably much like the artistic teens twenty years before us. Not many in our circle can forget the antics at the icehouse but we never could figure out how to get to that microwave Jetson's building. I won't go on and on…just know it was all beautiful and every old building, even the small and vernacular offered the intrigue I craved in those days. These treasured visits downtown were a time capsule and gave me a look into and a feel for the city that had been disappearing long before I had moved to Omaha. By the time I returned in the 1990s, the landscape was changing at a quickening pace.
Brief History
The Miller-Knuth Chevrolet car dealership and Miller-Knuth manufacturing were well known down at 18th and Howard, stationed on the northwest corner in 1930. Since 1916 Ryal Miller and B. F. Knuth had developed machinery and sold Chevrolets. I covered the Knuth house in my Swanson Tower investigation. The northwest corner building, at 420 South 18th, was built in 1920 and at four-stories with over 40,000-square-feet, the structure had previously been home to the McCaffrey Motors Company and the Al Smith Garage through the 1920s. The fancy first floor showroom was equipped with a heavy-duty elevator that could transport automobiles to the additional floors. By the time Miller and Knuth took over, the northeast corner of 18th and Howard was utilized as their outdoor overflow and a used open air car lot.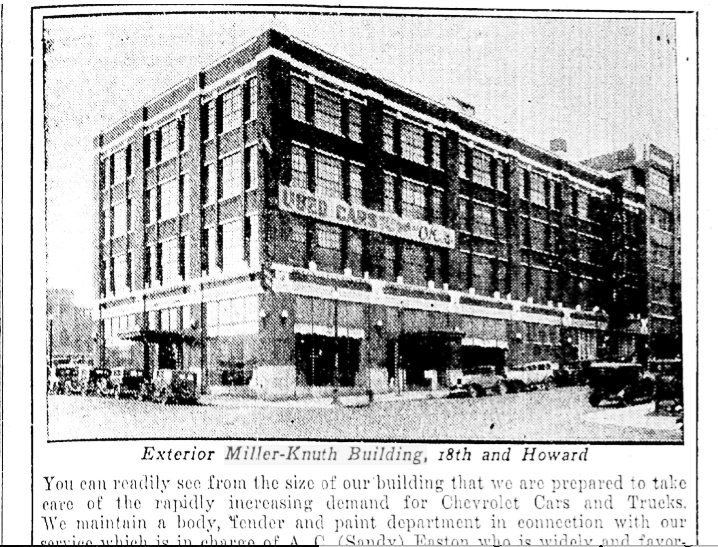 Omaha World-Herald archive. 1931 photo of the northwest Miller-Knuth Chevrolet showroom corner.

First mention of that Miller-Knuth had acquired the northeast corner of 18th and Howard. In 1938 it was an outdoor used car lot. Through a 1941 aerial, I could see the creative rows of fantastic cars in the lot. (OWH 1938 advertisement.)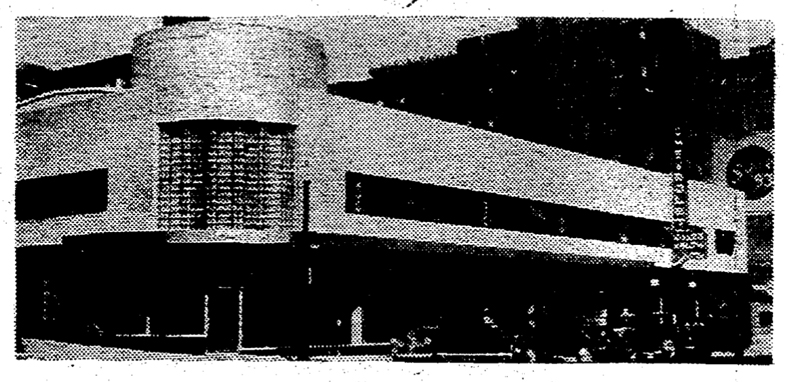 By 1947 the Miller-Knuth company had hired esteemed architects, John Latenser & Sons, to design a contemporary, fourteen thousand square foot, one story building to house their growing "truck headquarters, service and parts departments" across the street from their 1920 building. I was surprised to find that the Miller-Knuth garage came from what I'd consider a good Omaha architectural bloodline. John Latenser & Sons, Architects were a prominent Omaha firm, in practice since 1885. Most likely by 1947, John Latenser, Jr. was calling the shots, his father having passed away in 1936. The Latenser firm built many of my favorites in town to include Dr. A. B. Pittman Animal Hospital at 4629 Dodge and the beloved Benson Library of my childhood. (OWH. 1947 image of the new Miller-Knuth garage.)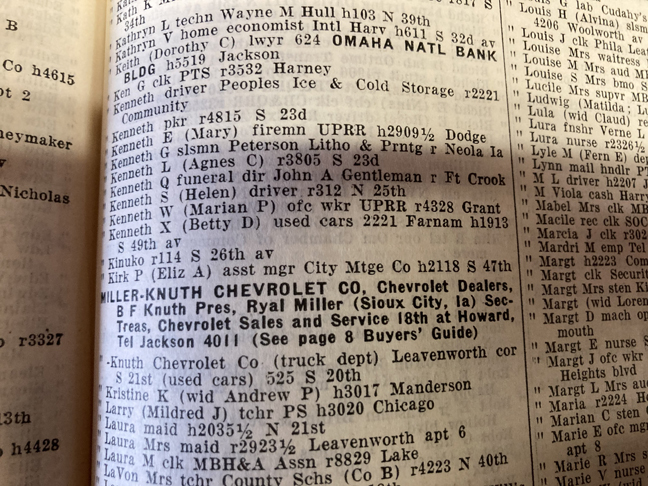 Photo of the 1949 City Directory. Miller-Knuth truck department and used cars had moved to the corner of 21st and Leavenworth, while the Chevrolet new and used sales and service remained in the Latenser's modern garage.
The Omaha city directories let on that by 1949, while the Miller-Knuth garage was still holding strong at 18th and Howard, the United States Army Corp of Engineers had taken over the large, more formal 420 South 18th as their testing facility. Within the once glorious columned auto showroom, the Corp began testing steel, concrete, water and soil samples. Quietly and mysteriously, the Corp of Engineers maintained the building as their lab until 2010, when they pulled up stakes for Kansas City.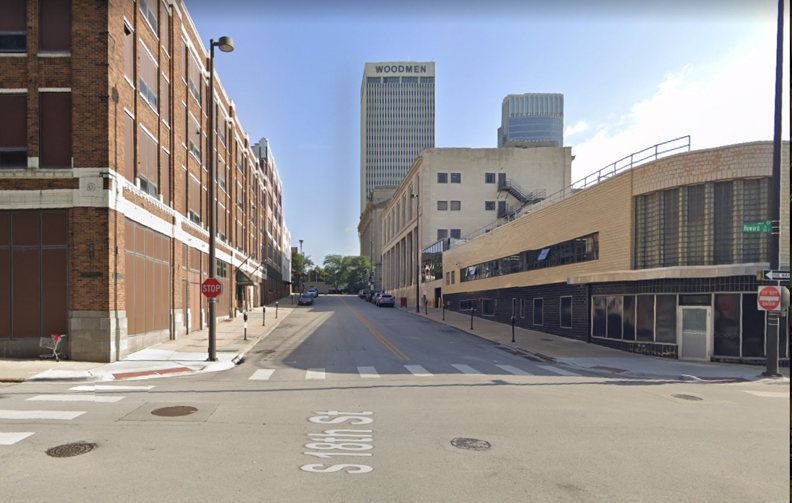 Looking north on 18th street, up toward the courthouse area. The once Miller-Knuth showroom on the left, Miller-Knuth garage on the right. Photo borrowed from Google Image. November 2019.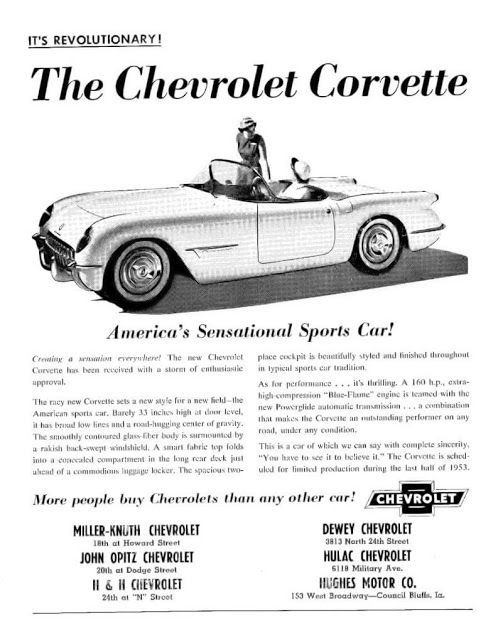 1953 Miller-Knuth advertistement. The first production of Chevrolet's Corvette rolled off of the assembly line in 1953.
The last advertisements for the "Miller-Knuth Chevrolet Omaha's Big Downtown Chevrolet Dealer at 18th and Howard" ran in October of 1955. Weeks later Miller-Knuth held a public auction for their shop equipment out of the "1724 Howard Street" address. The mystery garage of my teen years sat vacant until September of 1958, when Metropolitan Utilities District bought the garage and were asking for bids to have the "arched roof recoated." They would rename the Miller-Knuth garage their vague "Annex Building." By 1966 MUD also acquired the 415 South 18th building to the north. Over the years the garage would be a "compressor room" and a boiler room, explaining those gusts and rumbles I would often hear in passing at night.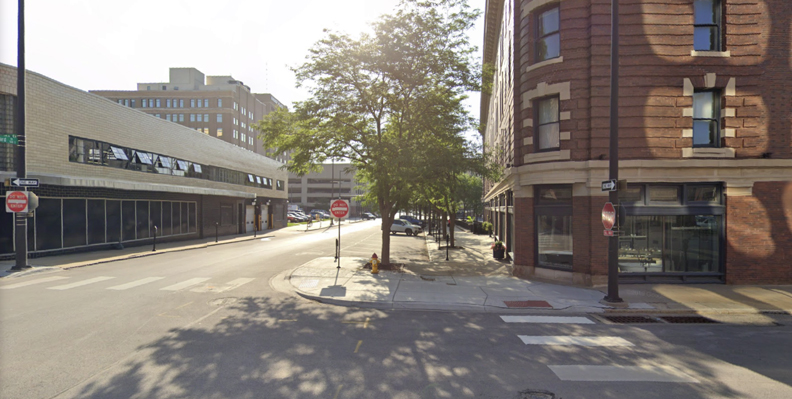 Looking east on Howard Street. The MUD Annex on the left, the Flatiron on the right. Photo borrowed from Google Image, November 2019.
Current Notes
In 1961 Omaha was planning a new government center where the YMCA, the Flatiron Hotel, the Metropolitan Utilities District Annex building at the northeast corner of 18th and Howard would be displaced for a "modern cluster of city county government buildings around a landscaped mall." Improving the heart of Omaha, meanwhile razing the old buildings around the base of courthouse at 1701 Farnam Street, was the idea. Although this project was not realized in the exact way it was envisioned in 1961, we can see by the various county and city government buildings that have sprung up around the courthouse, that proximity was the objective.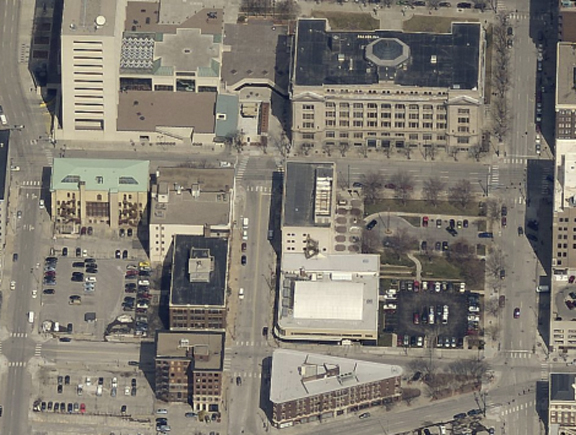 2013 Aerial of the courthouse and surrounding environ. Top of photo is north. Triangular Flatiron building is shown in the southern portion of the image.  Please take note of all the surface parking lots just sitting where buildings once stood. Photo borrowed from the DOGIS site.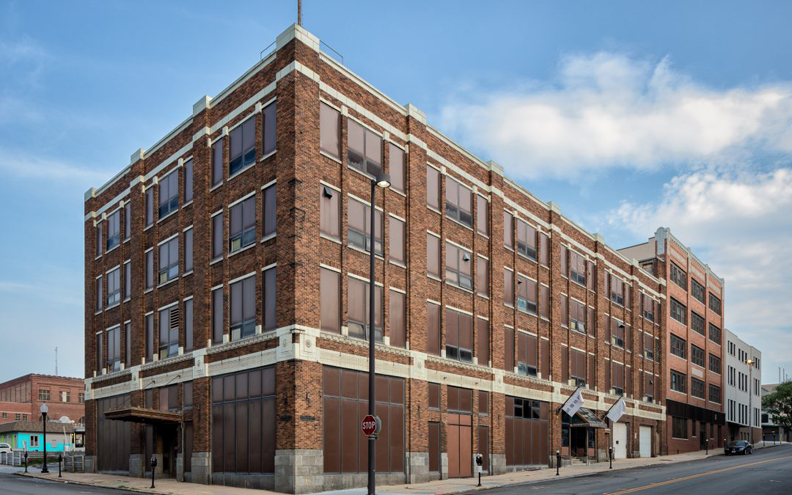 Bob Perrin's 420 South 18th Street treasure. Photo borrowed from Restoration Exchange.
A few years back Douglas County came knocking at 420 South 18th Street's door, wanting to tear down the 1920 structure to make way for their new Juvenile Justice Center and Courthouse project. Proximity to the courthouse, again, was the main drive. The county's argument was that law enforcement officers had to transport young people from the current youth detention center at 42nd and Pacific Streets all the way downtown for court hearings. 420's latest owner, architect Bob Perrin and soon a group of preservation minded locals, rallied to keep the building standing, rehabbed and recognized as an integral part of the Flatiron Neighborhood. They wanted the northwest corner of 18th and Howard declared a historic landmark, its poured concrete with reinforced steel, making it one of the strongest buildings of old Omaha. Both the Omaha Planning Board and city's Landmarks Heritage Preservation Commission voted to recommend landmark status for Perrin's building. This began the controversial push and pull between both government offices and regulars folks, with fears that the Douglas County Board would take Bob Perrin's building through eminent domain. Perrin would file a lawsuit. But the county was also sniffing around the Metropolitan Utilities District headquarters site from Farnam, all the way down to the garage parcel bordering Howard Street. After Perrin's strong show of force, the Metropolitan Utilities District properties became the target. The County Board approved an advance to the tune of $1.45 million from the Omaha-Douglas Public Building Commission for the first phase of work on the juvenile justice center with the District Court giving their approval to the Building Commission to build a new Justice Center downtown.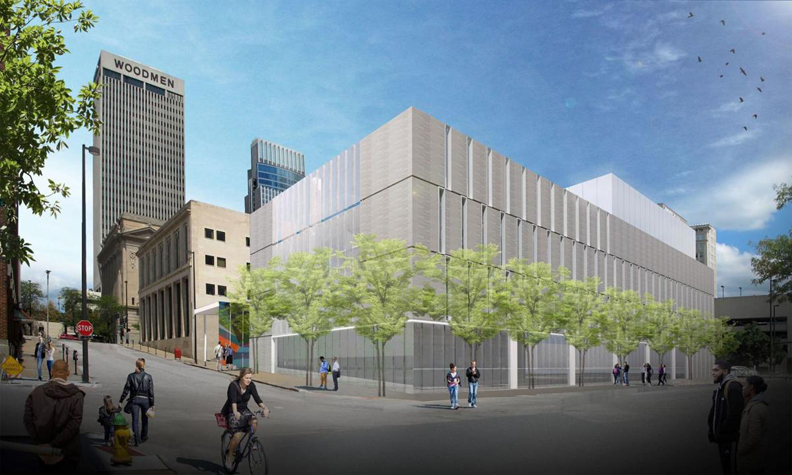 HDR architecture and engineering firm design for the new Juvenile Center. Image borrowed from the OWH.
I would accidentally come across the Miller-Knuth garage on October 16, 2020, after straggling behind a Native American march on St. Mary's Avenue. The demolition of the Miller-Knuth garage had already begun and I was caught unawares. I have not been back since and on that sad note, the Flatiron Café closed permanently this last May due to the Coronavirus pandemic.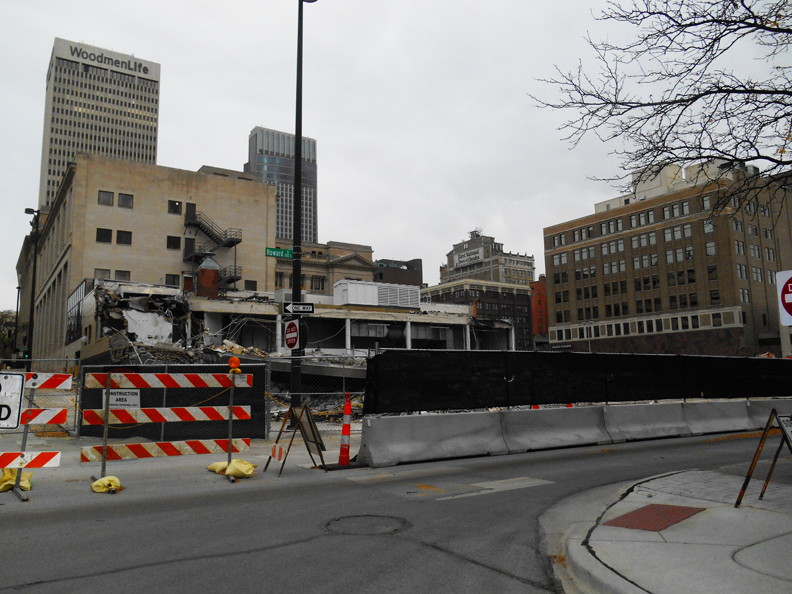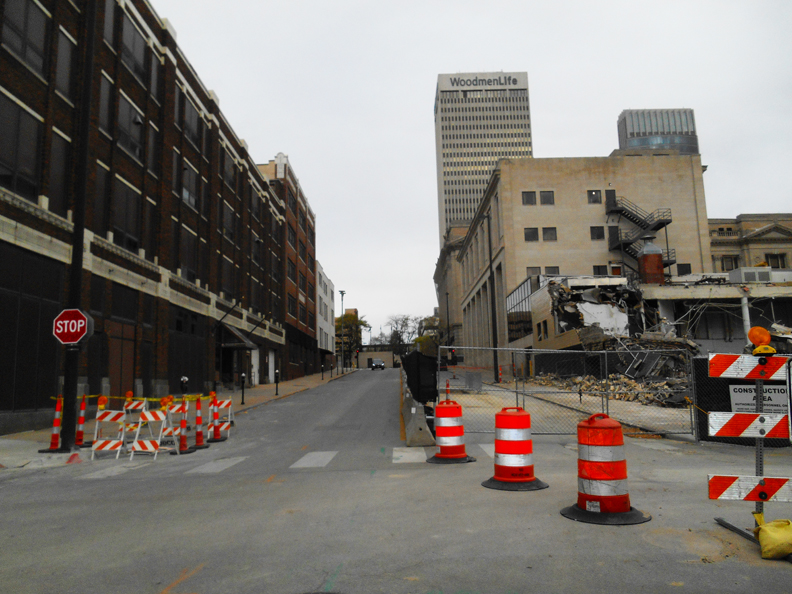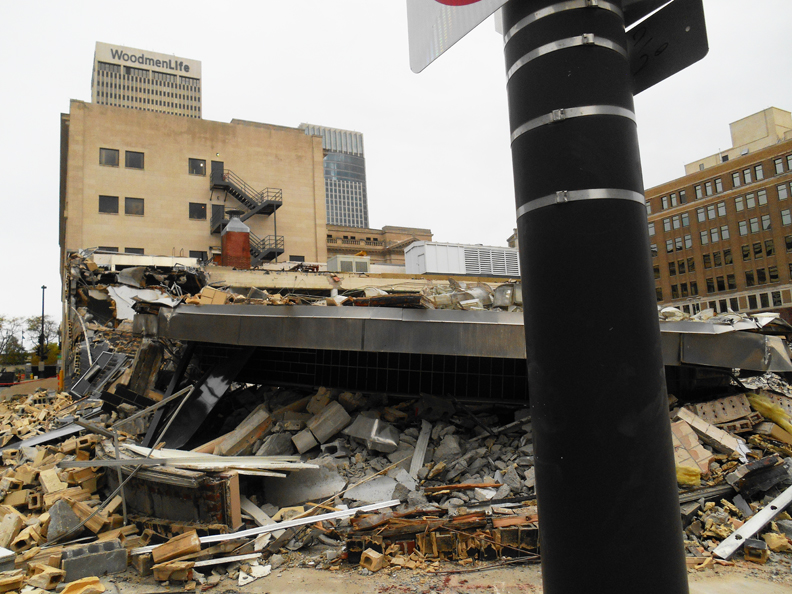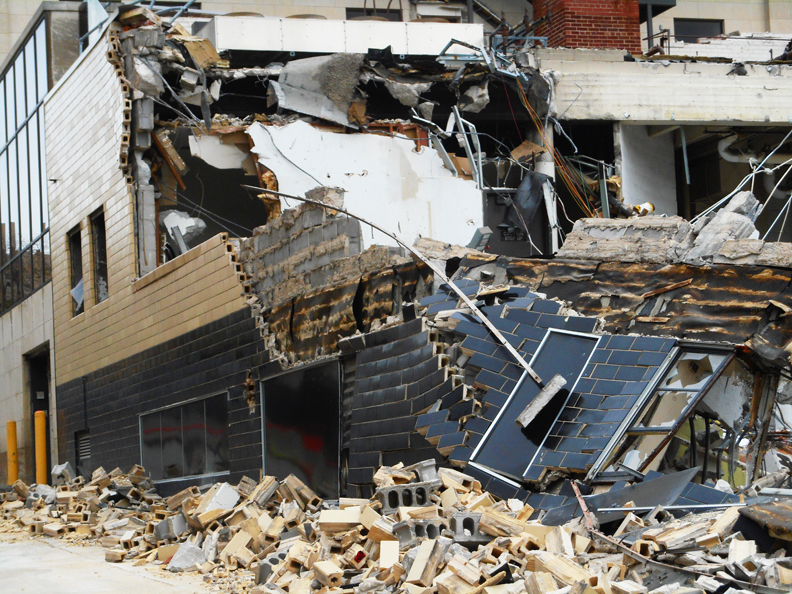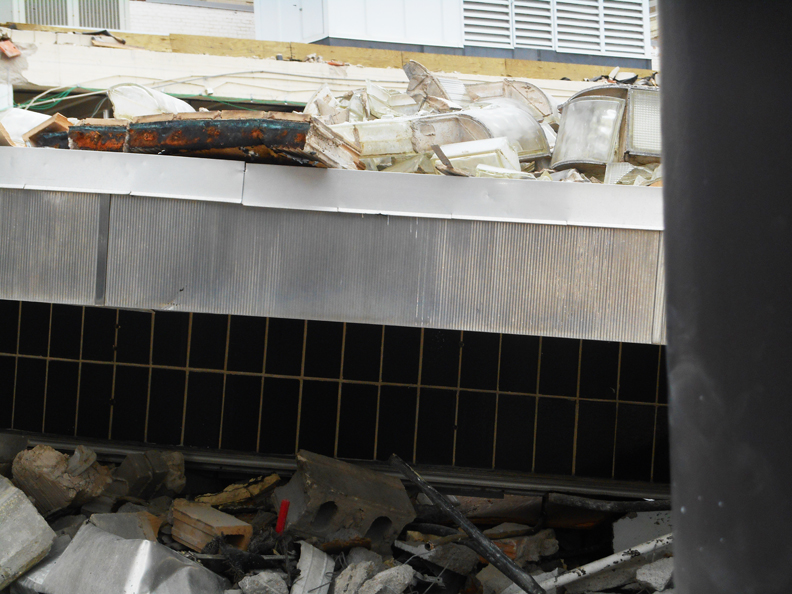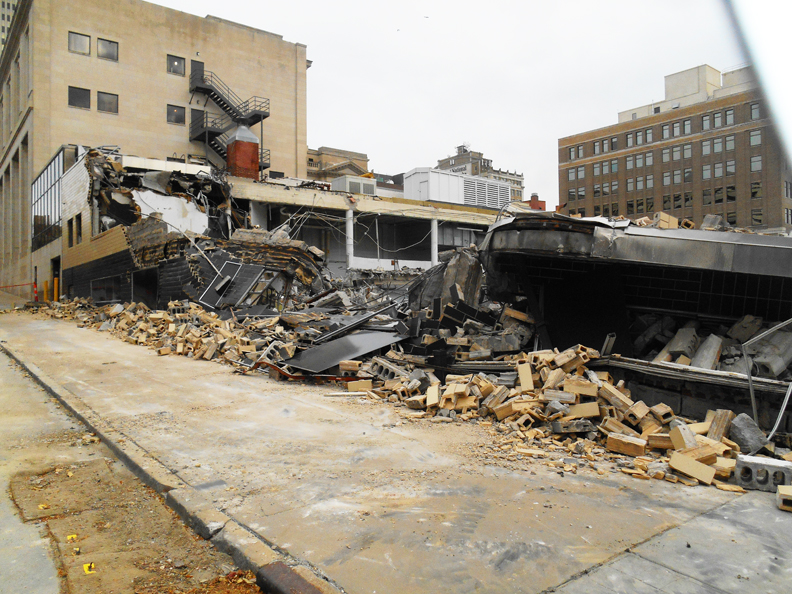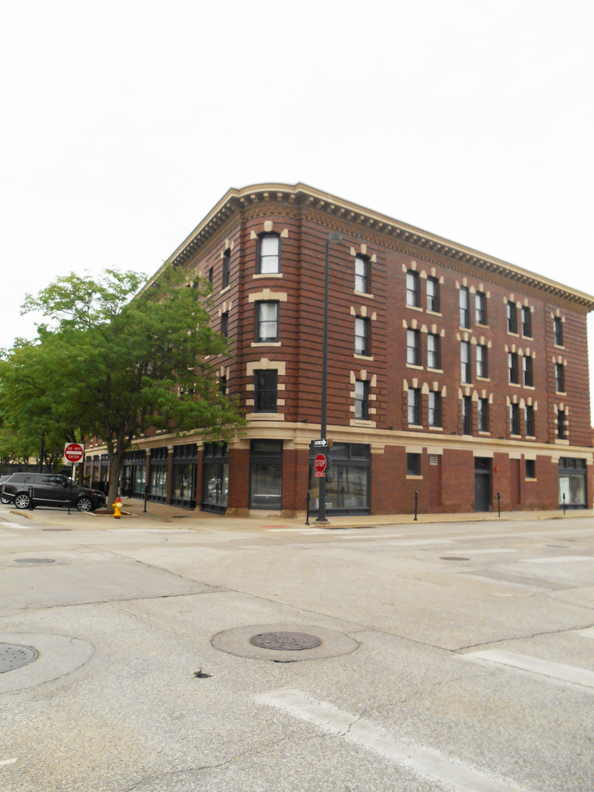 Having loved the mystery garage at 18th and Howard for a long while, I kept my crush photos in a file labeled 1724 Howard. But in trying to investigate what exactly had happened recently, I found my garage queerly reassigned the 425 South 18th Street address. And that address was held under an additional 1819 Farnam Street address, also owned by Metropolitan Utilities District. The photos of the garage on the Assessor's site are no longer visible, its history erased and labeled, "ex government." This is common. I don't feel good about this one but I do understand, now, what happened. While I was keeping a watch on Bob Perrin and the Save 18th and Howard Street's tremendous work, I hadn't the faintest it would mean a loss of my mystery garage. At the very least, I wanted to throw some light on this once proud, streamlined corner, a secret crush of this punk rock girl and untold others, for when a wandering teen wonders what used to be here, years from now.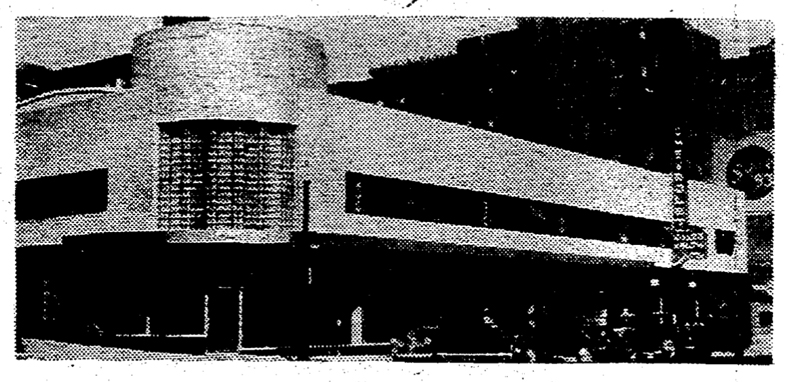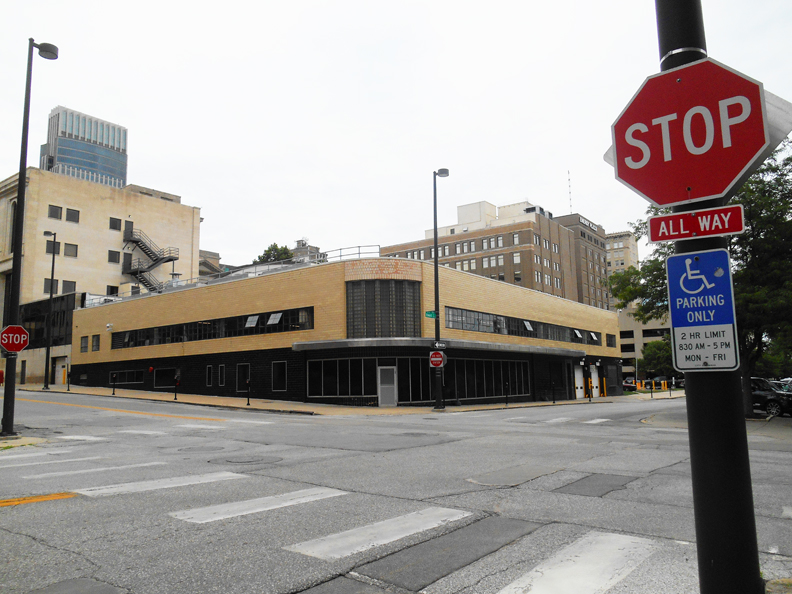 This is only a small part of the story. I welcome your feedback and comments on the Miller-Knuth garage, 420 South 18th Street and the whole Flatiron Neighborhood. Please feel free to leave a thought in Comments. I welcome you to poke around with your flashlight. Investigate. Hide in the shrubbery. Look under these rocks and down those alleyways. I am more than pleased to have you tiptoe about. By the time you head for home, I hope you have been fully Sherlocked and Satiated. Thank you, detective friends.
If you like what you see, you can keep up with my latest investigations by joining my email group. Click on "Contact" then look for "Sign me up for the Newsletter!" Enter your email address. It will then display "Thank you, your sign-up request was successful!" Make sure to check your email address to confirm. You will get sent email updates every time I have written a new article. Also feel free to join My Omaha Obsession on Facebook.
© Miss Cassette and myomahaobsession, 2020. Unauthorized use and/or duplication of this material without express and written permission from this site's author and/or owner is strictly prohibited. Excerpts and links may be used, provided that full and clear credit is given to Miss Cassette and myomahaobsession with appropriate and specific direction to the original content.