I was on my merry way into my newest Byzantine investigation at the W. Dale Clark Library when I happened upon the old club fenced in, like a wayward jailbird or some unruly cattle pen. My heart lifted for a split minute, imagining a resplendent restoration of sorts…a costly plan that had perhaps gone unnoticed due to my avoidance of the local news. Admittedly I had been much too busy lately, studying Barbara Stanwyck's beautiful, symmetrical nose and all things film noir. When I arrived, no one at the library knew what I was squawking about but a quick review of Chris Burbach's spring time World Herald articles would reveal the Omaha City Planning Department had "not found any historical significance to the building" at 1512 Howard and it was, indeed, being torn down. The Omaha Performing Arts Society owned the building and wanted the lot emptied for surface parking.
I will be the first to admit 1512 Howard was certainly not the most striking building in town and might have lacked architectural merit by great landmark standards, but to many in Omaha, this simple, small scale twentieth century building possessed a certain captivating quality. Any curious, back seat child of the 70s or 80s had noticed her dimly lit marquees, a hushed, indifferent signal light to various, distinct crowds through the decades. 1512 Howard's nuanced, Patently Adult wink was something my grade school eyes could not disregard as the family car breezed past her darkened entry–although the message was not discernable at the time. My high school route leaving the Old Market was somehow made murkier by passing the then Gentlemen's Club. Such a strange, wonderful time. But there will, no doubt, be some among us who never took notice to her subtle, dubious cuing.
The faint memory of the Stage Door Lounge and later the Bittersweet Lounge became something of an obsession in the following weeks. How old was the building and what had it been previously? This preoccupation nearly made me break the law; there were times when I was on the point of stuffing my backpack full of her bricks and carrying off pieces of wood, tile and old wallpaper. Could I slither between the temporary demolition fencing and slink across Howard Street with the artifacts before the catty corner Police Headquarters got on my tracks? Fortunately I was not compelled to such extremities. At the very least, upon her leveling, I thought 1512 Howard deserved a proper send-off for all her civic contributions. The purpose of this lengthy article is not to stir this debate anew, but to recall some highlights of her rather unofficial century on Howard Street. For although I never darkened the door of the already darkened 1512 doorway, I found a way of making her come to me. And this is the story of how I did it.
Things to know, if you are new here: This is an investigative Long-Form article, Long on the Long part. It is best to read in chapters, not all in one sitting. I don't recommend long reads on a cell phone. There are reasons why we are not called My Omaha Surface Scratch or My Omaha Overview. This is a major shake down and truth be told, with your input, I think we've got the ticket. We detectives will be canvassing, wandering, climbing fire escapes, overturning stones found in alleys and whispering about important matters on rooftops. Let us pace ourselves. Otherwise some a youse might become grunt 'n' groaners. And for the love of Pete, let's all change into our suits, dresses and smartest shoes—we're headed to Downtown Omaha, after all, and we do not need the added mark that someone's gym sneakers might attract.
I am breaking with code on this next decision. Let us start at the very end.
The Big Sleep
The Omaha Performing Arts Society had purchased the rectangular 5,764 sq ft 1512 Howard back in December of 2012 for $1,332,000. For the record, the Omaha Performing Arts handles all programming and operation of the Orpheum Theater and the Holland Performing Arts Center. They do a wonderful job of bringing entertainment to Omaha. https://omahaperformingarts.org/ Through insiders I understand the organization used the once lively building as that of a storage warehouse. I imagined old theater property teetering to the hilt, bolts of red velvet, ostrich feathers, golden tassels and a wizened prop master with a toupee waiting in a darkened office by a phone that never rang. I am making this up but one can dream, right? In honesty the structure hadn't been used for a while. The Arts Society had already acquired the parcel to the east at 424 South 15th Street—a 40-stall parking lot. Razing the 1512 Howard structure would increase their parking lot (OPPD employee lot during the workweek, Orpheum lot for events) by 10 stalls. I found the Omaha Planning Board agenda public hearing and administrative meeting from their May 2, 2018 meeting where approval to allow surface parking was granted. The structure was fenced in by July while preliminary work was started. By July 28th the full demolition had begun and as of the writing of this eulogy, newly seeded grass was found growing over the barren 1512 Howard site.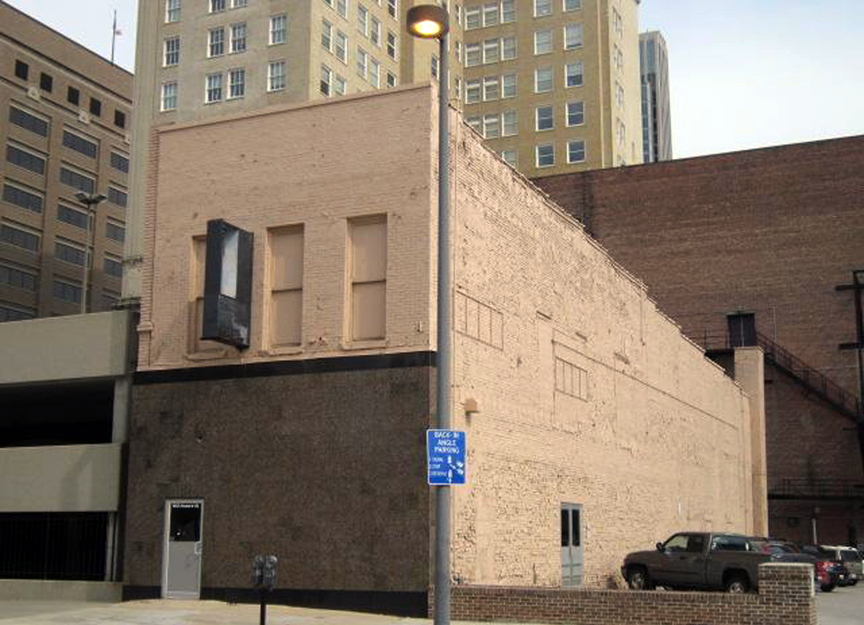 1512 Howard. Dated 2015. Image from the Douglas County Assessor's site.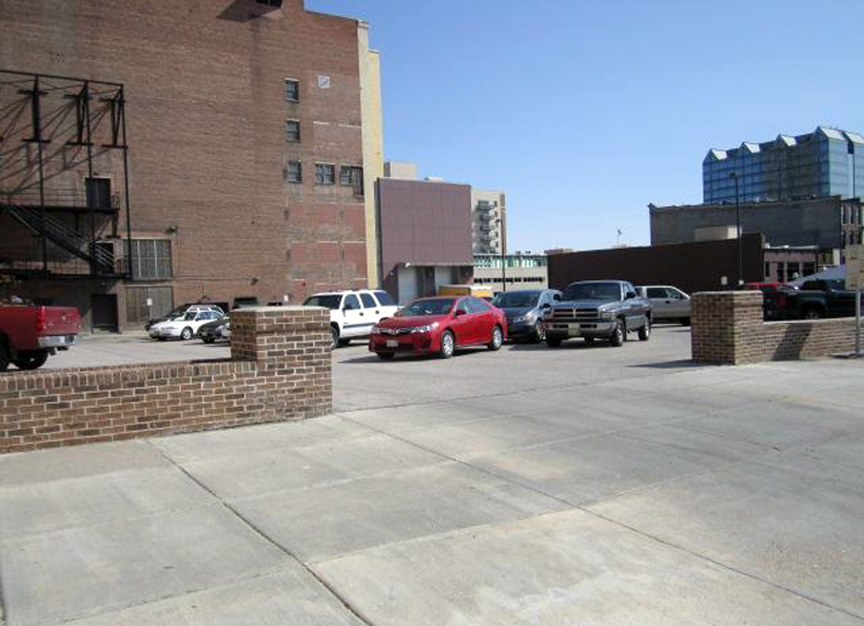 424 south 15th Street, to the east of 1512 Howard. Dated 2015. Image from the Douglas County Assessor's site.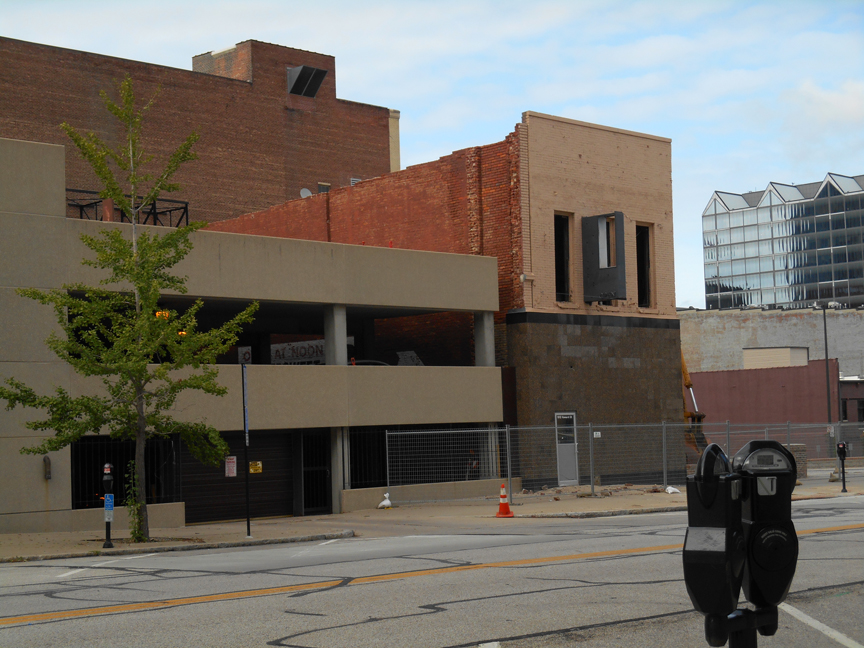 Finding 1512 Howard fenced in that first day on July 26, 2018.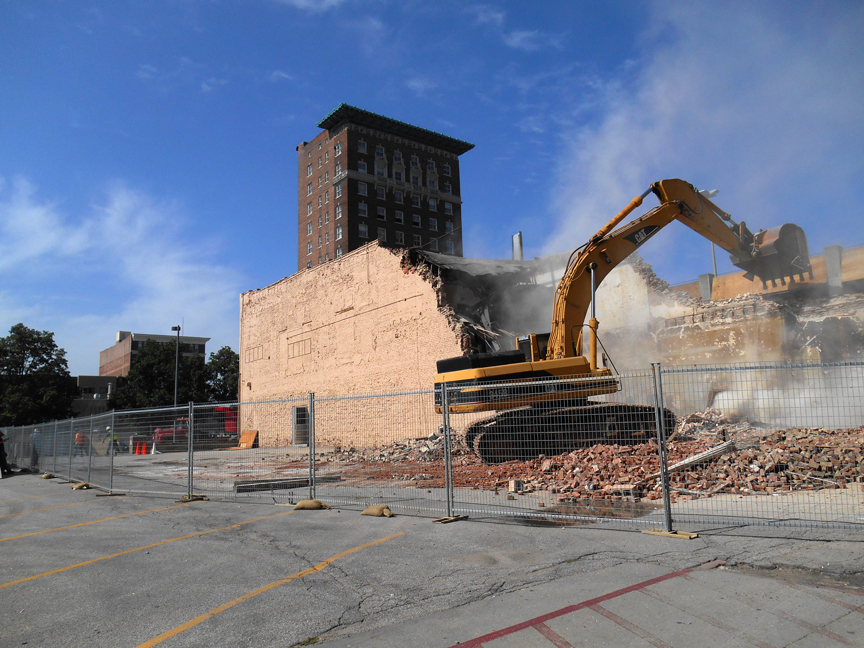 Dust is flying from the excavator on July 28, 2018. The Hill Hotel on 16th Street in the background. If you have been around when old buildings come down, there is a distinct smell.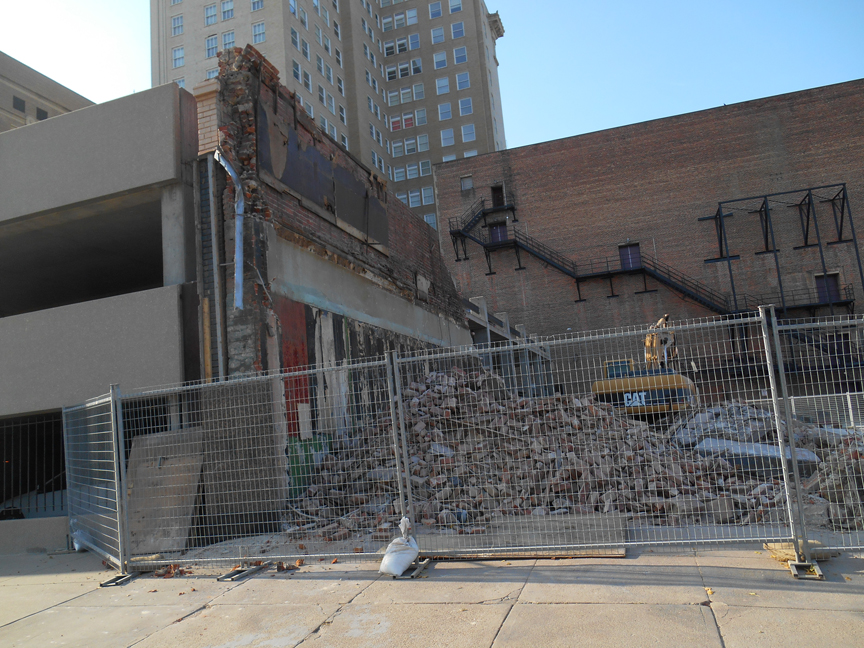 Pile of bricks and rubble on July 30, 2018.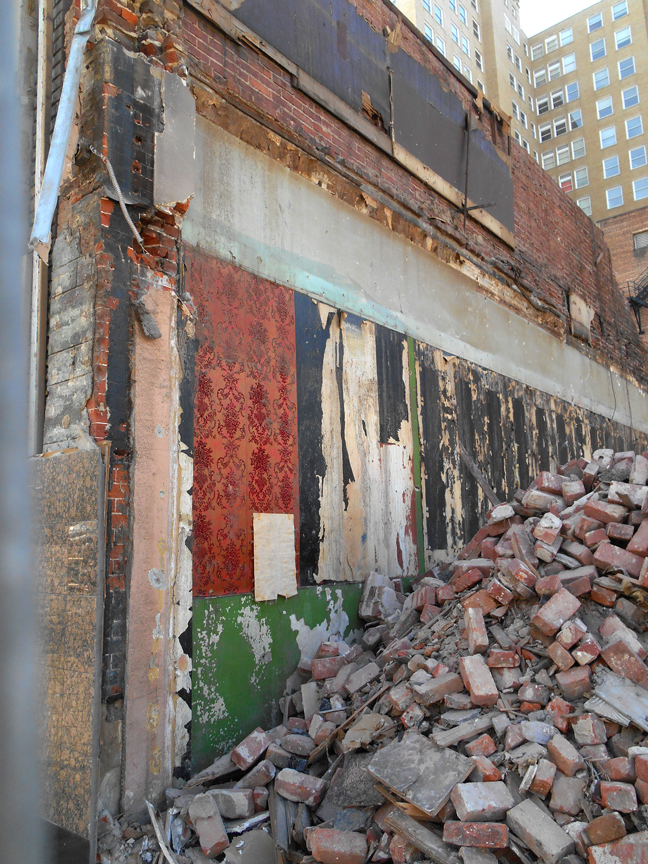 Layers and layers of clues to the past. That flocked paper was quite breathtaking. Again, the smell of an old trapped building. July 30, 2018.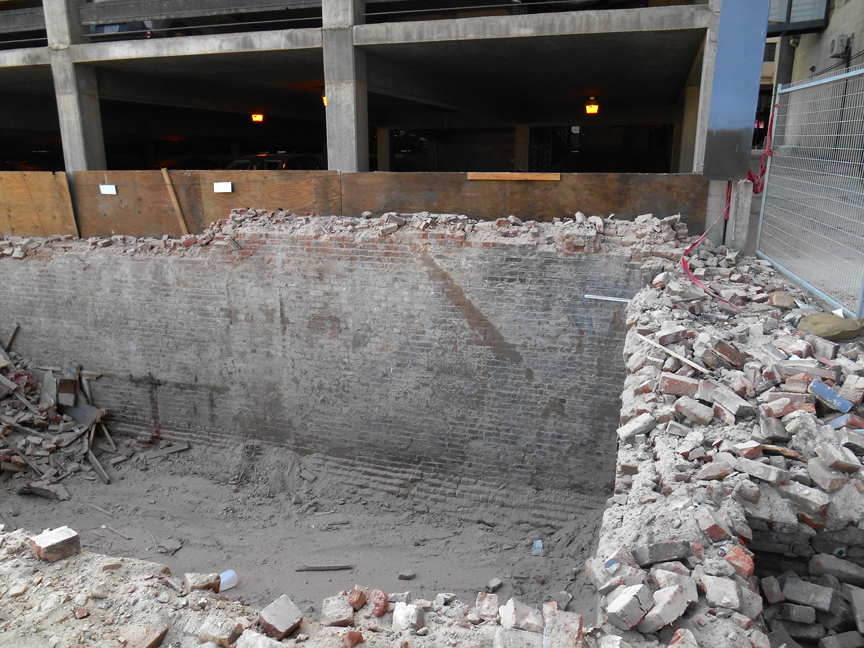 Such a solid, wonderful basement and foundation. July 30, 2018.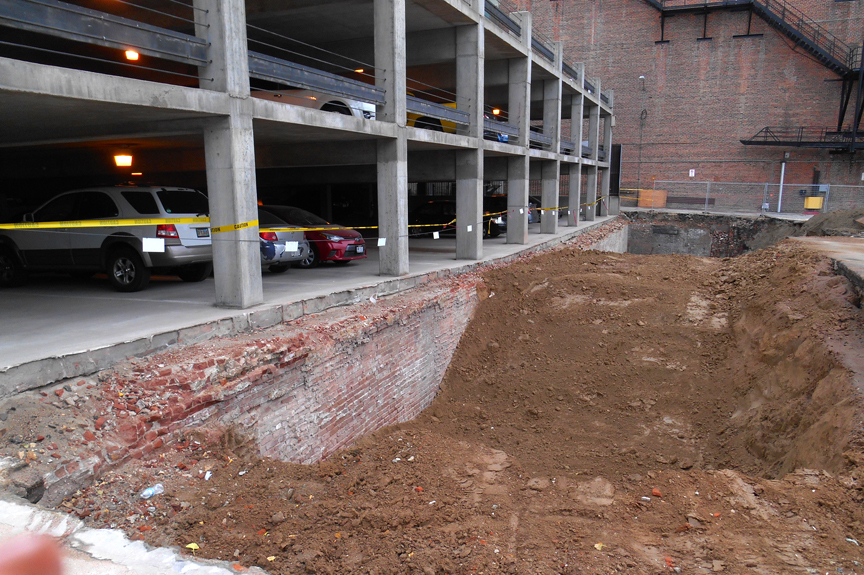 By August 2, 2018 the basement was being filled with dirt.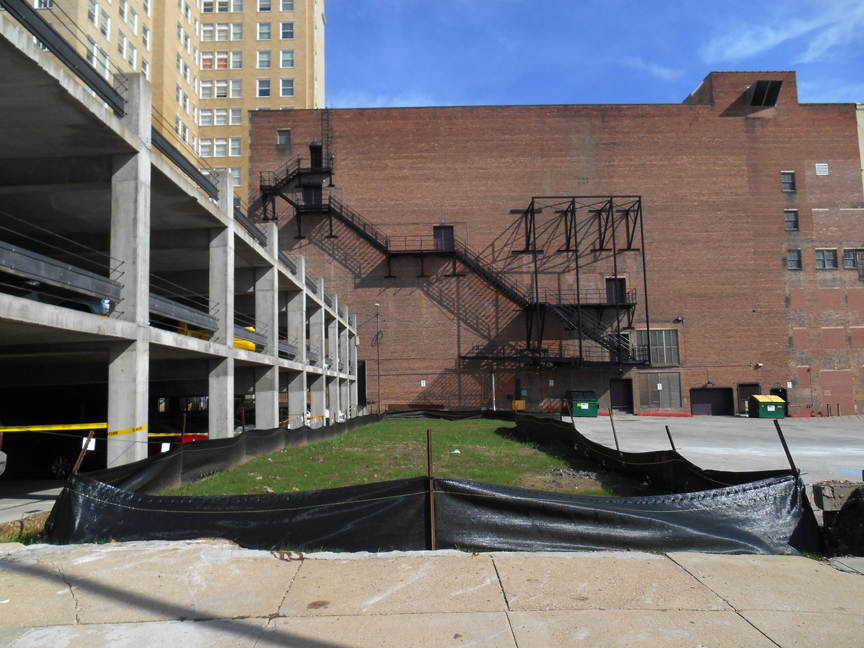 September 6, 2018. The slim 1512 Howard parcel is now a panel of grass in a parking lot. I found a cover crop of basic grass seed, probably to stop soil erosion, belted by black plastic wrap.
Full Inspection
The Douglas County Assessor site dated the rectangular 1512 Howard Street, City Lots Lot 7, Block 147 as built in 1905. Often frustrating, I knew the Omaha City Directory did not offer street address listings until the 1912 book. I would dig through the Douglas County Register of Deeds office records to find that one William M. Bushman owned this downtown lot back in 1906. I began my obsessive churning into Mr. Bushman soon after. Maybe it was the Omaha World Herald obituary that tipped me off, in the regrettable end days of Mr. Bushman, he was regarded an "Omaha Pioneer"– a term that always gives me a smirk, if only because it was used so generously long ago. Please forgive me. Arthur Cooper Wakeley's tome, Omaha: The Gate City and Douglas County Nebraska A Record of Settlement, Organization, Progress and Achievement Volume II, reported W. M. Bushman having been born in New York in 1842. He moved to Omaha in 1871 "and after remaining in active connection with the dry goods business for a time, he established warehouse interests with which he is now connected."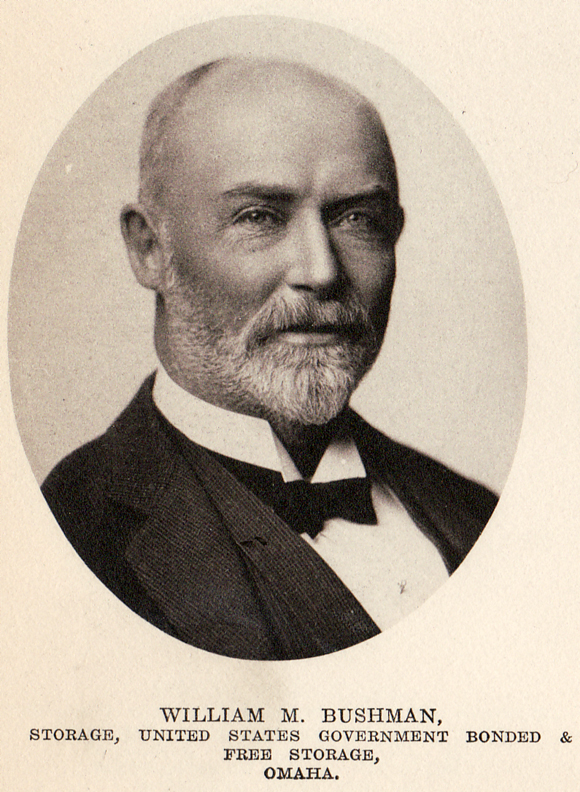 1904 William M. Bushman as seen from Nebraskans, put out by Bee Publishing Company. This book is one of my most treasured, although each fragile page is falling from the crisp binding. As far as old photos go, the photographer responsible for the portraits in this book was quite skilled. Notice how warm and, dare I say, attractive Mr. Bushman looks. Eyes shining through the page. Every person in the book looks this well. A rarity in 1904 photography.
Codified Bushman
A.T. Andreas', History of the State of Nebraska, described Bushman as an early Omaha grocery man, having commenced his business down on 13th Street in 1874. "After one year in that location, he moved up next door to his present location, and has since been on the corner now occupied by him, Fifteenth and Douglas streets. He carries a heavy stock of goods, and is doing a large and constantly increasing business, being recognized as one of the leading dry goods merchants of the State."
I would find this fine photo of the aptly named, Bushman Block. I would learn that William M. Bushman owned and built numerous buildings both in the retail core of the Central Business District of Downtown Omaha and in nearby residential areas. I would also find a Bushman Storage Company on North 11th Street, lending credence to the previously mentioned warehouse interests.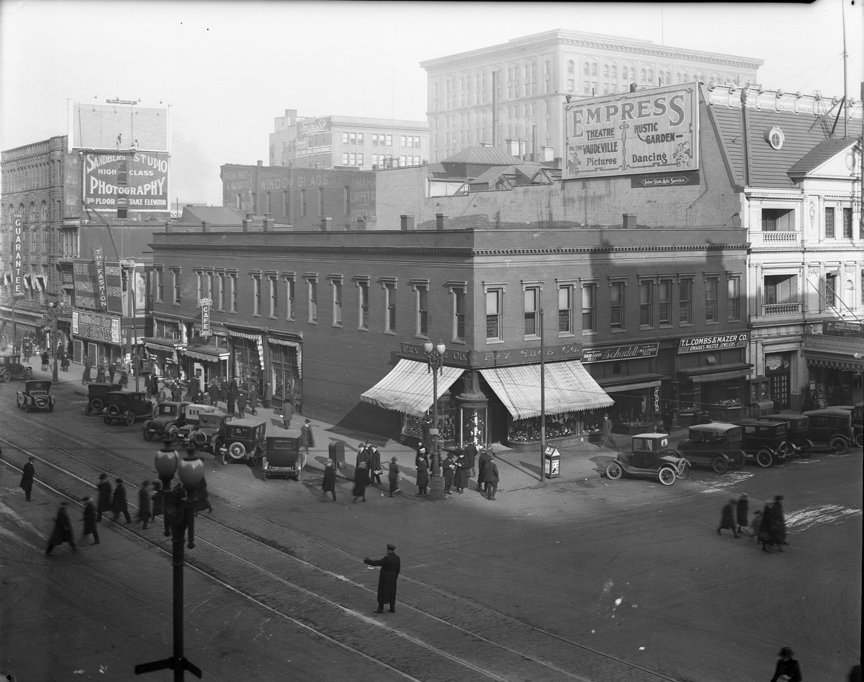 December 12, 1921. A view of the Bushman Block, located on the northeast corner of 16th and Douglas Streets in Omaha, Nebraska, from the Brandeis Building. Various signs read "Sandberg Studio High Class Photography," "Fry Shoe Company," and "Empress Theatre, Rustic Garden, Big Time Vaudeville, Pictures, Dancing." Creators: Bostwick, Louis and Frohardt, Homer. Publisher: The Durham Museum.
Mr. Bushman, reputedly a "well and favorably known merchant" would marry Miss Wilhelmina Lilyen "Minnie" Litzen of Council Bluffs, Iowa, labeled "a young lady of more than ordinary personal attractions" on June 21, 1876. (I have vowed to take this exquisite phrasing into my vocabulary.) The couple would have eight or nine children; it would appear that some died in childhood-adolescence. Their oldest and most well known child, Dr. Louis Bushman of Omaha was an oculist and aorist. At first I had read that as "occultist" and I became very enchanted. But alas this fine son was an international specialist in the treatment of diseases of the eye, ear, nose and throat. William and Minnie also had children Anthony (died at age 3), Antoinette "Nettie," Robert, George, Herbert (died at age 15), William, Lillian, Agnes and Francis. Of note son George Francis Bushman would start the George F. Bushman Realty Company, most likely managing his father's large real estate properties. I include their names and the Bushman Realty Co. here because I would bump into them again as I followed the trail of 1512 Howard.
Early 1512 Howard Suspicions
In early January of 1904, W. M. Bushman would run an oddly worded advertisement: "THE TWO-STORY building 1512, and the second floor 1508-10 Howard st." under the For Rent column in the want ads. Now excuse me as I tiptoe through the thicket but I was beside myself with glee.

Jan 10, 1904. This may not look like much but this was my most hard earned clue of the whole investigation and I love looking at it even now, for it marks three things (and maybe more.) One– that 1512 Howard was erected by 1904, a fact I had suspected from the start. Two—solid evidence that William Bushman was the original owner. Three—Bushman owned another building on this block, if not more—another suspicion based on his real estate interests. This 1508-10 was actually one building with two addresses and sat exactly to the east of 1512. Of interest I would recall the strange bricked-in doors on the second floor, east side of 1512, leading to nowhere in the air. I do love things like that. I began to imagine that the buildings were joined. The ad ran almost every day from January until late November of 1904. (And yes, I eyeballed them all because I was fixated.)
Not a lot is known about Bushman's small scale, two-story with basement, brick building. From what I could dig up, 1512 Howard and her façade was not officially documented. I imagined she was typical of most narrow, rectangular small business houses of her day. The south facing, elongated building was in the traditional dry goods store or saloon layout, offering a solid, proud façade, possibly an uneventful flush or slightly recessed door, simple ground floor retail window(s) with a pattern of two or three long windows above. Maybe a modest bit of decorative features saved for the second floor? Her lack of formal windows on east or west side told me that the structure most definitely abutted building in either direction. This would have continued to building line of Howard Street so that only her slime façade would have been visible from the exterior. If 1512 Howard was anything like the few hearty soul survivors of Downtown Omaha, she had probably endured numerous structural changes to accommodate each new tenant; just in my lifetime she had gone through a number of facelifts in keeping with the commercial trends.
Neighborhood Sleuthing
The block on which 1512 Howard was located was anchored by 15th Street on the east and 16th on the west—both thoroughfares were an integral part of the growing retail and business core of thriving Downtown Omaha. The simple buildings along both the north and south side of Howard were tightly wedged in together, creating a solid stream of retail bays, eateries, offices, factories, hotels and bars for an attractive, modern pedestrian experience.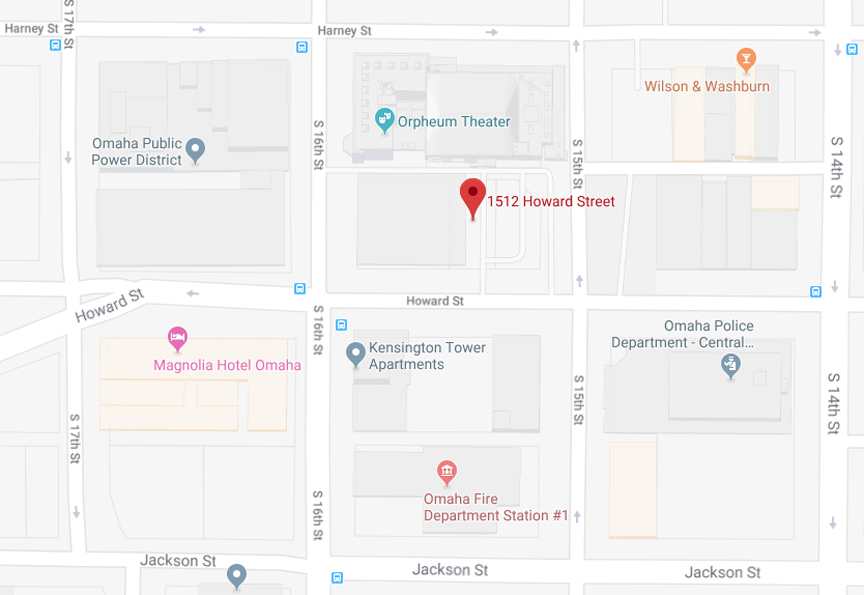 2018 Google Map.
In 1904 there were still many buildings of the 1800s pioneer period interspersed throughout Downtown Omaha's rigid grid—like a timeline—a picturesque medley of fashions in façade. Can you imagine if we had kept more of these structures and incorporated newer buildings sprinkled amongst them? Around that time period the opposing corners on the northeast and southeast of 15th and Howard housed a large hotel (now a parking lot next to the very much missed Patrick's Market) and Omaha's first "old" Civic Auditorium (now the Omaha Police Department.)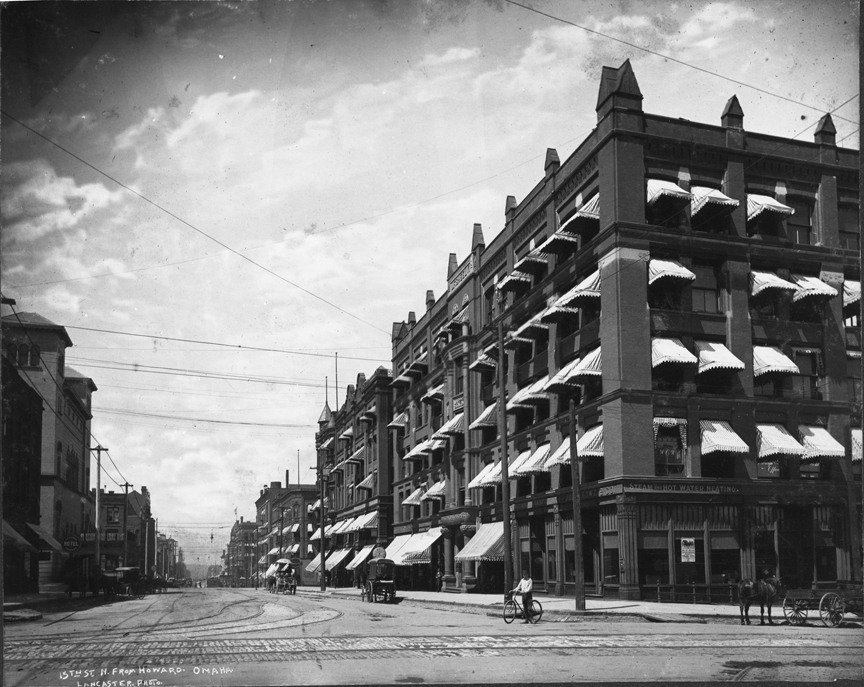 1900. View of 15th Street looking north from Howard Street. Stores and business buildings line the street. The awnings are hung on the Sheely Building, later to become the Carlton Hotel. Streetcar tracks are seen on the road, horse drawn carriages are parked on the sides of the road. Photo by Lancaster. Publisher: The Durham Museum.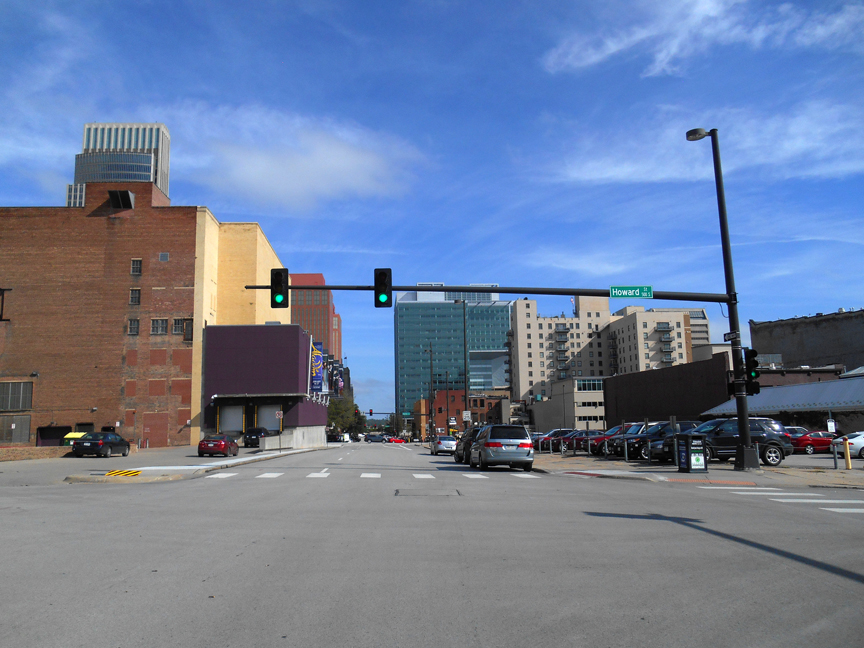 2018. View of 15th Street looking north from Howard Street.
The northwest corner of 15th and Howard was home to the Hotel Boquet (the Omaha Arts parking lot mentioned earlier), alongside the original Orpheum Theater entrance just north of the hotel (now backside of the newer Orpheum.) In 1909 the Hotel Boquet made its formal society introductions, having formerly operated as the Karbach Hotel.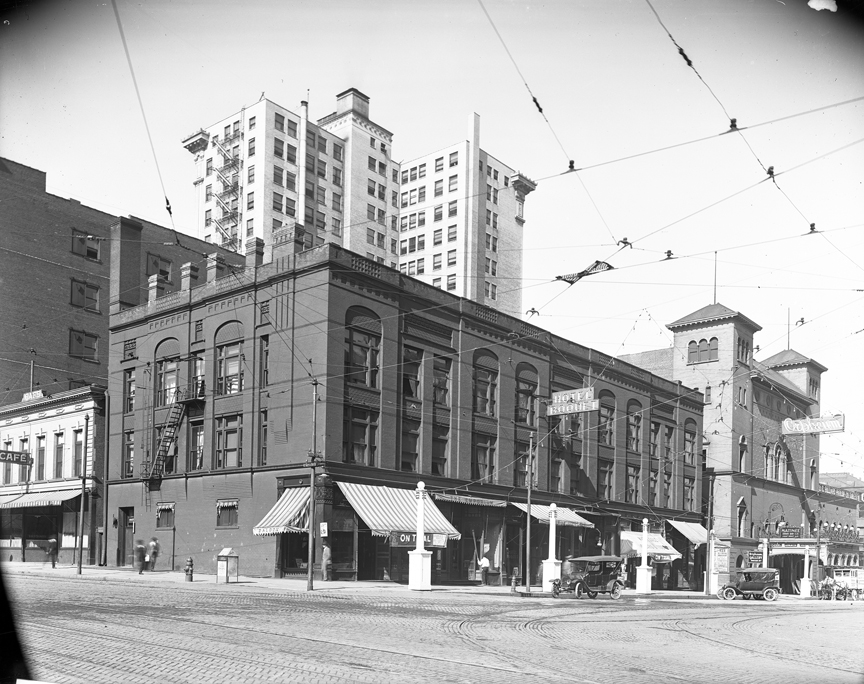 October of 1915. Looking at the northwest corner of 15th and Howard Street. The Hotel Boquet is in the middle of the block. To the right is the old Orpheum Theater entrance on 15th Street. Directly behind is the City National Bank building. Bostwick, Louis and Frohardt, Homer. The Durham Museum.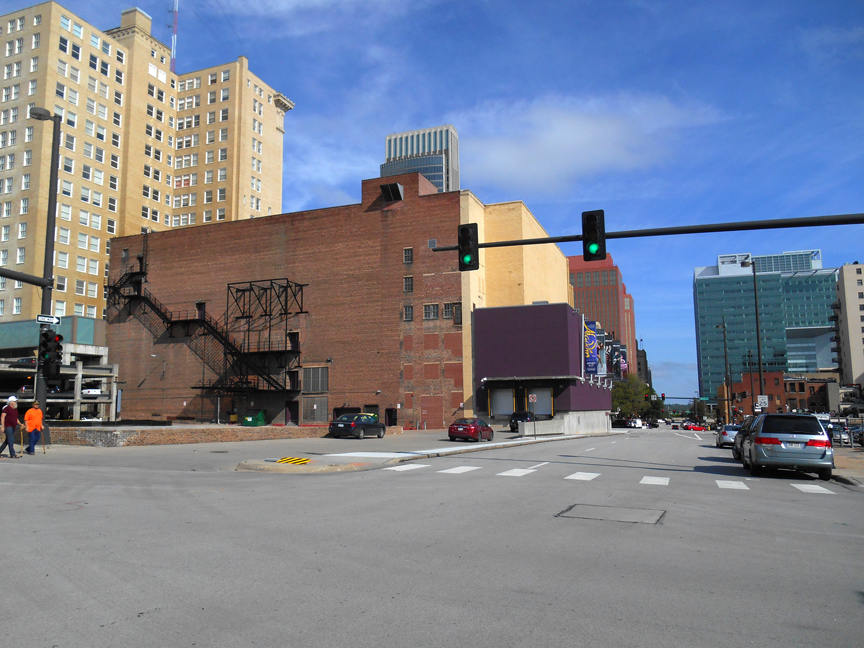 2018. Looking at the northwest corner of 15th and Howard Street. The parking lot where the Hotel Boquet once stood. The backside of the Orpheum Theater is visible with the new 15th Street loading dock. Directly behind and to the left is the City National Bank building.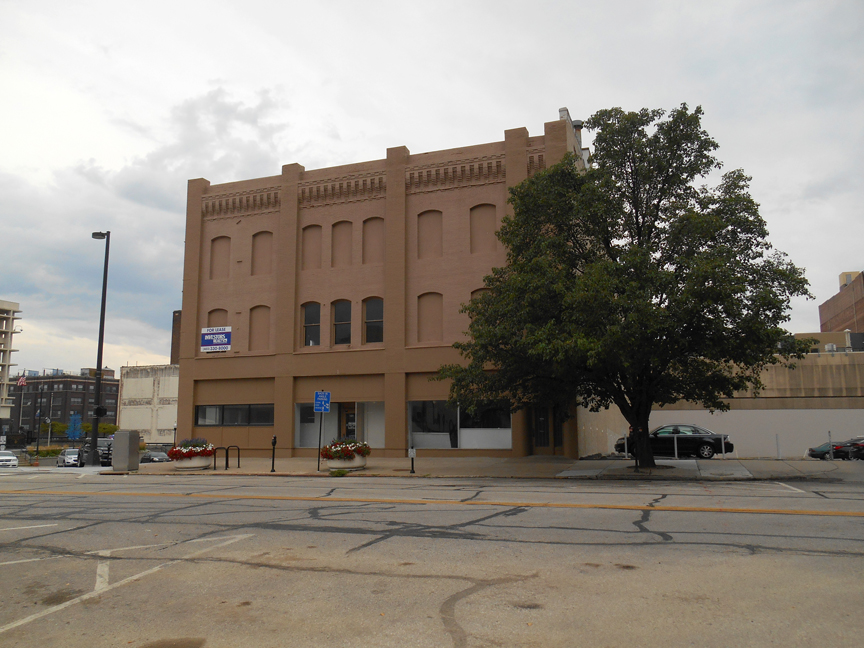 2018. The P.J. Karbach & Sons factory at 1501 Howard was on the southwest corner (this building is still standing and for sale.) As we've already discussed, the Karbach Hotel was on the northeast corner. This 1501 Howard factory building would house the Scott Awning business for many decades following.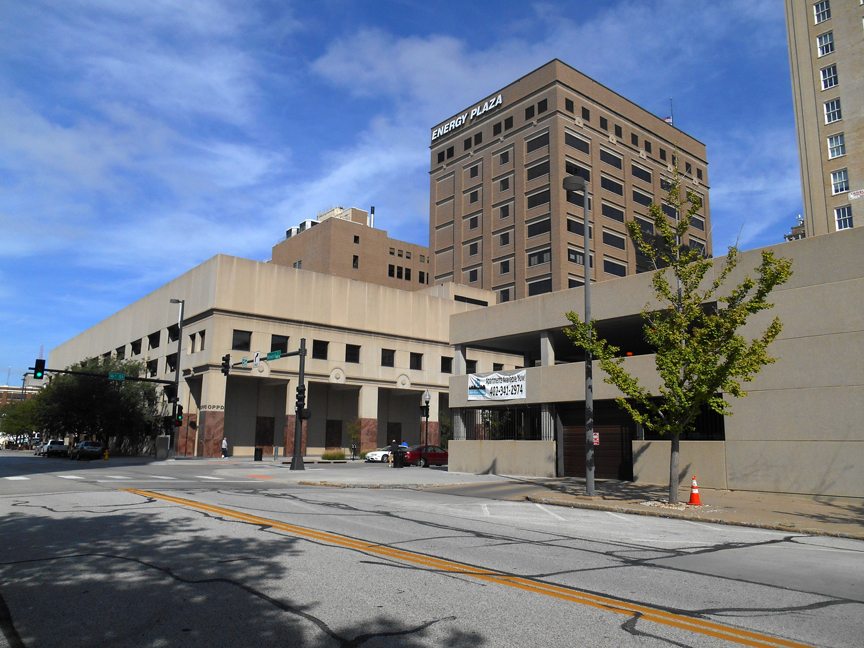 16th and Howard to the west would be bookended by the large northeast Webster-Sunderland building (now a parking garage) and the Hoagland building on the northwest corner, occupied by Thompson, Belden & Company among others. This was site to the original George A. Hoagland residence. It is now the OPPD building and parking garage. The Hill Hotel I Wish I Could Have Gone To: The Cave Under the Hill on the southeast corner and the Aquila Court on the opposing southwest corner would enter the scene years later. 16th Street, as we know, would become the gracious passageway of hotels, retail and entertainment. I draw these lines and points of interest to show that some heavy hitters from her very origin surrounded little 1512 Howard.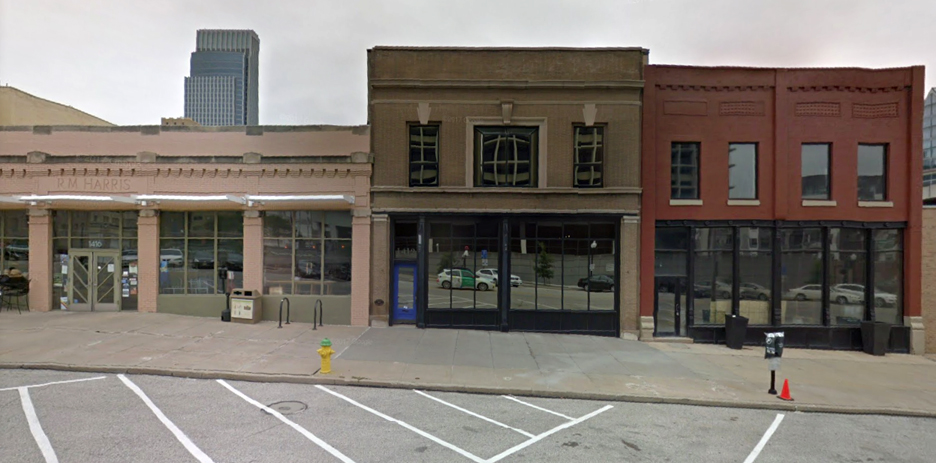 The unsung buildings just one block to the east at 1416 Howard (RIP Patrick's Market), 1412 Howard and 1410 Howard probably give the best reflection of what the 1512 Howard block once looked like. These three simple, solid structures were built between 1905-1910, making them cohorts of 1512 and the buildings that once flanked her sides.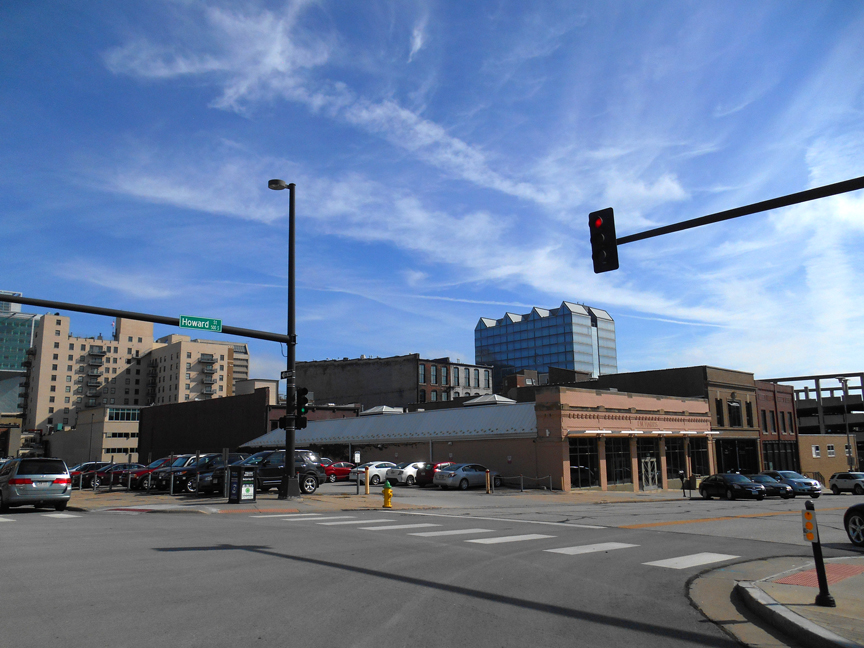 For the record the empty parking lot that was to the west of Patrick's Market was where the hotel with scrumptious awnings in the previous photo once stood.
The Reed and Rattan Works
In January of 1904 a large second story fire broke out in the Reed and Rattan Works factory-store at 520 North 16th on the Sievers' Block. (This building is non-extant but I estimated its location to be just north of the fabulous downtown Pettit's Pastry.) J. H. Voss had a rooming house in a large portion of the second and third floors of the building. Lem Gleason, finisher in the rattan factory, who "stays there nights," was reading on the first floor when he noticed a light in the elevator shaft. Philip Nathan, owner of the Reed and Rattan Works and a name I bumped into early on the case, gauged fire and water damage of stock amounting to $8,000, a goodly amount of money in 1904. An anecdotal tale has it that the excess of water used to fight the fire soaked through to the first floor and was thought to have damaged the labels of the bottled goods in the Hiller Liquor Store. Meanwhile the "Safe Saloon" also housed in the building continued to serve its patrons "without cessation" where a large crowd gathered, evidently drawn by the firefight. They "did not give much trouble."
The Reed and Rattan Works would temporarily hole up at 18th and Harney, holding a "sacrifice sale" in June of 1904 in hopes of recovering some of Philip Nathan's lost money. The Works were known for their go-carts, baby carriages, reed chairs and rockers, hampers, baskets, porch seats. Miss Cassette has long been obsessed with rattan furniture of the 1940s as it supports barkcloth tropical cushions rather nicely. This fire must have prompted the Reed and Rattan Works' big move to 1512 Howard by the spring of 1905. And this, this dear friends, is where our investigation truly begins.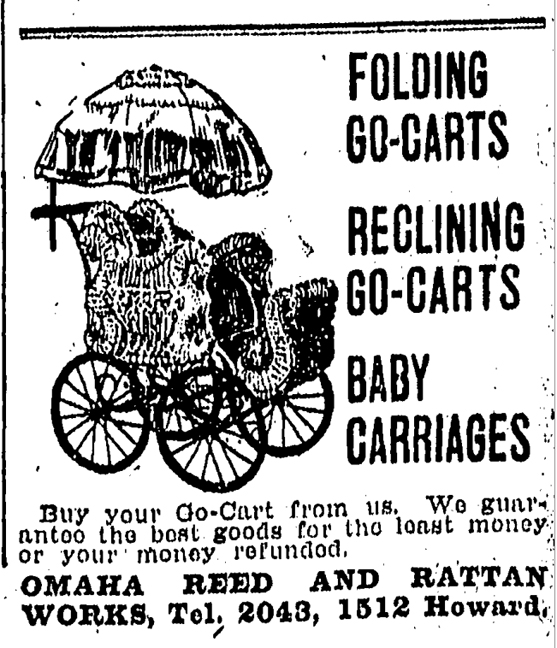 OWH 1905 Omaha Reed and Rattan Works 1512 Howard ad.
Enter John Robinson Webster
John Robinson Webster moved to Omaha in 1886, where he became partner in the fire insurance agency of Potter, Webster & Company, later Webster, Howard & Company. Along with other associates John Webster would construct the East Omaha Street Railway and the Omaha Bridge & Terminal Railway. Additionally he was involved with the Illinois Central Railroad Company and director of the City National Bank Building of Omaha and the Ash Grove Lime & Portland Cement Company of Kansas and Missouri. You sly detectives just might remember his name from our other adventures.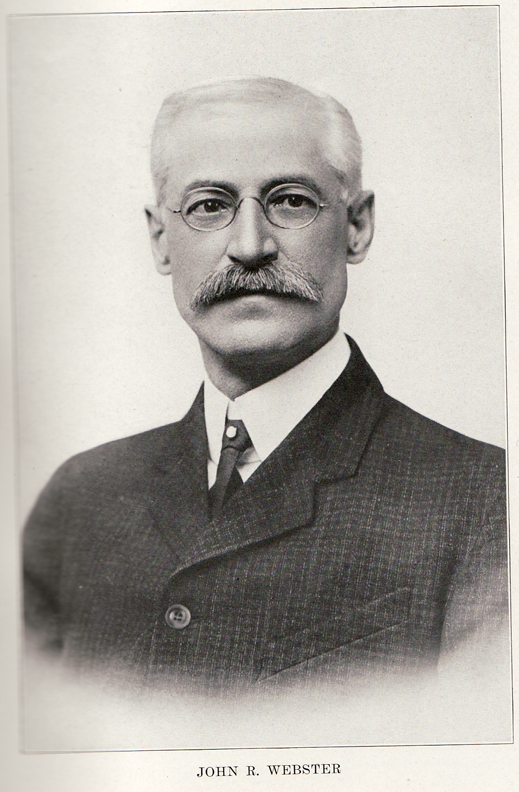 Handsome John R. Webster as photographed for the Arthur Cooper Wakeley bible, Omaha: The Gate City, and Douglas County, Nebraska, Volume 2.
The original deed showed William Bushman and John Webster et al would become legally tied when in May of 1906 a "party wall agreement" was drawn up between the two adjacent owners relating to their shared, common wall.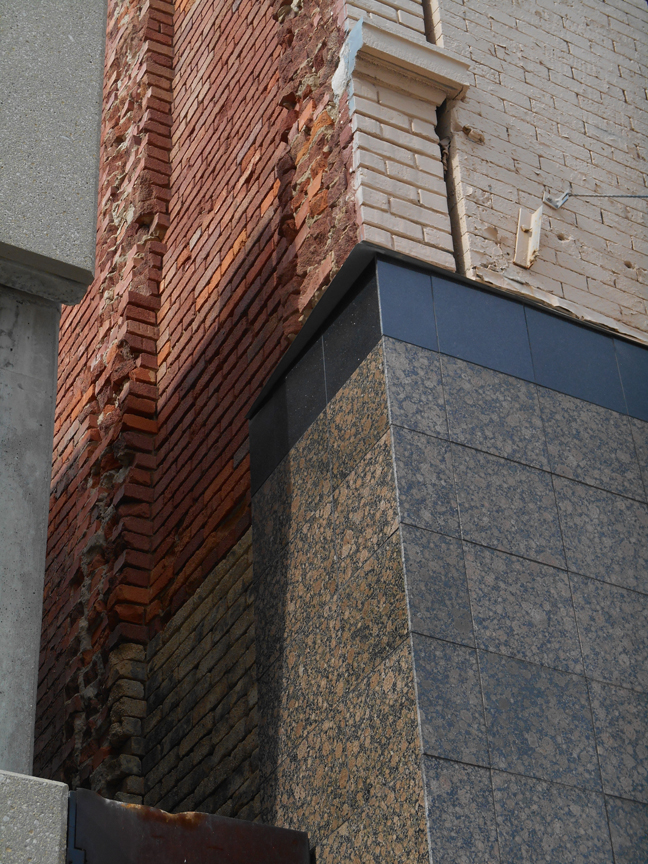 This photo shows the shared brick party wall between Webster-Sunderland and the 1512 Howard building. Portions are missing, probably dating back to the removal of the Webster-Sunderland in the 1970s.
The Webster-Sunderland building was to be erected at the northeast corner of 16th and Howard in October 1905. This once sturdy vitrified brick building was a six-story mammoth of retail stores and offices, brushing shoulders with neighboring Orpheum Theatre just north on 16th and a southern entrance on Howard Street. The Fisher & Lawrie team designed this fine structure. Do I need to breathe mention that it is now a tiered parking structure for the Orpheum apartments? John R. Webster, who I had crossed paths with on more than one occasion, and James A. Sunderland had an agreement with Bushman and the Omaha Reed and Rattan Works how and when their party wall could be built. When the Webster-Sunderland builder attempted to remove part of the party wall to begin work on the new wall, he entered the Rattan Works to a great holler. Apparently Webster and Sunderland had to secure a restraining order to keep Philip Nathan from interfering with the construction of their new building.
The Axel Loftman File
I cannot be sure if it was these neighborly grapples with Webster-Sunderland that sent the Reed and Rattan Works a packin' but by summer of 1907 the Chesapeake had arrived on the scene. Originally called the Chesapeake New Grill Room, they famously served a "Merchant's Lunch" from 11 to 2 complete with a glass of beer for 15 cents. Not surprisingly the lunches of the Merchant's Lunch were not the draw of the Chesapeake and soon both its name and menu were abridged to highlight its true skill set. Beer. By November of 1909 I found Axel Loftman had applied for a liquor license at the 1512 Howard address. This announcement and lease signified the building's first saloon, a usage that would mark the structure for decades to come. Axel Loftman was both a society man and either a real estate developer and/or personally owned quite a bit of property. He ran ads for a moral theatre, a poultry plant, numerous acreages and later kept an office at the Woodmen of the World Building. I hate to get us wrapped around the axel but in the interest of Obsessive Omaha–the original site of the Woodmen of the World was on the northeast corner of 15th and Howard Street, (the building with those awnings I keep running at the mouth about) which later became the Carlton Hotel.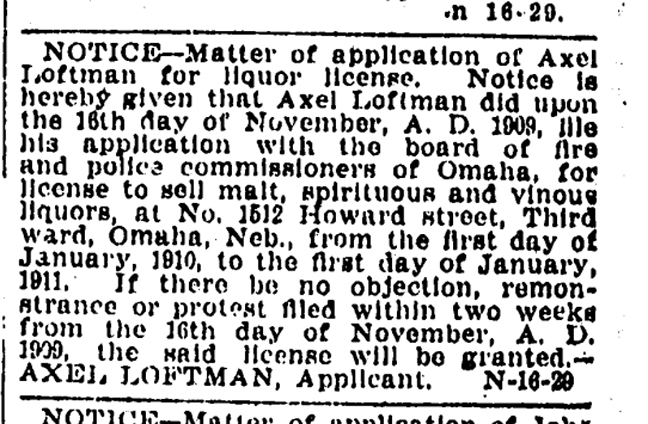 November 16, 1909 Axel's liquor app announcement. I later discovered a wanted ad placed by Axel Loftman: "Neat, clean porter. Must be sober. Chesapeake Bar."
I found an online token catalog at tokencatalog.com revealing Axel Loftman's 1910 saloon in Omaha at 1512 Howard. Now I am no exonumiamaniac and no very little about tokens at all but it would appear that this token coin was used just within Loftman's establishment. I am assuming this currency was not usable outside 1512 Howard.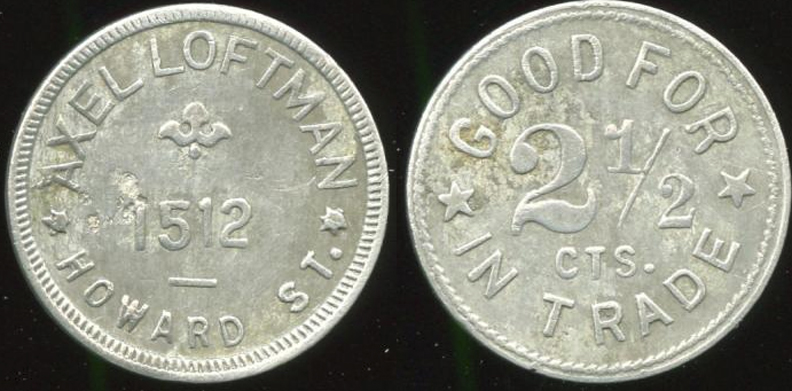 Axel Loftman saloon coin from the tokencatalog.com site.
Henry Schroeder and a Host of Others
The W. Dale Clark library reference desk online directory tied a Mr. Henry Schroeder to the 1512 Howard saloon by at least 1911. The Omaha City Directory also exposed the Henry Schroeder Saloon at the address. There was also a deputy sheriff with the same name in town– so that might have been interesting. Or was it the same man?
In that year the Burgess-Granden Company, a gas and electric supplies firm was located at 1511 Howard as well as M. J. Curran, an electrician. 1513 Howard housed the Rubel Furniture Company. If the street addresses followed custom, these businesses were across the street from our gal 1512 Howard–with Webster-Sunderland Building holding down the corner at 1514 Howard Street.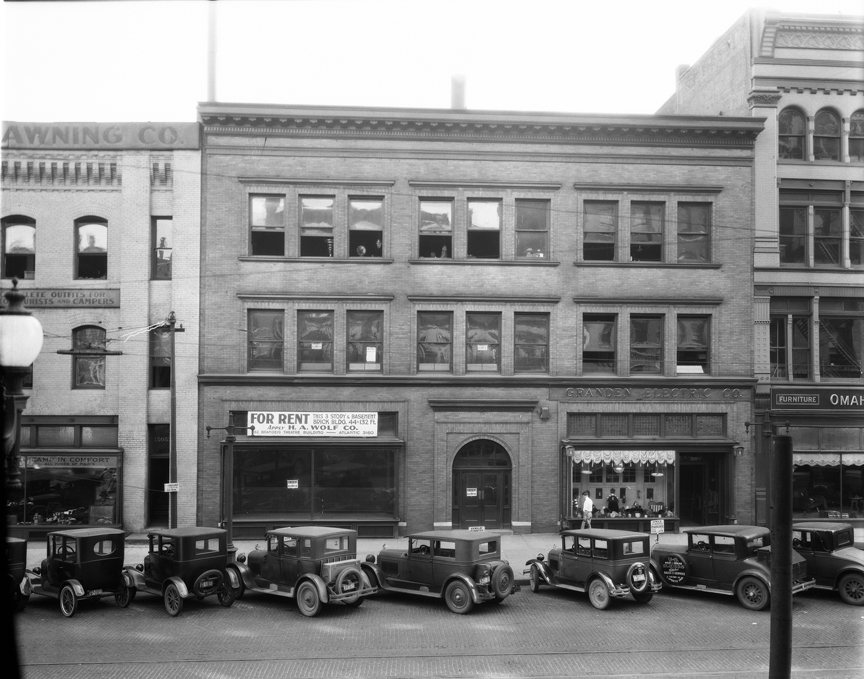 September of 1927: I dug and I dug. Here is 1511 Howard-the Burgess-Graden Company and the 1513 Rubel Furniture shops across the street from 1512 Howard. A sign on the building reads "FOR RENT THIS 3 STORY & BASEMENT BRICK BLDG. 44×132 Ft. Apply H.A. WOLF CO. 82 BRANDEIS THEATRE BUILDING." Another sign on the building reads "GRANDEN ELECTRIC CO." Bostwick, Louis and Frohardt, Homer. Publisher: The Durham Museum. The building on the far left is extant. The two other striking buildings are gone–essentially a parking lot next to the Hill Hotel.
Omaha Memories: Recollections of Events, Men and Affairs in Omaha, Nebraska, a rather strange but wonderful 1917 book by Edward Francis Morearty, listed Henry Schroeder in his section called "Those Not So Prominent in Omaha's Upbuild." This queer list represented those early settlers who "never figured" prominently but "stood by this city." If one might have assumed Omaha's deputy sheriff Schroeder made the list rather than our Schroeder of the Schroeder Saloon, think again. Morearty listed two Henry Schroeders in his list.
The Chesapeake Mystery
Was it Henry Schroeder who would shake things up with some creative name play or did different owners take over the lease in the upcoming years? From the Henry Schroeder Saloon, back to the Chesapeake in 1913 (also called Chesapeake Cigars in the same year) and the Traders Exchange Saloon in 1914. In the 1960 one of the owners of the Mauro Bar down the street would find the old Chesapeake menu. The yellowed menu pinpoints the address to 1508-10 Howard, suggesting that it had moved a door to the east, rather than being driven out of business as I had thought. This relic also gave clues that in its day, the Chesapeake was one of Omaha's early fine dining experiences—offering 12 steak dishes, 18 lobster offerings and 28 ways a diner could have oysters. A plain steak was 25 cents and a porterhouse was 50 cents. I amend my previous judgment. The Chesapeake "Merchant's Lunch" was nothing to shrug at!
By 1915 Joseph Kellog, sometimes Keller, sometimes Kelley was proprietor. See how this can get gummed up? In 1916 the Robert Brummer Lunch once again found the building of our affection serving up lunch to the downtown crowd. The very next year, 1512 Howard was refashioned as the Jonathan Gundram Lunch and the Otto Vorsatz Saloon.
Magic City Realty and the Furniture Biz
A mystery lead formed on the deed signaled the Magic City Realty Company had leased to a Harry E. Lemer on February 14, 1918. I believe Magic City was managing the leasing of the building for Mr. William Bushman. I knew that South Omaha had been lovingly called the Magic City sometime in the 1800s, coined for its popularity and rapid development; I surmised the realty enterprise was cashing in on this name. Magic City began operating in 1907. I am not entirely sure how Harry E. Lemer was using the building but I do know that he went before the Nebraska Supreme Court in December of 1919 regarding a matter of mistaken identity and stolen hogs. Later I would find evidence that the Central Furniture Company, who morphed into the H. R. Bowen Company (also a furniture group) had occupied the building in 1918 and part of 1919, vaguely on "Howard St. between 15th and 16th." Shheesh. Was Lemer a part of Central Furniture Company? I have to admit, I was becoming frustrated with the constant yearly turnover of 1512 Howard and maybe you are too. I had hoped she could find a forever business owner but imagined the revolving door situation might have amused her.

October 23, 1919 H. R. Bowen.
The Moving Picture Days
I am not sure if the owners had a number of renters for the property at one time but it appeared the furniture company shared the building in 1918 with Select Pictures Corporation. Another online directory site publicized Brady Select Productions at the address (must have been the proprietor's name); the World Herald would mention Select Pictures at the location in 1919. The 1920 directory would secure Milton L. Overman at the site—the following year listed a Vitagraph Inc. Many midnight tunnels later found me burrowing like a happy prairie dog until I resolved 1512 Howard had been a theater of sorts. And yes, one must make these decisions at some point.
The Select Pictures Corporation operated nationally out of Washington, D. C. from 1917-1923 under the direction of Lewis J. Selznick and Adolph Zukor. The company produced and distributed motion pictures, early on one reels, and had their name plastered on a number of regional theatres. I was not sure if Select Pictures owned these theaters like a franchise or if independent, local exhibitors would take on the Select name when they presented their films. But 1512 Howard was never owned by a film company, only leased, I so I suspected. So I began my excavation. As it turns out early films were advertised and sold on the basis of their company name. Meaning the film corporation name was the draw rather than the actor. The celebrity and star system would come later. These frequently released Select shorts were sold to locals venue proprietors, later rented. A theater or hall manager could play the movie as long as he liked in this manner. Later the road show method was developed—as early distribution companies formed a secondary line of business. A theater or hall manager would then host the film for weeks or months before a distributor might move the movie on to another town.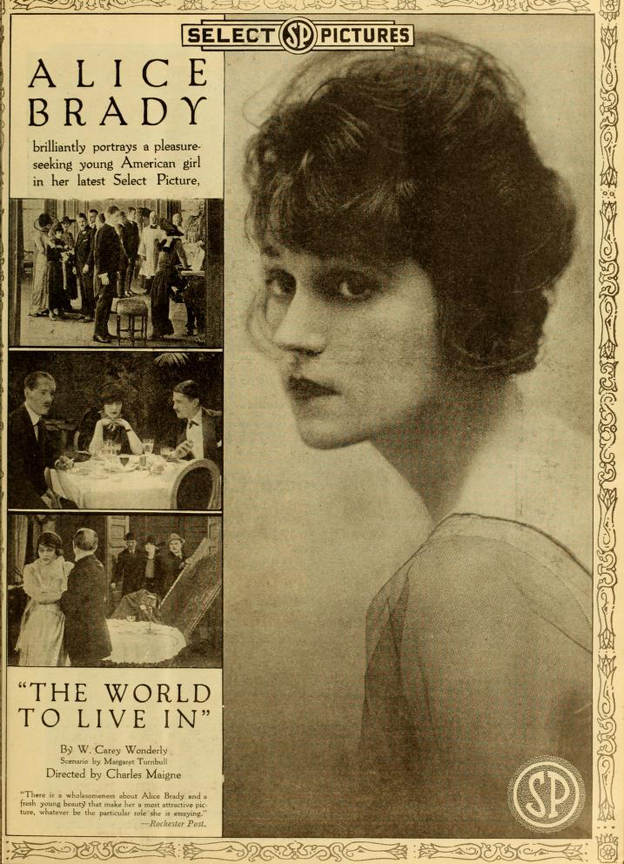 Advertisement from "Moving Picture World," March 1919 from Select Pictures Corporation. The beautiful Alice Brady in "The World to Live In." If my timing is correct, this film more than likely showed at 1512 Howard.
Vitagraph Studios was another of the film production companies, under the leadership of J. Stuart Blackton and Albert E. Smith. They also had a number of theaters that carried their name. "At its peak, the company was producing up to eight films a week on the Brooklyn lot." Warner Brothers would later buy Vitagraph in 1925. It appeared that 1512 Howard got in on that short timeline of small-scale theater but I estimated this was most likely a straightforward hall, most likely filled with folding chairs, where fifteen-minute shorts were shown. Picture Palaces and other upscale venues would take over as feature-length films entered the picture—generating more revenue.
I was in the thick of it and confirmed 1512 Howard could not allow me the courtesy of boredom for even a single, blessed year. The investigation had me scaling brick walls in my dreams.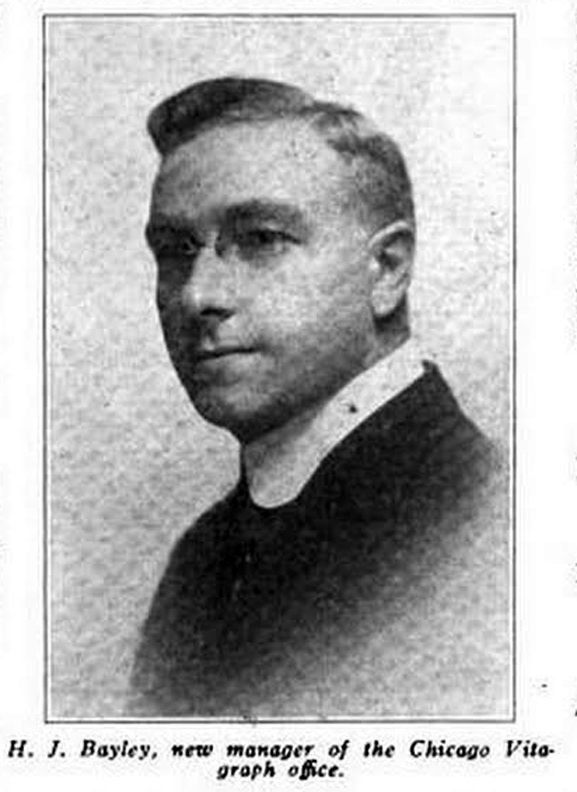 Photo from "Motography," Vol. 18, issues 5-13. H. J. Bayley was the former Vitagraph manager of the Omaha theater, having become associated with the company in New York, fifteen years prior. He later moved to the Minneapolis Vitagraph and became an executive chair.
Nebraska Motorcycle & Bicycle Company
Next at bat was the Nebraska Motorcycle & Bicycle Company. From 1922 to 1932 James Van Avery would operate 1512 Howard, having refashioned it into a cyclist's emporium. "Motorcycle Illustrated" from June of 1922 gave a colorful view of the owner and his company. The article described seventy-six motorcyclists led on a "Gypsy Tour," planned by the Nebraska Motorcycle & Bicycle Company. James Van Avery and Clyde Dingel, tour masters, leaving from Omaha, spearheaded the parade-like formation. Their campsite was on the Platte River near Ashland. Tents and a campfire made merry comfort as did the radio and provided "Victrola concert." An exhaustive day of boxing, racing and swimming competitions was capped off by a jovial reunion with the Lincoln motorcycle group who joined in the campsite. This gathering led to a full spread chicken feast at the Ashland Hotel grand dining hall. The Gypsy Tour was an early Omaha motorcyclists' success.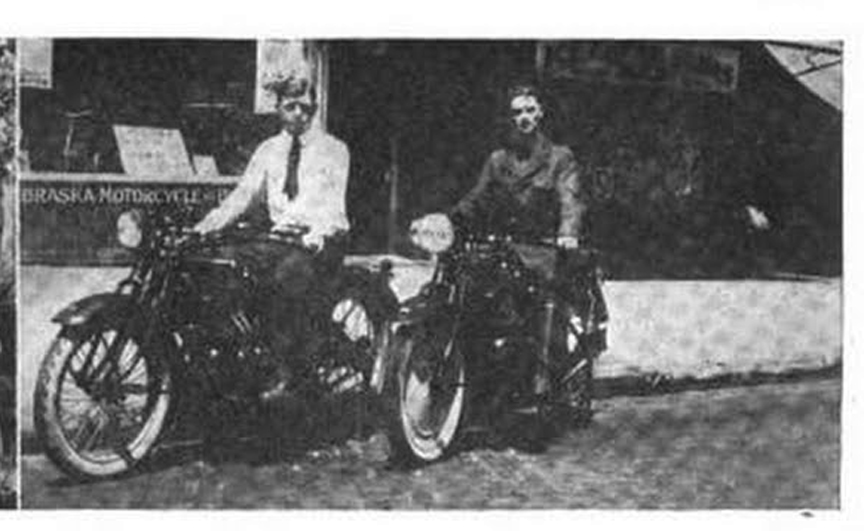 June 1922 James Van Avery and Clyde Dingel in front of the 1512 Howard storefront. This is too cool.
Now it sounds as though "Jim" Van Avery was my very favorite kind of sleuthing character. Upon hearing that "a number of speed artists in Omaha had doubts" about the abilities of Van Avery's wares, specifically the Henderson De Luxe model, Van Avery hunted down the local doubters. According to "Motorcycle Illustrated," our Jim "engaged them for a race to be held on a brick straightaway of about a mile and a quarter." After slimming down to the two fastest among the ten doubting motorcyclists, Van Avery took on Fred Sutton and Leslie King, both manning Harley-Davidson 74s. All three men had sidecars with passengers. Van Avery took them both with 100 yards in the lead. A second race "resulted in an even longer lead for Van Avery, whereupon the Post Office boys, being good sports, admitted their defeat without any alibi." Holy mackerel, that is some great writing. I longed to know more about this local Postal Gang with Sidecars.
The 1920s and 1930s Photo Dossier
If pictures are worth a million words, then I offer up these black and white goodies as proof of the area or very near dream worthy conjurings. But truth be told, I believe we also have a million words in this article as well. Steady yourselves.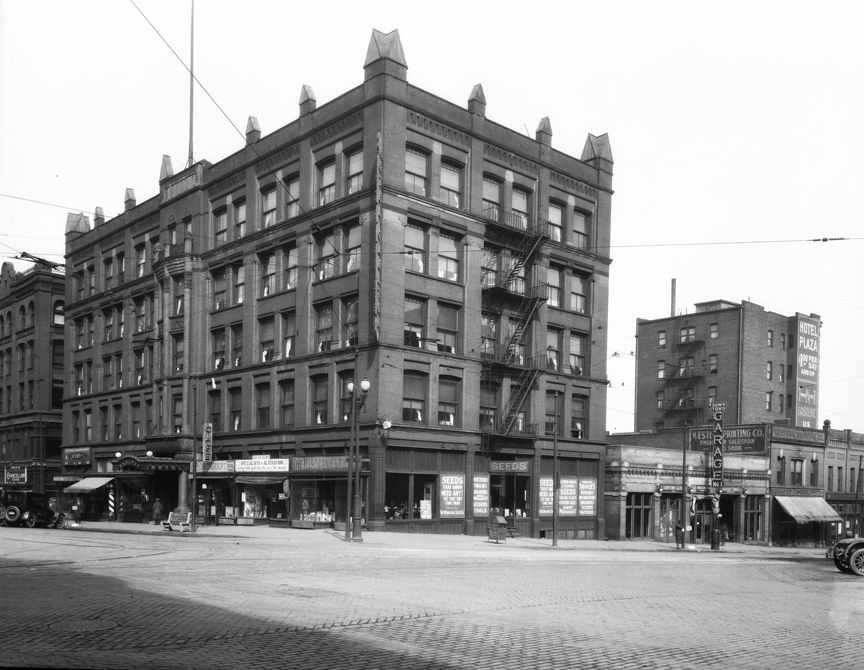 1927. Exterior of the Carlton Hotel on the northeast corner of 15th and Howard Street. The Carlton Café is visible as it the Nebraska Seed Company. "Seeds that Grow. Need Any?" This was the original site of the Woodmen of the World, formally 417 South 15th in the Sunderland Block. This later became the Sheely Block and then the Carlton Hotel. Now it is a parking lot. What was most recently the Patrick's Market is a Downtown Garage, No. 1. (I have just received word that Flywheel Web hosting company will be moving into Patrick's!) To the east is the Western Printing Company. Creator: Bostwick, Louis and Frohardt, Homer. Publisher: The Durham Museum. April 1927.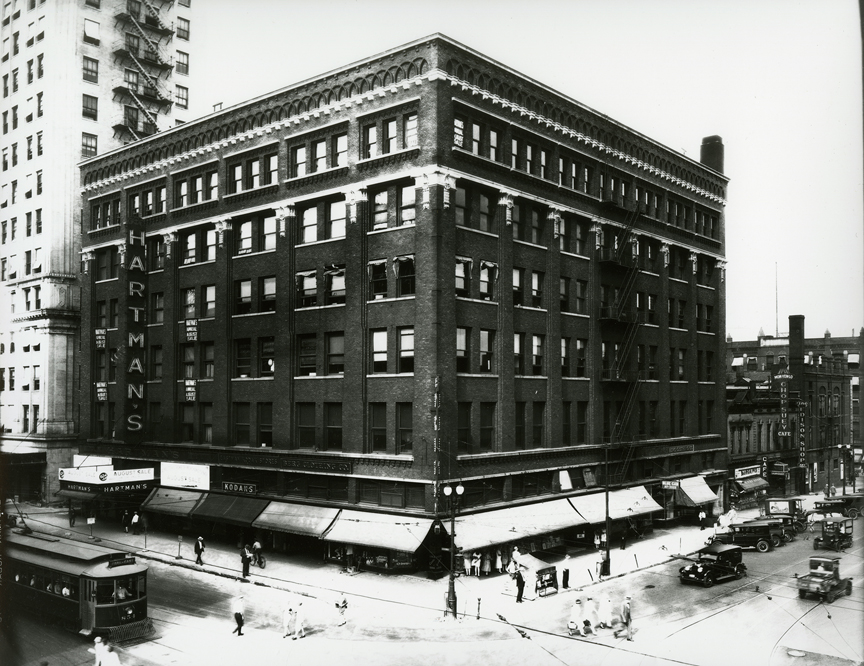 1927: The Webster-Sunderland building was on the northeast corner of 16th and Howard Streets. The Orpheum Theater is to the north. Businesses within the Webster-Sunderland include: Hartman's, Kodaks, and Blue Cab. Streetcar 851 passes on the west side of the building, coming down 16th. Drum Roll please…And there she is—our first viewing of historic 1512 Howard. Her broad sign reads BARGAINS while the awning shows J. C. Van Avery. To the east is the Mon-Yen-Lo Chop Suey Café, one of many Chinese restaurants in town. In 1925 this restaurant had been the Victor Franson Café. Bostwick, Louis (1868-1943) and Frohardt, Homer (1885-1972) The Durham Museum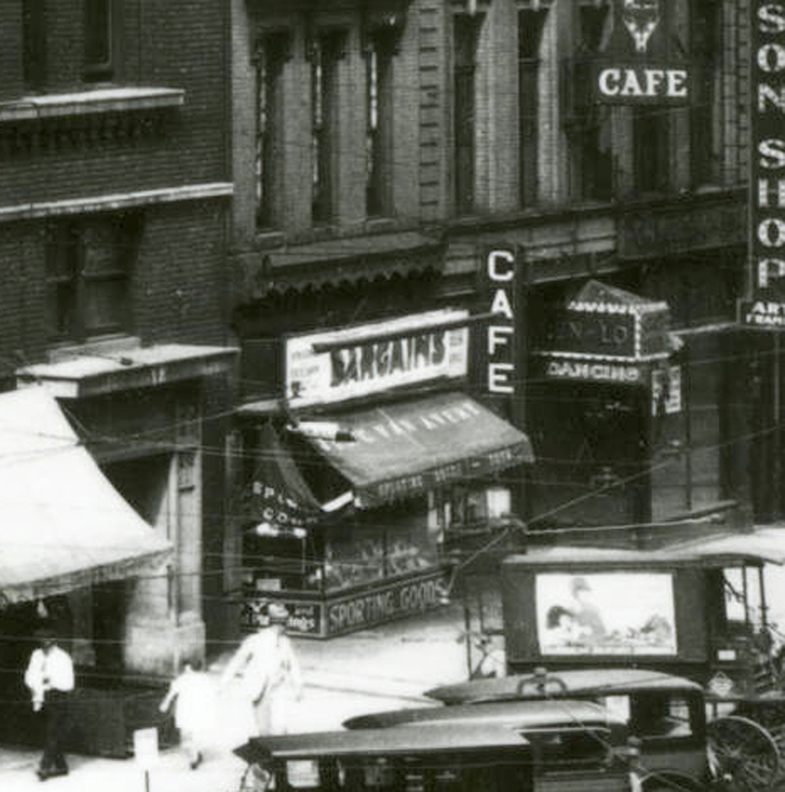 1927 Van Avery Detail. We can certainly see that shared party wall that 1512 Howard upheld with the Webster-Sunderland building. Upon closer inspection we can see the lower Van Avery "Sporting Goods" sign. The storefront display windows bay out in a welcoming manner; was the recessed entry on the eastern side of the building? There are some nice architectural details revealed on the second floor. I spy a dentilled wood or stone band that ran almost the entire width of the building; this attractively divided the first and upper floor. The top three windows are rectangular, boasting what looks to be stone or wood heads or lintels. I am not exactly sure of what I am seeing but some kind of decorative cornice—the horizontal molding found in a line over the windows. A triangular shape, I suppose a squatty pediment of sorts is mysteriously floating along the roofline. I fancied this as a fetching type of 1920s hat for our 1512 Howard. It was all so beautiful to see. I couldn't help but wonder when they fell away.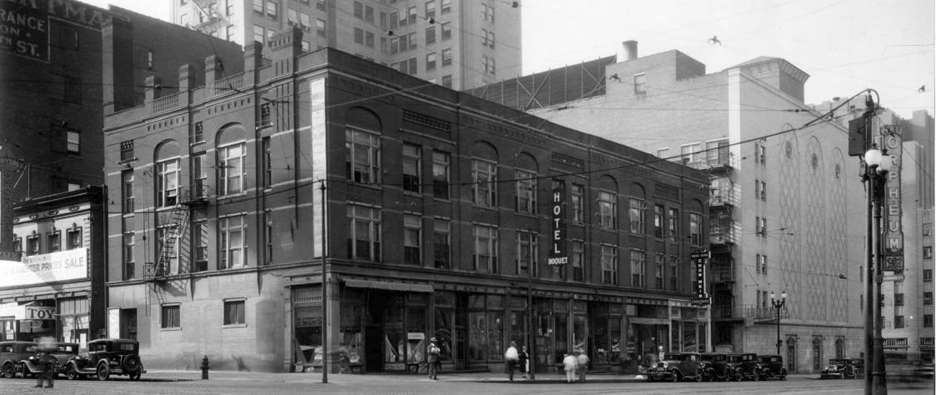 September 18, 1931. A number of years later. Looking at the northwest corner of 15th and Howard Street. The Bouquet Hotel is on the corner. At the far right is the rear of the Orpheum Theater. The tall building in the background is the City National Bank Building at 16th and Harney Street. Bostwick, Louis and Frohardt, Homer Publisher: The Durham Museum
Upon closing the Van Avery Sporting Goods Company at 1512 Harney (coincidental address number) in 1960, James C. Van Avery educated he had opened his very first store in September of 1917. As we detectives know he would later moved to 1512 Howard and impressively thrive at the Harney location for 28 years until his closing.
1930s Clues and Some Vacant Years
After Van Avery moved out of 1512 Howard, our little building appears to sit empty. The following photo shows the moved signs from the bicycle shop, even though they'd been gone a while. Shown is Nebraska Motorcycle and Bicycle Co. "Moved to …"sign. Also note the sign next door reads "For Rent Geo. F. Bushman." This is William Bushman's realtor son I had mentioned earlier. If I squint enough I can see that 1510 Howard, once the restaurant, also has a sign stating they have moved to 1512 Harney, which tells me that Van Avery had expanded to this next door neighbor bay. There are a number of political campaign signs slapped on the windows of both buildings. Also of interest the Chop Suey café had a "TOYS" amendment to the original sign.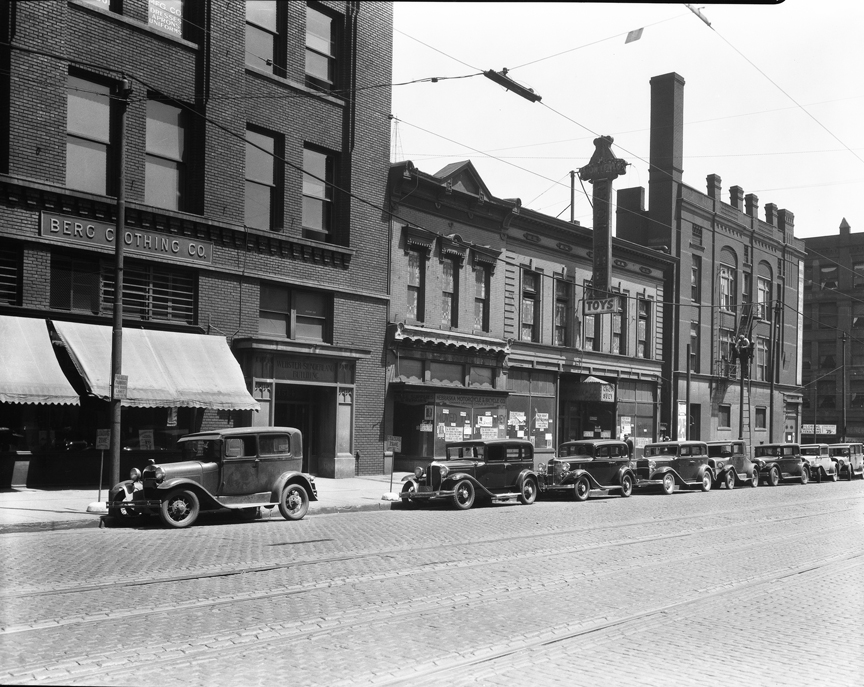 5-18-1933: The Webster-Sunderland Building at 1514 Howard Street. Various shops line the street. Several cars are parked in front. Creators: Bostwick, Louis and Frohardt, Homer. Publisher: The Durham Museum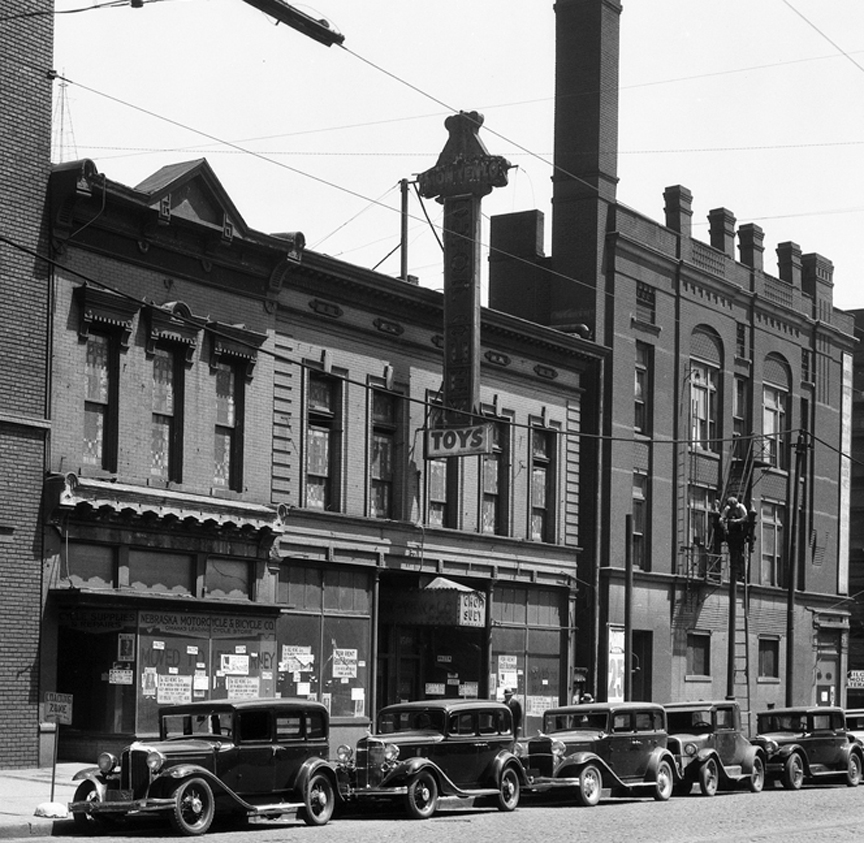 1512 Howard detail. Also notice the changes to the architecture. Great looking façade. The three taller second story windows appear to be stained glass with beautiful, decorative treatments above. The roofline pediment is structurally sound with a nice overhang. The ground floor now has a string of horizontal windows running above the display windows. Maybe these details were always there and buried behind the BARGAINS sign or not clear to the eye. At any rate, I pored over these photos with delight.
The Fox Hunt Club: A Very Tony Spot
The 1935 Omaha City Directory laid the breadcrumbs to the next inhabitant of 1512 Howard. "Slim Billy" Fox, a well known local figure and his partner pal C. M. "Fat" Beard would unleash the Fox Hunt Club—they said "Omaha's Smartest Rendezvous." Slim Billy could get a club off the ground in those frugal years; he had successfully operated Fox's Green Room. I would backtrack to the club's fancy opening night in May of 1934. It made sense that a year past Prohibition but in the thick of the Great Depression, Omaha needed something big to dream about…drinking, dinner, entertainment, dancing…a little pizzazz. The Fox Hunt Club was touted as "one of the toniest spots in these parts." Interior decorations were said to have cost between 30 and 40 thousand dollars, which seems a bit of an exaggeration for that day and age but who is Miss Cassette to accuse of stretching the truth? No one. "There is a beautiful walnut bar at the front. Back of this is the 'hunt club' with tables. It is finished in walnut paneling, velvet drapes and mural paintings by Bernard Szold depicting fox hunt scenes." Now Mr. Bernard Szold, I would find, was an artist and director of the Omaha Community Playhouse. Upstairs was the sportsmen's bar, a private area with panels devoted to different sports. I found this all fascinating.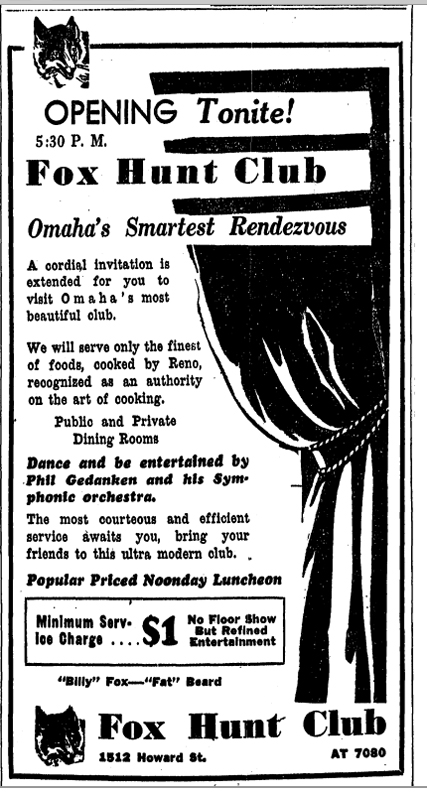 The Fox Hunt Club introduction.
At 2:45 in the morning previous to the Fox Hunt Club's big opening a passing vehicle threw a bomb at the 1512 Howard building. Apparently defective, this bomb, made of two sticks of dynamite wrapped in newspaper, "merely flared" but still managed to burn off the freshly painted Fox Hunt entrance. Oddly Bernard Szold happened to be across the street at the Hill Hotel's Jack and Jill Restaurant (at 2:45am?) right when a truck and trailer went past. Szold believed the flare of light came soon after. Billy Fox strangely explained, "There isn't another place as nice as this in the country" and later insinuated, "maybe somebody was jealous of this place." It was odd for sure but with two sticks of dynamite left behind—someone meant business.
When Peony Park's brand new beer garden bar was burned to the ground a few days later, it put the Fox Hunt Club bomb into perspective. Federal officials believed Omaha had a beer war on its hands, ignited between two rival wholesale beer firms fighting for business. Meanwhile the head of the Nebraska Beverage Dispensers' Association scoffed at the idea, denying any pressure on retailers from companies. For the record, had the Peony Park Ballroom not been soaked by recent rains, the 70 thousand dollar ballroom most surely would have gone down in the horrific blaze as well.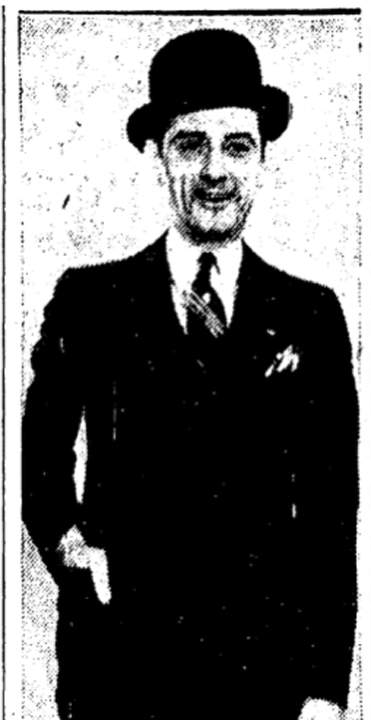 Mr. Slim Billy Fox
The Fox Hunt Club hoped to remedy their mob and P.R. problem by placing an armed guard on station outside their front door from closing time until morning traffic "returned the street to life." This additional step came after a cleaning plant in the same Howard Street block was bombed. The club unfortunately didn't make it a year and was shuttered without explanation. The Fox Hunt Orchestra conductor, Philip Duncan, had made a name for himself at the infamous downtown club. His shows were seemingly legendary and then all at once he was out of work. An immigrant from Bolshevik Russia, Mr. Duncan was originally a Mr. Gedankin–changing his name "for euphemy reasons" or to Americanize. Through all of my research, it is his name that I find myself thinking of and this idea of Omaha Fame, however brief.
The Smith's Steak House File
1512 Howard again sat empty in the last years of the Depression. The 1938 City Directory indicated Smith's Steak House had bravely signed on to the George Bushman lease. I began surveying layer by layer. Henry H. Smith appeared to have developed the Smith's Steak House concept at 1821 North 19th Street, now a residential area in North Omaha. It may have originated out of his home for all I know. Many years earlier Henry Hans Smith had enlisted in the military in March of 1918. America had entered World War I almost a year previous. Within months of training, Smith was sent to France but a year after joining, he was discharged from service due to a bone and heart disease. Back in the States once again, Henry would marry Ursula Cedar; the couple would have two daughters: Rita and Barbara. Perhaps it was Ursula who made such a fine steak.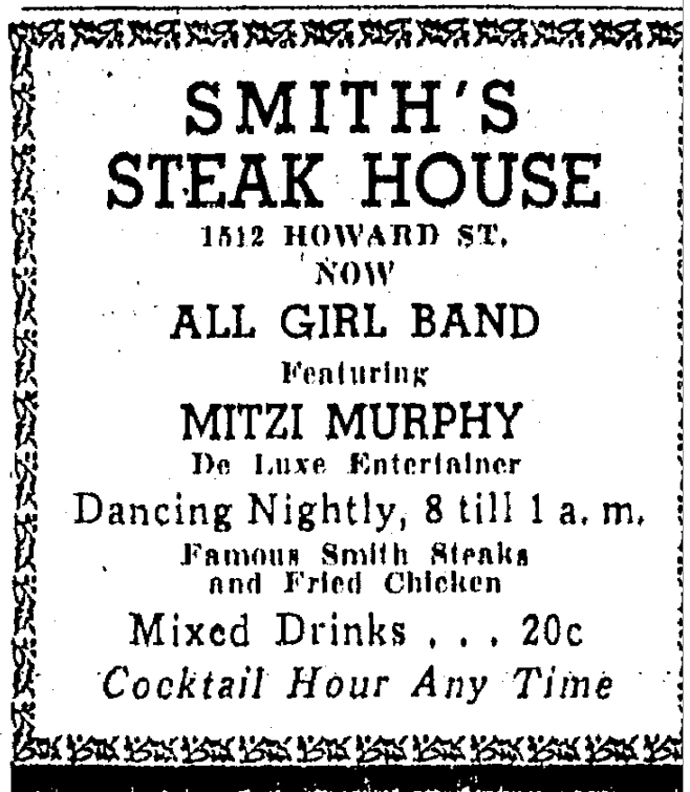 "Next to home, Smith's Steak House is the best place to eat. Prewar Prices," enticed their advertisements from the winter of 1939. Their 1939 marketing suggested an "all girl band." On that note, their ad specified they wanted a female cook at Smith's.
I don't have a whole lot of detail on Smith's Steak House. Like its name, it was all rather vague. Smith's Steak House did make the Dance Spot Notes (a regular article about nightlife out and about in Omaha) cut on repeat. It would appear what they lacked in details, they made up for in dancing and entertainment. And as many locals would agree, back in the day a "bad steak" in Omaha was "pretty good" compared to other parts of the country. Suddenly in June of 1940, proprietor Henry Smith died at the age of 56. Ursula would go it alone running Smith's Steak House. Acting against alleged liquor law violation, the liquor commission agents and the morals squad evidently took issue with Ursula Smith, (then 40 years old), her two bartenders and a waitress. All were arrested and charged $25 a piece. I am not sure when she left town precisely, but Ursula Smith unloaded that Steak House in short order and moved to Concord, California. Thanks to the Find a Gravesite, I discovered she lived out the rest of her days in sunny California and died there at the age of 84.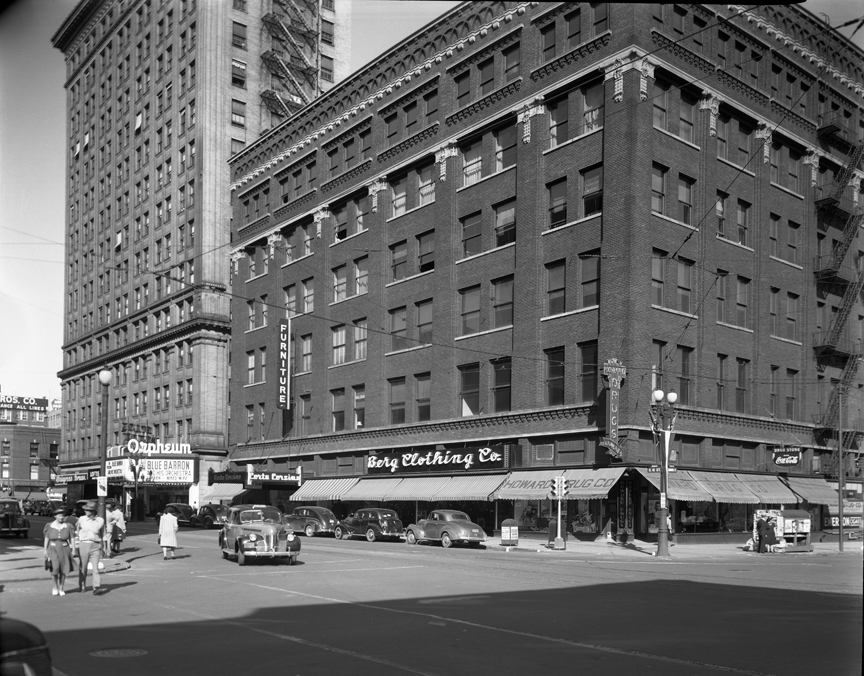 1940 Berg Clothing Company is on the main floor of the Webster-Sunderland Building. This photographer was standing on the corner of 16th and Howard, most likely the Aquila Court, facing northeast. This descript photo gives a good idea of how bustling the area was around the time of the Smith's Steak house.  There were many missing city directories on that day's search. I would pick back up with 1945.
The Hockey Hero
As a detective's luck would have it, there were many missing city directories on that day's search. According to the 1945 Omaha City Directory the 1512 Howard address would fall under the moniker of The Phil Besler Steak House. I would retrace and go at it another angle. The Omaha World Herald on April 8, 1941 reported Phil Besler, Inc. had filed for liquor license in hopes of taking over Smith's Steak House at 1515(sic) Howard. Now some of you may already know where this is going, if you happen to follow old hockey. I mean very Old School Hockey. Philip Rudolph Besler (sometimes spelled Bessler) was born in Melville, Saskatchewan Canada and became a solid winger with the Melville Millionaires in the late 1920s and early 1930s. He transitioned to the National Hockey League with the Boston Bruins in the 1935-36 season, later the Chicago Blackhawks and the Detroit Red Wings. He made a big name for himself locally when he played with the Omaha Knights until 1942. So it would make sense that Besler would cash in on his celebrity by opening a local steak house years later…but oddly it was Pete and Louise Damicus who were doing business as the Besler Steak House. Later in 1951 I would bump into Phil Besler managing the Andy Laux Grill at 18th and Leavenworth. The offer to "Come In and Meet Phil!" tipped me off that perhaps Besler had lent his name and celebrity hosting to the previous 1512 Howard operation. As it turns out the former hockey player would be involved in a number of enterprises highlighting his name.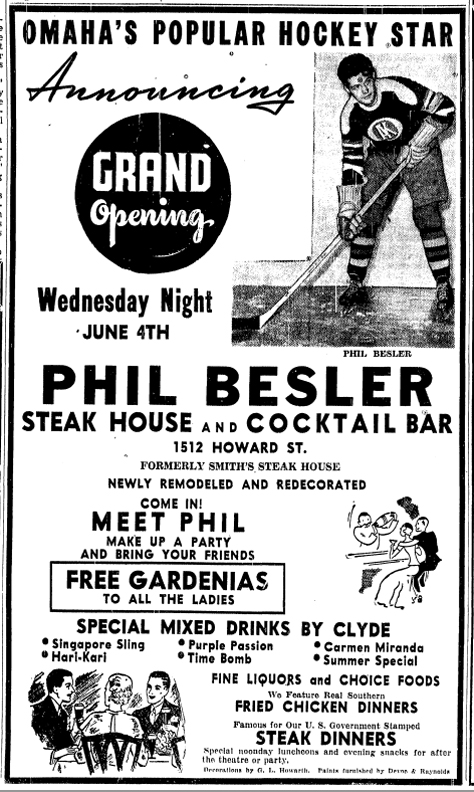 This advertisement gave indication Phil Besler's Grand Opening for his steak house and bar was back in '41. The tagline "formerly Smith's Steak House" let me know I was on the right beat. "Free Gardenias to all the ladies" had me swooning. And that mixed drink menu…love the names. By late summer of 1944, Besler's dining room was closed on Fridays and later fell off the map. But I did track The Phil Besler Tavern to a new home at 3926 Farnam Street in early 1945, later removing to 2311 Leavenworth Street– a solid operation until "spontaneous combustion" claimed his basement back stock of liquor. Make note of the second incarnation of "Clyde" to this location. This time a mixologist slingin' a mean Hari-Kari.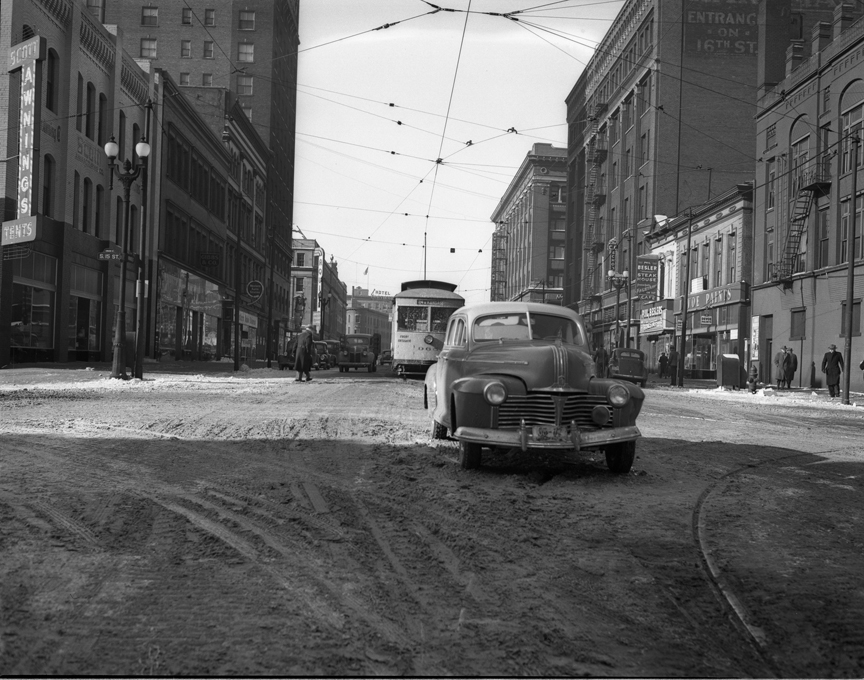 February of 1942. Great looking low-key sign says Phil Besler's Steak House, with an under Falstaff hand painted job. Looking west on Howard Street from 15th Street. Historic integrity of the block, still intact.  A streetcar is coming up behind. Creator: William Wentworth. Durham Museum.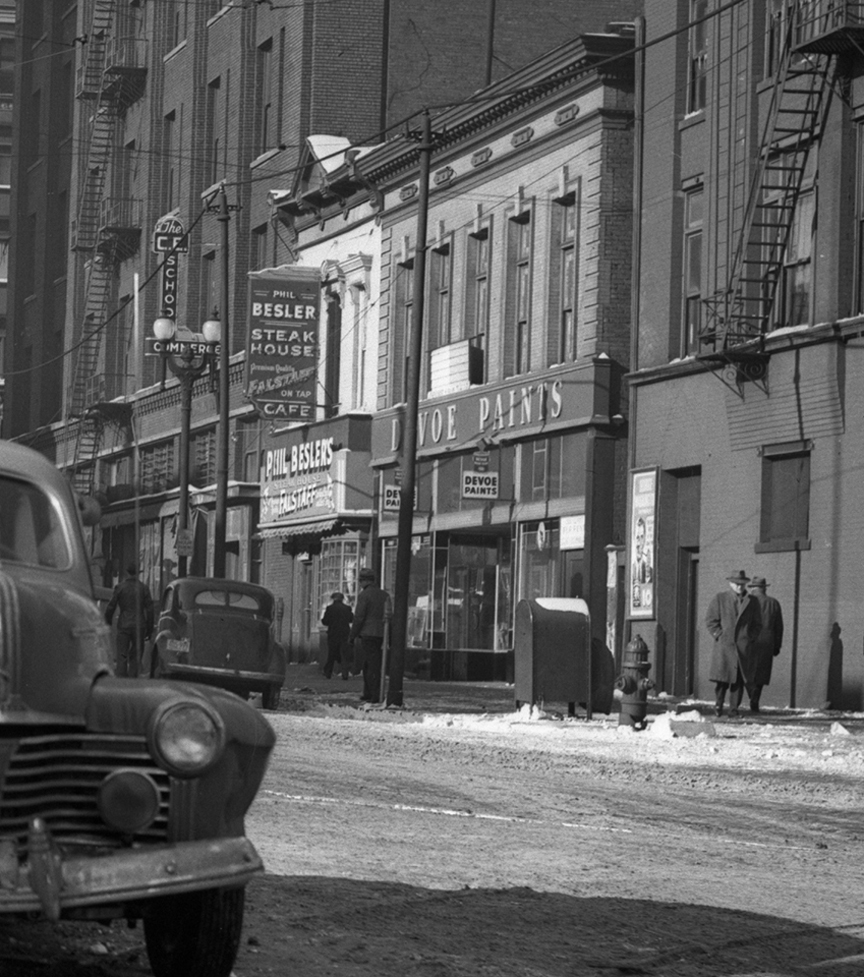 Couldn't deny my detectives this detailed peek.
The Damicus' El Rancho Years
The clue gleaned from September of 1945 tipped me off that Peter Damicus had taken over as "owner of a tavern at 1512 Howard." On that occasion, Mr. Damicus reported to the Omaha police he had been duped out of $29.40 by a man representing himself as a local tobacco salesman. Damicus handed over the money, having ordered ten boxes of cigars but the salesman never returned with the goods. Perhaps wisely, Pete Damicus was doing a solid business as the Besler Steak House deep into 1945. Unfortunately Damicus was ordered to pay judgment of three hundred dollars for alleged "overcharges on meals serves." Some most likely dropped a dime, for they say, Mr. Damicus had sold twelve different meals to an undetermined number of customers for a number of months. Miss Cassette couldn't help but wonder how this clip joint strategy was caught and calculated or if it was even true?
The following year, Pete Damicus and his wife Louis would refashion 1512 Howard into their popular El Rancho Steakhouse. Thanks to the Damicus family, these were truly the glory years of 1512 Howard. On a hunch as to the curious name of El Rancho, I would discover the iconic hotel, El Rancho Vegas on Las Vegas' famed multimillion-dollar strip had become an overnight institution back in 1941. Meanwhile well-favored El Rancho Patano near Tucson was in the layperson's lexicon in the early '40s. There was also an El Rancho Steak House in Estes Park, Colorado in 1946 and you know how we Omahans love our Estes Park. There was also a men's cologne. Did you know that men's cologne really began to take off in 1945? Previous to this time period, fellas just walked around smelling like their own wonderful selves. I hadn't considered that men's perfume became a new post World War II industry. More than 70 factories sprang up, focusing on mens' scent. Cedar trees, Russian leather, fresh lumber, tropic moss were big hits along with "Polo Field," "Sage Brush," and "El Rancho." What do you make of that? But back on the trail–as it turned out there were Many El Rancho steak houses across America, all most likely spinning off of the Las Vegas popularity and they were not a chain. There was an El Rancho both in Irvington and Council Bluffs.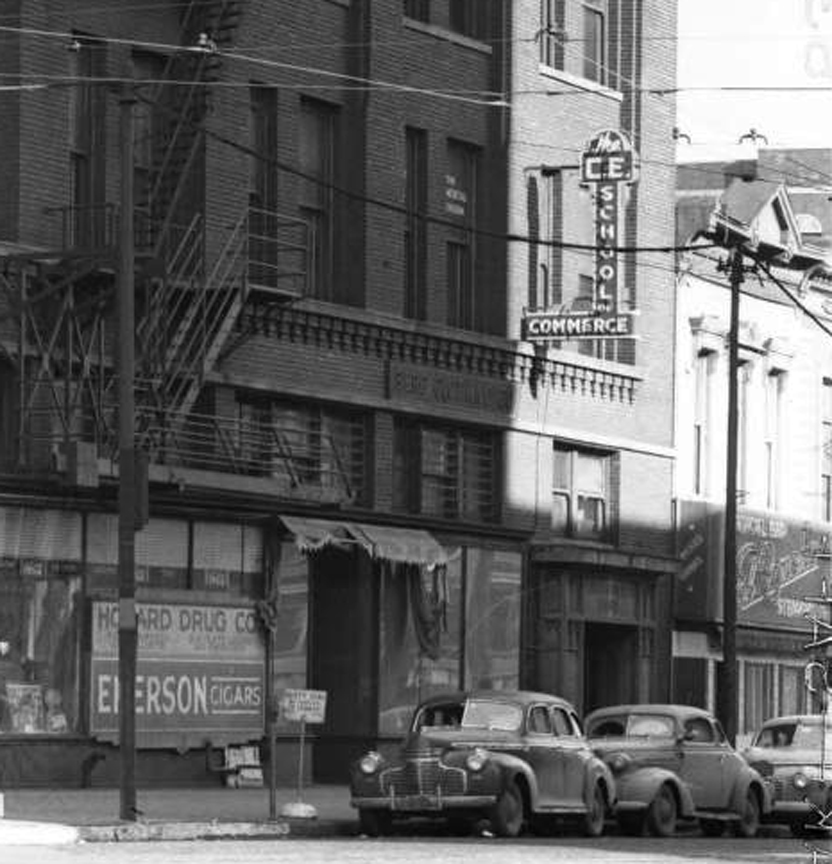 Sliver shot of 1946 El Rancho neon. Now the El Rancho, I was soon to find was not Pete and Lillian Damicus' first rodeo. The couple was Omaha Famous for their 1931 creation, the exclusive Chat 'N' Nibble down on the corner of 19th and Farnam in the Union State Bank Building.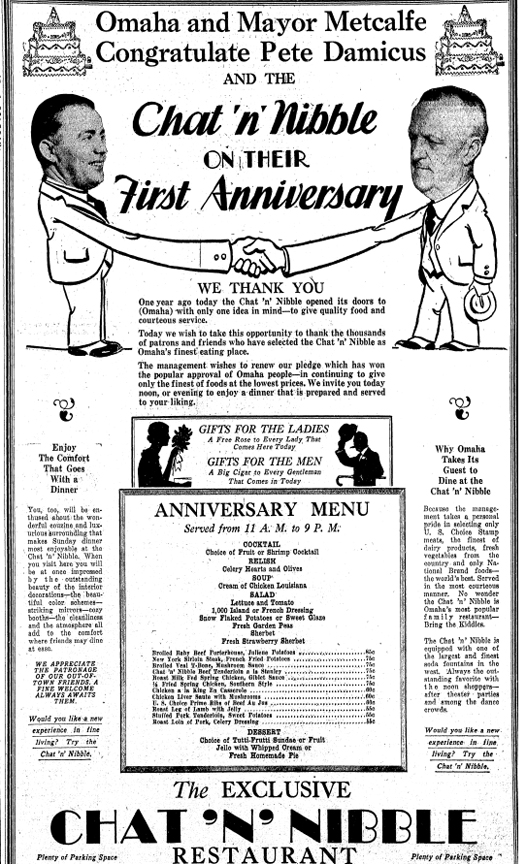 April 24, 1932. Here Pete is being congratulated by the Omaha Mayor. But by 1935 outstate vice agents, working secretly, had gathered evidence on the Damicus enterprise and decided to give them the buzz. One night raiders swept down on the Chat 'n' Nibble, seizing three bottles of liquor. They arrested Pete Damicus, a waitress and his bartender taking them down to the ol' police clubhouse. For the record the Chat 'n' Nibble was not the only hotspot vice raided that night, in fact 159 Omahans were jailed by morning. The 1940 United States Census showed that Peter Damicus was born in Greece, an American immigrant turned entrepreneur. Damicus and is wife, Louise had one daughter named Victoria. The family lived at 527 South 25th Avenue. Louise was president of the Aristocrat Restaurant Corporation, previously having worked beside her husband in their other well-known ventures—the Ariste Confectionery Shop at 33rd and Harney and the Ambassador Café at 25th and Farnam.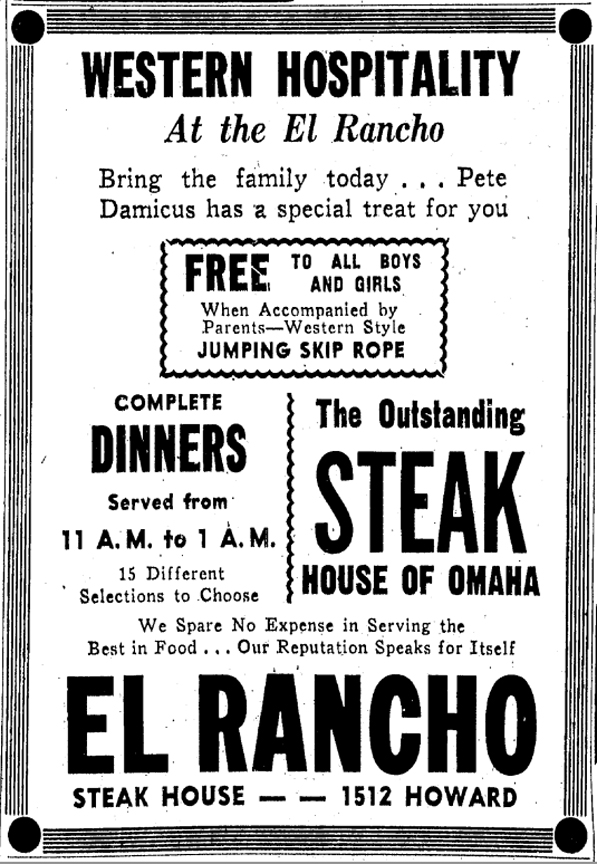 El Rancho ad November 13, 1949. Free jump rope, kiddies!
**Entirely for the Obsessed Only** Interestingly, Ms. Louise came from a family of 26 children including six sets of twins. I don't know that I can comprehend those numbers. She died at the young age of 43 in 1941. Originally I was perplexed by later print ads featuring a Mrs. Lillian Damicus but I now know this was Peter's second wife. But Lillian was her own person, indeed Peter's beautiful, second wife and she would join him in proprietorship over the El Rancho, which they would later move to Irvington. The couple would have children Gloria, Diane, Lois, Peter, Jr. and George.
The Faier Family Buys the Building
In 1946 the William Bushman family sold their father's building at 1512 Howard to John Faier and wife. William's eldest, Louis B. Bushman on down through all of the children and wives would sign off on the deed under the instrument of "2 CD," which I understand to mean contract for deed. Finally months later, George Bushman, the son as you might recall operated the Bushman Real Estate Company, would sell the building outright as "grd D"—meaning "guardian deed." George was most likely guardian of his father's estate or guardian of the family property investments.
The Omaha World Herald announced the marriage of Miss Goldie Shapiro (divine name) of Cheyenne, Wyoming to John Faier of Omaha in November 18, 1923. Father of the groom was Max Y. Faier. A striking name, as well. (I'm partial to Xs and Ys, especially in one name.) The newlyweds were projected to settle in Pittsburg, PA. Ultimately they returned to John's hometown of Omaha, making payments on 1512 Howard in some mutual understanding—contract with the Bushman relatives in 1946. It must have been some kind of investment, as I didn't find the Faiers engaging in their own business at that locale. Because I simply cannot resist in showing you their home, the Faiers lived at 5074 Jackson, a pretty as a picture 1925 Colonial revival nestled in Dundee. Goldie and John Faier had two boys, Marty and Robert.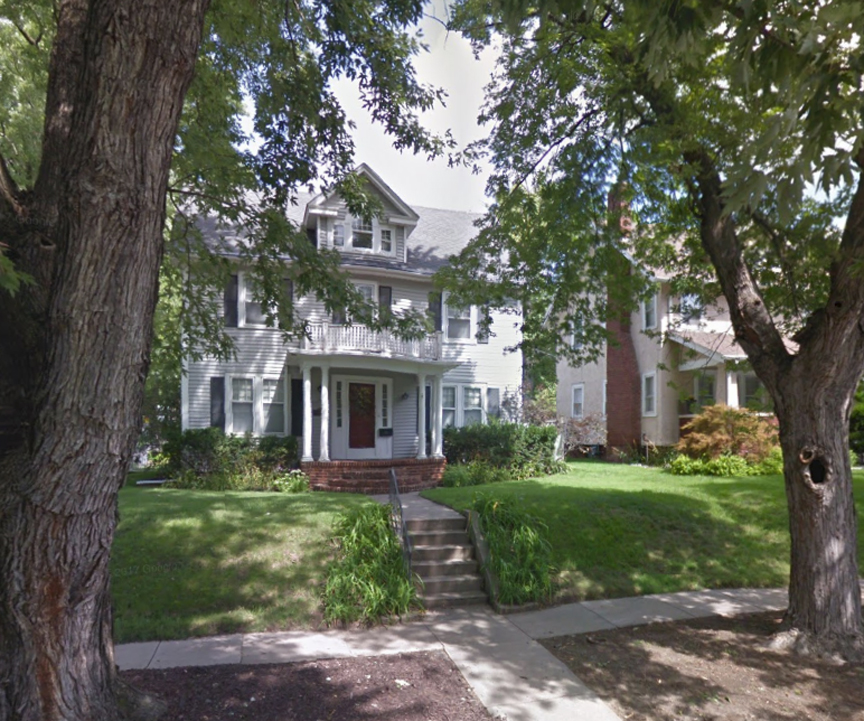 5074 Jackson. Photo from the Douglas County Assessor's site. In September of 1952, I found "Matter of Estate" noted in the 1512 Howard deed. Apparently John Faier's will had made specifications. I would uncover later, in 1980, that 1512 Howard had gone into son Martin "Marty" Faier's name. Father John Faier had died suddenly at the age of 52 in March of 1951. Services were held at Beth El Synagogue in Dundee.
A 1954 ad for El Rancho offered "special noon day luncheons for Shoppers and Business Men. Outstanding for Aged Steaks, sea foods, lobster tails and mixed drinks." This made me smile to think of the downtown affairs of yesterday. What would it have been like to sit in the slender, darkened room of El Rancho during the day, enjoying a mixed drink and a cigarette at noon? For the record I hit up my detective pal Amy Mather at the W. Dale Clark Library who is the keeper of many of Omaha's best historic dining menus but alas, there was no El Rancho ephemera. If you have anything from El Rancho, please step forward!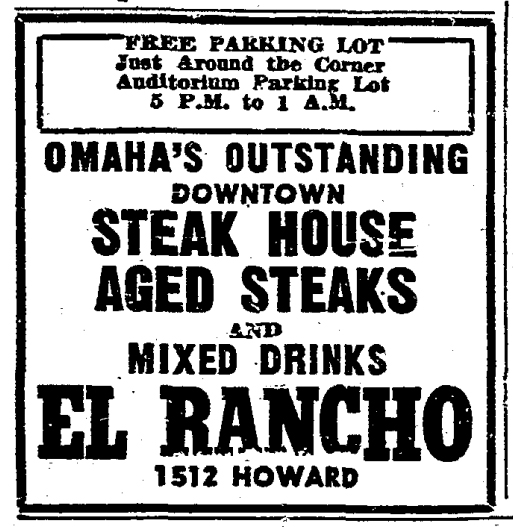 April 28, 1955 El Rancho ad. The "free auditorium parking around the corner" is possibly speaking of the old Civic Auditorium on the southeast corner of 15th and Howard—allegedly torn down in 1954. But I believe it more like 1955.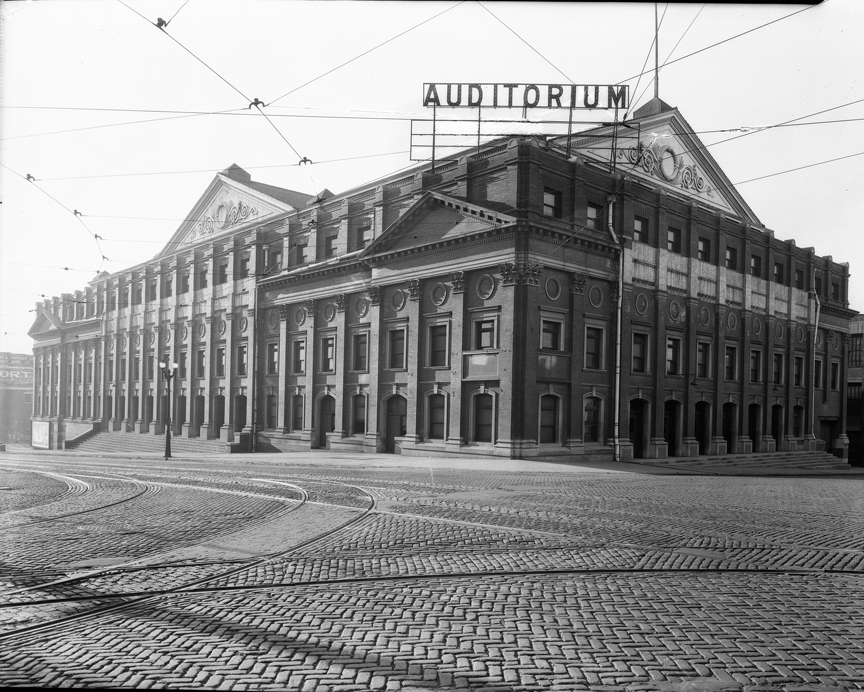 The old Civic Auditorium, sometimes referred to as the City Auditorium at 15th and Howard Street. This is now home to Omaha Police Department. Bostwick, Louis and Frohardt, Homer. The Durham Museum. Photo taken in 8-3-1932. John Latenser & Sons designed the original building in 1901 but evidently the plans were never fully carried out as not enough public and private funds were raised. The auditorium could never reach its full glorious potential. So although this hall looks mighty fine by today's standards, It Was Never Good Enough in the minds of some. Local architects called it a "stillborn deformity." Omaha's Civic Auditorium was razed in 1954-1955 and the "New Civic Auditorium Arena" was unveiled at 1804 Capitol–the $6,500,00 price tag was bragged about in their first advertisement.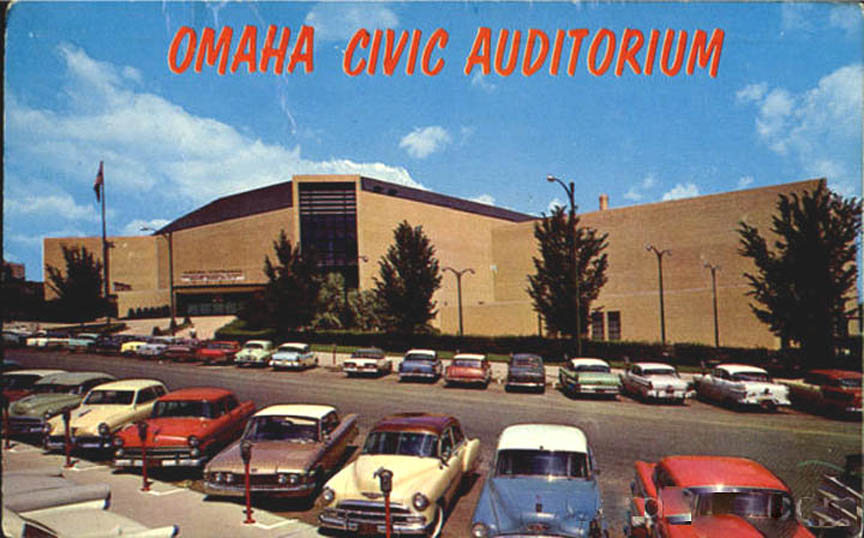 The "new" Omaha Civic Auditorium postcard. January 6, 1955 the curtains opened for the premier showing of the Ballet Russe de Monte Carlo at the inner, well appointed Music Hall. As the Omaha playbook dictates, this newer Civic Auditorium was, in turn, demolished in 2016.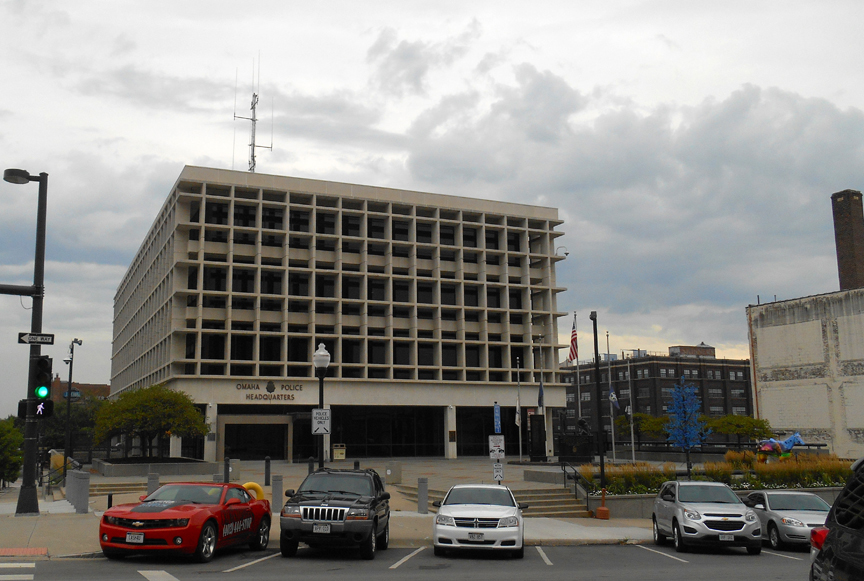 2018. The site of the original Omaha Auditorium is now the Omaha Police Department Headquarters.
Fifteen-Twelve Lounge
As with the neighboring old Civic Auditorium, all of a sudden El Rancho Steak House fell off of the map. Without warning Victor Washington hired for an interior remodel of the 1512 café for $3,000 on June 2, 1955. The announcement read, "In July 1955 Vince Washington bought the former El Ranch Steakhouse at 1512 Howard and converted it into the 1512 Lounge." Washington planned on serving steak luncheons also, at least in the beginning but it was his hep usage of "fifteen-twelve" spelled out that gave the ginchiest nod to a new group of patrons.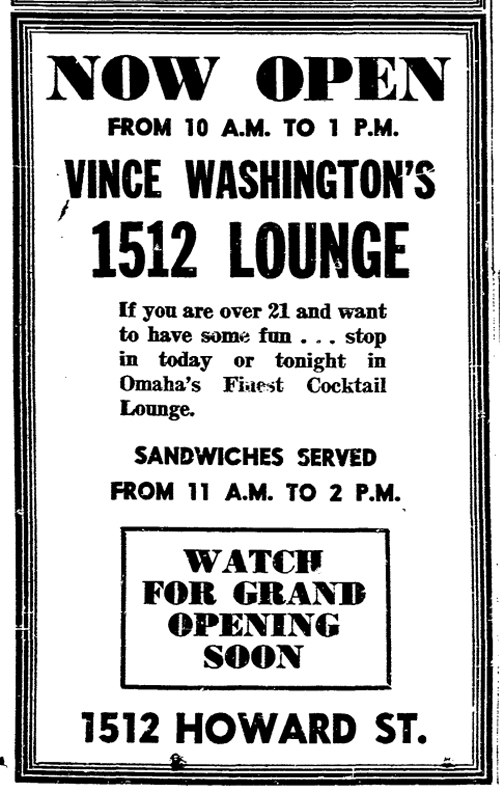 1512 Lounge October 3, 1955. Vince Washington offered some kind of long standing winning combination. As vague as the street beat was on this hushed operation, Mr. Washington surely knew how to razz the berries of his patrons. I couldn't figure it out but the Fifteen-Twelve Lounge would thrive into the 1970s. In those years the small 1512 Howard structure would observe many changes take place in Downtown Omaha to include numerous buildings come crashing down.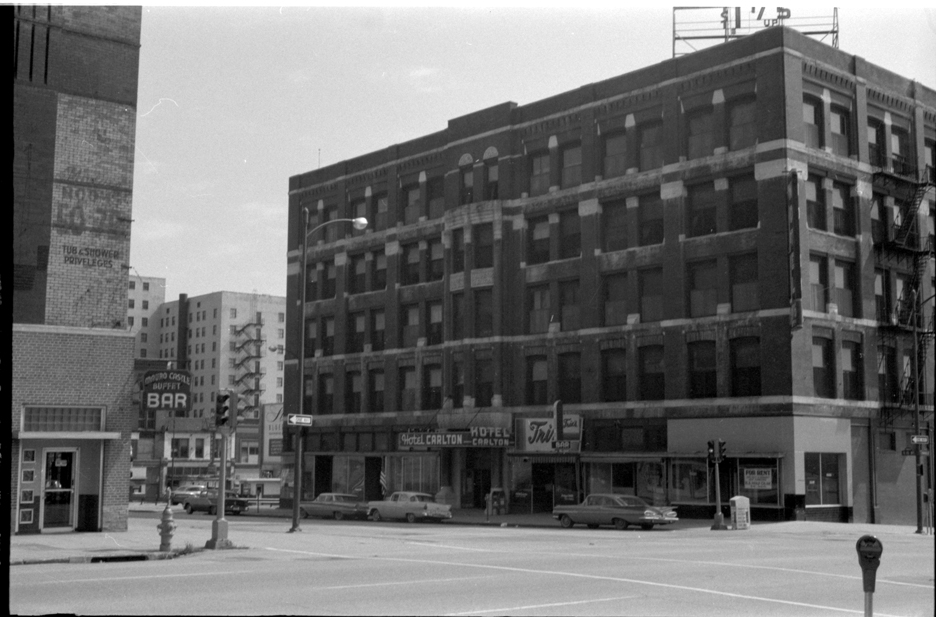 Neighborhood context. Carlton Hotel at 417 South 15th Street. Martin Weil, July of 1964. The Durham Museum collection. Notice the Mauro Castle Buffet Bar where the Hotel Boquet used to be located. This bar was owned by brothers Robert Mauro and Fred Mauro, Jr. This fine establishment deserves a story all its own. They sold the business in 1982. It would close ten years later.
An Obsessive Digression
The Hotel Boquet on the northwest corner of 15th and Howard, two doors down from the Fifteen-Twelve had its top floors removed in 1968. The Mauro Castle Bar and Café had been a fixture in the building since the 1930s and would remain steadfast on that ground floor. This is the Mauro family bar, not to be confused with the Castle Hotel Bar or cigar stand. It was in this renovation that Fred Mauro, Jr. discovered a Chesapeake Restaurant menu from the old 1512 Howard Street, lending the clues for the previous details on the Chesapeake.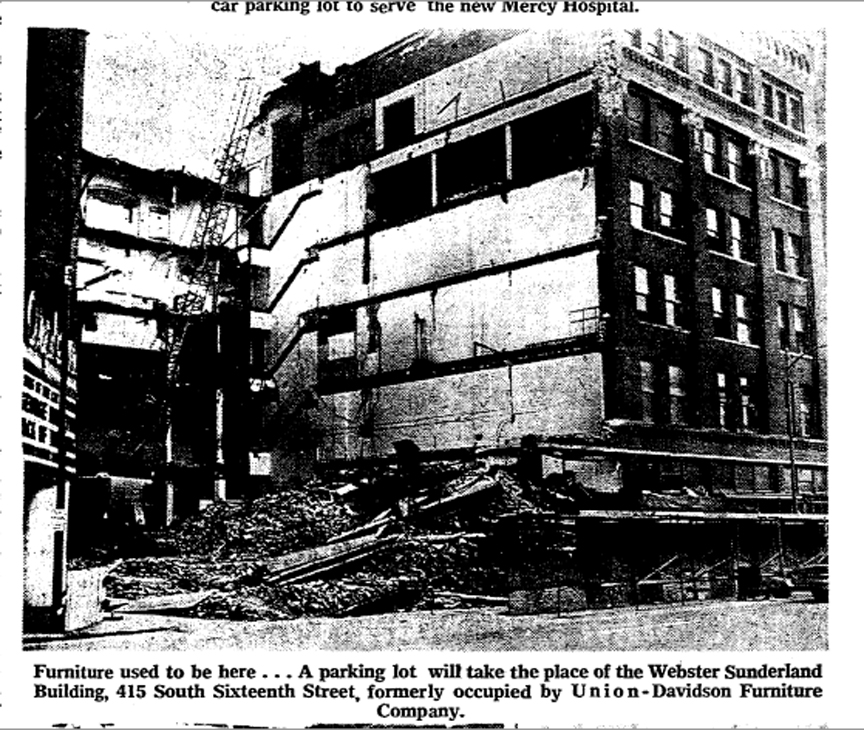 November 8, 1967 demolition of the Webster-Sunderland. Demolition began Sept 7, 1967 for the Webster-Sunderland Building at 415 South Sixteenth. John Potter Webster agreed to demolish his family's Webster-Sunderland building for leased parking after an announcement of a new civic center in the area. Webster said, "I just couldn't keep a tenant after the City Council indicated that would be the site." I cannot be sure what building Mr. Webster was speaking of but he certainly felt the impending threat. The Miller Excavating Company had a contract to raze the six-story building. From the DOGIS aerial photos, it appears that this lot became surface parking for a number of decades before the construction of the current multi-leveled parking garage. This lot is leased to the Orpheum Apartments, to the north.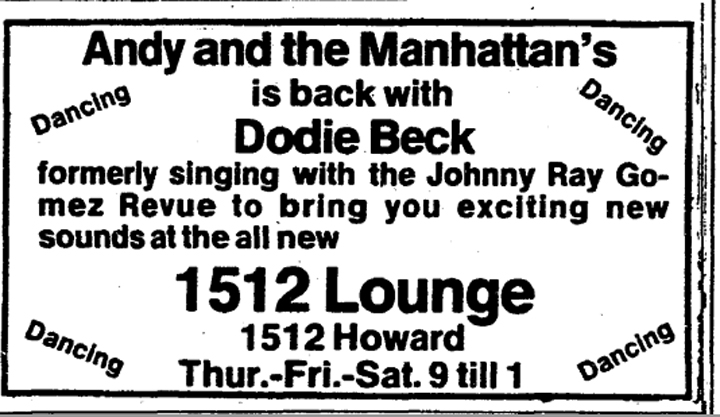 November 23, 1974 This is the very last 1512 Lounge ad that I found and then poof! Gone…almost twenty years in one business's name. The City Directory of 1975 listed 1512 Howard as vacant but I knew better. That was just the very beginning of the enshrouded inner workings of the Stage Door Lounge. Many of you might be here for just this reason…
Enter Stage Door Lounge
Back in November of 1969, a World Herald article ran the headline "Homosexuals 'Need More Social Outlets,'" quoting Dr. Louis Crompton. Dr. Crompton spoke of the striking difference between Omaha and Lincoln in attitude toward homosexuals. "Omaha is liberal. It has a least three homosexual bars. Lincoln doesn't have a gay bar and this is a real problem." The doctor spoke of both the personal and community need for unofficially sanctioned gay activities. He described the Omaha bars as a place for men to socialize and dance with one another—even stating the Omaha police are well aware of the bars and "go there and fraternize with the clientele." I began to think of Downtown Omaha in those days and this sliver of hushed culture my father had told me about during the writing of I Wish I Could Have Gone To: The Cave Under the Hill. The Diamond Bar and the Cave were most likely two of these three Omaha bars in 1969. I would love to know the third. I also recalled hearing the phrase "the Milk Run" from my older friends active in this few block area back in the 1980s, presumably named for the humorous collective cover or excuse for gay men leaving the home front to go cruise. My, how things have changed. Long before the days of swiping left or right, I longed to know more about the Stage Door Lounge.
Now before we jump headlong into this portion of 1512 Howard's history, I want to encourage all of you to visit these other sites. Amy Schindler of the UNO Libraries' Archives and Special Collections introduced me to the Queer Omaha Archives, which UNO started in 2016. This excellent collection has gobs of great information about Omaha's history from those who lived the scene. https://queeromahaarchives.omeka.net/
Also please check out the wonderful Omaha Gay History Project at https://omahagayhistory.wikispaces.com/home. Joe Hoagbin writes with such vivid description and truly gives the dish as only Someone Who Was There could.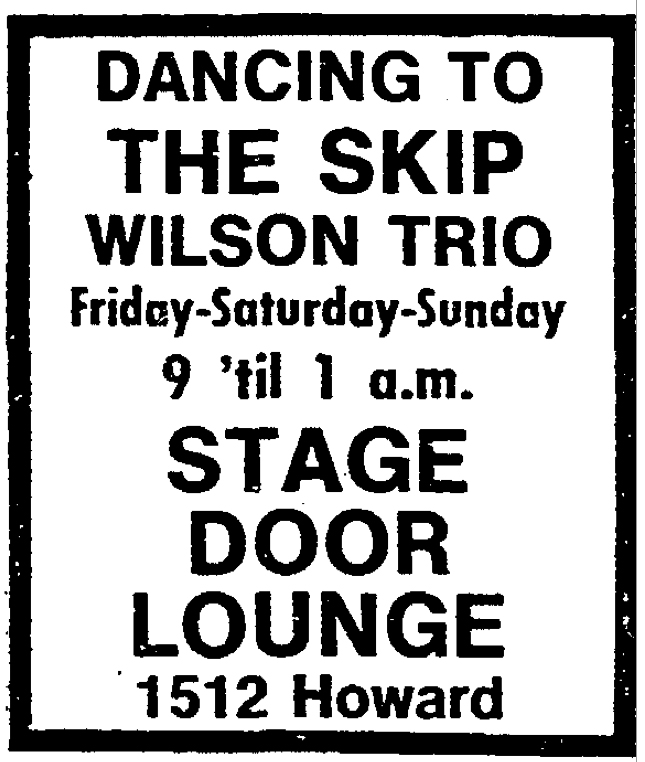 January 23, 1975 The first understandably nebulous endorsement I could find for the Stage Door Lounge.
From 1975 through 1979 there was a handful of non-descript vanilla notices. No one but a Nosy Nellie would know just what was going on behind the door of 1512 Howard and that was probably just the sort of discretion they wanted. But the police reports shed a bit more light. In June of 1975 a Mr. D. of Des Moines had cash, rings and watch stolen from the "lounge at 1512 Howard." A Mr. S. of LaMars, Iowa had a coat, valued at $225 (now that is 1970s money, honey!) stolen from the hazy 1512 Howard locale. This was the first true indication, at least to this detective, the Stage Door Lounge had arrived on the scene as one of three gay bars in town.
From the city's point of view, the Stage Door Lounge was mentioned as one business in many along both sides of 15th and 16th Streets, called the 16th Street Core that was renovated between 1975-1981. From what I could find, the major renovation to 1512 Howard included this fetching theatrical marquee. In those years Central Park Tower, the Farnam Building, the Barker Building, American Indian Center, the Orpheum Theater and Shiksa's Deli also renovated in one manner or another.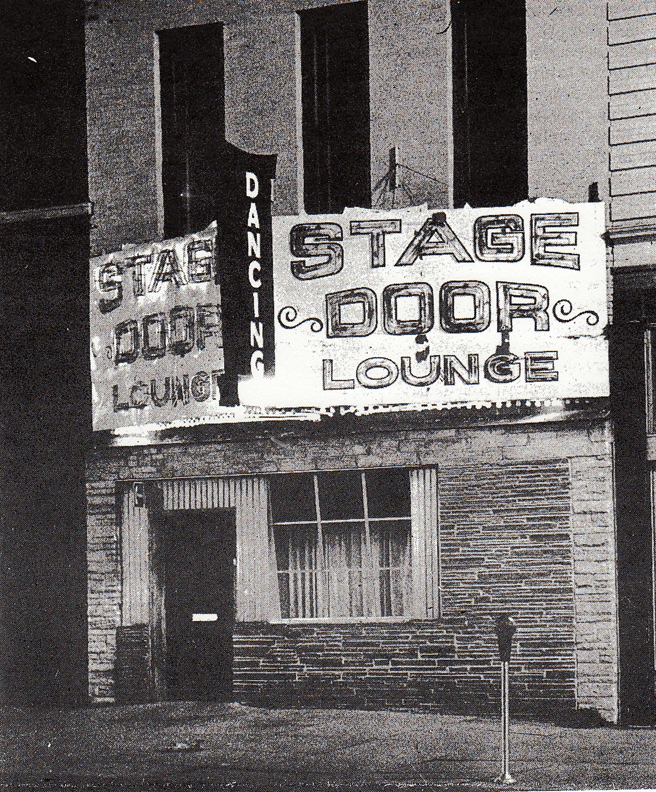 Dec 6, 1979 Sun Newspaper article lent with permission by the W. Dale Clark Downtown Library reference desk clipping file. Again thank the stars for the older librarian ladies and their need to cut out articles for posterity. We can see from this photo that the large retail windows of the past are now gone. A mid-century modern stone façade encapsulates the grown floor, probably a left over from the many steak house days. The tall, slim trio of windows above has been simplified and is without their elaborations. The Stage Door Lounge sign and font almost carry an Old West saloon quality. The fact that this gay bar was but a hop and skip from the Orpheum alleyway, hinting at its possible theatre theme, is not lost on Miss Cassette. Sadly the fact that 1512 Howard would also come to house the once treasured relics from the Orpheum stock only verified the full circle loop.
The Stage Door Interior
Seeing as most of my friends were not old enough to have been involved in the Stage Door scene, about anyone I contacted seems to only remember the interior for its shag-carpeted walls. But it most certainly wasn't a dive. Some say it was red shag, which I instantly gravitated toward. I have a deep passion for all red interiors. I dream of Diana Vreeland and her Garden In Hell drawing room designed by Billy Baldwin, savoringly sprinkled with rattan and haunting chintz. So I do hope the Stage Door was red on red on red maybe with some structured black and gold accents in the best 70s way. Craig Morton would share his memory of living in Omaha from 1973 to 1978. Morton thought the Stage Door had either yellow or orange shag carpeting on the walls and floor. "A friend of mine use to call it 'The blushing big bird lounge.'" A Sun article would describe the Stage Door bar portion of the lounge as half of the building. In the later 70s there was also a disco dancing area. Was this in the 1510 Howard area or held within 1512? I wasn't sure but the article stated, "In the bar on the other side, tow men played shuffleboard while another put money in the jukebox." Steve, a patron, who was showing the journalist the ropes reported, "For me, for a lot of gay people, this is a place to come where we don't have to masquerade. We can talk openly, we can show affection if we want to…" Omaha Gay History had this to say of the Stage Door interior: "There were booths as well as small tables with chairs. Originally The Door had a very tiny dance floor about 10 x 10 feet and a rudimentary sound and light system." I had previously wondered about the upstairs of the club and the bay next door to the right. The Gay History site had recorded, "The Omaha Meat Packers, a gay biker club, used the second floor as a meeting place for several years. From time to time drag shows were performed in this tiny bar. The first drag show I ever attended was at The Stage Door. After the Disco Craze really took off, The Stage Door expanded into the next several store fronts."
My friend Sah-Poor would further enlighten me about the antics in and around The Stage Door days. "I was altered a lot of that time as they were heady days of dancing, drinking, drugging and trying to get laid as many times as possible at all times! I was a whore boy, with discretion, however, that is how I made it through the terrible times when HIV first came on the scene. The Door did have the red shag walls, and then it became FABULOUS! Elsie used to DJ there on the weekends. It was a pretty large and wild space with a dance floor that was lit up. Yea it was a fun place and the place all the straight people went to learn the latest dance moves and hear the latest music. After all, gay white and black men were ahead of the crowd."
Other Clubs
When the Stage Door arrived it was distinguished as the third gay bar in the one block area, along with the Cave and the Diamond. Craig Morton remembered, for a very short period, there was a fourth "elite gay bar" in the basement next door to the Cave called "The Den of Iniquity." He seems to remember it as a "private member club." Before Craig Morton left town for California, yet another gay club would open in town, the Hollywood Disco. Would that have been a fifth gay bar kept afloat within this burgeoning time period?
The Milk Run
Now within this time period, specifically in the summer of 1976, the police began their crackdown on alleged homosexual prostitution. Two men were arrested in a parking lot near 16th and Pacific after the officers followed after "observing the two meet near 18th and Jackson." The article stated that in the past three weeks, six men, seven teenagers and one 11 year old had been arrested in connection with male prostitution around the 17th and Jackson Street area. Interestingly, these frequent busts were all within the now historic "Milk Run" area. I am sure there was prostitution intermingled within the social scene but perhaps these were arrests of another nature. According to the Omaha Gay History site, "Omaha's 'The Milk Run' was located downtown near the gay bars and consisted of the large city blocks beginning on Jackson Street by the old Trailways bus station parking lot (later the Greyhound bus station moved into this location), at 17th Street, going west on Jackson to 18th Street, going north on 18th Street to Leavenworth, then traveling south on 17th Street, returning to Jackson. Sometimes the loop also included 16th Street from Leavenworth to Jackson, as well as detours off the main circle."
My friend Sah-Poor was well acquainted with the Milk Run. "The milk run was what you did after the bar to get laid–where men and boys and lots of hustlers stood trying to make a connection. Very few black men were out there; it was mostly white guys. The few black men there were not nice people and robbed their tricks–so black men were viewed with trepidation, if not distrust and downright suspicion. That attitude kinda slowed my roll but it was great fun to watch it all transpire as around and around one went in that endless circle. I met many people on the run, lovers, tricks, friends, acquaintances, and hustlers, many of whom are quite dead, and quite tragically so."
As a side interest to many, now ex-pat Omahans: two young fellas started a club a few years back called Milk Run in the historic gay district. Sam Parker and my good buddy, Chris Aponick began booking bands under the name of Perpetual Nerves, later securing 1907 Leavenworth Street as a music/performance venue–aptly naming it Milk Run in honor of the area and its auspicious origin. This location and their version of Milk Run came to an end but I understand someone has revived it again.
Neighborhood Violence
I would find an interesting Sun Newspaper article called, "Gays: Omaha's Invisible Minority" from 1979. In it, Tom, a college student described a friend being "beaten up down the street from the Stage Door (an Omaha gay bar) by six guys from South Omaha" who didn't like gays. 46-year-old Paul Spargen, well known as Stella, was murdered in the same year. Stella frequented the Diamond Bar and the Stage Door where her famous stage show skits "made her a queen in the eyes of Omaha gays." The Diamond Bar even featured records of Stella singing to famous hits and by all accounts was loved by everyone. A Millard High School custodian by day, Stella found her true passion performing in Omaha gay clubs, occasionally Kansas City. The community was rocked to the core when Stella was found naked, having been stabbed to death in the closet of her apartment. Stella was last seen having a few drinks at the Stage Door, was said to have gone to the Diamond Bar and later was suspected of cruising, possibly picking up the assailant. I cannot imagine the family's pain and those closest to beloved Paul Spargen-Stella. I got to thinking just the other day that Stella would be 85 years old now. RIP
The New Owner
Through it all, I still was not sure who even ran the Stage Door. Who was the man or woman behind the curtain? Of major interest, in February of 1980, Martin "Marty" Faier, son of John and Goldie Faier, sold our 1512 Howard building to Mr. Ronald Bergeron. Before I delve into Mr. Bergeron, I was saddened to learn that during the research of this article, Martin Faier passed away on August 23, 2018 at the age of 88.
Ronald Bergeron had been in the heating and air conditioning business in Omaha for many years but by 1975 Bergeron became the newest operator of the Bittersweet Lounge, about half a mile outside of the Council Bluffs city limits on old Highway 6. The laws had apparently changed, prohibiting beer and liquor license holders from having topless entertainment. From Bergeron's view point, "The Omaha City Council killed topless (entertainment) a couple of years ago and we thought the area needed a topless lounge—everyone has been running to Fremont because they want it." Bergeron formed a partnership with Patty Allen and were going to make a go of it. In time the pair would add the Lusty Lady but get into a bit of trouble over 1978's "cover-up law" which barred any kind of nudity. Now I assumed Bergeron bought 1512 Howard in 1980 with sights set on expanding his exotic dance empire but it would be many years until that scheme came to fruition. Was Ron Bergeron running the Stage Door Lounge?
The John Rashid Connection
The City Directory of 1982 also listed the "J. R. Enterprises" at the Stage Door address. Actually it listed 1510 Howard (the original Mon-Yen-Lo Chop Suey Café) address one bay to the east, as the Stage Door Dining Area. I was not aware that the Stage Door ever had a restaurant! 1512 Howard corresponded to the Stage Door cocktail lounge and J. R. Enterprises. I was not sure if this business had kept an office at 1512 Howard, perhaps on the second floor or if another part owner collected his mail there. I would find John Rashid ran J. R. Enterprises, a division of Auction Associates Inc. Wearing that professional hat, John Rashid would arrange and conduct large auction sales. Additionally he had been operating the former Midstates Tile and Terrazzo Inc. business and previous to that he was in carpeting. I would find evidence of his carpet business back to the 1950s, if it were indeed the same man. It appeared he also kept an office address in Downtown Benson in 1982, so I am not entirely sure what connection he had with the Stage Door. Just when I had began to doubt the relationship, I found history of a campaign donation to Pat Venditte from a J. R. Enterprises at 1512 Howard back in 1989. Of note Alan Baer also contributed to Venditte's campaign.
The Eighties
The summer of 1983 brought the first Gay Rights Pride Parade to the Howard Street area. 60 brave marchers walked Howard Street that night, quietly holding candles, escorted by ten police cars and motorcycles that surrounded the group. It was estimated that a crowd of 400 Omahans gathered along Howard Street to watch, some clapped.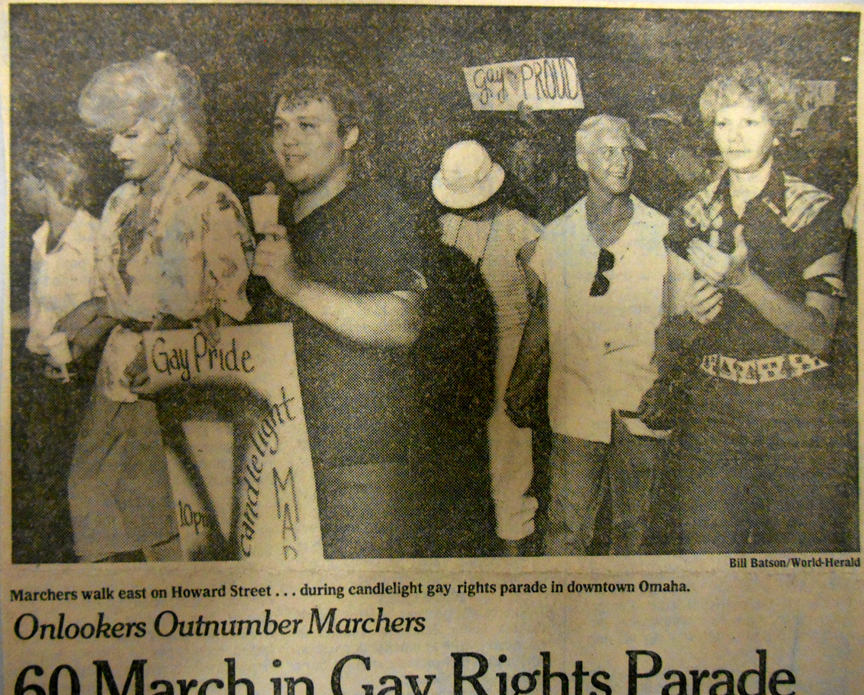 OWH 1983. Gay Rights Pride Parade. Probably one of the best clues.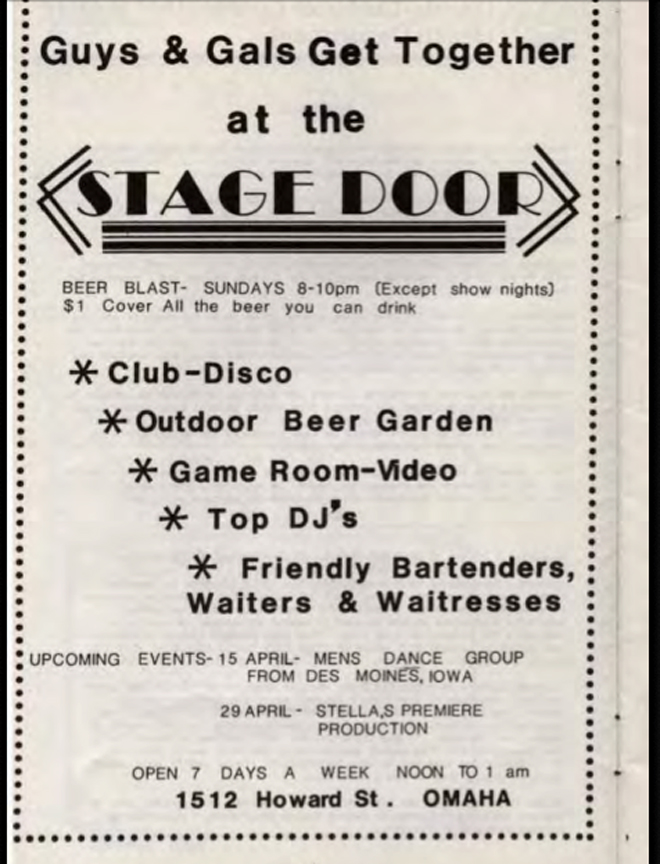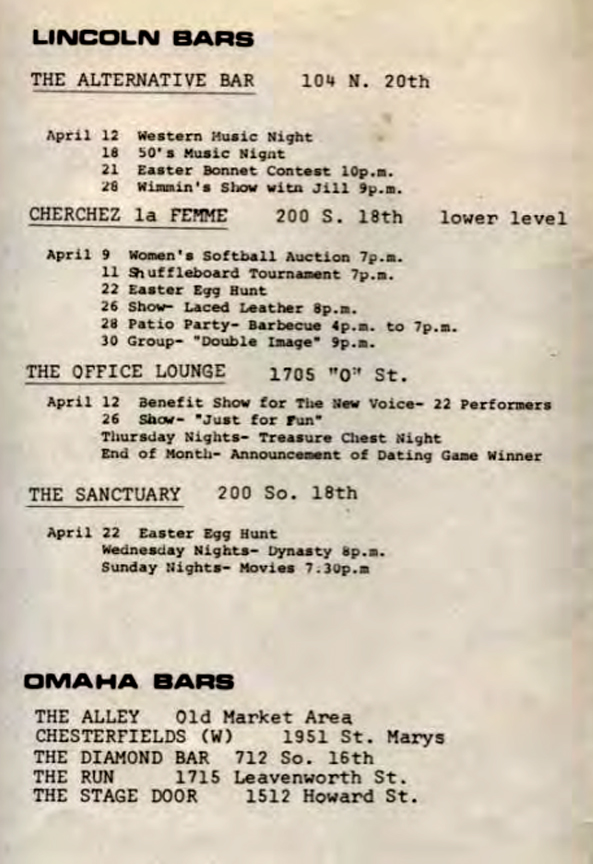 New Voice newspaper Vol 1 1984 from the Queer Omaha Archives at UNO Libraries' Archives and Specials Collections (special thanks to Amy Schindler). One of the only ads with some flavor that I could find for the Stage Door. If you have any photos or ephemera from this time period, please share.
The 1985 City Directory had registered the Stage Door Lounge at 1512 Howard and I guess I was surprised it was at that location so long. In October of 1985 there was a strange rash of violence both at the Stage Door, the Run at 1715 Leavenworth and in the surrounding area of the Milk Run, which wasn't really the safest, nicest environ to my memory. A series of mysterious stabbings, shootings and robberies punctuated that fall. I say mysterious, because violence toward gay people was kept out of the mainstream news for the most part, let alone the mundane and even pleasant homosexual news. I will say that the Sun Newspaper(RIP) worked to get their stories right. And then the Stage Door Lounge was no more.
The Bittersweet Years
By February of 1986 1512 Howard had officially transitioned to the Bittersweet Lounge with Ronald Bergeron on the helm. The mysterious J. R. Enterprises inexplicably maintained the 1512 Howard address as well. Was he the true butter and egg man? From what I could figure, Bergeron was the first owner, not leasee, of the 1512 Howard building, to actually operate a business at the address. The Bittersweet kept a bevy of exotic dancers on the payroll as well as cocktail servers and bartenders. It is hard to believe but back in 86 there apparently was one server who had legacy back to the Downtown Mickey's Nite Club go-go days. But in 1986 "It all has to do with economics," said Ron Bergeron. He spoke of dwindling clientele due to tougher drunken driving laws and the Council Bluffs dog tracks. "Now we're all trying to find ways to continue to exist in the bar business. Go-go is just one of many things people are trying," he said. In 1986 a dancer could make from $4 to $7 an hour but the tips made it worth the while. A World Herald article from the time interviewed Ron Bergeron where he described "turnover as 'nominal.' Girls will quit here and go to another club, or get fired, or get tired," he said. "I'm always, constantly trying to hire new girls, new faces. The reason is obvious. Would you go to see the same movie 20 to 30 times?" In that year the Bittersweet Lounge was one of the 10 bars in the Omaha-Council Bluffs area that featured go-go dancing by bikini-clad or topless dancers.
Interior and Exterior Changes
I cannot be exactly sure what changes Bergeron would make to 1512 Howard. I do seem to remember a large sign on the outside of the building that read "Gentlemen's Club." But when did the bland monolith of tiles appear on the exterior? From the articles I found, Bergeron had built more than one lighted stage and those narrow stages offered mirrored globes attached to the ceiling with a spotlight shining on it, "a holdover from the disco fad." The audience would sit around these walkways at small side tables. He would also invest in a large number of mirrors along the stages. Bergeron explained he tried to offer customers variety, so in addition to the stages with live dancers, he supplied videos of naked women projected onto a large screen of one wall of the downtown Bittersweet.
Meanwhile in the absence of the Webster-Sunderland building, pre-parking garage, Bergeron would have some pretty cool hand-painted signs added to the west exterior wall of 1512 Howard. This one appears to be of a Patrick Nagel knock-off style. So Eighties!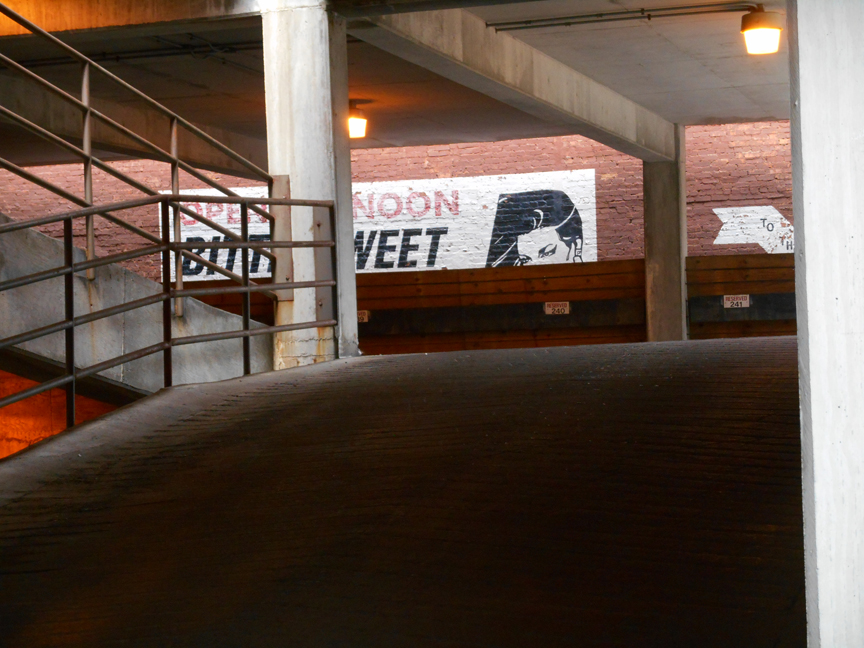 These Nagel women print series could be found hanging in Omaha hair salons and later piled up at all the thrift stores. Nagel would design the Duran Duran Rio album cover. I had always thought the Nagel woman was a mainstream, stylized vision of a new wave-ish women—never realizing Nagel had come to popularity in the 70s because of his Playboy illustrations. I spied this Bittersweet version hiding behind the parking garage that adjoins the Orpheum Tower apartments and 1512 Howard when I was doing reconnaissance.
A Very Brief History of Gentlemen's Clubs
The history of go-go bars in Omaha dates back to 1959, when Mickey Sparano opened Mickey's Nite Club at 324 South 15th Street and became the first to offer go-go dancers. Go-go dancing, although arguably sexualized dancing for the time, was fairly innocuous by today's standards, featuring fully clothed, gussied up gals. Topless dancers were next to hit the stage about 10 years later. From what I could find, Omaha had outlawed topless dancing with an amendment to the city's liquor control ordinance in August 1971. The ordinance prohibited topless dancing or nudity where liquor is served; the workaround was the bikini. Ron Bergeron, as previously discussed, got into the go-go and seminude game back to the mid-1970s, although his current website proclaimed he started the first fully nude club in Omaha in 1963. An article from the 1980s gave hints that the Bittersweet operated for a time "adjacent to the Stage Door Lounge, also owned by Bergeron." When Bergeron looked at Downtown Omaha growing again, he felt there was a need for a "high-class go-go club." He wanted to locate downtown, I am assuming up the street from the Old Market, because "guys who go to conventions ask, 'Where are the girls?'"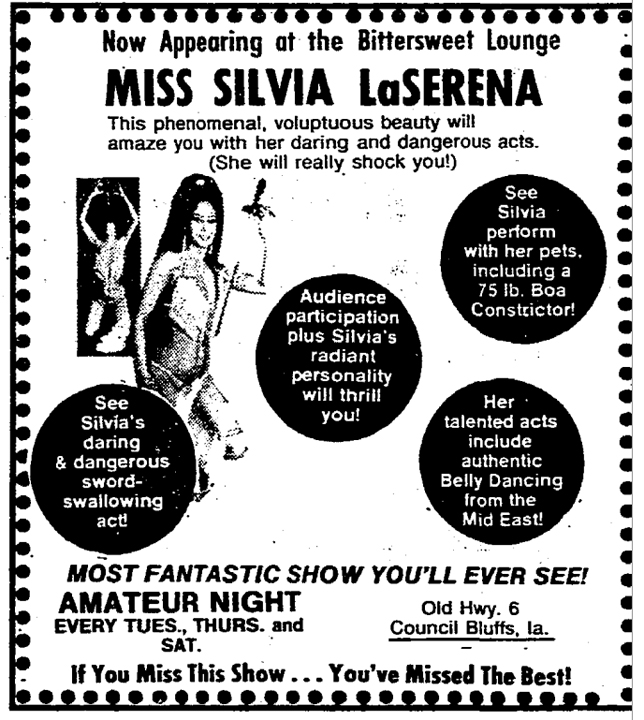 Vague Memories
I racked my memory for any foggy vision of 1512 Howard in those years. Although I don't remember much more than her barely lit front door and that tongue-in-cheek Gentlemen's Club sign, I seem to remember a steady stream of visitors to the parking lot of the Bittersweet, a surface lot to the east of 1512 Howard. The whole operation was rather low-key and non-descript, most likely by design. A scouring of the 1982 and 1993 DOGIS aerial photographs would point to the 1510 Howard building having had been razed sometime in the interim. Additionally the 1993 DOGIS aerial view clearly shows 424 South 15th Street, the corner once famous for the Mauro Castle Buffet Bar and the Hotel Boquet was still standing intact. By the 1998 view, the huge corner building was gone. I would adore any photos that one might want to share from this Bittersweet time period.
My friend, Miss Sinnamon confided that she had worked as a dancer at the Bittersweet in 1989 and again in 1997 or 1998. She elaborated, "It was always so dark that I barely remember the details. The upstairs was the dressing room, complete with a tanning bed that I wouldn't touch with a ten-foot pole and a sad weight machine. They used to show soft-core porn movies on screens on the walls. I do remember there was a main stage and then little side stages they'd use on the weekends. And some lovely half-circle booths." Miss Sinnamon recalled Ron and a man named Clyde managing the Bittersweet in those days. Yet another Coincidental Clyde? I fantasized for a split second that it might have been Clyde from the Nebraska Motorcycle & Bicycle Company days or Clyde the bartender mixing the fancy drinks. Had Clyde been a specter of the building that a business owner inherited upon signing of the lease? Oooh yes…like Lloyd in "The Shining." Let us hope.
2001 was the time period another friend, Carol, punched the clock at the Bittersweet. In her memory the upstairs was a locker room and the owner's office. "What happened up there was piles and piles of cocaine. My memories of that place are a tad fuzzy, "she admitted..
New Ventures
The Bittersweet Lounge was alive and well until sometime in 2003. Curiously I found an entry for Stage Door Lounge briefly listed in the 2000 City Directory. Perhaps it was a misprint or Bergeron's attempt to mix up the atmosphere at 1512 Howard one more time? From 2003 through spring of 2005 I would find the 1512 Howard held no business, at least no business on the books. Meanwhile Bergeron would open the infamous Playhouse Performing Arts Center, a fully nude gentlemen's club, in Glenwood, Iowa in 2004. This popular business would soon mushroom to include the Beer Barn Corp.—a package liquor store in Mrs. Bergeron's name, pool tables, champagne rooms for private shows rooms and video gambling machines much to the dismay of the Mills County Board. Upon recent inspection, the Bergerons' business continues to thrive.
The Downtown Blues Bar
April of 2005 announced a new blues club in the form of a simply named Downtown Blues at 1512 Howard. Early on the club, sometimes called the Downtown Blues Company, would feature free outdoor blues concerts on a makeshift stage in the large lot at 15th and Howard Street, once comprised of the multiple buildings formerly mentioned. According to a friend, Mr. Deep Background, from the Omaha blues scene, "Like any hot trend, Omaha went from one or two blues bars to too many, too quickly and too unfocused. From McKenna's to the 18th Amendment, to other Old Market venues and a strip mall near 96th & Q, the blues scene had too many options and an insufficient audience size. Like the applause for Bonnie Raitt's name drop of Memphis Minnie at the Orpheum, the applause died too soon for this blues venue." Mr. Deep Background would describe the Downtown Blues Bar layout as that of a long box, "much like the upstairs Howard Street Tavern but included a side-door, much like Down Under Lounge today. With the hard walls, tile floor and poor lighting, it was not a warm room to hear live music. The 'bounce' off the walls gave way too harsh and distorted sound levels. The tables were black and round with metallic stackable chairs awash in dim blue lighting."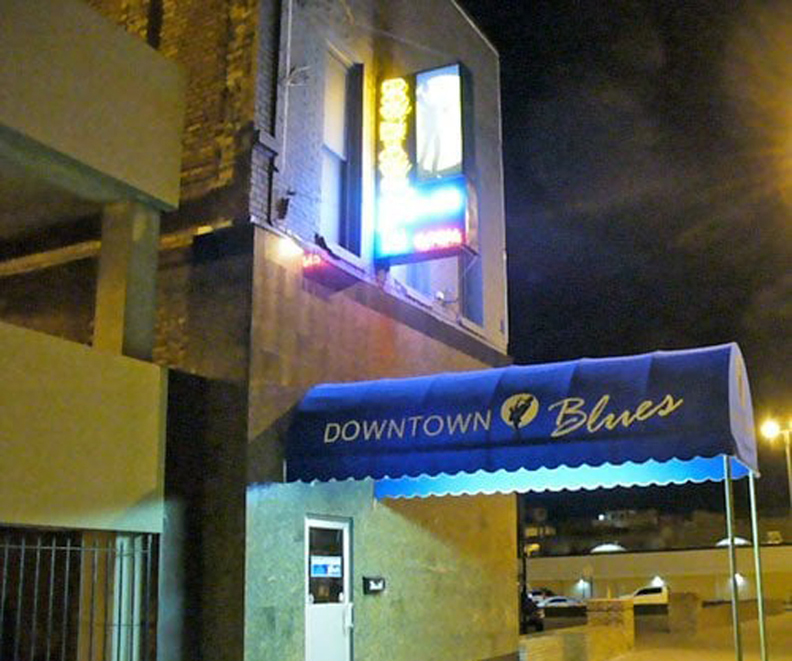 My only proof of the Downtown Blues Company. 2010. I did not take this photo.
Steve Huber was an animated character that I happened upon in the writing of this story. Steve and I, and a few others as well, would watch as a small crew pulled down 1512 Howard at the well-toothed scoop of an excavator. Huber would easily reminisce about the recent various businesses, stating, "Ronnie's office used to be upstairs." Presumably speaking of Ron Bergeron, I scratched into my notebook. Huber suggested, "Rybin used to own the Blues Club." When I asked, "Rybin?" Huber said, "Jeff Rybin who owned the Anchor Inn." The Anchor Inn was a great dockside Omaha bar on Freedom Park Road, featuring an outdoor concert venue by the Missouri River. I didn't realize the Inn had first opened in 1972. They were forced to move to 72nd Street in 2012 after flooding destroyed the popular venue. Sadly in 2014 the Anchor Inn closed after the sudden death of the well-known 59 year old bar owner, Jeff Rybin. Search as I did, I never could solidify the connection between the Downtown Blues Bar and beloved Jeff Rybin. I hope someone will lend confirmation if Steve Huber's proclamation was true. Unfortunately the last time I was able to find any sort of marketing for the Downtown Blues was in July of 2010, when the Swampboy Blues Band evidently were to grace their stage. Out of the corner of my eye, 1512 Howard sat empty in a period of pause once again.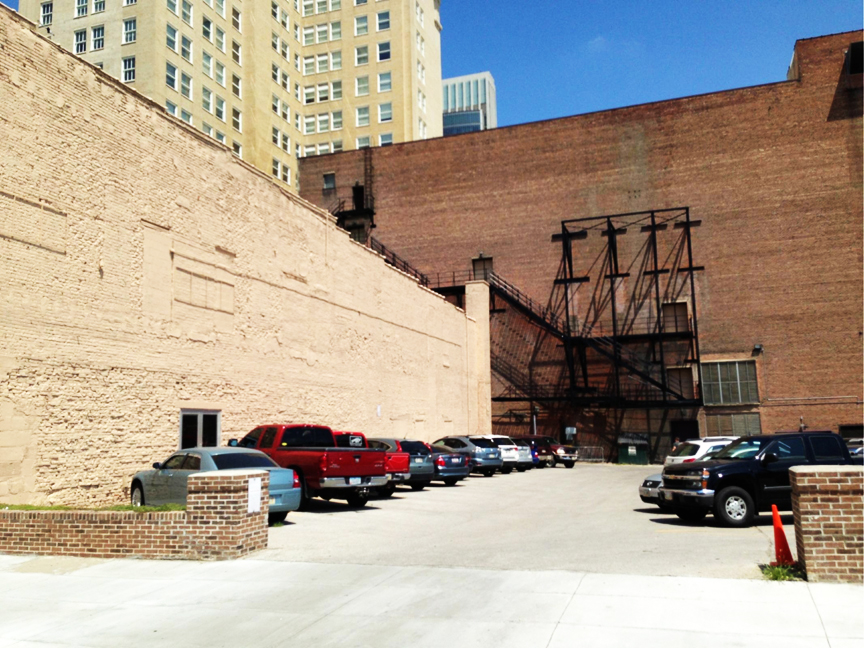 Behind the Eightball
1512 Howard was vacant for several years by the time the Omaha Performing Arts Society purchased the building for storage. If I have learned anything in my few, short years at this architectural detective business, it is this: when parking lots or empty lots flank a commercial building, the building is vulnerable. When a building has been deflowered in one way or another, I see a two-fold problem. In the case of a dishonorable or questionable business venture in the public's view, I have noticed, oddly, that this "immoral" mark or taint of a building tends to create a cursed effect in the public psyche. This building through no fault of its own is now suspect and vulnerable. The second example is one of an ill-advised renovation, where the building was stripped of its architectural integrity and character. This building is also vulnerable. Large scale remuddling, altering historic features and eliminating both original, defining details and structural elements are Worse Yet in many investors' minds, because now the building is simply worth-less. Lastly when the owner, developer or the city begin to speak in the press of a building in terms of "the 50 year old structure" or "the more than 100 year old building," Not Followed by flowering terms of endearment, the writing is on the wall. They are reframing. It is a codified turning of language, putting the negative, ageist phrasing of an architectural demise into the public consciousness. For the record, the latter did not happen in this case. But for the future, when you hear these sorts of subtle turns of terminology, the hydraulic fluids are potentially being prepped or the city's polishing the ole wrecking ball.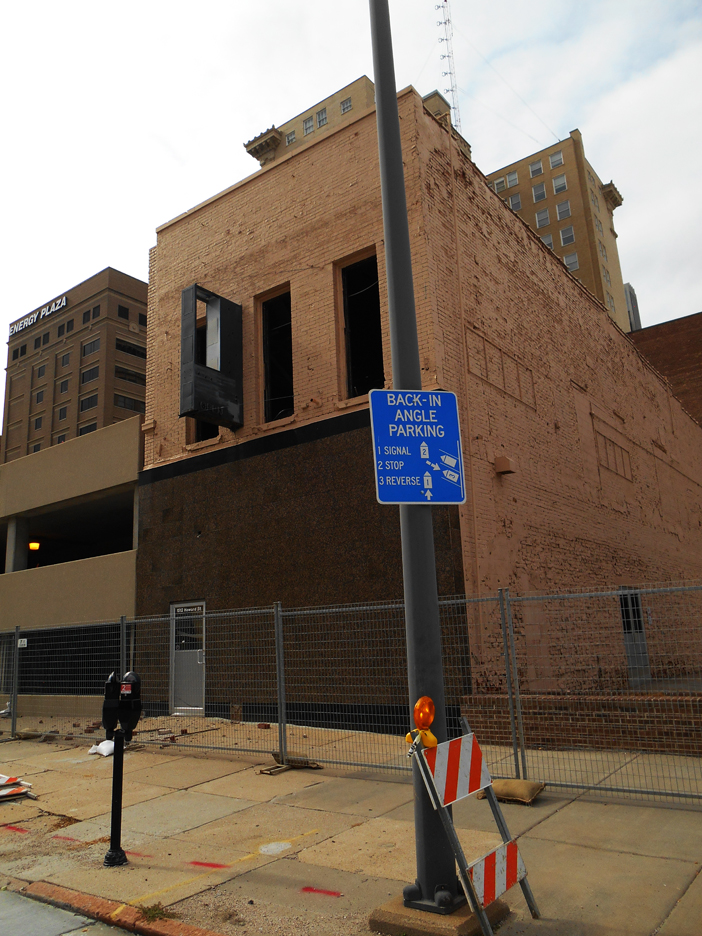 There might never be any unanimity on whether 1512 Howard was good, bad or just indifferently bland as one of Omaha's off the beaten path meeting house. There was never a grand entrance or an over the top bravado to her posture. Her ways were simple and uncomplicated, easy, no strategy at all by today's hyper-standards. And I suspect those very characteristics are what made it so painless to tear her down. For what it's worth upon her demise, she gave "hell for stout" as Father of Miss Cassette would say. Her fortress of bricks, the solid widths of 1904 battlement. Her heavy timber floor did not go gentle into that good night–barely splintering when raked over by the mighty-toothed excavator. If I do say, we don't see timber floor-ceilings like that these days. So ladies, gentlemen, let us bid one's adieus to 1512 Howard Street. Mustn't grumble, I mumbled.
This investigation now has a neato follow-up right around the corner. Please check into it at: Case of The Crooked Ear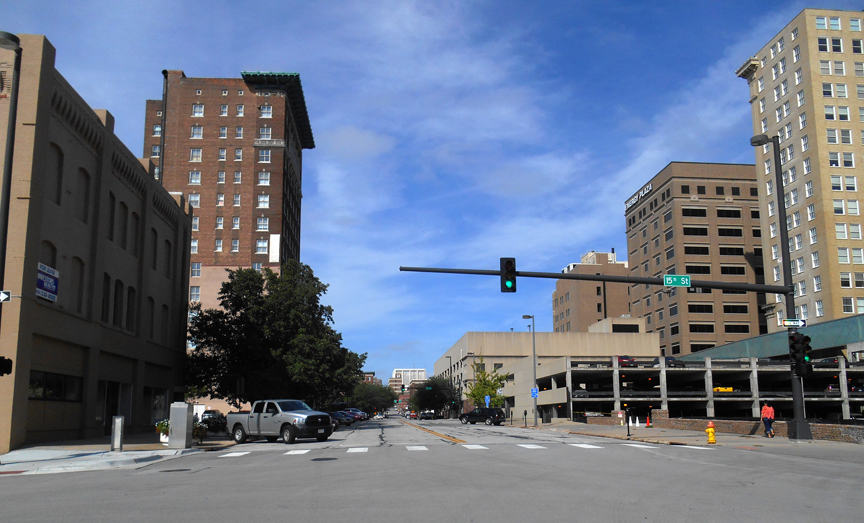 I welcome your feedback and comments on this treasured Downtown Omaha building, its storied list of incredible businesses and owners. Please share your additional clues to the investigation in the comments, as we know more together. Everyone would love to read what you have to say and it makes the sharing of Omaha history more fun. I want to hear from you, as there are many empty pockets in this adventure.
You can keep up with my latest investigations by joining my email group. Click on "Contact" then look for "Sign me up for the Newsletter!" Enter your email address. You will get sent email updates every time I have written a new article. Also feel free to join My Omaha Obsession on Facebook. Thank you, Omaha friends, Miss Cassette.
© Miss Cassette and myomahaobsession, 2018. Unauthorized use and/or duplication of this material without express and written permission from this site's author and/or owner is strictly prohibited. Excerpts and links may be used, provided that full and clear credit is given to Miss Cassette and myomahaobsession with appropriate and specific direction to the original content.