If one had been in the desperate habit of falling deeply in love with unattainable brick English country homes, the great beauty settled at 1111 South 90th Street would have long ago proposed a perilous catch. I say perilous only because loving is dangerous in and of itself, let alone infatuations with implausible things–I have found the obsession is often fraught with painful lessons in impermanence, especially in this town of Omaha. Discovering the picturesque 1111 South 90th Street for the first time was, without a doubt, a significant moment in one's life, if one's life happened to be like mine. I say this with confidence, for I am sure she imbued many an innocent romantic's fairy-tale dream house come to life. Coarsely pinned down, there are not many playfully bricked, head in the cloud homes like her this side of the grave. My only questions of her exalted existence were ever—when exactly is she at her best? In the sunlight when I can study her playful arrangement of brickwork or at night, when I can observe the amber glow enclosed by her sheers and curtains, left to imagine the happy lives of her lucky inhabitants?
Oh yes…there were other curious queries over the years I imagine most sensible escapists experienced when engaging her far away eye—How is something this gorgeous and mysterious propped right on 90th and Pacific? Shouldn't this lovely residence be nestled in the gnome woods or at least far from the road behind a wandering, crumbly gate?
A few weeks ago I had just picked up a coffee and was dawdling by the corner of 90th and Pacific on my way to go sniffing about another local architectural heartthrob. I was shocked to find an array of machinery in the front garden of 1111 South 90th Street. Her lovely ivy and vines had been ripped from her front façade, the grass, the plantings, her huge, mature trees and shrubbery of her front and side grounds were barren, as if a small bomb has detonated or a dangerous plan was afoot. What was left were hideous, gnarled clusters of the trees' root systems, ripped from the soil, whipping dirt clouds and the once revered house looking sad and dusty.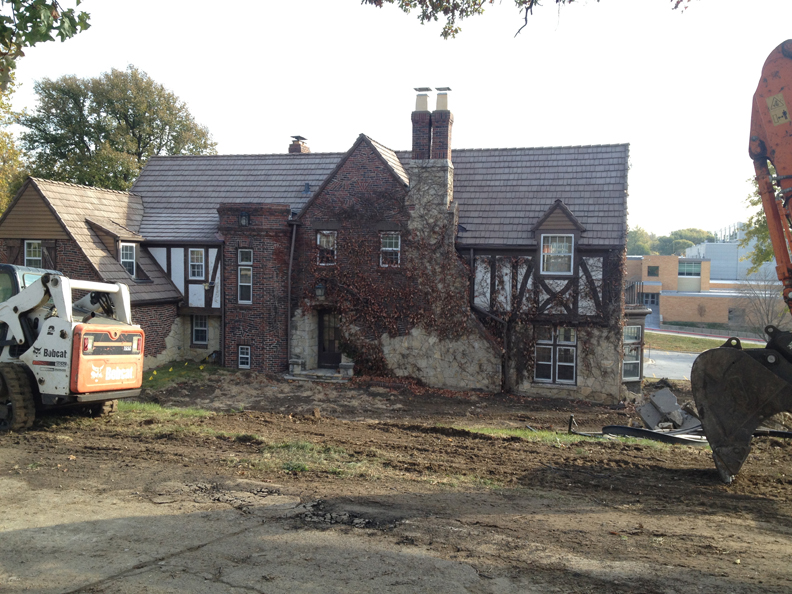 How could this be? My sainted aunt, this wasn't just some simple home one caught a glimpse of in passing. I learned to steal my quick studies of her, like a work of art at Joslyn, the brief viewings were accumulative and satiating. I marveled at how enchantingly sturdy she was, standing up to an ever-widening major Omaha thoroughfare. So much of the theatre of 90th Street residential was quashed long ago by the expanding of the busy street but 1111 South 90th carried on and my, did she enchant. Her very hypnotic presence elevated the handsomeness of the whole area.
The Facts
I would scurry home and review the Omaha permits site for demolition applications and find nothing (as of yet). I did discover that Westside Community Schools Foundation Inc. bought the home at 1111 South 90th Street back in November of 2019. My renowned Tudor was a four bedroom, four and half bath home, offering a spacious 3,918 sq. ft.; she had long been a proper family residence. Sarah Mitchell, trustee of John and Shirley Mitchell Family trust struck a deal with Westside for $500,000. The home is now held in Laura Iliff's name; she is Executive Director of the Westside Community Schools Foundation. Apparently John Hoich bought 1101 South 90th (the historic Archie Love house built into 1906) in 1998 and in turn donated it to Westside Community Schools. It now serves as their Alumni Center and is to the direct north of the 1111 South 90th Street house.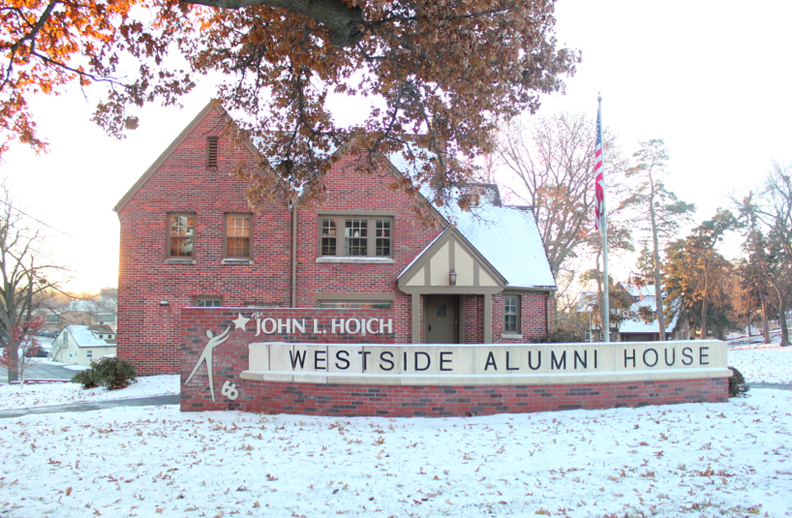 The Westside Alumni House at 1101 South 90th Street. This was one of the homes that started the West Pacific Addition trend, drawing other wealthy families to move westward.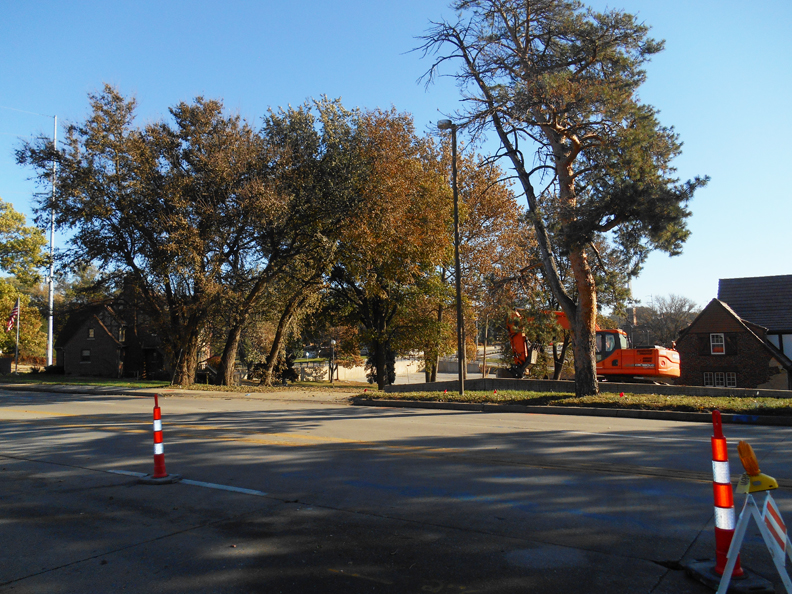 The Alumni Center to the left, 1111 South 90th to the right. I was facing east when I took this image, only to illustrate the proximity of the two buildings.
A part of me dreamt that the Westside Alumni Center was planning to move their offices into the 1111 South 90th Street home or some decadent architectural refashioning, connecting the two homes but alas, it appears the newest acquisition will come down shortly. A good Architecture-Obsessed Friend notified me that he recently walked through 1111 South 90th and that it was unquestionably set for pre-demolition. One of his favorite old homes, he said, "I just walked through. No one said a thing." He remarked that one of the demolition crewmen was eating his lunch in the family room. "He said he went to Westside High School and always loved this house and wondered what it looked like inside. He said he would have never thought he'd be eating lunch in it while tearing it down." The exact date/s of demolition must remain a mystery for now. If you are in the know, we'd love to hear more about this plan.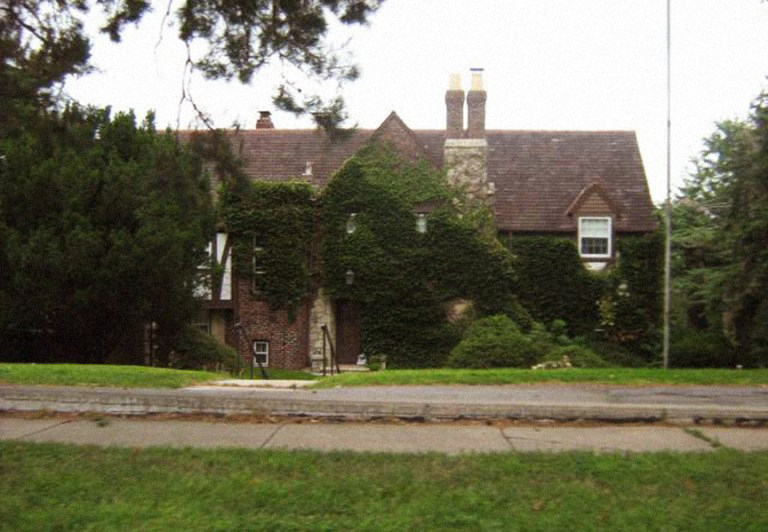 1111 South 90th Street in better days. Hidden in plain sight…my favorite!
My Suspicions
These are my guesses and only mine. The Alumni Center on 90th and Pacific, the newly acquired 1111 South 90th house and the parking lot to the east of it, essentially behind the home, are now all held in the Westside name. Douglas County School District 66 holds the deed for the whole Westside High School campus running from Pacific Street on the north, to 87th Street on the east, to William Street on the south side. 1305 South 90th Street (the parcel to the south of 1111 South 90th Street) is owned by the Douglas County School District. You have seen it. It has the odd turn around that doesn't seem to offer much purpose right now, other than a place to park and turn back onto 90th. I have always suspicioned that this parcel serves as a place setter for a larger project in the works. Four houses bordering 90th on Westside's western-most fringe are the only impediment to their domination of the whole stretch of land. Oh yes and who can forget the Coram Deo Church at 8787 Pacific. Mr. Cassette has informed that church has been there forever (1950s, according to records) and isn't going anywhere. I refrain from comment. Much like UNO, I believe that Westside is assembling its super campus. I surmise that the Alumni foundation will be tearing down both the Archie Love house and 1111 South 90th to build a large alumni center, the likes of the Thompson Alumni Center on UNO's campus. In this way Westside could have their own banquets, events, class reunions and conferences on campus without needing to rent space. The Thompson Center, I will point out, does creatively encapsulate one of the brilliant original homes swallowed up by UNO's expansion. I may be completely out on a limb with this conjecture. Again, if you know of anything, I would love to hear your thoughts.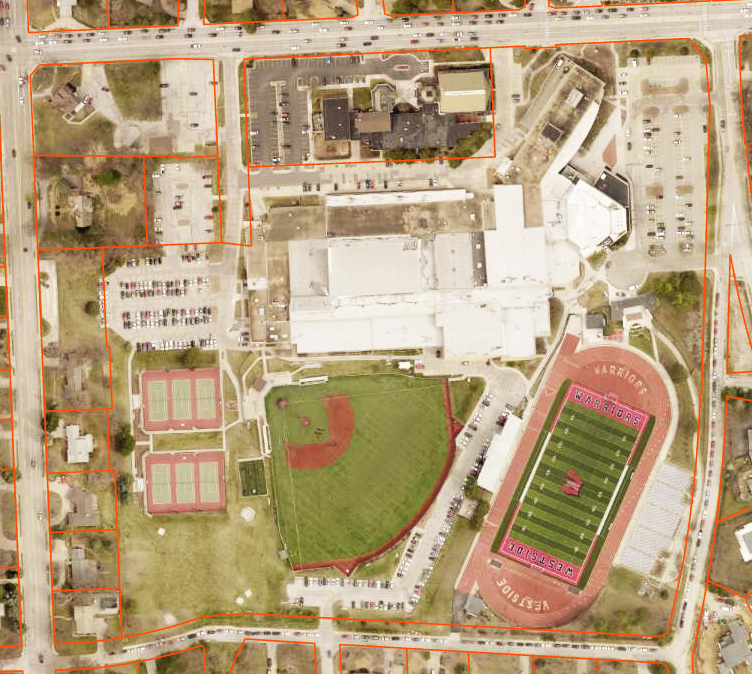 Top of image is north. 1111 South 90th is the second to top parcel on the upper left. 90th Street runs vertical on the left side of the aerial. Pacific Street runs horizontal across the top, left to right. Photo borrowed from the Douglas County/Omaha NE GIS Department.

2020 aerial. Camera facing west. 1111 South 90th is seen in the middle top, the Westside Alumni Center in the top right portion. The Westside parking lots surround. Photo borrowed from the Douglas County/Omaha NE GIS Department.
*Addendum of November 2, 2020.* Shared by local sleuth, Alicia Benolken on the My Omaha Obsession FB page. "I believe this is to be more parking for WHS." She included this press release from Westside High:
"Westside Community Schools, in conjunction with the Westside Foundation, is moving forward with the removal the "Mitchell House," which is just south of the Westside Alumni House at 90th and Pacific. This house was acquired in July 2019 by the Westside Foundation for the school district. It has long been a strategic property as we look to expand our high school campus and add 60+ parking spots for students, staff, and visitors.
Upon purchase, the school district knew the house was in very poor condition with several major issues, including:
Extensive mold
Inadequate ductwork
Asbestos
Significant structural damage in several areas
Rotting windows
Water damage
Termite damage
We were interested in the property acquisition as it would allow us to add much needed parking to our campus. It quickly became clear to us that the structure was not salvageable for district usage, nor do we wish for the structure to remain uninhabited for safety purposes. Therefore, the decision has been made to demolish the structure. Westside Community Schools does not take the decision to tear down a house lightly.
If anyone is interested in purchasing this house for the sole purpose of moving it off the premises, please contact Mike Lucas (402-390-2105 or lucas.mike@westside66.net) by 4:00 PM on August 4th.
If nobody purchases it to move off site, we will work with Habitat for Humanity to ensure that any re-usable items from this dilapidated structure can be put to good use."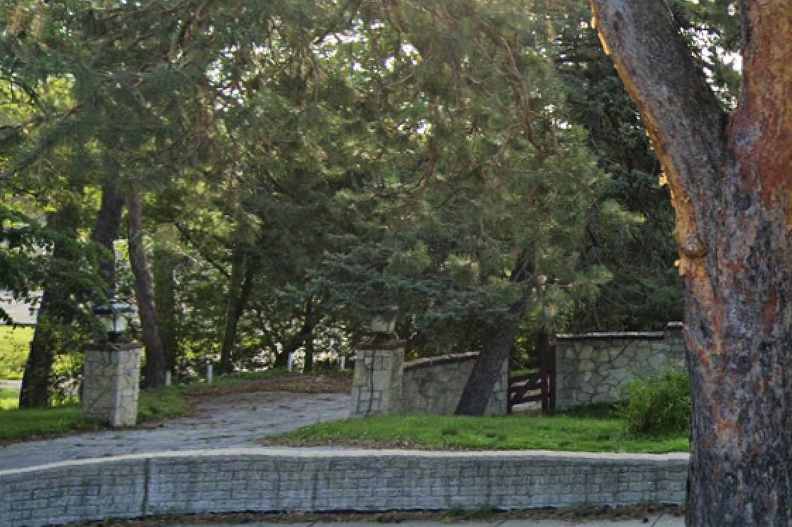 My Thoughts
The emotions should be exercised every now and again and yes, there are many reasons to shut the bathroom door and cry to oneself. The landscape is changing before our eyes. I did go to 1111 South 90th Street and spend time with her. We had some words and she allowed me to photograph her, which I will share in a bit. But I'll be honest, friends, I don't have the tears for Loveland any more. At least publicly. I have written before that once we tear down historic homes in a neighborhood, it becomes that much easier for developers and the city to rev up the wrecking ball over and over again. In fact I know of another historic home in the area that will soon come down. And after all District 66 is no stranger to the predatory scrapings of newcomers wanting to build McMansions. It is telling. For more deep dig investigations of this sort and about this area, check out The Balla Machree Investigation and the story of what happened to the ranches on Pacific Street. Teary or not, I thought at the very least, I would like to share a bit of Miss 1111 South 90th Street's history and contributions, for she does hold a humanity and a soul within her walls and she surely must have her memories too. And that's got to be worth something. I offer the following with a quiet reverence and thoughtful contemplation.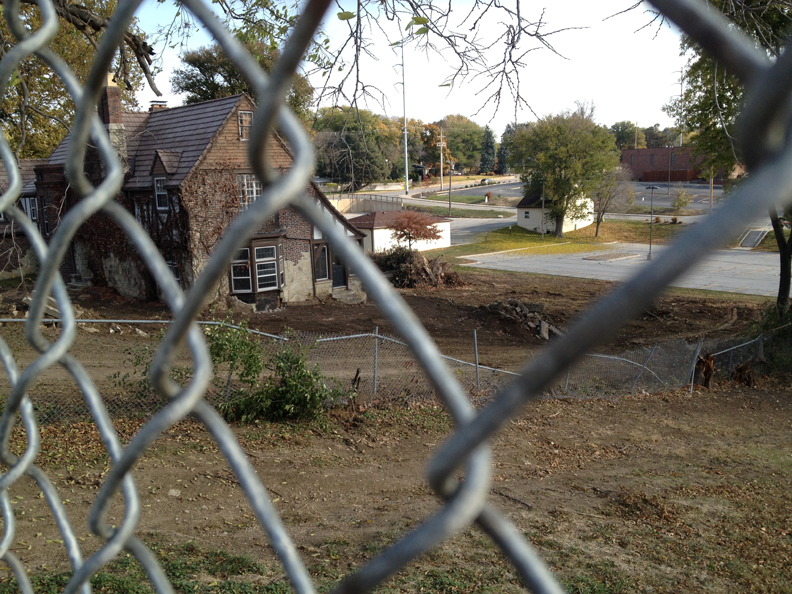 A Very Brief History
The West Pacific Hills Addition was one of those early West Omaha suburban areas. If you survey the previous links included, you will find that the Gene Melady and Archie Love families really drew Omaha to this particular corner of 90th and Pacific. Another bellwether "gentleman farmer" was Mr. Charles E. Reese. Not only did the Reeses own gobs of farmland around the 90th and Pacific area, they had a palatial brick home and outdoor swimming pool long before anyone could imagine such a thing.
In June of 1929 Mr. Reese sold a large portion of his land to E. K. Corrigan "near 90th and Pacific Streets" for $4,000. Archie Love also sold $4,000 worth of land to E. K. Corrigan on the same day near 90th and Pacific. Edward Corrigan, I was soon to find, was head of the E. K. Corrigan & Co. live stock commission firm. Edward or Ed was a livestock agent or "order buyer and broker" at the South Omaha Exchange building. He was partial to the hog market. Meanwhile Mrs. Corrigan held interests in High Society Omaha and was well known in the Sunday Society Section where a woman could really display her brilliant plumage. The Corrigans lived luxuriantly in the St. Regis Apartments as they awaited the construction of their 3, 168.00 square foot, brick, European country home; this property would be assigned the 1111 South 90th Street postal address in time. But one year later "they have found the delay of house building too uncertain to await the pleasure of swimming and have installed a handsome pool. Almost nightly they can be found there with groups of friends." Through aerials would find this massive pool, far east of the home, in the leveled area that is now Westside's parking lot. There were other buildings too—a BBQ house (you know how I love those) and a guesthouse. This might have been some sort of pool house. Now the Douglas County Assessor's office had 1111 South 90th Street's construction date listed as 1935, but I believe the gracious Tudor might have been finished by at least 1933, if not 1931.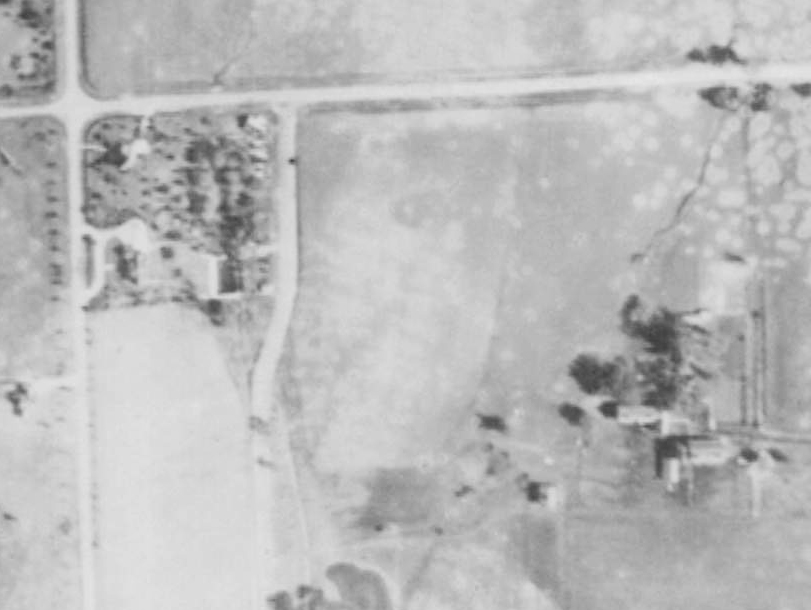 1938 aerial shows how desolate the 90th and Pacific area were. Possibly just the way the Loves and the Corrigans liked it! If you really get in there, you can see the large, dark, rectangular pool to the east of the house. I love the imagine their grounds. I also like that back, sneak drive. Photo borrowed from the Douglas County/Omaha NE GIS Department.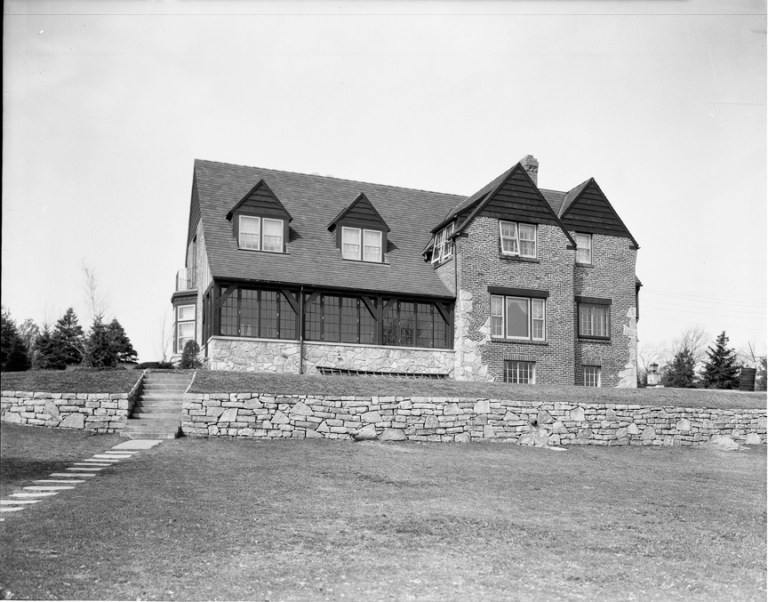 The E. K. Corrigan home near 90th and Pacific in 1931. Eastern (backside) elevation. Large two story brick home surrounded by a stonewall. These steps led to the spacious, inspiring grounds and the large swimming pool below. Creator: Bostwick, Louis (1868-1943) and Frohardt, Homer (1885-1972). Publisher: The Durham Museum. 1937.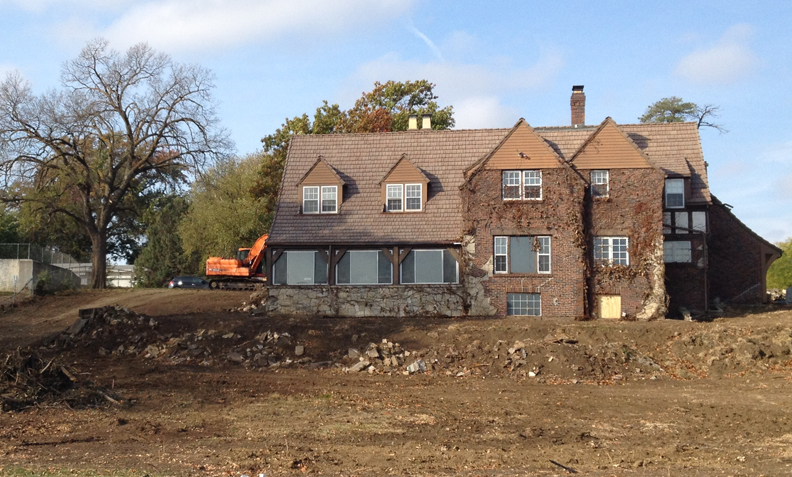 Just for comparison, this is how the eastern view holds up today.
By 1931 I was reading of Corrigan's Omaha Famous annual barbeque and picnics for members of the Exchange, infamously held at the Ninetieth and Pacific house, as it was called in those days. More than 250 attended. This site often entertained employees and trading associates. An afternoon was devoted to swimming and other outdoor sports. Barbequed meat and beer went into the night.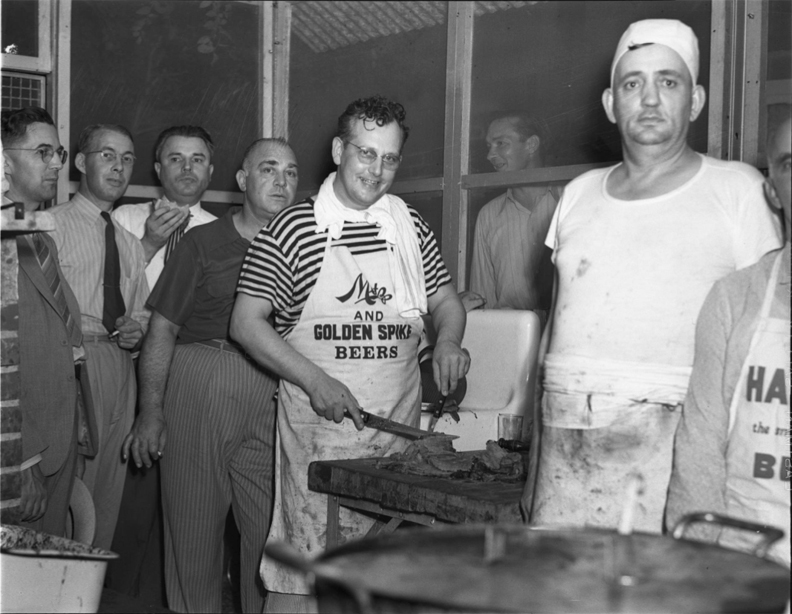 A group of men at one of Corrigan's barbecues, waiting for the cook to carve up the meat. I believe this is Ed Corrigan in the dark shirt. Creator: Wentworth, William (1892-1982). Publisher: The Durham Museum. Date: 1940. Corrigan was also known to have "large stag picnics" at his home, where strolling musicians, The Three Little Pigs, were hired to entertain. In 1935 the Corrigans "chicken fries" were all the rage.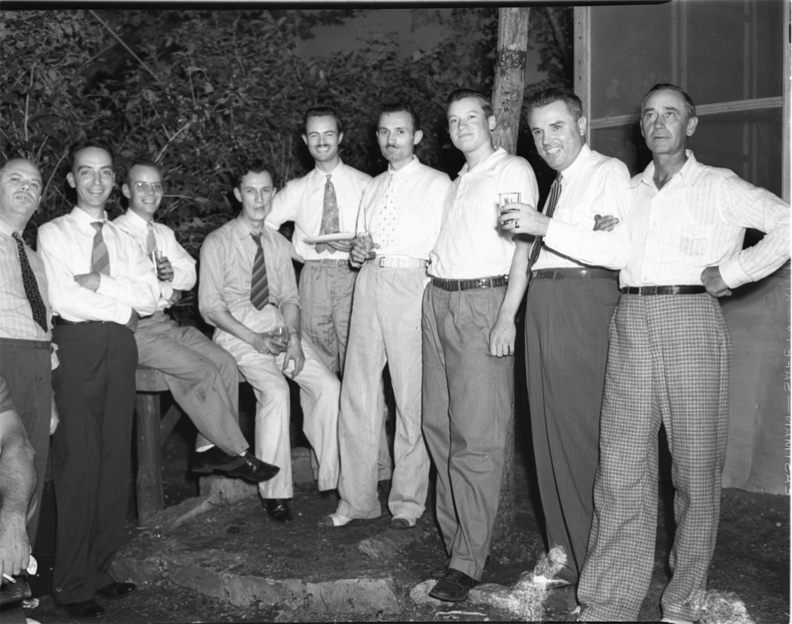 A group of men at a barbecue drinking beer and enjoying themselves. Creator: Wentworth, William (1892-1982). Publisher: The Durham Museum. Date: 1940.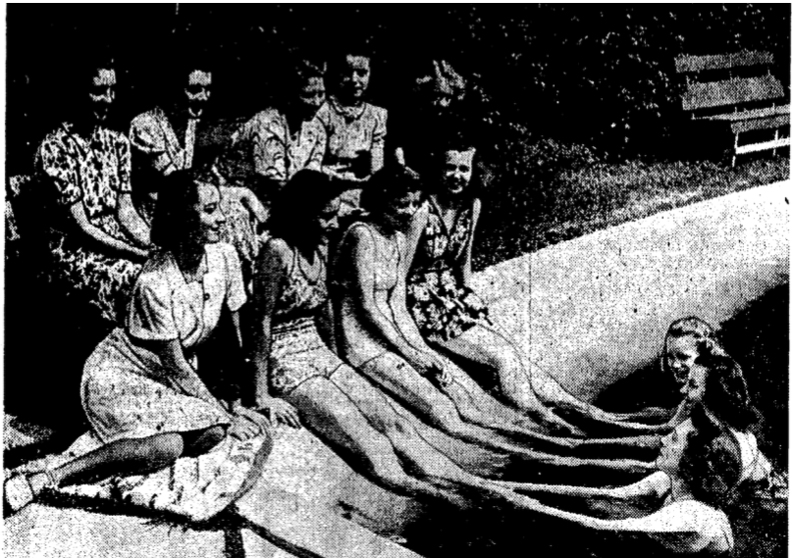 OWH archive from July 1938. "Luncheon, Swim Party Welcome Diversion." The E. K. Corrigan pool in their lovely yard was the scene of a luncheon and swimming party on Thursday afternoon.
By the time the Corrigan clan put their beauty at 1111 South 90th Street up for sale in the late 1950s, it was called "Loveland's Finest Swiss Chateau Country House." It was noted in a listing for its four lovely bedrooms, three baths, all tile on the second floor. "Large foyer vestibule, beautiful studio living room with most elaborate fireplace and mantle. Banquet size dining room and casement windows to beautiful grounds and gardens. Large kitchen with built-in refrigeration. Guesthouse and caretakers quarters. Home was fully air-conditioned." Mr. and Mrs. John A. Nixon, Jr. and their children, Suzanne Kay, Robert, Kenny, Dianne and Joanne moved in in August of 1962.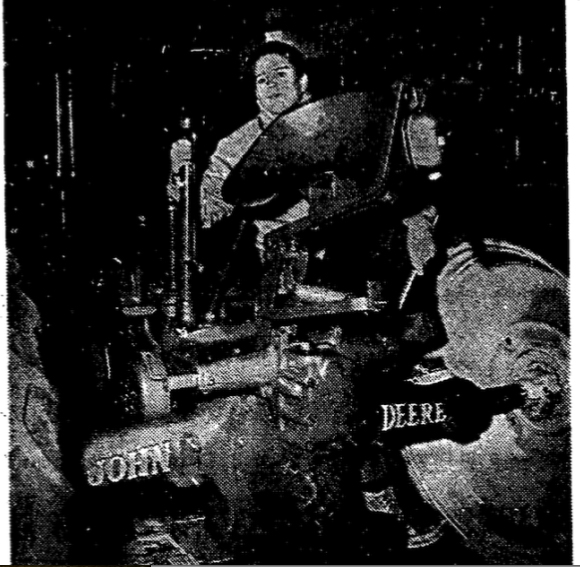 Fourteen-year-old son, Ken Nixon would make the newspaper in November of 1964 for his interest in farm equipment. Not only was he a cooler than cool kid, I enjoy this article as it gave a real feel for the area in the early 60s—still rural in many ways: "About 15 years ago, there were a few homes and some farmland in the Ninetieth and Pacific Streets neighborhood. For the residents, the unmistakable sound of a two-cylinder farm tractor was not unfamiliar. Now the pop-pop, eager to work sound will be familiar again. For the garage of the John A. Nixon, Jr. home at 1111 South Ninetieth Street contains one shiny, green and yellow John Deere B. 25 years young and almost ready to work. The proud owner is Ken Nixon, a 14-year-old, ninth grader at Arbor Heights Junior High School, who has "liked farm machinery ever since I was little."
In May of 1966 Dr. and Mrs. John R. Mitchell and their five daughters settled into their new address at 1111 South Ninetieth Street. The Nixons and their five children had have moved to Pebble Beach, California. John Roy Mitchell was an Omaha pediatrician; I found he was also a professor and chairman of pediatrics at Creighton University School of Medicine, chief of pediatrics at Bergan Mercy and the now-closed St. Catherine's Hospital, chief of staff at Bergan Mercy, and president of the Metro Omaha Medical Society.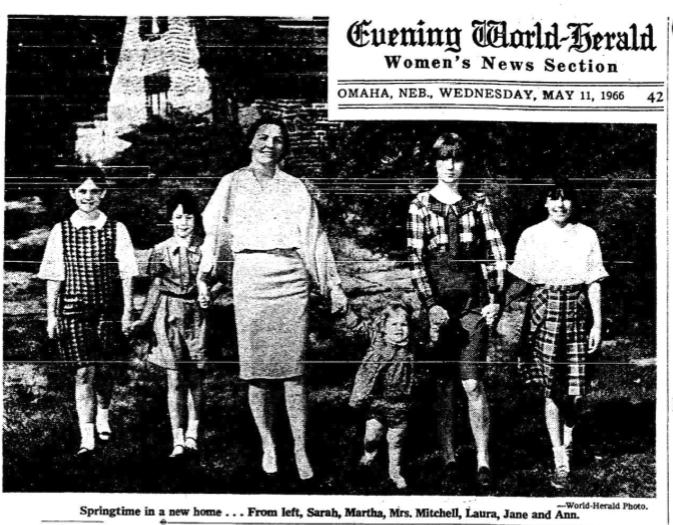 Favorite historic photo of the whole investigation. Sarah, Martha, Mrs. Shirley Mitchell, Laura, Jane and Ann with the glorious brick home in the background. Adore this photo, recalling The Sound of Music, at least to my eyes.
The Mitchell family would own and maintain the glorious home at 1111 South 90th Street for many decades, obviously a loving familial stewardship. A review of historic aerials over the years reveal some changes to the parcel and surrounding environ. For one—that swimming pool. The pool was still visible in the 1955 aerial and 1962 but it was not visible to the eye in the 70s and 80s aerials.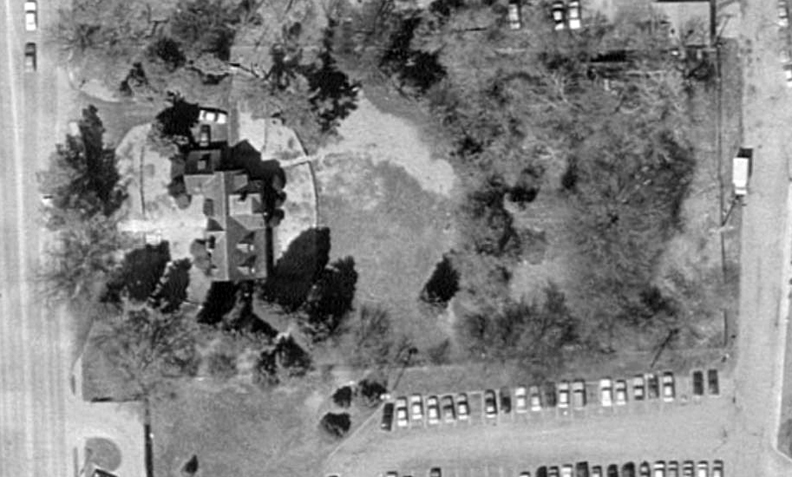 In 1993 aerial shows Westside High is encroaching but the fine property at 1111 South 90th Street still stretched far to the east. Photo borrowed from the Douglas County/Omaha NE GIS Department.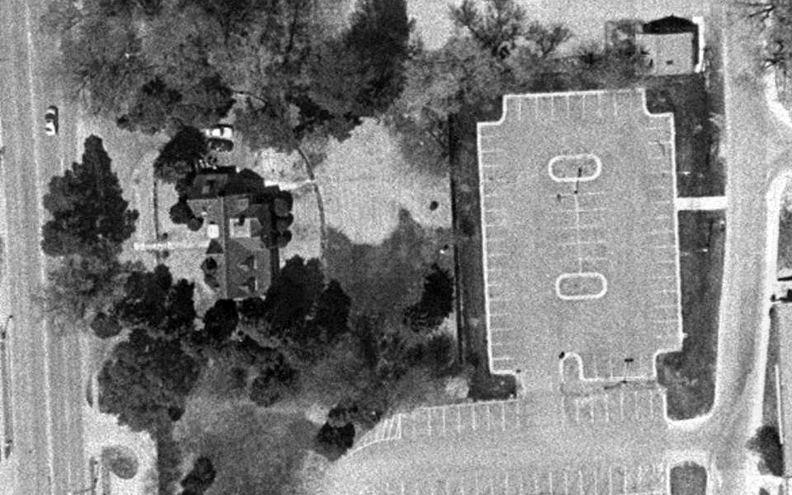 By the 2001 aerial it appeared that the Mitchells had sold the back east third of their plot to Westside. Photo borrowed from the Douglas County/Omaha NE GIS Department.
Dr. Mitchell passed away in 2011 but in 2014 I would come across a John R. Mitchell who applied for building permit to remodel the suburban home to the tune of $30,000. Was this applicant their son, Dr. John Mitchell, II, a local gastroenterologist? **Addendum of November 10, 2020** Grandson John Mitchell made a correction to the piece: "You speculated that 'Dr. John Mitchell, II, a local gastroenterologist' was related to the family. There is no relation there, just a coincidence. I'm not sure what went behind on the building permits you had mentioned in that section. I'm guessing my Grandmother just used the name because it was easier for her. That's when she replaced the roof and the sunroom windows."
I would find Sarah Mitchell, trustee of John and Shirley Mitchell Family trust sold the family home to Westside Community Schools Foundation Inc. in November of 2019. One would think this was not an easy decision for the Mitchell children but perhaps an option the family had resolved might become an eventuality, considering what was closing in around them.
My Visit
A house, even a breathstealingly gorgeous one, is a rumble of its families' footsteps, door closings and voices and sneezes and distant laughs. I could sense there was a tangible, familiar feeling, not so long ago, perhaps imagined by peering in her dusty windows. I was surprised by the remnants left. The brick country house was just bursting with life. But on this recent morning I did hear her in her complete silence. I stopped at her front door just to savor the odd experience of the country house heavy with a quiet in her way, interrupted only by the steady flow of traffic. She was The One who had the rare distinction of being the most ogled house in the whole area. Standing near I was pushing the very boundaries of proper etiquette. I would have never imagined getting this close to her. I felt breathless, like visiting my father's good friend's taxidermy studio when I was a young girl. Left to explore the bald forms, the many hides and small drawers of overflowing eyeballs, I could never approach the full scale taxidermy in close proximity, out of reverence, paralyzed with the great beauty and fear that I might witness movement in a nostril, even a blink of the eye. I was trying to soak in the place and tell her how wonderful she was.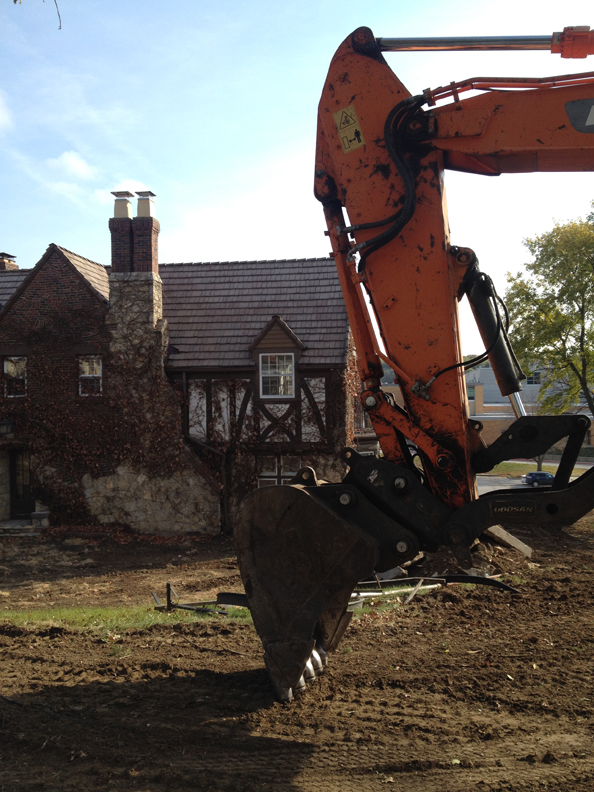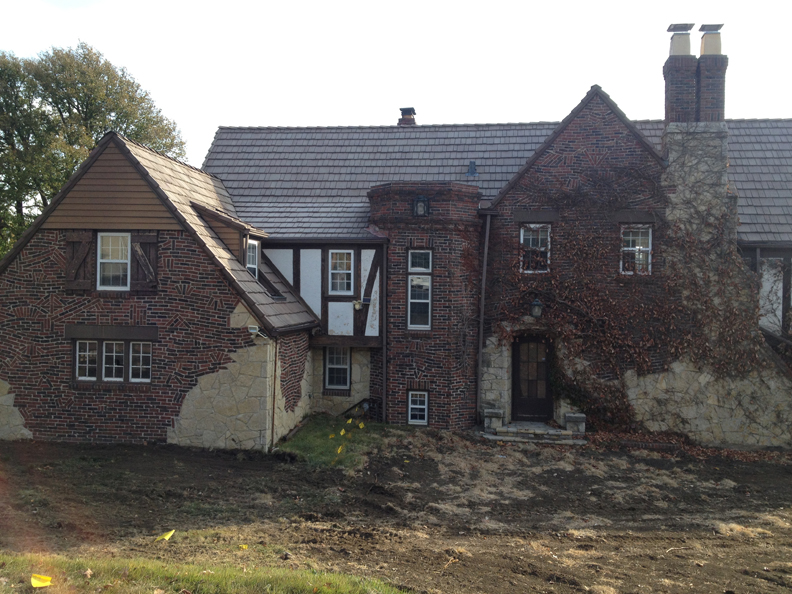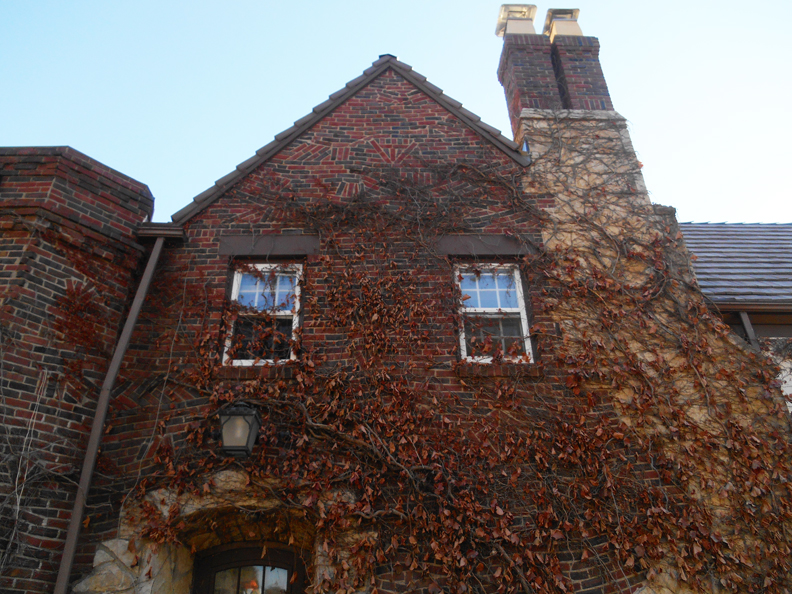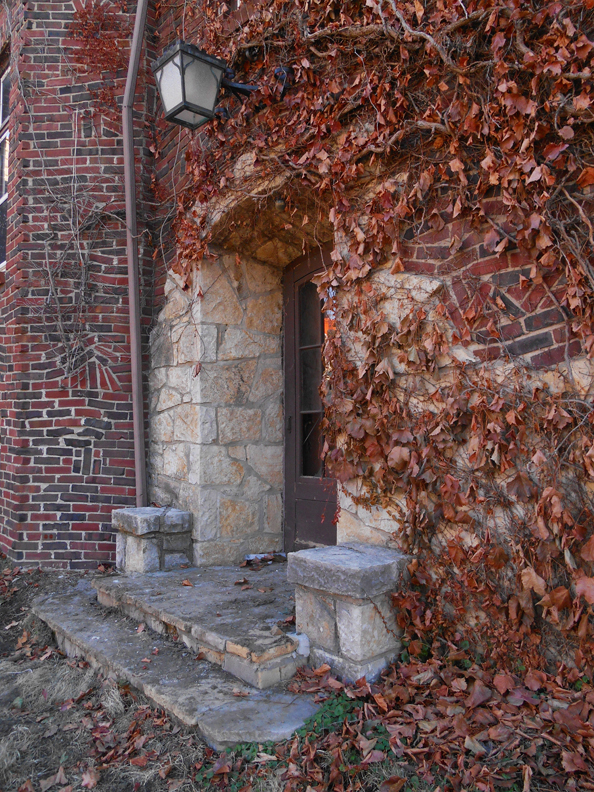 What struck me first was her Seriously Playful brickwork, a mason's machinations. The decorative half-timbering. The rounded, Tudor arch door, fit for a gnome. There is supposedly imported Dutch tile in the entry. Small plank door with small window. The rustic porch light. I found her to be an eclectic mix of an English Tudor and a French country cottage. The stone mixed with the brick. The front facing exposed chimney. The French eclectic tower. I spied an internal chimney as well, from the back of the house.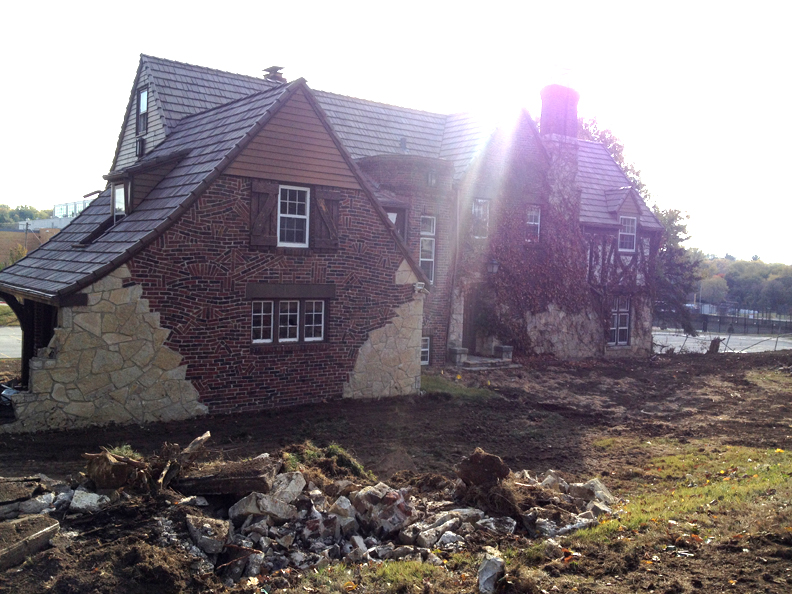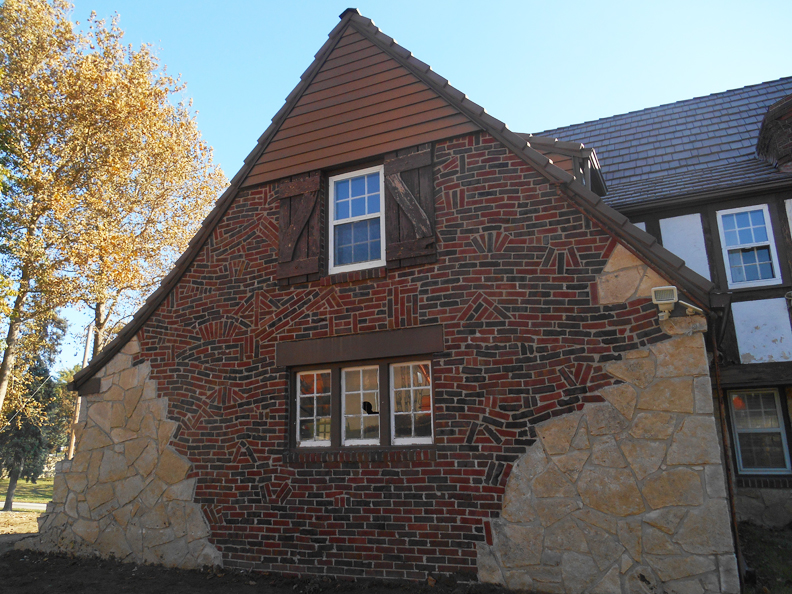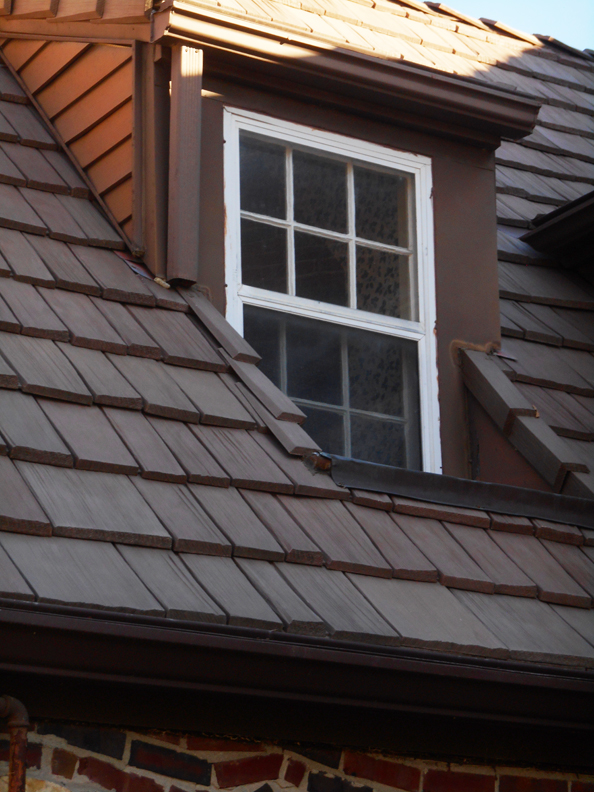 I peered and saw the perfect ivy wallpaper in the bedroom beyond the dormer window above the garage. I knew that would be my room. Can you see it?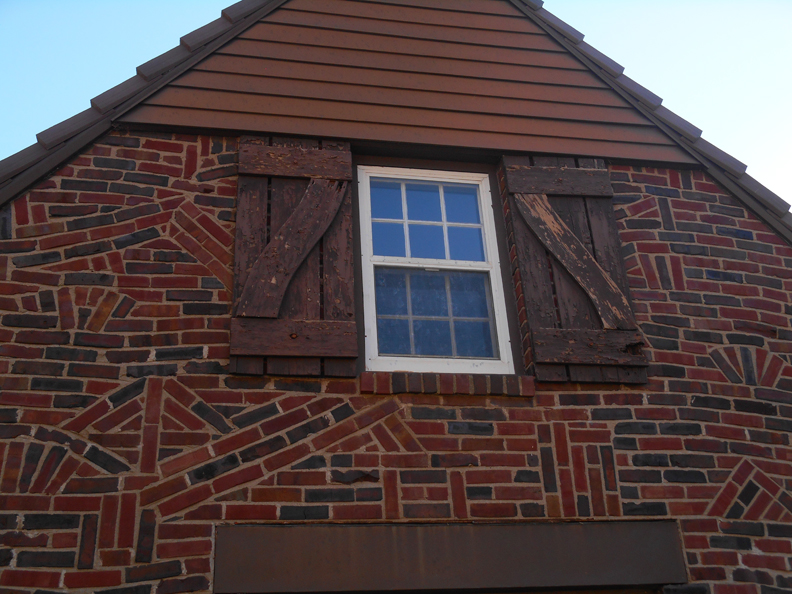 The perfect, weathered French barn shutters. Just amazing.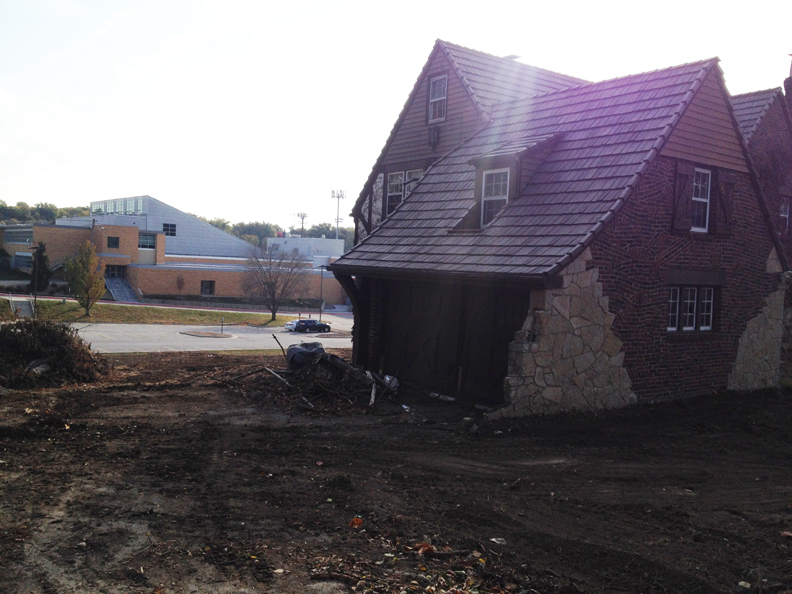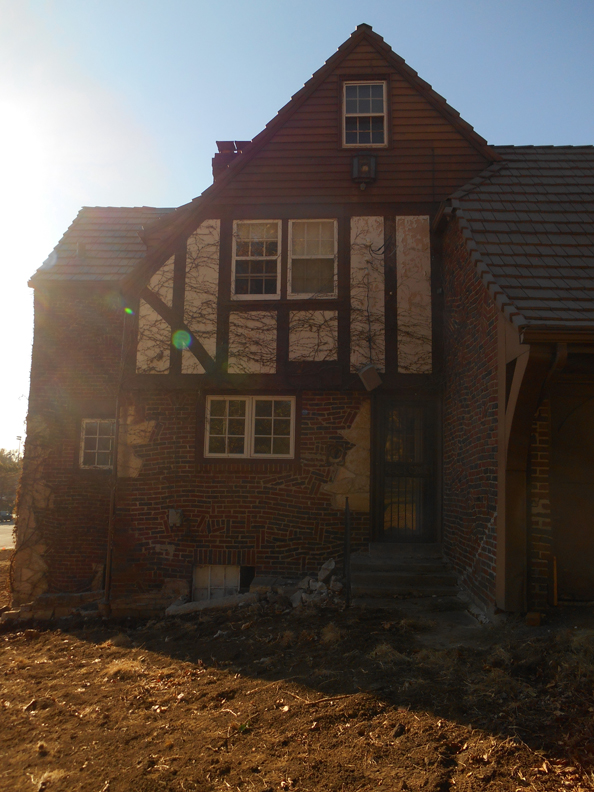 Northern elevation.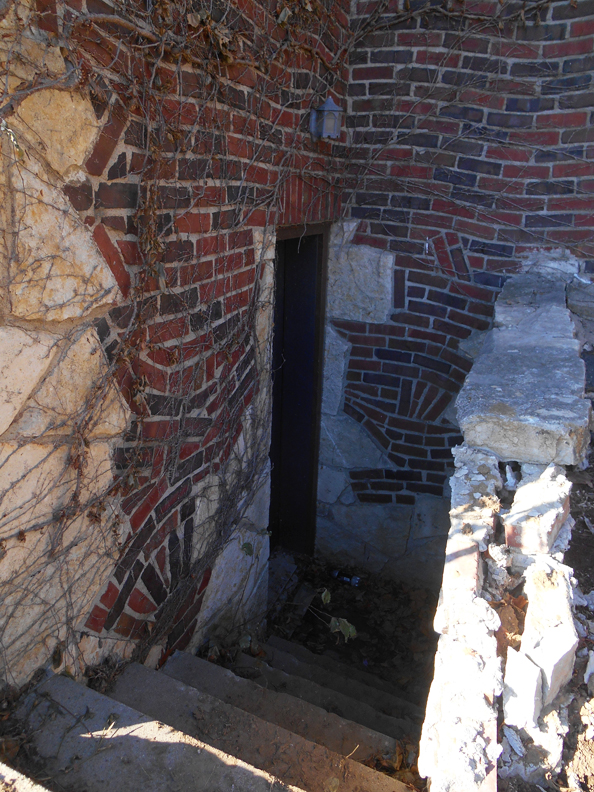 Basement stairwell. The time and craftsmanship for a basement exit. Mind boggling.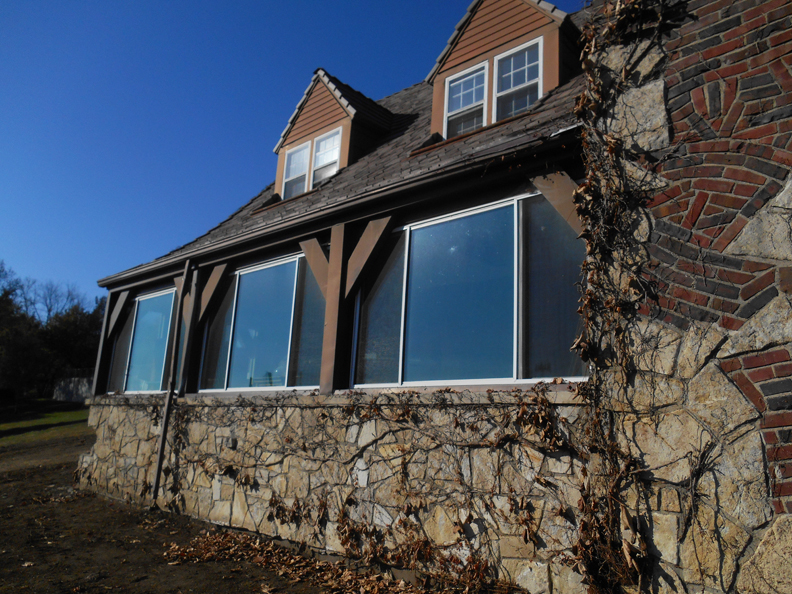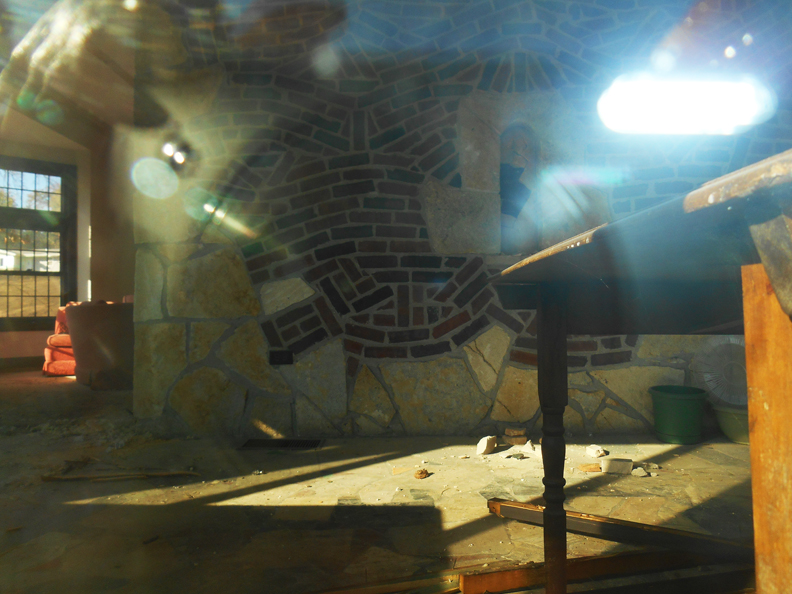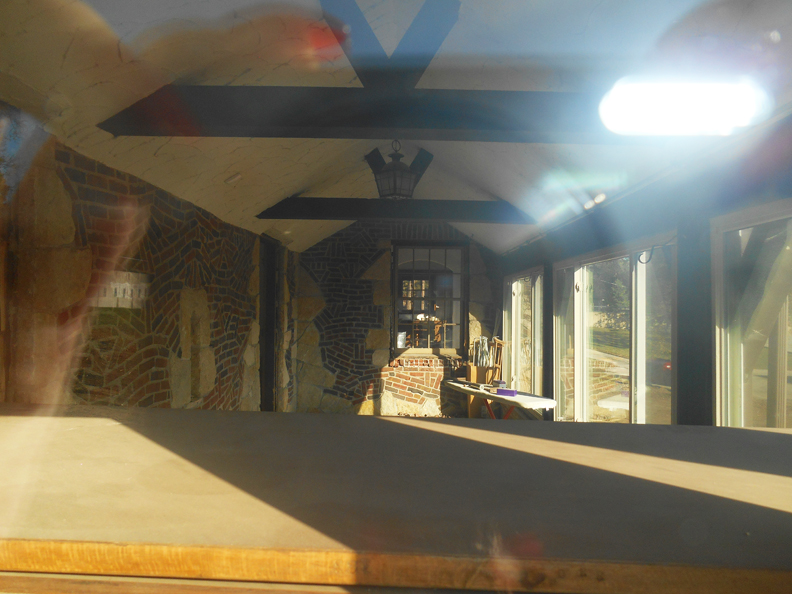 A strange upright piano and pink grouping of overstuffed furniture had been mysteriously overlooked when the place was cleared out. The flagstone family room and porch once overlooked the estate-like grounds.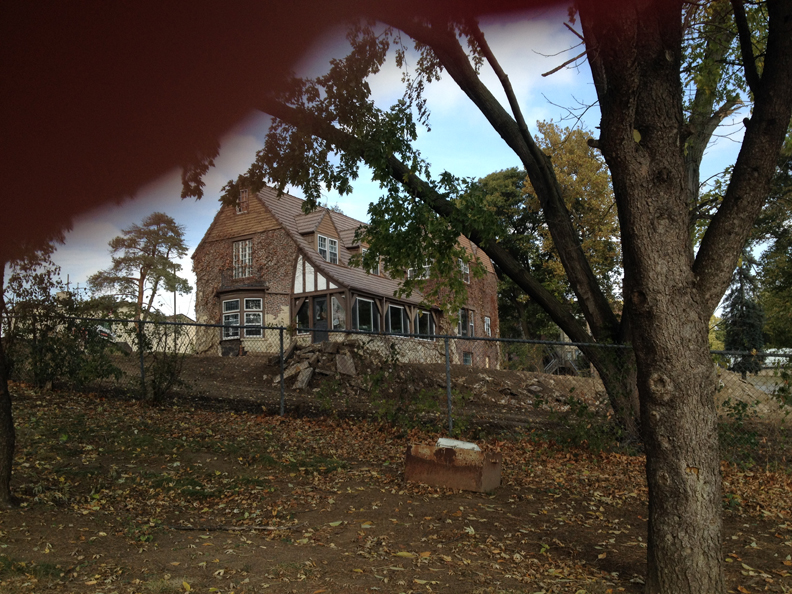 Southeastern angle.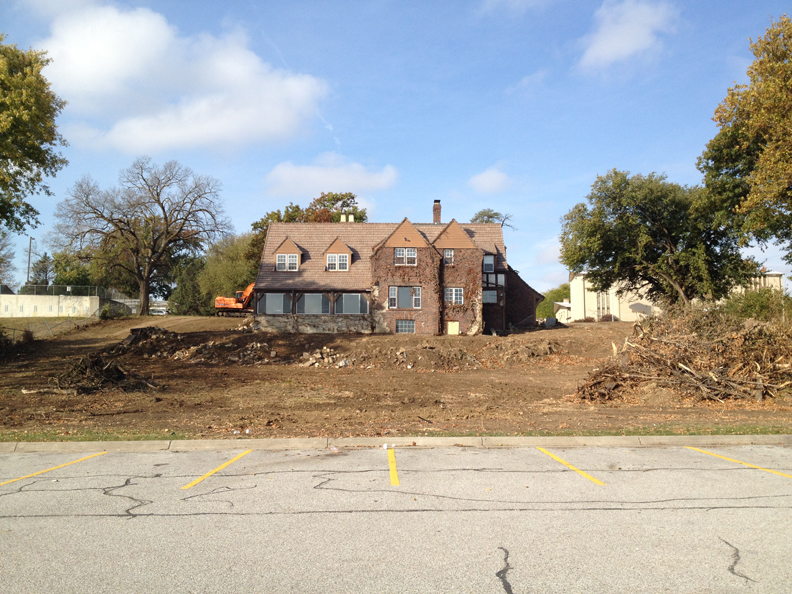 Eastern elevation that once faced the Corrigan swimming pool. My friend, who I had previously mentioned walked in on the demo crew, shared that two of the bathrooms had square tubs that looked original. There was also one room that had painted cedar siding–behind it, he discovered a nursery style wallpaper–light blue with boats.
A Fond Goodbye
I try and aim tough but when they finally tear down the brick house at 1111 South 90th Street I expect there may be a few tears shed and not just by me. On the precipice of Miss 1111 South 90th Street's demise, I am reminded of a favorite old song by Cole Porter, one that we sing around the Cassette household. But this time I would croon to Miss 1111, herself, in honor of her lovely contributions.
You'd be so nice to come home to
You'd be so nice by the fire
While the breeze on high sang a lullaby
You'd be all that I could desire
Under stars chilled by the winter
Under an August moon burning above
You'd be so nice, you'd be paradise
To come home to and love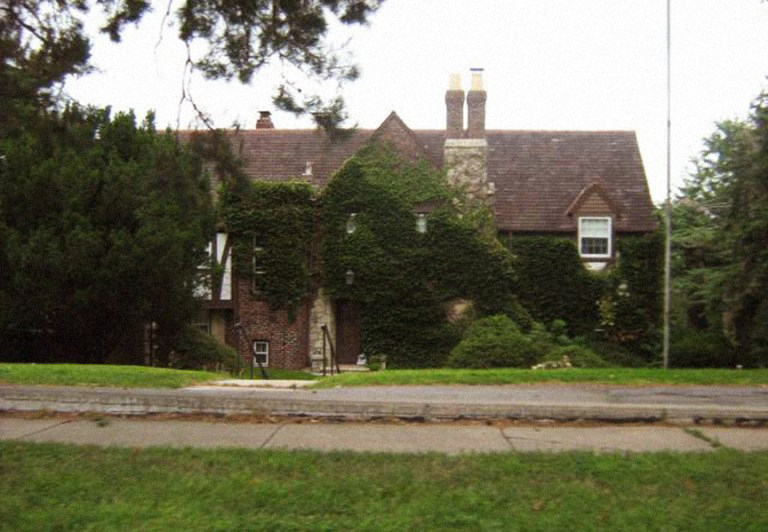 Stay tuned for the yet-unfurled future of 1111 South 90th Street. Keep your socks up, Omaha!
*Addendum of November 9, 2020* Local salvage hero, Molly Toberer and her team Habitat for Humanity at Omaha ReStore was able to gain access to this beautiful home and save all of the interior architectural goodies. They will plan to rescue the windows and doors last. Thanks for this good news, Molly. Habitat for Humanity ReStore @HabitatOmahaReStore
**Addendum of November 10, 2020** Grandson John Mitchell shared this information about his family and his grandparent's beloved home.
He shared a colorful "second-hand story of a second-hand story" and was not absolutely sure of its validity. "My grandfather mentioned once he heard a story about a prank played on the previous owners, the Nixons. Apparently, while the Nixons were away, someone got a hold of a small prop plane and had it hoisted up on the roof to make it look like it crashed into the house. My grandfather said he had searched for photos of this but never could find any. I have no idea of the veracity of this story and I don't think my grandfather could say if it were true or not either. It's a fun story though.
When my grandparents moved in they said it wasn't lived in for a year or more. It was dilapidated and animals had made their home there. Their previous house was about a mile away near Westside Middle School. When they told my Mom and her sisters they were going to move my Mom's oldest sister wrote up a long elaborate list of reasons why they shouldn't move. My grandparents took her over to the new house to see it for the first time. She threw her list away after that.
By the time I was born the pool was already filled in and it was an open space. I could still see the rim of the pool. When my grandparents first moved in their youngest daughter was around one year old. They worried about her wandering out of sight and falling in. I think that it was also dilapidated and had cracked, plus the general maintenance a pool requires probably made it an easy decision for them to make. There was also a pool house on the back end of the property on the South East side but that wasn't there when I grew up. However on the North East end was an old Omaha streetcar converted into a building. It was surrounded by pine trees and inside it had a long table that could seat 15 to 20 people I imagine. The streetcar was attached to a small kitchen with some cooking tops and stoves. It was always overgrown with weeds and hadn't been kept up when I was a kid but it was a great fort for a boy. Reading your fantastic piece and looking at the pictures I realize that's where Corrigan had his BBQ parties. My imagination races with fantasies of what it must have been like back then. How fun do those parties look? Amazing.
My grandfather had pretty bad tinnitus so he would listen to the TV with the volume loud. I remember PBS echoing throughout the house and feeling that comfort and peace. I learned to play chess with my grandfather in the family room in front of the large stone fireplace. The basement was wood paneled and had a large pool table that I spent many hours on. The flight of stairs going up from the entry foyer to the second level has a set of ribbon chimes for the doorbell. I can sing you the four note jingle it plays when it rang. The attic runs the entire length of the house and is accessible by a pull down staircase. In it is an old electric car track that runs the perimeter of the attic. It never worked when I was a kid. I'm not sure who put it there but it was either Corrigan or Nixon."
When I asked John if he thought his family's home was truly in a state of disrepair or if it could have been saved, he responded: "In my opinion the house could have been brought back to its original splendor with the right owners. However, I understand Westside's right to use the land in the best way they deem and I respect the offer they've extended to the community to move it. I wish I were in a position to take them up on it."
Thank you, John for adding to the richness of the story.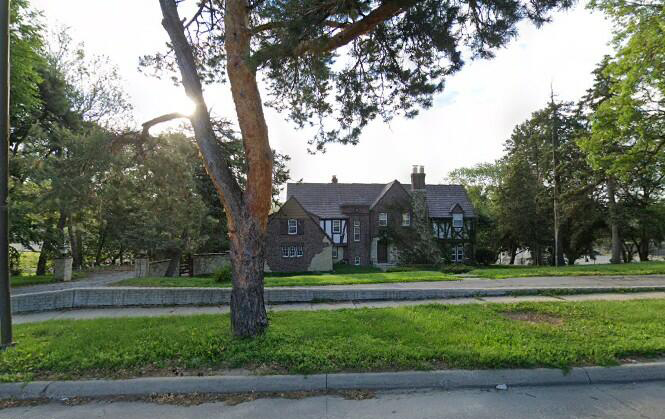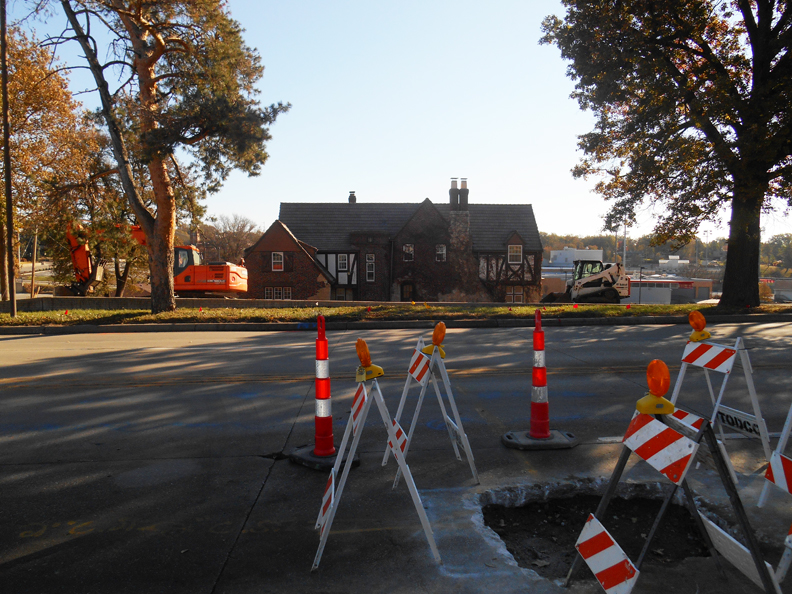 This is only a small part of the story. I welcome your feedback and comments on the Westside- 90th and Pacific area, this Westside project, yet to be unfolded, new buildings and old homes. Please feel free to leave a thought in Comments. I welcome you to poke around with your flashlight. Investigate. Hide in the shrubbery. Look under these rocks and down those alleyways. I am more than pleased to have you tiptoe about. By the time you head for home, I hope you have been fully Sherlocked and Satiated. Thank you, detective friends.
If you like what you see, you can keep up with my latest investigations by joining my email group. Click on "Contact" then look for "Sign me up for the Newsletter!" Enter your email address. It will then display "Thank you, your sign-up request was successful!" Make sure to check your email address to confirm. You will get sent email updates every time I have written a new article. Also feel free to join My Omaha Obsession on Facebook.
© Miss Cassette and myomahaobsession, 2020. Unauthorized use and/or duplication of this material without express and written permission from this site's author and/or owner is strictly prohibited. Excerpts and links may be used, provided that full and clear credit is given to Miss Cassette and myomahaobsession with appropriate and specific direction to the original content.