My friend came across the cache of treasured files of a fellow Omaha Obsessed. Yes, I'll admit my friend was dumpster diving and this is how she has found all of the best things in this town. She properly gave me the hoards of Omaha history—someone else's collection. Together we pored over this collector woman's boxes and accordion files of newspaper clippings. I assumed she was a woman because of her attention to filing, her need for doubles and triples of all things Downtown Omaha, her pasting, the way she cut out the images and her beautiful cursive script detailing Every Last Everything. I have no idea who this woman was or why her things were thrown into a dumpster. But I can imagine her ways and her dining room table with towering piles! For more on this found collection, check out the Cudahy investigation. When you let it be known you love these sorts of ghostly collections, especially when they have the human touch, the clues smeared all over them, you begin to inherit boxes.  As a side note, when I was visiting the Durham Archives a while ago, I believe I found the same handwriting in an obsessive collection that they inherited as well.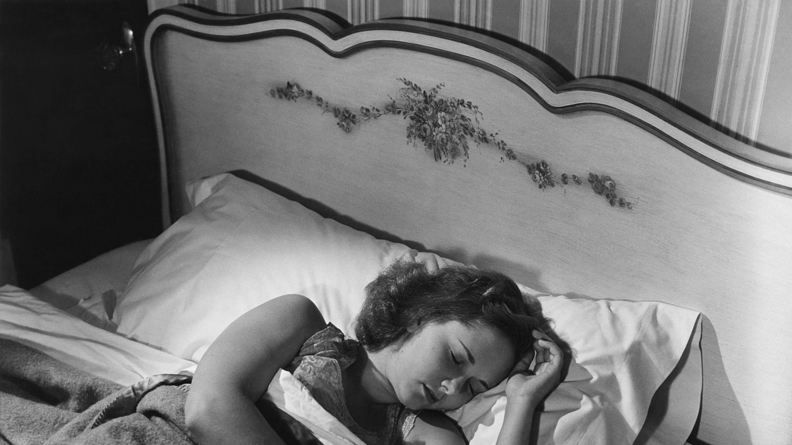 Some day I will hope to give up my day job and spend my time hiding in a darkened room, with white cotton gloves on, sorting through fascinating chronicles of another's madness.
This little story originally appeared on the My Omaha Obsession Facebook page on April 4, 2018. I am slowly migrating these stories over to the website for continuity reasons and because not all of our friends are on FB.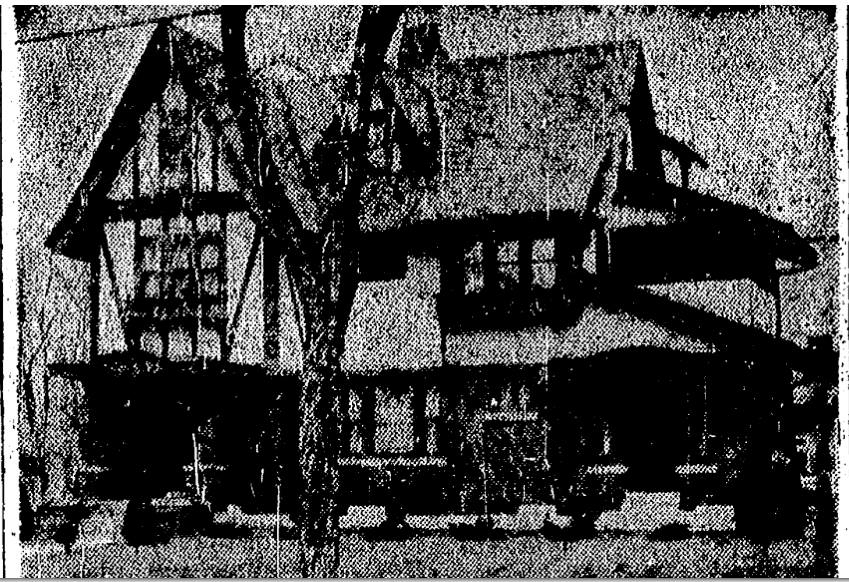 I was deep into an investigation yesterday when I came across this photo of 305 South Thirty-eighth Street. A lovely, dark, Tudor in the West Farnam District—a gnome-like abode, really. Kind of like one of the miniature houses seen on the It's a Small World ride at Disneyland when I was a wee tot. I was swept away with this phantom-like photo, although not really the detective path I was traveling at the time. But I do love to be distracted, so I had to stop and look into this pressing matter. This address no longer exists by the way. I believe this beautiful home was once located in the large parking lot to the west of the Blackstone Hotel, once a great, tree-filled swath of gorgeous houses.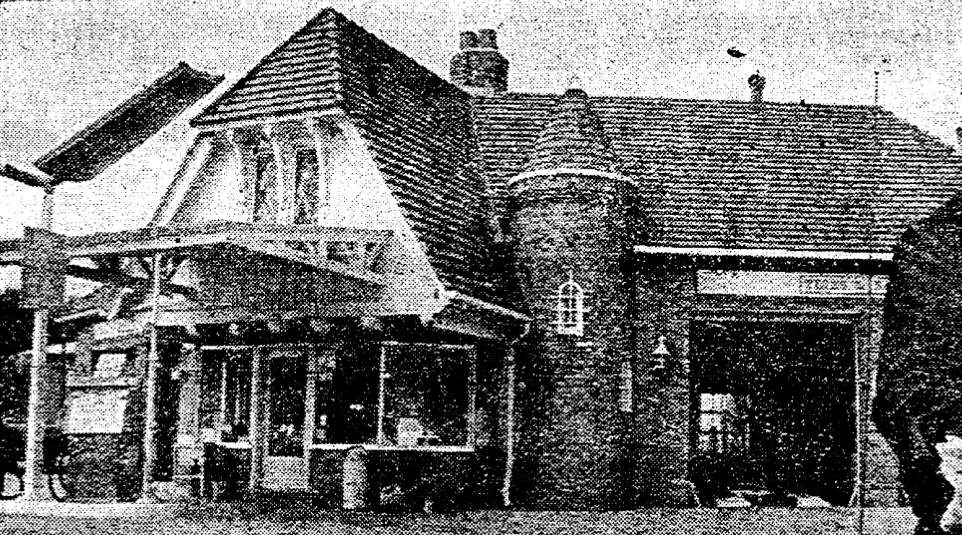 302 South Thirty-eighth Street. 1977. OWH.
I suspect the home faced west on Thirty-eighth Street—opposing what would have been the White Rose Filling Station, which later became Hogg's, or I guess Skelly's before, then McFoster's Natural Kind Cafe and is now the Dundee Bank. The Dundee Bank carries the address of 302 South Thirty-eighth Street.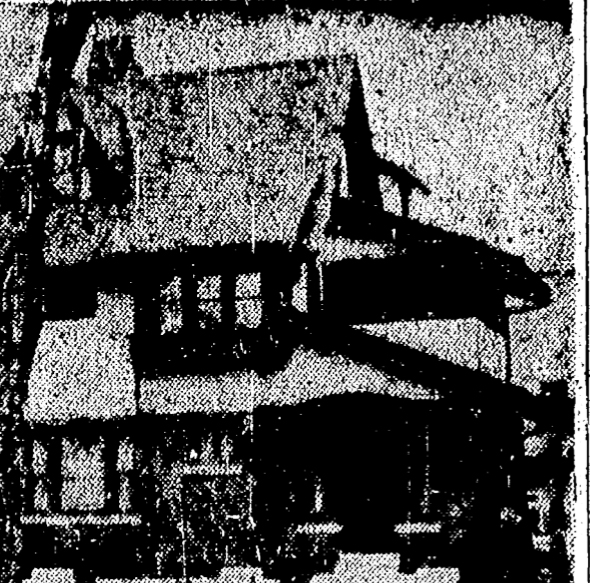 Detail of 305 South Thirty-eighth Street.
In its heyday, this eleven room home boasted a 27-foot living room and a paneled dining room with French tapestry on the walls. There were four bedrooms and a sleeping porch on the second floor with two bedrooms on the third floor. I do love a good sleeping porch. Is that what I see on the second floor on the right hand side of the photo? Shivers.
Here's a really brief history: in 1931 the Charles Kirschbraum family sold their large house to "an investor." It is interesting to note that 302 South Thirty-eighth had also been a large home—sold and razed in 1930 for the White Rose Filling Station. As I had discovered in other earlier stories of the West Farnam District, the Great Depression really hit these large homes and homeowners. As was the trend of the day, fraternities or rooming houses often took over these properties. The investor, in this case, turned out to be the Creighton Chapter of Phi Delta Epsilon, a national medical fraternity. The fraternity was able to maintain the Tudor until the late 1930s, where it may have become a rooming house under Mrs. Mary Swiatek.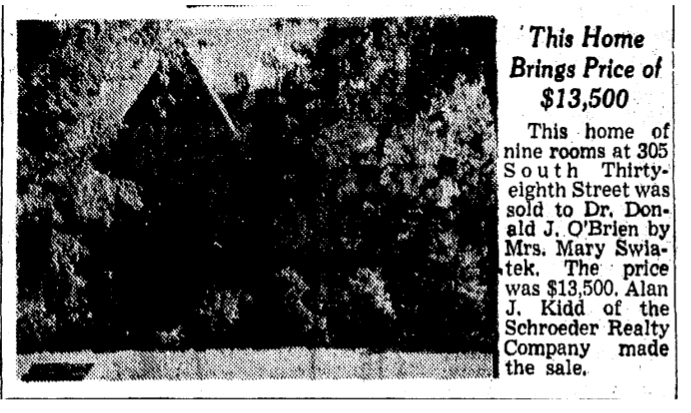 Image from September 28, 1947 OWH.
By 1947, 305 South Thirty-eighth again became a single family home in Dr. Donald J. O'Brien's name. O'Brien had been a commander in the Navy Medical Corp. The early 1960s ushered in the Disabled American Veterans organization that bought the Tudor as their Omaha Chapter House. I am not 100% on this, but by 1963-1964 I believe the house was leveled. I would have to do a serious investigation to get to the bottom of this but I seem to remember Mother of Miss Cassette saying that a club she frequented used to be cattycorner to the Red Lion Cocktail Lounge back in this time period. Perhaps this club was built where this westward facing row of lovely houses might have been? A review of the DOGIS aerial photos also reveals that east moving, one-way Harney Street plowed through the neighborhood during this time frame and possibly took the house with it. I hope to look into some Sanborn Maps and get back to you, friends.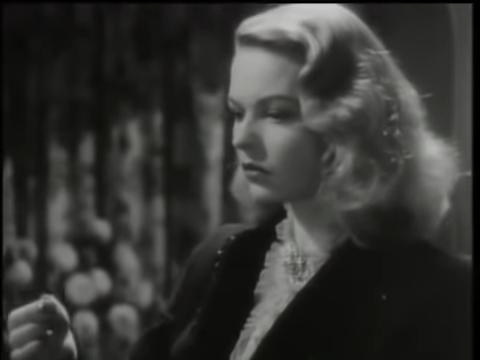 This is only a small part of the story. Please feel free to leave a thought in Comments. I welcome you to poke around with your flashlight. Investigate. Hide in the shrubbery. Look under these rocks and down those alleyways. I am more than pleased to have you tiptoe about. By the time you head for home, I hope you have been fully Sherlocked and Satiated. Thank you, detective friends.
If you like what you see, you can keep up with my latest investigations by joining my email group. Click on "Contact" then look for "Sign me up for the Newsletter!" Enter your email address. It will then display "Thank you, your sign-up request was successful!" Make sure to check your email address to confirm. You will get sent email updates every time I have written a new article. Also feel free to join My Omaha Obsession on Facebook.
© Miss Cassette and myomahaobsession, 2018. Unauthorized use and/or duplication of this material without express and written permission from this site's author and/or owner is strictly prohibited. Excerpts and links may be used, provided that full and clear credit is given to Miss Cassette and myomahaobsession with appropriate and specific direction to the original content.