Some of us fall in love with buildings and gardens and I venture to suggest this might just run in families. I fall in love everywhere I look in Old Omaha, architecturally speaking, but at times I am not quite sure where this obsession came from. For instance a recent La Casa dinner party at Mother of Miss Cassette's led to a lively exchange about UNMC having  just acquired Charlie Graham's on the corner of 42nd and Leavenworth, which in turn, prompted Mother of Miss Cassette to innocently suggest-question, "But that would be no big loss to the area, right?" I wanted to stand up and shout, "My Sainted Aunt! How can you say a thing like that?" It was as if at that gloomy moment a small, raw, brass ice pick had punctured my very soul. If Charlie Graham's end is not the death of me, sooner or later I will be absumed by a Family Malady of Misconception, I commiserated to myself. "That corner is one of our last connections to the MCM supermarket trends," I sulked. What about the pale glazed tile and the Crunched Up Car Turned Fresh and New Again neon sign? Mother of Miss Cassette and I gratefully agree upon a number of topics but apparently this was the mournful hour to discover the ultra-cool Charlie Graham building was not one of them.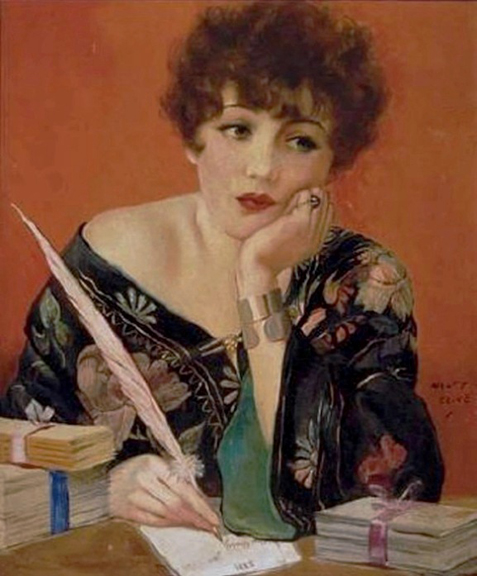 Possibly the best thing about writing these articles are the wonderful stories and photos readers in turn share with me. Some of this correspondence about architecture and personal family histories brings me to tears. After having written the New Omaha: 3802 and 3824 Leavenworth story and later the The Real Estate Secret Agent: 2301 South 102nd Street articles, I received an email from Marty Cohen. He wrote, "Dan Cohen was my Grandfather, Alan is my Dad. I have vivid memories of the Fireside Restaurant from my childhood, even though it closed when I was six years-old." I was delighted to hear that Marty's father, Alan Cohen was the man who had run the Fireside Restaurant with his own father, Dan, for over ten years but was floored to discover a bit of happy My Omaha Obsession happenstance. As fate would reveal, Alan, Anne and Marty were the listing agents for the 2301 S. 102nd Street house in Rockbrook. The fact that I didn't put the names together when I was writing the second article was not very detective-like of me but in my defense there are an awful lot of Cohens in town. Blush. Marty shared that after the demise of the Fireside Restaurant, his mother, Anne became a realtor and one of her first big sales was that of the Gilinsky family home at 2301 S. 102nd Street back in 1975. Now the three work as a family real estate group and have again sold the gorgeous 2301 South 102nd Street mansion.
The Cohen family has generously allowed me to share their fantastic photos of the Fireside Restaurant and collection of menus from these missives. Based on their photo archives and stories, I had decided to investigate even further into clues of the fabulous Fireside Restaurant. I was surprised to find more than a handful of coincidences and curious crossings along my inquiry, leading me to unravel more of the incredible, supportive network of families surrounding our community. If you have not yet read New Omaha: 3802 and 3824 Leavenworth please take the time to catch up now and join us later. In the meantime, I will now load up the Kodak Carousel for the rest of us.
The Cohens
As stated by Marty, his grandfather Dan came to Omaha in 1923 from Minsk, Russia. I discovered in an article written by Ira Rifkin for the Midlands Business Journal,  Dan was originally named Danaile Kahonov. Arriving in Omaha as a ten year old, young Dan only spoke Yiddish. Marty wrote, "Back in those days, you couldn't get through Ellis Island without a sponsor who promised to pay your passage and employ you for at least a year." In this particular American story, Dan's sponsor happened to be none other than Louis Paperny of Louis' Market, and later Louis Bar & Grill fame. Please see Louis' Bar Memories for more details. Louis Paperny was also a Jewish immigrant from Russia, who famously began his popular local grocery store business by peddling fruits and vegetables. As the story goes, Dan began working at Louis Market, then located on the corner of 42nd and Leavenworth. Paperny was thought to have been from Karenj and the two families were distantly related.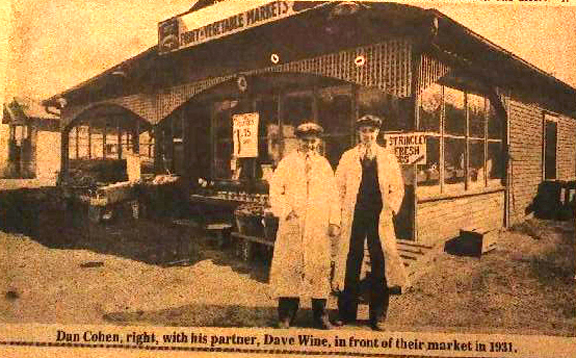 Leavenworth Fruit Market in 1931. Midland Business Journal photo from the Cohen's collection.
Soon after Paperny moved Louis Market to Benson and sold his stand on 42nd and Leavenworth to Dan. Dan would rename it the Leavenworth Fruit Market along with partner, Dave Wine. Later older brother Ralph Cohen moved back to Omaha from Chicago to join in the venture. This fine point is one that I had missed in my original investigation. The brothers were one of the first local businesses to sell legal brew. In 1935 the Cohens moved to 3802 Leavenworth, which by all accounts was just a simple cement block building, selling vegetables, fruit and beer. I got the idea that the beer was the main focus for the locals. There were tables placed outside for the neighborhood beer drinkers. In 1940s the package liquor-grocery store would became the 11-Worth Grill, later 11-Worth Steak House. 11-Worth would draw in the sports teams in droves, namely the Omaha Knights hockey team. You can see the emphasis on sports and teams from their menu below.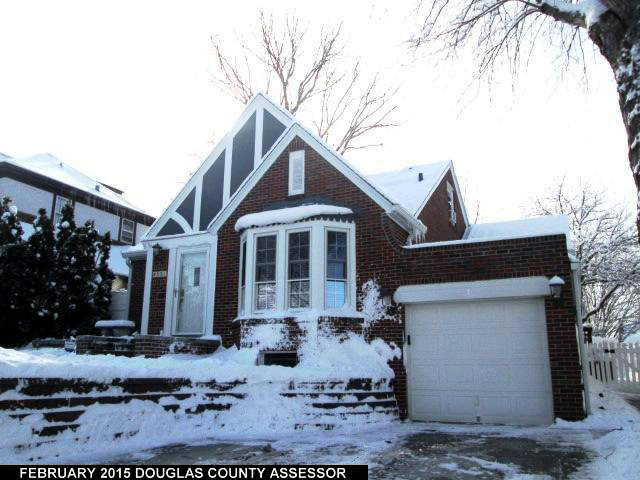 But before we dive into the restaurants, let me catch you up on the Cohens. Dan Cohen married Ethel Halperin in 1936. According to the 1940 U. S. Census, the two lived at 4531 Pine Street in Morton Meadows. This home is thought to have been built in 1939, which meant it must have been a brand new abode for the couple. Dan was 26 years old and listed as the owner of "beer + liquor store." Wife Ethel was but 24 and listed as a stenographer at Metal Iron Works.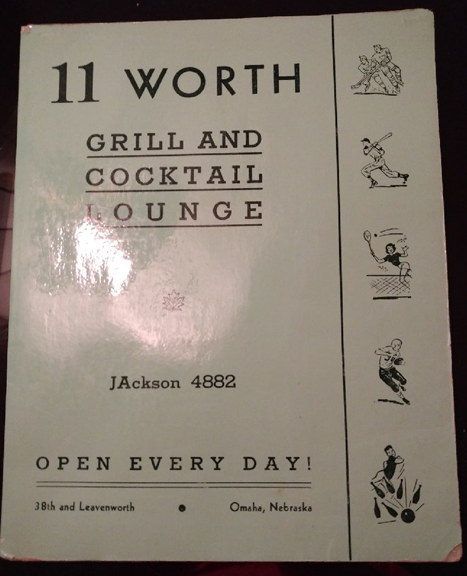 Early 11-Worth menu from the Cohen collection.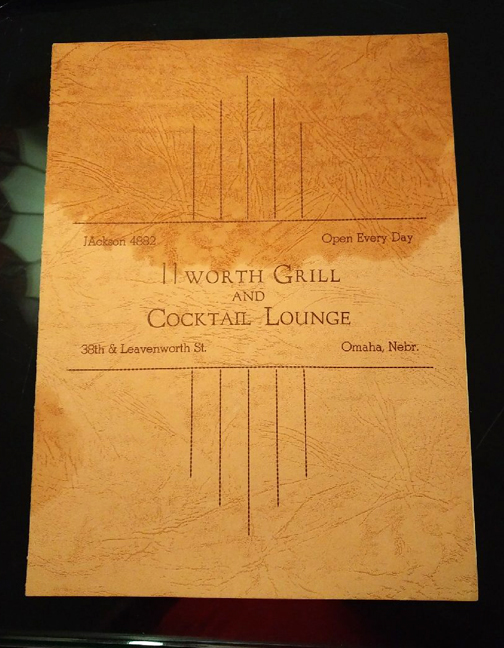 11-Worth Grill menu from the Cohen collection. Love this.
1947 found the Cohens closing the Grill, rebuilding and creating a more formal restaurant environment. But it wasn't until 1956 that the two overhauled and enlarged 3802 Leavenworth, hired an interior designer, Elsie Fogel, and introduced the Fireside Restaurant to Omaha. The look, the food and the timing were Perfect. The Fireside quickly became The Place to be.
The Fireside Restaurant
This glorious new restaurant offered a variety of themed rooms, two full bars and the ability to serve 400 patrons. Their famous chicken dinners soon expanded to steaks, prime rib, seafood and such an immense buffet of all you can eat, the luncheons and dinners were regionally well known. The Fireside Restaurant was the first to offer the All You Can Eat Buffet concept to Omaha.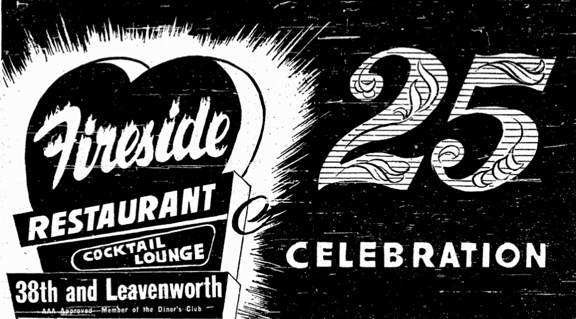 Omaha World Herald archives. 1958 advertisement.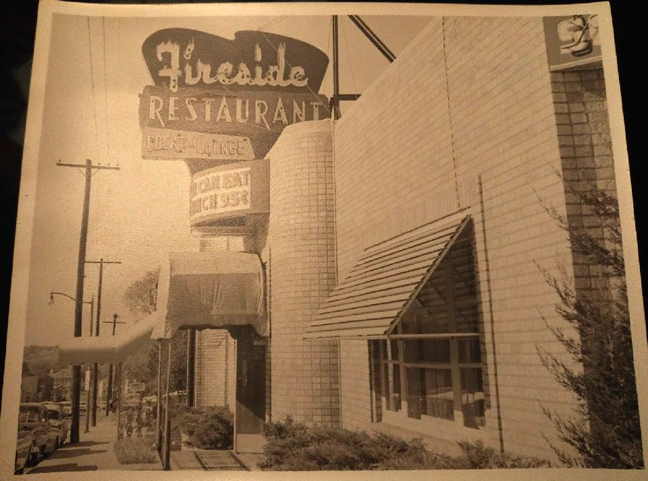 Has 38th and Leavenworth ever looked finer? The photographer is facing west, the cars are parked on Leavenworth Street. Look at that fantastic canopied entrance, welcoming one at their very car door,  befitting of a fine suited doorman. Classic MCM metal awning, my favorite. Notice the flames rising from the Fireside neon sign as well as the novel shape of that sign. Tops. Lunch 95 cents?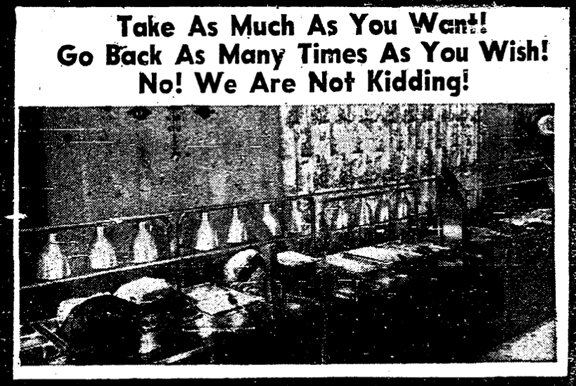 A buffet, as grand as offered in Las Vegas. Omaha couldn't get enough!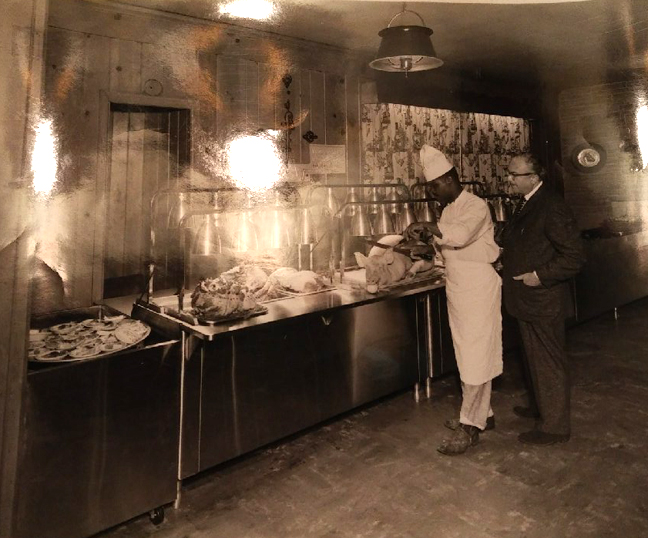 The same buffet featured in the ad above is shown in more detail in this perfect photo. The chef demonstrates his fine abilities for the cameraman, having just lifted the pig from the roaster and onto the buffet-line to carve. Is that Dan Cohen in the dark suit? I love the knotty pine paneled walls and linoleum tiled flooring. The curtains…all of it. Photo from the Cohen family collection.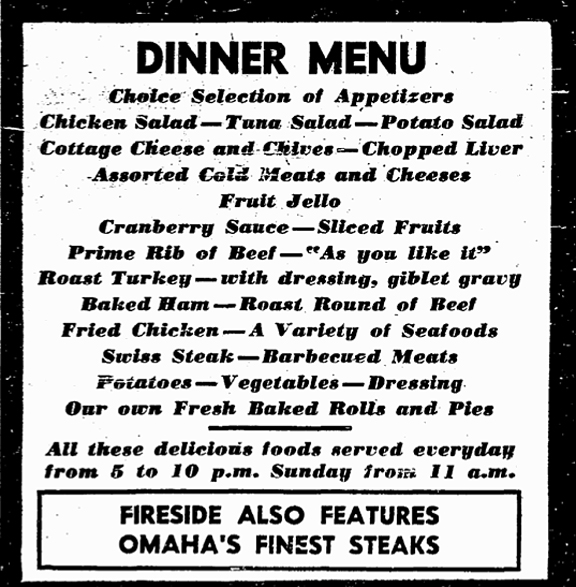 Chopped Liver…Mr. Cassette would die.
The Cameo Room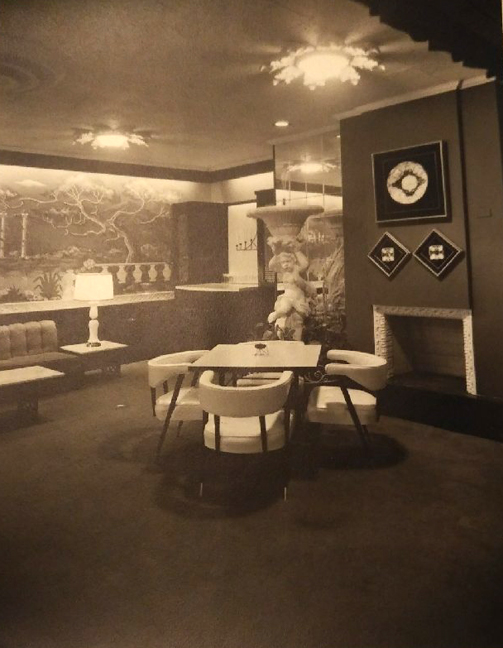 Advertisements and the menus read, "The Fireside Restaurant presents the Cameo Room." A posh Elsie Fogel original, featuring furnishings from Davidson Furniture Company. According to Marty Cohen, "The Cameo Room was for wedding receptions and the like and had the paneling and "mod" furnishings." Great photo from the Cohen archives.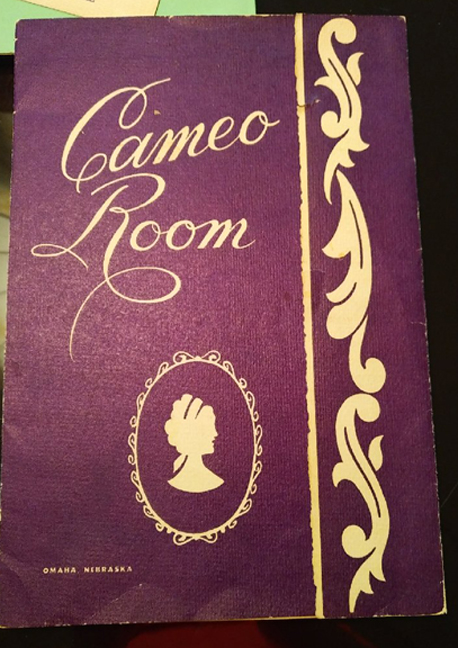 Love this menu cover. From the Cohen collection.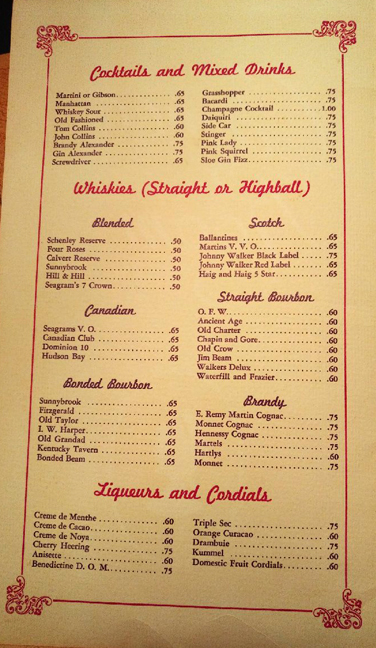 The Cameo Room drink menu. I just had to include it! You only hear people order these drinks down at Johnny's Cafe now.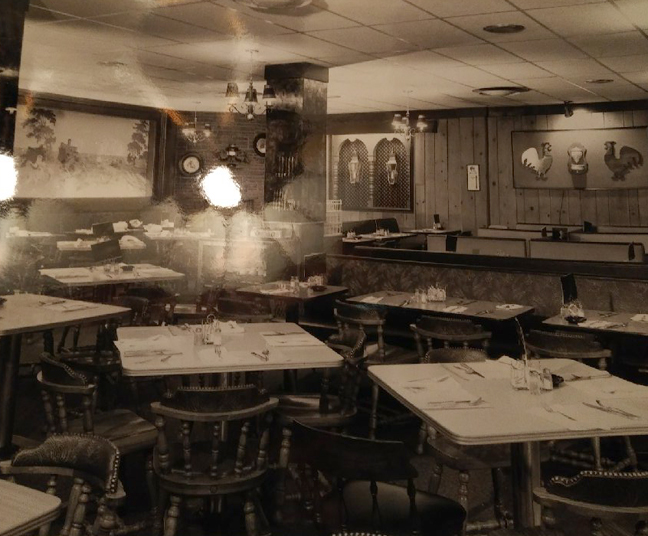 The Grill Room was an "informal, casual room" for "late evening snacks." The advertisements said, "Come dressed just as you are," which was a big deal back then.
The Pirate's Den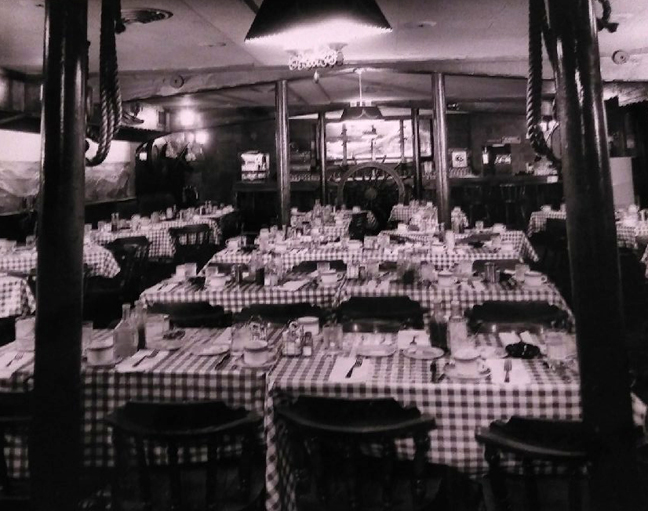 The Pirate's Den Cocktail Lounge. That basement pirate ship really held the clue for me. This is the club that would later become the Down Under Lounge. Here it is on its opening in 1954.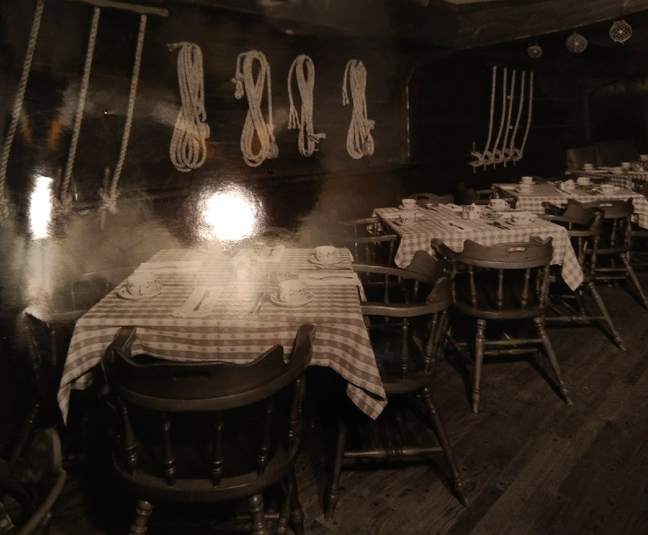 "The pictures with checked tables and boat rigging in the background is of the Pirates Den, which was in the lower level."  Cohen family photos.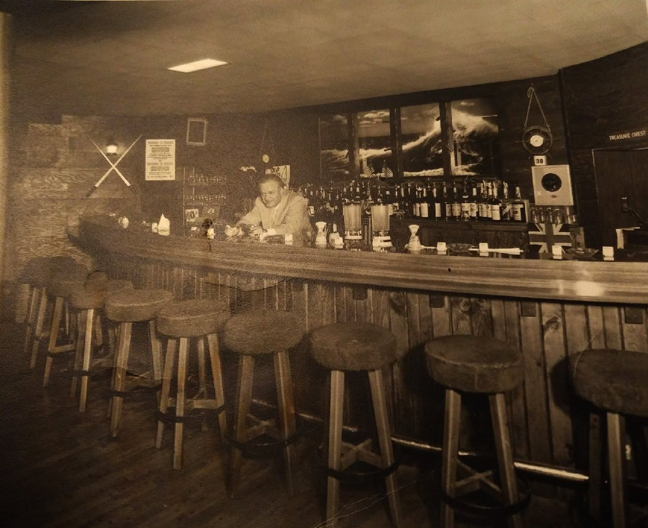 From Marty Cohen, "The man behind the bar was my Grandfather's brother, Ralph."
More on the Cohen Family
The Dan and Ethel had a son named, Alan, who as we now know would help run the Fireside, along side his father, starting in the 1965 when Dan's brother Ralph moved to Florida. In December of 1957 Dan and Ethel Cohen began building a new house in the Dillons Fairacres Addition.

Building Permit from 12-1957. Omaha National Bank to Dan Cohen et al.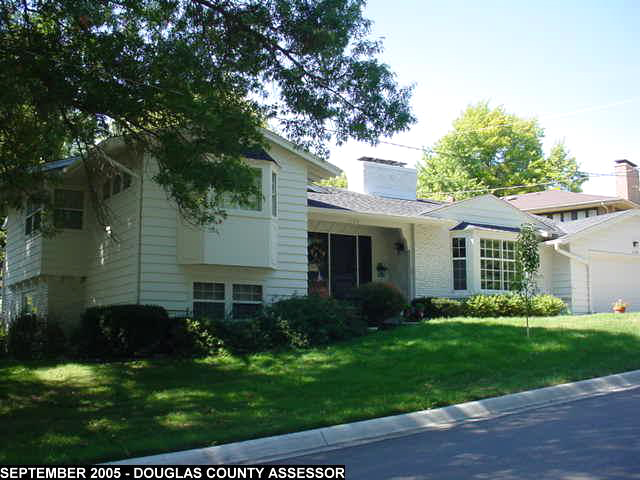 Dan and Ethel built this fine Ranch at 1104 North 60th in 1957, although the Douglas County Assessor had the build date listed as 1959. Photo is from the Assessor site. The Cohens were surprised that I had found the name of Elsie Fogel as the interior decorator of the Fireside Restaurant. According to Marty, Elsie Fogel also decorated his grandparents' home, at 1104 N. 60th, which included a swimming pool. By the way, I believe the pool is gone now. Marty added, "Dillon Fairacres was so inhabited by assimilated Jews in that area that it was known affectionately as 'Bagel'".
**Update from 9/3/2017**According to Marty Cohen: "The family that purchased 1104 N. 60th from my grandmother around 1986 added a screened porch and filled the pool."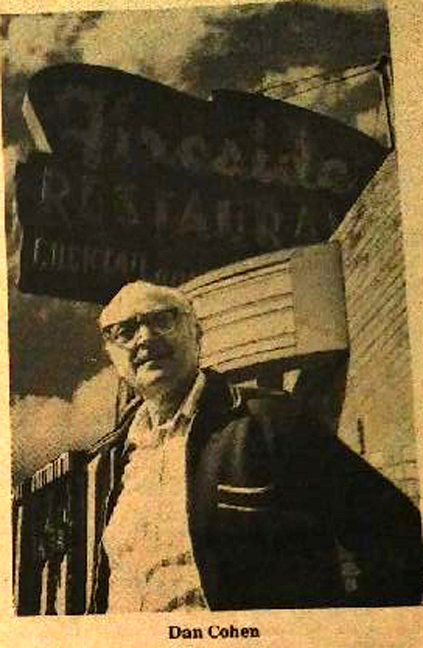 By September 17, 1975 Peter Citron, Omaha food critic, announced "After 40 years, Dan Cohen stepped out of the restaurant business this week" and in 1976 son, Alan Cohen had put 3802 Leavenworth up for sale. Omaha had apparently "changed along with their dining habits," according to Dan in an interview with Midlands Business Journal. I truly love this photo and only wish it was of better quality. It gives a hint at the personality of the man who created the Fireside Restaurant. As I had previously mentioned, Anne would start a successful real estate business in 1975. Husband Alan and son Marty would  join her. More on the family here: http://marty-alancohen.cbshome.com/
The Margolin Family Connection
In its heyday, the Fireside Restaurant was in the paper daily for its society clientele: farewell lunches, galas honoring the Omaha Who's Who, wedding breakfasts. It was easy to see that this restaurant had opened to great success. This was the sort of place where people could be seen and families could run into one another, meanwhile enjoying a great steak. A frequent name in these society listings was the Margolins. I made a note of Dr. J. Milton Margolin and his wife. After bumping into their name quite a few times mentioned at Fireside gatherings, I also noted a Dr. Morrie Margolin.
I began digging and I'm not entirely sure what was the driving the obsession other than the fact that the more I searched, the more I found. Dr. Milton and the Mrs. were some of the most involved, civic minded, socially engaged people I have ever tracked. The Margolins also emigrated from Russia when both brothers, Milton and Morris were young boys.  According to the U.S. Census of 1930, the family arrived in 1906. Their father peddled vegetables to make ends meet once in Omaha, yet another coincidence. The brothers would go on to become medical doctors, eventually sharing a practice in the Medical Arts Building in Downtown Omaha.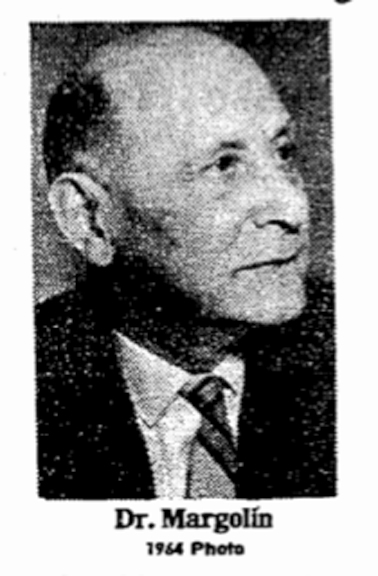 OWH archives. Dr. Morrie Margolin in 1964. If any family members have a photo of Dr. Milton Margolin, I would certainly love to include it in this story.
Apparently both Milton and Morrie were paperboys as youngsters, which continued through medical college, a point featured in the local newspapers. I did a bit more digging and turned up a great article written by Thomas Magnuson, entitled "Omaha's Jewish Physicians: Educational and Occupational Opportunity, 1890-1940." From this I learned that prior to World War II "Jewish hopes for high occupational status in the United States were limited to medicine and law, the so-called free professions." Omaha's Jewish doctors had an advantage over the majority of the United States' Jewish practitioners due to non-exclusive practices, meaning that Omaha's Jewish doctors had frequent interaction with non-Jews. There were more opportunities in varied medical school appointments, medical society memberships and hospital affiliations. Young Jewish doctors starting their careers in the mid 1930s and 1940s found Omaha a "viable environment for professional growth." From 1922-1940 sixty-seven Jewish physicians graduated from Nebraska U, mostly native Nebraskans, six students were from New York. The majority of Jewish medical students enrolled at Creighton University were transplants from New York.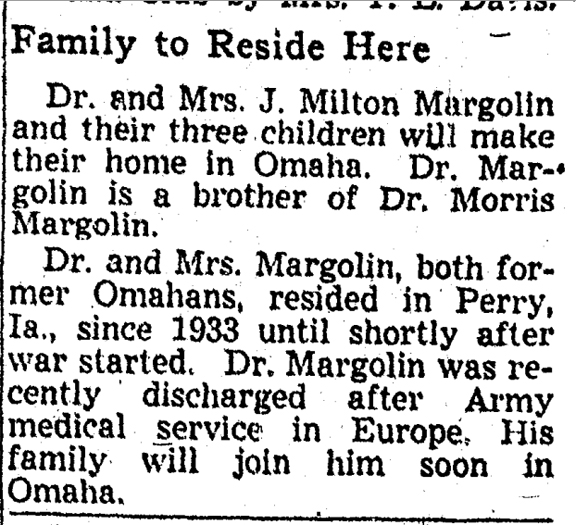 February of 1946, Dr. and Mrs. Milton Margolin returned to Omaha with their children, after having lived in Iowa for a number of years. I was interested to learn Dr. Milton had served in World War II.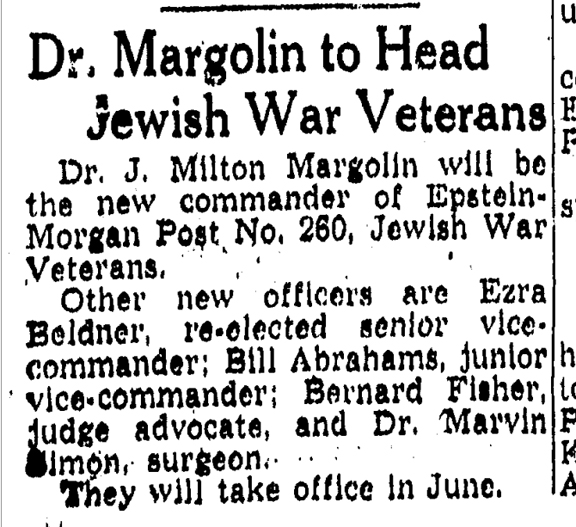 OWH article of April 14, 1951. Dr. J. Milton Margolin became new commander of the Epstein Morgan Porst No. 260 Jewish War Veterans.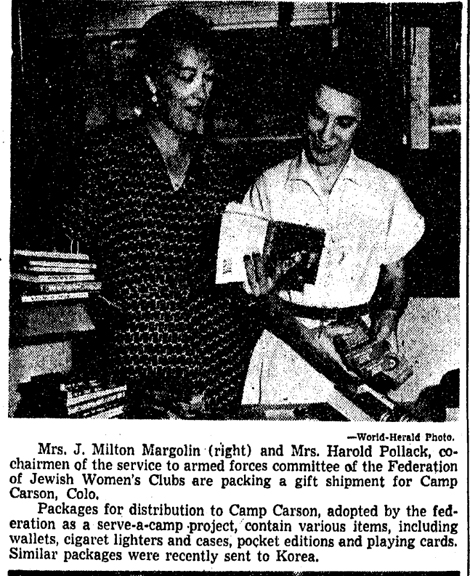 Likewise, Mrs. Margolin, shown on the right, was very involved with military support efforts at well. She dedicated herself to military and veterans causes, as well as the enrichment of the young Jewish community. Like other society women of that time, she chaired many events, clubs and social groups, which meant frequent gatherings at the Fireside, the J.C.C. and the Hilltop House as well as hosting in the Margolin home.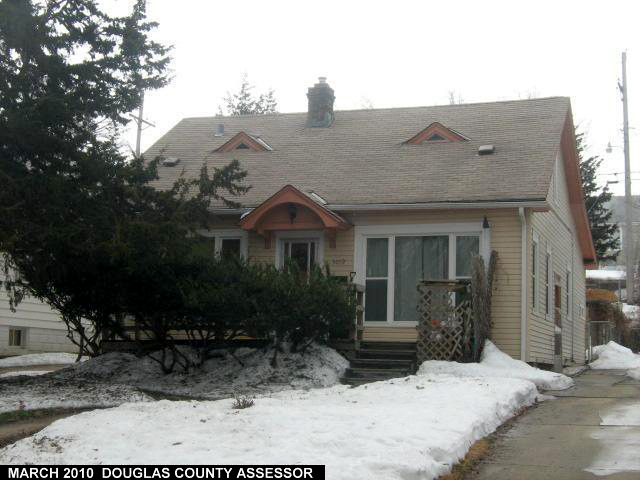 All of these ladies' teas and sandwich parties were held at none other than 5019 Charles Street, right between the Dundee and Country Club neighborhoods. According to the County Assessor site, 5019 was built in 1926. I do enjoy the little triangle eyes and proud triangle entryway nose.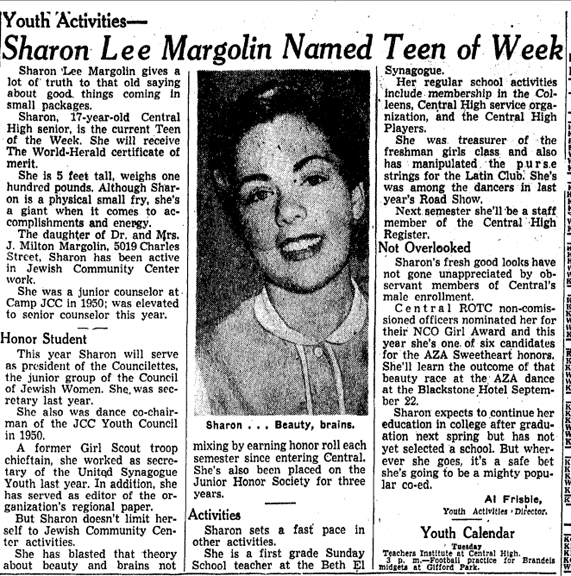 Aside from Dr. Milton and Mrs.' frequent press, daughter, Sharon Lee Margolin also was in the paper regularly. What a pretty girl. Here she is in 1951 as Teen of the Week.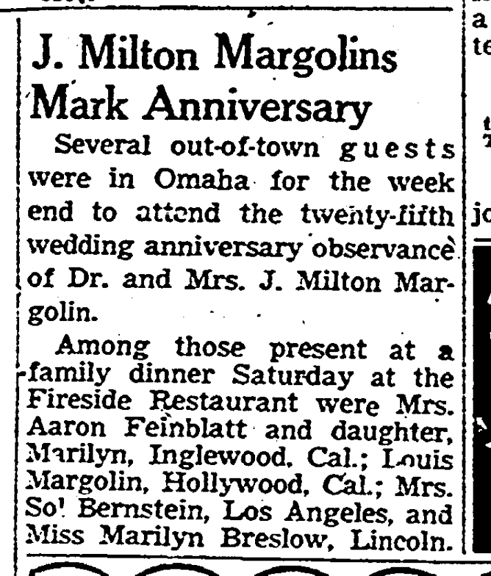 In 1954 the Margolins gathered for their 25th wedding anniversary, again at the Fireside Restaurant. Brother Dr. Morrie passed away in 1976 and Dr. Milton would retire their practice in 1977.
The Elsie Fogel Connection
I was obsessed with the idea of finding more information about Elsie Fogel, the woman who created the Fireside look. Fogel began life in 1906, born in Sioux City, Iowa, originally named Chana Bashe "Elsie" Hurwitz. Her parents were Isidore Hurwitz and Rebecka Margolin. This is where the serendipitous effect began to swirl about my head. Much later I would learn that Elsie's mother Rebecka (later Rebecca) was the sister of Drs Morrie and Milton Margolin. Elsie would later married Louis "Lou" Fogel and have two children. It would appear that Elsie Fogel, sometimes listed as Vogel always had a creative streak. By 1930 she was a local actress, appearing in Jewish Community Center performances such as "Captain Applejack." According to ancestry.com, by 1940 Lou and Elsie were living in Los Angeles, California. I verified this through the 1940 U.S. Census where I found Louis (age 32), Elsie (31) and seven year old Danny Fogel situated in Tinseltown. I wondered if she had moved there to act? Because it was in Los Angeles that Elsie began her professional career designing sets in a covetable position for Warner Brothers Film Studios. I would love to know more if any reader can shed additional light on this.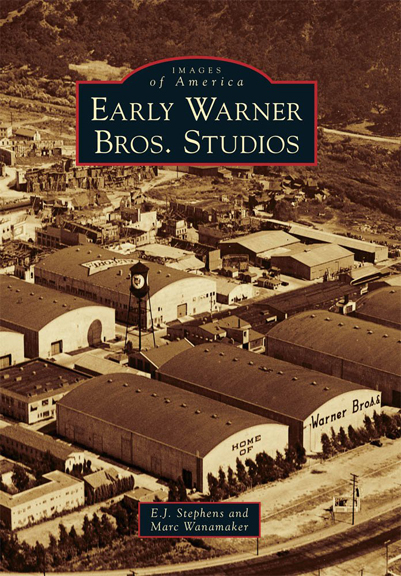 Note to self: Must get this book.
The 1950s brought the Fogels back to Omaha where Elsie quickly established herself as designer extraordinaire with J. L. Brandeis Department Store Interior Design Department. This was at a time when all major department stores not only sold gorgeous home furnishings but offered professional services such as interior design and upholstering. Elsie was featured frequently in the newspaper as an interior artist and local expert.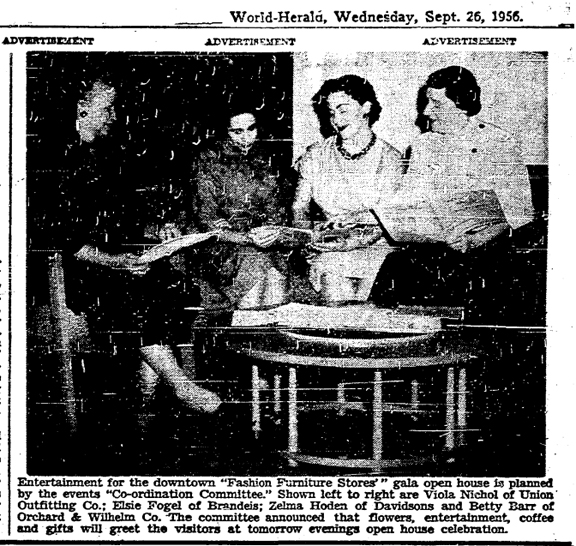 Our gal, Elsie is shown second from the left. September of 1956.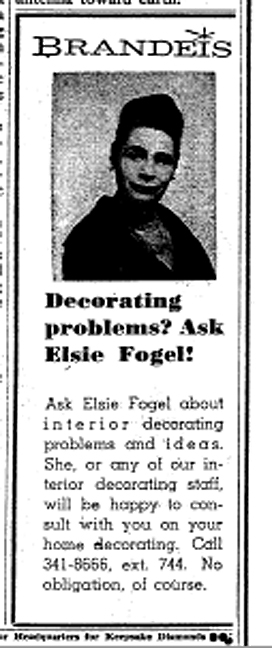 She will be happy to consult with you! 1962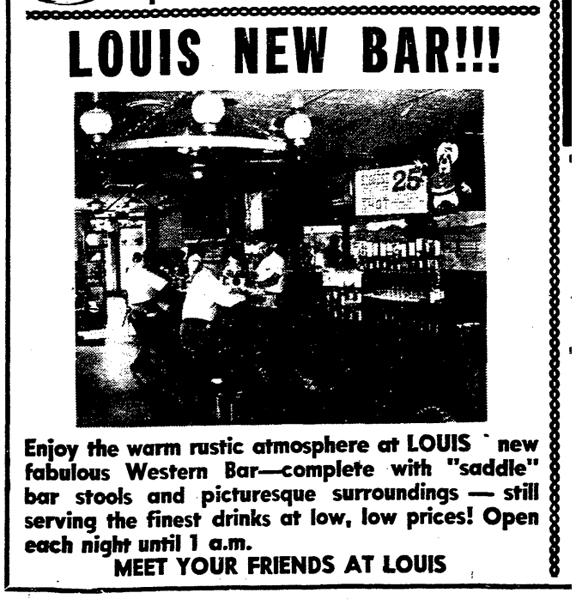 I was so happy to find that Elsie had designed and decorated the interior for Louis Bar, yet another point of connection along the investigation. The 1962 western theme, saddle bar stools and Chuck Wagon Kitchen were all her doing. This is an obvious favorite of Miss Cassette's. The fact that she had worked at Warner Brothers made complete sense. But that is one of the greatest things about this time period, the interior themes did mimic movie sets. My god, bring it all back! By the way, when Louis Market opened their "Self Service Beer and Liquor Super Market" they gave out "Free baby orchids for the ladies and free cigars for the men."
A little bit more on Elsie, because I simply cannot resist.
From September 18, 1966: Mrs. Cele Cassman, of 8405 Indian Hills Drive, (I believe the Swanson Tower, my favorite since little girlhood) hired Mrs. Elsie Fogel to decorate her whole "luxury apartment while Mrs. Cassman was living in Florida." When asked how Mrs. Cassman could allow Elsie such freedoms, Cassman plainly said, "She knows what I like."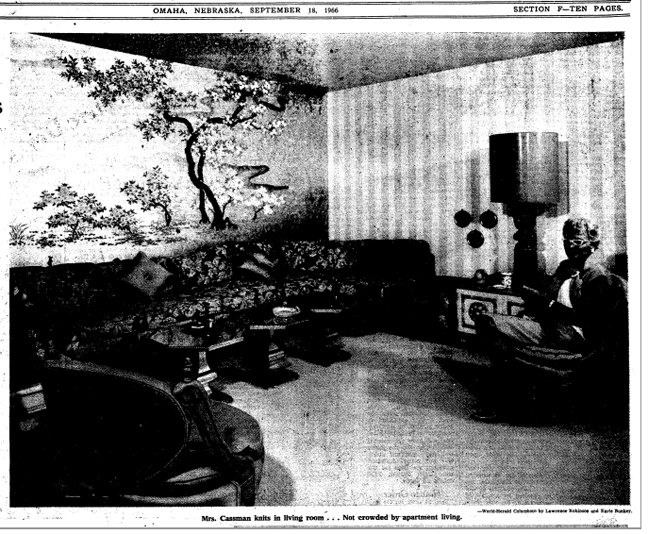 The mural, thought to have "picked up much of the color theme behind the large blue and silver sofa in the living room" was a technique that Elsie employed frequently. Remember the Louis Bar and Fireside Restaurant murals? Divine Theatre, I say. Cassman had another mural on a foyer wall. "Double doors leading into the foyer have moldings rubbed with silver and blue. Most of the furnishings are Provincial in style and silver blue or mauve in color."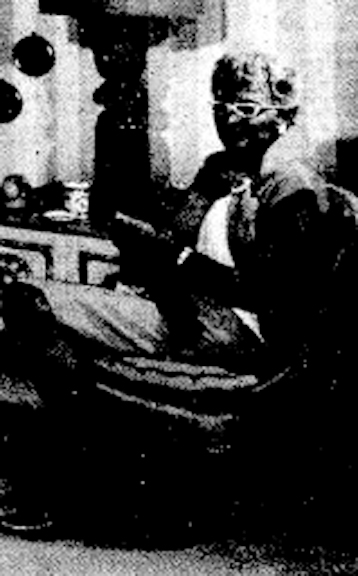 In case you were wondering if Mrs. Cassman really was that cool in the above photo. The newspaper mentioned her dark tan, a rare luxury in those days.
More of Elsie's Designs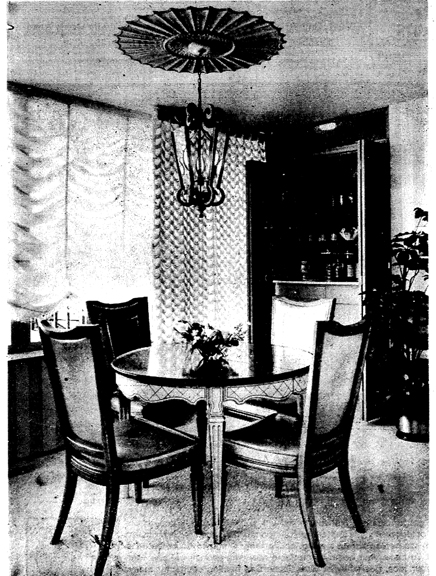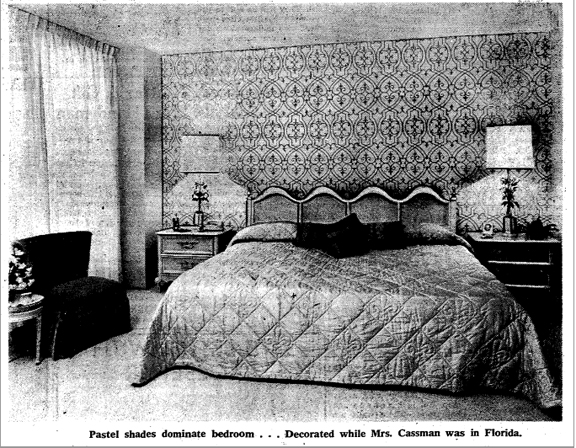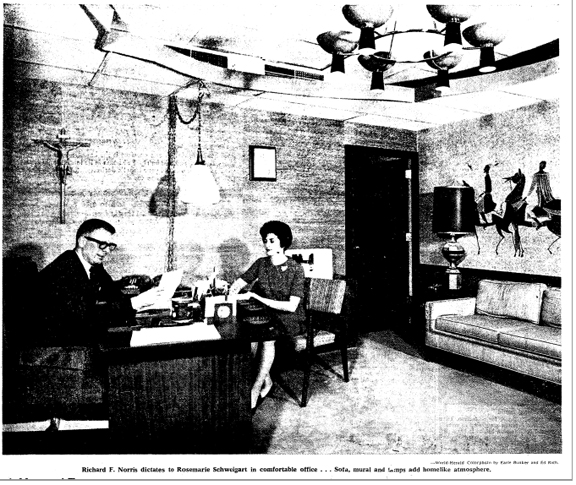 Fine grass cloth wallpaper and guess what? A mural.
I tracked Elsie's apartment to 1414 Marbee Drive on 77th Street between Pacific and Woolworth, a mysterious part of town that I, shockingly, have never been to. Ever. In fact I had never heard of a Marbee Drive. This large grouping of apartments were thought to be tres chic when they were built.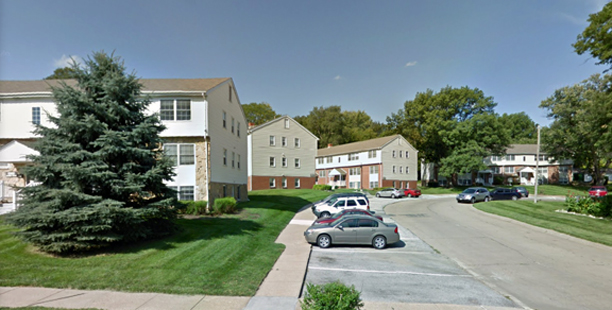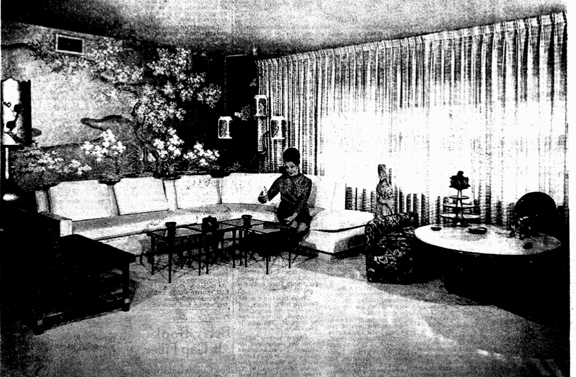 Elsie in her own living room on Marbee, complete with mural.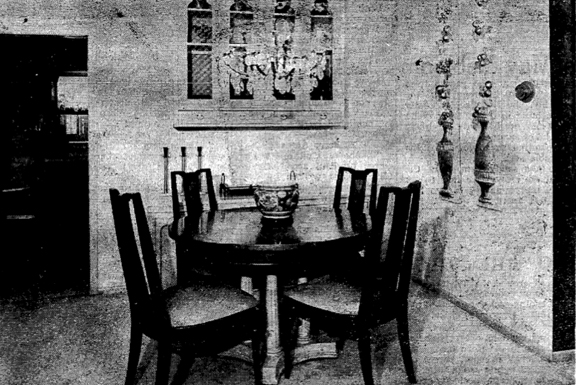 Elsie's dining room.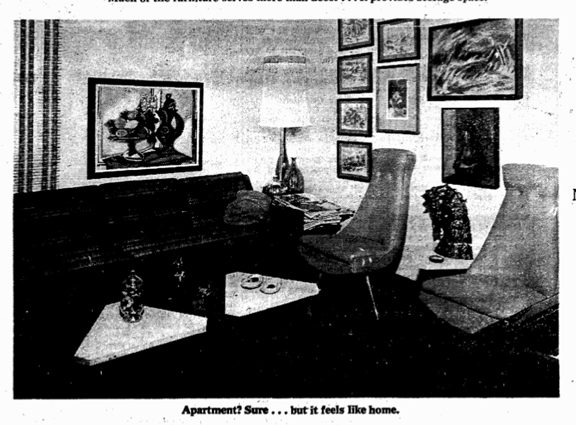 Elsie's MCM sitting room.
I found that in December of 1971, Elsie Fogel has joined the interior design staff of Davidson's Furniture Showcase. She has been in the interior decorating business for about 23 years at that point. Her husband Lou would die in that year. According to Billion Graves site, Elsie Fogel passed away in 1984 and is buried at Omaha's Beth El Cemetery.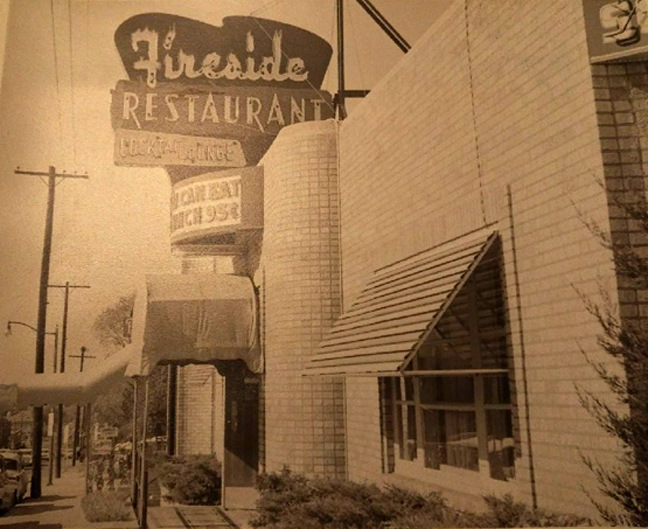 Thank you, thank you everyone for reading my articles and supporting me. It means so much to share this obsession with buildings and their people with all of you. I welcome your feedback and comments on Dan Cohen and the Cohen family, the Margolin family, Elsie Fogel, the incredible Fireside Restaurant and Louis Bar. To comment or read others' comments, please scroll to the end of this page. Due to the overwhelming amount of emails, I am no longer able to answer in a timely manner. You can keep up with my latest investigations by going into "Contact" and sign up for the newsletter. In this way you won't miss a single house and will get an email with every new article. Also join My Omaha Obsession on Facebook. Thank you Omaha friends.
© Miss Cassette and myomahaobsession, 2017. Unauthorized use and/or duplication of this material without express and written permission from this site's author and/or owner is strictly prohibited. Excerpts and links may be used, provided that full and clear credit is given to Miss Cassette and myomahaobsession with appropriate and specific direction to the original content.