Imagine my delight when I spied one of my favorite Rockbrook Darlings had been put on the market just the other day. I will confess I have died a thousand deaths over this residence. In fact every time I indiscreetly slink past her in my clicking sleuthing heels, I about fall down, clutching my chest. Did the happy homeowners ever notice me? No, of course not. When one lives this beautifully one is undoubtedly familiar with the Slow Driving Gawkers and those ever so curious neighbors dropping by for cups of sugar. I imagine crawling on hands and knees cross her estate to that blessed front door where I would scrawl SOS and a heart in my best MAC Ruby Woo lipstick on her window. There I would perish in a dramatic pile, having expired from Gazing at Gorgeousness. Everyone gathered here knows what I mean when I type these words. And I am joking, yes, because I would never desecrate this mythical goddess manor home. But know that I am quite serious when I say I had started researching 2301 South 102nd Street a while back, a distraction soon after the writing of The Curious Case of the French Fairytale Cottage: Part One . This Rockbrook neighborhood speaks to me and those notes may shape into a full-fledged article at some point in the near future.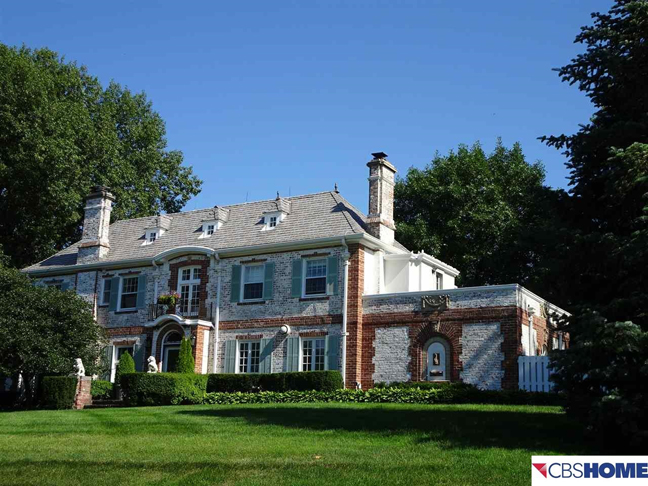 I stumbled across a new idea recently at the My Omaha Obsession Agency. Why not run a short, infrequent series on great real estate in town? Because truth be known, I'm already up at three am hunting for these dream places anyway. Some of you curious Omahans are quite busy (and some no longer live here) but might like to have the occasional looky-loo into a great home or two or some fabulous building you've always wondered about without traipsing over to some cumbersome local real estate site. Thankfully my compulsion prevents me from missing these stalking opportunities. Also as places sell through the years or **shriek** are torn down, we will have an ongoing document of our preoccupations and communal drooling

I wanted to share only the pure, unadulterated properties that I've come across and some semi-pure as well. 2301 South 102nd Street fits in the latter category with a significantly overhauled kitchen and master bathroom–the kind of rooms that most homeowners seem to think need updating now and again. I also detected a few recessed lights peeking at me. I had wanted to focus on the historic, untouched Real Deal Real Estate, which is hard to come by due in part to the aforementioned Improvement-Minded Affliction. Let's just call it IMA from now on. And really, are these alterations her fault? Frankly I think you will find 2301's inherent beauty and sophistication more than make up for her contemporary deviations. This property is gorgeous and fittingly positioned to look out over the Happy Hollow Country Club.
Disclaimer: My Omaha Obsession is not a real estate company and does not represent any home or property you will ever see here. Miss Cassette certainly is not in the business of selling real estate, although I should be. I am always staking out homes and tipping friends off to marvelous Omaha locales. And Lord knows the majority of summaries on these real estate sites are lacking. Just know that I am not working for someone and no realtors will be sending me "ideas" for my articles. Please contact the real estate agent or company for status, condition and more information. Miss Cassette offers no guarantee to the accuracy or validity of any information on this site and will not be liable for errors, omissions or any losses arising from its display or use. Comments from fellow readers should be viewed as opinions and may not reflect the accuracy of the listing details, condition or status of the home. Homes and buildings shown on My Omaha Obsession may no longer be for sale and is up to interested parties to investigate the current status. Once again, Miss Cassette is not the agent, owner or photographer. If a realtor, owner or photographer want credit for these images or is upset that My Omaha Obsession is promoting the sale of your property (head scratcher), please email me directly. If this property has sold and you no longer want the address posted for personal reasons, please email me directly.
LOCATION: 2301 South 102 Street Omaha, NE 68124
SUBDIVISION: Rockbrook
PROPERTY TYPE: Single family residence
Four bedrooms, four bathrooms
YEAR BUILT: 1930
SQUARE FEET: 4,053 sqft approximately
LOT SIZE: 1 acre
PRICE: $995,000
MSL#: 21712768
LISTING AGENT/COMPANY:
Marty & Alan Cohen
Marty-Alan.Cohen@cbshome.com
15950 W Dodge Rd Ste 200
Omaha, NE 68118
402-934-1590
402-964-4815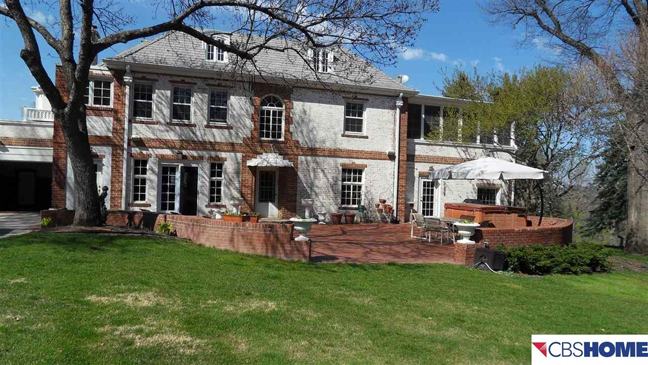 Once the selection site of a 1970s Omaha Designer Showhouse, this proper manor house is just the kind of setting that Miss Cassette often weaves through in vine encrusted dreams. The weathered stone porch, a subtle European nonchalance: Thank you for not upgrading with brazen new money features. Hardwood floors throughout for tapdancing. Tell me more about those attic windows….what treasured hideaway is up there in the rafters? A place for typing this article by candlelight? Notice the terracotta style tile work in the second floor enclosed sun porch. It looks to be the original interior tile from the 1930s-50s. The sun porch is on the east side of the home but was that a later addition? Likewise the owners get a round of applause for selecting the antique-like hexagonal black and white tile in the master bath renovation. I would have loved a longing gander at the original bathrooms in this grande dame. Can you imagine that little bit of heaven? Also of obsessive interest is the golden hanging 1920s-like pendant light in the little tea room/card room. As an aside, Miss Cassette does not particularly love the look or overall message of a flat screen television in every nook and cranny of a house. Let's be honest, those contraptions block the natural view and only distract from Diana Washington's music naturally wafting from room to room. On the other hand I do appreciate the Midwestern Modesty of this home. In spite of her obvious royalty, she would be the perfect hostess for bicycles thrown on her front lawn, a fleet of King Charles Cavaliers running her stairs and a tennis racket or two flung into that front closet. Those glorious floors are used to bare feet in the summer months.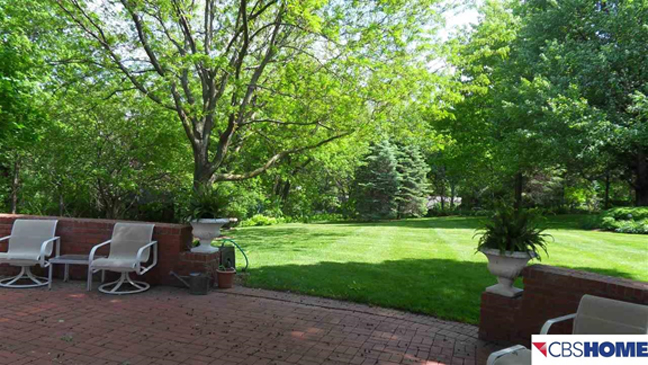 The back area and bricked patio sends Mr. Cassette wild with desire. He has commented it might take him a whole year to understand what these gardens might be whispering for. I imagine a large gazing pool and little contemplative areas for wondering off. Let us not forget that there is another lot next door available for a mere $300,000.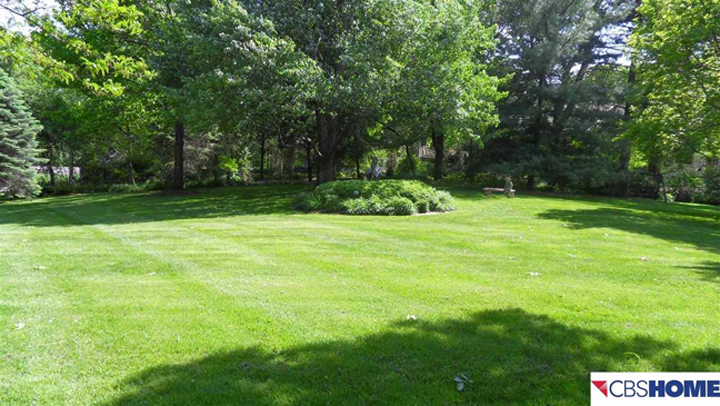 Summary from CBS Home:
"Description for 2301 S 102 Street Omaha, NE 68124: Brick manor on one-acre overlooking Happy Hollow Golf Course has been lovingly maintained & improved. Unique details throughout. Updated kitchen w/custom cabinetry, gorgeous materials, & is open to a huge dining room. Living Room with 9-foot ceilings and arched passageways. Family room with beamed ceilings, and wet bar. Brick patio overlooks private backyard. Second floor enclosed porch. Expanded master bedroom with walk-through shower, walk-in closet, and laundry room. Adjacent Half-Acre lot available for an additional $300,000."
http://www.cbshome.com/homes-for-sale/2301-S-102-Street-Omaha-NE-68124-208646848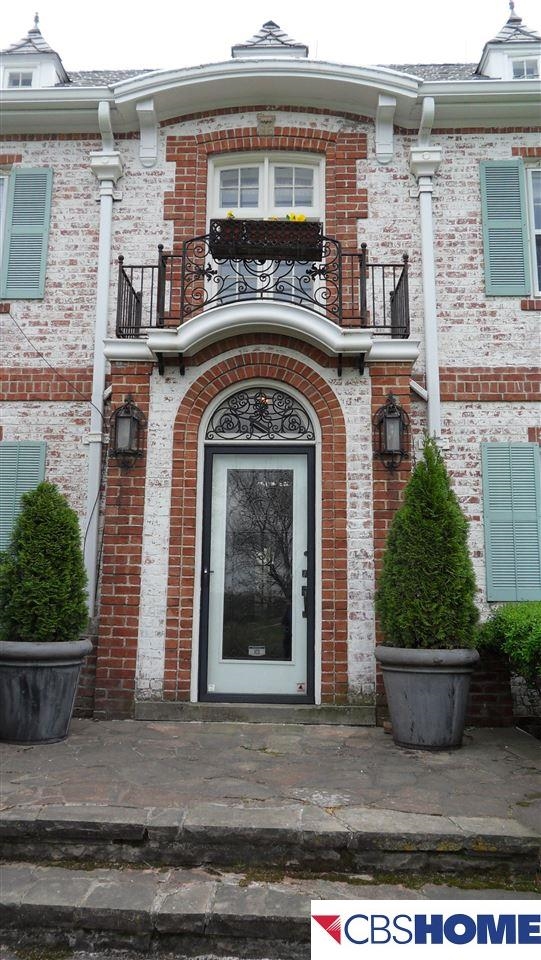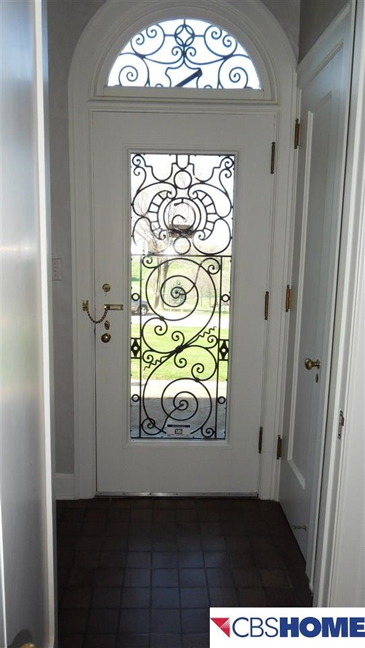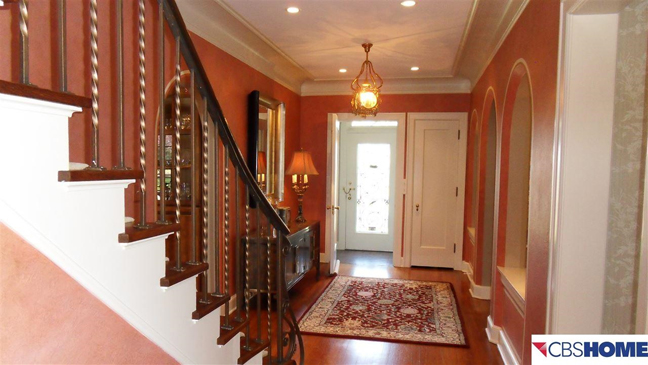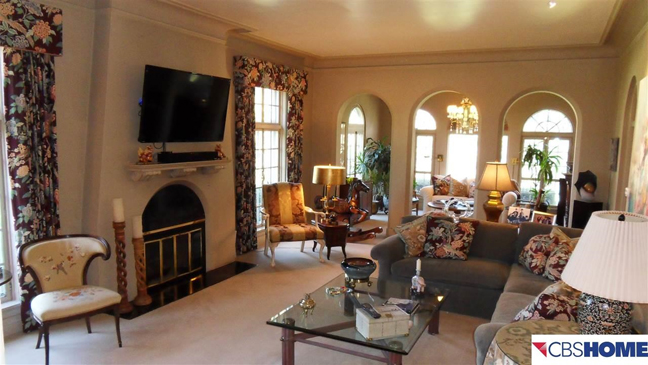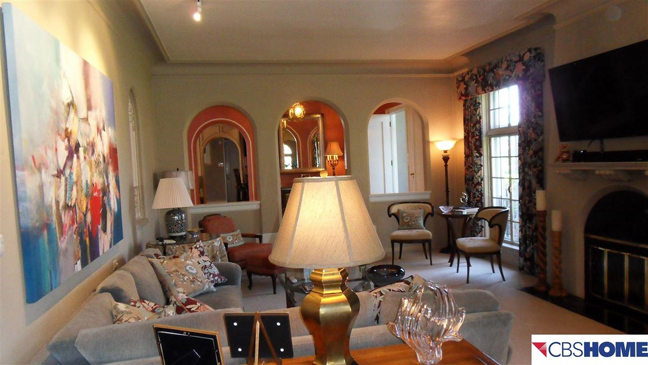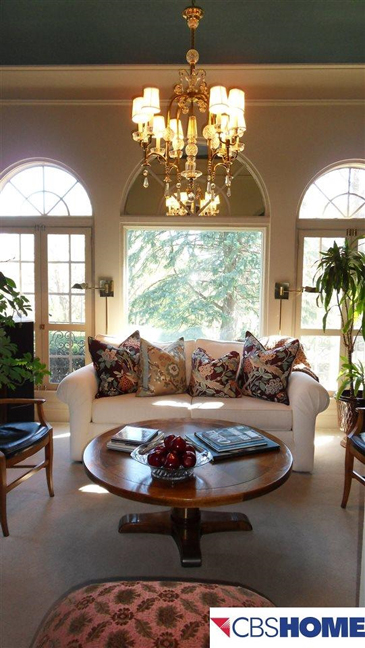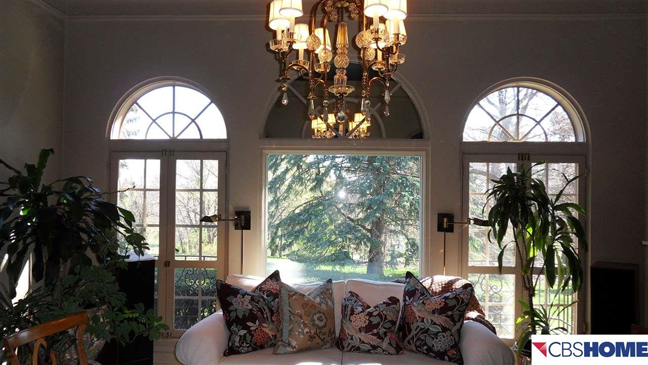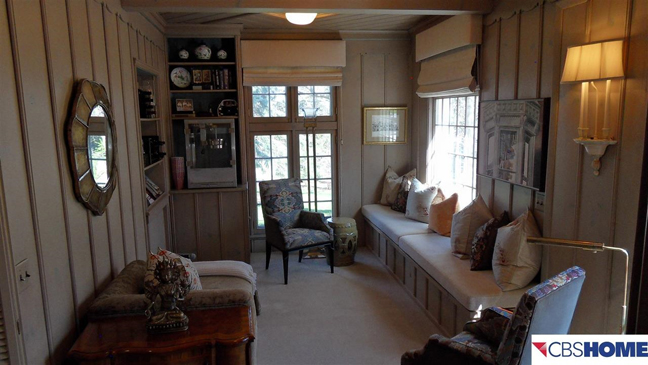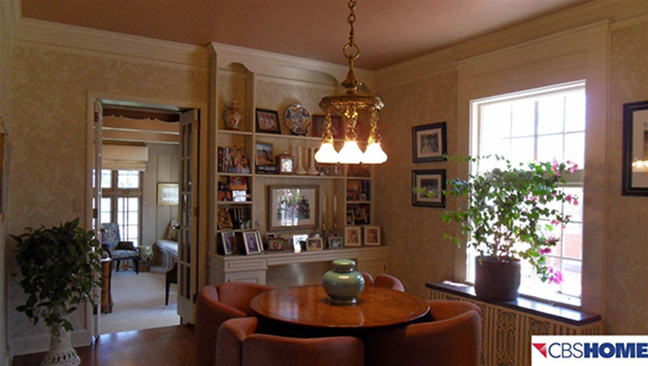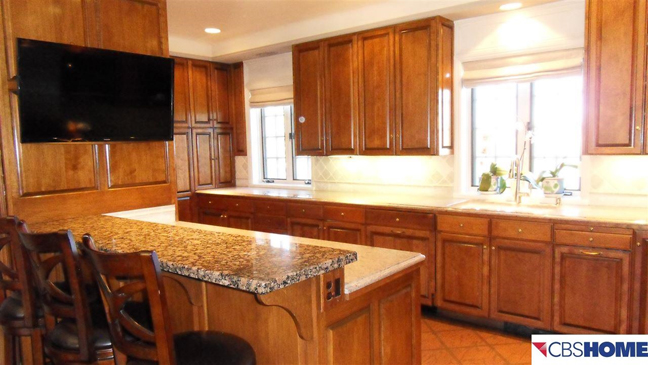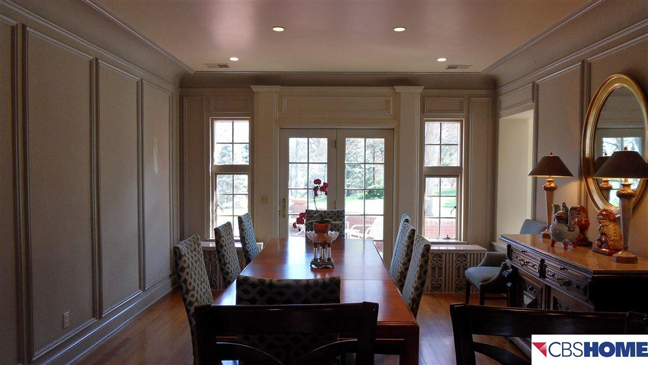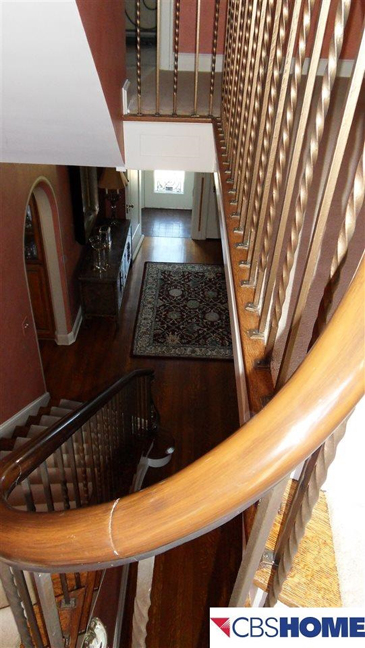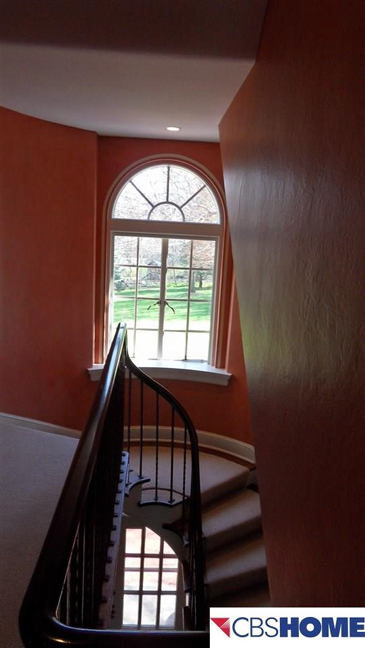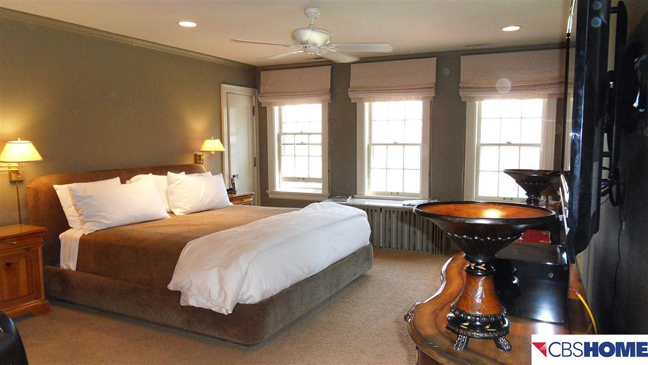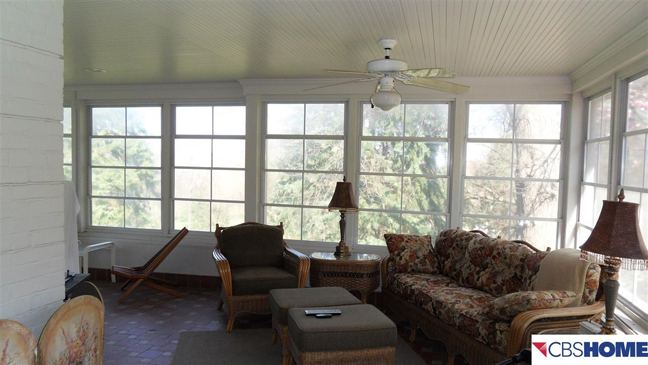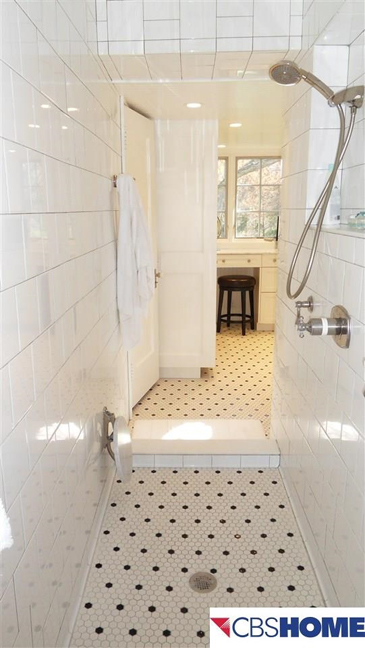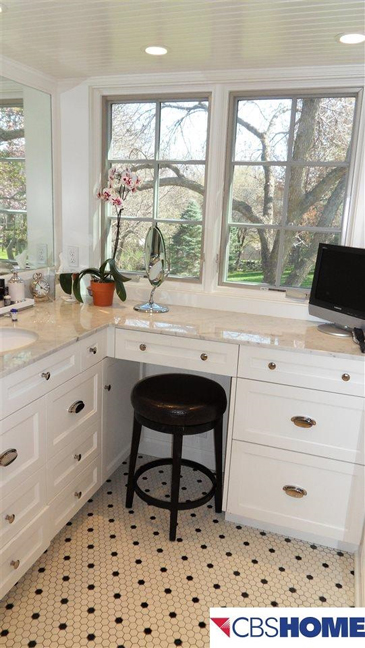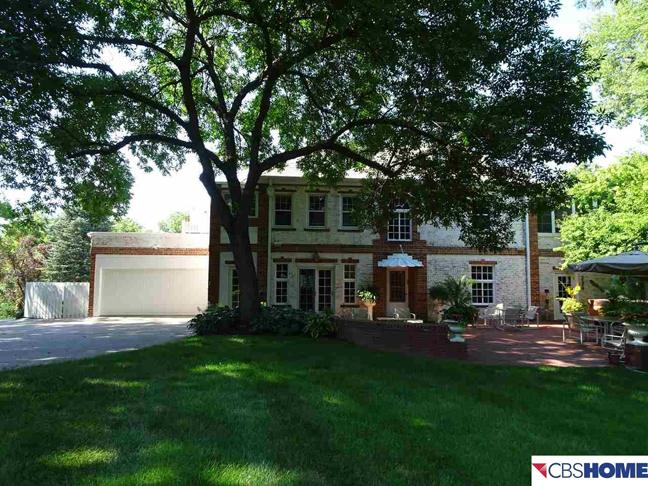 Summary from Zillow site:
2301 S 102nd St, Omaha, NE 68124
4 beds 4 baths 4,053 sqft
For Sale: $995,000
Zestimate®: $834,924
Est. Mortgage: $3,694/mo
Additional Information from the Douglas County Assessor:
3553.0 sq ft
Year remodeled 1997
Lot size 1.53
Two fireplaces
Slate roof
Real Estate Source Links:
CBS Home
NP Dodge
Zillow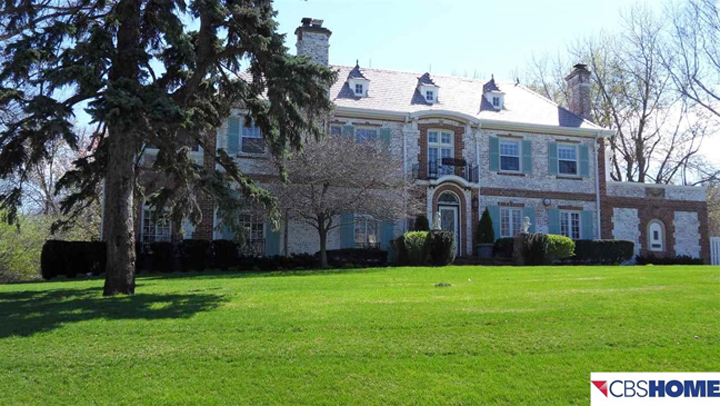 I welcome your feedback and comments on 2301 South 102 Street and the Rockbrook Neighborhood. To comment or read others' comments, please scroll to the end of this page. If you would like to correspond with me privately, please do so at myomahaobsession@yahoo.com or in "Contact." But be assured, everyone would love to read what you have to say and it makes the conversation more fun. You can keep up with my latest investigations by "following" myomahaobsession. You will get sent email updates every time I have written a new article. Also join My Omaha Obsession on Facebook. Thank you Omaha friends.
© Miss Cassette and myomahaobsession, 2017. Unauthorized use and/or duplication of this material without express and written permission from this site's author and/or owner is strictly prohibited. Excerpts and links may be used, provided that full and clear credit is given to Miss Cassette and myomahaobsession with appropriate and specific direction to the original content.