This weekend I was just poking along Leavenworth when I noticed the old dairy delivery truck garage from the Graystone plant was missing. I had always liked that whole area, the south side of Leavenworth. After I spun around, I saw the little Tudor office building was gone too. Maybe you saw the pile of rubble also. Yes, I am cloistered way, deep in a rabbit hole, but with these constant demolitions in Midtown, an amateur sleuth can hardly turn a blind eye. And maybe you already know all of this but somehow this one escaped my nosey nose.
The Nebraska Organ Recovery is one of 58 organ procurement organizations throughout the country. They are currently housed out at 8502 West Center Road. The Graystone garages and the little Tudor were razed to make way for the construction of a new 22,000-square-foot facility. All 50+ employees, "with the possibility of other partner organizations" will be operating from this new facility. The location is thought to be valuable for its proximity to UNMC, their "biggest donation and transplantation partner." I found the three parcels listed with the Douglas County Assessor as "charitable" but no mention of UNMC having acquired the lots. Interestingly under the Organ Recovery site, they mentioned these three parcels "approved for sale by the University of Nebraska Board of Regents in March of 2017" to Nebraska Organ Recovery. Someone smarter than I can elaborate on when these dealings take place in the dark of night. Construction of the new facility is expected to take 18 to 24 months.
So while I think Nebraska Organ Recovery is a fine, honorable business and I wish them well, as far as historical Leavenworth Street goes (or maybe all of Midtown Omaha), it would appear that having an empty lot next to one's business is the official kiss of death. I salute these fine, humble buildings of Leavenworth, the great businesses and people they served throughout the decades. They put up a good fight and made it this far. And now we know why they were so eager to tear down the houses across the street and the old Fireside Restaurant building at 3802 and 3804 Leavenworth. Check out The Fabulous Fireside Connection and New Omaha: 3802 and 3824 Leavenworth for those stories. Here is a brief photographic history.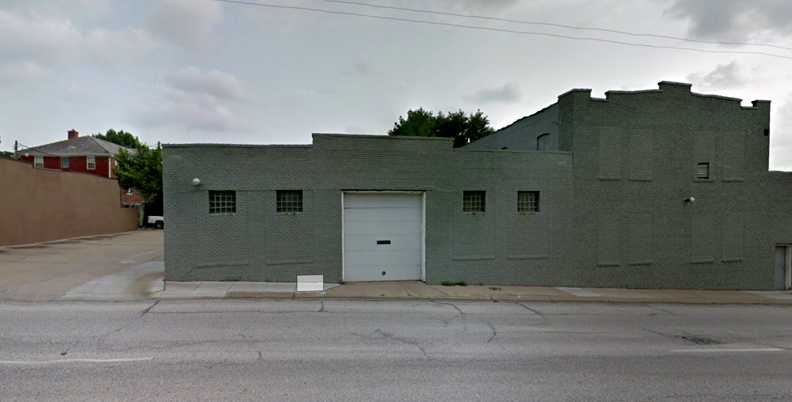 Still extant: 3823 Leavenworth Street, (to the east of Graystone Dairy) was supposedly was constructed in 1929, adjoining an earlier portion, erected in 1925. This building is still intact and fingers crossed will not be coming down any time soon.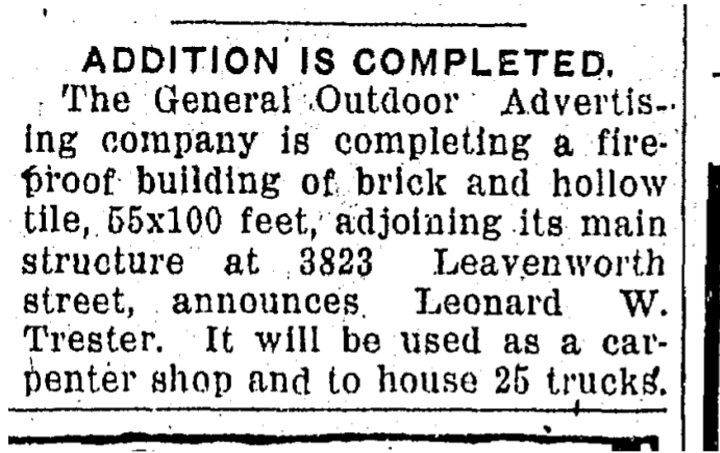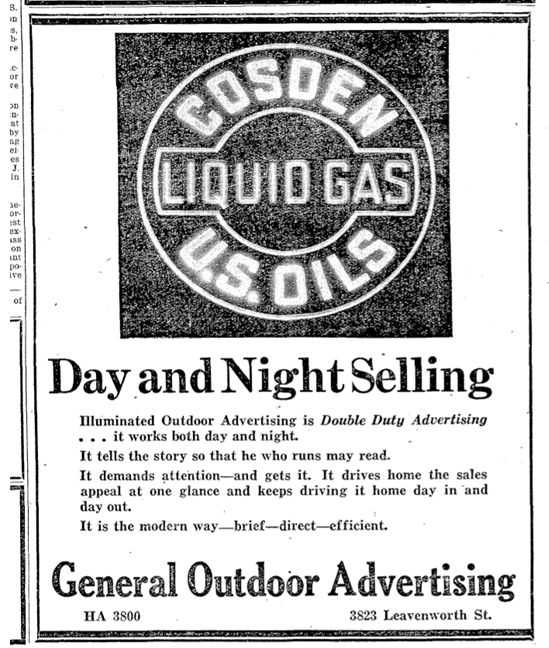 Back in 1929 this large structure was originally the General Outdoor Advertising Company, known for their signs of "electric, luminous, tube."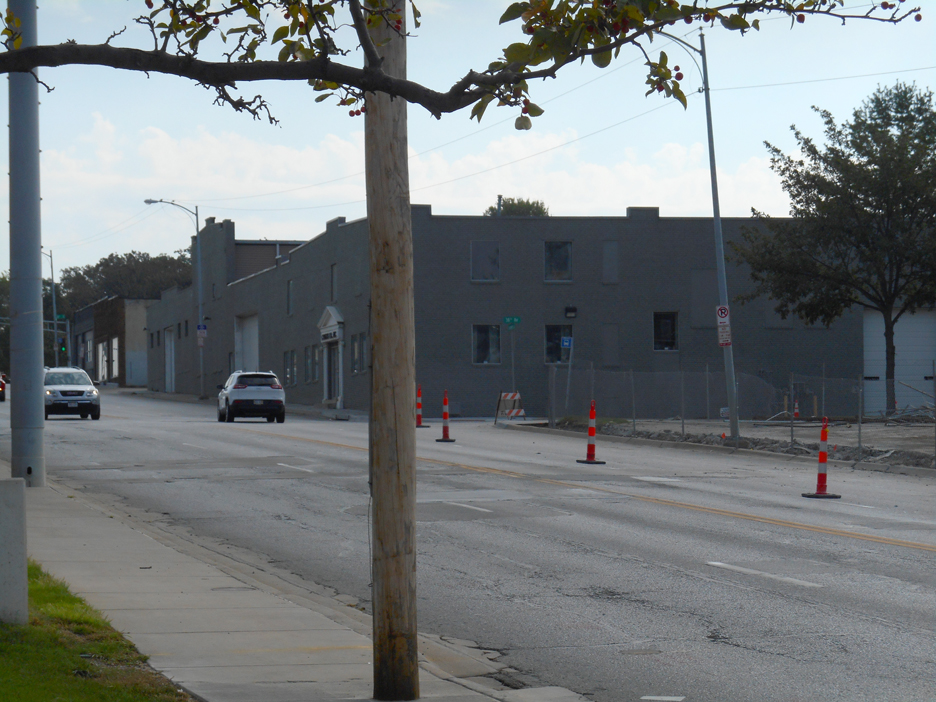 Let's hear it for Cyrcraft Construction at 3823 Leavenworth.
Cyrcraft Construction's owner Keith Cyr went into the business in 1983, specializing in deck building, deck repairs, porch enclosures and deck restoration. They also offer interior finishing and general remodeling services. I am not sure how long they have been at 3823 Leavenworth, the large grey building to the south of my beloved Fireside Restaurant and the original Downunder Lounge location but I often smile to see the employees at Cyrcraft sit out on Leavenworth for their break. Let us hope they stay put and continue to have a successful run at this location.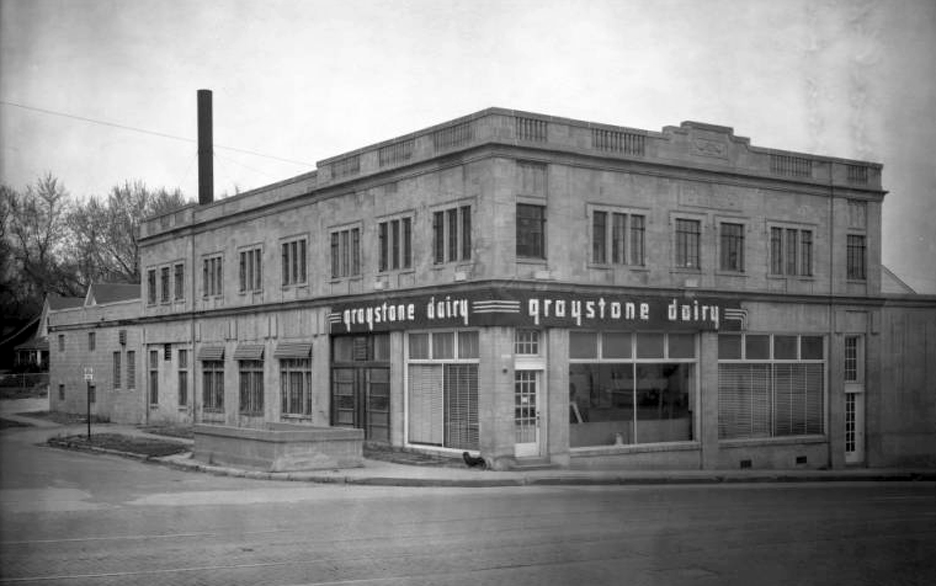 Demolished: 3851 Leavenworth. Built in 1929, this structure originally housed the Rossbach Coal Company and very soon after, I found, shared quarters with the Nebraska Stone Company warehouse. This stone company created natural stone mantels in addition to birdbaths, flower pots, benches, gazing globes and sun dials. After further inspection, it appeared the J. J. Rossbach was also president of the stone company. Isn't that tidy? By 1940 Rossbach was closing out of the Garden Shop business and Graystone Dairy had taken over the address. Graystone Dairy would move in by 1941 to much fanfare. Portion of the Graystone Dairy plant on the southeast corner of 38th Ave & Leavenworth Street. It is a large two-story concrete block building. November 3, 1957.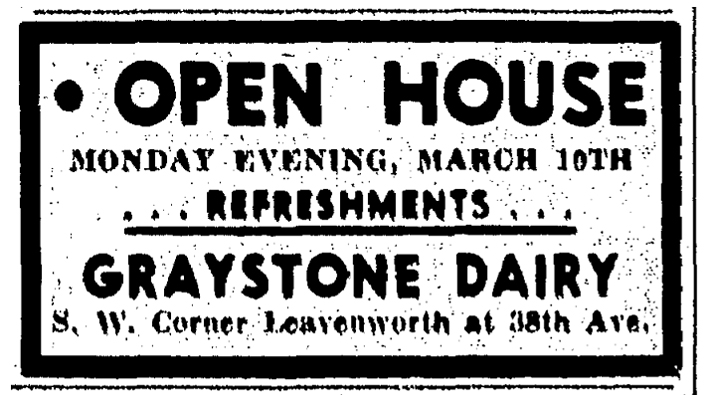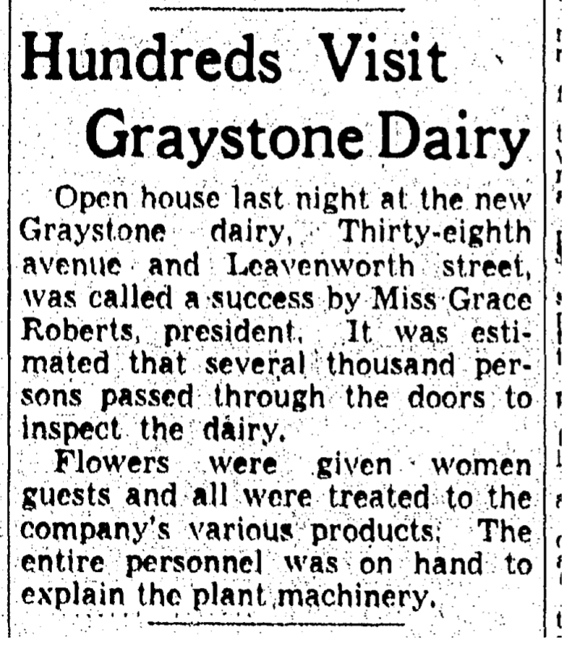 OWH. March 1941 opening. It is wild to think that the opening of new dairy would draw in the public.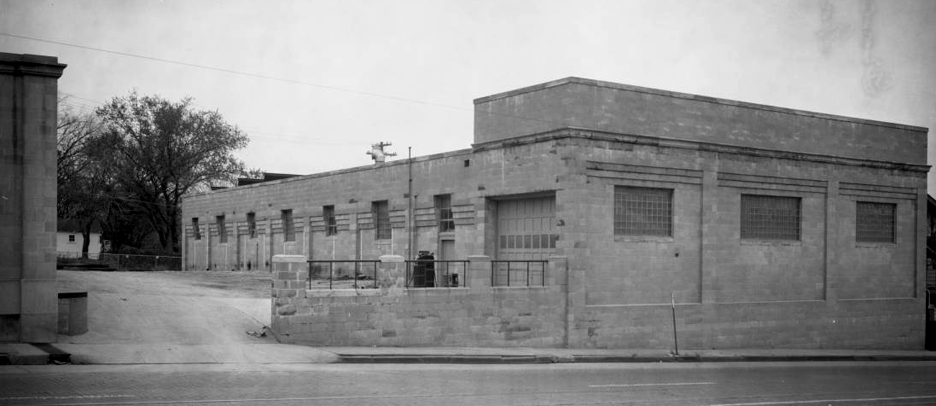 Demolished: The Graystone Garages. The garages for the Graystone Dairy delivery trucks would be constructed directly to the west of 3851 Leavenworth. November 3, 1957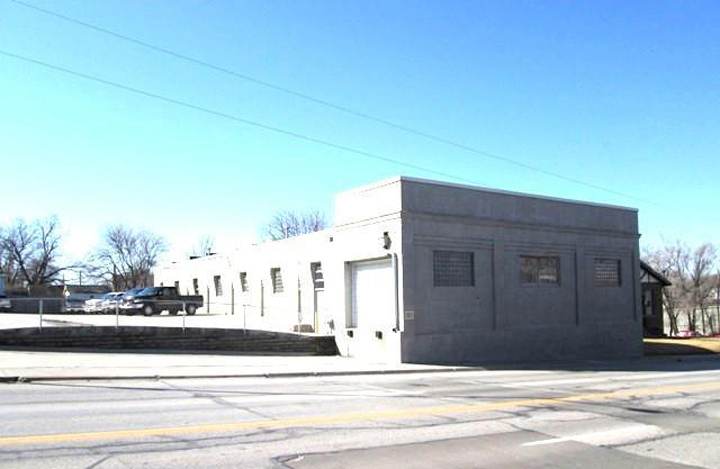 The Graystone garages in recent (better) times. Different businesses would occupy these garages through the years subsequent to Graystone closing. Early on these other businesses were met with a real fight by local homeowners.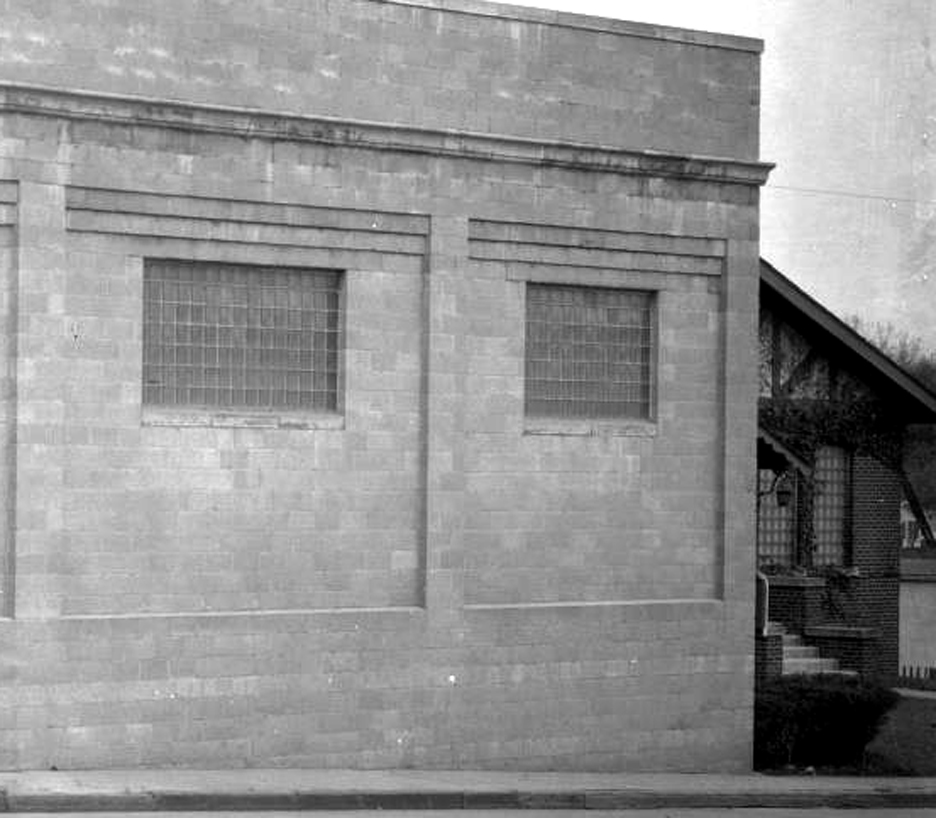 Detail of Garages for the Graystone Dairy plant on the west side of the plant on 38th Ave & Leavenworth Street. Little Tudor is peeking around from the westside. November 3, 1957.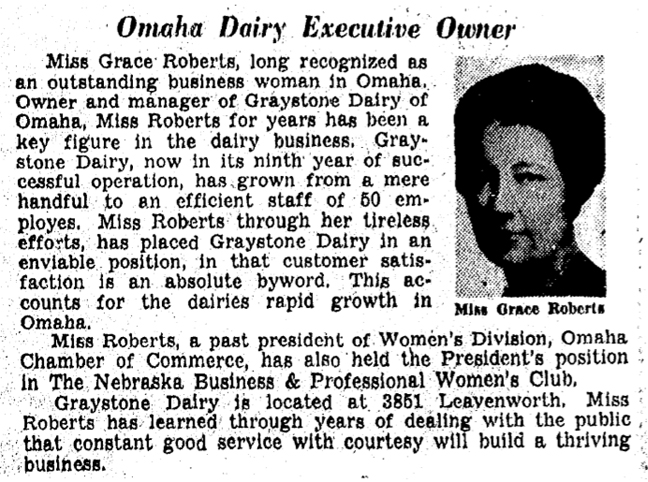 I was pleased to see that Miss Grace Roberts was owner and manager of Graystone. OWH. 1949.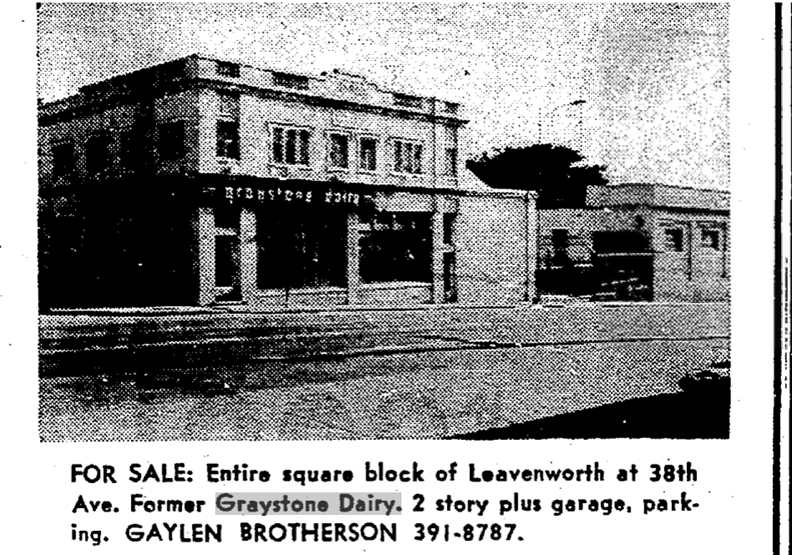 Fairmont Dairy acquired Graystone back in 1969. In 1973 it was announced that Fairmont would be consolidating their business and closing locations but "we will not close any in Omaha." Unfortunately by 1972 that dairy plant was also gone and the building stood empty. Graystone Dairy plant at 3851 Leavenworth Street was officially put up for sale. OWH. 1972. The fine neighborhood surrounding the plant would continue to fight as each new business interested in buying the plant attempted to degrade their single-family collection of homes by way of putting in low rent, "inappropriate for a neighborhood" enterprises. By 1982 the "Old Graystone Dairy building" was advertised as a site for a haunted house, complete with a horrifying maze, a boiler room, snake pit, torture chamber and mad scientist.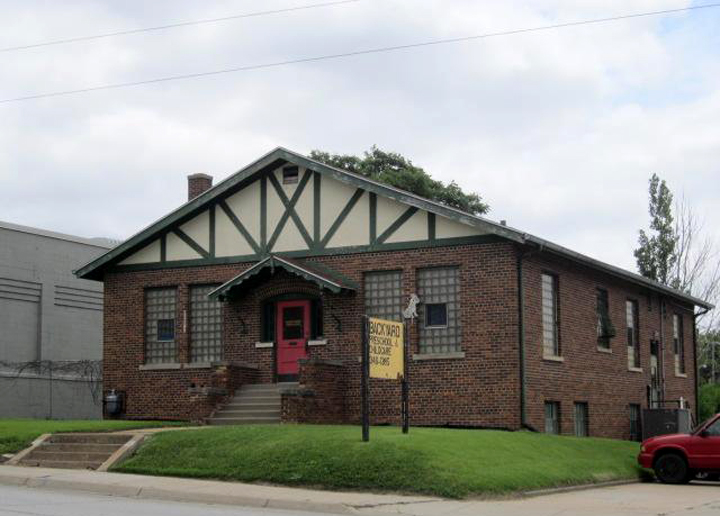 3867 Leavenworth as Backyard Preschool and Daycare.
Demolished: 3867 Leavenworth, a 2,480 sq ft Tudor eclectic style office was built in 1927. Robert and Patricia Smolinski have owned this structure since 2001. Most recently it was a day care center although I've never seen anyone come or go from the building. It may have been sitting empty all of these years for all I know.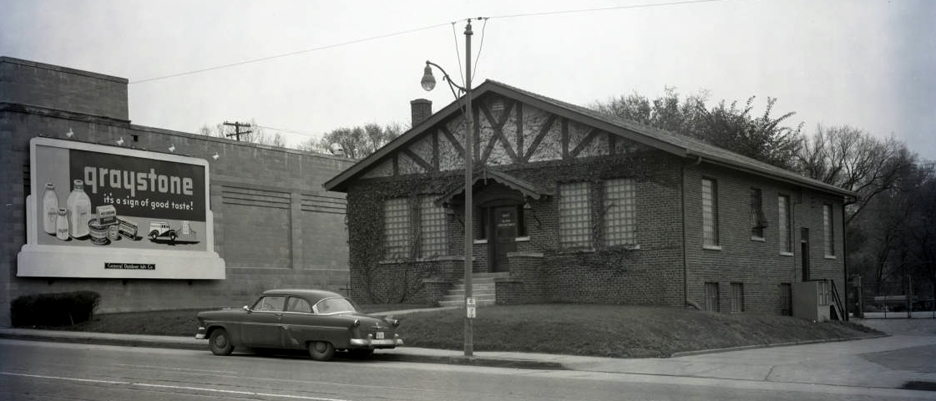 The Inland Construction Co. building at 3867 Leavenworth Street. To the east is a billboard for Graystone Dairy as well as the wall of the garage. November 3, 1957.
Back in 1930 this little Tudor was the office building of the Central Bridge and Construction Company, later Western Bridge and Construction, a member of the Omaha Builders Exchange. In 1936 Inland Construction Company was in place. That year the company was awarded the contract for the million-dollar Armour & Company pork house in south Omaha. Inland gave it a good run and was at 3867 Leavenworth until 1970. There were a few other inhabitants until the Child Protective Services took over the offices. In 1976 it was announced that the Douglas County Child Welfare Unit would move out of 3867 for South Omaha due to protest by the Omaha Association of Foster and Adoptive Parents group regarding the condition of the old quarters. Reportedly parents whose children had been placed into foster care had to visit their kids in a basement boiler room. Scary!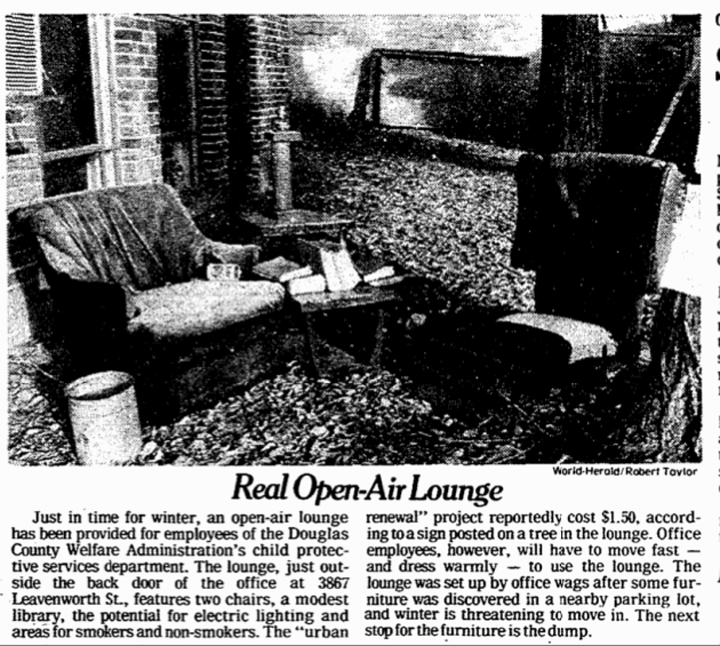 Very weird mini story from 1979 about the break room of 3867 Leavenworth. I can't think of many government offices that would allow this story to slip by in this day and age.
There is evidence that the County Welfare kept admin offices there until 1980. Sometime in the 1980s the Backyard Preschool and Childcare Center moved into the premises and to my eyes, at least, it hadn't really been updated since. I will admit, I wanted to look in that little building for as long as I can remember because it felt very heavy there.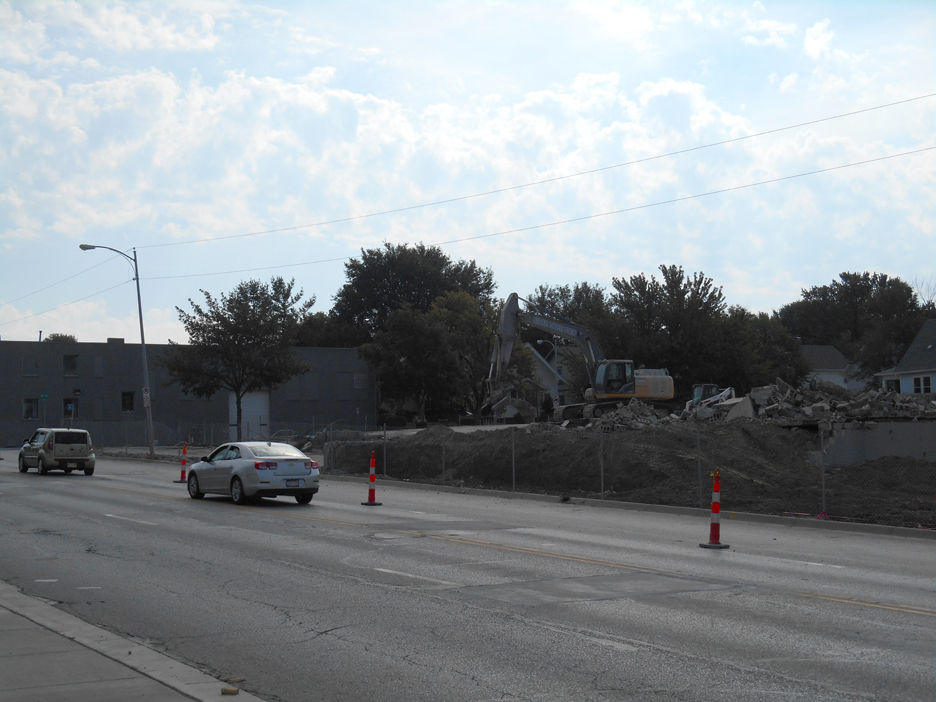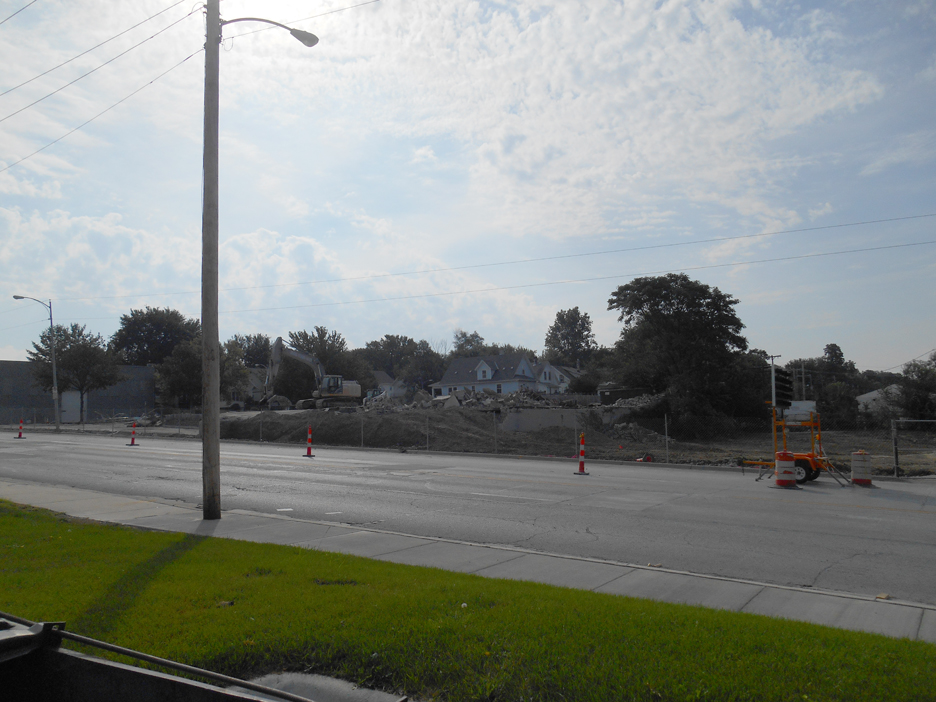 September 24, 2017. Current state of affairs.
Further Leveled: 3875 Leavenworth was an empty lot to the west of the day care, measuring .32 of an acre. This was the third parcel approved for sale by the University of Nebraska Board of Regents in March of 2017 to Nebraska Organ Recovery.
I welcome your feedback and comments on the strange and wonderful Leavenworth Street. Do you know about the Graystone Dairy? Let us hear from you. Please share your additional clues to the story in the "Comments," as we know more together. You can keep up with my latest investigations by joining my email group. Click on "Contact" then look for "Sign me up for the Newsletter!" Enter your email address. You will get sent email updates every time I have written a new article. Also feel free to join My Omaha Obsession on Facebook. Thank you, Omaha friends. Miss Cassette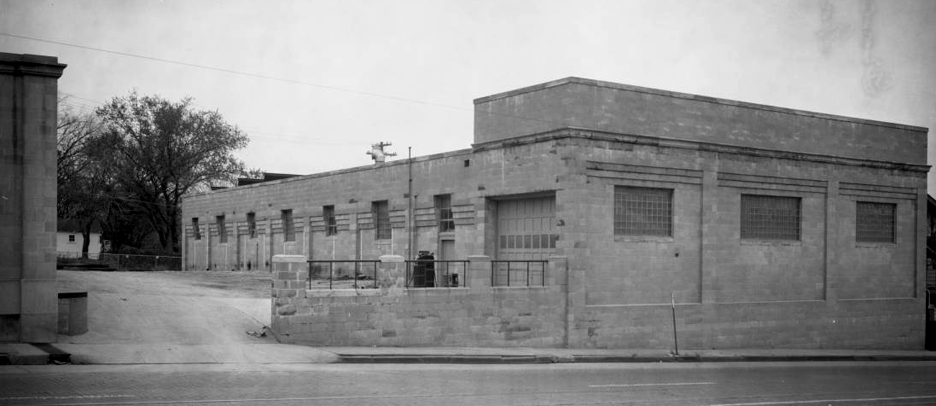 © Miss Cassette and myomahaobsession, 2017. Unauthorized use and/or duplication of this material without express and written permission from this site's author and/or owner is strictly prohibited. Excerpts and links may be used, provided that full and clear credit is given to Miss Cassette and myomahaobsession with appropriate and specific direction to the original content.