An easy steer east on Leavenworth has long been a pageant for the senses and I suppose it has always been that way. There were animated performers in plenty on that Saturday morning as I hummed along the street, taking it all in—shop keeps dragging their wares out onto the sidewalks, bicyclists pedaling home from last night's gathering, the buildings themselves propping up in the sun, someone looking along the La Casa curb for a half smoked cigarette. Various Cool Customers were sprinting through oncoming traffic in their pursuit of a place in line at 11-Worth Café while some Rare Birds were strolling the corner at 24th. But all the while thinking how each were such beautiful figures to me and I do hope they may also seem so to you. Clearly of the Ordinary Leavenworth Variety. A strain, you by now know I have a deep attachment to.
It was in this hazy fellow-feeling state that I first saw that pink frosted blow-up pool floatie donut attached to the old 20th Street Liquor Store sign. Maybe you, too, are obsessed with this old haunt on 20th and Leavenworth? And were those colorful, plastic, pennant flags waving in hot breeze of the parking lot? Spellbound, this amateur detective about jumped on the breaks in the middle of street. Was this a new Baffling Mystery? The car shunted, almost on it's own and then looped around and headed back down the Leavenworth trail again so I could crane for a better view. Damn it all, where were my binoculars? Yes, it was true. The old, sleeping 20th Street Liquor Store had been reawakened and there was no Hannah Gruen riding shotgun to consult with.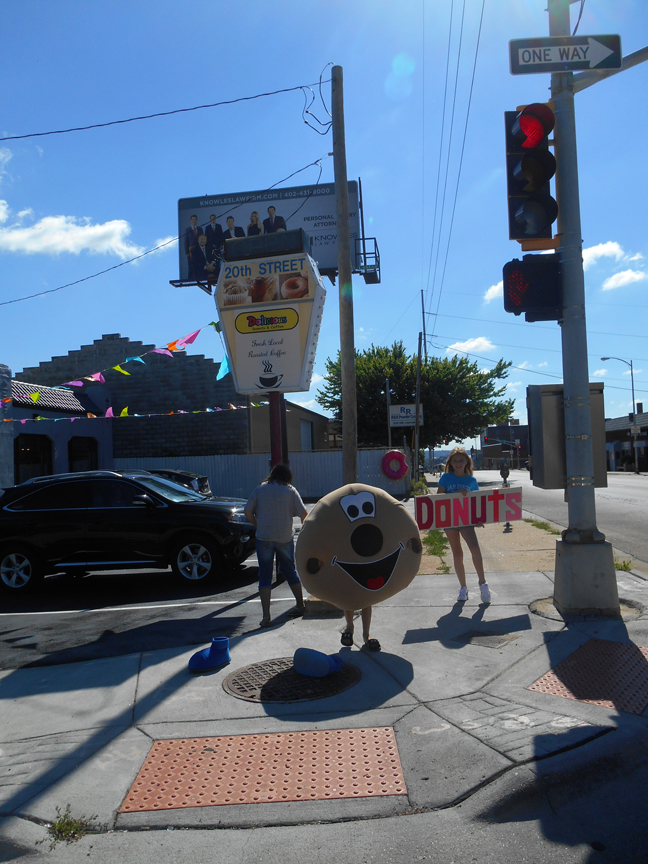 I have been keeping an eye on this property since serious rehab had begun in 2016. Gray on gray paint: my heart gave a painful leap. New windows: I thought, "How cunning a tea shop would be. A Roadside Tearoom…" New black top parking lot: "Noted. Something is happening soon." I watched and I watched the work. The boards came down and new dark windows were revealed. And here it was at last. The suspenseful cliffhanger: A Donut Shop.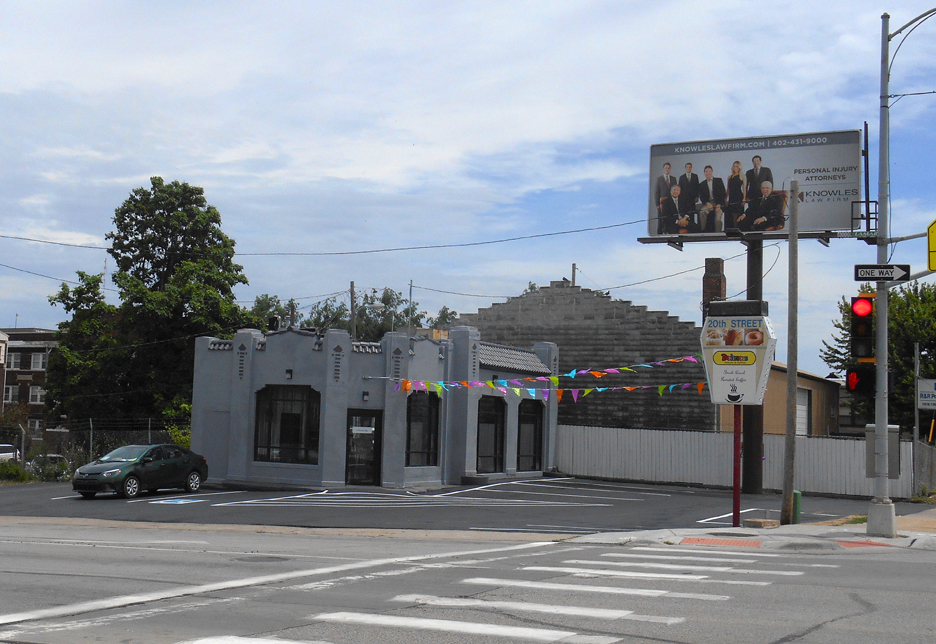 Truthbetold, there was nothing studied about its new appearance. Something of a gray duct tape blob. But nothing had been torn down. It was all there… In fact, the building had been cared for and restored. The old wood was removed from those windows. The stucco had been mended. Cause for Celebration!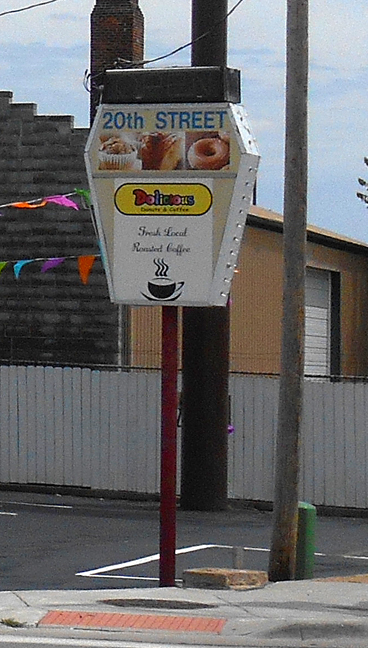 It was more of a signboard collage offering numerous fonts and illustrations but exuberant and mysterious nonetheless. It was an odd Omaha treasure. I was elated that this little building I have long loved was given a chance at life once again.
My Recollections of 1928 Leavenworth
So let me try to paint this memory clearly. My high school boyfriend was an older fellow who would buy all of us punk kids liquor. That is not to say that that was all he was good for. He was also considered a fine street skater. To this day, those of us from that 80s downtown scene cannot be certain of this fellow's age at the time. A true mystery. Wine coolers, cheap beer and cigarettes, those were the orders. The liquor store at 20th and Leavenworth was a frequent haunt as it was a quick stop on our way to the Old Market, some warehouse or alley hang out. We didn't know it was called the Jobber's Canyon. At least I didn't. It was just a great, lonely place to get lost, stand around, feel disaffected, smoke clove cigarettes, climb fire escapes and listen to cassette tapes played from an open car.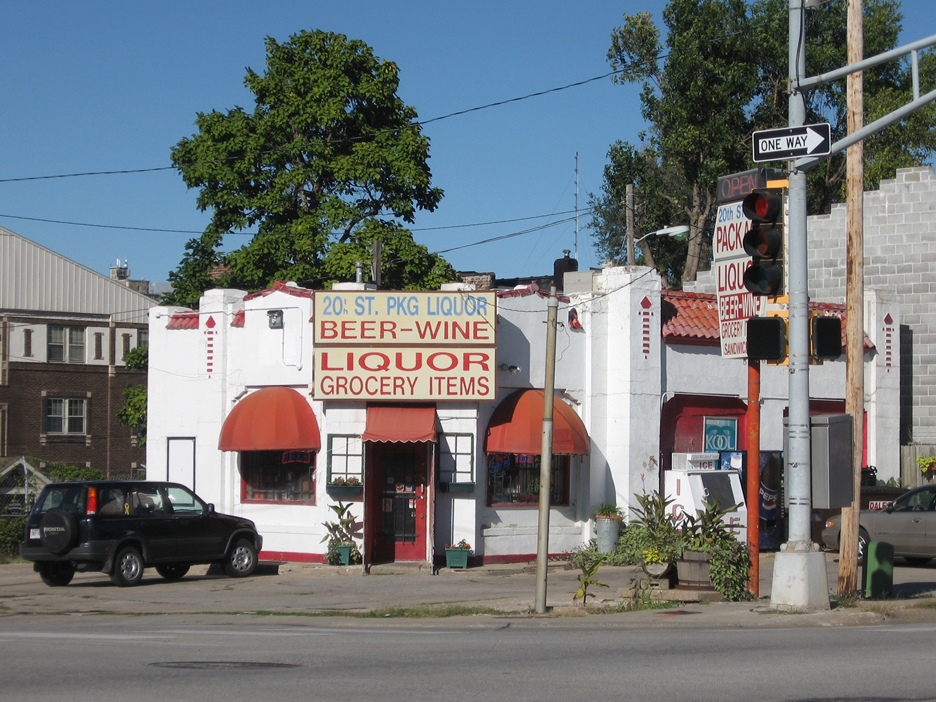 Photographer unknown. 2007.
But back to the liquor store…this corner store was somehow Very Los Angeles to me. Something about the architecture and the structure's positioning on the lot. The problem was we weren't the only ones drawn to this dark corner on the thoroughfare downtown. Like a magnet for the wanderer, the lonely, the talkative, visiting the 20th Street Liquor Store could often mean trouble. Scary Larrys, as my girlfriend Jude would call them. Sitting in the darkened parking lot before midnight would probably give the police peculiar ideas but we never stayed long. We kids had always been on the most cordial terms with at least half of the wanderers downtown.
For a short time in the 1990s I would stop in the 20th Street package to purchase cigarettes, maybe just to remind myself of my past or who I used to be. And really, I've always enjoyed lingering with those near brushes with death. After a while my friend, Heather Akerberg, would start a small bookstore down the way, on the south side of the street, called the Bookstation, a writer's writers' haven. So wonderful. Years later it would become Dixie Quicks' second home, the creation of Rob Gilmer and Rene Orduna. The Magnolia Room at 1915 Leavenworth St. incorporated a curious antique-vintage clothing shop and art gallery.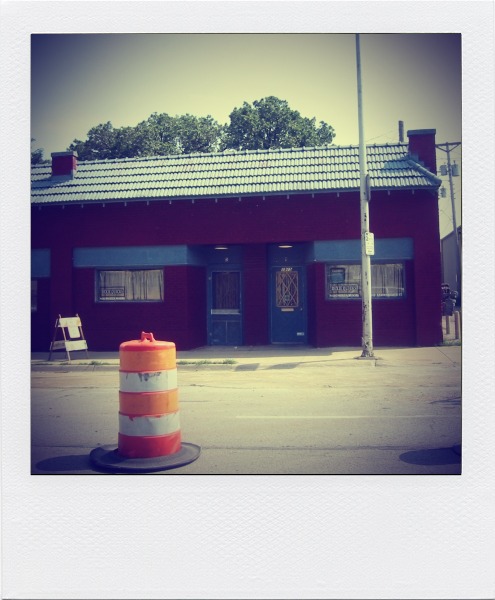 1915 Leavenworth Street. I took this one in 2011.

The corner shop in 2011.
In recent years the 20th Street Liquor store had looked cold and forlorn and undecided. Characteristics I am not necessarily opposed to. But these frozen moments of time were just my sketches, after all. What was the true history of this magnificent little building? So in keeping it brief, very brief, I will share with you some of my detective work. There were no secret passageways that I unearthed but someone may come forward with a missing key.
Magnificent Obsession is a new short-read series meant to briefly highlight incredible projects in Omaha or my most recent obsessions, apart from my lengthy historical pieces. Yes, it's named after the Douglas Sirk film.
The Beginnings
The story begins just east of the 20th Street Liquor Store, where Milton Rogers built his proud residence. The large home was roughly on the north corner of 19th and Leavenworth. His land extended to a stable, barn and other out buildings. I cannot be sure in what all directions his land wandered, as this was to be a very short story but I will make this connection a bit later.

Milton Rogers' residence stands on the North West corner of 19th and Leavenworth. The house is fenced in from the street and has trees in the yard. 1896. (Photo courtesy of the Bostwick-Frohardt/KM3TV Photography Collection at The Durham Museum Photo Archive).
Rogers was mentioned with high regard in Arthur Cooper Wakeley's book, Omaha: the Gate City and Douglas County, Nebraska , Volume 2. Milton Rogers was considered an Omaha merchant pioneer, making his name in the hardware business. Milton Rogers & Sons would go on to be leaders in "hardware circles." Good heavens, can you imagine? Rogers was also the director of the Union Stock Yards Company, South Omaha Land Company, Omaha Water Company and the Omaha Street Railway Company. Proving, once again, that we could all accomplish a lot more with our time if we would only get off of this blog.

From the OWH in June of 1902. There was a First Class Barber at 1928 Leavenworth. Now I have reason to believe, although this is the same address as our little liquor store, this was not the same building. But it was the first mention of 1928 Leavenworth.

In August of 1907 there was announcement of a barn to be removed and sold near north east corner of 20th and Leavenworth. This is squarely where our little mystery building is currently located. Coupled with the fact that Milton Rogers & Sons were doing the selling, led me to believe that the Rogers' property extended to what would become the liquor store.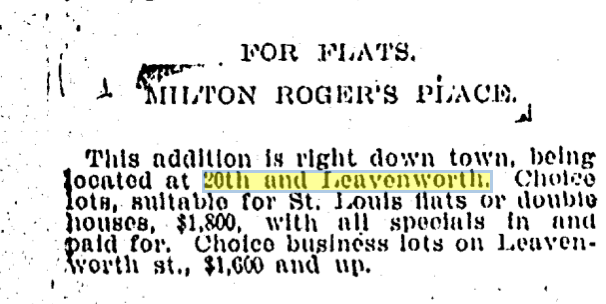 This 1909 advertisement revealed Rogers' selling off lots from his property. In the next decades I would find rooming houses and flats nearby. There was also a Schmidt News Stand very close to, if not at 1928 Leavenworth in the late teens and 1920.

Looking east on Leavenworth Street from about 18th Street. There are people walking in the area. There are cars parked on the street and car traffic in the street. There is a billboard on the left advertising Falstaff Beer. A laundry delivery truck is parked on the right and is being washed by a man with a garden hose. 1935. (Photo courtesy of the Bostwick-Frohardt/KM3TV Photography Collection at The Durham Museum Photo Archive). Although taken later this photo shows the development in the area.

This is another one I took in 2011 at 19th and Leavenworth. If I am not mistaken, I think it is the same building that is featured in the previous photo.

Looking northwest at the White Company building at 20th & Leavenworth Street.  January 1, 1929 (Photo courtesy of the Bostwick-Frohardt/KM3TV Photography Collection at The Durham Museum Photo Archive). The White Company, out of Cleveland, was located on the west side of the street, directly across from what would become the old liquor store. This large building is still standing.  The White Company came to the corner in the 1920s. This was a successful bus and truck company.

Looking north on 20th Street from Leavenworth Street. A man is walking north on the sidewalk, across the lot of what would become the 20th Street Liquor Store. The White Company building is on the left. January 2, 1929 (Photo courtesy of the Bostwick-Frohardt/KM3TV Photography Collection at The Durham Museum Photo Archive). I love this photo and the blurred shadow of a man.

Here is a detail showing the Drake Court Garage "Open All Night" and I think, the Hotel Fontenelle in the distance. But what I really want you to notice is this building right before my shadowy man. The building that is directly north of 1928 Leavenworth. Notice the barred door with the double windows.

Here is that same building with the same barred door and now barred windows, shown in the background of this 2015 photo. Yes, I delight in these small matters. Photographer unknown.
1928 Leavenworth Street
The Douglas County Assessor reported 1928 Leavenworth as having been erected in 1933. Sometimes their dates can be off a bit. From what I can find, 1928 Leavenworth was originally a Sinclair Service Station. The building remains intact to this day. The solid stucco, originally white, with terracotta tile roof and simple design was of a Spanish style. I think these attributes must be why the little shop felt so L.A. to me in high school.

Sinclair Station at 20th and Leavenworth seen in the distance in this 1939 photo. I adore this one! Look at that old round sign and cool lot lights. Three cars involved in a collision at 20th and Leavenworth Street. A streetcar is behind them. In the background are several large billboards. (Photo courtesy of the Bostwick-Frohardt/KM3TV Photography Collection at The Durham Museum Photo Archive).
**Update from August 31, 2017**
I received an outstanding email and photo from one of our fellow reader-sleuths a short while ago and am just now getting around to this addendum. My apologies. He prefers to keep his anonymity, which Miss Cassette observes. He wrote, "Attached is a photo that shows the Sinclair station not long after it was constructed.  It was built by my current employer in the early years of the company (not sure what the date would be but we were founded in 1924 or 1926?)  as W. Boyd Jones Construction. Amazing how much original detail still exists on the structure.  Glad to see it getting some rejuvenation."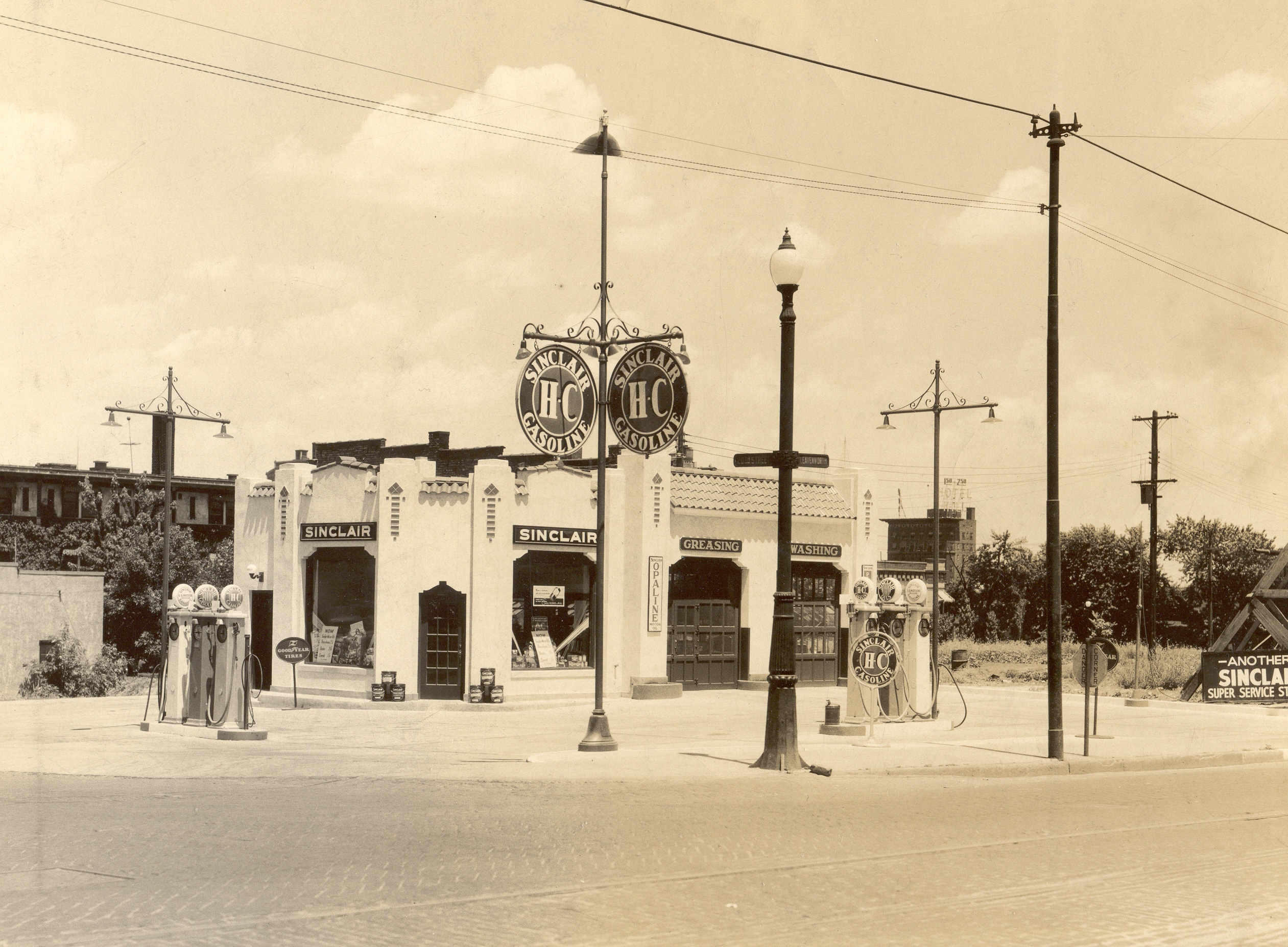 Just soak it in….unbelievable. Thank you so much, Anonymous Detective Friend and Excellent Work!
I was able to locate these other fabulous examples of Sinclair Service Stations from the same time period.

Photo of Sinclair Station in Decatur, Michigan. Photographer unknown.

Photo from the State Archives of North Carolina.

I am not sure where this one is located. Photographer unknown.
History of the Stucco Service Station
Taken from the Preservation and Repair of Historic Stucco by Anne E. Grimmer, "The term 'stucco' is used here to describe a type of exterior plaster applied as a two-or-three part coating directly onto masonry, or applied over wood or metal lath to a log or wood frame structure. The introduction of the many revival styles of architecture around the turn of the twentieth century, combined with the improvement and increased availability of cement resulted in a 'craze' for stucco as a building material in the United States." The stucco gas station craze particularly gained momentum in the 1930s and 1940s, incorporating certain historic architectural styles, like the Spanish Colonial, Mission, and Pueblo, which obviously lent itself to this adobe look. Not just a California or Florida design, this stucco style provided a "romance" look throughout the U.S. I believe this style still holds up today and continues to catch my eye no matter what city we have traveled to.

Another detail of the previous 1928 Leavenworth Sinclair Station photo. I bring this up so that you can examine it as you read the next bit. Beginning in the 1930s service stations increasingly used segmental overhead doors. From the National Park Service U.S. Department of the Interior site The Preservation and Reuse of Historic Gas Stations, offered information about the early 1930s Box-Type Service Stations. "Blending Art Moderne and International Style motifs, box stations featured flat-roofs and unadorned exteriors of stucco, terracotta, porcelain enamel steel, or structural glass panels. Pushed during the Great Depression to explore other revenue streams, station owners added service and repair bays (emphasizing the characteristic rectangular footprint of box stations) as well as expanded sales areas to market lucrative car tires, batteries, and accessories. Large display windows and glazed service bay doors highlighted these products and services." I know I was to aim for brevity but man, I love this stuff.
1960s-1970s
The little Sinclair Service Station continued on until I noticed a shift in the 1960s. Spencer Auto took over the property as a small used car lot and began running advertisements in 1964.

October 11, 1964 Spencer Auto
Spencer Auto Sales was run by E. E. "Pete" Spencer and Charlie Yoakum. Both good names. By 1967 Spencer was off the sign and the shop was called Charlie Yoakum Auto Sales, moving serious bank repossessions. The lot was still selling vehicles into the 1975 but oddly turned to the sole purpose of unloading a 15 Ft aluminum camper. The offer was "trade on house or car. 1928 Leavenworth" and then POOF. The business was gone.

September of 2016. I try to imagine all of those incredible 1960s and 70s huge used cars crammed in this lot.
Lorna Lee Brooks and the 1980s
In 1986 1928 Leavenworth was reincarnated once again. It was reopened as the 20th Street Liquor Store. It was in these early months that I noted the first of a long series of robberies in the Omaha World Herald. "November of 1986: Burglary Police call 20th Street Package Liquor Store, 1928 Leavenworth St., liquor, wine, beer, cigarettes, food and watches, value more than $300, reported Friday." From then on it appeared to be a robbery every couple of months.
By January of 1989 I tracked a slight amendment to the liquor store name, Lorna's 20th Street Liquor Store, allowing me to find Lorna Lee Brooks. I know, another great name. As it turned out Lorna Lee Brooks is the same Lorna Lee Brooks who owned the fabulous Fan Tan Club on Center. Is anyone else dying? The Fan Tan Club is one of my all time favorites. Not only for the name, which I guess was a Chinese gambling game, but both buildings had that thick, white stucco that I love with terracotta roofs. Although now I do believe that the Fan Tan took off their clay tiled roof. Let me see if I can find a photo.

The Douglas County Assessor says this great building was erected in 1927. 5915 Center Street, the way I've always remembered it. Photographer unknown.

This 2015 photo is from the Assessor's site, showing the new roof. Also missing is the simple hand painted Fan Tan font on the side of the building. Not as fantastic but still love the place. Apparently the Fan Tan Club was in trouble in 1941 when 24 neighbors wanted their "dance permit" revoked, for being a wild, happening joint.
Trouble Down at Lorna's
Within Miss Brooks first year of operating the 20th Street Liquor, Omaha Police Vice were called in to carry out warrant searches on an alleged bookmaking scheme. The OWH reported in December of 1986 that the searches were part of a three – month investigation into bookmaking on football games. Records, cash and "other items" were confiscated at the Fan Tan Club; the home of Lorna Brooks, the owner of The Fan Tan; the home of Verner Stewart; and the home of Edward Miller Jr. "Officers manned telephones at all four locations and, with the exception of The Fan Tan, fielded calls from people phoning in wagers. At one of the locations, officers took calls for more than $1,000 in bets." Attempts were made to flush the gambling records down a toilet, police said.

The fabulous Fan Tan Club in 2016.
When it was all said and done, the sting operation included a court – authorized wiretap on the telephone of Lorna Lee Brooks, then 54. "Miss Brooks, who allegedly ran the bookmaking operation, was charged in a warrant with eight counts of promoting gambling. Miss Brooks was released after paying 10 percent of a $28,000 bail." Undercover officers who placed bets at the Fan Tan Lounge, 5915 Center Street, obtained additional evidence in the investigation. Detective said "Miss Brooks owns the bar, alleged headquarters of the bookmaking operation. The operation handled $50,000 to $75,000 a month in bets on football games." WOW, Lorna. Big leagues. All the while she was also operating the package store on Leavenworth. Who knows what other businesses she was involved in? Was this the older woman I would buy cigarettes from in the early 90s? I could not be sure exactly…everyone seemed old back then. I made a mental note that Lorna Lee Brooks would be more thoroughly investigated later.
In December of 1993, Howard J. Kaslow officially sold 1928 Leavenworth to Lorna Brooks for $17,000. Seems like quite a deal. I'm sure there's a story there. Kaslow is a well known attorney practicing corporate law. Brooks must have been just running the place all those years. Miss Brooks continued to lead an amazing life but in these later chapters, she became close with the downtown police, hostessing a hub of sorts. "A mini-precinct" as it was called. An article from 2004 gave description: "Lorna Brooks, the 74 – year – old owner, has taken care of officers for years, expecting nothing in return. Her store is known as a good place to stop for coffee, conversation or a clean restroom. She makes cookies at Christmas, corned beef and cabbage on St. Patrick's Day, and ham and turkey dinners for officers working the holidays." A detective explained that some officers "drop by while they fill out reports." Brooks apparently threw an annual Fourth of July cookout at her home, inviting officers and people from the Leavenworth neighborhood.

The shop looking a little weatherworn in 2013. Photo from the County Assessor's site.
Unfortunately Miss Brooks was robbed at gunpoint and pistol-whipped in March of 2004. "I thought I'd seen everything with those racetrackers," Brooks said, (speaking of the Fan Tan's close proximity to the Ak-Sar-Ben track."I hadn't seen nothing until I got to 20th and Leavenworth. Everyone that walked in, I thought they were going to rob me." At that point it was understandable that Miss Lorna Brooks was hesitant to return to 20th and Leavenworth. And I am not entirely sure if she ever did. Maybe one of you knows the rest of the story?

From 2016. All repainted and ready to go.
2010s and the Donut Shop

In 2011 Cohoano Investments sold 1928 Leavenworth to Alandell Properties for $110,000. I found the property mentioned and photographed in the 2011 Nebraska Historic Resources Survey and Inventory Reconnaissance Survey of Downtown and Columbus Park Omaha. Although the little stucco building does not carry a National Registry historic title, it was included in the survey as a contributing historic building to the district.
By 2014 Alandell Properties sold to Kruse Investments, for $100,000. April of 2016 brought yet another sale by Kruse Investments to 20th Street LLC for $100,000. After snooping around my detective work revealed that 20th Street LLC carries the address of 2702 Douglas Street, which is owned by Dave Paladino's Landmark Group, a local real estate company. I am sure you are familiar with their Dino's Storage marquee downtown often featuring entertaining head and chin scratching quotes. But have you happened upon Paladino's reality television show? You just might want to get a peek at 2011's series, The Super. I think it's on Netflix.

I wondered, did the Landmark Group own this mysterious new donut shop? Were these the same people who owned Delicious Donut at 2033 North 20th Street? I cannot be sure.

I did find out that the new Delicious Donut crew happens to be renting 1928 Leavenworth from Landmark Properties. Would you get a load of those windows? Yes, I wish they would give a nod to historic Sinclair Stations and return the stucco to white and green. And yes, I'd like to see the gray paint removed from those original tiles. A girl detective can dream right?

Formally, I want to give a salute to the owners for rehabbing this great little building, seeing it's inherent style and not tearing it down. We need these gems in our city. And thank you to the new donut shop crew for creating a special, warm space to hang out, talk and have coffee. I have heard through the grapevine that this casual shop is really catching on with the downtown police force (like when it was Lorna's place) and local firefighters.

Another added piece of sleuthing wonderment: the front door says "Nicolosi Café."
Driving Leavenworth Street surely must be one of the most colorful pleasures, which Omaha can afford. If questioned, I will shout it from the top of the Neighber's Bar, "My love of Leavenworth is so unreasonable!" Get out there folks and walk the beat with me. Much love.

I welcome your feedback and comments on 1928 Leavenworth Street, its history and the downtown district. To comment, please scroll to the end of this page. If you would like to correspond with me privately, please do so at myomahaobsession@yahoo.com or in "Contact." But I assure you, everyone would love to read what you have to say and it makes the conversation more fun. You can keep up with my latest investigations by "following" myomahaobsession. You will get sent email updates every time I have written a new article. Also join My Omaha Obsession on Facebook for different comments and discussion unrelated to the blog. Thank you, Omaha friends.
© Miss Cassette and myomahaobsession, 2017. Unauthorized use and/or duplication of this material without express and written permission from this site's author and/or owner is strictly prohibited. Excerpts and links may be used, provided that full and clear credit is given to Miss Cassette and myomahaobsession with appropriate and specific direction to the original content.