If you have not yet followed the footsteps along the path of Mysteries of Omaha: 1002 North 72nd Street, you will want to turn back around, exit through the secret wardrobe, crawl toward your room and head to the very beginning. Look for the big farmhouse on the left. I am not trying to be a Miss Bossy. That is Mr. Cross' job and if he were here, he would tell you very assuredly to do the same. It will make much more sense, fellow sleuths, if you arm yourself with these previous clues.
Part Two
Where we last left off, I had found a great ad from May of 1954, hinting all of the divine details of 1002 North 72nd Street. Peek at this print ad as a reminder.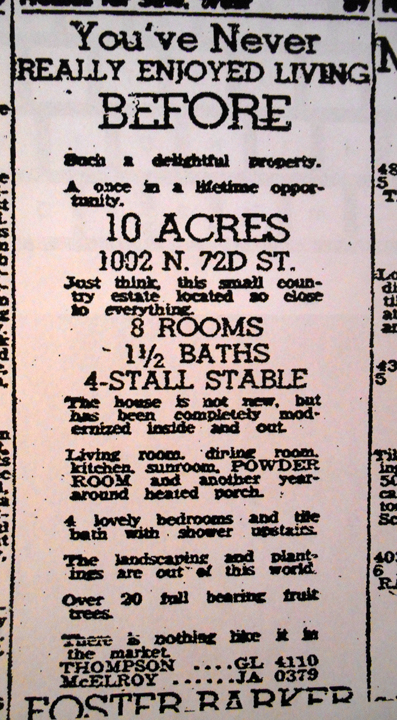 OWH: May 2, 1954
Lot Discovery
June of 1954 brought a brand new family to 1002 North 72nd– Danforth Loring and his wife, Mary Dana. But before we get into this great family, let me elaborate on a much needed, clinched confirmation. I recorded a point of interest during this particular sale. Lillian Stern sold Lot 37 to Danforth Loring in 1954. A note written in pencil to the side margin of the deed list revealed this Lot 37 became exclusively "1002 North 72nd Street" from that point on. In January of 1955 Lillian Stern sold the "N 86'" of the original Krisel property to an Irene H. Minturn. In October of 1956, Irene H. Minturn then sold this land to a mysterious Town & Country Development Group. Through these different exchanges within a few years, I began to suspect that Ms. Minturn was a big hand in the Town & Country Company. Now I know that next to no one will care about this but the Most Possessed of you, but I have been going nuts trying to track Ms. Minturn.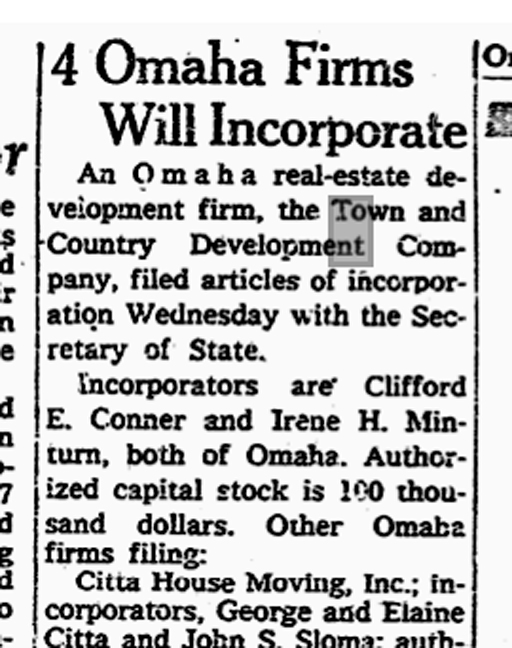 Dec 6, 1956. Just today I found this article. Here is our proof that Irene Minturn was involved with the Town and Country Development Company. I will tie this all together later. Detectives, it looks like I might be able to sleep tonight.
The Danforth Loring Dossier
So let us get back to the fabulous Loring Family. The Lorings bought our favorite farmhouse in 1954. I tracked Danforth back to the United States Census of 1920 when he was but one year old. His parents were listed as "Lacus" (a misspelling of Lewis?) and Mabel Loring. His older brother was William, age four.
Misery Me!I am embarrassed to say that I had a photo of Danforth Loring from Central High School circa 1937 and now I seem to have misplaced it. Someone in the audience might have been suspicious that this Mr. Cross character is really the manifestation of my hidden desire to get organized, correct? I will find the photo shortly. Loring apparently worked for the Union Pacific Railroad from 1938 until he joined the U.S. Army Air Corps in December of 1941.
According to the 1941 City Directory, previous to leaving for the Air Corp, Loring lived at 4805 Chicago Street with his parents, Lewis P. and Mabel Loring residing at 4805 1/2 Chicago.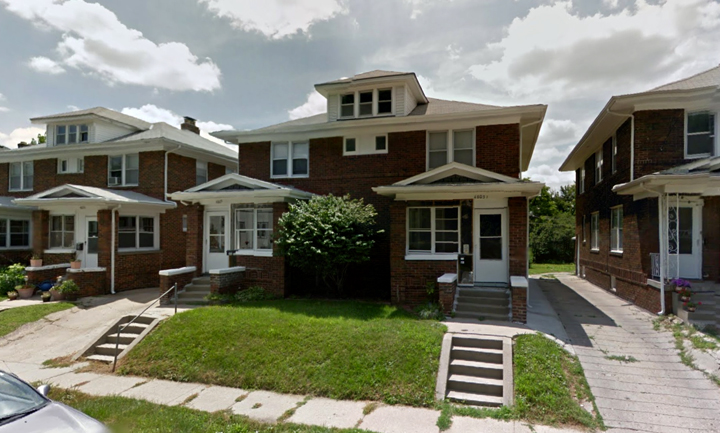 4805 Chicago. Lo and behold, this row of duplexes are well known to me after having several sets of gal pals live in them throughout the years. Found in the heart of Dundee.
By 1949, the Omaha City Directory showed Danforth Loring had married Mary Dana. I estimated him to be about 31 years of age at that time. His occupation was listed as salesman at Foster-Barker. He got into the insurance industry in 1945, joining the Foster-Barker Company in Omaha. He continued with the agency, except for his active Air Force duty during the Korean War. A review of Omaha: The Gate City, and Douglas County, Nebraska, Volume 2 by Arthur Cooper Wakeley, described Jay D. Foster as president of the Foster-Barker Insurance Company, a leading firm—at least in 1917, when the book was published. The Barker family was considered a Pioneer Omaha Family since arriving in the 1850s. Of course Caucasian settlers were considered the first families in these matters. Some of you historians in the crowd may be privy to the extensive Barker Collection of letters. Joseph Barker III just recently passed away and had apparently started the life insurance division of Foster Barker Co. in the 1960s. Danforth would continue in the insurance business throughout his adult life that is, until he became the infamous Sheriff of 72nd Street. More on this auspicious latent career later.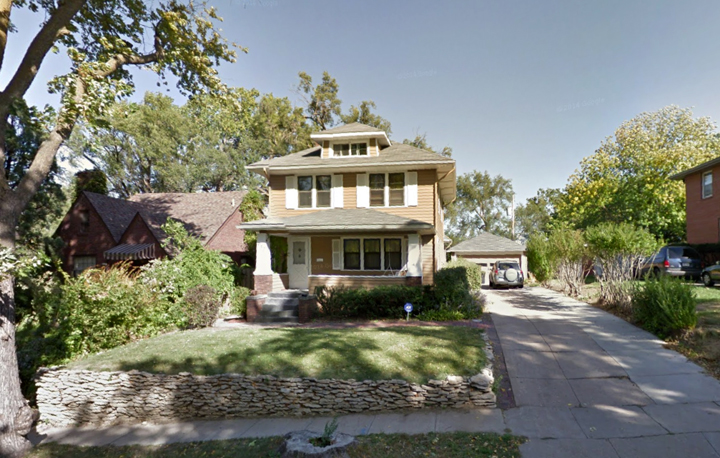 637 North 47th Street. The Lorings lived at 637 North 47th Street in those early years of their marriage. Yet another Dundee Darling. And look, it's American Foursquare. I'm starting to see a pattern here, folks.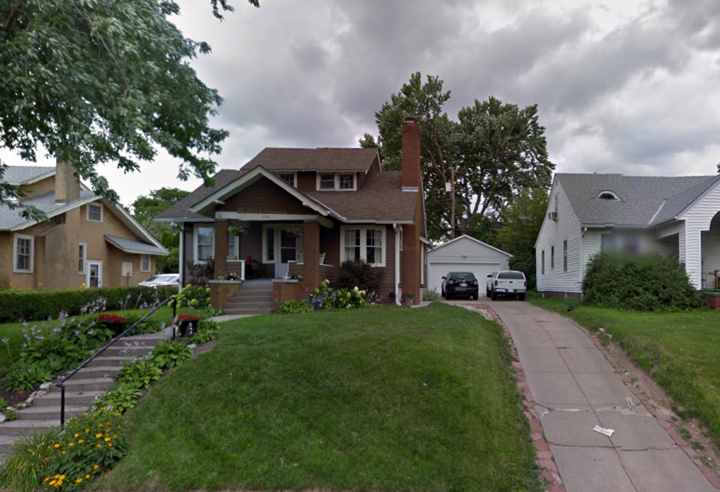 I was delighted to find that by 1955 the couple had moved to 5708 Mayberry. This adorable crush of mine is located in the Elmwood Park neighborhood, a place I get all goofy and drool-y over. If you have a chance, you must walk around this particular block. The smaller 1940s style homes are perfectly matched to the incredible trees, shrubs and feel of this block. Desirous. The Lorings by then had two children: Dan, Jr. (born in 1948) and Trina. Dan Sr. continued working at Foster-Barker Insurance.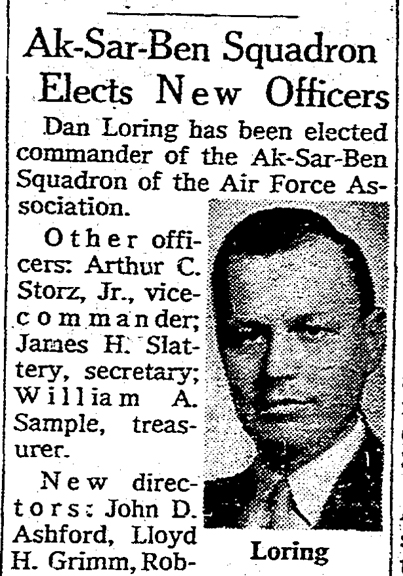 AK SAR BEN Squadron. It was from this article of July 22, 1956 that I first learned Danforth Loring was an Air Force reservist. I was able to root out his World War II enlistment record and found that Loring enlisted in Air Corps in January of 1942. He served as an aviation cadet. His family has said that he enlisted in 1941, according to an OWH article. So let's take their word for it.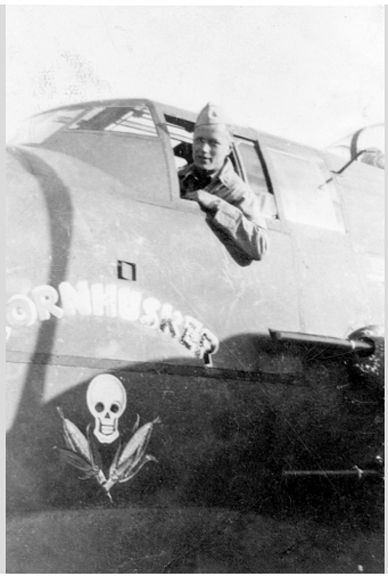 Through this same great article, I was able to find this incredible photo of Loring as well as learn that his son Dan Loring, Jr.might possibly still be in Omaha. (Interview! I told myself) Dan Loring Jr, reported on his father's time serving the United States as a pilot with General Claire Chennault and the Flying Tigers, flying B-25 bombers. Loring Sr. flew 63 missions and received the Bronze Star, two Air Medals, the Presidential Unit Citation, the Chinese Medal of Valor and other combat ribbons. Would you get a load of that killer nose art? A skull and two corncobs? Priceless.
October 25, 1960 Insurance Wives have a Luau. Hawaiian night at the Town House. My favorite place on Old Dodge!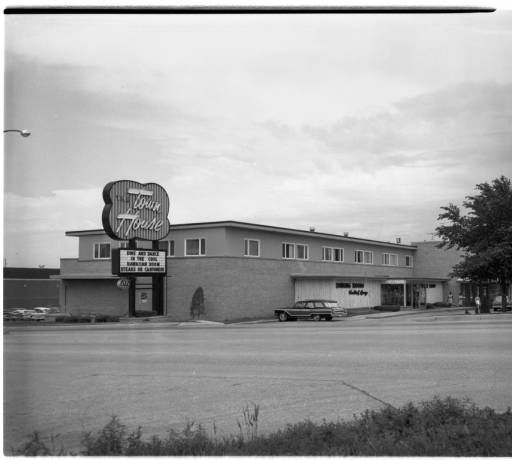 The Town House. 70th and Dodge. 1960s. I believe the tornado of 1975 wiped this out. (Photo courtesy of the Bostwick-Frohardt/KM3TV Photography Collection at The Durham Museum Photo Archive).
Here Mary Loring and Mrs.Walter L. Scott are seen prepping for the party. Yes, that Mrs. Walter Scott. The Lorings was quite social and often mentioned in the papers. Mrs. Mary Loring was active in the Junior League and the Omaha Symphony Guild, organizations befitting of a prominent insurance salesman's wife in those days. I imagine, even now. I began a wonderful daydream of the Lorings moving to the farmhouse in order to entertain larger groups of friends, have room for their kids to roam and to enjoy the distinct feel of pastoral escape. And those trees!
New Development
In 1957 the deed showed that Loring sold lots 35, 36 and 38 to Irene Minturn. We have established that Lot 37 is where the house is situated. Minturn sold the lots "To the Public" and these, in turn, became the Bellair Replat. The Town and Country Company then developed the Bellair Replat as evidenced by the smaller homes to the west of the farmhouse at 7303, 7311, 7319, 7302 and 7308 Izard Street, all built in either 1959 or 1960. I also turned up the "Bell-Air Replat" in a newspaper article announcing approval.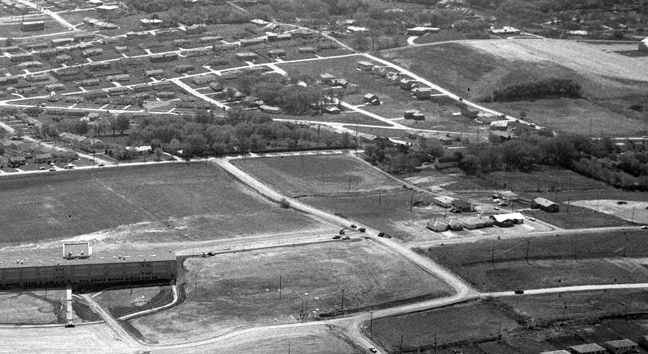 1958 aerial over Creighton Prep High School on 72nd Street. To the right under the cover of the trees is 1002 North 72nd. You can see the barn most distinctly. You can see that the property had been paired down to five acres. But at this angle, one can see where the ten acres might have extended. (Photo courtesy of the Bostwick-Frohardt/KM3TV Photography Collection at The Durham Museum Photo Archive).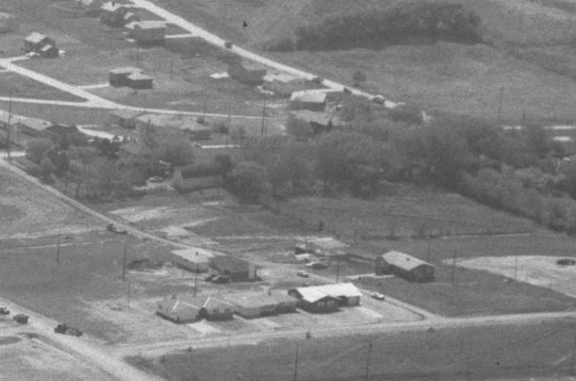 Detail
Trivialities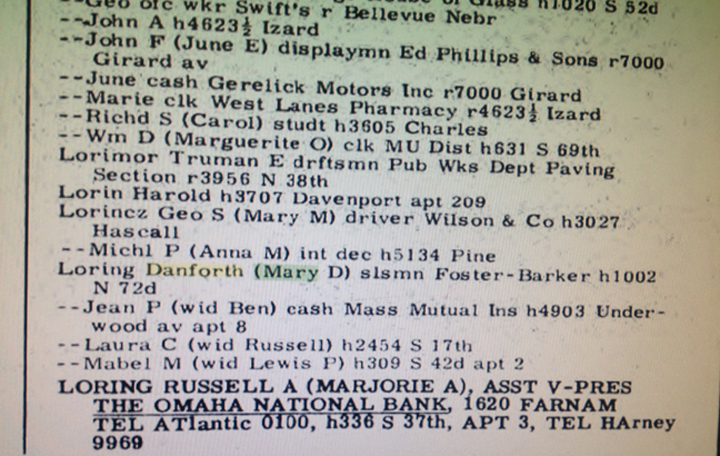 1957 City Directory showed Danforth and Mary live at 1002 N. 72nd. I love the detail in these books. One can see below that Loring's mother, Mabel was still alive, but that she was now widow of Lewis P. The OWH offered an ad from August 6, 1958: "La Salle '38. 4 door sedan original. 42,000 actual mile $200. 1002 N 72nd St." Always fun to hear about what people drove. In July of 1962 they had a fabulous sounding Barn Sale that included a train set and other treasures. That piqued my interest even further into young Dan Loring, Jr.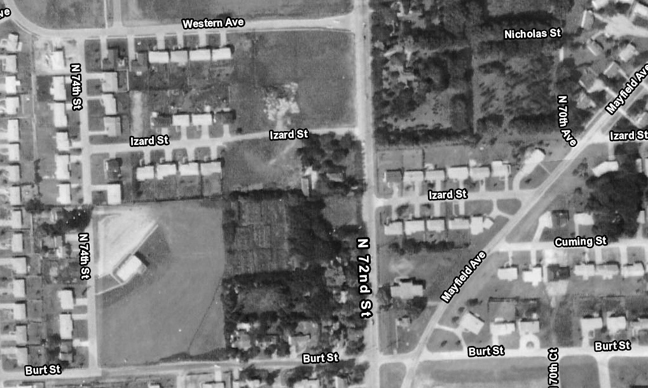 Thanks to this GIS mapping photo of 1962, one is able to view development in the area. The house, barn and trees are all visible on that 72nd and Izard corner. The land to the south looks like it is still farmed. Izard Sreet is dotted with fresh new homes. I love to look at the Ware estate, across 72nd in that large tree lined acreage. I really must write a story about that one.
Dan Loring, Jr.
I had already found these photos from Westside High School. These were back in the days when Westside was a Huge School, full of the babyboomers.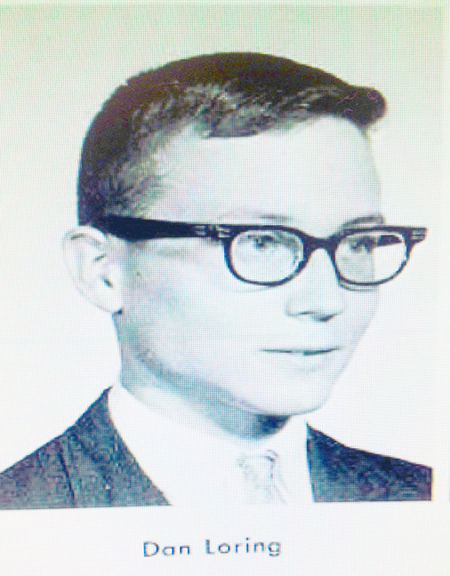 Dan D. Loring Jr. Westside 1964.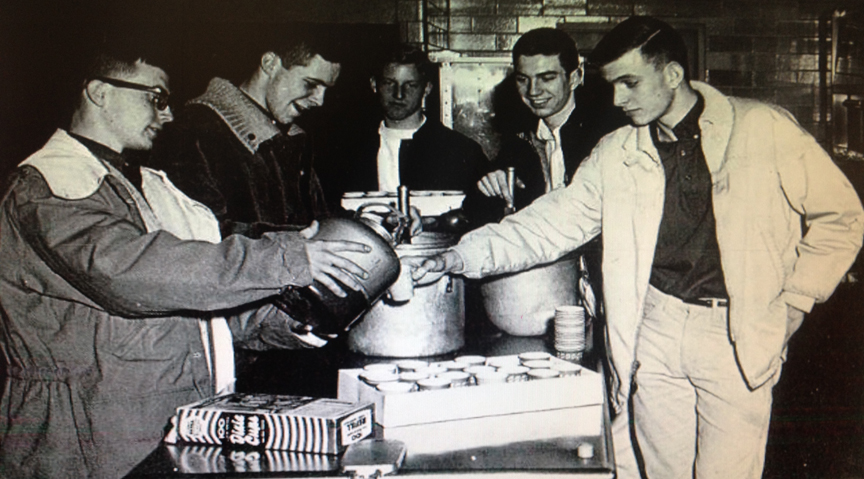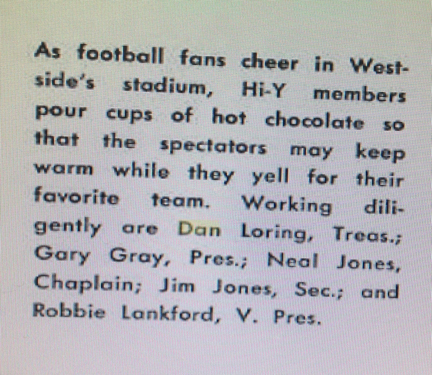 Great photo of Dan and pals from the same yearbook.
October 1968 "Reckless Driving Danforth D. Loring. 1002 N 72nd St $30." When I found these photos of Dan Loring, Jr. coupled with the reckless driving charge, I knew I needed to reach out to him. I took a chance and rung up his house phone. Unable to talk I also sent him an email. This amateur house sleuth was more than pleased when Dan answered most all of my quirky email questions and also granted me a phone interview. I found him to be a fun, colorful storyteller and it was a genuine pleasure to get to know him, however briefly.
The Dan Loring, Jr. Interview
When I interviewed Dan, one of the first things we discussed was this reckless driving charge. He explained he was actually pulled over for drag racing, fleeing arrest and drunk driving. He went into court and told the judge he was leaving the next day for the Navy (the Truth) and he could either sit it out in Omaha or be sent to the brig. The judge reduced the charges to "reckless driving" and Dan walked out. Dan moved out of the house in 1968 (when he left for the Navy) and was on his own after returning from the service.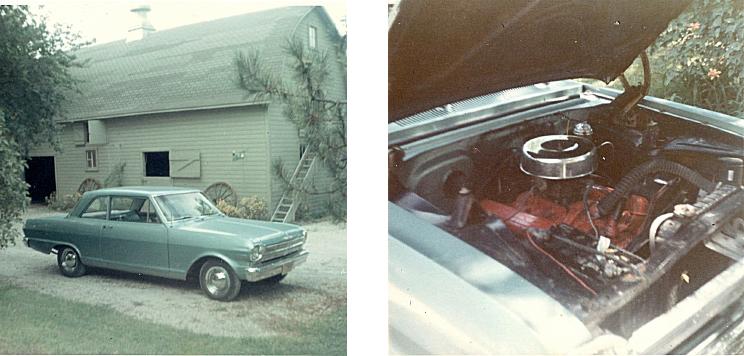 1962 Dan's Chevy II , Series 100. Photos borrowed from Dan's collection. Shows not only the sweet whip but there's the green barn as it looked back in 1962. Rustic Heaven!
This is Dan's write up of this car. Such flavor, I thought I'd include it: "Not a Nova yet. Chevrolet built this to compete with the Ford Falcon and the wave of efficient Toyota's entering the country. It cost $2,003 brand new, weighed 2,410 pounds, and had a 153 cubic inch, 90 horsepower in line four cylinder engine. I purchased one in 1965 for around $1,300. The factory motor was removed and re-placed with a 283 cubic inch, radical cam, solid lifters, duel exhaust with low back flow headers, generating 270 horsepower. I believe we also used some sort of super sport coil hooked to a better than stock distributor for a hotter spark. At the time, a motor like this was often referred to as a "power pack."   Man, I love this stuff.
Dan's Memories
The Hoffs (close friends) lived on the edge of where the Omaha Memorial Seventh Day Adventist Church is, immediately to the south. He remembers them living in a Cape Cod style home. According to Douglas County Assessor the Seventh Day Adventist Church was built in 1950. This could be a mistake in the date. More on this later.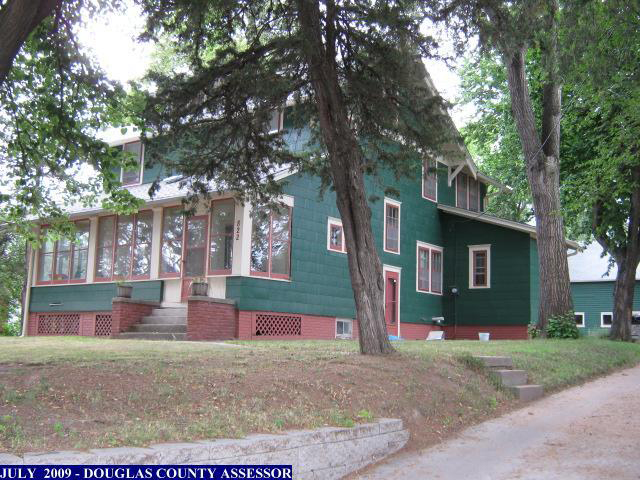 The Scudders (father Charles was an Omaha attorney) were another nearby family who lived in the green house.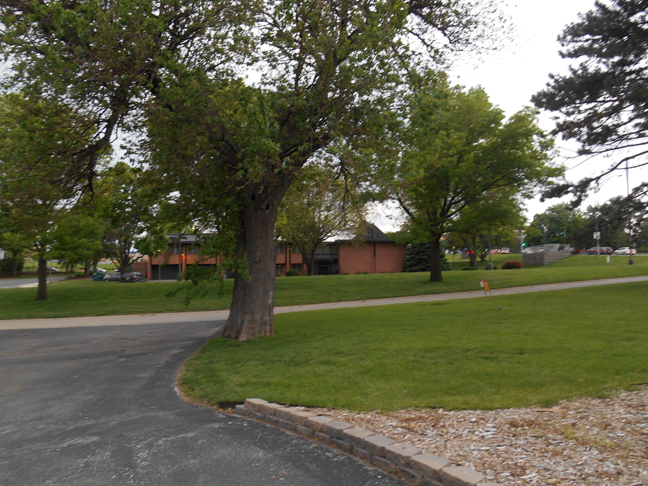 Dan reminisced on building a tree house in a large Mulberry where the John A. Gentlemen funeral home would later move too. From that fine fort in the tree, he and a friend would launch water balloons at passing cars on 72nd Street. They had never encountered a driver with the ability to catch the ornery two until one day, a younger driver was able to pull over quickly and give chase.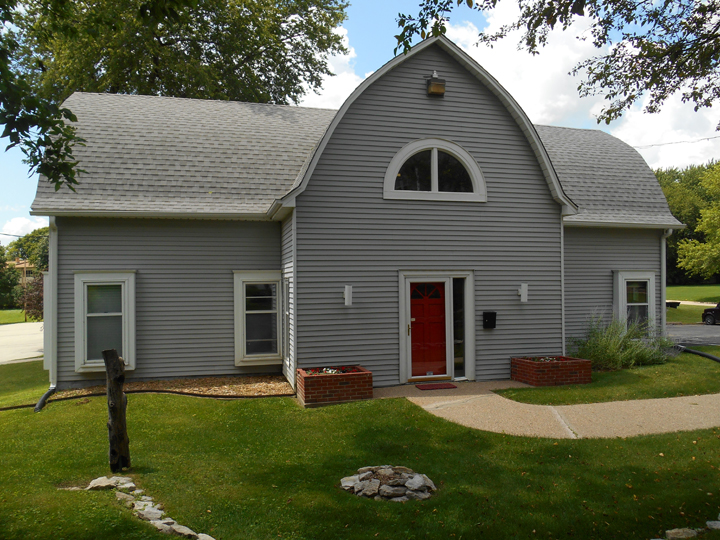 East elevation of the barn.
Dan remembered the barn had a dirt floor and was two stalls on one side with two stalls on the other side. They called it a barn and even had a donkey for a while. "I remember, Poncho, the donkey, kicking my buddy George in the head, and George falling out of the hayloft." It sounded like the barn became a sort of boys' den. Dan and his friends liked to smoke "El Cheapo's," had hauled a pinball machine (he still has the 1949 Gottlieb) into the hayloft, would hang an old basketball hoop and backboard in the hayloft. Dan stated that the parties he had in the barn were, "the best word to described it: EPIC. Some attendees might even call them LEGENDARY." Now that is something to hang your hat on.
When I do interviews, I do my best to not lead or give away much, always preferring to gather what people naturally share without pressure. I asked Dan for his recollections of the property and surrounding area. He recalled the Lorings owned "about two acres but we had use of about 35 acres or so until then started building houses. I think the Berigans lived there prior to us. One the prior owners had a couple of racehorses in the barn. I road my bike to Benson quite a bit but don't feel like we were considered the Benson neighborhood. There wasn't a lot there then. No Creighton Prep, no houses north of Burt St or much west of 73rd. Grandpa Medlock had another old farmhouse at the top of hill, probably still standing." Note to self—look for Grandpa Medlock's home.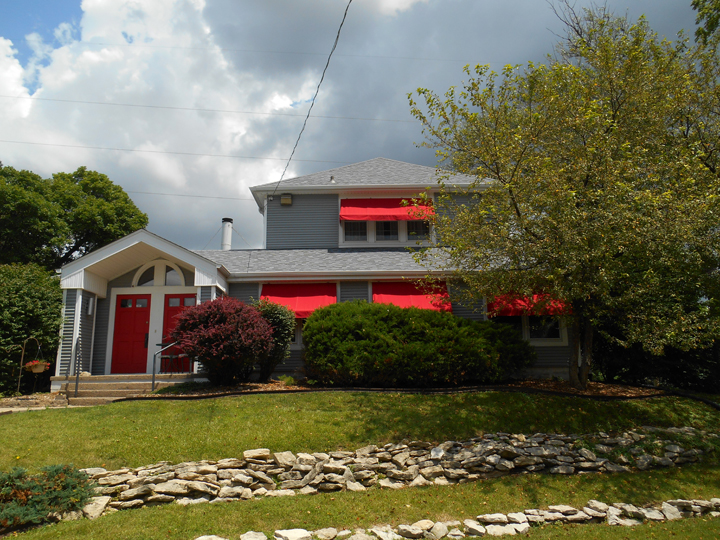 "The kitchen was on the west side, the entire west end of house, huge. We think the kitchen and upstairs master bedroom were added in 1950."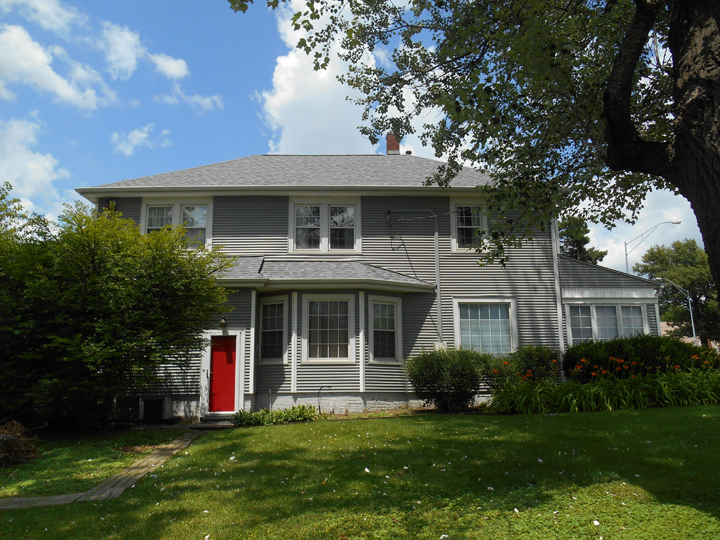 There was a small breakfast room in the southwest corner adjacent to the back door.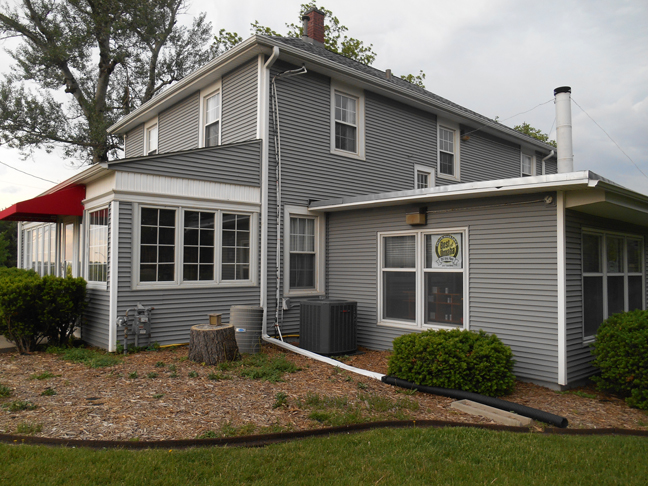 "No one ever came in the front door off of 72nd Street. The front porch was also an add-on but we have no idea when." This part is key, adding dimension to our sleuther's suspicion that this was a simple folk home most likely without a porch.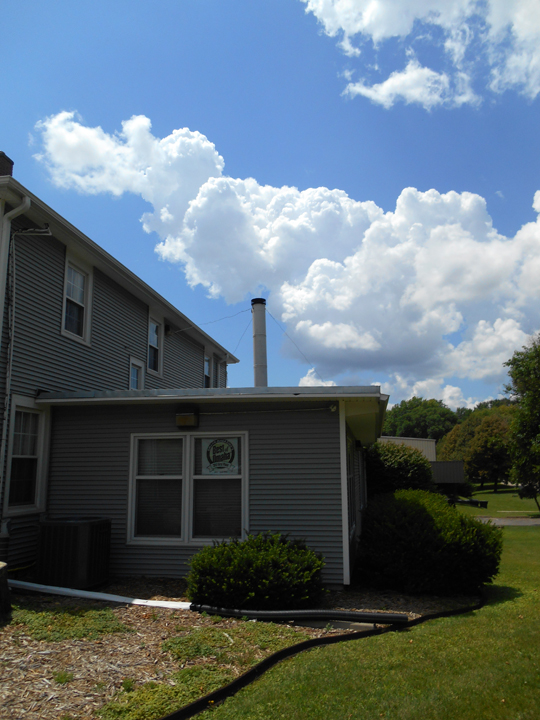 "The house was in excellent condition. Mom and dad added a large, screened in porch with a circular hooded freestanding fireplace in the middle on the north side of the house." For the record, what you are viewing is a full addition added later. This will be discussed but interesting to find that the Lorings were the originators of the porch-with- fireplace idea which has continued on in the home. Here's the quaint chimney for this fireplace today.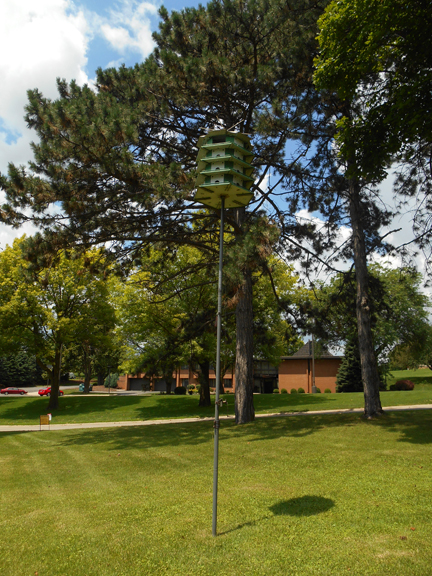 I never did ask but I would guess this MCM Bird Condo had to be from the 50s-60s.
When asked if anything unusual or particularly odd occurred when he lived there, Dan responded with a story of finding an unexplained Hebrew Bible in the attic one day. "We never figured that one out. I gave it to a good Jewish friend whose family seemed to appreciate it, even without a history." Could this Jewish Bible have been Lillian Friedlander Stern's? Mysteries, I tell you! Dan also made a point to say that the foundation was old, an early excavated basement. For the record, Dan, Jr. did not have any stories of strange sounds or specter sightings. He remembered the 1002 North 72nd Street and the acres of farmland fondly.
**Addendum of September 18, 2017** This fabulous photo and memories just in from Dan Loring.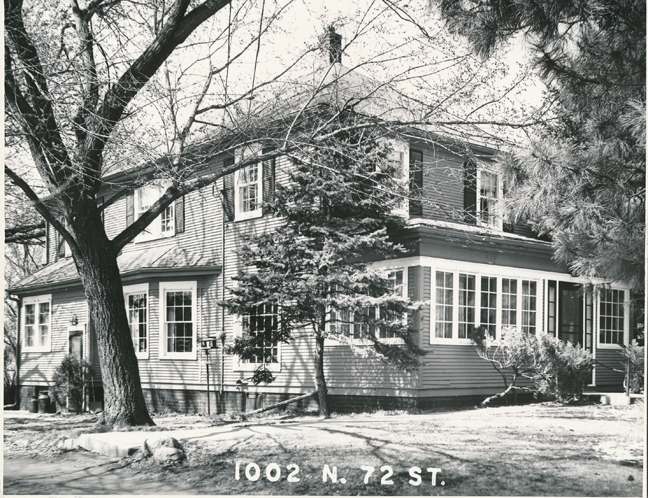 Dan wrote: "I would guess the picture was taken in the mid to late 50's, maybe early 60's.  I remember mom's milk cans by the back door, which everyone came through instead of the front door.  Note the old coal chute just to the right of the bird feeder.  When we first moved in, the old coal furnace was still in use.  I remember helping dad clean out the 'clinkers'. My bedroom was the one in the middle, over the bay window to the dining room.  My sister Trina's bedroom was over the front porch to the right.  The southeast bedroom was the quest room.  Mom & Dad's bedroom was huge, across the entire west end of the second floor. There was one bathroom upstairs for a four bedroom house.  A tiny bathroom of sorts was added under the stairway a little bit before we moved in.  The toilet was under the staircase slope and if you stood up too quickly, you would hit your head.  And I'm only 5'6" tall.  There was just enough clearance between the toilet and teeny sink to wash up and get out! My mom is still living at 95 and loved your article.  We looked through all her many scrapbooks to find a picture of the old house.  Unbelievably, none were found in her 30 or so scrapbooks.  I'm guessing she gave me the attached picture when they moved from their house into a retirement center several years ago." Thanks for the memories, Dan and excellent work finding this beautiful photo!

The Sheriff of 72nd Street
By the late 1950s, Danforth Loring, Sr. began to take on a role as the local 72nd Street protector or the self-styled Sheriff of 72nd, as he was called. Developers naturally began to see the little country road of 72nd as an opportunity. Homes were sprouting up all around but Loring did not take issue with that. It was the commercialization of the area that really seemed to irk him. The first article I found mentioning his advocacy for the area was from January of 1959 when a 48,000 sqft shopping center with parking for 336 cars was proposed for the northwest corner of 72nd and Seward. The National Tea Company, Woolworth, a drug store, laundry and a snack bar were planning to move in. Loring went on the record stating, "It's getting so I have to ride first shotgun on my front yard to keep out commercialism."
This proposed shopping center and rezoning would go before the City Council with a 90-minute hearing. Loring and other neighbors appeared against the proposition, citing traffic problems, danger to neighborhood children and loss of property values. By 1964 Town and Country Development Company was back and wanting to rezone 72nd and Western for a five-story office building or a large apartment complex, if they couldn't get the office rezone pushed through. Loring organized a petition. "We want it continued residential and not multifamily or office buildings."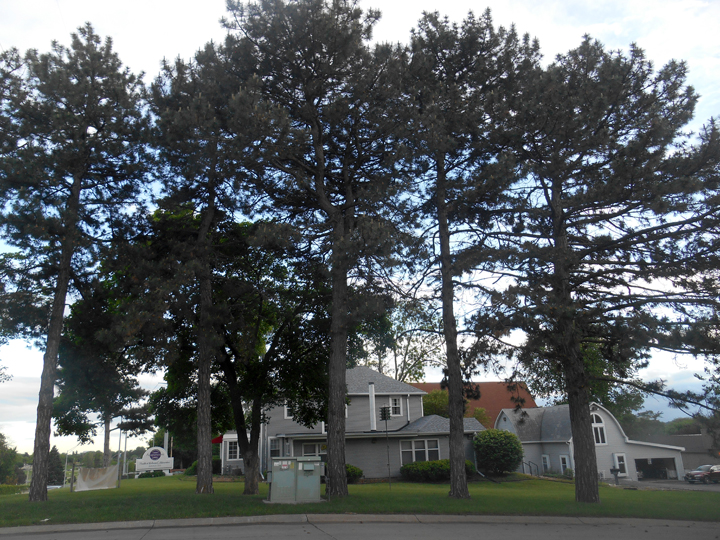 As the years went by there were other neighborhood protests against the commercialization of the area, to include a fight over the John A. Gentleman Mortuary going in at the corner of 72nd and Western/flipside Izard in 1966. The Scudders and Frederick Ware got involved as they always did from the record, right by the Sheriff's side. This protest ended in the mortuary being erected at 1010 North 72nd in 1968.
Turn of Events
I cannot be sure, but it would appear that Dan Loring began to get worn down by the impending Goliaths. Perhaps it was a case of Sell and Get Out. If you can't beat em, join em? I unearthed a curious article from September of 1972, whereby a 1002 Building Corporation proposed a rezone of a 1.5 acre site on 72nd and Izard Street. The project would contain 96 apartments, office, shops and a clubroom. Notice the name including 1002. Who was behind this project? Could it really have been the Sheriff of 72nd? All of the usual neighborhood protestors were on hand for the City Planning meeting regarding the 1002 Building plan, with Charles Scudder leading the pack. Oddly missing from the advocacy group was the most vocal spokesman, Danforth Loring. An attorney represented the mysterious, faceless 1002 Building Corporation. The plan was ultimately shot down as the towering apartment building was thought to be not compatible with the single-family homes and churches. I was perplexed.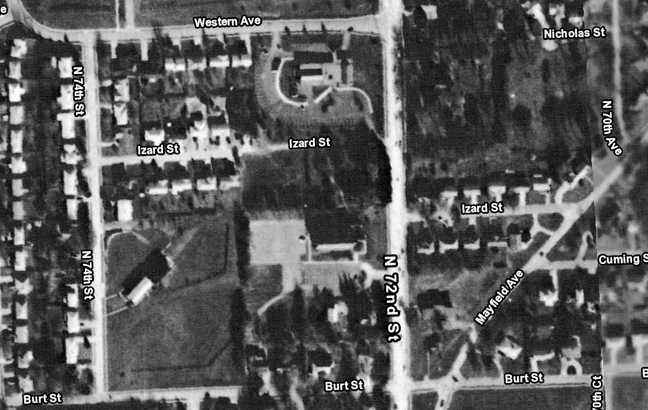 1973 GIS mapping photo shows a developed area to now include John A. Gentleman Mortuary to the north, the Omaha Memorial Seventh Day Adventist church to the south and another church (?) diagonal to the west.
Parcel for Sale
In July of 1974 Dan and Mary Loring had put the corner of 72nd and Izard up for sale. As I look back and put the pieces together, it had probably been for sale for a while. The whole thing made me a little sad. It would be very hard to watch your private oasis become a business district. "10 room modern two story house included." The phrasing "valuable land ideal for apartment complex" leads me to believe that the Lorings had figured the home would most likely go to a business venture and that the 1002 Building Corporation was most likely their attempt to beat 'em. Can you blame them? Another ad from Photo: February 10, 1976. "What would you do with a big house, a barn and a one 3/4 acres?" Investor's Realty advertisement.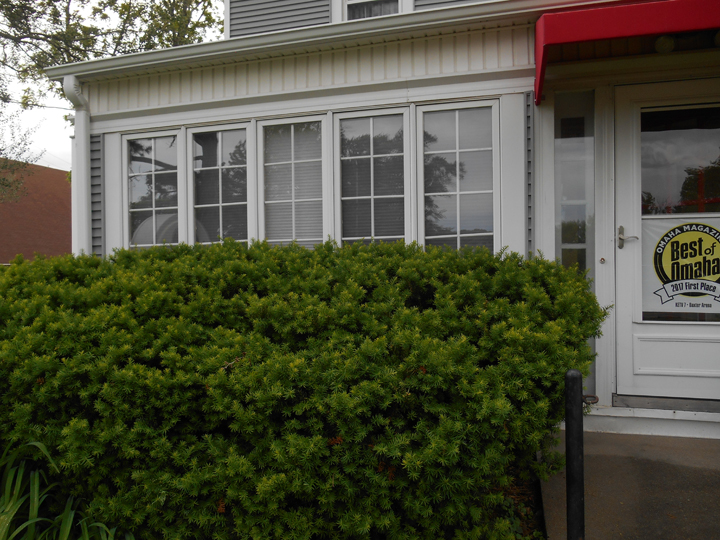 Tornado of 1975
After the horrible tornado of 1975 destroyed large swaths of Omaha, there was much work to be done getting 72nd Street back in order. Although I was not able to unearth distinct clues about the damage to our 1002 North 72nd Street farmhouse, I did discover an article focused on the OPPD work to restore electrical services at 72nd and Izard.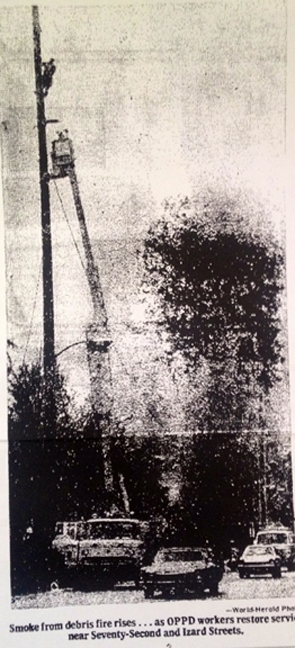 I have a strange series of "collector" books on the 1975 tornado. It was such a different time then. I cannot imagine them compiling these tragic photos for a tornado book today. Well I pored through these books hoping to catch a glimpse of 1002 North 72 but alas there were no historic photos to be found.
Big Sale
In April of 1976 the Lorings sold a parcel of their land to the "Nebraska Association of Seventh Day Adventists" next door as well as a portion of the easement to the City of Omaha. "E. Lanning King" bought 1002 North 72nd Street in April 1976. His name was quite remarkable and I couldn't wait to root around for clues.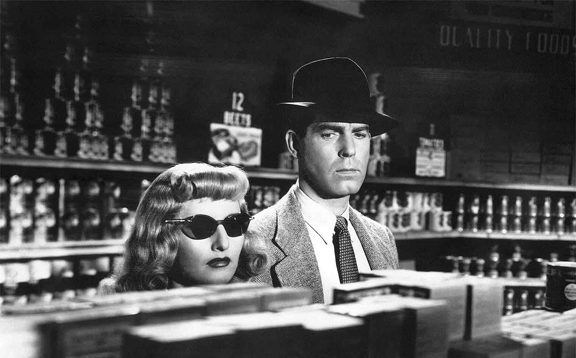 Are you quite exhausted, Omaha House Spies? Think how Mr. Cross has responded, having to catalog all of these miraculous photos. Muderation!
The Lanning King File
I looked under every big rock I could turn and found Edward "Lanning" King was born in Winner, South Dakota in 1922. He was 18 years old and single at the time of the 1940 United States Census and was living in a boarding house at 224 North 32nd Avenue.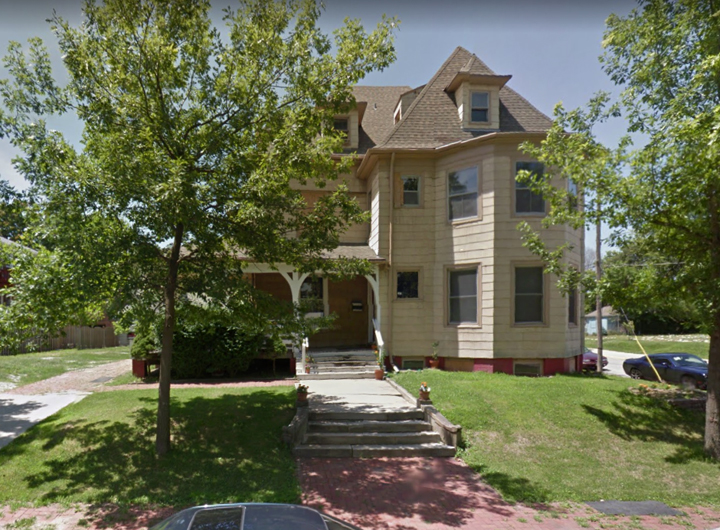 224 North 32nd Avenue. This great house is in the Gifford Park neighborhood, right by the old Yates Elementary School. I believe it is broken up into apartments.
According to the Omaha City Directory of 1953, Lanning King had married Elizabeth Ann Jaworski King and was a salesman. The couple lived in a brand new house at 4925 Pine. According to Zillow, this home was built the previous year.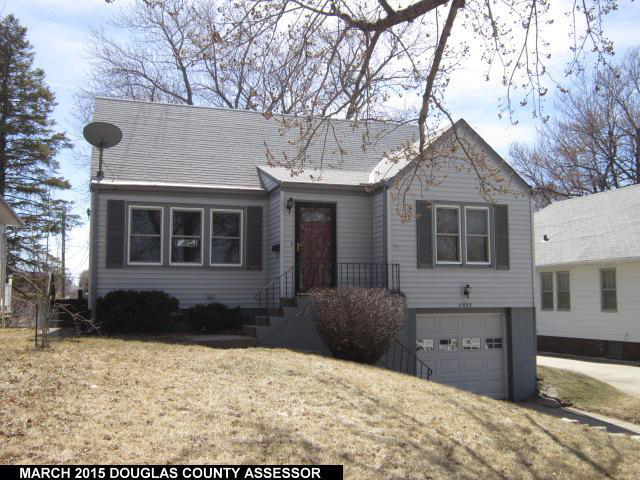 4925 Pine. This cute little house is found in the Morton Meadows neighborhood, the best neighborhood around. I often disguise myself and go undercover in the Morton Meadows Neighborhood. There is so much beauty and curiosity to examine there. And no one seems to mind my topknot and monocle ensemble.
Sadly I would find that Elizabeth died at the young age of 48 in October of 1968. The couple had four children: Jon, Jim, Ann and Marisue. I was able to track a wedding announcement of son, Jon Lanning King and Peggy Louise Wright to be married in 1971. Jon had moved to Santa Monica, CA. Meanwhile Lanning King made the most of his situation, starting a nonprofit support group called Parents without Partners.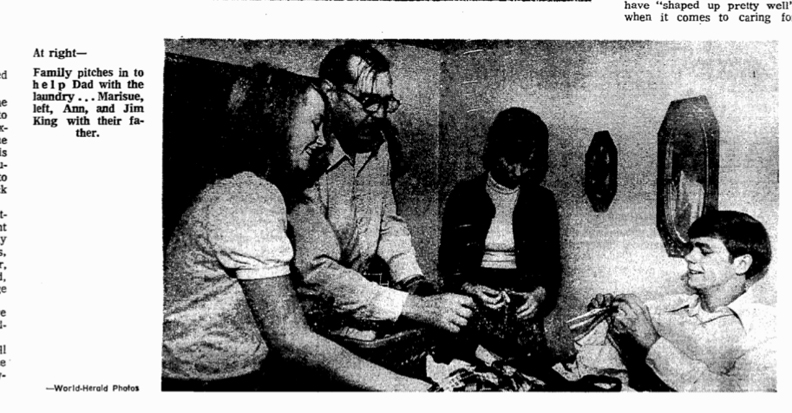 Lanning was also featured in a great article about single fathers in June 17, 1973. At that time three of the four King children were presumably still at home: Jon then 24 was in California, Ann was 21, Jim was 19, Marisue was 13. Lanning was working a rotating shift at Allied Chemical.
The Rise of King Limousines
By 1970 King had started a new business supplying limousine and driver's services for funerals and funeral homes in the city.

May 14, 1973 Renting Limousine for $10 an Hour Brings Touch of Class. This article mentions the Lanning King operation, obviously no longer just in the funeral business. With the rise of the high roller, the corporate businessman and the disco era to follow, King's Limousine Service became a well-known and lucrative enterprise. At some point Lanning remarried Betty Luebbers. Betty also had four children: Kris, Karl, Beth and Anne.
The Farmhouse as a Business
Lanning and Betty were co-owners of King's Limousine Service, Inc., which was incorporated in October or November of 1976. This was the year that they bought the farmhouse on 72nd Street. I have looked for footprints and it would appear that the Kings used the property as a business office, place to store the many limos and potential hearses as well as a place to live. I was not absolutely positive that they lived in the home until I found this clue.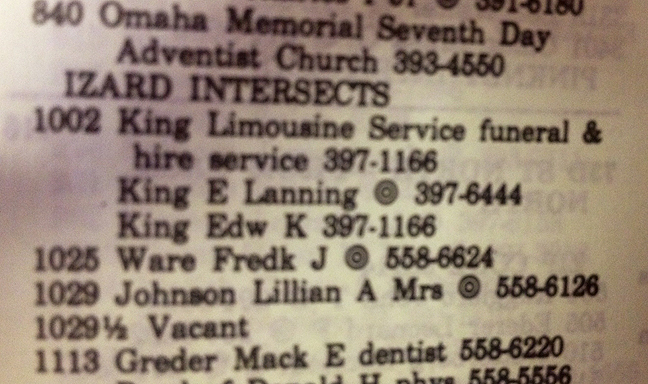 The phone book from this time period gives indication of the business and personal home phone. Pretty ingenious being right across the street from John A. Gentleman as well as right in the heart of the city. I was curious about these funeral operations and how many drivers they employed. But truly…I wanted to know more about these secondary businesses to handling the funerals, the deceased and such arrangements. And how one would get into this sort of thing.
I crossed paths with an interesting court case from December 6, 1978 in which Happy Cab Co. the Gentry Limousine Co. Greyhound Lines, Inc., and Yellow Cab, Inc. had a joint appeal against King Limousine Service. Their problem was that King had been supplying the new 1970s demand for luxury or VIP-type limousine service has expanded. King's Limousine had advertised these VIP services in telephone books and newspapers as well as supplied glamorous transportation for weddings, various businesses and organizations in the city. Trust me, all of the big names in the city. King freely admitted he had been operating his luxury limousine services without a certificate, even though he had been advised he should obtain such a certificate two years previous. The couple was able to right this in no time and move forward with the business.
Death of Lanning King
October of 1979 the Department of Health made a line note to the deed of 1002 North 72nd Street. "Deceased." Apparently E. Lanning King passed away. Gulp. I was not sure of the cause of death or if he passed away at 1002 North 72nd Street. I really felt for the four King children having lost both parents at such a young age.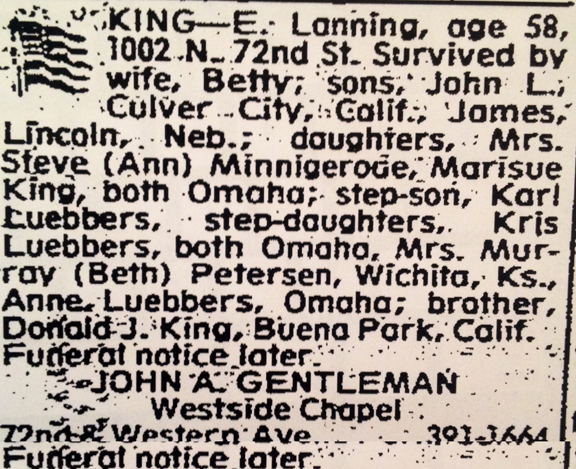 The city directory of the early 80s disclosed that Mrs. Betty L. King would take the helm of King Limousine Service and continue on until 1982. She would remarry, I am guessing as she took on the name Betty Anderson. I am not sure what became of the company after that. The World Herald shows the property was rezoned from residential 3 to a residential 9 and "P1". P-1 appears to mean planned unit. Some smarty in the audience will have to illuminate this query as I am not really up on my city planning codes.
The Most Confounding Clue
1002 North 72nd Street found a new buyer in Ronald J. Palagi, local, well-known attorney. I had remembered his practice being at that location throughout my childhood. There is proof, according to the deed, that he became involved as early as June of 1982. There is a bit of confusion with selling part of the land to the city, due to street widening. But an article from May of 1982 divulged yet another rezoning planned "to allow conversion of a 105- year old house into law offices." Now whether this was a Mistake or a Massive Clue, I was a bit shaken up. If the house was truly 105 years old in 1982, that would mean it was constructed in 1877. How could this be?
Had I overlooked something? Had I made assumptions? Possibly. I simply knew I needed to reach out to Ronald J. Palagi for answers. To this date he has not yet responded. I recognize he is busy person, certainly. I will let you know if we can find out more from him in the future. Perhaps he has an abstract or some archival data which points to the home being built in 1877. That might make it one of the oldest houses in this region. Or…this could have been a mistake by an inexperienced typesetter. My Saint Aunt, I was beside myself!
The Ronald J. Palagi Years
From all intel I have gathered, Palagi purchased this corner at 72nd and Izard for Business Only. The bedrooms were made into attorneys' offices; the larger downstairs rooms were made into conference and team spaces.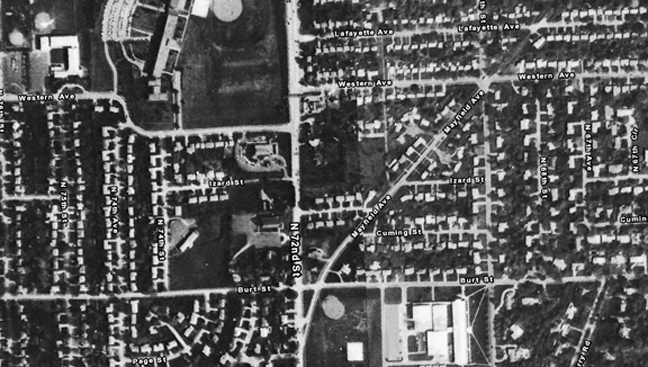 1982 GIS mapping aerial. Cussadang…our farm's been pret'near swallowed up!
Second Address Appears
Centennial House. November of 1983. There is evidence that Palagi started his company under the name Centennial House. This was the first time I would find the property had splintered off into a formal second address of 1000 North 72nd. Whether Palagi's office or he was renting out to another law office, Centennial House was looking for a part time secretary. I suspect this address was assigned to the barn?
From sifting through building permits found in the news, I discovered that in September of 1987, Mr. Palagi made a substantial addition/rehab and/or remodeled the home to the tune of 40K. October of 1988 brought another addition at 20K. According to the Douglas County Assessor's site the barn was remodeled in 1988, so this possibly was the price of the upgrade. The house was remodeled again in 2000 but this time for a new healing-beauty venture.
Absolute Serenity Day Spa
Around 2000-2001 Colene Doucette began leasing 1002 North 72nd Street from Ronald J. Palagi. She was owner of the Absolute Serenity Day Spa. I also discovered the name of Pauline Tomps, under beauty skin treatments and Radiant Health Imaging, who turned out to be a partner in Absolute Serenity. Focused on beauty treatments, skin-care specialties and massage, Absolute Serenity had a team of estheticians and massage therapists, none of whom lived in the farmhouse. This spa was in operation for about ten years. I was able to contact one of the team and gather even more important clues, some of a spine-chilling nature. This person would, understandably, like to remain anonymous. Let us call her Ms. Helena Rubinstein for fun.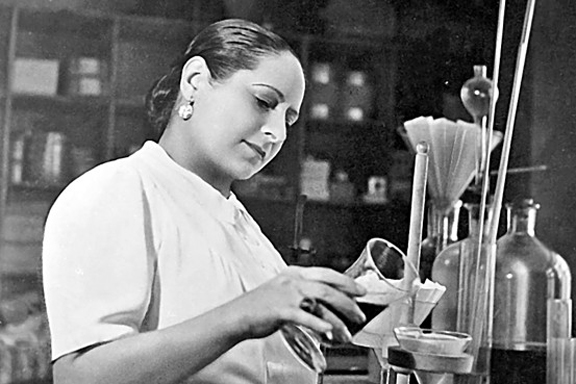 Ms. Rubinstein reported there were many strange occurrences in the home-turned-spa over her years working there. Her treatment room was a large double room towards the front of the house, closest to 72nd St. The first room right off the hallway was an esthetic treatment room and the adjoining sunroom was for manicures and pedicures. She remembers the light being "incredible." I know now that she was describing the original living and with added on porch turned "sunroom" that was described in a previous sale. Rubenstein felt very differently of the basement, more of a place "you want to get out of as soon as possible. Brick walls, old shelves with paper work, loads of dust and cobwebs. I didn't like being alone in the house truthfully." Rubinstein would take her client work home because, even though the spa business was right off of 72nd Street, "the silence was defining…until it wasn't silent."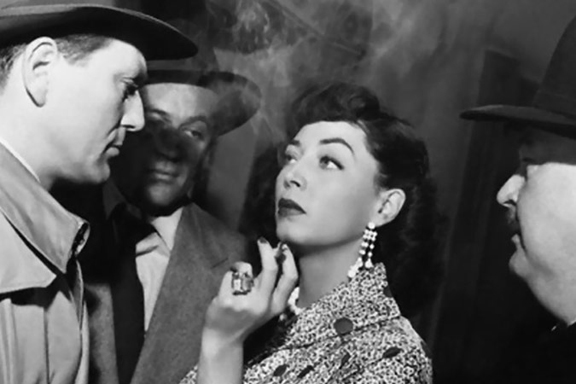 Me, trying to play tough…but I was dying inside. Believe it!
The Ghosts' Dossier
I leaned it and was scribbling away in my detective's notepad. Creaks, pops, footsteps up the stairs. Hmmm. Rubenstein explained, "Sometimes there would be a voice you would assume was your client coming in for an appointment but there was an electronic bell on the door that would sound when a client would come in…I would only remember that after I had already stepped into the hallway. Then I would just stand there holding my breath. Pictures would fall off the wall that could have been a heavy truck driving by or at least that is how I would try to reason it. There was a day I was by the back door getting ready to close up. I called back to the massage therapist that her keys were by the desk and a voice responded, "Okay." The therapist walked out of the hallway looking shocked and asked, "Did you hear that?" She claimed she hadn't responded. The few times I heard voices they were always female or child-like. There was talk of an old woman in the basement although I never saw her and the tinkling of piano keys upstairs. Although there was no piano in the house."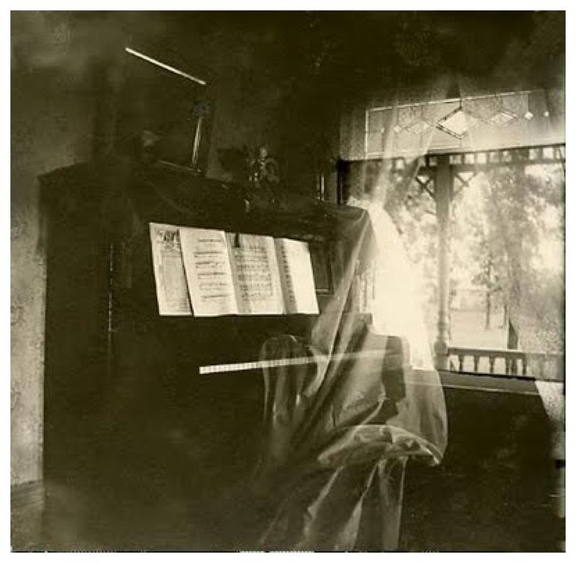 The House Next Door
Ms. Rubenstein claimed to have first hand knowledge of the home just west of the farmhouse, at 7303 Izard Street beyond the school. As an aside, I discovered that in 2000 the Seventh Day Adventist Church built a school/gymnasium to the west behind the house at 1002 North 72nd. The Omaha Memorial Adventist School building sits between the barn and 7303 Izard Street.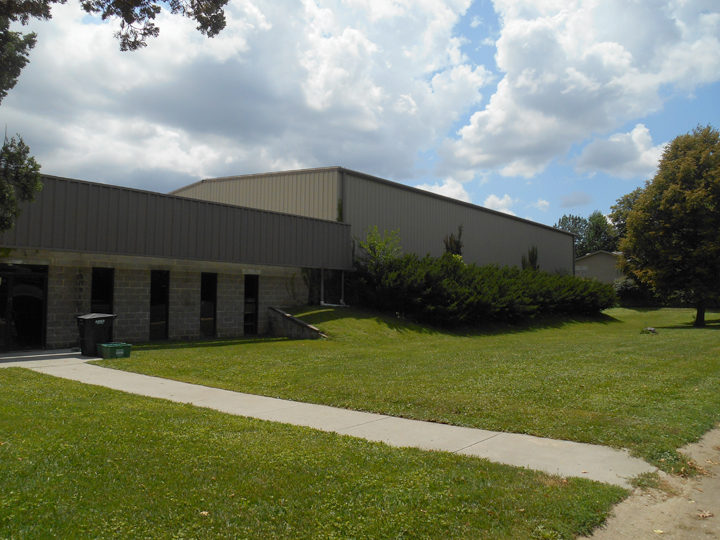 The school/gymnasium was built in 2000.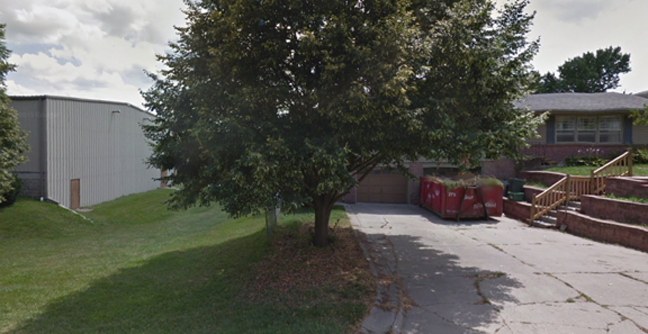 7303 Izard Street on the right, rolling land in between the school to the east.
She explained that this house was built on what would have been the original farmland. Because she knew the owners of 7303 Izard, Rubenstein was privy to the stories of eerie encounters. In her words, "The creepy activity carried on into that house. It would always intensify before big thunderstorms. The phenomenon always seemed to be child-like or involving a cat. We believed it was connected to the farm grounds. About an hour before the storm actually starts, you'll hear children playing." She had examples of physical contact to include shirts and toes being pulled. Beds shaking. And a cat that would jump on the bed, do its circles and lay down. An indent in the duvet visible to all. One of the owners of 7303 Izard was on the phone with his mother when a storm was coming. He could hear them (the children) and then felt them run past him. His mother claimed to have heard them on the other end of the phone.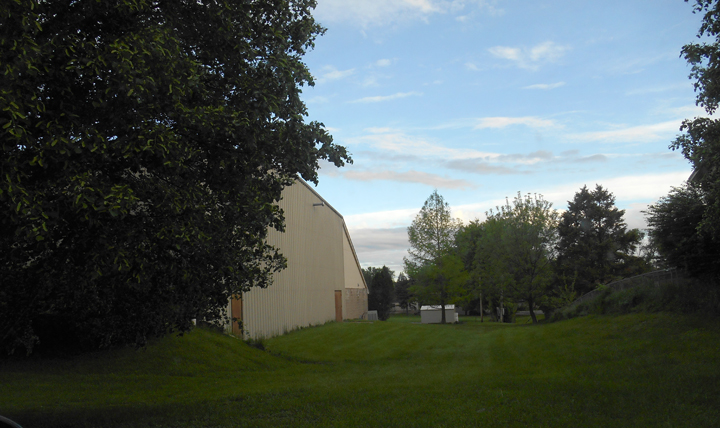 The land in between the school and the house. One can almost imagine the original farm. Perhaps someone else in the community has had experience with 7303 Izard or the empty area between the school and the house?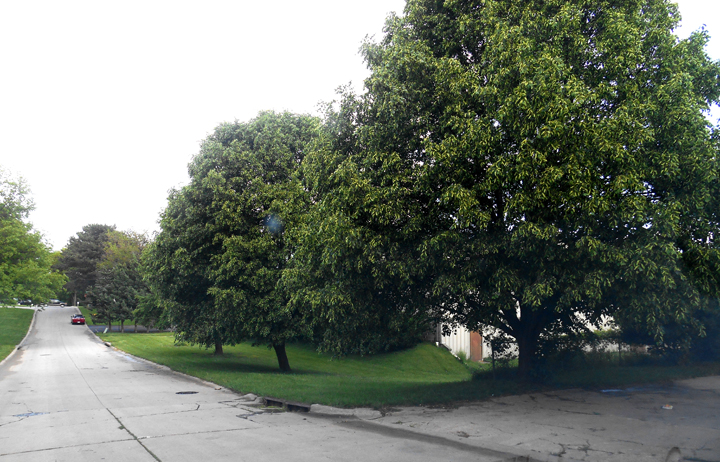 Pretty trees along the south side of Izard, line what would have been the original ten acres.
A Publication
For a period before Palagi sold the property to Donna Huber of 13 Moons, he was apparently leasing to an ALH Publications. Unfortunately I was not able to gather much more on this particular venture.
Donna Huber and Thirteen Moons Acupuncture
Ronald J. Palagi sold the property to Donna and Tracy Huber in 2014. Donna had been leasing the barn for a year and a half for her acupuncture business. As a side note, the barn had been introduced to Donna as the "Carriage House" yet another renaming of the barn over time.
Donna founded Thirteen Moons Acupuncture back in 2003. Donna is a licensed acupuncturist with a Master's degree in Chinese Medicine. Through the practice of Traditional Chinese Medicine, Donna has made a name for herself, specializing in fertility and pregnancy using the Fertile Soul Method and in fact, is Nebraska's only Fertile Soul Affiliate Clinic. Donna has received endless praise from Dr. Randine Lewis and Dr. Christiane Northrup, both international leaders in women's' health. Check out their site at : http://www.thirteenmoonsacupuncture.com/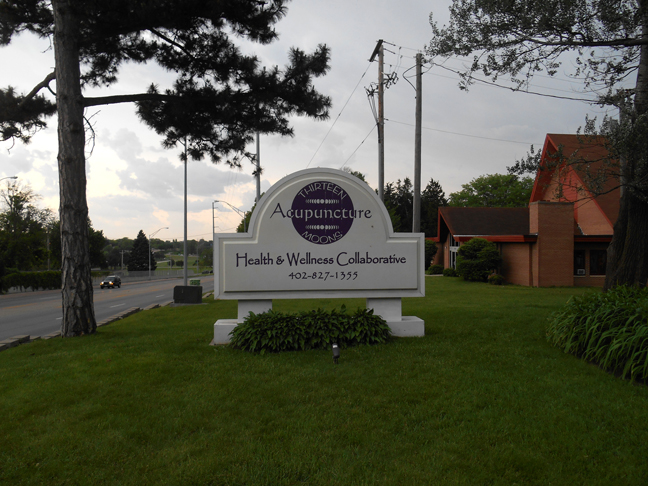 The Thirteen Moons Acupuncture marquee as it appears now out on 72nd Street. The church in the distance.
The Donna Huber Interview
I knew it was time to get the scoop from Donna in person. I had already done my stake-outs, gathered my research and found an outfit tailored to the environment as not to be too conspicuous: an Hermes neck scarf, a silk Chinese drawstring handbag and cowboy boots. All in black, of course, for a funeral. I felt it kind of tied the home's history altogether. I had my notebook and bail money on my car seat at I drove over to the farmhouse. I'd be looking for secret compartments and listening for tinkling piano keys.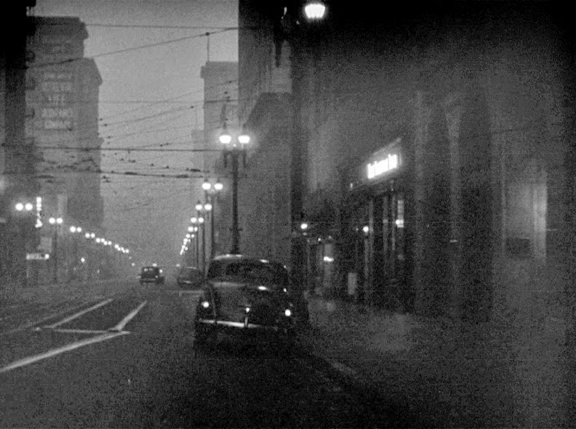 I found Donna to be a warm, generous, really funny person. Immediately I felt comfortable with her and I could see why her business has done so well. According to Donna she moved her business into the big house in February of 2015. The farmhouse had been empty the whole time she was leasing the carriage house. It should be noted that Donna and her husband have their own home and bought 1002 North 72nd solely for her business. A $4,000 sewer project ensued, followed by having to purchase three furnaces in the first year of owning the house.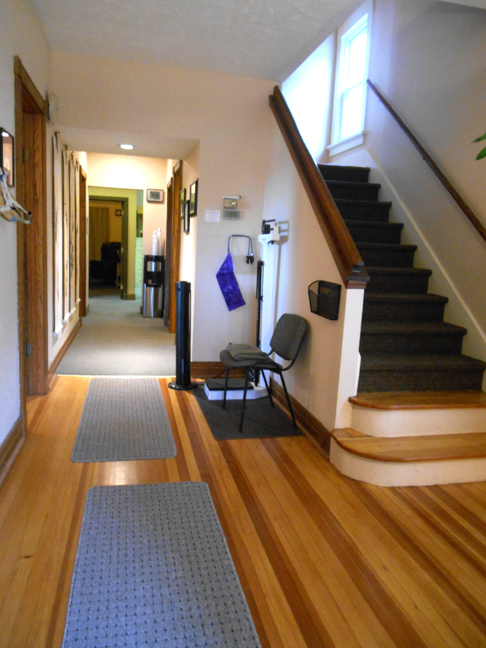 Main hallway and stairwell. I implore you to stare at this banister. Look back to the Pat Berigan photo of her and her husband to be in front of the banister. I would guess that there might be lovely spindles hiding within that drywall. Thank goodness some left the original handrail. I was fascinated to find that the layout was exactly that of the Modern Home No. 264B148 of the Sears floor plan displayed in the Part One article of this investigation.
The couple pulled up the carpet and were overjoyed to find old growth long grain pine. The antique pine flooring was an added bonus, known for its classic formal vertical grain. They hired Phoenix floors to do the work.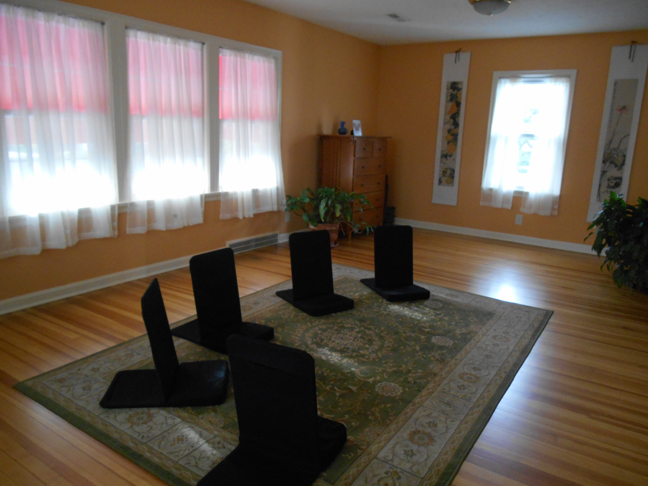 Look at these gorgeous floors. This is in the meditation room on the second floor, west side. What Dan Loring had described as the master bedroom.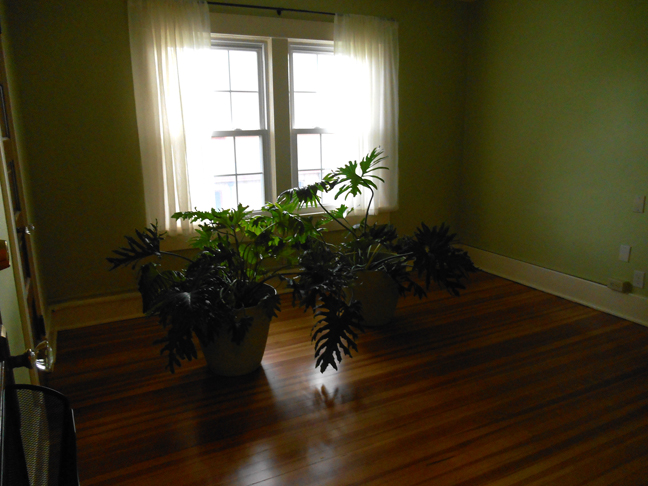 Another gorgeous bedroom, now happy plant room, on the second floor.
The Ghosts
Early on, before Donna purchased the property, a few people had warned her that the farmhouse had "bad energy." She thought, "What's the big deal? I will sage it." One said, "That building has problems– a bad spirit, and sage ain't gonna get it." Because she wanted to make this house a place of healing for her clients, she saw the benefit of hiring a professional house clearing team. They proceeded to clear the home, complete with spirit release, ghost removal, house energy attachment, however you want to phrase it, They Did It. Donna stated that the team viewed the most negative energy in the boiler room/furnace room.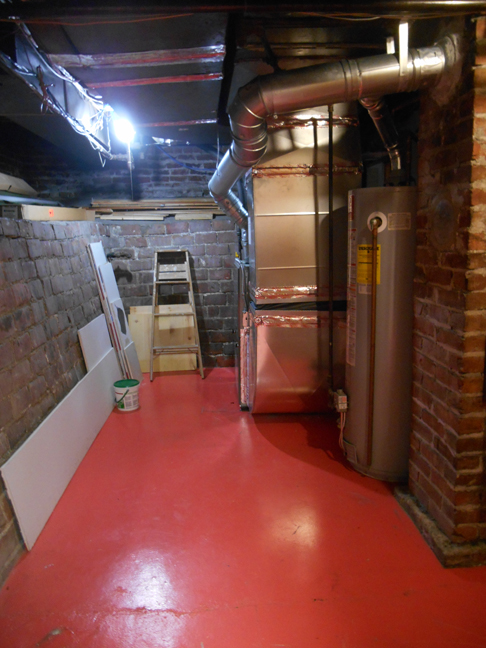 Donna reported that a mean, angry boy was lingering there. "A little boy spirit was mad. He existed back here." She showed me the room. It had that solid foundation Dan Loring had described. "They released him, I released him." Donna stated that the little boy communicated it was so good to be released. He left the house laughing. She said he has not returned.
"I painted the basement floor red because I wanted the home to have a foundation of love. " This was also where the huge sewer project took place and where the three furnaces were replaced—my interpretation, a powerful energy drain area where the ghost resided. When I was left alone in the basement by Donna, attending to a patient, I found it light and lovely and I felt no creep vibe.  And my creep vibe is pretty attuned. It was also exceptionally clean.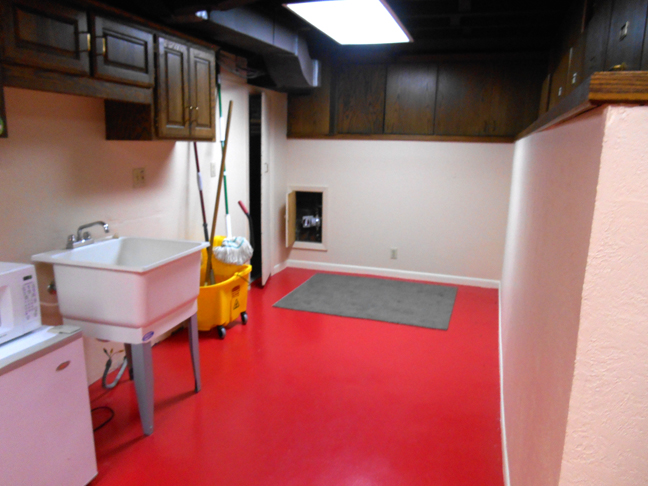 After Donna moved Thirteen Moons into the big house, a writer called from a local magazine and wanted to do a story on the house—asking, "Do the two kids still play in the hallway?" Whether this writer was involved with ALH Publications or had heard of the ghostly rumors, he expressed knowledge of "the two kids who used to play in the hallway upstairs."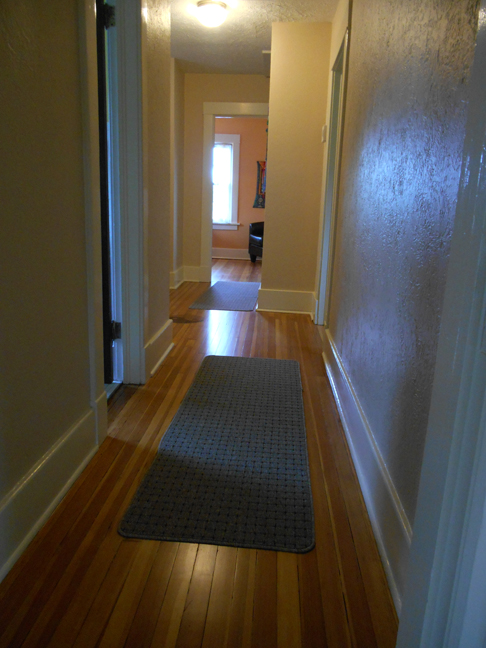 The second floor hallway.
Donna reported that more than one patient has "felt a farm wife" presence when in Treatment Room One, which is the big room with the bay window. This is the room that I had assumed was originally the formal dining room.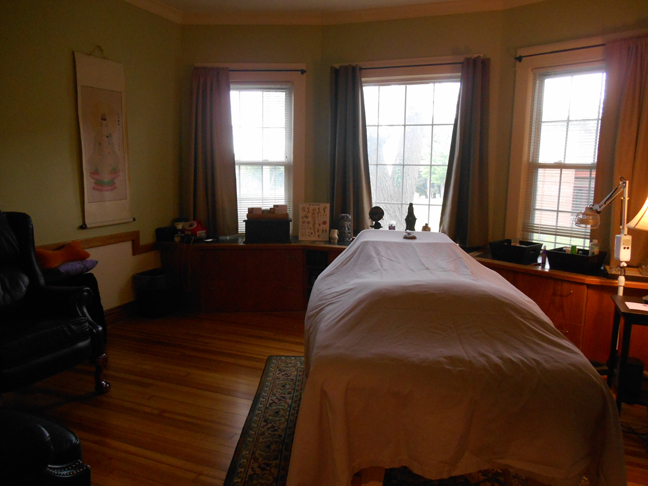 Original formal dining room on south side of the house.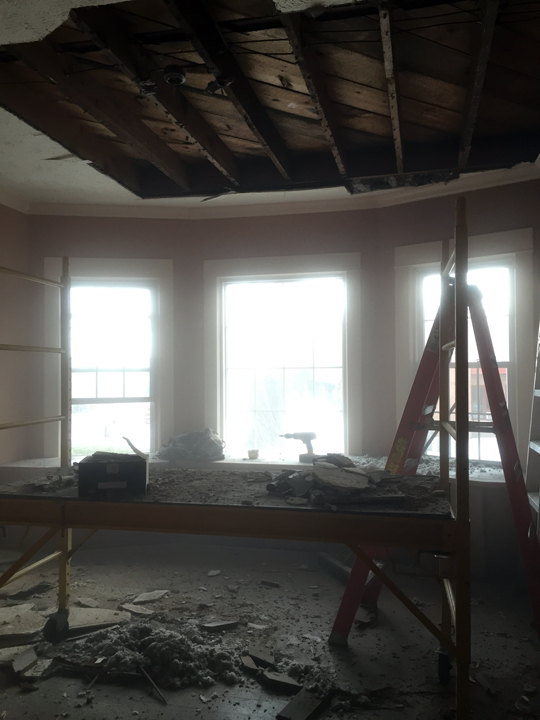 Same dining room. From Donna's collection of photos. Shows the amount of work that went into rehabbing the room.
Other Features of the Home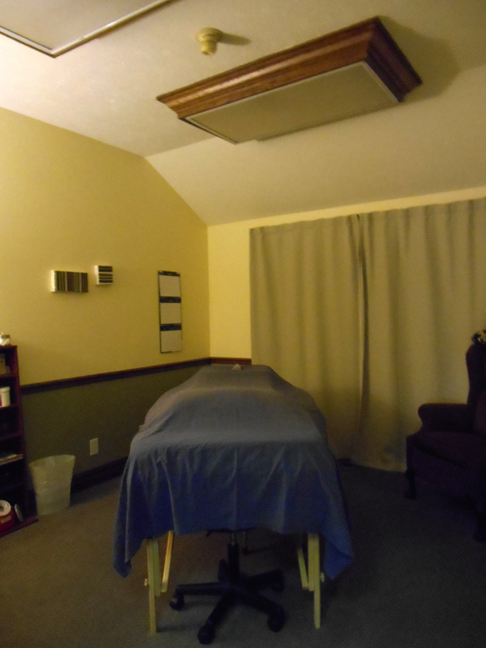 Patient room, thought to be the original kitchen that Dan Loring described on the west side of the house. Donna found layers of linoleum underneath.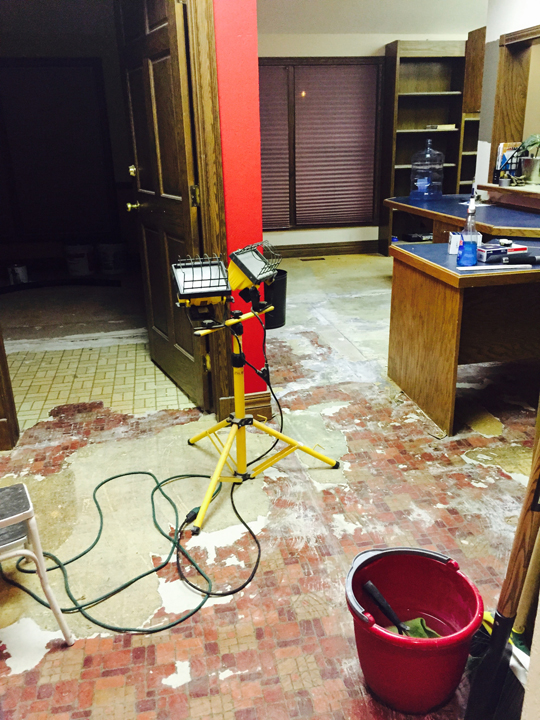 Donna and team discovered layers of linoleum when they were working on the house.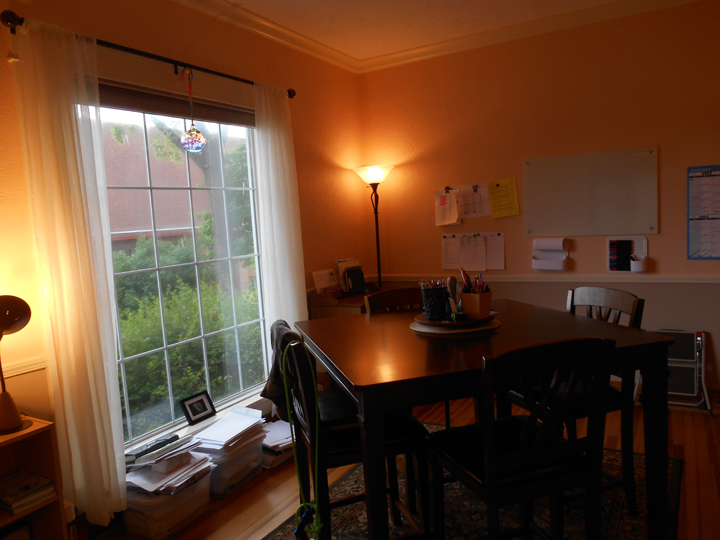 A very pretty room, now their team meeting area. Originally this was the parlor, south side of the house.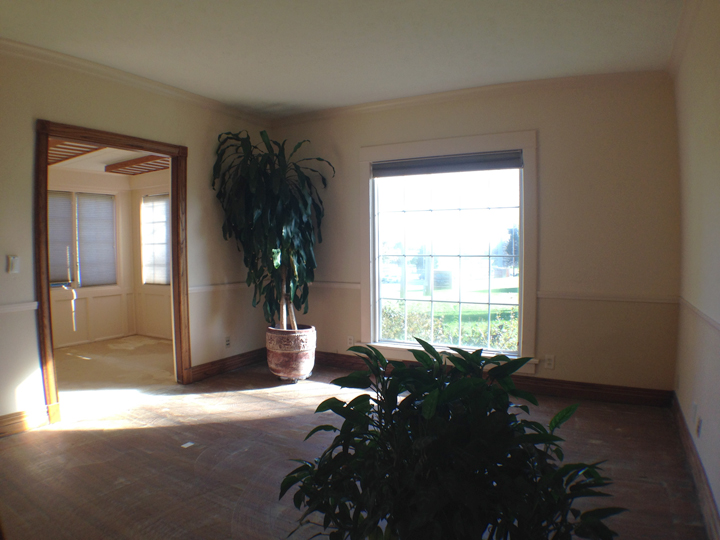 This was the parlor mid-rehab. Photo from Donna's collection. Donna's office is now this little front porch area, beyond the living room/parlor.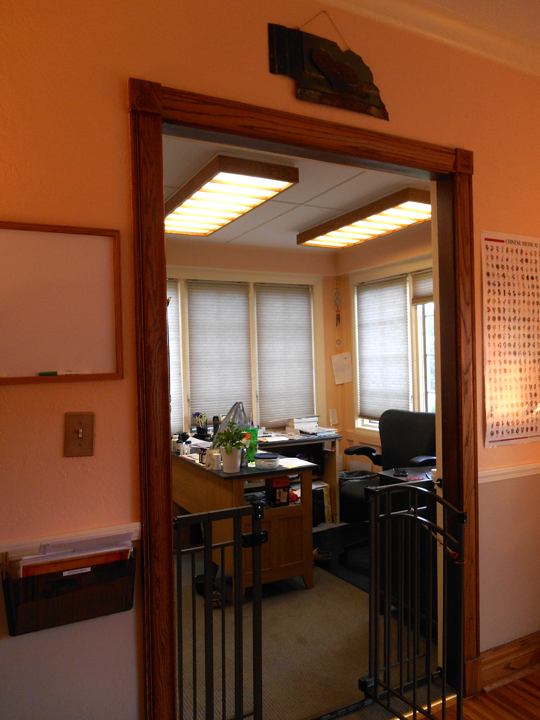 Donna's little office as it looks now, on the sun porch.
Quiet Favorites of Miss Cassette's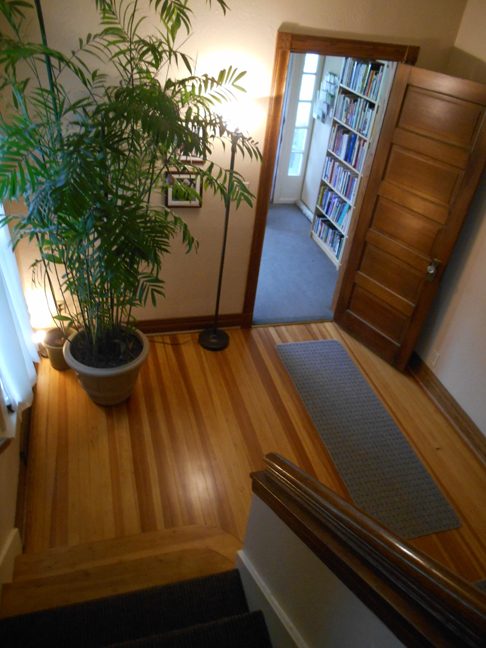 This view from the stairwell makes me so happy. The light, the bamboo tree, the stripes of wood, the sun porch calling to me.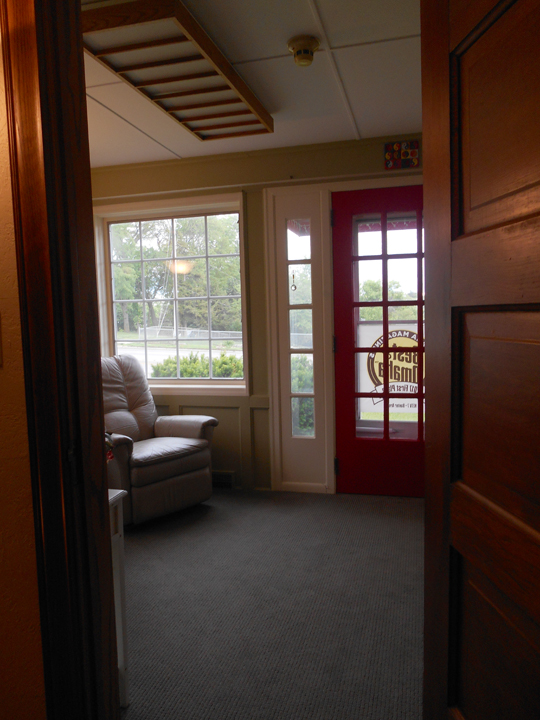 The other sun porch. What is properly the front door, although has never been used as such, on 72nd Street .  I would curl up with a Great Dane and read in here all day if this was my home. By the way, you really can't hear 72nd Street from the home. Amazing.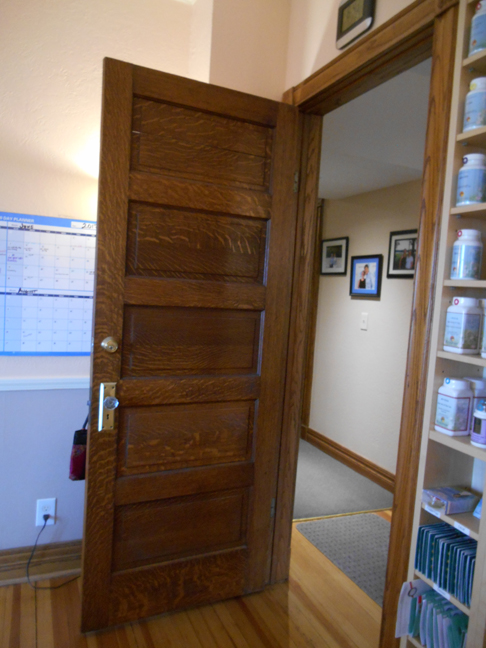 The doors…sigh. The doors in the home are solid and proud. I adored them.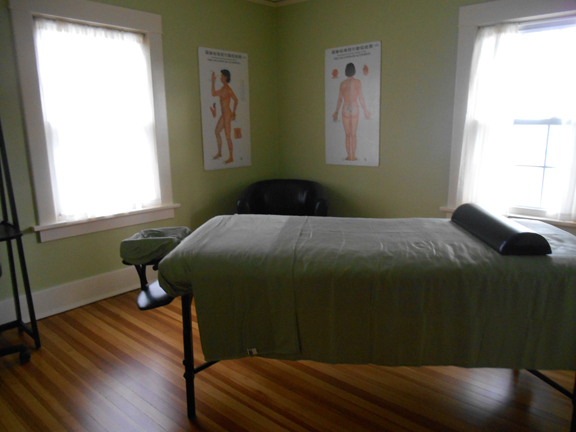 I fell in love with this green patient room. It is on the second floor. The light was to die for.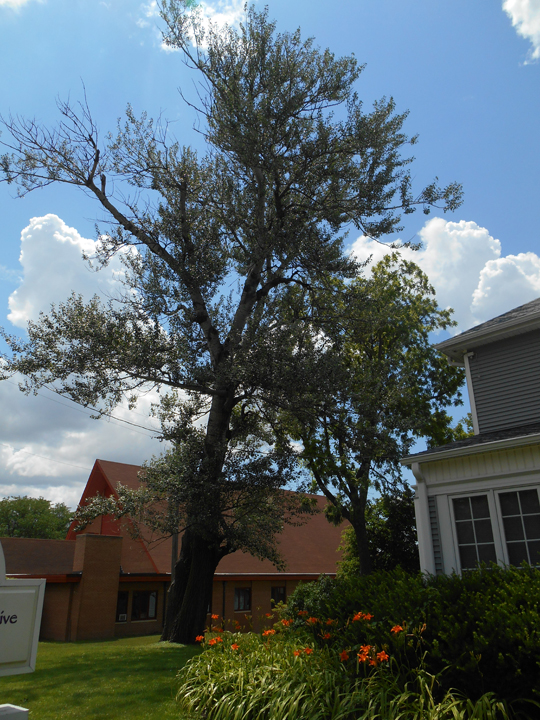 A "Magical Tree" thought to be 200 years old. Donna said, "If you go out and sit by it, the tree will reset you."  I had a tree expert look at an upclose photo of the leaves and he thought it might be a Silver Poplar. It is a glowing majestic tree to the south of the parlor.
The New Standouts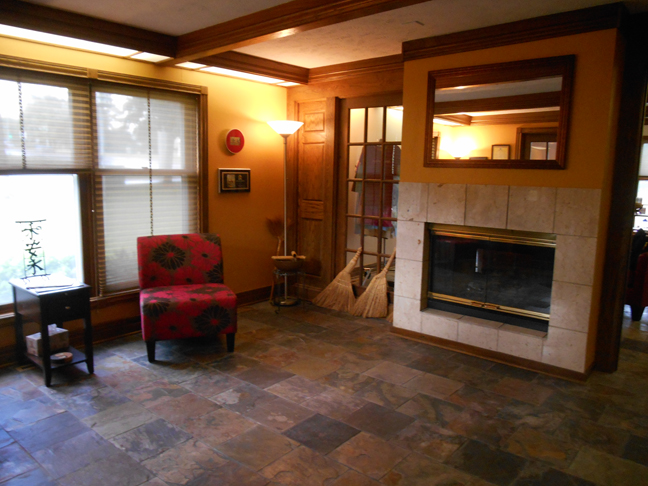 This foyer-sitting room is the first thing one views when walking into the clinic. This is a portion of the Lorings' original screened in porch addition on the north side of the home, where Dan had described the circular fireplace.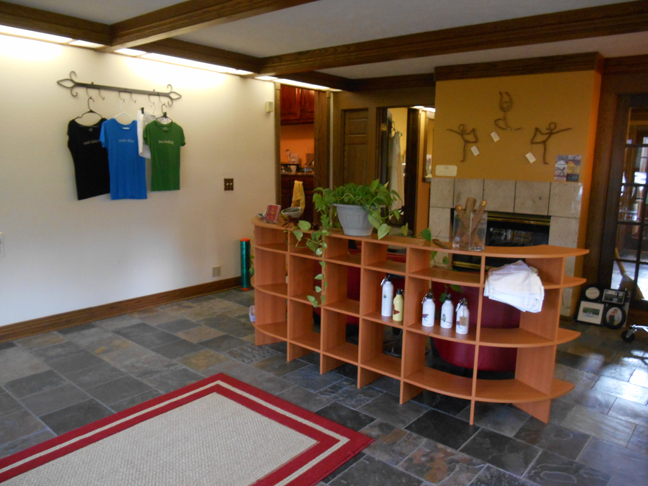 Bright and cheery giftshop on the other side of the foyer. A continuation of the north side addition.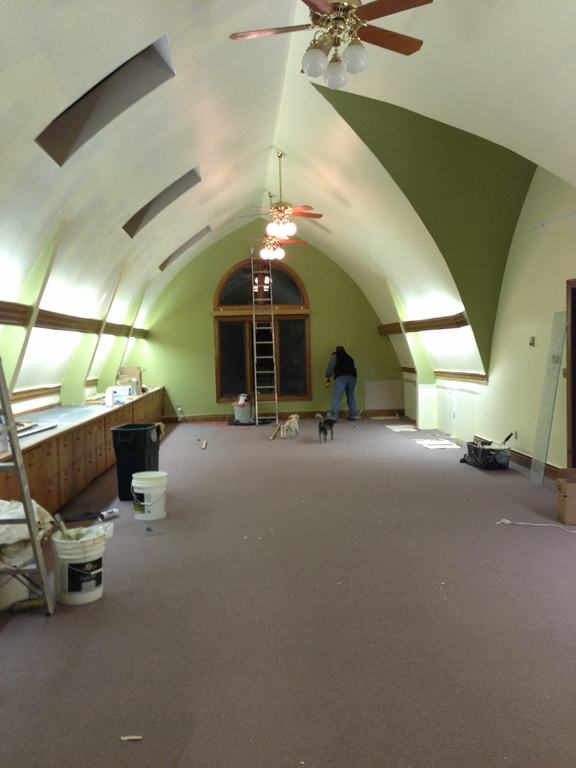 And the drumroll of drumrolls: the couple's early rehab work on the barn. The barn now serves as a yoga and qigong studio and meeting place. I have heard it is a gorgeous, contemplative, airy space. As with the rest of the house, the natural light here is sublime.
**Addendum of July 13, 2017**
A little bird sent over these great updated "Carriage House Loft," (as it is now known,) photos.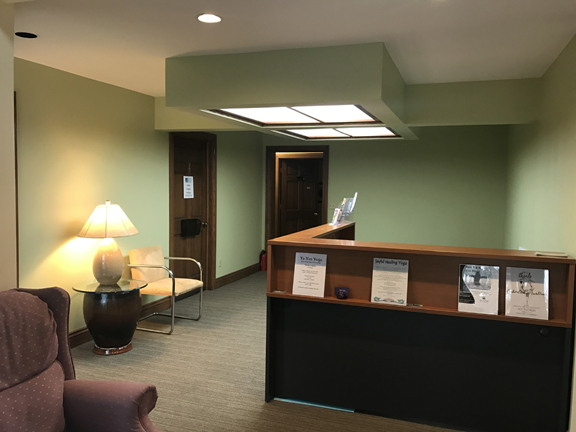 Entry way to the Carriage House main floor.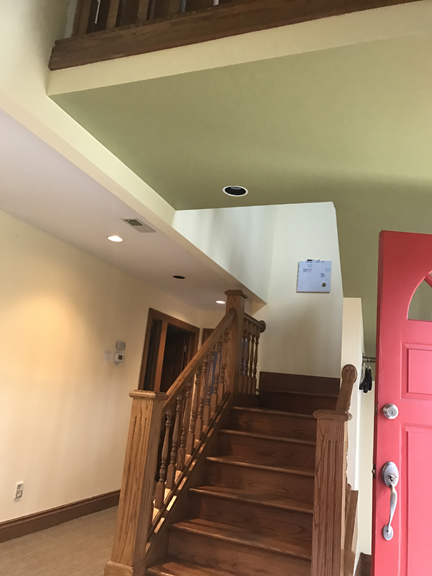 Stairs to the Loft where classes and large meetings are held.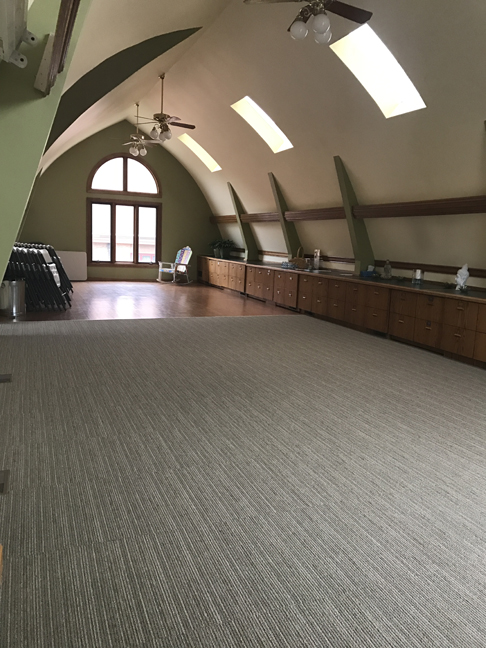 The expansive Carriage House Loft.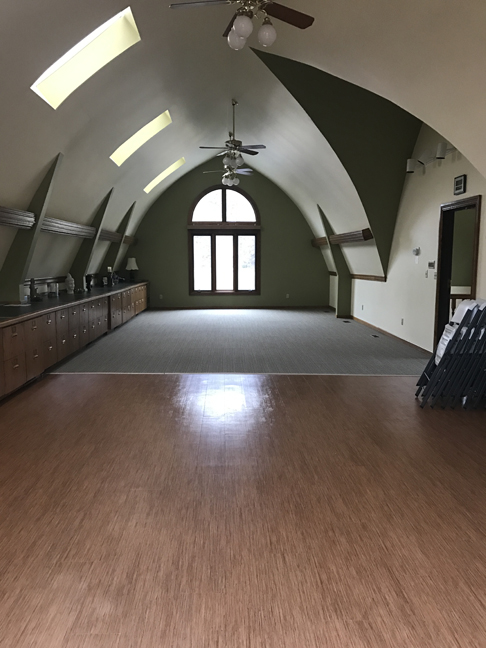 The beautiful Loft from the other direction.
After Thoughts
Everything around us is made up of energy and we are touched by the external energy we cannot see everyday. Some would believe that one or more of the past residents' spirits attached to this land or home. For myself, I felt nothing but goodness, light and clarity. The air and the trees on this property are very special.  Why have people reported hearing a little boy's voice or children's voices? Was this the scene of a traumatic death or multiple deaths? Did Margaret Porter play the piano? Does she continue to visit the home or is it another woman? Did something happen on this land long before the Krisels owned it or when the Krisels owned it? Is there an energy connected to the now buried cave or a presence in the land? And my big question in life: why do some of us feel it and others not?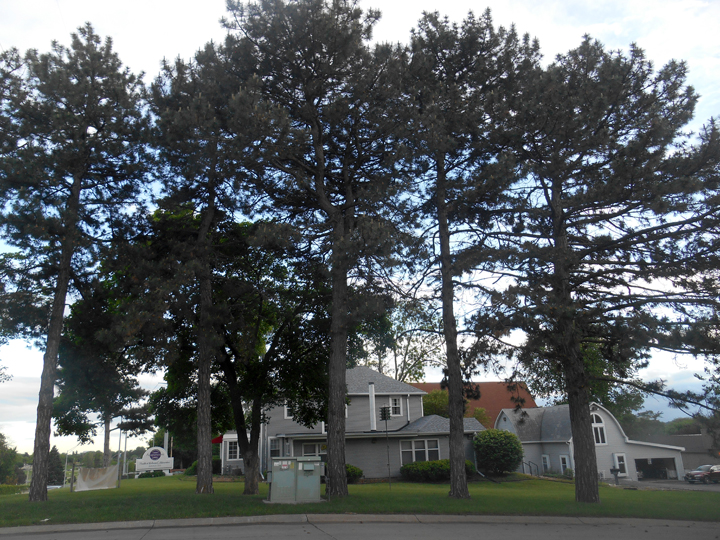 As it was, I felt faintly drained. If I had only been able to interpret 1002 North 72nd Street–the gleam in her eye, the wink of her shipshape windows, her wistful whispering pines and her poky rolling hill. I might have imagined that she was quite as excited about this excessive article, as I was myself. After all she was the feature of my all-consuming research from early winter until just now. There was flush in my heart for the chance to have even gotten to know the old girl and her glorious trees, as there were many near perilous turns that could have leveled her a parking lot or spun her into an ugly eight story nursing home. We don't meet Fantastic everyday. I was deeply grateful to all of the her owners, past and present, for honoring a piece of our heritage.
As I finished typing, Mr. Cassette appeared in the doorway with the tinkling of ice in a glass. "Are you about done with that adventure yet?"
I welcome your feedback and comments on this home, its history of incredible owners and the 72nd and Izard area. If you know anything about this property, we want to hear from you, please! To comment, please scroll to the end of this page. If you would like to correspond with me privately, please do so at myomahaobsession@yahoo.com or in "Contact." But be assured, everyone would love to read what you have to say and it makes the conversation more fun. You can keep up with my latest investigations by "following" myomahaobsession. You will get sent email updates every time I have written a new article. Also join My Omaha Obsession on Facebook. Thank you Omaha friends.
© Miss Cassette and myomahaobsession, 2017. Unauthorized use and/or duplication of this material without express and written permission from this site's author and/or owner is strictly prohibited. Excerpts and links may be used, provided that full and clear credit is given to Miss Cassette and myomahaobsession with appropriate and specific direction to the original content.